New Age Islam News Bureau
17 Jul 2013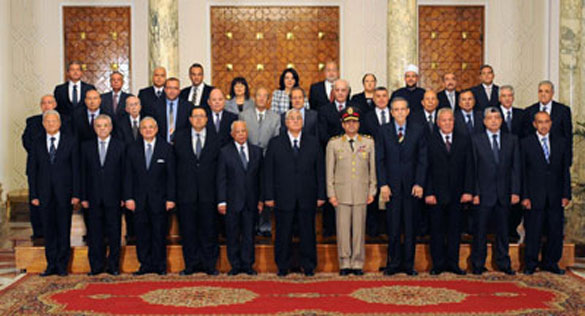 Photo: Egypt Cabinet has women, Christians; no Islamists
---------
Europe
• Islamic History Will Now Be Foisted On All British Kids in School
• The Muslim Grammy Awards: New Event to Spotlight Islamic Stars
• Musician linked to Breivik held in France over terror fears
• Some 5,000 Syrians being killed every month: UN
• Russia-US ties 'more important' than Snowden scandal: Putin
• Eritrea pays warlord to influence Somalia -U.N. experts
• NSA, Israel created Stuxnet worm together to attack Iran, says Snowden
• Germany asylum surge as more Chechens flee Russia
• Arms exports from UK raise questions, MPs say
• Terror review: Trend towards 'less-organised plots'
• Dutch hostages seized in Yemen warn of execution
• UN envoy: Iraq and Syrian conflicts are merging
• UN welcomes Myanmar's abolition of notorious border force
South Asia
• Bangladesh Islamist leader sentenced to death for war crimes
• Allama Title Does Not Fit In With Hefazat-e- Islam Chief's Name
• Afghan government ready for talks with Taliban, says envoy
• Kabul 'wants Pakistan to release senior Taliban leaders'
• Campaign hots up in Maldives
• Karzai signs Afghan election reforms into law
• Bangladesh should avoid violence after Azam verdict
• President Waheed and Thasmeen to contest elections as "independent pair"
• Myanmar's Rohingya Exodus Creating Crisis Across Region
• Brother of Afghan national security advisor shot dead
• China spells out line of future cooperation with Pakistan
• Hasina 'satisfied' with the verdict; Jamaat extends Hartal by a day
Arab World
• Top Islamist: Mursi return is a must for reconciliation
• Egypt Cabinet has women, Christians; no Islamists
• Mohammed Morsi would have stayed in power if not rejected EU-brokered deal
• Disbanded Shura Council members warn of a return to Mubarak regime
• New cabinet takes oath as violence returns to Egypt
• Iraqi Politicians Push For More Power to Provinces
• Pro-Assad Syrian official killed in Lebanon
• Saudi Arabia regularises status of 40 lakh expatriate workers
• Car bomb kills women and children in Syria's south
• Prosecution requests summoning of Morsy, Brotherhood leaders in prison break case
Pakistan
• Taliban-defying Malala Yousafzai to be subject of documentary film
• Pak reaches out to India to mend bilateral ties
• Three Lashkar-i-Jhangvi men released for 8 police officials
• No rift between Baloch and Katchi communities'
• Islamabad police arrests 39 suspects in search operation
• Five including two security personnel killed in Balochistan
• Taliban say still focussed on Pakistan
• Lyari unrest: Sattar urges govt to unmask 'third force' if any
• Situation in Balochistan worsening: Chief justice
India
• 'Red Cards' Irk Bareilly Muslims
• Pakistan pitches for security cooperation with India
• Kashmir: Hizb ul Mujahideen militant and 4 policemen killed in a grenade attack
• Shinde refuses to disclose Headley's statement on Ishrat, cites pact with US
• Urdu mandatory for AMU UG courses
Mideast
• Bahrain's Amal Islamic Society Dismisses Compromise with al-Khalifa Regime
• Qaeda Yemen branch says number 2 killed in US drone strike
• Turkey fourth biggest donor country of humanitarian assistance
• Shiite Seminaries Strive To Avoid Sectarian Conflict
• Rare copies of Holy Quran registered on Iran's National Memory List
• Israel says has allowed Egypt to boost forces in Sinai
• Mock condolences in Iran for Ahmadinejad's political 'death'
• Abbas to brief PLO on Kerry peace talks push
• Kerry 'determined' to announce resumed talks: Palestinians
North America
• No discussion with Pakistan on civilian N-tech: US
• Snowden should return to US to face trial: White House
• Kerry to meet Arab League officials on Israeli-Palestinian peace
• Pittsburgh Islamic Center's Humanity Day focuses on justice
• US writer warns of threat from Al Islah
Africa
• Algerian in 'Jihad Jane' case says Irish jail unfit for animals
• Christians in Sudan face increased hostility
• Somalia's Information Minister Uses "Extremists" Terminology
• Libya to turn Gaddafi compound into amusement park
• South Sudan army says it and UN unable to protect civilians
Southeast Asia
• Indonesian Displaced Shia to return home by Eid ul Fitr
• Malay group will still send protest note to Vatican envoy on Friday
• Act fast against Muslim offenders too, says PAS
• National Harmony Act won't affect government power to maintain solidarity, says Najib
• Terrorists on loose, Malaysia boosts border security
Compiled by New Age Islam News Bureau
URL: https://www.newageislam.com/islamic-world-news/new-age-islam-news-bureau/islamic-history-will-now-be-foisted-on-all-british-kids-in-school/d/12641
------------
Europe
Islamic History Will Now Be Foisted On All British Kids in School
Jul 17, 2013
Beginning in 2014, the United Kingdom will require all British schoolchildren to complete a unit on the history of Islam, proudly reports Press TV, Iran's very own 24-hour English language news organization.
British Education Secretary Michael Gove announced the addition of a Muslim-specific component after revisions were made to address an outcry over a prior draft that did not include any references to the monotheistic Abrahamic religion.
Muslims were among the most vocal critics. The Muslim Council of Britain, which represents about 500 Islamic institutes across Britain, declared that it was "deeply disappointed."
The revised curriculum is "great," though, according to Salim Mulla, chairman of the Lancashire Council of Mosques. Sulla believes that people in the country could use "a better understanding of all faiths," notes Press TV.
"There is already a good understanding of Christianity taught in schools," Mulla told the Iranian media outlet. "But I don't think a lot of Christians really understand what the Muslim faith is about."
Islam is technically the third-largest religious affiliation in the country, according to The Guardian. Christianity is the largest religious group. People claiming to have no religion are the second. Those two groups make up the vast majority of Britons.
A spokesman for the Blackburn Diocese Board of Education spoke favorably of the new draft curriculum.
"As is well known, the early Islamic civilizations gave much to the world," the spokesman said, "and we would certainly support the teaching of such an important part of world history."
The British government is currently establishing a new national curriculum for primary and secondary education. The finished product is supposed to be introduced in schools in the fall of 2014.
http://dailycaller.com/2013/07/16/islamic-history-will-now-be-foisted-on-all-british-kids-in-school/#ixzz2ZI7lhYkU
------------
The Muslim Grammy Awards: New Event to Spotlight Islamic Stars
17 July 2013
We've heard of the Grammys, the BRITs, the VMAs and the MOBOs, but now there's an awards show to spotlight a different kind of talent.
A groundbreaking new awards ceremony, The Music of Muslim Origin & Media Awards 2013 (the MOMOs), will celebrate the achievements of Muslim artists, entertainers and media professionals later this year.
With categories such as "Best Nasheed" (Islamic vocal music), "Best Muslim TV Show" and "Best Muslim Presenter" the awards will put a spotlight on global Islamic talents.
The MOMOs were launched by the GNA Academy, a Muslim music and media event organizer based in the UK, and the ceremony will be held in British city of Manchester in December 2013.
But a few nominations for the awards have already been decided.
The awards ceremony will celebrate not only UK talent but the best Muslim performers from across the globe.
Among those slated for recognition at the MOMOs are Maher Zain, a Muslim Swedish singer of Lebanese origin, and South African-born Zain Bhikha, both internationally renowned artists nominated for "International Male Solo Artist of the Year."
Critically acclaimed Denmark-based group Outlandish has been nominated for the "Best Nasheed" category.
The initiative is the brainchild of Esharat Nasar-Ahmed, who told news website Your Middle East, "There has been little or no opportunity to showcase or celebrate the huge achievements Muslims have and are making to the music and media industry.
"This inspired me to create the MOMOs in order to create a universal platform that will bring Muslim talent to the forefront. Not only to celebrate and showcase but to also educate and raise awareness of Muslim contributions throughout history," he added.
An awards ceremony to recognize Muslim talent is unprecedented, Zain Bhikha said in a post on the MOMOs Facebook page: "I'm very honored to be recognized as a nominee in this groundbreaking MOMO Awards event. I think we need creative works to bring people together and share ideas that will ultimately join heart and make this world better."
The awards ceremony also includes categories to celebrate Muslim media, including "Best Muslim TV Show" and "Best Muslim presenter." The public are invited to nominate their favorites.
http://english.alarabiya.net/en/variety/2013/07/17/The-Muslim-Grammy-Awards-New-event-to-spotlight-Islamic-stars.html
---------
Musician linked to Breivik held in France over terror fears
Reuters | Jul 17, 2013
PARIS: A neo-Nazi linked to Norwegian mass killer Anders Behring Breivik was arrested in southwestern France on Tuesday after investigators decided he might stage a large "terrorist act", interior minister Manuel Valls said.
Kristian Vikernes, who is also a convicted murderer from Norway, had in the past received a copy of a manifesto from Breivik, the farright militant who killed 77 people in 2011. Vikernes, 40, a well-known black metal musician in Norway, was arrested with his French wife Marie Chachet after she recently bought four rifles, Valls said in a statement.
"Having received the manifesto before (Breivik) committed his crimes and having been sentenced in Norway in the past for murder, this individual, who was close to a neo-Nazi movement, was likely to prepare a large terrorist act," Valls said. Officers were searching his home in Correze for weapons and explosives, a police source said.
Breivik killed 77 people in a bombing in central Oslo and a shooting spree on a nearby island in July 2011. He was imprisoned last year for a maximum term of 21 years. Breivik sent a copy of his manifesto to Vikernes, an official at the Paris prosecutor's office said.
Marie Chachet, 25, had a legal firearms permit when she bought the four rifles, the official said. "The probe will notably establish the conditions in which these (rifles) were acquired and their real objective," Valls said.
On his website, Vikernes discusses Breivik's manifesto, but in a post called "War in Europe: Part V — Breivik Unveiled" he also criticizes the murderer for killing more innocent Norwegians than Muslims. Vikernes describes himself as a "pagan" and accuses Breivik of being a Zionist agent and "Christian loser". "If you, dear European nationalists, really want to save Europe (as a biological term) you have to realize that the only thing to do is to cast aside all Christian other international nonsense and embrace only the European (i.e. Pagan) values and ideals and if you like the European deities as well," said the December 13 posting.
http://timesofindia.indiatimes.com/world/europe/Musician-linked-to-Breivik-held-in-France-over-terror-fears/articleshow/21114627.cms
------------
Some 5,000 Syrians being killed every month: UN
AP | Jul 17, 2013
UNITED NATIONS: An estimated 5,000 Syrians are dying every month in the country's civil war and refugees are fleeing at a rate not seen since the 1994 Rwanda genocide, UN officials said Tuesday.
"In Syria today, serious human rights violations, war crimes and crimes against humanity are the rule," said Ivan Simonovic, the assistant secretary-general for human rights, told the UN Security Council on Tuesday.
He added that "the extremely high rate of killings demonstrates the drastic deterioration of this conflict."
UN refugee chief Antonio Guterres said two-thirds of the nearly 1.8 million Syrian refugees known to the agency have fled since the beginning of 2013, an average of over 6,000 daily.
"We have not seen a refugee outflow escalate at such a frightening rate since the Rwandan genocide almost 20 years ago," he said.
UN humanitarian chief Valerie Amos said at least 6.8 million Syrians require urgent humanitarian assistance and accused the government and opposition of "systematically and in many cases deliberately" failing their obligation to protect civilians.
"This is a regional crisis not a crisis in Syria with regional consequences, requiring sustained and comprehensive engagement from the international community," Amos said by videoconference from Geneva.
"The security, economic, political, social, development and humanitarian consequences of this crisis are extremely grave and its human impact immeasurable in terms of the long-term trauma and emotional impact on this and future generations of Syrians," she said. "We are not only watching the destruction of a country but also of its people."
Simonovic said that since UN human rights chief Navi Pillay reported last month that at least 92,901 people had been killed between March 2011 when the conflict began and the end of April 2013, government forces and militias have moved to uproot the opposition in many areas including Qusair and Talkalkh, Aleppo, Damascus and its suburbs.
"Government forces carry on with indiscriminate and disproportionate shelling and aerial bombardments, using among other weapons tactical ballistic missiles, cluster and thermobaric bombs, all causing extensive damage and casualties if used in densely populated areas," he said.
"As a result, hundreds of civilians, including women and children were killed, thousands injured, and tens of thousands displaced," Simonovic said. "Many displaced in the parts of Homs and rural Damascus remain under siege and face miserable humanitarian conditions."
He said armed opposition groups have also committed acts of torture, abduction and kidnapping, sometimes along sectarian lines.
"Killings, violence and threats of reprisals against civilian populations perceived to be supportive of the government by armed opposition groups are escalating alarmingly," he said.
Guterres, the refugee chief, said "the danger that the Syrian conflict could ignite the whole region is not an empty warning."
Calling the impact of the refugee crisis on neighboring countries "crushing," he urged international action to support the stability of Syria's neighbors and reduce "the enormous risks of spillover" to the wider Middle East.
Guterres appealed to all countries to keep their borders open and receive all Syrians who seek protection.
Lebanon and Jordan are bearing the heaviest burden of the refugee exodus, he said, but the Kurdish region of Iraq and Turkey which has spent hundreds of millions of dollars of its own resources to assist over 400,000 refugees have also been affected.
"What I am asking for today is essential to mitigate the risk of an explosion that could engulf the entire Middle East, but only a political solution to Syria and an end to the fighting can fully stop this risk," Guterres said.
Syria's UN Ambassador Bashar Ja'afari said the UN death toll and refugee figures came from "unprofessional sources" and insisted the Syrian government was doing "everything possible to shoulder its responsibilities to its people and meet basic needs despite economic, political and media pressure."
He said the government is fighting "terrorism" its description of opposition fighters. He asked why the world was only concerned about 2,500 people trapped in Homs and not hundreds of thousands trapped elsewhere in Syria.
http://timesofindia.indiatimes.com/world/us/Some-5000-Syrians-being-killed-every-month-UN/articleshow/21115357.cms
------------
Russia-US ties 'more important' than Snowden scandal: Putin
Jul 17, 2013
MOSCOW: President Vladimir Putin on Wednesday said Moscow's relations with Washington outweighed the "squabbles" over a spying scandal revealed by US fugitive Edward Snowden, who has applied for asylum in Russia.
"Relations between states are much more important than squabbles surrounding the work of security services," Putin was quoted as saying by the RIA Novosti news agency.
Putin's remarks came after the White House voiced opposition to Snowden's request for a safe haven in Russia as he tries to evade US espionage charges.
Full report at:
http://dawn.com/news/1029699/russia-us-ties-more-important-than-snowden-scandal-putin
------------
Eritrea pays warlord to influence Somalia -U.N. experts
By Louis Charbonneau
Jul 17, 2013
UNITED NATIONS, July 17 (Reuters) - Eritrea is undermining stability in conflict-ravaged Somalia by paying political agents and a warlord linked to Islamist militants to influence the Mogadishu government, U.N. sanctions experts said in a confidential report.
The Eritrean government has long denied playing any negative role in Somalia, saying it has no links to Islamist al Shabaab militants fighting to overthrow the Somali government. It says the U.N. sanctions imposed on it in 2009 for supporting al Shabaab were based on lies and has called for the sanctions to be lifted.
Full report at:
http://www.trust.org/item/20130717045958-q0jxu/?source=hptop
------------
NSA, Israel created Stuxnet worm together to attack Iran, says Snowden
Jul 17, 2013
America's National Security Agency helped Israel code the Stuxnet computer worm used to attack Iranian nuclear facilities several years ago, according to former NSA contractor and whistle-blower Edward Snowden.
Involvement of the US and Israel in creation and deployment of the sophisticated malware has been suspected for some time. But the NSA's role has remained largely unknown.
Snowden made the claim in an interview with WikiLeaks associate Jacob Appelbaum in May and published by the German weekly Der Spiegel on Sunday.
Full report at:
http://www.scmp.com/news/world/article/1278286/nsa-israel-created-stuxnet-worm-
----------
Germany asylum surge as more Chechens flee Russia
July 17, 2013
The number of people seeking political asylum in Germany has soared, and the biggest group by far was from Russia.
In the first half of this year, just over 43,000 refugees applied to stay - that is 86% more than in the same period in 2012.
It is the highest level since 1999, when people fled Serbia's Kosovo war.
Many this year came from Russia's Chechnya region, they told German officials. Violence and human rights abuses plague Chechnya.
German Interior Minister Hans-Peter Friedrich said that "in 2012, by far the most asylum seekers in the European Union came to Germany, and in the first half of 2013 we saw almost a doubling of applications.
Full report at:
http://www.bbc.co.uk/news/world-europe-23325956
--------
Arms exports from UK raise questions, MPs say
July 17, 2013
The UK government has approved more than 3,000 export licences for military sales to countries which it believes have questionable records on human rights, MPs say.
The House of Commons Committees on Arms Export Controls says the value of the existing export licences to the 27 countries in question exceeds £12bn.
This includes significant sales to China, Iran and Saudi Arabia.
Sales to Sri Lanka raise "very serious questions", the report adds.
The committees consist of four select committees meeting and working together: business, defence, foreign affairs, and international development.
The chairman, Conservative MP Sir John Stanley, said he was astonished at the scale and value of the licences.
Full report at:
http://www.bbc.co.uk/news/uk-politics-23336914
--------
Terror review: Trend towards 'less-organised plots'
July 17, 2013
The terror threat facing the UK is now "more complicated" with the emergence of smaller and less-organised plots, the UK's reviewer of terror laws says.
David Anderson QC, whose annual report is published later, said "we are not seeing the big spectaculars" of 9/11 or the 2006 airline liquid bomb plot.
But "lone actors" and "low-tech" plots were more difficult to detect, he said.
The threat resembled the situation in Northern Ireland - small-scale plots on national security targets, he added.
'Substantial' threat
Mr Anderson, who is a senior lawyer and independent of government, told the BBC the UK was not "out of the woods" with regards to large-scale threats. But he said there had been nothing comparable since the London attacks in July 2005.
Full report at:
http://www.bbc.co.uk/news/uk-23334719
--------
Dutch hostages seized in Yemen warn of execution
July 17, 2013
A Dutch couple kidnapped in Yemen have made an impassioned plea for help, warning they could be executed within 10 days.
In a YouTube video, Judith Spiegel and Boudewijn Berendsen said they had "a big problem", urging Dutch authorities to act to secure their release.
They were seized by unknown attackers on 15 June from a house in Sanaa.
The Dutch foreign minister said the case had the government's "full attention", giving no further details.
"Talking about it in public seldom helps bringing the issue to a good conclusion," Frans Timmermans was quoted as saying.
Full report at:
http://www.bbc.co.uk/news/world-middle-east-23328389
--------
UN envoy: Iraq and Syrian conflicts are merging
Jul 17 2013
Iraq's escalating violence can no longer be separated from the civil war in neighbouring Syria because "the battlefields are merging," the UN envoy to Iraq warned.
Martin Kobler told the UN Security Council that Iraqi armed groups have an increasingly active presence in Syria. As a result, he said, the Syrian conflict is no longer just spilling over into Iraq, but Iraqis are reportedly taking arms against each other inside Syria, he said on Tuesday.
"These countries are interrelated," Mr. Kobler stressed. "Iraq is the fault line between the Shia and the Sunni world and everything which happens in Syria, of course, has repercussions on the political landscape in Iraq."
Full report at:
http://www.thehindu.com/news/international/world/un-envoy-iraq-and-syrian-conflicts-are-merging/article4923748.ece
----------
UN welcomes Myanmar's abolition of notorious border force
Jul 17 2013
The United Nations on Tuesday welcomed Myanmar's decision to abolish the border security force blamed for many of the atrocities committed against Muslims in the Rakhine State last year.
Myanmar President Thein Sein, who is currently on an official visit to Britain and France, announced the abolition of the Nasaka force in a statement posted on his website on July 14.
The Nasaka were accused of human rights violations in suppressing the sectarian clashes in the Rakhine State last year that left at least 167 people dead, mostly Rohingya Muslims, and up to 140,000 displaced.
Full report at:
http://www.thehindu.com/news/international/world/un-welcomes-myanmars-abolition-of-notorious-border-force/article4921091.ece
---------
South Asia
Bangladesh Islamist leader sentenced to death for war crimes
AP | Jul 17, 2013
DHAKA, Bangladesh: A special tribunal has sentenced a senior leader of an Islamic party to death for his role in the kidnapping and killing of people involving Bangladesh's independence war against Pakistan in 1971.
The verdict came on Wednesday in a packed courtroom in the capital, Dhaka, in presence of Jamaat-e-Islami party's secretary-general Ali Ahsan Mojaheed. The tribunal found him guilty of kidnapping and killing a journalist, a music director and a number of other people.
Mojaheed faces seven charges including genocide, murder, conspiracy and complicity in atrocities during the war. He is accused of leading a notorious group that during the war kidnapped and killed many teachers, journalists and writers who supported the cause for independence.
Bangladesh says the Pakistani army killed 3 million people and raped 200,000 women during the war.
http://timesofindia.indiatimes.com/world/south-asia/Bangladesh-Islamist-leader-sentenced-to-death-for-war-crimes/articleshow/21118211.cms
---------
Allama Title Does Not Fit In With Hefazat-e- Islam Chief's Name
Jul 17, 2013
Stressing that a religious leader cannot give speeches disrespecting women, a group of Dhaka University students and teachers yesterday said the title "Allama" meaning great scholar did not go with the name of Hefazat-e Islam chief Shah Ahmed Shafi.
In a video clip of sermon, available in internet, Shafi said women should stay within the four walls of their houses, take care of the furniture and raise children. He also likened women to tamarind and imposed a bar on women from studying beyond class IV-V.
Referring to these comments, the DU teachers and students refused to use the title before Shafi's name anymore.
"Shafi's remarks about women are disgraceful and vulgar," said MM Akash, professor in economics, addressing a protest rally organised at Aparajeya Bangla of DU under the banner "Agitated students and teachers". He cited the comments as an insult to mothers.
National University Vice-chancellor Harun-or-Rashid said, "These remarks exposed Shafi's sick mind and despicable attitudes towards women."
He demanded that all the audio, video cassettes containing indecent sermons (waz) of Shafi and convicted Jamaat-e-Islami leader Delawar Hossain Sayedee be banned.
Meanwhile, Information Minister Hasanul Haq Inu yesterday said the people who spoke in favour of the Hefajat chief were the forces against democracy.
"Shafi has demeaned women. People supporting the derogatory remarks are against democracy, establishment of women's rights, and constitution," he said, criticising BNP MPs at a training session for journalists in the capital's Cirdap auditorium.
http://www.thedailystar.net/beta2/news/allamah-title-does-not-fit-in-with-shafis-name/
------------
Afghan government ready for talks with Taliban, says envoy
Jul 17, 2013
The Afghan government is ready to sit down with the Taliban in Doha or anywhere in the world for the sake of peace and stability in Afghanistan, a senior Afghan envoy said yesterday.
In an interview with Gulf Times, Mohamed Qasim Himat, the acting Afghan ambassador to Qatar, said the onus was actually on the Taliban to show that they were indeed earnest and sincere in the peace process, an initiative ably supported by Qatar.
When asked whether he was referring to a ceasefire as a pre-condition to the talks, Himat said: "We are not talking about any ceasefire or any pre-conditions. We just want to know whether the Taliban can show more seriousness in their talks for bringing peace to Afghanistan, for example, by stopping terrorist attacks in our country which harm the interest of every Afghan or anything else."
Full report at:
http://www.gulf-times.com/qatar/178/details/359639/afghan-government-ready-for-talks-with-taliban%2c-says-envoy
------------
Kabul 'wants Pakistan to release senior Taliban leaders'
Jul 17, 2013
The Afghan government wants Pakistan to release senior Afghan Taliban leaders in its custody in order to facilitate the peace process in Doha, an Afghan official told Gulf Times.
The official, who introduced himself as a former member of the Mujahedeen that fought on the side of Gulbuddin Hekmatyar's Hezbi Islami party in the "jihad" against Soviet forces, said that although Pakistan did the right thing by releasing two dozen Afghan Taliban prisoners last year, it is believed that it continued to retain the top leaders of the militant organisation in order to maintain its stranglehold over the future of Afghanistan.
The official, who spoke on condition of anonymity, is now a diplomat in the Karzai-led administration.
Full report at:
http://www.gulf-times.com/qatar/178/details/359766/kabul-%E2%80%98wants-pakistan-to-release-senior-taliban-leaders%E2%80%99
------------
Campaign hots up in Maldives
R. K. RADHAKRISHNAN
Jul 17 2013
Veteran administrator and politician Mustafa Lutfi is running mate of Mohamed Nasheed
The largest political party in Maldives, the Maldivian Democratic Party (MDP), chose veteran administrator and politician Mustafa Lutfi as running mate to its presidential candidate Mohamed Nasheed, signalling a period of vigorous campaigning ahead of the September 7 elections.
Dr. Lutfi, Tourism Minister in Maumoon Abdul Gayoom's last Cabinet from 2004, was also Minister for Education after Mr. Nasheed was elected President in the first multi-party elections in 2008. An academic who gave direction to Maldivian National University during a period of political stress (2008-2012), Mr. Lutfi was also the brain behind a master plan for the development of higher education in Maldives.
Full report at:
http://www.thehindu.com/news/international/south-asia/campaign-hots-up-in-maldives/article4921499.ece
----------
Karzai signs Afghan election reforms into law
17 July 2013
President Hamid Karzai on Wednesday signed into law reforms that remove foreign UN representatives from Afghanistan's electoral complaints watchdog ahead of key polls due next year.
The changes were approved by MPs in parliament on Monday and will keep in place the Election Complaints Commission (ECC) that was integral to unmasking massive levels of fraud at the last presidential election in 2009.
The Afghan government ordered last year that the organisation be replaced by a special tribunal appointed directly by Karzai, raising fears from rights groups that it would water down efforts to clampdown on electoral abuse.
Full report at:
http://english.ahram.org.eg/NewsContent/2/9/76695/World/International/Karzai-signs-Afghan-election-reforms-into-law.aspx
--------
Bangladesh should avoid violence after Azam verdict
Jul 17, 2013
Bangladesh should seek to avoid civil disturbance after the guilty verdict in the trial of Gulam Azam, the former leader of the Islamic political party Jamaat-e-Islami, who was sentenced to 90 years in prison despite his advanced age of 91 years.
Azam was found guilty of crimes against humanity carried out 42 years ago during Bangladesh's war of independence in 1971. The tribunal found him guilty of 61 charges under five categories — conspiracy, incitement, planning, abetment and failure to prevent killing. Full report at:
http://gulfnews.com/opinions/editorials/bangladesh-should-avoid-violence-after-azam-verdict-1.1209761
------------
President Waheed and running mate Thasmeen to contest elections as "independent pair"
By Leah Malone | July 16th, 2013
President Waheed and running mate Thasmeen to contest elections as "independent pair" thumbnail
President Dr Mohamed Waheed and his running mate Dhivehi Rayithunge Party (DRP) Leader Ahmed Thasmeen Ali will be competing in the September's presidential election as independent candidates.
Waheed announced today (July 16) his intention to officially register with the Elections Commission (EC) as an independent candidate, despite heading the Gaumee Ithihad Party (GIP) and leading the 'Forward with the Nation' coalition.
Full report at:
http://minivannews.com/politics/president-waheed-and-running-mate-thasmeen-to-contest-elections-as-independent-pair-drp-61153
------------
Myanmar's Rohingya Exodus Creating Crisis Across Region
Jul 17, 2013
Muhammad Muslim, 52, fled Myanmar in 1988 when the junta brutally suppressed a pro-democracy movement in the country then known as Burma.
As a Rohingya from western Rakhine state, he had no passport. Myanmar's government does not grant citizenship to the ethnic Muslims whom they consider illegal Bangladesh immigrants — even those whose families have been in the country since the colonial British brought them in during the late 19th century.
Muslim left Myanmar illegally, so he has no other papers that tie him to his home country. He spent 17 years in Malaysia as an illegal immigrant, waiting in vain for legal refugee status. And now he waits with his wife, two adult children and 23 other Rohingyas in a dank, no-star hotel near Jakarta's grubby port, hoping to get that status with the UN refugee office in Indonesia.
Full report at:
http://www.thejakartaglobe.com/international/myanmars-rohingya-exodus-creating-crisis-across-region/
------------
Brother of Afghan national security advisor shot dead
Jul 17, 2013
HEART: Gunmen on Wednesday assassinated a brother of Afghanistan's national security advisor Rangin Dadfar Spanta outside a public bath house in the family's relatively peaceful home province, police said.
Wali Jaan was a public prosecutor in the small town of Karukh in Herat province, which borders Iran in western Afghanistan.
"Today at around 8:30 am (0400 GMT) Wali Jaan, the brother of Dr Spanta was gunned down. He was attacked by two persons on a motorbike as he came out of a (public) bath," Herat police spokesman Abdul Rauf Ahmadi told AFP.
Full report at:
http://dawn.com/news/1029694/brother-of-afghan-national-security-advisor-shot-dead
------------
China spells out line of future cooperation with Pakistan
Jul 17, 2013
ISLAMABAD: Days after Prime Minister Nawaz Sharif's 'successful' visit to China, Beijing's newly appointed envoy in Islamabad used a dinner, hosted to mark his assumption of the office, to spell out the line of future cooperation between the two neighbours.
"I myself and all my colleagues at the Chinese Embassy in Pakistan will act in obedience to the important consensus reached by the leaders of two countries; seriously implement the outcome of mutual visits; and make solid progress in cooperation in all fields," Ambassador Sun Weidong told the audience that comprised politicians from all the major political parties of the country, diplomats and senior bureaucrats.
Full report at:
http://www.dailytimes.com.pk/default.asp?page=2013\07\17\story_17-7-2013_pg7_11
------------
Hasina 'satisfied' with the verdict; Jamaat extends hartal by a day
HAROON HABIB
Jul 17 2013
As Jamaat-e-Islami puts up resistance to the war crimes trial, Prime Minister Sheikh Hasina has described the verdict against Ghulam Azam a "big achievement" and vowed to continue the trial to meet national obligations.
She told Parliament on Tuesday that Ghulam Azam, the former chief of Jamaat, was the mastermind behind crimes against humanity in 1971.
"We are satisfied with the tribunal's verdict whatever it is. What the punishment should be is the matter of the court," she said as both the prosecution and the defence announced they would appeal against the verdict.
Full report at:
http://www.thehindu.com/news/international/hasina-satisfied-with-the-verdict-jamaat-extends-hartal-by-a-day/article4921498.ece
----------
Arab World
Top Islamist: Mursi return is a must for reconciliation
Jul 17, 2013
Reconciliation between Egypt's Islamist and secular politicians is impossible unless deposed President Mohamed Mursi is reinstated, a leading Islamist told Reuters, but played down any suggestion that his movement might return to its violent past.
Abdel Akhir Hammad, spiritual leader of the formerly militant group Gamaa Islamiya, said that joining an army-backed transitional government or participating in elections would amount to giving his group's blessing to military rule.
"Gamaa Islamiya's position is a position of principle, and it is to not participate in a government that came by way of the army's tanks," Hammad said in an interview in the southern city of Assiut, where his group was formed in the 1970s.
The army toppled Mursi earlier this month and has struggled to persuade the Islamists, who have dominated elections held since a 2011 uprising ousted autocrat Hosni Mubarak, to sign up to its political transition plans.
Full report at:
http://www.gulf-times.com/region/216/details/359746/top-islamist%3a-mursi-return-is-a-must-for-reconciliation
------------
Egypt Cabinet has women, Christians; no Islamists
Jul 17 2013
Egypt : Egypt's interim leader swore in a Cabinet on Tuesday that included women and Christians but no Islamists as the military-backed administration moved swiftly to formalize the new political order and present a more liberal face that is markedly at odds with the deposed president and his supporters.
The changes came at a time of deep polarization and violence in Egypt, including new clashes that killed seven people as part of the continuing bloodshed that has marked the days following the armed forces coup that swept President Mohammed Morsi from office and cracked down on the Muslim Brotherhood.
Egypt's military already wields great influence behind the scenes, and the army chief, Gen. Abdel-Fattah el-Sissi, who ousted Morsi on July 3, was given a promotion in the Cabinet. He became a first deputy prime minister in addition to keeping his post as defense minister.For most of the two years since the overthrow of autocrat Hosni Mubarak, the country has been split into two camps _ one led by Morsi, his Muslim Brotherhood and its Islamist allies, and another led by secular Egyptians, liberals, Christians and moderate Muslims.
Full report at:
http://www.indianexpress.com/news/egypt-cabinet-has-women-christians--no-islamists/1142965/
---------
Mohammed Morsi would have stayed in power if not rejected EU-brokered deal
Jul 17 2013
Cairo,Paris : Mohammed Morsi might still be president of Egypt today if he had grasped a political deal brokered by the European Union with opposition parties in April, Egyptian politicians and Western diplomats say. Convinced that election victories gave them a sufficient basis to rule, Morsi and his Muslim Brotherhood spurned the offer to bridge the most populous Arab nation's deep political divide. Less than three months later, the army overthrew him after mass anti-government protests. Under a compromise crafted in months of shuttle diplomacy by EU envoy Bernardino Leon, six secular opposition parties allied in the National Salvation Front would have recognised Morsi's legitimacy and agreed to participate in parliamentary elections they had threatened to boycott.
Full report at:
http://www.indianexpress.com/news/mohammed-morsi-would-have-stayed-in-power-if-not-rejected-eubrokered-deal/1143023/
-------
Disbanded Shura Council members warn of a return to Mubarak regime
Jul 17, 2013
A number of disbanded Shura Council members said they consider the victims of the clashes at Ramsis, Nahda, and the Republican Guard House martyrs of the 25 January revolution. They added that what is currently happening marks "a return to Mubarak's oppressive regime, in which state security made arbitrary arrests."
Saad Emara, deputy of the national security committee at the disbanded council, said in a press conference held by the Muslim Brotherhood on the clashes Monday at Ramsis and Giza squares that they are calling for officials to be held accountable for the 'massacres' that have taken place at the Republican Guard House and for the National Council for Human Rights to fulfill its duty to report these crimes.
Full report at:
http://www.egyptindependent.com/news/disbanded-shura-council-members-warn-return-mubarak-regime
------------
New cabinet takes oath as violence returns to Egypt
Jul 17, 2013
CAIRO: After a week of relative calm in Egypt, supporters of the Muslim Brotherhood clashed with opponents and security forces on Tuesday, leaving seven people dead and 261 injured, even as the country's first government since the military ousted Mohamed Morsi as president was sworn in.
The army-appointed interim president, Adly Mansour, administered the oath of office to the 34-member cabinet, including caretaker PM Hazem al-Beblawi. Army chief Abdel Fattah al-Sisi, the general who orchestrated Morsi's removal, was appointed first deputy PM and minister of defence. The move signals further increase in the military's influence over political decisions.
Full report at:
http://timesofindia.indiatimes.com/world/middle-east/New-cabinet-takes-oath-as-violence-returns-to-Egypt/articleshow/21114610.cms
------------
Iraqi Politicians Push For More Power to Provinces
By: Mushreq Abbas
Jul 17, 2013
The Iraqi parliament's passage on June 23 of the Provincial Powers Law, which bolsters decentralization and gives local governments added authority, encouraged politicians to demand that the Federation Council Law be revived in a bid to further strengthen decentralization.
The 2005 Iraqi constitution states in Article 65 that "a legislative council shall be established named the 'Federation Council' to include representatives from the regions and the governorates that are not organized in a region. A law, enacted by a two-thirds majority of the members of the Council of Representatives, shall regulate the Federation Council formation, its membership conditions, its competencies and all that is connected with it." The council has not yet seen the light of day, despite the parliament submitting a draft law to organize it in 2009.
Full report at:
http://www.al-monitor.com/pulse/originals/2013/07/iraq-calls-for-new-federation-council.html#ixzz2ZI6shmiK
------------
Pro-Assad Syrian official killed in Lebanon
July 17, 2013
A senior Syrian official, Mohammed Darrar Jamo, has been shot dead in the southern Lebanese town of Sarafand.
Mr Jamo, a supporter of Syrian President Bashar al-Assad, was attacked early on Wednesday morning as he entered his house.
Lebanese sources say gunmen opened fire on him but left his wife, who was with him at the time, unharmed.
The attack is being seen as the latest sign of how the conflict in Syria is threatening to destabilise Lebanon.
The Syrian state news agency, Sana, said Mohammed Darrar Jamo was head of the political and international relations division of the International Organisation for Arab Immigrants.
Full report at:
http://www.bbc.co.uk/news/world-middle-east-23341085
---------
Saudi Arabia regularises status of 40 lakh expatriate workers
Jul 17 2013
Saudi Arabia has completed regularisation of nearly four million foreign workers in the last four months as part of its 'Nitaqat' programme, with 1.18 million expats choosing to change their profession.
"As many as 1.12 million expats corrected their professions until July 6. We have also issued and renewed more than 1.6 million work permits during the period," Abdullah Abuthnain, Deputy Minister for Inspections and Developing Work Atmosphere, was quoted by the local media as saying.
Saudi Arabia has recently extended an amnesty for illegal foreign workers in the country by four months, bringing relief for thousands of immigrant workers, including Indians, who are yet to regularise their documents.
Full report at:
http://www.thehindu.com/news/international/world/saudi-arabia-regularises-status-of-40-lakh-expatriate-workers/article4923886.ece
---------
Car bomb kills women and children in Syria's south
17 July 2013
A number of people, including women and children, were killed in Damascus' southern town of Kanaker on Wednesday, Syrian state television reported.
The vehicle was parked near the Amari mosque, said the report.
The Britain-based Syrian Observatory for Human Rights quoted activists as saying that seven people were killed in the blast.
Full report at:
http://english.alarabiya.net/en/News/middle-east/2013/07/17/Car-bomb-kills-women-and-children-in-Syria-s-south.html
----------
Prosecution requests summoning of Morsy, Brotherhood leaders in prison break case
Jul 17, 2013
Judicial sources have said that the Supreme State Security Prosecution on Tuesday examined complaints accusing ousted President Mohamed Morsy and 34 Muslim Brotherhood leaders of escaping from the Wadi al-Natroun prison during the 25 January revolution, and of spying for foreign elements.
The sources added that prosecutors prepared a 41-page document with evidence against the defendants, which they handed over to Prosecutor General Hisham Barakat in a meeting that lasted five hours.
The prosecution requested the summoning of Morsy and other Brotherhood leaders for interrogation, which sources expected Barakat to respond to in the coming hours.
Edited translation from Al-Masry Al-Youm
http://www.egyptindependent.com/news/prosecution-requests-summoning-morsy-brotherhood-leaders-prison-break-case
------------
Pakistan
Taliban-defying Malala Yousafzai to be subject of documentary film
July 17, 2013
Malala Yousafzai, the Pakistani girl who was shot by the Taliban last year for demanding education for girls, will be the subject of a documentary film. Davis Guggenheim, who won an Oscar for environmental documentary "An Inconvenient Truth" in 2006, will direct the yet-to-be-titled documentary, which is slated to be released in late 2014.
Producers Walter Parkes and Laurie MacDonald said the film will follow Yousafzai as she campaigns for the right of children to education, Dawn News has reported.
According to the report, the film will be funded by Image Nation Abu Dhabi, a subsidiary of government-owned Abu Dhabi Media.
http://www.hindustantimes.com/world-news/pakistan/Taliban-defying-Malala-Yousafzai-to-be-subject-of-documentary-film/Article1-1093781.aspx
------------
Pak reaches out to India to mend bilateral ties
TNN | Jul 17, 2013
NEW DELHI: With PM Manmohan Singh and his counterpart Nawaz Sharif all set to meet in New York in end- September, Pakistan on Tuesday said all wings of its government have "clear policy directives'' to work for improving ties with India.
Pakistani High Commissioner Salman Bashir said "sky is the limit'' over economic cooperation between the two countries as he insisted that trade with India continues to be a priority for Islamabad.
Full report at:
http://timesofindia.indiatimes.com/india/Pak-reaches-out-to-India-to-mend-bilateral-ties/articleshow/21112921.cms
------------
Three Lashkar-i-Jhangvi men released for 8 police officials
July 17, 2013
LAHORE: The police on Tuesday released three Lashkar-i-Jhangvi (LJ) men in exchange for the release of eight policemen held hostage by Chotu Mazari, The Express Tribune has learnt.
Sources said MPA Atif Mazari had struck the deal with Mazari's aide Patt Umrani and secured the exchange.
On Monday, Chotu's gang had released three civilian abductees on receipt of Rs2 million ransom.
The police hostages were released in the early hours of Tuesday morning at an agreed location.
Later, the police presented the released men in a press briefing.
Besides releasing three of Chotu's men, known to be members of LJ, the police also agreed to remove pickets from some river Indus islands and all but handed over the entire Kacha area to the bandits.
Full report at:
http://tribune.com.pk/story/577850/hostage-swap-three-lashkar-i-jhangvi-men-released-for-8-police-officials/
------------
'No rift between Baloch and Katchi communities'
Jul 17, 2013
KARACHI: Dispelling the impression that two communities are fighting with each other in Lyari, the committee comprised of representatives from Pakistan People's Party (PPP) and Sindh government has claimed that a 'third force' is conspiring infighting between Baloch and Katchi communities in Lyari.
President Asif Ali Zardari had constituted the committee after an increase in protests by people belonging to the Katchi community. This was in opposition to what they complained atrocities being committed against them by persons belonging to People's Aman Committee (PAC).
Full report at:
http://www.dailytimes.com.pk/default.asp?page=2013\07\17\story_17-7-2013_pg12_9
--------
Islamabad police arrests 39 suspects in search operation
Jul 17, 2013
ISLAMABAD: Islamabad police arrested 39 suspects during a search operation in different areas of the city and also recovered weapons and drugs from their possession, DawnNews reported on Wednesday.
According to police, three pistols and three kilograms of drug were recovered adding that the suspects are being investigated.
Islamabad is the capital of Pakistan and a number of search operations have been carried out in the city in the recent past.
The city houses the Presidency and the Supreme Court and authorities in the past have also claimed to have foiled attacks on the Parliament which lies adjacent to Aiwan-i-Sadr.
Islamabad has also witnessed terrorist attacks in the past, among which the bombing targeting the Marriott Hotel was the most well-known.
http://dawn.com/news/1029700/islamabad-police-arrests-39-suspects-in-search-operation
------------
Five including two security personnel killed in Balochistan
SYED ALI SHAH
Jul 17, 2013
QUETTA: At least five people, including two policemen, were killed in two separate operations against dacoits in Killa Abdullah and Naseerabad districts of Balochistan on Wednesday.
Alam Faraz, the Assistant Commissioner of Killa Abdullah, told Dawn.com that Levies personnel conducted a search operation against kidnappers and dacoits in the Segai area of Gulistan.
He said one 'criminal' was killed and three were arrested in an injured condition during the operation that lasted for more than two hours.
Full report at:
http://dawn.com/news/1029701/five-including-two-security-personnel-killed-in-balochistan
------------
Taliban say still focussed on Pakistan
Jul 17, 2013
PESHAWAR: Pakistani Taliban commanders on Tuesday rejected suggestions they were sending fighters to Syria, saying some have gone there independently but the movement's focus remained on Pakistan.
They said some militants, mainly Arabs and Central Asians, had gone to fight the forces of President Bashar al-Assad, but a senior Taliban leader dismissed reports of them setting up camps in Syria.
The tribal areas of northwest Pakistan along the Afghan border have long been a magnet for militants from across the Muslim world eager to fight US-led Nato forces in Afghanistan.
But since the uprising against Assad began in March 2011, foreign militants have flocked to Syria, where disparate groups are seeking his downfall.
Full report at:
http://dawn.com/news/1029640/taliban-say-still-focussed-on-pakistan
------------
Lyari unrest: Sattar urges govt to unmask 'third force' if any
Jul 17, 2013
KARACHI: It was government's responsibility to unmask the 'third force' as it said it was involved in disrupting peace in Karachi's troubled Lyari neighbourhood, MQM leader Dr Farooq Sattar said on Tuesday.
"We do not want to take the city towards a civil war. However, the public reserve the right of self defence in case justice is not served," said the Muttahida Qaumi Movement leader while speaking at an Iftar dinner hosted by the party for the displaced Katchi community of Lyari.
Full report at:
http://dawn.com/news/1029498/lyari-unrest-sattar-urges-govt-to-unmask-third-force-if-any
------------
Situation in Balochistan worsening: Chief justice
July 17, 2013
ISLAMABAD: Despite a new government in place, the situation in Balochistan has turned worse, Chief Justice Iftikhar Muhammad Chaudhry said on Wednesday.
The chief justice made this comment while hearing the Balochistan law and order case.
Then apex court bench observed that the former government failed to protect the people of the province and everyone hoped the new government will change things for better, however, the situation has not improved.
Full report at:
http://tribune.com.pk/story/578108/situation-in-balochistan-worsening-chief-justice/
------------
India
'Red Cards' Irk Bareilly Muslims
Jul 17 2013
Lucknow: Red warning cards being handed over to Muslims by the police have irked the community in Bareilly. Terming it as a vindictive step, more than 100 such cards were recently returned to the SP (City) by Ataur Rehman, the SP MLA from Bahedi seat in Bareilly.
Nearly 1,300 'red warning cards' have reportedly been issued in Bareilly by name — a majority of them Muslims — mentioning that the person has been identified as a suspect for breach of peace during the month of Sawan and Ramzan. He is, therefore, being warned that any attempt by him or motivating others directly or indirectly for violating the law and disturbing peace of the city will result in strong legal action, the card further adds.
Bareilly is considered a communally sensitive district. It witnessed communal clashes between the pilgrims of Kanwar Yatra and Muslims last year with curfew being imposed in the city for several days.
"The police is spreading terror among innocent people. Red warning cards are being issued even to those who are not living in Bareilly. It is a pick-and-choose policy. I have taken up the issue with the police and will approach the higher authorities," Rehman said. Rehman added that preventive measures cannot be for Muslims alone. "We are not saying that those responsible for creating trouble in the past should not be warned. But hundreds of innocent people, who are not even remotely connected with the riots, have been issued red cards, it will not be tolerated," he said.
Sensing a resentment among the Muslims, District Magistrate Abhishek Prakash has asked the ADM (City) to verify the cards. "Every red warning card will be reviewed and if they have been issued to any innocent person, it will be taken back," the DM said.
SP (City) Triveni Singh, however, said the cards have been handing only to those who have a history of involvement in violence, have a criminal record, were in jail for violating peace and had deposited personal bonds and are listed as anti-social elements.
http://www.indianexpress.com/news/-red-cards--irk-bareilly-muslims/1142778/
--------
Pakistan pitches for security cooperation with India
Jul 17, 2013
NEW DELHI: Pakistan on Tuesday pitched for security cooperation with India and said doubting its ability to fight terror in the wake of the recent revelations by the Abbottabad Commission exposing lacunae in its security establishment will not solve anything.
Pakistan's high commissioner to India Salman Bashir, who was addressing a gathering at the PHD Chambers, said the dates for talks on various bilateral issues were being worked out with Islamabad looking at "quick movement" across the board.
Full report at:
http://timesofindia.indiatimes.com/india/Pakistan-pitches-for-security-cooperation-with-India/articleshow/21106715.cms
------------
Kashmir: Hizbul Mujahideen militant and 4 policemen killed in a grenade attack
Jul 17 2013
A Hizbul Mujahideen militant was killed and four policemen escorting him to Baramulla district jail were injured in a grenade attack by ultras in Srinagar on Wednesday.
A civilian pedestrian was also injured in the attack on the vehicle carrying the militant, Shakeel Ahmad Kasana, who was an undertrial, in the crowded Batamaloo bus stand in central Srinagar around noon, a police spokesman said.
Full report at:
http://www.thehindu.com/news/national/militant-killed-4-injured-in-kashmir-grenade-attack/article4923948.ece
--------
Shinde refuses to disclose Headley's statement on Ishrat, cites pact with US
Jul 17, 2013
NEW DELHI: Amid the raging controversy over the 'status' of the Mumbai girl Ishrat Jahan, who was killed along with three others in an alleged fake encounter by the Gujarat Police in 2004, the government on Tuesday said it cannot disclose any information given by the 26/11 Mumbai terror attack convict David Coleman Headley due to an agreement with the US.
"Whatever Headley had said, it had been told to the FBI. We have an agreement between FBI and NIA. So, we cannot disclose it," said Union home minister Sushilkumar Shinde.
Asked whether the NIA has given any report to his ministry saying Headley in his confessional statement did not take the name of Ishrat, Shinde said, "I have not received any such report".
Though Headley, quoting Lashkar-e-Taiba commander Zaki-ur-Rehman-Lakhvi, told FBI and NIA that Ishrat was part of the LeT module of another Lashkar commander Muzzammil, the Indian agency in its final report deleted those two relevant paragraphs having reference to the Mumbai girl.
Full report at:
http://timesofindia.indiatimes.com/india/Shinde-refuses-to-disclose-Headleys-statement-on-Ishrat-cites-pact-with-US/articleshow/21109039.cms
------------
Urdu mandatory for AMU UG courses
Jul 17 2013
Lucknow : Undergraduate students of Aligarh Muslim University (AMU) will now have to clear a compulsory Urdu paper to be eligible for the award of their graduation degrees. The marks of the Urdu paper will be added in the aggregate.
The change will be effective from the academic session of 2013-14. The compulsory Urdu course for undergraduate students will be for faculties of science, life science, arts, social sciences and commerce that run BA, BSc and BCom courses.
AMU's registrar Shahrukh Shamshad said the decision has been approved by AMU Vice-Chancellor Lt Gen (retd) Zameeruddin Shah. "We realised Urdu needed a boost and its presence should be felt as ours is a Muslim university. We are getting good response from the students," Shamshad said.
Full report at:
http://www.indianexpress.com/news/urdu-mandatory-for-amu-ug-courses/1142783/
--------
Mideast
Bahrain's Amal Islamic Society Dismisses Compromise with al-Khalifa Regime
Jul 17, 2013
TEHRAN (FNA)- A senior member of Bahrain's Amal Islamic Society rejected compromise with the Manama regime, saying that the Al-Khalifa is a criminal regime that has decayed morally.
"There is no way but resistance against the crimes and offenses of the al-Khalifa regime," Seyed Ja'far Alawi told FNA on Tuesday.
Stressing that popular resistance in Bahrain is the real jihad and the soul of revolution, he said, "The Al-Khalifa regime is a criminal which has decayed morally and treating this regime with a peaceful behavior will produce no result."
In relevant remarks on Monday, a senior member of Bahrain's al-Wefaq National Islamic Society blasted the al-Khalifa regime for violating the basic rights of the Bahraini people, and said the opposition forces and activists plan to intensify their protests.
"We rise and protest against any cruel system which has deprived its nation of its rights, while we still emphasize reforms, materialization of the country's high interests and maintenance of national solidarity and integrity," Javad Firouz told FNA.
Full report at:
http://english.farsnews.com/newstext.aspx?nn=13920425000429
------------
Qaeda Yemen branch says number 2 killed in US drone strike
17 July 2013
Al-Qaeda in the Arabian Peninsula (AQAP) has confirmed the death in a US drone strike of its deputy leader Saeed al-Shehri, whose killing has been announced a number of times by Yemeni authorities.
"Sheikh Saeed al-Shehri, aka Abu Sufyan al-Azdi, was killed in a US drone strike," said a leader in Al-Qaeda in the Arabian Peninsula, Ibrahim al-Rubaish in a video posted on Islamist websites Wednesday.
Rubaish gave no indication of when Shehri was killed.
Shehri had been hounded by Yemen's security forces and had survived a number of attempts on his life.
His death has been announced several times by the Yemeni authorities, most recently on January 24.
Full report at:
http://english.ahram.org.eg/NewsContent/2/8/76668/World/Region/Qaeda-Yemen-branch-says-number--killed-in-US-drone.aspx
---------
Turkey fourth biggest donor country of humanitarian assistance
July 17, 2013
Turkey was the fourth-largest donor of humanitarian assistance last year, according to an annual report by Global Humanitarian Assistance.
The report says that Turkey contributed more than $1bn (£665m) - 0.13% of its national income.
"It is likely" that much of this went to the surrounding region, especially due to the escalating Syrian crisis, the report says.
The United States remained the largest donor by volume, providing $3.8bn.
This amounts to 29% of all the humanitarian assistance provided by governments.
Sweden and Luxembourg were the most generous donor countries, giving the most aid in proportion to their gross national income.
Full report at:
http://www.bbc.co.uk/news/world-europe-23341189
--------
Shiite Seminaries Strive To Avoid Sectarian Conflict
Jul 17, 2013
Shiite seminaries, in particular the original centers in Najaf and Qom, play a dual role within the arena of the Sunni-Shiite sectarian conflict in the Middle East. While the religious establishment tries to preserve Shiite group identity, which differs from that of the Sunni majority, it is also earnestly abstaining from classifying itself as being outside the united Islam structure. One can classify the role of activist groups associated with the Qom and Najaf seminaries based on their commitment to and emphasis on the unique identity of the Shiites as well as their shared Islamic identity with the Sunnis.
Full report at:
http://www.al-monitor.com/pulse/originals/2013/07/role-shiite-seminaries-najaf-qom.html#ixzz2ZI6fa4zy
------------
Rare copies of Holy Quran registered on Iran's National Memory List
Jul 17, 2013
TEHRAN -- Thirty rare manuscript copies of the Holy Quran were registered on Iran's National Memory List during a ceremony at Tehran's Niavaran Historical Cultural Complex on Monday.
The books, which are kept at the Museum the Holy Quran in Tehran, have been scripted and illuminated by Iranian artists over the few past centuries.
Full report at:
http://www.tehrantimes.com/arts-and-culture/109337-rare-copies-of-holy-quran-registered-on-irans-national-memory-list
------------
Israel says has allowed Egypt to boost forces in Sinai
Jul 17, 2013
Israel has allowed Egypt to boost its forces in the Sinai peninsula after Cairo requested additional troops to fight Islamist militants in the lawless region, Israel's defense minister said on Tuesday.
Sinai is largely demilitarized, in accordance with a 1979 Egyptian-Israeli peace deal, but Egypt has been battling militants there who have stepped up attacks on security checkpoints since the army ousted Islamist President Mohamed Morsy two weeks ago.
Full report at:
http://www.egyptindependent.com/news/israel-says-has-allowed-egypt-boost-forces-sinai
------------
Mock condolences in Iran for Ahmadinejad's political 'death'
Associated Press
Jul 17, 2013
TEHRAN // Mock condolences arriving by text message in Iran announce the political "death" of Mahmoud Ahmadinejad. Memorial services, the joke continued, were planned at the United Nations in tribute to his swaggering style each year in New York.
The satire may bring smirks from the many foes Mr Ahmadinejad racked up over eight years in office, stemming from several high-profile feuds with the ruling imams and one disputed re-election. But no one is truly counting him out of Iran's political future.
One way or another, the combative and polarising aura of the soon-to-be former president is not going to dissipate once his centrist successor, Hassan Rouhani, is sworn in on August 4.
Mr Ahmadinejad has remained evasive on his post-presidential plans. A trip to Iraq tomorrow, one of his last major moments in the spotlight as president, will be watched for clues on his next move.
Full report at:
http://www.thenational.ae/news/world/middle-east/mock-condolences-in-iran-for-ahmadinejads-political-death#ixzz2ZIV6Jivc
------------
Abbas to brief PLO on Kerry peace talks push
17 July 2013
Palestinian President Mahmoud Abbas will tell the PLO leadership about the US push to resume Israeli-Palestinian peace talks on Thursday in order to decide whether to take part, a Palestinian official said.
The official spoke a day after Abbas and US Secretary of State John Kerry discussed the issue for five hours in Amman over an iftar dinner, the evening meal with which Muslims break their daily fast during the month of Ramadan.
A positive Palestinian decision, if one were to emerge on Thursday or soon thereafter, would be the first tangible sign of progress in Kerry's nearly six-month drive to revive peace talks that broke down in 2010 in a dispute over Israeli settlement building in the occupied West Bank and East Jerusalem.
Full report at:
http://english.ahram.org.eg/NewsContent/2/8/76699/World/Region/Abbas-to-brief-PLO-on-Kerry-peace-talks-push.aspx
---------
Kerry 'determined' to announce resumed talks: Palestinians
17 July 2013
US Secretary of State John Kerry is "determined" to announce resumed Middle East peace talks before he leaves the region at the end of the week, a Palestinian official said Wednesday.
"There has been progress in meetings with Kerry after he presented his initiative to Palestinian president Mahmud Abbas in a meeting in Amman," the high-ranking official told AFP, requesting anonymity.
"The US secretary of state is determined to announce, before he leaves on Friday, a restart of negotiations," he added.
Kerry was on his sixth visit to the region since becoming the US top diplomat, and met Abbas after dinner on Tuesday to discuss unblocking the peace process, which saw talks grind to a halt in September 2010.
Full report at:
http://english.ahram.org.eg/NewsContent/2/8/76680/World/Region/Kerry-determined-to-announce-resumed-talks-Palesti.aspx
---------
North America
No discussion with Pakistan on civilian N-tech: US
Jul 17, 2013
WASHINGTON: There has been "no discussion of civilian nuclear technology" between the United States and Pakistan, the US State Department said on Tuesday.
Earlier in the day, Finance Minister Ishaq Dar said at a briefing in Islamabad that Pakistan and the US had agreed in principle to continue dialogue on cooperation in civil nuclear technology. The minister, however, also said that no timeline could be given for any agreement on the issue.
The finance minister made these remarks after a meeting with the US Overseas Private Investment Corporation president Elizabeth Littlefield.
At the State Department, spokesman Patrick Ventrell told a briefing that the United States was aware of Pakistan's energy needs and wanted to help Islamabad overcome the energy crisis but there had been "no discussion of civilian nuclear technology".
Full report at:
http://dawn.com/news/1029643/no-discussion-with-pakistan-on-civilian-n-tech-us
------------
Snowden should return to US to face trial: White House
July 17, 2013
The White House day said there was ample legal justification for former CIA contractor Edward Snowden to stand trial and asked Russia to return him to US.
Snowden, who has been stranded at the Moscow airport for three weeks now after his passport was withdrawn by the US, on Tueday applied for asylum in Russia.
"Our position on this remains what it was and is quite clear, which is that we believe there is ample legal justification for the return of Mr Snowden to the United States, where he has been charged with serious felonies," White House press secretary Jay Carney told reporters.
"It should be clear, when we see the suppositions or discussions about the idea that Mr Snowden is somehow being persecuted, he is a United States citizen who has been charged with crimes, and under our system of law, he should be afforded every bit of due process here in the United States, and he should return here to face trial," he said.
Full report at:
http://www.hindustantimes.com/world-news/northamerica/Snowden-should-return-to-US-to-face-trial-White-House/Article1-1093668.aspx
-----------
Kerry to meet Arab League officials on Israeli-Palestinian peace
Reuters | Jul 17, 2013
AMMAN: US secretary of state John Kerry is due to meet on Wednesday with officials from Arab nations that he regards as essential to his push to get Israelis and Palestinians to resume peace talks.
On his sixth peacemaking visit to the region since taking office on Feb. 1, Kerry dined with Palestinian President Mahmoud Abbas on Tuesday night in the Jordanian capital and also met separately with Jordanian Foreign Minister Nasser Judeh.
Kerry hopes to revive negotiations that broke down in 2010 in a dispute over Israeli settlement building in the occupied West Bank and East Jerusalem, which the Palestinians want for an independent state.
Full report at:
http://timesofindia.indiatimes.com/world/middle-east/Kerry-to-meet-Arab-League-officials-on-Israeli-Palestinian-peace/articleshow/21113720.cms
------------
Pittsburgh Islamic Center's Humanity Day focuses on justice
By Marina Bolotnikova / Pittsburgh Post-Gazett
Themes of justice, compassion and generosity resounded at the Islamic Center of Pittsburgh on Sunday night, the seventh night of the holy Islamic month of Ramadan.
ICP, the largest mosque in Pittsburgh, drew 400 attendees Sunday from inside and outside the Muslim community for Humanity Day, an event that celebrates Pittsburgh's diversity and showcases the work of individuals who have contributed notably to the city. Awards were presented to people "who have demonstrated an extraordinary amount of compassion, concern or understanding in building bridges between Pittsburghers and the Muslim community," said Julie Webb, outreach coordinator at ICP.
Full report at:
http://www.post-gazette.com/stories/life/lifestyle/pittsburgh-islamic-centers-humanity-day-focuses-on-justice-695570/#ixzz2ZHT4rqH0
------------
US writer warns of threat from Al Islah
Ola Salem
Jul 17, 2013
ABU DHABI //International media and human-rights groups have failed to understand the threat posed by radical Islamic group Al Islah, a US journalist has said.
In an article published on Monday in The Atlantic magazine, Joseph Braude presented research on the work of Al Islah members, linked to the Muslim Brotherhood, and weighed in on the trial of 69 Emiratis.
There has been consensus in think tanks, Braude wrote, that the UAE brotherhood was peaceful, "but scrutiny of the movement's writings, video productions and social media shows otherwise".
Full report at:
http://www.thenational.ae/news/uae-news/us-writer-warns-of-threat-from-al-islah#ixzz2ZIThheVY
------------
Africa
Algerian in 'Jihad Jane' case says Irish jail unfit for animals
By Sarah O'Connor
Jul 16, 2013
(Reuters) - An Algerian man jailed in Ireland and wanted by the United States on terrorism charges filed a damages suit against the Irish state on Tuesday, saying his prison conditions were "not even suitable for animals".
Ali Charaf Damache is wanted by the FBI for conspiracy in a foiled international plot to murder a Swedish cartoonist whose depiction of the Prophet Mohammad with the body of a dog caused outrage in Muslim countries.
Damache, arrested in Ireland in March 2010, said he was claiming compensation over conditions of his detention at Cork Prison that he said amounted to inhuman and degrading treatment.
Full report at:
http://www.reuters.com/article/2013/07/16/us-ireland-usa-trial-idUSBRE96F0UT20130716
----------
Christians in Sudan face increased hostility
Jul 17, 2013
NAIROBI, Kenya — Despite a promise by the Sudanese government to grant its minority Christian population religious freedom, church leaders there said they are beset by increased restrictions and hostility in the wake of the South Sudan's independence.
In 2011, South Sudan, a mostly Christian region, split from the predominantly Muslim and Arab north, in a process strongly supported by the international community and churches in the West.
The two regions had fought a two-decade long civil war that ended in 2005, following the signing of the Comprehensive Peace Agreement. The pact granted the South Sudanese a referendum after a six-year interim period and independence six months later. In the referendum, the people of South Sudan chose separation.
Full report at:
http://www.washingtonpost.com/national/on-faith/christians-in-sudan-face-increased-hostility/2013/07/16/7c9ad0a4-ee4b-11e2-bb32-725c8351a69e_story.html
------------
Somalia's Information Minister Uses "Extremists" Terminology
BY MAALIK_SOM, 16 JULY 2013
Somalia's information minister Abdullahi Elmoge Hersi who held a press conference today in his office addressing media reforms used terminologies mostly associated or used by Al Shabab extremists.
Al Shabab Islamist always blame a person who they disagree with as a nonbeliever or accuse the person for working for foreign interests.
During the press conference, the minister said that he was called from abroad and the caller asked him if it was true that the ministries new regulations require a journalist to have attained 40 years and above in order to qualify.
Full report at:
http://allafrica.com/stories/201307170171.html
------------
Libya to turn Gaddafi compound into amusement park
17 July 2013
Slain Libyan dictator Mouammar Gaddafi's sprawling residence in Tripoli, Bab Al-Aziziya, will be turned into an amusement park under plans announced on Tuesday by the tourism minister.
"The work to clear away the rubble from the ruins of Bab Al-Aziziya, which was a black spot in Tripoli and a source of concern for residents, has begun," the minister Ikram Basha Imam said.
"This space will be transformed into a green area and an amusement park as a place of entertainment for Libyan families," she said.
Full report at:
http://english.ahram.org.eg/NewsContent/2/8/76643/World/Region/Libya-to-turn-Gaddafi-compound-into-amusement-park.aspx
---------
South Sudan army says it and UN unable to protect civilians
17 July 2013
South Sudan's deputy defence chief has said neither his troops nor United Nations peacekeepers are able to protect civilians in conflict-wracked Jonglei, where thousands of rival ethnic militiamen are fighting.
Video footage from eastern South Sudan's Jonglei shot by UN officials and seen by AFP show columns of heavily armed fighters from the Lou Nuer people marching past, watched on by a small force of government troops and UN peacekeepers.
"Much as we believe in the ideals of the responsibility to protect, our mandate as the government and the mandate of the UN cannot match with resources that are there," South Sudan's deputy minister of defence Majak D'Agoot told AFP late Tuesday.
Full report at:
http://english.ahram.org.eg/NewsContent/2/9/76689/World/International/South-Sudan-army-says-it-and-UN-unable-to-protect-.aspx
----------
Southeast Asia
Indonesian Displaced Shia to return home by Eid ul Fitr
July 17 2013
President Susilo Bambang Yudhoyono has promised Shiites from Sampang, Madura Island, that they will be able to return to their home villages by the end of July, in time for Idul Fitri.
Representatives of the Shia community said Yudhoyono made the pledge during a meeting with five displaced Shiites who cycled to Jakarta to meet with the President to air their grievances.
"President SBY finally met with five Shiite representatives around 9 p.m. on Sunday. In the meeting, the President promised that all displaced Shiites could return to their home villages in Nangkernang and Blu'uran by the end of July," said Ahmad Hidayat, the secretary-general of Indonesian Ahlul
Full report at:
http://www.thejakartapost.com/news/2013/07/17/displaced-shia-return-home-idul-fitri.html
------------
Malay group will still send protest note to Vatican envoy on Friday
BY ELIZABETH ZACHARIAH
JULY 17, 2013
Apology or no, Jati is still adamant about sending a memorandum of protest to the Vatican envoy to Malaysia, Archbishop Joseph Marino, for supporting the local Catholic Church on the use of the word "Allah".
Jati president Datuk Dr Hasan Ali said it will carry out plans to send the protest note after this Friday's prayers, adding that the archbishop had not retracted his statement nor has he assured Muslins he will not repeat the "blunder".
"We are hoping to meet the envoy himself so that we can send him a message about the implication of his statement,' Hasan said in a statement today.
Full report at:
http://www.themalaysianinsider.com/malaysia/article/malay-group-will-still-send-protest-note-to-vatican-envoy-on-friday
------------
Act fast against Muslim offenders too, says PAS
BY YISWAREE PALANSAMY
JULY 17, 2013
PAS wants the authorities to be consistent and take action against Muslims who offend the racial and religious sentiments of non-Muslims.
Its vice-president Datuk Mahfuz Omar and Kota Raja MP Dr Siti Mariah Mahmud said today in Parliament the authorities were quick to act on complaints made by Muslims but were indifferent when it came to non-Muslims' complaints.
Dr Siti Mariah cited the case of sex bloggers Alvin Tan and Vivian Lee and their controversial Ramadhan photograph where action had been swift. It was no so when non-Muslim sentiment was involved, she said.
Full report at:
http://www.themalaysianinsider.com/malaysia/article/act-fast-against-muslim-offenders-too-says-pas
------------
National Harmony Act won't affect government power to maintain solidarity, says Najib
JULY 17, 2013
The National Harmony Act, which is being drawn up to replace the Sedition Act 1948, will not affect the power of the government in handling actions that jeopardise national solidarity and harmony, said Datuk Seri Najib Razak.
The Prime Minister said although the government wanted to guarantee freedom of speech for all Malaysians, this freedom should not be abused to endanger national solidarity and harmony.
"The insolent and impudent act by the young couple who insulted the Islamic religion (recently) demonstrated the freedom of expression, and any irresponsible opinion can bring jeopardy to the community," he said at a media conference at his office in Putrajaya today.
Full report at:
http://www.themalaysianinsider.com/malaysia/article/national-harmony-act-wont-affect-government-power-to-maintain-solidarity-sa
------------
Terrorists on loose, Malaysia boosts border security
July 17 2013
Malaysia is beefing up security on its borders as Indonesia seeks to recapture four terrorists who escaped Tanjung Gusta prison in Medan during a riot last week.
The four terrorists — Fadli Sadama, Agus Sunyoto, Nibras and Abdul Gani Siregar — are among 218 prisoners who escaped the overcrowded prison last Thursday following a protest against poor facilities and a stricter policy on remissions.
Fadli is believed to be extremely dangerous and is known for his broad networks with extremist groups in Malaysia and Thailand.
This has prompted Malaysia's Special Task Force on Operations and Counter Terrorism to alert the police and other agencies patrolling the borders about the escaped terrorists. "There is a possibility these men might slip back into the country through illegal entry points along the coast," task force director Comr. Mohamad Fuzi Harun said on Monday, as reported by The Star.
Full report at:
http://www.thejakartapost.com/news/2013/07/17/terrorists-loose-malaysia-boosts-border-security.html
------------
URL: https://www.newageislam.com/islamic-world-news/new-age-islam-news-bureau/islamic-history-will-now-be-foisted-on-all-british-kids-in-school/d/12641