New Age Islam News Bureau
8 Jul 2015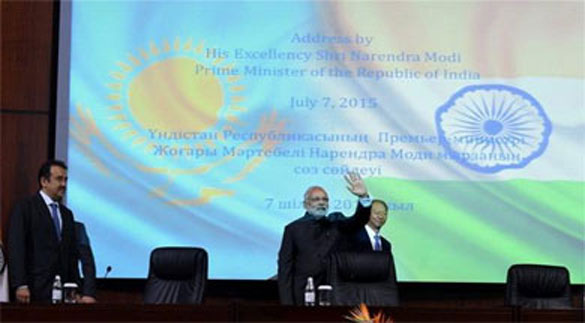 Prime Minister Narendra Modi waves during his address at Nazarbayev University in Astana, Kazakhstan on Tuesday
-----------
India
• Islamic Heritage of India, Central Asia Has Rejected Extremism: PM Modi
• RSS Mouthpiece Asks Government, Muslim Leaders to Protect Youth from Wahhabism
• Three more Indian Muslims join ISIS; operatives could be fighting in Syria
• Asaduddin Owaisi slams Maha govt, says no subject can be imposed on madrasas
• On RSS Menu in UP, More Iftar Parties, Eid Milan, Ulema' Meet For Muslims -
----------
Mideast
• SaudiLeaks 29: Docs Unveil Riyadh's Intention to Strike at Iran's National Security
• Scores of Houthi Militias Killed In Coalition Air Strikes
• 1 Killed, 5 Injured As Deadly Car Bomb Hits Shia Mosque In Yemen Capital
• Yemen Fires Katyusha Rockets at Saudi Military Positions in Najran
• Hamas alleges mass arrests, torture by Palestinian Authority
• Saudi Air Strikes Target Hospital in Yemen
• Larijani: Iran Has Proof Showing Israel's Strong Support for Terrorists in Syria
• Iran Asks US to Comply with Sanctions Removal Undertaking
• Turkey Preparing to Help Terrorists Capture Aleppo
-----------
South Asia
• Taliban, IS Extend News 'Black Holes' In Afghanistan
• Six Soldiers Martyred, 30 Militants Killed In Military Operations
• Drone Strikes Kill Four Militants in Nangarhar
• The Only Female Nominee for Supreme Court Rejected By Wolesi Jirga
• First round of Afghan govt, Taliban dialogue concludes in Murree
• US drone strikes target militants on Afghan-Pakistan border
• Bangladesh police identify 7 suspects in blogger murder
• Govt mulling spl tribunal to dispose of Khaleda's arson cases: PM
• Security forces rebuff Taliban coordinated attack in Kunar
------------
Arab World
• 800 Christians Join Shiite Forces in Iraq to Battle ISIL Terrorists
• Nusra Suicide Blast Kills 25 Soldiers in Aleppo
• Syrian Kurds retake northern villages from ISIS
• Syrian Army Intensifies Attacks on Takfiri Terrorists in Aleppo
• Zabadani Fully within Fire-Range of Syrian Army, Hezbollah
• Turkey has rounded up 15,000 Daesh cadres — diplomat
• U.S. only training 60 Syrian fighters, far below expectations
• Umm Al-Qura timings accurate: Grand mufti
• 2 Saudis carried explosives into Kuwait for blast
• Ex-World Champion Kickboxer Killed Fighting along ISIL in Syria
------------
Pakistan
• Pakistan Rules Out Possibility of Proscribing JuD
• Security Forces Kill Three Suspected Militants In Quetta
• Jaish-ul-Islam chief killed in Quetta
• Taliban kill soldier in attack on army bunker
• Nisar asks Nadra for INGOs, anti-terrorism database
• Despite challenges, Pakistani govt giving top priority to education, PM tells summit
• Altaf wants referendum to gauge support for Rangers operation
• Four suspected militants arrested in Quetta raids
• PIA to scrap lone Jumbo before Haj operation
------------
Africa
• French Special Forces Kill Top Al-Qaeda Militant in Mali
• U.S. House Approves Closer Military Ties with Jordan
• Tripoli parliament rejects Libya peace plan
• Tunisia's state of emergency must respect rights: HRW
• S Sudan rebels vow to continue fight against president
• Boko Haram hand seen in another Nigeria blast
-----------
North America
• US Muslim Groups Launch Fundraiser to Help Rebuild Burned Black Churches
• Here's Why You Shouldn't Trust the Latest Poll on American Muslims
• American Muslims Have a Race Problem—And Here's The Solution
------------
Europe
• Muslim Leader: 'ISIS-Supporting Brits May Be Disenfranchised By Tory Cuts'
• Algeria Says 102 Islamists Killed, Captured or Repented
• Franciscan Priest Feared Kidnapped By Al-Qaeda in Syria
-----------
Southeast Asia
• Malaysian Authorities Freeze Six Bank Accounts Linked To PM Graft Scandal
• The Mochtar Affair: Heroism and Sacrifice in a Time of War and Deceit
• Najib reminds Muslims to abstain from gluttony, anger this Ramadan
• Indonesia hopes new tools will boost appeal to foreign Islamic banks
• Islands in focus: Muhammadiyah sets Idul Fitri on July 17
• Indonesian Student Arrested for Sending Bomb Threat to Singapore Airlines
Compiled by New Age Islam News Bureau
URL: https://www.newageislam.com/islamic-world-news/new-age-islam-news-bureau/islamic-heritage-of-india,-central-asia-has-rejected-extremism--pm-modi/d/103819
------------
India
Islamic Heritage of India, Central Asia Has Rejected Extremism: PM Modi
All India | Written by Nidhi Razdan
July 08, 2015
ASTANA: Prime Minister Narendra Modi made a significant statement today praising India's Islamic heritage, a tone in direct contrast with many of his more extreme MPs and the Sangh Parivar. The PM used the example to highlight the fight against terror, pointing out how true Islam has "always rejected the forces of extremism."
Speaking at the Nazarbayev University in Kazakhstan, the PM said, "The confluence of Indian and Islamic civilisation took place in Central Asia. We enriched each other in spiritual thought, but also in medicine, science, mathematics and astronomy."
"The Islamic heritage of both India and Central Asia is defined by the highest ideals of Islam - knowledge, piety, compassion and welfare. This is a heritage founded on the principle of love and devotion. And, it has always rejected the forces of extremism," he added.
The comments drew praise from some of PM Modi's critics, like commentator Sudheendra Kulkarni, who tweeted, "I salute PM Modi for saying: Islamic heritage of India & Central Asia is defined by highest ideals of Islam - KNOWLEDGE, PIETY, COMPASSION. (Sic)" "Sangh Parivar shud stop believing that Indian Muslims do not matter and that Muslim countries do not matter to India.
India and Central Asia, (sic)" Mr Kulkarni said in another tweet.
The PM's speech is being seeing by many analysts as a possible sign of a more inclusive approach.
http://www.ndtv.com/india-news/islamic-heritage-of-india-central-asia-has-rejected-extremism-pm-modi-779116
-----------
RSS mouthpiece asks government, Muslim leaders to protect youth from Wahhabism
by Liz Mathew
July 8, 2015
With Wahhabi terror growing fast with extensive technology, Indian Muslim youth could fall prey to the divisive designs of Islamic terror groups, warns an article in the Organiser, mouthpiece of the RSS. It has asked the Indian Muslim leaders to focus on modern education and to develop a core economic model for the minority community to counter it. The article, which appeared in the latest issue of the weekly, cautions the government as well as Muslim leaders that ignoring the challenge would be ludicrous for India. "..it's extremely important that its policymakers should imbibe the potential factors which could lead to rise of Wahhabism in India," the article says.
It has cited the studies and research findings that Muslim population is the fastest growing religion and it will take over Christianity by 2070. "As per several estimates, Muslims will form close to 18-19 per cent of total Indian population by 2030.
"It's true to some extent that majority of Indian Muslims haven't been radicalised to a similar extent as some of their peers in other regions especially Middle East and off late Europe but one can't deny the inevitable fact that terrorism today is a global phenomenon," it says. Urging the government to bring Muslims into mainline through propagation of modern education system, in place of the overtly religious education, it says: "Issues of family planning and exposure to modern technology at large will not only improve overall economic condition of Muslims in India but would also thwart away the economic challenges which have been the main reasons of drift towards terrorist activities." While Muslim leaders are asked to think beyond the religious myopia of their disposition and aim at imbibing a core economic model for Muslim population of India, the article urges the government to ensure a "no nonsense" approach towards countering these challenges.
http://indianexpress.com/article/india/rss-mouthpiece-asks-government-muslim-leaders-to-protect-youth-from-wahhabism/
-----------
Three more Indian Muslims join ISIS, operatives could be fighting in Syria
Jul 8 2015
The number of Indian Mujahideen operatives joining the ISIS seems to be increasing by the day.While Mohammad Sajid alias Bada Sajid was killed in Syria last week, Intelligence Bureau officials say that three more IM operatives could be fighting in Syria.
As per Intelligence Bureau reports, Mirza Shahdab Baig, Mohammad Khalid and Junaid are said to have joined the ISIS in Syria.
All these men are said to have done a stint in Afghanistan two years back before moving to Syria, officials have learnt. Each one of them is on the wanted list for a series of blast cases in India.
Who are these three persons?
Mirza Shahdab Baig is wanted by the National Investigating Agency. A resident of Azamgarh, he is wanted in the Jaipur serial blasts. He was in fact one of the core members of the Indian Mujahideen.
The 1985 born Mirza Khan alias Junaid is also a resident of Azamgarh. He is wanted in the Delhi and Jaipur serial blasts case. He has been absconding since the past five years. He is said to have done a stint with the al-Qaeda in Afghanistan before switching over terror groups and joining the ISIS in Syria.
Mohammad Khalid also a wanted in the Jaipur case is a resident of Azamgarh.
He too is said to be along with Baig and Junaid. There is a reward of Rs 10 lakh announced on him and a non bailable warrant too has been issued.
The ISIS Path ::
It was very clear when IM operative Sultan Armar broke away from the Indian Mujahideen he would rope in several youth from the outfit. Armar who had the support of Yasin Bhatkal went on to float the Ansar-ut-Tawhid which did recruitments of Indian youth for the ISIS.
Sultan Armar however died in Syria two months back while fighting for the ISIS. His job and responsibilities were then taken over by his Shafi Armar. Recently the ISIS media posted a message claiming that three more Indian operatives including Bada Sajid had died in Syria.
According to the Indian Intelligence Bureau there could be around 16 youth who have joined the ISIS. The IB has launched various operations to ensure that the number of Indian youth joining the ISIS is reduced.
https://www.ibcworldnews.com/2015/07/08/three-more-indian-muslims-join-isis-operatives-could-be-fighting-in-syria/
----------
Asaduddin Owaisi slams Maha govt, says no subject can be imposed on madrasas
July 7, 2015
AIMIM chief Asaduddin Owaisi has slammed the Maharashtra government's decision on madrasas, saying that no subject can be imposed on the Muslim religious seminaries. "No subject can be imposed on madrasas," Owaisi on Monday said at an iftar party organised by party workers at Hapur Road here. He was asked about Maharashtra government's recent decision to de-recognise madrasas that do not provide formal education like teaching English, Maths and Science subjects. The Maharashtra government triggered a controversy when it decided to not recognise madrasas, which are not offering mainstream subjects, in a July 4 survey planned to assess the number of children between the ages of 6 and 14 not attending formal school.
The controversial leader said the Muslim population in the country will be equal to that of Hindus in the next 250 years, but did not elaborate further on it. He also said the RSS' claim that the "gullible" nature of Mahatma Gandhi was responsible for the partition of India, was "wrong and misleading". Describing Bharatiya Janata Party (BJP) and Samajwadi Party (SP) as two sides of the same coin, he claimed that their petty politics was responsible for the spurt in the incidents of communal violence in the country. He expressed his party's readiness to contest the 2017 Uttar Pradesh Assembly elections.
http://indianexpress.com/article/india/india-others/no-subject-can-be-imposed-on-madrasas-asaduddin-owaisi/
-----------
On RSS menu in UP, more Iftar parties, Eid milan, Ulemas' meet for Muslims -
by Lalmani Verma
July 8, 2015
After gaining praise for organising an Iftar party for Muslims in New Delhi recently, the Rashtriya Swayamsevak Sangh (RSS) is now focussing on communally sensitive Uttar Pradesh where it has planned a series of such Iftar and Eid Milan functions this month —- the first being held in Moradabad district on Tuesday.
Muslim Rashtriya Manch (MRM), a wing of the pro-Hindutva organisation, has also planned to organise an all India meet of Ulemas (Muslim scholars trained in Islamic laws) in Lucknow in August.
According to Mahirajdhwaj Singh, senior RSS Pracharak and national co-convener of MRM, an Iftar party will be organised in Lucknow next week where Muslims from nearby districts like Unnao, Kanpur, Barabanki, Sitapur and Hardoi are being invited.
"Such Iftar parties will be organised in other parts of the state, too. Offering somebody Iftar is a noble work and we are doing it to give message of harmony in the society," Singh said.
He said the Iftar will be held for general puvlic in which religious leaders and clerics would not be invited as "they may speak on political lines before media". However, in Eid Milan programmes, people from different religions would be invited and a special session of 30 minutes will be reserved for discussions on necessity of communal harmony and peace in society.
Eid Milan will be organised after July 18 in Lucknow, Kanpur, Gorakhpur, Allahabad, Varanasi, Mirzapur, Banda, Jhansi, Agra, Aligarh, Moradabad, Saharanpur, Muzaffarnagar, and Bareilly.
Singh clarified that that minority wing of the BJP is not associated with these events.
On August 8, the MRM is inviting nearly 1,000 Muslim clerics from across the country at All India Ulema meet that will be organised at Ravindralaya auditorium in Lucknow. The theme of the meet would be: "Dahshat, danga, nafrat aur hinsa-mukt Bharat tatha mohabbat, aman, salahiyat aur salamati yukt Bharat".
"In Quran, followers of Islam have been asked to live with love and not get involved in hatred and violence. Same has been asked in Christianity and Hindu religions, too. Every Muslim should follow his 'deen' (religion) and likewise every Hindu should follow his. People should respect other religions, too. That will be the core agenda of discussion in the meet," Singh said.
He said that speech would be prohibited on political issues and other topics such as what Muslims got from any particular government and what they expect. It will also be highlighted in the meet that more than 2,500 riots that occurred in the country have affected around 10 crore people, he added.
Singh also said that all the prominent clerics from across the country would be invited in that meet where all office bearers of MRM including its patron and senior RSS functionary Indresh Kumar will also be present. Nearly 500 Ulemas would be called from different districts of UP.
http://indianexpress.com/article/cities/lucknow/on-rss-menu-in-up-more-iftar-parties-eid-milan-ulemas-meet-for-muslims/
-----------
Mideast
Saudileaks 29: Docs Unveil Riyadh's Intention to Strike at Iran's National Security
Jul 07, 2015
The Saudi Foreign Ministry was hacked by the Yemen Cyber Army in May, and a copy of its information was sent to FNA and another one to the whistleblower website WikiLeaks.
In the letter, Faisal mentions an article in a Persian-language daily, Keyhan, that has covered the Saudi rulers' cruelty against its population and the existence of several torture and interrogation centers in Saudi Arabia.
Then the former minister proposes different means and methods to stir unrest in Iran with the help of opposition forces, social media, newspapers, magazines and websites.
The former Saudi foreign minister says he has received a letter from the Saudi embassy in Tehran that has offered 7 ways to foment unrest in Iran and damage the country's national security.
The 7 ways are as follows:
1. Launching propaganda campaign on events happening in Iran,
2. Shifting media focus on Iran's role in Arab states,
3. Establishing TV channels, in addition to the present Saudi media outlets, and inviting experts for negative campaign against Iran,
4. Setting up Persian-language analysis and news networks,
5. Using Salafi TV and Radio networks and sending religious missionaries to Iran,
6. Preparing and briefing Saudi pilgrims on how to influence Iranians,
7. Receiving aid from Iranian dissidents to gain intelligence from inside Iran and using them to fight against Iran's political system and movements in the region.
At the end of the letter, Faisal writes that proposal number five is not possible at present, given Iran's high intelligence superiority over its internal affairs.
He also says that with regard to proposal number 6, care should be taken in order not to inspire anyone with the idea that the Hajj rituals are turning political.
And on using Iranian dissidents, he says, the Saudi spy agency should decide.
Late in May, the Yemen Cyber Army released a portion of the information and documents that it had gained in its recent cyber attack on Saudi Arabia's Foreign, Interior and Defense Ministries.
The Yemen Cyber Army announced that it has hacked the website, servers and archives of Saudi Arabia's Foreign, Interior and Defense ministries and would release thousands of these top secret documents.
The group claimed that it "has gained access to the Saudi Ministry of Foreign Affairs (MOFA) network and have full control over more than 3000 computers and servers, and thousands of users. We also have access to the emails, personal and secret information of hundreds of thousands of their staff and diplomats in different missions around the world".
The hackers' statement, which said the cyber army has also attacked the Saudi Interior and Defense ministries and vowed to release their details later, was carried by several globally known hackers websites.
Following the hack in May, the Yemen Cyber Army sent a copy of its information to FNA and another one to the whistleblower website WikiLeaks.
"WikiLeaks released over 60,000 documents on Friday and vowed to release the rest in coming weeks, but we plan to release the documents in separate news items since many of them contain the names of foreign nationals who have demanded visit to Saudi Arabia, for example for Hajj pilgrimage, and their names have been mentioned among the Saudi agents. Thus releasing the list of names and documents might hurt innocent individuals who have done nothing, but applied for visa at a Saudi embassy for doing Hajj pilgrimage," FNA English Editor-in-Chief Seyed Mostafa Khoshcheshm said.
"The number of the documents is way beyond the 500,000 that has been announced by WikiLeaks, but they need to be checked first to make sure that they do not contain misleading information and are not harmful to innocent people," he adde.
http://english.farsnews.com/newstext.aspx?nn=13940416000422
-----------
Scores of Houthi militias killed in coalition air strikes
July 08, 2015
More than 120 Iranian-backed Houthi militias and loyalists to former President Ali Abdullah Saleh were killed during an air strike by the Saudi-led coalition on Yemen's central governorate of Amran, Al Arabiya News Channel reported Tuesday.
The Saudi-led coalition also targeted Houthi gatherings in the western Hodeidah province, as well as the southern city of Aden and the central city of Ibb.
It also hit a Houthi military convoy on its way to the southwestern city of Taiz, according to the channel.
Full report at:
https://english.alarabiya.net/en/News/middle-east/2015/07/07/Scores-of-Houthi-militias-killed-in-coalition-air-strikes.html
-----------
1 killed, 5 injured as deadly car bomb hits Shia mosque in Yemen capital
July 08, 2015
SANAA: A car bomb exploded outside a mosque in the Yemeni capital of Sanaa on Tuesday, killing at least one person and wounding five, in a fresh attack on Houthi rebels claimed by the Islamic State group.
Meanwhile, a Saudi-led coalition bombarded cities and towns in southern Yemen, as the targeted rebels accused it of killing 124 people on Monday in one of the deadliest days of its air war.
Tuesday's bloodshed came two days after UN envoy Ismail Ould Cheikh Ahmed arrived in Sanaa bidding to secure a humanitarian truce in a conflict estimated to have killed 3,000 people, mostly civilians.
The car bomb, at the Al-Raoudh mosque in southeast Sanaa, went off as worshippers were leaving after evening prayers, witnesses and a security official said.
A medical source said at least one person was killed and five more wounded.
In a brief statement posted on jihadist websites, Islamic State said it had "taken revenge" against the Houthi rebels who have seized swathes of the country.
Elsewhere on Tuesday evening, four rebels were killed and 10 wounded in a suicide car bombing that targeted a police station in rebel-held Baida, in central Yemen, a security official and witnesses said.
Baida is a stronghold of Al Qaeda in the Arabian Peninsula (AQAP), also very active in southern and southeastern Yemen.
The capital of Yemen has been under the control of the rebels since September.
They have since expanded their grip to other parts of Yemen, forcing President Abd Rabbu Mansour Hadi and his government to flee to Saudi Arabia.
'One of the most deadliest days'
Tuesday's bombings came three weeks after a similar attack on a mosque in Sanaa frequented by Shias.
Full report at:
http://www.dawn.com/news/1193138/1-killed-5-injured-as-deadly-car-bomb-hits-shia-mosque-in-yemen-capital
-----------
Yemen Fires Katyusha Rockets at Saudi Military Positions in Najran
Jul 07, 2015
According to al-Mayadeen, the statement said that the attacks were launched in response to Saudi Arabia's continued airstrikes against different Yemeni cities.
There are yet no reports on the number of casualties and damage to the Saudis in the attack.
At least one Saudi soldier was killed and several others sustained serious injuries after Yemeni troops launched retaliatory attacks against the kingdom's military bases in areas of Asir, Najran and Jizan on Sunday.
According to reports, Yemen's artillery bombed several Saudi military bases in the regions of Asir, Najran and Jizan early on Sunday in retaliation for the monarchy's ongoing airstrikes against the impoverished country.
The reports added that one Saudi soldier lost his life after the attacks pounded a military base in Dhahran Aljanoub, South of Asir region.
A Saudi tank was also destroyed early on Sunday in the attack against the al-Makhrogh base in Najran.
Full report at:
http://english.farsnews.com/newstext.aspx?nn=13940416000488
-----------
Hamas alleges mass arrests, torture by Palestinian Authority
7 July 2015
Hamas alleged Tuesday that more than 200 of its members had been arrested by the Palestinian Authority recently, with most of them tortured, threatening to widen a rift between Palestinian factions.
This was the latest sign of failed reconciliation efforts between Hamas, the Islamist movement that rules the Gaza Strip, and the Palestinian Authority, which runs the West Bank, despite a unity deal signed last year.
"Hamas members in the occupied West Bank are being submitted to their worst campaign of arrests -- their biggest and longest," Hamas official Abdurahman Shadid told journalists.
He said more than 200 had been arrested since July 2 in the Israeli occupied West Bank and "most have been severely tortured."
The Palestinian Authority had not immediately responded to the claims, though one of its officials said last week about 100 Hamas members had been arrested.
On Friday, a Palestinian Authority official told AFP that about 100 Hamas members had been arrested over alleged plans to attack the PA.
Hamas spokesman Sami Abu Zuhri called the allegations "cover for political arrests."
Palestinian president Mahmoud Abbas was "entirely responsible for these maniacal arrests and the Hamas eradication project to the benefit of the occupier (Israel)," said Shadid.
He spoke of "limits to the people's patience."
A Palestinian unity agreement signed in April 2014 sought to end years of bad blood between Fatah, Abbas's party, and Hamas.
Full report at:
https://english.alarabiya.net/en/News/middle-east/2015/07/07/Hamas-alleges-mass-arrests-torture-by-Palestinian-Authority.html
-----------
Saudi Air Strikes Target Hospital in Yemen
Jul 07, 2015
A number of people were killed and injured in the attack, according to the al-Masirah news channel.
Meanwhile, Saudi airstrikes also targeted the al-Deylami air base in the capital, Sana'a, with witnesses reporting huge explosions following the attacks.
In a separate airstrike in the day, a Yemeni military base and a government building were bombed in Ibb province. There was no report of casualties.
Saudi Arabia has been striking Yemen for 104 days now to restore power to fugitive president Mansour Hadi, a close ally of Riyadh.
Full report at:
http://english.farsnews.com/newstext.aspx?nn=13940416001223
-----------
Larijani: Iran Has Proof Showing Israel's Strong Support for Terrorists in Syria
Jul 07, 2015
"We have received reliable information from Syria that proves Israel is interacting with the terrorist groups," Larijani said, addressing a meeting on 'Freedom of Holy Quds' in Tehran on Tuesday.
The Iranian parliament speaker, meantime, welcomed the upcoming conference on the Palestinian issue, as the most important issue of the Muslim world.
He pointed to the Israeli atrocities against the Palestinians, and said, "The Zionist regime has been defeated in the past three decades and that's why the big powers continue their support for the regime."
In relevant remarks last month, Secretary of Iran's Supreme National Security Council (SNSC) Ali Shamkhani said that western states' policy of fomenting crises in different regional states to guarantee Israel's security is wrong.
"The western states are stirring crisis to provide the security of the Zionist regime, and they are definitely making an irreparable miscalculation," Shamkhani said in a meeting with Syrian Parliament Speaker Mohammad Jihad al-Laham in Tehran in early June.
"The recent experiences have shown that terrorism is a double-edged sword that will cleave its supporters' chests too," he added.
Full report at:
http://english.farsnews.com/newstext.aspx?nn=13940416001426
-----------
Iran Asks US to Comply with Sanctions Removal Undertaking
Jul 08, 2015
Speaking after days of marathon talks with negotiators from the six world powers, Araqchi said the US intends to strike a deal with Iran without giving up its sanctions policy despite earlier agreements between Tehran and the Group 5+1 (the US, France, Britain, Russia and China plus Germany) in Geneva and Lausanne that both envisaged removal of all sanctions under a final deal.
"We are now at a highly sensitive stage and we are trying to narrow down the gap and reach an agreement if possible," he said.
Araqchi, who is Iran's deputy foreign minister, said his country "wants all sanctions removed. The US cannot keep the sanctions structure and reach a deal with Iran".
He mentioned that the US wants to maintain a part of the sanctions even after endorsing a final agreement with Tehran, stressing that Tehran would never agree to such terms.
"The West should give up the sanctions regime completely if it is willing to strike a deal with Iran," he stressed, reiterating that the opposite party to the talks in the Austrian capital "needs to show it is ready to change its approach towards its favored-sanctions policy".
Yet, the senior negotiator said Iran and the world powers have come into terms with each other over the "removal of all financial and economic sanctions on the day that a final deal is signed".
"But there are still differences over other sanctions, including the arms embargoes against Iran."
Araqchi said the arms embargoes have been a blessing in disguise for Iran as they have encouraged the country to stand on its own and achieve extraordinary growth in its defense and weapons production industries.
"Thus," he said, "the arms embargoes themselves are not so much important to Iran, but the point is that no sanctions should be kept if there is to be a deal with Iran" as agreed by the US under the initial interim deal struck between Iran and the sextet in Geneva in November 2013 and the Lausanne statement agreed in the Swiss city in April, 2015.
The deputy chief negotiator further pointed out that there have only remained "7 to 10 issues of difference between Iran and the G5+1, and explained that "only 2 or 3 of them are fundamental and important".
"The rest are minor technical issues" which are not that much important, he continued.
"What matters is that the differences have reduced now," he said.
"The main text of the draft deal is almost complete," Araqchi said, and explained, "There are only a few more paragraphs in the main text that have been left open and need political decision-making by the ministers."
Full report at:
http://english.farsnews.com/newstext.aspx?nn=13940416001666
-----------
Turkey Preparing to Help Terrorists Capture Aleppo
Jul 07, 2015
"Threats and military movements by Turkey near the Syrian borders is aimed at rendering help to the al-Nusra Front to conquer Aleppo," the Arabic-language Lebanese newspaper Al-Akhbar reported.
The newspaper wrote that all pro-Turkey terrorist groups, specially the Al-Nusra Front and its allies, are in the same boat with Ankara to attack Aleppo as they supported attacks on Idlib and Jisr al-Shaghour.
On Tuesday, the Syrian army intensified its offensives on the Takfiri terrorist groups in the Western parts of Aleppo.
The bloody clashes between the army and Ansar al-Sharia coalition comprising 13 terrorist groups led by the Al-Nusra Front left tens of militants dead and dozens more injured.
The clashes erupted after the Al-Nusra Front a suicide bomber intended to explode a bomb-laden vehicle in Jamiat al-Zahra district of Aleppo, but the Syrian army prevented the suicide bomber from accomplishing his mission.
Full report at:
http://english.farsnews.com/newstext.aspx?nn=13940416001483
-----------
South Asia
Taliban, IS extend news 'black holes' in Afghanistan
ANWAR IQBAL
July 08, 2015
WASHINGTON: Taliban and Islamic State militants have extended news "black holes" in Afghanistan to prevent journalists from exposing their activities, says a report released here on Tuesday.
The report by a media advocacy group, Reporters Without Borders, calls on Afghan authorities to "do everything possible to protect journalists and media outlets" in Afghanistan, where threats and attacks by the jihadi Islamic State group have been added to those by the Taliban.
Also read: Election coverage shows growth of new Afghan media
The Taliban, and now members of Islamic State, have created news "black holes" in several northeastern provinces including Badakhshan, Nangarhar, Baghlan and Nuristan.
"Freedom of information in these provinces has gone from being limited to non-existent, giving rise to new information black holes," the report warns.
Media outlets have been the targets of armed attacks. They include Radio Donya Novin in Charikar, the regional bureau of the independent Afghan news agency Pajhwok and the US government-funded Voice of America in Jalalabad. On June 12, at least two VOA journalists were injured in such an attack.
Full report at:
http://www.dawn.com/news/1193022/taliban-is-extend-news-black-holes-in-afghanistan
-----------
Six soldiers martyred, 30 militants killed in military operations
Jul 08 2015
Six soldiers have embraced martyrdom and 30 militants killed in newest military operations, ministries of defense and interior announced on Wednesday.
A statement issued by the Ministry of Defense states that the six Afghan National Army soldier lost lives in roadside bomb blasts and militant fire in past 24 hours. The statement does not specify the exact location of the incidents.
In the meantime, a statement issued by the Ministry of Interior states that 30 militants were killed and 40 others wounded in separate military operations in past 24 hours.
Full report at:
http://www.khaama.com/six-soldiers-martyred-30-militants-killed-in-military-operations-3615
-----------
Drone strikes kill four militants in Nangarhar
Jul 08 2015
Two separate drone strikes have killed four militants in eastern Nangarhar province, a security official said on Wednesday.
Hazrat Hussain Mashriqiwal, spokesman for the police headquarters of Nangarhar province states in a statement emailed to Khaama Press that the drone strikes were carried out in Bati Kot and Haska Mina districts yesterday.
According to the statement, three members of the Sabir Kochi militant group were killed and two others wounded in the drone strike conducted in Takya area of Bati Kot District.
The statement further states that the second drone strike was carried out in Oghaz area of Haska Mina District last evening in which one insurgent by the name of Qari Rafiq was killed.
After the propaganda videos and photos emerged from Nangarhar province recently, the drone strikes have increased in this province.
Full report at:
http://www.khaama.com/drone-strikes-kill-four-militants-in-nangarhar-3614
------------
The only female nominee for Supreme Court rejected by Wolesi Jirga
By ZABIHULLAH MOOSAKHAIL
Jul 08 2015
Breaking News: The only female nominee for Supreme Court Anisa Rasouli has been rejected by Wolesi Jirga.
Anisa Rasouli was introduced to Wolesi Jirga by President but she could not receive the vote of confidence on Wednesday's session.
Full report at:
http://www.khaama.com/breaking-news-the-only-female-nominee-for-supreme-court-rejected-by-wolesi-jirga-3617
-----------
First round of Afghan govt, Taliban dialogue concludes in Murree
AGENCIES | MATEEN HAIDER
July 08, 2015
ISLAMABAD: The first round of talks brokered by Pakistan between representatives of the Afghan government and Tehreek-i-Taliban Afghanistan (TTA) concluded Wednesday in Murree, with both parties agreeing to meet again.
"As part of the commitment to facilitate an Afghan-led and Afghan-owned peace and reconciliation process, Pakistan is hosting a meeting today between the representatives of the Afghan government and Tehreek-i-Taliban Afghanistan," FO spokesman Qazi Khalilullah said in a short statement early Wednesday.
"The representatives from United States and China are attending as observers," Qazi said earlier.
During the talks, both sides presented their stances on the prevailing situation in Afghanistan and how progress could be made.
The FO spokesman said the participants exchanged views on ways and means to bring peace and reconciliation in Afghanistan.
Both major parties agreed that for lasting peace in the region, each side would approach the process with sincerity and full commitment.
The spokesman said participants recognised the need to undertake confidence building measures in order to engender trust among all stakeholders.
The participants were duly mandated by their respective leadership and expressed their collective desire to bring peace to Afghanistan and the region, and agreed to continue talks to create an environment conducive to the peace and reconciliation process. The spokesman said the government of Pakistan expressed its profound thanks to the Afghan government and the TTA for their willingness to work towards bringing lasting peace in Afghanistan.
"We also thank other partners in peace, including the United Nations, for their contribution to peace, stability and the development of Afghanistan," Qazi said.
The next meeting will be held at a mutually convenient date after Ramazan.
Officials on Tuesday said the Afghan delegation had travelled to Islamabad in the latest bid to start peace talks with the Taliban. There was no confirmation earlier, however, that the militants would take part.
"A delegation from the High Peace Council of Afghanistan has traveled to Pakistan for negotiations with the Taliban," read a statement posted on Afghan President Ashraf Ghani's official Twitter account.
The High Peace Council (HPC) is the body tasked with opening negotiations with the militants.
Sayed Zafar Hashemi, Ghani's deputy spokesman, confirmed the announcement and said the delegation was being led by deputy foreign minister Hekmat Khalil Karzai.
Hashemi gave no details of the expected length of talks, subjects to be discussed or Taliban participation.
In recent months there have been several informal meetings between the Taliban and Afghan officials from varied political backgrounds at venues outside Afghanistan, but little concrete progress appears to have been made.
Official efforts to reopen peace negotiations with the Taliban have so far borne little fruit, but informal talks have taken place in the recent past behind a veil of secrecy.
The Taliban last month admitted taking part in informal talks in Norway with an Afghan delegation, reportedly made up of women.
Full report at:
http://www.dawn.com/news/1192941/first-round-of-afghan-govt-taliban-dialogue-concludes-in-murree
-----------
US drone strikes target militants on Afghan-Pakistan border
July 08, 2015
KABUL: US forces have carried out two drone strikes targeting militants in part of Afghanistan where the Taliban have clashed with purported supporters of the self-styled Islamic State group, officials said Tuesday.
The Islamic State (IS) group, also known by its Arabic acronym Daesh, has never formally acknowledged having a presence in Afghanistan but fears are growing that it is making inroads in the country.
The strikes on Monday took place in restive Achin district of Nangarhar province, on the border with Pakistan, where local media have reported battles between Taliban insurgents and IS supporters in recent weeks.
A spokeswoman for the NATO mission in Afghanistan confirmed US forces carried out two "precision strikes... against individuals threatening the force" but did not give details of who was targeted.
Provincial spokesman Ahmad Zia Abdulzai told AFP the strikes killed a total of 49 members of a "new group".
A spokesman for the National Directorate of Security (NDS), the Afghan spy agency, claimed the IS group's "number two" commander in Afghanistan was killed in an air strike in Achin, though he did not specify whether it was a drone strike.
However IS has not announced its presence or identified its commanders in Afghanistan and there was no confirmation of the NDS's claim.
Afghan officials say IS's presence in the country is so far limited to small groups and factions that have split from the Taliban. The extent of their links to the group's operations in Syria and Iraq, and the extent of the support they receive, is extremely unclear.
Full report at:
http://www.dawn.com/news/1192977/us-drone-strikes-target-militants-on-afghan-pakistan-border
-----------
Bangladesh police identify 7 suspects in blogger murder
July 08, 2015
DHAKA - Bangladesh police said Tuesday seven people belonging to a home-grown militant group took part in the brutal murder of a Bangladeshi-born US atheist blogger in Dhaka in February.
All seven followed Avijit Roy on the night of February 26 and then brutally hacked him to death in a busy road on the Dhaka University campus when Roy and his wife were returning from a book fair.
"In primary investigation police detectives have identified seven of those who took part in the killing," Dhaka police spokesman Muntasirul Islam told AFP, adding none of them have been arrested.
"What our investigation has found is that all seven are members of the banned militant group Ansarullah Bangla Team (ABT)," he said, referring to the little known group whose activists were charged with the murder of another atheist blogger.
The government banned ABT in May this year for its alleged involvement in the murders of atheist bloggers.
Police earlier said the group is manned by top university graduates and members number less than 100.
Islam said the alleged killers are "mostly private university students and one of them is a young doctor".
"We are hoping to arrest the big fishes who operate behind the scene once we manage to catch the seven people," he said.
Bangladesh police sent the photos of the seven to Roy's widow Rafida Ahmed, who lost a finger during the attack, in the United States for further identification through the Federal Bureau of Investigation, Bengali daily Samakal said.
Full report at:
http://nation.com.pk/international/08-Jul-2015/bangladesh-police-identify-7-suspects-in-blogger-murder
-----------
Govt mulling spl tribunal to dispose of Khaleda's arson cases: PM
July 08, 2015
The government is mulling a special tribunal for the quick disposal of cases against Khaleda for her instructions of arson attacks during the anti-government movement, Prime Minister Sheikh Hasina said today.
In a question answer session at the parliament, the prime minister said she gave instructions for fair and speedy trial of the cases.
Under the section 27 of the Anti-Terrorism Act, 2009, there is a provision for forming special tribunals for disposal of such cases, Hasina said, replying to question by Selina Begum of reserve-6.
Full report at:
http://www.thedailystar.net/politics/govt-mulling-spl-tribunal-dispose-khaleda%E2%80%99s-cases-pm-109423
-----------
Security forces rebuff Taliban coordinated attack in Kunar
Jul 08 2015
Afghan forces have repelled a Taliban coordinated attack in eastern Kunar province.
Officials at the Ministry of Defense say that a group of Taliban insurgents attacked security check posts in Baryali and Bargam areas of Ghazi Abad District around 04:00 am this morning.
According to the officials, the attacks begin from four angles but security forces gave a befitting response to the militants and failed their intentions.
Officials say that forces used heavy weapons in the clash in which dozens of militants have been killed and several others wounded.
Full report at:
http://www.khaama.com/security-forces-rebuff-taliban-coordinated-attack-in-kunar-3616
-----------
Arab World
800 Christians Join Shiite Forces in Iraq to Battle ISIL Terrorists
Jul 07, 2015
"As local forces prepare for the Mosul operation to clear out the ISIL militants, 800 Christian volunteers have also joined the Battalion of Babylon that belongs to the Hashd al-Shaabi," a source inside the Christian battalion told Al-Mada newspaper.
According to the source, the Christian volunteers have been training in three military camps in the city of Baghdad and Salahuddin province.
"The battalion is a special military arrangement for Christians under the control of Hashd al-Shaabi," Al-Mada quoted the Christian source as saying.
This is not the first time non-Shiite volunteers have reportedly joined the Hashd al-Shaabi. The militias have previously claimed their military groups belong to all parts of Iraq, with different religious and ethnic backgrounds.
Full report at:
http://english.farsnews.com/newstext.aspx?nn=13940416000616
-----------
Nusra suicide blast kills 25 soldiers in Aleppo
7 July 2015
A suicide bomber from al-Qaeda's Syrian affiliate, Al-Nusra Front, killed 25 soldiers and fighters loyal to President Bashar al-Assad's regime in an attack on an army base in government-held western Aleppo on Monday, a Britain-based monitoring group said. The attacker blew himself up inside a vehicle "in front of an orphanage used by the regime as a base in al-Zahra neighborhood," the Syrian Observatory for Human Rights director Rami Abdel Rahman told AFP.
The monitoring group said the suicide bombing was followed by fierce battles between opposition and regime forces.
Once a powerhouse of industry, Syria's second city of Aleppo has been devastated by years of fighting between regime forces and a succession of rebel groups.
The regime largely controls the west of the city, with rebels from different factions present in the east.
Full report at:
https://english.alarabiya.net/en/News/middle-east/2015/07/07/Nusra-suicide-bombing-kills-25-soldiers-in-Syria-s-Aleppo.html
-----------
Syrian Kurds retake northern villages from ISIS
7 July 2015
Syrian Kurdish fighters have recaptured more than 10 villages seized by Islamic State of Iraq and Syria (ISIS) north of its de facto capital of Raqqa city, aided by U.S.-led coalition air strikes, the Syrian Observatory for Human Rights reported on Tuesday.
Fighters from the ultra-hardline Islamist group were, however, still in control of the town of Ain Issa, 50 km (30 miles), north of Raqqa city, which the militants seized from the YPG militia in an attack on Monday, the Observatory reported.
That attack on YPG-held areas followed an intensification of air strikes on Raqqa city over the weekend, which U.S. Defense Secretary Ash Carter said on Monday were aimed at disrupting the militants' ability to respond to YPG advances north of Raqqa.
The YPG, a militia operating mostly in predominantly Kurdish areas of northern Syria towards the Turkish border, has emerged as the only significant partner in Syria for U.S.-led alliance fighting to tackle ISIS both there and in Iraq.
The Observatory, a British-based organization reporting on Syria's four-year-old civil war, said the coalition had played an "effective role" in helping YPG forces recover 11 villages northeast of Ain Issa.
The YPG, backed by small Syrian rebel groups, has made significant gains against ISIS in Raqqa province in recent weeks, seizing Tel Abyad at the Turkish border on June 15 before advancing south to Ain Issa.
The YPG captured Ain Issa on June 23.
While the YPG has shown itself to be a potent force in the fight against ISIS, its effectiveness is seen to diminish beyond the predominantly Kurdish areas it was set up to defend in northern and northeastern Syria.
Full report at:
https://english.alarabiya.net/en/News/middle-east/2015/07/07/Syrian-Kurds-retake-northern-villages-from-ISIS-.html
-----------
Syrian Army Intensifies Attacks on Takfiri Terrorists in Aleppo
Jul 07, 2015
The bloody clashes between army and Ansar al-Sharia coalition comprising 13 terrorist groups led by the Al-Nusra Front left tens of militants dead and dozens more injured.
The clashes erupted after the Al-Nusra Front a suicide bomber intended to explode a bomb-laden vehicle in Jamiat al-Zahra district of Aleppo, but the Syrian army prevented the suicide bomber from accomplishing his mission.
A large number of terrorists were killed and many more injured during the Monday clashes, including Riyaz Abid who was commander of Nur Eddin Zanki Takfiri terrorist group.
Over 500 Takfiri terrorists have been killed in militants' repeated raids on the Western parts of Aleppo city in the last three days.
On Sunday, the Syrian army thwarted a series of attacks by the Takfiri terrorists on a strategic region in Aleppo province.
Full report at:
http://english.farsnews.com/newstext.aspx?nn=13940416000973
-----------
Zabadani Fully within Fire-Range of Syrian Army, Hezbollah
Jul 07, 2015
The Syrian army and Hezbollah managed to put the city under full fire-range and cut off all supply lines of armed groups, according to the so-called Syrian Observatory.
The militants tried to counterattack several times but their attempts were thwarted and they sustained heavy losses, Al-Manar reported.
Earlier, Hezbollah and the Syrian army took over a number of residential areas in the Sultani neighborhood in the Southern part of the town and reached Jameh al-Huda district.
Gunmen were trapped in Central Zabadani and the whole area was within the fire-range of the forces.
Full report at:
http://english.farsnews.com/newstext.aspx?nn=13940416001273
------------
Turkey has rounded up 15,000 Daesh cadres — diplomat
8 July 2015
JEDDAH: Turkey's security agencies have arrested 15,000 members of the Daesh terrorist organization at its airports and border crossings, a diplomat said here recently.
The Daesh members had attempted to enter Turkey territory, said Fikrat Ozar, consul general of Turkey in Jeddah. There were also 1,500 Daesh members arrested trying to cross Turkey's borders and travel to Syria. These people were handed over to their governments, Ozar said.
Ozar said Turkey's government rejected reports that it supports terror organizations. These reports were "lies and pure fabrication." The country has cooperated with the international community to fight terrorism, he said after an iftar gathering at the consulate.
Ozar said that Turkey had undergone a challenging democratization process since 1950. It recently held parliamentary elections, which were conducted in a free and fair manner, and with no objections to the result.
He said that Turkey has embraced more than 2 million Iraqi and Syrian refugees who fled from injustice, war and oppression in their countries, and provided them with food and shelter.
Full report at:
http://www.arabnews.com/saudi-arabia/news/773431
-----------
U.S. only training 60 Syrian fighters, far below expectations
7 July 2015
The United States was only training about 60 Syrian opposition fighters to battle Islamic State as of July 3, far below expectations, partly due to rigorous U.S. vetting of recruits, Defense Secretary Ash Carter told Congress on Tuesday.
"We are looking for ways to streamline our train and equip program's vetting process to get more recruits into the training pipeline," Carter told a Senate hearing in prepared remarks.
"We are also refining our curriculum, expanding our outreach to the moderate opposition, and incorporating lessons learned from the first training class."
Full report at:
https://english.alarabiya.net/en/News/middle-east/2015/07/07/U-S-only-training-60-Syrian-fighters-far-below-expectations.html
-----------
Umm Al-Qura timings accurate: Grand mufti
8 July 2015
JEDDAH: Grand Mufti and Chairman of the Council of Senior Scholarships Sheikh Abdulaziz Abdullah Al-Asheikh called on astronomers questioning the accuracy of prayer timings in the Umm Al-Qura calendar to refrain from confusing people, and confirmed that the calendar is accurate and the complaints against it are wrong.
In response to claims by astronomers that Umm Al-Qura calendar is a few minutes ahead of the actual Fajr time, he said: "The calendar is accurate and tests were conducted throughout different regions, while the Ministry of Finance confirmed that the calendar was accurate and the claims incorrect."
Full report at:
http://www.arabnews.com/saudi-arabia/news/773436
-----------
2 Saudis carried explosives into Kuwait for blast
Brothers had links to sibling in Syria
July 07, 2015
Saudi Gazette report
JEDDAH — Two of the three Saudi brothers arrested in connection with the bombing of a Kuwaiti mosque were born in Kuwait and had links to a fourth sibling present in Syria as a member of Daesh (the so-called IS), according to a security spokesman of the Ministry of Interior.
The three brothers were "parties to the crime of the sinful terrorist bombing that targeted Imam Al-Sadeq Mosque in Kuwait," the Saudi Press Agency quoted the security spokesman as saying.
One was arrested in Kuwait and was extradited to the Kingdom, another was arrested in the western Saudi city of Taif and a third was taken into custody after a shootout at a house in the Khafji area near the Kuwaiti border.
As a result of the shooting, two security personnel were injured and rushed to hospital, the spokesman said.
Two of the suspects, Majed and Muhammad Al-Zahrani, drove across the border into Kuwait on Thursday afternoon carrying the explosives for the attack in an ice cooler, Kuwait's Interior Ministry said in a statement.
They left after passing the materials to Abdul-Rahman Sabah Aidan, an illegal resident in Kuwait who reportedly drove the bomber to the mosque and is now in custody, the ministry said.
Investigators found the explosives were of the same type used in two suicide bombings on May 22 and May 29 at Shiite mosques in the Eastern Province in Saudi Arabia, according to the ministry.
Full report at:
http://www.saudigazette.com.sa/index.cfm?method=home.regcon&contentid=20150708249706
-----------
Ex-World Champion Kickboxer Killed Fighting along ISIL in Syria
Jul 07, 2015
The 29-year-old Valdet Gashi was killed while fighting among the ISIL ranks in Syria, the Kurdish news website ARA reported.
The former world champion had left his home and family in Germany in January to join ISIL in Syria.
According to UN reports, over 22,000 foreign fighters are currently fighting alongside the Takfiri terrorists in Syria and Iraq, where extremists of ISIL have taken over large areas.
The ISIL Takfiri terrorists currently control shrinking swathes of Syria and Iraq. They have threatened all communities, including Shiites, Sunnis, Kurds, Christians, Ezadi Kurds and others, as they continue their atrocities in Iraq.
Full report at:
http://english.farsnews.com/newstext.aspx?nn=13940416001057
-----------
Pakistan
Pakistan rules out possibility of proscribing JuD
July 8, 2015
Pakistan has ruled out the possibility of banning the Jamaat-ud-Dawa (JuD) in the future, saying that there is no evidence that the organisation is linked to the outlawed Lashkar-e-Taiba (LeT).
According to the Dawn, the United Nations Security Council had in a resolution listed the JuD as the LeT, but no evidence was provided to it to prove that the two were connected, Pakistan's Minister for States and Frontier Region, General Abdul Qadir Baloch (Retired) told this to the Senate on behalf of Interior Minister Chaudhry Nisar Ali Khan.
He said that JuD was under observation in terms of Section 11-D of the Anti-Terrorism Act since Nov 15, 2003.
Full report at:
http://www.financialexpress.com/article/miscellaneous/pakistan-rules-out-possibility-of-proscribing-jud/97056/
-----------
Security forces kill three suspected militants in Quetta
SYED ALI SHAH
July 08, 2015
QUETTA: Security forces claimed to have killed three suspected militants, including the Balochistan chief of the banned Jaish-ul-Islam (JI) militant group, Mehmood Rind, during a targeted operation conducted in Quetta's Eastern Bypass area on late Monday night.
A well-placed security officer who declined to be named since he was not authorised to speak to media told DawnNews that security forces launched an operation against militants of the proscribed group in the outskirts of Quetta on Monday evening.
Know more: Multiple terror bids foiled in Balochistan
Two security men were also wounded during the operation.
Blasts were also heard in Quetta's Eastern Bypass area during the targeted operation.
The personnel of an intelligence agency backed by personnel of frontier corps faced tough resistance by the militants during the operation, he said.
Also read: Two Hazara brothers shot dead in Quetta sectarian attack
"There was an intense exchange of fire," the officer said.
The wounded security personnel were shifted to combined military hospital (CMH) for medical treatment.
Full report at:
http://www.dawn.com/news/1192905/security-forces-kill-three-suspected-militants-in-quetta
-----------
Jaish-ul-Islam chief killed in Quetta
July 08, 2015
Quetta - Security forces killed the leader of an anti-Shia militant group during a targeted operation early on Tuesday on the outskirts of Quetta, security officials said.
Jaish-ul-Islam, a relatively new movement that considers Shias as apostates, has claimed many of the recent attacks on Hazaras.
It is similar to the larger Lashkar-e-Jhangvi, which has carried out large attacks against Shias, who the movement says should leave the country.
The Frontier Corps and intelligence agents acted on a tip to conduct the Quetta raid, according to FC spokesman Khan Wasey.
Jaish-ul-Islam's chief, Mehmood-ur-Rehman Rind, was killed along with two other militants, he said.
"Rind was involved in targeted killings and planning suicide attacks on the Hazara community and many other attacks," Wasey told Reuters.
Heavy weapons including rockets and grenades were used in the battle, which lasted for several hours. One Frontier Corps officer was wounded in the exchange of fire.
The FC spokesman informed that an Uzbek national was among the dead militants.
Tuesday's raid came as authorities arrested 39 suspected militants in a separate operation.
"One of the dead militants has been identified as Mehmood Rind who was chief of Jaish-ul-Islam militant group in Balochistan," Balochistan Home Secretary Akbar Hussain Durrani also confirmed.
These terrorists were planning to target Youm-e-Ali-related processions and gatherings in Balochistan.
Rind was wanted in several cases of targeted killings and terrorism carried out throughout the province.
Full report at:
http://nation.com.pk/national/08-Jul-2015/jaish-ul-islam-chief-killed-in-quetta
-----------
Taliban kill soldier in attack on army bunker
July 08, 2015
WANA - A Taliban gunman on Tuesday shot and killed a soldier in an attack on an army bunker in South Waziristan Agency. "The army shot back, but the enemy hid in the forest cover," the official said on condition of anonymity, because he was not authorised to speak to the media. The military began a major offensive in North Waziristan last summer to drive out Pakistani Taliban and other extremist Islamist militants who launch attacks on government and civilian targets from strongholds there.
Full report at:
http://nation.com.pk/national/08-Jul-2015/taliban-kill-soldier-in-attack-on-army-bunker
-----------
Nisar asks Nadra for INGOs, anti-terrorism database
July 08, 2015
ISLAMABAD - Interior Minister Chaudhry Nisar Ali Khan Tuesday directed the National Database and Registration Authority (Nadra) to prepare a national counter-terrorism database as well as a database of all internationals NGOs working in the country.
He said this during a meeting with senior officials of Nadra during his visit to the authority's headquarters here on Tuesday.
Talking notice of the difficulties being faced by the people due to long queues at every office of Nadra, the minister directed Chairman NADRA to put in place an online CNIC application system. This he said would not only benefit the Pakistanis in the country but also the overseas Pakistanis.
The minister said that Nadra was a national organization, which was counted among the providers of essential services to the people. He advised that Nadra employees should treat people with respect, courtesy and honour. The hard work and attitude of the employees would add to the image of the organization in the eyes of the people, continued Nisar. He directed management of Nadra to appreciate and reward hardworking and honest workers. He called for introducing performance-based system in the organization so that hard-working employees are rewarded and are duly compensated.
Talking about long queues of people in front of every Nadra office, the interior minister directed that every effort should be made so that within next six months people were provided relief from the long queues and also to ensure that all the processes involved in getting CNIC were completed within shortest possible time.
Discussing the pay package and perks of Nadra employees, the interior minister said that its employees should be given their due share from the profit that the Nadra earned. In this regard he announced that every employee from grade 1-15 should be given Rs. 15000 on this Eid as bonus.
Full report at:
http://nation.com.pk/islamabad/08-Jul-2015/nisar-asks-nadra-for-ingos-anti-terrorism-database
------------
Despite challenges, Pakistani govt giving top priority to education, PM tells summit
July 08, 2015
OSLO: Despite facing numerous challenges, Pakistan is giving high priority to education and plans to increase public spending in the sector to 4 per cent of GDP by 2018, said Prime Minister Nawaz Sharif on Tuesday.
Speaking at a panel discussion at the Oslo Summit on Education for Development here, Mr Sharif said that in the last decade Pakistan has had to deal with all kinds of economic challenges, including earthquakes, floods, terrorism and displacement of people.
Thousands of schools were wiped out in 2005 because of a massive earthquake, he said. And in 2010, floods destroyed about 9,088 schools and 5,790 school buildings were used as shelters for the affected people.
The country had already spent millions on the reconstruction of schools but billions more were required for the rehabilitation of the displaced people, he said.
Turning to the issue of terrorism, the prime minister said that children and youths caught up in conflicts must not be denied their right to education and said Pakistan continued to provide learning opportunities to the Temporarily Displaced Persons during the recent war against terrorism in tribal areas.
The government was facilitating schooling even in camps meant for refugees and other displaced people, Mr Sharif said. He also referred to the 3.5 million Afghan refugees living in Pakistan and urged the international community to enhance humanitarian funding for education.
Full report at:
http://www.dawn.com/news/1193069/despite-challenges-pakistani-govt-giving-top-priority-to-education-pm-tells-summit
-----------
Altaf wants referendum to gauge support for Rangers operation
July 08, 2015
LONDON: After appealing for the removal of the Sindh Rangers from Karachi a day earlier, Muttahida Qaumi Movement (MQM) chief Altaf Hussain today has called for a referendum to be held in Karachi.
In response to an earlier statement made by Minister for Safron and Frontier Regions retired Lt-Gen Abdul Qadir Baloch, Hussain in a press statement said that a public referendum should be held to determine support for the Rangers-led operation.
He proposed that a five-member committee comprising high court and apex court judges should supervise the referendum to gauge public opinion on operations conducted by the paramilitary force in Karachi.
Baloch had recently defended the paramilitary force, saying that the Rangers' operation in Karachi is favoured by a majority of the people.
Hussain slammed Baloch's statements as "baseless" and "untruthful", saying they were contrary to the reality of the situation in the city.
Read more: Altaf asks CM, Sindh Assembly to 'send back oppressive Rangers'
He said that a referendum would allow the formation of a mandate in accordance with the wishes of the people of Karachi and would accurately evaluate the level of public support for the operations.
The call for a referendum comes as the Rangers' special powers in Sindh are due to expire. While the duration of these special powers has been extended multiple times in the past, it is not clear whether the provincial government will go ahead with the move this time around.
Read more: CM hints at striking a bargain with Rangers for stay extension
Sindh Chief Minister Syed Qaim Ali Shah on Tuesday hinted at a bargain with the paramilitary force in return for an extension in their stay across the province.
"After the 18th amendment to the Constitution, the Sindh government is bound to seek concurrence from the provincial Assembly before allowing the Rangers to continue its operation," said CM Shah. "The ways and means to give them another extension would be explored, but we have to talk to them [Rangers] first."
Background: Karachi operations
The 'operation' against criminal elements in Pakistan's commercial hub was initiated back in September 2013 after the federal cabinet empowered Rangers to lead a targeted advance with the support of police against criminals already identified by federal military and civilian agencies for their alleged involvement in targeted killings, kidnappings for ransom, extortion and terrorism in Karachi.
Full report at:
http://www.dawn.com/news/1193146/altaf-wants-referendum-to-gauge-support-for-rangers-operation
-----------
Four suspected militants arrested in Quetta raids
SYED ALI SHAH
July 08, 2015
QUETTA: Four suspected militants were arrested Wednesday during raids conducted by a joint team of law enforcement agencies in parts of Quetta.
Intelligence and police personnel carried out raids on Quetta's Qambrani and Hudda areas.
During the operation, four suspected militants were arrested whereas weapons were also recovered from their possession.
Security sources told DawnNews that the suspects belong to banned outfits. They were involved in recent incidents of target killings in Quetta, the sources added.
Full report at:
http://www.dawn.com/news/1193143/four-suspected-militants-arrested-in-quetta-raids
-----------
PIA to scrap lone Jumbo before Haj operation
ZULQERNAIN TAHIR
July 08, 2015
LAHORE: The Pakistan International Airlines (PIA) has decided to scarp the only jumbo jet in its fleet and acquire two planes on a wet lease for the upcoming Haj operation.
In the last Haj operation, the airline had used the jumbo jet. However, this time it has decided not to use it and in its place it is going to acquire two Boeing-767 from Maldives on a wet lease. Some officials have raised objection to the management's decision to acquire the planes on a wet lease, saying there is no justification in the presence of seven Boeing in the PIA fleet.
Take a look: GE to overhaul PIA aircraft engines
Under the wet lease, an airline provides aircraft, pilots and cabin crew, along with maintenance and insurance facilities, while under the dry lease only aircraft are provided.
PIA spokesman Aamir Memon told Dawn that the management had initiated the process of acquiring two Boeing on a wet lease six months ago and a Maldives airline had been shortlisted after meeting the PPRA rules. "We have decided not to use the only Jumbo (503-seater) in our fleet and in its place two Boeing (300-seat each) will cater to the need of the national flag carrier during the Haj operation," he said, adding the jumbo was being phased out because of its age.
During a recent meeting of the Haj Task Force, PIA Chairman Nasser Jaffer discussed the fleet deployment for the Haj operation requiring at least '9-units of Boeing'. "In case 9th unit of Boeing 777 is not made available there will be serious repercussions on the entire schedule," said a senior PIA official.
Full report at:
http://www.dawn.com/news/1193060/pia-to-scrap-lone-jumbo-before-haj-operation
-----------
Africa
French special forces kill top Al-Qaeda militant in Mali
7 July 2015
French special forces killed a leader of Al-Qaeda in Mali who was involved in the kidnapping of hostage Serge Lazarevic, but released from prison in exchange for the Frenchman's freedom, the army said Tuesday.
During an operation on Sunday in the northeastern town of Kidal in Mali, "two terrorists were captured and a third, Ali Ag Wadossene, was killed. He is one of the operational leaders of AQIM (Al-Qaeda in the Islamic Maghreb) in the zone," said a French army statement.
Two special forces soldiers were injured in the operation in the troubled west African nation where France has had troops since 2013 when it launched an operation to oust Islamists who had seized northern Mali.
While never confirmed by France, Mali admitted in December that four prisoners were released in exchange for the freedom of Serge Lazarevic, who spent three years in the hands of Islamist militants.
Full report at:
https://english.alarabiya.net/en/News/africa/2015/07/07/French-special-forces-kill-top-Al-Qaeda-militant-in-Mali-army-says.html
-----------
U.S. House approves closer military ties with Jordan
8 July 2015
U.S. lawmakers on Tuesday approved legislation that would ramp up military cooperation with Jordan, including accelerated arms sales to a Middle East ally contending with growing threats from Islamist extremism.
Jordan has become a focal point in the fight against the self-described Islamic State of Iraq and Syria (ISIS) because the Hashemite kingdom borders Syria and Iraq, two nations where large swathes of land have been claimed by ISIS extremists.
U.S. forces are training a small group of vetted Syrian rebels in Jordan. A Jordanian pilot captured by ISIS in December was burned alive on video, in one of the militant group's most brutal executions.
The House of Representatives passed the bill by voice vote and it now heads to the Senate for consideration.
House Foreign Affairs Committee chairman Ed Royce said the measure sends a "strong message of support" to a critical partner at a vital time.
"Jordan sits on the front lines of the fight against ISIS and a refugee crisis in Syria where millions have been displaced," Royce said.
"As a longtime key partner for peace and security in the region, it is important the U.S. support Jordan as it confronts these security challenges."
Full report at:
https://english.alarabiya.net/en/News/middle-east/2015/07/08/U-S-House-approves-closer-military-ties-with-Jordan-.html
-----------
Tripoli parliament rejects Libya peace plan
8 July 2015
The parliament in Tripoli rejected Tuesday a U.N. proposal to resolve Libya's political crisis but said it wanted to press on with talks toward reaching an accord with its rival in the east of the country.
Plunged into chaos after the 2011 overthrow of dictator Muammar Qaddafi, Libya has two parliaments and governments vying for power, one in Tripoli and one in the eastern port city of Tobruk, which is recognized by the international community.
On June 29, delegations from both sides headed home from the Moroccan resort of Skhirat after holding their first direct talks in months but failed to agree on U.N. proposals for a united government.
U.N. envoy Bernardino Leon had appealed to them to endorse his proposals for a merged administration to tackle a growing jihadist presence in the North African nation, which has cast a shadow over its neighbors, especially Tunisia.
Omar Hamidan, spokesman for Tripoli's General National Congress, said "this draft accord is not the satisfactory state (necessary) for us to initial it."
The GNC called on the U.N. envoy to "reopen the debate," and said its team was "ready to head (to the table of) dialogue immediately, once a date is decided, to "discuss modifications the GNC wants to introduce in the text."
Among these are a called for "respecting the judiciary," a possible reference to a Supreme Court decision invalidating the parliament in the east, which was elected in June 2014.
The GNC is close to Fajr Libya, an alliance of Islamist militias that controls the capital, and which called the proposal a betrayal of those who "fought for the liberation of Libya and the preservation of its sovereignty".
Full report at:
https://english.alarabiya.net/en/News/africa/2015/07/08/Tripoli-parliament-rejects-Libya-peace-plan-wants-more-talks-.html
-----------
Tunisia's state of emergency must respect rights: HRW
7 July 2015
The Tunisian state of emergency imposed after the militant attack that killed 38 tourists last month must not suppress freedoms gained since the 2011 revolution, Human Rights Watch said Tuesday.
"Imposing a state of emergency does not give the Tunisian government the right to gut basic rights and freedoms," the New York-based HRW said in a statement.
Eight days after the June 26 gun attack at the tourist resort of Port El Kantaoui north of Sousse, President Beji Caid Essebsi on Saturday decreed a state of emergency for 30 days.
The rampage by 23-year-old student Seifeddine Rezgui killed 30 Britons, three Irish nationals, two Germans, one Belgian, one Portuguese and a Russian, and was claimed by the Islamic State group.
Essebsi said the exceptional measure was being brought in because the attack had left Tunisia facing a "special type of war".
"Tunisia's security challenges may call for a strong response, but not for sacrificing the rights that Tunisians fought hard to guarantee in their post-revolution constitution," HRW's deputy chief for the Middle East and North Africa Eric Goldstein said in the statement.
Kamel Jendoubi, the minister who heads a crisis group set up after the attack, said at a news conference on Tuesday: "When security is targeted and we face armed criminals... the first right is to ensure security and guarantee the right to life".
Full report at:
https://english.alarabiya.net/en/News/africa/2015/07/07/Tunisia-s-state-of-emergency-must-respect-rights-HRW.html
-----------
S Sudan rebels vow to continue fight against president
08 Jul 2015
South Sudan gained independence from Sudan in July 2011 following a peace deal to end Africa's longest-running civil war.
But a new war broke out in December 2013 - after a power struggle between the president and his deputy.
Since then, 10,000 people have been killed and more than 1.6 million internally displaced.
In June, while peace talks were underway, rebels captured Malakal - the capital of Upper Nile State and an important oil centre.
Full report at:
http://www.aljazeera.com/news/2015/07/sudan-rebels-vow-continue-fight-president-150707202506514.html
-----------
Boko Haram hand seen in another Nigeria blast
8 July 2015
LAGOS/KANO: At least 25 people were killed when a bomb blast ripped through a packed government office in Zaria, northern Nigeria, on Tuesday, in a suspected suicide attack likely to be blamed on Boko Haram.
Gov. Nasir el-Rufai of Kaduna state is urging citizens to avoid crowded public places including mosques and churches as extremists Boko Haram extend the breadth and tempo of attacks that have killed some 300 people in a week.
El-Rufai used Twitter to report Tuesday's "terrorist bomb attack." Local media said the explosion occurred at the government headquarters as civil servants were assembling for a training course.
Nigeria's police force announced increased security around mosques and churches after Boko Haram bomb and shooting attacks Sunday killed more than 60 people in a mosque and posh Muslim restaurant in central Jos city and at an evangelical Christian church in northeastern Potiskum town.
Full report at:
http://www.arabnews.com/world/news/773136
-----------
North America
US Muslim groups launch fundraiser to help rebuild burned black churches
July 7, 2015
by Renee Lewis
A coalition of Muslim groups has launched an online fundraiser to help rebuild predominantly African-American churches damaged in a recent spate of fires across the South.
At least eight churches have suffered fire damage since a shooting on June 17 at Emanuel African Methodist Episcopal Church in Charleston, South Carolina, left nine black parishioners dead.
The church burnings took place within just 10 days of one another, and three are being investigated as possible arson cases.
"To many, it is clear that these are attacks on black culture, black religion and black lives," the coalition wrote on the campaign's LaunchGood page.
"It's Ramadan, and we are experiencing firsthand the beauty and sanctity of our mosques during this holy month. All houses of worship are sanctuaries, a place where all should feel safe," it added.
The coalition — which consists of U.S. organizations Muslim Anti-Racism Collaborative and the Arab American Association of New York as well as digital startup Ummah Wide — has so far raised over $23,000 in five days. After the campaign ends on July 18, the money will be given to pastors of the burned churches that need it most, the groups said.
Like black communities in the United States, the coalition wrote, American Muslims are also vulnerable to intimidation, though not to the same extent as African-Americans.
"The American Muslim community cannot claim to have experienced anything close to the systematic and institutionalized racism and racist violence that has been visited upon African-Americans," organizer Imam Zaid Shakir wrote on the campaign's website.
However, Muslims can understand the "climate of racially inspired hate and bigotry that is being reignited in this country," he wrote, saying the American Muslim community should stand in solidarity with African-Americans.
Full report at:
http://america.aljazeera.com/articles/2015/7/7/us-muslim-groups-launch-fundraiser-to-rebuild-burned-black-churche.html
-----------
Here's Why You Shouldn't Trust the Latest Poll on American Muslims
Nathan Lean
Jordan Denari
08/07/2015
The Center for Security Policy (CSP), a Washington, D.C. think tank run by former Reagan official Frank Gaffney, just released a survey of 600 Muslims living in the United States. Its takeaway, captured in a headline on the CSP website, is this: "Poll of U.S. Muslims Reveals Ominous Levels of Support For Islamic Supremacists' Doctrine of Shariah, Jihad."
The poll gained quick traction online and in the media. On the evening of its release, Fox News host Bill O'Reilly also lent credence to its findings and cast doubt upon American Muslims' loyalty to their country.
Among the poll's findings are:
"A majority (51%) agreed that 'Muslims in America should have the choice of being governed according to Shariah.'"
"Nearly a quarter of the Muslims polled believed that, 'It is legitimate to use violence to punish those who give offense to Islam by, for example, portraying the prophet Mohammed.'"
"Nearly one-fifth of Muslim respondents said that the use of violence in the United States is justified in order to make Shariah the law of the land in this country."
But this survey should not be taken seriously. It comes from an organization with a history of producing dubious claims and "studies" about the threat of shariah, and was administered using an unreliable methodology. Its proponents seize upon its shoddy findings, exaggerating and misrepresenting them to American audiences, and falsely claim that the survey data represents the views of Muslims nationwide.
Here are the details.
CSP's History of Baseless Fearmongering
2015-06-29-1435589608-2975461-oFRANKGAFFNEYfacebook.jpg
In recent years, many groups have raised questions about the objectivity and intentions of Frank Gaffney. His tendency to posit conspiracies about Barack Obama and the Muslim Brotherhood is well documented, and has earned him sharp critique across the political spectrum. The Center for American Progress labels him a "misinformation expert," while the Conservative Political Action Committee banned him from their 2011 conference for peddling false accusations about GOP connections to Muslim extremists. It was his organization, CSP, that was behind the unfounded rumor that Hillary Clinton's chief of staff, Huma Abedin, was linked to the Muslim Brotherhood, and once floated the false idea that General David Petraeus had "submitted" to Shariah.
Since the early 2000s, CSP has generated dozens of occasional papers, blogs and reports that fixate on shariah or other allegedly nefarious topics related to Islam. Often, they are loosely sourced or entirely unsubstantiated, relying instead on a furtive web of connections or, in one case, a 24-year-old document written by a lone Muslim activist that has since been roundly discredited.
Full report at:
http://www.huffingtonpost.com/nathan-lean/heres-why-you-shouldnt-trust-the-latest-poll-on-american-muslims_b_7688204.html?ir=India&adsSiteOverride=in
-----------
American Muslims Have a Race Problem—And Here's The Solution
July 7, 2015
By
Abdul Latif Bennett
I was piqued by Zeba Khan's recent piece, American Muslims Have a Race Problem, in which she argues that Muslims in America are mired in prejudice against each other. She particularly wrote how African-Americans are treated as second-class citizens. As an African-American Muslim, I well understand the issue she has raised. I could write a book on the many forms of racism I've faced. I was born and went to college in Alabama and I lived in Johannesburg South Africa for 12 years. Fortunately, the Islam I have known as an African-American convert of 20 years bears no signs of the ills she describes.
I say this not to delegitimize her perfectly valid and perfectly real experience. Rather, it is to offer a practical solution.
Some Muslim clerics and so-called scholars teach a brand of Islam that can easily get bogged down in the trivialities of this world. They teach an Islam which is obstructed by your fellow worshipers and is wholly ineffective in reaching God. The uniform stance assumed in prayer with other worshipers, the postures in unison, the singular direction faced, are all rendered as useless rituals and have no effect on a heart bent on prejudice.
To harbor such superficial and ill-founded beliefs as a part of their faith, is to render the whole act void. It is a sad state in the Muslim world when, as soon as you come up from your prostrations and send your salaams (Salutations of Peace) to your right and your left, you recoil as you observe the differences between the person praying next to you, rather than the common humility you just professed. The problem of racism has its roots in ego and an errant human nature. It is abhorrent to Allah and contrary to His teachings everywhere in the world.
The solution requires rightly guided leadership to diagnose it and constantly guard against its effect on a community. Such a community— my community—is the Ahmadiyya Muslim Community. With tens of millions of followers in 206 countries, we follow the true example and path of the Holy Prophet Muhammad. We are led by and united under one Khalifa, His Holiness Mirza Masroor Ahmad. The real reason why a growing number of Muslims outside the Ahmadiyya Muslim Community feel a lack of brotherly affinity toward each other is because they have no unity among themselves. Our community on the other hand is like family.
We practice and live the teachings of the Holy Prophet's last sermon, where he said that a Arab has no superiority over a non-Arab, nor a non-Arab over an Arab, and a white has no superiority over a black, nor a black over a white. The brotherhood and sisterhood that our community exhibits toward each other is the living embodiment of these teachings. Every Mosque has a President or Imam. Every Mosque in every city in the United States answers to a single Ameer of the country. Every one of the 206 countries where we have communities is accountable to one Khalifah. He is like a spiritual father to us, and we are to one another like siblings.
Full report at:
http://www.patheos.com/blogs/islamahmadiyya/2015/07/american-muslims-have-a-race-problem-and-heres-the-solution/
-----------
Europe
Muslim leader: 'ISIS-supporting Brits may be disenfranchised by Tory cuts'
7 JULY 2015
Liverpool EchoProtest march in Liverpool city centre against terrorist group ISISPublic opinion: There's been a rise in protest marches like this one in Liverpool against terrorist group IS
Muslim leaders have responded to the Mirror's disturbing poll showing that 1.5 million Brits identified as supporters of the brutal so-called Islamic State.
One prominent leader has even said Muslims here may be disenfranchised with new Tory policies which are turning them to have sympathies for IS and their belief system.
Pollsters ICM found that opposition to IS has hardened during twelve months of barbaric atrocities, with 80% of British people now having a "very unfavourable" view of them compared with 45% last July.
But, staggeringly, the poll of 2,016 British adults taken over the weekend also found that support for the terror group was up by 2%, to 9%.
A Daily Mirror poll revealed public opinion on ISISVotes are in: A Daily Mirror poll revealed public opinion on ISIS
It found that 3% have a "very favourable view", up 1% from a year ago – suggesting that around half of Britain's three million Muslims could be ISIS sympathisers. Another 6% admitted having a "somewhat favourable" view, up from five per cent last year.
Omer El-Hamdoon, president of the Muslim Association of Britain, said: "Any numbers which favour ISIS are worrying.
"The reasons will no doubt be varied. One reason may be due to the perception that ISIS represents an opponent to the West and those who are dissatisfied or disenfranchised with the new Tory policies – of further cuts and civil rights strangulation - are using this anonymous platform to express their frustration."
Labour MP Khalid Mahmood said: "I am glad to see that opposition to ISIS has grown over the last year.
Birmingham MailMP Khalid MahmoodPolitical part: Labour MP Khalid Mahmood is pleased that opposition to ISIS has grown over the last year
"But it is a great concern that there is a small percentage of people who are attracted to them. It's why I think that all of us, but particularly within the Muslim community, need to look within our ranks to see how this is happening.
"There are people out there glorifying ISIS and I don't believe in the 'lone wolf' theory that all this radicalisation is only taking place online. I believe there are people within the community who need to be looked at."
Full report at:
http://www.mirror.co.uk/news/uk-news/muslim-leader-isis-supporting-brits-disenfranchised-6018357
-----------
Algeria says 102 Islamists killed, captured or repented
7 July 2015
More than 100 armed Islamists have been killed, captured or have repented in Algeria in the first half of this year, the defence ministry said Tuesday.
A statement, carried by national news agency APS, did not give a breakdown of the 102 Islamists it said were no longer battling Algerian security forces.
Large quantities of arms and ammunition - including automatic weapons, rocket-propelled grenades and almost 1,300 explosive devices - were seized in security sweeps between January and June, it said.
Full report at:
https://english.alarabiya.net/en/News/middle-east/2015/07/07/Algeria-says-102-Islamists-killed-captured-or-repented.html
-----------
Franciscan priest feared kidnapped by al-Qaeda in Syria
7 July 2015
A Franciscan priest serving in northern Syria has gone missing and is feared to have been kidnapped by Al-Qaeda affiliate Al-Nusra Front, his religious superiors and monitoring groups said Tuesday.
The Franciscan Custody of the Holy Land, with which he is affiliated, said it lost contact on Saturday with Father Dhiya Aziz, a parish priest at Yacoubieh, in the northwestern Idlib province.
"Some militants of an unknown armed brigade, perhaps connected with (Al-Nusra), came to take him away for a brief interview with the emir (leader) of the place.
"From that moment we do not have any more news and we are unable to trace his whereabouts at the present moment. We are doing everything possible to locate the place of his detention and secure his release."
The account was corroborated by the Syrian Observatory for Human Rights, a Britain-based group monitoring the war.
Director Rami Abdel Rahman said "the local Al-Nusra 'emir,' an Egyptian, summoned Aziz for consultations, but he never returned home."
And the Assyrian Observatory for Human Rights, another monitoring group, said on Facebook that the 41-year-old priest was taken from the "convent of the Immaculate Conception, where he was living," in the majority-Christian village of Yacoubieh.
The village is in Idlib, most of which is under the control of Al-Nusra and its allies since a large-scale operation earlier this year to expel the regime.
The Custody said Aziz was born at Mosul, Iraq, where he studied at the medical institute before joining the order.
Full report at:
https://english.alarabiya.net/en/News/middle-east/2015/07/07/Franciscan-priest-feared-kidnapped-by-al-Qaeda-in-Syria-.html
-----------
Southeast Asia
Malaysian authorities freeze six bank accounts linked to PM graft scandal
08 July 2015
KUALA LUMPUR — A task force investigating Malaysia's troubled state investment fund 1MDB said on Tuesday it had frozen half a dozen bank accounts following a media report that nearly $700 million had been transferred to an account of Prime Minister Najib Razak.
The Wall Street Journal (WSJ) reported last week that investigators probing the debt-laden 1MDB had traced nearly $700 million to bank accounts they believed belonged to the prime minister.
Reuters could not independently verify the WSJ report.
Najib has denied taking any money from 1MDB or any other entity for personal gain, and is considering legal action.
The special task force said it had frozen six bank accounts in relation to the allegations, but it did not specify whose accounts they were or the banks involved.
The team also took possession of documents related to 17 accounts from two banks to help with the investigations.
Former Prime Minister Mahathir Mohamad, who was once Najib's patron and remains highly influential, weighed into the scandal on Tuesday saying Najib had shamed Malaysia.
"Truly, the one who shamed the country is Najib with his 1MDB. Prior to this, the country has never been insulted by unanswered allegations, unlike now," Mahathir said in a blog.
Malaysia's longest-serving prime minister has repeatedly demanded Najib account for the disappearance of billions of dollars borrowed by state fund 1MDB, or resign. The attorney-general said on Saturday he had received documents from the investigating task force that are "connected to allegations" money was transferred into the prime minister's account.
Malaysian opposition lawmakers on Tuesday accused authorities of blocking a planned meeting in Parliament to discuss the allegations against Najib, which threaten to become the biggest political crisis in the country's history.
About 100 lawmakers, activists and lawyers were prevented from entering a meeting room in Parliament, and were left sitting on the steps outside the building in downtown Kuala Lumpur.
Full report at:
http://www.saudigazette.com.sa/index.cfm?method=home.regcon&contentid=20150708249721
------------
The Mochtar Affair: Heroism and Sacrifice in a Time of War and Deceit
By J. Kevin Baird
Jul 06, 2015
Jakarta. In August of 1944, Professor Achmad Mochtar was director of the Nobel Prize-winning Eijkman Institute in Jakarta and vice rector of the prestigious school of medicine next door.
These titles of respect and authority, however, did not protect Mochtar from the brutality of the Japanese occupation. On July 3, 1945, the Japanese army took Mochtar to their execution ground at Ancol, North Jakarta, and beheaded him. Historians refer to this killing and the events leading to it as the "Mochtar affair."
The defining event of that affair occurred at a transit camp for slave laborers, or romusha, at Klender, just outside of Jakarta, in early August 1944. Within a week of receiving routine vaccination against cholera, typhus and dysentery, 900 romusha all developed the contorted posture, clenched fingers and toes, and the sardonic smile of acute tetanus. Within a couple of days of onset of symptoms, all of the injected romusha suffered the agonizing death of strangulation by tetanus.
Post-mortem tissue samples taken from 90 of the victims were analyzed in Mochtar's bacteriology laboratory at the Eijkman Institute. Mochtar's report confirmed the romusha had died of tetanus poisoning – the vaccine administered to them contained the purified toxin but the not the bacterium responsible for tetanus, Clostridium tetani. The vaccine came from the former Pasteur Institute at Bandung. The Japanese army had seized that facility in 1942 and its medical men (very probably members of the notorious Unit 731) operated it.
Romusha
Mochtar's dutiful and honest report of the event at Klender posed a very serious political problem for the Japanese. The romusha camp at Klender was a physical piece of the propaganda that drove the supposedly voluntary romusha labor program. Nationalist leaders promoted enlisting as a patriotic duty in support of the freedom and independence of Indonesia. At transit camps like the one at Klender, cohorts of romusha conscripts had been treated humanely, housed decently, fed well, and provided expert medical care by Indonesian doctors. History reveals this treatment as a cruel ruse: once the romusha sailed over the horizon for distant worksites, their Japanese keepers provided only ceaseless work, grossly inadequate rations, no medical care whatsoever, and summary execution for insubordination, incapacity for work, theft or attempted escape. Most would not survive.
No one knows how many perished, but at least four million young men on Java were taken away and somewhere between 50 percent and 80 percent were unaccounted for and presumed dead. The Japanese managed the romusha like human livestock, where the flock sees only a caring herder at places like Klender. The butchery could only occur out of sight of the flock to avoid grasp of their own fate. The 900 romusha corpses at Klender thus presented the Japanese with a very serious threat to the illusion of beneficence for the romusha and Indonesians – the flock had glimpsed the abattoir.
Full report at:
http://thejakartaglobe.beritasatu.com/news/the-mochtar-affairheroism-and-sacrifice-in-a-time-of-war-and-deceit/
-----------
Najib reminds Muslims to abstain from gluttony, anger this Ramadan
7 July 2015
Prime Minister Datuk Seri Najib Razak today advised Muslims on the meaning of Ramadan, reminding them that it was the season to practice resilience by abstaining from gluttony and anger, and to build character for the greater reward of achieving one of the tenets of Islam.
In a blog post this evening, he said that the fasting month was when "characters are built", adding that resilience and determination are what will take Muslims to greater heights.
"The month of Ramadan is also about resilience. In our hunger, we learn not to succumb to gluttony.
"In our thirst, we learn to hold back our anger. In our tiredness, we learn to push through the day for the greater reward of accomplishing one of the 'rukun' Islam.
"To many Muslim children, the fasting month would be their first encounter with the concept of resilience.
"It is from here that our characters are built. It is this spirit of resilience and determination that will push us all to greater heights," he said at his website najibrazak.com.
Najib is facing the toughest time of his career as criticism and allegations of financial scandal are thrown at him over government-owned investment firm 1Malaysia Development Berhad (1MDB), of which he is advisory board chairman.
Najib has been accused of accepting billions of ringgit in his personal bank accounts from companies linked to 1MDB, as reported by the Wall Street Journal (WSJ) last week.
Earlier today, a special task force investigating this alleged movement of funds said six bank accounts had been frozen, with the order to freeze issued yesterday.
Separately, sources later confirmed to The Malaysian Insider that three out of the six bank accounts belonged to Najib.
The freeze follows the WSJ's report that showed how US$700 million (RM2.67 billion) from companies linked with 1MDB was purportedly deposited into Najib's personal bank accounts, according to investigation papers.
Najib, who has since said that he had not used any money for personal gain, however, has not denied that the transactions did indeed take place.
The embattled prime minister in his blog post today said that Ramadan was a time for spiritual growth, when he would reflect on himself, adding that it was also a time to remember those in need.
"Ramadan to me, is a time for prayer, fasting and spiritual growth. It is during this holy month that we make time to sit down quietly and reflect upon ourselves.
"In our joyous and festive mood, we must always remember the ones who are in need. As Muslims, we are always encouraged to give generously to the needy if you are in the position to do so."
Full report at:
http://www.themalaysianinsider.com/malaysia/article/najib-reminds-muslims-to-abstain-from-gluttony-anger-this-ramadan
-----------
Indonesia hopes new tools will boost appeal to foreign Islamic banks
Jul 7, 2015
Indonesian regulators are promoting new sharia-compliant financial tools and considering easing foreign ownership limits for domestic Islamic banks, seeking to make the sector more appealing to foreign lenders.
Indonesia is the world's most populous Muslim nation but its Islamic finance sector is domestically focused and still has only niche status, behind neighbouring Malaysia and several Gulf countries.
The government wants to change that, and this year the financial regulator, Otoritas Jasa Keuangan (OJK), launched a five-year strategy that aims to triple the sector's market share to 15 percent by 2023.
In June, President Joko Widodo threw his weight behind the drive by inaugurating a national campaign by the OJK to promote awareness of Islamic finance.
Attracting foreign capital is part of those plans; the OJK is considering easing foreign ownership ceilings for Islamic banks, now at 40 percent.
Abu Dhabi Islamic Bank said it was considering entering the market as part of its acquisition plans for 2016.
It joins Bahrain's Al Baraka Banking Group and Dubai Islamic Bank, which plan to expand their operations in Southeast Asia's largest economy.
Meanwhile, companies can raise cash in foreign currencies more easily with Islamic instruments, after the country's national sharia board approved sharia-compliant currency hedging tools in April.
The potential was illustrated in May when national flag carrier Garuda Indonesia became the first Indonesian corporate to tap the offshore market for Islamic bonds (sukuk) with a $500 million, five-year deal.
Full report at:
http://www.legalbusinessonline.com/news/indonesia-hopes-new-tools-will-boost-appeal-foreign-islamic-banks/69192
-----------
Islands in focus: Muhammadiyah sets Idul Fitri on July 17
July 08 2015
The country's second-largest Muslim organization Muhammadiyah's central executive board has officially set the beginning of Syawal, which means the coming of Idul Fitri, on July 17, based on its astronomical calculations.
"Syawal 1, 1436 Hijriah falls precisely on Friday, July 17, and we anticipate the date will not differ from that of Nahdlatul Ulama [the country's largest Muslim organization]," said Muhammadiyah central executive board Tarjih and Tajdid (legal affairs) council head Syamsul Anwar on Tuesday.
Syamsul added that the Syawal new moon would take place on July 16 at 8:26 p.m. local time.
Full report at:
http://www.thejakartapost.com/news/2015/07/08/islands-focus-muhammadiyah-sets-idul-fitri-july-17.html
-----------
Indonesian Student Arrested for Sending Bomb Threat to Singapore Airlines
By Farouk Arnaz
Jul 08, 2015
Jakarta. Jakarta Police on Wednesday said they had arrested a 21-year-old male student from a private university in Banten who had sent a bomb threat to Singapore Airlines, causing flight delays.
Ilham, a senior college student reportedly majoring in information technology, was apprehended on Tuesday at his home in the Baleria housing complex in Tangerang, Banten after sending an email containing a bomb threat to Singapore Airlines on July 1.
"Because of the terror, there were three flights [from Singapore's Changi International Airport], delayed for a while," said Brig. Gen. Victor Edison Simanjuntak, chief of Jakarta Police's economic crime unit, on Wednesday.
According to Victor, Singaporean authorities tracked the source of the email and contacted the Indonesian police force.
The IT and cybercrime unit of the National Police conducted an investigation that led to Ilham's arrest.
Full report at:
http://thejakartaglobe.beritasatu.com/news/indonesian-student-arrested-sending-bomb-threat-singapore-airlines/
-----------
URL: https://www.newageislam.com/islamic-world-news/new-age-islam-news-bureau/islamic-heritage-of-india,-central-asia-has-rejected-extremism--pm-modi/d/103819