New Age Islam News Bureau
8 Aug 2018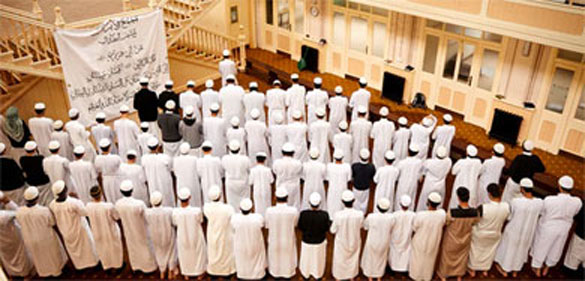 Muslim pupils at Abrar academy in Preston, Lancashire, have been debating the Israeli/Palestinian conflict. Photograph: Christopher Thomond for the Guardian
------
• Islamic Bodies Told To Enhance Role in Understanding of Islam
• The Islamic School That Ensures Its Boys Understand the Israeli Point of View
• No Relief for People Likely In First 100 Days of PTI Government
• Iraqi Court Sentences Five Takfiri Daesh Terrorists to Death by Hanging
• Bangladesh Militant Groups Trying To Reunite Before Polls
Southeast Asia
• Islamic Bodies Told To Enhance Role in Understanding of Islam
• Hands off Women's Dresses, Rights Group Tells Malaysian Religious Minister
• Malaysia Shuts down Saudi-Backed Anti-Terrorism Centre
• Sandals point to victims in mosque shattered by Indonesia quake
• You are traitors, Sabah Umno chief slams reps for quitting party
• Probe other Islamic bodies for corruption too, lawyer urges Putrajaya
• Nearly 300 Suspected Terrorists Arrested Since Surabaya Attacks: Police
--------
Mideast
• The Islamic School That Ensures Its Boys Understand the Israeli Point of View
• Israeli Military Court Gives 1.5 Years in Jail to Palestinian Minor
• Israeli strike kills two Hamas militants in Gaza
• Tehran sends Hamza Bin Laden to Afghanistan
• US supporting UAE's collusion with al-Qaeda in Yemen: Ansarullah
• Mossad behind Syrian scientist's assassination: Intelligence official
--------
Pakistan
• No Relief for People Likely In First 100 Days of PTI Government
• Fazlur Rehman's Son to Be MMA's Nominee for NA Deputy Speaker
• Zartaj Gul says victory proves women can be strong politicians
• Raheel heading Saudi-led alliance without cabinet's approval, SC told
• Opposition to hold protest against 'rigging' outside ECP today
• Accord with Russia signed for training of Pakistani troops
• Amir Khan, two others indicted for 'providing shelter to terrorists'
• IHC to hear Captain Safdar's plea against Avenfield conviction
--------
Arab World
• Iraqi Court Sentences Five Takfiri Daesh Terrorists to Death by Hanging
• Egypt Says It Supports Saudi Arabia in Rights Row with Canada
• Syrian Army Nearing Complete Siege on ISIL's Main Base in Sweida
• Saudi, UAE Forces Sustain Heavy Casualties in Western Yemen
• Arab Media: US Not Happy with Kurds' Talks with Damascus
• Syrian Army Repels Terrorists' Heavy Offensive at Border with Turkey
• US-Backed Militias Continue Forced Recruitment of Young People in Northeastern Syria
• Saudi-led coalition vows to defeat terror in Yemen
--------
South Asia
• Bangladesh Militant Groups Trying To Reunite Before Polls
• Taliban Claim to Be Preparing Onslaught to Drive Islamic State from Afghan Stronghold
• Afghan amputee marchers embark on gruelling peace trek
• Bangladesh says Myanmar isn't tackling Rohingya concerns
• 'Peace comes with a price', says President Ghani
• Ceasefire, peace talks, Qaisari's case topped the agenda of Ghani-Dostum meeting
• Key Taliban commander killed, another detained in Logar operations
• Bangladesh plans to send 100,000 Rohingya to a vulnerable island
--------
Africa
• Arsonists Target Constantia Muslim Shrine
• Twenty Years after Al Qaeda's First Big Attack, Kenyans Still Bear Scars
• Nigeria's acting president slams parliamentary blockade
• Boko Haram kills 7 villagers in NE Nigeria: sources
--------
India
• India Will Soon Become Andalusia If Muslim Leadership Continues To Be Like This
• Top Leader of Bangladesh-Based Terror Outfit Arrested In Bengaluru
• Terrorists gun down SPO in J&K's Tral
--------
North America
• Muslim Organization Plans To Challenge U.S. Over Terror Watch List System
• Trump Warns Countries against Doing Business with Iran
• US admission to killing some civilians in Raqqah tip of the iceberg: Amnesty
• US: Legal group seeks info on program targeting Muslims
• American Kids Are Learning Islamophobia from Their Textbooks
--------
Europe
• Has The 'Post-Integration' Phase Really Come For Muslims In Europe?
• UK: Muslim Body Urges Tories to Deal with Islamophobia
• Russia 'disappointed' by renewed US sanctions on Iran
• U.S. couple killed by ISIS in Tajikistan were on dream cycling vacation
• Jihadist arrested in Spain for planning terror attack
Compiled by New Age Islam News Bureau
URL: https://www.newageislam.com/islamic-world-news/islamic-bodies-told-enhance-role/d/116075
--------
Islamic bodies told to enhance role in understanding of Islam
August 8, 2018
KUCHING: Islamic related agencies in Sarawak must play a dominant role in ensuring better understanding of Islam and its teachings by people of other religions.
In pointing this out, Head of State Tun Pehin Sri Abdul Taib Mahmud said such understanding is vital in a multiracial society such as Sarawak.
"As much as it is important for Muslims to stay united, I feel that it is also important for other religions to have better understanding of Islam as well to ensure that this multiracial state continues to be blessed with harmony," said Taib.
He was speaking at the 16th convocation ceremony of Institut Kemahiran Islam Malaysia Sarawak (Ikmas) at State Islamic Complex, Jalan P Ramlee here yesterday.
Taib praised Ikmas for the hard work it put in to empower Islam and its teachings in the state, adding that more of the younger generation were seen actively involved in religious activities now compared to before.
"This happens as they were exposed to Islamic values and teachings at an early age and I believe that we are on the right track to bring Islam to another positive uprising," he added.
Earlier on, Minister in the Prime Minister's Department Datuk Dr Mujahid Yusuf Rawa said Ikmas had reached another milestone after its diploma programme since 2016 received temporary accreditation from the Malaysia Qualification Agency (MQA).
"The full accreditation is expected to be achieved as early as next year and it is certainly an acknowledgement of the capability of Ikmas," said Mujahid.
He expressed confidence that the accreditation would give added value to Ikmas graduates and be a morale booster to the staff in achieving better results for the institute.
"The government will look into providing scholarships to excellent students to pursue higher education.
"We are also studying a masterplan to transform Ikmas to ensure that it will be on par with other higher learning institutions in the state," he added.
A total of 115 students of Diploma in Islamic Learning and Dakwah received their diploma scrolls at the convocation ceremony yesterday.
http://www.theborneopost.com/2018/08/08/islamic-bodies-told-to-enhance-role-in-understanding-of-islam/
--------
The Islamic school that ensures its boys understand the Israeli point of view
Helen Pidd
7 Aug 2018
More than 550,000 students took GCSE history this summer, says Michael Davies, a history teacher at Lancaster Royal Grammar, a selective state boys' school in Lancashire. "Of those, only 2,200 had studied Israel and Palestine. In comparison, 70,000 had studied the history of the American West."
At Abrar Academy, a private Muslim boys' school based in a former Methodist church in Preston, this year's GCSE cohort did not take the Israel/Palestine option. Like so many schools of all dominations, they studied the first world war instead.
It's not that the boys aren't interested, says Suhayl Hafiz, curriculum manager, during the eerily quiet lunch break: "Palestine is the third holiest site in Islam, and the conflict is something all the boys have heard about, whether at the mosque or at home or in school."
It was their history teacher's decision, he says, as a group of boys in long white tunics play barefoot football downstairs where the pews used to be. "They weren't really confident at that time." It's something Davies has often heard: "Teachers are scared of it. It's a hot potato. They are worried about upsetting parents or the kids saying something which will be reported to the authorities, and so they teach the Tudors instead."
Yet towards the end of Abrar's summer term, Hafiz accepted an offer from Davies to teach a class on one of the most divisive conflicts in the modern world. It was a big moment for Davies, who has set up a project called Parallel Histories, which teaches Israel/Palestine from both sides rather than "twisting competing perspectives into a single, compromised narrative".
In June he organised an event at the House of Lords to discuss why so few schools dare to teach this difficult and often very emotional topic. None of the 20 or so Muslim schools he invited came. A few Jewish institutions did, encouraged by Samantha Benson, director of education at the Partnership for Jewish Schools.
It was disappointing but not a surprise. "Muslim schools are acutely aware of the potential for bad publicity after the Trojan Horse affair," says Davies, referring to a scandal in some Birmingham schools in 2013 and 2014 when hardline Muslims were accused of conspiring to take over local schools and running them according to strict Islamic principles.
"The downside of tackling Israel and Palestine in front of outsiders is obvious – Muslim students care passionately about it and the story of Palestinian oppression feeds into a broader narrative of Muslims as victims of western aggression, and that's not an area where most teachers want to go with observers in the classroom," says Davies.
At the Abrar academy, a warning bell sounds out across the school. It is still the middle of a lesson but the bell tells the boys that they have 15 minutes before their afternoon prayer. At the anointed time, they will kneel down in neat rows and press their skullcap-clad heads to the ground in worship before it is time for the last secular class of the day. Afternoons are devoted to secular studies; the morning is set aside for Islamic study: Qur'anic recitation and translation, Arabic lessons and Islamic theology. In 2016, Ofsted found the school "requires improvement", saying teaching in secular subjects did not help pupils to learn as well as in Islamic lessons.
Around 120 boys aged 11 to 21 study at Abrar, which was set up in 2009 by Hadhrat Shaikh Maulana Fazlehaq Wadee, a scholar of the Deobandi strand of Sunni Islam. Day pupils pay £1,300 a year – boarders £2,500 (Lancaster Royal Grammar charges £11,181 per year for boarders, considered to be at the bargain basement end of the market).
Although the Deobandis have a reputation for hardline puritanism (the Taliban are its most notorious proponents), the teaching at Abrar is quite liberal, insists Hafiz, an alumnus of a Preston state school. "We think of ourselves as British so we are quite liberal in that sense." He points to link projects with nearby Lowton high school, including a visit by their pupils who tried on Islamic dress and experienced Muslim education for a day.
People make the wrong assumptions about us, says a 15-year-old boarder from Newcastle. "My parents wanted me to go to a secular school but it was me that pushed to come here." Some of the boys change into jeans and T-shirts as soon as school is out: others prefer Islamic dress seven days a week. A good proportion of the boys aspire to be an imam or a Muslim scholar, perhaps after pursing a secular degree.
All of Abrar's teachers are male and when female students visit the school and take extracurricular lessons on the balcony, they are shielded by fabric and room dividers. Nonetheless the boys do not seem fazed by the arrival of a blond female reporter with bare arms and uncovered hair, and are curious about the Guardian's interest in their school.
Davies is excited about the lesson he has planned on the Balfour declaration, a hotly contested document signed by the British in 1917 which promised the land of Palestine to the Zionist Federation, a recently established political movement whose goal was the creation of a Jewish state.
The boys, aged 14 to 19, have already been split into two groups to prepare for a debate. Half were disappointed to be told they must argue that the British should be praised for the declaration – an opinion held by very few Muslims.
Two boys are appointed judges and mark their classmates on content and presentation, totting up the scores to declare the Palestinian side winners, though only by a whisker.
Abdul, 15, on the Israel team, says his side had to work harder: "I told the team, swallow your pride, just do it. Even after hours and hours of research we thought Palestine had a stronger argument, so to find an argument for Israel and the Jews to have this thing was really difficult.
"But we did find it, we found small things to pick out and expand on, and we were very close to actually winning. I was more on the other side but now I've got a bit more understanding and think Israel does have a point. In this school especially we are trying to become Muslim scholars but we have to go out there and we need to be aware of what's going on – this is Britain, we need to understand British values. All of this will help us understand tolerance, etc. If we are biased to one opinion by ignorance then it's not fair. No matter if they are Jews or whatever, they are still human. We have to respect them."
Earlier this year, Davies split his Lancaster Grammar students into two groups. One was taught the Israeli view, the other the Palestinian. Afterwards, they were surveyed on the Balfour declaration and if the British should have signed it. Their answers were influenced by what they had been taught. Almost 60% of those taught the Jewish side said the British should be praised, while almost 50% of those taught the Palestinian narrative said the British should be criticised.
After the Abrar lesson, just two boys say that they still believe Israel does not have a right to exist.
"Obviously you have to look at it with a sympathetic view when you are dealing with the Jewish part of things because they came out of the holocaust and needed a land of their own and Palestine did have a bit of space," says Mohammed, 19.
"But what makes me say that Israel doesn't have the right to exist is the fundamentals of what it was built on and how they deal with Palestine right now."
Davies asks if he would distinguish between "right to exist" and "be heavily criticised". "I wouldn't say it should be eliminated right now but the basis on which Israel was built was wrong," says the boy. "I don't think it should be removed now that it exists."
https://www.theguardian.com/education/2018/aug/07/islamic-school-israeli-palestine-conflict
--------
No relief for people likely in first 100 days of PTI government
Khaleeq Kiani
August 08, 2018
ISLAMABAD: The incoming Pakistan Tehreek-i-Insaf government plans to offer profitable dollar bonds to overseas Pakistanis, place China-Pakistan Economic Corridor (CPEC) agreements before parliament, but is unlikely to offer any relief to the people in the first 100 days in office.
Speaking at the first formal press conference after the recent elections, the likely new finance minister Asad Umar said that offering any relief or subsidy to the people in first 100 days was like giving lollipops. He said the first 100 days would also not see a decision that would change the destiny of the nation, but a clear direction on what "we promised and where we are headed for stock-taking".
He complained that the local and international media did not quote him accurately in recent reports about the need for $12 billion foreign financing, privatisation of 200 companies, including the Pakistan International Airlines and Pakistan Steel Mills, and so on. He said there was no discussion so far on revising budget and non-transparency in foreign loans was the real challenge.
Mr Umar said the PTI so far did not have access to real data, nor did it have any outside view of the latest situation but based on the best available information, one thing was clear that the requirement was reasonably urgent to examine all available options to finance external account. "The situation is such that we don't have the luxury of choosing one option, but will have to plan all options in parallel, including the IMF support within six weeks."
The PTI leader said Sukuk bond, Eurobond, bilateral and multilateral options were on the table, but most importantly his party wanted to tap into overseas Pakistanis' potential in a big way. "The Pakistanis abroad have a sentimental relationship with PTI and Imran Khan and we plan to give them debt instruments with returns better than what they are getting at present so that they could also take a pride in nation building."
See: How the Pakistani economy survived a second transition of democracy
He said it could be on the pattern of dollar-denominated bond of the Central Directorate of National Savings and the people abroad also wanted its tradability. Secondly, he added, overseas Pakistanis would also be offered equity instruments, for example, in real estate, but by taking risk away from those who had bad experiences of their investments. "There is no size decided, nor market assessed" and it would depend on the situation and demand, he said in response to a question.
Mr Umar said all agreements should be transparent and placed before parliament unless some real secret was involved. He said his party had been demanding that the CPEC and LNG agreements should be presented in parliament and it would now ensure that economic decision-making was transparent.
In reply to question, he said that after a lot of efforts at the level of parliamentary committees he had been able to access the details about the CPEC agreements and there was nothing in those agreements to hide. "Yes, we will bring them before parliament to ensure transparency."
At the same time, Mr Umar said there was no question of going back on any international commitment or reopening any agreement unless some clear wrongdoing or corruption appeared and there should not be any problem to take them up with the Chinese government which was aggressively fighting corruption which was neither in the interest of China nor Pakistan. Likewise, he said the LNG agreement with Qatar would also be presented before parliament.
He said the Chinese ambassador held a meeting with PTI chairman Imran Khan and had a follow-up session with him in which matters relating to taking the CPEC to the next level were discussed without any specific proposals. He said no loans were discussed with the Chinese, but "we have an assurance that China as a friend would stand by us".
He criticised the Pakistan Muslim League-Nawaz government for presenting an unrealistic budget and reckless spending for political means and borrowing heavily which had increased fiscal deficit for the last financial year to 7.1 per cent from a target of 4.1pc. "We never have such expansionary monetary and fiscal policies, while current account deficit reached an unsustainable level, from $2 billion a year when the problem started to $2 billion a month when the PML-N left."
Mr Umar said the availability of bankable data on everything was the real challenge and even power production and supply numbers were unrealistic, adding that commercial loans were not a problem, but the problem was with transparency in all sectors and agreements.
He said the situation in Pakistan was dire at present and required tough decisions for course correction, adding that it would be unfair so say that Pakistan had never been to dire situations like this before and it came out of problems in the past and there was no reason not to overcome challenges this time.
Mr Umar claimed that no real reforms had taken place over the past five years and it was not only failure of the government but also the IMF as the two together "kept glossing over the challenges with Panadol to bring down fever instead of curing the disease with real reform".
He said all the loss-making entities would be taken out of the control of line ministries that protected the status quo and placed under a wealth fund whose ownership would remain in the name of the president of Pakistan. There would be no need for seed money and would keep getting financing from the finance ministry as before.
He said there was no truth in reports about deals to free former prime minister Nawaz Sharif. He said the best relief for the people could be real reforms that included reduction in indirect taxes which have touched 90pc now and increase recoveries from direct taxes. He said Imran Khan would not distribute jobs in D-Chowk, but increase revenues, reduce expenditures and open up six areas for investments and job creation.
https://www.dawn.com/news/1425671/no-relief-for-people-likely-in-first-100-days-of-pti-government
--------
Iraqi court sentences five Takfiri Daesh terrorists to death by hanging
Aug 7, 2018
A court in Iraq has sentenced five Iraqi nationals to death by hanging over their membership in the Daesh Takfiri terrorist group and involvement in criminal acts in the war-ravaged Arab country.
Abdul Sattar al-Biraqdar, spokesman for Iraq's Supreme Judicial Council, said in a statement that the country's Central Criminal Court issued the verdicts against the convicts after they confessed to having fought against security and military forces in Nineveh and Anbar provinces and carrying out terrorist attacks, Arabic-language al-Forat television network reported.
The development came only a day after the same Iraqi court sentenced 55-year-old French citizen Lahcen Ammar Gueboudj and German national Nadia Rainer Hermann, 22, to life imprisonment on charges of affiliation to Daesh terror group.
The Criminal Court of Nineveh sentenced an unnamed Daesh militant to death on July 8 after he was convicted of killing 16 people at Mosul General Hospital, and planting hundreds of bombs east of the provincial capital city of Mosul, located some 400 kilometers (250 miles) north of Baghdad.
Biraqdar said the convict has confessed to executing civilians, and planting 250 explosive devices across the town of Bartella.
On June 30, Iraqi Prime Minister Haider al-Abadi, who is also the commander-in-chief of Iraqi forces, pledged to hunt down Daesh militants across Iraq after recent attacks and abductions carried out by the terrorist group.
"We will chase the remaining cells of terrorism in their hideouts and we will kill them, we will chase them everywhere, in the mountains and the desert," Abadi said.
Abadi declared the end of military operations against Daesh in the Arab country on December 9, 2017.
On July 10 that year, the Iraqi prime minister had formally declared victory over Daesh extremists in Mosul, which served as the terrorists' main urban stronghold in the conflict-ridden Arab country.
In the run-up to Mosul's liberation, Iraqi army soldiers and volunteer Hashd al-Sha'abi fighters had made sweeping gains against Daesh.
The Iraqi forces took control of eastern Mosul in January 2017 after 100 days of fighting, and launched the battle in the west on February 19 last year.
Daesh began a terror campaign in Iraq in 2014, overrunning vast swathes in lightning attacks.
https://www.presstv.com/Detail/2018/08/07/570486/Iraqi-court-sentences-five-Takfiri-Daesh-terrorists-to-death-by-hanging
--------
Bangladesh militant groups trying to reunite before polls
August 8, 2018
New Delhi/Dhaka, Aug 8 (UNI) Two Jehadist Bangladesh-based groups, Jamaat-ul Mujahideen Bangladesh (JMB) and Ansarul Islam along with other smaller groups are trying to come together and forge an umbrella organisation to escalate their activities ahead of general elections due later this year.
According to reports from Dhaka and Delhi, the militants may target 'popular and progressive' Awami League leaders and also security officials, government establishments and independent bloggers and foreigners working in development projects.
Sources in Indian government say the expansion plans of militant groups in Bangladesh are largely rooted in domestic political dynamics especially due to "marginalisation" of the Khaleda Zia-led Bangladesh Nationalist Party(BNP) through corruption cases and their conviction.
"Radical Islamist groups are trying to forge a single platform with the aim to create anarchy ahead of the national elections, intelligence agencies alerted the Home Ministry (of Bangladesh) recently," said a report in Dhaka-based English newspaper 'The Daily Star'.
"There is threat, but we are aware of it and working on it in full swing. So, their activities have been minimised," Additional Deputy Inspector General (Intelligence & Special Affairs) Md Moniruzzaman has been quoted as saying in the newspaper.
It has also been suggested that a top leader of a faction of Gonojagoron Mancha, a civil society group, might also be a target of the militants as the mainstream JMB had been monitoring their activities.
Sources further said the influx of hundreds of thousands of Rohingya muslims from Myanmar's Rakhine state in August-December 2017 also has raised security concerns for Bangladesh.
Reports also said Jehadist groups and also ISIS could try exploit 'Rohingya's plight' in efforts to mobilise support.
Accordingly, Bangladesh government has been advised by Indian agencies that efforts should be made not only on counter-terrorism operations or enhanced security measures but on providing support for refugees and intensify the efforts to assuage potential friction between Rohingyas and host communities.
Bangladesh Prime Minister Sheikh Hasina has again renewed her call to the international community, including Japan, to persuade Myanmar to take back their Rohingya nationals from Bangladesh.
"The Rohingyas must return and for this, the global community will have to persuade Myanmar to take them back from Bangladesh," she said when Japanese Foreign Minister Taro Kono paid a courtesy call on her.
http://www.uniindia.com/~/bangladesh-militant-groups-trying-to-reunite-before-polls/India/news/1313199.html
--------
Southeast Asia
Hands off Women's Dresses, Rights Group Tells Malaysian Religious Minister
07 August 2018
PETALING JAYA, Aug 7 ― Women's Aid Organisation (WAO) has opposed Putrajaya's effort that control women's clothing and restrict their freedom of expression today, saying that such policies are extremely sexist that based on stereotype of women are seductresses.
"The obsession to control what women wear has to stop now," it said in a statement.
"If the government is really serious about eliminating gender discrimination, they should prohibit employers from dismissing or refusing to hire women based on their attire, instead of creating policies to dictate how women should dress," it said in a statement today.
WAO was responding to Minister in the Prime Minister's Department Datuk Mujahid Yusof Rawa who announced yesterday that the government is working on a dress code for Muslim women in the private sector.
WOA said there is already many emphases on women's appearance in our society.
"The government should instead focus on more substantive issues such as ensuring that parents have access to affordable child care, increasing women's labour force participation, and enacting a Sexual Harassment Act and a Gender Equality Act, which would protect against gender discrimination and accelerate gender equality," it added.
Yesterday, Malaysiakini reported that the government will prepare a set of Shariah-compliant dress code guideline for the private sector, which is expected to be completed by the end of the year.
Among the industries involved are the hotel industry and airline industry.
https://www.malaymail.com/s/1660056/hands-off-womens-dresses-rights-group-tells-religious-minister
--------
Malaysia shuts down Saudi-backed anti-terrorism centre
Aug 7, 2018
KUALA LUMPUR: Malaysia's new government has shut down a Saudi backed anti-terrorism centre, just over a year after it was launched by the kingdom's ruling monarch during a visit here last year.
Defense minister Mohamad Sabu said in a written reply to a question in parliament on Monday that the King Salman centre for international peace will cease operation immediately and that its function will be absorbed by the Malaysian institute of defense and security.
He didn't give a reason for the closure.
The centre, which aims to draw Islamic scholars to combat extremist views and promote tolerance, was announced in March last year during King Salman's visit to Malaysia under former Malaysian leader Najib Razak. It has a temporary office in Kuala Lumpur while awaiting the construction of a permanent building in Malaysia's administrative capital of Putrajaya.
Najib suffered a shocking defeat in May's national polls and is now facing corruption charges.
Opposition lawmaker Hishammuddin Hussein, who was formerly defense minister, said Tuesday that the move to close the centre was a loss to the nation amid growing terrorism in the Muslim world. He said the centre was aimed at putting predominantly Muslim Malaysia at the forefront of the fight against violent extremism and ideologies together with Saudi Arabia.
There have been concerns in recent years that under Najib, Saudi Arabia's ltraconservative interpretation of Islam has gained an expanded foothold in Malaysia.
Full report at:
https://timesofindia.indiatimes.com/world/rest-of-world/malaysia-shuts-down-saudi-backed-anti-terrorism-centre/articleshow/65304997.cms
--------
Sandals point to victims in mosque shattered by Indonesia quake
AUGUST 8, 2018
A shattered mosque in quake-hit northern Lombok, where sandals remain scattered outside its entrance, has become a focal point of the rescue effort after one weeping man was hauled out of the wreckage.
An unknown number of worshippers were performing evening prayers at the Jabal Nur mosque in the village of Lading-Lading on Sunday when the 6.9-magnitude quake sent deadly tremors coursing through the ground.
Congregants described chaotic scenes as the shallow quake hit, bringing down walls and bending the minaret. Some got out before the roof came down, others did not.
"We were praying when suddenly an extremely strong shaking occurred," Tara, who like many Indonesians only has one name, told AFP. "I immediately grabbed my grandson, who is three years old, everyone was then scrambling to get out," he added.
As many as 50 people may have been in the mosque at the time of the quake, another witness named Kelana told AFP.
"Our imam ran, so the others followed," the 53-year-old said, adding he couldn't tell how many people managed to escape.
Police, soldiers and volunteers have worked frantically to remove debris from the site in scenes repeated across the picturesque volcanic island, which draws holidaymakers from around the world.
On Monday there was a brief moment of success. Video posted by rescuers online showed a dazed and disorientated man, dust-covered and still wearing his prayer cap, pulled alive from the twisted remains of the building.
"You're safe sir, you're safe," one rescuer said as the man burst into sobs.
But the emergency crews have also had to contend with death. Three times now they have come across and removed broken bodies crushed under the weight of tonnes of concrete and rebar.
Rescuers have used concrete cutters and excavators to claw through the rubble, while shattered roads had initially hampered efforts to bring heavy machinery into the village.
Rescuers say they will not stop looking.
"We estimate there are still more victims because we found many sandals in front of the mosque," national disaster agency spokesman Sutopo Purwo Nugroho, told reporters on Tuesday.
Across much of Lombok, once bustling villages have been turned into virtual ghost towns, with residents sleeping out in the open, scared to stay near their shattered homes amid regular aftershocks. Eerie footage filmed in Tanjung district in the island's north showed streets deserted, save for a few nervous residents and motorcycles passing along the dusty main road.
Power lines have been toppled and many houses reduced to piles of stone and plaster.
Full report at:
https://dailytimes.com.pk/279946/sandals-point-to-victims-in-mosque-shattered-by-indonesia-quake/
--------
You are traitors, Sabah Umno chief slams reps for quitting party
Tracy Patrick
August 7, 2018
KOTA KINABALU: Sabah Umno chief Hajiji Noor branded elected representatives who left the party to work with Parti Warisan Sabah and Pakatan Harapan (PH) as unprincipled and dishonourable.
Speaking after chairing the Sabah Umno meeting here today, Hajiji said the assemblymen had betrayed the mandate given to them by Umno and Barisan Nasional (BN) supporters and voters.
"They left the party and the coalition because of their personal interests and also because of posts. They are traitors and these traitors would definitely be punished by the voters and the people," he said.
The six Umno members who left Umno and threw their support behind Warisan and PH are Balung assemblyman Osman Jamal, Tanjung Batu assemblyman Hamisa Samad, Sebatik assemblyman Abdul Muis Picho, Pitas assemblyman Bolkiah Ismail, Kemabong assemblyman Jamawi Jaafar and Sugut assemblyman James Ratib.
United Pasok Momogun Kadazandusun Murut Organisation (Upko) acting president Madius Tangau also brought four of five Upko assemblymen out of BN to support Warisan.
Hajiji reiterated Sabah Umno's commitment to be an effective opposition in the new government, saying that its new status should not discourage its members from fighting for the interests of the people in the state.
"Those left in the party now are fighters who have dignity, sincerity and loyalty to the party's struggles. The party is strong as long as we continue to hold on to our true principles and we will become a strong and constructive opposition," he said.
Hajiji also took the opportunity to take a swipe at Labuan DAP ex-protem chairman Lau Seng Kiat who urged non-Muslim Bumiputera Umno members to leave Umno.
Telling Lau to stay out of Sabah Umno's business, Hajiji said the presence and struggles of non-Muslim Bumputeras in Sabah Umno had nothing to do with DAP.
He said Umno had been present in Sabah more than 25 years ago and had contributed so much to the state, especially in developing the state and protecting the people's interests.
"Thus, Sabah Umno has become the favourite choice for many among the non-Muslim Bumputeras to join in fighting and serving the people, because they are confident and believe in Umno's struggle," he said.
Hajiji, who is also Tuaran Umno division chief, said Sabah Umno had never neglected its non-Muslim Bumiputera members.
"They receive the same treatment and privileges as the Muslim members of the party. They are also free to contest for posts in the party's election, and even the post of Umno division chief, like Senator John Ambrose and ex-Tenom Umno division chief Rubin Balang," he said.
"Sabah Umno is sincere in fighting to safeguard and help the people of Sabah, particularly those at the grassroots level.
"Sabah Umno is different from DAP Sabah which does not have divisions and branches throughout Sabah… that's why DAP cannot serve or provide for all the people of Sabah," he said.
Full report at:
http://www.freemalaysiatoday.com/category/nation/2018/08/07/you-are-traitors-sabah-umno-chief-slams-reps-for-quitting-party/
--------
Probe other Islamic bodies for corruption too, lawyer urges Putrajaya
August 8, 2018
PETALING JAYA: A lawyer has urged Putrajaya to look into the possible abuse of power and corruption in other federal-linked religious bodies as well, following reports that funds belonging to a government-linked Islamic body were frozen after an internal audit.
Syed Iskandar Syed Jaaafar Al Mahdzar said minister in charge of Islamic affairs Mujahid Yusof Rawa should also investigate the activities of the Malaysian Islamic Development Department (Jakim), the Da'wah Foundation Malaysia (Yadim), Malaysian Economic Development Foundation Malaysia (Yapeim) and the Shariah Judiciary Department of Malaysia.
"There is a wastage of public resources due to abuse of power and corruption. Even the conduct of the Shariah Court judges should be looked into," he told FMT.
His remarks followed reports that funds belonging to the Malaysian Islamic Strategic Research Institute (Iksim) were frozen after an internal audit revealed possible abuse of power and misuse of funds.
Mujahid said the audit revealed that Iksim had received RM7.6 million but only RM200,000 was accounted for.
He added that Iksim had been funded by the Federal Territories Islamic Religious Council (MAIWP).
"However, MAIWP has stopped funding it further despite its earlier pledge to do so."
Syed Iskandar said Putrajaya through Jakim and MAIWP had channelled funds to Islamic organisations to help poor and needy Muslims. However, he claimed only a select few had benefitted from this.
He said even shariah judges had committed professional misconduct by openly campaigning for Barisan Nasional and Mujahid's predecessor, Jamil Khir Baharom, in the recent general election.
"The evidence is readily available. The Pakatan Harapan government should look into this matter."
He also alleged that Iksim was formed two years ago as a company to promote former prime minister Najib Razak as an Islamic leader, and to portray then-opposition parties like PKR and DAP as anti-Islam.
"Funds from MAIWP were channelled to Iksim to carry out the agenda of those in power," he said, adding that such conduct had led to Islam being portrayed in a negative light.
Full report at:
http://www.freemalaysiatoday.com/category/nation/2018/08/08/probe-other-islamic-bodies-for-corruption-too-lawyer-urges-putrajaya/
--------
Nearly 300 Suspected Terrorists Arrested Since Surabaya Attacks: Police
August 07, 2018
Jakarta. Nearly 300 suspects have been arrested since the series of terrorist attacks in East Java during May, National Police chief Gen. Tito Karnavian said on Tuesday (07/08).
"We have been arresting suspected terrorists. According to the most recent report from last night, 283 suspected terrorists have been arrested since the Surabaya bombings," Tito said, as quoted by BeritaSatu.com.
Security forces have been focusing on the threat of terrorism, especially with the Asian Games set to begin on Aug. 18.
The military and police will deploy 40,000 officers to safeguard the event, which will involve around 15,000 athletes and officials from 45 countries.
In the wake of the attacks in East Java, lawmakers sped up deliberations on a revision of the 2003 Antiterrorism Law, which was finally approved by the House of Representatives on May 25.
Tito said the new law allows police to tackle the issue of terrorism more effectively.
In addition, the South Jakarta District Court recently banned Jamaah Ansharut Daulah over its involvement in high-profile terrorist attacks in Indonesia, including the attacks in Surabaya.
The court also outlawed other Islamic State-affiliated organizations in Indonesia.
"This means that anyone who is affiliated or a member [of such organizations] can be convicted. The old law did not allow us to do this, as it required evidence, including weapons, planning and actions, so often times we were too late," Tito explained.
Full report at:
http://jakartaglobe.id/news/nearly-300-suspected-terrorists-arrested-since-surabaya-attacks-police/
--------
Mideast
Israeli military court gives 1.5 years in jail to Palestinian minor
Aug 7, 2018
An Israeli military court has handed down a jail term of 18 months to a Palestinian minor as the number of Palestinian children being held in Tel Aviv regime's prisons and detention facilities is soaring following US President Donald Trump's decision to recognize Jerusalem al-Quds as Israel's capital and relocate the US embassy in Israel from Tel Aviv to the occupied city.
The court passed the sentence on Qassem Abu Bakr, who is a local of the northern West Bank town of Ya'bad, on Tuesday, and also ordered him to pay a fine of 5,000 Israeli shekels (US$ 1,357.50).
The jail terms comes as nearly 350 Palestinian minors are currently being held under conditions in Israeli prisons, which do not meet the minimum requirements laid down by international rights institutions.
According to the Palestinian Information Center, at least 8,000 Palestinian minors have been arrested and prosecuted in Israeli military courts since 2000.
It is estimated that between 500 and 700 Palestinian minors, some as young as 12 years old, are arrested and brought to trial in Israeli courts. The most common charge is stone-throwing.
More than 7,000 Palestinian prisoners are currently held in some 17 Israeli jails, dozens of whom are serving multiple life sentences.
Over 500 detainees are under the so-called administrative detention, which is a sort of imprisonment without trial or charge that allows Israel to incarcerate Palestinians for up to six months, extendable an infinite number of times.
Some prisoners have been held in administrative detention for up to 11 years without any charges brought against them.
Palestinian detainees have continuously resorted to open-ended hunger strikes in an attempt to express their outrage at the detentions.
The dramatic shift in Washington's policy vis-à-vis Jerusalem al-Quds on December 6 last year has triggered demonstrations in the occupied Palestinian territories, Iran, Turkey, Egypt, Jordan, Tunisia, Algeria, Iraq, Morocco and other Muslim countries.
On December 21 last year, the United Nations General Assembly overwhelmingly voted in favor of a resolution that calls on the US to withdraw its controversial recognition of Jerusalem al-Quds as Israeli "capital."
In an attempt to prevent the passing of the resolution, Trump threatened reprisals against countries that backed the measure, which had earlier faced a US veto at the UN Security Council.
Israel, however, rejected the world body's resolution while thanking Trump for his decision to move the US embassy to Jerusalem al-Quds.
On January 18, the United States reneged on a pledge to contribute $45 million to the United Nations Relief and Works Agency for Palestine Refugees in the Near East (UNRWA), which supports more than five million registered Palestinian refugees and their descendants.
The announcement to cut aid to Palestinian refugees came after the US president made a threat to cut off aid to the UN's Palestinian refugee agency.
In a series of tweets on January 2, Trump had said that the US paid "the Palestinians hundreds of millions of dollars a year" and yet got "no appreciation or respect."
https://www.presstv.com/Detail/2018/08/07/570474/Israeli-military-court-gives-15-years-in-jail-to-Palestinian-minor
--------
Israeli strike kills two Hamas militants in Gaza
7 August 2018
An Israeli strike on Tuesday killed two militants of the Gaza Strip's ruling Hamas movement after shots were fired at soldiers, Gazan and Israeli officials said.
The extremist group's military wing, the Ezzedine al-Qassam Brigades, confirmed in a statement that the dead men were its fighters, naming them as Ahmed Murjan and Abdel-Hafez al-Silawi.
It said a series of explosions had targeted a military site while it was being visited by senior leaders, without naming them.
An Israeli military statement, apparently referring to the same incident, said that the army returned fire after shots were fired at its soldiers from a Hamas post in the northern Gaza Strip, next to the border with Israel.
Palestinian security sources said that the Israeli attack was in the north of the strip.
A video distributed by the Israeli army appeared to show a tank striking a military post in the Gaza Strip.
The military said it was prepared "to target any aggression against Israel and holds Hamas responsible for everything happening in and from the Gaza Strip."
It added that no Israeli troops were injured in the exchange.
Hamas warned Israel that it would pay for the attack, without elaborating.
"The resistance cannot allow the occupation to impose a policy of bombing sites and targeting fighters without paying the price," it said in a statement.
Speaking later, Hamas leader Ismail Haniya condemned what he called a "crime."
He said the movement was facing "rapid political and field developments."
Since Palestinian protests and clashes along the Gaza border erupted at the end of March, at least 160 Palestinians have been killed by Israeli fire.
One Israeli soldier has been shot dead by a Palestinian sniper.
The protests call for Palestinians to be able to return to the land they or their families fled or were expelled from in the 1948 war surrounding the creation of Israel.
Israel says any such return would mean its end as a Jewish state.
Gaza's rulers Hamas have fought three wars with Israel since 2008.
Full report at:
https://english.alarabiya.net/en/News/middle-east/2018/08/07/Israeli-strike-kills-two-Hamas-militants-in-Gaza.html
--------
Tehran sends Hamza Bin Laden to Afghanistan
7 August 2018
Sources close to the family of Osama bin Laden told Asharq Al-Awsat on Monday that Iran lately interfered to send bin Laden's son, Hamza, who lived with his mother in Tehran, to Afghanistan and not to Saudi Arabia, where the rest of his sons are staying.
"A number of bin Laden's sons, their wives and their sons already returned from Tehran to Saudi Arabia," the sources confirmed.
Hamza is the son of Khairiah Sabar, one of bin Laden's three surviving wives.
Omar, 37, the fourth son of the former Al Qaeda leader told Asharq Al-Awsat that five of his brothers and sisters from his mother Najwa al-Ghanem, the first wife of bin Laden, were staying in Tehran.
Omar exerted efforts to secure that his brothers and sisters leave Tehran. Those who have returned home are: Mohammed, Bakr, Fatimah, Iman and Othman.
"Contacts with high-ranking officials in Saudi Arabia facilitated their return home," he said.
Omar explained that history would have changed had Iran allowed his brother Hamza to leave the country and travel to Saudi Arabia or Qatar.
"He wouldn't be chased after," he said.
Separately, Omar confirmed that his brother is now married to the daughter of Abu Mohammed al-Masri, denying reports that emerged in the past few days saying that Hamza has recently married a daughter of the lead 9/11 plane hijacker.
Some media outlets previously speculated she could be an Egyptian national in her late teens or early 20s, the daughter of Mohammed Atta, one of the leaders of the 9/11 attack and who personally rammed the northern tower of World Trade Center in New York City.
"He married neither the daughter of Mohammed Atta nor Mohammed Islambouli (a US-designated terrorist)," he said.
Masri is the second in command in Al Qaeda and is wanted by the US for his alleged role in the 1998 embassy bombings in Tanzania and Kenya.
Masri lived in Iran before he was released with five of Al Qaeda leaders in exchange for an Iranian diplomat who had been kidnapped in Yemen.
Full report at:
https://english.alarabiya.net/en/News/middle-east/2018/08/07/Tehran-Sends-Hamza-Bin-Laden-to-Afghanistan-.html
--------
US supporting UAE's collusion with al-Qaeda in Yemen: Ansarullah
Aug 7, 2018
The spokesman for Yemen's Houthi Ansarullah movement has strongly condemned the United Arab Emirates (UAE) over its collusion with the al-Qaeda terrorist network in the Saudi-led military aggression against his country, stating that such a conduct has been supported by the US administration.
"In the wake of the Saudi-led onslaught on Yemen and the aggressor's desperate need for mercenaries, the UAE has cemented its relationship with al-Qaeda under the auspices of the United States," Yemen's Arabic-language al-Masirah television network cited Mohammed Abdul-Salam as writing on his official Twitter page on Tuesday.
He added, "The recent report by The Associated Press attests to the fact that [Crown Prince of Abu Dhabi and Deputy Supreme Commander of the UAE's Armed Forces] Sheikh Mohammed bin Zayed bin Sultan Al Nahyan is a modern version of al-Qaeda leaders, and that Abu Dhabi serves as a hideout of the criminal group."
The Associated Press report states that the Saudi-led coalition on Yemen, backed by the United States, has been paying some al-Qaeda commanders to leave key Yemeni cities, while allowing others to retreat with weapons, equipment and wads of looted cash.
It further noted that the Riyadh-based alliance has even recruited hundreds of al-Qaeda militants in Yemen.
Moreover, Washington was aware of the coalition's secret deals with al-Qaeda, and avoided assassination drone strikes against members of the dangerous terror network.
"Elements of the US military are clearly aware that much of what the US is doing in Yemen is aiding AQAP (al-Qaeda in the Arabian Peninsula) and there is much angst about that," Michael Horton, a fellow at the Washington DC-based Jamestown Foundation, commented.
Some 15,000 Yemenis have been killed and thousands more injured since the onset of the Saudi-led aggression.
The United Nations says a record 22.2 million Yemenis are in need of food aid, including 8.4 million threatened by severe hunger.
A high-ranking UN aid official has warned against the "catastrophic" living conditions in Yemen, stating that there is a growing risk of famine and cholera there.
Full report at:
https://www.presstv.com/Detail/2018/08/07/570463/US-sponsoring-UAEs-collusion-with-alQaeda-in-Yemen-Ansarullah
--------
Mossad behind Syrian scientist's assassination: Intelligence official
Aug 7, 2018
Israel's Mossad spy agency was behind a car bomb blast that killed a Syrian scientist over the weekend, several media reports have suggested.
A senior official from a Middle Eastern intelligence agency told The New York Times on Monday that Mossad had a hand in the assassination of Aziz Azbar, the head of the Syrian Scientific Research and Studies Center in the city of Masyaf.
Speaking on condition of anonymity, the official said his agency had been informed of the operation, and that Mossad had been tracking Azbar for a long time.
In a similar report, Syria's al-Watan newspaper also suggested that Israel's Mossad was behind the targeted killing.
The Lebanese resistance movement Hezbollah - which has been helping the Syrian army in its ground operations against terrorists - also pointed the finger at Mossad in the killing of the Syrian scientist, according to the Beirut-based al-Akhbar newspaper.
The report said the assassination was part of Israel's campaign of aggression aimed at preventing Syria from rehabilitating its defense capabilities when the crisis in the Arab country comes to an end -- with an emphasis on preventing the development of precision weapons.
In an interview on army radio on Tuesday, Israel's Intelligence and Transportation Minister Yisrael Katz welcomed Asbar's "departure from the world."
But Israeli Minister of Military Affairs Avigdor Lieberman downplayed the possibility of Israeli involvement, telling Channel 2 news that, "Every day in the Middle East, there are hundreds of explosions and settling of scores. Every time they try to place the blame on us. So we won't take this too seriously."
The scientific center, run by Azbar, was the target of at least two Israeli aerial assaults over the past months.
Israel frequently attacks military targets inside Syria in an attempt to prop up terrorist groups that have been suffering defeats against Syrian government forces. The regime has also been providing weapons to anti-Damascus militants as well as medical treatment to Takfiri elements wounded in Syria.
In recent years, the Tel Aviv regime has been blamed for the killing of several scientists including two engineers from the Gaza-based Palestinian resistance movement, Hamas, in the last 18 months.
Full report at:
https://www.presstv.com/Detail/2018/08/07/570443/Israel-Mossad-Syrian-scientist-Aziz-Asbar-Middle-Eastern-intelligence-agency
--------
Pakistan
Fazlur Rehman's son to be MMA's nominee for NA deputy speaker
BY HAMID KHAN WAZIR
August 8, 2018
ISLAMABAD: The Muttahida Majlis-e-Amal (MMA) has nominated on Tuesday Maulana Fazlur Rehman's son Asad Mehmood as the candidate for the post of deputy speaker of National Assembly (NA).
Speaking to Pakistan Today, MMA Secretary General Liaquat Baloch confirmed Asad Mehmood's nomination for the post of deputy speaker saying that the Jamiat Ulema-e-Islam Fazl (JUI-F) got to pick the nominee since they have a majority. MMA Central Information Secretary Awais Noorani also confirmed the development.
However, Fazl's brother Senator Maulana Attaur Rehman has denied the rumours saying that no decision has been taken in this regard yet.
Earlier, it was being reported that differences have propped in the MMA over the nomination of deputy speaker, as MMA President Maulana Fazlur Rehman is interested to nominate his son Asad Mehmood for the slot.
Sources told Pakistan Today that the leadership of the religious alliance could not to evolve a consensus to nominate a candidate for the slot of deputy speaker. Despite the fact that there is hardly any chance to get an MMA candidate elected, Fazl has started lobbying for his son, who won from NA-37 Tank, for the slot, further widening the fissures within the fragile religious political parties' alliance.
They said that the Jamiat Ulema-e-Islam Fazl (JUI-F), being the major party of the alliance, has the right to nominate a candidate for the slot. But an experienced candidate needs to be nominated instead of an inexperienced MNA.
The sources further said that the decision on the matter has not been taken yet as the remaining parties of the alliance have voiced serious concerns over the name of Asad Mehmood because he is very young and has no experience of parliamentary politics. They added that since almost all the top leadership of JUI-F faced defeat in the election, Fazl wants to promote his son.
It is pertinent to mention here that the opposition parties in Pakistan formed a "Grand Opposition Alliance" against the Pakistan Tehreek-e-Insaf (PTI), which emerged as the single largest party in July 25 election.
The alliance includes Pakistan Muslim-Nawaz (PML-N), Pakistan People's Party (PPP), MMA, Awami National Party (ANP), Pakhtunkhwa Milli Awami Party (PkMAP), National Party Balochistan (NPB), Qaumi Watan Party (QWP) and Pak Sarzameen Party (PSP).
Under the agreed formula, the grand alliance has decided to nominate joint candidates for the election of prime minister, speaker and deputy speaker of the parliament.
Opposition parties would support PML-N candidate for the premiership, while PPP will field its candidate for speaker and MMA will nominate its candidate for deputy speaker slot.
So far, both the major parties, PML-N and PPP, have nominated their candidates for the slot of premier and speaker respectively. However, the MMA has yet to finalise its candidate for the post of deputy speaker due to the internal rift.
Talking to Pakistan Today, MMA Central Information Secretary Awais Noorani had said that the alliance would finalise the name for the slot within next two to three days.
When asked about Asad Mehmood's name, he said that he was not aware of any such development. However, when asked whether they discussed any name for the slot since PML-N and PPP have finalised their nominees, he said that they have not discussed the matter so far.
Noorani denied that there are any differences in the alliance and they would evolve a consensus on the issue soon.
https://www.pakistantoday.com.pk/2018/08/07/fazlur-rehmans-son-to-be-mmas-nominee-for-na-deputy-speaker/
--------
Zartaj Gul says victory proves women can be strong politicians
August 8, 2018
Pakistan Tehreek-e-Insaf (PTI) leader Zartaj Gul has said that her win in general election proves that women can compete with men in politics.
Zartaj won from NA-191, defeating Awais Laghari of Laghari family that has political influence in DG Khan region. She won 79,817 votes and scored 25,000 more votes than her opponent.
In an interview with a private media outlet on Tuesday, she said, "I entered politics to change the system. It does not make a difference whether you are rich or poor, people succeed owing to their mentality."
She said,"I will play my role in bringing change," adding, "I am neither a coward nor a hypocrite."
Speaking of PTI chief Imran Khan, Gul said, "Imran Khan's critics don't know him." She called him "a far-sighted leader who neither bows nor is bought".
Full report at:
https://www.pakistantoday.com.pk/2018/08/07/zartaj-gul-says-victory-proves-women-can-be-strong-politicians/
--------
Raheel heading Saudi-led alliance without cabinet's approval, SC told
AUGUST 8, 2018
The Supreme Court of Pakistan (SCP) on Tuesday referred the matter of former army chief Raheel Sharif's employment in Saudi Arabia to the federal cabinet after it was told that the highest executive body had yet to issue a No Objection Certificate (NOC) for the purpose.
A three-member bench, headed by Chief Justice of Pakistan (CJP) Mian Saqib Nisar, was hearing the case pertaining to dual nationalities of public office holders.
Earlier, Attorney General for Pakistan (AGP) Khalid Javed Khan admitted that Sharif proceeded to serve as the head of a Saudi Arabia led Islamic Military Alliance without a getting the NOC issued by the relevant ministry approved from the federal cabinet, a mandatory requirement. The AGP said that cabinet's approval was needed in view of new service rules
Additional Defence Secretary (ADS) retired Lt Gen Zamirul Hassan also appeared before the court and told the bench that when a request was received from Saudi Arabia regarding Sharif's induction in the military alliance, an NOC was issued by the General Headquarters (GHQ) and the Ministry of Defence.
The ADS told the court that in his reply to the queries sent on court's directions, former ISI chief Lt Gen (retd) Shuja Pasha denied that he was serving on any government post in his country of residence.
The ADS also informed the bench that the army had started an exercise to identify serving or retired officers with dual nationalities. The law does not allow army personnel to hold dual nationality.
Full report at:
https://dailytimes.com.pk/279983/raheel-heading-saudi-led-alliance-without-cabinets-approval-sc-told/
--------
Opposition to hold protest against 'rigging' outside ECP today
Amir Wasim
August 08, 2018
ISLAMABAD: The opposition parties will hold their first protest demonstration against alleged rigging in the July 25 general elections outside the Election Commission of Pakistan (ECP) here on Wednesday.
The decision to hold the protest had been made by the newly formed 11-party grand opposition alliance named 'Pakistan Alliance for Free and Fair Elections' at a multi-party conference held in Islamabad on Friday.
Besides the Pakistan Peoples Party (PPP) and the Pakistan Muslim League-Nawaz (PML-N), the opposition alliance comprises Awami National Party (ANP), Qaumi Watan Party (QWP), Pakhtunkhwa Milli Awami Party (PkMAP), National Party (NP) and Muttahida Majlis-i-Amal (MMA).
Talking to Dawn on Tuesday, PML-N's Mushahid Hussain Sayed said that party president Shahbaz Sharif would also participate in the protest demonstration, besides other heads of the opposition parties.
The PML-N senator said that ANP president Asfandyar Wali Khan, QWP chief Aftab Sherpao, MMA chief Maulana Fazlur Rehman and PkMAP president Mehmood Khan Achakzai had confirmed their participation in the protest. He said that NP president Hasil Bizenjo had already informed them that due to an important party engagement, he would not be able to come to Islamabad to take part in the protest.
When contacted, PPP vice president Sherry Rehman said all the top leaders of her party would be present in the protest. She, however, said that PPP chairman Bilawal Bhutto-Zardari and co-chairman Asif Zardari would not participate in the protest.
Sources in the opposition said that the parties had asked all their elected members and ticket-holders to reach Islamabad to participate in the demonstration. They said that the workers had not been asked to attend the Wednesday's event and they would soon be given a call for such protests across the country.
The opposition alliance has also given a call for holding protests outside the offices of the provincial election commissions on Thursday.
The opposition leaders have also decided to lodge a strong protest inside and outside parliament during the first sitting of the National Assembly. They have a plan to hold a public meeting in Islamabad soon after Eidul Azha.
Full report at:
https://www.dawn.com/news/1425668/opposition-to-hold-protest-against-rigging-outside-ecp-today
--------
Accord with Russia signed for training of Pakistani troops
Baqir Sajjad Syed
August 08, 2018
ISLAMABAD: Pakistan and Russia on Tuesday signed an agreement that allows for training of Pakistani troops at Russian military training institutes.
"Both countries signed the Contract on Admission of Service Members of Pakistan in RF's (Russian Federation) Training Insti­tutes," the defence ministry said in a statement.
The agreement was signed at the conclusion of the first meeting of Russia-Pakistan Joint Military Consultative Committee (JMCC), described by the defence ministry as the highest forum of defence collaboration between Pak­istan and the Russian Fede­ra­tion. The two countries had earlier this year, during the visit of the then foreign minister Khawaja Asif to Moscow, agreed to set up a commission to boost military cooperation.
Russian Deputy Defence Minister Col Gen Alexander Fomin led his side at the talks while Pakistani Defence Secretary retired Lt Gen Zamirul Hassan Shah headed the host side.
The two sides, during the talks, reviewed the progress made in bilateral defence cooperation since they signed the defence cooperation pact in November 2014. Subsequently, Pakistan and Russia in October 2015 signed the military-technical cooperation accord providing for arms supplies and cooperation in weapon development.
Russia has over the past three years provided four Mi-35M combat and cargo helicopters to Pakistan and the militaries of the two countries also held joint drills codenamed 'Friendship'.
"A comprehensive issue based review was also carried out during which the two countries expressed satisfaction on the milestones achieved," the defence ministry said, adding that the two sides deliberated on areas for cooperation in future.
The talks also featured a discussion on the situation in the Middle East and Afghanistan.
One of Russia's key concerns in its security dialogue with Pakistan had been the growing foothold of the militant Islamic State (IS) group, also known by its Arabic acronym Daesh, in Afghanistan and the relocation of IS fighters from Iraq and Syria to the land-locked country.
Meanwhile, Gen Fomin visited General Headquarters for a call on Chief of the Army Staff Gen Qamar Javed Bajwa.
During his meeting with Gen Bajwa, the Russian deputy defence minister "expressed requirement" of cooperation to defeat extremism, according to the Inter Services Public Relations.
Full report at:
https://www.dawn.com/news/1425673/accord-with-russia-signed-for-training-of-pakistani-troops
--------
Amir Khan, two others indicted for 'providing shelter to terrorists'
August 08, 2018
KARACHI: An antiterrorism court on Tuesday indicted Muttahida Qaumi Movement-Pakistan leader Amir Khan and two others in a case pertaining to providing shelter to alleged terrorists.
The senior deputy convener of the MQM-P, former in-charge of security of the now sealed MQM headquarters Nine Zero Minhaj Qazi and Raees, alias Mama, with their absconding accomplices have been charged with allegedly providing shelter to wanted criminals at Nine Zero in Azizabad and using them for terrorist activities.
The ATC-XVII judge, who is conducting the trial at the judicial complex inside the Karachi Central Prison, read out charges against the accused. However, they pleaded not guilty and opted to contest the case.
The court directed the prosecution to produce its witnesses for evidence on Aug 21.
Earlier, the court had indicted Amir Khan and Minhaj Qazi in the same case in November 2017. However, after Raees, alias Mama, one of the absconders, was arrested the court framed an amended charge on them.
Pakistan Rangers, Sindh, had detained the MQM leader with several others during a pre-dawn raid at and around the party headquarters on March 11, 2015.
According to the prosecution, the paramilitary force had arrested Amir Khan and 26 other armed suspects, including Faisal Mehmood, alias Mota, who was sentenced to death in absentia in the journalist Wali Babar murder case, during the raid.
It said that the MQM leader was in charge of the security of the party headquarters and he with five others had allegedly provided shelter to criminals and had been using them for terrorist activities in the city. A joint investigation team recommended the registration of a case against the MQM leader, it concluded.
A case was registered under sections 11-V (directing terrorist activities), 21-J (harbouring any person who committed an offence under this act) and 7 (punishment for act of terrorism) of the Anti-Terrorism Act, 1997 on a complaint of a Rangers' official at the Azizabad police station.
Full report at:
https://www.dawn.com/news/1425568/amir-khan-two-others-indicted-for-providing-shelter-to-terrorists
--------
IHC to hear Captain Safdar's plea against Avenfield conviction
AUGUST 8, 2018
ISLAMABAD: The Islamabad High Court (IHC) is to hear Captain (rtd) Safdar's appeal against his conviction in the Avenfield reference today.
Yesterday, the court decided in favor of Nawaz Sharif, accepting his plea to transfer the Al Aziza and Flagship case to another accountability court as the Sharif family's defense has raised questions about the impartiality of Judge Mohammad Bashir.
The plea against Nawaz and Maryam's convictions will be heard on Monday.
On July 6, an accountability court sentenced Nawaz to a total of 11 years in prison and imposed a £8 million fine (Rs1.3 billion) in the corruption reference, while his daughter Maryam was sentenced to eight years with a £2 million fine (Rs335 million). Nawaz's son-in-law Capt (retd) Safdar was also given a one-year sentence without any fine.
Full report at:
https://dailytimes.com.pk/280099/ihc-to-hear-captain-safdars-plea-against-avenfield-conviction/
--------
Arab World
Egypt says it supports Saudi Arabia in rights row with Canada
August 08, 2018
CAIRO: Egypt said Tuesday it supported Saudi Arabia in a political row with Canada, and stood in "solidarity" with the Gulf Arab kingdom against foreign interference in its domestic affairs.
Cairo's foreign ministry said on its Facebook page that it was "concerned by the crisis between Saudi Arabia and Canada, which is a result of the negative tendency by some international sides of meddling in the internal affairs of countries in the region", without elaborating.
The Saudi government on Sunday recalled its ambassador from Ottawa, barred Canada's ambassador to Riyadh and placed a ban on new trade, denouncing Canada for urging the release of rights activists.
Egypt saw crucial US military aid frozen last year over its own human rights record amid one of its toughest ever crackdowns on dissent, but that decision was reversed last month.
https://nation.com.pk/08-Aug-2018/egypt-says-it-supports-saudi-arabia-in-rights-row-with-canada
--------
Syrian Army Nearing Complete Siege on ISIL's Main Base in Sweida
Aug 07, 2018
The army men struck ISIL's positions in the villages of Shenvan and al-Saqiyeh and captured several hills and valleys in Badiyeh in Northeastern Sweida.
Other units of the army managed to free Malha Cave region and Tal Sanim in al-Kara'a from ISIL.
The army soldiers further advanced and drove ISIL out of al-Hossan region.
Field sources, meantime, reported that other army units advanced against ISIL in the third flank from Souh al-Majidi and Ba'ar Shaman up to East of Tal Asfar towards Khirbet al-Ambashi and al-Habiriyeh.
The sources further pointed to the army's advances from al-Zalaf towards al-Ruhba region near al-Safa, adding that the army is planning to lay siege on al-Safa region that is supposed to be one of the main bases of the ISIL in Badiyeh.
Reports said earlier today that the army soldiers battled against ISIL East of the village of al-Saqiyeh in Northeastern Sweida and captured several key areas near Taloul al-Safa region.
Other units of the army fought against ISIL East of the village of al-Sabaki and freed more areas.
In the meantime, the army's artillery and missile units and aircraft pounded ISIL's positions and movements in Araz al-Kara'a, al-Khatib Farms, Sanim al-Qaraz, East of al-Dayatha, Rabat al-Hossan and Tal Razin that is located 15 to 30 km away from villages in Eastern and Northeastern Sweida, destroying several vehicles, military hardware and killing a number of terrorists.
Full report at:
http://en.farsnews.com/newstext.aspx?nn=13970516000896
--------
Saudi, UAE Forces Sustain Heavy Casualties in Western Yemen
Aug 07, 2018
Momar al-Subaihi was quoted as saying by the Arabic-language al-Najm al-Saqib news website that a battalion of Amaleqah brigade affiliated to Saudi Arabia and the UAE has sustained heavy casualties in Western Yemen after Abu Dhabi backtracked from its promises to support them by helicopters.
He added that the commander of the battalion first opposed his forces' advance but a number of the UAE officers convinced him that an Apache helicopter will provide them with air support, but this did not happen and over 100 Saudi and UAE mercenaries were killed, wounded and held captive.
Saudi Arabia has been striking Yemen since March 2015 to restore power to fugitive president Mansour Hadi, a close ally of Riyadh. The Saudi-led aggression has so far killed at least 17,500 Yemenis, including hundreds of women and children.
Despite Riyadh's claims that it is bombing the positions of the Ansarullah fighters, Saudi bombers are flattening residential areas and civilian infrastructures.
According to several reports, the Saudi-led air campaign against Yemen has driven the impoverished country towards humanitarian disaster, as Saudi Arabia's deadly campaign prevented the patients from travelling abroad for treatment and blocked the entry of medicine into the war-torn country.
Yemen is the world's largest humanitarian crisis with more than 22 million people in need and is seeing a spike in needs, fuelled by ongoing conflict, a collapsing economy and diminished social services and livelihoods.
Full report at:
http://en.farsnews.com/newstext.aspx?nn=13970516000868
--------
Arab Media: US Not Happy with Kurds' Talks with Damascus
Aug 07, 2018
According to the Arabic-language al-Akhbar newspaper, apparently Washington is not happy with the recent talks between the Syrian Democratic Forces (SDF) and Damascus.
It added that Washington's dissatisfaction was revealed after an unexpected visit by former US Ambassador to Bahrain William Robak to the town of al-Tabaqah in Aleppo province and his meeting with a number of Kurdish officials who had participated in talks with Damascus.
The report said that Washington is trying to use the Northern Syria's card and coax the Kurds into increasing their demands from the Syrian government to prevent an agreement.
Earlier this month, a preliminary agreement was made between the SDF and the Syrian government on transferring control of different parts of the country to Damascus and withdrawal of the US forces from Syria.
The Arabic-language al-Quds al-Arabi newspaper quoted informed Syrian sources as saying that the SDF agreed to give control of Raqqa city and a large number of districts in Hasaka city, including those near the government and security centers, to the Syrian government.
Based on the report, the meetings were held in the presence of the Kurds close to the Syrian government, adding that they told the SDF officials that regaining control of the occupied areas was possible but Damascus prefers to retake them through political ways and negotiations.
Full report at:
http://en.farsnews.com/newstext.aspx?nn=13970516000823
--------
Syrian Army Repels Terrorists' Heavy Offensive at Border with Turkey
Aug 07, 2018
The government forces, backed up by the artillery and missile units, exchanged heavy fire with Tahrir al-Sham and its allied militants near the small town of al-Saraf in al-Rabi'eh region in Northern Lattakia near the border with Turkey, repelling the terrorists' heavy offensive.
Terrorist groups left behind their dead and injured members and retreated from the battlefield to evade more casualties.
Last week, the army troops launched heavy artillery and missile attacks against the positions and moves of the terrorist groups in the towns of al-Latamina and Kafr Zita and the adjacent areas as well as the villages of Hasraya, al-Zakat, Ma'arkabeh, al-Sayad, Tal al-Sakhar and al-Janaberah in Northern and Northwestern Hama in response to Jeish al-Izzah terrorists' missile strikes against Zalin military base in Northwestern Hama.
During the operations, several positions of the terrorists were destroyed and a large number of militants were killed and wounded.
Meantime, the Syrian army forces intensified missile and artillery attacks against Tahrir al-Sham and other terrorist groups' positions in Tal Wasit, al-Qarqour, al-Zayareh, al-Mashik and al-Sarmaniyeh in Western Idlib as well as the triangle of Western Jisr al-Shaqour-Northeastern Lattakia-Sahl al-Iqab.
Full report at:
http://en.farsnews.com/newstext.aspx?nn=13970516000769
--------
US-Backed Militias Continue Forced Recruitment of Young People in Northeastern Syria
Aug 07, 2018
The sources reported that the SDF-affiliated Military Police arrested a number of young people in Hadiqat al-Rashid neighborhood in Central Raqqa under a forced recruitment plan.
The sources further said that the SDF has deployed unprecedentedly a large number of forces across Raqqa city, mainly in al-Sowq district, searching for fugitive members and young people to send them to forced military service.
In the meantime, the SDF forwarded more gunmen to the village of Huweija Abdi North of Raqqa city to arrest more young people, they went on to say.
The SDF gunmen opened fire while breaking into the villagers' houses, creating a wave of fear across the village.
Popular uprising has been on rise in the region following the SDF's brutalities.
In June, the SDF started forcing children to take part in organized crime and robbery in Raqqa city.
The Washington-backed SDF started using children from 7 to 14 years of age for stealing assets of civilians from houses in Raqqa.
Full report at:
http://en.farsnews.com/newstext.aspx?nn=13970516000729
--------
Saudi-led coalition vows to defeat terror in Yemen
August 07, 2018
RIYADH: Col. Turki Al-Malki, spokesman for the Coalition to Restore Legitimacy in Yemen, said that the Coalition is waging a war against terrorist groups in Yemen such as AQAP, Daesh and the terrorist Iranian-Houthi militia, which are joined by common extremist ideology and intolerance.
"The Coalition has and will continue to carry out joint operations with brotherly and friendly nations to dismantle the capabilities of said groups through air, naval and joint special forces operations under the international cooperative efforts to eradicate terrorism and sustain international security," he said.
"We have followed what AP posted today titled 'AP investigation: Yemen war binds US, allies, Al-Qaeda.' What was stated in this article — whether it was stories or conclusions — is unfounded and expressed the personal opinion of the author as there were no tangible evidence nor convincing arguments.
"The writer should have followed the professional ethics of journalism," he said.
Full report at:
http://www.arabnews.com/node/1352681/saudi-arabia
--------
South Asia
Taliban claim to be preparing onslaught to drive Islamic State from Afghan stronghold
7 AUGUST 2018
Taliban commanders say they are preparing a major offensive to drive Islamic State group militants from their stronghold in Afghanistan.
Hundreds of fighters spearheaded by the Taliban's so-called Red Unit elite forces are said to be massing for a multi-fronted attack on the local branch of Islamic State in Iraq and Levant (Isil) in Nangarhar province.
The Taliban announcement comes days after another large Taliban operation swept away Isil's northern Afghan enclave, in Jowzjan province.
The rival militant groups have been enemies since the first appearance of Isil in Afghanistan in 2015 and regularly clash. Fighting has intensified this summer. The Taliban have for weeks been trying to clear Isil fighters from other eastern provinces of Laghman, Nuristan and Kunar before what they say will be a "conclusive" fight for Nangarhar.
Nangarhar has become Isil's stronghold in Afghanistan and intense American-led air strikes and counter terrorism raids have failed to shift the extremists. Isil has boasted of a string of deadly suicide bombings in the province in recent weeks.
An unnamed Taliban commander told a local news agency: "The crimes and brutalities of this group have reached the peak and they have been targeting public properties, schools, educational institutions, religious minorities and ordinary civilians. [The Taliban] has now decided to take decisive steps against this group."
Sources on both sides said skirmishing was ongoing in parts of parts of Nangarhar, where Isil are estimated to fully or partly control more than a third of its districts. The major offensive is expected soon.
More than 150 Isil fighters surrendered in Jawzjan last week after they were surrounded by hundreds of Taliban fighters.
But an Isil source told the Telegraph that their defeat in Jowzjan was unlikely to be repeated in Nangarhar and Kunar where mountains and forests favoured the defenders.
The Taliban had used Humvee armoured vehicles captured from the Afghan forces during the fighting in Jowzjan, surrounding the Isil defenders until they ran out of ammunition.
" The Afghan Taliban several times planned and executed big attacks against Islamic State in Nangarhar, but they were repeatedly defeated and this time they will face defeat and humiliation," he said.
" Nangarhar and Kunar are mountainous regions and Isil has a strong presence, where it will be difficult for the Afghan Taliban to bring Humvees. They will face immense difficulties."
https://www.telegraph.co.uk/news/2018/08/07/taliban-claim-preparing-onslaught-drive-islamic-state-afghan/
--------
Afghan amputee marchers embark on gruelling peace trek
August 08, 2018
HEART - Twenty Afghan amputees, some in wheelchairs and others on crutches, began a gruelling trek of hundreds of kilometres across Afghanistan on Tuesday, demanding an end to the war that cost them their limbs.
The "peace convoy" began its journey in the western city of Herat and will finish on the other side of the country in the capital Kabul, running the gauntlet of militants, roadside bombs and blistering temperatures.
"We are taking this journey of more than 1,000 kilometres (620 miles) to Kabul to tell the world to stop the war," Mohammad Musa, 40, who lost both legs in a landmine explosion, told AFP. "The war has brought nothing except destruction."
Abubaker Qaderi, whose right leg was blown off by a roadside bomb 15 years ago, called for a "permanent ceasefire" in the latest conflict, which began with the 2001 US-led invasion. "War must stop, we want peace," the 50-year-old told AFP before setting off towards Kabul.
"For the sake of the next generation, they should stop fighting," another protester called Khan Zai told AFP.
The march comes weeks after another group demanding peace walked 700 kilometres from the southern city of Lashkar Gah to Kabul, much of it during the fasting month of Ramadan.
That march, believed to be the first of its kind in Afghanistan, arrived in the city on June 18 as the Taliban ended an unprecedented three-day ceasefire and resumed fighting. The Afghan government is expected to announce a second truce for the next Eid holiday this month.
Afghanistan's largest militant group has not agreed to the protesters' demands and has ignored President Ashraf Ghani's offer of unconditional peace talks.
The Taliban has long insisted on direct talks with the United States. Washington has repeatedly refused, saying negotiations must be Afghan-led.
But there are tentative signs that diplomatic efforts to kick-start negotiations are starting to bear fruit.
Washington indicated a change in its longstanding policy in June when US Secretary of State Mike Pompeo said the United States was prepared to "support, facilitate and participate" in talks.
Pompeo also said the role of foreign forces in Afghanistan would be on the table.
Full report at:
https://nation.com.pk/08-Aug-2018/afghan-amputee-marchers-embark-on-gruelling-peace-trek
--------
Bangladesh says Myanmar isn't tackling Rohingya concerns
August 7, 2018
UNITED NATIONS (AP) — Bangladesh is accusing Myanmar of failing to tackle the concerns of over 1 million Rohingya Muslims who fled the country and is urging the U.N. Security Council to take action to ensure their safe return home.
Bangladesh's U.N. ambassador, Masud Bin Momen, said in a letter to the council circulated Tuesday that while his government continues to engage with Myanmar "in good faith" on arrangements to return the Rohingya, "we regret that the necessary conditions for safe and sustainable return do not exist in Myanmar."
"Nor has Myanmar taken any demonstrable effort to address the concerns of the Rohingyas and the international community," Momen said in the letter.
The Rohingya face official and social discrimination in predominantly Buddhist Myanmar, which denies most of them citizenship and basic rights because they are looked on as immigrants from Bangladesh even though the families of many settled in Myanmar generations ago. Dire conditions led more than 200,000 to flee the country between 2012 and 2015.
The latest crisis began with attacks by Rohingya insurgents on Myanmar security personnel last Aug. 25. The military responded with counterinsurgency sweeps and a scorched-earth campaign against Rohingya villages. It was accused of widespread human rights violations, including rape, murder, torture and the burning of Rohingya homes. Thousands are believed to have died and about 700,000 fled to Bangladesh.
The U.N. human rights chief, Zeid Ra'ad al-Hussein, has insisted that the possibility of genocide against Rohingya was real and has called for the issue to be referred to the International Criminal Court.
Momen urged the Security Council to adopt a resolution and take "concerted and determined action to address the Rohingya crisis" so the refugees in Bangladesh can return to Myanmar.
He accused Myanmar of attempting to play down "the catastrophic scale of the crisis and its grave impact on Bangladesh" by saying the number of people who fled the country can't be higher than a half million.
Momen also called Myanmar's claim that Bangladesh is violating a 1998 demarcation treaty by building bunkers within 150 feet of the border "false and baseless." He said the closest bunker is 654 feet from the border line.
The Security Council is planning to commemorate the one-year anniversary of Myanmar's violent crackdown on the Rohingya at an open meeting Aug. 28 to be addressed by Secretary-General Antonio Guterres, who has called the Rohingya crisis "ethnic cleansing."
British Ambassador Karen Pierce, this month's council president, said the U.K. wants the meeting to focus on gaining "unconditional access" to Myanmar for the U.N. refugee and development agencies so they can work with the Myanmar and Bangladesh governments "to make a credible plan to get the refugees back home in safety, dignity and security."
Momen said Bangladesh wants the council to ensure those conditions in Myanmar so the Rohingya can return.
He called the framework for cooperation between the U.N. and the Myanmar government "a step in the right direction."
"There is, however, a need for transparency and a demonstration of concrete deliverables so that the Rohingyas can gain the required trust and confidence that, upon returning to their homes in Rakhine State, they will not be subject to further discrimination and violence," Momen said.
He also stressed that "it is of the utmost important" that the Rohingyas still in Rakhine "are guaranteed unconditional protection" through the creation of United Nations-administered "safe zones."
Full report at:
https://www.mysanantonio.com/news/us/article/Bangladesh-says-Myanmar-isn-t-tackling-Rohingya-13139084.php
--------
'Peace comes with a price', says President Ghani
Aug 08 2018
President Mohammad Ashaf Ghani says 'peace comes with a price' emphasizing that he is not authorized to determine the cost for the peace but added that any deal regarding the peace and reconciliation would be finalized in broad day light and in front of everyone.
He made the remarks during a meeting with the activist of the Civil Society in Chahar Chinar Palace of the ARG Presidential Palace.
He said the nation should decide at what cost they want and the nation should not pay a price for an unsustainable peace that would bring remorse.
Emphasizing that peace deal needs the support of the nation; President Ghani said the deal would be finalized in broad day light and in front of the nation.
In the meantime, President Ghani said the situation has changed now as compared to four years back when lack of hope and isolation had shed shadow over the nation.
However, he said the nation has once again regained its balance between hope and disappointment and the country is not in a position of isolation on regional and international level.
According to President Ghani, the Afghans are now in lead of peace process, elections, reforms, which are being implemented with consultation and set targets and high councils in ARG Palace are good examples that decisions are not taken behind closed doors as the Civil Society members have presence in all those councils.
According to ARG Palace, Zahra Mosawi, Zaman Gul Dehati, and Fazela Sarosh shared their specific recommendations and concerns on behalf of the others regarding transparent elections, reforms, peace and ceasefire.
Full report at:
https://www.khaama.com/peace-comes-with-a-price-says-president-ghani-05740/
--------
Ceasefire, peace talks, Qaisari's case topped the agenda of Ghani-Dostum meeting
Aug 07 2018
Ceasefire with the Taliban, ongoing efforts for peace process, and the case of Commander Nizamuddin Qaisari topped the agenda of the meeting between President Mohammad Ashraf Ghani and the First Vice President General Abdul Rashid Dostum.
The Office of the First Vice President in a statement said Gen. Dostum met with President Mohammad Ashraf Ghani in ARG Palace today and exchanged views regarding the ongoing political and security situation in Afghanistan.
The statement further added that the two sides also focused on recent developments regarding the Afghan-led peace process.
They also emphasized on the importance peace and stability in Afghanistan and called it as the main demands of the people of Afghanistan and said the existing efforts for peace process should be expedited.
According to the Office of the First Vice President, the two sides also held talks regarding the ceasefire between the anti-government armed militant groups and the Afghan forces and organizing a free, fair and transparent election.
Gen. Dostum also held talks regarding the case of Commander Nizamuddin Qaisari while pointing towards the deteriorating security situation of the North, the statement by the Office of the First Vice President added.
Full report at:
https://www.khaama.com/ceasefire-peace-talks-qaisaris-case-topped-the-agenda-of-ghani-dostum-meeting-05739/
--------
Key Taliban commander killed, another detained in Logar operations
Aug 07 2018
A key Taliban commander has been killed while another local Taliban commander has been arrested during separate operations conducted in Central Logar province of Afghanistan.
The 303rd Spinghar Commandment in a statement said at least ten Taliban militants were killed during an operation conducted in Mohammad Agha district of Logar.
The statement further added that the operation was conducted in Zarghoon area of the district and as a result at least four militants were arrested.
One of the key Taliban commanders identified as Khalid was also among those arrested, the statement said, adding that the detained Taliban commander was involved in major destructive activities which had destabilized the province.
The 303rd Spinghar Commandment said another key Taliban commander who was in charge of a group of at least 20 militants was killed during another operation in Khrwar district.
The detained Taliban commander has been identified as Mohibullah and was killed along with one of his comrades, the statement by Spinghar Commandment added.
Full report at:
https://www.khaama.com/key-taliban-commander-killed-another-detained-in-logar-operations-05737/
--------
Bangladesh plans to send 100,000 Rohingya to a vulnerable island
7 August 2018
Bangladesh is racing to turn an uninhabited and muddy Bay of Bengal island into a home for 100,000 Rohingya Muslims who have fled a military crackdown in Myanmar, amid conflicting signals from top Bangladeshi officials about whether the refugees would end up being stranded there.
However, humanitarian agencies criticized the plan to bring Rohingya to the island when it was first proposed in 2015. Aid workers who spoke to Reuters said they remain seriously concerned that the silt island is vulnerable to frequent cyclones and cannot sustain livelihoods for thousands of people.
Bangladesh Prime Minister Sheikh Hasina said on Monday that putting Rohingya on the low-lying island would be a "temporary arrangement" to ease congestion at the camps in Cox's Bazar, refuge for nearly 700,000 who have crossed from the north of Myanmar's Rakhine state since the end of August last year.
However, one of her advisers told Reuters that, once there, they would only be able to leave the island if they wanted to go back to Myanmar or were selected for asylum by a third country.
"It's not a concentration camp, but there may be some restrictions. We are not giving them a Bangladeshi passport or ID card," said H.T. Imam, adding that the island would have a police encampment with 40-50 armed personnel.
British and Chinese engineers are helping prepare the island to receive refugees before the onset of monsoon rains, which could bring disastrous flooding to ramshackle camps further south that now teem with about 1 million Rohingya. The rains could start as early as late April.
Hasina's adviser, Imam, said the question of selecting Rohingya in Cox's Bazar to move to the island was not finalised, but it could be decided by lottery or on a volunteer-basis.
The United Nations High Commissioner for Refugees said in a statement: "We would emphasize that any relocation plan involving refugees would need to be based on and implemented through voluntary and informed decisions."
Frenetic construction
But work on the project has accelerated in recent months, according to architectural plans and two letters from the Bangladesh navy to local government officials and contractors seen by Reuters.
A year ago, when Reuters journalists visited Bhasan Char - whose name means "floating island" - there were no roads, buildings or people.
Returning on Feb. 14, they found hundreds of laborers carrying bricks and sand from ships on its muddy northwest shore. Satellite images now show roads and what appears to be a helipad.
Floating Island, which emerged from the silt only about 20 years ago, is about 30 km (21 miles) from the mainland. Flat and shape-shifting, it regularly floods during June-September. Pirates roam the nearby waters to kidnap fishermen for ransom, residents of nearby islands say.
The plans show metal-roofed, brick buildings raised on pylons and fitted with solar panels. There will be 1,440 blocks, each housing 16 families.
Chinese and British companies
Chinese construction company Sinohydro - better known for building China's Three Gorges Dam - has begun work on a 13-km (8-mile) flood-defence embankment for the $280-million project.
A Sinohydro engineer on Bhasan Char, reached by telephone later, said the company had "confidentiality agreements" and that questions about construction on the island should be referred to the Bangladesh government.
HR Wallingford, a British engineering and environmental hydraulics consultancy, is advising the project on "coastal stabilization and flood protection measures", the company told Reuters in a statement earlier this month.
"The coastal infrastructure design is expected to include a flood defense embankment protecting the development area to international standards, set back from the shoreline," it said. The company referred further inquiries to the Bangladesh Navy.
Omar Waraich, Deputy South Asia Director for rights group Amnesty International, said there was "no one in the humanitarian community we spoke to who thought this was a good idea".
"This is a silt island that only emerged into view recently," he said.
Residents of nearby Sandwip island, which is larger and less remote, say monsoon storms regularly kill people, destroy homes and cut contact with the mainland.
However, a senior member of the prime minister's staff, Director General Kabir Bin Anwar, said humanitarian organizations critical of the plan were "absolutely wrong because they don't understand the topography" of Bangladesh.
The government was building cyclone shelters on the island, he said, adding that there were salt-tolerant paddies and people living there could fish or graze cows and buffalo.
Anwar also dismissed concerns about delivering basic aid to the island. "We don't need help from any foreign NGOs or local NGOs. We can feed them," he said.
Bangladeshis living on nearby islands are critical of their government's efforts for the Rohingya.
Belal Beg, 80, who was born on Sandwip island, said there was resistance to settling Rohingya on Bhasan Char because huge numbers of Bangladeshis are displaced by coastal erosion each year with no measures taken to protect them.
"We should first care for our own people but the government is deciding to give shelter to immigrants," Beg said.
Many Rohingya also reject the idea of moving to an island even further from Myanmar, which many of them have called home for generations.
Jahid Hussain, a Rohingya refugee at Chakmakul refugee camp in Bangladesh, said he had fled Myanmar to save his life and would not risk it by living on Bhasan Char. "I would rather die right here," he said.
The latest unrest in Myanmar's Rakhine state began on Aug. 25, when Rohingya insurgents attacked dozens of police posts and an army base, prompting an army counter-offensive that forced entire villages to flee. They joined about 300,000 Rohingya already in Bangladesh, one of the world's poorest and most crowded nations, who had fled previous bouts of violence.
Aung San Suu Kyi, Nobel peace laureate and leader of Buddhist-majority Myanmar, has been heavily criticized by Western nations for not speaking out against what the United States and the United Nations have branded ethnic cleansing.
Myanmar denies that ethnic cleansing has taken place and says it has been conducting legitimate operations against terrorists in northern Rakhine.
Full report at:
https://english.alarabiya.net/en/News/world/2018/08/07/Bangladesh-plans-to-send-100-000-Rohingya-to-a-vulnerable-island.html
--------
Africa
Arsonists target Constantia Muslim shrine
2018-08-07
A part of Cape Town's Sayed Mahmud Mazaar in Constantia was set alight by arsonists on Tuesday morning, the chairperson of the shrine's trust said.
"It's terrible," said Fadiel Essop.
The shrine is under the control of the Shahmahomed Trust of which Essop is a trustee.
"It was established by my late great-grandfather, Hajee Sullaiman Shahmahomed, to preserve the historical legacy of the pioneers of the Muslim community in the Cape," explained Essop.
He said that the caretaker let two people who arrived in a car for prayers in at about 6:10, and went to shower.
"He heard footsteps running and he quickly went to check what was going on.
"Basically they tried to set the place alight," said Essop.
Site accessible to all visitors
The caretaker put the fire out quickly so the damage was contained.
But Essop was shocked that someone could target the shrine, considering all the work that had been put into making it a peaceful retreat for visitors.
"The site has always been accessible to all visitors, irrespective of their beliefs and visitors [are] expected to act in a dignified manner as indicated on the notice boards at the kramat (shrine)," he added.
The Muslim Judicial Council (MJC) explained that the mazaar, otherwise known as a kramat, is among other graves of influential Muslims who spread Islam "under the yoke of oppression and torture".
"The blatant disrespect shown toward Muslim burial sites – especially those that we revere – and to the dead is a cause of great concern," said head of the Muslim Cemetery Board and second deputy president of the MJC, Shaykh Riad Fataar.
"In the past, there seemed to have been attempts at the same thing, and it stopped. We hope this is not a resurgence of the same."
Circle of shrines
The MJC asked that anybody with information on who was behind the fire report it to the police, or the Cape Mazaar Society.
The society explained on its web page that the mazaars it oversees honour the Muslim slaves – who included religious thinkers – who were brought to the Cape to work on the garrison being established by Jan van Riebeeck.
The mazaars form a circle, comprising the tombs of Auliyah (friends of Allah) who were brought as slaves to the Cape.
"It starts at the old cemetery on the slopes of Signal Hill, just above the quarry in Strand Street, where two saintly men lie buried, the circle continues to two graves on top of Signal Hill. The circle then continues at a grave much revered, situated above Oudekraal beyond Camps Bay, and sweeps around the mountain to a kramat at Constantia, on Tokai Road.
The circle proceeds to the most important and widely known of all tombs, the kramat of Sheikh Yusuf at Faure, on the farm Zandvleit. The circle is completed by an old tomb on Robben Island.
The society says modern pilgrims can visit all, except the Island Tomb, in a single day.
https://www.news24.com/SouthAfrica/News/arsonists-target-constantia-muslim-shrine-20180807
--------
Twenty years after al Qaeda's first big attack, Kenyans still bear scars
AUGUST 8, 2018
Just after 10:30 on a sunny August morning in downtown Nairobi, 48-year-old Ali Mwadama was walking toward a bank opposite the U.S. embassy, a cheque in hand.
He was less than 50 metres (yards) from the embassy on Aug. 7, 1998 when a truck bomb detonated, transforming the normally bustling business district into a war zone. It was Osama bin Laden's announcement to the world that his al Qaeda was a global threat: a coordinated bombing of the U.S. embassies in Kenya and neighbouring Tanzania.
The two bombings killed 258 people, the majority in Nairobi. Three years later, al Qaeda would conduct its most notorious attack, flying passenger planes into New York's World Trade Center and the Pentagon, killing some 3,000 people. Mwadama does not remember who pulled him out of the rubble, bleeding from a gash in his neck caused by a flying shard of glass.
He recalls hearing screams and ambulance sirens. People in bloodsoaked clothing were carried on makeshift stretchers past what was left of the embassy.
Full report at:
https://dailytimes.com.pk/279913/twenty-years-after-al-qaedas-first-big-attack-kenyans-still-bear-scars/
--------
Nigeria's acting president slams parliamentary blockade
Aug 7, 2018
A blockade of Nigeria's parliament on Tuesday by security forces that prevented lawmakers from entering for up to an hour was done without the presidency's knowledge, said the acting president who sacked the head of the security agency.
Armed men wearing the black uniform of the Department of State Security (DSS) stood at the gates of the building in the capital Abuja and were later joined by police officers, witnesses said.
Images of the blockade were shared widely on social media.
A spokesman for Vice President Yemi Osinbajo said in comments on Twitter that DSS head Lawal Musa Daura had been fired. Osinbajo is acting president for Muhammadu Buhari, who is out of the country on holiday.
"The unlawful act, which was done without the knowledge of the presidency, is condemnable and completely unacceptable," said a statement issued later by Osinbajo's office.
It described the move as an "unauthorized takeover of the National Assembly complex" which was "a gross violation of constitutional order, rule of law and all accepted notions of law and order."
The statement gave no reason for Daura's dismissal.
The blockade came amid heightened tensions between lawmakers and the presidency. A raft of parliamentarians have quit Buhari's ruling party over the last few weeks and joined the main opposition.
Full report at:
https://www.presstv.com/Detail/2018/08/07/570488/Nigeria-President-Parliament
--------
Boko Haram kills 7 villagers in NE Nigeria: sources
2018-08-07
Boko Haram jihadists have killed seven villagers in a dawn raid in Nigeria's restive northeast, local militia and a resident said on Tuesday.
Gunmen in trucks and on motorcycles late on Monday attacked Munduri, a village 13km north of Borno state capital Maiduguri, firing guns and rocket-propelled grenades, according to resident Abdullahi Bunu.
"The attackers seized seven people and beheaded them before setting fire to the entire village," militia leader Umar Ari told AFP by telephone from Maiduguri.
Those who were decapitated were the village chief and his wife, Bunu said.
"We returned this morning and found the entire village burnt along with all our food supplies and livestock".
Boko Haram has intensified its armed campaign in recent weeks, including against military targets in which dozens of troops are believed to have been either killed or missing.
The rebels have split into two groups, and it was not immediately clear which was behind the latest attack.
A faction loyal to Abubakar Shekau is notorious for indiscriminate killings of civilians while the Abu Mus'ab Al-Barnawi faction - which is affiliated to the so-called Islamic State - largely focuses on attacking the military.
Five people were killed in a similar raid last week in Gasarwa village, near the garrison town of Monguno.
The attacks contrast with repeated claims by the military and the government that Boko Haram has been defeated and that it is safe for people displaced by Islamist violence to return home.
Full report at:
https://www.news24.com/Africa/News/boko-haram-kills-7-villagers-in-ne-nigeria-sources-20180807
--------
India
India will soon become Andalusia if Muslim leadership continues to be like this
August 7, 2018
New Delhi: A meeting was conducted at Ghalib Academy, Nizamuddin, by noted religious Darsgah, Mahad Al-Tayyab Nabi Kareem, entitled 'Role of Muslims in India's freedom'. Several religious scholars and intellectuals attended the meeting.
Senior advocate of Supreme Court Mahmood Pracha during his presidential address said the, in fact, it was not the country which was divided into two at the time of independence but it was the Muslims of the subcontinent who were divided. He claimed that Mohammed Ali Jinnah took the step at the behest of RSS. He said if today India was united we would have been the greatest force. He said after the formation of Pakistani and Bangladesh, the population of Muslims in India reduced to 15 pc, 17 pc are Dalits, over 9 pc are Adivasis. All of them together can challenge the communal forces and easily form a secular government, he suggested.
Mr Pracha said our Muslim leadership and scholars are being coward, the way they are working, if it continues for few more years, India will become second Andalusia.
Senior journalist AU Asif, president Muslim Political Council of India Dr Tasleem Rahmani, Prof Delhi University Dr Mufti Obaidullah Qasmi and other eminent personalities addressed the gathering.
https://www.siasat.com/news/india-will-soon-become-andalusia-if-muslim-leadership-continues-be-1389402/
--------
Top Leader of Bangladesh-Based Terror Outfit Arrested In Bengaluru
August 8, 2018
BENGALURU: A top India operative of Bangladesh-based terror outfit JMB has been arrested near Bengaluru by the National Investigation Agency in connection with recovery of two bombs in Bodh Gaya in Bihar in January this year, the agency said today.
Mohammed Jahidul Islam alias Kausar of Jamaat-ul-Mujhahiddin Bangladesh (JMB) was picked up from his rented house near Ramanagara area on Monday by an NIA team, the agency said.
Some electronic devices, besides "traces" of explosives, were recovered during a search of the house.
The NIA said in a release that 38-year old Islam was the mastermind in the Bodh Gaya explosives case and on his directions, his close associate Mustafizur Rehman alias Shahin had arranged and assembled the bombs, which were found on January 20 when the Dalai Lama was on a visit to the pilgrimage town. The bombs were later deactivated.
"He is the top leader of JMB (Jamaat-ul-Mujhahiddin Bangladesh) in India and is wanted in Burdwan blast case and in many other cases in Bangladesh also," the release said.
Islam was produced before the Special Court for NIA cases in Bengaluru, which granted five days of transit remand. He would now be produced before the Special NIA Court in Patna, the release said.
Local police said Islam was living with his two wives at Ramanagara.
After the Bodh Gaya incident, he was in hiding somewhere in Jharkhand and later moved to Ramanagara.
"He was staying here as a tenant for the past two months," the police said.
The NIA had registered an FIR in February last under IPC sections, the Unlawful Activities (Prevention) Act and the Explosives Act.
Full report at:
https://www.ndtv.com/india-news/mohammed-jahidul-islam-of-jamaat-ul-mujhahiddin-bangladesh-or-jmb-arrested-in-bengaluru-1896851
--------
Terrorists gun down SPO in J&K's Tral
Aug 7, 2018
SRINAGAR: Terrorists barged into the house of a special police officer (SPO) at Pastuna village of Tral in South Kashmir's Pulwama district and shot him dead on Tuesday evening. The deceased has been identified as Ashiq Hussain Lone.
According to reports, Ashiq was grievously injured in the attack and was rushed to a hospital where he was declared brought dead.
Earlier in the day, Hizbul Mujahideen had through posters threatened SPOs to quit their jobs or face consequences.
https://timesofindia.indiatimes.com/india/terrorists-gun-down-spo-in-jks-tral/articleshow/65313824.cms
--------
North America
Muslim organization plans to challenge U.S. over terror watch list system
Aug. 7, 2018
RICHMOND, Va. — A Muslim civil rights organization said Tuesday it plans to file a lawsuit challenging the constitutionality of the federal government's terror watch list system, including a newly disclosed program in which air marshals have secretly monitored air passengers with no known terrorism links.
Gadeir Abbas, senior litigation attorney with the Council on American-Islamic Relations, said the group will file the lawsuit Wednesday in federal court in Greenbelt, Maryland, on behalf of more than 10 Muslim travelers who allege they faced harassment at airports and suffered other consequences because of being placed on a terror watch list. The plaintiffs are from Maryland, Florida, Michigan, Oregon, Kansas, New Jersey and Washington, D.C.
Abbas said the defendants named in the lawsuit will include the Department of Homeland Security, the Transportation Security Administration and other government agencies.
The suit claims the travelers' due process rights were violated and asks the court to grant an injunction to "prevent the federal government from putting innocent people, people who have not been charged, arrested or convicted of any crime, on any type of watch list," Abbas said.
Abbas said the lawsuit will underscore both travel-related and non-travel related consequences of being on a watch list, including being subjected to searches and interrogations at airports, having electronics seized, not being able to get a license to transport hazardous materials or not being allowed to enter a military base.
The TSA, created after the Sept. 11, 2011, terrorist attacks, recently acknowledged a program called "Quiet Skies" in which air marshals conduct secret observations of passengers for behavior including using the plane restroom repeatedly or displaying nervousness.
Michelle Negron, a spokeswoman for TSA, said the agency is unable to comment on the pending litigation. "However, any traveler who believes he or she has been unfairly or incorrectly delayed or denied boarding can work though the DHS Traveler Redress Inquiry Program to resolve the issue," Negron said in a written statement.
The DHS said that as a matter of policy, it does not comment on pending litigation.
https://www.usatoday.com/story/news/politics/2018/08/07/muslim-civil-rights-terror-watch-list-system-lawsuit/930661002/
--------
Trump warns countries against doing business with Iran
August 07, 2018
US President Donald Trump on Tuesday said that sanctions reimposed on Iran were the "most biting ever" as he warned other countries from doing business with Tehran.
"The Iran sanctions have officially been cast. These are the most biting sanctions ever imposed, and in November they ratchet up to yet another level," he wrote in an early morning tweet.
"Anyone doing business with Iran will NOT be doing business with the United States. I am asking for WORLD PEACE, nothing less."
The sanctions reimposed on Tuesday targeting access to US banknotes and key industries such as cars and carpets were unlikely to cause immediate economic turmoil.
Iran's markets were actually relatively buoyant, with the rial strengthening by 20 percent since Sunday after the government relaxed foreign exchange rules and allowed unlimited, tax-free gold and currency imports.
But a second tranche coming into effect on November 5 covering Iran's vital oil sector, could be far more damaging even if several key customers such as China, India and Turkey have refused to significantly cut their purchases.
Trump's contempt for the nuclear deal dates back to his time as presidential candidate and on May 8, he made good on a pledge to pull America out of the international agreement.
Full report at:
https://nation.com.pk/07-Aug-2018/trump-warns-countries-against-doing-business-with-iran
--------
US admission to killing some civilians in Raqqah tip of the iceberg: Amnesty
Aug 7, 2018
Amnesty international says that the US-led coalition's admission to killing scores of civilians during its operations is just the tip of the iceberg.
On Tuesday, Amnesty noted that its research prompted the US-led military coalition to admit to killing dozens of civilians in its offensive against Daesh in Raqqah in Syria.
It further stressed that the US must immediately start "thorough, independent" investigations to expose the full scale of civilian deaths and reimburse the victims and survivors.
"The US-led Coalition's admission of responsibility is not surprising given the level of our evidence, and marks a welcome U-turn in its stance on the many civilians killed by its Raqqa offensive," Senior Crisis Response Adviser at Amnesty International Donatella Rovera said.
"But this is only the tip of the iceberg. Our detailed field investigations covered just four cases – but the many survivors and witnesses we spoke to on the ground pointed to a civilian death toll in the high hundreds," she added.
The US-led coalition recently announced that that it killed 77 civilians in the air-strikes in Syria's Raqqah in 2017.
In June, Amnesty announced that coalition attacks against Daesh in Syria's Raqqah last year broke international law by endangering the lives of civilians.
"The Coalition should dignify these deaths by releasing meaningful and verifiable information about these strikes – notably the exact location and nature of the targets, the methodology used for verifying the targets, and the measures taken to minimize the risk to civilians," added Rovera.
"Almost a year after the armed group calling itself Daesh has been ousted from Raqqah, there is no military or security reason for withholding these details, which are crucial to determining the legality of strikes which killed and maimed civilians. How can the Coalition avoid inflicting high civilian death tolls in the future without accounting for what went wrong in Raqqah?"
The US has been conducting airstrikes against what it says are Daesh targets inside Syria since September 2014 without any authorization from the Damascus government or a United Nations mandate.
The US and its allies have repeatedly been accused of targeting and killing civilians and drawn criticism over their failure to destroy Daesh which they claim to be fighting.
Full report at:
https://www.presstv.com/Detail/2018/08/07/570509/syria-us-civilians-amnesty
--------
US: Legal group seeks info on program targeting Muslims
07.08.2018
By Umar Farooq
WASHINGTON
A legal advocacy group filed a Freedom of Information Act request Monday with the Department of Homeland Security (DHS) to obtain documents concerning a grant under its Countering Violent Extremism (CVE) program.
The request, filed by Muslim Advocates, was to obtain more information on a grant of $500,000 to the National Governors Association to establish policy academies "aimed at developing strategic plans for preventing ideologically inspired violence".
The filing follows an announcement by the association that such 'academies' will be created in Colorado, Illinois, Michigan and Virginia.
The CVE program was established in 2011 under the administration of President Barack Obama with the aim thwarting efforts by extremist groups to recruit would-be terrorists. It focused on working with non-governmental organizations, academia, mental health institutes, the private sector and local communities.
Under the program, a Strategic Implementation Plan was also announced by the DHS with the aim of enhancing engagement with local communities that may be targeted by violent extremists, building government and law enforcement expertise for preventing violent extremism, and countering violent extremist propaganda.
While the U.S. government says the policy is aimed at all extremist groups and ideologies, many organizations say that in practice, it is known to target Muslims through surveillance and engage in discriminatory profiling.
"CVE is a controversial program through which federal grants are provided to local organizations and groups, who are then tasked with identifying individuals in the community who are supposedly 'at risk' of radicalization and violence," Muslim Advocates said in a statement.
Other organizations such as the American Civil Liberties Union and the Council on American-Islamic Relations have said that CVE programs were being used to obtain information on Muslim communities.
"In addition to their proven ineffectiveness, CVE programs have long been known to unjustly target Muslim, black and brown communities," Muslim Advocates Staff Attorney Juvaria Khan said in an online statement.
Full report at:
https://www.aa.com.tr/en/americas/us-legal-group-seeks-info-on-program-targeting-muslims/1224276
--------
American Kids Are Learning Islamophobia From Their Textbooks
08/07/2018
Donald Trump's travel ban, recently upheld by the Supreme Court, is wreaking havoc on Muslim families, forcing some Americans to leave the United States for countries in the midst of devastating wars in order to reunite with loved ones. The resilience ― and, among some Americans, popularity ― of the travel ban is emblematic of how enshrined Islamophobia has become in American culture. Even our highest court of justice has endorsed a discriminatory law rooted in misconceptions about the instability, oppression and violence of the Middle East and Islamic faith.
While many people blame these persistent misconceptions on mass-media depictions of Arabs and Muslims, that's not where they begin. We need to examine the pervasiveness of anti-Arab and anti-Muslim information in the American education system ― and, in particular, in textbooks.
Most Americans' exposure to the Middle East and Islam starts with what they learn in high school history class. World history textbooks in the United States only allocate around 3 percent of space to discussions of these topics. And the story those textbooks tell in that limited space is a disturbing one. My research on world history textbooks used across the country finds that sections about Islam and the Middle East advance a "rise and fall" narrative. That story goes like this: In the medieval period, the Middle East was a flourishing and advanced civilization, but due to an inability to modernize, the region has subsequently declined into chaos, oppression and violence. This sensationalized version of history reduces the region to a bygone society and fails to account for the vibrant and dynamic contemporary reality of the Middle East.
American history textbooks similarly tend to degrade Arabs and Muslims by situating them as foreign and antithetical to the American national narrative. While Arabs and Muslims have been integral members of the United States since before the country's inception, American history textbooks strip U.S. history of its Arab and Muslim influences. These textbooks fail to acknowledge the significant contributions of Arab and Muslim Americans to all aspects of American life, from sports to technology to government. Students don't learn that there would be no Apple iPhones or Macbooks without the genius and innovation of an Arab American, Steve Jobs. Students aren't taught that Muhammad Ali was motivated by his Muslim faith to dedicate his life to social justice and civil rights.
In failing to tell this part of the American story, these educational materials construct a national identity that alienates Arab and Muslim Americans. Instead, both world history and U.S. history textbooks portray Arabs and Muslims as the undemocratic and tyrannical people that the United States strives to defeat in order to secure democracy and peace throughout the world. They tell stories about "[t]he ever-volatile Middle Eastern pot" that "continued to boil ominously," describing Iranian hostage takers as "a howling mob of rabidly anti-American Muslim militants." This framing leads students to view the Middle East as a tempestuous, threatening and mysterious region in a constant state of turbulence.
This is not to say that there is not real violence in the Middle East, and that students need to learn about it. However, they must be taught the whole truth: the full story of how colonial powers split the region along largely arbitrary borders, the full account of many women's agency and strength and the full appreciation of the expansive breadth of rich cultures, languages and religions in the region.
These textbook portrayals of Arabs and Muslims are not neutral, apolitical truths. Rather, the decisions about what information to include — and what to omit — are part of larger debates over what students should learn about themselves and others. As a for-profit industry, textbook production is bound to economic and political forces that influence the content and distribution of every textbook. The best way for publishers to increase their profits is by tailoring their textbooks to appeal to large markets like Texas, where a state committee approves a list of textbooks from which school districts can choose. Nineteen states, mostly concentrated in the South and West, use this statewide textbook adoption system. Although the textbook selection committee is only mandated to evaluate textbooks for factual correctness and compliance with the state's social studies standards, in reality the committee assesses how closely the narratives put forth in the textbooks conform to its members' ideological and religious values.
In Texas, the Christian right has managed to amass considerable influence in the textbook adoption process through political appointments and elections to the textbook selection committee. Because textbook publishers wish to secure spots on Texas' statewide list of approved textbooks, publishers tailor their textbook content to align with the views of these powerful Christian stakeholders, many of whom see Arabs and Muslims as incompatible with American values.
High school textbooks are an important mechanism for forming young students' attitudes about the world, and the lessons they're learning about Arabs and Muslims are inaccurate and intolerant. These messages come with the clout and authority of a textbook, which most young people consider to be neutral and objective. While these sources are in fact not neutral or apolitical, there is enormous power in them being presented and perceived as such. For Arab and Muslim American students, using textbooks that portray them and people like them as violent and inherently un-American can have a negative effect on how they view themselves and their own communities.
And then there's the extra-curricular effects of teaching young people a false narrative about Arabs and Muslims. Hate crimes committed against Arabs and Muslims in the United States have reached an all-time high. In 2016, the number of anti-Muslim assaults surpassed post-9/11 levels. Attacks against Arabs increased by over 200 percent in 2015. Since 2001, Arabs and Muslims in the United States have become scapegoats for the inexcusable actions of a minority of extremists who justify their attacks using the name of Islam. The persistence of anti-Arab and anti-Muslim bigotry and violent backlash since 9/11 prompts the question: how have these negative attitudes become so entrenched in American public discourse? The prevalence of anti-Muslim and anti-Arab information in educational material may certainly be a factor.
We have the opportunity to reshape that narrative, however. Because the textbook production and adoption processes are pervious to political pressure, organized local and national efforts demanding more accurate and positive representations of Arabs and Muslims may bring about much-needed change in textbooks. If you're a parent, read your child's textbooks. You should know what they're learning and what, in some cases, you're paying for. Call your state's Board or Department of Education, which is often responsible for selecting textbooks, and express any concerns you have about your child's textbook. Attend textbook adoption hearings and even consider applying to serve on your state's textbook adoption committee. Write to textbook publishers explaining your observations about textbook content.
Full report at:
https://www.huffingtonpost.com/entry/opinion-levinson-islamophobia-muslims-textbooks_us_5b68a263e4b0de86f4a40f92
--------
Europe
Has the 'post-integration' phase really come for Muslims in Europe?
August 8, 2018
Mesut Özil's decision to quit the German national football team in the face of widespread racial slurs reminds us of the Tariq Ramadan case for several good reasons. Ramadan, a professor at Oxford University and one of Europe's most influential public intellectuals, is now a victim of its blatant racism, Islamophobia and xenophobia himself – a very comprehensive account of his case is chronicled here – after he has preached Muslim integration into the mainstream for almost 30 years. Before his incarceration, he preached that integration was a word of the past and that the word of today and tomorrow is and must be "contribution."
One of the examples he frequently cited was the case of Zinedine Zidane – the French-Algerian superstar who is the fourth most capped footballer in French history. His two game-winning goals in the 1998 World Cup finals earned him the Légion d'honneur – the highest French order of merit for military and civil achievements. Using Zidane's example, Tariq Ramadan asked his fellow Muslims to actively and civically contribute to their own European societies, the tacit assumption being that contribution will make space for Muslims as Europe will see the value in their addition, leading to a consequent overcoming of an "us vs. them" dichotomy.
Mesut Özil's announcement that he will no longer play for the German national team comes after being the object of racial abuse by the German press for his Turkish origins, abuse that was arguably spurred by a photo of Özil with President Recep Tayyip Erdoğan. After Özil's retirement, the possibility of post-integration Muslim contribution in Europe takes quite the hit, and calls into question the double standard that first and second generation immigrants in Europe face, earning the praise of their countrymen when successful, and facing the brunt of criticism upon failure. This was precisely articulated in Özil's statements – "I am German when we win, but I am an immigrant when we lose. This is despite paying taxes in Germany, donating facilities to German schools and winning the World Cup with Germany in 2014, I am still not accepted into society."
The false and shallow logic of contribution leading to a solution is exposed. Muslims are consistently expected to be the goose that lays golden eggs, yet it appears that acceptance is contingent on success. In further comments, Özil pointed to the evident racism by illustrating that while his former teammates Lukas Podolski and Miroslav Klose were never referred to as German-Polish, he has been consistently referred to as German-Turkish in the German press throughout his career with the "Die Mannschaft."
"Is this because it is Turkey? Is it because I'm a Muslim? By being referred to as German-Turkish, it is already distinguishing people who have family from more than one country. I was born and educated in Germany, so why don't people accept that I am German?"
The question then becomes a matter of what it is that European politicians, media and civil society actually hope to achieve. Is it integration or assimilation? Why can't a German football player with Turkish origins exercise his agency to meet, take a photo, or have a cup of Turkish coffee with the Turkish leader? Would a German player of Russian origin generate that level of anguish and questions regarding his loyalty if he met Putin? In fact, in his statement of early retirement, Özil did not defend his meeting with the president in a political sense, nor did he mention the rampant Islamophobia, racism and xenophobia that plagues Germany and Europe. Rather, he defended his meeting of the Turkish president as a matter of respecting the highest office of his ancestral homeland. His statement said that although the German media have portrayed something different as a cause of this meeting, the truth is that not meeting with the president would have been simply disrespecting the roots of his ancestors. The German press and civil society at large were not fond of this kind of agency or rootedness, not for a German-Turk at least. Europe indeed desires total assimilation in its occasional welcoming of immigrants and their contributions, devoid of any dissent or actual diversity.
After playing for the German national team in more than 90 matches for nine years, scoring 23 goals, being the best German player of the year five times, Özil was rewarded with the brunt of criticism following a disappointing World Cup exit. How many immigrants could contribute as much as a Mesut Özil? This is what Özil got as a reward. How many immigrants could contribute more than Özil did? In a similar vein, Ramadan might have already learnt the hard way that no matter how much of a gift he is to Europe, he will remain as "the other" as long as he is not willing to give up his critical political positions and completely assimilate into the dominant paradigm. This is the only option for even the most gifted of the immigrants like Özil or Ramadan. What is left for the not-so-gifted or struggling immigrants coming out of the shameful French colonial slavery or refugees fleeing wars that are chiefly Western artifacts is anyone's guess.
https://www.dailysabah.com/op-ed/2018/08/08/has-the-post-integration-phase-really-come-for-muslims-in-europe
--------
UK: Muslim body urges Tories to deal with Islamophobia
07.08.2018
By Muhammad Mussa
London
The Muslim Council of Britain (MCB) has called on the Conservative party to respond to serious concerns of Islamophobia following remarks made by former Foreign Minister Boris Johnson.
"Today the Muslim Council of Britain calls on the Conservatives to respond to serious concerns of Islamophobia in the party, especially after Boris Johnson made unacceptable remarks comparing Muslim women who wear the niqab to letterboxes and bank robbers," a statement from the MCB read.
"The intentional usage of the words in a national newspaper appear to be to pander to the far right," the statement added, citing Johnson's article on the niqab he had written in the Daily Telegraph newspaper on Monday.
In his opinion piece, he said Muslim women wearing burqas look like "letter boxes" and compared them to "bank robbers".
The MCB also said that while it was right for party chairman Brandon Lewis to call on Johnson to apologize, the party should now act upon calls that had been previously ignored.
The MCB put forward a number of questions for Lewis and the Tory leadership, asking if Johnson's apology should "only cover his Telegraph outburst? Or will it also include previous incendiary remarks?", remarks that included "Islam is the problem" and that "Islamophobia was a natural selection".
In recent months the MCB has increasingly called for an independent inquiry into Islamophobia within the Tory party and among its members, both in parliament and in its leadership.
Its calls have been supported and carried forward by a plethora of institutions and senior individuals such as Baroness Sayeeda Warsi, a member of the House of Lords, and the leader of the Labour party, Jeremy Corbyn.
Full report at:
https://www.aa.com.tr/en/europe/uk-muslim-body-urges-tories-to-deal-with-islamophobia/1225089
--------
Russia 'disappointed' by renewed US sanctions on Iran
07 August 2018
Moscow is "disappointed" by the resumption of U.S. sanctions on Iran, Russia's Foreign Ministry said on Tuesday.
In a statement posted on its official website, the ministry called the U.S. move "a shining example of violations of international law."
In particular, the sanctions violate UN Security Council Resolution 2231, it said.
"The JCPOA fully justifies itself. It has proved its effectiveness," said the ministry, using the acronym for the Iran nuclear deal.
"The [nuclear watchdog] IAEA regularly confirms that Iran has strictly adhered to its obligations. The verification and control measures foreseen by the action plan are fully applied. This, itself, is a reliable indication of the peaceful nature of the Iranian nuclear program."
"We will do everything necessary to preserve and fully implement" the deal, the statement said.
The first round of the U.S. pre-nuclear deal sanctions on Iran, largely targeting the country's banking sector, went into effect early Tuesday.
The sanctions target Tehran's acquisition of U.S. dollars, precious metals trade, transactions related to Iran's rial currency, activities related to Iran's sovereign debt, and the country's automotive sector.
In July 2015, the P5+1 group of countries -- the U.S., Britain, France, China, Russia, and Germany -- signed the nuclear deal with Iran.
In it, world powers agreed to lift some economic sanctions in return for Tehran agreeing to limit its nuclear activity to peaceful civilian purposes.
Full report at:
http://www.worldbulletin.net/europe/204769/russia-disappointed-by-renewed-us-sanctions-on-iran
--------
U.S. couple killed by ISIS in Tajikistan were on dream cycling vacation
August 7, 2018
Two Americans killed by the so-called Islamic State while cycling around the world are being remembered as free spirits.
Lauren Geoghegan and her boyfriend Jay Austin, both 29 years old, were cycling through Tajikistan with a group of foreigners when a car rammed into the group. The duo from Washington, D.C., was 369 days into their trip.
Five men got out and attacked the tourists with knives. One Dutch and one Swiss national were also killed along with the American couple.
Tajik authorities blamed the attack on an Islamic separatist group, but ISIS took responsibility in a video showing the five alleged attackers.
Geoghegan and Austin set out from the U.S. in July 2017 and chronicled their adventures on a blog called SimplyCycling.
Austin explained their decision to leave, writing: "I've grown tired of spending the best hours of my day in front of a glowing rectangle, of coloring the best years of my life in swaths of grey and beige."
"Maybe it sounds crazy to others, but to me, it sounds exactly like who they were," said Tiffany del Rio, a friend of the couple.
The trip was an example of Geoghegan's "openness to new people and places, and her quest for a better understanding of the world," Robert and Elvira Geoghegan, Lauren's parents, said in a statement to CBS.
The couple's adventures took them through Africa, Europe, and eventually Central Asia.
Their blog showcased many acts of kindness, like the time they said a stranger pulled their vehicle over to offer the couple ice cream bars or when young girls offered them flowers.
It led Austin to write: "You're led to believe that the world is a big, scary place. 'People,' the narrative goes, 'are not to be trusted. People are bad. People are evil.' I don't buy it."
Their last photos show a wide open world, filled with strangers and smiles — the opposite of how they died.
A memorial to the cyclists has been set up at the U.S. embassy in Tajikistan.
This was the first known attack of its kind against Western tourists in Tajikistan, a remote ex-Soviet state located north of Afghanistan in the towering mountains where Islamist militants fought an insurgency against a Moscow-backed government in the 1990s.
Full report at:
https://globalnews.ca/news/4375584/us-couple-killed-by-isis/
--------
Jihadist arrested in Spain for planning terror attack
August 8, 2018
A Moroccan man has been arrested in Spain on charges of planning attack in Spain with another terrorist, the Spanish Interior Ministry said.
The 21-year-old jihadist, who belonged to terrorist group Islamic State (IS), also allegedly recruited terrorists for jihad, the Spanish police said on Tuesday, Xinhua news agency reported.
Police said the Moroccan man, arrested in Vitoria, experienced a drastic change in his habits of life and in his manifestations, who moved to extremist Salafist postulates, and even defended in social networks violent actions perpetrated by terrorist organisations, especially IS.
He contacted another terrorist who was arrested in 2017 in Morocco for intending to attack in Spain, while inciting him to commit these massacres with audiovisual material about IS.
Spanish police highlighted that the cooperation between Spain and Morocco was also key to dismantling the intentions of the arrested.
Full report at:
https://www.business-standard.com/article/news-ians/jihadist-arrested-in-spain-for-planning-terror-attack-118080800057_1.html
--------
URL: https://www.newageislam.com/islamic-world-news/islamic-bodies-told-enhance-role/d/116075
New Age Islam, Islam Online, Islamic Website, African Muslim News, Arab World News, South Asia News, Indian Muslim News, World Muslim News, Women in Islam, Islamic Feminism, Arab Women, Women In Arab, Islamophobia in America, Muslim Women in West, Islam Women and Feminism