New Age Islam News Bureau
8 Jul 2020
• India said, Glorifying Osama Bin Laden Is 'A Chilling Reminder' Of the Patronage That the International Terrorists Receive' In Pakistan
• Saudi Arabia Plans to Host Arab-Chinese Summit, Furthering Ties In Various Fields
• Saudi Arabia's Unemployment Drops to Under 12 Percent In Q1, Women Join Workforce
• Medical Graduates from Muslim Countries Entering US Decline By 15 Pct In Trump Era
• Some Freed Taliban Prisoners Have Returned to Battlefield: Muslimyar
• Satellite Images Reveal China's Own Stalinism Against Muslim Minorities
• Qatar, Turkey, IUMS Calls for Jihad and Self-Sacrifice to Foil Israel's Plan to Annex West Bank
---------
Pakistan
• Islamabad High Court Disposes of Pleas Against Hindu Temple Construction
• Amnesty Urges Pakistan To Allow Construction of Hindu Temple In Islamabad
Police presence around E-7 seminary heightened
• PIA steward goes missing from Toronto hotel
• Minister anticipates virus cases spike during Eid, Muharram
• PTI minister says Uzair Baloch JIT report released by Sindh govt 'different from original'
• IHC hints at criminal proceedings against minister, officials over caged animals
• Three IS militants arrested from Daska village
• MQM-P threatens to protest in Islamabad if KE continues unannounced power cuts
-----
India
• India said, Glorifying Osama Bin Laden Is 'A Chilling Reminder' Of the Patronage That the International Terrorists Receive' In Pakistan
• Allahabad HC Seeks Government's Action Report on Anti-Muslim Remarks by Kanpur Medical College's Ex-Principal
• Muslims, Christians Get Graveyards in Mohali After Two-Decade Wait
• Court Takes Note of New Charge Sheet Against Tablighi Jamaat
• JeM operative held in Pulwama attack case
• India targets Pakistan at UN body over counter-terrorism record
• Soldier, Lashkar terrorist killed; 3 securitymen injured in J&K encounter
-----
Arab world
• Saudi Arabia Plans to Host Arab-Chinese Summit, Furthering Ties In Various Fields
• Saudi Arabia's Unemployment Drops to Under 12 Percent In Q1, Women Join Workforce
• Grand Imam of Al-Azhar holds virtual meeting with Archbishop of Canterbury
• Hezbollah's Nasrallah tells US ambassador to 'respect herself' and not go on TV
• Coronavirus: Iraq partially reopens Iran trade crossing for foodstuffs, say officials
• Controversial Kuwaiti figure under fire for glorifying 'terrorists'
• Problem in Iraq is that Iraqi forces unwilling to go after pro-Iran militias: Expert
• Leading Iraqi security expert shot dead in Baghdad
• Iraqi Protesters Chant Anti-Hezbollah Slogans During Slain Al-Hashemi's Funeral March
-----
North America
• Medical Graduates from Muslim Countries Entering US Decline By 15 Pct In Trump Era
• Top US general says not convinced Russian cash led to US deaths in Afghanistan
• Iran will emerge stronger from US economic warfare: Scholar
• US plotting soft coup against Hashd al-Sha'abi forces in Iraq: Lawmaker
• US assassination of Gen. Soleimani an act of state-sponsored terrorism
------
South Asia
• Some Freed Taliban Prisoners Have Returned to Battlefield: Muslimyar
• 22 Taliban militants killed, wounded on Kabul-Jalalabad highway
• Bangladesh claims COVID-19 outbreak contained in Rohingya camps
• Suicide attacks thwarted in Kabul city: NDS
• Afghan President Ghani pushing for global 'consensus' on talks with Taliban
------
Southeast Asia
• Satellite Images Reveal China's Own Stalinism Against Muslim Minorities
• Covid-19: Priority given to Malaysians to perform prayers at places of worship, says minister
• Catholics deal with 'new normal' in Malaysia
• Muslims cannot be involved in non-Muslim marriage disputes, rules court
• Uighurs urge ICC to probe Chinese 'genocide'
-----
Mideast
• Qatar, Turkey, IUMS Calls for Jihad and Self-Sacrifice to Foil Israel's Plan to Annex West Bank
• Israel annexation will worsen conflict, feed extremism: Arab foreign ministers
• Muslim civil liberties group to represent inmate denied kosher food
• Hamas lauds Iran's Ayatollah Khamenei over unwavering support for Palestine
• Israel orders demolition of 30 Palestinian facilities in al-Quds village
• Centuries-old Yazd Jameh Mosque back to former glory
• Spokesman: Iran's N. Industry Moving on Track
• Ukrainian, Tunisian, Japanese Speakers Ask for Expansion of Parliamentary Ties with Iran
• Iranian Researchers Write 13% of World's Scientific Articles on Coronavirus
• Two dead, three wounded at factory fire south of Tehran, Iran: IRNA
• Israeli land grab plan aggression against Palestinians: Hezbollah, Hamas
-----
Africa
• Islamist Ennahdha Party To Review Stance On Tunisia's Coalition Government
• Several mass graves found in northern Burkina Faso: HRW
• Morocco arrests four terror suspects 'planning attacks'
• Landmines planted by Libya rebels kill, injure nearly 140 in Tripoli: UN
-----
Europe
• UK To Resume Arms Sales To Saudi Arabia Despite Yemen Concerns
• 'Save Yemen', UK anti-war protesters vent anger
• US created, nurtured Taliban in decade-long covert op: Russia's top security official
• Disregarding UN warnings, China and Russia block extension of aid deliveries to Syria
Compiled by New Age Islam News Bureau
URL: https://www.newageislam.com/islamic-world-news/islamabad-high-court-disposes-pleas/d/122321
-----
Islamabad High Court Disposes Of Pleas Against Hindu Temple Construction
Malik Asad
July 08, 2020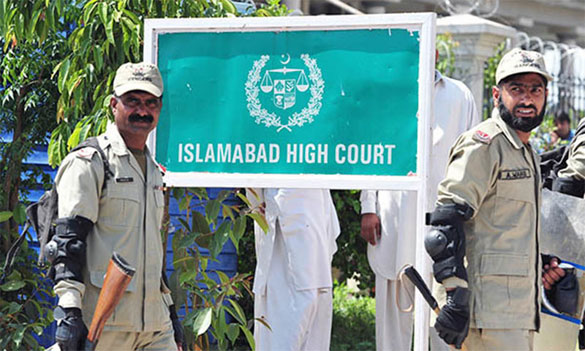 Islamabad High Court observes construction of worship place requires mandatory approval of regulator. — AFP/File
-----
ISLAMABAD: The Islamabad High Court (IHC) on Tuesday disposed of three identical petitions filed against the construction of a Hindu temple in Islamabad's Sector H-9/2, observing that the construction of a worship place requires mandatory approval of the regulator i.e. the Capital Development Authority (CDA).
IHC Justice Aamer Farooq, however, dismissed objections over the allotment of the temple's plot.
The government allotted the plot measuring 3.89 kanals for the temple in January 2017. The plot was handed over to the Islamabad Hindu Panchayat (IHP) in 2018.
The petitioners questioned the allotment of the plot on the basis that the same is not provided for in the city's master plan.
The court noted that "the referred objection has no basis inasmuch as designated plots are not provided in the Master Plan rather a broad outline of areas for various purposes is given. It is only later that through Layout Plans and the decisions by the Capital Development Authority through its Chairman/Board that it develops Sectors and Sub-Sectors and designates plots."
Observes construction of worship place requires mandatory approval of regulator
A representative of the Capital Development Authority and its counsel submitted that Sub-Sector H-9/2 has plots allocated for graveyard of minorities, hence on that basis the allocation was made. It seems that the allottee, namely IHP, did not adhere to the Rules and Regulations of the Capital Development Authority by submitting a building plan and seeking its approval and on the said basis the construction of the plot was stopped.
"Even otherwise Capital Development Authority is entitled to take appropriate action in accordance with the term of the allotment (Clauses 3 and 24 of Allotment letter dated 26.12.2017) and its laws for violation of the terms of allotment, if any," the court order read, adding: "The fact remains that no construction at present is taking place at the site, in question and is unlikely to commence till compliance is made with terms of allotment and Capital Development Authority laws."
As noted above, the Capital Development Authority is still to approve the building plan as and when the same is submitted and while doing so can holistically review the matter. It is an admitted position that no construction on any site can commence by any allottee/lessee unless it complies with the Rules and Regulations of Capital Development Authority, the order states.
The petitioners challenged the allotment of the plot bearing No. 2, Sector H-9/2, Islamabad and construction of the temple. The petitions questioned the construction of the temple in Islamabad Capital Territory on the plot in question; whereas a petitioner also assailed allotment of the land for construction of temple and allocation and disbursement of funds in the sum of Rs100 million by the federal government.
The counsel for the petitioner contended that permission by the federal government and funding of the construction of Mandir in Islamabad Capital Territory is in violation of Article 2-A of the Constitution of Islamic Republic of Pakistan, 1973. It was further contended that no new church or temple or any place of worship for non-Muslims can be established in light of Hadiths on the subject.
The petitioner contended that there are already three temples in the areas of Rawalpindi and Islamabad Capital Territory, which duly cater to the needs of the Hindu community in the area. It was further contended that allocation and funding by the federal government for construction of the Hindu temple, especially in the times of the Covid-19 pandemic, amounts to wasting public money.
The counsel for the Capital Development Authority argued that the land was allotted for establishment of a temple community centre and cremation to the Islamabad Hindu Panchayat on Dec 26, 2017. It was submitted that in the subsector H-9/2, Islamabad graveyards of the minorities are situated on land/plot allotted by the Capital Development Authority and the referred sub-sector is designated for such purposes.
It was further contended that the construction commenced, but it was stopped by the Capital Development Authority as no formal approval of the building plan was obtained from the competent authority. It was reiterated that the plot was not allotted solely for a temple, but the site is to include temple, community centre and the place for cremation.
Deputy Attorney General Raja Khalid Mehmood Khan representing the federal government contended that no funding had yet been disbursed by the federal government for the purpose of temple's construction. It was further submitted that the matter has been referred to the Council of Islamic Ideology for seeking its opinion regarding funding of money for the purpose of the temple's construction and this fact was confirmed by a representative of the Ministry of Religious Affairs and Interfaith Harmony.
It was submitted that, otherwise, there was no bar for the allottee to construct the temple on its own in light of the fact that under Article 20 of the Constitution of Islamic Republic of Pakistan, 1973, the minorities are entitled to profess, practice and propagate their religion with freedom which is subject to law, public order and morality.
The court noted that "in so far as funding for the construction of Temple, Community Centre and place for Cremation qua Hindu Community is concerned, the Federal Government has already referred the matter to Council of Islamic Ideology and no amount has yet been disbursed as submitted by Representative of Ministry of Religious Affairs; hence the grievance of the petitioners on the specific issue stand allayed and has become infructuous, for the time being."
https://www.dawn.com/news/1567588/ihc-disposes-of-pleas-against-hindu-temple-construction
--------
India said, Glorifying Osama Bin Laden Is 'A Chilling Reminder' Of the Patronage That the International Terrorists Receive' In Pakistan
08-07-2020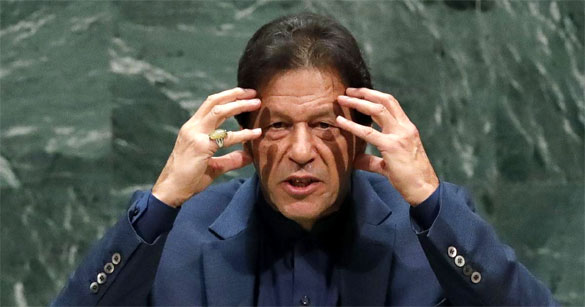 A file photo of Pakistan Prime Minister Imran Khan. | Reuters
------
India on Tuesday said that Pakistan Prime Minister Imran Khan's recent act of glorifying al-Qaeda founder Osama bin Laden as a "martyr" was a "chilling reminder of the patronage that the international terrorists receive" in his country, the Hindustan Times reported. Therefore, Pakistan's "ludicrous statement claiming credit for elimination of Al Qaeda is indeed ironic", India added.
The comments were made at a webinar organised by the United Nations Office of Counter-Terrorism. Ministry of External Affairs Joint Secretary Mahaveer Singhvi, who led the Indian delegation at the meeting, accused Pakistan of sheltering and supporting terrorists, and of peddling a false narrative on the situation in Jammu and Kashmir.
"While the world is coming together to battle the pandemic, it is unfortunate that Pakistan, a state which sponsors cross-border terrorism, continues to use every opportunity to peddle false narratives and make baseless, malicious and egregious allegations against India and interfere in our internal affairs," he said. "It is seeking to portray its military, financial [and] logistical support to cross-border terrorism against India as a freedom struggle. It is also peddling misinformation about India's domestic legislation and policies."
The Indian diplomat claimed that terrorists have made innumerable attempts to infiltrate India "from their safe abodes across the border" to carry out attacks and have even used unmanned aerial systems to smuggle weapons across our borders.
"At the global level, terrorists have tried to exploit financial and emotional distress caused by the pandemic, and used the increased presence of people online and on social media to disseminate misinformation through hate speech, fake news and doctored videos," he added. "Another disturbing trend is the collection of funds by proscribed terror groups ostensibly for charitable activities but which would be used to finance terror."
India claimed that Pakistan's role as the "epicentre of terrorism" has been well documented by international organisations including the United Nations and the Financial Action Task Force.
"Khan had publicly acknowledged the presence of up to 40,000 terrorists in Pakistan and the Analytical Support and Sanctions Monitoring Team of the UN Security Council had reported that about 6,500 Pakistani terrorists from Lashkar-e-Taiba and Jaish-e-Mohammed are operating in Afghanistan," Singhvi said. "[But] unlike Pakistan, India does not make any distinction between terrorists and invariably condemns terror attacks anywhere in the world."
Singhvi noted that the virtual meeting was being held on a day when the Indian embassy in Kabul was attacked by a Pakistan-backed terror group 12 years ago. "It is very unfortunate that a country which perpetrated terrorist attacks in Mumbai [2008], Pathankot [2016], Uri and Pulwama is now preaching to the world community," he added.
On June 25, Khan, while delivering a speech in the Pakistan Parliament, had said: "The Americans came to Abbottabad [in Pakistan] and killed Osama bin Laden, shaheed kardiya [martyred him]. When happened after that? The entire world cursed at us and spoke ill of us." Khan's remark came just a day after the United States, in its Congressional-mandated 2019 Country Reports on Terrorism, accused Pakistan of harbouring terrorists.
https://scroll.in/latest/966814/india-accuses-pakistan-of-promoting-terror-says-glorifying-osama-bin-laden-is-a-chilling-reminder
--------
Saudi Arabia plans to host Arab-Chinese summit, furthering ties in various fields
07 July 2020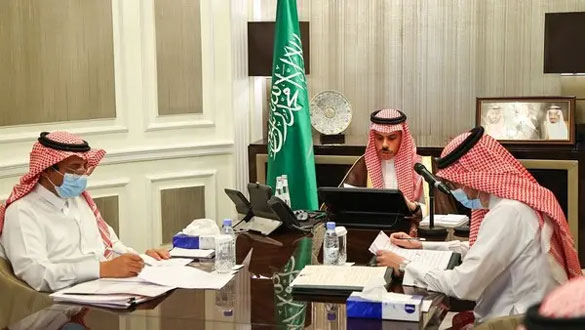 Saudi Arabia's Foreign Minister Prince Faisal bin Farhan attends a virtual ministerial meeting of the Arab-China states. (SPA)
-------
Saudi Arabia announced plans to host and upcoming Arab-Chinese summit in the Kingdom to discuss further strategic partnerships and cooperation with China in various areas, according to Saudi Arabia's Foreign Minister Prince Faisal bin Farhan.
The confirmation of the planned summit came after Prince Faisal took part in a virtual ministerial meeting of the Arab-China states on Monday.
For all the latest headlines follow our Google News channel online or via the app.
"The Arab-Chinese cooperation increases in strength and diversity with each passing day. It is a cooperation that is based on mutual respect; respect for the principles of international law and norms; the sovereignty and independence of states; the commitment to peaceful resolutions of conflicts; and the mutual desire to deepen and strengthen the areas of cooperation to realize the interests of both the Arab and Chinese peoples," Prince Faisal said in a statement carried by the Saudi Press Agency (SPA).
"And it is no wonder that the positions of China and the Arab countries often aligned in international forums, especially in terms of establishing the foundations of peace, security and the prosperity for all peoples. Our joint efforts to face the effects of COVID-19 are some of the fruits of this cooperation," Prince Faisal added.
According to Saudi Arabia's foreign ministry, China is the Kingdom's largest trading partner, with 13 percent of the Kingdom's total exports and 15 percent of its total imports being with China.
A formal date for the upcoming Arab-Chinese summit will be determined at a later date once both sides agree on one, according to the foreign ministry.
https://english.alarabiya.net/en/News/gulf/2020/07/07/Saudi-Arabia-plans-to-host-Arab-Chinese-summit-furthering-ties-in-various-fields.html
--------
Saudi Arabia's Unemployment Drops To Under 12 Percent In Q1, Women Join Workforce
07 July 2020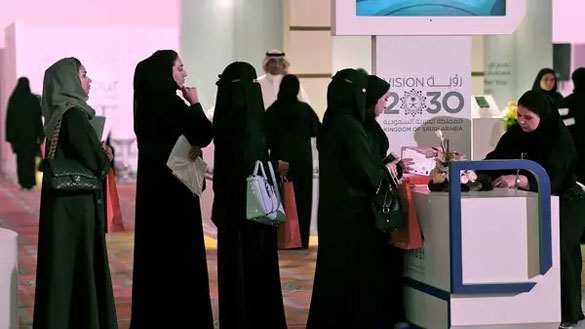 Saudi women apply for a job during Glowork Career Fair 2017 for Saudi women employments held at a hotel in Riyadh. (File photo: AFP)
------
Unemployment among Saudi Arabian citizens fell to below 12 percent to 11.8 percent in the first quarter of the year, the Kingdom's General Authority for Statistics said.
The drop in the unemployment rate is largely due to women's increased participation, the authority added.
In the first quarter, the female unemployment rate of Saudi Arabian citizens dropped by 2.7 percent to 28.2 percent from the last quarter in 2019.
Saudi Arabia's youth constitute the highest proportion of the unemployed, with citizens between the ages of 20-29 making up 62.9 percent.
However, the numbers do not take into account the impact of the coronavirus pandemic, the authority said.
The drop comes as Saudi Arabia pursues its Vision 2030 plan to diversify the economy and create millions of jobs for citizens in the next ten years.
The reform plan, proposed by Crown Prince Mohammed bin Salman, aims to decrease the unemployment rate to 7 percent by 2030.
https://english.alarabiya.net/en/business/economy/2020/07/07/Saudi-Arabia-s-unemployment-drops-to-under-12-percent-in-Q1-women-join-workforce.html
--------
Medical graduates from Muslim countries entering US decline by 15 pct in Trump era
07 July 2020
The number of foreign medical graduates from Muslim-majority countries coming to the United States to become doctors has declined by 15 percent under the Trump administration, exacerbating shortages in America's physician workforce, a study said Monday.
International medical graduates represent about a quarter of practicing doctors in the United States.
For all the latest headlines follow our Google News channel online or via the app.
They are required to take several licensing exams and then complete two or three years of training to practice medicine in the United States.
Overall, citizens from Muslim-majority nations made up 4.5 percent of the US physician workforce in 2019, with Pakistan, Egypt and Iran historically providing the bulk.
The number of graduates from Islamic nations applying for certification in the United States rose from 2009-2015, peaking at 4,244, before falling steadily to 3,604 in 2018 -- a decline of 15 percent.
A small drop occurred in 2016, the year in which Trump was elected but his predecessor Barack Obama was still in office, before hastening in 2017 and 2018.
The study appeared in the Journal of the American Medical Association, and was led John Boulet, vice president of the Educational Commission for Foreign Medical Graduates that oversees the certification process.
Boulet and colleagues said that recent US policies, such as the travel ban on Muslim-majority countries "affect the inflow of IMGs International Medical Graduates) by restricting travel to the country for citizens from specific nations."
They added: "Even a perceived immigration ban could affect who chooses to complete the requirements for... certification" while potential difficulty obtaining a visa could dissuade the program directors of medical residencies from making a job offer.
The US demand for physicians has long outstripped supply for a variety of reasons, from population growth and aging, to a federal cap on funding for residency training.
As a result, the United States could see a shortage of as many as 122,000 doctors by the year 2032, according to a 2019 report by the Association of American Medical Colleges.
Some economists also argue that the short supply of doctors has led to a surge in their wages -- costs that are eventually passed down to patients.
"To the extent that citizens from some countries no longer seek residency positions in the US, gaps in the physician workforce could widen," the authors said.
The attractiveness of the United States as a destination may have also waned in comparison to other countries like Canada, New Zealand, Australia and Britain, the authors wrote.
https://english.alarabiya.net/en/News/world/2020/07/07/Medical-graduates-from-Muslim-countries-entering-US-decline-by-15-pct-in-Trump-era.html
--------
Some freed Taliban prisoners have returned to battlefield: Muslimyar
07 Jul 2020
The Chairman of the Afghan Senate Fazal HadiMuslimyar has said some of the freed Taliban prisoners have returned to battlefield.
Speaking during a general session of the Upper House of Parliament, Muslimyar said a large number of Taliban prisoners who were freed by the government have returned to battlefield.
Muslimyar further added that he was not against the release of Taliban prisoners but emphasized that he is against the release of those inmates who return to battlefield.
According to Muslimyar, the majority of the militants who were killed in Laghman province on Monday were those militants who were recently freed from the prisons.
Meanwhile, Muslimyar called on United States and the Afghan government to take the issue seriously and release those militants only who are committed to a peaceful life.
https://www.khaama.com/some-freed-taliban-prisoners-have-returned-to-battlefield-muslimyar-08945/
--------
Satellite images reveal China's own Stalinism against Muslim minorities
Col Vinayak Bhat
July 6, 2020
Nazi Germany had them to exterminate the Jews. The Soviet used them to persecute millions ex nihilo.
By 2020, China under Xi Jinping has built a vast network of similarly repressive but hi-tech facilities modelled after Adolf Hitler's concentration camps and Joseph Stalin's notorious gulags.
India Today's special series offers a rare insight into the Chinese internment centres as seen in satellite images – a testament to Beijing's brutal oppression of the country's Muslim minorities.
The Chinese Gulags
China calls them re-education camps that took shape after Xi Jinping took over as general secretary of the Communist Party (CCP), and also became chairman of the Central Military Commission in 2012.
According to the US State Department, ethnic Uyghur and other Muslim minority groups have been detained in what is now a sprawling web of internment camps in China's far-west region.
The Secretary of State, Mike Pompeo, has called Beijing's treatment of Uyghurs the "stain of the century".
These centres flourished after President Xi brought Chen Quanguo, a zealous politician, to control this region which the Uyghurs called East Turkestan and China renamed Xinjiang.
In August 2016, Chen assumed the charge of party secretary in this part and adopted draconian methods of suppressing ethnic minorities.
The methods included confinements, forced birth controls, physical and mental torture and worse.
Analysis of Gulag Imagery
An analysis of more than 50 satellite images vividly displays the inhuman ways in which people are stuffed into the so-called re-education facilities doubling up as labour camps.
The Chinese gulags are gated with massive tall walls, with external sentry posts at the corners and within the visual range, the imagery reveals.
The buildings meant for inmates are generally four- or five-storeyed, with small rooms on both sides of a corridor separating them.
They are gated further with up to 15-foot-tall wire grills, most of them double layered.
Effectively, there are at least three fences for any building from any side with high-tech surveillance systems all around.
Their wire-grill fences have been observed to be removed in 2018 and 2019, possibly after international human rights organizations raised their voice against China's oppressive measures.
Single-storeyed barracks with red roofs are generally used as forced labour camps for manufacturing small electronic components for governmental entities to speed up production.
Built under PLA Supervision
The presence of People's Liberation Army vehicles around such facilities during the construction phase suggests the projects were carried out under the direct supervision of the Chinese military.
The construction type, the analysis shows, is modular where steel braces are erected first. Modular blocks are then placed to cut short the construction time from almost a year to within two months.
The location coordinates show that the Chinese gulags have been built mostly outside of towns and cities, which are not easily accessible to the general public.
Splitting Muslim Families Apart
Chen Quanguo and the Chinese Communist Party seem to have targeted the Uyghurs' family units – by splitting the members apart.
Various reports suggest children and their parents are picked up separately and kept in different detention centres from where they are transferred to various gulags away from their kith and kin.
They are then forced to sign on false confessions about involvement in terror activities, the reports suggest.
Political Indoctrination
The gulags run political indoctrination of all inmates on a daily basis under the directions of the CCP.
The classes are run by political commissars at every level, who all belong to the Han majority.
Those who accept the political indoctrination of the CCP are moved to labour camps involved in the production of small items. Those who don't are transferred to prisons and tortured until they accept the party's will.
CCP's Iron-Fisted Record
The CCP has always ruled with an iron fist.
During China's so-called War of Liberation, shortly after World War 2, Mao Zedong's army went on a rampage to end the Kuomintang (KMT)'s national forces. On October 1, 1949, Mao proclaimed the founding of the People's Republic of China.
After annihilating the KMT forces, they went ahead to run over the unarmed Tibet. While continuing to hold talks with India, they went after poorly-armed East Turkestan through Eastern Ladakh known as Aksai Chin.
Thus, by the mid-1950s, all the North-Western parts of China were occupied as seen on Chinese map released by the CCP in January 2015.
The Tibetans and Turkic people became religious minorities in a Han society which follows Taoism as a way of life.
Taoism being younger than Buddhism could neither impress the people of Tibet nor the Turk, Kyrgyz and Kazakh Muslims.
The Chinese could not control the ethnic Muslims in East Turkestan by changing its name to Xinjiang.
The ethnic minorities understood that the ramping up of the road and railways infrastructure was meant only to take out mineral wealth from their country.
The Chinese state labelled internal dissent as terrorism and anti-nationalism and started suppressing it with repressive means, which included extra-judicial killings and the Stanilist camps for the Uyghurs.
https://www.indiatoday.in/news-analysis/story/satellite-images-reveal-china-s-own-stalinism-against-muslim-minorities-1697693-2020-07-06
--------
Qatar, Turkey, IUMS Calls for Jihad and Self-Sacrifice to Foil Israel's Plan to Annex West Bank
July 8, 2020
AhlulBayt News Agency (ABNA): On July 2, 2020, the International Union of Muslim Scholars (IUMS), backed by Qatar and Turkey, and other Islamic organizations affiliated with the Muslim Brotherhood issued a statement calling on Muslims to wage jihad and self-sacrifice in order to foil the plan of the Israeli regime to annex parts of the West Bank.
The statement describes the annexation as a crime against the entire Muslim nation, stressing that acting to liberate Palestine and defend it is a religious duty incumbent upon every Muslim. It commends the "heroic" resistance of the Palestinian terrorist organizations, such as Hamas, adding that supporting them, materially and morally, is a form of jihad for the sake of Allah.
The statement also harshly condemns the Arab regimes that "rush to normalize relations with the Zionist entity" and to criminalize the resistance organizations, hinting at Saudi Arabia and the UAE, and urges the Muslims to take to the streets to protest against the Zionist crime of annexation.
The statement concludes by declaring that the annexation plan will not come to pass "as long as the jihad-fighters keep their finger on the trigger," and as long as "here is a people [in Palestine] who seeks death so as to be given life."
The IUMS was founded in 2004 by Sheikh Yousuf Al-Qaradawi, who also headed it until November 2018. A major ideologue of the Muslim Brotherhood, Qaradawi has been sponsored and supported by the Qatari government for many years. He is known for his extremist views, including support for jihad and suicide operations. The IUMS, now headed by Dr. Ahmad Al-Raissouni, continues to spread incitement to terror and extremism.[1]
The following are translated excerpts from the IUMS statement:[2]
"The Zionist entity has announced its intention to commit a new crime against the [Palestinian] cause that is [dear] to us and to the entire Muslim nation. It is one of the worst crimes, and a blunt act of aggression against our Palestinian people and against all the peoples of our Islamic nation everywhere: a crime of annexing large parts of the West Bank as part of a new, public act of theft that does not consider the victim of injustice and the one whose rights have been denied.
"The clerics signed below wrathfully denounce and condemn this ongoing Zionist crime and stress the following:
"1. The clerics stress that all of Palestine is Islamic land that belongs to all Muslims, and that acting to liberate it, defend it and confront the plots and ploys against it, including the criminal annexation plan, is a religious duty incumbent upon every Muslim, each according to his status, expertise and ability...
"2. The clerics warn the Muslim nation – its leaders and its peoples – not to evade [the duty of] supporting our Palestinian brothers in confronting this Zionist crime of annexation, and not to abandon them, and emphasize that this crime is directed against the entire [Muslim] nation and against its faith, its beliefs and its holy places. Forsaking our brothers in Palestine and failing to confront this new Zionist crime… will be a disgrace [upon you] in the world to come…
"3. The clerics congratulate the Palestinian resistance factions and commend their steadfastness and their clear statement that the Zionist annexation plan is tantamount to a declaration of war. The clerics stress that this heroic resistance will bring a disaster upon the Zionist enemy and cause him to rethink his considerations, restrain himself and refrain from continuing his mistaken and aggressive [actions]. The clerics urge the resistance factions in Palestine to establish a joint war-room in order to formulate practical plans for confronting the Zionist crime...
"4. The clerics stress that the nation must rally around the Palestinian resistance and support it in its war against the Zionist entity by every possible means, both material and moral. Supporting the Palestinian resistance as it confronts the criminal annexation plan is a form of jihad for the sake of Allah…
"5. The clerics call on the Palestinian factions, chief among them Fatah and Hamas, to quickly complete the Palestinian reconciliation -- for [achieving] reconciliation, strengthening the domestic arena and ending the division are among the most important tasks at the present time, in order to confront the new Zionist aggression. In this context, the clerics welcome the initiatives for [achieving] unity, the meetings between the factions and the political activity aimed at confronting the crime of annexation, and call to translate them into action on the ground…
"6. The clerics call on the Arab and Muslim leaders to take an honorable position, that the generations [to come] will count in their favor, against this Zionist crime and in order to halt it. This is the duty of the honorable among them, in light of the collapse of the official institutions of government in the Arab and Muslim world. They must know that on the Day of Judgement, they will be judged on [how they performed] their duty towards the Land of Night Journey [i.e., Palestine].
"7. The clerics stress that the [actions of] some regimes that are rushing to normalize relations with the Zionist entity and to turn the resistance and its supporters into criminals is tantamount to tangible support for the Zionist annexation plan and for the escalating Zionist crimes against Jerusalem, the Al-Aqsa mosque, the West Bank, Gaza and the rest of Palestine. The clerics urge these normalizers to rethink their positions, repent before Allah, and rally, along with their living peoples, against the Zionist entity, which will not benefit them in any way or keep them on their thrones, as they deludedly believe…
"8. The clerics signed below call upon all the religious institutions of the [Muslim] nation to coordinate their efforts [against the annexation plan], to maintain ongoing contact with one another and to agree on a uniform course of action, on mechanisms [for carrying it out], and on coordinated and aggressive joint plans to confront the expected crime of annexation. The clerics of the Muslim nation must be the first to pool their efforts and coordinate in defending the Land of the Night Journey [i.e., Palestine]…
"9. The clerics call on the peoples of our [Muslim] nation to take action on the ground, and take to the streets and the squares wherever this is possible to condemn this Zionist annexation crime and express their opposition to it. [They also urge them] to take action in cyberspace and on social media, in order to expose the crimes of the Zionist entity and blacken its face, and as [a way of waging] jihad for the sake of Allah by means of words and positions.
"10. The clerics call on the peoples of the Muslim nation to spread a spirit of eager commitment to the duty of waging jihad by means of wealth, so as to extend as much financial aid as possible to our murabitoun [front-line fighters] in Palestine, for they are the first line of defense of our nation and our holy places. The Almighty said [in Quran 4:95]: 'Not equal are those of the believers who sit (at home), except those who are disabled (by injury or are blind or lame, etc.), and those who wage jihad in the cause of Allah with their wealth and their lives. Allah has preferred in grades those who wage jihad with their wealth and their lives above those who sit (at home). Unto each, Allah has promised good (Paradise), but Allah has preferred those who Wage jihad, above those who sit (at home) by a huge reward.'
"With Allah's help, this Zionist crime will not come to pass as long as the jihad-fighters keep their finger on to the trigger, as long as the peoples of our nation live, remain alert and take the initiative, and as long as, in the Land of the Night Journey [Palestine], there is a people who seeks death so as to be given life…"
[1] In an interview he gave on Al-Jazeera in November 18, 2018, Al-Raissouni revealed that Qatar has supported the organization since its inception and that Turkey now funds it as well, and said: "There is nothing wrong with that and we don't hide it. On the contrary, we are proud of it and we urge all the countries to follow in the footsteps of those two" (aljazeera.net, November 18, 2018).
[2] Iumsonline.org/ar, July 2, 2020.
https://en.abna24.com/news//qatar-turkey-iums-calls-for-jihad-self-sacrifice-to-foil-israel%e2%80%99s-plan-to-annex-west-bank_1053344.html
--------
Pakistan
Amnesty urges Pakistan to allow construction of Hindu temple in Islamabad
Jul 7, 2020
ISLAMABAD: Amnesty International on Tuesday urged Pakistan to allow the construction of a Hindu temple in Islamabad, which was stopped by the government amid opposition from religious and political circles.
"Everyone has a right to freedom of religion or belief, a right that is guaranteed in Pakistan's constitution and its international obligations," the London-based human rights watchdog posted on Twitter.
"Halting the construction of the Hindu temple is an unconscionable act of bigotry that must be reversed immediately," it added.
Since the construction was stopped, religious fanatics have made it a habit to visit the temple site on a daily basis to spew venom against prime minister Imran Khan and the minorities in videos that they record to upload on social media.
The government of former PM Nawaz Sharif had approved the plan in 2017 to build a Shri Krishna Mandir, the first Hindu temple in Islamabad, with a crematorium, a community hall and parking space.
Last month, PM Khan approved a grant of nearly $600,000 for the project but Muslim clerics and politicians, including the PML-Q party, an ally of the incumbent government, strongly opposed the move, saying it was against the spirit of Islam.
Last week, the Capital Development Authority (CDA), a government body responsible for municipal services in Islamabad, halted construction of the boundary wall at the site, saying the building plan was not approved by it. It was followed by demolition of a part of the wall by fundamentalists opposing the project.
Meanwhile, the government succumbed to the pressure from Islamists and said it was seeking advice from the Council of Islamic Ideology (CII), a body of Islamic scholars, on whether state money can be used for the construction of the temple.
The Islamic Republic of Pakistan is home to an estimated 8 million Hindus, including some 3,000 residing in Islamabad and on its periphery.
https://timesofindia.indiatimes.com/world/ l-Arabi/amnesty-urges-pakistan-to-allow-construction-of-hindu-temple-in-islamabad/articleshow/76842164.cms
--------
Police presence around E-7 seminary heightened
MunawerAzeemUpdated
July 08, 2020
ISLAMABAD: The police presence around the E-7 seminary Jamia Fareedia has been heightened as tensions continue between former Lal Masjid cleric Maulana Abdul Aziz and the seminary's administrator.
Capital administration and police officials told Dawn that the police deployment was increased after directions from the deputy commissioner. Surveillance in and around the seminary has also been increased to monitor the situation and act quickly if necessary, they said.
The police's investigation wing has also gathered information and shared it with concerned senior officers to make arrangements to prevent violence between the two groups present on the seminary premises. The information suggests that the seminary's administrator, Maulana Abdul Ghaffar, has 500 students and 90 other individuals including teachers with him, while Mr Aziz has 200 students.
Officers said there are also at least five submachine guns and 30-bore pistols inside the seminary, according to their intelligence.
There is currently a standoff between both parties in the seminary, each of which claims ownership and wants full control over the establishment.
The police's investigation wing have advised the administration and police to make a strategy and plan for how to deal with the issue, they said, adding that an effective blockade should be set up around the seminary to keep more people and students from gathering there.
It should be made sure that no physical confrontation takes place between the two parties, they said.
In light of the information, more than 200 police officials, including personnel from the Counter Terrorism Department and the Anti-Riot Unit, have been stationed around the seminary. An armed personnel carrier has also been provided along with riot gear.
An equipped contingent of police with an armed personnel carrier and riot gear is also stationed in a sector nearby to respond if needed.
The officials said that surveillance has also been increased on a few seminaries to prevent students from gathering and trying to reach Jamia Fareedia to support either of the clerics.
Capital administration officials have also started approaching local ulema to negotiate with Mr Aziz and defuse the situation.
Deputy Commissioner Mohammad Hamza Shafqaat told Dawn that this is a private dispute between the two men and as it is not taking place on government land or a government mosque, their concern is to maintain law and order and avoid any untoward situation.
https://www.dawn.com/news/1567689/police-presence-around-e-7-seminary-heightened
--------
PIA steward goes missing from Toronto hotel
July 08, 2020
RAWALPINDI: A Pakistan International Airlines flight steward went missing from his hotel after arriving in Toronto, Canada, by a flight carrying passengers from Islamabad.
PIA steward Yasir disappeared from the hotel he was staying in after reaching Toronto on PIA flight PK-781.
The flight steward was found missing from his hotel when the airline's senior staff contacted him on Monday.
He reportedly replied that he was going to another city and after that his cell phone remained switched off.
The PIA station manager in Toronto informed the Toronto airport authorities that Yasir had gone to another city.
The PIA management has taken notice of the incident and launched an investigation.
https://www.dawn.com/news/1567604/pia-steward-goes-missing-from-toronto-hotel
--------
Minister anticipates virus cases spike during Eid, Muharram
Ikram Junaidi
July 08, 2020
ISLAMABAD: The federal government has provided 1,227 oxygenated beds to hospitals across the country for the patients suffering from novel corona virus.
Although all data and statistics show the Covid-19 graph has started moving downwards and there is no need for further beds and equipment, the government has decided to fulfil its commitment to providing 2,100 oxygenated beds by July 31.
The country reported 2,776 Covid-19 cases and 70 deaths over the past 24 hours, taking the national tally of cases to 236,422 and fatalities to 4,888.
Minister for Planning, Development and Special Initiatives Asad Umar, while talking to Dawn, said that as per the current situation there was no need to provide more beds and facilities, but it was decided to build permanent facilities to deal with any untoward situation in future.
"We want to create physical capacity in our hospitals. A disease surveillance system has been established due to which hundreds of hospitals have been connected to a central system. We want to build a system, similar to the Centre for Disease Control (CDC) of the United States, in Pakistan," he added.
In reply to a question, Mr Umar said the National Command and Operation Centre (NCOC) was anticipating spikes in Covid-19 cases on the occasion of EidulAzha and during Muharram. "On the occasion of EidulAzha a large number of people would gather at animal markets and then for Eid prayers and they would hug each other due to which the virus will spread. I am not afraid of people travelling to their native areas as coronavirus has evenly spread across the country. The other occasion during which the virus can spread is Muharram-ul-Haram," he added.
According to a statement issued by the NCOC, as many as 1,227 oxygenated beds have been provided to hospitals across the country. A meeting of the NCOC, presided over by Asad Umar and attended by the provincial chief secretaries, was informed that 330 beds had been provided in Punjab — 260 to Expo Centre and 70 to Social Security Hospital in Lahore.
In Khyber Pakhtunkhwa, 250 beds have been provided to Peshawar Institute of Cardiology and 70 to Charsadda Hospital. In Sindh, 70 beds have been provided to Abbasi Shaheed Hospital.
In Islamabad, 155 have been provided to Pakistan Institute of Medical Sciences, 59 to CDA Hospital and 13 to Polyclinic Hospital. In Azad Kashmir, 20 beds each have been provided to Abbas Institute of Medical Sciences, DHQ Kotli, CMH Muzaffarabad and DHQ Bhimber.
In Balochistan, 100 beds have been provided to Fatima Jinnah Hospital. Gilgit-Baltistan has got 100 beds.
According to the NCOC, 439 out of 1,525 ventilators allocated for Covid-19 patients were occupied on Tuesday. As many as 6,392 violations of health guidelines were reported from across the country and action was taken against the violators accordingly.
https://www.dawn.com/news/1567606/minister-anticipates-virus-cases-spike-during-eid-muharram
--------
PTI minister says Uzair Baloch JIT report released by Sindh govt 'different from original'
July 07, 2020
Minister for Shipping and Maritime Affairs Ali Haider Zaidi on Tuesday made a "passionate" appeal to Chief Justice of Pakistan Gulzar Ahmed to take suo motu notice of the Uzair Baloch JIT report released by the Sindh government a day earlier, which he alleged was different from the "original".
He was speaking alongside Information Minister Shibli Faraz at a press conference in Islamabad, where he presented a separate report. "You are also from Karachi, you have seen how Karachi has been systematically destroyed," he said while addressing the CJP.
On Monday, the Sindh government made public the JIT reports of three high-profile cases — concerning Uzair Baloch, the Baldia factory fire incident and former chairman of the Fishermen Cooperative Society Nisar Morai — after much controversy and litigation in courts.
Addressing the media at the outset of the presser, the information minister said that the PTI had come into power to take the country forward.
"We want to rid the people of those who support gangs [...] Zaidi raised this [issue] in the National Assembly because we believe that the purpose of the report is to inform the public about the facts.
"[Zaidi] also went to court because the reports were not being released. Some parties harmed the province for their personal interests and made it a 'personal state'."
During the press conference, Zaidi l-Arabiya the JIT report released by the Sindh government for allegedly omitting important information about the motives behind the killings and on whose orders they were carried out.
He questioned how such things could have happened without "government protection". The ministers then showed a video, comprising clips related to PPP, Baloch and Lyari, to the media.
'Ties to PPP'
Zaidi said that he had initially written a letter to the Sindh chief secretary in 2016 for the reports to be released, before he was elected as a minister, under the Right to Information Act, 2013.
However, after receiving no response, the minister decided to approach the Sindh High Court (SHC).
"When the court directed them to release it, [the Sindh government] still didn't do so. I wrote to the chief secretary again [but] but he failed to give a response once again so I filed a contempt of court petition."
However, the Sindh government then approached the SC against the SHC's decision, he said.
"I wanted to bring up this issue on the floor of the National Assembly. They were giving speeches on the budget but they were acting as patrons for gangsters," he said while referring to the PPP leadership.
Zaidi, presenting what he called was the "original" JIT report on Uzair Baloch, said that the gang leader had confessed that he met (then) Sindh chief minister Qaim Ali Shah and FaryalTalpur, sister of former president Asif Ali Zardari, and asked that the head money against him be removed.
Baloch allegedly said the head money was withdrawn on Talpur and Zardari's order.
"On the last page, Baloch said that he feared they would kill him after these revelations and that Zardari and other political figures might take revenge and asked for protection."
A six-member JIT was formed by the Sindh government in February 2016 to interrogate Baloch, comprising representatives of security and intelligence agencies. The JIT unanimously declared him as "black" — guilty of the crimes alleged, finding that Baloch along with his gang members was involved in a large number of murders/target killings of his rivals and innocent citizens including ethnic and "politically motivated killings".
He claimed that the report he had was different to the one released by the Sindh government.
The Uzair Baloch JIT had six people — one person each from the Special Branch and the Crime Investigation Department, from the Sindh government, as well as officials from the Intelligence Bureau, Rangers, Inter-Services Intelligence and MI, from the federal government, he said.
"All four people from federal government have signed each page of this report, but those from Sindh government have not. What really happened? The reports were made and they made major discoveries."
He claimed that there was a "deadlock" between the Centre and the provincial government over the report but the four people from the federal government had sent it forward.
In April 2016, Dawn had reported that the Rangers and police were at loggerheads over the inclusion of certain disclosures that the Lyari-based gangster made in the custody of the paramilitary force.
The report had quoted sources as saying that the 'disputed points' mainly pertained to the alleged links of Uzair Baloch with certain senior politicians and officials of both police and Rangers.
The paramilitary troopers had claimed that the Lyari gangster had said 'a lot of things' regarding his ties with senior politicians when they separately interrogated him. However, when he was presented before the JIT, he did not 'admit' that he had ties with the top PPP leadership.
"There is a difference between these two reports. Their report is 35 pages, the original report is 43 pages. No one from the Sindh government signed it.
"The original JIT report on Uzair Baloch has six people listed under a subhead titled 'friends'. The first 6 names [are] Dr zulfiqar Mirza, FaryalTalpur, Abdul Qadir Patel, Dr Nisar Morai, Senator Yusuf Baloch and Sharjeel Memon," he said and alleged that these names were taken out in the report released by the provincial government.
He also said that the report containing four signatures also stated that PPP MNA Abdul Qadir Patel had "tasked" Baloch to murder a man for killing his coordinator.
"On page 15, their report says 'accused confessed to murder of Jaleel [...] and informed that the dead body was disposed at an unknown place by his gangsters'.
"The report which we have says 'accused disclosed that in 2011, Qadir Patel of PPP tasked the accused to kill [the victim] as he had murdered [his coordinator]'."
The Sindh government's report doesn't tell us the motive behind the murder and on whose orders it was carried out, he said, adding that it also omitted statements about political affiliations and extortion.
Zaidi added that the "original report" stated that "Qadir Patel, Nisar Morai, Yusuf Baloch, Owais Muzaffar Tappi and Zulfiqar Mirza were key figures in PPP that supported Baloch".
"It also says that after Mirza's resignation when the situation began to go awry, Memon and Tappi had [him] do everything."
Zaidi added that he was not afraid of any legal action against him by the PPP. "Move a privilege motion, go to court [...] I will put this all on the line. I was not a minister yesterday and don't care if I am one tomorrow."
He also said he had spoken with the prime minister who had told him that the government will support him. "That is why Shibli Faraz is sitting next to me."
Zaidi said that "across the board transparency should be ensured" and called for all those named in the report to be investigated. "I am only saying that the law's yardstick should be equal for all."
He claimed that he had "not made a single accusation", adding the JIT report he presented was not conducted under the [PTI] government.
Baldia fire
Talking about the JIT report on the Baldia factory fire, Zaidi said that it was written on the last page that this "gory act of Baldia factory is a glaring example of police inefficiency".
"The JIT carried out a critique of the first investigation mentioned above and it concluded that 'fear and favour were the dominating factors throughout [and] affected police performance'. They said another first information report (FIR) should be registered and another investigation be conducted. This is what was written in the JIT they released," Zaidi said, adding that this was how institutions in the country have been destroyed.
Referring to another report that accused PPP lawmaker Imtiaz Ahmed Sheikh of l-Arabiya criminals and using them for political and financial gains, Zaidi said that when it emerged Sindh police superintendent (SP) Dr Rizwan Ahmed was transferred to Shikarpur.
"The report says 'detailed report against criminals, drug peddlers in Chanesar Goth Mehmoodabad'. This is my constituency."
Zaidi alleged that the report revealed that Farhan Ghani (PPP minister Saeed Ghani's brother) facilitated drug peddlers. "What happened when they received the report? They transferred the police official."
https://www.dawn.com/news/1567564/pti-minister-says-uzair-baloch-jit-report-released-by-sindh-govt-different-from-original
--------
IHC hints at criminal proceedings against minister, officials over caged animals
Malik Asad
July 08, 2020
ISLAMABAD: The Islamabad High Court (IHC) on Tuesday hinted at initiating criminal proceedings against Climate Change Minister Zartaj Gul and members of the Islamabad Wildlife Management Board (IWMB) for not setting free the solitary elephant and other animals confined in Marghazar Zoo in miserable conditions.
Chief Justice Athar Minallah on May 21 had ordered the release of caged animals to their respective sanctuaries since mismanagement at the zoo posed a serious threat to them.
The court on Tuesday noted: "Kaavan and all other animals confined in the zoo continued unnecessary pain and suffering, the members of the wildlife board, which include the minister in charge of the climate change, appear to have exposed themselves to criminal proceedings under the Prevention of Cruelty to Animals Act 1890 besides initiation of proceedings under the Contempt of Court Ordinance 2003."
In May, the court had declared that the lone elephant Kaavan and all other animals were kept in confinement at the zoo illegally and that their condition and incarceration amounted to subjecting these living beings to unnecessary pain and suffering.
On May 21, court ordered release of animals caged in zoo to their respective sanctuaries
"It has been further held that the minister in charge of the Ministry of Climate Change and members of the board shall be jointly and severally liable for the welfare and wellbeing of each animal till their relocation to their respective sanctuaries," the court order stated.
Subsequently, the court directed the chairman and each member of the board and Ms Gul to submit their respective affidavits explaining why they may not be proceeded against for delaying implementation of the judgement dated May 21.
The court directed the registrar's office to issue notices to the chairman of the board. Further hearing was adjourned to July 11.
In pursuant to the order of May 21, the IWMB notified an expert committee, with WWF Senior Director Programme Pakistan Rab Nawaz as its chairman and biodiversity specialist Z.B. Mirza as the co-chairman.
As per the terms of reference of the expert committee, it would examine establishing a sanctuary in Pakistan which meets the behavioural, social and physiological needs of Kaavan.
While deciding a petition of the IWMB against the Metropolitan Corporation Islamabad, the verdict regretted that Kaavan had been treated cruelly by subjecting him to unimaginable pain and suffering for the past three decades and the continued captivity of the animal would expose the authorities to criminal consequences.
Kaavan was gifted by Sri Lanka in 1985 when he was a year old and for more than 30 years has been kept chained in a small enclosure with inappropriate conditions required to meet the physiological, social and behavioural needs of this extraordinary species.
In the landmark judgment, Justice Minallah held that like humans, animals also have natural rights which ought to be l-Arabiya, and that it was a right of each animal, a living being, to live in an environment that meets its behavioural, social and physiological needs.
https://www.dawn.com/news/1567692/ihc-hints-at-criminal-proceedings-against-minister-officials-over-caged-animals
--------
Three IS militants arrested from Daska village
July 08, 2020
SIALKOT: The Counter Terrorism Department (CTD) on Tuesday arrested three suspected members of the banned so-called Islamic State (IS) group in an operation at village Ranjhai of Daska tehsil.
According to CTD officials, it was an information-based operation. They said that the suspect terrorists were planning their subversive activities in Daska, Sambrial and Sialkot.
The officials identified the suspected terrorists as Ahmed Idrees, Azam Ali and Mazhar Mukhtar. They were stated to be the active members of the IS and its facilitators as they were giving financial aid to the banned militant organisation and collecting funds for it.
The CTD also collected evidence of their facilitation, financial help and funds collection for the IS and other related materials. Explosive devices were also seized from the alleged terrorists.
The CTD shifted them to an unknown place for interrogation and registered a case against them with the CTD Police Station.
DROWNS: A youth drowned in Marala-Ravi-Link (MR Link) Canal while swimming in it near Motra-Daska.
He was identified as 27-year-old Suhail.
The divers of Rescue 1122 recovered his dead body from the canal.
https://www.dawn.com/news/1567672/three-is-militants-arrested-from-daska-village
--------
MQM-P threatens to protest in Islamabad if KE continues unannounced power cuts
Azfar-ul-Ashfaque
July 08, 2020
KARACHI: The MuttahidaQaumi Movement-Pakistan on Tuesday asked K-Electric to stop unannounced loadshedding in the city and resolve the issue of overbilling or its lawmakers would stage a protest demonstration outside Parliament House in Islamabad.
All major political parties have been protesting against the KE with the Jamaat-i-Islami demanding re-nationalisation of the entity, Pakistan Tehreek-i-Insaf and Pak Sarzameen Party seeking an end to KE's monopoly in the city and even the ruling PPP ministers openly l-Arabiya the utility for loadshedding and breakdowns.
At a time when almost every party is taking a firm stand and even calling upon the apex court to take notice of the "highhandedness" of the KE, the future course of action narrated in the press conference of the MQM-P against the KE was relatively soft.
"People are already suffering from the coronavirus in the prevailing hot and humid weather and the situation is deteriorating further because the KE is depriving them of electricity for several hours on different pretexts," senior MQM-P leader Amir Khan told a press conference held at the party's temporary headquarters in Bahadurabad.
He said that those areas from where the bill recovery was 100 per cent were also facing hours-long loadshedding on a daily basis while the situation was worst in other areas, including Liaquatabad, New Karachi, North Karachi, Landhi, Korangi and Orangi Town.
He said the MQM-P leadership had several times held meetings with the KE management and also communicated its concerns to Federal Energy Minister Omar Ayub but to no avail.
Mr Khan said that previously KE got 650 megawatts from the national grid but because of the MQM's effort, now the utility was getting around 800MW.
He said the gas quota of the KE was 140mmcfd and it was the MQM which managed to get it increased to 276mmcfd. "But, the KE has not provided any relief to the people and they are still facing loadshedding for hours," he said.
He said that it was the incompetence of the KE that it failed to improve its generation as well as transmission and distribution capacity despite getting all resources.
Tariff increase l-Arabiya
The MQM-P leader condemned the recent increase of Rs2.85 per unit in electricity tariff and said it was tantamount to injustice with the people.
He said that the people of Karachi had been getting inflated electricity bills and it was the duty of the KE to resolve this issue.
Mr Khan said that from now on if the KE failed to provide relief to the people, the MQM would have no option but to adopt the course of protest.
He said that MNAs, MPAs, and senators of the party would stage a protest demonstration in front of the Parliament House in Islamabad if the situation was not improved.
Answering a question, senior leader Kanwar Naveed Jameel said the MQM was part of a meeting held in Governor House to resolve the issue of loadshedding in the city. He said the MQM had immediately given names of its representatives to be part of a committee, but it appeared that that committee and Sindh Governor Imran Ismail were also "helpless" in front of KE.
Other senior leaders, including Mr Jameel, Karachi Mayor Wasim Akhtar, Federal IT and Telecom Minister Aminul Haque, Faisal Subzwari and KhwajaIzharul Hasan, were also present.
https://www.dawn.com/news/1567642/mqm-p-threatens-to-protest-in-islamabad-if-ke-continues-unannounced-power-cuts
--------
India
Allahabad HC Seeks Government's Action Report On Anti-Muslim Remarks By Kanpur Medical College's Ex-Principal
07th July 2020
ALLAHABAD: The Allahabad High Court has asked the Uttar Pradesh government to apprise it by July 20 of its actions on a purported video of former Kanpur medical college principal making remarks against Tablighi Jamaat members and Muslims.
A bench of Chief Justice Govind Mathur and Justice S D Singh gave the direction on a plea by New Delhi-based civil society Indian Muslim for Progress and Reforms (IMPAR), seeking action against former principal Arti Lalchandani of Ganesh Shankar Vidyarthi Memorial Medical College, Kanpur.
The bench asked the government to submit its action-taken-report to the court by the next date of hearing on July 20.
Dr Lalchandani had landed in controversy after a video clip had gone viral early last month in which she was purportedly heard making anti-Muslim remarks.
After the controversy, she was transferred to Directorate General of Medical Education in Lucknow.
The IMPAR in its petition has alleged that in the video, Dr Lalchandani spoke against Muslims which is misconduct on part of a government servant and a doctor.
"She is the principal of a medical college and a senior government servant and her views may affect doctors and medical professionals working under her. Making such communal remarks is clear misconduct on her part but the state government is avoiding taking action against her," said the petition.
It also sought the court's direction to the state government to take disciplinary action against her.
The state government's standing counsel, however, requested the court to grant him some time to apprise the court of the action taken against her.
In her remarks caught on camera, Dr Lalchandani was heard dubbing Muslims, being treated in one of the hospitals for COVID-19, as "terrorists who deserve to be put in jail."
https://www.newindianexpress.com/nation/2020/jul/07/ l-Arabiy-hc-seeks-governments-action-report-on-anti-muslim-remarks-by-kanpur-medical-colleges-ex–2166736.html
--------
Muslims, Christians get graveyards in Mohali after two-decade wait
Jul 07, 2020
A graveyard with separate sections for Muslims and Christians was inaugurated at Sector 73 here on Tuesday by Punjab cabinet minister Balbir Singh Sidhu in the presence of leaders of both communities.
Following demands made for over two decades for a burial place in the city, Greater Mohali Area Development Authority (GMADA) had earmarked around 5 acres of land for it, which was handed over later to the municipal corporation (MC) for further development.
The work took a decade to be completed, giving Mohali a burial ground of its own, saving locals the bother of performing the last rites of their loved ones at the Sector 25 graveyard in Chandigarh.
Mohali, which has nearly 15,000 Christians and 10,000 Muslims, has had plans pending for the last 20 years to develop a graveyard.
Earlier in the day, Sidhu also laid the foundation stone for renovation of the Sector 73 cremation ground, which will cost the state exchequer around ₹50 lakh.
Sidhu said the government will also spend ₹15 lakh on building the boundary wall around the Muslim section in the graveyard.
Father Ambrose D'Souza, parish priest of the Infant Jesus Church in Phase-11, who was also present during the inauguration of the graveyard said "We are thankful to the state government and MC commissioner of Mohali for handing over the land to us."
https://www.hindustantimes.com/chandigarh/muslims-christians-get-graveyards-in-mohali-after-two-decade-wait/story-vJO7wvM2fBPNjC1lLVM7pM.html
--------
Court Takes Note of New Charge Sheet Against Tablighi Jamaat
Jul 08, 2020
A Delhi court on Tuesday took cognizance of the charge sheet filed against 956 foreign nationals, who attended the congregation at Tablighi Jamaat headquarters in Nizamuddin area, and defied the orders of the government and police, set in place to contain the spread of coronavirus disease (Covid-19) in the national capital. The court while taking cognizance of the police's charge sheet said that there is prima facie sufficient material on record to proceed against the accused persons.
While taking cognizance of the charge sheet, chief metropolitan magistrate Gurmohina Kaur said that the accused, all foreign nationals, can be prosecuted under various charges including violations of the Foreigners Act, 1946, Epidemic Act, 1897 and Disaster Management Act, 2005.
https://www.hindustantimes.com/india-news/court-takes-note-of-new-charge-sheet-against-jamaat/story-qekRP6vZEE5nxOhq3tkvhO.html
--------
JeM operative held in Pulwama attack case
Jul 08, 2020
The National Investigation Agency (NIA) on Tuesday said it has arrested a Jaish-e-Mohammad (JeM) operative for allegedly harbouring and providing logistical support to the perpetrators of the February 2019 attack that left 40 Central Reserve Police Force (CRPF) personnel dead in Jammu & Kashmir's Pulwama and brought India and Pakistan to the brink of war.
In a statement, NIA said Bilal Ahmed Kuchey, the accused, allegedly harboured the perpetrators at his residence and provided them with high-end mobile phones to communicate with their Pakistan-based handlers and to record Adil Ahmed Dar's video before he rammed an explosive-laden car into a CRPF vehicle.
JeM released the video after the attack to claim responsibility for it. The attack prompted India to carry out an airstrike on a JeM camp in Pakistan's Balakot.
Kuchey, a resident of Pulwama's Hajibal, is the seventh person to be arrested for the attack.
In the statement, NIA spokesperson Sonia Narang called Kuchey a terror associate. "The main perpetrators in the case stayed in his house and he further introduced them to other OGWs [overground workers] who provided safe houses during their stay and planning of the attack." Narang added the perpetrators used the high-end phones for giving final touches to the planning and execution of the attack besides communicating with Pakistan-based JeM leadership as well as among themselves.
NIA last week arrested Mohammad Iqbal Rather for allegedly facilitating Muhammad Umar Farooq's movement. Farooq, a key conspirator in the Pulwama case, infiltrated into Jammu & Kashmir in April 2018 and was killed in an encounter on March 29, 2019.
The others arrested in the case in February and March include Shakir Bashir Magrey, Mohammad Abbas Rather, Waiz-ul-Islam, Insha Jan, her father, Tariq Ahmad Shah.
Pakistani terrorist – Mohammad Umar Farooq (killed in encounter on March 29, 2019 along with IED expert Kamran) were given the responsibility to execute the attack while JeM's area commander Mudassir Khan (killed on March 11, 2019) supervised the overall planning.
https://www.hindustantimes.com/india-news/jem-operative-held-in-pulwama-attack-case/story-GHTBxPm4UxJGuVzDO0WarI.html
--------
India targets Pakistan at UN body over counter-terrorism record
Rezaul H Laskar
Jul 07, 2020
India on Tuesday mounted a sharp attack on Pakistan during a virtual meeting of the UN Office of Counter-Terrorism, accusing it of sheltering and supporting terrorists and pushing a false narrative on the situation in Jammu and Kashmir.
Mahaveer Singhvi, joint secretary (counter-terrorism) in the external affairs ministry who led the Indian delegation for the webinar organised by the UN body, pointed out the meeting was being held on a day when the Indian embassy in Kabul was attacked by a Pakistan-backed terror group 12 years ago and Indians and Afghans were killed.
"It is very unfortunate that a country which perpetrated terrorist attacks in Mumbai (2008), Pathankot (2016), Uri and Pulwama is now preaching to the world community," Singhvi said in his intervention during the meeting with the theme "The global scourge of terrorism: Assessment of high risk threats and trends including the rise of violent extremism and hate speech in a pandemic environment".
"While the world is coming together to battle the pandemic, it is unfortunate that Pakistan, a state which sponsors cross-border terrorism, continues to use every opportunity to peddle false narratives and make baseless, malicious and egregious allegations against India and interfere in our internal affairs," he said, adding that the statement by Pakistan's representative at the meeting was part of this pattern.
Singhvi added, "Even as Pakistan provides shelter and support to terrorists, it continues to peddle a false and motivated narrative on the situation in the union territory of Jammu and Kashmir. It is seeking to portray its military, financial [and] logistical support to cross-border terrorism against India as a freedom struggle. It is also peddling misinformation about India's domestic legislation and policies."
The webinar was part of the UN body's virtual counter-terrorism week, and Singhvi pointed out that terrorists have made innumerable attempts to infiltrate India "from their safe abodes across the border to carry out attacks and have even used unmanned aerial systems to smuggle weapons across our borders".
At the global level, terrorists have tried to exploit financial and emotional distress caused by the pandemic, and used the increased presence of people online and on social media to disseminate misinformation through hate speech, fake news and doctored videos, he said. Another disturbing trend is the collection of funds by proscribed terror groups ostensibly for charitable activities but which would be used to finance terror, he said.
Singhvi described Pakistan's statement claiming credit for eliminating al-Qaeda as "ludicrous" and said the group's founder, Osama Bin Laden, was recently glorified as a "martyr" by Pakistan Prime Minister Imran Khan in Parliament. "This is a chilling reminder of the patronage that international terrorists receive in Pakistan," he said.
Khan had publicly acknowledged the presence of up to 40,000 terrorists in Pakistan and the Analytical Support and Sanctions Monitoring Team of the UN Security Council had reported that about 6,500 Pakistani terrorists from Lashkar-e-Taiba (LeT) and Jaish-e-Mohammed (JeM) are operating in Afghanistan, he said.
"Pakistan's role as epicentre of terrorism has been well documented by numerous international organisations including UN and FATF. Unlike Pakistan, India does not make any distinction between terrorists and invariably condemns terror attacks anywhere in the world, including the one in Karachi, referred to by Pakistan's representative in his statement," Singhvi said.
The Indian official also l-Arabiya human rights violations in Balochistan, Kyber-Pakhtunkhwa and Pakistan-occupied Kashmir and the discrimination against religious and cultural minorities.
https://www.hindustantimes.com/india-news/india-targets-pakistan-at-un-body-over-counter-terrorism-record/story-wLb4CA11IdrtHoqtybgOaM.html
--------
Soldier, Lashkar terrorist killed; 3 securitymen injured in J&K encounter
M Saleem Pandit
Jul 7, 2020
SRINAGAR: A soldier and one Lashkar-e-Taiba terrorist were killed in an anti-terror operation in south Kashmir's Pulwama district on Tuesday morning, IGP (Kashmir Range) Vijay Kumar said. Three security personnel, including two soldiers and a cop, were also injured in the fire exchange.
Sources identified the slain terrorist as Mudasir Rashid, a native of Pulwama's Kakapora area who earlier worked for Northern Railways before joining terrorism in 2018.
Based on intelligence inputs about the presence of terrorists in Pulwama's Goosu village, a joint team of Army's 53 RR, CRPF and J&K Police launched a cordon-and-search operation in the area. As the security forces neared the suspected hideout, cooped-up ultras opened fire at the search party, triggering an encounter, IGP Kumar said.
In the initial fire exchange, two soldiers and a cop were injured. The trio was shifted to the Army hospital following which the gunbattle resumed, in which the Lashkar terrorist was killed and another soldier was injured, the IGP added. One of the injured soldiers succumbed later in the afternoon during treatment.
Later in the day, GOC of Srinagar-based Chinar Corps, Lt Gen BS Raju said that every death is unfortunate and an opportunity to surrender is given to even terrorists. In a short video uploaded on the official Twitter page of Chinar Corps (15 Corps), Lt Gen Raju said, "The deaths of the six-year-old boy who was killed in Bijbehara (Anantnag) in the last week of June, as well as the recent Sopore (Baramulla) incident in which a 65-year-old man was killed, were unfortunate." The video was posted with the caption: "Terrorists striking in populated areas seek civil casualties because that gets attention. Civilian deaths provide fodder to propaganda machines. Security forces show restraint. Even to the terrorists we always offer the choice to surrender."
Lt Gen Raju said the Army has had a string of successful anti-terror operations in Kashmir. "The only way for a terrorist to get back at us is to strike and engage with us in populated areas. That's what happened in Bijbehara and Sopore, both busy towns. In both cases, we had CRPF casualties and multiple (CRPF) injured," he said. The GOC added that terrorists had used a mosque in the Sopore attack, which is a new phenomenon. "From the mosque, we recovered 60 rounds of empty cases. The initial rounds were used to target CRPF men and the rest 50 rounds were obviously fired with an aim to escape, but those rounds caused civilian casualty," he said.
https://timesofindia.indiatimes.com/india/soldier-lashkar-terrorist-killed-3-securitymen-injured-in-jk-encounter/articleshow/76842165.cms
--------
Arab world
Grand Imam of Al-Azhar holds virtual meeting with Archbishop of Canterbury
07-07-2020
CAIRO, 7th July, 2020 (WAM) -- His Eminence Dr. Ahmed el-Tayeb, the Grand Imam of Al-Azhar and Chairman of the Muslim Council of Elders, discussed with Justin Welby, Archbishop of Canterbury, ways of developing their ties and reinforcing their dialogue, in addition to several topics of mutual concern.
During a remote meeting held via video conferencing, they also stressed that the coronavirus pandemic has shown the need for joint action, and highlighted the key role of religious clerics and their cooperation during times of crises.
Dr. el-Tayeb affirmed his support for the initiative of the UN Secretary-General António Guterres to encourage ceasefires in areas of conflict, as well as to support refugees and those most affected by the pandemic. He also welcomed a related Security Council resolution.
Welby praised the strategic ties between Al-Azhar and Canterbury while noting the "Emerging Peacemakers Forum" launched by both sides, which was a beneficial experience that highlighted their joint work and combined influence, especially among the youth. He also stressed his keenness to ensure the forum's continuity and involve more young people.
http://wam.ae/en/details/1395302853752
--------
Hezbollah's Nasrallah tells US ambassador to 'respect herself' and not go on TV
07 July 2020
Hezbollah's Secretary-General Hassan Nasrallah Tuesday lashed out at the US ambassador to Lebanon, accusing her of interfering in the country's internal affairs and called on her "to respect herself."
Nasrallah's speech was the latest tirade by the Iran-backed group in a weekslong campaign targeting Ambassador Dorothy Shea after the latter accused Hezbollah of jeopardizing Lebanon's economic recovery and stability.
For all the latest headlines follow our Google News channel online or via the app.
Hezbollah's lawmakers in the Lebanese parliament will submit a petition to the Foreign Ministry requesting for Shea to be summoned and told to commit to diplomatic treaties and protocol, Nasrallah said.
"I ask that the ambassador not go on TV and speak about ... sovereignty and human rights. You represent a country that started wars [in the region] ... and killed millions," Nasrallah said during his speech to mark the anniversary of the July 2006 war between Hezbollah and Israel.
Nasrallah also accused Shea of directly intervening in appointments at Lebanon's central bank and threatening Lebanese officials. This has been vehemently denied by the ambassador on multiple occasions and interviews.
US Ambassador to Lebanon Dorothy Shea, gestures after her meeting with Lebanese Foreign Minister Nassif Hitti, June 29, 2020. (File photo: AP)
US Ambassador to Lebanon Dorothy Shea, gestures after her meeting with Lebanese Foreign Minister Nassif Hitti, June 29, 2020. (File photo: AP)
During his televised speech, Nasrallah said that Shea was acting like a "governor" and alleged that she was "inciting" Lebanese people against his group.
He criticized the Lebanese government for remaining silent and called on the Justice Ministry and judiciary to review the recent resignation of the judge who issued an order banning the US ambassador from speaking to Lebanese media outlets.
Nasrallah praised the judge as "brave" and "courageous."
https://english.alarabiya.net/en/News/middle-east/2020/07/07/Hezbollah-s-Nasrallah-tells-US-ambassador-to-respect-herself-and-not-go-on-TV
--------
Coronavirus: Iraq partially reopens Iran trade crossing for foodstuffs, say officials
07 July 2020
Iraq partially reopened its southern Shalamcheh border crossing with Iran on Tuesday after more than three months of closure to combat the spread of the new coronavirus, border officials said.
The crossing was being opened only for the trade of foodstuffs, allowing in some 500 trucks from Iran per week and would open every Wednesday and Sunday from now on, one of the officials said.
For more coronavirus news, visit our dedicated page.
Iraq closed its international borders and provincial boundaries in March except for the delivery of essential goods such as food as it sought to curb the spread of the coronavirus.
Iran, which shares a long border with Iraq, has been the epicenter of the virus in the Middle East but the spread has also accelerated in Iraq which is registering nearly 2,000 new cases every day. More than 2,500 people have died from COVID-19 in Iraq according to its health ministry.
For all the latest headlines follow our Google News channel online or via the app
Iran is one of Iraq's biggest trading partners. Both countries' economies are in crisis. Iran continues to suffer from US sanctions and Iraq is reeling from low prices of oil, which accounts for almost all its state revenue.
https://english.alarabiya.net/en/coronavirus/2020/07/07/Coronavirus-Iraq-partially-reopens-Iran-trade-crossing-say-border-officials.html
--------
Controversial Kuwaiti figure under fire for glorifying 'terrorists'
06 July 2020
A controversial Kuwaiti figure known for supporting the Muslim Brotherhood was recently under fire on social media when clips of past interviews with him resurfaced.
Abdullah al-Nafisi was accused of working with the Muslim Brotherhood, which is designated as a terrorist organization in neighboring countries such as the UAE and Saudi Arabia.
Interviews where the Kuwaiti figure was shown glorifying terrorists and discussing attacks on the US were also widely shared.
Four pounds of anthrax "carried by a guerrilla to transfer it through the tunnels of Mexico to the US can kill 330,000 US citizens in one hour," Nafisi says in one of the videos.
The Trump administration said in April 2019 that the US is working on designating the Brotherhood as a terrorist organization.
In another clip, Nafisi says that what the US calls "terrorists" are "friends."
"Why? Because these 'terrorists' are the most pious and honorable people in the world," he said.
https://english.alarabiya.net/en/News/middle-east/2020/07/07/Controversial-Kuwaiti-figure-under-fire-for-glorifying.html
--------
Problem in Iraq is that Iraqi forces unwilling to go after pro-Iran militias: Expert
08 July 2020
The problem with pro-Iran militias in Iraq is that Iraqi security forces are unwilling to go after them, says military expert with the Hudson Institute Michael Pregent, adding that new Prime Minister Mustafa al-Kadhimi must show more force.
"It's only the special forces that are doing it again, Kadhimi arrested 14 members of Kata'ib Hezbollah for a rocket attack about 10 days ago, and within 48 hours they were released. Abu Fadak of Kata'eb Hezbollah and EsmailGhaani, the Revolutionary Guard Corps commander, the Quds Force Commander, have more power in Iraq than the Prime Minister has. And that needs to change," Pregent said in an interview with Al Arabiya.
For all the latest headlines follow our Google News channel online or via the app.
Pregent was referring to the incident late last month when Iraq's Joint Operations Command arrested 14 fighters with the Kata'ib Hezbollah in southern Baghdad following a raid on their headquarters. They were released within two days and photos of the detained burning American and Israeli flags while still dressed in their prison garbs went viral on social media.
The military expert said the main problem with the pro-Iranian militias is not only centered around the firing of rockets.
Kataib Hezbollah Iraqi militia gather ahead of the funeral of the Iraqi militia commander Abu Mahdi al-Muhandis, who was killed in an air strike at Baghdad airport, in Baghdad, Iraq, January 4, 2020. (Reuters)
"The militias are not only firing rockets, they vote. The majority position inside of the Council of Representatives is from these militia groups, the Fatah party, Assyrian, state of law, and they form the Bana'a party," he said.
"They decide and they are more loyal to Iran than they are to Iraqis and Iraqis are demanding new elections. If new elections happen, these militias will lose power," Pregent added.
Earlier on Tuesday, mourners gathered in the Iraqi city of Najaf for the funeral of a well-known former government advisor and political analyst who was shot dead a day previously. They chanted anti- Kata'ib Hezbollah slogans during the funeral march for slain researcher Hisham al-Hashemi who was assassinated a day earlier.
Activists and protesters said al-Hashemi had received death threats from Kata'ib Hezbollah about a month prior to his assassination.
https://english.alarabiya.net/en/features/2020/07/08/Problem-in-Iraq-is-that-Iraqi-forces-unwilling-to-go-after-pro-Iran-militias-Expert.html
--------
Leading Iraqi security expert shot dead in Baghdad
07 July 2020
A leading Iraqi security analyst and government advisor has been shot dead outside his home in the capital Baghdad, sparking public anger and a wave of condemnations from the country's senior officials.
Three gunmen on two motorcycles fired at Hisham al-Hashemi, 47, from meters away on Monday, near his home in the Zayouna district, east of Baghdad, according to the investigator assigned to the killing.
A gunman then approached and shot him four times in the head at close range, he said.
Saad Maan, head of the Iraqi Interior Ministry's media relations department, said the analyst was later confirmed dead at Baghdad's Ibn al-Nafees Hospital.
A medical source at the hospital also confirmed that Hashemi had suffered "a hail of bullet wounds in several body parts."
Some Iraqi media reports said Daesh had claimed responsibility for the act of terror via Twitter accounts affiliated with the Takfiri outfit.
The expert's brother also said Hisham had received death threats from Daesh just few days before his assassination, the Shafaaq news agency reported.
Hashemi was known for his views and writings about politics, Daesh and the role of popular forces in Iraq. He was a respected security analyst who appeared regularly on state television and whose expertise was sought out by government officials, journalists and researchers.
According to an Iraqi government official, Hashemi worked as an advisor to former premier Haider al-Abadi and informally with the government of current Prime Minister Mustafa al-Kadhimi.
Condemnations pour in
The assassination has triggered outrage among Iraqi elite, people, journalists and politicians.
Several Iraqi officials and the Popular Mobilization Units (PMU), better known as Hashd al-Sha'abi, have condemned the assassination.
The Iraqi Interior Ministry have called for the formation of an investigative committee into the incident.
It said in a statement that Interior Minister Othman al-Ghanmi had ordered the establishment of the committee under the chairmanship of the deputy director of the Iraqi Intelligence Service, adding that all checkpoints have been instructed to inspect certain types of motorcycles and arrest the drivers who carry weapons.
Prime Minister Mustafa al-Kadhemi said Hashemi was "a voice in support of our heroic forces in the fight against Daesh, and played a pivotal role in enriching the important political and security dialog in the country."
He vowed that Baghdad would pursue the perpetrators of the crime and justly punish them.
"We will not allow assassinations to return to Iraq" under any circumstances, he noted in a statement.
Similarly, President Barham Salih took to Twitter to remind the country's security services of their "duty is to arrest the perpetrators and bring them to justice."
Parliament Speaker Mohammed al-Halbousi also urged "relevant government departments to arrest the perpetrators of the cowardly act as soon as possible" to prevent further kidnappings and assassinations of national figures.
Hashd al-Sha'abi also released a statement mourning Hashemi's death.
"We demand that security forces follow up on this crime and detain the terrorists that assassinated Hashemi, who was considered one of the most prominent writers and experts on IS (Daesh) groups, and who had a huge role in exposing their secrets," it said.
Iran, UN censure the crime
Additionally, the Iranian Embassy in Baghdad has condemned the "criminal act."
"Undoubtedly, the goal of the supporters and perpetrators of such operations is to undermine stability and security in Iraq, create sedition and rift among the nation's sons, and restore violence to Iraq," it emphasized.
The statement also reaffirmed Iran's support for stability and security in neighboring Iraq.
Moreover, the UN's top official in Iraq Jeanine Hennis-Plasschaert slammed the killing as a "despicable act of cowardice."
"Our heartfelt condolences to his family and loved ones. I call on the government to quickly identify the perpetrators and bring them to justice," she tweeted.
https://www.presstv.com/Detail/2020/07/07/629071/Iraq-Hisham-Hashemi-Baghdad-assassination
--------
Iraqi protesters chant anti-Hezbollah slogans during slain al-Hashemi's funeral march
08 July 2020
Mourners gathered in the Iraqi city of Najaf on Tuesday for the funeral of a well-known former government advisor and political analyst who was shot dead a day previously.
Hisham al-Hashemi, who had written about politics, ISIS, and the role of Iran-backed militias in Iraq was killed on Monday in a rare high-profile killing in the Iraqi capital, government officials, police sources and medics said.
For all the latest headlines follow our Google News channel online or via the app.
The funeral procession, accompanied by an orchestra, first marched towards the Imam Ali Shrine and later to the Wadi al-Salam cemetery where the burial took place.
Hashemi, who was well-connected with politicians, activists, and paramilitary officials, worked as an advisor to former Prime Minister Haider al-Abadi and informally with the government of current Prime Minister Mustafa al-Kadhimi, a government official said.
Kadhimi issued a statement offering his condolences. Iraq's state paramilitary organization, which is dominated by Iran-backed groups, called for an investigation of his death.
According to one Iraqi activist, al-Hashemi received death threats from Iraq's Iran-backed Kata'ib Hezbollah militia about a month ago.
Al-Hashemi, 47, was killed Monday evening after three gunmen on two motorcycles fired at him from meters away near his home in the capital Baghdad. He was an authoritative voice on Sunni extremist factions including ISIS terror group but was also frequently consulted by media and foreign governments on domestic Iraqi politics and Shia armed groups.
https://english.alarabiya.net/en/News/middle-east/2020/07/08/Iraqi-protesters-chant-anti-Hezbollah-slogans-during-slain-al-Hashemi-s-funeral-march.html
--------
North America
Top US general says not convinced Russian cash led to US deaths in Afghanistan
08 July 2020
A top US general says he is not convinced Russia had incentivized Taliban-linked militants to kill coalition forces, including American troops, in Afghanistan.
Last month, several major US news outlets including The Washington Post, The New York Times and The Associated Press reported that intelligence related to the matter indicated that Russia had offered bounty as incentive to the Taliban.
President Donald Trump, a Republican who has worked to cultivate warmer ties with Russia, said later that month that he was not briefed on any such reports.
He then blamed the "fake news" for the allegations, saying on Twitter that "the Russia Bounty story is just another made up by Fake News tale that is told only to damage me and the Republican Party."
The Pentagon also said that it had "no corroborating evidence to validate the recent allegations found in open-source reports."
On Tuesday, Marine General Frank McKenzie, the head of US Central Command, underlined the US military's caution in the most extensive remarks to date about the issue from a defense official.
"I'm very familiar with this material and I'm a theater commander and I've had an opportunity to look at it. I found it very worrisome. I just didn't find that there was a causative link there," McKenzie told reporters.
When asked about whether he believed Russian payments led to US deaths, he said, "No, I'm not convinced of that. I'm just not."
He then noted that battlefield intelligence was often inconclusive.
"But in this case, there just wasn't enough there," McKenzie said.
"I sent the intelligence guys back to continue to dig on it. And I believe they're continuing to dig right now."
Moscow had dismissed the allegations, with its embassy in the US saying the claims had led to threats against diplomats. The embassy also accused the Times of promoting fake news.
The Taliban likewise denied having had any deal with Russian intelligence.
The US military previously accused Russia of possibly supporting elements of the Taliban, by giving weapons to them among other things, with McKenzie also saying that the Russians were "not our friends in Afghanistan and they do not wish us well."
https://www.presstv.com/Detail/2020/07/08/629160/US-Afghanistan-taliban-russia-us-forces-
--------
Iran will emerge stronger from US economic warfare: Scholar
07 July 2020
Contrary to the effects intended to be imposed by US sanctions, Iran will actually emerge stronger than it would have without that challenge, according to an American author, journalist and radio host.
Kevin Barrett made the remarks in an interview with Press TV on Tuesday while commenting on a statement of Iran's Foreign Minister Mohammad Javad Zarif who said that the US and Israel have reached the point where they understand that their so-called maximum pressure campaign against Iran has run up against the dead end, and he's hopeful that this recognition will turn into a change in policy.
Speaking in a meeting of senior officials of Iran's Foreign Ministry on Monday, Zarif said, "Perhaps, no other country has been under such mounting pressure from certain [world] powers, especially the United States, and the Zionist regime."
"But, this comes at a moment when Iran's military has talked about its underground cities overlooking the Persian Gulf in mountains that are quite impregnable. And this has been widely recognized by American strategists when they war-gamed imagining having a war with Iran; they lose in large part because Iran has that strategic ground and controls the Persian Gulf," Barrett said.
"So that's why the US has been waging all-out economic warfare, perhaps the most brutal economic war ever waged, escalating pressure against Iran with mixed success. The rest of the world was not impressed by the US administration's jettisoning of the JCPOA, which was really an act of complete international criminality. And so, the rest of the world has been sympathetic with Tehran's position as the US, and its master in Tel Aviv, have gotten more and more hysterical," he added.
"And now we've heard that the Israelis are sort of half-heartedly, or ambivalently, claiming credit for bombing an installation in Iran's peaceful nuclear energy program and crowing about it; while Iran is, as usual, behaving responsibly, and any retaliation which will be completely legitimate when it comes will be done responsibly, proportionately, and on Iran's terms," he stated.
"So, ultimately what we are facing is a situation in which, Israel—which greatly increased its power over the US after it was the key player in the September 11, 2001, coup d'etat featuring the controlled demolition of the World Trade Center—has realized that its whole plan, which was to radically reshape the region to its own benefit by taking out seven countries in five years, the seventh and most important being Iran, has run up into a dead end. They can't stop Iran. They can't get rid of the Islamic Republic. They can't get their regime change, and they can't even completely destroy Iran's economy, because the resistance economy has continued to function under atrocious conditions," he stated.
"So, Foreign Minister Zarif seems to think that at some point in the not too distant future, the Israelis will lose their project. This is an Israeli project after all. The only reason that the US is hostile to Iran is because Israel sees Iran as a threat. Why is that? Because Iran tells the truth about the genocide of Palestine and supports the Palestinian resistance to that genocide," he noted.
"And so Israel has captured the United States and dragged the US into hostilities with Iran. At some point, the world is going to say no to this, as US power wanes around the world. It seems that a change is going to come. And whether it comes perhaps after the next US elections (there may be a new administration in office) or perhaps it'll be another way that the US will break with Israeli anti-Iran policy," he said.
"But it seems that Iran has largely weathered the storm, and will come out of this stronger than ever thanks to its resistance economy. (Despite) what it has put up with in order to become a fully independent country, when it emerges from this economic war, it will be even stronger than it would have been had it not had such a difficult challenge, and had it simply knuckled under to the Zio-American Empire as other regional countries have," he concluded.
https://www.presstv.com/Detail/2020/07/07/629129/%E2%80%98Iran-to-emerge-from-the-US-economic-warfare-stronger%E2%80%99
--------
US plotting soft coup against Hashd al-Sha'abi forces in Iraq: Lawmaker
07 July 2020
An Iraqi legislator warns that the United States is fomenting a soft coup against Popular Mobilization Units (PMU), better known by the Arabic word Hashd al-Sha'abi, stating Washington is trying to constrain the role of the anti-terror forces.
Speaking in an exclusive interview with the Arabic-language al-Maalomah news agency on Tuesday, Muhammad al-Baldawi, a lawmaker from the Fatah (Conquest) Alliance, said the US had hatched plots to limit the role of HashdSha'abi forces and stir up internal strife in Iraq.
"America supports and sponsors terrorism in Iraq, elsewhere in the world and even on its soil in a bid to oppress its own nation. The US seeks to dissolve the PMU, constrain its role and pressure it as if a soft coup is underway in Iraq," Baldawi pointed out.
The Iraqi lawmaker added, "There are signs of a coup in Iraq. Pieces of information were obtained prior to last year's [anti-government] demonstrations about the US sponsorship, bids against security authorities as well as attempts to bring former officials wanted for corruption back to power."
On June 26, a high-ranking official from the Hashd al-Sha'abi slammed a recent unprecedented raid by Iraqi forces on a PMU base in southern Baghdad, stating the operation had been dictated by the US, and that there are foreign attempts to undermine the PMU.
On March 27, the New York Times newspaper reported that the Pentagon had ordered a secret directive, which called on US military commanders to prepare a campaign against Kata'ib Hezbollah, which is part of Hashd al-Sha'abi.
But the United States' top commander in Iraq had warned that such a campaign could be bloody and counterproductive.
Lieutenant General Robert P. White wrote in a blunt memo that a new military campaign would also require that thousands more American troops be sent to Iraq.
Hashd al-Sha'abi fighters have played a major role in the liberation of areas held by Daesh terrorists ever since the Takfiri group launched an offensive in the country, overrunning vast swathes in lightning attacks.
In November 2016, the Iraqi parliament voted to integrate the PMU, which was formed shortly after the emergence of Daesh in Iraq in 2014, into the military.
The popular group, however, is a thorn in the side of the United States which is widely believed to be managing an array of militant groups, including Daesh, to advance its Israel-centric agenda in the region.
Iraqi lawmakers unanimously approved a bill on January 5, demanding the withdrawal of all foreign troops following the US assassination of Lieutenant General Qassem Soleimani, the commander of the Quds Force of Iran's Islamic Revolution Guards Corps, along with Abu Mahdi al-Muhandis, the deputy head of Iraq's PMU, and their companions.
There have been growing calls for the Baghdad government to pave the way for the implementation of the parliamentary order.
https://www.presstv.com/Detail/2020/07/07/629105/Iraq-Hashd-al-Sha'abi-US-soft-coup
--------
US assassination of Gen. Soleimani an act of state-sponsored terrorism
Tuesday, 07 July 2020
By Stephen Lendman
The Trump regime's assassination of Iran's Lieutenant General Qassem Soleimani and Iraqi Popular Mobilization Unit commander Mahdi al-Muhandis in Baghdad was a flagrant breach of international and US constitutional law under its Supremacy Clause.
Claiming jus ad bellum justification, the notion of conditions under which it's permissible to attack another country, is a nonstarter, a Big Lie fooling no one.
Neither Iran, Iraq, or other nations anywhere threaten US national security.
Claims otherwise by its officials are backed by no corroborating evidence because none exists.
Iran, Iraq, and most other nations are at peace with other states.
The US, NATO, and Israel are waging endless wars on humanity regionally and globally.
The killings of Soleimani and Muhandis by drone or any other means was a US act of aggression against both countries.
At the time, a US war department statement said the following:
"At the direction of the president (Trump), the US military has taken decisive defensive action to protect US personnel abroad (sic) by killing Qasem Soleimani, the head of the Islamic Revolutionary Guard Corps-Quds Force, a US-designated Foreign Terrorist Organization (sic)," adding:
"This strike was aimed at deterring future Iranian attack plans (sic)."
"The United States will continue to take all necessary action to protect our people and our interests wherever they are around the world (sic)."
The war department statement falsely blamed Soleimani for high crimes in the region — committed by the US and its imperial partners, not the Islamic Republic of Iran.
Leader of the Islamic Revolution Ayatollah Seyyed Ali Khamenei denounced Soleimani's assassination, saying:
He's "an international figure of the resistance, and all the devotees of resistance are now his avengers," adding:
"All the friends and foes must know that the path of jihad of the resistance will continue with double motivation, and a definite victory awaits those who fight in this auspicious path."
"The demise of our selfless and dear general is bitter, but the continued fight and achievement of the final victory will make life bitterer for the murderers and criminals."
Iranian President Hassan Rouhani said his assassination "doubled the determination of the great nation of Iran and other free nations to stand against and resist the excessive demands of the US and to defend the Islamic values," adding:
"There is no doubt that this cowardly and evil move is another sign of US desperation, inability and failure in the region, and the hatred felt by the regional nations toward this criminal regime."
"The great nation of Iran and other free nations of the region will take revenge for this heinous crime against the criminal US."
Iranian Foreign Minister Zarif denounced US "rogue adventurism."
The Trump regime "bears responsibility for all consequences of its" actions, he stressed.
Separately he tweeted: "The US act of international terrorism, targeting & assassinating General Soleimani—THE most effective force fighting Daesh (ISIS), Al Nusrah, Al Qaeda et al—is extremely dangerous & a foolish escalation."
Tehran University Professor Mohammad Marandi said Soleimani's involvement in combating (US-supported) ISIS made him a "national hero (and) martyr" domestically and in other regional countries, adding:
"If it wasn't for people like him, this region would have seen black flags flying across the" Middle East.
A report issued by UN special rapporteur on extrajudicial, summary or arbitrary executions Agnes Callamard was damning in its condemnation of the US assassination of Soleimani and Muhandis, saying:
"Absent an actual imminent threat to life, the course of action taken by the US was unlawful," a flagrant UN Charter breach, adding:
"The world is at a critical time, and possible tipping point, when it comes to the use of drones…"
"The Security Council is missing in action; the international community, willingly or not, stands largely silent."
The US and its imperial allies are responsible for endless preemptive wars and other criminal actions by hot and other means against nations unwilling to subordinate their sovereign rights to its interests.
The rage by both right wings of its war party to control planet earth, its resources, and populations poses an unparalleled threat to everyone everywhere.
Stephen Lendman, born in 1934 in Boston, started writing on major world and national issues began in summer 2005. In early 2007, radio hosting followed. Lendman now hosts the Progressive Radio News Hour on the Progressive Radio Network three times weekly. Distinguished guests are featured. Listen live or archived. Major world and national issues are discussed. Lendman is a 2008 Project Censored winner and 2011 Mexican Journalists Club international journalism award recipient. He wrote this article for Press TV website.
https://www.presstv.com/Detail/2020/07/07/629112/US-assassination-of-Gen.-Soleimani-an-act-of-state-sponsored-terrorism
--------
South Asia
22 Taliban militants killed, wounded on Kabul-Jalalabad highway
07 Jul 2020
The security forces killed or wounded at least 22 Taliban militants during a clash on Kabul-Jalalabad highway, the Afghan military said.
The 201st Silab Corps in a statement said the Afghan National Defense and Security Forces conducted a joint operation based on a tip off in Sarkund Baba area Laghman province which is located on Kabul-Jalalabad highway.
The statement further added that the security forces killed 16 Taliban militants and wounded at least 6 others during the clash.
The security forces also confiscated some weapons and munitions following the clash, the 201st Silab Corps added in its statement.
The Taliban group has not commented regarding the incident so far.
https://www.khaama.com/22-taliban-militants-killed-wounded-on-kabul-jalalabad-highway-08942/
--------
Bangladesh claims COVID-19 outbreak contained in Rohingya camps
JUL 07, 2020
Acoronavirus outbreak among Rohingya refugees has been "successfully contained," Bangladesh officials have said after fears that the disease spread rapidly in overcrowded camps.
Nearly 1 million Rohingya live in squalid camps in southeastern Bangladesh after fleeing a 2017 military crackdown in Myanmar, where the mostly Muslim community is a minority. Some 724 Rohingya have been tested in the Bangladesh camps, with 54 found positive since the first cases were detected in May, officials said.
"We have successfully contained the outbreak," Bangladesh refugee commissioner Mahbub AlamTalukder told Agence France-Presse (AFP) on Monday, adding that only five Rohingya have died from the virus so far.
It was not clear, however, if some Rohingya avoided testing because of fears they would be moved to an isolated and flood-prone island in the Bay of Bengal, where other refugees were taken to after being found at sea.
In contrast, there have been more than 2,776 confirmed infections including 60 deaths among the 2.4 million Bangladeshis living in the wider Cox's Bazar district, where the camps are located, Talukder said.
The three dozen camps were locked down after the first few cases were found, with refugees barred from leaving the area.
Officials used loudhailers to tell residents to wash their hands, stay indoors and wear a mask if they were in public spaces, said Rohingya teacher Mohammad Shafi, who lives in the Kutupalong shelter, the world's biggest refugee camp.
Authorities distributed soap among the refugees, shut most shops and restricted the number of aid workers allowed to enter the camps, he added.
"A lot of people suffered from seasonal flu, headaches, body pain and diarrhea in recent weeks," Shafi told AFP.
"And most didn't go to the hospitals. Instead, they took medicines from local pharmacies (in the camps)," he said.
Testing is not compulsory and it is not known if the overall death rate in the camps among the mostly Muslim minority has increased.
People who die in the camps are also not tested for the virus.
https://www.dailysabah.com/world/asia-pacific/ l-Arabiya-claims-covid-19-outbreak-contained-in-rohingya-camps?gallery_image=undefined#big
--------
Suicide attacks thwarted in Kabul city: NDS
07 Jul 2020
The Special Forces of the National Directorate of Security (NDS) thwarted militants plot to carry out suicide attacks in Kabul city.
According to a statement released by NDS, the Special Forces conducted a complex operation in Kabul city and arrested two would-be suicide bombers of ISIS terrorist group.
The statement further that the suicide bombers were looking to target the health facilities and media organizations in the city.
The two suicide bombers have been identified as Lotfullah son of Abdul Latif alias Khurasani and Ahmadullah son of Ziauddin, both residents of Shakar Dara district of Kabul.
The National Directorate of Security also added that the two suicide bombers were attracted into ISIS ranks by individuals identified a Ahmad, Abu Omar and Khyber.
https://www.khaama.com/suicide-attacks-thwarted-in-kabul-city-nds-08944/
--------
Afghan President Ghani pushing for global 'consensus' on talks with Taliban
06 July 2020
Afghan President Ashraf Ghani is expected to start pushing Monday for a global consensus on peace talks with the Taliban, even as his spokesman slammed the militants for a spike in violence.
Ghani is hosting three online conferences with representatives of some 20 countries this week, with the first meeting scheduled for later Monday.
They aim to "build a consensus" for the peace talks at regional and international level, said Gran Hewad, a spokesman for the foreign ministry.
For all the latest headlines follow our Google News channel online or via the app.
The United States and Russia along with some international organizations such as the United Nations will take part, officials said.
Other countries participating include Pakistan, India, Iran, China, Egypt and Qatar, they added.
But just hours ahead of the first online meeting, Ghani's spokesman slammed the Taliban for an uptick in violence in recent weeks.
"There is no obstacle on our side for the peace process, but we see that the Taliban are not serious," SediqSediqqi told reporters.
"The government of Afghanistan released a large number of Taliban in order to reduce violence in the country, but the violence has not decreased."
Afghan authorities have released more than 4,000 Taliban prisoners out of 5,000 demanded by the insurgents in a deal with Washington signed in February.
That deal paves the way for withdrawing of all foreign forces from Afghanistan by the middle of next year.
Violence dropped in the run-up to the Taliban-Washington deal – and again, briefly, after militants announced a three-day ceasefire on May 24.
But there has been a spike in violence across much of the country in the past few weeks, with officials blaming the Taliban for killing and wounding hundreds of security personnel and civilians.
The Taliban have denied responsibility for many of the attacks, but acknowledge their fighters were targeting Afghan security forces in rural areas.
https://english.alarabiya.net/en/News/world/2020/07/06/Afghan-President-Ghani-pushing-for-global-consensus-on-talks-with-Taliban.html
--------
Southeast Asia
Covid-19: Priority given to Malaysians to perform prayers at places of worship, says minister
07 Jul 2020
KUALA LUMPUR, July 7 — Priority is always given to locals to perform congregational and Friday prayers in mosques and surau, Minister in the Prime Minister's Department (Religious Affairs) Datuk Dr Zulkifli Mohamad Al-Bakri said.
He said the government has to consider various matters before deciding to allow foreigners to join congregational prayers in these places.
"Each report and data will be studied. We will fix any shortcomings and this will take time, maybe a month or two.
"Once the situation is more stable, we will allow them in to perform their prayers (in the mosque)," he told reporters when met after the launch of the post Covid-19 mosque cleansing programme and presentation of Covid-19 Musaadah Fund held at DesaPetaling near here today.
The government has allowed locals to perform congregational and Friday prayers in mosques and surau on a larger scale by l-Arabiya space while adhering to social distancing.
"The next step is to revive the surau where Friday prayers can be performed. In accordance with the fatwa, we allow ordinary surau to conduct Friday prayers on condition that they get the permission of the Federal Territories Islamic Religious Department (Jawi) and the office of the mufti so that they can be monitored as best as possible," he said.
On the Covid-19 Musaadah fund which is open to people of all walks of life, he said so far, almost RM200 million has been distributed to eligible recipients.
"This means that when we announce that a donation fund is open to all, it is open to anyone who is eligible. Muslims, non-Muslims, Orang Asli, schools facing difficulties, as well as fishermen," he added.
Zulkifli added that what was important was that the assistance reached the target groups.
A total of 20 people, including 10 non-Muslim individuals, received the aid during the programme today.
The event was organised by the Al Rahmah Yayasan DakwahIslamiah Malaysia (Yadim) service division in collaboration with the Prime Minister's Department, the Department of Islamic Development Malaysia (Jakim) and the Al Khasyi'in Mosque as the host. — Bernama
https://www.malaymail.com/news/ l-Arabi/2020/07/07/covid-19-priority-given-to-malaysians-to-perform-prayers-at-places-of-worsh/1882373
--------
Catholics deal with 'new normal' in Malaysia
July 08, 2020
As Malaysian churches reopen after a months-long lockdown, Catholics are facing a "new normal" in worship.
During Masses churchgoers are asked to sit at safe distances from one another with plenty of spaces left in pews, while they are also required to wear masks throughout the service.
But what many find far more restrictive is that only a select number of worshipers can participate in Masses, with many others barred from services for reasons of safety. The same rules are in place at Protestant churches.
"Empty spaces were seen everywhere. It was a little strange to be in the church with distanced sitting," Reverend Hermen Shastri, secretary general of the Council of Churches of Malaysia, told a newspaper.
Yet despite the new rules many Christians are delighted at being allowed back in church for services.
Nearly 300 Catholics attended Sunday Mass at the Church of the Immaculate Conception in a suburb of George Town on the island of Penang for the first time after a three-month lockdown during which such gatherings were prohibited to contain the spread of Covid-19.
"I know that many of us wanted to come for this Mass but only 275 people were allowed to be here. We had to register beforehand and take turns," said Larisaa Ann, a 19-year-old student.
"I registered earlier and felt really lucky and thankful to be able to attend mass after a lapse of more than 90 days. It was a relief to see everyone here, all well and eager. It brings back energy and some hope."
Those believers who could not secure a seat for the Mass could still follow it online via a livestreaming service.
"It is just not the same attending Mass through livestreaming," an elderly woman observed, adding, however, that "I hope life will only get better for all of us from now on."
Christians account for just over 9 percent of Malaysia's 33 million citizens, with around 40 percent of Christians being Catholic. Christians are particularly well represented in the states of Sabah and Sarawak, both of which are on the island of Borneo, where they make up a third of the population.
Christians are generally tolerated in the predominantly Muslim nation where their freedom to practice their religion freely is guaranteed under the constitution.
In its World Watch List last year, the Netherlands-based mission Open Doors ranked Malaysia at 42nd place out of 50 countries listed based on how difficult it is to be a Christian there.
"Malaysia is no longer designated as a country with 'very high' persecution but has dropped to the 'high' persecution category," the report said. "However, while any sense of peace and stability for Malaysian Christians is to be celebrated, it's important to remember that Pastor Raymond Koh, 60, allegedly kidnapped by individuals connected to senior Malaysian police officers, is still missing."
Koh was abducted by at least 15 men traveling in three SUVs in February 2017 as the Christian clergyman was on his way by car to visit a friend. His whereabouts remain unknown, and it has been speculated that he was silenced over his missionary work.
Prior to his abduction, Koh had been mailed a box of bullets as a warning to stop his ministry.
"Unfortunately, this is not the only case of Christians being kidnapped in Malaysia," notes Release International, an interdenominational nonprofit working on behalf of prosecuted Christians.
"Pastor Joshua Hilmy, a Malay Muslim who converted to Christianity, and his Christian wife, Ruth, were last seen on November 30, 2016," it adds.
The Christian couple, too, remain missing.
https://www.ucanews.com/news/catholics-deal-with-new-normal-in-malaysia/88695
---------
Muslims cannot be involved in non-Muslim marriage disputes, rules court
July 6, 202
PUTRAJAYA: The Court of Appeal here today ruled that a Muslim cannot be made a party in a matrimonial dispute involving non-Muslim couples.
A three-member bench chaired by Kamardin Hashim said this in setting aside a High Court ruling last year that Muslims could be included as co-respondents in a petition for judicial separation.
"There is merit in the appeal," said Kamardin who did not provide the grounds to overrule the ruling.
The identities of the parties involved were withheld as provided in the High Court ruling.
In July last year, AJS filed for separation against her husband, known as RIS, who was represented by Foo Yet Ngo and Kiran Dhaliwal.
AJS also included JBMH, a Muslim woman, as co-respondent, as she was said to be having an affair with RIS.
JBMH then filed an application to remove her name on the basis that the Law Reform (Marriage and Divorce) Act 1976 (LRA) did not apply to Muslims.
High Court judge Faizah Jamaluddin dismissed the application in November.
Today, Siew ChoonJern, who appeared for JBMH, told the court Section 3 (3) of the LRA was clear that it excluded Muslims.
"It is a blanket exclusion. The only exception is in relation to Muslim converts who had civil marriages," Siew said.
Ravi Nekoo, who represented AJS, said the court had to look into the legislative intent of Section 3 (3).
"Parliament would not have given a cloak of immunity to a Muslim who wrecks the marriage of non-Muslim couples and allow them to get away with it," he said.
Foo urged Kamardin to provide a written judgment as the High Court ruling had been overruled and that it was an important development in law.
Meanwhile, Ravi said he would consult with his client whether to file an appeal in the Federal Court.
https://www.freemalaysiatoday.com/category/nation/2020/07/06/muslims-cannot-be-involved-in-non-muslim-marriage-disputes-rules-court/
---------
Uighurs urge ICC to probe Chinese 'genocide'
July 8, 2020
Exiled Uighurs urged the International Criminal Court on Tuesday to investigate China for genocide and crimes against humanity, filing a huge dossier of evidence with the Hague-based court to back their case.
The evidence handed to the ICC's prosecutor accuses China of locking more than one million Uighurs and other mostly Muslim minorities in re-education camps and of forcibly sterilizing women.
China has called the forced sterilization accusations baseless and says the facilities in the northwestern Xinjiang region are job training centers aimed at steering people away from terrorism.
"Today is a very historic day for us." Salih Hudayar, prime minister of the self-styled East Turkestan government in exile, told a virtual press conference held in Washington and The Hague.
China is not an ICC member but lawyers for the Uighurs said the court could follow the example of its ongoing probe into the treatment of Rohingya Muslims by Myanmar, which is also not party to the tribunal.
ICC judges ruled in 2018 that the Rohingya investigation could go ahead because the situation in Myanmar affects people in neighboring Bangladesh, which is a member of the ICC.
Rodney Dixon, a London-based human rights lawyer for the Uighurs, said it was a "historic breakthrough" and "hopefully a turning of the tide as the ICC can now act."
The evidence filed with the court showed that China was guilty of "harsh repressive measures" over more than a decade, he told the press conference from The Hague.
"These include mass internments in excess of a million people, murders, disappearances, torture, and harrowing accounts of sterilizations and birth control measures," said Dixon.
The dossier includes a list of senior Chinese Communist Party members who are allegedly responsible for the treatment of the Uighurs including President Xi Jinping.
Dixon said following the example of the Myanmar case begun by the ICC prosecutor last year showed there was a "clear way which allows the ICC to exercise jurisdiction."
The case was possible because crimes including forced deportations back to China happened in Tajikistan and Cambodia, which are both ICC members, the dossier filed by the exiles says.
The ICC has no obligation to consider complaints filed to the prosecutor, who decides independently what cases to submit to judges at the court, set up in 2002 to achieve justice for the world's worst crimes.
https://www.thejakartapost.com/news/2020/07/08/uighurs-urge-icc-to-probe-chinese-genocide.html
--------
Mideast
Israel annexation will worsen conflict, feed extremism: Arab foreign ministers
07 July 2020
The foreign ministers of Jordan, Palestine, Saudi Arabia, Egypt, the UAE, Morocco, Tunisia, Oman, and Kuwait said in a statement on Tuesday that Israel's annexation of Palestinian lands will worsen the conflict and feed extremism.
The statement was after the foreign ministers had a meeting with the Secretary-General of the Arab League to look into updates on the Palestinian-Israeli conflict.
The statement reinstated the countries' stance in supporting Palestine to get its full legal rights and reject Israel's annexing of any occupied Palestinian lands, warning of the move's danger.
For all the latest headlines follow our Google News channel online or via the app.
The statement also called on the international community to take clear and effective measures to prevent the annexation decision.
"It's necessary to return to the table of serious and effective talks to solve the conflict based on the two-state solution and international resolutions," the statement said.
https://english.alarabiya.net/en/News/middle-east/2020/07/07/Israel-annexation-will-worsen-conflict-feed-extremism-Arab-foreign-ministers.html
--------
Muslim civil liberties group to represent inmate denied kosher food
JULY 8, 2020
An Islamic civil liberties and advocacy organization will represent a man who has been denied kosher food in a Michigan jail.
The Michigan chapter of the Council on American Islamic Relations, or CAIR, said in a statement issued Monday that it would appear as legal representative for Brandon Resch, an inmate in the Macomb County Jail, in his lawsuit against the Michigan Department of Corrections.
In November 2017, Resch was transferred from Oakland County Jail, where he was receiving a kosher diet. He requested a kosher diet in Macomb and had an interview with its chaplain.
The new jail denied the request because Resch did not have the ability to write to a rabbi and obtain a "letter of good standing" proving that he is a member of the Jewish faith, according to the CAIR statement.
"Under no circumstances do a person's religious rights depend on whether or not they are a member in good standing of a religious organization," Amy Doukoure, a CAIR attorney, said in the statement.
The organization views the case as important to both the Muslim and Jewish communities, as they observe dietary restrictions as part of their religious beliefs.
Rabbi BoruchZelouf, a Michigan advocate for the Aleph Institute, a nonprofit organization that assists Jewish prisoners, told the Jewish Telegraphic Agency that according to Resch's grandmother, Resch self-proclaimed as Jewish after entering prison, and that the group therefore does not consider him Jewish. Some local Michigan Jewish organizations contacted by JTA said they were not aware of the lawsuit.
In January, a federal judge in Detroit approved the settlement of a class-action lawsuit against the Michigan Department of Corrections filed by kosher-keeping inmates. Under the settlement, the department must provide a certified kosher lunch and dinner each day and may ask its chaplains to confirm a prisoner's "sincerely held religious belief."
The Detroit Jewish News reported in February that there were 600 Jewish prisoners in Michigan prisons among some 33,000 inmates. Of the 600, between 85 and 193 in 16 prisons were approved for kosher meals.
https://www.jpost.com/diaspora/muslim-civil-liberties-group-to-represent-inmate-denied-kosher-food-634263
--------
Hamas lauds Iran's Ayatollah Khamenei over unwavering support for Palestine
07 July 2020
A senior Hamas official has praised Leader of the Islamic Revolution Ayatollah Seyyed Ali Khamenei for sending a note of support to the Palestinian resistance movement, saying the letter shows Iran will not leave Palestine alone in the face of Israeli and American plots.
Speaking to the Islamic Republic News Agency (IRNA) in Gaza on Tuesday, Ismail Radwan, a Hamas spokesperson, thanked Ayatollah Khamenei for his letter of support to Ismail Haniyeh, head of the Palestinian resistance group's political bureau.
In his letter, Ayatollah Khamenei had assured Palestinian resistance fighters that as ever, Iran always has their back and will not forsake its duty of confronting the occupying Israeli regime's evil nature.
The Hamas official said the Leader's stance is indicative of Iran's clear support for the Palestinian resistance movement, adding, "This shows that we are not alone in the region in a full confrontation with the Zionist entity and the Americans' project."
He lauded the Islamic Republic for not wavering in its support of the Palestinian cause against Israeli occupation even despite all the pressure and sanctions it is facing.
The Hamas official added that Iran's support for Palestine frightens the Israeli regime.
Radwan said Hamas would strongly continue its resistance until the defeat of the Israeli regime's occupation and the US administration's so-called deal of the century, adding that it would never be possible for the regime to steal the Palestinian land.
He further called on the Palestinian Authority to stop cooperating with security bodies working to pave the way for recognizing the Israeli entity, urging the formation of the biggest ever Arabic-Islamic front, led by Iran and the resistance movement, to provide Palestine with full support in the face of the occupation.
https://www.presstv.com/Detail/2020/07/07/629114/Hamas-thanks-Ayatollah-Khamenei-support-Palestine
--------
Israel orders demolition of 30 Palestinian facilities in al-Quds village
06 July 2020
Israel has ordered the demolition of at least 30 Palestinian facilities in the village of Isawiya of Jerusalem al-Quds.
The 'Israeli Civil Administration' on Monday distributed evacuation and demolition notices to that end, the Palestinian Information Center reported.
Israeli municipality crews escorted by soldiers took photos of the targeted buildings, the report said.
Some of them are inhabited houses and others are still under construction.
Last month, the United Nations Office for the Coordination of Humanitarian Affairs (OCHA) reported a 250-percent increase in the number of structures targeted across the occupied territories. The UN, which recognizes Jerusalem al-Quds as an occupied territory, has urged Israel to halt the demolitions.
Israel has had the West Bank, including East Jerusalem al-Quds, under occupation since 1967.
International organizations and rights groups say Israeli demolitions are an attempt to uproot Palestinians from their native territory and confiscate more land for the expansion of illegal settlements.
About 600,000 Israelis live in over 230 illegal settlements in the West Bank and East Jerusalem al-Quds.
Israel confiscates more Palestinian land for road project
On June 30, Israeli authorities confiscated private Palestinian land in the occupied West Bank to build new roads for settlements.
The Israeli military started bulldozing vast tracts of land in the town of Huwara near the southern Palestinian city of Nablus.
Clashes also erupted between Israeli troops and Palestinians protesting against the move.
Palestinians want the West Bank as part of a future independent Palestinian state with East Jerusalem al-Quds as its capital.
They are currently facing even greater repression as President Donald Trump of the United States has already given Israel the green light for land grab in his self-proclaimed 'deal of the century,' which was unveiled in January with the aim of re-drawing the Middle East map.
https://www.presstv.com/Detail/2020/07/06/629044/Israel-demolition-Palestinian-facilities
--------
Centuries-old Yazd Jameh Mosque back to former glory
July 7, 2020
The tiling of the dome of the mosque, which has been more exposed to the erosive factors such as wind, rain, and sun, needs some rehabilitation works, ISNA quoted Majid Olumi as saying on Tuesday.
The restoration project aims at reviving, preserving, protecting, and strengthening the historical structure, he added.
The terms "Jameh Mosque" or "Masjed-e Jameh" or "Friday Mosque" is used in Iran for a grand communal mosque where mandatory Friday prayers are performed: the phrase is used in other Muslim countries but only in Iran does it designate this purpose.
The mosque, which was first built under Ala'oddolehGarshasb of the Buyid dynasty, is still in use today and is a fine example of Persian architecture.
The entrance to the mosque is crowned by a pair of minarets, one of the tallest in Iran, dating back to the Safavid era and measuring 52 meters in height and six meters in diameter. The entrance is decorated from top to bottom in tile work, which is formed of different colored pieces that are sandwiched together to create the design.
Within is a long arcaded courtyard where, behind a deep-set south-east iwan, is the sanctuary chamber. Its tiled Mihrab is one of the finest of its kind in existence.
The architectural masterpiece was inscribed on the National Heritage List in 1924.
https://www.tehrantimes.com/news/449723/Centuries-old-Yazd-Jameh-Mosque-back-to-former-glory
--------
Spokesman: Iran's N. Industry Moving on Track
Jul 07, 2020
"The incident left no casualties and there was no radioactive materials in there either and it had no impacts on our nuclear activity and our nuclear industry is moving ahead," Rabiyee told reporters in Tehran on Tuesday.
He added that the secretariat of the Supreme National Security Council (SNSC) will inform the public about the incident in due time.
Rabiyee said that some Mossad affiliates linked the incident to Israel to help it claim power without subtantiating their allegation, although it is typical of the Zionist regime to do such dirty crimes.
In relevant remarks on Thursday, Spokesman of the Atomic Energy Organization of Iran (AEOI) Behrouz Kamalvandi said that the incident which occurred at the country's Natanz nuclear facility caused no major damage and the site is operating as usual.
Kamalvandi said that an incident occurred in one of the under-construction sheds in Natanz nuclear facility.
One of the under-construction sheds in the open area of Natanz nuclear facility was damaged this morning and investigation into the case is underway, he added.
This incident did not have any casualties and has not inflicted any damage on the current activities of the facility either, Kamalvandi stated, noting that since this nuclear facility has been inactive, there is no worry about the possibility of contamination.
Presently, the Organization's expert teams are at the scene of incident and are investigating the causes behind the incident, Kamlvandi added.
The Natanz Fuel Enrichment Plant, covering 100,000 square meters and built eight meters underground, is one of several Iranian facilities monitored by the UN nuclear watchdog.
Later, Kamalvandi said that the organization will build a large shed with more modern equipment at Natanz nuclear facility to replace the damaged one.
He made the remarks on Sunday and added, "Necessary decisions have been made for rebuilding the damaged shed of Shahid Ahmadi Roshan Nuclear Complex in Natanz so that a larger shed with most updated equipment will be built at the nuclear site."
He pointed to the specifications of the shed where the incident had occurred and said, "Preliminaries for the construction of the shed started in 2013. Construction operation was in the brink of completion in 2015 but it was stopped due to the Joint Comprehensive Plan of Action (JCPOA)."
"After the US withdrawal from JCPOA in May 2018 and the order of the Supreme Leader of the Islamic Revolution [Ayatollah Khamenei] to AEOI to pave the way for producing 190,000 SWU (Separative Work Unit) under JCPOA, the shed was opened exactly two days later on June 6, 2018," the spokesman noted.
https://en.farsnews.ir/newstext.aspx?nn=13990417000789
--------
Ukrainian, Tunisian, Japanese Speakers Ask for Expansion of Parliamentary Ties with Iran
Jul 07, 2020
"I hope that relations between Ukraine and Iran will strengthen and parliamentary cooperation will expand in the new round (of the Iranian parliament)," Ukrainian Speaker Dmytro Razumkov wrote in his message on Tuesday.
Also, Tunisian Parliament Speaker Rached el-Ghannouchi in his message underscored efforts to strengthen the brotherly relations between the Tunisian and Iranian legislatures to the benefit of the two nations.
Meantime, President of Japan's House of Councilors Akiko Santo expressed the hope that relations between the two countries would further broaden through interactions between the two parliaments.
He voiced hope for further flourishing and health for Iran.
Qalibaf secured 230 votes out of a total of 264 votes cast by the new legislators to become the next parliament speaker.
Amir-Hossein Ghazizadeh Hashemi from Mashhad constituency and Ali Nikzad from Ardebil constituency received 208 and 196 votes to be elected as first vice-speaker and second vice-speaker, respectively.
The 11th round of the Islamic Consultative Assembly (parliament) kicked off work on May 27 in the presence of new legislators, President Hassan Rouhani, Judiciary Chief Ebrahim Rayeesi and other high-ranking officials.
The 11th parliamentary elections and the midterm elections for the Assembly of Experts – a body whose members designate the country's Leader – were held simultaneously on February 21.
The lawmakers are elected for a 4-year term, with no limitation for the incumbent or former parliamentarians to run again.
Qalibaf was on the top of the list of most-voted candidates in the capital with 1,265,287 votes.
https://en.farsnews.ir/newstext.aspx?nn=13990417000869
--------
Iranian Researchers Write 13% of World's Scientific Articles on Coronavirus
Jul 07, 2020
Sattari made the remarks during a visit to Qazvin province in Northern Iran.
He added that in the last Iranian calendar year (ended on March 20, 2020), the number of the scientific articles in Iran registered an 8% growth.
Iran has also gained eye-catching achievements in production of anti-coronavirus equipment.
In relevant remarks last Saturday, a senior Iranian industrial official said that production of different anti-coronavirus equipment, including masks, has highly increased.
"There were only 200,000 masks produced before the coronavirus outbreak domestically in the country and now its production has 11-folded and reached 2,300,000 per day," Secretary of the Logistic Headquarters of the Industry Ministry for Campaign against Coronavirus Jamshid Golpour told FNA.
He also added that the country is now manufacturing 145,000 N95 masks on a daily basis, noting that 400,000 liters of disinfectants are now produced in Iran, 8 times more than the early days of the coronavirus outbreak.
"Also, production of medical gloves has two-folded and amounted to 4.5mln per day now," Golpour said.
Also, last Tuesday, an official with the Islamic Republic of Iran Customs Administration (IRICA) announced that Iran started again exporting serology kits, surgical-medical gowns, face shields and N95 face masks.
Ali Akbar Shamani announced that bans have been lifted on the export of serology kits, medical overalls, surgical gowns, face shields and N95 face masks.
Meantime, on May 10, Deputy Head of the Iranian presidency's office for scientific affairs Mehdi Qalenoyee said that Iranian firms are going to export serological test kits to eight more countries after a first successful cargo was sent to Germany earlier in the week.
Qalenoyee said export of two types of coronavirus test kits to the Philippines and Pakistan was waiting for confirmation from the local officials after Iranian companies manufacturing the special tools sent sample kits to labs in those countries.
He added that India, Nigeria and Armenia will receive the items once travel restrictions are eased.
The official also said that Qatar, Georgia and Syria will soon be included in the list of export destination for the Iranian test kits.
The announcement comes a few days after Iran sent a first cargo of serological test kits to Germany, where officials are trying to conduct the tests on a great scale to identify the immunity rate against COVID-19.
https://en.farsnews.ir/newstext.aspx?nn=13990417000974
--------
Two dead, three wounded at factory fire south of Tehran, Iran: IRNA
07 July 2020
An explosion at a factory south of the Iranian capital Tehran early Tuesday left two dead and wounded three others, the official IRNA news agency reported.
The explosion occurred at a factory in the town of Baghershahr in southern Tehran, a local media outlet on Telegram, a popular messaging app in Iran, initially reported.
Baghershahr is a small town located in Tehran's Kahrizak district.
Hours later, IRNA confirmed the news.
Kahrizak's governor Amin Babaei said the incident was caused by the explosion of oxygen capsules, blaming the factory workers for being "careless."
The explosion, which occurred at 3:20 a.m. local time, killed two and injured three others, Babaei confirmed to IRNA.
"The intensity of the explosion was such that the walls of a neighboring factory were also damaged," Babaei told IRNA.
This is the fourth explosion Iran has had over the past week.
Last Tuesday, an explosion at a medical clinic north of Tehran claimed the lives of 19 people and injured over a dozen others.
Two days later, Iran's nuclear body said an accident had taken place at a construction site at the Natanz nuclear facility without causing casualties.
On Saturday, a power plant in the southwestern city of Ahwaz, the capital of the oil-rich province of Khuzestan, caught fire when a transformer exploded, state media said.
Later the same day, dozens of workers at a petrochemical center in the same province were taken to the hospital following a chlorine gas leak, according to state media.
https://english.alarabiya.net/en/News/middle-east/2020/07/07/Two-dead-three-wounded-at-factory-fire-south-of-Tehran-Iran-IRNA.html
--------
Israeli land grab plan aggression against Palestinians: Hezbollah, Hamas
07 July 2020
The Palestinian and Lebanese resistance movements, Hamas and Hezbollah, have censured Israel's plan to annex large parts of the occupied West Bank as an act of "aggression against the Palestinian people," calling for a united front against the US-backed land grab bid.
In a letter to Secretary General of Hezbollah Sayyed Hassan Nasrallah on Monday, Ismail Haniyeh, the head of the political bureau of Hamas, highlighted the "grave dangers" posed by Israel to the Palestinian cause, according to a statement by the Lebanese resistance group.
"The Palestinian people are capable of confronting this plan," the statement said, calling on Arab and Muslim nations and "free people of the world to quickly move to stop the occupation's continuous aggression against the Palestinian people."
According to Lebanon's al-Manar news website, the letter was handed by Hamas' representative in Lebanon Ahmad Abdul Hadi and an accompanying delegation to Head of Hezbollah's Palestinian File Hassan Hoballah.
The two sides reiterated their unified stance against the Israeli plot.
Hoballah reiterated Hezbollah's support for the Palestinian struggles against Israel's occupation, stressing that all the conspiracies against the Palestinian cause would be thwarted.
Israeli Prime Minister Benjamin Netanyahu had set July 1 as the date for starting the annexation plan's implementation, but the move faced delays amid internal rifts and as Tel Aviv awaits a green light from Washington.
The contentious plan — which would allow Tel Aviv to annex about 30 percent of the West Bank — is in accordance with a Middle East scheme drawn up by the administration of US President Donald Trump and unveiled in January on the Israeli-Palestinian conflict.
The scheme — which Trump calls the deal of the century — largely gives in to Israel's demands while creating a Palestinian state with limited control over its own security and borders, enshrining the occupied Jerusalem al-Quds as Israel's "capital."
The US-backed annexation scheme has drawn international criticism and triggered waves of protest rallies around the globe.
Indonesia rejects Israeli plan
On Monday, Indonesia's government and House of Representatives also censured Israel's plan to annex Palestinian territories.
"President Joko Widodo fully supports our firm stance against the Deal of the Century, including the annexation of the West Bank by Israel," Mardani Ali Sera, Deputy Chairman of the Indonesian parliamentary body for Inter-Parliamentary Cooperation (BKSAP) told Turkey's official Anadolu news agency.
Mardani said opposition to Trump's so-called peace plan had been announced in a joint statement between the House and Foreign Minister RetnoMarsudi.
He added that the House and the Foreign Ministry would continue to work together to mobilize international support against the plan.
Mardani also proposed establishing a special unit under the Indonesian Foreign Ministry to encourage Palestinian independence.
https://www.presstv.com/Detail/2020/07/07/629072/Hamas-Hezbollah-Israel-annexation-
--------
Africa
Islamist Ennahdha party to review stance on Tunisia's coalition government
06 July 2020
The Islamist party Ennahda will review its stance on Tunisia's coalition government over an alleged conflict of interests involving Prime Minister Elyes Fakhfakh, the party said on Sunday.
Ennahda gave no details of what action it would consider taking, but sources close to the party said the withdrawal of its seven ministers from the government was among the possible options.
Fakhfakh has rejected accusations of corruption but is under pressure from the opposition to resign after an independent member of parliament published documents last month indicating that companies the prime minister owns shares in had won deals worth 44 million dinars ($15 million) from the state.
For all the latest headlines follow our Google News channel online or via the app.
Fakhfakh has told parliament he is ready to resign if any violation is proved, but said he had sold his shares in the companies.
"The suspicion of a conflict of interest by the prime minister ... has harmed the image of the governing coalition, and requires a reevaluation of the (party's) position about the government," Ennahda said in a statement.
Ennahda's comments will increase pressure on the fragile government formed in February following an election last September that produced a fractured parliament.
A judge has opened an investigation into the allegations against Fakhfakh, and the anti-corruption minister has assigned a public watchdog to look into the issue and report back within three weeks.
The state anti-corruption commission has said Fakhfakh did not inform it that companies where he has shares had commercial deals with the state. Its head, ChawkiTbib, told parliament the firms' contracts with the state should be cancelled.
Tunisia is trying to put state finances on a sounder footing after years of deficit spending and mounting public debt - issues complicated by the COVID-19 pandemic.
https://english.alarabiya.net/en/News/north-africa/2020/07/06/Ennahdha-party-to-review-stance-on-Tunisia-s-coalition-government.html
--------
Several mass graves found in northern Burkina Faso: HRW
08 July 2020
Several mass graves with dozens of bodies have been found in a northern town in Burkina Faso, prompting suspicions of extra-judicial killings by government forces, Human Rights Watch (HRW) says.
The rights organization said in a report on Wednesday that at least 180 bodies, all belonging to males, had been found buried in mass graves dug on the roadside, under bridges, and in fields in and around the town of Djibo.
"Available evidence suggests government forces were involved in mass extrajudicial executions," HRW said.
It said the killings likely took place between November 2019 and June 2020.
A community leader in Djibo told HRW, "Many of the dead were blindfolded, had their hands tied up… and were shot in the head."
The Burkinabe government said it would investigate the report but added that the killings could have been committed by extremist militant groups using stolen army uniforms and logistical equipment.
"It is difficult for the [general] population to distinguish between armed terrorist groups and the defense and security forces," Minister of Defense MouminaCheriff Sy said.
An HRW official said the government needed to investigate promptly.
"Burkina Faso authorities need to urgently uncover who turned Djibo into a 'killing field,'" said Corinne Dufka, Sahel director at HRW.
Since 2017, Burkina Faso's armed forces have been battling extremist militants linked to the al-Qaeda and Daesh terrorist groups. Scores of people have been killed in the past year in the country, and over half a million people have fled their homes due to attacks, which have also fueled ethnic and religious tensions.
Burkina Faso, once considered a relatively calm area in the Sahel region, is also plagued by a spillover of violence and criminality from its chaotic northern neighbor Mali.
https://www.presstv.com/Detail/2020/07/08/629149/Burkina-Faso-mass-graves-HRW
--------
Morocco arrests four terror suspects 'planning attacks'
07 July 2020
Morocco on Tuesday arrested four alleged members of a "terrorist cell" linked to ISIS who had plotted to attack "sensitive sites" in the kingdom, the interior ministry said.
The men, aged between 21 and 26, were arrested in the northeastern city of Nador, said a ministry statement.
The suspects, "including the brother of a fighter of Daesh," the Arabic acronym for ISIS, a terrorist group, had been "in close contact" with members of another cell dismantled in December in a joint operation with Spain, it said.
For all the latest headlines follow our Google News channel online or via the app.
The four had planned to "carry out terrorist attacks targeting sensitive sites in the kingdom," the ministry said.
The arrests was carried out by anti-terrorism body the Central Bureau of Judicial Investigations, which had taken the suspects into custody "for further investigation."
Morocco last suffered a bloody attack in late 2018 when two Scandinavian tourists were beheaded in the name of ISIS in the High Atlas mountains.
The perpetrators were sentenced to death, Morocco's first use of capital punishment since 1993.
Last year, 79 people were arrested in the country on "terrorism" charges, according to an official report.
https://english.alarabiya.net/en/News/north-africa/2020/07/07/Morocco-arrests-four-extremist-suspects-planning-attacks-.html
--------
Landmines planted by Libya rebels kill, injure nearly 140 in Tripoli: UN
07 July 2020
Landmines planted by rebels in Libya have killed and wounded nearly 140 people in the south of the capital, Tripoli, over the past two months, a United Nations (UN) official says.
Stephanie Williams, the head of the UN Support Mission in Libya (UNSMIL), said in a statement on Tuesday that mines planted by the Libyan rebels "in civilian neighborhoods" had since late May "reportedly killed and injured 81 civilians and 57 non-civilians, including mine clearance workers."
"This is a potential violation of international law," Williams added, underlining that 57 explosions had so far occurred in the region due to landmines and other explosives planted by the rebels, who are under the command of a military strongman named Khalifa Haftar.
The UN official also expressed regret about the death of two humanitarian mine clearance workers on Monday in the south of the Libyan capital.
The UN, which recognizes the Libyan government based in Tripoli, and international rights groups have already voiced concern about possible war crimes after the discovery of mass graves in areas left behind by retreating militias under Haftar's command.
Libya has been in chaos since 2011, when a popular uprising and a NATO intervention led to the ouster of long-time dictator Muammar Gaddafi.
Since 2014, two rival seats of power have emerged, namely the internationally-recognized Libyan government, headed by Prime Minister Fayez al-Sarraj in Tripoli, and another group, based in the eastern city of Tobruk, supported militarily by rebels under the command of Haftar.
Haftar's rebel forces — who are backed by the UAE, France, Russia, and Egypt — launched an offensive to seize the capital and unseat Sarraj's government in April 2019, triggering some of the most intense fighting in the country.
The Libyan government forces have recently managed to gain the upper hand, with crucial help from Turkey.
The Libyan forces are also preparing to retake the strategic city of Sirte, which lies in an oil-rich region on the Mediterranean coastline.
https://www.presstv.com/Detail/2020/07/07/629110/Libya-rebels-Haftar-mines-UN
--------
Europe
UK to resume arms sales to Saudi Arabia despite Yemen concerns
07 July 2020
As the war in Yemen rages on, with mounting evidence of Saudi war crimes, the UK government has seen fit to resume arms sales to the Kingdom.
Announcing the controversial decision in a written statement, the international trade secretary, Liz Truss, justified the restart of arms sales to the Saudi regime on the grounds that there had only been "isolated incidents" of airstrikes in Yemen that have breached humanitarian law.
Truss's statement effectively nullifies a ruling by the British judiciary which only last year prohibited the sale of arms that could be used in the conflict in Yemen.
In a landmark ruling in June 2019, the Court of Appeal ruled that the government had acted unlawfully when it licensed the sale of UK-produced arms and weapons systems to Saudi-led forces in Yemen without undertaking a risk assessment of whether past incidents amounted to breaches of international humanitarian law.
Government U-turn
Following the Court of Appeal's decisive intervention, the government promised not to grant any new licenses to export arms or military equipment to Saudi Arabia for possible use in the Yemen conflict.
But Truss is now claiming the government's pledge after last year's significant court defeat simply "falls away".
"The government will now begin the process of clearing the backlog of license applications for Saudi Arabia and its coalition partners that has built up since 20 June last year", Truss writes.
Mounting concerns
The government's apparent hurry to resume arms sales to Saudi Arabia has been roundly condemned by anti-war and arms trade campaigners.
In a statement, the Campaign Against the Arms Trade (CAAT) condemned the decision as "morally bankrupt".
"The Saudi-led bombardment of Yemen has created the world's worst humanitarian crisis, and the government itself admits that UK-made arms may have played a central role on the bombing", said CAAT's media coordinator Andrew Smith.
The Yemen Conflict, which began in earnest in March 2015, has devastated large swathes of the country and triggered multiple humanitarian disasters, including famine and the internal displacement of millions of people into disease-infested camps and areas.
https://www.presstv.com/Detail/2020/07/07/629117/UK-Saudi-Arabia-Yemen-Arms-Sales
--------
'Save Yemen', UK anti-war protesters vent anger
07 July 2020
Robert Carter
Enough is Enough. Just one of the chants heard by the hundreds of pro-Yemen activists, who descended onto central London over the weekend, to vent their anger at the lack of mainstream media coverage of the devastating conflict.
The demonstrators first target was the BBC, where they then marched onto the Saudi Arabian Embassy before pushing on towards Downing Street.
It has been over 5 years since the Saudi-led coalition began bombing and blockading Yemen. In that time, western powers, like the UK, have profited greatly via arms sales to anti-Yemen Arab regimes.
The UK's leading arms dealer BAE Systems made £2.5 billion from Saudi in 2019 alone and £15 billion between 2015 and 2019.
With more action planned by event organisers for next week, perhaps public attention will finally being to shift towards Yemen, the world's worst man-made humanitarian crisis.
https://www.presstv.com/Detail/2020/07/07/629059/'Save-Yemen',-UK-anti-war-protesters-vent-anger
--------
US created, nurtured Taliban in decade-long covert op: Russia's top security official
07 July 2020
Russia's top security official says the United States created and nurtured the Taliban militant group in Afghanistan in a decade-long covert operation.
"Frankly speaking, it was the United States that laid the foundation for the Taliban movement," Head of Russia's Security Council Nikolai Patrushev said in an interview with the ArgumentyiFakty weekly on Tuesday.
The Taliban militant group, Patrushev said, is the result of "Operation Cyclone… one of the longest and most expensive operations in the history of the CIA," which was carried out by the US spy agency in Afghanistan from 1979 to 1989.
The operation "was aimed at financially and militarily supporting Afghan mujahedeen, who later formed the backbone of terrorist forces not only in Afghanistan but throughout the region," Patrushev added.
The so-called mujahedeen fought the former Soviet Union forces in Afghanistan during the 1980s.
The senior security official said Russia "has never cooperated with the Taliban." He said the Russian Supreme Court officially designated Taliban a terrorist group in 2003.
Last month, The New York Times said in a controversial report that a top-secret unit within the Russian military intelligence, or the GRU, had allegedly offered monetary rewards to Taliban-linked militants who would kill US troopers in Afghanistan last year.
The report claimed that US President Donald Trump had been briefed about the matter in March. Trump has denied that assertion.
The Kremlin, too, has rejected the report.
Patrushev, the Russian official, stressed that the claim was not true.
"Any allegation that our country entered into a conspiracy with the Taliban, especially with the aim of killing American troops, has no basis," he said.
Patrushev stressed that the "baseless speculations of journalists" that appeared in the Times report "have already been refuted by the White House and the Pentagon."
The Taliban militant group has also denied the report.
On Sunday, Zamir Kabulov, the Russian presidential envoy to Afghanistan, said the US intelligence had been involved in "drug trafficking" in the Asian country.
The United Nations (UN) says more than 80 percent of the world's opium is produced in Afghanistan and the bulk of narcotics produced in the country are destined for European states.
Patrushev said Moscow had been invariably helping the Afghan government fight drug trafficking.
The US and a number of its allies invaded Afghanistan and toppled a Taliban regime in 2001 despite their support for the militants when they fought the Soviet Union under a different name during the 1980s. The US claimed the Taliban were harboring the al-Qaeda terrorist group.
In February, the US and the Taliban signed a deal that would see the phased withdrawal of international forces from Afghanistan.
Patrushev said that since the beginning of the US-led war on Afghanistan, "the scale of heroin production has increased tenfold" in the country.
That posed "a serious source of threat to the security of Russia" and the member states of the Shanghai Cooperation Organization, he said.
https://www.presstv.com/Detail/2020/07/07/629126/Russia-US-created-Taliban-CIA
--------
Disregarding UN warnings, China and Russia block extension of aid deliveries to Syria
07 July 2020
Russia and China cast vetoes on Tuesday to block the UN Security Council from extending its approval of aid deliveries to Syria from Turkey for a year, despite UN warnings that the lives of Syrian civilians depend on the cross-border access.
The more than six-year-long operation is currently authorized until Friday, so another draft resolution could still be put forward.
For all the latest headlines follow our Google News channel online or via the app.
The remaining 13 members of the council voted in favor of the draft resolution on Tuesday.
Diplomats said Syrian allies Russia and China only want to approve one Turkish crossing for aid access for six months.
https://english.alarabiya.net/en/News/middle-east/2020/07/08/Disregarding-UN-warnings-China-and-Russia-block-extension-of-aid-deliveries-to-Syria.html
--------
URL: https://www.newageislam.com/islamic-world-news/islamabad-high-court-disposes-pleas/d/122321
New Age Islam, Islam Online, Islamic Website, African Muslim News, Arab World News, South Asia News, Indian Muslim News, World Muslim News, Women in Islam, Islamic Feminism, Arab Women, Women In Arab, Islamophobia in America, Muslim Women in West, Islam Women and Feminism