New Age Islam News Bureau
19 May 2015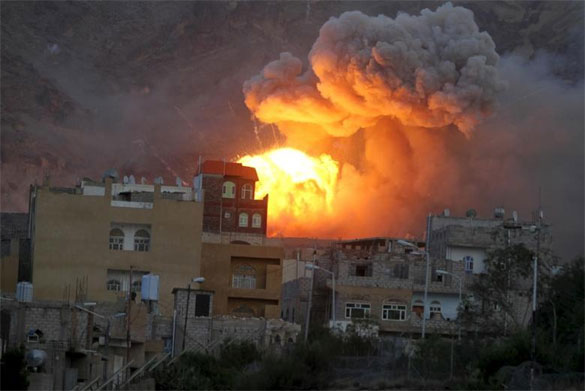 Fire and smoke billows from an army weapons depot after it was hit by an air strike in Yemen's capital Sanaa. (Reuters)
-----------
South Asia
• Islam Text Books in Maldives Breed Hatred and Fundamentalism, Says NGO
• Seven Soldiers Martyred, 60 Militants Killed In Military Operations
• In Taliban Peace Bid, Ashraf Ghani Orders Spies to End War on ISI
• Bangladesh police urge ban on militant group after killings
• China says Egypt's Morsi death sentence a 'domestic affair'
• 11 police arrested in "Farkhunda Murder Case" sentenced one year imprisonment
Arab World
• Jobs in Saudi Arabia: 'Executioners' Wanted
• Scores of Int'l Terrorists Killed in Syrian Army Operations in Deir Ezzur
• Dozens of Al-Nusra Terrorists Killed in Syria's Daraa
• Iraqi troops repel ISIS attack on Anbar town
• Syrian Army Wins Battle against Nusra Fighters in Damascus Countryside
• ISIS looks for collaborators after taking Ramadi
• Two men sentenced to death for forming terrorist cell in Egypt
• Syria accuses Jordan of training 'terrorists'
• Syrian Lawmaker: US to Replace S. Arabia with Iran for Supplying Crude
• Urdu 'gaining ground' in Saudi Arabia
Pakistan
• 1973 Constitution Uneasy Marriage between Islam, Socialism: Govt Counsel
• ISI, Afghan Intelligence in Landmark Deal
• Information Minister's Madrasa Faux Pas: Def. Minister Attempts Damage Control
• Militant killed, cop injured in attack on polio team in Mardan
• LEAs accused of killing innocent people in Balochistan
• Remissions given by prisons department 'illegal'
Africa
• 15 Germans fighting in Somalia for Al Shabaab
• One killed, seven wounded in suicide bombing in Libya: Security Official
• Muslim preacher accused of incitement to kill
• U.S. Funding Cuts to Burundi Military Forces in Somalia
• 200 suspected human smugglers detained by Ethiopian government
Europe
• 1,850 Killed, Over 500,000 Displaced In Yemen: UN
• UN Urges Southeast Asian Nations to Let Migrants Reach Land
• Absence of colleagues 'too much to bear': Cartoonist Luz to leave Charlie Hebdo
• Yemen crisis could open jihadist paths, U.N. warns
• Islamic mutual funds fall short of global demand
North America
• After Appeal, US Court Allows YouTube to Show 'Innocence of Muslims' Film
• US to grill IS leader's wife on hostages
Mideast
• Yemeni Dialogue Conference to Sign Treaty on Crisis
• Fresh Saudi Air Strikes Reported in Yemen
• Middle East turmoil if Egypt's Morsi executed: Turkish presidency
• Iran Blasts Instrumental Use of War on Terrorism for Meddling in Countries' Affairs
• Israeli Settlers Enjoy Widespread Impunity in Attacks against Palestinians
India
• Hurriyat hardliner Geelani must apologize for 'anti-India' activities: MoS in the PMO
• AASU reminds PM Narendra Modi about 'promise' to send back Bangladeshi infiltrators
• Pervez Musharraf has confirmed Pak govt role in Kargil: V K Singh
Southeast Asia
• PAS President Tells Muslims to Be Angry With DAP Over Hudud
• No Word on Hundreds of 'Boatpeople' Pushed Back to Sea
• Philippines offers lifeline to refugees snubbed by Malaysia, neighbours
• Indonesia: Rohingya crisis a problem for all of Southeast Asia
Compiled by New Age Islam News Bureau
URL: https://www.newageislam.com/islamic-world-news/new-age-islam-news-bureau/islam-text-books-in-maldives-breed-hatred-and-fundamentalism/d/103040
----------
South Asia
Islam Text Books in Maldives Breed Hatred and Fundamentalism
May 19 2015
Maldivian school text books, sermons and other published materials on Islam "breed hatred and Islamic fundamentalism," says rights NGO, Maldivian Democracy Network (MDN).
The report, which is the first of its kind, analyzed text books used in Maldives for primary and secondary education in order to identify the prevalence of radical narratives in the mainstream academic discourse.
The report noted that the school text books cultivate anti-Semitism and xenophobia, and glorify Jihad or war against those who allegedly "obstruct" Islam.
All Maldivian students are required to take Islam as one of the four compulsory subjects, alongside Dhivehi, English and Mathematics from first grade through twelfth grade.
Islamic studies text books are prepared by specialists at the ministry of education and approved by the ministry of Islamic affairs.
The government is struggling to prevent an outflow of Maldivians seeking to join the civil wars in the Middle-East. The police in January said over 50 individuals have left the country, while the opposition puts the number at 200.
In addition to analyzing text books, the human rights NGO held public forums in several islands to ascertain whether the public view human rights and Islam to be compatible, and conducted interviews with Islamic ministry officials and heads of schools.
Glorifying jihad
In the eleventh grade Islamic studies text book, jihad is defined as "to endeavor greatly," or "to bravely confront enemies," and the definition is supported with verses from the Qur'an and prophetic verses or Hadith that stress the importance of a 'Holy War.'
MDN noted that two whole pages of the book were dedicated to "fruits" of Jihad, claiming that the ultimate fruit of Jihad is martyrdom, for which the reward in Islam is an eternity in heaven.
The text book claims that Muslims who hesitate to perform this "obligatory religious duty have produced bitter results in the past and it will continue to do so if left undone."
"These discussions fuel hatred an depict the religion as one that is set on building hegemony," read the MDN report.
An autobiography of a Maldivian man, who was killed while waging Jihad at Syria posted by Bilad-al-Sham media group, claimed that many students studying at the main secondary school, Centre of Higher Secondary Education, had chosen to engage in Jihad.
"Though it has a secular curriculum, so far from that very school has come out many shining stars in the path of Jihad and students whose hears filled with the love of Islam. Allah Akbar!" read the biography of Abu Dujanah, who reportedly died in battle in Syria in September 2014.
Us vs. Them
MDN noted that Islamic textbooks for grade one, two and three contain material instilling love for Islam and rarely incites hatred through xenophobic narratives.
"However, from grade four onwards the xenophobic material gradually increases to the point where the radical outweighs the moderate," the report read.
In the grade five textbook, Jews are described as "devious people" who "do not hold any value to their promises", leading to stereotyping and has made anti-Semitism the norm in the Maldives.
The text books also incite hate against pagan religions and other Abrahamic religions, and depicts all Islamic Sects expect the Sunni sect as "heresies."
"For Instance, the grade nine text books dictates a lesson on "deceivers" or "liars" from the Muslim world or Ummah," read the report.
The books describe the Ahmadiyya sect as a "plot by the British to destroy Islamic Unity," and say Muslims educated in the West, or Muslims who speak for secularism are considered co-conspirators with the West to undermine Islam.
"Due to the prevalence of these radical ideas, the text books fail to primarily instil a positive interpretation of Islam that is manifested in the [2008] Maldivian Constitution," concluded the report.
Meanwhile, the ninth grade text book appears to dismiss women's rights and feminism as part of a 'western agenda."
The tenth grade textbook says "slaves must work tirelessly to fulfill their masters needs," and the eleventh grade textbook outlines discriminatory penalties under Islamic penal provisions for victims of a crime if they are a slave or a non-believer.
"Such discriminatory and racialist attitudes in relation to religion should not be endorsed by educational literature in the modern world where slavery has been abolished," the report read.
MDN recommends the removal of "discriminatory content" from school books in order to create tolerance and good will to all members of the globalized world.
The assessment was conducted with the assistance of Canadian Fund for Local Initiatives from December 2014 to March 2015.
http://minivannews.com/politics/islam-text-books-in-maldives-breed-hatred-and-fundamentalism-says-ngo-98302#sthash.xPvYE0nS.dpuf
----------
Seven soldiers martyred, 60 militants killed in military operations
May 19 2015
Seven soldiers embraced martyrdom while 60 militants were killed in military operations accross the country in past 24 hours, ministries of defense and interior Ministry of Defense announced on Tuesday.
Accordign to the statement issued by the Ministry of Defense the seven soldiers embraced martyrdom in landmine explosion and insurgent fire. The statement does not contain information about the exact location of the terrorist actions.
In the meantime, another statement issued by the Ministry of Interior states that 60 insurgents were killed and 38 others wounded during separate military operations in Farah, Helmand, Nimroz, Laghman, Baghlan, Takhar, Kunduz, Faryab, Badakhshan, Sar-e-Pul and Jawzjan provinces.
Six different types of Improvised Explosive Devices (IEDs) were also discovered and defused by the security force during the past 24 hours.
http://www.khaama.com/seven-soldiers-martyred-60-militants-killled-in-military-operations-3378
----------
In Taliban Peace Bid, Ashraf Ghani Orders Spies to End War on ISI
Written by Praveen Swami
May 19, 2015
Afghan president Ashraf Ghani has ordered the country's intelligence service to end a bloody campaign of retaliatory covert action against Pakistan's Inter-Services Intelligence Directorate, in a bid to secure Islamabad's support for talks with the Taliban leadership expected to unfold this summer, government sources in Kabul and New Delhi have told The Indian Express.
The decision, the sources said, was formalised in an agreement signed last week, committing Afghanistan's Riyasat Amniyat e-Milli, or National Defence Service, to share intelligence and facilitate interrogation of suspects by the ISI.
President Ghani's decision comes even as Kabul has decided to issue passports to over 200 active Taliban jihadists operating from Pakistan, in an effort to facilitate communications between them and negotiators for the group now stationed in Doha. The Taliban's negotiators are believed to currently be using Pakistani passports.
New Delhi is watching President Ghani's high-stakes peace gamble warily from the sidelines—concerned that it could spark off rebellion from leaders of ethnic minority groups in the country, as well as anti-Pakistan Pashtuns, undermining the country's fragile polity.
"Frankly", a senior government official in New Delhi said, "our assessment is that this peace bid is more likely to spark off a civil war than result in a peace deal"
Kabul newspaper Hasht-e-Subh reported that Rahamatullah Nabil, the head of Afghanistan's intelligence service, refusing to sign the agreement, leaving the task to a deputy. In a press conference on Monday, NDS spokesperson Haseeb Sediqi denied reports that the agreement would lead to the training of Afghan intelligence personnel by Pakistan. He added that the agreement was in "the interests of both countries".
"I can understand why the NDS would be so angry about this deal", said Vikram Sood, a former chief of India's Research and Analysis Wing. "Its being asked to give up its trump card, and display its hand, with no guarantee its going to get anything in return".
The intelligence-sharing deal, informed sources in Kabul said, was hammered out during a secret visit by ISI chief Lieutenant-General Rizwan Akhtar to Kabul early this month. In one-on-one meetings with President Ghani, Lieutenant-General Akhtar asked for the termination of Afghan intelligence ties to jihadist groups fighting against
Hard evidence had emerged of the NDS' links with Pakistani jihadist groups in 2013, after United States Special Forces snatched top Tehreek-e-Taliban leader Latif Mehsud, while he was on his way to a meeting with the NDS. Aimal Faizi, former president Hamid Karzai's spokesperson, publicly said that the NDS had been working with Latif "was part of an NDS project like every other intelligence agency is doing [sic]".
In addition, the NDS is believed to have run an assassination campaign targetting top Pakistan-based jihadists—one of whom, Nasiruddin Haqqani, was killed at his Islamabad home, blowing apart Pakistan's claims it had no knowledge of his whereabouts.
The NDS' cultivation of Pakistani jihadists had begun in 2006-2007, to retaliate against the ISI's sponsorship of the Haqqani Network—a Taliban affiliate based in Pakistan's North Waziristan, which was described by former United States military chief Admiral Mike Mullen as "a veritable arm of Pakistan's Inter-Services Intelligence Agency".
In 2008, the United States intercepted communications between Haqqani commanders with ISI officers, who directed attacks on its embassy, and that of India, in Kabul.
Following the attack on the Indian embassy in Kabul, highly-placed government sources in New Delhi said, former National Security Advisor MK Narayanan had tasked India's Research and Analysis Wing to explore the prospect of targeting the Lashkar-e-Taiba through Afghanistan. The project, however, did not secure the approval of Prime Minister Manmohan Singh's government.
The intelligence sharing deal has come in for harsh criticism in the Wolesi Jirga, Afghanistan's lower house of parliament, with Members of Parliament demanding that NDS chief Nabil be summoned to testify before them. First Deputy of the Wolesi Jirga, Zahir Qadeer, ordered parliament's security and international relations commission to summon National Security Council officials to explain the situation to the house.
President Ghani's spokesperson, Ajmal Abedi, said that "the memorandum of understanding between Afghanistan and Pakistan is not a new thing. In the past, both institutions had such agreements, but now the focus is on fighting terrorism".
In 2007, Turkey had brokered an intelligence sharing pact between the governments of General Pervez Musharraf and President Hamid Karzai. However, the two countries remained locked in an adversarial relationship, after Pakistan failed to rein in the activities of the Quetta-based leadership of the Taliban.
Eight Afghan military personnel for sent for training in Pakistan this summer, in a military confidence-building measure that provoked sharp criticism from Afghan lawmakers, who described Pakistan as an enemy state.
http://indianexpress.com/article/world/asia/in-bid-to-buy-peace-with-taliban-afghan-president-orders-spies-to-end-war-on-isi/99/
----------
Bangladesh police urge ban on militant group after killings
May 19, 2015
DHAKA, BANGLADESH: Bangladesh police said Tuesday they have asked the government to ban a militant group they suspect of involvement in the murders of atheist bloggers.
Police have already charged members of the Ansarullah Bangla Team with the 2013 murder of blogger Ahmed Rajib Haider, and now suspect the same group was responsible for the deaths of three more bloggers this year.
"Police have asked the home ministry to ban the Ansarullah Bangla Team (ABT)," Dhaka police spokesman Jahangir Sarker told AFP.
Sarker said "primary assessments" had implicated ABT in the recent killings of bloggers including Ananta Bijoy Das, who was hacked to death by machete-wielding attackers on his way to work.
The 33-year-old was the third secular blogger to be killed in the Muslim-majority nation since February when Bangladeshi-born US citizen Avijit Roy, a writer and moderator of a blog site, was hacked to death in the capital Dhaka.
The deaths have sparked international condemnation and protests in the capital Dhaka.
Fellow writers said Das was on a hit-list drawn up by militants who were behind Roy's killing.
No one has yet been charged over Das's death, but his brother has filed a criminal case saying he was murdered by an "extremist fanatic group".
Hours after the murder, a group called Ansar Al-Islam said on Twitter that al Qaeda in the Indian Subcontinent (AQIS) was responsible for Das's murder and warned of more to come.
Bangladesh is an officially secular country but more than 90 percent of its 160 million population are Muslim.
The country has seen a rise in attacks by religious extremists in recent years.
AQIS has already claimed responsibility for the February 26 attack in Dhaka that killed Roy and also badly injured his wife. An Islamist has been arrested over his murder but not formally charged.
Sarker said police were investigating whether ABT had links with Al Qaeda, adding that the group was more sophisticated than some of its better known counterparts in Bangladesh.
"They do not operate like the others. They are highly strategic and they are highly trained," he said.
The home ministry did not comment on whether it would ban the group.
http://tribune.com.pk/story/888791/bangladesh-police-urge-ban-on-militant-group-after-killings/
----------
China says Egypt's Morsi death sentence a 'domestic affair'
19 May 2015
China on Monday said the preliminary death sentence handed out to Egypt's ousted Islamist president Mohamed Morsi by a court this week is a domestic affair, declining to join other states which have criticised the ruling.
In response to a question at a press conference on Monday, Chinese foreign ministry spokesperson Hong Lei said that China "believes that the domestic affairs of Egypt should be decided by the Egyptian people themselves."
On Saturday, Morsi and 105 other defendants received a preliminary death sentence on charges related to breaking out of jail during the 2011 unrest, when mass protests erupted against then president Hosni Mubarak.
The sentence has gone to the grand mufti, a senior cleric, for consultation. His advice regarding the ruling is non-binding as the court will return a verdict in the case on 2 June.
Lei added that China hopes that "Egypt will continue with the process of political transition, and realise social stability, economic growth and improvement of people's livelihood."
EU foreign policy chief Federica Mogherini said on Sunday that the "the court decision to seek the death penalty... was taken at the end of a mass trial that was not in line with Egypt's obligations under international law."
Mogherini said that the EU opposes the death penalty "under all circumstances."
US officials also denounced the sentence, saying they were deeply concerned by yet another mass death sentence in Egypt.
Turkish President Recep Tayyip Erdogan meanwhile decried the court's verdict as a "return to Ancient Egypt."
The Egyptian authorities described the criticism as "ignorant and inaccurate."
China has also faced international criticism for its death penalty record; the country has the highest number of executions worldwide.
http://english.ahram.org.eg/NewsContent/1/64/130583/Egypt/Politics-/China-says-Egypts-Morsi-death-sentence-a-domestic-.aspx
----------
11 police arrested in "Farkhunda Murder Case" sentenced one year imprisonment
May 19 2015
The primary court in Kabul announced one year imprisonment sentence to 11 policemen arrested for negligence in their duties to protect a woman being killed by angry mob during daylight in capital Kabul.
19 policemen were arrested for recklessness in their duties but court announced eight other to be freed for the unavailability of enough evidence to proof their crime.
30 civlians were also arrested in the case, four of them were announced death sentences earlier this mongh and eight other 16 years of imprisonment each after the court found them being guilty.
18 people were set free after court could not proof their involvement in lynching Farkhunda.
Farkhunda was lynched, run over by a car and her dead body was set on fire after she was wrongfuly accused of burning a copy of the holy Quran in Shah Do Shamshera shrine in capital Kabul last month.
After investigation it was proven that Farkhunda did not practice any desecration to the holy book of Islam and she was blamed to be punished by a person who was selling charms in the shrine and she spoke out against his superstitious practices.
The brutal murder prompted big protests accross the country.
http://www.khaama.com/11-policemen-arrested-in-farkhunda-murder-case-sentenced-one-year-imprisonment-3380
----------
Arab World
Jobs in Saudi Arabia: 'Executioners' Wanted
May 19 2015
With Saudi Arabia stepping up executions, some of which are carried out in public squares, the Kingdom has posted advertisements to hire eight more executioners.
According to an advertisement placed on Saudi civil services portal on Monday, no special qualification was listed for the job while the main job responsibility included "executing a judgment of death". The candidate will also be required to perform amputations on those convicted of lesser crimes like theft etc.
In the application for the job of executioner, the jobs were classified as 'religious functionaries'. However, candidates should not expect to be paid any better than workers in other sectors, with salaries closer to the lower end of the civil services pay scale.
With the beheading of a Pakistani for drug smuggling on Sunday, the total number of executions carried out by the kingdom has reached 84 so far this year, against official count of 88 executions in 2014.
Full report at:
http://tribune.com.pk/story/888441/jobs-in-saudi-arabia-executioners-wanted/
----------
Scores of Int'l Terrorists Killed in Syrian Army Operations in Deir Ezzur
May 19 2015
Provincial sources confirmed that tens of terrorists, including foreign nationals, have been killed in the Syrian Army's operations against the militants' strongholds in Deir Ezzur and its countryside.
The sources said that Huwaijet Sakr in the Eastern side of Deir Ezzur city, Ghassan Abboud roundabout in the city, al-Kanamat and al-Sina'a neighborhoods were the scenes of heavy clashes between the Syrian army and terrorist groups.
The sources said that dozens of the militants, including Mohsen al-Harbi from Saudi Arabia, Hamed Adam Khan Younes from Turkey, Radwan Parev from Chechnya, Mohammad Rashid Saleh al-Khasawneh from Jordan, and Mohannad Habib Nemaa from Iraq were killed in the abovementioned fighting areas.
The Syrian state TV announced Saturday that the army has killed the so-called oil minster of the ISIL terrorist group in Deir Ezzur.
Full report at:
http://english.farsnews.com/newstext.aspx?nn=13940228000943
----------
Dozens of Al-Nusra Terrorists Killed in Syria's Daraa
May 19 2015
The Syrian army managed to kill dozens of al-Nusra terrorists in Daraa as fight against the Takfiri elements in the Southwestern province gained new momentum on Tuesday.
The army troops pressed ahead with their military campaign against the al-Nusra terrorists in the areas of Tal al-Mal, al-Yadouda, al-Nueimeh, Daraa al-Balad and Daraa al-Mahatta on early Tuesday and claimed the lives of dozens of them.
The Syrian soldiers also destroyed several armored vehicles during the operations.
Syria has been the scene of armed and bloody conflicts since March 2011. According to the UN's latest report, more than 191, 000 people have been killed in the Arab country since the start of the battle. Countries like US and Saudi Arabia have played a significant role in promoting insurgency in the country by massive funding of the Takfiri-Wahhabi terrorists.
http://english.farsnews.com/newstext.aspx?nn=13940229000388
----------
Iraqi troops repel ISIS attack on Anbar town
19 May 2015
A tribal leader says government forces and allied Sunni tribesmen have repelled an attack by ISIS militants on a town between two militant-held cities in the western Anbar province.
Sheikh Rafie al-Fahdawi said Tuesday the offensive started shortly before midnight to capture the town of Khaldiya, which is between Fallujah and Ramadi, Anbar's provincial capital, which the IS group seized over the weekend.
Al-Fahdawi says the militants captured a small village outside Khaldiya. He says no troops or tribal fighters were killed in the clashes.
On Sunday, ISIS militants captured Ramadi in their most significant advance since a U.S.-led coalition began launching airstrikes against the extremists last summer.
http://english.alarabiya.net/en/News/2015/05/19/Iraqi-troops-repel-IS-attack-on-Anbar-town.html
-----------
Syrian Army Wins Battle against Nusra Fighters in Damascus Countryside
May 19 2015
Scores of al-Nusra Front's terrorists were killed or wounded in the Syrian Army's operations against their positions in the nearby areas of Beit Jinn, a town in the Damascus countryside, informed sources announced.
The sources said that the army pushed back the Nusra terrorists from the surrounding areas of the town.
The sources went on to say that the rebels left their military equipment and depot of ammunition behind after suffering heavy defeat by the Syrian soldiers.
On Wednesday, the Syrian troops backed by Hezbollah forces took back Moussa hilltop from the terrorists' control.
Full report at:
http://english.farsnews.com/newstext.aspx?nn=13940228000736
----------
Two men sentenced to death for forming terrorist cell in Egypt
19 May 2015
Cairo Criminal Court on Monday sentenced two men to death on charges of forming a terrorist cell.
The first defendant was convicted of forming and leading a terrorist cell that aimed to prevent state organisations from doing their duties, attacking the personal freedom of citizens, harming national unity, and supplying money to individuals to execute terrorist attacks.
The second defendant was charged with joining the aforementioned terrorist cell, knowing their intentions of destroying and bombing state institutions, with the aim to spread terror and chaos in Giza's Kerdasa district.
The court has referred the verdicts to the grand mufti, the country's most senior Muslim cleric, as per Egyptian law. The mufti's recommendation on the sentence will not be binding.
The court will issue its final decision regarding the sentence on 4 July, and that decision may be appealed.
Full report at:
http://english.ahram.org.eg/NewsContent/1/64/130616/Egypt/Politics-/Two-men-sentenced-to-death-for-forming-terrorist-c.aspx
----------
Syria accuses Jordan of training 'terrorists'
19 May 2015
Syria has accused Jordan of training "terrorists" on its soil and urged the UN Security council to force an end to Amman's backing of rebel groups.
The accusation came in a letter sent Monday by the foreign ministry to UN Secretary General Ban Ki-moon and the president of the UN Security Council, the official news agency SANA said.
The letter criticised the "public and systematic support provided by the kingdom of Jordan to terrorist groups, increasing the suffering of Syria's citizens because of crimes committed by these groups".
Full report at:
http://english.ahram.org.eg/NewsContent/2/8/130625/World/Region/Syria-accuses-Jordan-of-training-terrorists.aspx
----------
Syrian Lawmaker: US to Replace S. Arabia with Iran for Supplying Crude
May 19 2015
A senior Syrian legislator said the US will soon shift its energy policy and start replacing Saudi Arabia with Iran for supplying crude oil as Riyadh's anti-democratic and reactionary actions are growing increasingly costly for Washington.
"The US administration assumes the (nuclear) agreement with Iran will serve its interests in the region and therefore, it is after sustainable stability and security in certain parts of the region and seeks intensified tensions in the other parts," Fayez Al-Sayegh told FNA on Monday.
He further noted the cause of the US collaboration with Riyadh' military aggression against Yemen, and said, "The White House sought to make Saudi Arabia busy with its own internal affairs and its neighbours' issues and therefore, it enmeshed Riyadh in Yemen's quagmire to somehow prevent it from meddling and troubling the nuclear agreement with Iran and confronting the Group 5+1 (the US, Russia, China, Britain and France plus Germany)."
Full report at:
http://english.farsnews.com/newstext.aspx?nn=13940228000793
----------
Urdu 'gaining ground' in Saudi Arabia
19 May 2015
The Urdu Academy, Jeddah, recently organized its 5th quarterly program dubbed "Aoa Urdu Seikhien (Let's Learn Urdu) recently. The initiative to promote the Urdu language was a follow-up of events that took place in 2014.
"The Urdu language is spreading all over the world and its popularity is gaining ground in the Kingdom of Saudi Arabia. It is interesting to note that many expatriates and a number of Saudi nationals are being drawn to this language and have started to understand the poetry, literature and culture of Urdu," said chief guest Ghulam Yazdani, an advocate from Hyderabad.
Full report at:
http://english.alarabiya.net/en/life-style/art-and-culture/2015/05/19/Urdu-gaining-ground-in-Saudi-Arabia.html
----------
Pakistan
1973 Constitution uneasy marriage between Islam, socialism: govt counsel
May 19 2015
ISLAMABAD: A counsel defending the 18th and 21st amendments on behalf of the federal government has termed the original 1973 Constitution "infinitely inferior" to what exists now as the earlier one was an uneasy marriage between Islamic concepts and socialism.
"The 1973 Constitution is an uneasy marriage between Islam and socialism which will never succeed," senior advocate Khalid Anwar argued before a 17-judge bench of the Supreme Court headed by Chief Justice Nasir-ul-Mulk.
The full court is hearing a set of petitions challenging the appointment procedure of superior court judges under the 18th Amendment and establishment of military courts under the 21st Amendment to try hardened terrorists.
While the preamble of the Constitution under Article 2 enunciated about the Islamic doctrine of sovereignty, Mr Anwar said, Article 3 was the exact reproduction of Article 12 of the USSR's 1936 constitution which asked for the elimination of exploitation and gradual fulfilment of the fundamental principle.
Full report at:
http://www.dawn.com/news/1182763/1973-constitution-uneasy-marriage-between-islam-socialism-govt-counsel
----------
ISI, Afghan intelligence in landmark deal
May 19 2015
ISLAMABAD: In a path-breaking deal Pakistan's premier intelligence agency Inter-Services Intelligence (ISI) and the Afghan intelligence outfit National Directorate of Security (NDS) have signed an accord for cooperation, which is aimed at bolstering fight against terrorism.
The first-of-its-kind deal between the two intelligence agencies followed a landmark visit by Prime Minister Nawaz Sharif along with Army Chief Gen Raheel Sharif and ISI Chief Lt Gen Rizwan Akhtar to Kabul last Tuesday during which the Pakistan government denounced Taliban and said that future violence by the militant group would be treated as terrorism.
The agreement signed in Kabul some time last week was officially announced only by the ISPR, which besides being the public affairs wing of armed forces also speaks on behalf of the ISI, after Pakistani media outlets came to know about it because of its criticism by Afghan parliamentarians in a debate in Wolesi Jirga (the lower house of Afghan parliament).
In a late-night tweet, now the ISPR chief's usual mode for releasing news, Maj Gen Asim Bajwa said: "MoU signed by ISI and NDS includes intelligence sharing, complementary and coordinated intel operations on respective sides."
Full report at:
http://www.dawn.com/news/1182742/isi-afghan-intelligence-in-landmark-deal
----------
Information Minister's Madrasa Faux Pas: Def. Minister Attempts Damage Control
May 19 2015
ISLAMABAD: Defence Minister Khawaja Asif defended Information Minister Pervaiz Rasheed's earlier statements calling religious seminaries "centres of ignorance and illiteracy" in the National Assembly on Tuesday.
He said Rasheed had referred only to a few seminaries against whom there is evidence of involvement in terrorism.
The defence minister asserted that out of the approximately more than 20,000 seminaries in Pakistan, only about three to four per cent assist miscreants or directly facilitate terrorism.
He went on to say that putting up banners or announcing Fatwas against Rasheed is not a service to Islam.
Full report at:
http://www.dawn.com/news/1182933/pervaiz-rasheed-madrassa-faux-pas-khawaja-asif-attempts-damage-control
----------
Militant killed, cop injured in attack on polio team in Mardan
May 19 2015
PESHAWAR: One attacker was killed and a police constable was injured during an attack on a polio vaccination team in the Tambulak area of Khyber Pakhtunkhwa's Mardan district on Tuesday.
According to sources, the polio team was on duty to administer polio vaccine in Tambulak when an attacker opened fire injuring a policeman deputed for the vaccinators' security.
Another police constable, who was also accompanying the team, resorted to retaliatory firing as a result of which the attacker was killed on the spot.
DPO Mardan confirmed that the attacker identified as Jehanzeb was killed while constable Habibullah sustained injuries during the incident.
Full report at:
http://www.dawn.com/news/1182935/militant-killed-cop-injured-in-attack-on-polio-team-in-mardan
----------
LEAs accused of killing innocent people in Balochistan
May 19 2015
ISLAMABAD: A member of the treasury benches from Balochistan has accused law-enforcement agencies (LEAs) of killing innocent people in the name of security in his province.
Speaking in the National Assembly on Monday, Sardar Kamal Khan Bangulzai of the National Party said: "If security agencies didn't mend their ways, I am afraid they will face more robust resistance from militants in coming days" because near and dear ones of innocent victims were left with no option but to take up arms.
He said Baloch people, including public servants, were picked up by agencies and their bodies were found within 24 hours. The MNA alleged three brothers were taken away from his home district of Mastung a few days ago and two of them were killed during investigation. "Even if they were involved in a crime, didn't they deserve a fair trial?"
Mr Bangulzai said the National Party had remained a target of militants and it supported military operations again outlaws, but "declaring all Baloch terrorists and killing them will only fuel militancy in the province".
Full report at:
http://www.dawn.com/news/1182765/leas-accused-of-killing-innocent-people-in-balochistan
----------
Remissions given by prisons department 'illegal'
May 19 2015
LAHORE: Jail authorities across the country are giving remissions to thousands of murder, hurt and rape convicts which sources dealing with the subject say are in violation of law and orders by the Federal Shariat Court and the Supreme Court of Pakistan.
Sources dealing with the subject told Dawn that the number of the convicts of these crimes taking benefit of the illegal remissions ran into thousands across the country.
Punjab Prisons Department officials when contacted clarified that such prisoners were not being given any special remission (announced by the government on special occasions like Eidul Fitr for all convicts) for the past five or six years. But they were being given ordinary remissions like for their labour.
Full report at:
http://www.dawn.com/news/1182854/remissions-given-by-prisons-department-illegal
----------
Africa
15 Germans fighting in Somalia for Al Shabaab
19 May 2015
Bonn, Germany-According to German magazine, about 15 German nationals are fighting for the Somali armed group Al-Shabaab.
Munich-based magazine "Focus" reported on Saturday that about 15 Germans are currently fighting in Somalia alongside the Al Shabaab.
The magazine reported the number after federal prosecutors indicted six residents of the western German city of Bonn, following their return from Somalia.
According to an investigation, between 2008 and 2014 about 30 Germans traveled to the Horn of Africa to join Al-Shabaab, which has carried out numerous deadly attacks in Somalia and neighboring countries such as Kenya.
"Focus" reported that five of the accused in Bonn attended a month-long Al-Shabaab training camp in which they learned how to use heavy firearms and hand grenades. Then, according to the magazine, they were sent to the front to fight against troops from Somalia's army. Some of them apparently planned to die in suicide bombings and had recorded farewell videos.
After a year, "Focus" reported, with Al-Shabaab threatened by US drone attacks – including one late last summer that killed their leader – the defendants fled the group and the fighting, but were captured in Nairobi, Kenya, in August 2014 and sent back to Germany, which has also tried alleged returned fighters for the "Islamic State".
http://shabellenews.com/?p=4827
----------
One killed, seven wounded in suicide bombing in Libya: Security Official
19 May 2015
One person was killed and seven were wounded on Tuesday in a suicide bombing in the eastern Libyan town of Qubbah, a security official said.
Islamic State militants, exploiting a power vacuum amid conflict between two rival governments, have built up a presence in Derna, a city to the east of Qubbah. But there was no mmediate claim of responsibility.
A car packed with explosives hit a checkpoint in the east of the small town, the security official said.
Qubbah lies near the seat of the internationally recognised government, which has worked out of eastern Libya since losing the capital Tripoli to a rival group in August.
In February, militants loyal to Islamic State claimed responsibility for a car suicide bombing that killed 42 people in Qubbah in apparent retaliation for Egyptian air strikes following the killing of 21 Egyptian Copts by the group.
Four years after rebels overthrew Muammar Gaddafi, the oil-producing North African state is in chaos, with two governments and parliaments allied to armed factions fighting for control, while Islamist groups vie for control.
http://english.ahram.org.eg/NewsContent/2/8/130632/World/Region/One-killed,-seven-wounded-in-suicide-bombing-in-Li.aspx
----------
Muslim preacher accused of incitement to kill
19 May 2015
Nairobi, Kenya-An Islamic preacher who police linked to the Garissa University College attack was on Monday charged in Nairobi with inciting Muslims to kill non-Muslims.
Hassan Mahat Omar faces a 30-year jail term if convicted.
The prosecution said he committed the offence on or before March 6, 2015 at Al-Hidaya Mosque in Nairobi's Eastleigh estate.
The offensive utterances — although not included in the particulars of the charge sheet which was read out in court — are allegedly contained in a compact disk titled Sheikh Hassan and which the police say the preacher personally published.
Mr Omar is facing another case in which he is charged alongside his wife Fordosa Mohammed with being found in possession of two hand grenades.
The case is pending judgment at the Milimani Law Courts.
On Monday, prosecutor Daniel Karori opposes his release on bail, saying he was a terror suspect.
"He faces a serious charge of inciting Muslims to kill non-Muslims and another case of being found in possession of explosives, of which point to the involvement of the accused person in offences against the public.
"We also ask the court to take judicial notice of the numerous terrorist attacks that target non-Muslims and deny him bail," Mr Karuri submitted.
http://shabellenews.com/?p=5014
----------
U.S. Funding Cuts to Burundi Military Forces in Somalia
19 May 2015
The African Union Mission to Somalia might have to work without the support of their second largest contingent of soldiers after the African Union and the United States proposed a cut in funding to the Burundian soldiers fighting in Somalia.
The 5,432 soldiers will await a go-ahead from the African Union which has decided to delay the deployment of a fresh contingent of soldiers and the United States that has cut military funding to Burundi to agree on a road map on how to work with the Burundi forces in Somalia.
The Burundi contingent in Somalia is actively engaged in safeguarding sector three that covers the area of Baidoa and also providing backup support for sector 1 where Ugandan forces operate from that includes the capital Mogadishu.
Full report at:
http://allafrica.com/stories/201505190275.html
----------
200 suspected human smugglers detained by Ethiopian government
May 19, 2015
Two hundred suspected human smugglers have been detained as part of the Ethiopian government's efforts to stem the number of citizens who are trying to illegally migrate to Europe, a senior official said.
The government is looking for 80 other alleged smugglers who are conducting overseas operations, said Ethiopian Federal Affairs Minister Shiferaw Teklemariam.
"The detentions are part of the government's efforts to bring perpetrators to justice," he said. "People should understand the fact that illegal migration is costing lives and leaving many injured. The youth, in particular, should stop considering migrating as an option and we are carrying out works to help in job creation at home."
Full report at:
http://indianexpress.com/article/world/world-others/200-suspected-human-smugglers-detained-by-ethiopian-government/
----------
Europe
1,850 killed, over 500,000 displaced in Yemen: UN
19 May 2015
The United Nations said Tuesday that some 1,850 people had been killed and more than 500,000 displaced as a result of the conflict raging in Yemen since late March.
As of May 15, 1,849 people had been killed and 7,394 had been injured, the UN humanitarian agency said citing numbers from Yemen health facilities.
The UN has repeatedly stressed that many of those injured and killed do not pass through health facilities, meaning the actual toll could be higher.
The announcement came as witnesses reported that Saudi-led warplanes hit Yemeni rebels and their allies in Sanaa, in the first strikes on the rebel-held capital since the end of a five-day humanitarian truce on Sunday.
The Saudi-led coalition has waged an air war on the rebels since late March in an effort to restore the authority of exiled President Abd-Rabbou Mansour Hadi, who is now based in Riyadh.
Full report at:
http://english.ahram.org.eg/NewsContent/2/8/130644/World/Region/,-killed,-over-,-displaced-in-Yemen-UN.aspx
------------
UN Urges Southeast Asian Nations to Let Migrants Reach Land
May 19 2015
Geneva. United Nations agencies urged Indonesia, Malaysia and Thailand on Tuesday to step up sea rescue operations and stop preventing thousands of desperate migrants from reaching land.
An estimated 4,000 men, women and children from Myanmar and Bangladesh are adrift in boats with dwindling supplies, the UN refugee agency (UNHCR) said. Half of them have been stranded on at least five vessels near the Myanmar-Bangladesh coast for more than 40 days, it said.
In a joint statement, joined by the International Organization for Migration (IOM), the heads of the UNHCR and UN human rights office called on the three countries to stop trying to push boats away from their territorial waters.
Full report at:
http://thejakartaglobe.beritasatu.com/international/un-urges-southeast-asian-nations-let-migrants-reach-land/
----------
Absence of colleagues 'too much to bear': Cartoonist Luz to leave Charlie Hebdo
May 19 2015
PARIS: Cartoonist Luz, who drew Charlie Hebdo's front cover picture of Prophet Mohammed (pbuh) following the massacre of the satirical weekly's editorial team in January, said Monday he was leaving the paper.
Renald Luzier said his departure in September was unconnected to internal tensions at the publication, but rather that the job without his slain colleagues had become "too much to bear".
"This is a very personal choice," Luz, who joined Charlie Hebdo in 1992, said in an interview with French newspaper Liberation.
Full report at:
http://tribune.com.pk/story/888690/absence-of-colleagues-too-much-to-bear-cartoonist-luz-to-leave-charlie-hebdo/
----------
Yemen crisis could open jihadist paths, U.N. warns
May 19 2015
Ban said in a report to the U.N. Security Council circulated Monday that security in Somalia and the region is threatened by the Islamist militant group al-Shabab. He pointed to continuing al-Shabab attacks in Somalia's capital Mogadishu and the country' central and southern regions as well as increased activities in Somalia's semi-autonomous region of Puntland and the massacre of 147 students at Garissa University College in neighboring Kenya in April.
Full report at:
http://english.alarabiya.net/en/News/middle-east/2015/05/19/UN-Yemen-crisis-could-open-jihadist-paths.html
----------
Islamic mutual funds fall short of global demand
19 May 2015
Islamic mutual funds are growing again after a slump that lasted years, but the sector still falls short of meeting demand for sharia-compliant investment products, a study by Thomson Reuters and its subsidiary Lipper showed on Tuesday.
Many firms pulled out of the sector around 2008 because of the global financial crisis and as sliding equity markets reduced investor interest.
Islamic mutual funds globally now hold $53.2 billion of assets under management, recovering from a low of $25.7 billion in 2008, the study found.
The total number of Islamic mutual funds reached 943 in 2014, up from 828 a year earlier and double the number in 2008.
Full report at:
http://english.alarabiya.net/en/business/banking-and-finance/2015/05/19/Islamic-mutual-funds-fall-short-of-global-demand-study.html
----------
North America
After appeal, US court allows YouTube to show 'Innocence of Muslims' film
May 19 2015
SAN FRANCISCO: Google Inc should not have to remove an anti-Islam film from its video sharing website YouTube because a woman complained that she had been duped into performing in a sacrilegious film, a US appeals court ruled on Monday.
In a case widely followed for its potential impact on the entertainment industry, an 11-judge panel of the 9th US Circuit Court of Appeals in San Francisco said that an injunction that had prohibited Google from broadcasting the film should be dissolved.
The 9th Circuit opted to rehear the case after an earlier three-judge panel opinion had ordered Google to take down the controversial film "Innocence of Muslims." The film, billed as a trailer, triggered anti-American unrest among Muslims in Egypt, Libya and other countries in 2012. When YouTube and Google refused to remove clips of the movie, it prompted many Muslim countries to block the website from being accessed, including Pakistan.
Full report at:
http://tribune.com.pk/story/888460/after-appeal-youtube-allowed-to-show-innocence-of-muslims-film-us-court/
----------
US to grill IS leader's wife on hostages
May 19 2015
WASHINGTON: The captured wife of a senior Islamic State leader who was killed in a weekend raid will face questions over what she and her husband knew about the group's treatment of hostages, including Americans, US officials said.
The US government believes the leader, Abu Sayyaf, was involved in handling foreign hostages, including Kayla Mueller, an American aid worker who was killed in February, US security and law enforcement officials said.
The White House said on Saturday that US military personnel based in Iraq had carried out a raid in eastern Syria aimed at capturing Abu Sayyaf and his wife, known as Umm Sayyaf.
Umm Sayyaf was captured by US forces, but Abu Sayyaf was killed after "he engaged US forces," the White House said.
Full report at:
http://www.arabnews.com/middle-east/news/748736
----------
Mideast
Yemeni dialogue conference to sign treaty on crisis
19 May 2015
A Yemeni dialogue conference being held in Riyadh will sign an agreement on Tuesday, the third and last day of the meeting.
In a closed session, a spectrum of Yemeni political parties participating in the conference, excluding Houthis and former President Ali Abdullah Saleh – will be inking what has been termed as the "Riyadh Document."
The conciliatory conference, sponsored by the GCC to bring together different factions in the crisis-hit country, had already set the first draft of the document on Monday.
According to a draft seen by the pan-Arab Asharq al-Awsat newspaper, the document includes articles that urge the establishment of an army, demanding from international organizations to withhold any dealings with "coup leaders," a reference to Houthi militias.
On the humanitarian level, the document stipulates that civilians who have been inflicted in the war will be compensated, especially in the city of Saada, which would be rebuilt to return to its state prior to the 2004 war.
Full report at:
http://english.alarabiya.net/en/News/middle-east/2015/05/19/Yemeni-dialogue-conference-to-sign-treaty-on-crisis.html
----------
Fresh Saudi Air Strikes Reported in Yemen
May 19 2015
The Saudi-led coalition fighter jets bombed the Yemeni capital of Sana'a, and al-Hudaydah province on Tuesday.
Saudi Arabia conducted 6 air strikes on a coastal military base in al-Jabaneh in al-Hudaydah.
Meanwhile, the capital Sana'a was hit in the Saudi air raids on Tuesday.
Saudi Arabia launched its bombing campaign against Yemen on March 26 in an attempt to restore power to fugitive President Mansour Hadi, a staunch ally of Riyadh.
Hadi stepped down in January and refused to reconsider the decision despite calls by Ansarullah revolutionaries of the Houthi movement.
Despite Riyadh's claims that it is bombing the positions of the Ansarullah fighters, Saudi warplanes are flattening residential areas and civilian infrastructures.
The Monarchy's attacks have so far claimed the lives of at least 3,815 civilians, mostly women and children, according to FNA's independent tally.
http://english.farsnews.com/newstext.aspx?nn=13940229000706
----------
Middle East turmoil if Egypt's Morsi executed: Turkish presidency
19 May 2015
Turkey's presidential spokesman said the Middle East would be thrown into turmoil if Egypt carried out its death sentences on former president Mohamed Morsi and other senior Islamists.
An Egyptian court on Sunday sought the death penalty for Morsi and 106 supporters of his Muslim Brotherhood, in connection with a mass jail-break in 2011. A final ruling is expected on June 2.
Ibrahim Kalin told a news conference in Ankara the sentences were a "breach of justice" and called on the international community to speak out more strongly against them.
"The subject demands universal attention. The execution orders and carrying them out will push the Middle East into turmoil," he said.
Full report at:
http://english.ahram.org.eg/NewsContent/2/8/130609/World/Region/Middle-East-turmoil-if-Egypts-Morsi-executed-Turki.aspx
----------
Iran Blasts Instrumental Use of War on Terrorism for Meddling in Countries' Affairs
May 19 2015
Iranian Deputy Foreign Minister for Arab and African Affairs Hossein Amir Abdollahian lashed out at certain countries for making an instrumental use of the terrorist groups to justify their military and political meddling in other countries.
Speaking in a meeting with Chilean Deputy Foreign Minister for Political Affairs Alfredo Labe in Tehran on Monday, the Iranian official voiced concern over the use of War on Terrorism Project by a certain group of states to meddle regional countries' internal affairs, and said such measures will only put regional security and stability in danger.
in relevant remarks in March, Amir Abdollahian warned of the consequences of the instrumental use of terrorism in Yemen, and called on all Yemeni groups to exercise self-restraint.
Amir Abdollahian said that the Persian Gulf Cooperation Council (PGCC) is expected to make efforts to bring national reconciliation in Yemen and prevent terrorist acts and civil war in the country.
The deputy foreign minister said that instrumental use of terrorism by the rival parties in the region, specially in Yemen, would be a strategic mistake, and will endanger the regional security.
http://english.farsnews.com/newstext.aspx?nn=13940229000270
----------
Israeli Settlers Enjoy Widespread Impunity in Attacks against Palestinians
May 19 2015
A report published by a human rights organization stated that Israeli settlers enjoy widespread impunity for their attacks against Palestinians in the West Bank.
"The IDF and police are neither prepared nor willing to provide the necessary protection to Palestinians attacked by violent settlers," the report said, WAFA reported.
"Law enforcement agencies display repeated failure to conduct proper investigations of these incidents. When convictions are made, Israeli citizens involved in such violent acts are handed light sentences," stated the report.
According to international humanitarian law, as the occupying power in the Occupied Palestinian Territories (OPT), Israel is charged with ensuring the security and safety of the residents of the OPT. However, Israel has neglected this obligation for decades.
Full report at:
http://english.farsnews.com/newstext.aspx?nn=13940229000768
----------
India
Hurriyat hardliner Geelani must apologize for 'anti-India' activities: MoS in the PMO
May 19, 2015
Pointing out that the Ministry of External Affairs will take a final call over separatist Hurriyat leader Syed Ali Shah Geelani's request for an Indian passport, Minister of state in the PMO Dr Jitendra Singh on Tuesday said that Geelani should be apologetic for his anti-India activities.
"Anybody who gets involved in anti-India activity should be apologetic," he said, reiterating BJP's stand that the Hurriyat leader shall apologize for anti-national activities and acknowledge that he is an Indian for getting the Indian passport. Singh was here to launch a new 300 KW MW Digital Radio Mondiale (DRM) Transmitter, having capacity to broadcast All India Radio programmes all over the state, besides Pakistan occupied Kashmir (PoK) and parts of Pakistan's Punjab province.
Full report at:
http://indianexpress.com/article/india/india-others/hurriyat-hardliner-syed-ali-shah-geelani-must-apologize-for-anti-india-activities-jitendra-singh/
----------
AASU reminds PM Narendra Modi about 'promise' to send back Bangladeshi infiltrators
May 19, 2015
Even as the BJP-led government at the Centre completed one year in office, the All Assam Students' Union (AASU) has reminded Prime Minister Narendra Modi of an announcement that he had made during the 2014 Lok Sabha election campaign – that Bangladeshi infiltrators would have to pack up after May 16 2014 – and asked him what happened to that.
"The prime minister had as the star BJP campaigner for last year's Lok Sabha election clearly said in a rally in Serampore in West Bengal on April 28 last year that the Bangladeshi infiltrators would have to pack up after May 16 2014. But exactly one year has passed and not a single Bangladeshi infiltrator has actually left. Instead, many more must have trickled in," said AASU president Dipanka Nath on Monday.
Full report at:
http://indianexpress.com/article/india/india-others/what-happened-to-modi-asking-bangladeshi-infiltrators-to-pack-up-asks-aasu/
-----------
Pervez Musharraf has confirmed Pak govt role in Kargil: V K Singh
May 19, 2015
Reacting to former Pakistan President General Pervez Musharraf's remark that "Pakistani Army had caught India by throat" in the 1999 Kargil war, Minister of State for External Affairs General V K Singh on Monday indicated that the comment vindicates India's stand as it officially confirms the role of the state in the war.
"Bahut dino ke baad unhone sach bol diya, aur kya bolna uske baare mein? (He has spoken a truth, after a long time, what else can I say)," said Singh, who was here Monday to attend the foundation day of an NGO. Officially, Pakistan had maintained that the war was between the Kashmir mujahideen and the Indian Army, and the Pakistan Army was not involved.
Full report at:
http://indianexpress.com/article/india/india-others/pervez-musharraf-has-confirmed-pak-govt-role-in-kargil-v-k-singh/
----------
Southeast Asia
PAS President Tells Muslims to Be Angry With DAP Over Hudud
May 19 2015
KUALA LUMPUR, May 19 — Muslims have a duty to be angry with DAP for its open rejection of Hudud, said PAS president Datuk Seri Abdul Hadi Awang.
The Marang MP said the emotion is natural and that Muslims are obligated to feel anger, especially when it concerns matters of faith and "things permitted by Allah".
"Anger is part of humans, if there is no anger it is not human, that's why we are angry on things that Allah allows, things that Allah doesn't allow we are not angry," he said.
"And we had met DAP and agreed that Kelantan has its rights and DAP's right is to disagree, but they (DAP) keep making statements that are against Kelantan," he said in a forum titled "Bicara Harakah" here.
Full report at:
http://www.themalaymailonline.com/malaysia/article/hadi-tells-muslims-to-be-angry-with-dap-over-hudud
-----------
No Word on Hundreds of 'Boatpeople' Pushed Back to Sea
May 19 2015
Pak Bara, Thailand. A migrant boat pushed back to sea by Southeast Asian nations over the weekend has not been heard from for two days, raising concerns about what has happened to the 300 people on board, rights groups said on Monday.
The boat was pushed backwards and forward between Malaysian and Thai waters last week in what the International Organization for Migration has described as "maritime ping-pong."
It is one of many vessels adrift in the Andaman Sea after human traffickers jumped ship when a crackdown by Thailand's junta made it difficult for the criminals that prey on Bangladeshis and stateless Rohingya from western Myanmar to land on Thai shores.
The overcrowded wooden vessel was last seen late on Saturday when the Thai navy towed it away from Thailand and toward Indonesia, Thai Navy Lieutenant Commander Veerapong Nakprasit told Reuters.
Full report at:
http://thejakartaglobe.beritasatu.com/news/no-word-hundreds-boatpeople-pushed-back-sea/
----------
Philippines offers lifeline to refugees snubbed by Malaysia, neighbours
May 19 2015
MANILA, May 19 — The Philippines said today it was ready to help Rohingya and Bangladeshi boat-people, as its Southeast Asian neighbours faced outrage for turning them away.
The Philippines is obliged to help the migrants, many of whom are fleeing persecution, because it is party to the 1951 United Nations convention on refugees, foreign affairs department spokesman Charles Jose said.
"We have the commitment and the obligation to extend humanitarian assistance to these asylum seekers," Jose told ANC television.
Jose and other senior government officials would not elaborate on the kind of help the Philippines would give to the Rohingya Muslims and Bangladeshis, whose plight has been described as a humanitarian catastrophe.
Full report at:
http://www.themalaymailonline.com/malaysia/article/philippines-offers-lifeline-to-refugees-snubbed-by-malaysia-neighbours#sthash.SXINQPqt.dpuf
----------
Indonesia: Rohingya crisis a problem for all of Southeast Asia
May 19 2015
JAKARTA, May 19 — Indonesia said today a migrant boat crisis was a problem for all of Southeast Asia ahead of key regional talks, as Jakarta and other countries came under more pressure to let the boat-people land.
Nearly 3,000 Rohingya and Bangladeshi migrants have made it to shore in Indonesia, Thailand and Malaysia in recent days after a Thai crackdown disrupted people-trafficking and people-smuggling routes, prompting operators of rickety boats to dump their human cargo.
Those who have arrived were either abandoned on the coast or in shallow waters, or rescued from sinking boats, with the three nations sparking outrage by turning away vessels deemed still seaworthy.
Full report at:
http://www.themalaymailonline.com/malaysia/article/indonesia-rohingya-crisis-a-problem-for-all-of-southeast-asia#sthash.l3r1vK4I.dpuf
----------
URL: https://www.newageislam.com/islamic-world-news/new-age-islam-news-bureau/islam-text-books-in-maldives-breed-hatred-and-fundamentalism/d/103040