New Age Islam News Bureau
17 Jun 2012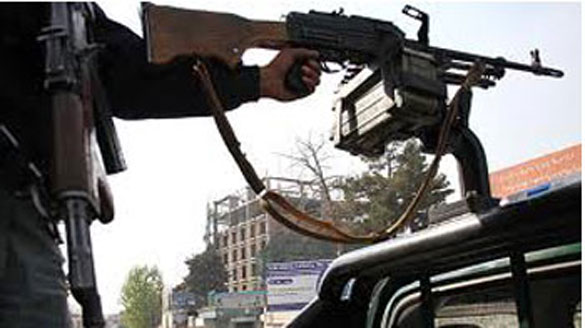 North America
• Islam Is a Religion of Peace As Exemplified By Its Founder, Says Islamic Scholar Muhammad Tahir Ul Qadri
• Syria crisis: West seeks 'next steps'
• Drones, computers new weapons of US shadow wars
India
• Taliban praises India for resisting US pressure on Afghanistan
'• Indian Muslims have overcome many odds'
• Soldier injured in Pakistani firing on Line of Control
• Alka Yagnik, Kumar Sanu visit Mehdi Hassan's grave in Karachi
South Asia
• 42 Taliban killed in Afghanistan
Pakistan
• Bombings kill 33 in Khyber
• Pakistan considering 'soft apology' offered by US
• Pak-India talks on Siachen in progress: Pak Defence Minister
• Pak President takes allies into confidence over NATOroutes
• Gilani, Kayani depart to attend Prince Nayef's funeral
• Fauzia Wahab slips into coma
Arab World
• Last day of Shiite pilgrimage, Iraq hit by bombs: 26 killed
• Syria conflict: 'Shelling intensifies' in Hom
• Fire kills 13 inmates in Turkey prison
• A second day of voting will deliver Egypt's first freely elected president
• Islamic Golden Age remembered
• Salman likely to be new Saudi heir as Nayef buried
Mideast Asia
• Two Palestinians shot dead by Israeli lorry driver: Police
Africa
• Three blasts hit churches in Nigeria Kaduna province
• Troops sent to quell clashes in western Libya
Europe
• Iran, world powers set for showdown in Moscow
Compiled by New Age Islam News Bureau
Photo: 42 Taliban killed in Afghanistan
URL: https://newageislam.com/islamic-world-news/new-age-islam-news-bureau/islam-is-a-religion-of-peace-as-exemplified-by-its-founder,-says-islamic-scholar-muhammad-tahir-ul-qadri/d/7650
--------------------
North America
Islam Is a Religion of Peace As Exemplified By Its Founder, Says Islamic Scholar Muhammad Tahir Ul Qadri
By Ben Fulton | The Salt Lake Tribune
16 2012
Islam is a religion of peace, tolerance and thirst for knowledge made manifest by the life and practices of its founding prophet, said Muslim scholar Muhammad Tahir ul Qadri.
Non-Muslims may not know this if they rely on short media accounts about Islam, Qadri said. But if Muslims who commit acts of terrorism do not know this, it is because they have not studied their own religion thoroughly and carefully enough.
"Many people today don't know much about the religion even they belong to. How many Christians, for example, can tell us the number of books in both the Old and New Testaments?" he asked.
Qadri's two-hour lecture, "Islam and Peace," delivered Saturday afternoon at the University of Utah's Orson Spencer Hall auditorium, was itself thorough and careful.
Born and educated in Pakistan, but now living in Canada, the renowned scholar quoted at length both the Quran and hadith, or teachings of Muhammad, to back up every point and assertion.
" 'Religion is easy, and no one overburdens himself in his religion but he will be unable to continue in that way. So do not be extremists,' " Qadri said, quoting a hadith attributed to Muhammad. "This is not a speech given after 9/11. The Prophet Muhammad delivered these words to mankind centuries before."
Qadri became internationally known in 2010, the year he wrote a 600-page religious ruling, or fatwa, condemning terrorism and suicide bombing. In addition to appearances on CNN, BBC News and Al Jazeera, Qadri spoke at last year's World Economic Forum in Davos, Switzerland, and was hosted by the United States Institute of Peace. Educated at a Catholic mission school as a child, Qadri started his religious education at age 12, earning a doctorate in law from the University of Punjab in Lahore, Pakistan.
His Saturday appearance was sponsored by the Al-Mustafa Foundation of Utah, the Salt Lake Interfaith Roundtable and the Peace and Integration Council of North America. Qadri spoke to many curious non-Muslims and scores of Utah Muslims glad to hear their faith portrayed accurately by a respected figure.
"This means a lot," said Shazia Faizi, events director of the Al Mustafa Foundation of Utah. "Through him we're able to express our real feelings to the community."
Qadri was introduced by Alan Bachman, assistant attorney general at the Utah Attorney General's Office and chair of the Salt Lake Interfaith Roundtable. Bachman chided Qadri gently for the length of his 600-page religious ruling — "That might come from the lawyer in him" — but admonished the audience to take the scholar's message to heart. Bachman said he invited a friend to Qadri's lecture who declined because a friend was too afraid to attend with her.
story continues belowstory continues below
"Some don't understand that with one and a half billion Muslims in the world, a few are bound to go astray, as members of any other faith do," said Bachman, wearing a yarmulke to signify his Jewish faith. "We have a lot of work to do, my friends."
Qadri opened his lecture with an Arabic recitation of the first words revealed to Muhammad, beginning with "Iqra!" or "Read!" It's one of Islam's most crucial messages, Qadri said, because it admonishes Muslims to seek knowledge wherever found. It's through knowledge that peace and understanding is found, he told the audience. He then recounted how Muhammad founded the world's first Islamic society in seventh-century Medina in the Arabian Peninsula, arranging a peaceful compact with non-Muslims and Jews founded on justice, rule of law, religious tolerance, and the dignity of all people.
"Peace was his teaching. Peace was his method and, finally, peace was his religion," Qadri said. "He [Muhammad] is the founder of the modern-day concept of nation."
The audience applauded on several occasions, as when Qadri warned young Muslims not to fall prey to odious interpretations of the Quran or the sayings of Muhammad that lead to the crime of murdering innocents through terrorism.
Tawna Robinson, an Evangelical Christian from Sandy who leads Bible study at her church, said she was impressed by Qadri's lecture, even if its detail made it at times difficult to follow.
"I didn't disagree with the principles he talked about, but I did disagree with the source," Robinson said. "Whenever he said that Muhammad propagated peace, I kept saying in my own head, 'Yes, but Jesus is the Prince of Peace.' "
http://www.sltrib.com/sltrib/news/54318701-78/qadri-peace-muhammad-islam.html.csp
--------
Syria crisis: West seeks 'next steps'
17 June 2012
The US has said it is consulting international partners over steps to take over Syria, after UN observers suspended their activities.
Norwegian Gen Robert Mood, the head of the UN Stabilisation Mission (UNSMIS), said observers would cease operations because of the escalating violence.
But he said the mission remained committed to ending the violence.
The UK foreign secretary said the decision called into question the mission's viability.
William Hague blamed the government of President Bashar al-Assad for the worsening situation.
In a statement, he said the suspension of patrols and restriction of staff movements "underlines the extent of the deterioration of security and stability in Syria, and calls into serious question the viability of the UN Mission".
Activists reported on Saturday that at least 60 people had been killed around the country, with the worst violence in areas around Damascus, where they said 10 people were murdered in the town of Saqba.
The announcement came just a day after Gen Mood had rung alarm bells.
He had warned that the escalation of violence in the past 10 days had limited the ability of the observers to do their job of monitoring, verifying and reporting what was going on, and trying to foster dialogue.
It marks a recognition that the Kofi Annan peace plan, of which the observer mission is part, has hit the rocks.
Apart from the general upsurge in violence, the observers have in recent days found themselves physically obstructed, and their vehicles attacked and shot at.
So the suspension is a clear message to the international community that the situation is untenable, and that concerted action is needed to salvage the Annan peace plan, which remains the only template for a peaceful solution.
That means pressure being applied to both sides in their conflict, by their outside allies, to halt the violence and enter dialogue - something at the moment that's hard to imagine.
UN mission at crossroads
At least seven people were killed in Douma, an eastern suburb of the capital Damascus, while at least 18 others died in violence elsewhere, the UK-based Syrian Observatory for Human Rights reported.
The opposition Syrian National Council also warned of a looming massacre in Homs which it says is besieged by 30,000 troops and pro-regime militiamen.
Syria restricts access to foreign media, and reports of killings are difficult to verify.
Civilians 'suffering'
US White House spokesman Tommy Vietor urged Syria to abide by international mediator Kofi Annan's six-point peace plan.
"At this critical juncture, we are consulting with our international partners regarding next steps toward a Syrian-led political transition as called for in Security Council resolutions," he said.
Arab League spokesman Ahmad Bin Hilli told the BBC the decision was a temporary one, and the operation could be cancelled only by the UN in consultation with the Arab League.
Announcing the suspension of UNSMIS operations, Gen Mood said the suspension would be "reviewed on a daily basis" and that a "return to normal operations remains our objective".
The UN Security Council's five permanent members will consider the next steps for the observer mission when Gen Mood briefs them on the situation in Syria on Tuesday.
The mission's 298 military observers and 112 civilian staff were sent to Syria to verify the implementation of the Annan plan, which included a ceasefire.
http://www.bbc.co.uk/news/world-middle-east-18475023
---------
Drones, computers new weapons of US shadow wars
Kimberly Dozier, Associated Press,
Washington, 06/17/2012 , After a decade of costly conflict in Iraq and Afghanistan, the American way of war is evolving toward less brawn, more guile.
Drone aircraft spy on and attack terrorists with no pilot in harm's way. Small teams of special operations troops quietly train and advise foreign forces. Viruses sent from computers to foreign networks strike silently, with no American fingerprint.
It's war in the shadows, with the U.S. public largely in the dark.
In Pakistan, armed drones, not U.S. ground troops or B-52 bombers, are hunting down al-Qaida terrorists, and a CIA-run raid of Osama bin Laden's hide-out was executed by a stealthy team of Navy SEALs.
In Yemen, drones and several dozen U.S. military advisers are trying to help the government tip the balance against an al-Qaida offshoot that harbors hopes of one day attacking the U.S. homeland.
In Somalia, the Horn of Africa country that has not had a fully functioning government since 1991, President Barack Obama secretly has authorized two drone strikes and two commando raids against terrorists.
In Iran, surveillance drones have kept an eye on nuclear activities while a computer attack reportedly has infected its nuclear enrichment facilities with a virus, possibly delaying the day when the U.S. or Israel might feel compelled to drop real bombs on Iran and risk a wider war in the Middle East.
The high-tech warfare allows Obama to target what the administration sees as the greatest threats to U.S. security, without the cost and liabilities of sending a swarm of ground troops to capture territory; some of them almost certainly would come home maimed or dead.
But it also raises questions about accountability and the implications for international norms regarding the use of force outside of traditional armed conflict. The White House took an incremental step Friday toward greater openness about the basic dimensions of its shadowy wars by telling Congress for the first time that the U.S. military has been launching lethal attacks on terrorist targets in Somalia and Yemen. It did not mention drones, and its admission did not apply to CIA operations.
"Congressional oversight of these operations appears to be cursory and insufficient," said Steven Aftergood, an expert on government secrecy issues for the Federation of American Scientists, a private group.
"It is Congress' responsibility to declare war under the Constitution, but instead it appears to have adopted a largely passive role while the executive takes the initiative in war fighting," Aftergood said in an interview.
That's partly because lawmakers relinquished their authority by passing a law just after the Sept. 11 terrorist attacks that essentially granted the White House open-ended authority for armed action against al-Qaida.
Secret wars are not new.
For decades, the CIA has carried out covert operations abroad at the president's direction and with congressional notice. It armed the mujahedeen in Afghanistan who fought Soviet occupiers in the 1980s, for example. In recent years the U.S. military's secretive commando units have operated more widely, even in countries where the U.S. is not at war, and that's blurred the lines between the intelligence and military spheres.
In this shroud of secrecy, leaks to the news media of classified details about certain covert operations have led to charges that the White House orchestrated the revelations to bolster Obama's national security credentials and thereby improve his re-election chances. The White House has denied the accusations.
The leaks exposed details of U.S. computer virus attacks on Iran's nuclear program, the foiling of an al-Qaida bomb plot targeting U.S. aircraft, and other secret operations.
Two U.S. attorneys are heading separate FBI investigations into leaks of national security information, and Congress is conducting its own probe.
It's not just the news media that has pressed the administration for information about its shadowy wars.
Some in Congress, particularly those lawmakers most skeptical of the need for U.S. foreign interventions, are objecting to the administration's drone wars. They are demanding a fuller explanation of how, for example, drone strikes are authorized and executed in cases in which the identity of the targeted terrorist is not confirmed.
"Our drone campaigns already have virtually no transparency, accountability or oversight," Democratic Rep. Dennis Kucinich and 25 other mostly anti-war members of Congress wrote Obama on Tuesday.
few dozen lawmakers are briefed on the CIA's covert action and clandestine military activity, and some may ask to review drone strike video and be granted access to after-action reports on strikes and other clandestine actions. But until two months ago, the administration had not formally confirmed in public its use of armed drones.
In an April speech in Washington, Obama's counterterrorism chief, John Brennan, acknowledged that despite presidential assurances of a judicious use of force against terrorists, some still question the legality of drone strikes.
So let me say it as simply as I can: Yes, in full accordance with the law — and in order to prevent terrorist attacks on the United States and to save American lives — the United States government conducts targeted strikes against specific al-Qaida terrorists, sometimes using remotely piloted aircraft, often referred to publicly as drones," he said.
President George W. Bush authorized drone strikes in Pakistan and elsewhere, but Obama has vastly increased the numbers. According to Bill Roggio of The Long War Journal, an online publication that tracks U.S. counterterrorism operations, the U.S. under Obama has carried out an estimated 254 drone strikes in Pakistan alone. That compares with 47 strikes during the Bush administration.
In at least one case the target was an American. Anwar al-Awlaki, an al-Qaida leader, was killed in a U.S. drone strike in Yemen in September.
According to a White House list released late last year, U.S. counterterrorism operations have removed more than 30 terrorist leaders around the globe. They include al-Qaida in East Africa "planner" Saleh Ali Saleh Nabhan, who was killed in a helicopter strike in Somalia.
The drone campaign is highly unpopular overseas.
A Pew Research Center survey on the U.S. image abroad found that in 17 of 21 countries surveyed, more than half of the people disapproved of U.S. drone attacks targeting extremist leaders in such places as Pakistan, Yemen and Somalia. In the U.S., 62 percent approved of the drone campaign, making American public opinion the clear exception.
The U.S. use of cyberweapons, like viruses that sabotage computer networks or other high-tech tools that can invade computers and steal data, is even more closely shielded by official secrecy and, arguably, less well understood.
Republican Sen. John McCain has been a leading critic of the administration's handling of information about using computers as a tool of war.
"I think that cyberattacks are one of the greatest threats that we face," McCain said in a recent interview, "and we have a very divided and not very well-informed Congress addressing it."
Defense Secretary Leon Panetta and national security officials often talk publicly about improving U.S. defenses against cyberattack, not only on U.S. government computer systems but also against defense contractors and other private networks linked, for example, to the U.S. financial system or electrical grid. Left largely unexplained is the U.S. capacity to use computer viruses and other cyberweapons against foreign targets.
In the view of some, the White House has cut Congress out of the loop, even in the realm of overt warfare.
Democratic Sen. James Webb, who saw combat in Vietnam as a Marine, introduced legislation last month that would require that the president seek congressional approval before committing U.S. forces in civil conflicts, such as last year's armed intervention in Libya, in which there is no imminent security threat to the U.S.
"Year by year, skirmish by skirmish, the role of the Congress in determining where the U.S. military would operate, and when the awesome power of our weapon systems would be unleashed has diminished," Webb said.
http://www.thejakartapost.com/news/2012/06/17/drones-computers-new-weapons-us-shadow-wars.html
---------------
India
Taliban praises India for resisting US pressure on Afghanistan
PTI |
KABUL: Jun 17, 2012, In an unusual comment, Afghan Taliban has praised India as a "significant country" in the region and said New Delhi has done well to resist US calls for greater military involvement in Afghanistan.
"No doubt that India is a significant country in the region... They are aware of the Afghans' aspirations, creeds and love for freedom. It is totally illogical they should plunge their nation into a calamity just for the American pleasure," the Taliban said in a statement.
The group, accused of repeatedly targeting Indian interests in Afghanistan and believed to be close to Pakistani spy agency ISI, praised India for what it called sending US defence secretary Leon Panetta "empty handed towards Kabul."
Taliban led by elusive one-eyed Mullah Omar said that Panetta in his recent visit to India encouraged New Delhi to take a more active role in Afghanistan as most foreign combat troops leave the country in 2014, but he failed to "gain any success or progress in his efforts."
Panetta "spent three days in India to transfer the heavy burden to their shoulders, to find an exit and to flee from Afghanistan," said the Taliban, the hard-line militant group which is fighting a bloody war with US-led Nato forces after its ouster from power in 2001 in Afghanistan.
"Some reliable media sources said that the Indian authorities did not pay heed to demands and showed their reservations, because the Indians know or they should know that the Americans are grinding their own axe," it said.
"Indian people and their authorities are observing this illicit war for the last 12 years and they are aware of the Afghan nation and their demands," the statement said.
During the Afghan civil war, India extended its support to the Northern Alliance against Taliban but was pushed out of Afghanistan after the militant group took over in 1996.
http://timesofindia.indiatimes.com/india/Taliban-praises-India-for-resisting-US-pressure-on-Afghanistan/articleshow/14208550.cms
-------
'Indian Muslims have overcome many odds'
MENAFN - Arab News - 17/06/2012, There are some 500 million Muslims in non-Muslim countries including Russia, China and India. In this second part of his exclusive interview with Arab News, Ekmeleddin Ihsanoglu, secretary-general of the Organization of Islamic Cooperation (OIC), acknowledges their vital contribution to the Islamic civilization and says his organization is trying to strengthen the ties of the Muslim population of these non-OIC states with the Ummah. He also touches on the situation of women in Muslim countries and what the OIC is doing to empower women and change the stereotype of Muslim women.
What is the OIC doing for the Muslim communities in Russia, India and China?
I will give a brief overview on the situation of Muslims in these countries and our efforts to improve their conditions and create favorable conditions to strengthen their ties with the Muslim world.
The common denominator for Muslims in these countries is that Islam constitutes the second religion therein. Furthermore, Muslim populations in these countries are indigenous, not immigrant communities. In addition, their total number is estimated at about 250 million people, about 180 million in India, nearly 50 million in China, and 20 million in Russia. This means that Muslims in these three countries make up half of the Muslim populations in non-member states of the organization, who are estimated at 500 million people. Another significant common characteristic of Muslim communities in these countries is that they belong to different nationalities, cultures and races, who made effective and major contributions in enriching the Islamic civilization over the past centuries. Today they constitute a cultural and strategic depth of the Islamic world as a whole.
Everyone knows that Muslims in the era of the former Soviet Union, which spanned nearly 70 years, were subjected to harsh conditions because of their faith and have suffered intense persecution and repression. However, they held fast to Islamic civilization, culture and values in their daily lives. Conditions have changed radically since the 1990s, but they still suffer from tremendous pressure. We seek to overcome such pressure through our good relations with the Russian government. Today, our organization includes six central Asian Islamic countries that were once part of the Soviet Union. Moreover, the Russian Federation became OIC observer member in 2005.
I held a series of meetings in the Kremlin with the Russian president. We addressed many issues concerning the situation of Muslim communities in the Russian Federation in general. We have also prepared a plan to serve the interests of Muslims in Russia.
The Russian Federation is legally and morally responsible for finding just solutions to what happened to the Muslims within the Russian Federation and the Ukraine, for the Crimean Tatar Muslims and the Muslim Meskhetian Turks in Georgia, and for compensating them for the damages they sustained, as they were displaced during the different periods of the Soviet era to areas far from their countries of origin. They were stripped of their lands, farms and properties. Parliaments in both Ukraine and Georgia have recognized their right to return to their country.
We will continue to work with the states concerned and international human rights organizations to provide possible assistance to restore their rights at the earliest possible opportunity. We are planning this year to send delegations to see the conditions of Muslims in the Russian Federation, Ukraine and Georgia and provide advice to deal with these thorny issues.
I have also accorded great attention to the situation of Muslims in India. I am exerting efforts to promote dialogue and rapprochement between our organization and the Indian government to discuss issues of common interest and concern to Muslims there. On the one hand, we have Islamic ministerial resolutions urging India to implement United Nations resolutions on giving Muslims in the territory of Jammu and Kashmir the right to self-determination. This is the only existing problem with the Indian government that remains unresolved. On the other hand, India is important and has cultural and historical relations with Islam and the Islamic world.
However, since the partition of the Indian subcontinent in 1947, conditions of Muslims in India have deteriorated. A government report published in 2006, entitled the Sachar Committee Report, confirmed that Muslims in India suffer very poor representation in various government jobs and have limited access to education, health and economic progress. However, Muslims in India have been able to overcome many difficulties. They have realized remarkable cultural, economic and scientific achievements. They entertain close relations with the Muslim world. India has been ruled by three Muslim presidents so far. Since its inception, our organization enjoyed close relations with Muslims in India; relations that we seek to improve and develop.
However, what concerns us today is how to launch a constructive and strong dialogue with the Indian government in order to establish systematic relations in all fields. This is what I will seek to realize in the near future, God willing.
Did India apply for a full membership or observer membership, knowing that the country has 150 million Muslims?
The OIC finalized its criteria for full membership and observer membership recently. Any member state of the United Nations can apply for either full membership or observer membership, subject to fulfillment of the conditions enumerated in the criteria. The OIC, however, has not received any request from India in this regard.
How are the OIC's relations with China?
Regarding our relations with the People's Republic of China, they evolved rapidly over the past two years. My meeting with Prime Minister Wen Jiabao in Riyadh on Jan. 15, 2012, constituted an important turning point in the evolution of these relations. We were able to agree on a common strategic vision for various issues at both the multilateral and bilateral levels, particularly with regard to Africa (Somalia and Darfur) as well as Afghanistan. I sensed China's interest in contributing to the implementation of the OIC-sponsored railway line project, which will link Port Sudan on the Red Sea to Dakar, capital of Senegal, on the Atlantic Ocean.
At the level of our support to the causes of Muslims in China, we have made great efforts in this regard to contain the negative effects of the sanguinary events that took place in June and July 2009 in Urumqi, capital of Xinjiang Uyghur Autonomous Region, which left hundreds dead and thousands wounded. Following these events, I have dispatched an OIC mission that visited the areas where the events took place in August 2009 and reported thereon to ministerial conferences. We have underlined the need to grant Muslims their religious, cultural and national rights as stipulated in the Chinese constitution.
In order to strengthen these efforts, I paid, in June 2010, the first official visit to China ever by an OIC secretary-general. The visit covered Xinjiang Muslim region. We held talks with senior Chinese officials on various issues.
During the visit, a framework was developed for broader cooperation in all issues. A joint statement was issued at the conclusion of the visit, which included recognition of the importance attached by China to the organization's role as an influential intergovernmental organization.
We also affirmed that the Muslims in China constituted, and still constitute, a bridge of cooperation and communication between China and the Islamic world. I met the prime minister of China again early this year, during which we discussed ways to develop relations between China and the OIC and implement joint projects. At the end of June, IRCICA (OIC Research Center for Islamic History, Art and Culture) is organizing a seminar in Beijing on "Muslims in China."
One of the frequent criticisms about the Muslim world is the unsatisfactory situation of women, and some in the West associate that with Islam. What is the OIC doing to empower women and change the stereotype of Muslim women?
One of the major challenges for us is the issue of empowering women. There is no doubt that as the most vulnerable segment of our society, women in the Muslim world suffer from difficulties and problems. However, it is not only women in Muslim countries who suffer abuse and discrimination; unfortunately, women are often the victims, even in the most advanced societies.
It is true that as part of their malicious campaign against Islam and Muslims, some Islamophobes associate women's oppression in some Muslim societies to Islam. We don't need to keep reiterating that Islamic teachings appreciate women's dignity, respect women and protect their social, economic, political and legal rights. Islam encourages and supports their participation in various fields of life. Indeed, the root causes of the problem for women stem from the traditions and customs that each society practices and often wrongly elevates to the level of compulsory religious commandments that everyone has to abide by.
The OIC's vision and mission emanating from the teachings of Islam, the provisions of the Ten-Year Program of Action adopted by the heads of state and government, and the OIC Plan of Action for the Advancement of Women (OPAAW) focus on the advancement and empowerment of women. The OIC firmly believes that women should have full access to education and participate actively in the decision-making mechanism and developmental process of society. Issues such as poverty among women, women illiteracy, violence against women, and bad living conditions should be addressed in a systematic and persistent manner through local and national policies and strategies to be implemented with enough resources in the member states. To this end, special focus must be given to promote businesswomen and women in the corporate sector. Women-oriented awareness-raising programs and cooperation between the governments and civil society institutions can tremendously contribute to the cause of women in the Muslim world.
The OIC brought together the ministers in charge of women affairs in the Muslim world through convening of the first Ministerial Islamic Conference on "Women's role in the development of OIC member states" in Turkey in November 2006. Its goal was to prepare strategies, standards, programs and goals to advance the status of women, which was followed by a series of projects and meetings. The second Ministerial Islamic Conference on the subject was held in Egypt in November 2008. It was a landmark event by the adoption of the OIC Plan of Action for the Advancement of Women (OPAAW), also known as the "Cairo Plan of Action for Women," which serves as the road map for the efforts toward the advancement of women.
These are good objectives and initiatives, but what of the practical and implementation part?
Well, to implement the OPAAW and Ten-Year Program of Action, a proposal to establish a specialized organ for women development with its headquarters in Cairo was approved in 2010. The OIC General Secretariat has been urging member states to sign and ratify the statute of this institution to start its functions. In the same vein, the Department of Family Affairs was established in the General Secretariat in 2009 to particularly deal with the issues concerning women, children and youth and coordinate the efforts of some relevant OIC bodies in this field.
The third session of the Ministerial Conference was held in Tehran in December 2010. It adopted practical mechanisms for implementing the OPAAW. The fourth session will take place later this year in Indonesia to follow up on the implementation.
Furthermore, the OIC General Secretariat has been coordinating its efforts with some member states and international organizations as well as non-OIC member states to promote the status of women and address various challenges ahead of them in the Muslim world. This ranges from extending support and assistance to women and girls in Indonesia, Afghanistan, Palestine, Pakistan and Somalia to undertaking mother and child health projects with the US in some OIC member states, beginning with Mali and Bangladesh.
OIC organs such as the Islamic Educational, Scientific and Cultural Organization; International Islamic Fiqh Academy; and Statistical, Economic and Social Research and Training Center for Islamic Countries have also been implementing various projects on the matter. Similarly, the Islamic Chamber of Commerce and Industry has initiated a comprehensive program for the economic empowerment of businesswomen of the member states to realize their economic potential.
The General Secretariat continues to work with member states and OIC-relevant institutions, in particular the International Islamic Fiqh Academy, to project Islam as a religion that guarantees full protection of women's rights.
The establishment of the OIC's Independent Permanent Human Rights Commission will also give a strong push to the cause of women and the protection of their rights, especially given that four of the 18 members of the commission are women.
Another criticism is the lack of or the restrictions on freedom of expression, and again linking that to fatwas and actions by some Muslim groups or individuals. How do you answer to those criticisms?
The allegation of restriction on freedom of expression in the OIC or the OIC wanting to impose limitations on freedom of expression is incorrect. The OIC is an international intergovernmental organization and committed to the Universal Declaration of Human Rights and other international instruments. It upholds and respects an individual's right to freedom of expression.
Whatever may be the Western perception, we strongly believe that this right should be exercised responsibly and not misused or abused to incite violence by contemptuous or malicious expression in written, verbal or visual depictions.
The various OIC resolutions, declarations and documents emphasize democratic principles and upholding human rights. However, the growing trend of Islamophobia that seeks to discriminate against and denigrate Islam through distortion and misperception, including measures taken in an institutionalized form and subjecting Muslims to face racially motivated discrimination and xenophobic treatment is an issue of great concern for Muslims and the OIC.
As for the fatwas, these are religious decrees that should be issued only by highly reputed scholars from prestigious institutions and who have extensive and in-depth knowledge of the Shariah laws, so we should ignore those marginal fatwas issued by dubious figures. We know that some Muslims and non-Muslims have referred to fatwas that supposedly restrict freedom of expression. Let me however refer to the fatwa issued by the International Islamic Fiqh Academy.
The fatwa clearly states that, "Freedom of expression is a right guaranteed in Islam within the framework of Shariah regulations." The fatwa then identifies what is meant by "the framework of Shariah regulations," which includes: not to offend others in a way that affects their life, honor, reputation or social standing; adhering to objectivity, truthfulness and honesty; committing to responsibility; to take into consideration the possible consequences; and that the freedom to express opinion does not contain attacks on religion or its rituals or sanctities. Fatwas do not apply to non-
Muslims, neither are they expected to comply with the proclamations therein. Non-Muslim countries have their own laws and regulations on freedom of expression, but I think we all can agree on a code of conduct that would prevent the abuse of freedom of expression and ensure its use in a responsible way to prevent expressions that impinge on the rights of others.
http://www.menafn.com/menafn/1093523678/Indian-Muslims-have-overcome-many-odds
---------
Soldier injured in Pakistani firing on Line of Control
IANS
JAMMU, Jun 17, 2012: In an apparent bid to push in infiltrators, Pakistani troops opened unprovoked fire on Indian forward positions along the LoC in Poonch district of Jammu and Kashmir, injuring one Indian soldier.
The Pakistani troops, in complete disregard to the ceasefire on the Line of Control (LoC), opened fire late Saturday around 10 p.m., according to army sources. The firing continued for almost two hours.
The injured soldier has been identified as Sepoy Kundan Lal, who has been shifted to a military hospital for treatment.
The army sources said that this action of the Pakistani army has baffled the Indians. In recent times, Pakistan has refused to host a flag meeting of the two armies on LoC that divides Jammu and Kashmir between the two countries.
The ceasefire violations are following a pattern, the sources said. Pakistan army is desperately seeking to send infiltrators from across the LoC. But these attempts have been foiled by the Indian army and that has caused frustration among the Pakistanis, the sources added.
http://timesofindia.indiatimes.com/india/Soldier-injured-in-Pakistani-firing-on-Line-of-Control/articleshow/14212377.cms
-----------
Alka Yagnik, Kumar Sanu visit Mehdi Hassan's grave in Karachi
IANS, Jun 17, 2012,
Bollywood singers Alka Yagnik and Kumar Sanu visited the grave of Pakistani ghazal maestro Mehdi Hassan here to pay their respects.
Mehdi Hassan's death marked an end of an epoch in the subcontinent's music history, they said. No one will ever be able to fill the vacuum created by his demise, they told reporters here Saturday.
Alka said she had grown up listening to his ballads and was in love with his songs "Dono Jahan Teri Mohabbat Main Har Kay" and "Woh Ja Raha Hay Koi".
The India-born singer died of breathing complications at a private nursing home in Karachi June 13. His funeral took place Friday.
Hassan, who has a huge fan following around the world, had been suffering from lung, chest and urinary tract ailments for the past many years.
The singers had come to Pakistan to attend the last rites of the legendary singer but could not obtain a security clearance for the same, Geo News reported.
http://timesofindia.indiatimes.com/entertainment/music/news-and-interviews/Alka-Yagnik-Kumar-Sanu-visit-Mehdi-Hassans-grave-in-Karachi/articleshow/14204346.cms
----------
South Asia
42 Taliban killed in Afghanistan
IANS |
KABUL: Jun 17, 2012, Over 40 Taliban militants have been killed and 37 suspects detained during joint security operations in different provinces of Afghanistan in last 24 hours, the country's interior ministry said Sunday.
"Afghan National Police (ANP), army and NATO-led coalition forces launched seven joint clearance operations in Nangarhar, Laghman, Balkh, Kandahar, Helmand, Khost and Ghazni provinces over the past 24 hours," Xinhua quoted the ministry's statement as saying.
The ANP also discovered and defused four remote-controlled mines as a result of security operation in Baghlan province's Khinjan district, the statement added.
http://timesofindia.indiatimes.com/world/middle-east/42-Taliban-killed-in-Afghanistan/articleshow/14212573.cms
-------
Pakistan
Bombings kill 33 in Khyber
AP
PESHAWAR June 17, 12: Two bombs killed 33 people in tribal areas of northwestern Pakistan on Saturday, officials and witnesses said.
The first blast, a car bomb, hit a crowded bazaar in the town of Landi Kotal in the Khyber region near the Afghan border, government administrator Khalid Mumtaz said.
It killed 26 people and wounded over 50 others. Shops and vehicles were badly damaged in the morning attack.
Hundreds of people were in the bazaar when the parked explosives-laden car blew up. TV footage showed the charred skeleton of the car and local residents rushing to help take the victims to hospitals.
One of the wounded, 45-year-old Khan Mohammed, said he was sitting with a nephew in his shop when he saw a vehicle stopping in the street. Moments later he heard a massive blast.
"Something hit me in my shoulder and I fainted," he said, speaking from a hospital bed.
He said two of his nephews who were outside the shop at the time of the explosion were killed and that he was worried for friends hurt in the attack.
The Pakistani army has carried out several operations to flush out militants in the Afghan border regions. Landi Kotal is near one of the two crossings for Nato supplies heading across the border into Afghanistan, but Islamabad closed the route last year to protest US airstrikes in November that accidentally hit Pakistani troops at a security checkpost in Salala.
Later in the nearby district of Kohat, a bomb hidden in a handcart killed seven people, among them police officers, said police officer Naeem Khan.
No one immediately claimed responsibility for the blasts, but suspicion fell on Pakistani Taliban insurgents who often target security forces and public places with bombings and shooting attacks.
Also Saturday, violence erupted in the southwestern town of Kucklak after a man allegedly tried to burn the copy of the Quran. Angered over the incident, residents rallied and torched a police station and five vehicles, said police official Shaukat Ali Khan.
Khan said the man who allegedly tried to burn the Quran has been arrested and that the police were trying to restore order.
http://dawn.com/2012/06/17/bombings-kill-33-in-khyber/
-------
Pakistan considering 'soft apology' offered by US
DAWN.COM
ISLAMABAD, June 17, 12: An offer by the United States to apologise ' softly' for the death of 24 Pakistani troops killed in a cross border attack by US forces on a Pakistani security checkpost in November last year, Dawnnews reported.
A meeting of the Defence Committee of the Cabinet has been immediately summoned to tackle the issue.
Ten days remain to the passing of seven months since the closure of Nato supplies after the cross border attack and experts are hoping that the strained relations between the US and Pakistan would be resolved.
Diplomatic sources have said the US has offered a 'soft low level apology' over the checkpost attack incident and it is expected to be delivered next week.
Earlier President Asid Ali Zardari held a meeting of ruling coalition parties to discuss and take them into confidence over the issue of nato route resumption.
Relations between Pakistan and the United States have nose-dived after last years incident involving a CIA contractor Raymond Davis who shot to death two civilians in Lahore ensuing a diplomatic row.
Relations were further strained over the Abbottabad raid in May 2011 that killed al Qaeda leader Osama bin laden.
Pakistan shut off Nato supply routes after a cross border attack by US forces resulted in the death of 24 Pakistani troops at a security check post in Salala near the Pak-Afghan border.
http://dawn.com/2012/06/17/pakistan-considering-soft-apology-offered-by-us/
----------
Pak-India talks on Siachen in progress: Pak Defence Minister
APP
HYDERABAD, June 17 06 12: Defence Minister Syed Naveed Qamar said that negotiations between Pakistan and India were in progress for the withdrawal of troops from Siachen and soon a better strategy will be formulated in this direction.
The minister said this while talking to media persons at Tando Muhammad Khan after inaugurating various schemes of roads and electric supply in different villages of the district.
Qamar said Siachen possessed a unique status of the world's highest border having no population in the area. The secretary level deliberations were recently held few days ago and it is hoped that both the countries will succeed in formulating a comprehensive strategy for withdrawal of troops from the area, he added.
http://dawn.com/2012/06/17/pak-india-talks-on-siachen-in-progress-qamar/
---------
Pak President takes allies into confidence over NATOroutes
DAWN.COM
ISLAMABAD June 17, 12: President Asif Ali Zardari on Saturday took leaders belonging to ruling Pakistan People's Party (PPP) and allied parties of the government over consultations and decisions with the military leadership regarding resumption of Nato supply routes, DawnNews reported.
The meeting, at the Presidency, was attended by Prime Minister Yousuf Raza Gilani, federal ministers Farooq H Naek and Syed Khursheed Shah. Babar Ghauri and Haider Abbas Rizvi represented Muttahida Qaumi Movement (MQM) while, Pakistan Muslim League-Quaid (PML-Q) was represented by its chief Chaudhry Shujaat Hussain and Mushahid Hussain Syed.
Haji Adeel and Senator Zahid participated from Awami Nationa Party (ANP) as its chief Asfandyar Wali could not make it because of ill health.
Over all political, constitutional and security situation of the country was discussed at the meeting.
Earlier on Friday, the political and military leadership had also met at the presidency and discussed the issues of regional security and relations with the United States.
President Zardari had called this (Saturday's) meeting of coalition partners to exchange views with them on proposals to normalise Pakistan-US relations and the issue of reopening of Nato supply lines.
The parties in the ruling coalition had discussed the matter at another meeting held at the presidency on Wednesday also.
According to Inter-Services Public Relations (ISPR), officers of Pakistan Army and Nato had met in an area on the Pakistan-Afghan border on Friday.
Sources said Nato had given assurance to the government that roads from Karachi to Torkham damaged by the movement of Nato trucks would be repaired and rebuilt.
Pakistan closed the supply routes after Nato's air strikes on the Salala checkpost which killed 24 troops in November last year.
http://dawn.com/2012/06/17/president-takes-allies-into-confidence-over-nato-routes/
----------
Gilani, Kayani depart to attend Prince Nayef's funeral
Agencies
ISLAMABAD, 17 06 12: Prime Minister Syed Yousuf Raza Gilani left here Sunday for Saudi Arabia to attend the funeral prayers of Saudi Crown Prince Nayef bin Abdul Aziz al Saud.
The prime minister was accompanied by Chief of Army Staff General Ashfaq Parvez Kayani and Syed Khursheed Shah.
Nayef's body was expected to arrive Sunday in Jeddah from Geneva, where he was receiving medical treatment. Burial was planned for later Sunday in Mecca.
The 79-year-old prince died of "cardiac problems" while he was in Switzerland, at his brother's residence in Geneva.
He will be buried in Al-Adl cemetery near the Grand Mosque, where several members of the royal family and prominent Islamic scholars are interred, the Okaz daily said.
http://dawn.com/2012/06/17/gilani-kayani-depart-to-attend-prince-nayefs-funeral/
---------
Fauzia Wahab slips into coma
By Samia Malik
KARACH, June 17, 2012I: Pakistan People's Party (PPP) MNA Fauzia Wahab has gone into a coma after remaining in critical condition at an intensive care unit of a private hospital, The Express Tribune learnt from her son Murtaza Wahab on Sunday.
Her condition deteriorated on Saturday night owing to the complications after her primary gall bladder surgery.
Two more surgeries were performed in order to control her internal bleeding and other complications. She has been admitted to the Orthopedic Medical Institute (OMI) for the past 23 days, Murtaza said.
A physician treating her said on condition on anonymity that she had a brain stem infarction, a type of stroke that occurs when blood cannot flow into the brain vessels.
She underwent a Magnetic resonance imaging (MRI) last night.
The brainstem is mainly responsible for allowing speech, hearing and swallowing. It also controls breathing, heartbeat, blood pressure, balance and eye movements.
According to the physician, she was gaining and losing consciousness and was having serious breathing problems.
Her internal bleeding had worsened the situation. She has even had a tracheostomy, an operation in which the neck is incised, making an opening in the windpipe in order to allow direct access to the breathing tube.
However, it was difficult to maintain her respiration as oxygen was not reaching her brain.
Doctors say that brain stem infarction is a very serious condition with a very few cases of revival known.
A student of International Relations from the University of Karachi, Wahab made her way into politics as a student leader and by campaigning for human rights.
She has held many key positions in the PPP and was a close aide of the slain leader of the party, Benazir Bhutto.
Murtaza Wahab, and Wahab's other family members and workers and leadership of the PPP have requested the whole nation to pray for her health.
http://tribune.com.pk/story/395044/fauzia-wahab-slips-into-coma/
-----------
Arab World
Last day of Shiite pilgrimage Iraq hit by bombs: 26 killed
AFP
BAGHDAD: Two car bombs in Iraq's capital killed at least 26 people Saturday on the last day of a Shiite pilgrimage already hit by multiple bombings.
The blasts, one in a heavily guarded area close to a revered shrine, raised the week's death toll to more than 100 and cast further doubt on the divided government's ability to secure the country after the American withdrawal.
Black plumes of smoke filled the sky over Baghdad's northern Kadimiyah neighborhood, where the shrine to eighth-century saint Imam Moussa al-Kadhim draws hundreds of thousands of pilgrims each year.
One of the bombs tore into throngs of people who packed the streets nearby, carrying aloft symbolic coffins and beating their chests in mourning to mark his martyrdom.
Three days before, nearly two dozen coordinated bombs around the country killed 72 people. Al Qaeda's Iraqi affiliate on Saturday claimed responsibility for that attack, which marked one of the deadliest days in Iraq since the last US troops left in December.
The fierce wave of bombings targeting Shiites suggest that the al Qaeda-allied Sunni militants are stepping up their periodic attacks, which recently have come every few weeks, to try to exploit sectarian cracks in the elected government of Prime Minister Nouri al-Maliki and possibly spark another round of the violence between Sunni and Shiite Muslims that brought Iraq to the brink of civil war only a few years ago.
The sheer number of blasts during the al-Kadhim pilgrimage shows the ability of al Qaeda to retain and perhaps rebuild its bombings networks despite heavy blows struck to the organization by US forces and allied Sunni militias prior to the American withdrawal.
The bombers' ability to penetrate so close to the shrine indicates the challenges faced by Iraq's security forces in securing huge religious gatherings.
"Those behind the attacks, they've become more determined now and see more of an opportunity because of the dysfunctional political process," said Salman Shaikh, director of the Brookings Doha Center and an analyst on regional politics.
The government is now split on mostly sectarian lines and over what critics say are al-Maliki's increasingly authoritarian tendencies.
Sunni and Kurdish politicians say he is trying to increase his power at their communities' expense.
While the wholesale violence between Sunni and Shiite neighborhoods and villages that killed tens of thousands in 2006 and 2007 has all but disappeared, the political tension has fostered a growing sense of pessimism.
"It's a fairly bleak picture right now," Shaikh said. He added, "This is quite depressing, considering we are approaching a decade since the initial invasion into Iraq."
The US hailed the invasion it led in 2003 to topple Iraqi dictator Saddam Hussein over his suspected weapons of mass destruction program as an opportunity to set up a model democracy in the Middle East.
The US troops left an elected government behind when they withdrew, but it still cannot provide basic services like reliable electricity.
Saturday's bombings highlighted the relative weakness of Iraq's security forces, unable to stop the attacks despite throwing up roadblocks, banning motorcycles and putting tens and thousands of police and soldiers around the city.
After the explosions came grumblings that those measures were insufficient.
"There is no real security, no real searches," said Mohamed Ali, who witnessed the first bombing in Shula, where authorities a few hours later were towing away the burned remains of a car.
"Today is an exceptional day all security forces must be on high alert."
The first car bomb went off just after noon, hidden in a taxi parked among a group of other cabs along the procession route.
It killed 14 people including two policemen and wounding 46 others, a police official said. He spoke on condition of anonymity because he was not authorized to release the information.
An hour later, a second parked car exploded in the Kadimiyah neighborhood itself, about five kilometers (three miles) from the al-Kadhim mosque. At least 12 people were killed and 26 were wounded, the police official said.
It was unclear how the car had penetrated the tight ring of security thrown up around Kadimiyah after Wednesday's multiple bombings. Police and soldiers had been searching vehicles and people at checkpoints leading into the neighborhood for days.
Despite the latest violence, Saturday's commemorations for al-Kadhim continued.
The crowds swayed and sang along with music played over the mosque's loudspeakers and bands of men formed circles to dance and wail, throwing their hands in the air as they cried out for the imam. On the sidelines, people used hoses to spray water on the crowds to relieve summer heat that reached 47 degrees Celsius.
http://dawn.com/2012/06/17/last-day-of-iraq-pilgrimage-hit-by-bombs-26-killed/
--------
Syria conflict: 'Shelling intensifies' in Hom
17 June 2012
The central Syrian city of Homs has come under renewed intense bombardment from government forces, activists say.
Homs has reportedly come under heavy attack in recent days and some have warned that civilians are trapped without access to essential supplies.
The UK-based Syrian Observatory for Human Rights has said over 1,000 families in Homs need to be evacuated.
Meanwhile, activists have criticised the UN observer mission in Syria for deciding to suspend its activities.
The Observatory said at least one person had died in Sunday's violence in Homs's Khalidiyeh district, and that 10 other deaths had been reported elsewhere in the country.
"Eighty-five per cent of Homs is under attack", Abu Imad, an activist in Homs, told the BBC.
"I'm afraid that there are no safe places left in Homs. We will have to build a new city because there is nothing left," he added.
Videos uploaded to the internet by activists in the city's al-Bayada and Ghouta districts appeared to show heavy damage to buildings and vehicles from bombardment in recent days.
The opposition Syrian National Council (SNC) has warned of a looming massacre in Homs which it says is besieged by 30,000 troops and pro-regime militiamen.
The city has been a focal point of opposition activity. The district of Baba Amr suffered a month-long siege and weeks of shelling before being regained by the government in February.
'Absence of vision'
On Saturday, Norwegian Gen Robert Mood, the head of the UN Supervision Mission in Syria (UNSMIS), said UN observers would cease operations because of the escalating violence.
The mission's 298 military observers and 112 civilian staff were sent to Syria to verify the implementation of a peace plan devised by UN-Arab League special envoy to Syria Kofi Annan, which included a ceasefire.
Gen Mood said the mission remained committed to ending the violence and that the suspension would be "reviewed on a daily basis".
However, although activist groups on the ground had criticised the UN monitors for being passive observers, they are yet more critical of the abrupt suspension of even that role, reports the BBC's Jim Muir in Beirut.
The SNC said the move denied the Syrian people what little protection they had.
The Local Co-ordination Committees (LCC), a network of activists inside Syria, was also critical.
"In the absence of any vision to push for an improvement in the situation, the current decision allows for more bloodshed and enables the regime to buy more time under international cover," the LCC said in a statement.
The SNC called on the UN Security Council to move swiftly to put the Annan plan into Chapter Seven, meaning that its implementation could be enforced.
The UN Security Council's five permanent members will consider the next steps for the observer mission when Gen Mood briefs them on the situation in Syria on Tuesday.
The Syrian government has repeated its full support for the Annan plan, and blamed "terrorists" and their outside backers for escalating the violence and derailing the plan, our correspondent says.
http://www.bbc.co.uk/news/world-middle-east-18475854
---------
Fire kills 13 inmates in Turkey prison
AP
ANKARA, June 17 06 12: Inmates in a prison in southeast Turkey set mattresses and blankets alight, starting a fire that killed 13 prisoners, authorities said Sunday.
Prime Minister Recep Tayyip Erdogan said the inmates set their bedding on fire following a fight that broke out inside a ward housing 18 prisoners late on Saturday.
Five of the inmates in the prison in the mostly-Kurdish and Arabic-speaking city of Sanliurfa were hospitalized but none was in serious condition.
The prisoners also barricaded the ward's entrance using beds and other furnishings, hampering rescue efforts by guards, Justice Minister Sadullah Ergin told reporters after he and other ministers visited the prison in the city near the border with Syria. The five survivors escaped serious injury after shutting themselves in the ward's bathroom, he said.
Inmates in Turkey have in the past set bedding alight in riots to protest poor prison conditions, but authorities insisted the incident was not a mutiny. There was no explanation however, as to what sparked the dispute in the ward. Ergin said an investigation had been launched and its results would be made public.
The fire, meanwhile, exposed the problem of overcrowding in some Turkish prisons. The Sanliurfa prison has a capacity of 600, but was holding some 1,000 prisoners, according to news reports. Ergin said the section where the fire broke out was designed to hold 12 inmates but was temporarily accommodating 18 convicts and jailed suspects still on trial.
"We have a capacity problem in Turkey's prisons," Ergin admitted, adding that the government was building 196 more prisons over the next few years to overcome shortfalls.
Authorities did not say whether the victims were burned or died of asphyxiation. Three guards suffered burns while trying to put out the blaze, while the prison director and eight other guards were treated for smoke inhalation, Ergin said.
The fire broke out in a section housing ordinary criminals and not terror suspects. A pro-Kurdish legislator, jailed for alleged links to an outlawed Kurdish rebel group, was not affected by the fire, the region's governor, Celalettin Guvenc told reporters.
He said earlier that authorities had launched an investigation into the incident, including into possible delays by authorities or firefighters in responding to the fire.
"Why (the firefighters) weren't there on time, what caused the fighting, why were these people killed? All of these will be investigated," Guvenc said.
Erdogan said he would order an investigation into possible overcrowding. "I have been told by the governor that the ward's capacity may not have been suitable to house 18 people," he told reporters before his departure to Mexico to attend a Group of 20 summit.
Meanwhile, police used pepper gas to disperse families and protesters who attempted to make their way through a road block to reach the prison, the state-run Anadolu Agency reported.
The situation at the prison was calm on Sunday and Guvenc said prison authorities would grant increased visiting rights for families concerned about their loved ones.
http://dawn.com/2012/06/17/fire-kills-13-in-turkish-prison-governor/
----------
A second day of voting will deliver Egypt's first freely elected president
Reuters
Cairo, June 17, 2012: A second day of voting on Sunday will deliver Egypt's first freely elected president, though the country faces renewed tension whether he is a former general from the old guard or an Islamist from the long-suppressed Muslim Brotherhood.
Millions lined up quietly on Saturday to cast ballots for either Ahmed Shafik, the last prime minister of Hosni Mubarak, or Mohamed Morsy, a U.S.-educated engineer who spent time in Mubarak's jails and offers Egypt a new start as an Islamic democracy.
There was little trouble and, despite mutual accusations of fraud, observers reported only minor and scattered breaches.
"We've got our country back," said Yasser Ali, 45, a day labourer in the industrial city of Mansoura, on the Nile Delta between Cairo and the Mediterranean port of Alexandria.
"We want stability after a year and a half of troubles."
Yet it was impossible to forecast who will emerge the winner by Monday - and whoever it is may face anger and accusations of foul play. Both men have widespread support, but many voters may stay away, disillusioned by a choice of extremes after centrist candidates were knocked in the first round last month.
The military rulers who pushed out their brother officer Mubarak 16 months ago to appease the street protests of the Arab Spring have already enraged their veteran adversaries in the Brotherhood by late last week dissolving the new parliament, elected only five months ago with a sweeping Islamist majority.
A win for Shafik, 70, who says he has learned the lessons of the revolt and offers security, prosperity and religious tolerance, may prompt Islamist claims of Mubarak-style vote-rigging and street protests by the disillusioned urban youths who made Cairo's Tahrir Square their battleground last year.
"The Egyptian people have chosen freedom and are practising democracy," Morsy said as he cast his vote. "The Egyptian people will not back down and I will lead them, God willing, towards stability and retribution. Today is for the martyrs."
Shafik, a former fighter pilot and air force chief whose second finish to Morsy in the first round capped a rapid ascent from rank outsider status, made little comment as he voted.
UNEVEN OUTCOMES
Should Morsy prevail, benefiting from a movement forged by decades of clandestine struggle and from support among those who put aside qualms about Islamic rule to block a return of the old regime, he may be frustrated by an uncooperative military elite, for all the generals' pledges to cede power by July 1.
The Brotherhood on Saturday again denounced the dissolution, based on a ruling by the Mubarak-era constitutional court, as "a coup against the whole democratic process" and insisted only a popular referendum could reverse the parliamentary election.
But though overturning that vote drew comparison with events that triggered the bloody Algerian civil war 20 years ago, the Brotherhood, which hung back in the early days of the 2011 revolution, has shown little appetite for a violent showdown with Egypt's U.S.-equipped army, the biggest in the Arab world.
That stalemate, coupled with a failure this year of legislators to form a consensus body to draft a new constitution and a consequent lack of clarity over the powers the new head of state will have, leaves Egyptians, Western allies and investors perplexed by the prospect of yet more of the uncertainty that has ravaged the economy and seen sporadic flare-ups in violence.
Should Shafik win, his supporters reckon, he and the ruling military council which took sovereign powers when Mubarak quit would work in harmony to restore confidence, notably for the vital and ravaged tourist trade - but questions would remain over how far the Islamists and other opponents would resist.
Casting his vote on Saturday in the New Cairo district of the capital, businessman Ashraf Rashwan, 45, said hostility to the Brotherhood among the generals, who retain power and vast business interests, meant Morsy simply could not govern.
"They'll get no cooperation from the establishment. If Morsy wins, there will be a struggle that Egyptians - me at any rate - aren't ready for," he said. "Shafik will mean smooth transition. He's learned from Mubarak's failure to listen to the people."
One mid-ranking army officer, speaking privately, said he agreed with assessments that the military council would offer far more power to a President Shafik than a President Morsy:
"There will be different treatment depending on who wins. With Shafik, a firm crackdown is sure to happen," he said, noting a decree passed last week which restored powers to the military police to arrest civilians - a measure which replaced a hated emergency law that had lapsed the previous month.
"With Morsy, the establishment itself will not back him and there will be chaos and lax security, all of which will pose challenges to him and could destroy his presidency," he added.
"DEEP STATE"
In 60 years since army officers toppled the colonial-era monarchy, Egypt's armed forces have built up massive wealth and commercial interests across the industries, helped since the 1970s by a close U.S. alliance which followed the decision of the most populous Arab state to make peace with Israel.
Commonly referred to as the "deep state", it is these shadowy structures, currently overseen in public by the ad hoc Supreme Council of the Armed Forces under Field Marshal Hussein Tantawi, which many Egyptians see maintaining influence long after the promised handover to an elected civilian by July 1.
"There is no doubt that the state in all its institutions - judicial, military, interior, foreign and financial - back Shafik for president and are working to that end," said Hassan Nafaa, a politics professor who campaigned against Mubarak.
"It is very difficult to eradicate this spirit of Mubarak."
Only if liberals swallowed their qualms and voted for Morsy to prevent Shafik winning, Nafaa said, "only then may the 'deep state' back down - but I doubt this will happen."
Washington, paymaster of the Egyptian military, and the European Union, a major aid donor, both expressed alarm at the move against parliament and urged the generals to honour their pledge to stand aside. But, like neighbouring Israel, both are also uneasy at the rise of the Brotherhood and have looked on anxiously as Islamists have closed in on power in other new democracies of the Arab Spring, notably in Tunisia and Libya.
http://www.ndtv.com/article/world/a-second-day-of-voting-will-deliver-egypts-first-freely-elected-president-232456
-----------
Islamic Golden Age remembered
Dhanusha Gokulan / 17 June 2012, Did you know that ancient Arab scientists were pioneers in the field of ophthalmology? The contributions of scientists, inventors and thinkers who lived during the Islamic Golden Age, a period ranging from 750 CE (Common Era) to 1257 CE goes largely unrecognised, opined nine young students.
"The Arab world played a very important part in the development of science," said Malvika Vijayan, 14, and a student of the Delhi Private School, Sharjah. With the aim of developing a scientific temper and spirit of enquiry among youngsters, the JSS Private School and the Science India Forum (SIF) organised an Inter-School Science Exhibition and Knowledge Fair at its campus on June 14.
Students at the science fair at JSS Private School, Dubai. — KT photos by Shihab
Students of grades 4 to 12 from more than 30 schools across the UAE participated in the fair. Nine students contested for the best presentation on the subject 'Ancient Scientific Practices of the Arab and the Indian World'. Izaan Khan and Ram Sankar from the Indian High School; Sabeer Hameed from Our Own High School, Al Warqa'a; Vedanth Pradeep and Tania Chakraborty from the Abu Dhabi Indian School; Neil Sengupta and Malvika Vijayan from the Delhi Private School, Sharjah; Fathima Zakiyyah from the Emirates Future International Academy and Megha Unni from the Our Own English High School, Dubai, put forth a tough fight with their well-researched papers. While five students presented papers on ancient scientific practices in the Arab world, four of them presented papers on the Indian contribution.
Vedanth Pradeep came first for the Arab research papers and Izaan Khan came in second, while in the Indian category Tania Chakraborty came in first and Neil Sengupta came second.
"The main point of the presentation was to make people aware of what practices both of these communities of people have done," said Izaan Khan. "Most of our presentations depicted the unrecognised works of the ancient thinkers. There are so many aspects of 
science that Arabs have contributed to and the two major contributions are in the fields of Medicine and Astronomy," he said.
Arabs in medicine
"Arabs have influenced modern medicine in a very big way. Also, Arabs invented Algebra, which is one of their most important contributions," said Vijayan. "Every time we go back to the history of science, we either think of the Greeks or the Europeans. But it is because of the contributions of the Arab thinkers that the works of the Greeks survived.
"The Greeks took 350 years to convert the works of the Arabs into their own language," added Sabeer Hameed.
The students said they referred to several sources for the research. "The internet was a big source, and books and encyclopaedias added to the wealth of knowledge. The Heritage Village near Al Shindaga was also a big source of information," said Hameed. Because the Arabs documented their findings so well, the rest of the world can benefit from their research, the students added. "With the existence of the silk route, apart from trade there was a healthy exchange of ideas and thoughts as well," said Sengupta. "The Greeks provided the material to make pillars for scientific thought, the Indians made the pillars, the Arabs made a beautiful structure out of it and the Europeans painted it," added Khan.
The students said that the project was immensely beneficial to them. "We lived under the hypothesis that the credit of everything goes to the renaissance and European thinkers. But now we know that there was so much more," said Sengupta.
http://www.khaleejtimes.com/kt-article-display-1.asp?xfile=data/youthspecial/2012/June/youthspecial_June3.xml&section=youthspecial
--------
Salman likely to be new Saudi heir as Nayef buried
By AFP
MECCA, June 17, 2012: Saudi Arabia was preparing on Sunday to bury crown prince Nayef bin Abdul Aziz amid worldwide condolences, as defence minister Prince Salman appeared poised to become the new heir apparent.
An aircraft bearing the body of Prince Nayef left Geneva early on Sunday for the kingdom's western city of Jeddah, Saudi-owned al Arabiya television reported.
The funeral of the Gulf nation's security czar is expected to take place later in the Muslim holy city of Mecca after sunset.
He will be buried in al Adl cemetery near the Grand Mosque, where several members of the royal family and prominent Islamic scholars are interred, the Okaz daily said.
"Crown Prince Nayef devoted his life to promoting the security of Saudi Arabia," said UN Secretary General Ban Ki-moon, while US President Barack Obama praised his cooperation in the fight against terror that "saved countless American and Saudi lives."
French President Francois Hollande said his country had lost a "friend" and the president of the Swiss Confederation, where Nayef died, offered Bern's "deepest condolences."
The 79-year-old prince died of "cardiac problems" while at his brother's residence in Geneva, a medical source in the city who asked not to be identified said.
Nayef's death, just eight months after he replaced his late brother Sultan as crown prince, raises the issue of succession because of the advanced age of the first line of apparent heirs, in a time of turmoil rocking the Arab world.
King Abdullah himself is 88 and ailing, and nobody is officially in line to replace Nayef.
However, his brother Prince Salman, 76, who took the defence portfolio after Sultan's death, appears to be a strong candidate.
"Prince Salman is the most likely successor," Saudi political scientist Khaled al Dakheel said.
"All expectations point to Prince Salman to succeed Prince Nayef for his experience in administration, security and politics," agreed Anwar Eshqi, head of the Jeddah-based Middle East Centre for Strategic Studies.
And Jane Kinninmont, a senior research fellow for the Middle East and North Africa at London's Chatham House, said Salman is "generally assumed to be the next in line."
In 2006 the Saudi monarch established the allegiance council, a body of around 35 senior princes, as a new succession mechanism whose long-term aim was to choose the crown prince.
Nayef was the middle prince of the Sudairi Seven, the formidable bloc of sons of King Abdul Aziz by a favourite wife, Princess Hassa al Sudairi.
In addition to Salman, remaining Sudairis include Prince Abdul Rahman, Prince Turki and Prince Ahmed, who is deputy interior minister and likely to succeed Nayef at the security helm in the oil powerhouse.
Nayef, who spearheaded Saudi Arabia's clampdown on al Qaeda following a wave of attacks in the conservative kingdom between 2003 and 2006, became heir to the throne in October last year.
"He was one of the pillars of stability in the kingdom," wrote al Jazirah daily. "He managed to overcome crises and navigate this country to the shores of safety."
Prince Nayef travelled abroad several times this year for medical reasons, including to Algeria, the United States and Switzerland, where he was shown on television in Geneva three days ago greeting supporters.
The nature of his illness was not made public.
Seen as more conservative than King Abdullah, Prince Nayef was a staunch defender of the Saudi dynasty and resisted any form of opposition.
He ordered and oversaw a fierce crackdown on al Qaeda, forcing the jihadist group's leaders and militants to flee to Yemen, from where they continue to be a thorn in the side of Saudi interests.
http://tribune.com.pk/story/395060/salman-likely-to-be-new-saudi-heir-as-nayef-buried/
--------
Mideast Asia
Two Palestinians shot dead by Israeli lorry driver: Police
AFP
HEBRON (Palestinian Territories):Jun 17, 2012,, Two Palestinians were shot dead by an Israeli truck driver after they tried to steal his vehicle in the south Hebron Hills today morning, Israeli police said.
Palestinian officials confirmed the two deaths but had no information about the circumstances of the shooting which took place at the Shani junction near Al-Samua, in the southernmost part of the West Bank.
Israel police spokesman Micky Rosenfeld said the incident occurred after the two men tried to attack the truck driver.
"Two Palestinians where shot when an Israeli truck driver opened fire at two or three attackers who tried to steal his vehicle," he told AFP.
"Before he opened fire, the driver was seriously wounded by his attackers who hit him on the head. The hospital has since informed us that the two Palestinians were killed," he added.
Yatta Mayor Zaharan Abu Qbeita confirmed the two died after being hit by several bullets in the neck area, with the bodies taken to Yatta hospital.
The two men were named as Anwar Abed Rabbo, 35, and Naim al-Najjar, 29, both of whom lived in the Yatta area.
Speaking to AFP at the hospital, a member of Abed Rabbo's family denied the Israeli claim that the two men were car thieves.
"They were just on their way to work in Israel," he said. A Palestinian police source also denied the two had been involved in any criminal activity when they were shot.
http://timesofindia.indiatimes.com/world/middle-east/Two-Palestinians-shot-dead-by-Israeli-lorry-driver-Police/articleshow/14211347.cms
----------
Africa
Three blasts hit churches in Nigeria Kaduna province
17 June 2012
Local emergency services reportedly rushed to the scene but did not release any reports of casualties.
All of the blasts happened close to the city of Zaria. Kaduna state has previously seen attacks by the radical Islamist group Boko Haram.
Last week the group attacked two church services, sparking violence which killed seven people. Hundreds have died in its previous attacks on churches.
Nigeria's National Emergency Management Agency (Nema) said the blasts happened in the Wusasa and Sabon-Gari districts of Zaria.
Wusasa is the site of the first church to be built in northern Nigeria.
Boko Haram has previously justified attacks on churches by saying they were carried out in revenge for killings of Muslims in central Nigeria during earlier bouts of violence.
Recently, hardly a Sunday goes by without reports of churches being attacked in Nigeria, the BBC's Will Ross reports from Lagos.
Boko Haram says it wants Islamic sharia law in place across Nigeria and analysts suggest it is trying to trigger clashes between Christians and Muslims, our correspondent says.
Last weekend an archbishop in central Nigeria appealed to Christians not to retaliate when churches are attacked, he adds.
http://www.bbc.co.uk/news/world-africa-18475853
----------
Troops sent to quell clashes in western Libya
17 June 2012
Libya is still awash with arms following the conflict last year that toppled Muammar Gaddafi
The Libyan government has declared a "military zone" and deployed troops in the west of the country, after days of clashes between rival militias.
The authorities have called for an end to the violence, which has left at least 16 people dead since Monday.
The area includes the mountainous towns of Zintan, Mizdah and Shegayga, some 150 kilometres south of Tripoli.
It is the latest outbreak of fighting to test the new authorities since the toppling of Muammar Gaddafi last year.
The violence comes just weeks before the country is due to hold elections for a national assembly, the first free poll in decades.
'Residents shelled'
In a statement, officials said the army had been authorised to use all necessary force to protect civilians in the mountainous area. They also called for an immediate ceasefire by all parties and the provision of humanitarian aid.
"The army is going there now to impose a ceasefire and protect civilians," the army's Col Hamed Zwei told Reuters news agency.
The BBC's Rana Jawad in Tripoli says the fighting is mainly between fighters from Zintan, backed by another tribe known as the Guntrara from the city of Mizdah, and armed members of the Mashashya tribe based in the town of Shegayga.
Tensions date from the Gaddafi-era, when one tribe was given land expropriated from another, she says.
The latest clash was triggered by the death of a man from Zintan after he was stopped at a checkpoint, which Zintan militias have blamed on the Mashashya tribe.
Sources said that incident took place after tanks were transported from a weapons depot in Mizdah, which lies close to Shegayga, to Zintan.
The number of fatalities is officially 14 but other sources have claimed to the BBC that dozens have been killed in recent days, our correspondent adds. At least 89 others have been wounded.
Residents from the Mashashya group have claimed that they are being shelled by Zintan forces, our correspondent says.
The ruling National Transitional Council (NTC), which took power last year, has been struggling to maintain security and stability in a country awash with weapons left over from the conflict last year.
Observers say many animosities between villages of tribes, which were repressed under Gaddafi's autocratic system, have re-surfaced since the end of his rule.
http://www.bbc.co.uk/news/world-africa-18474834
----------
Europe
Iran, world powers set for showdown in Moscow
AFP/PTI /
Mexico Jun 17, 2012,World powers resume crisis talks with Iran tomorrow in hopes that a crippling oil embargo will finally force the Islamic Republic to scale back its nuclear drive.
The two-day meeting follows a bruising May session in Baghdad during which Iran nearly walked out of negotiations aimed ultimately at keeping it from joining the exclusive club of nations with an atomic bomb.
Host Russia however is keen to flex its diplomatic muscle and make Iran an example of how Moscow's influence over Soviet-era partners could be used to avoid foreign military intervention in the 16-month crisis raging in Syria.
"There are reasons to believe that the next step will be taken in Moscow," Russia's Deputy Foreign Sergei Ryabkov said Friday. "It is important for Russia to ensure that the negotiating process continues."
Failure in Moscow could leave the process in tatters and raise the threat of air raids from arch-foe Israel -- a fateful scenario in which broader conflict would lead to a spike in oil prices that could tip over the world's teetering economy.
But a July 1 deadline for a full EU oil embargo and the June 28 rollout of US sanctions against a host of Iranian oil clients is providing added incentive for Tehran to bargain more seriously.
Two of the biggest bones of contention involve the speed with which world powers lift existing sanctions and the recognition of Iran's "right to enrich".
The latter is emerging as a key demand that Iranian negotiator Saeed Jalili is likely to present to Catherine Ashton, the EU foreign policy chief who represents the five permanent UN Security Council members and Germany at the talks.
"We expect that Iran's right to nuclear technologies, including uranium enrichment, will be recognised and respected," Jalili told Russia's RT state-run world news channel in comments translated from Farsi.
Iran for its part "has the capacities to cooperate in disarmament and nuclear non-proliferation, so these capacities should be used by the international community," Jalili said in Friday's broadcast.
"I think that addressing these two issues will help to advance the negotiations."
Iranian President Mahmoud Ahmadinejad told a German Sunday paper that his country was ready to take a "positive step if the other party makes a similar step" at the talks.
EU officials say Iran has agreed to discuss the idea of limits to its enrichment programme under a proposal initially outlined in Baghdad.
http://business-standard.com/india/news/iran-world-powers-set-for-showdown-in-moscow/175014/on
-------------
URL: https://newageislam.com/islamic-world-news/new-age-islam-news-bureau/islam-is-a-religion-of-peace-as-exemplified-by-its-founder,-says-islamic-scholar-muhammad-tahir-ul-qadri/d/7650