New Age Islam News Bureau
31 Jan 2018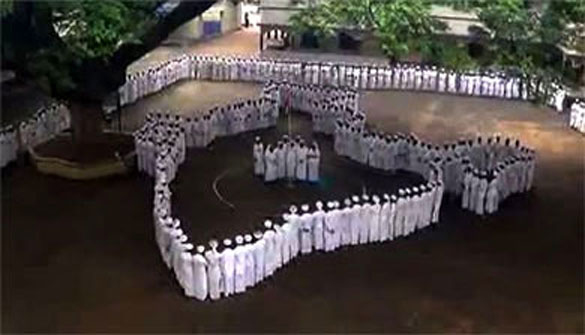 Recently On 26th January, 2018 a group of Muslim clerics celebrated the Republic day by hoisting a flag and made a human formation of Indian map and they are singing patriotic songs as well, video goes viral on social media.
----
• Islam Considers Election Boycotters to Be 'Sinners': Dar Al-Ifta
• Muslim Clerics Celebrates Republic Day with Indian Map Formation
• Islamic State Not a Product of Seminaries: Pak Interior Minister
• UK Lawyers Seek To Suspend Saudi Arabia from UN Rights Body
• Taliban and ISIS Create Storm of Bloodshed in Kabul
Arab World
• Islam Considers Election Boycotters to Be 'Sinners': Dar Al-Ifta
• Saudi Cleric: 'Holocaust Denial A Crime That Distorts History'
• Egypt, Saudi Arabia Wings of Arab, Islamic Nations - Minister
• Moderating Saudi Islam: Government proposes tightening fundraising rules
• Dozens of Bodies of Syrian Army Soldiers Found in Mass Graves in Idlib Province
• 650 Kurdish Fighters Killed in Turkish Army Operation in Syria's Afrin
• Turkey says 5 soldiers killed in Syria's Afrin as offensive continues
--------
India
• Muslim Clerics Celebrates Republic Day with Indian Map Formation
• Kashmir's Deputy Grand Mufti Drops A Bombshell, Says Muslims Should Seek Separate Nation
• Petition in HC Accusing Kamala Das Biopic of Promoting Love Jihad
• AIMPLB to Seek Support To Get Triple Talaq Bill Stalled
• Muslim Scholars Take a U-Turn on 'Secular Sun'
• Give Info on Haj Applicants in 65-70 Age Group Who Never Got Chance: Supreme Court To Centre
--------
Pakistan
• Islamic State Not a Product of Seminaries: Pak Interior Minister
• Bomb Kills Eight Shiites in Pakistan
• Moot stresses combined efforts to create tolerance in society
• Islam Allows Awarding Punishment Publicly: Pakistan Ulema Council
• US official says to discuss land allocation to refugees with Afghan govt
• Pakistan ready to extend rail link agreement with India
• 27 Taliban, Haqqqni Network suspects handed over to Kabul last year: FO
• Minister urges Muslim world to use resources for peace, development
--------
Europe
• UK Lawyers Seek To Suspend Saudi Arabia from UN Rights Body
• German Far-Right Figure Embraces Islam Over Church's 'Moral Decline'
• UK must 'squeeze' more out of data to tackle terrorism
• London delivery drivers face 'terror' of acid attacks
--------
South Asia
• Taliban and ISIS Create Storm of Bloodshed in Kabul
• Afghan Ulema reacts at Pakistani Ulema Fatwa and recent Taliban attacks
• Large of cache of weapons, explosives belonging to ISIS seized in Kabul
• US sees Haqqani network behind Kabul ambulance bombing
• Ghani vows revenge on terror groups over brutal recent brutal attacks
• NATO reaffirms support to Afghanistan in wake of recent violence
• Bangladesh Sub-District Residents Demand Quick Repatriation of Rohingya Refugees
--------
Mideast
• Clashes Halt in Yemen's Aden after Calls for Ceasefire by Arab Coalition
• Iranian Opposition Cleric Accuses Khamenei of Abuse of Power
• Turkey orders detention of 11 top doctors over criticism of Syrian offensive
• Hamas: Top official in Gaza dies after mysterious shooting
• Israel gradually reopens embassy in Jordan after end of spat
• Palestinian, Israeli ministers meet after US Jerusalem move
• Cut off by Israeli wall, Palestinian family declares 'republic'
• Israeli troops shoot and kill Palestinian teenager
--------
North America
• Thousands in Quebec City Remember Murdered Muslims
• Trump Doesn't Know It, But Iranians Are the Norwegians He's Been Looking For
• Tillerson, Mattis praise Qatar despite ongoing rift with Saudis
• Trudeau says he will continue to denounce extremist groups
--------
Southeast Asia
• Federal Court: 'Simplistic' To Say Shariah Courts Have Last Word on Conversions
• Philippines files murder, kidnap charges against doctor linked to planned New York attacks
• Just give us consistent judgements, Muslim group says after Indira ruling
--------
Africa
• Two Niger Soldiers Die Fighting Off 'Boko Haram Raid'
• Algerians outraged after Iranian official criticizes late president's wife
• More than 100 refugees rescued off Libya's coast
Compiled by New Age Islam News Bureau
URL: https://www.newageislam.com/islamic-world-news/islam-considers-election-boycotters-be/d/114119
--------
Islam considers election boycotters to be 'sinners': Dar al-Ifta
January 30, 2018
The highly-ranking Egyptian Muslim institution Dar al-Ifta Al-Misriyyah issued a Fatwa [ruling on an Islamic law] on Monday that any citizen who refrains from voting during any election is considered a "sinner" who is acting "dishonestly."
Dar al-Ifta is assigned to draw upon the Quranic scripture and prophets' teachings, and has consulted jurists throughout history to help Muslims live their lives according to the principles of Islam.
It added that anyone who impersonates an identity or name of somebody else when casting a vote is a sinner who has committed a fraud and counterfeiting, making them subject to punishment, according to Islam's rules.
On those refraining from casting votes in elections, the authority highlighted that Islam ordered Muslims to be honest and to follow 'Shura' principle: Which means democracy is considered a necessity in Islam, in order to raise well-educated generations. Therefore, it said, every Muslim should cast his vote to choose his or her rulers.
The upcoming presidential election in Egypt that is scheduled to be held March. Currently, only two candidates are expected to be running: Current President Abdel Fattah al-Sisi and the Chair of Ghad Party, Moussa Mustafa Moussa, who submitted his official papers minutes before Monday's candidates' deadline.
Moussa, 65, became vice-chair of the Ghad Party under the auspices of Ayman Nour, the former leader of the party. However, in 2005 the relationship between the two turned sour as they both eyed the position of party leader. Moussa became one of four people suspended from the party by Nour.
In 2011, however, the Committee of Parties acknowledged Moussa as the rightful chair of Ghad Party. In 2012, Moussa merged Ghad with 25 other parties to form 'Hezb Al-Moatamar Al-Masry' (Egyptian Congress Party), which operated under his leadership.
http://www.egyptindependent.com/islam-considers-election-boycotters-to-be-sinners-dar-al-ifta/
--------
Muslim Clerics Celebrates Republic Day with Indian Map Formation
January 30, 2018
Recently On 26th January, 2018 a group of Muslim clerics celebrated the Republic day by hoisting a flag and made a human formation of Indian map and they are singing patriotic songs as well, video goes viral on social media. As a citizen of India, it is our duty to respect the national flag but in the present context of doubting the patriotism of Muslims, the scene of Muslims forming Indian map was so delightful that one's love for the nation cannot be judged by one's religion.
For the past three and half years since the right wing party BJP came into power, the patriotism of Muslims is being tested and doubted. This has been evident in several instances of killing of Muslims on various issues, some related to vaguely devised concept Love-Jihad, some related to the matters on beef, and some incidents on the identity of being Muslim itself.
All these incidents made the Muslims felt in many parts of the country that they are the second class citizen which is not true. Because, India attained independence only when Hindus and Muslims together fought with the colonial rule. For centuries, Hindus and Muslims lived together, shared similar historical contexts and cultural attributes.
Yet, the rise of BJP into power has emboldened the right wing extremists which assume themselves as they are the only patriots of the country and test the patriotism of others, especially Muslims on various contexts.
But, the Muslims are the equal citizens of this Country and have the same rights and duties as their other counterparts.
Moreover, just by hoisting a national flag or standing for national anthem in cinema halls does not make us patriotic. What makes us Patriotic is that, respecting the ideals of the constitution, cultivating the tolerant behaviour and attitude, respecting other religious ideals and their culture. This is what our Country needs in the present turbulent atmosphere where there are groups who don't miss a single chance to spark the communal violence, who use social media to spread rumours and disturb the harmonious society and divide people on the basis of religion and caste.
https://www.siasat.com/news/muslim-clerics-celebrates-republic-day-indian-map-formation-1309198/
--------
Islamic State Not a Product of Seminaries: Pak Interior Minister
January 31, 2018
ISLAMABAD - Interior Minister Ahsan Iqbal on Tuesday said that self-styled Islamic State or Daesh was not a product of seminaries as educated youth from modern universities were part of it to fight in Syria and other countries.
He further said that educated youth from the US and Europe were fighting in Syria.
Addressing the ceremony organised to launch a study report "Role of Madaris in Pakistan and Afghanistan", the minister said that Madaris were part and parcel of Islamic civilisation and produced great scientists in the past.
The ceremony was organised by the Centre for Research and Security Studies, which was also addressed by the National Security Adviser Lt General (retired) Nasser Khan Janjua and ambassador of Denmark.
The interior minister said that the role of Madaris had changed since 1979 when these were used to fight communism.
"The US universities made the children of Afghan refugees as terrorists to use them against the then Soviet Union," he said.
After the end of the war, Europe and the US themselves won appreciations but we were left alone to deal with the problems of terrorism and extremism that were the results of this war, the interior minister added.
He held the US and Europe responsible for the problems Pakistan is facing today and added that it was their responsibility to cooperate with Pakistan, Iqbal said.
The minister also said that the creation of Taliban was not a religious but a political matter.
"After the Taliban al-Qaeda surfaced and now Daesh has come into existence," he added.
The interior minister said injustice, prejudices and discrimination against anyone were the root causes of extremism and fundamentalism.
He said that the US and Europe were biased towards the Muslim world and were not serious in resolving their issues.
He urged that the world should resolve the issues of Kashmir, Palestine and Myanmar on the pattern of East Timor and South Sudan.
Iqbal called for resolving the larger political issues of the region, and collective efforts to root out causes of radicalisation and extremism.
For peace in the region there is a need to keep in mind it could not be attained without resolving larger political issues, he said, asking the US to help Pakistan in this connection.
"However, pointing the fingers will not help address the issue but complicate matters. The Western world will have to fulfil its responsibility and have to show the same kind of concerns for the Muslims of Kashmir, Palestine and Myanmar, which they demonstrated for East Timor and South Sudan," he added.
National Security Adviser Nasser Khan Janjua said Madaris reforms had almost been completed and currently the government was engaged in the process to give them a legal shape.
"Wafaq ul Madaris has agreed that the seminaries will follow the same syllabus, which is being taught in schools and colleges," he added.
Janjua said that there were 38,000 Madaris in the country where 3.5 million children were getting education but the government was reluctant to spend on them.
Every year, 4.6 million children are being added to the population of the country and there was need to generate resources for them, he added.
https://nation.com.pk/31-Jan-2018/islamic-state-not-a-product-of-seminaries-ahsan
--------
UK lawyers seek to suspend Saudi Arabia from UN rights body
Jan 30, 2018
Two British human rights lawyers have announced their plan to pursue suspension of Saudi Arabia from the UN Human Rights Council after 61 people were arbitrarily detained or disappeared in a recent round of Riyadh's crackdown on public dissent.
In a Tuesday statement, lawyers Ken Macdonald and Rodney Dixon announced that they will submit their report to the Council in Geneva on Wednesday, stressing that the detentions carried out in September 2017 were "in breach of both Saudi and international law."
The report has accused the Saudi officials of "targeting human rights activists, political dissidents and others merely exercising their right to free speech."
The arrests are "part of an ongoing, established and long-running pattern of abuse" by the Riyadh regime, the statement said.
The report said Saudi authorities started the wave of arrests on September 10 by detaining prominent clerics including Salman al-Awdah and Awad al-Qarni, noting, "There are credible reports of mistreatment and torture during their detention."
The UN General Assembly "must urgently consider" suspending Saudi Arabia's membership of the Human Rights Council under a resolution that allows this in case of members that commit "gross and systematic violations of human rights," the lawyers said.
Amnesty International has warned that human rights situation in Saudi Arabia has "deteriorated markedly" since Mohammed bin Salman took over as crown prince in June 2017.
Under the Saudi cyber crime law, dozens of Saudi citizens have been convicted on charges linked to dissent over posting comments on Twitter.
In November 2017, Saudi Arabia introduced a new counter-terrorism law that includes penalties of up to 10 years in jail for insulting the king and crown prince as well as the death penalty for other acts of "terrorism."
The new legislation, which replaces another widely criticized counter-terrorism law introduced in 2014, comes as Mohammed bin Salman consolidates power to a degree that is unprecedented in recent Saudi history.
Over the period, Saudi Arabia has stepped up politically-motivated arrests, prosecution, and conviction of peaceful dissident writers and human rights campaigners.
The kingdom has also stepped up security measures in the Shia-majority Eastern Province, which has seen numerous protest rallies against religious persecution.
Moreover, Saudi Arabia has been leading a war on Yemen since March 2015 which has killed over 12,000 Yemenis and ruined much of the infrastructure of the impoverished Arab country.
The UN has described the situation in Yemen as the world's worst humanitarian crisis.
http://webcache.googleusercontent.com/search?q=cache:http://www.presstv.com/Detail/2018/01/30/550717/saudi-arabia-un-human-rights&gws_rd=cr&dcr=0&ei=9mlxWo_vM8zxvASJl4OwBw
--------
Taliban and ISIS create storm of bloodshed in Kabul
January 30, 2018
KABUL : The Taliban and the Islamic State group are creating a perfect storm of carnage in Kabul , adapting to ramped up security in the war-weary capital to strike again and again -- and it is civilians who are paying the price.
Three times in the past 10 days Taliban and IS extremists have penetrated heavily fortified areas in Afghanistan's capital to carry out attacks that have killed and wounded hundreds of people, including foreigners.
The extremists' chilling ability to hit at the heart of the country despite increased police checks has put security and intelligence failures in the spotlight.
After the latest assault Monday, an IS-claimed attack on an army battalion that killed at least 11 soldiers, President Ashraf Ghani pledged in a tweet that "reforms in our intelligence services and Ministry of Interior are our top priority now".
But as public anger swells, security officials are on the defensive.
"The terrorists are changing their tactics," Mohammad Masoom Stanekzai, the head of Afghanistan's spy agency, told reporters on Sunday.
"It does not mean a lapse (in security). We have foiled many attacks but some are difficult to control."
On January 20 the Taliban launched the first of two massive attacks in Kabul : an hours-long assault on a luxury hotel in which at least 25 people were killed, including many foreigners.
One week later an ambulance laden with explosives detonated in a crowded street, killing more than 100 people and wounding hundreds more in one of the deadliest bomb blasts in Kabul in recent years.
The Taliban claimed responsibility, insisting the explosion had killed mainly police.
On Monday many residents awoke to the sounds of gunfire and explosions once more as IS militants attacked the battalion.
Relentless Taliban violence is not new to the city. But, analysts say, the insurgents' recent escalation is exacerbated by the lightning increase in IS attacks in the capital since 2016.
There is no reason to believe the Taliban and IS are partnering operationally, or conversely, competing to outdo each other, says Michael Kugelman of the Wilson Center in Washington, DC.
But "the cumulative effect of their attacks is simply devastating," he told AFP.
- 'Gloves off' -
As the Taliban ramps up its insurgency to drive out foreign forces and IS tries to expand its relatively small foothold in the country, Kabul is becoming more attractive for both groups, said Borhan Osman, a senior analyst with the International Crisis Group.
"Increasing pressure on the battlefield may be leading them to hit back in an area where they can publicly disprove the rhetoric of the US military or Afghan government that they have weakened the Taliban or IS," Osman told AFP.
That "can also shake public confidence in the government's ability to protect the population."
Western officials have told AFP the militants are adapting to new security measures, such as those implemented since a massive truck bomb in May 2017 killed around 150 and wounded about 400, in Kabul 's deadliest attack since the US invasion.
Dozens of truck barriers, checkpoints and security cameras have been installed in the city's downtown and diplomatic areas.
Lorries entering Kabul via major roads are checked by security guards, sniffer dogs and scanners to ensure they are not carrying explosives, rockets or suicide vests.
Cars and their occupants are also physically examined by Afghan police.
The time-consuming checks result in hundreds of trucks waiting hours before they proceed -- or being turned back if they do not have the correct paperwork.
But attackers continue to get through.
- 'Nowhere near sufficient' -
Groups such as IS have recruited students, professors and shopkeepers, who hide in the open as they help carry out assaults.
The US training mission is meant to help plug the gaps, but has not managed to do so despite years in the country, said Kugelman, with the recent attacks underscoring that progress is "nowhere near sufficient".
Militants operating in the city cannot be targeted with the amplified bombing campaigns used by the US in other parts of the country.
Some Afghan officials have acknowledged that the security measures in place are not foolproof, but appear to be at loss as to how to fix the problem.
"It is beyond the capacity of the police to control" all the entrances, a security official told AFP in October.
"Kabul has more than a hundred ways into the city."
As Kabul struggles to prepare for further strikes, Afghanistan's international allies are weighing the implications of the latest bloodshed .
NATO Secretary General Jens Stoltenberg said it was "essential to redouble efforts to achieve peace and reconciliation".
But US President Donald Trump on Monday threw into question Washington's long-standing policy of pushing the Taliban towards the negotiating table.
"We don't want to talk with the Taliban," Trump said. "They are killing people left and right."
That carnage is unlikely to abate in the months ahead as militants -- particularly the Taliban -- come under pressure, according to Osman.
"I'm afraid they are turning Kabul into the battlefield as a message to say 'if you are taking the gloves off we can also do this'."
https://nation.com.pk/30-Jan-2018/taliban-and-isis-create-storm-of-bloodshed-in-kabul
--------
Arab World
Saudi Cleric: 'Holocaust denial a crime that distorts history'
30/01/18
The leader of the Muslim World League, a group based in Saudi Arabia, has condemned Holocaust denial as a "crime [that] distort[s] history and an insult to the dignity of those innocent souls who have perished," reports the United with Israel website.
In a letter sent to the US Holocaust Memorial Museum last week, Dr. Muhammad bin abdel-Kareem Al-Issa, the secretary general of the Muslim World League, wrote that "history is indeed impartial no matter how hard forgers tried to tamper with or manipulate it."
Al-Issa, a former Justice Minister, had taken over the Saudi-funded Muslim World League in 2016. He wrote the message, sent to museum director Sara Bloomfield, five days before International Holocaust Remembrance Day was marked on January 27.
In a recent column entitled The significance of Trump's visit , Al-Issa wrote that "with President Trump's arrival in Saudi Arabia, we are filled with hope of starting a new journey together.
"This positive message from the US is an indication of the weight and prominence that Saudi Arabia is privileged to enjoy in the Islamic world. This is why I, as head of the Muslim World League and a proud Saudi citizen, salute Trump for this courageous and meaningful stance."
Washington Institute for Near East Policy Director Robert Satloff speculated that Al-Issa's appointment is a reflection of the reform movement led by the new crown prince, Muhammad bin Salman, who has vowed to eradicate extremism in the kingdom.
Speaking in November, Al-Issa stated that "any act of violence or terrorism that tries to hide behind religion has no justification whatsoever, not even in Israel."
Maariv said the remarks by Al-Issa, who serves as the Secretary-General of the Muslim World League, were an attempt to "remove from Saudi Arabia the image of the state sponsor of terrorism and extremist Islamic organizations, such as ISIS.
"Since his appointment as president of the Muslim World League, Al-Issa has been spreading a new image for moderate Saudi Islam, as a religion which seeks peace, tolerance, and openness to the world and other religions," the paper added.
https://www.israelnationalnews.com/News/News.aspx/241361
--------
Egypt, Saudi Arabia Wings of Arab, Islamic Nations - Minister
30 JANUARY 2018
Awqaf Minister Mohamed Mokhtar said that Egypt and Saudi Arabia are the two wings of the Arab and Islamic nations and their cornerstones, lauding the brotherly ties between the two countries.
At a seminar organized by the Saudi pavilion at Cairo International Book Fair on Monday, Mokhtar thanked Saudi Arabia for its expanded participation in the fair, hailing its cultural variety at the pavilion.
He added that the rational religious discourse is open for plurality and refuses terrorism and extremism.
The minister also criticized the ideology of terrorist groups as they mislead the public to achieve their interests far from the religion.
He noted that terrorist groups should be intellectually confronted along with the security combat.
Full report at:
http://allafrica.com/stories/201801300987.html
--------
Moderating Saudi Islam: Government proposes tightening fundraising rules
By Dr. James M. Dorsey
Jan 31, 2018
A Saudi draft law could constitute a first indication that Crown Prince Mohammed bin Salman's vow to return the kingdom to a moderate form of Islam will some reshaping of the kingdom's global funding for Sunni Muslim ultra-conservative educational and cultural facilities as well as militants.
The law, if adopted, would at the very least tighten rules governing the raising of funds in the kingdom that often flowed to militants in campaigns of which it was not always clear whether the government had tacitly approved them. Tighter rules would make it more difficult for the government to put a distance between itself and militant fundraising.
To be sure, analysts have long assumed that fundraising, particularly with the help of members of Saudi Arabia's government-aligned, ultra-conservative religious establishment, could not occur without the knowledge of a regime that maintains tight political control.
It remains unclear how tighter fundraising rules would affect Saudi Arabia's ideological war with Iran. The kingdom has for decades invested billions of dollars in globally propagating Sunni Muslim ultra-conservatism as an anti-dote to the Islamic republic's revolutionary zeal.
The bulk of the funds flowed to non-violent groups, but in some cases also to ones that attacked Shiites and/or Iranian targets. That has largely not changed since the rise in 2015 of King Salman and his powerful son, Prince Mohammed.
Saudi Arabia, in the latest suggestion that tightened fundraising may target militancy rather than supremacist, sectarian and intolerant strands of ultra-conservatism, plans to open a Salafi missionary centre in the Yemeni province of Al Mahrah on the border with Oman and the kingdom.
The plan harks back to the creation of an anti-Shiite Salafi mission near the Houthi stronghold of Saada that sparked a military confrontation in 2011 with the Yemeni government, one of several wars in the region. The centre was closed in 2014 as part of an agreement to end the fighting.
Prince Mohammed's use of ultra-conservative Sunni Islam in his controversial war with the Houthis was also evident in the appointment as governor of Saada of Hadi Tirshan al-Wa'ili, a member of a tribe hostile to the Shiite sect, and a follower of Saudi-backed Islamic scholar Uthman Mujalli. Mr. Mujalli reportedly serves as an advisor to Abd Rabbu Mansour Hadi, the exiled, kingdom-backed Yemeni president.
Writing in Al-Monitor, Brookings fellow and former CIA official Bruce Riedel argued that continued government support of ultra-conservatism served not only Saudi Arabia's regional ambitions but also as a pacifier for a religious establishment that, despite public endorsement of Prince Mohammed's social reforms, is deeply uncomfortable with changes like a loosening of restrictions on women and greater entertainment opportunities.
"After three years on the throne, King Salman bin Abdul-Aziz Al Saud and his son Crown Prince Mohammed bin Salman are pursuing the most aggressively sectarian and anti-Iran policy in modern Saudi history. The Wahhabi clerical establishment is an enthusiastic partner, which is good internal politics for the royals… t's a way to keep the mainstream Wahhabi establishment and the Al Sheikhs content that their core interests are safe," Mr. Riedel said, referring to the descendants of 18th century preacher Mohammed ibn Abdul Wahhab, who constitute the ruling Al Sauds' religious counterpart.
If adopted, fundraisers would have to be authorized before launching a campaign. Failure to obtain authorization would result in a jail sentence of up to two years and, in the case of foreigners, deportation. Fundraisers would only be allowed to accept donations from Saudi nationals and institutions.
The stipulation that the fundraisers themselves too would have to be Saudi nationals would effectively block foreign individuals and groups from Pakistan and elsewhere that have been supported for decades by Saudi Arabia from independently seeking financial support in the kingdom.
A litmus test of the impact of the law, once adopted, will be how Saudi Arabia deals with people like Pakistani cleric Maulana Ali Muhammad Abu Turab. Mr. Abu Turab was identified last May as a specially designated terrorist by the US Treasury at the very moment that he was in the kingdom to raise funds for his militant madrassas or religious seminaries that dot the border between the Pakistani province of Balochistan and Afghanistan.
A member of Pakistan's Council of Islamic Ideology that oversees whether legislation is in line with Islamic law, Mr. Abu Turab is a leader of Ahl-i-Hadith, a Pakistani Wahhabi group supported by the kingdom for decades, and a board member of Pakistan's Saudi-backed Paigham TV.
He also heads the Saudi-funded Movement for the Protection of the Two Holy Cities (Tehrike Tahafaz Haramain Sharifain) whose secretary general Maulana Fazlur Rehman Khalil has also been designated by the Treasury.
Similarly, Pakistani militants reported over the last 18 months that funds from Saudi Arabia were pouring into militant madrassas in Balochistan against the backdrop of indications that the kingdom may want to try to destabilize Iran by stirring unrest among the Islamic republic's ethnic minorities, including the Baloch.
Saudi efforts to more tightly control fundraising may also serve Prince Mohammed's unconventional effort to fill depleted government coffers at a time of economic recession. Prince Mohammed launched in November what amounted to a power and asset grab packaged as an anti-corruption campaign after the kingdom's elite had failed to respond to a request to make patriotic contributions to help shore up government finances.
Saudi Finance Minister Mohammed Al-Jadaan said last week that authorities had received a total of roughly $100 billion in out-of-court settlements from around 350 people accused in the purge.
As a result, tougher fundraising rules could potentially mean that donations would increasingly favour domestic rather than foreign causes.
It is, however, with no indication that Saudi Arabia is willing to reduce tension with Iran, unlikely that the kingdom would halt funding of its ideological war with the Islamic republic. Nor is there an apparent Islamically-packaged alternative to the propagation of ultra-conservatism as its primary soft power tool.
In short, tighter fundraising rules are certain to enhance control of the causes for which money is solicited and who will be allowed to raise funds. It may well also result in support for advocacy of interfaith dialogue and greater tolerance as recently propagated by the World Muslim League, a government-controlled non-governmental vehicle that for decades funded the global spread of ultra-conservatism. The rules, however, are unlikely to mean an end to funding of ultra-conservatism and sectarianism that serves Saudi Arabia's existential battle with Iran.
Full report at:
https://moderndiplomacy.eu/2018/01/30/moderating-saudi-islam-government-proposes-tightening-fundraising-rules/
--------
Dozens of Bodies of Syrian Army Soldiers Found in Mass Graves in Idlib Province
Jan 30, 2018
The sources said that the army's engineering units continued their cleansing operation near Abu al-Dhohour airbase in cooperation with the country's Red Crescent in and outside the airbase and discovered the bodies of 45 Syrian soldiers killed by the Al-Nusra Front (Tahrir al-Sham Hay'at or the Levant Liberation Board) and buried in three mass graves.
The sources guessed that more bodies will be discovered in the airbase as the terrorists executed 71 soldiers when they once captured the military airport.
The Al-Nusra and other terrorist groups captured Abu al-Dhohour airbase in July 2015.
The Syrian Observatory for Human Rights (SOHR) reported last week that the army troops pushed terrorists back from 322 villages, towns and regions in a large region stretching among the provinces of Idlib, Hama and Aleppo in nearly a month of operation, killing almost 300 terrorists.
The SOHR reported that the army has freed 322 villages, towns and regions in 29 days of large-scale operation against terrorists in Southern Aleppo, Northeastern Hama and Southeastern Idlib.
Full report at:
http://en.farsnews.com/newstext.aspx?nn=13961110000949
--------
650 Kurdish Fighters Killed in Turkish Army Operation in Syria's Afrin
Jan 30, 2018
The statement said that the Turkish Air Force conducted heavy raids on three military centers of the Kurds, including arms depots and positions.
The statement further said that total casualties of the Kurdish fighters now stand at 650 after they lost 33 gunmen in last night attacks.
Relevant reports said on Sunday that the Kurdish forces repelled the Turkish army attacks in Afrin on the 8th day of the Operation Olive Branch as the Turkey-backed militants claimed winning a number of regions.
The sources affiliated to the Turkey-backed militants reported on Sunday that they taken control of the villages of al-Biski, Hill 740 and a training base belonging to the Kurds in Rajou during the operations against the Kurdish forces in Afrin.
They also claimed that they have gained control of Tal al-Merikh and the hills overlooking Janderis in Southern Afrin.
Meantime, the Kurdish forces said that they have repulsed attacks by the militants affiliated to the Turkish army in al-Biski and Tal Kafri Kor in Rajou and the Turkey-affiliated militants couldn't advance in this front.
Full report at:
http://en.farsnews.com/newstext.aspx?nn=13961110000704
--------
Turkey says 5 soldiers killed in Syria's Afrin as offensive continues
Jan 30, 2018
Turkey's Defense Minister Nurettin Canikli says five Turkish soldiers and 24 allied militants from the so-called Free Syrian Army (FSA) have lost their lives in the ongoing cross-border offensive in Syria's northwestern region of Afrin against the Kurdish People's Protection Units (YPG).
Addressing parliament on Tuesday, Canikli denied reports of civilian deaths in the offensive, saying, "No civilian has been harmed in Operation Olive Branch of Turkish Armed Forces and the FSA."
He added that a total of 649 YPG militants had been killed since the beginning of the operation on January 20.
"Turkish Air Forces destroyed 458 targets, which were being used as shelters and ammunition depots. Within the ground operation, 4,370 targets were hit," Canikli stated.
Meanwhile, the World Medical Association has called on the Ankara government to release senior members of the registered trade union for doctors in Turkey, who were detained on possible terror charges for condemning Afrin operation.
The France-based association on Tuesday urged Turkish officials to end their "campaign of intimidation" against critics of Operation Olive Branch, hours after prosecutors issued warrants against 11 members of the Turkish Medical Association.
The international body said it "fully supports our Turkish colleagues in their public statements that war is a public health problem."
It further noted that it has a "clear policy that physicians and national medical associations should alert governments to the human consequence of warfare and armed conflicts."
The Syrian government has already condemned the "brutal Turkish aggression" against Afrin, rejecting Ankara's claim about having informed Damascus of the operation.
Damascus "strongly condemns the brutal Turkish aggression on Afrin, which is an inseparable part of Syrian territory," Syria's official news agency, SANA, cited a Syrian Foreign Ministry source as saying on January 20.
"Syria completely denies claims by the Turkish regime that it was informed of this military operation," the source added.
Ankara views the YPG as the Syrian branch of the militant Kurdistan Workers' Party (PKK) that has been fighting for an autonomous region inside Turkey since 1984.
Turkish President Recep Tayyip Erdogan has repeatedly said that Afrin should be cleared of "terrorists," and demanded the deployment of Turkish troops there during a speech back in November 2016.
This is while US officials regard the YPG as the most effective fighting force against the Daesh Takfiri terrorist group in northern Syria, and have substantially increased their weaponry and technology support to the terrorist group.
Full report at:
http://webcache.googleusercontent.com/search?q=cache:http://www.presstv.com/Detail/2018/01/30/550723/Turkey-says-5-soldiers-killed-in-Syrias-Afrin-as-offensive-continues&gws_rd=cr&dcr=0&ei=9WlxWuntC8znvgSA3I7QDQ
--------
India
Kashmir's Deputy Grand Mufti Drops A Bombshell, Says Muslims Should Seek Separate Nation
Shuja ul Haq
January 30, 2018
In the backdrop of an already hot debate on the Kasganj violence, the deputy grand mufti of Jammu and Kashmir dropped a bombshell today.
Mufti Nasir-ul-Islam, made a controversial remark stating Muslims of the country were living a 'pathetic' life and they should ask for a separate country.
"Muslims are being harassed under various pretexts. In the name of love jihad, cow vigilantism and in Hindu-Muslim riots. They are being targeted," said Islam, while addressing a press conference in Srinagar.
The deputy mufti tried to point out that Muslims were the second largest community in the country and yet they were being deliberately harassed.
"In India, Muslims are the second largest community. Pakistan was formed with a population of 17 crore. If it continues like this then they (Indian Muslims) should demand a separate country within India," he said.
The deputy grand mufti also pointed towards the condition of Muslims in India.
"Muslims are living in a pathetic condition. What happened to the Sacchar Committee report", asked Islam.
While elaborating his stand he further said, "One person's sleep is disturbed for a few minutes due to azaan and the entire country talks about it. In Alwar, a 55-year-old Muslim was killed by cow vigilantes, no one speaks of it. India is being taken towards destruction".
Mufti Nasir ul Islam, who is also the Vice-chairman of Jammu and Kashmir Muslim Personal Board, shot to face over his controversial fatwa against four Christians for allegedly converting people in 2012.
In the same year, he was nominated by his father and Grand Mufti, Bashir-Ud-Din, as his successor for the coveted post in the Supreme Court of Islamic Shariat, while other Ulema endorsed the decision.
Islam is a post graduate in Arabic and also holds a degree in law. He remained the legal consultant with the Ministry of Justice, Government of Abu Dhabi, till 2006 when he resigned to start his own legal consultancy in Middle East.
He was appointed as the Deputy Mufti Azam at the Supreme Court of Islamic Shariat (J&K) in the year 2000.
https://www.indiatoday.in/india/story/kashmir-s-deputy-grand-mufti-drops-a-bombshell-says-muslims-should-seek-separate-nation-1157611-2018-01-30
--------
Petition In HC Accusing Kamala Das Biopic Of Promoting Love Jihad
Jan 31, 2018
Kochi, Jan 30 (PTI) A petition was today filed in the Kerala High Court alleging that Kamal-directed Malayalam film "Aami" based on controversial writer late Madhavikutty, was sending a message favouring love jihad.
Madhavikutty had converted to Islam and took the name of Kamala Suraiya.
In his petition, lawyer K P Ramachandran sought a direction to the Censor Board to ensure that the upcoming movie would be certified only after making sure that it picturised the real life of Madhavikutty.
"The film (Aami) was directed by omitting the real life incidents of Madhavikutty, with a view to justify love jihad?. Such a film comes to the fore in the wake of such cases (of love jihad) pending before the apex court and the NIA investigating such cases," the petition said.
Many so-called love jihad cases have been reported from the southern state. The latest in the row is the case of a 25-year-old Gujarat-based Malayali woman who has accused a man of forcible conversion and attempting to sell her off to ISIS terrorists in Saudi Arabia.
Ramachandran argued that Kamal, director of the film, is often depicted as pro-radical faction of the Islamic society.
"The conversion of Madhavikutty into Islam was the beginning of love jihad in Kerala. Love jihad is the grave menace the society faces in the southern state today," he alleged.
"Now the well oiled machineries are working for meeting the said end. The film Aami is intended to be a catalytic agent for the said process," Ramachandran said.
The petitioner also alleged that the movie was made to re-write the history and twist the narrative according to the directors whims and fancies under the guise of freedom of expression.
Even if "Aami" is exhibited in cinema theatres, the wrong and contradictory picturisation of Madhavikutty and justifying the forceful religious conversion would certainly inject a wrong message into the minds of audiences, he added.
Full report at:
https://www.indiatoday.in/pti-feed/story/petition-in-hc-accusing-kamala-das-biopic-of-promoting-love-1157933-2018-01-31
--------
AIMPLB To Seek Support To Get Triple Talaq Bill Stalled
Jan 30, 2018
The All India Muslim Personal Law Board (AIMPLB) has pinned its hope on getting support from some BJP allies to stall the bill on instant triple divorce in the Rajya Sabha as Prime Minister Narendra Modi pitched for its early passage in the ongoing budget session of Parliament on Monday.
To drum up support for the demand raised by the Congress that the bill should be referred to the select committee of Parliament, the Board members intend to meet BJP allies Shiv Sena and Akali Dal soon.
"A final decision on the strategy to be adopted to prevent the bill from getting passed in the Rajya Sabha would be taken at the forthcoming two-day session of the board in Hyderabad from February 10," said board spokesperson Zafaryab Jilani.
"We met former UP chief minister Akhilesh Yadav last week to convey our stand on the issue. Besides Samajwadi Party, AIMPLB members have also met leaders of opposition parties like AIDMK, DMK, Telugu Desam, TMC and BSP," he said.
Besides it, discussions would also be held on Babri-Masjid-Ram Janambhumi case hearing which is scheduled to commence in Supreme Court on Fenruary 8. A controversy had erupted when senior lawyer Kapil Sibal, representing Sunni Waqf Board in the case, made a plea in the apex court to defer the hearing till Lok Sabha polls 2019. "Some members may want to know why such a statement was given," said Jilani and added that while Sibal would continue to represent them, several other senior lawyers would also appear on behalf of the waqf board in the case.
The Narendra Modi government brought in the bill criminalising instant divorce after Supreme Court struck down the practice terming it unconstitutional and in violation of Article 14 of the Constitution on August 22 last year.
The 'Muslim Women Protection of Rights on Marriage Bill' criminalising talaq-e-biddat (instant divorce) was passed by the Lok Sabha in the recently concluded winter session of Parliament but is pending in the Rajya Sabha. The AIMPLB, which is the apex body of Muslims on religious issues, regards the bill as an interference in 'shariate laws' and maintains that it is also against the interests of women and children.
Full report at:
https://www.hindustantimes.com/lucknow/aimplb-to-seek-support-to-get-triple-talaq-bill-stalled/story-Bb8dNPkSbzGs721WdFrwfM.html
--------
Muslim Scholars Take a U-Turn on 'Secular Sun'
31st January 2018
VIJAYAWADA: On Sunday, Mohammad Abdul Khadir Nayeemi and Shahid Parvez had given a 'peace discourse' about the importance of the Sun in Islam at the Surya Aradhana programme organised by the State government. Cut to Tuesday: A video featuring the Islamic scholars did rounds on WhatsApp in which they said they felt 'ashamed' to have participated in the event.
In the five-minute clip, the Maulanas admitted that they should have refrained from attending the event in which Chief Minister Chandrababu Naidu said Suryanamaskar should be celebrated by all religions secularly. "We feel ashamed. We were invited by the district collector to spread the message of peace and the role of the Sun in Islam. Since it would be a good opportunity to propagate good, we attended it. We apologise to all the Muslim community members who were hurt," they said.
Full report at:
http://www.newindianexpress.com/cities/vijayawada/2018/jan/31/muslim-scholars-take-a-u-turn-on-secular-sun-1765903.html
--------
Give info on Haj applicants in 65-70 age group who never got chance: Supreme Court to Centre
January 31, 2018
The Supreme Court Tuesday asked the Centre to furnish details of Haj applicants aged between 65 and 70 years who have not been able to go for the pilgrimage despite applying four times.
The direction came on a plea by the Kerala Haj Committee seeking an all-India draw of lots to decide the Haj quota.
A bench of Chief Justice Dipak Misra and Justices A M Khanwilkar and D Y Chandrachud asked the Centre to file its response by February 19. The top court clarified that it was only an ad-interim measure.
"Purely as an ad-interim measure, it is directed that Pinky Anand, Additional Solicitor General, shall file a statement with regard to the fifth time applicants, who have crossed the age of 65 years and are below 70 years and have never been able to go for the pilgrimage," the bench ordered.
Appearing for the petitioner, advocate Harris Beeran said under the previous Haj policy, those who had not succeeded despite applying four times were automatically considered eligible the fifth time. But this had been dropped, he said.
Additional Solicitor General Pinky Anand, who appeared for the Centre, said the government's policy was that all Haj seats should be proportionally distributed among the states and all of them should be given equal opportunity.
The bench then asked Anand as to what happened to the surplus seats. She said the surplus seats "are kept in general pool and then subsequently distributed among the states on the basis of application received statewise."
Full report at:
http://indianexpress.com/article/india/give-info-on-haj-applicants-in-65-70-age-group-who-never-got-chance-supreme-court-to-centre-5045503/
--------
Pakistan
Bomb kills eight Shiites in Pakistan
Jan 31, 2018
PESHAWAR: A roadside bomb yesterday killed eight people including three women and a child in Pakistan's northwestern tribal belt near the Afghan border, in the latest attack apparently targeting Shiite Muslims. The improvised explosive device exploded in the Shiite-dominated Maqbal area of Kurram tribal district as a van carrying nine people drove by. Eight passengers including three women and a seven-year-old boy were killed, senior local government official Basir Khan Wazir said. He said officials were struggling to identify the mutilated victims but initial evidence suggested all the passengers were Shiite Muslims. A local intelligence official confirmed the incident and casualties. Upper Kurram has been the scene of several bomb attacks targeting Shiite Muslims in the past. No group has claimed responsibility for the attack but mainly Sunni Muslim Pakistan has frequently been hit by sectarian violence in recent years. Sunni militant groups linked to Al-Qaeda and the Taleban often attack Shiites, who make up some 20 percent of the population.
http://news.kuwaittimes.net/website/bomb-kills-eight-shiites-pakistan/
--------
Moot stresses combined efforts to create tolerance in society
JANUARY 31, 2018
HYDERABAD: The speakers at a seminar on Tuesday underlined the need of combined efforts for spreading the message of love and peace in order to ensure a peaceful, happy and progressive society.
They said that Pakistan was a peace-loving state that possessed a culture characterized pre-dominantly by core human values and essential humanitarian traditions like peaceful co-existence, social harmony, tolerance, and respect for civil liberties, secularism, love and welfare of all.
They expressed these views while addressing the inaugural session of three-day seminar titled: 'Practical and Theoretical Aspects of Peace and Conflict in a Deeply Local but Globalized World' at Shaikh Ayaz Auditorium of Faculty of Arts building, University of Sindh Jamshoro on Tuesday.
The seminar has been arranged by the Office of Research, Innovation and Commercialization University of Sindh Jamshoro in joint collaboration with Higher Education Commission Islamabad, Shamsul Ulama Mirza Kalich Baig Chair, Centre for Physical Education, Health and Sports Science and Institute of Imagine Technology Qasimabad.
Dr Ziaul Haq of International Islamic University Islamabad while delivering his speech on Paigham-e-Pakistan said that the objective of creating Pakistan was to make a true Islamic welfare state with peace and love as well as protection of the rights of the people both Muslims and Non-Muslims. However he said that delay in forming the national narrative into this direction, the country suffered great losses with conflicts on the basis of fundamentalism, extremism and sectarianism. "The country witnessed a lot of bloodshed as a result of terrorism. There is need to bring peace and tranquility," he said, and added that around 2,000 Ulama and Muftis had signed a joint 'Fatwa' declaring terrorism in the name of religion is against the norms of Islam.
"The people from all segments of life, including scholars, educationists and non-Muslims also endorsed the 'Fatwa'," he said, adding that Islamic Ideology Council had also approved the national narrative and soon it would be approved from the parliament.
He said that soon after creation of Pakistan, the ulama had approved 22 points to develop interfaith harmony and the same was guaranteed in the 1973 constitution. "However, unfortunately the objective of developing a strong national narrative could not be achieved which posed the bad image of Islam. The 'Fatwa' prepared by ulama of five schools of thought guaranteed the rights of the people including Muslims, non-Muslims, children and eunuchs. It will ensure the true image of Islam and bring peace and tranquility in the country," he said.
Prof Dr Salman Shahzad of Karachi University spoke on the topic 'Drug, War and Peace'. He said that around 247 million people were using drugs. "According to reports, around 6.7 million people are using drugs in Pakistan, including 5.2 million men and 1.5 million women," he said.
University of Sindh VC Prof Dr Fateh Muhammad Burfat said that Pakistan's significant contribution toward combating terrorism and promoting peace in the world served as a bright luminous chapter in global history. "A strong natural longing for peace ran in the blood of people of Pakistan due to centuries-long teachings and influence of Sufi saints," he added.
Full report at:
https://dailytimes.com.pk/192437/moot-stresses-combined-efforts-create-tolerance-society/
--------
Islam Allows Awarding Punishment Publicly: Pakistan Ulema Council
JANUARY 31, 2018
LAHORE: Awarding punishment in the presence of the public to the criminal element is in accordance with Islamic Sharia. Pakistan Ulema Council termed opposition to punishment in public presence as anti-Sharia stating that during the age of Prophet Mohammed (S.A.W) and during the years of Caliphate, scores of criminals were punished publicly like stoned to death or whipped for adultery in public, said Hafiz Muhammad Tahir Mehmood Ashrafi, Chairman Pakistan Ulema Council.
Addressing a press conference here on Tuesday at Jamia Masjid Mahaz bin Jabal, Islamabad, he urged the judiciary to ensure speedy justice for cases of high-handedness with women and girls through a maximum of a two-week court trial. He asserted that during the life of Prophet Mohammad S.A.W and during the years of the Caliphate, all the criminal elements were punished publicly; therefore all those sections of society, which are opposing punishment for criminals in public presence are voicing anti-Sharia.
He also demanded of the government to keep a check on all the sources responsible for fanning immoral activities in society. He also warned the government to declassify Raja Zafarul Haq's report till 20th February, 2018; otherwise countrywide movement will be staged under the aegis of the Pakistan Ulema Council. He urged the government to keep a check on publication of Qadyani literature, make public the report of Raja Zafarul Haq and become guardian of Finality of Prophethood Law. Hafiz Tahir Ashrafi also underlined that US administration aims at allowing entrance of Ahmedis in Harmain Al Sharifain by highlighting religious freedom issues. People of Pakistan have rejected tirade of the US President against Pakistan as well as declaration of US administration for putting Pakistan on watchlist of religious freedom.
Responding to a query, he stated that Islamic teachings are for the entire Muslim Ummah adding that Afghan President should take guidance from state Clerics of Afghanistan in accordance of the teachings of Quran-o-Sunnah. Replying to another question, he lauded national Narrative against terrorism and extremism as positive stance in right direction. It is worth mentioning here that national Narrative against terrorism and extremism has published titled Paigham e Pakistan.
He also suggested to ensure implementation on Paigham e Pakistan through proper legislation with additional reforms.
Full report at:
https://dailytimes.com.pk/192476/islam-allows-awarding-punishment-publicly-ashrafi/
--------
US official says to discuss land allocation to refugees with Afghan govt
Jan 31, 2018
ISLAMABAD: US Deputy Secretary of State Nancy Izzo Jackson, who is a career member of the Senior Executive Service, and served as deputy assistant secretary in the Bureau of Population, Refugees, and Migration, called on Federal Minister for States and Frontier Regions Abdul Qadir Baloch here on Tuesday.
During the meeting, she lauded and appreciated the generous hosting of Afghan refugees by Pakistan for so many decades. She said that the US was committed to support Pakistan on the issues of the Afghan refugees. She said that she would discuss in her next visit to Kabul the land allocation to the Afghan refugees by the Afghan government.
The minister thanked the deputy secretary for her concerns regarding repatriation of the Afghan refugees. He said that each and every effort for successful repatriation of the refugees lies in Afghanistan. He said that the US should workout the strategy to chalk out a framework for successful repatriation keeping in view the security and economic situation.
He said that Pakistan sees the issue of the Afghan refugees as humanitarian problem and it should be seen as such aspect without any political factor. He said that Pakistan has been facing multiple and complex problems due to the Afghan refugees. He said that counters should be set up to facilitate refugees coming at Torkham border.
Full report at:
https://www.pakistantoday.com.pk/2018/01/30/us-official-says-to-discuss-land-allocation-to-refugees-with-afghan-govt/
--------
Pakistan ready to extend rail link agreement with India
January 31, 2018
ISLAMABAD: Despite tense ties with New Delhi due to frequent ceasefire violations on the Line of Control and Working Boundary, Pakistan on Tuesday gave its consent for a three-year extension to an agreement with India on Munabao-Khokhrapar rail link.
"The government of Pakistan has agreed to extend the agreement of the rail link between Munabao (India)and Khokhrapar (Pakistan) for another three years," a Foreign Office statement said.
The extension will take effect from Feb 1, 2018.
The rail link facilitates people-to-people contact that Pakistan believes is essential for improving relations between the two countries, the FO said.
The signing of the rail link agreement in 2006 had restored the route after 41 years. The connection substantially reduced travel time between Sindh (Pakistan) and central and southern Indian states.
Full report at:
https://www.dawn.com/news/1386363/pakistan-ready-to-extend-rail-link-agreement-with-india
--------
27 Taliban, Haqqqni Network suspects handed over to Kabul last year: FO
JANUARY 31, 2018
Islamabad: Pakistan handed over 27 individuals suspected of having ties to the Afghan Taliban and Haqqani Network to Afghanistan last year, Foreign Office (FO) spokesman Dr Mohammad Faisal said Tuesday.
In a series of tweets, the FO spokesman said Pakistan is continuing to push any suspected Afghan Taliban and Haqqani elements with a view to "prevent them from using our soil for any terrorist activity in Afghanistan". The suspected militants were handed over to Afghanistan in November 2017, he said.
Faisal also mentioned that Pakistan has lost "75,000 civilians and 6,000 soldiers to the scourge of terrorism and suffered $123 billion in economic losses".
Full report at:
https://dailytimes.com.pk/192496/27-taliban-haqqqni-network-suspects-handed-kabul-last-year-fo/
--------
Minister urges Muslim world to use resources for peace, development
January 31, 2018
islamabad - Federal Minister for Education and Professional Training Baligh-ur-Rehman said that education was fundamental to establishment of lasting peace and development.
The minister was addressing a 2-day international conference on 'Role of Muslims in Contemporary Age' jointly organised by University of Lahore, International Universities Council and International Union of Muslim Scholars at Islamabad Club on Tuesday.
Heads of a number of universities, academicians and senior scholars from Muslim countries are participating in the conference.
The minister said that government of Pakistan was fully focused on achieving universal literacy goals in the country and also meeting the national goal set for higher education. He said that Muslims were facing challenges and terrorism was one of the challenges. Pakistan played a lead role against terrorism and succeeded in rolling back terrorism and bringing peace , he claimed.
The minister said that it was time for Muslim countries to put their resources towards achieving the cherished goal of peace , harmony, development and security in the world. The Muslim countries will also have to link up with the larger world to accomplish the common goals and develop capacity for the purpose, he stressed.
Baligh said that Muslims would have to focus on education and equip themselves with modern technologies and skills. He said that we would have to inculcate in our students the habit of reading to make them life-long learners. He said that we need to focus on character building of our students so that they could be able to differentiate between the right and wrong.
The minister said that the present government was focusing on promotion of quality education in the country and had enhanced funding for education sector.
Full report at:
https://nation.com.pk/31-Jan-2018/minister-urges-muslim-world-to-use-resources-for-peace-development
--------
Europe
German far-right figure embraces Islam over church's 'moral decline'
31st January 2018
A member of Germany's far-right and anti-Muslim Alternative for Germany party (AfD) who recently converted to Islam has said he did so in protest at what he sees as the "moral decline" of the Protestant church.
Arthur Wagner, 48, until recently a leading party member in the state of Brandenburg, told the Bild newspaper on Wednesday that his decision was in part sparked by the church's acceptance of same-sex marriage and the presence of priests at gay pride marches.
"One of the reasons (for the conversion) is tied to changes that have taken place in the church, which no longer reflects my values," he told the daily.
Explaining his decision, he singled out the church's position "with regard to the AfD, its support for marriage for all and the participation of pastors at Christopher Street Day, where there are children. It's unacceptable!"
Christopher Street Day is an annual gathering of the LGBT community in several German and Swiss cities.
Wagner's conversion is perhaps all the more surprising given that he formerly held an official position within the Protestant church.
He converted in October but only announced the decision last week, when he quit his leadership role in the AdF, although he remains a party member.
His decision has not gone down well in the party, which is strongly anti-Islam.
One of his local party colleagues, Kai Berger, said he was "very disappointed".
"Many members are waiting for him to quit the party. Unfortunately our statutes do not allow us to kick him out," he said.
Wagner told Bild he had received a few threats since announcing his decision.
"Someone told me I should leave Germany before I start making bombs."
The AfD came in third in Germany's general elections in September, with nearly 13 percent of the vote.
Although it began as an anti-euro party, its rhetoric has veered right to primarily rail against immigration and Islam.
Key AfD members have challenged Germany's culture of atonement over World War II and the slaughter of six million Jews in the Holocaust.
https://www.expatica.com/de/news/country-news/Germany-politics-Islam-religion_1675709.html
--------
UK must 'squeeze' more out of data to tackle terrorism
31 January 2018
LONDON: More could be done to extract intelligence from. data to help fight terrorism in the UK, said David Anderson QC, the former UK independent reviewer of terrorism legislation.
Speaking to a parliamentary committee, he said the UK government could "squeeze" more out of relevant data, such as travel data or online purchasing data.
"I suspect there is more to be done and if you look at how clever the private sector is using data aggregators, putting together everything they know about people to make credit reference scores.
"You can see there is scope for government as well to use data a little more cleverly than they do, always of course acknowledging that these sorts of activities when done by government need to be very carefully safeguarded," he said, noting that in some cases private sector co-operation would be needed.
Anderson's comments follow the publication of his report last December on the terrorist attacks in the UK between March and June 2017.
He had been commissioned by the government to conduct an independent assessment of MI5 and the police's own internal reviews of the attacks in Westminster, Manchester, London Bridge and Finsbury Park.
In his report Anderson endorsed recommendations made by MI5 and counter-terrorism police that there needed to be wider intelligence sharing.
"What these reviews illuminated was that intelligence sharing is much less advanced when it comes to neighbourhood policing…(and) other authorities, local authorities, prisons, education authorities," he told the committee on Tuesday.
He told MPs that the UK's intelligence service MI5 had made a "big leap" in deciding "that we have got to let go of a little more" and share their intelligence more widely.
Responding to MPs' questions, he said that while the UK government should not be allowed access to private end-to-end encrypted messages for security purposes, he said there was more that tech companies could do to help counter terrorism activities.
"End-to-end encryption is not only a fact of life, it is - on balance - a desirable fact of life… That doesn't not mean tech companies can't do more to help government. They can - even the ones with business models based on end-to-end encryption… they could do more than they do."
He said the advancements in technology also meant you have new sources of information coming in, citing the example of being able to track someone's movements around a city via their mobile phone.
Anderson's report detailed what the police and the intelligence services knew ahead of last year's terror attacks. In the report, he concluded "learning points" had emerged, and that it was "conceivable" that the Manchester attack in particular could have been averted had the "cards fallen differently".
The report noted that an opportunity was missed by MI5 to place the Manchester attacker Salman Abedi on "ports action" after he travelled to Libya in April 2017.
Full report at:
http://www.arabnews.com/node/1236546/world
--------
London delivery drivers face 'terror' of acid attacks
31 January 2018
LONDON: Delivery drivers in the UK capital are living "in terror" of acid attacks as criminals are increasingly using corrosive substances to steal motorbikes, workers claim.
"The acid attacks have caused such terror in our minds," said Abu Sumon, a delivery driver who works with Uber Eats and originally hails from Bangladesh. "This is our biggest concern nowadays."
Fellow drivers have been targeted by attackers in recent months, including Jabed Hussain. Hussain was finishing his shift as an Uber Eats driver last summer when a teenager sprayed acid on him.
His face began to burn almost immediately. "I can't explain to you how it felt," he recalled. "I was crying like a baby."
While many of his physical injuries have healed — he was shielded largely by his helmet — the psychological scars of the attack remain. "I don't trust any-
one at the moment," he said.
Locking his doors and peering over his shoulder, Hussain said he lives in near-constant fear. Sadly, Hussain's story is not unique. Acid attacks have increased across the UK, with more than 400 incidents occurring last year in London alone.
Criminal activity is behind the rise in attacks, according to experts, with acid increasingly used as a weapon in gang violence and attempted muggings. Delivery drivers, who ride alone in unfamiliar areas, often working long into the night, have been targeted.
MD Nawshad Kamal was the victim of an acid attack while delivering a meal for the Turkish restaurant he worked for. After being approached by two young men who demanded the keys to his moped, Kamal said he remembers seeing one of them pull out a plastic bottle.
"The next thing I realized was that my eyes were burning," he said. "It was like I was on fire."
Kamal suffered serious burns to his eyes and was kept unconscious by doctors for six days while he underwent treatment.
The attack shocked fellow delivery drivers, he said. "Some of my friends, when they heard about me, because they do the same job, they said they were going to sell their bikes," he told Arab News. "Everyone is scared."
According to Sumon, attacks such as those against Hussain and Kamal have forced drivers to take extreme precautions in their daily routines: When delivering
to high-crime areas, they now share their location with one another via WhatsApp in case they are attacked. Other areas have been declared unofficial "no-go" zones, he said. He and fellow drivers regularly refuse to take jobs in parts of Hackney, Tower Hamlets and Newham after dark as muggings, including acid attacks, are on the increase, he said.
Uber Eats did not immediately respond to a request for comment on the issue. Sumon said the authorities had failed to take the concerns of delivery drivers seriously.
"Because we are working-class and the majority of delivery drivers are from immigrant backgrounds ... I feel that probably there is a negligence from law enforcement and on the government sides," he said. "They don't tend to care about us."
Full report at:
http://www.arabnews.com/node/1236521/world
--------
South Asia
Afghan Ulema reacts at Pakistani Ulema Fatwa and recent Taliban attacks
Jan 30 2018
The Ulema Council of Afghanistan on Tuesday reacted at the recent Fatwa issued by the Pakistani Ulema (Religious Scholars) regarding the terrorist attacks and the recent deadly attacks of the Taliban group in Kabul and other parts of the country.
The Afghan Ulema appeared in a press conference today days after a series of deadly attacks unleashed by the Taliban claimed the lives of scores of people while leaving hundreds more wounded.
The chairman of the Afghanistan Ulema Council Mawlawi Qeyamuddin Kashaf in response to the Fatwa of the Pakistani Ulema said the Holy Quran is not only a revelation to the Pakistani nation and Ulema.
He criticized for denouncing the suicide and terrorists attacks as illegitimate (Haram) only in Pakistan.
According to Kashaf, there is no need for a Fatwa to be issued related to the issues which have been properly explained in the light of the principles of Sharia.
The Ulema Council of Afghanistan also reacted at the recent deadly bombings by the Taliban and said suicide attacks have no religious basis and are illegitimate.
Mawlavi Kashaf said the killing of the ordinary and innocent civilians has no justification in Islamic and humanitarian terms.
This comes as the Taliban group unleashed a wave of deadly attacks in Kabul starting on 20th January that have claimed the lives of scores of people while hundreds more have been wounded.
https://www.khaama.com/afghan-Ulema-reacts-at-pakistani-Ulema-fatwa-and-recent-taliban-attacks-04385
--------
Large of cache of weapons, explosives belonging to ISIS seized in Kabul
Jan 30 2018
A large cache of weapons and explosives belonging to the ISIS terrorist group was discovered and seized by the Afghan forces in Kabul.
The Afghan Intelligence, National Directorate of Security (NDS), said the cache was seized from during an operation from the vicinity of the 5th police district of the city.
According to NDS, several weapons and large quantities of explosives from seized from the cache as the militants were using them for their attacks in the city.
This comes as a group of at least five insurgents apparently belonging to the ISIS terrorist group launched a coordinated attack on a base of the 111th division of the Afghan army in the early hours of Monday morning.
The ministry of defense spokesman Gen. Dawlat Waziri said a group of five insurgents launched a coordinated attack on a compound of the 111th division of the army in Qargha area and at least two of the suicide bombers carried out a suicide attack, two of them were shot dead and another one has been arrested alive.
Gen. Waziri further added that the Afghan armed forces seized a rocket launcher, four Ak-47 rifles, and a suicide attack vest during the operation.
Full report at:
https://www.khaama.com/large-of-cache-of-weapons-explosives-belonging-to-isis-seized-in-kabul-04384
--------
US sees Haqqani network behind Kabul ambulance bombing
January 30, 2018
The United States is confident that the Haqqani network was behind the Taliban's Saturday ambulance bomb in Kabul that killed more than 100 people, officials say, a conclusion that could add friction to ties between Washington and Islamabad.
The United States has long blamed militant safe havens in Pakistan for prolonging the war in Afghanistan, giving insurgents from the Haqqani network a place to plot attacks and rebuild their forces.
"We are very confident the Taliban Haqqani network was behind the killing of more than 103 people this past Saturday," said Captain Tom Gresback, a US military spokesman for the NATO-led Resolute Support mission in Afghanistan, without elaborating further on US intelligence or offering any link to Pakistan.
Another US official, speaking on condition of anonymity, also told Reuters the United States believed the attack was the work of the Taliban-affiliated Haqqani network, which Washington and Kabul have long accused of being behind some of the Afghanistan's most deadly attacks.
Afghanistan's envoy to the United Nations, Mahmoud Saikal, on Monday suggested the plot was too complex for the Taliban to have developed on their own.
"Given the degree of sophistication ... can you expect an illiterate Taliban to come up with this kind of genius plot, using ambulances?" Saikal told Reuters in an interview, adding Kabul was still gathering information.
"It's not a simple thing to do."
Saturday's blast, claimed by the Taliban, was the deadliest since 150 people were killed in a huge truck bomb explosion last May near the German embassy, which US officials also blamed on the Haqqani network.
It followed another Taliban-claimed attack a week earlier that killed more than 20 people in a siege of the city's Intercontinental Hotel.
On Monday, militants raided a military academy in Kabul, the Afghan capital, killing 11 soldiers. Islamic State claimed responsibility for the attack near the Marshal Fahim military academy on the city's western outskirts.
The attacks have put pressure on President Ashraf Ghani and his US allies, who have expressed growing confidence that a new, more aggressive military strategy has succeeded in driving Taliban insurgents back from major provincial centers.
PAKISTAN ROLE
Ties between the United States and Pakistan are already brittle after Washington announced plans earlier in January to suspend up to roughly $2 billion in US security assistance. US President Donald Trump tweeted that Pakistan had rewarded past US aid with "nothing but lies & deceit."
Pakistan, which denies the accusations it allows safe havens for militants, condemned Saturday's attack and accused Washington of betrayal.
As tensions rise, the United States has been quietly examining ways to mitigate any retaliation by Pakistan, a crucial gateway for US military supplies destined for troops fighting the 16-year-old war in landlocked Afghanistan.
It also has not ruled out additional steps, including unilateral strikes in Pakistan against Haqqani targets.
Saikal renewed the longstanding Afghan concern that the plots for these attacks were coming from Pakistan and cheered Trump's rejection on Monday of the possibility of peace talks with the Taliban.
Full report at:
https://nation.com.pk/30-Jan-2018/us-sees-haqqani-network-behind-ambulance-bombing-in-kabul
--------
Ghani vows revenge on terror groups over brutal recent brutal attacks
Jan 31 2018
President Mohammad Ashraf Ghani has promised to use all force to take revenge of the brutal killings of the ordinary people from the terrorist groups.
Speaking to prayer participants in Wazi Mohammad Akbar Khan mosque, President Ghani said the masters of the terror groups have became isolated.
He said those who are having issues with the Afghan nation must understand that we will never bring our heads down before their demands.
President Ghani further added that world including Islamic nations acknowledge the right true stance of the Afghanistan, promising that the issues will soon diminish.
He also added to implement the punitive culture in all governmental institutions insisting that there is no place for small politics in the ranks of the security and defense forces.
Calling for all-out support to the Afghan forces, President Ghani promised that necessary steps will be taken to ensure better security for Kabul and other provinces of the country.
This comes as the Taliban and ISIS terrorist group carried out a series of deadly attacks in Kabul and other parts of the country in the past one week.
Full report at:
https://www.khaama.com/ghani-vows-revenge-on-terror-groups-over-brutal-recent-brutal-attacks-04387
--------
NATO reaffirms support to Afghanistan in wake of recent violence
Jan 30 2018
The NATO Secretary General Jens Stoltenberg has reaffirmed support to Afghanistan and the Afghan national defense and security forces in the wake of the recent violence.
"The Afghan security forces are demonstrating bravery and resilience, keeping up the pressure against insurgents across the country. NATO is firmly committed to supporting them as they develop their skills and capabilities, and we are increasing the size of our Resolute Support training mission," Stoltenberg said in a statement.
He said "At the same time, it is essential to redouble efforts to achieve peace and reconciliation, through a process led and owned by Afghans. A stable Afghanistan benefits us all, so we encourage all regional actors to play a constructive role."
"NATO will continue to stand with Afghans as they fight terrorism, and work to build peace and reconciliation," the NATO Secretary General added.
Full report at:
https://www.khaama.com/nato-reaffirms-support-to-afghanistan-in-wake-of-recent-violence-04386
--------
Bangladesh Sub-District Residents Demand Quick Repatriation of Rohingya Refugees
Jan 31, 2018
Residents of a sub-district in southeastern Bangladesh, where hundreds of thousands of Rohingya Muslims from Myanmar are sheltering, took to the streets Tuesday to demand the refugees' speedy repatriation.
About 100 locals gathered in front of the administrative office of Ukhia sub-district to urge the government to accelerate the process of sending the refugees back to their home state of Rakhine, just across the border in Myanmar. The Bangladeshis said they feared for their safety if the repatriation did not begin soon.
"The people of Ukhia are worried and they have been spent sleepless nights as a section of the Rohingya people have been active in criminal activities inside and outside the camps. They have been killing themselves. They must go now," M. Gafur Uddin Chowdhury, chairman of Palongkhali Union council, told demonstrators during the three-hour protest.
Ten days earlier, groups of Rohingya refugees staged demonstrations at different camps in Ukhia leading up to Jan. 22, the deadline declared by Bangladesh and Myanmar to start repatriation as agreed to under a bilateral deal struck in November. The deadline passed without the process beginning.
The Rohingya protesters said they would be killed if they returned to Rakhine after being forced to leave their home villages. At least 655,000 have fled to Bangladesh since late August 2017 to escape a brutal crackdown by Myanmar's military and Buddhist vigilante groups.
Altogether about 1 million Rohingya refugees, who fled that and earlier cycles of violence in Rakhine, are sheltering in Ukhia and another sub-district of Cox's Bazar district.
"We have given the Rohingya food and shelter at our houses. We cannot host them anymore. I urge the government to repatriate them as soon as possible," Rafiqul Islam, an Ukhia resident and protest organizer, told BenarNews.
He said business opportunities for local residents were being squeezed by the Rohingya.
"The U.N. agencies, international and national NGOs, relief agencies and media houses are recruiting Rohingya men and women. But the local people are not getting enough jobs," Islam said.
In addition, Rohingya set up camps on farmland, ruining local agriculture, a protester said.
"All hills in Ukhia are flattened for the Rohingya. This season we cannot grow any vegetables here. Once abundant in vegetables, Ukhia people now buy vegetables at higher prices as the businessmen bring it from Chittagong," Shibli Azad told BenarNews.
"We want their immediate repatriation to Rakhine. Guests cannot be hosted for months, years and decades. These Rohingya have been intruding in Ukhia since late 1970s. This time we fear they may not go," he said.
Jobs
On Tuesday, the International Organization for Migration (IOM) challenged employment concerns, saying that Bangladeshis were applying for jobs and learning skills tied to humanitarian efforts for Rohingya in Cox's Bazar.
"The influx of Rohingya refugees, which began in late August last year, has expanded job opportunities across a wide range of aid jobs in Cox's Bazar, where the IOM, the U.N. migration agency, has hired about 500 Bangladeshis in the past five months. Hundreds of others have found new jobs with other international and national aid agencies," IOM said in a statement.
Since August 2017, the 500 Bangladeshis have joined more than 250 national staff who were working for IOM.
"The majority are working on the frontline of the refugee crisis in Cox's Bazar, playing important roles in supporting both the refugee and host communities, while learning a broad range of new skills," IOM said.
Meanwhile, some Rohingya have said they would return to Myanmar if conditions are met.
"We are grateful to Bangladesh for sheltering us at the time of need. We want to return to Arakan only if the government there ensures our safety and security," Shafiul Alam, a camp leader in Ukhia, told BenarNews.
Full report at:
https://www.benarnews.org/english/news/bengali/residents-protest-01302018160226.html
--------
Mideast
Clashes halt in Yemen's Aden after calls for ceasefire by Arab Coalition
30 January 2018
Yemen's Ministry of Interior announced that a ceasefire has taken place in Aden on Tuesday.
"The military and security forces that were deployed in the streets of the capital Aden returned to their camps and barracks," they said through the ministry's official website.
"Life is back to normal in various districts and regions that have been tense because of the spread of military forces, and armed factions have disappeared," they added.
The ceasefire came following a call from the Arab Coalition and Yemeni President Abdrabbuh Mansur for an immediate halt to the battles in Yemen's interim capital of Aden where heavy fighting has erupted between government troops and the southern separatists.
"The coalition renews its call to all parties to ceasefire immediately and end all forms of armed conflict," the coalition said in a statement cited by the Saudi SPA agency.
"The coalition affirms that it will take all necessary measures to restore security and stability in Aden," the statement said.
The International Committee for the Red Cross (ICRC) said late Monday that at least 36 people have been killed and 185 others wounded in two days of fighting in Aden.
Fighting intensified on Monday after the warring sides began using tank and artillery firepower as the port city remained paralyzed.
Separatists' forces late Monday advanced on the presidential palace and captured two military camps near Aden international airport, security sources told Agence France-Presse.
https://english.alarabiya.net/en/News/gulf/2018/01/30/Arab-coalition-calls-for-immediate-ceasefire-in-Yemen-s-Aden-.html
--------
Iranian opposition cleric accuses Khamenei of abuse of power
30 January 2018
Instead of blaming others Supreme Leader Ayatollah Ali Khamenei should take responsibility for Iran's economic and political shortcomings, an opposition leader under house arrest said in a letter published on Tuesday.
In rare public criticism of Khamenei, Mehdi Karroubi accused Iran's hardline top authority of abusing power and urged him to change the way he runs the Islamic Republic before it is too late.
"You have been Iran's top leader for three decades, but still speak like an opposition," Karroubi said in an open letter to Khamenei published on Saham News, the official website of his reformist political party.
By "opposition", Karroubi meant that Khamenei, head of a Shi'ite theocracy, should not be wielding ultimate power while criticizing the government of elected President Hassan Rouhani, a pragmatist who wants to liberalize an economy dominated by the elite Revolutionary Guards and other state conglomerates.
"During the last three decades, you have eliminated the main revolutionary forces to implement your own policies, and now you should face the results of that," Karroubi added.
Karroubi, 80, a Shi'ite cleric like Khamenei, and fellow reformist Mirhossein Mousavi ran for election in 2009 and became figureheads for Iranians who staged mass protests after hardline conservative President Mahmoud Ahmadinejad was returned to power in a vote they believed was rigged. Authorities denied this.
Karroubi, Mousavi and the latter's wife Zahra Rahnavard have been under house arrest since 2011 without trial, by the direct order of Khamenei.
The Supreme Leader is commander-in-chief of Iran's armed forces and appoints the heads of the judiciary. Key cabinet ministers are selected with his approval and he has the ultimate say on Iran's foreign policy and nuclear program.
By comparison, the president wields little power.
Karroubi also criticized Khamenei for letting the Revolutionary Guards take a commanding role in the economy as this "has tarnished the reputation of this revolutionary body and drowned it in massive corruption".
Karroubi cites unaccountable elite
He said that under Khamenei's leadership, bodies formed at the beginning of the 1979 Revolution to wipe out poverty had turned into conglomerates that own half of Iran's wealth without a supervisory organization to question their actions.
More than 10 million Iranians, among 80 million, now live in absolute poverty, Karroubi said quoting official figures.
"Under such conditions, it is natural that the lower classes, who were the grass root supporters of the Islamic Revolution, will turn into a gunpowder barrel," Karroubi said.
Khamenei has often accused Rouhani's government of responsibility for the lack of headway towards reducing high unemployment, inflation and inequality. He has also blamed members of parliament, former presidents and Western powers.
Rouhani, however, was easily re-elected in 2017, suggesting many Iranians still see him as their best hope for improving the economy and easing religious restrictions on society.
Karroubi further said December's nationwide street protests against "corruption and discrimination" were an alarm bell for the authorities to reform the economic and political system.
Goaded by soaring food prices, the protests - the biggest in Iran since the post-election unrest of 2009 - took on a rare political dimension, with a growing number of people calling on Khamenei himself to step down.
Clashes between protesters and police resulted in 25 deaths, according to official figures.
Karroubi also said that by vetting candidates in elections, Khamenei had reduced parliament to "an obedient assembly" under his thumb and the influence of Revolutionary Guards lobbies.
The Assembly of Experts, a council of elected clerics charged with electing, supervising and even disqualifying the Supreme Leader, has turned into a "ceremonial council that only praises the Leader", Karroubi added.
Karoubi, an ex-speaker of parliament, has been accused by hardline authorities of being a "seditionist" and "traitor".
Full report at:
https://english.alarabiya.net/en/features/2018/01/30/Iranian-opposition-cleric-accuses-Khamenei-of-abuse-of-power.html
--------
Turkey orders detention of 11 top doctors over criticism of Syrian offensive
January 30, 2018
A Turkish prosecutor ordered the detention of the head of the Turkish Medical Association (TTB) and 10 other leaders of the doctors' union on Tuesday, after the body criticized Turkey's military operation in north Syria.
The prosecutor said police in Ankara started legal proceedings on Tuesday morning and search-and-detention operations were going on in eight provinces.
Turkish authorities have cracked down on any expression of dissent over the air and ground offensive against the Syrian Kurdish YPG militia in Syria's Afrin region. More than 300 people have been detained for social media posts criticizing the campaign since it began 10 days ago.
TTB head Rasit Tukel and other members of the board had been detained, opposition CHP lawmaker Ali Seker said on Twitter.
The association's lawyer Ziynet Ozcelik said they faced accusations of "propaganda in support of a terrorist organization, and provoking the public". Ozcelik said it was the first time in the association's history that all its executive members had been ordered detained.
The Turkish Medical Association denounced the cross-border operation into Syria's Afrin last week, saying "No to war, peace immediately".
President Tayyip Erdogan accused the union of treason on Sunday. "Believe me, they are not intellectuals at all, they are a gang of slaves. They are the servants of imperialism," he told AK Party members in the northern province of Amasya.
Full report at:
https://nation.com.pk/30-Jan-2018/turkey-orders-detention-of-11-top-doctors-over-criticism-of-syrian-offensive
--------
Hamas: Top official in Gaza dies after mysterious shooting
30 January 2018
Hamas says one of its senior officials has died, three weeks after accidentally shooting himself while cleaning his weapon in Gaza.
Spokesman Hazem Qassem said on Tuesday that Imad al-Alami had been unconscious since the Jan. 9 shooting.
Hamas initially hastily announced al-Alami died naturally but later said he shot himself while checking his weapon at his Gaza City home and was in critical condition.
The 62-year-old al-Alami held several key posts as a member of Hamas' policy-making body and lived in Syria before returning to Gaza in 2012. He remained a prominent official though not a member of the current politburo.
Full report at:
https://english.alarabiya.net/en/News/middle-east/2018/01/30/Hamas-Top-official-in-Gaza-dies-after-mysterious-shooting.html
--------
Israel gradually reopens embassy in Jordan after end of spat
30 January 2018
Israel says it is reopening its embassy in Jordan after the two countries put a months-long diplomatic spat behind them.
Foreign Ministry spokesman Emmanuel Nahshon said on Tuesday that there will be a "gradual reopening" of the embassy in Amman but that no ambassador has been appointed yet.
The embassy was closed after a shooting last summer there in which two Jordanians were killed. Israel's ambassador returned to Israel along with the guard involved in the shooting. The guard claimed self-defense and received a hero's welcome at home, angering Jordanians.
The incident ruptured relations between the countries which signed a peace agreement in 1994 and cooperate on security and other issues.
Full report at:
https://english.alarabiya.net/en/News/middle-east/2018/01/30/Israel-gradually-reopens-embassy-in-Jordan-after-end-of-spat.html
--------
Palestinian, Israeli ministers meet after US Jerusalem move
30 January 2018
JERUSALEM: Senior Palestinian and Israeli officials met at a ceremony Tuesday in the first high-level encounter since US President Donald Trump's controversial recognition of Jerusalem as Israel's capital.
Palestinian economy minister Abeer Odeh and Israeli Finance Minister Moshe Kahlon attended the inauguration of a new cargo scanner at the Israeli-controlled Allenby Bridge border crossing between Jordan and the West Bank.
The new device will enable 200 containers to cross between Jordan and the Palestinian territory a day instead of the current 100, Israel's tax authority said in a statement.
Other senior Israeli and Palestinian officials were at the event, as well as a Jordanian representative and Dutch diplomats, whose country donated the new machine.
"I reached the finance ministry after a long period of stagnation in the relations between Israel and the Palestinian Authority," Kahlon said in remarks relayed by the tax authority. "We've decided to take responsibility and advance a number of joint projects."
"We have many plans to continue our financial cooperation with the (Palestinian) Authority," Kahlon said at the ceremony.
Kahlon noted that he will be meeting with Palestinian prime minister Rami Hamdallah in Jerusalem on Sunday as part of their efforts to advance "a number of joint projects."
Hamdallah and Kahlon meet regularly to discuss economic and infrastructure issues. Their last talks took place on October 30.
Their Sunday meeting will be the first since Trump pledged on December 6 to move the American embassy in Israel to Jerusalem, breaking with the policies of his predecessors.
Outraged Palestinian leaders said the US could no longer play the role of peace broker and called for the suspension of their recognition of Israel, a move that has not been implemented.
The United States meanwhile withheld $65 million of funds earmarked for the UN relief agency for Palestinian refugees, UNRWA.
Palestinian officials did not confirm the Israeli report on the meeting.
Hamdallah is heading for Brussels for an "emergency" meeting Wednesday of the Ad Hoc Liaison Committee, which coordinates international donor support for the Palestinians.
Full report at:
http://www.arabnews.com/node/1236531/middle-east
--------
Cut off by Israeli wall, Palestinian family declares 'republic'
31 January 2018
RAMALLAH, Palestinian Territories: The logic of an Israeli wall north of Ramallah in the occupied West Bank appears clear — on one side Palestinians, on the other the Israeli settlement of Beit El.
But look carefully and you will see a small gap in part of it leading into a courtyard where the Palestinian Jumaa family live.
The newly-built part of the wall which stretches along the road next to the settlement has left the 25 members of the extended family on the opposite side to the rest of the Palestinian town of El-Bireh.
They are, they say, partially cut off from the outside world, sometimes having to cross through an Israeli checkpoint just to buy milk and bread.
"The wall separated us from the people and from Palestinians. I feel I am inside the settlement, even though I am Palestinian," said Hossam Jumaa, 54 and a father of eight.
"Now we live alone."
At the house, the children of the three families play in the shadow of the six-meter wall, while their vegetable plots run toward the barrier.
The family said they were informed three years ago by Israeli authorities that they would extend the wall along the road, leaving them on the other side.
But they say construction increased after US President Donald Trump's December 6 recognition of Jerusalem as Israel's capital, which led to widespread protests and the Palestinian government freezing ties with the US administration.
The Palestinians see east Jerusalem as the capital of their future state, which they say is being rapidly eroded by Israeli settlement growth throughout the West Bank.
"The work used to be at night, but after the protests broke out in the Palestinian territories following the American decision to recognize Jerusalem as Israel's capital, the work was done in the day," Hossam's brother Hakim, 50, said.
The Israeli defense ministry said in a statement the wall was necessary "following a significant number of gunfire incidents from vehicles toward the Beit El community."
"The barrier does not harm any private land, does not block access to houses and does not change anything on the ground," it said.
"There is no harm to Palestinians or their land."
The wall cutting off the Jumaa family is different from Israel's controversial separation barrier sealing off the West Bank from Israel.
Israel began building the barrier in 2002 during the bloody second Palestinian intifada, or uprising, arguing it was necessary to stop Palestinian attackers.
According to the United Nations, around 65 percent of the separation barrier has so far been constructed, with more than 80 percent inside the West Bank.
The UN says it "impedes access to services and resources, disrupts family and social life (and) undermines livelihoods."
The wall affecting the Jumaas ranks among the barriers, fences and private security protecting West Bank settlements.
More than 400,000 Israelis live in settlements in the West Bank.
The UN says their existence and growth on land supposed to form a future Palestinian state is one of the largest obstacles to peace.
Palestinians are banned from entering settlements except in exceptional circumstances, and there are near-constant tensions between them.
Settlers have been the regular target of violent attacks by Palestinians. Hardline settlers on the other hand have attacked Palestinians.
The Jumaa family said they have asked for support from Palestinian politicians to oppose the wall but have had little help.
Hossam said being on the opposite side of the wall brings new fears.
In the early 1990s, he said, they were subject to an attack by settlers in which their windows were smashed.
"Now, after we became inside the wall, we are scared of attacks by settlers at any moment."
A nearby street is also used by the army, with the family worried of bumping into them late at night.
They say their children can no longer go to school or the shops alone without fear.
"We don't see anyone any more," seven-year-old Miriam said.
The family have increasingly little hope, instead taking to dark humor.
Full report at:
http://www.arabnews.com/node/1236586/middle-east
--------
Israeli troops shoot and kill Palestinian teenager
Jan 30, 2018
Israeli forces have shot and killed a 16-year-old Palestinian boy in the occupied West Bank in a village north of Ramallah.
According to the Palestinian Health Ministry, Layth Abu Naeem was shot in the head at close range by Israeli troops who had entered his village of al-Mugheir.
He died en route to a hospital in Ramallah.
"The soldiers killed him from a short range. They could have arrested him; they could have injured him; they could have shot his leg," said his uncle. "But the soldier meant to kill him. The bullet went through his eye and through the back of his head."
The Israeli military regularly opens fatal fire on Palestinians, accusing them of attempting to carry out stabbing attacks against its forces.
Human rights groups have repeatedly criticized the Tel Aviv regime for its policy of shoot-to-kill as a large number of the Palestinians killed at the scene of attacks did not pose serious threats to Israelis.
The number of Israeli attacks have sharply risen since the US President Donald Trump, on December 6, 2017, announced his decision to recognize Jerusalem al-Quds as Israel's capital and relocate the US embassy in Israel from Tel Aviv to the occupied city.
Full report at:
http://www.presstv.com/Detail/2018/01/30/550744/palestine-ramallah-israel-child-kill
--------
North America
Thousands in Quebec City remember murdered Muslims
30 January 2018
Thousands gathered Monday evening at a site in Quebec City to remember the six Muslims who were shot to death one year ago while at prayers in a local mosque.
It was the culmination of four days of events held in various communities across Canada to mark the deadly rampage unleashed at the Islamic Cultural Centre.
Prime Minister Justin Trudeau and Quebec Premier Philippe Couillard were among the dignitaries who spoke and reflected upon the tragedy.
Trudeau released a statement earlier in the day.
"On this solemn occasion, I join Canadians across the country to remember and honor those who were taken from us too soon," Trudeau said.
In addition to the six men killed, 19 were injured.
The victims were Mamadou Tanou Barry, 42; Abdelkrim Hassane, 41; Khaled Belkacemi, 60; Aboubaker Thabti, 44; Azzeddine Soufiane, 57; and Ibrahima Barry, 39.
Andre Bissonnette is charged with their murders and the attempted murder of others who were shot but survived.
"Our thoughts are with the victims, their loved ones and all those who still live with the pain and trauma caused by the attack," the prime minister said.
"This was a terrorist attack against all Canadians, meant to test our resolve and weaken our values."
The National Council of Canadian Muslims (NCCM), a civil liberties and advocacy organization, had asked the federal government to declare Jan. 29 a national day of remembrance. But as of Monday, that had not been done.
"While we are disappointed at the lack of political courage that we have seen so far at the federal level, our efforts do not stop today, and we will keep calling on the government to take a firm stance by declaring January 29th as a National Day of Remembrance & Action on Islamophobia," the NCCM said in a statement to Anadolu Agency.
"Our call was endorsed by over 70 organizations and dozens more community partners and allies. The call has also had the support of major organizations including Amnesty International, the Canadian Labour Congress, as well as interfaith allies like the Anglican Church and others. This signals that the momentum behind this call is strong, and continuing."
The NCCM was also encouraged by the response of cities that had designated the day as one of remembrance, saying that "the groundswell of support for our call has been deeply heartening".
http://www.worldbulletin.net/islamic-world/198324/thousands-in-quebec-city-remember-murdered-muslims
--------
Trump doesn't know it, but Iranians are the Norwegians he's been looking for
By Reuel Marc Gerecht
January 30, 2018
The White House wants to keep Iranians out of the United States. Special circumstances will allow entrance to a lucky few, but standard non-immigrant and immigrant admission, if current practices stand judicial challenge, will essentially be over. The Trump administration justifies this ban, which includes five other majority-Muslim countries, on national security grounds — an odd argument, since such a concern ought to incline the administration to give more visas, not fewer, to Iranians.
When I was in the Central Intelligence Agency in the 1980s and 1990s, and operating under consular cover, I may have given more visas to Iranians than any other U.S. official since the Islamic Revolution. The Iranian terrorist threat then was considerably greater than it is now. During those years, Ali Akbar Hashemi Rafsanjani, the clerical major-domo and the guiding force of the Islamic republic abroad, approved an array of overseas operations that killed scores of Americans, Europeans, and Iranian exiles.
And yet Washington had no hesitation in giving tourist, student, and immigrant visas to Iranians who merited them. Since 1979, not a single terror attack inside the United States has been carried out by an Iranian or Iranian-American, although four expatriates have been convicted of terrorism-related crimes. Only one, a plot to blow up the Saudi ambassador at a Georgetown restaurant in 2011, had the clerical regime's fingerprints on it.
Tehran still surveils its citizens abroad, runs lethal operations against Jews and Israelis, and has not (it appears) abandoned assassinating Iranian exiles outside of the United States. But the magnitude and competence of its terrorist operations beyond the Middle East have seriously declined. Given the theocracy's terrorist track record, Iranians certainly represent far less of a security threat to Americans in the United States than either Saudi Arabians or Muslims from the European Union and Russia. Yet the administration is, for good reasons, not seeking to bar Saudi Arabians or European Muslims from entering the country.
In the Islamic republic, anti-Americanism is the creed from birth, but the clerical regime has found it increasingly difficult to effectively excoriate the United States, in part, because Iranians have come to loathe their rulers. The enemy of my enemy is my friend. Nearly as important, the regime has had to deal with the fact that hundreds of thousands of Iranians now live in the United States, and thousands from the Islamic republic had — until President Trump's executive order — regularly visited their relatives, attended school, or just come to see the "Great Satan."
The Internet and the rise of hand-held global communications devices, which the mullahs try to control, have further frustrated the regime's anti-Western aspirations. Iranian Americans, Iranian green-card holders, Iranian students and visitors spread the truth in the old country. Like the Ireland of old, Iran is a nation of extended families: what a second cousin knows, everyone knows. The vibrant Iranian community in Los Angeles — with its own music, radio, Internet sites, and literary scene — is an alternate universe for Iranians back home, always inspiring and provoking.
Many Republicans, particularly those of the America First variety, have a hard time appreciating our country's unrivaled soft power. The supreme leader of Iran, Ayatollah Ali Khamenei, lives in fear of it. The regime's nonstop tirade against tahajom-e farhangi ("the cultural invasion") and jormha-ye farhangi ("cultural crimes") is a failing rearguard action against the seductive, liberating world that America has built since World War II. Most of the American right sees the West as playing defense, trying to protect occidental culture from its foreign and domestic enemies. Many American conservatives see a regnant Islam coming to our shores, threatening to do here what loose immigration policies have done to some European cities, where new communities hostile to the native culture have grown.
Let us disregard, for a moment, the question of whether Europeans can absorb these immigrants (though history suggests that they can). This certainly isn't a problem for the United States, whose absorptive capacity dwarfs Europe's. In 2016, according to the Department of Homeland Security, more than 1.1 million immigrants were granted permanent residence in the United States. Even if conservative Americans still fear a new, larger Muslim wave, Iranian immigrants, students, and tourists really shouldn't accentuate their anxiety.
To borrow the president's invidious language, Iranians are the "Norwegians" he's been searching for. Those who have immigrated to the United States have had stunning success here, sterling exemplars of the American dream who enthusiastically embrace our secular, liberal society. The emphasis that Iranian families, even from peasant backgrounds, have placed on education has paid off handsomely in the West.
Full report at:
https://www.washingtonpost.com/news/democracy-post/wp/2018/01/30/trump-doesnt-know-it-but-iranians-are-the-norwegians-hes-been-looking-for/?utm_term=.8f0e34d05b3d
--------
Tillerson, Mattis praise Qatar despite ongoing rift with Saudis
January 30, 2018
Secretary of State Rex Tillerson says Qatar has made "significant progress to improve efforts to combat terrorism," despite ongoing claims by other Arab powers that the tiny Persian Gulf nation backs jihadi groups such as Hamas and the Muslim Brotherhood. "Qatar is a strong partner and longtime friend of the United States," said Mr. Tillerson, who was joined by Defense Secretary James Mattis in hosting Qatari Foreign Minister Sheikh Mohammed bin Abdulrahman al-Thani and Defense Minister Khalid bin Muhammad al-Atiyah in Washington Tuesday.
Mr. Tillerson's comments come roughly eight months after Saudi Arabia, Egypt, Bahrain and the United Arab Emirates banded together to impose an economic and diplomatic blockade against Qatar, a wealthy country that hosts Washington's most strategic military base in the Persian Gulf, over what they claim is its weak posture on Islamic extremism and terrorism.
The rift among Arab nations within the Gulf Cooperation Council (GCC) — a U.S.-backed political-military alliance in the region — has put Washington on shaky diplomatic ground there, with the Trump administration resistant to side completely with Saudi Arabia because of American interests in Qatar.
Mr. Tillerson on Tuesday reiterated previous calls for a resolution of the so-called "GCC Crisis," asserting that the "dispute has had direct negative consequences economically and militarily for those involved, as well as the United States."
"We are concerned by the rhetoric and propaganda employed in the region, playing out daily in Arab mainstream and social media," the secretary of state said. "It is critical that all parties minimize rhetoric, exercise restraint to avoid further escalation, and work toward a resolution.
"A united GCC bolsters our effectiveness on many fronts, particularly on counterterror, countering terrorism, defeating ISIS, and countering the spread of Iran's malign influence," Mr. Tillerson said.
Mr. Mattis added that, despite the regional tensions, Qatar and the United States "maintain excellent military-to-military relations," with the Qataris hosting the Al Udeid Air Base, which is home to U.S. Air Force Central Command and critical not just to U.S. military operations in the Middle East, but also to "President Trump's South Asia strategy."
"It should be noted that just this last week, the Qatari Air Force completed its first two C-17 flights from the Gulf to Afghanistan and back, providing logistical support to the NATO counterterrorism campaign in Afghanistan," Mr. Mattis said.
He and Mr. Tillerson spoke an a press conference alongside Sheikh al-Thani and Mr. al-Atiyah after a high-level session of the inaugural U.S.-Qatar strategic dialogue in Washington.
Sheikh al-Thani praised his American hosts and touted expansive economic ties between the United States and Qatar.
"Qatar is already investing more than $100 billion in the U.S. economy, including $10 billion earmarked for infrastructure," he said, adding that "Qatar and U.S. private sector have devoted substantial resources to the other, U.S. companies doing business in Qatar within construction, energy, and services industry."
Full report at:
https://www.washingtontimes.com/news/2018/jan/30/tillerson-mattis-praise-qatar-despite-ongoing-rift/
--------
Trudeau says he will continue to denounce extremist groups
Jan 31, 2018
Prime Minister Justin Trudeau says he will keep confronting intolerant groups such as Quebec-based La Meute, which he called a group of "bozos" at Monday's one-year commemoration of the Quebec City mosque killings.
Asked by a reporter whether he was unwittingly giving far-right groups free publicity, Mr. Trudeau said he prefers to take on extremists rather than pretend that they do not exist.
"I will always be there to denounce those who don't want to build a better and more open society," Mr. Trudeau said at a news conference on Tuesday. "It is my responsibility as a leader and as Prime Minister … to make it clear when there is hate speech, when there are statements or acts that are unacceptable."
La Meute (the French word for wolf pack) is a self-styled anti-Islamist and anti-multiculturalism group. Some of its members participated in a campaign against the creation of a Muslim cemetery near Quebec City last year.
On Tuesday, a member of the group said the Prime Minister was wrong to make a link between La Meute and the Quebec City tragedy of Jan. 29, 2017, in which six Muslims were gunned down.
"A bozo is someone who compares homophobia to Islamophobia. We have no reasons to fear homosexuals, but we have a ton of reasons to fear … Islamists," said Sylvain Brouillette, who insisted his group was not against Muslims.
Mr. Brouillette went on to attack Quebec Premier Philippe Couillard, who said in his speech on Monday that citizenship does not depend on the date someone or one's ancestors arrived in the country.
"A bozo is someone who compares the colonization of Canada with modern immigration," Mr. Brouillette said in his Facebook post.
Conservative MP Pierre Paul-Hus said the attack on La Meute was unbecoming of a Prime Minister, saying groups should not be targeted because of their vision of the country.
"Canada's Prime Minister must speak in a way that is respectful of people. Calling people bozos, those are not words that should come out of the Prime Minister's mouth," Mr. Paul-Hus said after Mr. Trudeau defended his comments.
Mr. Paul-Hus added the timing of Mr. Trudeau's comments was particularly ill-chosen given the sombre tone of the event, which was attended by the victim's families and various political leaders.
"Why did he feel the need to speak about these people? Why, in a speech in front of people gathered to commemorate an attack, did he talk about these people and call them bozos?" Mr. Paul-Hus asked.
Mr. Trudeau spoke without notes at the event in Quebec City. Still, his speech was prepared on the flight from Ottawa, with Mr. Trudeau deciding it was an appropriate moment to confront any lingering unease with Islam and Muslims.
"It's easy to condemn racism, intolerance and discrimination against the Muslim community. We know who the racists are, they are the others, the bozos with dog paws on their T-shirt," he said in an obvious reference to members of La Meute.
The time has come, he said, to go further and confront Islamophobia.
"We are all afraid sometimes, afraid of what we don't know, afraid of strangers. But we have to go beyond that, my friends," Mr. Trudeau said.
Mr. Trudeau's comments came as many politicians in Quebec have refused to use the word Islamophobia, arguing it prevents legitimate criticism of Islam.
"I'm disappointed that our Prime Minister emphasized what divides us instead of giving a speech that would have unified us," Conservative MP Gérard Deltell said. "The Prime Minister acted like the leader of a political party rather than as a statesman."
Full report at:
https://www.theglobeandmail.com/news/politics/trudeau-says-he-will-continue-to-denounce-extremist-groups/article37799484/
--------
Southeast Asia
Federal Court: 'Simplistic' to say Shariah courts have last word on conversions
BY IDA LIM
January 31, 2018
KUALA LUMPUR, Jan 31 — Views that Shariah courts are the only venue to decide on conversions to Islam are "simplistic", said the full Federal Court judgment in the case of M. Indira Gandhi.
In a landmark ruling on Monday, it said the civil courts have the exclusive jurisdiction to hear cases such as the Hindu mother's challenge against the validity of her Muslim convert ex-husband's unilateral conversion of their three children to Islam in 2009.
The emphatic wording was a clear departure from previous superior court decisions in which judges deferred to their Shariah counterparts in such matters, reinforcing the view that Islamic matters could only be resolved within the latter.
"It must be said that the judicial trend in the past have taken the position that since matters of conversion involves Islamic law and practice, it must follow that the Syariah Courts must have jurisdiction over such matters to the exclusion of civil courts.
"With respect, this approach is unduly simplistic," Justice Tan Sri Zainun Ali said in the Federal Court's 100-page judgment sighted by Malay Mail.
The judgment referred to previous Federal Court rulings in the cases of Soon Singh a/l Bikar Singh v Pertubuhan Kebajikan Islam Malaysia (Perkim) Kedah & Another (1999), Lina Joy v Majlis Agama Islam Wilayah Persekutuan and others (2007), and Hj Ramli Abdullah v Siti Hasnah Vangarama Abdullah & another (2014).
In Soon Singh's case, it said a state law expressly providing for the Shariah courts' jurisdiction over conversion into Islam implies that conversion out of Islam also falls under the latter's scope, while the Lina Joy case involving an applicant who wanted to renounce Islam saw the majority of judges ruling that apostasy was the purview of Shariah courts.
The Federal Court had, in Siti Hasnah's case, based its decision on precedents when reaffirming that "it is settled law that the question of whether a person is a Muslim or not is a matter falling under the exclusive jurisdiction of the Shariah court", Zainun said.
Expanding on the "unduly simplistic" approach of considering matters related to Islamic law to be solely for the Shariah courts, Zainun said the position ignores the broader constitutional context of Article 121 (1A) of the Federal Constitution.
Article 121 (1A) states that the civil courts shall have no jurisdiction in respect of any matter within the jurisdiction of the Shariah courts.
However, Zainun pointed out that the effect of Article 121 (1A) "is not to oust the jurisdiction of the civil courts as soon as a subject matter relates to the Islamic religion".
Civil courts' powers entrenched
Zainun noted that the civil courts' authority under Article 121 (1) include pivotal or crucial components such as the powers of judicial review and interpretation of the Federal Constitution and legislation, adding that such powers are inherent in the civil courts' constitutional role as the protection against unlawful laws and executive action.
This vested authority is part of the Federal Constitution's basic structure, and cannot be removed from the civil courts or given to the Shariah courts, be it through amendments to the Federal Constitution, federal law or state laws.
"We take a firm stand on this — in that before a civil court declines jurisdiction premised on the strength of Article 121 (1A), it should first examine or scrutinise the nature of the matter before it. If it involves constitutional issues, it should not decline to hear merely on the basis of no jurisdiction," the judgment said.
Earlier in the judgment, the Federal Court said Article 121 (1A) is not a blanket exclusion of the civil courts' jurisdiction whenever a matter relating to Islamic law arises.
Citing various past court decisions, the Federal Court also said the article does not remove either the civil courts' jurisdiction of constitutional interpretation even when determination of Islamic law is required or the jurisdiction to interpret laws even when it relates to administration of Muslim law.
Zainun's judgment was unanimously backed by the other judges on the Federal Court's five-man panel that included Court of Appeal president Tan Sri Zulkefli Ahmad Makinudin, Chief Judge of Sabah and Sarawak Tan Sri Richard Malanjum, and Federal Court judges Tan Sri Abu Samah Nordin and Tan Sri Ramly Ali.
The Federal Court's judgment reverses an earlier December 2015 majority decision in Indira's case by the Court of Appeal.
In the 2015 majority decision, the Court of Appeal had dismissed Indira's challenge and had cited the Federal Court's ruling in Siti Hasnah.
The appellate court had then also said: "The determination of the validity of the conversion of any person to the religion of Islam is strictly a religious issue and it falls within the exclusive jurisdiction of the Shariah Court".
http://www.themalaymailonline.com/malaysia/article/federal-court-simplistic-to-say-shariah-courts-have-last-word-on-conversion#pJYFJa1UB19mVgEF.97
--------
Philippines files murder, kidnap charges against doctor linked to planned New York attacks
JANUARY 30, 2018
MANILA (Reuters) - The Philippine justice ministry has filed charges of murder and kidnapping against a doctor linked to a foiled plot to mount gun and bomb attacks in the heart of New York City, over his role in the abduction of six sawmill workers in a southern province.
Prosecutors had set aside the alibi of Russel Salic, who said he was at a doctors' convention in another Philippine province when pro-Islamic State Maute militants kidnapped six sawmill workers and beheaded two of them in April 2016.
"Criminal liability exists, notwithstanding non-participation in every detail in the execution of the crime," prosecutors said in a document recommending charges against Salic and Maute militants.
Reuters could not immediately reach Salic, his lawyer or other representatives by telephone or email to seek comment.
The 37 year-old doctor has been detained at a maximum security facility in the capital, Manila, after he surrendered to authorities last year.
In sworn statements, four sawmill workers said that while in captivity, they had seen Salic cleaning guns in a room full of weapons and that he had asked some of the militants to give them food and coffee.
In his defence, Salic disputed the sawmill workers' story, insisting he was at an orthopedic convention and showing pictures to back up his account. But prosecutors ignored his alibi, saying the workers had no reason to fabricate stories.
At about the time of the 2016 abduction, Salic, who had expressed support for Islamic State on social media, sent about $423 from the Philippines to an FBI undercover officer to help pay for the attacks in New York, documents unsealed in a U.S. federal court show.
U.S. authorities filed criminal charges against the 37-year-old doctor in October last year and wanted him extradited along with Pakistani Talha Haroon, who was also linked to the bomb plot in Manhattan's Times Square.
But Salic could not immediately be sent to the United States because he faced charges of murder and kidnapping, along with 53 other pro-Islamic State militants, in the regional trial court in the southern Philippines.
The justice department said the mother of the Maute brothers who led the militants' takeover of Marawi City for five months from May last year, was also charged. Some of Salic's co-accused had been killed in Marawi, including seven Maute brothers.
Full report at:
https://in.reuters.com/article/philippines-militants/philippines-files-murder-kidnap-charges-against-doctor-linked-to-planned-new-york-attacks-idINKBN1FJ1KJ
--------
Just give us consistent judgements, Muslim group says after Indira ruling
BY JONATHAN EDWARD
January 31, 2018
KUALA LUMPUR, Jan 31 — Gerakan Pembela Ummah (Ummah) said it wanted consistent judgements from the country's legal system and justice for all parties after the Federal Court declared unilateral conversion of minors to be unlawful.
Speaking to the press at the Muafakat office in Taman Melawati, Ummah secretariat chief Aminuddin Yahaya said the group would continue to seek a "fair" solution to the unilateral conversion of Indira Gandhi's three children by her estranged husband Muhammad Riduan Abdullah.
"We are concerned over the inconsistent judgements by the federal court and the continued subservience of the Shariah court to the civil courts.
"We also find it strange that the Federal Court has exclusive rights over judicial review even though Article 121(1A) of the constitution outlines that civil courts have no jurisdiction in the affairs of the Shariah courts," he said.
He also disputed the interpretation of Article 12 (4) of the Constitution which stated the "religion of a person under the age of 18 years will be decided by his parent…" as meaning both mother and father, claiming that it was almost impossible to achieve consensus unless both parents had converted.
"While it may seem fair on the surface to get consent from both parents, closer inspection reveals that the ruling is in fact unfair to the parent who chooses to convert to Islam.
"This interpretation does not protect the right to a child's custody as it means any parent wishing to convert will have to relinquish their rights to determine the religion of the child.
"Also considering that in such cases, the husband and wife are typically not on talking terms and may even only communicate through their respective lawyers, how can consensus be reached over determining the religion of the minors under their care?" he asked.
He added that the ruling on Indira's case contradicted precedent on a similar case in 2008 — Subashini Rajasingam and Saravanan Thangothoray — which he said was a more "harmonious approach" in dealing with the conversion of minors.
"The court had then ruled that the permission of either parent was sufficient to register a change in the religious status of the children. If the non-Muslim parent wishes to object they may do so.
"Should an objection be raised, the court will balance the rights of the parents, the interests of the children and other factors to deliver a just verdict on a case by case basis," he said.
Aminuddin also urged the state government of Perak to amend its constitution to close what he described as a weakness, in that the state's Shariah court only had jurisdiction over those seeking to renounce Islam and did not have the power to determine the validity of one's conversion to the religion.
"Ummah urges all states to amend their laws to ensure the Shariah courts are empowered in a complete and holistic way so that there is no dispute over their jurisdiction.
"We also urge Islamic principles and its legal system be respected and used in this country's judicial system. As declared by the former Chief Justice Tun Ahmad Fairuz, Common Law in Malaysia is Islamic Law," he said.
Aminuddin also said the coalition would continue to oppose the reintroducing of Clause 88A to amend the Law Reform (Marriage and Divorce) (Amendment) Act (LRA).
Full report at:
http://www.themalaymailonline.com/malaysia/article/just-give-us-consistent-judgements-muslim-group-says-after-indira-ruling#06SgA0Mv7RSexPJ3.97
--------
Africa
Two Niger soldiers die fighting off 'Boko Haram raid'
January 31, 2018
NIAMEY:- At least two soldiers were killed overnight while fighting off an attack by suspected Boko Haram jihadists in southeast Niger , a source in the security forces said Tuesday. "It was an audacious attack repelled by our valiant defence and security forces who lost two men all the same," the source told AFP on condition of anonymity. The insurgents from neighbouring Nigeria "came aboard about a dozen vehicles" early Monday evening to attack a National Guard outpost near Chetimari, a village about 20km from the main regional town, Diffa, the source said. –AFP
"Since the Niger soldiers put up strong resistance, the Boko Haram elements withdrew to shell their positions from a distance," he added.
https://nation.com.pk/31-Jan-2018/two-niger-soldiers-die-fighting-off-boko-haram-raid
--------
Algerians outraged after Iranian official criticizes late president's wife
30 January 2018
Iran's cultural attaché to Algeria Amir Mousavi provoked Algerians after he criticized Anissa Boumediene, the widow of president Houari Boumediene, because of her support of the Iranian opposition.
"If Houari Boumediene were alive, what would he tell his wife who stood (with the opposition)?" Mousavi said on his Facebook page.
His remarks come after Anissa said during an Iranian gathering held in Paris that she wishes the Iranian regime collapses.
"I hope that the regime collapses and that a woman leads Iran. I hope this woman is Maryam Rajavi, the leader of the People's Mujahedin of Iran," she said.
Full report at:
https://english.alarabiya.net/en/News/north-africa/2018/01/30/Algerians-outraged-after-Iranian-official-criticizes-late-president-s-wife.html
--------
More than 100 refugees rescued off Libya's coast
30 January 2018
A total of 120 undocumented refugees were rescued off the coast of Libya late Monday, a Libyan official said.
Al-Hadi Mohamed Sabratha, chief of the Libyan Naval Forces' port and coastguard, said the African refugees included women and children.
Mohamed said the rescue operation was conducted offshore of Garabulli, 60 kilometers east of the Libyan capital Tripoli, and the refugees were brought to the Department for Combatting Illegal Migration.
According to the Libyan Navy, 16,000 irregular migrants were rescued in 2017.
Ever since the collapse of the central authority in Libya in 2011, the country's northwestern coast has become a hub for irregular migration to Italy and other countries in Europe.
Full report at:
http://www.worldbulletin.net/africa/198325/over-45-anglophone-secessionists-extradited-to-cameroon
--------
URL: https://www.newageislam.com/islamic-world-news/islam-considers-election-boycotters-be/d/114119
New Age Islam, Islam Online, Islamic Website, African Muslim News, Arab World News, South Asia News, Indian Muslim News, World Muslim News, Women in Islam, Islamic Feminism, Arab Women, Women In Arab, Islamophobia in America, Muslim Women in West, Islam Women and Feminism