New Age Islam News Bureau
20 Oct 2015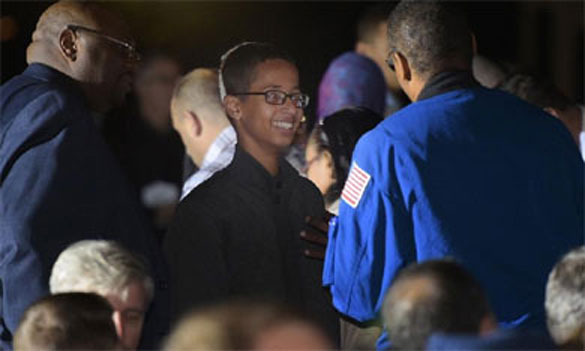 Irving, Texas student Ahmed Mohamed (C) is seen during the second White House Astronomy Night on the South Lawn of the White House on October 19, 2015 in Washington, DC (AFP Photo/Mandel Ngan)
--------
Pakistan
• Islam and Democracy Can't Go Together: Pakistan Council of Islamic Ideology
• Bomb Explosion Leaves 11 Killed, 22 Wounded in Pakistan's Quetta
• Tactical N-arms to ward off war threat, says FO
• Mina stampede: Death toll rises to at least 2,177
• KP being run by western NGOs, says Fazl
• Pakistan Takes Serious Notice of Growing Hindu Vandalism Involving Pakistani Nationals
• Pak-Saudi anti-terrorism training starts
----------
South Asia
• Taliban Capture District Police Chief with At Least 13 Policemen in Faryab
• Taliban Were Using Kunduz Hospital as 'Safe Place' When Bombed By US Forces
• Bangladesh Investigates Alleged Radical Threat against Media
• NATO's top commander says member nations assured him of keeping troops in Afghanistan
• Five Jamaat men held on subversion charge
----------
Arab World
• Ahrar Al-Sham Ordered by Turkey to Join Nusra Front in Syria
• Syrian, Russian Airstrikes Destroy Terrorists' Positions in Aleppo Countryside
• Syrian Troops Advance towards Air Base Besieged By ISIS
• Top Al-Qaeda Leader Al-Nasr Killed By US Airstrike: Pentagon
• Al-Jubeir: Hard to envision Iran role in Syria solution
• ISIL Commander Killed in Northern Beiji
• Iraq to Ask for Russia's Military Aid after Salahuddin Operations
• Syrian Forces Kill Terrorist Commander in Aleppo
• Russian Defense Ministry: Terrorists in Syria Fighting Each Other
• Russian Air Forces Target 49 Terrorist Positions in Syria in One Day
• Syrian Army, Hezbollah Regain Tal SyriaTel Area near Aleppo
• Syrian rebels receive weapons for Aleppo battle
• News agency keeps contradicting official Saudi Mina death toll
----------
Mideast
• Saudi Warplanes Pound Several Areas in Crisis-Hit Yemen
• Israel Destroys Palestinian's West Bank Home
• Hoard of Suicide Vests, Guns Found In Ankara
• Yemeni govt says ready for UN talks with rebels
• Yemen's abundant guns fuel its messy civil war
• U.N. urges Iran to halt execution of minors
• Kerry calls for clarity on Aqsa to help end violence
• Saudi Arabia envisions no Iran role in ending crisis
• Israeli soldiers arrest senior Hamas leader in West Bank
----------
North America
• White House Welcomes Muslim Teen Falsely Accused Of Making Bomb
• California Mosque Connects Sunnis, Shiites
• I would have prevented 9/11: Donald Trump
• Pro-Palestinian protesters rally across US
----------
Europe
• Jewish, Muslim Graves Defiled With Swastikas in Austria
• Muslims Condemn Britain's Plans to Combat Extremism
• 'All Refugees Cannot Come To Europe': UN Official
• Controversial Cleric's Invitation to Visit Morocco Sparks Harsh Criticism
• UK Still Backing Turkey's EU Bid
• EU 'working intensely' with Turkey on refugee plan
• Refugee treatment in Croatia, Slovenia, unacceptable: Amnesty
• German FM rejects Riyadh's stance on Syria
• Liberals surge to stunning Canadian election win
----------
India
• AIMPLB Chief Speaks: One Culture Being Imposed In Country
• ATS Discusses ISIS Threats with Muslim Clerics
• Killing of Udhampur trucker just makes things more daunting for Indian Muslims
• Pak develops nuclear weapons to combat possible war with India
• Kerala man's Islamic State foray led to deportation of 8 friends
• In goodwill gesture, Pak food chain offers free meal to Indians
----------
Africa
• History of Islam in Malawi Preserved By Scholar
• Despite the Odds, One Doctor Promotes Family Planning In Muslim Nigeria
• Libya's recognized parliament rejects U.N. proposal
• Libyan parties urged to agree unity govt 'immediately'
• Misrata's biggest force refuses Leon government
----------
Southeast Asia
• Visa-Free Indonesia Entry for Saudis
• In Second Attempt, Gerakan to Challenge Hudud through Muslim Members
• Indonesia Weighs Fighter Jet-Backed Islamic Bonds in Sales Push
• Foreign Secretary: We Are Not China's Servants
Compiled by New Age Islam News Bureau
URL: https://www.newageislam.com/islamic-world-news/new-age-islam-news-bureau/islam-and-democracy-can't-go-together--pakistan-council-of-islamic-ideology/d/104989
----------
Pakistan
Islam and Democracy Can't Go Together: Pakistan Council of Islamic Ideology
October 20, 2015
ISLAMABAD: The Council of Islamic Ideology (CII) has said that there is a gap in the Pakistani political system as Islam and democracy cannot go together.
After the CII 200th meeting here on Monday, CII Chairman Maulana Muhammad Khan Sheerani, while talking to the media men, said that there is a chasm in the system of Pakistan because this gulf cannot be filled with referendum held through the Election Commission of Pakistan. He asks whether democracy and Islam can go together. He said that some people beg for votes in the name of socialism and some in the name of nationalism and how the gap will be filled in this situation.
He said, "Muharram is a sacred month and it demands respect of one another, stresses abstaining from sectarian speeches and calls for sectarian harmony." This appeal was made in a resolution passed by the CII.
On the first day of the CII meeting, it was said that the co-education system was incorrect. It says that it becomes Wajib (compulsory) for woman to cover her face, hands and feet if there is a danger of spreading disorder, otherwise covering of face, hands and feet for woman is 'Mustahab' (better).
The CII further says that eunuch is not a separate sex rather under Article 35 of the Constitution they are subordinate to their families and they are legal heirs in the property.Replying to a question of Pir Abdul Baqi how it should be judged that there was anarchy and the women should veil their faces, hands and feet, Maulana Sheerani said that the women should cover their faces, hands and feet in case of anarchy and this is morality not a law and the people know that.
Maulana Sheerani said that promotion of Urdu was a constitutional demand and there was a court decision in this regard as well. He said that the CII had changed all its official affairs in Urdu. He said that separate institutions should be set up for girls and boys instead of co-educational institutions.
http://www.thenews.com.pk/Todays-News-13-40286-Islam-and-democracy-cant-go-together-Sherani
----------
Bomb explosion leaves 11 killed, 22 wounded in Pakistan's Quetta
Oct 20 2015
A bomb explosion in a passenger bus has killed 11 people and wounded 22 others in Quetta city of Pakistan's Balochistan province.
Those sitting on the front seats suffered less harm but those on the back seats suffered the most, said an injured person.
Inspector General of Balochistan Police Almish Khan confirming the incident said it happened at Dukan-i-Baba Chowk area on Saryab road on Monday evening.
He added that the bomb was placed on the roof of the crowded passenger bus.
Four to five kilograms of explosives were believed to have been used in the blast, IG Khan said.
Soon after the incident security forces and rescue teams arrived at the site and shifted those wounded to Civil Hospital Quetta where eight of them have been announced being in critical condition.
Malik Baloch, the chief minister of Balochistan condemned the bombing and termed it "a conspiracy against durable peace in Balochistan."
"We will chase the terrorists and bring them to justice," he said.
http://www.khaama.com/bomb-explosion-leaves-11-killed-22-wounded-in-pakistans-quetta-4015
----------
Tactical N-arms to ward off war threat, says FO
ANWAR IQBAL
Oct 20, 2015
WASHINGTON: Pakistan has made low-yield nuclear weapons to bridge the gap for war that India had created through its cold-start doctrine, Foreign Secretary Aizaz Chaudhry told a news briefing on Tuesday.
This is the first concrete explanation from a senior Pakistani official on how Islamabad plans to deal with New Delhi's so-called cold-start doctrine, now renamed the proactive strategy. It also is a rare explanation of Pakistan's decision to make tactical nuclear weapons to deal with the possible threat of an Indian aggression.
Briefing the Pakistani media on Prime Minister Nawaz Sharif's visit to Washington, Mr Chaudhry also said that Pakistan would not sign any nuclear deal with the United States during the visit.
The prime minister arrives in Washington on Wednesday for a meeting with US President Barack Obama, scheduled for the next day (Oct 22).
Reports in the US media suggest that the Obama administration is trying to persuade Pakistan to sign a nuclear deal, which will enable Pakistan to join the Nuclear Suppliers Group if it agrees to accept certain restrictions on its nuclear programme.
"Our nuclear programme is one dimensional: stopping Indian aggression before it happens. It is not for starting a war. It is for deterrence," the foreign secretary said.
Explaining India's cold-start doctrine, Mr Chaudhry said that under this strategy India had already moved its cantonments close to the Pakistani border. This allowed India also to move its conventional weapons close to Pakistan along with other vehicles and fuel supplies.
By drastically reducing the time required to launch an aggression against Pakistan, India had "created a space for war," Mr Chaudhry said. He explained that Pakistan's "low-yield, tactical nuclear weapons" would make it difficult for India to launch a war against Pakistan while remaining under the nuclear threshold.
"Our argument is, when you are a nuclear power, you do not create spaces for war. War is no more an option," the foreign secretary said. "We have plugged the gap India had created. We have the right to do so."
Reports in the US media claim that Washington wants Pakistan to curb its tactical weapons because it fears that such weapons could trigger a nuclear war in South Asia.
Asked under what conditions Pakistan could sign a nuclear deal with the United States, Mr Chaudhry said: "We are not signing a nuclear deal. No deal, not of any kind."
He also said that there were no preconditions in the US-Pakistan dialogue as such talks reflected a desire for "remaining engaged with mutual respect and understanding."
The White House too has downplayed reports about a proposed nuclear deal with Pakistan, saying that no such "deal would come to fruition" during the PM's visit. But the White House Press Secretary Josh Earnest did say that the nuclear issue would be one of the subjects the two leaders would discuss when they meet on Thursday.
Mr Chaudhry said Pakistan was well aware of its responsibilities as a nuclear state and had won international recognition for its efforts to safeguard its nuclear installations.
"We have had no nuclear accidents in Pakistan. We have a very strict export control system. We are proud of our record," he said, adding: "Our nuclear programme is only to deter aggression against India. That's the long and the short of it."
He said Pakistan's nuclear installations were already functioning under IAEA safeguards and it had taken such measures voluntarily.
In reply to a question about Pakistan joining the Nuclear Suppliers Group, the foreign secretary said the US policy of getting India included in this group was "discriminatory".
"We encourage the US to have a non-discriminatory approach, a balanced approach," he said.
Published in Dawn, October 20th, 2015
http://www.dawn.com/news/1214196/tactical-n-arms-to-ward-off-war-threat-says-fo
----------
Mina stampede: Death toll rises to at least 2,177
Oct 20, 2015
DUBAI: The crush and stampede that struck Haj last month in Saudi Arabia killed at least 2,177 pilgrims, a new Associated Press tally showed Monday, after officials in the kingdom met to discuss the tragedy.
The toll from the Sept 24 disaster in Mina keeps rising as individual countries identify bodies and work to determine the whereabouts of hundreds of pilgrims still missing.
The official Saudi toll of 769 people killed and 934 injured has not changed since Sept 26, and officials have yet to address the discrepancy.
Crown Prince Mohammed bin Naif bin Abdul Aziz, who is also the kingdom's interior minister, oversaw a meeting late Sunday about the Mina stampede, according to the official Saudi Press Agency. The agency's report did not mention any official response to the rising death toll.
Country-wise numbers of people lost in the stampede:
Iran: 465
Mali: 254
Nigeria: 199
Egypt: 182
Bangladesh: 137
Indonesia: 126
India: 116
Pakistan: 102
Cameroon: 76
Niger: 72
Senegal: 61
Ivory Coast, Benin: 62
Ethiopia: 47
Chad: 43
Morocco: 36
Algeria: 33
Sudan: 30
Burkina Faso: 22
Tanzania: 20
Somalia: 10
Kenya: 8
Ghana, Turkey: 7
Myanmar, Libya: 6
China: 4
Afghanistan: 2
Jordan, Malaysia: 1
The AP count of the dead from the Mina crush and stampede comes from state media reports and officials' comments from 30 of the over 180 countries that sent citizens for Haj.
"The crown prince was reassured on the progress of the investigations," the SPA report said.
"He directed the committee's members to continue their efforts to find the causes of the accident, praying to Allah Almighty to accept the martyrs and wishing the injured a speedy recovery."
King Salman ordered the investigation into the disaster, the deadliest in the history of the annual pilgrimage.
The incident came after a crane collapse in Makkah earlier that month killed 111 worshippers, and the twin disasters marred the first Haj to be overseen by the king since he ascended to the throne at the start of this year.
Also read: At least 717 killed, 863 injured in Haj stampede at Mina
The Saudi king holds the title of "Custodian of the Two Holy Mosques", and the monarchy's supervision of the Haj is a source of great prestige in the Muslim world.
Riyadh has rejected a suggestion by Iran to have an independent body take over planning and administering the Haj pilgrimage.
Iran has repeatedly blamed the disaster on the Saudi royal family, accusing it of mismanagement and of covering up the real death toll, which Tehran says exceeds 4,700, without providing evidence.
"The lying and hypercritical bodies, which claim to (be promoting) human rights, as well as the Western governments, which sometimes make great fuss over the death of a single person, remained dead silent in this incident in favour of their allied government," Iran's Supreme Leader Ayatollah Ali Khamenei said Monday, according to a transcript on his website.
"If they were sincere, these self-proclaimed advocates of human rights should have demanded accountability, compensation, guarantee for non-recurrence and punishment for the perpetrators of this catastrophe."
Saudi Arabia has recently been targeted in gun and bomb attacks by an affiliate of the extremist self-styled Islamic State (IS) group, which holds a third of Iraq and Syria in its self-declared "caliphate".
Like Al Qaeda before it, the IS group views the Saudi royal family as illegitimate because of alleged corruption and its alliance with the United States.
The previous deadliest-ever incident at Haj was a 1990 stampede that killed 1,426 people.
http://www.dawn.com/news/1214349/mina-stampede-death-toll-rises-to-at-least-2177
----------
KP being run by western NGOs, says Fazl
Oct 20, 2015
TIMERGARA: Jamiat Ulema-i-Islam-F chief Maulana Fazlur Rehman on Monday alleged the Khyber Pakhtunkhwa government was being run by western non-government organisations and the ruling Pakistan Tehreek-i-Insaf was working to change the Pakhtun culture.
He was addressing a party gathering at Jamia Uloom-i-Rahmania, a seminary owned by Maulana Gul Naseeb Khan, at Chakdara here.
He said raids were being made on religious seminaries in order to defame Islam and ulema, adding politicians were being insulted in the name of accountability. "The PTI-led provincial government must stop this practice," he said.
Mr Rehman accused the US of fanning bloodshed in Muslim states in order to further its interests. He said Islam preached peace, harmony and brotherhood and didn't' allow its followers to kill one another.
The Maulana came down hard on media for giving much air time to the PTI at the cost of other political parties.
The JUI-F chief claimed that a powerful personality had once asked him not to resist the PTI's way to power corridors, alleging that the PTI had been engaged in spreading vulgarity in society.
He said majority of departments in Khyber Pakhtunkhwa were being run by INGOs.
Mr Rehman said the JUI emerged as the second largest party in the recently held local government polls in the province and that the party would also win the next general elections. He asked the party workers to create unity in their ranks and convey the party message to citizens.
Full Report at:
http://www.dawn.com/news/1214306/kp-being-run-by-western-ngos-says-fazl
----------
Pakistan Takes Serious Notice of Growing Hindu Vandalism Involving Pakistani Nationals
October 20, 2015
ISLAMABAD - Pakistan on Monday took a serious notice of the increasing number of violent protests aimed at disrupting scheduled events in India involving Pakistani nationals.
"The cancellation of the meeting of PCB chairman with his counterpart in Mumbai due to the protests by an extremist organisation is the latest in a series of such incidents that have taken place in the recent past," Foreign Office spokesman said here in response to a question.
"Effective measures are required to prevent continuous recurrence of such incidents in India," the spokesman said.
Information Minister Pervaiz Rashid also expressed grave concern over the rise of Hindu extremism, particularly from the members of Rashtriya Sevak Sangh (RSS) and Shiv Sena who have launched an anti-Pakistan and anti-Muslim campaign in India.
He said that the harassment of the Pakistan Cricket Board (PCB) Chairman Shaharyar Khan and PCB Member Board of Governors Najam Setthi, who were visiting India and had a scheduled meeting with the Board of Control for Cricket in India (BCCI), speaks volume of rising anti-Pakistan sentiments in India.
Full Report at:
http://nation.com.pk/national/20-Oct-2015/pakistan-takes-serious-notice-of-growing-hindu-vandalism
----------
Pak-Saudi anti-terrorism training starts
October 20, 2015
ISLAMABAD:- The two-week long Pak–Saudi joint training exercise Al Shihab 1 (2015) commenced at the National Counter Terrorism Center Pabbi near Jehlum on Monday, says an ISPR press statement. It said that the joint military training exercise Al-Shihab – 1 focused on the joint anti-terrorism training of the special forces of Pakistan and Saudi Arabia. The exercise aims at affording an opportunity to explore new avenues of cooperation to fight terrorism and enhance skills. –Staff reporter
Commander Mangla Corps Lieutenant General Umar Farooq Durrani witnessed the joint field training exercise and lauded their professionalism and hard work. Staff Reporter
http://nation.com.pk/national/20-Oct-2015/pak-saudi-anti-terrorism-training-starts
----------
South Asia
Taliban capture district police chief with at least 13 policemen in Faryab
Oct 20 2015
Taliban militants have captured a district police chief with at least 13 policemen in northern Faryab province.
Head of Faryab's provincial council says that the police chief of Ghormach District was captured by Taliban along with 18 policemen on Monday.
Abdul Baqi said that 20 soldiers also lost lives in severe clashes erupted in Ghormach District.
Naqibullah who is representing Faryab province in the Lower House of the Parliament or Wolesi Jirga also confirms the capture of Ghormach Police Chief by Taliban.
However, he put the number of policemen captured by militants along with the police chief at 25.
Full Report at:
http://www.khaama.com/taliban-capture-district-police-chief-with-at-least-13-policemen-in-faryab-4016
----------
Taliban were using Kunduz hospital as 'safe place' when bombed by US forces
Oct 20 2015
The Taliban militants were using the Doctors Without Borders hospital as a 'safe place' in northern Kunduz city when the US carried out an airstrike earlier this month.
Acting defense minister Masoom Stanikzai told Associated Press in an exclusive interview "That was a place they wanted to use as a safe place because everybody knows that our security forces and international security forces were very careful not to do anything with a hospital."
The remarks by Stanikzai comes as numerous reports have emerged regarding the Taliban militants use of civilians as human shields when fighting the Afghan security forces who were looking to retake the control of the city which fell late last month.
Apart from using civilians as human shields, the Taliban militants are said to have carried out target killings, lootings, sexually abusing and raping women during the three day control of the strategic city.
Stanikzai further added that the flag of the Taliban militants group was also mounted one of the walls of the hospital.
Full Report at:
http://www.khaama.com/taliban-were-using-kunduz-hospital-as-safe-place-when-bombed-by-us-forces-1644
----------
Bangladesh Investigates Alleged Radical Threat Against Media
Oct 20, 2015
Police said Tuesday they were investigating an email sent to various media outlets reportedly by a banned Islamist group in Bangladesh threatening to topple "towering buildings" and telling the media not to run anything that goes against what the mail describes as jihad.
The email — sent after a series of deadly attacks targeting moderates and foreigners — contains a six-point directive that includes telling women to stay at home. It urges businesses to fire any female employees, and says that working outside of the home is a "punishable offense" according to Shariah, or Islamic law. It does not elaborate what would constitute appropriate punishment.
The letter is signed by the group Ansarullah Bangla Team, which is allegedly linked with several groups that claimed responsibility for killing four atheist bloggers this year.
It threatens to kill more atheist bloggers, naming six in Bangladesh and nine others living abroad to be targeted as soon as they returned to the South Asian country. It said the list of 15 names is not final, warning that anyone who attempts to degrade Islam would face serious consequences while anyone supporting the atheist bloggers will not "be spared."
Authorities said they were taking the threat seriously and were investigating. "Higher authorities have been informed," Dhaka police spokesman Muntasirul Islam told reporters Tuesday.
The email, received Monday by many Bangladeshi media outlets but not the Associated Press, has renewed concerns about radical forces within Bangladesh.
Since late September, two foreigners — an Italian aid worker and a Japanese agricultural worker — have been gunned down in daylight attacks five days apart. Responsibility for both of those attacks was claimed by the Sunni radical group Islamic State, but the Bangladesh government rejected those claims along with any suggestion the IS was active in the South Asian country.
Full Report at:
http://abcnews.go.com/International/wireStory/bangladesh-investigates-alleged-radical-threat-media-34588950
----------
NATO's top commander says member nations assured him of keeping troops in Afghanistan
Oct 20 2015
A top commander of the North Atlantic Treaty Organization (NATO) that currently runs A (Resolute Support) mission in Afghanistan, which is a support and advisory mission, has said that member countries have assured him of keeping their troops in Afghanistan.
As per a report published by Reuters news agency, Gen. Philip Breedlove, NATO's top commander in Europe, said he had assurances that NATO countries will continue alongside the nearly 10,000 U.S. troops in Afghanistan. While discussions of exact numbers are still continuing, the biggest national deployments are not in doubt, he said.
"Several of our largest contributors have already communicated with us that they will remain in their current posture," Breedlove told Reuters.
Breedlove has declined to give details but a second senior NATO official cited in the report has said that Germany, Turkey and Italy were willing to remain in Afghanistan at their current levels.
Full Report at:
http://www.khaama.com/natos-top-commander-says-member-nations-assured-him-of-keeping-troops-in-afghanistan-4014
----------
Five Jamaat men held on subversion charge
October 20, 2015
Law enforcers detained five activists of Jamaat-e-Islami from Dakkhin Rajarampur village in Senbag upazila on Sunday.
The arrestees are Mohammad Masud, 28, Mohammad Enayet, 30, Jahirul Islam, 28, Saiful Islam, 30, and Abul Bashar, 28.
Officer-in-Charge Abdur Razzak of Senbag Police Station said a police team, acting on a tip-off, raided a house at the village around 2:00am and arrested the five from there.
They were holding a 'secret' meeting and planning to carry out subversive activities to hinder the execution of Jamaat-e-Islami Secretary General Ali Ahsan Mohammad Mojaheed, the OC added.
Full Report at:
http://www.thedailystar.net/country/five-jamaat-men-held-subversion-charge-159751
----------
Arab World
Ahrar Al-Sham Ordered by Turkey to Join Nusra Front in Syria
Oct 19, 2015
"Over 200 Ahrar al-Sham terrorists have joined Al-Nusra Front in the past three days, but only 13 of them have acknowledged," the Arabic-language Al-Watan newspaper quoted an Ahrar al-Sham source as saying.
The terrorist groups in Idlib province are currently joining Al-Nusra Front due to the extensive support rendered to the terrorist group by Saudi Arabia, Qatar and Turkey.
The Turkish government has ordered the groups known as Fath Idlib (Conquer of Idlib) to express allegiance to Al-Nusra Front.
The Turkish government's order to the terrorist groups in Idlib comes after they Russian airstrikes inflicted heavy losses on them.
Full Report at:
http://english.farsnews.com/newstext.aspx?nn=13940727000658
----------
Syrian, Russian Airstrikes Destroy Terrorists' Positions in Aleppo Countryside
Oct 19, 2015
The Syrian and Russian warplanes pounded the positions of the militatns in Al-Safira in Aleppo countryside.
Earlier today, the Russian bombers attacked 49 terrorist targets in Syria, making a total of 33 sorties over the last 24 hours.
All the Russian warplanes successfully returned to the Khmeimim airbase in Lattakia, the Russian defense ministry announced today.
The airstrikes hit targets in the provinces of Aleppo, Damascus, Hama, Idlib and Lattakia.
Russian aircraft bombed two command headquarters, three arms depots, two underground bunkers, 32 firing positions in mountainous areas, nine fortified battlefield positions and a workshop producing missile launchers and rockets for the ISIL.
Full Report at:
http://english.farsnews.com/newstext.aspx?nn=13940727001282
----------
Syrian Troops Advance towards Air Base Besieged By ISIS
Oct 20, 2015
DAMASCUS: Government forces advanced on Monday under the cover of Russian air strikes towards an air base besieged by the self-styled Islamic State in northern Syria, a Syrian military official and activists said, while a rebel military commander was killed in another battle in a nearby area.
The offensive in the northern province of Aleppo aims to lift the siege that IS has been imposing on the Kweiras military base since 2014.
Militants have launched several attacks over the past weeks in an attempt to capture the base but were not able to. The army captured the village of Bkayze, about seven kilometres from the air base, the military official said. Troops also captured two other villages near the base, Aleppo-based activist Maamoun al-Khatib said.
"It will be a moral victory for the regime if they are able to lift the siege imposed on Kweiras," said Syrian activist Ahmad al-Ahmad, who is currently in Turkey.
In another battle in Aleppo province, Syrian troops and pro-government gunmen killed the military commander of one of the most powerful rebel factions in northern Syria, according to the Britain-based Syrian Observatory for Human Rights, an activist group that monitors the Syrian war through a network on the ground.
Full Report at:
http://www.dawn.com/news/1214240/syrian-troops-advance-towards-air-base-besieged-by-is
----------
Top al-Qaeda leader al-Nasr killed by US airstrike: Pentagon
October 19, 2015
The leader of an al Qaeda-linked group allegedly bent on attacking the West has been killed in an airstrike by the U.S.-led coalition in Syria, U.S. officials said Sunday.
Sanafi al-Nasr, a Saudi citizen whose real name is Abdul Mohsen Adballah Ibrahim al Charekh, was the highest-ranking member of the Khorasan Group -- a collection of veteran al Qaeda jihadis which had moved into Syria, the Pentagon said in a statement.
He was killed in an airstrike in northwest Syria on Thursday, the statement said.
Nasr, who was once al Qaeda's chief financial officer and had been designated a Specially Designated Global Terrorist by the U.S. Treasury, is the fifth senior Khorasan Group leader killed in the last four months, said the statement.
"The United States will not relent in its mission to degrade, disrupt and destroy al-Qaeda and its remnants," said Secretary of Defense Ash Carter.
"This operation deals a significant blow to the Khorasan Group's plans to attack the United States and our allies, and once again proves that those who seek to do us harm are not beyond our reach."
Nasr's death was referred to widely on jihadist social media sites, where he was mourned as a martyr.
'Significant blow'
Nasr had played a significant role in the group's finances and had also been instrumental in organizing routes for new recruits to travel, via Turkey, from Pakistan to Syria, the Pentagon said.
"Al-Nasr was a longtime jihadist experienced in funneling money and fighters for al-Qaeda. He moved funds from donors in the Gulf region into Iraq and then to al-Qaeda leaders from Pakistan to Syria," the Pentagon spokesman said in a statement.
CNN terrorism analyst Paul Cruickshank said the death of Nasr represented a "significant blow to al Qaeda," as he was one of the terror group's most senior figures in Syria.
"He was a highly influential strategist and prolific online propagandist and previously played key operational roles for the terrorist organization in the Afghanistan-Pakistan border region and Iran, including a stint in 2012 as al Qaeda's chief financial officer," he said.
Since relocating to Syria in 2013, he had become a leading figure in the al Nusra Front, an al Qaeda affiliate, said Cruickshank.
Full Report at:
http://nation.com.pk/international/19-Oct-2015/top-al-qaeda-leader-al-nasr-killed-by-us-airstrike-pentagon
----------
Al-Jubeir: Hard to envision Iran role in Syria solution
19 October 2015
Saudi Foreign Minister Adel al-Jubeir said on Monday it was difficult to envision a role for Iran in Syria peacemaking efforts due to its military role in the conflict there.
Al-Jubeir made the statements during a joint conference with Germany's foreign minister Frank-Walter Steinmeier, who arrived in Riyadh from Iran on a mission largely focused on seeking ways to end the war in Syria.
Jubeir repeated Riyadh's view that Syrian President Bashar al-Assad, who is supported by Iran, had to leave power if peace was to be achieved.
6:41
"The question is: what must Iran do to be part of the solution in Syria? The answer is very simple:
"It has to withdraw from Syria and it has to stop supplying weapons to Bashar al-Assad's regime and it has to withdraw the Shi'ite militias that it sent ... and then it can have a role," Jubeir said, adding that Iran was now an "occupier of Arab lands in Syria".
Saudi Arabia believed Assad must step down as soon as a transitional body was set up in line with the Geneva peace talks of 2012, he said.
"After the formation of this governmental body, President Assad must step down. If it is a matter of months, two or three months or less, that is not important. But Assad has no future in Syria," Jubeir said according to an Arabic translation of his comments made in English at the news conference.
Full Report at:
https://english.alarabiya.net/en/News/middle-east/2015/10/19/Al-Jubeir-Hard-to-envision-Iranian-role-in-Syria-peacemaking.html
----------
ISIL Commander Killed in Northern Beiji
Oct 19, 2015
Iraqi fighter jets killed the ISIL commander in al-Fatheh region in Northern Beiji, the statement said without mentioning his name or any other details.
On Sunday, the Iraqi army announced that 65 ISIL terrorists, including 11 commanders, had been killed in missile attacks on four military bases in the Western parts of Anbar province.
Beiji lies at a crossroads between several frontlines and control of the area is seen as the key to progress in other regions, including Anbar province where forces were also closing in on ISIL strongholds.
Full Report at:
http://english.farsnews.com/newstext.aspx?nn=13940727001470
----------
Iraq to Ask for Russia's Military Aid after Salahuddin Operations
Oct 19, 2015
"If the Iraqi security forces achieve considerable advances in their fight against the ISIL in the Northern parts of Salahudin province, Iraq will surely ask for Russia's military aid to help them in the fight agaist the ISIL," Al-Hashemi told FNA on Monday.
The Iraqi security expert reiterated that the Iraqi air force desperately needs the Russian air force's help in the fight against the ISIL.
He pointed to a security agreement signed between Iraq and the US, and said, "The Baghdad-Washington agreement will not prevent Iraq from asking for further military aid in the ongoing fight against terrorism from any third country."
On Saturday, Russia's Deputy Defense Minister Anatoly Antonov told reporters after the 6th Xiangshan Security Forum in Beijing that Moscow has not received a request for military assistance in fight against the outlawed ISIL terrorist group, and it is ready to consider it.
"What I can say now is that as of today we do not have a request from Iraq like the one we have from (Syria's President) Bashar Assad," he said.
Full Report at:
http://english.farsnews.com/newstext.aspx?nn=13940727001457
----------
Syrian Forces Kill Terrorist Commander in Aleppo
Oct 19, 2015
Nasif Ismail, the commander of the Nour al-Din al-Zinki terrorist group, was killed in the Southern part of Aleppo as Syrian forces, backed by Russian warplanes, launched a large-scale ground offensive to wrest control of the militant-held territory.
Earlier, the Takfiri terrorist groups acknowledged on Monday the murder of 3 of their senior commanders in Syrian military operations in Aleppo province.
The terrorist organizations said on their social media pages that the military commander of Jaish al-Mujahideen, Sa'ad Ahmad Okab, the member of the so-called Council of Aleppo al-Hura province, Ahmad Kharfan and al-Nusra Front's emir (ringleader) in al-Zirbeh, Khaled Attawi, were killed in the military operations.
Full Report at:
http://english.farsnews.com/newstext.aspx?nn=13940727001444
----------
Russian Defense Ministry: Terrorists in Syria Fighting Each Other
Oct 19, 2015
He said the defense ministry has information about growing contradictions between various terrorist groups, which are caused by fighting for control over territories and money flows, Itar-Tass reported Sunday.
"According to intercepts, last week only IS(IL) organized near the city of Idlib three acts of terror using mined cars, aiming against field commanders of the Jabhat-an-Nusra (al-Nusra Front)," he said.
Full Report at:
http://english.farsnews.com/newstext.aspx?nn=13940727000452
----------
Russian Air Forces Target 49 Terrorist Positions in Syria in One Day
Oct 19, 2015
All the Russian warplanes successfully returned to the Khmeimim airbase in Lattakia, the ministry said, RT reported.
The airstrikes hit targets in the provinces of Aleppo, Damascus, Hama, Idlib and Lattakia.
Russian aircraft bombed two command headquarters, three arms depots, two underground bunkers, 32 firing positions in mountainous areas, nine fortified battlefield positions and a workshop producing missile launchers and rockets for the ISIL.
The UAV air reconnaissance conducted over the Idlib province revealed a command post of Al-Nusra Front, Al-Qaeda's branch in Syria. A Sukhoi Su-24M bomber was dispatched to the area, targeting the installation and two trucks with air-defense systems mounted on them, Russian Defense Ministry Spokesman Major General Igor Konashenkov said.
Full Report at:
http://english.farsnews.com/newstext.aspx?nn=13940727001209
----------
Syrian Army, Hezbollah Regain Tal SyriaTel Area near Aleppo
Oct 19, 2015
The sources said that over 20 militants were killed in the joint-operation of the Syrian army and Hezbollah in Tal SyriaTel near the Aleppo-Damascus International Highway.
Meantime, the Syrian Army announced on Monday that the country's soldiers and popular forces, with the Russian aerial backup, seized back three more villages and a town in the Eastern flank of the Northern province of Aleppo.
Full Report at:
http://english.farsnews.com/newstext.aspx?nn=13940727001173
----------
Syrian rebels receive weapons for Aleppo battle
19 October 2015
Rebels battling the Syrian army and its allies south of Aleppo say they have received new supplies of U.S.-made anti-tank missiles from states that oppose President Bashar al-Assad since a major government offensive began there on Friday.
Rebels from three Free Syrian Army-affiliated groups contacted by Reuters said new supplies had arrived since the start of the attack by the army backed by Iranian fighters and Lebanon's Hezbollah.
But officials from one of the groups said that while new quantities had arrived, the supplies were not enough for the scale of the assault. They declined to be identified due to the sensitivities of the matter. "A few will not do the trick. They need dozens," said one of the officials.
Full Report at:
https://english.alarabiya.net/en/News/middle-east/2015/10/19/Syrian-rebels-say-receive-more-weapons-for-Aleppo-battle.html
----------
News agency keeps contradicting official Saudi Mina death toll
Oct 20, 2015
A Western news agency has been offering updated tallies of the victims of a crush outside the city of Mecca in Saudi Arabia, each time contradicting the official figure that Riyadh has announced and has persistently refused to update since the tragedy.
The Associated Press (AP) has been releasing counts based on the official tolls announced by some of the countries whose national died in the September 24 crush in Mina, near Mecca.
Its latest tally on Tuesday, based on state media reports and official comments from 30 countries, stood at over 2,177 deaths.
"The toll keeps rising from the Sept. 24 disaster outside Mecca as individual countries identify bodies and work to determine the whereabouts of hundreds of pilgrims still missing," the agency said.
Saudi authorities have said the fatalities from the incident stand at 769. They "have yet to address the discrepancy," the AP report said.
Iran's Hajj and Pilgrimage Organization says a total of at least 4,700 people lost their lives in the incident.
Full Report at:
http://www.presstv.ir/Detail/2015/10/20/434191/Saudi-Arabia-Mecca-Mina-Iran
----------
Mideast
Saudi warplanes pound several areas in crisis-hit Yemen
Oct 20, 2015
Saudi fighter jets have conducted a fresh round of attacks against several areas across Yemen.
On Tuesday morning, Saudi jet fighters launched airstrikes against a residential area in the Razeh district of Yemen's mountainous northwestern province of Sa'ada, leaving two civilians dead, Yemen's Arabic-language al-Masirah satellite television network reported.
The development came only hours after Saudi warplanes pounded the Dar al-Shoja' area in the Mokha port city, situated 346 kilometers (214 miles) south of the capital, Sana'a, though no reports of casualties were available.
Smoke billows following a Saudi airstrike targeting an arms depot on the Jabal al-Naqam mountain overlooking the Yemeni capital, Sana'a, October 15, 2015. (Photo by AFP)
Separately, Saudi aircraft carried out aerial assaults on the city of Sirwah, which lies about 120 kilometers (75 miles) east of the capital, on Monday evening. There were no immediate reports of possible casualties and the extent of damage caused.
Saudi jets also bombarded the international airport in the southwestern Yemeni city of Ta'izz, situated 346 kilometers (214 miles) south of Sana'a, on Monday. No casualties were reported.
Cluster bombs
Moreover, Saudi warplanes dropped at least 10 cluster bombs on the Haydan district of Sa'ada Province, on Monday.
Earlier in the day, Yemeni army soldiers, along with fighters from Popular Committees, repelled an offensive by Saudi-led forces against the al-Labnat military camp in Yemen's northern province of al-Jawf, killing and injuring an unspecified number of Saudi-backed troops.
Full Report at:
http://www.presstv.ir/Detail/2015/10/20/434185/Saudi-fighter-jets-Razeh-Saada-Mokha-Sirwah
----------
Israel destroys Palestinian's West Bank home
20 October 2015
The Israeli military early Tuesday destroyed the West Bank house of a Palestinian from Hebron in the West Bank who allegedly killed an Israeli in a knife attack last year, the army said, according to Agence France-Presse.
The destruction of the house of Maher al-Hashlamoun was accompanied by clashes between dozens of Palestinian stone throwers and Israeli soldiers.
Hashlamoun, a member of Islamic Jihad, was given two life sentences by a military court in March for the November 10, 2014 murder of Dalia Lemkus, 26, and the attempted murder of two other people on a road in the Gush Etzion settlement bloc, south of Jerusalem.
Last week, the Israeli government ordered an intensification of punitive home demolitions in response to a wave of stabbing and shooting attacks and other deadly unrest.
It says the controversial policy acts as a deterrent but critics say the main victims of such demolitions are relatives forced to pay for another person's actions.
Meanwhile, Palestinians in occupied Jerusalem, more than a third of the city's population, on Monday woke up to a new reality: Israeli troops are encircling Arab neighborhoods, blocking roads with concrete cubes the size of washing machines and ordering some of those leaving on foot to lift their shirts to show they are not carrying knives.
Prime Minister Benjamin Netanyahu's government has portrayed the measures as temporary, in line with what his advisers say any police department in the U.S. or Europe would do to quell urban unrest.
But some allege he is dividing occupied Jerusalem, something Netanyahu has said he would never do.
Arab residents, who have long complained of discriminatory Israeli policies, say the latest closures are bringing them to a boiling point and lead to more violence.
The unprecedented clampdown is meant to halt the rash of stabbings attacks. Many of the attacks were allegedly carried out by residents of occupied East Jerusalem, the sector captured and annexed by Israel in 1967 and claimed by Palestinians as a future capital.
The unrest, the most serious in years, has also been stirred in part by anger over what they see as increased Jewish encroachment on the mosque compound, Islam's most sacred site outside Saudi Arabia and also revered by Jews as the location of two destroyed biblical Jewish temples.
Full Report at:
https://english.alarabiya.net/en/News/middle-east/2015/10/20/Israel-destroys-West-Bank-home-of-Palestinian-.html
----------
Hoard of suicide vests, guns found in Ankara
October 20, 2015
ISTANBUL - Turkish prosecutors said Monday that police had discovered suicide vests, Kalashnikovs and hand grenades during searches of homes and vehicles belonging to suspects in the Ankara bombing that left 102 people dead.
"A Ford Focus car used in the Ankara attack has been found, as well as 11 suicide vests, six Kalashnikovs, 22 hand grenades, 1,683 bullets and hundreds of kilograms (pounds) of explosives," prosecutors said in a statement.
Four people were remanded in custody over the October 10 attack - the worst of its kind in Turkey's history - as the identity of one of the two suicide bombers involved was revealed.
The suspects, who went before a judge on Sunday night, were charged with making "explosive devices with the intention to kill" and "an attempt to disrupt constitutional order", Anatolia news agency said.
Prosecutors meanwhile issued arrest warrants for nine others accused of playing a part in the bombings.
Turkish authorities have said the Islamic State (IS) group is the "number one suspect" for the attacks which targeted a pro-Kurdish and liberal peace rally calling for an end to hostilities between security forces and Kurdish rebels.
Prime Minister Ahmet Davutoglu confirmed Monday that one of the suicide bombers had been officially identified through DNA testing, with prosecutors naming him as Yunus Emre Alagoz.
Alagoz, a young Turk from the Islamist militant stronghold of Adiyaman, was the brother of the man suspected of carrying out a similar attack in July in Suruc, a town in southern Turkey on the border with Syria, that killed 34 people, prosecutors said.
"One of the suicide bombers has been identified as Yunus Emre Alagoz.
The other suicide bomber has been identified through photographs and efforts are going on to reveal his full identity," the prosecutors' statement said.
They added that Alagoz, believed to have trained with IS jihadists in Syria, had travelled "from a neighbouring country on our southern borders in order to carry out the attack".
Turkish media had earlier identified the second bomber as Omer Deniz Dundar, who had twice been to Syria.
Davutoglu said the government was exploring ties between attacks on Suruc, Ankara and Diyarbakir.
Five people were killed in Diyarbakir in June after a bomb exploded during a pre-election campaign rally for the pro-Kurdish Peoples' Democratic Party (HDP).
One man was arrested for involvement in that attack.
A total of 768 people have been arrested over suspected links to IS since the Suruc attack in July, the prime minister said, pledging to track down those responsible for the latest atrocity.
Many of those arrested have since been released.
The four remanded in custody on Sunday were part of a group originally detained due to suspicious posts on Twitter.
Davutoglu, head of the Islamic-rooted AKP ruling party, said he believed "groups like Daesh, the PKK and DHKP-C.
.
.
are working hand in hand to harm Turkey and drag it into chaos," referring to IS, the outlawed Kurdistan Workers' Party and the far-left Revolutionary People's Liberation Party-Front.
Full Report at:
http://nation.com.pk/international/20-Oct-2015/hoard-of-suicide-vests-guns-found-in-ankara
----------
Yemeni govt says ready for UN talks with rebels
October 20, 2015
RIYADH - The Yemeni government has agreed to participate in UN-sponsored talks with rebels aimed at ending the country's conflict, spokesman Rajeh Badi said Monday.
Saudi Arabia, which has since March led an Arab coalition air campaign against Huthi rebels in support of the government of President Abedrabbo Mansour Hadi, welcomed Yemen's decision.
The United Nations is yet to announce the date and location for the proposed talks, but Badi told AFP that the likely venue was Geneva.
"Yes, we have agreed to take part" in the talks, the government spokesman said.
He confirmed over the weekend that UN envoy Ismail Ould Cheikh Ahmed had delivered an invitation to fresh talks with Iran-backed Huthi rebels and their ally, former president Ali Abdullah Saleh.
Badi declined to comment on whether Hadi's government had been given any guarantees over its demand for the withdrawal of rebels from territories seized across Yemen.
UN Security Council Resolution 2216 calls for the withdrawal of rebel forces from captured territories and for them to lay down their arms.
Full Report at:
http://nation.com.pk/international/20-Oct-2015/yemeni-govt-says-ready-for-un-talks-with-rebels
----------
Yemen's abundant guns fuel its messy civil war
October 20, 2015
Angus McDowall - Celebratory tracer fire from a wedding lights up the night sky over Marib, a city that is heavily armed even by the standards of Yemen, where the ready availability of weapons helped start civil war and is now preventing anyone coming out on top.
Yemenis often say there are three guns for every person, a boast that has become an urgent concern in a country where the United Nations says the humanitarian situation is "critical".
The precise number of weapons is impossible to verify, but the profusion of arms on display in Marib makes the three-to-one claim look not far off.
Almost all of the men walking in the city centre, their cheeks full of the mild narcotic qat leaf, had an assault rifle slung across a shoulder; many of them also sported pistols in garish holsters or had hand grenades in jacket pockets.
More than 5,400 people have been killed since March in a conflict perpetuated by shifting alliances based on region, religion, tribe and drawn into a Saudi-Iranian Cold War.
Easy access to weapons has enabled widely ranging groups to enter the fighting, including Islamist militants who have seized control of the port city of Mukalla, several hundred kilometres (miles) east of Marib in the Hadramawt region.
United Nations experts cited the abundance of arms in Yemen as a regional worry in 2013, when al Qaeda linked militants already had a major base in the south, but the war has given such worries even greater urgency.
Houthi militia, allied to Iran, and troops loyal to former president Ali Abdullah Saleh, were closing in on Marib a month ago, but were forced back by local fighters, some trained by Gulf countries, which assisted them with air strikes.
The Houthis and Saleh's forces have now been pushed into the hills 30 km away, but the periodic sound of distant explosions is constant evidence in Marib that the war remains only a short drive away.
A slight 18-year old in a brown robe and turquoise headscarf, rifle dangling casually over his arm, said the first thing he did when his village of Arhab near the capital Sanaa was overrun by the Houthis was to go to a famous arms market.
"I went to Jihana and bought weapons. Then I came to Marib. That was four months ago. Now, God willing, we will fight the Houthis back. Soon we will be in Sanaa," he said, identifying himself only by the nickname 'Abu Arhab".
HEAVY WEAPONS
At Marib's gun market, a Kalashnikov assault rifle sells for a few hundred dollars and a hand grenade for $30, said Yemeni soldiers who accompanied Reuters on a visit to the city last week, and who all bought their weapons locally.
Full Report at:
http://nation.com.pk/international/20-Oct-2015/yemen-s-abundant-guns-fuel-its-messy-civil-war
----------
U.N. urges Iran to halt execution of minors
20 October 2015
U.N. Secretary-General Ban Ki-moon on Monday called on Iran to impose a moratorium on executions after two juvenile offenders were hanged in the past two weeks.
Ban said he was "deeply saddened" by the executions and recalled that Tehran had signed two international conventions outlawing the death penalty for children under 18.
"The secretary-general reaffirms the opposition of the United Nations to the imposition of the death penalty, and calls on the government of Iran to establish a moratorium on executions with a view to abolishing the death penalty," said a statement from his spokesman.
Fatemeh Salbehi, a 23-year-old woman, was hanged in the province of Fars on October 13 after being found guilty for killing a man she had been forced to marry when she was just 16.
A week earlier Samad Zahabi was hanged in Kermanshah province for shooting a fellow shepherd when he was just 17.
U.N. human rights experts said Iranian authorities did not provide the required notice to Zahabi's family or lawyer ahead of the hanging.
Full Report at:
https://english.alarabiya.net/en/News/middle-east/2015/10/20/U-N-urges-Iran-to-halt-child-offender-executions.html
----------
Kerry calls for clarity on Aqsa to help end violence
19 October 2015
U.S. Secretary of State John Kerry said on Monday Israeli and Palestinian leaders need to clarify the status of Jerusalem's al-Aqsa mosque compound to help end a spate of bloodshed and restore stability.
Kerry, preparing for meetings with Israeli Prime Minister Benjamin Netanyahu in Germany and then with Palestinian President Mahmoud Abbas and Jordan's King Abdullah, likely in Amman, also rejected a proposal by France at the United Nations for an international observer presence at the holy site.
Israel called in France's ambassador on Monday to make clear its opposition to the idea, a foreign ministry spokesperson said.
"Israel understands the importance of the status quo and ... our objective is to make sure that everyone understands what that means," Kerry told a news conference in Madrid.
The Palestinians' unrest, the most serious in years, has been stirred in part by anger over what they see as increased Jewish encroachment on the mosque compound, Islam's most sacred site outside Saudi Arabia and also revered by Jews as the location of two destroyed biblical Jewish temples.
Netanyahu has said his government is committed to maintaining the status quo at the compound, which has long been under Muslim religious administration while Jews are permitted to visit the site but not pray there.
"We are not seeking a new change or outsiders to come in, I don't think Israel or Jordan wants that and we're not proposing it," he said. "What we need is clarity."
Israel has deployed troops in and around Jerusalem and erected roadblocks in Palestinian neighborhoods in East Jerusalem to try and stop the most serious outbreak of Palestinian street attacks since an uprising in 2000-2005.
Kerry said Israel had a right to protect citizens against random acts of violence. Netanyahu had told him he was committed to preserving the status quo at al Aqsa, he added.
"I don't have specific expectations except to try to move things forward," Kerry said of the upcoming meetings. "That will depend on the conversations themselves as to what it is that we're able to define in the context of steps that might be taken so people understand that in fact leaders are leading and making a serious effort to try and resolve the current ... conflict."
Full Report at:
https://english.alarabiya.net/en/News/middle-east/2015/10/19/Kerry-calls-for-clarity-to-help-end-Israeli-Palestinian-violence.html
----------
Saudi Arabia envisions no Iran role in ending crisis
20 October 2015
RIYADH: There can only be peace in Syria once the country's President Bashar Assad steps down, said Saudi Foreign Minister Adel Al-Jubeir on Monday.
Addressing a joint press conference here with his German counterpart Frank-Walter Steinmeier, Al-Jubeir said that Assad's hands were "stained with the blood of the Syrian people and should have no role in a future government."
Steinmeier arrived here on a two-day visit on Sunday and met Custodian of the Two Holy Mosques King Salman and other senior officials at Al-Yamamah Palace on Monday morning to discuss bilateral cooperation.
Al-Jubeir accused Assad of displacing millions, killing hundreds of thousands and destroying the country's security and stability. Assad was supported by Iran and should relinquish power if there is any hope that peace can be restored in Syria.
Al-Jubeir said it was difficult to envision a role for Iran in Syria peacemaking efforts due to its military role in the conflict there.
Full Report at:
http://www.arabnews.com/featured/news/823041
----------
Israeli soldiers arrest senior Hamas leader in West Bank
Oct 20, 2015
Israeli forces have arrested a senior leader of Palestinian resistance movement Hamas in the occupied West Bank.
On Tuesday, Israeli soldiers raided the residence of Hassan Yousef in the Palestinian town of Beitunia, southwest of Ramallah and transferred him to a prison.
Israel had released Yousef, 60, in June a year of administrative detention.
Administrative detention is a sort of imprisonment without trial or charge that allows Israel to incarcerate Palestinians for up to six months. The detention order can be renewed for indefinite periods of time.
Meanwhile, Israeli forces detained at least 35 Palestinians during overnight raids on a number of houses across the occupied West Bank on Monday.
Tel Aviv regime forces also demolished the home of Palestinian detainee Maher al-Hashlamoun in the city of al-Khalil (Hebron) in the West Bank.
Israeli forces are seen demolishing the house of Palestinian detainee Maher al-Hashlamoun in the city of al-Khalil (Hebron) in the West Bank, October 19, 2015.
Reports also say that Israeli settlers backed by the Tel Aviv regime's forces stormed the al-Aqsa Mosque in East al-Quds (Jerusalem) on Tuesday.
Palestinians who were present at the site denounced the move by shouting slogans.
Meanwhile, Israeli forces shot dead a Palestinian for allegedly attempting to attack an Israeli soldier with a knife in the occupied West Bank. Odai Hashim Mosalemah was killed in the southern village of Beit Awa in al-Khalil on Tuesday.
An Israeli trooper was reportedly critically injured in the stabbing attack in al-Khalil.
There has been growing confrontation between Israelis and Palestinians over the past few weeks.
Full Report at:
http://www.presstv.ir/Detail/2015/10/20/434184/Israel-Palestine-Hamas-Hassan-Yousef-West-Bank
----------
North America
White House Welcomes Muslim Teen Falsely Accused Of Making Bomb
Oct 20, 2015
The Muslim teenager who was detained when his teacher mistook his homemade clock for a bomb visited the White House on Monday, after a receiving a very public invite from President Barack Obama.
Ahmed Mohamed, 14, joined a group of students, teachers, scientists, astronauts and celebrities -- including the "Myth Busters" and Bill Nye -- for White House Astronomy Night.
Mohamed had hoped to impress teachers by bringing a clock to his Texas school, but was instead reported by suspicious staff who called the police.
Ahmed Mohamed was taken in handcuffs to juvenile detention after taking a homemade clock to school. (Photo: Dallas Morning News)
A photo of Mohamed standing in handcuffs while wearing a t-shirt with the US space agency NASA's logo was retweeted thousands of times in a matter of hours and "#IStandWithAhmed " became the top trending hashtag on Twitter.
Full Report at:
http://www.hindustantimes.com/world/white-house-welcomes-muslim-teen-falsely-accused-of-making-bomb/story-ZyeyW7f42aOCUgAnKdqHZM.html
----------
California Mosque Connects Sunnis, Shiites
19 October 2015
CALIFORNIA – Building bridges between American Sunnis and Shiites, a California mosque is using art, music and celebrations to bring members of the Muslim community together, bridging a deep gap void between the two sects.
"I think one missing thing ... right now, today, is beauty — really paying attention to the beauty of Islam, and its rich history," California mosque leader Ali Sheikhulislami told npr on Sunday, October 18.
Sheikhulislami, the leader of the Islamic Cultural Center of Northern California (ICCNC), was talking about activities being held by his mosque to break down divisions between Sunnis and Shiites.
In its majestic building, ICCNC tries to be a model of harmony between the two sects by hosting plays, open mic nights, painting and ceramics classes.
"Every inch of this building just has a meaning," manager Azita Sayyah says.
Being not like an average mosque, white, black and Asian people, some in embroidered green Sufi robes, others in black Shiite turbans or flowing white Arab jalabeyas, pack ICCNC.
"It's a unique experience," says Ali Saadeghi.
"If you go to a traditional Muslim place, that's not something that you're gonna get. It's more fun, and it's a good place for my kid and my wife to enjoy."
The United States is home to a Muslim community of between six to eight million.
A recent survey about mosques in the United States found that %7 of mosques in the country are Shiites.
The survey also showed that %44 of Shiite mosques in the United States opened in the 1990s.
Tolerance
The mosque has been favourable for many visitors, where they found rare harmony between Sunnis and Shiites.
"The unique thing about the American experience is ... we are able to come to this country and practice the religion the way we want to, and to do it in a way that we're tolerant of each other," said ICCNC's Ahmed Sheikhulislami.
A similar opinion was shared by Ali Sheikhulislami, the mosque leader, who believes that being far from the Middle East gives room for dialogue.
"We were talking to a friend, and he said, 'My mother is Sunni and my father is Shiite, so ... we call ourselves sushi!'" Sheikhulislami recalled.
"We like that! ... We are one; these things should not divide us. We are all humans. We're all sushi."
Full Report at:
http://www.onislam.net/english/news/americas/495263-california-mosque-connects-sunnis-shiites.html
----------
I would have prevented 9/11: Donald Trump
October 19, 2015
Washington: Donald Trump says he's not blaming George W. Bush for 9/11, but he claims that if he'd been president, the attacks never would have happened.
In an appearance on "Fox News Sunday," the real estate mogul said that since he's "extremely, extremely tough on immigration" the attackers wouldn't have been in position to commandeer U.S. flights.
"So there's a good chance that those people would not have been in our country," Trump said.
He took another shot at Jeb Bush for claiming that Bush's brother, the 43rd president, kept the nation safe.
"I'm not blaming George Bush," Trump said. "But I don't want Jeb Bush to say, 'My brother kept us safe,' because September 11 was one of the worst days in the history of this country."
It wasn't just on the Sunday shows that Trump attacked Bush over his brother's tenure.
On Twitter, as the "Fox News Sunday" interview aired, Trump tweeted: "Jeb, why did your brother attack and destabilize the Middle East by attacking Iraq when there were no weapons of mass destruction? Bad info?"
He also tweeted: "Jeb Bush should stop trying to defend his brother and focus on his own shortcomings and how to fix them."
Full Report at:
http://nation.com.pk/international/19-Oct-2015/i-would-have-prevented-9-11-donald-trump
----------
Pro-Palestinian protesters rally across US
19 October 2015 Monday
Thousands of people marched across the U.S. in support of Palestinians, and against Israeli use of force in the ongoing Palestinian-Israeli tensions witnessed in New York and Chicago on Sunday.
"Free Palestine," the protesters chanted as they waved a massive Palestinian flag making their way down Manhattan to Times Square, where the crowd grew larger. Shutting down traffic, the activists took turns addressing the public.
Hosted by NYC Students for Justice in Palestine as part of NY4Palestine wider movement, the crowd condemned Israel's aggression in the recent violence recently on the rise across Israel, the West Bank and Gaza.
Full Report at:
http://www.worldbulletin.net/america-canada/165412/us-investigates-hacked-email-account-linked-to-cia-director
----------
Europe
Jewish, Muslim graves defiled with swastikas in Austria
19 October 2015
A Jewish and a Muslim cemetery were defiled with Nazi symbols and anti-migrant slogans in western Austria, police said Monday, just weeks after similar attacks on a refugee hostel and Jewish museum.
Unknown perpetrators desecrated graves and buildings with a red pen in the Jewish cemetery of the town of Hohenems, close to the Swiss border, some time between Saturday night and Sunday morning, a police spokeswoman told the APA news agency.
The offenders also drew swastikas and wrote racist slogans at a Muslim burial ground in the nearby municipality of Altach.
Full Report at:
http://www.worldbulletin.net/europe/165425/jewish-muslim-graves-defiled-with-swastikas-in-austria
----------
Muslims condemn Britain's plans to combat extremism
October 20, 2015
LONDON - British Prime Minister David Cameron unveiled a new strategy on Monday to combat extremism, saying the battle was "perhaps the "defining one of this century", but his proposals were condemned by Muslims as demonising their communities and set to fail.
The Counter-Extremism Strategy has been promised by Cameron's government for months, designed primarily to counter the ideology promoted by Islamic State militants, al Qaeda and other Islamists which the authorities say can lead young Britons onto a path of violence. "Subversive, well-organised and sophisticated in their methods, extremists don't just threaten our security, they jeopardise all that we've built together - our successful multi-racial, multi-faith democracy," Cameron wrote on his Facebook website. "So we have to confront them wherever we find them."
British police arrested a record number of people last year on suspicion of terrorism offences, and say they have thwarted a growing number of plots hatched by young Britons, some of whom had been radicalised in just weeks via the Internet.
Earlier this month, a 15-year-old boy was jailed for life for inciting an attack on a World War One commemorative event in Australia from his bedroom in northern England. Under the wide-ranging proposals, groups deemed extremist by promoting hatred will be banned; places where radicals thrive including mosques could be closed and the regulator Ofcom will get tougher powers to address TV and radio channels airing extremist material.
The new law would also give parents worried that their 16 and 17-year-old children might travel to join Islamic State the power to apply to have their passports removed, while anyone with a conviction for terrorist offences or extremist activity would be banned from working with children.
Full Report at:
http://nation.com.pk/international/20-Oct-2015/muslims-condemn-britain-s-plans-to-combat-extremism
----------
'All refugees cannot come to Europe': UN official
19 October 2015
All refugees do not have the right to come to Europe, a senior UN official has said.
"Refugees and migrants have to understand that all of them do not have a right to come to Europe because that is not possible," Michael Moller, director-general of the UN Office in Geneva, told Anadolu Agency on Thursday.
Moller also said that the refugee issue was not a "European crisis".
"It is a global crisis and it has to be dealt within that context. International solidarity has to be ramped up a bit. The rest of the world has to share the burden with Europe and other countries, particularly Turkey," he said.
There are nearly 2.5 million refugees in Turkey, and the country says it has so far spent $8 billion on refugees while support from other countries has amounted to only $417 million.
"Citizens in Europe have stepped up the plate and showed great sense of humanity than their own politicians," he said.
He added that the Syrian crisis should be solved politically.
Millions of Syrian refugees have fled their country since war broke out more than four years ago. The UN said in June that the number of forcibly-displaced people worldwide has "for the first time in the post-World War II era exceeded 50 million people".
On Sunday, Turkish Prime Minister Ahmet Davutoglu said at a joint meeting with German opposite number Angela Merkel that Turkey was ready to "open all channels of cooperation" to help the European Union resolve an escalating refugee crisis at its borders. Merkel said that the world was facing a "crisis beyond control", adding that cooperation between German and Turkish government should grow to adequately tackle the refugee influx.
The German chancellor also said that Germany was willing to help revive Turkey's stalling EU accession process by opening the Economy and Monetary Policy chapter to negotiations.
An EU summit in Brussels called on Friday for implementing an action plan with Turkey -- which came complete with several economic and political incentives for Ankara -- to stop the flow of refugees into Europe.
Full Report at:
http://www.worldbulletin.net/europe/165432/all-refugees-cannot-come-to-europe-un-official
----------
Controversial Cleric's invitation to visit Morocco sparks harsh criticism
October 19, 2015
The invitation extended by a Moroccan association to a controversial Islamic scholar from Saudi Arabia to visit Morocco has caused concerns amongst different organizations, thinkers, analysts and large layers of society over his anti-Shia, anti-Sufi and extremist stances.
The infamous cleric, Mohammad al-Arifi, was also unwelcome because of his repeated calls for jihad, holy war, especially against the Shia (understand Iran, Hezbollah) because of their backing to Syrian President Bashar al Assad, and for stirring up sectarian divisions wherever he goes.
Given the uproar stirred, the visit was finally cancelled.
Yet, one of the most vocal critics of the extremist preacher was without contest Salah El Ouadie, a Moroccan advocate of human rights and chairman of Damir Association, the word in Arabic meaning Conscience.
Salah El Ouadie was outraged both by the invitation in itself and by the inviting side, namely "le Mouvement unicité et réforme" (MUR,) an Islamist association, close to the ruling Moroccan Party for Justice and Development (PJD.)
In a column published by many media outlets in Arabic and French, Salah El Ouadie pointed out that the invitation raised two major concerns. The first is to recognize the right of each and every Moroccan to invite whoever he wants for a cultural, scientific or religious event. The second concern pertains to vigilance as to the danger that some of the invited guests can pose to Morocco.
As far as he is concerned, the column author says that rather than claim banning the cleric from visiting Morocco, he prefers to ask those who invited Arifi, as Moroccans involved in the present and the future of their country, "to fully shoulder responsibility for their act, before the law and the national collective consciousness, in the interest of Moroccan generations to come."
He asked the inviting side to wonder whether Arifi's visit would have served Morocco or been useful to Morocco and Moroccans in any way. He added that no one would have paid attention to the issue, if the man invited was a theologian preaching a moderate and tolerant Islam and not an extremist known for his stances, initiatives and calls that represent a clear threat to our country, and more particularly to Moroccan youths, on all fronts and at all levels.
"Also, is it wise that we receive on our land an individual who does not hesitate to set Muslims against each other, by his imprecations and incitements supporting Daech followers in Syria?" Salah El Ouadie wrote, quoting one of Arifi's statements vowing moral and material backing to the Islamic State group's fighters.
The controversial Saudi Imam is banned from visiting several countries, including Qatar and Switzerland, for holding extreme views. In March 2014, the British Home Office excluded him from the United Kingdom and banned him from returning to the European country after a series of sermons in Cardiff, Birmingham and London.
In his native country, he has been expelled from the University where he was teaching and in October 2014, he was jailed for 40 days for stating that the train linking Mecca and other holy sites was "one of the worst in the world." He has also been arraigned in 2013 for interfering in Egypt's internal affairs.
Referring to some of the curious fatwas (Islamic rulings) issued by the so-called theologian, the author of the column wondered: "is it reasonable in today's world to hear people issuing fatwas calling for the destruction of churches and burning of crosses, urging people to crucify others and awakening the worst and vilest sectarian instincts, through inciting the Sunni Muslims to rise up against Shiism?"
Some of these fatwas "authorize" lynching and immolation of human beings, recommend the use of urine as a therapy, degrade man to a mere being animated by animal instincts and support that woman is half a human being or a mere fair game for Jihadists.
The column's author, who describes Arifi's preaching as flawed, inconsistent and hatred-inspiring, argues further that Arifi's sermons are contrary to the essence of the Moroccan Constitution which advocates a tolerant and moderate Islam.
Full Report at:
http://northafricapost.com/9579-controversial-clerics-invitation-to-visit-morocco-sparks-harsh-criticism.html
----------
UK still backing Turkey's EU bid
20 October 2015
Turkey still enjoys Britain's support for its bid to join the EU, Prime Minister David Cameron said Monday.
However, Britain would not be part of any European scheme to relax visa regulations for Turkish nationals, he added. Britain and Ireland are not members of the border-free Schengen agreement that encompasses most of Europe.
"I can confirm that the British government's policy has not changed," he said in response to a question from former Cabinet minister Kenneth Clarke about support for Turkey's EU membership.
Turkey's further integration into the EU and its 28-year bid to become a member have been highlighted by the refugee crisis facing Europe and the EU's need to enlist Turkish help in stemming the flow of refugees.
Cameron added: "More than 2 million refugees, almost nine out of 10¸ have stayed in Turkey, and everything that we can do to help the Turks to keep those refugees - perhaps allowing more of them to work and to play an economic part in Turkey - will obviously help in this crisis.
"I think it fair to say that, although the Turks have done extraordinary work in looking after refugees - their refugee camps are some of the best anywhere in the world - we all need to help them to do more to stop people taking off from western Turkey into the waters of the Mediterranean, because that is a journey on which so many have died."
Britain's ruling Conservative and opposition Labour parties both support Turkish membership of the EU.
In response to an earlier question from Labour leader Jeremy Corbyn, Cameron said the details of an EU aid package worth 3 billion euros ($3.4 billion) announced last week had not yet been concluded.
"Obviously we want Turkey to do even more to make sure that people don't get on to dangerous dinghies and launch themselves into the Mediterranean and that's what the recent discussions have been about," the prime minister said.
Full Report at:
http://www.worldbulletin.net/europe/165449/uk-still-backing-turkeys-eu-bid
----------
EU 'working intensely' with Turkey on refugee plan
19 October 2015
The European Union is "working intensely" to reach a deal with Turkey on how to reduce the flow of refugees coming in to Europe.
"Work is underway [...] intensive work is underway to get to the agreement soon," European Commission spokesman Margaritis Schinas told reporters in Brussels on Monday.
EU leaders have agreed to accelerate the visa liberalization process for Turkish citizens seeking to visit the 28-nation bloc's Schengen borderless zone if Turkey manages to reduce the flow of refugees coming into Europe.
German Chancellor Angela Merkel visited Turkey on Sunday. She met with both President Recep Tayyip Erdogan and Prime Minister Ahmet Davutoglu.
Her visit came days after EU heads of government last Thursday gathered in Brussels, and agreed to "re-energize" talks on Turkey's accession into the bloc and on visa liberalization for Turkish citizens.
Full Report at:
http://www.worldbulletin.net/europe/165438/german-govt-dismisses-criticism-of-turkey-visit
----------
Refugee treatment in Croatia, Slovenia, unacceptable: Amnesty
Oct 20, 2015
The human rights group Amnesty International (AI) has criticized as "unacceptable" and "appalling" the dire conditions of nearly 2,000 refugees stranded on the border of Croatia and Slovenia.
An Amnesty research team said on Monday that some 1,800 refugees, including many children and infants, were stranded in the rain in the middle of the night at a checkpoint in Slovenia's Trnovec, located between the two borders, after police on both sides set up fences to prevent the refugees from crossing the border.
"Croatian police tried to justify their actions by telling us 'Everybody is doing it – look at Hungary.' This attitude is appalling and dangerous," Amnesty researcher Barbora Černušáková said.
She added that it was "unacceptable" for the two countries and their neighbors to shrink from their responsibility.
A group of refugees cross the border between Hungary and Croatia before Hungarian soldiers close it, in Zakany, October 16, 2015. (Photo by AFP)
Černušáková also warned that if other European Union (EU) states failed to respond correctly to the situation, "it could spark a domino effect with drastic consequences" for thousands of people arriving in the continent on a daily basis.
Division in capitals, frustration on borders
The incident took place just days after Hungary closed its border with Croatia, and countries in the northern Balkans imposed tougher border restrictions amid the influx of refugees coming from Middle Eastern and African states.
Full Report at:
http://www.presstv.ir/Detail/2015/10/20/434180/Croatia-Slovenia-ernukov-Amnesty-refugee-crisis
----------
German FM rejects Riyadh's stance on Syria
Oct 19, 2015
German Foreign Minister Frank-Walter Steinmeier has dismissed as unwise Saudi Arabia's stance that Syrian President Bashar al-Assad must be ousted from power for the restoration of peace to the war-ravaged country.
"Maybe it would be shortsighted that we envisage no peace in Syria with Assad and that there will be no future for Syria with Assad," Steinmeier said in a joint press conference with his Saudi counterpart Adel al-Jubeir in Riyadh on Monday.
The comments came in response to heated rhetoric by Jubeir who during the briefing repeated Riyadh's view that Assad had to leave power if peace in Syria was to be achieved.
"If it is a matter of months, two or three months or less, that is not important. But Assad has no future in Syria," Jubeir said, adding that Riyadh even rejects Assad's stay in power until an election could be held for any transition in Syria.
Full Report at:
http://www.presstv.ir/Detail/2015/10/19/434120/Germany-Saudi-Syria-Assad-Adel-alJubeir-Steinmeier
----------
Liberals surge to stunning Canadian election win
20 October 2015
Canada was a sea of red from coast to coast Monday as Justin Trudeau and his Liberals swept into power with a majority government.
It was stunning reversal of the Liberals disastrous defeat in the 2011 federal election, when the party was decimated, reduced to third-party status as the New Democrat Party (NDP) became the official opposition and the Conservatives won a majority.
Trudeau becomes the new prime minister of Canada, while voters put an end to the 10-year tenure of Prime Minister Stephen Harper and the Conservatives.
"We are now confident in calling this," CBC anchor Peter Mansbridge said. "Justin Trudeau becomes the 23rd prime minister of Canada."
That was earlier in the evening, but the Liberals had to wait only for another hour of returns to learn they had been ushered in a majority, capturing more than half of the 338 parliamentary seats.
Trudeau, who won in a leadership race following the 2011 Liberal defeat, becomes the second prime minister with that surname.
His father, the late charismatic Pierre Elliott Trudeau, was twice the country's leader, from 1968-79 and 1980-84.
Full Report at:
http://www.worldbulletin.net/america-canada/165448/liberals-surge-to-stunning-canadian-election-win
----------
India
AIMPLB Chief Speaks: One Culture Being Imposed In Country
By Mohd Faisal Fareed | Lucknow
October 20, 2015
THE PRESIDENT of All India Muslim Personal Law Board and rector of Lucknow-based Islamic seminary Nadwatul Ulema, Maulana Rabey Hasan Nadwi, on Monday expressed his apprehension that a particular culture was being imposed in the country. While asking Hindus to think about this, Nadwi — the most revered figure among Muslims — said: "India has a bouquet of several cultures. Flowers of different colours are there and one should appreciate different colours. Members of the majority community, who want to change this to one culture, should rethink." "We have a mix culture in India. Hindus should also give attention towards the attempt to impose one particular culture. They should think where is country heading — towards good or bad," Nadwi added. Nadwi was speaking while releasing the travelogue by his teacher Jafar Masood during a programme of Nadwatul Ulema. The function, held at Nadwatul Ulema, was attended by over 30 eminent Muslim clerics of the seminary. "India has several sub cultures, as different races have come here from Arab, Iran, Central Asia and others. It, thus, has several types of culture," he said. While maintaining that Indian Muslims have adopted the influence of several races and are thus, totally different from Muslims of other parts of the world, Nadwi said: "Muslims have got mixed in such a manner that a new culture has emerged. One should remember that even this country has got many things from Muslims." "Religion and culture are two different things. While we are firm on our religion, we admit there has been cultural effects on the community in India. We should also respect others' culture with practice tolerance, else hatred will increase," he added. Principal of Nadwatul Ulema, Maulana Saeedur Rehman, too urged Muslims to uphold their character in public life. "Your character in public life will represent Islam among other people. So, one should be clean in his public life for a good image of our religion," he said.
http://indianexpress.com/article/cities/lucknow/muslim-law-board-chief-speaks-one-culture-being-imposed-in-country/
----------
ATS Discusses ISIS Threats with Muslim Clerics
October 20, 2015
The Pune unit of the state anti-terrorism squad (ATS) on Monday held a meeting with as many as 150 Muslim clerics from various masjids and madarsas and alerted them about the terror threats by the Islamic state (IS). The meeting was called after directives from Additional Director General of Police (ATS) Vivek Phansalkar and Special Inspector General of Police (ATS) Niket Kaushik. At the meeting, Assistant Commissioner of Police (ATS) Bhanupratap Barge asked the clerics and activists to keep a close watch on suspicious persons and inform the ATS about the possible threats. There have been reports of IS groups luring young Indians into taking up terror activities. IS has been indulging in online propaganda using social networking media to attract Indian youths. ATS officials discussed the possible threats from IS and steps that need to be taken to control the menace. It was decided that initiatives to bridge the gap between citizens and ATS would be taken up. The ATS assured that injustice would not be done to anybody and more such meetings would be held in future. The ATS also decided to use social media groups to spread awareness about sensitive issues and staying connected with citizens. Pune ATS has already launched a drive 'Me, Anti-Terrorist' to spread awareness about terrorism. Meanwhile, leaders like Abdul Salam Ansari, Anis Akbar Khan, Sadiq Isaq Qureshi, Shakeel Patel, Haji Nadaf Saheb, Abdul Qaiyyum and Maulana Qazi Mohammed Idris Ansari expressed their views on the issue. Police inspectors Vijay Patil, Arvind Gokule, Anil Shevale and assistant inspectors Satish Walke, Ashvini Jagtap and Sameer Gaikwad were also present.
http://indianexpress.com/article/cities/pune/ats-discusses-is-threats-with-muslim-clerics/
----------
Killing of Udhampur trucker just makes things more daunting for Indian Muslims
by Wajahat Qazi
Oct 19, 2015
Zahid Rasool Bhat, the Kashmiri trucker injured in an arson attack at Udhampur (Jammu division), passed away on Sunday. The 18-year-old has fallen victim to an insidious and dangerous ideology that appears to have India enthralled.
The proponents of this ideology hold that India is a 'Hindu Rashtra'(Hindu nation) and other groupings in India(read Muslims) are essentially aliens who marauded India, and destroyed its Hindu essence. This narrative of nationalism is essentially a narrative of victimhood which enjoins Hindus to assert themselves and can be called a nationalism of revenge and vendetta. It is a perverted form of nationalism in which a historical narrative and imagination is twisted to construct an 'other' against which the majority community can define itself against.
This nationalism has two components: an internal one and an external one. Both are compressed and packaged into one. Domestically, it is the Indian Muslim- held to be a 'convert' by the proponents of this ideology- who is to be either 'tamed' or shown his/her place. Externally, the 'Other' or the enemy is Pakistan- a Muslim nation, which was carved out of the Indian dominion.
The proponents of Hindutva, as this ideology is called, draw their sense of individual and collective self from these two themes. If I may indulge in some pop psychology, this narrative and the ideology that sustains it suggests that the collective personality and unconscious of the Indian nation is a weak one; it needs an 'other' to draw sustenance and define itself. This may well be fine but the problem is that it exacts victims in the process. The Dadri lynching and the murder of Zahid are the natural and inevitable fallout of this process of 'othering'.
This is, insofar as the, psychological processes and philosophy that informs this insidious ideology. But what about its politics?
The politics of Hindutva emerge and draw from the philosophy that informs it. It aims to homogenize a diverse polity and society under the rubric of the ideology of Hindutva. The modus operandi is clear and obvious: the Hindu vote is consolidated by 'othering' Muslims under the guise of Hindu pride and the alleged marauding of 'Hindu' India by Muslims.
Democracy and its procedures and processes are instrumentalised to attain state power and then the preferences of the majority (read beef ban issue) are imposed on the peoples of the country. The Hindu psychology and emotional matrix is sought to be perverted and twisted and a Hindu Rashtra sought to be constructed from the detritus of violence and state power.
This perversion is real and a departure from Hinduism. To paraphrase Professor Trautmann of the University of Michigan, Hinduism as it evolved and its Vedic texts held life to be of such a cardinal and intrinsic value that it proscribed animal sacrifice and consumption. The premise or the principle that undergirded this was value for all forms of life. But, ironically, this form of Hinduism has been perverted by the ideology of Hindutva: human life is being taken and people murdered to avenge the killing of an animal.
All this will have consequences. Muslims in India will increasingly feel more fearful insecure. Full Report at:
http://www.firstpost.com/india/killing-of-udhampur-trucker-only-makes-things-more-daunting-for-indian-muslims-2473660.html
----------
Pak develops nuclear weapons to combat possible war with India
Oct 20, 201
KARACHI: Foreign secretary Aizaz Chaudhry has said that the country has made low-yield nuclear weapons to deal with India's cold-start doctrine that Pakistan claims was developed by Indian military for use in a possible war with the neighbouring nation.
It is the first time that a senior Pakistani official has given an explanation of the country's decision to make tactical nuclear weapons, renaming it as the country's proactive strategy, the Dawn reported.
Chaudhry also said that Pakistan would not sign any nuclear deal with the United States during Prime Minister Nawaz Sharif's visit.
Full Report at:
http://timesofindia.indiatimes.com/india/Pak-develops-nuclear-weapons-to-combat-possible-war-with-India/articleshow/49463316.cms
----------
Kerala man's Islamic State foray led to deportation of 8 friends
Rajesh Ahuja
Oct 20, 2015
A friendship struck in school has come back to haunt eight Kerala men deported in September from Ras al Khaimah in the UAE after a friend joined the dreaded Islamic State.
Back home — some of them with their families — they are trying to start life afresh while others hope to go back soon. But, Riyad Rahman is never too far from their minds.
"They forged a friendship while studying at Indian Public School and New India School in RAK (Ras al Khaimah). But when one of them — Riyad Rahman — took a flight to Turkey to the land of ISIS, the UAE authorities asked to them to pack and leave," said a counter-terror official, requesting anonymity.
The 25-year-old Riyad is among at least 24 Indians believed to be fighting alongside IS, also known as the Islamic State of Iraq and the Levant, that now controls large swathes of Syria and Iraq. Six Indians are reported to have died in IS-held territory. Riyad disappeared in April and soon his friends, who were in touch with him through social media and met him occasionally, were in trouble, sources said.
The family hasn't heard from Riyad. But his older brother Arshad Rahman, who is married and has a two-year-old son, was forced to return to India. The 35-year-old was with a tech company in Sharjah and was doing well, sources said.
"My sons Jaleel and Rashid are now looking for jobs here. They have been told that they can go back to RAK in six months to one year," Mohammad Haji Ashraf told HT over the phone from Thrissur.
Ashraf came back with his sons and other family members.
Jaleel, who studied at New India School with Riyad, worked for a bank when he was deported. The UAE has strict anti-terror laws and links to IS -- however tenuous -- can invite severe punishment.
Aromal Sadanandan and Riyad, too, met in New India School. Riyad was not only his classmate but also his best friend, the 23-year-old told the Kerala Police.
"Riyad left school without completing 10th standard. He came back (from Kozhikode in Kerala) after a year and joined the school again but as my junior," counter-terror officials quoted Sadanandan as saying.
"After his arrival from Kerala I noticed a beard on his face," Sadanandan told his interrogators. Born and brought up in Ras Al Khaimah, Riyad was a regular at a mosque where the imam was a Pakistani. Perhaps that is where his radicalisation began, the counter-terror official said.
Full Report at:
http://www.hindustantimes.com/india/kerala-man-s-islamic-state-foray-led-to-deportation-of-his-8-friends/story-FNbUyXRKwe60vwpYrJLxGM.html
----------
In goodwill gesture, Pak food chain offers free meal to Indians
Oct 19, 2015
The owner of an American restaurant chain in Pakistan is offering free meals to any Indian visiting the country on a short-term visa, in a novel reaction to reports that a Pakistani family was refused accommodation by hotels in Mumbai.
Iqbal Latif, who runs 26 franchises of international food chain Dunkin' Donuts in Islamabad, Lahore and Peshawar, took a leaf out of Mahatma Gandhi's book to show how neighbours should be treated.
"It's not a big deal, but an effort to invoke the teachings of Gandhiji who preached love and coexistence all his life," Latif told Dawn News.
Latif's free-meal offer to Indians went into effect last week and the response has been overwhelmingly positive, the report said.
"We served 2,432 people in Peshawar, Islamabad and Lahore. They all loved it," Latif said.
Latif took the initiative after reading reports that hotel owners of Mumbai's Bhendi Bazaar area refused accommodation to a family of six people from Karachi last week, following which they had to spend the night on the streets.
The family was reportedly being refused accommodation as they did not possess the 'Form C' -- which is to be submitted to a government department if people from outside the country come to the city on visa and stay in their lodges and hotels.
Full Report at:
http://www.deccanherald.com/content/507294/in-goodwill-gesturepak-food-chain.html
----------
Africa
History of Islam in Malawi Preserved by Scholar
19 October 2015
LILONGWE – In a bid to preserve the history of Islam in the southern African country, one of Malawi's accomplished Muslim scholars has published a book to clear misconceptions about Muslims in the secular, but diverse religious nation.
"Footprints of Islam in Malawi the result of extensive research I have carried [out] over the years on the introduction of Islam in Malawi, which has to a larger extent, [cleared] some misconceptions believed by some quarters of the religious community in the country and elsewhere," Abdul Razzaq Fattani, a Malawian of Indian descent, told OnIslam.net.
"This noble effort aims at preserving the Islamic historical account in Malawi, keeping in mind that the old generation is facing extinction, paving [the] way for a new generation who will not be aware of our past. It is, therefore, our duty to inform them about our history and [set] the record straight on issues which are often misunderstood," Fattani added.
"During my research, I found a lot of information [inaccurately] recorded by previous writers, neither had they portrayed a true picture of Islam and [Malawian] Muslims. By the grace of Allah (SWT), I have corrected this distortion."
In the book, which is the first of its kind, Fattani outlines factors preempting many Muslims from seizing the opportunity to attain a secular education during the period when Malawi had just become a British protectorate.
"Many people have given reasons which are not true as to why Muslims couldn't attain secular education in large numbers as compared to their Christian counterparts. When Malawi became a protectorate, the colonial government did all it could to wipe the presence of Islam from the land," he said.
"Muslims were forced to adopt Christian names and Muslim youths who had attempted to enroll in missionary schools throughout the country were forced to renounce their religion and become Christians. This led many Muslim parents to keep their children from attending school."
As a result, many within the Muslim community were deprived of an opportunity to access secular education.
Full Report at:
http://www.onislam.net/english/news/africa/495235-scholar-publishes-book-on-islam-history-in-malawi.html
----------
Despite the odds, one doctor promotes family planning in Muslim Nigeria
By Fredrick Nzwili 
October 19, 2015
Amid stiff opposition to modern birth control methods in the predominantly Islamic region of Northern Nigeria, a Muslim medical doctor is working to dispel the myths that fuel the resistance to family planning.
For 10 years, Dr. Farouk Mohammed Jega, 45, has been championing evidence-based arguments to try to persuade clerics that Islam supports family planning methods, contrary to the views of many clerics here.
"We have been talking to the leaders making them understand that there is a lot in Islam that supports contraception," said Jega, who works with Pathfinder International, an organization that promotes sexual and reproductive rights in the developing world by expanding access to contraception, promoting healthy pregnancies, and working to stop the spread of HIV infections.
Islamic scientists have for centuries addressed family planning methods, recording different type of contraception.
The Hadith, or collection of sayings or traditions attributed to the Prophet Muhammad, shows he was likely aware of family planning methods. Support for birth control varies from one Muslim country to another.
Experts say family planning grants enormous health and economic benefits. That has led some faith communities to take a lead in providing the services.
But in northern Nigeria, a conservative Islamic region, where Muslim clerics wield considerable authority, some of the leaders have imposed negative perceptions on contraception, leading to its low acceptance, according to Jega.
It is not unusual to hear the clerics campaigning against condom use and other methods of family planning. For some, condoms promote promiscuity. Some of the clerics have backed protests against condom distribution, too.
"We have used evidence from research to convince them that condom campaigns actually reduce sexual promiscuity by reinforcing better and healthier sexual behavior."
At the same time, many of the clerics think birth control is the same as abortion and that the pills lead to early abortion or interrupted pregnancies.
Click here for more information!
"We brought religious leaders together and explained the difference between the two. After this, they were ready to discuss other controversial issues related to the subject," added the Nigerian trained doctor.
His project, implemented largely among the poor, reaches approximately 40 million Muslims in seven states.
One thorny issue has been the role of women in the delivery of the healthcare services. Some of the clerics have opposed allowing women to provide services to male members of the Muslim community. For them, this contradicts the Muslim virtue of modesty and separation of the sexes.
Full Report at:
https://www.washingtonpost.com/national/religion/despite-the-odds-one-doctor-promotes-family-planning-in-muslim-nigeria/2015/10/19/3bd4efb0-7692-11e5-a5e2-40d6b2ad18dd_story.html
----------
Libya's recognized parliament rejects U.N. proposal
19 October 2015
A majority of lawmakers in Libya's internationally recognized parliament on Monday rejected a U.N. peace deal and a proposal for a national unity government, one of them said.
MP Ali Tekbali said the decision was taken during a session of the parliament but that no vote took place.
"A majority of lawmakers decided to reject the (U.N.) proposals," Tekbali told AFP.
"No voting took place," he said "since the majority of the members have rejected the U.N. suggestions".
The official Lana news agency also reported that a "majority of lawmakers have announced their rejection of the proposals made by U.N. envoy Bernardino Leon".
Libya has had two administrations since August 2014, when a militia alliance that includes Islamists overran the capital, forcing the internationally recognized government to take refuge in Tobruk in the east.
U.N. envoy Leon announced on October 9 proposals for a unity government after months of negotiations.
Full Report at:
https://english.alarabiya.net/en/News/africa/2015/10/19/West-Arab-states-urge-Libyan-parties-to-agree-unity-govt-immediately-.html
----------
Libyan parties urged to agree unity govt 'immediately'
19 October 2015
Western and Arab states issued a joint declaration Monday urging rival sides in Libya to accept UN proposals for a power-sharing government "immediately" to end rampant instability in the country.
The statement was published jointly by the foreign ministers of Algeria, Britain, France, Germany, Italy, Morocco, Qatar, Spain, Tunisia, Turkey, the United Arab Emirates and the United States as well as the EU foreign policy chief.
They "call on all parties in the Libyan political dialogue to immediately adopt the political agreement negotiated by the Special Representative to the United Nations, Mr (Bernardino) Leon," it reads.
Libya has had two administrations since August 2014, when a armed groups alliance overran the capital, forcing the West-backed government to take refuge in Tobruk in the east.
UN envoy Leon has put forward proposals for a power-sharing government, but both the West-backed parliament and the opposing assembly have balked at the appointments.
The UN Security Council has threatened to impose sanctions on those who block a peace deal in Libya or undermine any political transition in the country, which descended into chaos after the fall of Moamer Kadhafi in 2011.
Full Report at:
http://www.worldbulletin.net/africa/165433/libyan-parties-urged-to-agree-unity-govt-immediately
----------
Misrata's biggest force refuses Leon government
19 October 2015
The Central Shield Force of Libya , the biggest military force in Misrata, has rejected Leon's proposed government, describing it as a trusteeship government according to a report in the Libyan Observer.
Commander of the Force Colonel Hassan Shakah confirmed in a statement that the dialogue is the only way out of the current crisis; however, the proposed unity government does not reflect the spirit of the national reconciliation necessary for the success of the political agreement.
"We support any dialogue outcomes that unite Libyans and lead to a consensus government that can preserve 17 February constants, without any foreign trusteeship." He said.
"Leon's government, which he described as consensual, is far away from consensus. It wasn't formed by consultation of Libyan people's representatives; it was dictated by foreign powers." He added.
Full Report at:
http://www.worldbulletin.net/africa/165411/libyan-parties-urged-to-agree-unity-govt-immediately
----------
Southeast Asia
Visa-free Indonesia entry for Saudis
20 October 2015
RIYADH: The Indonesian government is now offering Saudis and citizens from other Gulf Cooperation Council nations visa-free entry into the country for 30 days.
Saudis can visit Indonesia for this period for official government purposes, education, business, tourism, transit or family related reasons, said Ahrul Tsani Fathurrahman, chief executive officer of information and cultural affairs at the Indonesian Embassy in Riyadh, on Monday.
"The provision has also been extended to citizens of other GCC countries," he said.
Indonesia has also waived the visa requirement for citizens from Jordan and Lebanon. The decision would help boost tourism in the country and bolster mutual cooperation with the GCC and other nations, he said.
Full Report at:
http://www.arabnews.com/saudi-arabia/news/823016
----------
In second attempt, Gerakan to challenge hudud through Muslim members
BY IDA LIM
October 20, 2015
PUTRAJAYA, Oct 20 — Gerakan has decided to file a fresh legal challenge against Kelantan's hudud law, this time with an all-Muslim team of applicants, the party's lawyer Andy Yong said today.
Speaking just a few hours after the Federal Court denied leave for a similar constitutional challenge by three Gerakan members, Yong confirmed that his team has received instructions from the trio and the party leadership to proceed with the new challenge.
"In order to prevent any further technical objections by the court, we are unlikely to put in the same applicants.
"Very likely to be all Muslims," the Gerakan Youth deputy chief told Malay Mail Online when contacted this afternoon.
He said the filing of the fresh challenge at the Federal Court will be done "as soon as possible", confirming that the application will be by way of Article 4(4) of the Federal Constitution.
Earlier today, Federal Court judge Datuk Zaharah Ibrahim dismissed the Gerakan trio's bid for leave to challenge the Kelantan government's jurisdiction to approve the hudud law after accepting the Kelantan government's argument that only those affected by the Islamic penal code could mount such a challenge.
While noting that the Gerakan trio's application was not frivolous as they had an arguable case, Zaharah said however they had not stated if they were Muslims when challenging the law that she said was applicable on Muslims only.
In court, the Gerakan members' lawyer Datuk Seri Gopal Sri Ram had said the legal challenge by way of Article 4(4) of the Federal Constitution was not frivolous or vexatious, arguing that the Kelantan government had exceeded its constitutional powers when making the state law on hudud.
"The law that has been enacted seeks to deal with criminal and evidential matters which are only within the powers of the Parliament to enact," the former Federal Court judge said.
Sri Ram also argued that all citizens are allowed to mount this challenge as it is a constitutional remedy, and does not have to be a situation where an applicant's interests have been affected.
Full Report at:
http://www.themalaymailonline.com/malaysia/article/in-second-attempt-gerakan-to-
challenge-hudud-through-muslim-members
----------
Indonesia Weighs Fighter Jet-Backed Islamic Bonds in Sales Push
October 19, 2015
Indonesia looks set to adopt a structure common in Malaysia for its sovereign sukuk, allowing it to more easily ramp up issuance and support a shrinking Shariah-compliant banking industry.
The government is considering using Murabaha contracts to arrange sales, Suminto, Islamic financing director at the Budget Financing and Risk Management office, said in an interview on Friday. That would let it use state purchases of everything from fighter jets to tractors to back its offerings rather than just revenue streams from property or infrastructure projects under the Ijara structure used at the moment, he said.
"The government's budget has a large allocation for goods and services acquisitions that we can use as underlying assets," Suminto said in Jakarta. "With this new innovation, it will allow us greater scope to increase sukuk sales."
Indonesia's Islamic banking assets have shrunk 27 percent in 2015, after almost tripling over the previous five years, as economic growth slowed to the least since 2009 and lenders struggled to attract new accounts. A larger and more liquid sovereign Shariah bond market would give local banks more options for investing their funds and enable them to compete more effectively with their non-Islamic counterparts.
The yield on Indonesia's sovereign Shariah-compliant notes due September 2020 has risen 100 basis points to 9.21 percent over the past 12 months, according to data compiled by Bloomberg. That compares with a yield of 8.62 percent on the country's non-Islamic securities due July 2021, Inter Dealer Market Association prices show. Sukuk typically command higher yields due to a relative lack of liquidity in the market.
'More Liquid'
Indonesia's Shariah-compliant banking assets rose from 97.5 trillion rupiah ($7.1 billion) at the end of 2010 to 272.3 trillion rupiah by the finish of last year, before falling to 200 trillion rupiah at the end of August, data from the Financial Services Authority shows. While Indonesia has a Muslim population that's around 12 times as large as Malaysia's, it has less than a seventh of the Islamic banking assets that its neighbor has.
The use of Murabaha contracts would remove a constraint on increasing government sukuk sales, said Khalid Howladar, the global head of Islamic finance at Moody's Investors Service in Dubai. Sovereign issuance dominates the Indonesian market as corporates have sold just $2.5 billion of Islamic notes since 2002 amid a lack of clarity on tax regulations.
"Government sukuk issuance helps create a more liquid domestic sukuk market," Howladar said "This helps the banks in terms of liquidity management but the local Islamic banking sector is still very small. The country needs to create economic incentives for Islamic banking to thrive."
Full Report at:
http://www.bloomberg.com/news/articles/2015-10-19/indonesia-weighs-fighter-jet-backed-islamic-bonds-in-sales-push
----------
Foreign Secretary: We Are Not China's Servants
20 October 2015
By Faisal Islam, Political Editor
The Foreign Secretary has said China has much to learn from Britain and that the UK should overtake Germany to become the country's biggest trading partner in Europe.
David Cameron will today hail a new "Golden Era" in UK-Chinese relations as President Xi Jinping officially begins a state visit to Britain.
The Prime Minister says £30bn worth of trade and investment deals will be completed - creating 3,900 jobs in energy, transport, retail, and property.
Speaking to Sky News ahead of Mr Xi's address to parliament later today, Mr Hammond denied Britain was in a "master/servant" relationship with China.
He said over the next 10 years Britain would develop a "deeper relationship" with China that would bring huge benefits to Britain such as investment in infrastructure, high-spending Chinese tourists and Chinese students.
He said China's economy was "evolving" but it was still a developing economy and much of the country was underdeveloped, which provided hug opportunities for British businesses to advise as it looks to growing a service industry.
Mr Hammond denied cheap Chinese steel flooding European markets was to blame for the collapse of the British steel industry and said it was due to a global overproduction.
He said: "It's certainly one of the subjects that will be on the agenda, the steel industry. China is a very big producer of steel, as you would expect.
"But there's a global over-capacity in the steel industry and that's caused prices to fall very precipitately over the last 12 months or so, and that's causing a problem around the world."
As Mr Xi's tour gets under way, Mr Cameron said: "This is going to be a very important moment for British-Chinese relations. Trade and investment between our two nations is growing and our people-to-people links are strong.
"This visit will be an opportunity to review all of these things but also talk about how the UK and China can work together on global issues such as climate change and tackling poverty. It's a real opportunity to deepen our relationship."
President Xi, accompanied by his wife Peng Liyuan, will be welcomed for a stay by the Queen at Buckingham Palace - and visits to Chequers and Manchester are also planned.
The sheer scale of the visit is a result of years of effort from Mr Cameron and George Osborne to re-calibrate Britain's relationship with China.
The Chinese Government were particularly delighted with the Chancellor's decision to participate in the China-led Asia Infrastructure Investment Bank.
But US sources have raised concerns about Britain's new policy of "constantly accommodating" China.
Full Report at:
http://news.sky.com/story/1572586/foreign-secretary-we-are-not-chinas-servants
----------
URL: https://www.newageislam.com/islamic-world-news/new-age-islam-news-bureau/islam-and-democracy-can't-go-together--pakistan-council-of-islamic-ideology/d/104989