New Age Islam News Bureau
28 Jul 2014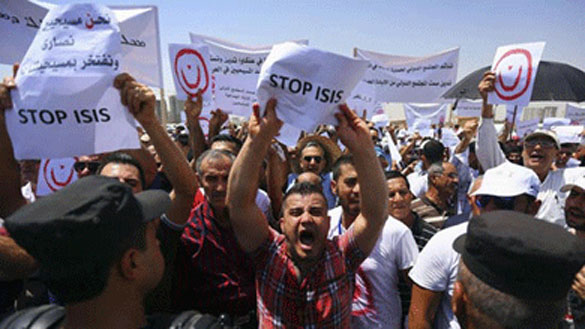 Takeover: Another showed militants apparently in control of Syrian army resources at the northern base
------------
Arab World
• ISIS Video Shows 50 Beheaded Syrian Soldiers Impaled On Poles in Raqqa City
• Shiite Militia Display Jihadist Bodies in Iraq City
• Grand Mufti Calls for Jihad to Liberate Palestine
• Iraq: 50 Terrorists Killed in Diyala
• Mosul People Organize Armed Battalions to Fight ISIL Terrorists
• Iraq army kills 17 in anti-jihadist raid
• Football pitches emerge as new battlegrounds for control of Iraq
• Jihadists make fresh Syria advance: NGO
• Eradicate hatred to gain spiritual success, scholar urges Muslims
• 3 pro-Morsi protesters reportedly killed in Cairo
• N. Lebanon rallies in support of Sunni prisoners
Pakistan
• Pakistan Mob Kills Woman, Girls, Over 'Blasphemous' Facebook Post
• 4 TTP men killed in shootouts with LEAs
• Pakistani mission lowers flag in solidarity with Palestinians
• Two Rangers soldiers, two 'militants' killed in tit-for-tat attacks
• Life of key politicians under threat: Pak Interior Minister
• PML-N Government should complete constitutional tenure: Jamaat-e-Islami
• Imran threatens to file murder case against PM Nawaz if violence erupts
• Pakistan, China renew resolve for Afghan peace
• Spare a thought for IDPs on Eid: Zardari
Africa
• More than 50 killed in Libya clashes
• Five dead in bombing of church in north Nigeria's Kano
• Huge oil depot blaze puts Tripoli under threat
• Tunisia: Warrant of Committal Issued Against Takfiri Facebook Administrator
Europe
• ISIS's Black Flags Are Flying in Europe
• Bradford Schools Facing Claims Of Islamist Takeover
• Rising tide of anti-Semitism in Britain, Jews face backlash over bloodshed in Gaza
• British embassy convoy attacked in Libya's Tripoli
• Iran students face expulsion from Norway over sanctions
India
• English, Urdu Words in NCERT's Hindi Books Irk RSS
Mideast
• Iran Deputy FM in Beirut: Zionists Crimes in Gaza Same as ISIL's
• 85 bodies recovered from Gaza rubble; baby saved from dead mother's womb
• Iran General: We Will Hunt Down Israelis House To House
• Boy, 4, killed by Israeli tank fire in northern Gaza: medics
• We cannot coexist with occupiers: Hamas chief
• Parliament's word important on Kurdish issue, Öcalan's freedom: İhsanoğlu
• Turkish President Gül bids farewell while emphasizing need for democracy
South Asia
• China says it may have citizens fighting in Iraq
• Suicide bomber arrested with 1 ton of explosives in Paktika
• Terrorist killed in Jhenaidah 'shootout'
• Urdu speakers in Bangladesh urge permanent ceasefire in Gaza
• Singapore Islamic authority approve Maldives Halal certificates
North America
• Behind the Beard - A New Generation of Muslim American Leaders
• US, Israeli tensions rise as hostilities in Gaza subside
• Muslims pray in church as bombs fall ahead of Eid
• US President Barack Obama wishes Muslims on Eid
• Converted Muslims embrace new faith, celebrate end of Ramadan
Southeast Asia
• Sixteen dead in Philippine Islamic militant ambush
• President-Elect Jokowi Hopes Eid ul Fitr Will Unite Nation
• Indonesia Frees Hundreds of Prisoners on Id ul Fitr
• Council of Churches of Malaysia youth group appeals for funds for Gaza children
• Philippine Islamic bank eyes new life after years of struggle
• Najib advises nation to heed lessons from tragedies in Eid ul Fitr message
Compiled by New Age Islam News Bureau
URL: https://newageislam.com/islamic-world-news/new-age-islam-news-bureau/isis-video-shows-50-beheaded-syrian-soldiers-impaled-on-poles-in-raqqa-city/d/98331
------------
Arab World
ISIS Video Shows 50 Beheaded Syrian Soldiers Impaled On Poles in Raqqa City
Jul 28, 2014
Islamist militants have reportedly beheaded dozens of soldiers at a Syrian army base and mounted their heads on poles.
Extremists from the group Islamic State, previously known as ISIS, seized the base in the northern province of Raqqa, leaving more than 85 soldiers dead and 200 more unaccounted for.
The Syrian Human Rights Observatory said at least 50 of the soldiers had been executed - many of them beheaded - as horrifying footage began circulating online which appeared to show the bodies.
The video, which has not been independently verified, features a voiceover by one of the militants as several decapitated heads are shown mounted on poles on top of a fence.
At least two of the bodies at the Division 17 base were crucified, according to the Associated Press, which said the video appeared to be genuine.
Other photographs posted on jihadist social media accounts showed fighters inside the military base in control of several tanks, trucks and ammunition boxes.
In one, extremist militants raised the black flag of Islamic State above a building.
In another, IS fighters are shown apparently inside Division 17's living quarters burning a portrait of Syrian President Bashar al-Assad.
The head of the British-based Syrian Human Rights Observatory, Rami Abdel Rahman, told AFP hundreds of troops 'withdrew on Friday to safe places - either to nearby villages whose residents oppose IS or to nearby Brigade 93 - but the fate of some 200 remains unknown'.
He added: 'Some of the executed troops were beheaded, and their bodies and severed heads put on display in Raqqa city.'
More than 50 troops were summarily executed, 19 others were killed in a double suicide bombing and at least 16 more died in the assault launched on Thursday, he said.
The display was intended as 'a message to the people of Raqqa, to tell them it is strong, that it isn't going anywhere, and to terrify' opponents, he added.
The city has become a stronghold for Islamic State militants who have swept through Iraq and Syria, seizing civilian areas and escalating the deadly conflict in the region.
They have declared an Islamic 'caliphate' throughout the region in fighting which has killed thousands of people.
Syria's uprising began in the form of peaceful Arab Spring-inspired protests in March 2011 but escalated into an armed revolt when government forces launched a sweeping crackdown on dissent.
The country is now in the grip of a complex civil war in which several armed groups, including Islamic extremists, are fighting government forces and rival rebels.
Syria's conflict has killed at least 170,000 people, nearly a third of them civilians, according to activists. Nearly three million Syrians have fled the country.
There was a victory elsewhere for the Syrian government in the central Homs region, where forces recaptured the Al-Shaar gas field which had been seized by IS a week before leading to the death of 270 troops.
The Syrian army said its forces and regime paramilitaries 'killed many terrorists from the so-called Islamic State' in the recapture.
The UN Commission of Inquiry on Syria has said Islamic State fighters who are accused of atrocities will be added to a list of war crimes inductees.
Meanwhile a car bomb exploded in a northern Syrian town near the Turkish border yesterday, killing and wounding a number of people hours after Syrian rebels shot down a helicopter gunship over a slum in Aleppo, activists said.
The Aleppo Media Centre said the car bomb exploded in a vegetable market in the town of Azaz near the border with Turkey. The blast reportedly killed at least four people.
http://www.dailymail.co.uk/news/article-2707322/Heads-sticks-Sick-ISIS-video-emerges-showing-50-beheaded-Syrian-soldiers-impaled-poles-held-aloft-Raqqa-city.html#ixzz38nNclW6g
------------
Shiite Militia Display Jihadist Bodies in Iraq City
Jul 28, 2014
Shiite militiamen in Iraq's city of Baquba dragged the bodies of Islamic State jihadist fighters through the streets Sunday and hung them from a bridge and a utility pole.
An AFP correspondent saw two bodies displayed in the centre of Baquba, a Shiite-dominated city barely 60 kilometres (40 miles) northeast of Baghdad, but security officials counted at least four.
The city is under the control of the Iraqi army and allied Shiite militiamen but is surrounded by many Sunni villages, which have been captured and recaptured several times in recent weeks.
"Several members of Daash were killed yesterday in a battle just north of Muqdadiyah," a nearby town, a police captain said, using the Islamic State's former Arabic acronym.
"Militiamen brought four bodies back and paraded through town in their cars, dragging the corpses behind them," he said. "Then they hung them in four different spots in Baquba."
A senior army officer gave a corroborating account.
Pictures obtained by AFP show one apparently headless body dangling from a utility post as passer-by tops to snap a photo with his mobile phone.
Another, wearing the baggy sherwal trousers popular with foreign jihadist fighters, is seen hanging from a bridge, next to a banner advertising wedding photography, as traffic passes under.
Islamic State fighters and allied Sunni militants swept through large parts of Iraq's north and west seven weeks ago.
Government forces completely folded in the face on the onslaught and while they have since regrouped and received assistance, they have failed to regain any significant ground.
Jihadist-led militants control Fallujah, some 60 kilometres (40 miles) along the main road heading west out of Baghdad.
Holding Baquba, which lies on the easternmost of three roads converging on Baghdad from the north, is considered vital to the defence of the capital.
http://english.ahram.org.eg/NewsContent/2/8/107184/World/Region/Shiite-militia-display-jihadist-bodies-in-Iraq-cit.aspx
------------
Grand Mufti calls for jihad to liberate Palestine
Jul 28, 2014
BEIRUT: Grand Mufti Mohammad Rashid Qabbani used his Eid al-Fitr sermon Monday to call for "jihad" to liberate "Palestine's sacred land from Jewish foreign occupation."
Jihad "is the duty of each and every one of you no matter how much sacrifices are made," he said, while deploring Arab weakness and apathy in confronting the ongoing Israeli offensive on Gaza.
More than 1,000 Palestinians have been killed and over 6,000 injured in almost two weeks of fighting between Israel and Hamas in the Gaza Strip. Some 43 Israeli soldiers also died in the violence.
Speaking at the Mohammad al-Amin Mosque in Downtown Beirut, the mufti urged Lebanese politicians to put their rivalries aside and focus on electing a president and holding parliamentary election for the sake of salvaging Lebanon.
"Electing a new president and holding general elections after agreeing on a new electoral law that represents not only the majority will enable the state to recover its role in the service of the people and the nation," Qabbani said in his Eid al-Fitr sermon in Mohammad al-Amin Mosque in Downtown Beirut.
"Lebanese (politicians) should hurry in order to salvage their nation before the boat sinks with all of us."
The Sunni mufti lashed out at Lebanese politicians, whom he accused of indulging "in arrogance and individualism, while the people are reeling under poverty."
Parliament has failed so far to elect a president to succeeded former head of state Michel Sleiman, whose mandate expired on May 25. Nine attempts since April have proved to be futile due to persisting divisions between rival parties over a consensus candidate for the state's top post.
General elections that were due in May 2013 could not be held due to disagreements on a new electoral law, which is expected to be more representative of minority groups. The poll was postponed for more than a year until November 2014, consequently entailing the extension of the existing chamber's mandate. The fate of November's polls are still up in the air, as no progress has been made on passing a new election law.
Commenting on the persecution of Christians in Iraq, Qabbani said "it is not Islamic rule."
He cautioned that attacks targeting Christians in Mosul would backfire on Arabs and Muslims and were "a prelude to the destruction, division and disintegration of the Arab nation."
http://www.dailystar.com.lb/News/Lebanon-News/2014/Jul-28/265360-qabbani-calls-for-jihad-to-liberate-palestine.ashx#ixzz38nypF7LN
----------
Iraq: 50 Terrorists Killed in Diyala
Jul 28, 2014
Spokesman of the General Commander of Iraq's Armed Forces Major General Qasim Atta stated that Iraqi security forces have killed 50 terrorists and destroyed their vehicles in Himreen Dam in Diyala.
"The armed forces have killed 50 terrorists and destroyed their vehicles," Atta said in a press conference in Baghdad today.
"The terrorists where trying to infiltrate Himreen Dam to the Northeast of Baquba, capital of Diyala," he added.
http://english.farsnews.com/newstext.aspx?nn=13930505001308
------------
Mosul People Organize Armed Battalions to Fight ISIL Terrorists
Jul 28, 2014
Spokesman of the General Command of Iraq's Armed Forces Major General Qasim Atta announced that a group of Mosul people have organized military battalions to fight the ISIL terrorists in their city.
"The people of Mosul have started forming armed battalions to fight the ISIL militants and launch a revolt against them," Atta said in a press conference today, noting that "purging Mosul of the terrorists is imminent".
http://english.farsnews.com/newstext.aspx?nn=13930505001448
---------
Iraq army kills 17 in anti-jihadist raid
Jul 28, 2014
HILLA, Iraq: An Iraqi government raid on jihadist targets in a flashpoint town southwest of Baghdad killed 17 people Monday, including at least three civilians, medical and tribal sources said.
"Bombardment targeted the Fadhiyya district at 1 a.m.," Sheikh Mohammad al-Janabi, a tribal chief from Jurf al-Sakhr, a town 60 kilometers from Baghdad, told AFP.
An army source confirmed the attack and a hospital source said that 17 people were killed, among them three civilians.
http://www.dailystar.com.lb/News/Middle-East/2014/Jul-28/265368-iraq-army-kills-17-in-anti-jihadist-raid.ashx#ixzz38nyjB91G
----------
Football pitches emerge as new battlegrounds for control of Iraq
Jul 28, 2014
Iraqi football pitches have emerged as an alternative battleground in the struggle for the control of Iraq between the Islamic State of Iraq and the Levant (ISIL), the jihadist group that controls chunks of northern Iraq, and the embattled Prime Minister Nouri al-Maliki.
Iraqi officials said the broadcasting the World Cup final between Germany and Argentina in Baghdad's Al-Shaab International Stadium was intended as a show of defiance against ISIL, which now calls itself the Islamic State (IS), who has banned football in territory it controls and reportedly ordered the closure of sports facilities and forbidden the wearing of shirts with images imprinted on them, including football jerseys.
Full report at:
http://www.hurriyetdailynews.com/football-pitches-emerge-as-new-battlegrounds-for-control-of-iraq.aspx?pageID=238&nID=69668&NewsCatID=364
------------
Jihadists make fresh Syria advance: NGO
Jul 28, 2014
Islamic State jihadists, building on vast land grabs in Iraq, have seized an army position in the Syrian city of Hasakeh, a monitoring group said Sunday.
On another front in Syria's complex civil war, rebels seeking President Bashar al-Assad's ouster captured a weapons depot in Hama province, said the Syrian Observatory for Human Rights.
And in the central city of Homs, a car bombing killed seven people, the Observatory and state media said.
In Hasakeh in the northeast, "IS jihadists took over the army's Regiment 121 (base) at Maylabiyeh" after a three-day battle, said the Britain-based Observatory.
On Twitter, supporters of IS, which first emerged in Syria's war in spring 2013, celebrated the army position's "liberation" at the hands of the jihadists.
Full report at:
http://english.ahram.org.eg/NewsContent/2/8/107210/World/Region/Jihadists-make-fresh-Syria-advance-NGO.aspx
------------
Eradicate hatred to gain spiritual success, scholar urges Muslims
Jul 28, 2014
An eminent Islamic scholar and consultant urged Muslims to rid themselves of hatred and ill-feelings to achieve spiritual success during an educational evening on the importance of spiritual consciousness.
During the event, Muhammad Al-Duhaim, a Shoura Council member, eluded to the fact that mankind is heading for a new realm of existence and an age of wisdom thanks to awareness and findings in different fields of research.
"Muslims should always keep in check negative feelings and engage in charity toward one another," he said.
The program was organized by King Saud University Medical City (KSU-MC).
Muhammad Fouda, director of the King Fahad Cardiac Center at KSU-MC, gave the opening speech, in which he reiterated the value of the educational evening for its significant benefits on positive thinking.
Full report at:
http://www.arabnews.com/news/saudi-arabia/608451
------------
3 pro-Morsi protesters reportedly killed in Cairo
World Bulletin/News Desk
28 July, 2014
Three supporters of Egypt's ousted president Mohamed Morsi were reportedly killed Monday in Cairo, a source in Morsi's main support bloc said.
Two demonstrators were killed when security forces used live ammunition to disperse a pro-Morsi rally following the Eid prayers in the Abu Zaabal neighborhood in northern Cairo, the source in the National Alliance for the Defense of Legitimacy told Anadolu Agency.
At least 15 protesters were also injured, the source said.
The Freedom and Justice Party, the political arm of the embattled Muslim Brotherhood, also confirmed the fatalities on its Facebook page.
A female protester was also killed and several others were injured when security forces dispersed a protest in Nasr City in eastern Cairo, the source said.
Full report at:
http://www.worldbulletin.net/world/141488/3-pro-morsi-protesters-reportedly-killed-in-cairo
-----------
N. Lebanon rallies in support of Sunni prisoners
28 July, 2014
TRIPOLI, Lebanon: Huge crowds marched across the northern city of Tripoli to voice support for Sunni militants held in prison over alleged involvement in gunbattles linked to the Syria war.
The protesters responded to a call for rallies from the Muslim Scholars Committee in "solidarity with the oppressed Sunnis in Tripoli."
Rallies kicked off after dawn prayers from several local mosques and met up at Tinal Mosque.
"It is hard for us that Ramadan is over and Eid al-Fitr is here and our oppressed Sunni brothers and sons are locked up in prisons," Sheikh Raed Hleihel told the crowd. "Sheikh Hussam al-Sabbagh was, has become and will remain the safety valve of Tripoli."
Hleihel said the Muslim Scholars Committee would exert "strenuous" efforts to ensure the release of Sabbagh and Sunni militants "who have been arrested since the start of the implementation of the security plan for Tripoli."
Full report at:
http://www.dailystar.com.lb/News/Lebanon-News/2014/Jul-28/265358-n-lebanon-rallies-in-support-of-sunni-prisoners.ashx#ixzz38oD5wmwx
-----------
Pakistan
Pakistan Mob Kills Woman, Girls, Over 'Blasphemous' Facebook Post
Reuters | Jul 28, 2014
ISLAMABAD: A Pakistani mob killed a woman member of a religious sect and two of her granddaughters after a sect member was accused of posting blasphemous material on Facebook, police said on Monday, the latest instance of growing violence against minorities.
The dead, including a seven-year-old girl and her baby sister, were Ahmadis, who consider themselves Muslim but believe in a prophet after Mohammed. A 1984 Pakistani law declared them non-Muslims and many Pakistanis consider them heretics.
Police said the late Sunday violence in the town of Gujranwala, 220 km (140 miles) southeast of the capital, Islamabad, started with an altercation between young men, one of whom was an Ahmadi accused of posting "objectionable material".
"Later, a crowd of 150 people came to the police station demanding the registration of a blasphemy case against the accused," said one police officer who declined to be identified.
"As police were negotiating with the crowd, another mob attacked and started burning the houses of Ahmadis."
The youth accused of making the Facebook post had not been injured, he said.
Under Pakistani law, Ahmadis are banned from using Muslim greetings, saying Muslim prayers or referring to his place of worship as a mosque.
Salim ud Din, a spokesman for the Ahmadi community, said it was the worst attack on the community since simultaneous attacks on Ahmadi places of worship killed 86 Ahmadis four years ago.
Full report at:
http://timesofindia.indiatimes.com/world/pakistan/Pakistan-mob-kills-woman-girls-over-blasphemous-Facebook-post/articleshow/39162637.cms
------------
4 TTP men killed in shootouts with LEAs
Jul 28, 2014
KARACHI - Four TTP operatives were killed during separate shootouts with the law enforcing agencies in different parts of the city Sunday.
Police said Rangers official Farooq along with his neighbours was sitting outside his residence in Rehmani Mohalla when some armed motorcyclists targeted him late on Saturday night. Farooq and his neighbour Omarzada sustained severe injuries in the attack. They were taken to Abbasi Shaheed Hospital where both of them succumbed to the injuries.
Following the attack, Rangers conducted a targeted operation in Subhani Mohalla, Frontier Colony against the elements involved in attacking the security personnel.
The Ranger's spokesperson claimed that the militants were hiding in a compound and on seeing the law enforcing agencies, two militants tried to escape on a motorcycle and resorted to firing. He said the Rangers' troops chased and killed them near a graveyard.
Two pistols, improvised explosive device components and two hand-grenades were also recovered, said the spokesperson, adding the TTP operatives were involved in attacks on the law enforcement agencies specially police. They were also involved in extortion and kidnapping for ransom, he added.
Full report at:
http://www.nation.com.pk/karachi/28-Jul-2014/4-ttp-men-killed-in-shootouts-with-leas
------------
Pakistani mission lowers flag in solidarity with Palestinians
Jul 28, 2014
The Pakistani expatriate community in Kingdom has responded to the call for expressing solidarity with the Palestinians in Gaza. In Jeddah, Pakistan's flag was lowered at its consulate as a symbolic gesture to express solidarity and support for the Palestinians.
The Pakistanis in Jeddah and other parts hailed the call given by Prime Minister Nawaz Sharif to express solidarity with the people of Palestine against the massive attacks on civilians, according to Pakistan Consul General Aftab Ahmed Khokher.
He told Arab News that his country has played a crucial role at international forums against Israel over its attacks on civilians in Gaza. He stated that the prime minister, who is currently in the Kingdom, has announced $1 million in aid of the suffering people of Gaza, who have been living under the scourge of Israeli bombardment for the last several days.
Khokher said that it was at Pakistan's initiative that United Nation's Human Rights Council (UNHRC) held a special emergency meeting in Geneva on Wednesday, which discussed the situation on Gaza strip.
Full report at:
http://www.arabnews.com/news/saudi-arabia/608441
------------
Two Rangers soldiers, two 'militants' killed in tit-for-tat attacks
Jul 28, 2014
KARACHI: Two personnel of the Pakistan Rangers, Sindh, and a minor girl were gunned down in a Quaidabad area hours after the killing of four suspected militants in two separate encounters with the paramilitary force on Sunday, officials said.
The two Rangers personnel — Saifullah, 38, and Sanaullah, 35 — posted at a Rangers checkpoint were targeted by gunmen riding a motorcycle when they went to a bazaar near the Hospital Chowrangi in Muslimabad on a motorbike to purchase ice for Iftar.
They were taken to the Jinnah Post­gra­duate Medical Centre, where doctors declared them dead.
Full report at:
http://www.dawn.com/news/1122049/two-rangers-soldiers-two-militants-killed-in-tit-for-tat-attacks
------------
Life of key politicians under threat: Pak Interior Minister
Jul 28, 2014
ISLAMABAD: Interior Minister Chaudhry Nisar Ali Khan has said that major political leaders, including Pakistan Tehreek-i-Insaf Chairman Imran Khan, are facing threats to their lives.
Addressing a press conference here on Sunday, he said information about the threats had been received from foreign sources and he had informed the PTI chief about it.
About the government's move to summon the army under Article 245 of the Constitution to aid police and other law-enforcement agencies to ensure Islamabad's safety, he said the decision had been taken days before the launching of military operation in North Waziristan because of the experience gained during operations undertaken in cities in 2009. The notification about the summoning of the army had been issued in consultation with the military leadership.
Full report at:
http://www.dawn.com/news/1122133/life-of-key-politicians-under-threat-nisar
------------
PML-N Government should complete constitutional tenure: Jamaat-e-Islami
Jul 28, 2014
CHAKDARA (Lower Dir)- Jamaat-e-Islami chief Siraj-ul-Haq has said the present government should complete its constitutional tenure.
Talking to media after addressing party workers in Chakdara, he said Jamaat-e-Islami will not support any unconstitutional move that may lead to winding up of the democratic system in the country.
The JI Amir contended that the PML-N had been mandated for five years term by the people through a democratic process and any adventurism may jeopardize the whole democratic system, which the country cannot afford at this critical time.
To a question, he said the government should address grievances of the Tehreek-e-Insaf about alleged poll rigging.
http://www.nation.com.pk/national/27-Jul-2014/pml-n-government-should-complete-constitutional-tenure-siraj-ul-haq
------------
Imran threatens to file murder case against PM Nawaz if violence erupts
July 28, 2014
KOHAT: In sharp criticism of government's decision to implement Article 245 in Islamabad, Pakistan Tehreek-e-Insaf (PTI) chairperson Imran Khan on Monday threatened to file a murder case against Prime Minister Nawaz Sharif if violence was used against his party workers during the August 14 rally.
Citing imminent security threats, Pakistan Muslim League-Nawaz government decided to call in the army to assist Islamabad's civil administration for the next three months. PTI, which plans to hold a 'tsunami march' against alleged rigging in the last year's general elections in the capital, called it a political move to use military against opponents.
"Pakistan Army should not support the government and stay neutral," he demanded, while speaking to Express News today. He reiterated that PTI will challenge the imposition of Article 245 in Islamabad in the Supreme Court.
The party chief further claimed that Punjab Chief Minister Shahbaz Sharif has contacted him and agreed to meet his demands which included answers to: 1) Who scripted the victory speech of Nawaz Sharif on May 11, 2013; 2) What was the role of caretaker Punjab chief minister Najam Sethi; 3) What was the role of the then-chief justice Iftikhar Muhammad Chaudhry; 4) And lastly why returning officers were not present under the Election Commission of Pakistan.
Full report at:
http://tribune.com.pk/story/741982/imran-khan-to-start-murder-case-against-pm-nawaz-if-army-or-police-open-fire-at-pti-workers/
------------
Pakistan, China renew resolve for Afghan peace
July 28, 2014
ISLAMABAD - China's Special Envoy on Afghan Affairs, Ambassador Sun Yuxi, called on Foreign Secretary Aizaz Ahmad Chaudhry and discussed host of issues including Pakistan's fight against terrorism as well as developments in Afghanistan.
During the meeting, the Foreign Secretary underscored the convergent interests and shared goals of Pakistan and China vis-à-vis Afghanistan. Both sides reaffirmed their resolve to support all efforts for a peaceful, stable, united and prosperous Afghanistan. They also underlined the importance of international support to Afghanistan during its multiple transitions, including a peaceful democratic transition.
Full report at:
http://www.nation.com.pk/national/28-Jul-2014/pakistan-china-renew-resolve-for-afghan-peace
------------
Spare a thought for IDPs on Eid: Zardari
July 28, 2014
ISLAMABAD - PPP Co-Chairman and former president Asif Ali Zardari has asked the people to keep in mind the sacrifices rendered by North Waziristan IDPs, the soldiers laying down their lives in fighting against terrorists and innocent people being subjected to worst brutalities by Israel in Gaza on Eid days.
In a message on the eve of Eidul Fitr expected to fall tomorrow (Tuesday), he said, "On the Eid day this year I wish to call upon the countrymen to spread out and take part in the relief and rehabilitation activities of our unsung heroes in the war against terror, the nearly one million internally displaced persons of North Waziristan. This is also an occasion to express solidarity with our Palestinian brothers and sisters in Gaza who have been subjected to worst form of brutalities by Israel for the past several weeks".
Full report at:
http://www.nation.com.pk/islamabad/28-Jul-2014/spare-a-thought-for-idps-on-eid-zardari
------------
Africa
More than 50 killed in Libya clashes
28 July 2014
At least 36 people were killed in Libya's eastern city of Benghazi where Libyan Special Forces and Islamist militants clashed on Saturday night and Sunday morning, medical and security sources said, as fuel storage tanks that supply the capital Tripoli were hit on Sunday by rockets igniting a huge fire near the international airport.
"It is a tank of 6 million liters of gasoline and it is close to others containing gas and diesel," NOC spokesman Mohamed al-Alharari said, according to Reuters. "The firefighters are trying to counter the fire but if they cannot, a big disaster will happen" he added.
According to the embattled government, over 150 people have died, many of them civilian, in the main cities Tripoli and Benghazi in a fortnight of fighting as clashes forced U.S. and other foreign diplomats to exit the country, Reuters reported.
In Tripoli, 23 people, all Egyptian workers, were killed when a rocket struck their home on Saturday during fighting between rival militias battling over the city's main airport, the Egyptian state news agency reported.
Full report at:
http://english.alarabiya.net/en/News/middle-east/2014/07/28/More-than-50-killed-in-Libya-clashes.html
------------
Five dead in bombing of church in north Nigeria's Kano
Jul 28, 2014
KANO, Nigeria: At least five people were killed and eight were injured Sunday in a bomb attack on a Catholic church in a mainly Christian area of Kano, the largest city in Nigeria's north, police said.
The attack came shortly after the end of mass at the Saint Charles Catholic church, police spokesman Frank Mba told AFP.
"We suspect an IED (improvised explosive device) that was thrown from across the road" at the church in Kano's Sabon Gari district, which has suffered previous attacks by the Islamist group Boko Haram, he added.
Also in Kano on Sunday, a woman suicide bomber blew herself up outside a university after police prevented her from carrying out an attack, injuring five officers, Mba said.
"A female suicide bomber was isolated as she was walking towards the gate of the university," Mba said, adding that she had hidden the bomb under her "long black hijab".
Full report at:
http://www.dailystar.com.lb/News/World/2014/Jul-27/265287-five-dead-in-bombing-of-church-in-north-nigerias-kano.ashx#ixzz38nL6ORXK
------------
Huge oil depot blaze puts Tripoli under threat
28 July 2014
Libyan firefighters have failed to put out a huge oil tank blaze started by clashes around Tripoli airport, officials said Monday, adding that an air intervention is needed to avert a catastrophe.
State-owned National Oil Corp warned of a humanitarian and environmental catastrophe after the tank in southern Tripoli containing six million liters of fuel was set ablaze by rocket fire late on Sunday.
Residents have been urged to evacuate areas within five kilometers (three miles) of the blaze on the airport road, where fuel reserves of more than 90 million liters are stored.
"Firefighters have been trying for hours to put out the blaze but to no avail. Their water reserves finally ran out and they've had to leave," said NOC spokesman Mohamed al-Hrari.
Full report at:
http://english.alarabiya.net/en/business/energy/2014/07/28/Huge-oil-depot-blaze-puts-Tripoli-under-threat-.html
--------
Tunisia: Warrant of Committal Issued Against Takfiri Facebook Administrator
28 July, 2014
Tunis — A warrant of committal was issued against a "Takfiri" administrator of a Facebook page, the Ministry of the Interior said on Friday.
Members of the terrorism crime investigative units under the Department of National Security arrested this individual from Gafsa and seized his computer after consultation with the prosecutor, a ministry statement indicated.
The individual, a Salafist-Jihadist, had posted on this Takfiri page comments advocating terrorism and sowing discord.
http://allafrica.com/stories/201407281242.html?aa_source=sptlgt-grid
----------
Europe
ISIS's Black Flags Are Flying in Europe
July 28, 2014
The symbol of the murderous 'Islamic State' is waving in The Hague. 'Death to the Jews,' shout the demonstrators. Yet the Dutch government authorized the protests.
"Death to the Jews" chanted the crowd waving the black flags of the Islamic State, or ISIS as it used to be known. They were looking for new supporters for their cause, the creation of a worldwide caliphate answering to the man who now calls himself Ibrahim: a zealot too radical even for Al Qaeda who has stormed through Syria and Iraq carrying out mass executions, crucifying rivals, beheading enemies. But these marchers were not in Syria or Iraq; they were in The Hague in The Netherlands. And their message was one tailored to the disaffected young descendants of Muslim immigrants in Europe.
"We are Moroccans," went out the cry over a portable loudspeaker. "The French killed the Moroccans but they didn't kill them all; the grandchildren of the few men left protest against the West, America and the Jews."
Full report at:
http://www.thedailybeast.com/articles/2014/07/27/isis-s-black-flags-are-flying-in-europe.html
-----------
Bradford Schools Facing Claims Of Islamist Takeover
Jul 28, 2014
Inspectors are to be sent into schools in the city of Bradford to investigate claims of a takeover attempt by Islamist fundamentalists. Officials from school inspectors Ofsted and the Education Funding Agency (EFA) are likely to begin snap inspections when schools return from the summer break in September.
The Sunday Times says that government sources claim education secretary Nicky Morgan has been spurred on by a report by former counter-terrorism chief Peter Clarke into similar allegations involving schools in Birmingham. Clarke found a "determined effort" by extremists to gain control of schools and impose strict Islamic practices and teaching, and urged to government to "consider whether other areas of the country may be vulnerable and respond promptly and effectively".
Full report at:
http://www.breitbart.com/Breitbart-London/2014/07/27/Bradford-Schools-Facing-Claims-of-Islamist-Takeover
------------
Rising tide of anti-semitism in Britain as Jewish people face backlash over bloodshed in Gaza
Jul 28, 2014
Jewish people in Britain are enduring a backlash of attacks, bomb threats and anti-semitic insults fuelled by the bloodshed in Gaza.
More than 100 hate crimes have been recorded by police and community groups this month, more than double the usual number.
Community safety groups fear the total could be the second highest ever recorded, after an explosion of violence during the 2009 Gaza war.
In several disturbing cases attackers have invoked the Holocaust and even shouted: 'Heil Hitler' at victims.
A rabbi was attacked by four Muslim teenagers outside a Jewish boarding school in Gateshead in one of the most serious incidents.
In Belfast, bricks were thrown at the city's only synagogue, smashing windows on two consecutive nights.
Full report at:
http://www.dailymail.co.uk/news/article-2707421/Rising-tide-anti-semitism-Britain-Jewish-people-face-backlash-bloodshed-Gaza.html#ixzz38nO7URYF
------------
British embassy convoy attacked in Libya's Tripoli
Jul 28, 2014
A British embassy convoy in Tripoli came under fire on Sunday in an attempted carjacking but no-one was hurt, a spokesman for London's mission in Libya said.
"Early this morning a British embassy convoy was subject to an attempted carjacking. Shots were fired at our vehicles but they managed to drive on and leave the area," spokesman Bob Phillipson said.
"All embassy personnel are safe and accounted for and there were no injuries," he said.
The attack took place in western Tripoli, witnesses said, and came after Washington evacuated its mission in the embattled Libyan capital under air cover on Saturday.
Carjackings are common in Tripoli and armed groups target the armoured vehicles used by foreign diplomats for theft.
Full report at:
http://english.ahram.org.eg/NewsContent/2/8/107205/World/Region/British-embassy-convoy-attacked-in-Libyas-Tripoli.aspx
------------
Iran students face expulsion from Norway over sanctions
July 28, 2014
Academics from Norway's top technical university have expressed concern after almost a dozen post-graduate science students from Iran had their residence permits cancelled because of international sanctions.
'When I first heard about this, I just couldn't believe it,' says 27-year-old Hamideh Kaffash who was about to start a PhD in material engineering at the prestigious Norwegian University of Science and Technology (NTNU).
She's one of 10 Iranian post-graduates who have received letters from the Norwegian Directorate of Immigration in recent months informing them that they must leave the country. The letters say that Norway's Police and Security Service has ruled that their studies could result in the transfer of sensitive technology which could help Iran develop its nuclear industry.
Full report at:
http://www.nation.com.pk/international/28-Jul-2014/iran-students-face-expulsion-from-norway-over-sanctions
--------
India
English, Urdu words in NCERT's Hindi books irk RSS
Akshaya Mukul,TNN | Jul 28, 2014
NEW DELHI: Dinanath Batra of RSS is upset that despite his multiple successes and work as a Hindu pedagogue, NCERT has not yet changed its Hindi textbooks. What he finds objectionable in Hindi textbooks range from the use of English and Urdu words to reference to Maqbool Fida Husain and poet Avtar Singh Pash who had dabbled in Naxal politics in the early years to unsavoury presentation of Bhakti poetess Mira and Saivite Akka Mahadevi.
Batra, who heads Shiksha Bachao Andolan, said, "We had prepared a booklet on NCERT Hindi textbooks. We have sent it to HRD minister Smriti Irani. I am hopeful she will review them." He said though many changes were carried out in history textbooks due to court cases, Hindi did not get similar attention.
Batra is outraged at the use of English words and phrases like 'vice-chancellor', 'worker', 'business', 'backbone', 'plan', 'you get out', 'of course', 'frock', 'half-yearly', 'seminars', 'cultural', 'horticulture', 'canvas', 'organize', 'thank you' and many others. In the process, Batra mixed names of places like 'Scandal Point' and restaurant 'Devicos' - both in Shimla - with English words and included them in the list of English words that need to be deleted from Hindi textbooks.
Full report at:
http://timesofindia.indiatimes.com/india/English-Urdu-words-in-NCERTs-Hindi-books-irk-RSSs-Batra/articleshow/39129656.cms
------------
Mideast
Iran Deputy FM in Beirut: Zionists Crimes in Gaza Same as ISIL's
Jul 28, 2014
Iranian Deputy Foreign Minister Hossein Amir-Abdollahian on Sunday said crimes committed by the Zionist regime in Gaza are from the same roots as are those of the terrorist group the so-called Islamic State of Iraq and the Levant (ISIL).
Amir-Abdollahian made the comments during a visit to Beirut to discuss major regional developments, particularly the situation in Gaza, with senior Lebanese officials.
"The recent moves made by the ISIL terrorist group in Iraq and savage aggressions of the Zionist regime in Gaza are very identical and share genocide and war crimes as their common points," said the diplomat while meeting the Lebanese Parliament Speaker Nabih Berri.
He reiterated Iran's strong support for the innocent Gazans against Tel Avivˈs atrocities.
"If the Zionist regime does not stop its brutal attacks on Gaza and its seizure, it will face a harsh defeat," the Iranian official said, noting that according to reports, the Resistance Movement has, so far, "used only a small number of its rockets and ammunitions against the Zionist regime."
Full report at:
http://www.almanar.com.lb/english/adetails.php?eid=162941&cid=23&fromval=1&frid=23&seccatid=14&s1=1
--------
85 bodies recovered from Gaza rubble; baby saved from dead mother's womb
28 July, 2014
GAZA CITY/PARIS: The bodies of at least 85 Palestinians were recovered from the rubble across the Gaza Strip in the first half of a 12-hour humanitarian truce on Saturday, medics said.
Emergency services spokesman Ashraf al-Qudra said the 85 bodies had been brought to hospitals in north, central and southern Gaza, as well as Gaza City, but that the toll was expected to rise further still.
The grim discoveries raised the toll in Gaza on the 19th day of the conflict between Israel and the Palestinian Hamas group to 985, Qudra said.
In northern Gaza, particularly the area of Beit Hanun, medics recovered 32 bodies, Qudra said, along with another 13 people discovered in the central areas of Bureij, Deir al-Balah and Nusseirat. Gaza City's Shifa hospital received 29 bodies from the eastern neighbourhoods of Shejaiya, Zaitun and Tuffah, and 11 other bodies were taken to hospitals from the southern areas of Khan Yunis and Rafah, Qudra added.
Full report at:
http://timesofindia.indiatimes.com/world/middle-east/85-bodies-recovered-from-Gaza-rubble-baby-saved-from-dead-mothers-womb/articleshow/39053461.cms
------------
Iran General: We Will Hunt Down Israelis House To House
Jul 28, 2014
The deputy commander of Iran's Revolutionary Guards vowed revenge against Israel for its ongoing military incursion into Gaza, which has already killed hundreds of Palestinians and dozens of Israelis.
"You [people of Israel] are trees without any roots which were planted in the Islamic lands by the British," Brig. Gen. Hossein Salami said at this week's Friday prayer sermon in Tehran, Fars News Agency reported. That statement referred to the Balfour Declaration, which led to the dismantling of the Ottoman Empire after World War I and the eventual creation of the state Israel in 1948.
"We will chase you house to house and will take revenge for every drop of blood of our martyrs in Palestine," Salami said, "and this is the beginning point of Islamic nations awakening for your defeat."
Full report at:
http://dailycaller.com/2014/07/27/iran-general-we-will-hunt-down-israelis-house-to-house/#ixzz38nO02rqX
--------
Boy, 4, killed by Israeli tank fire in northern Gaza: medics
Jul 28, 2014
GAZA CITY, Palestine: Israeli tank fire killed a 4-year-old boy in the northern Gaza Strip Monday in the first death since the two sides began observing an unofficial lull, Palestinian medics said.
According to emergency services spokesman Ashraf al-Qudra, the child was killed when a shell hit a house to the east of Jabaliya where clashes had recently erupted between Israeli troops and Hamas militants.
http://www.dailystar.com.lb/News/Middle-East/2014/Jul-28/265372-boy-4-killed-by-israeli-tank-fire-in-northern-gaza-medics.ashx#ixzz38nyfd6MA
----------
We cannot coexist with occupiers: Hamas chief
Jul 28, 2014
Hamas leader Khaled Meshaal demanded Israel lift its blockade of Gaza and warned that Palestinians cannot coexist with their neighboUrs while their land is occupied, in an interview broadcast Sunday.
On Saturday, Meshaal was interviewed by US broadcaster PBS in the Qatari capital Doha while in Gaza his Islamist militia was under assault from Israeli forces in renewed fighting that has left hundreds dead.
A full version of the interview was scheduled to be broadcast late today, but excerpts were revealed yesterday on CBS News' "Face the Nation."
Asked by veteran interviewer Charlie Rose whether he could foresee living beside Israelis in peace, Meshaal said only a future Palestinian state could decide whether to recognize the Jewish state.
Full report at:
http://www.thedailystar.net/we-cannot-coexist-with-occupiers-hamas-chief-35192
--------
Parliament's word important on Kurdish issue, Öcalan's freedom: İhsanoğlu
Jul 28, 2014
Presidential hopeful Ekmeleddin İhsanoğlu has lent support to the government's efforts in finding a peaceful solution to the Kurdish question, which includes the possible release of Abdullah Öcalan, the jailed leader of the outlawed Kurdistan Workers' Party (PKK).
"I am a supporter of the [Kurdish] peace process because I am against war," said İhsanoğlu, the former head of the Organization for Islamic Cooperation (OIC), the joint presidential candidate of nine parties, including the main opposition Republican People's Party (CHP) and the Nationalist Movement Party (MHP).
"Turkey does not want to split itself apart; it does not want people to die. We have lost so many lives," İhsanoğlu told daily Hürriyet on July 25, during his visit to the southeastern province Diyarbakır, home to the largest Kurdish population in the country.
"I did not come to Diyarbakır to represent any political parties. I am a candidate who wants to express his concerns, who wants to reunite Turkey and make it a more peaceful country," he added.
Full report at:
http://www.hurriyetdailynews.com/parliaments-word-important-on-kurdish-issue-ocalans-freedom--ihsanoglu.aspx?pageID=238&nID=69684&NewsCatID=338
--------
Turkish President Gül bids farewell while emphasizing need for democracy
Jul 28, 2014
Turkey's main agenda should be rule of law, high democratic standards, accountability and good governance, outgoing President Abdullah Gül has said, underlining the significance of continuing political, economic and social reforms for the stability of the country's future.
Gül's indirect call to the government came just a month before the end of his tenure as the president.
"Our main agenda should be prevailing principles like good governance, transparency, accountability and the rule of law, as well as increasing quality in education, high democratic standards and the full membership process to the European Union. I am of the opinion that placing a priority on these issues will contribute to Turkey's protection of its character as a predictable country in the long term; to keep its economic and political stability and to increase its confidence and welfare," Gül said in a written statement on the occasion of Eid al-Fitr. Recalling that his tenure would end Aug. 28, Gül said it was his last message on the occasion of the religious fest.
Full report at:
http://www.hurriyetdailynews.com/turkish-president-gul-bids-farewell-while-emphasizing-need-for-democracy.aspx?pageID=238&nID=69665&NewsCatID=338
--------
South Asia
China says it may have citizens fighting in Iraq
28 July 2014
Muslim extremists from China's far western region of Xinjiang have gone to the Middle East for training and some may have crossed into Iraq to participate in the upsurge of violence there, China's special envoy for the Middle East said on Monday.
China has repeatedly expressed concern about the upsurge in violence in Iraq and the march of the Islamic State of Iraq and Syria (ISIS), which has seized much of the north of the country as Baghdad's forces there collapsed.
ISIS has renamed itself the Islamic State and proclaimed the establishment of a caliphate on land it has captured in Syria and Iraq.
Wu Sike, who has recently returned from the region, told reporters that China was extremely worried about the role of extremist groups in the fighting in Syria and Iraq.
"Several hot spot issues in the Middle East have provided living space for terrorist groups, in particular the crisis in Syria has turned this country into a training ground for extremists from many countries," he said.
Full report at:
http://english.alarabiya.net/en/News/middle-east/2014/07/28/China-says-may-have-citizens-fighting-in-Iraq.html
--------
Suicide bomber arrested with 1 ton of explosives in Paktika
Jul 28, 2014
The Afghan intelligence – National Directorate of Security (NDS) announced Sunday that a deadly blast foiled in eastern Paktika province of Afghanistan.
NDS officials said a suicide bomber was arrested along with a vehicle containing one ton of explosives in connection to the attack plot.
The officials further added that the suicide bomber was looking to carry out a suicide attack during the first day of Eid in Jameh mosque of Sharan city.
Haseeb Sediqi, spokesman for the National Directorate of Security (NDS) said the truck laden with explosives was confiscated during an operation on Sunday in Orgun district.
Sediqi further added that the attack plot in Miranshah city of Northern Waziristan by Haqqani terrorist network.
He said the detained suicide bomber has confessed that he was looking to carry out an attack during the first day of Eid in Jameh mosque of Sharan city.
http://www.khaama.com/suicide-bomb-arrested-with-1-ton-of-explosives-in-paktika-6483
--------
Terrorist killed in Jhenaidah 'shootout'
Jul 28, 2014
An alleged terrorist has been killed in a "police shootout" in Sailkupa unpazila of Jhenaidah in the early hours of Monday.
The dead was identified as Manirul Islam, 35, son of Sahaidul Islam of Nityanandapur under Kushtia sadar upazila, Sailkupa police officer-in-charge Iqbal Bahar Chowdhury said.
Iqbal said, police were informed that a gang of terrorists were gathering at Kanapukurai village under Sailkupa upazila at about 3am on Monday.
Acting on a tip-off, a contingent of police raided the village. Sensing the police presence, the terrorists opened fire targeting the law enforcers. Police replied to the firing that continued for about 15 minutes.
Full report at:
http://www.dhakatribune.com/bangladesh/2014/jul/28/terrorist-killed-jhenaidah-%E2%80%98shootout%E2%80%99#sthash.hOX91V0E.dpuf
--------
Urdu speakers in Bangladesh urge permanent ceasefire in Gaza
Jul 28, 2014
Minority Council of Urdu Speaking People of Indian Origin in Bangladesh has urged the UN to intervene and lift the siege on Gaza and broker a permanent ceasefire.
The council formed a human chain in front of the United Nations office in Agargaon in the capital yesterday protesting Israel's 20-day long military attack on Gaza, which left more than 1,000 people dead, said a press release.
Later, the council submitted a written petition to the local UN office addressed to UN Secretary General Ban Ki Moon urging him to ensure free flow of supplies to Palestinian territory by land, sea and air.
The press release, signed by Mintu Warsi, the organisation's office secretary, claimed that some countries are directly and indirectly supporting acts of terrorism and war crimes committed across the world.
The organisation also expressed its frustration regarding the investigation of the June 14 incident in Dhaka's Kalshi area where 10 people of the Bihari camp were burnt to death.
http://www.thedailystar.net/city/urdu-speakers-in-bangladesh-urge-permanent-ceasefire-35166
--------
Singapore Islamic authority approve Maldives halal certificates
Jul 28, 2014
Singapore has become the first country to accept the Maldives' Halal certification, the Ministry of Islamic Affair has revealed.
Local media have reported the ministry's announcement that the Islamic Religious Council of Singapore has accepted the certification, currently used by three Maldivian fisheries firms.
"After the approval of the certificate by Singapore, the market is looking forward to an even bigger expansion," Islamic Minister Sheikh Mohamed Shaheem Ali Saeed told Haveeru.
The move to award Halal certification followed the EU's decision to refuse the extension of duty-free status to Maldivian fish imports late last year due to the Maldives' failure to adhere to international standards regarding freedom of religion.
The EU represents the single largest export partner for the Maldives.
The government promptly formed a Fisheries Promotion Board in order to target new markets, with Felivaru Fisheries, Maldives Industrial Fisheries Company (MIFCO), Horizon Fisheries all awarded Halal certificates in April.
Deputy Minister at the Ministry of Islamic Affairs Dr Aishath Muneeza told Sun Online that the certification had been approved for three years by the Singapore authority, expressing confidence that the development would open up international markets.
http://minivannews.com/category/news-in-brief
--------
North America
Behind the Beard - A New Generation of Muslim American Leaders
New America Media
Jul 28, 2014
When an acquaintance recently quipped that Salmon Hossein had adopted the "Taliban look" because of his newly acquired beard, it was something of an aha moment for the Bay Area native.
"It was a person I knew and respected, someone familiar with the intricacies of the Middle East, and even they were saying that," recalls the University of California, Los Angeles alumnus.
Hossein, 26, is currently pursuing a dual Master's degree in law and public administration at UC Berkeley and Harvard's Kennedy School of Government. He says part of what drives him is the desire to counter some of the prevailing notions of Muslims in America.
It's part of the reason he first grew his beard.
"I was told [by a friend] that I wouldn't be able to succeed in corporate America with a beard," he says. "I took it as a personal challenge to grow the beard to disprove my friend and dispel stereotypes."
Those stereotypes have helped drive ongoing Islamaphobia in the country. A recent study of Bay Area Muslims found that 60 percent had experienced prejudice because of their religion.
Muslim community members and organizations have also been the target of government surveillance and political campaigns aimed at conflating Islam with terrorism. A recent online campaign called for a boycott of the annual White House iftar dinner, when the president meets with Muslim leaders to mark the end of Ramadan.
Full report at:
http://newamericamedia.org/2014/07/behind-the-beard---a-new-generation-of-muslim-american-leaders.php
---------------
US, Israeli tensions rise as hostilities in Gaza subside
Jul 28, 2014
Israel sees no need for another Gaza ceasefire, an Israeli official was quoted as saying on Monday, as tensions between Prime Minister Benjamin Netanyahu's government and Washington flared over US mediation to end the almost three-week-old war.
Fighting had subsided over the weekend, with the battered Palestinian enclave's dominant Hamas Islamists endorsing a UN call for a 24-hour halt ahead of Monday's Eid al-Fitr festival.
Yet Israel balked, having abandoned its own offer to extend a 12-hour truce from Saturday as Palestinian rocket launches persisted. Netanyahu's security cabinet met into the early hours of Monday to debate proposals including for an escalation of the Gaza offensive in which almost 1,100 people have died.
Full report at:
http://www.themalaysianinsider.com/world/article/us-israeli-tensions-rise-as-hostilities-in-gaza-subside#sthash.zGRjMQ3t.dpuf
--------
Muslims pray in church as bombs fall ahead of Eid
Jul 28, 2014
GAZA CITY: For Gaza resident Mahmoud Khalaf, it was a bizarre new experience, prostrating himself for his daily Muslim prayers beneath the gaze of an icon of Jesus Christ.
But since the war in Gaza began, he has had no choice but to worship in a Christian house of God, where he took refuge after Israeli airstrikes pummelled his neighborhood in the north of the Palestinian territory.
"They let us pray. It's changed my view of Christians – I didn't really know any before, but they've become our brothers," said Khalaf, 27, who admitted he never expected to perform his evening prayers in a church.
"We [Muslims] prayed all together last night," he said. "Here, the love between Muslims and Christians has grown."
Walking into the Saint Porphyrius Church courtyard in Gaza City, visitors are greeted with a "marhaba" by Christian helpers, but with a decidedly more Islamic "as salam ou aleikom" (peace be upon you) by most of its current residents – displaced Gazans who have made it their shelter for almost two weeks.
Full report at:
http://www.dailystar.com.lb/News/Middle-East/2014/Jul-28/265333-muslims-pray-in-church-as-bombs-fall-ahead-of-eid.ashx#ixzz38nyaBK9V
----------
US President Barack Obama wishes Muslims on Eid
Jul 28, 2014
Washington: US President Barack Obama greeted the Muslim community across the world on the occasion of Eid-al-Fitr stating that the festival celebrates the common values that unite humanity and reinforces the obligations that people of all faiths have to each other.
"As Muslims throughout the United States and around the world celebrate Eid-al-Fitr, Michelle and I extend our warmest wishes to them and their families," Obama said in statement.
"This last month has been a time of fasting, reflection, spiritual renewal, and service to the less fortunate," he said.
"While Eid marks the completion of Ramadan, it also celebrates the common values that unite us in our humanity and reinforces the obligations that people of all faiths have to each other, especially those impacted by poverty, conflict, and disease," Obama said.
In the US, he said, Eid also reminds them of the many achievements and contributions of Muslim Americans to building the very fabric of the nation and strengthening the core of democracy.
"That is why we stand with people of all faiths, here at home and around the world, to protect and advance their rights to prosper, and we welcome their commitment to giving back to their communities," Obama said.
"On behalf of the administration, we wish Muslims in the United States and around the world a blessed and joyous celebration. Eid Mubarak," said the US President.
http://ibnlive.in.com/news/us-president-barack-obama-wishes-muslims-on-eid/488736-2.html
----------
Converted Muslims embrace new faith, celebrate end of Ramadan
Jul 28, 2014
As Ramadan comes to an end, Islamic leaders in the Miami area say the Muslim community is growing and continuing to embrace new cultures.
Keyla Calix, a 25-year-old Honduran living in downtown Miami, didn't think her friend's gift of a Quran would lead her to reject her Catholic upbringing.
But two years later, after a serious evaluation of Islam sparked by the holy book, she will head to a mosque Monday morning for Eid al-Fitr, a celebration that marks the end of Ramadan.
"My family thought that Islam was just for Arabs," Calix said, "but Islam is for everyone, not just for Arabs or Pakistani."
Miami's Islamic community will celebrate the end of Islam's holy month alongside a series of new beginnings, like Calix's. She is part of a growing segment of Miami's population converting to Islam, according to Miami's Islamic leaders.
Full report at:
http://www.miamiherald.com/2014/07/27/4258482/converted-muslims-embrace-new.html#storylink=cpy
----------
Southeast Asia
Sixteen dead in Philippine Islamic militant ambush
Jul 28, 2014
Sixteen people, including children, were killed when Islamic militants opened fire on two vehicles in a remote southern Philippine town on Monday, the military said.
Abu Sayyaf gunmen opened fire on the vehicles in Talipao town before dawn in what appeared to be an ambush related to a clan feud, said local marine commander Brigadier-General Martin Pinto.
"There were civilians as well as children among the 16 dead," he told reporters, without giving more details immediately about those who died.
A number of policemen were riding aboard the two vehicles, he added, although he did not say if they were among the dead.
The Abu Sayyaf was founded in the 1990s with seed money from Osama bin Laden's Al-Qaeda network, and is blamed for the worst terrorist attacks in the Philippines' recent history.
These include the 2004 bombing of a ferry that left more than 100 dead, abductions of foreign missionaries and tourists, and beheadings mostly of local people.
Full report at:
http://www.themalaysianinsider.com/world/article/sixteen-dead-in-philippine-militant-ambush#sthash.2NqoqKxp.dpuf
--------
President-Elect Jokowi Hopes Eid ul FitrWill Unite Nation
Jul 28, 2014
Jakarta. Jakarta Governor and President-elect Joko Widodo has called on Indonesians to take on the Eid ul Fitrcelebration as a moment to strengthen unity among the people, following an election that had divided the nation.
"After fasting in this month full of blessings and forgiveness, we will return to purity," Joko said during an open house reception at City Hall on Monday. "As a big nation, one nation, let's all reunite as the people of Indonesia."
Joko encouraged his supporters, as well as those of rival candidate Prabowo Subianto, to come together and strengthen their relationships, which may have been strained during the presidential election campaign.
"It may have been strained during the presidential election, but the relationship between friends and neighbors, divided because of their political preferences, should once again be harmonized," he said.
Full report at:
http://www.thejakartaglobe.com/news/president-elect-jokowi-hopes-idul-fitri-will-unite-nation/
--------
Indonesia Frees Hundreds of Prisoners on Idul Fitri
Jul 28, 2014
Jakarta. Hundreds of prisoners across Indonesia were freed on Monday, the start of the Eid ul Fitrcelebration this year, following a massive sentence reduction granted by the government as it sought to reduce overcrowding at jail facilities.
Justice and Human Rights Ministry spokesman Akbar Hadi said the government had granted an Eid ul Fitrreduced sentences for 56,704 Muslim prisoners, 820 of which were allowed to walk free on Idul Fitri.
"As many as 55,884 prisoners and juvenile detainees were handed a special remission but remain in jail," Akbar said.
He said that of those, 15,958 had their sentences reduced by 15 days, 35,534 received a one-month sentence reduction, 3,471 received a one-month and 15-day sentence cut, while another 921 prisoners received a two-month sentence cut, Akbar said. He added that a majority of the prisoners who received the reduced time were located in West Java.
According to Akbar, a total of 165,731 prisoners live in 463 detention centers and prisons across Indonesia, indication that overcapacity was 152 percent. Such facilities were built to house only 109,231 detainees.
Full report at:
http://www.thejakartaglobe.com/news/indonesia-frees-hundreds-prisoners-idul-fitri/
--------
Council of Churches of Malaysia youth group appeals for funds for Gaza children
Jul 28, 2014
The youth wing of the Council of Churches of Malaysia (CCM) has called on Christians to light candles in prayer for peace in the Middle East and for an end to persecution of religious minorities in view of the situation in Gaza.
In a statement today, CCM Youth announced the launch of a relief fund for the children who have been traumatised by the two-week conflict.
The "Gaza Children's Relief Initiative" is to help families and children who are suffering from lack of food, milk, medicines, shelter, bedding and fuel for electricity, the movement said.
In appealing for donations, CCM Youth also called on Christians to follow the Christ-like examples of churches, like the St Porfirios church in Gaza, which has been extending hospitality and sanctuary to Muslims and their families during Ramadan.
"CCM Youth stands in solidarity in the belief that it is the duty of Christians to provide humanitarian assistance regardless of the faith heritage of those who need our help," said its moderator Chrisanne Chin.
Full report at:
http://www.themalaysianinsider.com/malaysia/article/church-youth-group-appeals-for-funds-for-gaza-children#sthash.2qJg3ZZJ.dpuf
--------
Philippine Islamic bank eyes new life after years of struggle
Jul 28, 2014
A peace plan, a lifting of foreign ownership limits and the drafting of new Islamic banking rules in the Philippines could help breathe new life into one of the world's oldest Islamic finance institutions.
Since 1974, Makati-based Al Amanah Islamic Investment Bank has been the only lender in the country offering financial products that obey religious principles such as a ban on interest and gambling.
But while Islamic banks around the globe enjoy rapid growth rates and bumper profits, Al Amanah has failed to post a profit for years, and was ultimately forced to offer conventional banking products just to keep afloat.
The case of Al Amanah highlights the challenges that Muslim minorities face in accessing interest-free banking services outside of Islamic banking's core centres in the Middle East and Southeast Asia.
Lacking scale and Islamic banking expertise have meant Al Amanah has struggled despite a five-year rehabilitation plan started in 2009 by its parent, the Development Bank of the Philippines (DBP).
Full report at:
http://www.themalaysianinsider.com/business/article/philippine-islamic-bank-eyes-new-life-after-years-of-struggle#sthash.Xl8BPzmI.dpuf
--------
Najib advises nation to heed lessons from tragedies in Aidilfitri message
Jul 28, 2014
Prime Minister Datuk Seri Najib Razak (pic) tonight called on Muslims in Malaysia to heed the lessons of several tragedies that befell the country lately, and also of the misfortune of the people of Palestine.
Najib said these tests and hurdles which coincidently fell during the month of Ramadan provided useful lessons on the need for Muslims in the country to build strength and resilience in facing a myriad of challenges.
In fact, it was also important in the effort to make Malaysia a progressive and viable model Islamic nation, he said in his Aidilfitri message broadcast over radio and television.
The prime minister also reminded Muslims on the importance of unity and to always make it a point to strengthen solidarity in the true spirit of Muslim brotherhood.
"Only by doing this will Muslims be respected, and not seen to be weak or easily manipulated by others," he said.
Full report at:
http://www.themalaysianinsider.com/malaysia/article/najib-advises-nation-to-heed-lessons-from-tragedies-in-aidilfitri-message-b#sthash.VbhSF8kr.dpuf
--------
URL: https://newageislam.com/islamic-world-news/new-age-islam-news-bureau/isis-video-shows-50-beheaded-syrian-soldiers-impaled-on-poles-in-raqqa-city/d/98331