New Age Islam News Bureau
5 Aug 2017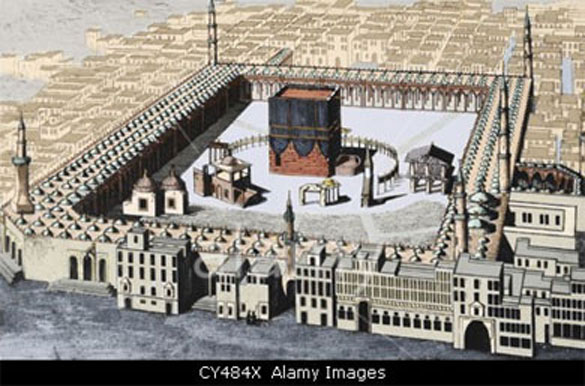 General view of the Kaaba at the Grand Mosque in Mecca, Saudi Arabia. (AP), Egypt's Awqaf Minister Rejects Qatar's Call to Internationalize Saudi Holy Sites
----
• ISIS: UN Study Finds Foreign Fighters in Syria 'Lack Basic Understanding of Islam'
• Supreme Court Hears Its 1st 'Love Jihad' Case, Demands Proof from NIA
• Egypt's Awqaf Minister Rejects Qatar's Call to Internationalize Saudi Holy Sites
• Gov't Determined To Raise Generations Acquainted With Religion: President Erdoğan
• Tribesmen Threaten to Besiege Ayesha Gulalai's House
Europe
• ISIS: UN Study Finds Foreign Fighters in Syria 'Lack Basic Understanding of Islam'
• Europe Must Not Turn a Blind Eye to Iran's Human Rights Abuses
• UN Chief Antonio Guterres to Make First Visit to Israel, Palestinian Territories
• Islamic State Behind Australians' Foiled Etihad Meat-Mincer Bomb Plot: Police
• A Year after France Attacks, De-radicalization Efforts Are Trial and Error
--------
India
• Supreme Court Hears Its 1st 'Love Jihad' Case, Demands Proof from NIA
• Hafiz Saeed Trying To Hide His Blood-Stained Hands behind Ballot Ink: India
• Abu Dujana's clip reveals al-Qaida's expanding footprint in Valley
• Bihar Beef Attack: 'Our Govt Now', say BJP, Bajrang Dal
• Muslim Scholars, Leaders Disapprove Registration of Marriages
• First Hindu in Pak govt in over two decades
• 3 Lashkar terrorists killed in an encounter in Sopore
• Nexus between jihadists in south and CPM cadres: Hosabale
--------
Arab World
• Egypt's Awqaf Minister Rejects Qatar's Call to Internationalize Saudi Holy Sites
• Saudi Arabia Defends Judiciary amid Outcry over Executions of 14 Shia Muslims
• 2,000 ISIS militants still in Syria's Raqqa and 'they will likely die there'
• Muslim World League chief says Saudi Arabia welcomes interfaith dialogue
• Iraqi troops unearth dozens of bodies in Anbar mass grave
• Iraqi Shia cleric Moqtada al-Sadr demands govt dismantle paramilitary groups
• Israel Continues to Assist Terrorists in Syria
• ISIL's Centers in Deir Ezzur Hit Hard in Syrian Armed Forces' Attacks
• Notorious Commander Killed in Infighting among Terrorists in Syria's Deir Ezzur
--------
Mideast
• Gov't Determined To Raise Generations Acquainted With Religion: President Erdoğan
• Yemen's Ansarullah Warns of Repercussions of Support for Saudi Crimes
• Turkish Family Minister Says Authority to Register Civil Marriages Shouldn't Be Given To Imams
• Australian 'terror bomb package mailed from Turkey'
• North Korea's resistance against US bullying praiseworthy: Iran's Larijani
• Israeli forces arrest Hamas-affiliated legislator in West Bank
• Protesters in Amman call for closure of Israeli embassy
--------
Pakistan
• Tribesmen Threaten to Besiege Ayesha Gulalai's House
• Pakistan Bar Council Deplores 'Vilification' Of Judiciary, Armed Forces
• Shehbaz Sharif likely to miss opportunity to become Pakistan PM
• PML-N plans 'grand power show' on Nawaz's return to city
• UK announces addl $130m for Pakistan, Nigeria, Afghanistan
• Pak, Afghan commanders reaffirm anti-terror resolve
--------
North America
• The Muslim Americans Leading the Push to 'Stand Up and Be Leaders' In Politics
• Trump Withholds Approval of Afghan War Strategy
• Muslims in Quebec City finally get land for burials
• Bill to cut off aid to Palestinians passed by US body
• Delay in Afghanistan policy points to White House rift
--------
South Asia
• Bomber Concealed Explosive Materials beneath Burqa: Afghan Officials
• Five of a Family Including Children Killed In Taliban Attack in Logar
• Taliban used Humvees and motor bombs in latest large scale attack in Helmand
• Jani Khel retaken after almost 10 days of heavy fighting inflicting heavy casualties
• One killed in attack on NATO in Afghanistan, Taliban claim responsibility
• Afghan forces gain ground from Taliban in Paktia
• Bangladesh seeks OIC help in resolving Rohingya issue
• Georgian soldier, 2 Afghan civilians killed in Kabul suicide attack
--------
Southeast Asia
• Islam Encroaches On Rule Of Law In Malaysia
• Indonesia might be copying vigilante violence of Philippines
• Google is working with Indonesia to tackle offensive video content in the country
• At Least Six Buddhists Killed in Rising Rakhine Violence
--------
Africa
• Al-Shabab Takfiri Group 'Seizes Town in Somalia'
• US Approves Sale of War Planes To Nigeria To Fight Boko Haram
• US confirms airstrike killed al-Shabab commander in Somalia
• Car bomb blast kills at least 3 in Somali capital
Compiled by New Age Islam News Bureau
URL: https://www.newageislam.com/islamic-world-news/isis-un-study-finds-foreign/d/112104
--------
Isis: UN study finds foreign fighters in Syria 'lack basic understanding of Islam'
Aug 5, 2017
Young men who leave their homes to fight for terrorist groups in Syria mainly come from disadvantaged backgrounds, have low levels of education and "lack any basic understanding of the true meaning of jihad or even the Islamic faith", according to a new report.
A study for the United Nations Office of Counter-Terrorism found that despite claiming to protect Muslims, most of the returned fighters were "novices" in their religion and some did not know how to pray properly.
"Most saw their religion in terms of justice and injustice rather than in terms of piety and spirituality," said the authors of the report, which was based on interviews with 43 people from 12 countries.
They found that a typical fighter "is most likely to be male, young and disadvantaged economically, educationally, and in terms of the labour market".
"He is also more likely than not to come from a marginalised background, both socially and politically," the reported added.
"Most were unemployed, or underemployed, and/or said that their life lacked meaning."
Three quarters of those interviewed reached Syria but subsequently decided to leave, while others were intercepted by authorities in their own country or stopped en route.
Despite an appeal to all UN member states, the authors expressed regret that only seven countries agreed to participate in the study - three from the EU and four from the Middle East and North Africa.
Professor Hamed el-Said, of Manchester Metropolitan University, and terrorism expert Richard Barrett met most of the returnees in prison or under the watchful eye of security services.
The majority of interviewed fighters, who attempted to join groups including Isis, al-Qaeda affiliate Jabhat al-Nusra and jihadi Ahrar al-Sham, came from large and dysfunctional families in deprived parts of cities where they were "isolated from mainstream social, economic and political activity".
"Religious belief seems to have played a minimal role in the motivation of this sample," the report found, saying economic factors had become more important as terrorist groups promised wages, homes and even wives.
The findings supported previous research using leaked Isis documents, which showed that most recruits profess to have only a "basic" knowledge of Sharia law, and warnings of a growing "crime-terror nexus" seeing violent criminals travel to Syria in the hope of "redemption".
Following the declaration of the so-called Islamic State in 2014, the group produced a huge amount of propaganda seeking to attract Muslims with the promise of life free of supposed Western oppression, lived in comfort and peace.
Rose-tinted videos sought to present a utopian existence, showing smiling militants engaging in activities like bee-keeping, farming and even pizza-making as Western fighters used Twitter to broadcast images of palatial homes, swimming pools and expensive cars provided by the "caliphate".
The UN report said the propaganda exerted a powerful pull on young men who feel they have little prospects at home, especially when combined with perceived grievances and a wish to protect Sunni Muslims in areas of Syria targeted by Bashar al-Assad's government.
"For some, this sense of brotherhood was reinforced by a sense of religious obligation," it said.
"The respondents of this survey claimed they did not go to Syria with the intention of becoming a terrorist, nor did they return with that purpose in mind."
Despite the role of propaganda sparking a global crackdown on extremist online activity, the report found that among surveyed fighters, the internet played "a far less significant role as an independent source of radicalisation than is generally assumed, and certainly a far less significant role than real life contact".
The authors found that would-be jihadis went online to confirm and strengthen ideas that were already taking root, adding: "The internet then played a key role in reinforcing a decision that had in part been taken already."
Far more important was friendship circles and social networks formed around mosques, prisons, schools, universities, neighbourhoods or the workplace – a conclusion supported by the high number of known British militants who were part of radical networks or left the country with friends and relatives.
The UN report said identity politics played a key role in radicalisation, warning of "significant policy implications" arising from perceived injustice and discrimination.
It added: "Bad governance, especially disregard for the rule of law, discriminatory social policies, political exclusion of certain communities…harassment by the security authorities, and confiscation of passports or other identity documents, all contribute to feelings of despair, resentment, and animosity towards the government and provide fertile ground for the terrorist recruiter."
Although their accounts are highly unreliable, several imprisoned former Isis members have blamed the security services for their radicalisation.
Harry Sarfo, a German-born militant who grew up in the UK and joined Isis for three months in 2015, told The Independent his experience of police raids and harassment from the local community after he fell under suspicion as an extremist drove him to Syria.
"My friend kept on telling me: 'This is what you get for being Muslim in the West, especially Germany. You are black and Muslim, your wife is covered, what do you expect? They think you are a bloody terrorist. You should go and live in the Islamic State, where every Muslims' rights are protected. Life for you here is over," he recalled. "At the time, everything he said made sense."
Similar concerns have been raised about the Government's controversial Prevent strategy, which is viewed by some to be divisive and discriminatory, while Isis itself has been attempting to capitalise on air strikes on its territory by publishing graphic images of dead children alongside calls for global terror attacks.
As Isis has been pushed back in Iraq and Syria, routes to its territories have shut down and the group's calls have largely switched from calling on supporters to travel to the "caliphate", to inciting attacks in their home countries across the West.
Some analysts say the failure of Isis' state project will dent its lure to potential recruits, although the fighters in the UN's sample found themselves "disillusioned" by the group even at its peak.
The report said they left Syria because of their "genuine disappointment in and disenfranchisement by the terrorist organisation they joined", feeling alienated by the group and local Syrians, the deaths of friends or calls by loved ones to come home.
They authors hope the research will help countries around the world to improve counter-extremism programmes that prevent people from considering joining Isis and other terrorist groups, as well as safely reintegrating those returning from the group's shrinking territories.
With an estimated 25,000 foreign fighters from more than 100 countries travelling to Syria, concern has been mounting over a potential influx of jihadis as Isis loses territory including its de-facto capital of Raqqa.
The city is completely sealed off and under heavy bombardment by the US-led coalition, and Isis is known to kill anyone caught attempting to defect, leading analysts to expect the number of recruits managing escape to be small.
"Not all returnees present the same degree of threat," the UN report found, warning against treating all former fighters as high risk and "thereby radicalising those who are low threat through unwarranted persecution."
Prof el-Said and Mr Barrett argued that some ex-terrorists could become powerful voices against the groups they once joined, adding: "Governments will need to screen their returnees to identify the more dangerous among them as well as to select credible and trustworthy individuals who could counter recruitment narratives."
Isis is currently intensifying its efforts to discredit defectors and featured Sarfo in a recent propaganda magazine decrying "fools who strayed" and spread "lies and falsehoods".
While returned foreign fighters have been among Europe's deadliest terrorists, including the "super cell" that carried out the Paris and Brussels attacks – the threat from supporters of the group who have been prevented from realising their desire to travel to Syria is increasing.
London Bridge ringleader Khuram Butt, Norway church attacker Abdel-Malik Petitjean and Michael Zehaf-Bibeau, who shot a Canadian soldier dead outside the country's war memorial, are among failed foreign fighters who chose to launch attacks on home soil instead.
"It is important at least not to underestimate the motivations and determination of those who failed to make it to Syria," the report concluded.
"There is little room for complacency, but while the risk presented by returning foreign terrorist fighters is a real one, it should not be exaggerated.
"A practical, effective and proportionate response should start from a sound understanding of the root causes of the problem."
http://www.independent.co.uk/news/uk/home-news/isis-islamic-state-foreign-fighters-syria-recruits-lack-basic-understanding-of-islam-radicalisation-a7877706.html
--------
Supreme Court hears its 1st 'love jihad' case, demands proof from NIA
Aug 5, 2017
NEW DELHI: Controversy about a Hindu woman in Kerala converting to Islam and marrying a Muslim man became bigger on Friday with the Supreme Court expressing doubts over certain events linked to the episode and seeking a report from the National Investigating Agency in 10 days.
The woman's husband, through senior advocates Kapil Sibal and Indira Jaising, slammed the Kerala high court's decision to annul the marriage by terming it as part of a bigger 'love jihad' conspiracy. The husband demanded that as a major, the 24-year-old woman had the right to decide whom to marry and which faith to follow.
Sibal and Jaising said it was unfortunate that the HC annulled the marriage and even disallowed the husband to meet her. Both of them repeatedly requested a bench of Chief Justice J S Khehar and Justice D Y Chandrachud to summon and interview the girl to ascertain her free will while expressing concern about her safety.
"Is she alive? Why have the police cordoned off her house and not allowed anyone to meet her?" Jaising asked and persuaded the court to seek an undertaking from the woman's father, K M Asokan, to produce her within 24 hours of being directed to do so.
Asokan's counsel Madhavi Divan said the woman, the only child of her parents, had been psychologically indoctrinated as part of a larger conspiracy and exuded confidence to produce documentary proof. "If after perusing the evidence, the SC wants production of the girl, her parents have no objection."
The bench called upon additional solicitor general Maninder Singh to appear for the NIA and asked the agency and Asokan to file all relevant documentary evidence in 10 days and posted the petition filed by the woman's husband for detailed hearing on August 16.
When Sibal and Jaising kept pressing for a direction for her immediate production before the SC, the bench said, "It is not so simple. Why did Akhila give three names — Aasiya, Adhiya and Hadiya — on three different occasions on affidavits before the HC? This is not expected of a 24-year-old. If we need to meet her, we will. But it is a sensitive issue."
The SC also prima facie shared the HC's doubts about the "hasty and secretive" marriage of Akhila aka Aasiya with Shafin Jahan and wanted to know whether there was any criminal case against the husband as referred to by the HC.
http://timesofindia.indiatimes.com/india/supreme-court-hears-its-1st-love-jihad-case-demands-proof-from-nia/articleshow/59923249.cms
--------
Egypt's Awqaf minister rejects Qatar's call to internationalize Saudi holy sites
4 August 2017
Egyptian Minister of Awqaf (Religious Endowments), Mohamed Mokhtar Jumaa, rejected on Saturday Qatar's request to internationalize Saudi Arabia's holy sites
Senior scholars from the Cairo-based Al-Azhar, the world's leading institution on Sunni Islam, have also rejected these calls.
Saudi Foreign Minister Adel al-Jubeir said on Sunday "Qatar's request to internationalize the holy sites is an aggressive act and a declaration of war against the kingdom."
"We reserve the right to respond to any party working in the field of internationalization of the holy sites," Al-Jubeir said in an interview with Al Arabiya and Al Hadath on the sidelines of the four-way meeting in Manama.
Previously, Jubeir rejected Qatar's attempts to politicize Hajj matters and reiterated that Qataris were welcome to perform the pilgrimage.
"Saudi Arabia rejects Qatar's attempt to politicize the arrival of Qatari pilgrims into the kingdom," Jubeir said during a press conference with his Emirati, Bahraini and Egyptian counterparts in Manama.
"The kingdom's history is clear in facilitating the arrival of pilgrims," he added.
Hajj pilgrims from around the world have started arriving to Saudi Arabia to prepare for the pilgrimage. But, no one from Qatar has come yet despite the Kingdom's constant calls welcoming them.
A Saudi official said that Qatar is banning its citizens from performing Hajj. Qatar has not announced the reason behind the closure yet.
https://english.alarabiya.net/en/News/gulf/2017/08/05/Egypt-s-Awqaf-minister-rejects-Qatar-s-request-to-internationalize-Saudi-holy-sites.html
--------
Gov't determined to raise generations acquainted with religion: President Erdoğan
August/04/2017
The government is "determined to raise generations acquainted with their religion, history and culture," Turkish President Recep Tayyip Erdoğan said on Aug. 4 at the opening of Istanbul's Yıldız Hamidiye Mosque after a four-year restoration period.
"This is not the government's job on its own. [It should be done] together, with mothers and fathers. We will continue to work hard to raise generations that know who they are, where they come from, where they stand, and where they are going. There may be shortcomings in this regard, but the core of the believer is solid. I believe we'll overcome our shortcomings in a short period of time," Erdoğan stated.
"We will start to get results in this matter when we see our mosques full of youths. We'll work nonstop to improve both our physical and spiritual infrastructure. We are obliged to accomplish this not only for ourselves but also for all our brothers and sisters who are looking to us and who have turned their hearts to us," he added.
Erdoğan also touched on the July 15, 2016 coup attempt, saying that the coup plotters had deliberately targeted mosques in an attempt to "silence the recitation of the ezan [Muslim call to prayer]."
"Those attacking our country and nation are firstly targeting our sanctuaries. On July 15, [2016], our modest mosque at the Special Operations Command [in Ankara's Gölbaşı district] and the Millet Mosque at the Presidential Complex in Beştepe were bombed with warplanes. Also in Istanbul, many mosques where 'sela' prayers were being recited were shot at by the coup plotters. In [the Aegean province of] İzmir, a mosque where 'sela' prayers were being recited was also loutishly attacked. These attacks are not coincidental," he said.
Erdoğan was speaking after performing Friday prayers at the newly restored Yıldız Hamidiye Mosque, originally commissioned by Ottoman Sultan Abdülhamid II and built between 1884 and 1886.
"Some 132 years have passed since its construction," he said, referring to the mosque during his speech. "Let the Yıldız Hamidiye Mosque, renovated after a 132-year period and opened once again, be enjoyed by our country and the whole Islamic world. It is a stunning artefact for Istanbul."
The mosque is situated near the Yıldız Palace in the city's Beşiktaş district.
http://www.hurriyetdailynews.com/govt-determined-to-raise-generations-acquainted-with-religion-president-erdogan.aspx?pageID=238&nID=116354&NewsCatID=338
--------
Tribesmen threaten to besiege Ayesha Gulalai's house
August 05, 2017
PESHAWAR: A member of grand tribal jirga from North Waziristan Agency has warned that the tribesmen will besiege the house of MNA Ayesha Gulalai if she doesn't produce the proof about the allegations she has levelled against Pakistan Tehreek-i-Insaf chairman Imran Khan.
Speaking at a news conference here on Friday, Malik Jalal Khan Wazir took strong exception to the reports attaching her with tribal society, saying Ms Gulalai neither belonged to Waziristan nor was she a tribal woman, because whatever she had done during last four days was against the norms of tribal people.
"We cannot expect a tribal woman to adopt such lifestyle. The woman is unaware of the South and North Waziristan Agencies because she is not a resident of the tribal region," Mr Wazir claimed.
He said the tribal families never allowed their daughters to show up before media or irrelevant people. But, he said Shamsul Qayyum, the father of Ms Gulalai, used her for the sake of money only.
Jalal Wazir stressed the need for an inquiry against Mr Qayyum for bringing a bad name to the tribal people for his own personal interests. "The tribal people want to know as to how much money Ms Gulalai has taken for levelling such allegations," he demanded.
Flanked by other tribal elders, Mr Wazir said her statement about sending of inappropriate messages on her mobile by Imran Khan had not only insulted the Pakhtuns but also disgraced a large number of women workers affiliated with PTI.
The tribal elder asked Ms Gulalai to present her blackberry to any relevant forum to clear her position. He said her allegations against Imran had earned her disrespect in the hearts of people.
The tribal elder also sought a probe into the funds collected by the MNA during her foreign visits in name of building a hospital. She must be held accountable for fundraising campaigns in Dubai and Qatar, he added. He also asked her to immediately resign as member of National Assembly as she did not come through direct election but the seat was given to her by PTI.
https://www.dawn.com/news/1349643/tribesmen-threaten-to-besiege-ayesha-gulalais-house
--------
Europe
Europe must not turn a blind eye to Iran's human rights abuses
4 August 2017
Amnesty International has just published a 94-page report entitled "Caught in a web of repression: Iran's human rights defenders under attack." It details 45 specific instances of what the organization has described as a "vicious crackdown" coinciding with the supposedly moderate presidency of Hassan Rouhani, who begins his second term in office this week.
The overall takeaway is that Iranian authorities have repeatedly diminished the standards by which they accuse and convict activists and dissenters of national security crimes, while also increasing the severity of punishments that are meted out to those same people. The abusive nature of those punishments was reinforced by new revelations that emerged alongside the Amnesty International report, mainly regarding the Islamic Republic's notorious overuse of the death penalty.
Iran has long maintained world-leading rates of execution, and the violence and repression of the past few years have been reflected in a pattern of hangings that includes periodic spikes during which dozens of people are put to death in a single month. Last month saw just such a spike, with at least 101 death sentences being carried out, to say nothing of those that might have gone ahead in secret.
In Iran, political prisoners are sentenced to hang with some frequency, usually on the basis of vague, religious charges like "enmity against God" or "insulting the sacred."
Repressive, theocratic regime
Executions speak to the repressive nature of the theocratic regime, which has only grown worse in the era of Rouhani, when the government is fractured between two factions, neither of which represents reform. Maryam Rajavi, the president of the leading coalition of Iranian dissidents, the National Council of Resistance of Iran, responded to the new death penalty figures by saying, "Beset by crises and fearing popular uprisings, Iran's ruling theocracy has found no other way out but to escalate repression especially by mass and arbitrary executions."
The NCRI statement went on to recommend that the international community disregard economic and political incentives to expand relations with the Islamic Republic, and instead undertake measures to hold its officials accountable not only for recent crackdowns and executions, but also for long-neglected past crimes, like the massacre of some 30,000 political prisoners in the summer of 1988.
Naturally, being "beset by crises" and the possibility of popular overthrow, the regime is deeply fearful of this sort of pressure, which would imply Western readiness to stand behind a domestic uprising in Iran, and to aid it by making sure that Tehran is not free to carry out reprisals against dissenters as it sees fit.
Absurd claim
Last month, Iran's own so-called human rights monitor, Javad Larijani, made the absurd claim that the country does not hold any political prisoners. Immediately thereafter, foreign diplomats in Tehran were taken on a tour of the notorious Evin Prison, but human rights investigators were kept far away from the public relations stunt, while the diplomats were kept far away from wards that are known to house political prisoners almost exclusively.
Iranian Foreign Minister Javad Zarif has made similarly bold, easily ridiculed statements asserting the country's innocence. But with or without the new Amnesty International report, no one with a modicum of knowledge of the Islamic Republic should ever take such claims seriously. Unfortunately, Zarif and other members of the Rouhani administration appear to be masterful at putting a friendly face on Iran's clerical regime, even as its domestic abuses and foreign provocations continue to escalate.
This is the only explanation for the fact that some Western officials, including European Union foreign policy chief Federica Mogherini, agreed to attend this week's re-inauguration of President Rouhani. These decisions were profoundly misguided, insofar as any Western presence at an Iranian state function presupposes that the relevant officials are turning a blind eye to human rights abuses that are not only continuing but escalating on Rouhani's watch.
It is simply inconceivable that any of those officials are unaware of the information being shared by Amnesty and others. The most charitable explanation for their actions is that they do not hold Rouhani personally responsible for the crackdowns and are willing to offer their support to his administration in the hope that it will finally, after four years in office, begin to promote serious domestic reforms.
But if this is their thinking, it is painfully naïve. Rouhani has never been anything other than a loyal servant of the regime that tortures its citizens and imprisons them for upwards of 10 years simply for protesting previous human rights abuses. Soon after taking office in 2013 amidst the applause of Western officials, Rouhani thoroughly turned his back on human rights by appointing Mostafa Pourmohammadi, a leading figure in the 1988 massacre, as his justice minister.
Such officials must be brought to justice, lest the Iranian regime be convinced that it can get away with thousands of unlawful killings and still enjoy the presence of friendly European faces at its state functions. Justice will only be achieved when the international community has the courage to reject Iran's absurd, anemic denials and to instead respond with new economic and diplomatic pressure to the regime's human rights abuses.
__________________
Struan Stevenson is president of the European Iraqi Freedom Association (EIFA). He was a member of the European Parliament representing Scotland (1999-2014), president of the Parliament's Delegation for Relations with Iraq (2009-14) and chairman of Friends of a Free Iran Intergroup (2004-14). He is an international lecturer on the Middle East..
https://english.alarabiya.net/en/features/2017/08/04/Europe-must-not-turn-a-blind-eye-to-Iran-s-human-rights-abuses.html
--------
UN chief Antonio Guterres to make first visit to Israel, Palestinian territories
Aug 04, 2017
UN Secretary General Antonio Guterres will pay his first visit since taking the UN helm to Israel and the Palestinian territories, including the Gaza Strip, at the end of the month, diplomats said Thursday.
The UN chief will hold talks with Israeli leaders, travel to Ramallah to meet Palestinian leader Mahmud Abbas and to the Gaza Strip, where the United Nations runs a major Palestinian aid program, during the three-day visit beginning August 28.
Israel's UN Ambassador Danny Danon said the visit will allow Guterres to "build a relationship" with Prime Minister Benjamin Netanyahu. He will also hold meetings with the Israeli president and defense minister.
"We are very happy about this visit," Danon told AFP.
"It's a great opportunity for the secretary general to experience Israel, to meet the leaders of Israel and to understand the challenges that Israel faces day-in and day-out."
Palestinian ambassador Riyad Mansour described the upcoming visit as "very important," indicating that it signaled a stronger UN focus on the plight of Palestinians.
"The UN has been involved since its inception with the question of Palestine and will remain involved until the question is resolved in all its aspects on the basis of international law," he told AFP by email.
The visit comes as diplomatic efforts to revive Israeli-Palestinian peace talks appear deadlocked.
Guterres, a former prime minister of Portugal, "is experienced. He has been to Israel in the past. He knows the complexity of the issues. He is not someone who comes to our region and has no clue about what is happening," said Danon.
The Israeli government will discuss strengthening the mission of the UN interim force in Lebanon (UNIFIL), said Danon, following a series of skirmishes along the UN-monitored demarcation line between Israel and Lebanon.
Relations between the United Nations and Israel have been tense over the expansion of Jewish settlements, which the world body has condemned as illegal.
Since taking over from Ban Ki-moon on January 1, Guterres has been cautious in his approach to the Israeli-Palestinian conflict, partly in response to US accusations that the United Nations was biased against Israel.
In March, the UN chief demanded that a report by a UN body be withdrawn after it accused Israel of imposing an apartheid system on the Palestinians.
Guterres had initially distanced himself from the report, but the United States insisted that it be withdrawn altogether.
Full report at:
http://www.hindustantimes.com/world-news/un-chief-antonio-guterres-to-make-first-visit-to-israel-palestinian/story-U6lD65KJx9FSZd2gJxyjII.html
--------
Islamic State Behind Australians' Foiled Etihad Meat-Mincer Bomb Plot: Police
Aug 5, 2017
Sydney. An Australian man sent his unsuspecting brother to Sydney airport to catch an Etihad Airways flight carrying a home-made bomb disguised as a meat-mincer built at the direction of a senior Islamic State commander, police said on Friday (04/08).
Detailing one of Australia's "most sophisticated" militant plots, police said two men, who have been charged with terror-related offences, also planned to build a device to release poisonous gas in a public area.
High-grade military explosives used to build the bomb were sent by air cargo from Turkey as part of a plot "inspired and directed" by the militant Islamic State group, police Deputy Commissioner National Security Michael Phelan said.
The plot targeted an Etihad Airways flight on July 15 but the bomb never made it past airport security, he said.
"This is one of the most sophisticated plots that has ever been attempted on Australian soil," Phelan said.
Police allege that one of the two men charged late on Thursday had been introduced to Islamic State by his brother, who they said was a senior member of the group in Syria.
Communication between the accused man and Islamic State began around April, police said. Under the instruction of the unidentified Islamic State commander, the men built a "fully functioning IED" (improvised explosive device).
One of the brothers was unaware that he was carrying a bomb, disguised as a commercial meat mincer, in his luggage, and tried to check it in at the airport, police said.
"We'll be alleging that the person who was to carry the IED on the plane had no idea they were going to be carrying an IED," Phelan said.
Such a device would work like a large grenade, exploding with enough force to blow a hole in an airplane, even if it went off in the cargo hold, said Professor Greg Barton, a security expert at Deakin University in Melbourne.
"I think the logic would be that you pack your explosives in and seal it up, and if someone does a quick physical inspection it just looks like what it is, a meat grinder, because it's not electrical or electronic, it's less likely to be suspicious."
Police said there was "a little bit of conjecture" about what happened next, but it appeared one of the accused then left the airport, taking the luggage with him. The man's brother boarded the plane and has not since returned to Australia.
"I want to make it quite clear - it never got near screening. I don't want anyone to suggest that it ... penetrated airport security layers ... because it did not. It didn't go anywhere near it," Phelan said.
Etihad said in a statement on Friday it had been working closely with the Australian investigation.
Gas Plot Also Uncovered
Police arrested four men last weekend in raids across Sydney, Australia's biggest city. One man has been released, while another is still being held without charge under special counter-terror laws.
The two who have been charged are Khaled Khayat and Mahmoud Khayat, who each face two counts of planning a terrorist act. The charges carry a maximum punishment of life in prison.
The men did not apply for bail at a court hearing on Friday, a spokeswoman for New South Wales Courts said, and bail was formally denied. Their next scheduled court appearance is on Nov. 14.
Police also said they had uncovered the early stages of a plot to build an "improvised chemical dispersion device" designed to release hydrogen sulfide gas. Precursor chemicals and other components were found but the accused were "a long way" from making a functioning device.
Foul-smelling hydrogen sulfide, or "rotten egg gas", is deadly in high concentrations.
Police said "preliminary and hypothetical" discussions between the accused and Islamic State suggested a plan to deploy it in a crowded place, such as public transport.
Australia, a staunch US ally that has sent troops to Afghanistan and Iraq, has been on heightened alert since 2014 for attacks by home-grown militants returning from fighting in the Middle East, or their supporters.
While there have been several "lone wolf" attacks, officials say 13 significant plots have been foiled in that time.
A gunman in a 2014 Sydney cafe siege boasted about links with Islamic State militants, although no direct ties with the group were established. The gunman and two other people were killed in the siege.
Since police revealed details of the scheme, security experts said it exposed weaknesses in air cargo screening, particularly in Turkey, where intelligence agencies have been weakened by a government purge in the wake of last year's failed coup.
Full report at:
http://jakartaglobe.id/international/islamic-state-behind-australians-foiled-etihad-meat-mincer-bomb-plot-police/
--------
A Year After France Attacks, De-radicalization Efforts Are Trial and Error
August 04, 2017
BEAUMONT-EN-VERON, FRANCE —
An idyllic country manor set among the vineyards of the Loire River Valley, known for producing some of the world's finest wines, is where France sought to pioneer its efforts to combat the radicalization of Muslim youth.
The efforts were late in coming, compared with other European nations. Britain launched its campaign shortly after the 2005 London attacks. Denmark has had largely successful programs in place for years.
France's first efforts were in 2013, when it started an online campaign and a telephone hotline where relatives and teachers could report teenagers showing changes in behavior that pointed to radicalization.
France is late to the game
But it was the 2015 Islamic State group attacks, including one at the Bataclan theater where scores of people were gunned down, that prompted France to start an official, hands-on campaign that involved reaching out and dealing directly with radicalized youth by removing them from their environments and de-programming them.
The efforts drew further public support in 2016 when a shocked nation searched for solutions after attacks in Nice and Normandy.
"It was quite a sense of both denial and panic at the same time," Muriel Domenach, general secretary of the French government's Inter-ministerial Committee for the Prevention of Delinquency and Radicalization, told VOA. "Some people would say there's no such thing as radicalization. It's just a matter of lack of equal opportunities, social economic challenges. Others would say it has all to do with Islam," she added.
The government's plan was to open reintegration centers where young Muslims at risk were to come, sing the French national anthem and be immersed in the secular principles that underpin the French republic.
The first was at the Pontourney manor, near Beaumont-en-Véron. In principle, the town welcomed the idea, but only initially.
"Most people were of a spirit to say, 'Why not, let's try to do something,' said Bernard Chateau, the mayor of Beaumont-en-Véron. "Today we see that it did not work. It was a failure."
Poor attendance and neighbors were scared
Attendance was voluntary, and only a handful of young Muslims came. Those who did frightened the neighbors. Some residents formed an association to protest.
"The association is not against dealing with de-radicalization but simply one has judged that in this location that is Beaumont-en-Véron in the middle of an inhabited place is not the place for de-radicalization," said Catherine Bideau," an association spokeswoman whose home looks across a field to the Pontourney manor.
"One had a Fiche S," meaning the person had been flagged by French authorities as a threat to national security. "We had a person with psychiatric problems. We had a person who belonged to one of the most dangerous jihadist groups in France, the Strasbourg network, and links to one of the Bataclan attackers. So we had figures who really raised the question about a danger that was evident," Bideau said.
The neighbors' concerns point to underlying social attitudes in France that make de-radicalization a difficult subject to raise in a once Catholic nation where secularism, since the French Revolution, has been sacred.
"The problem arises as to why France reacted so belatedly, institutionally speaking, towards jihadism in comparison to other societies, other European countries," said Farhad Khosrokhavar, a sociologist at the School for Advanced Studies in the Social Sciences in Paris. "One of the major obstacles was laicité, the ideology that the state, the government should not interfere with religion which is a private matter," Farhad said.
France now looking at younger Muslims
Government officials call de-radicalization a process of trial and error, and are now examining ways to reach marginalized Muslims at a younger age, an approach supported by peace activist Latifa Ibn Ziaten, who was originally from Morocco. Ibn Ziaten's son, a French paratrooper, was killed in a 2012 terrorist attack. She now lectures school groups.
"One must look at that youth as the future of France. That is important. And that is what is lacking much because today a young person should be followed from nursery school to middle school," Ibn Ziaten said after a lecture in the Paris suburb of St-Denis. "What is happening is the opposite. We are focusing on the middle school youngsters and by then it is a bit too late," she said.
Analysts say Muslims make up 7.5 percent of France's population, the highest, percentage in Western Europe. With more than 1,700 French nationals joining the Islamic State group, the country is one of the highest contributors of recruits to the terror group.
According to the government's initial plan, centers like Pontourney were to be set up in every region of France, but that will not happen. At the end of July, officials said Pontourney is closing.
Now, the government under new president Emmanuel Macron seeks to draw from the lessons of failure and search for a new way while upholding France's values of openness, diversity and secularism.
Full report at:
https://www.voanews.com/a/islamic-de-radicalization-france/3972144.html
--------
India
Hafiz Saeed trying to hide his blood-stained hands behind ballot ink: India
Aug 4, 2017
NEW DELHI: India on Friday termed as a "matter of concern" the freedom enjoyed by Jamaat-ud-Dawa (JuD) chief Hafiz Saeed+ and his organisations in Pakistan to conduct terror acts against India and others, and said Islamabad must ensure that international sanctions against such individuals are enforced 100 per cent.
Reacting to reports that Saeed is rebranding the JuD and launching a political outfit, external affairs ministry spokesperson Gopal Baglay said, "It appears that a person whose hands are stained with blood of innocent lives... such an individual is wanting to hide his blood-stained hands behind the ballot ink. The person who traded in bullets to take lives, is he trying to hide behind ballot?"
Saeed, the mastermind of Mumbai terror attacks, has reportedly decided to launch his own political party in Pakistan by renaming his terror outfit JuD as Milli Muslim League Pakistan.
According to reports, he would be registering his political party with the Election Commission of Pakistan. Saeed is likely to launch his political outfit on Pakistan's Independence Day at a function in Lahore.
Baglay said that Saeed is an internationally designated terrorist under the UN Resolution 1267 provisions and his organisation, whether it is called Lashkar-e-Taiba or Jamat-ud-Dawah, is one and the same.
He noted that Saeed's organisation — whether it is called Lashkar-e-Taiba (LeT) or JUD — has been carrying out terror activities not only against India but against other countries as well.
"It's been a matter of concern not only for us but for the entire region and beyond. We hear from media reports that he is in some sort of a house arrest in Pakistan. It is very well-known that he and his organisations enjoy freedom in Pakistan to conduct terrorist activities+ against India and others. It is a matter of concern," Baglay said.
He further said that "It is Pakistan's obligation to make sure that such individuals and organisations are not able to enjoy freedom to conduct terror activities with the kind of international obligation Pakistan has. Pakistan must ensure that international sanction on these individuals and organisations are enforced 100 per cent."
Recently the government of Pakistan's Punjab province extended the house arrest of Hafiz Muhammad Saeed and his four aides for 60 more days for their activities that were "detrimental to peace and security".
http://timesofindia.indiatimes.com/india/hafiz-saeed-wants-to-hide-his-blood-stained-hands-behind-ballot-ink-india/articleshow/59919428.cms
--------
Abu Dujana's clip reveals al-Qaida's expanding footprint in Valley
Aug 5, 2017
NEW DELHI: In a region already crowded with terrorist outfits ranging from Lashkar-e-Taiba to Jaish-e-Muhammed and Hizbul Mujahideen, the al-Qaida seems to have finally gained a foothold in the Valley going by the encounter killing of Abu Dujana and Arif Lelhari. Both had switched from the Lashkar-e-Taiba to the multinational Sunni Islamist militant organisation founded by Osama bin Laden in 1988.
LeT commander Abu Dujana had joined the al-Qaida's Kashmir cell Ansar Ghazwat-ul-Hind led by Zakir Musa, a fact that was revealed in the contents of the last phone call Dujana and his associate Lelhari made to the latter's brother during the gun-battle that led to their killing on August 1.
Late on Friday, Ansar Ghazwat-ul-Hind chief Zakir Musa released a video hailing Dujana and Lelhari, declaring them as the first martyrs of the al-Qaida. The video was shared by Musa's followers in secret jihad-related Telegram and WhatsApp groups.
In a 3.16 minute audio clip of the call they had made before succumbing to injuries ?they suffered during the August 1 encounter with security forces, ?Lelhari, while heaving sighs and swallowing his breath several times, requested his family and followers not to cover his corpse in a Pakistani flag.
"Please wrap me only in Tawheed flag (used by the al-Qaida) at my funeral. Please respect my blood, my sacrifice. Pray for me. Pray for our success. You will succeed, too," Lelhari made a breathless plea in Kashmiri.
'Dujana and Lelhari played an important role'
He also begged his family and friends not to send away Dujana "bhai", implying that his funeral, too, should happen in Kashmir and not in his native village in Gilgit Baltistan in Pakistan Occupied Kashmir (POK).
After making the appeal, Lelhari handed over the phone to Dujana, who is heard speaking in Urdu and whispers with a dry throat through the recording. Dujana bragged that he had been "chosen and rewarded by Allah for martyrdom", and asked his followers "not to worry" about his death. "I am very happy about the sacrifice," he is heard saying.
Lelhari appealed to his followers not to harm the owners of the house who provided them the hideout in Hakripora village of Pulwama district in south Kashmir.
Like Lelhari, Dujana too requested his terrorist comrades not to harm the owners of the house where they had taken shelter the night before around 10pm. "The owners did not give us in but somebody noticed us. So don't do any injustice against them," he reiterated.
Lelhari ended the conversation by declaring: "We are with Zakir (Musa) bhai, we are with al-Qaida."
Security officials said that even as a Lashkar commander, Dujana was in constant touch with Musa, who had announced his departure from the Hizbul Mujahideen to the al-Qaida.
A security official said that Dujana had left Lashkar over the issue of money which he demanded for relocation of his Kashmiri wife to Pakistan. "So, for him, joining Musa was a natural option. He may have been the second most important member in Musa's Ansar Ghazwat-ul-Hind group. The killing of Dujana and Lelhari is the first big blow to Musa," he said.
Both Dujana and Lelhari were "most wanted Lashkar terrorists" and mentioned accordingly by both security agencies and media on Tuesday. However, after the phone recording was shared by Dujana's followers on various social media groups on Friday in Kashmir, security officials confirmed that the two had parted ways with Lashkar and joined Musa's two-month-old al-Qaida cell.
Full report at:
http://timesofindia.indiatimes.com/india/abu-dujanas-clip-reveals-al-qaidas-expanding-footprint-in-valley/articleshow/59922836.cms
--------
Bihar Beef Attack: 'Our Govt Now', say BJP, Bajrang Dal
By Santosh Singh
August 5, 2017
The blocking of a truck and the alleged beating of at least one of the three men inside on suspicion of transporting beef in Bihar's Bhojpur district was a well-planned move by BJP and Bajrang Dal workers who said they wanted to "produce proof" for police to take action against "illegal" meat traders.
Speaking to The Indian Express in Shahpur, Bhuwar Ojha, BJP state executive committee member, said, "We had been telling police for some time about an illegal slaughterhouse in the Ranisagar area of Shahpur but they would not listen to us. Now that the BJP is part of the state government, our morale has been boosted." Ojha described Ranisagar and Bagahi, the only Muslim-dominated areas in the Shahpur assembly segment, as "the problem areas". But, he said, the BJP's top leaders in Bihar have asked him to ensure that "no untoward incident takes place".
"We are not staging any protests today because we hope for some action from police. We should not be protesting against our own government now," said Ojha, who had been kept in the loop by those who blocked the truck.
On Thursday, following the incident — the first case of beef vigilantism in the state — protests were held in Shahpur over "police inaction" in tackling illegal meat trade. Later, police arrested four persons allegedly linked to the business, including the owner of an illegal slaughterhouse and those in the truck: Sarfuddin Khan and Ajmulllah Khan from Bikramganj and Gulam Khan of Hariharganj in Rohtas district.
Meat samples from the truck were also sent for laboratory tests. Cow and buffalo slaughter is banned in the state, according to The Bihar Preservation and Improvement of Animals Act, 1955. On Friday, local residents and police sources told The Indian Express that among those who stopped the truck were local BJP leaders Chandan Pandey, Ankit Pandey, Rakesh Tiwary and Pankaj Tiwari, and Bajrang Dal activists Nishu Rao, Krishna Kant Singh and Dhoni.
Sources said the first alert about the truck was posted on a WhatsApp group 'Bhojpur news', run by Chandan Pandey, who is the BJP's Shahpur town general secretary, and has the local police station in-charge Bipin Kumar as a member. Late Wednesday night, Pandey posted that the truck bound for West Bengal was about to cross the town from Ranisagar, 5 km away. By 2 am, a group of 15 BJP and Bajrang Dal workers reached the petrol pump in town to intercept the truck, said sources.
"At around 5.15 am on Thursday, as the truck neared the pump, the group tried to stop it. The driver tried to speed away but had to stop because of a tractor coming from the opposite direction," said police sources. On Friday, Kumar was suspended for "dereliction of duty".
Speaking to The Indian Express, Chandan Pandey denied that the group beat the three men in the truck and showed a video on his smartphone purportedly of the driver admitting that he was transporting "10-12 tonnes of beef".
"It is an allegation that we beat them. The three arrested persons also did not make any complaint to the police. Our job was to catch them red-handed and produce proof to police of what we had been saying all along," he said.
According to Pandey, his BJP associate Bashistha Prasad, the local nagar panchayat head, informed the Shahpur police station in-charge and Jagdishpur Sub Divisional Police Officer Daya Shanker of the incident. "Police arrived at 6 pm and seized the truck and arrested the truck driver and two others," he said.
Pandey said that he had kept BJP leader Bhuwar Jha "posted about every little detail of the trap". Jha, who took part in Thursday's protest, is the husband of former Shahpur BJP MLA Munni Devi and brother of slain BJP vice president Visheshwar Ojha.
Jagdishpur SDPO Daya Shanker said, "Since the people who stopped the truck identified themselves as local residents, we did not ask for their political affiliation. Our job was to arrest the three and seize the truck. We also conducted raids and named four persons in the case for running an illegal slaughterhouse."
At Ranisagar, meanwhile, a sense of wary calm prevailed even as shops remained open on Friday with minimal police deployment. Residents of the village, with a population of around 10,000, 70 per cent of whom are Muslim, said the "entire village should not be defamed" because of the actions of a few.
They also wanted police to ensure adequate deployment ahead of August 14, the last Monday of the holy month of Sawan to avoid any communal tension. Khursheed Khan, a paan-shop owner, said, "Although Ranisagar is Muslim-dominated, we have a sizeable population of Dalits and EBCs. You can see that we have our shops side-by-side. Some leaders from either side are looking for reasons to make us fight. We want them to stay away. As for the raid at the illegal slaughterhouse, we have nothing against that. What is illegal is illegal, but the three boys arrested with meat are not from here and the entire village should not be defamed."
However, a Hindu resident, speaking on condition of anonymity, said, "Ranisagar has four mosques and one temple. We hold the ashtjaam (24-hour religious chanting) once in a year but we did not organise it for three years until 2015 out of fear. It resumed in 2016 but police took an undertaking from us that if communal tension arises, we alone could be held responsible."
Kumar Pankaj, Jagdishpur Sub Divisional Magistrate, said, "We have identified some pockets and deployed police accordingly. We will remain watchful. The template of any communal tension has been more or less the same. But the situation here is completely under control."
The Shahpur assembly segment is being represented by RJD leader Rahul Tewary, the son of former JD (U) MP Shivanand Tewary. From 2005 till 2015, it was represented by BJP leader Munni Devi.
Full report at:
http://indianexpress.com/article/india/bjp-bajrang-dal-in-bihar-beef-attack-our-government-now-4783104/
--------
Muslim scholars, leaders disapprove registration of marriages
Aug 04, 2017
Several Muslim scholars and religious leaders have disapproved the state government's decision to make registration of marriages for all mandatory in the state.
The first reaction came from the Islamic seminary of Darul Uloom of Deoband's Mohatmim (vice chancellor) Maulana Mufti Abul Kasim Nomani who said the forceful implementation for all is against peoples' religious liberty. He explained that marriages are religious matter and clarified that they are not against registration, but disapprove the idea of its forceful implementation.
Qari Shafeeq, city president of Milli Council, termed the decision of Yogi government as interference in peoples' religious liberty and apprehended that it could be the first step of the government in interfering with the religious matters. He said we support the opinion of Darul's Mohatmim and demanded that it should not be made mandatory for all.
Qazi Zainur Rasheedin, nayab shahar qazi, Muslim community follows traditional way of registration of every nikah. Bride and groom both sign on the nikah register along with two eyewitnesses and other relevant persons and that record registers are kept in safe place. He said, "There was no need for Muslims to register their nikah in government offices because the community has a traditional and authentic way of registration." He, however, advised the government to recognise nikah registers as authentic document for registration of marriages.
Full report at:
http://www.hindustantimes.com/lucknow/muslim-scholars-leaders-disapprove-registration-of-marriages/story-4cQW2J1BCd8AGjMKAXMNwL.html
--------
First Hindu in Pak govt in over two decades
Aug 5, 2017
ISLAMABAD: Pakistan's new Prime Minister Shahid Khaqan Abbasi formed his cabinet on Friday, filling it with his toppled predecessor Nawaz Sharif's aides and allies. It also included the first Hindu in a Pakistan government in more than 20 years, Darshan Lal.
The "reshuffle" was aimed at bolstering support for the ruling Pakistan Muslim League-Nawaz (PML-N) ahead of the general elections in mid-2018, with President Mamnoon Hussain administering the oath of office to 47-member cabinet that included 28 federal and 19 state ministers in a televised ceremony at his official residence.
Read this story in Gujarati
Darshan Lal would head coordination between four Pakistani provinces, a government official said. Lal, 65, is a practising doctor from Mirpur Mathelo town in Ghotki district of Sindh. In 2013, he was elected to the national assembly for the second time on PML-N ticket on a reserved seat for minorities.
Khawaja Muhammad Asif, minister for defence and power in previous cabinet, was appointed the country's new foreign minister. Pakistan was without a foreign minister since Sharif became PM in 2013. The last foreign minister was Hina Rabbani Khar.
Read this story in Marathi
No decision has been made yet on whether Abbasi will remain the PM till the 2018 elections or step down after Shahbaz becomes eligible to take over after winning a by-election, as previously decided.
PML-N leadership is unsure about Shahbaz's resignation as his departure from Punjab could weaken the party's grip over the country's most powerful and populated province. Pakistan's mix of political parties has often ensured that whoever wins Punjab, forms the central government.
To strengthen the party's position in Punjab, Abbasi has added five politicians from prominent families that command huge vote banks in the south of the region, seen as pivotal to the next poll
The reshuffle saw Sharif's close aide Ishaq Dar resume his earlier role as finance minister despite a criminal investigation ordered against him by the Supreme Court in the Panama leaks.
With ex-home minister Chauddhry Nisar Ali Khan reluctant to retain his post, the interior ministry went to Ahsan Iqbal, head of a commission tasked with building the $57 billion China-Pakistan Economic corridor.
Full report at:
http://timesofindia.indiatimes.com/india/first-hindu-in-pak-govt-in-over-two-decades/articleshow/59923609.cms
--------
3 Lashkar terrorists killed in an encounter in Sopore
Aug 5, 2017
SRINAGAR: Three Lashkar-e-Taiba terrorists were killed in an encounter with Jammu and Kashmir police, Army and CRPF in Sopore on Saturday.
Ammunition and 3 AK-47 rifles were recovered from the slain terrorists, ANI reported quoting police sources.
One police jawan was also injured in the encounter.
The encounter was launched by a joint team of 179 Battalion CRPF, 52 Rashtriya Rifles and SOG Sopore on a specific intelligence, around 4.30 am at Amarghad in Sopore of Baramulla district in north Kashmir.
http://timesofindia.indiatimes.com/india/3-lashkar-terrorists-killed-in-an-encounter-in-sopore/articleshow/59924866.cms
--------
Nexus between jihadists in south and CPM cadres: Hosabale
August 5, 2017
Alleging a nexus between CPM cadres and Islamic jihadists in south India, senior RSS leader Dattatreya Hosabale said on Friday that high recruitment of Islamic State members from Left-ruled Kerala confirms the link between the two. "There is definitely some nexus between jihadi terrorists operating in Tamil Nadu, Karnataka and Kerala and the CPM cadres," the RSS Sahsarkaryavah said at a press conference on the killings of Swayamsevaks in Kerala.
Pointing out that the NIA "arrested jihadi terrorists" from a "party (CPM) village" in Kerala, he asked: "No one can reach a party village. How did jihadi terrorists reach there and make their hideout?" Emphasising on the nexus claim, he said: "The maximum recruitment of IS cadre from India is from Kannur district of Kerala." Kannur, he said, has also been a "model" of the CPM violence on Swayamsevaks.
Hosabale was accompanied at the press meet by veteran RSS Pracharak J Nandakumar and other senior leaders, indicating that the Sangh would now field its top leaders to highlight the violence against its workers in Kerala. Union Home Minister Rajnath Singh recently called Kerala Chief Minister Pinarayi Vijayan and expressed concern about the violence. Finance Minister Arun Jaitley is likely to visit the state soon.
Hosabale demanded a high-level probe into the killings of RSS workers and said the Sangh has "apprehensions" about the CPM's proposal for talks to end violence.
Recently, CPM general secretary and Rajya Sabha MP Sitaram Yechury had said he was ready to talk to RSS Sarsanghchalak Mohan Bhagwat over the continuing violence in Kerala. "We welcome it (the proposal)," Hosabale said, but quickly added that "we have some apprehensions".
"The RSS has always tried to get into a dialogue process, at least three times in the past," he said, adding that the CPM "backstabbed" by "killing another Swayamsevak within months, therefore defeating the purpose."
Detailing the history of attacks on swayamsevaks in Kerala, Hosabale claimed that since the "first murder" in 1969, "around 300 swayamsevaks were murdered by CPM cadres". As many as 14 have been killed in the past 13 months, he said, demanding "an inquiry under HC or SC or any central agency".
Full report at:
http://indianexpress.com/article/india/nexus-between-jihadists-in-south-and-cpm-cadres-hosabale-4783093/
--------
Arab World
Saudi Arabia Defends Judiciary amid Outcry over Executions of 14 Shia Muslims
Aug 05, 2017
Saudi Arabia's government, facing mounting criticism for the planned execution of 14 Shia Muslims, has issued a rare statement defending its judicial system.
Ministry of Justice spokesman Mansour al-Qafari says all defendants facing trial in Saudi Arabia receive due process.
In a statement published Friday in the Saudi Press Agency, al-Qafari says terrorism-related cases and death penalty verdicts are reviewed by an appeals court and the supreme court, with a total of 13 judges reviewing the case before an execution is carried out.
The 14 face execution for protests and violence against security forces. Rights group Reprieve says the initial judgment came from a "secretive" counterterrorism court.
Ultraconservative Sunni clerics in Saudi Arabia have in the past referred to Shiites as apostates, and Shiite protesters have been accused of being allied with the kingdom's rival, Iran.
http://www.hindustantimes.com/world-news/saudi-arabia-defends-judiciary-amid-outcry-over-executions-of-14-shia-muslims/story-aScppUNYl0cAqbPiNvGnoN.html
--------
2,000 ISIS militants still in Syria's Raqqa and 'they will likely die there'
4 August 2017
The Kurdish-Syrian alliance battling to recapture Raqqa from ISIS has now seized about 45 percent of the militants' Syria stronghold, a top US official said Friday.
The US-backed Syrian Democratic Forces militia (SDF) began a campaign to capture Raqqa from ISIS last year, slowly encircling the city before breaking into it for the first time in June.
"As of today, the SDF has seized about 45 percent," of Raqqa, said Brett McGurk, the senior US envoy to the international coalition fighting ISIS in Iraq and Syria.
The recapture of Raqqa would mark a major milestone in the three-year effort to defeat ISIS.
The militants were ousted from their main Iraqi bastion of Mosul last month.
Still, the Raqqa battle is far from over, with thousands of ISIS militants remaining.
"I'm always hesitant to give numbers like that because this is an inexact science, but we think there's about 2,000 fighters left in Raqqa -- and they most likely will die in Raqqa," McGurk said.
Full report at:
https://english.alarabiya.net/en/News/middle-east/2017/08/05/2-000-ISIS-militants-still-in-Syria-s-Raqqa-and-they-will-likely-die-there-.html
--------
Muslim World League chief says Saudi Arabia welcomes interfaith dialogue
5 August 2017
In a first-of-its-kind meeting in Japan for representatives of faiths around the world, Secretary General of the Muslim World League Dr. Mohammad al-Issa on Friday said that Saudi Arabia welcomed positive and fruitful dialogue among various religious groups in the world.
He called for peace and the broadening of horizons for peaceful coexistence.
The Int'l Conference for Religious Leaders in Japan witnessed a large presence of representatives of the world's religions.
Full report at:
https://english.alarabiya.net/en/News/gulf/2017/08/05/Muslim-World-League-chief-says-Saudi-Arabia-welcomes-interfaith-dialogue.html
--------
Iraqi troops unearth dozens of bodies in Anbar mass grave
Aug 4, 2017
Iraqi security officials say government forces have found a mass grave in the troubled western province of Anbar, containing the bodies of at least 40 people, who are believed to have been executed by Takfiri Daesh terrorists in 2015 when they were in control of the terrain.
An army lieutenant colonel, requesting anonymity, said troops made the grisly find during a sweep of the al-Tash area on the southern outskirts of the provincial capital city of Ramadi, located about 110 kilometers (68 miles) west of the capital Baghdad.
He added that Daesh extremists had put a bullet in the head of each one of the victims, noting that the corpses were heavily decomposed.
Director of Martyrs Committee for Anbar Province, Ammar Nuri al-Dulaimi, said the bodies had bullet wounds to the head, suggesting they were executed by Daesh militants.
In May, Iraqi authorities announced the discovery of three mass graves in three separate areas, one of them in the center of Ramadi, containing the remains of civilians and soldiers killed at the hands of Daesh Takfiris.
Iraqi army forces and fighters from Popular Mobilization Units, commonly known by the Arabic word Hashd al-Sha'abi, retook Ramadi in December 2015.
Genocide of Izadi Kurds still ongoing, unaddressed: UN
Meanwhile, a UN human rights Commission of Inquiry says Daesh terror group is still committing genocide against the Izadi minority group.
"The genocide is on-going and remains largely unaddressed, despite the obligation of states...to prevent and to punish the crime," the commission said on Thursday.
It added, "Thousands of Izadi men and boys remain missing and the terrorist group continues to subject some 3,000 women and girls in Syria to horrific violence including brutal daily rapes and beatings."
The Endowments and Religious Affairs Ministry of the semi-autonomous Kurdistan Regional Government (KRG) also announced on Thursday that Daesh's genocide against Izadis has forced nearly 360,000 members of the minority to flee their hometowns, and another 90,000 have left Iraq and taken refuge in others countries.
It added that Daesh militants have kidnapped 6,417 Izadi Kurds, including 1,102 women and 1,655 children, since 2014.
Additionally, 2,645 children have lost their first line of protection, and the number includes 220 kids whose parents are still being held captive in Daesh-held areas.
Full report at:
http://www.presstv.ir/Detail/2017/08/04/530705/Iraqi-forces-find-mass-grave-Ramadi-Daesh-Takfiri-militants-genocide-Izadi-Kurds
--------
Iraqi Shia cleric Moqtada al-Sadr demands govt dismantle paramilitary groups
Aug 05, 2017
Influential Iraqi Shia leader Moqtada al-Sadr on Friday called on the Baghdad government to dismantle the paramilitary Hashed al-Shaabi umbrella organisation dominated by Iran-backed Shiite militias.
Sadr was speaking to thousands of supporters in the Iraqi capital after a rare visit at the weekend to Sunni-ruled regional kingpin Saudi Arabia, a staunch rival of the Shiite-dominated Islamic republic of Iran.
In a speech broadcast on huge screens, Sadr urged Iraqi Prime Minister Haider al-Abadi to dismantle Hashed and "integrate into the army the disciplined members" of the paramilitary force, an AFP reporter said.
Sadr also called on the authorities to "seize the arsenal of all armed groups".
The Hashed al-Shaabi is nominally under Abadi's command, but some of its components have for years been sending fighters to support Damascus in its six-year-old conflict against various rebel factions.
The paramilitary force took part in the battle to retake Iraq's second city Mosul from the Islamic State group, and could join future operations aimed at routing the jihadists from areas of the country they still hold.
IS still controls swathes of western Iraq, including much of the desert province of Anbar. Rival forces, which largely cooperated against the jihadists in Mosul, are expected to compete for a share of the spoils.
Sadr led a militia that fought against the US occupation of Iraq.
He is now seen as a nationalist who has repeatedly called for protests against corruption in the Iraqi government, and his supporters have staged huge protests in Baghdad calling for electoral reform.
On Thursday, Sadr issued a new call for protests in Baghdad and other cities to denounce "corrupt politicians" and demand reforms.
Last week he paid a visit to Saudi Arabia, with his office saying in a statement the trip was in response to an "official invitation".
The official Saudi Press Agency published pictures of Sadr with Crown Prince Mohammed bin Salman in Jeddah, and said they discussed Saudi-Iraqi relations and "a number of issues of mutual interest".
Full report at:
http://www.hindustantimes.com/world-news/iraqi-shia-cleric-moqtada-al-sadr-demands-govt-dismantle-paramilitary-groups/story-auSFxMGjpcb6ueTuy2xhMI.html
--------
Israel Continues to Assist Terrorists in Syria
Aug 04, 2017
According to sources, the militants have been treated by the IDF Israel's medical centers only to then be sent back into Syria were they continue to commit terrorist acts.
Despite the fact that such gunmen are labeled as "rebels" by Western and Persian Gulf media due to their apparently "moderate" stance against the Syrian government, the actual reality stands that a vast majority of the Golan-based militants which Israel provides medical and military aid to are committed militants who pursue sectarian ideals in Syria.
Israel is known to have assisted Golan-based militants of the Al-Qaeda-linked Al-Nusra Front (Tahrir al-Sham Hay'at or the Levant Liberation Board) with medical aid and military equipment since as early as 2013.
In late-June of this year, Israel provided air support for terrorists' offensive against pro-government forces at the city of Madinat al-Baath.
Local sources disclosed in late June that several terrorists, who had been wounded in the battle with the Syrian government forces in Quneitra province, were taken to an Israeli hospital.
The sources reported that a number of injured members of Al-Nusra Front were transferred to the Israeli hospitals via al-Hamidiyeh region in Quneitra countryside.
The army troops repelled Al-Nusra Front's offensives in the Southwestern province of Quneitra, leaving tens of terrorists dead and many more wounded. Later, the Israeli aircraft attacked the Syrian government forces' tanks and artillery positions South-West of the war-hit country.
Full report at:
http://en.farsnews.com/newstext.aspx?nn=13960513000471
--------
ISIL's Centers in Deir Ezzur Hit Hard in Syrian Armed Forces' Attacks
Aug 04, 2017
The army aircraft bombed ISIL's defense lines in Panorama base, al-Omal neighborhood and the village of Ayyash, killing tens of militants.
Meantime, the army's artillery units shelled ISIL's strongholds in al-Maqaber (cemetery), Panorama base and around Deir Ezzur airbase, killing several militants and destroying their vehicles.
Relevant reports said on Thursday that the Syrian fighter jets launched heavy airstrikes on ISIL bases in the villages of al-Baqaliyeh and Tal Aloush in Southern Deir Ezzur on Wednesday, destroying several hideouts and weapons caches.
A large number of terrorists were also killed in the operations.
Meantime, the Syrian army's artillery unit targeted one of the buildings occupied by the ISIL in al-Rasafeh district in Deir Ezzur city, killing and wounding all terrorists inside.
Full report at:
http://en.farsnews.com/newstext.aspx?nn=13960513000395
--------
Notorious Commander Killed in Infighting among Terrorists in Syria's Deir Ezzur
Aug 04, 2017
The sources said that infighting erupted among ISIL terrorists in al-Entaq street and al-Nadi district in Albu Kamal, leaving a number of terrorists dead, including Abu Shadi al-Jilani, a notorious field commander.
The sources went on to say that four more terrorists were killed in another instance of clashes between two groups of ISIL terrorists in al-Maharim neighborhood in the town of al-Mayadeen.
The sources further said that a group of residents in Deir Ezzur city hoisted the Syrian government flag in al-Halibeh square at the Northern entrance of the city, adding that three militants were killed in clashes with the civilians near al-Mohadetheh school in the old airport neighborhoods in Deir Ezzur city.
Local sources in Eastern Deir Ezzur reported on Thursday that a group of residents of al-Souseh district near the town of Albu Kamal attacked the office of the supervising commander, killing him and destroying the base completely.
Also, people attacked one of the vehicles carrying a number of ISIL commanders and killed several of them, including Abu Safiyeh al-Kondari and Faisal al-Shamri.
Full report at:
http://en.farsnews.com/newstext.aspx?nn=13960513000311
--------
Mideast
Yemen's Ansarullah warns of repercussions of support for Saudi crimes
Aug 5, 2017
The Yemeni Houthi Ansarullah movement has cautioned the international community against providing a cover for Saudi Arabia's atrocities in Yemen, as the death toll from the Saudi-led war on the impoverished country increases by the day.
Ansarullah spokesman Mohammad Abdulsalam wrote on his Facebook page on Friday that more Saudi crimes would only lead to greater steadfastness on the part of the Yemenis in support of their dignity and the sovereignty of their homeland.
Abdulsalam further called on the Popular Committees and allied army soldiers to step up their operations against the Saudi military and mercenaries.
The remarks came hours after three women and six children from the same family were killed and three other injured in a Saudi-led airstrike on the Mahda district of northwestern Yemeni city of Sa'ada.
Abdel-Ilah al-Azzi, the head of the local health department, said, "We are recording all the crimes of the enemy and we will not forget them. All the criminals will be put on trial soon, God willing."
The deadly air raid took place at dawn on Friday while the family was asleep.
Saudi Arabia has been leading a brutal military campaign against Yemen for more than two years to eliminate the Houthis and reinstall a Riyadh-friendly former president. The Saudi military campaign, however, has failed to achieve either of the goals.
The protracted war has already killed over 12,000 Yemenis, with the US and the UK providing the bulk of weapons used by Saudi forces and giving coordinates for the airstrikes, which have killed many civilians.
The Saudi-led offensive has also taken a heavy toll on Yemen's infrastructure and led to a humanitarian crisis and a cholera epidemic.
The number of suspected cholera cases in Yemen has exceeded 419,800 while almost 2,000 people have died since the outbreak of the epidemic in April, according to the latest figures provided by the World Health Organization (WHO).
http://www.presstv.ir/Detail/2017/08/05/530757/Yemen-Ansarullah-Saudi-Arabia-
--------
Turkish family minister says authority to register civil marriages shouldn't be given to imams
August/04/2017
Authority to register civil marriages should not be given to imams, Family and Social Policies Minister Fatma Betül Sayan Kaya has said, commenting on a recent draft law allowing "muftis," religious civil servants within Turkey's Directorate of Religious Affairs (Diyanet), to register marriages.
Kaya also claimed that the draft law would address the issues of child marriages and second wives, as imams already often oversee religious marriages in both cases, despite the fact that both are outlawed.
According to the latest draft law, submitted to parliament on July 25, provincial and local muftis will be granted the authority to conduct marriages in Turkey, in addition to state registrars of marriages in municipalities.
"Mayors, village heads and foreign representations are able to register marriages according to the current regulation. The law change foresees giving provincial and local muftis the same authority, in addition to the aforementioned officials. Accordingly, marriages registered by a mufti will be civil ones," Kaya told reporters on Aug. 3.
"I actually don't accept imams carrying out marriages. What's essential is the execution of civil marriages and their announcement," she said.
Asked whether the authority would also be transferred to imams, Kaya said it would not and stressed that she "doesn't accept marriages carried out by imams."
"Sensitivity is needed on the issue. Authority is only given to district and provincial muftis. The draft law doesn't say anything about a transfer of authority to imams and I think it should stay that way. If muftis can carry out marriages, why would imams do it too? It is my personal opinion that women are really mistreated and in this way we can get rid of victimization," she added.
"There will not be marriages at early ages and all women's rights will be protected. The legal marriage age will not change and there will not be a situation leading to [the legalization of having] more than one spouse," Kaya added.
Meanwhile, Kaya also said the number of women ministers should increase, commenting on the appointment last month of Jülide Sarıeroğlu as labor and social security minister, thus increasing the number of women in the cabinet to two.
Full report at:
http://www.hurriyetdailynews.com/turkish-family-minister-says-authority-to-register-civil-marriages-shouldnt-be-given-to-imams.aspx?pageID=238&nID=116325&NewsCatID=338
--------
Australian 'terror bomb package mailed from Turkey'
August/04/2017
An Australian man sent his unsuspecting brother to Sydney airport to catch an Etihad Airways flight carrying a homemade bomb disguised as a meat-mincer built at the direction of a senior Islamic State of Iraq and the Levant (ISIL) commander, police said on Aug. 4.
Detailing one of Australia's "most sophisticated" militant plots, police said high-grade military explosives used to build the bomb were sent by air cargo from Turkey as part of a plot "inspired and directed" by ISIL, police Deputy Commissioner National Security Michael Phelan said.
The plot targeted an Etihad Airways flight on July 15 but the bomb never made it past airport security, he said.
"This is one of the most sophisticated plots that has ever been attempted on Australian soil," Phelan said.
Police allege that one of the two men charged late on Aug. 3 had been introduced to ISIL by his brother, who they said was a senior member of the group in Syria.
Communication between the accused man and ISIL began around April, police said. Under the instruction of the unidentified ISIL commander, the men built a "fully functioning IED" [improvised explosive device].
One of the brothers was unaware that he was carrying a bomb, disguised as a commercial meat mincer, in his luggage, and tried to check it in at the airport, police said.
"We'll be alleging that the person who was to carry the IED on the plane had no idea they were going to be carrying an IED," Phelan said.
Such a device would work like a large grenade, exploding with enough force to blow a hole in an airplane, even if it went off in the cargo hold, said Professor Greg Barton, a security expert at Deakin University in Melbourne.
"I think the logic would be that you pack your explosives in and seal it up, and if someone does a quick physical inspection it just looks like what it is, a meat grinder, because it's not electrical or electronic, it's less likely to be suspicious."
Police said there was "a little bit of conjecture" about what happened next, but it appeared one of the accused then left the airport, taking the luggage with him. The man's brother boarded the plane and has not since returned to Australia.
"I want to make it quite clear - it never got near screening. I don't want anyone to suggest that it ... penetrated airport security layers ... because it did not. It didn't go anywhere near it," Phelan said.
Full report at:
http://www.hurriyetdailynews.com/australian-terror-bomb-package-mailed-from-turkey.aspx?pageID=238&nID=116364&NewsCatID=359
--------
North Korea's resistance against US bullying praiseworthy: Iran's Larijani
Aug 4, 2017
Iranian Parliament Speaker Ali Larijani says North Korea has shown "praiseworthy" resistance against the United States' bullying, expressing hope that peace and security will be established in the world as soon as possible.
"A state of chaos in the world will not be beneficial to any country and will harm everyone," Larijani said in a meeting with Kim Yong-nam, the president of the Presidium of the Supreme People's Assembly of North Korea, in Tehran on Friday.
He pointed to Iran's peaceful nuclear program and said nuclear arms are dangerous for security of every country and the entire world.
"Nuclear weapons are harmful to every country and the Islamic Republic supports [the use of] peaceful nuclear energy," the top Iranian parliamentarian pointed out.
Iran, North Korea facing common enemy
The North Korean official, for his part, said Tehran and Pyongyang have a common enemy and added that the US is continuing with its bullying policies.
He added that his country advocates the establishment of peace in the world; however, it will not abandon its national interests and urged the US to stop its hostile policies to North Korea.
He also called for the expansion of relations with Iran to serve the two countries' interests.
North Korea regards the US as its arch enemy since Washington has adopted a war-like posture vis-à-vis Pyongyang and has permanent military presence in the region.
Full report at:
http://www.presstv.ir/Detail/2017/08/04/530731/Iran-North-Korea-US-Ali-Larijani-Kim-Yongnam-nuclear
--------
Israeli forces arrest Hamas-affiliated legislator in West Bank
Aug 4, 2017
Israeli military forces have arrested a legislator affiliated to the Gaza-based Hamas resistance movement along with more than a dozen other Palestinians during separate raids across the occupied West Bank.
Local sources, who asked not to be named, said Israeli soldiers raided the northernmost Palestinian neighborhood of Kafr 'Aqab, located two kilometers from Ramallah, on Friday and broke into the home of Muhammad Hassan Abu Tir, also known as Sheikh Abu Mus'ab, and detained him.
Abu Tir is a member of the Hamas-affiliated Change and Reform bloc in the Palestinian Legislative Council (PLC).
Israeli forces have detained the 66-year-old lawmaker on multiple occasions in the past.
Abu Tir, who has spent at least 32 years in Israeli custody on and off since he was first detained in 1974, was last arrested on January 28, 2016 from his home and released on May 30 this year.
Also on Friday, Israeli forces broke into several homes in the predominantly Palestinian neighborhood of Silwan on the outskirts of the Old City of Jerusalem al-Quds, arresting two people.
A Palestinian was also detained in Qalandiya refugee camp, south of Ramallah, sparking violent clashes. A protester suffered a gunshot wound in the leg, and was transferred to Ramallah Medical Complex for treatment.
A Palestinian was also shot and injured during a military raid in the town of Beit Fajjar, located eight kilometers south of Bethlehem.
Israeli forces carry out night raids across the occupied Palestinian territory on a nearly daily basis.
More than 7,000 Palestinians are reportedly held at Israeli jails. Hundreds of the inmates have apparently been incarcerated under the practice of administrative detention, a policy under which Palestinian inmates are kept in Israeli detention facilities without trial or charge.
Some Palestinian prisoners have been held in administrative detention for up to eleven years.
The Palestinian inmates regularly stage hunger strikes in protest at the administrative detention policy and their harsh prison conditions.
According to reports, at least 13 Palestinian lawmakers are currently imprisoned in Israeli detention facilities. Nine of them are being held without trial under the so-called administrative detention.
The occupied Palestinian territories have witnessed new tensions ever since Israeli forces introduced restrictions on the entry of Palestinian worshipers into the al-Aqsa Mosque compound in East Jerusalem al-Quds in August 2015.
More than 300 Palestinians have lost their lives at the hands of Israeli forces in the ongoing tensions since the beginning of October 2015.
The Tel Aviv regime has tried to change the demographic makeup of Jerusalem al-Quds over the past decades by constructing settlements, destroying historical sites and expelling the local Palestinian population. Palestinians say the Israeli measures are aimed at paving the way for the Judaization of the city.
Full report at:
http://www.presstv.ir/Detail/2017/08/04/530725/Israel-arrest-Palestinian-lawmaker--Muhammad-Hassan-Abu-Tir
--------
Protesters in Amman call for closure of Israeli embassy
Aug 4, 2017
Jordanians have protested in the capital Amman, demanding the closure of the Israeli embassy in response to the death of two nationals at the hands of its guard last month.
During the rally, held near the Israeli embassy in Amman after Friday prayer, the demonstrators also called for the annulment of the unpopular 1994 peace treaty with the Tel Aviv regime.
They also urged the government to scrap Amman's gas agreements with Israel.
On July 23, an Israeli embassy guard shot dead two Jordanians after one of them allegedly attacked him with a screwdriver.
Israel's Foreign Ministry claimed that the guard had acted in self-defense.
However, Jordanian police said the officer shot the Jordanian victim who worked for a furniture company and was delivering an order after a brawl.
The security man, along with the rest of the embassy staff, returned to the occupied territories under diplomatic immunity.
Jordan has launched an investigation into the deadly shooting incident and Jordan's attorney general has filed murder charges against the Israeli embassy guard.
Earlier, 82 Jordanian lawmakers signed a petition, urging the government in Amman to expel the Israeli ambassador and recall Jordan's envoy to the occupied territories.
Full report at:
http://www.presstv.ir/Detail/2017/08/04/530719/Jordanian-protesters-closure-Israel-embassy
--------
Pakistan
Pakistan Bar Council deplores 'vilification' of judiciary, armed forces
Nasir Iqbal
August 05, 2017
ISLAMABAD: The Pakistan Bar Council (PBC) — the regulatory body of lawyers — on Friday deplored what it called a "vilification campaign" against the judiciary, especially the Supreme Court, as well as against the armed forces in the wake of the disqualification of Nawaz Sharif as prime minister.
In a joint statement, Muhammad Ahsan Bhoon, the council's vice chairman, and Hafeezur Rehman, who heads its executive committee, alleged that the campaign against the judiciary had been launched at the behest of the ruling party.
The PBC office-bearers were commenting on a recent press talk by rights activist Asma Jahangir in which she asked why only politicians had been held accountable since the inception of the country.
Mr Bhoon and Mr Rehman said former prime minister Nawaz Sharif and other members of his family had been tried on charges of money laundering and for having bought properties in other countries worth billions of rupees.
The entire legal fraternity, the PBC leaders said, was unanimous in hailing the verdict since it was the first time in the country's history that the Supreme Court had given a decision against a sitting prime minister.
"Any move to undermine the prestige and dignity of the Supreme Court and the armed forces will be resisted with full force and the legal fraternity will not hesitate to go to any extent for protecting the judiciary as it is the nation's last hope," Mr Bhoon said.
He recalled that the apex court had won the nation's gratitude over the last decade by giving landmark judgements in important cases.
The PBC vice chairman also deplored attempts to "malign the armed forces".
Rasheed A. Rizvi, the Supreme Court Bar Association's president, said it was wrong to cast aspersions on the judiciary or to insinuate that the judgement against Nawaz Sharif was the result of "pressure by outside elements" or the establishment.
But he conceded that every judgement had errors on the face of it and that every individual had the right to appeal.
Mr Rizvi said the SCBA had called a meeting in Quetta on Aug 7 to "deliberate upon the consequences" of the July 28 judgement. "We will support any parliamentary move to amend Article 184 (3) of the Constitution in order to give an individual the right to appeal".
But at the same time, Mr Rizvi asserted, the bar would resist attempts to curtail the apex court's jurisdiction through the amendment.
He supported the suggestion that the accountability process should be widened to bring generals, judges and bureaucrats under its net.
In an allusion to Mr Jahangir's tirade, the SCBA president said it was unbecoming of a senior lawyer to make sweeping statements against the judiciary.
https://www.dawn.com/news/1349704/pakistan-bar-council-deplores-vilification-of-judiciary-armed-forces
--------
Shehbaz Sharif likely to miss opportunity to become Pakistan PM
05th August 2017
LAHORE: Former Prime Minister Nawaz Sharif has shattered the dreams of his younger brother Punjab chief minister Shehbaz Sharif of becoming prime minister and of his nephew (Hamza) to take up the reins in Punjab.
A federal minister said that the decision to 'retain' Shehbaz in Punjab had been finalised and just a mere "official" announcement is left from the Pakistan Muslim League- Nawaz (PML-N) about withdrawing Shehbaz from the National Assembly NA-120 race.
"The extended cabinet of Abbasi is a proof of it," he said, adding the current arrangement suited the leadership as Nawaz Sharif would see matters in the Centre and Shehbaz Sharif in Punjab.
A number of PML-N leaders in Punjab believe that Shehbaz has missed or made to miss a "golden opportunity" to succeed his elder brother as there is no guarantee he will make it to Islamabad to don the premier's cap in 2018 in case the PML-N wins the election as more players from the elder Sharif family may be in the race for the top slot, the Dawn reports.
Punjab Law Minister Rana Sanaullah said: "The decision that Shehbaz Sharif will continue serving in Punjab is almost certain."
Punjab government spokesman Malik Ahmad Khan said that the parliamentary party headed by Nawaz Sharif was authorised to announce a reversal of its earlier decision (to nominate Shahbaz for prime minister's slot).Khan, however, denied any differences in the Sharif brothers saying the crisis had even further united them and Shahbaz would follow his elder brother's instructions.
After Shehbaz was announced Nawaz Sharif's successor, the leaders in PML-N argued that Punjab cannot be left out as that would be disastrous for the party. Shehbaz convinced Nawaz in the beginning that his son Hamza can take his place in Punjab.
Shehbaz had tried his best to convince Nawaz not to worry about Punjab and leave it to his son (Hamza). To consolidate his case, Shahbaz managed to send a request to him (Nawaz) from more than 300 PML-N MPAs from Punjab, endorsing father in the centre and son in Punjab.
Khurram Dastgir said, "Since Shahbaz has good equation with all MPAs in Punjab and all ongoing development projects are on his finger tips, a larger section of the party is of the view that he should continue delivering in Punjab."
Full report at:
http://www.newindianexpress.com/world/2017/aug/05/shehbaz-sharif-likely-to-miss-opportunity-to-become-pakistan-pm-1638755.html
--------
PML-N plans 'grand power show' on Nawaz's return to city
August 04, 2017
LAHORE: Former prime minister Nawaz Sharif will be reaching the city on Sunday for the first time after his ouster on the Supreme Court orders the previous Friday.
Nawaz Sharif will leave Islamabad for Lahore through motorway on Sunday, says Senator Dr Asif Kirmani, ex-political secretary to the ousted premier, adding a meeting of the central working committee of the party may also be convened in Lahore next week.
The local chapter of the party is planning a big reception on the arrival of its leader and has formed various committees to make arrangements and mobilise workers in this respect, he adds.
MNA Hamza Shahbaz, son of Chief Minister Shahbaz Sharif, on Thursday convened a meeting of the party's local leadership, members of the parliament and the metropolitan corporation to assign them duties regarding the event.
Lord Mayor retired Col Mubashar Javed will head the security committee, while provincial minister Zaeem Qadri and PML-N city chapter information secretary Imran Goraya will coordinate with the media.
Mr Goraya says Mr Sharif will be received at Babu Sabu interchange of the motorway in the evening. From there a procession will be taken out up to the shrine of Hazrat Ali Hajveri (Data Sahib) outside Bhatti Gate through Bund Road, Niazi Chowk, Ravi Road and Azadi Chowk, he adds.
He claims it would be a grand reception exhibiting popularity graph of the party as well as its leader who, he says, has steered the country out of the darkness of load shedding.
The Lahorites, he says, will prove that Nawaz Sharif is the most popular leader of the country.
Full report at:
https://www.dawn.com/news/1349527/pml-n-plans-grand-power-show-on-nawazs-return-to-city
--------
UK announces addl $130m for Pakistan, Nigeria, Afghanistan
August 05, 2017
ISLAMABAD - The United Kingdom has announced an additional $130 million to help end polio in Pakistan, Afghanistan and Nigeria, a British High Commission statement said yesterday.
The UK is leading the final global push to eliminate polio around the world for good, International Development Secretary Priti Patel said as she set out an additional ($130 million for anti-polio efforts for the three countries.
Polio was wiped out in the UK in the 1980s and there are more than 100,000 British survivors today. Globally, the wild poliovirus still exists in Afghanistan, Nigeria and Pakistan, with eight new cases this year. Out of these, three cases were reported from Pakistan, said the statement.
Commenting on the announcement, the head of UK's Department for International Development in Pakistan, Joanna Reid said: "2017 could be the year when Pakistan defeats polio. DFID will help to give that final push but the credit goes to Pakistanis from all levels of society who continue to make commitments, spread the message and go door to door to vaccinate children. They've done a great job already – not a single case has been reported from FATA (Federally Administrated Tribal Areas), one of the most challenging areas to reach. Let's go that last mile together."
It is likely that the last new case of polio will be diagnosed this year, paving the way for the world to be certified polio-free in 2020.
Patel has announced UK support to lead the last push needed to end polio. This will immunise 45 million children against the disease each year until 2020 - that is 80 children a minute.
Britain has had a longstanding commitment to making polio the second human disease in history to be eradicated, after smallpox. As a direct result of the UK's support to global efforts, which began in 1988, more than 16 million people are walking today who would have otherwise been paralysed, and the number of people contracting the disease has been reduced by 99.9 per cent, said the statement.
The UK's support will immunise up to 45 million children against the disease each year until 2020 – that is 80 children a minute, save more than 65,000 children from paralysis every year, help over 15,000 polio workers reach every last child with life-saving vaccines and other health interventions and help save almost £2 billion globally by 2035, as health care systems are freed up from treating polio victims.
International Development Secretary Priti Patel said: "Polio has no place in the 21st Century. This devastating and highly infectious disease causes painful paralysis and is incurable – trapping the world's poorest people in a cycle of grinding poverty. The UK has been at the forefront of fighting global health threats, including polio, and our last push towards eradication by 2020 will save 45 million children from contracting this disease." She added: "The world is closer than it ever has been to eradicating polio for good, but as long as just one case exists in the world, children everywhere are still at risk. Now it is time for others to step up, follow Britain's lead and make polio history."
This last push will help break the relentless cycle of poverty for millions more children so they can live healthier lives, go to school and then get a job. It will mean more people contributing to their economy, which will help their countries to grow and become more prosperous.
Meanwhile yesterday, Acting US Deputy Chief of Mission Christina Tomlinson launched the Pakistan-US Alumni Network International Peace-building Conference, during which over 200 US exchange program alumni will discuss how to work towards international peace through community engagement.
Joining the PUAN attendees are US exchange alumni from Afghanistan, Bangladesh, Indonesia, Nepal, and Turkey. The conference, developed by PUAN with support from the American Embassy, includes peace building sessions on youth engagement, new media, and citizen diplomacy, among other topics.
Tomlinson praised PUAN member and conference participant expertise in a wide range of fields related to community engagement and peace building.
"Peace building begins within your own communities," she said, adding: "As teachers, students, journalists, activists, artists, government officials, and religious leaders, you each bring diverse experience and skills to the table. Throughout the conference, you will have opportunities to share perspectives and exchange practical recommendations to strengthen your communities."
PUAN is an alumni network of students and professionals who have participated in U.S. government-sponsored exchange programs. The US government invests more than $ 40 million annually on exchange programs for Pakistani citizens to visit and study in the United States. With more than 22,000 alumni across Pakistan, PUAN is one of the largest alumni networks in the world, a US embassy statement said.
PUAN regularly organises events across Pakistan, including service projects, leadership training, roundtable discussions, and community engagement activities, it added.
Earlier, Acting Assistant Secretary of State for South and Central Asian Affairs and Acting Special Representative for Afghanistan and Pakistan Ambassador Alice Wells visited Islamabad August 3 and 4 as part of her introductory trip to the region.
In Islamabad, she met with Foreign Minister Khawaja Mohammed Asif, Foreign Secretary Tehmina Janjua, Finance Minister Ishaq Dar, and Chairman of the Joint Chiefs of Staff General Zubair Hayat.
She also met with a group of Pakistani students and teachers who have participated in a US Department of State-funded two- year English-language course of study known as the Access Microscholarship program, said a US embassy statement.
In her meetings with Pakistan's leaders, Ambassador Wells expressed appreciation for Pakistan's significant sacrifices in the fight against terrorism.
Noting the ongoing South Asia Policy Review, Ambassador Wells underscored the value of cooperation across a range of sectors and mutual interests, including security, trade, and the stability and security of Afghanistan. She stressed that Pakistani soil must not be used to plan or conduct terrorist attacks against its neighbours.
Full report at:
http://nation.com.pk/national/05-Aug-2017/uk-announces-addl-130m-for-pakistan-nigeria-afghanistan
--------
Pak, Afghan commanders reaffirm anti-terror resolve
August 05, 2017
ISLAMABAD - Senior military commanders of Pakistan and Afghanistan armies on Friday reaffirmed their resolve to continue their fight against terrorism.
Both sides expressed this resolve at a high-level meeting between a seven-member Afghan military delegation led by Lt Gen Muhammad Zaman Waziri and Peshawar Corps Commander Lt Gen Nazir Ahmed Butt at 11 Corps Peshawar Headquarters. A statement issued by the ISPR said that the meeting was also attended by DGMOs of both the armies and the IGFC KP.
The statement further said that areas of mutual security interests and concerns including border security mechanism were deliberated upon during the interaction. Both sides concluded that peace and stability can best be achieved through complementary efforts and enhanced cooperation.
Full report at:
http://nation.com.pk/national/05-Aug-2017/pak-afghan-commanders-reaffirm-anti-terror-resolve
--------
North America
The Muslim Americans leading the push to 'stand up and be leaders' in politics
Sabrina Siddiqui and Oliver Laughland
4 August 2017
More Muslims must seek public office as Donald Trump "fans the flames of Islamophobia", according to André Carson, who is one of just two Muslim members of the US Congress.
The congressman from Indiana spoke as Muslim communities across the US voice fears of a growing climate of Islamophobia under the US president.
Carson criticised Trump in an interview with the Guardian, adding that while there is "no easy answer", misconceptions over the Islamic faith perpetuated by the administration should serve as motivation for more Muslims to engage in the political process. "I think they're concerned about [Trump] really encouraging the darker elements of our society to become more pronounced in their intolerance and their bigotry," Carson, a Democrat, said of the feeling among the Muslim communities he represents.
"I think that's disappointing, but I think there's a silver lining," he added, "and that silver lining suggests there's an increase in interest in American political life."
Carson made the comments as Guardian Films publishes a film examining community relations in Dearborn, Michigan, which is home to the biggest mosque in North America. The film features five citizens from different backgrounds, from Muslims to Christians, citizen militias and young university graduates, and explores how they see American identity, and grapple with questions of religion, race and class.
While there is not comprehensive data to provide a number of Muslims who currently hold elected office in local and state bodies around the US, religious discrimination and an increase in hate crimes has spurred more Muslims to explore politics, according to some groups that focus on representing Muslims in the government.
Informal surveys indicate New Jersey leading the way, with at least 14 Muslim Americans currently in public office.
After Trump signed an executive order seeking to ban immigrants from certain Muslim-majority countries, one advocacy group, Jetpac, launched a formal campaign designed to encourage more Muslims to run for local office and adopt a more active role in community organizing.
American Muslims in Michigan have gained significant success in running for elected office, and Abdul El-Sayed, the former Detroit health commissioner, recently announced a run for governor in 2018.
El-Sayed, who would become America's first Muslim governor if elected, said: "The vote for the current president was not a vote of inspiration. It was a vote of fear and cynicism. We have to believe in the unifying idea of us – the people."
Deedra Abboud, US Senate candidate for Arizona
In Arizona, Deedra Abboud, an attorney and community leader, recently announced a run for the US senate in the 2018 midterm elections. Abboud, a Democrat who was subjected to a torrent of online Islamophobic abuse after announcing her candidacy, echoed Carson's call for more Muslims to run for office.
In a comment for the Guardian, Abboud wrote: "It is true that Muslims in America are facing a tidal wave of discrimination, flowing forth from the policies of the current administration and affecting every corner of American society. Clearly, it is more important than ever that we confront the insidiousness that is Islamophobia.
"But how? While Muslims pride themselves on being up to date on national politics, as well as being well versed in world events, when it comes to local politics Muslims are mostly absent. Many Muslims only vote in the presidential elections, if they vote at all.
"We're all busy. We all have families and responsibilities that need our attention. But the time for sitting back and letting others take the lead and do the heavy lifting is over. We have to stop looking around for the perfect leader, and start standing up and being leaders.
"Because knowing what is going on, and even being upset about it, is not enough. We must engage. We must reach out and help others who are struggling, even when we are struggling too. We must form real relationships where we each know we can depend on each other in times of need.
"This means intersectionality. Supporting local causes outside of our Muslim communities. Propping up others being marginalized in today's America. Because while Muslims are the flavor of the month, we aren't the only flavor on the menu.
"We need to start volunteering, running for city councils, for school boards, for state assemblies. United, we rise above the hate. It may seem like Islamophobia is everywhere, but the solution is local. That's where we need to focus."
Abdul El-Sayed, Democratic candidate for Michigan governor and former health commissioner for Detroit
El-Sayed wrote: "I'm a son of Michigan. My father and mother immigrated to Michigan from Egypt. I was raised by my father and my stepmother, Jackie, a native of Gratiot County, Michigan. This is where I was born and where I was raised. I love Michigan. But we've fallen on hard times. Our politicians seem to have forgotten that government should be for people, by people. Instead, they've bent over backward to accommodate corporate greed.
"Government has to provide a very basic set of goods and services to people who need them, and it has failed to so. Part of that is because corporate politicians like our current president are too busy dividing us rather than uniting us around our common goals.
"Our campaign is about coming together around the idea that the 10 million strong Michiganders can solve our shared challenges because of our shared future. We can unlock our economy, fix our failing public schools, break our dependence on oil, save our Great Lakes and provide everyone with quality healthcare. The vote for the current president was not a vote of inspiration. It was a vote of fear and cynicism. We have to believe in the unifying idea of us – the people.
"I saw the worst of this 'government by spreadsheet' when I was the health commissioner of Detroit. I was rebuilding a health department in Detroit after the city shuttered its 185-year old health department when it was facing state takeover.
"Under the same governor, the state poisoned 9,000 kids in Flint. I realized that, in that moment, our state needed real leadership. I get it – I'm relatively young, relatively brown, and yes, relatively Muslim. But I'm also a physician in a state that has poisoned 9,000 kids, an educator in a state with a failing public school system, and a public servant in a state that is among the least transparent in the nation. And so I decided to stand up."
André Carson, US Representative for Indiana's seventh congressional district
Carson said: "There's a great drive for people to become more engaged politically, and we have a responsibility to maintain, preserve and improve our democracy.
"I serve with the directive and drive to be the best representative of the seventh congressional district of Indiana – putting Hoosiers first and thinking about Americans. As a Muslim, my role has been to inform, refute any perceptions or misconceptions about the religion, though I don't purport to be a scholar. But I still think it comes with responsibility to motivate and encourage other Muslims to participate in the political process.
"I think [Muslims] are concerned about Trump fanning the flames of Islamophobia, the anti-immigrant sentiment, and really encouraging the darker elements of our society to become more pronounced in their intolerance and their bigotry. I think that's disappointing, but I think there's a silver lining, and that silver lining suggests there's an increase in interest in American political life. There's a great drive for people to become more engaged politically, and we have a responsibility to maintain, preserve and improve our democracy.
'White queers are really good at erasing us': the lives of LGBTQ Somali-Americans
Read more
"One of the things that I do when I go across the country, I'll ask how many Muslims are in this particular city or how many Muslims are in the entire state? And even though the Muslim community is not a monolith, there is a mutual interest, even though there are different schools of thought. Usually when there's a sizable enough number … [I tell them] to focus on building a PAC or even supporting a non-Muslim candidate who is focused on standing up the rights of Muslims.
"The reality is Muslims have been in this country since the inception of this country. We have just as much a right to it as any other citizen in the United States. Embrace the fact that this country is ours and let's engage in the political process. If you're interested in running for political office, don't just step out there, learn, do the research. Identify a campaign that shares your values, some part of it, go door to door, phone bank, help develop policy papers, find your niche and go for it."
https://www.theguardian.com/us-news/2017/aug/04/muslim-americans-leading-the-way-us-politics-office-congress
--------
Trump withholds approval of Afghan war strategy
Aug 5, 2017
WASHINGTON (AP) — Frustrated by his options, President Donald Trump is withholding approval of a long-delayed Afghanistan war strategy and even mulling a radical shakeup in his national security team as he searches for a "game changer" after 16 years of indecisive conflict.
In a recent Situation Room meeting that turned explosive, Trump raised the idea of firing Army Gen. John Nicholson, the top U.S. commander in Afghanistan, according to two officials with knowledge of the discussion. And he suggested installing his national security adviser, Gen. H.R. McMaster, to oversee the mission, said the officials, who weren't authorized to talk publicly and requested anonymity.
The drastic suggestions point to the desperation shared by many in Washington as military and other leaders look for a blueprint for "winning" the Afghan conflict. Trump has been frustrated by what he views as a stalemate. He wants a plan that will allow American forces to pull out once and for all.
At a White House lunch with military brass last week, Trump publicly aired his misgivings, saying, "I want to find out why we've been there for 17 years."
The Pentagon wants to send almost 4,000 more American forces to expand training of Afghan military forces and beef up U.S. counterterrorism operations against al-Qaida, a growing Islamic State affiliate and other extremist groups. But the troop deployment, which would augment an already existing U.S. force of at least 8,400 troops, has been held up amid broader strategy questions, including how to engage regional powers in an effort to stabilize the fractured nation.
These powers include U.S. friends and foes, from Pakistan and India to China, Russia and Iran. Pentagon plans aren't calling for a radical departure from the limited approach endorsed by former President Barack Obama, and several officials have credited Trump with rightly asking tough questions, such as how the prescribed approach might lead to success.
Trump hasn't welcomed the military's recommendations with "high-five enthusiasm," a senior White House official said. Several meetings involving Trump's National Security Council have been tense as the president demanded answers from top advisers about why American forces needed to be in Afghanistan.
Another U.S. official with knowledge of the conversation reported Trump being less interested in hearing about how to restore Afghanistan to long-term stability, and more concerned about dealing a swift and definitive blow to militant groups in the country.
The White House has even offered its own, outside-the-box thinking.
Officials said Trump's chief strategist, Steve Bannon, and his son-in-law and adviser, Jared Kushner, have been pushing a plan to have contractors fight the war in Afghanistan instead of U.S. troops. Blackwater Worldwide founder Erik Prince, the brother of Education Secretary Betsy DeVos, was approached by Trump's top advisers to develop proposals to gradually swap out U.S. troops and put military contractors in their place, a military official said.
The military has frowned on such proposals. It believes boosting troop levels will accelerate progress in training Afghan troops and its air force, and help counterterrorism teams pursue targets even more aggressively. They point to improvements among Afghan forces and in anti-corruption efforts. Military leaders — including McMaster, Defense Secretary Jim Mattis and Gen. Joseph Dunford, the Joint Chiefs of Staff chairman — are all said to be on the same page, as is Secretary of State Rex Tillerson.
Military officials also have defended Nicholson, saying any punishment of him would be unfair because he hasn't been given the forces he says he needs. His possible firing was first reported by NBC News.
The White House, which declined multiple requests to comment, may shift itself on Afghanistan now that retired Marine Gen. John Kelly is Trump's new chief of staff. Kelly hasn't spoken about Afghanistan, however, since his appointment this week.
Lawmakers are growing weary. In June, Mattis faced tough questions from Senate Armed Services Committee Chairman John McCain, who told him, "It makes it hard for us to support you when we don't have a strategy." Mattis conceded, "We are not winning in Afghanistan right now" and vowed to "correct this as soon as possible."
Doing so requires the president on board. While Trump has been keen to give military officials carte blanche on troop levels and other military affairs, his approach to Afghanistan has grown increasingly assertive. In some ways, his scrutiny of military plans has evoked that of Obama, whom Trump derided as a candidate for not heeding his generals' advice.
Republican lawmakers Thursday urged Trump to listen to his national security advisers on Afghanistan.
"Every soldier over there is an insurance policy against our homeland being attacked," Sen. Lindsey Graham, a leading hawk, told reporters. "My biggest fear is that if you don't listen to the generals and you try to make this up as you go like Obama and Biden did, you're going to wind up losing Afghanistan like you did Iraq and the consequences to America are worse."
U.S. indecision is causing Afghanistan's neighbors to hedge their bets, Sen. Bob Corker, the Senate Foreign Relations Committee chairman, said.
Full report at:
http://nation.com.pk/international/04-Aug-2017/trump-withholds-approval-of-afghan-war-strategy
--------
Muslims in Quebec City finally get land for burials
Aug 04, 2017
Quebec City's Muslim community will now have a place to bury their loved ones, after the city announced Friday it has conditionally accepted an offer from the Quebec Islamic Cultural Centre to buy land near a well-known local cemetery.
The land is the site of a former snow dump next to the Notre-Dame-de-Belmont cemetery, close to the centre, the mosque where six men were killed in a shooting in January.
Quebec City Mayor Régis Labeaume made the announcement Friday morning at a news conference at city hall.
"For over 400 years, Quebec has been a welcoming city for all cultures, languages and religions," said Labeaume, who said the French concept of "vivre ensemble" or living together, is "fundamental to the success of our society."
He said that the cemetery fulfilled the idea of "vivre ensemble" in all its meanings.
"It's a historic day," said Mohamed Labidi, president of the centre.
In a tweet, Prime Minister Justin Trudeau congratulated Labeaume for taking action, calling the move "an important and courageous step for dignity and decency."
"I have tears in my eyes," said Imam Hassan Guillet outside the mosque after Friday's prayer service. "People were so happy, they couldn't contain it."
Guillet's wife, Nathalie Groulx, said one Moroccan-born woman couldn't stop crying throughout the sermon, after hearing the news that land for the burial ground had been found.
"It tells you how much it's important for Muslim people to be able to be part of this society — and to be accepted, as is," Groulx said.
The group will pay the city $270,000 for the land, a parcel of 5,700 square metres located just south of Frank-Carrel Street.
The news comes just a few weeks after a referendum in the small town of Saint-Apollinaire, Que., halted plans by the mosque to create a cemetery there. The town of 6,400 residents is about 35 kilometres southwest of Quebec City.
Only people who lived near the proposed site were eligible to vote in the referendum, and opponents of the plan narrowly won in a 19-16 vote.
After that project fell through, the centre resumed discussions with Quebec City for a cemetery.
"Since Monday, we've worked day and night, city staff, volunteers, to realize this project," Labidi said, and thanked the city for its speedy efforts to come to an agreement.
An access road will need to be built, but both Labeaume and centre seemed to think the grounds would be open in the fall.
Close to home
"Many Muslim families in Quebec City will no longer have to endure the sorrow of the remoteness of their deceased," said Boufeldja Benabdallah, the centre's interim co-ordinator for the cemetery project.
Benabdallah was overcome by emotion during the news conference on Friday, and paused to collect himself while Labeaume placed a reassuring hand on his shoulder.
The cultural centre has been working for almost 20 years to create a Muslim-run cemetery in the area.
When asked by a reporter why it was so important, Benabdallah said now families don't have to go to Laval to bury their loved ones in the Muslim cemetery there.
"We will die in peace," said Benabdallah.
The sale of the land still needs to be approved by Quebec City council, but no zoning changes are required.
The Notre-Dame-de-Belmont cemetery is the final resting place of several prominent Quebecers, including former premiers Jean Lesage and Louis-Alexandre Taschereau, as well as tenor Raoul Jobin and singer Alys Robi.
Cemetery's importance
Benabdallah said the group had struggled through years trying to get land for a Muslim cemetery, only to see plans repeatedly fall apart.
He said that the decision put a "bit of balm" on the pain of the January shooting at the mosque.
"Muslims who die here have a choice now," said Benabhdallah. Previously the choices were to be buried in a Catholic cemetery, or other cemetery outside the faith, to be buried in Laval or to even be buried in one's country of origin.
"Every person who dies, and takes a plot, it will be belong to them for eternity. It's a big change in our psychology," Benabdallah said.
Full report at:
http://www.cbc.ca/news/canada/montreal/quebec-city-mosque-cemetery-land-muslim-burial-grounds-1.4235158
--------
Bill to cut off aid to Palestinians passed by US body
Aug 5, 2017
WASHINGTON - A US Senate committee approved a bill on Thursday that would cut off $300 million in annual US aid to the Palestinian Authority unless it stops making what lawmakers described as payments that reward violent crimes.
The Senate Foreign Relations Committee voted 17-4 for the measure, known as the Taylor Force Act, after a 29-year-old American military veteran who was fatally stabbed by a Palestinian while visiting Israel last year. The bill, which must be approved by the full Senate and House of Representatives before becoming law, is intended to stop the Palestinian Authority from paying the stipends, which can reach $3,500 per month.
Separately, 16 Republican and Democratic members of the committee wrote to Nikki Haley, the US ambassador to the United Nations, to ask her to lead an international effort for similar action by other countries.
Force was a graduate student at Vanderbilt University in Corker's home state, Tennessee, when he was killed.
Force's parents live in South Carolina, the home state of Senator Lindsey Graham, the act's other Republican co-sponsor. Graham, who dubbed the payments "pay to slay," is chairman of the Senate subcommittee that oversees foreign aid. Palestinian officials have said they intend to continue the payments, which they see as support for relatives of those imprisoned by Israel for fighting against occupation or who have died in connection with that cause.
To win broader support, the original act was modified to take into account the need for humanitarian aid. It exempts assistance for the East Jerusalem Hospital Network, creates an escrow account to hold assistance funds and spells out steps the Palestinian Authority can take for aid to resume.
Corker said he was confident the bill would become law sometime in the coming months. Similar legislation has also been introduced in the House of Representatives.
Full report at:
http://nation.com.pk/international/05-Aug-2017/bill-to-cut-off-aid-to-palestinians-passed-by-us-body
--------
Delay in Afghanistan policy points to White House rift
Aug 5, 2017
Thomas WATKINS - President Donald Trump has yet to announce a plan for Afghanistan, and delays in unveiling his strategy point to deep rifts in the White House on how to handle America's longest war.
Such is the uncertainty about what to do - send thousands more troops into a nearly 16-year conflict, or take the opposite tack and pull out - that Trump has reportedly even suggested firing the general in charge of the war effort.
"We aren't winning... we are losing," Trump complained to top officials while upbraiding his military advisors at a White House meeting last month, NBC News reported, citing senior officials.
Trump's generals have called the Afghan conflict a "stalemate," and even after years of intensive help from the US and other NATO nations, Afghanistan's security forces still are struggling to hold back an emboldened Taliban.
In an early move to address the situation, Trump gave his Pentagon chief, Jim Mattis, broad powers to set troop numbers in Afghanistan and elsewhere. But several months later the level remains stuck at about 8,400 US and about 5,000 NATO troops.
Mattis wants to wait until the White House has come up with a coherent strategy for not just Afghanistan but the broader region, notably Pakistan and how it deals with terror groups, before he commits to any adjustments.
Mattis told lawmakers on June 13 he would present a detailed Afghanistan plan by mid-July - but that timeframe came and went with no announcements.
"This is hard work and so you got to get it right. And that's all there is to it. So, we're working to get it right," Mattis told Pentagon reporters July 21.
According to NBC, Trump a day earlier had told Mattis and General Joe Dunford, who is Chairman of the Joint Chiefs of Staff, they should replace General John Nicholson, who heads up US and NATO forces in Afghanistan.
The White House declined to comment, and Pentagon spokeswoman Dana White said only: "Secretary Mattis has confidence in General Nicholson's leadership."
Several lawmakers spoke in Nicholson's defense Thursday and two weeks have passed since the meeting, with the general still in position.
Meanwhile the situation in Afghanistan is as deadly as ever, with more than 2,500 Afghan police and troops killed in from January 1 to May 8.
US forces - who are supposed to be in a non-combat role - are still dying too, with nine killed in action so far this year, including two in Kandahar on Wednesday. The tally for 2017 is now the same as for all of 2016.
'No strategy for success'
In signs of broader divisions in the White House, Trump's National Security Advisor General HR McMaster - who is helping lead the push for a new Afghanistan plan - on Wednesday fired Ezra Cohen-Watnick, his senior intelligence director.
That comes on the heels of the departure of a contentious top Middle East advisor, Derek Harvey, who left in July. And chief strategist Steve Bannon was himself ousted from his seat on the National Security Council, which decides issues of war and peace.
According to the New York Times, Bannon and Trump's son-in-law Jared Kushner have pushed an idea to let private contractors conduct security work in Afghanistan instead of American soldiers. Pentagon officials have said Mattis is weighing sending just shy of 4,000 troops to Afghanistan to operate in a non-combat role assisting local forces.
Military Times on Wednesday cited an Afghan government official as saying that Eric Prince, who was the former head of a controversial private military firm once known as Blackwater, had even offered to supply a private air force.
Senior Republican Senator John McCain, a longtime critic of the Obama administration's warfighting policies, this week expressed exasperation over Trump's lack of Afghanistan policy. McCain said if a new plan hadn't been fleshed out by September, he would offer his own one - based on the "advice of some our best military leaders" - that he'd tack onto a massive military spending bill.
"There still is no strategy for success in Afghanistan," McCain said, though he provided no details on what his might be.
Full report at:
http://nation.com.pk/international/05-Aug-2017/delay-in-afghanistan-policy-points-to-white-house-rift
--------
South Asia
Bomber concealed explosive materials beneath burqa: Afghan officials
Aug 5, 2017
KABUL, Afghanistan (AP) — A Taliban suicide bomber who struck a NATO patrol in Afghanistan, killing a service member and two civilians, had concealed his explosives beneath the all-enveloping women's garment known as a burqa, a district governor said Friday.
The attack the previous evening in northern Takhar province hit the patrol near Qarabagh, barely 30 kilometers (18 miles) north of Kabul.
It was the second suicide bombing in as many days that targeted NATO. On Wednesday, a suicide attacker hit a convoy on the edge of the southern city of Kandahar, killing two U.S. soldiers and wounding another four. Both attacks were claimed by the Taliban.
Abdul Sami Sharifi, the district governor in Qarabagh, said the attacker in Thursday's bombing was riding a motorcycle and rammed the bike into a NATO patrol, setting off his explosives.
The U.S. military confirmed that a service member was killed but did not reveal the soldier's nationality. U.S. Navy Capt. Bill Salvin, a military spokesman, said six service members were wounded, including an Afghan translator.
The wounded were all in stable condition and being treated in the U.S. military hospital at the Bagram airfield north of Kabul, Salvin said.
Taliban spokesman Zabihullah Mujahid told The Associated Press over the phone on Friday that one of its fighters from Takhar province carried out the attack at 8 p.m. He claimed 11 Americans were killed, but the insurgents routinely exaggerate their claims.
Meanwhile, in southern Helmand province, the Taliban stormed a market on Friday in the Gareshk district and fired at a nearby police station, according to district police chief Ismail Khan Khopalwaq. The market was closed because of the Muslim weekend and no casualties were reported in the attack.
On Thursday, a suicide bomber rammed his explosives-laden car into a police outpost in Gareshk, killing two policemen and wounding another two.
The district has been the scene of heavy fighting in recent weeks between Afghan security forces, backed by U.S. air support, and the Taliban, who now control roughly 80 percent of Helmand province.
Gareshk district is also where the Pentagon confirmed that an errant U.S. bomb last month destroyed a police outpost, killing 12 officers and wounding another 11. The incident is still under investigation and a joint U.S. and Afghan delegation earlier visited the area.
http://nation.com.pk/international/04-Aug-2017/bomber-concealed-explosive-materials-beneath-burqa-afghan-officials
--------
Five of a family including children killed in Taliban attack in Logar
Aug 05 2017
At least five civilians all belonging to one family were killed in Taliban attack in central Logar province of Afghanistan.
According to the local government officials, the incident took place late on Thursday night in the vicinity of Alwazi area in the provincial of Pul-e-Alam.
The officials further added that the insurgents launched an attack on the Afghan security forces on Thursday night and some of the bullets landed inside a residential house, leaving at least five of a family dead.
At least four of those killed in the attack were children, the officials said, adding that the remaining bullets landed in a mosque which partially damaged the building of the mosque.
The anti-government armed militant groups including the Taliban insurgents have not commented regarding the report so far.
Logar is among the relatively volatile provinces in central parts of the country, bordering capital Kabul in the east where the Taliban insurgents are actively operating in some of its districts.
Full report at:
https://www.khaama.com/five-of-a-family-including-children-killed-in-taliban-attack-in-logar-03282
--------
Taliban used Humvees and motor bombs in latest large scale attack in Helmand
Aug 04 2017
The Taliban insurgents group used Humvee type armored personnel carriers and Vehicle-borne Improvised Explosive Devices (VBIEDs) in their latest large scale attack in southern Helmand province of Afghanistan.
However, the provincial government says the offensive by the Taliban insurgents was successfully repulsed by the Afghan security forces, claiming that heavy casualties were incurred to the group during the clashes which still continue in some parts of Greshk district where clashes broke out late on Thursday night.
A statement by Helmand governor's office said the attack was repulsed by the security forces and heavy casualties have been inflicted to the insurgents.
The statement further added that the Taliban insurgents were attempting to destroy the Yakhchal bridge in Greshk by launching a large scale attack despite the bride plays a key role and is considered an important route for the TAPI gas pipeline project.
The Afghan security forces however had intelligence information available with them regarding the attack which helped them to repulse the offensive and prevent further destructive activities in the area.
According to the local officials, a Humvee vehicle of the Taliban, a heavy anti-aircraft machine, a PKM machine gun were left in the area after they were forced to retreat.
Full report at:
https://www.khaama.com/taliban-used-humvees-and-motor-bombs-in-latest-large-scale-attack-in-helmand-03278
--------
Jani Khel retaken after almost 10 days of heavy fighting inflicting heavy casualties
Aug 05 2017
The Afghan security forces managed to retake the control of Jani Khel district in southeastern Paktia province after almost ten days of heavy fighting that inflicted heavy casualties both the Taliban insurgents and the security forces.
The provincial governor's spokesman Abdullah Hasrat confirmed on Friday that the control of the district center of Jani Khel has been recaptured.
He said over 140 insurgents were killed and more than 120 others were wounded during the clashes.
Hasrat further added that around 20 Pakistani militias were also among those killed during the clashes with the security forces.
According to Hasrat, the Afghan security forces also lost at least 13 members and around 17 others were wounded during the clashes.
The anti-government armed militant groups have not commented regarding the report so far.
The Taliban insurgents captured the control of the district center of Jani Khel around ten days ago after launching a major attack on the security check posts.
Full report at:
https://www.khaama.com/jani-khel-retaken-after-almost-10-days-of-heavy-fighting-inflicting-heavy-casualties-03281
--------
One killed in attack on Nato in Afghanistan, Taliban claim responsibility
Aug 5, 2017
The Afghan Taliban on Friday claimed responsibility for a suicide attack on a North Atlantic Treaty Organisation (Nato) patrol north of Kabul that the United States military said killed one service person.
Zabihullah Mujahid, a Taliban spokesman, told AP in a telephone interview that the suicide attacker from northern Takhar province hit the patrol near Qarabagh, barely 30 kilometres north of Kabul, about 8pm on Thursday.
Mujahid claimed 11 Americans were killed, but US Navy Captain Bill Salvin, a military spokesman, said one person died and six, including an Afghan translator, were wounded.
The wounded were all in stable condition and being treated in the US military hospital at the Bagram airfield north of Kabul.
The conflicting death tolls could not be immediately explained, but the Taliban routinely exaggerate their claims.
Thursday's attack was the second suicide attack against Nato convoys in as many days. On Wednesday, a suicide attacker hit a convoy on the edge of the southern city of Kandahar, killing two US soldiers and wounding another four.
Meanwhile in southern Helmand's Gareshk district, Taliban gunmen took control of a market that was closed because of Friday prayers. They also fired at a nearby police station, Gareshk District police chief Ismail Khan Khopalwaq said.
On Thursday, a suicide bomber rammed his explosives-laden car into a police outpost in Gareshk, killing two police personnel and wounding another two.
The district has been the scene of heavy fighting in recent weeks between Afghan National Security Forces, aided by US air support, and the Taliban, who control roughly 80 percent of Helmand province.
The Taliban have taken credit for the attacks, claiming heavy casualties among police.
Full report at:
http://nation.com.pk/international/04-Aug-2017/one-killed-in-attack-on-nato-in-afghanistan-taliban-claim-responsibility
--------
Afghan forces gain ground from Taliban in Paktia
Aug 5, 2017
KABUL - Afghan security forces retook a district centre in the eastern province of Paktia on Friday, following a sequence of fighting with Taliban insurgents that has seen control over a series of strong points change hands in recent days.
Paktia police chief Toryalai Abdiani said security forces took back control of Jani Khil district and killed dozens of Taliban fighters.
Jani Khil district centre, which sits on a major road from Pakistan into eastern Afghanistan, fell to the Taliban last month. The movement's main spokesman, Zabihullah Mujahid, denied that it had lost control of the town. Abdiani said the troops were advancing with caution because of risk of roadside bombs. Also on Friday, Afghan forces battled Taliban fighters in Greshk district, one of the most heavily fought-over areas in the southern province of Helmand, where the insurgents have control of nine of 14 districts, according to US figures.
Friday's fighting, which followed an attack on a convoy near Kabul that killed a Georgian member of the NATO-led Resolute Support training and advisory mission, was a further illustration of the rising violence across Afghanistan this year. More than 2,500 members of the Afghan security forces were killed in the first four months of the year and UN figures show a 22 percent increase in security incidents across the country in the first quarter of the year to the highest level since the United Nations started reporting a decade ago.
Full report at:
http://nation.com.pk/international/05-Aug-2017/afghan-forces-gain-ground-from-taliban-in-paktia
--------
Bangladesh seeks OIC help in resolving Rohingya issue
August 04 2017
By Mizan Rahman/Dhaka
President M Abdul Hamid has sought the assistance of the Organisation of Islamic Co-operation (OIC) in resolving the Rohingya problem in Bangladesh.
"Provide necessary assistance for repatriation of the Rohingya refugees from Bangladesh," the President said while OIC Secretary General Dr Yousef bin Ahmad al-Othaimeen paid a courtesy call on him at the President's Secretariat in Dhaka on Thursday evening.
Abdul Hamid also stressed the need for joint efforts of the Muslim Ummah to resolve the problems of Palestinians and Al-Aqsa mosque issue.
Noting that an excellent communal harmony exists in the country, Abdul Hamid said, "Bangladesh is always ready to help the Muslim Ummah for its overall development and progress."
The president thanked the OIC secretary general for his outstanding contribution to the welfare of Muslims across the globe.
Lauding the tremendous development of Bangladesh in different sectors, especially in the women empowerment issue, the OIC secretary general said, "The progress in women empowerment in Bangladesh is an instance for others to follow."
On terrorism and militancy, he said Islam believes in peace and welfare and there is no room for terrorism and militancy.
He said the OIC would take necessary steps so that the Muslim world can lead the science and technology sector in future.
The OIC secretary general hoped that Bangladesh would play a significant role in establishing world peace and harmony.
Secretaries concerned were also present on the occasion.
The OIC secretary general arrived in Dhaka on Wednesday night on a four-day official trip.
It is his first ever visit to Bangladesh since his assumption of office of the Jeddah-based organisation.
During a visit to the Kutupalong makeshift camp in Cox's Bazar yesterday, Yousef bin Ahmad al-Othaimeen said the OIC and the United Nations are working with Bangladesh's government to solve the Rohingya refugee crisis.
The OIC, which represents 57 states and acts as the collective voice of the Muslim world, urged the southeast Asian nations to join hands with Muslim-majority neighbours in tackling the refugee crisis.
"We want to see a permanent solution to Rohingya Muslim minority in Myanmar," said Othaimeen, in Bangladesh on a four-day visit.
Full report at:
http://www.gulf-times.com/story/559009/Bangladesh-seeks-OIC-help-in-resolving-Rohingya-is
--------
Georgian soldier, 2 Afghan civilians killed in Kabul suicide attack
Aug 04 2017
At least three people including a Georgian soldier and two Afghan civilians were killed in a suicide attack in Kabul province late on Thursday evening.
At least twelve others including three Georgian soldiers, two American service members, and seven Afghan civilians were wounded in the attack.
The incident took place late on Thursday in the vicinity of Qarabagh district of Kabul province.
The NATO-led Resolute Support mission in a statement confirmed that one soldier from Georgia was killed in a suicide attack Thursday night in Qarabagh District, in Kabul Province.
The statement further added that three Georgian soldiers were also wounded along with two U.S. service members and one Afghan intepreter. They are all in stable condition at the Bagram Airfield military hospital.
"Our prayers today are with the most Georgian soldiers in Afghanistan who are mourning their fallen comrade," said General John Nicholson, Commander, Resolute Support mission.
"The commitment of Georgia as our largest non-NATO contributor is vital to our mission and we are honored to stand beside them under these difficult circumstances."
Additionally, two Afghan civilians were killed and seven were wounded in the cowardly attack.
"The Afghan people want peace. Time and again, the Taliban prove that they have no regard for civilians and non-combatants," said Nicholson.
Full report at:
https://www.khaama.com/georgian-soldier-2-afghan-civilians-killed-in-kabul-suicide-attack-03279
--------
Southeast Asia
Islam encroaches on rule of law in Malaysia
Shannon Teoh
Aug 5, 2017
KUALA LUMPUR • Last week, the Malaysian administration's actions revealed not just a growing religious conservatism, but a will to ignore the rule of (secular) law in order to pursue it.
In a space of 24 hours, two agencies under the Home Ministry made clear that the government will impose its strict version of Islam on the country, despite advocating a modern, moderate approach to an international audience. Breaking The Silence: Voices Of Moderation - Islam In A Constitutional Democracy, a book written by the country's prominent Muslim intellectuals, was banned last Thursday - despite being on the shelves for more than a year - for being "prejudicial to public order". The next day, the National Registration Department (NRD) said it would ignore a court order allowing Muslim children conceived out of wedlock to take their biological father's name, preferring instead to adhere to religious edicts - that say all such children should be surnamed "bin or binti Abdullah" - issued by the National Fatwa Committee in 1981 and 2003.
Deputy Prime Minister Ahmad Zahid Hamidi backed the NRD's stance, deepening concerns over the influence of Islamic conservatism on the government.
"Muslims must unite and agree that Islam must be respected and that we do not want any decisions made by the National Fatwa Committee to be challenged by anyone, whether an individual or a different legal system outside of the fatwa committee," said Datuk Seri Zahid, who is also Home Minister.
Universiti Malaya's Professor Shad Saleem Faruqi, considered the foremost expert on Malaysian constitutional law, told The Straits Times that disregarding the judgment was "clearly contempt of court and a violation of rule of law".
The NRD's decision is the most blatant among government agencies that seem increasingly empowered to ignore legal imperatives on the grounds of religion. It may be that they are encouraged by the importance the government places on its Islamic Development Department, which, according to Deputy Islamic Affairs Minister Asyraf Wajdi Dusuki, should be given more than its current annual budget of RM800 million (S$254 million) to protect Islam from "extremist ideology" such as liberalism, pluralism, and the threat of the lesbian, gay, bisexual and transgender lifestyle.
In this context, the book ban drips with irony, as the 21 essays in it by esteemed intellectuals - including Prof Shad - and former premier Abdullah Badawi's foreword, examine the reach of Islam in government. It was Tun Abdullah, prime minister from 2003 to 2009, who got the ball rolling on moderate Islam, and his successor Datuk Seri Najib Razak picked it up and ran with it, gaining international praise for his Global Movement of Moderates platform to combat religious extremism.
Critics are calling the ban an attack on free speech that suppresses discussion on an Islamised bureaucracy. Such a discussion is essential in a multiracial country that is governed by both secular and religious law. And it is a discussion that has become even more crucial with the NRD's decision to disregard a court order.
The Court of Appeal agreed with a Muslim couple that the NRD was duty-bound to register their child with the father's name according to the Births and Deaths Registration Act 1957 (BDRA), regardless of whether the birth took place less than six months from marriage. The department had been registering these "illegitimate" Muslim children as "bin or binti Abdullah" as per the fatwa, a move that some Muslim activists say deprives these offspring of rights such as inheritance and paternal financial support, and subjects them to social stigma.
Despite not obtaining a stay of the court's decision, the NRD insisted it will not alter its current procedure until an appeal is heard at the Federal Court, the highest court in the land.
The judgment has resulted in fierce debate among Muslims themselves. Those in favour say it is fair and compassionate treatment of a child, while detractors accuse the secular courts of interfering with Muslim family law. Perak Mufti Harussani Zakaria, the state's top religious officer, has gone further to say the ruling "encourages fornication", which is forbidden in Islam.
No doubt, the final word on the matter will be known only after the apex court disposes of the appeal. But until then, the NRD's defiance is plainly illegal, say legal experts.
Prof Shad explained that firstly, the issue is the naming of the child, a federal matter under the Constitution that is governed by the BDRA and not determined by the legitimacy of the child under Islam. Secondly, a national fatwa "has no force whatsoever" and is merely a recommendation as Islamic law is devolved to state governments. Thirdly, the family is from Johor, where no state enactment or gazetted fatwa exists on the matter of the legitimacy of Muslim children.
The NRD is just the latest arm of government to cite the Islamic authorities to justify not complying with common law court rulings.
In a child custody battle stretching back to 2009, the police refused to abide by a 2010 High Court order to arrest Mr Riduan Abdullah after the judge handed custody of his children to their Hindu mother M. Indira Gandhi. Police chief Khalid Abu Bakar had said the force did not comply as the Syariah Court had given Mr Riduan, a Muslim convert, custody after ruling that his unilateral conversion of the children to Islam was legal.
But custody was beside the point. The order was to arrest the father, not recover the children for the mother. The Federal Court in April last year clarified this and despite Tan Sri Khalid's promise to execute the arrest warrant, the wanted man is still at large.
"As it has often happened in the last few decades, the constitutional perspective is shoved into the background and is converted into an issue of syariah law by politicians and bureaucrats - an Islamic elite. People are questioning whether the Constitution applies to Muslims. It is not being given the status of the highest law of the land that it used to have," said Prof Shad.
Even Islamic Affairs Minister Jamil Khir Baharom warned in 2014 of public vigilantism if there were constant challenges to limit syariah courts and asked "why do we want to flip this over by saying syariah courts are subjected to the Constitution?"
Instead, it would appear that rule of law in Malaysia is bound by political expediency. Constitutional lawyer Syahredzan Johan, in accusing the government of disrespecting the courts in the NRD affair, pointed to the selective way in which fatwas have been adopted by the Najib administration. "The fatwa on smoking was issued so long ago but up to now, it (smoking) has not been banned. Or are only some fatwas important?" he asked.
http://www.straitstimes.com/opinion/islam-encroaches-on-rule-of-law-in-malaysia
--------
Indonesia might be copying vigilante violence of Philippines
Aug 4, 2017
JAKARTA, Indonesia — On July 22, normally mild-manned Indonesian President Joko "Jokowi" Widodo instructed his police to shoot drug traffickers.
"Be firm, especially to foreign drug dealers who enter the country and resist arrest." he said, "Shoot them because we indeed are in a narcotics emergency position now." On July 24, police did just that, killing an alleged methamphetamine smuggler from China in Jakarta — the fourth such death in the capital that month.
The killings and hardening government rhetoric have raised fears that Indonesia, the world's fourth-most populous nation, is now taking some cues from the Philippines as it steps up its own deadly war on drugs. And why not? More than 7,000 people have died in Duterte's drug war since he took office last year, sparking widespread accusations of extrajudicial killings and human rights abuses. Yet the Philippine president has been rewarded with sky-high approval ratings, unquestioned regional influence and glowing praise from President Trump.
Commissioner General Budi Waseso, the head of Indonesia's anti-narcotics agency, offered praise last month for Duterte's drug war and said that he hoped to ramp up drug seizures in the near future. "I never say that we have to follow the Philippines. We have our own laws," said Waseso to Reuters. "I have to say, though, that Duterte's policy shows he is taking care of his citizens."
"[President Widodo] has always had an aggressive stance on drugs, but this is an intensification of rhetoric that is worrying because it can be seen as an endorsement of extrajudicial killings," said Usman Hamid, the director of Amnesty International Indonesia.
Indonesia, unlike the Philippines, already employs the death penalty legally, including against nonviolent drug traffickers. Widodo has overseen 18 executions since taking office in 2014. But experts agree that Indonesia's drug war has been much less violent than in the Philippines.
Police in Jakarta did not respond to requests for data, but Dr. Jacqui Baker at Murdoch University in Australia estimates that Indonesian police kill hundreds of people each year, numbers roughly in line with those in the U.S. In a significant number of cases, evidence suggests alleged drug traffickers were the victims of extrajudicial executions — and research indicates this number is increasing.
Hamid agreed that the situation in Indonesia is not nearly as severe as in the Philippines, and said that Widodo would face political constraints even if he chose to copy Duterte. But he argued that small steps in that direction are significant, and that the Indonesian president has surely noticed the success Duterte now enjoys at home and abroad.
"It's likely that governments all around this region see the way Trump praised Duterte as a signal that they may take the same approach towards illicit drugs," Hamid said.
In an April phone call, Trump praised Duterte for doing an "unbelievable job on the drug problem … Many countries have the problem, we have the problem, but what a great job you are doing and I just wanted to call and tell you that," said Trump, according to a transcript of the call.
Indonesia has its own recent history of extrajudicial killings. In the 1980s, thousands of suspected criminals and gang members were killed under President Suharto, an authoritarian allied with Washington. The country's human rights commission later blamed police and military for the majority of the deaths.
Widodo is considered more liberal than most of his powerful rivals in Indonesia's young democracy — Suharto left power after more than 30 years in 1998 — and has spent much of 2017 responding to insurgent conservative forces. In April, former ally and Jakarta Gov. Basuki Tjahaja Purnama was sentenced to jail for blasphemy after Islamist groups organized large-scale protests against the Christian politician.
Both Hamid and Baker say that focusing more on a popular drug war may be one way for Widodo to appeal to a broad base of voters, including those to his right.
"I don't think [Widodo] would want to see blood on the streets in the same way that Duterte has stomach for … but the government has been blindsided by Islam and is scrambling for a narrative that will grab people emotionally," Baker said.
Full report at:
http://www.santafenewmexican.com/news/indonesia-might-be-copying-vigilante-violence-of-philippines/article_2eb23d60-6530-5f74-8810-87837daf2304.html
--------
Google is working with Indonesia to tackle offensive video content in the country
Aug, 04 2017
Alphabet Inc's Google is working with Indonesia to tackle video content deemed to be offensive, including material that might incite violence or hate speech, a senior official of the search giant said on Friday.
Google plans to implement its "Trusted Flagger" program in Indonesia over the next two to three months, Ann Lavin, Google's director for public policy and government affairs in Southeast Asia and Greater China, told a news conference in Jakarta.
The program, which is already running in countries such as the France, Germany, the United Kingdom and the United States, allows selected users to flag questionable content on its video-sharing platform, YouTube, in bulk rather than one at a time.
Content flagged by group members will be prioritised for review and may then be removed by Google.
A growing amount of content encouraging religious intolerance or radicalism is being shared in Indonesia, home to the world's largest Muslim population and some of the most avid users of social media such as YouTube, Facebook and Twitter.
Indonesian Minister of Communication and Information Rudiantara separately discussed the issue of "negative" content with representatives from Google and Twitter Inc on Friday, two days after he met Facebook officials.
At a joint news conference with Google's Lavin after their meeting, Rudiantara said his ministry's priority was to "protect" Indonesians from content that promotes radicalism, terrorism and drugs.
But the Indonesian government was not trying to foster a "regime of censorship", said Rudiantara, who uses one name.
Apart from the communications ministry, Lavin said, Google would also work with civil society groups such as the Wahid Institute, led by prominent moderate Muslim figure Yenny Wahid, and anti-hoax community MAFINDO.
While the move to curb content that incites hatred is positive, both the government and Google should be clear about the process, said Nawawi Bahrudin, executive director of the non-government body, Legal Aid Center for the Press.
"They should not just use their own yardsticks," Bahrudin said by telephone. "They have to be transparent and not just keep it among themselves."
In June, Rudiantara said Google's Asia-Pacific headquarters had agreed on future tax payments after a months-long dispute with the government, paving the way for a shake up in the way similar companies operate in Southeast Asia's biggest economy.
Full report at:
http://www.firstpost.com/tech/news-analysis/google-is-working-with-indonesia-to-tackle-offensive-video-content-in-the-country-3893945.html
--------
At Least Six Buddhists Killed in Rising Rakhine Violence
Aug 5, 2017
Yangon. Suspected insurgents killed at least six members of a Buddhist ethnic minority in western Myanmar on Thursday (03/08), the government and regional sources said, amid spiraling violence in troubled Rakhine State.
Security forces discovered the bodies of three men and three women bearing machete and gunshot wounds in the Mayu mountain range near the town of Maungdaw, the office of Myanmar's de facto leader, Aung San Suu Kyi, said.
In a statement, it said "extremists" were responsible for killing the six members of the Mro minority from the village of Kaigyi whom residents believe to have stumbled upon a camp for Rohingya Muslim militants.
Muslim-majority northern Rakhine was plunged into violence last October when Rohingya insurgents killed nine police in coordinated attacks on border guard posts.
In the ensuing military operation, security forces allegedly shot villagers at random, raped Rohingya women and burned down houses. United Nations investigators who interviewed some of the nearly 75,000 people who fled to neighboring Bangladesh said troops probably committed crimes against humanity.
Suu Kyi is refusing to cooperate with a UN fact-finding mission set up to look into abuses in Rakhine and elsewhere.
The government accuses the militants of running training camps in the mountains and killing alleged informants in the Muslim community.
Security forces had begun an "intensive clearance operation" to hunt the killers on Thursday, a military officer in Rakhine said.
Two women aged 21 and 34 were still missing from the group that ventured into the hills to tend to farms, said the officer, who sought anonymity as he was not authorized to speak to the media.
Aung Kyaw Min, a Buddhist resident of Kaigyi, said villagers believed the two women had also been killed because some of their bloody clothing was recovered.
"We are all suffering from this killing," he said. "All the villagers are in panic and nobody wants to live there. They all want to move to a safe place arranged by the government."
Non-Muslim ethnic groups recognized as Myanmar citizens are the minority in northern Rakhine. About 1.1 million Rohingya live in the state, but are denied citizenship. Many in Myanmar consider them illegal immigrants from Bangladesh.
Tension among the communities has been running high in recent weeks, say aid workers and UN officials there.
In the town of Rathedaung, south of Maungdaw, troops launched a separate hunt for alleged militants, said the military officer and a human rights monitor with regional sources.
Security forces on Friday opened fire on villagers armed with sticks around the hamlet of Auk Nan Yar, the monitor and a resident said.
Full report at:
http://jakartaglobe.id/international/least-six-buddhists-killed-rising-rakhine-violence/
--------
Africa
Al-Shabab Takfiri group 'seizes town in Somalia'
Aug 4, 2017
Somalia's militant group al-Shabab seized a town in the south of the country early on Friday after it was abandoned by the military and African Union-mandated (AMISOM) peacekeepers, residents said.
The town of Leego, which lies about 130 km to the northwest of the capital, Mogadishu, is in Somalia's lower Shabelle region, where al-Shabab last week killed at least 12 peacekeepers in one of the deadliest attacks on AMISOM.
Farah Ahmed, a resident of Leego, told Reuters AMISOM and Somali military forces had pulled out of the town early on Friday.
"That same minute, al-Shabab entered to control the town... The town is now calm and al-Shabab fighters are in every part of the town."
It was not immediately clear why the military and AMISOM had withdrawn from Leego.
Al-Shabab is fighting to topple Somalia's Western-backed central government.
The group was ejected from Mogadishu in 2011 and has since been chased from most of its other strongholds across the country.
But it remains a formidable threat, with its militants frequently carrying out bombings against both civilian and military targets in Mogadishu and other towns in Somalia.
http://www.presstv.ir/Detail/2017/08/04/530678/Somalia-Leego-takeover-alShabab
--------
US approves sale of war planes to Nigeria to fight Boko Haram
Aug 05, 2017
The US state department has approved the sale of US warplanes to Nigeria to aid its fight against Boko Haram militants, ending a suspension of weapons sales that followed a deadly Nigerian military strike on a refugee camp.
The state department informed Congress late on Wednesday it had approved the $593 million sale of 12 Super Tucano A-29 ground attack aircraft, a deal that includes supplying the Nigerian armed forces with ammunition, training and aircraft maintenance, a US official said.
The US Air Force last year supplied such aircraft - bought from Brazilian plane manufacturer Embraer - to the Afghan military to help it fight the Taliban.
"These aircraft offer improved targeting capabilities, allowing Nigeria to more effectively lead the fight against Boko Haram and the ISIS West Africa branch, while also potentially reducing risks of collateral damage and civilian casualties," said the US official, who asked not to be identified.
The training that the US intends to provide to Nigerian pilots "would help build the skills and procedures to effectively and responsibly operate the aircraft in accordance with international human rights law and the law of armed conflict," the official said.
The sale was initially unveiled in May 2016 but the Democratic administration of former president Barack Obama froze the deal just before handing over the reins of power to President Donald Trump in January, after the Nigerian military accidentally bombed a camp for people displaced by the conflict in the northeast, killing 112 civilians.
Congress now has 30 days to decide on whether to approve the deal. If no opposition is voiced, the administration can go ahead with the arms sale.
Boko Haram, which has allied itself with the Islamic State, has been leading a bloody jihadist insurrection in Nigeria since 2009 that has left at least 20,000 people dead and forced another 2.6 million people from their homes.
Thousands of women and girls have been kidnapped and forced into marriage with Islamist insurgents or made to carry out suicide bomb attacks.
Full report at:
http://www.hindustantimes.com/world-news/us-approves-sale-of-war-planes-to-nigeria-to-fight-boko-haram/story-QIBl8cGpyxKfxmoP4HrYaL.html
--------
US confirms airstrike killed al-Shabab commander in Somalia
Aug 04, 2017
The U.S. military on Friday confirmed it killed a high-level commander of the al-Shabab extremist group with an airstrike in Somalia over the weekend, targeting a man blamed for planning deadly attacks in the capital of the Horn of Africa nation.
President Donald Trump earlier this year approved expanded military operations against the al-Qaida-linked al-Shabab, including more aggressive airstrikes and considering parts of southern Somalia areas of active hostilities. Al-Shabab is the deadliest Islamic extremist group in Africa.
A U.S. Africa Command statement said the strike on July 30 killed Ali Mohamed Hussein, also known as Ali Jabal. The statement said he was "was responsible for leading al-Shabab forces operating in the Mogadishu and Banadiir regions in planning and executing attacks against the capital of Mogadishu."
Ali also had served as the extremist group's shadow governor for Mogadishu and had been one of al-Shabab's most outspoken officials.
The statement said the airstrike occurred near Tortoroow, an al-Shabab stronghold in Lower Shabelle region in southern Somalia "as a direct response to al-Shabab actions, including recent attacks on Somali forces." It said no civilians were killed in the strike.
The U.S. Africa Command has told The Associated Press it was a drone strike.
Al-Shabab often carries out deadly attacks on high-profile targets in Mogadishu, including Somali military and African Union checkpoints and facilities, hotels and the area around the presidential palace.
The killing of Ali "disrupts al-Shabab's ability to plan and conduct attacks in Mogadishu and coordinate efforts between Al-Shabab regional commanders," the U.S. statement said.
The U.S. has carried out a handful of airstrikes since Trump's expansion of military efforts. The U.S. military in early July said it carried out an airstrike against al-Shabab in Somalia and was assessing the results, with few details. The airstrike followed one in June that the U.S. said killed eight extremists at a rebel command and logistics camp in the south.
The Somalia-based al-Shabab recently mocked Trump in a video that called him a "brainless billionaire." The extremist group also has vowed to step up attacks in Somalia after the president elected in February declared a new offensive against al-Shabab.
Full report at:
http://www.hindustantimes.com/world-news/us-confirms-airstrike-killed-al-shabab-commander-in-somalia/story-G1C7rzjyAtVbib24Vv2hTP.html
--------
Car bomb blast kills at least 3 in Somali capital
05 August 2017
At least three people were killed, and five others wounded in a car bomb blast in Somali capital Mogadishu on Friday evening, police said.
The incident took place during the rush hour on a busy road near Ambassador Hotel, police officer Mohamed Bulle said.
"We don't know the target yet," Bulle said adding the victims were all civilians and were rushed to hospitals for treatment.
No group has claimed responsibility, although al-Shabaab militants have been linked to similar attacks in the past.
Full report at:
http://www.worldbulletin.net/africa/192586/un-reports-251-killings-in-dr-congos-kasai
--------
URL: https://www.newageislam.com/islamic-world-news/isis-un-study-finds-foreign/d/112104
New Age Islam, Islam Online, Islamic Website, African Muslim News, Arab World News, South Asia News, Indian Muslim News, World Muslim News, Women in Islam, Islamic Feminism, Arab Women, Women In Arab, Islamophobia in America, Muslim Women in West, Islam Women and Feminism