New Age Islam News Bureau
9 Aug 2015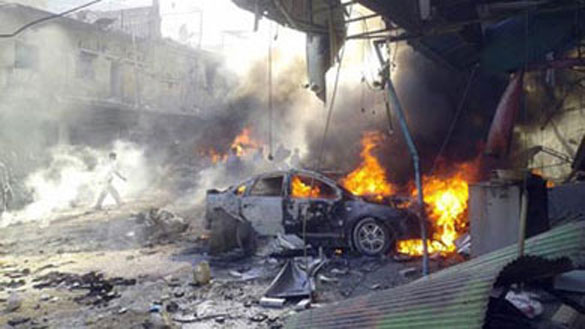 A Lebanese boy holds a Hezbollah flag during a rally to mark Al-Quds (Jerusalem) day, in the southern suburb of Beirut, Lebanon, Friday, July 10, 2015. (AP)
------
Arab World
• ISIS Top Command Dominated By Ex-Officers in Saddam's Army
• Asir bomber was a Saudi
• Yemen fighters 'liberate' southern province
• Three Emirati soldiers killed in Yemen 'to be treated as Saudi martyrs'
• SIS battles Syria rebels for key supply lifeline
• Egypt rejects Qatari mediation to reconcile with Brotherhood
• Iraq's Abadi bids to abolish vice presidencies
• Yemen pro-government forces launch offensive
• Saudi Security force to protect national heritage proposed
• Saudi FM calls for political solution to Yemen crisis
• Hundreds of Syrian Christians flee ISIS
-------
South Asia
• Attacks on army, police, US Special Forces kill 50 in Kabul
• 30 insurgents killed in drone strike, clashes in Nangarhar
• 115 militants killed in Afghan Air Force, ANA operations in past 48 hours
• UNAMA calls on militant groups to cease attacks in civilian populated areas
----
Mideast
• Israel charges Swede with spying for Lebanon's Hezbollah
• Pro-Kurdish party leader calls for steps to halt Turkey violence
• Turkey freezes assets of Saleh and Houthi leaders
• Kurdish Rebels Fire at Police in Turkey; 1 Officer Killed
• Iran rejects accusations about military site as "lies"
• Israel arrests suspects in West Bank arson probe
------
Pakistan
• JuD chief, Hafiz Saeed, moves court against Indian film exhibition
• 'State not taking appropriate action against Altaf': CPP secretary general
• Fate of Pak opposition's alliance uncertain
• Two more Safoora bus carnage suspects remanded in custody
• ANF claims recovery of 1kg heroin from UK-bound passenger in Islamabad
------
Europe
• Rwandan UN peacekeeper kills four colleagues in CAR
• UN rights envoy says meeting with Myanmar's Rohingya blocked
• Belarus ready to initiate joint ventures with Pak
--------
North America
• In letter to Obama, top scientists praise Iran deal
• Democrats push for Iran nuclear deal survival
----
Africa
• Tunisia arrests 12 people trying to enter Libya
• 4 Rescued in Mali Hotel Attack
• Police arrest 'knife-wielding traffickers' after migrant shipwreck
-----
India
• Will not allow any country to set up military base: Maldives to India
• Pak again violates ceasefire
Compiled by New Age Islam News Bureau
URL: https://www.newageislam.com/islamic-world-news/new-age-islam-news-bureau/isis-top-command-dominated-by-ex-officers-in-saddam-s-army/d/104215
-------
Arab World
ISIS Top Command Dominated By Ex-Officers in Saddam's Army
AP — 09 08 2015
BAGHDAD: While attending the Iraqi army's artillery school nearly 20 years ago, Ali Omran remembers one major well. An Islamic hard-liner, he once chided Omran for wearing an Iraqi flag pin into the bathroom because it included the words "God is great."
"It is forbidden by religion to bring the name of the Almighty into a defiled place like this," Omran recalled being told by Maj. Taha Taher al-Ani.
Omran didn't see al-Ani again until years later, in 2003. The Americans had invaded Iraq and were storming toward Baghdad. Saddam Hussein's fall was imminent.
At a sprawling military base north of the capital, al-Ani was directing the loading of weapons, ammunition and ordnance into trucks to spirit away.
He took those weapons with him when he joined Tawhid wa'l-Jihad, a forerunner of al Qaeda's branch in Iraq.
Now al-Ani is a commander in Daesh or the self-styled Islamic State group, said Omran, who rose to become a major general in the Iraqi army and now commands its 5th Division fighting IS.
He kept track of his former comrade through Iraq's tribal networks and intelligence gathered by the government's main counterterrorism service, of which he is a member.
It's a common trajectory.
Under its leader, Iraqi jihadi Abu Bakr al-Baghdadi, Daesh or the self-styled Islamic State group's top command is dominated by former officers from Saddam's military and intelligence agencies, according to senior Iraqi officers on the front lines of the fight against the group, as well as top intelligence officials, including the chief of a key counterterrorism intelligence unit.
The experience they bring is a major reason for the group's victories in overrunning large parts of Iraq and Syria.
The officers gave IS the organisation and discipline it needed to weld together jihadi fighters drawn from across the globe, integrating terror tactics like suicide bombings with military operations.
They have been put in charge of intelligence-gathering, spying on the Iraqi forces as well as maintaining and upgrading weapons and trying to develop a chemical weapons program.
Patrick Skinner, a former CIA case officer who has served in Iraq, said Saddam-era military and intelligence officers were a "necessary ingredient" in the Islamic State group's stunning battlefield successes last year, accounting for its transformation from a "terrorist organisation to a proto-state."
"Their military successes last year were not terrorist, they were military successes," said Skinner, now director of special projects for The Soufan Group, a private strategic intelligence services firm.
How officers from Saddam's mainly secular regime came to infuse one of the most radical Islamic extremist groups in the world is explained by a confluence of events over the past 20 years - including a Saddam-era program that tolerated Islamic hard-liners in the military in the 1990s, anger among Sunni officers when the US disbanded Saddam's military in 2003, and the evolution of the Sunni insurgency that ensued.
The group's second-in-command, al-Baghdadi's deputy, is a former Saddam-era army major, Saud Mohsen Hassan, known by the pseudonyms Abu Mutazz and Abu Muslim al-Turkmani, according to the intelligence chief.
Hassan also goes by Fadel al-Hayali, a fake name he used before the fall of Saddam, the intelligence chief told The Associated Press.
Like others, he spoke on condition of anonymity to discuss the intelligence.
During the 2000s, Hassan was imprisoned in the US-run Bucca prison camp, the main detention centre for members of the Sunni insurgency, where al-Baghdadi also was held.
The prison was a significant incubator for the Islamic State group, bringing militants like al-Baghdadi into contact with former Saddam officers, including members of special forces, the elite Republican Guard and the paramilitary force called Fedayeen.
In Bucca's Ward 6, al-Baghdadi gave sermons and Hassan emerged as an effective organiser, leading strikes by the prisoners to gain concessions from their American jailers, the intelligence chief said.
Former Bucca prisoners are now throughout the IS leadership.
Among them is Abu Alaa al-Afari, a veteran Iraqi militant who was once with al Qaeda and now serves as the head of IS's "Beit al-Mal," or treasury, according to a chart of what is believed to be the group's hierarchy provided to the AP by the intelligence chief.
Al-Baghdadi has drawn these trusted comrades even closer after he was wounded in an airstrike earlier this year, the intelligence chief said.
He has appointed a number of them to the group's Military Council, believed to have seven to nine members - at least four of whom are former Saddam officers. He brought other former Bucca inmates into his inner circle and personal security.
Saddam-era veterans also serve as "governors" for seven of the 12 "provinces" set up by the Islamic State group in the territory it holds in Iraq, the intelligence chief said.
Iraqi officials acknowledge that identifying IS leadership is an uncertain task.
Besides al-Baghdadi himself, the group almost never makes public even the pseudonyms of those in its hierarchy.
When leaders are killed, it's often not known who takes their place - and several have been reported killed multiple times, only to turn up alive.
Figures are believed to take on new pseudonyms, leaving it unclear if a new one has emerged or not.
"IS's military performance has far exceeded what we expected.
The running of battles by the veterans of the Saddam military came as a shock," a brigadier general in military intelligence told the AP, speaking on condition of anonymity to discuss the sensitive topic. "Security-wise, we are often left unable to know who replaces who in the leadership. We are unable to infiltrate the group. It is terrifying."
Estimates of the number of Saddam-era veterans in IS ranks vary from 100 to 160 in mostly mid- and senior-level positions, according to the officials.
Typically, they hail from Sunni-dominated areas, with intelligence officers mostly from western Anbar province, the majority of army officers from the northern city of Mosul and members of security services exclusively from Saddam's clan around his hometown of Tikrit, said Big.
Gen. Abdul-Wahhab al-Saadi, a veteran of battles against IS north and west of Baghdad.
For example, a former brigadier general from Saddam-era special forces, Assem Mohammed Nasser, also known as Nagahy Barakat, led a bold assault in 2014 on Haditha in Anbar province, killing around 25 policemen and briefly taking over the local government building.
Many of the Saddam-era officers have close tribal links to or are the sons of tribal leaders in their regions, giving IS a vital support network as well as helping recruitment.
These tribal ties are thought to account, at least in part, for the stunning meltdown of Iraqi security forces when IS captured the Anbar capital of Ramadi in May.
Several of the officers interviewed by the AP said they believe IS commanders persuaded fellow tribesmen in the security forces to abandon their positions without a fight.
Skinner, the former CIA officer, noted the sophistication of the Saddam-era intelligence officers he met in Iraq and the intelligence capabilities of IS in Ramadi, Mosul and in the group's de facto capital of Raqqa in Syria. "They do classic intelligence infiltration. They have stay-behind cells, they actually literally have sleeper cells," Skinner said.
"And they do classic assassinations, which depends on intelligence," he said, citing a wave of assassinations in 2013 that targeted Iraqi police, army, hostile tribal leaders and members of a government-backed Sunni militia known as Sahwa.
Knowing who to assassinate and how to get to them requires good information, Skinner said, and the IS obviously knew how to acquire it.
One initiative that eventually fed Saddam veterans into IS came in the mid-1990s when Saddam departed from the stringent secular principles of his ruling Baath party and launched the "Faith Campaign," a state-sponsored drive to Islamise Iraqi society.
Saddam's feared security agencies began to tolerate religious piety or even radical views among military personnel, although they kept a close watch on them and saw to it they did not assume command positions.
At the time, the move was seen as a cynical bid to shore up political support among the religious establishment after Iraq's humiliating rout from Kuwait in the 1991 Gulf War and the Kurdish and Shia uprisings that followed.
"Most of the army and intelligence officers serving with IS are those who showed clear signs of religious militancy during Saddam days," the intelligence chief said. "The Faith Campaign ... encouraged them."
In the run-up to the 2003 US-led invasion, Saddam publicly invited foreign mujahedeen to come to Iraq to resist the invaders.
Thousands came and Iraqi officials showed them off to the media as they were trained by Iraqi instructors. Many stayed, eventually joining the insurgency against American troops and their Iraqi allies.
After the collapse of the Saddam regime, hundreds of Iraqi army officers, infuriated by the US decision to disband the Iraqi army, found their calling in the Sunni insurgency. In its early stages, many insurgent groups were relatively secular.
But Islamic militants grew in prominence, particularly with the creation and increasing strength of al Qaeda in Iraq. Some Sunnis were radicalised by bitterness against the Shia majority, which rose to power after Saddam's fall and which the Sunnis accuse of discriminating against them.
Al Qaeda in Iraq was initially led by a Jordanian militant, Abu Musab al-Zarqawi, and had a strong foreign presence in its leadership.
But after al-Zarqawi's death in a 2006 US airstrike, his Iraqi successor, Abu Omar al-Baghdadi, began to bring in more Iraqis, particularly former Saddam officers.
That process was accelerated when Abu Bakr al-Baghdadi took over after his predecessor was killed in a 2010 airstrike.
Abu Bakr al-Baghdadi's first two deputies, who each played a major role in setting up what would become its sweep over Syria and Iraq, were both Saddam-era officers, according to those interviewed by the AP.
They were Sameer al-Khalifawy, an air force colonel killed in fighting in Syria in 2014, and Abdullah el-Bilawy, a former intelligence officer who was killed in Mosul by the Iraqi military in May 2014, a month before the city fell to the Islamic State group.
He was replaced by the current deputy, Hassan.
"It's clear that some of these (Saddam-era officers) must have been inside the core of the jihadist movement in the Sunni triangle from the beginning," said Michael W.S. Ryan, a former senior executive at the State Department and Pentagon, referring to the Sunni-dominated area that was the most hostile to American forces in Iraq.
"Their knowledge is now in the DNA of ISIS," he said, using an alternate acronym for the extremist group.
"This melding of the Iraqi experience and what we might call the Afghan Arab experience became the unique ISIS brand," said Ryan, now a senior fellow at the Jamestown Foundation, a Washington-based think tank. "That brand ultimately became more successful in Iraq than al Qaeda in Iraq ... and, at least for now, stronger in Syria than al Qaeda."
http://www.dawn.com/news/1199401/is-top-command-dominated-by-ex-officers-in-saddams-army
-----
Asir Bomber Was A Saudi
August 08, 2015
JEDDAH – The terrorist act last Thursday at the special emergency forces mosque in Asir region was carried out by 21-year-old Saudi suicide bomber Yusuf Bin Sulaiman Bin Abdullah Al-Sulaiman, security spokesman of the Ministry of Interior stated to SPA.
The blast took place on Thursday while the personnel of the special emergency forces in Asir region were performing Dhuhr (mid-day) prayer in congregation in the mosque at the forces' headquarters.
The bombing martyred 15 people and injured 33 others. Shreds and human body parts were found at the scene of the incident believed to be the result of a blast using an explosive vest.
The authorities, following investigations of the heinous crime, said the bombing was carried out by the suicide bomber using an explosive vest.
The security authorities are still following up on the terrorist incident.
The Ministry of Interior, the spokesman said, would like to stress that such a cowardly, treacherous act that did not respect the sanctity of the place nor the inviolability of innocent lives shows the evilness, criminal nature and falsehood of this thought.
These base acts will only increase the determination of the security men and citizens to repulse deviant thought and pursue those who adopt it.
They will protect the religion and the security and stability of this country and its citizens. May Allah have mercy on the souls of the martyrs, may paradise be their abode and may the injured have a quick recovery.
The security spokesman said the criminal act resulted in the martyrdom of 15 worshipers, of whom five were security men working at the headquarters, six were trainees in courses on Haj security and four were Bangladeshi workers at the site.
The 15 worshipers who died were identified as Cpl. Ahmed Mousa Ali Al Hassaan Al-Rabei, Cpl. Sultan Muhammad Ahmed Al-Shahrani, Cpl. Abdullah Ahmed Abdullah Al Awwadh Asiri, Cpl. Mufrih Ali Ahmed Al Abu Marei Asiri, Cpl. Eid Mater Mubarak Al-Shahrani, Trainee Pvt. Abdullah Ayidh Abdullah Al Saad, Trainee Pvt. Omar Ahmed Omar Abu Shoushah Asiri, Trainee Pvt. Abdulaziz Abdullah Yahya Bin Mishraf, Trainee Pvt. Falah Jaber Saad Al Shannan Al-Qahtani, Trainee Pvt. Mishal Ali Maghram Al-Asiri, Trainee Pvt. Mamdouh Safar Muhammad Al-Musaili Al-Harthi, Muhammad Bilal Hussein Muhammad (Bangladeshi), Afazuddin Noor Noubi (Bangladeshi), Mud Jabibon Abdulhameed (Bangladeshi) and Maqal Mureedah (Bangladeshi).
http://www.saudigazette.com.sa/index.cfm?method=home.regcon&contentid=20150809252824
-------
Yemen fighters 'liberate' southern province
By Staff writer | Al Arabiya News
9 August 2015
Pro-government forces in Yemen, strengthened by tanks newly supplied by a Saudi-led coalition, announced on Saturday they "liberated" the southern province of Dalea from Houthi militia control, according to Al Arabiya News Channel.
The fighters, loyal to President Abdrabbu Mansour Hadi, were based in the southern port of Aden and made gains against the Houthis in Dalea following heavy fighting. There is yet no word on casualties.
The gains followed an offensive launched on Saturday to retake the Houthi-held capital of Abyan province.
A two-pronged drive on the southern province's capital of Zinjibar was launched from the north and south, military sources told Agence France-Presse.
It came two days after tribal and military sources said Saudi Arabia, leading an Arab coalition air war on the Iran-backed Houthi militia group, had sent new military equipment including tanks to Yemen.
The tanks were part of a package of reinforcements including armored vehicles and personnel carriers as well as hundreds of Yemeni soldiers trained in kingdom, a military source said.
This week has seen heavy fighting in Zinjibar and heavy coalition air strikes against positions of the 15th Army Brigade allied to the Houthis.
The coalition has since March 26 supported loyalists with air strikes to halt advances by the Houthis, who seized Sanaa last year before pressing south into the port city of Aden.
But pro-government forces retook Aden last month and seized the key airbase of Al-Anad to its north on Tuesday.
Aden was Hadi's last refuge before he fled into exile with his government in Saudi Arabia in March.
The International Committee of the Red Cross head arrived Saturday in Sanaa at the start of a three-day visit to assess the "dire humanitarian situation" in the country.
(With AFP)
https://english.alarabiya.net/en/News/middle-east/2015/08/09/Yemen-forces-liberate-southern-province.html
-------
Three Emirati soldiers killed in Yemen 'to be treated as Saudi martyrs'
By Staff writer | Al Arabiya News, 9 August 2015
Saudi Arabia's Deputy Crown Prince Mohammed bin Salman said that the three Emirati soldiers killed in Yemen on Saturday would "be treated as Saudi martyrs financially and morally," the Saudi Press Agency (SPA) reported on Sunday.
The UAE armed forces said the three soldiers were killed while performing their "national duty" by taking part in the Saudi-led coalition in Yemen.
The SPA statement read: "First Corporal Juma'ah Jouhar Juma'ah Al-Hammadi, First Corporal Khalid Mohammed Abdullah Al-Shehhi and First Corporal Fahem Saeed Ahmed Al-Habsi of the Emirati force participating in the coalition, who was martyred yesterday, be treated as Saudi martyrs financially and morally."
Prince Mohammed is also the kingdom's defense minister and has been directing the air campaign since late March in an effort to halt advances by Iranian-backed Houthi militias, who seized Sanaa last year.
https://english.alarabiya.net/en/News/middle-east/2015/08/09/Three-Emirati-soldiers-killed-in-Yemen-to-be-treated-as-Saudi-martyrs-.html
-----
SIS battles Syria rebels for key supply lifeline
9 August 2015
Militants from ISIS battled rebel forces, including Islamists, on Sunday for a series of key villages in northern Syria, the Syrian Observatory for Human Rights said.
The four villages in the northern province of Aleppo lie along the rebels' supply line from Turkey, which is a major backer of Syria's opposition.
"ISIS is trying to seize control of these villages from rebels to cut their supply route between Aleppo city and its outskirts, and the town of Azaz," a rebel bastion near the border, said Observatory head Rami Abdel Rahman.
He said two ISIS suicide bombers, one using a suicide belt and one in a bomb-laden car, began the assault on the villages on Saturday night.
The ensuing clashes, which lasted throughout the night, left at least 10 ISIS militants and 18 rebel fighters dead, Abdel Rahman added.
The extremist group has swept through territory in Iraq and Syria in an effort to build a cross-border "caliphate," and sees both the regime of Bashar al-Assad and rival rebel factions as its enemies.
On Sunday, Syria's official news agency SANA reported a new death toll for deadly rebel rocket fire on the Syrian capital Damascus the previous day.
"The number of victims in the rocket fire Saturday on Damascus by terrorist organizations has risen to 11 dead, including three children, and 46 wounded including some in critical condition," the agency reported.
The agency said 10 of the dead were killed in the central al-Thawra neighborhood, and that the rocket was launched from the rebel-controlled Jobar district.
The Britain-based Observatory, which uses a broad network of sources in Syria to gather information, confirmed the new toll.
And on Saturday, more than 1,000 people took to the streets in the coastal city of Latakia, heartland of the Assad regime, to protest the killing of a Syrian air force official.
Colonel Hassan al-Sheikh was shot dead earlier this week by Sleiman al-Assad, a cousin of President Assad, after a dispute at a checkpoint, the Observatory said.
Saturday's demonstrators said they would continue protests until Sleiman al-Assad is executed.
https://english.alarabiya.net/en/News/middle-east/2015/08/09/ISIS-battles-Syria-rebels-for-key-supply-lifeline.html
-------
Egypt rejects Qatari mediation to reconcile with Brotherhood
By Ashraf Abd al-Hameed | Al Arabiya.net
Sunday, 9 August 2015
Egypt has rejected Qatari mediation to reconcile with the Muslim Brotherhood and considered statements of the Qatari foreign minister on the matter as an "unacceptable interference in Egyptian internal affairs."
In a recent interview, Qatari Foreign Minister Khalid al-Attiyah said Doha does not regard the Muslim Brotherhood as a "terrorist organization" as the Egyptian authorities do, adding: "All of the parties in Egypt need to meet half-way," he said. "All we hope for is that all of the Egyptians unite."
Attiyah also expressed Doha's willingness to mediate between the Muslim Brotherhood and the Egyptian government, if the government wishes.
Egypt's foreign ministry spokesperson Ahmed Abu Zeid slammed Attiyah's statements and voiced Egypt's rejection of "foreign interferences in its internal affairs" and said Attiyah's statements are unacceptable as they undermine the provisions of the Egyptian judiciary and the decisions of the Egyptian government.
Abu Zeid said the Qatari official's statements also undermine the Egyptian people's endorsement of the Brotherhood as "a terrorist organization," adding it's not possible to negotiate or accept foreign mediation for dialogue with the Brotherhood.
Attiyah also said Cairo is willing to play the role of the mediator between the Egyptian regime and the Muslim Brotherhood.
https://english.alarabiya.net/en/News/middle-east/2015/08/09/Egypt-rejects-Qatari-mediation-to-reconcile-with-MB-.html
------
Iraq's Abadi bids to abolish vice presidencies
Al Arabiya News, AFP
Sunday, 9 August 2015
Iraq's cabinet on Sunday approved a package of sweeping reforms proposed by Prime Minister Haider al-Abadi in response to weeks of protests against corruption and poor services, his office said.
"The cabinet unanimously approved the first package of reforms presented by... Abadi in an extraordinary session," his office said in a statement.
But at least some of the changes apparently require amendments to the constitution, which would necessitate action by parliament before they take effect.
Haider al-Abadi's plan would result in sacking his predecessor, Nouri al-Maliki, who begrudgingly stepped aside a year ago and was appointed to the largely symbolic role of vice president. Al-Maliki is widely alleged to have undermined his successor in a bid to eventually return to power, charges he denies.
In remarks made on state TV, Abadi also announced the formation of a committee to "open" past and present "corruption files." The proposed reforms, at least some of which require the approval of the cabinet and parliament, followed a call for tough measures by Iraq's top Shiite cleric, Grand Ayatollah Ali al-Sistani.
But even with popular pressure and Sistani's backing, the entrenched nature of corruption in Iraq and the fact that parties across the political spectrum benefit from it will make any efforts to change the system extremely difficult.
One of the most drastic of the proposals outlined in an online statement was the call for elimination of the posts of vice president and deputy prime minister "immediately".
Maliki, who preceded Abadi as premier, is currently one of the vice presidents.
Scrapping his job would apparently require the constitution to be amended, meaning that rapid action is unlikely.
Maliki, who belongs to the same party as Abadi and still wields significant influence, said Saturday evening -- before Abadi outlined his plan publicly -- that he supported the reform drive.
Abadi also called for a major overhaul of the way senior officials are selected, saying that all "party and sectarian quotas" should be abolished, and the candidates chosen by a committee appointed by the premier.
He also said there should be a "comprehensive and immediate reduction" in the number of guards for all officials.
This has long been a problem, with some officials having massive personal protection units, and others hiring less than the allotted number and pocketing the remainder of the allowance.
Abadi also said that "special provisions" for senior officials, both current and retired, should be ended.
He did not specify what these were, but large salaries, government-provided vehicles and extremely generous retirement benefits have all long been bones of contention between the authorities and average Iraqis.
And old and current graft cases should be reopened under the supervision of a high commission for fighting corruption, he said.
Baghdad and other cities have seen weeks of protests against the poor quality of services, especially power outages that leave Iraqis with only a few hours of government-supplied electricity per day as temperatures top 50 degrees Celsius.
The demonstrators have blamed the services crisis on corruption and incompetence across the political class.
Sistani, who is revered by millions of Iraqis, called Friday for Abadi to take "drastic measures" against corruption, saying that the "minor steps" he had announced previously were not enough.
In June, Abadi "retired" the army's chief of staff General Babaker Zebari, the most senior officer removed since jihadists overran large parts of the country last year.
Abadi has sacked dozens of army and police officers in an effort to restructure and improve security forces that performed disastrously when the Islamic State of Iraq and Syria (ISIS) militant group launched an offensive last June, overrunning major areas north and west of Baghdad.
But it is unclear if Zebari was removed as part of that effort, or for other reasons.
(With AP)
https://english.alarabiya.net/en/News/middle-east/2015/08/09/Iraq-s-Abadi-abolishes-Vice-President-and-Deputy-PM-posts.html
-----
Yemen pro-government forces launch offensive
August 08, 2015
ADEN — Pro-government forces in Yemen strengthened by tanks newly supplied by a Saudi-led coalition launched an offensive Saturday to retake the rebel-held capital of Abyan province, military sources said.
A two-pronged drive on the southern province's capital of Zinjibar was launched from the north and south, the sources said.
It came two days after tribal and military sources said Saudi Arabia, leading an Arab coalition air war on the Iran-backed Houthi rebels, had sent new military equipment including tanks to Yemen.
The tanks were part of a package of reinforcements including armored vehicles and personnel carriers as well as hundreds of Yemeni soldiers trained in Kingdom, a military source said.
This week has seen heavy fighting in Zinjibar and heavy coalition airstrikes against positions of the 15th Army Brigade allied to the Houthis.
The coalition has since March 26 supported loyalists with air ostrikes to halt advances by the Houthis, who seized Sanaa last year before pressing south into the port city of Aden. But pro-government forces retook Aden last month and seized the key airbase of Al-Anad to its north on Tuesday.
The International Committee of the Red Cross head arrived Saturday in Sanaa at the start of a three-day visit to assess the "dire humanitarian situation" in the country.
Peter Mauer is to hold talks with "leading officials", an ICRC statement said, without identifying them.
Rebel officials said he would meet Houthi leaders and their allies in the General People's Congress party of ousted president Ali Abdullah Saleh.
The ICRC says 1.3 million Yemenis have been displaced by the conflict.
"The human cost of this conflict is such that no family in Yemen today has been left unaffected," Mauer said ahead of his visit.
"We are particularly concerned about attacks on medical facilities and personnel. Moreover, deliveries of food, water and medicine must be facilitated not hampered," he said.
It was not clear if Mauer will visit Aden, devastated by four months of fierce fighting and air strikes. — AFP
http://www.saudigazette.com.sa/index.cfm?method=home.regcon&contentid=20150809252825
------
Saudi Security force to protect national heritage proposed
Saudi Gazette, August 08, 2015
TAIF — Tourism experts proposed on Friday the need to establish a tourism police department in the Kingdom, Al-Madina reported.
Naif Arab University for Security Sciences Professor Mohammad Al-Thaqafi, said experts at the conference on the preservation of national heritage and tourism here, stressed the need for such a force.
"In the forum, experts spoke about the importance of security in the preservation of national heritage and the public awareness regarding the topic. Experts also reviewed the history of security in tourism in the Arab World," said Al-Thaqafi.
The forum was organized by the university and in cooperation with the Saudi Authority for National Heritage, Taif Municipality, the Arab Organization for Tourism and the Taif Chamber for Commerce and Industry.
"Attendees of the forum and speakers agreed on the need to cooperate in order to establish an authority of high security to protect national heritage from getting destroyed in catastrophes, wars and natural disasters," said Al-Thaqafi.
He added experts also promoted the idea of writing a tourist's rights manual to educate tourists on their rights and responsibilities.
Civil Defense researcher Ali Al-Shihry said preserving national heritage is the responsibility of the government and the local citizens.
"I presented a paper on a case study of the people of Almaa Village. It is a historical village in Asir Province. In my model, the people of the village built a museum, formed a committee for the development and preservation of the historical landmarks and established a security company with the support of the public directorates there," said Al-Shihry.
Moroccan Ministry of Culture representative Ahmad Umoos said the natural national heritages are a documentation of history.
"Take the drawings on rocks and such ancient relics. They are drawn by artists who were expressing emotions resulting from events that happened in history. The natural landmarks are the most destructible kind of landmarks," said Umoos.
He added they could be destroyed by natural disasters and climate changes and by humans demolishing and vandalizing nature. "We need to raise awareness regarding natural national heritages and we need to come up with a strategy to preserve them," said Umoos.
Curriculum Development and Teaching Assistant Professor Saif Nasser at Al-Sultan Qaboos University of Oman said tourism security is divided into three categories: the security of the national heritage, the security of tourism establishments and the security of the tourist.
"Tourism in Oman is a big contributor to the economy. However, tourism is also rising, improving and opening up to the entire world in the Gulf Region. That is why we need to, now more than ever, work together through solid partnerships to ensure the safety and sustainability of tourism in the region," said Nasser.
Al-Thaqafi said experts agreed to hold the forum annually to ensure the growth of tourism in the Arab World.
http://www.saudigazette.com.sa/index.cfm?method=home.regcon&contentid=20150809252823
--------
Saudi FM calls for political solution to Yemen crisis
By Staff Writer | Al Arabiya News
Saturday, 8 August 2015
Saudi Foreign Minister Adel Al-Jubeir said on Friday that the only way to solve the Yemeni crisis should be through political means.
Speaking in a joint press conference with his Italian counterpart Paolo Gentiloni in Rome, Jubeir said: "We still believe that the only way is a political solution, built on the foundations of the national dialogue and the Gulf initiative and Security Council resolution 2216."
Saudi Arabia has been leading an Arab air campaign against Houthi militias in Yemen since March this year. The operation is aimed at restoring security to the country and supporting legitimate President Abdrabbu Mansour Hadi, who is now living in exile in Riyadh.
Jubeir added: "The Houthis are a part of the Yemeni people, and they have a role to play in the future of Yemen, but this should not include the formation of militia groups outside the government's framework.
"We are ready to support the political process in Yemen, and to work with our allies in the Gulf Cooperation Council and our friends around the world, to implement a settlement which helps Yemen to overcome economic problems in the future."
https://english.alarabiya.net/en/News/middle-east/2015/08/08/Al-Jubeir-the-only-way-out-of-the-Yemen-crisis-is-the-political-solution.html
-----
Hundreds of Syrian Christians flee ISIS
AP, Beirut, 8 August 2015
Hundreds of Christian families have fled a central Syrian town as Islamic State of Iraq and Syria (ISIS) fighters advance toward it, activists said Saturday, the anniversary of the U.S. beginning airstrikes against the extremists in Iraq.
A U.S.-led coalition has conducted nearly 6,000 airstrikes against ISIS, expanding its operations to target the extremists in Syria as well. But a year later, ISIS remains able to launch attacks across its self-declared "caliphate" in both countries, despite some gains by Kurdish fighters and allied Iraqi forces.
Meanwhile, searches continued in Egypt for a missing Croatian hostage that an ISIS affiliate had threatened to kill.
On Saturday, Osama Edward, the director of the Christian Assyrian Network for Human Rights in Syria, said "hundreds of families" have fled the Christian town of Sadad toward the government-held central city of Homs and the capital, Damascus.
Syria-based activist Bebars al-Talawy said intense clashes took place Saturday near the central town of Qaryatain, which ISIS captured on Thursday. Qaryatain is about 25 kilometers (15 miles) northwest of Sadad.
Qaryatain lies in the middle of a triangle formed by the cities of Homs, Palmyra and Damascus. Activists say it has a mixed population of around 40,000 Sunni Muslims and Christians, as well as thousands of internally displaced people who earlier fled Homs.
The Britain-based Syrian Observatory for Human Rights said Saturday's fighting concentrated in an area between Qaryatain and the village of Mheen, which is halfway to Sadad. The Observatory said Syrian troops shelled the area and government warplanes conducted several airstrikes on areas outside Qaryatain.
Sadad was captured briefly in 2013 by members of al-Qaeda's Syrian affiliate, the Nusra Front, and was retaken later by government forces.
"People are living in fear in the area," Edward said. He said many Christians around Sadad fear what happened to ethnic Yazidis in Iraq and other Christians in ISIS-controlled territory could happen to them: Choosing between fleeing, converting to Islam or facing death. The threat to Yazidis in Iraq prompted U.S. President Barack Obama to begin U.S. airstrikes targeting the Islamic State group in Iraq on Aug. 8, 2014.
Activists said ISIS abducted 230 residents, including dozens of Christians, from Qaryatain in recent days. Activists say some Christians were released, though the fate of the others is still unknown.
Christians make up about 10 percent of Syria's prewar population of 23 million people.
In February, ISIS fighters kidnapped more than 220 Assyrian Christians after overrunning several farming communities on the southern bank of the Khabur River in the northeastern province of Hassakeh. Since then, only a few have been released and the fate of the others remains unknown.
Syria's crisis, which began in March 2011, has killed more than 250,000 people and wounded more than 1 million.
In Egypt, police searches and diplomatic efforts have intensified to find 30-year-old Tomislav Salopek, a Croatian kidnapped July 22 in Cairo. ISIS's Egyptian affiliate said Wednesday that it would kill Salopek in 48 hours if the Egyptian government did not release jailed "Muslim women" - a reference to those detained in the government's crackdown on supporters of the Muslim Brotherhood and other Islamists.
No new information was available Saturday about Salopek's fate.
https://english.alarabiya.net/en/News/middle-east/2015/08/08/Activists-Hundreds-of-Syrian-Christians-flee-ISIS.html
------
South Asia
Attacks on army, police, US special forces kill 50 in Kabul
August 8, 2015
A wave of attacks on Afghan army, police and U.S. special forces in Kabul on Friday killed at least 50 people and wounded hundreds, dimming hopes that the Taliban might be weakened by a leadership struggle after their long-time leader's death.
The bloodshed began with a truck bomb that exploded in a heavily populated district of the capital and ended with an hours-long battle at a base used by U.S. special forces. It became the deadliest day in Kabul in years.
Taliban insurgents claimed responsibility for both the police academy attack and the battle at the U.S. special forces base, though not for the truck bomb.
The scale of the violence heightened obstacles to reviving the stalled peace process and conveyed a no-compromise message from the Taliban at a delicate time, following last week's revelation of leader Mullah Mohammad Omar's death and an ongoing dispute over leadership of the group.
"The question is, who is sending the message?" said Thomas Ruttig of the Afghanistan Analysts Network.
The number of casualties from Friday's attacks was expected to rise as details continued to emerge from the authorities. On Saturday, NATO-led coalition forces confirmed that one international service member and eight Afghan contractors were killed in the attack on Camp Integrity, a base used by U.S. special forces near the main airport.
The blast outside the base was powerful enough to flatten offices inside, wounding occupants who were airlifted by helicopter to military hospitals during the night.
"There was a big explosion at the gate ...(The gunfire) sounded like it came from two different sides," said a special forces member who was wounded when his office collapsed.
The initial blast caused by a suicide car bomb at the gate was followed by other explosions and a firefight that lasted a couple of hours, he said.
Camp Integrity is run by U.S. security contractor Academi, which was known as Blackwater before being sold to investors. Academi did not immediately respond to requests for comment.
"The helicopters went on for hours... medevacing people out," a U.S. contractor at a camp nearby said.
The Camp Integrity assault followed a suicide bombing at a police academy on Friday evening that killed and wounded over 40 people, the Afghan interior ministry said on Saturday. A police source said the final tally was higher – 26 killed and 28 hurt.
"The bomber was wearing a police uniform and detonated his explosives among students who had just returned from a break," a police official said.
Taliban spokesman Zabihullah Mujahid said the insurgents launched both the police academy and Camp Integrity attacks, but he earlier refused to comment on Friday's early morning truck bomb that tore through buildings in central Kabul, killing and wounding over 250 people.
The Taliban, who were toppled from power by the U.S.-led military intervention in 2001, rarely admit to attacks that kill a high number of civilians.
Divisions have broken out within the Taliban high command following last week's appointment of Mullah Akhtar Mansour as new leader. Previously seen as open to reviving peace talks, the Taliban have since pledged to press on with the insurgency that has killed and wounded thousands this year.
Ruttig said that with the latest attacks in Kabul, Mansour could be sending a message of resolve to the group's rank and file as well as to the Afghan government.
On the other hand, Taliban factions opposing Mansour's leadership could be seeking to kill any hope of future talks by launching their own wave of violence.
"The hope of some people was that the death of Mullah Omar would put the Taliban in disarray and possibly weaken them," Ruttig said. "I think that was a little over-optimistic."
The coalition death at Camp Integrity marked the second of an international service member in Afghanistan this year after most foreign troops withdrew at the end of 2014. The service member's nationality was not released.
The conflict between the Western-backed government and the Taliban has intensified since the NATO combat mission ended last year, but Afghan security forces and civilians have borne the brunt of the violence.
There have been almost 5,000 civilian casualties in Afghanistan in the first half of the year, United Nations figures show.
Reuters
http://america.aljazeera.com/articles/2015/8/8/attacks-on-army-police-us-special-forces-kill-50-in-kabul.html
-----
30 insurgents killed in drone strike, clashes in Nangarhar
By KHAAMA PRESS - Sun Aug 09 2015, 9:12 am
0 Comments270 viewsEmail Email Print Print
Drone30 insurgents have been killed in drone strike and military operation in eastern Nangarhar province.
Colonel Hazrat Hussain Mashriqiwal, spokesman for the police head quarters of Nangarhar says that the drone strike was carried out in Gorgori area of Haska Mina District leaving 10 militants killed, including four foreigners around 12pm yesterday.
A statement issued by Colonel Mashriqiwal states that during the military operation launched against militants in Shirzad, Hisarak and Khogyani districts have been successfully ongoing.
The statement adds that during the same operation a clash erupted between security forces and Taliban leaving 15 insurgents killed and nine others wounded in the jurisdiction of Shirzad District yesterday.
The press release furthers states that in the same day a special unit belonging to the Nangarhar airfield killed five militants in the jurisdiction of Ghanikhil District.
Located in the eastern part of the country, Nangarhar has been witnessing a sharp increase in insurgent activities.
A bomb blast killed two people including a traffic police officer and wounded three others in Surkh Rod District of Nangarhar yesterday.
http://www.khaama.com/30-insurgents-killed-in-drone-strike-clashes-in-nangarhar-3725
-----
115 militants killed in Afghan Air Force, ANA operations in past 48 hours
By KHAAMA PRESS - Sun Aug 09 2015
Afghan army and air forceAt least 115 militants were killed in clearing operations conducted by the Afghan National Army (ANA) and the Afghan Air Force (AAF) in the past 48 hours.
The Ministry of Defense (MoD) said Sunday that the operations and airstrikes were conducted in Sherzad adn Khogyani districts of Nangarhar, Kohistanat district of SAr-e-Pul, Shohda and Kof Aab of Badakhshan, Mosa Qala and Nawzad districts of Helmand.
Nadershah Kot district of Khost, Aab Band district of Ghazni, Da Herawood district of Uruzgan, Pashtun Kot ditrict of Faryab, Tagab district of Kapisa, Mohammad district of Logar and Barmal ditrict of Paktiak province.
A statement by MoD said at least three commanders of the militant groups identified as Mullah Zakir, Mullah Latif and Mullah Baryalai were also among those killed during the operations.
At least 41 others were also injured, 5 were detained and soem weapons along with ammunition and explosives were confiscated by the Afghan armed forces during the operations, the statement added.
MoD said the Afghan armed forces also discovered and defused at least 48 rounds of Improvised Explosive Device (IED) during the same period.
The anti-government armed militant groups have not commented regarding the reports so far.
http://www.khaama.com/115-militants-killed-in-afghan-air-force-ana-operations-in-past-48-hours-9573
------
UNAMA calls on militant groups to cease attacks in civilian populated areas
By KHAAMA PRESS - Sun Aug 09 2015
Kabul attack truck bombingThe United Nations Assistance Mission in Afghanistan (UNAMA) called on anti-government armed militant groups to cease attacks in civilian populated areas.
The UN mission in Afghanistan following a statement said three attacks by Anti-Government Elements in Kabul on 7 August caused at least 355 civilian casualties – 42 deaths and 313 injured – the highest number of civilians killed and injured in one day since the United Nations Assistance Mission in Afghanistan (UNAMA) began systematically recording civilian casualties in 2009. The attacks also caused extensive damage to civilian homes and property.
"Those responsible for suicide and complex attacks in civilian-populated areas can no longer shrug off the disproportionate harm to the civilian population they cause," said Nicholas Haysom, the Secretary-General's Special Representative for Afghanistan. "The Afghan people are resilient, but the suffering caused by these tactics in terms of civilian deaths, injuries, and the loss of family members, is extreme, irreversible and unjustifiable in any terms.
The statement by UNAMA further added that between 1 January and 7 August 2015, UNAMA documented 1,523 civilian casualties (282 deaths and 1,241 injured) from complex and suicide attacks launched by Anti-Government Elements, including the Taliban, almost doubling the death and injuries compared to the same period in 2014.
"UNAMA repeats its call for Anti-Government Elements, including the Taliban, to cease the use of complex and suicide attacks in civilian-populated areas," the statement said adding that "The Mission also extends its condolences to the families of those killed and injured, and reiterates UNAMA's unwavering support to the people of Afghanistan."
http://www.khaama.com/unama-calls-on-militant-groups-to-cease-attacks-in-civilian-populated-areas-9572
-------
Mideast
Israel charges Swede with spying for Lebanon's Hezbollah
By Reuters | Occupied Jerusalem, 9 August 2015
Israel charged a Swede of Palestinian descent on Sunday with spying for Hezbollah, saying the Lebanese guerrilla group had tasked him with gathering information on Israeli military facilities that might be attacked in a future war.
The suspect, Khalil Hizran, was arrested on July 21 after flying into Tel Aviv, and confessed under interrogation to working for Hezbollah, Israel's Shin Bet security service said after a gag order on the case was lifted.
According to a Shin Bet statement, Hizran planned to gather information on military sites in Israel, a mission it deemed "proof that Hezbollah is preparing for the next war with Israel and is marking out a 'target bank'".
Hizran's Israeli lawyer, Leah Tsemel, denied the charges.
Speaking to Reuters, she said Hizran had met with Hezbollah members during visits to Lebanon, where he was born to
Palestinian refugees and from which he had emigrated to Sweden.
"But he refused any request to harm Israel's security," Tsemel said. Hizran made a previous visit to Israel in 2009.
Hezbollah fought Israel to a standstill in the 2006 Lebanon war. Neither side appears eager to come to blows again but tensions remain high. Israel worries that Hezbollah has improved its rocket arsenal and other capabilities while helping Syrian President Bashar al-Assad battle a four-year-old insurgency.
Hizran was indicted on three criminal counts. Officials at the Swedish embassy in Israel, and with Hezbollah in Lebanon, could not immediately be reached for comment.
https://english.alarabiya.net/en/News/middle-east/2015/08/09/Israel-charges-Swede-with-spying-for-Lebanon-s-Hezbollah.html
--------
Pro-Kurdish party leader calls for steps to halt Turkey violence
By Seyhmus Cakan | Reuters, Diyarbakir
Saturday, 8 August 2015
The leader of Turkey's pro-Kurdish HDP urged the militant Kurdistan Workers Party on Saturday to "remove its finger from the trigger" and said the government should launch talks to halt a surge in violence.
The militant PKK announced it was stepping up attacks in mid-July, saying Turkish forces were violating a 2013 ceasefire. Turkey began an air campaign against PKK camps in northern Iraq on July 24.
Peoples' Democratic Party (HDP) leader Selahattin Demirtas told reporters: "Today we call to both sides: the PKK must immediately remove its finger from the trigger and declare it will observe the ceasefire."
Speaking in the southeastern city of Van, a day after six people were killed in clashes between security forces and militants in the mainly Kurdish southeast, he said the government must halt security operations and revive a
peace process launched with jailed PKK leader Abdullah Ocalan in 2012.
Demirtas' HDP won 13 percent of the vote in a June 7 election which has yet to produce a coalition government. He had regularly visited Ocalan in his Imrali island jail south of Istanbul.
Deputy Prime Minister Yalcin Akdogan said the state was continuing talks with Ocalan but the HDP could no longer visit him because it had "betrayed" the process.
In comments to Milliyet newspaper published on Saturday, he said tactical PKK declarations on halting violence were unacceptable.
"Their withdrawal from Turkey and a complete halt to activities is now a pre-requisite," he said.
"A coalition may be formed or not but peace is urgent. Mr Davutoglu, we are not requesting this from you. You are obliged to do it," Demirtas said in comments addressed to Prime Minister Ahmet Davutoglu.
As well as PKK targets, Turkish jets have hit ISIS positions in Syria. Ankara has also allowed the U.S.-led coalition targeting the IS militants to use its air bases.
In a show of support for the army, Davutoglu on Saturday visited a border outpost in Kilis province near where a soldier was killed in clashes with IS militants on the Syrian side of the border last month.
On Friday evening militants fired a rocket at an armored car in the town of Cizre, killing a police officer and wounding another, security sources said.
Earlier that day, three people were killed and seven wounded during clashes between police and PKK in the town of Silopi. Both towns are close to Turkey's borders with Syria and Iraq.
In Van and Agri provinces, militants killed two soldiers, bringing the death toll among Turkish security forces since July 20 to at least 21.
The PKK, designated a terrorist group by Ankara, the United States and European Union, launched its insurgency in 1984. More than 40,000 people have been killed in the conflict.
https://english.alarabiya.net/en/News/middle-east/2015/08/08/Pro-Kurdish-party-leader-calls-for-steps-to-halt-Turkey-violence-1891.html
-----
Turkey freezes assets of Saleh and Houthi leaders
By Staff writer | Al Arabiya News
Saturday, 8 August 2015
Turkey has frozen the assets of Yemen's deposed President Ali Abdullah Saleh and Houthi militia leaders, the Anatolia news agency reported.
The sanctions freeze any assets, bank accounts and safe deposit boxes that they might have in Turkey and will be kept in place until February 26, 2016.
Yemen's former President Ali Abdullah Saleh. (File: AFP)
This means that Saleh, his son Ahmad Ali Abdullah Saleh, and Houthi leaders Abdulmalik Al-Houthi, Abdullah Yahya Al-Hakim and Abd Al-Khaliq Al-Houthi have all been blacklisted, the agency said.
The decision by Ankara came after U.N. Security Council sanctions were put on the same five men for threatening peace in Yemen.
https://english.alarabiya.net/en/News/middle-east/2015/08/08/Turkey-freezes-assets-of-Saleh-and-Houthi-leaders.html
-----
Kurdish Rebels Fire at Police in Turkey; 1 Officer Killed
By THE ASSOCIATED PRESS AUG. 9, 2015
ANKARA, Turkey — Officials say Kurdish rebels have fired at a police vehicle in southern Turkey, killing a policeman and wounding another, in the latest attack against Turkish security forces.
The governor's office for Mardin province said militants of the Kurdistan Workers' Party, or PKK, opened fire late Saturday at the officers who were on patrol duty.
Militants also fired rockets at a military outpost in the southeastern Mus province. There were no casualties.
Violence in Turkey has flared in recent weeks, shattering an already fragile peace process between the PKK and the government. The rebels launch almost daily attacks at the Turkish security forces while Turkish jets have raided suspected PKK bases in northern Iraq.
The state-run Anadolu Agency claims that more than 260 PKK militants have been killed in the airstrikes.
http://www.nytimes.com/aponline/2015/08/09/world/europe/ap-eu-turkey-kurds.html?ref=world
-----
Iran rejects accusations about military site as "lies"
August 08, 2015
DUBAI — Iran's foreign minister said on Saturday that accusations about activity at its Parchin military site were "lies" spread by opponents of its landmark nuclear deal with world powers clinched last month.
A prominent US think-tank on Friday questioned Tehran's explanation for activity at its Parchin military site visible in satellite imagery, saying the movement of vehicles did not appear related to road work.
"We said that the activities in Parchin are related to road construction," Foreign Minister Mohammad Javad Zarif was quoted on Saturday as saying by the IRNA state news agency. "They (opponents of the deal) have spread these lies before. Their goal is to damage the agreement," he added.
Parchin is a site to which the UN nuclear watchdog, the International Atomic Energy Agency (IAEA), requested access as part of the July 14 nuclear accord between Iran and six major powers, which include the United States. The US-based Institute for Science and International Security suggested Iran could be engaged in cleanup work before IAEA inspectors arrive at the site.
The speaker of Iran's parliament also dismissed the think-tank's suggestions. "This is an artificial dispute to distract the world. There are some movements at Parchin but trying to expand those activities to the military facility and making a fuss about it is like some fairy tale," Ali Larijani was quoted on Saturday by the Fars news agency as saying.
"Israelis are not happy about the deal and they will do anything to stop it," he added.
Israeli Prime Minister Benjamin Netanyahu has been pushing US lawmakers to oppose the nuclear agreement, which he considers a threat to his country's survival.
Some pro-Israel groups have been spending millions of dollars on an advertising campaign to persuade members of the US Congress to reject the deal in the autumn. — Reuters
http://www.saudigazette.com.sa/index.cfm?method=home.regcon&contentid=20150809252798
------
Israel arrests suspects in West Bank arson probe
By AFP | Occupied Jerusalem
Sunday, 9 August 2015
Israel arrested several suspects on Sunday in raids linked to the firebombing of a Palestinian home in the West Bank that killed an 18-month-old child and his father, police said.
The suspects were arrested in wildcat Jewish settlement outposts in the occupied West Bank as part of "the investigation into the events that occurred in Duma," the Palestinian village where the July 31 arson attack took place, police said in a statement.
It did not give the number of arrests.
Israel has pledged to crack down on Jewish extremists in the wake of the firebombing as well as a July 30 stabbing attack at a Jerusalem Gay Pride march that killed a 16-year-old girl and wounded five other people.
The father in the firebombing died of his wounds on Saturday and relatives at his funeral accused Israeli authorities of failing to address violence by hardline settlers.
The attack also critically wounded the toddler's mother and four-year-old brother.
https://english.alarabiya.net/en/News/middle-east/2015/08/09/Israel-arrests-suspects-in-West-Bank-arson-probe.html
------
Pakistan
Jud Chief, Hafiz Saeed, Moves Court against Indian Film Exhibition
THE NEWSPAPER'S STAFF REPORTER, 08 09 2015
LAHORE: Justice Shahid Bilal Hassan of the LHC will take up on Monday the petition of Jamat ud Dawa (JuD) chief Hafiz Saeed challenging exhibition of an upcoming Indian movie "Phantom" in Pakistan.
Through Advocate A K Dogar, Mr Saeed states in his petition that the film contains venom against Pakistan and the JuD.
He said apparently the film is about the 2008 Mumbai attacks and global terrorism.
He says the film contains filthy propaganda against Pakistan using global terrorism as a pretext.
He prays to the court to ban the exhibition of the film in the country for its "anti-Pakistan" content.
http://www.dawn.com/news/1199332/jud-chief-moves-court-against-indian-film-exhibition
-----
'State not taking appropriate action against Altaf': CPP secretary general
THE NEWSPAPER'S STAFF CORRESPONDENT — Aug 09, 2015
HYDERABAD: Communist Party of Pakistan (CPP) secretary general Comrade Imdad Qazi, speaking at a convention of the Democratic Students Federation (DSF) here on Saturday, said that appropriate action against Muttahida Qaumi Movement chief Altaf Hussain was not being taken by the state despite his anti-state statements and activities because the party and its leader were being patronised by the imperialist forces.
The convention was organised in the local press club on Saturday on the eve of the 35th death anniversary of slain communist leader Comrade Nazeer Abbasi.
Comrade Qazi said that the United States, United Kingdom and other imperialist forces were on the back of the MQM and its chief Altaf Hussain and, as such, "the state [Pakistan] has not seriously reacted to Mr Hussain's statements calling on Indian and other foreign forces' intervention".
On the contrary, he argued, the state took stern action against leaders and activists of other parties in such cases.
He also criticised the Sindh government for its inefficiency leading to the widespread flooding in the province following recent rains and high flood in the Indus.
"Once again, the PPP-led government did not evolve a strategy to ensure safe passage of flood and started issuing statements in its defence under pressure from the media only after flooding had already inflicted losses on the people of Sindh," he observed.
Jeay Sindh Mahaz (JSM) chairman Abdul Khaliq Junejo, speaking at the convention, paid tribute to Comrade Abbasi and other communist activists who laid down their lives for the cause of a just political and economic system in the country.
He highlighted various aspects of progressive politics which, he said, could help the country find solutions to its internal and external issues. The young generation should be inculcated tolerance and restrained from having extremist views so that a peaceful and healthy environment could be ensured in future.
DSF chairman Assar Imam emphasised the need for launching a vigorous movement for rights of students, besides other oppressed segments of society, saying that the fundamental issues concerning students remained unresolved since 1947. These issues, he observed, continued to multiply over decades.
DSF general secretary Waqas Zaheer told the convention that the organisation had now deeper roots in all provinces as compared to its position in 2012. It was stronger in Balochistan, in particular, he added.
Sindh Awami Workers Party general secretary Bukhshal Thalho said that leftist forces across the country should unite to play their due role in getting rights of the oppressed class.
Comrade Iqbal, Saqib Khursheed, Asad Bukhari and others also spoke at the convention.
http://www.dawn.com/news/1199250/state-not-taking-appropriate-action-against-altaf
------
Fate of Pak opposition's alliance uncertain
ALI HAZRAT BACHA — Aug 09, 2015
The future of the opposition's tripartite alliance consisting of Pakistan People's Party, Awami National Party and Jamiat Ulema-i-Islam-Fazl seems to be uncertain as it has failed to materialise its announcement of launching a protest movement against the Pakistan Tehreek-i-Insaf-led coalition government in Khyber Pakhtunkhwa.
Despite the presence of the three-party alliance in the electoral arena, the ruling PTI managed to emerge as the largest party in the May 30, 2015 local government elections.
Though the ANP improved its electoral position and in several districts made a comeback after suffering defeat in the last general elections, the JUI-F and the PPP performed very badly in the May 30, 2015 LG elections.
The announcement to launch protest movement was made by the alliance following the complaints of rigging in local government elections. The three opposition parties had asked the provincial government to resign over alleged involvement in rigging, mismanagement and poor planning in the local body elections warning they would launch a protest movement against it if the demand was not met.
The leaders of the tripartite alliance soon after elections had taken a unified stand to force the provincial government to step down so that the local body elections could be held under a caretaker set-up. They had also rejected PTI chief Imran Khan's offer of re-polling, saying the elections cannot be held transparently till the PTI-led government is there.
The alliance had started facing problems when it announced a protest on June 16 and a faction of PPP-led by the party's former provincial president, Zahir Ali Shah, had kept itself away from the strike saying ANP workers had not voted for PPP candidates in the elections and violated the agreement.
However, despite the version of Zahir Ali Shah, PPP provincial president Khanzada Khan had vowed to join the protest and did so. However, the party's president changed his stand on June 29 and accused the ANP of ditching his party in elections. This was the statement, which ground the activities of the alliance to a standstill.
Though Khanzada Khan was not available for comments, one of his party leaders, Zulfiqar Afghani, claimed his party always honoured its agreements with allies but the ANP and JUI didn't do so.
He accused the ANP and the JUI-F of violating the agreement signed by the leaders of tripartite alliance.
The PPP leader claimed his party honoured the agreements but both ANP and JUI-F fielded their nominees against PPP candidates in the local government elections embarrassing his party.
"The ANP and JUI-F joined the alliance to defeat PPP," he told Dawn over the telephone.
"We will hold our party meeting to decide if we can go along with the alliance any longer."
Another disgruntled PPP leader and former MPA Ayub Shah said the tripartite alliance was unnatural as its member parties had no common agenda and that everyone of them wanted to work on own manifesto.
"The JUI-F has also warned to distance itself from the alliance if reservations are not removed," he quoted JUI-F provincial chief Maulana Gul Naseeb Khan as telling a news conference lately.
The PPP leader said the opposition parties were doing politics for power and had nothing to do with the condition of the poor and that every leader was busy serving own interests.
"In my view, the alliance had failed on the day central leaders of different opposition parties had addressed a protest rally in Peshawar but the people's presence was very thin there," he said.
Shah stressed the need that the opposition should play a fair game and avoid playing with the fate of workers and general public otherwise the latter would stop raising voice in support of democracy.
He said the slogans of Islam, Pakhtun, regionalism and communalism didn't succeed unless political leaders came up with clear manifestos and honest, sincere and patriotic policies.
JUI-F provincial information secretary Maulana Abdul Jalil Jan said his party was a major part of the alliance but the ANP was creating problems for it in bids to form the district government in Hangu.
He said ANP was getting close to PTI in Hangu otherwise ANP had fourth position in the district.
About the future of the tripartite alliance, Jan said the question should be put to its president, Mian Iftikhar Hussain.
"The ANP has a soft corner for the PTI. We are not worried about it," he said. The JUI leader alleged that the provincial government was busy offering incentives to the councilors of opposition parties but his party workers believed in an ideology and would not join hands with the PTI.
President of the tripartite alliance Mian Iftikhar Hussain insisted the opposition's grouping had not changed its stand against the provincial government.
"We firmly say the May 30 local government elections were massively rigged and therefore, PTI has no right to stay in power any longer. In this light, Chief Minister Pervez Khattak as the chief executive of the province is bound by the law to step down so that fresh polls could be held under an impartial caretaker set-up," he said.
About the future of the tripartite alliance, Mian Iftikhar said he was busy in campaign for local government elections in Punjab and would hold a meeting of the alliance to review its stand against the government.
He asked how the opposition could stay silent about the irregularities committed in the local government elections, wherein 350 returning officers are witness to the rigging, disturbance and mismanagement," he said.
Mian Iftikhar said the provincial government had miserably failed to live up to the people's expectations.
Hussain alleged the government had used over Rs1 billion to get the required local government poll results by unfair means.
He said innocent people were killed in elections due to the negligence of the government and that no action had so far been against those involved in the heinous crime.
"We will continue raising voice against the injustices meted out to us in the May 30 elections and for fresh polls under an impartial election commission," he said.
http://www.dawn.com/news/1199348/fate-of-oppositions-alliance-uncertain
--------
Two more Safoora bus carnage suspects remanded in custody
ISHAQ TANOLI — Aug 09, 2015
KARACHI: An antiterrorism court on Saturday sent two suspects to prison on judicial remand in the Safoora Goth bus carnage case.
Hafiz Nasir alias Yasir and Mohammad Azhar Ishrat alias Majid were produced before the court after the end of their physical remand.
They were booked along with three others for allegedly killing 47 Shia Ismaili community members, including women, in a gun attack on a bus near Safoora Goth on May 13.
Judge Bashir Ahmed Khoso of the ATC-I sent them to prison on judicial remand till Aug 19 and directed the investigating officer to submit investigation report at next hearing.
Saad Aziz alias Tin Tin alias John, Tahir Hussain Minhas alias Sain and Asad-ur-Rehman alias Malik have already been booked and remanded to prison in the case.
According to the counter-terrorism department of police, Nasir and Azhar were arrested along with Saad and Tahir after a shootout in Gulshan-i-Maymar on May 20.
They were also booked in nine cases pertaining to police encounter, explosive substances and illicit weapons. The following day they were produced before the ATC for physical remand in these cases though the police informed the court that they were arrested for their alleged involvement in the Safoora Goth bus carnage case. Later, Asad-ur-Rehman alias Malik was also shown arrested in some other cases and his arrest was linked with the main case.
On June 12, Saad, Tahir and Asad were remanded to police custody in the bus carnage case. But the police did not book the other two suspects despite keeping their physical custody for a couple of weeks in the other cases.
On July 16, the court sent three suspects to jail on judicial remand in the bus carnage case and asked the IO to submit investigation report till July 27. The police moved the ATC-II on July 24 for a no objection certificate to formally arrest the other two suspects, Hafiz Nasir alias Yasir and Mohammad Azhar Ishrat alias Majid, in the bus carnage case. After receiving the NOC, the police took them in custody on July 25 and got their physical remand for 14 days for questioning.
Saad Aziz and Tahir Minhas have also been booked in the murder of Sabeen Mahmud, a bomb attack on a Bohra community mosque, killing of some police officers and a naval official, attack on the life of American national Debra Lobo, grenade attacks on the Islamic Research Centre Imambargah, Ayesha Manzil and a private school in North Nazimabad.
http://www.dawn.com/news/1199256/two-more-safoora-bus-carnage-suspects-remanded-in-custody
-----
ANF claims recovery of 1kg heroin from UK-bound passenger in Islamabad
MATEEN HAIDER, 09 08 2015
ISLAMABAD: Anti-Narcotics Forces (ANF) personnel at the Benazir Bhutto International airport in Islamabad on Sunday claimed to have arrested a UK-bound British citizen after the recovery of one kilogram heroin from the passenger prior to boarding a Pakistan International Airlines (PIA) flight for Birmingham.
An ANF spokesman Col Habib told DawnNews that the British citizen of Pakistani origin had tactfully concealed 1kg heroin in his shoes, which was detected during routine checking by ANF staff at the airport.
The spokesman said that the passenger was travelling from Islamabad to Birmingham by flight PK 791.
The heroine was worth several hundred thousand rupees.
A case has been registered against the arrested man as a probe by the ANF went under way.
http://www.dawn.com/news/1199405/anf-claims-recovery-of-1kg-heroin-from-uk-bound-passenger-in-islamabad
-----
Europe
Rwandan UN peacekeeper kills four colleagues in CAR
09 Aug 2015 07:31 GMT | War & Conflict, Rwanda, UN, Africa
A Rwandan UN peacekeeper in the Central African Republic has shot dead four of his colleagues and wounded eight others at their base before being gunned down himself, military sources have said.
The UN said it was opening an investigation into the killings which it called the worst such incident to hit the peacekeeping mission in the country since it was deployed in September 2014.
"A Rwandan soldier picked up his gun and killed his [four] colleagues before being felled. There were five dead and eight injured," said a source close to the MINUSCA mission on Saturday.
The shooting happened at the Rwandan contingent's base in the capital Bangui and the reasons for the violence remain unknown, said a CAR military officer on condition of anonymity.
Rwandan military officials were unavailable for comment.
http://www.aljazeera.com/news/2015/08/rwandan-peacekeeper-kills-colleagues-car-150809043343951.html
------
UN rights envoy says meeting with Myanmar's Rohingya blocked
AP 09 08, 2015
YANGON: A United Nations human rights envoy said her whirlwind visit to Myanmar was marred by disappointments.
She was barred from meeting long-persecuted Rohingya Muslims and talks with several senior officials were denied or cancelled at the last minute ─ And when she met with government critics, security officials were there, quietly snapping pictures.
Yanghee Lee was in the Southeast Asian nation to assess the human rights situation ahead of November general elections ─ the second vote since the former dictatorship began its bumpy transition to democracy just a few years ago. But she said Friday the lack of access and serious disruptions to her program made it impossible to fulfil her mandate.
It was Lee's third trip to Myanmar since being appointed the country's UN special rapporteur on human rights just over a year ago. The challenges have increased with each visit.
She has waded into sensitive subjects ─ most notably the treatment of the country's 1.3 million Rohingya.
Though she asked to visit for 10 days, as she has in the past, she was only given five this time. "I am also disappointed that requested meetings and visits were not granted or suddenly changed or cancelled at the last minute without prior notice," she said.
Lee said she had received credible information that some of her interlocutors had been photographed by security officials. "I also heard that some individuals I met with in previous visits were monitored, photographed and later questioned."
During Lee's last visit in January, comments about the persecution of Rohingya drew a stinging response from the government, which accused her of bias and infringing on state sovereignty.
Though many members of the religious minority arrived generations ago, most people in this predominantly Buddhist nation of 50m say all Rohingya are migrants from neighbouring Bangladesh.
Attacks by machete-wielding mobs in 2012 sent more than a quarter-million Rohingya either fleeing by boat or to camps in Rakhine state, where they have limited access to adequate health care or education and are denied freedom of movement.
Lee noted that Rohingya have been told they cannot vote in the Nov 8 polls, though many could in 2010.
"This is an issue that must be seen against the backdrop of institutionalised discrimination against the Muslim population in Rakhine," she told a news conference at the end of her visit.
The opposition, led by Aung San Suu Kyi, is expected to make substantial gains in upcoming polls at the expense of the military-backed ruling party.
Lee had many concerns ahead of the vote, including the disenfranchisement of large swathes of the population, the harassment and arrest of civil society activists, journalists and those exercising freedom of speech, and the risk that elections in conflict-riddled areas will be called off.
"While I am fully aware of the complexities of the situation in Myanmar and the reform process," she said, "I cannot hold Myanmar to a lower standard."
http://www.dawn.com/news/1199403/un-rights-envoy-says-meeting-with-myanmars-rohingya-blocked
------
Belarus ready to initiate joint ventures with Pak
AMIN AHMED — Aug 09 2015
ISLAMABAD: Pakistan and Belarus have agreed to initiate joint ventures in textiles, light mechanical engineering, petrochemicals and wood-working as well as sharing technological expertise and scientific advantage for mutual benefits.
The decision was taken at the first Pakistan-Belarus Joint Economic Commission meeting held in Minsk on Friday. Commerce Minister Khurram Dastagir Khan and Industry Minister of Belarus Vitally Vovk led delegations of their respective countries, a press release of commerce ministry said on Saturday.
The two countries hoped that the joint ventures will open new avenues for greater cooperation in much diverse fields through partnerships of private and public sectors. Both sides expressed their resolve to undertake concrete measures to increase bilateral trade as the current volume does not reflect true potential.
The Belarusian minister said that the joint companies will be established. "We are interested not only in the supply of goods but also in setting up new companies, creating jobs and exchanging technologies."
Khurram Dastagir Khan said: "We have built the foundation for deepening ties to increase the trade between the two countries."
He was confident that the visit of Prime Minister Nawaz Sharif to Belarus will further strengthen bilateral cooperation.
The two ministers reviewed the entire spectrum of bilateral relations, including trade, economy and commerce. They reiterated their desire to fortify these relations in diverse areas of cooperation.
The Pakistan's minister also emphasised the need to establish economically feasible air and sea routes for swift delivery of cargo. As Belarus is a landlocked country, establishment of air-link is necessary for export of perishable items which has great demand in Belarus.
Board of Investment (BoI) Chairman Miftah Ismail apprised the prospective Belarusian investors about the emerging investment opportunities that Pakistan provides.
Pakistan exported $15.23 million worth of items to Belarus in 2014, 36 per cent of which was rice, 9.27pc light pure woven cotton, 10.03pc styrene polymers, 7.43pc edible preparations, 4.48pc leather apparel and 4pc citrus.
Pakistan's imports from Belarus stood at $42.65m which mainly consisted of tractors (62.04pc), artificial filament yarn (13.01pc) and rubber tires (8.06pc).
Pakistan intends to correct this trade balance in its favour by exporting more value added items to Belarus. Tariff rationalisation for this purpose was also sought during the bilateral meetings and the joint economic commission. Minsk Tractor Works (MTZ) has plans to increase the supplies of tractors to Pakistan by one third, MAZ deputy marketing director for non-CIS countries Alexander Kazakevich said during the joint economic commission meeting.
The Belarusian news agency reported that the National Academy of Sciences of Belarus (NASB) has shown interest in the Pakistani research and development in medicine and nature management.
According to First Deputy Chairman of the NASB Presidium Sergei Chizhik, "our contacts with Pakistani counterparts are new but they are rapidly evolving. Pakistani scientists have interesting developments in the field of medicine, nature management. Herbs from Pakistan are of interest for the pharmacology," said Sergei Chizhik.
In the near future, research and development institutes of Belarus and Pakistan will sign three agreements on cooperation in the field of agricultural sciences, computer science and literature. The agreements will provide for the training of specialists, exchange of delegations and implementation of joint projects.
http://www.dawn.com/news/1199293/belarus-ready-to-initiate-joint-ventures
------
North America
In letter to Obama, top scientists praise Iran deal
By AFP | Washington, 9 August 2015
More than two dozen top U.S. scientists, among them nuclear researchers and Nobel prize winners, in a letter to President Barack Obama on Saturday praised the Iran nuclear deal as major security achievement, The New York Times reported.
The two-page letter, from some of the world's most knowledgeable nuclear experts, could prove to be a shot in the arm for Obama, who has launched a major effort to sell the deals to skeptical members of the U.S. Congress.
The letter tells the U.S. president that the Iran deal "will advance the cause of peace and security in the Middle East and can serve as a guidepost for future nonproliferation agreements."
The Iran accord, the scientists said, has "more stringent constraints than any previously negotiated nonproliferation framework."
There were 29 signatories of the letter in all, some of whom are physicists who have held top level military security clearances. Others have advised Congress, the White House or federal agencies, on military security.
Among those who signed the letter are Leon Cooper of Brown University; Sheldon Glashow of Boston University; David Gross of the University of California, Santa Barbara; Burton Richter of Stanford; and Frank Wilczek of the Massachusetts Institute of Technology -- all Nobel laureates.
The so-called P5+1 -- Britain, France, Germany, Russia, China and the United States -- signed an agreement last month with Iran aimed at ensuring Tehran does not acquire a nuclear bomb, in return for relief from crippling sanctions.
As part of the deal, the International Atomic Energy Agency will have to verify that Iran does indeed scale down its facilities, clearing a path towards ending U.N., U.S. and EU sanctions.
The White House has mounted an intense lobbying campaign to convince reluctant members of the Republican-controlled Congress to back the deal.
https://english.alarabiya.net/en/News/middle-east/2015/08/09/In-letter-to-Obama-scientists-praise-Iran-deal.html
-------
Democrats push for Iran nuclear deal survival
By Patricia Zengerle and Susan Cornwell | Reuters Washington
Saturday, 8 August 2015
Democrats said on Friday that they would have enough votes to ensure that the U.S.-led international nuclear deal with Iran survives review by Congress, despite influential Democratic Senator Chuck Schumer saying he would vote against it.
A spokesman for Senator Dick Durbin, who counts Democratic votes as the Senate's minority whip and who supports the deal, said Democrats were still confident they could rebuff Republican attempts to sink the agreement in a showdown next month.
"The momentum is behind this deal, as you've seen from Democrats coming out this week," spokesman Ben Marter said.
Schumer, New York's senior senator, announced late Thursday that he would oppose the nuclear pact between six world powers and Iran announced on July 14.
President Barack Obama is trying to win over enough of his fellow Democrats to block Republican efforts to pass a "resolution of disapproval" that could cripple the deal, which is designed to curb Tehran's nuclear program in exchange for lifting of economic sanctions.
Congress has until Sept. 17 to vote on such a measure. If it passes, as even many in Obama's administration believe, there would be 22 days for the president to decide on a veto and Congress to try to override it.
So far, at least 14 Senate Democrats and independents who vote with Democrats and about 34 House Democrats have announced they would back the deal. There are 46 members of the Democratic caucus in the 100-member Senate and 188 Democrats in the 435-member House.
Most Republicans have already said they are opposed, as have a handful of House Democrats.
Senator Kirsten Gillibrand, New York's junior senator, announced her support on Thursday, hours before the announcement by Schumer. Senator Tammy Baldwin of Wisconsin announced on Friday she approved.
Obama spokesman Josh Earnest said the White House was "not particularly" concerned that the decision by Schumer, the third-ranking Senate Democrat, would encourage more opposition.
"We continue to be confident that the vast majority of Democrats in the United States Congress will make a decision based on their own conclusions and not on Senator Schumer's," Earnest said told reporters.
Representative Eliot Engel of New York, the top Democrat on the House Foreign Affairs Committee, had also said on Thursday he opposed the deal.
Democrats said neither Schumer nor Engel had been expected to be yes votes. Pressure on them and other Jewish lawmakers had grown as Israel's government, and some pro-Israel lobbying groups, said the agreement would open the way for Iran to get a nuclear weapon and threaten Israel's existence.
However, if either had backed the deal, it could have tipped the balance strongly in favor of approval, Democratic aides said.
Schumer said he would encourage fellow senators to oppose the agreement, and would vote to override a veto.
A source closely tracking the issue said before Schumer's decision, it appeared possible for Democrats to have mustered the 41 votes they needed to use procedural votes in the Senate to block the Republican vote to "disapprove" of the deal.
Now, the fight will more likely be about ensuring they can keep Republicans from mustering the two-thirds majorities in both chambers to override an expected veto of the Republican move by Obama.
Administration officials were blunt in their disappointment with Schumer, who had had multiple briefings by top Obama aides.
Schumer came to meetings with a list of questions, but "those questions were lifted straight from AIPAC" a senior U.S. official said, referring to the pro-Israel lobbying group. "He came into it with a certain mindset," the official said.
Schumer said he made his decision "without regard to pressure, politics or party."
An aide in the House, where Minority Leader Nancy Pelosi of California is a strong backer of the deal, said nothing this week had altered Pelosi's confidence that she had enough votes to sustain an Obama veto of a resolution of disapproval, if need be.
https://english.alarabiya.net/en/News/middle-east/2015/08/08/Democrats-push-for-Iran-nuclear-deal-survival-.html
------
Africa
Tunisia arrests 12 people trying to enter Libya
By Reuters | Tunis
Saturday, 8 August 2015
Tunisia has arrested 12 people, one of them a woman, who were trying to cross into lawless Libya to join a "terrorist group", the interior ministry said.
After attacks on tourists by Islamist militants, Tunisia is especially concerned about those entering from Libya. Chaos created by two rival Libyan governments battling for control has enabled Islamic State to establish a toehold there.
Security forces arrested the 12 at a bus stop in the southern town of Ben Guerdane near the border with Libya, the ministry said in a statement late on Friday.
"The suspects said that they had been planning to cross into Libyan territory with the help of a smuggler," it said.
Tunisia made a largely peaceful transition to democracy after a 2011 popular uprising toppled president Zine al-Abidine Ben Ali. But its army has been fighting a rise in Islamist militancy.
Last month, a gunman killed 38 mostly British tourists in the Tunisian seaside city of Sousse. In March, two gunmen killed 21 foreign tourists and a policeman at Tunis's Bardo Museum. Both attacks were claimed by the Islamic State jihadist group.
Tunisia says it has started building a wall and trench along the insecure 168 km (105 miles) of its frontier with Libya. The Sousse gunman obtained training with militants in Libya before carrying out his attack.
Last month, Tunisia's parliament approved legislation allowing the death penalty for those convicted on terrorism charges and giving judges and the security forces more power to detain suspects.
https://english.alarabiya.net/en/News/middle-east/2015/08/08/Tunisia-arrests-12-people-trying-to-enter-Libya.html
-------
4 Rescued in Mali Hotel Attack
By THE ASSOCIATED PRESS AUG. 8, 2015
BAMAKO, Mali — The first attack by Islamic extremists in a central Mali town, in which 10 people died, showed that jihadist aggressions are spreading in the country and hitting more directly at the government military and the United Nations peacekeeping force, an expert said Saturday.
Three of the attackers also were killed, and seven suspected militants were detained, the government said. Four United Nations employees were rescued.
Additional United Nations personnel may still be missing, said an official who spoke on the condition of anonymity because of lack of authorization to speak to the news media.
The militants first targeted the army camp in Sevare on Friday, but when they faced resistance, they moved to the nearby Hotel Debo before assaulting the Hotel Byblos, popular with United Nations staff, to take hostages, said a Mali government report, according to the official.
Sevare, a garrison town about 375 miles northeast of the capital, Bamako, is at the heart of Mali's tourism industry and until now had not been targeted in the attacks more common in the northern towns of Gao and Timbuktu.
"It's a troubling sign that the armed Islamist groups are intent on stepping up the pressure both on the Malian government and on the U.N. and French presence," said Bruce Whitehouse, a Mali expert and associate professor at Lehigh University. "They want to show they are not just contained within the north and that they're not afraid to confront their primary enemies where they're strongest."
Whitehouse said the attack was likely intended "to signal all Malians everywhere that neither their government nor the U.N. can keep them safe," but he noted the rapid response by Mali's forces.
The attackers may be followers of Amadou Koufa, a leader who has been linked to attacks on Mali's Army, including a January attack that killed 10 soldiers in Nampala, said Col. Souleymane Maiga, chief spokesman for the military.
The four rescued United Nations employees are two South Africans, a Russian and a Ukrainian who are all in good health, said Radhia Achouri, a United Nations spokeswoman.
In a statement later Saturday, the United Nations said five of its contractors died, including a Malian, a Nepalese, a South African and two Ukrainians.
http://www.nytimes.com/2015/08/09/world/africa/4-rescued-in-mali-hotel-attack.html?ref=africa
----
Police arrest 'knife-wielding traffickers' after migrant shipwreck
Palermo, Italy, AFP
Friday, 7 August 2015
Italian police arrested five men Friday accused of multiple murders and human trafficking following a deadly shipwreck off the coast of Libya which left more than 200 people feared drowned.
Two Libyans, two Algerians and a Tunisian were held by police after survivors of Wednesday's shipwreck were brought to Sicily, as testimony emerged as to how the suspects had beaten and stabbed passengers during the perilous crossing, blocking many people in the ship's hold.
Police issued a correction after earlier saying three of the suspects, aged between 21 and 24-years-old, hailed from Libya.
The overcrowded vessel was believed to have had more than 600 migrants onboard when it began the perilous journey across the Mediterranean, before getting into trouble and overturning on Wednesday.
Rescuers pulled 373 men, women and children from the water, but more than 200 others were feared lost to the waves.
Police said "the criminals each took on a clear role," with one in charge and the others tasked with controlling the migrants through violence.
Survivors told them migrants from Africa had been put in the hold, and that "they could be closed in and compacted in the hull for three days, having paid half price for the crossing."
When water began seeping in, "the migrants, on the traffickers' orders, tried desperately to get rid of it," the police said in a statement.
When that failed "they did everything to try and get out to save themselves, but instead were attacked with knifes and sticks, pushed back into the hull," at which point the traffickers "sealed the hatch, with the weight of the rest of the migrants, positioned on purpose to stop it reopening."
Rescuers said they feared at least 100 people were trapped below deck when the boat overturned, and would have immediately drowned.
https://english.alarabiya.net/en/News/africa/2015/08/07/Police-arrest-knife-wielding-traffickers-after-migrant-shipwreck.html
--------
India
Will not allow any country to set up military base: Maldives to India
PTI | Aug 9, 2015
NEW DELHI: Maldivian President Abdulla Yameen has assured Prime Minister Narendra Modi that his country will not allow any foreign power to set up a military base under the new law allowing foreign ownership of land, allaying India's concerns over possible expansion of Chinese strategic assets in the archipelago.
Yameen, in a letter to Modi, also assured his government will keep the Indian Ocean a "demilitarized zone", official sources said.
"Maldivian President has assured Prime Minister Modi that no country can set up a military base in Maldives and that it will be a demilitarized Indian Ocean," government sources said.
Yameen's letter was handed over to external affairs minister Sushma Swaraj by Maldivian foreign secretary Ali Naseer Mohamed, who left on Saturday after a two-day visit here.
The letter of assurance came after India conveyed its concerns over the impact of the recently passed constitutional amendment which allowed foreigners to own land in the island nation. It is understood that the concerns were conveyed by foreign secretary S Jaishankar who was in Maldives last week.
The new law passed by the 85-member Majlis, will allow foreigners who invest more than USD 1 bn to purchase land within the project site in which at least 70 per cent of the area of the completed project must be reclaimed land.
Earlier, Maldives' Constitution only allowed long-term leasing of land which could be up to 99 years.
The development created a flutter among the officials here who felt the new law could enable China to set up bases in the Maldives, thereby giving a strategic advantage to Beijing over New Delhi.
However, the Maldivian officials defended the decision as one that will attract offshore investors to special economic zones set up by President Yameen to reduce the economy's dependence on tourism.
Yameen also reiterated his invitation to Modi to visit Maldives, which he had skipped in March this year when he visited other maritime neighbours-Seychelles, Mauritius and Sri Lanka. It was seen by many as a reflection of the widening diplomatic chasm between India and Maldives, which was witnessing political unrest over the arrest of former President Mohammed Nasheed.
http://timesofindia.indiatimes.com/india/Will-not-allow-any-country-to-set-up-military-base-Maldives-to-India/articleshow/48411155.cms
------
Pak again violates ceasefire
PTI | Aug 9, 2015
JAMMU: After a day-long lull, Pakistani troops violated the ceasefire by resorting to heavy firing and mortar shelling on forward Indian posts along the LoC in Poonch district of Jammu and Kashmir.
This is the first time that Pakistani troops fired 120 mm mortar shells.
Pakistani troops resorted to firing from automatic weapons and mortar shells on forward post in Mandi-Sabzaiyan sector in Poonch from 2330 hrs to 0430 hrs, a defence spokesman said.
Apart from mortar shells and automatic weapons, Pakistani troops fired 120 mm mortars.
There was no loss of life or injury to anyone in the firing.
There have been 16 ceasefire violations by Pakistani troops in August.
On August 7, an army jawan was injured as Pakistani troops opened fire at villages and forward posts in Poonch district along the LoC for the third consecutive day on Sunday.
Pakistani troops had on August 6 resorted to intermittent firing with automatic weapons, rocket projectile grenades and mortar bombs along the LoC in Poonch district.
On August 5, Pakistani troops had violated the ceasefire twice and targeted Indian forward posts and hamlets, in which three civilians including a woman were injured.
A youth was killed and two others, including a BSF jawan, were injured when Pakistani troops had targeted border out posts and hamlets along the International Border in 4 sectors of Kanachak, Pargwal, Tawi and R S Pura in Jammu district on August 4.
On August 2 and 3, Pakistani troops had violated the ceasefire four times by resorting to small arms firing in forward posts along LoC in Krishnagati, Mandi, Balakote and Pallanwala sectors of Poonch and Jammu districts. There were two ceasefire violations on August 1.
There have been 18 ceasefire violations along the Indo-Pak border in July in which four persons, including three jawans, were killed and 14 others injured.
http://timesofindia.indiatimes.com/india/Pak-again-violates-ceasefire/articleshow/48410084.cms
------
URL: https://www.newageislam.com/islamic-world-news/new-age-islam-news-bureau/isis-top-command-dominated-by-ex-officers-in-saddam-s-army/d/104215