New Age Islam News Bureau
13 Nov 2014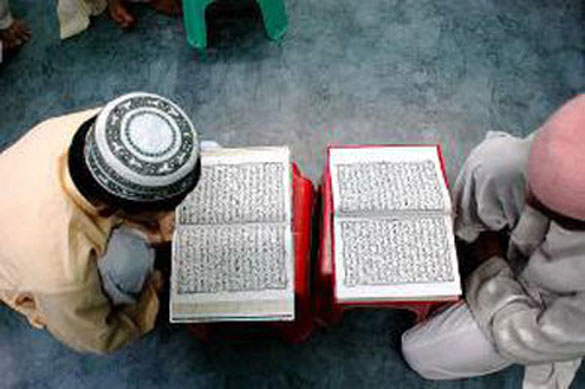 The report, submitted to the Union home ministry last month, has raised concern over the mushrooming of unaided and unregulated madrasas along the Indo-Bangladesh or Indo-Nepal border in West Bengal, Assam and Terai region
-----------
Arab World
• ISIS to Introduce Own 'Currency', Golden Dinars and Silver Dirhams to Return
• 'Muslims Must Pool Talent for Ummah': Former ISRO Scientist
• US forces carry out most strikes against IS
• Rockets kill seven Syrian schoolchildren: State media
• Eight Egyptian navy personnel missing after militant attack
• Five Egyptian conscripts killed in North Sinai
• Saudi beheads drug smuggler in 66th execution of year
• Fleeing Syrians face 'new level of hopelessness'
• Egyptian Salafists call for demonstrations
India
• Bangladeshi Instructors Indoctrinating Young Muslims in Indian Madrasas
• Seven Soldiers Sentenced To Life for Killing Three Kashmiri Civilians
• AMU Students Slam Media for 'Biased' Reports On Library Row
• Minorities from Pakistan, Afghanistan Seeking Refuge in India Can Now Apply Manually
Africa
• Local Hunters Kill 75 Boko Haram Insurgents in Adamawa
• Blasts rock Egypt, UAE embassies in Libya
• Sudan meets with rebels amid 'urgent' ceasefire plea
• Tunisian Islamists manoeuvre for presidency
Pakistan
• Punish Pakistan for Its Un-Islamic Blasphemy Laws: Father James Channan
• IS Delegation Visited Balochistan: Jundullah
• Ulema Council Chairman Opposes Repeal of Blasphemy Law
• Five LI militants, including key commander, killed in Khyber clash
• Five people gunned down in Quetta 'targeted killing'
• Clash between IDPs and law enforcement agencies in Bannu
• ATC issues warrants for Imran and Qadri
• Jamaat-e-Islami asks govt to fulfil electoral reforms promise
• Model Town tragedy: Govt, Minhaj ul Quran discuss creation of new JIT
South Asia
• Taliban militants close 26 schools in Nangarhar province
• 4 Afghan soldiers martyred in IED attack
• Fugitive Bangladesh Politician, Khokon, Gets Death for 1971 War Crimes
• Jatiya Party: Zia destroyed Liberation War spirit
• EU demanded same sex marriage, freedom of religion, claim Maldivian ministers
• 130 suspected Uighurs flee shelters
North America
• Muslim Friday Prayer to Be Offered At Washington National Cathedral
• Quebec Muslims warn of heightened Islamophobia after October attacks
• America's Last Best Hope for Defeating the Islamic State Is… Iran?
• Obama seeks review of Syria strategy, sees Assad removal as necessary: Report
• 'We crossed the line', US admit to UN anti-torture body
• CAIR Launches 'Unite Humanity' Initiative to Bring Americans Together
• Muslim Art Museum in North America Aims To Create Better Understanding of Islam
Europe
• No Need for Muslim Primary Teachers to Wear Full-Face Veil – UK Islamic Scholar
• BBC under fire for 'ISIS is fun' interview
• Russia, U.S. urge Iran nuclear deal 'as soon as possible'
• Western IS Wannabes Ask Burning Questions on Social Media
Mideast
• Israel says won't cooperate with UN Gaza inquiry
• Israel approves 200 new homes in east Jerusalem
• Arafat's widow: Armed struggle will only lead to Palestinians being crushed
• Abbas: Jordan 'major partner' to Palestinians on Jerusalem issue
Southeast Asia
• Shariah court that has same powers as Federal Court unconstitutional, says expert
• Malaysia on top of the world thanks to Umno's 'intelligent leadership'
Compiled by New Age Islam News Bureau
URL: https://www.newageislam.com/islamic-world-news/new-age-islam-news-bureau/isis-to-introduce-own-'currency',-golden-dinars-and-silver-dirhams-to-return/d/99992
-------------
Arab World
ISIS to Introduce Own 'Currency', Golden Dinars and Silver Dirhams to Return
Nov 13, 2014
The Islamic State of Iraq and Syria (ISIS) is now looking to introduce its own currency in an effort of solidifying its control over areas where it proclaimed a "caliphate."
The militant group is reportedly looking to reinstate the Dinar as a means of exchange. Militant leaders announced in mosques in the Iraqi cities of Mosul and Nineveh that it has returned.
The dinar was used throughout the Arabian Peninsula in the earlier days of Islam circa 634 CE, and ISIS leaders are planning to reintroduce the actual gold and silver coins in areas they control, according to the reports.
The militant group, which is accused of committing war crimes and crimes against humanity by various rights organizations including the U.N., plans to introduce the currency in the next few weeks replacing regular Liras and dinars to golden dinars and silver Dirhams.
Reports surfaced in October indicating that ISIS makes a daily revenue of $1 million from black market oil sales alone.
The group also receives several millions a month from wealthy supporters in addition to criminal activities such as robbing the banks in the cities they have taken over, David Cohen, head of the UK Treasury Department's effort to minimize ISIS finances, said.
http://english.alarabiya.net/en/variety/2014/11/12/Reports-ISIS-to-introduce-own-currency-.html
-------------
'Muslims Must Pool Talent for Ummah': Former ISRO Scientist
Nov 13, 2014
Former Indian Space Research Organization (ISRO) scientist and Madinah expansion project consultant Abdul Salam emphasized on the need for centres of national excellence in Muslim countries.
He said that these centres of excellence would cater to the development of huge human resources and convert them into a diverse talent pool serving the purposes of the Ummah at large.
He hailed the ongoing works of the Knowledge Economic City in Madinah saying that such enormous projects are the need of the hour and will serve as a gateway to the age of enlightenment and prosperity.
The Indian scientist turned educationist, is also the CEO of Markaz Knowledge City, the biggest education-focused integrated city in south India near Calicut in Kerala.
He asserted that during the lifetime of Prophet Muhammad (peace be upon him), the holy city not only had economic activities, but also imparted education.
"The Knowledge City aims to serve the Kingdom's economic diversification by reviving Madinah's role as a centre of Islamic knowledge and the hub of cumulative global knowledge as well as a cultural centre," Salam said.
http://www.arabnews.com/saudi-arabia/news/659391
-------------
US forces carry out most strikes against IS
Nov 13, 2014
US forces have carried out the overwhelming majority of air strikes against Islamic State jihadists since August, with American warplanes conducting about 85 percent of the raids, the Pentagon said Wednesday.
Arab coalition partners have carried out 56 out of 393 air strikes over Syria, and Western allies have conducted about 70 out of more than 470 bombing raids in Iraq, Colonel Patrick Ryder, spokesman for US Central Command, told AFP.
President Barack Obama's administration frequently touts the vital role of coalition partners in the air war, particularly four Arab states, but the numbers convey how the Americans are bearing most of the burden of the campaign.
Since launching air strikes on August 8 on IS jihadists in Iraq, and later extending it to Syria on September 23, US forces and allied aircraft have carried out roughly 9,020 flights, including thousands of surveillance and refueling runs, according to the military's latest tally.
The overwhelming majority of the intelligence and refueling flights also have been conducted by US aircraft, defense officials said.
After more than 800 air strikes over about three months, US and coalition aircraft have unloaded about 2,400 bombs and missiles, defense officials said.
The air campaign has been designed to halt the advance of IS forces while the United States and other countries arm and train Iraqi and Kurdish troops to eventually retake lost territory.
Independent monitoring groups say the strikes have killed an unknown number of civilians. US Central Command said it has yet to confirm any civilian casualties from the bombing raids.
Saudi Arabia, the United Arab Emirates, Jordan and Bahrain are taking part in the air strikes in Syria and Australia, Belgium, Britain, Canada, Denmark, France and the Netherlands are participating in Iraq.
http://english.ahram.org.eg/NewsContent/2/8/115435/World/Region/-US-forces-carry-out-most-strikes-against-IS.aspx
-------------
Rockets kill seven Syrian schoolchildren: State media
Nov 13, 2014
Two rockets fired at a school in the central Syrian province of Hama killed seven children on Wednesday, state media reported, blaming "terrorists" for the attack.
"Terrorist organisations have fired two rockets at a primary school in the town of Karnaz, killing seven children, wounding others and causing major damage to the school," said SANA news agency, quoting a police source.
The Syrian regime regards as "terrorists" all of those who have taken up arms against it in the conflict sparked by a bloody crackdown on a pro-democracy uprising in 2011.
"All of the martyrs were under 12 years of age," a source at a hospital where the casualties were taken was quoted as saying.
Karnaz is located 45 kilometres (28 miles) northwest of Hama city and is close to the villages of Kfanbuda and Kfarzita "where terrorist organisations abound," according to SANA.
http://english.ahram.org.eg/NewsContent/2/9/115409/World/International/Rockets-kill-seven-Syrian-schoolchildren-State-med.aspx
--------
Eight Egyptian navy personnel missing after militant attack
Nov 13, 2014
Eight Egyptian navy personnel are missing following an attack by militants on an armed forces boat in the Mediterranean, the army has said.
Five injured navy personnel have been transferred to hospital, while searches are ongoing to locate another eight, a military spokesman said late on Wednesday.
Military forces destroyed four boats used by the assailants and arrested 32 suspects, he added.
A military naval boat was performing a combat exercise in the Mediterranean, 40 nautical miles north of Damietta port, when a number of boats fired at it on Wednesday.
This is the first attack on naval forces.
No information has been released on the identity of the assailants.
The army has been combating a decade-long jihadist insurgency in Sinai, with attacks increasing over the past year and expanding into Cairo and the Nile Delta. Hundreds of soldiers and police have been killed, while the army says it has killed and arrested hundreds of jihadists. Civilians have also been caught in the violence.
http://english.ahram.org.eg/NewsContent/1/64/115422/Egypt/Politics-/Eight-Egyptian-navy-personnel-missing-after-milita.aspx
-------------
Five Egyptian conscripts killed in North Sinai
Nov 13, 2014
Five Egyptian conscripts were shot dead in attacks in North Sinai on Thursday, Sky News Arabia reported.
Two police conscripts were shot dead in a village near the city of Rafah, while three army conscripts were shot in the city of Sheikh Zuweid, both hot spots for militant attacks which have spiked since the ouster of Islamist president Mohamed Morsi in 2013.
On Wednesday, eight navy personnel went missing after an armed attack against a navy boat in the Mediterranean Sea off the coast of Damietta.
Earlier in November, Sinai witnessed the deadliest attack yet against army forces, when 31 soldiers were killed in a militant raid near the city of Arish.
http://english.ahram.org.eg/NewsContent/1/64/115446/Egypt/Politics-/BREAKING-Five-Egyptian-conscripts-killed-in-North-.aspx
-------------
Saudi beheads drug smuggler in 66th execution of year
Nov 13, 2014
Saudi Arabia on Wednesday beheaded a convicted drug trafficker, the interior ministry announced, bringing to 66 the number of executions this year despite international concerns.
Mohammed bin Abd al-Ghani bin Hassan al-Khatir, a Saudi, "was caught smuggling a large quantity of drugs in the form of pills into the kingdom, inside his luggage," the official Saudi Press Agency said, citing the ministry.
The death sentence was carried out in the northern region of Jawf.
Since October 15, six Pakistanis have also been executed for drug trafficking.
The interior ministry says the government is battling narcotics "because of their great harm to individuals and society".
Full report at:
http://english.ahram.org.eg/NewsContent/2/8/115373/World/Region/Saudi-beheads-drug-smuggler-in-th-execution-of-yea.aspx
-------------
Fleeing Syrians face 'new level of hopelessness'
13 November 2014
A new report says the plight of people fleeing Syria's civil war has reached "a new level of hopelessness" as overstretched neighbors make it more difficult to escape and developed countries like the United States resettle a tiny number of refugees. Less than 2 percent have been given a new home.
The report released Wednesday by the International Rescue Committee and the Norwegian Refugee Council says the number of refugees from Syria has dropped sharply, with 18,483 registered in October, while an average of 150,000 were registered each month in 2013 with the United Nations refugee committee.
"We are witnessing a total collapse of international solidarity with millions of Syrian civilians," Norwegian Refugee Council Secretary General Jan Egeland said in a statement.
Syria's neighbors, including Lebanon and Jordan, have warned they were at the breaking point.
Full report at:
http://english.alarabiya.net/en/News/middle-east/2014/11/13/Fleeing-Syrians-face-new-level-of-hopelessness-.html
-------------
Egyptian Salafists call for demonstrations
Nov 13, 2014
A number of Salafist groups in Egypt have called for taking to the streets in demonstrations on 28 November in what they are calling the "Islamic Revolution" or "Islamic Youth's Intifada", Jordan's As-Sabeel newspaper reported on Tuesday.
The leader of the Salafist Front in Egypt and spokesperson of the Islamic Youth's Intifada, Mohamed Jalal, announced that the demonstrators would be taking to the streets across Egypt.
Full report at:
https://www.middleeastmonitor.com/news/africa/15224-egyptian-salafists-call-for-demonstrations
-------------
India
Bangladeshi Instructors Indoctrinating Young Muslims in Indian Madrasas
Nov 13, 2014
NEW DELHI: A discreet survey of the country's Madrasas by the Modi government has reportedly found the foreigners teaching there — mostly Bangladeshi instructors — who have managed to acquire Indian documents, to be a key source of indoctrination among the young Indian Muslims. In fact, the study, purportedly instituted by an arm of the security establishment, seeks to absolve the Indian Madrasas teachers of charges of feeding anti-national or subversive agenda under the garb of religious education.
The report, submitted to the Union home ministry last month, has raised concern over the mushrooming of unaided and unregulated Madrasas along the Indo-Bangladesh or Indo-Nepal border in West Bengal, Assam and Terai region. "Many of these seminaries have foreign teachers, mostly Bangladeshis who have worked closely with elements associated with outfits such as Jamaat ul Mujahideen Bangladesh. They digress from the normal religious teachings and 'correct' interpretation of Islam by Madrasas having Indian teachers, and highlight the alleged atrocities on Indian Muslims through videos and other provocative material. The aim is to exploit the feeling of alienation or disgruntlement among the young impressionable Muslims, with the larger purpose of radicalizing them to take up jihadi terror," said a senior official who has perused the report on Madrasas across the country.
Full report at:
http://timesofindia.indiatimes.com/india/Bangladeshi-instructors-indoctrinating-young-Muslims-in-Madrasas-Study/articleshow/45126069.cms
-------------
Seven Soldiers Sentenced To Life for Killing Three Kashmiri Civilians
ZAHID RAFIQ
Nov 13, 2014
The Army on Thursday convicted seven soldiers, including two officers, and sentenced them to life imprisonment for a staged killing of three Kashmiri civilians and passing it off as an anti-militancy operation for rewards and remunerations in J&K in 2010.
The service benefits of the seven convicted Army men have also been suspended.
On April 30, 2010, three civilians — Shahzad Ahmad Khan, Mohammad Shafi Lone and Riyaz Ahmad Lone of Nadihal, Rafiabad in Sopore — were lured to work as porters for the Army in Kupwara district.
Instead, the Army killed them in a fake encounter, applied black paint on the clean-shaven faces of the slain, placed weapons on them and said they had killed foreign militants. It was later found that the three were the three civilians missing from Rafiabad.
The staged killings known as the Machil fake encounter case became one of the important reasons for the 2010 mass protests in Kashmir in which the police and CRPF killed more than 120 young unarmed protestors.
Full report at:
http://www.thehindu.com/news/national/other-states/machil-fake-encounter-seven-soldiers-sentenced-to-life-for-killing-three-kashmiri-civilians/article6594347.ece
-------------
AMU Students Slam Media for 'Biased' Reports On Library Row
Nov 13, 2014
ALIGARH: Aligarh Muslim University Women's College Students' Union (AMUWCSU) and AMU Students' Union (AMUSU) on Wednesday organized a joint protest against alleged "biased media reports" over the issue of access to girls to the university's central Maulana Azad Library.
More than 2000 girls took out a procession culminating at the Sir Syed crossing here.
"We are deeply outraged by the manner in which the media has distorted our demands for access to Maulana Azad library and has presented it in a highly biased manner," newly-elected president of the AMUWCSU Gulfiza Khan said while addressing the protesters.
She said that some misguided individuals in the media were trying to project a highly distorted version of their demand which is very painful.
Full report at:
http://timesofindia.indiatimes.com/india/Aligarh-Muslim-University-students-slam-media-for-biased-reports-on-library-row/articleshow/45124183.cms
-------------
Minorities from Pakistan, Afghanistan seeking refuge in India can now apply manually
Bharti Jain,TNN | Nov 13, 2014
NEW DELHI: Pakistani and Afghanistani nationals belonging to the minority community, who have sought refuge in India fearing religious persecution back home, may now apply for Indian citizenship manually.
The government has relaxed the norms mandating online submission of applications in view of the difficulties faced by such applicants.
"Union home minister Rajnath Singh has considered the difficulties being encountered by the minority community nationals of Pakistan and Afghanistan for submitting their applications for grant of Indian citizenship...(He) has permitted the manual acceptance of applications...(by) such individuals who had entered India prior to 31.12.2009," the home ministry said on Thursday.
Full report at:
http://timesofindia.indiatimes.com/india/Minorities-from-Pakistan-Afghanistan-seeking-refuge-in-India-can-now-apply-manually/articleshow/45132365.cms
----------
Africa
Local Hunters Kill 75 Boko Haram Insurgents in Adamawa
Nov 13, 2014
The effort by Boko Haram insurgents to install a leader, or Amir, in Maiha town of Adamawa State following its annexation of the town has suffered setback as about 75 members of the sect were allegedly killed by a combined force of hunters and a local vigilante group who subsequently liberated the town.
Maiha local government had fallen into the hands of the insurgents on Monday after they launched an offensive which claimed the lives of several soldiers, including a lieutenant colonel while others fled.
Afterwards, local hunters and vigilante group mobilized themselves and took the war to the insurgents who were already basking in their easy victory.
The local hunters and vigilante group were reported to have overwhelmed the insurgents as they confronted the militants in their hundreds, killing dozens of the Islamists and recapturing the town. They also vowed to repel any further attacks on their town.
A Maiha resident, Mallam Sani Pella, said that before the attack on the insurgents, he saw about 10 truckloads of the local fighters heading towards Maiha.
Full report at:
http://allafrica.com/stories/201411130264.html
-------------
Blasts rock Egypt, UAE embassies in Libya
13 November 2014
Bombs exploded near the Egyptian and United Arab Emirates embassies in the Libyan capital, Tripoli, on Thursday, residents and witnesses said, according to Reuters news agency.
There were no immediate reports of casualties or major damage in the attacks, the agency reported.
Both Egypt and the United Arab Emirates followed other nations in pulling diplomatic staff out of the capital over the summer after armed clashes in Tripoli between armed factions battling for control of the North African state.
The bomb had slightly damaged buildings and some stores, but it was not clear if the Egyptian embassy had been hit, a witness told Reuters.
Full report at:
http://english.alarabiya.net/en/News/middle-east/2014/11/13/Car-explodes-near-Egypt-embassy-in-Libya-.html
-------------
Sudan meets with rebels amid 'urgent' ceasefire plea
Nov 13, 2014
Sudan's government and rebels from South Kordofan and Blue Nile launched their latest round of peace talks Wednesday, as mediators called for an "urgent" end to over three years of war.
More than one million people have been displaced or severely affected by the conflict in the two states.
"We are really hoping this time to finalise the negotiations in which both sides have been engaged in for a few years," African Union chief mediator Thabo Mbeki said at the talks in the Ethiopian capital.
"It is important, necessary and urgent that... we end the war in these two areas," added Mbeki, a former South African president.
Fighting erupted shortly before South Sudan split from Sudan in 2011, as former SPLM-N rebels took up arms again.
Full report at:
http://english.ahram.org.eg/NewsContent/2/8/115397/World/Region/Sudan-meets-with-rebels-amid-urgent-ceasefire-plea.aspx
-------------
Tunisian Islamists maneuver for presidency
Nov 13, 2014
Tunisia's Islamist Ennahda party has said it will not back any candidate in the upcoming presidential election, in a move that could open the floor for its secular opponents to rule the country.
However, experts say this could be a political maneuver for Ennahda to entrench itself in the political system.
Following initial talks on endorsing a "consensus candidate," Ennahda's leadership on Saturday said its members were free to elect whomever they see fit to be the next president.
Tunisian political analyst al-Ajmi al-Qasimi told Al Arabiya News that Ennahda's announcement could make it difficult for any presidential candidate to win in the first round, given that the party has a support base of up to a million in a country of 11 million people.
"They could have asked their base not to elect anyone," said Qasimi, "but they chose what's politically called the 'grey zone,' basically endorsing no one and opening the field for their base to vote for whomever they see fit."
If the vote moves to a second round and the race is tight, Ennahda could then step in to support a candidate and propel him to the presidency.
"Then Ennahda would say the president was elected with its support and will then start laying out its demands," Qasimi said.
Full report at:
http://english.alarabiya.net/en/perspective/analysis/2014/11/12/Analysts-Tunisian-Islamists-maneuver-for-presidency.html
-------------
Pakistan
Punish Pakistan for Its Un-Islamic Blasphemy Laws: Father James Channan
Nov 13, 2014
"The barbaric act by fanatic Pakistani Muslims of burning alive a poor Christian couple is a crime against humanity. It's the worst crime in the history of Pakistan committed in the name of religion. It was triggered by the false accusation of the burning of some pages of the Qur'an."
That's Father James Channan of the Dominican Order in Pakistan summing up the horrific incident last week when a mob of more than 1,000 Muslims in a small village in the province of Punjab killed a poor Christian couple.
Shahzad and Shama Masih (the Blessed One, referring to Christ — a common last name among Pakistani Christians) worked at a brick kiln. Its owner reportedly locked up the couple and their three children over a wage dispute. The next day, an announcement was made from two mosques that the couple had committed blasphemy. Frenzy ensued. A crowd ran and beat up the couple, who pleaded innocence and begged for their lives, but were dragged and thrown into the kiln and burnt alive. Shama was pregnant.
The barbarity was worse than the beheadings by the Islamic State militia in Iraq. Here was a civilian mob, mobilized by a mullah or two, either paid by the kiln owner or, worse, motivated by assumed religious duty.
Full report at:
http://www.thestar.com/opinion/commentary/2014/11/12/punish_pakistan_for_its_blasphemy_laws_siddiqui.html
-------------
IS Delegation Visited Balochistan: Jundullah
Nov 13, 2014
DERA ISMAIL KHAN: While the government denies the footprint of a Middle Eastern ultra-extremist group in Pakistan, a delegation of the Islamic State in Iraq and Syria (ISIS), aka Islamic State, or IS, is said to have visited Balochistan recently to liaise with militant groups there, the Associated Press reported on Wednesday.
The revelation came a day after Interior Minister Chaudhry Nisar Ali Khan told journalists in Karachi that the IS didn't exist in Pakistan, though he conceded that some local groups might have been attracted towards the organization.
A spokesman for the Jundullah claimed on Wednesday the visit of the IS delegation took place this week in Balochistan. The purpose of visit was to see how the IS could work to unite various Pakistani militant groups, the spokesman, Fahad Marwat, added. Jundullah is a franchise of the Tehreek-e-Taliban Pakistan (TTP).
Full report at:
http://tribune.com.pk/story/790358/is-delegation-visited-balochistan-jundullah/
-------------
Ulema Council Chairman Opposes Repeal Of Blasphemy Law
Nov 13, 2014
LAHORE: Opposing calls for repealing the blasphemy law, Pakistan Ulema Council chairman Hafiz Tahir Ashrafi has suggested that instead those misusing the law should be given the punishment prescribed for its violators.
Referring to IS posters and wall-chalking being reported in suburban areas of the provincial metropolis, he describes it as a reaction to the hoisting of flags of Hizbullah, a pro-Iran militant outfit active in Lebanon, during activities of some parties here.
"The blasphemy law should stay and those proposing its repealing are neither well-wisher of the non-Muslims nor of the country," Ashrafi told a training session organised for religious scholars by the council here on Wednesday.
Our stance is that those misusing the law by levelling false accusations should be handed down death penalty as is prescribed for the violators of the law."
Pledging not to allow anyone to use 295-C of the Pakistan Penal Code for one's vested interests, he said investigation into the Kot Radha Kishan incident would reveal that the group desirous of spreading anarchy in the country was behind it and not any seminary.
He demanded an end to an environment of fear in the neighbourhood by trying the real accused instead of taking into custody innocent people.
Full report at:
http://www.dawn.com/news/1144169/ashrafi-opposes-repeal-of-blasphemy-law
-------------
Five LI militants, including key commander, killed in Khyber clash
Nov 13, 2014
PESHAWAR: Five militants were killed, including a key Lashkar-i-Islam (LI) commander Spinbat, in a clash with fighters belonging to the peace committee Tauheedul Islam, in Khyber Agency's Tirah valley on Thursday.
Official sources said that the militants attacked the peace committee volunteers in the remote Narai Baba area of Tirah Valley. This led to a gun battle between the two groups and left five militants dead, including their key commander Spinbat.
Seven peace volunteers, who belonged to peace committee Tauheedul Islam, were also injured in the clash.
Full report at:
http://www.dawn.com/news/1144198/five-li-militants-including-key-commander-killed-in-khyber-clash
-------------
Five people gunned down in Quetta 'targeted killing'
Nov 13, 2014
QUETTA: At least five people were killed and two others injured on Wednesday in a firing incident in Quetta, the capital of Balochistan province, police said.
Police sources told Dawn.com that armed motorcyclists opened fire at Usman road area of Quetta, killing five people and injuring another two.
Two people died on the spot, whereas two succumbed to injuries on their way to hospital, a rescue worker Babul Jattak told Dawn.com via telephone.
CCPO Quetta Razzaq Cheema later confirmed that a fifth person succumbed to his wounds, .
The injured were rushed to civil hospital Quetta for medical treatment.
Hospital sources said the condition of the injured was very serious. All the victims had received multiple gunshot wounds in the attack.
Full report at:
http://www.dawn.com/news/1144001/five-people-gunned-down-in-quetta-targeted-killing
-------------
Clash between IDPs and law enforcement agencies in Bannu
Nov 13, 2014
PESHAWAR: At least 13 people, including policemen, were injured in Bannu due to a clash between Internally Displaced People (IDPs) and law enforcement agencies.
The clash took place as law enforcement agencies attempted to control an unruly mob which turned violent during food distribution at the Bannu Sports Complex.
According to police sources, nine policemen and four IDPs were injured in the clash. The clash began as the angry mob started pelting stones on the police and security forces present, and also torched the kiosks that were set up for the facilitation center. The police had to resort to baton-charge to control the situation.
International donors were also planning a visit to the IDP camp for the first time, but it was postponed due to the clash.
Operation Zarb-i-Azb began in June as a military offensive to eliminate Taliban militants from their stronghold in the North Waziristan tribal district. The operation, involving air strikes, tanks and heavy artillery has forced the exodus of a large number of people, mainly to the nearby town of Bannu just outside the tribal zone.
http://www.dawn.com/news/1144213/clash-between-idps-and-law-enforcement-agencies-in-bannu
-------------
ATC issues warrants for Imran and Qadri
Nov 13, 2014
ISLAMABAD: An anti-terrorism court issued arrest warrants against Pakistan Tehreek-e-Insaf (PTI) Chairman Imran Khan and Pakistan Awami Tehreek (PAT) chief Tahirul Qadri on Wednesday.
Multiple FIRs have been registered by the Islamabad police against the leaders of the PTI and PAT for attacking the Presidency, Parliament House and PTV headquarters, under the Anti-terrorist Act. Secretariat Police on Wednesday requested the court that the top leaderships of both the parties was not cooperating in the investigation process. The FIR s have been registered against Tahirul Qadri, Imran Khan, Shafqat Mehmood, Jahangir Tareen, Asad Umar, Shah Mehmood Qureshi, Sheikh Rasheed, Chaudhry Shujaat Hussain, Hamid Raza of Suuni Ittehad Council, Khyber Pakhtunkhwa Chief Minister Pervaiz Khattak and Dr Raheeq Abbassi. Article 7-ATA of the Anti-terrorist Act has also been invoked in the FIRs.
The arrest warrants have been released for allegedly inciting the protesters to attack the Parliament House and state-run Pakistan Television (PTV) buildings. On September 1, charged protesters of PTI and PAT broke into the PTV headquarters and ransacked it. The PTI and PAT started their sit-in in the capital on August 14 to press their demand for the resignation of Prime Minister Nawaz Sharif over alleged rigging in the last year's general elections. Qadri has already quit his sit-in.
http://www.dailytimes.com.pk/islamabad/13-Nov-2014/atc-issues-warrants-for-imran-and-qadri
-------------
Jamaat-e-Islami asks govt to fulfil electoral reforms promise
Nov 13, 2014
LAHORE: Jamaat-e-Islami Ameer Sirajul Haq has urged the need for electoral reforms to strengthen democracy in Pakistan.
He said that the government should not wait for an end to the Pakistan Tehreek-e-Insaf sit-in and should honour its commitment for setting up electoral reforms commission, the reconstitution of the Election Commission and the Judicial Commission to probe into alleged rigging. Addressing to the members of Lahore High Court Bar Association on Wednesday, the JI ameer said that the constitution gave people the right to elect their representatives up to the grass root level and there was dire need to hold local body polls. He deplored that except Khyber Pakhtunkhwa, the provincial governments were delaying the local government polls.
Full report at:
http://www.dailytimes.com.pk/punjab/13-Nov-2014/ji-asks-govt-to-fulfil-electoral-reforms-promise
-------------
Model Town tragedy: Govt, Minhaj ul Quran discuss creation of new JIT
Nov 13, 2014
LAHORE: Talks between the Punjab government and Minhaj ul Quran took place on Thursday in a bid to create a new Joint Investigation Team (JIT) for the Model Town clashes, Express News reported.
On June 17, a clash between Pakistan Awami Tehreek (PAT) supporters and the Punjab police claimed the lives of 14 PAT supporters, while many others were left injured.
An FIR was then registered against Prime Minister Nawaz Sharif and Punjab Chief Minister Shahbaz Sharif for their alleged involvement in the incident.
The JIT will be headed by an additional IG who is not deployed in Punjab. Four names have also been put forward for the team, namely, Aftab Cheema, Shahid Hayat, Nasir Durani and Abdur Razak.
Cheema and Hayat have however, excused themselves from being appointed in the team, reportedly due to their close connections with the Pakistan Peoples Party.
http://tribune.com.pk/story/790479/model-town-tragedy-govt-minhajul-quran-discuss-creation-of-new-jit/
-------------
South Asia
Taliban militants close 26 schools in Nangarhar province
Nov 13, 2014
The Taliban militants have closed at least 26 schools and two other educational institutes in Deh Bala district of eastern Nangarhar province.
According to local government officials, the step by Taliban was taken after two members of the Taliban group were arrested by Afghan intelligence operatives.
A spokesman for the provincial education department, Asif Shenwari said around 20,000 students can not attend classes after Taliban militants issued warning to close the schools and educational institutes.
Shenwari further added that the step by Taliban militants was taken three days ago and the students have not been able to go to schools and educational institutes.
He said negotiations between the tribal elders and Taliban militants continue for the reopening of the schools and educational institutes.
According to Shenwari, the Taliban group has demanded to suspend a number of security officials, release their detainees and provide their fighters with medicines and food so that they reopen the schools and other educational institutes.
http://www.khaama.com/taliban-militants-closes-26-schools-in-nangarhar-province-8986
-------------
4 Afghan soldiers martyred in IED attack
Nov 13 2014
At least four Afghan National Army (ANA) soldiers were martyred following roadside Improvised Explosive Device (IED) attack.
The Ministry of Defense (MoD) said the four ANA soldiers lost their lives in the past 24 hours. No further details were given regarding the exact location of the incident.
The anti-government armed militant groups have not commented regarding the reports so far.
Taliban militants and other insurgent groups frequently use Improvised Explosive Device (IED) as the weapon of their choice to target Afghan and coalition security forces.
According to security officials, the Afghan army deaths stands at 4 service members daily on average which is mainly caused due to improvised explosive device (IED) attacks.
In the meantime, the Ministry of Defense said at least 10 militants were killed following the military operations conducted by Afghan armed forces in 5 different provinces in the past 24 hours.
According to MoD, at least two suspected militatns, including a suicide bomber were arrested by Afghan soldiers.
http://www.khaama.com/4-afghan-soldiers-martyred-in-ied-attack-8989
-------------
Fugitive Bangladesh Politician, Khokon, Gets Death for 1971 War Crimes
Nov 13, 2014
A special Bangladesh tribunal has sentenced an opposition politician to death for his role in killing people and other crimes during the nation's 1971 independence war against Pakistan.
M.A. Zahid Hossain Khokon, of the opposition Bangladesh Nationalist Party, is a fugitive and believed to be in Sweden with his son and daughter.
He was convicted of leading the killings of people, looting and arson attacks during the war.
Bangladesh blames Pakistani soldiers and local collaborators for the deaths of 3 million people during the nine-month war. An estimated 200,000 women were raped and about 10 million people were forced to take shelter in refugee camps in neighboring India.
Head judge of a three-member panel A.T.M. Fazle Rabbi said the tribunal found him guilty of 10 of 11 charges he faced.
http://indianexpress.com/article/world/neighbours/bangladesh-man-gets-death-for-1971-war-crimes/#sthash.foKW2Or6.dpuf
-------------
Jatiya Party: Zia destroyed Liberation War spirit
Nov 13, 2014
atiya Party (JaPa) Chairman HM Ershad yesterday said BNP founder Ziaur Rahman was a freedom fighter but he destroyed the spirit of the Liberation War.
He said the BNP founder's wife Khaleda Zia had handed the national flag over to anti-liberation forces.
"Misrule, terrorism, anarchism and vindictive politics destroy peace," he said, adding that JaPa wants another chance to make a new Bangladesh by forming government after the next election with the support of people.
Ershad was addressing a rally at Laldighi ground in Chittagong city around 4pm. JaPa Chittagong city unit President Mahzabin Morshed presided over the rally while hundreds of activists and supporters gathered joined it.
Full report at:
http://www.dhakatribune.com/politics/2014/nov/13/ershad-zia-destroyed-liberation-war-spirit
-------------
EU demanded same sex marriage, freedom of religion, claim Maldivian ministers
Nov 13, 2014
The European Union (EU) demanded legalisation of same sex marriage and freedom of religion in return for extending duty-free status to Maldivian exports of canned tuna, Economic Development Minister Mohamed Saeed and Fisheries Minister Dr Mohamed Shainee have claimed.
At a press conference this afternoon, Saeed said that the reason for the EU's decision was the Maldives' refusal to accept the condition for "allowing homosexual relations and the opportunity for people to follow any religion they want".
The Maldives is an Islamic state and will remain so. We will uphold Islam. We will not compromise on anything that conflicts with Islam," he said.
Last year, the government's application for a year's extension under the 'GSP Plus' program was declined as it had not ratified all 27 required international conventions. The Maldives holds reservations concerning the freedom of religion component of the International Covenant on Civil and Political Rights (ICCPR).
Full report at:
http://minivannews.com/politics/eu-demanded-same-sex-marriage-freedom-of-religion-claim-ministers-90982
-------------
130 suspected Uighurs flee shelters
Nov 13, 2014
More than 130 suspected Muslim Uighurs have escaped from shelters in Songkhla, according to the Social Development and Human Security Ministry, which expressed concern they could become victims of a human trafficking ring.
In March, 218 migrants claiming to have come from Turkey were arrested in Songkhla following a raid on a camp in the forest. Later, the Chinese embassy said they were Uighurs from north-western China.
Of them, 195 Uighur women and children were sent to stay at the ministry's Songkhla Home for Children and Women and the Technical Promotion and Support Office Region 12. There were 70 adults, 73 girls and 52 boys.
The remaining men, meanwhile, were detained at immigration offices in several provinces.
As of Nov 6, up to 137 suspected Uighur migrants had fled the shelters, according to a report the Songkhla Home for Children and Women sent to the ministry, obtained by the Bangkok Post.
Full report at:
http://www.bangkokpost.com/news/general/443002/130-suspected-uighurs-flee-shelters
--------
North America
Muslim Friday Prayer to Be Offered At Washington National Cathedral
Nov 13, 2014
Jum'ah, the Friday prayer said by Muslims, will be offered at the Washington National Cathedral this week.
The event is being held with South African Ambassador Ebrahim Rasool, the All Dulles Area Muslim Society, and Council on American-Islamic Relations, Islamic Society of North America, Muslim Public Affairs Council and The Nation's Mosque. It came about as the Rev. Canon Gina Campbell, the Cathedral's liturgical director, and Rasool were planning a memorial service for Nelson Mandela.
"This is a dramatic moment in the world and in Muslim-Christian relations," Rasool said in a release. "This needs to be a world in which all are free to believe and practice and in which we avoid bigotry, Islamophobia, racism, anti-Semitism, and anti-Christianity and to embrace our humanity and to embrace faith."
According to organizers, this is the first time Muslim leaders have been invited to offer prayers in the Cathedral. Seats are limited to invited guests, but the prayers will be live-streamed at 11:30 a.m.
http://dcist.com/2014/11/national_cathedral_to_host_muslim_p.php
-------------
Quebec Muslims warn of heightened Islamophobia after October attacks
Nov 13, 2014
Four mosques across Quebec were vandalized this week, prompting the Canadian province's Muslim community to ask the government to address concerns about possible heightened Islamophobia following two lethal attacks on Canada's military last month.
Vandals reportedly threw a large piece of concrete through the window of a small mosque in the province's southern city of Saint-Jean-sur-Richilieu, local media reported. No one was injured.
Posters reading "Islam get out of my place" in French were plastered across the exteriors of three mosques located around the provincial capital of Quebec City, community leaders told Al Jazeera. The mosques were also tagged with images of pigs, an animal considered unclean in Islam. Surveillance cameras captured images of two assailants from the Quebec City incidents, but there was no such footage of the incident in Richilieu.
All four incidents reportedly occurred within a span of 48 hours, ending Monday night. The Royal Canadian Mounted Police in Quebec were unable to confirm the incidents at time of publication.
Full report at:
http://america.aljazeera.com/articles/2014/11/11/quebec-ottawa-islamophobia.html
-------------
America's Last Best Hope for Defeating the Islamic State Is… Iran?
Nov 13, 2014
U.S. firepower alone can't defeat the Islamic State. It needs to work with Iran, whether it likes it or not.
When President Barack Obama's secret missive to Iranian Supreme Leader Ayatollah Khamenei was leaked to the media, the reactions were predictable: Israel was furious. Saudi Arabia was livid. And Mitt Romney was dumfounded. Speaking at the Israeli American Council, Romney called Obama's action "astonishing" and "an enormous error." The former Republican presidential nominee added: "To suggest that we might somehow work together [with Iran] is something which is so far beyond the pale, I was speechless as I heard about it.... I simply can't understand it."
Full report at:
http://www.foreignpolicy.com/articles/2014/11/11/americas_last_best_hope_for_defeating_the_islamic_state_is_iran_nuclear_talks
-------------
Obama seeks review of Syria strategy, sees Assad removal as necessary: Report
Nov 13, 2014
President Barack Obama wants his advisers to review the administration's Syria policy after determining it may not be possible to defeat militants of the Islamic State in Iraq and the Levant (ISIL) without removing Syrian President Bashar al-Assad, CNN reported on Nov. 13.
Citing senior U.S. officials, the network said Obama's national security team held four meetings in the past week that were driven by how the administration's Syria strategy fit into its campaign against Islamic State, which has seized large parts of Syria and Iraq.
"The president has asked us to look again at how this fits together," CNN quoted one senior official as saying. "The long-running Syria problem is now compounded by the reality that to genuinely defeat ISIL, we need not only a defeat in Iraq but a defeat in Syria."
A White House National Security Council official told Reuters: "The strategy with respect to Syria has not changed."
Full report at:
http://www.hurriyetdailynews.com/obama-seeks-review-of-syria-strategy-sees-assad-removal-as-necessary-report.aspx?pageID=238&nID=74261&NewsCatID=359
-------------
'We crossed the line', US admits to UN anti-torture body
Nov 13, 2014
GENEVA — The United States said Wednesday it did not condone torture under any circumstances, but acknowledged to a UN anti-torture watchdog it had "crossed the line" following the September 11 attacks.
"The US is proud of its record as a leader in respecting, promoting and defending human rights and the rule of law, both at home and around the world," acting US legal adviser Mary McLeod told the 10-member UN Committee on Torture.
"But in the wake of 9/11 attacks, we regrettably did not always live up to our own values," she said.
"We crossed the line and we take responsibility for that," she said, quoting US President Barack Obama.
McLeod was one of about 30 top US officials gathered in Geneva for Washington's first grilling by the committee since 2006.
Full report at:
http://www.saudigazette.com.sa/index.cfm?method=home.regcon&contentid=20141113224311
--------
CAIR Launches 'Unite Humanity' Initiative to Bring Americans Together
Nov 13, 2014
The Council on American-Islamic Relations (CAIR), the nation's largest Muslim civil rights and advocacy organization, today launched its "Unite Humanity" initiative to bring Americans together through positive community-based actions.
CAIR's online initiative is designed to show that the collective national ideal of valuing diversity and uplifting neighborhoods is more powerful than the destructive forces that seek to generalize entire faith traditions due to the misguided actions of few.
The objective of CAIR's Unite Humanity campaign is to facilitate and raise awareness of interfaith and community-based partnerships between groups representing diverse beliefs and backgrounds by highlighting the joint service projects these groups are carrying out together.
Unite Humanity is a web portal through which Americans of all faiths and backgrounds may inform others of their local service projects or find service projects to join.
CAIR's portal includes a community calendar, a social media campaign and a series of services CAIR offers to help connect groups performing community service.
"Through 'Unite Humanity,' we hope to increase public awareness of the positive actions of American Muslims and their community partners and to assist communities in organizing and launching cooperative public service projects," said CAIR Outreach and Events Manager Lauren Schreiber. "By coming together to overcome negative narratives, this campaign will provide a collective voice rooted in service."
ACTIONS REQUESTED:
Go to CAIR's Unite Humanity portal and 1) submit an existing service project, and/or 2) join the campaign by taking part in existing projects.
You may also download the CAIR resource guide for planning and increasing public awareness of collaborative service projects.
The toolkit contains information about possible service projects and partners, about planning and holding a service project and about promoting your service project. It also contains advice on media relations best practices, a resource list of national service organizations and an event planning checklist.
For other questions about the campaign or about scheduling a training, contact events@cair.com.
CAIR is America's largest Muslim civil liberties and advocacy organization. Its mission is to enhance the understanding of Islam, encourage dialogue, protect civil liberties, empower American Muslims, and build coalitions that promote justice and mutual understanding.
-------------
Muslim Art Museum in North America Aims To Create Better Understanding of Islam
Nov 13, 2014
One of the world's most unique art collections, curated by Muslim royalty, opened recently not in Dubai, Tehran, London or even Paris — but just over the border in Toronto.
The Canadian city famous for its troubled former mayor and frigid winters is now known among cognoscenti for one of the top Muslim art and culture collections anywhere, curated in a glass and granite space specifically designed to showcase the diversity of Muslim cultures in the West.
The Aga Khan Museum is being hailed as the first museum in North America dedicated to Muslim art and culture — and its location makes a statement that goes beyond the impressive exhibits. The Aga Khan is the spiritual leader, or imam, of the world's 15 million Ismaili Muslims, a major branch of Shia Muslims distinct from Sunnis in their belief in a hereditary line of leaders descending from the prophet Muhammad. He has long argued that the perception of Islam in North America has global repercussions and that art can help the fill the void that drives what he calls conflicts of ignorance.
Full report at:
http://newsok.com/first-muslim-art-museum-in-north-america-aims-to-create-better-understanding-of-islam/article/5365375
-------------
Europe
No Need for Muslim Primary Teachers to Wear Full-Face Veil – UK Islamic Scholar
Nov 13, 2014
Muslim primary school teachers should not be encouraged to wear the full-face veil in class, one of Britain's leading Islamic scholars has insisted.
Dr Sheikh Hojjat Ramzy welcomed remarks by the former Archbishop of Canterbury Lord Williams that fears about the increasing use of the Niqab in Britain are 'misplaced' but said young children nevertheless need to see their teachers' facial expressions.
He said that even for the strictest Muslims education must be "paramount" and, when it comes to communicating with small children, facial expressions are essential because "a picture paints a thousand words".
But Dr Ramzy director of the Oxford Islamic Information Centre, praised Lord Williams for his intervention saying it helped to "dispel some of the hysteria that often surrounds the full-face veil".
Full report at:
http://www.telegraph.co.uk/education/educationnews/11225736/No-need-for-Muslim-primary-teachers-to-wear-full-face-veil-Islamic-scholar.html
-------------
BBC under fire for 'ISIS is fun' interview
13 November 2014
The UK's BBC Radio 1 recently came under fire for airing an interview in which a British fighter who joined the Islamic State of Iraq and Syria (ISIS) said combat was "fun" and compared it to the Call of Duty video game, British media reported.
Regulation body, Ofcom, said the comments made by Kabir Ahmed, who allegedly killed himself in a suicide bomb attack last week, had "clear potential for causing offence" and shouldn't have been aired.
The watchdog also said that the BBC should have warned authorities about its content given the growing number of citizens travelling to join ISIS.
In the interview, Ahmed said: "It's actually quite fun, better than, what's that game called, Call of Duty? It's like that, but really, you know, 3D. You can see everything's happening in front of you, know. It's real, you know what I mean?"
Full report at:
http://english.alarabiya.net/en/media/television-and-radio/2014/11/13/BBC-under-fire-for-ISIS-is-fun-podcast-.html
-------------
Russia, U.S. urge Iran nuclear deal 'as soon as possible'
13 November 2014
Attacks in Egypt's Sinai killed two policemen and three soldiers, officials said, according to the Associated Press.
Two attacks by Islamic militants in restive northern Sinai left five policemen and soldiers dead, officials said, according to the Associated Press.
In both attacks, militants set up roadblocks and stopped vehicles with troops or policemen, the officials said.
In one attack, near town of Sheikh Zuweyid, militants dragged three soldiers out of their car and killed them. In the other attack, two policemen were snatched from their vehicle near the border town of Rafah and shot to death.
Full report at:
http://english.alarabiya.net/en/News/middle-east/2014/11/13/Seven-wounded-in-bomb-attack-on-Cairo-metro.html
-------------
Western IS Wannabes Ask Burning Questions on Social Media
'I Want To Wage Jihad But I Don't Have A Thing to Wear' -- Western IS Wannabes Ask Burning Questions
November 12, 2014
Nov 13, 2014
Life inside the world's most notorious terror organization isn't all murder and mayhem. Veteran members of Islamic State are using a social-networking website to answer more mundane questions from militant wannabes, who want to know the answers to such prosaic questions as what to wear, how cold it gets, if they have to buy their own weapons, whether there's Wi-Fi, and if they have to clean up after themselves.
The website Ask.fm has become a popular forum for Western, English-speaking Islamic State militants to talk about what life is like inside the extremist group -- and to pass on information to those who are thinking of joining.
"Will there be central heating?"
Some recruits are concerned that the weather might be different than at home.
"how cold does it get there akhy (my brother)?" one IS wannabe asked a British Islamic State militant who calls himself Abu Fariss.
Full report at:
http://www.rferl.org/content/islamic-state-questions-askfm-western-militant-wannabes/26686817.html
---------
Mideast
Israel says won't cooperate with UN Gaza inquiry
Nov 13, 2014
Israel will not cooperate with a United Nations inquiry into its 50-day war with rocket-firing militants in Gaza this summer, a government spokesman said today.
"Since the Schabas commission is not an inquiry but a commission that gives its conclusions in advance, Israel will not cooperate with the UN Commission on Human Rights over the last conflict with Hamas," foreign ministry spokesman Emmanuel Nahshon said in a statement.
In August, Canadian lawyer William Schabas was named as the head of the UN commission, angering Israel, where he is widely regarded as hostile to the Jewish state over reported calls to bring Prime Minister Benjamin Netanyahu before the International Criminal Court.
http://indianexpress.com/article/world/middle-east-africa/israel-says-wont-cooperate-with-un-gaza-inquiry/#sthash.AXOQSx2n.dpuf
-------------
Israel approves 200 new homes in east Jerusalem
Nov 13, 2014
JERUSALEM: Israeli authorities gave preliminary approval Wednesday for construction of 200 new homes in a Jewish area of east Jerusalem, a move likely to ratchet up already heightened tensions in the city.
The decision came shortly before US Secretary of State John Kerry was to arrive in neighbouring Jordan on a mission aimed at restoring calm in the Holy Land after weeks of unrest. Much of the recent violence has stemmed from tensions surrounding a sensitive holy site revered by Muslims and Jews.
he collapse of US-brokered peace talks, Israel's bloody war last summer in the Gaza Strip and continued Israeli settlement construction in east Jerusalem have added to it. Brachie Sprung, a spokeswoman for the municipality, said city officials approved 200 homes in the Ramat area. Sprung said the approval was just a preliminary stage of the planning process — meaning construction would be years away.She also said city officials approved an additional 174 homes for construction in an Arab neighbourhood.
Full report at:
http://www.dawn.com/news/1144126/israel-approves-200-new-homes-in-east-jerusalem
-------------
Abbas: Jordan 'major partner' to Palestinians on Jerusalem issue
Nov 13, 2014
Jordan is a major partner for Palestinians on the issue of Jerusalem, Palestinian Authority President Mahmoud Abbas said on Wednesday after he spoke with King Abdullah in Amman.
He spoke in advance of his meeting with US Secretary of State John Kerry in Jordan on Thursday. Kerry will also meet separately with Abdullah.
The visit comes amid a crisis in relations between Jerusalem and Amman over Jerusalem and amid a new wave of violence between Israelis and Palestinians, including in the nation's capital. Jordan has recalled its ambassador to Amman for consultations. There is no date yet for his return.
Abbas and Abdullah have accused Israel of wanting to change the status quo on the Temple Mount, which is under the control of the Islamic Wakf. Only Muslims are allowed to pray there, but Jews and Christians can visit.
Full report at:
http://www.jpost.com/Arab-Israeli-Conflict/Abbas-Jordan-major-partner-to-Palestinians-on-Jerusalem-issue-381619
-----------
Arafat's widow: Armed struggle will only lead to Palestinians being crushed
Nov 13, 2014
The widow of former PLO chairman Yasser Arafat said Wednesday, on the 10th anniversary of her husband's death, that further violence would only serve to hurt the Palestinian people.
"Armed struggle today will not lead to anything more. We will only end up being crushed. The forces are unequal. We have to continue negotiations proving, if anything, that it is Israel that does not want peace," Suha Arafat said in an interview with the Italian newspaper La Repubblica.
"They said my husband was an obstacle to peace. We saw following his death what happened to peace."
Suha Arafat, who lives in Malta with her daughter, told the daily that Yasser Arafat would not have wanted to see his Palestinian brothers still fighting on the 10th anniversary of his death.
"My husband was the only one who succeeded in uniting the Palestinian factions, she said, adding that "Arafat had turned Palestine into a secular country. People used to go to the beach in Gaza. He never imagined that it could become an Islamic state."
Hamas had "taken the people hostage," she said, calling what was happening in Gaza genocide.
Full report at:
http://www.jpost.com/Arab-Israeli-Conflict/Arafats-widow-Armed-struggle-will-only-lead-to-Palestinians-being-crushed-381610
----------
Southeast Asia
Shariah court that has same powers as Federal Court unconstitutional, says expert
Nov 13, 2014
Putrajaya's plan to set up a Shariah court that would have the same powers as the civil Federal Court is unconstitutional as religious courts were established out of state law, said law expert Professor Gurdial Singh Nijar.
He said that religious matters come under the state as accorded under the 9th Schedule of the Federal Constitution, which contains the lists of legislature under state and federal powers.
"The constitution is the supreme law of the land. So this means that when it comes to Islamic laws, Islamic matters, these are governed by the state," he told The Malaysian Insider.
Shariah courts in the Federal Territories of Kuala Lumpur, Labuan and Putrajaya are governed by a law passed by Parliament while religious courts in other states are governed by state enactments.
Gurdial was commenting on a statement by Minister in the Prime Minister's Department Datuk Seri Jamil Khir Baharom that Putrajaya was looking at setting up two more Shariah courts to enable them to have the same powers as the civil Federal Court, which is the highest court in the country.
Full report at:
http://www.themalaysianinsider.com/malaysia/article/shariah-court-that-has-same-powers-as-civil-federal-court-unconstitutional#sthash.rYI0IX4t.dpuf
-------------
Malaysia on top of the world thanks to Umno's 'intelligent leadership'
Nov 13, 2014
Umno vice-president Datuk Seri Hishammuddin Hussein extolled his own party's leadership today for succeeding in putting Malaysia on the world stage in a glowing light despite the many trials and tribulations faced within the past one year.
Hishammuddin who is also defence minister said the country's accomplishments since last year were feats few other countries could have succeeded with "flying colours".
"We have gone through Bersih, Lahad Datu… general elections, MH370 tragedy which we are still grieving from, MH17 incident and various others.
"Despite all these, our country is still safe, peaceful and harmonious. This is the reflection of Umno and BN's strength, which stems from our intelligent leadership," he said in his speech at an Umno roundtable discussion here.
Hishammuddin said that if Umno was "that bad" it would not have won a seat in the United Nations Security Council (UNSC) last month.
On October 17, Malaysia returned to the UNSC by winning a non-permanent seat after a 15-year hiatus.
Full report at:
http://www.themalaymailonline.com/malaysia/article/malaysia-on-top-of-the-world-thanks-to-umnos-intelligent-leadership-says-hi#sthash.5UKtYRoN.dpuf
-------------
URL: https://www.newageislam.com/islamic-world-news/new-age-islam-news-bureau/isis-to-introduce-own-'currency',-golden-dinars-and-silver-dirhams-to-return/d/99992