New Age Islam News Bureau
10 Dec 2014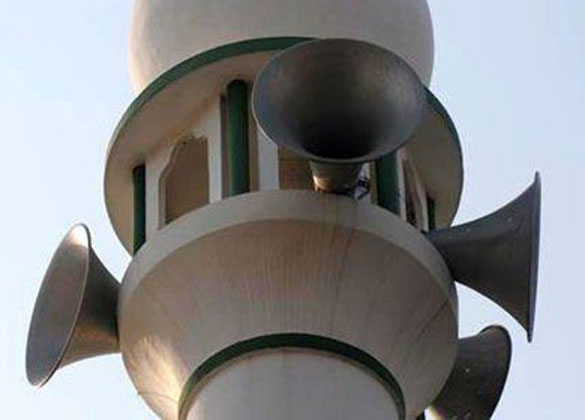 The Vishwa Hindu Parishad has stepped up its demand for the ban of loudspeakers in mosques across Maharashtra. File photo: K.K. Mustafah
-------------
Europe
• ISIS Sex Slaves Guide Mars International Human Rights Day
• Britain, Turkey Work 'Closely' To Stop Foreign Fighters Flow
• Irish Government to Accept Motion to Recognize Palestinian State
• Chechens Loyal to Russia Join Separatists in Eastern Ukraine
• Homes of Alleged Militants' Families Torched In Chechnya
• World watching Malaysia on human rights, Sedition Act, UN rep says
• Last French hostage freed by Al-Qaeda's North African arm
• UN Syria envoy is hopeful for the freeze of hostilities in Aleppo
• Russia-Pakistan ties in India's long-term interest: Putin
• Leading British Muslim group urges Qatar not to transfer Al-Qaradawi to Egypt
Arab World
• Gulf States Demand Yemen Shia Rebels Quit Sanaa
• Iraq: Army Kills 51 ISIL Takfiri Militants
• Syrian Army Pushes Advance against Takfiri Militants
• 5 militants killed in North Sinai army raid
• Iraqi Kurd urges regional rule for Iraqi Sunnis
• Confront challenges with unity: KSA
• Syrian fighter's story one of tragedy, greed
• S Arabia considers Ghamdi for Pakistan envoy
• UAE Court Convicts 11 for Helping Al-Qaeda Affiliate
Africa
• Nigerian Army Kills 27 Boko Haram Takfiri Militants
Pakistan
• Pak Kills 19 Militants, Wipes Out 5 Hideouts in Khyber Agency
• IS May Recruit Locals by Exploiting Sectarian Divide: Official
• Kargil Was in Response to India's Role in Creation of Bangladesh: Musharraf
• No chance of martial law in Pakistan: Jamaat-e-Islami
• Coalition partners differ over talks with Baloch militants
• Extremism a serious threat to peace in Balochistan: Balochistan CM
• Imran wants to spread anarchy: French TV
• Imran, Rashid booked under terrorism charges
• Persecution of Pakistan's religious minorities intensifies, says report
• Zardari expresses concerns on Middle East issue
India
• We Were Misled Into Conversion in a Bajrang Dal Exercise: Muslim Families
• VHP to Maharashtra CM: Ban Loudspeakers in Mosques
• ISIS Recruit from Kalyan: Worked Towards Making Raqqa A Free Wi-Fi City
• Mufti Wajahat Ali Kasmi and Sabir Ali Urge Ulema, Imams to Engage With Modi
South Asia
• 8 Insurgents Killed, 31 IEDs Seized During Afghan Army Operations
• 20 Burmese Muslims Facing Trial on Terrorism Charges
• Afghanistan's Bruce Lee 'Reincarnation' Becomes Web Hit
Southeast Asia
• Sisters in Islam Can Contest Selangor Fatwa Calling It 'Deviant'
• In civil v Shariah debate, Malaysia's constitution is secular, forum told
• Indonesian Forces Farewelled Ahead of UN Deployment in Lebanon
• Indonesian Military Influx in Papua Risks Worsening Violence
North America
• Arab and Muslim Americans Find Their Voice in Ferguson Protests
• Obama: Some of CIA's Harsh Methods 'Brutal'
• Kerry urges flexibility in war against ISIS
• McCain slams Kerry's Congress hearing as 'charade,' calls for fighting al-Assad
• Harvard experts to train top executives on Saudisation
• Americans in Pakistan, Afghanistan warned after CIA torture report
• John Maguire ISIS Video Is 'Silly,' Say Radicalization Experts
• Obama commends Ghani, Abdullah on timely ratification of security pacts
Mideast
• Secularism damages religious life in Turkey, says top religious body official
• Israel indicts American over plot to bomb Muslims
• Turkey to continue to fight global injustice: Erdoğan
• Report says Iran 'illicitly' buying material for reactor
Australia
• New Zealand Parliament Approves Anti-Terrorism Laws
Compiled by New Age Islam News Bureau
URL: https://www.newageislam.com/islamic-world-news/new-age-islam-news-bureau/isis-sex-slaves-guide-mars-international-human-rights-day/d/100418
-----------
Europe
ISIS Sex Slaves Guide Mars International Human Rights Day
10 December 2014
As the world marks Human Rights Day, reports swirl over the militant group ISIS's recently released rules about how female sex slaves should be treated.
The pamphlet was published by the Research and Fatwa Department of ISIS on Dec. 3 and is written in the form of questions and answers.
The rules allow ISIS members to have sexual intercourse with, beat and trade non-Muslim slaves, including Yazidi women and girls.
According to the Middle East Media Research Institute, MEMRI, which translated the pamphlet, it may have been released in response to public uproar about ISIS's maltreatment of the Yazidi minority.
The pamphlet is titled Su'al wa-Jawab fi al-Sabi wa-Riqab - "Questions and Answers on Taking Captives and Slaves" and in it ISIS justifies capturing the women due to their status as non-Muslims.
"Unbelieving [women] who were captured and brought into the abode of Islam are permissible to us."
The pamphlet carries on: "If she is a virgin, [her master] can have intercourse with her immediately after taking possession of her. However, is she isn't, her uterus must be purified?"
In the publication, ISIS details how a female slave can be beaten.
"It is permissible to beat the female slave as a form of disciplinary beating, but it is forbidden to beat for the purpose of achieving gratification or for torture. Further, it is forbidden to hit the face."
http://english.alarabiya.net/en/perspective/features/2014/12/10/ISIS-sex-slaves-guide-mars-international-Human-Rights-Day.html
-----------
Britain, Turkey work 'closely' to stop foreign fighters flow
10 December 2014
Britain and Turkey are working "as closely as possible" to stop foreign fighters joining Islamic State in Iraq and the Levant (ISIL), British Prime Minister David Cameron said on Dec. 10.
"We are fighting a common enemy, extremist terrorism," Cameron told a joint news conference in Ankara with his Turkish counterpart Ahmet Davutoğlu.
Britain has said it is facing the biggest terrorism threat in its history, in part because of the fear that British jihadists returning from Syria and Iraq could launch attacks on home soil.
More than 500 Britons are believed to have crossed into Iraq and Syria to fight with ISIL militants. Around half of those are thought to have returned to Britain.
Many extremists are believed to have used Turkey, which borders Syria and Iraq, as a transit point to travel to the region. In Ankara, Cameron said the highest-level intelligence sharing between the two countries could help stop the flow of jihadists in and out of Syria.
"The prime minister and I have agreed we should exchange even more information, we should cooperate more in terms of intelligence," he said.
"We should work hand in glove because the people who are travelling whether from Britain or elsewhere... these are people that threaten us back at home, so we should do everything we can," he added.
"This is all about making sure people are safer in Turkey, and making sure people are safer back home in the United Kingdom."
He said the talks also focused on a "long-term strategy to defeat ISIL and to restore stability in this part of the world."
"What we need in Iraq is what we need in Syria. We need to see new government that represents all of the people," Cameron said.
Faced with the threat of fighters returning home, Britain is planning to toughen its laws to stop potential jihadists from leaving home.
Those include measures to seize passports from British jihadists, stopping them returning from fighting overseas, and proposing landing bans on airlines that fail to comply with London's no-fly lists.
Davutoğlu rebuffed international criticism that Turkey, a vocal critic of Syrian President Bashar al-Assad's regime, has tolerated radicals to pass through its territory to fight in Syria.
"No single ISIS (fighter) has crossed via Turkish soil," he said, branding ISIL as a "threat" to Turkey's national security.
"Nobody can dispute Turkey's determination in the fight against terrorism," he added.
"Turkey's position is clear: We don't want to see foreign fighters, neither in Syria nor in Iraq." Turkey wants a wider strategy for Syria that would ultimately bring the downfall of Assad. It has repeatedly called for a buffer zone, backed by a no-fly zone, to be put in place inside the war-torn country on the Turkish border.
Cameron later went into a dinner for talks with President Recep Tayyip Erdoğan at his grandiose new presidential palace.
http://www.hurriyetdailynews.com/britain-turkey-work-closely-to-stop-foreign-fighters-flow.aspx?pageID=238&nID=75424&NewsCatID=510
-----------
Irish government to accept motion to recognize Palestinian state
10 December 2014
The Irish government will accept a motion to be proposed by the opposition on Tuesday calling on parliament to recognize Palestine as a state, echoing similar recent symbolic decisions in other European Union countries.
European countries have grown frustrated with Israel, which since the collapse of the latest U.S.-sponsored talks in April has pressed on with building settlements in territory the Palestinians want for their state.
While most developing countries recognize Palestine as a state, most Western European countries do not, supporting the Israeli and U.S. position that an independent Palestinian state should emerge from negotiations with Israel.
The government's decision comes after Sweden became the biggest Western European country to recognize Palestine, and parliaments in Spain, Britain and France held votes in which they backed non-binding resolutions in favor of recognition.
It also follows the passing of a motion in Ireland's upper house in October calling on the government to formally recognize Palestine.
Members of parliament in the lower house are due to discuss the motion proposed by the opposition Sinn Fein party later on Tuesday and on Wednesday. A government spokesman said it will not oppose the bill, meaning MPs will not be required to vote.
The motion calls on the government to "officially recognize the State of Palestine, on the basis of the 1967 borders with East Jerusalem as the capital, as established in UN resolutions, as a further positive contribution to securing a negotiated two-state solution to the Israeli-Palestinian conflict."
It also recognizes that "continued Israeli settlement construction and extension activities in the West Bank, is illegal and severely threatening the establishment of a viable Palestinian state."
http://english.alarabiya.net/en/News/middle-east/2014/12/10/Irish-government-to-accept-motion-to-recognize-Palestinian-state.html
-----------
Chechens Loyal to Russia Join Separatists in Eastern Ukraine
Reuters
Dec. 10 2014
Chanting "Allahu Akbar" (God is greatest), dozens of armed men in camouflage uniforms from Russia's republic of Chechnya train in snow in a camp in the rebel-held east Ukraine.
They say their "Death" unit fighting Ukrainian forces has 300 people, mostly former state security troops in the mainly-Muslim region where Moscow waged two wars against Islamic insurgents and which is now run by a Kremlin-backed strongman.
Seasoned Chechen fighters, whose combat experience often dates back to the 1994-96 and 1999-2000 wars, fight on both sides in east Ukraine, adding to the complexity of a conflict in which the West says Russian troops are involved.
"This is volunteer battalion Death," deputy commander of the group who only gave his nickname "Stinger," said at a former tourist camp the unit turned into their base outside of the rebel stronghold of Donetsk in east Ukraine.
"There are about three hundred of us in Donetsk region. We have battlefield experience from 10 to 20 years starting from 1995," said the man, in his forties, a pistol fixed to his thigh.
He had a little Chechen flag in green, white and red stitched to his cap and speaks Russian with a strong Caucasus accent. Several cars with Chechen registration plates are parked in the camp.
Russia sides with the rebels in east Ukraine but denies sending serving troops to reinforce them. Some fighters on the ground admit to being former Russian servicemen, or "on leave." Moscow has said any Russians fighting there are volunteers.
In Chechnya, two brutal wars quashed the separatist insurgents but unrest is still simmering.
Gunmen attacked a police post and captured a building in the regional capital of Grozny last week and at least 20 people, including ten police and ten suspected militants, were killed in gunbattles that ensued.
Violence erupted just hours before President Vladimir Putin had been due to give a major speech in Moscow, a symbolic challenge to the man who came to power 15 years ago credited for the Russian army victory in the second Chechen war.
Reestablishing Moscow's control over Chechnya and then introducing an uneasy peace under Ramzan Kadyrov, whom critics and rights campaigners accuse of heavy-handed tactics and massive rights violations, is seen by Putin's supporters as a key achievement.
In Ukraine, Stinger's men are sworn enemies with another group of Chechens who fight on the opposite side of the conflict and support the Kiev government troops.
Some of them have Western passports after fleeing Russia following the two wars. They say Moscow is theirs and Kiev's joint enemy and that Chechnya is occupied by Russia.
Stinger, however, said Chechnya was being destroyed in the wars of 1990s and became peaceful again only when some local leaders allied with the Kremlin.
Some of those in the "Death" unit said they had initially fought against Russia in Chechnya but later switched sides and were amnestied by a former Kremlin-allied head of the region, Ramzan's father, Akhmed Kadyrov.
"Now we are (former) soldiers and officers of the Russian army, of Russian special forces, mostly veterans of war campaigns," Stinger said.
http://www.themoscowtimes.com/news/article/chechens-loyal-to-russia-join-separatists-in-eastern-ukraine-/513056.html
-----------
Homes Of Alleged Militants' Families Torched In Chechnya
By RFE/RL
December 10, 2014
Residents of Russia's Chechnya region say the authorities are carrying out Kremlin-backed leader Ramzan Kadyrov's orders to destroy the homes of relatives of alleged militants held responsible for attacks.
Residents of the village of Yandi said that masked men arrived in more than a dozen vehicles late on December 8 and set several homes on fire.
On December 6, after 14 policemen were killed in some of the deadliest fighting in the Chechen capital in years, Kadyrov announced that relatives of militants involved in killings would be evicted from Chechnya and their homes "razed down to the basement."
Residents said not all the homes torched in Yandi belonged to families of militants believed to have been involved in the Grozny attack.
Amnesty International said that punishing suspects' relatives is a "flagrant violation of international law" and said Russia must hold an impartial investigation.
In a statement on December 9, it said: "By allowing these alleged acts of collective punishment to go unchallenged, the Russian leadership will be sending a dangerous message that such abuses are actually allowed and encouraged."
http://www.rferl.org/content/article/26734918.html
-----------
World watching Malaysia on human rights, Sedition Act, UN rep says
10 December 2014
As Malaysia takes up top leadership posts in the region and at the United Nations next year, there will be greater scrutiny of its human rights record and commitment to moderation at home.
Experts at a forum on Malaysia's seat at the Security Council (UNSC) said that the Najib administration can no longer speak of human rights and moderation on the world stage and do the opposite at home.
In order to show real leadership, the Malaysian government must also ratify key UN conventions on human rights such as on preventing torture and giving recognition to political and economic rights.
"When you are at the world and regional stage, the need for accountability rises.
"These privileges come with responsibility and greater accountability," said UN resident coordinator in Malaysia Michelle Gyles-McDonnough.
Full report at:
http://www.themalaysianinsider.com/malaysia/article/world-watching-malaysia-on-human-rights-sedition-act-un-rep-says#sthash.UbS1yhru.dpuf
-----------
Last French hostage freed by Al-Qaeda's north African arm
10 December 2014
France's last remaining hostage, Serge Lazarevic, arrived home Wednesday after three years at the hands of Islamist militants, to be greeted by his family and French President Francois Hollande.
The beaming 51-year-old, dressed casually in a blue hooded top, was welcomed warmly by Hollande at a military airport outside Paris before an emotional embrace with his mother and sister.
Lazarevic, sporting a closely-cropped beard, shared a joke with Hollande and the rest of his family after exiting the jet with his daughter.
"I had forgotten what it is like to be free. I will never forget it again," Lazarevic told reporters.
Full report at:
http://www.hurriyetdailynews.com/last-french-hostage-arrives-home-after-3-years.aspx?pageID=238&nID=75430&NewsCatID=351
-----------
UN Syria envoy is hopeful for the freeze of hostilities in Aleppo
10 December 2014
The U.N. peace envoy to Syria is hopeful for a freeze of hostilities in Aleppo, U.N. Special Syria Envoy Staffan de Mistura's spokesperson Juliette Touma told daily Hürriyet following the talks between Syrian political and military opposition groups in Turkey.
"We met representatives from most of the groups, both armed and political, that are active on the ground in Aleppo. The talks were constructive. We are very hopeful and working very hard through the special envoy to make the freeze work," Touma told Hürriyet over a phone interview yesterday.
De Mistura held talks with the political and military wings of the Syrian opposition in Istanbul and Gaziantep to promote a cease-fire proposal for the northern city of Aleppo from Dec. 7 to 9.
Full report at:
http://www.hurriyetdailynews.com/un-syria-envoy-is-hopeful-for-the-freeze-of-hostilities-in-aleppo.aspx?pageID=238&nID=75420&NewsCatID=352
-----------
Russia-Pakistan ties in India's long-term interest: Putin
SUHASINI HAIDAR
Dec 10, 2014
Russia's cooperation with Pakistan will serve the "long-term" interests of India, says Russian President Vladimir Putin, who is set to land here on Wednesday for the annual India-Russia summit.
Responding to questions submitted by The Hindu, Mr. Putin also said the scope of the agreement signed last month, which was the first of its kind between Russia and Pakistan, is limited. "[Regarding] Pakistan, we have held talks on Russia's possible assistance aimed at improving the counter-terrorism and anti-drug operations. In my view, this kind of cooperation serves the long-term interests of all countries of the region, including India," he said.
Full report at:
http://www.thehindu.com/news/national/russiapakistan-ties-in-indias-longterm-interest-putin/article6677459.ece
-----------
Leading British Muslim group urges Qatar not to transfer Al-Qaradawi to Egypt
10 December 2014
The Qatari government should not extradite Yusuf Al-Qaradawi, the well-known supporter of the banned Muslim Brotherhood, to Egypt, a leading British Muslim organisation has said.
The international police agency Interpol issued on Friday an arrest warrant for the Doha-based Muslim cleric who is wanted by Egyptian authorities for alleged criminal offences.
The Muslim Association of Britain has advised Qatar not to respond to the arrest warrant, claiming the charges against Al-Qaradawi are unfair.
"We call on the Qatari government not to respond to the warrant and to resist any attempts to transfer this elderly man to face an uncertain future in Egypt," MAB said in a statement.
"We urge Doha not to bow to this unfair and unjust indictment."
Al-Qaradawi has been one of the staunchest critics of the ouster of Islamist president Mohamed Morsi in July 2013 and Egypt's new authorities.
MAB described the Egyptian request to arrest the Islamic leader as "an attempt to silence any form of opposition."
Full report at:
http://english.ahram.org.eg/NewsContent/1/64/117570/Egypt/Politics-/Leading-British-Muslim-group-urges-Qatar-not-to-tr.aspx
-----------
Arab World
Gulf States Demand Yemen Shia Rebels Quit Sanaa
10 December 2014
Yemen's Gulf Arab neighbours urged Shia Huthi rebels to withdraw from Sanaa and other towns they have overrun since September, in a final statement after a summit in Doha.
Gulf leaders urged an "immediate pullout of Huthi militiamen from all regions they seized, and the return of all civil and army state institutions to the authorities and handover of seized weapons."
Yemeni authorities accuse Iran of backing the Huthis, also known as Ansarullah.
The Huthi militia swept south from its rugged northern stronghold to capture Sanaa on September 21 before extending its influence into central and west Yemen.
The unopposed Ansarullah offensive saw it take over several government arms depots including stores of heavy weaponry.
This further eroded the authority of the mostly Sunni Muslim state, already weakened by attacks from Al-Qaeda militants in the south and east, and by a southern separatist movement.
Leaders of the energy-rich Gulf Cooperation Council pledged support for Yemeni President Abdrabuh Mansur Hadi and called for dialogue to end the impoverished country's political impasse.
The Shia rebels have battled the government for years, complaining of marginalisation.
The violence has added to instability in Yemen since an uprising that led to the ouster of autocratic president Ali Abdullah Saleh in 2012.
http://english.ahram.org.eg/NewsContent/2/8/117575/World/Region/Gulf-states-demand-Yemen-Shia-rebels-quit-Sanaa.aspx
-----------
Iraq: Army Kills 51 ISIL Takfiri Militants
10 December 2014
The Iraqi army killed 51 militants of the ISIL Takfiri group in Western and Northern Iraq, according to a statement by the Iraqi Ministry of Defense.
The town of Al-Mutasim in the Northern province of Salahuddin was recaptured by the Iraqi army, which was assisted by the country's aerial strikes, the statement said, World Bulletin reported.
The operation left 15 ISIL militants dead, and destroyed six vehicles including three that carried heavy weapons.
A second operation, conducted in the region of Sur Shenas near the city of Samarra, left 22 militants dead, and destroyed two vehicles, the statement said.
A total of 14 militants were killed in the area of al-Hayakil, East of Fallujah, a district in the Anbar province, it added.
http://english.farsnews.com/newstext.aspx?nn=13930919000671
-----------
Syrian Army Pushes Advance against Takfiri Militants
10 December 2014
The Syrian Army pushed major advances against the armed groups in Idlib and Quneitra provinces, killing and injuring a great number of Takfiri militants.
The army soldiers stormed the hideouts of the rebels in the areas of Saraqeb, Maaret al-Numan and Abu al-Duhour in Idlib province, and claimed the lives of scores of them.
Meantime, the militants suffered major losses in al-Alam and al-Msheirfeh districts, as the army gained ground in Quneitra.
Syria has been experiencing unrest since March 2011 with organized attacks by well-armed gangs and terrorists against both the army and civilians.
The unrest, which took in terrorist groups from across Europe, the Middle-East and North Africa, has transpired as one of the bloodiest conflicts in recent history.
As the foreign-backed insurgency in Syria continues without an end in sight, the US government has boosted its political and military support to Takfiri extremists.
http://english.farsnews.com/newstext.aspx?nn=13930919000314
-----------
Iraqi Kurd urges regional rule for Iraqi Sunnis
10 December 2014
WASHINGTON: Iraq's central government in Baghdad must give up much of its authority to local power centers — and potentially permit the creation of an autonomous Sunni Muslim region — if the nation is to survive the fight against Islamic State militants, a senior Iraqi Kurdish official said Tuesday.
In a wide-ranging interview with The Associated Press, Kurdistan regional Deputy Prime Minister Qubad Talabani said giving Sunnis broad political control within their own population may be the one way to keep them from joining the Islamic State.
Both Baghdad and the United States have resisted partitioning Iraq along ethnic or sectarian lines, although Vice President Joe Biden advocated for doing so as a senator in 2006.
Talabani acknowledged that partitioning Iraq now would require "a major culture shift" and was unsure himself if it would ever happen.
But the idea has been pushed by Sunnis since US combat troops left Iraq in 2011, and has recently picked up support among military and diplomatic experts.
"It seems counterintuitive, but the only way you're going to keep Iraq together is to give up power from Baghdad," Talabani said during the interview at the Kurdish diplomatic mission in Washington.
Full report at:
http://www.dawn.com/news/1149973/iraqi-kurd-urges-regional-rule-for-iraqi-sunnis
-----------
5 militants killed in North Sinai army raid
10 December 2014
Security forces killed five members of Ansar Beit Al-Maqdis during a raid in North Sinai on Wednesday. The operation was part of the Egyptian military's ongoing counter-insurgency operations in the region.
Two people were also arrested during the raid in Sheikh Zuweid, an anonymous security source told Al-Ahram Arabic news website.
The raid destroyed 15 hideouts and two vehicles without license plates, which authorities say are used in militant attacks
Hundreds of soldiers and police have been killed in attacks over the past year, while the army says it has killed and arrested hundreds of jihadists. Civilians have also been caught in the violence.
Full report at:
http://english.ahram.org.eg/NewsContent/1/64/117609/Egypt/Politics-/-militants-killed-in-North-Sinai-army-raid-.aspx
-----------
Confront challenges with unity: KSA
10 December 2014
GCC leaders concluded a key summit conference in Doha on Tuesday, reiterating their resolve to confront terrorism and strengthen economic integration, and taking steps to make the GCC common market a reality to expand joint trade beyond $100 billion.
Crown Prince Salman, deputy premier and minister of defense, urged GCC countries to stand united in the face of "dangerous challenges" that threaten the six-member bloc. Prince Salman led the Saudi delegation to the summit on behalf of Custodian of the Two Holy Mosques King Abdullah.
"The Gulf Cooperation Council is passing through the most delicate situation in its history as a result of highly dangerous challenges," the crown prince said in Doha in an apparent reference to IS militants threatening Gulf security.
Full report at:
http://www.arabnews.com/featured/news/672371
-----------
Syrian fighter's story one of tragedy, greed
10 December 2014
As war swept across Syria like a tsunami, it has forever changed the nation's social fabric. The conflict has ravaged the people's attitudes toward one another and their country's future.
Perhaps nothing sums up this change better than the words of iconic human rights activist and symbol of peaceful, moderate and secular uprising Razan Zeitouneh: "At the beginning, the revolution brought out the best in us, but after a while the worst started coming out, too, in remarkable synchronicity." The inspirational Zeitouneh was a fearless, selfless lawyer dedicated to defending the rights of the oppressed and her nation from tyranny. She was first persecuted by the regime, and later kidnapped by rebels in Douma and "disappeared" with her team.
Full report at:
http://www.al-monitor.com/pulse/originals/2014/12/syria-fighter-experience-army-islamic-state.html#ixzz3LXgzuYGr
-----------
S Arabia considers Ghamdi for Pakistan envoy
10 December 2014
ISLAMABAD: Riyadh is considering Vice Admiral Abdullah Bin Saeed Al Ghamdi for the coveted slot of Saudi ambassador to Pakistan, which has been lying vacant for the last six months, it has been learnt.
The reported development follows Saudi government's decision to review appointing Ali Bin Saeed Awad Asiri as Riyadh's Envoy to Islamabad for the second term, according to credible diplomatic sources. Ghamdi had served in Pakistan as Military Attache for 13 years before being transferred back to his home country in October 2013. Sources in Saudi Embassy said the Kingdom of Saudi Arabia is considering to appoint Ghamdi as its envoy here considering the longstanding association Ghamdi had with Pakistan at both 'professional and personal' levels.
Full report at:
http://www.dailytimes.com.pk/national/10-Dec-2014/s-arabia-considers-ghamdi-for-pakistan-envoy
-----------
UAE Court Convicts 11 for Helping Al-Qaeda Affiliate
10 December 2014
A United Arab Emirates (UAE) court convicted 11 men including UAE, Syrian and Comoros nationals of helping to form an Al-Qaeda affiliate and sending fighters to join Syrian militant groups, newspapers reported on Wednesday.
Four Emiratis among the 11 were sentenced to life imprisonment in absentia by the state security division of the Federal Supreme Court on Tuesday, the National newspaper reported.
The other seven, including Syrian and Comoros nationals, were handed sentences of between one and 15 years, Reuters said.
Full report at:
http://english.farsnews.com/newstext.aspx?nn=13930919000857
-----------
Africa
Nigerian Army Kills 27 Boko Haram Takfiri Militants
10 December 2014
The Nigerian Army killed 27 Boko Haram Takfiri militants as part of efforts to regain control over the country's volatile Northeast, a security source said on Tuesday.
Soldiers clashed with the militants in the Balmo, Lame and Hildi forests in Borno State, the Nigeria's defense ministry said in a statement, without specifying when the fighting took place, News24 reported.
The ministry said it recently recaptured the towns of Mubi in Adamawa and Ashaka in Gombe states respectively, which had been under control of Boko Haram.
Boko Haram, whose name means "western education is forbidden," says its goal is to overthrow the Nigerian government.
It has claimed responsibility for a number of deadly shooting attacks and bombings in various parts of Nigeria since the beginning of its operations in 2009, which have left more than 10,000 people dead so far.
http://english.farsnews.com/newstext.aspx?nn=13930918001323
-----------
Pakistan
Pak Kills 19 Militants, Wipes Out 5 Hideouts In Khyber Agency
Dec 10, 2014
At least 19 militants were killed as Pakistani military jets pounded their hideouts in two separate operations in the restive northwest tribal region near the Afghan border.
The jets targeted rebels in Tirrah Valley, Akka Khel and Koki Khel areas of Khyber Agency, killing at least eight militants and injuring 15 others this morning, a security official said.
The air assaults also wiped out five militant hideouts in the area where military has launched an offensive Khyber-1 to flush out the al-Qaeda linked militants.
In a separate operation late yesterday, security forces killed at least 11 militants in similar strikes in the same region.
Military jets heavily pounded militant positions through aerial strikes in Tirah valley in Khyber, one of seven tribal districts, where al-Qaeda linked militants are said to be active.
"In precise aerial strikes, 11 terrorists were killed in Tirah, Khyber Agency, on evening of 9 December," Military said in a statement today.
Full report at:
http://indianexpress.com/article/world/asia/pak-air-strikes-kill-19-militants-in-tribal-belt/#sthash.4CtTgswX.dpuf
-----------
IS may recruit locals by exploiting sectarian divide: official
10 December 2014
ISLAMABAD: The government realises that the Islamic State militant group (Daish) is a potential threat that can benefit from the changing militant landscape here and exploit the sectarian schism by signing up new recruits.
"It would be dishonest to say Daish is not a threat, knowing the contacts between it and Tehreek-i-Taliban Pakistan (TTP) and the Afghan Taliban," National Security Committee Secretary Muhammad Sadiq said at the concluding session of a two-day conference on 'Flashpoints of the South Asian security – A review of political and security architecture in the Subcontinent', organised by the Strategic Vision Institute (SVI), an Islamabad-based think tank.
Full report at:
http://www.dawn.com/news/1149911/is-may-recruit-locals-by-exploiting-sectarian-divide-official
-----------
Kargil was in response to India's role in creation of Bangladesh: Musharraf
Dec 10, 2014
Pakistan's former military dictator Gen Pervez Musharraf has said he believes in a tit-for-tat policy on all fronts and claimed that Kargil conflict was in response to India's role in the creation of Bangladesh.
71-year-old former president, who masterminded the Kargil conflict in 1999 and ruled over Pakistan for nine years, said that India had played role in creating Bangladesh and trying to seize Siachin.
"They also undertook such operations so Kargil also happened," he told Samaa TV channel.
"I believed in a tit-for-tat policy on all fronts," said Musharraf, who was the chief of the Pakistani army during the Kargil conflict in 1999.
Musharraf, who is currently facing treason charges, said that "friendship with India is only possible on equal terms and with both countries respecting each other."
He said if India would take one step towards friendship Pakistan would respond by taking two steps forward.
Full report at:
http://indianexpress.com/article/india/india-others/kargil-was-in-response-to-indias-role-in-creation-of-bangladesh-musharraf/#sthash.xzV2SixV.dpuf
-----------
No chance of martial law in Pakistan: Jamaat-e-Islami
10 December 2014
LAHORE: Jamaat-e-Islami (JI) Ameer Siraj ul Haq Tuesday said that there is no chance of imposition of martial law in the country.
According to a statement issued here, JI Ameer said he would give 'Islamic Pakistan's' road map on the mausoleum of founder of Pakistan, Quaid-e-Azam Mohammad Ali Jinnah on December 25. He said that new CEC will have to assert himself as nobody will voluntarily relinquish powers for him.
He said remaining members of the Election Commission should also be replaced before the next general elections.
http://www.thenews.com.pk/article-168212-No-chance-of-martial-law-in-Pakistan:-Siraj
-----------
Coalition partners differ over talks with Baloch militants
10 December 2014
QUETTA: Expressing their views in the provincial assembly here on Tuesday on the issue of holding talks with the angry Baloch elements, PML-N ministers dubbed them terrorists, while the Pakhtunkhwa Milli Awami Party (PkMAP) favoured negotiations to tackle the problem.
The session was presided over by Mir Jan Muhammad Jamali.
Participating in the debate on the law and order situation in the province that continued for the fourth day, members of the treasury benches claimed that there was an improvement in the situation due to positive steps of the government.
Dr Shama Ishaq, Nawab Muhammad Khan Shahwani, Sardar Aslam Bizenjo, Syed Liaquat Agha, Mir Khalid Lango and Rehmat Baloch said the crime rate had declined and there had been a sharp fall in incidents of targeted killing and kidnapping for ransom. The highways had also become safe, they said.
Full report at:
http://www.dawn.com/news/1149936/coalition-partners-differ-over-talks-with-baloch-militants
-----------
Extremism a serious threat to peace in Balochistan: Balochistan CM
10 December 2014
QUETTA: Chief Minister Balochistan, Dr Malik Baloch has termed extremism as a major threat to peace in the province.
"Extremism is now deep-rooted in Balochistan," the chief minister told a seminar at the Quetta Press Club on Tuesday.
Senior journalists, human rights activists, intellectuals from across the country participated in the seminar to discuss provincial autonomy and the 18th Amendment and its implications.
The chief minister also said that extremism was posing a serious threat to development in Balochistan, which has been plagued by violence carried out by Baloch separatists along with growing sectarianism.
Full report at:
http://www.dawn.com/news/1149793/extremism-a-serious-threat-to-peace-in-balochistan-dr-malik
-----------
Imran wants to spread anarchy: French TV
10 December 2014
ISLAMABAD – Pakistan Tehreek-e-Insaf's Chairman Imran Khan wants to spread anarchy in Pakistan, France's Euronews has reported.
The multilingual news television channel headquartered in Lyon-Ecully, France, in its report said despite the fresh bloodshed, imran's campaign was due to continue – culminating in moves to 'close' the whole of Pakistan later this month.
The French television channel said that the anti-government protest in Pakistan turned deadly as supporters of PTI chief Imran Khan clashed with security forces and workers of the Pakistan Muslim League-N. The report quoted the statement of the information minister saying that Imran's plan was to henceforth spread anarchy in Pakistan.
At least one person was killed and several others injured in the eastern city of Faisalabad. The report mentioned that the deadly unrest had already marked Imran's earlier protests in Islamabad. It said that Imran Khan called for the protest, saying that this move was the first in a series targeting Pakistan's big cities, after months of demonstrations in Islamabad.
Imran's party, which maintains that the elections in 2013 were marred by fraud, has called for the prime minister's resignation.
http://www.dailytimes.com.pk/national/10-Dec-2014/imran-wants-to-spread-anarchy-french-tv
-----------
Imran, Rashid booked under terrorism charges
10 December 2014
FAISALABAD: Police have booked Pakistan Tehreek-i-Insaf Chairman Imran Khan, Pakistan Muslim League Awami chief Sheikh Rashid, PTI leaders Shah Mehmood Qureshi, Arif Alvi and Asad Umer on charges of terrorism for inciting people to attack the residence of Punjab's former law minister Rana Sanaullah here on Monday.
At least 500 PTI activists have also been named in the case registered by Saman­abad on a complaint of Mr Sanaullah.
Cases have also been registered by Factory Area and D-Type Colony police against another 500 PTI workers for obstructing the police force in performing their duty, hampering people's movement and causing injuries to people.
They have been booked under Section 7 of the Anti-Terrorism Act and sections 148, 149, 186, 324, 341, 353 and 427 of the PPC.
Full report at:
http://www.dawn.com/news/1149928/imran-rashid-booked-under-terrorism-charges
---------
Persecution of Pakistan's religious minorities intensifies, says report
10 December 2014
NEW DELHI: Violence and discrimination against Pakistan's religious minorities such as Ahmadis, Christians and Hindus have intensified to a level where many live in daily fear of violence or harassment, a report by rights groups claimed on Tuesday.
It said the government's failure to protect these communities was encouraging perpetrators to act with impunity. "Despite some recent signs of progress in Pakistan, there continues to be high levels of religious discrimination in the country," said the report by London-based Minority Rights Group and Islamabad-based International and Sustainable Development Policy Institute. "Violent attacks against religious minorities occur against a backdrop of legal and social discrimination in almost every aspect of their lives, including political participation, marriage and freedom of belief."
Full report at:
http://www.dailytimes.com.pk/national/10-Dec-2014/persecution-of-pakistan-s-religious-minorities-intensifies-says-report
-----------
Zardari expresses concerns on Middle East issue
10 December 2014
ISLAMABAD: Pakistan People's Party (PPP) Co-Chairman Asif Ali Zardari on Tuesday expressed concerns on the situation prevailing in the Middle East, North Africa and Euro Asia.
While addressing a conference on militancy, organised by the Institute of Political and International Studies on Tuesday, Zardari said that state fragility in the heart of the Middle East caused by non-state actors from different parts of the world, including the west, was a huge challenge which caused sleepless nights in many big capitals of the world. He said that Pakistan had suffered grievously from the sustained blowback of terrorism and extremism and urged the countries involved to "take a leaf from history as the best compass to navigate path in these dark times".
Full report at:
http://www.dailytimes.com.pk/national/10-Dec-2014/zardari-expresses-concerns-on-middle-east-issue
-----------
India
We were misled into conversion in a Bajrang Dal exercise: Muslim families
Dec 10, 2014
The 57 Muslim families, who were "converted" to Hinduism in a Bajrang Dal exercise in Agra, said Tuesday they were misled into believing that the programme was for registering them as BPL families, and not for religious conversion. While the families admitted that they had told "pujaris" at the conversion programme Monday that they were "changing their religion" of their own volition, they said they did so out of fear of violence.
Representatives of the Bajrang Dal however said the conversion programme had happened "out in the open", and the families had changed tack under duress.
Ismail Khan, the 'pradhan' of the of the 57 families, comprising more than 200 people, said he had first been approached by a man 15 days ago. "All of us live here in kuccha houses, and pick rags for a living. We came and settled here 12 years ago, and hail from Bihar and Bengal. Fifteen days ago, a man from the locality came to me and asked if we had ration cards, to which I replied in the affirmative. He then asked me if all of us had BPL cards, but when I said no, he told me he would arrange them for us," he said.
Khan said the man he identified as Kishan Lal said once the families had BPL cards, they would be eligible for a host of sops, including subsidised schooling and medical arrangements. "He said on the day our names were registered, big people would come to our basti, and even the media. I saw no danger in this, and agreed immediately. It was decided, that the event would be held on Monday," he said.
Full report at:
http://indianexpress.com/article/india/india-others/we-were-misled-into-conversion-muslim-families/99/
-----------
VHP to Maharashtra CM: Ban Loudspeakers in Mosques
OMAR RASHID
Dec 10, 2014
The outfit claims that the sound of Azaan is a major cause of noise pollution and will request the State government to implement laws curbing the use of loudspeakers in mosques
Weeks after the Devendra Fadnavis government took steps to ban cow slaughter in the State; the Vishwa Hindu Parishad has stepped up its demand for the ban of loudspeakers in mosques across Maharashtra.
The outfit claims that the sound of Azaan (Muslim call of prayer) is a major cause of noise pollution and will request the State government to implement laws curbing the use of loudspeakers in mosques.
Full report at:
http://www.thehindu.com/news/national/other-states/vhp-to-fadnavis-ban-loudspeakers-in-mosques/article6676656.ece
-----------
ISIS recruit from Kalyan talks: Worked towards making Raqqa in Syria a free Wi-Fi city
Dec 10, 2014
The civil engineering student from Thane who joined the Islamic State in Iraq before returning home two weeks ago has drawn a detailed picture for interrogators of his life as a jihadi fighter, including valuable information on the group's tactics and strongholds, and how he was recommended for recruitment by a feared red-bearded commander popularly known as 'Omar the Chechen'.
Areeb Majeed, who is currently being detained by security officials at a secret location in Mumbai, has also claimed that there was a fifth youth who wanted to join the original group of four that left Thane for Iraq but dropped out virtually at the last minute.
Among the other interesting nuggets that Majeed gave the interrogators was that he was briefly engaged in a project to make Raqqa, the main base of IS in Syria, a free WiFi city and that he was paid US$50 per month by the group, in addition to free food and lodging.
Full report at:
http://indianexpress.com/article/india/india-others/areeb-talks-his-suicide-car-bomb-bid-to-setting-up-wifi/99/
-----------
Mufti Wajahat Ali Kasmi and Sabir Ali Urge Ulema, Imams To Engage With Modi
TNN | Dec 10, 2014
NEW DELHI: Muslim intellectuals and religious leaders on Tuesday urged Ulema and imams from across the NCR and neighbouring states to engage with Prime Minister Narendra Modi.
Mufti Wajahat Ali Kasmi, organizer of the meeting attended by around 400 community leaders, said the government had a clear agenda of 'Sabka Sath Sabka Vikas' and when the country developed, Muslims wouldn't remain untouched and so the community would also develop.
Former Rajya Sabha MP Sabir Ali said the purpose of the meeting was to ensure that benefits of the Modi government's policies reached the 25 crore Muslim population.
While accusing "so-called" secular Congress and regional parties of creating fear among Muslims, Ali said PM Modi and the BJP had not said anything to demoralize the community after the government came to power. He said the PM had forced a Union minister to apologize for her hate remarks, arguing that the community should go by what Modi does.
Enthused with the attendance, Kasmi announced that the next such conference would be held in Talkatora Stadium which was likely to be attended by more than 15,000 community leaders.
Full report at:
http://timesofindia.indiatimes.com/india/Muslim-religious-leaders-urge-ulemas-imams-to-engage-with-Modi/articleshow/45444691.cms
-----------
South Asia
8 insurgents killed, 31 IEDs seized during Afghan army operations
Dec 10 2014
At least eight insurgents were killed and a number of others were wounded following military operations conducted by the Afghan National Army (ANA) forces in the past 24 hours.
The Ministry of Defense (MoD) following a statement said the operations were conducted in Helmand, Laghman, Wrdak, Kandahar, Faryab and Kabul provinces.
The statement further added at least six militant were also arrested and various types of weapons, ammunition and explosives were confiscated during the operations.
The Afghan National Army (ANA) forces also discovered and defused 31 rounds of Improvised Explosive Device (IED) during the operations, the statement added.
According to MoD, at least two Afghan National Army (ANA) soldiers were also martyred during the operations.
No further details were given regarding the exact location where the two Afghan soldiers lost their lives.
The anti-government armed militant groups have not commented regarding the report so far.
http://www.khaama.com/8-insurgents-killed-31-ieds-seized-during-afghan-army-operations-9113
-----------
20 Burmese Muslims Facing Trial on Terrorism Charges
10 December 2014
RANGOON — Twenty Burmese Muslims remain in prison awaiting a verdict almost five months after they were detained and accused of links to terrorism, with a lawyer representing some of the defendants saying odds for a fair trial look slim despite a dearth of credible evidence against the accused.
The detained men and women are from Taunggyi, Kyaukse and Naypyidaw, and were arrested in August in Konhein Township, Shan State, while they were traveling to a wedding in the town of Konhein.
"They were charged with Article 5(j) and 5(l)" of Burma's Emergency Provisions Act, said Khin Moe Moe, a lawyer for 12 of the detained. "They did not have any contact with insurgent armed groups, they were just traveling for a wedding. … They are just normal people. Even the police bringing charges could not provide evidence at court about links to an armed group."
Win Khaung, the national police chief, has disputed that claim, telling Radio Free Asia that the 20 detainees had links to an unspecified armed terrorist group and were planning to carry out an act of terrorism, allegations to which the police chief said the accused had confessed.
Both charges carry a maximum sentence of seven years in prison.
Full report at:
http://www.irrawaddy.org/burma/20-muslims-facing-trial-terrorism-charges.html
-----------
Afghanistan's Bruce Lee 'Reincarnation' Becomes Web Hit
10 December 2014
Kabul. From the ruins of a bombed-out palace above Kabul, a young Afghan man bearing a striking resemblance to kung fu legend Bruce Lee is high-kicking his way to Internet fame, aiming to show another side to his war-weary nation.
Videos and photos of Abbas Alizada, 20, posted on the Facebook page "Bruce Hazara" show him performing back flips and striking Lee's famous poses. They blazed through Afghanistan's small Internet community this week, part of a publicity burst he hopes will catapult him to broader fame.
"I want to be a champion in my country and a Hollywood star," Alizada said at Kabul's desolate Darulaman palace, where he trains twice a week, swirling nunchakus and sporting a Lee-like bowl haircut.
At a workout at the palace, adorned with photos of thousands of civilian war victims as part of a protest exhibition, Alizada showed off his wiry physique, doing push-ups on his fingertips and sparring with a partner. Two assistants dabbed his brow and fixed his hair for the cameras.
Full report at:
http://thejakartaglobe.beritasatu.com/features/afghanistans-bruce-lee-reincarnation-becomes-web-hit/
----------
Southeast Asia
Sisters in Islam Can Contest Selangor Fatwa Calling It 'Deviant'
10 December 2014
Sisters in Islam (SIS) can now challenge the Selangor fatwa which declares it as one which promotes deviant teaching.
The High Court today granted SIS leave to mount its legal challenge against the Selangor Fatwa Committee, the Selangor Islamic Religious Council (Mais) and the state government.
High Court judge Datuk Asmabi Mohamad, in granting leave for judicial review, said the application was not frivolous and overruled the objection by the Attorney-General's Chambers to deny SIS leave.
Earlier, senior federal counsel Shamsul Bolhassan submitted that the issuance of the fatwa involved the assent of the sultan and as such, guaranteed the right of the ruler to exercise his rights.
He added that it was a royal prerogative that could not be subjected to judicial review.
On the fatwa itself, Shamsul argued that it was a formal legal opinion given by Islamic jurists on the Shariah.
"Therefore to determine the validity of the fatwa, it must be done by eminent jurists and not by the civil court… but by the Shariah court," he said, asking the court to reject the leave application.
Full report at:
http://www.themalaysianinsider.com/malaysia/article/sis-can-contest-selangor-fatwa-calling-it-deviant#sthash.P3ytzbP8.dpuf
-----------
Indonesian Forces Farewelled Ahead of UN Deployment in Lebanon
10 December 2014
Jakarta. More than 1,000 Indonesian military personnel will be deployed to join a United Nations peacekeeping force in Lebanon.
The chief of the Indonesian Armed Forces (TNI), Gen. Moeldoko, announced the deployment on Wednesday morning, saying 1,169 members of the army, navy and air force would join the international peacekeeping force.
A total of 10,399 troops, supported by international and local civilian staff, currently form the United Nations Interim Force in Lebanon, or UNIFIL.
The force has existed in some form since 1978, following the Israeli invasion of Lebanon, and is mandated until Aug. 31, 2015.
Moeldoko called on the Indonesian deployment to show their best work, be professional and keep Indonesia's honor.
"Build cooperation with troops from other countries and also adapt to the local culture," Moeldoko said at a farewell ceremony in Jakarta.
The Indonesian deployment is due to leave on Thursday.
http://thejakartaglobe.beritasatu.com/news/indonesian-forces-farewelled-ahead-un-deployment-lebanon/
-----------
Indonesian Military Influx in Papua Risks Worsening Violence
10 December 2014
Jakarta. Monday's deadly shootings of unarmed protestors by security forces in Papua that killed as many as five teenagers, has sparked fears that a new era of violence in Indonesia' easternmost region has begun.
Analysts speculate that the recent violence may have been fueled by an emboldened Indonesian Military (TNI) following the president's announcement last month of his support for the military's plan to open a new regional military command (Kodam) in Papua.
Adriana Elizabeth, a researcher with Indonesia Institute of Sciences (LIPI) said the military may use the deadly incident as a pretext to increase their presence in the troubled area where the separatist Free Papua Movement (OPM) is said to have a presence.
"The latest clash also could trigger new misconceptions towards Papuans. The protest has already been attributed to the leadership of a separatist movement, [however] the cause that actually motivated the protest was merely a protest made by people whose children were abused by security officers," Adriana said.
Full report at:
http://thejakartaglobe.beritasatu.com/news/indonesian-military-influx-papua-risks-worsening-violence/
-----------
North America
Arab and Muslim Americans find their voice in Ferguson Protests
10 December 2014
From Ferguson to New York, Palestinian flags and signs bearing Arabic slogans against racism and for "Ittihad" (unity) were numerous in the protests condemning the police killing of Michael Brown and Eric Garner. On one hand, they illustrate the common struggle that many Arabs, Muslim and African-Americans seek against racial profiling, prejudice and discrimination. For another, they bridge the gap that for a long time has kept these communities apart.
While Arab-Americans and Muslims who immigrated to the United States, were not instrumental in the struggle for civil rights for African-Americans from the 1960s onwards, they are vocal and active in the demonstrations taking place across the U.S. today. Several Arab-American, Muslim organizations and independent activists are either on the ground in different U.S. cities or raising awareness and hosting events in solidarity with the protestors.
Margari Aziza Hill, a co-founder and activist with the "Muslim Arc" organization dedicated to combatting racism, tells Al-Arabiya News that the attacks of September 11, 2001 were a "a wake up call" for the Arab and Muslim communities. Policies related to surveillance of mosques in the United States or spying on Muslim student organizations, forced a more "pro-active engagement in issues related to civil liberties" from the community.
Full report at:
http://english.alarabiya.net/en/perspective/analysis/2014/12/10/Arab-and-Muslim-Americans-find-their-voice-in-Ferguson-Protests-.html
-----------
Obama: Some of CIA's harsh methods 'brutal'
10 December 2014
President Barack Obama said Tuesday that some of the tactics described in a Senate report on harsh CIA interrogations were "brutal," ''wrong" and "counterproductive," but that releasing the information was an important step in the process of making sure that such a scenario isn't ever repeated.
"One of the things that sets us apart from other countries is that when we make mistakes, we admit them," Obama told the Spanish-language television network Telemundo.
His comments followed by hours the Democratic-controlled Senate Intelligence Committee's release of a declassified version of its long-anticipated report on CIA interrogations during the administration of Obama's predecessor, Republican George W. Bush. Obama banned use of the tactics shortly after taking office nearly six years ago.
The report concludes that the CIA deceived government officials and the public with its steadfast insistence that the tactics, employed during the period that followed the deadly Sept. 11, 2001, terrorist attack on the U.S., had saved lives. The report says the CIA's own records fail to back up the agency's claims.
Full report at:
http://english.alarabiya.net/en/News/world/2014/12/10/Obama-Some-of-CIA-s-harsh-methods-were-brutal-.html
-----------
McCain slams Kerry's Congress hearing as 'charade,' calls for fighting al-Assad
10 December 2014
U.S. Secretary of State John Kerry asked Congress on Dec. 9 for new war powers to provide the legal grounding for U.S. military operations against the Islamic State in Iraq and the Levant (ISIL), but faced strong criticism from Republicans for not giving authorization to fight Syrian regime troops.
Kerry said any new authorization should not limit the fight to Iraq and Syria and should not bind President Barack Obama from ever deploying ground troops against ISIL if necessary. Moreover, Kerry said the administration wants to make sure that any authorization does not too narrowly define militants found alongside ISIL because it would, for example, make it difficult for the U.S. military officials on the ground to identify enemy forces.
Sen. John McCain, a strong Republican critic of Obama's foreign policy in Iraq and Syria, called the hearing a "kind of charade" because the authorization was not expected to become law before the new Congress starts in January. He said Obama needs to present a draft authorization to Congress in January. "He should lead and tell us what that authorization should be," McCain said.
Full report at:
http://www.hurriyetdailynews.com/republican-senator-mccain-slams-kerrys-congress-hearing-as-charade-calls-for-fighting-al-assad.aspx?pageID=238&nID=75427&NewsCatID=359
-----------
Kerry urges flexibility in war against ISIS
10 December 2014
Any congressional authorization of U.S. military force against the Islamic State of Iraq and Syria (ISIS) should be flexible and not limit the fight to Iraq and Syria, U.S. Secretary of State John Kerry said on Tuesday.
The authorization should also not restrict U.S. President Barack Obama in deploying combat troops against the militant group if needed, Kerry told a Senate committee debating the need for an Authorization for the Use of Military Force (AUMF).
"We do not think an AUMF should include a geographic limitation," Kerry said, "We don't anticipate conducting operations in countries other than Iraq and Syria, but to the extent that ISIS poses a threat to American interests and personnel in other countries, we would not want an AUMF to constrain our ability to use appropriate force against ISIS in those locations if necessary.
Full report at:
http://english.alarabiya.net/en/News/middle-east/2014/12/10/Kerry-urges-flexibility-in-U-S-war-powers-against-ISIS-.html
-----------
Harvard experts to train top executives on Saudization
10 December 2014
The Human Resources Development Fund (HRDF) will launch new and attractive training programs to boost Saudization in the private sector. The programs focus on the training of top management executives, including CEOs and GMs, through training programs developed and delivered by experts from Harvard University.
The training will target mid-level managers, with aims to increasing the number of participants in"promising leadership" training programs to 500 trainees.
According to the general director of HRDF, Ibrahim bin Fahad Al-Moaikel, there is ongoing coordination between the fund and the private sector to identify ways to subjecting their leading managers to enroll in specific leadership training in order to support Saudization."
Al-Moaikel said HRDF offers moral support, rather than just financial report, to suit the needs of this group, as well as top quality training sessions that will increase the level of leadership and improve the performance level in their companies to make Saudization more attractive to them.
Full report at:
http://www.arabnews.com/saudi-arabia/news/672266
-----------
Americans in Pakistan, Afghanistan warned after CIA torture report
10 December 2014
WASHINGTON: The US embassies in Afghanistan, Pakistan and Thailand are warning of the potential for anti-American protests and violence after Tuesday's release of a Senate report outlining harsh interrogation techniques used by the CIA on terror suspects.
In identical notices to Americans in the three countries, the embassies said "the release of declassified versions of the executive summary, findings, and conclusions of the Senate Select Committee on Intelligence's study on the CIA's rendition, detention and interrogation program could prompt anti-US protests and violence against US interests, including private US citizens."
Full report at:
http://www.dawn.com/news/1149962/americans-in-pakistan-afghanistan-warned-after-cia-torture-report
-----------
John Maguire ISIS Video Is 'Silly,' Say Radicalization Experts
10 December 2014
Foreign fighters with the Islamist radical group ISIS are notorious for trying to inspire prospective recruits through slickly produced online videos.
But the newest recruitment video featuring a young Ottawa jihadi verges on the preposterous by, among other things, trying to make common cause over hockey, say a number of radicalization experts.
"It's a bit of silly messaging," says Amarnath Amarasingam, a post-doctoral fellow at Dalhousie University who is researching Canadian foreign fighters.
"You're not going to find a Muslim in Toronto who says, 'Hey, I also play hockey, I'm being persecuted, I guess, kind of, maybe I should migrate to the Islamic State.'"
But if this video is meant to present a sophisticated Westerner who gave up his comfortable life to go and fight for ISIS, it's missing the mark, say Amarasingam and others.
If anything, it could have greater propaganda potential in the Arabian Gulf, where images of a white Muslim convert preaching jihad will have a "shaming" effect on Middle Eastern Muslims, suggests Mohammed Robert Heft, president of the Paradise Forever Islamic Centre in Toronto.
"They'll look at him and be like, Wow, he had everything and he left [to join ISIS]."
Country specific
Full report at:
http://www.huffingtonpost.ca/2014/12/09/john-maguire-isis-video-canadian_n_6293098.html
-----------
Obama commends Ghani, Abdullah on timely ratification of security pacts
Dec 10 2014
The US President Barack Obama commended Afghan President Mohammad Ashraf Ghani and Chief Executive Officer Dr. Abdullah Abdullah on the timely ratification of security agreements between Kabul and Washington and the NATO Status of Forces Agreement.
The White House following a statement said "Today, the President spoke by video conference with President Ashraf Ghani of the Islamic Republic of Afghanistan and Afghan Chief Executive Officer Dr. Abdullah. The President commended President Ghani and Dr. Abdullah on the timely ratification of the Bilateral Security Agreement and NATO Status of Forces Agreement by an overwhelming majority in the Afghan Parliament, and congratulated the two leaders for their recent successful ministerial conferences in Brussels and London."
The statement further added "The leaders also discussed the forthcoming conclusion to the U.S. combat mission, the transition of coalition forces to the Resolute Support mission in Afghanistan, ways to strengthen and support the Afghan National Security Forces as part of the train, advise and assist mission, and U.S. and regional support for the Afghan-led peace process."
Full report at:
http://www.khaama.com/obama-commends-ghani-abdullah-on-timely-ratification-of-security-pacts-9114
---------
Mideast
Secularism damages religious life in Turkey, says top religious body official
10 December 2014
Globalization and secularism have "changed and damaged" religious life in Turkish society, a senior official from the Directorate General of Religious Affairs (Diyanet) has said, citing a recent survey about religion in Turkey.
"People's loyalty to religion is high. But it should be expressed that different curriculums and education systems, the pressures of secularism, and particularly the globalization that Turkey is experiencing, has changed and damaged the details of society's religious life," Necdet Subaşı, the head of the Diyanet's Strategy Development Department, told the "5th Religion Council" in Ankara.
"The data confirms this. Some 67.5 percent of Turkish society says it is 'very sensitive in religious matters,' while the rest are confused and have a destination problem," said Subaşı, citing a recent survey conducted by the Turkish Statistical Institute (TÜİK) for Diyanet.
The survey, titled the "Religious Life Survey," gave conflicting results about religious behavior in the country.
Full report at:
http://www.hurriyetdailynews.com/secularism-damages-religious-life-in-turkey-says-top-religious-body-official.aspx?pageID=238&nID=75417&NewsCatID=393
-----------
Israel indicts American over plot to bomb Muslims
ASSOCIATED PRESS
10 December 2014
JERUSALEM —An American Christian who passed himself off as an ex-U.S. Navy SEAL faces charges in Israel of trying to blow up Muslim holy sites in Jerusalem, Israeli authorities said Tuesday.
Israeli police and the Justice Ministry identified the man as Adam Everett Livix, 30. Police said he faces drug charges back in the U.S. and that he once turned down an offer from a Palestinian to assassinate President Obama during the leader's visit to the Holy Land in 2013.
The Justice Ministry said the man they identified as Livix underwent a psychiatric evaluation Tuesday after his indictment Monday on charges of illegal weapon possession and overstaying his visa by more than a year. Operating in cooperation with Israel's Shin Bet security service, police went to arrest Livix last month at his 7th-floor apartment, the ministry said, but he initially tried to escape by leaping down to a patio on the floor below.
Full report at:
http://english.alarabiya.net/en/News/middle-east/2014/12/09/Israel-indicts-American-over-plot-to-bomb-Muslims.html
-----------
Turkey to continue to fight global injustice: Erdoğan
10 December 2014
Ankara will continue to fight against global injustice and act on behalf of a humane conscience, Turkish President Recep Tayyip Erdoğan has said, vowing that critical voices standing against Turkey will not hold the country back.
"We will continue to have a humane conscience, be the voice of sufferers and stand against unlawfulness, injustice and oppression anywhere in the world. We will continue to highlight global injustice without paying attention to those who try to silence us and who organize smear campaigns against us," Erdoğan said in a written message on the occasion of the 66th anniversary of the adoption of U.N. Declaration of Universal Human Rights, celebrated as World Human Rights Day on Dec. 10.
While acknowledging that the declaration and its content are a "historic document" reminding the international community of its duties and responsibilities in protecting human rights and promoting freedoms, Erdoğan said there were still human rights violations in many corners of the world.
Full report at:
http://www.hurriyetdailynews.com/turkey-to-continue-to-fight-global-injustice-erdogan-.aspx?pageID=238&nID=75438&NewsCatID=338
-----------
Report says Iran 'illicitly' buying material for reactor
10 December 2014
Iran is being accused of illicitly stepping up purchases for its heavy water reactor, which if completed will produce enough plutonium for several nuclear weapons a year, U.N. diplomats said Tuesday, according to the Associated Press.
The allegation against Iran by an unnamed country, if true, would suggest that Tehran is rejecting the U.S. reconfiguration of the reactor in the city of Arak into a light-water reactor.
The United States and its partners want Iran to agree to re-engineer Arak to a light-water reactor that produces only minuscule amounts of plutonium.
The Iranians would rather re-engineer it to produce less plutonium - but that process is reversible, and therefore opposed by the Americans.
Full report at:
http://english.alarabiya.net/en/News/middle-east/2014/12/10/Report-says-Iran-buying-for-reactor-U-N-diplomats.html
-----------
Australia
New Zealand parliament approves anti-terrorism laws
10 December 2014
WELLINGTON - New Zealand's parliament has passed new anti-terrorism laws aimed at countering the threat posed by terrorist groups overseas, BBC reported on Wednesday.
The "Countering Terrorist Fighters Legislation Bill," backed by the opposition Labour party, was approved by 94 votes to 27 late on Tuesday in a bid to stop nationals from travelling abroad to join terrorist groups, including Islamic State (IS). The legislation permits New Zealand's security intelligence service to carry out surveillance for 24 hours without warrant. The law also increases the amount of time the government can cancel a passport on security reasons from one year to three years, where the person poses a risk to security.
http://www.dailytimes.com.pk/foreign/10-Dec-2014/new-zealand-parliament-approves-anti-terrorism-laws
-----------
URL: https://www.newageislam.com/islamic-world-news/new-age-islam-news-bureau/isis-sex-slaves-guide-mars-international-human-rights-day/d/100418