New Age Islam News Bureau
3 May 2015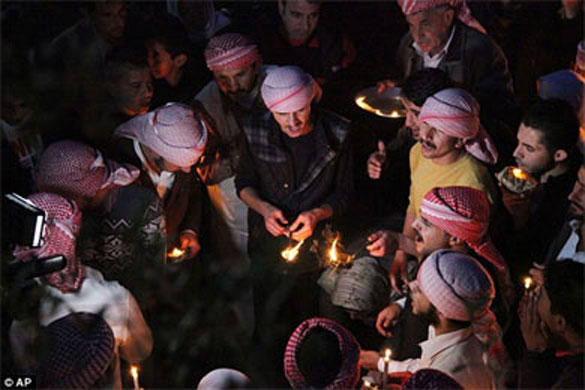 ISIS Militants Slaughter More Than 300 Yazidi Captives in Northern Iraq
-------------
Arab World
• ISIS Militants Slaughter More Than 300 Yazidi Captives in Northern Iraq
• Report: 104 French ISIL Members Killed in Syria, Iraq
• Over 14 ISIL Terrorists Killed in Southern Baghdad
• 29 militants killed, 133 arrested in Egypt
• Tensions escalate in Jordan over Muslim Brotherhood rift
• Visa relief: Yemeni expats in Kingdom praise royal order
South Asia
• Al-Qaeda Claims Responsibility for Avijit, Rajeeb, Oyashikur, Shafiul Killing
• Five Militants Killed, Three Wounded In Nangarhar Clash
• Do not compromise with lives of Afghans in the name of peace: Gen. Raziq
• Taliban offensive in Afghanistan forces thousands from homes
• Tokyo University Caters to Muslim Students
Pakistan
• Air Strikes Leave 44 Dead in North Waziristan and Khyber Agencies
• NA standing committee invites public comments on cybercrime bill
• Altaf says he won't quit MQM
• Jamaat-e-Islami submits resolution against Altaf in Punjab Assembly
• Pakistan supports 'talks' between Afghan govt, Taliban in Qatar: Aizaz Chaudhry
India
• Take Us into Confidence on Rehabilitation, Kashmiri Pandits Tell Govt
• NIA Looking For Afghan National in ISIS Case of Mumbai Youths
• Maulana Wahiduddin Khan Awarded the Sayyidina Imam Al Hassan Ibn Ali Award In Abu Dhabi
• Rs 20 Lakh for Hafiz Saeed, Lakhvi heads: Anti Terrorist Front India President
'• Separatists Irrelevant', Says Jammu & Kashmir Deputy CM
Mideast
• Saudi-Led Coalition Denies Aden Ground Operation
• 'Limited' coalition force on ground in Aden: Yemeni official
• Israel Arrests 9 Palestinians in Al-Quds, West Bank
• Israel warns of terror attack threat against Jews in Tunisia
• Saudi-led strikes hit airbase in Yemen's Sanaa
Europe
• The Bosnian Muslim Rebuilding a Medieval Christian Church
• Amnesty says Egypt using courts and jail to intimidate journalists
• Germany: Turkish couple suspected in attack plan had extremist video
• The Islamic State Is Selling Enslaved Yazidis Back to Their Families
• Saudi-led coalition using cluster bombs in Yemen: HRW
• UN assures India of taking up issue of Lakhvi's release in next meeting
North America
• 'No Justice, No Peace, No Racist Police' Chants In Baltimore
• US Congress Plan To Arm Kurds Prelude To Religious War
• Need of a global treaty to fight terrorism: experts
• Kerry denounces 'hysteria' over Iran nuclear deal
• Steve King Avoids Talking About Islam after Inviting Islamophobe to Congress
Africa
• Nigeria: Fresh Crisis in Plateau Soldiers Invade Wase, 'Kill Many'
• Zambia Sends 750 Troops to CAR
• Tunis protesters seek 'truth' about reporters' fate
Southeast Asia
• Amid Support for Najib, Umno Leaders Starting To Question, Says Former Minister
• Minister hopes Indonesia to follow Sweden in cutting prostitution rate
• Lady Gaga in Malaysia? Not if we let old, religious men decide, says industry bigwig
Compiled by New Age Islam News Bureau
URL: https://www.newageislam.com/islamic-world-news/new-age-islam-news-bureau/isis-militants-slaughter-more-than-300-yazidi-captives-in-northern-iraq/d/102792
----------
Arab World
ISIS Militants Slaughter More Than 300 Yazidi Captives in Northern Iraq
By JENNY STANTON FOR MAILONLINE
2 May 2015
More than 300 Yazidi prisoners have been slaughtered by Islamic State militants near Mosul in Iraq.
According to the Yazidi Progress Party, hundreds were murdered by Isis on Friday in the Tal Afar district.
It comes after around 40,000 people were kidnapped at gunpoint when the terrorists attacked Yazidi villages last summer.
The party statement, quoted by Shafaq News, condemned the 'heinous criminal acts' committed by Isis against the Yazidis.
Meanwhile, a Yazidi lawmaker quoted a lower number of victims today, and said they were shot at a prison camp in Tal Afar.
Legislator Mahma Khalil said he spoke to four different people with knowledge of what happened inside the camp.
'The militants want to spread horror among them to force them to convert to Islam or to do something else,' he said.
He added that those killed included men, women and the elderly. He said he believes some 1,400 other Yazidis are still held in that camp.
The sect, whose ancient religion has elements of Zoroastrianism, Christianity and Islam, suffered grievously after ISIS' rapid offensive last year.
Hundreds were killed and thousands captured, enslaved and raped by the extremists, who consider the members of the religious minority devil worshippers.
Last month, more than 200 Yazidi prisoners were set free in northern Iraq after nearly a year in Isis captivity.
Made up of women, children and the elderly, they were said to be in poor health and bearing signs of abuse and neglect.
General Hiwa Abdullah, a Peshmarga commander in the northern Iraqi city of Kirkuk, said that about 40 children were among those released, while the rest were elderly, some of whom were too exhausted and disoriented to speak.
No reason was given for the release of the prisoners, which took place in Himera just south west of Kirkuk, 180 miles north of Baghdad.
Yazidis who were freed by Islamic State militants hug each other on the outskirts of Kirkuk, Iraq on April 8 The militants want to spread horror among them to force them to convert to Islam or to do something else
In March, the United Nations Human Rights Office published a horrifying report describing killings, torture, rape and sexual slavery of Yazidis by the Islamic extremists, as well as the use of child soldiers.
The jihadists consistently separated out men and boys over the age of 14 to be executed, according to investigators.
Younger boys were forced to become child soldiers and women and girls were abducted as the 'spoils of war'.
The Yezidi Progress Party statement also called on the government in Iraq and international organisations to intervene to facilitate the release of the captives.
The Yazidis: The Minority People Regarded As 'Devil Worshippers'
Unjustly regarded as 'devil worshippers' on account of their unusual beliefs, the Yazidi have for centuries been one of the most persecuted minorities of the Middle East. Islamic extremists regard them as infidels, worthy only of being killed.
They are an ethnic Kurdish people who tend to have fairer complexions than many in the Middle East.
They adhere to a 4,000-year-old faith passed down and adapted through the generations by word of mouth, and composed of elements of several religions.
Their reverence for fire and light derives from the ancient faith called Zoroastrianism, the religion of Persia long before Islam arrived. They combine such Christian practices as baptism with Jewish or Islamic circumcision. Like Buddhists they believe in perpetual reincarnation.
Sunni extremists believe their name derives from a deeply unpopular seventh century caliph – or leader – Yazid ibn Muawiya.
In fact, it comes from the Persian word for angel or deity, 'Ized'. Their name simply means 'worshippers of God'.
The Yazidi once lived in a wide area across Iraq, Syria, Turkey, Georgia and Armenia. But successive waves of persecution - they claim to have survived 72 genocides - by the Ottoman Turkish rulers of what is now Iraq, by Saddam Hussein and now by Islamic militants, have reduced the number of Yazidi from millions to an estimated 700,000.
What makes the Yazidi still more vulnerable is the insular nature of their community. No one can convert to their religion, you have to be born into it. They also practice endogamy – that is, they only marry members of the same faith.
Equally, anyone who voluntarily leaves the religion risks death. In 2007, it was reported that Du'a Khalil Aswad, a Yazidi woman, was stoned to death for converting to Islam and marrying a Muslim man.
http://www.dailymail.co.uk/news/article-3065517/Isis-militants-slaughter-300-Yazidi-captives-northern-Iraq-thousands-taken-captive-villages.html#ixzz3Z5L5vCIx
----
Report: 104 French ISIL Members Killed in Syria, Iraq
May 3, 2015
French counterterrorism bodies have confirmed that tens of the country's nationals fighting for the Takfiri terrorist groups in Syria and Iraq have been killed so far.
"A sum of 104 French nationals who had joined the Takfiri groups (in Syria and Iraq) have been killed in clashes with the Syrian and Iraqi governmental forces," the French newspaper, Le Figaro, cited the country's counterterrorism reports as saying.
According to a Paris prosecutor, an estimated 1,132 French fighters are currently in Syria and Iraq with the ISIL, but many of them have grown disillusioned with war and want to return. In excerpts from their letters home, they complain of difficult conditions and of being forced to perform menial tasks instead of taking up arms.
About 120 men have already returned to France, where they may face charges of "terrorism" under French law. Nearly 200 are in transit from Iraq and Syria, and 104 others have been killed.
The western countries, that have long supported the terrorist groups in Syria and Iraq, are now imposing travel restrictions on those suspected of preparing to join the ISIL.
French authorities have incarcerated 76 French citizens who have returned from the front lines in Syria and Iraq.
Iran has repeatedly warned that those states that have supported the terrorist groups in Syria will have to experience the repercussions of their policies once the well-trained terrorists go back home.
http://english.farsnews.com/newstext.aspx?nn=13940213001160
----------
Over 14 ISIL Terrorists Killed in Southern Baghdad
May 3, 2015
At least 14 terrorists were killed in heavy fighting between the Iraqi army and the ISIL Takfiri group in Southern Baghdad on Sunday.
The Iraqi troops killed more than 14 ISIL terrorists in Baghdad's Southern neighborhoods of al-Khatimiya and al-Alimiya after launching a cleanup operation on the outskirts of the capital.
The army troops also defused 55 IEDS during the operation.
The latest developments came after the Iraqi security forces killed a Chechen ISIL commander, known by his nom de guerre Abu Ibrahim al-Shishani, in the Northern province of Salahuddin.
The ISIL Takfiri terrorists currently control shrinking swathes of Syria and Iraq. They have threatened all communities, including Shiites, Sunnis, Kurds, Christians, Ezadi Kurds and others, as they continue their atrocities in Iraq.
Senior Iraqi officials have blamed Saudi Arabia, Qatar, and some Persian Gulf Arab states for the growing terrorism in their country.
ISIL has links with Saudi intelligence and is believed to be indirectly supported by the Israeli regime.
http://english.farsnews.com/newstext.aspx?nn=13940213001184
----------
29 militants killed, 133 arrested in Egypt
May 3, 2015
Twenty nine militants have been killed and 133 others arrested in army raids in Egypt's volatile North Sinai region, military said on Saturday.
The raids were conducted in Rafah, Al-Arish and Sheikh Zawayed cities between April 20 and 30, said army spokesperson Brigadier General Mohamed Samir.
He said 133 militants were arrested, while 51 militant hideouts were destroyed during the raids.
About 130 unlicensed vehicles and motorcycles used by militants to carry out attacks on police and army personnel were also destroyed, the spokesperson said in a statement.
The restive North Sinai region has witnessed several violent attacks by militants since the January 2011 revolution that toppled President Hosni Mubarak.
The attacks targeting police and military increased after the ouster of Islamist President Mohamed Morsi in 2013.
More than 500 security personnel have been reported killed in militant attacks since then.
The military has launched security campaigns in the area, arrested suspects and demolished houses that belonged to terrorists, including those facilitating tunnels leading to the Gaza Strip.
http://www.thehindu.com/news/international/egypt-29-militants-killed-133-arrested-in-army-raids-in-north-sinai-region/article7164838.ece
---------
Tensions escalate in Jordan over Muslim Brotherhood rift
May 3, 2015
AMMAN: Jordan's authorization of a breakaway wing of the Muslim Brotherhood has sent tensions soaring between the decades-old organization and the government, accused of exploiting the rift to weaken the kingdom's main opposition force.
In early March, the government gave its consent to the formation of the splinter Brotherhood group, led by a former head of the movement.
The offshoot aims to severe ties with the Brotherhood's arm in Egypt.
Analysts say Jordan's recognition of the new group — known as the Muslim Brotherhood Association — risks fanning discontent among the traditional opposition power base at a time when the kingdom is battling militancy in neighboring Iraq and Syria.
"The authorities have given themselves a real dilemma by focusing on a small group without political weight or popularity," said political analyst Mohamed Abu Romman.
Analyst Karim Kamhawi said the government could seek to follow the lead of Saudi Arabia, Egypt, and the UAE in criminalyzing the group.
Full report at:
http://www.arabnews.com/middle-east/news/741236
----------
Visa relief: Yemeni expats in Kingdom praise royal order
May 3, 2015
In a huge relief to the Yemeni expatriate community in the Kingdom, Custodian of the Two Holy Mosques King Salman has directed Crown Prince Mohammed bin Naif, deputy premier and minister of interior, to take necessary measures to correct their residence status and legalize their stay.
Yemeni expats living illegally in Saudi Arabia prior to April 9 will be given the chance to correct their residence status under the royal order.
According to a statement issued by the Royal Court, the king's move follows a request by the legitimate government of Yemen, led by President Abed Rabbo Mansour Hadi, to support and alleviate the problems of Yemenis.
Full report at:
http://www.arabnews.com/news/741356
----------
South Asia
Al-Qaeda claims responsibility for Avijit, Rajeeb, Oyashikur, Shafiul killing
May 3, 2015
Al-Qaeda has claimed responsibility for killing bloggers and a university teacher in Bangladesh.
Al-Qaeda operatives murdered Avijit Roy, Oyasiqur Rahman Babu, Rajeeb Haider and Rajshahi University teacher AKM Shafiul Islam, claimed Asim Umar, Indian Subcontinent leader of the terrorist outfit.
The video, posted on Youtube on Saturday, was first spotted by SITE Intelligence Group. The video included images of murdered bloggers and secular activists.
Quote from video
"Al-Qaeda operatives in the Indian sub-continent have recently assassinated several blasphemers," Aasim claimed in the video.
The video message said: "And the killing mission started in Pakistan with the killing of a secular Dr. Shakeel Auj and blogger Aneeqa Naz."
Full report at:
http://www.dhakatribune.com/bangladesh/2015/may/03/al-qaeda-takes-responsibility-avijit-killing#sthash.HgzSqLUx.dpuf
----------
Five militants killed, three wounded in Nangarhar clash
May 3, 2015
Five militants were killed and three others wounded in a gun battle with security forces in eastern Nangarhar province this morning.
Officials say the clash erupted after a group of Taliban attacked a security check point in Bati Kot District in the wee hours of Sunday.
Ahmadzia Abdulzai, spokesman for the governor house of Nangarhar province says that soon after insurgents assaulted the security check post in Trili area additional forces arrived at the area.
He said five militants were killed and three others wounded in the clash.
Abdulzai confirmed that four soldiers also sustained injuries during the gun battle.
No armed militant group including Taliban and Hezb-i-Islami has yet commented on the report.
http://www.khaama.com/five-militants-killed-three-wounded-in-nangarhar-clash-3269
----------
Do not compromise with lives of Afghans in the name of peace: Gen. Raziq
May 3, 2015
As the Afghan delegation is set to meet with the Taliban representatives in Qatar to hold preliminary talks on peace process, a prominent security official in southern Kandahar province has said the government is compromising with lives of the Afghans under the name of reconciliation process with the anti-government armed militant groups.
The provincial police chief for Kandahar province, Gen. Abdul Raziq, said he has obtained documents and videos as evidence which reveals that the government is compromising with the lives of the Afghans while sitting in for peace talks in Qatar, UAE and other countries.
He accused Qayum Zakir for being involved in such deals and said he is involved behind the murder cases of the Afghan people.
Full report at:
http://www.khaama.com/do-not-compromise-with-lives-of-afghans-in-the-name-of-peace-gen-raziq-1063
----------
Taliban offensive in Afghanistan forces thousands from homes
May 3, 2015
Afghan officials say fierce fighting between government forces and Taliban insurgents in northern Afghanistan has forced thousands of people to flee their homes.
Meher Khuda Sabar, an official in the Refugee and Repatriation Ministry, said Sunday around 2,000 families have been displaced since the Taliban launched a surprise attack near the city of Kunduz nine days ago.
Mr. Sabar, who heads the ministry's internal displacement department, says fighting in villages around Kunduz has forced people into the city.
The Afghan military has rushed reinforcements to Kunduz. NATO troops are present in an advisory and training capacity. Brig. Gen. Wilson Shoffner, spokesman for NATO's Resolute Support mission, says U.S. jets have flown over insurgent positions near Kunduz but did not drop any munitions.
http://www.thehindu.com/news/international/taliban-offensive-in-afghanistan-forces-thousands-from-homes/article7167081.ece
----------
Tokyo University Caters to Muslim Students
May 3, 2015
Catering to the needs of a growing number of Muslim students, Sophia University in Tokyo has started offering Halal food lunches for sale in the university, bringing relief to Muslim students in its campus.
"Until now, I have been buying my lunch at convenience stores and asking my Japanese friends to make sure it doesn't include pork," Panji Purdi, a 21-year-old student from Indonesia, told Japan Times.
"Halal food is usually rather expensive, but lunches sold here are low-priced and delicious."
Serving Halal meals to students started last April 16 at Sophia's Yotsuya campus in Chiyoda Ward which offers about 150 units daily since April 16 for between ¥240 and ¥500.
The fare ranges from hamburgers and fried chicken to curry with rice.
The meals are prepared and served in accordance with Islamic law, which stipulates the correct method of draining animal meat of blood and prohibits the consumption of pork products and alcohol.
Full report at:
http://english.farsnews.com/newstext.aspx?nn=13940213001161
-----------
Pakistan
Air strikes leave 44 dead in North Waziristan and Khyber agencies
May 3, 2015
PESHAWAR: Military aircraft pounded hideouts in North Waziristan and Khyber agencies, killing 44 suspected militants, among them many foreigners, said the Inter-Services Public Relations (ISPR).
In a statement it said that precision strikes were carried out in the Dattakhel area of North Waziristan and Tirah valley of the Khyber Agency.
Sixteen militants were killed in strikes on hideouts in the Dattakhel area, it said. Many foreigners were among the dead.
In air strikes carried out in Tirah valley by fighter jets and helicopter gunships, 28 suspected militants were killed and many others injured, the ISPR said.
A number of militant sanctuaries in Rajgul and Kando Gharebi areas of Kukikhel territory, under the control of Taliban since 2009, were destroyed in the strikes.
Full report at:
http://www.dawn.com/news/1179664/air-strikes-leave-44-dead
----------
NA standing committee invites public comments on cybercrime bill
May 3, 2015
ISLAMABAD: Following a blitz on both mainstream and social media, the government has asked the general public to send in written suggestions – within seven days – regarding the Prevention of Electronic Crimes Bill (PECB) 2015. However, industry professionals and stakeholders are still sceptical about this process and have resolved to write to the chairman of the National Assembly Standing Committee on Information Technology to request an opportunity to make a presentation to the standing committee.
In addition, the PPP has formed a committee to introduce amendments to the bill that are in line with the new Magna Carta – agreed upon at the recently-held Global Conference on Cyberspace 2015 – to protect the rights of Internet users.
Full report at:
http://www.dawn.com/news/1179717/na-standing-committee-invites-public-comments-on-cybercrime-bill
----------
Altaf says he won't quit MQM
May 3, 2015
KARACHI: Muttahida Qaumi Movement (MQM) chief Altaf Hussain has declared that from now on he will not talk about quitting the party leadership and will continue to lead the MQM come what may.
According to a press release issued on Saturday, he was speaking from London at a programme held in the United States to celebrate the MQM's victory in a recent by-election in Karachi. Mr Hussain said he would not leave his party even if its office-bearers showed inefficiency and negligence.
Referring to his Thursday night's speech in which he made controversial remarks, he said that on the basis of his one speech a wave of propaganda had been launched and people were talking about registering a case against him under Article 6 of the Constitution.
He said various political leaders also gave negative remarks against the army and the country but no action had been taken against them.
Full report at:
http://www.dawn.com/news/1179688/altaf-says-he-wont-quit-mqm
----------
Pakistan supports 'talks' between Afghan govt, Taliban in Qatar: Aizaz Chaudhry
May 3, 2015
Foreign Secretary Aizaz Ahmad Chaudhry said that Pakistan fully supports 'peace talks' between the Afghan government and Taliban being held in Qatar.
An Afghan delegation had left for Qatar where they will hold two days of "open discussion" with Taliban representatives aimed at ending Afghanistan's long war.
While speaking to media representatives at a press conference in Islamabad, Chaudhry said that establishing peace in Afghanistan was essential for the stability of this region.
The Taliban's official spokesperson, Zabihullah Mujahid, had confirmed that an eight-strong Taliban delegation would attend the event, which is being organised by the Pugwash Council, a global organisation that promotes dialogue to resolve conflicts.
However, the Taliban's attendance "does not mean peace talks or negotiations at all," the Taliban's spokesperson had cautioned.
Previous efforts to open dialogue with the Taliban have collapsed.
The group opened an office in Qatar in June 2013 as the first move towards a possible peace deal, but it shut a month later after enraging then-Afghan president Hamid Karzai by styling itself as the unofficial embassy of a government-in-exile.
http://tribune.com.pk/story/880194/pakistan-supports-talks-between-afghan-govt-taliban-in-qatar-aizaz-chaudhry/
----------
India
Take us into confidence on rehabilitation, Kashmiri pandits tell govt
PTI | May 3, 2015
NEW DELHI: Kashmiri Pandits on Sunday staged protest here demanding that the state and the Centre take the community members into confidence before any decision on their return to the valley and also pressed for setting up a commission to probe the "genocide" which led to their exodus.
Members of the community, who converged in large numbers at Jantar Mantar here, demanded that Jammu & Kashmir government reopen prosecution cases against all those involved in the killing of Kashmiri pandits in the valley following the outbreak of militancy.
Many of the protesters, who were wearing black T-shirts and bands, shouted slogans against Hurriyat Conference and separatist leaders.
The general secretary of Jammu Kashmir Vichar Manch, Manoj Bhan, said, "Whatever decision the Centre or the state government takes, they must talk to the Kashmiri Pandits first. No separatist should be allowed to intervene in matters relating to Kashmiri pandits."
They also called for setting up of a commission of inquiry to pin-point responsibility on perpetrators of "genocide" against them.
Full report at:
http://timesofindia.indiatimes.com/india/Take-us-into-confidence-on-rehabilitation-Kashmiri-pandits-tell-govt/articleshow/47137887.cms
----------
NIA looking for Afghan national in ISIS case of Mumbai youths
May 3, 2015
An Afghan businessman is believed to be allegedly indoctrinating youth from Maharashtra to join dreaded ISIS, claims National Investigation Agency (NIA) which has sent its first judicial requests in the case to Afghanistan seeking details of the person.
The Afghan national, whose name has been withheld, was running business of dry fruits in India and allegedly approached the four youths from Kalyan area neighbouring Mumbai and brainwashed them to join ranks of ISIS terror group, official sources said.
The man had mysteriously disappeared after NIA arrested Areeb Majeed when he was deported from Turkey to India last November.
The port of exit of the Afghan national was found out to be from Delhi in December last year, the sources said.
Full report at:
http://www.thehindu.com/news/national/nia-looking-for-afghan-national-in-isis-case-of-mumbai-youths/article7167087.ece
-----------
Maulana Wahiduddin Khan Awarded the Sayyidina Imam Al Hassan Ibn Ali Award In Abu Dhabi
May 3, 2015
New Delhi, May 3, 2015 The renowned Islamic scholar and peace activist Maulana Wahiduddin Khan was awarded the Sayyidina Imam Al Hassan Ibn Ali Award at the Second Annual Forum for Promoting Peace in Muslim Societies, in Abu Dhabi on April 30, 2015.
Sheikh Abdallah Bin Bayyah, Chairman of the Forum for Promoting Peace in Muslim Societies, presented the award to the Maulana at the closing session of the three-day conference. The peace award was given in acknowledgement of Maulana's decades' long efforts for promoting world peace. On the occasion Sheikh Bin Bayyah said that 90-year old Maulana Wahiduddin Khan had for over seventy years worked tirelessly for the cause of establishing peace in order that a culture of good will and tolerance may prevail all over the world. The Maulana has authored more than 200 books on various issues relating to peace in Islam, Islam in the modern age, spirituality, Islamic ethics and prophetic wisdom. In many of his books the Maulana has developed a complete ideology of peace.
Among those who graced the awards ceremony were Sheikh Abdullah bin Zayed Al Nahyan, the UAE minister of foreign affairs and Dr. Ahmed el-Tayeb, Grand Imam of Al-Azhar. About 350 distinguished Islamic scholars and thinkers from across the world participated in the three-day conference.
In his keynote address, the Maulana said that he shared the dream of Sheikh Abdallah Bin Bayyah, which is to establish peace and bring an end to the violence and bloodshed happening in the world today. Citing the dictum of UNESCO, the Maulana said, "War begins from the mind and similarly peace can begin from the mind alone." He explained that the root cause for violence in the Muslim world was the political interpretation of Islam. Some people in the twentieth century developed this political interpretation, which gave the justification to Muslims to engage in violence in the name of religion. The need of the hour, the Maulana observed, is to develop an ideology based on peace so that the new generation of Muslims could be prevented from being misled and so that they be given a rational basis for adhering to the path of peace.
However, simply an ideology is not enough, the Maulana noted. The Muslim youths should be given a target so that their energies could be properly and positively channelized. The Prime Minister of India, Shri Narendra Modi congratulated Maulana Wahiduddin Khan by tweeting:"Congratulations to Maulana Wahiduddin Khan, on being conferred the Sayyidina Imam Al Hassan Ibn Ali Peace Award at a function in Abu Dhabi,". He said: "Maulana Wahiduddin Khan's knowledge and efforts towards peace make him one of the most respected scholars, admired all over,"
---------
Rs 20 lakh for Hafiz Saeed, Lakhvi heads: Anti Terrorist Front India President
May 3, 2015
Anti Terrorist Front India president Viresh Shandaliya on Saturday announced an award of Rs 20 lakh to anyone who chopped off the head of 26/11 mastermind Hafiz Saeed and Zakiur Rehman Lakhvi.
Hafiz Saeed is Jamaat-ud-Dawa chief and founder of the Lashkar-e-Taiba, Lakhavi is latter's supreme commander.
Reacting to the raising of Pakistani flags at a rally led by Hurriyat hardliner Syed Ali Shah Geelani, Shandliya said activists of his Front will soon be visiting the state to challenge people like Hafiz Sayeed and Geelani. They will hold demonstrations and burn Pakistani flags in front of the Kot Bhalwal jail in Jammu where separatist Jamat-i-Islami leader Masarat Alam has been detained for raising Pakistani flags at his recent rally in the Valley.
He also asked Prime Minister Narendra Modi to stop bus service between India and Pakistan. If their demand remained unheard, the Front activists will Gherao the bus and burn Pakistani flags, he added.
Meanwhile, the BJP condemned the statement of Hurriyat hardliner Syed Ali Shah Geelani about restricting the duration of Amarnath yatra to a month and asked the state government to take immediate action against him for trying to disturb the peaceful atmosphere in the state. "After having failed to get any public support in the Valley, these separatist leaders are now interfering in religious issues like Amarnath Yatra to remain in limelight," said state BJP chief spokesperson Sunil Sethi.
Referring to raising of Pakistani flags at Geelani's anti-India rally at Tral, Sethi said that he too will be arrested like Alam.
http://indianexpress.com/article/india/india-others/rs-20-lakh-for-hafiz-saeed-lakhvi-heads/
----------
'Separatists irrelevant', says Jammu & Kashmir deputy CM
May 3, 2015
JAMMU: Slamming Hurriyat leader Syed Ali Shah Geelani's demand for restricting Amarnath Yatra to 30 days, Jammu & Kashmir deputy chief minister Nirmal Singh on Saturday said separatists had become "irrelevant" in the state and were trying to communalize the issue to seek attention.
"Statements like these should not be taken seriously. These are given just to seek media attention," Singh told reporters, stressing that the yatra will he held as scheduled and all facilities including security will be provided to the pilgrims.
"Statements like these should not be taken seriously. These are given just to seek media attention," Singh told reporters, stressing that the yatra will he held as scheduled and all facilities including security will be provided to the pilgrims.
He was asked about hardline Hurriyal leader Geelani's statement at a rally on Friday in Tral that the annual Amarnath yatra in south Kashmir's Himalayas should be restricted to 30 days for "safety" of pilgrims and protection of environment.
Full report at:
http://timesofindia.indiatimes.com/india/Separatists-irrelevant-says-Jammu-Kashmir-deputy-CM/articleshow/47131355.cms
----------
Mideast
Saudi-led coalition denies Aden ground operation
3 May 2015
The Saudi-led coalition has not started any major ground operation in the Yemeni port of Aden, coalition spokesman Ahmed al-Asiri said on Sunday, denying previous reports from Yemeni sources that ground troops had arrived and had began to fight.
"There are no foreign forces in Aden but coalition continues to help fight against the Houthi militia," Asiri said in a statement.
t was earlier reported that a "limited coalition force entered Aden and another force is on its way" to the southern port city, a Yemeni official who requested anonymity, was quoted by Agence France-Presse as saying.
Meanwhile, Yemen's Aden al-Ghad newspaper had reported that "the first push of the Arab ground force arrived on Sunday morning in Aden and began to take part in battle," citing its reporters. The newspaper is linked to southern separatists demanding the restoration of the southern state that merged with North Yemen in 1990.
Aden has been the center of an offensive between forces loyal to the internationally-recognized government of Hadi battling the Houthis.
The Saudi-led coalition has been conducting an air war against the Houthi rebels and their allies since March 26 but the earlier reports were the first news of a ground deployment inside the country.
http://english.alarabiya.net/en/News/middle-east/2015/05/03/Saudi-led-coalition-denies-Aden-ground-operation.html
----------
'Limited' coalition force on ground in Aden: Yemeni official
May 3, 2015
ADEN: A "limited" number of Saudi-led ground troops deployed in Yemen's second city Aden on Sunday to support loyalist militia fighting rebels, a government official and a militia commander said.
"A limited coalition force entered Aden and another force is on its way" to the southern port city, said the official who requested anonymity.
The Saudi-led coalition has been conducting an air war against the Huthi rebels and their allies since March 26 but this is the first reported ground deployment inside the country.
A leading member of the popular committees, a locally recruited militia loyal to exiled President Abedrabbo Mansour Hadi, told AFP that the force "will start helping us in fighting the Huthis and (former president Ali Abdullah) Saleh's forces".
He said the troops will mainly back pro-Hadi fighters around the rebel-held international airport, which was the focus of renewed heavy fighting overnight.
Other militia commanders confirmed that a few dozen coalition soldiers, mostly Saudis and Emiratis of Yemeni origin, were on the ground in Aden.
The coalition declared an end to its Operation Decisive Storm on April 21, saying the campaign would enter a new phase dubbed Renewal of Hope focused on political efforts, aid deliveries and "fighting terrorism".
Coalition spokesman Brigadier General Ahmed Assiri had said repeatedly during the first phase that a ground intervention was on the table if needed.
http://tribune.com.pk/story/880197/limited-coalition-force-on-ground-in-aden-yemeni-official/
----------
Israel Arrests 9 Palestinians in Al-Quds, West Bank
May 3, 2015
Local and security sources Sunday announced that the Israeli forces have arrested six Palestinians in East Jerusalem (al-Quds) and three others in the West Bank, most of them during predawn and night raids.
In Jerusalem, Israeli police stormed the neighborhood of Ras al-Amoud and arrested Izzeddine Barbar, 17, after raiding his family's home and breaking down its main front door, WAFA reported.
Police also broke into the neighborhood of Silwan, where they arrested Mohammad Asaliya, 21, and his brother Hamza, 17. The police force assaulted members of their family during the arrest raid, according to Jerusalem Prisoners' Families Committee.
Meanwhile, a police contingent stormed a house in the town of Anata, East of Jerusalem, and arrested 24-year-old Mohammad Esaeed after assaulting his family, including his younger brother Tareq.
Police also stormed the neighborhood of al-Tour, where they arrested Saeed Abul-Hawa, 23, and Basel Sayyad, 24.
In the meantime, police arrested two Palestinians from Bethlehem while they were at their workplaces in Jerusalem, under the pretext of not having entry permits.
In Hebron, Israeli army broke into the city and raided a money exchange shop. Army further stormed the nearby Dora town, where they arrested a local resident after raiding and wreaking havoc on his home . He was identified as Alaa Rbei'i.
http://english.farsnews.com/newstext.aspx?nn=13940213001094
----------
Israel warns of terror attack threat against Jews in Tunisia
May 3, 2015
Prime Minister Benjamin Netanyahu said May 2 that Israel had learned of "concrete threats" of terror attacks against Jewish or Israeli targets in Tunisia.
The Tunisian government quickly denied the claims, saying no such threats existed.
A statement from Netanyahu's office said: "Information indicates that there are plans for terrorist attacks against Israelis or Jews in Tunisia."
But a senior official in the Tunisian interior ministry, who asked not to be named, told AFP: "We have nothing on that. There are no threats."
The threats are connected to the Lag BaOmer Jewish festival, which will be celebrated on May 7, Netanyahu's statement said.
It urged Jews not to visit Tunisia during the festival.
Thousands of pilgrims visit the tombs of famous rabbis for Lag BaOmer, including on Tunisia's holiday island of Djerba, where one of the last Jewish communities in the Arab world still lives.
Full report at:
http://www.hurriyetdailynews.com/israel-warns-of-terror-attack-threat-against-jews-in-tunisia-.aspx?pageID=238&nID=81873&NewsCatID=352
----------
Saudi-led strikes hit airbase in Yemen's Sanaa
3 May 2015
Warplanes from a Saudi-led coalition struck Sanaa's al-Dulaimi military airbase overnight, residents of the Houthi-controlled Yemeni capital said on Sunday.
The aircraft also targeted a camp of forces loyal to former president Ali Abdullah Saleh, an ally of the Houthis, in Arhab district north of the city, the residents added. There was no immediate word on casualties.
The Saudi-led coalition has been carrying out air strikes in Yemen since late March against the Houthis and their allies, whose rapid advances forced Yemeni President Abdrabbu Mansour Hadi and his government into exile in Riyadh.
Iran, which backs the Houthis, does not recognize Hadi and has portrayed the air strikes as an intervention in Yemen's internal affairs.
Last week, Saudi Arabia said coalition jets destroyed the runway of Yemen's Sanaa airport to prevent an Iranian cargo plane from landing there.
In the southern city of Aden, fighting continued in the central districts of Mualla and Khor Maksar, near the main commercial port, as well as in the city's north, around a military camp and the airport, where there have been fierce clashes for three days, local sources said.
Sources in the southern resistance, which is fighting the Houthis and Saleh's forces, said four of their numbers were killed in clashes on Saturday to the death of 15 members of the Iran-allied militia.
Full report at:
http://english.alarabiya.net/en/News/middle-east/2015/05/03/Saudi-led-strikes-hit-airbase-in-Yemen-s-Sanaa-.html
---------
Europe
The Bosnian Muslim Rebuilding A Medieval Christian Church
May 3, 2015
A Bosnian Muslim businessman has discovered what are believed to be the remains of a 13th century Franciscan church in his back garden – and now intends to have it rebuilt. Husein Smajic stumbled across what appear to be the foundations and other relics of the church while digging an artificial lake. He says the project will show that coexistence of Muslims and Christians in Bosnia is indeed possible.
http://www.huffingtonpost.com/2015/05/03/bosnian-muslim-rebuilds-christian-church_n_7189926.html?ir=India&adsSiteOverride=in
----------
Amnesty says Egypt using courts and jail to intimidate journalists
3 May 2015
Egyptian authorities are using the courts to stifle journalism, Amnesty International said on Sunday in a report that listed 18 reporters and media workers jailed and dozens more facing criminal investigations.
The New York-based rights group said several reporters have been detained for long periods without charge or trial, including an Egyptian photographer known as Shawkan who has been held for more than 600 days.
Rights groups say a crackdown launched by the government of President Abdel Fattah al-Sisi after the overthrow of Mohamed Mursi of the Muslim Brotherhood in mid-2013 has muzzled freedom of expression.
"In Egypt today anyone who challenges the authorities' official narrative, criticizes the government or exposes human rights violations is at risk of being tossed into a jail cell, often to be held indefinitely without charge or trial or face prosecution on trumped-up charges," Amnesty said.
Full report at:
http://english.alarabiya.net/en/media/print/2015/05/03/Amnesty-says-Egypt-using-courts-and-jail-to-intimidate-journalists.html
----------
Germany: Turkish couple suspected in attack plan had extremist video
May 3, 2015
German authorities say they found violent Islamic extremist videos on a computer belong to a couple suspected of preparing an attack on a cycling race.
Udo Bühler, a spokesman for the criminal police office in Hesse state, declined to give details of the videos found at the home of the couple in Oberursel, near Frankfurt.
The couple, who haven't been identified, were arrested April 30. Police seized a cache of weapons, including a pipe bomb and chemicals that can be used to make explosives. Officials believe they may have planned to target a professional cycling race in the area on May 1 - the race was canceled.
Bühler said May 2 that investigators are still going through evidence and working to determine whether the Turkish-German man and his Turkish wife had any accomplices.
http://www.hurriyetdailynews.com/germany-turkish-couple-suspected-in-attack-plan-had-extremist-video.aspx?pageID=238&nID=81864&NewsCatID=351
----------
The Islamic State Is Selling Enslaved Yazidis Back to Their Families
May 3, 2015
At the beginning of April, the Islamic State released more than 200 Yazidis from among the thousands the group is believed to have captured last summer during its expansion from Syria into northern Iraq. At the time, the details of the transfer were murky, with some media reports characterizing the move as a "rare act of goodwill" on the part of the terrorist group.
But VICE News has learned that the release of 217 Yazidis on April 4 was far from a benevolent act. According to United Nations human rights officials, the Yazidis — an ethno-religious minority group whose members are considered infidels by the Islamic State — were sold back to their families as slaves in exchange for cash.
According to UN officials in Iraq, the Islamic State (IS) — which is also known as ISIS, ISIL, and by its Arabic acronym Daesh — regularly requests as much as $30,000 for prisoners.
Faced with a relentless assault from US-led coalition aircraft and Iraqi security forces buttressed by powerful, often Iranian-backed, Shiite militias, IS has by some accounts lost a quarter of the self-proclaimed "caliphate" it captured in Iraq and Syria last year. That pressure, and a pinch on their economic activities, may have played a role in approving the April 4 transfer. But whatever their motives, up until the last moment IS insisted that the Yazidis were slaves and would not be ransomed. Instead, they were sold.
Full report at:
https://news.vice.com/article/the-islamic-state-is-selling-enslaved-yazidis-back-to-their-families
----------
Saudi-led coalition using cluster bombs in Yemen: HRW
May 3, 2015
DUBAI: The Saudi-led coalition has been using US-supplied cluster bombs in its air campaign against Yemeni rebels, Human Rights Watch said on Sunday, warning of the long-term dangers to civilians.
The widely banned munitions contain dozens of submunitions, which sometimes do not explode, becoming de facto landmines that can kill or maim long after they were dropped.
HRW said it had gathered photographs, video and other evidence indicating that cluster munitions had been used in coalition air strikes against the Houthi rebel stronghold of Saada province in Yemen's northern mountains.
Full report at:
http://www.dawn.com/news/1179762/saudi-led-coalition-using-cluster-bombs-in-yemen-hrw
----------
UN assures India of taking up issue of Lakhvi's release in next meeting
PTI | May 3, 2015
UNITED NATIONS: A UNSC committee has assured India that it will take up the issue of Mumbai terror attack mastermind Zaki-ur Rehman Lakhvi at its next meeting, after India expressed concern that the LeT commander's release from a Pakistani jail violates the provisions of the global body.
India's ambassador to the UN Asoke Mukerji had written a letter to the chair of the UNSC al-Qaida sanctions committee ambassador Jim McLay expressing concern over Lakhvi's release and said it violates the provisions of the committee concerning al-Qaida and associated individuals and entities.
India also pointed out that as a listed terrorist, Lakhvi can neither receive or give money since all his assets and financial resources have to be frozen. Any bail money posted for Lakhvi is also a violation of the provisions of the sanctions committee since he is listed terrorist.
Acknowledging India's concerns, McLay has responded to India's letter and assured that the matter will be discussed at the next meeting of the committee, sources told PTI.
The next meeting of the committee is expected to take place in the next few days.
The committee had listed in December 2008 Lakhvi as a terrorist associated with LeT and al-Qaida for "participating in the financing, planning, facilitating, preparing or perpetrating of acts of activities by, in conjunction with, under the name of, on behalf or in support of" both entities.
Full report at:
http://timesofindia.indiatimes.com/india/UN-assures-India-of-taking-up-issue-of-Lakhvis-release-in-next-meeting/articleshow/47137073.cms
----------
North America
'No justice, no peace, no racist police' chants in Baltimore
May 3, 2015
Chants of "no justice, no peace, no racist police" echoed through the streets of Baltimore Saturday during a march that organizers billed as a "victory rally" a day after a prosecutor charged six officers involved in the arrest of a black man who died in police custody.
State's Attorney Marilyn Mosby on Friday charged the six with felonies ranging from assault to murder in the death of Freddie Gray. He died from spinal injuries a week after his April 12 arrest. It provoked riots on the streets of Baltimore and quickly became a rallying cry against police brutality and social inequality in the city and elsewhere.
The planned march was to be a mass protest of Gray's treatment by police, but after Mosby's announcement, the tone had changed to more celebratory.
Shortly after noon at Gilmor Homes, a group of demonstrators, both black and white, young and older, congregated.
"Are you ready to march for justice?" Kwame Rose, 20, of Baltimore, said. The crowded chanted, "Yes."
Full report at:
http://www.thehindu.com/news/international/no-justice-no-peace-no-racist-police-chants-in-baltimore/article7166929.ece
----------
US Congress Plan to Arm Kurds Prelude to Religious War
May 3, 2015
Iraqi Interior Minister Mohammed Salem al-Ghabban strongly blasted a bill proposed by the US Congress that allows the Iraqi Kurds to be armed directly, bypassing Iraq's central government, as an initial step to stir sectarian war in the country.
Ghabban made the remarks in a meeting with the US ambassador to Iraq in Baghdad on Saturday.
The Iraqi government believes that this measure is unacceptable and a mistake, he said.
Ghabban underlined that the GOP proposal will pave the ground for a religious and civil war in Iraq.
In March 2015, the US Congress introduced legislation which would allocate military articles directly to the Kurdish Peshmerga fighters.
"The bill proposed by the Senate Foreign Relations Committee is opposed (by the Iraqi government), as it leads to further divisions in the region," Iraqi Prime Minister Haider al-Abadi said on Wednesday.
"We call on the US Congress not to go through with the bill to preserve strategic relations between the two countries [the United States and Iraq] in fighting the Islamic State terrorist organization and reinforcing cooperation between them," al-Abadi added.
The Iraqi Prime Minister added that countries working alongside Baghdad in combatting the ISIL have respected Iraq's sovereignty, and stressed that nobody will receive weapons without the consent of the central government.
"There is no double dealing with the outside parties… We stress that arming any group will not occur unless via the Iraqi government, in accordance with its military plans," al-Abadi added.
http://english.farsnews.com/newstext.aspx?nn=13940213000265
----------
Kerry denounces 'hysteria' over Iran nuclear deal
3 May 2015
U.S. Secretary of State John Kerry Saturday denounced what he called "hysteria" over a final nuclear accord being discussed between world powers and Iran over its controversial nuclear programme.
"There's a lot of hysteria about this deal. People really need to look at the facts, and they need to look at the science behind those facts," Kerry told Israel's privately run Channel 10 Television in an interview.
Kerry said a final agreement due to be agreed by June 30 provides indefinite access to Iranian nuclear facilities.
"We will have inspectors in there every single day. That's not a 10-year deal. That's for ever. There have to be inspections," he said.
Full report at:
http://english.alarabiya.net/en/News/middle-east/2015/05/03/Kerry-denounces-hysteria-over-Iran-nuclear-deal-.html
----------
Steve King Avoids Talking About Islam After Inviting Islamophobe To Congress
May 3, 2015
WASHINGTON -- Rep. Steve King (R-Iowa) is worried about radical Islam. So worried, in fact, that he invited Dutch parliamentarian Geert Wilders to a Thursday news conference titled "Fighting Radical Islam."
Wilders' solution for countering violent extremism is simple: a wholesale ban on Islam. The parliamentarian has advocated outlawing the Quran and the construction of mosques. On Thursday, speaking in front of the steps to the U.S. Capitol, he called for an end to immigration "from Islamic countries to our free Western societies."
Although Wilders has been charged multiple times by his own government for inciting hatred and discriminating against Muslims, King praised the parliamentarian as "bold, confident and factual." He vigilantly defended the Dutch politician's right to his views, but avoided directly weighing in on these policies.
During his seven-minute long opening remarks, King danced around the word "Islam," and instead spoke from the podium about the uniqueness of free speech in America.
"In Europe, they prosecute for telling the truth, even. They call it hate speech," said King. "That's something that's astonishing to us here in America. [Wilders] is grateful for our First Amendment."
Full report at:
http://www.huffingtonpost.com/2015/05/01/geert-wilders-steve-king-islam_n_7191386.html?ir=India&adsSiteOverride=in
----------
Need of a global treaty to fight terrorism: experts
May 3, 2015
In a changed atmosphere wherein non-state actors pose greater threat to the mankind than ever in the past, there is need of a common global treaty instead of more than a dozen existing ones to fight terrorism, international experts have said.
"There is need of a single global treaty instead of currently existing 14 different ad-hoc and piecemeal international treaty," said Prof Ved Nanda, a well-known international expert and author of international law on terror. Nanda and other experts were speaking at a day-long panel discussion on terrorism in the US capital on Friday organised by Foundation for India and Indian Diaspora Studies (FIIDS USA).
David Sterman, a researcher at New America Organization, studied data sets of surveillance of USA's home grown terrorism and monitoring. He concluded that community tips and traditional intelligence are far more effective to identify conclusive triggers than surveillance monitoring along with social media monitoring of terror networks.
During the day-long conference, Glenn Carle, ex-CIA officer and an author of The Interrogator, discussed how vested interests of different nations as well as geo-political and historical issues make it difficult to achieve such treaties. Glenn alleged Pakistan and Saudi money are main forces behind terrorism in South Asia.
http://indianexpress.com/article/world/world-others/need-of-a-global-treaty-to-fight-terrorism-experts/
----------
Africa
Nigeria: Fresh Crisis in Plateau Soldiers Invade Wase, 'Kill Many'
May 3, 2015
Jos — Some Tarok-speaking residents in Kadarko and Wadata communities in Wase Local Government Area (LGA) of Plateau State were feared killed yesterday in attacks allegedly carried out by members of the Special Task Force deployed to keep the peace in the state.
A witness account said the victims were mostly women and children. Some houses were also destroyed in the attacks.
The attackers, who dressed in military gears, were in 18 armoured tankers. Other military vehicles were said to have split into different camps, entering through Taraba State border routes, allegedly killing anybody they encountered.
Some other sources from Wase town in Wase LGA yesterday said over 10 vehicles belonging to the STF passed through their community, moving with troops and weapons toward Tarok communities in Kadarki, Wadatan Arewa, Wadatan Garka and Kurmi in Plateau and Taraba states.
Shafi'i Sambo, a youth leader from Wase said the attacks on the Tarok villages might be connected to the killings of nine soldiers and carting away of their weapons and ammunition by some Tarok youths last Thursday.
Sambo said, "The STF and soldiers from Taraba State attacked the communities from three different angles. I don't know how many people were killed. But I know many of the houses have been demolished."
Full report at:
http://allafrica.com/stories/201505030244.html
----------
Zambia Sends 750 Troops to CAR
May 3, 2015
ZAMBIA has sent 750 soldiers for the United Nations (UN) peacekeeping mission in the war-torn Central African Republic (CAR).
The CAR has been rocked by religious violence which has killed thousands of people, and the country is scheduled to go for elections in July this year.
The Zambian troops, who will be part of the multidimensional United Nations peacekeeping operation dubbed MINUSCA, left the country on Thursday and are expected to be in that country for 12 months.
The departure was preceded by a colourful send-off parade at Lusaka's Arakan Barracks last weekend where Defence
Deputy Minister Christopher Mulenga warned the soldiers against being indisciplined.
Mr Mulenga said the Government expected nothing but high levels of professionalism and discipline from the troops during the execution of their mandate.
"As peacekeepers sent from Zambia, you are expected to keep and observe your terms of reference and please do not for any reason get entangled in the politics of the host nation," he said.
Full report at:
http://allafrica.com/stories/201505030370.html
----------
Tunis protesters seek 'truth' about reporters' fate
May 3, 2015
TUNIS: Protesters took to the streets of Tunis demanding to know the truth about the fate of two journalists whose execution-style killing in Libya was claimed by the Islamic State group.
"Give us back Sofiene; give us back Nadhir," the crowd of almost 200 demonstrators chanted as they brandished pictures of Sofiene Chourabi and Nadhir Ktari.
Journalist Chourabi and photographer Ktari went missing in eastern Libya last September, after being seized by an armed group.
An IS affiliate in Libya claimed in January that it had killed the two men.
But on Wednesday the Libyan government said that five detainees had admitted to killing five reporters from a local television station as well as Chourabi and Ktari.
Relatives of Chourabi and Ktari accuse Tunisian authorities of failing to obtain the release of the journalists when they were seized, and of inaction after their murder.
http://www.arabnews.com/middle-east/news/741246
----------
Southeast Asia
Amid support for Najib, Umno leaders starting to question, says former minister
May 3, 2015
Umno division chiefs are beginning to realise that people are not happy with Datuk Seri Najib Razak, even as the party leaders continue to express their strong support for his leadership, former information minister Tan Sri Zainuddin Maidin said.
He said that it was wrong to assume that Ummo division leaders were mere yes-men who "swallowed" the country's leaders' every word.
"There are Umno division chiefs who realise that the support of the 'red shirts' to the top leadership can no longer represent the rakyat's support," wrote Zainuddin on his blog today.
"They not only reading it on social media or news portals, but they hear it for themselves at weddings, the suraus and mosques, at coffee shops, in open and closed discussions among the top echelon and the grassroots."
Zainuddin wrote that even Cheras Umno divison leader Datuk Seri Syed Ali Alhabshee could not stay quiet in the face of the scandals surrounding Najib.
Two days ago, the Umno man had reportedly urged for businessman Low Taek Jho to be called in for questioning immediately over the 1Malaysia Development Berhad (1MDB) scandal.
"What is the delay? The rakyat are waiting for answers. And so am I," Syed Ali wrote in the Cheras Umno blog.
Full report at:
http://www.themalaysianinsider.com/malaysia/article/amid-support-for-najib-umno-leaders-starting-to-question-says-former-minist#sthash.CTDKHJeE.dpuf
----------
Minister hopes indonesia to follow sweden in cutting prostitution rate
May 3, 2015
Tapin, S Kalimantan (ANTARA News) - Social Affairs Minister Khofifah Indar Parawansa hoped Indonesia would follow Swedens way in its efforts to cut the rates of prostitution and its clients.
"Sweden can reduce the countrys prostitution rate and its clients by 75 percent and 80 percent respectively in three years," the minister said here on Sunday.
The minister was on a working visit to Tapin, South Kalimantan, to attend the 69th anniversary of Muslimat NU and the Muslimat NU conference 2015.
The Muslimat NU is the womens organization wing of the countrys largest Muslim organization Nahdlatul Ulama (NU).
Full report at:
http://www.antaranews.com/en/news/98748/minister-hopes-indonesia-to-follow-sweden-in-cutting-prostitution-rate
----------
Lady Gaga in Malaysia? Not if we let old, religious men decide, says industry bigwig
May 3, 2015
KUALA LUMPUR, May 3 — The old and religious men within Puspal — the agency responsible for approving concert permits — are to blame for the disconnect between Putrajaya's vision for the entertainment industry and reality on the ground, said Sepang Inter­national Circuit chief executive Datuk Razlan Razali.
In an interview with The Sunday Star, Razlan said the committee members are damaging Malaysia's global reputation as a good destination for live events, with many major artistes bypassing the country during their Asia-Pacific tours.
He pointed out that Malaysians can forget about seeing major artistes such as Madonna, Shakira or Lady Gaga as religious objections would be raised even during the pre-approval stage
Full report at:
http://www.themalaymailonline.com/malaysia/article/lady-gaga-in-malaysia-not-if-we-let-old-religious-men-decide-says-industry
----------
URL: https://www.newageislam.com/islamic-world-news/new-age-islam-news-bureau/isis-militants-slaughter-more-than-300-yazidi-captives-in-northern-iraq/d/102792