New Age Islam News Bureau
6 Nov 2019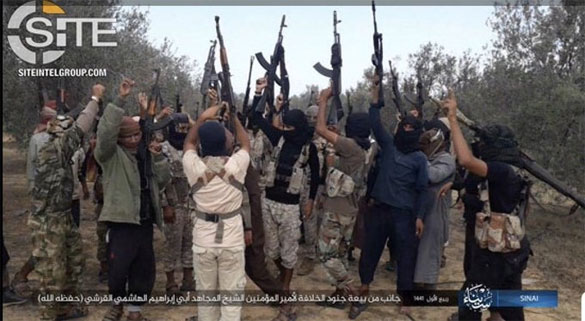 #ISIS #Sinai releases photos showing fighters pledging bayah/allegiance to new ISIS leader Abu Ibrahim al #Hashimi al #Qurashi
---------
• 'Defeated' ISIS Has Found Safe Haven in an Ungoverned, Remote Part of Iraq
• Yemeni Parties Sign 'Riyadh Agreement' In Saudi-Sponsored Talks
• Muslim Children Feel No Less Indian Because Of Their Faith, They Identify both As Indian and As Muslim: Study
• Pakistan PM Imran Khan Agrees To All of Opposition's Demands except His Resignation: Report
• New Guidelines for Media Reports on Islam Published to Tackle 'Othering' Of Scotland's Muslim Communities
• Senior Australian Muslims Call for Armed Guards outside Mosques and Islamic Schools to Protect Them from Right-Wing Extremists
• Study: Twitter Fueled Attacks on Ilhan Omar, Other Muslim Candidates In 2018
Arab World
• ISIS Media Aims to Build Momentum behind Newly Appointed Caliph, Abu Ibrahim al-Hashimi al-Qurashi
• 'Defeated' ISIS Has Found Safe Haven in an Ungoverned, Remote Part of Iraq
• UAE says it welcomes Riyadh Agreement between Yemeni parties
• Saudi Arabia's Foreign Minister: Riyadh Agreement 'Opens a New Page' For Yemen
• Arab Parliament calls on Yemen's Houthis to complete Stockholm agreement
• Iraqi PM says protesters demands are 'legitimate' but warns of 'the unknown'
• Hezbollah's Old Tricks Won't Work in Lebanon
• Egypt forces kill 83 fighters in Sinai, military says
• Russian warplanes bombard Idlib countryside, injure five hospital staff: Monitor
• Iraqi forces shoot dead 13 protesters in renewed crackdown
• Qatar, Turkey reaffirm desire for 'comprehensive strategic partnership'
• Pompeo says he looks forward to continuing strong US-Saudi partnership
• Iraqi officials order to lift curfew in Baghdad despite ongoing anti-govt. protests
• Army reopens roads as protesters target Lebanese public institutions and banks
• Saudi FM receives head of Islamic science organization
--------
Mideast
• Yemeni Parties Sign 'Riyadh Agreement' In Saudi-Sponsored Talks
• Yemeni expats thank Saudi Arabia for positive mediation
• Iranian president announces another break from nuclear deal
• Iran Finds Itself in Crosshairs of Arab Protesters
• Iran Steps Further From Nuclear Deal with Move on Centrifuges
• In Major Nuclear Step, Iran to Resume Enrichment at Underground Site
• 40 Years after Hostage Crisis, Iran Remains Hotbed of Terrorism
• Turkey captures sister of slain ISIL leader Abu Bakr al-Baghdadi
• Yemen's Houthi rebels jeopardise Hodeidah ceasefire by fortifying positions
• Iran bans cooperation with British Council, warns of prosecution
--------
India
• Muslim Children Feel No Less Indian Because Of Their Faith, They Identify both As Indian and As Muslim: Study
• 'Exporting Terror, Regressive Ideologies': India Slams Pakistan At UNSC
• ISIS-K attempted suicide attack in India last year: US official
• Akhara Parishad to Seek Security for Saints, Muslim Clergy Supporting Their Cause
• As India Takes Direct Control Of Ladakh, Locals Wary Of Outsiders
• The Muslim community's loss of faith in secular parties is fuelling the AIMIM's rise
• Grenade blast in Kashmir market kills 1, injures 17
• Pakistan's Official Kartarpur Corridor Opening Video Has Bhindranwale's Poster
• Pakistan yet to clarify on passport for Kartarpur pilgrims, clear guest list
• Centre plans to relax curbs, restart SMSs in Kashmir
• Pakistan leaves visitors to Kartarpur clueless on papers
• Jammu and Kashmir government sends eviction notices to Omar Abdullah, Mehbooba Mufti over official bungalows
• First Sikh jatha crosses to Pak, 10k likely to attend Corridor opening
• Ayodhya: We need to keep lines open, RSS, BJP tell Muslim leaders
--------
Pakistan
• Pakistan PM Imran Khan Agrees To All of Opposition's Demands except His Resignation: Report
• Cabinet approves passport waiver for Sikh pilgrims
• Bomb Blasts Kill Four Soldiers in Northwestern Pakistan
• Pak among worst countries for internet freedom
• Pakistani drug kingpin gets 15 years jail for importing heroin into US
• Strike of health workers in KP enters 39th day
• Pakistan seeks $9bn Chinese loan for ML-1, commits to border fencing
• Bus travelling from Canada to Kartarpur stops at Gurdwara Punja Sahib
• 3 suspected terrorists killed in Quetta after exchange of fire: CTD
• Pakistan Navy successfully test-fires missile in Arabian Sea
• SC questions monitoring of entry, exit points in S Waziristan
• Two FC personnel martyred in DIK terrorist attack
• Nawaz needs to go abroad for treatment, says medical board
• Pakistan, Malaysia agree to bolster bilateral cooperation
--------
Europe
• New Guidelines for Media Reports on Islam Published to Tackle 'Othering' Of Scotland's Muslim Communities
• Britain Says Iran's Move on Nuclear Deal Is a Threat to National Security
• School leaders in Maryland ask for no AP testing on Muslim holy day
• UK urges Iran to return to nuclear deal commitments
--------
Australia
• Senior Australian Muslims Call for Armed Guards outside Mosques and Islamic Schools to Protect Them from Right-Wing Extremists
-------
North America
• Study: Twitter Fueled Attacks on Ilhan Omar, Other Muslim Candidates In 2018
• Pompeo commends Saudi Arabia's role in facilitating deal between Yemen govt, STC
• US accuses Iran of 'nuclear extortion' with enrichment step
• Foreign fighters transiting through Turkey could help Islamic State to regenerate, US report warns
• US sanctions 9 people with ties to Iran's top leader
• Evangelical-Muslim Conference Brings College Students Together To Ameliorate Relations between Their Two Religious Groups
• Gunmen kill 9 members of US family in Mexico
--------
South Asia
• Afghan President, Chinese FM Discuss Dialogue with Taliban
• Used to impunity, Bangladesh elite face corruption crackdown
• Bangladesh rejects Amnesty report on Rohingya killings
• Explosion takes a soldier's life in Kapisa
• Airstrikes kill 17 Taliban militants in Baghlan, Paktiya and Zabul provinces
--------
Southeast Asia
• Maldives Bans Group over Islamic Radicalization Report
• Under-Fire Maldives Government Dissolves Maldives Democracy Network for Mocking Islam
• Soon-To-Be Built Floating Mosque In Ancol To Become 'New Icon' Of Jakarta
• Suspected Muslim militants kill 15 in Thailand's south
• Hadi: Zakat's Priority Is Muslims First, Then Only Others
• Nigeria police rescue 259 locked up in Islamic rehab centre
• Anwar Ibrahim finally has Malaysia's leadership within reach
• Anwar says zakat for non-Muslims only a suggestion, will adhere to royal decree
--------
Africa
• Russian Snipers, Missiles and Warplanes Try to Tilt Libyan War
• Al-Shabab militants ambush Somali forces, killing 2 government soldiers
• US Helps Senegal Defend Against Sahel Extremists
• Algerian court detains former minister over corruption allegations
• Haftar forces kill child in Libya: UN-recognized gov't
Compiled by New Age Islam News Bureau
URL: https://www.newageislam.com/islamic-world-news/isis-media-aims-build-momentum/d/120194
--------
ISIS Media Aims to Build Momentum behind Newly Appointed Caliph, Abu Ibrahim al-Hashimi al-Qurashi
By Jeff Seldin
November 4, 2019
The Islamic State terror group appears to be trying to show that momentum is building in support of its new leader, distributing photographs of fighters from various provinces and affiliates swearing allegiance.
Since Saturday, IS media officials have posted a series of photos showing fighters from five of the group's affiliates gathering to pledge bay'ah (allegiance) to Abu Ibrahim al-Hashimi al-Qurashi.
Jeff Seldin
✔
@jseldin
BREAKING: #ISIS #Sinai releases photos showing fighters pledging bayah/allegiance to new ISIS leader Abu Ibrahim al #Hashimi al #Qurashi
Via @siteintelgroup
View image on Twitter
19
9:28 PM - Nov 2, 2019
Twitter Ads info and privacy
26 people are talking about this
The first of the pledges came from IS-Sinai of IS distributing three photographs of about 25 masked fighters gathering in a sparsely wooded area in Egypt's Sinai Peninsula, with guns raised.
That release was followed hours later by a series of photographs showing a group of about seven or eight masked fighters, allegedly from Bangladesh, pledging their loyalty.
IS media officials have since distributed more photographs, similarly showing masked gunmen from Yemen and Pakistan pledging allegiance.
Jeff Seldin
✔
@jseldin
• Nov 4, 2019
Replying to @jseldin @siteintelgroup
Developing: At least 5 #ISIS affiliates now appear to have pledged allegiance to new leader Abu Ibrahim al Hashimi al #Qurashi, via @JihadoScope:
- ISIS #Sinai
- ISIS #Bangladesh
- ISIS #Yemen
- ISIS #Pakistan
All have posted photos through official ISIS media
Jeff Seldin
✔
@jseldin
Photos from #ISIS of fighters in #Somalia, #Pakistan, #Bangladesh pledging bay'ah to al #Qurashi, courtesy of @JihadoScope
View image on TwitterView image on TwitterView image on Twitter
9:05 PM - Nov 4, 2019
Twitter Ads info and privacy
See Jeff Seldin's other Tweets
"Some of this is, we're seeing some of the weaker affiliates rapidly realign with Islamic State," said Katherine Zimmerman, project manager with the American Enterprise Institute's Critical Threats Project.
"Four of the five are actually pretty small affiliates — Yemen, Somalia, Bangladesh and Pakistan — that haven't really had a massive presence on the ground and don't seem to have the sort of global pull that other ISIS branches have had," she added.
The exception is IS-Sinai, the first of the terror group's affiliates to give bay'ah to Qurashi.
Western intelligence officials have long pointed to IS-Sinai as one of the terror group's most dangerous affiliates, suspected of planting a bomb aboard a Russian airliner in 2015, killing 244 people.
Unlike IS affiliates in Bangladesh, Yemen and Somalia, which each have an estimated few hundred followers, IS-Sinai is thought to have anywhere from 500 to 1,200 fighters in cells scattered across the Sinai Peninsula and Egypt's Nile Valley.
Still, U.S. officials believe IS-Sinai has been dependent on the core group in Syria and Iraq for some of its funding, which would give it a reason to quickly back the new leader.
Officials and analysts say it may be more telling if or when fighters with IS-Khorasan in Afghanistan or IS-West Africa, with an estimated 3,500 fighters, come forward to pledge their loyalty to Qurashi.
"Those are two of the strongest Islamic State branches, and we've yet to hear from them," Zimmerman said.
'Risk of defections'
While there has been a sense in the intelligence community that most of the IS affiliates will eventually fall in line behind Qurashi, some may be trying to feel out the terror group's core leadership to see if financial and logistical support will continue.
They may also want more information about Qurashi's true identity, to evaluate whether he can bring the same cache as Abu Bakr al-Baghdadi, who helped guide IS from a struggling insurgency into one of the world's most feared terror organizations.
"There is also the perception that ISIS was simply gaining ground in the world of jihadism," Daveed Gartenstein-Ross, a counterterrorism analyst and CEO of Valens Global, told VOA prior to Thursday's announcement that Qurashi is now in charge.
"If the new leader is not seen as a sufficient replacement for Baghdadi, then they do face the risk of defections," he said.
Building momentum
To convince affiliates, IS's core leadership may have no choice but to find ways to securely share additional information about Qurashi, who for now is known to Western officials only by his kunya, or nom de guerre.
There may also be questions about why, for now, IS has only released still photographs, in contrast to a series of videos the group released in June of IS fighters and affiliates renewing their bay'ah to Baghdadi.
But analysts caution IS officials would be playing a dangerous game if the photos are not what they claim to be.
"Old photos, anything taken more than four days ago, would really throw ISIS media credibility in doubt (to their own base)," said researcher Raphael Gluck, using another acronym for the group.
At the same time, by gradually releasing the information, the terror group's media officials are playing to the desires of their followers.
"The ISIS affiliates like the synchronization," said Gluck, a co-founder of Jihadoscope, a company that monitors online activity by Islamist extremists. "It shows strength and ability to respond."
Early indications are that the strategy of gradually building momentum appears to be working.
"ISIS supporters on social media platforms seem to have a renewed sense of belonging since the announcement of the new caliph," according to Chelsea Daymon, a terrorism and security researcher at American University.
"Supporters are definitely keeping track of what's being written and said," she added.
https://www.voanews.com/middle-east/media-aims-build-momentum-behind-newly-appointed-caliph
--------
'Defeated' ISIS Has Found Safe Haven in an Ungoverned, Remote Part of Iraq
Nov. 5, 2019
By Courtney Kube
MAKHMOUR, Iraq — Just months after the Islamic State militant group lost the last of its territory in Syria, and days after its leader, Abu Bakr al-Baghdadi, was killed in a U.S.-led raid, the group has found safe haven in a remote, ungoverned space in Iraq, as foreign fighters move across the border from Syria, military officials tell NBC news.
"The fight against ISIS is continuous," said U.S. Marine Corps Brig. Gen. William Seely, commander of Task Force-Iraq. "We're seeing ISIS fighters move from Syria across hundreds of miles of desert."
Their goal, Seely says, is to re-establish their physical caliphate in the region.
In 2014, ISIS controlled vast areas of land across Syria and Iraq, with more than 34,000 square miles and 10 million people living under its control, in what the group referred to as its caliphate. U.S.-backed fighters in Syria declared victory over ISIS in March, and amid Turkey's invasion into northeast Syria last month, President Donald Trump tweeted that the U.S. had defeated "100% of the ISIS Caliphate."
But in its most recent quarterly annual report on U.S. operations in Syria, released in August, the Defense Department's inspector general said that "ISIS remains a threat in Iraq and Syria." Former Defense Secretary James Mattis has also warned that the president's decision to pull troops from Syria's border in advance of a Turkish incursion could lead to ISIS's resurgence.
Now, military officials on the ground say it's already happening. ISIS has moved into a valley in a remote mountainous region in Northern Iraq. The valley is controlled by the Kurdish peshmerga on one side and the Iraqi army on the other. But along the dividing line between the two, there are areas — some as wide as five miles — where neither side patrols, giving the militants space to move.
And they do, coming out mainly at night.
"They have some tunnels, they have some caves," said Gen. Sirwan Barzani, the commander of the Kurdish peshmerga forces, at a remote outpost atop a mountain in Makhmour that overlooks the valley. "And they are moving — especially at night."
Barzani said he and his troops can see them moving, riding motorcycles, driving pickup trucks — even on foot. And while the sparse local population may not welcome the ISIS fighters, they aren't given a choice.
"They'll come out of that area at night, let's say, and go down to a city or a farm or village and shake down the whole population and extract resources," said Maj. Gen. Alexus Grynkewich, deputy commander of Combined Joint Task Force Operation Inherent Resolve, a U.S.-led military operation dedicated to defeating ISIS in Iraq and Syria.
"I think it's the place where they have the designs to re-establish the physical caliphate and if they could, I think they would do it here. Syria in my mind is more of a support zone for them," he added.
Right now, the number of ISIS fighters in the region is not large — estimated to only number a couple hundred, according to Kurdish officials. But that is how ISIS and its caliphate began: small groups of determined fighters taking over land and imposing their rule.
Barzani, the Kurdish commander, sees history repeating itself. "You can say they are [in] exactly the same situation of ISIS in 2012 in Iraq," he said. "It's the same situation there now. They are starting to reorganize themselves."
https://www.nbcnews.com/news/mideast/defeated-isis-has-found-safe-haven-ungoverned-part-iraq-n1076081
--------
Yemeni Parties Sign 'Riyadh Agreement' In Saudi-Sponsored Talks
5 November 2019
The legitimate government in Yemen and the Southern Transitional Council (STC) signed the "Riyadh Agreement" on Tuesday, under the auspices of Saudi Arabia's King Salman and Crown Prince Mohammed bin Salman, who officially announced the deal.
The Saudi Crown Prince said in the televised speech that the agreement is "a step toward a political solution to end the war in Yemen."
The agreement between the two sides, which are united against the Iranian-backed Houthi militia, initiates a new stage of cooperation in the Yemeni governorates under their control.
The main points of the deal include the return of the legitimate government to Aden within seven days, the unification of all military formations under the authority of the Ministries of Interior and Defense, and the formation of an efficient government made up equally between the north and south of Yemen.
The agreement was officially signed in Saudi Arabia's capital Riyadh, with the attendance of the UAE's Abu Dhabi Crown Prince Sheikh Mohammed bin Zayed Al Nahyan, Yemeni President Abdrabbu Mansour, President of the STC Aidarus al-Zoubaidi, alongside other Arab and Western officials and ambassadors.
https://english.alarabiya.net/en/News/gulf/2019/11/05/Yemeni-parties-sign-Riyadh-Agreement-in-Saudi-sponsored-talks.html
--------
Muslim Children Feel No Less Indian Because Of Their Faith, They Identify both As Indian and As Muslim: Study
By Safoora
November 05, 2019
NEW YORK: When it comes to the question of who is a true Indian, the country's Hindu children are more likely than their Muslim peers to connect their faith to their national identity, according to new research from the University of California, Berkeley. "Our results indicate that by age 9, Hindu children have already internalised an 'Indian equals Hindu' association, and we show that this association predicts children's support for policies that favor Hindus over Muslims," said study senior author Mahesh Srinivasan, Associate Professor of Psychology at UC Berkeley.
The findings, published in the journal Child Development, also suggest that Muslim children feel no less Indian because of their faith, indicating they are shielded from religious nationalist messaging and able to identify both as Indian and as Muslim, added Srinivasan.
"If Muslim children were to equate being Indian with being Hindu, they could very well feel conflicted about being Indian or being Muslim. We know from other research that disconnection from one's own national, ethnic, or religious group is bad for mental health and other life outcomes," he said.
Through surveys and social psychology measures, the researchers examined the explicit and implicit associations and attitudes of 160 schoolchildren aged between 9 and 16 in Vadodara, Gujarat.
All the children attended Zenith, a charitable school for low-income children in Vadodara.
The children, 79 of whom were Hindu and 81 of whom were Muslim, were each given an implicit association test, which asked them to swiftly pair together words and pictures.
The results showed that Hindu children more readily paired images associated with India with the word "Hindu" and images associated with foreign countries with "Muslim," suggesting that they think of India as primarily a Hindu nation.
By contrast, Muslim children were just as fast at pairing Indian images with the words "Hindu" or "Muslim."
India is home to about 900 million Hindus and 200 million Muslims, as well as Christians, Sikhs, Buddhists, Jews and offshoots of these groups.
https://www.siasat.com/muslim-kids-feel-no-less-indian-because-their-faith-study-1719174/
--------
Pakistan PM Imran Khan agrees to all of Opposition's demands except his resignation: Report
November 5, 2019
Pakistan Prime Minister Imran Khan on Tuesday said that he was ready to accept all "valid" demands of the Azadi March protesters, led by firebrand cleric-cum-politician Maulana Fazlur Rehman, except their call for his resignation.
Prime minister Imran Khan reportedly made the remarks in a meeting with Defence Minister Pervez Khattak-led team tasked to negotiate with the opposition parties taking part in the massive march comprising thousands of protesters in Islamabad.
"The government is ready to accept all valid demands except the demand for resignation," The Express Tribune quoted Khan.
Last night, the Pakistan Tehreek-e-Insaf (PTI) government sent a second delegation to firebrand cleric-cum-politician Rehman's residence to break the impasse in the wake of the Opposition's bid to oust Khan.
The right-wing Jamiat Ulema-e-Islam Fazl (JUI-F) leader is leading the massive protest, which entered the fifth day on Tuesday. Dubbed as 'Azadi March', the protestors demand Khan's resignation, accusing him of "rigging" the 2018 general elections.
The Opposition parties, including the Pakistan Muslim League-Nawaz (PML-N) and the Pakistan People Party (PPP), have also thrown their weight behind the anti-government rally.
A delegation led by former Prime Minister Chaudhry Shujaat Hussain met the cleric on Monday night, hours after the government's negotiating team led by Defence Minister Khattak held talks with the Opposition's Rehbar Committee headed by JUI-F leader Akram Khan Durrani and discussed their demands, the report said.
In its list of demands, the Rehbar Committee has sought the premier's resignation and fresh elections in the country without the supervision of the armed forces.
The government, on the other hand, has demanded that the committee end the sit-in.
Khattak and the Rahbar Committee will resume the talks on Tuesday.
Rehman on Monday asked his supporters to continue their anti-government protest with "perseverance" and "courage", as the 48-hour deadline set by him for Prime Minister Khan's resignation expired.
He said the movement to oust the prime minister "will continue to move ahead and will never be on the back foot".
Rehman on Friday gave Khan a two-day ultimatum to resign, saying the "Gorbachev of Pakistan" must step down without testing the patience of peaceful protestors.
The 66-year-old cleric said the protest would continue until Imran Khan steps down.
Meanwhile, amid the continuing protest, PPP chief Bilawal Bhutto-Zardari has vowed to form the government at all costs.
Addressing a PPP workers' convention at Uch Sharif in Punjab province on Monday, Bilawal termed Khan as an "inefficient" prime minister and said his party "would form a national government at all costs", the Dawn newspaper reported.
Criticising the federal budget, he said it has made the lives of the people "hell".
Bilawal also criticised the government's policies, particularly the prime minister's announcement of the construction of five million houses, the report stated.
The PPP leader alleged the government's housing policy had rendered thousands of poor people homeless.
Extending his support to the farming community, Bilawal said the PTI government of Khan had inflicted economic damage on the farmers.
He also criticised the government's media policy, saying the press was not free in Pakistan and the ruling party has silenced the people's voice.
Referring to the 'Azadi' march, he said, "We have supported him (Rehman)."
https://www.indiatoday.in/world/story/pakistan-pm-imran-khan-agrees-all-opposition-demands-except-his-resignation-1615924-2019-11-05
--------
New Guidelines for Media Reports on Islam Published to Tackle 'Othering' Of Scotland's Muslim Communities
05 November 2019
Negative headlines have contributed to the "othering" of Muslims in Scotland it was claimed today as new guidelines for media reports on Islam were published.
The guidelines, produced by the Scottish Parliament's Cross Party Group on Tackling Islamophobia in conjunction with Newcastle University and the National Union of Journalists, were written with the aim of helping to improve the accuracy of the portrayal of Muslims, as well as to try and increase their representation in Scotland's media.
It is hoped the document will become a regularly used tool for reporters, editors, broadcasters and other media professionals.
Zara Mohammed of the Muslim Council of Scotland said: "One of the key challenges we're facing in addressing Islamophobia is the impact and consequence of negative media headlines which have contributed to the othering of the Muslim community and these guidelines can wake up the media to the damage of the headlines, so it's a key step."
She added: "One of the worse things is the portrayal of Muslim women as being oppressed and forced to wear headscarves, it's all very dark and grim and doesn't capture the every day realities of Muslim women so people get a skewed impression and Muslim women are attacked as a result, with scarves ripped off or being called letterboxes. Words do have an impact and the media needs to be responsible.
"We also need more diversity and acknowledgement in the media that our communities are not just white."
Research for the project involved focus groups with young Muslims, Muslim women, non-Muslims and senior journalists from print and broadcast media. The research found terminology is often used without much regard for accuracy - such as hijab and burka being used interchangeably - as well as articles sometimes referring to an individual's Muslim faith when it is not clear why it is relevant to the story.
Labour MSP Anas Sarwar, chairman of the Cross-Party Group, said the new guidelines can help Scotland to demonstrate leadership to the rest of the UK and the world.
"Rightly or wrongly, people blame politicians and the media for rising divisions in society," he said. "The CPG set out to address these issues and I would like to thank all the journalists and editors for their positive engagement with this groundbreaking initiative.
"These guidelines can demonstrate leadership from Scotland to the rest of the UK and other parts of the world. I hope this becomes a regularly used tool and acts as a quick guide for the media.
"By coming together to challenge all forms of prejudice we can build the tolerant and inclusive society we aspire to be. This is a fight for all of us."
Former BBC Scotland executive producer Uzma Mir, who co-authored the report, said: "The media has significant power in shaping how Islam and Muslims are represented and therefore the extent to which Muslims experience everyday racism and Islamophobia.
"In most polls and from our own work with focus groups, many Muslims felt that there was an issue with Islamophobia and that the media played a major part in its rise.
"We hope these guidelines encourage further change and are a useful tool for those working in different roles and in diverse forms of media in Scotland."
Report co-author Professor Peter Hopkins, of Newcastle University, said: "We know from research that problematic media representations play a key role in fostering Islamophobia so we hope that this guidance will help to improve the portrayal, accuracy, representation and terminology used about Islam and Muslims, for the benefit of all."
John Toner, national organiser for NUJ Scotland, said: "How journalists cover issues relating to Scotland's diverse communities and faiths influence how we view our neighbours, and we are glad to be part of these guidelines which are an important step in making our media more representative, and our society more inclusive."
https://www.scotsman.com/news/politics/new-guidelines-published-to-tackle-othering-of-scotland-s-muslim-communities-1-5040226
--------
Study: Twitter fueled attacks on Ilhan Omar, other Muslim candidates in 2018
November 5, 2019
Muslim candidates, including Reps. Ilhan Omar and Rashida Tlaib, endured torrents of hateful, xenophobic and threatening tweets during last year's campaign season, much of it amplified through bots and other fake accounts, according to a study released Tuesday.
The study, by the Social Science Research Council, analyzed 113,000 Twitter messages directed at Muslim candidates. The tweets called the candidates "dogs" and "pieces of garbage" and accused them of marrying siblings, being terrorists and seeking to impose the values of a "demonic" faith on Americans.
The threats and verbal attacks flowed so heavily toward Omar, D-Minn. — who came to the United States as a refugee from Somalia and has become a visible symbol of Muslim political aspirations — that the report categorized more than half of all accounts that mentioned Omar as "trolls" because they tweeted or retweeted hateful, Islamophobic or xenophobic content.
The vitriol of the tweets far surpassed what Muslim candidates reported encountering on campaign trails in their own districts, evidence, the report said, that Twitter was responsible for the spread of images and words from a small number of influential voices to a national and international audience.
"We ended up with manufactured outrage that was amplified by faceless individuals, organizations and governments," said Lawrence Pintak, lead author of the report and a professor at the Edward R. Murrow College of Communication at Washington State University. The study is called "#Islamophobia: Stoking Fear and Prejudice in the 2018 Midterms."
As a result of this social media blitz, Pintak said, "you create a sector of society that buys into this exaggeration of lies and exaggeration of hate in this online echo chamber, and it spills into the mainstream media and into mainstream consciousness." Many of the tweets cited by the report appear to violate Twitter's terms of service, which prohibit violent threats and attacks based on religious affiliation, and the researchers found that a large number of the accounts they studied were eventually closed or deleted by the user, which can be a tactic to remove evidence of disinformation campaigns.
"Death threats, incitement to violence, and hateful conduct have no place on Twitter," said company spokeswoman Katie Rosborough after reviewing an advanced copy of the report. "We believe this behavior undermines freedom of expression and the power of healthy public conversation. People using their accounts to spread this type of content will face enforcement action."
Omar complained publicly Sunday about the threats against her life on Twitter by retweeting a compilation of them and saying, "Yo @Twitter this is unacceptable!" That prompted talks between her office and the company.
After reviewing an advanced copy of Tuesday's report, she called it "a wake-up call."
"It has become clear that these platforms do not take seriously their role providing a platform for white nationalist hate and dangerous misinformation in this country," Omar said. "We as a nation need to think seriously about ways to address online threats to our safety and our democracy."
The office of Tlaib, D-Mich., who was born in Detroit to Palestinian immigrant parents, did not respond to a request for comment about the report.
Omar's wearing of a traditional Muslim hijab head-covering was a particular source of anger in tweets reviewed for the study, as were unfounded claims that she sought to impose Islamic Sharia law on Americans and was complicit in the synagogue shooting in Pittsburgh last year.
"No one that wears a #Hijab should be running for office in America. The #Quran #Islam and our #Constitution are Not compatible in any way," said one tweet.
A set of three identical tweets said of Omar, "No way she belongs in this country. No way she should be involved in anything! Or breathing."
The researchers examined and categorized 113,000 tweets directed toward Omar, Tlaib and a third, unsuccessful Muslim congressional candidate in the two months before the November midterm election. Overall, Muslim women were more likely to be targeted online than men. And a relatively small number of influential accounts had outsize reach, thanks to accounts that tended to retweet, quote or comment rather than write tweets themselves.
"All these things that happened online — all this hate, all this controversy — were manufactured," said Jonathan Albright, a social media researcher at Columbia University's Tow Center for Digital Journalism and a co-author of the report. "They wouldn't exist if somebody hadn't built a platform like this to amplify them."
Particularly potent was right-wing journalist Laura Loomer, whom the report dubbed "Queen of the Trolls" for her ability to shape anti-Muslim online narratives. One tweet quoted in the report said, "MUST WATCH: I confronted Rashida Tlaib and Ilhan Omar, two Jihadi U.S. candidates with connections to terror organizations." It also claimed that they hated Jewish people.
Loomer, who was banned from Twitter and Facebook in 2018, did not respond to emails seeking comment.
The account for President Donald Trump, @realdonaldtrump, also played an influential role, in part because people seeking to spread anti-Muslim sentiment would direct their messages to Trump, potentially increasing their reach, the report found. The study concerned a period last year before Trump said, in July, that Omar, Tlaib and two other congresswomen of color should "go back" to their countries even though three of them were born in the United States.
The report found that automated "bot" accounts — along with so-called "sock puppets," which are controlled by people disguising their identities — played crucial roles in spreading hateful content directed toward Muslim politicians. Of the top 20 conservative accounts that spread messages about Omar, at least nine were bots, the report found.
Albright said the report also attempted to assess the impact of anti-Muslim messages on Facebook but failed because posts typically were deleted or otherwise made inaccessible before they could be collected for analysis.
https://www.twincities.com/2019/11/05/study-twitter-fueled-attacks-on-ilhan-omar-other-muslim-candidates-in-2018/
--------
Arab World
UAE says it welcomes Riyadh Agreement between Yemeni parties
6 November 2019
The United Arab Emirates welcomed the Riyadh Agreement signed on Tuesday between the Yemeni government and the Southern Transitional Council, state news agency WAM reported citing a statement from the country's foreign ministry.
"A statement by the Ministry of Foreign Affairs and International Cooperation commended the wisdom of the Custodian of the Two Holy Mosques King Salman bin Abdulaziz Al Saud for playing an essential role in bringing various Yemeni parties to the negotiating table and reaching this critical agreement that strengthens the efforts of Yemeni stakeholders to confront the threats targeting Yemen," the WAM statement read.
The main points of the Riyadh Agreement included the return of the legitimate government to Aden within seven days, the unification of all military formations under the authority of the Ministries of Interior and Defense, and the formation of an efficient government made up equally between the north and south of Yemen.
https://english.alarabiya.net/en/News/gulf/2019/11/06/UAE-says-it-welcomes-Riyadh-Agreement-between-Yemeni-parties.html
--------
Saudi Arabia's Foreign Minister: Riyadh Agreement 'opens a new page' for Yemen
6 November 2019
Saudi Arabia's Foreign Minister Prince Faisal bin Farhan said in a tweet that the Kingdom's policy is to prioritize dialogue and push for political solutions after the "Riyadh Agreement" was signed between the legitimate government in Yemen and the Southern Transitional Council (STC).
Prince Faisal bin Farhan made the comments after the Riyadh Agreement was signed on Tuesday under the auspices of Saudi Arabia's King Salman and Crown Prince Mohammed bin Salman.
"The Kingdom's policy is to prioritize dialogue and push for political solutions. Hence, the Riyadh Agreement opens a new page in the history of Yemen to enjoy security, stability, development and reconstruction," the Saudi Arabian foreign minister said.
Full report at:
https://english.alarabiya.net/en/News/gulf/2019/11/06/Saudi-Arabia-s-Foreign-Minister-Riyadh-Agreement-opens-a-new-page-for-Yemen.html
--------
Arab Parliament calls on Yemen's Houthis to complete Stockholm agreement
Mina Aldroubi
Nov 4, 2019
The Arab Parliament on Monday called for the implementation of the UN-brokered Stockholm agreement by the warring parties in Yemen almost a year ago, but is yet to be fully executed.
The Parliament, part of the Arab League, repeated its endorsement of the December 13 ceasefire agreement between Yemen's government and the Houthi rebels.
It calls for the "rapid mutual withdrawal" of fighters from Hodeidah and its three ports.
It also includes agreements on a prisoner swap and the formation of a committee to negotiate the future of Taez city. Neither has yet come to fruition.
Hodeidah is the international entry point for nearly 70 per cent of imports and humanitarian aid to Yemen, where five years of war have spawned the world's worst humanitarian crisis.
While the two sides agreed to the withdrawal of forces, they have been divided over who will run the port when they pull out.
"The agreement is an essential element of the peace process in Yemen and all parties should implement it," Arab Parliament members said.
They called on the Houthi rebels to release all detained prisoners and those under house arrest in areas under their control.
"We are following closely Yemen's political, economic and social developments," the Parliament said.
Peace in Yemen can only be achieved through a political process, the statement said, through national dialogue and the implementation of UN Security Council Resolution 2216.
The UN Security Council must take "responsibility in pressuring the Houthis to respect their commitment to the deal".
Progress around the UN brokered agreement has been stagnant due to lack of trust between Yemen's warring sides.
The Parliament also condemned the Houthi's seizure of funds and assets belonging to Yemen's Parliament Speaker, Sultan Al Burkani, and 34 other government officials.
Full report at:
https://www.thenational.ae/world/mena/arab-parliament-calls-on-yemen-s-houthis-to-complete-stockholm-agreement-1.933204
--------
Iraqi PM says protesters demands are 'legitimate' but warns of 'the unknown'
5 November 2019
Iraqi Prime Minister Adil Abdul Mahdi described on Tuesday the demands of the protesters as legitimate but warned that the situation across the country "could be heading toward the unknown."
In a televised speech, Abdul Mahdi said that the protests which erupted in early October are rightful and in the right direction, adding that these protests pointed to accumulated mistakes that were made since 2003.
He said that "many economic and social mistakes have not been properly and radically addressed."
"There are legitimate demands for the resignation of the government," said Abdul Mahdi.
But he warned that the situation across the country could be heading "toward the unknown."
Abdul Mahdi said there is a need for a constitutional amendment, adding this amendment could amount to a change in the political system.
Earlier in the day, Abdul Mahdi appealed to protesters to suspend their movement, which he said had achieved its goals and was hurting the economy.
He said he is willing to resign if politicians agree on a replacement and vowed a number of reforms. But protesters say that is not enough and the entire political class needs to go.
Iraqi security forces shot dead at least 13 protesters in the past 24 hours, dispensing with weeks of relative restraint in favor of trying to stamp out demonstrations against political parties that control the government.
After eight people were killed during the day on Monday, security forces shot dead at least five others overnight or early on Tuesday, including one killed with live fire toward a funeral procession held for another who died hours earlier, security and medical sources told Reuters.
More than 260 Iraqis have been killed in demonstrations since the start of October against a government they see as corrupt and beholden to foreign interests, above all Iran.
Full report at:
https://english.alarabiya.net/en/News/middle-east/2019/11/05/Iraqi-PM-says-protesters-demands-are-legitimate-but-warns-of-the-unknown-.html
--------
Hezbollah's Old Tricks Won't Work in Lebanon
BY MICHAL KRANZ
NOVEMBER 4, 2019
Expectations were high for Hezbollah leader Hassan Nasrallah's speech on Nov. 1, which arrived at the end of a tumultuous week in Lebanon that included widespread street violence in Beirut and Prime Minister Saad Hariri's resignation after two weeks of nationwide protests. But the militant group's leader had little to say. Like in his previous speech on Oct. 25, Nasrallah stressed pragmatism over idealism and delivered bland criticisms of Lebanon's politicians while echoing their calls for a speedy government formation process following Hariri's departure.
"We call for dialogue between political parties, parliamentarians, and honest leaders of the protests," Nasrallah said. "We must all get past the wounds that were created in the last two weeks."
For the leader of a party that has branded itself as the vanguard of Lebanon's grassroots resistance for decades, Nasrallah's backing of the country's corrupt establishment might seem odd. Yet for now—struggling to adapt to the sudden changes in the political system around it and on the ground beneath it—the group has left itself with few alternatives other than backing the current order and betting on the power of its brand and its ability to dispense violence and threats to keep its supporters in line.
Hezbollah will almost certainly be able to weather the growing storm and will retain its powerful position in Lebanese politics—but Hariri's resignation, together with the social and political uncertainty that has resulted from the protests, has left the group looking unmoored.
Through careful deal-making, success at the ballot box, and calculated use of force over the last decade and a half, Hezbollah has played a key role in crafting a political reality in Lebanon that has allowed the group to maintain stability, expand its missile arsenal, and to use the country as a reliable base from which to wage a campaign in Syria on President Bashar al-Assad and Iran's behalf. Although Hezbollah never dominated the state outright, it merged with it and had come to view former rivals like Hariri as vital guarantors of the order the group had helped establish.
But now that Hariri has jumped ship and Hezbollah ally President Michel Aoun is calling for a technocratic cabinet, its model has come under threat. Hezbollah seems well aware of the potential risks to its operational framework; prior to Hariri's announcement on Oct. 29, a Hezbollah advisor had reportedly pressured the prime minister to reconsider his choice, telling him that the protests were nearing their end.
"What [Hezbollah] want[s] is a similar situation that used to be before; the same coalition, probably with some different names," former member of Parliament Mustafa Allouch, who is part of the political bureau for Hariri's Future Movement party, told me last week. "Everyone knows that renegotiation on the same terms that used to be in the previous three years will not work with people in the street."
Members of the Future Movement have stated that Hariri should be renominated to form a new cabinet, but Maha Yahya, the director of the Carnegie Middle East Center in Beirut, said such an outcome is unlikely. In the event of a technocratic government, what is important for Hezbollah is finding ways to maintain its influence in the cabinet, even if it plays by the Lebanese system's pre-revolutionary rules.
"They will adapt to a certain extent," Yahya said. "They will be using the old playbook, but what they will care about is whether their interests are protected, whoever is in government. That's where their red line is." Hezbollah's media office and members of the party refused to comment for this story. But if the past is any indication, the party will do everything in its power as the most well-oiled political machine in Lebanon to pressure whoever is tasked with forming a new government, even if it is meant to be a technocratic one, to name candidates who will maintain Hezbollah's position.
In order to deal with protesters in the street, meanwhile, Nasrallah, other Hezbollah officials, and their allies in the majority Shiite Amal Movement have voiced limited and cautious support for their efforts.In order to deal with protesters in the street, meanwhile, Nasrallah, other Hezbollah officials, and their allies in the majority Shiite Amal Movement have voiced limited and cautious support for their efforts. In fact, they've tried to paint the protests as a boon for Hezbollah and its allies. "These demands are a golden opportunity for the Shiites," said a senior Amal official who spoke on the condition of anonymity. In response to chants against the party in the streets though, the official added: "When you play politics, you expect that you will have sometimes an opposition. Sometimes you take a decision that is unpopular, but later people realize that it is a good one."
Yet it remains to be seen whether the people will eventually come to appreciate the violence that party hard-liners have meted out against some protesters. Fueled by a new, nonsectarian national consciousness that has swept across the country, many of Lebanon's Shiites have spoken out against Hezbollah and Amal in a number of unprecedented ways. In response, Amal supporters assaulted protesters in the southern city of Tyre on Oct. 19. Similar incidents took place in Nabatieh, a Hezbollah stronghold, the following week. Mohamad, a Tyre resident who took part in protests there and gave only his first name for security reasons, said party loyalists were threatening protesters with punishment or jail time for abandoning the party.
Days after the protests in Tyre subsided, it appeared that these were not empty threats. Authorities in southern Lebanon, which is dominated by Hezbollah and Amal, were accused of bias when they charged 12 people from Tyre with crimes related to the demonstrations that carry sentences of up to seven years in prison—but arrested none of the parties' supporters who had carried out violence against protesters. Other instances of likely coercion by party elements surfaced, including a number of videos of people giving forced apologies for insulting Nasrallah and Parliament Speaker Nabih Berri, the head of Amal, during protests.
"Amal and Nasrallah are beginning to feel danger and can only face danger through violence," the journalist Ali al-Amin said. Amin was attacked by suspected Hezbollah supporters after he ran against the group for a parliamentary seat in southern Lebanon last year. "This will shake confidence in them, leading to more and more opponents."
In the last few days, Hezbollah has tried to correct course, including by reminding the Lebanese public that the group is a resistance force first and a political party second. Hezbollah announced that it had fired at an Israeli drone that had crossed into Lebanese airspace on Oct. 31, and Nasrallah concluded his speech a day later by boasting about the incident. According to Nicholas Blanford of the Atlantic Council, though, Hezbollah has had a hard time maintaining its resistance narrative amid a dragging conflict in Syria and its embroilment in Lebanese political fights.
But the idea of resistance still holds sway among large parts of the Shiite community.
"Hezbollah, as a government, of course they must leave," the protestor Abbas Haidar said in Beirut on Oct. 19, during the early days of the protests. "But as the resistance against Israel, of course not."
Amin admitted that the protests in Lebanon that had spurred the Shiite community into action were only the beginning—but in his view, the social shifts that have taken place so far are strong indicators that political changes await down the line.
As it fights to preserve what it has won in the political arena in years past, Hezbollah is likely to take further blows to its reputation, especially as it continues to employ nothing more than its old, timeworn playbook. Eventually though, Hezbollah will find its way as it always has, either by adjusting to its new surroundings or forcing its surroundings to adjust to it.
Full report at:
https://foreignpolicy.com/2019/11/04/lebanon-shiite-hezbollah-resistance-establishment-protest/
--------
Egypt forces kill 83 fighters in Sinai, military says
4 Nov 2019
Egypt's security forces have killed 83 suspected fighters in operations in central and North Sinai over the past month, the military said on Monday.
It also said 61 criminal suspects were detained and it found and detonated 376 explosive devices during the period, which it dated from September 28.
One officer and two soldiers died or were wounded, it added. The military did not say what armed groups those killed belonged to.
Conflict in the Sinai escalated after then-president Mohamed Morsi of the Muslim Brotherhood was toppled by the military in 2013.
In late 2017, North Sinai was the scene of the deadliest attack in Egypt's modern history when fighters killed more than 300 worshippers at a mosque, without any group claiming responsibility.
In February 2018, the army launched a military operation aimed at defeating Islamic State of Iraq and the Levant (ISIL or ISIS) or related armed groups in the Sinai Peninsula.
Escalating violence
Hundreds of fighters and dozens of soldiers have been killed since the start of the offensive, according to the armed forces.
Access to North Sinai has been restricted for years, making it difficult to independently verify what is happening on the ground.
In a 134-page report published in May, Human Rights Watch (HRW) accused Egyptian security forces of committing widespread abuse against civilians, some of which amounted to war crimes, it said.
The report titled, If You Are Afraid for Your Lives, Leave Sinai!, documented arbitrary arrests, enforced disappearances, torture, extrajudicial killings, forced evictions, and possibly unlawful air-and-ground attacks against civilians.
According to the report, armed groups also committed horrific crimes, including kidnapping and torture of residents, some of whom were killed, the New York-based watchdog said. They also killed captured members of the security forces, HRW said.
Full report at:
https://www.aljazeera.com/news/2019/11/egypt-forces-kill-83-fighters-sinai-military-191104143937295.html
--------
Russian warplanes bombard Idlib countryside, injure five hospital staff: Monitor
6 November 2019
Russian warplanes bombarded on Tuesday night and Wednesday morning the Idlib countryside- considered a de-escalation zone- where a children's hospital was targeted and five medical staff were injured, the Syrian Observatory for Human Rights reported.
The monitor added that the Russian warplanes carried out 12 raids, stating that the number of people killed since April 30 in the de-escalation zone is 4,371.
Earlier on Wednesday, the observatory had also reported that Turkish-backed forces attacked wheat silos using drones in northeast Syria's Sharkarak village, adding that they targeted one ambulance in the process.
It was also reported that there had been fierce fighting between Turkish-backed forces and Syrian Democratic Forces (SDF) in the same area. They stated that Turkish aircraft have been hovering over Tell Tamer, targeting SDF bases since Tuesday night, which resulted in the death of two SDF fighters following intense shelling.
Full report at:
https://english.alarabiya.net/en/News/middle-east/2019/11/06/Russian-warplanes-bombard-Idlib-countryside-injure-five-hospital-staff-Monitor.html
--------
Iraqi forces shoot dead 13 protesters in renewed crackdown
6 November 2019
Iraqi security forces shot dead at least 13 protesters in the past 24 hours, dispensing with weeks of relative restraint in favor of trying to stamp out demonstrations against political parties that control the government.
After eight people were killed during the day on Monday, security forces shot dead at least five others overnight or early on Tuesday, including one killed with live fire toward a funeral procession held for another who died hours earlier, security and medical sources told Reuters.
More than 260 Iraqis have been killed in demonstrations since the start of October against a government they see as corrupt and beholden to foreign interests, above all Iran.
Most of those deaths occurred during the first week of the demonstrations, when snipers shot into crowds from Baghdad rooftops. But after the government appeared to have curbed the use of some deadly tactics, the protests swelled rapidly over the past 12 days.
The new violence flared a day after Prime Minister Adil Abdul Mahdi appealed to protesters to suspend their movement, which he said had achieved its goals and was hurting the economy.
In a televised address on Tuesday, Abdul Mahdi said the protests were having an economic impact the country could not afford, and asked demonstrators to refrain from further damaging public and private property.
"There are many ways to express opinions without disrupting public life," he said.
Abdul Mahdi has said he is willing to resign if politicians agree on a replacement and has vowed a number of reforms. But protesters say that is not enough and the entire political class needs to go.
"After the first wave of protests, we gave the government until October 25 to enact reforms," a 30-year-old protester, who declined to give his name out of safety concerns, said in Baghdad. "It has failed to do so, (and) all of its proposed reforms were just routine, the same old stuff."
Full report at:
https://english.alarabiya.net/en/News/middle-east/2019/11/06/Iraqi-forces-shoot-dead-13-protesters-in-renewed-crackdown.html
--------
Qatar, Turkey reaffirm desire for 'comprehensive strategic partnership'
5 November 2019
Qatar and Turkey reaffirmed on Sunday their desire to scale up bilateral relations and create a "comprehensive strategic partnership," Doha's Minister of Foreign Affairs Sheikh Mohamed bin Abdulrahman al-Thani tweeted following a ministerial meeting with Turkish officials.
The Turkish delegation are in Doha to partake in a conference on Somalia sponsored by the Organization of Islamic Cooperation (OIC). It was attended by Turkey's Foreign Minister Mevlut Cavusoglu who on Sunday thanked the Emir of Qatar for his support of the Turkish military operation early last month against Kurdish militias in northeast Syria.
Cavusoglu's comments came following a meeting with Sheikh Tamim bin Hamad al Thani in Doha, on the sidelines of the conference.
Full report at:
https://english.alarabiya.net/en/News/gulf/2019/11/05/Qatar-Turkey-reaffirm-desire-for-comprehensive-strategic-partnership-.html
--------
Pompeo says he looks forward to continuing strong US-Saudi partnership
5 November 2019
US Secretary of State Mike Pompeo said on Monday that he spoke with the newly appointed Saudi Foreign Minister Prince Faisal bin Farhan, congratulating him on his new appointment.
Pompeo said in a tweet that he conveyed to his Saudi counterpart his keenness to continue building upon the strong US-Saudi partnership.
Secretary Pompeo
✔
@SecPompeo
I spoke with Foreign Minister Faisal bin Farhan Al Saud to congratulate him on his appointment as #Saudi Arabia's new foreign minister today. I look forward to working with the Foreign Minister to continue building upon the strong U.S.-Saudi partnership.
1,967
2:37 AM - Nov 5, 2019
Twitter Ads info and privacy
892 people are talking about this
Full report at:
https://english.alarabiya.net/en/News/gulf/2019/11/05/Pompeo-says-he-looks-forward-to-continuing-strong-US-Saudi-partnership.html
--------
Iraqi officials order to lift curfew in Baghdad despite ongoing anti-govt. protests
Nov 6, 2019
Iraqi security officials have ordered to lift the curfew in the capital Baghdad, despite ongoing demonstrations against political parties that control the government.
Commander of the Joint Operation Command in Baghdad, Major General Qais al-Mohammadawi, said late on Tuesday that restrictions had been completely lifted in Baghdad following days of protests which have left dozens of demonstrators dead.
Mohammadawi added that the decision was taken after cooperation between protesters and security forces.
Earlier in the day, Prime Minister Adel Abdul Mahdi said the protests exposed issues that have piled up following the US-led invasion of the Arab country back in 2003.
He said the government has asked security forces to discriminate between peaceful protesters and those seeking to wreak havoc.
Also on Tuesday, the Iraqi government on Tuesday issued a new package of measures to be undertaken in response to angry protests that have swept across the country.
The Council of Ministers, chaired by Abdul Mahdi, decided among the measures to be undertaken by the state to grant Minister of Oil Thamir Ghadhban the authority to approve the recruitment of graduates of oil training institutes for the year 2018-2019.
The council also agreed to reduce customs duty on plastic granules in order to facilitate the implementation of industrial projects.
Protesters in Iraq have directed their rage at a class of elite leaders, whom they accuse of pillaging the oil-rich country's wealth while the population grows poorer.
The protests, which began more than a month ago, have often turned violent, with Iraqi security forces opening fire and protesters torching government buildings.
Full report at:
https://www.presstv.com/Detail/2019/11/06/610494/Iraqi-officials-order-to-lift-curfew-in-Baghdad-despite-ongoing-antigovt-protests
--------
Army reopens roads as protesters target Lebanese public institutions and banks
NAJIA HOUSSARI
November 05, 2019
BEIRUT: Lebanese protesters on Tuesday changed tactics with sit-ins outside public services buildings after soldiers moved in to remove demonstration roadblocks set up in towns and cities throughout the country.
The new approach by anti-government protesters came as the Lebanese judiciary took steps toward combating corruption by revealing it would be taking legal action against former minister, Fayez Shukr, over allegations of "job negligence."
Financial prosecutor, Judge Ali Ibrahim, made the announcement after lawyers of the civil society Muttahidun (United) filed a claim against Shukr last July for allegedly "receiving huge compensation" from the National Social Security Fund.
The society alleged that Shukr, who served as a minister of state in the government of former Lebanese Prime Minister Rafik Hariri from 1995 to 1996, was registered as an observing doctor for more than 15 years but never practiced, his name did not appear on doctors' lists for hospitals or medical centers, and no fund users ever saw him.
Pro-Syria Shukr had been secretary-general of the Ba'ath Party in Lebanon since 2006 and rejected a decision by the party's leadership in Damascus in 2015 to dissolve the Lebanese national secretariat due to a crisis between the Ba'athists.
Meanwhile, the civil movement in Lebanon against the country's political elite on Tuesday entered its 20th day with protesters calling on President Michel Aoun to set a date for parliamentary consultations to assign a new prime minister to head a government composed of non-politicians.
Following the resignation last week of Premier Saad Hariri, demonstrators are demanding parliamentary elections be held as soon as possible.
On Tuesday morning crowds again blocked roads, causing traffic chaos and leaving motorists stranded for hours. However, the Lebanese army moved in to remove obstacles on highways and tents set up in streets and on roundabouts.
Commando forces were deployed in the Jal El-Dib and Zouk Mosbeh areas, which link Beirut to northern Lebanon and Mount Lebanon. Despite some resistance there were no reports of violence, although security forces arrested a number of protesters and confiscated audio equipment.
With roads open again, demonstrators resorted to sit-ins outside official institutions and private companies operating state services. One of their first targets was the headquarters of Touch, one of two mobile telecoms and data operators in Lebanon, based in the center of Beirut. Dozens of protesters sat in front of the entrance and raised banners demanding a reduction in the cost of services.
The nationwide protests which have crippled Lebanon were sparked on Oct. 17 after the government proposed an increase in charges for use of the WhatsApp service as part of efforts to ease Lebanon's financial crisis.Elsewhere in the capital, protesters set up camp outside a bank on Hamra Street, while in the northern city of Tripoli they forced the closure of public institutions, official bureaus and banks.
The Progressive Socialist Party (PSP) protested against an attempt by activists to undermine a memorial on a roundabout in the predominantly Druze town of Baakleen.
Meanwhile, a date for binding parliamentary consultations on the naming of a new prime minister for Lebanon had still not been confirmed.
OTV, which is affiliated to the Free Patriotic Movement (FPM), said there had been no statement on the outcome of a meeting held on Monday between Hariri and FPM leader Gebran Bassil, although the TV station did say "the trend is for a techno-political government with no more than 24 ministers."
In a statement on similar lines, Mustafa Alloush, a member of the political bureau of the Future Movement, said: "The technocratic government option is logical."
Former Lebanese premier, Fouad Siniora, said: "The president's consultations with the parliamentary blocs on the nature of the new government, its form and membership, is a violation of the letter and the spirit of the constitution.
"It is also a violation of the constitutional authority of the prime minister-designate. President Aoun should speed up the timing of consultations because Lebanon no longer has the luxury of time and waiting."
Sethrida Geagea, a member of the Lebanese Forces (LF) parliamentary bloc, said after her visit to the Maronite Patriarch Bechara Al-Rahi that the LF wanted "a government composed of independents or we will face a human explosion."
Full report at:
https://www.arabnews.com/node/1579606/middle-east
--------
Saudi FM receives head of Islamic science organization
November 05, 2019
RIYADH: The director general of Islamic Educational, Scientific and Cultural Organization (ISESCO), Dr. Salim bin Mohammed Al-Malik, called on Saudi Foreign Minister Prince Faisal bin Farhan bin Abdullah at his office in Riyadh on Monday.
During the meeting, they discussed ways to enhance cooperation between ISESCO and Saudi Arabia. The role of Saudi Arabia in supporting a joint Islamic action aimed at building a cultural, scientific and education system in the ISESCO member states was also reviewed.
Full report at:
https://www.arabnews.com/node/1579216/saudi-arabia
--------
Mideast
Yemeni expats thank Saudi Arabia for positive mediation
QAIS BAJAIFER
November 06, 2019
JEDDAH: Members of the Yemeni expatriate community have expressed jubilation after Yemen's internationally recognized government and the Southern Transition Council (STC) signed an agreement in Riyadh on Tuesday.
The agreement will usher in a new era of stability and peace for Yemen and its people.
Farouk A. Mohammed, a senior translator, said the Riyadh agreement would have a significant impact on Yemen's political and economic stability, and contribute to unifying the country.
"The Kingdom has always respected the will of Yemenis, and supported our country politically, economically, militarily and developmentally. We thank King Salman and his Crown Prince Muhammad bin Salman as well as our Saudi brothers and sisters for their continuous support for Yemen and Yemenis," stressed Farouk.
Muhammad Kusah, a corporate sales executive, agreed the agreement would help Yemen restore its security and stability, and above all, fight all forms of extremism and terrorism, noting that the Kingdom had always stood by and supported Yemen and worked incessantly to end all forms of rebellion and promote security and stability.
Wael Mahyouf, a technician working for a Jeddah-based contracting company, was also happy that the agreement called for applying mechanisms and arrangements to reactivate the powers of state institutions.
Muhammad Bajobran, who works for the Farouk Jamil Khogeer Establishment for Transportation, said the Kingdom had always handled the Yemeni conflict wisely and ensured that all parties in the country reached a peaceful solution. Through the agreement, Yemen would find solutions for its crises in order to achieve economic stability across the country, he said.
Hussam Ahmed, a sales agent at Hyundai, said the agreement guaranteed the full rights of all Yemeni citizens and rejected all forms of discrimination and division.
"The Riyadh agreement allows ministers from the northern and southern provinces to share power equally, which is a great thing," he said. "The agreement urges the ministers to work together and serve all Yemenis, and most importantly manage the country's resources with full transparency.
"I'm glad that the agreement calls for eventually eradicating all forms of corruption in all state agencies while promoting security and stability in all government institutions in southern provinces."
https://www.arabnews.com/node/1579716/saudi-arabia
--------
Iranian president announces another break from nuclear deal
November 05, 2019
TEHRAN: President Hassan Rouhani said Tuesday that Iran would resume uranium enrichment at an underground plant south of Tehran in its latest step back from a troubled 2015 agreement with major powers.
The suspension of all enrichment at the Fordow plant in the mountains near Qom was one of the restrictions on its nuclear activities that Iran accepted in return for the lifting of international sanctions.
But Washington's abandonment of the deal in May last year followed by its reimposition of crippling sanctions prompted Iran to begin a phased suspension of its own commitments in May this year.
Under the terms of the agreement Iran has retained more than 1,000 first-generation centrifuges at the plant which have been running empty or remained idle since it took effect.
"Starting from tomorrow (Wednesday), we will begin injecting (uranium hexafluoride) gas at Fordow," Rouhani said in a speech broadcast by state television.
His announcement came a day after tensions flared anew on the 40th anniversary of the US embassy siege and hostage crisis, with thousands in Tehran taking to the streets and Washington imposing fresh sanctions.
Iran said the resumption of enrichment at Fordow would be carried out transparently and witnessed by inspectors from the UN nuclear watchdog, the International Atomic Energy Agency.
But the European Union voiced disquiet at the new step away from the 2015 deal.
"We are concerned by President Rouhani's announcement today to further reduce Iran's commitments," EU spokeswoman Maja Kocijancic told reporters.
France urged Iran to "go back on its decisions which contradict the accord."
And Russia too expressed worry, despite its good relations with Iran.
"We are monitoring the development of the situation with concern," President Vladimir Putin's spokesman Dmitry Peskov told reporters.
"We support the preservation of this deal."
At the same time, Peskov said Moscow understood Tehran's concerns over the "unprecedented and illegal sanctions" imposed by Washington.
The move is the fourth announced by Iran since it began responding to Washington's abandonment of its commitments.
Iran has repeatedly warned the remaining parties to the deal — Britain, China, France, Germany and Russia — that the agreement can only be rescued if they help it circumvent US sanctions.
European governments have strived to come up with a mechanism that would allow foreign firms to continue to do business with Iran without incurring US penalties.
But to Iran's mounting frustration, their efforts have so far failed to have any significant impact.
Rouhani stressed that Iran remained committed to efforts to save the 2015 agreement despite its phased suspension of some of its commitments.
"The fourth phase, like the three previous ones, is reversible," he said.
"We are committed to all the behind-the-scenes negotiations we have with some countries for a solution.
"Over the next two months, we will negotiate more."
Rouhani said Iran wanted to return to a situation in which "we can easily sell our oil, we can easily use our money in banks."
If that were achieved, "we will completely go back to the previous situation."
The European Union warned Monday that its continued support for the deal depended on Tehran fulfilling its commitments.
Its spokeswoman said the bloc "remains committed" to the deal but "our commitment... depends on full compliance by Iran."
"We have continued to urge Iran to reverse such steps without delay and to refrain from other measures that would undermine the nuclear deal," Kocijancic said.
On July 1, Iran said it had increased its stockpile of enriched uranium to beyond a 300-kilo maximum set by the deal, and a week later, it announced it had exceeded a 3.67-percent cap on the purity of its uranium stocks.
On September 7, it fired up advanced centrifuges to boost its enriched uranium stockpiles.
On Monday, Iran announced a more than tenfold increase in enriched uranium production as a result of the steps back from the nuclear deal it had already undertaken.
Full report at:
https://www.arabnews.com/node/1579336/middle-east
--------
Iran Finds Itself in Crosshairs of Arab Protesters
November 4, 2019
The largest mass protests to hit Iraq and Lebanon in decades are posing a direct challenge to the influence Iran has gained in both countries as demonstrators seek to overturn the political order.
Late Sunday, protesters in the holy Shiite city of Karbala torched the Iranian consulate with Molotov cocktails, hauling an Iraqi flag up on the compound walls. Security forces killed three people when dispersing the crowd with live ammunition, according to Iraq's human-rights commission.
https://www.wsj.com/articles/iran-finds-itself-in-cross-hairs-of-arab-protesters-11572890538
--------
Iran Steps Further From Nuclear Deal With Move on Centrifuges
By Michael Wolgelenter and David E. Sanger
Nov. 5, 2019
Iran announced plans on Wednesday to reactivate its most sensitive nuclear production site, a deep, underground uranium enrichment center, in a step that dismantles more of the last major restrictions on the country under the 2015 nuclear deal.
The facility, known as Fordow, buried under a mountain to protect against bunker-busting weapons, lay hidden from inspectors for years. The revelation of its existence a decade ago touched off a crisis with the West that led to threats from Israel to destroy the facility.
The atmosphere created by the revelation led, six years later, to the Obama administration's nuclear deal with Iran. Under that deal, in exchange for the lifting of Western economic sanctions, Iran agreed that no fissile material — the makings of bomb fuel — would be put in the centrifuges spinning at the site.
In a speech on Tuesday, however, Iran's president, Hassan Rouhani, said that his patience had run out, and that Iran would begin to inject uranium gas into the more than 1,000 centrifuges that remained inside the mountain. But he made it clear that this step was part of a pressure campaign to force Europe to make good on its promises to compensate Iran for the cost of harsh sanctions that the United States imposed on Iran after President Trump abandoned the 2015 deal.
Mr. Rouhani said Iran was reactivating Fordow, which is adjacent to an Iranian military base, precisely because it was considered such a hard military target. Its renewal as a nuclear production site, he suggested, could be easily reversed — part of the carefully calibrated strategy Iran is pursuing to pressure the United States and its allies just as the American-led sanctions on Iran's oil shipments are intended to pressure Tehran.
"We know how sensitive they are to the Fordow facility," Mr. Rouhani told the country in a speech about why Iran would no longer abide by an agreement that Mr. Trump has abandoned. But he made clear that he regarded Fordow as a mere bargaining chip, saying that when the United States begins "living up to their commitments" to suspend sanctions while Iran was in compliance with the deal, "then we will stop feeding gas to the centrifuges."
The State Department criticized Mr. Rouhani's actions on Tuesday. "Iran has no credible reason to expand its uranium enrichment program, at the Fordow facility or elsewhere," it said in a statement, "other than a clear attempt at nuclear extortion that will only deepen its political and economic isolation."
It was the third time in six months that Mr. Rouhani had announced a careful series of escalations of Iran's nuclear capacity. On Monday Iran said it was already producing enriched uranium at an ever-faster pace at its primary nuclear enrichment center at Natanz. In recent weeks it has also discussed rebuilding a plutonium reactor that was disabled under the agreement before it ever went into operation. That process is likely to take years.
None of these steps immediately gets Iran the makings of a bomb. But taken together, they create the condition that the three-year-long negotiating process was intended to stop, at least for a while: Iran's ability to develop the material for a bomb in a year. President Trump's complaint with the Iran accord was that key restrictions expired by 2030, but the net result of the recent announcements is that those restrictions are largely being thrown out now.
The potential for an Iranian "breakout," producing fuel for a nuclear weapon within three months, was why Mr. Trump's top advisers in his first year in office — Secretary of State Rex Tillerson, the national security adviser H.R. McMaster, and Defense Secretary Jim Mattis — all urged him to remain in the deal, but press to extend its duration and expand its scope to include Iran's missile production. Mr. Trump eventually discarded that advice and, over time, all three of those advisers.
The exact details of Iran's move were difficult to discern. Mr. Rouhani talked about injecting the gas into 1,044 centrifuges at the Fordow nuclear facility, a major step toward uranium enrichment. The 2015 agreement had restricted the centrifuges to non-nuclear uses.
But Mr. Rouhani stopped short of saying that actual enrichment would follow at Fordow, though it is already underway at the larger Natanz facility. Enrichment moves Iran closer to being able to build a nuclear weapon, though it has denied harboring such ambitions.
The announcement came a day after Iran said it had doubled the number of more advanced centrifuges operating at Natanz, and planned to install even more efficient centrifuges.
While Mr. Rouhani portrayed the announcement on Tuesday — as well as three previous steps it had taken beyond the deal's limits — as reversible, Iran has made clear that it would step back only if the European signatories to the deal find a way to relieve the economic pressure caused by the American sanctions.
"Resistance lays the ground for negotiation, and negotiation takes advantage of resistance," Mr. Rouhani said, according to the state-run IRNA news agency.
Fordow was of deep concern to the United States and Israel because it was unclear they could destroy it in a conflict with Iran. The United States conducted secret operations to simulate what it would take to collapse the mountain outside the holy city of Qum, using the largest bunker-busting bomb in its arsenal. The commanders concluded that they could destroy it but that the site would have to be attacked repeatedly.
In the negotiations in 2015, the Obama administration sought, and failed, to close the facility entirely. One American negotiator conceded that leaving it in place was a "bitter pill." An eventual compromise allowed the centrifuges at the facility to remain in use on the condition that gas was not injected into them.
With the steps taken in recent weeks, Iran might be able to produce enough fuel for a single nuclear bomb in under a year, according to some analysts, but it was not immediately clear how the announcement on Tuesday would change the equation.
Sanam Vakil, a research fellow at Chatham House's Middle East and North Africa program, said that the Iranian authorities had remained "relatively calibrated" with the announcement on Tuesday.
"Iran is pushing the red lines, as part of its own maximum pressure campaign to reverse Europe's position," she said. "But Iran could have done more and they're not. This is still one of those steps that Iran can reverse."
The American sanctions, which Mr. Rouhani described Monday as "wrong, cruel and illegal," delivered a blow to an already fragile Iranian economy, and the Iranian government has responded with what is effectively a two-track strategy — rebuilding its capability while insisting that Europe make up for the economic losses caused by American sanctions.
Mr. Rouhani, who said the work at Fordow would be carried out under supervision of the International Atomic Energy Agency, the United Nations' nuclear watchdog, expressed a willingness to restart nuclear talks if Washington returns to the deal and removes the sanctions.
"We should be able to sell our oil," Mr. Rouhani said, according to The Associated Press. "We should be able to bring our money" into the country.
Maja Kocijancic, a spokeswoman for the European Commission, the European Union's executive arm, said the union was "concerned" about the announcement, urging Iran to reverse earlier breaches of the nuclear deal and to refrain from any further moves that would undermine it.
Dmitri S. Peskov, the Kremlin spokesman, said that Russia would like to see the nuclear deal remain in force, but he also expressed sympathy for Iran, citing the "unprecedented and illegitimate sanctions" against it.
Full report at:
https://www.nytimes.com/2019/11/05/world/middleeast/iran-nuclear-uranium-centrifuges.html
--------
Elian Peltier and Matina Stevis-Gridneff contributed reporting.
https://www.nytimes.com/2019/11/05/world/middleeast/iran-nuclear-uranium-centrifuges.html
In Major Nuclear Step, Iran to Resume Enrichment at Underground Site
By Laurence Norman in Brussels and Aresu Eqbali in Tehran
Nov. 5, 2019
Iran plans to start enriching uranium at an underground facility Wednesday, Tehran officials said, in a significant step away from its commitments under the 2015 nuclear deal that could raise pressure on Europe to take action.
Full report at:
https://www.wsj.com/articles/iran-plans-to-breach-nuclear-deal-again-11572955701
--------
ISIS-K attempted suicide attack in India last year: US official
Nov 6, 2019
WASHINGTON: The Khorasan group of the ISIS or the ISIS-K, which operates in south Asia, last year attempted a suicide attack in India, a top American official has told lawmakers.
In fact, of all the branches of the ISIS, ISIS-K is the outfit that is of the most concern to the US, Russel Travers, acting director of the national counterterrorism center, office of Director of National Intelligence, said on Tuesday.
"Of all of the branches and networks of ISIS, ISIS-K is certainly one of those of most concern, probably in the neighbourhood of 4,000 individuals or so," Travers said in response to a question from Indian-origin Senator Maggie Hassan.
"They have attempted to certainly inspire attacks outside of Afghanistan. They attempted last year to conduct a suicide attack in India. It failed," Travers said when Hassan asked about the ability of ISIS-K to carry out terrorist attacks in the region.
Hassan had travelled to Afghanistan and Pakistan last month, during which she said she heard firsthand the concerns of the US military about the growing and very real threat of ISIS-K, the ISIS affiliate in Afghanistan.
"I heard clearly that ISIS-K threatens not only US forces in Afghanistan, but also has designs on striking the US homeland," she said.
Last week, Travers had said that there were more than 20 ISIS branches globally, some of which are using sophisticated technology such as drones to conduct operations.
Despite America's key victories against the ISIS in Syria and Iraq, the terror outfit remains a deadly threat to the United States, Senator Hassan said.
Travers said ISIS-K tried a couple of years ago to inspire an attack in New York but the FBI interrupted. Then there was an attack in Stockholm in 2017 that killed five people, he added.
"So they certainly have a desire and the propaganda would indicate that they want to conduct attacks outside of Afghanistan as far relatively limited," the counter-terrorism official said.
According to Travers, after 9/11, the US was primarily focused on an externally directed attack capability emanating from a single piece of real estate along the Afghanistan-Pakistan border.
"Eighteen years later, we face a homegrown violent extremist threat, almost 20 ISIS branches and networks that range from tens to hundreds to thousands of people, al-Qaeda and its branches and affiliates, foreign fighters that flocked to Iraq and Syria from well over 100 countries, Iran and its proxies, and there is a growing terrorist threat from racially and ethnically motivated extremists around the globe," he said.
Full report at:
https://timesofindia.indiatimes.com/india/isis-k-attempted-suicide-attack-in-india-last-year-us-official/articleshow/71932005.cms
--------
Akhara Parishad To Seek Security For Saints, Muslim Clergy Supporting Their Cause
NOV 06, 2019
New Delhi: All India Akhara Parishad, the apex body of Hindu saints and ascetics, will soon approach the Centre and the UP government for security cover for the religious heads that have been at the forefront of the campaign for a Ram temple at Ayodhya.
"Seers have openly protested against the delay in the judgement, have constantly mobilised devotees for the issue and we are the most vulnerable target," Mahant Narendra Giri, who heads the Parishad, told ET, adding the decision to approach the Centre and state government was taken during consultations with the heads of all mutts regarding preparations for the Kumbh Mela. The Supreme Court is expected to announce its verdict before November 15.
Swami Avdheshanand Giri, Ramanandacharya Maharaj, Swami Gyananand, Swami Parhamans, Sadhvi Rithambhara and all the heads of mutts headquartered in Ayodhya are among the Hindu religious leaders whose names have been suggested for provision of security.
Another member of the Parishad, Anand Giri, who heads the Ganga Sena, said seers are particularly anxious after the murder of Hindu Mahasabha leader Kamlesh Tiwari in UP. "In fact, we want protection for Muslim clergy supporting our cause, too," Giri said.
Narendra Giri told ET that the body of seers has also asked all the mahants to stay in their respective ashrams and organise recitations of "Ram Katha" till the verdict is announced.
Meanwhile, Sangh Parivar leaders such Krishna Gopal and Ram Lal met a clutch of Muslim scholars and clergy, including Shia cleric Kalbe Jawwad and Maulana Mahmood Madani, general secretary of Jamiat Ulema-e-Hind, at minority affairs minister Mukhtar Abbas Naqvi's house, mainly as a "confidence-building measure".
Full report at:
https://economictimes.indiatimes.com/news/politics-and-nation/akhara-parishad-to-seek-security-for-saints-muslim-clergy/articleshow/71932360.cms
--------
As India takes direct control of Ladakh, locals wary of outsiders
Nov 06, 2019
Leh/Kargil, Indian-administered Kashmir - The Indian government's decision to revoke Indian-administered Kashmir's autonomy on August 5 was met with mixed reaction in one part of the Himalayan region - Ladakh.
People in Buddhist-majority Leh district cheered New Delhi's decision to scrap Kashmir's special rights and bifurcate the region into two federally administered territories.
In Leh, people are happy that their long demand to be separated from Indian-administered Kashmir was finally met, but there is a guarded fear the region might be overwhelmed with tourism and outsiders.
The August 5 decision also meant people from mainland India can now buy property in the two regions - Kashmir and Ladakh - but this has given rise to calls for safeguards for the local population.
Unlike Kashmir, Ladakh's roads are not dotted with security bunkers and there are no checkpoints in the vast cold desert located about 5,730 metres (18,800 feet) above sea level. The military presence is mostly restricted to the border areas or confined to the camps.
The Muslim-majority Kashmir valley, on the other hand, has been under security lockdown for the past three months. Though some communication restrictions have been eased, the internet remains cut off as New Delhi fears it might be used by people to organise protests.
But the revocation of demographic safeguards has stoked fears in Leh region.
Sonam Wangchuk, a celebrated icon in Leh, the Buddhist-majority town, said the region's sparse population of about 272,000 and ecology might be "affected forever if no efforts are made towards its protection".
Wangchuk, whose most decorated innovation includes the creation of an ice stupa that he hopes will turn barren Ladakh into a pocket of green, has now tasked himself to defend the identity and ecological uniqueness of the area.
"This is a total shock for all Ladakhi people that we have been given no safeguards guaranteed to tribal areas," the soft-speaking engineer said.
Wangchuk's fears are rooted in New Delhi's decision to abrogate Indian-administered Kashmir's special status, which had protected the region from demographic changes by preventing outsiders from purchasing land and permanently settling in the Himalayan region.
"People with money will just rip it apart and consume it. Ladakhis will be worse than a minority," he told Al Jazeera, adding the region should be given protection.
"If they delay then there will be irreversible damage. If something is not done soon, there will be more fear and some kind of organised expression," he said.
A 72-year-old retired forest official, Tsering Tondup, called the new changes in property ownership "unacceptable".
"People own a little bit of land here and if that is also taken what will be our identity?" he said. "We demand a law that safeguards our land rights."
Ladakh also sits on a razor's edge as it is the only place in the world where three nuclear-armed countries - India, Pakistan and China - share their borders.
While India and Pakistan fought a limited war in Ladakh's Kargil 20 years ago, the Leh region in recent years has also seen standoffs between Indian and Chinese soldiers.
Emotional disconnect
Ladakh's emotional disconnect and geographical distance from Kashmir has kept it isolated from the widespread anti-India sentiment prevalent in the Muslim-majority region. The mighty Himalayas have acted as a barrier between the two regions.
On Thursday, when the Indian government implemented its decision to bring Ladakh directly under federal rule, icy winds were sweeping across Leh as residents celebrated the event they had aspired for years. But concerns loomed, too.
Skarma Tsering Dehlex, 51, runs a luxury hotel in Leh. He said the people of Leh felt discriminated earlier when the region was part of the now state of Jammu and Kashmir - the official name of Indian-administered Kashmir.
"We are happy over the direct rule of central government," Dehlex told Al Jazeera. "But we will resist any move that will make anyone from outside to settle their business here."
Leh's journey over the last 30 years has been in contrast to the Kashmir valley, where a raging armed rebellion unsettled the tourism industry and frequently scared away visitors.
As Kashmir became volatile, Leh remained an island of calm and became a tourist hotspot that attracted a steady flow of high-spending foreign tourists.
The increased footfall of tourists, however, has worried local people.
'Fragile ecology'
Dehlex, who has been in the business for the past 30 years, cautioned the "fragile ecology" of the mountainous region will be affected if there is more construction with the implementation of new laws.
"We do not want any hotel chain from outside to come here. We have a limited infrastructure and our sensitive environment cannot handle more rush. The ecology needs caring for nature which people have been doing and others may not do," he said.
Padma Namgiyal, a 24-year-old student, said he was concerned for the environment if safeguards are not put in place.
"We do not want such development where new factories will be set up here. We do not want pollution here," she said. "This place is right now known for clean environment and freshness of its air to breathe. We do not want more urbanisation."
Most people Al Jazeera spoke to expressed concerns for the fragile ecology and its unique cultural identity.
'Religious polarisation'
A five-hour road journey across barren mountains on a 200-km (124.3-mile) highway leads to Kargil, another sparsely populated district of Ladakh where Shia Muslims have long struggled to balance their sympathies.
Kargil is situated along the ancient silk route and was a major transit point along the road that took merchants on a continental journey across different cultures and cities.
India and Pakistan fought their last war in Kargil that lasted for nearly three years and brought the two arch-rivals to the brink of nuclear disaster.
People in the region have been aghast at New Delhi's revocation of Kashmir's special status. They held demonstrations and observed lengthy shutdowns registering their displeasure against the government's move.
"We never demanded a separate union territory. We never wanted the division of the state, but our voice was never heard," said Nasir Munshi, the general secretary of newly formed Kargil Joint Action Committee, a group fighting the abrogation of Article 370, which granted autonomy to the region with a population of nearly 130,000.
"The decision has been imposed on us and we will not accept it. They are cutting our eyes, our ears and our tongue. Everything is being snatched from us to bring demographic changes," he told Al Jazeera.
Kargil town is a frontier district with small homes perched on mountain slopes. It is also home to the second-coldest inhabited town on Earth.
The people lack facilities such as hospitals, schools, or employment opportunities. Residents have to travel about 200km to reach Srinagar, the main city of Kashmir, for advanced medical treatment.
Kaneez Fatima, 35, a mother of two from Kargil town, said the central government always ignored them "for being Muslims".
"Our people were on the forefront to help during Kargil's war, but still we are not looked on as Indians. We have faced discrimination always. For decades, we have been fighting for an airport but we have none yet," she said.
Full report at:
https://www.aljazeera.com/indepth/features/india-takes-direct-control-ladakh-locals-wary-outsiders-191104054956887.html
--------
The Muslim community's loss of faith in secular parties is fuelling the AIMIM's rise
AJAZ ASHRAF
05 November 2019
The All India Majlis-e-Ittehadul Muslimeen's performance in the recently concluded assembly elections in Maharashtra signals a change in the political behaviour of Muslims, who traditionally shunned outfits primarily anchored in their community. Their preference had instead been for parties that commanded a heterogeneous social base, such as the Congress and regional entities. This collective, yet amorphous, strategy had been driven by a specific purpose—to deny the Bharatiya Janata Party an opportunity to capture power. The BJP has attempted to consolidate the Hindu vote by exploiting the majority community's historical fear of a Muslim party—a legacy of the Partition and the Muslim League's role in it.
In state assembly elections, however, a significant number of Muslims voted for the AIMIM. This enabled the party to expand the base it had acquired in Maharashtra in the 2014 Lok Sabha elections, and make inroads into the Hindi heartland in assembly by-elections, held simultaneously with the Maharashtra elections, on 21 October. This could well be a harbinger of Muslims deserting the Congress and regional outfits—such as the Samajwadi Party, the Rashtriya Janata Dal, the Bahujan Samaj Party and the Nationalist Congress Party—which depend on the community's support for their electoral heft.
This shift in the electoral preferences of Muslims is evident in Maharashtra, where the AIMIM won two seats, Dhule City and Malegaon Central, and came second in four out of the 44 seats it contested. The party polled 1.34 percent of the total votes cast in the state's 288 constituencies. In 2014, the AIMIM had fielded candidates from 24 constituencies and won two seats, Aurangabad Central and Byculla, came second in three and polled 0.93 percent of the total votes cast.
The AIMIM's performance in 2019 has to be analysed in the backdrop of the Congress-NCP and the BJP-Shiv Sena alliances—all four parties had fought the 2014 elections independently. It implies that in this year's assembly elections, the AIMIM had to neutralise the pull of the Congress-NCP alliance on Muslims as well as cross a higher threshold of votes to notch victories, in what was essentially a bipolar contest.
In this context, the AIMIM's performance was astonishing. It secured between 30,000 and 40,000 votes in four constituencies; between 40,000 and 50,000 in three; above 50,000 in two and above a lakh in one. In Dhule City, the AIMIM increased its tally from 3,775 votes in 2014 to 46,679 in 2019; in Malegaon Central, from 21,050 in 2014 to 1,17,242 in 2019. It could not retain Aurangabad Central, but polled 6,482 votes more than in 2014. Similarly, the Shiv Sena wrested Byculla from the AIMIM, yet the latter bagged 5,843 more votes here than it did in 2014.
The two alliances seem to have undermined the AIMIM's chances in Byculla, which prompted Nadeem Nusrath, a former national secretary of the Indian Youth Congress, to quip to me, "Our argument that the AIMIM splits the anti-BJP votes can be flung at us." He said that the "AIMIM can very well argue that had the Congress withdrawn from Byculla, its sitting MLA could have won the seat." The Shiv Sena won Byculla by polling 51,180 votes; the AIMIM bagged 31,157 and the Congress 24,139.
The Congress-NCP alliance seems to have cut into the AIMIM's votes in several constituencies in this election when compared to the party's 2014 tally. For instance, in Nanded South, the AIMIM's tally dropped to 20,122 votes in 2019 from 34,590 in 2014. In Parbhani, the party secured 22,741 votes in 2019, a significant drop from its 2014 count of 45,058. In Mumbadevi, the party clocked 6,373 votes this year compared to 16,165 in 2014. Yet, Nanded South and Parbhani suggest that the AIMIM has built a core of supporters who do not vote for parties considered as an alternative to the BJP.
The AIMIM's performance had other significant features. The party made a stunning debut in Balapur, where its candidate bagged 44,507 votes, well over double of what the NCP polled. Out of the AIMIM's 44 candidates, 12 were non-Muslim. Although it is often identified as a Muslim party, its president, Asaduddin Owaisi, has emphasised upon building a social alliance between Muslims, Dalits and the Other Backward Classes. In Aurangabad West, a Scheduled Caste constituency, the AIMIM's candidate, Arun Vitthlrao Borde, bagged 39,366 votes and came third. In the Kurla reserved constituency, Ratnakar D Davare bagged over 17,000 votes.
These results should make the Congress and regional outfits nervous about the AIMIM. Increasing Muslim consolidation behind the AIMIM could well inspire the disempowered groups among Dalits and OBCs to flock to Owaisi. The party won its first-ever seat in Bihar in the assembly by-election to the Kishanganj constituency. This win marked the AIMIM's debut in the Hindi-belt states. Jitan Ram Manjhi, the former Bihar chief minister, has already set the ball rolling by hailing the AIMIM's victory as conducive for Dalit-Muslim unity.
The AIMIM's performance in Uttar Pradesh's Pratapgarh assembly by-election was even more significant than its victory in Kishanganj. The party had polled nearly two lakh votes in the Kishanganj Lok Sabha constituency in May and always stood a fair chance of winning the Kishanganj assembly seat. In Pratapgarh, though, the AIMIM was making an electoral debut. Yet, its candidate, Israr Ahmad, bagged 20,269 votes. The AIMIM secured around 3,000 votes less than the Samajwadi Party, which took the second spot behind the winner Apna Dal, a BJP ally. The Congress and the BSP, too, were in the fray.
Ahmad joined the AIMIM in January 2018. Forty-eight years old, he had been an avid Congress supporter in his college days. His disenchantment with the grand old party began with the demolition of the Babri Masjid on 6 December 1992. He told me, "I joined the AIMIM because I have seen, over the years, that all secular parties are reluctant to stand up for Muslims and, therefore, indirectly help the BJP."
Ahmad echoed Owaisi's criticism of secular parties. Owaisi has often accused the secular bloc that it exploits the Muslim community's fear of the BJP to garner votes and then forsakes them until the next election. On multiple occasions, Owaisi has said that secular parties take the Muslims for granted because they know the community will not vote for the BJP. In popular discourse, Owaisi's critique has been interpreted to mean that secular parties must be denied Muslim votes to disabuse them of their presumption.
This discourse, however, caricatures Owaisi's model of politics, which exhorts Muslims to pursue self-representation through their own party. In their 2018 academic paper, "Non-extremist Outbidding: Muslim Leadership in Majoritarian India," Rochana Bajpai and Adnan Farooqui wrote, "Owaisi's exhortations … has an anti-paternalist thrust similar to arguments associated with the emergence of lower caste political parties in the 1980s-1990s." The AIMIM is needed, Owaisi argued, also because Muslim representatives of mainstream parties have been weak and ineffective.
There is a neat fit between Owaisi's politics and his persona. Farooqui, who teaches political science at Delhi's Jamia Millia Islamia, told me, "Owaisi's appeal for Muslims lies in the fact that he wears his identity on his sleeve, but resorts to constitutionalism to raise issues that are essentially secular in nature." He added that Owaisi "represents modernistic impulses as well, his team is savvy with social media; his speeches are watched and heard from Azamgarh to Hyderabad on Facebook."
Owaisi has always drawn massive crowds at his rallies, particularly the Muslim youth who are besotted with him. But they did not vote for the AIMIM because of their propensity to vote for the party that may have the best chance to vanquish the BJP. The recent assembly elections' results suggest that Owaisi's following is now translating into votes for the AIMIM, largely because political parties have vindicated his charge—that they secure the community's support but abandon them. Muslims are stunned at the reluctance of secular parties to mobilise public opinion against lynching, and threats by the centre to pursue the National Register of Citizens project nationwide. They were shocked to hear young Congress leaders support the reading down of Article 370.
"Muslims see that regardless of how they vote, the Hindu consolidation is taking place anyway," Mohammad Sajjad, a professor of history at the Aligarh Muslim University, told me. "Since the Congress and regional parties are reluctant to speak in defence of Muslims, they think they should at least vote for a party which is speaking for them."
Sajjad said Muslims are supporting Owaisi because they instinctively comprehend Owaisi's importance in the era of majoritarian politics. "Owaisi is cataloguing Muslim grievances," Sajjad said. "Without the cataloguing of Muslim grievances, even the victimisation of Muslims will cease to exist in public consciousness." The AIMIM, in this sense, has become the community's device to establish the reality of their existence and record their suffering.
Husain Dalwai, a Congress member of parliament in the Rajya Sabha, got a glimpse of the "catalogue of Muslim grievances" during his election campaign in Maharashtra. "Wherever I went, Muslims said they don't get izzat in the Congress. I found very few Muslims on the podium at Congress rallies," Dalwai told me. It is presumptuous of the Congress to expect Muslims to support them when they are not accommodated in the party. "Muslims constitute about 11.5 percent of Maharashtra's population, but only 13 of them"—just 4.5 percent—"were assigned tickets by the Congress-NCP alliance," Dalwai said. He thinks the Congress has diluted its ideology of nurturing the interests of Muslims and Dalits. He said, "We did not even organise morcha against lynching and the Bhima Koregaon violence targeting Dalits. Did we have to endorse Savarkar, who inspired the killers of Mahatma Gandhi?" This was perhaps a reference to the senior Congress leader Abhishek Singhvi who had called the Hindutva ideologue an "accomplished man who played part in our freedom struggle, fought for Dalit rights."
Muslims are shifting to the AIMIM, even though they know it cannot come to power on its own, because of the lesson they have drawn from national parties tying up with sub-regional outfits representing a caste or two. Even with their relatively small base, these local parties make a crucial difference between a national or regional party winning or losing an election. The Muslim community's hope is that the AIMIM's expansion will similarly have others vie for an alliance with Owaisi and provide them a share in governance.
This is why the Congress' projection of the AIMIM as an entity that could split anti-BJP votes did not wash with Muslims. As Nusrath, the former Congress youth leader, explained, "Muslims have seen the Congress portray the BSP and All India United Democratic Front as vote-cutters. However, it is willing to do business with the AIUDF in Assam and pleads with the BSP for an alliance in Uttar Pradesh." It is only natural for Muslims to think that a strong AIMIM is politically advantageous for them.
This sentiment has been further bolstered because non-BJP parties tend to blame their defeat on Muslims not voting for them. Asmer Baig, a professor of political science at AMU, told me, "Have you ever heard of the BSP ascribing its loss to non-Jatav Dalits not voting for it; or the SP to non-Yadav OBCs; or the Congress to the upper castes?" This only angers and alienates Muslims, who increasingly feel they are not beholden to parties who do not support them in this era of Hindutva domination. The Muslim community now seems willing to overlook the political risk inherent in supporting Owaisi, who courts them even when they do not vote for the AIMIM.
The jury is out on whether the growing inclination of Muslims for the AIMIM augurs well for their interests. According to Arshad Ajmal, who runs Sahulat, a Patna-based NGO in the microfinance sector, "The millennials are voting for the AIMIM because they want a share in power." But Ajmal said that the AIMIM could only win in constituencies where Muslims are numerous. "What about Muslims in constituencies where they are, say, ten percent or 20 percent of the electorate?" He said that the Muslim community's political behaviour today will likely have the same repercussions that the community encountered during the Partition. "Provinces having Muslim majority became a part of Pakistan. They did not suffer, in sharp contrast to provinces where the Muslims were in minority," he said.
The community is also worried about what the AIMIM represents. Owaisi may adopt the language of constitutionalism, but his brother, Akbaruddin, is perceived as a rabble-rouser who divides people along sectarian lines. As Bajpai and Farooqui point out in their paper, based on interviews with those who attended his rallies, "Some suggest a division of labour between the Owaisi brothers that allows the AIMIM to pursue a dual strategy, with Asaduddin presenting the party's reasonable, moderate, national face, and Akbaruddin … known for his incendiary speeches to Muslim audiences, keeping a check on political rivals, often through violence."
Full report at:
https://caravanmagazine.in/politics/asaduddin-owaisi-aimim-elections-muslim-vote-bjp
--------
Grenade blast in Kashmir market kills 1, injures 17
NOVEMBER 4, 2019
At least one person was killed and 17 wounded in a grenade blast at a crowded market in Indian-administered Kashmir's main city Srinagar, police and doctors said on Monday, November 4.
Kashmir has been on a knife-edge since August 5 when the Indian government moved to strip the region of its autonomy, imposed a lockdown, cut telecommunications and detained thousands.
No one claimed Monday's blast but authorities have in the past accused militants backed by Pakistan of intimidating people in Kashmir into resisting Indian attempts to return life to normal.
Doctors at the main hospital told AFP that the deceased was a resident of northern Indian state of Uttar Pradesh.
"Two people are critical," a doctor said on condition of anonymity.
Srinagar police chief Haseeb Mughal told AFP that 18 people were injured out of whom one died at the hospital.
Kashmir is divided between India and its arch-foe Pakistan, and both claim it in full.
Militants seeking independence or a merger with Pakistan have waged an armed rebellion against India since 1989.
Around half of mobile phones remain cut off, as does the internet, while hundreds of local political leaders are still in detention, mostly without charge.
Markets, schools and public areas remain closed with government forces still patrolling the streets, with periodic security lockdowns imposed on many parts of the region.
Full report at:
https://thedefensepost.com/2019/11/04/india-kashmir-srinagar-grenade/
--------
Pakistan's Official Kartarpur Corridor Opening Video Has Bhindranwale's Poster
Nov 06, 2019
A video released by Pakistan's Ministry of Information and Broadcasting on Monday to mark the opening of the Kartarpur Corridor has landed in controversy for displaying posters of Khalistani separatist leaders Jarnail Singh Bhindranwale, Maj Gen Shabeg Singh and Amrik Singh Khalsa in the background in a clip.
All three were killed when the Indian Army stormed Golden Temple in June 1984 in Operation Blue Star to free it of terrorists holed up inside.
This year marks the 550th birth anniversary of Guru Nanak and on this occasion India and Pakistan signed an agreement to construct the Kartarpur corridor. It links Dera Baba Nanak in Gurdaspur to Durbar Sahib gurdwara in Kartarpur and is meant to facilitate visa-free movement of Indian pilgrims to Kartarpur Sahib, which was established in 1522 by the founder of the Sikh faith.
The song, released by special assistant to Pakistan PM on information and broadcasting, Dr. Firdous Ashiq Awan, shows clips of Sikh pilgrims visiting several gurdwaras across Pakistan, and the poster is visible in the clip featuring Gurdwara Janam Asthan, Nankana Sahib, the birthplace of Guru Nanak.
The video, which prominently conveys the harmony between Sikhs and Muslims, also features former Punjab minister Navjot Singh Sidhu and Union minister Harsimrat Kaur Badal.
Addressing the launching ceremony in Islamabad, Awan said the opening of Kartarpur Corridor is execution of Prime Minister Imran Khan's vision of protection and freedom of all minorities. She said the song will go a long way in promoting Pakistan's 'soft image of peace and inter-faith harmony'. "It will also send a signal to the world about true face of Islam, besides giving our image of enlightened and moderate nation," she added.
Full report at:
https://www.hindustantimes.com/india-news/pakistan-s-official-kartarpur-corridor-opening-video-has-bhinderwale-s-poster/story-aAIEPV6YG8kpydx8c9XLNP.html
--------
Centre plans to relax curbs, restart SMSs in Kashmir
Nov 6, 2019
NEW DELHI: The government is considering restarting SMS services in Kashmir valley, apart from also looking at selective restoration of broadband connections in the region, particularly in government offices, educational institutions and some hotels including private ones.
Mobile internet, however, will remain suspended for now. The resumption of broadband connections in Kashmir region too will be undertaken only on a case-to-case basis and essentially aimed at facilitating the state administration, tourists and visitors as well as students.
Sources told TOI that while SMS services, which were started along with resumption of mobile services in Kashmir region last month but suspended within the next few hours itself, are likely to resume soon, there was still no clarity on the timing of selective restoration of broadband connections. "SMS services will be the first indicator of (opening of) internet," said a senior officer in J&K administration.
The plans to further relax communication curbs came even as home minister Amit Shah held a review meeting on J&K here on Tuesday. The meeting was attended by the Union home secretary as well as J&K chief secretary and DGP.
Mobile, land-line, broadband and mobile internet services were suspended in J&K as part of communication clampdown in the wake of announcement regarding abrogation of Article 370 on August 5. While land-line services were restored in Kashmir in early September, mobiles started ringing there only on October 14, almost 70 days after the lockdown started.
With restoration of SMS and opening of broadband connections in Kashmir on case-to-case basis, the next phase of relaxation in communication restrictions will be rolled out.
Broadband connections are 100% open in Jammu region, as are SMS services.
Full report at:
https://timesofindia.indiatimes.com/india/centre-plans-to-relax-curbs-restart-smses-in-kashmir/articleshow/71931499.cms
--------
Pakistan leaves visitors to Kartarpur clueless on papers
Nov 6, 2019
NEW DELHI: Three days ahead of the Kartarpur Corridor inauguration, India still does not have confirmation from Pakistan about the composition of the jatha (pilgrim group) which will travel through the corridor to the Kartarpur gurudwara, government sources here said.
India had earlier sent a list of prominent Sikh leaders and other dignitaries, including the names of former PM Manmohan Singh and two Union ministers, who are part of the inaugural jatha to undertake the pilgrimage on 9th November.
India, in fact, is still awaiting to officially hear from Pakistan on its PM Imran Khan's decision to waive off the condition, as already mentioned in the signed MoU, that Kartarpur pilgrims needed to carry their passports.
Sources said Pakistan had also not allowed any advance team from India to visit Kartarpur Sahib yet to confirm the arrangements made. They accused Pakistan of unilaterally deciding on the programme and timing of the inaugural jatha without taking into account India's inputs.
"India has all along remained committed to realise the Kartarpur corridor on time, keeping in mind the pilgrims' sentiments. The infrastructure work on our side has been completed on time. We even agreed to go ahead with the MOU despite Pakistan's insistence on levying a $20 service fee on pilgrims. However, Pakistan refuses to extend full cooperation," said a source.
Full report at:
https://timesofindia.indiatimes.com/india/pakistan-leaves-visitors-to-kartarpur-clueless-on-papers/articleshow/71930776.cms
--------
Jammu and Kashmir government sends eviction notices to Omar Abdullah, Mehbooba Mufti over official bungalows
Nov 5, 201
SRINAGAR: The government of the Union Territory of Jammu and Kashmir government has sent eviction notices to two former chief ministers, Omar Abdullah and Mehbooba Mufti, to get them to vacate their official bungalows on Gupkar Road in Srinagar, officials sources said on Tuesday.
Another former CM, senior Congress leader Ghulam Nabi Azad, had a few weeks ago vacated the official Gupkar Road house allotted to him. Azad, as a former CM, had been occupying the J&K Bank's guesthouse as his official residence, as provided in the J&K Legislature Members' Pension Act, 1984.
The said law was scrapped when the J&K Reorganisation Act of 2019 took hold on October 31, 2019.
Former CMs Omar Abdullah and Mehbooba Mufti are in possession of two bungalows — Gupkar No.1 and Fairview House — which are fitted with modern facilities like gyms, saunas and steam baths.
In a report submitted to chief secretary B V R Subrahmanyam, Justice M K Hanjura (Retd), chairperson of the Law Commission, has declared Section 3-C (e) and (f) of the State Legislature Members' Pension Act as arbitrary and not in consonance with any scheme or law.
Section 3-C, which pertains to facilities for ex-CMs, states: "Notwithstanding anything contained in this Act, a member who is entitled to pension under this Act and who has served as Chief Minister of the State, shall be entitled to car, petrol, medical facilities, driver, rent-free furnished accommodation, expenditure to the limit of Rs 35,000 per annum for furnishing of the residential accommodation, free telephone calls up to the value of Rs 48,000 per annum, free electricity to the extent of Rs 1,500 per month…"
Meanwhile, Mehbooba's daughter, Iltija Mufti, wrote a letter on Tuesday to the Srinagar district magistrate asking him to shift her mother, Mehbooba Mufti, currently in detention, to a safer place to protect her from the cold.
Full report at:
https://timesofindia.indiatimes.com/india/jammu-and-kashmir-government-sends-eviction-notices-to-omar-abdullah-mehbooba-mufti-over-official-bungalows/articleshow/71929194.cms
--------
First Sikh jatha crosses to Pak, 10k likely to attend Corridor opening
by Kamaldeep Singh Brar
November 6, 2019
First Sikh jatha left for Pakistan on Tuesday on a nine-day tour to celebrate 550th birth anniversary of Guru Nanak Dev. Around 2000 Sikhs were part of the first Jatha and the second jatha will go on Wednesday.
Pakistan Sikh Gurdwara Parbhandak Committee is expecting 4500 Sikhs in two days to arrive at Nankana Sahib, the birthplace of Guru Nanak.
The devotees crossed over to Pakistan via Attari-Wagha border on foot and then reached Nankana Sahib by train.
"We are expecting that around 4500 Sikhs will come in two days," said Satwant Singh, president of Pakistan Sikh Gurudwara Committee.
There has been change in routine schedule of jatha on this occasion due to Kartarpur corridor opening ceremony.
Satwant Singh said, "We are planning to take around 2500 Sikhs to Kartarpur Sahib for opening ceremony of the Corridor. We expect a gathering of 10,000 at the Corridor ceremony. It will be on the will of devotees if they want to attend ceremony or want to stay back at Nankana Sahib. This year the visit to other gurdwaras in Pakistan has been cut short due to two reasons. First, due to Kartarpur Corridor opening and second because we have planned special programmes at Nankana Sahib for the 550 birth anniversary functions and hence pilgrims will be attending these functions. So this time there would be no time to visit other gurdwaras."
He added, "Sikhs from the Britain, Canada and other parts of the world have also come. We have made efforts that no Sikh should face difficulty in getting visa to come to Pakistan and attend anniversary function."
"The main function will be held at Gurdwara Darbar Sahib and it is possible that the jatha that would come from India via corridor for first time will also attend it," said Satwant Singh.
Former PM Manmohan Singh and Punjab CM Captain Amrinder Singh will lead the first Jatha via corridor on November 9 as PM Narendra Modi will also inaugurate the Corridor on India side on same day.
SAD mobilising crowd
Shiromani Akali Dal Badal leader Bikram Singh Majithia held a meeting of party workers to mobilise the crowd for the Kartarpur Corridor opening ceremony to be attended by the Prime Minister.
Majithia has been holding several such meetings every day to mobalise crowd.
"Today, I participated in a meeting which was attended by a large number of leaders and workers. There is tremendous zeal among party workers for ceremonies dedicated to the 550th Prakash Purb of Sri Guru Nanak Dev Ji. Also, there is considerable excitement about the inauguration of the Corridor to Sri Kartarpur Sahib by the Prime Minister Narendra Modi Ji on November 9. Everyone assured me that they will work with dedication and honestly," said Majithia.
He also accused the CM of issuing "provocative statements" related to Kartarpur Sahib Corridor.
"Punjab CM Capt Amarinder Singh has hurt the sentiments of the Sikh community…He should seek apology from the community," said Majithia.
Sidhu's posters
On Tuesday, posters came up in Amritsar that gave credit for opening of Kartarpur Corridor former Punjab minister Navjot Singh Sidhu and Pakistan PM Imran Khan.
However, these posters were installed without permission of any concerned authority and were removed by Municipal Corporation, Amritsar.
A local leader, Harpal Singh Verka, who is close to Navjot Singh Sidhu, was behind these posters.
They read, "We declare it openly that two heroes who open corridor are Navjot Singh Sidhu and Imran Khan."
Digital Museum
The digital museum showcasing the life of Guru Nanak Dev opened for the public at Industrial Training Centre (ITI) in Batala on Tuesday. Sub-Divisional Magistrate (SDM) Batala Balwinder Singh inaugurated the digital museum.
Full report at:
https://indianexpress.com/article/india/first-sikh-jatha-crosses-to-pak-10k-likely-to-attend-corridor-opening-6105631/
--------
Ayodhya: We need to keep lines open, RSS, BJP tell Muslim leaders
by Abantika Ghosh
November 6, 2019
With the country bracing for the Supreme Court ruling on the disputed Ayodhya site, RSS and BJP leaders reached out to the Muslim community Tuesday, urging its leaders and clerics to remain in touch with local Sangh leaders to keep communication channels open to avoid any "misunderstanding" or threat to the spirit of "peace, unity and brotherhood" among communities.
At a meeting hosted by Union Minister for Minority Affairs Mukhtar Abbas Naqvi, RSS Akhil Bharatiya Sah Sampark Pramukh Ram Lal told influential Muslim clerics, academics and community leaders that it is important to bridge the "communication gap" between the Sangh and the community, and to do that they should be in touch with the local Sangh leaders so that there is no misunderstanding.
RSS Sah Sarkaryawah Krishna Gopal said that in 90 years of the Sangh's existence, the top leadership of the organisation never made any anti-Muslim comment.
Muslim leaders welcomed the initiative and the calls by Prime Minister Narendra Modi and RSS chief Mohan Bhagwat to accept the Supreme Court verdict, whatever it may be, without bad blood on either side. But they also said it is imperative that action be taken against those who violate that call or act against it.
A Constitution Bench ruling on the Ayodhya matter is expected before Chief Justice of India Ranjan Gogoi retires on November 17. It has to decide on appeals against a 2010 verdict of the Allahabad High Court which ordered three-way division of the disputed Ram Janmabhoomi-Babri Masjid site between the Nirmohi Akhada sect, the deity Ramlalla Virajman and the Uttar Pradesh Sunni Central Waqf Board.
Naqvi said: "This is a historic meeting in which Muslim intellectuals, clerics, academics, social workers and others who have influence over the community had a detailed and long interaction with senior RSS leaders. They talked about peace, unity and brotherhood and said that under no circumstances should these be allowed to weaken. Everybody has faith in the SC but whatever the outcome, neither celebration nor dejection should be at such a scale that hurts the other community."
BJP leader Shahnawaz Hussain said this was just the beginning of the conversation and such meetings with Muslim community leaders would continue to build their confidence. Both sides admitted to a communication gap. "That is why it is important that such meetings continue," Naqvi said.
Ram Lal was quoted as having said: "Is it essential that only Muslims lead Muslims? Is it essential that only Hindus lead Hindus? Why can't it be so that a Hindu leads Muslims and a Muslim leads Hindus? You have come from all over the country, please be in touch with local RSS leaders in your respective areas."
Krishna Gopal underlined the inclusive tradition of India and its unity in diversity. "In the entire history of RSS, not a single RSS leader has said a word against the Muslim community, be it Mohan Bhagwat or any other RSS chief. They talk of Sabka Saath Sabka Vikas," Gopal was quoted as having said.
Advocate Kamal Farooqui, who attended the meeting on behalf of the All India Muslim Personal Law Board, said: "This is a very good initiative and everybody was on the same page. No matter what the outcome of the SC case, peace and welfare of the country is paramount. It is important that the rule of law is maintained."
Professor Akhtarul Wassey, president of the Maulana Azad University, said the entire spirit of the meeting was "dialogue not dissent".
"We also told the meeting that while we welcome the messages of peace from the Prime Minister and from the Sangh, if anybody from the government or close to the government acts contrary to that spirit, strict action should be taken against them too. The central point was that there are misunderstandings and we need to work towards dispelling them," he said.
Muslim participants at the meeting included Maulana Mahmood Madani, general Secretary of Jamiat Ulema-e-Hind; Shahid Siddiqui, former MP and editor Nai Duniya; Syed Moin Sarkar, president, Anjuman Ajmer Sharif; Justice (retd) Zakiullah; Maulana Athar Dehlavi; Syed Hammad Nizami, Sajjada Nasheen, Dargah Nizamuddin; Sirazuddin Qureshi, president, India Islamic Cultural Centre; Khwaja Iftikhar Ahmed, founder, Inter Faith Harmony Foundation of India; Prof Zafar Jung, Muslim scholar; Prof Qazi Ubedul Rahman Hashmi, Muslim scholar; Babar Ashraf, president, Sada-e-Sufi; filmmaker Muzaffar Ali and Professor Furqan Ahmed of Jamia Millia Islamia.
Advocate Kamal Farooqui, who attended the meeting on behalf of the All India Muslim Personal Law Board, said: "This is a very good initiative and everybody was on the same page. No matter what the outcome of the SC case, peace and welfare of the country is paramount. It is important that the rule of law is maintained." In answer to a question he said: "We attended this meeting because this is not an RSS meeting but that of the ministry of minority affairs."
Full report at:
https://indianexpress.com/article/india/ayodhya-we-need-to-keep-lines-open-rss-bjp-tell-muslim-leaders-6105104/
--------
Pakistan
Cabinet approves passport waiver for Sikh pilgrims
Nov 06, 2019
ISLAMABAD: The federal cabinet on Tuesday approved the waiver of passport and fee requirement for Sikh pilgrims visiting Kartarpur to take part in birth celebrations of Sikhism founder Baba Guru Nanak.
In a press conference, Prime Minister's Special Assistant Firdous Ashiq Awan said the visa on arrival facility will be given to the Sikh pilgrims.
The year 2019 marks the 550th birth anniversary year of Sikhism founder Guru Nanak Dev, whose birthplace is Sri Nankana Sahib in Pakistan.
On Sunday, Prime Minister Imran Khan shared some of the dazzling pictures of the Kartarpur complex and Gurdwara Darbar Sahib, saying the revered venue is ready to welcome the Sikh pilgrims for the 550th birth anniversary celebrations of Guru Nanak Dev.
"Kartarpur (is) ready to welcome Sikh pilgrims," he had tweeted.
The cabinet also accorded approval to the appointment of the Punjab Rangers Director General and restructuring of Capital Development Authority.
Advisor to Prime Minister on Institutional Reforms Dr. Ishrat Hussain apprised the cabinet on the new local government system.
https://www.pakistantoday.com.pk/2019/11/05/cabinet-approves-passport-waiver-for-sikh-pilgrims/
--------
Bomb Blasts Kill Four Soldiers In Northwestern Pakistan
November 04, 2019
Four Pakistani soldiers have been killed in two separate bomb explosions in the North Waziristan tribal district, local officials say.
Local administration officials told RFE/RL on November 4 that two soldiers were killed and another was wounded in a roadside bomb blast in the Razmak area.
The soldiers were on a routine patrol, the officials said.
Two more soldiers died in a second roadside bomb explosion in the town of Mir Ali.
Militants of Hizbul Ahrar, a splinter group from the Tehrik-e Taliban Pakistan (TTP), claimed responsibility for the attacks.
Full report at:
https://gandhara.rferl.org/a/bomb-blasts-kill-four-soldiers-in-northwestern-pakistan/30252756.html
--------
Pak among worst countries for internet freedom
Nov 6, 2019
KARACHI: Pakistan has been criticising India for the information clampdown in Kashmir, but an international report has declared Pakistan 'not free in terms of internet use for the ninth consecutive year, with the country score decreasing from 27 to 26 out of 100 in 2019.
The international watchdog, The Freedom House, on Tuesday released its Freedom on the Net (FoTN) report for the year 2019, titled 'The Crisis of Social Media', recording an overall decline in global internet freedom between June 2018 and May 2019.
The report placed Pakistan at 26, out of 100 (100 being the worst) -- one place down from last year's ranking. The country scored 5 out of 25 for obstacles to access, 14 out of 35 for limits on content, and 7 out of 40 for violation of user rights index, reported Dawn news.
Globally, Pakistan is among the worst 10 countries in terms of internet and digital media freedom. In terms of regional ranking, Pakistan emerged as the third worst country after Vietnam and China.
Besides decline in internet freedom, the report found election manipulation in Pakistan through informational tactics such as the coordinated use of hyper-partisan commentators, bots, or news sites to disseminate false or misleading content as well as technical tactics, including intentional restrictions on connectivity and blocking of websites.
The report for Pakistan was authored by the Digital Rights Foundation. DRF Executive Director Nighat Dad said:
"The score this year is the culmination of short-term and regressive policies by successive governments. Years worth of draconian legislation and investment in structures that stymie freedom of expression has led to an environment where the internet in Pakistan is more unsafe and less inclusive."
The report noted that authorities had upped their efforts to silence critical journalists and activists using a range of techniques. Users were sentenced to death on charges of posting blasphemous content online, although their convictions were under appeal.
Over 800,000 websites hosting political, religious and social content remain blocked while the Pakistan Telecommunication Authority continued to restrict content in a non-transparent and arbitrary fashion, the report said.
It added that state and other actors were known to exert extralegal pressure on publishers and content producers to remove content, and these instances frequently went unreported.
It observed that most online commentators exercised a degree of self-censorship when writing on topics such as religion, blasphemy, civil-military relations, separatist movements, and women's and other minority communities' rights.
Increasingly, the report found, coordinated and inauthentic accounts were manipulating online content and spreading disinformation. Online journalists and activists, especially those scrutinising the military or intelligence agencies, had testified to the existence of state-sponsored -- troll armies -- being employed to silence dissent.
Full report at:
https://timesofindia.indiatimes.com/world/pakistan/pak-among-worst-countries-for-internet-freedom/articleshow/71934136.cms
--------
Pakistani drug kingpin gets 15 years jail for importing heroin into US
Nov 6, 2019
NEW YORK: A 71-year old Pakistani national, who was the leader of a drug trafficking organisation based in Afghanistan and Pakistan, has been sentenced to 15 years in prison for conspiring and attempting to import massive quantities of heroin into the United States.
Shahbaz Khan was taken into custody by Liberian authorities in December 2016 and expelled to the United States based on a pending complaint in the Southern District of New York.
He previously pled guilty before US District Judge Lorna Schofield, who imposed the 15-year sentence, the United States Attorney for the Southern District of New York Geoffrey Berman said Tuesday. In addition to the prison term, Khan was sentenced to five years of supervised release.
Berman said Khan was an international drug kingpin who distributed staggering quantities of narcotics from southwest Asia to countries throughout the world. In 2016, he agreed to transport tens of thousands of kilograms of heroin to New York City.
The "sentence shows that we will continue to seek justice against those who flood our communities with heroin and other deadly, highly addictive drugs that fuel the opioid epidemic plaguing this city."
According to the complaint and superseding indictment, Khan led the drug trafficking organisation based in Afghanistan and Pakistan that produced and distributed massive quantities of narcotics around the world.
In 2007, Khan was designated a Narcotics Kingpin under the Foreign Narcotics Kingpin Designation Act by then-President George Bush. In total, Khan and his organisation distributed hundreds of tons of drugs.
Between approximately August and December 2016, Khan conspired to send tens of thousands of kilograms of heroin hidden in maritime shipping containers and air cargo shipments to New York City.
He spent weeks negotiating the shipments with individuals he understood to be customers of the drug organisation who were in fact confidential sources working for the Drug Enforcement Administration (DEA).
These confidential sources told Khan that they worked with a New York City-based drug trafficker, who in fact was a DEA undercover agent. The sources falsely told Khan that the drug trafficker was looking for a new source of supply for large quantities of heroin.
In August 2016, Khan was informed that the undercover agent was interested in purchasing up to 300 kilograms of heroin per week from him and his organisation. Khan bragged to the sources about his decades-long experience in international drug trafficking, including that he had once transported 114 tons of drugs in a single year, including 64 tons of hashish.
Within weeks of first meeting the confidential sources, Khan travelled to the Maldives to meet with the undercover agent. During the course of these meetings, Khan explained the various ways that he could transport heroin to the agent, including shipping heroin from Pakistan to a transshipment point in Africa, where the agent would receive the heroin and have it shipped to the United States.
Khan further said that he could ship narcotics "wherever" the undercover agent wanted, and emphasised that "if you tell me America, I will send it to America."
Full report at:
https://timesofindia.indiatimes.com/world/pakistan/pakistani-drug-kingpin-gets-15-years-jail-for-importing-heroin-into-us/articleshow/71932872.cms
--------
Strike of health workers in KP enters 39th day
November 6, 2019
PESHAWAR: Patients continued to suffer as the strike of health workers, including doctors, paramedics, nursing staff and class-IV employees, entered 39th day on Tuesday.
The protesting health workers as usual kept all services suspended in the state-run hospitals of the province. Also, dozens of health workers on the call of Grand Health Alliance (GHA) took out a protest rally from Khyber Teaching Hospital (KTH) and blocked the University Road for over an hour.
The health workers first gathered at the KTH and chanted anti-government slogans, particularly against Dr Nausherwan Burki. They marched towards the Board Chowk and marched on the University Road. The protesting health workers were joined by workers of other political parties, including Pakistan Muslim League-Nawaz (PML-N).
PML-N local leader, Arbab Khizer Hayat and a self-proclaimed president of Pakistan Medical Assassination (PMA), Dr Hussain Ahmad Haroon were conspicuous by presence. Both were in the first row of the protesting health workers and chanted slogans against the government. They flayed the government for causing hardships to the patients by refusing to accept the medics demands.
The district administration had deployed police but they didn't use force to stop the protesting health workers from blocking the main road. The road blockade caused traffic mess. It was believed that Dr Nausherwan Burki was in Peshawar and he would hold a meeting with representatives of the protesting health workers.
According to Dr Alamgir Yousafzai, they had held a number of meetings in recent weeks after they launched the strike. He said they felt during all their meetings that most of the officials were powerless to make decisions.
Most of the officials claimed that Dr Nausherwan Burki was the right man to hold result oriented negotiations with the protesting health workers. Meanwhile, the strike of the health workers continued strike on 39th day.
Full report at:
https://www.thenews.com.pk/print/551418-strike-of-health-workers-in-kp-enters-39th-day
--------
Pakistan seeks $9bn Chinese loan for ML-1, commits to border fencing
Khaleeq Kiani
November 06, 2019
ISLAMABAD: Committing complete fencing of Afghan and Iran borders on priority to ensure peace and security, Pakistan on Tuesday asked China to finance $9 billion Main Railway Line (ML-1) and other road and infrastructure projects to expand the China-Pakistan Economic Corridor (CPEC).
At the conclusion of ninth Joint Cooperation Committee (JCC) meeting of CPEC here, the two sides also approved Gwadar Smart City Master Plan and signed two memorandums of understanding (MoUs) for cooperation in the field of health and trade. They also signed minutes of the meeting and inaugurated 392km Multan-Sukkur Motorway completed with Chinese funding of Rs294bn.
The JCC was co-chaired by Planning Minister Makhdum Khusro Bakhtyar and China's National Development & Reform Commission (NDRC) Vice Chairman Ning Jizhe. It formed a joint project financing group to formally engage in project financing arrangements on ML-1, said Bakhtyar, adding the groundbreaking ceremony for the multi-billion dollar plan was targeted within the next six months.
He said the government had decided to take ML-1 loan and ensure its repayment because of the limitations of Pakistan Railways. Responding to a question, he said a project loan would not affect the country's debt-to-GDP situation because it would be completed in about five-six years and contribute also to the GDP size as well.
Responding to another question, Bakhtyar said the two sides also decided to hold discussions on modalities of Chinese financing in Renminbi as it was one of the six major currencies in the International Monetary Fund basket. For this, an expert group at the central bank level and other experts would examine as to how to move forward.
He lamented that CPEC was previously viewed as replacement to Public Sector Development Programme while its true potential lied in the economic expansion and industrial growth for which the new government was setting a fresh direction.
The minister claimed China would also provide Rs70bn financing for Zhob-DI Khan Motorway to connect Islam­abad-Quetta through motorway while Pakistan would finance Sukkur-Hyderabad motorway through public-private financing where Chinese would be welcome to participate through open competition.
According to Bakhtyar, security on Pak-Afghan border was a challenge given its 2400km length and its fencing should have been done 10 years ago. He said now it will be completed by 2020 and the same pace would be ensured on the Iran border as well.
"Pakistan's security situation could not be 100pc in our hands until these borders remain porous. This is the most import security project that would also help achieve law and order and the military and civil authorities have jointly controlled the security situation to a great extent," he added.
He said the JCC reviewed $12bn of energy sector project portfolio and noted that $4.2bn worth of them had been completed or would be by 2021. It also expressed satisfaction over 6390MW of remaining plans to be finished by 2025 or 2030 keeping in mind Pakistan's energy plan.
The country was also looking at $8-10bn of investment in refineries, petrochemicals and oil and gas sector in 2-3 projects, the minister said, adding Chinese side was expected to enter the steel that would help reverse Pakistan's $4bn steel imports.
The two sides also agreed to make progress on mines and mineral sectors, particularly in copper and gold excavation and evacuation where China had great experience and was importing copper from across the world. He said the two sides indicated to expedite completion of social sector development for which China had promised $1bn grant.
Chinese Ambassador Yao Jing said the two countries focused last six years on energy, infrastructure, Gwadar port and this JCC sets a new direction for future projects, mostly in industrial cooperation, agriculture, affordable housing and minerals.
The MoUs signed during the meeting related to All China Federation of Trade Unions (ACFTU) and Ministry of Planning for further strengthening the worker exchanges and healthcare between Ministry of Health and Research Development International (RDI) for testing of cervical cancer.
"We made steady progress in resolution of matters regarding finalisation of tariffs for the completed energy projects, Gwadar port concession agreement and Kohala hydropower project," said the minister. The chiefs of Balochistan, Khyber Pakhtunkhwa and Gilgit-Baltistan also attended the JCC.
Bakhtyar said the remaining portion of the eastern corridor from Sukkur to Hyderabad (M6) will be completed in build-operate-transfer mode under the umbrella of public private partnership and urged Chinese companies to take active part in the bidding process.
He told the guests that Pakistan had established CPEC Authority to work as a one window for all related issues to enhance the pace of the projects implementatation.
Full report at:
https://www.dawn.com/news/1515210/pakistan-seeks-9bn-chinese-loan-for-ml-1-commits-to-border-fencing
--------
Bus travelling from Canada to Kartarpur stops at Gurdwara Punja Sahib
Amjad Iqbal
November 06, 2019
TAXILA: A bus carrying Canadian pilgrims reached Gurdwara Punja Sahib in Hassanabdal late at night on Monday, a stop of their journey to the new Kartarpur Corridor for the celebration of the 550th birth anniversary of the founder of Sikhism, Baba Guru Nanak.
Speaking to the press, one of the tour organisers Gurcharan Singh Banwait said the bus, which is emblazoned with 'Journey to Kartarpur' on its front, began its journey from Brampton, Canada, on Sept 3.
The bus travelled to the United Kingdom, crossed the Atlantic on a ship to Paris, and then travelled through Germany, Switzerland, Austria and Turkey before entering Pakistan via Iran. It has eight people on board, with dining, sleeping and toilet facilities as well.
Mr Banwait said: "We became ambassadors of peace for Pakistan across the globe while carrying the name of our bus' destination in Pakistan."
He said they reached Pakistan after travelling through 14 countries for the 550th birth anniversary of Baba Guru Nanak, which will be celebrated at the Gurdwara Janam Asthan in the city of his birth, Nankana Sahib, on Nov 12.
As the occasion nears, Sikhs from all over the country including India, Europe, the United Arab Emirates and North America have started arriving at Gurdwara Punja Sahib.
On Tuesday, 650 pilgrims from the UK reached the temple, as did 43 pilgrims from Canada. Strict security measures were in place in this regard.
According to the Evacuee Trust Property Board's (ETPB) official records, 27 pilgrims from the United States, 10 from Ireland, eight from Malaysia, one from Thailand and three from Afghanistan have also reached Gurdwara Punja Sahib. The pilgrims are on their way to Kartarpur.
Girjan Singh from Canada praised the government for opening the Kartarpur Corridor.
Bisanpreet Kaur, one of around a hundred pilgrims visiting Punja Sahib dressed in white, said: "We selected this colour as it is a symbol of peace and we are here to present ourselves as ambassadors of peace."
She said the opening of the Kartarpur Corridor will further strengthen the relationship between Pakistan and the global Sikh community.
Sardar Juspal Singh, who is visiting from the UK, told the press that the Kartarpur Corridor is a symbol of religious harmony and Sikh-Muslim friendship, adding that the Baba Guru Nanak University is a great initiative to spread the teachings of Guru Nanak, which are based on equality and brotherhood.
Gurmeet Kaur said the corridor was the longstanding desire of the community globally, and it being fulfilled has won the hearts of milli0ns of Sikhs around the world.
Full report at:
https://www.dawn.com/news/1515125/bus-travelling-from-canada-to-kartarpur-stops-at-gurdwara-punja-sahib
--------
3 suspected terrorists killed in Quetta after exchange of fire: CTD
Syed Ali Shah
November 05, 2019
Three suspected terrorists were killed by officials of the Counter Terrorism Department (CTD) on Tuesday during an exchange of fire in Quetta district's Ghabarg village, a spokesperson said.
The exchange of fire took place earlier today after a suspicious vehicle continued to move despite being signalled by CTD personnel to stop. Security officials said they also recovered weapons and explosives from the possession of the suspected terrorists.
Full report at:
https://www.dawn.com/news/1515055/3-suspected-terrorists-killed-in-quetta-after-exchange-of-fire-ctd
--------
Pakistan Navy successfully test-fires missile in Arabian Sea
Nov 06, 2019
ISLAMABAD: The Pakistan Navy on Tuesday successfully test-fired a missile capable of hitting targets from land to sea. The locally developed missile successfully hit its target.
Navy chief Admiral Zafar Mehmood Abbbasi observed the successful testing and congratulated the scientists, engineers and units involved.
Full report at:
https://www.pakistantoday.com.pk/2019/11/05/pakistan-navy-successfully-test-fires-missile-in-arabian-sea-2/
--------
SC questions monitoring of entry, exit points in S Waziristan
Nov 06, 2019
The Supreme Court on Tuesday questioned the practice of keeping records of entry and exit of individuals travelling to and from South Waziristan.
A two-member bench, comprising Justice Qazi Faez Isa and Justice Mazhar Alam, heard a bail plea of an accused pertaining to a shoot-out in Dera Ismail Khan.
The counsel of the accused said there was no bullet exit wound on the body of the victim's body. Justice Isa, however, observed that the bullet could have lodged itself inside the victim's body.
The counsel informed the court that the suspect was in South Waziristan at the time of the incident.
Referring to the registration of the entry and exit in the tribal district, the lawyer said Zaman's entry record was present but his exit was not recorded. To which, the bench questioned the legality of having entry and exit registration in South Waziristan.
Justice Isa asked the purpose of recording entry and exit of people within the country and also asked which law allowed such a practice.
"We cannot answer which law calls for the entry and exit to be registered," replied the lawyer.
Full report at:
https://www.pakistantoday.com.pk/2019/11/05/sc-questions-legality-of-keeping-records-of-entry-exit-of-people-in-s-waziristan/
--------
Two FC personnel martyred in DIK terrorist attack
Nov 06, 2019
DERA ISMAIL KHAN: Two officials of Frontier Corps (FC) were martyred while two others were injured when unidentified terrorists opened fire on their convoy in Khyber Pakhtunkhwa's (KP) Dera Ismail Khan district on Tuesday.
According to DI Khan District Police Officer (DPO) Dilawar Bangash, the incident occurred in Bacha Abab area of Kulachi tehsil, when the FC personnel were on their way to their checkpost in Loni area.
"Unidentified armed terrorists attacked them near Qasim River and as a result, two FC personnel were martyred and two others sustained injuries," he said, adding that that a rickshaw driver who happened to be on the site of the incident also lost his life in the attack.
Full report at:
https://www.pakistantoday.com.pk/2019/11/05/two-fc-personnel-martyred-in-terrorist-attack/
--------
Nawaz needs to go abroad for treatment, says medical board
Nov 06, 2019
LAHORE: Nawaz Sharif needs to go abroad for treatment, the head of the panel of doctors overseeing the treatment of the former prime minister said on Tuesday, as the former, who was discharged on his request from the Services Institute of Medical Sciences (SIMS), changed his mind in the evening and requested that he spend the night at the hospital instead of being shifted to the Sharif Medical City Hospital in Raiwind.
"Health department should talk to us," Prof Dr Mehmood Ayaz told reporters, adding that the medical board set up for the Pakistan Muslim League-Nawaz (PML-N) leader's treatment would give in writing that he should undergo genetic test from abroad.
Ayaz added the foreign visit would become essential if doctors want to examine his body tissues in order to diagnose the exact cause of his illness.
He added the PML-N leader was not facing a minor genetic issue.
He that certain medical tests — including a genetic test — that have been recommended for Nawaz are not available in Pakistan.
The medical board recommended that a genetic test be carried out after it was observed that Nawaz's platelets could not be raised to normal levels and that his sugar and blood pressure levels were also inconsistent.
Dr Ayaz said that Nawaz's health, overall, had seen an improvement. "If he wishes to travel, he can."
Nawaz has procured bail on medical grounds in the ongoing Chaudhry Sugar Mills case from the Lahore High Court. His seven-year jail sentence in the Al Azizia case has also been suspended by the Islamabad High Court for eight weeks on medical grounds.
When asked about Nawaz's health indicators, the doctor said that while his condition has seen a slight improvement, his CBC report has shown a decline in platelet levels yet again. His platelet levels now stand at 30,000 per microliter, he said.
Furthermore, his sugar levels have not been able to be stabilised in the past 15 days. According to the medical board, the former premier's sugar levels are checked 5-6 times daily. The levels have spiked as high as 150-190.
Members of the board said Nawaz's medicines undergo a revision every day and that despite the use of steroids, his sugar levels are unable to be controlled. They said that the use of steroids is necessary to maintain normal functioning of the kidneys. A low dose of these steroids is being given, the board added.
According to Dr Ayaz, during the meeting, it was decided that the dose of steroids should be lowered even further.
The medical board said that Nawaz's blood pressure and cholesterol levels are also beyond what is considered normal.
"We have now removed restrictions from his diet plan," said the board, adding that he will now have a simple diet instead of a restricted one. It was also decided that his water intake should be increased and that he should go for walks daily.
Additionally, some samples were taken so that cardiac, kidney and sugar level tests can be carried out.
NAWAZ DELAYS DEPARTURE:
Meanwhile, the former premier decided to delay his departure from the hospital so that he and his daughter Maryam Nawaz could leave together since the release orders for the latter could not be obtained from Lahore High Court on Tuesday.
Maryam Nawaz has also been under treatment at the Services Hospital since October 23, a day after her father was admitted. She is awaiting her release on bail in the Chaudhry Sugar Mills case after the LHC had granted her request a day earlier.
The PML-N leader has been ordered to furnish two surety bonds, each worth Rs10 million, and deposit an additional Rs70million and surrender her passport to secure her release.
While her husband Captain (r) Mohammad Safdar submitted the additional amount of Rs70 million along with her passport to the court, Maryam's lawyers were late in completing documentation and the surety bonds could not be submitted within the court's working hours.
Nawaz's discharge slip was issued by the hospital on Tuesday evening after a medical check-up was done. An ambulance from Sharif Medical City Hospital had arrived to transport the former premier. PML-N president and brother of the former premier, Shehbaz Sharif, had also arrived to review the arrangements made.
Full report at:
https://www.pakistantoday.com.pk/2019/11/05/some-medical-tests-recommended-for-nawaz-not-available-in-pakistan-dr-ayaz/
--------
Pakistan, Malaysia agree to bolster bilateral cooperation
Nov 06, 2019
KUALA LUMPUR: Pakistan and Malaysia have agreed to further bolster cooperation in the areas of kosher food, technology and tourism, and agriculture, it emerged on Tuesday
The two countries reached the understanding after a meeting between Foreign Minister Shah Mahmood Qureshi and the Malaysian Minister for Economic Affairs Mohamed Azmin Ali in Kuala Lumpur.
Qureshi noted that both the countries can enhance their bilateral trade through a free trade agreement, Radio Pakistan reported.
He landed in Malaysia on Monday on a two-day visit to attend a summit in Kuala Lampur. Qureshi was invited by his Malaysian counterpart Saifuddin Abdullah.
During his visit, the foreign minister will also hold talks with top Malaysian leadership, including Prime Minister Mahathir Mohamad.
He will also visit Pakistan High Commission and inaugurate a Community Center established for the facilitation of the Pakistan community.
Full report at:
https://www.pakistantoday.com.pk/2019/11/05/pakistan-malaysia-agree-to-bolster-bilateral-cooperation/
--------
Europe
Britain says Iran's move on nuclear deal is a threat to national security
5 November 2019
Foreign minister Dominic Raab said on Tuesday that Iran's decision to take a new step to reduce commitments to a landmark 2015 nuclear deal posed a threat to Britain's national security.
Iran said on Monday it had launched a new batch of advanced centrifuges to accelerate uranium enrichment, following the withdrawal from the nuclear pact by the United States.
"Iran's latest actions clearly contravene the deal and pose a risk to our national security," Raab said.
"We want to find a way forward through constructive international dialogue but Iran needs to stand by the commitments it made and urgently return to full compliance."
https://english.alarabiya.net/en/News/middle-east/2019/11/05/UK-Iran-s-latest-actions-Iran-s-latest-actions.html
--------
School leaders in Maryland ask for no AP testing on Muslim holy day
By Donna St. George
November 5, 2019
School officials in Maryland are calling on the College Board to avoid scheduling Advanced Placement exams on the expected date of a Muslim holy day next school year, saying students should be able to observe the holiday without worrying about missing tests.
Montgomery County's Board of Education voted unanimously to notify the College Board of the potential conflict and to ask that no exams be held on the holy day of Eid al-Fitr, which marks the end of Ramadan and is one of the Islamic faith's two major holidays.
Since 2016, Montgomery County, which has the state's largest school system, has given students the day off in years when an Eid holiday falls on a school day.
But students would go to classes on the holy day next school year under three proposals released by Montgomery school officials — a possibility that sparked a wave of concern and frustration in the Muslim community.
"It's very disappointing because we have been lobbying for so many years," said Samira Hussein, a longtime activist on the issue.
School Board Vice President Patricia O'Neill said school system staff checked state and national testing schedules, and they did not include the time off for Eid because the holiday fell within a traditional AP testing window.
"This is a national issue," she said, encouraging others to write to the College Board. "It doesn't just affect Muslim students in Montgomery County. It affects Muslim students across the country."
Following the school board vote last week, the Council on American-Islamic Relations, a national Muslim civil liberties and advocacy organization, weighed in with a similar request to the College Board, sending a letter Friday.
At least two other Maryland systems — in Howard and Baltimore counties — are considering proposals to place a professional day for teachers on the Eid holiday next school year, so that students can be off; Montgomery takes a similar approach.
In New York, the nation's largest school system, public schools have designated days off on the Eid holidays since 2015. A spokeswoman said this week that she saw no sign that the practice would change. A 2020-2021 calendar has not yet been adopted, she said.
A College Board spokesman did not comment on the issue, but he said AP exam dates for 2021 would be published during the months ahead.
"As is standard, there will be options available to address conflicts should they arise," spokesman Jerome White said.
The College Board, a nonprofit that also owns the SAT college entrance exam, contacted Muslim advocates Tuesday to discuss the issue, activists said. Montgomery school officials said their letter to the College Board went out Tuesday.
Late-testing options are typically available for students who cannot take AP exams on the scheduled date because of serious injuries, emergencies, religious holidays and other circumstances.
In Montgomery, the AP scheduling concern adds complexity to what many see as an issue of fairness.
Every year, school systems, including Montgomery's, draw up academic calendars for the next year. After Montgomery released its proposals for the 2020-2021 school year, Muslim advocates turned out at a school board meeting Oct. 28 with signs saying "Equality for Eid" — a flashback to previous efforts to gain support for a day off school on an Islamic holy day. Eid al-Fitr is expected to fall on May 13, 2021.
"It came as a big surprise," said Zainab Chaudry, director of Maryland outreach for the Council on American-Islamic Relations. "It was a step backward."
Many parents and advocates say Muslim students should be treated similarly to their peers of other faiths, and they emphasize the importance of religious observances and family celebrations.
Hass Bashir, a father of three from Potomac, asserted that Muslim families have had to repeatedly come "begging" for recognition of a holy day that more than 1.8 billion people celebrate globally.
"What are you teaching . . . about being inclusive?" Bashir asked. "While my children recognize all other holidays, you are telling them, 'Your faith has no value. You are irrelevant.' "
Others described what students experience — and the holiday's effect.
"Many Montgomery County Muslim children avoid discussing their religion because they fear the judgment and harassment that can ensue after that," said Najiyah Khan, a mother of four and former PTA president who serves on the board of a Potomac mosque.
"The school observance of the Eid holiday is tremendously helpful in normalizing our religion," she said.
Some said they wished Montgomery officials had pointed out the testing conflict earlier so they could have gone to the College Board months ago. They worry there is not enough time to persuade the College Board before school systems firm up 2020-2021 calendars.
"It's a very tight window to reach out to the College Board at the national level and make that change," said Adileh Sharieff, a county parent and a trustee at the Islamic Center of Maryland, a mosque in Gaithersburg.
School system officials say their three calendar proposals are draft documents that are a starting point, not a final decision. They have received several thousand comments on a variety of calendar-related issues, O'Neill said.
The county school board is expected to discuss the issue again next week and vote on a 2020-2021 calendar in early December.
The call for recognizing Muslim holidays goes back many years in the diverse Montgomery school system, with more than 165,000 students. Students have raised the issue, as have parents and community leaders.
In 2015, supporters claimed victory, as the school board voted to have a teacher professional day coincide with an Eid holy day for 2016, meaning students had the day off. The dates of Eid holidays, based on a lunar calendar, shift from year to year.
For years, Muslim families asked why other faiths got holidays off but not theirs.
Maryland state law requires schools to close on holidays such as Christmas and Good Friday but leaves other holidays and occasions, including Rosh Hashanah and Yom Kippur, up to local officials.
Montgomery County officials began giving days off on the two Jewish holidays in the 1970s, saying high levels of absenteeism justified the closures as an operational matter; they say by law they cannot close schools specifically for religious reasons.
In push for Muslim school holiday, some Montgomery students will stay home
The school system at one point suggested absenteeism on Muslim holidays was not high enough to warrant closing schools. It is unclear how many Muslim students are enrolled in county schools — school officials do not query students about religion — but Muslim leaders describe their community as large and growing, based on involvement at area mosques.
Muslim students can take excused absences on holy days, but many families say students, especially those in high school, do not want to miss instruction or fall behind in classes. Some go to school despite holidays.
Muslim community wins day off of school on major holiday next year
Over the years, Montgomery has been approached about time off for other holidays, including Lunar New Year, celebrated by many Asian families, and the Hindu holiday of Diwali.
Holidays for all: Asian students ask for a day off school on Lunar New Year
Student Iman Ilias, a 10th-grader at Walt Whitman High School, said the issue goes beyond the time off. She recalled her disappointment that her Muslim peers did not want to join the Muslim Student Association, of which she is co-president.
Full report at:
https://www.washingtonpost.com/local/education/school-leaders-in-maryland-ask-for-no-ap-testing-on-muslim-holy-day/2019/11/05/e50f04ee-fa87-11e9-8190-6be4deb56e01_story.html
--------
UK urges Iran to return to nuclear deal commitments
Ahmet Gurhan Kartal
05.11.2019
LONDON
British government on Tuesday urged Iran to return to compliance with the 2015 nuclear deal, the Joint Comprehensive Plan of Action (JCPoA).
"Iran's latest actions clearly contravene the deal and pose a risk to our national security," Foreign Secretary Dominic Raab said.
"We want to find a way forward through constructive international dialogue but Iran needs to stand by the commitments it made and urgently return to full compliance."
Raab's remarks followed similar reaction from the EU that also voiced concern on Iran's latest announcement that it would decrease its commitments to the deal.
"We are concerned by President [Hasan] Rouhani's announcement today to further reduce Iran's commitments under the JCPoA," EU spokeswoman Maja Kocijancic told reporters on Tuesday.
"We urge Iran to reverse all activities that are inconsistent with its commitments under the JCPoA and to refrain from any further measures that would undermine the preservation and full implementation of the nuclear deal," she added.
Earlier in the day, Rouhani said his country will begin the fourth step of decreasing its commitments to the 2015 nuclear agreement.
"By tomorrow, we will move towards the fourth step and of course, we are already announcing this to the world and to our friendly countries," he said.
The Iranian president said Tehran on Wednesday will begin gas injection into the Fordow centrifuges.
"Our new activity will be monitored by the IAEA [International Atomic Energy Agency]," he said.
Rouhani said Iran's moves to scale down its commitments are reversible in case the signatory countries to the nuclear deal fully abide by their commitments.
Iran started to cut its commitments under the 2015 nuclear deal in a retaliatory move following the U.S. unilateral decision to withdraw from the agreement between Tehran and the five permanent members of the UN Security Council plus Germany and the EU.
The U.S. has since embarked upon a diplomatic and economic campaign to ramp up pressure on Iran to force it to renegotiate the agreement.
Full report at:
https://www.aa.com.tr/en/europe/uk-urges-iran-to-return-to-nuclear-deal-commitments/1636538
--------
North America
Pompeo commends Saudi Arabia's role in facilitating deal between Yemen govt, STC
6 November 2019
US Secretary of State Mike Pompeo expressed gratitude toward Saudi Arabia's role in facilitating an agreement between the Yemeni government and the Southern Transitional Council (STC), according to a statement by a State Department spokesperson.
"Secretary of State Michael R. Pompeo met today with Saudi Minister of State for Foreign Affairs Adel al-Jubeir. The Secretary thanked the Minister for Saudi Arabia's continued partnership with the United States across many regional and bilateral issues," Spokesperson Morgan Ortagus said in a statement.
"They agreed that this was an important step to move toward a comprehensive political solution to the conflict in Yemen. The Secretary and the Minister also discussed recent developments in Syria, Iraq and Lebanon, and the need to continue countering the Iranian regime's destabilizing behavior," Ortagus added.
The "Riyadh Agreement" was signed on Tuesday between the Yemeni government and the STC. The main points of the deal included the return of the legitimate government to Aden within seven days, the unification of all military formations under the authority of the Ministries of Interior and Defense, and the formation of an efficient government made up equally between the north and south of Yemen.
https://english.alarabiya.net/en/News/gulf/2019/11/06/Pompeo-commends-Saudi-Arabia-s-role-in-facilitating-deal-between-Yemen-govt-STC.html
--------
US accuses Iran of 'nuclear extortion' with enrichment step
November 06, 2019
WASHINGTON: The United States accused Iran on Tuesday of "nuclear extortion" and vowed no let-up in pressure after the clerical regime said it would resume uranium enrichment at the key Fordow plant.
"Iran has no credible reason to expand its uranium enrichment program, at the Fordow facility or elsewhere, other than a clear attempt at nuclear extortion that will only deepen its political and economic isolation," a State Department spokesperson said.
"We will continue to impose maximum pressure on the regime until it abandons its destabilizing behavior, including proliferation-sensitive work."
President Hassan Rouhani said Iran would resume enrichment at the plant near the Shiite holy city of Qom that was suspended under a 2015 nuclear accord with the United States and five other powers.
It was the latest action by Iran to seek tangible benefits from the deal, from which the United States withdrew as President Donald Trump imposed sweeping sanctions aimed at reducing Tehran's regional role.
Full report at:
https://www.arabnews.com/node/1579691/middle-east
--------
Foreign fighters transiting through Turkey could help Islamic State to regenerate, US report warns
November 4, 2019
STUTTGART, Germany — Turkey remains a transit point for foreign fighters looking to join the Islamic State in Iraq and Syria, which could help the terrorist group to reorganize and regain influence, a U.S. report on global terrorism says.
The annual U.S. State Department country reports on terrorism released Friday trumpeted how "the United States and its partners made major strides to defeat and degrade international terrorist organizations in 2018," including liberating nearly all the territory previously held by ISIS in Syria and Iraq.
But the section on Turkey warned that country could serve as a corridor for militants looking to replenish the radical group's ranks and allow ISIS to regenerate.
"Turkey is a source and transit country for FTFs (foreign terrorist fighters) seeking to join ISIS and other terrorist groups fighting in Syria and Iraq," the report stated.
The U.S. has emphasized to Turkey the importance of ensuring its borders are secure, the State Department's counterterrorism coordinator Nathan A. Sales told reporters Friday.
"We don't want other fighters flooding into Syria to provide a shot in the arm to an ISIS that is seeking to reconstitute itself," Sales said.
Turkey also "will sometimes deport suspected foreign terrorist fighters without providing advance notice to the destination countries," the report said, without going into detail about how often suspects are expelled.
On Monday, Turkish officials issued a new warning, saying ISIS prisoners would be sent to their home countries in Europe even if their citizenship has been revoked.
While Turkey is a member of the U.S. coalition against ISIS and of NATO, relations between the allies have become increasingly strained.
This summer, after Turkey purchased a Russian missile defense system, the United States canceled the sale to its longtime ally of F-35 jets, the next-generation American stealth aircraft. Relations tumbled further last month when Ankara invaded northeastern Syria and aligned with Russian forces there. Critics in the West have also blamed Turkey for turning a blind eye to foreign fighters who used Turkey as a transit zone that helped fuel ISIS's rise in the first place.
While ISIS has suffered significant losses in recent months, including the death of its leader Abu Bakr al-Baghdadi who was killed last week in a raid by U.S. forces, the group still poses a threat.
A Pentagon Inspector General report in August estimated between 14,000 and 18,000 ISIS members were still in Iraq and Syria. In addition, there are roughly 10,000 suspected ISIS fighters being held in prison camps, many overseen by Kurdish forces that Turkey is fighting in Syria. The Kurds have warned that the fight with Turkey has diminished their ability to guard prisons in eastern Syria holding ISIS prisoners, and could lead to jailbreaks.
Concerns have also been raised that, as the U.S. continues to reduce its troop presence in Syria, Turkey could focus its efforts on targeting Kurdish militias it sees as the main enemy rather than ISIS, helping to reverse gains made in recent years against ISIS. German media on Sunday reported that Turkish forces were coordinating with various Islamic militant groups to target Kurdish elements in Syria.
Turkey on Sunday criticized the U.S. report on terrorism for not naming the Kurdish militia it's fighting in Syria, known as the YPG, as a terrorist group. The U.S. disagrees with Turkey's assessment that the YPG is one and the same as the Kurdistan Workers' Party, or PKK, which both countries designate a terrorist group.
Tensions have also been strained by Turkey blaming the movement of self-exiled cleric Fethullah Gulen – who resides in the U.S. – for masterminding the attempted coup against Erdogan in July 2016. Ankara has demanded Washington hand Gulen over, but the U.S. has said no credible evidence against him has been offered.
Following the U.S. refusal to turn in Gulen, several U.S. citizens and staff at the U.S. Embassy in Turkey have been detained and arrested, the terrorism report said.
"Turkey has a broad definition of terrorism that includes crimes against constitutional order and internal and external security of the state, which the government regularly uses to criminalize the legitimate exercise of freedom of expression and assembly," the report said.
Full report at:
https://www.stripes.com/news/foreign-fighters-transiting-through-turkey-could-help-islamic-state-to-regenerate-us-report-warns-1.605926
--------
US sanctions 9 people with ties to Iran's top leader
NOV 4 2019
The United States imposed sanctions on nine people with ties to Iran Supreme Leader Ayatollah Ali Khamenei, including his chief of staff, one of his sons and the head of Iran's judiciary, the U.S. Treasury Department said on Monday.
The United States also sanctioned Iran's Armed Forces General Staff, the department said in the statement, which came 40 years after Iran seized the U.S. embassy in Tehran, taking more than 50 Americans hostage.
"Today the Treasury Department is targeting the unelected officials who surround Iran's Supreme Leader, Ayatollah Khamenei, and implement his destabilizing policies," U.S. Treasury Secretary Steven Mnuchin said in a statement.
"These individuals are linked to a wide range of malign behaviors by the regime, including bombings of the U.S. Marine Barracks in Beirut in 1983 and the Argentine Israelite Mutual Association in 1994, as well as torture, extrajudicial killings, and repression of civilians," Mnuchin added.
Those targeted by the U.S. sanctions include Khamenei's chief of staff Mohammad Mohammadi Golpayegani as well as Vahid Haghanian, who the department said "has been referred to as the supreme leader's right hand."
Ebrahim Raisi, who Khamenei appointed in March 2019 to lead Iran's judiciary, and Mojtaba Khamenei, Ali Khamenei's second son, were also sanctioned, Treasury said.
Full report at:
https://www.cnbc.com/2019/11/04/us-sanctions-9-people-with-ties-to-irans-top-leader.html
--------
Evangelical-Muslim Conference Brings College Students Together To Ameliorate Relations between Their Two Religious Groups
By Hunter Moyler
11/5/19
Muslim and Evangelical Christian students convened at a conference at Wheaton College over the weekend to explore what they could do to ameliorate relations between their two religious groups, situation the event's organizers called "the greatest interreligious challenge of our time."
The conference, which took place on November 1-2 was arranged by Neighborly Faith, an organization that bills itself as "a nationwide movement bringing Christians and Muslims together."
The conference resulted from a partnership between Neighborly Faith and various groups evangelical college, according to a press release from the organization.
If past polling results are any indicator, the folks at Neighborly Faith are right to think that there is room for improvement in evangelical-Muslim relations, especially on the part of the Christians.
According to the results of a survey from the Foundation for Ethnic Understanding and PSB Research released in March, most evangelical Christians do not harbor much interest in "building bridges" with Muslims.
The survey (which used results from equal numbers of Evangelicals and Muslims), found that only 22 percent of evangelical participants said they had regular interactions with Muslims. A similarly small number believed "that such interaction helps the groups to understand each other better," according to World Religion News. By contrast, 53 percent of Muslim respondents said they interact with Christians frequently.
Further, the survey indicated that 61 percent of evangelical Christians supported the so-called "Muslim ban" that the Trump administration implemented between 2017 and 2018, as opposed to only 20 percent of Muslims.
Full report at:
https://www.newsweek.com/evangelical-muslim-conference-confronts-greatest-interreligious-challenge-1469067
--------
Gunmen kill 9 members of US family in Mexico
Sierra Juarez
05.11.2019
QUERETARO
The Mexican government confirmed gunmen killed nine members of a U.S. Mormon family living in Mexico.
The LeBaron family is a prominent Mormon family in Mexico. They were attacked h Monday on their way from Sonora to the Mormon community of La Mora based in Chihuahua in northern Mexico.
Three women and six children were killed, according to the government. Three of the family members were injured, and one girl is missing after the attack.
Mexican President Andres Manuel Lopez Obrador said in a press conference Tuesday that federal and local authorities are in the northern region to investigate. The government said an organized crime group is to blame for the attack.
The government said organized crime groups are waging a turf war between Sonora and Chihuahua and gunman may have confused the family for another organized crime group.
U.S. President Donald Trump tweeted Tuesday the family was caught between "two vicious drug cartels."
"If Mexico needs or requests help in cleaning out these monsters, the United States stands ready, willing & able to get involved and do the job quickly and effectively," Trump tweeted. "This is the time for Mexico, with the help of the United States, to wage WAR on the drug cartels and wipe them off the face of the earth."
The Mexican president took an opposite approach, reinforcing his commitment to not "fight fire with fire."
But pressure is rising for Lopez Obrador to address rampant violence after a series of attacks over the last several months, including citywide shootouts in Culiacan in October. Mexico is on track to have its most dangerous year since the government began keeping track in 1997.
Several wounded members of the LeBaron family, who have dual U.S.-Mexican citizenships, have been taken to the sate of Arizona for medical treatment.
Full report at:
https://www.aa.com.tr/en/americas/gunmen-kill-9-members-of-us-family-in-mexico-/1636436
--------
South Asia
Afghan president, Chinese FM discuss dialogue with Taliban
5 November 2019
Afghan President Ashraf Ghani and Chinese Foreign Minister Wang Yi have discussed a planned meeting in Beijing that would include Afghan figures and Taliban representatives.
That meeting - known as "intra-Afghan dialogue" -was to take place last month but has been postponed. No new date has been set. The last time it was held was in July in Qatar.
The dialogue is a separate process from the US-Taliban talks that collapsed in September.
Tuesday's Afghan statement says Ghani and Wang underscored the Afghan government and people's role in the peace process.
Ghani insists his government must lead any dialogue with the Taliban, though the insurgents refuse to talk to government representatives. The future of his office is also uncertain as Afghanistan awaits the long overdue results of September's presidential elections.
https://english.alarabiya.net/en/News/world/2019/11/05/Afghan-president-Chinese-FM-discuss-dialogue-with-Taliban.html
--------
Used to impunity, Bangladesh elite face corruption crackdown
By Julhas Alam
November 5, 2019
DHAKA, Bangladesh — As gamblers called out bets around craps and roulette tables at a sports club in Bangladesh's capital, dozens of black-clad security forces burst inside.
Gamblers were ordered to the floor as police and members of Bangladesh's Rapid Action Battalion, which normally handles major counterterrorism operations, cracked open iron vaults full of cash.
By the end of the raid, more than 140 people had been taken out of the makeshift casino in handcuffs.
At the same time in another part of Dhaka, commandos were raiding the home of the suspected casino organizer, Khaled Mahmud Bhuiyan, an influential member of Prime Minister Sheikh Hasina's party. They say they discovered stashes of liquor, cash and illegal arms.
The raids are part of a sweeping anti-corruption campaign Hasina has launched in this Muslim nation where gambling is illegal, alcohol consumption requires a permit and where paying bribes is common not just for lawbreakers but for those seeking normal government services.
Emboldened by December's landslide election victory for her ruling Awami League party, Hasina has declared stamping out corruption as her government's priority and promised even political allies won't be spared.
"This is an acknowledgement that corruption, extortion and unlawful activities have permeated the ruling party to the grassroots," said Ali Riaz, a professor of political science at Illinois State University and expert on Bangladeshi politics.
It remains to be seen how high up the campaign will be allowed to reach, Riaz said.
"Casinos and the unbridled power of the party leaders are just the tip of the iceberg of the corruption and absence of any accountability in the country," he said.
So far the campaign, which was launched in September, has netted several ruling party members charged with running illegal casinos, money laundering and possessing illegal arms. Security forces have recovered millions of dollars' worth of cash, and stockpiles of weapons and gold. More than 600 bank accounts have been frozen.
Hasina has been able to attempt such a crackdown because she wields immense power after 10 years at the helm of government.
She's firmly in charge of her own party and faces no effective opposition in Parliament, with her party having 301 seats in the 350-seat Parliament. Her archrival, former Prime Minister Khaleda Zia, is serving 17 years in jail for corruption.
That dominance could be exacerbating the corruption problem. While Bangladesh has a long history of ruling party members manipulating business and government contracts in their favor, experts say the total absence of political opposition has engendered a sense of impunity among some in power.
"Investment and politics become synonymous in Bangladesh," said Ifekhar Zaman, executive director of the Bangladesh chapter of Transparency International. "A collusion of politics, business, and bureaucracy and law enforcement" has created an "infrastructure" of corruption.
When she launched the campaign, Hasina seemed to acknowledge that if corruption were allowed to spiral, it could set the stage for a repeat of events of January 2007, when a military-backed caretaker government took control of the country. The events are known locally as 1/11, for the date they began.
"We're taking measurers in advance so that no 1/11-like incident can happen again in the country," Hasina said in September. "The purge must begin from my own house."
One of the people recently arrested, G.K. Shamim, a construction company owner who has ties to the ruling party, is accused by investigators of corruption on government projects, including building the headquarters of the Rapid Action Battalion, the same security force conducting the anti-corruption raids.
A government anti-corruption commission is now investigating more than 20 people in Hasina's inner circle for possible involvement with illegal casinos, money laundering and other financial crimes, including Omar Faruque Chowdhury, who heads the ruling party's influential youth wing and is Hasina's cousin's husband. In a meeting led by Hasina, Chowdhury was stripped of his post while a criminal investigation continues.
Bhuiyan, who is accused of running the casino, Shamim and Chowdhury have all maintained their innocence in court.
Hasina's office declined requests to interview the prime minister about the crackdown, and her press secretary, Ihsanul Karim, gave only a one-sentence comment when asked about the campaign.
"Prime Minister Sheikh Hasina is determined to continue the crackdown and no wrongdoers will be spared," Karim said.
Some analysts see the campaign as a response to increasingly brazen corruption that could threaten Hasina's ambitious development agenda.
Bangladesh's economy has averaged more than 6% annual growth since Hasina came to power in 2009, largely fueled by its garment-exports business, the second largest in the world. That growth has lifted millions out of poverty, helping Bangladesh surpass wealthier neighbors like India on some human development measures such as life expectancy and reproductive health.
But anti-corruption campaigners say corruption has cost the country 2-3% annual growth. Hasina herself has blamed corrupt "termites" for eating into her government's development budget.
So far the punishment for those convicted in the crackdown has been fairly light. Another ruling party member accused of running a Dhaka casino empire and found with illegal drugs and liquor among other contraband, Ismail Hossain Chowdhury Samrat, was expelled from the party and sentenced to six months in jail. For the crime of money laundering alone, he could have faced up to 12 years in prison.
The anti-corruption campaign has proven popular with the public, and so far has proven risk-free for Hasina.
Full report at:
https://www.washingtonpost.com/business/used-to-impunity-bangladesh-elite-face-corruption-crackdown/2019/11/05/2cf3c42c-003a-11ea-8341-cc3dce52e7de_story.html
--------
Bangladesh rejects Amnesty report on Rohingya killings
Md. Kamruzzaman
05.11.2019
DHAKA, Bangladesh
Bangladesh on Tuesday rejected a rights group's report about extrajudicial killings of Rohingya Muslims who took shelter at refugee camps in the southern Cox's Bazar district fleeing a military crackdown in neighboring Myanmar.
Amnesty International on Monday called on Bangladeshi authorities to put a stop to extrajudicial executions of Rohingya refugees and conduct independent, impartial and effective investigations into the matter.
"Bangladesh authorities must respect and protect the human rights of Rohingya, including the right to freedom of peaceful assembly, expression and movement, as well as their other rights as refugees," the rights watchdog said in a statement.
However, Bangladesh's Home Minister Asaduzzaman Khan Kamal refused to accept them as Rohingya refugee, while labelling them as "drug dealers".
"Those who have died [in police shootout in Cox's Bazar] are not Rohingya refugees, they are Yaba [narcotic tablets] traders", Kamal told Anadolu Agency.
Referring to a series of killings in refugee camps in Bangladesh's southeastern Cox's Bazar following the murder of a local leader of the ruling Awami League party, Amnesty International added that extrajudicial executions of so-called 'accused' Rohingya men "violate their right to life, as well as the principle of presumption of innocence and right to a fair trial."
On Aug. 23, 2019, Omar Faruk, 30, a local leader of the Bangladeshi ruling party's youth wing, was shot dead, allegedly by a group of Rohingya men.
In protest of the murder, supporters of the party blocked a highway and vandalized a number of shops and houses inside the Jadimura Rohingya camp in Cox's Bazar.
Since then, at least seven Rohingya men, allegedly suspects of the murder, have been killed in reported "gunfights" with police.
"The victims were arrested, and then they were taken to a location to 'recover' illegal substances -- then a so-called 'gunfight' took place that claimed the lives of one or more victims," Amnesty cited as a common response by local law enforcement agency for the killings.
According to media reports, at least 45 Rohingya refugees have been killed in Bangladesh in so-called gunfights with police over the past 26 months since the Rohingya exodus from Myanmar following a brutal military crackdown in Rakhine state on Aug. 25, 2017.
The Bangladeshi minister added that some drug dealers in Myanmar used Cox's Bazar as a safe trafficking route when fleeing anti-narcotic drives by Myanmar police.
"Some of those Yaba traders [a kind of methamphetamine drug] have been killed here in police shootouts and mistakenly marked as Rohingya refugees," he stressed, refuting the Amnesty report as well as local media reports about the killing of Rohingya.
Amnesty International also expressed concern on restrictions on Rohingya refugees' movement and communication with ban of the use of mobile phones and networks after a large rally in refugee camps on Aug. 25, 2019 to mark the second "Genocide Day".
A persecuted people
According to Amnesty International, more than 750,000 Rohingya refugees, mostly women and children, have fled Myanmar and crossed into Bangladesh after Myanmar forces launched a crackdown on the minority Muslim community in August 2017, pushing the number of persecuted people in Bangladesh above 1.2 million.
Since Aug. 25, 2017, nearly 24,000 Rohingya Muslims have been killed by Myanmar's state forces, according to a report by the Ontario International Development Agency (OIDA).
More than 34,000 Rohingya were also thrown into fires, while over 114,000 others were beaten, said the OIDA report, titled "Forced Migration of Rohingya: The Untold Experience."
Some 18,000 Rohingya women and girls were raped by Myanmar's army and police and over 115,000 Rohingya homes were burned down and 113,000 others vandalized, it added.
- Concern on other extrajudicial killings
Rights groups -- both local and international -- have long been criticizing Dhaka for extrajudicial killings in general across the country, with mostly political opponents being targeted.
In a separate statement on Monday, Amnesty also issued an overall warning against extrajudicial killings across Bangladesh, urging authorities to step in immediately.
"Reports of extrajudicial executions in Bangladesh spiked sharply following Prime Minister Sheikh Hasina's directive to launch an anti-narcotic drive on May 3, 2018," said the statement.
Citing media reports and other sources, the statement added that within only 10 days of launching the operation, 52 people were killed by security forces. "Human rights organizations have documented 466 such deaths reported in 2018 alone, more than three times as many as recorded in 2017," the report said.
Amnesty urged for a full, independent, prompt and impartial investigation of all alleged extrajudicial killings and enforced disappearances.
Alleging that Amnesty's report was not based on facts, the Bangladesh home minister asserted that all incidents of police shootouts or crossfire were "properly investigated".
"In the case of any firing incident, investigation is carried out under an executive magistrate who files a report on whether it was done illegally or intentionally or with any hostile motive," the minister added.
Full report at:
https://www.aa.com.tr/en/asia-pacific/bangladesh-rejects-amnesty-report-on-rohingya-killings/1636457
--------
Explosion takes a soldier's life in Kapisa
06 Nov 2019
At least one Afghan soldier has lost life in an explosion occurred in a local bazar of Kapisa on Wednesday.
The Kapisa's police office has confirmed in a statement that an embedded mine in the bazar of Alasay district of Kapisa, exploded Tuesday Afternoon as a result of which one soldier has died and 12 others including six women and two soldiers have received injuries.
The Taliban have claimed the responsibility of this explosion and have said that a senior Afghan security official and two of his bodyguards have been killed in a targeted explosion.
https://www.khaama.com/explosion-takes-a-soldiers-life-in-kapisa/
--------
Airstrikes kill 17 Taliban militants in Baghlan, Paktiya and Zabul provinces
03 Nov 2019
A series of airstrikes killed 17 Taliban militants in Baghlan, Paktiya and Zabul provinces, the military officials said Sunday.
The officials further added that the security forces conducted an airstrike in Pul-e Khumri district of Baghlan which killed 9 Taliban militants.
An airstrike in Jaji district of Paktiya province killed 6 militants of the Taliban group, the officials said.
The officials also added that the security forces conducted another airstrike in Tarnek Wa Jaldak district of Zabul which killed 2 Taliban militants.
Full report at:
https://www.khaama.com/airstrikes-kill-17-taliban-militants-in-baghlan-paktiya-and-zabul-provinces-04309/
--------
Southeast Asia
Under-Fire Maldives Government Dissolves Maldives Democracy Network for Mocking Islam
NOVEMBER 6, 2019
The Maldives government on Tuesday dissolved an activist group after it found that a report published by the organisation on religious radicalisation contained content against Islamic laws.
The ministry of community empowerment said in a statement that it informed the Maldives Democracy Network (MDN) that the group has been deregistered and has 45 days to settle debts and complete other formalities.
The group was suspended last month amid investigations that a report published in 2016 was slanderous to Islam. Though the report had been on the group's website for more than three years, the government opened a case only last month, heeding to a demand by some preachers. The government said that there is widespread public condemnation of the report because of blasphemous content.
Religious scholars and the public have been calling to ban the organization following the contentious publication by the organization. While the police investigation found the report to have mocked Islam, President Ibrahim Mohamed Solih earlier assured that the matter will be thoroughly investigated and appropriate measures will be taken as stipulated under the Maldives constitution. However, protests and rallies were held across Maldives due to lack of action against the organization, and called to ban the NGO.
The police recently summoned founder of the organization Shahindha Ismail, and an official involved in preparing the report Azra Naseem for questioning. While a period of two weeks was granted to present themselves to police headquarters, neither individual presented themselves for questioning. Both Shahindha and Azra are currently abroad.
The opposition had warned of a popular uprising and inevitable consequences as protests continued across the country calling on the government to ban NGO Maldivian Democracy Network. Religious scholars had also launched the campaign to ban MDN earlier this month after screenshots of offensive sections in the report were widely shared on the social media. The government reacted by suspending the NGO after the Islamic ministry asked police to investigate. But the campaign continued unabated on social media and protest marches took place on several islands over the past three weekends.
Last week, former president Abdulla Yameen had also joined a demonstration staged by opposition supporters outside the Progressive Party of Maldives office in Malé. The Maldivian people will not tolerate freethinkers or liberal ideologies in the name of democracy when it comes to matters of religion, the opposition leader had declared.
An impartial investigation could not be carried out as MDN's officials were in top posts of President Ibrahim Mohamed Solih's administration, he alleged, accusing the government of planning to revise school curriculums to teach secular ideologies. "If we have to boycott schools we should be ready to boycott schools as well," Yameen had said, repeating allegations that the MDP was funded by foreign parties with an agenda to erase Islam from the Maldives.
At least 110 local councils – out of 200 islands, atoll and city councils – had also put out statements condemning the report and backing calls to ban MDN, including several with MDP majorities.
https://dailytimes.com.pk/495690/under-fire-maldives-government-dissolves-mdn-for-mocking-islam/
--------
Maldives bans group over Islamic radicalization report
NOVEMBER 5, 2019
COLOMBO, Sri Lanka (AP) — The Maldives' government on Tuesday dissolved an activist group after it found that a report published by the organization on religious radicalization contained content against Islamic laws.
The Maldives' ministry of community empowerment said in a statement that it informed the Maldives Democracy Network that the group has been deregistered and has 45 days to settle debts and complete other formalities.
The group was suspended last month amid investigations that a report published in 2016 was slanderous to Islam. Though the report had been on the group's website for more than three years, the government opened a case only last month, heeding to a demand by some preachers.
The government said that there is widespread public condemnation of the report because of "content slandering Islam" and the Prophet Muhammad.
The group's executive director, Shahinda Ismail, said she believes the investigators have not followed due process.
Ismail had been asked to appear for an inquiry on Wednesday, followed later by three of her colleagues, and the ban comes before any of the authors were interviewed.
"The government has been giving into all the demands religious extremists have been calling for," Ismail said. "The government is being controlled by these groups and I don't think banning MDN is going to solve problems."
The report examined school textbooks for each grade on how Islam is taught and how some Friday sermons allegedly incited hate and intolerance. It also said more than 90 percent of people interviewed supported the implementation of flogging, stoning to death, the death penalty and amputations as punishments in the Maldives.
Full report at:
https://mynorthwest.com/1583177/maldives-bans-group-over-islamic-radicalization-report/
--------
Soon-to-be built floating mosque in Ancol to become 'new icon' of Jakarta
November 6, 2019
Sausan Atika
The capital of the world's largest Muslim-majority country is set to see a floating mosque built off one of its beaches at Ancol Dreamland Park, which is expected to become a "new icon of Jakarta".
City-owned property developer PT Pembangunan Jaya Ancol has announced that the company will soon construct a mosque above the water on the eastern side of the popular recreational site, precisely at Ria Beach.
Prominent architect Andra Matin will be involved in the project, Pembangunan Jaya Ancol president director Teuku Sahir Syahali said in a press statement on Tuesday.
The 2,000-square-meter mosque is set to accommodate 2,500 people. Its pentagon shape will represent five pillars of Islam and the five prayer times a day in Islamic teaching.
"The design of the mosque represents the journey of Islam in Jakarta," Teuku said. "We will design Ancol Floating Mosque in such a way that it can become a new icon of Jakarta."
The mosque is to measure 25 meters in height, symbolizing 25 Islamic prophets mentioned by name in the Quran. There will also be six minarets built outside the mosque to illustrate six principles of the Islamic faith.
The building, as well as its qibla, will face the open sea, and the sea breeze will produce natural air circulation to keep the interior cool.
"We hope that the floating mosque will offer visitors a new experience, become a new tourist destination and an icon of Jakarta," he added.
Full report at:
https://www.thejakartapost.com/news/2019/11/05/soon-to-be-built-floating-mosque-in-ancol-to-become-new-icon-of-jakarta.html
--------
Suspected Muslim militants kill 15 in Thailand's south
November 6, 2019
BANGKOK: At least fifteen people were killed and another four injured in attacks by suspected Muslim rebels in Thailand's violence-wracked south, an army spokesman said today, the largest death toll in years.
The Malay-Muslim south has been in the grip of a bloody insurgency that has killed more than 7,000 people over the last 15 years.
Late yesterday militants struck two checkpoints in Yala province manned by civil defence volunteers, opening fire on them as a group of villagers stopped to talk, southern army spokesman Pramote Prom-in told AFP.
"Twelve were killed at the scene, two more (died) at the hospital, and one died this morning," said Pramote, adding that the rebels took M-16 rifles and shotguns from the checkpoints.
The areas surrounding the checkpoints have been closed off and are currently under forensic investigation, he said.
Rebels seeking autonomy for the culturally distinct region bordering Malaysia have been fighting the Buddhist-majority Thai state, which colonised the area over a century ago.
The grinding conflict is characterised by tit-for-tat attacks that usually target symbols of the Thai state and its security forces but civilians from both Muslim and Buddhist communities often get caught in the crossfire.
Yesterday's attack marked the largest coordinated effort "in a very long time", said Don Pathan, an expert on the so-called "deep south".
The incidents have been fewer in recent years, but the hits have been "more intense".
"It is a reminder that they are still here," Pathan said.
The rebels accuse the state of railroading their distinct culture as well as carrying out routine abuses which go unpunished.
Yesterday's violence comes months after the death of a Muslim man, Abdulloh Esormusor, who was left in a coma after being interrogated at a notorious Thai detention centre.
Suspects are routinely taken for interrogation and held under emergency laws in detention centres where rights groups have documented torture.
Days after Abdulloh's detention, four people were killed in a late-night attack on a military outpost, fuelling speculation of a retaliatory operation.
A week later several small bombs exploded in Bangkok, injuring four people as the city hosted a major summit attended by top diplomats, including US secretary of state Mike Pompeo.
Full report at:
https://www.freemalaysiatoday.com/category/world/2019/11/06/suspected-muslim-militants-kill-15-in-thailands-south/
--------
Hadi: Zakat's priority is Muslims first, then only others
05 Nov 2019
KUALA LUMPUR, Nov 5 — PAS president Datuk Seri Abdul Hadi Awang said zakat, the Islamic wealth tax to help the poor, must prioritise Muslims first before others.
He said the wealth must only be shared with other races once the Muslims are looked after.
"According to our law, zakat cannot be transferred from state to state unless all poverty in the said state is abolished. Zakat must prioritise Muslims and only once all the Muslims have received zakat and there is extra, then can we look into helping others.
"This is because zakat is based on looking at the observations and necessity of the Muslim people and is tied to the ibadah (worship) and akidah (faith) in Islam," said Hadi during the launch of Muslim news portal Harakah Daily's new look today.
Recently, prime minister-in-waiting Datuk Seri Anwar Ibrahim said zakat (tithe) institutions in Malaysia have been urged to carry out their responsibilities in a transparent and trustworthy manner to ensure a more effective distribution of zakat.
He said in the context of a multi-racial society, Islam encouraged the distribution of zakat funds to non-Muslims, adding that this should not sideline the needy among the Muslims.
Hadi, while agreeing with this, insisted that many Muslims are still poor in Malaysia and they need help first.
"Islam however allows for leniency. When there is a lot of zakat and all Muslims are prospering then we can share with the non-Muslims in the spirit of humanity and living in a multiracial country," Hadi explained.
"This all depends on the current situation throughout the country. If Muslims still need help and are still in poverty then we need to help them first."
Full report at:
https://www.malaymail.com/news/malaysia/2019/11/05/hadi-zakats-priority-is-muslims-first-then-only-others/1807195
--------
Nigeria police rescue 259 locked up in Islamic rehab centre
November 5, 2019
LAGOS: Nigerian police have freed 259 people being held at an Islamic rehabilitation centre in the southwestern city of Ibadan, police said on Tuesday, adding that some complained of being beaten regularly by their captors.
It was the latest in a series of raids on Islamic institutions in Nigeria in recent weeks. More than 1,000 people, many of them children, have been rescued in total.
Many captives have said they were physically and sexually abused and chained up to prevent them from escaping.
The raids are increasingly embarrassing for President Muhammadu Buhari, a Muslim who has called on police to crack down on such centres.
Other sites raided in major police operations have been in the mostly Muslim north of the country. Ibadan is located in the south, which is mostly Christian.
Oyo state police spokesman Fadeyi Olugbenga said the facility was raided on Monday at around 2pm.
"Yesterday, 259 persons were released. We had women, men and teenagers," Olugbenga said. Some people were locked inside a building and some were chained.
Images from local TV station TVC taken shortly after the captives were released showed a group of mostly young men and teenaged boys. An infant was also among the group. Many were emaciated.
"We eat one meal a day," one of the men told TVC.
According to Olugbenga, nine people including the owner of the rehabilitation centre had been arrested and were under investigation.
Spokesmen for the president and vice-president both declined to comment.
But the president's office issued a statement in October that said "no responsible democratic government would tolerate the existence of the torture chambers and physical abuses of inmates in the name of rehabilitation of the victims".
At other raided facilities, some parents thought their children were there to be educated and even paid tuition fees.
Full report at:
https://www.freemalaysiatoday.com/category/world/2019/11/05/nigeria-police-rescue-259-detained-at-islamic-rehab-centre/
--------
Anwar Ibrahim finally has Malaysia's leadership within reach
NOVEMBER 06, 2019
KUALA LUMPUR -- For a soft-spoken politician, Anwar Ibrahim angers quickly when talking about corruption.
"We have tried, for the last half-century, a pro-Bumiputra policy that benefited cronies and elites," he says, referring to the entrenched, race-based affirmative action system that favors his country's majority ethnic Malays. "Look at the figures. Poverty has increased! Inequality has increased!" he goes on, his voice rising as he counts the points off on his fingers. "It becomes like a clientelist system. And that needs to be rejected!"
The Nikkei Asian Review met Anwar, 72, in Kuala Lumpur during October to discuss Malaysia's future, more than a year after his opposition Pakatan Harapan -- "Alliance of Hope" -- coalition triumphed unexpectedly in national elections. It was a victory he celebrated from inside a prison hospital, however, having been imprisoned two years earlier on what many legal observers view as politically motivated charges of sodomy.
While awaiting release, Anwar could only watch as his longtime rival-turned-ally Mahathir Mohamad took power as prime minister. Now, he is waiting once again, this time for the fulfillment of an opaque pact with Mahathir in which the veteran prime minister is supposed to hand over power -- reportedly, within two years.
The vague details of that agreement -- when exactly will it happen? On what terms? -- are staple gossip in Malaysia, and also a topic on which Anwar has grown adept at deflecting questions. Instead, he wants to talk about his reform ambitions. During decades in opposition, he often pledged radical changes to clean up politics and heal racial disharmony. Now, as prime minister-in-waiting, he may soon be in a position to do something about it.
Yet his is far from the only vision for Malaysia. Just a few days before our interview the Malay Dignity Congress, an influential ethnic nationalist group, held a large rally in the capital, rejecting just the kind of plural democracy Anwar supports. He dismisses the movement's "Malaysia for the Malays" rhetoric, as well as its unwillingness to grapple with the ethical failures of previous Prime Minister Najib Razak -- and, in particular, the megascandal involving state-owned investment fund 1Malaysia Development Berhad over which he presided, by many measures the largest fraud in Asian corporate history.
"They say, 'Oh, the Malays are suffering! We need to do more!'" Anwar says, his eyes flashing. "But none of them articulate the problems of poor governance and corruption and the squandering of billions by the Malay elite!" Then he pauses and smiles, as if checking himself. "You are provoking me. I'm getting angry."
Anwar has good cause for anger, having spent more than a decade incarcerated at the hands of political opponents. His initial spell came during Mahathir's long first period as prime minister, which ran from 1981 to 2003. A fiercely ambitious leader, Anwar served as finance minister while positioning himself as heir apparent, until the two men fell out spectacularly around the time of the Asian financial crisis in 1998. The result left Anwar in prison for six years, often in solitary confinement, on what many viewed as trumped-up sodomy charges.
Over the decades since, he has climbed back to prominence, bit by bit. His admirers still see an unusual talent, combining mesmerizing oratory and rare intellect with the potential to turn Malaysia into a genuinely prosperous, multiethnic Islamic democracy. Last year's election marked one political watershed with the defeat of the United Malays National Organization, the party that had dominated the country's political system since independence. Anwar's appointment as leader would mark a second significant shift. While he himself is Malay, he heads the multiethnic Parti Keadilan Rakyat, meaning that as Malaysia's eighth prime minister he would also be its first not to lead an ethnic pro-Malay party.
Yet, for all his talents, he remains a divisive and mercurial figure, and one whose policy plans remain hard to pin down. Much ink is spilled over the timing of his succession, but rather less on what he might do in a job for which he has spent half a lifetime preparing. His constraints are clear. Malaysia's politics are fractious. Its economy is struggling. Polls tend to show him to be less popular than the more avuncular Mahathir, too, posing questions about his odds of winning reelection. Given all this, what hopes does Anwar have of not just talking elegantly about change, but actually delivering it?
Uncertain term
In person, Anwar seems relaxed about the task ahead, with a graying goatee and rimless wire glasses that give the air of a gracefully aging professor. We meet in a rented mansion in a plush Kuala Lumpur suburb, which aides describe grandly as a "transition office." Images from his career dot the walls: skinny 1970s student radical; firebrand government minister; global Muslim statesman, and now member of parliament for the coastal seat of Port Dickson, which he won in a by-election last October.
One display case holds the meager contents of his cell on his day of release, including a pair of sandals, a wooden back scratcher, and a string of misbahah prayer beads. More than a dozen well-thumbed books came home too: biographies of Barack Obama and the Prophet Muhammad; essay collections by Isaiah Berlin and the conservative British philosopher Roger Scruton; and, as if all those were not high-minded enough, the complete works of Montaigne.
Prison was arduous, he says, although his health has since recovered, with few aftereffects from spinal and shoulder surgery undertaken last year. Learning to work closely with Mahathir was tricky too. "It was difficult, initially, of course," he admits of their rapprochement, which began gingerly in 2016. The duo now hold weekly meetings in private, swapping notes and managing their fragile four-party coalition, of which Anwar's PKR is the largest member. Although his wife is deputy prime minister, Anwar himself holds no government role, a partly tactical decision which allows him to avoid public disagreements with Mahathir. "We are, I should say, cordial. Friendly. Very proper."
Anwar says he still expects to take power next May, two years after the election, although many doubt his confidence. In September, a few months after his 94th birthday, Mahathir said he might stay for three more years, fueling rumors that he is not keen to hand over to his one-time protege. Anwar demurs. "As far as I'm concerned, the transition is on schedule," he says. "There is a little bit of nitty-gritty about a specific date, which is yet to be discussed. But there is a general consensus among the leadership. What is more important is what I will do."
In this, Anwar faces an awkward balancing act, pledging loyalty to the government while also gently hinting he could do better. "It has been a positive beginning which makes things easier -- inshallah! -- for me," he says of the coalition's progress. After a brief period of postelection euphoria, polls suggest Pakatan Harapan's support has ebbed. Mahathir is struggling to implement a manifesto stuffed with promises written in opposition that its authors never actually expected to have to implement in government. Big ticket reforms have been limited, too, beyond replacing the country's goods and services tax -- a decision many economists already view as a mistake.
Anwar says his "big priorities" when he takes over will be economic reform and curbing inequality. But the heart of his agenda, as well its most combustible element, remains building a "needs-based" welfare system. Beginning in the 1970s, Malaysia began handing out jobs, university places and loans to Bumiputra -- "sons of the soil" -- Malays and indigenous people, aiming to narrow the gap with the more prosperous ethnic Chinese minority, in particular. Bumiputras make up two thirds of the population, making the system popular, even while it is widely criticized as inefficient and wasteful.
Attempts to change this will be fiercely opposed. "There are serious anxieties among the Malays, because for the first time since independence [in 1957] they see this wave of non-Malay prominence and more assertiveness," Anwar admits. Any reforms are, therefore, likely to be gradual; for instance, extending subsidies to poorer non-Malays, or opening school placements and government tenders. He hopes to make welfare more targeted and effective too, reducing cash "gifts" and focusing instead on providing things like cheap credit to help start small businesses.
In prison, Anwar read up on economists like Thomas Piketty and Joseph Stiglitz, both of whom back higher taxes on the rich to support spending on basic state services. Such measures to reduce inequality in general can, he hopes, persuade poorer Malay voters to support his specific reforms, even if they mean ending their racial privileges. "The narrative is not just about growth," he says. "The concern is that you talk about growth and the elites and the rich keep on growing and inequality widens."
Transparent welfare policies will create complexities for different reasons, he admits. Race-based programs became a major source of graft, leading to what Malaysians call "leakages," as money moved from public coffers to well-connected Malay business leaders and cronies of the old regime. "It requires a strong political will to act, because helping the poor will not enrich you," he says of his alternative approach. "It boils down to the issue of proper governance. You have to tackle the issue of corruption and leakages in a very serious manner."
Anti-corruption promises lay at the heart of Pakatan Harapan's 2018 win, notably its pledge to get to the bottom of the 1MDB scandal, where as much as $4.5 billion went missing. Jho Low, a financier accused of orchestrating the theft, remains at large, although in October the U.S. Department of Justice announced that he had agreed to forfeit nearly $1 billion in assets allegedly bought with the fund's money. Instead, Malaysia's attention has shifted to former Prime Minister Najib, who has plead not guilty to dozens of charges ranging from money laundering to abuse of power. The details emerging from these trials are "shocking," Anwar says, although he suggests his country's problems run deeper.
"There is an obsession with Najib as the source of all evil," he says. "I don't share that view. What is pertinent here is the total abdication of responsibility by the institutions of governance. The judiciary was compromised. The media was compliant. The enforcement agency, too." He saves his most stinging criticisms for the elites that backed Najib in power. "Of course, there is the hypocrisy of the intellectuals -- the so-called intellectuals! They were muted. Some of them, the leadings ones, are virtually lackeys of the old corrupt order."
Anwar's specifics on governance improvements are harder to pin down. Bodies like the Malaysian Anti-Corruption Commission must be strengthened, he suggests. Technology can increase transparency, for instance by cutting public procurement fraud and reducing theft from subsidies in areas like fertilizer. Ultimately, though, any cleanup begins by example: "We must produce leaders who are more accountable, and who don't display their wealth and ostentatious living style," he says. "They must not go on shopping sprees every time they go on overseas official visits. These things need to be instilled."
Growing pains
However quickly Anwar might try to push through his reforms, the economic challenges he faces will be immediate. The International Monetary Fund recently cut Malaysia's growth projections for this year to just 4.5%, well below the level expected from a one-time Asian Tiger. Prices have risen too, driving dissatisfaction among Malay voters in particular, while the government is struggling to meet its budget targets.
This slowdown is partly a byproduct of the government's anti-corruption drive, suggests Donald Hanna, chief economist at CIMB, a Malaysian bank. Postelection investigations delayed or scrapped major projects agreed under the last government, including the controversial multibillion dollar Chinese-funded East Coast Rail Link, hitting investment growth.
But there are broader problems, from the need to break out of the country's persistent middle-income status to addressing the vulnerability of its exporters to the ongoing global trade war. Not only has Malaysia's economy stagnated, but it now risks being eclipsed by economies like Vietnam as manufacturers shift away from China, Anwar suggests. "It is problematic, no question," he says. "It's not going to be as easy as it was when I was finance minister in the 1990s. Having said that, we need to find a niche. We have to ask: What can be done?"
During that earlier period, international investors tended to view Anwar as a more economically liberal foil to the autocratic Mahathir, an image he seems keen to recover. "I was in New York with JPMorgan and Bank of America, and all they hear about Malaysia is 1MDB," he says of a recent visit. "Now I want to make sure Malaysia returns as an attractive destination for domestic and foreign investments."
Developing tourism and digital technology will be two priorities, he says. More carefully targeted incentives can persuade global companies to relocate, as can streamlining bureaucracy. Mature assets in areas like health care held by Khazanah Nasional, a sovereign wealth fund, should be sold off, with the proceeds channeled into areas with greater growth potential, such as Malaysia's burgeoning technology and startup scene. "Don't compete with the private sector," he says. "There are efficiently run private hospitals. Let them run them."
As he searches for investment, many believe Anwar will have few options but to turn back to China. Under Najib, Malaysia was an enthusiastic recipient of infrastructure funding from Beijing's Belt and Road Initiative. The results were controversial, leading to graft accusations and project renegotiations, including the controversial rail link. China is a complex subject for Anwar, given his record of speaking up about Xinjiang, where more than a million ethnic Uighurs, almost all of them Muslim, are held in "re-education" camps -- a point he says he'd make again as prime minister. "You can't expect me, having stayed in prison for ten years and been denied justice, to completely ignore this," he says.
Ties with the U.S. are no less tricky. "With Trump, of course, we have a problem. We tend to disagree with him on most issues of life and death." Anwar enjoys deep links in Washington, having taught at Georgetown and Johns Hopkins universities. But he has not met the current President, and doesn't seem to be relishing the prospect either. "I don't know what I can discuss?" he says jokingly. "I don't play golf."
At base, Anwar is likely to aim to keep friendly ties with both China and the U.S., avoiding significant swings in foreign policy. But he says he still hopes to craft a role for himself as an international spokesman for progressive Islamic ideas. "There is a sad and tragic state of affairs in many Muslim countries, most of which are authoritarian, dictatorial, oppressive," he says, while admitting that ability to do much about this will remain limited. "I am realistic. I want to do what is best to keep my house in order."
Anwar's Islamic credentials remain a source of domestic political strength, allowing him to deploy his formidable oratory to argue for reforms in theological terms. He rejects the fear that a more conservative and strident form of "political Islam" is on the rise in Malaysia, viewing religion instead as a progressive force, and potentially even one capable of bringing about what he dubs a "Malay renaissance."
"Without the issue of peace, justice, compassion as part of [Islamic] religious ethics, 'Malayness' become chauvinistic," he says, nodding again to the risks posed by divisive nationalist groups like the Malay Dignity Congress. "I'm a Malay. I love my language, my culture. But I'm also a Malaysian. And I want to talk about justice and the rule of law and ethical governance."
Ticking electoral clock
Anwar's intellectual powers seem undimmed, at least judged by the references that tumble out of him, from Avicenna and George Bernard Shaw to Egyptian economist Samir Amin. Yet for all the breadth of his learning, critics still see an ideological chameleon, a charge he brushes off.
"They say: 'You come to [Kuala Lumpur] and talk about Shakespeare. And then you go to the village and talk about the Quran," he says with a mischievous grin. "But I say: 'On the contrary, I can go to the village and talk about Shakespeare and then to KL to talk about the Quran!'" Does he have more work to do to win over heartland Malays? "Yes, yes, I do," he says. The grin grows wider. "But I have a slight advantage. I can still give a sermon."
This unshakable faith in his persuasive abilities lies at the core of why Anwar is upbeat about his odds as prime minister. Even so, the political arithmetic is tough, according to Ibrahim Suffian, a pollster. Pakatan Harapan was Malaysia's first government to be elected without backing from a majority of Malay Muslim voters. Now Anwar must keep at least some of this group on board, or risk an UMNO resurgence. "His coalition would face a tough battle to win reelection in 2023," Suffian says.
Then there is the more immediate problem: taking power in the first place. In public, he jokes that, having waited decades to be prime minister, he is content to wait a few more months. Resilient though he is, Mahathir cannot continue indefinitely. His unwillingness to confirm a date likely stems from an unwillingness to be viewed as a lame-duck leader. Even were Mahathir to favor another successor, there are few suitable candidates.
Yet all this waiting still requires patience, a quality for which Anwar is hardly renowned. The coalition the two men manage is fractious and divided, too, as is Anwar's own political party, notes Francis Hutchinson, head of the Malaysia program at the ISEAS-Yusof Ishak Institute in Singapore. Were Anwar's patience to fray, it is all too easy to imagine he and Mahathir falling back into the acrimony that marked so much of their history.
Anwar is more positive, suggesting the two men finally have a shared cause. "It is in his interest that his tenure is peaceful. And it is my interest to ensure the transition is peaceful, so I'm given similar support," he says. That said, with tough reforms to deliver and the electoral clock ticking, he wants the handover sooner, not later. "I need at least two, two and a half years [until the next election]. So I think it's fair to keep this date. And if I am able to do the right things in two and a half years, yes, I'm confident I can get back."
Ultimately, he says, Malaysia needs to have the confidence to reform itself. "After 60 years of independence, we have to look at ourselves. That is my dream," he says. "If the government is democratic, if it is accountable, if we can rid the country of excesses of corruption and leakages, then a lot can be done."
Full report at:
https://asia.nikkei.com/Spotlight/Cover-Story/Anwar-Ibrahim-finally-has-Malaysia-s-leadership-within-reach
--------
Anwar says zakat for non-Muslims only a suggestion, will adhere to royal decree
06 Nov 2019
BY RADZI RAZAK
KUALA LUMPUR, Nov 6 — Datuk Seri Anwar Ibrahim today said he will abide by Selangor Sultan's decree that aid from zakat collection within the state be given out only to Muslims.
The PKR president said his previous idea to open up distribution of the tithe collected from Muslims to help non-Muslims was only a suggestion based on universal Islamic values of justice, love and blessings.
"That is my view so these things could be researched and looked into by the muftis and religious council to decide.
"If it was decided that they disagree, it's okay," he told reporters at Parliament.
"If the decision was made by Selangor, then we will adhere to the decision in the jurisdiction of the religious council and the sultan," he added.
But the Port Dickson MP also said he is proposing a fresh debate as there are differing views on the use of zakat.
Anwar had called for a reform in the distribution of zakat, the Islamic wealth tax meant to aid the poor, on October 30.
He had suggested it also be given out to poor non-Muslims while speaking at an international conference on zakat organised by the Federal Territories Islamic Religious Council and Universiti Teknologi Mara Malaysia, citing an opinion by prominent Muslim jurist Yusuf al-Qaradawi.
He said in the context of a multi-racial society, Islam encouraged the distribution of zakat funds to non-Muslims, adding that this should not sideline the needy among the Muslims.
On Monday, Sultan Sharafuddin Idris Shah of Selangor said zakat need not be extended to non-Muslims, and urged for an end to any public debate on the matter.
Full report at:
https://www.malaymail.com/news/malaysia/2019/11/06/anwar-says-zakat-for-non-muslims-only-a-suggestion-will-adhere-to-royal-dec/1807425
--------
Africa
Russian Snipers, Missiles and Warplanes Try to Tilt Libyan War
By David D. Kirkpatrick
Nov. 5, 2019
TRIPOLI, Libya — The casualties at the Aziziya field hospital south of Tripoli used to arrive with gaping wounds and shattered limbs, victims of the haphazard artillery fire that has defined battles among Libyan militias. But now medics say they are seeing something new: narrow holes in a head or a torso left by bullets that kill instantly and never exit the body.
It is the work, Libyan fighters say, of Russian mercenaries, including skilled snipers. The lack of an exit wound is a signature of the ammunition used by the same Russian mercenaries elsewhere.
The snipers are among about 200 Russian fighters who have arrived in Libya in the last six weeks, part of a broad campaign by the Kremlin to reassert its influence across the Middle East and Africa.
After four years of behind-the-scenes financial and tactical support for a would-be Libyan strongman, Russia is now pushing far more directly to shape the outcome of Libya's messy civil war. It has introduced advanced Sukhoi jets, coordinated missile strikes, and precision-guided artillery, as well as the snipers — the same playbook that made Moscow a kingmaker in the Syrian civil war.
"It is exactly the same as Syria," said Fathi Bashagha, interior minister of the provisional unity government in the capital, Tripoli.
Whatever its effect on the outcome, the Russian intervention has already given Moscow a de facto veto over any resolution of the conflict.
The Russians have intervened on behalf of the militia leader Khalifa Hifter, who is based in eastern Libya and is also backed by the United Arab Emirates, Egypt, Saudi Arabia and, at times, France. His backers have embraced him as their best hope to check the influence of political Islam, crack down on militants and restore an authoritarian order.
Mr. Hifter has been at war for more than five years with a coalition of militias from western Libya who back the authorities in Tripoli. The Tripoli government was set up by the United Nations in 2015 and is officially supported by the United States and other Western powers. But in practical terms, Turkey is its only patron.
The new intervention of private Russian mercenaries, who are closely tied to the Kremlin, is just one of the parallels with the Syrian civil war.
The Russian snipers belong to the Wagner Group, the Kremlin-linked private company that also led Russia's intervention in Syria, according to three senior Libyan officials and five Western diplomats closely tracking the war.
In both conflicts, rival regional powers are arming local clients. And, as in Syria, the local partners who had teamed up with the United States to fight the Islamic State are now complaining of abandonment and betrayal.
The United Nations, which has tried and failed to broker peace in both countries, has watched as its eight-year arms embargo on Libya is becoming "a cynical joke," as the United Nations special envoy recently put it.
Yet in some ways, the stakes in Libya are higher.
More than three times the size of Texas, Libya controls vast oil reserves, pumping out 1.3 million barrels a day despite the present conflict. Its long Mediterranean coastline, just 300 miles from Italy, has been a jumping-off point for tens of thousands of Europe-bound migrants.
And the open borders around Libya's deserts have provided havens for extremists from North Africa and beyond.
The conflict has become a bipolar combination of the primitive and futuristic. Turkey and the Emirates have turned Libya into the first war fought primarily by clashing fleets of armed drones. The United Nations estimates that during the past six months, the two sides have conducted more than 900 drone missions.
But on the ground, the war is between militias with fewer than 400 fighters typically engaged on both sides at any time. The fighting happens almost exclusively in a handful of deserted districts on the southern outskirts of Tripoli, while in neighborhoods just a few miles away, streets are clogged with civilian traffic and espresso bars bustle amid heaps of uncollected garbage.
"There is a huge discrepancy between the Libyan fighting on the ground and the advanced technology in the air from the meddling foreign powers," said Emad Badi, a Libyan scholar at the Middle East Institute who visited the front in July. "It's like they are different worlds."
On a recent tour of the front-line district of Ain Zara, a Tripoli militia officer, Muhammad el-Delawi, passed out stacks of cash to fighters in T-shirts or mismatched camouflage uniforms, some in tennis shoes or sandals, others only with bare feet. The twisted wreckage of an ambulance hit by a drone missile sat by the side of the road.
The arrival of the Russian snipers is already transforming the war, Mr. el-Delawi said, recounting the deaths of nine of his fighters the previous day — one of them shot in the eye.
"The bullet was as long as a finger," he said.
One European security official said the absence of exit wounds, a mark of hollow-point ammunition, matches injuries inflicted by Russian snipers in eastern Ukraine.
By the beginning of April, the conflict had largely died down and the United Nations secretary general, António Gutteres, arrived in Tripoli to try to finalize a peace deal. But the next day Mr. Hifter launched a surprise assault on the capital, restarting the civil war.
Officials of the Tripoli government say Russia is now bringing in more mercenaries by the week.
"It is very clear that Russia is going all in on this conflict," said Gen. Osama al-Juwaili, the top commander of the forces aligned with the Tripoli government. He complained that the West was doing nothing to protect that government from the foreign powers determined to push Mr. Hifter into power.
"Why all this pain?" he said sardonically. "Just stop this now and assign the guy to rule us."
Russia had previously stayed in the background while the United Arab Emirates and Egypt took the leading roles in military support for Mr. Hifter. But by September, his assault on Tripoli seemed to have stalled and Russia apparently saw an opportunity.
Given the amateurish nature of the ground fighting, some diplomats said, the arrival of 200 Russian professionals could have an outsized impact.
A spokesman for Mr. Hifter's forces did not respond to a request for comment.
Having collapsed into feuding city-states after the overthrow of the longtime Libyan dictator Col. Muammar el-Qaddafi in 2011, Libya is less a functioning state than a vast and bloated public payroll. Citizens and towns are united only by a shared dependence on the oil revenue flowing through the national bank in Tripoli to a vastly inflated government work force. Some of those salaries ultimately end up paying fighters on all sides of the war.
Control of the central bank and the oil revenue has made Tripoli the war's grand prize.
Mr. Hifter, 75, was a former army general under Colonel el-Qaddafi who defected and lived in Northern Virginia as a C.I.A. client for more than a decade. Returning to Libya in 2011, he sought but failed to win a leading role in the uprising.
Five years ago, he vowed to rule Libya as a new military strongman, but his progress has been halting. His limited success has depended heavily on his regional backers and, until now, Russia appeared to have hedged its bets.
The Kremlin has maintained contacts with the authorities in Tripoli as well as with former el-Qaddafi officials, even as its support for Mr. Hifter has been vital and growing.
Russia has printed millions of dollars' worth of Libyan bank notes and shipped them to Mr. Hifter. By 2015, Russia had set up a base in western Egypt to help provide technical support and repair equipment, according to Western diplomats. By last year, Russia had also sent at least a handful of military advisers to Mr. Hifter's forces in Benghazi.
Last November, Mr. Hifter was filmed at a table in Moscow with both the Russian defense minister and the head of the Wagner Group, Yevgeny Prigozhin, the close ally of Russia's president, Vladimir Putin. Mr. Prigozhin is under indictment in the United States for involvement in the internet "troll farm" that sought to influence the 2016 presidential election.
As in Syria, the Russian escalation in Libya has drawn complaints from former American allies that Washington has abandoned them.
Even though it officially supports the United Nations-recognized government, the United States has largely disengaged and President Trump has appeared to endorse Mr. Hifter. Mr. Trump called Mr. Hifter a few days after he began his assault on Tripoli to applaud his "role in fighting against terrorism."
Now Mr. Hifter's forces are conducting airstrikes against militias from western Libya that had previously worked closely with American military forces to expel a branch of the Islamic State from its stronghold in the city of Surt.
"We fought with you together in Surt and now we are being targeted 10 times a day by Hifter," Gen. Muhammad Haddad, now a commander for the Tripoli forces, said he told American officials.
When Mr. Hifter began his assault on Tripoli in April, his biggest advantage was the use of armed drones: The United Arab Emirates furnished Chinese-made Wing Loong drones, purchased for $2 million each.
General al-Juwaili blamed drone strikes for nearly two-thirds of the casualties among Tripoli government forces. United Nations officials estimate that more than 1,100 have died in the fighting but say the real number is likely more than double.
"In the beginning, we were terrified," said Mr. el-Delawi, the officer of the Tripoli-backed militia at Ain Zara. "We just heard a scary noise and we did not know what to do."
Since then, he said, fighters have learned to listen for the whirring noise and hide as the drones approach. They say Mr. Hifter's forces can fly only three drones at a time, and that each drone fires a maximum of eight missiles. Each must then disappear to reload — allowing the fighters a chance to regain lost ground.
Realizing that the drones target heat sources, the fighters also learned to hide more effectively, including by refraining from smoking.
"The drone can see a fighter smoking a cigarette inside a car," Mr. el-Delawi explained.
In May, the Tripoli government began buying drones from Turkey: The Bayraktar TB2 sold for $5 million each and is manufactured by the family business of President Recep Tayyip Erdogan's son-in-law, Selcuk Bayraktar.
"The Turks saved us just in time," said Mr. Bushagha, the interior minister of the Tripoli government.
Turkish drones helped the Tripoli forces recapture the strategic city of Gheryan in June, and since then, the battle lines have barely shifted.
Taking Tripoli may require far more Russian support than a couple hundred mercenaries, given the bloody block-by-block nature of urban combat. But by propping up Mr. Hifter, diplomats said, Moscow has already claimed a major say in any negotiations over Libya's future.
In an interview, the United Nations envoy, Ghassan Salame, said Libyans could patch up their differences if foreign powers stopped arming rival factions. He has organized a conference in Berlin later this year to try to stop that interference.
"Otherwise, this could either go on for an eternity as a low intensity conflict, like a fire that is not extinguished," he said, "or even escalate, with a doubling down by the international forces intervening, if they believe they can somehow end it for their own advantage."
Michael Schwirtz contributed reporting from New York.
https://www.nytimes.com/2019/11/05/world/middleeast/russia-libya-mercenaries.html
--------
Al-Shabab militants ambush Somali forces, killing 2 government soldiers
2019-11-04
MOGADISHU, Nov. 4 (Xinhua) -- Members of al-Shabab extremist group on Sunday night ambushed and killed two Somali government soldiers in Bula Burde town in the central region of Hiiraan, an official said on Monday.
Liban Abdi, the governor of Bula Burde town told journalists that government soldiers were attacked by al-Shabab militants, sparking a confrontation between the army and the militants.
"Two of our soldiers were killed in the gunfight and the militants finally turned back to their bases in the outskirt of the town," Abdi said, adding that the army is now conducting intense operations following the ambush.
"We heard an exchange of firefight last night and we later learned al-Shabab militants ambushed government forces in the town, but the forces are now manning the town," Fahim Salad, a resident told Xinhua by phone.
The latest incident came barely four days after Somali forces killed 7 al-Shabab extremists and injured 8 others in Lower Juba region in southern Somalia.
Full report at:
http://www.xinhuanet.com/english/2019-11/04/c_138528182.htm
--------
US Helps Senegal Defend Against Sahel Extremists
By Annika Hammerschlag
November 4, 2019
DAKAR - The West African country of Senegal is known for its stable democracy and peaceful culture. But as terrorist activity expands across the Sahel, the threat of extremism has grown in the country – so much so that the United States government is ramping up efforts to help Senegal secure its borders.
While Islamic State and al-Qaida factions have wreaked havoc across West Africa, Senegal has managed to maintain peace and security within its borders.
But as conflicts surround the country — where 95 percent of the population practices Islam — experts warn the unrest could spill over and end the country's tradition of religious and ethnic pluralism.
The United States and other countries are taking steps to help Senegal implement security measures.
Ambassador Nathan Sales is the United States coordinator for counterterrorism.
"We think that the situation has become increasingly fraught. And that's exactly why the counterterrorism bureau in particular in the State Department and generally have been surging resources into the region. We're trying to stand up the capabilities of these governments to confront these terrorist threats on their own… we want to make sure that the terrorist threats in the region don't destabilize and disrupt a government and an economy that had been really on the leading edge in the region," he said.
Sales said the U.S. has invested up to $10 million a year for various security initiatives over the last several years.
During a recent meeting with Senegalese officials in Dakar, Sales stressed the importance of sharing intelligence to prevent terrorists from entering the country by using information like biometric and airline reservation data. He also spoke about the importance of maintaining a terrorist watch list.
"We see Senegal as this island of stability and prosperity and security. And we envision a role in the region for Senegal to play as an exporter of security," he said.
The number of violent attacks perpetrated by Islamist extremist groups in the Sahel has doubled each year since 2016, according to U.S. Department of Defense research group the Africa Center for Strategic Studies. Deaths linked to these attacks have also doubled each year.
Kouider Zerrouk is chief communications officer for the United Nations Office for West Africa and the Sahel.
"In Mali, for instance, terrorist groups are regularly attacking local and international security forces, including the Blue Helmets serving in the U.N. mission MINUSCA. And the violence has spilled over into neighboring countries with an alarming number of recent attacks in Burkina Faso, for instance. So we can say that the terrorist attacks are for this period and comparing to for instance, the last four years or five years have been amplified," he said.
Full report at:
https://www.voanews.com/africa/us-helps-senegal-defend-against-sahel-extremists
--------
Algerian court detains former minister over corruption allegations
5 November 2019
Algeria's supreme court on Monday placed in custody a former culture minister over corruption allegations under former President Abdelaziz Bouteflika, state television reported.
Khalid Toumi became the 12th ex-minister to be detained since Bouteflika resigned in April under pressure from protesters demanding the removal of the ruling elite and the prosecution of people suspected of involvement in corruption.
Toumi, who served as culture minister for 12 years, is accused of squandering public funds and awarding illegal privileges, state TV said.
Her lawyer was not available for comment.
Two former prime ministers have also been in detention over alleged corruption since the protests erupted on February 22.
Protesters now demand the cancellation of a December 12 presidential election, believing it will not be fair as some of Bouteflika's allies including interim president Abdelkader Bensalah and Prime Minister Noureddine Bedui are still in power.
The army is now the main player in Algeria's politics and its chief of staff Lieutenant General Ahmed Gaed Salah has repeatedly vowed fairness and transparency for the vote.
Full report at:
https://english.alarabiya.net/en/News/north-africa/2019/11/05/Algerian-court-detains-former-minister-over-corruption-allegations.html
--------
Haftar forces kill child in Libya: UN-recognized gov't
Safiye Karabacak
05.11.2019
TRIPOLI
The UN-recognized government in Libya on Monday accused forces loyal to east Libyan strongman Khalifa Haftar of killing a child and injuring an adult in a rocket attack.
Mohammed Nakasa was killed and a person was injured as a result of the rocket strike in Salahaddin region, south of the capital Tripoli, by the forces affiliated with Haftar, said a statement by the Government of National Accord (GNA).
Libya has remained beset by turmoil since long-serving leader Muammar Gaddafi was ousted and killed in a bloody NATO-backed uprising in 2011.
Full report at:
https://www.aa.com.tr/en/africa/haftar-forces-kill-child-in-libya-un-recognized-gov-t/1635634
--------
URL: https://www.newageislam.com/islamic-world-news/isis-media-aims-build-momentum/d/120194
New Age Islam, Islam Online, Islamic Website, African Muslim News, Arab World News, South Asia News, Indian Muslim News, World Muslim News, Women in Islam, Islamic Feminism, Arab Women, Women In Arab, Islamophobia in America, Muslim Women in West, Islam Women and Feminism