New Age Islam News Bureau
12 Jan 2016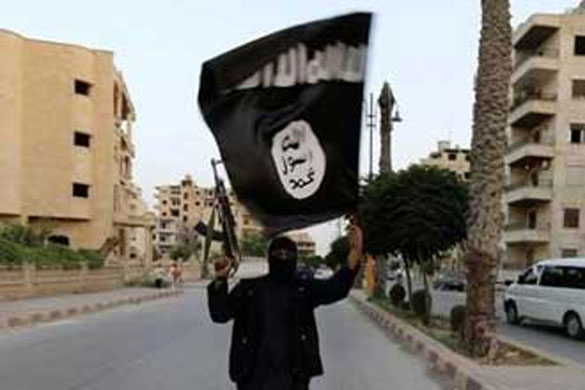 Photo: The 58-page English-language manual titled 'Safety and Security Guidelines for Lone Wolf Mujahideen', advises lone terrorists hoping to launch an attack to trim their beards, wear aftershave and even pretend being Christian in a bid to avoid being detected by security services. (Reuters File Photo)
----------
Arab World
• ISIS Manual for Lone-Wolf Militants: Trim Beard, Pretend To Be Christian
• Al Qaeda Warns Riyadh of Retaliation over Executions of More Than 40 Militants
• ISIL Executes Two of Own Senior Commanders in Syria
• No Talks While 'Foreign Forces' Are Bombing, Says Syrian Opposition
• Several Attacks Kill 48 in Iraq Capital
• Syria: Rifts Widening among Jeish Al-Fateh Coalition Members
• 40,000 Besieged Syrian People in Fuaa, Kafraya on Verge of Freezing
• Seeking support, Sudan moves closer to Saudi Arabia amid spat with Iran
• Iraq Turkmen alarmed by Kurdish trench
• Pak-American police officer invited to Obama address
• Israeli forces raid top Palestinian university
• Saudi Arabia arrests 49 'terror suspects' in 10 days
• Syria: Terrorists Fleeing Regions near Kuweiris Airbase in Aleppo
• ISIL's Oil Tankers Convoy Destroyed in Syria's Sweida Province
• Syria: Militants Acknowledge Casualties in Damascus
• Syrian Army Captures New Heights West of Aleppo
• Syrian Army Pushes Militants Back From More Territories East of Damascus
• Militants Suffer Heavy Losses in Gov't Forces' Attacks across Syria's Aleppo
• Kuwait sentences two to death over 'spying for Iran'
• Syria needs constitutional reform, says Putin
• 'Millions' in ISIS cash destroyed in U.S. airstrike
• Saudi council urges more space at Haj stampede site
-----------
Pakistan
• 4 Sunni Tehrik Leaders Booked For Hate Speech
• Pak Troops 'Won't Fight' In Saudi Alliance
• Pakistan among 10 Worst Countries Regarding Rape Cases: PTI
• Pakistan hitting terrorists on cyber turf
• JI condemns police brutality against peaceful citizens
• F-16 sale delayed in US Congress
• Terrorism case against ST Chief, others for NAP violation
• Olson discusses security situation with Gen Raheel
-----------
South Asia
• 18 Daesh, 4 Taliban Militants Killed In Airstrikes Of Afghan Air Force
• Senior Taliban Leader Killed With His 10 Fighters In Farah Province
• Face-To-Face Peace Talks with Taliban Expected To Resume Soon
• 40 % Afghan children living in conflict areas face uneducated future
-----------
Mideast
• At Least 8 Killed In Istanbul Blast: Governor
• At Least 10 Killed In Saudi Airstrikes in Yemen
• Iran seeks to limit fallout of Saudi embassy attack
• Israeli forces raid top Palestinian university
• ISIS claims responsibility for Baghdad mall attack, 18 killed
• Takfiris not linked to divine religions: Iran
-----------
India
• Madras High Court Stays Temple Dress Code Order
• Pak Arrests 'Some Suspects' Tied To Pathankot: Report
• Government Shifts Stand, Against Minority Tag for Aligarh Muslim University
• Terrorist killed down in Srinagar encounter
-----------
Southeast Asia
• Najib: No Place in M'sia, Islam for Terrorists
• Two Quit Putrajaya-Backed Moderates' Movement
• Indonesian arrested over bomb-in-luggage hoax
• Jailed Indonesian firebrand cleric Bashir challenges conviction
• Jury out on Jokowi committee as Indonesia Islamic finance stalls
-----------
Africa
• Germany Mulls Sending 100 Troops to Train Libyan Army: Media
• Libya Repels ISIS Assault on Oil Terminal
• Hundreds need urgent evacuation from Madaya
• Niger court denies bail to jailed opposition figure
-----------
Europe
• Russia Supports both Assad Troops and Rebels in Battle against ISIS – Putin
• Anti-Islam Hooligans Vandalize German City
• Thousands of French Visit Mosques
• France demands Russia end Syrian operations
• Paris police attacker lived in German asylum shelter
• Anti-refugee right-wingers go on rampage in Leipzig
• Belgium charges top 'jihadist expert' over false affidavit for detainee
• Germany sending refugees to Austria in hundreds: Police
• Germany: 211 far-right extremists arrested
• Putin admits Western sanctions' harm
• Pope urges Europe to keep welcoming refugees
• Hollande visits main Paris mosque
-----------
North America
• White Supremacists: We Don't Need Muslims In US
• Syrian Refugee Invited To White House
• Canadian hostage held in Afghanistan released after five years
• US repatriates Guantanamo Bay detainee to Saudi Arabia
• Obama says he 'will close Guantanamo Bay before he leaves office'
• Key findings on Muslim population in US
• US threatens to add Fatah to 'terror' list
Compiled by New Age Islam News Bureau
URL: https://newageislam.com/islamic-world-news/new-age-islam-news-bureau/isis-manual-for-lone-wolf-militants--trim-beard,-pretend-to-be-christian/d/105963
-----------
Arab World
ISIS Manual for Lone-Wolf Militants: Trim Beard, Pretend To Be Christian
Jan 11, 2016
An Islamic State manual has emerged online in which the outfit advises would-be Jihadis from the West to trim their beards and wear western-style clothes to avoid being identified by security services while plotting terror attacks.
The 58-page English-language manual titled 'Safety and Security Guidelines for Lone Wolf Mujahideen', advises lone terrorists hoping to launch an attack to trim their beards, wear aftershave and even pretend being Christian in a bid to avoid being detected by security services.
The document says: "No doubt that today, in the era of lone wolves, brothers in the West need to know some important things about safety in order to ensure success in their operations.
"We thought a lot of non-Arabic speaking brothers would find it interesting and may apply it in their blessed operations. If you can avoid having a beard, wearing qamis (kurta), using miswak (traditional toothbrush) and having a booklet of Dhikr (Islamic worship) with you, it's better.
"It is permissible for you to wear a necklace showing a Christian cross. As you know, Christians - or even atheist Westerners with Christian background - wear crosses on their necklaces.
"But do not wear a cross necklace if you have a Muslim name on your passport, as that may look strange."
The advisory goes on: "If you want to use perfume, don't use the oily, non-alcoholic perfume that Muslims use, instead use generic alcoholic perfume as everyone does, and if you are a man, use perfume for men."
The booklet includes suggestions for where to stash fake passports and to use nightclubs with loud music as the best place to "secretly discuss the details of an operation".
The booklet, believed to be created by an ISIS instructor, is being shared on social media.
http://www.hindustantimes.com/india/is-manual-for-lone-wolf-militants-trim-beard-pretend-to-be-christian/story-N1I1ohyvOUCnoFpKLm0pmK.html
-----------
Al Qaeda Warns Riyadh of Retaliation over Executions of More Than 40 Militants
Jan 12, 2016
DUBAI: The Saudi-Yemeni and North African branches of Al Qaeda have threatened to avenge Saudi Arabia's execution of more than 40 militants.
Al Qaeda in the Arabian Peninsula (AQAP) and Al Qaeda in the Islamic Maghreb said in an online statement on Sunday that the country had executed the militants despite knowing that the "mujahedin have pledged to avenge the pure blood of their brothers".
The Jan 2 executions were a "new crime committed by the regime of Al Saud, demonstrating their tyranny and their fight against jihad", the statement added, claiming that the judicial system served the ruling family in "cementing their rule and oppressing their opponents".
"They should fear the day when the relatives of those martyrs, their brothers and partisans... celebrate (vengeance) against the infidel tyrants."
The statement charged that the rulers "shed the blood of the mujahedin as an offer to the crusaders who were celebrating the beginning of their new year".
Saudi Arabia announced the execution of 47 people convicted of "terrorism". Among them were four Shias, including prominent cleric Nimr al Nimr, whose death triggered a diplomatic crisis with Iran.
In an audio statement posted online, leading Saudi Al Qaeda Chief Ibrahim al Assiri warned: "We will deal with Al Saud, now that the blood has been shed."
Meanwhile, masked men threw firebombs at an intelligence service compound in the city of Qatif in eastern Saudi Arabia, in an apparent reprisal for the execution of the cleric.
An interior ministry spokesman said "there was a failed terrorist attempt to burn the building with Molotov cocktails" and that one of the assailants was captured.
Video footage posted on social media and dated Jan 9 showed several masked young men moving under cover of darkness and lobbing firebombs over the protective outer wall of a building compound. Most of the firebombs were seen exploding on the ground inside, setting a tree on fire.
Shia activists in the region sought to distance themselves from the attack, saying it could discredit peaceful protests that had been taking place in the area since Nimr's execution.
Last Tuesday, four armed men set a bus carrying workers in the oil-producing Eastern Province on fire. State oil company Saudi Aramco said none of its employees had been injured.
http://www.dawn.com/news/1232390/al-qaeda-warns-riyadh-of-retaliation-over-executions
-----------
ISIL Executes Two of Own Senior Commanders in Syria
Jan 11, 2016
The ISIL, on its social media pages, confirmed that it has executed Ramadan Izzat al-Jawad and Hassan al-Awaji in al-Mayadin, a town in the Eastern part of Syria.
The ISIL has not thus far released any details about the reasons behind execution of the group's leaders.
Media experts believe that the most important cause behind such execution are eruption of deep difference among the commanders of the terrorist groups in Syria and Iraq.
Late in December, the ISIL Takfiri terrorist group killed at least 50 of its own militants in the Iraqi city of Ramadi after they disobeyed orders to wear suicide belt and prepare for fatal attacks.
"The ISIL has buried the bodies of its disobedient members in different parts of Ramadi city," senior army commander in Anbar province Colonel Walid al-Dulaimi said.
He reiterated that the ISIL terrorists are committing barbaric crimes as the Iraqi forces are advancing in Ramadi city and they are going to lose the ground.
http://en.farsnews.com/newstext.aspx?nn=13941021000229
-----------
No talks while 'foreign forces' are bombing, says Syrian opposition
Jan 12, 2016
PARIS: A top representative of Syrian opposition groups, former prime minister Riad Hijab, said on Monday there would be no peace talks while "foreign forces" were bombing the country.
Hijab was chosen in December as general coordinator of several opposition groups which are preparing for possible talks with the government in Damascus.
"We cannot negotiate with the regime while there are foreign forces bombing the Syrian people," Hijab said after talks with French President Francois Hollande in Paris.
His visit to France comes two weeks ahead of proposed UN-brokered peace talks to seek an end to a conflict that has claimed more than a quarter of a million lives since it began nearly five years ago.
"We want to negotiate, we are serious, but for that, the conditions need to be met," Hijab added.
He mentioned a "massacre" in north-western Aleppo where he said Russian forces "bombed three schools... killing more than 35 children. "The Syrian Observatory for Human Rights, a British-based monitoring group, said 12 pupils and three adults including a teacher, were killed in a Russian air strike on a school in Aleppo.
Hollande said the regime must stop "indiscriminate bombings and policies aimed at starving entire villages in flagrant violation of international law" if it was serious about the talks.
He called for "immediate humanitarian measures" in areas under siege, such as the rebel-held town of Madaya where at least 28 people have reportedly starved to death since December 1 under a regime blockade.
French Foreign Minister Laurent Fabius earlier urged Damascus to end the Madaya siege and said a halt to air strikes by the regime and its Russian ally was an "absolute necessity".
Deliveries of food, medicine and blankets to Madaya began on Monday, the International Committee of the Red Cross said.
Approximately 20,000 inhabitants of Fuaa and Kafraya in northwestern Idlib province are also to receive emergency aid.
Russia, a staunch ally of Syrian President Bashar al-Assad, began a campaign of air strikes in support of the regime in late September.
Moscow says it is targeting the Islamic State group and other "terrorists" and has dismissed reports that its raids have killed hundreds of civilians as "absurd".
http://www.dawn.com/news/1232304/no-talks-while-foreign-forces-are-bombing-says-syrian-opposition
-----------
Several attacks kill 48 in Iraq capital
January 12, 2016
BAGHDAD - Gunmen detonated suicide vests inside a shopping complex in Baghdad on Monday and a car bomb exploded nearby in an attack claimed by Islamic State that killed at least 18 people and wounded 40 others.
Two bombs later went off in the eastern town of Muqdadiya, killing at least 20 people and wounding another 50, security and medical sources said. Another blast in a southeastern Baghdad suburb killed seven more.
Islamic State militants controlling swathes of Iraq's north and west claimed responsibility for the mall attacks, which it said had targeted a gathering of "rejectionist heathens", its derogatory term for Shi'ite Muslims. The Iraqi govenrment last month claimed victory against the hardline Sunni militants in the western city of Ramadi and have slowly pushed them back in other areas.
Monday's attacks left the biggest death toll in three months. Interior Ministry spokesman Brigadier General Saad Maan blamed "this terrorist group after they suffered heavy losses by the security forces", without naming Islamic State.
Seven people, including two policemen, were killed in the car bomb blast near the Jawaher mall in the predominately Shi'ite district of Baghdad Jadida, police and medical sources said.
Five more people were shot dead by the gunmen storming the mall, and six others were killed when those same assailants detonated their explosive vests, the sources said. Police regained control of the mall, in the east of the city, and a senior security official told state television there were no hostages, rejecting reports that there had been people held. "The security forces are at the scene and managed to recover the wounded. The situation is under control," Maan added. As well as the violence meted out by Islamic State, Iraq is also gripped by a sectarian conflict mostly between Shi'ites and Sunnis that has been exacerbated by the rise of the militant group.
Full report at:
http://nation.com.pk/international/12-Jan-2016/several-attacks-kill-48-in-iraq-capital
-----------
Syria: Rifts Widening among Jeish Al-Fateh Coalition Members
Jan 11, 2016
Jeish al-Fateh is an umbrella coalition of militant groups which are supported by different foreign countries and for the same reason they are at odds with each other.
The terrorists of Al-Nusra Front and Al-Sham Battalions resumed their clashes on Monday after a bomb blast aimed to kill senior commander of Al-Sham Battalions Ahmad al-Omar.
Al-Omar escaped the assassination attempt, but several other notorious terrorists of Al-Sham Battalions, including Abdu Fatin al-Jazar, were killed when the bomb exploded on a rural road between Ablin and Abdina villages.
Later, the Al-Nusra Front commanders sent several militants to the town of Kafr Nabl in the Southern part of the city of Idlib to kidnap two senior commanders of Al-Sham Battalions, namely Hadi Al-Abdullah and Raed Fares.
Jeish al-Fateh is comprised of several Takfiri and non-Takfiri terrorist groups and one of the main reasons for the rise in clashes among Jeish al-Fateh subgroups is their ideological differences.
Political observers believe that the increasing differences will expedite the defeat of the militant groups fighting President Bashar Assad's government in Syria.
In a relevant development on January 3, Faliq al-Sham, a major contributor to the Jeish al-Fateh Alliance defected the umbrella group.
Faliq al-Sham terrorist group in a statement announced its separation from the Jeish al-Fateh umbrella.
Faliq al-Sham's separation from Jeish al-Fateh came as the Syrian army has made striking military gains, specially in Northern provinces, in recent weeks.
The Faliq al-Sham terrorists announced that they intend to fight the Syrian army in Aleppo because the government troops have intensified their attacks on the terrorists in the Northern province.
Full report at:
http://en.farsnews.com/newstext.aspx?nn=13941021001360
-----------
40,000 Besieged Syrian People in Fuaa, Kafraya on Verge of Freezing
Jan 11, 2016
Field sources reported that the Syrian army forces have now been stationed in a region 17km from Fuaa and Kafraya, adding that if they fail in their efforts to retake the two towns, there is a possibility that their besieged residents will freeze to death given their unpreparedness for the cold season.
Given the right siege on the two towns, people in there are much likely to starve to death as the latest reports said many have already died of hunger, while many more are feeding on herbs, grass and tree leaves.
A similar situation is also seen in Nubl and al-Zahra towns in Aleppo.
This is while the Arab media, specially al-Arabiya and al-Jazeera, have kept their eyes closed to the situation of the Syrian people in the four towns and are making their utmost efforts to make the world hear the voice of 1,000 terrorists in the town of Madaya, Northwest of Damascus province.
The siege of Fuaa and Kafraya has entered its tenth month while the terrorists have killed 600 Shiites in these two towns and prevent delivery of food and medical aid to their residents.
Nubl and Al-Zahra in Northwest of Aleppo province have also been surrounded by terrorists for years now and people have been dying of hunger in there too.
After the terrorist groups besieged and prevailed over many regions in Idlib in Northwestern Syria in late March 2015, the two Shiite-populated Fuaa and Kafraya towns in the Northern parts of the province came under a tight siege by the terrorists.
The siege was accompanied by massive and continued missile and rocket attacks on the city which destroyed food and medical warehouses and the terrorist groups, specially Jeish al-Fatah, attempted to keep people in the two towns hungry deliberately and based on a plan.
The terrorist groups' pounding of the two towns destroyed their infrastructures and public centers, and the only water treatment plant of the region as well as the power grid and agricultural structures were also shelled.
Full report at:
http://en.farsnews.com/newstext.aspx?nn=13941021001167
-----------
Seeking support, Sudan moves closer to Saudi Arabia amid spat with Iran
Jan 12, 2016
KHARTOUM: Long one of Iran's few Sunni Arab partners, Sudan has cut ties with Tehran in the latest step in its move towards Saudi Arabia as Khartoum seeks to end its isolation and right its economy.
The impoverished east African state followed Riyadh in severing relations with Iran, saying it was responding to attacks on Saudi diplomatic missions in Iran after the execution of a Saudi Shia cleric.
But with Khartoum hungry for Saudi investment to boost its battered economy, the move was made for "pragmatic reasons", said Al-Tayeb Zein al-Abidine, political science professor at Khartoum University.
It follows Sudan's surprise decision in March to send troops to join the Saudi-led coalition against Yemen's Shia Huthi rebels.
"The government realised it was very isolated, even within the Arab world, and decided to change sides," Abidine said.
President Omar al-Bashir's 26-year rule has seen Sudan slapped with sanctions over rights abuses and its support for Islamic extremists, including Osama bin Laden.
Bashir himself is wanted on war crimes charges related to the insurgency in the western region of Darfur.
Ties with the Gulf disintegrated over Khartoum's support of the 1991 Iraqi invasion of Kuwait, leaving Sudan to turn to Iran, also isolated and hit by sanctions.
Reports said Tehran supplied Sudan with ammunition and small arms, helping to develop its arms industry.
Iranian warships used to stop over in Port Sudan across the Red Sea from Saudi Arabia.
'Relationship of convenience'
But it was a "relationship of convenience", said Magdi El Gizouli, an independent analyst. "I don't think there's a strong ideological commitment," he said.
The partnership soured in September 2014, when Sudanese officials ordered the closure of an Iranian cultural centre in Khartoum, accusing its employees of preaching the Shia tradition of Islam in majority Sunni Sudan.
Observers saw underlying motives. "They closed the centres to give a positive signal to Saudi Arabia," said a diplomatic source in Khartoum.
The closure came with the economy faltering after nearly 20 years of sanctions.
When South Sudan became independent in 2011, it took with it three quarters of the country's oil reserves.
Full report at:http://www.dawn.com/news/1232325/seeking-support-sudan-moves-closer-to-saudi-arabia-amid-spat-with-iran
-----------
Iraq Turkmen alarmed by Kurdish trench
January 12, 2016
BAGHDAD - Iraqi Turkmen leaders on Monday accused the country's Kurds of exploiting the war on jihadists to dig a trench that would strengthen their grip on expanded territory.
Officials from the Turkmen minority said the Kurdistan Regional Government (KRG) was digging the trench roughly following conflict lines between the Islamic State group and Kurdish forces across northern Iraq.
Kurdish officials insisted the trench was not a political act but rather a purely defensive measure aimed at preventing attacks by IS suicide car bombers.
'We see this move to dig a trench as suspicious,' Arshad al-Salehi, the head of the Iraqi Turkmen Front, told AFP.
Full report at:
http://nation.com.pk/international/12-Jan-2016/iraq-turkmen-alarmed-by-kurdish-trench
-----------
Pak-American police officer invited to Obama address
January 12, 2016
NEW YORK - A New York Police Department (NYPD) police officer of Pakistani origin will be among the guests as President Barack Obama delivers his final State of the Union address to Congress on Tuesday.
US Congresswoman Grace Meng, a Democrat from New York, said in a statement Monday that Lieutenant Adeel Rana will be her guest at the historic event "in an effort to combat rising anti-Muslim sentiment in the United States." Rana, a naturalized American citizen, immigrated to the US from Pakistan in the 1980's. He is a US Army veteran and served at Ground Zero after the September 11th attacks as a member of the New York Army National Guard. He is presently the commanding officer of the NYPD's Community Affairs Immigrant Outreach Unit.
"It will be an honour to have Lt. Rana at the State of the Union and I look forward to welcoming him to the President's address to Congress," Ms Meng said.
"His attendance will be a tremendous show of solidarity against the increased Islamophobia that has disgracefully spread across our country, and hopefully his presence can help combat it.
Full report at:
http://nation.com.pk/international/12-Jan-2016/pak-american-police-officer-invited-to-obama-address
-----------
Israeli forces raid top Palestinian university
January 12, 2016
JERUSALEM - The Israeli army raided a top Palestinian university in the occupied West Bank overnight, seizing computer equipment and causing damage, the university said Monday.
'A large number of soldiers came about 2:30 am (0030 GMT), blowing open the locks, breaking into three buildings and banning the university guards from approaching,' Ghassan Khatib, vice president of Birzeit University, told AFP. The army seized computers, speakers and other electronic equipment used by the student council, he added. Located in Ramallah, the university is the best-known in the West Bank, the Palestinian territory occupied by Israel since 1967.
The university published photos showing rooms ransacked, including those reserved for the student council, on its Facebook page. The contents of cupboards were littered across the floor, with computers whose hard drives had been extracted strewn on the ground.
Islamists affiliated to Hamas, which rules the Palestinian enclave of Gaza, won the student council elections in the university's council last April. Al-Khatib called the raid a 'violation of the university's campus and an interference in academic life,' adding that it was contrary to international agreements on academic independence. The Israeli army also raided the university in June 2014.
The Israeli army confirmed the raid, saying soldiers seized 'Hamas propaganda material' as it constituted an 'incitement to violence'. Since October 1, Israel and the Palestinian territories have been hit by a wave of anti-Israeli stabbing, shooting and car ramming attacks. Israel argues incitement has contributed to the violence and has closed at least three Palestinian radio stations over such allegations, while also increasing the number of raids.
Moreover, a fire at the office of an Israeli NGO that champions human rights in the occupied Palestinian territories led to suspicions of arson Monday, but was later attributed to a suspected electrical fault. The blaze extensively damaged the Jerusalem office of the group B'Tselem, though there were no injuries as the premises were empty at the time, a spokeswoman for the NGO said in a statement.
'A fire broke out at B'Tselem's office in Jerusalem this evening. None of our staff were in the building,' Sarit Michaeli said on Sunday night. Initial media reports suggested it could have been an arson attack at a time of tensions between rights activists and right-wing Israeli groups, but the fire department later told B'Tselem it was a suspected electrical fire.
'The fire brigade made an official announcement to us and as far as we are concerned that is what we needed to hear,' Michaeli told AFP Monday. 'We are relieved and happy that this is what it was and are going to start cleaning up ASAP.' She said the fire would not stop the organisation's work of documenting and exposing human rights abuses.
On Monday morning the building was sealed off, with forensic teams in white jumps suits carrying bags of evidence out of the offices. Windows were smashed along the right side of the building where B'Tselem's offices are located, while other areas appeared to have sustained little damage.
Full report at:
http://nation.com.pk/international/12-Jan-2016/israeli-forces-raid-top-palestinian-university
-----------
Saudi Arabia arrests 49 'terror suspects' in 10 days
January 11, 2016
RIYADH: Forty-nine suspects on terror charges were caught during the past 10 days in a preemptive crackdown in various parts of Saudi Arabia, security sources said.
The sources said the suspects surrendered without any resistance. They consisted of 36 Saudis, six Syrians, four Yemenis, a Sudanese and a Filipino.
Last September Saudi's Interior Ministry announced that it intercepted a terror cell during four simultaneous operations in Riyadh and Dammam. The ministry confirmed that the cell was linked to the suicide bomber behind the Abha mosque attack that took place last August.
During the Riyadh operation, Saudi forces arrested Faysal Hamed al-Ghamdi, a wanted man who had threatened to kill his father.
Full report at:
http://nation.com.pk/international/11-Jan-2016/saudi-arabia-arrests-49-terror-suspects-in-10-days
-----------
Syria: Terrorists Fleeing Regions near Kuweiris Airbase in Aleppo
Jan 11, 2016
Field sources said the Syrian army and its allies are capturing more regions surrounding Kuweiris airbase in the Eastern part of Aleppo province.
Sources also said the terrorists fled their positions in the surroundings of the airport as the army continues to advance in the region.
The Syrian Army troops took back another strategic village in the Eastern part of Aleppo province after hours of fierce battle earlier today.
The Syrian army stormed the militant groups' defense lines and drove them back from their positions near the strategic village of Aisheh North of Nejjareh village.
A field commander within the Syrian army's ranks told FNA that the militant groups retreated from the battlefield after leaving behind scores of the dead and wounded members.
On Saturday, the Syrian and Russian fighter jets bombed scores of the militant groups' positions across the Northern province of Aleppo. The militants suffered a heavy death toll in the air attacks.
Full report at:
http://en.farsnews.com/newstext.aspx?nn=13941021001176
-----------
ISIL's Oil Tankers Convoy Destroyed in Syria's Sweida Province
Jan 11, 2016
"A convoy of 16 ISIL oil tankers was targeted by the Syrian army in the region of Shaghaf Southeast of Sweida province," the sources said.
The source noted that all of the oil tankers were set ablaze in the attack and the convoy's guards were killed.
Military experts believe that one of the best ways to put the militant groups under pressure is cutting off their financial lifeline that is mainly comprised of crude sales and also cutting their supplying lines through continued attacks on their convoys. "The militant groups do not have discipline of an army with a chart of military duties. A unit of them might be used as a combat group and in the same time as a supplying or engineering unit. So, they are vulnerable. They are not expert in their job. One-two regular attacks on their supplying convoys can face them big problems," experts say.
Last month, The Syrian army and popular forces intensified their military operations against ISIL terrorists in the province of Sweida.
Full report at:
http://en.farsnews.com/newstext.aspx?nn=13941021000543
-----------
Syria: Militants Acknowledge Casualties in Damascus
Jan 11, 2016
The terrorist groups confirmed the death of a number of its militants by Syrian army in Eastern Ghouta in Damascus province.
Also on Sunday, reports said the army destroyed an ammunition depot in Ferzat hill and an al-Nusra command post where a sniper, a rocket launcher and two mortars are located, in the Southern entrance to al-Nashabiyah town in Eastern Ghouta.
The army also clashed with a Takfiri terrorist group in the al-Bilaliyah village, killing three militants.
Earlier reports said the Syrian army destroyed terrorists' strongholds in the city of Douma in Damascus province on Sunday, killing tens of Takfiri terrorists and injuring dozens more.
The Syrian army pounded the terrorists' military positions in the farms of Karam al-Rassas and Hijaria in Douma countryside.
The Syrian troops destroyed the machinegun-equipped military vehicles of the Jeish al-Islam (the Army of Islam) terrorists in heavy clashes.
Meantime, the army destroyed the terrorists' military positions in the farms of Tal al-Sawan and Hosh al-Fara in the Northeastern parts of Douma.
A large number of Jeish al-Islam terrorists were killed during the heavy clashes with the Syrian troops in Douma.
Full report at:
http://en.farsnews.com/newstext.aspx?nn=13941021000478
-----------
Syrian Army Captures New Heights West of Aleppo
Jan 11, 2016
"The pro-government forces' operation in the Western part of Aleppo province has forced the militant groups to withdraw forces from al-Zeitoun and Hazmar Heights," the army said.
"The militant groups left scores of dead and injured members and fled the battlefields," the army added.
"The government forces have started to hunt rest of the militants in the newly captured heights," the army went on to say.
Army announced earlier today that its troops and popular forces, backed up by the Russian fighter jets, have launched a large scale operation in the Western countryside of Aleppo.
"The Russian warplanes bombed the militant groups' defense lines and centers near Khan al-Assal in almost 20 combat sorties," the army said.
"The Syrian army troops and the country's National Defense Forces (NDF) stormed the militants' concentration centers near Khan al-Assal after the Russian jets' bombardments," the army added.
Full report at:
http://en.farsnews.com/newstext.aspx?nn=13941021001015
-----------
Syrian Army Pushes Militants Back From More Territories East of Damascus
Jan 11, 2016
"Earlier this morning, the Syrian army and the National Defense Forces (NDF) imposed full control over the village of al-Bilaliyah, killing over 20 enemy combatants during their impressive advance from the Marj al-Sultan airbase's Eastern perimeter," local sources said.
"The pro-government forces' advances East of Damascus claimed the lives of many terrorists of al-Nusra Front and Jeish al-Islam," the sources said.
With al-Bilaliyah under their control, the Syrian Armed Forces will now divert their attention to the 3 other villages surrounding the strategic airport; specifically, they will be targeting the small village of al-Nashabiyah, which is situated at the Northeastern perimeter of the Marj al-Sultan village.
Full report at:
http://en.farsnews.com/newstext.aspx?nn=13941021001084
-----------
Militants Suffer Heavy Losses in Gov't Forces' Attacks across Syria's Aleppo
Jan 11, 2016
"The Takfiri terrorists' centers near the village of al-Tamoura and Anadan town in the Northern territories of Aleppo province were massively attacked by the Syrian army and the country's National Defense Forces (NDF), which ended in the killing and wounding of many militants," the army said.
"The pro-government force also engaged in fierce clashes with the militant groups in the neighborhoods of Bani Zeid and al-Myasar in Aleppo city, which claimed the lives of several militants and injured several others," the army added.
"Al-Mansoura village was also the scene of heavy clashes between the Syrian army and the militants, whose military grid sustained heavy damage in the attack," the army further added.
On Sunday, the Syrian Army and its popular allies continued to advance against the ISIL terrorists in the Northern part of Aleppo province, and restored security to two more villages after hours of battle.
Full report at:
http://en.farsnews.com/newstext.aspx?nn=13941021000486
-----------
Kuwait sentences two to death over 'spying for Iran'
12 January 2016
A Kuwaiti court on Tuesday handed down death the penalty to two convicted of espionage with Iran and Hezbollah.
The case also included the possession of weapons. One of the men given the death penalty was an Iranian convicted in absentia as well as another Kuwaiti.
The pair were convicted along with 24 other Kuwaitis, one of whom was sentenced to life in prison.
Full report at:
http://english.alarabiya.net/en/News/middle-east/2016/01/12/Kuwait-sentences-two-to-death-for-spying-for-Iran-.html
-----------
Syria needs constitutional reform, says Putin
12 January 2016
Russian President Vladimir Putin said Syria needs to start working on a new constitution as a first step to finding a political solution to its civil war, though he acknowledged the process was likely to be difficult.
Putin, who has thrown Russia's support behind Syrian President Bashar al-Assad with air strikes, also said in an interview with the German newspaper Bild that the crisis in relations between regional rivals Saudi Arabia and Iran would complicate the search for peace in Syria.
"I believe it's necessary to move towards constitutional reform (in Syria). It's a complicated process, of course. And after that, on the basis of the new constitution, (Syria should) hold early presidential and parliamentary elections", Putin said in the interview which was conducted on Jan. 5.
Putin, obliquely referring to diplomatic pressure from the United States and France to concentrate Moscow's firepower on ISIS militants, said Russian military aid was going to help parts of the Syrian opposition in the fight against ISIS as well as to help Assad.
"You are talking about Assad as our ally. Do you know that we are backing the actions of the armed opposition combating Islamic State? ... We are coordinating our joint actions with them and support their offensive operations on different parts of the front with strikes by our air force."
"I am talking about hundreds, thousands of armed people, who combat Islamic State ... Some of them have already spoken about it in public, others prefer keeping silent but the work is going on."
Full report at:
http://english.alarabiya.net/en/News/middle-east/2016/01/12/Syria-needs-new-constitution-says-Putin-.html
-----------
'Millions' in ISIS cash destroyed in U.S. airstrike
12 January 2016
A U.S.-led coalition air strike has destroyed a cash storage facility used by ISIS militants in the Iraqi city of Mosul, a U.S. defense official said Monday.
Two 2,000-pound bombs struck the facility, destroying "millions" of dollars worth of cash, the official told Agence France-Presse, speaking on condition of anonymity.
"We estimate in the millions of dollars... from all their illicit stuff: oil, looting, extortion," the official said. The strike came early Monday.
CNN, which first reported the strike, said the U.S. military believed between five and seven civilians had been killed.
The U.S.-led coalition carrying out plane and drone strikes against ISIS in Iraq and Syria has been increasingly targeting the militants' money-making capabilities, including by bombing trucks that ferry illicit oil across Syria.
Under pressure from critics who say the campaign is moving too slowly, the Pentagon has indicated it would consider a wider array of targets even if these might cause civilian deaths, provided these attacks yield significant gains against the jihadists.
The defense official said the coalition had targeted cash-holding facilities once or twice in the past year, but the most recent action was "probably" the biggest to date.
Full report at:
http://english.alarabiya.net/en/News/middle-east/2016/01/12/-Millions-in-ISIS-cash-destroyed-in-U-S-airstrike.html
-----------
Saudi council urges more space at Haj stampede site
Jan 12, 2016
RIYADH: Saudi Arabia's Shura Council recommended on Monday an expansion of roads leading to the site of a ritual in the annual Haj pilgrimage where more than 2,000 pilgrims died in a stampede last year.
The tragedy happened as pilgrims made their way in searing temperatures to the Jamarat, the place where pilgrims ritually stone the devil in the Mina tent city in western Saudi Arabia.
Muslim pilgrims blamed the stampede on police road closures and poor management of the flow of hundreds of thousands of people, who found escape routes blocked when the crush occurred.
Saudi officials blamed pilgrims themselves for not following rules.
Related: Mina stampede deaths three times higher than acknowledged by Saudi authorities: report
The Shura Council, which advises the cabinet, said the Haj ministry and other agencies should study the flow of transportation between Mina and other holy sites including nearby Makkah, the official Saudi Press Agency reported.
It should also look at "raising the capacity of roads leading to the Jamarat facility, and to the accommodation areas in Mina," SPA said, without elaborating.
The study should further consider "increasing the area allotted for each pilgrim from the current size and promoting the efficiency of services, and means of security and safety," SPA added.
Crown Prince Mohammed bin Nayef, the interior minister who also chairs the Haj committee, ordered a probe immediately after the September 24 disaster but there has still been no word on its findings.
Full report at:
http://www.dawn.com/news/1232275/saudi-council-urges-more-space-at-haj-stampede-site
-----------
Pakistan
4 Sunni Tehrik leaders booked for hate speech
January 11, 2016
KARACHI: Police today registered a case against four leaders of Sunni Tehreek (ST), including its chief Sarwat Ejaz Qadri, on the charge of delivering hate speeches at a public gathering in Nishtar Park.
Besides the ST Chief, other leaders booked by the Solider Bazaar Police were Maulana Arshaad Bakhari, Maulana Sharif and Maulana Arshad Ghori.
Full report at:
http://nation.com.pk/karachi/11-Jan-2016/4-sunni-tehrik-leaders-booked-for-hate-speech
-----------
Pak troops 'won't fight' in Saudi alliance
January 12, 2016
ISLAMABAD : Pakistan will not be sending its troops to fight in the Saudi-led anti-terror alliance but confining its cooperation to counter-terrorism only, Senate Defence Committee Chairman Mushahid Hussain Syed said yesterday.
He said that government has agreed to take parliamentarians into confidence over high-level contacts that have taken place recently between Pakistan and Saudi Arabia following a diplomatic row between Iran and Saudi Arabia.
"A joint meeting of the Senate and the National Assembly Standing Committee on Foreign Affairs has been summoned tomorrow at Parliament House," Senator Mushahid told the media.
Full report at:
http://nation.com.pk/national/12-Jan-2016/pak-troops-won-t-fight-in-saudi-alliance
-----------
Pakistan among 10 worst countries regarding rape cases: PTI
Jan 12, 2016
LAHORE: Pakistan Tehreek-i-Insaf Punjab organiser Chaudhry Sarwar says the PML-N government has failed to control rape and kidnap cases, claiming that Pakistan is among the 10 worst countries when it comes to rape cases.
He issued a "fact sheet" on Monday on the rape and kidnap incidents, stating 14,850 kidnap cases involving women, children and girls were reported in Punjab during the last one year. He said some 2,000 women were kidnapped and 80pc of them were allegedly raped during last year while 15pc were killed. He said 980 minors were kidnapped, including the newborns from hospitals.
Stating that the incidents of kidnap and rape of women and children were continuously rising, Mr Sarwar observed the Punjab government had failed to protect the lives and property of the masses.
The fact sheet said some 96 kidnap for ransom cases, including 25 of minors, were registered. In Lahore, the fact sheet said, 15 cases of kidnap for ransom were reported and many of those kidnapped were also killed.
On the other hand, the fact sheet said police's performance remained unimpressive as they failed to solve hundreds of cases and many of the kidnapped persons were never recovered as some 3,100 cases were still under investigation.
Chaudhry Sarwar said police were only registering missing reports instead of kidnappings to save their skin.
The fact sheet said that the cases of molestation against children were also increasing while the police and other institutions were unable to check such incidents. He demanded that the government introduce legislation to check such cases and give exemplary punishment to the criminals.
Full report at:
http://www.dawn.com/news/1232426/pakistan-among-10-worst-countries-regarding-rape-cases-pti
-----------
Pakistan hitting terrorists on cyber turf
January 12, 2016
Jawad R Awan
LAHORE - Over 250 social media accounts involved in facilitating terrorist communications have been put out of business by a top security agency after hectic chase on the cyber highway, sources in a military intelligence service told The Nation yesterday. Shutting down the terrorists and extremist forces' networks on the internet is one of the important agenda items of 20-point National Action Plan (NAP).
The 14th point of the NAP said, "Measures against abuse of internet and social media for terrorism to be adopted.
" The Prevention of Electronic Crimes Act 2015 will give sweeping powers to the security agencies once see the light of the day to track down more linkages of terrorists on social media.
More than 180 accounts facilitating terrorists and other extremist forces communications have been blocked on twitter while the remaining on the Facebook.
The twitter is becoming a weapon of choice for the terrorists on the cyber highway, said the sources in the military intelligence service.
The terror facilitators are put out of business after months long chase because they use several cover identities (IDs) to avert check of the security services.
Asked to disclose some of the identities of the blocked links on the social media, the security sources said, "They are following more leads through the blocked IDs followers and no information can be disclosed with regard to 250 plus shut down links of terrorists on social media.
The terror facilitators were using difficult and uncommon English and Arabic words for coded messages on the blocked accounts for real communication.
While nearly 150 blocked accounts were put on the cyber highway by the terrorists and extremist forces facilitators just to camouflage the actual accounts to continue their agenda undetected, they said.
The terror outfits using this technique in Pakistan, Afghanistan and some Western Europe countries.
There were even some password protected sites that refuse access without getting registration to surf these sites.
The handlers of the terrorists social media networks first check the link of the person who sends registration request to ensure he/she might not be a 'bait for a trap operation' of any security service.
When asked about the terror organizations active on the cyber highway, they said, "It is Al-Qaeda and Daesh if we talk about Asian and European region.
But Hizbut Tahrir is emerged as the key banned outfit in Pakistan which is using the cyber highway to advance its extremist agenda.
Some Baloch insurgents are also in the list using social media to advance their agendas.
In a surprising revelation, the security sources said, "Many of the IDs created in the name of terrorist outfits are not connected with them at all and just a ploy by these groups to stray the security services.
Full report at:
http://nation.com.pk/national/12-Jan-2016/pakistan-hitting-terrorists-on-cyber-turf
-----------
JI condemns police brutality against peaceful citizens
January 11, 2016
KARACHI: Jamaat-e-Islami (JI) Karachi chief Engr. Hafiz Naeem-ur-Rehman has strictly condemned the rising police brutality against peaceful citizens and demanded of the authorities to bring the culprits to full justice.
Strictly criticizing the incidents of police torture on peaceful citizens at PIDC roundabout and Artillery Ground police station, he said that violation of laws by law enforcers is quite unacceptable.
He was of the view that ruthless behavior of police personnel would draw extreme reaction for individuals.
He raised the question that how can one expect citizens to abide by the law, when personnel of law enforcement agencies themselves are violating the laws.
Engr. Naeem expressed grave concern over the violent behavior of police personnel and said that violating rules by police personnel have become a routine in the city. He further said that it was a matter of shame and regret for the entire police department that the officials who are paid by the taxes of masses are involve in torturing civilians.
He further said that unfortunately no serious efforts have been made so far to correct the police behavior. He said that the police force is seemed only to provide protocol to influential figures and politicians.
Full report at:
http://nation.com.pk/karachi/11-Jan-2016/ji-condemns-police-brutality-against-peaceful-citizens
-----------
F-16 sale delayed in US Congress
ANWAR IQBAL
Jan 12, 2016
WASHINGTON: The US Congress has stalled a planned sale of eight new F-16 fighter jets to Pakistan, although the Obama administration is still trying to undo the hold, congressional and diplomatic sources told Dawn.
The hold reflects the growing anti-Pakistan sentiments on Capitol Hill where it is now a routine to see strong attacks on Pakistan and its policies during congressional hearings.
Lawmakers used clarification and information notices to delay the sale. The administration also received a "hold" notice from the Senate, using this legislative process to delay floor action on the proposed sale to Pakistan.
The hold, however, does not kill the measure and it can still go through if the administration continues to push for it. Sources on the Hill say that since the Obama administration is keen on selling these aircraft to Pakistan, it may ultimately succeed in undoing the hold.
At recent congressional hearings, key US lawmakers raised a host of questions about the end use of the F-16 aircraft and about the US relationship with Pakistan.
"I don't know how an F-16, with all of its hardware on there for combat can be used for humanitarian aid. If they were buying C-130s … I could see those being used for humanitarian aid. But F-16! It's not really humanitarian aid," said Congressman Ted Poe. "Those F-16s and the military equipment that we are providing Pakistan are being used against their own people, just like they did against the people over there in Bangladesh," said Congressman Dan Rohrabacher.
Full report at:
http://www.dawn.com/news/1232401/f-16-sale-delayed-in-us-congress
-----------
Terrorism case against ST chief, others for NAP violation
Jan 12, 2016
KARACHI: Police on Monday registered a terrorism case against leaders of the Tanzeemat-i-Ahle Sunnat — an alliance of several religious parties of the Barelvi school of thought — for allegedly inciting people to violence against the state and its institutions by raising the case of Mumtaz Qadri, the self-confessed and convicted killer of Punjab governor Salman Taseer, during a rally in Nishtar Park a day earlier.
At the Sunday event, speakers demanded a fresh trial of Mumtaz Qadri by the Federal Shariat Court, termed the death sentence handed down to him 'un-Islamic' and warned that they could go to any extent if the government failed to change its attitude.
An official at the Soldier Bazaar police station said the FIR was lodged on behalf of the state under Sections 37 (cooperation by doing one of several acts constituting an offence), 147 (punishment for rioting), 149 (every member of unlawful assembly guilty of offence committed in prosecution of common object) and 341 (punishment for wrongful restraint) read with Section 7 of the Anti-Terrorism Act 1997.
"Around a dozen people have been nominated in the FIR and prominent among them are Sunni Tehreek chief Sarwat Ejaz Qadri, Maulana Irshad Bukhari, Jamaat-i-Ahle Sunnat chief Syed Shah Turab-ul-Haq Qadri who addressed the conference. However, no arrest has been made yet."
The police insisted that despite a clear warning the leaders of the multi-party alliance chose to defy the set rules.
"The Tanzeemat-i-Ahle Sunnat has been organising such conferences for the past several years for which they take proper permission from the office of the deputy commissioner concerned and we provide all due security during the entire event," said Jamshed Town SP Dr Fahad Ahmed.
"However, for the last couple of years they have made the entire event a kind of campaign in favour of Mumtaz Qadri. Under the national action plan (NAP) such a demand for a death-row convict is intolerable. Derogatory remarks were also used during speeches at the conference against the judiciary."
He said the leadership of the alliance was already aware of the issue and they had been warned by the police in this regard, but they chose to defy the directives forcing the police to take legal action.
Full report at:
http://www.dawn.com/news/1232289/terrorism-case-against-st-chief-others-for-nap-violation
-----------
Olson discusses security situation with Gen Raheel
January 12, 2016
ISLAMABAD - US special representative for Afghanistan and Pakistan Richard Olson on Monday met COAS General Raheel Sharif and discussed security situation in the region, particularly Afghanistan.
During the meeting held at the GHQ in Rawalpindi, Olson appreciated Pakistan's efforts in the fight against terrorism, the ISPR said.
Earlier on December 9, General Raheel assured Afghan President Ashraf Ghani full support for peace and stability in Afghanistan.
Full report at:
http://nation.com.pk/national/12-Jan-2016/olson-discusses-security-situation-with-gen-raheel
-----------
South Asia
18 Daesh, 4 Taliban militants killed in airstrikes of Afghan Air Force
Jan 12 2016
22 militants have been killed in the newest airstrikes conducted by Afghan Air Force in eastern and southern parts of Afghanistan.
A statement released by the Ministry of Defense states that based on the coordinates provided by the 201st Selab Military Corps in the country's east, Afghan Air Force targeted positions of Daesh militants in Achin District of Nangarhar province leaving 18 militants killed.
The airstrikes were carried out by helicopters equipped with MD-530 and MI-17.
Meanwhile, Afghan Air Force targeted a vehicle in Gerishk District of southern Helmand Province killing four insurgents.
Defense Ministry statement further states that the vehicle was completely destroyed in the airstrike carried out in Yakhchal area.
Full report at:
http://www.khaama.com/18-daesh-4-taliban-militants-killed-in-airstrikes-of-afghan-air-force-4486
-----------
Senior Taliban leader killed with his 10 fighters in Farah province
Jan 12 2016
A senior Taliban leader has been killed along with his ten fighters in western Farah province of Afghanistan, local officials said Tuesday.
The Taliban insurgents along with their leader were killed after ambushing a convoy of the Afghan national security forces in Andar Dara district.
Provincial police chief Toryalai Abadyani confirmed the death of the senior Taliban leader along with his ten fighters.
According to Abadyani, the Taliban leader killed during the gun battle has been identified as Mullah Bismillah who was appointed as shadow district governor of Posht Koh district.
He also added that ten Taliban militants were also injured during the gun battle which lasted for almost one hour.
A member of the Afghan police was also injured during the gun battle, Abadyani said, adding that four vehicles of the Taliban militants were damaged.
The Taliban group has not commented regarding the report so far.
Full report at:
http://www.khaama.com/senior-taliban-leader-killed-with-his-10-fighters-in-farah-province-1978
-----------
Face-to-face peace talks with Taliban expected to resume soon
Jan 12 2016
The stalled peace talks between the government of Afghanistan and Taliban are expected to resume soon in the wake of the quadrilateral meeting in Islamabad in which representatives from Afghanistan, Pakistan, U.S. and China discussed a roadmap for ending the 15 years long conflict.
Pakistan's The Express Tribune news agency cites a top official as saying that direct talks between the Afghan government and Taliban representatives would resume within days. The news agency further cites the unnamed official as saying that the quadrilateral meeting in Islamabad on Monday reached a consensus that the peace process should be revived without any further delay.
Meanwhile, another Pakistani news agency citing a senior intelligence official as saying that the direct talks would resume next month.
The expected timeframe was offered separately, though, coinciding with the quadrilateral meeting yesterday in Islamabad when diplomats from four countries met to draw a roadmap for Afghanistan peace talks, The Nation reported on Tuesday.
The report further states that Taliban leader Mullah Akhtar Mansour's faction and the Haqqani network are considered to be more amenable to the pressure by Pakistan to come on the negotiating table.
"At best, we can convince three to four Taliban groups but it is yet to be decided which group will act as the head during the talks and whether it can influence all of the warring Taliban," the unnamed security official has been quoted by the media outlet as saying.
He, however, expressed a grim view of the peace talks, predicting that they are not expected to yield any result.
"There are too many stakeholders involved," the senior intelligence official, who spoke on condition of anonymity, said. "And, what can Kabul really offer to the Taliban?"
The Pakistani official has also warned Afghanistan about its strong relationship with India saying that if they undermine Pakistan, the peace talks will not proceed.
"We want less and less influence of India in Afghanistan," he is quoted as saying. "As long as Kabul and India try to undermine Pakistan, the talks will not succeed."
Representatives of Afghanistan, Pakistan, U.S. and China agreed to expedite the process and organize the second quadrilateral meeting in Kabul next week.
"All four countries underscored the importance of bringing an end to the conflict in Afghanistan that continues to inflict senseless violence on the Afghan people and also breeds insecurity throughout the region," stated a statement released by the Ministry of Foreign Affairs late on Monday.
Full report at:
http://www.khaama.com/face-to-face-peace-talks-with-taliban-expected-to-resume-next-month-4486
-----------
40 % Afghan children living in conflict areas face uneducated future
By ZABIHULLAH MOOSAKHAIL
Jan 12 2016
A new report released by the United Nations Children's Fund (UNICEF) states that in 22 countries affected by conflict, nearly 24 million children living in crisis zones are out of school.
The analysis highlights that nearly one in four of the 109.2 million children of primary and lower secondary school age – typically between six and 15 years – living in conflict areas are missing out on their education.
South Sudan is home to the highest proportion of out of school children with over half (51%) of primary and lower secondary age children not accessing an education. Niger is a close second with 47% unable to attend school, followed by Sudan (41%) and Afghanistan (40%).
"Children living in countries affected by conflict have lost their homes, family members, friends, safety, and routine. Now, unable to learn even the basic reading and writing skills, they are at risk of losing their futures and missing out on the opportunity to contribute to their economies and societies when they reach adulthood," said UNICEF Chief of Education Jo Bourne.
In countries affected by conflict, collecting data on children is extremely difficult and therefore these figures may themselves not adequately capture the breadth and depth of the challenge.
Full report at:
http://www.khaama.com/40-afghan-children-living-in-conflict-areas-face-uneducated-future-4485
-----------
Mideast
At least 8 killed in Istanbul blast: Governor
Jan 12, 2016
A large explosion in central Istanbul has left at least 10 people killed and 15 others injured, its governor's office says.
There is no official word on the cause of the blast, but Turkey's Haberturk TV said it may have been caused by a bomber.
Full report at:
Istanbul has been the target of bomb blasts before.
http://presstv.ir/Detail/2016/01/12/445467/Turkey-explosion-Istanbul-injuries-/
-----------
At least 10 killed in Saudi airstrikes in Yemen
Jan 12, 2016
At least 10 people have been killed and 20 others injured as Saudi warplanes pounded a tourist area in the Yemeni capital Sana'a.
Saudi jets launched airstrikes on the Jaref area in Bilad ar-Rus district of Sana'a early Tuesday, Yemen's al-Masira TV channel said, adding most of the injured are in critical condition.
Several residential areas and a warehouse were targeted in the the attacks which caused great damage to buildings.
Elsewhere, three women were injured in Saudi airstrikes on the Razih district in Sa'ada Province.
Meanwhile, a Yemeni military source said over 25 militants loyal to Yemen's fugitive former President Abd Rabbuh Mansur Hadi had been killed.
The casualties came as the Yemeni army and popular committees thwarted an attempt by Hadi loyalists to advance into the al-Zaher district in al-Bayda Province, the source said.
Saudi Arabia began the military campaign against Yemen in late March 2015 to undermine the Ansarullah movement and return Hadi to power.
More than 7,500 people have been killed and over 14,000 others injured since the strikes began. The Saudi war has also taken a heavy toll on the impoverished country's facilities and infrastructure.
http://presstv.ir/Detail/2016/01/12/445464/Yemen-Saudi-airstrike-bombing-Sanaa/
UN peacekeepers deployed to the Central African Republic (CAR) have been found to have paid girls as young as 13 years of age to conduct sexual activities for them.
At least four members of the world body's mission to the CAR are accused of having exploited the young girls "for anywhere from 50 cents to three dollars," the Washington Post reported on Monday, citing an unnamed UN official.
The perpetrators, who are said to be from Gabon, Morocco, Burundi, and France, had contacted local procurers for the purpose.
Last Wednesday, the UN Multidimensional Integrated Stabilization Mission in the Central African Republic (MINUSCA), as the peacekeeping force is known, vowed tough action over the allegations.
"We have come to this country to help a population, which is already traumatized. It is absolutely unacceptable for even a single peacekeeping soldier to be involved in these awful acts," head of MINUSCA Parfait Onanga-Anyanga told a news conference in the CAR's capital, Bangui.
Full report at:
http://presstv.ir/Detail/2016/01/12/445454/UN-Central-African-Republic-MINUSCA/
-----------
Iran seeks to limit fallout of Saudi embassy attack
Jan 12, 2016
DUBAI: Iran took steps on Monday to try to limit the diplomatic damage from an attack on Saudi Arabia's embassy in Tehran by an angry mob, laying blame on a top security official and saying some of those who carried out the attack were being interrogated. Iranian officials appear to fear that the Jan 2 storming of the embassy by a mob protesting the execution of a Shia cleric may derail moves to end years of isolation with the West following the signing of a landmark nuclear deal with world powers in July. Saudi Arabia, Bahrain and some other states have broken off ties with Iran over the attack. The United Arab Emirates downgraded relations while some others recalled their envoys in protest.
The Iranian government quickly distanced itself from the attack, saying the protesters had entered the Saudi embassy despite widespread efforts by the police to stop them.
"Based on primary investigations the mistakes of Safar-Ali Baratlou, Tehran province's deputy governor for security affairs, were proved and he was promptly replaced due to sensitivity of the case," the interior ministry announced in a statement published by the Fars news agency on Monday.
Some of the attackers have been identified, captured and interrogated, Tehran general prosecutor Abbas Jafari Dolatabadi was quoted as saying by the state news agency IRNA.
President Hassan Rouhani asked Iran's judiciary last week to urgently prosecute those who attacked the Saudi embassy "to put an end once and for all to such damage and insults to Iran's dignity and national security".
Meanwhile, Iran's Foreign Minister Mohammad Javad Zarif has accused Saudi Arabia of supporting extremists and "promoting sectarian hatred", urging the country to instead engage in promoting regional stability.
Full report at:
http://www.dawn.com/news/1232387/iran-seeks-to-limit-fallout-of-saudi-embassy-attack
-----------
Israeli forces raid top Palestinian university
Jan 12, 2016
JERUSALEML The Isr­aeli army raided a top Pale­stinian university in the occupied West Bank overnight, seizing computer equi­p­ment and causing damage, the university said on Monday.
"A large number of soldiers came about 2:30 am, blowing open the locks, breaking into three buildings and banning the university guards from approaching," Ghassan Kha­tib, vice president of Birzeit University, said.
The army seized computers, speakers and other electronic equipment used by the student council, he added.
Full report at:
http://www.dawn.com/news/1232310/israeli-forces-raid-top-palestinian-university
-----------
ISIS claims responsibility for Baghdad mall attack, 18 killed
Jan 12, 2016
BAGHDAD: The Islamic State group is claiming responsibility for the Baghdad mall attack that killed 18 people on Monday. Gunmen stormed into a Baghdad mall after setting off a car bomb and launching a suicide attack at its entrance.
Iraqi officials say the attack which lasted over an hour killed at least 18 people and wounded 50 in the city's mainly Shia east.
The IS statement, posted online shortly after the attack, said four IS fighters carried it out and warned of "worse" to come. Iraqi officials say the attack was carried out by seven men. The conflicting accounts could not immediately be reconciled.
Iraqi officials initially described the attack as a hostage situation, estimating that 50 people were trapped inside the complex. But Iraqi forces soon surrounded the building and landed troops on the roof. They clashed with the attackers inside, killing two of them, arresting another four and declaring the standoff over.
At least four police were among those killed in the assault, which lasted around an hour and a half, according to the police and medical officials, who spoke on condition of anonymity because they were not authorized to brief reporters.
Following the attack, authorities shut down the city's highly fortified Green Zone, home to a number of foreign embassies and most of the country's political elite. A number of major roads, shopping malls and bridges around the Iraqi capital were also closed for fear of follow-up attacks.
Full report at:
http://timesofindia.indiatimes.com/world/middle-east/ISIS-claims-responsibility-for-Baghdad-mall-attack-18-killed/articleshow/50538700.cms
-----------
Takfiris not linked to divine religions: Iran
Jan 11, 2016
Iran's Interior Minister Abdolreza Rahmani Fazli has dismissed Takfiri claims of being divine religion followers, saying that the militant groups and Zionists are to blame for the acts of violence and extremism.
"All of the divine religions believe in peace, security and stability while Takfiris and Zionists are seeking to incite wars and instigate violence and extremism," Rahmani Fazli said at a joint press conference with his Syrian counterpart Major General Mohammad al-Shaar in Damascus on Monday.
"The Islam that we have endorsed is a religion of unity, peace, security and fraternity but the Islam proclaimed by Wahhabis and Takfiris is after bloodletting, extremism and terrorism," he added.
Full report at:
http://presstv.ir/Detail/2016/01/11/445414/Iran-Syria-Rahmani-Fazli-alShaar/
-----------
India
Madras High Court stays temple dress code order
by Arun Janardhanan
January 12, 2016
The Madurai bench of the Madras high court on Monday granted an interim stay on its order to impose a dress code for visitors to temples run by the Hindu Religious and Charitable Endowments Department of Tamil Nadu. The dress code was imposed on November 26, with Justice S Vaidyanathan hearing a petition seeking the court's permission to hold a cultural programme at a temple in Trichy district, observing that a dress code was necessary to restrict devotees from wearing improper clothing. The state government subsequently responded that it was not possible to follow a uniform dress code. Monday's order granting an interim stay until January 18 also followed petitions from women's organisations challenging the single-judge bench's order passed in November 2015.
Full report at:
http://indianexpress.com/article/india/india-news-india/madras-high-court-stays-temple-dress-code-order/
-----------
Pak arrests 'some suspects' tied to Pathankot: Report
Jan 12, 2016
LAHORE/ISLAMABAD: Pakistani law enforcement agencies have picked up "some suspects" connected to the Pathankot airbase attack from Bahwalapur district, the hometown of Maulana Masood Azhar, the chief of banned terror outfit Jaish-e-Mohammed.
Pakistani news channel ARY News on Monday reported that "some arrests" have been made in this regard but police did not confirm any arrest related to the Pathankot attack.
"Intelligence agencies have picked up some suspects from Bahawalpur on the leads provided by India in the Pathankot airbase attack, and shifted them to an undisclosed location for interrogation," the news channel reported.
Regional police officer of Bahawalpur, Ahsan Saddique, said that he was not aware of any arrest in connection with the Pathankot attack.
In Islamabad, intelligence officials claimed rai- ds were carried out in Gujranwala, Jhelum and Bahawalpur districts and an unspecified number of people were arrested. "Probe has been going to ascertain if they were involved in the attack or some of them facilitated it," they said.
Full report at:
http://timesofindia.indiatimes.com/india/Pak-arrests-some-suspects-tied-to-Pathankot-Report/articleshow/50540143.cms
-----------
Government shifts stand, against minority tag for Aligarh Muslim University
Dhananjay Mahapatra
Jan 12, 2016
NEW DELHI: Unperturbed by the 'intolerance' charge flung at it prior to Bihar elections, the BJP-led NDA government appeared to ruffle fresh feathers by taking a stand in the Supreme Court on Monday that Aligarh Muslim University (AMU) could not be categorized as a 'minority' institution.
Attorney general Mukul Rohatgi told a bench of Justices J S Khehar, M Y Eqbal and C Nagappan, "It is the stand of the Union of India that AMU is not a minority university. As the executive government at the Centre, we can't be seen as setting up a minority institution in a secular state."
AMU Act was enacted in 1920 dissolving and incorporating Mohammadan Anglo-Oriental (MAO) College. Parliament passed the AMU (Amendment) Act in 1951 and it did away with compulsory instruction in Muslim theology. The amendment opened membership of the Court of AMU to non-Muslims.
Radical changes were introduced by the 1966 amendment to AMU Act, which was challenged before the Supreme Court by S Azeez Basha. The SC dismissed the petition in 1967 holding that AMU was not a minority institution because it had been established by an Act of Parliament and had not been set up by Muslims.
Another amendment to AMU Act in 1972 made the academic and executive councils more democratic and drastically reduced the nominees of the Visitor. In a further amendment in 1981, Parliament allowed AMU to "promote, especially the educational and cultural advancement of Muslims in India", permitting the institution to get back its minority tag as it attempted to remove the basis of the SC's 1967 judgment.
In 2004, AMU reserved 50% seats in PG medical course for Muslims. This was challenged in Allahabad High Court, which in 2005 and 2006 held that the SC decision in Azeez Basha case continued to hold good and said the reservation for Muslims was unconstitutional. The Centre and AMU filed appeals against the HC verdict in 2006 citing the 1981 amendment to claim minority status, arguing that it allowed the institution to carve out reservation for Muslims.
Rohatgi said though the Centre had filed an appeal, it was now inclined to withdraw it as it felt that the Azeez Basha judgment still held good and that AMU could not be termed a minority institution since it was set up under an Act of Parliament.
Full report at:
http://timesofindia.indiatimes.com/india/Government-shifts-stand-against-minority-tag-for-Aligarh-Muslim-University/articleshow/50539503.cms
-----------
Terrorist killed down in Srinagar encounter
Jan 11, 2016
SRINAGAR: An unidentified militant was on Monday killed in an encounter with security forces in Zakura area on the outskirts of Srinagar, police said.
The encounter took place this evening and the security forces managed to neutralize the militant after a brief gunbattle, police said.
Full report at:
http://timesofindia.indiatimes.com/india/Terrorist-killed-down-in-Srinagar-encounter/articleshow/50535639.cms
-----------
Southeast Asia
Najib: No place in M'sia, Islam for terrorists
January 11, 2016
PUTRAJAYA: Malaysian premier, Najib Razak has spoken out against the involvement of two young Malaysians in separate suicide bombings to hit Iraq and Syria last week.
Issuing a message on his official Facebook page, Najib said: "Shocked and appalled to hear that two Malaysians were reported to have been involved in suicide bombings in Iraq and Syria, resulting in the loss of more than 30 innocent lives."
Pledging a firm stance on the matter, he added, "Their actions and ideology have no place in Malaysia or Islam, and the government is absolutely committed to fighting terrorism in all its forms and guises, both at home and overseas.
"We will spare no effort to find out how and why these young men were able to commit these atrocious acts, and will take all measures necessary to prevent others from doing so in the future."
Full report at:
http://www.freemalaysiatoday.com/category/nation/2016/01/11/najib-no-place-in-msia-islam-for-terrorists/
-----------
Two quit Putrajaya-backed moderates movement
January 12, 2016
KUALA LUMPUR, Jan 12 ― Two key members of the government-backed Global Movement of Moderates (GMM) Foundation have quit.
GMM's pioneer trustee Datuk Seri Wong Chun Wai, who is also The Star Media Group managing director and chief executive officer, reportedly confirmed passing his resignation letter to the foundation's chairman Tan Sri Razali Ismail.
According to The Star Online today, Wong's resignation two weeks ago was due to his plans to focus on "domestic moderation issues" and the media business.
The news portal said former diplomat Datuk Redzuan Kushairi, who did not have an official position in GMM but had an important role in the foundation, had similarly told Razali of his plans to leave.
The Star Online did not say when Redzuan quit GMM.
Redzuan was formerly Malaysia's ambassador to Uzbekistan, deputy high commissioner to the UK and was also the Malaysian mission's deputy permanent representative to the United Nations.
Full report at:
http://www.themalaymailonline.com/malaysia/article/two-quit-putrajaya-backed-moderates-movement
-----------
Indonesian arrested over bomb-in-luggage hoax
BY OPALYN MOK
January 12, 2016
GEORGE TOWN, Jan 12 — An Indonesian passenger about to board a flight to Kuala Lumpur at the Penang International Airport was arrested after she claimed her luggage contained a bomb.
In the 9.20am incident, the passenger was going through security checks at the domestic departure terminal when she allegedly made the claim.
The 32-year-old was immediately arrested by the Malaysia Airport Berhad's auxiliary police and her luggage was scanned for explosives.
According to Southwest district police chief Supt Lai Fah Hin, no explosives were found in the luggage and the woman subsequently claimed she was merely joking about the bomb.
She was handed over to the Bayan Lepas police station where she was detained for further investigations.
"A search of the suspect and her belongings did not turn up any illegal items and her urine came out negative for drugs," he said, adding that the Indonesian Consulate was also informed of the arrest.
The woman will be charged in court tomorrow under Section 506 of the Penal Code for criminal intimidation.
Lai said the woman was not the only passenger to have made such claims at the airport.
"This is the fourth such case between 2015 and 2016 and these cases are often due to their dissatisfaction over extra charges for excess luggage weight," he said in a statement issued today.
Full report at:
http://www.themalaymailonline.com/malaysia/article/indonesian-arrested-over-bomb-in-luggage-hoax
-----------
Jailed Indonesian firebrand cleric Bashir challenges conviction
12 Jan 2016
CILACAP, Indonesia: A jailed Indonesian firebrand cleric Tuesday challenged his conviction for funding a militant group in court, as a hundreds-strong crowd chanting "God is great" rallied in support of the Islamist preacher.
Abu Bakar Bashir is regarded as the spiritual leader of militant Islam in Indonesia, and was thought to be a key figure in regional terror network Jemaah Islamiyah, blamed for the 2002 Bali bombings that killed more than 200 people.
He was sentenced to 15 years in jail in 2011 for helping fund a paramilitary group in Aceh, a staunchly Islamic province in the world's most populous Muslim-majority country, which planned to kill the then president as well as Westerners.
The 77-year-old made a rare public appearance Tuesday to apply for a judicial review of his conviction in the hope of being freed, travelling to the court in the town of Cilacap, the gateway to the prison island off Java where he is held.
His legal team are arguing that funds Bashir collected were intended to help people in the Palestinian territories, but ended up getting sent to the Aceh group without his knowledge.
However Bashir, a frail, bespectacled man with a bushy white beard, appeared to undermine his own case by admitting to knowing about the group's Aceh training camp during a fiery tirade in court Tuesday.
"The physical and weapons' training in Aceh were aimed at defending Islam and Muslims in Indonesia and overseas, and were an obligation Muslims must fulfil because it is God's order," said Bashir, who was wearing a white turban and white robe.
Bashir also told the packed courtroom that the judges should repent for acting against the Koran.
Full report at:
http://www.channelnewsasia.com/news/asiapacific/jailed-indonesian/2419068.html
-----------
Jury out on Jokowi committee as Indonesia Islamic finance stalls
January 12, 2016
JAKARTA, Jan 12 — The jury is out on whether a group helmed by President Joko Widodo can revive stalled growth in Indonesia's Islamic finance industry.
The head of the world's biggest Muslim population is chairing a new committee tasked with bringing fragmented regulations under one roof and taking action to spur the market, according to the Cabinet Secretariat. Shariah-compliant banking assets increased less than 1 per cent in the first 10 months of 2015, compared with 6.8 per cent overall.
"The fact that it's being led by Jokowi demonstrates the seriousness," said Raj Mohamad, managing director at Singapore- based consultancy Five Pillars Pte. "But as they say, the devil is in the details, as we have yet to see the blueprint."
Indonesia's ambition to rival Malaysia as a regional hub for finance catering to Muslims is being hindered by a lack of progress in scrapping double taxation on sukuk and a delay in creating an Islamic megabank. The success of the new oversight body may test Jokowi's credentials after he faced opposition in parliament over reforms since taking office in 2014.
Financial products governed by religious tenets currently have to comply with the regulations of Bank Indonesia, the Financial Services Authority and the National Ulema Council of Shariah scholars. The heads of those institutions will also be part of the new committee, which will be charged with encouraging development, improving endowment mechanisms and raising public awareness, National Planning Minister Sofyan Djalil told reporters in Jakarta on January 5.
Indonesia's Islamic finance industry is slowing even after a five-year blueprint was unveiled in 2014 to strengthen the capital base of banks, improve the management of funds used for the annual pilgrimage to Mecca and increase the number of experts.
Assets rose 0.4 per cent through October to 273 trillion rupiah (RM86.63 billion), after increasing 12 per cent in 2014, 24 per cent in 2013 and 34 per cent in 2012, data from the Financial Services Regulator show. That's a far cry from Malaysia's 672.6 billion ringgit (US$152 billion)."Islamic finance in Indonesia is still far short of the potential," minister Djalil said. "What we need is synergy among the participants."
Full report at:
http://www.themalaymailonline.com/money/article/jury-out-on-jokowi-committee-as-indonesia-islamic-finance-stalls
-----------
Africa
Germany mulls sending 100 troops to train Libyan army: media
9 January 2016
Germany is considering sending more than 100 troops to train the armed forces of Libya, which is in turmoil due to rival political administrations and ISIS attacks, Der Spiegel magazine reported Saturday.
"According to internal (government) plans German soldiers could, along with Italian colleagues, within months begin training the Libyan armed forces," the news magazine said.
"This would involve 150-200 Bundeswehr (German armed forces) troops," Der Spiegel added. There was no comment from the defence ministry.
The oil-rich north African country descended into chaos after the fall of dictator Muammar Qaddafi in 2011.
Full report at:
http://english.alarabiya.net/en/News/africa/2016/01/09/Germany-mulls-sending-100-troops-to-train-Libyan-army-media-.html
-----------
Libya repels ISIS assault on oil terminal
12 January 2016
Libyan guards said Monday they repelled a maritime assault by ISIS on Zueitina oil terminal in the north of the country.
ISIS tried last week to seize export terminals in the so-called "oil crescent" of northern Libya, killing 56 people in two suicide bombings in Zliten and Ras Lanouf, east of Tripoli.
"On Sunday night, the guards intercepted three boats trying to enter the oil port of Zueitina," Ali al-Hassi, spokesman for the guards protecting oil facilities for Libya's recognised government.
"They opened fire and hit one of the boats. The other two made off but returned a short while later to tow the vessel which had been hit," he said.
"We can say it was ISIS because we'd received information that ISIS would try to enter Zueitina by sea," the spokesman told AFP.
ISIS has been trying for several weeks to push east from its coastal stronghold of Sirte, threatening to seize control of Libya's oil wealth.
Libya descended into chaos following the 2011 ouster and killing of longtime dictator Moamer Kadhafi.
Full report at:
http://english.alarabiya.net/en/News/middle-east/2016/01/12/Libya-repels-ISIS-assault-on-oil-terminal-.html
-----------
Hundreds need urgent evacuation from Madaya
12 January 2016
Some 400 people must be urgently evacuated from Madaya to receive medical care, U.N. ambassadors said on Monday, after an aid convoy delivered the first supplies in months to the besieged Syrian town.
The United Nations has asked the Syrian government to allow the 400 Syrians to be airlifted out of Madaya, where medical charity MSF says 28 people have starved to death since December 1.
"They need medical evacuation on an urgent basis tonight and they want permission from the government of Syria to lift those people out," said New Zealand's Ambassador Gerard van Bohemen.
The U.N. Security Council was meeting behind closed doors to discuss the situation in the besieged areas where residents told AFP they had resorted to eating grass and killing cats to feed themselves.
U.N. aid chief Stephen O'Brien told the 15-member council that the 400 Syrians were "in a very critical situation," Spanish Ambassador Roman Oyarzun told reporters.
"If they are not evacuated tonight, the situation will be more than dramatic tomorrow," he said.
U.S. Ambassador Samantha Power said "over 400 people are on the brink of death in need of immediate medical evacuation" from Madaya.
Hours earlier, a convoy of 44 trucks loaded with food, baby formula, blankets and other supplies entered Madaya, which has been under siege by President Bashar al-Assad's forces for six months.
Full report at:
http://english.alarabiya.net/en/News/middle-east/2016/01/12/Hundreds-need-urgent-evacuation-from-Madaya.html
-----------
Niger court denies bail to jailed opposition figure
Jan 11, 2016
A court in Niger has denied bail to a jailed leading opposition contender in the upcoming landmark presidential elections scheduled to be held across the West African country next month.
An appeals court in the capital, Niamey, on Monday upheld the decision of another court in late December against Hama Amadou, who has been imprisoned for his alleged role in a baby-trafficking scandal.
Ibrahim Bana, a member of Amadou's party, confirmed that Judge Ibrahim Harouna had refused to grant the presidential hopeful conditional release.
"The judge said the appeal could be admitted in theory but he turned down the request" for bail, Bana stated.
The jailed opposition figure had filed for provisional release to run for the first round of the February 21 elections. The electoral campaign will begin on January 30.
Reacting to the court ruling, Boubacar Mossi, Amadou's lawyer said the charges against his client were politically motivated, because he was a rival to Niger's incumbent President Mahamadou Issoufou.
Niger's constitutional court recently approved 15 candidates for the polls, including Amadou.
Several other defendants who also face accusations of participating in the trafficking of babies from neighboring Nigeria have been released pending trial.
The defendants, including senior political, military and business figures, are accused of taking illegal custody of nearly 30 babies, born to women in private Nigerian clinics that offer infants for sale.
Full report at:
http://presstv.ir/Detail/2016/01/11/445389/Niger-court-bail-opposition-Hama-Amadou/
-----------
Europe
Russia supports both Assad troops and rebels in battle against ISIS – Putin
January 12, 2016
Russia supports Syrian President Bashar Assad's forces and will back anti-Assad rebels as long as they are fighting Islamic State, President Vladimir Putin told Germany's Bild, countering claims that Moscow only backs the regime rather than hitting jihadists.
"We support both the al-Assad's army and the armed opposition," Putin said in a lengthy recent interview to the newspaper, now published in full. "Some of them have publicly declared this, others prefer to remain silent, but the work is on-going."
According to the President, "this is hundreds, thousands of armed people fighting Islamic State (IS, previously ISIS/ISIL)."
"We coordinate our joint operations with them and support their offensives by airstrikes in various sections of the frontline," Putin said.
The Western media has repeatedly criticized Russia over its airstrikes in Syria, claiming they only support the Assad regime and allegedly focus on hitting the Syrian opposition rather than IS.
Full report at:
http://nation.com.pk/international/12-Jan-2016/russia-supports-both-assad-troops-and-rebels-in-battle-against-isis-putin
-----------
Anti-Islam hooligans vandalize German city
Jan 12, 2016
Hundreds of masked hooligans have wreaked havoc in the German city of Leipzig to mark the birth anniversary of a far-right anti-Islam PEGIDA offshoot.
The Monday riots in the city's Connewitz district saw supporters of the LEGIDA movement burn cars, smash shop windows, and shoot fireworks at buildings.
They also attacked with stones a producer with the Russian news agency Ruptly who was filming the violence from an apartment window.
Elsewhere in Leipzig, several thousand anti-refugee protesters rallied, chanting, "We are the people," "Resistance!" and "Deport them!"
The protests were met by rival rallies attended by thousands of people.
The counter-demonstrations triggered a heavy presence by the police, who had water cannons but did not deploy them.
Full report at:
http://presstv.ir/Detail/2016/01/12/445443/Germany-Leipzig-LEGIDA-PEGIDA/
-----------
Thousands of French visit mosques
11 January 2016
Thousands of mosques In France have held open doors weekend, a year after attack on Charlie Hebdo in Paris.
The initiative was regarded with interest by tens of thousands of French. People interested in learning about Islam could ask their questions. The Islamic culture and importance of mosque was explained to the visitors.
French President Francois Hollande also participated in the campaign and paid an unannounced visit to the main mosque in Paris on Sunday.
"The president had a short conversation and a moment of friendship and fraternity over a cup of tea," a French presidency official said.
Organised by the country's leading Muslim body, the French Council of the Muslim Faith (CFCM), it aims to stimulate dialogue about Islam and create a greater sense of "national cohesion".
Full report at:
http://www.worldbulletin.net/europe/168293/thousands-of-french-visit-mosques
-----------
France demands Russia end Syrian operations
11 January 2016
Syria and Russia must stop military operations against civilians and in particular put an end to the "ordeal" taking place in the besieged city of Madaya just two weeks before Syrian peace talks are scheduled, France's foreign minister said on Monday.
"We discussed the absolute necessity that Syria and Russia end their military operations against civilians and in particular the ordeal in Madaya and other cities besieged by the regime," Laurent Fabius told reporters after meeting Syrian opposition coordinator Riad Hijab.
Full report at:
http://english.alarabiya.net/en/News/middle-east/2016/01/11/France-Demands-Russia-End-Syrian-Operations-.html
-----------
Paris police attacker lived in German asylum shelter
10 January 2016
German police on Saturday raided an apartment at a shelter for asylum-seekers in the western city of Recklinghausen that they say had been occupied by a man shot and killed as he stormed a Paris police station.
North Rhine-Westphalia state police said in a statement late Saturday that they were acting on "concrete evidence" they had obtained from French security authorities.
They say the results of the search are still being evaluated with their French counterparts, but that there is no evidence of further possible attacks being planned.
Police said they would not release any further information at the moment to avoid jeopardizing the ongoing investigation.
French investigators are still trying to determine the true identity of the man who was wearing a fake explosives vest and carrying a butcher knife on Thursday as he was killed trying to storm a police station in northern Paris.
Full report at:
http://english.alarabiya.net/en/News/world/2016/01/10/Paris-police-attacker-lived-in-German-asylum-shelter-.html
-----------
Anti-refugee right-wingers go on rampage in Leipzig
12 January 2016
Over 200 masked right-wing supporters, carrying placards with racist overtones, went on a rampage in the eastern city of Leipzig on Monday night, throwing fireworks, breaking windows and vandalising buildings, police said.
Emotions are running high in German cities after gangs of young migrant men sexually assaulted women at New Year in mass attacks in Cologne and other towns.
The attacks have deepened public scepticism towards Chancellor Angela Merkel's open-door refugee policy and her mantra that Germany can cope with the 1.1 million migrants who arrived in the country last year. It has also fuelled right-wing groups.
As roughly 2,000 anti-Muslim "LEGIDA" protesters marched peacefully in the city centre, police said a separate group of 211 people walked through the the southern Connewitz district before setting of fireworks, erecting barricades and vandalizing property. The top floor of one building caught fire.
The group carried a placard reading "Leipzig bleibt Helle", or "Leipzig stays light", an apparent reference to the skin colour of residents.
"The 211 people were to a not insignificant degree already on record as being right-wing sympathisers and or members of violent sporting groups," said police, adding officers brought the situation under control relatively quickly.
Self-styled German soccer 'hooligans' tend to join right-wing groups on marches, sometimes starting fights.
Full report at:
http://english.alarabiya.net/en/News/world/2016/01/12/Anti-refugee-right-wingers-go-on-rampage-in-Leipzig.html
-----------
Belgium charges top 'jihadist expert' over false affidavit for detainee
12 January 2016
Belgian prosecutors said Monday they have arrested a high-profile expert on extremist fighters and charged him with providing a suspected extremist with a false affidavit that he was on a de-radicalization course.
Montasser AlDe'emeh runs a centre in Brussels' gritty Molenbeek district - where several of those who carried out November's Paris attacks lived - that aims to prevent young Belgians from going to fight in Syria and also help reintegrate those who do so on their return.
Federal prosecutors said he was charged with "having drawn up and submitted a false affidavit concerning a deradicalisation course taken by Jawad O. at the centre."
He was conditionally released after being charged.
Prosecutors said Jawad O. was arrested on November 24, a few days after extremists killed 130 people in a series of attacks across Paris which increasingly appear to have been coordinated from Brussels.
The prosecutors said Jawad O. - who has not been further identified - had been charged with taking part in the activities of a terrorist group. They gave no further details.
His brother Khalid O. was also arrested and released on Monday.
Flemish TV station VRT reported that Jawad O. had been detained just as he tried to leave for Syria and that Khalid, an imam at a mosque in the northern Belgian city of Malines, had contacted AlDe'emeh at the time to seek his help.
Full report at:
http://english.alarabiya.net/en/News/world/2016/01/12/Belgium-charge-top-jihadi-expert-over-false-affidavit-for-detainee.html
-----------
Germany sending refugees to Austria in hundreds: Police
Jan 12, 2016
Austrian police authorities say Germany has been sending a few hundred refugees back to Austria, its southern neighbor, every day since the start of 2016.
"Since the New Year, it's been about 200 a day, trending higher," a spokeswoman for the police in the province of Upper Austria said on condition of anonymity.
"German politicians seem to have decided to act with more firmness. The difficult thing is to explain if a migrant asks: Why can't I travel further now if my friend could still do it last week?" she said.
The spokeswoman said a great proportion of the people sent back to Austria come from Afghanistan, Iraq and Morocco.
Austria itself deported hundreds of migrants back to neighboring Slovenia in December 2015 on the ground that they had allegedly lied about their nationality in a failed attempt to be granted asylum.
In a separate development, gangs of unidentified men have assaulted a group of Pakistanis and a Syrian man in Cologne amid tensions over a rash of sex assaults on women in the western German city.
Those attacks have been largely blamed on foreigners of Arab or North African origins and played up by the media.
Cologne police said a gang of around 20 men attacked at least six Pakistani nationals on Sunday, and two of the victims were briefly admitted to hospital.
Five men later attacked and injured a man of Syrian descent in a separate attack.
Local media said the assailants were members of hooligan gangs who organized a meeting in downtown Cologne to plan a "manhunt" against foreigners.
Scores of women were reportedly sexually assaulted or robbed by gangs of men during New Year's celebrations in Cologne.
At least 31 people have so far been charged in the attacks. Eighteen of the defendants have been identified as asylum seekers.
Merkel: Europe vulnerable
Also on Monday, German Chancellor Angela Merkel said Europe is "vulnerable" in the face of the growing refugee crisis as it lacks the necessary means to be favorably in control of the situation.
Full report at:
http://presstv.ir/Detail/2016/01/12/445456/Germany-refugee-deportations-Austria-Merkel/
-----------
Germany: 211 far-right extremists arrested
12 January 2016
German police said Tuesday they have arrested 211 far-right extremists who went on a rampage on the sidelines of a xenophobic rally in Leipzig, setting cars on fire and smashing windows.
The extremists are known to police as football hooligans, and had wrought chaos Monday at an area of the eastern city known to be left-leaning, just as thousands of far-right supporters of the anti-migrant PEGIDA movement were gathering at a peaceful demonstration, authorities said.
News website Spiegel Online also published a picture of a kebab shop with a smashed window.
Germany has been outraged by a rash of crime targeting women at New Year's festivities in Cologne in the west that has been blamed on migrants.
As thousands rallied to blame refugees for the violence, a group of hooligans broke away and smashed windows, burned cars and rubbish bins and shot off pyrotechnics that set a floor of a building on fire.
In return, left-wing radicals vandalised a bus that had been chartered by the hooligans, police said.
Full report at:
http://www.worldbulletin.net/europe/168322/germany-211-far-right-extremists-arrested
-----------
Putin admits Western sanctions' harm
11 January 2016
President Vladimir Putin acknowledged Monday in an interview with German daily Bild that Western economic sanctions over the Ukraine crisis are affecting Russia.
"Concerning our possibilities on the international financial markets, the sanctions are severely harming Russia," he said in a long interview, calling the EU sanctions "a theatre of the absurd".
Moscow has been hit by US and European sanctions over the conflict between pro-Russian separatists and Ukrainian forces which has claimed more than 9,000 lives since April 2014.
In late December, the EU extended its sanctions by six months, arguing that the Minsk peace agreement signed by Moscow has not been fully implemented.
Putin said, however, that "the biggest harm is currently caused by the decline of the prices for energy," according to an English-language transcript published by Bild online.
"We suffer dangerous revenue losses in our export of oil and gas, which we can partly compensate for elsewhere," he said.
"But the whole thing also has a positive side: if you earn so many petrodollars –- as we once did -– that you can buy anything abroad, this slows down developments in your own country."
Putin said Russia was now "gradually stabilising our economy".
"Last year, the gross domestic product had dropped by 3.8 percent. Inflation is approximately 12.7 percent. The trade balance, however, is still positive.
"For the first time in many years, we are exporting significantly more goods with a high added value, and we have more than $300 billion in gold reserves."
While Russia has since September 30 launched airstrikes in Syria, Putin called on Western countries to collaborate more closely with Moscow in the fight against the ISIL group.
Full report at:
http://www.worldbulletin.net/europe/168296/putin-admits-western-sanctions-harm
-----------
Pope urges Europe to keep welcoming refugees
11 January 2016
Pope Francis on Monday urged European governments to keep welcoming refugees while acknowledging security and other concerns over the recent mass influx of people mainly from the Middle East, Asia and Africa.
Addressing ambassadors to the Holy See in the aftermath of the New Year's Eve mass assaults in Germany's Cologne, the pontiff said the present wave of migration seemed to be undermining the foundations of Europe's "humanistic spirit".
He urged European leaders not to to lose "the values and principles of humanity ... however much they may prove, in some moments of history, a burden difficult to bear."
Francis said Europe was struggling to cope with the unprecedented wave of refugees, which saw over a million people arrive on the continent's shores in the course of 2015.
"Many refugees from Asia and Africa see in Europe a beacon for principles such as equality before the law and for values inherent in human nature," he said.
"All the same, the massive number of arrivals on the shores of Europe appear to be overburdening the system of reception painstakingly built on the ashes of the Second World War, a system that is still an acknowledged beacon of humanity."
He said the sheer size of the influx was causing "inevitable problems" and raising concerns about "changes in the cultural and social structures" of host countries.
"Equally significant are fears about security, further exacerbated by the growing threat of international terrorism," the pontiff added.
Full report at:
http://www.worldbulletin.net/europe/168295/pope-urges-europe-to-keep-welcoming-refugees
-----------
Hollande visits main Paris mosque
10 January 2016
French President Francois Hollande made an unannounced visit to the main mosque in Paris on Sunday, a year after extremist attacks in the French capital.
"The president had a short conversation and a moment of friendship and fraternity over a cup of tea," a French presidency official said.
Earlier, Hollande attended a low-key event to mark a year since 1.5 million people thronged Paris in a show of unity following the shootings at Charlie Hebdo newspaper and a Jewish supermarket.
Full report at:
http://www.worldbulletin.net/europe/168269/hollande-visits-main-paris-mosque
-----------
North America
White supremacists: We don't need Muslims in US
Jan 12, 2016
WASHINGTON/NEW YORK: A white supremacist group said it has placed thousands of automated phone calls in Iowa urging voters to back billionaire Donald Trump's bid for the Republican presidential nomination because "we don't need Muslims."
The telephone campaign is led by the American Freedom Party, which on its website says it "shares the customs and heritage of the European American people." The calls featured the spokesman of a white supremacist group that Dylann Roof, who is accused of gunning down nine people at a black church in South Carolina in June, had reportedly cited as inspiration.
"We don't need Muslims. We need smart, well-educated white people who will assimilate to our culture," Jared Taylor, editor of the supremacist magazine American Renaissance, says on the call.
Taylor is also spokesman of the Council of Conservative Citizens, a supremacist group with historic links to the White Citizens Council, a segregationist organization set up in Mississippi in 1954.
The group also attempted to buy radio time in Iowa but was rebuffed.
The Trump campaign did not immediately respond to a request for comment.
The group has placed about 200,000 "robocalls" in Iowa and may also target New Hampshire, organizers said. The American Freedom Party published an audio recording of the call on its website.
Iowa kicks off the voting in the nominating contests leading up to the November 2016 presidential election with its caucuses on Feb. 1. New Hampshire holds the country's first primary elections on Feb. 9.
The campaign by the American National Super PAC injects another controversial wrinkle into a presidential campaign that has been more racially charged than any in recent memory.
Trump has emerged as a surprise front runner in the Republican nominating contest after calling Mexican immigrants "rapists" in his speech declaring his candidacy and saying the United States should ban Muslims from entering the country, following the massacre in San Bernardino, California, last month by a young Muslim couple.
Republican rivals have condemned those remarks as inflammatory, but they have not dented Trump's popularity among Republican voters, who are overwhelmingly white.
"I can't say it surprises me," said Dave Zbaracki, a former Republican who was attending a campaign event for Democrat Hillary Clinton in Waterloo, Iowa. He said many of his Republican friends were "mortified" by events in the race.
The group bought airtime on a Des Moines Christian radio station to broadcast its message but the station says it will not broadcast the show.
"They're not on our air," Praise 940 AM general manager Jeff Delvaux told Reuters.
"Energized by Trump"
Trump has not sought the backing of white supremacist groups but several say his success has helped them win new supporters.
"Clearly our movement has been energized by Trump," said Richard Spencer, director of the National Policy Institute, a far-right group dedicated to promoting the interests of white Americans.
The chairman of the American Freedom Party, William Johnson, who also appears on the call, told Reuters he has spent about $9,000 on the effort and plans to spent another $10,000 of his own money. He said others have volunteered to pay for the effort as well.
The group, which originally registered in November as the American National Trump Super PAC before changing its name, also planned to run pro-Trump radio programming from Jan. 12 through Jan. 22, but was notified on Monday morning that the station would not accept its $2,100 payment.
Full report at:
http://timesofindia.indiatimes.com/world/us/White-supremacists-We-dont-need-Muslims-in-US/articleshow/50543559.cms
-----------
Syrian refugee invited to White House
11 January 2016
A newly arrived Syrian refugee with a harrowing story and a Muslim former U.S. soldier will be among the White House invitees at President Barack Obama's final State of the Union address on Tuesday.
The White House on Sunday announced the names of the guests invited to join Michelle Obama in the gallery of the House of Representatives when legislators, Supreme Court justices and other dignitaries assemble to hear the president lay out his chief goals for the year.
A first lady's choice of guests to the closely watched address often underlines the president's priorities, and this year is no different.
One of the guests, Refaai Hamo, arrived in Detroit only on December 18 with his surviving children -- three daughters and a son -- after spending two years in Turkey.
He had fled Syria after a missile fired by Syrian government forces destroyed the complex where he and his family lived, the White House said. Hamo's wife, one of their daughters and five other family members perished.
In Turkey, Hamo was diagnosed with stomach cancer. After being granted refugee status in the United States, he and his children are now trying to build a new life in Troy, Michigan, a Detroit suburb.
The selection of Hamo is a stinging reply from the Obamas to those Republican members of Congress who, in a preliminary vote, sought to block Syrian refugees from entering the country, for fear that terrorists might slip in among them.
Also at Michelle Obama's side will be Naveed Shah, a Muslim and former U.S. soldier, who was a child when his parents immigrated to the country from Pakistan. Shah joined the army in 2006 and served in Iraq.
The symbolism there is also unmistakable, at a time when Donald Trump, the frontrunning Republican presidential candidate, has fanned anti-Muslim feelings among some Americans, proposing to temporarily ban all Muslims from the country.
One seat will be left vacant Tuesday in hommage to the victims of gun violence, at a time when Obama has been struggling against Republican opposition to tougher laws on gun ownership.
Full report at:
http://www.worldbulletin.net/america-canada/168291/syrian-refugee-invited-to-white-house
-----------
Canadian hostage held in Afghanistan released after five years
Jan 12, 2016
TORONTO: A Canadian man, held by the Taliban in Afghanistan since 2010, has been released, Canada's government announced Monday.
Canadian Foreign Affairs Minister Stephane Dion said in a statement that efforts to win Colin Rutherford's release were successful.
Rutherford was a tourist in Afghanistan when he was seized by the Taliban in November 2010. The Taliban released a video of Rutherford in 2011 and accused the then 26-year-old of being a spy.
Rutherford insisted he was not a spy and had travelled to Afghanistan to study historical sites and shrines.
He said in the video that he is an auditor from Canada and came as a tourist.
It was not immediately clear how his release came about, but Dion thanked the government of Qatar for its assistance.
"Canada is very pleased that efforts undertaken to secure the release of Colin Rutherford from captivity have been successful," Dion said.
"We look forward to Mr. Rutherford being able to return to Canada and reunite with his family and loved ones."
Full report at:
http://www.dawn.com/news/1232452/canadian-hostage-held-in-afghanistan-released-after-five-years
-----------
US repatriates Guantanamo Bay detainee to Saudi Arabia
Jan 12, 2016
WASHINGTON: A Guantanamo Bay inmate has been repatriated to Saudi Arabia, the Pentagon announced on Monday, bringing the remote military prison's remaining population down to 103.
Muhammed Abd Al Rahman Awn Al-Shamrani had spent 14 years in Guantanamo, where he was held without trial and was suspected of being an Al Qaeda member who "possibly" worked as Osama bin Laden's bodyguard, according to his leaked prisoner file. Al-Shamrani, 40, will participate in Saudi Arabia's reintegration and rehabilitation programme, which includes support from family members.
"The United States is grateful to the government of the Kingdom of Saudi Arabia for its willingness to support ongoing US efforts to close the Guantanamo Bay detention facility," the Pentagon said in a statement.
Pentagon spokesman Commander Gary Ross said Al-Shamrani had arrived in Saudi Arabia earlier on Monday.
Of the 103 remaining inmates, 44 have been approved for transfer, and the Pentagon is trying to find countries to take them as it struggles to honor President Barack Obama's 2009 order to close the prison. Many are from Yemen and cannot go back, given its collapse into civil war.
US Defence Secretary Ashton Carter in December signed off on 17 of the 44 to be transferred as soon as this month, and three were released last week: two to Ghana and one to Kuwait.
Officials say additional releases is expected soon. Even if all 44 are released, the remaining inmates are expected to stay in indefinite detention.
Al-Shamrani had on previous occasions been deemed a potential ongoing threat to the United States.
Full report at:
http://www.dawn.com/news/1232380/us-repatriates-guantanamo-bay-detainee-to-saudi-arabia
-----------
Obama says he 'will close Guantanamo Bay before he leaves office'
January 12, 2016
The clock is ticking for President Barack Obama to make good on one of his biggest promises — closing Guantanamo Bay.
White House Chief of Staff Denis McDonough backed the president on Sunday in what would be an enormous moral victory for the Obama Administration.
"He feels an obligation to the next president. He will fix this so that they don't have to be confronted with the same set of challenges," Mr McDonough said on Fox News Sunday.
The naval base opened in response to the September 11 attacks and now contains 103 men with 17 prisoners scheduled to be relocated this month. However, when Congress passed their annual spending bill in November, they made sure to restrict President Obama from relocating any Guantanamo detainees to the United States.
Mr McDonough hinted at the president's ability to bypass Congress if they reject his legislative proposals.
"The president just said he's going to present a plan to Congress and work with Congress and then we'll make some final determination," he said.
In his final press conference of 2015, President Obama said he wouldn't rule out using his executive authority but he first wanted to try to come to a resolution with Congress on closing the facility.
Full report at:
http://nation.com.pk/international/12-Jan-2016/obama-will-close-guantanamo-bay-before-he-leaves-office-with-or-without-congress
-----------
Key findings on Muslim population in US
11 January 2016
A US-based think tank has conducted a study to answer some of key questions about Muslims and Islam in the United States
World Bulletin / News Desk
The growth and regional migration of Muslims, combined with the ongoing impact of the ISIL and other extremist groups that commit acts of violence in the name of Islam, have brought Muslims and the Islamic faith to the forefront of the political debate in many countries.
Pew Research Center has conducted a study to answer some of key questions about Muslims and Islam in the United States.
How many Muslims are there in the U.S.?
According to Pew Research Center's best estimate, Muslims make up just less than 1% of the U.S. adult population. The 2014 Religious Landscape Study found that 0.9% of U.S. adults identify as Muslims. A 2011 survey of Muslim Americans estimated that there were 1.8 million Muslim adults (and 2.75 million Muslims of all ages) in the country. That survey also found that a majority of U.S. Muslims (63%) are immigrants.
Pew Research Center's demographic projections estimate that Muslims will make up 2.1% of the U.S. population by the year 2050, surpassing people who identify as Jewish on the basis of religion as the second-largest faith group in the country (not including people who say they have no religion).
A recent report estimated that the Muslim share of immigrants granted permanent residency status (green cards) increased from about 5% in 1992 to roughly 10% in 2012, representing about 100,000 immigrants in that year.
What do American Muslims believe?
Pew Research Center's 2011 survey of Muslim Americans found that roughly half of U.S. Muslims (48%) say their own religious leaders have not done enough to speak out against Islamic extremists.
Living in a religiously pluralistic society, Muslim Americans are more likely than Muslims in many other nations to have many non-Muslim friends. Only about half (48%) of U.S. Muslims say all or most of their close friends are also Muslims, compared with a global median of 95% in the 39 countries we surveyed.
Roughly seven-in-ten U.S. Muslims (69%) say religion is very important in their lives. Virtually all (96%) say they believe in God, nearly two-thirds (65%) report praying at least daily and nearly half (47%) say they attend religious services at least weekly. By all of these traditional measures, Muslims in the U.S. are roughly as religious as U.S. Christians, although they are less religious than Muslims in many other nations.
When it comes to political and social views, Muslims are far more likely to identify with or lean toward the Democratic Party (70%) than the Republican Party (11%) and to say they prefer a bigger government providing more services (68%) over a smaller government providing fewer services (21%). As of 2011, U.S. Muslims were somewhat split between those who said homosexuality should be accepted by society (39%) and those who said it should be discouraged (45%), although the group had grown considerably more accepting of homosexuality since a similar survey was conducted in 2007.
How do Americans perceive Muslims?
A Pew Research Center survey conducted in 2014 asked Americans to rate members of eight religious groups on a "feeling thermometer" from 0 to 100, where 0 reflects the coldest, most negative possible rating and 100 the warmest, most positive rating. Overall, Americans rated Muslims rather coolly – an average of 40, which was comparable to the average rating they gave atheists (41). Americans view the six other religious groups mentioned in the survey more warmly.
Full report at:
http://www.worldbulletin.net/america-canada/168297/key-findings-on-muslim-population-in-us
-----------
US threatens to add Fatah to 'terror' list
10 January 2016
Abbas Zaki, a member of Fatah's central committee, has alleged that the U.S. was threatening to add the movement to Washington's list of "terrorist" groups if it attempted to have Israeli leaders indicted by the International Criminal Court (ICC).
Zaki made the assertions in a speech he delivered in Jordan on Saturday to mark the 51st anniversary of the "Palestinian National Revolution".
"Fatah sees 2016 as the year of [Palestinian] national unity, during which it will reconsider its relationship with Israel," he said.
The movement, he added, "has diverse means of putting pressure on Israel, including the submission last year of complaints to the ICC against Israeli leaders for committing war crimes and crimes against humanity in the Palestinian territories".
Last April, ICC spokesman Fadi al-Abdullah announced that Palestine had formally joined the court "as a full-fledged member".
Since then, the Fatah-led Palestinian Authority has submitted several complaints to the ICC accusing Israel of having committed war crimes and of pursuing a policy of illegal settlement construction.
Full report at:
http://www.worldbulletin.net/america-canada/168275/syrian-refugee-invited-to-white-house
URL: https://newageislam.com/islamic-world-news/new-age-islam-news-bureau/isis-manual-for-lone-wolf-militants--trim-beard,-pretend-to-be-christian/d/105963
New Age Islam, Islam Online, Islamic Website, African Muslim News, Arab World News, South Asia News, Indian Muslim News, World Muslim News, Womens in Islam, Islamic Feminism, Arab Women, Womens In Arab, Islamphobia in America, Muslim Women in West, Islam Women and Feminism, Islamic World News