New Age Islam News Bureau
3 Oct 2015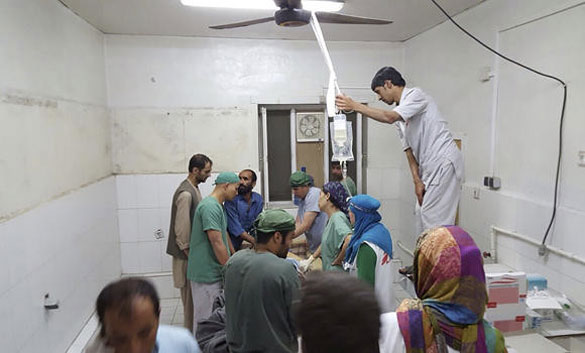 US air strike on Afghan hospital kills 9
--------
India
• ISIS Man Tweets Pictures of Majeed, Twitter Suspends Account
• Muslims Banned From Mandvi Garbas
South Asia
• Urgent Air Support Sought as Taliban Surround 200 Soldiers in Afghanistan
• Taliban Planned To Bring Mullah Mansour to Kundoz
Southeast Asia
• Malaysia Not Just For Malays, But For Muslims, Says Hard-Line Islamist Group Hizbut Tahrir
• Bomb-Making Lab Seized; Syrian and Filipino Partner Nabbed
-------
Arab World
• Russia Strikes ISIS Stronghold Raqqa in Syria, US-Led Coalition Warns Of Escalation
• Jordan MP's Son Carried out Iraq Suicide Bombing Claims Daesh
• ISIL Terrorists Fleeing Raqqa after Russian Airstrikes
• Army Repels Terrorists' Attack on Deir Ezzur Military Airport
---------
Africa
• Boko Haram strikes in Abuja, kills 20 in Kuje, Nyany
------
Pakistan
• Two Pakistani Men Caught Trying To Go To Syria to Join Islamic State
• Zaid Hamid Returns To Pakistan after KSA Arrest
• IED Blast in Mohmand Kills One, Injures Two
----------
Mideast
• Khamenei Demands Muslim World Probe Haj Stampede
• Iran, Arab League Discuss Regional Developments
----------
Europe
• One of World's Oldest Quran Goes On Display In UK
• Medvedev: Military Mission in Syria Protects Russians from Terrorism
--------
North America
• Putin in Syria out of weakness to help crumbling Assad: Obama
Compiled by New Age Islam News Bureau
For Details and More Headlines from All Regions, Please click, 'More'
URL: https://www.newageislam.com/islamic-world-news/new-age-islam-news-bureau/isis-man-tweets-pictures-of-majeed,-twitter-suspends-account/d/104789
-------
India
ISIS Man Tweets Pictures Of Majeed, Twitter Suspends Account
Bharti Jain,TNN | Oct 3, 2015, 01.06 AM IST
NEW DELHI: Twitter has suspended the handle of ISIS Twitter Magnet Gas, @spamci17, a day after he tweeted photographs of arrested Kalyan youth, Areeb Majeed, taken in Syria and claimed that he had returned to India to carry out a suicide attack on the " Mumbai police headquarters".
The account, said to be operated by Majeed's friend Fahad Sheikh who had fled to ISIS territory along with him last year, has been suspended several times earlier but the tweeter has managed to resurface each time with a new Twitter handle.
On Wednesday, a series of posts were uploaded on the Twitter account @spamci17 claiming to tell the "real story behind Majeed's return to India". The tweets mentioned that Majeed, who was in touch with his family during his stint with the ISIS, was told at the time about his sister being "abused by the Indian police". He decided to return to India to carry out an attack on the police headquarters.
The handle tweeted three pictures of Majeed's days in ISIS territory, including one with two other ISIS fighters, on a rooftop with an AK-47 rifle and another on a motorcycle with the rifle slung on his shoulder.
The tweet claimed Majeed was happy serving ISIS as a civil engineer and that he was lured by his family to return home. Though he chose to travel to India to kill the police officer who had "abused" his sister, he found upon his return that it was all a lie told by his family to bring him back.
Majeed was arrested upon his return from Syria via Turkey and a case registered under him under the Unlawful Activities (Prevention) Act and IPC. He is now lodged in Arthur jail in Mumbai.
http://timesofindia.indiatimes.com/india/IS-man-tweets-pictures-of-Majeed-Twitter-suspends-account/articleshow/49200589.cms
--------
Muslims banned from Mandvi garbas
TNN | Oct 3, 2015
RAJKOT: Muslims in Mandvi taluka of Kutch have been banned from entering all garba venues this Navratri.
However, this is just one of the several stringent bans imposed by the garba organizers and Hindu Sangathan Yuva Morcha, a local saffron outfit. Entry for Hindus too comes with a condition. Hindus entering the venue will have to sprinkle cow urine on themselves and apply tilak on their forehead.
"We had banned the entry of people from other religions last year itself and framed these strict rules. But these are being more pronounced this year," said Raghuvirsinh Jadeja.
Justifying the ban, Jadeja told TOI: "Navratri is a religious festival in which devotees worship the deity of strength for nine days. We are also concerned over the rising number of cases of love jihad."
Even as the outfit and garba organizers are firm on imposing the ban, it must be noted that the coastal town of Mandvi, which is famed for its centuries-old wooden boat-making industry, has never seen communal clashes. This despite the large population of Muslims, most of whom are engaged in the dhow-making business.
Jadeja said the members of the organization will also fan out across all the garba venues and ensure that no Muslims are present there. Sources said that Jadeja has a private financing business and has formed this outfit since a year. The organization is closely associated with the Vishwa Hindu Parishad (VHP)
There are around six big garba events in Mandvi taluka.
Local Muslim leader Azam Angadia, who is also vice-president of Kutch Vahanvata Association, said, "We are going to meet in a day or two to decide on our stand regarding such a decree. There are some elements who are making deliberate attempts at vitiating the atmosphere."
A BJP leader from Kutch also expressed his displeasure over the decree. "Hindus and Muslims have been living in complete harmony since years in Mandvi. There are many Hindus who keep roza (fast) during Ramzan and Muslims join them with fervour in Ganesh Chaturthi. Such bans are in a very poor taste when there is no communal rift at all," he said, not wanting to be named.
http://timesofindia.indiatimes.com/city/ahmedabad/Muslims-banned-from-Mandvi-garbas/articleshow/49201468.cms
-------
South Asia
Urgent air support sought as Taliban surround 200 soldiers in Afghanistan
Sat Oct 03 2015
Taliban militants have launched a coordinated attack on Kohistanat District of northern Sar-e-Pul province.
According to reports, Taliban launched attack on the center of Kohistanat District from four sides last night.
Noor Mohammad Rahmani, head of the Provincial Council of Sar-e-Pul said that heavy clashes have been erupting between security forces and Taliban.
He said routes leading to the district centre have been closed, adding that soldiers surrounded by Taliban would be killed if air support does not immediately arrive there.
Rahmani said that he had a video conference with President Mohammad Ashraf Ghani this morning and let him know about the situation.
Meanwhile, Asadullah Khuram another member of this Shura says that more than 200 soldiers have been surrounded by Taliban.
He said around 600 Taliban are taking part in the attack.
Kohistanat District had recently fallen to Taliban but it was recaptured by security forces.
http://www.khaama.com/immediate-air-support-sought-as-taliban-surround-200-soldiers-in-sar-e-puls-kohistanat-district-3968
-----------
Taliban Planned To Bring Mullah Mansour to Kundoz
Sat Oct 03 2015
Taliban intended to bring their Supreme Leader Mullah Akhtar Mohammad Mansour to northern Kundoz province but security forces foiled their plan, Afghanistan's Deputy Chief of Staff says.
General Murad Ali Murad has said that Taliban had planned to control Kundoz for a few days and bring Mullah Mansour there.
He has also said that the plan included a media gathering by Mullah Mansour in Kundoz to show that he is in Afghanistan.
Mullah Akhtar Mohammad Mansour who took over the charge of Taliban after Mullah Mohammad Omar was confirmed dead is believed to be living in Pakistan.
In several occasions, Afghan government asked Pakistan to act against the enemies of Afghanistan enjoying safe heavens there but so far has received only empty promises.
Pakistan's Prime Minister Mohammad Nawaz Sharif has said that Afghanistan's enemy is Pakistan's enemy but still no action against Quetta and Peshawar Shuras who are considered the back bone of Taliban.
Quetta is the capital of Pakistan's Baluchistan province and Peshawar is the capital city of its Khyber Pakhtunkhwa province where reportedly Taliban commanders get to gather and issue rulings to militants on the ground in Afghanistan.
http://www.khaama.com/taliban-planned-to-bring-mullah-mansour-to-kundoz-3964
-----------
US Air Strike on Afghan Hospital Kills 9
ANUJ CHOPRA | AFP, 3 October 2015
KABUL: A suspected US air strike on a hospital in the Afghan city of Kunduz Saturday left nine MSF staff dead, in a bombardment the charity said continued for more than 30 minutes after Washington was informed.
Dozens more were seriously wounded at the facility, a key medical lifeline that has been running "beyond capacity" during fighting that saw the Taliban seize control of the northern provincial capital for several days.
The strike early Saturday left the building engulfed in flames, with photos posted by Doctors without Borders showing their staff shocked and dazed.
"At 2:10 a.m. (2040 GMT) local time... the MSF trauma center in Kunduz was hit several times during sustained bombing and was very badly damaged," the organization, known by its French initials, said.
"It is with deep sadness that we confirm so far the death of nine MSF staff during the bombing... 37 people were seriously wounded... There are many patients and staff who remain unaccounted for."
It said the bombing continued for more than 30 minutes after American and Afghan military officials in Kabul and Washington were first informed.
"All parties to the conflict, including in Kabul and Washington, were clearly informed of the precise location (GPS coordinates) of the MSF facilities," the statement added.
The Afghan defense ministry expressed sadness but in a statement said "a group of terrorists armed with light and heavy weapon... were using the hospital building as a position to target Afghan forces and civilians."
NATO conceded US forces may have been behind the strike but has not so far commented on MSF's specific claims.
"US forces conducted an air strike in Kunduz city at 2:15 a.m. (local time)... against individuals threatening the force," a NATO statement said.
"The strike may have resulted in collateral damage to a nearby medical facility. This incident is under investigation."
Saturday's bombing came after Taliban insurgents overran the northern Afghan city on Monday. It was the first major city to be captured by militants since 2001.
MSF said some 105 patients and their caregivers, as well as more than 80 international and local MSF staff were in the hospital at the time of the bombing.
Bodies burned
The blackened building was filled with the smell of burning flesh and some bodies were charred beyond recognition, said Qiamudeen, a 31-year-old shopkeeper whose neighbor was killed in the strike.
"I was shocked, emotional and in tears when I reached the hospital," Qiamudeen, who goes by one name, told AFP.
Another resident said he was anxiously trying to contact six friends, all doctors and nurses at MSF.
"I don't have any news from them and they may have been killed," he told AFP.
He said many people were too afraid to leave their homes to check on wounded relatives because of sporadic fire fights between troops and Taliban militants.
The Afghan government insists the city is firmly in their control.
'Appalling tragedy'
The MSF trauma centre in Kunduz is the only medical facility in the whole northeastern region of Afghanistan that can deal with major injuries.
"We are deeply shocked by the attack, the killing of our staff... and the heavy toll it has inflicted on health care in Kunduz," MSF director of operations Bart Janssens said.
"We do not yet have the final casualty figures, but our medical team are providing first aid and treating the injured patients. We urge all parties to respect the safety of health facilities and staff."
The International Committee of the Red Cross said the strike was "an appalling tragedy."
"Such attacks against health workers and facilities undermine the capacity of humanitarian organizations to assist the Afghan people at a time when they most urgently need it."
Kunduz is facing a humanitarian crisis, with thousands of civilians caught in the crossfire between government forces and insurgents. At least 60 people are known to have died and 400 wounded in recent fighting.
As violence spreads in neighbouring Badakhshan, Takhar and Baghlan provinces, concerns are mounting that the seizure of Kunduz was merely the opening gambit in a new, bolder Taliban strategy to tighten the insurgency's grip across northern Afghanistan.
The Taliban's offensive in Kunduz, their biggest tactical success since 2001, marks a major blow for Afghanistan's Western-trained forces.
In a statement, the Taliban accused "barbaric American forces" of deliberately carrying out Saturday's strike, which "killed and wounded tens of doctors, nurses and patients."
US-led NATO forces ended their combat mission in Afghanistan last December, though a 13,000-strong force remains for training and counter-terrorism operations.
http://www.arabnews.com/world/news/814916
------
Afghan forces recapture Baharak District of Badakhshan from Taliban
Sat Oct 03 2015
ANAAfghan National Security Forces have recaptured Baharak District of northeastern Badakhshan province from Taliban.
A source told Khaama Press on condition of anonymity that Afghan commandos have removed the flag of Taliban and raised Afghan flag in the district center.
According to the source, heavy clashes have been erupting between security forces and Taliban in Yardar and Qalatak areas between Baharak and Wardooj districts.
Ministry of Defense confirms the news of retaking the district.
Baharak District had briefly fallen to Taliban after clashes with security forces.
Reports suggested that Taliban entered to Baharak District form neighboring Wardooj District that a stronghold of Taliban in Badakhshan.
Taliban ramped up their activities in Afghanistan after announcing 'Spring Offensive' in April.
They have been able to capture areas but lose them back to security forces after suffering heavy casualties.
http://www.khaama.com/breaking-news-afghan-forces-recapture-baharak-district-of-badakhshan-from-taliban-3963
-----------
Civilians killed in air strike in Kundoz
Sat Oct 03 2015
Kundoz HospitalOfficials at the Public Health Directorate of northern Kundoz province say that civilians have been killed in recent air strike in this province.
Doctor Saad Mukhtar from the Public Health Directorate said that the air strike was carried out on MSF hospital based on wrong information.
He said the information delivered was that key Taliban figures are being treated at the hospital but doctors and patients were killed and wounded in the air strike.
Colonel Brian Tribus, a spokesman for U.S. Forces in Afghanistan confirms the air strike but says it was conducted to target individuals threatening the force.
"That the air strike may U.S. forces conducted an airstrike in Kunduz city at 2:15am (local), Oct. 3, against individuals threatening the force. The strike may have resulted in collateral damage to a nearby medical facility. This incident is under investigation." A statement attributed to Col. Brian Tribus stated.
"At 2:10 AM local time on Saturday October 3, the Doctors Without Borders/Médecins Sans Frontières' (MSF) Trauma center in Kunduz was hit several times during sustained bombing and was very badly damaged." The statement stated.
It adds that three staffers are confirmed dead and more than 30 others are unaccounted for. "The medical team is working around the clock to do everything possible for the safety of patients and hospital staff." The press release adds.
"We are deeply shocked by the attack, the killing of our staff and patients and the heavy toll it has inflicted on healthcare in Kunduz," Bart Janssens, MSF Director of Operations stated in the press release. "We do not yet have the final casualty figures, but our medical team are providing first aid and treating the injured patients and MSF personnel and accounting for the deceased. We urge all parties to respect the safety of health facilities and staff."
Kundoz was run over by Taliban last week and government forces backed by US airstrikes are trying to clear the key northern city from Taliban.
Follow Khaama Press (KP) | Afgha
http://www.khaama.com/breaking-news-doctors-civilians-killed-in-air-strike-in-kundoz-3962
----------
Taliban shadow governor for Badakhshan killed in security operation
Sat Oct 03 2015
The Ministry of Interior has claimed killing the shadow governor of Taliban for north-eastern Badakhshan province but Taliban reject the claim as baseless.
"Mawlawi Fasihuddin Taliban shadow governor for Badakhshan killed today in Baharak district." Sediq Sediqi, spokesman for the Ministry of Interior stated in a tweet last night.
According to Sediqi, Mawlawi Fasihuddin who had committed several cases of crime was killed along with 40 of his men during security operations in Baharak District of Badakhshan province.
However, Taliban has turned the report as baseless.
An online statement posted on Taliban website states that Mawlawi Fasihuddin 'governor and military commander' is still alive.
Heavy clashes have erupted between security forces and Taliban in Baharak District during the past two days.
The district center briefly fell to Taliban but security forces have regained the control of it.
http://www.khaama.com/ministry-of-interior-taliban-shadow-governor-for-badakhshan-killed-in-security-operation-3965
-----------
Some Taliban still holding out in Kunduz
Oct 3, 2015
KABUL: Taliban fighters were holding out against Afghan troops in Kunduz on Friday, a day after government forces recaptured most of the northern city that had fallen to the militants in their biggest victory of a 14-year insurgency.
In Badakhshan province in Afghanistan's northeast, the Taliban took control of Warduj district late on Thursday after heavy fighting, according to Nawid Forotan, a spokesman for the provincial governor.
Residents in Kunduz, a strategic city of 300,000 that fell to the Taliban in a stunning pre-dawn attack on Monday, said that while most Taliban fighters had fled, some were holed up in civilian homes fighting the army.
Taliban spokesman Zabihullah Mujahid said they had taken control of Kunduz, a claim denied by the Afghan government.
"We have beaten the enemy forces," he said.
The Taliban were accused of extrajudicial killings, raping, torturing, looting and setting fire to government buildings during their three-day occupation of Kunduz by the Afghan president's office.
"Afghanistan is committed to legally prosecute the perpetrators of these crimes, and to that end, assigns a civilian commission to assess the losses sustained as a result of the Taliban presence," a statement said.
At least 60 people were killed in the fighting as of Friday, according to a Health Ministry spokesman. He said hospitals in Kunduz had treated about 466 wounded.
Ahmad Sahil, a producer for local Afghan television in the city, said many people were still too afraid to leave their houses.
"The Taliban who knew Kunduz left the city already, but many foreign fighters could not flee and are hiding in people's homes in some parts of the city centre and are still resisting," Mr Sahil said.
Hamdullah Danishi, acting governor of Kunduz province, described the capital as calm, and said there was "no major fighting".
He acknowledged, however, that the insurgents had not been completely driven from Kunduz. "Taliban are still in civilian houses and buildings," he said.
"They are using civilians as human shields."
The International Committee of the Red Cross said it was increasingly concerned about the welfare of citizens inside the city and the lack of medical supplies and personnel.
"We are very short-staffed in the hospitals," said Peter Esmith Ewoi, an ICRC doctor working in the city. "The medical staff in the city cannot get to the hospitals because of the on-going fighting."
In a worrying sign for government forces struggling to contain a growing militant threat, the Taliban made territorial gains elsewhere in the country, although on a smaller scale than the brief seizure of Kunduz.
"Our forces did not get reinforcements on time," Forotan said of the loss of Warduj district in Badakhshan. "Taliban were in big numbers, therefore our forces retreated."
The Taliban said they killed 50 soldiers and gained control of 28 checkposts in a district of Badakhshan province that has been fought over for years.
It occupies a position along a highway to the border with Tajikistan and also shares a border with China and Pakistan.
The attack started when Taliban militants raided checkpoints in several villages, overrunning reinforcements and seizing control late in the afternoon, according to a government report. The police headquarters in Warduj fell at around 6pm it said.
http://www.dawn.com/news/1210558/some-taliban-still-holding-out-in-kunduz
-----------
Japan citizen shot dead in Bangladesh, 2nd foreigner killed this week
Oct 3, 2015
DHAKA: A Japanese citizen was shot dead in Bangladesh on Saturday, police said, the second killing of a foreign national in the South Asian nation within a week.
Concerns that more foreigners might be targeted prompted Western embassies to curtail diplomats' movements in Bangladesh this week after an Italian was shot dead in the first attack in the country claimed by Islamic State.
Attacks on foreigners are rare in Bangladesh, despite a rising tide of Islamist violence over the past year that has seen four online critics of religious militancy hacked to death, among them a US citizen of Bangladesh origin.
Hoshi Kunio, 65, was attacked by unidentified assailants around 10am on a visit to Kownia, in the district of Rangpur, 335 km (210 miles) north of the capital, Dhaka, and died on his way to hospital, police said.
"He was shot on his chest and also in his hand and leg," Rezaul Karim, the officer in charge of the local police station, told reporters.
The officer did not comment on a possible motive for the killing, saying "We are investigating."
An official of the Japanese embassy in Dhaka told Reuters she was trying to ascertain the details of the incident involving Kunio, who was born in Bangladesh.
Cesare Tavella, an Italian citizen working in Bangladesh on a food security project, was shot dead on September 28 by three gunmen in Dhaka.
http://timesofindia.indiatimes.com/world/south-asia/Japan-citizen-shot-dead-in-Bangladesh-2nd-foreigner-killed-this-week/articleshow/49204604.cms
---------
Southeast Asia
Malaysia not just for Malays, but for Muslims, says Hizbut Tahrir
BY ZURAIRI AR
Saturday October 3, 2015
SERI KEMBANGAN, Oct 3 — The Malaysian chapter of hard-line Islamists Hizbut Tahrir chided local Muslims today for their preoccupation with race, warning that tribalism is stopping the community from uniting with their brethren worldwide.
Hizbut Tahrir Malaysia (HTM) said many Malaysian Muslims have been influenced by "unIslamic thoughts" that cause them to insist that the country belongs solely to the Malays.
"The Muslims in Malaysia, who are mostly Malays, are still fighting for the Malays, their race. Whereas, in Islam that is Haram [forbidden]," HTM spokesman Abdul Hakim Othman told reporters at the sidelines of the group's Muktamar Khilafah 2015, a congress on establishing a caliphate.
"Malaysia is not owned just by the Malays. For Hizbut Tahrir, we are fine with any Muslims that come here, as this is a country for Muslims. Where anybody deserves to be here."
In a speech made in the congress, HTM activist Omar Hussein accused Western powers of dividing Muslims into nation-states, causing them to identify more with their nationalities rather than their faith.
"Verily, the reason behind Muslims' weakness and disunity is because Muslims these days are separated and segregated by the tribal divisions," Omar told hundreds who attended the congress.
"With nation-states in which political games have been arranged by the West since the fall of the caliphate on March 3, 1924."
The date refers to the dissolution of the Ottoman Empire's caliphate, following the Turkish national movement led by Turkey's first president Mustafa Kemal Atatürk.
HTM's remark today came amid claims by several Umno leaders that racism is in line with Islamic teachings, with Tan Sri Annuar Musa saying in a pro-Malay rally last month that acting in defence of Malay honour was permitted in Islam so long as other races were not oppressed in the process.
Similarly, another leader in that #Merah169 rally, Sungai Besar Umno chief Datuk Jamal Md Yunos also claimed in an interview this week that Islam requires him to prioritise his race before his nationality.
HTM aims to establish an Islamic state in Malaysia and a worldwide caliphate as part of its global network, although it has never explained how.
It had previously said that Putrajaya must implement all of Allah's laws, and not just Hudud, in a comprehensive Islamic rule that encompasses every aspect of government, including its economic, social and foreign policies as well as education.
http://www.themalaymailonline.com/malaysia/article/malaysia-not-just-for-malays-but-for-muslims-says-hardline-islamist-group-h#sthash.gyjkCGOf.dpuf
-----------
Bomb-making lab seized; Syrian and Filipino partner nabbed
ARAB NEWS- Sunday 4 October 2015
JEDDAH: Saudi security forces have arrested a Syrian expatriate and a Filipino woman suspected of involvement in terrorist activities, the Ministry of Interior said in a statement carried by the Saudi Press Agency (SPA) on Saturday.
A ministry spokesman was quoted as saying Syrian national Yasser Mohammed Shafiq Al-Barazi and the unnamed Filipino woman were not only living together illegally at a residential house in Al-Fayha'a district in Riyadh, but were also making explosive materials and belts "that were about to be used later in criminal operations."
The woman was helping Al-Barazi in sewing and preparing the explosive belts, the report said.
"The house as a whole was booby trapped by the perpetrator with severe explosive materials, indifferent to the lives of innocent residents and visitors to the neighborhood," it said.
Al-Barazi was also found to have rented another apartment in Al-Jazirah district as a shelter for persons wanted by security authorities.
http://www.arabnews.com/featured/news/814906
-------
More than 200 Rohingya Muslims storm out of Indonesia camp following alleged rapes, beatings
Saturday 1 October 2015
BLANG ADOE, Indonesia – Officials say more than 200 Rohingya briefly stormed out of an Indonesian encampment as tensions erupted following alleged rapes and beatings by locals at the site where members of Myanmar's long persecuted minority have been held since arriving four months ago by boat.
Steve Hamilton, deputy chief of mission at the International Organization for Migration, said the incident occurred Tuesday after authorities forced one of the females to go to a hospital. Other Rohingya did not want her to leave, fearing she could face more abuse.
Four Rohingya females and six males said they were attempting to flee Monday night when a group of masked Indonesian men took them into the woods and beat them. They said three females were raped.
Police are investigating. No arrests have been made.
http://www.foxnews.com/world/2015/09/29/more-than-200-rohingya-muslims-storm-out-indonesia-camp-following-alleged-rapes/
-----------
Muslim Figure Appeals for Screening of PKI Film
FRIDAY, 02 OCTOBER, 2015
TEMPO.CO, Jakarta - Muslim figure K.H. Cholil Ridwan has put forth a request to screen a film depicting the failed coup attempt by the Communist Party (PKI) in 1965 by national television stations every year on September 30.
"G30S/PKI film must always be broadcast by national television stations in the country in the years to come," he stated at the commemoration of the G30S/PKI treason at Lubang Buaya in East Jakarta on Thursday.
He affirmed that the government must encourage the screening of the film to remind the younger generation about the cruelties inflicted by the PKI.
Cholil, who is also one of the board members of the Indonesian Council of Ulema, said he had also appealed to include the stories about PKIs cruelties in the school curriculum, starting from the elementary level.
He noted that the stories had so far been excluded from the books used in elementary and junior high schools.
Full report at:
http://en.tempo.co/read/news/2015/10/02/055705705/Muslim-Figure-Appeals-for-Screening-of-PKI-Film
-----------
Arab World
Russia strikes ISIS stronghold Raqqa in Syria, US-led coalition warns of escalation
Oct 3, 2015
PARIS: Russia said on Friday it had bombed the Islamic State stronghold of Raqqa for the first time as President Vladimir Putin faced mounting criticism from western and Gulf leaders over his military campaign in support of Syrian President Bashar al-Assad.
Moscow countered that it had hit "an Islamic State (ISIS) training camp" and a command post in air strikes on Thursday near the jihadist bastion as the US-led coalition urged Russia to stop attacking Syrian opposition forces, saying it risked escalating the four-year civil war.
"These military actions constitute a further escalation and will only fuel more extremism and radicalization," seven countries including Turkey, Saudi Arabia and the United States said in a statement. "We call on the Russian Federation to immediately cease its attacks on the Syrian opposition and civilians," it added.
Russian foreign minister Sergei Lavrov said Thursday Moscow had targeted ISIS, the al-Qaida affiliate al-Nusra Front and "other terrorist groups". However, Turkey and several of its western allies have claimed that they instead hit moderate groups fighting Assad's regime.
Full report at:
http://timesofindia.indiatimes.com/world/middle-east/Russia-strikes-ISIS-stronghold-Raqqa-in-Syria-US-led-coalition-warns-of-escalation/articleshow/49198019.cms
-----------
Jordan MP's Son Carried out Iraq Suicide Bombing Claims Daesh
Saturday 3 October 2020
AMMAN: A Jordanian parliamentarian's son died carrying out a suicide attack claimed by Daesh in Iraq, Jordanian media said Friday.
Independent legislator Mazen Al-Dhalaein was quoted as telling the Khaberni website that his son, Mohammed, who went by the name of Abu Baraa, had died in Iraq.
He said he learned of his son's death after seeing his photo on social media accounts linked to Daesh.
Dhalaein said his 23-year-old son had been studying medicine in Ukraine before deciding to join Daesh this summer, travelling to Iraq through Turkey and Syria.
"He considered me and his mother to be apostates and was trying to convince us to join Daesh," he added.
The MP said he had last heard from Mohammed in August when he sent a message that he "had been signed up for a suicide attack soon".
In a statement posted on Twitter on Wednesday, Daesh claimed a triple car bombing on the northern outskirts of Ramadi, a city west of Baghdad under Daesh control since May.
Iraqi military sources confirmed suicide attacks in the area Tuesday but were unable to identify the bombers.
http://www.arabnews.com/featured/news/814851
-----------
ISIL Terrorists Fleeing Raqqa after Russian Airstrikes
Saturday 3 October 2015
TEHRAN (FNA)- The ISIL Takfiri terrorists are on the run to save their lives after sustaining heavy casualties in the Russian airstrikes in the Syrian governorate of Raqqa, media reports said.
"A large number of foreign ISIL terrorists have fled Raqqa for Iraq after the Russian warplanes pounded their hideouts," the Arabic-language El-Nashre news website quoted eyewitnesses as saying on Friday.
The report said that many ISIL militants and their families have escaped form Tal a-Saman villages in the Northern parts of Raqqa.
Full report at:
http://english.farsnews.com/newstext.aspx?nn=13940710000749
-----------
Army Repels Terrorists' Attack on Deir Ezzur Military Airport
Saturday 3 October 2015
TEHRAN (FNA)- The Syrian army repelled another ISIL attack on Deir Ezzur military airport.
The army units killed tens of ISIL terrorists and injured dozens more in heavy clashes near the airport.
The Syrian troops also destroyed several vehicles equipped with 23mm machine guns near Deir Ezzur military airport.
The army units also foiled ISIL terrorists' attempt to attack the al-Taym oilfield in the countryside of Deir Ezzur and managed to destroy their armored vehicle before reaching a military post in the area.
Also in the past 24 hours, military sources in the Southern province of Sweida said that the Syrian army troops' operations on ISIL positions in the province resulted in the killing and wounding of scores of the militants.
Full report at:
http://english.farsnews.com/newstext.aspx?nn=13940711000408
-----------
Yemeni Forces Gain Control of Saudi Village
Saturday 3 October 2015
TEHRAN (FNA)- Yemeni army and popular forces took control of a village in the Saudi border region of Jizan.
Yemeni forces gained control of al-Jaberi village, located 966 kilometers (600 miles) South of the Saudi capital, Riyadh, without any resistance from the kingdom's army soldiers, reports said Friday.
Meanwhile, an unspecified number of Saudi soldiers were also killed when Yemeni forces stormed al-Mosfaq military camp in the Saudi region of al-Tawal.
Yemen's army and popular committees also fired dozens of rockets at the Saudi province of Asir on Friday, leaving a group of soldiers, including a senior military commander dead.
The senior military commander, identified as Naser al-Ahmari, was killed in the retaliatory attacks in al-Rabuah area, reports said Friday.
A number of military vehicles were also destroyed.
Full report at:
http://english.farsnews.com/newstext.aspx?nn=13940711000831
-----------
Assad 'must go' to stop Syria bleeding
Saturday 3 October 2020
NEW YORK: Saudi Arabia has reiterated that those whose hands are stained with the blood of the Syrian people have no place in a new Syria.
Addressing the UN General Assembly, Foreign Minister Adel Al-Jubeir expressed deep concern over the international community's inability to save innocent Syrians from the "killing machine" of Bashar Assad that has devastated their country and led to the world's most tragic humanitarian crisis.
He said the tragic conflict, which is entering its fifth year, has devolved into the worst humanitarian disaster, claimed some 300,000 lives and driven millions of desperate people from their homeland.
Full report at:
http://www.arabnews.com/featured/news/814846
-----------
Saudi Airstrikes Hit Yemen
Saturday 3 October 2020
TEHRAN (FNA)- Saudi Arabia conducted dozens of airstrikes on several residential areas across Yemen.
On Friday, Saudi warplanes carried out at least 15 airstrikes on Harad district in Hajjah province and 14 airborne strikes on Shida district in the province of Sa'ada.
A Saudi missile attack also hit the Munabbih district of Sa'ada.
There is still no word on the extent of damage and possible casualties inflicted by the raids.
Full report at:
http://english.farsnews.com/newstext.aspx?nn=13940711000533
-----------
Saudi Soldiers, Including Senior Commander, Killed in Asir
Saturday 3 October 2020
TEHRAN (FNA)- Yemen's army and popular committees fired dozens of rockets at the Saudi province of Asir, leaving a group of soldiers, including a senior military commander dead.
The senior military commander, identified as Naser al-Ahmari, was killed in the retaliatory attacks in al-Rabuah area, reports said Friday.
A number of military vehicles were also destroyed.
Yemeni forces also targeted a military base in the Saudi province of Jizan with rockets and artillery fire, and destroyed an armored vehicle and several other military vehicles.
Also on Friday, a large number of Saudi officers and soldiers have been killed in the Yemeni army's operations in Jizan and Najran regions, informed military sources announced.
Full report at:
http://english.farsnews.com/newstext.aspx?nn=13940711000575
-----------
Yemen loyalists now control all of key strait
Saturday 3 October 2020
ADEN: Government forces in Yemen now control the key Bab Al-Mandab Strait through which much of the world's maritime traffic passes after retaking it from Shiite rebels, a general said Friday.
"The Bab Al-Mandab Strait is now under the total control of our troops," Gen. Turki Ahmed said. Ahmed was one of the commanders of an offensive that Thursday seized the island of Mayyun (Perim) between the Gulf of Aden and the Red Sea.
The narrow waterway, which separates Yemen from Djibouti only some 32 km away, funnels shipping to and from the Suez Canal, which lies at the north end of the Red Sea.
Full report at:
http://www.arabnews.com/featured/news/814856
-----------
Saudi Arabia likely to see 30 million religious tourists by 2025
Saturday 3 October 2020
JEDDAH: The number of religious tourists is expected to rise from 17.5 million recorded last year to between 25 and 30 million in 2025, which would be a boost to the country's economy, say economists.
The contribution of religious tourism to the non-oil sector of the country's Gross Domestic Product would rise from 5.4 percent to 5.7 percent by the year 2020, according to a local publication recently.
A report from Al-Jazira Capital quoted by the publication said that the government has been preparing for the expected demand by investing heavily in infrastructure projects.
This includes the Makkah metro and the expansion of Prince Mohammad bin Abdulaziz Airport in Madinah. The report stated there could be space to develop more luxury hotels, because 43 percent of Makkah hotels are three star facilities, and 46 percent in Madinah are three star and above.
Full report at:
http://www.arabnews.com/saudi-arabia/news/814841
-----------
Islamic scholar calls for proper youth guidance
Saturday 3 October 2020
RIYADH: A senior Saudi scholar has called for the creation of youth cafes that offer jobs and various activities to keep them away from extremist individuals and groups.
Sheikh Ayed Al-Qarni, who is also an author, said that youth cafes could play an important role in realizing the importance of work, earning money, and the sacrifices made by their parents.
Full report at:
http://www.arabnews.com/saudi-arabia/news/814791
-----------
Worshippers nab Daesh suspect
MOHAMMED AL-SULAMI — Saturday 3 October 2020
JEDDAH: Several Saudi worshippers at a mosque in Riyadh on Friday cornered a young supporter of the Daesh terrorist group and handed him over to the police.
The man, in his twenties, had been attending the noon prayers at Al-Shuhada mosque in Riyadh. The congregants followed him to his car and held him there until the police arrived.
Full report at:
http://www.arabnews.com/saudi-arabia/news/814831
-----------
Africa
Boko Haram strikes in Abuja, kills 20 in Kuje, Nyany
Oct 3, 2015
Boko Haram militants struck last night in Kuje and Nyanya parts of the Federal Capital Territory, leaving many dead and a sizable number of people injured.
The death toll was put at about 20 but the military, security agencies and the National Emergency Management Agency ( NEMA) were mopping up last night.
Although NEMA confirmed that the explosions resulted in a number of deaths and injuries, it was silent on the toll.
Armed soldiers have been drafted to the affected parts to curtail the insurgents.
There was suspicion that the attacks were carried out in anger by the insurgents because some of their key commanders are being detained in Kuje Prison.
Full report at:
http://thenationonlineng.net/boko-haram-strikes-in-abuja-kills-20-in-kuje-nyany/
-----------
Two Niger soldiers killed in Boko Haram attack
2015-10-03 12:01
Niamey - An alleged Boko Haram attack on a village in south-eastern Niger killed two of the country's soldiers, the Nigerien army said on Friday, and the latest deadly raid by the Islamist group.
The incident occurred when a nearby military unit was warned that an attack was imminent against the village of Baroua, near the border with Nigeria, at around 10:30 (21:30 GMT) on Thursday, and dispatched soldiers to the scene, according to a defence ministry statement read on state television.
Full report at:
http://www.news24.com/Africa/News/Two-Niger-soldiers-killed-in-Boko-Haram-attack-20151003
-----------
B'Haram Poison Water Sources Of Abandoned Villages - Army
Dokunola 2 days ago 109843
Boko Haram members, who are being frustrated from the villages which they had captured, have resorted to new ways of making life unbearable for the villagers.
According to a press release issued by Colonel Tukur Gusau, Deputy Director Army Public Relations, the insurgents have taken to poisoning of water sources like wells and streams in the places where they had been dislodged by the Nigerian troops as a way of taking revenge for their defeat.
The statement read:
Full report at:
https://www.naij.com/573129-boko-haram-members-water-sources-villages-attacked-totally-shocking.html
-----------
Pakistan
Two Pakistani Men Caught Trying To Go To Syria to Join Islamic State
By Faraz KhanPublished: October 3, 2015
KARACHI: In another case of educated men falling for terrorist propaganda, two self-radicalised Pakistani men have been caught trying to go to Syria to join the ultra-extremist terrorist group of Islamic State (IS).
Authorities claim this is the first such case from Pakistan. Hundreds of Europeans are already fighting in the ranks of the Middle Eastern militant outfit, which has established a self-proclaimed caliphate over large areas in Iraq and Syria, and continues to create affiliates across the region.
The two men from Karachi were arrested in a remote Iranian town along the Turkish border. They were later deported by Iran and handed over to the Federal Investigation Agency (FIA). On their return, they were arrested by the Sindh police's Counter-Terrorism Department (CTD).
Full report at:
http://tribune.com.pk/story/966517/nipped-in-the-bud-self-radicalised-militants-flight-to-syria-aborted/
--------
Zaid Hamid returns to Pakistan after KSA arrest
MATEEN HAIDER — 03 10 15
ISLAMABAD: Self-proclaimed security analyst Zaid Hamid has been released from a jail in Saudi Arabia and he has reached Pakistan, Foreign Office spokesman Qazi Khalilullah told DawnNews on Saturday.
The spokesman also quoted Pakistan Ambassador to Saudi Arabia Mr. Manzoorul Haq as confirming Hamid's release from Saudi authorities.
Full report at:
http://www.dawn.com/news/1210660/zaid-hamid-returns-to-pakistan-after-ksa-arrest
--------
IED blast in Mohmand kills one, injures two
ALI AKBAR — 03 10 15
PESHAWAR: At least one security official was killed and two others sustained injuries on Saturday in an improvised explosive device (IED) blast in Mohmand agency.
"The security forces' convoy was on a routine patrol when their vehicles were hit by an IED blast," a security officials told Dawn.com.
The incident occurred in Toran Dara area of Safi tehsil of Mohmand agency, and also injured two other security officials.
Full report at:
http://www.dawn.com/news/1210668/ied-blast-in-mohmand-kills-one-injures-two
------
MQM's Wasim Akhtar booked over sedition, terror charges
IMTIAZ ALI — October 3rd, 2015
KARACHI: Another leader of Muttahida Qaumi Movement was booked on Friday under sedition and terror charges, it has been learnt.
Site Superhighway police have registered FIR (451/2015) against MQM leader Wasim Akhtar, said Sohrab Goth DSP Mohammad Khalid Khan.
The officer added that the MQM leader has been booked under Sections 123-A (Condemnation of the creation of the State and advocate of abolition of its sovereignty), 124-A (Sedition) of Pakistan Penal Code and Telegraph Act and Section 7 of Anti-Terrorism Act of 1997.
Full report at:
http://www.dawn.com/news/1210512/mqms-wasim-akhtar-booked-over-sedition-terror-charges
-----------
Musharraf threatened Benazir, testifies American journo Mark Seigel
Omar Farooq Khan,TNN | Oct 3, 2015
ISLAMABAD: Mark Seigel, American journalist and a key witness in the murder case of former Pakistan prime minister Benazir Bhutto, has recorded his statement before a Pakistan anti-terrorism court through video link that general Pervez Musharraf had warned that her safety would depend on the state of their relationship.
Seigel told the antiterrorism court in Rawalpindi that Benazir had a 15-minute telephone conversation with Musharraf on September 25, 2007, which she later described as a very "bad call" — just three weeks before her return to the country.
Full report at:
http://timesofindia.indiatimes.com/world/pakistan/Musharraf-threatened-Benazir-testifies-American-journo-Mark-Seigel/articleshow/49202218.cms
-----------
Kashmir part of unfinished agenda of partition: Pakistan army chief
Oct 3, 2015
ISLAMABAD: Pakistan army chief General Raheel Sharif has termed Kashmir as part of the "unfinished agenda of partition" and said the world community must help resolve the longstanding issue if it wants genuine peace in the region.
Addressing the Royal United Services Institute, an independent think-tank on defence and security, in London, General Sharif said the dispute between Pakistan and India "resides in the Kashmir issue".
Full report at:
http://timesofindia.indiatimes.com/world/pakistan/Kashmir-part-of-unfinished-agenda-of-partition-Pakistan-army-chief/articleshow/49204139.cms
------
Number of missing Pakistani pilgrims rises to 100
A REPORTER — October 3rd, 2015
ISLAMABAD: The number of missing Pakistani pilgrims has gone up to 100 from the earlier reported figure of 67, and efforts are under way to trace their whereabouts in coordination with the Saudi authorities.
Contrary to claims made earlier by PML-N's Dr Tariq Fazal Chaudhary that a settlement would be reached with Saudi Arabia for the bodies to be flown back to the country, he said on Friday that the matter was yet to be resolved.
He said family members of 10 of the deceased pilgrims had demanded that the bodies be returned for burial in Pakistan.
"We are in touch with the Saudi authorities to facilitate the arrival of the bodies," he said, adding that it was part of Haj that anyone who died during the pilgrimage should be buried there.
Full report at:
http://www.dawn.com/news/1210582/number-of-missing-pakistani-pilgrims-rises-to-100
------
Security forces foil terror bid in Balochistan
SYED ALI SHAH — 03 10 15
QUETTA: Security forces on Friday foiled a major terrorism bid in Zhob district of Balochistan.
Security forces recovered a sizeable amount of arms and ammunition, according to Frontier Corps (FC) official.
"Security forces conducted a raid in Murgha Kibzai area of Zhob district," said Khan Wasey, a FC spokesperson.
The FC spokesperson added that no arrests were made as the terrorists were not present at the location when the raid was conducted.
"Weapons recovered during the raid include three RPG launchers, 22 RPG rockets, 23 mortar shells and other weapons and explosives," stated the FC official.
The bomb disposal squad was also called in to disarm and defuse the rockets and explosives.
A search operation was also launched in the area to apprehend the culprits.
Murgha Kibzai is considered to be a sentive area of Balochistan as it lies close to the Pak-Afghan border.
Security forces have intensified their actions in Quetta and other parts of Balochistan after the announcement of the National Action Plan to combat terrorism in the country.
http://www.dawn.com/news/1210470/security-forces-foil-terror-bid-in-balochistan
-----------
Mideast
Khamenei demands Muslim world probe Haj stampede
Saturday 3 October 2015
Iran's Supreme Leader Ayatollah Khamenei on Wednesday called on Muslim countries to investigate the deadly Haj stampede in Saudi Arabia on September 24 that killed 769 people, including at least 239 Iranians.
"Representatives from Iran and the Islamic world should go to Saudi Arabia and investigate the cause of the Haj incident," Mr. Khamenei was quoted as saying by Fars news agency.
http://www.thehindu.com/news/international/khamenei-demands-muslim-world-probe-haj-stampede/article7706784.ece
-----------
Iran, Arab League Discuss Regional Developments
Saturday 3 October 2015
TEHRAN (FNA)- Iranian Foreign Minister Mohammad Javad Zarif and Arab League (AL) Secretary-General Nabil al-Arabi in a meeting in New York voiced concern over the ongoing bloodshed carried out by extremist groups in the region, and called on the regional countries to grow more united against terrorism and extremism, specially in Syria and Yemen.
During the meeting on the sidelines of the 70th UN General Assembly meeting in New York on Friday, Zarif and al-Arabi reviewed the latest developments in the Middle-East as well as the terrorist and extremist movements.
Full report at:
http://english.farsnews.com/newstext.aspx?nn=13940711000662
-----------
ECO Members Stress Improvement of Regional Cooperation
Saturday 3 October 2015
TEHRAN (FNA)- Envoys from the 10 Economic Cooperation Organization (ECO) member states in their extraordinary meeting in New York underscored the vital need to increase regional cooperation.
At this Friday meeting, which was held on the sidelines of the UN General Assembly meeting and was headed by Iranian Foreign Minister Mohammad Javad Zarif, the member countries conferred on the current financial status quo of ECO as well as the required amendments to make the organization more dynamic and efficient, and bolster regional cooperation among the members in future.
Full report at:
http://english.farsnews.com/newstext.aspx?nn=13940711000656
-----------
Iran Preparing to Start Litigation about Mina Incident
Saturday 3 October 2015
TEHRAN (FNA)- Iranian Government Spokesman Mohammad Baqer Nobakht said Tehran will launch a serious pursuit into the death of over 460 of its citizens in the Mina tragic incident in Mecca on September 24.
"We will legally pursue the death of the Iranian pilgrims in Mina incident," Nobakht told reporters at the end of an official ceremony to receive the bodies of 104 Iranian Hajj pilgrims in Tehran on Saturday.
He reiterated that the government is also following up the transfer of the remaining bodies of the dead Iranian Hajj pilgrims who have been killed in Mecca.
A stampede during one of the last rituals of the Hajj season on September 24 killed at least 4,173 people and left thousands wounded.
The stampede occurred during the ritual known as "stoning the devil" in the tent city of Mina, about two miles from Mecca.
Full report at:
http://english.farsnews.com/newstext.aspx?nn=13940711000770
-----------
Iran's UN Attaché: Israel's Anger Means Tranquility for Region
Saturday 3 October 2015
TEHRAN (FNA)- Iran's Assistant Attaché at the UN Forouzandeh Vadia'ti condemned Israeli Prime Minister Benjamin Netanyahu's furious remarks at the UN on Thursday against the nuclear deal between Tehran and the world powers, but said the region feels calm whenever Israel feels more anger.
"When the Joint Comprehensive Plan of Action (JCPOA) was finalized, Netanyahu lost his cover to hide the Zionist regime's crimes against the Palestinian people," Vadia'ti said, addressing a UN General Assembly meeting in New York on Friday.
She said the failure of the all-out efforts made by Israel and its allies to block the nuclear deal between Iran and the world powers was the cause of Netanyahu's anger and his shameless insult to the representatives of the nations present at the UN General Assembly meeting and the entire international community.
Vadia'ti underscored Iran's commitment to its undertakings under the JCPOA and its efforts to return peace and stability to the international community, and said, "Therefore, in the next few years, the representatives of the (Israeli) regime will grow even more furious and wrathful."
"The angrier they grow, the more tranquil the region will be," the envoy continued.
Iran and the world powers reached a final agreement in Vienna on July 14 to end a 13-year-old nuclear standoff.
A week later, the UNSC unanimously endorsed a draft resolution turning into international law the JCPOA reached between Iran and the 5+1 group of countries (the US, Russia, China, Britain and France plus Germany) over the Islamic Republic's nuclear program.
http://english.farsnews.com/newstext.aspx?nn=13940711000767
-----------
Zionists attack Abbas as settler couple slain
Saturday 3 October 2020
JERUSALEM: Israel's military deployed hundreds of troops in the West Bank on Friday, a day after a drive-by shooting by suspected gunmen killed a Jewish settler couple driving home with their children.
The attack took place late Thursday when gunmen opened fire at a vehicle traveling near the Palestinian village of Beit Furik. The shots killed Eitam and Naama Henkin, residents of the Jewish West Bank settlement of Neria. Their four young children, including a four-month old infant, were in the back seat of the car, but were unharmed.
On Friday, Defense Minister Moshe Yaalon visited the site, pledging to catch the perpetrators and, like other Israeli politicians, blaming Palestinian President Mahmoud Abbas for inciting such violence.
Full report at:
http://www.arabnews.com/middle-east/news/814746
-----------
Turkey detains 44 people in raids targeting Kurdish militants -media
Friday 2 October 2015
ISTANBUL: Turkish police detained 44 people in Istanbul on Friday on suspicion of links with the Kurdistan Workers' Party (PKK) in a continuing crackdown on militants ahead of a snap national election in November, local media reported.
Fighting between the Turkish military and the outlawed PKK resumed in the country's mainly Kurdish southeast following the collapse in July of a cease-fire and has reached intensity unseen since the 1990s. More than 120 security personnel and hundreds of militants have been killed.
Hurriyet newspaper reported that among those detained on Friday were district officials of the Peoples Democratic Party (HDP), a pro-Kurdish party which the government accuses of having links with the hard-line PKK.
Full report at:
http://www.arabnews.com/middle-east/news/814421
-------
Europe
One of world's oldest Quran goes on display in UK
Oct 2, 2015
LONDON: One of the world's oldest manuscripts of the Quran dating back to at least 1,370 years and written on parchment that was possibly made around the lifetime of the Prophet Muhammad went on display in Birmingham on Friday.
Around 2,000 tickets to see the script have already been taken up and the University of Birmingham expects a lot more to be used before the exhibition ends on October 25.
"When I saw these pages I was very moved. There were tears of joy and emotion in my eyes. I'm sure people from all over the UK will come to Birmingham to have a glimpse of these pages," said Muhammad Afzal, chairman of Birmingham Central Mosque.
The university had announced the discovery in July and revealed the manuscript is at least 1,370 years old.
Full report at:
http://timesofindia.indiatimes.com/world/uk/One-of-worlds-oldest-Quran-goes-on-display-in-UK/articleshow/49199277.cms
-----------
Medvedev: Military Mission in Syria Protects Russians from Terrorism
Oct 3, 2015
TEHRAN (FNA)- Russia's Prime Minister Dmitry Medvedev said expenses for the country's armed forces are reasonable and necessary, including for the tasks like the mission in Syria.
"We are protecting the Russian people from the threat of terrorism, as it is better done abroad than fighting terrorism inside this country," he said in an interview with Rossiya 24 television broadcaster on Saturday, Itar-Tass reported.
"Those expenses are reasonable in the current situation in this country, and they also are necessary for the reforming of our armed forces," the prime minister said.
"Those expenses, the budget expenses are quite sufficient for carrying out certain military missions like the Russian military continue in Syria now."
http://english.farsnews.com/newstext.aspx?nn=13940711000266
-----------
Russian jets hit Daesh 'capital'
Saturday 3 October 2015
BEIRUT: At least 12 Daesh members have been killed in Russia's first airstrikes on the terrorist faction's main Syrian bastion, a monitoring group said on Friday.
Russian air attacks also targeted the Army of Conquest, the most powerful coalition battling Syrian regime forces in the northwest, a security source on the ground said.
The Defense Ministry in Moscow confirmed it had carried out strikes on Raqqa province on Thursday, as well as raids on the provinces of Aleppo in the north, Idlib in the northwest and Hama in central Syria.
Full report at:
http://www.arabnews.com/middle-east/news/814736
----------
North America
Putin in Syria out of weakness to help crumbling Assad: Obama
Oct 03, 2015
US President Barack Obama, on Friday, warned Russia that its bombing campaign against Syrian rebels will suck Moscow into a "quagmire," after a third consecutive day of air raids in support of Syrian President Bashar al-Assad.
At a White House news conference, Obama frequently assailed Russian President Vladimir Putin, who he accused of acting out of a position of weakness to defend a crumbling, authoritarian ally.
Friday prayers were cancelled in insurgent-held areas of Syria's Homs province, hit by Russian warplanes this week, with residents concerned that mosques could be targeted, according to a source from the area.
Putin's decision to launch strikes on Syria marks a dramatic escalation of foreign involvement in a more than a four-year-old civil war, in which every major country in the region has a stake.
Full report at:
http://www.hindustantimes.com/world/putin-in-syria-out-of-weakness-to-help-crumbling-assad-obama/story-VCuBXCRCBgUYJ69y1GQVOK.html
---------
URL: https://www.newageislam.com/islamic-world-news/new-age-islam-news-bureau/isis-man-tweets-pictures-of-majeed,-twitter-suspends-account/d/104789