New Age Islam News Bureau
2 Nov 2014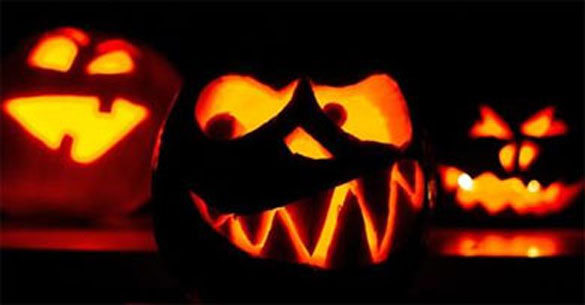 Muslim Women Asked for ISIL Halloween Costume
-------------
• 52 Killed, 200 Hurt In Suicide Attack At Wagah Border In Pakistan
• Border Security Force On High Alert In Punjab After Wagah Blast
Arab World
• Isis Lines Up, Kills At Least 50 in Iraq
• Kobani Clashes: Over 100 IS Militants Killed In 3 Days
• Iraqi Peshmerga Fighters Prepare For Syria Battle
• Syria escalates barrel bomb attacks as world attention shifts
• Muslims Deplore Ottawa Mosque Vandalism
• 1000s rally in Turkey, Europe in support of Kobani
• ISIL under attack from two fronts in Iraq
• Saudi scholarship students' troubles in the United States
• 8 jailed for Egypt gay wedding
• Qaeda-tied militants beat rivals in NW Syria
• Egypt jails eight men for 3 years over 'gay marriage'
-----------
India
• 58 Terror Modules Operating From Illegal Madrasas in West Bengal, Reveals Probe
• NIA Lens on 4 Terror Trainers at West Bengal Madrasas
• Muslim engraver immortalizes Jewish names
• New govt has ignored us, say Muslim leaders
-----------
Pakistan
• Islamic State fears grow in Pakistan and Afghanistan
• 8 Soldiers, 20 Militants Die In Orakzai Clash
• Jamaat-e-Islami Amir Urges Rulers to Win Hearts and Minds of Baloch
• Home Minister Assails Death Sentence Awarded To BD Jamaat Chief
• Five suspected militants killed in Bara Agency clash
• PML-N stalwarts make no secret of indignation
• Talks still an option for govt, PTI
• Pakistan backs China's role for Afghan peace: Aziz
• Intelligence report reveals TTP attack plan during Muharram
• Pak expats hold function to mark 'Kashmir Black Day'
-----------
South Asia
• Bangladesh Sentences another Top JI Leader, Mir Quashem Ali, To Death
• Suicide Car Bomber Kills 11 Police, Soldiers in Afghanistan
• Jamaat-e-Islami BD calls 24-hr Hartal for Thursday
----------
Africa
• Dozens of Libyans pledge allegiance to top IS leader
• Burkina Faso's military backs Colonel Zida
• UN urges civilian transfer in Burkina, threatens bans
• Presidential campaign begins in Tunisia
• Burkinabe opposition, civil society call for new demo
• Libyan gov't forces retake parts of Benghazi
• Boko Haram Denies Ceasefire Agreement
-----------
Europe
• Switzerland Says It Foiled Islamic State Terror Attack on Europe
• Islamic State Recruiters Unsettle Muslims in The Hague
• Britons Recognize Muslims WWI Hero
• Europe's Muslims feel under siege
----------
North America
• US Muslim woman Asked for ISIL Halloween Costume
• Canadian Prime Minister rapped for silence on hate crime
• UN begins review of peacekeeping amid criticism
• US navy forces must leave Persian Gulf: IRGC admiral
------------
Southeast Asia
• Inauguration of Joko Widodo as Indonesia's President Welcomed by Christians
• Indonesian Military Chief: 'ISIS Is the Worst Idea in History
• Unofficial Islamic party of Indonesia Names new Chairman by Acclamation
• Police Make Second Arrest in Alleged Twitter Extortion Case
----------
Mideast
• Yemen rebels in deadly attack on Al-Islah party HQ
• No serious obstacle to final nuclear accord: Iran FM
• Seizing its chance, Iran seeks tourism revival
• Iran close Taftan border for five days
• Gaza rocket hits Israel causing no damage
• Iran condemns mass execution of Iraqi Sunnis by ISIL
• Israel shuts Gaza border crossings
• Hold Israel accountable for war crimes in Gaza: Rights group
Compiled by New Age Islam News Bureau
URL: https://www.newageislam.com/islamic-world-news/new-age-islam-news-bureau/isis-lines-up,-kills-at-least-50-in-iraq/d/99827
-----------
52 Killed, 200 Hurt In Suicide Attack At Wagah Border In Pakistan
PTI | Nov 2, 2014, 10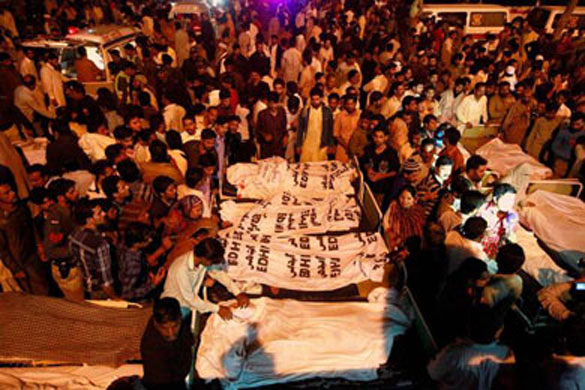 Pakistani relatives gather beside the covered bodies of victims who were killed in bomb attack at Wagah border near Lahore. (AFP Photo)
------------
WAGAH BORDER (Pakistan): At least 52 people, including children and security personnel, were killed and about 200 others injured in a powerful suicide blast in Pakistan at Wagah on Sunday, minutes after the popular flag- lowering ceremony at the main Indo-Pak land border crossing.
Officials said that it was suicide attack and at least 52 people had been killed and 200 had sustained injuries.
"A large number of people were returning after watching Rangers flag ceremony at Wagah border when a suicide bomber blew himself up near one of the exit gates," Inspector General Police of Punjab Police Mushtaq Sukhera said. He said three Pakistan Rangers personnel were also among the dead.
To a question about security arrangements, Sukhera said, "The Rangers had made stringent security measures but it was difficult to check suicide bomber".
The al-Qaida affiliated group Jandullah has claimed responsibility for the attack, according to Express News.
Pakistani relatives gather beside the covered bodies of victims who were killed in bomb attack at Wagah border near Lahore. (AFP Photo)
Huge crowds gather every evening at the crossing, 22 kilometres from Lahore, to watch a "lowering of the flags" ceremony and witness the energetic display of military pageantry that accompanies the formal closing of the border post which soldiers from both countries have conducted for decades.
Earlier reports had said it could be a cylinder blast. In the wake of Muharram, the police had made strict security measures.
"We had reports that some banned outfits might target Shias, religious personalities, public processions and important buildings," Sukhera said.
He said, "Our teams have confirmed that it was a suicide blast". The IG said that the suicide bomber was stopped at the gate of the parade ground at the border and detonated the bomb right when people gathered near the gate.
"Up to five kilogrammes of explosive material was used in the blast," Sukhera said.
"The bomb exploded outside a restaurant near a Pakistani paramilitary soldiers' checkpoint at Wagah border," he added.
"People were returning after watching the parade at Wagah border when the blast took place. Ball bearings were found at the scene," another police official said.
http://timesofindia.indiatimes.com/world/pakistan/52-killed-200-hurt-in-suicide-attack-at-Wagah-border-in-Pakistan/articleshow/45015592.cms
-------
Border Security Force On High Alert In Punjab After Wagah Blast
IANS | Nov 2, 2014
AMRITSAR: Border Security Force (BSF) troopers were put on high alert along the India-Pakistan international border on Sunday evening after a massive blast left over 45 people dead and over 70 others injured at Wagah in neighbouring Pakistan.
The dead include men, women, children and Pakistan Rangers troopers. Most of them were returning from the Wagah border retreat ceremony.
BSF officials at Attari border in Punjab said that the blast was heard at a distance of nearly two kilometres.
Security officials in Pakistan said that the blast was suspected to be carried out by a 'fidayeen' (suicide bomber).
The blast, according to information obtained by the BSF, took place close to the place where the Retreat ceremony takes between troopers of both countries to mark the closure of the border gates in the evening. Attari is about 30km from Amritsar.
Being a Sunday, the rush of visitors for the Retreat ceremony on the Pakistan side was also higher than normal days, BSF officials said.
Pakistani relatives gather around the bodies of blast victims after a suicide bomb attack near the Wagah border on November 2, 2014. (AFP Photo)
"We have put our troopers on high alert along the entire border following the Wagah incident. We are trying to get details," a BSF official said.
Officials said the death toll was likely to go up.
The incident took place at 5.50pm local time in a restaurant near Wagah border area in the outskirts of Lahore. At the time of incident, many people were in the restaurant for food, the reports said.
Initial reports said the explosion took place due to gas cylinder blast, but police did not confirm it.
Rescue teams, police and security forces rushed to site and shifted the bodies and injured to the nearby hospital.
http://timesofindia.indiatimes.com/india/Border-Security-Force-on-high-alert-in-Punjab-after-Wagah-blast/articleshow/45015276.cms
------
Arab World
ISIS lines up, kills at least 50 in Iraq
2 November 2014
BAGHDAD: Islamic State group extremists lined up and shot dead at least 50 tribesmen and women in Iraq's Anbar province, officials said Saturday, the latest mass killing committed by the group.
The shooting happened late Friday in the village of Ras Al-Maa, north of the provincial capital of Ramadi, Anbar councilman Faleh Al-Issawi said.
Militants accused men and women of the Al Bu Nimr tribe of retaliating against them after being displaced from their homes when the group seized the Anbar town of Hit last month, Al-Issawi said.
"These killings are taking place almost on a daily basis now in the areas under the control of the Islamic State group and they will continue unless this terrorist group is stopped," Al-Issawi told The Associated Press.
An official in the Anbar governor's office confirmed the death toll. He spoke on condition of anonymity as he is not authorized to brief journalists.
On Thursday, authorities found the bodies of 48 tribesmen killed by the Islamic State group in Anbar.
The United Nations mission in Baghdad, meanwhile, said that at least 1,273 Iraqis were killed in violence in October, a slight increase compared to last month amid the Islamic State group's assault.
The UN report said violence killed 856 civilians and 417 members of Iraq's security forces, while attacks wounded 2,010 Iraqis.
The worst-hit city was Baghdad, with 379 civilians killed, the report said. The UN figures do not take into account causalities in Anbar province or some other militant-held parts of Iraq. The UN has said September's death toll was 1,119 Iraqis killed.
http://www.arabnews.com/middle-east/news/653626
----------
Kobani clashes: Over 100 IS militants killed in 3 days
1 November 2014
BEIRUT: At least 100 jihadists from the Islamic State group have been killed in three days of fighting for the strategic Syrian border town of Kobani, a monitor said on Saturday.
The Syrian Observatory for Human Rights said the deaths brought the total number of IS fighters killed in the ground battle for Kobani to 576 since clashes there began on September 16.
"Over the last three days, at least 100 members of the Islamic State and its religious police have been killed... in Kobani and its surroundings," the Britain-based group said.
It said the IS members had come from Aleppo and Raqa provinces to take part in the battle for the town, which is being defended by members of the Kurdish People's Protection Units, or YPG.
The group also said 15 YPG fighters had been killed in clashes in Kobani on Friday, and another 11 jihadists died in air strikes by a US-led coalition in both Kobani and Raqa province.
Overall, 958 people have been killed in the battle for Kobani — 576 Is jihadists, 361 YPG fighters and allied forces and 21 civilians, according to the Observatory.
More than 180,000 people have been killed in Syria's conflict since it began in March 2011, says the Observatory, which relies on a network of sources on inside Syria for its reports.
http://www.arabnews.com/news/653421
----------
Iraqi Peshmerga fighters prepare for Syria battle
1 November 2014
MURSITPINAR, Turkey: Iraqi peshmerga fighters prepared Saturday to battle Islamic State group militants in the Syrian border town of Kobani, just hours after they arrived in a town that's become a focal point in the battle against the extremists.
The force brought in badly needed heavy weapons including artillery, heavy machine guns and anti-tank missiles, material that could tip the balance of power in favor of the embattled Kurds fighting there.
Shorsh Hassan, a spokesman for the People's Protection Units, or YPG, said the peshmerga and the YPG are preparing a role for Iraqi Kurdish troops. Hassan's comments came after some 150 peshmerga fighters on Friday night entered Kobani to fight the extremist group that controls parts of the town.
"The priority will be to recapture Kobani neighborhoods that were taken by Daesh and then the goal is to liberate all villages in the countryside of Kobani," Hassan said by telephone from Kobani, using an Arabic acronym to refer to the Islamic State group.
The Britain-based Syrian Observatory for Human Rights said Saturday that the peshmerga force had yet to take part in any battles in Kobani.
Since mid-September, Islamic State group fighters have captured dozens of predominantly Kurdish villages near Kobani and entered the town they have been trying to capture for weeks. More than 200,000 people have fled to Turkey and more than 800 people have died, activists say.
Islamic State group positions in Kobani also have been targeted by more than 150 airstrikes by the US-led coalition over the past weeks.
The Observatory said the Islamic State group launched another offensive Friday night on YPG-held areas in Kobani but failed to advance. The group, which relies on reports from activists on the ground in Syria, said that more than 100 jihadi fighters have been killed over the past three days in the clashes, as well as the US-led airstrikes.
An Associated Press reporter on the Turkish side of the border facing Kobani said it sounded like several explosions struck the town early Saturday, though no more information about them was immediately available.
The US Central Command said Friday that American warplanes conducted four airstrikes near Kobani, damaging four Islamic State fighting positions and one building occupied by the group.
___
Associated Press writer Bassem Mroue in Beirut contributed to this report.
http://www.arabnews.com/news/653426
----------
Syria escalates barrel bomb attacks as world attention shifts
Nov 2, 2014
BEIRUT: With global attention focused on the fight against jihadists, Syria's regime has in recent weeks stepped up its use of deadly barrel bomb strikes, killing civilians and wreaking devastation.
In less than a fortnight, warplanes have dropped at least 401 barrel bombs on rebel areas in eight provinces, according to the Syrian Observatory for Human Rights, a monitoring group.
Activist Yassin Abu Raed, from the town of Anadan in northern Aleppo province, has seen his house hit three times in barrel bomb attacks.
The latest strike destroyed it completely.
"Death is all around us, and nobody cares," he told AFP via the Internet.
"Barrel bombs kill those we love most, they destroy houses, dreams and memories, and leave us without any hope that the killing will ever stop."
"All this, and no one has even heard of us, no one feels for us."
The Observatory, which documents casualties and strikes, relying on a broad network of activists and doctors across the war-torn country, said at least 232 civilians have been killed in regime air strikes, including barrel bomb attacks, since October 20.
Observatory director Rami Abdel Rahman said the number of barrel bomb attacks is now "much higher" than a fortnight ago.
The regime began using barrel bombs in late 2012, but stepped up its attacks this year, with a wave of raids in February alone killing hundreds of people.
Barrel bombs are typically constructed from large oil drums, gas cylinders or water tanks filled with high explosives and scrap metal.
Raids hit refugee camp
On Wednesday, helicopters dropped four barrel bombs on a camp for displaced people in the northwestern province of Idlib, killing at least 10 people and wounding dozens, according to the Observatory.
Activists posted horrific video footage on YouTube, showing bodies torn apart and people wailing as they tried to rescue survivors.
The United States denounced the attack as "barbaric".
Ismail al-Hassan, a volunteer nurse at a field hospital in Idlib province, told AFP via the Internet that health workers face immense difficulties treating the wounded after a barrel bomb blast.
"Most of the casualties from barrel bomb strikes are women and children," said Hassan, adding that medical staff suffer from severe equipment shortages, making it hard to treat casualties properly.
Hassan also said he and his colleagues suffer deep psychological scars from treating victims.
"Once we had to decide to leave a child to die. He simply had too many wounds on his body — we couldn't save him," he said.
Like many Syrians in rebel-held areas, Hassan resents the West's failure to help topple President Bashar al-Assad's regime.
"Everyone in Syria has realized that we only have God by our side," he said.
Global attention 'diverted'
In February, the UN security council passed a resolution demanding that all sides in Syria's war end attacks against civilians, with a specific mention of the use of barrel bombs.
The government denies using barrel bombs, and says it only targets "terrorists".
New York-based Human Rights Watch has repeatedly blasted Damascus over its "unlawful" use of barrel bombs, saying the weapon is particularly indiscriminate.
HRW researcher Lama Fakih said there had been no global effort to hold Assad's government to account.
"While there is international effort to stop abuses by (the jihadist group) Islamic State, there is no concerted international effort to stop abuses by the Syrian government, including attacks against the civilian population," she said.
The United States and its mainly Gulf allies began air strikes against jihadist positions in Syria last month, but there has been no question of extending the strikes against Assad's regime.
"Unfortunately international attention has been diverted by the Islamic State's advances in Iraq and Syria," Fakih told AFP.
Observatory director Abdel Rahman agreed.
"The number of regime air strikes including barrel bomb attacks is just crazy, and there has been an escalation in recent days," he said.
He accused Damascus of "taking advantage" of the world's focus on IS to step up its attacks on rebel areas.
Syria's opposition says international criticism of the regime is simply not enough.
"The United States criticises the regime, but it still does nothing" said Samir Nashar, a member of the key opposition National Coalition.
"Meanwhile, the regime is making military advances."
http://timesofindia.indiatimes.com/world/middle-east/Syria-escalates-barrel-bomb-attacks-as-world-attention-shifts/articleshow/45009701.cms
-------
Muslims Deplore Ottawa Mosque Vandalism
01 November 2014
OTTAWA – The National Council of Canadian Muslims (NCCM) has called on political and community leaders to forcefully condemn all hate-motivated actions following Friday's vandalism of the Assunah Muslims Association (AMA) mosque in Ottawa.
"We call on our federal, provincial, and municipal leaders to speak out forcefully and unambiguously against anti-Muslim sentiments and acts," said NCCM Executive Director Ihsaan Gardee.
"It is the duty of our elected representatives, as well as the duty of all Canadians, to stand united against any attacks on minority communities," he added.
Worshippers attending dawn prayers on Friday, October 31, arrived at the large facility in Ottawa's south end to find multiple windows broken.
Ottawa police are investigating the incident.
"This incident is the latest in a spate of anti-Muslim harassment and vandalism that we have been documenting since the tragic events of last week," added Gardee.
"There has been a noticeable spike in reported hate crimes and incidents. However, as we have said before, this only tells part of the story as hate crimes are typically under-reported."
Other incidents that have been reported, including the vandalism of the Cold Lake mosque in Alberta, threats to the BC Muslim Association, as well as anti-Muslim harassment of municipal candidates in Toronto.
The NCCM says that it is currently monitoring additional cases that have been reported in recent days.
"Certainly, these incidents do not represent the sentiments of the vast majority of Canadians and we fully expect the authorities to prosecute the perpetrators to the fullest extent of the law in order to send a strong message against potential hate crimes and intolerance," said Gardee.
Full report at:
http://www.onislam.net/english/news/americas/479165-muslims-deplore-ottawa-mosque-vandalism.html
----------
1000s rally in Turkey, Europe in support of Kobani
Nov 2, 2014
Thousands have rallied across Turkey and major European cities to express solidarity with the Syrian Kurdish border town of Kobani, which has been under ISIL terror attacks in recent weeks, Press TV reports.
In an international show of support for Kobani, the demonstrators took to the streets in Turkey's capital, Ankara, and the cities of Istanbul and Izmir as well as European cities, including Rome, Brussels, Hamburg, London, Munich and Paris, on Saturday.
The biggest march was held in Turkey's largest Kurdish-majority city of Diyarbakir, where at least 15,000 people took to the streets amid heavy police security.
"In just a small amount of time, the cruel ISIL army has created an unlawful state that should not be anyhow associated with Islam. ISIL operates in a neo-Nazi style. They must be eliminated," Italian journalist Claudia Romanini told Press TV.
The protesters censured the so-called anti-ISIL coalition, led by the US, for its failure to back Kobani in efforts to contain the terror group. They argue that the alliance has not only fallen short of fulfilling its obligations, but some of its member states supply arms and funds to the ISIL extremists.
Full report at:
http://www.presstv.ir/detail/2014/11/02/384482/prokobani-demos-held-in-turkey-europe/
----------
ISIL under attack from two fronts in Iraq
Nov 2, 2014
Kurdish Peshmerga forces and the Iraqi army have made advances in their offensive against ISIL Takfiri terrorists, Press TV reports.
On Saturday, Kurdish troops launched a major offensive near the northern city of Sinjar which was seized by Takfiri militants.
"The army have made tremendous advances... ISIL is in retreat and they are leaving their posts one after another," said Saad Mutalibi of the State of Law Coalition to the Press TV correspondent in Baghdad.
In August, the ISIL seized Sinjar, near the Syrian border, from the Peshmerga, and forced an exodus of its mostly Izadi Kurdish inhabitants.
The Takfiri militants also executed dozens of residents following the takeover of the town.
On Friday, The Iraqi army also retook several areas in the strategic oil rich city of Baiji.
Modad al-Asadi, a political analyst, told the correspondent that "The Iraqi army and security forces are inflicting heavy losses on militants and have made advances on several fronts. The army is now working on achieving another one in the Salaheddin province through librating Baiji. Gains in Baiji are the latest in the Iraqi army's achievements in battles against ISIL insurgents."
Full report at:
http://www.presstv.ir/detail/2014/11/02/384449/isil-under-attack-from-2-fronts-in-iraq/
----------
Saudi scholarship students' troubles in the United States
1 November 2014
Social networking sites are replete with news of accidents involving Saudi scholarship students in America including instances of murders, harassment and break-ins.
Take the case of Raed Al-Baqshi, 28, who was found dead in his bed. Al-Baqshi had been studying electrical engineering at Michigan State University for the last three years. Initial investigations showed the absence of criminal involvement with the possibility of a heart attack.
Al-Baqshi went missing last Wednesday, so his friends set out on a search for him. They tried contacting him and when they went to his house, they found the door locked. They eventually called the police who discovered Al-Baqshi lying on his bed lifeless. Police took the body into their custody to ensure there was no tampering with incriminating evidence such as a murder weapon. However, this has been ruled out and now they are working on completing their investigations and coordinating with appropriate authorities to repatriate the body to the Al-Ahsa governorate.
Meanwhile, the Saudi Embassy in Washington is following up on the case to determine the cause of death, whether natural or otherwise, and has promised to finalize the procedures for sending the body home.
The case of Al-Baqshi came less than 24 hours after an American court in Iowa sentenced another Saudi student to 25 years in prison on charges of breaking into the home of an American woman last year and attacking her.
The media published the details of the story along with the court ruling of the Saudi student being convicted of a hold up and attack in the first degree with the intention of sexually attacking the woman. The court also ruled that the student will be deported to Saudi Arabia on completing his sentence.
According to court documents, the accused is studying in North Iowa. The papers show that after he had destroyed his car on Dec. 31 last year, he walked to his house which was nearby. When the woman opened the door to help him, he assaulted her but she was able to escape and take refuge with one of her neighbors. The police were called in and the man arrested.
Over the past week, Los Angeles police have been investigating yet another case involving a Saudi scholarship student, Abdullah Al-Qadi whose case was described as sad but not unusual. A 28-year-old youth is accused of the murder with the LA police confirming that he has confessed to his crime saying that after killing Al-Qadi, he threw the body out in the desert. He also said that there were other people involved but that it was he who kidnapped the victim, murdered him and hid the body in the desert.
Full report at:
http://www.arabnews.com/saudi-arabia/news/653336
----------
8 jailed for Egypt gay wedding
2 November 2014
CAIRO: An Egyptian court on Saturday convicted eight men for "inciting debauchery" following their appearance in an alleged same-sex wedding party on a Nile boat, sentencing each of them to three years in prison.
The Internet video shows two men exchanging rings and embracing among cheering friends. The eight were detained in September when a statement from the office of Egypt's chief prosecutor said the video clip was "shameful to God" and "offensive to public morals."
Saturday's verdict is the latest in a crackdown by authorities against gays and atheists. The campaign also targets liberal and pro-democracy activists and violators of a draconian law on street protests.
Full report at:
http://www.arabnews.com/middle-east/news/653606
----------
Qaeda-tied militants beat rivals in NW Syria
Nov 2, 2014
Al-Qaeda-linked al-Nusra Front militants have fought away rivals in northwestern Syria after fierce confrontation.
On Saturday, the Qaeda-linked militants captured several villages in Idlib Province, according to the so-called Syrian Observatory for Human Rights said.
The UK-based group said, "After clashes of five days between al-Nusra" and other militant groups, "including the Syria Revolutionary Front, al-Nusra was able to control most villages in Jabel al-Zawya," referring to a provincial region.
In doing so, the al-Nusra was supported by fellow militants from the ISIL Takfiri terrorist group. The latter group has been trying since mid-September to control the mostly-Kurdish town of Kobani in northern Syria.
The Observatory had earlier said, "Both sides suffered heavy losses" during confrontation between the Syrian Revolutionary Front forces and the al-Nusra Front in the Deir Sinbel village in Idlib on Friday.
Full report at:
http://www.presstv.ir/detail/2014/11/02/384451/qaedatied-militants-beat-syria-rivals/
----------
Egypt jails eight men for 3 years over 'gay marriage'
November 02, 2014
CAIRO: An Egyptian court jailed eight men for three years Saturday over a video prosecutors claimed was of a gay wedding, which went viral on the Internet.
Homosexuality is not specifically banned under Egyptian law, so the men, arrested in September, were convicted broadcasting images that "violated public decency."
The court also sentenced the eight to three years of probation once they have served their terms. The video, filmed aboard a Nile riverboat, shows what prosecutors said was a gay wedding ceremony, with two men in the centre kissing, exchanging rings and cutting a cake with their picture on it.
Full report at:
http://nation.com.pk/international/02-Nov-2014/egypt-jails-eight-men-for-3-years-over-gay-marriage
----------
India
58 Terror Modules Operating From Illegal Madrasas in West Bengal, Reveals Probe
October 31, 2014
Burdwan blast has alerted one and all about a lurking threat - that of illegal madrasas that have mushroomed across West Bengal. The blast has been an eye-opener: behind these illegal madrasas there are terror networks that have links with extremists in Bangladesh. They have become a threat to India's internal security, compounded by illegal migration into India from Bangladesh.
With the Burdwan blast West Bengal has got branded as a breeding ground of terror logistics. Investigations by the Central agencies have revealed a sinister plot that will not only affect India's security but will have security implications for Bangladesh as well. And at the centre of these revelations are the illegal madrasas and terror modules that operate across swathes in West Bengal.
Under scanner
During the investigations a number of madrasas came under the scanner of the National Investigation Agency (NIA), National Security Guard (NSG), Intelligence Bureau (IB), etc. The NIA and NSG investigators carried out extensive search at Simulia madrasa under Mongalkote police station in Burdwan and also at Mukimnagar in Murshidabad's Lalgola.
They recovered mobile phones, SIM cards, jehadi literature and cables from the residence Jamat Sheikh, the father-in-law of absconding terrorist Sheikh Yusuf in Nawpara village of Mangalkot. Yusuf was a teacher at the Simulia madrasa, located 40 km away from the Khagragarh blast site in Burdwan, which was believed to be a training centre for the terrorists. Yusuf is one of the prime suspects in the Burdwan terror network.
Officials investigating into the Burdwan blast pointed out that these terror modules recruited youths and women, and set up several illegal madrasas to introduce radical philosophy among the impoverished minority population. For them, the target audience was always easy to penetrate.
Full report at:
http://indiatoday.intoday.in/story/west-bengal-madrasas-tterror-modules-burdwan-blast-bangladesh-nia-nsg-ib/1/398388.html
-----------
NIA Lens On 4 Terror Trainers At West Bengal Madrasas
by Sagnik Chowdhury
October 31, 2014
NIA investigators probing the Burdwan blast and Jamat ul Mujahideen Bangladesh (JMB)'s terror network in West Bengal revealed to The Indian Express they have identified four key operatives who trained recruits at Simulia and Lalgola madrasas in Burdwan and Murshidabad districts.
Their wives have also been identified as key members of the outfit's women hit squad. "We have identified some key JMB trainers at Simulia and Lalgola, who are being tracked. Ustad Sajid was the top trainer, whose wife Fatima was also a JMB member. His deputy has been identified as Naseemullah, whose two wives Sameena and Manjula were also trainers. Saqib alias Suman alias Sadiq and Talha are two other trainers. Talha's wives Khadija and Mayna were also JMB trainers," said an NIA source.
"Around 48 to 50 JMB operatives on the run have been identified so far. We believe two JMB members Boma Mizan and Salahuddin alias Salehin, who were serving a four-year prison sentence in Bangladesh before escaping on February 23, crossed over to West Bengal and are still on the run," said the source.
NIA officers, going through a laptop seized during searches, were alarmed by a video of a JMB training session in Bengal. "It is exactly like an ISIS video, where the trainers are dressed in black from head to toe and are wearing black masks," said an NIA officer.
Full report at:
http://indianexpress.com/article/india/india-others/nia-lens-on-4-terror-trainers-at-madrasas/
--------
Muslim engraver immortalizes Jewish names
Sharmila Ganesan Ram
Nov 2, 2014
Beyond a building contractor, a widowed mother and an advocate who are too far away to notice you, is a grim yellow room. Here, a notice advises you, first in English and then in Marathi, to visit the elderly when they are alive instead of consoling their relatives after they die. At the other end of the message, stays a man named Daniel Bamnolkar, who has been living inside the Jewish cemetery at Worli for 15 years now. His neighbours are mostly quiet, except for 74-year-old Mohammed Yaseen who comes in every morning to pound a chisel with his hammer. But then, the veteran Muslim man is entitled to make noise. Yaseen has been quietly engraving Jewish tombstones for over 45 years.
An esteemed engraver of Jewish tombstones in the city, 74-year-old Yaseen is a soft-spoken artisan who doesn't think what he does is a big deal. Yes, he is a Muslim. His workplace, his well-wishers, the motifs he etches—are all Jewish. "So?" he frowns as if the question smells bad. "They are all very friendly with me," he says, about the 4000-member Bene Israeli Jewish community in the city that knows him as 'Yaseen bhai' or 'Yaseen chacha' depending on how old they are.
Religious identity, international history, political agenda — none of that interferes with Chacha's skilled job that saw him go from a rented shanty in Kurla to a proper house in Agripada. To this seventh-standard dropout, it's still commerce and a good way to appease the child in him that loved drawing flowers and diagrams in school. In 1968, after his father, a marble dealer in UP's Jaunpur, passed away, Yaseen packed his bags and hopped on a train to Mumbai. "It was Diwali day," recalls Yaseen, who had learnt the art of engraving tombstones from local artisans and had worked at Muslim graveyards in UP.
In Mumbai, an acquaintance introduced him to one Aaron Menashe, the caretaker of the Jewish cemetery in Worli, who mentored him for three years. "I did not know what Hebrew or even Jewish was then," says Yaseen whose knowledge of Urdu helped. "Hebrew is a lot like Urdu," says Yaseen. Not only do both scripts travel from right to left but also the alphabets in both languages sound more or less the same. "Alif, Be, Peh..," recites Yaseen. "But the Hebrew script, of course, is very different," says the engraver putting his spectacles on and penciling the name "Liah" on his marble sheet in both languages to demonstrate. The three letters look as different as they sound similar. Liah, the name he is engraving at the moment, is the Hebrew version of Lily. "Some names are written differently," he says. Samson becomes Simson and Aaron, Aaharon.
Full report at:
http://timesofindia.indiatimes.com/city/mumbai/Muslim-engraver-immortalizes-Jewish-names/articleshow/45009304.cms
--------
New govt has ignored us, say Maharashtra Muslim leaders
Mohammed Wajihuddin
Nov 1, 2014,
MUMBAI: Muslim activists and community leaders are upset over the community's non-representation in the first BJP government in Maharashtra. They said the BJP slogan of "sabka saath, sabka vikas" sounds hollow as the largest minority has been ignored.
"All major communities like Brahmins, OBCs, Marathas and Dalits find representation in the new ministry, except Muslims who comprise 10.6% of the state population," said Ghulam Peshimam of Khula Manch, an initiative of Muslim NGOs. Activist Salim Alware said over 16% Muslim votes went to BJP.
Full report at:
http://timesofindia.indiatimes.com/city/mumbai/New-govt-has-ignored-us-say-Muslim-leaders/articleshow/45008240.cms
-------
Pakistan
Islamic State fears grow in Pakistan and Afghanistan
Nov 2, 2014
ISLAMABAD: The Islamic State organisation is starting to attract the attention of radicals in Pakistan and Afghanistan, unnerving authorities who fear a potential violent contagion.
Far from the militants' self-proclaimed "caliphate" in Iraq and Syria, the name of IS has cropped up several times in militant circles in recent weeks in Pakistan and Afghanistan, the historic homeland of the Taliban and Al-Qaeda.
Leaflets calling for support for IS were seen in parts of northwest Pakistan, and at least five Pakistani Taliban commanders and three lesser cadres from the Afghan Taliban have pledged their support.
Pro-IS slogans have appeared on walls in several cities in both countries and in Kabul University, where a number of students were arrested.
Militant, security and official sources questioned in recent weeks say these are local, individual initiatives, and at this stage IS has not established a presence in the region.
But the success of IS in the Middle East is unsettling many of those charged with keeping a lid on Afghanistan and Pakistan's myriad extremist groups.
"ISIS is becoming the major inspiration force for both violent and non-violent religious groups in the region," Pakistani security analyst Amir Rana said.
Warning letter
Earlier this month Pakistan's National Counter Terrorism Agency wrote to a dozen government agencies warning them to be on their guard against IS.
"The successes of ISIS play a very dangerous, inspirational role in Pakistan, where more than 200 organizations are operational," the agency said.
The letter came as the Pakistani army fights a major offensive in insurgent bastions of the tribal areas, which appears to be weakening its major enemies, the Tehreek-i-Taliban Pakistan (TTP) and allied Al-Qaeda fighters.
Following the army offensive, the TTP, a coalition of disparate militant groups, has fragmented into rival factions over recent weeks, fueling rumours the movement could be overtaken by IS.
The TTP say they broadly support both IS militants and Al-Qaeda.
They also say they have sent 1,000 fighters in recent years to help the militant struggle in Syria — an estimate confirmed by a Pakistani government source — and plan to send 700 more.
Full report at:
http://www.dawn.com/news/1141995/islamic-state-fears-grow-in-pakistan-and-afghanistan
----------
8 soldiers, 20 militants die in Orakzai clash
November 02, 2014
ORAKZAI AGENCY - Militants stormed a security check post in Orakzai on Saturday, sparking a clash which left 20 attackers and eight soldiers dead. Another 11 militants and five soldiers were injured in the fighting that came in the wee hours and lasted for around three hours.
Around 3am, a group of around 50 militants armed with sophisticated weapons attacked the Zwan check post at Shireen Dara area of Orakzai Agency, which is situated adjacent to Tirah Valley of Khyber Agency – where Pakistani forces are already carrying out operation against Taliban and their associates.
The martyred soldiers included Hawaldar Saif ul Islam, Lance Naik Ihsanullah, Sepoy Arif Khan and Sepoy Sadat Khan while names of the other martyred soldiers could not be ascertained. The soldiers who sustained injuries were airlifted from Kalaya via helicopter and shifted to CMH Kohat. Two more soldiers succumbed to their injuries as they were being evacuated to CMH Kohat.
Orakzai Agency borders Khyber Agency where the military has launched a massive operation, Khyber-One, against the militants, focusing Aka Khel and Adam Khel areas. These areas are close to the Orakzai Agency border and due to which security forces personnel are often targeted. There has been a spike in such attacks recently.
So far more than 50 militants had been killed in Khyber-One military action, which was launched on October 17.
Levies man killed in Bajaur blast: Yet another militant attack occurred in the Qamar Sar area of Bajaur tribal district, on the border with Afghanistan, when a vehicle carrying security forces was hit by an IED blast. "One person belonging to the security forces embraced martyrdom and another sustained injuries when their vehicle was blown up with an IED device," local administration official Abdul Haseeb Khan said.
According to details, personnel of Levies Force were on routine patrolling at Qamar Sar locality, Tehsil Mamond when an IED planted by unknown miscreants exploded and as a resultant a soldier of the Levies force was killed on the spot while another got injured.
The injured soldier was rushed to agency headquarters hospital in Khar, who is stated to be in critical condition. Soon after the bomb attack, security forces cordoned off the area and launched a search operation in the area. During the operation, at least 25 suspects were detained under territorial responsibilities. No militant group claimed responsibility for the attack.
Full report at:
http://nation.com.pk/national/02-Nov-2014/8-soldiers-20-militants-die-in-orakzai-clash
----------
Jamaat-e-Islami Amir Urges Rulers to Win Hearts and Minds of Baloch
Syed Ali Shah
Nov 2, 2014
QUETTA: Jamaat-i-Islami (JI) Amir, Siraj ul Haq has urged upon rulers to win hearts and minds of people of Balochistan to pave the way for an amicable solution of issues relating to the troubled province.
He on Saturday called on Chief Minister Balochistan, Dr Abdul Malik Baloch, Jamhoori Watan Party (JWP) chief Nawabzada Talal Akbar Bugti, Dr Jehanzaib Jamaldini and other leaders and discussed prevailing political situation.
Speaking to reporters, Haq underlined the need for negotiated settlement of issues pertaining to Balochistan. "Instead of pushing people against the wall, they must be embraced," he said.
The JI chief stated that if Balochs were given rights and respect in the country, they would have never gone abroad. He said use of force had not produced any results in Balochistan rather it has further deteriorated the situation.
Full report at:
http://www.dawn.com/news/1141833/siraj-urges-rulers-to-win-hearts-and-minds-of-baloch
----------
Home Minister Assails Death Sentence Awarded To BD Jamaat Chief
Nov 2, 2014
ISLAMABAD: Interior Minister Chaudhry Nisar Ali Khan expressed on Saturday concern over the award of death sentence to Bangladesh Jamaat-i-Islami Chief Motiur Rehman Nizami.
In a statement, he said that though what happened in Bangladesh was that country's internal matter, yet Pakistan could not remain divorced from references to 1971 and its aftermath.
He said it was highly unfortunate that almost 45 years after that tragic chain of events, the Bangladeshi government still seemed to be living in the past and totally ignoring the time-tested virtue of forgive and forget.
He said one failed to understand why the Bangladeshi government was hell-bent on digging the graves of the past and reopening old wounds.
Full report at:
http://www.dawn.com/news/1141917/nisar-assails-death-sentence-awarded-to-bd-jamaat-chief
----------
Five suspected militants killed in Bara Agency clash
Zahir Shah Sherazi
Nov 2, 2014
PESHAWAR: At least five militants were killed and six others injured late on Saturday in a clash between security forces and militants in the Akakhel area of Bara Agency.
One security personnel was also injured. This information could not be independently verified as journalists have limited access to the tribal agency.
In a separate incident, a woman and two children died as a mortar shell fired from an undisclosed location hit a house in Akakhel. Two others were also injured in the incident.
The clash between militants and security forces comes as Pakistan's military continue with their intelligence-driven operation 'Khyber-1', aimed at targetting militant hideouts in areas under Mangal Bagh-led group's control in Tirah and Bara.
The latest operation was launched amidst Zarb-i-Azb, a full-fledged military operation being conducted by the army against Tehreek-i-Taliban Pakistan (TTP) and other militants in the North Waziristan tribal region.
Full report at:
http://www.dawn.com/news/1141994/five-suspected-militants-killed-in-bara-agency-clash
----------
PML-N stalwarts make no secret of indignation
Nov 2, 2014
LAHORE: Disgruntled PML-N leader Senator Sirdar Zulfiqar Khosa has said he and other Muslim Leaguers had been defending the Sharif brothers' "falsehood" about their agreement with Musharraf.
Talking to a private TV channel, Khosa said the Sharifs had gone to Jeddah after making an agreement with retired Gen Pervez Musharraf without taking him into confidence.
"I have no personal issue with Nawaz Sharif. Nawaz has become owner of the country while his younger brother Shahbaz the owner of a province," he said, adding he could not defend the corruption of the Sharifs.
The former governor further said the Sharif brothers gave a false hope to the people of south Punjab about creating new province for them.
Full report at:
http://www.dawn.com/news/1141941/pml-n-stalwarts-make-no-secret-of-indignation
----------
Talks still an option for govt, PTI
Nov 2, 2014
ISLAMABAD: The government on Saturday said that they were exploring the option of restarting talks with the protesting Pakistan Tehreek-i-Insaf (PTI) to reach some kind of a settlement with Imran Khan.
The PTI too has expressed willingness to resume dialogue with the ruling PML-N, a process that was stalled after the Aug 30 violence against protesters on Constitution Avenue.
"We want dialogue. We have heard 213 speeches of Imran Khan, so Mr Khan should be able to spare 21 or 22 minutes for us," Information Minister Pervaiz Rashid told reporters at the National Press Club on Saturday.
"Our hearts and the doors of negotiation are open. We will accord Mr Khan the utmost highest respect and embrace him [if he comes for talks]," he added.
The minister alleged that Imran Khan was not allowing PTI's negotiating team to hold talks with the government. "Please, remove the handcuffs of Shah Mehmood Qureshi, Shafqat Mehmood and Arif Alvi. Come and let us start talking," he said, making overt gestures to soothe the PTI chairman, who has maintained that his sit-in will continue until the prime minister's resignation.
Minister makes first overture in seven weeks; PTI expected to respond positively provided govt is 'serious'
Talking to Dawn, PTI MNA Arif Alvi said his party was also ready for talks, but the invitation should come through proper channels, and not through statements to the media.
"Our doors are also open [to them], but talks should be held seriously and with responsibility," Dr Alvi said, claiming that it was the government team that had abandoned the talks and never got back to them.
"If you want to invite us, call me or Mr Qureshi or any member of the PTI negotiating team," was his indirect advice to the minister, indicating that the party was still awaiting a direct invitation from the ruling party.
Responding to the minister's claim that Mr Khan had prevented PTI members from continuing talks, Dr Alvi said that the PTI negotiators had the same mandate which members of the government team had from their leadership.
The PTI leader said that just as government members could not make any commitment during the talks without seeking the consent of Prime Minister Nawaz Sharif, so it was for them as well.
Full report at:
http://www.dawn.com/news/1141948/talks-still-an-option-for-govt-pti
----------
Pakistan backs China's role for Afghan peace: Aziz
November 02, 2014
BEIJING - Pakistan fully supports China's constructive contribution and five-point proposal envisaged by Premier Li Keqiang for Afghanistan's peace and economic development.
This was stated by the Adviser to the Prime Minister on National Security and Foreign Affairs Sartaj Aziz while addressing the fourth Ministerial Conference on the Heart of Asia-Istanbul Process held in Beijing.
The ministerial conference is a powerful illustration of the international community's commitment to support Afghanistan in its quest for peace, progress and prosperity.
The adviser said that the Heart of Asia process had evolved into an important platform for collective endeavors in support of Afghanistan's stabilisation. Pakistan's involvement with the six confidence building measures (CBMs) was a manifestation of its abiding interest in promoting the shared goals of stability and prosperity in the Heart of Asia, through constructive regional cooperation.
The adviser underscored that Afghanistan had undergone historic transfer of power after recent elections. He congratulated President Ashraf Ghani on being elected as Afghanistan's president and forming a unity government in Afghanistan.
Aziz appreciated that a regional consensus had been achieved at the ministerial conference underlining the need to fully support peace and reconciliation efforts in Afghanistan and in helping Afghanistan's reconstruction. The adviser reiterated that Pakistan remains fully committed to support an Afghan-led and Afghan-owned peace process.
Pakistan's offer to host the next year's conference of the Istanbul Process was supported by the participating countries and the international organizations. Accordingly Pakistan would host 2015 Ministerial Conference of the Istanbul Process. Aziz met with Turkish Foreign Minister Mevlut Cavusoglu on the sidelines of the ministerial conference.
Both sides expressed satisfaction over the pace of bilateral cooperation. They hoped to step up progress in bilateral trade to a level reflective of friendly relations. Both sides expressed the confidence to speed up implementation process of MoUs signed between the two countries. Mevlut characterised bilateral relationship as close and forward looking encompassing a complete gamut of economic, trade and political relations.
Full report at:
http://nation.com.pk/international/02-Nov-2014/pakistan-backs-china-s-role-for-afghan-peace-aziz
----------
Intelligence report reveals TTP attack plan during Muharram
October 31, 2014
Karachi- Pakistan's intelligence agencies have warned government about possible terror attacks on specific targets in Karachi during the holy month of Muharram.
Agencies have reported that the rebellious Tehreek-e-Taliban Pakistan (TTP) has planned to attack specific places in different areas of Karachi. Taliban's top leadership have assigned the task to Amir Khalil, belonging to M.P.R Colony.
http://nation.com.pk/karachi/31-Oct-2014/intelligence-report-reveals-ttp-attack-plan-during-muharram
----------
Pak expats hold function to mark 'Kashmir Black Day'
2 November 2014
The Pakistani Embassy on Friday observed "Kashmir Black Day," with a reiteration of their national resolve to help secure the right to self-determination for the Kashmiri people by passing a unanimous resolution in favor of the territory's right to self-rule.
Khayyam Akbar, charge d' affaires at Pakistan Embassy in Riyadh, presided over the session organized here at the embassy premises in the Diplomatic Quarter.
In his keynote address, Akbar underlined, "the day is observed in remembrance of illegal occupation of Kashmir by India."
He appreciated Kashmiris for the long and continuous struggle for their right to self-determination, "The day is not far when they will get freedom from Indian clutches of slavery," he observed.
He further assured that Pakistani people are unanimously standing with Kasmiris in their sustained struggle for their rights.
Expressing surprise on the approach of newly elected Indian government, Akbar said, "Pakistan expected the new Indian government to solve Kashmir issue by negotiation but unfortunately they have closed the door of negotiation and became more aggressive by unlimited violations on the border and Line of Control (LoC)."
"Our valiant armed forces retaliated against the Indian aggression with full force and succeeded in averting their heinous designs," the charge d' affaires maintained.
Quoting Pakistani Premier Nawaz Sharif's recent speech in UN, he said that Pakistan can not sideline Kashmir issue and must stand in full solidarity with the great cause.
Prince Faisal bin Bandar bin Mashari Al-Saud graced the occasion as chief guest and expressed solidarity with the Kashmiri people.
A number of other speakers highlighted the importance of Kashmir issue and condemned the "Indian occupation of Kashmir and human rights violations in the beautiful valley by Indian armed forces."
Commemorating Kashmir Day, they appealed to UN to solve Kashmir issue according to Security Council's resolutions and pledged to continue their support to Kashmiri people till they finally get their right to self-determination. Ahmed Bakhsh, an Arab journalist, expressed in his speech grief over the worst violations of human rights in Kashmir and went on to say that Kashmir is a jugular vein of Pakistan.
Faiz Najdi, a Pakistani journalist, said that Kashmir and Palestine issues are similar as the oldest issues on UN agenda and implementation of resolutions regarding these issues are long awaited.
Full report at:
http://www.arabnews.com/saudi-arabia/news/653771
----------
South Asia
Bangladesh Sentences another Top JI Leader, Mir Quashem Ali, To Death
Nov 2, 2014
DHAKA: A special tribunal in Bangladesh on Sunday sentenced to death a senior leader of the largest Islamist party, the second capital sentence in a week for the mass killings during the nation's war against Pakistan in 1971.
Mir Quashem Ali sat calmly in the dock as Judge Obaidul Hasan read the verdict in the packed courtroom in Dhaka, the Bangladesh's capital city. The 62-year-old Ali is a member of Jamaat-i-Islami party's highest policy making body and he is considered to be one of top financiers of the party.
Last week, the court sentenced to death the party's leader, Motiur Rahman Nizami, for the 1971 war crimes. Another senior leader has already been hanged. In protest, Jamaat-i-Islami party enforced a nationwide general strike Sunday, though no violence was reported.
The court's previous verdicts have triggered street violence. Bangladesh accuses Pakistani soldiers and local collaborators for the deaths of 3 million people during the nine-month 1971 war.
Full report at:
http://www.dawn.com/news/1141997/bangladesh-sentences-another-top-ji-leader-to-death
----------
Suicide car bomber kills 11 police, soldiers in Afghanistan
Nov 2, 2014
PUL ALAM, Afghanistan: A suicide car bomber killed at least 11 members of the security forces and wounded more than 20 civilians near a police checkpoint in eastern Logar province in Afghanistan on Saturday, local officials said.
The Taliban did not immediately claim responsibility for the attack and could not be reached for comment, but the militant group carry out daily attacks on the country's army and police.
"The suicide bomber detonated his car near a residential area in Azra district of Logar, killing four army soldiers and seven local policemen," Din Mohammad Darwish a spokesman for Logar's governor said.
Violence has increased in Afghanistan over the past year as foreign troops prepare to withdraw by the end of 2014.
The government is reluctant to release figures on casualties, but more than 4,000 police and soldiers were killed fighting Taliban insurgents in 2013 and this year's toll is expected to be higher.
Full report at:
http://www.dawn.com/news/1141820/suicide-car-bomber-kills-11-police-soldiers-in-afghanistan
----------
Jamaat-e-Islami BD calls 24-hr Hartal for Thursday
November 02, 2014
Aggrieved by today's war crimes verdict on Jamaat-e-Islami leader Mir Quasem Ali, the party has called a countrywide 24-hour hartal (shutdown) for Thursday.
The party will enforce a 6:00am Thursday, a staff of Jamaat publicity wing told The Daily Star.
Full report at:
http://www.thedailystar.net/jamaat-calls-24-hr-hartal-for-thursday-48524
----------
Africa
Dozens of Libyans pledge allegiance to top IS leader
2 November 2014
CAIRO: Dozens of residents of a town in eastern Libya have pledged allegiance to Abu Bakr Al-Baghdadi, leader of Islamic State militants fighting in Syria and Iraq, according to a video and a resident.
Around 50 young people could be seen in a video posted on social media gathering in Derna to support Baghdadi, who calls himself "caliph," or Muslim leader, of Islamic State, an Al-Qaeda offshoot.
A Derna resident confirmed the authenticity of the video, taken late on Friday.
There has been growing concern among Western nations and Libya's neighbors that Islamic State is trying to exploit lawlessness in the oil producer where militants and other militias who helped topple Muammar Qaddafi in 2011 are carving out fiefdoms.
Derna, a port halfway between the eastern Libyan city of Benghazi and the Egyptian border, has since 2011 turned into a gathering point for militants and Al-Qaeda sympathizers.
Fifteen members of Islamic State, led by an Egyptian and a Saudi national, traveled to Derna from Syria in September trying to rally support and establish an Islamic State branch in Libya, Egyptian security officials have said.
Youth driving through the town waiving Islamic State flags could be seen after the visit, according to a video on social media.
Full report at:
http://www.arabnews.com/middle-east/news/653621
----------
Burkina Faso's military backs Colonel Zida
1 Nov 2014
Burkina Faso's top military officials have thrown their support behind presidential guard Lieutenant Colonel Issac Zida as leader of a transitional government after President Blaise Compaore was forced from power, the Reuters news agency has reported.
The move on Saturday sidelines Compaore loyalist General Honore Traore, the joint chief of staff, who had announced a competing plan to lead the country following Zida's departure.
"Lieutenant Colonel Yacouba Issac Zida has been elected unanimously to lead the transition period opened after the departure of President Blaise Compaore," read a statement issued after military chiefs met to discuss who should take power.
The statement came shortly after Burkina Faso's deposed president reportedly arrived in neighbouring Ivory Coast, less than 24 hours after being forced from power.
Compaore, who resigned on Friday amid mass protests against his 27-year rule, arrived in the capital Yamoussoukro on Saturday with his family.
"The services of the President hotel in Yamoussoukro served him [Compaore] dinner yesterday [Friday] and breakfast this morning [Saturday]," a hotel employee told the AFP news agency.
A local resident told the AFP he saw "a long cortege of around 30 cars going in the direction of the villa," which is used as a semi-official residence for foreign dignitaries.
Zida and Traore both announced they would lead a transition to democracy after Compaore was pushed out.
Zida said in a recorded address posted early on Saturday on the website of a national television station that he was filling the vacuum.
"While we wait to define in a consensual manner, with all of the political parties and civil society organisations, the contours and composition of this peaceful democratic transition," Zida said. "I will henceforth assume, from today, the responsibilities of the head of this transition and the head of state."
Full report at:
http://www.aljazeera.com/news/africa/2014/11/deposed-burkina-faso-president-ivory-coast-20141111231323345.html
----------
UN urges civilian transfer in Burkina, threatens bans
Nov 2, 2014
A United Nations envoy has urged a civilian transition of power in Burkina Faso, threatening sanctions against the West African country unless the army gives up power.
"We hope there will be a transition led by a civilian and in keeping with the constitutional order," the UN envoy for West Africa, Mohamed Ibn Chambas, said on Sunday, adding, "If not, the consequences are pretty clear. We want to avoid having to impose sanctions on Burkina Faso."
The comments come a day after the military top brass named Lieutenant Colonel Yacouba Isaac Zida, the deputy commander of the elite presidential guard, to lead the country's transition.
On Friday, President Blaise Compaoré was forced to resign following two days of mass protests against his attempts to change the constitution to extend his rule for a fifth term.
Chambas was speaking on behalf of a tripartite group of mediators, including representatives of the African Union and the Economic Community of West African States, after they met with Zida and Burkina Faso's top military brass.
Full report at:
http://www.presstv.ir/detail/2014/11/02/384497/un-threatens-burkina-faso-with-bans/
----------
Presidential campaign begins in Tunisia
Nov 2, 2014
Campaigning for Tunisia's presidential election has kicked off with 27 candidates including the outgoing head of state, Moncef Marzouki.
The candidates started their campaigning on Saturday. The election is scheduled to be held on November 23.
Beji Caid Essebsi, leader of Tunisia's Nidaa Tounes Party, Slim Riahi, an entrepreneur who owns Club Africain, one of the two major football teams in Tunis, Hamma Hammami, a leftist figurehead and virulent critic of the country's former dictator, Zine el-Abidine Bin Ali, and his last foreign minister Kamel Morjane are among prominent contenders for the election.
Kalthoum Kannou, a magistrate, is also the only female candidate. She was a stalwart opponent of Ben Ali's regime, which tried to silence her.
Nidaa Tounes secured 85 seats in Tunisia's new 217-member parliament after the October 26 elections, while Ennahda Party won 69 seats.
"Candidates from Ennahda or Nidaa Tounes will certainly win the election. The remaining 25 candidates lack their financial and political support. It's a lost cause as the battle is between those two parties," political analyst Rachid Jarray told Press TV. Nearly four years into the popular uprising that toppled Ben Ali, Tunisians hope for the establishment of stability in the country.
Full report at:
http://www.presstv.ir/detail/2014/11/02/384484/presidential-campaign-begins-in-tunisia/
----------
Burkinabe opposition, civil society call for new demo
Nov 2, 2014
Opposition and civil society leaders in Burkina Faso have called for another mass rally after the military claimed power following the ouster of President Blaise Compaoré.
In a statement issued on Saturday, a group of opposition parties and civil society organizations warned Burkina Faso's army against a seizure of power after it tasked a top military official with leading the country during the transition period.
They also called for a new mass demonstration in the capital Ouagadougou on Sunday. The protest is set to be held at the site now known as "Revolution Square," where as many as one million people had assembled earlier this week to demand Compaoré's resignation.
"This transition should be democratic and civilian in character," the statement said, adding, "The victory born from this popular uprising belongs to the people, and the task of managing the transition falls by right to the people. In no case can it be confiscated by the army."
The military top brass on Saturday named Lieutenant Colonel Yacouba Isaac Zida, the deputy commander of the elite presidential guard, to lead the country's transition a day after Compaoré was forced to step down following two days of mass protests against his attempts to change the constitution to extend his rule for a fifth term.
Full report at:
http://www.presstv.ir/detail/2014/11/02/384472/burkina-faso-poised-for-new-mass-rally/
----------
Libyan gov't forces retake parts of Benghazi
Nov 1, 2014
Pro-government forces in Libya have regained control of parts of the northeastern city of Benghazi following a fierce battle with militants, military sources say.
The Libyan army backed by forces loyal to retired General Khalifa Haftar mounted an offensive against the militiamen in Benghazi's east and south on Friday and Saturday, which claimed the lives of at least 36, according to the sources.
The forces reportedly succeeded in retaking military positions and their headquarters that they had lost to the militants in June.
Armed Forces General Staff spokesman Colonel Ahmed al-Mesmari announced that forces loyal to the government have all parts of Benghazi's east under their control, and are advancing in the city's south.
Witnesses said Libyan army planes struck several western neighborhoods, including Al-Gawarsha that is regarded as the militants' stronghold.
Benghazi has been a war zone since May, when Haftar joined forces with the army and declared war on the militia groups. At least 254 people have been killed in clashes in the last two weeks.
Full report at:
http://www.presstv.ir/detail/2014/11/01/384440/libya-govt-retakes-parts-of-key-city/
----------
Boko Haram Denies Ceasefire Agreement
01 November 2014
ABUJA – Almost two weeks after announcing a truce agreement between Boko Haram and the Nigerian government, the militant group has denied negotiating a ceasefire deal, announcing that the kidnapped school girls are now married.
"We have not made ceasefire with anyone...," Boko Haram's leader, Abubakar Shekau, said in a video obtained by Agence France presse (AFP) on Friday, October 31.
"We did not negotiate with anyone... It's a lie. It's a lie. We will not negotiate. What is our business with negotiation? Allah said we should not."
Boko Haram's denial of the ceasefire deal comes 14 days after Nigeria's government's declaration of signing a truce with the group on October 17, which includes a ceasefire and a promise to release more than 200 school girls abducted six months ago.
The deal was also confirmed by Danladi Ahmadu, who calls himself the secretary-general of Boko Haram, saying that a cease-fire agreement had been reached.
However, reports about the ceasefire agreement between the government and the militant group have been raising many doubts among Nigerians, questioning the authenticity of the deal propagated as putting an end to the bloody conflict in the West African country.
Nigeria has been facing a number of security challenges over the past months.
Last April, some 219 schoolgirls were kidnapped by the Boko Haram militants while being at school in the Chibok area of Borno state.
The abduction was widely condemned by world leaders and Islamic organizations.
Using Islamic teachings as justification for threatening to sell the girls into slavery, Shekau threats have sparked Muslim anger worldwide, asserting that Islam was innocent for all such crimes.
"Married"
Flanked by 15 armed fighters, Boko Haram's Shekau, in a military fatigue and boots with a black turban, claimed that the abducted girls have reverted to Islam and got married.
"Don't you know the over 200 Chibok schoolgirls have converted to Islam? They have now memorized two chapters of the Qur'an," he said.
"We have married them off. They are in their marital homes."
Full report at:
But recently, the sect has carried out attacks against Christians and Muslims alike.
http://www.onislam.net/english/news/africa/479195-boko-haram-denies-ceasefire-agreement.html
-----------
Europe
Switzerland Says It Foiled Islamic State Terror Attack on Europe
October 31, 2014
Switzerland said it foiled a terrorist attack in Europe by detaining three Islamic State extremists.
The Iraqi citizens are suspected of "misuse of explosives and toxic gases with criminal intent, acts preparatory to criminal offenses, pornography, and encouraging illegal entry to, exit from and residence in Switzerland," the Federal Prosecutor said in a statement today. Prosecutors withheld the information from the public until now to avoid jeopardizing their investigation, it said.
The announcement comes just a week after a Canadian convert to Islam murdered a soldier at a war memorial in Ottawa before entering parliament where he was shot dead. European governments are increasingly concerned about links between their Muslim populations and Islamic State after Internet videos showed a militant with a British accent beheading U.K. and U.S. citizens.
Full report at:
http://www.businessweek.com/news/2014-10-31/switzerland-says-it-foiled-islamic-state-terror-attack-on-europe
----------
Islamic State Recruiters Unsettle Muslims in The Hague
Nov. 1, 2014
By MAARTEN VAN TARTWIJK
THE HAGUE—This city is wrestling with a new generation of home-grown Muslim radicals, 10 years after a member of a local terrorist cell brutally killed Dutch filmmaker Theo van Gogh in Amsterdam.
More than a quarter of the 140 Dutch jihadists who the government says have travelled to Syria to join Islamic State were recruited in The Hague, making the city the Netherlands' most important breeding ground for the extremist group.
The heightened Islamic radicalism now has invoked memories of the Hofstad Group, a small Islamic terrorist cell that was active in The Hague in 2003 and 2004. One of the group's members, Mohammed Bouyeri, shot and stabbed Mr. van Gogh in a street in Amsterdam on Nov. 2, 2004, in the Netherlands' first act of terrorism carried out in the name of Islam.
The Hofstad Group was dismantled after Mr. van Gogh's killing and several members, including Mr. Bouyeri, were sentenced to prison. But some of the group's early followers, then deemed too young to be a threat, now form the core of a new generation of Muslim radicals in The Hague, experts say.
The Hague promotes itself as the city of peace and justice, a reference to the International Court of Justice that is based here. But in some quarters of the city, young radical Muslims have their own nickname for the place: "Jihad city."
Although a fringe group within the Dutch Muslim community, the number of radicalized youths in the city has increased compared to the days of the Hofstad Group. Islamic State is believed to have around 200 supporters in the city, according to official estimates, many of whom are second-generation immigrants of Dutch-Moroccan origin.
While the Hofstad Group tried to keep a low profile, the new generation of Dutch jihadists is anything but publicity-shy. They have organized pro-Islamic State protests in the streets of The Hague, which they filmed and posted on YouTube. Many are ardent users of Twitter and one of the leaders was interviewed by Dutch television.
"You can tell they clearly learned from the Hofstad Group's mistakes," said Edwin Bakker, a professor of terrorism studies at Leiden University in the Netherlands. "They are more professional, have good knowledge of the boundaries of the law and they can mobilize much more people."
Full report at:
http://online.wsj.com/articles/islamic-state-recruiters-unsettle-muslims-in-the-hague-1414899675
----------
Britons Recognize Muslims WWI Hero
31 October 2014
CAIRO –Acknowledging the heroism of Muslims during the First World War, British former army chiefs have called for recognizing the first Muslim soldier to be awarded the Victoria Cross, in a bid to reveal the true face of Muslims whose image has been tarnished by the so-called Islamic State in Iraq and Levant (ISIL).
"The quiet dignity of our commemoration of Khudadad Khan's bravery and service is perhaps the most powerful riposte we could possibly send to the sickening extremism of ISIL," Dilwar Hussain, a Muslim academic and one of the signatories of the letter wrote to the Telegraph on Friday, October 31.
Hussain is one of the signatories of a letter sent to the Telegraph by former army chief Lord Dannatt and General Sir David Richards who called for a "greater recognition" of Sepoy Khudadad Khan, the first Muslim soldier to be awarded the Victoria Cross.
The letter, signed by group of peers, MPs, historians and religious leaders, calls for educating children on the role played by Muslim troops in WWI.
Khudadad Khan, a machine gunner in an Indian colonial regiment, fought on the Western front during WWI in support of the British Expeditionary Force.
Khan was a member of the 129th Baluchis regiment fighting near in Belgium.
On 31st October, 1914, at Hollebeke, Sepoy Khudadad carried on firing the gun on his own, after the five other men of his gun detachment were killed.
Despite having been wounded, he fought on long enough to hold off an enemy advance until Indian and British reinforcements arrived. He was awarded the highest military award for gallantry by King George V in December that year.
Full report at:
http://www.onislam.net/english/news/europe/479157-britons-recognize-muslims-wwi-hero.html
-----------
Europe's Muslims feel under siege
By Anthony Faiola and Souad Mekhennet
November 1, 2014
COPENHAGEN — On a continent where Muslim leaders are decrying a surge in discrimination and aggression, Alisiv Ceran is the terrorist who wasn't.
The 21-year-old student at the University of Copenhagen recently hopped on a commuter train to this stately Scandinavian city, his bag bulging with a computer printer. Feeling jittery about a morning exam, he anxiously buried his nose in a textbook: "The United States After 9/11."
A fellow passenger who reported him to police, however, saw only a bearded Muslim toting a mysterious bag and a how-to book on terror. Frantic Danish authorities launched a citywide manhunt after getting the tip. Ceran's face — captured by closed-circuit cameras — was flashed across the Internet and national television, terrifying family and friends who feared he might be arrested or shot on sight.
"It was the first time I ever saw my father cry, he was so worried about me," said Ceran, who called police when he saw himself in the news, then hid in a university bathroom until they arrived. "I think what happened to me shows that fear of Islam is growing here. Everybody thinks we're all terrorists."
Ceran's ordeal is a sign of the times in Europe, where Muslims are facing what some community leaders are comparing to the atmosphere in the United States following the attacks of Sept. 11, 2001.
Full report at:
http://www.washingtonpost.com/world/europe/europes-muslims-feel-under-siege/2014/10/31/24c909e9-2e62-41b0-8b4f-3a6070b27eeb_story.html
----------
North America
US Muslim woman Asked for ISIL Halloween Costume
01 November 2014
CAIRO – A US Muslim woman has received a shocking message from an acquaintance asking for a Niqab or face-veil, to which she referred as "the face thing", to complete her Halloween costume.
"Lots of words popped into my head when I read the text," Arhama told HuffPost over the phone on Friday, October 31.
"But what do you even say to that?"
Arhama, a recent college graduate who asked that her last name not be included, was shocked after receiving a text message asking for Halloween help.
Asking Arhama, who wears a Hijab but does not cover her face, to borrow "the face thing" for her costume about the so-called Islamic State, referred to as ISIL or ISIS, the sender's request conflated the militant group with all of Islam.
I was wondering if I could borrow one of your long black garments and a Hijab and the face thing not sure what it is called," the acquaintance said in her message to Arhama.
I was wondering if I could borrow one of your long black garments and a Hijab and the face thing not sure what it is called," the acquaintance said in her message to Arhama.
"I know you do not wear one but maybe you have one for like religious stuff. I wanted to dress up as ISIS for Halloween," she added.
The message came to public after Ismat Sarah Mangla, a writer for The International Business Times and a friend of Arhama, posted the content of the text to Twitter.
"A hijabi friend of mine got this text from a former college classmate," she wrote, posting an image for the text message.
Full report at:
http://www.onislam.net/english/news/americas/479193-muslim-asked-for-isil-halloween-costume.html
------------
Canadian Prime Minister rapped for silence on hate crime
Nov 1, 2014
Canadian Prime Minister Stephen Harper has come under fire for his silence on a spike in anti-Muslim hate crimes following recent attacks on the country's soldiers.
Muslim groups said Friday that they are disappointed that Harper has not condemned the recent surge in anti-Muslim attacks.
Canadian media reported that Harper has not publicly voiced support for the country's Muslims despite the hike in hate crimes.
Amira Elghawaby, human rights coordinator for the National Council of Canadian Muslims, said Harper should, as leader of our country, "speak up for the minorities that live here."
"He has a responsibility to represent everyone and certainly Canadian Muslim communities are extremely worried about a backlash and I think that needs to be spoken to," Elghawaby added.
Alia Hogben, executive director of the Canadian Council of Muslim Women, described Harper's silence as "very disheartening."
The latest anti-Muslim attack took place early Friday morning when windows were smashed at a mosque in the capital Ottawa.
Full report at:
http://www.presstv.ir/detail/2014/11/01/384429/canada-pm-rapped-for-hate-crime-silence/
----------
UN begins review of peacekeeping amid criticism
Nov 2, 2014
UNITED NATIONS: The United Nations secretary-general on Friday began a sweeping review of the world body's peacekeeping operations by naming an "independent" panel of experts with past ties to several UN missions.
It's the most comprehensive look at the 130,000-strong peacekeeping staff in almost 15 years.
Peacekeeping chief Herve Ladsous said that operations are under the most severe strain since the UN was founded, almost 70 years ago. More than 100 peacekeepers have died this year, including in targeted attacks, and 45 were taken captive for two weeks by Al Qaeda-linked fighters in the tense border area between Syria and Israel. Ebola is the latest threat.
At the same time, some of the UN's 16 peacekeeping missions have been criticised for their lack of effectiveness and slow pace of deployment to crisis zones.
In May, the UN's internal watchdog said peacekeeping forces responded immediately to only a minority of attacks on civilians between 2010 and 2013 and almost never used force to protect them when they did respond.
Full report at:
http://www.dawn.com/news/1141903/un-begins-review-of-peacekeeping-amid-criticism
----------
US navy forces must leave Persian Gulf: IRGC admiral
Nov 2, 2014
A top Iranian navy officer has hailed the powerful military presence of the Islamic Revolution Guards Corps (IRGC) Navy in the Persian Gulf, saying the US should withdraw its forces from the strategic waters.
IRGC Navy chief Rear Admiral Ali Fadavi highlighted the capabilities of the IRGC naval forces in maritime battles, adding that the Islamic Republic pursues the withdrawal of US forces from the Persian Gulf, Fars news agency quoted him as saying on Sunday.
He pointed to the military exercises held by Iranian Armed Forces to prepare for countering enemy threats, stressing, "The destruction of US naval forces is among the objectives [pursued by] the IRGC Navy."
"We are simulating this (mission) on a replica aircraft carrier because destroying and drowning American warships have been and will remain on our program," added the high-ranking Iranian admiral.
Full report at:
http://www.presstv.ir/detail/2014/11/02/384486/us-forces-should-leave-persian-gulf/
----------
Southeast Asia
Inauguration of Joko Widodo as Indonesia's President Welcomed by Christians
November 1, 2014
Indonesia's new leader, political outsider Joko Widodo, was sworn in as president on 20 October in a development that has inspired hope for the future of the country's Christian minority.
Like Us on Facebook Subscribe to eNewsletter
The election of Mr Widodo, who has shown a tolerant attitude to religious minorities, will be welcome news for many Christians following the failure of outgoing President Susilo Bambang Yudhoyono, dubbed "the president of intolerance" by one Indonesian pastor, to protect them.
Mr Widodo, who won Indonesia's general election on 9 July, has said that intolerance of people's differences is one of the main problems facing Indonesian society.
In his inaugural speech, Mr Widodo made a call for national reconciliation and unity, saying "we will never become a great nation if we are stuck with division," in recognition of the country's rich and diverse culture. He also extended a greeting in his speech to Christians and other religious minorities along with the traditional Islamic greeting given by previous leaders in their inaugural speeches.
Whether the new president will be able to deliver on his desire for unity remains to be seen, but Mr Widodo's previous track record of not discriminating between his fellow Muslim politicians and Christian politicians may be encouraging for believers.
As governor of Indonesia's capital city, Jakarta, Mr Widodo defended his decision to appoint a Christian woman, Susan Jasmine Zulkifli, as a local authority chief in a Muslim-majority area, despite repeated demands for Mrs Zulkifli's removal by Islamists. He also defied Islamist objections and formed an effective partnership with Jakarta's then deputy governor, Basuki Tjahaja Purnama, who holds dual minority status by being both a Christian and of Chinese-Indonesian descent.
However, the incoming president could face political challenges in advancing his reformist agenda. He will have to negotiate his policies through Indonesia's hung parliament, which has been split into two coalitions; the smaller is led by Mr Widodo's party, the Indonesian Democratic Party of Struggle, and the other, led by his rival Prabowo Subianto, makes up two-thirds of parliament.
Mr Subianto has not shown readiness to support Indonesia's Christians and has already begun using his majority to oppose Mr Widodo's reformist agenda. This influence is concerning for Christians; not only did Mr Subianto's presidential manifesto call for the state "to guarantee the purity of religious teachings", but he has also demonstrated willingness to co-operate with the Islamic Defenders Front (IDF), a violent Islamist group whose members have violently attacked Christians in the past.
Full report at:
http://www.crossmap.com/news/inauguration-of-joko-widodo-as-indonesias-president-welcomed-by-christians-13349
----------
Indonesian Military Chief: 'ISIS Is the Worst Idea in History
By Zachary Keck
November 01, 2014
Indonesia's military chief said this week that the Islamic State is the "worst idea in history" and called for a more assertive regional response to combat the threat.
Calling IS a "cancer," Indonesia's armed forces (TNI) chief General Moeldoko said in a speech on Wednesday that: "ISIS is the worst idea in history. ISIS is not Islamic. I am a Muslim, but I can say that ISIS does not represent the Islam that I know. To me, there is no room for ISIS to develop in Indonesia."
At the same time, he warned that: "There have been several people from countries like Singapore, Malaysia, Indonesia and Australia who have gone to Syria and Iraq to join IS. We need to find a common understanding among the ASEAN Chief of Defence Forces, to anticipate the future risk, when these fighters return to their home countries. We need to think of concrete steps to deal with this threat."
To that end, Moeldoko said that at the ASEAN Chief of Defense Forces informal meeting in Malaysia next year, he would propose a meeting between regional defense chiefs to discuss how to best coordinate a regional strategy for combating the Islamic State in Southeast Asia.
Southeast Asia has a number of Muslim-majority nations including Indonesia itself, the world's largest Muslim country. There are also large Muslim populations in other states throughout the region, who are potentially vulnerable to IS's message.
Full report at:
http://thediplomat.com/2014/11/indonesian-military-chief-isis-is-the-worst-idea-in-history/
----------
Unofficial Islamic party of Indonesia Names new Chairman by Acclamation
By Suara Pembaruan
Nov 02, 2014
Jakarta. The unofficial camp of the nation's oldest Islamic party in existence late on Saturday night selected a new chairman to replace Suryadharman Ali, who has been named a suspect in a corruption case.
Djan Faridz, a former minister of public housing, was selected to lead the United Development Party (PPP) by acclamation.
"What if we declare Djan Faridz as the chairman of the PPP for the 2014-2019 period by acclamation" Asked PPP politician Habil Maratih, who lead the meeting.
Most of the participants of the congress, held in Jakarta, shouted in agreement.
A minority had wanted Ahmad Yani, a senior member of the party, to be elected chairman.
Yani was disappointed with the selection method and left the room as soon as Djan was announced as the chairman.
Full report at:
http://thejakartaglobe.beritasatu.com/news/unofficial-ppp-names-djan-faridz-chairman-acclamation/
----------
Police Make Second Arrest in Alleged Twitter Extortion Case
By Bayu Marhaenjati
Nov 02, 2014
Jakarta. Jakarta Police have arrested a second administrator of a self-proclaimed corruption-busting Twitter account which has been linked to extortion of a high-ranking Indonesian telecommunications executive.
Raden Nuh was arrested in his rented room in Tebet, South Jakarta, in Sunday, and is the second suspect detained by police in relation to the @TrioMacan2000 Twitter handle, which officers say has been extorting individuals to stay quiet about graft cases. Sr. Comr. Aris Budiman, director of the special crime unit of the Jakarta Police, confirmed the arrest on Sunday, but refused to give details. His deputy Adj. Sr. Comr. Sandy Nugroho, however, told Tempo.co that the arrest was related to the alleged extortion case involving Edi Saputra, an administrator of @TrioMacan2000 arrested last week.
Police said Edi received Rp 50 million ($4,140) from a Telkom executive identified as A.P. to stop posting tweets alleging corruption about a former chief executive, who was recently appointed a minister in President Joko Widodo's new cabinet.
Full report at:
http://thejakartaglobe.beritasatu.com/news/police-make-second-arrest-alleged-twitter-extortion-case/
----------
Yemen rebels in deadly attack on Al-Islah party HQ
November 02, 2014
SANAA: Rebels attacked the headquarters of Yemen's Al-Islah party in the southwestern city of Ibb, triggering violence in which three people died, security sources said Saturday.
"Two guards at Al-Islah's office in Ibb were killed and others wounded in an attack launched late at night by the Huthis using automatic weapons and rocket-propelled grenades," the source told AFP.
A civilian was killed in the ensuing clashes, said another security source, adding that the rebels overran and looted the office before setting off a bomb inside it Saturday morning. Al-Islah, which represents Yemen's tribes, has lost influence in the face of the rebellion that seized the city of Ibb last month. The Huthis, also known as Ansarullah, overran the capital Sanaa on September 21 in a surprise offensive that later saw them take control of the port of Hudeida, and the provinces of Ibb and Dhamar. They have been able to expand their territory largely unchallenged by government forces, and the only real resistance they have faced has come from tribes and Al-Qaeda.
Yemen has fallen deeper into turmoil since an uprising forced out autocratic president Ali Abdullah Saleh in 2012 after a year of unrest, with the rebels and Al-Qaeda battling each other.
Both sides have taken advantage of the lack of stability since Saleh's ouster to extend their sphere of influence in the country.
On Friday, Shia rebel leader Abdulmalik al-Huthi told President Abdrabuh Mansur Hadi that if he did not form a new government within 10 days a "national salvation council" would take its place.
Full report at:
http://nation.com.pk/international/02-Nov-2014/yemen-rebels-in-deadly-attack-on-al-islah-party-hq
----------
No serious obstacle to final nuclear accord: Iran FM
Nov 2, 2014
Iran's Foreign Minister Mohammad Javad Zarif has dismissed speculations over the existence of "serious obstacles" in the way of a final agreement on Tehran's civilian nuclear work.
"I don't think we have serious obstacles," Zarif said in a Saturday interview with China's CCTV channel.
"There are possibilities, various ways and means of making sure that Iran's nuclear program will remain exclusively peaceful, and at the same time ensuring that all the restrictions that, from our perspective, have unjustifiably restricted Iran's trade with other countries, are lifted." he added.
Zarif further underlined the importance of China's role in efforts to settle the issues regarding Tehran's nuclear dossier, noting, "We believe China plays an instrumental role in moving forward this agenda of finding a mutually acceptable resolution to this issue."
Iran and the P5+1 group -- Russia, China, France, Britain, the US and Germany -- are in talks to work out a final deal aimed at ending the longstanding standoff over the Islamic Republic's nuclear energy program as a November 24 deadline draws near.
Sources close to the Iranian negotiating team say the main stumbling block in the way of resolving the Western dispute over Iran's nuclear energy program remains to be the removal of all the bans imposed on the country, and not the number of centrifuges or the level of uranium enrichment.
Full report at:
http://www.presstv.ir/detail/2014/11/02/384488/no-serious-obstacle-to-final-ndeal/
----------
Seizing its chance, Iran seeks tourism revival
Nov 2, 2014
PERSEPOLIS: At the foot of Persepolis, busloads of foreign tourists gaze in awe at the ancient mud-brick ceremonial capital that Iran hopes will be part of a rebirth of its tourism industry.
Although decades of sanctions mean the hotels and infrastructure are not five star, a tentative political thaw with the West is drawing visitors to Iranian attractions steeped in myth and rumour.
Persepolis, a jewel of the first Persian empire whose palace and terraces took more than 100 years to build, starting under Darius the Great in 518 BC, is one of the highlights.
"Before coming to Iran I knew the vision of this country from the outside was very dark," says Piotr Chwalba, from Poland, finally looking at Persepolis after thinking for years of visiting.
"A place like Iran has two sides — the one created by the media and the other version, the truth, where everyone helps you when you travel and everyone smiles at you. It's great."
Sincere as such testimony is, a rise in visitors has more to do with politics than praise. The prospects for tour operators were bleak until recently.
The election last year of President Hassan Rouhani and his decision to restart negotiations with the United States and other leading nations about Iran's nuclear programme has been a catalyst.
'Hospitable and very curious'
While seeking to play host to international visitors it also helps that his speeches do not tend to excoriate the West in the same manner that his predecessor Mahmoud Ahmadinejad's did.
"Mr Rouhani's demeanour, his smile, his positive interaction with the world has created a new sense of ease," says Ibrahim Pourfaraj, president of Iran's tour operators association.
Thomas, an engineer from Stuttgart, says the nuclear issue is the only thing he hears about Iran in the news back home.
"What we see is totally different than what we hear from the outside," the 29-year-old German says. "The Iranians are very hospitable and very curious." Shia pilgrims from Iraq, Kuwait, Lebanon and Pakistan currently make up 60 per cent of Iran's visitors.
But the government's main push is to recapture the spending power of Europe, Asia and America. For Iran — whose currency, the rial, has been severely depressed by rampant inflation — tourism offers a foreign exchange windfall.
Full report at:
http://www.dawn.com/news/1141998/seizing-its-chance-iran-seeks-tourism-revival
----------
Iran close Taftan border for five days
Nov 2, 2014
QUETTA: Iran's elite revolutionary border guards on Saturday closed Pak-Iran border at Taftan for five days over security concerns in the wake of upcoming Ashura event in the holy month of Muharram.
A security official, who declined to be named, told Dawn.com that Iranian border guards closed the border after talks with their Pakistani counterparts. "The border would remain closed for five days," he said.
The border was sealed to avoid occurrence of any untoward incident and make sure security on both sides of the porous border during Ashura – the main event of Muharram.
Pakistan has also deployed Frontier Corps (FC) personnel to strictly guard the border. The official said that trade activities at the border would remain suspended for five days.
Pakistan shares 900km border with Iran and recently some untoward incidents took place at the border.
Last month, Iranian guards stormed inside Pakistani territory and killed one FC official while injuring another three. Over 30 Iranian guards entered Pakistan and made the residents of Nokundi hostage for six hours as well.
Full report at:
http://www.dawn.com/news/1141830/iran-close-taftan-border-for-five-days
----------
Gaza rocket hits Israel causing no damage
2 November 2014
JERUSALEM: A mortar fired from the Gaza Strip hit southern Israel, the Israeli military said on Saturday, the second such incident since a seven-week war in the Palestinian enclave ended in August.
Hours after the projectile struck harmlessly, there was no Israeli counter-strike.
The rocket fire came amid rising tension between Israel and the Palestinians in East Jerusalem, which the Palestinians want as the capital of a future state, along with Gaza and the occupied West Bank.
Full report at:
http://www.arabnews.com/middle-east/news/653611
----------
Iran condemns mass execution of Iraqi Sunnis by ISIL
Nov 1, 2014
Iran has in the strongest terms condemned the recent mass execution by ISIL Takfiri terrorists of scores of Iraqi people from the Albu Nimr tribe in the western province of Anbar.
"The persistence of inhumane tragedies [committed] by Takfiri terrorists against followers of religions, ethnicities and minorities in different parts of Iraq and Syria is the result of certain countries' support for terrorist groups, and bears proof to the futility of the [so-called] anti-ISIL coalition," Iranian Foreign Ministry Spokeswoman Marzieh Afkham said on Saturday.
She underlined the need for countering Takfiri terrorism at its very roots and urged the international community's sincere and responsible assistance for Iraq in its campaign against terrorism.
Afkham expressed hope that the Iraqi nation would emerge winner in the fight against terrorism under the lead of the Iraqi government and through national unity and cohesion.
On Thursday, the bodies of 150 members of the Albu Nimr tribe were found in a mass grave near Iraq's western city of Ramadi with security officials saying that the Takfiri terrorists seized the men on Wednesday night and then killed and buried them in an area near the city of Ramadi.
Full report at:
http://www.presstv.ir/detail/2014/11/01/384426/iran-condemns-mass-executions-by-isil/
----------
Israel shuts Gaza border crossings
Nov 2, 2014
The Israeli military has shut down two border crossings with the besieged Gaza Strip, after the alleged firing of a rocket from the coastal enclave towards the occupied Palestinian territories.
"The crossing points for people and goods, Erez and Kerem Shalom, have been closed until further notice," an army spokeswoman, speaking on condition of anonymity, said on Sunday.
She claimed that the restriction was imposed after a rocket fired from Gaza struck the Eshkol area in southern Israel on Friday, without causing any casualties or damage.
The development comes as Egypt has recently closed the Rafah border crossing, which is the only terminal linking the Palestinian territory to the outside world that bypasses Israel, after deadly attacks in the volatile Sinai Peninsula.
Gaza has also been under Israel's blockade since June 2007, a situation that has caused a decline in the standards of living and poverty in the coastal enclave.
Full report at:
http://www.presstv.ir/detail/2014/11/02/384490/israel-shuts-gaza-border-crossings/
----------
Hold Israel accountable for war crimes in Gaza: Rights group
Nov 2, 2014
A human rights group says Israel must be held accountable for using "captured Palestinians as human shields" during its summer 2014 military aggression against the Gaza Strip.
Euro-Mid Observer for Human Rights released a report on atrocities the Tel Aviv regime committed during the onslaught on Gaza, which started on July 8 and ended on August 26 with an Egyptian-brokered truce.
"Our investigation documented both indiscriminate attacks on civilians by Israeli forces and their use of captured Palestinians as human shields," said Ihsan Adel, a legal officer for Euro-Mid, which is a nongovernmental human rights watchdog focusing on the Middle East-North Africa region.
"According to international law, attacks are considered indiscriminate when they are not directed at specific military targets, measures are not taken to limit the effects and no attempt is made to differentiate between combatants and civilians," the report said.
It also said that the Israeli forces "deliberately and knowingly" targeted a large number of civilians in Gaza.
The Geneva-based nonprofit organization also documented "at least six cases" in the southern city of Khan Younis, where the Israeli forces used Palestinian civilians as human shields.
"These civilians were held against their will for hours or days to protect Israeli soldiers from fire, and in the meantime were subjected to inhumane and abusive treatment such as beating, humiliation and exposure to the hot sun while naked for long periods of time," the report added.
Full report at:
http://www.presstv.ir/detail/2014/11/02/384483/israel-must-face-justice-for-gaza-crimes/
----------
URL: https://www.newageislam.com/islamic-world-news/new-age-islam-news-bureau/isis-lines-up,-kills-at-least-50-in-iraq/d/99827