New Age Islam News Bureau
21 Dec 2014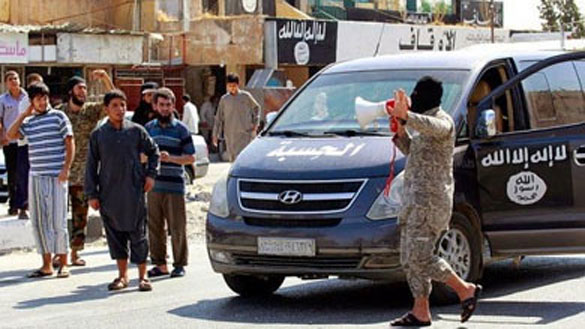 A fighter uses a loudspeaker to address pedestrians in the ISIS stronghold of Raqqa. (Photo courtesy of Twitter)
------------
Arab World
• ISIS 'Executes 100 Deserters' In Syria's Raqqa
• Bombings Kill 10 in Iraq
• Saudi Security Forces Kill Four 'Terrorists'
• Jordan hangs 11 men after eight-year death penalty moratorium
• Iraq Kurd chief hails victories against ISIS
• 'Nearly 10,000' suspected militants, rioters detained in Egypt in 2014
• Iraqi Diyala residents face ISIS 'water war'
• Iraq's Shiite fighters desert over shortages
• Egyptian 'spy' charged for allegedly passing Israel intel on Iranian warships' movements
India
• Row over Indologist's Anti-Islam Remarks at a Goa Conclave
• IT Firm Will Dissect ISIS Twitter Handler Mehdi Biswas's 1.29 Lakh Tweets
• LeT funding continues despite sanctions: India tells UN
• Conversion Confusion Continues From Bihar
Africa
• Extremists in Nigeria Lining up Elderly and Shooting Them
• Algerian Army Kills 3 Islamist Gunmen
• Video shows Boko Haram killing captives
• Troops kill assailant hours before Tunisia vote
• Nigeria's home-grown Islamic uprising poses regional threat
Pakistan
• Al-Qaeda 'Bursting With Pain' Over Pakistan School Attack
• Four convicts in Musharraf attack case executed in Faisalabad
• Anti-Altaf statements: MQM files FIR against Lal Masjid cleric
• Security forces launch countrywide crackdown; arrest over 300 terror suspects in Islamabad
• Eight bullet-riddled bodies uncovered in Balochistan
• Terrorism to be rooted out, says PM
• Entire nation stands united in war against terrorism: Shahbaz
• To Be Hanged Till Death: Gallows Swept Clean, Ropes Bought For Executions
South Asia
• Taliban IED Kills 7, Including Children in Kunar Province
• 7 Police Martyred, 5 Taliban Killed In Jawzjan Attack
• Afghan Taliban decry "biased" UN report on civilian casualties
• Dr Kamal: Dialogue a must as election is not the last word for effective democracy
• DB draws up terror ties list in hunt for militant financiers
Europe
• Police Kill Knife-Wielding Man Shouting Islamic Slogans
• Britain's N-power plants 'could be attacked by drones': report
• French journalist sparks outcry with 'insular Muslim' comments
• Muslim `apostates` come out of hiding in Europe
Mideast
• Quran Recitation and Candlelight Vigil in Ankara for Peshawar Victims
• 4 Houthis Killed In Clashes with Tribesmen in N. Yemen
• Erdoğan 'closely following' judicial process against Gülen movement
• Hamas: Gaza woman spied for Israel
• Israel arrests more from Jewish extremist group
• Turkey Hosts 200,000 Refugees from Kobane, Emergency Agency Says
North America
• US Warns Its Citizens against Potential Threats in Pakistan
• Cincinnati Muslims grieve for Peshawar kids
• Top Taliban intelligence official among 4 released from Guantanamo
Southeast Asia
• Police Source: Syria-Bound Indonesians Financed by Terror Convict
• The non-Muslim in PAS who rallies on for party despite Hudud
Compiled by New Age Islam News Bureau
URL: https://www.newageislam.com/islamic-world-news/new-age-islam-news-bureau/isis-'executes-100-deserters'-in-syria's-raqqa/d/100609
----------
Arab World
ISIS 'executes 100 deserters' in Syria's Raqqa
20 December 2014
Militants belonging to the Islamic State of Iraq and Syria (ISIS) have executed 100 members for trying to flee their base in the northern Syrian city of Raqaa, the Financial Times reported.
An activist, who was identified by the newspaper as opposed to the Syrian regime and ISIS, confirmed to the FT the execution of the 100 foreign fighters attempting to flee Raqqa, the group's de facto capital.
After being on the run for months, "frustration" began sweeping among the Islamist militants, the daily said.
Fighters sense a halt to ISIS' military progress and are witnessing mounting casualties among their ranks, the report added.
"Morale isn't falling – it's hit the ground," an opposition activist from ISIS-controlled areas of in Deir al-Zor told the newspaper.
Morale among the fighters was affected by the group's shift toward governing areas it controls and because of U.S.-led air strikes halting their advances in Syria and Iraq.
"Local fighters are frustrated – they feel they're doing most of the work and the dying … foreign fighters who thought they were on an adventure are now exhausted," the opposition activist told the daily.
Other activists and fighters in Raqqa told the paper that ISIS had created "military police to crack down on fighters who fail to report for duty."
The activists said the ISIS "police" had raided the homes of several ISIS fighters and arrested many of them.
They also said ISIS militants reportedly need to carry identification documents to indicate if they are fighters and if they are allocated for a certain mission.
An opposition activist in touch with ISIS fighters reportedly showed the newspaper a document that lists "regulations restricting jihadis' behavior."
The paper, which the Financial Times said it could not verify, "warned that those who did not report to their offices within 48 hours of receiving the regulations would be punished."
"In Raqqa, they have arrested 400 members so far and printed IDs for the others," the activist said.
http://english.alarabiya.net/en/News/middle-east/2014/12/20/ISIS-executes-100-deserters-in-Syria-s-Raqqa-report.html
----------
Bombings Kill 10 in Iraq
21 Dec, 2014
Iraqi authorities said bombs targeting commercial streets and an army patrol have killed 10 people around Baghdad.
Police officials say a bomb exploded on a commercial street in the town of Madain, about 20 kilometers (14 miles) Southeast of the capital, killing four people and wounding nine others, AP reported.
In the Northern Baghdad suburb of Taji a bomb blast near shops killed three people and wounded 11 others. A roadside bomb struck an army patrol in the Western suburbs, killing three soldiers and wounding six others, police officials said.
Medics confirmed the casualty figures. All officials spoke on condition of anonymity because they were not authorized to speak to the media.
http://english.farsnews.com/newstext.aspx?nn=13930929001146
----------
Saudi security forces kill four 'terrorists'
21 Dec, 2014
Saudi police killed four "terrorists" Saturday in the eastern oil-rich village of Al-Awamiya while attempting to arrest suspects wanted in the fatal shooting of a soldier last week, the country's state-run agency quoted the Interior Ministry as saying.
The spokesman for the Interior Ministry said cooperation from residents had led to the "swift discovery of those behind this incident by terrorist operatives and allowed security forces to raid their hideouts in Al-Awamiya this morning," according to the Saudi Press Agency.
The spokesman said there was an exchange of gunfire that led to the killing of "four terrorists, among them the main person behind opening fire on the solider."
He added that security forces sustained moderate wounds.
The spokesman said the Interior Ministry would not allow anyone to tamper with the security of the kingdom and its residents and that "the hand of justice will reach them."
http://english.alarabiya.net/en/News/middle-east/2014/12/20/Saudi-security-forces-kill-four-terrorists-ministry-.html
----------
Jordan hangs 11 men after eight-year death penalty moratorium
21 Dec, 2014
AMMAN: Jordan executed 11 men convicted of murder by hanging on Sunday, the interior ministry said, as it ended an informal eight-year moratorium on the death penalty.
"Eleven criminals convicted in different cases of murder were executed at dawn," the official Petra news agency quoted a ministry spokesman as saying.
Authorities said the men were all Jordanians convicted on murder charges in 2005 and 2006.
Jordan's last previous executions were in June 2006 and 122 people have since been sentenced to death.
Interior Minister Hussein Majali suggested recently that the moratorium might end, saying there was a "major debate" in Jordan on the death penalty and that "the public believes that the rise in crime has been the result of the non-application" of capital punishment.
A number of countries in the Middle East continue to impose the death penalty for serious crimes, including Jordan's neighbour Saudi Arabia which has executed 83 people so far this year.
China by far carried out the most executions last year, numbering in the thousands, followed by Iran, Iraq, Saudi Arabia and the United States, human rights group Amnesty International said in a report in March.
http://www.dawn.com/news/1152260/jordan-hangs-11-men-after-eight-year-death-penalty-moratorium
----------
Iraq Kurd chief hails victories against ISIS
21 December 2014
Iraqi Kurdish leader Masoud Barzani hailed victories over the ISIS jihadist group during a visit on Sunday to Mount Sinjar, which had been besieged by the militants for months.
Thousands of the autonomous Kurdish region's peshmerga fighters launched a major operation on Wednesday backed by U.S.-led air strikes which broke the second IS siege of Mount Sinjar this year.
The operation threatens the links between the city of Mosul, the main ISIS stronghold in Iraq, and territory the militant group controls in neighbouring Syria.
"During the past 48 hours, the peshmerga opened two main routes to Mount Sinjar," Barzani said, adding that "we did not expect to achieve all these victories."
In addition to breaking through to the mountain, "a large part of the center of the town of Sinjar was also liberated," he said, referring to an area to the mountain's south.
The Kurdish regional president also said the peshmerga might participate in an operation to retake Mosul itself.
Full report at:
http://english.alarabiya.net/en/News/middle-east/2014/12/21/Iraq-Kurd-chief-hails-victories-against-ISIS-.html
----------
'Nearly 10,000' suspected militants, rioters detained in Egypt in 2014
21 December 2014
Egyptian security forces have detained nearly 10,000 suspected militants, rioters and others wanted in violent attacks over the past 12 months in a crackdown a senior interior ministry official said Saturday targets those attempting to curtail Egypt's development.
The comments by Major Gen. Abdel-Fattah Osman, an aide to the interior minister for media affairs, to the official news agency MENA are a rare account of the number of people authorities have arrested amid a widening crackdown that has included Islamists, as well as secular critics of the government.
It doesn't however account for the total number of people believed to have been put behind bars since the ouster of Islamist President Mohammed Mursi in July 2013. Security officials estimate that more than 20,000 have been arrested since then.
Authorities have since made protesting illegal without prior permits from security officials, leaving thousands of protesters subjected to the law harshly criticized by rights groups and activists. The government had also declared the Muslim Brotherhood, the group from which Mursi hails, as a terrorist organization blaming it for most of the violent attacks against security and military troops which have surged since Mursi's ouster. The group denies the charges.
Full report at:
http://english.alarabiya.net/en/News/middle-east/2014/12/21/Egypt-official-says-nearly-10-000-detained-this-year.html
----------
Iraqi Diyala residents face ISIS 'water war'
21 Dec, 2014
An Iraqi official warned of a "humanitarian disaster" after Islamist militants diverted Al-Roz River away from Bildoz district in the eastern province of Diyala, affecting thousands of people in what he described as a "water war," in an interview with a local news outlet.
"ISIS, for the fourth consecutive day, diverted Al-Roz River, considered to be an essential water source to Bildoz, and supplying drinking water to 150 thousand people as well as irrigating vast areas of land," Diyala MP Furat al-Timimi told Al Sumaria News, adding "thousands of people in Bildoz and other adjacent areas will be affected if water is not returned to its previous course into the river."
Timimi described Al-Roz as the "main river" seeping into Bildoz, which his located 30 kilometers east of Diyala's capital Baquba.
Full report at:
http://english.alarabiya.net/en/News/middle-east/2014/12/20/Iraqi-Diyala-residents-face-ISIS-water-war-.html
----------
Iraq's Shiite fighters desert over shortages
21 Dec, 2014
BAGHDAD: Abu Murtada Al-Moussawi answered the call last summer from Iraq's top Shiite cleric to help save the country from the Islamic State group, but after less than three months on the front lines he and several friends returned home because they had run out of food.
"Sometimes, we didn't have enough money to buy mobile scratch cards to call our families," Al-Moussawi, a Shiite from the southern city of Basra, said. "Everybody felt like we were being forgotten by the government."
The Shiite fighters are credited with helping to stall the militants' advance outside Baghdad, breaking the siege of the northern Shiite-majority town of Amirli in August, and later driving the militants out of Jurf Al-Sakher south of the capital.
Al-Moussawi was deployed along with fellow militiamen in Latifiyah, a town 30 kilometers south of Baghdad, with orders to keep the Islamic State group out of Sunni areas along the so-called Baghdad Belt. But over the past two months, the number of men in Al-Moussawi's unit has dwindled, with as many as 1,000 deserting over economic hardship, he said.
In the upscale Baghdad neighborhood of Harthiya, a representative from Al-Sistani's office recently urged his followers to donate food and money to the Shiite militias — warning that many fighters had already deserted.
Full report at:
http://www.arabnews.com/middle-east/news/677356
---------
Egyptian 'spy' charged for allegedly passing Israel intel on Iranian warships' movements
21 Dec, 2014
An Egyptian court has sentenced a man to ten years in prison for a conviction on charges that he spied for Israel, AFP reported on Sunday.
Mohamed Ali Abdel Baki, a shipping manager at the Suez Canal, was convicted of passing his Israeli handlers information about the movement of Egyptian and foreign warships, particularly Iranian ships, through the canal. The Port Said court also convicted in absentia the man's two alleged Israeli handlers to life in prison.
Baki allegedly made contact with the Israeli spies over the Internet in 2011 and later met them at the Israeli Embassy in Bangkok in 2012.
Full report at:
http://www.jpost.com/Arab-Israeli-Conflict/Egyptian-spy-charged-for-allegedly-passing-Israel-intel-on-Iranian-warships-movements-385302
----------
India
Row over Indologist's Anti-Islam Remarks at a Goa Conclave
21 Dec, 2014
Belgian Indologist Dr Koenraad Elst's anti-Islam remarks created a flutter at a Goa conclave Saturday, prompting at least one foreign delegate to walk out while another lodged a complaint with organiser India Foundation whose directors include Union Minister Suresh Prabhu and Shaurya Doval, son of National Security Advisor Ajit Doval.
Former Jordanian prime minister Dr Abdelsalam al-Majali left the meeting while Dr Ekmeleddin Ihsanoglu, former secretary general of the Organisation of Islamic Countries, lodged a protest.
Addressing the session on 'Religion — Tolerance and Terror' at the India Ideas Conclave 2014, Elst said: "On the whole, you should make it un-cool to be Muslims. That will help them. You do not forcefully need to convert them. Through this, they will themselves outgrow Islam."
Referring to the row over the 'Ghar Wapsi' campaign, Elst said: "The Vishwa Hindu Parishad is coming under criticism for the one thing that they are doing very well which is ghar wapsi. We need to liberate Muslims from Islam. Every Muslim is an abductee and must be brought back."
Those present at the session included spiritual guru Sri Sri Ravi Shankar, Ram Madhav of the BJP and several party MPs including former Mumbai police commissioner Satyapal Singh.
An Indophile who studied at Banaras Hindu University, Elst has authored books opposing the Aryan invasion theory, contending that Aryans were Indians who fanned out — his "Out of India" theory. He has also written on the Ram Janmabhoomi dispute.
Before he walked out, former Jordanian prime minister Abdelsalam al-Majali told the gathering: "I am appalled at what I heard from the platform about insulting Islam and insulting the Prophet. One can criticize this, that and the other but don't insult. To try to destroy the whole faith is wrong. We came here to understand each other and try to be peaceful. It is very said to be at such a conference to hear insults on a religion which is followed by over one billion people."
Ihsanoglu too protested: "We are hearing a speech of hatred. You cannot use your freedom of speech to hurt others. I was very happy being here until I heard this speech of hatred." Gunnar Stalsett, Bishop Emeritus of Oslo, and others questioned the "demonization" of an entire faith.
When organiser India Foundation's comments were sought on Elst's remarks, one of its office-bearers, who did not wish to be named, said: "The views are of an individual and the India Foundation does not subscribe to them. We have already issued an apology to our guests."
http://indianexpress.com/article/india/india-others/row-over-indologists-anti-islam-remarks/#sthash.7ZiLvn3u.dpuf
----------
IT Firm Will Dissect ISIS Twitter Handler Mehdi Biswas's 1.29 Lakh Tweets
TNN | Dec 21, 2014
BENGALURU: A company from India's Silicon Valley will have a new account in its hand, thanks to Bengaluru police. The cops are outsourcing the task of analyzing 1.29 Lakh tweets on @ShamiWitness, Mehdi Masroor Biswas' pro-ISIS Twitter handle, because they lack the expertise to do the job. The investigation, senior officers indicate, cannot progress without these tweets being deciphered.
"We are outsourcing the data analysis work to an agency. The job will take some more time given that there are more than a lakh tweets and 1,700 handles that had followed @ShamiWitness," police commissioner M N Reddi told reporters on Saturday. The work requires technical expertise, which the police department lacks, he admitted.
Refusing to name the companies being spoken to, Reddi said: "We are seeking outside help as this isn't a normal criminal case but requires much more specialization. We are in discussion with third parties for the job, which will commence soon."
Full report at:
http://timesofindia.indiatimes.com/india/IT-firm-will-dissect-ISIS-Twitter-handler-Mehdi-Biswass-1-29-lakh-tweets-as-cops-cant/articleshow/45590193.cms
----------
LeT funding continues despite sanctions: India tells UN
21 Dec, 2014
India has said that terror groups like LeT continue to receive funding despite being slapped with the UN sanctions and asked the Security Council to look into the issue, as the powerful world body reaffirmed the need to cut the monetary lifeline of terrorists.
India expressed concern that financing to terror groups is supplemented by illegal resources generated through drug trafficking, piracy, kidnapping for ransom and extortion even though the terror organisations are placed on the Council's sanctions list and are subject to travel bans, freezing of assets and an arms embargo.
Listing of a terror group should cut off the "lifeline that sustains terrorism. This, unfortunately, does not always happen," India's Acting Permanent Representative to the UN Bhagwant Bishnoi said yesterday in an open debate in the Council on terrorism and cross—border crime.
Full report at:
http://www.thehindu.com/news/national/let-funding-continues-despite-sanctions-india-tells-un/article6711061.ece
----------
Conversion Confusion Continues From Bihar
21 Dec, 2014
Even as the Rashtriya Swayamsevak Sangh [RSS] chief Mohan Bhagwat declared on Saturday in Kolkata that those who left the Hindu fold out of allurement or coercion by others would be brought back, conflicting reports of poor Hindu families converting to Christianity continued to come in from different parts of Bihar.
After Bhagalpur, the latest reports of poor families converting to Christianity and thereafter re-converting to Hinduism have come in from Munger district of the state.
Officials said that eight members of poor Mahadalit section of society had converted to Christianity in Ratanpura village of Jhikuli Panchayat under Sangrampur block in Munger district but later they "returned" to their parent religion after intervention of officials, villagers and family members.
Speaking to The Hindu a number of local people in Munger district said that similarly over hundred people from 25 poor families living near a Church in Vijaynagar village of Bariyarpur block too have recently converted to Christianity.
They also said that one could find books related with Jesus Christ in their households.
One of those converted recently in Ratanpura village, Prakash Manjhi, even had performed last rites of one of his mother through Christian rituals and practices of putting the dead body in a graveyard, said a local.
Full report at:
http://www.thehindu.com/news/national/other-states/conversion-confusion-continues-from-bihar/article6712933.ece
--------
Africa
Extremists in Nigeria Lining up Elderly and Shooting Them
21 Dec, 2014
MAIDUGURI, Nigeria: Extremists in northeast Nigeria are turning their guns on elderly people; killing more than 50 this week in a new tactic that has instilled more fear in areas the militants call an Islamic caliphate.
Residents from five villages say people too elderly to flee Gwoza local government area are being rounded up and taken to two schools where the militants open fire on them. The villages are about 130 km southeast of Maiduguri, the Borno state capital.
"What they are doing now is to assemble the aged people — both men and women ... and then they just open fire on some of them," said Muhammed Gava, a spokesman for civil defence groups in the area. More than 50 people had been killed at Government Day Secondary School in Gwoza, he said.
A villager who had fled said more elderly people are being gathered and shot at Uvaghe Central Primary School. The villager spoke on condition of anonymity for fear of endangering his trapped parents.
Government officials did not immediately comment on the reports.
http://www.arabnews.com/world/news/677446
----------
Algerian army kills 3 Islamist gunmen
21 Dec, 2014
Algerian soldiers shot dead three Islamist gunmen on Saturday in the Boumerdes area around 50 kilometres (30 miles) east of the capital, the defence ministry said.
All three were killed during a search operation in a mountainous area near Sidi Daoud, 60 kilometres from the city of Boumerdes.
The ministry said that among the dead was a man branded a "dangerous criminal" on the run since 1995, during Algeria's brutal civil war that killed 200,000 people in a decade.
Explosives, guns and a large amount of ammunition were also recovered, the ministry said.
Violence involving armed Islamists has fallen considerably since the civil war of the 1990s, but groups linked to Al-Qaeda in the Islamic Maghreb (AQIM) continue to launch attacks in the northeast, mostly on security forces.
http://english.ahram.org.eg/NewsContent/2/8/118438/World/Region/Algerian-army-kills--Islamist-gunmen-Ministry.aspx
----------
Video shows Boko Haram killing captives
21 Dec, 2014
MAIDUGURI, Nigeria: A new video from Boko Haram extremists shows gunmen mowing down civilians lying face down in a dorm and a leader saying they are "infidels" or non-believers.
There are so many corpses the gunmen have difficulty stepping to reach bodies still twitching with life.
The video released to journalists late Saturday comes two days after fleeing villagers reported that the extremists are rounding up elderly people and killing them in two schools in Gwoza, in northeast Nigeria.
The setting of the latest video appears to be a school, a long dormitory furnished with bunk beds which the leader says is in Bama, a town 60 kilometers (40 miles) north of Gwoza. Students and schools are frequently targeted by Boko Haram, which means "Western education is sinful" in the Hausa language.
http://www.arabnews.com/featured/news/677671
----------
Troops kill assailant hours before Tunisia vote
21 Dec, 2014
Tunisian troops killed a gunman and captured three others on Sunday after they attacked soldiers guarding ballot papers for the country's presidential vote, the defence ministry said.
The pre-dawn attack targeted a school in the central region of Kairouan where the ballot papers had been stored under army guard.
"The vigilance of the soldiers and the swiftness of their response thwarted this operation and led to the death of a man armed with a hunting rifle and the arrest of three suspects," ministry spokesman Belhassan Oueslati told AFP.
One soldier and one suspect suffered minor wounds, he added.
Oueslati said he did not believe that jihdadists, who had called for a boycott of Sunday's landmark election runoff and threatened to target the political establishment, were behind the attack.
Full report at:
http://english.ahram.org.eg/NewsContent/2/8/118476/World/Region/Troops-kill-assailant-hours-before-Tunisia-vote.aspx
----------
Nigeria's home-grown Islamic uprising poses regional threat
21 Dec, 2014
MAIDUGURI, Nigeria (AP) — Thousands of members of Nigeria's home-grown Islamic extremist Boko Haram group strike across the border in Cameroon, with coordinated attacks on border towns, a troop convoy and a major barracks.
Further north, Boko Haram employs recruits from Chad to enforce its control in northeastern Nigerian towns and cities.
In Niger, the government has declared a "humanitarian crisis" and appealed for international aid to help tens of thousands of Nigerian refugees driven from their homes by the insurgency.
These recent events show how neighboring countries are increasingly being drawn into Nigeria's Islamic uprising. Thousands of people have been killed in Nigeria's 5-year insurgency and some 1.6 million people driven from their homes.
Full report at:
http://www.dailyastorian.com/nigerias-home-grown-islamic-uprising-poses-regional-threat-da-ap-webfeeds-news-nation-worldf4de2c63ccd04020bea9ead3c5e73407
----------
Pakistan
Al-Qaeda 'bursting with pain' over Pakistan school attack
21 Dec, 2014
Al-Qaeda's regional branch today said its hearts were "bursting with pain" over the Taliban's massacre at a Pakistan school and urged the militants to target only security forces.
The attack on Tuesday killed 149 people – mostly children – in the northwestern Pakistani city of Peshawar.
"Our hearts are bursting with pain and grief over this incident," Osama Mehmood, spokesman for al-Qaeda South Asia chapter said in a four-page emailed statement.
"There is no doubt that the list of crimes and atrocities of the Pakistani army has crossed the limit and it is true that this army is ahead of everyone in America's slavery and genocide of Muslims... but it does not mean that we should seek revenge from oppressed Muslims," Mehmood said.
"The guns that we have taken up against Allah's enemy America and its pet rulers and slave army should not be aimed towards children, women and our Muslim people," he added.
Full report at:
http://www.themalaysianinsider.com/world/article/al-qaeda-bursting-with-pain-over-pakistan-school-attack#sthash.vDpfp9LJ.dpuf
----------
Four convicts in Musharraf attack case executed in Faisalabad
21 Dec, 2014
FAISALABAD: Four death-row prisoners, who were convicted for involvement in an attack on former military ruler Gen (r) Pervez Musharraf, were executed on Sunday at a district jail in Faisalabad.
Civilians Zubair Ahmed, Rasheed Qureshi, Ghulam Sarwar Bhatti and Russian citizen Akhlaque Ahmed were shifted from Faisalabad Central jail to the death cell in a district jail late on Saturday.
The prisoners had to be shifted to a district jail under strict security measures because the lever which is used to open the trapdoor to carryout hangings was not present in the Central jail.
Family members of the death-row prisoners were allowed to meet the convicts for the last time prior to the hanging.
Securitywas tightened in the city to avoid any untoward incident. Additional contingents of security personnel were deployed while containers and barricades were placed on the routes leading to the district jail.
Full report at:
http://www.dawn.com/news/1152254/four-convicts-in-musharraf-attack-case-executed-in-faisalabad
----------
Anti-Altaf statements: MQM files FIR against Lal Masjid cleric
December 21, 2014
KARACHI: An FIR was registered against Lal Masjid chief Maulana Abdul Aziz in a Karachi police station on the request of Muttahida Quami Movement, Express News reported on Sunday.
The FIR was filed against Aziz for allegedly issuing threatening statements against MQM chief Altaf Hussain in one of his sermons.
The cleric is accused of terrorism, provoking to violence, cyber crime among other offenses in the report.
The MQM chief had earlier called for the arrest of Aziz for 'sympathising with the Taliban' and demanded the army close down Jamia Hafsa seminary.
The Lal Masjid cleric landed in hot water after he allegedly refused to condemn the Peshawar school attack which left at least 132 school children dead. Police in Islamabad registered a case against him following a protracted protest by civil society members against his controversial statement.
http://tribune.com.pk/story/810149/mqm-files-fir-against-lal-masjid-cleric-for-his-statement-against-altaf-hussain/
----------
Security forces launch countrywide crackdown; arrest over 300 terror suspects in Islamabad
21 Dec, 2014
Pakistan's security forces have arrested more than 300 terror suspects, including foreigners, in a crackdown against militants in the capital Islamabad.
Pakistan has launched countrywide crackdown on militants after the Peshawar school massacre which killed 148 people, most of them students, last week.
Six teams of sniffer dogs, armed personnel carriers, bomb disposal squads and commandos participated in the operations in the capital on Saturday, the Dawn reported.
Officials of Capital Territory Police, Pakistan Rangers, and intelligence agencies also recovered arms and ammunition.
"These were intelligence-based operations conducted in view of the fresh threats from militants after the execution of two convicted terrorists," the paper said, citing a police official.
Afghan refugee settlements, bus terminals and under-construction buildings were also searched for terrorists.
Full report at:
http://indianexpress.com/article/world/asia/peshawar-massacre-aftermath-pakistan-security-forces-nab-over-300-terror-suspects-in-islamabad/#sthash.jHFze8NU.dpuf
----------
Eight bullet-riddled bodies uncovered in Balochistan
21 Dec, 2014
QUETTA: Levies personnel found eight bullet-riddled bodies in Balochistan's Ziarat and Pishin district on Sunday morning.
Levies sources told Dawn that three bodies were found from Sanjavi area in Ziarat and three from Saranan area of Pishin district, while two other bodies were found from the Khanozai and Hikalzai areas of Pishin.
"All the victims had received multiple bullets from close range," Levies said, adding that the bodies were yet to be identified.
The bodies were taken to a hospital for identification. A large number of law enforcers reached the site from where the bodies were found as an investigation into the incident was undertaken.
There was no immediate claim of responsibility for the killings.
This incident has occurred few days after three other bodies were found from Yaro area of the Pishin district.
http://www.dawn.com/news/1152262/eight-bullet-riddled-bodies-uncovered-in-balochistan
----------
Terrorism to be rooted out, says PM
21 Dec, 2014
LAHORE: Prime Minister Nawaz Sharif has said that all institutions in the country are united in the fight against terrorism.
Talking to a delegation of the United Arab Emirates at his residence in Raiwind on Saturday, the prime minister said that Operation Zarb-i-Azb was being carried out successfully and the government would eliminate the menace of terrorism. "Pakistan's main focus is to eliminate terrorism," he said.
All political parties have gathered on one platform on the issue, he said, adding it would help the country rid of terrorism.
The Arab princes condemned the killing of schoolchildren in Peshawar and expressed solidarity with the grieving families. They offered the UAE's help in fight against terrorism.
PM Sharif also held a meeting with Punjab Chief Minister Shahbaz Sharif and discussed measures against terrorism.
Shahbaz Sharif said terrorism had caused an irreparable loss to the country and had to be rooted out.
He expressed the hope that the country by remaining united would win the war against terrorism at any cost. He noted that the nation had united against terrorism. "We have to make Pakistan a peaceful state and provide a safer Pakistan to next generation," he said.
http://www.dawn.com/news/1152227/terrorism-to-be-rooted-out-says-pm
----------
Entire nation stands united in war against terrorism: Shahbaz
21 Dec, 2014
LAHORE: Punjab Chief Minister Shahbaz Sharif has said that terrorism has caused irreparable loss to the country and terrorism will have to be rooted out for its development. He said this while talking to PML-N delegation. The chief minister expressed the hope that war against terrorism will be won at every cost by displaying unity and harmony. He said that the entire nation has united in the war against terrorism and we will not rest content till its logical end. He said that making Pakistan a haven of peace and providing safer Pakistan to coming generations is our determination.
Full report at:
http://www.dailytimes.com.pk/punjab/21-Dec-2014/entire-nation-stands-united-in-war-against-terrorism-shahbaz
----------
To Be Hanged Till Death: Gallows Swept Clean, Ropes Bought For Executions
December 21, 2014
KARACHI: As the moratorium on executions goes, the gallows in Karachi Central Jail have been cleaned and cleared of dust. The white tracks that indicate the path prisoners take from the gate of the Phansi Ghaat to the gallows have been re-painted. A jail officer has even bought two ropes, each of which is 25 feet long.
The jail is prepared for the executions. And so is Altaf Ahmed, whose job is to pull the lever at the gallows. "If I am ordered to bring prisoners to the gallows, I will do it again," said the man who appears to be in his late 40s. "When I come to the jail, I leave my child like heart at home and replace it with a jail one."
http://tribune.com.pk/story/810006/to-be-hanged-till-death-gallows-swept-clean-ropes-bought-for-executions/
---------
South Asia
Taliban IED kills 7, including children in Kunar province
Dec 21 2014
At least seven civilians, including children were killed following an Improvised Explosive Device (IED) explosion in eastern Kunaar province.
According to local security officials, the incident took place late on Saturday afternoon after an IED planted by militants targeted a civilian vehicle.
The officials further added that the vehicle was travelling from Asabad to Nari district when the incident took place.
The district police chief, Mohammad Yousuf, confirmed that two little girls were among those killed following the explosion.
No group including the Taliban militants has so far claimed responsibility behind the incident.
The local officials are blaming the Taliban group for the incident, as Taliban fighters frequently use Improvised Explosive Device (IED) as the weapon of their choice to target Afghan and coalition security forces which normally lead to civilian casualties.
The civilian deaths in Kunar comes as UN report released on Friday said civilian casualties hit a record high this year, with 3,188 civilians killed and 6,429 injured by the end of November.
The United Nations Assistance Mission in Afghanistan (UNAMA) report warned that civilian casualties were expected to exceed 10,000 by the end of the year.
http://www.khaama.com/taliban-ied-kills-7-including-children-in-kunar-province-9155
----------
7 Police martyred, 5 Taliban killed in Jawzjan attack
Dec 21 2014
7 soldiers belonging to Afghan Local Police (ALP) embraced martyrdom in fighting with the insurgents after their check post was attacked in northern Jawzjan province last night.
Faqir Mohammad Jawzjani, police chief for Jawzjan says fighting erupted after unspecified number of insurgents attacked a security check post in Qawsh Tapa district last night.
"4 Policemen suffered injuries and 7 others lost their lives in the attack" he said, adding that 5 Taliban were also killed in the assault that lasted till wee hours Sunday morning.
Taliban have claimed responsibility for the attack.
Taliban has recently stepped up their attacks against the security forces. An eight day long fighting still continues in Kunar province.
http://www.khaama.com/7-police-martyred-5-taliban-killed-in-jawzjan-attack-2587
----------
Afghan Taliban decry "biased" UN report on civilian casualties
21 Dec, 2014
Afghanistan's Taliban on Sunday accused the United Nations of "enmity and political motives" in reporting that three-quarters of a record-high number of civilians killed and wounded this year were victims of the insurgents.
Denouncing a UN report as "biased and unfounded", the insurgents accused UN investigators of intentionally skewing statistics to blame the Taliban.
The United Nations said that for a second year, insurgents were responsible for about 75 percent of civilians killed, with the toll reaching a new high of 3,188 through November, more than for any other full year since it began tracking numbers.
The Taliban said in a statement emailed to journalists the assertion was false.
"Civilian casualties in the current war are mainly caused by the heavy blind US air bombardments," the militants said, citing disputed reports that a US air strike killed several school children last week.
They also asserted that Afghan army, police and militias indiscriminately kill civilians and slammed the United Nations for classifying government officials who were assassinated as civilians - the Taliban consider all Afghan government workers legitimate targets.
The United Nations called on Friday on all sides of the war to work to limit civilian deaths and injuries.
http://www.jpost.com/Breaking-News/Afghan-Taliban-decry-biased-UN-report-on-civilian-casualties-385297
----------
Dr Kamal: Dialogue a must as election is not the last word for effective democracy
21 Dec, 2014
Asserting that the country was passing through an abnormal time, speakers at a discussion programme said election was not the last word for upholding democracy. Dialogue was a must to overcome any political crisis. However, as a prerequisite to that, effective democratic institutions should be set up, they opined.
The programme participants also said economic and political development should march together and political parties must do away with the culture of blame-game.
These remarks were made yesterday at a programme on releasing a study on The State of Governance Bangladesh 2013: Democracy Party Politics organised by the Brac Institute of Governance and Development (BIGD) of Brac University in the capital.
Speaking as a chief guest, Dr Kamal Hossain, Gono Forum president and an eminent jurist, called for holding constructive national dialogue to resolve the political deadlock.
"Dialogue should not only be held between the Awami League and the BNP but also among all the parties. Accepting the basic principles of the constitution, all should sit for talks," he said.
Full report at:
http://www.dhakatribune.com/bangladesh/2014/dec/21/dr-kamal-dialogue-must-election-not-last-word-effective-democracy#sthash.XLaGzs7t.dpuf
----------
DB draws up terror ties list in hunt for militant financiers
21 Dec, 2014
Intelligence agencies have prepared a list of organisations red-flagged for possible ties to terrorism, as a task force to track down terrorist funding in Bangladesh commenced operations, law enforcement sources said.
An official of the Detective Branch of Police, speaking on condition of anonymity, said intelligence agencies had compiled the list of seven private banks, 11 insurance companies, a number of educational institutes as well as several foreign and local NGOs reportedly involved in funnelling funds to militant groups.
A high official working on the task force told the Dhaka Tribune Monday that a database to track the entry and exit of foreign nationals was being compiled.
A database was also being compiled to keep track of suspicious financial transactions, including via hundi, mobile banking, courier services and other means, the official added.
He said Bangladeshi detectives do not yet have proof linking any specific NGO to militant outfits.
Full report at:
http://www.dhakatribune.com/bangladesh/2014/dec/21/db-draws-terror-ties-list-hunt-militant-financiers#sthash.ygRnPKVP.dpuf
--------
Europe
Police kill knife-wielding man shouting Islamic slogans
21 Dec, 2014
French police shot dead a man shouting "Allahu Akbar" ("God is the greatest") who stabbed and wounded three officers in a police station.
Interior Minister Bernard Cazeneuve, who rushed to the scene, said the man was killed after he attacked the policemen with a knife in a station in Joue-les-Tours, a suburb of the city of Tours in central France.
Cazeneuve confirmed the attacker had shouted "Allahu Akbar" during the attack, which he said was "extremely violent".
The counter-terrorism section of the Public Prosecutor's office has opened a probe for "attempted murder and criminal conspiracy in connection with a terrorist organisation", the Paris Prosecutor's office said.
"There are grounds to probe whether he acted alone, whether he followed orders, or whether it was a mindless action," Public Prosecutor Jean-Luc Beck told BFM-TV.
The man was known to police for common crimes but was not on any watch list of the French intelligence services, Cazeneuve said, adding: "The probe is only starting."
The three wounded officers were hospitalized but were out of danger, he added.
http://www.independent.ie/world-news/europe/police-kill-knifewielding-man-shouting-islamic-slogans-30853000.html
----------
Britain's N-power plants 'could be attacked by drones': report
21 Dec, 2014
Britain's nuclear power plants are highly vulnerable and they 'could be attacked by drones', according to a report by an atomic expert. "In each of the four attack scenarios that I examined, the plant fared very badly indeed – if these scenarios had been for real, then there would have been the potential for a major radioactive release," said British atomic expert John Large in his report.
The report followed a number of unexplained, but apparently co-ordinated, flights of tiny, unmanned vehicles over French nuclear installations, the Independent reported. "The grave issues uncovered there, said Large, were equally relevant to the UK's 16 operational reactors, which generate about 18 per cent of the country's electricity," the paper said.
Existing nuclear power plants, Large said, were not designed to counter the threat of "near-cyborg technology". Large's modelling showed that the "flexible access and manoeuvrability of the drones" means that they were able to fly over and twist around physical barriers that "belonged to a different age".
Full report at:
http://indianexpress.com/article/world/europe/britains-n-power-plants-could-be-attacked-by-drones-report/#sthash.Xdu4JBRX.dpuf
----------
French journalist sparks outcry with 'insular Muslim' comments
21 December 2014
Prominent French journalist Eric Zemmour was back in the spotlight Saturday after being barred by a news channel for saying Muslims were elbowing French people out of the suburbs.
The iTELE channel said late Friday that Zemmour would not be invited back to a chat show he has been appearing in since 2003 following an outcry over his latest remarks.
Zemmour, who recently published a best-seller titled "The French Suicide," is no stranger to polemics and has been convicted of inciting racial hatred.
The latest controversy erupted after he gave an interview to Italy's Corriere della Sera newspaper in which he said "Muslims kept to themselves in the suburbs" and the "French were forced to move out."
Full report at:
http://english.alarabiya.net/en/media/television-and-radio/2014/12/21/Controversial-French-journalist-sparks-outcry-with-insular-Muslim-comments-.html
----------
Muslim `apostates` come out of hiding in Europe
21 Dec, 2014
Brussels: A number of Muslims in Europe are publicly abandoning their religion to become Christians or agnostics despite their former community`s taboo against such acts.
In France, the film "The Apostle" by filmmaker Cheyenne Carron has, meanwhile, lifted the veil on "apostasy" by telling the story of a young Muslim who converted to Catholicism and how he had trouble getting family and friends to accept his choice.
"It is time for us to stop hiding," said Pastor Said Oujibou, 46, who left radical Islam for evangelical protestantism and who is among the few converts to have publicised his decision in France.
He said he is "tolerated" by his former co-religionists, even if he admits to having sparked "sarcasm and annoyance" from them.
But he warned against the "double talk" that certain branches of Islam in France close to the Muslim Brotherhood and Salafists use toward apostate Muslims.
"Apostasy is a taboo in Muslim culture and if the text of the Quran does not provide for any punishment, prophetic tradition calls for killing apostates," said Radouane Attiya, a former preacher trained in Saudi Arabia who is now a specialist on Islam at Liege University in Belgium.
Full report at:
http://zeenews.india.com/news/world/muslim-apostates-come-out-of-hiding-in-europe_1501912.html
---------
Mideast
Quran recitation and candlelight vigil in Ankara for Peshawar victims
World Bulletin / News Desk
21 Dec, 2014
Hundreds of tearful Pakistanis, Turks and people of diverse nationalities gathered in Pakistan Embassy Ankara on Saturday evening. They recited Holy Quran, offered Fateha and then participated in candlelit vigil to pay tributes to the schoolchildren and staff killed in a brutal attack on Peshawar's Army Public School.
Ambassador Haroon Shaukat and all officers and staff and their families participated in recitation the Holy Quran and attended the vigil.
Meanwhile, a large number of diplomats, Turkish politicians, and civil society members visited Pakistan Embassy and condoled over the tragic incident. They noted their condolences in the condolence book.
http://www.worldbulletin.net/headlines/151292/quran-recitation-and-candelight-vigil-in-ankara-for-peshawar-victims
----------
4 Houthis killed in clashes with tribesmen in N. Yemen
World Bulletin/News Desk
21 Dec, 2014
Four members of the Shiite Houthi militant group were killed Sunday in clashes with armed tribesmen in Yemen's northern district of Arhab, a tribal source said.
"Houthi armed militants blew up the house of tribal leader Yehia Taqi Markoub in the village of Darb Obaid of the Arhab district," a tribal source who requested anonymity told The Anadolu Agency.
"The incident sparked clashes between Houthis and supporters of the tribal leader that left four Houthi militants dead," the source said.
Markoub was able to escape to another safe location without being harmed, the source added.
Militants of the Houthi group have been targeting homes of tribal leaders with explosives under the pretext that the latter are possessing weapons and cooperating with Al-Qaeda militant group, a claim that has been denied by the Arhab tribe.
Houthi leaders could not be immediately reached for comment.
Last week, the Arhab tribe decided to withdraw its fighters from flashpoint areas in the district that carries the same name in order to avoid clashes with the Houthi militants, a source had told The Anadolu Agency.
Full report at:
http://www.worldbulletin.net/todays-news/151331/4-houthis-killed-in-clashes-with-tribesmen-in-n-yemen
----------
Erdoğan 'closely following' judicial process against Gülen movement
21 Dec, 2014
Turkish President Recep Tayyip Erdoğan has said he is closely following the operation launched on Dec. 14 targeting some members of the Fethullah Gülen movement, including two top executives of media groups close to the U.S.-based Islamic scholar, while he has also slammed international organizations for voicing concerns over media freedom in Turkey.
"Everything is being done according to the laws, nobody is being lynched before the process is over, a clean process is ongoing now," Erdoğan said speaking at a meeting of the Board of Foreign Economic Relations (DEİK) on Dec. 20.
An Istanbul court ordered on Dec. 19 the arrest of four of the 12 suspects, including Samanyolu Media Group head Hidayet Karaca; Tufan Ergüder, the former head of the Istanbul Police Department's anti-terror branch, who were detained in a Dec. 14 police operation on media groups linked to Gülen.
Full report at:
http://www.hurriyetdailynews.com/turkish-president-erdogan-closely-following-judicial-process-against-fethullah-gulen-movement.aspx?pageID=238&nID=75862&NewsCatID=338
--------
Hamas: Gaza woman spied for Israel
21 Dec, 2014
Hamas has arrested a Palestinian woman in the Gaza Strip on charges of spying for Israel, sources close to the movement said on Saturday. They told the Hamas-affiliated Majd website that the woman's mission was to "reach senior leaders of Hamas." The sources claimed that the woman, whose identity was not revealed, managed to gather "dangerous information" about some of Hamas's top leaders through their relatives. According to the sources, the 40-year-old woman followed the wives, sons, and daughters of the top Hamas leaders in order to find out where they were hiding during Operation Protective Edge.
The woman also monitored the houses of the Hamas leaders and their relatives during the war, the sources said, adding that she passed on the information to her handlers in the Israeli security authorities.
http://www.jpost.com/Breaking-News/Hamas-Gaza-woman-spied-for-Israel-385274
----------
Israel arrests more from Jewish extremist group
21 Dec, 2014
Israeli police have arrested four Jewish activists from the extremist Lehava group opposed to Arab-Jewish coexistence.
The arrests are part of a clampdown on the fringe organization, which has become a symbol of rising anti-Arab sentiment.
Police spokeswoman Luba Samri says the arrests took place on Sunday in five different cities throughout Israel. She says that along with the four arrested, four other activists were detained and then released.
Last week, police arrested 10 Lehava members, including its leader, on suspicion of racist incitement and calls to violence. The group has sought to break up Arab-Jewish couples and has waged campaigns to prevent Jews and Arabs from working together.
Three Lehava members were indicted last week on charges of torching a bilingual Hebrew-Arabic school in Jerusalem last month.
http://english.ahram.org.eg/NewsContent/2/8/118473/World/Region/Israel-arrests-more-from-Jewish-extremist-group.aspx
----------
Turkey hosts 200,000 refugees from Kobane, emergency agency says
21 Dec, 2014
The clashes in the Syrian town of Kobane have led nearly 200,000 people to take shelter in Turkey, according to official data released on Dec. 20. The Prime Ministry Disaster and Emergency Management Presidency of Turkey (AFAD) says that 192,417 people have arrived in Turkey since Sept. 19 when clashes broke out in Kobane. The data also shows that 3,072 cars have entered the country.
In and around the Turkish town of Suru, near Kobane, 1,573 officials from different institutions have been on duty to help refugees by taking care of their food and shelter, as well as health and security.
The aid agency said that an average of 70,000 meals are delivered to refugees daily.
Over 27 million lira in aid
Full report at:
http://www.hurriyetdailynews.com/turkey-hosts-200000-refugees-from-kobane-emergency-agency-says.aspx?pageID=238&nID=75866&NewsCatID=359
----------
North America
US warns its citizens against potential threats in Pakistan
21 Dec, 2014
ISLAMABAD: The US Embassy in Pakistan has warned American nationals against possible threats in the country. "The embassy has been informed of plans by terror groups to gain access to US citizens' residences through visits by construction, maintenance, or utility companies, as well as other technical service providers," the embassy said on Saturday. The alert was issued days after a group of the Taliban militants massacred nearly 150 children and staff members of an army school in the northwestern city of Peshawar. The security forces have stepped up operations against the militants across the country following the brutal attack on the school. "US citizens should be extremely cautious about granting access to their residences, even to established companies, for the immediate future," the US Embassy said in a statement. "Recent terror attacks in Peshawar and the resulting Pakistan government response may raise the possibility for future threats," it said. The US Embassy also urged US citizens to vary their times and routes when travelling anywhere in Pakistan, and to avoid travel patterns to such locations that would allow other persons to predict when and where they will be. "Depending on the ongoing security assessments, and as part of routine operational security measures, the US Mission occasionally places areas such as hotels, markets, airports, and/or restaurants off limits to official personnel," it said. The statement has also been posted online.
http://www.dailytimes.com.pk/islamabad/21-Dec-2014/us-warns-its-citizens-against-potential-threats-in-pakistan
----------
Cincinnati Muslims grieve for Peshawar kids
21 Dec, 2014
Amna Ahmed is a Pakistani-American mother of two young children and a member of the Islamic Center of Greater Cincinnati who resides in Mason.
The tragic event in Peshawar, Pakistan, in which a group of Taliban stormed a school and gunned down 141 people – 132 of them children – on Dec. 16 has shaken everyone in the Pakistani-American community and the Islamic community as a whole.
This heartbreaking and vengeful action in retaliation for Pakistani army air strikes against the Taliban cannot be justified in the name of religion, and yet the madness continues. Feeling compelled to be voices for the innocent, voiceless children, the Islamic Center of Greater Cincinnati held a prayer and candlelight vigil Thursday for the Peshawar schoolchildren as well as for the kids affected in recent conflicts in Syria, Gaza and far too many other places.
The program was organized under the leadership of the center's Muslim Mothers Against Violence, Cincinnati Muslim Professionals and the International Academy of Cincinnati. Shabana Shakir-Ahmed, Islamic Center tours and talks chair, and Shakila Ahmad, president of the Islamic Center, were supported by community members including Arsalan Ahmed, Zenu Tyeb, Saba Chughtai, Humaira Aslam, Amna Ahmed, Pakeeza Ferhan, Talat Rizvi and Nazim Fazlani.
Full report at:
http://www.cincinnati.com/story/opinion/contributors/2014/12/19/us-muslims-grieve-peshawar-kids/20656209/
----------
Top Taliban intelligence official among 4 released from Guantanamo
Dec 21 2014
A top intelligence official of the Taliban militants group in Afghanistan was among the 4 inmates released from Guantanamo.
The top Taliban leader, Mohammad Zahir, was also a leading weapons supplier who was arrested suspicion of possessing weapons including Stiner missiles and uranium.
"Detainee was arrested on suspicion of possessing weapons including Stinger missiles and uranium, which detainee's recovered documents indicate was intended for use in a nuclear device," according to Zahir's threat assessment obtained form his file by Telegraph.
Zahir was released from the detention facility along with three other inmates, including Shawali Khan, Khi Ali Gul, Abdul Ghani.
According to US defense officials, the interagency Guantanamo Review Task Force which considers security issues and other factors in intensive reviews of possible releases, had approved for the transfer of detainees to Afghanistan.
Full report at:
http://www.khaama.com/top-taliban-intelligence-official-among-4-released-from-guantanamo-9156
----------
Southeast Asia
Police Source: Syria-Bound Indonesians Financed by Terror Convict
21 Dec, 2014
Jakarta. The alleged attempt by a group of 12 Indonesian nationals to join the Islamic State movement in Syria was financed by a convicted terrorist, a police source told the Jakarta Globe on Sunday.
"We've figured out that Bagus Maskuron, a former convict of the paramilitary training case in Aceh, was behind this," said an investigator from the National Police's anti-terror squad, Densus 88. "He told the nine people [out of a group of 12] to go to Syria and funded the trip. Bagus is in Syria. One of the women and one of the kids detained were Bagus's wife and kid."
Police raided a terrorist training camp in Aceh in March 2010.
The 12 Indonesians were detained after trying to leave for Syria from Malaysia. Nine of them, four women and five children, were released on Friday. Three men would still be questioned until Monday, police said.
It is not illegal for Indonesians to travel to Syria, and the only law that can be used in such cases, police say, is the one dealing with citizenship. Indonesians can lose their citizenship if they voluntarily take an oath or pledge allegiance to a foreign country or a part of it.
One of the men detained was M. Sibgotuloh, a former convict of a deadly CIMB bank robbery in Medan, North Sumatra, in 2010.
Members of the group were from Surabaya and Magetan in East Java, as well as Kutai Kertanegara in East Kalimantan.
http://thejakartaglobe.beritasatu.com/news/police-source-syria-bound-indonesians-financed-terror-convict/
----------
The non-Muslim in PAS who rallies on for party despite hudud
21 Dec, 2014
Non-Muslim and female, PAS member Kumutha Raman is not in the least intimidated by the Islamist party's push to implement hudud law in Kelantan despite objections from its Pakatan Rakyat (PR) allies.
There's an on-going war of words between PAS and DAP, and caution from PKR, over the Islamist party's latest hudud initiative, but Kumutha says she is all for it.
The 35-year-old lawyer first made headlines in 2008 when she became the first non-Muslim woman to be fielded by PAS in the general election.
She expressed confidence that the Shariah penal code, once enforced, would bring down crime rates in the east coast state.
"It is only meant for the Muslims. I'm looking at it from a legal point of view.
"For me, hudud will be able to reduce crime in Kelantan and besides, there are many conditions that would have to be followed in implementing this," Kumutha, a member of PAS through its non-Muslim wing, told The Malaysian Insider.
Among the crimes under the focus of the Islamic penal code are adultery, consumption of alcohol, and slander over adultery.
Full report at:
http://www.themalaysianinsider.com/malaysia/article/the-non-muslim-in-pas-who-rallies-on-for-party-despite-hudud#sthash.KsRT5IyQ.dpuf
----------
URL: https://www.newageislam.com/islamic-world-news/new-age-islam-news-bureau/isis-'executes-100-deserters'-in-syria's-raqqa/d/100609