New Age Islam News Bureau
13 Dec 2014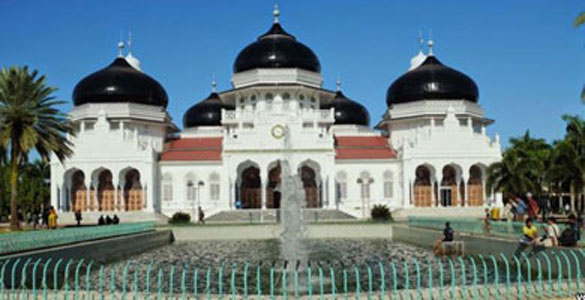 The Baiturrahman Grand Mosque was built by the Dutch in the late 19th century to replace a mosque they had earlier destroyed during a war, Dec. 5, 2014. (Maimun Saleh/VOA)
-----------
Arab World
• ISIS: Enslaving, Having Sex with 'Unbelieving' Women, Girls Is OK
• Islamic State Beheads Four Men for Blasphemy in Syria
• Iraqi Forces Kill 35 ISIL Terrorists in Anbar Province
• Syrian Army Continues Advance against Takfiri Militants in Damascus Province
• ISIS commander's ideologies put brother in a fix
• Islamic State adopts Assad's methods of torture
• ISIS 'shoots down' Iraqi helicopter, killing pilots
North America
• CAIR: Love for Jesus Can Bring Christians, Muslims Together
• Radicalized: ISIS Propaganda Attracting American Youth
• Obama, Saudi interior minister talk counter-extremism efforts
• Obama urges an end to 'cycle of violence' in South Sudan
• Kerry seeks to avert U.N. crisis on Middle East
• U.S. Senate backs $5 bln anti-ISIS spending
• Government faces questions about anti-Muslim bias over Syrian refugees
South Asia
• 54 Militants Killed During Operations Led By Afghan Army
• Afghan Police: Taliban Kill 12 Workers Clearing Mines
• Taliban shoot dead Supreme Court official in Kabul: police
• Abdul Gaffar pledges his undying support for Hasina
• Awami League to observe January 5 as 'Victory Day of Democracy'
Europe
• Algerian Mayor Shot Dead, Throat Slit by 'Terrorists'
• Portuguese MPs Seek Recognition of Palestine
• House of Lords debates FGM and Sharia Law in the UK
• Tackling Extremism among Western Muslim Converts
• Merkel condemns racism as Dresden anti-Islam marches grow
• EU warns Turkey over LGBTI protection
• Arab students from conflict-torn countries trapped in Ukraine's war
Southeast Asia
• Activists Slam Philippine Govt for Not Halting Saudi Beheading
• Indonesian Province to Expand Sharia Law
• Rise in terrorism index not cause for concern, say Malaysia cops
• Follow Islamic finance path in reforming Islamic law, says scholar
• Putrajaya's planned anti-terrorism law may reintroduce ISA, says Bar Council
India
• Majlis-e-Ittehad ul Muslimeen Expands Horizon with Cop Training
• 'Strong Action' Against Pakistan in 6 Months: Defence Minister
• Mehdi Masroor arrested, confesses to operating ISIS Twitter handle: Cops
• J&K: Suspected terrorists abduct, murder Sarpanch in Sopore
• Talk or the whole region will suffer: Pakistan delegation
• 4 of RSS Muslim wing detained for carrying 'provocative' booklets
Pakistan
• President Calls for Scholars' Panel To 'Reach Out' To Militants
• Report Says Pakistan Close To 'Extreme Risk' Countries
• Police Claim Killing Four Taliban Fighters near Muzaffargarh
• Militants kill policeman in Khuzdar, police targeted in Quetta
• PTI worker's killing: Top guns not made part of Dec 8 probe
• 'Language used by Imran might be reason for delay in formation of judicial commission'
• K-P says Dr Afridi may be whisked away or killed
• Corps commanders map out final phase of action against terrorists
• Pakistani leader slams Modi, justifies aid to JuD rally
Mideast
• Palestinian Rights Conference in Switzerland Bugs Zionists
• Yemen Attack Kills Six Shiite Militiamen: Tribal Sources
• Hamas Stresses Expansion of Ties with Iran
• Turkish imam joins ISIL in Syria, deputy PM confirms
• Abdullah, Sisi call for renewal of Israeli-Palestinian negotiations
• Islamic scholar Gülen calls for calm among supporters
Africa
• Islamic State Influence Spreads to African Jihadists
• Islamist Militias Form New Coalition in Libya's Derna
• International court's prosecutor shelves Darfur case for lack of UN support
• Kenya Muslims lament Islamophobic media
• Boko Haram attacks rated world's second deadliest
Compiled by New Age Islam News Bureau
URL: https://newageislam.com/islamic-world-news/isis-enslaving,-having-sex-with/d/100473
-----------
Arab World
ISIS: Enslaving, Having Sex with 'Unbelieving' Women, Girls Is OK
December 13, 2014
(CNN) -- Can you take non-Muslim women and children captive? Yes, says ISIS.
Can you have sex with them, even prepubescent girls? Yes, according to the Islamist extremist group.
Can you sell them or give them as gifts to others? The answer is yes, once again.
People in Mosul -- the Iraqi city now under control of the group calling itself the Islamic State -- got these and other messages loud and clear after sunset prayers Friday, when armed men handed out a colour-printed pamphlet "Questions and Answers on Taking Captives and Slaves," three residents told CNN.
"People started gathering in small groups chattering about this (document)," said one of the men, whom CNN didn't name for security reasons. "Most are shocked, but (we) cannot do much about it."
The document was first printed in October or November, then later posted on an ISIS website. It has gotten more publicity recently because of the Middle East Media Research Institute, an independent Washington-based non-profit whose advisory board includes former National Security Agency Director Michael V. Hayden, onetime CIA Director James Woolsey and ex-U.S. Defence Secretary Donald Rumsfeld.
The idea that ISIS is kidnapping, selling and raping women and children is hardly surprising. Many such accounts have surfaced since the group began its often brutal run through Syria and Iraq, including chilling stories from members of the Yazidi religious minority. And these are on top of other horrific allegations, such as the killings and mistreatment of innocent civilians simply because they didn't subscribe to ISIS' extreme take on Sharia law.
Yazidi women 'treated like cattle'
And that's the thing about ISIS: Its militants have justified their actions -- like the beheadings of journalists and aid workers -- in God's name.
Even then, it is rare to see its rationale laid out as plainly as "Questions and Answers on Taking Captives and Slaves."
In the Middle East Media Research Institute's English translation of that Q&A, for instance, it is explained that capturing women is permissible if they are "unbelieving" -- i.e. not Muslim (at least up to ISIS' standards).
Much of the pamphlet talks about ISIS' policy on having sexual intercourse with a female slave, something that the group cites the Quran to justify.
"If she is a virgin, (her slave owner) can have intercourse with her immediately," ISIS explains, according to the MEMRI translation. "However, if she isn't, her uterus must be purified."
There are other rules as well, like that two men who co-own a captive can't both have sex with her and that a man can't have intercourse with his wife's slave.
As to girls: "It is permissible to have intercourse with the female slave who hasn't reached puberty if she is fit for intercourse," the document reads, according to MEMRI. "However if she is not fit for intercourse, then it is enough to enjoy her without intercourse."
The Q&A is clear that, young and old, the captors have full control of their captives.
As such, the ISIS document claims, "It is permissible to buy, sell or give as a gift female captives and slaves, for they are merely property."
The pamphlet sets a few other guidelines, such as that a mother captive can't be separated from her young children and that an impregnated captive cannot be sold. Beating a female slave for discipline is OK, but beating her for pleasure or as a form of torture is not.
There are fewer rules for the captives themselves, though the ISIS pamphlet does identify one thing as "the gravest of sins" -- running away from one's master.
This document marks the most detailed, albeit not first, justification for enslaving nonbelievers, as defined by ISIS. Time and again, the group cites the Quran and its view of Sharia law.
"ISIS is drawing these rulings from ancient Middle Eastern and Mediterranean codes of conduct for war and prisoners," said Abbas Barzegar, professor of religious studies at Georgia State University. "Muslim leaders and lay practitioners the world over continue to condemn ISIS and find its alien interpretation of Islam grotesque and abhorrent. Unfortunately, in the context of failed states and civil wars most sane voices are often the most drowned out."
None of ISIS' rationalizations hold up, Seton Hall University law school Professor Bernard Freamon wrote on CNN.com last month.
"This argument is plainly wrong, hypocritical and astonishingly ahistorical, relying on male fantasies inspired by stories from the days of imperial Islam," said Freamon. "It is also an affront to right-thinking Muslims everywhere and a criminal perversion of Islamic law, particularly its primary source, the glorious Quran."
http://edition.cnn.com/2014/12/12/world/meast/isis-justification-female-slaves/
-----------
Islamic State beheads four men for blasphemy in Syria
Dec 13, 2014
Islamic State's self-declared police force in western Syria decapitated four men after accusing them of blasphemy, a rights group monitoring the Syrian conflict said today.
The men were beheaded in the countryside east of the city of Homs by the militant group's "Islamic Police", the British-based Syrian Observatory for Human Rights said.
The Observatory, which monitors the conflict using sources on the ground, reported a similar killing on Tuesday, when Islamic State beheaded a man in a town square in the north of the country.
Residents and activists say Islamic State has beheaded and stoned to death many people in areas it controls in Syria and Iraq for actions they see as violating their reading of Islamic law, such as adultery, homosexuality, stealing and blasphemy.
They have also killed rival fighters by similar methods off the battlefield and have set up patrols to police public behaviour in their bid to establish a caliphate.
The Observatory also reported today that Islamic State had stoned a man and a woman to death for adultery in Manbij town in northern Syria after Friday prayers.
The group, which is the target of US-led air strikes in both countries, has also killed a smaller number of foreign captives.
The Observatory said last month that Islamic State had killed 1,432 Syrians off the battlefield since the end of June when it declared a caliphate in the territory under its control.
http://www.themalaysianinsider.com/world/article/islamic-state-beheads-four-men-for-blasphemy-in-syria#sthash.R0niJFKk.dpuf
-----------
Iraqi Forces Kill 35 ISIL Terrorists in Anbar Province
Dec 13, 2014
The Iraqi Armed Forces, in a series of operations in Anbar Province, killed at least 35 ISIL terrorists, wounding and arresting so many others in the battlefields.
"Karma area of in Eastern Fallujah city, was the scene of heavy clashes between Iraqi troops and the ISIL terrorists, which resulted in killing of 30 anti-government fighters, including 3 local commander," a military source told the State News Agency.
"Also, a long convoy of terrorists' vehicles was targeted by the army men who killed five more terrorists in Sijariya area of Eastern Ramadi city, the center of Anbar province," the source added.
The crisis in Iraq escalated after the ISIL militants took control of Mosul in a lightning advance on June 10, which was followed by the fall of Tikrit, located 140 kilometers (87 miles) Northwest of the capital, Baghdad.
Soldiers of the Iraqi army and Pishmarga have been engaged in heavy fighting with the militants on different fronts and have so far been able to push them back in several areas.
http://english.farsnews.com/newstext.aspx?nn=13930921000286
-----------
Syrian Army Continues Advance against Takfiri Militants in Damascus Province
Dec 13, 2014
Syrian Armed Forces staged massive operations against insurgents' gathering centers in Damascus province, killing and wounding so many anti-government fighters.
Syrian soldiers targeted militants' gatherings in Joubar, killing a large number of fighters, including al-Hadi al-Sabrati, from Libya, a military source told SANA.
Meanwhile, several insurgents were killed in Misraba, near Harasta, by the Syrian troops, said the source, adding Abu Mohammad al-Iraqi was among the killed ones.
The Army also killed and injured 20 terrorists in al-Nashabiya in Eastern al-Ghouta.
In al-Qalamoun Mountains, the army foiled an attempt by terrorists to infiltrate from Lebanon into al-Mishrefeh, Ras al-Maarat and Esal al-Ward, killing many of them.
The conflict in Syria started in March 2011, when sporadic pro-reform protests turned into a massive insurgency following the intervention of western and regional states.
The unrest, which took in terrorist groups from across Europe, the Middle-East and North Africa, has transpired as one of the bloodiest conflicts in recent history.
As the foreign-backed insurgency in Syria continues without an end in sight, the US government has boosted its political and military support to Takfiri extremists.
Washington has remained indifferent to warnings by Russia and other world powers about the consequences of arming militant groups.
http://english.farsnews.com/newstext.aspx?nn=13930921000361
-----------
ISIS commander's ideologies put brother in a fix
Dec 13, 2014
HERMEL, Lebanon: Mohammad Sharkas, the brother of ISIS commander Anas, says his sibling's extremist beliefs have ruined his life, costing him his wife and earning him death threats for living in the predominantly Shiite town of Hermel.
Mohammad Sharkas, better known as "Abu Yahya," chain smoked throughout his interview with The Daily Star in Hermel, showing signs of anxiety and discomfort as a result of his brother's harsh measures against him.
His brother issued a fatwa ordering his divorce from his wife and permitting her to marry another man in a rebel-controlled area in Syria.
Sharkas said the divorce fatwa was issued after he was accused of "infidelity" and of being "a renegade" because he was living in a Hezbollah-controlled Shiite area in Hermel near the border with Syria.
In rejecting the fatwa, Sharkas, the eldest in a family of 11 – seven boys and four girls – said: "The divorce fatwa runs contrary to the simplest rules in Islam whereby there are legal and Shariah procedures that should be taken in the case of divorce."
Criticizing his brother Anas, an ISIS commander better known by his nom de guerre, Abu Ali al-Shishani, he said: "Who gave him the right to issue this fatwa which is the peak of infidelity and madness?"
Shishani, believed to be staying in the outskirts of Arsal, appeared in a video last week shortly after Lebanese authorities arrested his wife. He threatened to kidnap the wives and children of Lebanese soldiers and members of the Shiite sect if his own family members were not released.
Sharkas said he was detained by Syrian security forces for 45 days in the Syrian town of Qusair in 2013 and was ordered to leave because he was a brother of Abu Ali Shishani, the Nusra Front commander at the time.
Sharkas said he left Qusair to the Bekaa Valley town of Saadnayel after he was banished by both the regime's intelligence and the opposition.
He stayed for about six months in Saadnayel before moving to the Hermel village of Al-Qasr, where he said problems began with his wife, who was increasingly influenced by the hard-line attitudes of his brother, the ISIS commander.
According to Sharkas, his wife left their home in Al-Qasr for a safe place, leaving behind their five children. She spoke once with her husband by phone, telling him that she had gotten married to a "real faithful Muslim" under a fatwa issued by his brother.
An Army source told The Daily Star that the military was trying to confirm if a woman it captured in the Bekaa Valley Friday was actually Leila Abdullatif, Sharkas' ex-wife.
Sharkas, the only one among his seven brothers who finished high school, said his brothers had good manners, except Anas and Obeida, who continued religious studies in an institute in Homs.
Before the uprising began in Syria in March 2011, Sharkas recalled that he noticed a change in the conduct of his brother, Anas, who was then meeting with some extremists.
Among the people Shishani was meeting, according to Sharkas, were Hamza Qarqouz and Abdul Razak Jamaa, two terror suspects, and Imad Jamaa, a Nusra Front commander whose arrest by the Lebanese Army in August triggered deadly fighting with ISIS and Nusra Front militants in the northeastern town of Arsal.
"Anas, who had previously rejected an extremist ideology, began asking his sisters and the wives of his brothers to wear the niqab," he said.
Sharkas said he initiallysupported the revolution against the Syrian regime because of the "suppression, injustice, corruption and favoritism that prevailed in state departments and the regime's agencies."
"But I changed my mind when extremist groups dominated [anti-regime] popular demonstrations in Qusair and other cities," he said.
He recalled that the situation began spinning out of control in Homs after armed extremist groups began robbing the homes of Alawites and Christians and warning them to either leave or face death.
Sharkas, who is preparing to leave Hermel with his five children for the northern city of Tripoli, is in a predicament because he does not have any money to buy even a bag of bread, let alone rent a house.
He said his brother has presented him with one of two choices: Either leave "infidel areas," or join him in the rugged mountains of Syria's Qalamoun or Lebanon's Arsal.
Otherwise, he said, he is doomed to death.
http://www.dailystar.com.lb/News/Lebanon-News/2014/Dec-13/280924-isis-commanders-ideologies-put-brother-in-a-fix.ashx#sthash.2yXpqmuL.dpuf
-----------
Islamic State adopts Assad's methods of torture
Dec 13, 2014
In Syria, the torturers change but the tortures remain the same.
Prisons run by Islamic State jihadists are using the same gamut of punishments on their victims as those run before them by the Assad regime.
The tortures employed are so well known to Syrians they have their own names: jailers can summon up the "German chair", "the tyre", or "the flying carpet"; but the favourite now is the "shabeh", hanging people by the wrists, a practice so deeply ingrained in Syrian life that no one knows what it means any more, though some say it is related to the Arabic word for "ghost".
Sometimes, even the victims are the same. Of three liberal activists from the north Syrian city of Raqqa who spoke to The Telegraph, one, Jimmy Shahinian, was given the shabeh by the regime, every four days for four months; one, Hazm al-Hussein, was given the shabeh by Islamic State of Iraq and the Levant. The third, who lives in such fear even now he is in exile that he asked only to be known as Samir, was tortured by both the regime and Isil.
Months after his escape, Samir still twitches uncontrollably as a result of the shabeh, and is hoping for a visa to the West so he can receive medical treatment. Even then, the results will not be quick: Jimmy, whose arms eventually came out of their sockets, said it was four months before he could feel his hands again.
"At that time I thought I was going to die – no, in fact, I was sure I was going to die," Jimmy said. "Mind you, when you were there, you wanted to die."
As the revolution against the regime of President Bashar al-Assad was taken over by jihadists, many of those involved in the initial protests were forced out of the country, bit by bit. Nowhere were the changing fortunes of a city, from Assad dictatorship to rebel revolution to jihadist authoritarianism, speedier or more dramatic than in Raqqa.
Until the beginning of last year, it was so firmly in regime hands, and so remote from the fighting, that families fleeing the battles for Homs and Aleppo poured into it.
It was overwhelmingly Sunni, with an Armenian Christian minority, and had a reputation for being relatively liberal in the otherwise largely conservative north. Many women went unveiled, there were a couple of alcohol shops, and even a casino.
There were also politically liberal activist groups, to some of which all three men, Hazm, Jimmy and Samir, belonged. Many ended up in jail, like Jimmy, a Christian whose family fled the massacres of the Armenian community in Turkey a century ago and who – now that so many co-religionists have fled – regards the regime's claims to be the protector of Christians with a degree of irony.
The regime's men caught up with him in May 2011, after they realised he had been printing posters for anti-Assad demonstrations at his computer shop. He was arrested again that September, but the torture only reached its final depths when he was seized on a visit to Damascus in June last year, after rebels had finally overrun Raqqa.
He was held in the Palestine Barracks, a notorious base for the Air Force Intelligence unit which is known as the regime's first-line security force, for 137 days. His cell was so tightly packed that two men died of suffocation.
The shabeh – the practice has been outlined in Amnesty International reports on the country for years, if not decades – is when the arms are handcuffed behind the back, and the handcuffs then used the hoist the body in the air, putting intense pressure on the shoulder-sockets.
In Jimmy's case, this seems to have been occasionally combined with the "German chair", where the body is strapped into a chair, whose back is adjusted to inflict pain on the spine.
"They hanged me upside down in an upturned chair," he said. "They came and did this every day for four days. This is a traditional way to torture people in Syria – they leave you there hanging for anything from two to 12 hours."
In the spring of last year, Raqqa had some heady moments of relative freedom. Jihadists among the rebels smashed up the alcohol shops and the casino, and planted the black flag over the Governor's Palace, which became the headquarters first of Jabhat Al-Nusra, the al-Qaeda branch in Syria, and then Isil, when it split away.
But at the same time, the jails were opened – only just in time for some activists, who had been told they would be executed – and liberals were able briefly to come out into the open. They set up a human rights group, Haquna, which hosted weekly philosophical discussion groups to discuss ideas ranging from Aristotle to the founding principles of the European Union, and whether they would be suitable for the Arab world.
There was a new radio station, and news agency. There was even a "guerrilla gardening" environmental awareness group, which planted tomatoes in dual carriageway central reservations and encouraged residents to grow vegetables on their rooftops.
It lasted four months. As the jihadist movement split, Isil took over, driving out first mainstream Free Syrian Army rebel groups, then Jabhat Al-Nusra. The activists knew they would be targeted, and some fled, but others remained.
"They said I was kuffar (unbeliever) and against Sharia, even though I am Sunni," said Hazm. "In their minds, they have their own project, for Sharia, while others have theirs, for a nation state, and to serve the revolution. For them, there was no difference between us and the regime."
He was on an empty Raqqa street one day in October last year when three masked men came up behind him, wielding pistols and a Kalashnikov, and put a gun to his head.
"All you think about is pain," was his description of undergoing the shabeh at Isil's hands. "You can't think about anything else. You just have to be patient: if you get angry, they will just take your head off. You know they want to do it."
He was moved from jail to jail immediately on his "arrest". Amnesty International has identified five places, including oil installations, used as prisons in and around Raqqa by Isil. Hazm ended up sharing a "cell" – actually, one installation's control room – with another prisoner.
As with Jimmy at the hands of the regime, he was treated to the shabeh every four days or so, being left each time for around two days: this seems to be the torture's recommended interval. The accusation was that he was helping the Americans and Turkey against Isil, and the purpose to give them any information that might help their cause, or their interrogation of other captives.
His "extra" punishment was to be beaten with electricity cables, four of them knotted together, as he swung from the ceiling. Samir's "special treatment" was that for ten hours his wrists were forced into one handcuff. He was also once left suspended for three days consecutively.
That was this year, at the hands of Isil. Two years previously, he had been seized by the regime's military intelligence, who did not, in fact, use the shabeh, but "the tyre", in which the victim is forced inside the rim of a large tyre which then holds you immobile as you are beaten. It exaggerates the effects.
Samir had both arms broken, and a leg.
The astonishing cruelty of Syrian prisons has been recorded again and again over the years, long before the revolution, along with the diversity and imagination of the tortures available. "They have made an art form out of torture," said Samir.
In the "flying carpet", the victim is strapped down to a hinged board, with the ends brought towards each other, bending the spine. With the relatively mundane "falaqa", the victim is beaten on the soles of the feet.
Obviously, there are also the usual add-ons – male rape, sometimes with kebab skewers, and starvation. The defector known as "Caesar", a police photographer, earlier this year revealed graphic evidence of the deaths of 55,000 people in regime cells since the start of the uprising.
Meanwhile, in Raqqa and elsewhere, Amnesty recorded that torture in Isil prisons had also reached "chilling" levels. Prisoners, though, generally say the regime's torture is worse.
The cause and effect is no mystery. It is a universal phenomenon that the tortured can become torturers. Hazm said his incarceration and punishment was overseen by an Isil "emir" known as Abu Luqman, head of security in Raqqa. Although he wore a mask, Abu Luqman is well known, and Hazm recognised his voice immediately.
His real name is Ali al-Shawaq, and he is a lawyer from Raqqa. A well-known Islamist radical, when the revolution broke out, he was serving time in the regime's notorious Sednaya prison.
Along with many other Islamists who went on to form militant cells, he was released under an amnesty in June 2011, a still controversial move many secular activists say was a deliberate attempt by the regime to give the uprising a jihadist flavour, to win support from the West.
If it was deliberate, it worked. On a more mundane level, it meant that a new wave of jailers, well-versed in torture, could be unleashed on those who argued for democracy, even after the regime's troops had withdrawn.
As Hazm said, Abu Luqman was almost certainly treated to the shabeh himself, in his long years inside. He knew how to do it.
"The shabeh," he said, "is like a contagion."
http://www.telegraph.co.uk/news/worldnews/middleeast/syria/11291469/Islamic-State-adopts-Assads-methods-of-torture.html
-----------
ISIS 'shoots down' Iraqi helicopter, killing pilots
13 December 2014
Iraqi officials on Saturday said Islamic State of Iraq and Syria (ISIS) militants shot down Iraqi helicopter near Samarra, killing two pilots onboard and raising fresh concerns about the extremists' ability to attack aircraft amid ongoing U.S.-led coalition airstrikes.
The attack happened in the Shiite holy city of Samarra, about 95 kilometers (60 miles) north of Baghdad. A senior Defense Ministry official told The Associated Press the Sunni militants used a shoulder-fired rocket launcher to shoot down the EC635 helicopter on the outskirts of the city. An army official corroborated the information. Both spoke on condition of anonymity as they weren't authorized to speak to journalists.
The EC635, built by Airbus Helicopters, is used for transport, surveillance and combat.
The militants shot down at least two other Iraqi military helicopters near the city of Beiji in October. Some fear the militants may have captured ground-to-air missiles capable of shooting down airplanes when they overran Iraqi and Syrian army bases this summer.
European airlines including Virgin Atlantic, KLM and Air France, U.S. carrier Delta Air Lines and Dubai-based Emirates changed their commercial flight plans over the summer to avoid Iraqi airspace. The U.S.-trained Iraqi military virtually collapsed in the face of the militants' blitz, shedding their uniforms and abandoning sophisticated weapons near the northern city of Mosul.
ISIS holds about a third of Iraq and neighboring Syria in its self-styled caliphate.
http://english.alarabiya.net/en/News/middle-east/2014/12/13/ISIS-shoots-down-Iraqi-helicopter-killing-pilots.html
-----------
North America
CAIR: Love for Jesus Can Bring Christians, Muslims Together
By Ibrahim Hooper
Dec 13, 2014
"Behold! The angels said: 'O Mary! God giveth thee glad tidings of a Word from Him. His name will be Jesus Christ, the son of Mary, held in honour in this world and the Hereafter and in (the company of) those nearest to God.'"
Before searching for this quote in the New Testament, you might first ask your Muslim co-worker, friend or neighbour for a copy of the Quran, Islam's revealed text. The quote is from verse 45 of chapter 3 in the Quran.
It is well known, particularly in this holiday season, that Christians follow the teachings of Jesus. What is less well understood is that Muslims also love and revere Jesus as one of God's greatest messengers to mankind.
Other verses in the Quran, regarded by Muslims as the direct word of God, state that Jesus was strengthened with the "Holy Spirit" (2:87) and is a "sign for the whole world." (21:91) His virgin birth was confirmed when Mary is quoted as asking: "How can I have a son when no man has ever touched me?" (3:47)
Full report at:
http://www.cair.com/cair-blog/entry/cair-love-for-jesus-can-bring-christians-muslims-together.html
-----------
Radicalized: ISIS Propaganda Attracting American Youth
Dec 13, 2014
MINNEAPOLIS -- Which city is America's biggest hotbed for terrorists? If you're thinking New York or Los Angeles, you'd be mistaken. Think middle America.
Dozens of young men and women have left Minneapolis-Saint Paul in recent years to join Islamic terrorist groups overseas.
Most of these U.S. passport holders hail from the Twin Cities' large Somali Muslim community.
Some have been suicide bombers. Others star in propaganda videos.
Destination: Islamic State
Their exodus from the Twin Cities began in 2007, with a call to jihad in Somalia, courtesy of the al Qaeda-linked group, al-Shabaab.
Today, their destination is the Islamic State.
"Since July of 2012, we haven't had any kids leave to go join al-Shabaab, but we have had several leave now to go join ISIS," Bob Fletcher, with the Center for Somalia History Studies, told CBN News.
Full report at:
http://www.cbn.com/cbnnews/us/2014/December/Radicalized-ISIS-Propaganda-Attracting-American-Youth/
-----------
Obama, Saudi interior minister talk counter-extremism efforts
13 December 2014
U.S. President Barack Obama met with Saudi Interior Minister Prince Mohammad bin Nayef bin Abdulaziz al-Saud on Friday in Washington to discuss the ongoing battle against Islamic State of Iraq and Syria (ISIS) militants.
In a White House statement, the officials – joined by U.S. Vice President Biden, discussed a joint "approach to strategic messaging to counter extremism."
The meeting was held in the Oval Office and was closed to the press. It also focused on U.S.-Saudi cooperation on conflicts in Yemen, the White House said.
Earlier this year, Saudi Arabia joined the U.S.-led anti-ISIS coalition, which has striked militant targets in Iraq and Syria, where the extremists have claimed swaths of territory after declaring an Islamic "Caliphate" in June.
http://english.alarabiya.net/en/News/middle-east/2014/12/13/Obama-Saudi-interior-minister-talk-counter-extremism-efforts.html
-----------
Obama urges an end to 'cycle of violence' in South Sudan
Dec 13, 2014
US President Barack Obama called Friday for South Sudan's leaders to "end the cycle of violence" and work towards reconciliation in the world's youngest nation after a year of civil war.
"Last December, when a political conflict erupted into violence in South Sudan, the hope and optimism the world felt with the founding of the new nation in 2011 was overtaken by images of bloodshed and grief," Obama said in a statement.
"Today, I appeal to the leaders of South Sudan to pursue peace as a way to honor those who have died," he added.
"It is in your hands to end the cycle of violence, to set forth on a course of reform and reconciliation, and to hold to account those responsible for atrocities."
"To the people of South Sudan, who have suffered for far too long, I urge you to renew the spirit of hope, unity, and fortitude that enabled you almost four years ago to come together and vote for a brighter future," said the president, emphasizing that the United States would "remain a friend to those who seek peace and progress."
Full report at:
http://english.ahram.org.eg/NewsContent/2/8/117779/World/Region/Obama-urges-an-end-to-cycle-of-violence-in-South-S.aspx
-----------
Kerry seeks to avert U.N. crisis on Middle East
13 December 2014
U.S. Secretary of State John Kerry said on Friday he hoped to avert tensions over Palestinian statehood during U.N. meetings in Europe next week.
"We're trying to figure out a way to help defuse the tensions and reduce the potential for more conflict and we're exploring various possibilities to that end," Kerry told reporters in Colombia when asked whether there is a resolution the United States could support, according to Reuters.
The Palestinians are fiercely campaigning to submit a draft resolution to the U.N. Security Council calling for Israeli occupation of Palestinian territory to do end by November 2016. Jordan has already circulated a proposal to the 15-member council; which some Western diplomats slammed "unbalanced."
Jordan's U.N. Ambassador Dina Kawar said she hoped a resolution could be put forward for a vote in December or January.
Full report at:
http://english.alarabiya.net/en/News/middle-east/2014/12/13/U-S-seeks-to-avert-tensions-over-Palestinian-resolution.html
-----------
U.S. Senate backs $5 bln anti-ISIS spending
13 December 2014
The U.S. Congress authorized a massive U.S. annual defense policy bill on Friday which includes $5 billion in emergency funding for military operations and training for Iraqi and Syrian forces fighting the Islamic State of Iraq and Syria (ISIS), as President Barack Obama requested.
Obama's $5 billion request for fighting ISIS includes $3.4 billion for deployment of U.S. forces as part of operation "Inherent Resolve," and $1.6 billion for a program to equip and train Iraqi Kurdish forces for two years.
The National Defense Authorization Act (NDAA), formally authorizes the extension of training and equipping for moderate Syrian rebels, a program that had been authorized to last only until December 11, using existing Pentagon money.
Overall, the legislation approves a Pentagon base budget of $496 billion, in addition to around $63.7 billion for wars abroad including the war in Afghanistan. The bill also authorizes $17.9 billion for nuclear weapons work.
Full report at:
http://english.alarabiya.net/en/News/middle-east/2014/12/13/U-S-Senate-backs-5-bln-anti-ISIS-spending-.html
-----------
Government faces questions about anti-Muslim bias over Syrian refugees
Dec 13, 2014
The Conservative government is facing renewed questions about an alleged anti-Muslim bias following revelations it wants to cherry-pick which Syrian refugees will be accepted into Canada.
Sources say the government wants to prioritize religious minorities as a condition for resettling thousands more Syrian refugees in Canada over the next two years.
But the United Nations has resisted Canada's request, as its policy is to help the most vulnerable, no matter their religious background. This includes families led by women, torture victims and those with serious medical conditions.
The disagreement is reportedly why Canada remained silent at a major UN conference in Geneva this week as other countries promised to help the world body resettle 100,000 Syrian refugees by 2017.
Full report at:
http://ottawacitizen.com/news/politics/government-faces-questions-about-anti-muslim-bias-over-syrian-refugees
----------
South Asia
54 militants killed during operations led by Afghan army
Dec 13 2014
At least 54 militants were killed following a series of operations across the country in the past 48 hours.
The Ministry of Defense (MoD) said the operations were conducted by Afghan National Army (ANA) forces in Nangarhar, Khost, Parwan, Helmand, Logar, Kabul, and Herat provinces.
A statement by the Ministry of Defense (MoD) said at least 42 militants were also injured and 12 suspected militants were arrested during the same operations.
The statement further added that the Afghan armed forces also confiscated various types of weapons, ammunition and explosives belonging to the militants.
Afghan army soldiers confiscated and defused 78 rounds of improvised explosive device (IED) during the operations, the statement added.
According to the Ministry of Defense, at least two Afghan national army soldiers were martyred following improvised explosive device (IED) attack.
No further details were given regarding the exact location where the two soldiers lost their lives.
The anti-government armed militant groups have not commented regarding the report so far.
http://www.khaama.com/54-militants-killed-during-operations-led-by-afghan-army-9122
-----------
Afghan Police: Taliban Kill 12 Workers Clearing Mines
AP | Dec 13, 2014
KABUL: An Afghan police spokesman says the Taliban have killed at least 12 workers clearing mines in the country's south.
Farid Ahmad Obaid said the attack happened Saturday in Helmand province. Obaid said Afghan soldiers were now fighting the Taliban who attacked the workers.
Obaid identified the company working on the project as Star Link. He said 12 workers were wounded.
Afghanistan, which has suffered decades of continuous war, is one of the most heavily mined countries in the world. Those working on projects to clear mines often find themselves targeting by the Taliban and other insurgents in the country.
http://timesofindia.indiatimes.com/world/south-asia/Afghan-police-Taliban-kill-12-clearing-mines/articleshow/45504369.cms
-----------
Taliban shoot dead Supreme Court official in Kabul: police
December 13, 2014
Taliban gunmen shot dead a senior Supreme Court official in Kabul on Saturday, police said, the latest insurgent attack in the Afghan capital as the US-led NATO force prepares to end its 13-year war.
Atiqullah Raufi, head of secretariat for the court, was gunned down as he left his home to head to work.
The Taliban have often targeted Afghan officials as well as NATO soldiers, foreign compounds and military convoys.
A spike of attacks in recent weeks have heightened concern about stability as NATO readies to end its combat mission on December 31 after a war that has failed to thwart the Taliban insurgency.
"Around 9:00 am, unknown gunmen shot dead Atiqullah Raufi as he was heading to work," Kabul police spokesman Hashmat Stanikzai told AFP.
Taliban spokesman Zabihullah Mujahid in a text message sent to the media claimed responsibility for the killing.
Full report at:
http://tribune.com.pk/story/806248/taliban-shoot-dead-supreme-court-official-in-kabul-police/
-----------
Abdul Gaffar pledges his undying support for Hasina
Dec 13, 2014
Noted writer and journalist Abdul Gaffar Chowdhury said his support would continue for Prime Minister Sheikh Hasina for her commitment to fight fundamentalism and try the war criminals.
On the occasion of his 80th birth anniversary Abdul Gaffar said: "What is the alternative to Hasina? Fundamentalism, militancy and drone attacks resulting in Bangladesh becoming like Afghanistan, or Pakistan or Iraq?"
"No, never, I am not in support of it. Sheikh Hasina is always against the fundamentalists and militants, which is why my support for her will continue until my death," he said.
Gaffar Chowdhury made the remarks at the birthday celebration programme organised by the Birthday Celebrations Committee at Abdul Karim Sahitya Bisharad Seminar Room of Bangla Academy in the capital yesterday.
Shamsuzzaman Khan, director general of Bangla Academy delivered the welcome speech, while Professor Rafiqul Islam, president of Abdul Gaffar Chowdhury Birthday Celebrations Committee presided over the event.
Gaffar went on to say that Sheikh Hasina and her party Awami League believed in secular politics. "But it is not possible for Hasina to control the fundamentalists alone. So we should help her in this regard."
Full report at:
http://www.dhakatribune.com/bangladesh/2014/dec/13/abdul-gaffar-pledges-his-undying-support-hasina#sthash.sNmgZoY1.dpuf
---------
Awami League to observe January 5 as 'Victory Day of Democracy'
Dec 13, 2014
The ruling Awami League yesterday announced that it will observe the January 5 as the "Victory Day of Democracy".
Terming the January 5 as the day for protection of democracy, AL Joint General Secretary Mahbubul Alam Hanif said if the national polls would not have taken place on that day, the democracy of the country would have fellen into a deep crisis.
He came up with the statement while addressing a press conference after a joint meeting of the party and its associate bodies at AL President Sheikh Hasina's Dhanmondi office in the capital yesteray.
The meeting was organised to make plans and preparation for programmes to observe, on behalf of the party, the Martyred Intellectuals Day on December 14 and Victory Day on December 16.
Full report at:
http://www.dhakatribune.com/politics/2014/dec/13/al-observe-january-5-%E2%80%98victory-day-democracy%E2%80%99#sthash.X7coNlTr.dpuf
-----------
Europe
Algerian Mayor Shot Dead, Throat Slit by 'Terrorists'
Dec 13, 2014
The mayor of a town in Algeria was shot dead and had his throat slit by unidentified "terrorists" on Friday, police were quoted by the APS news agency as saying.
The body of Benyoucef Chelghoum, 56, was found at his farm in Fercha, just outside Bordj El Emir Abdelkader, of which he was mayor. The town is 213 kilometres (132 miles) southwest of the capital.
The report gave no further details about the murder, including any explanation as to why "terrorists" were blamed.
Violence blamed on Islamists has declined considerably in recent years, but militants who battled the army during a civil war in the 1990s and later formed Al-Qaeda in the Islamic Maghreb (AQIM) still operate in the country.
http://english.ahram.org.eg/NewsContent/2/8/117787/World/Region/Algerian-mayor-shot-dead,-throat-slit-by-terrorist.aspx
-----------
Portuguese MPs seek recognition of Palestine
Dec 13, 2014
LISBON: The Portuguese Parliament adopted Friday a recommendation calling on the government to recognize the Palestinian state, drawing votes from the majority and opposition.
The motion, filed jointly by the ruling centre-right majority and the opposition Socialist party, proposes "recognizing, in coordination with the European Union, the state of Palestine as independent and sovereign".
Separately, in Athens, unidentified assailants opened fire on the Israeli Embassy in Athens with a Kalashnikov assault rifle in the early hours of Friday, police said, but no injuries or damage were reported.
Four people on two motorcycles fired shots at the embassy building in a northern suburb of Athens, a police official said.
Bullets were lodged in the walls and 54 spent bullet cases were found about 40 meters from the building, police said.
http://www.arabnews.com/middle-east/news/673486
----------
Merkel condemns racism as Dresden anti-Islam marches grow
Dec 13, 2014
Chancellor Angela Merkel condemned a series of anti-Muslim demonstrations centred on the eastern city of Dresden, saying via an aide on Friday that there was "no place in Germany" for hatred of Muslims or any other religious or racial group.
"In the name of the government and the chancellor I can say quite clearly that there is no place in Germany for religious hatred, no matter which religion people belong to," said the chancellor's spokeswoman, Christiane Wirtz.
"There is no place for Islamophobia, anti-Semitism or any form of xenophobia or racism," she said of the growing Monday evening marches in Dresden under the motto PEGIDA, standing for "Patriotic Europeans against the Islamization of the West".
Public expressions of anti-immigrant sentiment are largely taboo in mainstream German politics because of the Nazis' mass-murder of Jews and other groups in the Holocaust. Merkel argues that Germany needs immigrants to avoid demographic crisis.
But local officials say they are struggling to cope with the largest number of asylum-seekers in Europe, with net immigration at its highest levels in two decades.
Full report at:
http://english.ahram.org.eg/NewsContent/2/9/117775/World/International/Merkel-condemns-racism-as-Dresden-antiIslam-marche.aspx
----------
House of Lords debates FGM and Sharia Law in the UK
Dec 13, 2014
On Thursday 11 December, there were debates in the House of Lords on female genital mutilation (FGM) and the "impact of Sharia Law on the United Kingdom."
In the first debate. on FGM, raised by Baroness Rendell of Babergh, peers asked about Government progress in encouraging prosecutions under the Female Genital Mutilation Act 2003.
Baroness Tonge, an honorary associate of the NSS, spoke of how FGM "causes untold physical damage to a woman" and equated the practice to a family member sexually abusing a young girl. Lady Tonge called for parents to be prosecuted if their child is the victim of FGM.
Lord Faulks, Minister of State for Civil Justice and Legal Policy, noted that "it is a source of frustration to all noble Lords that while FGM has been a specific criminal offence for 29 years—the original Act—no prosecutions were brought."
Addressing an ongoing FGM court case, Lord Faulks added that "It is probably not appropriate to comment on what one hopes the outcome of the case would be, but, whatever happens, the publicity that will attend that prosecution should, I hope, send a strong message in itself."
The Minister cited research part-funded by the Government which "revealed that approximately 60,000 girls are at risk of FGM in the UK."
Full report at:
http://www.secularism.org.uk/news/2014/12/house-of-lords-debates-fgm-and-sharia-law-in-the-uk
-----------
Tackling extremism among Western Muslim converts
Dec 13, 2014
Muslim converts in the West professing extremist beliefs have come under the spotlight for terrorism-related activities in and outside their home countries.
For instance, a Briton and a French national were identified in the latest ISIS video showing the mass beheadings of Syrian soldiers. The beheading of two Americans - a journalist and an aid worker - in Iraq two months ago was carried out by a Muslim convert with a British accent.
Last month, the attack on the Canadian Parliament was perpetrated by Michael Zehaf-Bibeau, a recent Muslim convert; while in New York, Zale Thompson, another convert, attacked New York Police Department officers with an axe. In May last year, two British Muslim converts, Michael Adebolajo and Michael Adebowale, were convicted of the brutal slaying of Lee Rigby, an off-duty soldier in south-east London.
Full report at:
http://www.straitstimes.com/news/opinion/more-opinion-stories/story/tackling-extremism-among-western-muslim-converts-20141212
-----------
EU warns Turkey over LGBTI protection
Dec 13, 2014
The European Union has warned Turkey over the dangers posed to minorities and vulnerable groups in the country, including lesbian, gay, bisexual, transgender and intersex (LGBTI) people.
The conclusions of a conference organized by the European Parliament, the European Commission and the Italian Presidency of the Council of the EU on "Fundamental Rights, Non-Discrimination and the Protection of Vulnerable Groups, Including LGBTI," which took place on in Tirana on Nov. 21, were released on Dec. 11.
"This conference has shown that: Enlargement countries have put in place key policy elements and the legal framework for fundamental rights and non-discrimination while demonstrating commitment to making progress in these areas. This progress was welcomed by all participants," it stated.
Full report at:
http://www.hurriyetdailynews.com/eu-warns-turkey-over-lgbti-protection.aspx?pageID=238&nID=75550&NewsCatID=339
-----------
Arab students from conflict-torn countries trapped in Ukraine's war
13 December 2014
Wissam Fawzi left Iraq in 2006, hoping to put the horrors of war behind him and study dentistry far away from the sound of bombs. Unfortunately, he picked eastern Ukraine for his new home.
"I wanted to move to Donetsk because there was war in Iraq. There was shelling in Baghdad in 2006. It was very hard," said the 29-year-old.
But now he is studying at the University of Donetsk, in a city that has become the main stronghold of pro-Russian separatists fighting a violent eight-month war against government forces that has claimed at least 4,300 lives.
"I knew some people in Donetsk that told me the town was pretty, that people were nice," said Fawzi in fluent Russian.
Donetsk has been shelled almost daily for months. The explosions resonate around the walls of the university which only a year ago was named the best in Ukraine.
Signs dotted around this 84-year-old institution indicate the nearest bomb shelters.
"My parents are also being shelled. And now they are scared for me," said Mohammad Jaro, a 24-year-old from Syria.
Full report at:
http://english.alarabiya.net/en/perspective/features/2014/12/13/Arab-students-from-conflict-torn-countries-trapped-in-Ukraine-s-war.html
-----------
Southeast Asia
Activists slam Philippine govt for not halting Saudi beheading
Dec 13, 2014
Activists slammed the Philippine government Saturday for not doing more to save a Filipino who was beheaded for murder in Saudi Arabia.
Carletto Lana was executed in Riyadh on Friday for shooting a Saudi national before running him over with a car, the SPA news agency said.
Migrante International, an advocacy group for the millions of Filipinos working overseas, condemned the execution, saying the government of President Benigno Aquino had failed to adequately defend Lana.
"This shows migrant rights are not protected. There is not enough legal assistance given by the Aquino government to our expatriates abroad," said Mic Catuira, spokesman of the group.
"That is why our Filipinos abroad go through these travesties," he said, insisting that Lana had acted in self defence when he killed the Saudi man.
According to Migrante International, six Filipinos have been executed abroad since 2010.
Catuira conceded that the execution took his group by surprise.
Foreign Department spokesman Charles Jose likewise said that the government was not aware that Lana was due to be executed Friday.
Full report at:
http://english.ahram.org.eg/NewsContent/2/9/117815/World/International/Activists-slam-Philippine-govt-for-not-halting-Sau.aspx
-----------
Indonesian Province to Expand Sharia Law
Dec 13, 2014
BANDA ACEH, INDONESIA— Indonesia has the world's largest Muslim population and a legal system based on Dutch civil law and Indonesian government regulations. But in a 2001 compromise with separatists, Aceh province in Sumatra island's north was allowed to implement Sharia law.
Since then, religious justice has become increasingly strict — and, for some residents, uncomfortable, at the very least.
In the latest of public whippings in Aceh, a prosecutor on December 5 took a cane to six family members who each received five to eight lashes for playing poker for money at a coffee shop.
Such floggings have significantly increased recently in Aceh province, not only for gambling, but also for drinking alcohol and engaging in relationships deemed illicit. Violators face a choice of caning, jail time or paying a fine in gold.
Sharia police squads target women for immodest dress — such as wearing tight-fitting clothing or not keeping their hair under a scarf. Both women and men can be nabbed for exposing their legs.
Full report at:
http://www.voanews.com/content/indonesia-aceh-province-plans-to-expand-sharia-law/2556765.html
-----------
Rise in terrorism index not cause for concern, say Malaysia cops
Dec 13, 2014
Malaysia's leap in ranking in the latest global terrorism index belies police effectiveness in nipping terrorism and militancy in the bud, the head of the country's intelligence agency said.
"There have not been any terrorism attacks or bombings in Malaysia as the authorities always nabbed the suspects before they could do anything," Federal Special Branch Department director Datuk Seri Akhil Bulat said.
The police's track record in containing any terrorism threat spoke for itself, he said, stressing that despite the country's 42-spot rise in the index, it was not cause for concern as militant activities in the country were under control.
In the latest index produced by the Institute of Economic and Peace, Malaysia climbed 42 places from 91st in the 2012 edition to 48th out of 162 countries.
Full report at:
http://www.themalaysianinsider.com/malaysia/article/rise-in-terrorism-index-not-cause-for-concern-say-cops#sthash.OfDMt1u8.dpuf
---------
Follow Islamic finance path in reforming Islamic law, says scholar
Dec 13, 2014
Systematic Islamic law reform is possible, similar to the development and advancement achieved today in the field of Islamic finance, a forum was told today.
Asserting that Islamic law has been changing all along, University of British Columbia assistant professor of Islamic Law Dr Rumee Ahmed said it was no different from the Islamic finance sector, which would have been unrecognisable 50 years ago.
"This seems to violate lots of principles in the Islamic tradition and in the Quran and Sunnah.
"But Muslim scholars got together and redefined the terms of Islamic law so that today someone can have their Islamic credit card and feel they are operating in a world where using that card will help them achieve salvation," Rumee said, drawing laughter from the floor.
As such, he said that there was a need to look into Islamic law reform seriously, which should include the issues of amputation for the crime of theft and gender-based laws.
"There is nothing wrong with the Quran and the Sunnah but there is something different about the way we apply them today," he said at the public forum entitled Domestic Violence and the Islamic Tradition, held in Kuala Lumpur.
Full report at:
http://www.themalaysianinsider.com/malaysia/article/follow-islamic-finance-path-in-reforming-islamic-law-says-scholar#sthash.m9BXGoAs.dpuf
-----------
Putrajaya's planned anti-terrorism law may reintroduce ISA, says Bar Council
Dec 13, 2014
Putrajaya's bid to introduce an anti-terrorism law may effectively give it enhanced powers to detain people without trial in the mould of the repealed Internal Security Act (ISA), the Bar Council warned today.
Its president Christopher Leong expressed alarm that the government was pushing for more authoritarian and draconian powers for the police, given the "unabated deaths" in police custody and the high level of perceived corruption among the police.
Speaking at a public forum on on police accountability in George Town, Penang, Leong noted that on November 26 the government had tabled a white paper titled "Toward Combating the Threat of Islamic State" stating the need for a specific anti-terrorism law to be legislated.
It also called for the Security Offences (Special Measures) Act 2012 (which was meant to replace the ISA), the Prevention of Crime Act and the Penal Code to be fortified, he said.
"While the bill for the proposed anti-terrorism law and the amendments to the existing laws have yet to be revealed, it is of concern that the contemplated new law and the amendments may expand the discretionary power of the authorities and permit detention without trial," he said.
Full report at:
http://www.themalaysianinsider.com/malaysia/article/putrajayas-planned-anti-terrorism-law-may-reintroduce-isa-says-bar-council#sthash.TxaNH9VL.dpuf
-----------
India
Majlis-e-Ittehad ul Muslimeen Expands Horizon with Cop Training
TNN | Dec 13, 2014
HYDERABAD: In what is known as a "passing out parade" of constables held at the police academy recently, more than 70 graduates were from the stable of the Majlis-e-Ittehadul Muslimeen (MIM). But what is interesting is that of this number, more than half were Hindu, Dalit and Sikhs while only 29 were Muslim candidates.
"As a part of the MIM initiative, we had trained around 200 people over a period of three months for the physical fitness and written tests. Also, of the 10 girls selected, only two are Muslims and the rest are Hindus.
Those selected also belong to the Reddy community and other backward classes. Another two are Sikh recruits," said Manzoor Ali Khan, in-charge of the constable recruitment training programme.
While the MIM has been vocal about its intentions of forging a Muslim-Dalit political alliance - which has gained momentum with the slogan Jai Bheem, Jai Meem - the move indicates that the party is keen to reach out to members of the majority community as well. The party in addition has proposed initiatives for training youth for employment.
Full report at:
http://timesofindia.indiatimes.com/city/hyderabad/Majlis-e-Ittehadul-Muslimeen-expands-horizon-with-cop-training/articleshow/45500160.cms
-----------
'Strong Action' Against Pakistan in 6 Months: Defence Minister
TNN | Dec 13, 2014
NEW DELHI: India on Friday warned Pakistan of a "strong response" for its policy of aiding and abetting cross-border terrorism, a week after four synchronized militant strikes killed 11 security personnel and two civilians in Jammu & Kashmir.
"I feel that there has to be some strong response which will once and for all reduce these blatant attempts. It's an open secret that they (militants) came from Pakistan," said Defence Minister Manohar Parrikar, who visited J&K on Thursday to review the security situation there.
"You will see the developments in the next six months ... We have to ultimately teach those who are rogue a proper lesson," he said, without elaborating on the "hard measures" the NDA government was contemplating in the days ahead, while replying to questions at a media function here.
Full report at:
http://timesofindia.indiatimes.com/india/Strong-action-against-Pakistan-in-6-months-Parrikar/articleshow/45500932.cms
-----------
Mehdi Masroor arrested, confesses to operating ISIS Twitter handle: Cops
M K Madhusoodan & chetan kumar,TNN | Dec 13, 2014
BENGALURU: Bengaluru police in the early hours of Saturday arrested Mehdi Masroor Biswas, 24, from his Jalahalli residence in North Bengaluru, for handling a pro-ISIS Twitter handle.
"Mehdi Masroor has confessed that he was operating the ISIS Twitter account, @ShamiWitness," Karnataka DGP Pachau said in a press conference.
Karnataka DGP Pachau further added: "His Twitter handle had become a source of information for new recruits of ISIS. He was in touch with the English speaking terrorists from the terrorist group, thereby abetting them."
"Although many of his posts on Twitter were translations from Arabic tweets, but there were some some original tweets which we are investigating," the DGP said.
The cops, however, said that he has not facilitated any recruitment or even ever travelled outside of India.
Full report at:
http://timesofindia.indiatimes.com/india/Mehdi-Masroor-arrested-confesses-to-operating-ISIS-Twitter-handle-Cops/articleshow/45503070.cms
-----------
J&K: Suspected terrorists abduct, murder Sarpanch in Sopore
TNN | Dec 13, 2014
SRINAGAR: Suspected terrorists allegedly kidnapped and later murdered a sarpanch belonging to ruling National Conference from Sopore area of north Kashmir's Baramulla district, police said.
Police recovered the body of sarpanch Ghulam Mohammad Mir on Saturday morning who was abducted on Friday night from Hygam area of Sopore in north Kashmir, Times Now reported.
Ghulam Mohammad Mir (62) was abducted by six gunmen from his residence in Tarzoo area of Sopore town at around 9pm, a police official said.
Mir's family lodged a complaint with police following which a search operation has been launched to rescue the kidnapped sarpanch.
The sarpanch's killing comes three days after Sopore assembly segment went to polls in the third phase of elections in the state.
The apple town, hitherto known as separatist stronghold, saw a turnout of 30 per cent, which was 10 per cent higher than 2008 assembly elections.
http://timesofindia.indiatimes.com/india/JK-Suspected-terrorists-abduct-murder-Sarpanch-in-Sopore/articleshow/45501431.cms
-----------
Talk, or the whole region will suffer: Pakistan delegation
Dec 13, 2014
There is a negative view of Prime Minister Narendra Modi in Pakistan, according to Awais Khan Leghari, Member of Pakistan's National Assembly.
"What else can you expect when our Prime Minister is speaking at SAARC and the Indian Prime Minister is looking at a brochure," Mr. Leghari told The-Hindu here on Friday.
Mr. Leghari is leading a 12-member Pakistani Parliamentary delegation to India for the sixth round of Pakistan-India Parliamentary Dialogue, an initiative by the Pakistan Institute of Legislative Development and Transparency, being held here.
The Dialogue was co-chaired by Mr. Leghari, from the Pakistani side and Mr. Mani Shankar Aiyar, senior Congress leader and Rajya Sabha member, from India. The Indian side had 25 participants.
Full report at:
http://www.thehindu.com/news/national/talk-or-the-whole-region-will-suffer-pakistan-delegation/article6687652.ece
-----------
4 of RSS Muslim wing detained for carrying 'provocative' booklets
Dec 13, 2014
Four members of the Muslim wing of RSS were detained by the Returning Officer of Madhupur constituency for allegedly possessing inflammatory literature, which blamed Congress for most of the riots in the country.
The controversial booklets titled Congress Ka Benaqaab Chehra alleged that more riots happened under the Congress's watch than in BJP rule. Each booklet has 20 pages — 10 each in Hindi and Urdu — which is written by one of the detained members Maulana Mazhar Imam Qadri, but it does not mention the name of the publisher.
The members of Muslim Rashtriya Manch, all from North Dinajpur in West Bengal, were detained on December 8, but they were later let-off on personal guarantee of local BJP leaders. Returning Officer Nand Kishore Lal, however, is pushing for imposition of stricter charges.
Full report at:
http://indianexpress.com/article/india/politics/4-of-rss-muslim-wing-detained-for-carrying-provocative-booklets/99/
-----------
Pakistan
President calls for scholars' panel to 'reach out' to militants
Dec 13, 2014
ISLAMABAD: President Mamnoon Hussain asked the National Defence University (NDU) on Friday to constitute a panel of what he called "non-political" religious scholars and clerics to contact militant groups and convince them to give up their "un-Islamic" and "inhuman" ways.
Speaking to participants of the varsity's National Security workshop, he said that such a body of religious scholars would be able to deliberate and recommend ways to dispel the unfortunate impression that tags Muslims with militancy and extremism the world over.
The president said that religious scholars could play a proactive role in changing militants' mindset through their knowledge of the Holy Quran and Sunnah of the Prophet (Peace Be Upon Him).
"NDU should arrange workshops and lectures of religious scholars so that a comprehensive national policy can be devised in the light of their recommendations," he said.
Talking about the country's foreign policy, President Hussain said that Pakistan desired friendly and peaceful relations with all countries, especially its neighbours.
"Pakistan's relations with Russia and Central Asian states are also improving. Favouring peaceful coexistence and resolving all issues amicably is one of the cornerstones of Pakistan's foreign policy," he said.
Full report at:
http://www.dawn.com/news/1150503/president-calls-for-scholars-panel-to-reach-out-to-militants
-----------
Report says Pakistan close to 'extreme risk' countries
Dec 13, 2014
ISLAMABAD: A report on political risks faced by nearly 200 countries — entitled 'Political Risk Atlas 2015' and released by Verisk Maplecroft — ominously close to the 10 countries it has placed in the 'extreme risk' category.
The atlas has scored 198 countries on 54 political risks to enable international organisations to identify risks to their operations, investments and supply chains.
According to the report, Somalia has retained for the seventh year its status as the country with the highest risk. Syria is in second place, followed by Central African Republic (third), South Sudan (fourth), Iraq (fifth), Libya (sixth), Afghanistan (seventh), DR Congo (eighth), Sudan (ninth) and Yemen (10th).
Nigeria has been placed in the 11th position, Pakistan 12th and Myanmar 13th place.
Following a year characterised by widespread conflict and civil unrest, which served to escalate geopolitical tensions and increase violent deaths, global stability is unlikely to improve next year, according to the report.
http://www.dawn.com/news/1150583/report-says-pakistan-close-to-extreme-risk-countries
-----------
Police claim killing four Taliban fighters near Muzaffargarh
Dec 13, 2014
MULTAN: Police foiled a major terror attack Saturday in central Punjab province killing at least four suspected Taliban militants, officials said.
Heavy weapons and explosives, including four suicide jackets, 12 rockets, 40 hand grenades, 328 kilogrammes of gun-powder, were recovered from the militants after a gun battle in the southern Muzaffargarh district, some 350 kilometres from provincial capital Lahore.
"We received information from intelligence officials about the movement of militants in the area. The gunfight started when police signalled a car to stop for checks and militants fired at the cops, " Rai Zamir-ul-Haq, police chief in the district, told AFP.
"In the exchange of fire, we killed four militants. Two police officials were also injured by two grenades hurled at them by the militants," he said.
Police said they also found chemicals for potential use in a attack stored in the militants' vehicle, which was also confiscated for further investigation.
"By seizing such large quantity of weapons and explosives and killing these militants, we have foiled a major attempt of terror in the region. There were confirmed intelligence reports that the militants were planning major terrorist attacks in Multan and Muzaffargarh cities," Haq said.
Full report at:
http://www.dawn.com/news/1150630/police-claim-killing-four-taliban-fighters-near-muzaffargarh
-----------
Militants kill policeman in Khuzdar, police targeted in Quetta
Dec 13, 2014
QUETTA: Militants killed a policeman and injured another two in Balochistan's troubled Khuzdar district on Saturday morning.
Muhammad Ibrahim, a police official told Dawn that militants opened fire at a police check post at Zero Point Khuzdar killing one personnel on the spot. Injured policemen were shifted to Combined Military Hospital (CMH) for treatment.
Ibrahim stated that the assailants sped away on their motorcycles after the attack.
Police and Frontier Crops personnel reached the spot and cordoned off the area as a probe into the incident went underway.
Full report at:
http://www.dawn.com/news/1150635/militants-kill-policeman-in-khuzdar-police-targeted-in-quetta
-----------
PTI worker's killing: Top guns not made part of Dec 8 probe
Dec 13, 2014
FAISALABAD: The police on Friday refused to make State Minister for Water and Power Abid Sher Ali and PML-N MPA Tahir Jamil part of the investigation of a case registered after the killing of a PTI worker on Monday last.
The minister and the MPA, along with their supporters, went to the Samanabad police station on Friday to join the investigation but the SHO informed them that they could not be made part of the case till formation of the Joint Investigation Team.
A case under section 7 of Anti-Terrorism Act, 302, 148, 149 and 109 of the PPC was registered with the Samanabad police on Monday last when PTI worker Haq Nawaz was gunned down during protest. Abid Sher Ali, Jamil, former law minister Rana Sanaullah, DCO Noorul Ameen Mengal and more than 300 people were booked.
Full report at:
http://www.dawn.com/news/1150514/pti-workers-killing-top-guns-not-made-part-of-dec-8-probe
-----------
'Language used by Imran might be reason for delay in formation of judicial commission'
Dec 13, 2014
ISLAMABAD: Federal Minister for Information, Broadcasting and National Heritage Senator Pervaiz Rashid on Friday said the prime minister could only write a letter to the Supreme Court for formation of a judicial commission, and being an independent institution it was solely in the domain of the Court to decide about its formation.
He was of the view that the language used by Imran Khan about former judges and chief election commissioner might probably be a reason for the delay in formation of the commission. Talking to media, the minister said the government was expecting that the dialogue with Pakistan Tehreek-e-Insaf (PTI) would bear positive result for all. He said the result should be a win-win situation for both parties. He said Pakistan Tehreek-e-Insaf (PTI) had only two major demands including electoral reforms and probe of rigging allegations through a judicial commission, adding that the same had already been accepted by the government.
Full report at:
http://www.dailytimes.com.pk/islamabad/13-Dec-2014/language-used-by-imran-might-be-reason-for-delay-in-formation-of-judicial-commission
-----------
K-P says Dr Afridi may be whisked away or killed
December 13, 2014
ISLAMABAD: Khyber-Pakhtunkhawa (K-P) government fears that the powers supporting Dr Shakeel Afridi – who allegedly ran a fake vaccination campaign at the behest of the CIA to track down Osama Bin Laden – may try to rescue or kill him through a 'covert or overt operation'.
Quoting intelligence reports, the K-P government has informed the federal government that there is a severe danger surrounding Dr Afridi, who is currently facing imprisonment under Frontier Crimes Regulation and is confined in the Central Prison Peshawar.
"Focus of all the international media and superpowers is on him [Afridi] due to his suspicious role in Osama operation –plans to either kill him by his adversaries or his supporters [or] to rescue him through overt or covert operations have been hatched," reads a letter by the K-P's home department.
Full report at:
http://tribune.com.pk/story/806161/high-profile-inmate-k-p-says-dr-afridi-may-be-whisked-away-or-killed/
-----------
Corps commanders map out final phase of action against terrorists
Dec 13, 2014
ISLAMABAD: Military commanders reviewed operational progress on two full-scale operations simultaneously underway in North Waziristan Agency (NWA) and Khyber Agency, in addition to mapping out the final phase of the military action as well as the post-operation situation.
The participants of the 177th Corps Commanders Conference, under the chair of Chief of Army Staff (COAS) General Raheel Sharif, also exchanged notes on the proposed establishment of a cantonment in NWA once the operation was officially over and the tribal agency handed over to civilian control, intelligence officials shared with Daily Times on the condition of anonymity.
In July this year, the General Headquarters (GHQ), through the Ministry of Defence (MoD), had written to the Ministry of States and Frontier Regions (SAFRON) for the establishment of a full-fledged cantonment in NWA in post Zarb-e-Azb period when the agency would be under civilian administrative control. The recommendation on NWA cantonment's establishment, which was moved in the form of an official summary, was forwarded to the Prime Minister Secretariat and currently awaits Prime Minister Nawaz Sharif's approval. The development was brought to light by Daily Times on July 23 in the story "Ministry writes to PM Secretariat for setting up of cantonment in NWA".
Full report at:
http://www.dailytimes.com.pk/islamabad/13-Dec-2014/corps-commanders-map-out-final-phase-of-action-against-terrorists
-----------
Pakistani leader slams Modi, justifies aid to JuD rally
Sachin Parashar,TNN | Dec 13, 2014
NEW DELHI: That India and Pakistan still have some distance to go before they resume dialogue, despite the recent Saarc handshake in Kathmandu, was obvious on Friday when a visiting leader of Pakistan PM Nawaz Sharif's party PML-N, Awais Leghari, attacked Prime Minister Narendra Modi for looking at a brochure at the Saarc summit while Sharif was preparing to give his speech.
Modi looking at a brochure while Sharif walked past him on the first day of the summit, along with his handshake with Sharif the next day, was among the most enduring images of the 18th Saarc summit last month. Leghari, who is also the chairman of Pakistan National Assembly's foreign affairs committee, further said there was a negative perception about Modi in Pakistan since the cancellation of foreign secretary level dialogue in August.
"The perception about Modi is negative in Pakistan... he (Modi) can't be reading a brochure when the Pakistan PM is about to give his speech," he said in reply to a TOI query. Leghari is in India leading a 13-member Pakistani parliamentary delegation for the 6th round of talks with their Indian counterparts.
Full report at:
http://timesofindia.indiatimes.com/india/Pakistani-leader-slams-Modi-justifies-aid-to-JuD-rally/articleshow/45500934.cms
-----------
Mideast
Palestinian rights conference in Switzerland bugs Zionists
Dec 13, 2014
JERUSALEM: Israel on Friday condemned Switzerland's plan to host a conference on respect for international human rights in the occupied Palestinian territories, charging it was a deviation from the country's traditional neutrality.
Switzerland has announced a Dec. 17 conference in Geneva, in response to a recommendation from the UN General Assembly at the request of Palestinian authorities.
But the Israeli foreign minister said it was "gravely" concerned by Switzerland's decision to host the meeting, which comes amid mounting tensions between Palestinians and Israelis.
The Palestinians are seeking a UN resolution by year-end that would set a timetable for Israel's withdrawal from the occupied territories. "Switzerland is the depositor of the Geneva Conventions... The role of the depositor obliges Switzerland to operate in a neutral and apolitical manner," the foreign ministry said in a statement.
The conference will be devoted to the Fourth Geneva Convention, which defines humanitarian protections for civilians in a war zone.
Full report at:
http://www.arabnews.com/middle-east/news/673496
-----------
Yemen attack kills six Shiite militiamen: Tribal sources
Dec 13, 2014
Six Shiite Huthi militants were killed in an attack in central Yemen, tribal sources said, as Al-Qaeda claimed it had killed dozens.
Ansarullah militiamen, also called Huthis, have captured many communities in western and central Yemen since taking the capital Sanaa on September 21.
But they have been met by fierce resistance from Sunni tribes and Al-Qaeda militants.
Tribal sources told AFP that "unknown gunmen" killed six militiamen at a Huthi checkpoint in the central province of Baida, the scene of deadly fighting between the group and Al-Qaeda.
Al-Qaeda in the Arabian Peninsula (AQAP) said on Twitter on Friday it had killed "70" Huthi militiamen in several attacks in Rada, in Baida province.
AFP could not confirm the toll from independent sources or from Ansarullah, which rarely acknowledges its casualties.
Full report at:
http://english.ahram.org.eg/NewsContent/2/8/117793/World/Region/Yemen-attack-kills-six-Shiite-militiamen-Tribal-so.aspx
-----------
Hamas Stresses Expansion of Ties with Iran
Dec 13, 2014
Senior Hamas official Mahmoud al-Zahar underlined that the Palestinian resistance movement is willing to further strengthen its bilateral ties with Iran.
"Hamas seeks to strengthen relations with Iran without any conditions," Zahar said on Thursday.
He pointed to a recent visit by Hamas delegation to Iran, and said, "Hamas delegation visit to Iran was positive."
Zahar reiterated that strengthening of mutual cooperation should be in the direction of helping the resistance program.
Hamas delegation left Tehran on Thursday after meetings with Iranian officials.
Last week, another senior Hamas leader, Mousa Abu Marzouq, voiced satisfaction in the close and strategic relations between the Palestinian resistance movement and Iran, and praised Tehran for being the only country to extend its supports to Hamas.
"Iran is the only country that has stood beside Hamas and provided the resistance movement with financial, weaponry and training assistance," Palestine Today news website quoted Abu Marzouq as saying.
He noted that Iran is a country that has stood beside Hamas and for the same reason "we are thankful of that country".
http://english.farsnews.com/newstext.aspx?nn=13930921000206
-----------
Turkish imam joins ISIL in Syria, deputy PM confirms
Dec 13, 2014
An imam who worked at a mosque in the Çanakkale province of northwestern Turkey has joined the Islamic State of Iraq and the Levant (ISIL), daily Taraf cited Deputy Prime Minister Bülent Arınç as saying on Dec. 12, adding that the imam has been removed from his post.
"Unfortunately it is true that an imam from Çanakkale's Bayramiç district joined the ISIL. This person was suspended from his post on June 25," said Arınç, while responding to questions over the budget of Turkey's Religious Affairs Directorate (Diyanet). In Turkey, imams are appointed to mosques by the Diyanet.
"I don't know if there are similar examples in other provinces, but it deeply hurt us that an imam could leave the country to join an army of such murderers," the deputy prime minister also said.
Full report at:
http://www.hurriyetdailynews.com/turkish-imam-joins-isil-in-syria-deputy-pm-confirms.aspx?pageID=238&nID=75545&NewsCatID=341
-----------
Abdullah, Sisi call for renewal of Israeli-Palestinian negotiations
Dec 13, 2014
Egyptian President Abdel Fattah al-Sisi and King Abdullah II of Jordan called for the revival of Israeli-Palestinian peace negotiations during talks in Amman on Thursday, Israel Radio reported.
The two leaders released a joint statement at the end of their meeting in the Jordanian capital, calling to remove obstacles standing in the way of renewing the peace process, and work toward a two-state solution.
They also warned against a blow to the current status quo in Jerusalem.
The meeting marked Sisi's first visit to Jordan since assuming his presidential post in May.
Sisi was greeted by King Abdullah, and welcomed with military honors, after landing in the Jordanian capital.
Full report at:
http://www.jpost.com/Middle-East/Abdullah-Sisi-call-for-renewal-of-Israeli-Palestinian-negotiations-384460
--------------
Islamic scholar Gülen calls for calm among supporters
Dec 13, 2014
Islamic scholar Fethullah Gülen has called on his supporters to remain calm and be patient in the wake of rumors that Istanbul police were planning to start an operation to round up hundreds of people close to his movement.
Gülen called for patience and calm among the relatives of those who are being probed or expecting probes against them, advising them to pray and read the Quran, according to the Herkül.org website, which released his latest speech in a video.
"Those [operations] are completely … a perception operation that targets people's psychology. But they do not know that when these have passed, [the targets] will be stronger," said Gülen, adding that those who conduct the operations will receive "payback" in the future.
Hundreds of Gülen sympathizers gathered in front of the Zaman office and the police headquarters in Istanbul late on Dec. 11 in solidarity with journalists who were expected to be arrested. Journalists from daily Zaman and a group of supporters went to the Çağlayan courthouse in Istanbul on Dec. 12 and asked whether prosecutors were conducting such an operation. The journalists said the prosecutors told them that they were not aware of such an operation.
Full report at:
http://www.hurriyetdailynews.com/islamic-scholar-gulen-calls-for-calm-among-supporters.aspx?pageID=238&nID=75576&NewsCatID=338
-----------
Africa
Islamic State influence spreads to African jihadists
Dec 13, 2014
Its main battlegrounds are far away and its true influence hard to judge, but the Islamic State's black banner is attracting the attention of jihadists in Africa, particularly in Nigeria.
IS leader Abu Bakr al-Baghdadi's so-called caliphate is based in Syria and Iraq and draws most of its recruits from the Middle East, North Africa and Europe's immigrant communities.
But the group's rapid rise to the top of the global jihadist movement, displacing Al-Qaeda as a source of inspiration, has had an echo south of the Sahara, where several insurgencies are underway.
Outside observers see the Islamic State's influence, for example, in the tactics, rhetoric and even online media presence of the Boko Haram rebels of northeast Nigeria and neighboring border areas.
"There are no direct operational contacts," said Peter Pham, head of the Africa Center at the Atlantic Council, a Washington think tank.
Full report at:
https://uk.news.yahoo.com/islamic-state-influence-spreads-african-jihadists-042408130.html#ckNN48k
-----------
Islamist militias form new coalition in Libya's Derna
13 December 2014
Islamist militias in the eastern Libyan town of Derna say they have formed a new coalition ahead of an expected assault by pro-government forces.
"Everybody saw what happened in Benghazi: disaster; institutions destroyed; houses demolished; mosques and universities burned by the criminal hands of Haftar's supporters," said the newly formed Mujahedeen Shura Council.
Forces loyal to former general Khalifa Haftar and Abdullah al-Thini, Libya's internationally recognized prime minister, are fighting to wrest full control of Tripoli and the eastern city of Benghazi from Islamist militants.
The Islamic State of Iraq and Syria (ISIS) group that has seized chunks of Iraq and Syria is thought to have gained a foothold in Derna amid the chaos in Libya since the 2011 uprising that ousted dictator Muammar Qaddafi.
In its statement issued late on Friday, the Mujahedeen Shura Council called on everyone in Derna to join the new coalition.
It also addressed Islamist fighters in Benghazi, saying: "We are with you in the war against the criminal Haftar and his soldiers".
Full report at:
http://english.alarabiya.net/en/News/africa/2014/12/13/Islamist-militias-form-new-coalition-in-Libya-s-Derna-.html
-----------
International court's prosecutor shelves Darfur case for lack of UN support
Dec 13, 2014
The International Criminal Court's prosecutor said on Friday that she had shelved an investigation into war crimes in Sudan's Darfur region for lack of action by the United Nations Security Council to push for arrests.
The Hague-based court indicted Sudanese President Omar Hassan al-Bashir in 2009 for war crimes, crimes against humanity and genocide. It has also charged Defense Minister
Abdel Raheem Muhammad Hussein, former Interior Minister Ahmed Haroun and Janjaweed militia leader Ali Kushayb.
None have been arrested.
The court referred Sudan to the Security Council in 2010 for non-cooperation. Kenya, Djibouti, Malawi and Democratic Republic of Congo have been referred to the council for failing to arrest Bashir when he visited, along with Chad, which was cited three times. The council has not responded to any of the referrals.
Full report at:
http://english.ahram.org.eg/NewsContent/2/9/117785/World/International/International-courts-prosecutor-shelves-Darfur-cas.aspx
-----------
Kenya Muslims lament Islamophobic media
Dec 13, 2014
Muslims in Kenya are demanding comprehensive changes in the way mainstream media in the country covers terror news, warning that current unprofessional practices are fuelling prejudice and Islamophobia in the east African nation.
"Why is that when people of other religions commit criminal acts, we do not see their religion being prefixed to their actions," Sheikh Abdallah Kheir, a Muslim scholar who also lecturers in a public university in Kenya, told OnIslam.net.
"Recently a church preacher was caught with bomb making material in Kenya, but the media never called his a Christian terrorist suspect? This is double-standard that needs to end," he added.
Sheikh Kheir's concerns were in response to a recent report by Media Council of Kenya, the official agency that regulates the practice of journalism, which delivered a damning indictment against the Kenyan media with regard to the coverage of terrorism issues, terming them unfair to Muslims.
Full report at:
http://www.tribune.com.ng/islamic-news/item/23989-kenya-muslims-lament-islamophobic-media
-----------
Boko Haram attacks rated world's second deadliest
Dec 13, 2014
Jihadist attacks killed more than 5,000 people in just one month, an investigation by the British Broadcasting Corporation (BBC) World Service and King's College, London, has disclosed.
Civilians bore the brunt of the violence, with more than 2,000 killed in reported jihadist incidents during November 2014. Islamic State carried out the most attacks, adding to the spiralling death toll in Iraq and Syria
The data gathered by the BBC found that 5,042 people were killed in 664 jihadist attacks across 14 countries, a daily average of 168 deaths, or seven every hour.
About 80 per cent of the deaths came in just four countries - Iraq, Nigeria, Syria and Afghanistan, according to the study of media and civil society reports.
Iraq was the most dangerous place to be, with 1,770 deaths in 233 attacks, ranging from shootings to suicide bombings.
Full report at:
http://www.tribune.com.ng/news/top-stories/item/24104-boko-haram-attacks-rated-world-s-second-deadliest
-----------
URL: https://newageislam.com/islamic-world-news/isis-enslaving,-having-sex-with/d/100473