New Age Islam News Bureau
23 May 2015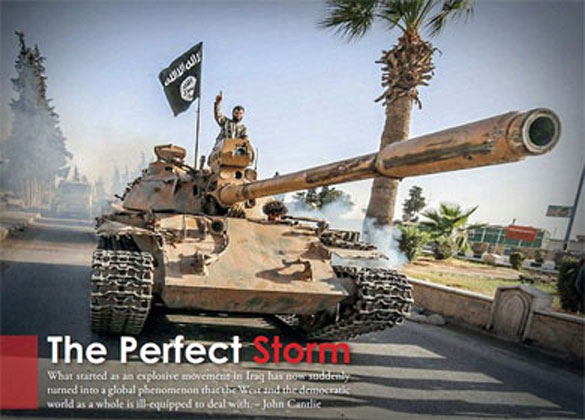 Propaganda: In an article entitled 'The Perfect Storm', it is claimed ISIS has billions of dollars in the bank and describes a 'hypothetical operation' which involves it buying a nuclear bomb
-----------
Pakistan
• ISIS Claims It Could Buy Its First Nuclear Weapon from Pakistan within a Year
• Prayer Leader Blows Himself Up In Charsadda Mosque
• Bahria Town: Masjid-e-Nabvi Cleric Leads Friday Prayers
• One-month operation: FC killed 29 militants in Balochistan, says minister
• RAW at frontline to sabotage Economic Corridor, China warns Pakistan
• Senate chairman for regional seminar on terrorism
South Asia
• Seven Soldiers Martyred, 131 Militants Killed In Separate Military Operations
• Rohingya parents anxious for news of missing children
• Roadside bomb kills 2, including Afghan district chief
• Matia: Sheikh Hasina stands for democracy
• Islamic ministry raises concern over religious divisions
Southeast Asia
• Families Leaving For Isis as Malaysia Not Islamic Enough, Says Top Anti-Terrorism Cop
• Hudud Not Applicable In Current Global Climate, Says Islamic Scholar
• Malaysia: Trying To Shoehorn Shariah Law into Constitution Will Backfire, Lawyer Warns
• 'Most migrants at sea are Bangladeshi'
Arab World
• Nasrallah: Hezbollah May Call for Mobilizing Volunteer Forces against Takfiri Terrorists
• Iraqi Airstrike Kills over 24 ISIL Commanders in Anbar
• Dozens of Terrorists Killed in Syrian Army's Operations in Damascus Province
• Syrian Warplanes Kill Tens of Terrorists in Aleppo
• Islamic State Expands Its 'State'
• Islamic State Raises Flag over Citadel in Syria's Palmyra Says Supporters
• Lack of 'justice' fuels extremism: Egypt's President
• Egyptian soldier killed in Sinai attack claimed by ISIS affiliate
• Arab military chiefs in Cairo to discuss joint Arab force
• Shi'ite militia deploy from base near Iraq's Ramadi
North America
• Dispute Erupts Over Mideast Nuclear Arms Ban
• Two California men arrested, accused of trying to support Islamic State
• US admits children killed in campaign
• Obama tells Israelis: America has your back
• San Diego school serves Halal food after students go hungry
• US envoy wants trade between India-Pakistan to increase
Europe
• Isis in the UK: Police Commissioner Warns 5-Year-Old Girls' Dream of Becoming Jihadi Brides
• U.N. Urges Safe Exit for Civilians Fleeing Palmyra
• How Edward Snowden leaks caused a boom in secret messaging apps now used by terrorists
• Deputy Russia FM: Western Mideast policies 'short-sighted'
• Global Refugee Crises Will Hinder Resettlement of Asian 'Boatpeople': UNHCR
• Mosque-inside-church exhibit shut down
• UN chief Ban Ki-moon urges Southeast Asian nations to help Rohingya migrants
Mideast
• Ansarullah Captures 15 Saudi Spies in Hudayda Port
• Islamic State Claims Yemen Mosque Attack: IS Twitter Statement
• Gaza facing 'dangerous fiscal crisis': World Bank
• Saudi-led strikes on Yemen target Saleh's hometown
• Turkey arrests French citizen bound for Syria
• Turkish Intelligence Helps Arms Shipment to Rebels in Syria
Africa
• Muslim Youths Burn Down A Kano Sharia Court over Blasphemous Comments
• Ethiopia's democracy put to the test in general election
• Sudan Islamists protest against Morsi death sentence
• Intense South Sudan battles creating 'catastrophe', UN warns
India
• Centre Proposes Three-Year Visa for Pakistan Businessmen
• Terror Taint Off, Man Acquitted In Akshardham Case Details 'Torture' In Book
• Bangladesh National Party politico's India flight still a riddle
• Pakistani flags raised again in J&K, protesters clash with cops
• Regulator tells Zee Pak soap 'insensitive', not to be beamed
• Need to factor in our 106km border with Afghanistan: NSA
Compiled by New Age Islam News Bureau
URL: https://www.newageislam.com/islamic-world-news/new-age-islam-news-bureau/isis-claims-it-could-buy-its-first-nuclear-weapon-from-pakistan-within-a-year/d/103125
----------
Pakistan
ISIS Claims It Could Buy Its First Nuclear Weapon from Pakistan within a Year
HEATHER SAUL
23 May 2015
Isis has used the latest issue of its propaganda magazine Dabiq to suggest the group is expanding so rapidly it could buy its first nuclear weapon within a year.
The hyperbolic article, which the group attributes to the British hostage John Cantlie, claims Isis has transcended its roots as "the most explosive Islamic 'group' in the modern world" to evolve into "the most explosive Islamic movement the modern world has ever seen" in less than twelve months.
Photojournalist Cantlie is regularly used in the terror group's propaganda and has appeared in a number of videos, including a YouTube series called "Lend Me Your Ears". He has been held a hostage by Isis for more than two years.
John Cantlie has now been held captive for more two years by Isis militants John Cantlie has now been held captive for more two years by Isis militants The piece, entitled "The Perfect Storm", describes militant Islamist groups such as Boko Haram, which recently pledged allegiance to Isis, uniting across the Middle East, Africa and Asia to create one global movement.
The article claims this alignment of groups has happened at the sane time as Isis militants have seized "tanks, rocket launchers, missile systems, anti-aircraft systems," from the US and Iran before turning to the subject of more extreme weapons the group is not in possession of - such as nuclear weapons.
"Let me throw a hypothetical operation onto the table," the article continues. "The Islamic State has billions of dollars in the bank, so they call on their wilāyah in Pakistan to purchase a nuclear device through weapons dealers with links to corrupt officials in the region."
It admits that such a scenario is "far-fetched" but warns: "It's the sum of all fears for Western intelligence agencies and it's infinitely more possible today than it was just one year ago.
"And if not a nuke, what about a few thousand tons of ammonium nitrate explosive? That's easy enough to make."
An attack launched by Isis against America would ridicule "the attacks of the past".
"They'll [Isis] be looking to do something big, something that would make any past operation look like a squirrel shoot, and the more groups that pledge allegiance the more possible it becomes to pull off something truly epic.
"Remember, all of this has happened in less than a year. How more dangerous will be the lines of communication and supply a year on from today?"
The capacity of Isis to acquire such a device is certainly beyond the group at the moment.
But Isis is indeed a well funded group having secured a number of oilfields in Syria and Iraq. The group also sells artefacts looted from historic areas seized during its insurgency, sometimes for six figure sums, as well as imposing taxes on civilians trapped in its self-declared caliphate and other methods of extortion.
The finances of the group have been estimated by some to be in the $2billion area, though it is impossible to verify how much money it actually has access to.
The threats come against a mixed backdrop of successes and losses in both countries; the group has been driven out of Tikrit in Iraq but has overrun Ramaldi and the Syrian ancient city of Palmyra.
A recent call to arms from its leader Abu Bakr al-Baghdadi also appeared to suggest it may be overstretched in some areas, with his speech urging supporters from across the world to travel to its territories in the Middle East.
In September last year, the Home Secretary, Theresa May, warned that the militant group could become the world's first "truly terrorist state".
"We will see the risk, often prophesied but thank God not yet fulfilled, that with the capability of a state behind them, the terrorists will acquire chemical, biological or even nuclear weapons to attack us," she said.
http://www.independent.co.uk/news/world/middle-east/isis-claims-it-could-buy-its-first-nuclear-weapon-from-pakistan-within-12-months-10270525.html
-------
Prayer Leader Blows Himself Up In Charsadda Mosque
May 23, 2015
CHARSADDA: A suspected militant was killed when he blew up his suicide vest in a mosque, leaving four people injured on Friday night, police said.
SHO Shabqadar Waliat Shah said that acting on information about the presence of a suspect in Saro Klay police cordoned off the area. When police spotted the suspect and tried to capture him he ran into the mosque where Isha prayer was in progress and blew himself up, he added.
The SHO said the man was later identified as Qari Naeem, the prayer leader at the mosque.
The injured were identified as Saad Fazal Rahim, who was leading the prayer at the time of the blast, Ihsan, Subhanullah and Zabihullah. They were taken to the district headquarters hospital.
A case has been registered and investigation is in progress.
http://www.dawn.com/news/1183714/prayer-leader-blows-himself-up-in-charsadda-mosque
----------
Bahria Town: Masjid-e-Nabvi cleric leads Friday prayers
May 23, 2015
ISLAMABAD: Ustad-ul-Qura of Masjid-e-Nabvi Sheikh Bashir Ahmed Siddiqui led the Friday prayers at the Jamia Masjid Ibrahimi, Garden City, Bahria Town Islamabad.
Siddiqui teaches recitation of Holy Quran at Masjid-e-Nabvi. In his Friday sermon, he called for moulding lives as per the teachings of Holy Prophet (pbuh). According to a Bahria Town press release, he prayed for the unity of Ummah and the development and prosperity of Pakistan.
A large number of people including women offered Friday prayers behind the guest from Masjid-e-Nabvi.
Earlier, on his arrival the eminent guest was received by the vice chief executive of Bahria Town Commodore (Retd) Mohammad Ilyas.
http://tribune.com.pk/story/890976/bahria-town-masjid-e-nabvi-cleric-leads-friday-prayers/
----------
One-month operation: FC killed 29 militants in Balochistan, says minister
May 23, 2015
QUETTA: Security forces have killed over two dozen militants belonging to outlawed Baloch insurgents and the Tehreek-e-Taliban Pakistan (TTP) and also destroyed a number of their hideouts in various districts of Balocshitan in the past one month.
"Frontier Corps [FC] killed 29 militants associated with the Baloch separatist groups and the TTP, including two suicide bombers, during the search operation in the province," said Home Minister Sarfaraz Bugti and DIG FC Brig Mohammad Tahir in a news briefing at the FC Help Center in Kholia Phattack on Friday. They also destroyed eight insurgents' hideouts during the month-long operation, he added.
The home minister said the TTP militants were sneaking into Balochistan from North Waziristan Agency where Zarb-e-Azb operation is in its decisive phase. But the FC did not let them set up camps in the province, he added.
He said the FC carried out the search operation in various districts including Kalat, Mastung, Awaran, Turbat, Zhob, Loralai and Killa Abdullah where the security forces killed notorious militants during the shootout.
Sarfaraz Bugti said the paramilitary troops also arrested six insurgents belonging to different militant groups who were involved in attack on security forces, kidnapping of Frontier Work Organisation's workers and targeted killing of the innocent people.
During the search operation, the FC seized 1,350kg of explosive material, 12 suicide jackets, six RPG7, 40 IEDs, 12 anti-personnel mines, six bombs, two SMGs, 50 hand-grenades and 100 detonators.
Replying to a question, the minister said the negotiation task with Baloch militants has been given to Chief Minister Dr Abdul Malik Baloch.
"Frontier Corps saved Balochistan from a major disaster after recovering the huge cache of explosives and weapons in the province," he added.
http://tribune.com.pk/story/890948/one-month-operation-fc-killed-29-militants-in-balochistan-says-minister/
----------
RAW at frontline to sabotage Economic Corridor, China warns Pakistan
May 23, 2015
ISLAMABAD: While a political ado is being witnessed in Pakistan on the suspected change of the Pak-China Economic Corridor route, Chinese authorities have cautioned local authorities of a possible terror attack aimed at making the project a failure.
According to them, insurgents in Balochistan have prompted security fears for the 3,000-kilometre-long route in the province, a senior security official told The Express Tribune on Friday.
He said in addition to the insurgents, many foreign hostile intelligence agencies could also extend their support to the militants to sabotage some key projects particularly on the eastern alignment — Gwadar to Quetta — where work has already started.
"The Chinese have sounded a note of 'caution' soon after reports suggested foreign agencies' support to militants," said the official, who attended an important meeting discussing key issues relating to Gwadar Port and Economic Corridor at the Ministry of Defence this week.
He further said, "Research and Analysis Wing (RAW), with other hostile agencies, is at the frontline to sabotage this project – that is what Chinese intelligence agencies shared with us."
He added that the meeting also discussed concerns the Chinese authorities reminded Pakistan's military and civilian government about an attack on state-run installations in Gwadar district last month, which were conveyed last month.
Security measures
Meanwhile, a special security division consisting of more than 8, 000 military personnel (nine army battalions) has been trained and will guard key projects linked from Hyderabad to Karachi and Gwadar through N-10 East Bay Expressway along the coastal line, officials overseeing the security of this route said.
They further said that an estimated 9, 000 security personnel – comprising Rangers, Levies, police, scouts – making up six wings will assist the military to guard more than 15,000 Chinese workers on this route.
Moreover, a major-general-rank officer will command the entire unit. Apart from guarding the economic corridor, an estimated 8,000 security officials have already been deployed for more than 8,112 Chinese workers executing 210 projects in Pakistan.
Gwadar Airport
An official of the Ministry of Interior revealed that the security layer around the Gwadar International Airport — a project costing $230 million to start this month — has been doubled following recent threats.
A similar case of security is with China-Pakistan Friendship Hospital and Pak-China Technical and Vocational Institute falling under the jurisdiction of Balochistan, he added.
Security will have to be strengthened further as around 7, 000 additional Chinese workers are expected to join the already engaged teams to execute multi-billion projects around the route connecting Kashgar with Pakistan at Kunjarab – a point from where China wants to link to Gwadar port in the Arabian Sea.
Commenting on the complex situation, former caretaker interior minister Malik Habib said the reported presence of foreign elements in Balochistan poses a big challenge for law enforcement agencies to provide security to Chinese workers.
"The economic corridor is strategically very important — many hostile agencies have started backing Baloch militants," he said.
According to Director Pakistan Institute of Strategic Studies Amir Rana, "China's main worry seems to be the overall security of the corridor in the near future."
Substantiating his point, Rana said threats such as tribal feuds, militants in Diamer, Baloch insurgents, political issues, nationalist and separatists groups link directly to the corridor security.
http://tribune.com.pk/story/890650/raw-at-frontline-to-sabotage-economic-corridor-china-warns-pakistan/
----------
Senate chairman for regional seminar on terrorism
May 23, 2015
ISLAMABAD: Senate Chairman Mian Raza Rabbani on Friday proposed the idea of holding a regional seminar on terrorism inviting regional states to share their experiences in countering the menace. Most of the South Asian countries have directly or indirectly suffered from it, he said.
Senate Chairman Raza Rabbani expressed these views during a meeting with Inter-Parliamentary Union Secretary General Martin Chungong, who called on him at the Senate of Pakistan. Martin arrived in Islamabad on Friday for a three-day visit to Pakistan. Martin appreciated the idea of the regional seminar while saying that "the IPU has obtained the mandate and a regional seminar is on the cards as terrorism is the serious most threat to the international peace".
The senate chairman said that Pakistan was in the process of developing better ties with parliaments of the world. He said, "We are looking forward to enhancing relations with the Inter-Parliamentary Union (IPU)." He added that he was encouraged by the recent visits of the Kuwaiti and Maldivian Speakers and the discussions during the Chinese president's visit to Pakistan.
Full report at:
http://www.dailytimes.com.pk/islamabad/23-May-2015/senate-chairman-for-regional-seminar-on-terrorism
----------
South Asia
Seven soldiers martyred, 131 militants killed in separate military operations
May 23 2015
Seven soldiers embraced martyrdom while 131 militants killed during separate military operations across the country in past 48 hours, Ministry of Defense announced Saturday morning.
General Zahir Azimi, spokesman for the ministry tweeted this morning that the seven soldiers embraced martyrdom due to landmine explosion and insurgent fire. He has not indicated the exact locations of the insurgent activities where soldiers lost lives.
General Azimi writes in another tweet that 131 militants were killed and 3 wounded during military operations across the country in past 48 hours.
96 Improvised Explosive Devices (IEDs) were also discovered and defused by the military, the statement adds.
IEDs are considered the second biggest cause behind the increase in civilian casualties in Afghan war.
The first four months of this year showed an increase by 16 percent in civilian casualties to that of the first four months of 2014.
http://www.khaama.com/seven-soldiers-martyred-131-militants-killed-in-separate-military-operations-3345
----------
Rohingya parents anxious for news of missing children
May 23, 2015
SITTWE, Myanmar: A generation of young Rohingya Muslims are disappearing on boats to escape persecution and despair in Myanmar, leaving frantic parents behind clutching on to little more than photographs and fading hope that their children are safe.
Fragments of news of the boat people crisis gripping Southeast Asia has filtered into Ohn Daw Gyi displacement camp on the fringes of the Rakhine state capital Sittwe in western Myanmar, stirring panic among families from the stateless Rohingya minority.
Tun Hla Shwe's 19-year-old daughter and her two small children have been missing on the seas for more than two months.
Full report at:
http://www.arabnews.com/world/news/750446
----------
Roadside bomb kills 2, including Afghan district chief
May 23, 2015
An Afghan official says a roadside bomb has killed that two people, including a district administrative chief, in the country's south.
Dost Mohammad Nayab, spokesman for the provincial governor of Uruzgan province, said today that Mohammad Ismail Haqyar, district chief of Charcheno, along with his bodyguard were killed while they were on their way to their office.
Nayab says a friend of Haqyar was wounded in the attack, which took place in Charcheno district.
No group immediately claimed responsibility for the attack. However, Taliban insurgents often use roadside bombs and suicide attacks against Afghan security forces and government officials across the country.
http://indianexpress.com/article/world/asia/roadside-bomb-kills-2-including-afghan-district-chief/
-----------
Matia: Sheikh Hasina stands for democracy
May 23, 2015
Agricultural Minister Matia Chowdhury yesterday said the ratification of Indira-Mujib deal by Indian parliament is a rare success and pride for the country.
Addressing a rally as the chief guest she said Prime Minister Sheikh Hasina stands for democracy and Sheikh Hasina means Bangladesh's achievement. The rally was held at Bangabandhu Avenue yesterday afternoon. After the rally AL activists brought out a colourful procession to mark the 34th Homecoming Day of the party's President Sheikh Hasina
http://www.dhakatribune.com/politics/2015/may/23/matia-sheikh-hasina-stands-democracy#sthash.RSZ5Af5D.dpuf
----------
Islamic ministry raises concern over religious divisions
May 23, 2015
Expressing concern over religious and social divisions in the Maldives, the Islamic ministry has warned the public against "words and actions that upset social and religious customs."
In a statement on Thursday, the ministry stressed "age-old Maldivian unity" and said any act that may disrupt religious unity is an offense under the Religious Unity Act of 1994.
"The ministry has noted a spread in words and actions that create social and religious divisions and ideological differences. This has disrupted age-old social order and social customs. Such actions that are contrary to Maldivian customs and public interest facilitate divisions, quarrels and social unrest," the statement read.
"We take this opportunity to remind and advice [the public] that any actions that undermine religious unity, sovereignty and independence of the Maldives is prohibited under Article 4 of the Religious Unity Act."
Full report at:
http://minivannews.com/politics/islamic-ministry-raises-concern-over-religious-divisions-98601#sthash.c4hD5bF6.dpuf
-----------
Southeast Asia
Families leaving for Isis as Malaysia not Islamic enough, says top anti-terrorism cop
May 23, 2015
Police have observed a recent trend among Malaysians joining the terror group the Islamic State of Syria and Iraq (Isis): they are young families willing to give up everything here for a life under a caliphate because they think Malaysia is not Islamic enough, a senior counter-terrorism official said.
"To these families, it was a 'dream come true' to have migrated from Malaysia, which they label as 'taghut', to a pure Islamic government under a caliph's rule," Police Counter-Terrorism Division principal assistant director Datuk Ayob Khan Mydin Pitchay said.
"Taghut" is an Arabic term referring to idolatry or the act of worshipping other things instead of Allah.
Ayob told The Malaysian Insider that since the end of 2014, 10 families, many of them young parents in their late 20s, had left Malaysia for Syria.
With their offspring, they were 28 people in all, and included children as young as a few months old, to a 16-year-old.
Full report at:
http://www.themalaysianinsider.com/malaysia/article/families-fleeing-to-join-isis-because-malaysia-not-islamic-enough-says-top#sthash.BdCdpXIC.dpuf
----------
Hudud not applicable in current global climate, says Islamic scholar
May 23, 2015
Hudud is not applicable in the current global climate, especially with prevailing social injustices, an Islamic scholar said today.
Dr Jasser Auda, executive director of the Maqasid Institute in London, said other important Islamic obligations must be fulfilled first before the hudud can be considered.
"We have many social injustices and political issues the world over.
"I do not think hudud will be applicable without the many stages that we have go through first," he told a press conference at the launching of the Muslim Democrats of the World Unite forum in Shah Alam today.
He added that social welfare and economic problems must be tackled first, and also stressed that the Islamic penal code should not be implemented if there was even a slight doubt about the justice system.
Full report at:
http://www.themalaysianinsider.com/malaysia/article/hudud-not-applicable-in-current-global-climate-says-islamic-scholar#sthash.zF0u2H6p.dpuf
----------
Malaysia: Trying To Shoehorn Shariah Law Into Constitution Will Backfire, Lawyer Warns
May 23, 2015
KUALA LUMPUR, May 23 ― Those seeking for Shariah law to override the Federal Constitution should put this to a referendum instead of trying to interpret the country's supreme law to suit their intentions, former Malaysian National Human Rights Society (HAKAM) president Malik Imtiaz Sarwar said today.
Imtiaz also warned that arbitrarily interpreting the Constitution's meaning would destabilise the country, adding that such open readings of the document could just as easily be reversed at a later date.
Full report at:
http://www.themalaymailonline.com/malaysia/article/trying-to-shoehorn-shariah-law-into-constitution-will-backfire-lawyer-warns#sthash.W4SCV9aq.dpuf
----------
'Most migrants at sea are Bangladeshi'
May 23, 2015
Indonesia has told Australia that most of the 7000 boatpeople stranded at sea in the region are labourers from Bangladesh.
Indonesian offic­ials told Australian Foreign Minister Julie Bishop that only 30% to 40% of those stranded on boats were Rohingya refugees, The Australian reported.
The matter was discussed in a foreign ministers' meeting in Seoul on Friday.
Indones­ia's Director-General of Multilateral Affairs Hasan Kleib said one boatload of 600 people was found to have 400 Bangladeshis aboard, according to the report.
"They [Indonesia] believe there are about 7000 people at sea (and) they think about 30% to 40% are Rohingya, the rest are Bangladeshi," The ABC News quoted Julie Bishop.
She said: "In Indon­esia's words, the boatpeople are not asylum-seekers, they are not refugees, they are illegal labour­ers."
Full report at:
http://www.dhakatribune.com/asia-pacific/2015/may/23/most-migrants-sea-are-bangladeshi#sthash.YdsvErhe.dpuf
------------
Arab World
Nasrallah: Hezbollah May Call for Mobilizing Volunteer Forces against Takfiri Terrorists
23 May 2015
Secretary General of Lebanon's Hezbollah Resistance Movement Seyed Hassan Nasrallah, in a meeting with the resistance movement's injured troops in the recent battle against the ISIL in Syria, said that he might demand the public to mobilize against the Takfiri terrorists.
"The war against Takfiri terrorists is vital and determining, and we may declare public mobilization against them in the future," Nasrallah said during the meeting on Friday.
He noted that the conditions in Lebanon are as dangerous as those of the year 1982, and said, "The danger that is threatening us (and people, resistance and the region) is targetting Hezbollah's existence and it resembles the threat of the year 1982."
He said that everyone can take part in the mobilization to join the volunteer forces.
"From now on we will not remain silent and anyone standing against us … we will stare in his eyes and tell him that you are a traitor… ," he added.
Full report at:
http://english.farsnews.com/newstext.aspx?nn=13940302000342
----------
Iraqi Airstrike Kills over 24 ISIL Commanders in Anbar
23 May 2015
Iraqi warplanes hit an ISIL position in the Western province of Anbar and killed at least 24 high-profile commanders of the Takfiri group, a military source said.
Iraq's Ministry of Interior released a statement on Friday, saying that the fighter jets targeted the ISIL gathering in Qaim district late on Thursday and left over 24 ringleaders dead and 19 others injured.
"We will inform the Iraqis about the names of these leaders, who were killed or injured later," the statement added.
On Friday, the Iraqi army, backed by popular forces, also managed to seize back the city of Khalidiya from ISIL in a major stage of their massive operations in the Western Anbar province.
Full report at:
http://english.farsnews.com/newstext.aspx?nn=13940302000538
----------
Dozens of Terrorists Killed in Syrian Army's Operations in Damascus Province
23 May 2015
The Syrian Army started fresh rounds of operations against the terrorist groups' positions in the strategic province of Damascus, and killed or wounded scores of the fighters, military sources confirmed.
The sources told the FNA that over 30 terrorists, including foreign nationals from Saudi Arabia, United Arab Emirates, Jordan and Tunisia were killed in the army's offensives in Douma.
The sources went on to say that the army men also raided the militants' strongholds in the nearby areas of Haratsa, Jobar, Ayn Tarma, and Erbin, and pushed the rebels back from their positions.
Full report at:
http://english.farsnews.com/newstext.aspx?nn=13940302000490
----------
Syrian Warplanes Kill Tens of Terrorists in Aleppo
23 May 2015
Large groups of militants were killed in a Syrian army air raid on terrorists' bastion in Aleppo countryside.
The Syrian warplanes struck Al-Sha'ar region in the Eastern parts of Aleppo and killed at least 40 terrorists.
Several notorious terrorists, including Abdel Karim al-Abd nicknamed Abu Fauz and Mohamed al-Issa also known as Abu Mahmoud Jebeli, were among those killed in the army's military operations in Al-Sha'ar region.
Official sources confirmed last week that the Syrian Army's offensives against the rebels' hideouts in Aleppo resulted in the killing and wounding of tens of militants.
The sources said that the militants' concentration centers in the surrounding areas of Aleppo Air Force Academy, Tal Refaat, Mare' and Anadan in the countryside of the Northern province of Aleppo were massively targeted by the army men.
The sources went on to say that the rebels' suffered major damages as a result of the army's operations.
Syria has been grappling with a deadly crisis since March 2011. The violence fuelled by Takfiri groups has so far claimed the lives of over 210,000 people, according to reports. New figures show that over 76,000 people, including thousands of children, lost their lives in Syria last year.
http://english.farsnews.com/newstext.aspx?nn=13940301000262
----------
Islamic State Expands Its 'State'
May 23, 2015
Beirut. Almost a year after Islamic State's shock capture of Mosul, Iraq's second city, the black flags of the jihadis have been raised over Ramadi, the capital of Anbar province to the west of Baghdad, seat of Iraq's increasingly theoretical central government.
Nobody talks of Mosul or recapturing it from Islamic State. It is a forgotten city. Now it is all about the fall of Ramadi, the neighboring ancient Syrian city of Palmyra in central Syria and beyond – the Libyan city of Sirte, hometown of former leader Muammar Gaddafi.
To the eyes of many in the region, the real strategic loss behind the IS seizure of two Sunni cities in Iraq and Syria in a week is the evaporation of any Sunni alternative to the jihadis.
Although many leaders dismissed IS as vainglorious when it declared its cross-border caliphate in eastern Syria and western Iraq last summer, in its cohesion and purpose it is now seen by some – particularly Iraq's minority Sunnis – as more of a state than the Iraqi government it is fighting.
Full report at:
http://thejakartaglobe.beritasatu.com/international/islamic-state-expands-state/
----------
Islamic State Raises Flag Over Citadel in Syria's Palmyra Says Supporters
May 23, 2015
Beirut. Islamic State fighters have raised their flag over an ancient citadel in Syria's historic city of Palmyra, pictures posted online overnight by the group's supporters showed.
The militants seized the city, also known as Tadmur, after days of fierce fighting with the Syrian army on Wednesday.
"Tadmur citadel under the control of the Caliphate," read a caption on one picture posted on social media sites. In another, a smiling fighter is shown carrying the black flag and standing on one of the citadel's wall.
Full report at:
http://thejakartaglobe.beritasatu.com/international/islamic-state-raises-flag-citadel-syrias-palmyra-says-supporters/
----------
Lack of 'justice' fuels extremism: Egypt's President
May 23, 2015
SOUTHERN SHUNEH, Jordan: Egypt's President Abdel-Fattah El-Sissi, who has led a massive ongoing crackdown on radicals, said on Friday that the fight against extremism in the region must go hand-in-hand with pursuing greater "freedom, equality and justice."
El-Sissi spoke at a regional World Economic Forum conference in Jordan. He says extremism increases because of "desperation, regression of values of justice."
Egypt has waged a sweeping crackdown against radicals.
In his speech, El-Sissi urged governments to protect their youth from falling into the hands of extremists and warned of the use of technology and social media in recruitment.
"Efforts should be made to prevent the misuse of modern technology in disseminating extremist thought," he said.
Full report at:
http://www.arabnews.com/middle-east/news/750751
----------
Egyptian soldier killed in Sinai attack claimed by ISIS affiliate
23 May 2015
Militants killed an Egyptian soldier after abducting him from an ambulance in an ambush in the Sinai Peninsula, security officials said, in an attack claimed by the affiliate of the Islamic State of Iraq and Syria (ISIS) group.
The jihadist Sinai Province -- formerly known as Ansar Beit al-Maqdis -- and which has pledged allegiance to the ISIS militant group, is spearheading an Islamist insurgency against security forces on the peninsula since the army ousted president Mohamed Mursi in 2013.
Militants attacked an ambulance carrying a wounded soldier south of the town of Sheikh Zuweid in North Sinai, a hotbed of insurgents, and abducted him, security officials said.
Full report at:
http://english.alarabiya.net/en/News/middle-east/2015/05/23/Egyptian-soldier-killed-in-Sinai-attack-claimed-by-ISIS-affiliate.html
----------
Arab military chiefs in Cairo to discuss joint Arab force
23 May 2015
Arab military chiefs of staffs are scheduled to continue their discussion Saturday on establishing a joint Arab military force — the second meeting since the idea was agreed upon in March at the Arab Summit.
Military chiefs of staffs of Libya, Qatar, Jordan, Lebanon and Palestine landed at Cairo International Airport Friday to take part in the meeting, scheduled to take place in the Arab League's headquarters in central Cairo.
This is the second meeting between top Arab defence officials. The first meeting took place in April, also in Cairo.
Full report at:
http://english.ahram.org.eg/NewsContent/1/64/130965/Egypt/Politics-/Arab-military-chiefs-in-Cairo-to-discuss-joint-Ara.aspx
----------
Shi'ite militia deploy from base near Iraq's Ramadi
23 May 2015
A convoy of Shi'ite militia fighters and Iraqi army forces set out from a base near the western provincial capital of Ramadi on Saturday, heading towards areas controlled by Islamic State militants, an eyewitness and a local official said.
Anbar provincial council member Azzal Obaid said hundreds of fighters, who arrived at the Habbaniya air base last week after Ramadi was overrun by Islamic State, were in Khalidiya and were approaching Siddiqiya and Madiq, towns in contested areas near Ramadi.
While pro-government forces are seeking to retake Ramadi, Islamic State insurgents have been pushing forward in the direction of Fallujah in a bid to take more territory in Anbar province that would bring them closer to the Iraqi capital Baghdad.
http://english.ahram.org.eg/NewsContent/2/8/130966/World/Region/Shiite-militia-deploy-from-base-near-Iraqs-Ramadi.aspx
----------
North America
Dispute Erupts Over Mideast Nuclear Arms Ban
23 May 2015
The United States on Friday blocked a global document aimed at ridding the world of nuclear weapons, saying Egypt and other states tried to "cynically manipulate" the process by setting a deadline for Israel and its neighbours to meet within months on a Middle East zone free of such weapons.
The now-failed final document of a landmark treaty review conference had called on the U.N. secretary-general to convene the Middle East conference no later than March 2016, regardless of whether Israel and its neighbours agree on an agenda.
Israel is not a party to the Nuclear Non-Proliferation Treaty and has never publicly declared what is widely considered to be an extensive nuclear weapons program. A conference might force Israel to acknowledge it.
Full report at:
http://english.alarabiya.net/en/News/middle-east/2015/05/23/Dispute-erupts-over-Mideast-nuclear-arms-ban-.html
----------
Two California men arrested, accused of trying to support Islamic State
23 May 2015
Two California men accused of attempting to provide material support to the Islamic State militant group have been arrested, the U.S. Justice Department said on Friday.
Federal prosecutors allege that both men intended to travel overseas to join the group. Muhanad Budawi, 24, and Nader Elhuzayel, 24, both of Anaheim, were arrested on Thursday, prosecutors said.
Elhuzayel was detained at Los Angeles International Airport and Budawi in Orange County.
Several other people have been arrested in recent months for planning to join Islamic State, including six Somali-American men from Minnesota last month.
http://english.ahram.org.eg/NewsContent/2/9/130954/World/International/Two-California-men-arrested,-accused-of-trying-to-.aspx
----------
US admits children killed in campaign
May 23, 2015
WASHINGTON: Two children were likely killed by a US airstrike in Syria in November, the US military has said, the first time the Pentagon has acknowledged civilian casualties since it began an air campaign against Islamic State militants in Syria and Iraq.
The US military's Central Command said an investigation into reports of civilian casualties in the November air strikes against the Al-Qaeda-linked Khorasan Group also had determined that two non-combatant adults living near one of the targets received minor injuries.
There have been several reports of civilian casualties in the coalition bombing campaign that began Aug. 8, but the investigation result released on Thursday was the first time the US military has confirmed that civilian deaths were likely.
Full report at:
http://www.arabnews.com/middle-east/news/750756
----------
Obama tells Israelis: America has your back
23 May 2015
President Barack Obama said Friday he "forcefully" objects to suggestions that policy differences between his administration and the Israeli government signal his lack of support for the longtime U.S. ally.
Speaking at one of Washington's most prominent synagogues, Obama said the U.S. and Israel should not be expected to paper over differences on Israel's settlement building or the frozen peace process with the Palestinians.
"That's not a true measure of friendship," Obama told about 1,200 people, including members of Congress, gathered at Congregation Adas Israel. "The people of Israel must always know America has its back."
Full report at:
http://english.alarabiya.net/en/News/middle-east/2015/05/23/Obama-tells-people-of-Israel-America-has-your-back.html
----------
San Diego school serves halal food after students go hungry
May 23, 2015
SANDIEGO: A San Diego school added "halal" food to its weekly menu after receiving complaints from Muslim parents who found their children to be going hungry.
The moves comes as part of a pilot programme that aims to serve minority students, which make up majority of the student body at Crawford High School.
Under an Obama administration program, schools qualify for universal free lunches if over 40 per cent of the families of the students qualify for some other federal assistance.
Parents complained to the school administrators that their children were coming home hungry; despite the school offering free lunches to the entire student body.
San Diego Unified's Food Services Director Gary Petill wondered why, if all the students had access to free food, they were going hungry. It was then discovered that many of the students were not eating because the food was not halal. The school then added halal-approved chili lime chicken bowl to the menu twice a week, after which Petill said that 300 more students were eating on those days.
Full report at:
http://tribune.com.pk/story/891119/san-diego-school-serves-halal-food-after-students-go-hungry/
----------
US envoy wants trade between India-Pakistan to increase
May 23, 2015
AMRITSAR – US Ambassador to India Richard Verma has called on both India and Pakistan to resolve their existing issues and take steps to enhance bilateral trade at the earliest.
Addressing the Confederation of Indian Industries' (CII) Amritsar Zonal Council at Integrated Check Post at Attari, the ambassador further said that trade done through the land route via the Attari-Wagah border would significantly reduce transportation costs and time.
Verma was on a two-day visit to Punjab under US Embassy's Outreach Programme. The US envoy had also visited the Golden Temple and the Jallianwala Bagh in Amritsar.
http://www.dailytimes.com.pk/business/22-May-2015/us-envoy-wants-trade-between-india-pakistan-to-increase
----------
Europe
Isis in the UK: Police Commissioner warns 5-year-old girls dream of becoming jihadi brides
May 23, 2015
British girls as young as five dream of becoming jihadi brides, a police commissioner has claimed.
Simon Hayes, the Police and Crime Commissioner for Hampshire, said that young girls in Portsmouth had said they aspired to travel to Syria to become jihadi brides.
Portsmouth has been classed as a second-tier area under the national counter extremism Prevent scheme, meaning there is a higher risk of radicalism.
In a BBC interview he highlighted issues within the Portsmouth community which may have devastating consequences.
During the BBC interview, he said: "I have no malicious criticism of the city council whatsoever. But I do know that there are still, in recent months, young girls in schools in Portsmouth saying that they would wish to become jihadi brides.
"These are young girls at the ages of five and six so these are problems that are current, that have not been dealt with and we need as a society to deal with it," he explained.
His comments have enraged the leader of Portsmouth City Council, Donna Jones, who said she is "deeply, deeply concerned" by his handling of matters of national security and described his comments as "extremely disappointing".
Full report at:
ttp://www.ibtimes.co.uk/isis-uk-police-commissioner-warns-5-year-old-girls-dream-becoming-jihadi-brides-1502623
----------
U.N. urges safe exit for civilians fleeing Palmyra
23 May 2015
The U.N. Security Council expressed deep concern for thousands of civilians trapped in the Syrian city of Palmyra after it was captured by the Islamic State of Iraq and Syria (ISIS).
The 15-member council called for safe passage for fleeing civilians and stated their "grave concern" for the protection of the ancient city, a World Heritage site, according to Agence France-Peesse.
ISIS proclaimed Palmyra's capture online and posted video and several pictures, including of a hospital, a prison and a military airbase.
The council in particular expressed concern for women and children, noting that ISIS militants had established a "pattern of abducting, exploiting, and abusing women and children elsewhere including rape, sexual abuse, forced marriage and forced child recruitment."
Known in Syria as "the pearl of the desert", Palmyra is home to colonnaded alleys, elaborately decorated tombs and ancient Greco-Roman ruins.
ISIS sparked international outrage this year when it blew up the ancient Assyrian city of Nimrud and smashed artefacts in the Mosul museum, both in Iraq.
http://english.alarabiya.net/en/News/middle-east/2015/05/23/U-N-concerned-for-civilians-in-ISIS-controlled-Palmyra-.html
----------
How Edward Snowden leaks caused a boom in secret messaging apps now used by terrorists
May 23, 2015
Security services last night blamed the Edward Snowden leaks for an alarming rise in secret messaging apps used by terrorists to groom British schoolchildren.
The Daily Mail yesterday revealed how encrypted mobile phone apps are at the heart of attempts by Islamic State recruiters to target vulnerable teenagers in Britain and prime them for a life of jihad.
An undercover reporter from the Mail Investigations Unit made the discovery after spending the past month posing online as a British Muslim schoolgirl.
As a result, a plot to lure a 16-year-old British girl to Syria to become a jihadi bride was foiled by police this week after the Mail raised the alarm.
The apps – which are used by millions of teenagers on smartphones and tablets – have been developed by Left-wing extremists so users can send messages without them being read by authorities.
Full report at:
http://www.dailymail.co.uk/news/article-3093604/How-Edward-Snowden-leaks-caused-boom-secret-messaging-apps-used-terrorists.html#ixzz3awhDn389
----------
Deputy Russia FM: Western Mideast policies 'short-sighted'
May 23, 2015
A deputy Russian foreign minister says external players cannot solve the Syria crisis and that "short-sighted'" Western policies in the Middle East have helped destabilize countries such as Syria, Iraq and Libya.
Vasily Nebenzya spoke May 22 at a regional World Economic Forum conference.
Nebenzya said Syrian President Bashar Assad has made mistakes, but is "being supported by a portion of the population."
The Russian diplomat says "it is difficult to imagine how the sides [in Syria] can talk these days," but that any solution is up to Syrians.
In a reference to Western powers, he said external players involved in regional conflicts lack a clear strategy. He said he's been "puzzled by the short-sightedness."
http://www.hurriyetdailynews.com/deputy-russia-fm-western-mideast-policies-short-sighted.aspx?pageID=238&nID=82836&NewsCatID=352
----------
Global Refugee Crises Will Hinder Resettlement of Asian 'Boatpeople': UNHCR
May 23, 2015
Bangkok. Resettling asylum seekers who are among the thousands of boatpeople in temporary shelters in Indonesia and Malaysia will prove "extremely difficult" due to the mounting refugee crises around the world, a United Nations official says.
Responding to international concern about thousands of migrants adrift at sea, Indonesia and Malaysia on Wednesday said they would offer shelter to 7,000 migrants, provided they were repatriated or resettled in third countries within a year.
"Those places are very, very precious. There are perhaps 100,000 people a year who manage to be referred for third-country resettlement," said Alistair Boulton, the assistant regional representative of the UN High Commissioner for Refugees.
"Syria alone has four million refugees, including massive numbers of people in acute crisis, with unbelievable trauma," he told the Thomson Reuters Foundation in an interview in Bangkok.
Full report at:
http://thejakartaglobe.beritasatu.com/international/global-refugee-crises-will-hinder-resettlement-asian-boatpeople-unhcr/
----------
Mosque-inside-church exhibit shut down
May 23, 2015
MILAN: Venice officials have ordered the closure of a working mosque in an ex-church, set up as Iceland's exhibit for the Venice Biennale contemporary art fair.
The Icelandic pavilion was closed on Friday after Venice city officials withdrew authorisation for the installation citing violations of the initial agreement, including using the pavilion as a place of worship. The Venice Biennale said in a statement that it hoped a solution could be found so the pavilion could reopen.
Swiss-Icelandic artist Christoph Buechl's exhibit created the first mosque ever in the historic centre of Venice, which for centuries served as a crossroads between East and West and is infused with Middle Eastern architectural influences. The project envisioned a working mosque for the seven months of the Biennale, which opened on May 8.
http://www.dawn.com/news/1183691/mosque-inside-church-exhibit-shut-down
----------
UN chief Ban Ki-moon urges Southeast Asian nations to help Rohingya migrants
May 23, 2015
UN Secretary-General Ban Ki-moon on on Saturday asked Southeast Asian nations to deal with the causes behind a growing humanitarian crisis that has forced thousands of Rohingya from Myanmar and Bangladeshi migrants to flee by sea, leaving many still stranded in boats.
Ban said he has been discussing the emergency with regional leaders in Myanmar, Malaysia and Thailand, among others, and urged them to provide search and rescue operations and options for resettlement and reintegration.
"It's important to save human lives," he said on a visit to Hanoi, Vietnam. But it's also important "not to send them back to a dangerous circumstance or situation."
More than 3,600 migrants about half of them Bangladeshi and the others minority Rohingya Muslims from Myanmar have landed ashore in Indonesia, Malaysia and Thailand since May 10. Thousands more are believed to be trapped at sea, and the United Nations has warned that time is running out.
Full report at:
http://indianexpress.com/article/world/asia/un-chief-ban-ki-moon-urges-southeast-asian-nations-to-help-rohingya-migrants/
------------
Mideast
Ansarullah Captures 15 Saudi Spies in Hudayda Port
23 May 2015
The Ansarullah revolutionary forces seized over a dozen members of Saudi spies in Yemen's Hudayda port, where an Iranian aid cargo vessel is due to arrive in coming days.
"A sum of 15 members of Saudi Arabia's intelligence apparatus have been arrested," Hamid Tariq al-Adnani, a senior Ansarullah leader, told FNA on Thursday.
Al-Adnani disclosed that the Saudi spies had arrived in Hudayda to launch terrorist attacks against Iranian relief aid ships and fire missiles at them.
The Ansarullah top official also announced that state-of-the-art weapons and missiles have been confiscated from the terrorists.
Earlier this week, Ansarullah leader Abdul-Malik al-Houthi strongly condemned the use of "internationally-banned weapons" by the Saudi regime against Yemeni people and lashed out at those so-called humanitarian groups that have turned a blind eye to this sheer violation of human rights.
Full report at:
http://english.farsnews.com/newstext.aspx?nn=13940301000329
----------
Islamic State claims Yemen mosque attack: IS Twitter statement
May 23, 2015
CAIRO: A bomb exploded at a Shia Houthi mosque in the Yemeni capital Sanaa on Friday, wounding 13 people, a security source said, and the Islamic State claimed responsibility for the attack in a statement on Twitter.
"Members of the caliphate in Sanaa have detonated an explosive device in a Houthi mosque in the people's district ... which lead to the death and injury of many of them " said the Islamic State.
Full report at:
http://www.dawn.com/news/1183569/islamic-state-claims-yemen-mosque-attack-is-twitter-statement
----------
Gaza facing 'dangerous fiscal crisis': World Bank
May 23, 2015
The Gaza Strip has the world's highest unemployment and Palestinians, Israelis and donors must take action to avoid a "dangerous fiscal crisis," the World Bank said Friday.
The report, prepared ahead of the bi-annual meeting of the Ad Hoc Liaison Committee (AHLC) which coordinates international donor support for the Palestinians, comes nearly a year after the 50-day conflict between Gaza militants and Israel, in which around 2,200 Palestinians were killed.
According to the World Bank, the virtual disappearance of Gaza's exports can be explained by no other variable than "war and the blockade."
"The impact of the blockade imposed in 2007 was particularly devastating, with GDP losses caused by the blockade estimated at above 50 percent and large welfare losses," the report said of the blockade imposed by neighbors Israel and Egypt.
Full report at:
https://english.alarabiya.net/en/business/economy/2015/05/22/Gaza-facing-dangerous-fiscal-crisis-World-Bank-.html
----------
Saudi-led strikes on Yemen target Saleh's hometown
23 May 2015
Saudi-led coalition strikes pounded Sanhan, a village in west-central Yemen and the hometown of deposed leader Ali Abdullah Saleh, Al Arabiya News Channel reported late Friday.
The strikes targeted weapons depots in the village belonging to Houthis and Saleh-allied militias, who are fighting against forces loyal to Yemeni President Abdrabbu Mansour Hadi.
Saudi Arabia and its allies have been conducting an offensive against the Iranian-backed Houthis and units loyal to Saleh for more than seven weeks, part of a campaign to restore exiled President Hadi to power.
Full report at:
http://english.alarabiya.net/en/News/middle-east/2015/05/23/Saudi-led-strikes-target-Saleh-s-hometown-.html
----------
Turkey arrests French citizen bound for Syria
May 23, 2015
Turkish authorities have detained and then deported a French national who arrived in the country seeking to join jihadists in Syria, an official said on May 22.
The man, identified only as B.T., had landed on May 21 night at Sabiha Gökçen Airport in Istanbul on a flight from Milan, the Turkish official, who asked not to be named, told AFP.
After arousing the suspicion of border police, he was detained and questioned.
"After a long and detailed interview, B.T. confessed he was going to Adana [in southern Turkey] on his way to join a terrorist group in Syria," the official said.
The man was deported back to Italy as the country of the flight's origin, with the French authorities kept fully informed, he added.
Full report at:
http://www.hurriyetdailynews.com/turkey-arrests-french-citizen-bound-for-syria.aspx?pageID=238&nID=82847&NewsCatID=509
----------
Turkish Intelligence Helps Arms Shipment to Rebels in Syria
23 May 2015
Turkey's state intelligence agency helped deliver arms to parts of Syria under the rebels' control during late 2013 and early 2014, according to a prosecutor and court testimony from gendarmerie officers.
The witness testimony, seen by Reuters, contradicts Turkey's denials that it sent arms to Syrian rebels and, by extension, contributed to the rise of the ISIL, the Islam Times reported.
Syria and some of Turkey's western allies said that Ankara, in its haste to see President Bashar al-Assad toppled, let fighters and arms over the border, some of whom went on to join the ISIL militant group which has carved a self-declared caliphate out of parts of Syria and Iraq.
Testimony from gendarmerie officers in court documents reviewed by Reuters claimed that rocket parts, ammunition and semi-finished mortar shells were carried in trucks accompanied by the Turkish state intelligence agency (MIT) officials more than a year ago to parts of Syria under the rebels' control.
Full report at:
http://english.farsnews.com/newstext.aspx?nn=13940302000735
-----------
Africa
Muslim Youths Burn Down A Kano Sharia Court Over Blasphemous Comments
May 23, 2015
Hundreds of Muslim youth protested outside a Sharia Court located in Kano City on Friday morning. According to protesters at the scene, they were upset over a blasphemous comment made by Malam Abdul Nyass, from the Tijjaniyya path of Islam.
Protesters outside the Sharia Court, where Malam Abdul Nyass was expected to he arraigned for punishment, eventually burned it down out of frustration over the statements made against the Holy Prophet Muhammad.
The youth, coming from all over Kano State, arrived to the demonstration area holding placards condemning the statement he made about the Holy Prophet Muhammad.
SaharaReporters correspondent saw the protests heading towards the Mandawari and Dandago areas, where they planned on confronting the Emir of Kano, Lamido Sanusi, to lay their complaints.
Full report at:
http://saharareporters.com/2015/05/22/breaking-muslim-youths-burn-down-kano-sharia-court-over-blasphemous-comments
----------
Ethiopia's democracy put to the test in general election
May 23, 2015
ADDIS ABABA: Ethiopia, Africa's second-most populous country, holds a general election on Sunday, the first since the death of long-time strongman Meles Zenawi whose successor Hailemariam Desalegn is seen as all but certain to stay in office.
Over 36.8 million Ethiopians have registered for the polls, considered by the international community as a key test of the state's commitment to bring greater democracy to the Horn of Africa nation.
Rights groups routinely accuse Ethiopia of clamping down on opposition supporters and journalists and using antiterrorism laws to silence dissent and jail critics.
The ruling Ethiopian People's Revolutionary Democratic Front (EPRDF) has been in power for over two decades and is confident of a win, but insists the result will be decided on its economic record alone. Ethiopia is now one of Africa's top performing economies and a magnet for foreign investment.
Full report at:
http://www.dawn.com/news/1183653/ethiopias-democracy-put-to-the-test-in-general-election
----------
Sudan Islamists protest against Morsi death sentence
23 May 2015
Hundreds of Sudanese Islamists protested outside a UN office in central Khartoum Friday against the death sentence handed down to Egypt's ousted president Mohamed Morsi by a court last week.
Morsi was among more than 100 defendants ordered by an Egyptian court on Saturday to face the death penalty for their role in a mass jailbreak during the 2011 uprising.
His rule lasted just one year before mass protests led to his ouster in July 2013.
Around 700 Islamists marched to the offices of the United Nations Development Programme in Khartoum from the nearby Grand Mosque after prayers, an AFP reporter said.
They were joined by another group of 500 demonstrators from the mosque of the nearby University of Khartoum.
Full report at:
http://english.ahram.org.eg/NewsContent/2/8/130936/World/Region/Sudan-Islamists-protest-against-Morsi-death-senten.aspx
----------
Intense South Sudan battles creating 'catastrophe', UN warns
23 May 2015
South Sudanese government tanks backed by helicopter gunships have pushed back rebels from a key oil town, state television showed on Friday, as the UN condemned an "entirely man-made catastrophe."
Tanks are shown firing as a helicopter gunship -- believed to belong to the Ugandan army which is fighting alongside government troops -- swoops over the burning town of Melut in the key northern oil state of Upper Nile.
UN rights chief Zeid Ra'ad Al Hussein on Friday said people are "senselessly suffering through an entirely man-made catastrophe," warning that warring forces have "managed to make a terrible situation much, much worse."
Doctors Without Borders (MSF) on Friday warned there was an "escalating and continued use of violence against civilians" in the three battleground northern and eastern states of Unity, Upper Nile and Jonglei.
Full report at:
http://english.ahram.org.eg/NewsContent/2/8/130935/World/Region/Intense-South-Sudan-battles-creating-catastrophe,-.aspx
------
India
Centre proposes three-year visa for Pakistan businessmen
May 22, 2015
India is planning a third category of business visa for Pakistan, which will be valid for three years and businessmen from the neighbouring country will be able to visit up to 15 places in India.
The Centre has set the ball rolling for providing a liberalised visa arrangement for businessmen from Pakistan after Prime Minister Narendra Modi announced in Nepal last year that India will give business visas for 3-5 years for all the seven SAARC countries.
Presently, business visa is provided to those from Pakistan and Bangladesh for only one year. Intelligence agencies have red-flagged the proposal and have expressed apprehensions to some extent for Bangladesh also. But the government is keen to implement the decision as soon as possible to boost the economy in the region even though bilateral relations with Pakistan have hit a low.
Presently, two categories of business visas are provided to businessmen from Pakistan — first, a one-year multiple entry business visa to businessmen to visit up to five places, four times a year.
Full report at:
http://indianexpress.com/article/india/india-others/centre-proposes-three-year-visa-for-pakistan-businessmen/
----------
Terror Taint Off, Man Acquitted In Akshardham Case Details 'Torture' In Book
May 23, 2015
Bullets would whizz past, to his right, to his left. Never striking, only striking fear. Once, they poured petrol in his anus. And on another occasion, they gave him electric shocks in his private parts. An officer would wave his revolver and say "there is one bullet left, it is sufficient for you".
These are some of the third-degree measures that Abdul Qayyum Mansuri, sentenced to death in the 2002 Akshardham temple attack case and acquitted after the verdict was quashed by the Supreme Court in May 2014, alleges were used on him in custody. He has detailed these in his book '11 years behind the bars'.
He was one of six arrested by the Ahmedabad Detection of Crime Branch (DCB) on August 29, 2003 — 11 months after the September 24, 2002 terror attack on the temple in Gandhinagar left 33 dead and 86 injured.
Full report at:
http://indianexpress.com/article/india/india-others/terror-taint-off-man-acquitted-in-akshardham-case-details-torture-in-book/
---------
Bangladesh National Party politico's India flight still a riddle
TNN | May 23, 2015
SHILLONG: Even a fortnight after his arrest, a senior member of the Bangladesh opposition, Salahuddin Ahmed, wanted by Interpol, continues to confuse investigators about how he reached the Meghalaya capital.
Ahmed, joint general secretary of the Khaleda Zia-led Bangladesh National Party (BNP), was arrested after police found him loitering in the upscale Golf Links area of Shillong on May 11.
Since then, Ahmed has been claiming he can't remember what happened to him after he was kidnapped in March from his house at Uttara in Dhaka.
A brilliant Bangladesh Civil Service cadre, Ahmed was handpicked by Khaleda Zia and made a junior minister in her government. He also worked as BNP's spokesperson until recently.
Police here said Ahmed would be charged under Section 14 of the Foreigners' Act for entering the country without valid papers.
Full report at:
http://timesofindia.indiatimes.com/india/Bangladesh-National-Party-politicos-India-flight-still-a-riddle/articleshow/47391864.cms
----------
Pakistani flags raised again in J&K, protesters clash with cops
TNN | May 22, 2015
NEW DELHI: For the second time in as many days supporters of separatist leader Mirwaiz Umar Farooq openly raised Pakistani flags in Srinagar on Friday.
The Hurriyat leader's supporters chanted pro-Pak slogans and clashed with police.
On Wednesday, Mirwaiz Umar Farooq's supporters waved Pak flags and chanted pro-Pak slogans at a rally in Srinagar's old city area.
There have been several incidents of waving of Pak flags in J&K in the recent past.
Earlier this month, Pak flags were raised at a rally held by separatist leader Syed Ali Shah Geelani in Kashmir's Tral region.
http://timesofindia.indiatimes.com/india/Pakistani-flags-raised-again-in-JK-protesters-clash-with-cops/articleshow/47384135.cms
----------
Regulator tells Zee Pak soap 'insensitive', not to be beamed
Himanshi Dhawan,TNN | May 23, 2015
NEW DELHI: Broadcast regulatory authority, Broadcast Content Complaints Council (BCCC), on Friday directed Zee TV's Zindagi not to re-telecast its controversial Pakistani soap on grounds that it portrayed the issue of Partition "insensitively'' and as a "mistake.'' The decision comes following complaints from viewers that the serial "Waqt ne kiya kya haseen sitam'' was "anti-national'' with others even apprehending communal unrest.
The soap on popular Hindi entertainment channel was aired in April. When contacted BCCC chairperson Justice Mukul Mudgal said, "We have taken some action on the issue.''
Speaking to TOI, former chairperson of the National Commission for Minorities and BCCC member Wajahat Habibullah said, "We have asked the channel not to re-telecast the serial. We felt that it dealt with a sensitive issue like Partition in an insensitive manner and it could offend the sensibilities of many viewers.''
Full report at:
http://timesofindia.indiatimes.com/india/Regulator-tells-Zee-Pak-soap-insensitive-not-to-be-beamed/articleshow/47391812.cms
----------
Need to factor in our 106km border with Afghanistan: NSA
Deeptiman Tiwary,TNN | May 23, 2015
NEW DELHI: India shares a 106-km border with Afghanistan which people do not factor in, national security advisor (NSA) Ajit Doval said on Friday, hinting both at India's claim to Pakistan-occupied Kashmir and the threat that withdrawal of Nato forces from Afghanistan poses for internal security in India.
Speaking at a BSF function, Doval said the force should be prepared for the fallout (of Nato withdrawal) on this border and that India had a stake in ensuring Afghanistan remained peaceful and did not become an "epicenter of terrorism".
Doval made the statements while delivering the Rustamji Memorial Lecture on 'Challenges of Securing Our Borders'. While speaking on how border guarding forces needed to go beyond physical security, Doval said, "We have to plan and prepare for the future. We have got seven countries with which we share our border. We have six with which we directly share contiguous border. But we also have a 106-km-long non-contiguous border with Afghanistan that we need to factor in. With all these seven countries, we have very special and peculiar relationships and peculiar problems."
Full report at:
http://timesofindia.indiatimes.com/india/Need-to-factor-in-our-106km-border-with-Afghanistan-NSA/articleshow/47391553.cms
----------
URL: https://www.newageislam.com/islamic-world-news/new-age-islam-news-bureau/isis-claims-it-could-buy-its-first-nuclear-weapon-from-pakistan-within-a-year/d/103125