New Age Islam News Bureau
5 Apr 2015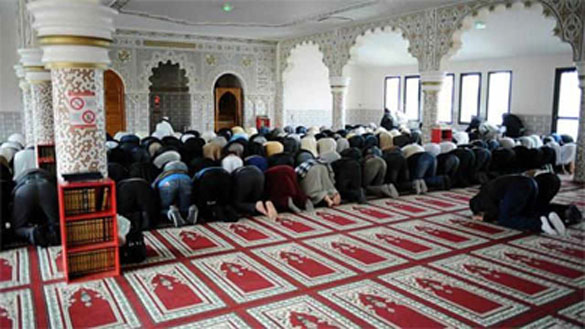 Muslims attend Friday prayers on Jan 23, 2015 in the Gaillac-Toulza mosque, in south-western France. One of France's top Muslim leaders has called for the number of mosques to double over the next two years to remedy a shortage of places of worship for the country's millions of faithful. -- PHOTO: AFP
------------
Arab World
• ISIS 'Bans Skinny Jeans, Listening to Music' In Syria's Raqqa
• Decisive Storm Brought Glory to the Islamic World, Says Al-Sudais
• Toxic Chemical Arms Used by ISIL Takfiri Militants
• IS destroys another Iraq's heritage site
• Syrian Army Kills Terrorists in Quneitera
• Bombing on bridge in Egypt capital kills one
• UAE fighter jets launch Yemen airstrikes in honor of Saudi soldier
• Iraqi PM: Armies have no chance against IS if it keeps recruiting foreigners
• Egypt refers 187 Brotherhood supporters to military court
Pakistan
• 11 Militants, Including 4 Suicide Bombers, Arrested In Quetta, Claims FC
• General Zia, Osama bin Laden not face of Pakistan: Bilawal
• Five Killed In Tirah Air Strikes
• Ten suspected militants killed in Khyber Agency jet bombing
• 9 Militants Killed In Orakzai
• KP police arrest 3882 illegal Afghan nationals, 16 terrorists carrying head money in three months
• War on terror to be fought on all fronts: Shahbaz Sharif
South Asia
• Soldier Martyred, 36 Insurgents Killed In Separate Military Operations
• Police: Oyasiqur Killers Were Trained Militants
• Bangladesh secular writers fearful after 2nd blogger slain
• Demand To Ban Niqab Even As Govt Bans Hate Speech In Sri Lanka
• Afghan Taliban release Mullah Omar biography amid growing frustration within ranks
• High Court says Nasheed can still appeal
• PM Sheikh Hasina for making more Liberation War-centric films
• Mohaqiq Confirms 31 Hazaras Kidnapped By ISIS (Daesh) Militants
Mideast
• Al-Qaeda Makes Itself At Home In Yemen Palace
• Saudi Airstrikes Kill 11 Civilians in Sanaa
• Zarif stresses benefits to Iran of framework nuclear deal
• 2,000 evacuated from Syria's Yarmuk after ISIL advance: Palestinians
• Houthis strike civilian homes in Yemen's Aden
• Turkish president to visit Iran despite war of words
North America
• ISIS 'Burns Halal U.S. Chickens' Intended As Aid For Syrians
• Terror cases allege women wanted to fight for Islamic group
• Obama seeks support for Iran nuclear deal
Europe
• French Muslim Leader Calls For Doubling Of Mosques
• Muslim Group With Links To Extremists Boasts Of Influencing Election in UK
• UN sees increase in Maldivian jihadists overseas
• UK envoy: Houthi violence caused crisis
• Red Cross calls for 24-hour ceasefire in Yemen to deliver aid
Southeast Asia
• Malaysian Bar Calls Anti-Terror Bill 'Shameless Revival Of ISA'
• Police Believe Terrorist Leader Shot Dead in Central Sulawesi
Africa
• After Islamist Attack, Armed Guards Shield Kenya's Easter Congregations
• Suicide Bomber Kills Four Near Libya's Misrata
• Kenya identifies 1 of 4 al Shabaab gunmen as son of govt official: interior ministry
• Kenyatta says campus attackers 'embedded' in Kenya's Muslim community
• Libya: Muammar Gaddafi palaces reduced to garbage dumps, pet markets
India
• Religious Structures Of Hindu And Muslim Communities Coexists In Peace And Harmony
• Outrage over India's vote against benefits to same-sex couples because of homophilia or Islamophobia?
Compiled by New Age Islam News Bureau
URL: https://newageislam.com/islamic-world-news/new-age-islam-news-bureau/isis--bans-skinny-jeans,-listening-to-music--in-syria's-raqqa/d/102290
----------
Arab World
ISIS 'Bans Skinny Jeans, Listening to Music' In Syria's Raqqa
5 April 2015
The Islamic State of Iraq and Syria (ISIS) has recently introduced a new series of laws that ban men in Syria's Raqqa from wearing skinny jeans.
Under the new laws, which were revealed by the anti-ISIS campaign group 'Raqqa is Being Slaughtered Silently,' men who wear skinny jeans will reportedly be jailed for 10 days and will get an "Islamic course" during his jail period.
"ISIS tightens penalties and uses the principle of intimidation in dealing with public, which led to the migration and escape of many people," Jassem, a citizen who lives in Raqqa, said.
"Freedom of expression has become a crime, so you can not oppose a decision issued by the group," he said.
"Otherwise you will be arrested on charges of violation of God's law as its fighters claim, but they are far from this law," he said.
As part of the new introduced laws, the militant group also said it would imprison anyone caught listening to music, smoking or being later for prayer.
http://english.alarabiya.net/en/variety/2015/04/05/ISIS-bans-skinny-jeans-in-Syria-s-Raqqa-.html
----------
Decisive Storm brought glory to the Islamic world, says Al-Sudais
05 April, 2015
Sheikh Abdul Rahman Al-Sudais, head of the Presidency of the Two Holy Mosques, said that the Kingdom's efforts to defend the oppressed and deter the oppressors have added prestige, power and glory to the Arab and Islamic nations.
In an interview with Saudi TV Channel 1, the widely respected religious scholar said Saudi Arabia has taken action which is supported by a number of Shariah laws.
Al-Sudais described Operation Decisive Storm, which was launched on the orders of Custodian of the Two Holy Mosques King Salman, "as a historic decision that came at the right time."
"The wise and brave operation was initiated keeping in view the provisions of Shariah laws," he said.
"It was not dependent on personal or political gains."
He said any threat to the Kingdom and any evil intention toward the two Holy Mosques in Makkah and Madinah cannot be tolerated.
"There is no possibility of forgiving whoever tries to threaten or jeopardize the security of these Holy Mosques," he said.
According to Al-Sudais, there is a need to protect Saudi and Yemeni interests.
Prophet Muhammad (peace be upon him) blessed Yemen and sent Ali bin Abi Taleb and Maaz bin Jabal and a number of his companions, he said.
"Under Islam, you are obliged to support your neighbors if they seek help," said Al-Sudais.
The militias have foreign support, he added. They have their own agenda and they only wish to spread their domination over the Gulf countries, he said.
Al-Sudais said that Decisive Storm came after the Kingdom exhausted all efforts to contain the crisis through dialogue.
All nations need to stand together during times of hardship to serve the Ummah, he said.
He called on the people to get their news from authentic sources. "Do not pay attention to rumors spread through social networking sites," he said.
Al-Sudais expressed gratitude to King Salman and highlighted his courageous position.
He also expressed appreciation to the Yemeni people whom he asked to remain united.
To the Saudi soldiers engaged in the noble action, he said: "May Allah grant you victory."
http://www.arabnews.com/featured/news/728111
----------
Toxic Chemical Arms Used by ISIL Takfiri Militants
05 April, 2015
The ISIL Takfiri militants had used toxic chemical arms to prevent the advance of Iraqi forces on the newly-liberated city of Tikrit in Northern Iraq.
Kamel Amin, spokesman for Iraq's Human Rights Ministry, expressed concern about the use of banned weapons by the ISIL extremists, Al-Alam reported.
"ISIL has no morals in war or commitment to international conventions; therefore, we could expect anything from the terrorist group. They use anything they have against civilians," Amin added.
ISIL started its campaign of terror in Iraq in early June 2014. The heavily-armed militants took control of the country's Northern city of Mosul before sweeping through parts of the country's Sunni Arab heartland.
Iraqi soldiers, police units, Kurdish forces, Shiite volunteers and Sunni tribesmen have succeeded in driving the ISIL terrorists out of some areas in Iraq.
http://english.farsnews.com/newstext.aspx?nn=13940116000665
----------
IS destroys another Iraq's heritage site
05 April, 2015
BAGHDAD: Islamic State (IS) extremists at Iraq's ancient city of Hatra destroyed the archaeological site by smashing sledgehammers into its walls and shooting Kalashnikov assault rifles at priceless artifacts, a new militant video purportedly from the group shows.
Militants attacked Hatra, a UNESCO World Heritage site, last month, officials and local residents said, though the extent of the damage remains unclear as it is in territory still controlled by the IS.
The video, released overnight Friday, shows a militant on a ladder using a sledgehammer to bang repeatedly on the back of one of the carved faces until it crashes to the ground and breaks into pieces.
The video also shows a militant firing a Kalashnikov rifle at another, while men chop away the bases of some of the larger wall sculptures.
The video corresponded with Associated Press reporting on the attack and was posted to a militant website frequently used by the group.
Local government officials told the AP last month the militant group had looted and destroyed several ancient sites, including the 3,000 year-old Nimrud, another UNESCO World Heritage site. United Nations Secretary-General Ban Ki-Moon called the Nimrud attack "a war crime."
Another video released in February showed militants smashing artifacts in the Mosul Museum and in January, the group burned hundreds of books from the Mosul library and Mosul University, including many rare manuscripts. The majority of the artifacts destroyed in the Mosul Museum attack were from Hatra.
Hatra, located 110 kilometers southwest of the IS-held city of Mosul, was a large fortified city during the Parthian Empire and capital of the first Arab kingdom. The site is said to have withstood invasions by the Romans in A.D. 116 and A.D. 198 thanks to its high, thick walls reinforced by towers.
The ancient trading center spanned six kilometers in circumference and was supported by more than 160 towers. At its heart are a series of temples with a grand temple at the center — a structure supported by columns that once rose to 100 feet.
The video's release comes after the Iraqi government this week claimed victory against the IS in Saddam Hussein's hometown Tikrit. Tikrit is 80 miles north of Baghdad on the main highway to Mosul, Iraq's second-largest city. Seizing Tikrit was key to an eventual campaign to retake Mosul — and the historic sites near it.
http://www.arabnews.com/middle-east/news/728021
----------
Syrian Army Kills Terrorists in Quneitera
05 April, 2015
Syrian army continued its mop-up operations against the Takfiri militants in Quneitera, killing several terrorists on Sunday.
The troops killed a number of al-Nusra Front terrorists and injured others in Mas'hara town and its vicinity in the countryside of the Southern province of Quneitera, a military source said.
http://english.farsnews.com/newstext.aspx?nn=13940116000955
----------
Bombing on bridge in Egypt capital kills one
5 April 2015
A policeman was killed and three others wounded when a bomb exploded on a bridge leading to the upscale Cairo district of Zamalek on Sunday, security sources said, according to Reuters news agency.
The force of Sunday's explosion left a crater in the ground. The sources gave conflicting reports about whether the bomb was planted in or near a car.
Two of the wounded were also policemen, while the third was a civilian, they said.
Ajnad Misr
Meanwhile, Reuters reported that the leader of an Egyptian Islamist group that has targeted policemen and soldiers in greater Cairo was killed by security forces early on Sunday.
Hamam Mohamed Attia of Ajnad Misr was shot dead during a firefight around 1 a.m. (2300 GMT) at an apartment in Giza, which is part of the Cairo conurbation, a security sources said.
There was no immediate comment from Ajnad Misr, which emerged in January 2014, on the Twitter account it often uses to claim responsibility for attacks.
Full report at:
http://english.alarabiya.net/en/News/middle-east/2015/04/05/Bombing-on-bridge-in-Egypt-capital-kills-one.html
----------
UAE fighter jets launch Yemen airstrikes in honor of Saudi soldier
05 April, 2015
UAE fighter jets on Friday launched an airstrike against a number of Houthi militia targets in Yemen in honor of the first Saudi soldier killed in "Operation Decisive Storm."
Sulieman bin Ali Al Harazi Al Maliki was killed in a firefight with Houthi rebels on the Saudi-Yemen border early Thursday morning.
In a statement by UAE press agency WAM, the airstrike was described as "successful" as fighter jets struck a surface-to-air missile base and a radar site in Maarib and returned to their bases safely.
WAM published images of UAE fighter pilots writing Maliki's name on their jets before carrying out the airstrike.
Saudi Arabia and nine regional allies, including the UAE, have waged 10 days of air strikes against the Houthis to try to stem their advances and to support legitimate President Abdrabbu Mansour Hadi, who fled Aden for Saudi Arabia more than a week ago.
http://english.alarabiya.net/en/News/middle-east/2015/04/04/UAE-fighter-jets-launch-Yemen-airstrikes-in-honor-of-Saudi-soldier.html
----------
Iraqi PM: Armies have no chance against IS if it keeps recruiting foreigners
05 April, 2015
Iraqi Prime Minister Haidar al-Abadi told a German magazine that armies in the region around Iraq had no chance of defeating Islamic State (IS) if the militants continued to recruit ideologically indoctrinated foreign fighters.
In an interview with Der Spiegel published on Saturday, Abadi said that around 57 percent of IS fighters were Iraqis but they did not cause any problems as they simply ran away when Iraqi troops entered towns.
"It is the 43 percent who are foreign fighters who have been indoctrinated ideologically who have their backs up against the wall. If Daesh continues to recruit so many from other countries, then no army in our region can stand up to it."
Full report at:
http://english.ahram.org.eg/NewsContent/2/8/126903/World/Region/Iraqi-PM-Armies-have-no-chance-against-IS-if-it-ke.aspx
---------
Egypt refers 187 Brotherhood supporters to military court
5 April 2015
An Egyptian prosecutor has referred to a military court 187 alleged Muslim Brotherhood supporters who are accused of killing police officers in a 2013 attack on a police station.
Egypt expanded the jurisdiction of military courts in October to permit them to try civilians accused of acts ranging from attacking state facilities to blocking roads, part of a broad crackdown that first targeted Islamists but has expanded to include liberal activists.
The change followed some of the worst assaults on security forces since the military removed Islamist President Mohamed Mursi in the summer of 2013 following mass protests against his rule.
Full report at:
http://english.alarabiya.net/en/News/middle-east/2015/04/05/Egypt-refers-187-Brotherhood-supporters-to-military-court-prosecutor.html
----------
Pakistan
11 Militants, Including 4 Suicide Bombers, Arrested In Quetta, Claims FC
05 April, 2015
QUETTA: Security forces claimed the arrest of 11 militants, including four suicide bombers, during raids conducted in different parts of Quetta on Sunday morning.
Khan Wasey, the spokesman for Frontier Corps (FC), a paramilitary force, told DawnNews that security forces and intelligence agency personnel had foiled a major terror bid by apprehending seven terrorists, including four suicide bombers, during a raid in Kuchlak area of Quetta district,
"The terrorists were planning a major terror strike in Quetta," said Wasey adding that the arrested men belonged a banned militant outfit.
The suspects were shifted to an unknown location for interrogation.
Most of the terrorists belonged to the volatile tribal belt, the FC spokesman said. He added that four suicide jackets were also recovered from the possession of the suspects.
In another raid, security forces arrested four suspected militants from Kharotabad area of Quetta and also recovered arms and ammunition from their possession.
http://www.dawn.com/news/1174098/11-militants-including-4-suicide-bombers-arrested-in-quetta-claims-fc
----------
General Zia, Osama bin Laden not face of Pakistan: Bilawal
05 April, 2015
LONDON: Pakistan People's Party ( PPP ) Chairman Bilawal Bhutto Zardari on Saturday paid glowing tributes to his late grandfather Zulfikar Ali Bhutto at an event held in London to mark the 36th death anniversary of the former prime minister. Bilawal said his grandfather Zulfikar Ali Bhutto and his late mother Benazir Bhutto sacrificed their lives for the sake of a democratic and pluralistic Pakistan. He blamed the draconian martial law of General Zia-ul-Haq for spawning a culture of bigotry, intolerance, and religious extremism in the moderate, tolerant and pluralistic Pakistani society. He said it was the same poisonous mindset nurtured by General Zia that finally resulted in the creation of a number of extremist militant organisations and the Taliban who assassinated his mother Benazir Bhutto. The PPP chairman also paid tributes to Salmaan Taseer, Shahbaz Bhatti, Aitzaz Hassan of Hangu and Malala Yousafzai, saying, "They represent the true face of the Pakistani society which is tolerant and pluralistic. General Zia and Osama bin Laden are not the face of Pakistan." He said, "Though General Zia managed to hang prime minister Bhutto, the dictator could not silence his voice. I still hear the voice of Shaheed Bhutto in the anguished heart of every persecuted Pakistani."
Bilawal said Zulfikar Ali Bhutto continues to live in the hearts of the people of Pakistan. "He still inspires and motivates those who believe in creating a democratic, tolerant, peaceful and poverty-free Pakistan," he said.
Bilawal said he was proud to be a student at the Christ Church College in the University of Oxford where his grandfather also studied.
http://www.dailytimes.com.pk/national/05-Apr-2015/general-zia-osama-bin-laden-not-face-of-pakistan-bilawal
----------
Five Killed In Tirah Air Strikes
05 April, 2015
LANDI KOTAL: Heli­copter gunships conducted several air sorties in parts of Tirah valley in Khyber tribal region on Saturday morning, killing at least five suspected militants and destroying their hideouts. In South Waziristan, two soldiers lost their lives in a bomb explosion.
Although the military did not issue any statement about casualties, intelligence officials claimed five suspects affiliated with the banned Lashkar-i-Islam were killed.
The aerial attacks were part of the ongoing Khyber-II operation aimed at flushing out militants from the valley.
The official said helicopters attacked LI positions in Nangrosa, Spin Drand and Thor Khel areas of Sipah where militants had some of their important hideouts and bunkers on adjoining hilltops which posed a hazard to ground offensives by security forces.
Security officials had earlier claimed to have taken control of some important localities in Sipah where the LI had strong presence.
Full report at:
http://www.dawn.com/news/1174088/five-killed-in-tirah-air-strikes
----------
Ten Suspected Militants Killed In Khyber Agency Jet Bombing
05 April, 2015
BAJAUR / PESHAWAR: Ten suspected militants were killed when fighter jets bombed hideouts in Khyber Agency on Sunday, according to Radio Pakistan.
According to security sources, five militant hideouts were destroyed in the latest aerial bombing.
Earlier this morning, a top militant commander was killed in a clash between security forces and miscreants in Bajaur Agency.
Sources said the deceased was the most wanted fugitive and was involved in number of terror activities.
http://tribune.com.pk/story/864810/top-militant-commander-killed-in-bajaur-agency/
----------
9 Militants Killed In Orakzai
05 April, 2015
KALAYA: Nine suspected militants and a security official were killed and three personnel wounded in a clash in the Orakzai Agency on Saturday.
Sources said security personnel were patrolling Oatmela area in the central tehsil of Orakzai tribal region when the clash with militants erupted.
A political administration official said the injured personnel were taken to the Combined Military Hospital in Kohat.
http://www.dawn.com/news/1174019/9-militants-killed-in-orakzai
----------
KP police arrest 3882 illegal Afghan nationals, 16 terrorists carrying head money in three months
05 April, 2015
PESHAWAR - Pakhtunkhwa police arrested 3,882 Afghan nationals and 263 proclaimed offenders during search operation over the past three months in Peshawar while four outlaws were killed in firing with police. Sources in the Peshawar police said that those arrested included sixteen important terrorists carrying head money and recovered 30 hand bombs and 17 kgs of explosive material in addition to narcotics worth millions of rupees.
The sources said that the Afghan nationals arrested were staying in the provincial capital illegally. They pointed out that after the attack at Army Public School in Peshawar, the police carried out a comprehensive operation in and around Peshawar which led to the arrests.
They said that there has been significant reduction in acts of terrorism since then. It is worth mentioning that under the National Action Plan, thousands of suspected people have been arrested across the country including from Khyber Pakhtunkhwa to eliminate the menace of extremism and terrorism.
http://www.dailytimes.com.pk/national/05-Apr-2015/kp-police-arrest-3882-illegal-afghan-nationals-16-terrorists-carrying-head-money-in-three-months
----------
War on terror to be fought on all fronts: Shahbaz Sharif
05 April, 2015
LAHORE: Punjab Chief Minister Shahbaz Sharif said that the whole nation is united against terrorism, extremism and sectarianism and the war against these menaces will be fought on all fronts.
He said that Pak Army is the best trained and disciplined force of the world. He said that officers and Jawans of Pak Army, police and common citizens have rendered supreme sacrifices in the war against terrorism which are unprecedented in the history of the nations. He presided over a meeting of Provincial Apex Committee, on Friday. Corps Commander Lahore Lt. Gen. Naveed Zaman, Provincial Home Minister Col. Retd. Shuja Khanzada, Chief Secretary, Director General Rangers Punjab Maj. Gen. Umer Farooq Burki, General Officer Commanding 10th Division Maj. Gen. Amir Abbasi, Inspector General Police, Secretary Home and other members of the committee were present.
Full report at:
http://www.dailytimes.com.pk/punjab/04-Apr-2015/war-on-terror-to-be-fought-on-all-fronts-cm
--------
South Asia
Soldier martyred, 36 insurgents killed in separate military operations
Apr 05 2015
A soldier form Afghan National Army has embraced martyrdom due to a landmine explosion while 36 insurgents have been killed in separate military operations across the country in past 24 hours, statement issued Sunday by the Ministry of Defense states.
The statement issued by General Zahir Azimi does not contain information about the exact location of the explosion and only states that it took place in past 24 hours.
The statement adds that 36 insurgents were also killed in separate military operations in Maidan Wardak, Paktika and Farah provinces in past 24 hours.
17 bombs were also defused by the security forces during the operations, the statement adds.
Afghan National Security forces are conducting several anti-terrorism operations in different parts of the country including Operation Zulfiqar in restive Helmand province.
Officials say the operations are successfully ongoing.
http://www.khaama.com/soldier-martyred-36-insurgents-killed-in-separate-military-operations-3101
----------
Police: Oyasiqur killers were trained militants
05 April, 2015
Zikrullah and Ariful Islam, detained for killing liberal online activist Oyasiqur Rahman Babu, have been involved with banned Islamist outfit Jama'atul Mujahideen Bangladesh since 2008.
They were given military training at a madrasa, in a remote area of Kacharikanthi in Raipura upazila of Narsingdi, Special Branch officials said in a confidential report submitted to the Police Headquarters recently.
Zikrullah's three maternal uncles – Osman, Bhurhan and Sultan – also work at the madrasa as trainers. They used to recruit poor people for the JMB and train them at the madrasa.
A student of Miftahul Ulum madrasa was killed in infighting on July 31, 2012. Later the police raided the madrasa and arrested 12 teachers and students including Zikrullah and Arif. The duo was named in the case filed in this connection by Raipura police on August 1, 2012.
But all the arrestees got bail and have remained absconding since then.
Zikrullah's friend Arif hails from Munshiganj.
Full report at:
http://www.dhakatribune.com/crime/2015/apr/05/police-oyasiqur-killers-were-trained-militants#sthash.LsKmuzXN.dpuf
----------
Bangladesh secular writers fearful after 2nd blogger slain
05 April, 2015
DHAKA — The writer, a thin young man who fears the growing interweaving of religion and politics in Bangladesh, knows his turn could come next. What happened earlier this week, when the second secularist blogger in less than a month was hacked to death in the streets of the capital, made it clear he wasn't safe.
"Anytime they can hit me or my like-minded friends," said Ananya Azad, a 25-year-old blogger who has written pieces that were critical of Islamic fundamentalism and politics driven by religion. He quit his job as a newspaper columnist and stopped writing blogs in recent months after receiving numerous threats, but still posts critical comments on Facebook.
Ananya says he's thinking about fleeing the country and spends much of his time indoors these days.
"They don't hesitate to kill in the name of their beliefs," he said. "I'm an easy target for the fanatics."
Full report at:
http://www.saudigazette.com.sa/index.cfm?method=home.regcon&contentid=20150405239304
----------
Demand to Ban Niqab Even As Govt Bans Hate Speech in Sri Lanka
05 April, 2015
COLOMBO: A Sinhalese-Buddhist radical organisation in Sri Lanka has asked the police to ban the Islamic Niqab even as the country's cabinet decided to ban "hate speech" which creates communal tension.
The convener of the "Sinhala Ravaya", Magal­kande Sudaththa, alleged here that men wearing Niqabs or Burqas, as he put it, had robbed banks and therefore these attires should be banned.
He was reacting to the ban imposed on full-face helmets used by motorcyclists on security grounds. Men wearing such helmets had recently robbed banks and indulged in other crimes.
"A man dressed in a burqa attempted to rob a bank in Katugasthota and a drug lord was evading the police for years under this attire.
What is the technique that is deployed by the police to identify a criminal hiding under this attire?" Sudat­htha asked.
He said that the Niqab be banned as it was a "grave threat to national security".
http://www.dawn.com/news/1174062/demand-to-ban-niqab-even-as-govt-bans-hate-speech
----------
Afghan Taliban release Mullah Omar biography amid growing frustration within ranks
05 April, 2015
ISLAMABAD: The Afghan Taliban released on Sunday a biography of their reclusive leader Mullah Mohammad Omar.
In hiding for 13 years, the Afghan Taliban supremo disappeared after US airstrikes dislodged the Taliban regime in Afghanistan in 2001.
The biography comes amid rising speculation over the elusive leader's whereabouts and whether he is still alive and able to lead the militant group. Further, there have been reports of growing frustration within Taliban ranks over the lack of leadership by Omar, particularly in light of Islamic State's growing popularity.
The Afghan Taliban chief who has not been seen in public for more than a decade was last heard in 2007 – eight years ago.
However, if there were any doubts regarding his role in the Afghan Taliban, the biography cleared them.
Full report at:
http://tribune.com.pk/story/864853/afghan-taliban-release-mullah-omar-biography-amid-growing-frustration-within-ranks/
----------
High Court says Nasheed can still appeal
05 April, 2015
Former president Mohamed Nasheed can still appeal a 13-year terrorism conviction at the High Court despite the end of the 10-day appeal period, the court says.
However, Nasheed's lawyers say they believe they have no legal route through which to launch an appeal, and the ex-leader's only hope for release is a clemency procedure initiated by the president.
The legal team says Nasheed is seeking a political solution involving President Abdulla Yameen, saying he has no faith in the judicial system to treat his case fairly.
Nasheed's conviction last month was met with outrage from the opposition, which has been holding daily protests, while his trial was heavily criticised by several international bodies.
Late appeals
Full report at:
http://minivannews.com/politics/high-court-says-nasheed-can-still-appeal-95646#sthash.81bbjIYi.dpuf
----------
PM Sheikh Hasina for making more Liberation War-centric films
05 April, 2015
The Prime Minister Sheikh Hasina has called for making more Liberation War-centric movies in order to educate people about the victorious history of the nation.
She also urged the filmmakers to give focus on country's history, heritage and culture as well as social issues saying the movies must be creative, decent and educative.
"Movies are an important medium for social change. So you have to give attention so that people can learn something from movies and play role positively in the society through applying that learning," she said.
Full report at:
http://www.dhakatribune.com/bangladesh/2015/apr/04/pm-making-more-liberation-war-centric-films#sthash.jKrDpC29.dpuf
----------
Mohaqiq confirms 31 Hazaras kidnapped by ISIS (Daesh) militants
05 April, 2015
Mohammad Mohaqiq, senior Shiite community leader and deputy to Chief Executive officer Dr. Abdullah Abdullah, has confirmed that the 31 Hazaras have been kidnapped by militants belonging to Islamic State of Iraq and Syria (ISIS) militants.
He said two former Taliban leaders – Mullah Abdullah Kaka and his deputy Mullah Mansur Dadullah, who pledged allegiance to ISIS terrorist group, were responsible for the abduction of 31 members of the minority Shiite Hazara community.
Mohaqiq told the Associated Press that the two militant leaders have have simply "changed their white flag" of the Taliban for the black IS flag.
He said there have been no breakthrough to release the abducted men despite the Afghan security forces launched an operation in the week after the kidnappings.
According to Mohaqiq the hostages are still alive and are being held in different areas by the militants who have slip them up into three or four groups.
This is the first time an Afghan leader has confirmed Islamic State group involvement in the kidnappings.
The 31 members of the minority Shiite Hazara community were abducted on Feb. 24 in southern Zabul province of Afghanistan from two vehicles on a major road.
http://www.khaama.com/mohaqiq-confirms-31-hazaras-kidnapped-by-isis-daesh-militants-9975
----------
Mideast
Al-Qaeda makes itself at home in Yemen palace
5 April 2015
Pictures showing an alleged Al-Qaeda commander relaxing inside a palace in Yemen days after he was liberated by terrorists from prison have emerged online.
In one of the images, Khalid Saeed Batarfi, a senior leader with the Al-Qaeda in the Arabian Peninsula (AQAP), appears sitting in the governor's palace in the city of Mukalla, pretending to be on the telephone and holding a weapon.
In another photograph, Batarfi is seen standing on a Yemeni flag in the abandoned building.
Al Arabiya News could not independently verify the images.
Batarfi, who was jailed by Yemeni officials, was reportedly freed Thursday along with 300 other inmates from the Central Prison of Mukalla when members of AQAP stormed the building with machine guns and rocket launchers.
After taking over the prison, the group reportedly took to twitter and wrote: "All the brothers have been liberated, including Sheikh Batarfi who is now amongst his brothers, all praise to Allah."
The commander is most known for his prominent role in a 2011-2012 battle with government troops during which extremists seized large parts of the south and east of Yemen.
http://english.alarabiya.net/en/variety/2015/04/05/AL-Qaeda-makes-itself-at-home-in-Yemen-palace.html
----------
Saudi Airstrikes Kill 11 Civilians in Sanaa
05 April, 2015
At least 11 civilians were killed in Saudi-led airstrikes on many areas across the Yemeni capital of Sanaa.
According to the Lebanese al-Mayadeen television, Saudi warplanes conducted airstrikes against residential areas in Hajar Owkeish district in Western Sanaa on Saturday night, killing at least 11 civilians.
Reports said that the city's infrastructure, including its electricity power station, have also been targeted during the airstrikes.
Saudi Arabia has been striking Yemen for eleven days now to restore power to fugitive president Mansour Hadi, a close ally of Riyadh. The eleven days of the Saudi-led aggression has killed at least 860 Yemenis, including hundreds of women and children.
Hadi stepped down in January and refused to reconsider the decision despite calls by Ansarullah revolutionaries of the Houthi movement.
Full report at:
http://english.farsnews.com/newstext.aspx?nn=13940116000250
----------
Zarif stresses benefits to Iran of framework nuclear deal
05 April, 2015
All United Nations Security Council resolutions related to Iran's nuclear programme will be lifted immediately if a final deal is agreed, Foreign Minister Mohammad Javad Zarif said on April 4, stressing the benefits to Iran of this week's negotiations.
After leading Iranian negotiators to a preliminary deal with world powers in Switzerland, Zarif must now convince a domestic audience that the talks are heading toward a final deal that is in Iran's interest.
Full report at:
http://www.hurriyetdailynews.com/zarif-stresses-benefits-to-iran-of-framework-nuclear-deal.aspx?pageID=238&nID=80592&NewsCatID=359
----------
2,000 evacuated from Syria's Yarmuk after ISIL advance: Palestinians
05 April, 2015
Around 2,000 people have been evacuated from the Yarmuk Palestinian refugee camp in Damascus after the Islamic State group seized large parts of it, a Palestinian official told AFP April 5.
"Around 400 families, approximately 2,000 people, were able to leave the camp on Friday and Saturday via two secure roads to the Zahira district, which is under army control," said Anwar Abdul Hadi, a Palestine Liberation Organisation official.
Abdul Hadi said Syrian troops had helped in the evacuation, which came as Palestinian forces battled to hold back IS fighters who have captured large swathes of the camp since Wednesday.
Since the jihadist advance, regime forces have also shelled the camp and dropped barrel bombs on it, according to the Syrian Observatory for Human Rights.
Palestinian officials and the UN agency for Palestinian refugees have urged humanitarian access to the camp, where about 18,000 people remain under a government siege.
http://www.hurriyetdailynews.com/2000-evacuated-from-syrias-yarmuk-after-isil-advance-palestinians.aspx?pageID=238&nID=80593&NewsCatID=352
----------
Houthis strike civilian homes in Yemen's Aden
5 April 2015
Yemeni Houthi rebels striked civilian homes in Aden's port district of Mualla using army tanks, residents told Al Arabiya News Channel on Saturday night.
The strikes killed many, including children, the residents said, adding that parts of the southern port city have been without water or electricity for two days, according to Reuters news agency.
Residents said life was becoming unbearable. "How long can people live without water or electricity?" said Mohammad Fara'a.
Another resident, Hassan Abdallah, said people were using a long-disused well at one of the mosques to get water.
Meanwhile, in the southern city of Dalea, Houthis have reportedly executed seven civilians the group was holding as captives.
The Houthis and militias of the deposed leader Ali Abdullah Saleh seized power in the capital Sanaa in February and last month advanced on the port city of Aden, Hadi's stronghold, forcing him to go into exile.
The latest fighting is one of many conflicts in Yemen, where mass demonstrations inspired by the wider Arab uprisings of 2011 led to Saleh's resignation after three decades in power plagued by southern separatism, tribal unrest and al-Qaeda militancy.
http://english.alarabiya.net/en/News/middle-east/2015/04/05/Civilian-houses-shelled-by-Houthi-rebels-in-Aden-.html
----------
Turkish president to visit Iran despite war of words
05 April, 2015
Turkish President Recep Tayyip Erdogan is to visit Iran on Tuesday despite a war of words between the neighbouring countries over conflicts from Syria to Yemen, Tehran confirmed.
There had been calls from Iranian conservatives for the visit to be cancelled after Erodgan accused Shiite Tehran of backing "terrorist" rebels in the face of an air campaign in Yemen led by its Sunni arch rival Riyadh.
But the foreign ministry confirmed on Sunday that the scheduled state visit would go ahead.
It will be Erodgan's second official visit to Iran. In January 2014, he visited as prime minister.
It comes hot on the heels of a landmark nuclear deal between Iran and major powers that has aroused commercial ambitions around the world in the expectation of an easing of international sanctions.
Turkey is the key backer of rebels fighting to overthrow Syrian President Bashar al-Assad. Iran is his main regional supporter.
http://english.ahram.org.eg/NewsContent/2/8/126917/World/Region/Turkish-president-to-visit-Iran-despite-war-of-wor.aspx
---------
North America
ISIS 'burns halal U.S. chickens' intended as aid for Syrians
05 April, 2015
ISIS released this week pictures alleging to show boxes of halal chicken intended for civilians being burned.
According to The Independent, the militants set fire to the food aid because the birds had been killed in the U.S.
"Two trucks transporting boxes of food aid were apparently stopped at a checkpoint in Aleppo province in an area under the militant group's control on Wednesday," the newspaper reported.
"Images from a propaganda account affiliated with ISIS show militants emptying the trucks, which were filled with chicken legs, fruit and vegetables, and dumping them at the bottom of a hill in the Akhtarin countryside, in north Aleppo," the report added.
The boxes of chicken were labeled "Koch Foods," a U.S.-based chicken company.
When asked why they burned the chicken, Abu Mohammed Hussam, reportedly an activist with the Syrian group Raqqa is Being Slaughtered Silently, told The Independent: "ISIS said that the chicken is not slaughtered the Islamic way. The chicken was supposed to be going to civillians."
Full report at:
http://english.alarabiya.net/en/perspective/features/2015/04/04/ISIS-burns-crates-of-U-S-chicken-intended-for-Syrians.html
----------
Terror cases allege women wanted to fight for Islamic group
05 April, 2015
NEW YORK — Two women accused in New York City's latest homegrown terrorism case may be part of what some experts say is an evolving threat – a greater willingness by women to shed blood in the name of militant Islamic jihad.
The pair allegedly wanted to "make history" on their own by building a bomb and attacking a domestic target. Just a day after the New York pair was arrested, a Philadelphia woman was accused of expressing her willingness to die as a martyr for the Islamic State group.
While past cases often involved women answering the call by the Islamic State group on social media to join the cause as nurses or wives, "the idea that they want to fight is more a noticeable new trend," said Karen Greenberg, director of Fordham Law School's Center on National Security.
The sometimes boastful and profane language one of the New York women was quoted as using in the criminal complaint – "Why can't we be some real bad b––-s?" – bolstered the idea that the defendants weren't candidates for nonmilitary roles in a caliphate.
Full report at:
http://www.bellinghamherald.com/2015/04/04/4223426_terror-cases-allege-women-wanted.html?rh=1#storylink=cpy
----------
Obama seeks support for Iran nuclear deal
05 April, 2015
WASHINGTON - US President Barack Obama has sought public support for the framework deal that limits Iran's nuclear program, calling it a "good deal". In what the president called a "historic understanding," Iran agreed on Thursday to the agreement in return for the gradual lifting of economic sanctions.
"It's a good deal, a deal that meets our core objectives, including strict limitations on Iran's program and cutting off every pathway that Iran could take to develop a nuclear weapon," Obama added in his weekly radio and Internet address, broadcast on Saturday.
Full report at:
http://www.dailytimes.com.pk/region/05-Apr-2015/obama-seeks-support-for-iran-nuclear-deal
----------
Europe
French Muslim leader calls for doubling of mosques
05 April, 2015
One of France's top Muslim leaders has called for the number of mosques to double over the next two years to remedy a shortage of places of worship for the country's millions of faithful.
Speaking at a weekend gathering of French Islamic organisations, where participants asked for respect in the face of a rise in anti-Muslim attacks, Dalil Boubakeur said the 2,200 mosques in the country did not adequately represent Europe's largest Muslim community.
"We need double (that number) within two years," the head of the French Muslim Council and rector of the Paris mosque said in the town of Le Bourget near the capital.
"There are a lot of prayer rooms, of unfinished mosques, and there are a lot of mosques that are not being built," he added yesterday at the Muslim gathering, billed as the largest in the Western world.
This annual convention of the Union of Islamic Organisations of France (UOIF), which groups together more than 250 Muslim associations, comes just months after jihadist gunmen killed 17 people in and near Paris.
Since then, there has been a marked rise in Islamophobia in France, with 167 acts against mosques or threats recorded in January alone compared to just 14 in the same month last year.
France has long had a difficult relationship with its Muslim minority – currently estimated at between four and five million – that dates back to bloody struggles in its former North African colonies and the legacy of immigrants trapped in some of the country's poorest districts.
Long decades of insurgency against French rule in Algeria in the mid-twentieth century, followed by a spate of Algerian extremist attacks in France in the 1990s created difficulties for communal relations – which reawakened with the rise of global jihadism after 9/11.
Apart from physical acts, anti-Muslim sentiment in the country varies from mayors refusing to have mosques built to resistance to halal meals being served in prisons or schools.
Full report at:
http://www.themalaysianinsider.com/world/article/french-muslim-leader-calls-for-doubling-of-mosques#sthash.VJGumEsw.dpuf
----------
Muslim Group With Links To Extremists Boasts Of Influencing Election in UK
05 April, 2015
A front group for Muslim extremists which wants to let British Muslims fight in Syria has boasted that it is "negotiating with the Tory and Labour leadership" to secure some of its demands.
Muslim Engagement and Development (Mend) has built links with both parties – and been chosen as an "official partner" by the Electoral Commission for May's poll – after claiming to promote "democratic engagement" by Muslims. However, it is actually a facade to win political access and influence for individuals holding extreme, bigoted and anti-democratic views.
Labour's shadow equalities minister and vice-chair of its national policy forum, Kate Green, spoke at a Mend event last Friday addressed by a man, Abu Eesa Niamatullah, who has called British people "animals," demanded that women should not work, attacked democracy and said that "the Creator is the one who should decide what the laws should be."
Baroness Warsi, the former Tory chairman, also spoke at the event.
Full report at:
http://www.telegraph.co.uk/news/general-election-2015/11515630/Muslim-group-with-links-to-extremists-boasts-of-influencing-election.html
----------
UN sees increase in Maldivian jihadists overseas
05 April, 2015
A UN report has raised concerns over an increase in fighters leaving the Maldives to join terrorist organisations including al-Qaida and the Islamic State in Iraq and Syria.
The expert report to the UN Security Council, obtained by The Associated Press, said the flow of fighters globally "is higher than it has ever been historically", increasing from a few thousand a decade ago to over 25,000 from more than 100 nations today.
The Maldives police chief Hussein Waheed in January estimated some 50 Maldivians are fighting in foreign wars, but the main opposition Maldivian Democratic Party says the figure could be as high as 200.
Full report at:
http://minivannews.com/news-in-brief/un-sees-increase-in-maldivian-jihadists-overseas-95631#sthash.6Gvv76rG.dpuf
---------
UK envoy: Houthi violence caused crisis
05 April, 2015
NEW YORK: Britain's Deputy UN Ambassador Peter Wilson said Britain continues to support Saudi-led military action against the Houthis in response to "a legitimate request" from President Abed Rabbo Mansour Hadi.
Wilson said it's extremely important to remember that the current crisis was caused by the Houthis repeatedly violating cease-fires and taking military action instead of genuinely engaging in political talks.
"The only way out of this crisis is a return to genuine political talks on an equal basis and not using force," he said.
His remarks came as Russia urged the UN Security Council to call for a "humanitarian pause" in the conflict in Yemen to help diplomats and civilians caught in the fighting.
Russia called an emergency meeting of the council and circulated a draft resolution demanding "regular and obligatory" breaks in airstrikes by a Saudi-led military coalition against Houthi terrorists to allow the evacuation of foreign personnel. It makes no mention of a halt to fighting by the Houthis.
http://www.arabnews.com/featured/news/728116
----------
Red Cross calls for 24-hour ceasefire in Yemen to deliver aid
05 April, 2015
GENEVA/ADEN: The International Committee of the Red Cross appealed on Saturday for an immediate 24-hour halt to hostilities in Yemen to deliver life-saving medical aid into the country where it said the humanitarian situation was dire.
The Saudi-led military coalition conducting air strikes in Yemen was still blocking three shipments of aid and medical staff, aid agency said earlier. Talks were being held with all parties, spokeswoman Sitara Jabeen said.
"All air, land and sea routes must be opened without delay for at least 24 hours to enable help to reach people cut off after more than a week of intense air strikes and fierce ground fighting nationwide," the ICRC said in a statement.
Full report at:
http://www.dailytimes.com.pk/foreign/05-Apr-2015/red-cross-calls-for-24-hour-ceasefire-in-yemen-to-deliver-aid
----------
Southeast Asia
Malaysian Bar calls anti-terror bill 'shameless revival of ISA'
05 April, 2015
The Malaysian Bar has urged Putrajaya to withdraw the recently tabled Prevention of Terrorism Bill 2015 (Pota) and bring all other legislation into line with its commitment to respect the rule of law and principle of natural justice.
Malaysian Bar president Steven Thiru said the bill should be withdrawn because the anti-terrorism bill was another repressive law, which he described as a "shameless revival of the Internal Security Act 1960 (ISA)" and other laws that were repealed or revoked in 2011 and 2012 such as the Restricted Residence Act 1933, Banishment Act 1959 and Emergency (Public Order and Prevention of Crime) Ordinance 1969.
He said the Malaysian Bar "abhorred detention without trial", and viewed Pota as "a repressive law that is an affront to the rule of law and repugnant to the principles of natural justice".
"Pota is purportedly directed at persons who are 'engaged in the commission or support of terrorist acts involving listed terrorist organisations in a foreign country or any part of a foreign country'.
Full report at:
http://www.themalaysianinsider.com/malaysia/article/malaysian-bar-calls-anti-terror-bill-shameless-revival-of-isa#sthash.5C7Wbupf.dpuf
--------
Police Believe Terrorist Leader Shot Dead in Central Sulawesi
05 April, 2015
Jakarta. One of Indonesia's most wanted terror suspects is believed to have been killed in a gun battle with police in Central Sulawesi.
Police say they strongly suspect Daeng Koro, the right-hand man of East Indonesia Mujahidin (MIT) leader Santoso, was killed during a shootout in Parigi Moutong district on Friday.
"The terrorist who was shot dead in the shootout was highly suspected to be Daeng Koro," National Police spokesman Sr. Cmr. Rikwanto said, adding police would carry out DNA testing to confirm the man's identity.
Full report at:
http://thejakartaglobe.beritasatu.com/news/a-terrorist-suspect-shot-dead-in-in-central-sulawesi/
----------
Africa
After Islamist Attack, Armed Guards Shield Kenya's Easter Congregations
05 April, 2015
Garissa, Kenya. Kenyan churches used armed guards to protect their Easter congregations on Sunday, days after gunmen from the Islamist al Shabaab group killed nearly 150 people at a Kenyan university.
Kenyan priests, who have been frequently targeted by Islamists, said they feared churches could be targeted on Easter Sunday, the main liturgical feast in the Christian calendar.
"We are very concerned about the security of our churches and worshippers, especially this Easter period, and also because it is clear that these attackers are targeting Christians," Willybard Lagho, a Mombasa-based Catholic priest and chairman of the Coast Interfaith Council of Clerics (CICC), told Reuters.
He said churches in the Indian Ocean port city of Mombasa were hiring armed police and private security guards for mass on Easter Sunday. Christians make up 83 percent of Kenya's 44 million population.
Full report at:
http://thejakartaglobe.beritasatu.com/international/islamist-attack-armed-guards-shield-kenyas-easter-congregations/
----------
Suicide bomber kills four near Libya's Misrata
05 April, 2015
TRIPOLI, April 5 — At least four people were killed and more than 20 wounded by a suicide bomb attack on a security checkpoint east of the Libyan city of Misrata, a local official news agency reported today.
Libya is caught up in a conflict between two rival governments and armed forces who have attacked towns allied with opponents. But Islamist militants are also increasing their reach in the chaos since Muammar Gaddafi's fall in 2011.
One woman and her two children were among the victims of the suicide blast at the checkpoint in Es Dada, east of Misrata, the LANA news agency associated with the Tripoli government said.
Full report at:
http://www.themalaymailonline.com/world/article/suicide-bomber-kills-4-near-libyas-misrata#sthash.Bx1OcXHR.dpuf
----------
Kenya identifies 1 of 4 al Shabaab gunmen as son of govt official: interior ministry
05 April, 2015
NAIROBI: Kenya on Sunday identified one of the al Shabaab gunmen who massacred students at a northeastern university as the son of a Kenyan government official, the interior ministry said.
Spokesperson Mwenda Njoka said Abdirahim Abdullahi was one of the four gunmen who attacked the Garissa University College campus on Thursday, killing nearly 150 people.
"The father had reported to security agents that his son had disappeared from home… and was helping the police try to trace his son by the time the Garissa terror attack happened," Njoka told Reuters in a text message.
http://tribune.com.pk/story/864860/kenya-identifies-1-of-4-al-shabaab-gunmen-as-son-of-govt-official-interior-ministry/
----------
Kenyatta says campus attackers 'embedded' in Kenya's Muslim community
05 April, 2015
GARISSA, Kenya (Reuters) - Kenya's President Uhuru Kenyatta said on Saturday that those behind an attack in which al Shabaab Islamist militants killed 148 people at a university were "deeply embedded" in Kenya, and called on Kenyan Muslims to help prevent radicalization.
His televised speech in response to Thursday's 15-hour siege at the Garissa university campus came after the Interior Ministry said five suspects in the assault had been detained, some while trying to flee to Somalia.
Four suspects were Kenyans of Somali origin, and the fifth was Tanzanian, the ministry said. The suspected mastermind, Mohamed Mohamud, a former teacher at a Garissa madrasa, is still on the run. Kenya has offered a 20 million shillings ($215,000) reward for his arrest.
"Our task of countering terrorism has been made all the more difficult by the fact that the planners and financiers of this brutality are deeply embedded in our communities," Kenyatta said.
Full report at:
http://news.yahoo.com/somali-militants-threaten-more-bloody-attacks-against-kenya-071436688.html
---------
Libya: Muammar Gaddafi palaces reduced to garbage dumps, pet markets
April 5, 2015
The sprawling palace compounds from which Libyan leader Muammar Gaddafi ruled for four decades have been reduced to garbage dumps and pet markets by the 2011 revolution which toppled him.
In the heart of Tripoli, the once feared but now humbled Bab al-Aziziya compound resembles a wasteland.
During his rule, Libyans would be nervous just walking anywhere near the fortress-like seat of the Gaddafi regime.
"People were afraid even to look at the walls, for fear of being arrested," said Hassan, a Tripoli taxi driver.
All that remains of the compound, which had been hit in a 1986 US air strike before being pounded by NATO four years ago, are a few ruined buildings, the green flooring of Gaddafi's home and a dug-up network of underground tunnels.
Full report at:
http://indianexpress.com/article/world/middle-east-africa/libya-muammar-gaddafi-palaces-reduced-to-garbage-dumps-pet-markets/
----------
India
Religious Structures Of Hindu And Muslim Communities Coexists In Peace And Harmony
05 April, 2015
ETAWAH: When Hindu devotees visit Kalka Devi (Goddess Durga) temple in Lakhna town of Etawah they never forget to seek blessings of Saiyyed Baba Mazar, situated in the temple premises.
Same is with the Muslim devotees. For, the people believe their prayers will not be answered otherwise. Lakhna town, located close to Yamuna river in Etawah, sees Hindus and Muslims pray together at the Kalka Devi Temple and the Saiyyed Baba Mazar that are adjacent to each other. The site is also sought after by people for holding marriages, 'mundan' (tonsure ceremony of Hindu children) or other rituals.
Legend has it that any prayer offered only at the Mazar or the temple is not fulfilled, as the almighty answers only those prayers that are offered at both the shrines.
Ashok Chauhan, former Lakhna town area chairman and a native of Lakhna, said that the devotees never forget to offer prayer at mausoleum before they line-up at Ma Kalka Devi temple to seek her blessings.
"This place can be considered as a perfect example of peace, love and harmony. The temple and the mausoleum have been constructed side by side. Nobody have any grudge over this. Whenever anybody want, he/she worship in this temple as well as moausoleum," Chauhan said further.
Full report at:
http://timesofindia.indiatimes.com/india/Religious-structures-of-Hindu-and-Muslim-communities-coexists-in-peace-and-harmony/articleshow/46806939.cms
---------
Outrage over India's vote against benefits to same-sex couples because of homophilia or Islamophobia?
ET Bureau | Apr 5, 2015
It's difficult to determine if the outrage over India's vote last week in favour of denying benefits to same-sex UN staffers is because of homophilia or Islamophobia.
While most articles covering the event have rightly pointed to India's official and legal phobia towards homosexuality, almost all Indian or Indian affiliated articles have carried headlines listing the countries in whose company India voted. "India votes with Pakistan, Saudi Arabia" says NDTV.com, while in its March 30 issue, The Telegraph quoted Narendra Modi's friends and staunch RSS supporters in the Hindu American Foundation expressing "disappointment at the spectacle of India at the United Nations in the company of Pakistan, Saudi Arabia, Iran and Syria..." To its credit, the same Hindu American Foundation had criticised the Supreme Court's 2013 verdict recriminalising sex "against the order of nature," arguing that same-sex couples deserve as much respect as opposite-sex couples.
Full report at:
http://timesofindia.indiatimes.com/india/Outrage-over-Indias-vote-against-benefits-to-same-sex-couples-because-of-homophilia-or-Islamophobia/articleshow/46812442.cms
----------
URL: https://newageislam.com/islamic-world-news/new-age-islam-news-bureau/isis--bans-skinny-jeans,-listening-to-music--in-syria's-raqqa/d/102290