New Age Islam News Bureau
2 Aug 2014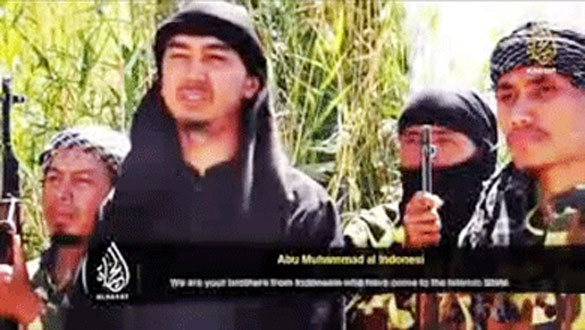 A video uploaded to YouTube recently to show an Indonesian ISIS member calling for support and jihad. (JG Photo)
-----------
Arab World
• ISIS Axes Gender Mixing In Mosul Universities
• Syria Troops Kill At Least 50 Jihadists near Lebanon
• Jihadists kill 14 Iraq Kurds in battle over dam, oil facility
• Nusra chief in Syria's Idlib killed in attack
• Islamic State imposes strict media controls in Syria province
• Socialist Party leader calls for Arab dialogue to combat terrorism
• Egyptian President: Egypt plan 'real chance' to end Gaza crisis
• ISIS withdraws from Syria villages
• Syrian rebels claim downed regime warplane
Europe
• British Sunni Imam: Quran Does Not Rule On Segregation
• UK involvement in arming Israel revealed
• Radar in Turkey not linked to Israel's security: NATO top commander
• Bolivia: Palestine's supporters hail state's stance on Israel
• Uzbekistan says no plans for new US military base
South Asia
• 29 Taliban militants killed during counter-terrorism operations
• Nine more killed in China's Xinjiang violence
• Bangladeshi human trafficking godfathers operating from Iran
• Reports of Taliban surge are exaggerated, says incoming ISAF commander
Pakistan
• Shia Pilgrims Flock to Pakistan's Sufi Shrine
• Mulla Omar promises to prevent civilian casualties
• Three suspected militants killed in North Waziristan
• Mohmand: School blown up by militants
• Nearly half of identified drone strike victims in Pakistan are civilians: report
• Journalist faces false blasphemy charges: CPJ
• Balochistan launches investigation into dumping of mutilated bodies
• Qadri to announce Revolution March date on Sunday
• No danger to democracy under Gen Sharif's watch
• Asma decries use of violence, illegal means against Geo
Mideast
• More than 1,000 Turks fighting for the Islamic Caliphate
• Israel hits Gaza again as Palestinians toll rises to 1650
• Turkish hostages held by ISIL in Mosul 'soon to be released'
• Gaza truce unravels within hours
• Israel bombards Gaza as it searches for soldier
• Abbas seeks support for war crimes charges
North America
• Iraqi Kurds press US for arms in battle against ISIL
• Maldives' respect for religious freedom declined in 2013: USSD report
• Operation in North Waziristan disrupting militants, say US officials
• Al Qaeda decimated in Fata: White House
• Barack Obama acknowledges CIA indulged in torture after 9/11 terror attacks
• Obama calls for 'unconditional release' of IDF soldier held captive in Gaza
Africa
• 22 killed in Central Africa fighting
• Benghazi Islamist militants on their last straw, analyst says
• Fears That Girls Kidnapped By Boko Haram Are Being Used As Suicide Bombers
• Somali Islamists shoot dead fifth lawmaker this year
• Gambian Muslim Scholars Call for Cessation of Violence in Troubled Nations
Southeast Asia
• Indonesian Government Warns Citizens Not to Support ISIS
• Philippine Govt, Rebels Meet as Muslim Self-Rule Bill Delayed
• Hamas rubbishes Israeli claim that Malaysia trained its members
• Thousands attend protest for Palestine in Dataran Merdeka
India
• All Indian nationals told to return from Libya
• Katju for permanent residency for Taslima in India
Compiled by New Age Islam News Bureau
URL: https://www.newageislam.com/islamic-world-news/new-age-islam-news-bureau/isis-axes-gender-mixing-in-mosul-universities/d/98393
-------------
Arab World
ISIS axes gender mixing in Mosul universities
Aug 2, 2014
The Islamic State of Iraq and Syria (ISIS) militant group has ordered the segregation of male and female university students in the northern Iraqi province of Mosul, local media outlet Al-Sumaria News reported an informed source as saying Thursday.
The source, who spoke on condition of anonymity, told Al-Sumaria News that ISIS called university professors and deans into meeting and stipulated that male and female students should not be mixed in one classroom.
According to the source, the radical group also decided that Sept. 1 will be the first day for universities to open with "female students starting their day from 9 am to 2 pm while males [will study from] from 2 pm to 6 pm."
ISIS has also told the professors and deans that curriculum involving political science and law courses should be changed, the source said without detailing the expected modifications.
The group also ordered that the name of the visual arts department should be changed to "decorative sketching," the source said.
ISIS, which made international headlines when it declared itself an Islamic Caliphate in July, seized Mosul, the second largest city in Iraq, on June 10 in a lightning offensive.
Segregating the sexes seems to be a continuation of ISIS' attempts in furthering its conservative application of Islamic teaching.
n mid-July, ISIS reportedly gave shopkeepers in Mosul strict instructions to cover the faces of mannequins.
Christians in Mosul had to flee the city after ISIS warned them to either convert to Islam, pay a tax or face death. Other minority groups such as Yazidis and Shiite Turkumen left Mosul after the radical Sunni group claimed power, according to reports.
http://english.alarabiya.net/en/News/middle-east/2014/08/01/Report-ISIS-orders-no-gender-mixing-in-Mosul-universities.html
-------------
Syria troops kill at least 50 jihadists near Lebanon
Aug 2, 2014
BEIRUT: At least 50 jihadists from the Islamic State and Nusra Front were killed overnight by Syrian troops backed by Lebanese Hezbollah fighters near the Lebanese border, an activist group said Saturday.
The Syrian Observatory for Human Rights said the jihadists clashed throughout Friday night and into Saturday morning with the regime troops and allied forces in the Qalamoun region by the Lebanese border.
http://www.dailystar.com.lb/News/Middle-East/2014/Aug-02/265849-syria-troops-kill-at-least-50-jihadists-near-lebanon.ashx#ixzz39HW3Bv3s
-----------
Jihadists kill 14 Iraq Kurds in battle over dam, oil facility
2 August 2014
Kurdish troops fought off a jihadist attack on an oil facility and a dam near the Iraqi city of Mosul but lost 14 of their number in intense combat, Kurdish sources said Saturday.
The Islamic State of Iraq and Syria (ISIS), which controls the northern city, "attacked a peshmerga post in Zumar (Friday) and a fierce battle erupted," an official in the Patriotic Union of Kurdistan told AFP.
He said 14 peshmerga fighters were killed, a toll confirmed by a senior officer in the Kurdish force.
The PUK official said the peshmerga killed "around 100" ISIS fighters and captured 38 in a battle that lasted several hours.
Zumar is a small Kurdish-majority outpost northwest of Mosul, which used to be under federal government control but was taken over by the peshmerga in June.
ISIS fighters, who had already been running large swathes of neighbouring Syria, launched a blistering offensive on June 9 that saw them capture Mosul, Iraq's second city, and move into much of the country's Sunni heartland.
Many government forces retreated in the face of the onslaught, and peshmerga troops seized the opportunity to fill the vacuum and seize long-coveted areas the Kurds were in dispute with Baghdad over.
http://english.alarabiya.net/en/News/middle-east/2014/08/02/Jihadists-kill-14-Iraq-Kurds-in-battle-over-dam-oil-facility-.html
-------------
Nusra chief in Syria's Idlib killed in attack
Aug 2, 2014
BEIRUT: A local chief of Al-Qaeda's Syrian affiliate the Nusra Front has died in an apparent assassination after a bomb went off in his car, an activist group said Saturday.
"Nusra's emir in Idlib (province), Yaacub al-Omar, was killed overnight when a bomb went off in his car near his house in the Khan al-Subul area," the Syria Observatory for Human Rights said.
Two of his sons were wounded in the blast, the Britain-based group added.
Omar, a Syrian in his 40s, took over as local chief in April after his predecessor, Abu Mohammed al-Ansari, was killed by the jihadist Islamic State group.
Despite both having their roots in Al-Qaeda, Nusra and the Islamic State - formerly known as the Islamic State of Iraq and Greater Syria - have been in conflict since the beginning of 2014.
Both groups oppose the Syrian regime, but Nusra joined moderate and Islamist rebels to combat the Islamic State in a widespread backlash against its extremist ideology and abuses of civilians and rival rebels.
However, in recent weeks, Nusra has also been fighting some of those erstwhile allies.
That has further complicated the Syrian conflict, which began as an uprising against President Bashar Assad's government, but has degenerated into a complex war involving multiple fronts and foreign fighters on both sides.
The fighting between Nusra and other rebels began in early July, with a particularly bloody battle breaking out in the Jisr al-Shugur region of Idlib a week ago.
Fighting there left dozens dead on both sides, according to the Observatory.
Rebels in the region have accused Nusra of trying to push them out of Idlib so the group can create an "Islamic emirate" to rival the "Islamic caliphate" that IS has declared in parts of Syria and Iraq under its control.
http://www.dailystar.com.lb/News/Middle-East/2014/Aug-02/265846-nusra-chief-in-syrias-idlib-killed-in-attack.ashx#ixzz39HVxqYPw
-----------
Islamic State imposes strict media controls in Syria province
Aug 2, 2014
Islamic State, the al-Qaeda splinter group which has seized parts of Syria and Iraq, has told activists in Syria's Deir al-Zor province they must swear allegiance to it and submit to censorship, a monitoring group said on Friday.
The militant group imposed the rules after a meeting on Tuesday with activists involved in media work, the British-based Syrian Observatory for Human Rights said.
International media organizations have little presence in Syria and rely on activists and other sources to provide information on what is happening in the country.
Islamic State also told the activists they must recognize the caliphate, based on their strict interpretation of Islam, that it has declared in the parts of Iraq and Syria it controls.
It also said they must stop using the term "Daash" to describe the group. "Daash" is the Arabic acronym for the group's previous name, the Islamic State in Iraq and the Levant (ISIL), and is mainly used by people who oppose it.
Full report at:
http://www.todayszaman.com/world_islamic-state-imposes-strict-media-controls-in-syria-province_354395.html
-------------
Socialist Party leader calls for Arab dialogue to combat terrorism
Aug 2, 2014
BEIRUT: Progressive Socialist Party leader MP Walid Jumblatt called in remarks published Saturday for an inter-Arab dialogue with Turkey and Iran to combat the rise of terrorism, which he said was the result of an incorrect understanding of Islam.
"What is needed is to launch dialogue between concerned Arab countries in this regard led by the Kingdom of Saudi Arabia with Iran and Turkey to eliminate this terrorism that is committing crimes in the name of Islam and destroying Arab and Muslim diversity as it forces Christians to immigrate," Jumblatt told Al-Mustaqbal.
"This is a dangerous and unacceptable matter, which should prompt us to quickly look into the roots of this phenomenon that arose as a result of an incorrect understanding taught in schools."
Full report at:
http://www.dailystar.com.lb/News/Lebanon-News/2014/Aug-02/265835-jumblatt-calls-for-arab-dialogue-to-combat-terrorism.ashx#ixzz39GkxCzcw
-------------
Egyptian President: Egypt plan 'real chance' to end Gaza crisis
2 August 2014
President Abdel Fattah al-Sisi said on Saturday an Egyptian truce plan provided a "real chance" to end the Gaza conflict, stressing the need for its speedy implementation.
"The Egyptian proposal is the real chance to find a solution to the crisis in Gaza and to end the bloodshed," Sisi told a televised news conference.
A Palestinian delegation is expected in Cairo on Saturday to discuss a truce, a day after a temporary ceasefire collapsed with Israel and Hamas blaming each other.
http://english.alarabiya.net/en/News/middle-east/2014/08/02/Sisi-Egypt-plan-real-chance-to-end-Gaza-crisis.html
-------------
ISIS withdraws from Syria villages
Aug 2, 2014
The jihadist Islamic State has withdrawn from several villages dominated by a Sunni tribe in eastern Deir Ezzor province after clashes, a monitoring group said Friday.
The Syrian Observatory for Human Rights said the extremist group had withdrawn from Abu Hamam, Kashkiyeh and Ghranij, three villages dominated by the Sunni Shaitat tribe in oil-rich Deir Ezzor.
The group said members of the tribe also set fire to a headquarters belonging to the Islamic State in a fourth village and there were reports that the jihadists had withdrawn from a fifth village in the area.
Fighting between members of the Shaitat Sunni tribe and jihadists began on Wednesday, with tribal members tweeting about an "uprising" against ISIS.
The clashes erupted after ISIS detained three members of the tribe, "violating an agreement", it said.
Full report at:
http://english.alarabiya.net/en/News/middle-east/2014/08/01/NGO-ISIS-withdraws-from-Syria-villages-.html
--------
Syrian rebels claim downed regime warplane
2 August 2014
Syrian opposition fighters claimed they shot down a Syrian regime aircraft in the strategic Qalamoun region that borders Lebanon, according to activist groups.
Video footage of the incident posted on the Internet appeared inconclusive as to whether the plane was shot down or merely damaged by the rebel attack.
The Sham News Network, an anti-regime media outlet, said the pilot had ejected from the craft, while the Syrian Observatory for Human Rights, an opposition activist group, said it was not clear whether the vehicle was shot down or experience technical difficulties, reported Lebanon's The Daily Star.
Full report at:
http://english.alarabiya.net/en/News/middle-east/2014/08/02/Syrian-rebels-claim-downed-plane-in-Qalamoun-.html
-------------
Europe
British Sunni Imam: Quran Does Not Rule On Segregation
2 August 2014
A leading British Sunni imam has said that gender segregation has no basis in the Quran, UK newspaper The Times reported Saturday.
Ahtsham Ali, who is the Muslim adviser to the Prison Service and a former president of the Islamic Society of Britain, said that making men and women sit in separate rooms was not justified in the Quran.
To explain his point of view, Ali said that the passage of the Quran which asks women to stay home is addressed only to the Prophet Mohammed's family.
"Stay in your houses and do not display yourselves like [women used to] in the time of ignorance [before Islam]," was intended specifically to the prophet's wives, Ali said.
The imam said he started to grow concerned over the matter as a result of pressure to sit female Islamic scholars in a separate room during a seminar.
"A few days later I had fatwas flooding into my inbox," Ali said.
The imam also warned against emulating the Prophet and his family.
"Emulation is not an absolute," he told the Living Islam festival. "You don't emulate except what [the prophet] asked us to emulate. Wasn't he allowed to have the culture of his time in 7th century Arabia?"
During his remarks, Ali urged Muslims to think more critically about Shariah and verdicts given by Islamic scholars.
http://english.alarabiya.net/en/News/middle-east/2014/08/02/UK-imam-Quran-does-not-justify-gender-segregation-.html
----------
UK involvement in arming Israel revealed
2 August 2014
Recent documents reveal that the British government is participating in arming the Israeli army which has killed thousands of Palestinians since the beginning of its offensive against Gaza nearly a month ago, the British daily news website the Independent reported Friday.
The documents, which were obtained by the Campaign Against Arms Trade (CAAT) under the Freedom of Information Act, showed that the weapons used by Israel against Gaza contain British-made components.
They also revealed that arms export licences worth more than $70 million (£42 million) have been granted to 130 British defense manufacturers since 2010 to sell military equipment to Israel.
Full report at:
http://english.alarabiya.net/en/News/middle-east/2014/08/02/Britain-participates-in-arming-Israel.html
-------------
Radar in Turkey not linked to Israel's security: NATO top commander
Aug 2, 2014
Amid rising criticism from Turkey's opposition about the possible use of the Kürecik Radar Base for Israel, NATO's top commander clarified its mission as "strictly for European Security."
General Philip Breedlove, NATO's Supreme Allied Commander for Europe, on a fieldtrip to the Patriot Systems based in the Gen. Ataman Garrison in Gaziantep, told CNN Türk the Kürecik Radar Base in the eastern province of Malatya is a part of the "phase-adaptive approach for Europe's Missile Defense."
"It is an American supplied radar that is offered to NATO to be a part of the European phase-adaptive approach Missile Defense of Europe. That is what it is there for," Breedlove said, "Soon, you will see a radar built in Romania and another in Poland. And after that, all of these radars will be lashed together to provide for the missile defense of Europe."
Full report at:
http://www.hurriyetdailynews.com/radar-in-turkey-not-linked-to-israels-security-nato-top-commander.aspx?pageID=238&nID=69882&NewsCatID=510
---------
Bolivia: Palestine's supporters hail state's stance on Israel
Aug 2, 2014
Bolivia's recent declaration that Israel constitutes a terrorist state has caused some in the Middle East to compare the Latin American state's move with the stance of many Arab states on the issue.
Many supporters of Palestine praised Bolivia's decision, and on Twitter, the hashtag #VivaBolivia started circulating.
Bolivia on Wednesday declared Israel a terrorist state and renounced a visa exemption agreement with the country in protest at the ongoing Israeli military offence in the Gaza Strip which has killed over 1,450 Palestinians, destroyed around 5,000 homes and displaced around a quarter of a million people.
Full report at:
http://english.ahram.org.eg/NewsContent/2/8/107507/World/Region/Viva-Bolivia-Palestines-supporters-hail-states-sta.aspx
---------
Uzbekistan says no plans for new US military base
August 02, 2014
TASHKENT : Uzbekistan denied on Friday it was in talks with Washington over a new US base after president Islam Karimov hosted a senior US military commander for talks.
A news report said this week that Tashkent was in talks with Washington over the possible opening of a new US base in the strategically located Central Asian state.
President Islam Karimov on Wednesday hosted Commander of the US Central Command Lloyd Austin for security talks.
During the meeting Karimov questioned the US commander on what role Washington intended to play in the region after the planned withdrawal of combat troops from Afghanistan this year, Uzbek national television reported.
Full report at:
http://www.nation.com.pk/international/02-Aug-2014/uzbekistan-says-no-plans-for-new-us-military-base
-------------
South Asia
29 Taliban militants killed during counter-terrorism operations
Aug 2, 2014
At least 29 Taliban militants were killed during counter-terrorism operations in Afghanistan.
The interior ministry of Afghanistan following a statement said Saturday that the militants were killed or injured during coordinated operations in the past 24 hours.
The statement further added that the operations were jointly conducted by Afghan national police, Afghan national army and Afghan intelligence – national directorate of security (NDS) operatives.
At least two Taliban militants were also injured and four others arrested during the operations which were conducted in Nangarhar, Khost and Sar-e-Pul provinces, interior ministry said.
Full report at:
http://www.khaama.com/29-taliban-militants-killed-during-counter-terrorism-operations-8374
-------------
Nine more killed in China's Xinjiang violence
August 02, 2014
BEIJING : Nine militants were shot dead and one captured in China's restive far western region of Xinjiang on Friday, state media said, the latest bout of violence in a week in which dozens have been killed there.
The official Xinhua news agency said the incident happened in a rural area close to Hotan city in Xinjiang's far south, when more than 30,000 civilians involved in a counter-terror operation with police saw 'signs' of a terror gang in a corn field.
'Police and the 30,000 civilians in unison surrounded the terror gang, and forced them into an abandoned house,' the report said. Explosive devices were thrown at both the police and civilians, and the police 'took decisive action' and shot dead the attackers, the report said. The operation had begun on Sunday when local people tipped police off about the existence of the gang, the report said. China usually uses terms like 'terror gang' to describe militants or separatists.
Full report at:
http://www.nation.com.pk/international/02-Aug-2014/nine-more-killed-in-china-s-xinjiang-violence
-------------
Bangladeshi human trafficking godfathers operating from Iran
Aug 2, 2014
Bangladeshi criminal kingpins have been running an Iran-based human trafficking network that lures migrant labourers to European countries with job offers, takes them hostage in Iran and extorts ransom from their relatives in Bangladesh, according to the Criminal Investigation Department (CID).
These criminal godfathers operate around 300 traffickers, doing so for about 20-25 years from their base in Iran.
"We recently learned that around 15 Bangladeshi godfathers of a human trafficking network have been operating in Iran, and we plan to set up a temporary camp there to capture them," said Md Shah Alam, additional deputy inspector general of CID (organised crime), while talking to the Dhaka Tribune on Thursday.
Full report at:
http://www.dhakatribune.com/bangladesh/2014/aug/01/bangladeshi-human-trafficking-godfathers-operating-iran#sthash.vghvdjT0.dpuf
----------
Reports of Taliban surge are exaggerated, says incoming ISAF commander
Aug 2, 2014
The incoming NATO-led International Security Assistance Force (ISAF) commander, Gen. John F. Campbell has called reports regarding the surge of Taliban militants as exaggerated.
Gen. Campbell is expected to succeed Gen. Joseph Dunford as ISAF commander and take over commander of the NATO combat mission in Afghanistan.
The General suggested that the reports suggesting that the Taliban militants are gaining ground as U.S. troop levels fall and Afghan soldiers take on more fighting duties, are more about PR than battlefield realities.
Speaking to reporters in Pentagon, Gen. Campbell said many of the claims were based on propaganda by the insurgents trying to intimidate the Afghan public into supporting them.
"A lot of what you're getting on how bad it may have been down in the south, or this attack there, or some of the things in the east, is we have kind of lost the information war here," Gen. Campbell quoted by Star and Stripes said.
Full report at:
http://www.khaama.com/reports-of-taliban-surge-are-exaggerated-says-incoming-isaf-commander-8373
-------------
Pakistan
Shia Pilgrims Flock to Pakistan's Sufi Shrine
Aug 2, 2014
Sehwan Sharif, Pakistan - As the bus began to slow down a young Sindhi boy in a dusty pistachio Shalwar Kameez (a traditional dress of South and Central Asia) jumped in through the open rear door.
Balancing a steel bowl of glistening coconut slices on his shoulder, he weaved his way between luggage, vomit, biscuit wrappers, and sleeping children strewn in the gangway, trying to attract customers parched from the journey.
Out of the window, buses impossibly laden with pots, firewood, goats, and people jostled for space in a scene that could be mistaken for a biblical exodus were it not for the rhythmical Dhol drumbeat pulsating amid the chaos. We had reached Sehwan Sharif.
"If someone has fallen in love with [Lal Shahbaz] Qalandar he will come here, whatever stands in his way …[for] his heart is filled with the gentle words of Ali," said Muddho Sain, the leader of a group of Qalandriya Shia on a pilgrimage.
Full report at:
http://www.aljazeera.com/indepth/features/2014/07/shia-pilgrims-flock-pakistan-sufi-shrine-201473175829740724.html
-------------
Mulla Omar promises to prevent civilian casualties
Aug 2, 2014
PESHAWAR: Taliban supreme leader Mulla Mohammad Omar in his customary Eidul Fitr message to the Afghan nation has revealed that his armed movement had set up the Department for Prevention of Civilian Casualties to pay serious attention to the task of preventing civilian losses in Taliban military operations.
His message delivered to the media through emails in Pashto, Persian, English and several other languages directed Taliban fighters to take every caution to protect the life and property of the public during their operations so that nobody is harmed. He also advised Taliban to shun arrogance, not to use force without justification and against Sharia (Islamic law), not to threaten, harass and oppress people or harm their life, property and honour as this is a great crime and would entail their accountability by Allah, be tolerant towards the people, make honest efforts to maintain justice and security in areas under the rule of the Islamic Emirate and clear it from thieves, highway robbers and saboteurs.
Mulla Omar said the Taliban-led Islamic Emirate upon coming into power would focus on agriculture, husbandry, and extraction of mines and development of infrastructure by using technology and seeking international assistance. This was the first time that Mulla Omar spoke about welcoming international assistance for developing Afghanistan's natural resources.
Full report at:
http://www.thenews.com.pk/Todays-News-13-31950-Mulla-Omar-promises-to-prevent-civilian-casualties
-------------
Three suspected militants killed in North Waziristan
Aug 2, 2014
PESHAWAR: Three suspected militants were killed during the ongoing Zarb-i-Azb operation in the Mir Ali tehsil of North Waziristan on Saturday, official sources said. The claims however could not be independently verified.
Sources said security forces killed three suspected militants during the military operation, whereas a huge quantity of arms and ammunition was also recovered.
The media has no access to the tribal region, making it difficult to verify the claims of either the military or militant sources.
Operation Zarb-i-Azb was launched by the Pakistan Army on June 15, following a brazen Taliban-claimed attack on Karachi's Jinnah International Airport and the failure of peace talks between negotiators representing the government and the Tehreek-i-Taliban Pakistan (TTP).
http://www.dawn.com/news/1122830/three-suspected-militants-killed-in-north-waziristan
-------------
Mohmand: School blown up by militants
August 02, 2014
Peshawar- Militants blew up a school in the Mohmand tribal region today. Official sources said suspected militants had planted explosives in the government girls primary school situated in the Dando Bridge area of Mohmand which went off. No loss of life was reported but the school has been partially destroyed.
http://www.nation.com.pk/national/02-Aug-2014/mohmand-school-blown-up-by-militants
-------------
Nearly half of identified drone strike victims in Pakistan are civilians: report
Aug 2, 2014
KARACHI: An investigative project shows that 323 out of a little over 700 identified victims of US drones in Pakistan are reported to be civilians, including 99 children.
The Bureau of Investigative Journalism's 'Naming the Dead project' – which was launched last year — has now recorded the names of more than 700 of the 2, 342 people reportedly killed by CIA drones in Pakistan.
According to the Bureau's website, it uses open source materials to monitor and record all drone attacks in covert war situations, including Pakistan.
"The project launched in September 2013, publishing 568 names of people killed in more than 370 drone strikes since 2004. This is the biggest publicly available list of drone victims, and draws on the thousands of media reports, court documents and other sources that inform the Bureau's main drones databases," it states.
Full report at:
http://tribune.com.pk/story/742943/nearly-half-of-identified-drone-strike-victims-in-pakistan-are-civilians-report/
-------------
Journalist faces false blasphemy charges: CPJ
Aug 2, 2014
WASHINGTON: Outspoken journalists in Pakistan face discrimination and threat and often face false charges of blasphemy, says a US-based advocacy group, the Committee to Protect Journalists.
In a report released on Friday, the group highlights the case of a Lahore-based journalist, Shoaib Adil, who fled his home last month and went into hiding with his wife and children to escape persecution.
The 49-year old journalist faces threats and possible charges of blasphemy — a crime punishable by life imprisonment or death-in connection with a book he published in 2007, written by a judge belonging to a religious minority group in Pakistan. He is also accused of publishing allegedly blasphemous material in his magazine which covers sensitive issues.
For years, Adil has been able to navigate the challenges that come with his critical journalistic work. But now he faces the possibility of being unable to live or work safely in Pakistan, the report adds.
http://www.dawn.com/news/1122786/journalist-faces-false-blasphemy-charges-cpj
-------------
Balochistan launches investigation into dumping of mutilated bodies
Aug 2, 2014
QUETTA: The provincial government has launched an investigation into dumping of mutilated bodies in different areas of Balochistan over the past few days after receiving a letter from Commander of Southern Command Lt Gen Nasir Khan Janjua requesting the provincial government to do so.
Home Secretary Akbar Hussain Durrani confirmed having received the letter from Lt Gen Janjua and said the provincial government had directed officials concerned to investigate the killings and dumping of bodies.
Full report at:
http://www.dawn.com/news/1122780/balochistan-launches-investigation-into-dumping-of-mutilated-bodies
-------------
Qadri to announce Revolution March date on Sunday
August 02, 2014
Lahore- Pakistan Awami Tehreek (PAT) chief Tahirul Qadri will announce the final date of 'revolution march' on Sunday.
PAT leadership has finalized date of its revolution march ready to be launched against the Pakistan government while the date will be revealed via formal announcement by party chief Tahirul Qadri on August 3, they said. Tahirul Qadri called his party's session on August 3 likely to be held at his residence in Lahore before formal announcement for the date of 'revolution march'. The date finalization process has been completed by the central council of Pakistan Awami Tehreek (PAT).
http://www.nation.com.pk/national/02-Aug-2014/qadri-to-announce-revolution-march-date-on-sunday
-------------
No danger to democracy under Gen Sharif's watch
Aug 2, 2014
RAWALPINDI - There is no danger to democracy or threat of a coup under Gen. Raheel Sharif's watch but the civilians must come forward and work with the military to make the operation against insurgents successful, according to Lt. Gen (r) Naeem Khalid Lodhi, former secretary of defence and corps commander.
In an exclusive interview with The Nation, Lt. Gen (r) Lodhi, who is currently Chief Executive and MD of Fauji Fertilizer Limited, expressed his independent views on civil military relations and the internal and external challenges that the country faces.
Gen. Lodhi stressed that the military operation alone cannot succeed in completely rooting out extremism until the extremist ideology of the insurgents is not defeated at the ideological, political, economic and societal level.
Full report at:
http://www.nation.com.pk/national/02-Aug-2014/no-danger-to-democracy-under-gen-sharif-s-watch
-------------
Asma decries use of violence, illegal means against Geo
Aug 2, 2014
LONDON: Renowned lawyer and human rights campaigner Asma Jahangir says the forcible shutdown and ostracization of Geo TV Network in Pakistan is an attack on journalism and represents the severe challenge facing the media in Pakistan.
She was speaking at the Law Society to a distinguished audience of lawyers and academics on the topic of 'Law, Gender and Religion' in Pakistan.Speaking to The News, Asma Jahangir said everyone in and out of Pakistan, including the opponents and rivals of Geo, thought that the continuing shutdown of Geo was not only a problem for Geo but also an attack on all forms of journalism.
She said those ostracizing Geo through their power should understand that in a democracy "the media has a place and an important role to play"."If you are angry or upset with Geo or any other channel, there are legal avenues to explore. Using violence and illegal means is not the way forward."
Full report at:
http://www.thenews.com.pk/Todays-News-13-31958-Asma-decries-use-of-violence-illegal-means-against-Geo
-------------
Mideast
More than 1,000 Turks fighting for the Islamic Caliphate
Aug 2, 2014
The number of Turkish citizens fighting under the umbrella of the Islamic State of Iraq and the Levant (ISIL) is slightly more than 1,000, according to Turkish officials, who admit that they are unable to learn the exact number. The estimated number of armed ISIL fighters is around 12,000 to 15,000, which shows that Turks make up just less than 10 percent of the jihadist group.
Turkey has long been accused of not efficiently controlling its borders to prevent those foreigners joining the jihadist extremist groups and stop the flow of weapons into Syria. In response to these criticisms, Turkish officials have noted the difficulty of controlling a nearly 900-kilometer-long border while blaming Western countries for not sharing intelligence on potential recruits for the jihadist groups.
However, when it comes to Turkish citizens' participation in one of the world's deadliest groups, these explanations are unconvincing. Who organized the recruitment of these people for ISIL? What organizations sponsored these recruitments? Which routes have been used? Assuming the security forces and the intelligence are closely following the jihadist movements in Turkey, how did they fail to realize that more than 1,000 Turks have joined ISIL? Could it be because security forces and intelligence skipped their main duties and responsibilities as they are chasing what the government calls the "parallel state"?
Full report at:
http://www.hurriyetdailynews.com/more-than-1000-turks-fighting-for-the-islamic-caliphate-.aspx?pageID=238&nID=69867&NewsCatID=429
----------
Israel hits Gaza again as Palestinians toll rises to 1650
Press Trust of India | Jerusalem | August 2, 2014
Israel on Saturday carried out fresh attacks on southern Gaza Strip amidst a hunt for one of its missing soldiers believed to be captured by Hamas, as the new wave of violence has raised the Palestinians toll to 1650.
At least 50 people were killed overnight in Israeli strikes, most of them in Rafah, raising the Palestinians death toll to 1650, mostly civilians, Gaza health officials said. They said 8,900 Palestinians have been injured so far. Massive Israeli artillery shelling on Friday killed 160 Palestinians across the Hamas-ruled Gaza Strip following the collapse of a 72-hour truce just two hours after it began.
Full report at:
http://indianexpress.com/article/world/world-others/israel-hits-gaza-again-as-palestinians-toll-rises-to-1650/
----------
Turkish hostages held by ISIL in Mosul 'soon to be released'
Aug 2, 2014
Forty-nine Turkish citizens who have been held hostage by Islamic State in Iraq and the Levant (ISIL) for over 50 days will likely be freed in the next day or two, Turkey's Defense Minister İsmet Yılmaz said Aug. 2.
"We are pursuing contacts with all parties in Iraq. We are in contact with everyone who has an influence on ISIL. They (the hostages) may come back tomorrow or the day after tomorrow," Yılmaz told reporters in the Central Anatolian province of Sivas, but still urged patience.
"You may either have an operation to get [the hostages] back, or solve this problem through negotiations with patience," the mnister said. "We want to solve the issue through negotiations, because we belive this is the right way. They [the hostages' families] should have a little more patience."
Full report at:
http://www.hurriyetdailynews.com/turkish-hostages-held-by-isil-in-mosul-soon-to-be-released.aspx?pageID=238&nID=69888&NewsCatID=341
----------
Gaza truce unravels within hours
Aug 2, 2014
35 Palestinians killed by Israeli shelling as Tel Aviv says one of its soldiers may have been abducted.
A Gaza ceasefire quickly unravelled on Friday as violence erupted in and around the southern town of Rafah, with 35 Palestinians killed by Israeli shelling and the military saying one of its soldiers may have been abducted.
Israel and Hamas accused each other of breaking the ceasefire, which had been announced by the U.S. and the U.N. and took effect at 8 a.m. (10.30 a.m. IST) on Friday. The fighting broke out less than two hours later.
Gaza health official Ashraf al-Kidra told The Associated Press that in addition to the dead some 200 Palestinians were wounded in the "random" Israeli shelling of the Rafah area in southern Gaza.
Full report at:
http://www.thehindu.com/news/international/world/gaza-truce-unravels-within-hours-as-israel-tankfire-kills-several-palestinians/article6271860.ece
----------
Israel bombards Gaza as it searches for soldier
Aug 2, 2014
Israel bombarded the southern Gaza town of Rafah on Saturday as troops searched for an officer they believe was captured by Hamas in an ambush that shattered a humanitarian ceasefire and set the stage for a major escalation of the 26-day-old war.
The Israeli military has said it believes the soldier was grabbed in a Hamas ambush about an hour after an internationally brokered ceasefire took effect on Friday morning. The Hamas military wing on Saturday distanced itself from the soldier's alleged capture, which has prompted widespread international condemnation. President Barack Obama, U.N. chief Ban ki-Moon and others have called for his immediate and unconditional release.
At least 35 Palestinians were killed in the bombardment and shelling in and around the city of Rafah early on Saturday, said Palestinian health official Ashraf al-Kidra, adding that the area's main hospital was evacuated because of the strikes.
Full report at:
http://www.thehindu.com/news/international/israel-bombards-gaza-as-it-searches-for-soldier/article6274836.ece
----------
Abbas seeks support for war crimes charges
Aug 2, 2014
GAZA CITY: Nearly a month into Israel's fierce assault on Hamas in Gaza, Palestinian President Mahmoud Abbas is facing mounting domestic pressure to seek war crimes charges against Israel at the International Criminal Court.
He has hesitated in the past because such a move would instantly put the Palestinians on a risky collision course with Israel. But with nearly 1,500 Palestinians killed in Gaza, according to health officials, Abbas has signaled he might move ahead – cautiously.
Palestinian officials said Thursday that Abbas asked all Palestinian political factions, including Hamas and the smaller group Islamic Jihad, to give their written consent to such a move. Different PLO factions signed up in a meeting in the West Bank earlier this week, while Abbas is still waiting for a response from Hamas and Islamic Jihad, they said.
In trying to make a case against Israel, Abbas could also expose Hamas, a bitter rival turned political partner, to war crimes prosecution, because it has fired thousands of rockets from Gaza at Israeli communities over the years.
Full report at:
http://www.dailystar.com.lb/News/Middle-East/2014/Aug-02/265797-abbas-seeks-support-for-war-crimes-charges.ashx#ixzz39HWVyPpk
----------
North America
Iraqi Kurds press US for arms in battle against ISIL
Aug 2, 2014
The semi-autonomous Kurdish region in northern Iraq is pressing the Obama administration for sophisticated weapons it says Kurdish fighters need to push back Islamist militants threatening their region, Kurdish and U.S. officials said.
A Kurdish official said the request was discussed during a Kurdish delegation's visit to Washington in early July, and U.S. officials said Washington was considering ways to bolster the Kurdish defenses.
The Kurds say U.S. help is critical to enable the Peshmerga, the Kurds' paramilitary force, to repel fighters from the Islamic State, an al-Qaeda spinoff that seized a wide swath of Iraqi territory in a stunning advance in the last few months.
The requested military supplies include tanks, sniper equipment, armored personnel carriers, artillery and ammunition, and also body armor, helmets, fuel trucks and ambulances.
Kurdish officials say the Peshmerga need the weapons to guard the borders of the rugged mountainous region and to protect hundreds of thousands of Iraqi refugees sheltering there after fleeing the Islamist rebels' onslaught.
Full report at:
http://www.hurriyetdailynews.com/iraqi-kurds-press-us-for-arms-in-battle-against-isil.aspx?pageID=238&nID=69883&NewsCatID=352
------------
Maldives' respect for religious freedom declined in 2013: USSD report
By Ahmed Naish | August 2nd, 2014
The Maldivian government's "respect for religious freedom declined" last year, according to the US State Department's 2013 International Religious Freedom Report published on July 28.
"The authorities did not recognise or respect freedom of religion and it remained severely restricted," the report observed.
"Governmental pressure to conform to a stricter interpretation of Islamic practice increased, particularly in the lead-up to presidential elections."
Moreover, press freedom was curtailed by the government using religious grounds, the report found.
Full report at:
http://minivannews.com/politics/governments-respect-for-religious-freedom-declined-in-2013-us-state-department-report-89194
-------------
Operation in North Waziristan disrupting militants, say US officials
Aug 2, 2014
WASHINGTON: The operation Pakistan launched in Fata six weeks ago has succeeded in disrupting the militant groups that operated from North Waziristan, US officials say.
The officials, who spoke to The Los Angeles Times, however, warned that it's still early to determine if the operation would achieve its targets.
The proof of the operation's success, they said, would be whether groups such as the notorious Haqqani network were allowed to reconstitute themselves in North Waziristan or elsewhere and again plotted attacks against US-led forces in Afghanistan or elsewhere.
The report claimed that in the past Pakistan had ignored groups like the Haqqanis or allowed them to return.
Full report at:
http://www.dawn.com/news/1122789/operation-in-north-waziristan-disrupting-militants-say-us-officials
-------------
Al Qaeda decimated in Fata: White House
Aug 2, 2014
WASHINGTON: The White House said on Friday that the United States has decimated the core leadership of Al Qaeda in Pakistan and Afghanistan.
White House Press Secretary Josh Earnest told a news briefing in Washington that before 2001, core Al Qaeda was operating in "a virtual vacuum" in the tribal areas between Pakistan and Afghanistan.
This allowed them to launch "a horrific attack" against the United States on Sept 11, 2001, he added.
"Since that time, members of the military, members of the intelligence community and others have worked to mitigate that threat, and, in fact, decimated the core Al Qaeda leadership that previously was operating with impunity in that area," Mr Earnest said.
Full report at:
http://www.dawn.com/news/1122774/al-qaeda-decimated-in-fata-white-house
-------------
Barack Obama acknowledges CIA indulged in torture after 9/11 terror attacks
Press Trust of India | Washington | August 2, 2014
US President Barack Obama has acknowledged that the CIA had tortured suspects detained in the immediate aftermath of September, 11 terror attacks.
The US administration is soon expected to release a Senate report detailing the torture techniques employed by CIA agentstargeting suspected militants after 9/11.
"In the immediate aftermath of 9/11 we did some things that were wrong. We did a whole lot of things that were right, but we tortured some folks. We did some things that were contrary to our values," said the US President.
Full report at:
http://indianexpress.com/article/world/americas/barack-obama-acknowledges-cia-indulged-in-torture-after-911-terror-attacks/99/
-------------
Obama calls for 'unconditional release' of IDF soldier held captive in Gaza
August 2nd, 2014
AMMAN -- Hamas is responsible for the bloody, swift end to a humanitarian cease-fire with Israel, US President Barack Obama said from the White House on Friday, once again vowing to pursue a temporary truce along the border of Gaza that will end the killing.
"We have unequivocally condemned Hamas and the Palestinian factions that were responsible for killing two soldiers, and capturing a third, almost minutes after a ceasefire was announced," Obama said. "That soldier needs to be unconditionally released, as soon as possible."
Full report at:
http://www.jpost.com/Operation-Protective-Edge/Obama-calls-for-unconditional-release-of-purportedly-kidnapped-IDF-soldier-369766
-----------
Africa
22 killed in Central Africa fighting
August 02, 2014
BANGUI : At least 22 people were killed in clashes between rival anti-balaka and Seleka militias in the Central African Republic this week, African peacekeepers said.
'People claiming to be members of anti-balaka entered the town on Wednesday and starting shooting in the direction of the bases of former Seleka, triggering a riposte,' an officer from the Misca peacekeeping force said of the fighting in the northwestern town of Batangafo. He told AFP that most of the victims were civilians and that there were also several dozen people injured.
Locals had fled 'en masse to take refuge in a local hospital at the Misca base', the officer said, but added that a a relative calm had returned to the town by Friday morning. 'We don't know what led the anti-balaka to provoke these clashes,' local resident Paul Ngaimbe told AFP.
Full report at:
http://www.nation.com.pk/international/02-Aug-2014/22-killed-in-central-africa-fighting
-------------
Benghazi Islamist militants on their last straw, analyst says
2 August 2014
The al-Qaeda-linked Ansar al-Sharia Islamist Libyan militia group, on Thursday branded renegade Libyan General Khalifa Haftar a "criminal," and called on those who have joined his Operation Dignity - a military campaign aimed at abolishing Islamist militias - to break away from him.
"To those who were involved in the so-called Operation Dignity, to those who followed the footsteps tyrant Haftar… this is a call from the Shura Council of Benghazi Revolutionaries to return and not betray the nation," the group said in a statement obtained by Al Arabiya.
On the same day, the militant group declared an "Islamic emirate" in Benghazi, Libya's second largest city, after announcing that it gained complete control over it.
"Benghazi has now become an Islamic emirate," said Mohammed al-Zahawi, an official representative for the armed group told Radio Tawhid station.
Full report at:
http://english.alarabiya.net/en/perspective/analysis/2014/08/02/Benghazi-Islamist-militants-on-their-last-straw-analyst-says.html
-------------
Fears That Girls Kidnapped By Boko Haram Are Being Used As Suicide Bombers
Aug 2, 2014
Fears have been raised that the schoolgirls kidnapped by Boko Haram militants earlier this year are being used as suicide bombers.
The speculation has arisen after a number of female suicide bombings in Nigeria's biggest city of Kano, while a ten-year-old girl wearing explosives was also discovered in Katsina state.
The latest attack came on Wednesday when a female suicide bomber blew herself up at a college in Kano, killing six people. According to reports, the bomber was a female teenager.
It was the fourth suicide bombing carried out by a female in the city in the past week.
There was no immediate claim of responsibility, although militant group Boko Haram, which is fighting for an Islamic state in religiously-mixed Nigeria, has repeatedly bombed Kano as it radiates attacks outwards from its northeast heartlands.
Government spokesman Mike Omeria said security forces arrested three Boko Haram suspects in Katsina state, two of them female, on Tuesday.
One was a 10-year-old girl who had an explosive belt strapped to her by the others, he said.
Using female suicide bombers in the city appears to be a new tactic of Boko Haram, although they have used them on occasion for years in the northeast.
Full report at:
http://www.dailymail.co.uk/news/article-2713322/Fears-schoolgirls-kidnapped-Boko-Haram-used-suicide-bombers-ten-year-old-girl-wearing-explosives-rescued-police.html#ixzz39GdK4DSp
-------------
Somali Islamists shoot dead fifth lawmaker this year
Aug 2, 2014
MOGADISHU: Somalia's Al-Shabab insurgents said they had assassinated a lawmaker in Mogadishu as he left prayers at a mosque Friday, the fifth MP killed this year in a string of attacks.
"This was a legitimate target, and he was killed on the orders of Allah," Al-Shabab spokesman Abdiaziz Abu Musab told AFP, adding that the Al-Qaeda-linked insurgents were "preparing to kill all the other MPs."
Gunmen opened fire from a car in a drive-by shooting in the center of the city before racing off, witnesses said. "Sheikh Adan Madeer was shot and killed in central Mogadishu by gunmen, the gunmen then fled," witness Abdisalan Mohammad said.
Madeer was chairman of the parliamentary finance committee. "He returned from a mosque near his house ... when two gunmen shot him dead. Now we are preparing his burial," relative Nur Mohammad said.
Full report at:
http://www.dailystar.com.lb/News/Middle-East/2014/Aug-02/265804-somali-islamists-shoot-dead-fifth-lawmaker-this-year.ashx#ixzz39HWMjSbb
---------
Gambian Muslim Scholars Call for Cessation of Violence in Troubled Nations
Aug 2, 2014
Muslim scholars in The Gambia have joined the global call for cessation of hostilities in conflict-stricken nations around the world, especially in areas where the majority of those killed are Muslims. Starting with Nigeria where the militant group "Boko Haram" has not only been holding close to 300 school girls since April this year, but also waging deadly attacks on innocent people including Muslims, the scholars also disapproved hostilities in Gaza, Iraq, Libya and elsewhere. They denounced the extremists who hide under the cloak of Islam to perpetrate atrocities against innocent people including Muslims, branding them "as destructive elements who are not Muslims".
Full report at:
http://allafrica.com/stories/201408011302.html
-------------
Southeast Asia
Indonesian Government Warns Citizens Not to Support ISIS
Aug 2, 2014
Jakarta. Religious Affairs Minister Lukman Hakim Saifuddin appealed to Indonesian Muslims not to support the extremist Islamic State of Iraq and Syria, or ISIS.
He called on local Muslims to be wary of ISIS's request for support, stating that it is a radical movement that employs violent means to establish an Islamic state in Iraq and Syria.
In a press release on Friday, Lukman said that supporting ISIS runs counter to Indonesia's state ideology of Pancasila.
He said Indonesians guilty of supporting ISIS, or pledging allegiance to the radical group, which seeks to establish an Islamic Caliphate in parts of the Middle East, will be considered as having pledged "allegiance to a foreign country."
This can result in the revocation of the offenders' citizenship.
Lukman also denounced ISIS affiliates in Indonesia that seek to recruit support while renouncing the state ideology.
"To say Pancasila is thogut, or pagan, which needs to be resisted, is crossing the line," the minister said.
Full report at:
http://www.thejakartaglobe.com/news/indonesian-government-warns-citizens-support-isis/
-------------
Philippine Govt, Rebels Meet as Muslim Self-Rule Bill Delayed
Aug 2, 2014
Manila. Philippine government and rebel negotiators began a new round of meetings on Friday to draft a Muslim self-rule law after falling behind a timetable laid out in a peace treaty, officials said.
A peace pact signed in March committed President Benigno Aquino and the largest Muslim rebel group, the Moro Islamic Liberation Front (MILF), to pass a law creating an autonomous Muslim region by mid-2016, when his six-year presidency ends.
In return, the 12,000-member MILF would disarm and help the national government to improve the lot of Filipino Muslims, who are among the poorest and most marginalized in the mainly Catholic nation of 100 million.
However, Aquino failed to submit the bill to Congress on Monday, with the MILF suggesting the government was seeking to renege on its peace treaty commitments by diluting the wording of the proposed law.
Full report at:
http://www.thejakartaglobe.com/international/philippines-govt-rebels-meet-muslim-self-rule-bill-delayed/
-------------
Hamas rubbishes Israeli claim that Malaysia trained its members
Aug 2, 2014
Hamas, the Islamic Resistance Movement, has firmly denied news reports by the Israeli media which claimed that Hamas members were trained in Malaysia to carry out parachute attacks, confirming the statement by Malaysian Home Minister Datuk Seri Ahmad Zahid Hamidi (pic) yesterday on the same issue.
The unfounded accusations, it said, were created by the Israeli intelligence and aimed at "distorting the image of the growing international solidarity with the Palestinian people who were massacred by the Zionist regime".
"The Israeli creation of such accusations is an attempt to divert attention from the ongoing massacre and genocide committed by the Israeli army against the Palestinian civilians, children, women and the elderly," it said in a statement published in its official website.
The statement was published in Arabic and translated into English by the Palestinian Cultural Organisation Malaysia.
Full report at:
http://www.themalaysianinsider.com/malaysia/article/hamas-rubbishes-israeli-claim-that-malaysia-trained-its-members-bernama#sthash.JswPdiLF.dpuf
-------------
Thousands attend protest for Palestine in Dataran Merdeka
Aug 2, 2014
Thousands braved the searing heat at Dataran Merdeka today to protest against Israel's ongoing assault on Palestine and the loss of innocent lives.
Viva Palestine Malaysia chairman Datuk Dr Musa Mohd Noordin criticised the cruel Zionist regime which he accused of disrespecting human rights.
"For the past 66 years, Palestinians have been fighting to regain what had been stolen from them. Land, property, freedom and their dignity," Musa told the crowd.
"Palestine has been labelled as the worst modern crisis of recent times by no less than the late Nelson Mandela. He had also said that the world will not be free as long as Palestine was not free."
Yesterday, Reuters reported Saudi Arabia's King Abdullah as criticising the international community for keeping mum despite the various aggressive assaults mounted by Israel.
Saudi Arabia's sovereign ruler also criticised Israeli soldiers for their blatant attack on civilian targets which had resulted in innumerable civilian casualties, including children.
http://www.themalaysianinsider.com/malaysia/article/thousands-attend-for-palestine-in-dataran-merdeka
-------------
India
All Indian nationals told to return from Libya
Aug 2, 2014
India has made arrangements to fly out 58 nurses from Libya and has asked all its nationals to consider returning home since the condition in the country has "deteriorated."
On Friday, Ministry of External Affairs spokesperson Syed Akbaruddin said all arrangements have been made to help 58 Indian nurses to cross the border to Tunis.
Addressing the media, he said the nurses would travel by road to Tunis and then be flown back to India.
Special flight if needed
"We have arranged for, if it is required, a special flight to come to Djerba which is two hours from the border of Libya. But the flight will be used if there is enough planeload. However, if smaller numbers continue, we will then have to take them to Tunis and then fly them out." Arrangements have been made to fly the nurses to their home States once they land in India.
http://www.thehindu.com/news/national/all-indian-nationals-told-to-return-from-libya/article6273109.ece
-------------
Katju for permanent residency for Taslima in India
TNN | Aug 2, 2014
NEW DELHI: Press Council of India chief Justice Markandey Katju has come out in support of Bangladesh-born author Taslima Nasreen demanding that she be given a permanent residency in India. The controversial author, who has been in exile since 1994, was denied a year-long extension of her visa by the government and instead given one for two months.
In a statement, Justice Katju said he had read in the newspapers that Nasreen's visa had been extended by the for only two months.
"In my opinion she should be given a permanent visa to reside in India," said the former Supreme Court judge.
"Several bigots and fanatics have hounded her ever since she wrote her book 'Lajja'. I have read the book. It only depicts the atrocities on Hindus in Bangladesh after the demolition of Babri Masjid. There is nothing against Islam in that book," he said.
Full report at:
http://timesofindia.indiatimes.com/india/Katju-for-permanent-residency-for-Taslima-in-India/articleshow/39446684.cms
-------------
URL: https://www.newageislam.com/islamic-world-news/new-age-islam-news-bureau/isis-axes-gender-mixing-in-mosul-universities/d/98393