New Age Islam News Bureau
12 Feb 2014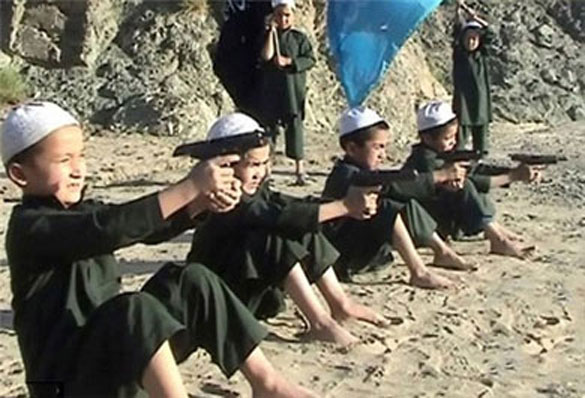 Photo: ISIL Creates Children Brigade in Syria's Raqqa
--------------
Arab World
• ISIL Stones Syrian Girl to Death for Facebook Membership
• ISIL Creates Children Brigade in Syria's Raqqa
• Syria crisis: 'First UK jihadist' in suicide attack
• Islamic fundamentalists in Syria are destroying cultural treasures
• Three policemen killed in Ismailiya militant attack
• Army Starts Battle against Al-Qaeda's Main Bastion in Syria
• Kuwait ready to assist US in fighting terrorism and money laundering
• More Suffering For Syria as Jihadists Battle
• Egyptian army chief in Russia for arms talks
• Secular Egyptian Detainees Complain of Police Torture
South Asia
• Hefazat warns against an 'unlawful' force in media
• 20 Taliban militants killed or detained in Afghan military operations
• Afghanistan to release 65 'dangerous' Taliban prisoners
• Maldives Government introduces Arabic lessons Islamic learning push
India
• Senior Bangladesh Awami League leader urges West Bengal CM not to shelter 'militants'
• India for new waterways with Bangladesh
• SIMI continues to engage in subversive activities: govt
Pakistan
• Militants kill nine anti-Taliban militias in Pakistan
• Jamaat-i-Islami urges govt to stop military activities in tribal areas
• Pakistan to host 'India Show' in Lahore from February 14
• Five killed in Karachi violence; 41 suspects arrested in raids
• TTP ready to come forward for peace talks if safety guaranteed: Rustam Shah
• Pakistan among most dangerous countries for journalists: report
• Govt tells senator Taliban holding talks 'means they recognise constitution'
• Nawaz wants early progress on peace talks with Taliban
• Afghan factor affects Pak-NATO ties: top defence functionary
Africa
• Central African Republic: 'Ethnic cleansing' of Muslims
• Gunmen storm independent TV channel in Libya's Tripoli
• South African President Mbeki Says Sudan Mediation Continues Amid Conflict
• Tunisia: The long road to reform is far from over
North America
• Speakers in Amherst caution against forming single view of Islam's role in politics
• Frustrated by Karzai, U.S. Shifts Afghanistan Exit Plans
• US says it does not support independence for Balochistan
• Obama slams Russia for blocking UN Syria action
• Ohio law enforcers consider right-wingers as potential terrorist threat
• Boston Marathon bombing suspect Tsarnaev seeks 2015 trial
• US can keep Guantanamo hunger strikers alive by force: court
Mideast
• Suicide terrorism thriving in Syria, is threat to West, Israel new report warns
• Israeli Warplanes Launch Series of Mock Raids on Gaza
• Yemen protesters demand sanctions against Saleh
• Erdogan to Israel: Lift Gaza siege, or no reconciliation
• Iran says ready for 'decisive' battle with US, Israel
Europe
• Militant Islamist group prays for earthquake in Sochi during Winter Olympics
• Non-Muslim barred from Huron University College course on Islamic preaching
• Italy pledges $200 million for key projects in western Afghanistan
• West trying to derail Syria peace talks: Russia
• Violence in Iraq's Anbar displaces up to 300,000: UN
• Little progress achieved in Syrian peace talks: UN mediator
Southeast Asia
• Churches worldwide lend support to Catholics over 'Allah' row as court appeal looms
• Malaysians must form 'peaceful resistance' against racial and religious strife, says Ambiga
• Flores Priest of Jakarta to Face Firing Squad for Murders of Lover and Children
• Drop 'political case' against Anwar - human rights group tells Najib
• Nancy admits UPHILL TASK to 'harmonise' state Islamic laws with Najib's 10-point plan
Compiled by New Age Islam News Bureau
URL: https://newageislam.com/islamic-world-news/isil-stones-syrian-girl-death/d/35719
------------
Arab World
ISIL Stones Syrian Girl to Death for Facebook Membership
February 12, 2014
The Islamic State of Iraq and the Levant (ISIL) stoned to death a young Syrian girl for membership in Facebook social network.
The ISIL militants took the Syrian girl, Fatoum Al-Jassem, to Al-Raqqa religious court and the judge ruled that membership in Facebook is tantamount to adultery and sentenced her to death by stoning, the Arabic-language Al-Rai Al-Youm reported.
Also in the past 24 hours, the Popular Front for the Liberation of Palestine-General Command (PFLP-GC) announced that all foreign-backed militants who were stationed in Yarmouk Palestinian refugee camp in Southern Damascus have withdrawn from the camp.
"The terrorists groups of Al-Nusra Front and Ibn Timieh and Al-Sahaba Battalion have withdrawn from Al-Salasin Street which was their last bastion in Yarmouk camp," PFLP-GC's Politbureau Chief Hessam Arafat said.
He noted that a team comprising 50 renowned political figures will enter Yarmouk camp on Wednesday to force the Palestinian armed forces who have occupied the military bases and centres that the foreign-backed terrorists have withdrawn from in a bid to pave the way for implementation of other clauses of the Yarmouk agreement.
Meantime, the foreign-backed militants also withdrew to Al-Rijjeh square in Damascus after the implementation of the national reconciliation agreement in Yarmouk camp.
Elsewhere in the country, the Islamic Front terrorist group held 30 ISIL militants in Deir Ezzur in Eastern Syria. Now the Islamic Front has found an upper-hand in the combat against the rival group, ISIL.
Elsewhere, the ISIL besieged the gathering centres of the Al-Nusra Front and two terrorist groups of Ahrar Al-Sham and Katibeh Al-Qaqa in Eastern Syria. The besieged militants of the Al-Nusra Front have been left with only two options of death or surrendering to the ISIL.
Syria has been experiencing unrest since March 2011 with organized attacks by well-armed terrorists and militants against the Syrian army and civilians across the country.
Thousands of people have been killed since terrorist and armed groups turned protest rallies into armed clashes.
The government blames outlaws, saboteurs, and armed terrorist groups for the deaths, stressing that the unrest is being orchestrated from abroad.
In October 2011, calm was almost restored in most parts of the Arab state after President Assad started a reform initiative in the country, but Israel, the US and its Arab allies brought the country into chaos through every possible means. Tel Aviv, Washington and some Arab capitals have been staging various plots in the hope of increasing unrests in Syria.
The US daily, Washington Post, reported in May, 2012 that the Syrian rebels and terrorist groups battling Assad's government have received significantly more and better weapons in recent weeks, a crime paid for by the Persian Gulf Arab states and coordinated by the United States.
The newspaper, quoting opposition activists and US and foreign officials, reported that Obama administration officials emphasized the administration has expanded contacts with opposition military forces to provide the Persian Gulf nations with assessments of rebel credibility and command-and-control infrastructure.
According to the report, material was being stockpiled in Damascus, in Idlib near the Turkish border and in Zabadani on the Lebanese border.
Opposition activists who several months ago said the rebels were running out of ammunition said in May that the flow of weapons - most bought on the black market in neighboring countries or from elements of the Syrian military in the past - has significantly increased after a decision by Saudi Arabia, Qatar and other Persian Gulf states to provide millions of dollars in funding each month.
http://english.farsnews.com/newstext.aspx?nn=13921123000428
----------
ISIL Creates Children Brigade in Syria's Raqqa
February 12, 2014
The Islamic State of Iraq and the Levant (ISIL) forced the children and youth in Al-Raqqa province in North-eastern Syria to join the militant group after undergoing compulsory military training.
The ISIL has formed an army of children and youngsters aged 14 to 16 years in Al-Raqqa province after it formed similar armed women groups in the same region, FNA dispatches said.
Eyewitnesses told FNA that the main goal for training the children is to influence their way of thinking and change their attitude in order to force them to accept killing of others, including their own family members and relatives.
The ISIL is looking for new ways to strengthen its presence. Al-Raqqa residents said the ISIL abducts and recruits the children in order to brainwash them for future war in the region.
Earlier this month, the ISIL formed two female brigades for helping them inspect people better in case they try disguising themselves as women.
According to reports linked to Syria's foreign-backed opposition forces, the ISIL set up 'al-Khansa' and 'Um Riyan' brigades in Syria's Raqqa, one of the group's main bases located in North Central part of the country.
The new brigades only accept single women aged between 18 to 25 and give them a monthly salary worth 25 thousands SYP (Syrian pound).
They are mainly used for inspecting women in Raqqa, where the group has been imposing its own version of law marked with extremist religious beliefs for months now.
The al-Sharq al-Awsat quoted an opposition commander named 'Ibrahim Muslem' as saying that, "There have been reports of some anti ISIL activists wearing women clothing such as Niqab to pass through security checkpoints".
"Setting up female brigades was the only solution for ISIL to confront this issue, because ISIL could not inspect women, but now it has become possible by forming women brigades," he was quoted as saying.
The ISIL first came into Raqqa on May 15, 2013, and swiftly executed men they said were working for the government.
According to locals, at first they seemed a rebel group and a better-organized alternative to the rebels who occupied the city earlier but failed to bring governance or peace for months.
A broader agenda slowly emerged afterwards and began to gather pace each week with Al-Qaeda getting more power and more extreme.
http://english.farsnews.com/newstext.aspx?nn=13921123000568
----------
Syria crisis: 'First UK jihadist' in suicide attack
February 12, 2014
UK officials believe a British man may have carried out a suicide bombing in the Syrian city of Aleppo last week.
If confirmed, this would be the first known attack of its type by a Briton in Syria.
The al-Qaeda-linked rebel group in Syria, al-Nusra Front, named the man as Abu Suleiman al-Britani. He is thought to be from Sussex.
Hundreds of British nationals are reported to have gone to Syria to fight against government forces.
One in 10 foreign militants is believed to be from Europe, while most of the others are thought to have come from Saudi Arabia, Tunisia and Libya.
Prisoners 'escape'
Officials told the BBC the bomber was "probably British" but the Foreign Office was unable to confirm this without DNA evidence.
Britain's domestic intelligence service MI5 is leading a joint investigation with police into the allegations. The probe is focused on the Crawley area of Sussex.
The al-Nusra Front earlier said Abu Suleiman al-Britani had driven a truck full of explosives at the walls of Aleppo prison on Thursday and detonated it.
The bombing was reportedly part of an attempted jailbreak by fighters from the hardline Islamist groups, Ahrar-al-Sham and the al-Nusra Front.
Heavy fighting broke out between the rebels and Syrian forces, causing dozens of casualties on both sides.
Activists said as many as 300 inmates managed to escape, but the Syrian government denied the report.
Forces loyal to President Bashar al-Assad regained control of most of the prison last Friday, after 24 hours of clashes.
Rebels have launched several attacks on the jail in recent months. Up to 3,000 inmates are believed to be held inside the prison.
Aleppo, in the country's north, has been the focus of bitter fighting between President Bashar al-Assad's forces and rebels.
Government helicopters have been dropping barrel bombs - crude weapons comprising cylinders packed with explosives and metal fragments - on rebel-held neighbourhoods.
Syria's conflict has claimed more than 100,000 lives since 2011 and has driven 9.5 million people from their homes.
http://www.bbc.co.uk/news/world-middle-east-26139884
----------
Islamic fundamentalists in Syria are destroying cultural treasures
February 12, 2014
Islamic fundamentalists in Syria have started to destroy archaeological treasures such as Byzantine mosaics and Greek and Roman statues because their portrayal of human beings is contrary to their religious beliefs. In mid-January the Islamic State of Iraq and the Levant (Isis), an al-Qa'ida-type movement controlling much of north-east Syria, blew up and destroyed a sixth-century Byzantine mosaic near the city of Raqqa on the Euphrates.
The official head of antiquities for Raqqa province, who has fled to Damascus and does not want his name published, told The Independent: "It happened between 12 and 15 days ago. A Turkish businessman had come to Raqqa to try to buy the mosaic. This alerted them to its existence and they came and blew it up. It is completely lost."
Professor Maamoun Abdulkarim, general director of antiquities and museums at the Ministry of Culture in Damascus, says that extreme Islamic iconoclasm puts many antiquities at risk. An expert on the Roman and early Christian periods in Syria, he says: "I am sure that if the crisis continues in Syria we shall have the destruction of all the crosses from the early Christian world, mosaics with mythological figures and thousands of Greek and Roman statues."
"The damages to museums is less important than it would have been otherwise because of this preventive action, which of course we praise and consider very, very important," said Francesco Bandarin, Assistant Director-General for Culture at the UN Educational, Scientific and Cultural Organization.
"The situation in Syria is not only dominated by the conflict," Mr. Bandarin said, "but also the loss of control of territory by local governments."
The instability is "lethal" for cultural heritage opening the door to illegal excavations in archaeological sites.
Syria has far more surviving archaeological sites and ancient monuments than almost any country in the world. These range from the Umayyad Mosque in Damascus with its magnificent eighth-century frescoes to the Bronze Age Ebla in Idlib province in north-west Syria, which flourished in the third and second millennia BC and where 20,000 cuneiform tablets were discovered.
The most devastating and irreversible losses to Syria's rich heritage of ancient cities and buildings are the result of looting. Much of this is local people looking for treasure, though in many cases they are obliterating the archaeological record by using bulldozers.
For some Syrians, often well-armed in war-ravaged, impoverished areas, the looting of antiquities has become a full-time job.
Voice of Russia, un.org, independent.co.uk
http://voiceofrussia.com/news/2014_02_12/Syrian-heritage-being-destroyed-by-extremists-6293/
----------
Three policemen killed in Ismailiya militant attack
February 12, 2014
A police officer and two conscripts were killed in the early hours of Wednesday when gunmen opened fire at a police vehicle in Ismailiya.
Investigations are still ongoing at the scene.
Another police officer was killed in a drive-by shooting in Ismailiya on Tuesday.
There has been a wave of attacks on army and police personnel since the ouster of Islamist president Mohamed Morsi on 3 July 2013.
Full report at:
http://english.ahram.org.eg/NewsContent/1/64/94030/Egypt/Politics-/Three-policemen-killed-in-Ismailiya-militant-attac.aspx
------------
Army Starts Battle against Al-Qaeda's Main Bastion in Syria
February 12, 2014
The Syrian army started massive operations against the main and largest Al-Qaeda bases in the country.
The army units launched extensive military operations against Al-Nusra Front's gathering centers in Damascus countryside in a bid to regain control of the Yabroud town.
Early FNA dispatches said the army units have already made major advances in Al-Arizi Street in Yabroud.
Yabroud hosts the most vital bases of Al-Qaeda in Syria and winning the battle there will be even more important than the Syrian army's last year victory in Al-Qusseir.
Syria has been experiencing unrest since March 2011 with organized attacks by well-armed terrorists and militants against the Syrian army and civilians across the country.
Thousands of people have been killed since terrorist and armed groups turned protest rallies into armed clashes.
Full report at:
http://english.farsnews.com/newstext.aspx?nn=13921123000958
----------
Kuwait ready to assist US in fighting terrorism and money laundering
February 12, 2014
Manama: Kuwait has expressed its readiness to cooperate with the US Justice Department in the fight against terrorism and money laundering, a local daily has said.
Zaki Al Sulaimi, the social Affairs and labour ministry assistant undersecretary for legal affairs, said that terrorism and money laundering were global phenomena and that all countries, including Kuwait, were suffering from them.
The official added that Kuwait had taken serious measures to fight the phenomena, saying that it had toughened criteria and standards for raising funds and imposed a serious monitoring of activities conducted by charitable organisations, Al Jareeda newspaper reported on Tuesday.
Full report at:
http://gulfnews.com/news/gulf/kuwait/kuwait-ready-to-assist-us-in-fighting-terrorism-and-money-laundering-1.1289566
------------
More Suffering For Syria as Jihadists Battle
February 12, 2014
BEIRUT — At least 2,300 rebels and jihadists have been slain in the past month battling each other in northern Syria, and with both of the warring sides scoring successes and suffering setbacks there are few signs that either is ready for a truce, say analysts.
The rebel infighting erupted in early January between a loose alliance of moderates and Islamists and the ruthless jihadist group the Islamic State of Iraq and the Levant (ISIL), a onetime al-Qaida affiliate, also commonly known as ISIS.
The internecine rebel struggle has weakened the three-year-long uprising against Syrian President Bashar al-Assad, allowing government forces to launch offensives around the city of Aleppo and in the mountainous Qalamon region near the border with Lebanon.
Full report at:
http://www.voanews.com/content/more-suffering-for-syria-as-jihadists-battle/1849430.html
----------
Egyptian army chief in Russia for arms talks
February 12, 2014
Egyptian army chief and defence minister Abdel-Fattah El-Sisi is on an official visit to Russia, army spokesperson Ahmed Ali has stated.
El-Sisi is accompanied by Foreign Minister Nabil Fahmy in a visit that is a "response to the historic visit of their Russian counterparts to Egypt last November."
They will discuss cooperation between the two countries with Russian ministers, Ali said on his official Facebook page.
Military sources, speaking on condition of anonymity, told Al-Ahram Arabic news website on Wednesday that El-Sisi was visiting Moscow to finalise a deal on the purchase of weapons.
Egypt sees Russia as a new potential ally after the US suspended part of its annual military aid to Egypt.
Full report at:
http://english.ahram.org.eg/NewsContent/1/64/94035/Egypt/Politics-/Egyptian-army-chief-in-Russia-for-arms-talks.aspx
------------
Secular Egyptian Detainees Complain of Police Torture
February 12, 2014
CAIRO — Secular activists arrested last month on the third anniversary of the revolt against Egyptian autocrat Hosni Mubarak say they have been tortured, some with electric shocks, relatives and lawyers who have seen them said.
The Interior Ministry denied any abuses. If independently confirmed, the allegations would suggest police have reverted to some of the practices blamed for stoking the 2011 uprising.
The latest arrests have increased criticism of the army-backed authorities by liberals and leftists who supported the decision to remove President Mohamed Morsi and who have turned a blind eye to a state crackdown on his Islamist supporters.
Full report at:
http://www.voanews.com/content/reu-secular-egyptian-detainees-complain-of-police-torture/1848851.html
------------
South Asia
Hefazat warns against an 'unlawful' force in media
February 12, 2014
Hefazat Organising Secretary Azizul Haque Islamabadi read out a written statement at the conference on behalf of Secretary General Junaid Babunagari
Hefazat-e-Islam leaders in Chittagong yesterday alleged that a vested interest in the media had been running a propaganda against the group, the Qawmi madrasa system and the Islamic scholars with an ill-motive to instigate communal unrest.
As a result, an "unlawful" force would get the chance to create trouble, the leaders said at a press conference held at the auditorium of the Chittagong Metropolitan Union of Journalists.
Hefazat Organising Secretary Azizul Haque Islamabadi read out a written statement at the conference on behalf of Secretary General Junaid Babunagari.
The statement said a private television had recently broadcasted a controversial report named "Hefazatnama'' aiming to confuse people. The statement added that it was part of "information-terrorism" by anti-Islamic quarters from home and abroad.
Full report at:
http://www.dhakatribune.com/politics/2014/feb/12/hefazat-warns-against-unlawful-force-media#sthash.TjgYTgvj.dpuf
------------
20 Taliban militants killed or detained in Afghan military operations
Feb 12 2014
At least 6 Taliban militants were killed and 14 others were injured following military operation by Afghan national security forces.
The interior ministry of Afghanistan following a statement said Wednesday that the operations were conducted in Zabul, Kandahar, Kunduz, Baghlan, Kapisa, Uruzgan, Maidan wardak, Logar, Ghazni, Khost, Paktia, Herat and Farah provinces of Afghanistan.
The statement further added that Afghan national police, Afghan national army and Afghan intelligence – National Directorate of Security (NDS) operatives jointly conducted the operations.
Full report at:
http://www.khaama.com/18-taliban-militants-killed-or-detained-in-afghan-military-operations-3432
------------
Afghanistan to release 65 'dangerous' Taliban prisoners
2014-02-12
KABUL: Afghanistan on Tuesday said it would press ahead with the release of scores of alleged Taliban fighters from jail despite US objections that the men were a threat to NATO and Afghan forces.
Kabul announced on January 9 that a total of 72 detainees held at Bagram jail near the capital would be freed due to lack of evidence, sparking strong condemnation from the United States.
Afghan authorities "concluded that the there is no evidence against 72 out of 88 prisoners. We reviewed their cases again after objections by the US forces, and for now we will release 65 prisoners," Abdul Shukur Dadras from the Afghan government body reviewing detainees at Bagram said on Tuesday.
Full report at:
https://www.dawn.com/news/1086348/afghanistan-to-release-65-dangerous-taliban-prisoners
---------
Maldives Government introduces Arabic lessons Islamic learning push
By Ahmed Rilwan | February 11th, 2014
The Ministry of Education yesterday introduced Arabic language as an optional subject for grades 1 – 12 in twelves schools.
At a inaugural ceremony held in Hiriyaa School yesterday, Vice President Dr Mohamed Jameel Ahmed said the government will mainstream Arabic education in the Maldives, focusing particularly on Islamic education and the study of Quran.
Jameel said the introduction of Arabic language will bring a 'special happiness' to the people of Maldives, will strengthen the Islamic faith, and will introduce good behavior.
Stating that different ideologies have to be introduced into the education system in order to ensure the peace and stability of the country, Jameel pledged to introduce Islamic ethics as a subject in all schools within the year.
Reading and writing of Arabic script have traditionally been taught in the Maldives at a very young age, either at home or from private teachers. Most people, however, have little or no understanding of the meanings of Arabic language – an issue of concern often raised by local religious scholars.
Full report at:
http://minivannews.com/society/government-introduces-arabic-lessons-as-part-of-policy-to-increase-islamic-learning-77365
------------
India
Senior Awami League leader urges West Bengal CM not to shelter 'militants'
February 12, 2014
Senior Awami League leader Sheikh Selim has urged West Bengal Chief Minister Mamata Banerjee not to shelter Bangladeshi "terrorists."
He also requested that she and the Indian government take the necessary steps so that the Bangladeshi "militants and terrorists" could not get any scope to operate in their country.
Selim, also Presidium member of the ruling AL, made the statement at an unscheduled discussion in parliament.
Referring to the recent remarks by CPM leader of West Bengal Biman Basu, the AL leader said the "militants and terrorists" of Jamaat-Shibir had taken the protection of Ahmed Hassan, the local representative of Trinamool Congress and Naya Diganta correspondent (Bangladeshi newspaper), at the time of a joint forces operation in Satkhira.
Selim alleged that with the help of the BNP-Jamaat, separatists had announced war against the Indian government. However, the government of Prime Minister Sheikh Hasina had not allowed anyone, including the Ulfa who were involved in separatist movements, to do so.
He also said none would be able to locate a separatist on the land of Bangladesh.
"It is a matter of regret that the Bangladeshi militants and terrorists enjoy shelter in India," the former minister said.
Full report at:
http://www.dhakatribune.com/politics/2014/feb/12/selim-urges-mamata-not-shelter-militants#sthash.c1MxZvhU.dpuf
------------
India for new waterways with Bangladesh
February 12, 2014
India will soon ask Bangladesh for three new waterways with a view to facilitate the movement of goods and machinery between the two next-door neighbours.
"The proposed waterways between the north-eastern states of India and Bangladesh would boost trade and economy between the two countries," a top central government official, not wishing to be identified, told a news agency, said a Zee news report.
The waterways would be rivers with developed navigation facilities for smooth movement of vessels.
The official said: "India had earlier informally proposed to Bangladesh about the new waterways. The formal proposal would be officially submitted before the Bangladesh government soon."
Full report at:
http://www.dhakatribune.com/foreign-affairs/2014/feb/12/india-new-waterways-bangladesh#sthash.qjPQXFBp.dpuf
------------
SIMI continues to engage in subversive activities: govt
February 12, 2014
The banned Students Islamic Movement of India (SIMI) continues to engage in subversive activities which are prejudicial to the integrity and security of the country, Rajya Sabha was informed on Wednesday.
"Reports have been received from various states and Union Territories and investigation agencies about continued activities of the SIMI which are prejudicial to the integrity and security of the state and have the potential of disturbing peace and communal harmony and disrupting the secular fabric of the country," Minister of State for Home R.P.N. Singh said.
Therefore, he said, the central government has declared SIMI an unlawful association under the provisions of the Unlawful Activities (Prevention) Act, 1967 on February 1, 2014 for a period of five years.
http://www.thehindu.com/news/national/simi-continues-to-engage-in-subversive-activities-govt/article5680708.ece
------------
Pakistan
Militants kill nine anti-Taliban militias in Pakistan
AP | Feb 12, 2014
PESHAWAR: Pakistani police have said that militants have killed nine members of an anti-Taliban militia in the northwestern city of Peshawar.
Police official Jamal Khan said some 25 militants attacked the militia chief's house on the city outskirts on Wednesday, killing him and eight of his relatives.
He said that on February 1, the militants killed the chief's son and two other people after they shot dead a militant commander.
Wednesday's incident comes a day after assailants threw hand grenades inside a cinema in the city, killing 13 people.
No one claimed responsibility for either attack.
Pakistani Taliban have been waging a bloody war against the government in a bid to overthrow it and enforce their hard brand of Islamic Shariah.
http://timesofindia.indiatimes.com/world/pakistan/Militants-kill-nine-anti-Taliban-militia-in-Pakistan/articleshow/30266617.cms
------------
Jamaat-i-Islami urges govt to stop military activities in tribal areas
February 12, 2014
LAHORE - Jamaat-i-Islami chief Syed Munawar Hasan has asked the government to end military activities in the Tribal Areas to reciprocate the Taliban's positive response in order to advance the talks. The JI chief said that the Taliban had thrown the ball in the government's court by demonstrating a positive and peace-loving attitude and the government should be generous to stop the military activities in the troubled areas.
Addressing the congregation of the Islami Jamiat e Talibat at Mansoora on Tuesday, he said that the US was trying hard to find an excuse to sabotage the talks and the drones flights at low height a the time when the negotiating committee was to visit Miran Shah were only meant to harass the rulers and also the Taliban.
Full report at:
http://www.nation.com.pk/lahore/12-Feb-2014/ji-urges-govt-to-stop-military-activities-in-tribal-areas
----------
Pakistan to host 'India Show' in Lahore from February 14
Vishwa Mohan,TNN | Feb 12, 2014
NEW DELHI: Exploring 'business' route to improve relations between the two countries, Pakistan will host three-day 'India Show' in Lahore beginning February 14.
It may just be a coincidence that this mega business show of 'made-in-India' goods in Pakistan will begin on the Valentine's Day, but the occasion will indeed provide an opportunity for people-to-people contact - a key to improve relations between two countries having checkered past.
The 'India Show' will be organized in the backdrop of increased efforts by the respective governments at confidence-building measures leading to the possible grant of the Non-DiscrimiNATO ry Market Access (NDMA) status to India by Pakistan.
Full report at:
http://timesofindia.indiatimes.com/india/Pakistan-to-host-India-Show-in-Lahore-from-February-14/articleshow/30284483.cms
------------
Five killed in Karachi violence; 41 suspects arrested in raids
2014-02-12
KARACHI: Five people, including two gang war suspects, were killed in different incidents of violence in Karachi Wednesday whereas 41 suspects were arrested by Rangers' personnel during a targeted operation in the city, DawnNews reported.
Two bodies bearing torture marks were recovered from the city's Memon Goth area. They were immediately shifted to a local hospital.
The victims, who could not be identified, had been kidnapped before being shot dead.
Meanwhile, a strangled body, identified as Rafiq, was recovered from a house situated on Super Highway.
Full report at:
https://www.dawn.com/news/1086547/five-killed-in-karachi-violence-41-suspects-arrested-in-raids
------------
TTP ready to come forward for peace talks if safety guaranteed: Rustam Shah
February 12, 2014
ISLAMABAD: Tehreek-e-Taliban Pakistan (TTP) are ready to come forward for peace talks if safety is guaranteed, stated former Pakistan ambassador to Afghanistan Rustam Shah Mohmand, one of the members of the government committee, Express News reported on Wednesday.
He added that the government peace talks committee and the TTP-appointed-committee will not meet today but it is likely that the two committees will sit together soon.
Session for religious clerics
Jamiat Ulema Islam-Samiul Haq group (JUI-S) chief Maulana Samiul Haq, the head of the TTP committee, has called for a session for religious clerics on February 15.
It was reported that the clerics will be taken into confidence regarding the peace negotiations.
Full report at:
http://tribune.com.pk/story/670710/ttp-ready-to-come-forward-for-peace-talks-if-safety-guaranteed-rustam-shah/
------------
Pakistan among most dangerous countries for journalists: report
2014-02-12
QUETTA: Pakistan remains one of the most dangerous countries in the world for journalists, media watchdog Reporters Without Borders (RSF) said in its annual report released Wednesday, with the restive province of Balochistan a hotspot for violence.
Seven reporters were killed in the line of duty in 2013, the report said, blaming the government's "unwillingness to administer justice".
By comparison, ten journalists were killed in Syria, eight in the Philippines and seven in Somalia.
Placing Pakistan as the 158th country out of 180 on its Press Freedom Index, the report noted: "The government appears powerless in the Taliban... and the military establishment, which is known as a 'state within a state'among many international observers."
Full report at:
https://www.dawn.com/news/1086542/pakistan-among-most-dangerous-countries-for-journalists-report
------------
Govt tells senator Taliban holding talks 'means they recognise constitution'
February 12, 2014
ISLAMABAD: Assuring the Senate that talks with the Tehreek-e-Taliban Pakistan will be held within the ambit of the constitution, the government said those who want amendments in the constitution should get elected and make the changes after getting a two-thirds majority in Parliament.
Speaking in the Senate on a motion moved to discuss law and order situation, Pakistan Muslim League-Nawaz's parliamentary leader in the Senate Mushahidullah Khan said the Taliban engaging with the government in dialogue clearly means they recognise the country and the constitution.
Full report at:
http://tribune.com.pk/story/670699/govt-tells-seNATO rs-taliban-holding-talks-means-they-recognise-constitution/
------------
Nawaz wants early progress on peace talks with Taliban
February 12, 2014
ISLAMABAD: Prime Minister Nawaz Sharif on Tuesday expressed the desire for early progress in peace talks with the Taliban.
The government's negotiating committee called on Nawaz at the Prime Minister's House on Tuesday. The committee, comprising Irfan Siddiqui, Rustam Shah Mohmand and Major (r) Amir informed the prime minister about its meeting with Taliban's negotiating committee. The meeting was also attended by Interior Minister Nisar Ali Khan and Balochistan Chief Minister Dr Abdul Malik. Earlier, Fazlur Rehman of JUI-F also called on Nawaz. They discussed matters relating to national importance.
Full report at:
http://www.dailytimes.com.pk/islamabad/12-Feb-2014/nawaz-wants-early-progress-on-peace-talks-with-taliban
------------
Afghan factor affects Pak-NATO ties: top defence functionary
February 12, 2014
ISLAMABAD - Pakistan's top defence functionary has regretted over what he believes is the Afghan factor instrumental in adversely shaping the relationship between Pakistan and the Western military alliance.
"Unfortunately, over the last decade or so, the relationship between Pakistan and NATO North Atlantic Treaty Organisation (NATO ) has been defined through the Afghan prism," Federal Minister for Defence Khawaja Asif said Tuesday while speaking at a conference themed Pakistan-NATO relations: Post 2014.
"It is even more unfortunate to note that not only the Pak-NATO relationship has been seen through Afghan prism but the Afghan factor has adversely influenced the ties between the two sides," he said.
Full report at:
http://www.nation.com.pk/islamabad/12-Feb-2014/afghan-factor-affects-pak-NATO -ties-kh-asif
------------
Africa
Central African Republic: 'Ethnic cleansing' of Muslims
February 12, 2014
International peacekeepers have failed to prevent the ethnic cleansing of Muslims in the Central African Republic, a human rights group says.
Militia attacks have led to a "Muslim exodus of historic proportions", according to a report by Amnesty International.
Aid groups have warned of a food crisis, as many of the shops and wholesalers were run by Muslims.
The UN's World Food Programme has started a month-long aid airlift.
The roads are too dangerous to transport food without a military escort, WFP spokesman Alexis Masciarelli told the BBC.
This is why the UN agency is taking the more expensive option of flying food in from neighbouring Cameroon.
The first flight carrying 82 tonnes of rice arrived on Wednesday, with a further 1,800 tonnes of cereal to follow in the coming weeks.
Full report at:
http://www.bbc.co.uk/news/world-africa-26150668
--------------
Gunmen storm independent TV channel in Libya's Tripoli
February 12, 2014
Gunmen stormed an independent Libyan television channel in the capital Tripoli overnight, Dubai-based broadcaster Al-Arabiya reported Wednesday.
Armed men entered the offices of the Al-Aseema satellite channel and ordered staff out, the station's head of news Fathi bin Issa told Al-Arabiya.
Al-Aseema showed looped CCTV footage of armed men entering a building, while a scrolling bar said that its technical team was trying to resume live broadcasts.
There was no claim of responsibility for the attack, which comes after the abduction of several journalists.
Full report at:
http://voiceofrussia.com/news/2014_02_12/Gunmen-storm-independent-TV-channel-in-Libyas-Tripoli-1717/
----------
South African President Mbeki Says Sudan Mediation Continues Amid Conflict
February 12, 2014
Washington, DC — Despite fierce fighting in South Sudan, efforts to address unresolved issues between the young nation and its northern neighbor Sudan continue, former South African President Thabo Mbeki said during an interview in Washington, DC last week.
"The conflict in South Sudan has not changed the commitment of the two governments to implement what they've agreed," said Mbeki, who has led mediations between Sudan and South Sudan on behalf of the African Union. "We must continue to focus on that to ensure that the agreements are implemented."
After years of war between Sudan's government and rebel armies in the south of the country, an internationally supervised referendum led to South Sudan's independence in July 2011. The African Union established a high-level panel, headed by Mbeki , to mediate unresolved issues between the two countries and prevent a resumption of the decades-long conflict. The panel also includes former heads-of-state Abdulsalami Abubakar of Nigeria and Pierre Buyoya of Burundi.
Full report at:
http://allafrica.com/stories/201402120049.html?aa_source=mf-hdlns
------------
Tunisia: The long road to reform is far from over
February 12, 2014
Tunisia's new constitution took effect on 10 February. The document which observers and commentators hailed as progressive and democratic, was overwhelmingly approved by the National Constituent Assembly (NCA) on 26 January.
Though the charter establishes Islam as the state religion, it makes no reference to Islamic law as a source of legislation. Instead, the document states that "Tunisia is a civil state based on citizenship, the will of the people, and the supremacy of law" (article 2).
Despite provisions banning "attacks on sanctities" and "apostasy accusations", the constitution guarantees fundamental rights and liberties, including free expression, the right to privacy, access to information and women's rights. The charter further enshrines third generation human rights such as access to communication networks and the right to a healthy environment.
Full report at:
http://www.indexoncensorship.org/2014/02/tunisia-long-road-reform-far/
------------
North America
Speakers in Amherst caution against forming single view of Islam's role in politics
February 12, 2014
AMHERST — Since moving to the United States from Pakistan, Ali Durrani said he finds that Americans rarely have a chance to speak with someone from a Muslim country and consequently often form their perceptions of Islam solely from what they see in the media.
"People form opinions not based on interaction," he said.
This was one of the reasons why Durrani, who lives in Longmeadow, said he was grateful for an opportunity to discuss his background with fellow Valley residents Tuesday at the Jones Library as part of the first event in an educational series on Islam and issues facing the Muslim world.
The series, called "Bridging Muslim/Non-Muslim Divides," is a joint effort of the Karuna Center for Peacebuilding in Amherst and Critical Connections in Longmeadow. Durrani's wife, Mehlaqa Samdani, founded Critical Connections in 2013 and helped organize the series. It was made possible with a portion of a $30,000 grant that the Karuna Center received from the MARPAT Foundation in Washington, D.C. in December 2013, said Olivia Dreier of Belchertown, also an organizer and executive director of the Karuna Center.
Full report at:
http://www.gazettenet.com/home/10654380-95/speakers-in-amherst-caution-against-forming-single-view-of-islams-role-in-politics
------------
Frustrated by Karzai, U.S. Shifts Afghanistan Exit Plans
February 12, 2014
WASHINGTON—The U.S. military has revised plans to withdraw troops from Afghanistan to allow the White House to wait until President Hamid Karzai leaves office before completing a security pact and settling on a post-2014 U.S. troop presence, officials said.
The option for waiting reflects a growing belief in Washington that there is little chance of repairing relations with Mr. Karzai and getting him to sign the bilateral security agreement before elections scheduled for the spring.
"If he's not going to be part of the solution, we have to have a way to get past him," said a senior U.S. official. "It's a pragmatic recognition that clearly Karzai may not sign the BSA and that he doesn't represent the voice of the Afghan people."
Full report at:
http://stream.wsj.com/story/latest-headlines/SS-2-63399/SS-2-451227/
------------
US says it does not support independence for Balochistan
Press Trust of India | Washington | February 12, 2014
The US today said it respects the territorial integrity of Pakistan and does not support independence for Balochistan.
"The United States respects the territorial integrity of Pakistan. It is not the policy of the Administration to support independence for Balochistan," the State Department said in a written response to a question raised during its daily press briefing.
Full report at:
http://indianexpress.com/article/world/americas/us-says-it-does-not-support-independence-for-balochistan/
------------
Obama slams Russia for blocking UN Syria action
February 12, 2014
UNITED NATIONS: Western powers pushed forward Tuesday with a UN resolution threatening sanctions against Syria despite Russia's veto threat, with President Barack Obama sharply criticizing Moscow's opposition to a measure to help millions in desperate need of humanitarian aid.
The resolution, which expresses the Security Council's intention to impose sanctions if the Syrian government does not allow unrestricted aid deliveries to civilians caught in the fighting, was circulated among the 15 council members. Western countries made clear they had no intention of dropping the proposal despite Russia's vow to block it a day earlier.
Obama, speaking at a joint news conference in Washington with French President Francois Hollande, said there is "great unanimity among most of the Security Council" in favor of the resolution and "Russia is a holdout."
Full report at:
http://www.arabnews.com/news/524711
-----------
Ohio law enforcers consider right-wingers as potential terrorist threat
Feb 12, 2014
Ohio National Guard conducted a mock disaster training exercise last January. According to the internal documents, limited-government and pro-Second Amendment opinions were depicted as domestic terrorists. The mock disaster training exercise of the ONG 52nd Civil Support Team was held in Scioto County. According to the scenario, two Portsmouth Junior High School employees used biological weapon to poison school lunches.
The employees acted in order to "protect Gun Rights and Second Amendment rights," on orders from white-nationalist William Pierce. Participants in the training found documents, identifying Pierce as right-wing terrorists' leader.
Full report at:
http://voiceofrussia.com/news/2014_02_12/Ohio-law-enforcers-consider-right-wingers-as-potential-terrorist-threat-6139/
-----------
Boston Marathon bombing suspect Tsarnaev seeks 2015 trial
Feb 12, 2014
Prosecutors and lawyers for Boston Marathon suspect Dzhokhar Tsarnaev are headed to court to discuss a trial date and a pretrial schedule. A status hearing in the case is scheduled for Wednesday in US District Court. Tsarnaev's lawyers have asked for a trial date no earlier than September 2015. Prosecutors have said they hope to have the trial this fall.
The 20-year-old Tsarnaev is charged with carrying out a terrorist attack that killed three people and injured more than 260.
Prosecutors allege that he and his brother, Tamerlan, planted two homemade pressure cooker bombs near the marathon's finish line last April.
Tamerlan Tsarnaev died following a shootout with police.
Prosecutors announced last month they will seek the death penalty against Tsarnaev, who has pleaded not guilty to 30 federal counts.
Full report at:
http://voiceofrussia.com/news/2014_02_12/Boston-Marathon-bombing-suspect-Tsarnaev-seeks-2015-trial-3007/
-----------
US can keep Guantanamo hunger strikers alive by force: court
014-02-12
WASHINGTON: A US appeals court declined on Tuesday to halt the forced feeding of hunger strikers in Guantanamo Bay but ruled that the prisoners have the right to sue over the procedure and other aspects of how the US military treats them.
The 2-1 decision by a panel of the US Court of Appeals for the District of Columbia Circuit reversed two decisions by lower court judges. Those judges ruled last year that Congress had stripped them of the ability to hear lawsuits about conditions at the US Navy military prison in Cuba.
Full report at:
https://www.dawn.com/news/1086538/us-can-keep-guantanamo-hunger-strikers-alive-by-force-court
------------
Mideast
Suicide terrorism thriving in Syria, is threat to West, Israel new report warns
February 12, 2014
Suicide terrorism is thriving in Syria, has begun spreading and destabilizing neighboring Lebanon, and threatens the security of Western states, a new study published on Tuesday warned.
The study, carried out by the Tel Aviv-based Meir Amit Intelligence and Terrorism Information Center, found that fifteen percent of all suicide bombings in the world took place in Syria in 2013, and noted a surge of similar attacks in Lebanon since the start of 2014.
"This is the first study of its kind in the world that studies the use of suicide bombing in Syria as a modus operandi," Dr. Reuven Erlich, head of the Intelligence and Terrorism Information Center, told The Jerusalem Post.
Full report at:
http://www.jpost.com/Syria/Suicide-terrorism-thriving-in-Syria-is-threat-to-West-Israel-new-report-warns-341087
-----------
Israeli Warplanes Launch Series of Mock Raids on Gaza
February 12, 2014
Israeli warplanes launched a series of mock air raids on a number of areas in the Gaza Strip on Wednesday morning.
PIC quoted eyewitnesses as saying that the mock raids were launched off the coasts of Gaza and over its Southern, central, and Northern areas.
The news agency said that Gazans got used to such kind of raids; however, security experts said that the raids were a kind of military intelligence act.
They called for extreme caution as the Israeli army wished to recognize means of evacuating security positions and government buildings during raids and where officials are taken.
http://english.farsnews.com/newstext.aspx?nn=13921123001091
----------
Yemen protesters demand sanctions against Saleh
February 12, 2014
Sana'a: Thousands of people organised massive rallies on Tuesday in the northern provinces of Yemen to mark the third anniversary of the beginning of youth-led protests that put an end to the rule of the county's long-time president Ali Abdullah Saleh in 2011.
However, the occasion was not greatly celebrated in the separatist-dominated south.
In the capital, the epicentre of the uprising, a big protest was arranged along Assteen street, where thousands of men and women chanted slogans demanded that sanctions be slapped on the former president for his alleged role in derailing the transitional process.
The protesters also called for the release of activists arrested during Saleh's days in office.
"Saleh is a war criminal and a spoiler [of transitional period] and I call upon the UN Security Council to impose sanctions on him." said the 2011-Nobel Peace Prize winner Tawakul Karaman.
Full report at:
http://gulfnews.com/news/gulf/yemen/yemen-protesters-demand-sanctions-against-saleh-1.1289913
-----------
Erdogan to Israel: Lift Gaza siege, or no reconciliation
February 12, 2014
Statement comes just two days after Turkish FM says that Turkey and Israel are as close as they have been yet to rapprochement.
It appears prospects for an Israeli-Turkish rapprochement are once again growing more distant.
During a news conference held on Tuesday, Turkey's prime minister, Recep Tayyip Erdogan, reiterated his government's position that any reconciliation between Ankara and Jerusalem would be contingent upon an Israeli commitment to remove the siege on the Hamas-ruled Gaza Strip.
Full report at:
http://www.jpost.com/Diplomacy-and-Politics/Erdogan-to-Israel-Lift-Gaza-siege-or-no-reconciliation-341170
-----------
Iran says ready for 'decisive' battle with US, Israel
February 12, 2014
TEHRAN: Armed forces chief of staff General Hassan Firouzabadi has warned the Islamic republic's arch-foes that Iran is prepared for a "decisive battle" if attacked, Fars news agency reported on Wednesday.
"We are ready for the decisive battle with America and the Zionist regime (Israel)," Fars quoted Firouzabadi as saying.
He also warned neighboring nations not to allow any attack to be launched on Iran from their soil.
"We do not have any hostility toward regional states, but if we are ever attacked from the American bases in the region we will strike that area back," he said.
Washington has many military bases in the region, including in Bahrain, Kuwait, the United Arab Emirates, Saudi Arabia and Turkey.
Full report at:
http://www.arabnews.com/news/524716
-----------
Europe
Militant Islamist group prays for earthquake in Sochi during Winter Olympics
Reuters | Feb 11, 2014
SOCHI, RUSSIA: A militant Islamist group has urged followers to pray for an earthquake in Sochi during the Winter Olympics to avenge Muslims who died there fighting "Russian infidels".
The appeal was made by a local branch of the Caucasus Emirate, a group which is waging an insurgency for an Islamist state in Russia's North Caucasus and called on supporters last year to attack the Games.
"All who are able to read this letter can supplicate that the Almighty destroys the land in Sochi with an earthquake, and makes the infidels 'drunk of water' before Hell and drown in a flood!," said the appeal posted online on Monday.
"The Games of the atheists and pagans! The pigs are so arrogant that they decided to host the Games on the ground where our ancestors shed their blood to defend Islam and Muslims. Even the blind can see it!"
Full report at:
http://timesofindia.indiatimes.com/world/europe/Islamist-group-prays-for-earthquake-in-Sochi-during-Winter-Olympics/articleshow/30234215.cms
----------
Non-Muslim barred from Huron University College course on Islamic preaching
February 12, 2014
LONDON, ON -- An area accountant, kicked out of a Huron University College course on Islamic preaching because he isn't Muslim and has no plans to be an Islamic preacher, says Canadians should be alarmed by the school's decision.
"I want public institutions to be public. They don't get to decide that some people get to take their courses based on their creed," said Mory Watson, an outspoken critic of Islam who enrolled as an auditor.
He attended one class in the course, called the Muslim Voice: Islamic Preaching, Public Speaking and Worship, before receiving an e-mail saying there was no room for him.
Huron College principal Stephen McClatchie said the course is comparable to a Christian homiletics course often taken by future priests and deacons, in that it's for students to learn about speaking to and on behalf of a community, that there are public presentations involved.
Full report at:
http://www.sunnewsnetwork.ca/sunnews/canada/archives/2014/02/20140210-214502.html
------------
Italy pledges $200 million for key projects in western Afghanistan
February 12, 2014
Italy pledged to provide $200 million to the government of Afghanistan which will be spent on three key projects in western Herat province of Afghanistan.
Officials in the ministry of finance of Afghanistan, said that a memorandum of understanding was signed between the Afghan government and Italy in Herat province on Tuesday.
The aid will be spent on three key projects including development of Herat airport, construction of Herat ring road and Herat-Chest Sharif highway.
The latest aid is part of Italy's economic cooperation to Afghanistan which was signed between the Afghan finance minister Hazrat Omar Zakhilwal and the representative of Italy in Herat province.
Full report at:
http://www.khaama.com/italy-pledges-200-million-for-key-projects-in-western-afghanistan-3431
----------
West trying to derail Syria peace talks: Russia
VLADIMIR RADYUHIN
February 12, 2014
Russia has accused the West of trying to derail the Syria peace talks and revert to the military scenario of regime change in the violence-torn country.
Russia's Foreign Minister Sergei Lavrov blasted a Western-backed draft resolution in U.N. Security Council on the humanitarian crisis in Syria at as "absolutely one-sided and detached from reality."
"One gets the impression that the humanitarian issue, just as the issue of chemical weapons not so long ago, is being used to provide pretexts for subverting the political process [and] blaming the regime in Damascus for everything in order to return to the military scenario of regime change," Mr Lavrov said after talks with Algerian Foreign Minister Ramtame Lamamra on Tuesday.
Full report at:
http://www.thehindu.com/news/international/world/west-trying-to-derail-syria-peace-talks-russia/article5677525.ece
---------
Violence in Iraq's Anbar displaces up to 300,000: UN
February 12, 2014
BAGHDAD: Violence in Iraq's Anbar province, where militants control all of one city and parts of another, has displaced up to 300,000 people in six weeks, the United Nations has said.
The province has been hit by a surge in fighting between pro- and anti-government forces that began at the end of last year, as Iraq suffers its worst violence since 2008.
"Over the last six weeks up to 300,000 Iraqis – some 50,000 families – have been displaced due to insecurity around Fallujah and Ramadi" in Anbar, a UN refugee agency statement released on Tuesday said.
Full report at:
http://tribune.com.pk/story/670738/violence-in-iraqs-anbar-displaces-up-to-300000-un/
------------
Little progress achieved in Syrian peace talks: UN mediator
Associated Press | Geneva | February 12, 2014
Talks between President Bashar Assad's government and the pro-Western opposition began last month, then adjourned after a week, resuming Monday after a 10-day break. But a frustrated Brahimi said the current round was proving "as laborious as it was the first week."
The Assad government wants the talks to focus on fighting "terrorism." The opposition wants to talk about a transition government to replace Assad. Brahimi has proposed discussing both in parallel but with apparently no success.
"I'm not sure whether I can impose an agenda on people who don't want to, you know," Brahimi said. "How can you, put a gun on their heads? You know, it is their country. This is a huge responsibility they have."
Full report at:
http://indianexpress.com/article/world/middle-east-africa/little-progress-achieved-in-syrian-peace-talks-un-mediator/
------------
Southeast Asia
Churches worldwide lend support to Catholics over 'Allah' row as court appeal looms
February 12, 2014
More churches worldwide are lending their support to Christian leaders in Malaysia as the court date to hear the Catholic church's appeal against the ban on the use of the word Allah draws nearer.
The latest to join the chorus of criticism is the World Methodist Council (WMC) which expressed shock and consternation over the Court of Appeal ruling in October which bar the Catholic weekly, Herald, from using the Arabic word.
In a letter addressed to the Christian Federation of Malaysia, sighted by The Malaysian Insider, WMC general secretary Bishop Ivan Abrahams wrote that the decision was a "rather troubling" attempt by the courts in Malaysia to allow one religion to take ownership over a universal terminology.
Full report at:
http://www.themalaysianinsider.com/malaysia/article/churches-worldwide-lend-support-to-catholics-over-allah-row-as-a
------------
Malaysians must form 'peaceful resistance' against racial and religious strife, says Ambiga
February 12, 2014
Malaysians must band together for a "peaceful resistance" against ongoing racial and religious strife facing the country, Datuk Ambiga Sreenevasan (pic) said last night when recalling founding prime minister Tunku Abdul Rahman's legacy for Malaysia.
The former co-chair of electoral reform group Bersih 2.0 said those who want to fight racism and bigotry must unite and stand together with the oppressed. Malaysia's political mercury spiked in the past few months with a church attacked with a firebomb over the Allah issue and threats against an opposition lawmaker over a satirical video clip.
Full report at:
http://www.themalaysianinsider.com/malaysia/article/malaysians-must-form-peaceful-resistance-against-racial-and-religious-strif
------------
Flores Priest of Jakarta to Face Firing Squad for Murders of Lover and Children
February 12, 2014
Jakarta. A two-decade-long tragedy born of shame in East Nusa Tenggara took another step toward finality on Tuesday after the Supreme Court imposed the death penalty on a former Catholic priest for the murders of his lover, a former nun, and their two newborn children.
"I'm not pro capital punishment, but for things like this we need deterrence so that people will not carry out these murders, which are rampant everywhere now," Supreme Court justice Gayus Lumbuun said on Tuesday. "This verdict is necessary and must be carried out."
Herman Jumat Masan, 45, was first found guilty of the murders of Yosephine Kerodok Payong — also known as Mery Grace — and their two children at Maumere District Court in August, 2013. The prosecutor appealed the case to the provincial Kupang High Court, which confirmed the life sentence. The Supreme Court, however, sided with the prosecutor's second appeal, and said that Herman should face the firing squad.
Full report at:
http://www.thejakartaglobe.com/news/flores-priest-to-face-firing-squad-for-murders-of-lover-and-children/
------------
Drop 'political case' against Anwar - human rights group tells Najib
February 12, 2014
The Malaysian government should drop its politically motivated prosecution of opposition leader Anwar Ibrahim for alleged consensual homosexual relations, Human Rights Watch said today.
On February 12, 2014, the Kuala Lumpur Court of Appeal is slated to hear the government's appeal of the High Court's January 9, 2012 decision to acquit Anwar of violating article 377 of the Malaysian penal code.
"Malaysia's authorities are opening themselves up to international ridicule for prolonging their political case against opposition leader Anwar Ibrahim," said Phil Robertson, deputy Asia director at Human Rights Watch.
Full report at:
http://www.malaysia-chronicle.com/index.php?option=com_k2&view=item&id=225782:no-one-is-fooled-drop-political-case-against-anwar-human-rights-group-tells-najib&Itemid=2#ixzz2t9ygZ4AD
------------
Nancy Admits Uphill Task to 'Harmonise' State Islamic Laws with Najib's 10-Point Plan
February 12, 2014
KUALA LUMPUR - The process of harmonising state Islamic laws with the federal government's 10-point solution to the "Allah" issue requires the concurrence of the Rulers, Minister in the Prime Minister's Department Nancy Shukri said today.
The de facto law minister said the Rulers are the head of Islamic affairs in their respective states and have the ultimate authority to amend state religious laws.
"The federal government has been talking with state governments, but you have to understand that the Rulers, and in the case of Sabah and Sarawak, the Yang Di-Pertuan Agong, are responsible for Islamic matters," she told reporters today.
Full report at:
http://www.malaysia-chronicle.com/index.php?option=com_k2&view=item&id=225902:nancy-admits-uphill-task-to-harmonise-state-islamic-laws-with-najibs-10-point-plan&Itemid=2#ixzz2t9yzfrNj
----------
URL: https://newageislam.com/islamic-world-news/isil-stones-syrian-girl-death/d/35719