New Age Islam News Bureau
26 Apr 2015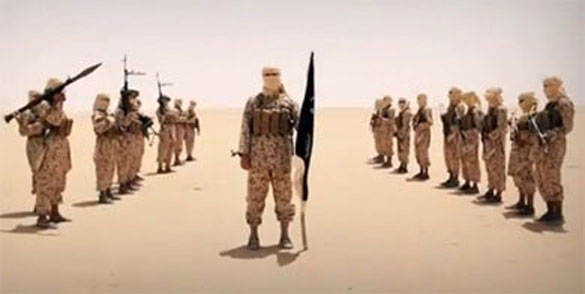 Isis release new video announcing their arrival in Yemen and threatening Houthis
-----------
Arab World
• ISIL Leader Al-Baghdadi Clinically Dead, Members Pledge Allegiance to Successor
• ISIS Warns To 'Cut the Throats' Of Houthis by Announcing Arrival in Yemen
• Report: Iraqi Army Kills Tens of ISIL Terrorists in Fallujah
• Iraqi Forces Kill 8 Terrorists in Salahuddin
• Car bombs kill at least 7 civilians in Iraq
• Four militants killed in Egypt
• Islamic State claims Iraqi-Jordanian border crossing attack: SITE
• Yemen conundrum: 'Saudis will consult Pakistan before attack'
• Prince Talal: King Salman Incapable of Ruling Saudi Arabia
India
• Islamic World Should Follow Indian Muslim for Peace: Dargah Ajmer
• Kerala nurses evacuated from Yemen seek state govt help in finding jobs
South Asia
• Eight Soldiers Martyred, 45 Militants Killed In Kundoz Clashes
• Hefazat-e-Islam wants to teach government a lesson
• Bangladesh: 371 Hindu villagers' killers yet to be tried
• Anti-Taliban cleric killed in Kundoz explosion
Pakistan
• Imam-i-Kaaba: 'The Enemy Wants To Denigrate the Ummah by Stoking Hatred'
• 'Haram' Food Items Vanish As Pakistan Aims For Halal Export Boost
• 9 'militants' killed in Tirah
• Four killed in Sibi blast
• Reconciliation plan drawn up for estranged Baloch leaders: CM
• Shahbaz grants conditional approval to Women Protection Bill 2015
Mideast
• Saudi Airstrikes Kill 90 Yemenis in 1 Day
• Tens of Pro-Hadi, Al-Qaeda Terrorists Killed in Clashes with Yemeni Army
• Ayatollah Khamenei Blasts US Police's Cruel Behaviour towards Blacks
• New Israel coalition near after negotiation breakthrough
• 100,000 Palestinians Still Homeless after Israeli War on Gaza in Summer 2014
• ISIS video claims 'we've arrived' in Yemen
• Turkey reacts to Obama, Putin, Hollande, Gauck over Armenian killings remarks
Southeast Asia
• Citing False Rape Claims, Hizbut Tahrir Says Women Must Prove Sexual Assault
• Bali prohibition battle as Muslim conservatives increase their influence
• Taman Medan church: Removing cross the right decision under 'intimidating circumstances'
Europe
• Muslim Population, Anti-Semitism Growing in Holland
• UN Chief Appeals to Indonesia Not to Carry Out Executions
• West ignores massacres against Muslims
• UN chief appoints new envoy for Yemen
• Egypt's trial of Mursi 'badly flawed': HRW
• Poll: Young Arabs Less Obsessed with Israel than Their Elders
North America
• US Muslim Students Hail Banning 'American Sniper'
• FBI investigating possible ISIS attack in U.S
• Marathon bomber trial casts focus on Boston Muslims
Africa
• Unamid Reiterates Its Peacekeepers Responded Proportionally to Attacks in Kass
• South Africa: Love and Marriage in the Midst of Hateful Xenophobia
• Nigeria recalls envoy to S. Africa over Xenophobia attacks
• Africa to be centre of world religious boom in the next few decades, with Islam growing fastest
Compiled by New Age Islam News Bureau
URL: https://newageislam.com/islamic-world-news/isil-leader-al-baghdadi-clinically/d/102676
-----------
Arab World
ISIL Leader Al-Baghdadi Clinically Dead, Members Pledge Allegiance to Successor
Apr 26, 2015
Leader of the ISIL terrorist group Abu Bakr al-Baghdadi has died and members of the Takfiri group in Iraq have already sworn allegiance to Abu Ala Afri as his successor, Arab media reports said on Sunday.
According to two Iraqi news agencies, Alghad Press and Al-Youm Al-Thamen (the 8th Day), as well as sources in the Iraqi city of Mosul, Baghdadi died in an Israeli hospital in the occupied Golan Heights where he had been hospitalized for treatment after sustaining severe injuries during a joint attack of the Iraqi army and popular forces.
The sources added that al-Baghdadi has been declared by his Israeli physicians and surgens as to be now "clinically dead".
The terrorist leader was targeted in an airstrike in Western Iraq on March 18.
Al-Youm Al-Thamen quoting intelligence sources said ISIL had earlier recorded several videos of its leader months before the March airstrike and after the first time that he escaped lethal injuries around a year ago to prove that he is alive until the group can introduce a universally accepted new leader.
The sources added that the members of the Takfiri group operating in Iraq have already pledged allegiance to a new leader called Abdul Rahman al-Sheijlar, alias Abu Ala Afri, as Baghdadi's successor.
There are also unconfirmed reports that internal disputes have erupted and gaps among a number of ISIL factions in Syria and Iraq are widening over the appointment of the new leader, as the ISIL branch fighting Syria has rejected Afri's leadership and are dithering over Baghdadi's successor.
The Spanish-language Hispan TV television also released a report on April 25 in which it confirmed the death of the ISIL leader.
A report released by the Guardian on March 21 said Baghdadi suffered serious and "life-threatening" injuries during an attack in March.
The report, of course, added that Baghdadi has survived his wounds.
Baghdadi's wounding led to urgent meetings of ISIL leaders, who initially believed he would die and made plans to name a new leader.
An Iraqi official confirmed that the strike took place on 18 March in the al-Baaj a district of Nineveh, close to the Syrian border. There had been two previous reports in November and December of Baghdadi being wounded, though neither was accurate.
Hisham al-Hashimi, an Iraqi official who advises Baghdad on ISIL, said, "Yes, he was wounded in al-Baaj near the village of Umm al-Rous on 18 March with a group that was with him."
http://english.farsnews.com/newstext.aspx?nn=13940206001017
-----------
ISIS warns to "cut the throats" of Houthis by announcing arrival in Yemen
Apr 26, 2015
The Iraqi-based Islamic State (Isis) have released a new video announcing they are establishing a new arm in Yemen and warned the Shi'ite-inclined Houthi rebels.
Declaring their official presence in conflict-torn Yemen, the jihadists warned to "cut the throats" of the Houthis.
"We have come to Yemen, with men hungry for your blood to avenge the Sunnis and take back the land they have occupied," one of the militants who was donning a matching uniform along with other militants said in the footage.
The video was released after the local Yemeni group Green Brigade claimed the responsibility for an attack against Houthis in the central province of Ibb. Just like the earlier IS releases, the latest nine-minute video was professionally shot and edited.
In the recording, around two dozen AK-47-wielding jihadists were seen dressed in full military gear. The video was claimed to be shot in a desert area near the Yemeni capital Sana'a though it cannot be independently confirmed.
The jihadist in the video also addressed fellow Sunni men in the country to join the battle.
Yemen has been reeling under intense unrest for several weeks after Houthi rebels went on the offensive capturing several places. However, they were stopped in their advances by a Saudi-led military operation launched in co-operation with other Sunni regional states.
http://www.ibtimes.co.uk/isis-release-new-video-announcing-their-arrival-yemen-threatening-houthis-1498409
-----------
Report: Iraqi Army Kills Tens of ISIL Terrorists in Fallujah
Apr 26, 2015
The Iraqi army killed tens of ISIL terrorists in Eastern Fallujah in Al-Anbar province.
The Baghdad Operations Command Center in a statement announced that over 56 terrorists were killed in al-Karama, a city in Central Iraq located 16 km Northeast of Fallujah in the al-Anbar province, Iraq's Arabic-language Al-Ahd news website reported.
The army defused 152 bombs and discovered five Katyusha missiles in its military operations.
On Saturday, a source announced that the Iraqi Army and volunteer forces from Sunni tribes had recaptured a major portion of al-Karama region from ISIL control, inflicting heavy losses upon the terrorists in the battlefields.
The source said that over 80 percent of al-Karama has been taken back from the terrorists of the ISIL in the Iraqi army's massive operations.
Simultaneous with the army's offensive against the ISIL strongholds in al-Karama, a large number of popular forces from the region's Sunni tribes joined the army men to eradicate the ISIL from their region.
The ISIL Takfiri terrorists currently control shrinking swathes of Syria and Iraq. They have threatened all communities, including Shiites, Sunnis, Kurds, Christians, Ezadi Kurds and others, as they continue their atrocities in Iraq.
Senior Iraqi officials have blamed Saudi Arabia, Qatar, and some Persian Gulf Arab states for the growing terrorism in their country.
The ISIL has links with Saudi intelligence and is believed to be indirectly supported by the Israeli regime.
http://english.farsnews.com/newstext.aspx?nn=13940206000340
-----------
Iraqi Forces Kill 8 Terrorists in Salahuddin
Apr 26, 2015
Iraqi volunteer forces, Hashid Shaabi, killed 8 terrorists of the Islamic State of Iraq and the Levant (ISIL) group in Salahuddin province on Sunday.
Members of Hashid Shaabi forces killed 8 ISIL terrorists, including Chechens, in Baiji North of Tikirt in Salahuddin province, a security source said.
The ISIL Takfiri terrorists currently control shrinking swathes of Syria and Iraq. They have threatened all communities, including Shiites, Sunnis, Kurds, Christians, Ezadi Kurds and others, as they continue their atrocities in Iraq.
Senior Iraqi officials have blamed Saudi Arabia, Qatar, and some Persian Gulf Arab states for the growing terrorism in their country.
ISIL has links with Saudi intelligence and is believed to be indirectly supported by the Israeli regime.
http://english.farsnews.com/newstext.aspx?nn=13940206001207
-----------
Car bombs kill at least 7 civilians in Iraq
26 April 2015
Car bombs ripped through commercial areas in and around the Iraqi capital on Sunday, killing at least seven civilians, officials said.
The deadliest attack was in the town of Mahmoudiya, about 30 kilometers (20 miles) south of Baghdad, where a car bomb killed at least four civilians and wounded another nine, a police officer said.
Three others were killed and 13 wounded in another car bomb explosion in Baghdad's southwestern Amil neighborhood, he added.
Medical officials confirmed the toll. All officials spoke on condition of anonymity as they were not authorized to release information.
Baghdad sees near-daily bombings mainly targeting security forces and the country's Shiite majority. The Islamic State group and other Sunni extremists are believed to be behind the attacks.
Government forces are struggling to dislodge Islamic State militants from the western province of Anbar and much of northern Iraq.
Iraqi troops backed by Shiite militias and U.S.-led airstrikes managed to retake the northern city of Tikrit, but they have also suffered a number of setbacks.
On Saturday, IS militants attacked a border crossing between Iraq and Jordan with three suicide car bombs, killing four Iraqi soldiers.
The day before, the militants attacked an army base guarding a lock system on the canal between Lake Tharthar and the Euphrates River in Anbar, killing the army's 1st Division commander and several others.
http://english.alarabiya.net/en/News/middle-east/2015/04/26/Car-bombs-kill-at-least-7-civilians-in-Iraq.html
-----------
Four militants killed in Egypt
Apr 26, 2015
CAIRO: Egyptian police said on Saturday that four Islamists were killed in an accidental explosion while preparing bombs south of the capital.
Police said the suspected militants were members of the blacklisted Muslim Brotherhood movement of former Islamist president Mohamed Morsi, whom the army toppled in 2013.
The explosion took place on Friday on a farm in the province of Beni Suef south of Cairo, the interior ministry said in a statement. Police found bomb-making materials at the site, the ministry said.
Morsi's overthrow, prompted by mass street protests against his year-long rule, was followed by a deadly crackdown on his supporters and a surge in militant attacks on police.
http://www.dawn.com/news/1178236/four-militants-killed-in-egypt
-----------
Yemen conundrum: 'Saudis will consult Pakistan before attack'
Apr 26, 2015
ISLAMABAD: Saudi Arabia will take Pakistan into confidence if it decides to launch another military offensive in Yemen to counter the threats posed by last year's Houthi rebellion, sources have informed The Express Tribune.
In a series of meetings with the Saudis authorities on Thursday, the top civil and military leadership developed consensus on executing all future plans regarding the Yemen situation after consulting with all the stakeholders, including Pakistan. "Saudi Arabia's next move in the region, including any possible offensive, will materialise only after mutual consultation."
After Prime Minister Nawaz Sharif returns from his UK trip, he will finalise with the military leadership the modalities for executing the decisions taken during the premier's visit to Riyadh. "The PM, the army chief and others have extensively discussed with the Saudis various plans regarding Yemen and agreed on the next course of action."
The country's military leadership has told Riyadh that the Saudi-led Operation Decisive Storm was carried out hastily. "It was conducted without adequate preparations and the selection of targets was also off beam."
Full report at:
http://tribune.com.pk/story/876062/yemen-conundrum-saudis-will-consult-pakistan-before-attack/
---------
Prince Talal: King Salman Incapable of Ruling Saudi Arabia
Apr 26, 2015
Talal bin Abdulaziz, brother of Saudi King Salman, warned of widening gaps in the Al Saud family, and underlined that his brother is incapable of ruling the Arab monarchy.
"Differences are emerging in the Saudi power circle and Prince Talal has warned of emerging gaps by saying that King Salman is incapable of administering the country," a source close to Prince Talal told the Arabic-language Al-Manar TV.
The source said Prince Talal believes that "Saudi Defense Minister Prince Mohammad bin Salman and Prince Mohammad bin Nayef influence King Salman's decisions the same way that (former Saudi king) Abdullah bin Abdulaziz obeyed whatever the then Saudi intelligence chief, Prince bin Bandar, and Foreign Minister Saud al-Faisal said".
Full report at:
http://english.farsnews.com/newstext.aspx?nn=13940206001146
-----------
India
Islamic World Should Follow Indian Muslim for Peace: Dargah Ajmer
Shoeb Khan, TNN | Apr 26, 2015
Dargah Dewan of Ajmer, Syed Abedin Ali Khan has urged the Islamic world to follow Indian Muslims for living in peace and concord. While presenting his annual message during Urs in Ajmer, Dewan expressed concern over the growing sectarian violence in many Islamic nations.
"The manner in which Shia and Sunni Muslims or Barelvis and Tablighis are living in peace in India has no match in the world," said Dewan Sahab. He attributed the cohesiveness among different sects of Muslims to the Indian constitution, which has granted every individual all possible right to practice its rituals and traditions responsible for this unmatched harmony.
He stated that at a time when Shias and Sunnis killing each other in countries like Pakistan, Iraq, Syria, Bangladesh and Afghanistan, Indian Muslims which constitute the second-largest Muslim community in the world bears no such trouble.
Full report at:
http://timesofindia.indiatimes.com/india/Islamic-world-should-follow-India-Muslim-for-peace-Dargah-Ajmer/articleshow/47055643.cms
-----------
Kerala nurses evacuated from Yemen seek state govt help in finding jobs
Apr 26, 2015
Kerala nurses evacuated from strife-torn Yemen have approached the state government seeking rehabilitation. Backed by the Socialist Unity Centre of India (SUCI), Indian Nurses' Parents Association has submitted a memorandum to Chief Minister Oommen Chandy in this regard.
According to the state government's Non-Resident Keralites Affairs (NORKA) department, of the 4,000-odd Indians evacuated from Yemen, 2,400 belong to Kerala. Of them, at least 1,000 are nurses. Besides them, there are nurses who returned from two other war zones, Iraq and Libya.
NORKA's chief executive officer C R Kannan said rehabilitation of nurses who returned from Yemen, Libya and Iraq is a tough job for the government. "Most nurses who returned from Libya and Iraq only did a General Nursing and Midwifery course. Currently, hospitals prefer nursing graduates (with BSc Nursing degree). Also, nurses who worked abroad are not ready to work for lower pay in Kerala hospitals,'' said Kannan.
He said for the 1000-odd nurses who returned from Iraq and Libya, NORKA had arranged a special recruitment drive in which four hospitals from the Middle East participated. Of the 600 nurses who attended the screening test, 350 have been shortlisted. They would be initially recruited as patient assistant, but would be absorbed as nurses if they meet required criteria.
Full report at:
http://indianexpress.com/article/india/india-others/kerala-nurses-evacuated-from-yemen-seek-state-govt-help-in-finding-jobs/
--------
South Asia
Eight soldiers martyred, 45 militants killed in Kundoz clashes
Apr 26 2015
Eight soldiers have embraced martyrdom in the ongoing clashes with militants in northern Kundoz province.
Abdul Wasi Basil, spokesman for the governor house in Kundoz province say that 16 soldiers have also sustained injuries in the heavy clashes ongoing in Gur Tapa and Qala-i-Zal District since yesterday.
He confirmed the killing of 45 militants during these clashes.
Reports from the area suggest that security forces have left some points to the militants in Gur Tapa area but Basil said that it was tactical stepping back.
Taliban spokesman has confirmed militants are involved in fighting with security forces in Kundoz province.
Residents from both locations have been escaping to safer areas including the provincial capital Kundoz city.
But it is not even safer there. A civilian lost his life in a bomb explosion in Kundoz city this morning.
Noor-ul-Huda an anti-Taliban cleric lost his life to the bomb attached to his vehicle.
http://www.khaama.com/eight-soldiers-martyred-45-militants-killed-in-kundoz-clashes-3226
-----------
Hefazat-e-Islam wants to teach government a lesson
Apr 26, 2015
Qawmi madrasa-based radical Islamist platform Hefazat-e-Islam has been trying to take revenge on the government through campaigning against the ruling party-backed mayoral candidate in Chittagong City Corporation election slated for April 28.
Several intelligence agencies confirmed the information to the Dhaka Tribune while top Hefazat leaders also admitted that they want to see mayoral aspirant AJM Nasir Uddin defeated because of the government's stance during the May 5, 2013 rally at Shapla Chattar.
"The mayoral candidates nominated by the government were defeated in the five city corporation elections held earlier. We will in no way allow the government-backed candidate to win in Chittagong, where the Hefazat headquarters in located,'' Mainuddin Ruhi, joint secretary of the platform, told the Dhaka Tribune.
He said the countrymen knew that the pro-government candidates had been defeated due to the oppression on Hefazat.
"The Chittagong voters will never vote for those who opened fire on the sleeping people at Shapla Chattar in Dhaka on May 5,'' he said adding that the April 28 election was the appropriate time to give a reply to the oppressor government.
"This time we will do everything for the defeat of the government-nominated candidates, particularly in Chittagong,''
Full report at:
http://www.dhakatribune.com/bangladesh/2015/apr/26/hefazat-e-islam-wants-teach-government-lesson#sthash.B2D5l3S8.dpuf
-----------
Bangladesh: 371 Hindu villagers' killers yet to be tried
Apr 26, 2015
oday, April 26, is the Koroi-Kadipur mass-killing day in Joypurhat. On this day in 1971, 371 innocent Hindu villagers of Koroi and Kadipur villages were massacred by the invading Pakistani army with the help of local anti-liberation forces. Their homes were homes were looted and burnt down later.
A memorial was built on the mass grave of Koroi-Kadipur to remember the martyrs, but even after 44 years of independence none of the local anti-liberation supportes involved in the mass-murder have been tried yet. Like every year, Srijoni – a local welfare organisation – took on various programmes to commemorate the day.
Local anti-liberation forces targeted the Hindu majority villages Koroi and Kadipur. For the planning of the operation, on the night of April 25, 1971, a meeting was held in the adjacent Hanail-Bombu village at the house of now-deceased Moulana Moslem Uddin. On April 26, a Monday, when the Pakistani army officers were having breakfast at Moslem Uddin's place, the anti-liberation supporters from nearby villages surrounded the Koroi-Kadipur villages. Pakistani troops fired empty shots to scare the Hindu villagers. Moulana Moslem Uddin then gave assurance that they will not be killed and asked them to gather at the field beside the local Dome pond.
Full report at:
http://www.dhakatribune.com/bangladesh/2015/apr/26/371-hindu-villagers-killers-yet-be-tried#sthash.iYZS9xfX.dpuf
-----------
Anti-Taliban cleric killed in Kundoz explosion
Apr 26 2015
Noor-ul-Huda, a local Anti-Taliban cleric was killed in a bomb explosion in northern Kundoz province this morning.
Security officials at the provincial police headquarters say that the bomb was placed in the vehicle of Noor-ul-Huda which exploded leaving him killed on the spot in Kundoz city.
Noor-ul-Huda was among the religious clerics in Kundoz province who was opposing the armed insurgency of Taliban.
No group has immediately claimed responsibility for the explosion.
Kundoz is among the northern provinces of Afghanistan which is experiencing an increase in the armed insurgency.
http://www.khaama.com/breaking-news-explosion-in-kundoz-city-3225
-------
Pakistan
Imam-i-Kaaba: 'The Enemy Wants To Denigrate the Ummah by Stoking Hatred'
Apr 26, 2015
LAHORE: The enemy wants to denigrate the Ummah by stoking hatred, Imam-i-Kaaba Al Shaikh Khalid al Ghamidi said on Saturday.
He was speaking after leading Fajr prayers at Mansoora. Ghamidi said Muslims should remain vigilant of the designs of their enemies. He said Muslims the world over were one community, they believed in one God, one prophet, one holy book and one creed. Ghamidi said the enemies of Muslims would never succeed as long as Muslims remained united.
The imam said the citizens of Saudi Arabia held Pakistan and its citizens in high esteem. He said they were proud of their friendship with the nation and its citizens. Ghamidi said ensuring the security of the two holy mosques was the collective responsibility of Muslims. He said the Kingdom had intervened in the Yemen imbroglio following an appeal by the "lawful ruler" of Yemen.
Ghamidi eulogised Jamaat-i-Islami founder Maulana Maududi on the occasion. He said he had done a great service to Islam by launching the movement to revive Islam. Ghamidi said thousands of students had derived great benefit from his writings. He said he was one of them. Ghamidi said a highway had been named after the founder of the JI.
He praised JI chief Sirajul Haq saying he commanded a dedicated and dynamic personality. Ghamidi said Haq had great affection for Islam and Muslims. He said he was confident that the party's struggle for Islam's supremacy would bear fruit.
Full report at:
http://tribune.com.pk/story/876007/brothers-in-arms-the-enemy-wants-to-denigrate-the-ummah-by-stoking-hatred/
-----------
'Haram' food items vanish as Pakistan aims for halal export boost
Apr 26, 2015
ISLAMABAD: Fruity sweets and packets of chicken soup that fall foul of halal laws are disappearing from shop counters as the country looks to clean up its Islamic food credentials to boost exports to rich Gulf states.
At the start of the year the government published a list of around 20 imported food products it said were not halal, or permitted under Islamic law.
"Now there is awareness about (halal), people go through the composition, the contents. Earlier, the awareness was not there, nobody was aware of this non-halal contents," Mian Ijaz, a senior official at the Ministry of Science and Technology, told AFP.
The science ministry is taking the lead on the bill as it has laboratories for testing products.
One of the architects of the proposed federal halal authority, retired judge Khalilur Rehman Khan, said the plan would mean products were clearly labelled and should give Pakistani shoppers peace of mind.
Full report at:
http://tribune.com.pk/story/876164/haram-food-items-vanish-as-pakistan-aims-for-halal-export-boost/
-----------
9 'militants' killed in Tirah
Apr 26, 2015
LANDI KOTAL: Nine suspected militants were killed in fresh air strikes in Tirah valley of Khyber tribal region on Saturday.
An Inter-Services Public Relations statement said jets bombed hideouts of the banned Tehreek-i-Taliban Pakistan and Lashkar-i-Islam in Kanu Gharaibi, Pathai, Baagh, Rajgal, Jhrandy and Nakai areas of Kukikhel and Malakdin Khel.
The ISPR claimed that nine militants affiliated with the TTP and LI were killed in the air strikes and five of their hideouts destroyed.
LI spokesman Salahuddin Ayubi in a telephonic conversation with journalists rejected the ISPR's claim.
Meanwhile, security forces arrested 12 suspects during a house-to-house search in Ghundi area of Jamrud tehsil. Officials said the detainees were suspected of having links with some banned organisations.
http://www.dawn.com/news/1178305/9-militants-killed-in-tirah
-----------
Four killed in Sibi blast
Apr 26, 2015
QUETTA: At least four people were killed and 18 others wounded in an explosion in Balochistan's Sibi district on Sunday.
Unknown persons had planted a bomb on a motorcycle, parked on the road side, in Chakar Khan road area of Sibi which went off with a huge bang, Anwar Khetran, the District Police Officer (DPO) Sibi told DawnNews.
He further said that the nearby buildings and shops were also damaged in the explosion and added that all the blast victims were civilians.
"The target of blast is yet to be confirmed," Khetran said.
Security and rescue teams reached the blast site. Security personnel cordoned off the area as a probe into the incident went underway.
Rescue sources said that the victims were shifted to Civil Hospital, Sibi where an emergency was imposed to treat the injured.
The condition of three wounded was reported as critical where as five victims had been treated for minor injuries.
Shopkeepers pulled down their shutters after the blast as fear and panic prevailed in the city.
There was no immediate claim of responsibility for the blast.
Balochistan has been under the grip of sectarian violence and attacks of Baloch separatists and unknown elements since more than a decade.
Scores of people have lost their lives in sectarian suicide bombings and target killings.
http://www.dawn.com/news/1178333/four-killed-in-sibi-blast
-----------
Reconciliation plan drawn up for estranged Baloch leaders: CM
Apr 26, 2015
Balochistan Chief Minister Dr Abdul Malik said that a 'reconciliation plan' has been devised to lure back the estranged Baloch leaders into the political mainstream.
Dr Malik was the chief guest at Baloch leader Tahir Bizenjo's book launching ceremony at the three-day Islamabad Literature Festival which was organised by Oxford University Press. The chief minister said that the new strategy would be shared with the federal government soon so that the process of political dialogue could be initiated.
In his Urdu book on the restive province, Tahir Bizenjo analysed Balochistan's situation particularly after the murder of Nawab Akbar Bugti. Dr Malik termed the book a serious analysis of the Balochistan issue.
Full report at:
http://tribune.com.pk/story/876111/reconciliation-plan-drawn-up-for-estranged-baloch-leaders-cm/
-----------
Shahbaz grants conditional approval to Women Protection Bill 2015
Apr 26, 2015
LAHORE: Chief Minister Shahbaz Sharif presided over a cabinet meeting here on Saturday to give conditional approval to the Women Protection Bill 2015, while draft of Punjab Labour Policy was also approved.
According to a handout, it was revealed during the meeting that through successful negotiations with Chinese companies, Rs100 billion had been saved in Lahore Orange Line Metro Train Project.
Addressing the meeting, Chief Minister Shahbaz Sharif said that during the visit of Chinese President Xi Jinping to Pakistan, a historic economic package of $46 billion had been announced, including investment of $20 billion only for energy projects. He said with the cooperation of China, 10,400-megawatt projects of solar, coal, wind and hydel will be set up in Pakistan most of which would start generating electricity at the end of 2017.
He also said that 1,320MW coal-based power projects will be set up in Sahiwal, which will be completed till December 2017. Similarly, 300MW electricity project based on indigenous coal is being set up in Jhelum, which will also start working at the end of 2017, he added.
The chief minister said work was being carried out speedily on 900MW solar project in Bahawalpur and hoped that 350MW solar energy would be added to the national grid by December whereas 550MW solar energy produced by September 2016. He said the Bahawalpur transmission line was also being upgraded so the supply system of electricity could be harmonised with electricity production.
Full report at:
http://www.dawn.com/news/1178287/shahbaz-grants-conditional-approval-to-women-protection-bill-2015
-----------
Mideast
Saudi Airstrikes Kill 90 Yemenis in 1 Day
Apr 26, 2015
The Saudi-led airstrikes on Yemen's cities left tens of civilians, including children and women, dead over the past 24 hours.
The Saudi airstrikes killed 90 Yemenis despite an announcement by the Al Saud regime last Tuesday that it had ended its aggression against Yemen.
On Saturday, media reports revealed that Saudi Arabia has used Mother of All Bombs (MOAB) against the Yemeni nation in its recent bombardment of the capital Sana'a.
"Saudi Arabia used MOAB bomb during its airstrikes on Faj Attan region in Sana'a this week," Lahaj news website quoted an American military expert saying.
The US expert, who is of Yemeni descent and spoke on condition of anonymity, said after watching the video of the explosions in Sana'a several times and consulting with American military experts he has come to the conclusion that the bomb used by the Saudi regime has been MOAB.
Full report at:
http://english.farsnews.com/newstext.aspx?nn=13940206000420
-----------
Tens of Pro-Hadi, Al-Qaeda Terrorists Killed in Clashes with Yemeni Army
Apr 26, 2015
Tens of Al-Qaeda terrorists and forces loyal to fugitive Yemeni president Mansour Hadi were killed in heavy clashes with the Yemeni army and Ansarullah fighters in the Southern parts of the country.
Street clashes between the Yemeni troops and pro-Hadi militants in Lahij, Abyan and Ad Dhalee left over 50 pro-Hadi and Al-Qaeda militias dead on Saturday.
The heavy clashes continued in Ma'arib as the Yemeni army has laid a tight sieged the strongholds of Al-Qaeda and pro-Hadi forces in the city.
The residents of Ad Dhalee had to leave their houses due to the bloody clashes between the Yemeni army and Al-Qaeda terrorists.
Saudi Arabia has been striking Yemen for 32 days now to restore power to fugitive president Mansour Hadi, a close ally of Riyadh. The Saudi-led aggression has so far killed at least 3,005 Yemenis, including hundreds of women and children.
Hadi stepped down in January and refused to reconsider the decision despite calls by Ansarullah revolutionaries of the Houthi movement.
Despite Riyadh's claims that it is bombing the positions of the Ansarullah fighters, Saudi warplanes are flattening residential areas and civilian infrastructures.
Last Tuesday the monarchy declared end to Yemen airstrikes after four weeks of bombings, but airstrikes are still underway.
http://english.farsnews.com/newstext.aspx?nn=13940206000532
-----------
Ayatollah Khamenei Blasts US Police's Cruel Behavior towards Blacks
Apr 26, 2015
Supreme Leader of the Islamic Revolution Ayatollah Seyed Ali Khamenei lashed out at the US police for its cruel and humiliating treatment of people of color.
"In the US whose president is now a black person, the black people are oppressed, disrespected and humiliated and such behavior has provided the ground for unrests too," Ayatollah Khamenei said, addressing the Law Enforcement Police commanders and officials in Tehran on Sunday.
Full report at:
http://english.farsnews.com/newstext.aspx?nn=13940206000985
-----------
New Israel coalition near after negotiation breakthrough
Apr 26, 2015
Israeli Prime Minister Benjamin Netanyahu was closer to forming a new coalition Sunday after the head of the far-right Jewish Home party relinquished his demand for the foreign ministry, political sources said.
Netanyahu, whose Likud party won a surprise victory in a March 17 election, has until May 6 to piece together a new government, after receiving a 14-day extension last week.
Despite a month of intensive negotiations, Netanyahu has not yet managed to form a coalition, expected to comprise six rightwing and religious parties and have 67 of parliament's 120 seats.
Jewish Home leader Naftali Bennett, currently economy minister, had been demanding the foreign ministry, held now by hardline nationalist Yisrael Beitenu leader Avidgor Lieberman.
But over the weekend Bennett set his sights instead on the education ministry and formally asked Netanyahu for the portfolio on Saturday, sources close to the negotiations told AFP.
Education is an especially important issue for the national religious constituency represented by Bennett's party.
Full report at:
http://english.ahram.org.eg/NewsContent/2/8/128671/World/Region/New-Israel-coalition-near-after-negotiation-breakt.aspx
-----------
100,000 Palestinians Still Homeless after Israeli War on Gaza in Summer 2014
Apr 26, 2015
At least 100,000 Palestinians in the Gaza Strip are still homeless, the Association of International Development Agencies (AIDA) said in a report.
Liala Kloob, her unemployed husband and their six children sleep on cots in the Abu Assi School in a Gaza Strip refugee camp, USA Today reported.
A year ago, her husband worked as a tailor and they owned a house. But Israeli airstrikes destroyed their home and her husband's storefront during the 51-day war on Gaza strip last summer.
"You cannot imagine life in a school with about a 100 other families," said Kloob, who depends on United Nations aid to survive. "The only available solution for my family is staying at the school. We have to stand in a line and wait our turn to get food, water or even to go to the bathroom."
"No one pays any attention to us," said Alaa Abu-Lahyah, who lost his home and seven relatives, including four young children, in the Tel Aviv's summer war on Gaza. "We just keep hearing repeatedly about reconstruction funds, but we don't notice any practical and realistic steps toward reconstruction."
More than 2,150 Palestinians, including around 570 children, were killed since Israel launched its onslaught on Gaza on July 8. Some 11,100 others were also wounded in the 50-day war on the Gazans.
The United Nations said over 80 percent of the killed Palestinians have been civilians.
http://english.farsnews.com/newstext.aspx?nn=13940206001088
-----------
ISIS video claims 'we've arrived' in Yemen
26 April 2015
Islamic State of Iraq and Syria (ISIS) militants recently released a video claiming that it has established an official presence in Yemen, vowing to kill members of the conflict-torn country's Houthi militias.
Donning matching uniforms and bearing AKM-S assault rifles in a desert landscape, the militants purportedly pledged allegiance to ISIS and called their new group as "Soldiers of the Caliphate in Yemen," the video showed.The nine-minute video was posted online on April 24, a day after the Green Brigade, ISIS's affiliate in Yemen, claimed responsibility of an attack that killed five Houthis in Yarim in the central province of Ibb.
The attack in Ibb was the second deadly incident claimed by the ISIS in Yemen after 142 people were killed and another 350 injured in a series of suicide bombings at Shiite mosques in Sanaa on March 20.
Full report at:
http://english.alarabiya.net/en/News/middle-east/2015/04/26/ISIS-video-claims-we-ve-arrived-in-Yemen.html
-----------
Turkey reacts to Obama, Putin, Hollande, Gauck over Armenian killings remarks
Apr 26, 2015
Turkey has reacted to the U.S., Russia, Germany and France over the wording their leaders picked in remarks on the killing of Armenians in the hands of the Ottoman Empire in 1915, with Turkish President Recep Tayyip Erdoğan saying these countries, excluding the U.S., should look at their own history first.
"I invite the countries which have lent support to the Armenian claims to clean the stains in their own histories first," Erdoğan said as he addressed the members of the Independent Industrialists and Businessmen's Association (MÜSİAD) in Ankara on April 25.
"The last country to tell me anything on this issue is Germany," he said, adding Russia and France to such a list.
Full report at:
http://www.hurriyetdailynews.com/turkey-reacts-to-obama-putin-hollande-gauck-over-armenian-killings-remarks.aspx?pageID=238&nID=81551&NewsCatID=510
-----------
Southeast Asia
Citing false rape claims, Hizbut Tahrir says women must prove sexual assault
Apr 26, 2015
BANGI, April 26 — Women are required to prove rape under Islamic criminal law, Hizbut Tahrir Malaysia (HTM) said today as the hardline Islamist group claimed that most sexual assault cases involve false accusations.
HTM also told a seminar on hudud that Islam does not accept DNA evidence and that one of the ways of proving rape instead is by obtaining either two male witnesses, or one male and two female witnesses.
"The danger is that if the woman wants to betray other people, she commits adultery with a man, but when she regrets it, she reports to the police saying she was raped," HTM spokesman Ustaz Abdul Hakim Othman said at HTM's headquarters here today.
"As you see, most rape cases involve people known to the victims, especially their boyfriends. So making out with the boyfriend is fine, and then she turns around and says she was raped when she regrets it.
Full report at:
http://www.themalaymailonline.com/malaysia/article/citing-false-rape-claims-hizbut-tahrir-says-women-must-prove-sexual-assault#sthash.EU6sTTJr.dpuf
-----------
Bali prohibition battle as Muslim conservatives increase their influence
Apr 26, 2015
Jakarta: In 1918, the Dutch government established the Alcoholbes trijdings Commissie​ to investigate the abuse of alcohol in the Dutch East Indies. Its findings were alarming. "The smell of alcohol filled the red light districts of Batavia [the former name for Jakarta]", according to Drunkenness in History by University of Indonesia history lecturer Kasijanto Sastrodinomo​.
The Dutch police banned the locally-made "black" liquor popular among indigenous Indonesians. Between 1920 and 1925 they tried to eradicate arak, badeg and ciu from several areas of Java. Spying villagers were given prize money for dobbing in local alcohol producers, leading to overzealous tip-offs of fermented cassava cake makers. (The fermentation process produced ethanol.)
Full report at:
http://www.smh.com.au/world/bali-prohibition-battle-as-muslim-conservatives-increase-their-influence-20150425-1ms8l5.html
-----------
Taman Medan church: Removing cross the right decision under 'intimidating circumstances'
Apr 26, 2015
PETALING JAYA, April 26 — The Taman Medan church pastor who decided to take down the cross from its building last Sunday did the right thing in the face of intense pressure from a group of protesters, its Senior Pastor Paul Packianathan said today.
He said the church's Pastor Victoria Packianathan was conducting a worship service last Sunday when there was a "disturbance" outside the church, referring to the protest.
"Taking all this into account and the intimidating circumstances she was facing as is clear in the police report, I fully support her decision for agreeing to take down the cross at that point in time.
"Keyboard comments are easy to make because you did not actually experience what was happening at that time and did not know the intense pressure that the pastor was under at that time," he told reporters outside the church in his first statement to the public since the protest.
Full report at:
http://www.themalaymailonline.com/malaysia/article/taman-medan-church-removing-cross-the-right-decision-under-intimidating-cir#sthash.vnK7Np1X.dpuf
-----------
Europe
Muslim Population, Anti-Semitism Growing in Holland
Apr 26, 2015
According to the annual report of the Center for Information and Documentation on Israel (CIDI), 171 anti-Semitic incidents were recorded in Holland last year.
CIDI found, European Jewish Press reported, that people who are recognizable as being Jewish, such as those wearing a kippah or Jewish symbol, were especially targeted by anti-Semitic abuse and harassment on the streets.
The number of incidents of physical violence doubled, from 3 in 2013 to 6 in 2014. About 30,000 Jews live in Holland.
Of Holland's population of approximately 15.6 million, Muslims are half a million – 3.2% - up ten-fold from 1971.
CIDI had previously reported a 22% jump in anti-Semitic incidents in Holland between 2012 and 2013.
Full report at:
http://www.israelnationalnews.com/News/News.aspx/194555#.VTzmYtLF9Fs
-----------
UN Chief Appeals to Indonesia Not to Carry Out Executions
Apr 26, 2015
New York. United Nations Secretary-General Ban Ki-moon appealed to Indonesia on Saturday not to execute 10 prisoners, including two Australians, for drug-related crimes.
Indonesia has so far informed seven of the 10 death row inmates, including the Australians and one Nigerian, that they will be executed in a matter of days, possibly as soon as Tuesday.
Nationals from Brazil, Ghana and the Philippines are also on Indonesia's death row. A temporary reprieve was granted to a French citizen who will not be in the next round of executions.
The United Nations opposes the death penalty in all circumstances and in a statement, Ban's spokesman said the secretary-general urged Indonesian President Joko Widodo to "urgently consider declaring a moratorium on capital punishment in Indonesia, with a view toward abolition."
Full report at:
http://thejakartaglobe.beritasatu.com/news/un-chief-appeals-indonesia-not-carry-executions/
-----------
West ignores massacres against Muslims
World Bulletin / News Desk
Apr 26, 2015
The West, in calling the 1915 events "genocide," ignored the pain of millions of Muslims who were massacred or forced to leave their homelands during the last period of the Ottoman Empire.
The 1915 events took place during World War I when a portion of the Armenian population living in the Ottoman Empire sided with the invading Russians and revolted.
The relocation of Armenians by the Ottomans in eastern Anatolia following the revolts resulted in numerous casualties. Turkey does not dispute that there were casualties on both sides, but rejects calling the events "genocide."
Turkey has called for the establishment of a joint commission of historians and the opening of archives to study and uncover what happened between the Ottoman Empire and its Armenian citizens.
In his 1995 book, "Death and Exile: The Ethnic Cleansing of Ottoman Muslims," Justin McCarthy, a historian and demographer at Louisville University, shed light on the massacre and exile of Muslims in the Balkans, the Caucasus and Anatolia that took place from 1821-1922.
Full report at:
http://www.worldbulletin.net/world/158341/west-ignores-massacres-against-muslims
-----------
UN chief appoints new envoy for Yemen
Apr 26, 2015
UNITED NATIONS: United Nations Secretary-General Ban Ki-moon announced on Saturday the appointment of Ismail Ould Cheikh Ahmed of Mauritania as his Special Envoy for Yemen, replacing Jamal Benomar of the UK who had resigned in frustration weeks as Saudi air strikes began in the country.
A press release issued here said Mr Ahmed will work closely with the members of the United Nations Security Council, the Gulf Cooperation Council, governments in the region and other partners, as well as the United Nations Country Team for Yemen.
Mr Ahmed is currently the Secretary-General's Special Representative and Head of the United Nations Mission for Ebola Emergency Response.
http://www.dawn.com/news/1178240/un-chief-appoints-new-envoy-for-yemen
-----------
Egypt's trial of Mursi 'badly flawed': HRW
26 April 2015
The trial of former Egyptian President Mohamed Mursi, deposed by the army and sentenced to 20 years in jail, was "badly flawed" and appears to have been politically motivated, Human Rights Watch said on Sunday.
A court on April 21 convicted Mursi and 12 other Muslim Brotherhood members of violence, kidnapping and torture over the deaths of protesters in 2012. They were acquitted of murder, which carries the death sentence.
The rise to power of the Brotherhood, a decades-old Islamist movement, after the Arab Spring uprisings polarized Egypt's population and led to months of unrest.
The army ousted Mursi in mid-2013 after mass protests against his rule. Abdel Fattah al-Sisi, army chief at the time, went on to win presidential elections last year.
Human Rights Watch said Mursi's detention without charge for more than three weeks after his removal from office violated Egyptian law, and it criticized the prosecution's heavy reliance on the testimony of military and police officers.
"Whatever political responsibility (Mursi) may have, the prosecution didn't establish his criminal guilt in this case," the rights group said in a statement entitled "Egypt: (Mursi) Trial Badly Flawed."
Full report at:
http://english.alarabiya.net/en/News/middle-east/2015/04/26/Egypt-s-trial-of-Mursi-badly-flawed-HRW.html
-----------
Poll: Young Arabs Less Obsessed with Israel than Their Elders
Apr 26, 2015
A new survey of Arab youth promises to be the clearest insight yet into public attitudes in the Middle East today. The Seventh Annual ASDA'A Burson-Marsteller Arab Youth Survey found that young Arabs are opening up to new ideas and are changing their attitudes towards the West.
The pollsters questioned 3,500 Arabs between the ages of 18 and 24. The respondents came from 16 different countries and were split evenly between men and women.
Among the most significant findings for an Arab world already wracked by political upheaval was that faith in local systems is falling quickly. Only 38 percent believe that the Arab world is in a better position now than it was before the Arab Spring, compared to 54 percent last year and 70 percent in 2013.
Youths from all countries expressed skepticism about democracy; 39 percent said it would never work in the Middle East, while only 36 percent said it might. Few expressed much of an interest in democracy at all. Only 15 percent said that "lack of democracy" is the biggest obstacle facing the region. The same question received a 38 percent positive response last year.
Full report at:
http://www.israelnationalnews.com/News/News.aspx/194557#.VTzm5tLF9Fs
-----
North America
US Muslim Students Hail Banning 'American Sniper'
Apr 26, 2015
A decision by the US University of Maryland to cancel the screening of "American Sniper" film has been welcomed by Muslim students as a step toward creating an "inclusive, just, and safe" campus community, a report said.
"We would like to extend our official regards of recognition and appreciation to Student Entertainment Events for making the thoughtful and admirably difficult decision to remove the film American Sniper from this year's spring movie series," University of Maryland Muslims Students Association (MSA) posted a Facebook message on Thursday, April 23, On Islam reported.
MSA praise came after University of Maryland's Student Entertainment Events (SEE) cancelation of its May 6 and May 7 screenings of "American Sniper".
"If the University prevents a movie like this from being shown, it promotes intolerance and stifles dialogue and debate on the subject and goes directly against the atmosphere of diversity the University of Maryland purports to provide," SEE said in a statement.
The University's decision followed an outcry by Muslim students against the screening of the movie.
Full report at:
http://english.farsnews.com/newstext.aspx?nn=13940206001199
-----------
FBI investigating possible ISIS attack in U.S.
26 April 2015
The U.S. Federal Bureau of Investigation (FBI) is investigating a possible Islamist-inspired terrorism plot in the United States, CNN reported on Saturday, quoting law enforcement officials.
A Federal law enforcement official who asked not to be named said there was a known threat to Los Angeles International Airport, but did not say whether this was a new threat or was associated with Islamic State of Iraq and Syria (ISIS) group.
CNN said the investigation started after intercepted communication and other intelligence information that led officials to believe that a plot could be under way.
The network quoted an official as saying the plot focused on parts of California and that officials there had stepped up security.
The Transportation Security Administration had also alerted local law enforcement agencies responsible for security around airports in the state although the possible threat was not necessarily related to aviation, CNN said.
It added that some U.S. cities had increased their security, but gave no further details.
No one at the FBI was immediately available to comment. Homeland Security Secretary Jeh Johnson also declined to comment on the reported threat to Las Angeles airport.
http://english.alarabiya.net/en/News/world/2015/04/26/FBI-investigating-possible-ISIS-attack-in-U-S-.html
-----------
Marathon bomber trial casts focus on Boston Muslims
Apr 26, 2015
Boston's Muslim community has been once again thrust into the spotlight as the death penalty trial of convicted marathon bomber Dzhokhar Tsarnaev nears its conclusion amid rising concerns of terrorist recruitment in America.
Newspaper op-eds, advertisements and social media posts have highlighted connections between Boston-area mosques and terrorists and suspected terrorists, despite efforts locally to denounce them.
Tsarnaev, who grew up in nearby Cambridge, occasionally prayed at the neighborhood mosque with his now-dead older brother and accomplice, Tamerlan Tsarnaev.
Boston is also one of three cities - along with Los Angeles and Minneapolis - where the Obama administration is piloting a controversial new program to tackle extremist group recruitment before it takes root.
Full report at:
http://english.alarabiya.net/en/perspective/features/2015/04/25/Marathon-bomber-trial-casts-focus-on-Boston-Muslims.html
-----------
Africa
Unamid Reiterates Its Peacekeepers Responded Proportionally to Attacks in Kass
Apr 26, 2015
El Fasher — The African Union-United Nations Mission in Darfur (UNAMID) reiterates that its peacekeepers responded to two attacks against them by armed men in Kass, South Darfur, on 23 and 24 April 2015, denying recent media misreporting on the incident.
"In both incidents, UNAMID troops returned fire but did not initiate any shooting; they only acted to protect themselves," said African Union-United Nations Acting Joint Special Representative for Darfur, Abiodun Bashua.
The Acting Head of UNAMID lamented the loss of life, but added that the peacekeepers' response was appropriate and proportional as the Mission has evidence that the attackers, who were riding on horses and camels, were armed with AK-47 assault rifles with which they shot at the peacekeepers. He regretted that an erroneous version of the events is being put out to misinform the public and the Government.
The Mission's leadership is continuing to engage with the Government of Sudan, the African Union and the United Nations to defuse the tension and restore normalcy in Kass.
The first attack took place on 23 April 2015 around 18:00 hours when about 40 gunmen on horses and camels opened fire on Nigerian troops protecting a water point in Kass, 85 kilometres north-west of Nyala, South Darfur . The attackers made off with one of the Mission's vehicles after shooting the driver. The peacekeepers pursued and recovered the vehicle.
Full report at:
http://allafrica.com/stories/201504260019.html
-----------
South Africa: Love and Marriage in the Midst of Hateful Xenophobia
Apr 26, 2015
Not even a series of xenophobic attacks in the city of Pietermaritzburg could stop the preparations for an Ethiopian man and South African woman to tie the knot. 27-year-old Thandeka Mkhwanazi and Mali Wondawock, 26, hosted neighbours and residents at their home in Cinderella Park at their Umembeso ceremony on Saturday.
Umembeso is a traditional Zulu ceremony, where both the bride and the groom's family exchange gifts as a sign of welcoming one another, usually performed prior to the white wedding ceremony.
Despite the robbery of an Ethiopian shop owner on the day, the Umembeso went ahead. Mkhwanazi and Wondawock met four years ago at Cinderella Park, where Wondawock has two businesses.
Mkhwanazi said, "I didn't care about his nationality ... I started having butterflies when he was around and as a woman I knew that those were the signs of being in love.
"Giving birth to our daughter Ganita in 2013 created a bond that made our love concrete. Women have the strongest instincts and with what I was feeling it became obvious that what we were sharing was something that was legitimate."
Full report at:
http://allafrica.com/stories/201504202537.html
-----------
Nigeria recalls envoy to S. Africa over Xenophobia attacks
World Bulletin / News Desk
Apr 26, 2015
Nigeria has summoned its envoys from South Africa in reaction to the recent wave of xenophobic attacks on Nigerians and other foreign nationals in the country.
"They are not recalled, they are summoned for consultation," Ogbole Ode, the Foreign Ministry spokesman, told on Saturday.
In a statement, the ministry said Acting High Commissioner in Pretoria Martin Cobham and Deputy High Commissioner in Johannesburg Uche Ajulu-Okeke have been asked to return to Nigeria.
"The invitation is in connection with the ongoing xenophobia in South Africa targeting foreigners, mainly African migrants," it said.
The move came days after the Nigerian Senate condemned the violence and asked the government to recall its envoys from South Africa.
In recent weeks, South Africa has seen mounting anti-immigrant violence that has mostly targeted migrants from other African countries.
http://www.worldbulletin.net/todays-news/158353/nigeria-recalls-envoy-to-s-africa-over-xenophobia-attacks
-----------
Africa to be centre of world religious boom in the next few decades, with Islam growing fastest
Apr 26, 2015
A new report by Pew Research Center shows that in the next 35 years, the number of Christians and Muslims in the world will nearly be equal, as high growth rates in countries with significant Muslim populations, particularly in sub-Saharan Africa, outpaces that of Christian nations in the West.
The report says that religions with many adherents in developing countries – where the population is young, birth rates are high, and infant mortality is falling – are likely to grow quickly.
Much of the worldwide growth of Islam and Christianity is expected to take place in sub-Saharan Africa.
The region will experience the fastest overall growth, rising from 12% of the world's population in 2010 to about 20% in 2050.
Today's religiously unaffiliated population, by contrast, is heavily concentrated in places with low fertility and aging populations, such as Europe, North America, China and Japan.
As a result, by 2050 there will be near parity between Muslims (2.8 billion, or 30% of the population) and Christians (2.9 billion, or 31%), possibly for the first time in history. Globally, Muslims are the only religious group projected to increase faster than the world's population as a whole.
Full report at:
http://mgafrica.com/article/2015-04-25-africa-to-be-the-centre-of-religious-growth-in-the-next-few-decades
-------
URL: https://newageislam.com/islamic-world-news/isil-leader-al-baghdadi-clinically/d/102676