New Age Islam News Bureau
7 Jun 2014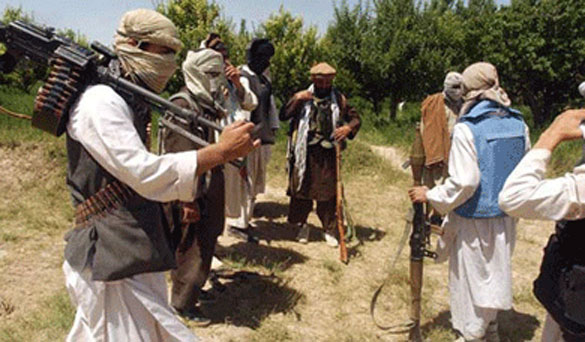 Pakistani Taliban — File photo
-------------
Arab World
• ISIL Chief Vies with Al Qaeda's Zawahiri
• Egypt court sentences 10 Morsi loyalists to death
• Iraqi police clash with militants in Mosul, 59 killed
• Report: Qatar, Saudi Arabia Pay Monthly Salaries to Militants in Fallujah
• Language barrier: Iraq's Arabs and Kurds at odds over several issues
• Iraq: jihadists seize hostages at university campus in Ramadi
• Islamic preacher in Graz arrested for recruiting men for Syria
• King Abdullah calls El-Sissi to pledge economic support
• UAE issues compulsory military service for men
Europe
• EU targets Western jihadists on radical websites
• Vatican insists pope not meddling in Mideast politics with Peres-Abbas invite
• Scottish Muslims divided over independence vote
• Iceland set to get first mosque
• Exhibition showing similarity of events in Ukraine and in Syria opens in Germany
India
• Hyderabadi Imam Acquitted In Akshardham Attack Case
• Bangladesh to take back infiltrators
South Asia
• China hospital tells Muslim staff not to fast in Ramadan
• Suicide attack in Kandahar leaves 5 Afghan soldiers injured
• 4 Afghan soldiers martyred, 27 militants killed during the past 24 hours
• 3 suicide bombers arrested in Nimroz province
• Afghanistan hopeful of boosting military ties with India under the Modi government
• Myanmar nationalist group organizes anti-Islam boycott
Africa
• Nigerian Television Becomes Front for U.S. in Terrorism Fight
• Al-Shabab refutes ONLF military cooperation reports
• Mali arrests army officer over 'attempted coup'
• Haftar forces 'expect' Egypt action in Libya
• Libyan army 'halfway' to getting rid of militants
• DR Congolese decry forced deportation, abuses
North America
• Freed Taliban commander vows to return to war against US
• US concerned over space for media freedom in Pakistan
• Barrel bombs risk becoming answer to insurgency
Pakistan
• Action will be taken against TTP factions averse to talks, Senate told
• Hoisting of national flag in Miranshah upsets militant group
• Defence ministry 'not satisfied' with Geo News penalty
• 122 'missing persons' traced in Balochistan in three years
'• I will fight for truth till my last breath': Altaf Hussain
• Jirga gets 15 days to restore peace in North Waziristan
Mideast
• YouTube ban a heavy intervention into freedom of expression: Top Turkish court
• Turkish government plans legal steps in Kurdish peace bid
• Turkey's PM reopens Istanbul's historic mosque
Southeast Asia
• NRD to wait for AG, Shariah court advise on Muslim bride's religious status
• Prabowo Called by Brother as a 'Defender of Pluralism'
Compiled by New Age Islam News Bureau
URL: https://www.newageislam.com/islamic-world-news/new-age-islam-news-bureau/isil-chief-vies-with-al-qaeda's-zawahiri/d/87415
-----------
Arab World
ISIL Chief Vies with Al Qaeda's Zawahiri
Jun 07 2014
BAGHDAD: The shadowy leader of thousands of Islamist fighters in Syria and Iraq appears to be surpassing Al Qaeda chief Ayman al-Zawahiri as the world's most influential jihadist.
Abu Bakr al-Baghdadi's Islamic State of Iraq and the Levant — known for its ruthless tactics and suicide bombers — is arguably the most capable force fighting Syrian President Bashar al-Assad, and has even held control of a major Iraqi city for the past five months, in tandem with other groups.
Western governments fear it could eventually emulate Al Qaeda and strike overseas, but their biggest worry for now is likely the eventual return home of foreign fighters attracted by ISIL and Baghdadi.
Among them are men like Mehdi Nemmouche, a 29-year-old Frenchman who allegedly carried out a deadly shooting on a Jewish museum in Belgium last month after spending a year fighting with ISIL in Syria.
"For the last 10 years or more, [Zawahiri] has been holed up in the Afghanistan-Pakistan border area and hasn't really done very much more than issue a few statements and videos," said Richard Barrett, a former counter-terrorism chief at MI6, Britain's foreign intelligence service.
"Whereas Baghdadi has done an amazing amount — he has captured cities, he has mobilised huge amounts of people, he is killing ruthlessly throughout Iraq and Syria.
"If you were a guy who wanted action, you would go with Baghdadi," Barrett told AFP, noting the ISIL leader's challenge to Zawahiri was "a really interesting development. Where that goes will determine a lot about how terrorism is [carried out]."
In a report for The Soufan Gro­up, Barrett estimated that some 12,000 foreign fighters had travelled to Syria, including 3,000 from the West. ISIL appears to hold the greatest appeal, with King's College London Professor Peter Neumann estimating arou­nd 80 per cent of Western fighters in Syria have joined the group.
Unlike other groups fighting Assad, ISIL is seen working towards an ideal Islamic emirate and, compared with Al Qaeda's franchise in Syria, Al Nusra Front, it has lower entry barriers. ISIL has also sought to appeal to non-Arabs, recently publishing two English-language magazines, having already released videos in English, or with English subtitles. ISIL claims to have had fighters from European countries, as well as the US, and from the Arab world and the Caucasus.
"It embodies that transnational ideology," Neumann said of ISIL. "If you are a Brit or a French guy who has no family connection to Syria, you're not wanting to fight for the Syrian people ... The reason you're going there is because you see Syria as essentially the centre of gravity or the potential birthplace for that Islamic state that you're hoping to create."
Much of the appeal also stems from Baghdadi himself — the ISIL leader is touted as a battlefield commander and tactician, a crucial distinction compared with Zawahiri. Baghdadi apparently joined the insurgency that erupted in Iraq soon after the 2003 US-led invasion.
In October 2005, American forces said they believed they had killed "Abu Dua," one of Baghdadi's known aliases, in a strike on the Iraq-Syria border. But that appears to have been incorrect, as he took the reins of what was then known as the Islamic State of Iraq in May 2010 after two of its chiefs were killed in a US-Iraqi raid. Since then, details about him have slowly trickled out.
In October 2011, the US Treasury designated him as a "terrorist" in a notice that said he was born in the Iraqi city of Samarra in 1971. And earlier this year, Iraq released a picture they said was of Baghdadi, the first from an official source, depicting a balding, bearded man in a suit and tie.
Lieutenant General Abdelamir al-Zaidi, who heads a northern security command centre, says his forces believe Baghdadi is hiding in Iraq's Diyala province, but other officials contest this. At the time Baghdadi took over, his group appeared to be on the ropes, after "the surge" of US forces combined with the shifting allegiances of Sunni tribesmen to deal him a blow. But the group has bounced back, expanding into Syria in 2013.
Baghdadi sought to merge with Al-Nusra, which rejected the deal, and the two groups have operated separately since. Zawahiri has urged ISIL to focus on Iraq and leave Syria to Al-Nusra, but Baghdadi and his fighters have openly defied the Al Qaeda chief and, indeed, have fought not only Assad, but also Al-Nusra and other rebel groups.
"His assumption of [the group's] leadership saw him manage an organisation under huge pressure," said Charles Lister, of the Brookings Doha Centre. "Baghdadi has managed a remarkable revival in his group's strength."
http://www.dawn.com/news/1110885/isil-chief-vies-with-al-qaedas-zawahiri
-----------
Egypt court sentences 10 Morsi loyalists to death
Jun 07 2014
Cairo's Shubra Criminal Court sentenced Saturday 10 supporters of ousted president Mohamed Morsi to death on charges of inciting violence and blocking the Qalyoub Highway last July.
The case includes a total of 48 accused, including the Muslim Brotherhood Supreme Guide Mohamed Badie, who was not amongst the 10 sentenced to death.
In accordance with Egyptian law, the court referred the death sentence to the country's Grand Mufti to review the verdicts.
All 10 sentenced to death are at large.
The trial of the remaining 38 defendants will continue 5 July.
This is not the first mass death sentence announced against Morsi loyalists, who have been arrested in the thousands since last August.
In March, the Upper Egypt Minya Criminal Court sentenced 529 Brotherhood supporters to death on charges of murdering the deputy commander of the Matay district police station in Minya, during riots that erupted in the aftermath of the forced dispersal in August 2013 of Islamist protest camps which left hundreds dead.
Militant attacks against security forces escalated since the ouster of Mohamed Morsi last July, leaving more than 500 officers and soldiers dead.
The Muslim Brotherhood has repeatedly denied involvement in the violence. The group was declared a terrorist organisation last December.
http://english.ahram.org.eg/NewsContent/1/64/103099/Egypt/Politics-/Egypt-court-sentences--Morsi-loyalists-to-death.aspx
-----------
Iraqi police clash with militants in Mosul, 59 killed
Jun 07 2014
Clashes between Iraqi security forces and militants killed 59 people in Mosul on Saturday, as heavy fighting in the northern city entered its second day, officials said.
The dead comprised 21 police and 38 militants, a police lieutenant colonel and a mortuary employee said.
Fighting broke out in Mosul on Friday morning and continued into the night, while twin suicide bombings targeted a minority group east of the city and soldiers shot dead suicide bombers to its south.
At least 36 people were killed in Friday's violence in Mosul and elsewhere in Nineveh province.
Saturday's deadly fighting came as jihadists took students and staff hostage at Anbar University in Ramadi, west of Baghdad, prompting an assault by security forces to try to free them.
Militants have stepped up their attacks in recent days.
On Thursday, militants seized several parts of the city of Samarra, north of the capital, in a major assault that was only repelled after house-to-house fighting and helicopter strikes that left dozens dead.
Violence is running at its highest levels since 2006-2007, when tens of thousands were killed in a sectarian conflict between Iraq's Shiite majority and Sunni Arab minority.
A wave of attacks across Iraq, including twin car bombs in an ethnically mixed tinderbox city, killed 20 people Wednesday as a year-long surge of violence showed no signs of let-up.
Nearly 50 people were also wounded in the violence, which struck in and around Baghdad, as well as in Salaheddin and Kirkuk provinces to its north, all areas afflicted by near-daily bloodshed, AFP reports. In the deadliest attack, two vehicles rigged with explosives went off in the centre of Kirkuk, killing eight people and leaving nine wounded, said provincial health chief Sabah Mohammed.
Kirkuk, an oil-rich ethnically diverse city, lies at the centre of a swathe of territory that Iraqi Kurdistan wants to incorporate into its three-province autonomous region over the objections of the central government in Baghdad.
No group immediately claimed responsibility for the attack, but Sunni militants frequently detonate bombs in the disputed territory, capitalising on poor communication between Kurdish and central government security forces.
Elsewhere in north Iraq, two people were killed when a suicide attacker set off a truck bomb in Suleiman Bek, while a corpse booby-trapped with explosives killed a policeman in nearby Tuz Khurmatu.
Both towns, like Kirkuk, lie in the disputed territory, which stretches from Iraq's border with Iran to its frontier with Syria.
In the adjoining province of Salaheddin, two separate bombings left a policeman and a soldier dead.
In the capital, meanwhile, a car bomb killed four people in a shopping area of the Sunni-majority northern neighbourhood of Saba Abkar, while a policeman was shot dead in another Sunni-dominated district in the south.
On Baghdad's northern outskirts, two policemen were killed by a roadside bomb.
Officials blame external factors for the rise in bloodshed, particularly the civil war in neighbouring Syria, and insist wide-ranging operations against militants are having an impact.
But the violence continues unabated, with analysts and diplomats saying the Shiite-led government needs to do more to reach out to the disaffected Sunni Arab minority to reduce support for militancy.
http://voiceofrussia.com/news/2014_06_07/Iraqi-police-clash-with-militants-in-Mosul-59-killed-2578/
-----------
Report: Qatar, Saudi Arabia Pay Monthly Salaries to Militants in Fallujah
Jun 07 2014
The foreign-backed militants fighting against the Iraqi government in the Western parts of the Arab country are receiving monthly salaries in cash from Riyadh and Doha, media reports said.
The Islamic State of Iraq and the Levant (ISIL) militants fighting against the Iraqi government in the city of Fallujah in Anbar Province in Western Iraq receive a monthly salary of USD 700 from the governments of Riyadh and Doha, the Iraq Al-Qanoun news website quoted member of Fallujah Liberation Council Maki Al-Issawi as saying.
A sum of 34 militant groups stationed in Fallujah carry out constant attacks on the government buildings and officials and civilians in Iraq. The militant groups are at odds with each other over the salaries they receive from the foreign countries, the report added.
Fallujah, part of Anbar Province, is located 65 kilometers (40 miles) West of Baghdad.
Anbar province, which includes Fallujah and the provincial capital city of Ramadi, has been the scene of fierce clashes that flared up after Iraqi police dismantled an anti-government protest site outside Ramadi in late December last year.
Late in April, Iraqi Premier Nouri al-Maliki said Saudi Arabia has turned into a state of problems due to its policies in supporting terrorists in Syria, Iraq, Yemen and other countries.
Saudi Arabia lives the dream of toppling Syria, Iraq and Lebanon, but it will not succeed, al-Maliki said in an interview with al-Manar TV broadcast Monday, and called on Saudi Arabia to stop interfering in Iraq's affairs and respect its interests.
Iraq is witnessing its worst violence in recent years. According to the UN Assistance Mission for Iraq, a total of 8,868 Iraqis, including 7,818 civilians and civilian police personnel, were killed in 2013, the highest annual death toll in years.
http://english.farsnews.com/newstext.aspx?nn=13930317000560
-----------
Language barrier: Iraq's Arabs and Kurds at odds over several issues
Jun 07 2014
Ask younger Iraqi Kurds if they speak Arabic, and they often say no, or not well — a linguistic barrier with the country's Arabs stemming from a nationalist backlash against Saddam Hussein's brutality.
Most Iraqi Arabs do not speak Kurdish either, meaning some members of the country's two largest ethnic groups have no common language.
This language barrier comes in addition to multiple long-running feuds between the federal government and the country's autonomous Kurdish region that are the cause of considerable tension and resentment between the two sides.
Older Kurds, who grew up when Kurdish areas had less autonomy than they now do, or none at all, faced more pressure to learn Arabic. But that has since decreased, and many younger Kurds now prefer English instead.
"I can understand Arabic but I don't speak it," Joana, a maths teacher, said in the region's second-biggest city of Sulaimaniyah. "I personally prefer English — I just don't like Arabic."
Ayyub Bahaeddin, a university student, agreed: "We like English more, because Arabic can only be useful in the Middle East, while English (is used) in most of the world."
The regime of now-executed leader Saddam Hussein allegedly killed tens of thousands of Iraqi Kurds in bloody crackdowns, while Kurds and members of other minorities were also forced from their homes and replaced by Arabs in a policy known as "Arabization."
But after a 1991 uprising against Saddam's regime, Kurdish areas of northern Iraq gained greater autonomy from Baghdad and were targeted by an internal blockade.
The lack of Arabic knowledge among a generation of younger Kurds stems from a backlash against years of repression, and from the Kurdish region's isolation from the rest of the country following the uprising.
Qubad Talabani, who was recently named regional deputy prime minister and is one of the outgoing federal president's sons, said the change was "a reaction to being liberated from Saddam, and maybe ... rejecting Iraq."
"In the early nineties ... suddenly you've got this new-found freedom to be Kurdish, to have a Kurdish government, to have your Kurdish flag," he said.
"I think there is a younger generation now that are being taught Arabic at schools, but there's a group in between who don't speak Arabic," he said, noting that the language situation "complicates a country that's already fraught with complications."
But even younger Kurds who are studying the language have faced difficulties with Arabic.
Payman Ali Mohammed, the principal of a Sulaimaniyah secondary school, said the Kurdish regional education ministry had introduced a new Arabic curriculum in some schools to address poor performance.
"Teachers noticed that many of the students couldn't even write a short composition (in Arabic) -- they were memorizing it," Mohammed said.
Ultimately, "most of them see the future" in English, she said, noting that students even take summer courses in the language.
But some younger Kurds say they believe learning Arabic is important, and Mohammed questioned the logic behind the backlash against the language due to its association with government abuses.
"Some people think, 'Why should we learn the language of a government that has been oppressing our people?'" she said.
But "if you want to understand your enemy, you should first learn their language."
Kurdish and Arabic are both official languages in Iraq, but in practice federal business is largely conducted in Arabic, while the Kurds' regional government operates in Kurdish.
Educators say students in Iraqi Kurdistan generally begin studying English before they start studying Arabic, while Kurdish instruction in schools outside the autonomous region is by comparison more limited than Arabic instruction in Kurdistan.
Unless Iraqi Arabs go to Kurdistan for vacation or business, they have little chance to use Kurdish, while the daily bombings and shootings plaguing various Arab areas of Iraq discourage Kurds from leaving their region, where such attacks are rare.
And while most television programs, newspapers and books were once in Arabic, Kurdish publications and media have since proliferated, removing another need for Kurds to know Arabic well.
Iraqi Kurdistan and the federal government are at odds over issues including territory, natural resources, power-sharing and federal payments to the Kurdish region that politicians say have been delayed and insufficient this year, causing salaries to go unpaid.
The disputes have made Kurdish independence increasingly attractive for some, but major Kurdish political parties have not called for it, and the region remains financially dependent on the federal government for now.
While shared languages play a role, "the key factor to creating a sense of a unified country is a sense of ownership over the country. People need to feel that they are part of a country," Talabani said.
"Iraq today does not have its own identity — Iraq today has a multitude of identities. There isn't something that binds these different identities together."
http://www.saudigazette.com.sa/index.cfm?method=home.regcon&contentid=20140607207603
-----------
Iraq: jihadists seize hostages at university campus in Ramadi
Jun 07 2014
Jihadists took staff and students hostage on Saturday at a university campus in the Iraqi city of Ramadi, where security forces have battled anti-government fighters for months, police said. The militants of the Islamic State of Iraq and the Levant group, seized the Anbar University campus after killing its guards, they added.
The attack is the third major operation by militants in three days, following heavy fighting and suicide bombings in northern Iraq on Friday and a major assault on the city of Samarra on Thursday.
The militants from the Islamic State of Iraq and the Levant group infiltrated the university from the nearby Al-Tasha area, killed its guards, and blew up the bridge leading to its main gate, police said.
Full report at:
http://voiceofrussia.com/news/2014_06_07/Iraq-Jihadists-seize-hostages-at-university-campus-in-Ramadi-5049/
-----------
Islamic preacher in Graz arrested for recruiting men for Syria
Jun 07 2014
Groups recruiting Muslims in Austria to fight in Syria have been dealt a blow after police arrested an Islamic preacher in Graz who is thought to be involved in efforts to send Austrians to the war in the Middle East.
State prosecutor Hansjoerg Bacher said that the 41-year-old man is thought to be behind the radicalising and recruiting of eight men, four of whom then died in fighting in Syria, who are believed to be young Chechens living in Austria.
Austrian magazine Profil reported that the men were recruited to join the al-Qaida-linked insurgency al-Nusra Front.
Full report at:
http://austriantimes.at/news/General_News/2014-06-06/51199/Islamic_preacher_in_Graz_arrested_for_recruiting_men_for_Syria
-----------
King Abdullah calls El-Sissi to pledge economic support
Jun 07 2014
Custodian of the Two Holy Mosques King Abdullah telephoned newly elected Egyptian President Abdel Fattah El-Sissi on Friday to pledge the Kingdom's support for the country's economic development.
El-Sissi thanked King Abdullah for assisting Egypt and congratulating him on winning the elections.
"This is the Kingdom's duty based on our religion, ethics and the joint destiny of the two countries," said the king, who is vacationing in the Moroccan city of Casablanca.
King Abdullah and El-Sissi also reviewed relations between the two countries.
On Tuesday, King Abdullah called for a "Friends of Egypt" conference, which would raise funds for the country to weather its current economic crisis.
Full report at:
http://www.arabnews.com/news/583112
-----------
UAE issues compulsory military service for men
World Bulletin / News Desk
Jun 07 2014
The president of the United Arab Emirates on Saturday issued a law implementing compulsory military service for Emirati men, a move highlighting the Gulf state's concern over turmoil in the region.
The UAE, a federation of seven emirates with a mostly expatriate population, faces no immediate threats from neighbours and has been spared militant attacks that have targeted other countries like Saudi Arabia.
Like other Gulf Arab states, the U.S. ally has strong military ties with Western powers that say they are committed to helping the OPEC member country deter or repel any threat.
But the UAE, a big buyer of Western military hardware, has a territorial dispute with its much bigger neighbour, Iran, over three Gulf islands controlled by the Islamic republic.
It is also wary of a neighbourhood fraught with conflicts, including in Syria, Iraq and Israel and the Palestinian territories.
Full report at:
http://www.worldbulletin.net/todays-news/138440/uae-issues-compulsory-military-service-for-men
-----------
Europe
Islamic Prayers To Be Held At The Vatican
6 June 2014
For the first time in history, Islamic prayers and readings from the Quran will be heard at the Vatican on Sunday, in a move by Pope Francis to usher in peace between Israelis and Palestinians.
Francis issued the invitation to Israeli President Shimon Peres and Palestinian Authority President Mahmoud Abbas during his visit last week to Jordan, Israel, and the Palestinian Authority.
Abbas, Peres, and Francis will be joined by Jewish, Christian and Islamic religious leaders, a statement released by Peres's spokesperson said, according to the Times of Israel.
Holy See officials on Friday said the evening prayers would be a "pause in politics" and had no political aim other than to rekindle the desire for Israeli-Palestinian peace at the political and popular level, according to the Associated Press.
Full report at:
http://english.alarabiya.net/en/News/middle-east/2014/06/06/Islamic-prayers-to-be-held-at-the-Vatican.html
----------
EU targets Western jihadists on radical websites
Jun 07 2014
Nine European countries endorsed plans to step up intelligence-sharing and take down radical websites to try to stop European citizens going to fight in Syria and bringing violence back home with them.
The initiative by states that deem themselves most affected by jihadist violence was given new urgency by the killing of three people at the Jewish Museum in Brussels last month.
A 29-year-old Frenchman arrested on suspicion of the shooting is believed to have recently returned from fighting with Islamist rebels in Syria's civil war, authorities said.
The proposals drawn up by France and Belgium were broadly supported by the other countries - Germany, Sweden, Denmark, Britain, the Netherlands, Ireland and Spain - at a meeting in Luxembourg on Thursday, according to a statement from the French and Belgian interior ministers.
Officials from the group will hold meetings with "the leading Internet operators" this month to look into the possibilities for immediately shutting down web sites and barring messages that spread hatred or encourage violent militancy or terrorism, the statement said.
Full report at:
http://english.alarabiya.net/en/News/middle-east/2014/06/06/EU-targets-Syrian-jihadists-on-radical-websites.html
------------
Vatican insists pope not meddling in Mideast politics with Peres-Abbas invite
By REUTERS
Jun 07 2014
Pope Francis hopes an unprecedented meeting of the Israeli and Palestinian presidents at the Vatican on Sunday can help end "eternal negotiations" and lead to peace but he has no wish to meddle in Middle East politics, the Vatican said on Friday.
President Shimon Peres and Palestinian Authority head Mahmoud Abbas will pray for peace together following a surprise invitation made by Francis during his visit to the Holy Land last month.
"This is a moment to invoke God for the gift of peace. This is a pause in politics," said Father Pierbattista Pizzaballa, a Church official in charge of Catholic sites in the Holy Land and a key organizer of Sunday's encounter.
"This is also an invitation to politicians to pause and look heavenward," Pizzaballa told a Vatican briefing. "Everyone wants something to happen, something to change. Everyone is tried of these eternal negotiations that never end ..."
Full report at:
http://www.jpost.com/Diplomacy-and-Politics/Vatican-insists-pope-not-meddling-in-Mideast-politics-with-Peres-Abbas-prayer-for-peace-355569
-----------
Scottish Muslims divided over independence vote
World Bulletin / News Desk
Jun 07 2014
As Scotland heads towards a historic referendum that could see it voting for independence from the United Kingdom on September 18, just like the rest of Scottish society, Scottish Muslims are also divided on which side they vote for.
Although there are only around 77,000 Muslims in Scotland, which has an overall population of just 5.2 million, their political opinions have been divided by the rival Better Together and Yes Scotland campaigns.
"We know about general voting patterns among the Muslim community not just in Scotland, but across the UK, that they usually vote for the Labour Party," Dr Timothy Peace, a postdoctoral fellow at the University of Edinburgh who specialises in research into British Muslims and political participation, told The National.
Full report at:
http://www.worldbulletin.net/muslim-world/138304/scottish-muslims-divided-over-independence-vote
-----------
Iceland set to get first mosque
World Bulletin / News Desk
Jun 07 2014
Muslims in Iceland are set to begin building the country's first ever mosque next week in the city of Reykjavik, after the City Council granted a plot for the project last year.
Muslim Association of Iceland chairman Ibrahim Sverrir Agnarsson told Visir said that they are in the final stages of commencing the mosque for the island's 1,200 Muslims in a joint project with the Islamic Cultural Center of Iceland.
However, some have already expressed their opposition to the 8,600-square-foot mosque, with one Facebook group called Stop the Islamization of Iceland already calling for the project to be halted. Last fall, three pigs heads and the bloodied pages of the Quran were dumped on the plot of where the mosque is to be built.
Full report at:
http://www.worldbulletin.net/muslim-world/138301/iceland-set-to-get-first-mosque
-----------
Exhibition showing similarity of events in Ukraine and in Syria opens in Germany
Jun 07 2014
The exhibition "Tangible evidence. Syria. Ukraine" opened in Berlin, which includes photographs and objects connected with the events in Damascus and Kiev. Masks, tires and personal belongings of the victims of conflict are part of the exhibit. Earlier this exhibition was held in Brussels.
The exhibition was organized by the Russian edition of "Journalistic Truth", which selected pictures, reflecting a series of events in Syria and Ukraine. The exhibition features not only photos but also material objects brought from Syria and Ukraine. Masks, tires and personal belongings of the victims of conflict are part of the exhibit.
The organizers believe that it is a "great idea""to try to combine images of individual objects and material culture. "This approach allows guests to absorb information, to comprehend the true nature of the conflict", told RT the assistant organizer of the exhibit, Irina Shiemann.
The reason for such exhibition came from the violation of democratic norms in several countries, including Ukraine.
Full report at:
http://voiceofrussia.com/news/2014_06_07/Exhibition-showing-similarity-of-events-in-Ukraine-and-in-Syria-opens-in-Germany-9025/
-----------
India
Hyderabadi Imam Acquitted In Akshardham Attack Case
TNN | Jun 7, 2014
HYDERABAD: A Pota court in Ahmedabad acquitted two Akshardham temple attack suspects, Shaukatullah Ghori of Hyderabad and Majid Patel alias Umarji of Gujarat, on Friday.
The two were found not guilty by Judge Geeta Gopi of the Special Prevention Of Terrorism Act (Pota) court which had concluded the case hearing on May 23. During the trial, the prosecution noted that the recent judgement of the Supreme Court had acquitted six other accused in the same case.
Altaf Mallick, Abdulmiya Kadri, Mohammad Hanif Shaikh and Chand Khan aka Shan Miya who were serving jail terms ranging from 10 years to life were also acquitted by the Supreme Court.
Shaukatullah had been arrested by the sleuths of State Counter Intelligence Cell in 2009 as he arrived from Saudi Arabia at the Rajiv Gandhi International Airport and handed over to the Gujarat police the same day. On the other hand, Patel, accused of managing funds for the terror attack, was arrested in 2008 from Bharuch district of Gujarat.
Full report at:
http://timesofindia.indiatimes.com/india/Hyderabadi-imam-acquitted-in-Akshardham-attack-case/articleshow/36169589.cms
-----------
Bangladesh to take back infiltrators
TNN | Jun 7, 2014
AGARTALA: Bangladesh government has agreed to take back their nationals, who took shelter in a Tripura village, during a DIG-level meeting of the border guards of both the countries.
The date of repatriation of Bangladeshi tribals, staying in the Tripura village for the past four days, has not been finalized yet. After three rounds of meeting, Border Guards Bangladesh (BGB) agreed on the deal but only after carrying out proper verification of the records, said a state home department official.
BGB has sought list of names, group photographs and details about the infiltrators for initiating the repatriation process, said the official. After a thorough record checking, the BGB would take up the matter with higher authorities, the official added.
Full report at:
http://timesofindia.indiatimes.com/india/Bangladesh-to-take-back-infiltrators/articleshow/36194978.cms
-----------
South Asia
China hospital tells Muslim staff not to fast in Ramadan
World Bulletin / News Desk
Jun 07 2014
The Chinese Medicine Hospital in Yining, also known as Ghulja, a city in the traditionally Uighur province of East Turkestan (Xinjiang), has asked its Muslim staff not to fast this Ramadan "in order not to affect normal work and life."
Sina Weibo reported that the county's health department had made the request just three weeks before fasting for the Islamic holy month is due to begin on June 28.
Being asked to sign a pledge of compliance in a "responsibility book," the Sina Weibo website published photographs hospital staff members of ethnic minority background, mainly female nurses, sitting in front of two large tables with their hands folded.
The region's native Uighur Muslims, a ethnic Turkic peoples, are likely to be offended by the request. They already blame curbs on Uighur religion and culture by the Han Chinese Communist Party for rising ethnic tensions in the region.
http://www.worldbulletin.net/muslim-world/138296/china-hospital-tells-muslim-staff-not-to-fast-in-ramadan
-----------
Suicide attack in Kandahar leaves 5 Afghan soldiers injured
Jun 07 2014
At least five Afghan national army (ANA) soldiers were injured following a suicide attack in southern Kandahar province of Afghanistan.
According to local government officials, the incident took place in Maiwand district around 8:00 am local time.
The officials further added that a suicide bomber detonated a vehicle packed with explosives near the vehicle of the Afghan national army soldiers close to Azizullah military base.
The injured Afghan national army soldiers were take to the hospital for treatment, the officials said.
In the meantime, the provincial government media office following a statement said Afghan and coalition forces arrested four Taliban militants during an opeation in Khakrez district.
The statement further added that the Afghan and coalition forces confiscated weapons, ammunition and explosives along with three motorcycles from the detained militants.
The anti-government armed militant groups have not commented regarding the report so far.
http://www.khaama.com/suicide-attack-in-kandahar-leaves-5-afghan-soldiers-injured-8223
-----------
4 Afghan soldiers martyred, 27 militants killed during the past 24 hours
Jun 07 2014
At least four Afghan National Army (ANA) soldiers were martyred following improvised explosive device (IED) attack during the past 24 hours.
Defense ministry spokesman, Gen. Zahir Azimi, confirmed the incident however he did not disclose further information regarding the exact location of the incident.
Gen. Azimi further added that 27 militants were also killed during military operations conducted by Afghan National Army (ANA) soldiers in the past 24 hours.
He said at least 24 others inducing two Pakistanis were also injured during the operations and seven others were arrested.
Afghan National Army (ANA) soldiers also confiscated four motorcycles, two suicide bombing vests and 53 improvised explosive device (IED) during the operations, Azimi said.
The anti-government armed militant groups have not commented regarding the report so far.
http://www.khaama.com/4-afghan-soldiers-martyred-27-militants-killed-during-the-past-24-hours-8225
-----------
3 suicide bombers arrested in Nimroz province
Jun 07 2014,
Afghan national security forces foiled coordinated suicide attack plot in western Nimroz province of Afghanistan.
According to local government officials, at least three suicide bombers were arrested in connection to the attack plot.
Provincial governor spokesman, Ahmad Arab, said the suicide bombers were arrested from Del Aram district on Friday night.
Mr. Arab further added that the suicide bombers were looking to attack a military installation in Del Aram district.
Afghan security forces also confiscated three suicide bombing vests, a vehicle along with explosives and weapons from the detained would-be bombers, local officials said.
The anti-government armed militant groups have not commented regarding the report so far.
http://www.khaama.com/3-suicide-bombers-arrested-in-nimroz-province-8227
-----------
Afghanistan hopeful of boosting military ties with India under the Modi government
Jun 07 2014
Afghanistan is hopeful to boost military ties with India under the Modi government amid concerns of security vacuum as the NATO-led coalition forces are preparing to withdraw from Afghanistan.
Kabul is hopeful that India will emerge as a major player in filling the security gap in the strife-torn nation. "Even before Prime Minister Narendra Modi had taken the oath of office, Afghanistan President Hamid Karzai had held two telephonic conversations with him, setting the tone for energizing an already formidable relationship," a diplomatic source quoted in a report by The Hindu said.
The official further added that the appointment of Ajit Doval as National Security Adviser also undergirds Afghan hopes.
Full report at:
http://www.khaama.com/afghanistan-hopeful-of-boosting-military-ties-with-india-under-modi-government-8228
-----------
Myanmar nationalist group organizes anti-Islam boycott
World Bulletin / News Desk
Jun 07 2014
Nationalist monks in Buddhist-dominated Myanmar are to launch a campaign to boycott a Qatar-owned telecommunications company on Saturday because it is "from an Islamic country."
U Parmaukha, a radical Buddhist abbot based in Yangon, Myanmar's main city, told the local Irrawaddy news website this week that the boycott has been organized to "protect the integrity" of Myanmar and Buddhism.
"We doubt that we will have freedom when talking over their mobile network because the company is from an Islamic country," he added.
The boycott is of Ooredoo, a telecoms giant owned by the Qatari government - one of two foreign firms - the other being Norwegian firm Telenor - awarded contracts to run mobile phone services in the impoverished Southeast Asian nation last year.
Full report at:
http://www.worldbulletin.net/muslim-world/138375/myanmar-nationalist-group-organizes-anti-islam-boycott
-----------
Africa
Nigerian Television Becomes Front for U.S. in Terrorism Fight
Jun 07 2014
WASHINGTON — The State Department is financing a new 24-hour satellite television channel in the turbulent northern region of Nigeria that American officials say is crucial to countering the extremism of radical groups such as Boko Haram. The move signals a ramping up of American counterinsurgency efforts to directly challenge the terrorist group, which abducted nearly 300 Nigerian schoolgirls in April.
State Department officials acknowledged that setting up an American-supported channel could prove challenging in a region where massacres, bombings and shootings by Boko Haram are common, and where the American government and Western educational programs are far from popular. The group has been known to attack media organizations in Nigeria.
The new television channel, to be called Arewa24 — arewa means north in the Hausa language — is financed by the State Department's Bureau of Counterterrorism, and it is expected to cost about $6 million. State Department officials would discuss the program only on the condition of anonymity, and offered sparse information about it. But details have emerged in publicly available contracting documents and in interviews with people familiar with the effort.
Full report at:
http://www.nytimes.com/2014/06/07/world/africa/state-department-ramps-up-efforts-against-boko-haram.html
---------
Al-Shabab refutes ONLF military cooperation reports
Jun 07 2014
Al-Qaeda affiliated group, Al-Shabab has strongly refuted reports in the media quoting that ONLF abetted Alshabab and told their group can have neither military cooperation nor any relations with ONLF armed group which fights in Ethiopia. They said this is totally baseless as the facts on the group are contrary to it.
In their denial report, The Al-Shabab military operations spokesman Sheik Abdilasis Abu Musa'ab said, "They said Al-shabab has a military cooperation with ONFL Group and the group has backed us prior carrying out attacks in Gedo region and this are totally false and unsubstantiated,"
Full report at:
http://www.somalicurrent.com/2014/06/07/al-shabab-refutes-onlf-military-cooperation-reports/
-----------
Mali arrests army officer over 'attempted coup'
World Bulletin / News Desk
Jun 07 2014
A Malian army officer, whose family had said that he had been kidnapped in Bamako by armed men in military uniform earlier this week, was actually arrested for "an attempted coup," a security source said on Friday.
"Lt. Mohamed Ouattara was never kidnapped. He was simply arrested along with other officers for plotting to overthrow the institutions of the state," the source, who preferred anonymity, told Anadolu Agency.
According to the source, Ouattara is serving with parachute force called 'The Red Berets,' which is known for being widely loyal to former president Amadou Toumani Touré, ousted by a 2012 coup led by General Amadou Haya Sanogo.
Full report at:
http://www.worldbulletin.net/world/138420/mali-arrests-army-officer-over-attempted-coup
-----------
Haftar forces 'expect' Egypt action in Libya
World Bulletin / News Desk
Jun 07 2014
Forces loyal to renegade Libyan general Khalifa Haftar are "expecting and waiting for" Egyptian military action in Libya to support the general's ongoing campaign against armed militias, a Haftar spokesman has said.
"We're expecting and waiting for the Egyptian army to launch a military operation inside Libyan territory in a show of support by Egypt," Haftar spokesman Mohamed Hegazi told Anadolu Agency.
Haftar, once an opponent of late Libyan strongman Muammar Gaddafi, recently declared war on Benghazi-based militias, some of which were absorbed into the regular army following Gaddafi's 2011 ouster and death.
Full report at:
http://www.worldbulletin.net/headlines/138417/haftar-forces-expect-egypt-action-in-libya
----------
Libyan army 'halfway' to getting rid of militants
Jun 07 2014
A military operation led by Libya's renegade ex-General Khalifa Haftar in the eastern city of Benghazi has achieved 55 percent of its targets in eradicating Islamist militants, a spokesman said on Friday.
But Spokesman Colonel Mohammed al-Hijazi warned that radical Islamists were aiming to claim control of border areas close to Tunisia and Algeria after Libyan warplanes succeeded in raiding Islamist extremists-held pockets in Benghazi.
"Operation Dignity" started its offensive in Libya's second city on May 16.
Meanwhile, a source in the Algerian defense ministry told Al Arabiya News Channel that his country's army was not participating in any operation against extremists west of Libya.
On Friday, the Algeria-based al-Watan newspaper citing a military source reported that the Algerian army is waging one of its "biggest operations since independence" on the border area, with thousands of troops dispatched.
Full report at:
http://english.alarabiya.net/en/News/2014/06/07/Spokesman-Islamists-eye-control-of-Libya-borders.html
---------
DR Congolese decry forced deportation, abuses
World Bulletin / News Desk
Jun 07 2014
Elisee Bolumbu, 43, looks upset as she sits on mattresses and packed households items next to her two small daughters in the compound of a district office used by the Democratic Republic of Congo government as a transit camp for thousands of its citizens who had been deported by its small western neighbor, the Republic of Congo.
Bolumbu had lived in Congo-Brazzaville for 26 years. She initially went there as clothing trader, before becoming a farmer.
She is one of nearly thousands of Congolese recently deported by the Congo-Brazzaville authorities to their native DR Congo.
"The local police chief in neighborhood where I was staying ordered all landlords to get rid of Congolese from their houses or be heavily fined," she told Anadolu Agency.
Full report at:
http://www.worldbulletin.net/world/138421/dr-congolese-decry-forced-deportation-abuses
-----------
North America
Freed Taliban commander vows to return to war against US
June 07, 2014
WASHINGTON- The deepest concerns of critics of President Obama's decision to release five Taliban commanders from Guantanamo Bay, Cuba in exchange for Army Sgt. Bowe Bergdahl may be coming to fruition.
One of the commanders, Noorullah Noori, has plans to return to Afghanistan to resume fighting against the U.S, according to NBC News which spoke to another Taliban commander. "After arriving in Qatar, Noorullah Noori kept insisting he would go to Afghanistan and fight American forces there," the commander told NBC News.
Last Saturday, Obama announced the release of Mohammad Fazl, Mohammed Nabi, Khairullah Khairkhwa, Abdul Haq Wasiq and Noori in exchange for Bergdahl, who was captured by the Taliban in eastern Afghanistan after he disappeared from his Army platoon on June 30, 2009.
Some members of Congress blasted the deal, saying they feared that the five Taliban would take up where they left off in their fight against the U.S. Others think that the exchange was a bad deal for the U.S. given reports that Bergdahl deserted his unit.
Florida U.S. Sen. Marco Rubio called the exchange "very troubling," and said that the "deal may endanger American lives." Other lawmakers expressed similar reservations over the risk for future violence as well as Obama's failure to notify them of the planned exchange.
Noori is a senior Taliban commander and an ex-governor of a northern Afghan province, where he was accused of taking part in the 1998 genocide of thousands of Shia muslims.
Full report at:
http://www.nation.com.pk/national/07-Jun-2014/freed-taliban-commander-vows-to-return-to-war-against-us
-----------
US concerned over space for media freedom in Pakistan
June 07, 2014
WASHINGTON/BROADFORD-"We have very clearly said that we are concerned about the space for media freedom in Pakistan," the State Department Deputy Spokesperson, Marie Harf, told journalists on Friday.
"We are aware that Geo TV's broadcast license has been suspended for 15 days and that a fine has been imposed on the outlet by the regulatory authority. We have also seen reports that Geo TV has filed suit against the regulatory authority as well," she said.
"Not going to take a position on the merits of these actions, but we have long been clear that freedom of the press, including freedom of the airwaves and safety for journalists, is of paramount importance to freedom of expression in Pakistan and everywhere else," Harf said.
Meanwhile protestors protecting freedom of expression gathered outside the Consulate of Pakistan in Bradford's North Parade.
Full report at:
http://www.nation.com.pk/national/07-Jun-2014/us-concerned-over-space-for-media-freedom-in-pakistan
-----------
Barrel bombs risk becoming answer to insurgency
Jun 07 2014
In desperate efforts to gain ground on battlefields, frustrated governments in the Mideast and Africa are using barrel bombs against their enemies, launching the cheap, quickly manufactured weapons as a crude counter to roadside blasts and suicide explosions that insurgents have deployed with deadly success for years.
New evidence that they are being used in Iraq after being dropped on civilian populations in Syria and Sudan has raised concerns that governments in a number of unstable nations will embrace them.
Described as "flying IEDs" improvised explosive devices barrel bombs have the power to wipe out a row of buildings in a single blast and can kill large numbers of people, including unintended victims.
"It's fair to say that a lot of governments are losing control of the counter-insurgency," said Michael Knights, an analyst at the Washington Institute for Near East Policy. "They're also watching what they see in Syria, and they feel like their air power is what is making the difference."
Full report at:
http://www.thehindu.com/news/international/world/barrel-bombs-risk-becoming-answer-to-insurgency/article6092760.ece
-------------
Pakistan
Action will be taken against TTP factions averse to talks, Senate told
Jun 07 2014
ISLAMABAD: The Senate was informed on Friday that the government would use force against those factions of the outlawed Tehreek-i-Taliban Pakistan (TTP) which had adopted the path of violence instead of coming to the negotiating table.
"The government's policy is very clear. Those interested in holding dialogue will be welcomed but those resorting to violence will be taken to task," leader of the house Raja Zafarul Haq said.
Responding to points of order raised by PPP's Mian Raza Rabbani and ANP's Afrasiab Khatak during the brief proceedings, he said there were three to four dozen groups within the Taliban and they took their own decisions.
He said there had been no drone attacks since Prime Minister Nawaz Sharif's last visit to the United States and after that there should have been some headway in talks. He said dialogue would be held with those who wanted it, but no-one would be allowed to challenge the writ of the state and play with the lives of innocent people.
Full report at:
http://www.dawn.com/news/1111158/action-will-be-taken-against-ttp-factions-averse-to-talks-senate-told
-----------
Hoisting of national flag in Miramshah upsets militant group
Jun 07 2014
MIRAMSHAH: Irked by hoisting of national flag by tribesmen in Miramshah and Mirali as a proof of their allegiance to the state in order to escape bombings, the banned militant group Islamic Movement of Uzbekistan has said that it is responding by hoisting black flags.
People in Miramshah, the headquarters of North Waziristan, said on Friday that sale of the national flag had increased as more and more people in the town, adjoining villages and Mirali wanted to hoist it to demonstrate their allegiance to the state and escape bombing.
"The sale of Pakistani flag has increased and we also have hoisted one on our rooftop," a resident said. "Big flags on high masts can be seen everywhere," he said.
But the move has irked the militant group which criticised what it called "weak-hearted Muslims" for using flags as a "defence" to ward off bombing and vowed to counter it with black flags with the Kalma inscribed on it, terming it a "battle of the flags".
Full report at:
http://www.dawn.com/news/1111160/hoisting-of-national-flag-upsets-militant-group
-----------
Defence ministry 'not satisfied' with Geo News penalty
Jun 07 2014
ISLAMABAD: In its first ever reaction over Pemra's decision to suspend Geo News for 15 days, the Ministry of Defence said Saturday that it is not satisfied with the penalty awarded after the private TV channel was declared guilty of misconduct.
In a formal complaint filed late April, the defence ministry had sought revocation of the private news channel's licence and prosecution of its editorial and management teams under regulatory laws for electronic media for allegedly bringing premier spy agency Inter-Services Intelligence into disrepute and harming national interest.
On Friday, the Pakistan Electronic Media Regulatory Authority (Pemra) suspended the licence of Geo News for 15 days and fined it Rs10 million to be paid before the expiry of the suspension period.
Full report at:
http://www.dawn.com/news/1111193/defence-ministry-not-satisfied-with-geo-news-penalty
-----------
122 'missing persons' traced in Balochistan in three years
Jun 07 2014
QUETTA: A total of 122 'missing persons' were traced and recovered in Balochistan during the last three years, an official of Home and Tribal Affairs Department said Saturday.
Requesting anonymity as he was not authorised to speak to media, the official said that the 'missing persons' belonged to Baloch nationalist groups. He, however, informed that according to official records, 143 cases of missing persons were still pending before the 'missing persons' commission and the Supreme Court.
The commission, constituted on the directives of the apex court four years ago, has so far disposed of more than 600 cases, according to an announcement made in May.
According to the official, 52 cases of missing persons were disposed off by the commission and the apex court owing to lack of evidence and necessary documents. The official claimed that nine bodies of missing persons were found in different parts of Balochistan during the last three years.
Full report at:
http://www.dawn.com/news/1111188/122-missing-persons-traced-in-balochistan-in-three-years
-----------
'I will fight for truth till my last breath': Altaf Hussain
Jun 07 2014
LONDON – Mutahida Qaumi Movement leader Altaf Hussain has said that he has not extended begging hand to anyone for his bail and he has exercised restraint, but said that Prime Minister Nawaz Sharif played positive role in his case.
"I am grateful to him (Nawaz Sharif) and I pay tribute to him," he said, and also thanked to former president Asif Ali Zardari and other political parties for expressing solidarity with him. "All allegations leveled against me will prove false. I will keep on pleading what is truth. I can sacrifice my life for this purpose. I have always advocated what is truth and will go on advocating truthfulness. I will fight for the sake of truth till my last breath," he said in his statement after his release on bail in money laundering case in London.
Full report at:
http://www.dailytimes.com.pk/national/07-Jun-2014/i-will-fight-for-truth-till-my-last-breath
-----------
Jirga gets 15 days to restore peace in North Waziristan
Jun 07 2014
PESHAWAR: Two separate meetings of a 64-member tribal jirga from North Waziristan Agency with Khyber Pakhtunkhwa Governor Sardar Mehtab Ahmed Khan and Peshawar Corps Commander Lieutenant General Khalid Rabbani concluded that the tribal elders will oust foreign fighters from the area in 15 days and play their role in restoration of peace in the agency.
The jirga comprising elders of Uthmanzai Wazir and Dawar tribes from North Waziristan, led by Haji Sher Muhammad, the successor of the Faqir of Ipi, met with the corps commander to discuss the rumoured military action in the agency. Speaking on behalf of the tribesmen, Haji Sher said that military operation has never been a solution to the problem the agency was facing. "The tribal elders should now be given the opportunity to restore peace," he added.
Haji Sher claimed the jirga he was leading has clout and the agency's tribesmen will try to force the foreign militants out, secure government installations and put an end to attacks carried out on security forces' convoys.
Full report at:
http://www.dailytimes.com.pk/national/07-Jun-2014/jirga-gets-15-days-to-restore-peace-in-north-waziristan
-----------
Mideast
YouTube ban a heavy intervention into freedom of expression: Top Turkish court
Jun 07 2014
Banning access to YouTube constitutes a "heavy intervention into the freedom of expression of all users," Turkey's Constitutional Court has said in its detailed ruling, while underlining that social media is a transparent platform enabling communication.
"It is understood that the intervention intended to completely block access to YouTube has no sufficiently clear or distinct legal basis. In this regard, it has no quality of predictability for applicants," the Court stated in its detailed ruling published in the Official Gazette on June 6.
"That's why there is a need to rule that the said administrative operation - which was characteristic of a heavy intervention into the freedom of expression of all users who benefit from the site - violated the applicants' freedom of expression, which is protected in Article 26 of the Constitution," the ruling, dated May 29, added.
The ruling was made by the 17-member General Assembly of the Constitution Court. Two members objected the ruling on the grounds that applicants had appealed to the Constitutional Court without exhausting administrative legal means.
Full report at:
http://www.hurriyetdailynews.com/youtube-ban-a-heavy-intervention-into-freedom-of-expression-top-turkish-court-.aspx?pageID=238&nID=67500&NewsCatID=339
-----------
Turkish government plans legal steps in Kurdish peace bid
Jun 07 2014
The Turkish government is prepared to take a "courageous step" in the Kurdish peace process, including passing legal amendments for a new roadmap, Deputy PM Beşir Atalay told a workshop on the peace process held in Diyarbakır on June 6.
"Legal amendments will be done if necessary. They will be taken to the Parliament. We have to have a solution," said Atalay, adding that they would also consider introducing a right of return for outlawed Kurdistan Workers' Party (PKK) militants, or enabling their return to politics.
"We have made the state face what it has done in the past. We have brought all the wrongdoings, injustices, bans, taboos and unresolved murders to light once again," said Atalay, adding that the absence of international mediators in the peace process had been another problem.
Full report at:
http://www.hurriyetdailynews.com/turkish-government-plans-legal-steps-in-kurdish-peace-bid.aspx?pageID=238&nID=67516&NewsCatID=338
-----------
Turkey's PM reopens Istanbul's historic mosque
World Bulletin / News Desk
Jun 07 2014
Turkey's Prime Minister Recep Tayyip Erdogan reopened Istanbul's symbolic Buyuk Mecidiye Mosque – also known as Ortakoy Mosque - in Istanbul on Friday after almost three years of restoration.
Speaking at the opening ceremony and after performing Friday prayers, Erdogan praised the mosque's Armenian architects.
"Our ancestors showed their distinction as they assigned competent people to this task," said Erdogan referring to the mosque's two architects from the Balyan family, Garabet and Nigogayos Balyan.
The Balyan family contributed to several other notable structures in Istanbul, namely Dolmabahce Palace and the adjacent Bezmialem Mosque. After receiving architectural education in France, the family had a huge influence on late Ottoman architecture.
Full report at:
http://www.worldbulletin.net/turkeys-pm-reopens-istanbuls-historic-mosque/138400/turkeys-pm-reopens-istanbuls-historic-mosque
-----------
Southeast Asia
NRD to wait for AG, Shariah court advise on Muslim bride's religious status
Jun 07 2014
he National Registration Department (NRD) will only process a Muslim bride's request to change her religion once it gets the green light from the Attorney-General's Chambers and the Shariah court, Home Minister Datuk Seri Ahmad Zahid Hamidi said today.
"I have studied the NRD report on Zarinah Abdul Majid. We understand religious sensitivities and we will follow the decision of the AG's Chambers and the Shariah court," he said in Kuala Lumpur.
Zarinah, 32, has said she was registered by her father as a Muslim but grew up a Hindu.
She said she made countless trips to the NRD and spent thousands of ringgit in legal fees to change her religious status but to no avail.
The Selangor government and the Selangor Islamic Religious Department have both pledged to help Zarinah solve her religious status.
Full report at:
http://www.themalaysianinsider.com/malaysia/article/nrd-to-wait-for-ag-shariah-court-advise-on-muslim-brides-religious-status#sthash.Be4Mj0k7.dpuf
------------
Prabowo Called by Brother as a 'Defender of Pluralism'
Jun 07 2014
Jakarta. Hashim Djojohadikusumo, the younger brother and economic adviser to presidential candidate Prabowo Subianto, says that Prabowo is committed to the protection of minorities such as Ahmadis, Shiite Muslims and Christians in Indonesia, in a bid to maintain the nation's pluralism and the philosophical foundation known as Pancasila.
Hashim went so far as to say that Prabowo was committed to protecting Ahmadis, who in Indonesia have long been denounced and attacked by Sunni Muslim hard-liners.
"The first task of the government is to protect its citizens," he said on Friday. "Protecting Ahmadiyah, that is a basic task of the next Indonesian government, as long as they don't pose a threat to public security and order. If they are pursuing their faith peacefully, then there's no reason why they should be bothered by the government or others."
Full report at:
http://www.thejakartaglobe.com/news/prabowo-called-brother-defender-pluralism/
-----------
URL: https://www.newageislam.com/islamic-world-news/new-age-islam-news-bureau/isil-chief-vies-with-al-qaeda's-zawahiri/d/87415