New Age Islam News Bureau
28 Sept 2015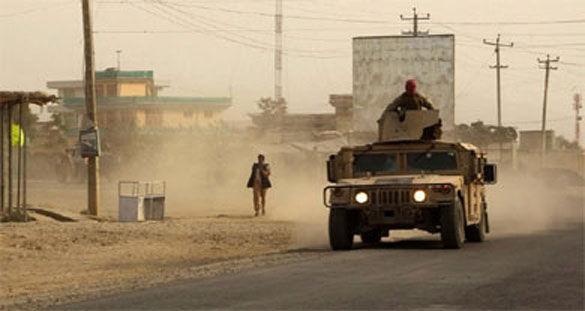 Afghan security forces travel in a Humvee amid ongoing battles with Taliban militants in Kunduz, on September 28, 2015 (AFP Photo/Najim Rahim)
--------
India
• ISI Mobilizes Lashkar, Khalistan Terrorists for Attack on India
• Death Toll of Indians in Haj Stampede Rises To 45
• Many attend Indian Muslim family day in Malaysia
• From Seemanchal to Nalanda, a Muslim lag in development
------
South Asia
• Afghan Cricket Match Suicide Bombing Kills Nine, Wounds Over 50
• Islamic State (IS) Loyalists' Attacks Afghan Police Convoy; 3 Personnel Killed
• Taliban Lay Siege to Key Afghan City Kunduz
• Paktika attack widely condemned that left nine killed, 51 wounded
• Achin attack was organized by ISI, district governor says
• Up to 60,000 Afghans reach Iran illegally every month
• High ranking Chinese delegation coming to Kabul
• Taliban plan foiled to release prisoners in Herat's Shindand District
• Maldives president escapes unhurt from speedboat blast
-------
North America
• West 'Manipulated' 9/11 Attacks to Blame Osama Bin Laden, UK's Labour Leader Jeremy Corbyn Had Said
• Russia Surprises U.S. With Accord on Battling ISIS
• After Criticism, Pope Francis Confronts Priestly Sexual Abuse
• Pope Francis wraps up joyful US visit with big open-air Mass
• We Need a United Nations of the World's Religions
• Pope Francis praises the differences in world cultures
• Coalition's effort to fight Islamic State terrorism falling short
--------
Arab World
• Yemen: Dozens Killed in Saudi Air Raids
• Islamic State training camp obliterated by six French fighter jets
• Yemeni Forces Attack Saudi Positions
• Kurdish Forces Repel ISIL Attack West of Syria's Hasaka
• French warplanes 'totally destroyed' Islamic State camp in Syria
• Syria crisis: Russia calls for coordinated resolution to Islamic State conflict
• Lack of Cooperation in Finding Missing Hajj Pilgrims
--------
Africa
• Sectarian Clashes Kill 24 in Central African Republic Capital
• Nigeria Scores Rare Victory against Boko Haram
• CAR clashes in Bangui after Muslim taxi driver killed
--------
Mideast
• Erdoğan Defends Saudi Arabia after Hajj Disaster, Raises Eyebrows
• Turkish PM Says PYD Linked To PKK, Fighting ISIL Won't Legitimize It
• PKK Attacks Military Vehicle In South-eastern Turkey, Wounding 5
• PACE to observe Turkey's snap election
• 134 dead, 650 injured in traffic accidents during Eid-al-Adha holiday
• Palestinians Clash with Israeli Riot Police at Holy Site
--------
Pakistan
• Operation Launched Against Foreign Seminary Students in Kohat
• LeT Threat to World Peace, Says Kerry
• 'MQM, Jamaat-i-Islami, Ahle Sunnat Wal Jamaat and Jamaatud Dawa men' among 800 held for snatching hides
• Siraj accuses ECP of making Dir by-poll controversial
• Talks with angry Baloch leaders soon, says CM
• Crowded boat sinks in India River; dozens missing
• 217 Pakistani pilgrims tracked in Saudi Arabia; 85 missing
• Pakistan to hang man who claims he was 15 at time of crime
• 36 Pakistanis died in Mina stampede
• Kerry meets Nawaz, lauds anti-terror efforts
• Pakistan HC staff not allowed to celebrate Eid outside Delhi
• Nawaz raises Kashmir issue with Ban Ki-moon
---------
Europe
• Putin's Top Advisor: S. Arabia Should Not Be Allowed to Gain Victory in War against Yemen
• Chinese, Russian Air Forces to Use Hmamiyat Airfields to Bomb ISIL in Syria
• Russia Seizes Initiative in Syria Crisis; France Bombs Islamic State
--------
Southeast Asia
• Banking the Islamic Way: Indonesia Aims For More Muslim Customers
• Ridhuan Tee apologises on behalf of Muslims over 'Cina babi' slurs
• The evolution of political Islam in Malaysia
--------
Australia
• FM: Australian ISIL Militants Doubled Last Year
Compiled by New Age Islam News Bureau
URL: https://www.newageislam.com/islamic-world-news/new-age-islam-news-bureau/isi-mobilizes-lashkar,-khalistan-terrorists-for-attack-on-india/d/104738
------
India
ISI mobilizes Lashkar, Khalistan terrorists for attack on India
Bharti Jain | Sep 28, 2015
NEW DELHI: Pakistan's ISI has mobilized terrorists belonging to groups like Lashkar-e-Taiba, Jaish-e-Mohammad and Hizb ul Mujahideen as well as Sikh militants associated with Babbar Khalsa International (BKI) and Khalistan Zindabad Force (KZF) remnants based on its soil, for possible joint strikes in Punjab, Jammu & Kashmir, Delhi or other parts of India.
According to intelligence reports, ISI officials, who held a meeting with terrorists from Jihadi and Sikh radical outfits in Pakistan recently, have already issued funds for the purported strikes.
Around 15-20 terrorists hailing from PoK and elsewhere in Pakistan are being imparted training in use of arms and ammunition at camps across the border, with the help of LeT founder and Jamaat-ud-Dawah chief Hafiz Mohammad Saeed.
The information, shared with J&K authorities, Army and central forces based in the state on September 24 and with the Punjab government, BSF, DGMI and CRPF units in Punjab on September 26, warns that some of the terrorists under training were also acquainted with Sikh traditions and Gurumukhi script at Kartarpur Sahib, a Gurudwara in Pakistan, with the help of Khalistan Zindabad Force (KZF) Ranjit Singh alias Neeta. They have also been briefed on the topography of Punjab.
The Indian intelligence establishment have warned the agencies on the ground in J&K and Punjab that some of these terrorists might have already entered Punjab or may be about to enter the state to carry out an attack.
As per the intelligence inputs, the arms and ammunition to be used for such attack are likely to be sent from J&K side by concealing them in cavities created in chassis of trucks headed for Punjab.
http://timesofindia.indiatimes.com/india/ISI-mobilizes-Lashkar-Khalistan-terrorists-for-attack-on-India/articleshow/49137939.cms
--------
Death Toll of Indians In Haj Stampede Rises To 45
Sep 28, 2015
MINA: The number of Indians killed in a stampede at the haj rose to 45 on Monday as authorities identified 10 more bodies among the victims of the worst tragedy in 25 years to hit the annual pilgrimage in Saudi Arabia.
Haj Consulate in Jeddah today said the deceased included three pilgrims from West Bengal and two each from Kerala and Jharkhand and one each from Tamil Nadu and Maharashtra.
Earlier, 13 more bodies were identified among the dead yesterday raising the death toll to 35.
Saudi authorities have put the total death toll from the stampede during Haj to 769. The number of injured stands at 934. At least 13 Indians were among those injured.
King Salman has ordered the formation of a committee to probe the deadly incident during the five-day pilgrimage in which around two million people from over 180 countries took part. From India, 1.5 Lakh pilgrims performed Haj.
Haj is one of the five pillars of Islam that should be performed at least once in a lifetime by every Muslim who is financially and physically capable.
The stampede broke out after two massive lines of pilgrims converged on each other from different directions at an intersection close to the five-storey Jamarat Bridge in Mina for symbolic stoning of the devil.
It was the second major accident this year for pilgrims, after a construction crane collapsed on September 11 at Mecca's Grand Mosque, killing over 100 people, including 11 Indians.
http://timesofindia.indiatimes.com/world/middle-east/Death-toll-of-Indians-in-haj-stampede-rises-to-45/articleshow/49136191.cms
--------
Many attend Indian Muslim family day in Malaysia
September 28, 2015
SHAH ALAM: Despite the haze, it felt like carnival as thousands of Indian Muslims had fun at an outdoor family day event here.
The organisers had prepared 3,000 face masks and set up medical assistance booths as a precaution.
Event organiser Noorul Hassan Saul Hameed said he did not expect the huge crowd at the Indian Muslim Family Day carnival, held at the Panasonic National Sports Centre.
"The haze got better in the afternoon. Many brought along their children," he added.
Noorul Hassan, who is the president of the Malaysian Muslim Restaurant Owners Association (Presma), said the event was organised to bring the Indian Muslim community closer together.
"This Family Day carnival is the first to be organised at national-level," he said.
The family day received support from business entrepreneurs, with attractive lucky draw prizes.
"With the success of this event, we plan to organise another carnival next year at Stadium Bukit Jalil."
http://www.thestar.com.my/News/Nation/2015/09/28/Many-attend-Indian-Muslim-family-day/
--------
From Seemanchal to Nalanda, a Muslim lag in development
Written by Abantika Ghosh | New Delhi | September 28, 2015
From the grand alliance to the Samajwadi Secular Front to the AIMIM, a string of political formations may have staked their fortunes on the 16.8 per cent Muslim population of Bihar but more than five years after the Sachar Committee report, the 68th round of the NSSO (National Sample Survey Organisation) survey showed that in 2011-12 Bihar's Muslims lagged behind on all development indices, including in districts of the Seemanchal region where their numbers are high. Chief Minister Nitish Kumar's district of Nalanda bucks that trend for some of the parameters.
Kishanganj, which according to the recently released data of the religious census 2011 has a 67.98% Muslim population, has an economic index, educational index, material well-being index and health index of 0.49, 0.55, 0.54 and 0.23 respectively for people of the general category. For Muslims, these figures are 0.32, 0.15, 0.10 and 0.24 respectively.
The indices have been drawn up based on a set of criteria with a higher index standing for greater development. Economic index takes into account criteria such as monthly per capita income, salaried households etc. Material well-being index takes into account household assets, availability or otherwise of LPG and electricity and other amenities. Education index takes into account female literacy, adult literacy, expenditure on education and other such criteria. Health index is based on the availability of healthcare for married women and their children, immunisation, antenatal care etc.
In Araria, where Muslims make up 42 per cent of the population, their economic index, educational index, material well-being index and health index stand at 0.35, 0.19, 0.08 and 0.10 respectively against general category scores of 0.17 for economic index and 0. 24 for health index. Data for the other two scores was not available for the general category.
In Purnia where the community makes up 38.46 per cent of the population, its economic index, educational index, material well-being index and health index are 0.10, 0.22, 0.01 and 0.17. For the general population these same indices are dramatically better, at 0.36, 0.43, 0.18 and 0.31 respectively.
The story is the same for the 44.47 per cent Muslim population of Katihar. Their economic index, educational index, material well-being index and health index are 0.17, 0.22, 0.01 and 0.19. The unreserved (other then SC/SC/OBC) general category population stands at 0.47, 0.47, 0.58 and 0.39. In many assembly seats of these districts such as Forbesganj, Raniganj, Baisi and Amour, the sitting MLAs are from the BJP which won the seats when it was in alliance with JD(U).
In Nitish's home district of Nalanda — the chief minister is a member of the Legislative Council, the upper House — the trend is somewhat different.
The economic index, educational index, material well-being index and health index for the general population in Nalanda district are 0.22, 0.29, 0.24 and 0.42 respectively. For Muslims who make up just 6.88 per cent of the population here, the figures stand at 0.07, 0.31, 0.30 and 0.30 respectively. This means while the community has better access to education facilities, in terms of access to health and economic prosperity it remains backward.
The NSSO findings on the development lag of Bihar's Muslims mirrors concerns expressed by the Sachar Committee on the backwardness of Indian Muslims in its report submitted in 2005. This has been in spite of the fact that the community has been crucial for any ruling party or combine in Bihar with Lalu Prasad deriving his political clout from his ability to consolidate Muslim and Yadav votes and Nitish eyeing the backing of the community in walking out of the NDA over the anointment of Narendra Modi as PM candidate in the Lok Sabha elections.
http://indianexpress.com/article/india/politics/from-seemanchal-to-nalanda-a-muslim-lag-in-development/#sthash.woh1iJgD.dpuf
----------
South Asia
Afghan cricket match suicide bombing kills nine, wounds over 50
September 28th, 2015
KABUL: A suicide car bombing killed at least nine people and wounded more than 50 at a cricket match in Afghanistan on Sunday, officials said.
The attack took place in south-eastern Paktika province, on the border with Pakistan, the officials said.
Authorities initially said the game being played at the time of the blast was soccer, but an interior ministry statement later said it was a cricket match.
The attack probably targeted members of the local government watching the game, officials said.
A similar bombing last year at a volleyball match killed at least 50 people in the same province.
The Afghan Taliban denied responsibility for the latest attack. The group rarely claims attacks with a high number of civilian casualties.
Since the withdrawal of most foreign troops from Afghanistan last year, Afghan security forces have been fighting the Taliban with limited support.
The Afghan Taliban was ousted by a United States-led coalition in 2001 and has been waging an insurgency for over a decade.
http://www.dawn.com/news/1209496/afghan-cricket-match-suicide-bombing-kills-nine-wounds-over-50
-------
Islamic State (IS) loyalists' attacks Afghan police convoy; 3 personnel killed
September 28, 2015
Kabul, Sept 28: Islamic State gunmen attacked checkpoints in eastern Afghanistan today, killing three police in the group's first attack on the country's security forces, Afghan officials said.
The spokesman for the governor of Nangarhar province, Ahmad Zia Abdulzai, said another eight police were wounded in the attack in the Achin district, bordering Pakistan. Afghanistan responded to the pre-dawn attack with a wave of airstrikes that killed 85 IS militants, according to a statement from the Afghan intelligence agency. "All the terrorists killed were Pakistani citizens," under the command of Hafiz Saeed, who was also killed, the National Directorate of Security statement said.
Elsewhere in the country, a car bomb near a cricket match in the eastern Paktika province killed nine people and wounded 33, according to the Interior Ministry. The Taliban said they were not behind the attack. Until now IS loyalists in Afghanistan have only clashed with Taliban insurgents. The two militant groups are fighting for Islamic rule but are bitterly divided over strategy and leadership.
A statement purportedly issued by an IS affiliate claimed a "big attack" in Nangarhar. The group, referring to itself as the Khorasan Province of the Islamic State, posted a statement on Twitter that was circulated by supporters. It said militants seized two army barracks in Achin, set fire to an army vehicle, seized weapons and killed nine "apostates."
Abdulzai told The Associated Press that IS militants "have a presence in three districts of Nangarhar, but this was their first attack on Afghan forces in the province." He said IS militants "started their activities months ago in Nangarhar" and clashed with the Taliban. He said they drove the Taliban out of Achin, Dih Bala and Nazyan districts over the last two months.
IS expansion into Afghanistan has been a concern for both Afghan and international authorities for months, with officials warning that the extremist group was actively recruiting members from other Islamic militant groups, including the Taliban.
Homegrown militants loyal to IS control territory in some parts of the country and have imposed the harsh Islamic rule the group is notorious for in Iraq and Syria. The IS militants in Afghanistan have banned girls from school and forced young women into marriages with fighters, officials and military leaders have said.
The United Nations recently warned of a growing IS presence in Afghanistan. Analysts say the group has been recruiting disaffected Taliban insurgents and stepped up its efforts following the revelation earlier this year that the longtime Taliban leader Mullah Mohammad Omar died in Pakistan more than two years ago.
http://www.india.com/news/world/islamic-state-is-loyalists-attacks-afghan-police-convoy-3-personnel-killed-582110/
-------
Taliban lay siege to key Afghan city Kunduz
Sep 28, 2015
KNDUZ: Hundreds of Taliban fighters launched a brazen attack on the northeastern Afghan city of Kunduz on Monday, trading heavy fire with police and soldiers in their third attempt this year to capture the provincial capital.
The siege came a day after a bomb attack on a volleyball match killed 13 and the Islamic State group carried out coordinated strikes against police in the country's east, ending a brief lull in violence during the Muslim festival of Eid.
"The Taliban launched an attack on Kunduz city from several directions," Kunduz provincial police spokesman Sayed Sarwar Hussaini told AFP.
"So far 20 Taliban insurgents were killed in the fighting in different parts of Kunduz, and four Afghan security forces were confirmed wounded," Hussaini said.
"Right now, heavy fighting is ongoing between our forces and the Taliban in Khanabad, Char Dara and Imam Sahib, the main entrances into the city of Kunduz," he said, adding that "security forces are repelling" the militants.
Earlier the Taliban had seized several security checkpoints near the city, an AFP journalist in Kunduz said, though it was unclear if they had held on to their gains.
The city's streets were deserted as residents barricaded themselves indoors.
"The situation is very bad. The fighting is particularly fierce in the southeastern area of the city," a Western NGO official told AFP on condition of anonymity.
"There are still a few people on the streets but far less than usual."
Taliban spokesman Zabihullah Mujahid claimed responsibility for the attacks, adding their fighters had overrun several checkpoints and killed 12 Afghan soldiers. The toll could not be verified.
The militants were also laying siege to all the city's checkpoints, police stations, and the governor's headquarters, Mujahid added.
The Taliban have been waging a bloody insurgency since a US-led invasion ousted them from power in late 2001, and have stepped up attacks during a summer offensive launched in late April against the Western-backed government in Kabul.
On Sunday 13 people were killed and 33 wounded at a volleyball match in the eastern province of Paktika, while Islamic State fighters launched coordinated attacks on police checkpoints in the eastern province of Nangarhar.
The Taliban denied being behind the attack in Paktika, a volatile frontier region considered a stronghold of their allies the Haqqani network.
The rival Islamic State group meanwhile has been been making inroads in Afghanistan over the past year, with its well-planned strikes on Sunday seen as a sign of its rising influence.
Retired General Atiqullah Amarkhil, a security analyst, said IS had chosen its targets in the Achin district because they were trying to gain control of an eastern highway connecting Afghanistan to Pakistan.
"Secondly, IS has chosen Achin and other Nangarhar province districts in order to gain control of the drug trade. IS needs such revenue streams in order to fight," he added.
Afghanistan's NATO-trained police and army have been fighting the Islamist militants this year without the front-line help of foreign forces, which ended their combat mission in December 2014.
A residual force of around 13,000 remains for training and counter-terrorism operations.
Peace overtures by the government of President Ashraf Ghani over summer ended in failure, as civilian casualties soared to a record high in the first half of 2015 according to a UN report.
It said 1,592 civilians were killed, a six percent fall over last year, while the number of injured jumped four percent to 3,329.
http://timesofindia.indiatimes.com/world/rest-of-world/Taliban-lay-siege-to-key-Afghan-city-Kunduz/articleshow/49137656.cms
-------
Paktika attack widely condemned that left nine killed, 51 wounded
Mon Sep 28 2015
PaktikaChief Executive Officer (CEO) Abdullah Abdullah, NATO and British Embassy in Kabul have strongly condemned the suicide attack in Paktika province that left nine people killed and 51 others wounded on Sunday.
"Chief Executive Dr. Abdullah strongly condemns the attack targeting local civilians, including women & children in a stadium in Paktika." A twitter post on CEO's account stated.
NATO's Resolute Support mission has called the attack as a 'senseless act of violence'.
"We are appalled by the insurgents' lack of concern for civilian casualties, particularly women and children," said Col. Brian Tribus, Resolute Support Director of Public Affairs.
NATO once again reiterated its commitment to assist Afghan partners in achieving sustainable security and stability.
British Ambassador to Kabul Karen Pierce has also called it a senseless attack. In a tweet she has said that energy should be directed towards a viable peace process.
"Strongly condemn yesterday's senseless attack in #Paktika on families. Energy should be directed towards a viable peace process. #Afghanistan" A tweet on her twitter account stated this morning.
The suicide bombing occurred in a volleyball ground in Sigani village of Khairkot District when a huge crowd of people had gathered to watch a tournament late Sunday.
Taliban rejected hand in the attack.
http://www.khaama.com/nato-british-embassy-in-kabul-strongly-condemn-paktika-suicide-attack-3950
-------
Achin attack was organized by ISI, district governor says
By KHAAMA PRESS - Mon Sep 28 2015
The large-scale coordinated attack on security posts in Achin District of eastern Nangarhar province was organized by Pakistan's spy agency Inter-Service Intelligence (ISI), the district governor said on Monday.
According to Haji Ghalib, militants planned to seize Achin District and reach out to other parts of Nangarhar from there.
"This is a mountainous district which has a border with Tirah (Tirah valley in Pakistan). Roads have been extended to this area across the Duran Line. If they receive equipment through Tirah, they would be able to reach out to Jalalabad. But by the favor of Allah, the 400 militants were defeated," Haji Ghalib is quoted by Radio Killid as saying.
Haji Ghalib told reporters yesterday that around 60 militants were killed and wounded in the clash but the National Directorate of Security (NDS) later reported the killing of 85 militants in Achin District.
Achin has turned into a stronghold of Daesh militants where they not only pose threat to security forces but also to civilians.
On different pretexts, the group has killed dozens of civilians besides torching their homes in Achin.
The doors of some schools and clinics have also been closed due to Daesh's threat in this district.
http://www.khaama.com/achin-attack-was-organized-by-isi-3950
-------
Up to 60,000 Afghans reach Iran illegally every month
By ZABIHULLAH MOOSAKHAIL
Mon Sep 28 2015
Afghan refugees in Iran 2An envoy of Afghanistan's Ministry of Refugees and Repatriations in Iran says that up to 2,000 Afghans cross the border into Iran illegally every day.
Mohammad Asif Durzabi says that looking at the daily count, every month Up to 60,000 Afghans are illegally arriving in Iran.
He said that most of these people are trying to reach out to European countries through Iran.
In several occasions Afghans have lost their lives while illegally crossing the border into other countries, having traffic accidents or suffocation inside the shipping containers.
Durzabi said that on average, every week 20 Afghans die in fire of border security forces, traffic accidents or other accidents at their working locations in Iran.
Meanwhile, a group of Afghan migrants who were recently deported from Iran and Turkey while trying to reach out to Europe illegally say that they faced extreme hardship during their journey.
They said that some of them were severely beaten and some others disappeared. They called on parents to stop sending their children on this risky journey.
http://www.khaama.com/up-to-60000-afghans-reach-iran-illegally-every-month-3948
-------
High ranking Chinese delegation coming to Kabul
By ZABIHULLAH MOOSAKHAIL - Mon Sep 28 2015
Chinese_flag_(Beijing)_-_IMG_1104A high ranking Chinese delegation is expected in Kabul in near future, A statement released by the Ministry of Finance states.
The statement does not provide detail about the purpose of the visit but it comes after a recent visit of the Finance Minister to China.
Eklil Hakimi attended an economical summit of Asian and European countries where he talked about the Silk Road.
Hakimi had also talked with Chinese officials about strengthening trade and economical ties between the two countries.
China is one of the few countries playing a key role in the reconstruction, peace process and strengthening the capability of the security forces of Afghanistan.
China has promised delivering four security scanners to Kabul.
The scanners would be installed at the four gates of Kabul.
http://www.khaama.com/high-ranking-chinese-delegation-coming-to-kabul-3948
-------
Taliban plan foiled to release prisoners in Herat's Shindand District
By KHAAMA PRESS - Mon Sep 28 2015
Security forces have foiled the Taliban plan to release prisoners from captivity in Shindand District of western Herat province.
Abdul Ahmad Fazal, governor of Shindand District said that Taliban begun their attack by firing rockets at the police HQ following which they started to exchange fire with security forces.
He said two policemen sustained injuries in the clash on Saturday night but one insurgent was killed and two others wounded.
Fazal further said that Taliban planned to release prisoners but security forces foiled their plan.
Taliban had not commented on the report by the time it was filed.
The militant group increased its attacks on government compounds following the announcement of its 'Spring Offensive' in April.
The group earlier this month attacked Ghazni jail and released 355 inmates.
More than 140 of them were arrested on terrorism charges.
http://www.khaama.com/taliban-plan-foiled-to-release-prisoners-from-prison-in-herats-shindand-district-3948
-------
Maldives president escapes unhurt from speedboat blast
Sep 28, 2015
MALE: A government minister says Maldives President Yameen Abdul Gayoom has escaped unhurt from a blast in his speedboat as he returned to the country after preforming Haj in Saudi Arabia.
Minister Mohamed Shareef says the blast occurred Monday morning as the boat reached the main jetty in the capital of Male. Gayoom's wife Fathimath Ibrahim and several other officials suffered minor injuries.
Shareef says the blast may have happened in the engine but it is too early comment on the cause, though boat accidents are common in the Indian Ocean archipelago state.
http://timesofindia.indiatimes.com/world/south-asia/Maldives-president-escapes-unhurt-from-speedboat-blast/articleshow/49133279.cms
--------
North America
West 'manipulated' 9/11 attacks to blame Osama bin Laden, UK's Labour leader Jeremy Corbyn had said
Sep 27, 2015
LONDON: The 9/11 attacks were "manipulated" to make it look like Osama bin Laden was responsible for them and allow the west to go to war in Afghanistan, Labour leader Jeremy Corbyn claimed in a 2003 article, it has emerged.
The claim was made by Corbyn in an article in 2003 but has been highlighted recently by the British media after he assumed the leadership of the UK's Labour Party.
In comments that will raise questions about his suitability to lead the Labour Party, Corbyn appeared to blame George Bush and Tony Blair for using the September 11 attacks in New York to allow them to go to war, UK's Telegraph reported.
In the 2003 article for "Morning Star" newspaper, Corbyn wrote, "Historians will study with interest the news manipulation of the past 18 months. After September 11, the claims that bin Laden and al-Qaida had committed the atrocity were quickly and loudly made."
"This was turned into an attack on the Taliban and then, subtly, into regime change in Afghanistan," he said.
Corbyn was heavily criticized in the days before winning the Labour leadership after suggesting that the death of Osama was a "tragedy".
In previous years, Corbyn wrote a series of articles which appear to have endorsed the conspiracy theory about the "New World Order".
The "New World Order" conspiracy is frequently linked to theories about the so-called "Illuminati" and claims about a "totalitarian world government".
In an article for "Labour Briefing" in 1991, Corbyn wrote, "We now know that the Gulf War was a curtain-raiser for the New World Order: the rich and powerful, white and western will be able to maintain the present economic order with free use of all the weapons they wish for."
That same year, he said in Socialist Campaign Group News, "The aim of the war machine of the United States is to maintain a world order dominated by the banks and multinational companies of Europe and North America."
The reports come as Corbyn attempts to use the Brighton conference to unite the party after it threatened to split apart in the wake of his shock election victory.
Lord Mandelson, a Labour leader, on Friday said that the party should only consider ousting Corbyn after it is clear the public have realized the party "cannot be elected with Corbyn as leader".
http://timesofindia.indiatimes.com/world/uk/West-manipulated-9/11-attacks-to-blame-Osama-bin-Laden-UKs-Labour-leader-Jeremy-Corbyn-had-said/articleshow/49127504.cms
--------
Russia Surprises U.S. With Accord on Battling ISIS
By MICHAEL R. GORDONSEPT. 27, 2015
UNITED NATIONS — For the second time this month, Russia moved to expand its political and military influence in the Syria conflict and left the United States scrambling, this time by reaching an understanding, announced on Sunday, with Iraq, Syria and Iran to share intelligence about the Islamic State.
Like Russia's earlier move to bolster the government of President Bashar al-Assad by deploying warplanes and tanks to a base near Latakia, Syria, the intelligence-sharing arrangement was sealed without notice to the United States. American officials knew that a group of Russian military officers were in Baghdad, but they were clearly surprised when the Iraqi military's Joint Operations Command announced the intelligence sharing accord on Sunday.
Full Report at:
http://www.nytimes.com/2015/09/28/world/middleeast/iraq-agrees-to-share-intelligence-on-isis-with-russia-syria-and-iran.html
--------
After Criticism, Pope Francis Confronts Priestly Sexual Abuse
By LAURIE GOODSTEINSEPT
Sep 27, 2015
PHILADELPHIA — At the start of an otherwise joyous and well-received trip to the United States, Pope Francis infuriated some abuse victims when he praised American bishops for their handling of the sexual abuse scandal and told priests that he felt their pain.
On the last day of his journey, Francis stepped to a lectern here before hundreds of seminarians and bishops from around the world and tried to salve the open wound. He said he had met in private with a group of victims and pledged that "all responsible will be held accountable."
"God weeps" at the sexual abuse of children, he said in a translation from Spanish of his remarks added to the start of a scripted address in the chapel at St. Charles Borromeo Seminary here on Sunday. "I commit to the careful oversight to ensure that youth are protected."
Full Report at:
http://www.nytimes.com/2015/09/28/us/pope-francis-philadelphia-sexual-abuse.html
--------
Pope Francis wraps up joyful US visit with big open-air Mass
Sep 28, 2015
PHILADELPHIA: Pope Francis urged hundreds of thousands of the faithful gathered Sunday for the biggest event of his U.S. visit to be open to "miracles of love," closing out his joyful six-day trip with a message of hope for families, consolation for victims of child sexual abuse and a warning to America's bishops.
The wide Benjamin Franklin Parkway overflowed with the jubilant, who stood in line for hours and endured airport-style security checks to see history's first pope from the Americas celebrate an open-air Mass in the birthplace of the United States.
The Mass - the last major event on Francis' itinerary before the 78-year-old pontiff boarded a flight home to Rome - was a brilliant tableau of gold, green, white and purple in the evening sunlight of a mild early-autumn day.
Riding through the streets in his open-sided popemobile, the pontiff waved to cheering, screaming, singing, flag-waving crowds and kissed babies as he made his way to the altar at the steps of the columned Philadelphia Museum of Art.
With a towering golden crucifix behind him, Francis told his listeners that their presence itself was "a kind of miracle in today's world," an affirmation of the family and the power of love.
Full Report at:
http://timesofindia.indiatimes.com/world/us/Pope-Francis-wraps-up-joyful-US-visit-with-big-open-air-Mass/articleshow/49131601.cms
--------
We Need a United Nations of the World's Religions
By ROBERT MONTENEGRO
Pope Francis continued his 2015 North American Pope-a-palooza tour this week with a speech in front of the United Nations general assembly. Francis pleaded to the room of diplomats in favor of stronger international commitments to peace, environmental stewardship, and social/economic justice.
Basically he asked the assembly to more or less do its job.
The United Nations gets a bad rap for being both dysfunctional and politically impotent — both fairly legitimate gripes. Yet despite its many faults, the organization has contributed to an unprecedented geopolitical state of relative peace and prosperity. In short: Globalization made it so the social and economic fates of the world's major powers were tied together. The U.N. and similar international organizations have played a key role in maintaining that status quo. They're like duct tape holding things together; it's not perfect and it's not pretty, but it'll do.
Full Report at:
http://bigthink.com/ideafeed/pope-francis-speaks-before-un-why-not-a-un-for-religions
--------
Pope Francis praises the differences in world cultures
Saranac Hale Spencer and Margie Fishman,
September 27, 2015
From the steps of Independence Hall, Pope Francis praised the equality on which America was founded and hailed the value of the differences in the world's cultures.
People should be wary of losing their individuality to the sameness of globalization, the pope warned. He called on the religions of the world to unite in order to protect the place of religion in society.
Speaking in front of the building where the Declaration of Independence and the Constitution were signed and referring to the rights that they recognized, Pope Francis said, "History also shows that these or any truths must be constantly reaffirmed, re-apportioned and defended."
He spoke entirely in his native Spanish in the last of three planned speeches during his visit to the United States – this one was supposed to focus on immigration and religious freedom.
Full Report at:
http://www.delawareonline.com/story/news/local/2015/09/26/pope-francis-praises-differences-world-cultures/72894280/
--------
Coalition's effort to fight Islamic State terrorism falling short
By Zeina Karam
BEIRUT — When world leaders convene for the U.N. General Assembly this week, it will be a year since the U.S. president declared the formation of an international coalition to "degrade and ultimately destroy" the Islamic State terrorist group.
Despite billions of dollars spent and thousands of airstrikes, the campaign appears to have made little impact.
The terrorist group may control slightly less territory than a year ago, but it continues to launch attacks and maintains key strongholds in Syria and Iraq. The terrorists' reach has expanded to other countries, including Libya, Egypt's Sinai Peninsula and Afghanistan.
U.S.-led airstrikes helped Syrian Kurds hold the strategic border town of Kobani in January, and seize another key border town, Tal Abyad, this summer. But a much-touted offensive to oust Islamic State terrorists from the Iraqi city of Ramadi remains stalled; there have been grave losses among the few Syrian rebels trained by the U.S. to fight the Islamic State; an Islamic State-free zone announced by Turkey and the U.S. has failed to materialize.
Full Report at:
http://www.denverpost.com/nationworld/ci_28886629/coalitions-e-8800-ort-fight-terrorism-falling-short
----------
Arab World
Yemen: Dozens Killed in Saudi Air Raids
September 28, 2015
TEHRAN (FNA)- At least 25 civilians, mostly women and children, were killed in a Saudi airstrike on the village of Bani Zela in the Yemeni province of Hajjah.
"People were fleeing their homes as the helicopters pursued, They committed a massacre for no reason," one resident, calling himself Khaled, said on Sunday.
Official reports said the attack targeted the Midi district's Bani Zeila village in Yemen's Red Sea border area with Saudi Arabia.
This comes a day after Saudi airstrikes hit a residential building in the capital, Sana'a, killing civilians including four children and one woman.
Furthermore, three Saudi airstrikes targeted Taiz Province, killing five people.
Another four people were killed in similar attacks in Hudaydah Province's Jabal Ras area. It happened after Saudi forces targeted rescue workers attempting to retrieve bodies from an earlier attack.
Saudi warplanes also bombed Kitaf area in Sa'ada Province.
Saudi Arabia has been striking Yemen for 187 days now to restore power to Hadi, a close ally of Riyadh. The Saudi-led aggression has so far killed at least 6,274 Yemenis, including hundreds of women and children.
Hadi stepped down in January and refused to reconsider the decision despite calls by Ansarullah revolutionaries of the Houthi movement.
Despite Riyadh's claims that it is bombing the positions of the Ansarullah fighters, Saudi warplanes are flattening residential areas and civilian infrastructures.
http://english.farsnews.com/newstext.aspx?nn=13940706000346
--------
Islamic State training camp obliterated by six French fighter jets
By LEVI WINCHESTER
Mon, Sep 28, 2015
President Francois Hollande said the jets were deployed in Syria because his country's "national security" was at stake, and added that no civilians were injured.
Announcing the strikes, his office released a statement saying: "Civilian populations must be protected from all forms of violence, that of IS and other terrorist groups but also the murderous bombardments of Bashar Assad."
France had previously feared that strikes in Syria could be counter-productive and could strengthen President Bashar al-Assad, who has been fighting a rebellion against his rule since 2011.
Full Report at:
http://www.express.co.uk/news/world/608349/Islamic-State-ISIS-training-camp-France-fighter-jets
--------
Yemeni Forces Attack Saudi Positions
TEHRAN (FNA), Sep 28, 2015- Yemen's Ansarullah fighters conducted retaliatory attacks on Saudi positions in the Persian Gulf kingdom's region of Jizan on Monday.
The Yemeni forces fired a barrage of rockets at a military base in the Saudi region of Jizan.
Three Saudi armoured vehicles were also destroyed in another attack in Jizan.
Meanwhile, reports said that the Yemenis had killed and injured dozens of pro-Saudi militants, and destroyed ten vehicles belonging to them in the province of Ma'rib.
On Sunday, the Saudi army acknowledged that an army commander perished in Yemen's retaliatory attack in the province of Jizan.
Full Report at:
http://english.farsnews.com/newstext.aspx?nn=13940706001194
------
French warplanes 'totally destroyed' Islamic State camp in Syria
September 27, 2015
The French government joined the air campaign against Islamic State in Syria and destroyed one of the group's training camps in a bombing raid, President François Hollande announced Sunday.
French armed forces had previously bombed militant targets in neighboring Iraq as part of a U.S.-led coalition, but France had not attacked the group in Syria out of fear that doing so would indirectly prop up the government of President Bashar Assad.
France said it launched the airstrike after concluding the militant group was using its territory in Syria to train for attacks in Europe.
"We are acting in self-defense," French Prime Minister Manuel Valls told television station BFMTV.
Full Report at:
http://www.usatoday.com/story/news/world/2015/09/27/france-launches-airstrikes-syria/72922896/
--------
Syria crisis: Russia calls for coordinated resolution to Islamic State conflict
Monday 28 September 2015
Russia appeared to seize the initiative in international efforts to end the conflict in Syria on Sunday as Washington scrambled to devise a new strategy for the war-ravaged country and France sent warplanes to bomb Islamic State targets.
The Russian president, Vladimir Putin, said Moscow, which this month sent tanks and warplanes to a Russian military base in Syria, was itself trying to create a "coordinated framework" to resolve the conflict.
"We would welcome a common platform for collective action against the terrorists," Putin said in an interview on Sunday on CBS's 60 Minutes programme.
He derided US efforts to end the Syria war, which has driven a tide of refugees into neighbouring states and Europe.
Full Report at:
http://www.theguardian.com/world/2015/sep/28/russia-syria-crisis-call-for-coordinated-resolution-conflict
--------
Israel Strikes Syrian Army with Several Missiles in Golan Heights
TEHRAN (FNA), Sep 28, 2015- Local sources in Khan Arnabeh said that the Israeli Forces fired 6 missiles into the village of Mahyress located near the besieged hills of Tal Al-Ahmar and Tal Al-Qaba'a inside the predominately Druze town of Hadar in the Golan Heights.
The missiles did minimal damage to the Syrian Armed Forces' defensive positions; however, the soldiers protecting the strategic hilltops of Tal Al-Ahmar and Tal Al-Qaba'a believe that these missile strikes were an attempt to propel the militants of the Free Syrian Army (FSA) and al-Nusra Front to infiltrate into the Syrian army troops' fortifications.
Full Report at:
http://english.farsnews.com/newstext.aspx?nn=13940706001024
---------
Africa
Sectarian Clashes Kill 24 in Central African Republic Capital
BY ANTHONY FOUCHARD, TY MCCORMICKSEPTEMBER 27, 2015
BANGUI, Central African Republic—The murder of a Muslim taxi driver in the capital city of the Central African Republic set off a spasm of bloody sectarian violence, leaving dozens dead or wounded in a stark reminder that the situation in the country remains extraordinarily fragile despite months of relative calm.
The violence took a heavy toll, with at least 24 people killed on Saturday and nearly 100 wounded, according to hospital and medical NGO sources. The unrest continued into Sunday, prompting complaints that French and U.N. peacekeepers didn't act fast enough to halt the killing.
"The events of [Saturday] and [Sunday] are very serious. We count many crimes against property and persons," Security Minister Dominique Said Paguindji said in an interview. "We will deal with this situation diplomatically to avoid civilian casualties that would add to the death toll."
Full Report at:
http://foreignpolicy.com/2015/09/27/sectarian-clashes-kill-24-in-central-african-republic-capital/?wp_login_redirect=0
--------
Nigeria Scores Rare Victory Against Boko Haram
BY SIOBHÁN O'GRADY
SEPTEMBER 26, 2015
In the largest surrender since Boko Haram launched their violent insurgency in northeast Nigeria in 2009, at least 200 extremists gave themselves up to the Nigerian Army in Banki, a fishing town on the border with Cameroon, the Nigerian Army declared Friday.
The military's official Twitter handle announced the news using #OperationLafiyaDole, which translates roughly from Hausa as "Peace with Force."
https://twitter.com/HQNigerianArmy/status/647395283274493952
According to Nigerian newspaper the Daily Trust, Army spokesman Colonel Sani Usman said the town was liberated from Boko Haram control Thursday by a joint effort of the Nigerian Air Force and the Cameroonian Army. The two militaries are working alongside troops from Benin, Chad, and Niger to beat back the extremists, who have killed more than 17,000 people and displaced millions more since launching their local reign of terror six years ago. The U.S. and France have contributed to the task force's fight by providing training and intelligence, but have not answered Nigerian requests for military equipment. The United States is reluctant to provide arms due to repeated human rights violations by the Nigerian military while conducting counterterror operations.
Full Report at:
http://foreignpolicy.com/2015/09/25/nigeria-scores-rare-victory-against-boko-haram/
--------
CAR clashes in Bangui after Muslim taxi driver killed
26 September 2015
Deadly clashes broke out in Bangui, the capital of the Central African Republic (CAR), after a Muslim motorbike taxi driver was killed.
About 20 people have been killed with at least 100 others wounded in the violence.
UN peacekeepers took up positions as the fighting spread from the city's only Muslim neighbourhood to an area where many Christians reside.
CAR has experienced religious and ethnic unrest for more than two years.
Full Report at:
http://www.bbc.com/news/world-africa-34372113
----------
Mideast
Erdoğan defends Saudi Arabia after Hajj disaster, raises eyebrows
September 27, 2015
President Recep Tayyip Erdoğan has put himself at odds with domestic and international critics when he defended Saudi Arabia after a stampede that killed 769 pilgrims, saying the disaster should not be blamed on the kingdom.
The stampede occurred at a time when thousands of pilgrims were performing one of the rites of the Hajj outside the Muslim holy city of Mecca. Two Turks are among the dead, and six others remain unaccounted for. But even though the Saudi regime has become the focus of criticism over claims of mismanagement and claims that the stampede was linked to the arrival in Mina of Prince Mohammad bin Salman Al Saud, the Saudi defense minister, and his security entourage, Erdoğan said he was opposed to suggestions that the Saudi regime was at fault since such tragedies could occur during massive events like this anywhere in the world.
Erdoğan refusing to join the criticism of the Saudi administration over its possible negligence in taking the required precautions to prevent the disaster has brought alleged illegal business transactions between the Erdoğan family and the Saudi regime under the spotlight, including the transfer of nearly $100 million to a foundation under the control of Erdoğan's son Bilal.
Full Report at:
http://www.todayszaman.com/national_erdogan-defends-saudi-arabia-after-hajj-disaster-raises-eyebrows_400005.html
------
Turkish PM says PYD linked to PKK, fighting ISIL won't legitimize it
September 28, 2015
Prime Minister Ahmet Davutoğlu has insisted that the Syrian Kurdish group the Democratic Union Party (PYD) lacks legitimacy as a group openly linked to the Kurdistan Workers' Party (PKK), which is recognized as a terrorist organization by Turkey, the US and the EU.
Speaking in New York where he attends UN General Assembly meetings on Sunday, Davutoğlu said the PYD draws its fighters and arms from PKK and that there is a "clear linkage" between the two. "We consider the PYD the same way we consider the PKK," he said.
Full Report at:
http://www.todayszaman.com/diplomacy_turkish-pm-says-pyd-linked-to-pkk-fighting-isil-wont-legitimize-it_400046.html
-----
PKK attacks military vehicle in southeastern Turkey, wounding 5
September 28, 2015
Five soldiers were injured on Monday in a bomb attack on their vehicle carried out by the terrorist Kurdistan Workers' Party (PKK) in the southeastern province of Bitlis, the Bitlis Governorate said.
PKK militants detonated a remote-controlled bomb on the side of a road close to an officer's club in the Tatvan district of Bitlis around 7:45 a.m. as a military vehicle transporting soldiers passed. While none were critically injured, the wounded were taken in ambulances to nearby hospitals, according to initial reports. An investigation has been launched.
Full Report at:
http://www.todayszaman.com/national_pkk-attacks-military-vehicle-in-southeastern-turkey-wounding-5_400039.html
------
PACE to observe Turkey's snap election
September 28, 2015
The Parliamentary Assembly of the Council of Europe (PACE) will send a delegation to Turkey to observe the upcoming Nov. 1 snap election.
According to information acquired by Today's Zaman, PACE will recruit a team of observers consisting of 30 to 35 individuals to monitor the Turkish polls on Nov. 1.
In the previous general election on June 7, a 29-member PACE delegation, led by Tiny Kox from the Unified European Left Group, visited Turkey to observe the polls.
On June 22, PACE released a report providing its observation delegation's assessment regarding the June election. Stating that Turkey needs to improve a number of things in its electoral process, the report suggested that the 10 percent threshold to enter Parliament should be substantially lowered, saying that it limits political pluralism.
Stressing media freedom as an area of "serious concern," the report noted that a number of media outlets and individual journalists critical of the ruling party were subjected to pressure and intimidation during the election campaign.
http://www.todayszaman.com/diplomacy_pace-to-observe-turkeys-snap-election_400040.html
-------
134 dead, 650 injured in traffic accidents during Eid-al-Adha holiday
ISTANBUL, September 27, 2015, The number of traffic fatalities since the start of the Eid-al-Adha holiday on Sept. 19 has risen to 134, while 650 people are reported to have been injured in 163 car accidents during the same period.
Despite experts' warnings and precautions by the government, the annual Islamic holiday of Eid al-Adha resulted in heavy traffic and a large increase in traffic accidents, with people leaving cities, particularly İstanbul, to go on vacation or to spend the holiday in their hometowns with their families. Trying to avoid the crowds, many people took to the roads to return before the academic year begins on Monday, Sept. 28. Despite early departures, 28 people died and 95 were injured in 16 traffic accidents across the country on Friday.
Full Report at:
http://www.todayszaman.com/national_134-dead-650-injured-in-traffic-accidents-during-eid-al-adha-holiday_399990.html
------
Palestinians Clash with Israeli Riot Police At Holy Site
Sep 28, 2015,
JERUSALEM: Palestinians clashed with Israeli riot police after barricading themselves in a mosque at Jerusalem's most sensitive holy site, throwing firebombs and rocks at officers outside during a major Jewish holiday on Monday.
The hilltop compound in Jerusalem's Old City is a frequent flashpoint and its fate is a core issue at the heart of the Israeli-Palestinian conflict. It is known to Jews as the Temple Mount, site of the two biblical Jewish temples. Muslims revere it as the Noble Sanctuary, where they believe the Prophet Muhammad ascended to heaven.
Full Report at:
http://timesofindia.indiatimes.com/world/middle-east/Palestinians-clash-with-Israeli-riot-police-at-holy-site/articleshow/49136195.cms
------
Pakistan
Operation launched against foreign seminary students in Kohat
THE NEWSPAPER'S CORRESPONDENT, 28 09 15
KOHAT: The administration has launched an operation in the district following reports about presence of illegal foreigners in the local seminaries.
District Police Officer Mohammad Sohaeb Ashraf told this scribe that the objective of the operation was to computerise the data of the seminaries, check militant activities there and verify that their curriculum was approved by Waqaful Madaris, the supreme body looking after the seminaries countrywide.
He said that they had already evicted 24 Afghan prayer leaders from various mosques in the city and its outskirts.
He said that Afghan students, almost all of whom belonged to Deoband school of thought, were allowed to study in the seminaries as the ban was applicable only to the members of banned religious outfits.
Full Report at:
http://www.dawn.com/news/1209428/operation-launched-against-foreign-seminary-students-in-kohat
------
LeT threat to world peace, says Kerry
September 28th , 2015
UNITED NATIONS: US Secretary of State John Kerry told world leaders on Sunday that Lashkar-e-Taiba was one of the extremist groups that were threatening world peace.
"It would be a complete understatement to say that we meet at a challenging time. Extremist violence is a major contributor to the suffering that we see radiating not just out of Syria but elsewhere in the world," he told a global forum being held on the sidelines of the UN General Assembly. The United States is co-hosting the Global Counter-terrorism Forum Ministerial.
Daesh, the Arabic acronym for the self-styled Islamic State, he said, was the primary source of outrage. But there were also others, Al-Qaeda, al-Shabaab, Boko Haram, Lashkar-e-Taiba, just to name a few, he said during a meeting with Turkish Foreign Minister Feridun Sinirlioglu.
Full Report at:
http://www.dawn.com/news/1209406/let-threat-to-world-peace-says-kerry
-----
'MQM, Jamaat-i-Islami, Ahle Sunnat Wal Jamaat and Jamaatud Dawamen' among 800 held for snatching hides
IMTIAZ ALI — 28 09 15
KARACHI: Police and Rangers claimed to have arrested more than 800 suspects, associated with various political and religious parties, for allegedly snatching animals' hides and skins in the metropolis during the three days of Eidul Azha.
A Rangers spokesman said on Sunday that those arrested were associated with the Muttahida Qaumi Movement, Jamaat-i-Islami, Ahle Sunnat Wal Jamaat, Jamaatud Dawa and other parties.
He said the Rangers took all necessary steps to ensure implementation of the code of conduct for collecting hides and took action against those who violated the code or tried to collect hides forcibly.
Full Report at:
http://www.dawn.com/news/1209344/mqm-and-ji-men-among-800-held-for-snatching-hides
-----
Siraj accuses ECP of making Dir by-poll controversial
THE NEWSPAPER'S CORRESPONDENT — 28 09 15
TIMERGARA: Jamaat-i-Islami chief Sirajul Haq here on Sunday demanded of the Election Commission of Pakistan (ECP) to issue notification about the victory of his party's candidate in the by-election on provincial assembly seat, PK-95, without any further delay.
Addressing a news conference at Timergara Press Club, he said that ECP had been delaying the notification since May 7. He said that JI candidate Izazul Mulk Afkari had bagged 18,798 votes in the by-election.
The JI chief alleged that ECP was making by-poll controversial over the women disenfranchisement issue. He said that neither JI nor its candidate had anything to do with the women voting on polls' day. He said that ECP was depriving the residents of PK-95 constituency of the right of representation.
Full Report at:
http://www.dawn.com/news/1209441/siraj-accuses-ecp-of-making-dir-by-poll-controversial
------
Talks with angry Baloch leaders soon, says CM
THE NEWSPAPER'S STAFF CORRESPONDENT — 28 09 15
QUETTA: Balochistan Chief Minister Dr Abdul Malik Baloch has said that his government will initiate talks with self-exiled Baloch leaders soon in an effort to persuade them to return to the country to help resolve the issues the province has been facing for a long time.
"We have planned to meet angry Baloch nationalist leaders after Eidul Azha," he told reporters at the CM House on Friday.
The CM House remained open for the general public during the first two days of Eid for four hours.
Full Report at:
http://www.dawn.com/news/1209421/talks-with-angry-baloch-leaders-soon-says-cm
------
Crowded boat sinks in India river; dozens missing
AP — 28 09 15
GUWAHATI: A motorised boat crowded with passengers capsized and sank in a northeast Indian river on Monday, and dozens of people were missing and feared drowned, an official said.
The boat had been taking about 50-60 people to a nearby boat race when its engine malfunctioned, leaving it to drift uncontrolled in the Kolohi River, District Magistrate Vinod Sachan said.
The boat overturned when it hit the post of a bridge and then sank, he said.
About 30 people swam to safety, Sachan said, but he could not immediately confirm the number of survivors as many had fled to their homes as soon as they reached the shore.
Sachan said a few of the survivors told him there were about 25 people below deck when the boat overturned.
Rescuers were searching for survivors and victims in the boat wreckage near Guwahati, the capital of the north-eastern state of Assam.
The Kolohi, a tributary of the Brahmaputra River, has been swollen with recent monsoon rains and was flowing faster than usual.
http://www.dawn.com/news/1209529/crowded-boat-sinks-in-india-river-dozens-missing
------
217 Pakistani pilgrims tracked in Saudi Arabia; 85 missing
September 28, 2015
ISLAMABAD: Pakistan's minister for religious affairs says authorities have tracked down 217 Pakistanis who went missing following last week's stampede that killed more than 700 pilgrims during the hajj in Saudi Arabia.
Sardar Muhammad Yousaf, speaking to state-run Pakistan Television Sunday night from Saudi Arabia, says 85 Pakistanis were still missing and efforts were underway to locate them.
Full Report at:
http://thehimalayantimes.com/world/217-pakistani-pilgrims-tracked-in-saudi-arabia-85-missing/
-------
Pakistan to hang man who claims he was 15 at time of crime
Sep 27, 2015
ISLAMABAD: Pakistani authorities are set to hang a man who says he was 15 when he was arrested for a murder he claims he did not commit, lawyers said on Saturday, in the latest case to shine a spotlight on Pakistan's crumbling criminal justice system.
Ansar Iqbal says he was 15 when he and a friend were arrested 16 years ago for the murder of neighbour, which the victim's family said was over an argument at a cricket match. Iqbal says police framed him because he was poor by planting two guns at his house.
Pakistani law forbids the execution of juveniles, but the country's courts have refused to examine Iqbal's school records and birth certificate because they say they were submitted too late, said Maya Foa of British legal aid group Reprieve.
Full Report at:
http://timesofindia.indiatimes.com/world/pakistan/Pakistan-to-hang-man-who-claims-he-was-15-at-time-of-crime/articleshow/49117060.cms
-------
36 Pakistanis died in Mina stampede
September 28th, 2015
ISLAMABAD: Minister for Religious Affairs Sardar Mohammad Yousaf said on Sunday night that 36 Pakistani pilgrims had lost their lives and 35 others suffered injuries in the Mina stampede.
Talking to state-run PTV, he said that 217 Pakistanis who went missing after the Mina tragedy had been found while 85 were still missing.
Khawar Ghumman adds: Prime Minister Nawaz Sharif has directed Sardar Yousaf to stay back in Saudi Arabia till the confirmation of the whereabouts of all Pakistanis.
Talking to Dawn, Information Minister Pervaiz Rashid, the spokesperson for the prime minister, said the government had taken special measures to reach out to all the families concerned in the country and elsewhere.
At present Prime Minister Sharif is in the US to attend the United Nations General Assembly session.
Full Report at:
http://www.dawn.com/news/1209410/36-pakistanis-died-in-mina-stampede
-------
Kerry meets Nawaz, lauds anti-terror efforts
September 28th, 2015
UNITED NATIONS: US Secretary of State John Kerry in his meeting with Prime Minister Nawaz Sharif appreciated Pakistan's counter terrorism efforts and the success of anti-terror operation.
Meeting on the sidelines of 70th session of United Nations General Assembly (UNGA), Secretary Kerry expressed grief and sorrow over the recent terrorist attack on Pakistan Air force (PAF) camp in Badaber.
While discussing bilateral cooperation on a wide range of issues, he conveyed to Nawaz that US President Barack Obama is looking forward to the premier's visit to Washington in October.
Full Report at:
http://www.dawn.com/news/1209506/kerry-meets-nawaz-lauds-anti-terror-efforts
-------
Pakistan HC staff not allowed to celebrate Eid outside Delhi
September 28th, 2015
ISLAMABAD: The In­­dian government did not allow staff of Pakistan High Commission to celebrate Eidul Azha outside the Indian capital.
According to reports from New Delhi, the staff had made written requests for celebrating Eidul Azha at Ajmer Sharif, Simla, Agra and Jaipur, a news channel reported on Saturday.
The government, however, did not grant them the permission to leave the capital city.—APP
http://www.dawn.com/news/1209401/pakistan-hc-staff-not-allowed-to-celebrate-eid-outside-delhi
-------
Nawaz raises Kashmir issue with Ban Ki-moon
Sep 28, 2015
UNITED NATIONS: Pakistan Prime Minister Nawaz Sharif raised the Kashmir plebiscite issue with Secretary-General Ban Ki-moon on Sunday and wanted the United Nations Military Observer Group for India and Pakistan (UNMOGIP) strengthened, Pakistani media reported.
However, here at the UN headquarters Ban's spokesman only said in a statement that during their meeting "the secretary-general stressed the necessity for Pakistan and India to continue their peaceful dialogue".
Full Report at:
http://timesofindia.indiatimes.com/india/Nawaz-raises-Kashmir-issue-with-Ban-Ki-moon/articleshow/49135520.cms
--------
Europe
Putin's Top Advisor: S. Arabia Should Not Be Allowed to Gain Victory in War against Yemen
TEHRAN (FNA), Sep 28, 2015-
Leonid Reshetnikov, a senior advisor to the Russian president, underlined that the Saudi-led war against the Yemeni people shouldn't be allowed to end up in victory.
"One of the US allies, namely Saudi Arabia, plays a very negative role in Yemen and we try to put pressure on Riyadh in our relations with them," Reshetnikov said in a joint press conference with Head of Iran's Strategic Foreign Relations Council and former Foreign Minister Seyed Kamal Kharrazi in Tehran on Monday.
"We shouldn't allow Saudi Arabia and its allies to break the popular resistance in Yemen," he added.
Full Report at:
http://english.farsnews.com/newstext.aspx?nn=13940706000614
-----
Chinese, Russian Air Forces to Use Hmamiyat Airfields to Bomb ISIL in Syria
TEHRAN (FNA), Sep 28, 2015-
Local sources said that the Chinese military will soon send its aircraft and aerial equipment to the Hmamiyat Airfields inside the Syrian Bassel Al-Assad International Airport to join the Russian and Syrian air fleet.
The recent news of the Chinese Navy's imminent arrival in the Syrian port-city of Tartous has renewed the optimism that was once lost among the Syrian people living under the government-controlled parts of Syria, Syrian media quoted informed sources as saying.
Full Report at:
http://english.farsnews.com/newstext.aspx?nn=13940706000731
------
Russia seizes initiative in Syria crisis; France bombs Islamic State
UNITED NATIONS | BY ARSHAD MOHAMMED AND JOHN IRISH
Mon Sep 28, 2015
Russia appeared to seize the initiative in international efforts to end the conflict in Syria on Sunday as Washington scrambled to devise a new strategy for the war-ravaged country and France sent warplanes to bomb Islamic State targets.
As leaders gathered in New York at the United Nations General Assembly, U.S. Secretary of State John Kerry discussed Syria with Russian Foreign Minister Sergei Lavrov. He said that while it was vital to coordinate efforts against Islamic State militants this was not yet happening.
Full Report at:
http://www.reuters.com/article/2015/09/28/us-mideast-crisis-putin-usa-idUSKCN0RR0H820150928
--------
Australia
FM: Australian ISIL Militants Doubled Last Year
TEHRAN (FNA), Sep 28, 2015- The number of Australians fighting for ISIL terrorist group doubled in the past year, according to Foreign Minister Julie Bishop.
"We estimate that there are around 120 Australians currently in Iraq and Syria" supporting ISIL, and other terrorist groups, AFP quoted Bishop as saying in New York.
"That is double the number that I reported here 12 months ago."
The minister estimated there were currently 30,000 foreigners from at least 100 countries who had joined ISIL.
"So the numbers are still increasing but we hope to stem the trajectory through our efforts," according to Bishop.
http://english.farsnews.com/newstext.aspx?nn=13940706000918
----------
Southeast Asia
Banking the Islamic way: Indonesia aims for more Muslim customers
September 27, 2015
JAKARTA, Indonesia – Indonesian teacher Nina Ramadhaniah hopes for "blessings from Allah" by opening a sharia bank account – the sort of pious customer the world's most-populous Muslim-majority country is praying for as it launches an Islamic finance drive.
Indonesia, Southeast Asia's biggest economy, has a Muslim population of around 225 million but this huge number of faithful has not translated into success for sharia banks, institutions required to do business in line with Islamic principles.
Now regulators have launched a plan aimed at growing the sector, which currently accounts for less than 5% of banking assets, compared to a quarter in neighboring, more developed Muslim-majority Malaysia and around half in Saudi Arabia.
Authorities believe it is a good moment, with many Indonesians getting wealthier after years of strong economic growth and an increasing trend towards piety across broad sections of society.
Full Report at:
http://www.rappler.com/world/regions/asia-pacific/indonesia/bahasa/englishedition/107267-islamic-banking-sharia-account
-------
Ridhuan Tee apologises on behalf of Muslims over 'Cina babi' slurs
September 28, 2015
KUALA LUMPUR, Sept 28 — Controversial Muslim convert writer Ridhuan Tee Abdullah apologised today to the Chinese over "Cina babi" slurs issued at the racially-charged Red-Shirt rally on September 16.
In his column in Sinar Harian today, he said calling someone "Cina Babi (Chinese pig)" is uncivilised and those who uttered the slur were unfit to lead.
"I am embarrassed by this incident and I want to apologise for the harsh words used by people who claim to be Muslims to the Chinese who are not ultra kiasu," he wrote in his Buka Minda (Open up your mind) column in the Malay language daily.
Full Report at:
http://www.themalaymailonline.com/malaysia/article/ridhuan-tee-apologises-on-behalf-of-muslims-over-cina-babi-slurs#sthash.7XWCY8iS.dpuf
-------
The evolution of political Islam in Malaysia
September 28, 2015
By Liew Chin Tong
I would divide the evolution of political Islam in Malaysia into three stages: Islamic revival/resurgence which culminated in changes in UMNO and PAS in 1982, the emergence of PAS' progressive faction in 1998, and "post-Islamism" of 2015.
I have always been reluctant to draw direct comparison between international trends in the discourse of political Islam and Islamic politics at home, because to a large extent, politics is local. However, international trends and labels are instructive as a window to observe domestic changes.
Of course, this is just my own perspective. In every stage of development of political Islam, there are counter forces and voices of resistance. One could say that the path of the discourse of evolution is not a linear one, but has been a winding journey. On the international front, the main political struggle within the Muslim fraternity from the early 20th century until about the 1960s was anti-colonialism and an anti-Western sentiment. Politics within the Muslim community seemed to revolve around these themes.
Hence, the Islamist movement in those years was often combined with anti-colonialist and left-wing movements in many countries, with very few organisations actually using Islam as the basis for political action – often these organisations were weak.
Full Report at:
http://www.freemalaysiatoday.com/category/opinion/2015/09/28/the-evolution-of-political-islam-in-malaysia/
URL: https://www.newageislam.com/islamic-world-news/new-age-islam-news-bureau/isi-mobilizes-lashkar,-khalistan-terrorists-for-attack-on-india/d/104738