New Age Islam News Bureau
10 Sept 2018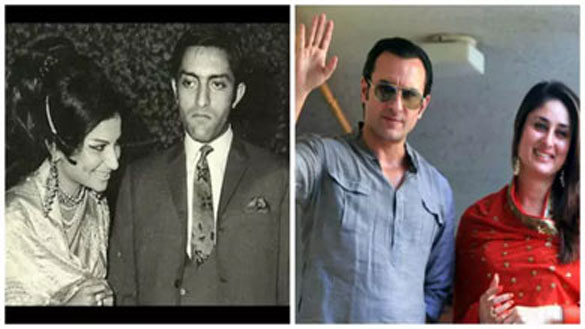 Sharmila Tagore and Nawab Pataudi, Saif Ali Khan and Kareena Kapoor | (Photo Credits: Patrika and PTI)
-----
• Is Sharmila Tagore - Mansoor Ali Khan Pataudi and Kareena Kapoor - Saif Ali Khan Marriage Love Jihad? Yes, Says World Hindu Congress
• Hadi Defends Lesbian Caning, Says Not 'Torture'
• Jamaat-e-Islami Pakistan Amir Praises China, Criticises US
• Iraq's Sistani Rejects Five Potential PM Candidates, Including Abadi
• 84 Dead In Fighting In Yemen's Hodeida after Talks Fail
India
• Is Sharmila Tagore - Mansoor Ali Khan Pataudi and Kareena Kapoor - Saif Ali Khan Marriage Love Jihad? Yes, Says World Hindu Congress
• Hindu Takes Care Of Mosque He Saved During 2013 Riots
• No Terror Link in ISIS Sex Slave Case, Matter of Marital Discord, NIA Tells Home Ministry
• Sidhu Writes to Sushma, Asks Her to Talk to Pakistan over Kartarpur Corridor
• Tension in Haryana village after residents tries to stop burial of Muslim man
• Christian W Troll and Sanjiv Saraf to receive Sir Syed Excellence Awards
• Kashmir journalist was 'in contact' with Hizbul militant, cops tell court
--------
Southeast Asia
• Hadi Defends Lesbian Caning, Says Not 'Torture'
• Muslim Minority in China's Xinjiang Face 'Political Indoctrination' – Human Rights Watch
• After three-by-elections, Umno senator concedes pact with PAS ineffective
• Zahid says entire Umno leadership to attend PAS muktamar
• 43 suspects in deadly Philippine bombings face criminal raps
--------
Pakistan
• Jamaat-e-Islami Pakistan Amir Praises China, Criticises US
• Democracy Fostering In Pakistan: COAS
• KSA supports Pakistan's efforts to bring stability in region: Saudi minister
• 'Pack of Lies Won't Fool Anyone': Marriyum Aurangzeb Lashes PTI's Media Strategy
• Pakistan, China agree to broaden CPEC base
• Pakistan values its ties with China, Saudi Arabia: Imran
• Pakistan Embassy launches dams fundraising drive in US
• Saudi info minister hopes strengthening of ties during PTI's govt
• Optimism prevails as 'dynamic' president takes charge
• Four terrorism suspects killed, soldier martyred
• Four BLF Terrorists Killed In Balochistan
--------
Arab World
• Iraq's Sistani Rejects Five Potential PM Candidates, Including Abadi
• Rival Shiite Factions Trade Blame for Who Drove the Burning Of Buildings in Basra
• Syrian Army Keeps Rolling on ISIL Centres in Sweida Deserts
• Terrorists' Key Positions in Hama Destroyed in Syrian Army Artillery Fire
• Hashd Al-Shaabi Commander Blames US for Basra Unrests
• Infighting Continues among Turkey-Backed Militants in Northwestern Syria
• Terrorists' Chemical Weapons Expert Escapes from Northwestern Syria to Turkey
• Idlib's residents stuck between Syrian regime bombing and closed Turkish border
• Iraqi security forces bust five-strong terrorist cell in southern Kirkuk
--------
Mideast
• 84 Dead In Fighting In Yemen's Hodeida after Talks Fail
• Arab Coalition Air Raids Kill 30 Houthi Militiamen in Yemen's Saada
• Yemen's army kills dozens of Houthis in clashes in eastern Hodeidah
• Yemeni army liberates 12 km of vital areas between Sanaa, Hodeidah
• Yemeni naval forces destroy booby-trapped Houthi boat in the Red Sea
• Iran's IRGC confirms firing 7 missiles at Iraq-based terrorists
• Ministry warns Gaza hospitals to close after US cut funds
• Turkey urges nations to form united front against US
• Turkish authorities detain 56 over alleged Gulen links
--------
North America
• Boston Ahmadiyya Muslim Community Chapter Invites All to Unite and Honour 9/11 Victims
• US Government 'Misleads Public' On Afghanistan War
• US condemns violence against diplomats in Iraq's Basra
• US warplanes drop phosphorous bombs on Syria: Russia
--------
Europe
• Muslim Group Calls for Preacher Linked To Trump to Be Denied UK Visa
• Seven injured in Paris knife attack, terrorism not suspected
• European media covers Turkey's call for truce in Idlib
• Two Afghans detained on suspicion of killing man in east Germany — police
--------
South Asia
• PM Hasina Wants Specific Steps to Put Pressure on Myanmar to Take Back Rohingyas
• Mortar Attack Leaves 12 Members of A Family Dead, Wounded In Helmand
• President Ghani met with the British Special Envoy for Afghanistan and Pakistan
• Suicide attack reported in Taimani area of Kabul city
• At least seven killed in blast near procession in Afghan capital
--------
Africa
• Sudan's Bashir Dissolves Govt, Appoints New Ministers
• No Plan to Islamise Nigeria, Buhari Tells Catholic Bishops
• Protest against detention of Nigerian religious scholar Sheikh Zakzakay
• Boko Haram overruns key crossroads town in northern Nigeria
Compiled by New Age Islam News Bureau
URL: https://www.newageislam.com/islamic-world-news/is-sharmila-tagore-mansoor-ali/d/116335
--------
Is Sharmila Tagore - Mansoor Ali Khan Pataudi and Kareena Kapoor - Saif Ali Khan Marriage Love Jihad? Yes, Says World Hindu Congress
Sep 09, 2018
Chicago, September 9: Delegates at the World Hindu Congress being held here received a sweet box in their welcome packet containing two ladoos -- one hard and one soft. The surprise sweet packets were distributed to convey the common perception that Hindu society is not united, according to the organisers of the event. Is Sharmila Tagore - Mansoor Ali Khan Pataudi & Kareena Kapoor - Saif Ali Khan Marriage Love Jihad? Yes, Says World Hindu Congress at Chicago.
"The soft ladoo represented the status of Hindus today that they may be easily broken and swallowed while the future vision for the Hindu society should be like a hard ladoo -- strongly bonded," Guna Magesan, coordinator Hindu Organisational conference of the WHC, said Saturday at a panel discussion on Collective Efforts for Hindu Emergence.
Swami Poornatmananda of Bharat Seva Ashram said all Hindus should unite to achieve resurgence. Emphasising that Hindu religious teachings are for humanity, he said, schools and colleges in India should be opened to impart Hindu teachings.
On the resurgence of Hinduism, the spiritual head of the Chinmaya Mission, said, "Everything begins at home. When family breaks down, culture breaks down, and life of disharmony follows. We have to convert Hindus to Hinduism."
He further said, "The spirit of unity does not mean all should be the same. In the midst of diversity, we must have a common goal of dedication."
"We have to reform the education system that inculcates Hindu culture and religion. We have to re-discover the way the 'Rishis' taught the disciples in the ancient gurukul system."
Swami Paramatmananda, secretary general of Hindu Dharma Acharya Sabha, said Hindus should think collectively not only for its own resurgence, but for the resurgence of the whole world.
"Society has a relationship problem, where one person is unable to relate to the life of another person," he said. Calling Hindus to address the ecological problems of the world, he said, "God did not create the world for man's consumption. The responsibility lies on Hindus to protect the ecology."
Sadhguru Dalip Singh of Namdari Panth told the Congress that Hindus and Sikhs can never be separated. The Guru Granth Saheb says that Sikhs should remain Hindus, he added.
He urged Hindus to stop using English to describe India and instead call it "Bharath", and that Hindus who know Hindi should always speak in Hindi. Decrying those who habitually blamed their motherland, he said one should instead find what is good in India and espouse it.
Madhu Pandit Dasa, chairperson of Akshaya Patra Foundation, ISKCON, said the different denominations of Hinduism are a strength rather than a weakness. "There are common grounding principles in these denominations," he said.
He drew attention to the declining birth rate among Hindus and said, "take pride in having more children". The second World Hindu Congress is being held here to mark the commemoration of the 125th anniversary of Swami Vivekananda's historic speech at the Parliament of the World's Religions in 1893 in Chicago.
https://www.latestly.com/world/world-hindu-congress-delegates-receive-ladoos-with-a-unity-message-371248.html
--------
Hadi defends lesbian caning, says not 'torture'
10 September 2018
KUALA LUMPUR, Sept 10 — PAS president Datuk Seri Abdul Hadi Awang has rejected the perception that the recent caning of two lesbians in the Terengganu Shariah Court has tarnished Islam as a peaceful and compassionate religion.
Despite the global outcry that even prompted a response from Prime Minister Tun Dr Mahathir Mohamad, the Marang MP remained resolute that the punishment was not "torture".
"I am confident that if a fair comparison was made between Shariah caning and civil caning, non-Muslims would choose Islamic caning which educates and does not torture the offender," the one-time Terengganu mentri besar said in a brief statement on his Facebook page last night.
The statement was accompanied by a 1.05-minute video clip portraying his answer to an unseen reporter who asked him for comment on the controversial caning issue after Dr Mahathir spoke out.
Last Thursday, the prime minister issued a statement and a video clip expressing his Cabinet's disagreement with the September 3 caning of two Muslim women for attempted lesbian sex as meted out by the Terengganu Shariah Court.
Dr Mahathir said the six lashes of the rotan given to the women who were first time offenders while watched by 100 people had tarnished Islam by portraying it as a ruthless religion that hands out humiliating punishments.
He added that his Cabinet was of the view that the court could have advised the first time offenders and given a lighter sentence.
The caning has stirred nationwide debate, with some Muslims insisting that the corporal punishment was meant to teach a lesson and did not inflict pain that would leave physical scars, compared to whipping under civil laws.
Others argue otherwise, saying the humiliation of being caned publicly leaves emotional and mental scars, especially for an act that they insist is not listed as an offence or crime in the Quran.
https://www.malaymail.com/s/1670999/hadi-defends-lesbian-caning-says-not-torture
--------
Jamaat-e-Islami Pakistan Amir Praises China, Criticises US
SEPTEMBER 10, 2018
Jamaat-e-Islami Pakistan amir Sirajul Haq has appreciated the commitment of the judiciary and the government for the construction of dams and said that the issue must get high priority because of the alarming situation of water shortage.
Addressing a gathering of JI members from Rawalpindi, he said that India was blocking Pakistan's share of river water, and causing irreparable loss to agriculture with the intention to turn the country into a desert, and prompt steps were necessary to counter India's plans. Referring to the US Secretary of State's visit to the country, Sirajul Haq said that America had always prioritised its own interests but had never come to Pakistan's help in the hour of need. He said the US had never acknowledged Pakistan's services in the war against terror, and had always been pressing for 'do more'.
He said the war of terror had caused irreparable loss to Pakistan's economy and instead of compensating for these losses, Washington had time and again , placed restrictions on aid to this country.
The JI chief, however, noted that the visit of the Chinese Foreign Minister at this time was highly encouraging as China was taking keen interest in Pakistan's problems and had been offering every possible help and assistance. He said the CPEC was a symbol of strong Pak-China relations.
Sirajul Haq criticised the increase in the prices of gas, electricity and fertiliser and said this would add to the problems of the common people as well as farmers. He said the farmers needed subsidy on their inputs.
The JI chief called for special efforts to improve educational and health facilities and creation of jobs for the youth.
https://dailytimes.com.pk/295683/siraj-praises-china-criticises-us/
--------
Iraq's Sistani rejects five potential PM candidates, including Abadi
10 September 2018
Sabah al-Saedi, an official in the Sairoon Alliance that is part of the Reform and Construction Bloc, said he was "officially" informed that top Shiite cleric Ali al-Sistani refuses five of the proposed names for the premiership, including Haider al-Abadi.
Saedi said that Sistani informed the Iranian negotiator in a meeting in Najaf that Haider al-Abadi, Nouri al-Maliki, Hadi al-Amiri, Falih Alfayyadh and Tariq Najm "have no luck" in holding a premiership post in the next Iraqi cabinet.
Sistani had previously voiced the importance of selecting a prime minister who is characterized with "strength and decisiveness" and called for forming a cabinet that's different than its predecessors.
Saedi also said that the Sairoon bloc which is led by Muqtada al-Sadr does not support Abadi for a second term, adding that there were other candidates for the post.
The Sairoon Alliance and the Fatah alliance, which is led by Hadi al-Amiri, had both called on Abadi to resign.
https://english.alarabiya.net/en/News/middle-east/2018/09/10/Iraq-s-Sairoon-Alliance-says-Sistani-rejects-five-potential-premiership-candidates.html
--------
84 dead in fighting in Yemen's Hodeida after talks fail
September 09, 2018
Clashes and air strikes have left 84 people dead around Yemen's Red Sea port city of Hodeida since the collapse of UN-brokered peace talks, hospital sources said on Sunday.
The sources in Hodeida province, controlled by Houthi rebels, said 11 soldiers and 73 insurgents had been killed since the talks were abandoned on Saturday.
Dozens of rebels and at least 17 soldiers had been wounded.
The pro-government coalition, which includes Saudi and UAE air forces, has been pushing to close in on Hodeida, the entry point for some 70 per cent of Yemen's imports including food and aid, since June.
The coalition on Sunday was positioned to attempt to seize the main road linking Sanaa, the rebel-held capital, to the port city, a military official told AFP.
The road is a key supply route for the Houthis.
In July, the coalition announced a temporary ceasefire in Hodeida to give a chance to UN-brokered peace talks.
But UN attempts to hold peace talks between Yemen's Saudi-backed government and the Houthis, linked to Saudi Arabia's arch-rival Iran, were abandoned on Saturday, sparking fears of an escalation in the conflict.
The rebels refused to leave Yemen for Geneva, saying the UN had not met their demands — including a plane to transport their wounded to nearby Oman and a guarantee their delegation would be allowed to return to Sanaa.
In 2014, the Houthis seized control of a string of Red Sea ports and the capital, driving the government out of Sanaa and the president into exile.
In 2015, Saudi Arabia and its allies intervened in the conflict to bolster President Abedrabbo Mansour Hadi, recognised by the UN as Yemen's president.
They now control Yemen's airspace.
Nearly 10,000 people have since been killed and the country now stands at the brink of famine.
https://nation.com.pk/09-Sep-2018/84-dead-in-fighting-in-yemens-hodeida-after-talks-fail
--------
India
Hindu takes care of mosque he saved during 2013 riots
Sep 9, 2018
MUZAFFARNAGAR: At the height of communal tension during the 2013 riots in Muzaffarnagar when a group of rioters decided to demolish a 120-year-old mosque, Ramveer Kashyap put up a staunch defence, even gathering other villagers in his support. Five years later, the 59-year-old mason is still taking care of the only mosque in Muzaffarnagar's Nanheda village. At daybreak, he cleans up the mosque, lights a candle in the evening, and even gets the structure whitewashed before every Ramzan.
"It's my religious duty. My faith teaches me to respect all places of worship," he told TOI.
Incidentally, the village doesn't have a single Muslim inhabitant. Located 40 km from the district headquarters, Nanheda is a Jat-dominated village with a few Dalits and OBCs residing here.
According to Ramveer, the village had a large number of Muslims before Independence. "However, they moved out. Now, an occasional visitor offers namaz here once in a while," he said.
Khusnaseeb Ahmad, a healthcare professional in the neighbouring Khedi Firozabad village, is one of those visitors. "I visited the village few years ago and was surprised to see a Hindu man looking after the mosque. I offered namaz there. There are many examples of love to counter hate," he said.
Ramveer stays barely 100 metres away from the mosque. "I played around it as a child. For me, it is a place of worship, which deserves respect. As there was no one to take care of it, I took on the responsibility. For the past 25 years, I sweep the premises daily and ensure basic maintenance," Ramveer said.
Nanheda village pradhan Dara Singh is all praise for Ramveer. "He even spends his own money to get it whitewashed once before every Ramzan. At times, his family members also assist him in cleaning up the place."
Ashraf Usmani, in-charge, organisation and development department of Darul Uloom, said, "It is this aspect of India that makes it great. Examples likes Nanheda are spread all across India. Soon after partition when all Muslims moved to Pakistan especially from Punjab, there were Sikhs and Hindus who protected and preserved mosques which are still there. Similarly, there are instances of Muslims protecting temples in many places."
https://timesofindia.indiatimes.com/city/meerut/hindu-takes-care-of-mosque-he-saved-during-2013-riots/articleshow/65737785.cms
--------
No terror link in ISIS sex slave case, matter of marital discord, NIA tells home ministry
Kamaljit Kaur Sandhu
September 9, 2018
Several months ago, a Hindu woman based in Gujarat (name withheld ) had accused her Muslim husband from Kerala of conspiring to sell her off to ISIS jihadi. After months of investigation, the National Investigation Agency (NIA) has not been able to find evidence against the 27-year-old Mohammed Riyaz.
Sources said that NIA has last week moved the file to Ministry of Home Affairs (MHA) apprising them of no terror link being found in the case.
Though top officer of NIA said that the agency could eventually file a closure report, a senior officer associated with the case said, "Once the file returns from Home Ministry, we will be informing the Kerala court and police of our finding that this is a case of marital discord and should be investigated by the local police under relevant sections."
The premier anti-probe terror agency had arrested Riyaz on February 3 from the Chennai airport after his return from Jeddah, Saudi Arabia. His wife had alleged that he blackmailed her into converting to Islam using a recording of their sexual encounter and also pressured her into marrying him. She had also alleged that she was taken to Saudi Arabia, from where Riyaz tried to sell her off to ISIS terrorists.
The woman and her husband studied in the same college and came to know each other in 2014; they fell in love. In the same year, she says she was lured into a sexual act which the man recorded on his phone. The 25-year-old woman alleged that the man used the video to blackmail her and forced her to marry him.
She has also alleged that she was taken to Jeddah in Saudi Arabia by the accused person with the intention of further transporting her to Syria. The case had made headlines then, but seven months after the husband was arrested, NIA has officially moved a file to say "no terror link" found.
She has also alleged that she was taken to Jeddah in Saudi Arabia by the accused person with the intention of further transporting her to Syria. The case had made headlines then, but seven months after the husband was arrested, NIA has officially moved a file to say "no terror link" found.
Kerala police are likely to investigate the case and the charges of physical and mental harassment including the claim of rape.
Rahul Eshwar, activist and one of the heads of Hindu parliament, an apex body of 108 Hindu organisations says, "We have to concede that there are many who are misusing the term love jihad as a tool to attack the family. There are genuine cases of forcible conversion while there are several counter instances like this once."
Speaking on the absence of ISIS link, in this case, he further said "We cannot close our eyes to such cases, some individuals are using this to settle the personal score. This is a truth too."
Speaking on the probe, the NIA, which faced embarrassment in the case of Hadiya alias Akhila who married Shafin Jahan, said: "Inter-religious marriage might be part of a 'larger pattern' to convert Hindu girls to Islam. Months later, SC declared her (Hadiya) marriage valid and legal. The Gujarat based woman who was married to Mohammed Riyaz being the second case. NIA has however maintained that in at least one case in which the agency had carried out Preliminary Enquiry (PE) was a case of 'forced conversion'. The case is of one Athira Nambiar from Palakkad in which the agency maintained the woman was lured."
Full report at:
https://www.indiatoday.in/india/story/no-terror-link-in-isis-sex-slave-case-matter-of-marital-discord-nia-tells-home-ministry-1336109-2018-09-09
--------
Sidhu writes to Sushma, asks her to talk to Pakistan over Kartarpur Corridor
Sep 9, 2018
CHANDIGARH: Punjab local bodies minister Navjot Singh Sidhu has written a letter to external affairs minister Sushma Swaraj, exhorting her to initiate talks with Pakistan after its decision in favour of Indians over the Kartarpur Sahib corridor.
"When opportunity knocks, kindly step up and open the door," he has said in the letter, adding, "Pakistan has shown a positive intent towards the long pending demand of Kartarpur Sahib Corridor."
"Pilgrims and we all have been demanding for this corridor since years. Some positivity came on this issue when I visited Pakistan for the oath-taking ceremony of Prime Minister of Pakistan Imran Khan but now with their information minister Fawad Chaudhary categorically saying that Corridor will be opened and even visa won't be required to visit this as part of the 550th birth anniversary celebrations of Guru Nanak Dev, it is time for India to take a positive step on this highly emotional issue," added Sidhu.
Tracing the historic background, he has said, "When the partition happened in 1947, not only geographical, economic, emotional and social setbacks came but many historical Gurudwaras were left in Pakistan. Since then, the Sikhs living in India, who always offer prayers to pay obeisance in the separated Gurudwaras have to rely on visas to make a visit to the holy shrines left there."
"Among various historical Gurudwaras left in Pakistan, Gurudwara Kartarpur Sahib is of great significance. This is the place where Guru Nanak Dev spent almost 18 years of his life. The Gurudwara Sahib is very close to the International border," said Sidhu.
Full report at:
https://timesofindia.indiatimes.com/india/sidhu-writes-to-sushma-asks-her-to-talk-to-pakistan-over-kartarpur-corridor/articleshow/65742760.cms
--------
Tension in Haryana village after residents tries to stop burial of Muslim man
Sep 10, 2018
ROHTAK: There was tension in Titoli village of the district on Sunday when a few women from the area tried to prevent the burial of a Muslim man at a local graveyard, forcing the minority community to seek protective cover for the last rites.
On August 22, a calf was allegedly killed by a Muslim man, Yaseen, which led to tension in the Jat-dominated village. The accused was arrested and his family had to leave the village. Villagers buried the calf near the graveyard and objected to Muslims living in the place for centuries, using village land as a graveyard.
Jaivir Khokkar, 45, a resident of the village was killed in a road accident in Gurugram on Saturday. He was taken to the village for burial but faced stiff opposition from a section of villagers.
The protesters argued that a calf was buried near the graveyard and the deceased could not be buried there. Upon intimation, SDM Rakesh Kumar, tehsildar Gulab Singh, DSP Narayan Chand, DSP Gajender Singh reached the spot with police force.
The body of the deceased was taken to the graveyard under police protection and last rites were conducted with the intervention of the administration and village elders.
Full report at:
https://timesofindia.indiatimes.com/city/gurgaon/tension-in-village-after-residents-try-to-stop-burial-of-muslim-man/articleshow/65746884.cms
--------
Christian W Troll and Sanjiv Saraf to receive Sir Syed Excellence Awards
Sep 9, 2018
Agra: Professor Christian W Troll, noted scholar of theology and philosophy and Honorary Professor for the Study of Islam and Christian-Muslim Relations at the Philosophisch-Theologische Hochschule St. Georgen in Frankfurt, Germany will receive this year's International Sir Syed Excellence Award for his work on Sir Syed Ahmad Khan. Cultural entrepreneur Sanjiv Saraf, founder of Rekhta Foundation will be conferred with the National Sir Syed Excellence Award for making outstanding contribution to promotion of Urdu language and literature.
The awards will be given on Sir Syed Day celebrations, October 17. The prestigious Sir Syed Excellence awards in the International and National category includes cash prizes worth Rs two lakhs and one lakh respectively. Former president Pranab Mukherjee was the chief guest on Sir Syed Day celebrations last year.
https://timesofindia.indiatimes.com/city/agra/christian-w-troll-and-sanjiv-saraf-to-receive-sir-syed-excellence-awards/articleshow/65745150.cms
--------
Kashmir journalist was 'in contact' with Hizbul militant, cops tell court
by Bashaarat Masood
September 9, 2018
Two weeks after detaining, and subsequently arresting, a journalist, Asif Sultan, Jammu and Kashmir Police has told a Srinagar court that he was "in contact" with a Hizbul Mujahideen militant, and that he used to "glorify" militants in his news reports.
The court has sent Asif to 15-day judicial remand. He has been shifted to Srinagar central jail. Asif's family and his employers maintain that he was picked up for his reporting, and he has no militant links.
Various journalists' associations in the Valley, including Kashmir Editors' Guild, have called for Asif's release and asked the police to make the charges against him public.
On Saturday, the police told the court that their probe is completed and that the journalist is not required by police any longer.
"He was in contact with Abass Sheikh (senior Hizbul Mujahideen militant from south Kashmir). (He) was playing an important role by providing him (Sheikh) all the possible help to carry out terrorist activities," the police told the court in a written reply to Asif's bail application, moved on Tuesday.
The police have also taken objection to Asif's reportage in Srinagar-based news magazine 'Kashmir Narrator'. "In journalism, he would instigate people in Jammu and Kashmir, especially Kashmir Valley, by glorifying terrorists associated with Hizbul Mujahideen," the police reply reads. "In his magazine, 'Kashmir Narrator', he would often give coverage to Hizbul Mujahideen terrorists, especially Burhan Wani, to attract youth towards terrorist organisations, especially Hizbul Mujahideen."
Asif's last big report — on slain Hizb militant Burhan Wani — was published on Burhan's second death anniversary this July.
The magazine's editor Showkat Motta told The Sunday Express that while they filed for Asif's bail on Tuesday, the police did not respond until today. "They filed the written response today at 3.30 pm and brought him to court just 10 minutes before (the court's) scheduled closure," he said. "We had no time to respond to charges levelled by the police."
Asif's father Mohammad Sultan Saida alleged that the police are trying to frame his son.
The police have said that they have seized the journalist's cellphone and laptop and sent it to the forensic lab in Chandigarh for examination.
Full report at:
https://indianexpress.com/article/india/kashmir-journalist-was-in-contact-with-hizbul-militant-cops-tell-court-5346809/
--------
Southeast Asia
Muslim minority in China's Xinjiang face 'political indoctrination' – Human Rights Watch
September 10, 2018
The Turkic mostly Muslim Uighur minority in China's Xinjiang region face arbitrary detentions, daily restrictions on religious practice and "forced political indoctrination" in a mass security crackdown, Human Rights Watch said on Monday.
The United Nations human rights panel said in August that China is believed to be holding up to 1 million ethnic Uighurs in a secretive system of "internment camps" in Xinjiang, in China's far west, where they undergo political education.
Beijing has denied that such camps are for "political education" and says they are instead vocational training centres, part of government initiatives to bolster economic growth and social mobility in the region.
China has said that Xinjiang faces a serious threat from Islamist militants and separatists who plot attacks and stir up tensions between Uighurs who call the region home and the ethnic Han Chinese majority. Uighurs and other Muslims held in the camps are forbidden from using Islamic greetings, must learn Mandarin Chinese and sing propaganda songs, according to a report by Human Rights Watch based on interviews with five former camp detainees.
People in Xinjiang with relatives living abroad in one of 26 "sensitive countries", including Kazakhstan, Turkey and Indonesia, have been targeted by the authorities and are often held for several months, without any formal procedure, the group said. Punishments for refusing to follow instructions in the camp could mean being denied food, being forced to stand for 24 hours or even solitary confinement, it said.
Security conditions in Xinjiang outside the camps had also intensified markedly and now bear "a striking resemblance to those inside", Hong Kong-based Human Rights Watch researcher Maya Wang said, based on interviews with 58 former Xinjiang residents now living abroad.
Wang and her team only spoke with people who had left Xinjiang due to a lack of access to the region and to avoid endangering those still living there. New security measures described by interviewees include proliferating checkpoints that make use of facial recognition technology and sophisticated police monitoring systems, such as each house having a QR code that, when scanned, shows the authorities who the approved occupants are.
Monitoring of Islamic religious practices, such as asking people how often they pray and the closure of mosques, as well as regular visits by party officials to rural parts of Xinjiang, mean that practicing Islam "has effectively been outlawed," Wang said.
https://indianexpress.com/article/world/muslim-minority-in-chinas-xinjiang-face-political-indoctrination-human-rights-watch-5347873/
--------
After three-by-elections, Umno senator concedes pact with PAS ineffective
10 September 2018
GEORGE TOWN, Sept 10 — Senator Khairul Azwan Harun called today for Umno to distance itself from allying itself with "far-right" PAS and revisit its moderate and centrist political approach.
He said the PAS-Umno election pact in the three by-elections has been ineffective.
"Our machinery worked hard, one that we've been relying on for years, was unsuccessful, again," the Umno supreme council member said in a statement.
He said Umno's future is now dimmer based on the results in the three by-elections since the May 9 general election as the party still lost despite the end of the Pakatan Harapan coalition's 100-day "honeymoon period".
"The pullback effect was supposed to have begun, Sales and Service Tax, higher costs of living and underperforming ministers were supposed to be a factor. But we still lost," he said.
He said the lower voter turnout in all three by-elections was also supposed to be in favour of Umno, but it didn't help.
Umno contested in the Sungai Kandis by-election, the first to be called after GE14. It sat out the twin polls last Saturday in Balakong — which was contested by fellow Barisan Nasional partner MCA — and Seri Setia, which PAS contested, but campaigned for its former rival.
Khairul Azwan concluded that this meant voters don't want an Opposition that openly focuses on Malay and Islam.
"That has never been how Umno won elections in the past," he added.
He said Umno needs to go back to its moderate and centrist ways that had earned respect from non-Malays, instead of using fear to draw votes.
Khairul Azwan said Umno can only cooperate with PAS on legislative matters and policies that they share interests in.
Full report at:
https://www.malaymail.com/s/1671090/after-three-by-elections-umno-senator-concedes-pact-with-pas-ineffective
--------
Zahid says entire Umno leadership to attend PAS muktamar
07 September 2018
KUALA LUMPUR, Sept 7 ― The entire Umno leadership will attend this year's PAS muktamar in Kuala Terengganu next week, party president Datuk Seri Ahmad Zahid Hamidi has said.
"Ladies and gentlemen, I have just received an invitation to attend the PAS muktamar.
"God willing, I will attend. Our deputy president will also attend, so will our vice presidents, secretary-general, youth chief, women chief and Puteri chief to show our moral support for PAS and its leadership," Malaysiakini quoted him as saying at a PAS ceramah for the Seri Setia by-election campaign last night.
The same ceramah was also reportedly attended by MIC deputy president Datuk Seri M. Saravanan and MCA central committee member Datuk Seri Ti Lian Ker.
In his speech at the PAS event, Zahid accused the Pakatan Harapan government of undermining Malay interests, saying that "the principles in the federal constitution cannot change."
"The Malay rulers must be respected, Malay privileges must be respected, Bahasa Malaysia as the national language must be respected and Islam as the religion of the federation cannot be questioned," he said.
The Seri Setia by-election will see a straight fight between PKR's Halimey Abu Bakar and PAS' Dr Halimah Ali.
Umno has given PAS its approval to contest the seat even though it was previously an Umno state seat.
Umno has also actively campaigned for the Islamist party in Seri Setia.
Zahid said the by-election is the beginning of a political cooperation between Umno and PAS.
Full report at:
https://www.malaymail.com/s/1670193/zahid-says-entire-umno-leadership-to-attend-pas-muktamar
--------
43 suspects in deadly Philippine bombings face criminal raps
September 10, 2018
MANILA, Philippines: Criminal complaints have been filed against 43 Muslim militants from two armed groups linked to the Daesh group for two bomb attacks in the southern Philippines, including a suspected suicide bombing that killed 11 people, police said Monday.
Murder complaints were filed against 18 suspected members of the Abu Sayyaf for a powerful blast on July 31 that killed 11 people and wounded several others in Lamitan city on Basilan island, said Director General Oscar Albayalde, the national police chief. A foreign militant who drove the bomb-laden van died in the suspected suicide attack.
Among those facing charges is an Abu Sayyaf commander, Furuji Indama, who Albayalde said ordered the bombing but remains at large along with nine other suspects.
Eight suspects, including a militant bomb expert, Julamin Arundoh, who police said rigged the van with plastic gallons containing the explosives, have been captured.
Interior Secretary Eduardo Ano said the foreign militant who drove the van targeted a public gathering of about 3,000 people in Lamitan city but his vehicle stalled and villagers whom he asked for help became suspicious when they saw unusual wires protruding from plastic gallons in the vehicle.
As army troops approached, the van blew up, killing the militant and 10 other people outside a paramilitary detachment and wounding several villagers.
The Daesh group claimed responsibility for the Lamitan bombing and identified the attacker as Moroccan. However, it cited a greatly inflated military death toll.
Albayalde said criminal complaints were also filed against 25 members of the Bangsamoro Islamic Freedom Fighters, who are blamed for an Aug. 28 bombing that left three people dead as Isulan town in Sultan Kudarat province celebrated its annual founding festival.
Five days after the blast, another deadly bombing hit Isulan, prompting authorities to remove the town and provincial police chiefs and further strengthen already tight security in the volatile region.
"It's not only a presence there, there should be police intervention that should be carried out like ... searches and checkpoints," Albayalde said in a news conference in Manila.
The southern Philippines, the scene of decades-long Muslim separatist rebellions in the largely Roman Catholic nation, remains under martial law, which President Rodrigo Duterte declared last year to deal with a five-month siege of southern Marawi city by Daesh group-linked militants. The disastrous siege left more than 1,200 people dead, mostly militants, displaced hundreds of thousands of villagers and sparked fears that the Daesh group was gaining a foothold in Southeast Asia amid battle defeats in Syria and Iraq.
Full report at:
http://www.arabnews.com/node/1369581/world
--------
Pakistan
Democracy fostering in Pakistan: COAS
Sep 10, 2018
ISLAMABAD: Chief of Army Staff (COAS) General Qamar Javed Bajwa said on Sunday that democracy in the country was fostering with time.
The army chief was speaking to the media at Arif Alvi's oath-taking ceremony. "Democratic institutions are quickly becoming more robust and will only get stronger with the passage of time," Gen Qamar was quoted as saying. "This is an important day for the continuity of democracy in the country," the COAS added.
Alvi was sworn in as Pakistan's 13th head of state in a ceremony held at Aiwan-e-Sadr in Islamabad. Chief Justice of Pakistan Mian Saqib Nisar administered the oath in a ceremony that was attended by top civil-military brass including Prime Minister Imran Khan, Bajwa and Chairman Joint Chiefs of Staff Committee Gen Zubair Hayat. Saudi, Chinese diplomats also attended the presidential oath.
The newly-sworn in president was later given his first guard of honour by the smartly turned out contingents of the armed forces at Aiwan-e-Sadr.
Alvi is succeeding Mamnoon Hussain, who took oath as 12th head of state on September 9, 2013 after his election as a candidate of the Pakistan Muslim League-Nawaz (PML-N).
It is pertinent to mention that civil-military relations have always been subject to controversies in Pakistan. The relations went particularly sour during the tenure of the erstwhile ruling party Pakistan Muslim League-Nawaz (PML-N), following the controversial Dawn leaks.
After the eviction of former PM Nawaz Sharif by Supreme Court in the infamous panama leaks case, the PML-N leadership, especially Nawaf Sharif, openly criticized the role of Pakistan Army and even accused it of cross-border terrorism in an interview.
In the past, Pakistan has been viewed in the west as a country influenced by its armed forces, but the country has witnessed positive chances in this narrative since the arrival of the Pakistan-Tehreek-e-Insaf (PTI) government, led by Imran Khan.
Soon after taking charge, PM Imran Khan went to GHQ where he held an eight-hour long with the military heads. The PM was briefed on the overall security situation of the country as well as on the workings of the army.
On September 6, during a ceremony held in the honour of the martyrs of Pakistan Army, PM Imran Khan reiterated that the government and army was on the same page, which is to help Pakistan stand on its own feet. He went on rebuff all rumours regarding a possible rift between the government and army, and said that Pakistan Army, like other institutions, was working in close coordination with the government.
https://www.pakistantoday.com.pk/2018/09/10/democracy-fostering-in-pakistan-coas/
--------
KSA supports Pakistan's efforts to bring stability in region: Saudi minister
Sep 10, 2018
ISLAMABAD: Saudi Information Minister Dr Awwad Bin Saleh Al-Awwad called on Prime Minister Imran Khan on Sunday and and conveyed that Saudi Arabia fully supports Pakistan's efforts to bring peace and stability in the region.
Foreign Minister Shah Mehmood Qureshi and Information Minister Fawad Hussain Chaudhry were also present on the occasion.
During the meeting, the two sides also discussed bilateral relations.
The Saudi minister also conveyed a message of felicitation to Prime Minister Imran Khan on behalf of Saudi Crown Prince Muhammad Bin Salman and extended an invitation to the PM to visit Saudi Arabia.
Awwad's meeting with Khan comes a day after he held a meeting with Qureshi during which he conveyed Saudi Arabia's desire to work with the new government.
Earlier, the Saudi minister called upon the Chief of Army Staff (COAS) General Qamar Javed Bajwa in Rawalpindi.
The visiting minister lauded strong relations between Riyadh and Islamabad and assured Pakistan of full support in its struggle for peace and stability.
In his meeting with Minister for Religious Affairs Noorul Haq Qadri, the Saudi minister was asked to increase the quota for Pakistani pilgrims by 40-45,000, besides relaxation of visa policy for people who wished to perform Umrah.
Qadri also requested Saudi government to provide land for Pakistan House near the holy sites in both Makkah and Madina.
The Saudi minister assured Haq that his country will increase the quota of pilgrims in next year's Haj. He also promised to facilitate pilgrims.
Regarding the provision of land, Awwad said that he would pass the request onto Saudi Crown Prince Mohammed bin Salman and hoped that the matter would be decided once Prime Minister Khan visits Saudi Arabia.
On Saturday, the Saudi minister had called upon Pakistani FM Shah Mahmood Qureshi. In a tweet, Ministry of Foreign Affairs (MoFA) Spokesman Dr Mohammad Faisal shared that Saudi information minister conveyed Saudi leadership's desire to work closely with the PTI government to attain "true potential of bilateral relations".
Full report at:
https://www.pakistantoday.com.pk/2018/09/09/ksa-supports-pakistans-efforts-to-bring-stability-in-region-saudi-minister/
--------
'Pack of lies won't fool anyone': Marriyum Aurangzeb lashes PTI's media strategy
September 10, 2018
The Pakistan Muslim League-Nawaz (PML-N) late Sunday night came down hard on the Prime Minister Imran Khan's media strategy by calling out the government for trying to "fool the public with a pack of lies".
"The public wants to know what you [Imran] can do for them in the first 100 days and not your media strategy," Marriyum Aurangzeb said while addressing the media in Lahore, Express News reported.
"You won't be able to fool the well informed public with your media strategy," the PML-N leader added.
She said that the government was trying to hide their own embarrassing performance in it's first 20 days in power with this media strategy.
Govt to highlight 'PML-N extravagance, dismal performance'
Aurangzeb claimed that the strategy has been formed to hide the rising prices of gas and electricity.
"He [Imran] needs to understand that a media strategy won't create ten million jobs or half a million homes for the people," she said.
The PML-N leader said that it is very different to stand on a container and make claims than actually working for the betterment of the country.'
"Dreams shown by Imran to the nation are now turning into a nightmare," she said.
Full report at:
https://tribune.com.pk/story/1799268/1-pack-lies-wont-fool-public-maryam-aurangzeb-lashes-ptis-media-strategy/
--------
Pakistan, China agree to broaden CPEC base
Khaleeq Kiani
September 10, 2018
ISLAMABAD: Pakistan and China on Sunday agreed to formally invite "third-country" investors to be part of the $60 billion China-Pakistan Economic Corridor and add social sector and regional development schemes to the existing portfolio of CPEC projects.
The understanding on addition of "two major dimensions" to the CPEC projects came about at a long meeting between the Planning, Development and Reforms Commission of Pakistan and the National Development and Reforms Commission (NDRC) of China on Sunday.
Read: CPEC top priority, FM Qureshi assures Chinese minister
At the four-hour meeting, the Pakistani team was led by Minister for Planning Makhdoom Khusro Bakhtiar while the NDRC's vice-chairman, Ning Jizhe, led the Chinese delegation. Planning Secretary Zafar Hassan, CPEC's project director Hassan Daud and officials of the NDRC and Chinese Embassy also attended the meeting.
Sources said that Beijing wanted involvement in the upcoming special economic zones (SEZs) of countries friendly to both Pakistan and China because it wished to steer clear of adverse criticism, particularly from the US and India, about possibility of secretive deals that "remain beyond public eye".
No country was specifically mentioned in this regard and Central Asian, European and other countries including Turkey, Russia and Saudi Arabia could invest in the nine SEZs proposed, said an official.
Gwadar would be re-prioritised as a centre of industries for export markets where these countries could invest alone or in partnership with Pakistan or China, to take advantage of the city's trans-shipment potential and location apart from the free-zone incentives it offered.
The government led by the Pakistan Tehreek-i-Insaf (PTI) wished to include in the project portfolio social sector schemes — involving clean drinking water, health, education and technical training — to bring the huge initiative in line with Prime Minister Imran Khan's priority areas of human development. This could be done by making some changes in the seven central pillars of the CPEC's Long Term Plan.
The official, however, agreed that China and Pakistan had so far not been able to settle key issues about development of the Rashakai or Hattar SEZ in the first phase of industrial cooperation. Thus, it would be difficult to attract "third-country" investors immediately.
He insisted that the two sides would work from now on to achieve the big objective and recalled that even the basic issues of CPEC were not settled in the first meeting.
Mr Bakhtiar, he said, had already ordered the relevant agencies to take the various SEZ projects to the groundbreaking stage within three months as a lot of time had already been wasted.
"Realigning the goals of CPEC, Pakistan has introduced new targets of socioeconomic and regional development under this unprecedented mega project," said the Planning Commission in an official statement.
The minister reaffirmed his government's commitment to the CPEC and "categorically said that all-out efforts would be made for the success of this project of economic development and prosperity. CPEC is a reality... aimed at initiating a modern era of trade and economic growth", said the statement.
To achieve the new targets, the government was dedicated to putting all its energies together to make progress at the earliest, said the official.
During the meeting, both the sides said that CPEC — "an icon of the Belt and Road Initiative" — was an engine of rapid growth for Pakistan and a manifestation of the strong Pak-China relations that would continue to promote inclusiveness.
The Pakistani team also told the visiting dignitaries that the PTI-led government accorded top priority to the development of Gwadar as a standalone project. The port city would be transformed into a trans-shipment hub and a centre for industrialisation with special focus on industrial units enjoying incentives that could produce a high rate of return.
The two sides agreed that industrial cooperation should be the main area of attention so that efforts were made to encourage relocation of Chinese industries with a view to increasing exports and maximising employment opportunities.
The Pakistani side said that progress had now been expedited and investors from across the world were being encouraged to populate the SEZs.
Mr Bakhtyar said his government intended to encourage projects based on indigenous sources of energy, including Thar Coal.
On the occasion, Mr Ning praised the PTI-led government's agenda and its efforts for socioeconomic development of the country. He reiterated the commitment that Chinese companies would effectively work for completion of the CPEC projects.
Full report at:
https://www.dawn.com/news/1432000/pakistan-china-agree-to-broaden-cpec-base
--------
Pakistan values its ties with China, Saudi Arabia: Imran
Ikram Junaidi
September 10, 2018
ISLAMABAD: Chinese State Councillor and Foreign Minister Wang Yi and Saudi Minister for Information Dr Awwad bin Saleh Al Awwad called on Prime Minister Imran Khan at the PM Office on Sunday.
The Chinese FM, who was heading a high-level delegation including three vice ministers, congratulated Mr Khan on his assumption of the office. He also conveyed the desire of the Chinese leadership to work with the new government for further enhancing the strategic partnership bet­ween Pakistan and China.
Mr Wang underscored the significance of China-Pakistan relationship which served as a model of friendship in interstate relations. The Chinese FM underscored the significance of China-Pakistan Economic Corridor (CPEC) for mutual benefit of the people of both countries.
He also conveyed the invitation of Premier Li Keqiang for an official visit to PM Khan.
Mr Khan reiterated that friendship with China was a cornerstone of Pakistan's foreign policy. He thanked Chinese Premier Li Keqiang for his congratulatory telephone call and for the invitation to visit China. He looked forward to his visit and meetings with the Chinese leadership. PM Khan reiterated that his government was committed to the implementation of CPEC.
While speaking to the Saudi minister, Mr Khan underscored the strong bilateral relations between Pakistan and Saudi Arabia. Expressing satisfaction at the pace of progress in bilateral relations, he called for sustaining the momentum through tangible progress on areas identified for bilateral cooperation.
He invited greater investment by Saudi public and private sectors in petroleum, energy, livestock and agriculture sectors. He also emphasised the need for addressing the current imbalance in bilateral trade between the two countries, which is tilted in favour of Saudi Arabia.
The Saudi minister conveyed to Mr Khan the felicitations of Saudi leadership on assuming the office and invited him to visit Saudi Arabia.
Dr Awwad, who had arrived in Islamabad on Friday on a two-day visit, called on President Arif Alvi, National Assembly Speaker Asad Qaisar, Foreign Minister Shah Mehmood Qureshi and Chief of the Army Staff Gen Qamar Javed Bajwa, besides having a meeting with Federal Minister for Infor­mation and Broadcasting Fawad Chaudhry.
Fruitful discussions
According to APP, the Saudi information minister termed his visit to Pakistan very fruitful during which he met the top civil and military leadership of the country.
Talking to reporters at the Nur Khan Airbase before his departure to Saudi Arabia, he said he had very fruitful and positive discussions with Pakistani dignitaries during his visit.
He said Pakistan and Saudi Arabia enjoyed unique and special relationship. He expressed the hope that his trip to this brotherly country would further strengthen these ties.
He said Pakistan and Saudi Arabia had agreed to jointly work for progress and prosperity of people. He hoped for strengthening the Pak-Saudi relations during the tenure of the newly elected government of Pakistan Tehreek-i-Insaf. He thanked Infor­mation Minister Fawad Chaudhry for inviting him to visit Pakistan.
Besides Mr Chaudhry, Addi­tional Secretary of the Ministry of Information and Broadcasting Shafqat Jalil and other high-ranking officials were present at the airbase to see the visiting dignitaries off.
Speaking on the occasion, Mr Chaudhry said the visit of the Saudi information minister would boost cordial relation between the two Islamic countries.
The Saudi delegation headed by Dr Awwad comprised Adviser to Saudi Information Minister Fahim bin Hamid Al Khalid. Saudi Ambassador to Pakistan Nawaf Bin Saeed Ahmad Al-Maliki was also present in the meetings.
Wang calls on COAS
According to PPI, a delegation led by the Chinese foreign minister met Chief of the Army Staff (COAS) Gen Qamar Bajwa and discussed with him matters related to regional security and bilateral cooperation.
The Chinese FM said that the Pakistan-China relationship was based on convergence of views and mutual respect.
Appreciating professionalism of Pakistan Army, Mr Wang said the world should acknowledge Pakistan's efforts towards regional peace and stability. He appreciated security provided to CPEC and said that China believed in inclusive prosperity.
Full report at:
https://www.dawn.com/news/1432018/pakistan-values-its-ties-with-china-saudi-arabia-imran
--------
Pak­istan Embassy launches dams fundraising drive in US
Anwar Iqbal
September 10, 2018
WASHINGTON: The Pak­istan Embassy in the United States sent out an appeal this weekend, urging the Pakistani-American community to donate generously to a fund set up by the government to build Diamer-Basha and Mohmand dams.
But experts continue to debate the concept of building dams with public donations. The government hopes to raise a sizable portion of the fund from the Pakistani-American community, which is considered the most affluent among the Pakistanis living abroad. "Imran Khan has got ample supporters and fundraisers within the Pakistani-American community. Still, I doubt there's a critical mass of Pakistanis overseas with the financial capacity (much less the will) to participate in this campaign," says Michael Kugelman, a Pakistan expert at the Woodrow Wilson Centre for Scholars in Washington, describing the appeal as "an ambitious ask".
"Khan knows the diaspora better than anyone," tweeted Xulqi Moon, pointing out that Imran Khan has travelled across the world, collecting funds. He has decades of experience of donations and charity collection and he will achieve his target, the supporter wrote.
The Pakistani embassy in Washington, however, did not get involved in the debate about whether it's possible to build dams with donations.
Instead, it sent out a letter to influential Pakistanis in the United States, encouraging them to participate in the campaign.
The letter said that Pakistan had opened a special account at the National Bank of Pakistan in New York and asked Pakistanis to send their donations to NBP account #55302141, through routing #026004721 and swift code NBPUS33. The letter reminds donors also to mention their dates and places of birth in bank to bank information field of wire transfer instructions.
Mr Kugelman pointed out that one thing was left unsaid in the appeal to overseas Pakistanis to donate $1,000 each: "The diaspora isn't quite as affluent as some think. Many won't be in position to donate."
Mr Kugelman, however, appreciated the government's focus on the issue. "Credit is due to the Pakistan government for rightly identifying water as one of the country's biggest challenges," he said. "But instead of trying to crowd fund via the diaspora to build a new dam, how about focusing on repairing existing infrastructure, e.g. Tarbela? Less costly, less complicated."
He advised the government not to discount "the demand-side aspects of water management" either.
He also referred to an estimate by a Pakistani water professional, Simi Kamal, that Diamer-Basha Dam could potentially generate 8 MAF of water, but simply repairing existing canal systems would free up more.
Johnny Bashir, a PTI supporter in Springfield, Virginia, said the government knew it could not raise $12 billion to build Basha dam from donations. But it wanted to raise as much as it could while working on other options as well. "So, Relax and do your part. If you don't want to help, chill and let others do what they think is right for Pakistan."
Full report at:
https://www.dawn.com/news/1432011/pakistan-embassy-launches-dams-fundraising-drive-in-us
--------
Saudi info minister hopes strengthening of ties during PTI's govt
Sep 10, 2018
ISLAMABAD: Saudi Information Minister Dr Awwad Bin Saleh Al-Awwad on Sunday termed his three-day visit to Pakistan as very fruitful during in which he met with the top leadership of the country.
Talking to media at the Noor Khan Airbase before departing for Saudi Arabia, he said that he had very positive discussions with Pakistani dignitaries during his visit.
He said that Saudi Arabia and Pakistan enjoy a unique and special relationship, expressing the hope that his trip would further strengthen these ties.
He said that both the countries have agreed to jointly work for progress and prosperity of people. Pakistan is a brotherly country and not only both governments but also the people enjoying a cordial relation.
He hoped further strengthening and cementing Pak-Saudi relations during the tenure of the newly elected government of Pakistan Tehreek-e-Insaf |(PTI).
He thanked Minister for Information and Broadcasting Fawad Chaudhry for inviting him to visit Pakistan.
Minister for Information and Broadcasting Fawad Chaudhry, Ministry of Information and Broadcasting Additional Secretary Shafqat Jalil and other high ranking officials were present at the airbase to see the visiting dignitaries off.
Speaking on the occasion, Information Minister Fawad Chaudhry said that the visit of Saudi information Minister to Pakistan would boost cordial relation between the two brotherly Islamic countries.
He said that both the countries were willing to promote cooperation. Since new government has assumed power in Pakistan, so this visit would help the Saudi administration to know about it, he said. He maintained that Saudi Arabia has also been interested in promoting people to people contact and the visiting minister had also held meetings with different people.
Full report at:
https://www.pakistantoday.com.pk/2018/09/09/saudi-info-minister-hopes-strengthening-of-ties-during-ptis-govt/
--------
Optimism prevails as 'dynamic' president takes charge
Sep 10, 2018
ISLAMABAD: Terming President Dr Arif Alvi as an 'active and dynamic' personality, the public office-holders and parliamentarians on Sunday expressed optimism that the new head of the state would play a constructive role for the country with special focus on uplift of social sector, including health and education.
Those in attendance at the oath-taking ceremony of President Alvi here at the Aiwan-e-Sadr shared their views with APP, expressing confidence that President Arif Alvi would take practical steps and positively contribute for the progress of Pakistan.
President Azad Jammu and Kashmir Sardar Masood Khan said it was a matter of satisfaction for democracy that the new president had assumed his office following the completion of his predecessor's five-year tenure. Terming the head of the state as a symbol of unity, he hoped that President Alvi would become a source of harmony for all citizens of the country.
Governor Punjab Chaudhry Muhammad Sarwar said it was a historic day for Pakistan Tehreek-e-Insaf (PTI) and the entire country that a person with a commitment of uplifting the common man had assumed the office of the President.
Punjab Chief Minister Usman Buzdar said the vision of Prime Minister Imran Khan's 'Naya Pakistan' would be accomplished in full letter and spirit. He said focus would be on underprivileged areas of the province and the budget would be diverted for their uplift.
Sindh Chief Minister Murad Ali Shah expressed hope that President Arif Alvi would fulfill his constitutional responsibilities for the betterment of the country regardless of his party affiliation.
National Assembly Deputy Speaker Muhammad Qasim Khan Suri said it was a great day for Pakistan as a well-educated person was now at the helm of affairs and was fully abreast of the real problems of the people of Pakistan. He said the credit goes to Prime Minister Imran Khan for recognizing the struggle of Dr Alvi for the past 22 years for providing social justice to the people of Pakistan.
Minister for Planning and Development Khusro Bakhtiar said Dr Arif Alvi had a long history of struggle from the platform of PTI and the man truly represented the ideology of the party.
Minister-in-waiting for Privatisation Muhammad Mian Soomro said President Alvi would prove as an active president for the country and would take steps for the welfare of masses at large.
Senator Faisal Javed Khan said President Arif Alvi would be a dynamic head of the state and would support the PTI's manifesto, particularly in the fields of health and education. He said the democracy today was stronger as all initial steps for the complete formation of the government by the PTI had completed.
Full report at:
https://www.pakistantoday.com.pk/2018/09/09/optimism-prevails-as-dynamic-president-arif-alvi-takes-charge/
--------
Four terrorism suspects killed, soldier martyred
SEPTEMBER 10, 2018
Four terrorists were killed during an intelligence-based operations (IBOs) in Balochistan, Inter-Services Public Relations (ISPR) said on Sunday.
A soldier was also martyred and another wounded during the operation.
According to ISPR, security forces conducted operations in Jhao area near Awaran. A huge cache of arms and ammunition was also seized.
During the operation, a soldier, Ramz Ali, 24, who belonged to MirpurKhas, embraced martyrdom while another soldier, NaikYaqubm, was wounded, the ISPR said. Those killed during the operation were involved in an attack on a military convoy earlier this year in Mashkai wherein five soldiers were martyred, the ISPR said.
https://dailytimes.com.pk/295697/four-terrorism-suspects-killed-soldier-martyred/
--------
Four BLF terrorists killed in Balochistan
SEPTEMBER 9, 2018
Security forces on Saturday conducted an intelligence based operation (IBO) in Jhao area near Awaran Balochistan and killed four terrorists belonging to the Balochistan Liberation Front (BLF).
'During exchange of fire, sepoy Ramz Ali embraced Shahadat while another soldier Naik Yaqub received bullet injuries,' said a statement issued by the Inter-Services Public Relations (ISPR). The 24- years-old soldier belonged to Khairpur Miras, Sindh.
"Security forces conducted the IBO against the BLF terrorists and recovered cache of arms and ammunition," said the statement.
The deceased terrorists were involved in ambush against military convoy in Mashkai where five soldiers had embraced Shahadat earlier this year, it added.
https://dailytimes.com.pk/295398/four-blf-terrorists-killed-in-balochistan/
--------
Arab World
Rival Shiite factions trade blame for who drove the burning of buildings in Basra
September 10, 2018
BAGHDAD: The discovery of four bodies dumped in a street in central Basra on Saturday morning sent shockwaves through the city.
The four men were identified as followers of Muqtada Al-Sadr, the powerful Iraqi cleric who has masterminded an anti-Iranian coalition poised to take control of the country's Parliament.
Two of the dead had participated in the protests that started as a new wave of demonstrations against woeful services and corruption in the province that provides most of Iraq's oil.
But the demonstrations spiraled into a chaotic week of clashes that killed at least 15 people, left the Iranian consulate and other political buildings ablaze and Iraq facing its latest political and security crisis as the country struggles to regain its feet after the war with Daesh.
Security officials and prominent figures in Basra told Arab News that the protests have been hijacked to provide cover for political and armed conflict between the pro and anti-Iranian rivals competing to control the next administration.
Security sources also accused Iran of attempting to sow chaos, disrupt oil exports and pave the way for an administration in Baghdad that supports Tehran.
A second wave of US sanctions will come into effect in November targeting Iranian oil exports and dealing another blow to the country's ailing economy.
Shiite leaders and security officials suggest Tehran is attempting to encourage fighting between factions to destabilize Basra because the province could be the source of crude that would make up the shortfall on global markets left when Iranian exports are disrupted.
The discovery of the four bodies was reminiscent of the violence that erupted in the country after the 2003 US invasion. Except this time the conflict lines are not Sunni and Shiite, but between the Shiite factions that divide along the lines of pro and anti-Iran. The pro-Iran groups were significantly bolstered during the Daesh occupation when thousands of fighters were mobilized to help the military halt the extremists' advance.
Tehran poured in money and weapons, leaving the groups as some of the country's strongest military and political forces. Now they have become a key tool in the battle between the US and Iran, which has played out in Iraq since the downfall of Saddam Hussein.
Those Iran-backed groups contested the parliamentary election in May as part of the Al-Fattah alliance, which has been desperately trying to put together a coalition of MPs that would be able to form the next government.
But Al-Sadr, who is backed by the US, has been in the stronger position after his Sairoon alliance won the most seats.
Both coalitions claimed they had formed the largest bloc last week and asked to be registered at the first session of the Parliament on Monday. The matter was sent to the supreme federal court to be settled.
In June, soon after the election, demonstrations started in Basra to protest against the lack of electricity and clean drinking water and a lack of jobs. They spread across southern Iraq and even reached Baghdad.
But they lost momentum and turned into small, scattered sit-ins. The situation suddenly erupted on Monday when hundreds of demonstrators, some using Molotov cocktails, tried to storm the local government building in Basra. Police responded with live bullets and tear gas, seriously injuring two. One of the injured died of his wounds hours later.
The next day, the situation became more serious when a demonstrator attacked a group of police with a grenade, killing one of the officers and injuring eight others. Other groups attacked troops stationed near the local government building and by the end of the day, nine demonstrators were shot dead and scores wounded, including many members of the security forces. A number of governmental buildings were also set on fire.
On Thursday, troops deployed in Basra received orders not to clash with protesters as long as they remained away from oil facilities. This encouraged the demonstrators to attack and burn more than 20 buildings acting as headquarters to various political groups and their associated media stations.
The next day, the burning continued, and ended with the torching of the Iranian consulate building in south-eastern Basra.
The attack has been seen by many as anger finally boiling over at Iranian interference in their country.
Most of the heads of tribes, local activists and politicians called for people to withdraw from the demonstrations after they turned violent.
Many have referred to "masked" demonstrators leading the masses to carry out the attacks on the buildings without knowing their identity.
"As the demonstrations turned to be violent and infiltrators joined it, we ask all our sons to withdraw," Sheikh Adil Al-Mayah, the head of Mayah tribe, said.
The different factions have traded blame over who has been driving the riots. Because of its crude production of more than 3.5 million barrels per day, destabilizing security in Basra is in the interests of many local and regional parties.
Several Shiite political leaders accused the followers of Al-Sadr, saying that the headquarters of his movement were not affected.
But witnesses told Arab News that the demonstrators had tried to burn the base for his movement's armed wing, Sarraya Al-Salam, but were blocked by unarmed Sadrists who had formed a human barrier.
"We know that they accuse us of carrying out these fires, even though they know that we stood up to the saboteurs and said that they should burn us first before burning the building," Sa'ad Al-Maliki, a Sadrist leader in Basra, told Arab News.
"They also say that no one dares to burn the Iranian consulate other than us, but the fact is that we are surprised by what is happening and wonder who has the nerve to burn the headquarters of some armed factions that people are usually scared just to mention by name."
The headquarters of Badr organization and Assaib Ahl Al-Haq, the most prominent Shiite armed factions, were among those burned without any resistance. The same scenario was repeated with the Iranian consulate, which was stormed by the demonstrators and set on fire without a single bullet fired to defend it.
"The situation is complicated and many parties are involved in creating this mess," a senior federal security official told Arab News. "We have some indications that the burning of the Iranian consulate and many other headquarters were managed and served a specific purpose."
Local and federal security officials contacted by Arab News said that the consulate building was empty and was completely evacuated on Thursday, and even the private guards of the consulate were pulled out on Friday.
A senior security official told Arab News that a Twitter account belonging to a well-known Iraqi close to Iran may have been directing the attackers.
There were more worrying developments on Saturday when Basra airport was targeted by rocket fire. No one was harmed and it was unclear who was responsible.
A curfew was imposed on Saturday afternoon to try and stem the violence. Troops deployed in Basra received orders to open fire on anyone who attacks security forces or government institutions.
At the same time, Prime Minister Haider Abadi, who is trying to secure a second term, replaced the police and security operations commanders in Basra.
Al-Sadr has resumed negotiations with the leaders of Al-Fattah "to find a compromise to defuse the crisis," politicians familiar with the talks told Arab News.
http://www.arabnews.com/node/1369511/middle-east
--------
Syrian Army Keeps Rolling on ISIL Centres in Sweida Deserts
Sep 09, 2018
The army men stormed ISIL's positons in the depth of the rocks in Toloul al-Safa in the Eastern deserts of Sweida, and seized a strategic area.
The army soldiers further took control of several heights and caves used by the terrorists as their stronghold.
In the meantime, the army's artillery and missile units and aircraft pounded ISIL's positions in the rocks, inflicting tens of casualties on the militants.
Earlier reports said that the Army men, backed up by artillery and missile units, engaged in fierce clashes with ISIL in the Eastern deserts of Sweida, taking control over several points in Qa'a al-Banat region Northwest of Toloul al-Safa.
In the meantime, a field source pointed to the 3-kilometer advance of the army men in Qa'a al-Banat, and said the army has its positions and has set up more strongholds in the Toloul al-Safa rugged terrain.
Full report at:
http://en.farsnews.com/newstext.aspx?nn=13970618000786
--------
Terrorists' Key Positions in Hama Destroyed in Syrian Army Artillery Fire
Sep 09, 2018
The artillery and missile units shelled the strongholds and movements of Tahrir al-Sham Hay'at (the Levant Liberation Board or the Al-Nusra Front) and other terrorist groups in Tal al-Sayad North of the town of Kafr Zit in Northern Hama, destroying an armored vehicle and a depot of arms and ammunition of Kata'eb al-Izzah and imposing heavy casualties on the terrorists.
Other artillery and missile units pounded terrorists' positions near the town of Kafr Zita that is supposed to be one of the most important bases of Tahrir al-Sham in Northern Hama, destroying several positions used for launching missile attacks on residential areas.
Jeish al-Izzah has launched numerous missile attacks on the towns of al-Salqibiyeh and Salhab in Northern Hama, killing at least ten civilians, including children.
The Damascus Army forces on Friday hit hard the command centers of Al-Nusra Front and other terrorist groups in al-Latamina 8 kilometers East of Khan Sheikhoun and the village of al-Tah North of Khan Sheikhoun in Southern Idlib.
The Syrian Army also pounded the terrorists' training centers in Tal Aas village in Southern Idlib.
Meantime, other Syrian army units hit the terrorists' positions in the outskirts of Kafr Zita town in the Northern countryside of Hama province, destroying terrorists' field hospital in the region.
News websites close to terrorist groups, meantime, reported that the Syrian army's missile and artillery units pounded the towns of al-Bariseh and al-Khovein on Thursday.
Full report at:
http://en.farsnews.com/newstext.aspx?nn=13970618000698
--------
Hashd Al-Shaabi Commander Blames US for Basra Unrests
Sep 09, 2018
"We have complete information and documents showing that the US embassy and consulate should be blamed for unrests in Basra," al-Muhandis told reporters in a press conference on Sunday.
He added that the unrests have political roots, specially with regard to the change in government and formation of the new cabinet, noting that some interest groups behind the unrests intended to stir panic among people and foment differences among political parties.
Addressing the American officials, al-Muhandis said that the Iraqis will never enter an internal war and will prepare a proper response to the Basra incidents.
Iraqis in Southern areas of the country are demonstrating against lack of public services in poor areas and the angry protestors have set many government buildings and diplomatic missions in Basra on fire.
Protesters stormed the Iranian consulate in Southern Iraq's city of Basra on Friday, setting it on fire as part of demonstrations against lack of services and jobs in which several government buildings have been ransacked and torched.
Demonstrators on Friday broke into the consulate building in Basra which was empty when the crowd burst in.
Full report at:
http://en.farsnews.com/newstext.aspx?nn=13970618000360
--------
Infighting Continues among Turkey-Backed Militants in Northwestern Syria
Sep 09, 2018
Hawar News reported that terrorists of Ahrar al-Sharqiyeh and Ahrar al-Sham, both affiliated to the Turkish army, exchanged fire in the village of Diki in Bolbol region, adding that at least three terrorists were killed in the infighting.
It further said that Ahrar al-Sham militants managed to escape from the village along with their family members on three vehicles carrying the villagers' assets the terrorists had stolen.
The source said that the Ankara-backed forces seized mobiles of the residents in Afrin's old neighborhood to avoid the spread of the news to other regions, Hawar news said, adding that the occupiers and their allied militants have been continuing looting people's assets, assassination and detention of tens of civilians to blackmail their families.
Hawar News reported on Thursday that the Kurds destroyed a military vehicle of Ankara-backed fighters in the village of Dikmadash in Afrin, killing and injuring at least 4 of them.
It added that a booby trap by Kurds in the village of Mariman in Shara region also killed 5 of the Turkey-backed militants, smashing their military vehicle.
The Kurdish forces also launched military operations in Jandaris-Afrin road, killing one fighter affiliated to the Turkish army.
Full report at:
http://en.farsnews.com/newstext.aspx?nn=13970618000492
--------
Terrorists' Chemical Weapons Expert Escapes from Northwestern Syria to Turkey
Sep 09, 2018
The Arabic-language al-Mayadeen TV Channel quoted a well-informed source as disclosing that one of the commanders of Tahrir al-Sham that supervises chemical-armed missiles has escaped Jisr al-Shughour to Turkey.
It went on to say that the commander has left the terrorist group's missile unit for Turkey, but said the missiles are still stored in the village of Halouz in Jisr al-Shughour.
The TV channel said that the missiles have been armed with chemical warheads with a high degree of lethality.
Tahrir al-Sham, White Helmets and their foreign backers are preparing to stage a false-flag chemical attack in Northwestern Syria to later accuse the Damascus forces and pave the ground for the US-led coalition forces' raid on Syria ahead of the government forces' major operation in Idlib province.
Russian Defense Ministry's Spokesperson Igor Konashenkov said on Saturday that the military obtained "irrefutable" data that terrorist groups, including Al-Nusra Front and the infamous White Helmets met in Idlib province last week.
The Russian military revealed that the militants plotted the final scenarios for the chemical attacks that the Syrian army expected to make in the cities of Jisr al-Shughour, Saraqib, Taftnaz and Sarmin.
"Full readiness of all participants involved in the staging of the provocations is be ensured by the evening of September 8," Konashenkov stated, adding that the terrorists are to receive a "special" signal from some "foreign friends of Syrian revolution" to launch the operation.
The statement comes after earlier warnings from Moscow's that militants are preparing to stage a chemical attack in the Syrian province to give the Western coalition a pretext to strike Syria. In August, the Defense Ministry said that eight canisters of chlorine had been delivered to a village near Jisr al-Shughour city, and that a foreign-trained group of militants had also arrived in the area to simulate a rescue operation after the staged attack.
Full report at:
http://en.farsnews.com/newstext.aspx?nn=13970618000333
--------
Idlib's residents stuck between Syrian regime bombing and closed Turkish border
9 September 2018
While the Syrian government and Russian warplanes continue their air strikes on Idlib province in northwestern Syria, human rights organizations operating in the region, continue to call for the provision of humanitarian corridors, amid an atmosphere of anticipation among the residents who are stuck between the regime forces on one hand and Turkey on the other.
Amid the continuous shelling, Idlib residents are under great dangers obstructing their fleeing the region, in addition to deteriorating living conditions with lack of drinking water, fuel and medical services.
Hazem Dakl, a journalist who closely monitors the situation in the city said: "The situation in Idlib is not very clear, and the people are afraid. There is a de facto authority represented by Hay'at Tahrir Al-Sham (HTS) formerly known as al-Nusra Front, Determines the decision of peace and war, in what others bet on Turkey to save them from the impending military operation."
According to Dakl the "Regime is preventing the residents from leaving the city, in order to send them to camps to support its stance in the war it is waging."
This is in line with previous statements made by the Syrian ambassador to the United Nations, Bashar al-Jaafari, who said on Friday during the Security Council meeting on Idlib, that his government plans to evacuate civilians from combat zones, as happened in the past in Aleppo or al-Ghouta, in reference to what the Syrian opposition described as "a forced displacement operations in more than one area."
Turkey closes border with Syria
The Syrian local journalist added that "Turkey has shut down it border while its checkpoints along the border line with Syria prevent any infiltrations of residents to its territories, and if the regime military operations are escalated, we will be facing a real catastrophe as there is one million civilians in those areas, mostly are displaced from other regions in Syria."
Difficult living conditions
For his part, journalist Shadi al-Sayeed who is an Idlib resident living in a town bordering Turkey told Al Arabiya English that: "The living conditions in the city is extremely difficult" pointing out that "there is great fear among the residents of escalation in the bombardment, which already drove many of them to flee towards the Turkish border without being allowed in by the Turkish authorities to safety."
He said Turkey only allowed the entrance of wounded civilians..
Full report at:
https://english.alarabiya.net/en/features/2018/09/09/In-welcomed-move-Jeddah-mayor-places-women-in-prominent-roles-in-municipality.html
--------
Iraqi security forces bust five-strong terrorist cell in southern Kirkuk
Sep 9, 2018
Iraqi security forces have disbanded a terrorist group in the southern part of the country's oil-rich northern province of Kirkuk as government troops, backed by allied fighters from Popular Mobilization Units, are trying to purge the war-ravaged Arab country of the remnants of the Daesh Takfiri terrorist group.
Commander of the Federal Police Forces Lieutenant General Raed Shaker Jawdat told Arabic-language al-Ghad Press news agency that his forces arrested the terrorists on charges of planting explosive devices in the Arab Koi area of the province.
He added that the arrested Takfiris have been handed over to relevant bodies to undergo interrogation.
Daesh militants blow up crude oil pipeline in Kirkuk
Meanwhile, Daesh militants have blown up an oil pipeline near Qaradara village of Kirkuk province.
Idris Rafaat, head of the Kirkuk Asayesh (security) forces, told Kurdish-language Rudaw television news network that Daesh terrorists carried out the attack with two bombs.
Rafaat added that a large fire is still burning at the site, and that fire fighters are working to bring the blaze under control.
Iraqi Prime Minister Haider al-Abadi, who is also the commander-in-chief of Iraqi forces, pledged on June 30 to hunt down Daesh terrorists across Iraq after a series of attacks and abductions carried out by the terrorist group.
"We will chase the remaining cells of terrorism in their hideouts and we will kill them, we will chase them everywhere, in the mountains and the desert," Abadi said.
Abadi declared the end of military operations against Daesh in the Arab country on December 9, 2017.
On July 10 that year, the Iraqi prime minister had formally declared victory over Daesh in Mosul, which served as the terrorists' main urban stronghold in the conflict-ridden Arab country.
In the run-up to Mosul's liberation, Iraqi army soldiers and volunteer Hashd al-Sha'abi fighters had made sweeping gains against Daesh.
Iraqi forces took control of eastern Mosul in January 2017 after 100 days of fighting, and launched the battle in the west on February 19 last year.
Full report at:
https://www.presstv.com/Detail/2018/09/09/573671/Iraqi-security-forces-bust-fivestrong-terrorist-cell-in-southern-Kirkuk
--------
Mideast
Arab Coalition air raids kill 30 Houthi militiamen in Yemen's Saada
9 September 2018
At least 30 Houthi militiamen were killed in Yemen's Saada and al-Jawf following Arab Coalition air raids and artillery attacks on Sunday.
An Al Arabiya reporter said that the Yemeni army has made significant advances in Hajjah following the attacks on Houthi posts.
Another source in Saada said that the army also cleared out mines planted by the militias which were randomly paced across large areas of land.
This came after the forces of the 63rd Infantry Brigade in the Yemeni army, led by Brig. Yasser Majali, made significant field progress in the Baqim front north of Saada on Saturday.
The forces were able to liberate a number of villages and sites, after fierce battles with support from Arab Coalition air raids.
During the fighting, dozens of Houthis were killed and wounded, while dozens fled, and the army was able to liberate the villages of al-Saleh, al-Shraim and al-Matar.
https://english.alarabiya.net/en/News/gulf/2018/09/09/Arab-Coalition-air-raids-kill-30-Houthi-militiamen-in-Yemen-s-Saada.html
--------
Yemen's army kills dozens of Houthis in clashes in eastern Hodeidah
September 09, 2018
DUBAI: Dozens of Houthi militants were killed and many others wounded in a military operation launched by units of the Yemeni army, east of Hodeidah, Saudi state-news channel Al-Ekhbariya reported Sunday morning.
During the operation, the Amaliqa Brigades — captured several militants, including leaders, as well as weapons and equipment left behind by the fleeing militia, according to a statement on the Yemeni Armed Forces official website September net.
The army also announced that the Amaliqa Brigades opened safe routes for displaced civilians to leave the areas of Kilo 16 and Kilo 10.
The military source said a large number of families fled the area where their homes were at risk of cross fire, and were escorted to safe zones where they were given medical treatment and food.
Full report at:
http://www.arabnews.com/node/1369141/middle-east
--------
Yemeni army liberates 12 km of vital areas between Sanaa, Hodeidah
9 September 2018
Yemen's national army, backed by coalition forces, continue to advance in Hodeidah by reaching the Kilo 16 district as Houthi militias experience heavy losses in the strategic province.
A military source from the Amalqa (Giants) Brigades said that the Yemeni armed forces continued to move toward Kilo 16, which connects the capital Sanaa with the city of Hodeidah, having managed in the past hours to liberate vast areas estimated at 12 km in total area.
The source added that the military operation against the Houthi militias continued with direct support from coalition aircraft, where the fighters launched raids with targeted reinforcements and scattered sites of militias stationed in Kilo 16 which resulted in losses of Houthi equipment and lives.
Full report at:
https://english.alarabiya.net/en/News/gulf/2018/09/09/Yemeni-army-liberates-12-km-of-vital-areas-between-Sanaa-Hodeidah.html
--------
Yemeni naval forces destroy booby-trapped Houthi boat in the Red Sea
9 September 2018
Yemeni naval forces on Friday foiled a bombing operation in which Houthi militias were was planning to attack international shipping in the Red Sea with a booby-trapped boat.
A military source told Al Arabiya that an improvised explosive device was planted on the boat and was speeding on international waters in the Red Sea at speeds reaching more than 35 miles per hour.
The source said Houthi militias were attempting to attack an international trading ship but Yemeni naval forces were able to stop the boat and force it toward one of the uninhabited islands close by.
https://english.alarabiya.net/en/News/gulf/2018/09/09/Yemeni-naval-forces-destroy-booby-trapped-Houthi-boat-in-the-Rea-Sea.html
--------
Iran's IRGC confirms firing 7 missiles at Iraq-based terrorists
Sep 9, 2018
Iran's Islamic Revolution Guards Corps (IRCG) confirms that it has fired seven short-range missiles at a gathering of terrorist commanders in Iraq's semi-autonomous Kurdistan region.
"The missile unit of the IRGC's Aerospace Force in cooperation with the drone unit of the [IRGC's] Ground Force yesterday (Saturday) targeted the headquarters and a meeting of leaders of a criminal grouplet and a center for training affiliated terrorists with seven short-range surface-to-surface missiles," the IRGC said in a statement.
Following wicked actions taken by terrorist groups affiliated with the global arrogance from the Kurdistan region against Iran's border areas in recent months, the IRGC decided to counter and punish the aggressors, it added.
According to the statement, the IRGC's Ground Force managed to deal a heavy blow to numerous terrorist teams who sought to create insecurity and carry out acts of sabotage in the Iranian provinces of West Azarbaijan, Kordestan and Kermanshah.
The statement emphasized that the missile attack was carried out after the terrorist groups' ringleaders ignored serious warnings by officials of the Iraqi Kurdistan region about the Islamic Republic's determination to dismantle their bases and the necessity to end their aggressive and terrorist acts against Iran.
The decisive operation showed that the IRGC and other sections of Iranian Armed Forces as well as the intelligence and security institutions are "determined to safeguard borders and territorial integrity of the Islamic Republic of Iran and to defend high ideals and goals of the Islamic Revolution and will not allow terrorists recruited by the enemies' intelligence services to endanger the country's exemplary security."
In early August, the IRGC announced that it had disbanded a team of terrorists on the country's border with Iraq, killing 11 of its members.
The IRGC said that servicemen from its Hamzah Seyyed al-Shuhada's base had performed the operation.
Later in August, the IRGC Quds Force killed four members of a terrorist group during clashes in the country's southeastern border with Pakistan.
Full report at:
https://www.presstv.com/Detail/2018/09/09/573648/Missile-IRCG-Iraq-Kurdistan-terrorists-ground-forces
--------
Ministry warns Gaza hospitals to close after US cut funds
Sep 10, 2018
The Palestinian Health Ministry has warned that hospitals in Gaza could close within days due to shortage of fuel and subsequent power outages after the US decided to cut aid to the besieged enclave and the West Bank.
Ministry spokesman Ashraf al-Qidra said generators are about to shut in major hospitals in Gaza due to shortage of fuel, adding there is no response from related parties to solve the crisis.
Last Tuesday, the ministry warned of the collapse of medical services in hospitals in Gaza due to lack of fuel needed to run generators.
Home to nearly two million people, the Gaza Strip has a total of 13 hospitals and 54 primary health care centers that account for roughly 95 percent of all health services in the coastal enclave.
Gaza, which is grappling with an Israeli siege, has struggled with severe electricity shortages since 2006.
The director of a hospital in the occupied East Jerusalem al-Quds on Sunday warned that the US decision to cut $25 million in medical aid to Palestinians will have a "severe effect."
Bassem Abu Libdeh, the director of the Makassed hospital, said the US decision affects 40 percent of costs in the East Jerusalem al-Quds Hospital Network which includes a group of six hospitals.
The United States on Saturday said it would put the money toward "high-priority projects elsewhere," without specifying them.
According to the World Health Organization, the medical centers provide cancer treatment and other critical care for Palestinians to whom such medical assistance is unavailable in the occupied West Bank and the besieged Gaza Strip.
Abu Libdeh questioned the justification behind mixing political issues with medical and humanitarian issues.
According to the hospital's statement, the US aid cuts come as the "hospital is going through a suffocating crisis as a result of the lack of flow of financial aid, and the piling up of debts and funds held back by the Palestinian government."
The Palestinian Foreign Ministry said the latest aid cut would threaten the lives of thousands of Palestinians and the livelihoods of thousands of hospital employees.
"This dangerous and unjustified American escalation has crossed all red lines and is considered a direct aggression against the Palestinian people," the ministry said.
The US decision comes on the heels of previous cuts in aid for Palestinians.
On August 31, the US announced it would end all funding to the UN's agency for Palestinian refugees, known as UNRWA, a week after it cut over $200 million in aid for the West Bank and Gaza.
The fresh cut also comes after US President Donald Trump vowed to use the aid as a bargaining chip to force Palestinians to negotiate with Israel.
Ties between the US and the Palestinians deteriorated last December, when Trump declared Jerusalem al-Quds as the "capital" of Israel and announced plans to transfer the embassy from Tel Aviv to the occupied city.
The contentious move led Palestinian president Mahmoud Abbas to formally declare that the Palestinians would no longer accept the US as a mediator to resolve the conflict because Washington was "completely biased" towards Tel Aviv.
Trump made it clear during a phone call Thursday with Jewish leaders that the aid to the Palestinians would only resume if they agree to a deal with Israel.
"I stopped massive amounts of money that we were paying to the Palestinians and the Palestinian leaders. We were — the United States was paying them tremendous amounts of money," he said.
"And I'd say, you'll get money, but we're not paying you until we make a deal. If we don't make a deal, we're not paying. And that's going to have a little impact," Trump added.
However, the Palestinian Minister for Jerusalem al-Quds Affairs said the latest cuts were "not surprising at all" and pledged the Palestinians would not bend.
Full report at:
https://www.presstv.com/Detail/2018/09/10/573706/US-aid-cuts-Palestinian-health-care
--------
Turkey urges nations to form united front against US
Sep 9, 2018
Turkey has called on world nations to form a united front against the US which has imposed sanctions on Ankara, a close ally of Washington in the Middle East.
Turkish Treasury and Finance Minister Berat Albayrak said US President Donald Trump is using sanctions and tariffs to sabotage the economy of other countries.
"It is clearly in the interest of most countries to cooperate in resisting unilateral economic decisions by powerful actors that are motivated by narrowly defined national interests," he wrote in an article published on the Foreign Policy magazine.
"By acting together with Turkey now, other countries can also help it create a common strategy to avoid artificial crises in the future," read the article titled America Can't Be Trusted to Run the Global Economy.
The US has imposed sanctions on two Turkish ministers and doubled steel and aluminum tariffs, which have led to a sharp decline in Turkey's currency.
Washington took the punitive measures in protest at Ankara's detention of American Pastor Andrew Brunson, who has been accused of having links with terror organizations in Turkey.
The lira has fallen more than 40 percent against the dollar this year, driving up the cost of food and fuel and sending inflation soaring to 18 percent, its highest in a decade and a half.
The government ordered exporters last week to convert 80 percent of their foreign exchange revenue into lira. Turkey's exports totaled $157 billion last year, according to official data.
In his article, Albayrak said the chaos which has afflicted financial markets has nothing to do with economic fundamentals, adding the turmoil has been driven by Washington.
Last week, President Recep Tayyip Erdogan lashed out at the US for behaving like "wild wolves," saying Ankara would pursue non-dollar transactions in trade with Russia, Iran and other countries.
Governor of the Central Bank of Iran said on Saturday the Islamic Republic, Russia, and Turkey had agreed on a number of economic measures including the removing of the US dollar from their mutual transactions.
The agreement was made on the sidelines of a key trilateral summit on Syria held in Tehran on Friday and attended by Iranian, Russian and Turkish presidents.
Last month, Russia's Deputy Foreign Minister Sergei Ryabkov said Moscow was stepping up efforts to abandon the US currency in its transactions with other countries.
"The time has come when we need to go from words to actions and get rid of the dollar as a means of mutual settlements and look for other alternatives," Ryabkov said.
Like Iran and Turkey, Russia has been slapped with sanctions by the United States.That has prompted retaliatory measures by Moscow.
Leader of the Islamic Revolution Ayatollah Seyyed Ali Khamenei told President Vladimir Putin on Friday that US sanctions against Russia, Iran and Turkey create a strong common ground for expanding cooperation, including trade without using the US dollar.
Full report at:
https://www.presstv.com/Detail/2018/09/09/573613/Turkey-United-States-sanctions-Iran-Russia-dollar
--------
Turkish authorities detain 56 over alleged Gulen links
September 10, 2018
ISTANBUL: Turkish authorities detained 48 soldiers and eight others over alleged links to the US-based cleric who Ankara says orchestrated a failed 2016 coup against President Tayyip Erdogan, the Hurriyet newspaper said on Monday.
Those detained were among 89 people whose detention was ordered in an investigation by Istanbul prosecutors, it said.
Authorities have carried out such sweeps against suspected supporters of the cleric Fethullah Gulen on a regular basis since the failed coup of July 2016, in which 250 people were killed. Gulen denies involvement.
Turkey has detained 160,000 people and dismissed nearly the same number of civil servants since the putsch attempt, the UN human rights office said in March. Of that number, more than 50,000 have been formally charged and kept in jail during their trials. Turkey's Western allies have criticized the crackdown, which took place under the state of emergency declared shortly after the coup attempt and which remained in effect for two years until July 2018.
Full report at:
http://www.arabnews.com/node/1369596/middle-east
--------
North America
Boston Ahmadiyya Muslim Community Chapter Invites All to Unite and Honour 9/11 Victims
September 9, 2018
BOSTON–The Boston chapter of the Ahmadiyya Muslim Community will hold its annual blood drive on Sept. 11 in Boston to honor 9/11 victims.
The Community's chapters nationwide will participate in this campaign. The Boston Chapter invites all local community members to donate. This life-saving campaign hopes to collect 10,000 pints of blood nationally to help save as many as 30,000 lives.
Event: "Muslims for Life"® Blood Drive to Honor 9/11 Victims
When: September 11, 2018, 10:00 AM – 4:00 PM
Where: McCormack Building, 1 Ashburton Place, Boston, MA 02108 (next to the Massachusetts State House)
In 2011, memorializing the 10th anniversary of the tragic events of 9/11, the Ahmadiyya Muslim Community USA launched this campaign with the aim to collect 10,000 pints of blood across America in order to help save more than 30,000 lives. The campaign ran in over 200 locations and resulted in 11,803 pints being collected that year. To date, "Muslims for Life"® has held collected over 60,000 pints of blood and helped save well over 160,000 lives.
The Ahmadiyya Muslim Community is a reformist and fast-growing international movement within Islam. Founded in 1889, the Community spans over 200 nations with membership exceeding tens of millions. The Ahmadiyya Muslim Community USA, established in 1920, is among the first American-Muslim organizations.
http://indianewengland.com/2018/09/boston-ahmadiyya-muslim-community-chapter-invites-all-to-unite-and-honor-9-11-victims/
--------
US government 'misleads public' on Afghanistan war
09.09.2018
By Umar Farooq
WASHINGTON
American officials have continually issued misleading reports on their progress in Afghanistan after 17 years of war, giving a false impression of realities on the ground, according to the New York Times.
The Times said Saturday while the U.S. officials claim the Afghan government controls 56 percent of the country, in reality it only controls 29 percent.
The report also said Afghan security forces outnumber the Taliban by a ratio of 10 to 1 on the record, but this fails to show that one-third of the Afghan forces have left their positions without being removed from the payroll.
According to Department of Defense records, a total of 2,216 U.S. soldiers have died during Operation Enduring Freedom in Afghanistan. An estimate by the Center for Strategic and International Studies says the U.S. has spent just under $841 billion in Afghanistan since 2001.
However, even after spending all this money and effort into fighting the Taliban, military analysts say the Taliban control the majority of territory.
"The war has become more expensive, in current dollars, than the Marshall Plan, which helped to rebuild Europe after World War II. That investment has created intense pressure for Americans to show the Taliban are losing and the country is improving," read the report.
The U.S. has not only misled the public on the war in Afghanistan, but also on the living conditions of the country.
According to the Times' report, in 2010 the U.S. government pegged the life expectancy of the average Afghan citizen to be 63 years old, while in 2009 the World Health Organization reported it to be 48, citing a high number of high death rate in early childhood.
The Central Intelligence Agency (CIA) also disagreed with the U.S. government's estimate, predicting the life expectancy to be around 51 years old in 2017.
The report also showed that the U.S. denied that the Taliban had briefly taken control over the city of Ghazni in Southeastern Afghanistan last month.
Over the six day siege by the Taliban, in which they took control of most of the city except for a few government facilities, spokesman for the U.S. military in Afghanistan Col. Martin L. O'Donnell continually said the Afghan security forces had control over the city.
Full report at:
https://www.aa.com.tr/en/americas/us-government-misleads-public-on-afghanistan-war-/1250663
--------
US condemns violence against diplomats in Iraq's Basra
08.09.2018
The U.S. on Friday condemned violence against diplomats in the Iraqi city of Basra, which has been gripped by protests that have turned deadly in recent days.
State Department Spokeswomen Heather Nauert said in a statement that under the Iraqi constitution, the right to peaceful protest and the duty to protect public and private property go hand in hand.
"The United States condemns violence against diplomats, including that which occurred today" in Basra, said Nauert.
The statement comes after an angry mob stormed the Iranian consulate in Basra Friday evening before setting the building alight.
Only one day earlier, demonstrators attacked several government buildings in the city, including Basra's provincial headquarters and the state television broadcast building.
"We call on all parties, including security forces and protesters, to uphold the right of peaceful protest and to protect diplomats and their facilities," she added.
Since July 9, Iraq's Shia-majority central and southern provinces -- especially Basra -- have been rocked by protests to demand better public services, more job opportunities and an end to government corruption.
Full report at:
https://www.aa.com.tr/en/americas/us-condemns-violence-against-diplomats-in-iraqs-basra/1249592
--------
US warplanes drop phosphorous bombs on Syria: Russia
Sep 9, 2018
American warplanes reportedly drop phosphorous bombs on a village in the eastern Syria province of Dayr al-Zawr.
Vladimir Savchenko, the chief of the Russian Center for Reconciliation of the Opposing Parties in Syria, announced the development on Sunday, Russia's ITAR-TASS news agency reported.
"On September 8, 2018, two F-15 warplanes of the US air force delivered airstrikes on the settlement of Hajin with the use of phosphorous bombs. The airstrikes caused heavy fires. Information about casualties and damages is being verified," he said.
"The Russian reconciliations center warned that the use of munitions containing yellow phosphorus is prohibited by an additional protocol to the Geneva Convention of 1949," the agency added.
Last June, New York-based organization Human Rights Watch (HRW) similarly warned that a United States-led coalition purporting to be fighting the Daesh Takfiri terror group in Syria and Iraq was deploying white phosphorous bombs in the Arab countries. "No matter how white phosphorus is used, it poses a high risk of horrific and long-lasting harm in crowded cities like [Syria's] Raqqah and [Iraq's] Mosul and any other areas with concentrations of civilians," Steve Goose, the arms director at the HRW, said back at the time.
The ammunitions can cause extensive and deep second and third degree burns, while inhalation of the gas released by them potentially results in illness or death.
Washington and scores of its allies invaded Syria in 2014 under the pretext of battling the Takfiris. The coalition's presence persists, although Damascus and its allied countries defeated Daesh late last year.
Russia, which provides aerial back-up for Syria's counter-terrorism drive, has taken issue with the US-led operations on many occasions, blaming the coalition for its slow pace of fighting the terrorists, and even accusing it of assisting them in different ways.
Reports of the use of the banned ammunitions by the US come as Syria and Russia are engaged in concerted anti-terror operations in the northwestern Syrian province of Idlib.
Full report at:
https://www.presstv.com/Detail/2018/09/09/573686/Syria-United-States-phosphorous-bombs-Russia-Dayr-alZawr
--------
Europe
Muslim group calls for preacher linked to Trump to be denied UK visa
9 Sep 2018
Britain's leading Muslim organisation has called on the Home Office to refuse a UK visa to a prominent US evangelical preacher with links to Donald Trump and a track record of Islamophobic and homophobic statements.
Franklin Graham, the son of the evangelist Billy Graham, has been invited to preach at a Christian festival in Blackpool this month.
The preacher, who said Trump's election victory was evidence that "God's hand" was at work, has called Islam "evil" and "wicked", claimed Barack Obama's "problem is that he was born a Muslim" and said Satan was the architect of same-sex marriage and LGBT rights.
The Muslim Council of Britain has joined three MPs, including a government whip, in demanding the Home Office apply its criteria on hate speech to Graham's visa request.
The MCB said: "In the past the government has banned individuals whom they claim are 'not conducive to the public good'. Mr Graham's remarks are on record and clearly demonstrate a hatred for Muslims and other minorities.
"We would expect the government to apply its criteria here. If it does not, it will send a clear message that it is not consistent in challenging all forms of bigotry."
Fiyaz Mughal, the founder of Tell Mama, which monitors Islamophobia in the UK, said it was shocking that Graham was being given a platform. His views were "regressive and need to be challenged," he said.
Gordon Marsden, the Labour MP for Blackpool South, said he would write to Sajid Javid, the home secretary, this week to call for Graham to be denied a visa.
"It's perfectly possible for the government not to admit someone whose presence is not conducive to the public good," he said. "Graham's visit to Blackpool is likely to cause considerable offence."
Paul Maynard, the MP for Blackpool North and Cleveleys and a government whip, and Afzal Khan, the Labour MP for Manchester Gorton, have also opposed the visit.
Graham is scheduled to be the main speaker at the Festival of Hope, which opens at Blackpool's Winter Gardens conference centre on 21 September. The event has been organised by the Billy Graham Evangelistic Association and is backed by more than 30 local churches of various denominations.
Some churches in the area have objected to Graham's appearance. Nina Parker, the pastor of Liberty church, which welcomes LGBT worshippers, described Graham's presence as "extremely destructive" and said it was "causing division between churches and within churches".
The Blackpool Methodist Circuit said it "cannot support any preaching or teaching which promotes homophobia or is likely to be damaging to interfaith dialogue". It declined to support the festival "in the light of various comments made by Franklin Graham in the past".
The independent evangelical Crossgate church in Preston is one of several churches to have withdrawn support for the festival in recent months. "I believe Franklin Graham will come to teach the gospel, but many people are upset by his comments and I cannot stand by those comments," pastor Ron Farrington said.
Three Blackpool churches are to hold services specifically welcoming LGBT worshippers over the weekend of Franklin's visit, and a four-metre carnival model of Jesus wearing a rainbow sash will be paraded through the town centre.
In July, Blackpool Transport and Stagecoach scrapped adverts on their buses promoting Graham's appearance at the festival. Blackpool Transport cited "heightened tensions" and Stagecoach told the Guardian the adverts were not "consistent with our company values".
Blackpool council said it would forward representations and material it had received from opponents of Graham's visit to the Home Office.
"The council's position on these matters is robust and clear. We want to tackle discrimination, promote equality and increase respect and understanding between people regardless of their race, religion or sexual orientation or any such matter that can be subject to prejudice in our society," said councillor Maria Kirkland.
She said the council had a contractual obligation to the Billy Graham Evangelistic Association over its booking at the Winter Gardens, but it would make the association aware of the need to comply with UK law.
"If matters are brought to our attention that could constitute incitement to hatred, we will forward these to the relevant public authorities and should this be proved we will not hesitate to terminate this booking," Kirkland said.
The Anglican bishop of Blackburn, Julian Henderson, whose diocese includes Blackpool, said he held a "neutral position" about Graham's appearance at the festival, but neither he nor other members of his leadership team would attend the event.
He said: "I must be very clear … I do not support any kind of hate speech, including the language of Islamophobia, Christianophobia or homophobia. There is a difference between having a different point of view and expressing hate. Within the Christian ethic there is no room for hate of another person and I do not defend the use of such language."
The home secretary has the power to exclude an individual whose presence in the UK is not considered conducive to the public good or if their exclusion is justified on public policy grounds.
The Home Office declined to comment on Graham's visa application. The Festival of Hope did not respond to a request for comment.
https://www.theguardian.com/world/2018/sep/09/muslim-council-insists-evangelical-preacher-franklin-graham-be-denied-uk-visa
--------
Seven injured in Paris knife attack, terrorism not suspected
September 10, 2018
Seven people were injured in a knife attack in central Paris late Sunday but police said that terrorism was not suspected.
Two British tourists were among those injured, broadcaster BFMTV and Le Parisien newspaper reported.
Authorities were trying to determine if the attacker, who was arrested, is among the seven injured.
An overnight police press officer said the attack took place near a cinema in the 19th district of Paris. The officer had no information about the identities of the injured. The Paris prosecutors' office is handling the investigation.
The reports said the man was armed with a knife and a metal bar, and first attacked three people outside the cinema.
https://indianexpress.com/article/world/seven-injured-in-paris-knife-attack-terrorism-not-suspected-5347856/
--------
European media covers Turkey's call for truce in Idlib
08.09.2018
LONDON
Turkey's call for an immediate cease-fire during Friday's trilateral summit with Russia and Iran and the humanitarian crisis have been widely covered by European media outlets.
British channel Sky News said in its news about the Tehran summit: "Russian President Vladimir Putin and Iran's President Hassan Rouhani pushed back against Turkey's Recep Erdogan's call for a truce."
Underlining that Turkey -- a country that has given refuge to 3.5 million Syrians since the start of the civil war -- would face a new flow of refugees if Syria's Idlib is targeted by armed forces, British channels said north-western Idlib province and surrounding areas are home to about three million people, nearly half of them civilians displaced from other parts of Syria.
Speaking at a joint news conference with Putin and Rouhani, Erdogan said it is important to end bombardments in Syria's Idlib and ensure cease-fire.
"If we can declare a cease-fire here, it will be one of the most important steps of the summit, and it will relieve the civilians," Erdogan said.
Under the headline "Russia rejects Turkey's calls for Idlib truce", BBC said: "Russian President Vladimir Putin has rejected Turkey's calls for a truce to prevent a 'bloodbath' in north Syria."
"The three-way meeting in Tehran had been seen by many as a final chance to prevent a large-scale battle in Idlib," it said.
The Times reported that Russia and Iran rejected a truce despite Turkey's warning of a bloodbath in the region.
The Guardian said: "Russia's Vladimir Putin and Iran's Hassan Rouhani openly clashed with Turkish president" over the proposed truce during the closing press conference.
"It is unclear whether Russia will now order Syrian government forces to pause in the face of Erdogan's resistance, and growing warnings from the west of a humanitarian disaster if a full-scale military escalation goes ahead," the paper said.
Greece
Greek media also widely covered the summit and underlined the rejection of Turkey's cease-fire call by Russia and Iran.
Greek daily To Vima said Putin rejected Erdogan's call for a cease-fire because the Al Nusra group in Idlib was not present at the summit.
Kathimerini pointed out that the summit failed to produce any concrete steps. It said hopes to stop a new bloody clash in Syria were fading.
Austria
Austrian state television ORF said "Idlib's future is still uncertain" as the joint conference by Erdogan, Putin and Rouhani failed to make a firm statement on stopping any attacks on Idlib.
Austria's Kurier daily shared with its readers Erdogan's message: "If the world turns a blind eye to the killing of tens of thousands of innocent people to further the regime's interests, we will neither watch from the sidelines nor participate in such a game."
The daily reported Erdogan as saying "the Idlib question must be resolved in line with the spirit of Astana and without giving rise to pain, new tensions or more suffering".
Germany
German daily Deutschlandfunk covered the summit with a headline, which also pointed to the lack of a concrete result.
It underlined that Erdogan urged for a cease-fire in the summit and said the region would turn into a bloodbath if the Syrian regime attacked Idlib; however, Russian and Iranian leaders rejected this call as they supported the Syrian regime.
Die Zeit newspaper said Putin and Rouhani are in favor of an assault in Idlib to beat terrorism in the region.
Der Spiegel magazine quoted Putin as saying Russian Air Force were bombing separatists in Idlib and rejected Erdogan's cease-fire request.
It also said Putin pointed out in the summit that Syrian President Bashar Al-Assad needed to get full control of his country.
The Netherlands
Full report at:
https://www.aa.com.tr/en/europe/european-media-covers-turkeys-call-for-truce-in-idlib/1250130
--------
Two Afghans detained on suspicion of killing man in east Germany — police
September 09, 2018
BERLIN: A 22-year-old German man died overnight in the eastern town of Koethen and two Afghans have been detained on suspicion of killing him, the police and the public prosecutor's office said on Sunday.
"In this context, two Afghans were provisionally detained on suspicion of homicide," the police and the public prosecutor's office said in a short statement.
"Interviews and investigations are continuing and are being conducted in all directions," they added. "The reasons for, and concrete circumstances of, the incident are not yet known."
Germany has been shaken by the most violent right-wing protests in decades after the Aug. 26 killing of another German man in the city of Chemnitz, southeast of Koethen, for which two asylum seekers — a Syrian and an Iraqi — were arrested.
The country is deeply divided over Chancellor Angela Merkel's 2015 decision to allow in over a million migrants, many of them refugees from wars in Syria, Iraq and Afghanistan.
A row over the veracity of reports that supporters of the far right hounded migrants in Chemnitz has inflamed tensions over immigration in Merkel's 'grand coalition' only two months after she reached a truce with her Bavarian sister party on the same issue.
Full report at:
http://www.arabnews.com/node/1369261/world
--------
South Asia
PM Hasina wants specific steps to put pressure on Myanmar to take back Rohingyas
2018-09-09
The prime minister repeated the call at the inaugural programme of the Islamic Development Bank Group Regional Hub at Hotel Radisson Blu in Dhaka on Sunday.
"We have given shelter to them on humanitarian grounds, but Myanmar has to take them back," she said.
"We are standing strong in the face of this crisis despite the negative impact on own resources, ecology and local population. We have opened our border to give shelter to a huge number of Rohingya Muslims."
About 700,000 Muslim Rohingya refugees have fled to Bangladesh since the military launched a crackdown in Myanmar's western Rakhine state in response to insurgent attacks on security forces last August.
About 400,000 Rohingyas had come to Bangladesh at various points in the past few decades before 2017's army crackdown began.
Under pressure from the UN and other international organisations, Myanmar agreed to sign an agreement with Bangladesh last December to repatriate hundreds of thousands Rohingyas. Myanmar has yet to begin the repatriation process.
"Myanmar never opposed us during discussions of repatriation, but the reality is different. They have not come forward to implement the agreement," Hasina said at a recent media briefing in Dhaka.
The prime minister urged the international community to keep up the pressure on Myanmar to implement the agreement. She also urged the IDB president to support the Rohingya people and to ensure their rights and safety are secured.
She also urged the IDB president to invest more to help Bangladesh cope with the challenge of climate change.
The government has taken some measures under the 'Bangladesh Climate Change Strategy and Action Plan' to mitigate and adapt to adverse climate change conditions in Bangladesh, she said. The country also has a 'Bangladesh Climate Change Trust' under the supervision of the Ministry of Environment and Forest.
Hasina said the Bangladesh government has a proposed nationwide investment plan (2016-2021) to review the demands of investment, the current situation and shortages in the sector of the environment, forests, and climate change, which needs a capital of $11.7 million to implement.
"A total of $4.7 million has already been invested from several international and national sources," Hasina said. "We need help from the IDB to make up for the remaining $7 million."
https://bdnews24.com/bangladesh/2018/09/09/pm-hasina-wants-specific-steps-to-put-pressure-on-myanmar-to-take-back-rohingyas
--------
Mortar attack leaves 12 members of a family dead, wounded in Helmand
Sep 10 2018
At least twelve civilians, all members of a single family, were killed or wounded in a mortar attack in southern Helmand province of Afghanistan.
Provincial governor's spokesman Omar Zwak confirmed the incident and said six civilians were killed in the attack.
Zwak further added that the incident took place at around 9pm local time in the restive Greshk district.
According to Zwak, a mortar round landed on a residential house in the vicinity of Yakhchal area, leaving at least six dead and six others wounded.
He also added that the women and children are among those killed or wounded and all victims belong to the same family.
No individual or group has so far claimed responsibility behind the attack.
Full report at:
https://www.khaama.com/mortar-attack-leaves-12-members-of-a-family-dead-wounded-in-helmand-05925/
--------
President Ghani met with the British Special Envoy for Afghanistan and Pakistan
Sep 10 2018
President Mohammad Ashraf Ghani met with the British Special Envoy for Afghanistan and Pakistan in Kabul on Sunday, the Presidential Palace said.
According to a statement released by the Office of the President, ARG Palace, said President Mohammad Ashraf Ghani and the British Special Envoy for Afghanistan and Pakistan Gareth Bailey met in Gul Khana Palace in ARG Presidential Palace on Sunday evening.
The statement further added that the two sides held talks on some key issues of mutual interest and as well as the regional issues.
According to ARG Palace, Mr. Bailey conveyed the best wishes of the United Kingdom to Afghanistan and the Afghan nation.
Full report at:
https://www.khaama.com/president-ghani-met-with-the-british-special-envoy-for-afghanistan-and-pakistan-05924/
--------
Suicide attack reported in Taimani area of Kabul city
Sep 09 2018
An explosion targeted the convoy of the supporters of late Ahmad Shah Massoud in Kabul city this afternoon as they were marking the Week of Martyrs.
The Ministry of Interior (MoI) in a statement said at least 7 people have been killed and at least 24 others have sustained injuries in the attack.
Kabul police spokesman Hashmat Stanikzai had earlier said the attack was carried out by a suicide bomber riding a motorcycle.
Stanikzai further added that two people have been have been killed and 9 others have sustained injuries, citing preliminary reports.
Another source had earlier said the attack has left at least four dead and at least 17 others have sustained injuries.
No individual or group has so far claimed responsibility behind the incident.
Full report at:
https://www.khaama.com/suicide-attack-reported-in-taimani-area-of-kabul-city-05922/
--------
At least seven killed in blast near procession in Afghan capital
9 September 2018
At least seven people were killed and 25 wounded on Sunday when a suicide bomber on a motorcycle detonated explosives near a procession in Kabul commemorating the death of former anti-Soviet mujahideen commander Ahmad Shah Massoud, a government official said.
Police said the suicide attack came hours after another suspected suicide bomber was shot by police in Kabul before he could detonate his device.
Government spokesman Wahid Majroh said that seven bodies and 25 injured people were taken to the hospital from the attack site.
Earlier, gunfire could be heard across the city as demonstrators fired automatic weapons in aggressive displays of support for Massoud, an ethnic Tajik leader who was killed by suicide bombers in 2001.
At least 13 people were injured by gunmen firing their weapons into the air in defiance of a ban on celebratory gunfire, officials said.
With parliamentary elections approaching next month and rivalry between Afghanistan's ethnic groups on the increase, the annual commemoration day for Massoud has created a tense atmosphere in Kabul, where major roads were blocked by police.
Full report at:
https://english.alarabiya.net/en/News/world/2018/09/09/At-least-seven-killed-in-blast-near-procession-in-Afghan-capital.html
--------
Africa
Sudan's Bashir dissolves govt, appoints new ministers
9 September 2018
Sudan's President Omar al-Bashir has decided to dissolve the country's national reconciliation government, Al Arabiya News Channel can confirm.
Instead, Bashir has reduced the number of ministries under a newly formed government to 21 portfolios.
Among the changes included the appointment of Moataz Mousa as prime minister and Sadiq Ahmed al-Nile as successor to Ibrahim Mahmoud as interior minister.
Bashir's decision to fire the entire cabinet comes as Sudan faces a growing economic crisis, with inflation surging to more than 65 percent.
The cost of food items and other products has more than doubled over the past year, while the foreign currency market has seen the Sudanese pound plunge against the US dollar.
Sudan's economic crisis was highlighted for the first time in April when then foreign minister Ibrahim Ghandour announced in parliament that he had been unable to pay salaries to his staff for months due to shortage of funds. He was immediately sacked.
https://english.alarabiya.net/en/News/middle-east/2018/09/09/Bashir-dissolves-Sudan-s-government-of-national-reconciliation.html
--------
No Plan to Islamise Nigeria, Buhari Tells Catholic Bishops
September 9, 2018
By Mohammed Aminu in Sokoto
President Muhammadu Buhari has said that there is no plan whatsoever to Islamise Nigeria, contrary to the propaganda and narrative that has taken root in some quarters and churches across the country.
Speaking at the Catholic Bishops Conference of Nigeria (CBCN) in Sokoto Sunday, Buhari asserted that there was no credible fact to indicate that the present administration was out to Islamise Nigeria.
He noted with dismay that such negative propaganda and innuendos were being promoted by outsiders and finds narrative in the churches across the country.
According to him, such religious propaganda has created suspicion and distrust leading to division and disharmony among Nigerians.
Buhari emphasised that such negative propaganda being propagated by outsiders included the membership of Nigeria to the Organisation of Islamic Conference, introduction of Shariah in Northern states, the Boko Haram insurgency as well as farmers/herdsmen clashes.
Buhari, who spoke through the Secretary to the Federal Government (SGF) Boss Mustapha, blamed politicians for using religion as a tool to spread hate and division among the people.
He pointed out that these four issues had been in existence for decades and even preceded the present administration.
"It is pertinent to note that due to circumstances we found ourselves as a nation, suspicion on religious grounds has almost destroyed the fabrics of unity and love that binds us.
"There has been a lot of negative propaganda being instigated by outsiders and finds narrative in the church that there is a plan to Islamise Nigeria without any credible fact.
"The issue of membership of Nigeria to Organisation of Islamic Conference, Shariah and farmers/herdsmen clashes had created a lot of suspicion in the minds of the people despite the fact that the problems had existed in the country for several decades," he said.
Buhari noted that both Christian and Muslim religious leaders had been victims of killings in some parts of the country.
He said that the federal government was committed to securing the lives of the citizens.
"I assure all Nigerians that criminals would be fished out and dealt with. The federal government will continue to provide a safe society for everyone.
"The fight against the Boko Haram insurgency is achieving the desired goal while efforts are being made to tackle myriad of challenges in the polity," he stressed.
The president expressed optimism that Nigeria would rise again, despite the
myriad of challenges bedevilling it.
He stressed the need for the church, especially Catholic bishops to rise up to the occasion and educate the people on the negative propaganda being spread by politicians in order to achieve their
selfish aims.
"As you round off this conference, I urge you to go back to your various communities and preach a message of hope, reconciliation and peace," he added.
In a remark, the President of the Catholic Bishops' Conference Augustine Akubueze said the bishops were in Sokoto to deliberate on issues affecting the church and the nation, as well as advise Nigerians to make informed decisions ahead of 2019 elections.
He called on Nigerians not to despair, despite the challenges bedevilling the country, stressing that only those who confronted their challenges achieve the desired goals.
Akabueze cautioned youths against engaging in fraudulent acts but
should uphold the virtues of honesty.
He also warned politicians to desist from using religion and ethnicity to divide Nigerians.
"We want to use this medium to warn politicians who are instigating hatred and division by using religion and ethnicity to desist forthwith.
"We say to these politicians enough of your deceit. They steal our money while they distract us with religion," he lamented.
He called on the federal government to do more in order to bring an end to the conflict between herdsmen and farmers in the country.
The Apostolic Nuncio of Nigeria, Monsignor Antonio Filipazzi, harped
on peaceful coexistence and urged the federal government to put an end
to violence ravaging some parts of the country.
He said the people should rather give priority to peace and dialogue among various religious and ethnic groups.
The Sultan of Sokoto, Alhaji Muhammad Sa'ad Abubakar III, urged the bishops to redouble their efforts towards promoting peace and mutual understanding among various religious groups in the country.
The Sokoto State Governor, Alhaji Aminu Tambuwal, stated that Islam and
Christianity preach peace, adding that Nigerians should go back to study
the scriptures.
"It is high time for us to go back to our holy books. I believe if we study the scriptures, we will be able to understand that there is no reason to pick sticks and swords to fight one another," he said.
He maintained that churches and mosques must redouble their efforts in
character formation of the youths and should not abdicate their role.
The Governor of Plateau State, Mr. Simon Lalong, described peace as a
prerequisite for development and commended the bishops for choosing
Sokoto to host the conference.
Full report at:
https://www.thisdaylive.com/index.php/2018/09/09/no-plan-to-islamise-nigeria-buhari-tells-catholic-bishops/
--------
Protest against detention of Nigerian religious scholar Sheikh Zakzakay
SEPTEMBER 10, 2018
Residents of the city gathered outside the Karachi Press Club (KPC) on Sunday to protest against the detention of Sheikh Ibrahim Yaqoub Al Zakzaky, a prominent Nigerian religious scholar, by the government authorities in Nigeria.
The protest was organised under the banner of Free Sheikh Zakzaky Pakistan, and was held as part of a global protest to mark 1000 days of illegal detention of the Sheikh Zakzaky.
Similar protest were also held in Malaysia, Indonesia, Turkey, USA, UK, Iran, Iraq, India, Nigeria, Australia, and Switzerland between September 7 to September 9.
The protest was attended by citizens who came from all fields of life. The protesters chanted slogans against the Nigerian government and called for the immediate release of the scholar.
According to the protestors, the Nigerian military had attacked Sheikh Zakzaky and his followers on multiple occasions and killed six of his sons. They said that the military had injured the scholar and his wife during one of their raids and the couple had been arrested and detained since December, 2015.
The protestors also pointed out that Nigerian High Court had ordered the release of Sheikh and his wife in December, 2016 and ordered payment of compensation to them but the Nigerian government had refused to abide by the court order. The protestos said that this action of the Nigerian government had made the scholar's detention illegal, even under Nigerian Law.
Full report at:
https://dailytimes.com.pk/295589/protest-against-detention-of-nigerian-religious-scholar-sheikh-zakzakay/
--------
Boko Haram overruns key crossroads town in northern Nigeria
Sep 8, 2018
MAIDUGURI, Nigeria — Boko Haram extremists have overrun a key crossroads and military outpost in northeastern Nigeria, residents and authorities said Saturday. Gudumbali is a town to which just months ago the government encouraged thousands of displaced people to return.
The attack highlights the difficulties Nigeria's government has faced in trying to reassure well over 1.5 million people displaced by the deadly Islamic insurgency that it is winning the nearly decade-long fight against Boko Haram. It is a major challenge for President Muhammadu Buhari as elections approach next year.
The deputy governor of Borno state, Usman Durkwa, confirmed the attack on a military base in Gudumbali but "I am yet to get the number of casualties" from security forces.
The extremists attacked on Friday afternoon, said the Borno state secretary of the self-defense hunters association, Bunu Bukar.
"Suddenly, I saw people running all over the place shouting, 'They have come! They have come!'" resident Umara Modu told The Associated Press. "I saw the attackers right inside our town but, surprisingly, they told us to calmly take our property and move out because we are not the target."
He said about half the town's population fled as the extremists entered without resistance.
"I will never go back to Gudumbali again, no matter the assurance, because we went back after the military authority and the Borno state government promised us adequate security," Modu said.
Security forces had no immediate comment.
The fighters are thought to be with the Boko Haram faction under Abu Mus'ab al-Barnawi that has the backing of the Islamic State organization. That faction, also called the Islamic State's West Africa Province, claimed responsibility but announced no deaths, saying the military fled and that tanks and other vehicles and weapons were destroyed or seized, according to the SITE Intelligence Group, which monitors extremist groups' statements.
Gudumbali was the site of one of the deadliest encounters in the fight again Boko Haram, with scores of soldiers killed in 2015.
The town also was among the first communities targeted in a military operation launched earlier this year to return people displaced by Boko Haram to their homes in Nigeria's northeast with the goal of resuming normal life.
Thousands of people were returned to Gudumbali alone in recent months after spending years in displacement camps in the Borno state capital Maiduguri, the deputy governor said.
Full report at:
https://billingsgazette.com/boko-haram-overruns-key-crossroads-town-in-northern-nigeria/article_631530cd-4bfd-5622-a87a-44fcf862794e.html
--------
URL: https://www.newageislam.com/islamic-world-news/is-sharmila-tagore-mansoor-ali/d/116335
New Age Islam, Islam Online, Islamic Website, African Muslim News, Arab World News, South Asia News, Indian Muslim News, World Muslim News, Women in Islam, Islamic Feminism, Arab Women, Women In Arab, Islamophobia in America, Muslim Women in West, Islam Women and Feminism