New Age Islam News Bureau
19 Jul 2014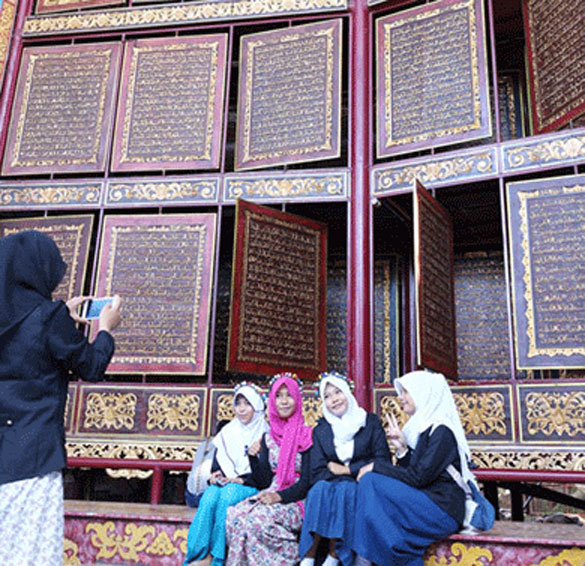 Photo: Muslims flock to see giant wooden Qur'an in Indonesia
--------------
Arab World
• IS Offer: SR1, 000 to Marry a "Jihadist
• ISIS in Control Of '35 Percent' Of Syrian Territory
• Egypt's Gaza Truce Move Highlights Bid To Break Hamas
• In Iraq and Syria, ISIS Juggles Shariah, Services and Overreach
• Death toll rises to 19 after car bombs hit Iraqi capital
• 'Don't let extremists brainwash you': Saudi Imam
• Morsi's fugitive son arrested at Egypt train station
• Jihadist ultimatum sparks Christian exodus from Iraq's Mosul
• 17 Imams Face Probe For 'Not Condemning Sharura Raid' In Their Friday Sermons
• Iraqi Kurdish foreign relations head outlines independence plan
• Militants storm Iraqi air base: Military
• In Iraq, Syria, militants try to govern as a state
• Islamic World's first eco-friendly mosque opens in Dubai
Europe
• UN Accuses IS Militants of Executions, Rape, Forced Child Recruitment in Iraq
• Rights Group Warns Iraq Jihadists Want To Eradicate Minorities
• Increase in Kyrgyz militants abroad alarms authorities
• Outrage as France bans pro-Palestine demonstrations
• Photographer highlights plight of Italian Muslims
• Ramadan bolsters social solidarity among Hungarian Muslims
• UN chief Ban heading to Mideast in Gaza peace bid
• Video emerges of missile launcher heading for Russia minus 2 rockets
Pakistan
• Political, Economic Terrorism Hold 180m Pakistanis Hostage: Jamaat-E-Islami
• US Drone Strike Kills Eleven In Northwest Pakistan
• PPP won't let Nawaz govt rock democracy boat
• Registration of dislocated persons of N. Waziristan completed
• Tribesmen start returning home in Bajaur
• Kashmir root of all disputes with India, says Pakistan's HC to Inida
• Blast in Khuzdar kills one, injures 14
South Asia
• 33 militants killed, 28 others injured in Afghan army operations
• Bangladesh Islamist group threatens human rights organisations
• US drone strike leaves 4 militants dead in Kunar province
• 6 Afghan army soldiers martyred in separate IED attacks
• Bangladesh: Terrorist killed in Jessore 'gun battle'
• ISI and Haqqani Network behind attack on Kabul airport: Afghan official
Mideast
• Israeli military thrust into Gaza sows terror, defiance
• Israel steps up Gaza offensive, Hamas fires more rockets
• Turkey PM slams Egypt's 'illegitimate tyrant' Sisi
• Israel advises citizens to avoid Turkey amid Gaza protests
• Israel using 'poisonous gas' in Gaza incursions
• Israel's Gaza onslaught triggers Al-Aqusa clashes
• Abbas asks France to lobby Hamas for Gaza truce
Africa
• Suicide bomber kills six in attack on anti-Shebab leader
• Several villagers killed in Boko Haram attack
• At least two dead in attack on Kenyan coast: Police
• S. African Nobel laureate Tutu likens Gaza crisis to apartheid
• Freedom still eludes Tripoli militia chiefs
India
• Pakistan denies any prior knowledge of Vaidik-Saeed meeting
• Unity key factor in Muslims' success: Akbaruddin Owaisi
• Opposition disrupts Rajya Sabha seeking debate on Gaza violence
• Surat blasts: Eid comes early for the families of five acquitted
North America
• U.S. condemns religious and ethnic prosecution by ISIL in Iraq
• Al Qaeda may return, warns US general
• Gaza conflict: Obama warns Israel amid rising death toll
• US: Myanmar sentencing journalist sends a 'wrong message'
• MH17 shooting: Obama condemns Russia, gunmen hamper inquiry
• US cautions Israel on civilian casualties
Southeast Asia
• Muslims flock to see giant wooden Qur'an in Indonesia
• Malaysia 'not ready to accept this after MH370'
• For PAS's MP, doing the right thing is not easy
• Yudhoyono Urges Immediate End to Gaza Strife
Compiled by New Age Islam News Bureau
URL: https://www.newageislam.com/islamic-world-news/new-age-islam-news-bureau/is-offer--sr1,-000-to-marry-a-"jihadist/d/98201
-----------
Arab World
IS Offer: SR1, 000 to Marry a "Jihadist
19 July 2014
Members of the Islamic State (IS) are using false Twitter accounts to lure donations to their cause.
Several hashtags have been uncovered by cyber experts in online fund-raising, prompting them to discover at least two fund-raising accounts, one under the name "Heba" and another, "Wameedh Qalam," telling donors that it would cost them SR1,000 to marry a "jihadist." The Ministry of Interior has consistently warned against funding terrorist groups, promising a 10-year prison term and a SR5 million fine if funding charges prove true.
Another Tweet urges readers to donate through an open door for good deeds. Abdulaziz Al-Zamil, reiterated that funding terrorism is a big crime that entails detention.
"The Specialized Criminal Court considers such crimes to fall under the anti-cybercrime law," he said.
"These crimes include raising funds or allocating and transferring money to an individual or collectivity involved in terrorist activity, whether inside the Kingdom or abroad.
http://www.arabnews.com/news/604216
-----------
ISIS in control of '35 percent' of Syrian territory
19 Jul 2014
The Islamic State of Iraq and Syria (ISIS) is now in control of 35 percent of the Syrian territory following a string of victories, the London-based Syrian Observatory for Human Rights said Friday.
ISIS holdings include nearly all of Syria's oil and gas fields, the monitoring group said in a statement.
One of the latest gains of the self-proclaimed "caliphate" was the seizure of the country's biggest oil fields, in Deir el-Zour in eastern Syria, earlier in the week.
Deir Ezzor borders Homs province as well as Iraq, where the jihadist group has spearheaded a major Sunni militant offensive that has seen large swathes of territory fall out of the Baghdad government's control.
'Biggest ISIS operation'
Meanwhile, jihadists have killed 270 Syrian regime fighters, civilian security guards and employees since seizing a gas field in Homs province, the Observatory added, according to Agence France-Presse.
The London-based group described Thursday's takeover of the Shaar field as "the biggest" anti-regime operation by the ISIS since it emerged in the Syrian conflict a year ago.
The watchdog said it had documented "the death of 270 people killed in the fighting or executed" since Thursday.
"A large majority of the men killed were executed at gunpoint after being taken prisoner following the takeover of the camp," Rami Abdel Rahman, the Observatory director said.
"Eleven of the dead were civilian employees, while the rest were security guards and National Defence Forces members," he added.
A counter-attack by Bashar al-Assad's forces on Friday left 40 ISIS militants dead, Abdel Rahman said.
The fate of nearly 100 people who worked at the site remained unknown, according to earlier figures released by the Observatory.
Abdel Rahman condemned the deaths of the 270 Syrian regime fighters.
"The Observatory condemns summary execution as a war crime, regardless of which side it is committed by in the Syrian conflict," he said.
"Summary execution is a war crime -- whether of civilians or combatants. They are prisoners of war and must not be executed."
The Syrian government did not officially confirm the deaths, but supporters of Assad posted photographs of the dead, and described their killings as a "massacre".
One pro-regime Twitter user wrote: "Thirty martyrs were brought to Homs hospital from the Shaar gas field... Homs is still bleeding."
Gruesome footage apparently recorded by the jihadists at the gas field and posted on YouTube showed dozens of bodies, some of them mutilated, strewn across a desert landscape.
One video shows a jihadist posing with the bodies as he speaks in German interspersed with religious terms in Arabic, seemingly celebrating the killings
http://english.alarabiya.net/en/News/middle-east/2014/07/19/270-Syrian-fighters-killed-in-biggest-ISIS-operation-.html
-----------
Egypt's Gaza truce move highlights bid to break Hamas
World Bulletin/News Desk
19 Jul 2014
Egypt's attempts to pressure Hamas into accepting a truce plan offering few concessions for the group to end the latest fighting with Israel show Cairo's determination to finish the job it began at home - crushing Islamic movements it sees as a threat.
Egypt has always regarded itself as the most effective mediator in the Israeli-Palestinian conflict.
This time Cairo was slow to react to warfare in Gaza and when it did its ceasefire proposal appeared designed to isolate Hamas - an offshoot of Egypt's outlawed Muslim Brotherhood - rather than secure an immediate end to the bloodshed.
Hamas leaders complained that they were frozen out of talks and not consulted on the Egyptian initiative, and that it did not address their demands, such as an end to an economically crippling blockade of Gaza by Israel and Egypt.
Egypt's army toppled President Mohamed Mursi of the Muslim Brotherhood - a close Hamas ally - a year ago and then mounted one of the fiercest crackdowns on Islamic activists seen in decades.
Security forces killed hundreds in the streets and jailed thousands of others. Egypt has declared the Brotherhood and Hamas terrorist groups, and its regional foreign policy has since focused mostly on national security.
"With a history of mistrust and suspicion, how could anyone imagine that we would open our doors to Hamas and treat them like legitimate rulers while all that we have seen from them was terrorism?" said a senior Egyptian official.
"But Egypt could not stand still and watch the killings in Gaza, so we needed to propose an initiative, a political move to show we exist and we care about ending the bloodshed."
As Israel bombarded Gaza and Hamas launched rockets against Israel, Egypt put forward a ceasefire initiative similar to one that doused a major flare-up in 2012 while Mursi was in power.
But Egyptian diplomatic manoeuvring left Hamas, which rejected the terms of the proposal, feeling like an outsider, while Israel accepted it.
Egypt did not speak directly to Hamas' Gaza-based leaders on the initiative, according to Egyptian security and Arab League sources Egypt's foreign ministry spokesman said Cairo contacted all Palestinian factions.
Egypt did agree to speak with Moussa Abu Marzouk, a Cairo-based member of Hamas' political leadership, but he is not part of the movement's inner circle.
SHARP SHIFT IN EGYPT'S HAMAS POLICY
Cairo's dealings with Hamas were in sharp contrast to 2012, when Mursi treated Hamas officials like heads of state.
"(Hamas leaders) wanted Egyptians to cross the border or invite them into Egypt to hold talks, but I am afraid that is not going to happen," an Egyptian Arab League diplomat said.
Now Egypt seems intent on squarely laying the blame for the rising Palestinian death toll in tiny, densely populated Gaza on Hamas, even though Cairo has said its aim is to stop Israeli aggression.
"If they don't want to agree to our truce proposal, so be my guests and see the condemnations they will get from the Arab world and all the world for standing still while their people are killed by the dozen daily," said an Egyptian security source.
On Thursday, Egyptian Foreign Minister Sameh Shukri said Hamas could have saved at least 40 Palestinian "souls" had they accepted Cairo's initiative.
Egypt condemned Israel's ground offensive operation, but not before first accusing Hamas, Qatar and Turkey of conspiring to undermine Cairo's efforts to bring about a ceasefire.
Egyptian President Abdel Fattah al-Sisi, meanwhile, met with his Palestinian counterpart Mahmoud Abbas for discussions on ways of ending the fighting which has killed 260 Palestinians, most of them civilians, since the conflict began on July 8.
The Western-backed Abbas had called for acceptance of the Egyptian proposal. Abbas struck a deal with Hamas in April that spawned the formation of a unity government.
As the fighting continues, Egypt will probably keep pressing all sides to accept its initiative so as to preserve its traditional role of being a Middle East broker.
Gaza political analyst Adnan Abu Amer accused Egypt of trying to freeze out Hamas from talks and then blaming it for the loss of Palestinian lives. "This is adding oil on fire, it is worsening tension between Hamas and Egypt," he said.
Giving Hamas prominence in any negotiations could help end the fighting. But that is unlikely to happen given the group is not in a position of strength. It no longer has strong alliances with Syria and Iran after having refused in 2011 to back the Tehran-backed Syrian president against rebels.
Gaza's economy is in a shambles and Hamas is suffering from a cash crunch, unable to pay its employees in Gaza for months.
Since it ousted Mursi, Egypt's military has squeezed Gaza's economy by destroying most of the 1,200 tunnels used to smuggle food, cars and weapons to the Mediterranean coastal territory.
"It is clear that the Egyptian authorities feel unease and uncomfortable when dealing with Hamas, which also does not trust the Egyptian government and which could make the fighting extend for longer," Egyptian political science professor Mustafa al-Sayyed said.
"Given the bad relationship between Hamas and Egypt now, Hamas will also be reluctant to make Egypt score a political gain by accepting its ceasefire initiative that provides nothing for Hamas but deprives it of the status it had during Mursi's time."
Hamas wants Israel and Egypt to lift border blockages that have compounded the economic misery of Gaza's 1.8 million people.
Egyptian security officials and diplomats told Reuters in January that Egypt had set up an intelligence-led, long term operation to crush Hamas that includes working with Hamas's liberal rivals and opponents' activities in Gaza.
Egypt now seems closer to Israel than it is to Hamas, which has been demonised by the Egyptian press. Azza Sami, a deputy editor of the state-run Al-Ahram newspaper, said in a tweet: "Thank you (Israeli Prime Minister Benjamin) Netanyahu, may God create others like you to destroy Hamas, the epitomy of corruption and betrayal and agents of the Brotherhood."
http://www.worldbulletin.net/headlines/140954/egypts-gaza-truce-move-highlights-bid-to-break-hamas
-----------
In Iraq and Syria, ISIS juggles Shariah, services and overreach
19 Jul 2014
BEIRUT: Across the broad swath of territory it controls bridging Syria and Iraq, extremist militants from the group known as ISIS have proven to be highly organized administrators.
Flush with cash, they fix roads, police traffic, administer courts, and have even set up an export system of smuggled crude from oil fields they control.
But the extremists – a mix of Iraqis and Syrians but also foreign fighters from Arab countries and non-Arab regions like the Caucasus – run the risk of provoking a backlash from the people they have come to rule.
Unlike Lebanon's Hezbollah or the Palestinian group Hamas, which have deep roots in their communities, ISIS is not a grassroots movement and its sway over its populations is ultimately based on violence, not necessarily a groundswell of support for its vision of a hard-line Islamic caliphate. While it has been welcomed by some disenfranchised Iraqi Sunnis as potential saviors from the Shiite-dominated government in Baghdad, many consider the group an alien entity.
In recognition of that, the organization has varied the imposition of the radical version of Islamic law they advocate.
In their main stronghold in Syria, the city of Raqqa, they have unleashed it without reserve, killing perceived offenders and cutting off the hands of thieves in public.
But in Iraq's second-largest city, Mosul, they have been more cautious, until a reported ultimatum delivered to Christians Friday, demanding that they convert to Islam. Prior to that, ISIS had banned alcohol and painted over street advertisements that show women's faces, while holding off temporarily on imposing strict punishments for what they consider to be wrong-doing.
The Iraqi city of Duluiyah is a prime example of the possibility for overreach. Weeks ago, a small group of ISIS fighters and other insurgents entered the Sunni-majority city just north of Baghdad and were welcomed by residents, said one resident, Jassim Mohammad. But within days, ISIS fighters came with lists of "wanted" men, including police officers and local businessmen.
That prompted an uprising by residents who forced the militants out, leaving the town under control of Sunni tribesmen, Mohammad said.
Sunday, ISIS fighters stormed back into Duluiyah, seizing the mayor's office, police station, local council and courthouse.
There has also been less dramatic pushback. In Mosul, the militants offered three local figures the post of governor of Ninevah – the province of which Mosul is the capital – and each refused, said Laith, a civil servant in the city who asked to be identified only by his first name for his own safety.
"People are worried that the [Iraqi] government might come back and that they would be punished for dealing with [ISIS]," he said.
The leader of the group appears to recognize that over the long-term his fighters are not governors. In an address after the June 9 fall of Mosul, Abu Bakr al-Baghdadi appealed to Muslims around the world with practical skills – scholars, judges, doctors, engineers and administrators – to flock to the regions his group controls to help build the state.
Over the past month, the group has consolidated its hold over an impressive stretch of territory, roughly 700 kilometers from end to end. From its western-most end on the outskirts of the Syrian city of Aleppo, it stretches across northern Syria and most of the east then bridges into most Sunni-dominated areas of northern and western Iraq up to the edges of Baghdad.
Among the first moves it took in parts of Syria that it captured were to set up various administrative departments staffed by its fighters and sympathizers: Islamic courts to settle disputes; "hisba" offices, which enforce Shariah rules; and "daawa" offices for proselytizing and spreading its ideology.
The showcase of the extremist group's vision is Raqqa, a city of 500,000 in northern Syria along the Euphrates River. There, the militants have banned music and smoking and forced women to cover up. They have killed violators of Shariah in the main square, including by beheadings, and have hung the bodies of some on crosses.
A photo posted online by the group this week showed fighters in the Syrian province of Hassakeh punishing residents who broke the Ramadan fast: The men knelt on the ground as fighters stood behind them with canes to lash them.
Another priority has been to provide services. In Raqqa, the group pays wages to city employees, rebuilt damaged power lines and has kept up water and electricity services. During the month of Ramadan, it has distributed food and other aid to residents in Raqqa, Iraq's Mosul and other areas.
Photos on Twitter posted by the group, which now calls itself the Islamic State, show men in the long beards and white robes favored by hardliners sitting behind a desk in a Raqqa mosque passing out cash to the poor. The men even have printed applications for the aid emblazoned with the group's logo and the title "Islamic State, Raqqa Province, Alms Administration." The photos correspond with the AP's own reporting from activists in the area.
Immediately after taking over Mosul, ISIS had power lines fixed, ensuring electricity for up to 18 hours a day until government forces blew up some towers, said Laith. Most state employees in Mosul have not been paid, but militants have promised to do so. Residents' biggest complaint has been severe fuel shortages since the takeover, Laith said.
More recently, the group has begun seizing the houses of Christian and Shiite families who fled Mosul and giving some of them to Sunni families uprooted from areas such as Tikrit and Diyala. They mark these houses with signs reading Islamic State Properties. A resident of a north Mosul neighborhood said three masked gunmen knocked on his door Wednesday, asking whether he knew of any Christian or Shiite homes in the area. The resident spoke on condition of anonymity out of fear of reprisals.
ISIS has no shortage of resources. It seized money from Iraqi banks estimated in the tens of millions of dollars. It has captured almost all the major oil and gas fields of eastern Syria, including the al-Omar oil field, Syria's largest, with a capacity to produce 75,000 barrels a day. According to several activists in the region, the group has resumed some pumping and has secured revenue by selling crude oil to merchants at lower-than-market prices and exporting to Iraq and Turkey through middlemen with tanker trucks.
In Raqqa and other parts of Syria, the group also takes a cut of all humanitarian aid and commerce.
"Any trade outside the framework of [ISIS] is forbidden. Buying, selling, everything must be through the State," said an opposition activist in Raqqa who asked not to be identified out of fear for his safety.
Until its Friday directive to Christians, ISIS militants have held off on imposing strict Shariah rules in Mosul, a city of 2 million, four times the size of Raqqa. After capturing Mosul, the group put out a statement listing new rules. So far no severe punishments have been dealt out, and a smoking ban has not been rigidly enforced.
If Raqqa is a guide, however, the harsher implementation may come – a move that could bring a backlash. The activist in Raqqa said the group wants to function like a state, but ultimately all it has is money and weapons.
"It is impossible to continue like this," he said, "because the people hate them."
http://www.dailystar.com.lb/News/Middle-East/2014/Jul-19/264409-in-iraq-and-syria-ISIS-juggles-shariah-services-and-overreach.ashx#ixzz37qeGiZC3
-----------
Death toll rises to 19 after car bombs hit Iraqi capital
19 July 2014
The death toll in the Iraqi capital of Baghdad has risen to 19 people killed after four near simultaneous car bombs exploded in the Iraqi capital.
At least 12 people were killed and dozens wounded in Baghdad Saturday, Agence France-Presse reported medical and security sources as saying.
"Twelve people were killed and about 40 wounded in four separate car bomb blasts in Abu Dsheer, Al-Baya, Al-Jihad and Hurriya neighborhoods," a police colonel told AFP.
Earlier Saturday, a suicide bombing in southern Baghdad killed seven people and wounded 18 others, Reuters reported police and a local hospital source as saying.
The bomb exploded at a police checkpoint in the Abu Dsheer district, a mainly Shiite area in the south of the capital, the sources said. There was no immediate claim of responsibility for the attack.
The Islamic State of Iraq and Syria, the militant group that seized large parts of northern Iraq last month, has claimed several suicide bombings in the capital. Its latest claim was for a bombing that killed three people on Thursday in the heart of the city.
http://english.alarabiya.net/en/News/middle-east/2014/07/19/Suicide-car-bomb-kills-seven-in-south-Baghdad-.html
-----------
'Don't let extremists brainwash you': Saudi Imam
19 Jul 2014
A local imam in the capital called on the youth to avoid being influenced by extremist ideology while urging the media to also help in safeguarding national interest against extremism.
His call came amid media reports about security alert in the Kingdom and measures to protect some potential infrastructure targets. The imam also referred to the recent terror attack in Sharura that killed four policemen.
Meanwhile, Interior Ministry spokesman Maj. Gen. Mansour Al-Turki said: "It is within the framework of the responsibilities of the Ministry of Interior to maintain security and stability and monitoring the implementation of preventive measures against potential structures that could be targets for terrorist acts."
Al-Turki was commenting on a news report on the high level of security alert in the Kingdom. He clarified that this MoI move is part of a precautionary measure that the government has taken and does not mean there is evidence of a terrorist plan.
In his sermon, Imam Sheikh Khalaf said at a popular mosques in Dubhat district in Riyadh that youngsters are vulnerable to the influence of extremism due to lack of sound knowledge of their religion.
Full report at:
http://www.arabnews.com/news/604211
-----------
Morsi's fugitive son arrested at Egypt train station
19 Jul 2014
CAIRO: A son of ousted Egyptian President Mohammad Morsi, who was sentenced to a year in prison for possession and use of hashish, was arrested early Friday at a train station south of Cairo, security officials said.
Abdullah Morsi, 19, who security officials said was on the run, was arrested while boarding a train heading to Upper Egypt. His arrest was also reported by the official MENA news agency.
An Egyptian court on July 2 had sentenced him and one of his friends to a year in prison.
The two were initially arrested on March 1 after allegedly being found in possession of two hashish joints while they were in a car parked by the roadside in Qalyubia province, north of Cairo.
But they were freed the next day pending investigation after agreeing to give urine samples, which the prosecution says tested positive.
A court in Banha, in the Nile Delta province of Qalyubia, handed down sentences of one year in jail and fines of 10,000 Egyptian pounds (around $1,400 or 1,025 euros) each.
Abdullah Morsi was not present when the court delivered the verdict, which can be appealed.
Defense lawyer Mohammad Abu Leila said at the time that the case "was fabricated," while Morsi's other son Osama told AFP that the case against his brother was an attempt to defame his family.
Full report at:
http://www.dailystar.com.lb/News/Middle-East/2014/Jul-19/264397-morsis-fugitive-son-arrested-at-egypt-train-station.ashx#ixzz37qdvpmQV
-----------
Jihadist ultimatum sparks Christian exodus from Iraq's Mosul
AFP | Jul 19, 2014
KIRKUK, Iraq: Thousands of Christians abandoned their homes and belongings to flee the Iraqi city of Mosul on Friday following an ultimatum by jihadists who overran the region last month and proclaimed a caliphate.
As militants attempted to break government defences in strategic areas and edge closer to Baghdad, Christians joined hundreds of thousands of Shiite and other refugees into Kurdistan.
Their flight to the safety of the neighbouring autonomous region coincided with the expected homecoming of Iraq's Kurdish president, Jalal Talabani, after 18 months of treatment in Germany.
The Islamic State group running Mosul had already demanded that those Christians still in the city convert, pay a special tax or leave but messages blaring on mosques' loudspeakers appeared to spark an exodus.
Full report at:
http://timesofindia.indiatimes.com/world/middle-east/Jihadist-ultimatum-sparks-Christian-exodus-from-Iraqs-Mosul/articleshow/38651056.cms
-----------
17 Imams Face Probe For 'Not Condemning Sharura Raid' In Their Friday Sermons
19 Jul 2014
The Ministry of Islamic Affairs is investigating 17 imams in Riyadh for allegedly ignoring a government order to highlight and condemn the recent Sharura terror attack in their Friday sermons.
Most imams across the country had highlighted the incident and the dangers of terrorism in their Friday sermons, as ordered by the ministry.
The ministry stated on Friday that it would penalize the imams if the allegations are proven true.
Tawfiq Al-Sudairi, the ministry's undersecretary, confirmed that 17 imams at mosques in Riyadh are under investigation for allegedly failing to highlight the incident in their sermons.
A Saudi newspaper, meanwhile, reported that 100 imams across the country allegedly ignored the ministry's order to condemn the Sharura attacks.
Full report at:
http://www.arabnews.com/news/604281
-----------
Iraqi Kurdish foreign relations head outlines independence plan
World Bulletin / News Desk
19 Jul 2014
The establishment of the so-called Islamic State by the Islamic State of Iraq and the Levant (ISIL) rebels has left the autonomous Kurdish Regional Government (KRG) of northern Iraq with no choice but to consider its independence.
The KRG have been considering independence due to the fact that its capital Erbil is no longer connected with the Iraqi central government of Baghdad due to the new state declared by the ISIL. They also had reservations over the old system, which the Kurds will now refuse to return to. The KRG is also likely to refuse the withdrawal of Kurdish troops from the oil-rich city of Kirkuk, which it occupied to stop it from falling to the ISIL.
The head of the KRG's Department of Foreign Relations, Dr. Falah Mustafa spoke to TRT Turk, saying the KRG will now follow a dual track approach to stay engaged in political process in Baghdad to bring a meaningful and substantial change and prepare the ground for a referendum of self-determination.
Full report at:
http://www.worldbulletin.net/todays-news/140955/iraqi-kurdish-foreign-relations-head-outlines-independence-plan
-----------
Militants storm Iraqi air base: Military
AFP | Jul 19, 2014
BAGHDAD: Fighters from the jihadist-led coalition that controls large parts of Iraq launched a brazen raid on an Iraqi air base near Saddam Hussein's hometown of Tikrit, military sources said on Friday.
The army and an Islamic State statement differed on the outcome of the battle and the death toll, but a military intelligence officer admitted the air field known as Speicher was stormed late on Thursday.
"Last night, gunmen infiltrated the base. There were snipers and suicide bombers among them, they managed to reach the runway," the officer, who witnessed the attack, told AFP on condition of anonymity.
IS fighters and their allies control the nearby city of Tikrit but Iraqi federal forces had managed to hold on to Speicher — named by US troops after a navy pilot whose plane was shot down by Saddam's forces in 1991— despite repeated attacks in recent weeks.
Full report at:
http://timesofindia.indiatimes.com/world/middle-east/Militants-storm-Iraqi-air-base-Military/articleshow/38632188.cms
-----------
In Iraq, Syria, militants try to govern as a state
19 Jul 2014
BEIRUT: Across the broad swath of territory they control bridging Syria and Iraq, extremist militants from the group known as the Islamic State have proven to be highly organized administrators. Flush with cash, they fix roads, police traffic, administer courts, and have even set up an export system of smuggled crude from oil fields they have seized.
But the extremists - a mix of Iraqis and Syrians but also foreign fighters from Arab countries and non-Arab regions like the Caucasus - run the risk of provoking a backlash from the people they have come to rule.
Unlike Lebanon's Hezbollah or the Palestinian militant group Hamas, which have deep roots in their communities, the Islamic State group is not a grassroots movement and its sway over its populations is ultimately based on violence, not necessarily a groundswell of support for its vision of a hard-line Islamic caliphate. While it has been welcomed by some disenfranchised Iraqi Sunnis as potential saviors from the Shiite-dominated government in Baghdad, many consider the group an alien entity.
Full report at:
http://www.dailystar.com.lb/News/Middle-East/2014/Jul-18/264346-in-iraq-syria-militants-try-to-govern-as-a-state.ashx#ixzz37qdk5uCG
-----------
Islamic World's first eco-friendly mosque opens in Dubai
19 Jul 2014
Dubai's Awqaf and Minors Affairs Foundation (AMAF) on Friday opened the first environmentally friendly mosque in the entire Islamic world to worshippers.
The Khalifa Al Tajer Mosque, in Bur Saeed Street, Deira, Dubai, has the capacity for some 3,500 worshippers who attended the first Friday sermon at the mosque given by Sheikh Salih Al Maghamsi, imam of the Quba Mosque in Medinah, Saudi Arabia.
Located on 105,000 square feet of land, the new green mosque was designed with energy efficiency in mind and was built with environmentally friendly materials.
The building which covers 45,000 square feet uses green building materials, thermal-insulation systems for lowering energy consumption and air conditioners that emit reduced greenhouse gases.
Full report at:
http://www.emirates247.com/news/islamic-world-s-first-eco-friendly-mosque-opens-in-dubai-2014-07-19-1.556981
-----------
Europe
UN accuses IS militants of executions, rape, forced child recruitment in Iraq
19 Jul 2014
BAGHDAD: The United Nations accused Islamic State fighters in Iraq of executing religious and other leaders as well as teachers and health workers, forcibly recruiting children and raping women among acts that amounted to war crimes.
A UN report focused on a range of violations committed against civilians, particularly by the Islamic State, though it also said Iraqi forces and allied fighters had not taken precautions to protect civilians from violence.
"(This)...may also amount to war crimes," the report found.
At least 5,576 Iraqi civilians have been killed this year in violence, the UN said in the most detailed account yet of the impact of months of unrest culminating in advances by militants led by the Al-Qaeda offshot Islamic State, formerly known as ISIL, across the north.
Full report at:
http://www.arabnews.com/news/604166
-----------
Rights group warns Iraq jihadists want to eradicate minorities
19 Jul 2014
The jihadists controlling large swathes of northern and western Iraq seem bent on killing or expelling all religious minorities in the Mosul area, Human Rights Watch warned Saturday.
The New York-based rights watchdog's statement was issued as thousands of Christians were fleeing Mosul to escape an ultimatum by the Islamic State (IS) group that seized the city last month.
The organisation, which enforces an extreme version of Islamic law, and allied Sunni groups conquered Mosul and large swathes of the country last month and subsequently declared a "caliphate" straddling Iraq and Syria.
It recently started marking houses belonging to the thousands-strong Christian community and issued a statement urging them to convert, pay the Islamic "jizya" tax, leave the city or face death by noon on Saturday.
Full report at:
http://www.themalaysianinsider.com/world/article/rights-group-warns-iraq-jihadists-want-to-eradicate-minorities#sthash.OgQQOAl7.dpuf
-----------
Increase in Kyrgyz militants abroad alarms authorities
July 19 2014
BISHKEK – The number of Kyrgyz citizens fighting in Syria continues to grow, concerned Kyrgyz authorities say.
"The impact of Salafism, especially of its radical forms, has been clearly on the rise in recent years," Ryskulbek Japarkulov, chief of the Interior Ministry (MVD)'s 10th Main Administration, told Central Asia Online. "The MVD has discovered 15 cases of terrorist groups' recruiting youth to fight as mercenaries in war zones such as Syria, Afghanistan or Pakistan. Eight of those cases have led to prosecution, and we are verifying and investigating the rest."
About 80 Kyrgyz are thought to be fighting as insurgents in Syria, authorities estimate, up from about 50 last year, Radio Free Europe/Radio Liberty's Kyrgyz site reported July 4.
Women and youth among the fighters
Full report at:
http://centralasiaonline.com/en_GB/articles/caii/features/main/2014/07/18/feature-01
----------
Outrage as France bans pro-Palestine demonstrations
19 Jul 2014
The French government on Friday provoked outrage by banning protests against Israeli action in Palestine, becoming the first country in the world to do so.
This week, thousands of protesters took to the streets of Paris to demonstrate against the rising death toll in the latest conflict between Gaza militants and the Israeli army.
However, the decision to ban the demonstrations was justified, according to Bernard Cazeneuve, the French interior minister, as protests last weekend had led to violence.
I cannot accept a repetition [of these acts of violence] and I cannot take the risk of seeing French citizens, whatever their religious affiliations, exposed to violence," Cazeneuve told reporters, the website of TV channel France 24 reported on Friday.
Full report at:
http://english.alarabiya.net/en/News/world/2014/07/19/Outrage-as-France-bans-pro-Palestine-demonstrations.html
----------
Photographer highlights plight of Italian Muslims
World Bulletin / News Desk
19 Jul 2014
An Italian award-winning photographer, Nicolo Degiorgis, has demonstrated the contrast of the peace of prayer with the tension of politics in his new book, Hidden Islam, which focuses on how Muslims pray in Italy.
The photographer highlights the problem Italian Muslims face in finding a suitable place for worship, leaving them with no choice but to pray in garages, gyms and shops.
"In Italy the right to worship, without discrimination, is enshrined within the constitution. There are 1.35 million Muslims in Italy and yet, officially, only eight mosques in the whole country," Martin Parr wrote in introduction to Nicolo Degiorgis's book.
Full report at:
http://www.worldbulletin.net/muslim-world/140883/photographer-highlights-plight-of-italian-muslims
--------
Ramadan bolsters social solidarity among Hungarian Muslims
Kuzey News Agency
19 Jul 2014
Ramadan, the Islamic holy month of fasting, offers social and economic benefits for Muslims around the world. Hungary, host of a minority Muslim population, is one of them.
The daiy fasting duration takes almost 20 hours in the central European country, but Muslims have enjoyed a Ramadan that cements social ties among them.
The mosque in the Hungarian capital of Budapest, the Martyr Isa Omer Mosque, is the center where Hungarian Muslims come together and share the fast-breaking iftar dinner.
As recommended by Prophet Muhammed, Muslims fist break their fast with water or persimmon and then perform the evening prayers after dinner.
Full report at:
http://www.worldbulletin.net/muslim-world/140948/ramadan-bolsters-social-solidarity-among-hungarian-muslims
--------
UN chief Ban heading to Mideast in Gaza peace bid
Associated Press, United Nations
July 19 2014
Secretary-General Ban Ki-moon will leave Saturday for the Middle East to help end the conflict in Gaza between Israel and Hamas, the U.N. political chief said Friday.
At an emergency U.N. Security Council meeting, Jeffrey Feltman said a cease-fire is "indispensable." But the only way to make it stick is for the international community to "assume its responsibility to urgently help restore a serious prospect for a two-state solution that brings an end to the decades-long conflict and occupation," he said.
The U.N. chief has been on the phone with many leaders since the beginning of the conflict trying to bring an end to the violence. His new diplomatic initiative follows a failed attempt by Egyptian President Abdel-Fattah el-Sissi to broker a return to the 2012 Israeli-Hamas cease-fire and Thursday's launch of an Israeli ground offensive in Gaza.
Full report at:
http://www.thejakartapost.com/news/2014/07/19/un-chief-ban-heading-mideast-gaza-peace-bid.html
-----------
Video emerges of missile launcher heading for Russia minus 2 rockets
19 Jul 2014
Latest video footage from Ukraine suggests that MH17 was downed by a missile fired from rebel-held Torez in eastern Ukraine.
The Daily Mail, reports that the video clip shows a BUK anti-aircraft launcher rumbling into the town just two hours before the crash.
An expert has weighed in on the footage, saying that it is likely that it was this piece of equipment that was used to bring about the tragedy.
Dr Igor Sutyagin, research fellow in Russian studies at the Royal United Services Institute, said he believed MH17 was shot down by rebels based in Torez.
"These separatists boasted on Twitter about capturing a BUK SA11 missile launcher on June 29, and several hours before the downing of the plane, locals in Torez reported seeing BUK missile launchers and separatist flags around the city.
Full report at:
http://www.dailystar.com.lb/News/Lebanon-News/2014/Jul-19/264414-bulgaria-bomber-identified-as-lebanese-french-dual-national.ashx#ixzz37qbfPmpC
-----------
Pakistan
Political, Economic Terrorism Hold 180m Pakistanis Hostage: Jamaat-E-Islami
July 19, 201
KARACHI- Jamaat-e-Islami Pakistan Chief Siraj-ul-Haq has said that the political and economic terrorism hold 180million population of the country hostage.
He expressed these views while addressing an Iftar-dinner ceremony, organized by Jamaat-e-Islami, Karachi in honour of the journalists at Idaara-e-Noor Haq on Friday.
Speaking at the occasion, Siraj-ul-Haq said that the few selected families are in power from last 66 years in the country and holds the entire nation hostage.
"Change can be brought into the life of feudals, landlord and political barhamins through elections, while the downtrodden people get nothing from elections", he added.
On the occasion, Siraj-ul-Haq stressed upon that the VIP culture should be abolished from the country and JI is being struggled for the eradication of this culture.
He said that the terrorism, inflation and lawlessness prevail in the country for the last 15 years from the tenure of Pervez Musharraf, Zardari and Nawaz Sharif.
Commenting on Pervez Musharraf issue, JI Pakistan Chief said that the issue of Musharraf has become complicated for the present government, army and judiciary.
Full report at:
http://www.nation.com.pk/national/19-Jul-2014/political-economic-terrorism-hold-180m-population-hostage-siraj
---------
US drone strike kills eleven in northwest Pakistan
Agence-France Presse | Miranshah | July 19, 2014
A US drone strike targeting a Pakistani Taliban compound on Saturday killed eleven insurgents in the country's restive northwestern tribal region near the border with Afghanistan, officials said.
The attack came in North Waziristan, where for the past month the Pakistani military has been fighting to wipe out longstanding bases of Taliban and other militants.
"The drone fired eight missiles on the compound around 0230 IST on Saturday killing eleven members of the Punjabi faction of the Pakistani Taliban," a senior security official in the region said.
The official said the dead included two "important" commanders of the Pakistani Taliban, but he refused to reveal their identities. An official had earlier given a lower death toll of eight militants dead.
The strike took place in the Mada Khel suburb of Data Khel, a town that lies around 36 kilometres west of North Waziristan's capital Miranshah. Pakistan's semi-autonomous tribal areas on the Afghan border have for years been a hideout for Islamist militants of
all stripes — including Al-Qaeda and the homegrown Tehreek-e-Taliban Pakistan (TTP) as well as foreign fighters such as Uzbeks and Uighurs.
Full report at:
http://indianexpress.com/article/world/neighbours/us-drone-strike-kills-eleven-in-northwest-pakistan/
-----------
PPP won't let Nawaz govt rock democracy boat
July 19, 2014
LAHORE - Under the current volatile situation, the Pakistan Peoples' Party believes that the PML-N government is going to rock the boat of democracy through its confrontational policy which may lead to a situation wherein all the political parties would be left high and dry.
The PPP leadership thinks that uncompromising attitude of the government had become a serious threat to the democratic system and it was vital that PML-N leaders review their style of governance. The rank and file of PPP believe that PML-N is creating troubles for all political parties by its belligerent politics which, they think, may lead to roll back of the system.
"If there is no democracy, political parties have no business to do in Pakistan," a PPP leader observed, adding that his party would play its role to save the system.
Background interviews and discussions with senior PPP leaders suggest that they want the PML-N to reconcile with the establishment as well as the rival political forces for the sake of democracy.
Full report at:
http://www.nation.com.pk/national/19-Jul-2014/ppp-won-t-let-nawaz-govt-rock-democracy-boat
-----------
Registration of dislocated persons of N. Waziristan completed
July 19, 2014
ISLAMABAD: The registration of the dislocated persons of North Waziristan has been completed and 90, 750 families consisting of 9, 92, 649 persons have been registered.
Briefing media persons in Islamabad on Friday, Focal Person of Ministry of SAFRON for Internally Displaced Persons, Tariq Khan said that the data collected at the registration points will be verified through NADRA to get the actual number of dislocated persons.
He said 80 percent IDPs have settled at Bannu, 5pc at Dera Ismail Khan, 6pc at Lakki Marwat and 7 percent in other parts of the country.
The Focal Person clarified that about 21, 000 IDPs who could not travel through Miran Shah and Mirali used the 50 kilometer route through Khost district of Afghanistan and entered Pakistan again.
Full report at:
http://www.thenews.com.pk/article-154248-Registration-of-dislocated-persons-of-N.-Waziristan-completed
---------
Tribesmen start returning home in Bajaur
July 19, 2014
KHAR: The people have begun returning to five border villages of Mamond tehsil of Bajaur Agency after the security forces announced postponement of an operation against militants in the region.
Around 30,000 people of Loi Mamond tehsil, Nakhatar, Ghakhai, Mula Killi, Gohati and Kitkoot had fled homes three days ago fearing the launch of the military operation.
The operation was postponed after local elders announced formation of a tribal lashkar to crack down on insurgents in the region.
Bajaur tribesmen raise lashkar to stop infiltration
The returning tribesmen told Dawn on Friday that they'd come back after learning about delay in the military operation, while the rest were following suit.
Taj Khan of Nakhthar village said all those, who fled the area, were likely to return today (Saturday).
Full report at:
http://www.dawn.com/news/1120250/tribesmen-start-returning-home-in-bajaur
---------
Kashmir root of all disputes with India, says Basit
July 19, 2014
NEW DELHI: Pakistan pressed on Friday for progress in talks with India after a 'good beginning' made by their prime ministers, but its envoy in Delhi also underscored the importance of addressing the Kashmir issue, saying it was at the root of all their bilateral disputes.
Pakistan's High Commissioner Abdul Basit also told a news conference at the Press Club of India that the two countries needed to work together to promote peace and prosperity.
Talking on the disputed issues between the two countries, Mr Basit said: "All our bilateral problems more or less stem from the Jammu and Kashmir dispute. It was, therefore, necessary to resolve this issue and take irreversible steps towards peace and stability."
Full report at:
http://www.dawn.com/news/1120180/kashmir-root-of-all-disputes-with-india-says-basit
---------
Blast in Khuzdar kills one, injures 14
July 19, 2014
QUETTA: A blast killed one person and injured another 14 in Balochistan's volatile Khuzdar city on Saturday, police said.
Muhammad Anwar, a police official told Dawn.com that militants targeted the vehicle of security forces through an improvised explosive device in Seerat Chowk area of Khuzdar.
He said the vehicle of security forces was slightly damaged and most of the victims were civilians.
The injured were rushed to the Civil Hospital Khuzdar for medical treatment.
The condition of the six injured was critical and there was no senior surgeon to attend them.
Police and Frontier Corps personnel reached the area of the blast to probe the incident.
There was no immediate claim of responsibility for the attack.
Full report at:
http://www.dawn.com/news/1120294/blast-in-khuzdar-kills-one-injures-14
-----------
South Asia
33 militants killed, 28 others injured in Afghan army operations
19 Jul 2014
At least 33 Taliban militants were killed following military operations conducted by Afghan national army (ANA) soldiers.
The ministry of defense of Afghanistan (MoD) following a statement confirmثی that the militants were killed during the operations conducted by Afghan army forces.
The statement further added that the militants were killed in various provinces of the country during the past 48 hours.
At least 28 militants were also injured during the operations and 10 others were arrested along with some weapons, ammunition and explosives, MoD said.
In the meantime, the Ministry of Interior (MoI) said at last 8 militants were killed during the operations in Kunar, Nangarhar, Kandahar, maidan Wardak and Helmand provinces in the past 24 hours.
Full report at:
http://www.khaama.com/33-militants-killed-28-others-injured-in-afghan-army-operations-8335
-----------
Bangladesh Islamist group threatens human rights organisations
19 Jul 2014
An Islamist organisation warned human right organisations of dire consequences if they tried to re-establish the Kandapara brothel in Tangail district town.
The Asamajik Karjokolap Protirodh Committee made the statement at a rally held on the premises of the Shaheed Minar.
The rally was presided over by Shamsujjaman Khan, imam of Tangail central Jam-e-mosque.
Speakers at the rally said there would not be any positive consequences for the human right organisations who were supporting prostitution.
They said nobody in Tangail would be allowed to visit the abandoned brothel to reestablish it.
Maulana Shamsujjaman said, "If anyone tries to enter the empty brothel, our people will beat them up."
Full report at:
http://www.dhakatribune.com/law-rights/2014/jul/19/islamist-group-threatens-human-rights-organisations#sthash.XKSHfkwj.dpuf
----------
US drone strike leaves 4 militants dead in Kunar province
19 Jul 2014
At least four suspected militants were killed following a drone strike in eastern Kunar province of Afghanistan.
According to local government officials, the militants were killed late Friday night.
Provincial police chief, Gen. Abdul Habib Syed Khel said the airstrike was carried out in Ghazibad district.
Gen. Syed Khel further added that two suspected militants were also injured following the airstrike.
He said a Pakistani militant was among the injured militants.
The anti-government armed militant groups have not commented regarding the report so far.
Kunar is among the volatile provinces in eastern Afghanistan which shares border with the tribal regions of Pakistan.
Full report at:
http://www.khaama.com/us-drone-strike-leaves-4-militants-dead-in-kunar-province-8337
----------
6 Afghan army soldiers martyred in separate IED attacks
19 Jul 2014
At least six Afghan national army soldiers were martyred following separate improvised explsoive device (IED) attacks.
Defense ministry spokesman, Gen. Zahir Azimi, said the Afghan army soldiers were martyred in the last 48 hours.
He did not disclose further information regarding the exact locations where the Afghan army soldiers martyred.
No group including the Taliban militants has so far claimed responsibility behind the attacks.
The Taliban militants group and other insurgents frequently use improvised explosive deivce (IED) as the weapon of their choice to target Afghan and coalition security forces.
Full report at:
http://www.khaama.com/6-afghan-army-soldiers-martyred-in-separate-ied-attacks-8333
----------
Bangaldesh: Terrorist killed in Jessore 'gun battle'
19 Jul 2014
A suspected terrorist and also accused in a dozen cases has been killed in a 'gun battle' between the police and the accomplices of the dead near Bashatpur Chaurasta Mosque under Sharsha upazila in Jessore on Saturday.
The dead was identified as Anisur Rahman, 32, son of Waziar Rahman of Baliadanga village under Satkhira sadar upazila.
Ahmed Kabir, officer in-charge, Sharsha police station told the Dhaka Tribune that Anis was killed in a 'gunfight' between the police and his accomplices while the police went there to recover arms and to arrest others at around 2am on Saturday.
Full report at:
http://www.dhakatribune.com/bangladesh/2014/jul/19/terrorist-killed-jessore-%E2%80%98gun-battle%E2%80%99#sthash.nn3L45Zb.dpuf
----------
ISI and Haqqani Network behind attack on Kabul airport: Afghan official
July 19, 2014
KABUL- Afghanistan accused Haqqani Network and Pakistan's Inter-Service Intelligence (ISI) behind the attack on Kabul airport.
Interior ministry spokesman, Sediq Sediqi, told reporters that the attack on Kabul airport was either plotted by Haqqani Network or the Pakistani Inter-Service Intelligence (ISI). Sediqi further added that the attack on Kabul airport was apparently plotted to avenge the coordinated attack on Karachi airport, as Pakistani believes Afghanistan was involved behind the attack.
Full report at:
http://www.nation.com.pk/national/18-Jul-2014/isi-and-haqqani-network-behind-attack-on-kabul-airport-afghan-official
---------
Mideast
Israeli military thrust into Gaza sows terror, defiance
19 Jul 2014
GAZA: Gaza's Palestinians hunkered down in fear for their lives while Hamas fighters urged defiance after Israel sent forces into the densely populated territory on Thursday after 10 days of cross-border fire.
Residents largely abandoned the usually teeming streets after a fevered night of bombardment. Ships spitting machine gun fire drifted closer to the desert enclave's Mediterranean shore, artillery shells lit the skyline orange every few seconds and buildings shook from the air attacks.
Small groups of drowsy men trudged to Friday prayers in Gaza City despite the frequent boom of Israeli artillery.
"We're terrified. My whole family hears the bombs fall around us and we could be hit any time. We feel like there's nothing we can do to protect ourselves," said Yousef Al-Hayek, 60, wearing a white robe and clasping prayer beads.
Full report at:
http://www.arabnews.com/news/604181
-----------
Israel steps up Gaza offensive, Hamas fires more rockets
Reuters | Gaza | July 19, 2014
Israeli forces on Saturday pressed ahead with a ground offensive in the Gaza Strip, where Palestinian militants kept firing rockets deep into Israel's heartland, pushing the death toll past 300 in almost two weeks of conflict.
Palestinian officials said 65 Palestinians, at least 15 of them under the age of 18, have been killed since Israel sent ground forces on Thursday into the densely populated enclave of 1.8 million Palestinians.
During that time, more than 135 rockets have been fired from Gaza, though many were shot down by Israel's Iron Dome missile-defense shield, including some over the country's commercial capital Tel Aviv, causing no casualties.
The Israeli military said it killed 17 Palestinian gunmen while 21 others surrendered and were taken for questioning after the infantry and tank assault began in the territory dominated by the Islamist Hamas.
Full report at:
http://indianexpress.com/article/world/middle-east-africa/israel-steps-up-gaza-offensive-hamas-fires-more-rockets/99/
-----------
Turkey PM slams Egypt's 'illegitimate tyrant' Sisi
19 Jul 2014
ANKARA: Turkish Prime Minister Recep Tayyip Erdogan on Friday slammed Egypt's President Abdel Fattah al-Sisi as an illegitimate tyrant, saying Cairo could not be relied upon to negotiate a truce with Israel.
"Is Sisi a party (to a ceasefire)? Sisi is a tyrant himself," Erdogan told reporters.
"He is not different from the others," he said, adding that it was Egypt's current rulers who were blocking humanitarian aid channels to the Gaza Strip ruled by the Islamist Hamas movement.
Egypt's Foreign Minister Sameh Shoukri said Erdogan's comments were "unacceptable".
"They have no link with the events in Gaza and do not help in the protection of the people of Gaza," Shoukri said at a news conference in Cairo with his Italian counterpart Federica Mogherini.
Full report at:
http://www.dailystar.com.lb/News/Middle-East/2014/Jul-18/264373-turkey-pm-slams-egypts-illegitimate-tyrant-sisi.ashx#ixzz37qdQp8OX
-----------
Israel advises citizens to avoid Turkey amid Gaza protests
World Bulletin / News Desk
19 Jul 2014
Israel advised its citizens on Saturday not to travel to Turkey, citing "the public mood" after heated protests there against Israel's ground offensive into Gaza.
The Foreign Ministry in Jerusalem said Israelis should "avoid non-essential visits" to Turkey - once Israel's closest regional ally - or be especially vigilant and steer clear of anti-Israel demonstrations.
The travel advisory could affect commercial air connections between Tel Aviv and Istanbul, expanded in recent years as the two countries sought to rebuild relations.
Israel said on Friday it would pare back already an reduced staff at its embassy in Ankara and consulate in Istanbul, scenes of furious street protests at Israel's escalation of its Gaza offensive into a ground invasion.
Full report at:
http://www.worldbulletin.net/headlines/140974/israel-advises-citizens-to-avoid-turkey-amid-gaza-protests
----------
Israel using 'poisonous gas' in Gaza incursions
World Bulletin / News Desk
19 Jul 2014
Tens of Palestinians, including children, suffered temporary asphyxiation late Thursday after inhaling "poisonous gases" released by Israeli troops during incursions into the Gaza Strip, according to a Palestinian health official.
"The victims, who had been taken to hospitals in northern and southern Gaza Strip, had reported inhaling white poisonous gas emanating from shells fired by the Israeli artillery on northern and southern Gaza Strip," Health Ministry spokesman Ashraf al-Qodra said in a statement.
He called on Gazans to use nylon coats to protect their bodies and also firmly seal their doors and windows with wet pieces of clothing.
Full report at:
http://www.worldbulletin.net/headlines/140912/israel-using-poisonous-gas-in-gaza-incursions
----------
Israel's Gaza onslaught triggers Al-Aqsa clashes
World Bulletin / News Desk
19 Jul 2014
Clashes erupted between Palestinian Muslim worshippers and Israeli forces inside East Jerusalem's Al-Aqsa Mosque compound after Israeli soldiers stormed the compound early Friday afternoon.
"Around 100 Israeli police officers stormed the Al-Aqsa's courtyards and assaulted worshippers," one eyewitness told Anadolu Agency.
According to witnesses, Israeli security forces fired rubber bullets to disperse worshippers who were demonstrating against Israel's devastating military offensive against the blockaded Gaza Strip, now in its second week.
During the melee, Al-Aqsa Mosque director Sheikh Omar al-Kiswani was struck in the leg by a rubber bullet, the witness said.
The violence broke out as Israel stepped up restrictions on Palestinian movement in the West Bank and East Jerusalem amid its ongoing offensive against the Gaza Strip, in which at least 264 Palestinians – mostly civilians – have been killed.
Full report at:
http://www.worldbulletin.net/headlines/140933/israels-gaza-onslaught-triggers-al-aqsa-clashes
----------
Abbas asks France to lobby Hamas for Gaza truce
19 Jul 2014
CAIRO: Palestinian president Mahmud Abbas reached out for French help Friday to lobby Hamas's regional allies to influence it into accepting a truce with Israel, French Foreign Minister Laurent Fabius said.
Egypt-mediated talks to end the escalating Gaza Strip war have faltered, with Hamas insisting on a comprehensive cease-fire that would end the Israeli blockade of the coastal enclave, Palestinian officials said.
Abbas wants France to lobby Hamas allies Qatar and Turkey to pressure the militants into accepting the truce, Fabius told reporters after meeting the Palestinian leader in Cairo.
A senior Hamas official told AFP the Islamist movement would not accept any cease-fire that did not guarantee opening border crossings to the besieged enclave.
Full report at:
http://www.arabnews.com/news/603811
-----------
Africa
Suicide bomber kills six in attack on anti-Shebab leader
19 Jul 2014
Six people were killed in a southern Somali port town on Saturday after a suicide bomber targeted the house of a prominent anti-Shebab militia leader, the intended victim said.
"The explosion occurred soon after I entered the house," tribal leader Iftin Hassan Basto said in a statement.
"My security guards saw a man who tried to infiltrate them and when they confronted him he blew himself up."
Basto added that six people, including a child, were killed and seven others injured.
The attack took place in the town of Kismayo, a former stronghold of Somalia's Al-Qaeda-linked Shebab.
"We knew they were planning such attacks and we will continue fighting these terrorists," said Basto.
One witness, Ali Mohamed, said: "The explosion was huge and several dead bodies were removed from the house. Security forces have cordoned off the area after the explosion."
http://english.ahram.org.eg/NewsContent/2/9/106585/World/International/Suicide-bomber-kills-six-in-attack-on-antiShebab-l.aspx
----------
Several villagers killed in Boko Haram attack
July 19, 2014
MAIDUGURI: Boko Haram gunmen killed many villagers and set homes ablaze in a northeastern Nigerian town just 85 kilometres from the strategic centre of Maiduguri before dawn on Friday, according to survivors.
Residents of Damboa town called The Associated Press to say they were "piling up corpses".
Half the town is up in flames, say civilian defence fighters there according to Nigerian Vigilante group spokesman Abbas Gava.
Well-armed Muslim extremists attacked as residents were preparing for the 5am dawn prayers and the civilian defence fighters could only resist with clubs and homemade shotguns, he said.
Damboa has been besieged for two weeks, since Boko Haram gunmen on July 4 attacked a new tank battalion base set up on its outskirts. The Defence Ministry reported it repelled the attack and killed at least 50 insurgents, with the deaths of six soldiers, including the commanding officer.
Full report at:
http://www.dawn.com/news/1120171/several-villagers-killed-in-boko-haram-attack
--------
At least two dead in attack on Kenyan coast: Police
AFP | Jul 19, 2014
NAIROBI: At least two people were killed when gunmen opened fire on a bus and police vehicle on Friday in the latest attack on Kenya's restive southeastern coast, police said.
The Kenyan Red Cross said there had been "six casualties" in the shooting, without specifying if the victims were injured or killed.
A local police source, speaking on condition of anonymity, said armed men opened fire on a bus travelling to the tourist island of Lamu. They then targeted a police car which stopped to intervene, and also hit a third car.
"Among the dead is a police officer. Several others are injured," the police source said.
Security services have launched an operation to find several people missing after the attack.
It was not known in the aftermath of the attack whether the missing people had been abducted or fled in panic.
Full report at:
http://timesofindia.indiatimes.com/world/rest-of-world/At-least-two-dead-in-attack-on-Kenyan-coast-Police/articleshow/38645333.cms
-----------
S. African Nobel laureate Tutu likens Gaza crISIS to apartheid
19 Jul 2014
CAPE TOWN: Two South African winners of the Nobel Peace Prize urged Israel and the Palestinians on Friday to negotiate peace, with former archbishop Desmond Tutu comparing the regional crISIS to apartheid.
Tutu was speaking alongside fellow laureate and former President FW de Klerk at a news conference on this year's annual summit of peace prize winners to be held in Cape Town in October.
The feisty cleric, who won the prize in 1984 and has in the past compared the Israeli treatment of Palestinians to the racist apartheid system, said the latest flare-up in the Middle East crISIS was the result of a void in global leadership.
Full report at:
http://www.arabnews.com/news/604176
-----------
Freedom still eludes Tripoli militia chiefs
19 Jul 2014
TRIPOLI, Lebanon: Leaders of armed groups in the northern city of Tripoli are unlikely to be released from prison soon, according to politicians and political sources, despite continuous protests by concerned relatives calling for their freedom.
Although Tripoli has been enjoying calm since April, security concerns are returning as a result of road blocks – consisting of rocks, trash cans and tires – across the city instigated by enraged families and relatives of detained militia commanders. As one of the rallies was taking place, hand grenades were thrown at the Abu Ali River, violence reminiscent of the turbulent months that preceded the security plan launched this spring.
Full report at:
http://www.dailystar.com.lb/News/Lebanon-News/2014/Jul-19/264376-freedom-still-eludes-tripoli-militia-chiefs.ashx#ixzz37qcEBtxZ
----------
India
Pakistan denies any prior knowledge of Vaidik-Saeed meeting
TNN | Jul 19, 2014
NEW DELHI: As the Ved Pratap Vaidik-Hafiz Saeed meeting continues to make headlines in India, Pakistan high commissioner Abdul Basit said on Friday that even Pakistani authorities were not aware of the meeting.
Opposition parties in India have raised the issue in Parliament alleging that Pakistan facilitated Vaidik's meeting with the JuD chief and that even the Indian high commission may have had a role. External affairs minister Sushma Swaraj has denied that that Indian officials in Pakistan were even aware of the meeting.
"This was a meeting between two private individuals and nothing more ... our government was not aware nor was the Indian government," Basit said at an interaction with reporters at Press Club of India.
Full report at:
http://timesofindia.indiatimes.com/india/Pakistan-denies-any-prior-knowledge-of-Vaidik-Saeed-meeting/articleshow/38641379.cms
----------
Unity key factor in Muslims' success: Akbaruddin Owaisi
19 Jul 2014
Muslims can only become successful if they put aside their differences and unite around key political, social and economic development issues, a visiting Indian politician said here recently.
Akbaruddin Owaisi, who is based in Hyderabad, Telangana, and the floor leader of the All India Majlis-e-Ittihad Al-Muslimeen (AIMIM) in the Andhra Pradesh Legislative Assembly, said unity is the key.
"We should forget all our differences, unify and make changes to achieve progress. We are trying to bring all parties under one roof and fight together for our rights and justice," he said.
He said the party has successfully managed to get college scholarships from the local government for Muslim students from poor communities. There are now 240 Muslim students getting these scholarships, with plans to increase the number and ensure others get free books and education allowances.
Full report at:
He also condemned Israel's strikes on Gaza and said the party supports the Palestinian cause.
http://www.arabnews.com/news/604196
-----------
Opposition disrupts Rajya Sabha seeking debate on Gaza violence
Express News Service | New Delhi | July 19, 2014
The Rajya Sabha continued to face disruptions through Friday as well with the Opposition demanding an immediate discussion on the Gaza crISIS.
While the government argued that the discussion had been scheduled for Monday, the Opposition insisted it be held on Friday. Soon after the House mourned the loss of lives following the Malaysian air crash in Ukraine, CPM's Sitaram Yechury observed that a similar reference should have been made by the Chair about the killing of innocents in Gaza on humanitarian grounds.
Yechury also recalled that Parliament had passed a resolution condemning the US attack against Iraq when the Atal Bihari Vajpayee-led government was in power even though India had good strategic relations with US.
Full report at:
http://indianexpress.com/article/india/politics/opposition-disrupts-rajya-sabha-seeking-debate-on-gaza-violence/
-----------
Surat blasts: Eid comes early for the families of five acquitted
Written by Kamal Saiyed | Surat | July 19, 2014
Friday, the 19th day of the holy month of Ramzan, brought good news for the families of the eleven convicted under the repealed Terrorist and Disruptive Activities Act (TADA) in the twin blasts case of 1993, carried out in Surat reportedly to avenge the Babri Masjid demolition. The Supreme Court acquitted all of them after nearly 12 years of imprisonment.
One of those freed on Friday is former Gujarat minister in the Congress government, Mohammad Surti. Two of the convicts — Iqbal Wadiwala and Ehsaan Patel — died in prison. Four have completed their terms — Salim Patel, Aziz Patel, Saeed Nari and Aijaz Patel — and five are expected to be freed possibly by next Tuesday.
Full report at:
http://indianexpress.com/article/india/india-others/surat-blasts-eid-comes-early-for-the-families-of-five-acquitted/99/
-----------
North America
U.S. condemns religious and ethnic prosecution by ISIL in Iraq
19 Jul 2014
The U.S. has condemned in the strongest terms the systematic persecution of ethnic and religious minorities by the terrorist group Islamic State of Iraq and the Levant (ISIL).
"We are outraged by ISIL's recent announcement that Christians in Mosul must either convert, pay a tax, leave, or face execution in the coming days," State Department Spokesperson Jen Psaki told reporters.
"We have also seen photos of reportedly Christian houses in Mosul marked with pejorative terms for Christians, as well as reports that Shia and Shabak houses have been similarly marked. ISIL also continues to target Sunni clerics and tribal sheikhs who disagree with its dark vision for Iraq," she said.
Full report at:
http://www.thehindu.com/news/international/world/us-condemns-religious-and-ethnic-prosecution-by-isil-in-iraq/article6227628.ece?homepage=true
-----------
Al Qaeda may return, warns US general
July 19, 2014
WASHINGTON: If Afghanistan and Pakistan fail to keep pressure on extremists within their borders, Al Qaeda could return to the region to plan 9/11 like terrorist attacks, warns a top US general.
Gen Joseph Dunford, who commands all US and allied forces in Afghanistan, also told Congress on Thursday that those in uniform did not necessarily support President Barack Obama's decision to withdraw all American troops from Afghanistan by 2017.
"I think all of us in uniform, including the Afghans, would have preferred for that to be a bit more ambiguous," he said.
Gen Dunford, who has now been nominated the next commandant of the US Marine Corps, told his confirmation hearing that success in Afghanistan also depended on Pakistan's ability and desire to go after militants on their side of the border.
Full report at:
http://www.dawn.com/news/1120179/al-qaeda-may-return-warns-us-general
---------
Gaza conflict: Obama warns Israel amid rising death toll
19 Jul 2014
US President Barack Obama has backed Israeli's right to self-defence, but warned against escalation in Gaza.
Speaking to Prime Minister Benjamin Netanyahu on Friday, he underlined his support for Israel's right to defend itself against Palestinian militants.
But he said he was "deeply concerned" about civilian losses, with the Palestinian death toll now over 300.
Fifteen Palestinians were reported killed in two incidents on Saturday morning, including a family of eight.
UN Secretary General Ban Ki Moon will arrive in the region on Saturday to try to mediate between Israel and Hamas.
Mr Ban's visit would aim to help Israelis and Palestinians "end the violence and find a way forward", UN political affairs chief Jeffrey Feltman said.
Full report at:
http://www.bbc.co.uk/news/world-middle-east-28382100
----------
US: Myanmar sentencing journalist sends a 'wrong message'
Press Trust of India | Washington | July 19, 2014
Condemning the sentencing of a senior journalist by Myanmar government for publishing investigative stories about a chemical weapons factory, the US on Saturday said it is 'concerned' about the decision that "sends the wrong message about Burma's commitment to freedom of expression".
"We are very concerned by reports that journalists and the CEO of the newspaper United Weekly News were sentenced to 10 years of hard labor for publishing investigative stories about a weapons factory," State Department Spokesperson Jen Psaki said on Friday.
Full report at:
http://indianexpress.com/article/world/neighbours/us-myanmar-sentencing-journalist-sends-a-wrong-message/
-----------
MH17 shooting: Obama condemns Russia, gunmen hamper inquiry
Reuters | Jul 19, 2014
HRABOVE (Ukraine): US President Barack Obama demanded Russia stop supporting separatists in Ukraine after the downing of a Malaysian airliner by a surface-to-air missile he said was fired from rebel territory raised the prospect of more sanctions on Moscow.
Calling the deaths of almost 300 people from 11 countries "an outrage of unspeakable proportions", Obama stopped short of directly blaming Russia for the incident, saying there must be a rapid and credible investigation. "We don't have time for games," he said.
International observers said gunmen stopped them observing the site properly when they got there on Friday.
More than half of the victims were Dutch, and Obama said a US citizen was among the dead in what has become a pivotal incident in deteriorating relations between Russia and the west.
Obama ruled out US military intervention, but said he was prepared to tighten sanctions. He also said the stakes were high for Europe, a clear call for it to copy the more robust US penalties on Russia already imposed.
Full report at:
http://timesofindia.indiatimes.com/world/europe/MH17-shooting-Obama-condemns-Russia-gunmen-hamper-inquiry/articleshow/38643345.cms
-----------
US cautions Israel on civilian casualties
19 Jul 2014
Israel has warned it could "significantly widen" a Gaza land offensive but was cautioned by its main ally, the United States, about the risks of further escalation as Palestinian civilian deaths mounted.
Palestinian officials said 65 Palestinians, at least 15 of them under the age of 18, had been killed since Israel sent ground forces on Thursday into the densely-populated enclave of 1.8 million Palestinians.
The Israeli army said it killed 17 Palestinian gunmen and took 13 prisoners in operations inside the Gaza Strip. One Israeli soldier was killed and several others injured.
In all, 307 Palestinians have been killed since fighting began on July 8, Gaza officials said. Most of the dead were civilians, of whom more than 50 were under the age of 18. About 2,260 other people have been injured.
Full report at:
http://www.aljazeera.com/news/middleeast/2014/07/us-cautions-israel-civilian-casualties-201471822402778906.html
-----------
Southeast Asia
Muslims flock to see giant wooden Qur'an in Indonesia
World Bulletin / News Desk
19 Jul 2014
Thousands of visitors have been rushing to Indonesia to see the largest Qur'an carved out on wood in Palembang, South Sumatra.
Starting work on the giant wooden Qur'an in 2002, a team of writers, carvers, carpenters and painters led by Ihsaniyah Islamic boarding school caretaker Syofwatillah Mohzaib began carving timber from the Tembesu tree, which is known to be termite-proof and durable.
Seven years and US$170,976 later, the project, named Al-Quran Al-Akbar (The Biggest Qur'an) features 15 chapters of the Qur'an carved on both sides of 315 revolving timber panels measuring 177cm x 140 cm. The structure, which is five-storeys high, will get even bigger as chapters 16 to 30 are currently being carved.
Full report at:
http://www.worldbulletin.net/muslim-world/140929/muslims-flock-to-see-giant-wooden-quran-in-indonesia
--------
Malaysia 'not ready to accept this after MH370'
TANIA BRANIGAN
19 Jul 2014
News of the Malaysia Airlines crash in Ukraine has been greeted with not just horror but disbelief in Malaysia, where distress at the loss was amplified by the sheer incredulity of facing a second air disaster in five months.
Malaysia Airlines flight MH370, carrying 239 people, vanished on a flight from Kuala Lumpur to Beijing in March. It has yet to be found despite a huge international search, which is still going on.
The crash of flight MH17 on Thursday had immediate and chilling echoes.
"I am shocked by reports that an MH plane crashed. We are launching an immediate investigation," Malaysia's Prime Minister, Najib Razak, said on Twitter.
The Defence Minister, Hishamuddin Hussein, urged people to keep calm, saying in a message that there was no confirmation the flight had been shot down.
Full report at:
http://www.thehindu.com/news/international/world/malaysia-not-ready-to-accept-this-after-mh370/article6226096.ece
-----------
For PAS's MP, doing the right thing is not easy
19 Jul 2014
Doing the right thing is not easy or painless. Often, it invites ridicule, threats and a slap.
But doing the right thing and speaking up for Malaysians is more important than personal discomfort or public humiliation. That is why PAS's Shah Alam MP Khalid Samad can stand tall in Selangor, despite the dressing-down he received from the Sultan of Selangor yesterday.
He, like all of us godly Malaysians, needs only to answer to our God, and do right by the teaching of our God. Not the prime minister. Not a political party president. Not a sultan. Nobody.
The Selangor sultan was unhappy with the Shah Alam MP for questioning the powers of the Selangor Islamic Religious Council (Mais) and for allegedly suggesting that its executive powers be withdrawn.
Full report at:
http://www.themalaysianinsider.com/malaysia/article/for-khalid-samad-doing-the-right-thing-is-not-easy#sthash.3xLqWskE.dpuf
-----------
Yudhoyono Urges Immediate End to Gaza Strife
19 Jul 2014
Jakarta. President Susilo Bambang Yudhoyono urged the international community on Friday to act seriously act and take concrete actions to minimize the number of civilian casualties in the ongoing conflict between the Israeli Defense Force and Hamas militants in the Gaza Strip.
His statement came after the IDF launched a ground invasion of the Palestinian enclave, following more than a week of air strikes, as the Israelis attempt to crack down on militants firing rockets into Israel.
"I want to call on the international community and persuade leaders all over the world to immediately take serious action to address the worsening situation in Gaza," Yudhoyono said at the State Palace in Jakarta.
He warned that as the cycle of violence in the Middle East escalated, condemnation from world leaders would no longer be enough to end the bloodshed.
"In order to address this critical situation, the international community has no other option than to take concrete action and to take the matter more seriously. Giving speeches to stop violence in Palestine is not effective," he said.
Full report at:
http://www.thejakartaglobe.com/news/yudhoyono-urges-immediate-end-gaza-strife/
-----------
URL: https://www.newageislam.com/islamic-world-news/new-age-islam-news-bureau/is-offer--sr1,-000-to-marry-a-"jihadist/d/98201