New Age Islam News Bureau
7 Feb 2015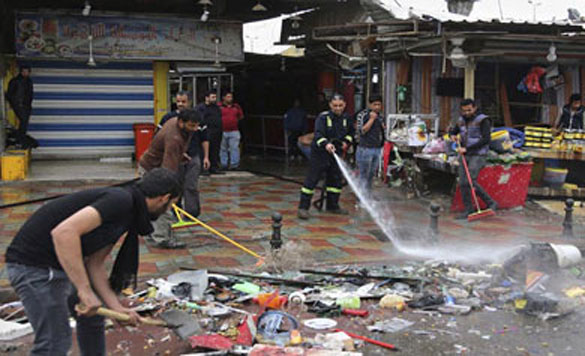 Baghdad municipality workers help clean up the site of a suicide bombing killing over 20 people and wounding at least 45, in New Baghdad, Saturday, Feb. 7, 2015. (AP photo)
-------------
Pakistan
• 'Is Criticising Blasphemy Laws Blasphemous': IHC
• Seven Militants Killed In Mohmand, Six Bodies Recovered
• ATC Indicts Chief of the Banned Tehreek Nifaz-I-Shariah Mohammadi in Sedition Case
• Hizb supremo condemns terror attacks in Pakistan
• 'Shabab-i-Milli activists involved in criminal activities'
• US seminar warns India against changing Kashmir's status
Africa
• Niger Forces Kill 109 Boko Haram Militants in Battle
• Tunisia's secular-Islamist coalition takes office
• Nigeria, Chad Sign Counter-Terrorism Pact
Arab World
• Renowned Scholar Qaradawi: Islam Urges Humane Treatment of All Prisoners
• Iraqi Official: Over 25 ISIL Terrorists Killed in Anbar
• Multiple Baghdad bombings kill 37, wound 86, say Iraqi officials
• Top Terrorist Leaders Killed in Syria
• Remains of 23 Yazidis found in Iraq mass grave
• Jordan: Pilot murder 'turning point' in ISIS fight
• Gulf Arab states urge bigger international role in Yemen
• Egypt's Socialist Alliance boycotts elections; Constitution Party mulls its options
• Makkah imam flays IS savagery
Europe
• British Army to Recruit More Muslims in a Bid to Tackle Islamic Extremists
• In Multi-Faith City, Cordoba, Row Rumbles Over Mosque-Cathedral
• UK Rebuffs Egypt's Calls To Close London-Based 'Pro-Muslim Brotherhood' Media
• Western powers say Libya risks bankruptcy as oil price falls
• U.N. sets sights on Syria antiquities, ISIS oil and ransoms
India
• Before Preaching, Obama Should Stop 'Atrocities on Blacks', VHP Says
• US Body Lauds Obama's Remarks on Religious Freedom in India
• India invites Pakistan and, Afghanistan to join front against polio
South Asia
• Taliban Commander's Dead Body Set on Fire in Herat Province
• 5 ANA Martyred, 34 Insurgents Killed in ANSF Operations
• 2 Policemen Martyred, 10 Insurgents Killed In Eastern Afghanistan
• Bangladesh arson death toll climbs to 6
• 'The abuses in Bangladesh can no longer be ignored': HRW
Southeast Asia
• Cultural Dress, Not Religious Clothing, OK to Wear For Muslims, Says Perlis Mufti
• Malaysian anti-terror unit nabs Isis leader in Kuala Lumpur
• Paedophiles will overrun Kelantan if Hudud introduced, says G25
• Eight Abu Sayyaf militants dead in Philippines clash
North America
• Islamic Shariah Tribunal Begins Operating in Texas
• Houthi Power Grab Shocks World: UN Spokesman Said
• US plans to work with Pakistan for regional peace
• U.S. charges six with assisting Mideast fighters
Mideast
• Iranian FM Warns of Dire Consequences of Islamophobia for Int'l Security
• Israeli Forces Attack Anti-Settlement Palestinian Protesters
• Blast hits republican palace in Yemen's Sanaa, wounding three Shi'ite Muslim militiamen
• Gazans protest against Egypt 'terror' ruling
• UN, Arab League Urge Donors to Honour Gaza Aid Promises
• Shiite militia tightens grip on Yemen after 'coup'
Compiled by New Age Islam News Bureau
URL: https://www.newageislam.com/islamic-world-news/new-age-islam-news-bureau/'is-criticising-blasphemy-laws-blasphemous'--ihc/d/101412
-------------
Pakistan
'Is Criticising Blasphemy Laws Blasphemous': IHC
07 Feb, 2015
ISLAMABAD: The Islamabad High Court (IHC) bench hearing an appeal filed by Mumtaz Qadri – the murderer of former Punjab governor Salmaan Taseer – asked his defence team whether criticising the blasphemy laws was, in itself, an act of blasphemy.
The IHC division bench consisting of Justice Noorul Haq N. Qureshi and Justice Shaukat Aziz Siddiqui, on Friday, read out a statement by Mr Taseer, where he called the blasphemy law 'a black law'. At this point, the judge asked Qadri's counsel, former Justice Mian Nazeer Ahmed, whether Taseer had blasphemed when he criticised a law that was promulgated during the regime of former military dictator General Ziaul Haq.
"Did his actions fall under the ambit of the blasphemy law," the judge mused, adding, "For the sake of argument, even if it is presumed that Mr Taseer had committed blasphemy, should he not be dealt with in accordance with the law?"
Evading the question, the counsel recalled that the Holy Prophet Muhammad (peace be upon him) had himself sent men to punish blasphemers. However, the bench remarked that in doing so, the Holy Prophet (peace be upon him) was also exercising judicial powers in addition to administrative ones, adding that under second Caliph Umar, the judiciary was separated from the executive.
Qadri's defence attorney maintains it is acceptable for individuals to act unilaterally against blasphemers in certain cases
The counsel claimed that in his research on the subject of blasphemy, he had found as many as 115 cases where alleged blasphemers had been put to death over the course of nearly 14 centuries. These included, he pointed out, Christians who had been executed in the name of religion in Europe.
He alleged that the west had double standards; on the one hand, they did not permit Holocaust Denial but on the other hand, they allowed things that hurt Muslim sentiments under 'freedom of expression'.
The judge-turned-counsel argued that in certain circumstances, individuals could take action against blasphemers on their own.
At this point, Justice Qureshi remarked that even a judge did not have the authority to touch a convict. He said that a district and sessions judge, after convicting an accused, can award him the death penalty but he could not shoot the convict himself.
In case a judge causes any harm to the convict, the judge may be held accountable in accordance with the law and a case may be instituted against him, he added.
Qadri's counsel claimed that his client was an honest policeman and had served with many VVIPs in the past.
He also claimed that there was insufficient evidence against Qadri to establish that he was a criminal.
Justice Siddiqui then asked the counsel whether, as a policeman, Qadri had taken an oath to protect the lives of his fellow citizens. If he believed Mr Taseer has done something wrong, he would have been dealt with in accordance with the law, the judge said.
He then asked the counsel whether the bench should decide the matter on the basis of emotions and sentiments, or strictly in accordance with the law and adjourned further hearing until February 10.
http://www.dawn.com/news/1162069/is-criticising-blasphemy-laws-blasphemous
-------------
Seven militants killed in Mohmand, six bodies recovered
07 Feb, 2015
PESHAWAR: At least seven militants were killed in a clash with security forces in Mohmand Agency on Saturday, according to a statement by the Inter-Services Public Relations (ISPR).
Seven militants were killed by security forces in a clash that erupted after their [militants'] movement was intercepted by the forces, said the ISPR statement.
The bodies, which were taken into custody, are being handed over to the administration.
Six bodies recovered from Mohmand Agency
Six unidentified bodies were recovered from Mohmand's Yakaghund area, according to local tribal sources.
The bodies were found in the Umar Banda area of Yakagund in Mohmand Agency. Sources believe that the bodies might be of militants killed in the clash with security forces.
Mohmand is one of Pakistan's seven tribal agencies near the Afghan border which are rife with militancy and have been said to be strongholds of Taliban and Al Qaeda operatives.
http://www.dawn.com/news/1162115/seven-militants-killed-in-mohmand-six-bodies-recovered
-------------
ATC Indicts Chief of the Banned Tehreek Nifaz-I-Shariah Mohammadi in Sedition Case
07 Feb, 2015
PESHAWAR: An anti-terrorism court (ATC) in Peshawar on Saturday indicted chief of the banned Tehreek Nifaz-i-Shariah Mohammadi (TNSM) Maulana Sufi Mohammad for sedition over a speech at Grassy Ground Swat in Feb 2009 when the government had made a deal with him for restoration of peace in Malakand region.
The hearing of the case was held in Peshawar's Central Jail.
During the hearing, the court charged the TNSM chief for treason over his speech against democracy and state at Grassy Ground in Swat where he had termed democracy and the then-government as un-Islamic and unconstitutional.
Sufi Mohammad is the father-in-law of outlawed Tehreek-i-Taliban chief Mullah Fazlullah.
Last year in November, an ATC in Peshawar had acquitted Sufi Mohammad and around 30 of his associates in two terrorism cases.
However, he continued to be behind bars for facing two more cases — one of which is the sedition case in which he was indicted today.
http://www.dawn.com/news/1162121/atc-indicts-sufi-mohammad-in-sedition-case
-------------
Hizb supremo condemns terror attacks in Pakistan
07 Feb, 2015
KARACHI: Condemning terror attacks on schools, mosques, Imambargahs, Hizbul Mujahideen's supreme commander Syed Salahuddin has said that those carrying out such attacks are the open enemy of Pakistan and Islam.
Speaking at a press conference at the Jamaat-i-Islami's Idara Noor-i-Haq headquarters on Friday, he said that jihad did not teach targeting innocent children and women.
He said that the Modi-led Indian government wanted to eliminate the Islamic identity of Kashmiris.
He blamed former military ruler retired Gen Pervez Musharraf for taking a U-turn on the Kashmir policy that, according to him, damaged the struggle of the people of Kashmir badly.
He demanded that the army leadership and the government raise their voice for the right of self-determination for Kashmiri people at international forums.
"If the Kashmir issue was not resolved under the resolutions of the United Nations and according to the desires of Kashmiris, then the entire continent would face dire consequences," he warned.
He said that India was not ready to consider Kashmir a "disputed territory" and instead claimed the valley as its so-called integral part, which was in negation of the UN resolutions.
"The struggle of Kashmiris will continue till the withdrawal of the Indian army from India-held Kashmir, as the people of Kashmir are struggling for the right of self-determination," he said, adding: "We are not against dialogue, but the epicentre of talks should be the Kashmir issue, otherwise the discussion would prove worthless."
The Kashmiri leader believed that Indian involvement had increased in Balochistan and Waziristan.
He alleged that India was providing arms and ammunition to the Balochistan Liberation Army.
He also claimed that India and other anti-state elements were involved in bomb blasts across Pakistan.
He said that 'mujahideen' were not involved in carrying out any terrorist activities in Pakistan.
Karachi JI chief Hafiz Naeem-ur-Rehman, deputy supreme commander Javed Kasuri, JI leaders Barjees Ahmed, Osama Razi, Abdur Razzaq and Zahid Askari were also present during the press conference.
http://www.dawn.com/news/1161984/hizb-supremo-condemns-terror-attacks-in-pakistan
-------------
'Shabab-i-Milli activists involved in criminal activities'
07 Feb, 2015
VEHARI: The district police officer (DPO) has alleged that Shabab-i-Milli activists are involved in criminal activities.
Addressing a press conference on Friday, DPO Sadiq Ali Dogar said various members and office-bearers of the Shabab-i-Milli, a student wing of the Jamaat-i-Islami, were booked in about a dozen cases registered with various police stations in the last few months.
He said the student wing's allegations against police regarding fake cases against its workers were baseless.
The DPO said that on June 11, 2014, Shabab-i-Milli workers staged demonstrations and blocked the national highway at various places in the district, including Metla Chowk, Karampur, Mailsi, V-Chowk, Pakhimore, Luddan and Burewala, and delivered hate speeches, creating a law and order situation.
Police had to take action to control the rallies and registered seven cases against the protesters. He alleged that some criminals had been included in the ogranisation who were committing crime under its shelter.
It was learnt that on Feb 4, the Shabab-i-Milli had staged a protest demonstration in front of the Multan RPO office against Vehari police for registering 'fake cases' against its workers. It warned of expanding protest across the province if cases against its members were not withdrawn.
http://www.dawn.com/news/1162072/shabab-i-milli-activists-involved-in-criminal-activities
-------------
US seminar warns India against changing Kashmir's status
07 Feb, 2015
WASHINGTON - Pakistan has said that India cannot roll the UN-recognised Jammu and Kashmir dispute under the carpet, while experts at a seminar warned India against changing the special constitutional status of the disputed territory and altering its demographics.
Coinciding with Kashmir Solidarity Day, the seminar was hosted by the Pakistani embassy and attended by Pakistani-Americans and Kashmir-Americans. "The UN Security Council resolutions have the legitimacy of the international contract, accepted by both India and Pakistan before the international community. Therefore, denying the pledge would be a violation of that contract," Pakistan's Ambassador to the United States Jalil Abbas Jilani said. He renewed Islamabad's moral and diplomatic support for Kashmiris' legitimate struggle for right to self-determination. Ambassador Jilani noted that the Indian trend to effect a demographic change in the disputed territory as well as New Delhi's plan to change the special constitutional status of the territory have caused deep concern and alarm in the region.
It is extremely important for India and Pakistan to resolve the longstanding issue in accordance with the UN resolutions and wishes of the Kashmiri people, he underscored. Azad Jammu and Kashmir Minister for Electricity Raja Faisal Rathore asked the international community to pay heed to the plight of the Kashmiri people suffering at the hands of Indian occupation forces. He said that the world should not allow India to hide its heinous crimes against humanity in the form of torture, rape and violence against a people struggling for their just rights. Peace in the region would remain elusive if India does not reconcile to the imperative of resolution to the Kashmir dispute.
Former foreign secretary Riaz Muhammad Khan said that the world may have seen some geo-strategic changes but the fundamental reality "rejection of living under Indian rule by three generations of the people of Jammu and Kashmir" remains stark and immutable. He pointed out that the BJP-ruled New Delhi's contemplation of a change in the special status of Kashmir in the Indian constitution is fraught with precarious repercussions and warned that such a move may lead to widespread unrest, protests and violence in the disputed territory. He reminded the world that the "tragedy of Kashmir is the tragedy of South Asia." Addressing the colloquium, Ambassador Touqir Hussain, Adjunct Professor at Johns Hopkins' School of Advanced International Studies, noted that India's refusal to address the Kashmir dispute stems from its rejection of the idea of Pakistan. "India's has been denying democratic rights to the people of Kashmir with 700,000 troops - but the people of Kashmir have rejected the occupation."
He remarked that the US needs both India and Pakistan for achievement of its strategic objective in the region. But, the former diplomat argued, without the resolution of the Kashmir dispute, the two South Asian countries cannot improve their relationship, and even the stability of Afghanistan is linked to improvement in Pakistan-India relations. The participants and speakers also highlighted during the interactive session that India, which blatantly violates Kashmiris' human rights, denies them their democratic rights and rejects calls for implementation of UN resolutions on Kashmir can no way qualify to be a member of the world body's security council.
http://www.dailytimes.com.pk/national/07-Feb-2015/washington-seminar-warns-india-against-changing-demographics-special-status-of-kashmir
----------
Africa
Niger forces kill 109 Boko Haram militants in battle
7 February 2015
(Reuters) - Niger's forces killed 109 fighters from the Islamist militant group Boko Haram on Friday as they repulsed attacks on the southeastern town of Bosso, near the Nigerian border, Niger state television said.
Four soldiers from Niger were killed in the fighting against Boko Haram, whose insurgency is spreading from Nigeria to neighboring states.
http://www.reuters.com/article/2015/02/06/us-nigeria-violence-niger-toll-idUSKBN0LA2CY20150206
-------------
Tunisia's secular-Islamist coalition takes office
7 February 2015
A secular-led coalition government that includes Islamists took office in Tunisia Friday, three months after the North African state's first free parliamentary elections.
Prime Minister Habib Essid and his team took the oath of office in front of President Beji Caid Essebsi before an official handover from interim premier Mehdi Jomaa.
Essid vowed to fight for greater democracy and greater regional stability, four years after a revolution ousted longtime dictator Zine El Abidine Ben Ali, and against rampant unemployment.
"The traditional solutions and sedatives are no longer enough," he said in a speech.
Both Essid and Essebsi, who was elected in December, paid tribute to Chokri Belaid, an anti-Islamist politician shot dead by suspected jihadists exactly two years ago, with the premier vowing to track down the assassins.
Parliament on Thursday approved the coalition led by the secular Nidaa Tounes party and including moderate Islamist rivals Ennahda, following landmark elections in the birthplace of the Arab Spring.
Full report at:
http://english.ahram.org.eg/NewsContent/2/8/122356/World/Region/Tunisias-secularIslamist-coalition-takes-office.aspx
-------------
Nigeria, Chad Sign Counter-Terrorism Pact
07 Feb, 2015
Nigeria and Chad have signed a memorandum of understanding for stepped-up bilateral cooperation in the fight against the Boko Haram terrorist group, media report said.
"Chadian forces on Nigerian territory are mostly in the border town of Fotokol and Gamboru Ngala on the basis of the bilateral agreement we signed," Alex Badeh, Nigeria's Chief of Defense Staff, told reporters after signing the agreement with Chadian counterpart Brahim Mahamat, World Bulletin reported.
"We have been working together ever since. They (Chadian forces) came here to clear some grey areas; that is what we have done. We have just met as an addendum to the MoU that we signed on January 18," he said.
The contents of the MoU, however, were not released to the media.
"I know that Chad is bringing a force of between 2,000 and 2,500. Nigeria is taking all her forces, but to work with the Chadian forces, we have 5,000 to work with them, and that is what we have there," Badeh said.
http://english.farsnews.com/newstext.aspx?nn=13931118000963
----------
Arab World
Renowned Scholar Qaradawi: Islam Urges Humane Treatment of All Prisoners
07 Feb, 2015
According to highly-respected Muslim scholar Dr Qaradawi, Islam prohibits cruelty to prisoners of war and all humans in general.
Islam considers prisoners of war vulnerable, deserving compassion, care and good treatment. Islam urges humane treatment of prisoners, to protect their dignity, their rights, and their humanity. Quran uses very gentle terms while urging kindness and generosity to prisoners.
I would like to stress that it is not right to blame Islam for the actions of some Muslims whose thinking has been clouded with exasperation or whose Islamic education or knowledge is lacking.
Certainly, Muslims can and should be measured or judged according to the rules and teachings of Islam. The reverse, however, is not true. Islam cannot be measured or judged by the actions of misbehaving Muslims. In fact, Islam has often been blamed for actions by nominal Muslims whose behavior causes more damage than enemies who secretly plot and openly fight against Islam
Full report at:
http://www.ikhwanweb.com/article.php?id=31999
-------------
Iraqi Official: Over 25 ISIL Terrorists Killed in Anbar
07 Feb, 2015
At least 25 terrorists were killed in heavy fighting between the Iraqi army and ISIL Takfiri group in Anbar province, a military official said.
A senior army official, speaking on condition of anonymity, said that the army soldiers inflicted heavy losses on the terrorist group in al-Hoze area, leaving more than 25 militants dead.
The source added that the army also managed to defuse 25 IEDs during the clashes.
The ISIL Takfiri terrorists currently control a shrinking part of Syria and Iraq. They have threatened all communities, including Shiites, Sunnis, Kurds, Christians, Ezadi Kurds and others, as they continue their atrocities in Iraq.
Senior Iraqi officials have blamed Saudi Arabia, Qatar, and some Persian Gulf Arab states for the growing terrorism in their country.
The ISIL has links with Saudi intelligence and is believed to be indirectly supported by the Israeli regime.
http://english.farsnews.com/newstext.aspx?nn=13931118000376
-------------
Multiple Baghdad bombings kill 37, wound 86, say Iraqi officials
07 Feb, 2015
A series of bombings in the Iraqi capital of Baghdad on Saturday killed more than three dozen people hours before the city's longtime curfew was set to come to an end.
The deadliest attack happened in the New Baghdad section of the city. Police officials said a suicide bomber targeted a street filled with hardware stores, killing 22 people and wounding at least 45.
The second attack took place shortly afterward in central Baghdad's popular Shorja market. Police said two devices detonated 25 meters apart from one another, killing at least 11 people and wounding 26.
Also, at the Abu Cheer market on a Shiite block of southwestern Baghdad, at least four people were killed and 15 wounded when a bomb detonated outside an outdoor food market.
There has been no claim for any of the attacks thus far. Hospital officials confirmed the casualties. All officials spoke anonymously as they are not authorized to brief the media.
The incident comes ahead of Prime Minister Haider al-Abadi's decision to lift Iraq's longtime curfew beginning at midnight Sunday.
Baghdad has remained relatively calm amid a rampage in northern and western Iraq by the al-Qaida-inspired Islamic State group. Recent bombings have frequently targeted Shiite-majority areas in the capital, but the violence has been considerably subdued from the darkest days of sectarian bloodletting in 2006 and 2007.
Iraqi officials have repeatedly assured that the capital is secure, despite the occasional targeting of Baghdad's Shiite-majority neighborhoods by the Sunni militant group.
http://indianexpress.com/article/world/middle-east-africa/iraq-officials-multiple-baghdad-bombings-kill-22-wound-55/
-----------
Top Terrorist Leaders Killed in Syria
07 Feb, 2015
The Syrian army struck a severe blow at the armed groups in the Eastern Ghouta and Jobar and killed a large number of Takfiri terrorists, including three top commanders, a report said.
Reports coming out of the area said that the army troops had claimed the lives of scores of the terrorists, including three senior leaders, Abo Zaid Qannas, Zaid Qannas and Abo Abdo Tafjir, in the Eastern Ghouta and Jobar.
Syria has been the scene of insurgency since 2011 when certain western powers and their regional allies voiced loudly that Syrian protests have no diplomatic solution and they started supplying the country's opposition groups with their arms and funds.
In 2014, specially after victory of President Bashar al-Assad in the country's presidential election, the army has gained upper hand in its anti-terrorism campaign, and has been partly successful in sealing borders with Turkey and Jordan.
http://english.farsnews.com/newstext.aspx?nn=13931118000893
-------------
Remains of 23 Yazidis found in Iraq mass grave
7 February 2015
Officials in northern Iraq unearthed on Saturday the remains of 23 men, believed to be members of Iraq's Yazidi religious minority, buried in a mass grave, Agence France-Presse reported.
A team opened the grave, which was found near the village of Bardiyan based on a tip from a local resident, on Friday, Fuad Othman, a spokesman for the Kurdish regional government, told AFP.
It is the latest evidence of atrocities committed in areas held by the Islamic State of Iraq and Syria (ISIS) group to emerge since Kurdish forces pushed the militants back.
A team acting on a tip-off from a resident opened the grave near the village of Bardiyan on Friday, said Fuad Othman, a spokesman for the Kurdish regional government.
Othman said those killed had been shot, and some had their hands bound.
A ditch where some 25 people were murdered was found farther south in Nineveh province on February 1, and Othman said dozens more bodies were believed to be in another grave in the Hardan area.
ISIS spearheaded a militant offensive that began in northern Iraq last June and overran large parts of the country, before again turning its attention to the north in August, driving Kurdish forces back and seizing more territory in Nineveh.
The militants carried out a campaign of killings, kidnappings, enslavement and rape against Yazidis living in the area that the U.N. termed an "attempt to commit genocide."
Backed by U.S.-led air strikes, Iraqi Kurdish forces have made significant gains in the region, driving ISIS back and retaking areas where the grave sites have been discovered.
http://english.alarabiya.net/en/News/middle-east/2015/02/07/Remains-of-23-Yazidis-found-in-Iraq-mass-grave.html
-------------
Jordan: Pilot murder 'turning point' in ISIS fight
7 February 2015
The burning alive of a Jordanian pilot by the Islamic State group is a "turning point" in the kingdom's fight against the jihadists, a minister said in remarks published Saturday.
Air strikes carried out so far by Jordan's air force were "the beginning of an ongoing process to eliminate" ISIS, Interior Minister Hussein Majali said, quoted by government newspaper Al-Rai.
Amman said its warplanes launched dozens of strikes on Thursday against the Sunni Muslim extremist group after threatening a harsh response to the murder of pilot Moaz al-Kasasbeh.
ISIS said the strikes near its self-proclaimed capital of Raqa killed U.S. aid worker Kayla Jean Mueller, who was kidnapped in August 2013, but the United States said there was no proof to support the claim.
Majali said the Jordanian air strikes that destroyed the "terrorist" group's facilities, arms depots and training centers on Thursday were the start of a campaign to "wipe them out completely".
"The state of Jordan is entitled to retaliate against this terrorist organization, and we will pursue it wherever it is," he told Al-Rai.
Full report at:
http://english.alarabiya.net/en/News/middle-east/2015/02/07/Jordan-Pilot-murder-turning-point-in-ISIS-fight-.html
-------------
Gulf Arab states urge bigger international role in Yemen
7 February 2015
Gulf Arab states have expressed concern about the Iranian influence in Yemen and called for growing international role, a U.S. official said on Friday, hours after the Houthi rebels seized power in Yemen, dissolving the parliament and setting up a presidential council.
But no arrangements were made to contact Tehran about the situation during talks between Kerry and ministers and senior officials from Arab Gulf states, senior State Department official said on Friday after meetings with U.S. Secretary of State John Kerry.
"There was a feeling that the international community needed to take a stronger position, either through the U.N. or another multilateral organization," the official said on condition of anonymity.
"There was concern about Iranian influence but no one discussed getting in touch with the Iranians," the official said, adding that there was also talk about more Security Council meetings on Yemen.
Full report at:
http://english.alarabiya.net/en/News/middle-east/2015/02/07/Gulf-Arab-states-urge-bigger-international-role-in-Yemen.html
-------------
Egypt's Socialist Alliance boycotts elections, Constitution Party mulls its options
7 February 2015
Egypt's Socialist Popular Alliance Party (SPAP) has decided to boycott upcoming parliamentary elections after a list of its demands, put forth following the killing of member Shaimaa El-Sabagh, was not met.
Demands include sacking the interior minister, reforming the interior ministry, amending a controversial protest law, releasing all those detained for violating the protest law, and conducting a transparent investigation in El-Sabagh's killing.
El-Sabagh, a labour activist and a leading member in the party, was shot dead 24 January in a peaceful march heading to Tahrir Square to commemorate fallen protesters of the 25 January 2011 uprising.
The Socialist Popular Alliance Party accused the police of "premeditatedly murdering" her.
Subsequently, the police briefly arrested the vice president of the party, Zohdi El-Shamy, who was also present in the peaceful march, on "suspicion" of being involved in El-Sabagh's murder.
Full report at:
http://english.ahram.org.eg/NewsContent/1/64/122407/Egypt/Politics-/Egypts-Socialist-Alliance-boycotts-elections,-Cons.aspx
----------
Makkah imam flays IS savagery
7 February 2015
The immolation of a Jordanian pilot by the Islamic State group has brought a unified outcry from top religious scholars across the Muslim world.
Shaikh Saud Al-Shuraim, imam and khateeb at Makkah's Grand Mosque, criticized the savagery faced by captured pilot Maaz Al-Kasaasbeh at the hands of the terrorists of the Islamic State group.
He said there are chapters in the Hadith books of Al-Nasai and Al-Baihaqi on the ban on burning a polytheist after he is defeated. "If it is the right accorded by Islam to a disbeliever and polytheist not to be burned alive when captured, then, a Muslim has a greater right not to be burned or tortured," the Imam said.
He pointed out that the flaw Muslims these days is the corruption of religious values, while the real knowledge is missing. "Only a man steeped in knowledge and wisdom can bring about any kind of reform."
Full report at:
http://www.arabnews.com/news/700961
-------------
Europe
British Army to recruit more Muslims in a bid to tackle Islamic extremists
07 Feb, 2015
ARMY chiefs are launching a recruitment drive among British Muslims to plug a manpower gap and tackle Islamic radicalisation.
The move is part of a broader campaigner to recruit more personnel from among women and ethnic minorities.
Currently more British Muslims are thought to have joined Islamic State as jihadis - about 600 - than serve in the Army - about 480.
But the Army hopes its recruitment drive will let it better represent the ethnic make-up of the country and fight a sense of exclusion in some parts of Britain's ethnic communities.
The head of the Army, the chief of the general staff, General Sir Nicholas Carter, said: "My highest priority is ensuring we continue to have the best possible talent throughout our Army. This requires us to draw talent from all of the society we represent.
"Our recruitment from the Black, Asian and Minority Ethnic communities has been improving over the years, but it is nowhere near where it needs to be. We have to do more.
"The Army has always played an important role in making the connection to all elements of society and there are plenty of examples of initiatives that have built enduring relationships with minority communities.
Full report at:
http://www.express.co.uk/news/uk/556468/British-Army-recruit-more-Muslims-to-combat-Islamic-extremism
-------------
In Multi-Faith City, Cordoba, Row Rumbles Over Mosque-Cathedral
07 Feb, 2015
THE Spanish city of Cordoba boasts that different faiths have long co-existed there, but locals are now squabbling over its star tourist attraction: a cathedral that was once a mosque.
One of the most famous Islamic monuments in Europe, the grand stone edifice dominates the old centre of the city in the southern Andalucia region.
It is listed by UNESCO as a world heritage site, a jewel of Islamic architecture with later Christian additions, located not far from the old Jewish quarter.
Locals call it the "Mosque-Cathedral" — but critics accuse the Catholic Church which runs the site of covering up the Islamic part of the building's past.
Visitors to the site are issued with tickets and information leaflets that call it a cathedral, with just minor passing references to the mosque.
"The Mosque-Cathedral is the cultural heart of the city and its principal tourist business," said Miguel Santiago, a spokesman for the campaign group Mosque-Cathedral, Heritage of All.
"Changing its name goes against the tourism interests of Cordoba and, worst of all, against its historical, artistic and symbolic essence."
Full report at:
http://www.dailytimes.com.pk/region/07-Feb-2015/in-multi-faith-city-row-rumbles-over-mosque-cathedral
----------
UK rebuffs Egypt's calls to close London-based 'pro-Muslim Brotherhood' media
7 February 2015
The UK has rejected Egypt's call for London to shut down "pro-Muslim Brotherhood news media" operating from the British capital, pledging to respect the principle of freedom of speech.
"Media organisations are of course free to operate in the UK, in accordance with UK laws and regulations," a spokesperson for the British Foreign and Commonwealth Office (FCO) told Ahram Online.
The UK believes a free and robust press is the bedrock of democracy, he added.
These remarks come a day after the Egyptian foreign ministry called on European countries, including the UK, to "monitor extremist websites that incite violence and terrorism, and to halt broadcasting channels linked to the Muslim Brotherhood."
The UK hosts Alarabi and Al-Hewar TV stations and Al-Araby Al-Jadeed newspaper, which are widely believed to be supported by the Muslim Brotherhood and are accused by Egyptian authorities, politicians and media of being tools to incite and promote terrorist activities in Egypt.
Full report at:
http://english.ahram.org.eg/NewsContent/2/9/122237/World/International/UK-rebuffs-Egypt%E2%80%99s-calls-to-close-Londonbased-proM.aspx
-------------
Western powers say Libya risks bankruptcy as oil price falls
7 February 2015
The United States and five of its European allies on Saturday warned that Libya could face bankruptcy if its oil output and prices on international markets continue to fall.
In a statement voicing alarm at the deteriorating security situation in the conflict-wracked North African state, the allies also warned that Libya was on the brink of economic implosion because of a collapse in its production and the sliding value of crude.
"We remain deeply concerned about the economic impact of the political and security crisis on Libya's future prosperity," the joint statement read.
"In light of low oil production and prices, Libya faces a budget deficit that has the potential to consume all of its financial assets if the situation does not stabilize."
The joint statement was issued by Britain, France, Germany, Italy, Spain and the United States.
Full report at:
http://english.alarabiya.net/en/business/energy/2015/02/07/Western-powers-say-Libya-risks-bankruptcy-as-oil-price-falls-.html
-------------
U.N. sets sights on Syria antiquities, ISIS oil and ransoms
7 February 2015
The United Nations Security Council appears set to ban all trade in antiquities from war-torn Syria, threaten sanctions on anyone buying oil from the Islamic State of Iraq and Syria (ISIS) and al-Qaeda-linked Nusra Front militants and condemn paying kidnap ransoms to the groups.
The United States worked with its veto-wielding counterparts on the council - Russia, China, Britain and France - to draft a resolution that was to be circulated to the remaining members of the 15-nation council on Friday, a U.S. official said.
Russia initially suggested the council ratchet up pressure on ISIS, also known by one acronym as ISIL, diplomats said.
"We're relatively bullish, we think that it is going to enjoy the support of the council," said a U.S. official familiar
with the discussions on the resolution, which he said aimed to "degrade ISIL's ability to raise funds, to move funds."
The official added that it was hoped the council could vote as soon as next week. The draft text, obtained by Reuters, seeks to build on previous resolutions on terrorism financing.
It would ban all trade in antiquities from Syria and reaffirms a similar ban imposed by the council on Iraqi artifacts about a decade ago.
Full report at:
http://english.alarabiya.net/en/perspective/features/2015/02/07/U-N-sets-sights-on-Syria-antiquities-ISIS-oil-and-ransoms.html
-------------
India
Before preaching, Obama should stop 'atrocities on blacks', VHP says
Feb 7, 2015
NEW DELHI: Vishwa Hindu Parishad (VHP) on Friday launched a sharp attack against US President Barack Obama, saying he should not "preach" India on religious tolerance and instead take care of his country which was still witnessing "atrocities" against blacks.
Talking to reporters, VHP joint general secretary Surendra Jain alleged that Obama's comments came after "meeting certain people planted by the Church to help the activities of missionaries".
He also demanded that the government should disclose the names of such people on whom there is suspicion that they have been "planted by the Church" in politics.
The VHP leader said before "preaching" India, Obama should look in his own backyard in the US and even if he wants to preach, he should do so to "Christian missionaries who with the help of America are not only doing religious conversions, but one of its sections is also also involved in anti-national activities".
Jain added, "He (Obama) is himself black. Despite that, he has not been able to stop the atrocities being committed on blacks."
Full report at:
http://timesofindia.indiatimes.com/india/Before-preaching-Obama-should-stop-atrocities-on-blacks-VHP-says/articleshow/46146758.cms
-------------
US body lauds Obama's remarks on religious freedom in India
Feb 7, 2015
A US Congress-established commission on international religious freedom has commended President Barack Obama for deepening relations with India while recognising religious freedom concerns during his trip to the country.
"President Obama's timely comments underscore the importance of India getting religious freedom right," said Katrina Lantos Swett, Chairwoman of the US Commission for International Religious Freedom (USCIRF).
Notably, members of the USCIRF were denied visa by the previous UPA regime to send a fact-finding mission to India to access religious freedom in the country in particular states like Orissa and Gujarat.
In its annual report, USCIRF has been highly critical of the status of religious freedom in India and has often compared it at par with some of the authoritarian regimes.
Full report at:
http://www.thehindu.com/news/international/world/us-body-lauds-obamas-remarks-on-religious-freedom-in-india/article6868496.ece
--------
India invites Pakistan and, Afghanistan to join front against polio
Sushmi Dey,TNN | Feb 7, 2015
NEW DELHI: India has extended a helping hand to its two key neighboring countries - Pakistan and Afghanistan - in an attempt to form a united front to completely eradicate polio.
The ministry of external affairs (MEA), along with the health ministry, recently invited teams from the two countries to visit India and adopt its model for eradicating polio, an official said.
According to the official, a delegation from Afghanistan is expected on February 21. However, India is yet to hear from Pakistan on the issue.
Both Pakistan and Afghanistan have high polio burden and therefore, India runs a high risk of importing the virus. After an outbreak last year, most countries, including India, introduced extra health checks on prospective visitors from Pakistan, which alone accounts for over 75% of polio cases globally. This is the main reason why the government here has not been able to shed its guard against the virus even though India was officially declared polio free by the World Health Organization (WHO) in March last year.
According to WHO data, only three countries -Afghanistan, Nigeria and Pakistan - remain polio-endemic in 2014. Polio cases decreased by over 99% since 1988, from an estimated 3,50,000 cases then, to 416 reported cases in 2013.
Full report at:
http://timesofindia.indiatimes.com/india/India-invites-Pakistan-and-Afghanistan-to-join-front-against-polio/articleshow/46151642.cms
-------------
South Asia
Taliban commander's dead body set on fire in Herat province
07 Feb, 2015
The dead body of a senior Taliban commander was set on fire by unknown armed individuals in western Herat province of Afghanistan. (File photo of a dead Taliban insurgent)
According to local government officials the incident took place in Shindand district on Friday morning.
Shindand district administrative chief Engineer Farahmurz said the Taliban leader was identified as Mullah Nooruddin whose dead body was set on fire by unknown gunmen.
Eng. Farahmurz further added that Mullah Noorudin was injured following a gun battle with the Afghan security forces and succumbed to his injuries after he was taken to Pakistan for treatment.
He said the dead body of Mullah Noorudin was taken to Shindand district for burial when unknown armed individuals set his dead body on fire.
It is yet not clear who was involved behind the act but Shindand district chief said an investigation has been launched in this regard.
Shindand is among the relatively volatile provinces in western Afghanistan where anti-government armed militants are actively operting and frequently carry out insurgency activities.
https://www.khaama.com/taliban-commanders-dead-body-set-on-fire-in-herat-province-9933
-------------
5 ANA Martyred, 34 Insurgents Killed in ANSF Operations
07 Feb, 2015
Five Afghan National Army soldiers have embraced martyrdom in a landmine explosion while 34 insurgents have been killed in separate actions across the country, according to information provided by security officials on Saturday morning.
A statement issued by General Zahir Azimi, spokesman for the Defence Ministry does not specify the exact location of the blast in which Army soldier were martyred but states that it took place in past 48 hours.
General Zahir Azimi also writes in his statement that 27 insurgents were killed, 12, wounded and five arrested during confrontations with Afghan National Army in five provinces.
Azimi's statement does not name provinces in which confrontations occurred.
Statement adds that 27 Improvised Explosive Devices (IEDs) were also discovered and defused by Army.
In the meantime, statement issued by the media office of the Interior Ministry states that seven insurgents have been killed in police operations in past 24 hours.
Statement adds that the operations were conducted in Uruzgan and Ghazni provinces.
According to the information of the statement, six IEDs were also defused in the operations in Kabul, Laghman, Uruzgan, Khost and Farah provinces.
Taliban insurgents use IEDs in most of their attacks which claim lives of hundreds of civilians every year.
Full report at:
http://www.khaama.com/5-ana-martyred-34-insurgents-killed-in-ansf-operations-29025
-------------
2 policemen martyred, 10 insurgents killed in eastern Afghanistan
07 Feb, 2015
Two policemen and 10 insurgents have been killed in separate actions in eastern Afghanistan.
Ahmadzia Abdulzai, spokesman for the Governor of eastern Nangarhar province says that two policemen were martyred during a gun battle with Taliban insurgents in Ghanikhil District last night.
He said Taliban insurgents attacked a police check point which followed by a gun battle between policemen and insurgents.
Abdulzai added that two policemen were martyred in the exchange of fire with the insurgents.
Abdulzai said that insurgents fled from the area and gun battle ended after additional force arrived at the scene to support policemen.
He further said that six insurgents were also killed and ten others injured in the gun battle with Afghan National Security Forces (ANSF).
In the meantime, a key Taliban commander was killed along with one of his fighters in eastern Laghman province.
Officials say a group of insurgents attacked a security check post in Jobin area of Alishang Distric yesterday to which ANSF responded.
Officials add that including Taliban key commander in the area Mohammad Tahir, two insurgents were killed and two others critically wounded.
Taliban commander Mohmmad Tahir was a resident of Alishang District who had hand in several terrorist activities in this District, according to the local officials.
http://www.khaama.com/2-policemen-martyred-10-insurgents-killed-in-eastern-afghanistan-29030
-------------
Bangladesh arson death toll climbs to 6
07 Feb, 2015
The death toll from the petrol bomb attack on a bus at Gaibandha has risen to six as one more victim succumbed to her injuries on Saturday.
Sona Banu, 32, died around 3:20pm while undergoing treatment at the burn unit of Rangpur Medical College Hospital.
Rangpur Medical College Hospital's burn unit head Dr Maruful Islam endorsed the information with the Dhaka Tribune.
A Dhaka-bound bus came under arson attack in Gaibandha around 11pm on Friday leaving five persons burnt alive.
So far, more than 60 people have died and scores have been injured in different parts of the country in violence during the BNP-led alliance enforced non-stop blockade.
Of those, a large number of arson attacks are being conducted on highways. Hundreds of vehicles, including those belonging to law-enforcers, were burnt and attacked.
The BNP led 20-party alliance has been enforcing a non-stop nationwide blockade since January 5 in protest against the "confinement" of the party chief Khaleda Zia.
Khaleda Zia had been kept confined to her Gulshan party office since January 3 ahead of a party rally, marking "Democracy Killing Day."
Full report at:
http://www.dhakatribune.com/bangladesh/2015/feb/07/gaibandha-arson-death-toll-climbs-6#sthash.KiYaMdDW.dpuf
-------------
'The abuses in Bangladesh can no longer be ignored': HRW
07 Feb, 2015
Renewing the call for an end to the "ongoing political abuses," Human Rights Watch (HRW) has opined that "the abuses in Bangladesh can no longer be ignored by the world."
In a statement issued on Friday, HRW Asia Director Brad Adams said: "Some countries, including the United States and United Kingdom, have called for an end to the violence. India, whose opinion would count with Bangladeshi political parties, should also renew their call for an end to the abuses."
"The political leadership needs to hear strongly that unless this bloodletting stops, it will impact their standing with other countries."
The human rights watchdog also opined that with no end in sight to politically motivated violence and other abuses, the Bangladesh authorities need to ensure their response respects the rights of all and avoids arbitrary use of force, arrests, and disappearances.
"All political leaders should give clear statements that their supporters should not use unlawful violence."
Full report at:
http://www.dhakatribune.com/bangladesh/2015/feb/07/abuses-bangladesh-can-no-longer-be-ignored#sthash.ShC94ZHj.dpuf
---------
Southeast Asia
Cultural dress, not religious clothing, OK to wear for Muslims, says Perlis mufti
07 Feb, 2015
Criticised for equating Indian clothing with Hinduism, Perlis Mufti Datuk Dr Mohd Asri Zainul Abidin has said he was misunderstood and that he was not opposed to Muslims wearing clothes associated with the culture of other ethnic groups, such as cheongsam and Punjabi suits.
"Religious attire is not the same as ethnic costumes. Religious attire means clothing that is worn for prayer services. A cheongsam is not worn for a prayer service.
"It is when we wear something that is intended for a religious ritual (other than Islam), that is forbidden," Asri told The Malaysian Insider in a telephone interview.
The second-time state mufti was criticised yesterday after he said Muslims should not wear the clothes or accessories that were identified with other faiths.
He had initially said that Prime Minister Datuk Seri Najib Razak should have been better advised over his choice of dressing while visiting the Thaipusam celebration at Batu Caves on February 3, where he received a flower garland as a special guest.
Asri's remarks were first reported in Malay daily Sinar Harian on February 6, where he urged the prime minister's advisers to be stern towards the hosts of non-Muslim celebrations.
"The prime minister's advisers should inform the organisers to not place a garland on Najib or to ask him to wear Hindu clothes when attending a prayer service.
"They should tell the organisers that Najib can attend on the condition that he cannot take part in any Hindu ritual," Asri had said.
Full report at:
http://www.themalaysianinsider.com/malaysia/article/cultural-dress-not-religious-clothing-ok-to-wear-for-muslims-says-perlis-mu#sthash.b15MIUax.dpuf
-------------
Malaysian anti-terror unit nabs Isis leader in Kuala Lumpur
07 Feb, 2015
A 45-year-old commandant of the Islamic State of Iraq and Syria (Isis) was detained by the Malaysian Police Counter Terrorism unit in Kuala Lumpur on January 31.
Intelligence sources said the man from the Middle East who arrived here mid-January was detained at a four-star hotel near Bukit Bintang.
They said the arrest was a result of cooperation between Malaysian police and other foreign countries that have vouched to tackle the terror group from widening its influence abroad.
Police have yet to release more details of the operation, saying keeping the identity of the suspect anonymous is vital until the entire operation was completed.
They also seized a large amount of money from the suspect along with his fake passport.
Inspector-General of Police Tan Sri Khalid Abu Bakar in a statement today confirmed the arrest, but did not link the terrorist to any group.
Aabout 59 Malaysians are officially known to have joined Isis.
More than 65 have been arrested by police either on their way to Syria and Iraq or on their way back since the start of last year.
http://www.themalaysianinsider.com/malaysia/article/anti-terror-unit-nabs-isis-leader-in-kuala-lumpur#sthash.uPYKBJeM.dpuf
-------------
Paedophiles will overrun Kelantan if hudud introduced, says G25
07 Feb, 2015
Paedophiles will overrun Kelantan if it implements hudud as the Islamic law is open to abuse and rejects using scientific evidence to prove crime, says a spokesperson for the group of eminent Malays, or G25.
Datuk Noor Farida Ariffin said since it would be difficult to prove crimes like adultery, rape of children and adults will abound.
"This is the nature of PAS's hudud," she said.
Farida said Kelantan's hudud rejected the use of scientific methods such as DNA testing and fingerprints, instead requiring the evidence of four witnesses of the alleged crime.
"They are using evidence used in the 12th century to prove adultery, pushing out scientific methods.
"They are asserting that is the only way to prove the crime of adultery, which does not make sense," she said, adding that PAS leaders travelled in cars and planes but did not want to accept scientific evidence.
She added that Prophet Muhammad had also told his people about the importance of acquiring knowledge.
Full report at:
http://www.themalaysianinsider.com/malaysia/article/paedophiles-will-overrun-kelantan-if-hudud-introduced-says-g25#sthash.hECglRrK.dpuf
-------------
Eight Abu Sayyaf militants dead in Philippines clash
07 Feb, 2015
Eight members of an Al-Qaeda-linked group of Philippine militants have been killed in clashes with security forces in the country's south, the military said Saturday.
Thirteen members of a counter-terrorism task force were also wounded in the fighting with the Abu Sayyaf group on the remote island of Jolo on Friday, said the government unit's spokesman Ensign Chester Ramos.
He said the eight Abu Sayyaf dead were followers of Radullan Sahiron, a one-armed militant who has a US$1 million bounty on his head put up by the US government, which considers the group a "foreign terrorist organisation".
Ramos said Sahiron's group of about 100 gunmen had been skirmishing with the counter-terrorist task force around the Jolo town of Patikul over the past week, during which six other soldiers were earlier wounded.
The Abu Sayyaf, set up with seed funds from Al-Qaeda in the early 1990s, has been blamed for many of the deadliest militant attacks in the Philippines, including the 2004 firebombing of a ferry on Manila Bay that claimed more than 100 lives.
Full report at:
http://www.themalaysianinsider.com/world/article/eight-abu-sayyaf-militants-dead-in-philippines-clash#sthash.vKZdqZnz.dpuf
----------
North America
Islamic Shariah Tribunal Begins Operating in Texas
07 Feb, 2015
A group of Muslims in northern Texas has created what may be the first official Shariah law system in the United States.
The new Shariah tribunal in Irving, Texas, is trying to assure Americans they're not planning to follow the type of Shariah law practiced in Muslim countries. But critics aren't convinced.
Dr. Frank Gaffney, who leads the Center for Security Policy in Washington, D.C., has studied what happens when Shariah law enters into state court decisions.
"I think what we will see is a coercion of Muslims to participate in this program," he said.
If Shariah law continues to encroach into our legal system, how might if affect the constitutional rights of Americans, particularly women? Dr. Gaffney explains more.
Gaffney said he thinks that some in the Muslim community think they're following Shariah law to some extent, but they're not following the authoritative version of it.
"Which is a brutally repressive - very hostile to women, hostile to homosexuals, hostile to Jews, hostile to Christians - kind of totalitarian system," he said.
CSP has found that at least 146 cases have been identified where the U.S. court system has allowed a Shariah court to judicate.
"In about 20 percent of those cases the court agreed to use Shariah instead of American laws with our constitutional gaurantees respected," Gaffney said.
Full report at:
http://www.cbn.com/cbnnews/us/2015/February/Islamic-Shariah-Tribunal-Begins-Operating-in-Texas/
-------------
Houthi power grab shocks world: UN spokesman said
7 February 2015
NEW YORK: The United Nations is alarmed by what it described as a power vacuum in Yemen after the Houthi movement dissolved Parliament on Friday and said a new interim assembly and government would be formed, a UN spokesman said on Friday.
"This power vacuum is of great concern to us," Stephane Dujarric told reporters. "The Secretary-General (Ban Ki-moon) and all of those who are concerned with Yemen here are following the situation very closely." He added that UN special envoy to Yemen Jamal Benomar was now returning to Sanaa because of the crisis.
The White House said it is "deeply concerned" by the takeover.
White House spokesman Eric Schultz calls it a unilateral step. He says the move by the Houthi rebels doesn't meet the standard set by the UN envoy to Yemen, Jamal Benomar, to achieve consensus in Yemen. But Schultz also says US counterterror operations in Yemen are continuing, uninterrupted, despite the takeover by the Houthis.
Full report at:
http://www.arabnews.com/featured/news/700956
-------------
US plans to work with Pakistan for regional peace
07 Feb, 2015
WASHINGTON: A new US national security strategy, which President Barack Obama sent to Congress on Friday, underlines two key areas for engagement with Pakistan, bringing stability to Afghanistan and maintaining peace in South Asia.
"We will … work with the countries of the region, including Pakistan, to mitigate the threat from terrorism and to support a viable peace and reconciliation process to end the violence in Afghanistan and improve regional stability," he said.
"We will continue to work with both India and Pakistan to promote strategic stability, combat terrorism, and advance regional economic integration in South and Central Asia."
Mr Obama, who said on Thursday that extremism was not unique to Islam as other religions had this tendency too, once again dispelled the impression that the United States was fighting a war against Islam.
"We reject the lie that America and its allies are at war with Islam," he said.
The strategy paper indicates that Washington intends to continue using unmanned aircraft to target militants.
Full report at:
http://www.dawn.com/news/1162101/us-plans-to-work-with-pakistan-for-regional-peace
-------------
U.S. charges six with assisting Mideast fighters
7 February 2015
Six people have been charged with providing money and equipment including U.S. military uniforms to foreign fighters joining al Qaeda, Nusra Front and the Islamic State of Syria and Iraq militant group, the U.S. Justice Department said on Friday.
The six are Bosnian natives living in Missouri, Illinois and New York. Five of them were arrested in the United States and charged with conspiring to provide material support and resources to terrorists. The sixth person is overseas, the department said in a statement.
Members of the group conspired to provide money and equipment - including U.S. military uniforms, combat boots, tactical gear, military surplus goods and firearms accessories - to be used to commit crimes outside the United States, according to a federal grand jury indictment made public by the Justice Department.
It said people in Turkey and Saudi Arabia acted as intermediaries who received the money and property from the defendants in the United States and transferred them to militants fighting with groups in Syria, Iraq and elsewhere.
The group transferred thousands of dollars over the past two years to purchase equipment for a man identified as Abdullah Ramo Pazara and other foreign fighters traveling to join battles in Syria, Iraq and elsewhere, the indictment said.
In one message last year, two of the accused parties discussed buying a night-vision optic with a built-in camera for recording killings while fighting in the Middle East, according to the indictment.
Full report at:
http://english.alarabiya.net/en/News/middle-east/2015/02/06/Monitor-More-than-30-ISIS-militants-killed-in-coalition-raids-in-Syria.html
-------------
Mideast
Iranian FM Warns of Dire Consequences of Islamophobia for Int'l Security
07 Feb, 2015
Iranian Foreign Minister Mohammad Javad Zarif in a letter to UN Secretary-General Ban Ki-moon warned that the Islamophobia scenarios staged by certain western states will strike heavy blows at international peace and security.
"This inherently dangerous phenomenon poses serious threat to international peace and security, and the acutely needed ambiance of humane, peaceful inter-state and inter-people relations and the requisite recourse, by all, to dialogue, understanding and tolerance between and among the plurality of ethnic, religious and racial communities in our world today," a part of the letter, released on Saturday, said.
The full text of the letter is as follows:
In the name of God, the Compassionate, the Merciful
Excellency,
I wish to draw your kind attention to the quite unsettling and pervasive manifestations of Islamophobia, which have further escalated in the aftermath of the recent terrorist acts in Paris. The unjustifiable killings by members of an infamous violent extremist group – whose raison d'etre and emergence recently as a player in our region is known to all - have been condemned by the Muslims across the globe, in clear and unequivocal terms, including governments, religious institutions and authorities, civil society and prominent individuals. The fact that such senseless resorts to violence has no place in Islam and its exalted teachings, nor acceptable to Muslims, is not in doubt; notwithstanding the campaign by the perpetrators promoters of Islamophobia try depict it otherwise.
Full report at:
http://english.farsnews.com/newstext.aspx?nn=13931118000598
-------------
Israeli Forces Attack Anti-Settlement Palestinian Protesters
07 Feb, 2015
Israeli forces attacked Palestinian protesters staging a demonstration against the regime's illegal expansion of settlements in the occupied West Bank.
The attack left several demonstrators injured as Israeli forces used birdshots and teargas to disperse the anti-settlement marchers near the West Bank city of Ramallah on Friday, press tv reported.
Clashes were also reported to have broken out between Israeli troops and Palestinians in the West Bank villages of Nabi Saleh and Kafr Qaddum.
Palestinians hold weekly rallies against Israel's construction activities in the occupied Palestinian territories and an illegal separation wall that runs across the West Bank.
Also on Friday, Israeli media reported that Israeli Prime Minister Benjamin Netanyahu has ordered the destruction of some 400 newly-built Palestinian homes in West Bank.
Upwards of half a million Israelis live in more than 120 settlements built since Israel's occupation of the Palestinian territories of the West Bank, including East Jerusalem al-Quds, in 1967.
The Israeli settlements are considered to be illegal by the United Nations and most countries because the territories were captured by Israel in a war in 1967 and are thus subject to the Geneva Conventions, which forbid construction on occupied lands.
The presence and continued expansion of Israeli settlements in occupied Palestinian lands has created a major obstacle in the way of efforts to establish peace in the Middle East.
http://english.farsnews.com/newstext.aspx?nn=13931118000903
-------------
Blast hits republican palace in Yemen's Sanaa, wounding three Shi'ite Muslim militiamen
7 February 2015
An explosion outside the presidential palace in Yemen's Sanaa on Saturday wounded three Houthi militiamen guarding the residence, Reuters news agency reported.
The explosion followed an announcement on Saturday in which the Houthis formed a "security commission," including former ministers, a day after its takeover which opponents denounced as a "coup."
Also on Saturday, members of the militia kidnapped 17 activists who have taken part in demonstrations opposing the group, the Al Arabiya News Channel reported.
The Houthis said the defence and interior ministers, who attended the gathering in which the group issued its decrees, in the government of outgoing President Abedrabbo Mansour Hadi were among the 18 members of the security commission.
The security commission "will lead the country's affairs until the establishment of a presidential council," said the statement published Saturday by the official Saba news agency, which the Houthis seized in January.
Full report at:
http://english.alarabiya.net/en/News/middle-east/2015/02/07/U-N-prepared-to-take-further-steps-in-Yemen.html
-------------
Gazans protest against Egypt 'terror' ruling
7 February 2015
GAZA: Hundreds of Palestinians demonstrated outside Egypt's diplomatic mission in Gaza City Friday, to protest a Cairo court ruling designating Hamas' armed wing as a terrorist group.
They waved green Hamas flags and chanted in support of the Ezzedine Al-Qassam Brigades: "Qassam are the pride of the nation, not terrorists!"
In a sign of worsening relations between the movement and the Egyptian government, the Egyptian court banned the Brigades Saturday and declared it a terrorist group.
Egypt accuses Hamas of supporting militants in the Sinai Peninsula, which borders the Gaza Strip, after the killing of scores of security forces in a wave of attacks.
"We call on the Egyptian authorities to overturn this oppressive ruling," senior Hamas figure Salah Al-Bardawil told journalists at the rally.
"Those who seek to undermine Egypt's security in Sinai are its enemies, and not Hamas or Qassam," he said. "The weapons of the Palestinian resistance remain pointed toward the Zionist enemy (Israel), and we will not dirty our hands with Arab blood."
http://www.arabnews.com/middle-east/news/700721
-------------
UN, Arab League Urge Donors to Honor Gaza Aid Promises
07 Feb, 2015
The United Nations and the Arab League urged global donors to honor their funding commitments to reconstruct the Gaza Strip.
A joint statement from UN Secretary-General Ban Ki-moon and Arab League Secretary-General Nabil Elaraby expressed "deep concern" over the situation in Gaza, whose infrastructure was severely damaged after last summer's Israeli assault, World Bulletin reported.
"The pace of reconstruction in Gaza remains slow," the statement said on Friday, appealing to donors who pledged $5.4 billion in aid at an October 2014 conference in Cairo to "honor and disburse as soon as possible their financial commitments".
The 51-day Gaza conflict that ended with a truce on Aug 26, killed more than 2,100 Palestinians, mostly civilians, according to the UN.
"It is crucial now to expand the scope of reconstruction efforts thus far to bring hope to the people of Gaza and ensure stability, based on international responsibility in reconstruction and lifting the siege," read the statement.
In late January, a UN relief agency said it was forced to suspend its cash assistance program in Gaza as it had received only $135 million of the required $720 million to rebuild the Gaza Strip.
The Israeli assault left 15,671 housing units damaged, including 2,276 that were completely destroyed, according to official Palestinian figures.
http://english.farsnews.com/newstext.aspx?nn=13931118001126
-------------
Shiite militia tightens grip on Yemen after 'coup'
7 February 2015
Yemen's Shiite Huthi militia on Saturday formed a "security commission", consolidating its grip on power after a takeover denounced by opponents as a "coup" and condemned by the international community.
The declaration was followed by a blast outside the Huthi-controlled presidential palace, and a protest by thousands of people on the streets of Sanaa, witnesses said.
Gunmen loyal to the Shiite Muslim militia, which is also known as Ansarullah, fired into the air to disperse the demonstrators in the capital and detained 17 of them.
It was a second successive day of anti-Huthi protests in Sanaa and other cities after the militia dissolved parliament and created a "presidential council" Friday in a move it said was to fill a power vacuum.
The Shiite militia overran Sanaa in September and seized the presidential palace and key government buildings last month, prompting President Abedrabbo Mansour Hadi and Prime Minister Khalid Bahah to tender their resignations.
In its announcement on Saturday, the Huthi movement said Hadi's defence minister, General Mahmud al-Subaihi, would chair its newly formed security commission, which also included the outgoing interior minister.
Full report at:
http://english.ahram.org.eg/NewsContent/2/8/122422/World/Region/Shiite-militia-tightens-grip-on-Yemen-after-coup.aspx
----------
URL: https://www.newageislam.com/islamic-world-news/new-age-islam-news-bureau/'is-criticising-blasphemy-laws-blasphemous'--ihc/d/101412