New Age Islam News Bureau
14 Nov 2018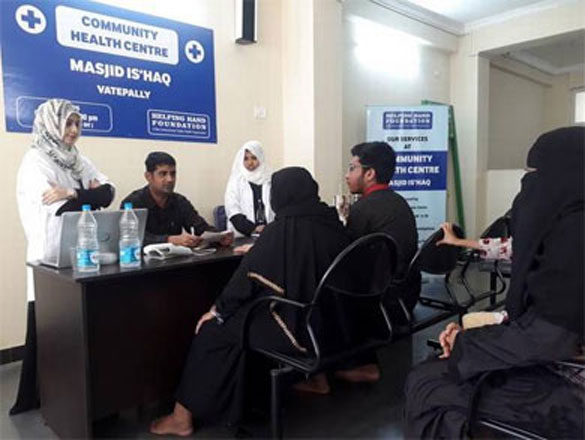 For the needy: Patients consulting a doctor at Masjid Ishaq at Achireddy Nagar in Old City on Saturday.
-----
• Irrespective Of Caste, Gender or Religion: A Masjid for All, With a Noble Purpose
• Pakistan Likely to Escape US Censure Due To Aasia's Release
• Palestinian Groups to Respect Gaza Truce 'As Long As Israel Does'
• US Senate Considers Legislation to Punish Saudi Arabia
• Asia Bibi: Britain Spars over Asylum in Pakistani Blasphemy Case
• Aung San Suu Kyi Stripped of Amnesty's Highest Honour
India
• Irrespective Of Caste, Gender or Religion: A Masjid for All, With a Noble Purpose
• Deported Wayanad Youth Details His 6-Year Journey 'Towards IS'
• Two Hizbul Mujahideen Terrorists Arrested From J&K's Pulwama, Arms Recovered
• If Govt. Can Talk to Taliban, Why Not to Kashmiri Youth, Asks Shahi Imam
• Ayodhya dispute: Sri Sri Ravi Shankar optimistic about out of court settlement, litigants differ
• J&K BJP leader's killing: Two Hizbul men named as killers, one govt staffer detained
• Govt to ban Bangladeshi terror group JMB
--------
Pakistan
• Pakistan Likely to Escape US Censure Due To Aasia's Release
• Army Vows To Enforce Writ of State
• Pakistan frees two more Taliban leaders
• NAB to respond to UK Home Office's questions on Dar's return
• Bajaur Press Club closed over terror threat
• PA wants private schools to give free education to disadvantaged students
• PM Khan stresses respect for religious sentiments
--------
Mideast
• Palestinian Groups to Respect Gaza Truce 'As Long As Israel Does'
• Dozens of Houthis Killed and Injured In Last Stronghold In Dhale Governorate
• UN aid chief demands cessation of hostilities around Yemen's Hudaydah
• Ex-Bahraini minister warns of joint Arab-Israel plot against Palestine
• Warplanes target main entrance to Yemen's port city of Hudaydah
• Lebanese army forces detain man suspected of providing intelligence to Israel
--------
North America
• US Senate Considers Legislation to Punish Saudi Arabia
• Smartphones: A Double-Edged Sword for Terrorists
• US concerned over 'premature' return of Rohingya
• US refuses to grant visa to top British Islamophobe
• US Designates Son Of Hezbollah Leader As 'Global Terrorist'
• Trump picks retired general for ambassador to Saudi Arabia
• US security Chief John Bolton vows to 'squeeze' Iran
• Will Nikki Haley block diplomatic immunity to Qatar hacking ringleader?
--------
Europe
• Asia Bibi: Britain Spars over Asylum in Pakistani Blasphemy Case
• Palestinian Initiative for Start-Ups Showcased At French Summit
• Turkish FM says Germany is not meeting demands on Gulen network
• Hezbollah moneymen face French justice after global wave of arrests
• Anti-Muslim activist Tommy Robinson denied US visa
--------
South Asia
• Aung San Suu Kyi Stripped of Amnesty's Highest Honour
• Taliban Commander among 32 Killed, Wounded In Faryab Clashes, Airstrikes
• U.S. airstrike leaves 8 Taliban militants dead in Ghazni province
• Thousands of Afghans flee fighting in Hazara districts
• Militants suffer casualties in fresh clashes in Farah city outskirts, districts
• International Islamic University to be built in Nangarhar: Ghani
• Taliban expressed flexibility for talks in Moscow Summit: HPC
• 'Bangladesh deploys armed forces to force out Rohingya'
• ASEAN drafts statement in response to Rakhine violence, urges accountability
--------
Southeast Asia
• Shafie Urges Sabahans to Work towards Unity, Shun Racism, Extremism
• Indonesian Police Will Not Allow Meeting to Promote Caliphate
• Amanah: Oktoberfest fine as long as Muslims not part of it
• It's academic now, rules court of Tawfik's bid to challenge Hadi's bill
• 'Rizieq not a threat to my country': Saudi envoy says
--------
Africa
• Why I Chose a Fellow Muslim as Running Mate –Gov El-Rufai
• We Fighting Terrorism in Defence of True Islam -- King
• Jordan jails 10 for ISIS-claimed Karak attack
• People stage protest against Nigerian army's killing of Muslims
• Libya's PM Sarraj meets eastern commander Haftar in Palermo
• Dozens missing after Boko Haram kills 16 in Nigeria: militia
--------
Arab World
• Syria: US Conducts More Heliborne Operations to Rescue ISIL Terrorists
• Turkish Air Strikes Kill 19 Kurdish Militants in Northern Iraq
• US-Led Aircraft Evacuate Daesh Terrorists From Eastern Syria: Report
• Daesh Militant Attack On Hashd Sha'abi Cmdr. Home In Western Iraq Leaves 9 Dead
• Syrian Army Increases Deployment in Aleppo after Turkey's Threats in Eastern Euphrates
• Protests Flare in Turkish-Occupied Regions in Northern Syria
• Syrian Army Repels Terrorists' Heavy Offensives in Idlib, Hama
• Fresh Infighting Reported Again Among Terrorists in Northwestern Syria
• Lebanon's Hariri blames Hezbollah for obstructing government formation
• Saudi Arabia executes ISIS member who killed his cousin
Compiled by New Age Islam News Bureau
URL: https://www.newageislam.com/islamic-world-news/irrespective-caste-gender-religion-masjid/d/116876
--------
Irrespective Of Caste, Gender or Religion: A Masjid for All, With a Noble Purpose
SYED MOHAMMED
NOVEMBER 10, 2018
From the outside, the Masjid Ishaq at Achireddy Nagar in Old City looks like any other mosque. It has a mihrab, or a niche in a wall form where the Imam leads the prayer, and musallis or congregants are seen performing their ablutions and praying on the rows of prayer mats. But a closer look reveals that there is something more to this place of worship than meets the eye. In perhaps a first for the area, the masjid has thrown open a clinic for urban slum-dwellers, irrespective of caste, gender or religion. The clinic is a collaborative effort of the Masjid Managing Committee, headed by brothers Fayaq Khan and G.M. Khan, and Helping Hand Foundation (HHF), an NGO.
"We wanted to dedicate a space inside the masjid for the clinic where people from weaker sections of all religions can come for free treatment and guidance on healthcare. While the masjid was constructed two years ago and sees around 400 people on Fridays, the clinic is new and is spread over approximately 1,000 square feet. Since HHF has been working in the field of healthcare, we agreed to work with them," says Fayaq Khan. According to HHF founding trustee Mujtaba Hasan Askari, the clinic has been informally functioning for about 10 days now. It was launched on Saturday. The clinic runs from 9 a.m. to 4 p.m., except on Fridays and Sundays.
Mr. Askari says, "A counsellor-doctor and nurse will be available at the clinic. It will also serve those who need home care. Several people are unable to go to hospitals, say for changing bandages and other minor treatments. The clinic will look after such cases as well."
Apart from home care, Mr. Askari says the clinic also offers free physiotherapy, wound management and maternal care.
While free healthcare services are provided here, the larger aim, he says, is to 'link' patients to government hospitals and the government healthcare system. Thus, the clinic would also serve as a 'referral centre'. Patients would be transported to the area hospitals or larger ones, depending on the nature of the case.
"Many urban slum-dwellers cannot afford to pay for the trip to hospitals, leave alone pay for medication. Apart from our two vehicles, we have engaged local auto-rickshaw drivers to transport patients," Mr. Askari says.
https://www.thehindu.com/news/cities/Hyderabad/a-masjid-for-all-with-a-noble-purpose/article25465079.ece
--------
Pakistan likely to escape US censure due to Aasia's release
Anwar Iqbal
November 14, 2018
WASHINGTON: Pakistan may escape a new designation — a serious violator of religious freedom — thanks to the Supreme Court's decision to release Aasia Bibi, according to diplomatic sources.
In January, the US Commission on International Religious Freedom (USCIRF) recommended that Pakistan be designated as a "country of concern" because of its alleged "serious violations of religious freedom".
Although it's a long-standing USCIRF demand, the US State Department has never so designated Pakistan, but it does highlight the commission's findings in its annual reports on religious freedom.
In December last year, the State Department named Pakistan as the first, and only, country on its "Special Watch List", a new category created in 2016.
The report for this year complained that religious minorities in Pakistan continued to face attacks from extremist groups and society at large. It also noted that "abusive enforcement of the country's strict blasphemy laws result in the "suppression of rights for non-Muslims, Shia and Ahmedis".
Tenzin Dorjee, the USCIRF chief, said: "The case of Asia Bibi illustrates the extent to which blasphemy laws can be exploited to target minority communities."
But in its latest statement, the United States Commission on International Religious Freedom welcomed the Supreme Court's decision to overturn the death sentence against Aasia Bibi in 2010 on charges of insulting the Holy Prophet (PBUH).
https://www.dawn.com/news/1445489/pakistan-likely-to-escape-us-censure-due-to-aasias-release
--------
Palestinian Groups To Respect Gaza Truce 'As Long As Israel Does'
14 November 2018
Al Jazeera's Harry Fawcett, reporting from Nahal-Oz near the Gaza-Israel fence, said Hamas-led factions on Tuesday accepted the truce "to restart the situation that prevailed up until this latest military escalation".
Hamas is the group administering the besieged Gaza Strip.
Fawcett added: "The Israelis do not confirm or deny such things, but Israeli media are reporting, citing an unnamed official, that Palestinian factions tried through four separate mediators to request a ceasefire."
A statement by Palestinian groups in Gaza said: "Egypt's efforts have been able to achieve a ceasefire between the resistance and the Zionist enemy.
"The resistance will respect this declaration as long as the Zionist enemy respects it."
The announcement set off celebrations in Gaza City with hundrerds of Palestinians taking to the streets to declare victory.
Earlier, senior Hamas official Ismail Haniya said that the Palestinian group was prepared to return to a ceasefire agreement if Israel "stops its aggression" on the Gaza Strip.
"Should the Occupation [Israel] stop its aggression a return to the ceasefire understandings will be possible," Haniya said in a statement.
'Israel provoked the Palestinians'
At least seven Palestinians have been killed in Israeli attacks on the coastal enclave since Monday, in the worst violence between the two sides since the 2014 war.
The latest escalation erupted late on Sunday when Israel launched a botched raid in Gaza that killed seven other Palestinians and one of its commanders.
Hamas and other armed factions on Monday fired over 400 rockets or mortar bombs at Israel, with Israel responding with dozens of air raids.
The Palestinian Shehab news agency reported that civilian buildings, the Al-Aqsa TV channel and the Al-Amal hotel were all targeted by Israeli strikes.
Turkey criticised Israel's response to the rocket fire, with Ibrahim Kalin, a spokesman for Turkish President Recep Tayyip Erdogan, calling the strikes "brutal" and illegal, state news agency Anadolu said.
The German Foreign Office also condemned Israel's air strikes, saying: "There can be no justification for this violence against innocent civilians."
Meanwhile, the Palestine Liberation Organisation said Israel was solely responsible for the surge in fighting. In a statement, it called on the international community to protect citizens in Gaza.
Mohammad Oweis, a Palestinian-American political analyst, told Al Jazeera that the ceasefire would only hold "as long as the Israelis do not provoke the Palestinians".
"The Israelis provoked the Palestinians into this latest round of fighting. They are the ones who need to stop.
"They seem to have learnt from Donald Trump that by provoking people, attacking them verbally and physically, [can] change facts and the reality on the ground."
'A different approach'
Gaza - a territory of more than two million people - has been under a devastating Israeli-imposed blockade for the past 11 years, which has severely restricted the movement of Palestinians in and out of it.
Israel withdrew its troops and settlers from the Strip in 2005 but, citing security concerns, maintains tight control of its land and sea borders, reducing its economy to a state of collapse.
Egypt also restricts movement in and out of Gaza through its border.
Mohammed Daraghmeh, a columnist and political analyst, said this latest escalation could be an important moment in the future of the Gaza blockade.
"Both sides have realised that after a series of wars they need to have a different approach.
"After a period of calm in Gaza, Israel finally allowed Qatari money to be funnelled to Gaza, to have oil imported, to offer some relaxation amid the blockade. This escalation has come at a critical moment."
Gideon Levy, a columnist at Haaretz and member of the newspaper's editorial board, said unless Israeli Prime Minister Benjamin Netanyahu ended the siege, the violence would continue.
"Both parties are not interested in a war, but both are not doing enough to prevent one," he said.
"Netanyahu has no intention to put an end to the siege, so as long as it continues, we will, again and again, witness one violent action leading to another violent act."
Israel and Hamas have fought three wars since the group seized control of Gaza after it won elections in the enclave in 2006.
In the most recent one in 2014, more than 2,200 Palestinians were killed - the majority of whom were civilians - and tens of thousands were left homeless. Seventy-three people, most of them soldiers, were killed on the Israeli side.
https://www.aljazeera.com/news/2018/11/palestinians-announce-gaza-ceasefire-israel-181113152045040.html
--------
US Senate considers legislation to punish Saudi Arabia
Nov 14, 2018
The US Senate is expected to vote on legislation aimed at punishing Saudi Arabia over its brutal war on Yemen as well as the murder of a dissident journalist at its consulate in Istanbul, Turkey.
Senator Bob Corker, the Republican chairman of the Senate Foreign Relations Committee, said Tuesday that the upper chamber could vote on the resolution within weeks prior to the end of the year.
Corker said that the legislation seeks to stop all assistance to the Kingdom, adding measures to end arms sales to Riyadh would also be discussed at the Senate.
"Senators are looking for some way to show Saudi Arabia the disdain they have for what has happened, with the journalist, but also concerns about the way Yemen has gone," Corker (pictured below) told Reuters.
"It would be very hard, if a weapons sale came up, to keep it from being undone, at least in the Senate," Corker said.
Saudi Arabia has come under fierce criticism after journalist Jamal Khashoggi was killed inside its consulate on October 2.
Khashoggi, a prominent commentator on Saudi affairs who wrote for The Washington Post's Global Opinions section, had lived in self-imposed exile in the US since September 2017, when he left Saudi Arabia over fears of the Riyadh regime's crackdown on critical voices.
Crown Prince Mohammed bin Salman is a prime suspect in the murder plot.
Bin Salman has also been leading a devastating war on Yemen since 2015 in an attempt to reinstall Yemen's former Riyadh-allied regime and crush the Houthi Ansarullah movement, which has been running state affairs in the absence of an effective government. Retired US general picked for ambassador to Saudi Arabia
Meanwhile, President Donald Trump has picked a retired four-star general for US ambassador to Riyadh as Washington faces pressure to respond to the killing of Khashoggi.
The key diplomatic position has been vacant since former ambassador Joseph Westphal left in January 2017.
Trump announced on Tuesday that John Abizaid, the longest-serving commander of the US Central Command, will be leading the American embassy.
Retired in 2007, Abizaid of Nevada served in wars in Grenada, the Persian Gulf, Bosnia, Kosovo, Afghanistan and Iraq.
After the Iraq War, he began leading CENTCOM, which overseas military operations in 20 countries located in areas from northeast Africa to the Middle East to Central and South Asia.
He is currently a private consultant as well as a visiting fellow at the Hoover Institution at Stanford University.
Formerly, he worked as the chair of the Combating Terrorism Center at the US Military Academy at West Point in addition to holding various senior positions on the Joint Chiefs of Staff.
https://www.presstv.com/Detail/2018/11/14/579980/US-Senate-Saudi-Arabia-Yemen-Khashoggi
--------
Asia Bibi: Britain spars over asylum in Pakistani blasphemy case
November 13, 2018
Attempts by a Pakistani-Christian woman to secure asylum in the UK after being acquitted of blasphemy charges in Pakistan have been delayed because of a disagreement within the British government, The National can reveal.
Asia Bibi spent eight years on death row but she, her family and legal team have all faced death threats since her release earlier this month and been forced into hiding.
It is understood that Britain's interior ministry wants to allow Ms Bibi into the country but is being blocked by the Foreign and Commonwealth Office.
Ms Bibi's husband Ashiq Masih made a direct video appeal to the UK on Saturday saying that he also feared for his own life, and the family's campaign has been taken up by senior figures including the former foreign secretary Boris Johnson.
In a letter to Home Secretary Sajid Javid, Mr Johnson said: "I am well aware, as a former foreign secretary, of the constant threat to our overseas missions but we cannot allow the threat of violence to deter us from doing the right thing".
Conservative MP Rehman Chishti told British radio that the UK had a "moral obligation to give sanctuary to someone who's been persecuted for their faith, but whose life is in grave danger".
Following Ms Bibi's release on the 7th November, crowds took to the streets in cities across Pakistan baying for her death. A survey in 2013 that more than 10 million Pakistanis had said they would be willing to personally killed Ms Bibi.
The predicament is a political minefield for Britain, pitting values against a diplomatic relationship many see as vital for both countries.
Britain's High Commission in Islamabad is among its largest diplomatic missions anywhere in the world, whilst Pakistan is the single largest recipient of UK foreign aid. In 2016 it received more than £400 million, and disruption to the diplomatic posting would have serious consequences for both countries.
Britain is home to more than 1.2 million citizens with both Pakistani and British citizenship, whilst as many as 80,000 dual nationals reside in Pakistan.
However, Azeem Ibrahim, a former advisor to Pakistani Prime Minister Imran Khan, and Senior Fellow at the Center for Global Policy, played down suggestions there could be long term consequences for bilateral relations or significant unrest.
"It's a bad reflection on the Pakistani government that they can no longer protect their own citizens," he said.
"The reality is that the government of Pakistan has indicated that they support the Supreme court decision."
He added that, if Ms Bibi secured asylum in the UK it would be a headache for the Pakistan government "that they no longer have to deal with".
"There may be protests, but they won't last very long, they are mobs, they have been looting, they have very little religious inclination, I don't anticipate it will go on for too long," he told The National.
A similar affair in 2007 saw the two countries' relations reach near breaking point, after Sir Salman Rushdie was awarded a knighthood
Mr Rushdie's book The Satanic Verses, published almost two decades earlier was widely condemned in Pakistan as blasphemous. In Britain, it was named a 1998 Booker Prize finalist.
Then British High Commissioner Robert Brinkley was summoned, whilst the country's Religious Affairs Minister called on all Muslim countries to sever ties with the UK..
Britain is not the only country caught in the case of Ms Bibi, a number of Dutch diplomats were "rushed home" on Monday, after Holland offered temporary sanctuary to Ms Bibi's lawyer, Saif Ul Malook.
https://www.thenational.ae/world/europe/asia-bibi-britain-spars-over-asylum-in-pakistani-blasphemy-case-1.791504
--------
Aung San Suu Kyi stripped of Amnesty's highest honour
November 13, 2018
Amnesty International has stripped de facto Myanmar leader Aung San Suu Kyi of its highest honour in light of the Nobel laureate's "shameful betrayal of the values she once stood for".
The secretary general of the global rights body, Kumi Naidoo, wrote to Suu Kyi on November to inform her of the organization's decision to revoke the Ambassador of Conscience Award, which was presented in 2009.
Naidoo expressed Amnesty's disappointment that Suu Kyi had not used her "political and moral authority" to safeguard human rights, justice or equality in Myanmar, citing her apparent indifference to atrocities committed by the Myanmar military against the Rohingya ethnic minority.
"As an Amnesty International Ambassador of Conscience, our expectation was that you would continue to use your moral authority to speak out against injustice wherever you saw it, not least within Myanmar itself," Kumi Naidoo wrote, according to an Amnesty press release.
"Today, we are profoundly dismayed that you no longer represent a symbol of hope, courage, and the undying defence of human rights.
"Amnesty International cannot justify your continued status as a recipient of the Ambassador of Conscience award and so with great sadness we are hereby withdrawing it from you."
Perpetuating human rights violations
Amnesty International has repeatedly criticized the failure of Aung San Suu Kyi and her government to speak out about military atrocities against the Rohingya population in Rakhine State, who have lived for years under a system of segregation and discrimination amounting to apartheid.
During the campaign of violence unleashed against the Rohingya last year, the Myanmar security forces killed thousands, raped women and girls, detained and tortured men and boys, and burned hundreds of homes and villages to the ground.
More than 720,000 Rohingya have since fled to Bangladesh, while a UN report has called for senior military officials to be investigated and prosecuted for the crime of genocide.
Although the civilian government does not have control over the military, Aung San Suu Kyi and her office have shielded the security forces from accountability by dismissing, downplaying or even denying allegations of human rights violations, and by obstructing international investigations into abuses.
Her administration has actively stirred up hostility against the Rohingya by labelling them as "terrorists", accusing them of burning their own homes, and by decrying "faking rape".
Attacks on freedom of speech
Despite the power wielded by the military, there are areas where the civilian-led government has considerable authority to enact reforms to better protect human rights, especially those relating to freedom of expression, association and peaceful assembly.
In the two years since Aung San Suu Kyi's administration assumed power, however, human rights defenders, peaceful activists and journalists have been arrested and imprisoned while others face threats, harassment and intimidation for their work.
Aung San Suu Kyi's administration has failed to repeal repressive laws – including some of the same laws which were used to detain her and others campaigning for democracy and human rights.
Instead, she has actively defended the use of such laws, in particular the decision to prosecute and imprison two Reuters journalists for their work documenting a Myanmar military massacre.
https://www.sabrangindia.in/article/aung-san-suu-kyi-stripped-amnestys-highest-honour
--------
India
Deported Wayanad youth details his 6-year journey 'towards IS'
by Deeptiman Tiwary
November 12, 2018
From online persuasion and sermons by preachers to cartels that have infiltrated deportation centres in countries such as Iran, the interrogation of an alleged Islamic State recruit deported from Afghanistan recently reveals how the terror outfit runs a well-oiled system to attract young men to Iraq, Syria and Afghanistan.
Nashidul Hamzafar, a 26-year-old management student from Kalpeta in Wayanad district of Kerala, travelled to Afghanistan in October last year, reportedly to join the IS, on the persuasion of 14 youths from Kerala's Kasargod and Palakkad districts who had earlier joined the outfit. Many of them were friends Hamzafar had made while studying in Kerala and later Bangalore.
This September, Hamzafar was arrested by the National Investigation Agency (NIA), which is also investigating the case of the 14. During interrogation, Hamzafar, the son of a Wayanad-based Regional Transport Office agent, reportedly confessed he almost ended up in Pakistan in his attempt to join the IS.
As per his interrogation report (IR), Hamzafar said that he left for Oman in mid-2017, and from there went to Iran in a bid to reach Afghanistan. In Iran, a person responsible for taking him to Afghanistan reportedly put him in a deportation centre meant for Afghans.
"They (the deportation authorities) got suspicious about my nationality. I was forcefully loaded onto a Pakistan deportation vehicle (as they thought) I was a Pakistani. I told one officer I am an Afghani and requested him to send me to Afghanistan. Accordingly, he sent me back to the Afghan camp," Hamzafar's IR says.
From Nimruz, he reportedly took a bike taxi to Kabul, and met another contact. But soon both were apprehended by Afghan authorities who, after months of detention, deported Hamzafar to India.
In his interrogation — which is not admissible as evidence in a court of law — Hamzafar said that having finished his schooling with 60 per cent marks in science stream, he had gone to Bangalore in 2011 to do Bachelor's in Business Administration. According to the IR, Hamzafar's religious inclination began with visits of a Tablighi Jamaat preacher there. By the end of his course, this had reportedly transformed into "fanaticism", with him coming in contact with a Salafist preacher. The IS was rising in Iraq and Syria at the time, and there was a flood of material on the Internet to draw impressionable minds.
At college, Hamzafar reportedly came in contact with several youth who later joined the IS, including Shihas and Bestin Vincent. A Christian whom Hamzafar describes as "hooked to alcohol and marijuana", Vincent converted to Islam and migrated to Nangarhar in Afghanistan where, last year, he had a child with his converted wife.
Following his initiation into Salafi Islam, Hamzafar reportedly said, he began listening to Yemeni proselytizer Anwar al-Awlaki and, along with friends, organised a lecture of Islamic preacher M M Akbar, of the Peace Foundation, in Bangalore. Akbar was arrested this February by the Kerala Police after his name reportedly cropped up in IS investigations.
Hamzafar said he was not attracted to the IS till then, and was trying to pursue a career in Dubai and New Zealand. According to him, the "brutal" ways of the IS scared him, and he feared for his friends who had joined it. By 2016, Hamzafar was back in Kerala pursuing an automobile training course in Thiruvananthapuram. He said his parents, alarmed at what Shihas had done, warned him against ties with him.
According to the IR, Hamzafar's friends from Afghanistan, however, got in touch with him again and began asking him to join them. "After 6 months of their departure, one day I got a message on WhatsApp from Shihas: 'Asalamum Alaikkum'. I didn't give any reply due to fear. After a month again he wished me… Then he started sending voice messages and one day he instructed me to install Telegram… (On Telegram) I asked him how was the condition there (IS-controlled Afghan areas) and he told that… 99% media reports were lies and Khilafath (Caliphate) is right… We then maintained regular contact," Hamzafar's IR says.
Shihas reportedly also sent him a 110-page PDF file named 'Victory in the shadow of Sword' in Malayalam, written by Ibnu Nuwas. That book was "all about hijra and jihad and history of the Prophet", which Hamzafar felt "related to an ancient period and was not relevant". But Shihas, Hamzafar said, argued, "Prophet's ways were always relevant."
In May 2017, Hamzafar received some audio clips from Shihas on a WhatsApp group called 'Message to Kerala'. "After hearing the clips my objection to ISIS ideology became soft," Hamzafar says in the IR.
"I started listening to audios of Zakir Naik, Mufthi Maink, Noman Alikhan, Bilal Philip etc. I instructed my family members not to watch TV and not to lend money for interest. I also instructed my mother and sister to dress properly, to cover their body fully. When my father instructed me to cut my beard, I refused," Hamzafar said.
In May 2017, Hamzafar went to Bahrain for a job but reportedly maintained contact with Shihas and the others in Afghanistan. "I expressed my interest in hijra. Ashfaq (a friend who migrated to Afghanistan) and Shihas advised me… to come to Iran first… Shihas was working in Media department of Khilafath and Ashfaq was working in hijra department," Hamzafar said.
He came back from Bahrain but soon after left for Oman in October 2017. Through all this, he was reportedly guided by Ashfaq, who provided him 600 Riyals in Oman through hawala and later 5,000 Dirhams. Once in Tehran, Hamzafar was asked to travel to Isfahan, where a man picked him up and put him in a safe house. The next morning, he was dropped at a deportation camp.
https://indianexpress.com/article/india/deported-wayanad-youth-details-his-6-year-journey-towards-is-5441677/
--------
Two Hizbul Mujahideen Terrorists Arrested From J&K's Pulwama, Arms Recovered
November 14, 2018
Srinagar: Two terrorists of terror outfit, Hizbul Mujahideen were on Wednesday arrested from Pulwama's Awantipora, news agency ANI reported. Further, arms and ammunition were also recovered. Meanwhile, the matter is being further investigated, Jammu and Kashmir Police told ANI.
More details are awaited.
There has hardly been a let up of violence in the valley. In another incident, the Indian Army foiled an infiltration bid in Keren sector of Kupwara district in Jammu and Kashmir on Tuesday. At least two terrorists were killed. Army official said that the identity and group affiliation of the slain terrorists was not immediately known.
On November 9, one Jaish-e-Mohammad (JeM) terrorist had been gunned down by security forces in Tral area. Arms and ammunition were recovered from them. A policeman was also injured during the encounter and was rushed to the hospital.
Full report at:
https://www.india.com/news/india/jammu-and-kashmir-two-hizbul-mujahideen-terrorists-arrested-from-pulwamas-awantipora-arms-recovered-probe-underway-3428434/
--------
If govt. can talk to Taliban, why not to Kashmiri youth, asks Shahi Imam
Nov 13, 2018
New Delhi: Shahi Imam Syed Ahmed Bukhari has raised some basic questions over the Indian government's move of sharing the stage with the Taliban at a "non-official level" in Moscow. He asked why cannot then the Union government led by Narendra Modi have a similar talk with non-mainstream leaders in India's Jammu and Kashmir. He said the Narendra Modi government has a duality of approach to problems in Afghanistan and Kashmir.
It must be noted that talks are being initiated in Moscow to find a solution to the political imbroglio in Afghanistan after some fifteen years of continuous warfare. The talks now underway involve many countries. The Narendra Modi government has chosen to send a "non-official" Indian delegation to assist with the talks.
Imam Bukhari said, it is ironical that India showed the willingness to have talks with Taliban, but feels shy of talking to the Kashmiri dissidents at home.
Full report at:
https://www.siasat.com/news/if-govt-can-talk-taliban-why-not-kashmiri-youth-asks-shahi-imam-1432170/
--------
Ayodhya dispute: Sri Sri Ravi Shankar optimistic about out of court settlement, litigants differ
Nelanshu Shukla
November 13, 2018
After two litigants in the Ayodhya land dispute said they agree on an out of court settlement, Art of Living founder Sri Sri Ravi Shankar said he is optimistic about it. However, this optimism is not shared by other litigants in the case who have rejected the proposal.
Responding to petitioners Haji Mahboob and Mohommad Omar signing the letter of support for an out of court settlement on Tuesday, Ravi Shankar said, "I have spoken to many people and they have agreed to go for an out of court settlement. I am pushing it in a very harmonious manner so that both communities live in harmony."
Speaking to India Today TV, Iqbal Ansari, another litigant in the case, said, "The matter is pending before the Supreme Court and let the verdict on this dispute be delivered. No one has approached me for any talks."
Meanwhile, member of the All India Muslim Personal Law Board (AIMPLB) and the Babri Masjid Action Committee convener Jafaryad Jilani said, "The Vishwa Hindu Parishad (VHP) had already said in the past that Sri Sri Ravi Shankar has nothing to do with the case. He had already been in favour of the Ram Temple and wants Muslims to compromise with the land meant for mosque. This is not possible. The Supreme Court's verdict should be acceptable to all."
Mahant Dharamdas, another litigant in this dispute said there is no clarity about Ravi Shankar's proposal. "His representative met Haji Mahboob and decided on an amicable resolution. We only want the Supreme Court to deliver its verdict on this dispute at the earliest."
Speaking about the matter, Rishi Kapoor, spokesperson of VHP said, "The Supreme Court gave six months' time for an out of court settlement but nothing happened. Similar attempts were made several times in the past. Now there is only one solution, the central government should bring in a bill in Parliament for the construction of Ram temple."
Full report at:
https://www.indiatoday.in/india/story/ayodhya-dispute-sri-sri-ravi-shankar-optimistic-about-out-of-court-settlement-litigants-differ-1387927-2018-11-13
--------
J&K BJP leader's killing: Two Hizbul men named as killers, one govt staffer detained
by Arun Sharma
November 14, 2018
The second suspect, Riyaz, identified as an overground worker of the Hizbul Mujahideen, is alleged to have accompanied the militants from Dachhan to Kishtwar town to identify the BJP leader.
Police sources said a woman from Dachhan is also being questioned, as call detail records showed that her SIM card was near the site of the killings on November 1. The woman had reportedly given her SIM card to Osama Javed's sister. Kishtwar SSP Rajinder Gupta declined to comment on the investigations. Sources, however, said the militants are suspected to have stayed at Pervaiz Ahmed's property for two-three days, during which they carried out a recce of the area. They chose a spot in Tapal mohalla, where the CCTV camera installed by another BJP leader outside his house, was not working. Anil Parihar and his brother, Ajit, were shot on the night of November 1, when they were on their way home. Ajit was an employee of the State Forest Corporation.
Earlier, police detained two PSOs who were assigned to Anil Parihar but were not with him at the time of attack. An empty cartridge of an AK rifle was recovered from the spot. Anil Parihar, considered to be a liberal face of the BJP, was reported to have been targeted in an attempt to derail the coming panchayat elections.
Recently, Governor Satya Pal Malik had said that those behind the killings had been identified and would be brought to book. BJP general secretary Ram Madhav on Tuesday said the killers would be "neutralised" soon. "Right now, our main challenge is to track down the terrorists and neutralise them. This will be done very soon," he told mediapersons in Kishtwar.
Madhav, accompanied by Union Ministers J P Nadda and Jitendra Singh and state BJP president Ravinder Raina, met the Parihar family and handed over a condolence letter from party chief Amit Shah.
Full report at:
https://indianexpress.com/article/india/jk-bjp-leaders-killing-two-hizbul-men-named-as-killers-one-govt-staffer-detained-5445141/
--------
Govt to ban Bangladeshi terror group JMB
Nov 14, 2018
NEW DELHI: Four years after its emergence in India, the government is finally in the process of banning deadly Bangladeshi terror outfit, Jamaat-ul Mujahideen Bangladesh (JMB), under the Unlawful Activities Prevention Act (UAPA).
The move will empower all state police forces and central agencies to restrict the funding, recruitment activities and terror operations of the outfit, which has been making fresh efforts lately to create its bases in cities across India.
The ministry of home affairs, sources say, is presently considering the proposal prepared by the National Investigation Agency for naming JMB as a proscribed organisation and a decision will be taken shortly.
Officials explained that banning JMB is important as the outfit has opened its full-fledged India chapter, Jamaat-ul Mujahideen India (JMI) recently, under the leadership of Salahuddin Salehin and his deputy Jahidul Islam with three main objectives—proselytization, training and armed combat with a view to establishing Islamic rule across the Indian subcontinent.
The outfit planted IEDs at Bodhgaya temple in Bihar in January while West Bengal police and NIA both have arrested several old JMB operatives in last few months.
The JMB leaders and operatives had gone into hiding after 2014 Burdwan accidental blast, when NIA launched a nationwide crackdown on the outfit recovering over 100 IEDs and arresting over 50 members. The JMB leaders, counter-intelligence officials say, were re-grouping after the crackdown on both sides – Bangladesh and India.
Investigations have revealed that JMB has not only been using Indian soil for hideouts in West Bengal, Assam, Jharkhand and other regions but it is "quietly" carrying out subversive activities like collection of funds, recruitment of Muslim youths into the fold of JMB, imparting training to them and motivating them to make handmade weapons like bows and arrows, etc and radicalising them to fight against members of other communities within India. The JMB members are using traditional methods like forming matrimonial alliances to settle in India. The outfit receives good support from Pakistan-based Lashkar-e-Taiba (LeT) and has funding channels in various countries. It also uses madrasas, mosques and social media for recruiting Muslim youth.
Latest intelligence inputs suggest that JMB cadres are moving to cities including Hyderabad, Mumbai, Pune, Jammu etc and assuming fake identity by acquiring PAN cards, Aadhaar etc and getting engaged in jobs like daily wage workers. Inputs also suggest that there could be over 60 modules of JMB consisting of 10 to 12 members each in various parts of India.
Full report at:
https://timesofindia.indiatimes.com/india/govt-to-ban-bangladeshi-terror-group-jmb/articleshow/66613271.cms
--------
Pakistan
Army vows to enforce writ of state
Baqir Sajjad Syed
November 14, 2018
ISLAMABAD: The army's top brass on Tuesday said it backed state institutions in ensuring the writ of the state and adherence to the rule of law.
The Inter-Services Public Relations said the 215th Corps Commanders' Conference "expressed its resolve for continued support to all state institutions for ensuring writ of the state and rule of law in which lies the peace, stability and prosperity of the country".
Army Chief Gen Qamar Bajwa presided over the meeting, which was attended by corps commanders and principal staff officers. The meeting, which is a monthly feature, took stock of the internal security situation in addition to external environment.
Although ISPR did not mention in which context this resolve was expressed, it seemed that the observation was related to recent protests by Tehreek-i-Labbaik Pakistan (TLP) and other religious parties against the acquittal of Aasia Bibi, a blasphemy accused, by the Supreme Court. The protesting leaders had made inflammatory speeches against the judiciary and military leadership.
The ISPR, in a reaction to the anti-army statements during the protests, reminded the protesters of constitutional limits and asked for those to be respected. "We have so far been tolerating, but action can be taken when constitutional limits are crossed. Don't force us to take steps that are allowed constitutionally," military spokesman Maj Gen Asif Ghafoor had on that occasion said.
The National Security Committee had in its meeting on Nov 6 also stressed on the "rule of law" for the country's progress.
Almost 11 days have passed since the TLP sit-in ended after a deal with the federal and Punjab governments, but still there has been no action against those who made provocative speeches. The government has instead accused the opposition parties of being behind the violent protests.
Afghanistan
The military also expressed its support for the various efforts for peace and reconciliation in Afghanistan. The ISPR said the corps commanders supported "all initiatives towards regional peace" and pledged to continue efforts for bringing enduring peace to the country.
Pakistan had last month released former Taliban deputy chief Mullah Baradar at the request of the United States for facilitating peace talks in Afghanistan. The US initiative, which started with direct contacts with the Taliban and appointment of Zalmay Khalilzad as special envoy for peace and reconciliation, is continuing.
Ambassador Khalilzad is in the region for contacts with stakeholders and another round of talks with the Taliban.
Meanwhile, Russia had last week hosted a meeting of the 'Moscow format', which was attended by the representatives of Taliban and a number of regional countries.
"Progress of ongoing operations, fencing along Pak-Afghan border, situation along the eastern border including Indian ceasefire violations deliberately targeting innocent citizens were also discussed," the ISPR said.
https://www.dawn.com/news/1445462/army-vows-to-enforce-writ-of-state
--------
Pakistan frees two more Taliban leaders
Nov 13, 2018
ISLAMABAD: Pakistan has released two senior Afghan Taliban leaders in the wake of the meetings between the representatives of the Taliban and the US officials in Qatar.
According to Taliban officials, Abdul Samad Sani, a Taliban fundraiser, and Salahuddin, a military commander, were freed from prison in Pakistan on Monday. The move came weeks after Pakistan had freed former Taliban deputy chief Mullah Abdul Ghani Baradar as part of Washington's effort to revive peace talks with the insurgents.
Sani was declared as Specially Designated Global Terrorist (SDGT) this year in January for "providing support to terrorists or acts of terrorism".
During the Taliban regime in Afghanistan, Sani was the deputy finance commissioner of the movement and had also served as the governor for the Afghan central bank. The US Department of the Treasury had issued a long list of charges against him that included collecting funding to purchase supplies and ammunition for Taliban fighters engaged in war in Afghanistan.
Pakistan had arrested Sani from restive southern Balochistan province in October 2016 along with Suleman Agha, the Taliban governor for Daykund province.
The release of Taliban leaders took place as the US special envoy on Afghan Reconciliation Ambassador Zalmay Khalilzad is on his second regional tour. Over the weekend, Khalilzad had met the Afghan President Ashraf Ghani in Kabul and is currently involved in consultations with Afghan leaders to take them into confidence about the US talks with the Taliban. During his current visit, Khalilzad will stop at Pakistan, United Arab Emirates and Qatar as well. He will likely arrive in Islamabad at the end of this week and will return to Washington on November 20.
Pakistan had freed Baradar last month following Khalilzad's meeting with political representatives of Taliban in Doha. "We freed Baradar at the US request in order to move forward on the shared objective of pursuing a political settlement in Afghanistan," Dr Muhammad Faisal, Pakistan's foreign office spokesperson, had said last week during a weekly press briefing in Islamabad.
Full report at:
https://timesofindia.indiatimes.com/world/pakistan/pakistan-frees-two-more-taliban-leaders/articleshow/66610812.cms
--------
NAB to respond to UK Home Office's questions on Dar's return
Haseeb Bhatti
November 14, 2018
The Supreme Court on Wednesday directed the National Accountability Bureau (NAB) to respond to a questionnaire prepared by the United Kingdom's Home Office regarding the return of former minister Ishaq Dar to the country.
A three-judge bench headed by Chief Justice of Pakistan (CJP) Mian Saqib Nisar was hearing a case related to Dar's non-appearance before the apex court in a corruption case pertaining to owning assets approximately valued at Rs831.7 million, disproportionate to his known sources of income.
Dar was declared an absconder by the court last year when he failed to appear since he was in London, allegedly undergoing medical treatment. His absence was first attributed to ill health on Oct 30, 2017.
The additional attorney general told the bench today that the UK Home Office had sent some questions regarding Dar's return to the country, and these questions had been forwarded to NAB.
"They will submit their response to the UK Home Office," the additional attorney general added.
The CJP observed that Dar "can no longer use his illness as an excuse [to stay abroad]".
"He would say that when justice will prevail, only then will he return to the country," the top judge added.
The court ordered NAB to respond to the Home Office's questionnaire and to submit a report on the matter within a month.
The case was subsequently adjourned for a month.
'Assets beyond known income'
The noose began to tighten around the former finance minister after NAB decided to reopen the Rs1.2 billion Hudaibiya Paper Mills reference against him last year.
The Hudaibya reference will be the second 'mega-corruption' case against Dar being investigated by NAB, after the reference filed against him in the wake of the Panamagate judgement.
The reopening of the case was recommended by the joint investigation team formed by the apex court to probe the Panama Papers allegations against former prime minister Nawaz Sharif and his family members.
On July 28, a five-member Supreme Court bench had ordered NAB to file three references against former prime minister Nawaz Sharif and one against Dar, on petitions filed by Pakistan Tehreek-i-Insaf's Imran Khan, Jamaat-i-Islami's Sirajul Haq and Awami Muslim League's Sheikh Rashid Ahmed.
In its reference against the finance minister, NAB has alleged that "the accused has acquired assets and pecuniary interests/resources in his own name and/or in the name of his dependents of an approximate amount of Rs831.678 million (approx)".
Full report at:
https://www.dawn.com/news/1445560/nab-to-respond-to-uk-home-offices-questions-on-dars-return
--------
Bajaur Press Club closed over terror threat
November 14, 2018
KHAR: The Bajaur Press Club was closed for an indefinite period on Tuesday following threats of terror attacks.
The press club president Hasbanullah Khan told Dawn here that though he did not know about the threats, but the club had been shut down on the directives of senior officials of the local administration.
Quoting the officials, Mr Khan said they had received information that some unknown miscreants planned to carry out terrorist attacks on the press club building, 'hence you're advised to keep the club shut for an indefinite period to thwart any unpleasant incident.'
Following the instructions, the press club president said an emergency meeting of the senior journalists was held to discuss the situation in which the participants unanimously decided to shut the club for indefinite period.
Before shutting the press club, scores of Levies personnel arrived on the spot and took position at various places.
The Levies personnel also evacuated vehicles from a nearby bus stand owing to security concerns.
People present at the bus stand told Dawn that dozens of Levies personnel suddenly entered there and ordered the transporters to evacuate.
Full report at:
https://www.dawn.com/news/1445446/bajaur-press-club-closed-over-terror-threat
--------
PA wants private schools to give free education to disadvantaged students
Hasan Mansoor
November 14, 2018
KARACHI: As the provincial education minister warned the "elite" educational institutions to abide by rules, the Sindh Assembly on Tuesday demanded implementation of a law that bound private schools to provide free and compulsory education to "disadvantaged" children not less than 10 per cent of the total strength of a school.
A resolution to this effect was tabled by Pakistan Tehreek-i-Insaf's Seema Zia on Tuesday, which is a private members' day, and the house unanimously adopted it.
The resolution reads: "This house resolves that the government of Sindh to implement Section 10 of the Sindh Right of Children to Free and Compulsory Education Act, 2013, which says private schools to provide at least 10 per cent free education to the disadvantaged children."
It demanded that the government take action against those private schools which did not comply with Section 10 of the said law.
Dr Zia lamented that despite lapse of five years to the passage of the law, formulation of its rules of business was still awaited.
She said certain private schools provided such facility to the children of their staff instead of helping the meritorious children from class one to class 10.
Leader of the Opposition Firdous Shamim Naqvi suggested for establishment of a separate controlling authority to effectively regulate private schools.
Ruling Pakistan Peoples Party's Marui Rashdi and Heer Soho, Muttahida Qaumi Movement-Pakistan's Rana Ansar and PTI's Khurram Sher Zaman also supported the resolution.
Karachi has 6,700 private schools
Education Minister Sardar Shah asked all the members of the house to join him to go to private schools, the "elitist" schools in particular, and force them to implement the law, which also bound them not to increase the fee by more than five per cent in a year.
"We should visit these schools, particularly the elitist schools, which I call as seven-star schools to force them to abide by the law or face de-registration then and there," said the minister whose only child is enrolled with a government school.
He said at present a total of 12,670 private schools were registered across the province, of which 6,700 were in Karachi only. "We estimate some 5,000 to 7,000 schools in Sindh are not registered with us."
Mr Shah said the Supreme Court had ordered the private schools to deposit the amount they charged over five per cent annual tuition fee to the registrar of the apex court. However, he added the schools had not yet complied with the court order.
He said there were 13 elite school chains operating in the province and "if we get two of them de-registered [for violating the law of the land] it would cause others to respect the law".
Speaker Agha Siraj Durrani placed the resolution before the house, which carried it unanimously.
Opposition stages walkout
Earlier, the house rejected a resolution with majority vote tabled by Grand Democratic Alliance lawmaker Nusrat Sehar Abbasi calling for removal of two MNAs and three senators from a committee formed by the chief minister for the welfare of non-Muslims.
All major opposition parties in the house — PTI, MQM-P and GDA — staged a walkout in protest over the rejection of the resolution.
However, PTI's Seema Zia chose to stay in the house, saying she would prefer to table her resolution, which was more important for the welfare of the people.
Lone Muttahida Majlis-i-Amal lawmaker Abdul Rasheed was the only opposition member who stayed in the house along with her.
The protesting opposition members, however, returned to the house in a few minutes.
MQM-P's Mohammad Hussain tabled an adjournment motion regarding absence of public transport in Karachi.
Transport Minister Awais Shah said the mass transit system had got delayed because of continuous "U-turns" by the federal government.
The motion, however, was ruled out by Deputy Speaker Rehana Leghari, who was then chairing the house, for being a general statement.
Govt won't evict people living in illegal houses
MMA's Rasheed tabled a resolution calling for a ban on construction of high-rise buildings in Lyari where, he said, people were already deprived of basic amenities
Responding to the resolution, Local Government Minister Saeed Ghani said that the people living in illegal buildings could not be rendered homeless. However, action against such under-construction buildings was already under way, he added.
He said it would be hard for the low-income people to buy another house if they were forcibly removed from the illegally-constructed buildings.
However, thousands of buildings got constructed in the presence of relevant authorities, he said referring to the Sindh Building Control Authority (SBCA) as well as those involved in offering bribes.
Mr Naqvi termed such bribes as "speed money" to cut through the official red tape.
Mr Ghani said the LG department was working on a mechanism to offer one-window operation for the approval of building plans.
Mr Rasheed said in his resolution that Lyari was deprived of basic facilities where the law permitted for the construction of ground-plus-one-storey buildings; yet around 200 buildings were being built in violation of that provision.
He said Lyari had 80 sanitary workers in the 1980s and now the populous area had just 20.
Call to ban high-rise construction
MQM-P's Mohammad Hussain said a ban on illegal construction be imposed across Karachi. He said residential districts were being turned into commercial ones unlawfully.
PTI's Khurram Sher Zaman supported the resolution while Opposition Leader Naqvi claimed the SBCA had turned into a "centre of corruption". He said development should not be stopped but better infrastructure be ensured first.
MQM-P's parliamentary party leader Kanwar Naveed Jameel said a limited ban be imposed on high-rises in the city until existing infrastructure was replaced with an improved one.
Full report at:
https://www.dawn.com/news/1445415/pa-wants-private-schools-to-give-free-education-to-disadvantaged-students
--------
PM Khan stresses respect for religious sentiments
Nov 14, 2018
ISLAMABAD: Prime Minister Imran Khan on Tuesday received a call European Parliament President Antonio Tajani during which he stressed the need for respecting religious sentiments and called for enhanced dialogue as well as cooperation for promoting inter-cultural and inter-faith harmony.
Tajani thanked the prime minister for ensuring the safety and security of Aasia Bibi and her family. He assured EU Parliament's cooperation with the Pakistani government while conveying that the debate on Aasia Bibi in the EU Parliament had been postponed, a press release issued by the PM Media Office said.
The prime minister reaffirmed the government's resolve to respect the judgment of the Supreme Court (SC), adding that as citizens of Pakistan, Aasia Bibi and her family were entitled to all rights as guaranteed by the Constitution of Pakistan.
He also conveyed serious concerns of the government and people of Pakistan on the issue of blasphemous cartoons and caricatures of the Holy Prophet (PBUH), underscoring the need to redouble efforts in European countries to avoid such provocative incidents; raise greater awareness about religious sensitivities of Muslims, particularly the respect of Prophet Muhammad (PBUH), and promotion of inter-faith harmony.
The prime minister welcomed the European Court of Human Right's recent decision not to allow acts of blasphemy under the cloak of the right to freedom of expression.
Full report at:
https://www.pakistantoday.com.pk/2018/11/13/pm-khan-stresses-respect-for-religious-sentiments/
--------
Mideast
Dozens of Houthis killed and injured in last stronghold in Dhale governorate
13 November 2018
Dozens of Houthis were killed and injured and ten others, including field commanders, were detained in violent confrontations with the Yemeni army in the front of Damt, the last Houthi stronghold in the Dhale governorate, south of the country.
The media center of the Yemeni army forces said violent confrontations erupted in Damt after the Houthis tried to raid the town of Al-Haqab and the mountains that overlook Damt from the western side, adding that dozens of Houthi fighters were killed or injured and their bodies are still in the northern areas of Al-Haqab and on the outskirts of the town of Khab, the western entrance of Damt.
Ten Houthi members were detained while trying to sneak towards army posts in the area, the media center added.
Meanwhile, military sources said Houthi commander in Damt Hisham al-Ghorbani was killed along with other Houthi fighters in the battles in Damt on Monday, adding that Houthi commander Colonel Abdelwahed Abdullah was detained along with others.
The Yemeni army, aided by the Arab coalition, have been fighting violent battles with the Houthis in Damt and managed to liberate wide areas of the district.
https://english.alarabiya.net/en/News/gulf/2018/11/13/Dozens-of-Houthis-killed-and-injured-in-last-stronghold-in-Dhale-governorate.html
--------
UN aid chief demands cessation of hostilities around Yemen's Hudaydah
Nov 13, 2018
United Nations Under-Secretary-General for Humanitarian Affairs and Emergency Relief Coordinator, Mark Lowcock, has called for a ceasefire around of Hudaydah, where Saudi-backed militiamen loyal to Yemen's former president Abd Rabbuh Mansur Hadi and foreign mercenaries are fighting Houthi Ansarullah fighters for the control of the western Yemeni port city.
"I ask that the parties implement a cessation of hostilities, not least in and around all the infrastructure and facilities on which the aid operation and commercial importers rely," Lowcock said in a statement on Tuesday.
He added that the United Nations was ready to play a role in "ensuring the appropriate use of key facilities, especially around Hudaydah."
'UAE responsible for escalation of conflict in Yemen's Hudaydah'
Meanwhile, the spokesman for Yemeni Armed Forces has held the United Arab Emirates (UAE) fully responsible for the recent intensification of conflict around Hudaydah.
Speaking at a press conference in the capital city of Sana'a on Tuesday, Brigadier General Yahya Saree stated that Yemeni army troops, supported by allied fighters from Popular Committees, maintain control over the strategic city.
He added that the Abu Dhabi regime is seeking to establish control over Hudaydah after it managed to occupy the southern Yemeni port cities of Mukha, Mukalla and Aden.
Saree further noted that the UAE bears full responsibility for the conflict, which has escalated significantly around Hudaydah city and possible consequences.
The senior Yemeni official went on to say that Yemeni army soldiers and their allies enjoy subtle tactics and great capabilities to deal with invaders, pointing out that special units have been trained for street battles.
Saree said Yemeni soldiers and Popular Committees fighters have carried out over 35 counterattacks against Saudi-sponsored Yemeni and foreign mercenaries ever since Saudi-led coalition began a new onslaught on Hudaydah earlier this month.
He said at least 1,224 mercenaries, including 20 battalion commanders and 33 Sudanese soldiers, have been killed and injured in the process.
Saree stated that 183 armored vehicles in addition to five weapon depots have also been destroyed in Hudaydah city, emphasizing that Yemeni army soldiers and their allies have successfully managed to cut off enemy supply lines.
The Office of the United Nations High Commissioner for Refugees (UNHCR) has expressed deep concern about the recent wave of violence in Hudaydah and its impact on the civilian population as well as on humanitarian aid operations.
The world body appealed to parties to the conflict to protect civilians and humanitarian personnel; and to secure humanitarian relief items stored in the strategically important Yemeni city.
Saudi Arabia and a number of its regional allies launched a devastating military campaign against Yemen in March 2015, with the aim of bringing the government of Hadi back to power and crushing the country's Houthi Ansarullah movement.
According to a new report by the Armed Conflict Location and Event Data Project (ACLED), a nonprofit conflict-research organization, the Saudi-led war has so far claimed the lives of around 56,000 Yemenis.
The Saudi-led war has also taken a heavy toll on the country's infrastructure, destroying hospitals, schools, and factories. The UN has already said that a record 22.2 million Yemenis are in dire need of food, including 8.4 million threatened by severe hunger. According to the world body, Yemen is suffering from the most severe famine in more than 100 years.
Full report at:
https://www.presstv.com/Detail/2018/11/13/579959/UN-aid-chief-demands-cessation-of-hostilities-around-Yemens-Hudaydah
--------
Ex-Bahraini minister warns of joint Arab-Israel plot against Palestine
Nov 13, 2018
Bahrain's former minister of education Ali Fakhro has criticized Saudi Arabia and its regional allies for their willingness to establish diplomatic relations with the Tel Aviv regime, arguing that such attempts would pave the way for the Israeli military to continuously target Palestinians.
"The Occupation regime (Israel) continues its efforts to get rid of Palestinians in the remaining parts of occupied lands," Fakhro told Arabic-language Arabi 21 online newspaper, noting that Israel has usurped 85 percent of the historical Palestine, leaving "only 15 percent for 14 million Palestinians."
"Israel enjoys full political support of the administration of US President Donald Trump, who is overly eager to put an end to the existence of the Palestinian cause," he pointed out
"There is a large and complicated conspiracy aimed at getting rid of the Palestinian cause," he said, stressing that all "justifications" given for the normalization of ties with Israel are "originally meant to liquidate the Palestinian cause."
Fakhro also criticized intensive contacts between Arab and Israeli officials, emphasizing that internal Palestinian disputes have facilitated certain Arab states' efforts to forge ties with the Israeli regime.
A senior official of the Lebanese Hezbollah resistance movement recently the fact that Persian Gulf kingdoms are dramatically warming their relations with the Tel Aviv regime after secret contacts is a decision dictated to them by the Saudi regime.
"Persian Gulf states' attempts at normalizing ties with Israel is a decision made by the royal Saudi family, because Crown Prince Mohammed bin Salam is currently facing numerous crises, namely the war on Yemen, the murder of prominent dissident journalist Jamal Khashoggi as well as internal and external challenges. He is pinning hope on the Israeli regime in order to save himself," Deputy Chairman of Hezbollah's Executive Council Sheikh Nabil Qaouq said.
He said the willingness shown by Saudi Arabia and its regional allies to establish diplomatic relations with the Tel Aviv regime has exceeded all expectations of Israeli officials, with Prime Minister Benjamin Netanyahu saying he was not dreaming the day would come when he sees normalized ties with Persian Gulf kingdoms.
Israeli Transportation and Intelligence Minister Yisrael Katz visited Oman on November 4 to attend an international transport conference and pitch a railway project that would link the Persian Gulf to the Mediterranean via Israeli-occupied territories.
The trip came on the heels of a surprise visit by Israeli Prime Minister Benjamin Netanyahu to Oman late last month, where he met Sultan Sayyid Qaboos bin Said Al Said at the Bait al-Barakah Royal Palace in the coastal city of Seeb near the capital Muscat.
Israel's English-language daily newspaper The Jerusalem Post reported that the two men discussed ways to advance the so-called Middle East peace process as well as a number of issues of mutual interest with regard to the region's stability.
Netanyahu was accompanied by senior officials, including the head of the Mossad spy agency and his national security adviser.
Netanyahu's unpublicized visit to Oman came on the same day that Israeli Culture and Sports Minister Miri Regev traveled to the United Arab Emirates (UAE) to accompany Israel's judo team at the Abu Dhabi Grand Slam 2018.
Regev arrived in Abu Dhabi on October 26, and she participated in the opening ceremony of the international event at the Emirati capital's Zayed Sports City, Palestinian Arabic-language Ma'an news agency reported.
Her visit to the UAE marked the first of its kind by an Israeli minister to a Persian Gulf littoral state.
Tel Aviv and Abu Dhabi have no diplomatic ties and the UAE does not recognize Israel, but the two sides have increased backchannel cooperation in recent years. There have been numerous reports of growing contacts between Saudi and Israeli officials too.
Among Arab countries, Israel has diplomatic relations only with Egypt and Jordan.
Full report at:
https://www.presstv.com/Detail/2018/11/13/579928/ExBahrain-minister-warns-of-joint-ArabIsrael-plot-against-Palestine
--------
Warplanes target main entrance to Yemen's port city of Hudaydah
Nov 13, 2018
The military coalition led by the Saudi regime has carried out airstrikes targeting the main entrance to Yemen's western port city of Hudaydah, some five months after coalition forces, backed by armed militia loyal to the former Yemeni government, launched a full-scale offensive to seize the vital port.
The main gate "was the target of airstrikes... but the port is operating normally," said the port's deputy director Yahya Sharafeddin on Tuesday, adding that at least two airstrikes had hit the entrance, leaving three guards wounded.
Other reports said that a single-storey guardroom had taken a direct hit from the strikes, which killed at least one soldier.
Back in June, the coalition, backed by loyalists of Yemen's former President Abd Rabbuh Mansur Hadi, who resigned amid popular discontent and fled to Saudi Arabia three years ago, started a massive offensive against Hudaydah, which is currently under a tight siege imposed by the invaders.
The so-called liberation operation, however, has so far failed to achieve its objective, which is overrunning the vital port and defeating fighters of the Houthi Ansarullah movement, backed by those from the Popular Committees. However, the Saudi-led forces on November 1 commenced a fresh wave of airstrikes and ground invasion in an attempt to capture the city of some 600,000 people.
Elsewhere in his remarks, Sharafeddin said that despite the air raids, the vital docks were operating normally. Some 80 percent of Yemen's commercial imports and nearly all UN supervised humanitarian aid pass through these docks.
Meanwhile, Yemen's Arabic-language al-Masirah satellite television network reported that Saudi-led airstrikes had claimed the lives of at least eight people and wounded several others in Jarrahi district of Hudaydah.
In a separate report on Tuesday, al-Masirah cited Yemeni Armed Forces spokesman Brigadier General Yahya Saree as saying that since early November, 867 mercenaries and those loyal to Hadi had been killed in various fronts and 2,150 others were wounded.
He added that 1,224 of Riyadh's mercenaries and Hadi's militia had either been killed or wounded in Hudaydah alone.
Leading a coalition of its allies, including the United Arab Emirates and Sudan, Saudi Arabia invaded Yemen in March 2015 in an attempt to reinstall Hadi.
Since the onset of the imposed war, the Yemeni army, backed by Houthi fighters, has been defending the impoverished nation against the brutal aggression.
Saudi Arabia has achieved neither of its objectives. Riyadh had declared at the start of the invasion that the war would take no more than a couple of weeks.
The aggression initially consisted of a bombing campaign, but was later coupled with a naval blockade and the deployment of ground forces to Yemen.
According to a recent report by the Armed Conflict Location and Event Data Project (ACLED), a nonprofit conflict-research organization, the war has so far claimed the lives of around 56,000 Yemenis.
The war has also taken a heavy toll on Yemen's infrastructure, destroying hospitals, schools, and factories. The UN has already said that a record 22.2 million Yemenis are in dire need of food, including 8.4 million threatened by severe hunger. According to the world body, Yemen is suffering from the most severe famine in more than 100 years.
Full report at:
https://www.presstv.com/Detail/2018/11/13/579919/Yemen-Hudaydah-
--------
Lebanese army forces detain man suspected of providing intelligence to Israel
Nov 13, 2018
The Lebanese Army's intelligence branch has arrested a man suspected of spying for Israel's Mossad spy agency and collaboration with Israeli authorities as he was attempting to cross the southern border into occupied Palestinian territories.
The army announced in a statement released late on Monday that the man, identified as Mohammad Hussein Fakih, was captured in the village of Meiss Ej Jabal, situated some 78 kilometers (49 miles) south of the capital Beirut.
The statement added that Fakih had formerly collaborated with Israeli official. It was not immediately known whether the man was of Lebanese origin.
On September 25, Lebanon's Military Tribunal sentenced three Lebanese nationals to three years in prison with hard labor on charges of espionage on Hezbollah resistance movement for Mossad.
The tribunal, chaired by Brigadier General Hussein Abdallah, issued the verdicts against Hasan Salemeh, Karam Idris and Kamal Hasan on Tuesday after they were found guilty of providing the Israeli regime with intelligence about Hezbollah's military arsenal and operations, and with photos of several strategic locations in Lebanon.
The court also stripped them of their rights as Lebanese citizens.
The three were arrested last October and charged with communicating information to Israel. They reportedly possessed Israeli wireless communication devices at the time of their arrest.
Two other defendants, identified as Lebanese nationals H.K. and N.Sh., were separately questioned on Tuesday after they allegedly contacted Israelis through Facebook.
Full report at:
https://www.presstv.com/Detail/2018/11/13/579915/Lebanese-army-forces-detain-man-suspected-of-providing-intelligence-to-Israel
--------
North America
Smartphones: A Double-Edged Sword for Terrorists
November 14, 2018
Michel MOUTOT - Bombs and guns aside, a smartphone can be a powerful weapon in the hands of a terrorist - but it can also provide intelligence services with the tools to track them down.
Three years ago to the day, the Paris attacks of November 13, 2015 remain one of the best known examples of a large-scale assault that could not have been planned without phones.
The Islamic State group gunmen and bombers who struck the Bataclan concert hall and other nightlife spots used them extensively to coordinate the carnage, said a former French anti-terrorist official, speaking on condition of anonymity.
Just before entering the Bataclan, where they massacred 90 people, the attackers had sent a text message to accomplices in Belgium: "We're going ahead. It's started."
But if smartphones have been a "game-changer" for jihadists, their use by the world's extremists goes much further back than the Paris attacks.
"As of 2003, in Iraq, home-made bombs started being set off by the sending of an SMS as American convoys drove past. This caught on and was then repeatedly used by Al-Qaeda," the ex-official told AFP.
These days, encrypted apps such as Telegram, Wire and WhatsApp can help jihadists communicate while evading police tracking - or at least complicate efforts to decode their messages.
For several years IS has published online tutorials in several languages explaining to jihadists how to choose the best software to evade detection in war zones.
For new recruits in developing countries, where smartphones are more common than computers, there are different strategies still.
"Phones are no longer phones - they're computers," said Laurent Heslault, director of security strategies at Symantec, a security group. "They are far more powerful than what we had on our desks 10 years ago," he added.
"They have more computing power, more memory and connection capabilities. They are very powerful tools when it comes to communicating." That has also made it much easier for jihadist groups to recruit new members.
Smartphones "enable people to reach out for propaganda" with the swipe of a screen, said the retired official.
"Thirty years ago, guys used to exchange video cassettes, then it was CDs. Now it's online and can be looked up at any time."
For propaganda-makers, videos of attacks can be filmed and uploaded in the blink of an eye. "You can film attacks, claim responsibility, use (a phone) to take photos and film reconnaissance operations," the ex-official said.
Flip side of the phone
But the smartphone can be an extremist's downfall as well as their best asset.
Intelligence agencies have grown better at using phones to identify suspects, spy on them - and, in case of capture, lift data for use as evidence in court.
That in turn has raised difficult questions for tech giants who promise their users privacy. Most famously, Apple faced a court showdown with the FBI after agents sought access to the data of the attackers who killed 14 people in San Bernardino, California, in December 2015.
Investigators dropped the case after finding a way into the phone without help from Apple, which argued that helping authorities access a phone would set a dangerous precedent.
Further afield, governments have used phone data extensively to pinpoint extremist suspects. The French military intervention in Mali, launched in 2013 after jihadists took over the northern half the country, started with air strikes whose targets were chosen based on phone data, the former French official said. "Today all air strikes focus on telephones," he added. "Even if you keep changing the SIM card the phone has its own identity and once detected can continue being tracked." And when it comes to police investigations, smartphones sometimes provide more information than their owners.
They might allow investigators to work their way back along an information trail, snare other members of a suspect's network, and track sleeper cells, he added. "Smartphones make you a target," the expert said. "Because of this jihadist leaders have learned to keep away from them. For the past few years, there's been a marked return to using human envoys," he added. –AFP
https://nation.com.pk/14-Nov-2018/smartphones-a-double-edged-sword-for-terrorists
--------
US concerned over 'premature' return of Rohingya
13.11.2018
By Umar Farooq
WASHINGTON
The U.S. expressed concern over Myanmar's plan to begin the repatriation process for Rohingya Muslims who fled to Bangladesh from violence in the northern Rakhine state, saying that conditions were not conducive for the returns.
The repatriation process was scheduled to start earlier this year, as a part of an agreement between Bangladesh and Myanmar, but had been continuously delayed.
Myanmar agreed to begin receiving a return of Rohingya starting November 15, and on Sunday said that they were ready to receive the refugees.
More than 750,000 Rohingya refugees, mostly children, and women, fled Myanmar and crossed into Bangladesh after Myanmar forces launched a crackdown on the minority Muslim community in August 2017, according to Amnesty International.
The government of Myanmar released a statement saying that they would receive an initial group of 2,251 at a rate of 150 per day, according to the Associated Press.
In response, the U.S. said the conditions were not yet met for the return of these refugees and the government of Myanmar needs to create conditions that allow for a freedom of movement throughout the country.
"We have engaged both governments at the highest levels to express our serious concerns about premature returns, and to emphasize that, consistent with international practice, returns be informed, voluntary, safe, dignified," said a State Department spokesperson on the condition of anonymity. "Further, returnees to Burma [Myanmar] must have freedom of movement and not be confined to camps."
The U.S. also urged Myanmar to grant humanitarian access and hold those responsible for human rights abuses that are accountable.
The UN High Commissioner for Human Rights backed a voluntary repatriation of Rohingya to Myanmar but said the conditions in the country are not conducive to a safe return.
"I have not seen any evidence of the Government of Myanmar taking concrete and visible measures to create an environment where the Rohingya can return to their place of origin and live there safely with their fundamental rights guaranteed," said Yanghee Lee, the special rapporteur on human rights in Myanmar, in a statement.
The Rohingya, described by the UN as the world's most persecuted people, have faced heightened fears of attack since dozens were killed in communal violence in 2012.
Since Aug. 25, 2017, nearly 24,000 Rohingya Muslims have been killed by Myanmar's state forces, according to a report by the Ontario International Development Agency (OIDA).
More than 34,000 Rohingya were also thrown into fires, while over 114,000 others were beaten, said the OIDA report, titled "Forced Migration of Rohingya: The Untold Experience".
Some 18,000 Rohingya women and girls were raped by Myanmar's army and police and over 115,000 Rohingya homes were burned down and 113,000 others vandalized, it added.
Full report at:
https://www.aa.com.tr/en/americas/us-concerned-over-premature-return-of-rohingya/1310606
--------
US refuses to grant visa to top British Islamophobe
Nov 13, 2018
Authorities in the United States have refused to grant visa to the most senior anti-Islam figure in Britain.
Reports on Tuesday suggested that Tommy Robinson had his visa application rejected a day earlier as he was seeking to meet senior republican lawmakers in Washington this week.
Robinson has previously been hailed by the so-called alt-right camp in the United States for his opposition to Islam. People close to US President Donald Trump once criticized UK authorities for jailing the figure over contempt of the court charges and other convictions. Among his previous convictions was an attempt in 2013 to travel to the US using a passport in someone else's name.
The far-right figure was released from jail in August apparently under immense pressure from political groups while judges referred his case to the UK Attorney General.
After founding his English Defence League, Robinson, whose real name is Stephen Yaxley-Lennon, staged several violent demonstrations against Islam in various British cities.
He was planned to deliver a speech against Islam in an event on Wednesday convened by seven conservative Republican members of the US House of Representatives.
The conservative Philadelphia-based Middle East Forum invited Robinson to the Washington. The organization said that US embassy in London had informed Robinson that it "will take a while" for him to be allowed into the US.
Washington's refusal to grant visa to the controversial figure comes after 55 lawmakers of the British parliament wrote a letter to US Secretary of State Mike Pompeo demanding that Robinson be banned from visiting the US. The lawmakers said Robinson could use the trip to raise funds for his extremist activities.
Full report at:
https://www.presstv.com/Detail/2018/11/13/579933/UK-Islamophobe-Robinson-US-visa
--------
US designates son of Hezbollah leader as 'global terrorist'
13 November 2018
The US State Department on Tuesday designated Jawad Nasrallah, son of Lebanon's Iran-backed Hezbollah leader Sayyed Hassan Nasrallah, as a global terrorist and accused him of carrying out attacks against Israel in the West Bank.
The department also blacklisted Al-Mujahidin Brigades (AMB), which it said had links to Hezbollah and had plotted a number of attacks against Israeli targets from a base in the Palestinian Territories.
"Today's designations seek to deny Nasrallah and AMB the resources to plan and carry out terrorist attacks," the State Department said in a statement. It said the actions denied Nasrallah and AMB access to the US financial system.
More sanctions would be announced later in the day, the State Department's top counter-terrorism official Nathan Sales said separately without elaborating.
"We will be making some additional announcements at the State Department's briefing later this afternoon," Sales told the Washington Institute for Near East Policy.
Earlier on Tuesday, Lebanese Prime Minister-designate Saad al-Hariri blamed Hezbollah for what he called "a big obstacle" in efforts to form a new government.
Full report at:
https://english.alarabiya.net/en/News/world/2018/11/13/US-designates-son-of-Hezbollah-leader-as-global-terrorist-.html
--------
Trump picks retired general for ambassador to Saudi Arabia
November 14, 2018
A retired four-star general is President Donald Trump's pick to be US ambassador to Saudi Arabia, filling a key diplomatic vacancy at a time when US-Saudi relations are being tested by the slaying of a journalist critical of the Saudi royal family.
Trump announced Tuesday that he is nominating John Abizaid, the longest-serving commander of the US Central Command, to lead the US Embassy in Riyadh. It's a post that has been empty since former ambassador Joseph Westphal left in January 2017.
If confirmed by the Senate, Abizaid would become ambassador as the Trump administration is weighing the US response to the killing of Washington Post contributor Jamal Khashoggi at the Saudi Consulate in Istanbul.
Turkish officials claim Khashoggi was killed by a 15-member assassination squad sent from Riyadh on orders from the highest levels of the Saudi government.
Secretary of State Mike Pompeo has revoked the visas of the Saudis implicated in the killing. Defence Secretary Jim Mattis has said additional measures will be taken.
Abizaid, who retired in 2007, served in wars in Grenada, the Persian Gulf, Bosnia, Kosovo, Afghanistan and Iraq. Following the war in Iraq, Abizaid assumed control of Centcom, which overseas military operations in 20 nations stretching from northeast Africa to the Middle East to Central and South Asia.
Abizaid, of Nevada, currently works as a private consultant and is a visiting fellow at the Hoover Institution at Stanford University.
Full report at:
https://www.dawn.com/news/1445552/trump-picks-retired-general-for-ambassador-to-saudi-arabia
--------
US security chief John Bolton vows to 'squeeze' Iran
13 November 2018
US National Security Advisor John Bolton vowed Tuesday to "squeeze" Iran "until the pips squeak", a week after a tough new round of sanctions came into force.
President Donald Trump has dramatically increased pressure on Tehran, withdrawing from an international agreement aimed at ending its nuclear program and introducing several rounds of unilateral US sanctions.
The latest tranche of measures have been touted as the toughest yet, and aim to significantly reduce Iran's vital oil exports and cut off its banks from international finance.
Speaking in Singapore ahead of a summit, Bolton said: "We think the government is under real pressure and it's our intention to squeeze them very hard.
"As the British say, squeeze them until the pips squeak.
"We are also going to significantly increase the enforcement of sanctions."
The US measures have been opposed by other parties to the deal aimed at ending Iran's nuclear drive -- Britain, France, Germany, China and Russia -- who have vowed to keep the accord alive.
"There's no doubt Iran has already started to try and find ways to evade the sanctions both on oil in particular and financial markets," Bolton added.
UN inspectors say Iran is abiding by the agreement.
Bolton, however, said that "most of the countries of Europe have passed through denial and anger and many of them are already at acceptance that we're out of the deal.
"Others are getting to that point."
In the face of widespread opposition to the sanctions, Washington issued exemptions to eight countries to its ban on buying oil from major producer Iran.
Washington is demanding that Tehran end policies rooted in the 1979 Islamist revolution, including its support for regional proxies such as the Lebanese militia Hezbollah and its development of missiles.
The only support for the US position has come from Iran's regional rivals, notably Saudi Arabia and Israel.
Full report at:
https://english.alarabiya.net/en/News/world/2018/11/13/US-security-chief-John-Bolton-vows-to-squeeze-Iran.html
--------
Will Nikki Haley block diplomatic immunity to Qatar hacking ringleader?
13 November 2018
Before she officially resigns from her post as US ambassador to the UN the end of 2018, Nikki Haley will decide on whether she will block diplomatic immunity for an alleged "paid agent of Qatar" who hacked and shared the private communications of a US citizen.
Earlier, Haley announced that she would be resigning from her post at the end of the year.
The Jerusalem Post said "Before she heads into the next stage of her career, Haley will have one more chance to intervene on behalf of the pro-Israel community: blocking diplomatic immunity for a paid agent of Qatar (one of Iran's closest allies) which hacked and disseminated the private communications of an American citizen."
The legal team of Elliot Broidy, a former vice chair of the Republican National Committee, has accused longtime UN official and Moroccan national Jamal Benomar of serving as the ringleader in the Qatari hacks of more than 1,200 individuals, including Broidy himself.
Benomar is seeking to dismiss the lawsuit on the grounds that he has diplomatic immunity.
The alleged ringleader claims in a court filing that he "is a member of the Permanent Mission of the Kingdom Morocco to the UN" and therefore enjoys diplomatic immunity. The filing acknowledges Ben Omar's contacts with Qatari officials and US-based Qatari agents.
Moroccan-born Ben Omar, who had a 25-year U.N. career and last served as special adviser to U.N. Secretary-General Ban Ki-moon for conflict prevention, had been sued by Broidy for, allegedly, orchestrating his dissemination stolen emails and documents to the media in to damage Broidy's reputation.
The Jerusalem Post said "Given her post at the United Nations, it falls to her to decide whether to accord Benomar diplomatic immunity. The US Mission at the United Nations, overseen by Haley, has ultimate discretion over who receives accreditation from the UN as a diplomat. Her choice will determine whether Qatar, a leading partner of Iran and enemy of Israel, faces consequences for its assault on the private data of American citizens, or whether it can continue to prey on Americans with impunity."
Ben Omar's attorney, Abbe Lowell of Winston and Strawn LLP, wrote in a pre-motion letter to a US district court that Ben Omar's alleged diplomatic status made him "immune from jurisdiction for actions performed in the course of his duties." Ben Omar had never previously claimed Moroccan diplomatic status.
Lowell argued that because the ex-diplomat "Ben Omar enjoyed derivative sovereign immunity not only based on Qatar's immunity as a sovereign, but on Morocco's immunity as a sovereign as well. Consequently, this Court lacked subject matter jurisdiction, and the case must be dismissed, because the alleged actions of Ben Omar are protected under derivative sovereign immunity."
Spanning from 2014-2018, the hack's alleged targets include Broidy, an ex-CIA official, a Democratic Party operative, and "range from Syrian human rights activists to Egyptian soccer players," Bloomberg recently reported. According to the report, the hackers' IP addresses "linked back to the internet service provider, Ooredoo, which is majority-owned by Qatari government agencies."
Broidy's attorney, Lee Wolosky, filed a letter with the court outlining what he described as "fatal flaws" with Ben Omar's argument. "To date, the U.S. government has not agreed to extend diplomatic immunity to him," adding "according to the U.N., the Moroccan Mission to the retained Defendant as a consultant or advisor on August 1, 2018 – after the July 23, 2018 filing of this lawsuit."
Wolosky further alleged that "Ben Omar's participation in the conspiracy to hack and distribute Broidy's electronic information was disclosed through discovery." That discovery produced communications by Ben Omar's co-conspirators, one of whom stated he was sure that the defendant 'took the credit' for personally reviewing the hacked materials before they were distributed to the press."
The letter also disclosed that Ben Omar "profited personally from the scheme," pointing out that he was recently appointed to the Lagardère Supervisory Board, a multinational media conglomerate headquartered in Paris in which the largest shareholder is Qatar Holding LLC, a part of Qatar's sovereign wealth fund.
Wolosky wrote in his letter, "In a deposition, one of Defendant's co-conspirators testified that their work was done for "money" and that he was considering suing Ben Omar because the co-conspirator was owed 'five to ten million.'"
Ben Omar was best known for his tenure as the U.N.'s special envoy in Yemen, where he was responsible for attempting to mediate that country's civil war between Iranian-armed Houthi rebels and the government.
The Arab coalition accused Ben Omar of being fixated on Hadi-Houthi peace talks and on his own legacy, instead of emphasizing the continued Houthi aggression. Ben Omar's time as envoy was also marked by indications of his pro-Qatar bias, Broidy's lawsuit noted.
Full report at:
https://english.alarabiya.net/en/News/world/2018/11/13/Will-Nikki-Haley-block-diplomatic-immunity-to-Qatar-hacking-ringleader-.html
--------
Europe
Palestinian initiative for start-ups showcased at French summit
November 13, 2018
As rounds of applause periodically erupted at the Paris Peace Forum on Tuesday, pitchmen for 121 selected projects set out their ideas ahead of a vote that will select the 10 most promising.
In the heart of the forum's pavilion – an area known as the "Space for Solutions" – 34-year-old Ismail Abu Arafeh completed his 25-minute presentation on a project that aims to alleviate poverty in his native Jenin, a town perched in the hills of the Occupied Palestinian Territories.
IDEA, an incubator founded in 2015, was born from a partnership between two local organisations, Mr Abu Arafeh's Palestinian Consultative Staff for Developing NGOs (PCS) and the Local and Economic Development Council.
"We want to prove that Palestinians are able to change their situation by themselves and resist the occupation," he said in his pitch.
Since its launch, the incubator helped 45 start-up local businesses provide a lifeline for marginalised communities.
"In our semi-country, which has been under occupation for 70 years now, it is very difficult to build something meaningful," Mr Abu Arafeh said. "We really are trying from bottom-up to give opportunities to people."
The initiative has been instrumental in kick-starting the first pineapple farm in Jenin, an Arabesque wood design studio and a laboratory for carving quarry stones. These businesses in turn generate employment and contribute to giving back to IDEA and financing similar projects, which the incubator assists for an initial period of 6 months through feasibility assessments and training.
Mr Abu Arafeh said participating in the Paris Peace Forum has been an opportunity to network and be inspired, but being in the winners' roster would give IDEA the necessary boost to expand beyond the perimeter of Jenin.
"Our objective is to work across all 16 governorates in Palestine," he said.
Following a call for applications that collected 900 entries from 116 countries, the Paris Peace Forum Selection Committee selected 121 projects to be showcased from 11 to 13 November 2018 as part of the forum's first edition.
The forum offered them the opportunity to approach nearly 20,000 stakeholders from the worlds of politics, economics and academics attended the forum, and debate their global governance solutions.
A few stands from Mr Abu Arafeh's initiative, Typhanie Scognamiglio, 35, distributed leaflets and gave out information on the Global Citizens Debate project, which seeks to "bring ordinary citizens into the global discussions on the pressing issues."
"We want to reconnect citizens to the decision-making process," Ms Scognamiglio, who works for Missions Publiques, one of the four independent organisations behind the project, said.
In 76 countries, 100 citizens representative of their population in age, gender socio-professional categories attended a day-long event on June 6, 2015, that sought to gauge their opinions on climate change.
This was the project's first attempt to gauge the feelings of a representative portion of the population and produce data that could then be fed to governments and stakeholders.
"We are proposing a tool to improve democracy at a time in which democracy is under threat," Ms Scognamiglio said, adding that Global Citizens Debate conducted another survey on driverless cars and is about to launch one on internet governance.
A number of high-tech projects also offered strikingly innovative solutions to the world's most pressing problems. Nimray-Solar relies on the idea that blockchain technology can offer renewable energy to power the world while Embark is service connecting talented refugee with business leaders.
Meanwhile 3D Printed and Satellites, an initiative by the Peruvian organisation Ankawa Internacional, aims to provide 3D printed satellites to marginalised communities to monitor water, air and ground pollution, record aeral images or improve internet connectivity through the satellite technology.
"According to the distance on earth we can take different information from the ground," Amilcar Romero, the 32-year-old founder of the initiative, told The National.
While satellites are not new, Mr Romero said that 3D printing has made the technology "cheaper and transferrable to the people who need it the most."
"We realised that local [marginalised] actors did not have any information on what is going on in their territory," he said.
The 3D Printed and Satellites product is now about to be launched in Syria, it will be used to collect data on the situation in the war-torn country to facilitate humanitarian intervention on the ground.
https://www.thenational.ae/world/europe/palestinian-initiative-for-start-ups-showcased-at-french-summit-1.791494
--------
Turkish FM says Germany is not meeting demands on Gulen network
November 14, 2018
ANKARA: Germany is far from meeting Turkey's demands regarding alleged members of the network of US-based cleric Fethullah Gulen, blamed by Ankara for a 2016 failed coup, according to the text of a speech by Turkish Foreign Minister Mevlut Cavusoglu.
In September, President Tayyip Erdogan called on Berlin to extradite what he said were the hundreds Gulen supporters residing in Germany. The Cavusoglu comment was in the text of a speech which he was making in parliament.
Chancellor Angela Merkel has said Germany needed more evidence if it was to class the movement as a terrorist organization, as Ankara is demanding.
http://www.arabnews.com/node/1404726/world
--------
Hezbollah moneymen face French justice after global wave of arrests
November 13, 2018
French courts heard evidence of a vast international money laundering and drug smuggling operation run by suspects linked to Hezbollah that stretched across four continents.
The network was busted in a wave of arrests in 2016 and the hearings in Paris are laid bare a global network that handled tens of millions of dollars in narcotics, luxury contraband and smuggled goods.
A total of 15 defendants linked to the Lebanese diaspora, including Mohamed Noureddine, 44, the suspected operations chief and a designated as a member of Hezbollah by the US Treasury.
Prosecutors have amassed evidence that the group handled the vast sums generated from smuggling drugs on behalf of a Colombian drug cartel, run by the kingpin Joaquín "El Chapo" Guzmán, shipping large quantities of cocaine to Europe and the US.
Led by the US Drug Enforcement Agency, the investigation involved seven countries, including France, Germany, Italy and Belgium, from its launch in February 2015. In late January 2016 a co-ordinated series of arrests took place across all four countries. Mr Noureddine, who denies involvement in drug smuggling, was held at the French airport, Roissy.
French investigators have now pieced together a triple-tiered money laundering operation that involved buying luxury goods and even whole businesses to disguise the origins of the drug revenues.
Cash was dropped off at hairdressers in Antwerp in Belgium, a large hotel in Paris, a restaurant in Montreuil or a café in Enschede in the Netherlands. Transcripts showed that Mr Noureddine would hand out orders for the collection of as much as 500,000 euros at a time. Six figure sums were often delivered in small note denominations.
Among the colourful codes that the group used for its drop-offs was Mercedes 250, meaning of 250,000 euros, while "truck" was a tranche of one million euros. Meanwhile the destinations were also given codewords, including the "oven" for the Netherlands, and the "mill" for Belgium.
Outposts ranged from Singapore to Coliombia, via the Middle East. The informal banking arrangements in Hawala networks was often used to shift the money across borders including to the drug gangs of Colombia. American investigations also compiled evidence of an import and export trade in luxury vehicles, including Porsche, BMW or Range Rover, that were shipped to West Africa, Lebanon or Dubai.
Dealerships involved in this network occupied some of the most prestigious sites in France, including the Arc de Triomphe showroom in Paris. Hundreds of thousands of euros was paid for merchandise at leading jewellers for the easily transportable and expensive watches of Rolex and Patek Philippe.
The main destination for the luxury products was Beirut airport, where the head of intelligence was known contact of the group, according to the DEA. It also alleges that part of the money was used to procure weapons used by Hezbollah units in Syria.
Funds returned to the Colombians was funnelled through Lebanon-based Chams Exchange, a foreign exchange dealer active around the world.
The main movers in the money and luxury goods operations were Noureddine, an associate named Abbas Nasser and Mohamad Ali Chour, who was in 2016 at Abidjan airport in West Africa carrying $1.7 million said to be destined for Hezbollah's local operation.
The nexus was ultimately run by a man called Mohammad Ammar from a prominent Lebanese family who was arrested in Florida in early 2016 while travelling from his home in Medellin, Colombia.
Matthew Levitt, an expert on Hezbollah's financial operations, has said the arrests in 2016 were among the most significant breakthroughs against its lucrative links to drugs and money laundering ever seen.
"This was no rogue operation but, rather, a function of Hezbollah's "financial apparatus," which "maintained direct ties" to both Hezbollah commercial and terrorist elements," he wrote in a report published by the Washington Institute of the US Treasury designation of Nourheddine, which preceded the arrests. "Within days of this designation, Noureddine was arrested in France along with several other accused Hezbollah operatives.
Full report at:
https://www.thenational.ae/world/hezbollah-moneymen-face-french-justice-after-global-wave-of-arrests-1.791525
--------
Anti-Muslim activist Tommy Robinson denied US visa
November 13, 2018
British far-right activist Tommy Robinson has failed to get a United States visa in time for a fundraising tour of the country.
Robinson, whose real name is Stephen Yaxley-Lennon, had been due to meet Republican congressmen in Washington as well as the Philadelphia-based Middle East Forum (MEF).
British politicians said that the former leader of the anti-Muslim English Defence League could make up to £1 million (Dh4.7m) through speaking appearances.
Robinson was jailed in the UK in 2013 for using someone else's passport to travel to the US. He has also served time in prison for assault and mortgage fraud and has been convicted of drug offences.
The 35-year-old is currently on bail after being charged with contempt of court by British authorities earlier this year in a highly publicised case which gained him supporters in US far-right circles.
MEF president David Pipes, who invited Robinson to the US, said it would "take a while" for the campaigner to obtain a visa.
Robinson will still appear via video link at a panel discussion hosted by the MEF on Wednesday with former editor-in-chief for Breitbart London Raheem Kassam, Canadian activist Ezra Levant and Anne Marie Waters, leader of the far-right For Britain party.
The topic of discussion is "de-platforming". Paypal recently blocked Robinson from using their service. Robinson said the reason for his ban was because he did not fit within the company's user guidelines but that followers could "support" him using Bitcoin instead.
An ex-assistant for Robinson said he had received up to £2m in donations since he was jailed and his appeal case this year.
The father-of-three also has plans to visit Australia next month as part of a five-city speaking tour. Tickets for the event, in which Robinson is joined by Vice co-founder Gavin McInnes, are priced up to $995.
Last week, dozens of British politicians signed a joint letter to US Secretary of State Mike Pompeo to urge him not to allow Robinson into the country.
The MPs said Robinson was using the trip to "promote his violent and extremist agenda" and would use any funds garnered to "disruptive demonstrations in communities in the UK".
The State Department said it did not discuss individual visa cases in accordance with US law.
Full report at:
https://www.thenational.ae/world/europe/anti-muslim-activist-tommy-robinson-denied-us-visa-1.791399
--------
South Asia
Taliban commander among 32 killed, wounded in Faryab clashes, airstrikes
Nov 14 2018
At least thirty two militants including a local commander of the Taliban were killed or wounded during the clashes and airstrikes in northenr Faryab province of Afghanistan.
The 209th Shaheen Corps of the Afghan Military in the North in a statement said clashes broke out between the security forces and Taliban militants in Kalik village of Qaisar district, leaving at least 18 militants dead, including one of their local commanders Mullah Khal Mirza.
The statement further added that the security forces also received air support and and as a result at least 14 militants also sustained injuries.
According 209th Shaheen Corps, at least five vehicles and fifteen various types of weapons of the militants were also destroyed during the clashes and airstrikes.
Faryab is among the relatively volatile provinces in North of Afghanistan where the Taliban militants and other groups are actively operating in some of its districts and often carry out terrorist related activities.
https://www.khaama.com/taliban-commander-among-32-killed-wounded-in-faryab-clashes-airstrikes-02737/
--------
U.S. airstrike leaves 8 Taliban militants dead in Ghazni province
Nov 13 2018
At least eight Taliban militants were killed in an airstrike carried out by the U.S. forces in southeastern Ghazni province of Afghanistan.
The 203rd Thunder Corps of the Afghan Military in the Southeast in a statement said the airstrike was carried out in the vicinity of Andar district.
The statement further added that the militants were targeted in Kamal Khel area of the district, leaving eight of them dead.
The anti-government armed militant groups including Taliban militants have not commented regarding the airstrike so far.
Ghazni is among the relatively volatile provinces in Southeastern parts of the country where the Taliban militants are actively operating in some of its districts.
Earlier reports indicated that other militants belonging to foreign groups including ISIS loyalists are also active in some of its districts.
https://www.khaama.com/u-s-airstrike-leaves-8-taliban-militants-dead-in-ghazni-province-02735/
--------
Thousands of Afghans flee fighting in Hazara districts
November 13, 2018
Ghazni, Nov 13 (AFP) Thousands of Afghans have fled to Ghazni city to escape fighting in two Hazara-dominated districts, with some describing the violence Tuesday as the worst they had seen in the 17-year conflict.
The Taliban have been battling members of Afghanistan's special forces and ethnic Hazara militia in the previously safe districts of Jaghori and Malistan in the southeastern province of Ghazni for nearly a week.
Hundreds of people, including civilians, militia, commandos and militants, have been killed, according to figures provided by locals and government officials.
Many families have fled to the provincial capital, some leaving their homes in the middle of the night and travelling on side roads to avoid Taliban checkpoints.
"We were scared, other people were fleeing so we decided to leave too," said a woman called Zainab, who drove with her five children for 12 hours on dirt roads from her home in Jaghori district to Ghazni city.
"We have never seen this kind of war and my children and I were scared," she told AFP, adding her husband had stayed behind to protect their property.
Around 2,000 families displaced by the fighting are living in mosques and hostels in Ghazni city, said Abdul Haleem Noori, director of the Afghan Red Crescent Society in Ghazni.
Others are staying with relatives as they wait out the fighting. Afghan security forces have stepped up ground and air offensives in the restive region, and US Forces also have launched air support, including aerial surveillance.
The escalation in fighting comes amid a flurry of diplomatic activity to convince the Taliban to negotiate an end to the war.
Jaghori district "is surrounded by Taliban and there are a lot of them", Mohammad Ali told AFP in a mosque where he is staying with nine family members.
"They were very well equipped with night-vision goggles and heavy weapons." Fighting in the area has been ongoing since Wednesday. There are growing fears the violence could be rooted in ethnic or sectarian differences.
Most Hazaras belong to the Shiite branch of Islam.
The Taliban, which are Sunni and largely ethnic Pashtuns, have been accused of committing human rights violations against the group during their oppressive 1996-2001 rule.
As displaced families continued to arrive in Ghazni city on Tuesday, provincial police spokesman Ahmad Khan Sirat told AFP the "situation is under control".
"Commando forces have been deployed in both Jaghori and Malistan," Sirat said. "We have reports of sporadic fighting." The Afghan Red Crescent Society has dispatched food, warm clothes and medicine to hundreds of families still in Jaghori and Malistan districts.
The fighting has angered many Hazaras, who blame the government for failing to protect the minority ethnic group.
Hundreds of demonstrators took to the streets of Kabul in the past two days to demand the deployment of military reinforcements to the Hazara districts under Taliban attack.
Full report at:
https://www.india.com/news/agencies/thousands-of-afghans-flee-fighting-in-hazara-districts-3427258/
--------
Militants suffer casualties in fresh clashes in Farah city outskirts, districts
Nov 14 2018
The Taliban militants suffered casualties during the fresh clashes erupted in the skirts of Farah city and other districts of the province.
The 207th Zafar Corps of the Afghan Military in the West in a statement said fresh clashes broke out the militants and the national defense and security force in the outskirts of Farah and Khost and Brenktot villages of Khak Safid and Posht Rod districts, leaving at least 9 militants dead.
The statement further added that the clashes also left at least 16 militants wounded while two of their vehicles were destroyed.
In the meantime, the 207th Zafar Corps said at least eight militants were killed and four others were wounded during the airstrikes conducted in Chahar Sada district of Ghor province.
Full report at:
https://www.khaama.com/militants-suffer-casualties-in-fresh-clashes-in-farah-city-outskirts-districts-02739/
--------
International Islamic University to be built in Nangarhar: Ghani
Nov 14 2018
President Mohammad Ashraf Ghani has said the International Islamic University would be built in eastern Nangarhar province of Afghanistan along with the Technology Park.
He made the remarks during a meeting with the tribal elders, religious scholars, and other representatives of Nangarhar province.
In his speech during the gathering, President Ghani said the residents of Nangarhar have bravely stood against the ISIS terrorists which helped the Afghan forces to retake Nazian district.
Emphasizing that the International Islamic University would be built in Nangarhar province, President Ghani said he has instructed the Ambassador of Islamic Cooperation Organization in this regard.
He also added that the employees of the foreign ministry who had shared wrong information in this regard would be punished.
In the meantime, President Ghani said budget has been allocated for the construction of Nangarhar administrative complex and facilities would also be put in place for the construction of Technology Park and civil airport in Jalalabad city.
Full report at:
https://www.khaama.com/international-islamic-university-to-be-built-in-nangarhar-ghani-02738/
--------
Taliban expressed flexibility for talks in Moscow Summit: HPC
Nov 13 2018
The Afghan High Peace Council members are saying that the Taliban group's political leadership expressed flexibility for the talks with the government during Moscow Summit.
However, the group demands the withdrawal of all foreign forces from Afghanistan as a precondition for negotiations.
The High Peace Council Deputy Chairmen made the remarks during a press conference in Kabul after their return from Moscow Summit.
The Deputy Chief of High Peace Council Mawlavi Abdul Khabir Ochqoon however said the decision in this regard must be taken by the nation, considering the national interests of the country.
He also expressed hopes that the release of Taliban leaders by Pakistan would have a positive impact on peace process.
Another deputy chairman of the High Peace Council Haji Din Mohammad said the participants of the summit agreed on an Afghan-led peace process.
Full report at:
https://www.khaama.com/taliban-expressed-flexibility-for-talks-in-moscow-summit-hpc-02732/
--------
'Bangladesh deploys armed forces to force out Rohingya'
Nov 14, 2018
Bangladesh is reportedly using heavy-handed tactics in an attempt to force Rohingya Muslim refugees — who have taken shelter in the country after fleeing state violence in neighboring Myanmar — back across the border.
The Guardian reported on Wednesday that Bangladeshi paramilitary troops, police, and army have been deployed in southeast Bangladesh's Cox's Bazar district, where the Rohingya are cramped in refugee camps, to make final preparations to start sending back the first group of the minority Muslim refugees to Myanmar on Thursday.
The British daily said it had seen and could verify a video in which a Rohingya leader in Chakmarkul Camp is seen saying he was beaten in the office of Bangladeshi camp officials, known as CICs, "with a large stick" when he refused to provide them with a list of Rohingya in his camp on Monday.
"They stepped on my neck, I could not stand it," Ullah said in the footage. "You can see from my face how I was beaten."
It also quoted other refugees as saying they were reluctant to go back and afraid of the military presence.
"The army is in every corner of the Jamtoli and Hakimpara camps, sitting and checking people and not letting them move between camps," one Rohingya refugee in the Jamtoli camp said.
"People are too afraid to leave their houses or eat. Some left our block at midnight using secret paths for other camps, especially Kutupalong, where there is not so much fear about repatriation," the refugee added.
Myanmar and Bangladesh announced earlier this month that they were going to start implementing a previous repatriation agreement in mid-November.
The announcement prompted human rights groups, aid agencies, and many governments to raise concern about safety issues for Rohingya back in Myanmar.
More than 700,000 Rohingya refugees have fled to Bangladesh since last year, when Myanmar's armed forces, backed by Buddhist extremist mobs, intensified a crackdown that had already been underway against the Muslim community in Myanmar's Rakhine State.
Thousands of Rohingya Muslims were killed, and others only survived by fleeing to Bangladesh, where they now face potential violence as well.
This is while Bangladesh's foreign secretary and refugee commissioner have several times offered assurances that they would not send the Rohingya back against their will.
Dozens of Rohingya families, who were placed on a list of 2,200 refugees "approved" for return by Myanmar, told The Guardian that they did not want to return under the current conditions.
Many had already fled the camps and gone into hiding, while others had attempted suicide over fears of going back to Maynmar.
The United Nations (UN) has repeatedly warned that the repatriation of the Rohingya could be dangerous, given that they still faced violence in Myanmar. Last week, UN Special Envoy for Myanmar Yanghee Lee said the people were still facing a "high risk of persecution."
UN demands halt to repatriation
UN human rights chief Michelle Bachelet has, meanwhile, called on Dhaka to halt the repatriation, warning that the Muslims' lives would be at "serious risk."
"Forcibly expelling or returning refugees… would be a clear violation of the core legal principle of non-refoulement," Bachelet said on Tuesday.
She explained that the legal principle "forbids repatriation where there are threats of persecution or serious risks to the life and physical integrity or liberty of the individuals."
Suu Kyi once again refused to shoulder responsibility over Rohingya
Meanwhile, Myanmar's de facto leader, Aung San Suu Kyi, who has been blamed by the international community for inaction over the plight of the Rohingya, has once again refused to take responsibility.
US Vice President Mike Pence told her on the sidelines of a summit in Singapore on Wednesday that the violence against and the persecution of the Rohingya was "without excuse."
Suu Kyi responded by saying, "Of course people have different points of view."
She had already taken the side of the military in the violence against the Rohingya.
Full report at:
https://www.presstv.com/Detail/2018/11/14/579989/Bangladesh-military-heavyhanded-Rohingya-Muslim-refugees-Myanmar
--------
ASEAN drafts statement in response to Rakhine violence, urges accountability
Nov 13, 2018
Southeast Asian nations are set to call for those responsible for atrocities against Rohingya Muslims in Myanmar's Rakhine state to be held "fully accountable."
In a draft statement, which would be delivered at the end of meetings of the 10-member Association of Southeast Asian Nations (ASEAN) in Singapore, it was mentioned that the situation in Rakhine was a "matter of concern."
"We called on the Independent Commission of Enquiry established by the Government of Myanmar to carry out an independent and impartial investigation of the allegations of human rights violations and related issues, and hold those responsible fully accountable," said the ASEAN draft statement.
Sources close to pre-summit discussions said Singapore was leaning toward a stronger stance because it feels responsibility as the summit host to protect its credibility.
Singaporean Foreign Minister Vivian Balakrishnan earlier this year said his ASEAN peers had urged Myanmar to give the inquiry commission a full mandate to hold those responsible accountable.
ASEAN's Muslim-majority members, Malaysia, Indonesia and Brunei, tend to take the toughest line on the Rohingya matter.
Malaysian Prime Minister Mahathir Mohamad has served notice he has lost faith in Nobel Peace laureate and Myanmar's de facto leader Aung San Suu Kyi, because of the Rohingya issue.
"We have made it quite clear we don't really support her anymore," Mahathir said in an interview over a month ago. "Our policy in ASEAN is non-interference in the internal affairs of the countries, but this is ... grossly unjust."
Suu Kyi, who will be joining the summit in Singapore, has been widely criticized for her handling of the Rohingya crisis.
Mohamad, ASEAN's senior most leader, was scathing about Suu Kyi on Tuesday when asked about the situation in Myanmar. "It would seem that Aung San Suu Kyi is trying to defend what is indefensible," the 93-year-old told reporters in Singapore. "We are very disappointed, because someone who has been detained before knows the sufferings, and should not inflict it on others."
Amnesty International said on Tuesday it had withdrawn its most prestigious human rights prize from Suu Kyi, accusing her of perpetuating human rights abuses by not speaking out about violence against the Rohingya.
On Tuesday, United Nations human rights chief Michelle Bachelet called on Bangladesh to halt plans to repatriate hundreds of Rohingya refugees to Myanmar, warning that their lives would be at "serious risk."
Forcibly returning or expelling refugees and asylum-seekers to their home country would violate international law, which forbids it to places where returnees face threats of persecution or their lives would be endangered, she said in a statement.
"We are witnessing terror and panic among those Rohingya refugees in Cox's Bazar who are at imminent risk of being returned to Myanmar against their will," Bachelet said.
"With an almost complete lack of accountability, indeed with ongoing violations, returning Rohingya refugees to Myanmar at this point effectively means throwing them back into the cycle of human rights violations that this community has been suffering for decades."
Elsewhere in her statement, she said two men had attempted suicide.
Both governments have been pushing ahead with this first large-scale repatriation effort. This has prompted criticism from a group of 42 aid agencies who said in a statement that it would be "dangerous" for them.
Full report at:
https://www.presstv.com/Detail/2018/11/13/579923/ASEAN-Myanmar-Rakhine
--------
Southeast Asia
Shafie urges Sabahans to work towards unity, shun racism, extremism
14 November 2018
KOTA KINABALU, Nov 14 — Sabah Chief Minister Datuk Seri Mohd Shafie Apdal urged people of all faiths in the state to shun racism and extremism to ensure the unity of the multi-racial and religious community in Sabah remains strong.
He said racism and extremism are the main factors that could cause the collapse of unity in any country with people of different races, religions and cultures.
"It is important for us to ensure that the unity of the people in the state is intact, so it is important for us to be sure that there is no extremism in any religion regardless of whether it is Islam or Christianity.
"Do not let any of us do anything that can be called racism. It does not matter whether we are Chinese, Kadazan, Dusun, Iban, Bajau or any other race because Sabah is our state therefore let us jointly develop the state," he said.
He said this when addressing the state government's financial assistance distribution to schools and non-Islamic religious bodies for the South West Coast, North West Coast and Upper and Lower Interiors at Banquet Hall, Sabah State Assembly, here today.
Also present were Sabah Deputy Chief Ministers Datuk Seri Wilfred Madius Tangau and Datuk Christina Liew, as well as Sabah Council of Churches chairman Bishop Melter Jaiki Tais and the Association of Sabah National Type Chinese School Management Committee chairman Ben Lim Kiat Kong.
Commenting on the financial aid, Mohd Shafie said although there were some financial constraints, the state government has never neglected the non-Muslim religious schools and institutions.
In the 2019 State Budget presented recently, RM34.64 million was allocated to 554 schools and non-Islamic religious bodies throughout Sabah. — Bernama
https://www.malaymail.com/s/1693173/shafie-urges-sabahans-to-work-towards-unity-shun-racism-extremism
--------
Indonesian Police will not Allow Meeting to Promote Caliphate
2018-11-13
Police in Bogor, Indonesia, said Tuesday they would not issue a permit for a two-day Muslim gathering billed for this weekend as a discussion on ushering an Islamic caliphate into the country, saying such a meeting was illegal.
A little-known group that calls itself Khilafatul Muslimin and says its leader is a caliph who oversees chapters across Indonesia and other countries is organizing the meeting. It is planned for Saturday and Sunday at the Az-Zikra mosque in Sentul, a suburb of Jakarta near the city of Bogor.
A Singapore think tank has described the group as a supporter of the extremist group Islamic State (IS), and two mosques in Jakarta have turned down requests to host the meeting whose theme is "Indonesia: Ushering in the rise of Islam."
The gathering would not be allowed, Bogor police chief Andi Muhammad Dicky told BenarNews.
"The event has to do with the intention to change the system of government, from democracy and Pancasila to the caliphate," Dicky said. Pancasila is the Indonesian state philosophy, which rests on pillars that include national unity, the belief in one God, democracy and social justice.
He said police feared potential clashes between participants and people opposed to the event.
"We will disband the event if the organizers go ahead with it," Andi warned.
In response, Khilafatul Muslimin spokesman Jamaludin, who uses one name, said similar events had been held 10 times before without any issue in different places, such as Bandung, Klaten and Sidoarjo.
Asked if the meeting would be held without a police permit, he said: "We still don't know."
"This is the consequences of a struggle," he told BenarNews.
"It's about devotion. We are not afraid," he said when asked if group members worried that they would be accused of treason.
Jamaludin said his group was not Hizbut Tahrir Indonesia (HTI), a local branch of an international Islamic group campaigning to establish a caliphate.
The government outlawed HTI last year after President Joko "Jokowi" Widodo issued a decree banning organizations that were deemed as a threat to national unity and Pancasila.
'Not just a dream'
In a statement posted online, Khilafatul Muslimin said the gathering was intended to address "accusations and slander by the enemies of Islam" about the caliphate. It invited representatives from the military, police, government and Muslim groups.
"For people who believe, the rise of Islam is not just a dream and an imagination, but has become a conviction," the statement from Khilafatul Muslimin said. "This conviction has crystallized into a determination to immediately prepare in welcoming it. The Prophet also narrated that at the end of time there will be a caliphate based on the prophetic tradition."
Khilafatul Muslimin appointed Abdul Qadir Hasan Baraja as caliph, or leader, and has 21 branches across the country and in several neighboring countries.
"Talking about the rise of Islam, means talking about the Islamic caliphate, because there is no other interpretation for the rise of Islam except the rise of the Islamic caliphate," its statement added.
In May 2015, the S. Rajaratnam School of International Studies in Singapore described the group as one of 18 in Indonesia supporting IS, in a report on counterterrorist trends and analysis.
Since 2014, Indonesian officials have dealt with the threat of terrorism from home-grown militants inspired by IS.
Full report at:
https://www.benarnews.org/english/news/indonesian/caliphate-cancel-11132018155315.html
--------
Amanah: Oktoberfest fine as long as Muslims not part of it
12 November 2018
KUALA LUMPUR, Nov 11 — Amanah communications director Khalid Samad said today his party had no objections to the Oktoberfest celebration taking place as long as it did not involve Muslims.
He was commenting on a report that the Sabah Amanah had protested to the Oktoberfest celebration in Sandakan last Saturday because it had hurt the sensitivities of Muslim residents there.
"We are not against the staging of the Oktoberfest event.
"We only do not want Muslims to attend and that the event should be held in orderly manner," said Khalid to reporters after officiating the launch of the selection of Kuala Lumpur as a World Book Capital in 2020.
Sabah Parti Amanah Negara chairman Haris Alimudin was quoted as saying that he regretted the decision by Sandakan Municipal Council for allowing the event to be held in an open area as the Council did not respect the sensitivities of the rakyat particularly Muslims.
He also demanded Chief Minister Datuk Seri Shafie Apdal personally look into the matter, claiming state support of the event may cause a backlash of support among voters for the ruling Parti Warisan Sabah government.
Full report at:
https://www.malaymail.com/s/1692501/amanah-oktoberfest-fine-as-long-as-muslims-not-part-of-it
--------
It's academic now, rules court of Tawfik's bid to challenge Hadi's bill
V Anbalagan
November 14, 2018
PETALING JAYA: The High Court today ruled as academic a suit filed by former MP Tawfik Ismail against ex-Dewan Rakyat speaker Pandikar Amin Mulia seeking to stop the tabling of a bill by PAS to amend the Shariah Courts (Criminal Jurisdiction) Act.
Judge Nordin Hassan said the matter had been overtaken by events following the dissolution of the 13th Dewan Rakyat on April 7.
"The subject matter is no longer there since the convening of the 14th Dewan Rakyat," he said in allowing the government's preliminary objection to throw out the suit without hearing the merit of the case.
Nordin said the rights of Tawfik were also not affected as the issue was "no longer alive".
He said the court would be seen as expressing its views if it had proceeded to hear the matter.
Nordin, however, said Tawfik was at liberty to file a fresh action if a similar motion to amend the Shariah Courts (Criminal Jurisdiction) Act was tabled again in the Dewan Rakyat and allowed by the speaker.
Last month, the government raised the preliminary objection as Tawfik's suit was academic as all matters related to the 13th session of the Dewan Rakyat had come to an end following Parliament's dissolution in April.
A letter by Attorney-General Tommy Thomas to Tawfik's lawyers said that any unfinished business of a Parliament that had been dissolved would automatically lapse pursuant to the dissolution.
"Such unfinished business cannot and does not 'carry on life' when the new Parliament convenes.
"It would certainly extend to the RUU355 motion," Thomas said in the letter, referring to the bill pushed by PAS to introduce heavier punishments under shariah law.
He said since the motion "died" on April 7, the dispute had become academic, and it was not practical to proceed with the case.
But Tawfik's lawyer Rosli Dahlan disagreed, saying the government's objection was misconceived.
"The preliminary objection is misconceived as it presupposes that the originating summons is solely on (Marang MP) Abdul Hadi Awang's motion. The reliefs sought are beyond just Hadi's motion," he said.
Rosli said there were issues which required the court to deliver a judgment and not shirk from its judicial duty as mandated by the Federal Constitution.
He said the reliefs sought were not just against the tabling of Hadi's motion but also against other breaches of the constitution. Hadi is PAS president.
Rosli said if the preliminary objection was allowed, it would set an adverse precedent for future motions without adhering to the spirit and provisions of the constitution.
He said Tawfik's originating summons should be heard to pronounce the legal position of the tabling of laws with regards to Article 38 of the constitution.
On Feb 22, judge Kamaludin Md Said, who heard the government's application to strike out Tawfik's suit, declined on grounds the court had jurisdiction to hear the matter.
Tawfik is a former Barisan Nasional MP for Sungai Benut in Johor, and son of the late Ismail Abdul Rahman, Malaysia's deputy prime minister from 1970 to 1973.
He was seeking a court order to stop the tabling of the bill which sought to give wider powers to shariah courts, including stiffer sentences on Muslim offenders.
He filed his application in court in March last year, naming Pandikar and Dewan Rakyat secretary Roosme Hamzah as defendants.
He claimed the private member's bill proposed by Hadi did not conform to the requirements of the Standing Orders of the Dewan Rakyat.
Hadi tabled a motion on April 6 last year to introduce his bill but it was not debated.
The bill aims to increase the penalties for shariah offences to 30 years' jail, RM100,000 fine and 100 strokes of the cane.
Full report at:
https://www.freemalaysiatoday.com/category/nation/2018/11/14/its-academic-now-rules-court-of-tawfiks-bid-to-challenge-hadis-bill/
--------
'Rizieq not a threat to my country': Saudi envoy says
November 13, 2018
The Saudi envoy to Indonesia said on Tuesday that despite the controversy Muhammad Rizieq Shihab caused by flying a black Islamic flag at the rear of his residence in Mecca, the firebrand Indonesian cleric had not broken any laws.
On Nov. 5, Saudi security authorities questioned Rizieq, who is in self-exile in the country, because of reports from local residents about a black flag resembling ones used by extremist Islamic groups that was spotted hanging from the wall of the cleric's house. The flag in question was a black flag with the Arabic inscription of the tawhid text, the Muslim doctrine of the oneness of God. Similar flags have been used by several Islamist groups, including the Islamic State (IS) movement.
Saudi Ambassador to Indonesia Usamah Muhammad Al-Syuaiby said the tawhid has a significant meaning for Muslims, but displaying it on a flag was not necessarily a criminal act.
"If we find such a flag being installed on someone's wall as a picture or anything else, we need to find out who is doing such a thing," the ambassador said during a press briefing at the headquarters of Muhammadiyah, Indonesia's second-largest Islamic organization.
The ambassador met with high-ranking officials of Muhammadiyah and they talked about Saudi Arabia's cooperation with Indonesia and the organization.
"Are you a criminal for installing the flag on your house? I don't think so," he said.
However, Al-Syuaiby did not address the fact that the Indonesian government compared the flag on Rizieq's house to those flown by IS terrorists.
Last week, Indonesian Ambassador to Saudi Arabia Agus Maftuh Abegebriel told journalists he had received reports on the questioning and detention of the cleric. He said the embassy staff were informed that the Mecca Police went to Rizieq's house on the morning of Nov. 5 to "investigate the allegation of the installation of a black flag that resembles the flag of Islamist extremist groups on the rear side of his house".
Later that afternoon, Mecca Police and Saudi Arabia's General Investigation Directorate questioned Rizieq at a nearby police station, where he was eventually detained. Indonesia's representative office in Jeddah dispatched staff to provide legal assistance to Rizieq, whom Saudi authorities released on bail at about 8 p.m. local time on Nov. 6.
According to the Indonesian embassy in Riyadh, Saudi Arabia has banned the installation of flags and other materials resembling those used by extremist groups, including IS.
Rizieq, the leader of the Islam Defenders Front (FPI), has been in Saudi Arabia for more than a year. He was charged by Indonesian police for violating the 2008 Pornography Law in May 2017 and fled to Saudi Arabia, refusing to return to Indonesia. The police dropped the case in June, citing a lack of evidence.
In September, the Indonesian Embassy in Riyadh said Rizieq had overstayed his visa for the country. The statement was issued in response to complaints from his supporters who claimed that his activities were being restricted in Mecca.
Al-Syuaiby, however, said the cleric has not violated any laws while staying in Saudi Arabia.
Full report at:
http://www.thejakartapost.com/news/2018/11/13/rizieq-not-a-threat-to-my-country-saudi-envoy-claims.html
--------
Africa
Why I chose a fellow Muslim as running mate –Gov el-Rufai
November 13, 2018
Kaduna State Governor, Nasir el-Rufai, on Tuesday cleared the air on the emergence of Dr. Hadiza Balarabe, a fellow Muslim, as his running mate for the 2019 governorship election in the state.
The governor, who received in audience the people of Sanga Local Government Area who were at the Sir Kashim Ibrahim Government House, Kaduna, on a thank-you visit for picking their daughter, said the choice of his running mate was based on competence and performance.
He explained that under his administration, there was no room for religious or sentiments in deciding who to appoint into any office in the state.
"Muslim-Muslim ticket is not a religious ticket but a competent and performance ticket," the governor said.
El-Rufai had told critics of the Muslim-Muslim ticket that the Government House was not a place for worship but where people work.
The governor added that most of his Muslim-Muslim ticket critics were those who did not vote for him in the 2015 governorship election in the state.
"The people that have criticised me most on this are people who never voted me in the first place. So, are they not supposed to be celebrating it?
"In their own opinion, I have made a wrong choice. Then, why are they mourning?" he asked.
Earlier, the paramount ruler of Numana in Sanga LG where Dr. Hadiza Balarabe hails from, Brigadier-General Aliyu Yamma (Rtd), said the choice of their daughter had given them the hope of being in government.
He sad successive administrations had forgotten the people of the area as far as participation in government was concerned.
"The governor couldn't have made a better choice than the selection of Hadiza.
"We now feel a sense of belonging in Kaduna government. We are just like Black Americans in Kaduna State," he said.
https://punchng.com/why-i-chose-a-fellow-muslim-as-running-mate-el-rufai/
--------
We Fighting Terrorism in Defence of True Islam -- King
Nov 14, 2018
AMMAN – His Majesty King Abdullah has said that the fight against terrorism and extremism Jordan is spearheading is aimed not to please anyone but rather to defend orthodox, true Islam.
In his speech at a ceremony in Washington DC as he accepted 2018 Templeton Prize on Wednesday, His Majesty underlined Jordan's historic privilege as the land of prophets and its role in maintaining and defending their message of peace and goodness.
Following is the full text of the speech:
In the Name of God, the Compassionate, the Merciful,
Thank you, all.
But I must begin today with a word about those who are highest in my mind today, the Jordanian families who are suffering and grieving in the aftermath of horrific flash flooding in my country.
There are no words strong enough to express my sorrow, the sorrow of all Jordanians, for the human loss caused by the double natural disasters, just weeks apart. And I want to commend to the world the Jordanians who raced to respond, the neighbours and medical teams and rescue units.
Truly, in facing tragedy—whether the deadly floods that struck Jordan or the deadly wildfires that struck California—we are, all of us, bound together in brotherhood. For the victims and their families, in Jordan and in California, I ask you to join me in a moment of silence.
Dean Hollerith, thank you for your warm welcome to the Washington National Cathedral.
Shaykh Hamza, and Professor Volf, and, my dear friend, Secretary General, thank you for your very, very generous words.
And a heartfelt thanks to Heather Templeton Dill, and the entire Templeton family and Foundation. May God reward the late Sir John for his tremendous legacy in affirming life's spiritual dimension and upholding positive values worldwide. I truly wish I had met Sir John in person, but meeting his family, who are carrying on his work, is meeting the best of what he stood for.
Today, I am truly humbled to be recognised by all of you. But let me say, everything you honour me for simply carries onward what Jordanians have always done, and how Jordanians have always lived—in mutual kindness, harmony, and brotherhood. And so, I accept this extraordinary prize, not on my own behalf, but on behalf of all Jordanians.
My friends,
Our country has long upheld religious mutual respect. The five prophets of "great resolve"—as they are called in the Quran—prophets of Judaism, Christianity and Islam, peace be upon them all, have blessed our land with their presence. Noah has a tomb in Karak. Abraham came through from the land of what is now Iraq, on his way to Hebron. Moses died in Jordan on Mount Nebo. Jesus Christ, the Messiah, was baptised in Jordan, on the East Bank of the River Jordan, by John the Baptist. My country preserves this special site and others with great care, welcoming Christian pilgrims and other visitors from around the world.
The Prophet Mohammad, may peace and blessings be upon him, came to Jordan twice—once with his uncle as a boy, when he was witnessed by a Byzantine priest as a future prophet, and then later as a young merchant. It was that first encounter under a tree—which is still present in the Jordanian desert—that set the tone for Muslim-Christian coexistence and harmony in Jordan.
My friends,
These prophets of great resolve were on a journey, an internal journey of the self, to fulfil God's commands. And the first step of any such journey begins with the struggle, the jihad, within each of us, to be the best person we can be.
The greater jihad of the great prophets brought illumination to all of us. So here, at this Cathedral, as a Muslim, I'd like to say a word about jihad.
And I'm sure that's not something you hear too often within these walls. But nothing, nothing is more important to understand.
The greater jihad has nothing to do with the hate-filled fiction promoted by the khawarej—the outlaws of Islam, such as Daesh and the like—or the Islamophobes who also distort our religion.
It is, instead, the personal, internal struggle to defeat the ego, and the struggle we all share for a world of peace, harmony, and love.
As it has been said, in Islam, to love God and love one's neighbour are core commandments. As Shaykh Hamza noted, the Prophet Mohammad, peace and blessings be upon him, said: "None of you has faith until you love for your neighbour what you love for yourself."
This is the Islam I learnt in Jordan.
The Islam of kindness and mercy, not of madness and cruelty.
Traditional orthodox Islam, not modern fundamentalist Islam.
The Islam of "forgive and let live", not of "attack and nit-pick".
The Islam of fundamental principles—usul inArabic—not of fundamentalist details.
The Islam of the holistic vision of the Quran and the Sunnah, not the cherry-picking of verses to suit a political agenda.
This is the traditional, orthodox Islam that is the faith of the vast, vast majority of Muslims around the world—1.8 billion good neighbours and good citizens who are helping build the future, in Jordan and the Middle East; in the US and Asia and Europe; and beyond. And we are working, on every continent, to defend Islam against the malignant sub-minority who abuse our religion. And we do this not to please our friends, not to please the world, but to please God. And as long as there is life in our bodies, and faith in our hearts, we will continue to do so, God willing, In sha Allah.
And we are not alone. The great commandments to love God and love one's neighbour, as has been said this evening, are found again, and again, in Judaism, Christianity, Islam, and other faiths around the world. It is a profound message, calling every one of us to struggle to look beyond ourselves. And this outward insight is the source and hope of all coexistence.
And when we talk about hope and coexistence, no issue is more important than Jerusalem. More than half of the world's people belong to religions that hold Jerusalem as a holy city—Islam, Christianity and Judaism. For Muslims, Jerusalem stands along with Mecca and Medina as one of Islam's three holiest places. And a special duty binds me and all Jordanians as Hashemite Custodian of Jerusalem's Islamic and Christian holy sites.
With its long, multi-faith heritage, Jerusalem must be protected as a unifying city of peace. And I am tremendously grateful to the Templeton Prize for making it possible to further this work. A portion of the Templeton Prize will help renovate and restore religious sites in Jerusalem, including the Church of the Holy Sepulchre. The entire remaining sum is also being donated to humanitarian, interfaith, and intra-faith initiatives, in Jordan and around the world.
My friends,
God says in the Quran: "For those who say, 'our Lord is God' and then follow the straight path, there is no fear, nor shall they grieve." (Al Ahqaf, 46:13)
And the Prophet Mohammad, peace and blessings be upon him, said: "Whoever believes in God and the Last Day, let him behave with excellence and virtue (ihsan) towards his neighbour' (Sahih Muslim).
It is time to do all we can to maximise the good in our world, and bring people together in understanding. But it begins with the struggle, the jihad, within ourselves to be the best we can be.
Full report at:
http://www.jordantimes.com/news/local/we-fighting-terrorism-defence-true-islam-king
--------
Jordan jails 10 for ISIS-claimed Karak attack
13 November 2018
A Jordanian court on Tuesday sentenced 10 people to prison terms of between three years and life in connection with a deadly 2016 attack claimed by ISIS.
The shooting attack in Karak, site of one of the region's largest Crusader castles, killed seven policemen and two Jordanian civilians as well as a female Canadian tourist, and wounded 34 other people.
The defendants were charged in state security court, a military tribunal, with "terrorist acts", illegal possession of arms and producing explosives.
Two of them were handed life terms, while three were sentenced to 15 years in prison and five others to serve three years in jail. One defendant was acquitted.
Courts in Jordan, the target of several deadly attacks, regularly put on trial suspected extremists.
Full report at:
https://english.alarabiya.net/en/News/middle-east/2018/11/13/Jordan-jails-10-for-ISIS-claimed-Karak-attack.html
--------
People stage protest against Nigerian army's killing of Muslims
Nov 13, 2018
Female members of the Islamic Movement in Nigeria have staged a peaceful protest over the recent killing of the movement's supporters in Abuja. Press TV's correspondent Danjuma Abdullahi has details from the Nigerian capital.
https://www.presstv.com/Detail/2018/11/13/579955/People-stage-protest-against-Nigerian-armys-killing-of-Muslims-
--------
Libya's PM Sarraj meets eastern commander Haftar in Palermo
November 13, 2018
PALERMO: Italy's premier on Tuesday hosted a meeting of Libya's rival leaders on the sidelines of a conference aimed at helping its former colony crack down on extremists and human trafficking.
Photos of the encounter showed Premier Giuseppe Conte presiding over a handshake between the Tripoli-based UN-backed prime minister, Fayez Al-Sarraj, and rival Gen. Khalifa Haftar, commander of the self-styled Libyan National Army that is based in Libya's east.
Later, UN Libyan envoy Ghassan Salame said Haftar, had committed himself to a UN action plan and to holding a national conference early next year prior to elections.
"Haftar is committed to the political process," Salame told reporters at the end of a reconciliation conference in Italy. "His representatives said that."
The exclusion of Turkey from the mini-summit prompted the Turks to pull out early, adding drama to the two-day conference at a resort on the picturesque Sicilian seaside.
Other leaders attending the Palermo conference, including French Foreign Minister Jean-Yves Le Drian, and Russian Prime Minister Dmitry Medvedev. The office of Egyptian President Abdel-Fattah El-Sisi, who backs Haftar, confirmed he joined the "mini-summit" Tuesday with Conte and other leaders.
Italy's populist government organized the two-day conference in hopes of making progress on ending Libya's lawlessness and promoting a UN framework for eventual elections.
But expectations were limited, with Haftar's camp making clear that he wasn't participating in the conference itself but rather meeting with leaders of neighboring countries on the sidelines. Neither Haftar nor El-Sisi posed for the final conference group photo.
And Turkish Vice-President Fuat Oktay pulled out before it ended, citing his exclusion from the morning mini-summit.
"The informal meeting, held this (morning) with a number of players and having them presented as the prominent protagonists of the Mediterranean, is a very misleading and damaging approach which we vehemently oppose," he told reporters.
"Turkey is leaving the meeting with deep disappointment," he said.
An Italian diplomatic official, briefing reporters in Palermo, said the atmosphere of the mini-meeting was cordial and collaborative and that Haftar told Sarraj to stay in charge until the elections.
A statement on social media Tuesday by a spokesman for Haftar's army, Ahmed Al-Mesmari, suggested that Haftar was snubbing the broader conference because he accuses representatives from the Tripoli side of working with militias he considers illegitimate, as well as extremists backed by Qatar.
In an interview provided by his media office, Haftar said he wanted to meet with African leaders in particular to discuss migration.
"We are still at war, and the country needs to secure its borders," Haftar said.
Libya plunged into chaos after the 2011 uprising that ousted and killed longtime dictator Muammar Qaddafi, and it is now governed by rival administrations in the east and west with both relying on the support of militias.
It has also become a haven for Islamic militants and armed groups, including several from neighboring countries, which survive on looting and human trafficking, particularly in the remote south of the country.
Full report at:
http://www.arabnews.com/node/1404086/middle-east
--------
Dozens missing after Boko Haram kills 16 in Nigeria: militia
November 14, 2018
KANO, Nigeria: Boko Haram militants have killed at least 16 farmers and left dozens missing in the latest attacks in restive northeast Nigeria's Borno state, militia and residents said on Wednesday.
The civilian militia fighting the Islamists found 15 bodies in fields around Kazaa and Daraa villages, five kilometers (three miles) outside the garrison town of Monguno on Tuesday.
A farmer was also shot dead while working near Gremari village, 13 km from the state capital Maiduguri.
"Yesterday our members recovered 15 bodies from farms around neighboring Kazaa and Daraa villages who were killed by Boko Haram on Monday," militia leader Ibrahim Liman told AFP.
"Another 35 people have not been seen and a search will continue today (Wednesday) to find them," he said.
The farmers were mostly from camps in Monguno housing people displaced by the nine-year Islamist insurgency.
Monguno resident Mari Bulama said the jihadists opened fire on farmers at work, shooting them as they fled.
"We buried 15 of them yesterday before I left Monguno," said Bulama who arrived at Maiduguri on Tuesday from Monguno, 140 km away.
The IS-affiliated faction — Islamic State West Africa Province (ISWAP) — operates a camp near the town of Zulum, 20 km from Monguno, and residents said they believed the attack was launched from there.
On Tuesday two militants on a motorcycle opened fire on farmers outside Gremari village killing one, militiaman Umar Ari told AFP.
"The rest of the farmers fled and later returned to pick the dead body of their colleague," he added.
Boko Haram has stepped up attacks on farmers and loggers in recent years, accusing them of passing information on the group to the military.
Last month the militants hacked 12 farmers to death as they worked on their fields in Kalle, a remote village 17 km from Maiduguri.
Despite government insistence Boko Haram are near defeat, the group has recently carried out major attacks on military and civilian targets, killing scores.
Full report at:
http://www.arabnews.com/node/1404721/world
--------
Arab World
Syria: US Conducts More Heliborne Operations to Rescue ISIL Terrorists
Nov 13, 2018
The US-led coalition helicopters landed in the village of al-Suweidiyah in Northeastern Hasaka and took 3 ISIL terrorists away.
In the meantime, several other helicopters carried out a heliborne operation in Hajin desert in Eastern Deir Ezzur, transferring a group of ISIL terrorists to an unspecified location.
Heliborne of ISIL members by the US military has long been underway amid the US claims of campaign against ISIL terrorists on the Eastern bank of the Euphrates River.
Last week, the Arabic-language al-Ma'aloumah news website quoted Ahamd al-Sahrifi, an Iraqi security expert, as disclosing that the US intended to heliborne ISIL terrorists from Syria-Iraq border to regions behind Iraqi forces' positions near border with Syria.
It further said that the US plan to heliborne ISIL to Iraq came after the Iraqi forces deployed at border with Syria and close off any infiltration by terrorists into Iraq.
Al-Sharifi further said that ISIL has not only been supported financially and militarily in the battlefield but also received logistic and diplomatic backup in regional and international arenas.
http://en.farsnews.com/newstext.aspx?nn=13970822000714
--------
Turkish air strikes kill 19 Kurdish militants in northern Iraq
13 November 2018
Turkish forces have killed 19 militants from the outlawed Kurdistan Workers Party (PKK) during air strikes in northern Iraq, the Defense Ministry said on Tuesday.
The air strikes targeted several regions in northern Iraq, including the Qandil mountains, a PKK stronghold, Turkey's Defense Ministry said on Twitter.
Turkey regularly carries out air strikes against PKK targets in neighboring northern Iraq.
The PKK, considered a terrorist organization by the United States, the European Union and Turkey, has waged a three-decade insurgency in Turkey's largely Kurdish southeast that has killed about 40,000 people.
https://english.alarabiya.net/en/News/middle-east/2018/11/13/Turkish-air-strikes-kill-19-Kurdish-militants-in-northern-Iraq.html
--------
US-led aircraft evacuate Daesh terrorists from eastern Syria: Report
Nov 13, 2018
The US-led coalition purportedly fighting the Daesh Takfiri terrorist group has airlifted to safe sanctuaries several members of the foreign-sponsored terror outfit from regions in Syria's eastern provinces of Hasakah and Dayr al-Zawr.
Local sources, requesting anonymity, told Syria's official news agency SANA on Tuesday that US-led military helicopters conducted an operation in the village of al-Suwayda in Hasakah near the border with Iraq, and transported a number of Takfiris to an unknown location.
Separately, US-led aircraft landed on the outskirts of al-Susah town in Dayr al-Zawr over the weekend, and took away three Daesh terrorists.
SANA, citing information received from local residents, reported on October 7 that American helicopters had evacuated Daesh commanders from al-Shaafah town in Abu Kamal district of Dayr al-Zawr to an undisclosed location.
Later on Tuesday, the Syrian Ministry of Foreign Affairs and Expatriates condemned the recent airstrike by the US-led coalition against the eastern town of al-Shaafah, which left more than 60 people killed and injured, arguing that the massacre clearly points to the fact that members of the military alliance have no respect for moral values, international rules and regulations besides the lives of innocent civilians.
The ministry, in two separate letters, addressed to United Nations Secretary General Antonio Guterres and the rotating president of the UN Security Council Ma Zhaoxu, called on the Security Council to assume its responsibilities and to stop US-led aerial assaults.
It also asked the world body to recommend an international, independent and impartial mechanism to investigate the crimes being perpetrated by the US-led coalition.
The letters noted that the coalition is deliberately targeting Syria civilians and making use of internationally banned weapons, including white phosphorus bombs, in Syria.
The Syrian foreign ministry stressed that the US-led coalition airstrikes were meant to kill as many Syrian people as possible, prolong the ongoing Syrian conflict, destroy the country's infrastructure and undermine its sovereignty and territorial integrity in flagrant violation of all United Nations Security Council resolutions on Syria.
The letters concluded that the embarrassing silence of the Security Council has encouraged the US-led coalition to kill more Syrian civilians and destroy their properties.
The US-led coalition has been conducting airstrikes against what are said to be Daesh targets inside Syria since September 2014 without any authorization from the Damascus government or a UN mandate.
Full report at:
https://www.presstv.com/Detail/2018/11/13/579956/USled-aircraft-evacuate-Daesh-terrorists-from-eastern-Syria-Report
--------
Daesh Militant Attack On Hashd Sha'abi Cmdr. Home In Western Iraq Leaves 9 Dead
Nov 13, 2018
At least nine people have been killed after Daesh Takfiri terrorists broke into the house of a commander of pro-government fighters from the Popular Mobilization Units in Iraq's western province of Anbar as army troopers, backed by their allies, are trying to flush the last remnants of the foreign-sponsored terror group out of the crisis-hit Arab country.
Deputy Mayor of Karma city Ahmed Mukhlaf told Arabic-language al-Sumaria television network that armed men, wearing military uniforms, attacked the house of a captain in the voluntary forces, better known by the Arabic word Hashd al-Sha'abi, in the al-Dhabetiyah area, situated 53 kilometers east of the provincial capital city of Ramadi, late on Monday.
Mukhlaf added that the attack left the Hashd al-Shaabi commander and eight passers-by dead.
Former Iraqi Prime Minister Haider al-Abadi declared the end of military operations against Daesh in the Arab country on December 9, 2017.
On July 10 that year, he formally declared victory over Daesh in Mosul, which served as the terrorists' main urban stronghold in the conflict-ridden Arab country.
In the run-up to Mosul's liberation, Iraqi army soldiers and volunteer Hashd al-Sha'abi fighters had made sweeping gains against Daesh.
Iraqi forces took control of eastern Mosul in January 2017 after 100 days of fighting, and launched the battle in the west on February 19 last year.
Full report at:
https://www.presstv.com/Detail/2018/11/13/579921/Daesh-militant-attack-on-Hashd-Shaabi-cmdr-home-in-western-Iraq-leaves-9-dead
--------
Syrian Army Increases Deployment in Aleppo after Turkey's Threats in Eastern Euphrates
Nov 13, 2018
Field sources reported on Tuesday that a large military convoy was sent by the Syrian army to Menaq airbase in Northern Aleppo, 11km away from Aleppo city.
They added that the convoy consisted of a large number of Syrian army forces and several tanks and military and armored vehicles, noting that the army has also dispatched military grids to Deir Jamal and Tal Rafat in the West and Tadaf in Northern Aleppo close to the positions of the Ankara-backed militants.
The sources said that the Syrian Army aims to strengthen its fronts in response to the Turkish army's mobilization of militants in the Euphrates region.
They added that the army's decision to send more forces and military equipment to Northern Aleppo was made after Turkey recently threatened that it was preparing to launch an assault on the Kurds in Eastern Euphrates.
The London-based Syrian Observatory for Human Rights (SOHR) reported on Sunday that the Turkish troops and their allied militants targeted the strongholds of the Kurdish militias in Manbij region in Northeastern Aleppo in violation of an earlier agreement between Ankara and Washington.
SOHR reported that the Ankara-backed forces known as the Euphrates Shield opened heavy machinegun fire at the village of al-Hamran Northwest of the town of Manbij.
It further said that the Ankara forces targeted the positions of the Syrian Democratic Forces and farms in the region.
In the meantime, the US-led coalition fighter jets conducted round the clock flights over Manbij.
The attacks were carried out regardless of an agreement between the US and Turkish forces to carry out joint patrols along a buffer zone separating the Euphrates Shield forces from the Manbij Military Council forces.
Full report at:
http://en.farsnews.com/newstext.aspx?nn=13970822001147
--------
Protests Flare in Turkish-Occupied Regions in Northern Syria
Nov 13, 2018
Civilians in the town of Jarabulus in Northeastern Aleppo that is under the occupation of the Ankara-backed Euphrates Shield forces took to the streets against the Turkey-affiliated terrorists.
In the meantime, media activists reported continued blasts and insecurity in regions occupied by the Turkish forces, and said people in these regions are tired of the present situation and have taken to the streets to call for the expulsion of the terrorists from their homes and town.
They further said that the demonstrators set fire at tires and closed off roads to the region.
Abdul Aziz al-Khazar, a field commander of the Free Army terrorists, was killed in a blast in Jarabulus on Monday.
A bomb-laden vehicle went off in front of the base of the Free Army's Military Police in Central Jarabulus that left a number of civilians and militants dead and more than 25 wounded.
Full report at:
http://en.farsnews.com/newstext.aspx?nn=13970822000927
--------
Syrian Army Repels Terrorists' Heavy Offensives in Idlib, Hama
Nov 13, 2018
The army units exchanged heavy fire with Tahrir al-Sham terrorists, deployed in regions near al-Mahjourah battalion base and Tawil al-Halib, and repelled their attack on government forces' positions in the demilitarized zone West of Abu al-Dhohour base in Southeastern Idlib.
In the meantime, the army's artillery and missile units pounded terrorists' movements in the small towns of Jarjanaz, al-Taah, Skeik and al-Tamanna in Southeastern Idlib.
Meanwhile, other artillery units, deployed in Bridij base in Northwestern Hama, opened heavy fire at terrorists' movements in the village of al-Janabarah, preempting their attack after inflicting heavy casualties on them.
Other artillery units of the army shelled the movements of Kata'eb al-Izzah terrorists near the village of Tal al-Sakhar in Northern Hama and preempted their attack on government troops.
Tahrir al-Sham, in a command on Sunday, put the entire operation rooms, military centers and field commanders on alert to launch an imminent attack on the army.
Meanwhile, the London-based Syrian Observatory for Human Rights reported that Tahrir al-Sham have forwarded more gunmen and military hardware to contact lines with the army in Southeastern Idlib in the last two days.
On Monday, a senior Syrian military and strategic analyst said that continued attacks by Tahrir al-Sham Hay'at against the army positions in Northern Syria accelerate collapse of terrorist groups in Idlib.
Colonel Mar'ei Hamdan was quoted by the Arabic-language website of Sputnik news agency as saying that Tahrir al-Sham is in control of nearly 70% of towns and villages in Idlib province and makes provocative moves against the Syrian army, adding that the army's commitment to decrease tensions is not lasting forever.
He added that the Syrian army has so far repelled all attacks by terrorists against its positions and inflicted heavy damages on them, noting that the army is now necessitated to come out of the defensive mood to retake control of Idlib.
Hamdan said that Tahrir al-Sham will resort to a full-scale military operation against the Syrian and Russian armies soon, after rejecting the Sochi agreement last October, which leaves no room for ceasefire or disarmament anymore, and underlined that the Syrian army's battle against Tahrir al-Sham is inevitable.
Meantime, the Turkey-backed Ahrar al-Sham and National Liberation Front (NLF) terrorist groups has also dismissed the Russian-Turkish Sochi agreement and is preparing for military operations against the army in Northern Syria, calling for a coalition with Tahrir al-Sham.
Full report at:
http://en.farsnews.com/newstext.aspx?nn=13970822000806
--------
Fresh Infighting Reported Again Among Terrorists in Northwestern Syria
Nov 13, 2018
Tahrir al-Sham Hay'at (the Levant Liberation Board or the Al-Nusra Front) started arresting terrorists of the rival National Liberation Front (NLF) in several villages, including Ablin and Kansafrah, in Jabal al-Zaviyah in Southern Idlib.
In the meantime, the NLF arrested a Mufti (religious leader) of Tahrir al-Sham along with a number of Tahrir terrorists in the village of al-Rami in Southern Idlib.
Local sources, meanwhile, reported that members of the NLF have engaged in heavy infighting in the towns of Ma'arat al-Nu'aman and Ariha in Southern Idlib.
Field sources said on Thursday that a Tahrir al-Sham commander, Abu Abdullah Mohjer Marakeshi, was killed by unknown assailants in Jisr al-Shughour in Western Idlib.
Another Ahrar al-Sham commander, namely Abulfazl, was gunned down by unknown assailants North of the Talmans town in Ma'arat al-Nu'aman in Southern Idlib.
The news came as a number of Tahrir al-Sham terrorists were shot dead by gunmen in al-Janoudiyeh village West of Idlib.
Full report at:
http://en.farsnews.com/newstext.aspx?nn=13970822000672
--------
Lebanon's Hariri blames Hezbollah for obstructing government formation
13 November 2018
Lebanese Prime Minister-designate Saad al-Hariri said on Tuesday the process of forming a new government had hit a big obstacle and blamed Iran-backed Hezbollah for the stalemate.
Shiite Muslim Hezbollah, a heavily armed group, has been pressing its demand for one Sunni lawmaker allied to it to get a cabinet portfolio, something Hariri refused.
https://english.alarabiya.net/en/News/middle-east/2018/11/13/Lebanon-s-Hariri-Hezbollah-responsible-for-obstructing-govt-formation.html
--------
Saudi Arabia executes ISIS member who killed his cousin
13 November 2018
The Saudi interior ministry announced on Tuesday the execution of an ISIS militant who killed his cousin.
Majed Saad bin Radhi al-Anzi, a Saudi national, was handed the death sentence following a trial which found him guilty of committing terrorist acts, including luring his own cousin to a desert area and killing him in the rehion of Hail.
In a statement, the ministry stressed on the need to root out those who violate the safety and security of the kingdom.
The crime shook the kingdom as it was videotaped, and the man's cousin is seen begging for him not to kill him, repeatedly screaming "enough Saad".
Full report at:
https://english.alarabiya.net/en/News/gulf/2018/11/13/Saudi-Arabia-executes-ISIS-member-who-killed-his-cousin.html
--------
URL: https://www.newageislam.com/islamic-world-news/irrespective-caste-gender-religion-masjid/d/116876
New Age Islam, Islam Online, Islamic Website, African Muslim News, Arab World News, South Asia News, Indian Muslim News, World Muslim News, Women in Islam, Islamic Feminism, Arab Women, Women In Arab, Islamophobia in America, Muslim Women in West, Islam Women and Feminism