New Age Islam News Bureau
27 Apr 2014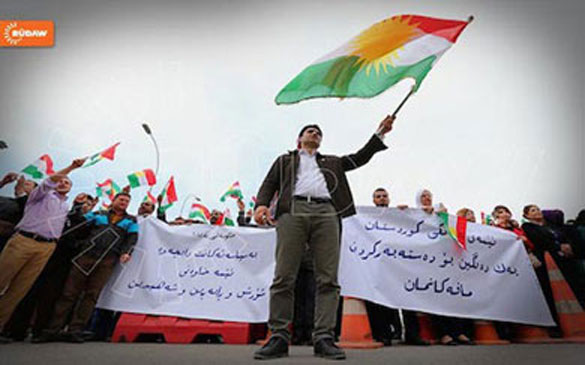 Kurds in Erbil protest against Maliki's government. Photo: Rudaw
----------
Arab World
• Iraqi Kurds ramp up calls for independence
• Kuwait Leading Funder of Militants in Syria Now
• Morsi supporters in Egypt get up to 88 years for rioting
• Iraqi helicopters hit jihadist convoy in Syria
• Disappearances fuel backlash in jihadist-ruled Syrian city
• Syria Militants Surrender in Zabadani near Lebanon Border
• Egypt activists rally against anti-protest law
• Bahrain sentences eight people to life for bomb death
• Iraq's Allawi decries 'unfair' election atmosphere
Africa
• Ethnic clashes kill 34 in Nigeria
• President- Boko Haram Will Pay for Crimes Against Nigerians
• A hotline to God: Nigerian creates vernacular Bible apps
• Gaddafi son's trial adjourned to May 12
• Foreign Ministry denies Libyan prisoner returned from Jordan
• S. Sudan govt, rebel delegations in Addis for talks
South Asia
• Bangladesh must have capability of counterattack: PM Sheikh Hasina
• Pakistan official terms war trial a 'sham'
• Abdullah claims victory in the first round of election
• Afghan intelligence confiscate 15000 Kgs of explosives in Laghman
• Maldivian President predicts US$300 million compensation for GMR
India
• Jamiat-Ulema-i-Hind General Secretary To Visit Varanasi To Rally Voters Against Modi
• If India becomes communal, Kashmir will not remain with it: Farooq Abdullah
Pakistan
• Lashkar-i-Islam threat forces tribal families to leave Bara
• Jamaat-e-Islami Chief fears another martial law in Pakistan
• 7 killed in violence in northwest Pakistan
• Govt, TTP should focus on talks and not ceasefire, says Maulana Sami ul Haq
• TTP mastermind of Dera Ismail Khan Prison break killed: Police
• Hamid Mir blames 'ISI within ISI' for attack
• No place for Pakhtun leaders in KP syllabus anymore
• Govt, Taliban yet to begin 'real talks', says Professor Ibrahim
• TV channel should apologise to nation: Imran
• JUI-F says Imran Khan is out to derail democratic system
Mideast
• Israel cabinet divided over Palestinian unity deal
• Yemen lawmakers to consider minimum marriage age
• Netanyahu: Abbas formed alliance with group that wants to carry out another Holocaust
• Turkish president signs law expanding spy powers
• 'We fight crime with empty stomachs': Palestinian hunger strikers
• Hamas salutes 'positive' Abbas speech
North America
• Obama: Myanmar won't succeed if Muslims are oppressed
• Gulf Arabs should coordinate missile defence - U.S. official
• Zak: Guantanamo's Controversial Cultural Adviser
• Cuba's First Mosque Approved
Europe
• Separatists seize control of TV HQ in east Ukraine city
• Count every death in Pak barbarians' hands: French philosopher urges Bangladesh on 1971 genocide
• Hamid Mir attack to be taken up at EU: McMillan
• EU: Israel-Palestinian peace bid 'must not go to waste'
Southeast Asia
• Indonesian Minister calls for harsher penalties for child abuse
• DAP leaders deny Pakatan's top council gave blessings for PAS's Hudud plan
• Kit Siang proposes gag order on Pakatan over Hudud issue
• Najib cites 'sensitivities' as Obama struggles to push trade pact
Compiled by New Age Islam News Bureau
URL: https://www.newageislam.com/islamic-world-news/new-age-islam-news-bureau/iraqi-kurds-ramp-up-calls-for-independence/d/76763
-----------
Arab World
Iraqi Kurds ramp up calls for independence
April 27, 2014
As sectarian violence increases in pre-elections Iraq some Kurdish leaders speak of an inevitable "divorce" from Iraq to establish an independent Kurdish state. Others speak of a civil war that might ravage the already war torn country
It is alleged that the current crisis is being manipulated for electoral purposes, and many of the problems may be resolved after the elections.
However this poses a question: Will the increasing violence and the sectarian divide lead to an independent Kurdish state? And: Is Iraq on the verge of civil war?
Kurdish calls for independence
As Iraqi elections near, Kurdish calls for independence grow louder and many believe that the efforts taken to reach across the sectarian divide by the Iraqi government are weak, which may lead to Kurdish independence from Iraq.
However, many believe that Kurds cannot afford independence at the moment due to oil policy reasons and also due to the disapproval of regional powers.
Zaid Al-Ali, senior advisor on constitution building at the International Institute for Democracy and Electoral Assistance, told Ahram Online that Kurdish calls for independence have not changed significantly since 2003.
"Under current circumstances no serious attempt will be made to achieve independence today, there are many reasons for that including that all regional powers would be opposed to Kurdish independence," Al-Ali explained.
Kurdish independence from Iraq is considered a dilemma for regional powers as the independence of Iraqi Kurdistan will certainly encourage the three other Kurdish regions distributed in Turkey, Iran and Syria to seek not only independence but unification as well as a unified single country called "Kurdistan."
Kurdistan would then rise as a regional power creating a new order in the Middle East — one unpredictable for existing powers.
Meanwhile, the current crisis between Baghdad and Irbil in relation to oil contracts that Irbil signed is being used as a campaign issue on both sides.
As Reuters reported, Iraqi Kurdistan has agreed to export crude via the country's main oil marketing body, potentially removing a major sticking point in a resource row with the central government.
The autonomous region's prime minister and top energy official had travelled to Baghdad earlier this month in order to settle the long-running dispute over exports of oil from Kurdistan via a new independent pipeline to Turkey.
Turkey crucially needs Kurdish oil for its growing economy yet does not want to affect its relations with Iraq and therefore said it would only store the oil until an accord was reached between Baghdad and Irbil.
Kirk Sowell, a Jordan-based political risk analyst and publisher of Inside Iraqi Politics, says that the larger battle over oil policy is having a big impact, but it is mostly the election impacting the policy: the Shia parties have all become more hard-line on Kurdish oil exports and this is the main reason for the budget impasse.
Al-Ali, author of The Struggle for Iraq's Future, published this year, said that Irbil has been using the oil matter to stir up nationalist sentiment against Baghdad in an effort to draw votes towards the Kurdistan Democratic Party (KDP), while Nour Al-Maliki, Iraq's prime minister and secretary-general of the Islamic Daawa Party, has been using the crisis to burnish his Arab nationalist credentials.
How may calls for independence affect elections in Iraq?
Turhan Ketene, an independent Iraqi Turkmen politician and founder of the Iraqi Turkmen Front, told Ahram Online that Kurdish calls for independence will have not any effect as Arabs and Turkmens will never allow the Kurds to annex the oil rich province Kirkuk or any other parts of Iraq.
"Yet, I think these calls will affect the northern region (the Iraqi Kurdistan region); we all know that more than 85 percent of the Kurds are pro an independent state," Ketene adds.
Sectarian violence may lead to civil war
Iraq's parliamentary elections come at a time when the country is struggling with a revived Sunni insurgency, with sectarian divisions as strong as they have been for years, which some claim may lead to civil war.
Al-Ali says that there is certainly the potential for increased violence in many areas, but Iraq is still very far from the levels of violence that the country witnessed in 2006-2007.
In 2006-2007, Iraq experienced widespread sectarian violence, with some scholars and newspapers deeming that the country was experiencing civil war.
As Foreign Affairs reported in 2006, the "civil war" subsided between the diverse competing factions, mainly Arab Shias and Sunnis. The attempts of the US to control this violence by supporting Al-Sahwa Movement contributed substantially to a decline of the insurgency in Anbar Province as well as other Sunni regions.
Al-Ali explains why this time things will be different in Iraq, mainly because the Iraqi army still controls the streets of the vast majority of Iraq's main cities, along with main roads and highways.
"Back in 2006-07, the army controlled almost no territory, and the country was essentially under the control of militias, terrorists, local mafias and other armed groups. It is very unlikely that we will be heading back to a similar situation under current circumstances," Al-Ali adds.
"There is almost no potential for a civil war or a major conflict erupting between Kurds and Arabs given that there is no political desire by either side to engage in a conflict, and because the Kurds monopolise the use of force completely on their side of the border," Al-Ali states.
Ketene voiced a different viewpoint where he said that the people know that some political blocs, both Sunni and Shia, made their way to parliament and the government through the division.
"Those blocs are trying to involve the Iraqis in another civil war," Ketene concluded.
http://english.ahram.org.eg/NewsContent/2/8/99926/World/Region/Iraqi-Kurds-ramp-up-calls-for-independence.aspx
----------
Kuwait Leading Funder of Militants in Syria Now
April 27, 2014
Kuwait is the leading source of funds for al-Qaeda-linked terrorists fighting against President Bashar al-Assad's government in Syria, media reports said.
The amount of money that has flowed from Kuwaiti individuals and through organized charities to Syrian rebel groups such as the Al-Nusra Front totals in the hundreds of millions of dollars, The Washington Post quoted Obama administration officials as saying.
In this unregulated stew, fundraising for Syrian rebel groups has become a source of competition among Kuwaiti religious and business leaders, as well as a funnel for contributions from private citizens in other Persian Gulf states with more stringent rules.
Until recently, tiny, oil-rich Kuwait avoided public scrutiny as attention to terrorist financing focused more sharply on Saudi Arabia, the United Arab Emirates and Qatar.
Also in the past 24 hour, units of the Syrian armed forced seized full control over the mills area located between al-Sheikh Zyad and al-Ta'aneh on al-Sheikh Najjar road in Aleppo.
FNA dispatches from the region said earlier today that the army is rearranging its formations from defensive to offensive in Al-Ramouseh and Jamiet Al-Zahra districts in Aleppo city.
Meantime, the army made advances in Al-Sheikh Najjar region in Aleppo Industrial City.
The army units attacked the militants in the same area and held captive scores of Al-Nusra Front militants in there.
The arrested militants have also confessed that they received a monthly salary of 18,000 Syrian lira to fight against the Syrian army.
The Al-Nusra terrorists have gathered in Aleppo Industrial City to plunder the factories located in these regions or take ransom money from factory-owners in the same area.
Meantime, Director of the Lebanese General Security Major General Abbas Ibrahim stressed that the recent operations carried out by the Syrian Army in Qalamon district sealed around 90% of the porous border with Lebanon and brought calm to the country.
In an interview with Reuters News Agency, Ibrahim said that the security situation is the obsession of the whole world but Lebanon is affected by the situation in Syria and what happened recently in Lebanon is the result of the crisis in Syria.
The Syrian Arab Army restored security and stability to al-Qalamon villages near the borders with Lebanon and discovered several hideouts and places for priming car bombs.
In the past months, several areas in Lebanon were the target of terrorist car bombs that led to killing dozens of people and injuring others.
Elsewhere, units of the Syrian army destroyed militants' hideouts in a number of neighborhoods in Daraa and its towns and destroyed their weapons and ammunition.
A military source said that an army unit targeted militants' dens in Daraa l-Balad and destroyed a weapons cache belonging to the militants.
The source added that another unit confronted a militant group that tried to infiltrate into a military point in al-Hirak in Daraa countryside and destroyed a number of the militants' vehicles in Jassem and Inkhel towns.
Elsewhere, Syrian army units thwarted several attempts by militant groups to infiltrate and attack a number of military posts in the countryside of Qamishli city in Hasaka province, a military source said.
The source affirmed that many of the groups' members were killed or injured, the state news agency reported.
The source said that other army units targeted militants' gatherings in the areas of Abo Steih, al-Tawarij, Abo Qasayeb and Khrab Askar in the countryside, leaving many of the militants dead and wounded.
Also, the Syrian army was rearranging its formations in Aleppo countryside in preparation for a fresh wave of attacks on militant ruled areas two weeks after it conquered vital positions and repelled militants' continued, but decreasing attacks.
FNA dispatches from the region said on Saturday that the army was rearranging its formations from defensive to offensive in Al-Ramouseh and Jamiet Al-Zahra districts in Aleppo city.
Meantime, the army made advances in Al-Sheikh Najjar region in Aleppo Industrial City.
The army units attacked the militants in the same area and held captive scores of Al-Nusra Front militants in there.
The arrested militants have also confessed that they received a monthly salary of 18,000 Syrian lira to fight against the Syrian army.
The Al-Nusra terrorists have gathered in Aleppo Industrial City to plunder the factories located in these regions or take ransom money from factory-owners in the same area.
Meantime, the Syrian army made major advances in a strategic region in Damascus countryside.
The army units pushed back the militants from Jobar town in Reef (outskirts of) Damascus and destroyed their positions in the region.
Meantime, the Syrian army destroyed the gathering centers of the militants in the two cities of Douma and Harasta as well as the mountains in the Western parts of Al-Zobdani town in Damascus countryside.
Also, a senior Kurdish lawmaker in the Syrian parliament ruled out the idea of federalism in Syria, and said that his compatriots will strongly accompany the army in defending their country against the terrorists.
"The Kurds do not intend to see Syria become a federal state and their resolve to defend the country can be seen very readily in the Syrian Kurds Popular support record," Kurdish MP Omar al-Oussi told FNA.
He noted that the Syrian government is now in control over many Kurdish regions such as Qameshli and Hasaka.
"I have called on the Kurdish parties that have joined the Syrian opposition coalition to take part in national reconciliation talks," Al-Oussi told the very few Kurdish parties that joined the opposition at the start of the unrests in Syria three years ago.
"The Kurdish parties' joining the Syrian opposition coalition was a historic mistake," he added.
Meantime, a senior Turkish lawmaker disclosed that the foreign-backed militants fighting against the Syrian government in Syria are receiving heavy arms via Turkey under the supervision of the Turkish National Intelligence Organization (MIT).
"The terrorists who attacked the city of Kassab (near the Turkish border) in Lattakia (in Northern Syria) have used Turkish soil to smuggle heavy weapons to Syria and this measure has taken place under the supervision of Turkey's National Intelligence Organization (MIT)," Turkish opposition MP Refiq Eryilmaz told the Syrian state news agency.
He underlined that supporters of terrorism in Syria should claim responsibility for their crimes in Syria.
Ankara has on several occasions sent arms to Syrian militants to help them fight against the Damascus government.
http://english.farsnews.com/newstext.aspx?nn=13930207000379
-----------
Morsi supporters in Egypt get up to 88 years for rioting
April 27, 2014
An Egyptian court sentenced 13 supporters of deposed Islamist president Mohamed Morsi Saturday to prison terms ranging from five to 88 years for rioting, a judicial source said.
They were accused of "rioting, sabotage and public order offences" in the southern towns of Samalut and Minya during protests against a bloody crackdown in Cairo on August 14 when hundreds of people were killed, the source said.
They are able to appeal the verdicts.
On March 24, 529 Morsi supporters were sentenced to death on the second day of their trial in Minya province in the largest mass death sentencing in Egypt's modern history.
The sentences caused an international outcry.
On Monday, the same court is due to pass sentence on Muslim Brotherhood chief Mohamed Badie and 700 other Morsi supporters.
Rights group Amnesty International says more than 1,400 Morsi supporters have been killed since the army ousted him last July 3.
Another 15,000 have been arrested as the military-installed interim authorities crack down on the Brotherhood after designating it a "terrorist" group and blaming it for the wave of violence sweeping the country.
http://www.hurriyetdailynews.com/morsi-supporters-in-egypt-get-up-to-88-years-for-rioting.aspx?pageID=238&nID=65596&NewsCatID=352
-----------
Iraqi helicopters hit jihadist convoy in Syria
27 April 2014
An attack against a jihadist convoy by Iraqi army helicopters left eight people dead on Sunday, an interior ministry spokesman said.
"The army struck eight tanker trucks in Wadi Suwab inside Syrian territory as they were trying to enter Iraqi territory to provide the (jihadist) Islamic State of Iraq and the Levant (ISIL) with fuel," Brigadier General Saad Maan said.
The attack, which occurred in eastern Syria as the convoy tried to approach the border, was the first time Iraq's military has said it carried out an offensive in Syria.
Maan said there was "no coordination with the Syrian regime" over the strike and that it was simply protecting its border.
"Our responsibility now is to protect our border and to protect the border from the other side, because there is no protection from the other side," he said.
The vehicles were traveling to the western Iraqi border province in Anbar, where ISIL has been fighting Iraqi security forces and controls the city of Fallujah.
ISIL first emerged in Iraq after the U.S. invasion of the country in 2003 and later began fighting in Syria.
The brutal methods its fighters used in Syrian areas under their control turned other opposition groups against them, and they were pushed back by other rebel groups into their stronghold in northeastern Syria, where they still hold territory.
http://english.alarabiya.net/en/News/middle-east/2014/04/27/Iraqi-helicopters-hit-jihadist-convoy-in-Syria.html
-----------
Disappearances fuel backlash in jihadist-ruled Syrian city
April 27, 2014
Concern over the fate of hundreds who have gone missing in a Syrian city run by the Islamic State of Iraq and the Levant has fuelled a backlash against the jihadist group.
Mothers of the detainees gather every day outside ISIL bases in the city of Raqa, where the extremist group is in full control and governs through a harsh interpretation of Islamic sharia law, according to residents and activists.
"They cry, begging for information and for their sons' release," said Amer Matar, whose citizen journalist brother Mohammad Nour has been detained by ISIL for nine months.
"My mother suffers every day, because she is not given any information about her youngest child," said Matar, a filmmaker from Raqa who became a refugee in Germany because of his own activism against President Bashar al-Assad.
The kidnappings and other abuses led activists to mobilise a new campaign against ISIL last week that has gathered support on social media networks and seen protests held across opposition-run areas.
Full report at:
http://english.ahram.org.eg/NewsContent/2/8/99920/World/Region/Disappearances-fuel-backlash-in-jihadistruled-Syri.aspx
-----------
Syria Militants Surrender in Zabadani near Lebanon Border
April 27, 2014
Opposition fighters in the Syrian border town of Zabadani surrendered after intense fighting with army troops, losing their last stronghold along Lebanon's border.
The Syrian army was now in near total control of the Qalamoun region, West of Damascus, Al-Alam reported.
Dozens of opposition fighters reportedly handed themselves over to the Syrian authorities.
Militants did not deny losing the town, located 30 kilometers Northwest of Damascus. Opposition activists say the militants had no other choice but to surrender.
Opposition activist Tayem al-Qalamouni said, "They were forced to accept the truce because supply lines were cut. There was no safe corridor. "
"The area has been sealed off by the Syrian army on one side and the Lebanese army and militias on the other side. "
Full report at:
http://english.farsnews.com/newstext.aspx?nn=13930207000702
-----------
Egypt activists rally against anti-protest law
27 April 2014
Hundreds of Egyptian activists demonstrated on Saturday against an anti-protest law, one month before a presidential election which former army chief Abdel Fattah al-Sisi is widely expected to win.
They marched to the presidential palace in Cairo calling for the scrapping of the law passed by Egypt's army-backed interim leadership in November to curb unrest that erupted after the army's overthrow of elected Islamist president Mohamed Mursi.
The law requires anyone planning a demonstration to obtain police permission. Saturday's protesters did not.
A few threw stones at the police, who did not react and there was no serious violence.
"Down, down with army rule," the protesters chanted. Some burned posters of Sisi, who stepped down from his post as the head of the army last month to run for the presidency in the vote on May 26-27.
Full report at:
http://english.alarabiya.net/en/News/middle-east/2014/04/27/Egypt-activists-rally-against-demonstrations-law-.html
-----------
Bahrain sentences eight people to life for bomb death
World Bulletin/News Desk
April 27, 2014
Bahrain's Supreme Criminal Court has sentenced eight people to life in prison for their part in the killing of a policeman in a bomb blast in November, the Public Prosecutor's office said on Sunday.
The Sunni-ruled Gulf Arab kingdom and host of the U.S. Fifth Fleet has struggled with ongoing unrest since mass pro-democracy protests, led by the majority Shi'ite population but also included some Sunnis, erupted in 2011.
The protests were put down by the authorities but since then more radical Shi'ites have carried out low-level violence against security forces on an almost daily basis. Recent months have seen a rise in the use of homemade bombs.
According to the Public Prosecutor, the eight men planted a homemade bomb close to where police usually erected a checkpoint during protests, before setting tyres on fire and blocking the road to lure policemen to the site.
One policeman was killed and four others were injured in the resulting blast, the prosecutor said.
Full report at:
http://www.worldbulletin.net/headlines/134850/bahrain-sentences-eight-people-to-life-for-bomb-death
-----------
Iraq's Allawi decries 'unfair' election atmosphere
World Bulletin/News Desk
April 27, 2014
Iraq's former prime minister Ayad Allawi on Sunday described as "unfair" the atmosphere in which his country's current legislative elections take place.
"Even with this, I am full of confidence that the Iraqi people will win at the end," Allawi, the leader of the Wataniya parliamentary bloc, told journalists during a visit to a polling station for Iraqi expatriates in the Jordanian capital Amman.
The former premier, however, did not clarify what he meant when he described the conditions of Iraq's parliamentary elections as "unfair."
Around 20 Iraqi embassies and consulates started on Sunday receiving expatriates to cast ballots in their country's parliamentary elections, which is due to start at home on Wednesday. Voting for expatriates would run for two days.
Full report at:
http://www.worldbulletin.net/todays-news/134856/iraqs-allawi-decries-unfair-election-atmosphere
-----------
Africa
Ethnic clashes kill 34 in Nigeria
April 27, 2014
Clashes between rival tribes have left at least 34 people dead with homes and barns torched in a village in central Nigeria, the state government told AFP on Sunday.
The violence erupted Saturday when a militia from the Eggon tribe attacked the Gwandara village of Egan following a dispute over farmland, said Nasarawa state spokesman Sani Musa Mairiga.
"All the victims were from Gwandara tribe whose village came under sudden attack from Ombatse cult members from Eggon tribe," Mairiga said.
"So far 34 people have been killed in the violence with several others injured."
Several homes and barns were burnt in the attack, sparked by a farming dispute in which an Eggon man was injured, he said.
Full report at:
http://english.ahram.org.eg/NewsContent/2/9/99940/World/International/Ethnic-clashes-kill--in-Nigeria.aspx
-----------
President - Boko Haram Will Pay for Crimes Against Nigerians
April 27, 2014
Africa will stand by Nigeria, Says President Yayi Jaiyeola Andrews President Goodluck Jonathan Saturday adopted a daring and more aggressive posture on the war on terror, insisting that the insurgent group, Boko Haram, must pay for the crimes they are committing against innocent Nigerians.
Jonathan spoke at the fourth annual presidential breakfast prayer held at the State House Banquet Hall in Aso Rock.
He said, "No matter what government does, we cannot recover the dead, but our promise is that all those who took part in that will pay dearly for it."
The president declared that the prayer session was dedicated to the victims of Boko Haram attacks and their families, stating, "Today our prayers are with the victims of Boko Haram and their families and loved ones. The last tragedy of these heinous ideology occurred while we were preparing to mark the resurrection of our Lord at Easter, bringing sorrow to many families.
Full report at:
http://allafrica.com/stories/201404270034.html?aa_source=sptlgt-grid
------------
A hotline to God: Nigerian creates vernacular Bible apps
April 27, 2014
On the streets of Lagos and across God-fearing southern Nigeria, it's not uncommon to see people with a leather-bound Bible in one hand and a mobile phone in the other.
But the Good Book's days could be numbered -- in printed form at least -- if 25-year-old Kayode Sowole's idea takes off.
The computer science student is the brains behind a series of new smartphone applications to make the word of God available in the country's four main languages at the touch of a button.
Yoruba, Igbo, Hausa and even pidgin English downloads are available, catering to the masses of devout Christians in one of the world's fastest-growing mobile phone markets.
"With this innovation, you do not need the Internet to read the Bible," the University of Lagos student told AFP. "Neither do you need to bring a Bible to church.
"You have it in the local language of your choice on your phone."
Yoruba, Igbo and Hausa versions of the Bible have long been in existence and date from the time of the first missionaries to Nigeria in the 19th century.
Full report at:
http://english.ahram.org.eg/NewsContent/2/9/99907/World/International/A-hotline-to-God-Nigerian-creates-vernacular-Bible.aspx
----------
Gaddafi son's trial adjourned to May 12
World Bulletin/News Desk
April 27, 2014
The trial of Saif al-Islam, son of late Libyan leader Muammar Gaddafi, and a number of co-defendants on charges of corruption and war crimes has been adjourned to May 12, judicial sources said Sunday.
According to the sources, the judges adjourned the hearings upon a request from the defense lawyers to give them time to review the witnesses' testimonies in the case.
Sediq al-Sour, who heads the prosecution office's investigation unit, said the postponement came after the court had decided to summon defendants being tried in absentia and hear witness testimonies.
Along with Saif al-Islam, several leading figures of his father's regime are standing trial, including former intelligence chief Abdullah Senussi, former premier Baghdadi Mahmudi and former foreign minister Abdul Ati al-Obeidi.
Full report at:
http://www.worldbulletin.net/headlines/134836/gaddafi-sons-trial-adjourned-to-may-12
-----------
Foreign Ministry denies Libyan prisoner returned from Jordan
April 27, 2014
The Libyan Foreign Ministry has denied that a Libyan prisoner held in a Jordanian jail for a terrorism offence has been returned to Libya to secure the release of kidnapped Jordanian ambassador Fawwaz Al-Eitan.
Although these rumours are being denied, a government ministry official confirmed to the Libya Herald yesterday that negotiations were underway between the two countries relating to imprisoned Mohamed Dersi.
He was unable to give further details, although there has been speculation that Dersi might be returned, to serve the remainder of his life sentence in a Libyan prison.
A Foreign Ministry spokesperson told Libyan news agency LANA today that it was in constant communication with the Foreign Ministries of both Jordan and Tunisia, in respect of the cases of kidnapped diplomats.
Full report at:
http://www.libyaherald.com/2014/04/26/foreign-ministry-denies-libyan-prisoner-returned-from-jordan/#ixzz306D2r0xp
-----------
S. Sudan govt, rebel delegations in Addis for talks
World Bulletin/News Desk
April 27, 2014
Delegations representing the South Sudanese government and rebels arrived Sunday in Addis Ababa for another round of peace talks that aim to end the ongoing conflict in the world's youngest country.
The two delegations checked into the Addis Ababa hotel where the talks are due to resume on Monday under the mediation of the Intergovernmental Authority on Development (IGAD), Anadolu Agency reporter said.
The resumed talks come only days after the government decided to drop charges against four politicians linked to an alleged "coup" against President Salva Kiir.
Pagan Amum Okech, Oyai Deng Ajak, Majak D'Agoot and Ezekiel Lul Gatkuoth were all arrested last December after Kiir accused his sacked vice president Riek Machar of attempting to stage a coup against his rule.
Full report at:
http://www.worldbulletin.net/todays-news/134849/s-sudan-govt-rebel-delegations-in-addis-for-talks
-----------
South Asia
Bangladesh must have capability of counterattack: PM Sheikh Hasina
April 27, 2014
Prime Minister Sheikh Hasina today said Bangladesh must have a capability of counterattack if the country's independence and sovereignty come under attack.
Achieving the capability of counterattack is a must to protect independence and sovereignty, the prime minister said adding, "We are very much aware of this and we have already taken many steps to this end."
The prime minister made the remarks while delivering her speech at a meeting with the officials of the Ministry of Defence at the ministry's conference at Sher-e-Bangla Nagar in the capital this morning.
Defence Secretary Kazi Habibul Awal delivered the welcome speech at the function while PM's Security Advisor Major General (retd) Tariq Ahmed Siddique, chiefs of three services and high civil and military officials also attended the occasion.
Stressing the need for building modern and time-befitting armed forces, Hasina said the government has been working relentlessly to strengthen and modernise the armed forces so that they could work keeping pace with the world.
Full report at:
http://www.thedailystar.net/bangladesh-must-have-capability-of-counterattack-pm-21839
-----------
Pakistan official terms war trial a 'sham'
April 27, 2014
A former Pakistan military officer has termed the ongoing war crimes trial in Bangladesh a "sham."
The retired military officer, Col M Hanif, claims that the killings, tortures, rapes and other human rights violations that may have taken place in 1971 were mainly the resutls of internal conflicts among Bangalee groups.
Hanif came up with the claim in a column published in the Pakistan Observer on Saturday.
The article titled "Sham trials in Bangladesh" also questioned the number of three million people having died and 200,000 women having been raped during Bangladesh's Liberation War in 1971. He termed it a propaganda by the Awami League.
Hanif claims that Bangladesh is demanding trial of the former members of the Pakistan Army on the directive of India to tarnish Pakistan's and its army's international image and break up Pakistan and Bangladesh's friendly relations.
Full report at:
http://www.dhakatribune.com/bangladesh/2014/apr/27/pakistan-army-office-terms-war-crimes-trials-sham#sthash.G2ahsBlA.dpuf
-----------
Abdullah claims victory in the first round of election
Apr 27 2014
Afghan presidential runner Dr. Abdullah Abdullah said he will decide regarding the second round of election once the final vote results have been released by Independent Election Commission of Afghanistan (IEC).
Abdullah appeared in a press conference on Sunday after the Independent Election Commission (IEC) released the preliminary vote results on Saturday evening.
While speaking durig the press conference Abdullah claimed that he is the winner in the first round of election and said he has evidence and documents in this regard.
Abdullah also added that there will be no need for the second round of election once fraudulent votes have been separated from clean votes.
He vowed to accept the outcome of elections if the process was legally taken forward and said he will wait for the final decision of Independent Election Commission (IEC) and Independent Electoral Complaints Commission (ECC).
Full report at:
http://www.khaama.com/abdullah-claims-victory-in-the-first-round-of-election-3615
-----------
Afghan intelligence confiscate 15000 kgs of explosives in Laghman
Apr 27 2014
Afghan intelligence – National Directorate of Security (NDS) confiscated 15,000 sacks of explosives in eastern Laghman province of Afghanistan.
The National Directorate of Security (NDS) following a statement said Sunday that the the explosives were smuggled in 300 sacks from neighboring Pakistan.
The statement further added that the militant groups were looking to carry out coordinated attacks by using the explosives.
NDS in its statement also added that two suspects recognized as Abdul Samad and Abdul Qadir were also arrested by Afghan intelligence operatives in connection to the smuggle of explosives.
Full report at:
http://www.khaama.com/afghan-intelligence-confiscate-15000-kgs-of-explosives-in-laghman-3614
-----------
Maldivian President predicts US$300 million compensation for GMR
By Lucy Lovell | April 27th, 201
The Maldivian government believes GMR is owed US$300 million in compensation for the premature termination of the contract to develop the Ibrahim Nasir International Airport (INIA) instead of the US$1.4 billion the company is seeking, President Abdulla Yameen Abdul Gayoom told reporters upon his return to Malé last night.
Speaking to press after returning from Singapore to attend the Maldives Investment Forum, President Yameen insisted that the arbitration proceedings over GMR's compensation claim has not deterred investors.
The INIA development project was the most popular among attendees at the forum, he said.
"The biggest interest was for the airport," Yameen said.
The event – which took place on April 25 – was attended by over over 160 companies and nearly 200 representatives from 16 countries, and was the first overseas investor forum organised by the Maldives.
Full report at:
http://minivannews.com/politics/president-predicts-us300-million-compensation-for-gmr-83609
----------
India
Jamiat-Ulema-i-Hind General Secretary To Visit Varanasi To Rally Voters Against Modi
April 27, 2014
Jamiat-Ulema-I-Hind general secretary Mahmood Madani is planning to visit Varanasi in the next few days to consolidate "secular" votes against Narendra Modi. However, there is no decision yet on which party he would support against BJP's PM candidate. Varanasi goes to polls on May 12.
"There was a demand from local people there (in Varanasi) that I should come and participate in consultations to devise a strategy for the upcoming elections. The dates of the visit are not final yet, neither is it possible to predict the outcome of these consultations at this stage. The only thing that is certain is that the decision, whatever it is, cannot be in favour of Modi," Madani told The Sunday Express.
Incidentally, Madani is one of the rare Muslim clerics who came out in support of Modi's refusal to wear a skull cap, saying there is nothing wrong with standing up against such "politics of symbolism popularised by pseudo-secular parties".
Full report at:
http://indianexpress.com/article/india/politics/madani-to-visit-varanasi-to-rally-voters-against-modi/
-----------
If India Becomes Communal, Kashmir Will Not Remain With It: Farooq Abdullah
April 27, 2014
Union Minister and National Conference president Farooq Abdullah on Sunday said communalism is not acceptable to the people of Kashmir and they will not remain with India if the country becomes communal.
"Pray to God to save us from communal forces so that we can move forward. India cannot become communal. If it becomes communal, then Kashmir will not remain with India. Communalism is not acceptable to Kashmiris," Abdullah told a election rally at Khanyar in old city here.
The NC head took a dig at BJP leader Griraj Singh and VHP's Praveen Togadia, saying "they say those who do not vote for Modi should go to Pakistan. (I say) Those who vote for Modi should drown in the sea."
Full report at:
http://indianexpress.com/article/india/politics/if-india-becomes-communal-kashmir-will-not-remain-with-it-farooq-abdullah/
-----------
Pakistan
Lashkar-i-Islam threat forces tribal families to leave Bara
April 27, 2014
PESHAWAR: After threats from the Bara-based outlawed Lashkar-i-Islam, scores of Afghan and Zakakhel tribesmen from Khyber tribal region's Bara area on Sunday have started shifting to safer places.
Tribal and the official sources confirmed that the Mangal Bagh-led Lashkar-i-Islam had warned Afghan refugees and the Zakakhel Shinwari tribes, a sub-tribe of the Afridis, and known their tribal fierceness, living in the area to announce allegiance to the Lashkar or leave Bara where the banned group is still known to have stronghold.
Most of these people were settled in Akakhel, Sipah, Malikdin Khel and Shalobar areas in Khyber region who were given the deadline of April 27, 4 pm to take either of the options as their decision.
The tribals in Bara area said that the militants of Lashkar-i-Islam had visited them personally and asked them to support the banned organisation while warning that they would have to leave the area in case they decided else wise.
Full report at:
http://www.dawn.com/news/1102618/lashkar-i-islam-threat-forces-tribal-families-to-leave-bara
-----------
Jamaat-e-Islami Chief fears another martial law in Pakistan
April 27, 2014
LOWER DIR- Jamaat-e-Islami (JI) Chief Siraj ul Haq today said that the country was going through a critical phase and such abrupt situations could pave way for another Martial Law.
Speaking to a public congregation in Balambat area of Lower Dir, JI chief said that western powers were fueling baseless propaganda against religious seminaries adding that such seminaries were forts of Islam and peace. Siraj lamented that present government had not fulfilled its promises and the country was going through serious crisis. The newly elected JI chief predicted that former president general (retd) Pervez Musharraf would soon go abroad as federal government would soon strike a deal like N.R.O with the retired general facing a treason trial. About talks with Taliban, Siraj repeated his party's stance that dialogues were a necessity and stressed upon army's participation in the dialogues as vital for the success of the process.
http://www.nation.com.pk/national/27-Apr-2014/ji-s-sirajul-haq-fears-another-martial-law-in-pakistan
-----------
7 killed in violence in northwest Pakistan
Press Trust of India | Peshawar | April 27, 2014
Seven people were killed on Sunday in separate incidents of violence in the restive tribal region in northwestern Khyber Pakhtunkhwa province in Pakistan.
At least one person was killed and three others injured as unknown militants targeted a vehicle of a local religious outfit on Sunday in a remote-controlled blast.
Officials said that the vehicle of Tawheed ul Islam peace committee activists was completely destroyed in the blast in Landi Kotal's Zakakhel area in the Khyber agency.
The peace committee has blamed Lashkar-e-Islam militant group for the attack.
Meanwhile, the Zakakhel tribesmen and Afghan refugees living in parts of Bara tehsil have been warned by the Lashkar-e-Islam to join them or leave the area.
The Lashkar-e-Islam and Zakakhel tribesmen have been fighting for the last one year and renewed threats would further deteriorate the situation in the area.
Full report at:
http://indianexpress.com/article/world/asia/7-killed-in-violence-in-northwest-pakistan/
-----------
Govt, TTP should focus on talks and not ceasefire, says Maulana Samiul Haq
April 27, 2014
NOWSHERA: Member of the Taliban nominated negotiating committee, Maulana Samiul Haq, said on Sunday that the government and Tehreek-i-Taliban Pakistan (TTP) should focus on the peace talks rather than a ceasefire, DawnNews reported.
Addressing a conference in Akhora Khattak, the chief Taliban mediator said that those talking about military action were "enemies of Pakistan" and war benefited no one. He added that the rest of the world wanted war instead of peace in Pakistan and both sides would have to show patience.
He further said that the media and anchorpersons were advocating war while scholars were backing peace talks.
Full report at:
http://www.dawn.com/news/1102622/govt-ttp-should-focus-on-talks-and-not-ceasefire-says-sami
-----------
TTP mastermind of Dera Ismail Khan prison break killed: Police
April 27, 2014
PESHAWAR: A key commander of the outlawed Tehreek-i-Taliban Pakistan (TTP), was killed during a gun battle, police sources claim.
The Station House officer (SHO) of Kulachi Police Station, Haroon Khan said one terrorist has been gunned down during the encounter as a probe into the incident continues.
Upon receiving a tip-off about the presence of the alleged militant, the police conducted an operation in the Kulachi area.
During an exchange of fire between police personnel and the militants, the commander - also allegedly one of the masterminds of the Dera Ismail Khan prison break - was killed. Dozens of heavily-armed Taliban insurgents had freed nearly 175 inmates, including 35 'high-profile militants' in the prison break in 2013.
The militant killed today belonged to Noorzai tribe and was a resident of Rori village and was involved in other terrorist activities as well. The commander was wanted by the authorities in connection with another attack in the Loni area of Kulachi, police sources said.
http://www.dawn.com/news/1102616/ttp-mastermind-of-dera-ismail-khan-prison-break-killed-police
-----------
Hamid Mir blames 'ISI within ISI' for attack
April 27, 2014
KARACHI: Senior journalist Hamid Mir, who is currently being treated after escaping an attack on his life in Karachi last week, blamed 'ISI within ISI' for orchestrating the attack in an interview with BBC Urdu on Saturday.
Speaking during his first interaction with the media after the attack, Geo TV's senior anchorperson said that he has been threatened again to leave the country by same elements who he alleged were behind the attack.
He said he has been told to leave Karachi and Pakistan as "it will be a long fight."
"People visit me in guise of friends but leave after conveying threatening messages of the foes," said the senior journalist answering a question about source of the recent threats.
"They say you better leave Pakistan…it's not safe for you anymore. Only yesterday a highly responsible person came to visit me and told me that I will be attacked again."
Full report at:
http://www.dawn.com/news/1102478/hamid-mir-blames-isi-within-isi-for-attack
-----------
No place for Pakhtun leaders in KP syllabus anymore
April 27, 2014
PESHAWAR: The Khyber Pakhtunkhwa elementary and secondary education department is understood to have decided to remove chapters on Pakhtun leader Khan Abdul Ghaffar Khan and his poet son, Ghani Khan, from the Pashto book for 12th grade in the province, it is learnt.
The revised book will be introduced in local educational institutions at the start of the next academic year, according to sources.
The chapters on the life of Khan Abdul Ghaffar Khan, popularly known as Bacha Khan, a preacher of nonviolence, and his son, Ghani Khan, a philosopher, Pashto poet and sculptor, were included in the 12th grade Pashto book to inform Pakhtun youths about their leaders.
People in the know said chapters on Bacha Khan and Ghani Khan were part of the curriculum, which was developed by the Khyber Pakhtunkhwa Text Book Board in 2009 at the request of the federal government.
Full report at:
http://www.dawn.com/news/1102598/no-place-for-pakhtun-leaders-in-kp-syllabus-anymore
-----------
Govt, Taliban yet to begin 'real talks', says Professo Ibrahim
April 27, 2014
PESHAWAR: Taliban coordination committee member Professor Ibrahim has said that the government and the Taliban have yet to begin "real talks".
Addressing a gathering here Sunday, Professor Ibrahim said that the government, the military and the Taliban should have to move the dialogue process forward with sincerity.
He said that the peace process is few problems from both the sides. The Taliban prisoners have yet been released by the government, he added.
He also urged the Taliban to halt attacks on the security institutions.
Ibrahim said that the dialogue process is the only way forward for peace no matter how much time it fails.
Full report at:
http://www.thenews.com.pk/article-145904-Govt,-Taliban-yet-to-begin-real-talks,-says-Ibrahim
-----------
TV channel should apologise to nation: Imran
April 27, 2014
ISLAMABAD - Continuing his tirade against Jang media group for the second consecutive day, PTI Chairman Imran Khan Saturday demanded that Geo TV should apologise to the nation for its baseless allegations and media vilification of the Army and ISI.
The PTI chief further said the allegations were levelled against defence institutions at a time when Pakistan was confronting security threats and terrorism from within the country and externally. He also alleged the TV channel for abetting in rigging in 2013 general polls by announcing pre-mature election results and becoming a surrogate media cell for PML-N.
Khan while addressing the party workers in Islamabad the other day said that eight-hour long malicious campaign against ISI by a TV channel could not have even expected from an enemy country.
Full report at:
http://www.nation.com.pk/national/27-Apr-2014/tv-channel-should-apologise-to-nation-imran
-----------
JUI-F says Imran Khan is out to derail democratic system
April 27, 2014
ISLAMABAD- The spokesperson of Jamiat Ulema Islam Jan Achakzai, has said that Pakistan Tehreek-e-Insaf's decision to launch protest on May 11, 2014 is aimed at undermining democratic system on the behest of outside lobbies who have already tasked Dr Tahir Ul Qadri with the same goal.
In a statement today, Jan Achakzai said that PTI had joined hands with anti democratic forces like Dr Tahir Ul Qadri to derail the system and attempting to sneak into power through back doors. "Why he did accept the results of May 2013 elections when he was fouled in Punjab elections, according to his claim? Is it not because he wanted to enjoy power in KP?" asked Achakzai.
Full report at:
http://www.nation.com.pk/national/27-Apr-2014/jui-f-says-imran-khan-is-out-to-derail-democratic-system
-------
Mideast
Israel cabinet divided over Palestinian unity deal
April 27, 2014
Israeli cabinet ministers on Sunday differed over the likely fallout on the battered Middle East peace process from an intra-Palestinian reconciliation agreement.
Wednesday's surprise deal, which saw Palestinian leaders from the West Bank and the Hamas-run Gaza Strip agree to work together after years of bitter rivalry, was denounced the next day by the Israeli security cabinet.
That cabinet said it would "not negotiate" with any Palestinian government backed by the Islamist movement.
In an address to PLO leaders on Saturday, Palestinian president Mahmud Abbas said the new government, which will be made up of political independents, would recognise Israel, reject violence and abide by existing agreements.
But at Sunday's weekly meeting of Israel's full cabinet, Prime Minister Benjamin Netanyahu again slammed the rapprochement between the Palestine Liberation Organisation (PLO) and Full report at:
http://www.hurriyetdailynews.com/israel-cabinet-divided-over-palestinian-unity-deal.aspx?pageID=238&nID=65610&NewsCatID=352
-----------
Yemen lawmakers to consider minimum marriage age
April 27, 2014
An international rights group says a law setting 18 as the minimum age to get married will be proposed in Yemen and has urged its passage.
Human Rights Watch said in a statement that the draft law will be presented to the government Sunday by the Legal Affairs Minister Mohammed al-Mekhlafi. It says the law will be reviewed by the Cabinet before it is submitted to parliament.
In a December 2011 report, the group said about 14 percent of girls in Yemen were married before age 15. It also said 52 percent were wed before they turned 18.
Nadim Houry, an official at Human Rights Watch, says the draft bill is "a real beacon of hope for the thousands of Yemeni girls vulnerable to being married off while still children."
http://english.ahram.org.eg/NewsContent/2/8/99917/World/Region/Yemen-lawmakers-to-consider-minimum-marriage-age.aspx
-----------
Netanyahu: Abbas formed alliance with group that wants to carry out another Holocaust
April 27, 2014
Prime Minister Binyamin Netanyahu linked Holocaust Remembrance Day with Fatah's recent reconciliation with Hamas, saying at Sunday's cabinet meeting that Palestinian Authority President Mahmoud Abbas has formed an alliance with a Holocaust-denying terrorist organization that wants to kill more Jews.
"Hamas denies the Holocaust while trying to bring about a new Holocaust through the destruction of the State of Israel," Netanyahu said at the opening of the weekly cabinet meeting. "Abu Mazen [Abbas] needs to choose between his alliance with Hamas and true peace with Israel. We hope that he will return to the peace track."
Full report at:
http://www.jpost.com/Diplomacy-and-Politics/Netanyahu-Abbas-formed-alliance-with-group-that-wants-to-carry-out-another-Holocaust-350530
-----------
Turkish president signs law expanding spy powers
27 April 2014
Turkish President Abdullah Gul approved a controversial law expanding the powers of the spy agency, a move critics say will tighten the graft-tainted government's control over state institutions.
The new legislation, adopted last week by parliament after heated debates, provides expanded scope for the MIT agency to tap private phone conversations and collect intelligence related to terrorism and international crimes.
It also offers spy agents greater immunity from prosecution and provides for prison terms of up to 10 years for journalists and others who publish leaked information.
The law was signed by Gul late Friday and came into force after being published in the Official Gazette on Saturday.
Full report at:
http://english.alarabiya.net/en/News/middle-east/2014/04/27/Turkish-president-signs-law-expanding-spy-powers-.html
-----------
'We fight crime with empty stomachs': Palestinian hunger strikers
April 27, 2014
Entering their fourth hunger-striking day, Palestinian prisoners in Israeli jails released a message calling on their people's support in the ongoing "battle" against Israel's administrative detention law, Egypt's state-run news agency MENA reported Sunday.
The hunger strikers are currently imprisoned under Israel's so-called administrative detention law -- in place since the end of the 1948 British mandate in Palestine – which allows the arrest of Palestinians deemed a "threat" to Israel's national security.
Published by the Palestinian Prisoners' Club, the message stated that "Our goal is to kiss our parents' hands, hug our children and behold a smile on the faces of our wives with no fear or barriers."
Full report at:
http://english.ahram.org.eg/NewsContent/2/8/99913/World/Region/We-fight-crime-with-empty-stomachs-Palestinian-hun.aspx
-----------
Hamas salutes 'positive' Abbas speech
April 27, 2014
The Palestinian Islamist movement Hamas welcomed a Saturday speech by president Mahmud Abbas to the Palestine Liberation Organisation, with which it signed a reconciliation deal this week.
"The speech had mostly positive points, and we cannot but support it on topics such as Jerusalem, reconciliation and not recognising (Israel as) the Jewish state, in addition to the failure of (peace) negotiations," Bassem Naim, an adviser to Hamas' Gaza Strip prime minister Ismail Haniya, told AFP.
Abbas addressed the PLO's Central Council, which had convened in Ramallah to chart a course of action after Israel suspended US-brokered peace talks in response to the Wednesday deal with Hamas.
Full report at:
http://english.ahram.org.eg/NewsContent/2/8/99869/World/Region/Hamas-salutes-positive-Abbas-speech.aspx
----------
North America
Obama: Myanmar won't succeed if Muslims are oppressed
April 27, 2014
U.S. President Barack Obama said on Sunday that the rights of Myanmar's minority Muslim population were not being fully protected and warned that the Southeast Asian country would not succeed if Muslims there were oppressed.
On a visit to Malaysia, Obama praised political reforms under way in once-isolated Myanmar but said the danger of democratization was that it could unleash religious and ethnic conflicts and that such developments could move Myanmar in a bad direction.
"You have a Muslim minority (in Myanmar) that the broader population has historically looked down upon and whose rights are not being fully protected," Obama told a townhall-style meeting of young leaders from across Southeast Asia. "Myanmar won't succeed if the Muslim population is oppressed."
Members of Myanmar's Rohingya Muslim minority have been the victims of attacks and widespread abuse in recent years blamed by human rights groups and other observers on security forces and anti-Muslim mobs in the country's Rakhine state.
http://english.ahram.org.eg/NewsContent/2/9/99916/World/International/Obama-Myanmar-wont-succeed-if-Muslims-are-oppresse.aspx
-----------
Gulf Arabs should coordinate missile defence - U.S. official
World Bulletin/News Desk
April 27, 2014
A senior U.S. official signalled optimism on Sunday about a possible resolution of the Iranian nuclear dispute but said Washington remained concerned that Iran's ballistic missiles threatened Gulf Arab states.
Frank Rose, U.S. deputy assistant secretary of state for space and defense policy, said Washington was "acutely" aware of Gulf Arab states' anxieties about Iran and wanted to help them launch a Gulf-wide coordinated missile defence capability.
"We are optimistic that we'll have a successful resolution of the Iran nuclear issue ... but that doesn't downgrade our concern about Iran's other bad behaviours, specifically their support for terrorism as well as their continued development of ballistic missile capabilities," Rose told reporters on the sidelines of a conference in Abu Dhabi on missiles and defence.
"As long as Iran continues to develop ballistic missiles that can threaten the United States or deployed forces and our friends and allies in the region, we will work effectively with our partners here in the UAE as well as the rest of the Gulf to defend against that threat."
Full report at:
http://www.worldbulletin.net/todays-news/134854/gulf-arabs-should-coordinate-missile-defence-us-official
------------
Zak: Guantanamo's Controversial Cultural Adviser
April 27, 2014
Guantanamo Bay Naval Base, Cuba. Zak, a Jordanian-born Muslim American, never gives his last name out of fear of reprisals. This seems a safe policy when you work closely with detainees at Guantanamo Bay.
Zak is the cultural adviser at the US military prison in Cuba — a delicate task, as he is a sort of mediator between the inmates and their jailers.
While his job is one that requires diplomatic skills, Zak does not mince words when he talks about the prisoners — some he considers to be dangerous radicals.
"The extremists — their goal is to discredit the US through every breath we take," he told a group of AFP journalists who recently visited the prison.
Sitting at his desk, just a few meters from the office of the commandant of the military authorities in Guantanamo, Zak does not even try to disguise his contempt for the prisoners who say they are waging a religious war from within their tropical prison.
"Religion is always used as a weapon and as a shield," explains the 56-year-old who is now a US citizen. "If they knew one percent about the religion, they would not be sitting behind bars."
Full report at:
http://www.thejakartaglobe.com/international/zak-guantanamos-controversial-cultural-adviser/
-----------
Cuba's First Mosque Approved
27 April 2014
Fulfilling an old dream for Cuban Muslims, the government has approved plans for the country's first mosque with a courtesy of the Turkish government, following a visit by a delegation from Turkey's Religious Affairs Foundation to the Caribbean island.
"We thought the mosque would fit perfectly in Havana's historic district with the neighborhood's European architecture," Yuksel Sezgin, press adviser for Turkey's Religious Affairs Foundation (TDV), a branch of the country's top government-run religious organization, told Vocative on Friday, April 25.
The dream mosque was approved following a visit by TDV delegation to the Cuban department of religious affairs last week.
Full report at:
http://www.taghribnews.ir/vdceof8zojh8nei.1kbj.html
-----------
Europe
Separatists seize control of TV HQ in east Ukraine city
World Bulletin/News Desk
April 27, 2014
Pro-Russian separatists on Sunday seized control of the offices of regional state television in the eastern Ukrainian city of Donetsk, a Reuters reporter outside the building said.
The reporter said four separatists in masks, with truncheons and shields, were standing at the entrance to the building controlling access, while more separatists in camouflage fatigues could be seen inside.
About 15 police officers were standing a short distance away but were not trying to resist the separatists.
A crowd of around 400 people surrounded the building and shouted "Russia!" and "Referendum!," a reference to a vote the separatists want to hold on seceding from Ukraine. The protesters later drifted away, but the separatist guards on the doors remained.
One of the masked men at the entrance, asked why the building had been seized, said: "They show lies, they try to influence the people and they broadcast misinformation."
The man, who refused to give his name, said the television station staff were still inside and would shortly be sent home.
Separatists who swear allegiance to the self-proclaimed Donetsk People's Republic already control the regional governor's office and the city hall in Donetsk, the regional capital.
http://www.worldbulletin.net/todays-news/134852/separatists-seize-control-of-tv-hq-in-east-ukraine-city
----------
Count every death in Pak barbarians' hands: French philosopher urges Bangladesh on 1971 genocide
April 27, 2014
One of the most influential living philosophers of the world, Bertrand-Henri Levy, yesterday made an emotional explanation of why he as a young, naïve man volunteered to cover the war of independence of Bangladesh in 1971 as a journalist and said the country still has a huge "battle of memory" to fight by counting every person who died in the barbarity of Pakistan.
"I am so struck by the figure of genocide in Bangladesh, and no-one knows how many fell victim to Pakistani barbarians," Levy said in a lecture on "Philosophy and commitment: For a philosophy of action."
"Such a situation is not good for the next generation. It is an unbearable situation that the dead are not named. It is difficult to build a country if there is a hole in memory." "I propose the international community, and it is their duty, to support a real investigation of all districts and all families, to know name by name, face by face of the victims of genocide," the French intellectual said at the University of Liberal Arts Bangladesh during his lecture.
Levy who has often given birth to many a controversy for his views said Bangladesh can cut a niche for itself in the modern world by truly reflecting its secular face of Islam.
Full report at:
http://www.thedailystar.net/city/count-every-death-in-pak-barbarians-hands-21765
-----------
Hamid Mir attack to be taken up at EU: McMillan
April 27, 2014
LONDON: Vice President of the European Parliament, Edward McMillan Saturday said that the issue of the armed attack on senior Geo News anchorperson Hamid Mir would be taken up at the European Union.
Talking to Geo News in an exclusive interview, member British Parliament Bradford Ward also condemned the attack on Hamid Mir.
http://www.thenews.com.pk/article-145863-Hamid-Mir-attack-to-be-taken-up-at-EU:-McMillan
-----------
EU: Israel-Palestinian peace bid 'must not go to waste'
27 April 2014
The European Union on Sunday urged Israel and the Palestinians to return to the negotiating table, saying U.S. efforts to broker peace must not be allowed to "go to waste."
"Negotiations are the best way forward," EU foreign policy chief Catherine Ashton said in response to the breakdown last week in months of efforts by Washington to keep the two sides talking.
"The extensive efforts deployed in recent months must not go to waste," Ashton's statement added.
"The EU calls on all sides to exercise maximum restraint and to avoid any action which may further undermine peace efforts and the viability of a two-state solution."
Talks between the two resumed in July and were to have lasted nine months until Tuesday, April 29, but Israel angrily pulled out last week in response to a reconciliation deal bringing together the Palestine Liberation Organisation and the Islamist Hamas movement which has pledged to destroy the Jewish state.
Full report at:
http://english.alarabiya.net/en/News/middle-east/2014/04/27/EU-Israel-Palestinian-peace-bid-must-not-go-to-waste-.html
-----------
Southeast Asia
Indonesian Minister calls for harsher penalties for child abuse
April 27 2014
Women's Empowerment and Child Protection Minister Linda Amalia Sari Gumelar says harsher sentences must be handed down to perpetrators of sexual offenses against children, to give a stronger deterrent effect.
"I do hope that heavier penalties can be imposed on child abuse offenders," she said after a campaign rally rejecting sexual violence against children in Jakarta on Sunday, as quoted by Antara news agency.
The minister said the punishment for child sex offenders in Indonesia was still too light. "It gives no deterrent effect to the perpetrators, so similar cases continue to happen," said Linda.
She hoped that there could be heavier sanctions for child sexual abuse as part of the amended Criminal Law Procedures Code (KUHAP) being deliberated in the House of Representatives.
Full report at:
http://www.thejakartapost.com/news/2014/04/27/minister-calls-harsher-penalties-child-abuse.html
-----------
DAP leaders deny Pakatan's top council gave blessings for PAS's hudud plan
April 27, 2014
DAP leaders today strongly denied a claim made by PAS president Datuk Seri Abdul Hadi Awang that the Islamist party's plan to implement capital punishments under Shariah, or hudud, in Kelantan had been endorsed by the Pakatan Rakyat leadership council.
DAP secretary-general Lim Guan Eng said DAP leaders would never have endorsed such a plan and urged Hadi to prove his claim if the report quoting him was true.
"If Hadi was correctly quoted, then he is wrong and should show proof to back his claim because DAP had never agreed to the implementation of hudud by PAS on Muslims in Kelantan before or after PR was established in 2008.
Full report at:
http://www.themalaysianinsider.com/malaysia/article/dap-leaders-deny-pakatans-top-council-gave-blessings-for-pass-hudud-plan
-----------
Kit Siang proposes gag order on Pakatan over hudud issue
April 27, 2014
DAP's Lim Kit Siang wants Pakatan Rakyat leaders to stop issuing statements over its ally PAS's intention to implement Hudud law in Kelantan.
The veteran leader said all three parties in the opposition pact as well as its leaders should take heed of the plot by its nemesis Umno to cause Pakatan's "disintegration" by magnifying differences when the leaders had "agreed to disagree" and to adhere to the coalition's common policy framework.
"In these circumstances, I would call for an immediate moratorium on statements by Pakatan Rakyat leaders on the latest hudud controversy and to refer the issue to the Pakatan Rakyat leadership council for decision," Lim said in a statement today.
Full report at:
http://www.themalaysianinsider.com/malaysia/article/kit-siang-proposes-gag-order-on-pakatan-over-hudud-issue
-----------
Najib cites 'sensitivities' as Obama struggles to push trade pact
April 27, 2014
Prime Minister Datuk Seri Najib Razak said today that he and US President Barack Obama had agreed to upgrade bilateral relations but suggested that his country remains far from ready to sign a US-led trade pact due to domestic "sensitivities".
Obama's visit to Malaysia follows his swing through Japan, where he failed to clinch a trade deal key to the US "rebalancing" back to Asia. Such a deal would have injected momentum into the delayed 12-nation Trans-Pacific Partnership (TPP) trade pact.
Najib's ambition to bring Malaysia into Obama's flagship trade plan has been undercut by the resurgent influence of traditionalists within Umno following a weak election showing last year.
Full report at:
http://www.themalaysianinsider.com/malaysia/article/najib-cites-sensitivities-as-obama-struggles-to-push-trade-pact
-----------
URL: https://www.newageislam.com/islamic-world-news/new-age-islam-news-bureau/iraqi-kurds-ramp-up-calls-for-independence/d/76763