New Age Islam News Bureau
24 Jun 2014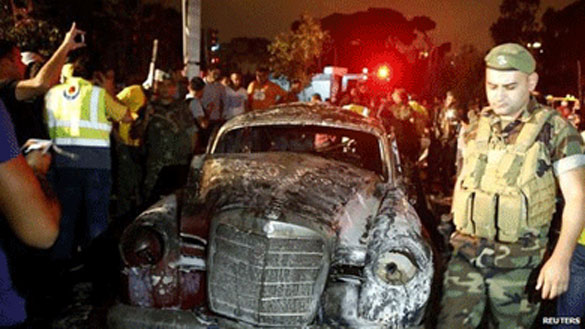 It is the second blast in Lebanon in a week and comes after a period of relative calm in the country
----------
Arab World
• Iraqi Kurdish President Says 'The Time is Here' for Self-Determination
• 40 Saudi, Qatari, Jordanian Gunmen Killed in a Syria Battle
• Suicide car bomber wounds 19 in Lebanon capital
• Air raids kill at least 19 in Iraq's Baiji: Officials
• Iraqi Kurds say future of disputed Kirkuk in their hands
• Sisi Pledges Egypt Authorities "Won't Interfere" in Judicial Affairs
• Tight Security Measures Foil Takfiri Terrorism in Lebanon
• Iraqi singer changes his tune after rise of Saddam-era militants
• Saudi Arabia approves law to protect national antiquities
• Saudi religious police banned from spying
• Iraq's Arbil Citadel granted World Heritage status
Pakistan
• Amid human outflow, 25 militants slain in Waziristan
• Pakistan is in a state of war, masses should not be put at stake: Pak Def Minister
• Seven days later, death toll from Model Town tragedy continues to rise
• Over 100 Ulema declare Zarb-e-Azb operation as Jihad
• Jamaat-e-Islami appeals to IDPs to return to their country
• Two soldiers, civilian killed in N Waziristan check post attack
• Pakistan urges Kabul to refrain from taking any 'detrimental' action
• Qadri importing new kind of terrorism to Pakistan: Pervaiz Rasheed
• Balochistan govt evolves security plan in wake of military operation
North America
• Kerry urges Kurds to stick with Baghdad and not splinter Iraq further
• US court releases memo justifying drone strike on Anwar al-Awlaki
Mideast
• PM Erdoğan and US Vice President Biden agree on unified gov't in Iraq
• Turkey evacuates nationals in eastern Libya
• Kidnapping of teenagers heighten tensions between Israel and Palestine
Africa
• 17 Muslims killed in Central Africa's latest sectarian strife
• Gunmen kill five in fresh Kenya coast attack: Police
• Ministry: around 2,400 Tunisians fighting in Syria
Europe
• 'Sack Blair' As Mideast Envoy, Urges Campaign
• Amnesty slams 'Allah' ban for Malaysian Christians
• Anti-terror unit in push to remove hate video, Cameron vows to drive out 'extremist poison'
• NATO to convene as Kerry backs Iraq against militant threat
• More than 1,000 killed in 17 days in Iraq: UN
• Terror fallout from British jihadists will be felt for years says top Met Police Officer
• Royal Bank of Scotland had links with bin Laden family accounts
South Asia
• India should assist Maldivian people in changing the government, says Nasheed
• China shows graphic footage of Xinjiang militant attacks
• Hindus, Sikhs in Afghanistan feel neglected, discriminated
India
• No visa-free entry for Bangladeshi nationals
• 4.5% Muslim quota in govt jobs in Maharashtra
• Kabul renews plea for military aid from India
• No headway in tracing 39 abducted Indians in Iraq: Red Crescent
Southeast Asia
• No winners, only losers in 'Allah' ruling, says Sarawak minister
• Sabah churches fear Federal Court ruling on 'Allah' may weaken 10-point solution
• Najib's call for Umno to emulate militants' major blow to democracy, says Pakatan
Compiled by New Age Islam News Bureau
URL: https://www.newageislam.com/islamic-world-news/new-age-islam-news-bureau/iraqi-kurdish-president-says--the-time-is-here--for-self-determination/d/97708
------------
Arab World
Iraqi Kurdish President Says 'The Time is Here' for Self-Determination
By Mick Krever
Jun 24, 2014
(CNN) -- Iraqi Kurdish President Massoud Barzani gave his strongest-ever indication on Monday that his region would seek formal independence from the rest of Iraq.
"Iraq is obviously falling apart," he told CNN's Christiane Amanpour in an exclusive interview. "And it's obvious that the federal or central government has lost control over everything. Everything is collapsing -- the army, the troops, the police."
"We did not cause the collapse of Iraq. It is others who did. And we cannot remain hostages for the unknown," he said through an interpreter.
"The time is here for the Kurdistan people to determine their future and the decision of the people is what we are going to uphold."
Iraqi Kurdish independence has long been a goal, and the region has had autonomy from Baghdad for more than two decades, but they have never before said they would actually pursue that dream.
But the latest crisis, in which Sunni extremists have captured a large swath of Iraqi territory on the border of Iraqi Kurdistan, seems to have pushed the Kurds over the edge.
"Now we are living [in] a new Iraq, which is different completely from the Iraq that we always knew, the Iraq that we lived in ten days or two weeks ago."
"After the recent events in Iraq, it has been proved that the Kurdish people should seize the opportunity now -- the Kurdistan people should now determine their future."
Barzani said that he would make that case to U.S. Secretary of State John Kerry when they meet in Erbil Tuesday; America is a close Kurdish ally, but opposes independence for the region.
"I will ask him, 'How long shall the Kurdish people remain like this?' The Kurdish people are the one who is supposed to determine their destiny and no one else."
Fractious relations with Baghdad
A reconciliation, Barzani said, could be possible "if there was understanding between Shias and Sunnis, and if there is a guarantee of a true partnership in the authority."
"But the situation has been very complicated. And the one who's responsible for what happened must step down."
Amanpour asked if Barzani meant Prime Minister al-Maliki.
"Of course. He is the general commander of the army. He builds the army on the ground of personal loyalty to him, not loyalty to the whole country. And he monopolizes authority and power. He led the military, and this is the result."
Iraqi Kurdistan has long had a fractious relationship with Baghdad; the region has had autonomy from the rest of Iraq for more than two decades.
Kurdistan even has its own military forces, the Peshmarga, which are now busy fighting ISIS extremists; next to the Iraqi military, which has looked awkward and unprofessional defending the country, the Peshmarga seems remarkably skilled.
Amanpour asked Barzani whether Iraqi Prime Minister Nouri al-Maliki had asked for Kurdish military support.
"The prime minister has not asked us. On the contrary, he rejected every offer to assist."
Indeed, Barzani said, he warned al-Maliki about the impending ISIS threat long before they toppled the major Iraqi city of Mosul, near the Iraqi Kurdish border.
"I did warn Mr. Prime Minister not only a couple of days, but a few months before the fall of Mosul. I did warn him but he did not take the warning seriously. And I have many witnesses to that effect that I did warn him."
Not everything that has happened, he told Amanpour, was done by ISIS; but because the extremists have the organization and the resources, they are seizing upon general discontent with al-Maliki.
"People in those areas found that the opportunity was there to revolt against that wrongful policy."
"That is the public anger. And it's important to distinguish between what are legitimate rights and what terrorists are trying to accomplish."
The United States, 'a true friend'
Iraqi Kurdistan and the United States have a close relationship, cemented by the American no-fly zone enforced over the region during the 1990s to protect the Kurds from Saddam Hussein.
When Barzani meets with Secretary of State Kerry on Tuesday, he will no doubt be hoping that that relationship -- and America's investment in Iraqi Kurdistan -- will help convince Kerry of the need for independence.
"The United States has been a true friend and we Kurds have shown that we deserve that friendship."
"The success of the region of Kurdistan was the only success that resulted from American policies."
"And the United States has given opportunity to all Iraqis to build a modern, democratic state; pluralistic state; federal state. But, unfortunately, the others were not able to seize the same opportunity."
Amanpour asked Barzani whether he thought the 300 military advisers the U.S. is sending to Iraq "can change the balance of power on the ground?"
"I do not believe so. I do not believe that this will change the balance of power. And this issue cannot be resolved by military means."
"It's a political issue that has to be dealt with politically. And after that, a military resolution can be easier to accomplish if there was a political agreement and political power."
An uncertain future for Kirkuk
In defending Iraqi Kurdistan from ISIS, Barzani may also have seized on an opportunity. The Peshmerga have recently taken control of Kirkuk, an oil-rich region that the Kurds consider to be an integral part of their territory.
"We never had any doubt at any time that Kirkuk is part of Kurdistan," he said.
The Iraqi constitution sets out a very specific process whereby the future of Kirkuk -- whether in Kurdistan or the rest of the country -- should be determined, involving a census of the area and then a referendum.
"For the last ten years, we have been waiting to have that article applied, but we haven't seen any seriousness from the central government. And since we have new developments in Iraq now, this is what brought about the new situation with Kirkuk coming back to Kurdistan."
"We haven't done this referendum yet, but we will do and we will respect the opinion of the citizens even if they refuse to have Kurdistan as an independent state."
Life's work
"Do you feel," Amanpour asked, "that your life's work is about to be accomplished?"
"I really hope this is the case," he said.
http://www.aina.org/news/20140623183025.htm
------------
40 Saudi, Qatari, Jordanian Gunmen Killed in a Syria Battle
Jun 24, 2014
Syria: Armed mercenaries killed in battlesSyrian troops have killed 40 armed insurgents from Qatar, Saudi Arabia and Jordan in the Damascus suburb of al-Qaneitra, Al-Alam news website reported Monday.
During an interview with Lebanon-based El-Nashra newspaper, a Syrian military source said that the foreign-backed armed mercenaries were killed when positions of armed opposition groups were ambushed by Syrian army units.
The Syrian source indicated that all those killed in the operation were of Qatari, Saudi and Jordanian nationalities.
Syrian government troops have been inflicting heavy strikes on foreign-backed terrorist groups in different areas across the state.
http://www.almanar.com.lb/english/adetails.php?fromval=1&cid=31&frid=31&eid=158079
------------
Suicide car bomber wounds 19 in Lebanon capital
World Bulletin / News Desk
Jun 24, 2014
At least 19 people were injured when a suicide bomber blew his car up late Monday at an army checkpoint at an entrance to Beirut's southern suburb, a traditional stronghold for Shiite rebel group Hezbollah, a security source said Tuesday.
According to the source, the bomber blew up his explosive-packed car when security personnel intercepted the vehicle and opened fire on it after he declined to stop.
"The suicide bomber was heading to target a gathering of people watching a World Cup game, but he detonated his car only 100 meters away from the army checkpoint," the source, who asked to remain anonymous, told Anadolu Agency.
"The area was empty when the blast took place, which helped decrease the number of casualties," he noted.
Lebanese security forces cordoned off the area, as ambulances were seen rushed to the scene to carry away the injured.
A military involvement by Hezbollah group in support of the Syrian regime has drawn condemnation from Sunni-Muslim quarters inside Lebanon.
Sunni Al-Nusra Front rebel group in January declared that all of Hezbollah's sites would be considered "legitimate targets."
In recent months, several attacks targeted Hezbollah strongholds in southern Beirut and the eastern city of Hermel. Most of them were claimed by extremist Sunni groups in connection with the crisis in next-door Syria.
http://www.worldbulletin.net/headlines/139436/suicide-car-bomber-wounds-19-in-lebanon-capital
-----------
Air raids kill at least 19 in Iraq's Baiji: Officials
Jun 24, 2014
Iraqi air strikes in multiple areas of the town of Baiji north of Baghdad killed at least 19 people on Tuesday, officials said.
The raids, which began early on Tuesday, also wounded at least 17, they said.
There was also fighting at the country's largest oil refinery, which is near Baiji.
http://english.ahram.org.eg/NewsContent/2/8/104630/World/Region/Air-raids-kill-at-least--in-Iraqs-Baiji-Officials.aspx
------------
Iraqi Kurds say future of disputed Kirkuk in their hands
Jun 24, 2014
Beneath the ancient citadel in Iraq's Kirkuk, the flag of Kurdistan -- green, white and red stripes overlaid with a yellow sun -- flaps alongside market stalls.
The city's future has been fiercely disputed for years, with its Kurdish, Arab and Turkmen residents divided over whether it should be administered by Baghdad or the autonomous three provinces Kurdish region of north Iraq.
But a major offensive by of Sunni militants, led by jihadists from the Islamic State of Iraq and the Levant (ISIL), has only served to strengthen the conviction among Kurds that the city's future lies with the Kurdistan region.
They argue the Iraqi army's abandonment of its posts outside Kirkuk, and the arrival of Kurdish forces known as Peshmarga, shows that only Kurdish administration will protect the city.
Full report at:
http://english.ahram.org.eg/NewsContent/2/8/104603/World/Region/Iraqi-Kurds-say-future-of-disputed-Kirkuk-in-their.aspx
------------
Sisi Pledges Egypt Authorities "Won't Interfere" in Judicial Affairs
Jun 24, 2014
President Abdel Fattah al-Sisi vowed on Tuesday that Egypt's authorities "will not interfere in judicial matters" a day after three Al-Jazeera journalists were jailed for between seven and 10 years.
Sisi said on Tuesday he had called the justice minister to stress that the authorities "will not interfere in judicial matters".
In a televised speech at a military graduation ceremony, the newly-elected president said: "We have to respect judicial rulings and not comment on them even if others don't understand them."
Full report at:
http://www.almanar.com.lb/english/adetails.php?eid=158178&cid=21&fromval=1&frid=21&seccatid=19&s1=1
------------
Tight Security Measures Foil Takfiri Terrorism in Lebanon
Jun 24, 2014
Well informed sources in the Lebanese official security apparatuses have confirmed that a wave of Takfiri attacks in many Lebanese areas, especially in Beirut and the Southern Suburb has been sabotaged due to the tight security measures that were efficiently implemented last week.
http://www.almanar.com.lb/english/adetails.php?eid=158145&cid=71&fromval=1&frid=71&seccatid=271&s1=0
------------
Iraqi singer changes his tune after rise of Saddam-era militants
Jun 24, 2014
An Iraqi singer, who once insisted the country should back Saddam Hussein against the 2003 U.S.-led invasion has now changed his tune.
Amid the bloody militant insurgency in the country, Qassim Sultan is now persuading the public to unite against Saddam-era militants in a music video, the British daily newspaper The Telegraph reported Tuesday.
In the video produced in a military environment with tanks and soldiers, Qassim Sultan appears singing for unity against Saddam-era militants who have taken control much of the north of Iraq.
Full report at:
http://english.alarabiya.net/en/perspective/features/2014/06/24/Iraqi-singer-changes-his-tune-on-Saddam-era-militants.html
------------
Saudi Arabia approves law to protect national antiquities
24 June 2014
The Council of Ministers on Monday approved a landmark law to protect its antiquities and heritage, as well as to give the Saudi Commission for Tourism and Antiquities (SCTA) powers to handle them.
Punitive measures, including jail and fine, will be taken against those who encroach on national monuments and antiquities.
The weekly session of the Council of Ministers, chaired by Crown Prince Salman Bin Abdulaziz, deputy premier and minister of defense, approved the law on antiquities, museums and urban heritage.
In a statement to the Saudi Press Agency following the session, Minister of Culture and Information Dr. Abdulaziz Khoja said that the law grants SCTA jurisdiction over deciding what will be recorded as archaeological monuments and heritage.
Full report at:
http://english.alarabiya.net/en/life-style/art-and-culture/2014/06/24/Saudi-Arabia-approves-law-to-protect-national-antiquities.html
------------
Saudi religious police banned from spying
24 June 2014
Members of the Saudi religious police, officially known as the Commission for Promotion of Virtues and Prevention of Vice, have been barred from spying on people or chasing suspects.
Sheikh Abdulaziz al-Asheikh, president of the commission, also warned the police members working in the field against displaying any signs of extremism or religious fanaticism. He was talking during a visit to the police headquarters here Sunday by Riyadh Emire Prince Turki Bin Abdullah.
According to local daily Al-Watan, al-Asheikh said there were six "nos" religious police members should stay away from: Spying, extremism, fanaticism, authoritarianism, harming people and chasing suspects. He said the force is applying rules and regulations equally among all citizens and residents without any distinction.
Al-Asheikh said the members have been instructed never to abuse any man or woman. They should always be lenient and nice to everyone. "No one should be falsely accused or deliberately harassed. The members should not resort to devious means just to incriminate the others," he said.
Full report at:
http://english.alarabiya.net/en/News/middle-east/2014/06/24/Saudi-religious-police-barred-from-spying-on-people.html
------------
Iraq's Arbil Citadel granted World Heritage status
June 22, 2014
DOHA - The Arbil Citadel that dominates the capital of Iraqi Kurdistan was granted World Heritage Site status Saturday in a move praised as a rare 'note of optimism' amid the country's violence.
Delegates at UNESCO's World Heritage Committee voted to grant the coveted status at a gathering in Doha, where they are considering some 40 cultural and natural wonders for inclusion on the UN list. A member of the Iraqi delegation praised the inclusion as 'a gift you have made to my people and all the communities of Iraq... who are in such need of a note of optimism right now.' The Arbil Citadel is a formerly fortified occupied mound in the centre of Erbil that is among the oldest continuously inhabited sites in the world, dating back at least 6,000 years.
Full report at:
http://www.nation.com.pk/snippets/22-Jun-2014/iraq-s-arbil-citadel-granted-world-heritage-status
---------
Pakistan
Amid human outflow, 25 militants slain in Waziristan
June 24, 2014
ISLAMABAD / PESHAWAR: More than two dozen terror suspects were killed in air raids and gun attacks in North Waziristan Agency on Monday, as scores of civilians continued to stream out of the troubled region.
Nearly 40,000 families have fled their hometowns in the tribal agency, according to the Fata Disaster Management Authority (FDMA). Until now, the authorities have registered 36,392 families.
According to the Inter-Services Public Relations (ISPR), 15 terrorists were killed when jet aircraft targeted their hideouts around the Mirali area. Eight hideouts were destroyed and "tunnels were also spotted in the targeted areas", said an ISPR statement.
Separately, 10 terrorists were killed in a firefight with security forces when they were trying to flee from the cordoned off areas in Spinwam and Mirali. At least two soldiers also embraced shahadat in an exchange of fire, said ISPR. The statement added that several attempts by terrorists to flee had been foiled. Aerial surveillance, patrols and cordons continue around the area.
Full report at:
http://tribune.com.pk/story/726137/amid-human-outflow-25-militants-slain-in-waziristan/
------------
Pakistan is in a state of war, masses should not be put at stake: Pak Def Minister
June 24, 2014
ISLAMABAD- Defence Minister Khawaja Muhammad Asif said, at a time when armed forces are engaged in operation against terrorists in North Waziristan, the lives of the masses should not be put at stake by resorting to protests.
In a statement, Khawaja Asif urged Pakistan Awami Tehreek (PAT) leader Tahir ul Qadri to refrain from risking people's lives by staging protests. He said that terrorists should not be given an opportunity to target citizens. "Tahir ul Qadri should not risk the life of their supporters by holing protest demonstrators," he suggested.
Khwaja Asif said that Chaudhry brothers of Pakistan Muslim League Quaid-e-Azam (PML-Q) and PAT chief Tahir-ul-Qadri had no future adding that Tahir-ul-Qadri did not like democracy. He said most of the demands of Pakistan Awami Tehreek (PAT) President Tahir-ul-Qadri are ridiculous.
Full report at:
http://www.nation.com.pk/national/24-Jun-2014/pakistan-is-in-a-state-of-war-masses-should-not-be-put-at-stake-by-resorting-to-protests-khawaja
------------
Seven days later, death toll from Model Town tragedy continues to rise
June 24, 2014
LAHORE: Seven days after the bloody clashes in Lahore's Model Town, a man succumbed to his injuries on Tuesday, taking the death toll to ten, Express News reported.
Twenty-year-old Shahbaz was shot in the neck during the June 17 clashes between Pakistan Awami Tehreek (PAT) workers and the police in which dozens more were also injured.
He was taken into surgery soon after the incident but his doctor had said at that time that his chances of survival were low.
Sources said that the PAT worker succumbed to his wounds at 6am today, however, hospital sources have not confirmed his death.
His body will be sent for post-mortem analysis and will be released to his parents after his medico-legal report is complete.
The victim's parents said that he was an active PAT supporter and was dedicated to his party.
http://tribune.com.pk/story/726264/seven-days-later-death-toll-from-model-town-tragedy-continues-to-rise/
-----------
Over 100 Ulema declare Zarb-e-Azb operation as Jihad
June 24, 2014
Islamabad- Over 100 Ulema from various schools of thought have declared operation Zarb-e-Azb against terrorists in North Waziristan Agency as Jihad.
The verdict was issued after a meeting of religious scholars organized by Sunni Ulema Board in Islamabad. The decree referred Verse No thirty three of Surah-i-Almaidah, which says: "Crushing of the attempts to disrupt peaceful atmosphere in a Muslim state is Jihad." The decree said that the nation is bound to support the ongoing operation in North Waziristan.
http://www.nation.com.pk/national/24-Jun-2014/ulema-declare-zarb-e-azb-operation-as-jihad
------------
Jamaat-e-Islami appeals to IDPs to return to their country
June 24, 2014
PESHAWAR- The Jamaat-e-Islami Ameer Siraj ul Haq today said that every person of the country expressed their sympathies for internally displaced persons (IDPs) from North Waziristan Agency.
Talking to journalists, the JI chief appealed those IDPs who fled to Afghanistan from NWA due to military operation launched against militants to return to their country.
He demanded the government to allocate Rs100 billion for development of tribal areas. To a question, he said he and the PTI chief Imran Khan visited the camp of IDPs. He said tribal people rendered several sacrifices for the security of the Pakistan.
http://www.nation.com.pk/national/24-Jun-2014/ji-ameer-appeals-to-idps-who-flee-to-afghanistan-should-return-to-their-country
------------
Two soldiers, civilian killed in N Waziristan checkpost attack
Jun 24, 2014
PESHAWAR: Three people, including two security personnel and a civilian, were killed Tuesday in a foiled suicide attempt on a hospital in Shawal area of North Waziristan tribal region.
Security sources confirmed that the suicide bomber was intercepted by security forces outside the Spinwam Hospital, which was the intended target, forcing him to detonate his explosives prematurely.
Security sources said that the suicide bomber rammed his car into a security forces' checkpost in Spinwam area of Shawal, killing three persons.
The explosion also caused damage to the checkpost.
The Inter Services Public Relations (ISPR) also confirmed that two soldiers and a civilian had been killed and one was injured.
Full report at:
http://www.dawn.com/news/1114812/two-soldiers-civilian-killed-in-n-waziristan-checkpost-attack
------------
Pakistan urges Kabul to refrain from taking any 'detrimental' action
June 24, 2014
ISLAMABAD: Pakistan on Tuesday urged the Afghan government to "refrain from taking any action that may be detrimental to peace and stability on the border" at a time when security forces are fighting local and foreign militants in the North Waziristan tribal region.
The request comes a day after the Afghan foreign ministry said that it is considering a 'fitting response' to the alleged killing of three soldiers and eight civilians by Pakistani troops in the eastern Kunar province.
On June 23, the ministry's spokesperson Ahmad Shakib Mustaghni had said, "Pakistani forces, wearing civilian clothes, carried out the attack" in Dangam district two days ago.
Kabul had made the allegations at a time when Islamabad is seeking the neighbouring country's help to enhance border security to stop militants from fleeing and entering the Afghan side of the border.
Full report at:
http://tribune.com.pk/story/726295/pakistan-urges-kabul-to-refrain-from-taking-any-detrimental-action/
------------
Qadri importing new kind of terrorism to Pakistan: Pervaiz Rasheed
June 24, 2014
LAHORE / RAWALPINDI: "A new kind of terrorism is being imported into the country by [Pakistan Awami Tehreek (PAT) chief] Tahirul Qadri," Information Minister Pervaiz Rasheed told media in Rawalpindi on Tuesday.
He claimed that Qadri, who lives in Canada and arrived in Pakistan on Monday, had ordered his supporters to "finish off" the people who combat terrorism and had instructed them to "drown them in a river of blood".
Referring to the clashes in the twin cities that ensued right before the PAT chief's arrival in Pakistan, Rasheed said "video footage had showed Qadri's thugs attacking policemen with sticks," adding that PAT supporters had intentionally hurt men who "protect Pakistani citizens and stop terrorists".
Full report at:
http://tribune.com.pk/story/726270/twin-cities-mayhem-behaviour-of-pat-workers-is-anarchic-not-revolutionary/
------------
Balochistan govt evolves security plan in wake of military operation
Jun 24, 2014
QUETTA: The Balochistan government has evolved a security plan for a possible retaliation from terrorists in the wake of the Zarb-i-Azb operation launched by the army against them in North Waziristan.
A meeting presided over by the Commander of Southern Command, Lt Gen Nasir Khan Janjua, at its headquarters on Monday reviewed the overall security situation.
Balochistan Home Secretary Akbar Hussain Durrani, Inspector General of Police Amlesh Khan, Commissioner of Quetta Kambar Dashti and senior military and civilian officials attended the meeting.
The meeting was briefed about the steps taken so far by security forces on the directives of the provincial government.
Full report at:
http://www.dawn.com/news/1114703/balochistan-govt-evolves-security-plan-in-wake-of-military-operation
------------
North America
Kerry urges Kurds to stick with Baghdad and not splinter Iraq further
Jun 24, 2014
US Secretary of State John Kerry held crisis talks with leaders of Iraq's autonomous Kurdish region on Tuesday urging them to stand with Baghdad in the face of a Sunni insurgent onslaught that threatens to dismember the country.
Iraqi security forces fought Sunni armed factions for control of the country's biggest oil refinery 200 km north of Baghdad, under threat for nearly two weeks since militants overran northern cities.
Kerry flew to the Kurdish region after a day in Baghdad, on an emergency trip through the Middle East to rescue Iraq after a lightning advance by Sunni fighters led by an al Qaeda offshoot, the Islamic State in Iraq and the Levant (ISIL).
US officials believe that persuading the Kurds to stick with the political process in Baghdad is vital to keeping Iraq from splitting apart.
"If they decide to withdraw from the Baghdad political process, it will accelerate a lot of the negative trends," said a senior State Department official.
Kurdish leaders have made clear that the settlement keeping Iraq together as a state is in jeopardy.
Full report at:
http://www.themalaysianinsider.com/world/article/kerry-urges-kurds-to-stick-with-baghdad-and-not-splinter-iraq-further#sthash.KAVoUrZX.dpuf
------------
US court releases memo justifying drone strike on Anwar al-Awlaki
June 24, 2014
NEW YORK: A New York court on Monday released an edited version of a US government memo which attempts to legally justify the drone attack that targeted and killed American Anwar al-Awlaki in Yemen in 2011.
US-Yemeni cleric Anwar al-Awlaki was targeted and killed in the drone attack in September of that year. Dual Pakistani-US citizen Samir Khan died in the same attack.
Awlaki's teenage son, Abdul Rahman, was killed in a separate US drone strike in Yemen in October 2011. None of the three US citizens were ever charged with a crime.
The New York Times and two of its journalists filed a lawsuit demanding the government make public secret papers justifying drone attacks against suspected terrorists, including American citizens.
Full report at:
http://tribune.com.pk/story/726190/us-court-releases-memo-justifying-drone-strike-on-anwer-al-awlaki/
------------
Mideast
PM Erdoğan and US Vice President Biden agree on unified gov't in Iraq
Jun 24, 2014
Turkish Prime Minister Recep Tayyip Erdoğan and U.S. Vice President Joe Biden agreed on the necessity of the formation of a unified government in Iraq during a phone conversation on June 23.
The talks come at a time when Iraqi Kurds are moving away from Baghdad, as the Islamic State of Iraq and the Levant (ISIL) threat continues.
Erdoğan and Biden exchanged views on the latest developments in Iraq and agreed on the prompt formation of a national consensus government in order to protect Iraq's territorial integrity and political union and to achieve success in its fight against terror, Turkish officials said, according to Anadolu Agency.
Concerned over Iraq being drawn into a sectarian conflict, Erdoğan and Biden underscored that the national consensus government should embrace all Iraqi citizens and give Sunni Muslims a chance to be represented again.
Full report at:
http://www.hurriyetdailynews.com/pm-erdogan-and-us-vice-president-biden-agree-on-unified-govt-in-iraq.aspx?pageID=238&nID=68188&NewsCatID=359
------------
Turkey evacuates nationals in eastern Libya
World Bulletin / News Desk
Jun 24, 2014
Turkish nationals have begun leaving eastern Libya after they were threatened with arrest over spying claims, sources in the Turkish Foreign Ministry said Tuesday.
The Turkish government hired a Libyan Airlines aircraft to evacuate 140 Turkish nationals in Benghazi and the east of the country, according to sources. They are expected to arrive in Istanbul on Tuesday.
Turkish Airlines will operate two additional flights to Libya for around 420 Turkish workers employed by Turkish construction company GAMA in Sirte.
Full report at:
http://www.worldbulletin.net/headlines/139460/turkey-evacuates-nationals-in-eastern-libya
-----------
Kidnapping of teenagers heighten tensions between Israel and Palestine
New York Times | Jerusalem | June 24, 2014
Three Israeli teenagers kidnapped from the West Bank have been missing for more than 10 days now, their names — Naftali, Gilad, Eyal — becoming staples of synagogue prayers and cafe chatter across this tiny country. Four Palestinians, one of them 15, have been killed by Israeli troops, their photos hoisted at mass funerals as martyrs in the liberation struggle.
The abduction and its aftermath, in which Israel has unleashed its most intense West Bank crackdown in nearly a decade, have shaken the Palestinian leadership body that works with international negotiators and have roiled a territory that those diplomats have envisioned as a future Palestinian state. Any prospect for a return to Israeli-Palestinian talks seems ever more remote.
Full report at:
http://indianexpress.com/article/world/middle-east-africa/breaking-point/99/
----------
Africa
17 Muslims killed in Central Africa's latest sectarian strife
Jun 24, 2014
Gunmen have killed 17 Muslims at a camp in the centre of the strife-torn Central African Republic in the latest sectarian violence to wrack the impoverished country, peacekeepers said on Tuesday.
"Seventeen people, all of them from the (Muslim) Fulani minority, were killed on Monday by young gunmen claiming to be from the (mostly Christian) anti-balaka" militia near the town of Bambari, an officer from the African Union force told AFP on condition of anonymity.
"Some of the bodies were mutilated and burnt by the assailants," he said, adding that the killings sparked reprisal attacks in the town by the mostly Muslim Seleka ex-rebel force.
He said the reprisals left several people dead and forced at least 6,000 to flee, most of them to a cathedral in the region.
Anti-balaka chiefs contacted by AFP in the capital Bangui denied that their fighters were responsible for the violence, with one of them, Brice-Emotion Namsio, putting the blame on "out-of-control youths acting on their own... who have been stepping up these attacks in the region."
Full report at:
http://www.hurriyetdailynews.com/17-muslims-killed-in-central-africas-latest-sectarian-strife.aspx?pageID=238&nID=68196&NewsCatID=357
------------
Gunmen kill five in fresh Kenya coast attack: Police
Jun 24, 2014
At least five people have been killed in a new attack on Kenya's coast, officials said Tuesday, one week after some 60 people died in twin massacres nearby.
The attack took place overnight on a small village near the town of Witu, some 40 kilometres (25 miles) on the mainland west of the tourist island of Lamu.
"There is another attack where five people were killed," a police officer in Lamu said on condition on anonymity.
Lamu County Commissioner Stephen Ikua confirmed there had been a new "unfortunate attack", the third in the area this month, but said he could not confirm casualties.
"We have sent our officers to the ground to get more details," Ikua said.
There was no immediate claims of responsiblity.
Attacks last week on the nearby coastal Mpeketoni district left at least 60 dead and were claimed by Somalia's Al-Qaeda-linked Shebab insurgents, though President Uhuru Kenyatta blamed "well-planned, orchestrated and politically motivated ethnic violence" carried out by "local political networks".
Full report at:
http://english.ahram.org.eg/NewsContent/2/9/104608/World/International/Gunmen-kill-five-in-fresh-Kenya-coast-attack-Polic.aspx
------------
Ministry: around 2,400 Tunisians fighting in Syria
Jun 24, 2014
At least 2,400 Tunisian jihadists are fighting in Syria, most of them rebels affiliated to the radical Islamic State of Iraq and Syria (ISIS), Tunisia's interior minister said Monday.
"According to what we have gathered, there are 2,400 Tunisians who have gone to Syria to fight with Al Nusra Front and the majority of them -- 80 percent -- with (ISIL)," Lotfi Ben Jeddou told reporters, without specifying his source.
In February, the minister said Tunisian authorities had prevented 8,000 people from traveling to Syria, while some 400 Tunisians had already returned from fighting there.
ISIS, one of the main forces battling the regime of President Bashar al-Assad, controls certain key regions in northern and northeast Syria and has cut a swathe through northern Iraq in recent weeks.
http://english.alarabiya.net/en/News/middle-east/2014/06/24/Ministry-around-2-400-Tunisians-fighting-in-Syria.html
---------
Europe
'Sack Blair' As Mideast Envoy, Urges Campaign
Jun 24, 2014
A campaign by a group of former British ambassadors demanded the removal of Tony Blair from his role as Middle East envoy after his recent attempt to "absolve himself" of responsibility for the crisis in Iraq, British daily newspaper The Guardian reported Monday.
The campaign, led by Blair's former ambassador to Iran Sir Richard Dalton, describes the achievements of Blair in the region as "negligible" and he is guilty of seeking to please the Israelis.
"It is our view that, after seven years, Mr Blair's achievements as Envoy are negligible, even within his narrow mandate of promoting Palestinian economic development. Furthermore, the impression of activity created by his high-profile appointment has hindered genuine progress towards a lasting peace," the letter read.
It also adds that the 2003 invasion of Iraq was the cause of the rise of "fundamentalist terrorism in a land where none existed previously."
The letter, which was written before Friday's seventh anniversary of Blair's appointment as the representative of the "quartet" on the Middle East, is addressed to John Kerry, the U.S. secretary of state; Sergei Lavrov, the Russian foreign minister; Ban Ki-moon, the U.N. secretary general; and Cathy Ashton, the EU's foreign policy chief.
Full report at:
http://english.alarabiya.net/en/News/middle-east/2014/06/24/Campaign-calls-for-removal-of-Tony-Blair-from-his-role-as-Middle-East-envoy.html
------------
Amnesty slams 'Allah' ban for Malaysian Christians
JUNE 24, 2014
KUALA LUMPUR, June 24 — Human rights group Amnesty International today condemned a Malaysian government ban on Christians using "Allah" to refer to God as "an abuse against free speech".
The Catholic Church in the Muslim-majority country yesterday lost a long-running court battle for the right to use the Arabic word in the local Malay-language edition of its Herald newspaper.
The government has said the top court's verdict pertains only to the paper and Malay-speaking Christians can continue to use "Allah" in their worship.
But lawyers have expressed fears that the ruling will set a precedent to curtail religious minorities' freedom amid what many see as a rise in Islamisation.
London-based Amnesty International said in a statement that the "Allah" ban should be scrapped.
Full report at:
http://www.themalaymailonline.com/malaysia/article/amnesty-slams-allah-ban-for-malaysia-christians#sthash.okWLrlF4.dpuf
------------
Anti-terror unit in push to remove hate video, Cameron vows to drive out 'extremist poison'
Jun 24, 2014
The government is pressing YouTube to take down extremist videos used to recruit young Britons to fight in Syria and Iraq.
It follows outrage that a shocking jihadi film featuring British student Nasser Muthana was still available on the site.
David Cameron insisted he was determined to drive out the 'extremist, poisonous narrative' wherever it appears as Downing Street said it was determined to ensure there 'is not material online promoting terrorist activity'.
The recruitment video for the group Islamic State of Iraq and the Levant (ISIS) features two young men from Cardiff, 20-year-olds Nasser Muthana and Reyaad Khan. Nasser's younger brother Aseel, 17, is also thought to have travelled to Syria.
Although the original clip of posted on Friday by Islamist militant group Isis appeared to have been removed, copies posted by other YouTube users were still available.
The Home Office said the police's Counter Terrorism Internet Referral Unit is working with the internet industry to remove the video
Full report at:
http://www.dailymail.co.uk/news/article-2665335/Video-hate-STILL-YouTube-Online-site-failing-stop-terrorists.html#ixzz35bL9LZeW
------------
NATO to convene as Kerry backs Iraq against militant threat
Jun 24, 2014
BAGHDAD: Nato foreign ministers convene Tuesday to discuss the Iraq crisis after US Secretary of State John Kerry pledged "intense" support to Baghdad in the fight against militants pushing towards the capital.
Kerry made a surprise visit to Iraq on Monday as Sunni insurgents led by the militant Islamic State of Iraq and the Levant, or ISIL, seized a strategic town in the northern part of the country, while security forces retook a border crossing with Syria.
The militant advance has not only put Prime Minister Nuri al-Maliki under more pressure, but displaced hundreds of thousands and threatened to tear the country apart.
A two-day meeting of foreign ministers from Nato countries begins Tuesday to discuss the situation in Iraq, as well as Ukraine.
Full report at:
http://www.dawn.com/news/1114810/nato-to-convene-as-kerry-backs-iraq-against-militant-threat
------------
More than 1,000 killed in 17 days in Iraq: UN
24 Jun 2014
More than 1,000 people -- at least three quarters of them civilians -- were killed this month as Islamist militants swept through large swaths of northern and western Iraq, the UN said Tuesday.
At least 1,075 people were killed and 658 injured in the country in the 17 days from June 5 and 22, Rupert Colville, a spokesman for the UN human rights office told reporters in Geneva.
He said the numbers "should be viewed very much as a minimum."
At least 757 civilians were killed and another 599 injured in the provinces of Nineveh, Diyala and Salah al-Din, he said.
A number of the deaths were due to "verified summary executions and extra-judicial killings of civilians, police, and soldiers who were hors combat."
At least 318 more people -- not necessarily all civilians -- had been killed and 590 injured in Baghdad and areas in the south, "many of them as a result of at least six separate vehicle-borne bombs," he said.
Full report at:
http://english.ahram.org.eg/NewsContent/2/8/104644/World/Region/More-than-,-killed-in--days-in-Iraq-UN.aspx
------------
Terror fallout from British jihadists will be felt for years says top Met Police Officer
Jun 24, 2014
Britain will feel the repercussions of Syria and the rise of Islamic extremism within its own borders for 'many years' to come, a top counter-terrorism expert has said.
Cressida Dick, the Metropolitan Police's assistant commissioner and head of specialist operations, warned that Britain would feel the long-term consequences of the conflict.
She said it represented a terrorist threat to the UK, and that young British Muslims who have travelled to the war-torn country to fight might commit violence when they return.
'I'm afraid I believe that we will be living with the consequences of Syria - from a terrorist point of view, let alone the world, geopolitical consequences - for many, many, many years to come,' Ms Dick told BBC Radio 4's The World This Weekend.
Full report at:
http://www.dailymail.co.uk/news/article-2664929/Terror-fallout-British-jihadists-fighting-Syria-felt-years-come-Britain-says-Met-Police-officer-warns-new-threat-Islamic-extremism.html#ixzz35bLcXBzS
------------
Royal Bank of Scotland had links with bin Laden family accounts
Jun 24, 2014
German customs authorities have confiscated documents from a former unit of Royal Bank of Scotland showing that family members of the bin Laden clan were among its clients. The Royal Bank of Scotland denied any links to Osama bin Laden and his family. "We didn't take care of Osama bin Laden's financials at any point of time, nor did we deal with his immediate relatives," said the RBS official statement.
"We didn't take care of Osama bin Laden's financials at any point of time, nor did we deal with his immediate relatives. His [Osama bin Laden's] personal finances were never of interest for [former RBS unit] Coutts International," the former RBS unit, the Edinburgh-based bank said.
Full report at:
http://voiceofrussia.com/news/2014_06_23/Royal-Bank-of-Scotland-had-links-with-bin-Laden-Family-accounts-9565/
----------
South Asia
India should assist Maldivian people in changing the government, says Nasheed
By Ahmed Naish | June 23rd, 2014
Assistance in changing the government is the biggest relief the Indian government could offer the Maldives regarding compensation owed to GMR for the premature termination of its airport deal, former President Mohamed Nasheed has said.
Speaking at a rally at the reopened Maldivian Democratic Party (MDP) haruge (meeting hall) last night, the main opposition party's acting president said he had learned that GMR would inform the Indian government of the situation.
"In my view, that relief is for that [Indian] government to work together with us, the Maldivian people, to change the government of the Maldives," Nasheed said.
After 18 months of arbitration proceedings, a Singapore tribunal ruled last week that the concession agreement signed by the MDP government with the GMR-led consortium in June 2010 to manage and develop the Ibrahim Nasir International Airport (INIA) was "valid and binding."
Full report at:
http://minivannews.com/politics/india-should-assist-maldivian-people-in-changing-the-government-says-nasheed-87443
------------
China shows graphic footage of Xinjiang militant attacks
Jun 24, 2014
Chinese state television on Tuesday showed dramatic footage of what the government calls terror attacks by Islamist militants from the western region of Xinjiang, as it steps up its propaganda campaign to counter an upsurge in violence.
The images, shown on CCTV's English-language channel as part of a programme on the threat China says it faces in Xinjiang, include surveillance camera footage of an attack at the north end of Beijing's Tiananmen Square last October.
Five people were killed and 40 hurt when a car ploughed into a crowd and burst into flames. The dead included three people in the car identified by authorities as Islamists from Xinjiang.
In the colour footage, not shown before, the car speeds through the crowd, smashing into pedestrians, as a black flag with what looks like Arabic lettering flies out the left-hand side. The back of the vehicle is then shown on fire.
Full report at:
http://www.themalaysianinsider.com/world/article/china-shows-graphic-footage-of-xinjiang-militant-attacks#sthash.oqTa8fPN.dpuf
------------
Hindus, Sikhs in Afghanistan feel neglected, discriminated
Press Trust of India | Kabul | June 24, 2014
Frustrated at being discriminated in their home country, Hindus and Sikhs here feel they have been treated "like a football" between India and Afghanistan, as they hope the Indian government will bail them out.
Seeing followers of religions other than Islam is a rare sight here but some Sikhs and Hindus who have been living here for generations have kept alive their traditions and faith but life has not been easy for them.
They are Afghanis but their survival is under threat hence they want India to recognise them and provide them opportunities to work and settle within their community in India.
"Our forefathers came here many years ago and dominated economy but situation for us has now worsened and we are facing very hard time, harassment and discrimination in daily life from the people here. We have no job opportunity, no work, no education for children, no authority and we live in a terrifying situation," Rajendra Singh, a Sikh man who is a herb trader, told PTI.
Full report at:
http://indianexpress.com/article/world/asia/hindus-sikhs-in-afghanistan-feel-neglected-discriminated/
------------
India
No visa-free entry for Bangladeshi nationals
Bharti Jain,TNN | Jun 24, 2014
NEW DELHI: The Union home ministry has shot down suggestions that visa-free entry for Bangladeshi minors and senior citizens as well as extension of visa-on-arrival scheme to Bangladesh be brought up for discussion during external affairs minister Sushma Swaraj's visit to Dhaka starting June 25.
However, the home ministry gave the go-ahead to the external affairs ministry to discuss the possibility of granting long-term, multiple-entry tourist visa to Bangladeshis who are either under 18 years or above 65 years of age. Those holding such visa, with a proposed validity of five years, may be required to report to the foreigner regional registration office (FRRO/FRO) here at least once a year.
The items suggested in the tentative agenda for Swaraj's deliberations in Dhaka, forwarded by the external affairs ministry for the home ministry's opinion, included visa-free entry for Bangladeshi minors and senior citizens, covering Bangladesh under the visa-on-arrival scheme, and grant of long-term, multiple-entry tourist visa to Bangladeshi children under 18 and elderly citizens above 65 years of age.
Full report at:
http://timesofindia.indiatimes.com/india/No-visa-free-entry-for-Bangladeshi-nationals/articleshow/37110011.cms
------------
4.5% Muslim quota in govt jobs in Maharashtra
Jun 24, 2014
After a complete rout in the Lok Sabha elections, the Congress-NCP alliance government in Maharashtra is set to announce 4.5 per cent reservation for Muslims in education and government jobs.
An in-principle decision has been taken on 'social reservation' for Muslims and Marathas after Nationalist Congress Party president Sharad Pawar made a strong pitch for it to revive the alliance's fortunes in the Assembly elections scheduled in October.
Social reservation and scrapping of the local body tax mooted by Chief Minister Prithviraj Chavan were two major demands Pawar had raised in his interaction with Congress leaders A K Antony and Ahmed Patel in New Delhi recently. The two had called on Pawar and sought his support to keep the alliance intact and help retain the Democratic Front government in Maharashtra.
Full report at:
http://indianexpress.com/article/india/maharashtra/back-to-the-wall-chavan-has-a-poll-plan-4-5-muslim-quota/99/
------------
No headway in tracing 39 abducted Indians in Iraq: Red Crescent
Daniel P George,TNN | Jun 24, 2014
CHENNAI: The situation in Iraq worsened on Tuesday with widespread gun battle between ISIS militants and security forces in Najaf, Mosul, Erbil, Baiji and Anbar.
Dabbakeh Saleh, a spokesman of the International Society of the Red Cross and Red Crescent in Iraq, told TOI over phone from Baghdad that the situation was tense. "We continue to provide food and essentials to the stranded people."
Asked about 39 abducted Indians in Iraq, he said, "There is no headway in tracing them. We are worried about eight lakh displaced people and you are talking about 39 Indians,'' he said.
Talking to TOI, Indian ambassador to Kuwait Sunil Jain said, "We are in touch with Kuwaiti foreign ministry officials. They have assured us of all help in case there is a need for evacuation.''
Full report at:
http://timesofindia.indiatimes.com/india/No-headway-in-tracing-39-abducted-Indians-in-Iraq-Red-Crescent/articleshow/37125394.cms
------------
Kabul renews plea for military aid from India
Jun 24, 2014
Delhi had turned down earlier requests but provided training to Afghan troops in India
Speaking in an exclusive interview to The Hindu, Afghanistan's Ambassador to India, Shaida Abdali, has admitted that "Afghanistan doesn't have the defence it needs" to fight "proxy-terror groups" and said India and Afghanistan must strengthen their strategic cooperation.
In December 2013, Afghanistan had put in a "wish list" to India, including requests for tanks, helicopters and ground vehicles, which Delhi had politely turned down at the time, as it has in the past. Instead India supported infrastructure projects and provided military training to Afghan troops and police forces in India itself.
Sources said this was a result of India's desire not to upset Pakistan with overt military help that may be construed as interference in Afghanistan. In April, the Cabinet Committee on Security had reportedly agreed to fund the supply of small arms to ANA (Afghan National Army) from Russia in order to avoid this very problem.
Full report at:
http://www.thehindu.com/news/national/kabul-renews-plea-for-military-aid-from-india/article6142599.ece
--------
Southeast Asia
No winners, only losers in 'Allah' ruling, says Sarawak minister
Jun 24, 2014
There are no winners but only losers in the Federal Court decision yesterday which banned the word "Allah" in the Catholic weekly, Herald, said outspoken Sarawak Minister Tan Sri Dr James Masing.
"And the losers here are Malaysia, and its religious freedom," said the state land development minister, adding that over the years, freedom had been the hallmark of religious tolerance in the country.
As such, he said the Federal Court decision needed to be reviewed.
Like most Malaysians, Masing said he was also not sure if the decision to dismiss the Catholic Church's leave application to appeal the ban meant that the prohibition was extended to include publications in Sabah and Sarawak where Malay and Iban Bibles are widely used.
"There are Christians from Sarawak and Sabah who are working and residing in the peninsula. Will they be prohibited from using the word 'Allah' in their religious practices? "Will they be penalised when they practise their beliefs within the ambit of the Federal Constitution?
"To me, a non-lawyer, the Federal Constitution is paramount. Any subsequent amendment to the 1963 Constitution cannot take precedence."
Full report at:
http://www.themalaysianinsider.com/malaysia/article/no-winners-only-losers-in-allah-ruling-says-sarawak-minister#sthash.rikDHHWW.dpuf
------------
Sabah churches fear Federal Court ruling on 'Allah' may weaken 10-point solution
Jun 24, 2014
KUALA LUMPUR — Churches in Sabah have expressed concern over the validity of the government's 10-point solution allowing the distribution of Christian bibles containing the word "Allah" in the state in the wake of the Federal Court's refusal to hear an appeal on the usage of the word.
Bishop Datuk Dr Thomas Tsen, president of the Sabah Council of Churches, said the Federal Court's decision today to dismiss the Catholic church's application to appeal the government ban on the word "Allah" in its weekly, the Herald, was a "huge disappointment".
"People will bring this decision of the highest court and say no, even though the prime minister has the 10-point solution, the highest court still says you cannot freely use the term 'Allah' to address your God," Tsen told The Malay Mail Online today.
Full report at:
http://www.themalaymailonline.com/malaysia/article/sabah-churches-fear-federal-court-ruling-on-allah-may-weaken-10-point-solut#sthash.OdbTT6cv.dpuf
------------
Najib's call for Umno to emulate militants' major blow to democracy, says Pakatan
Jun 24, 2014
By calling on Umno members to be as brave as a Middle Eastern militant group, Datuk Seri Najib Razak has rejected democracy and has destroyed diplomatic relations between Malaysia and other countries, said Pakatan Rakyat leaders today.
The prime minister's statement, noted PAS deputy president Mohamad Sabu, has tainted the democracy system in the country, while also ruining his dignity as a leader of the state.
"No wonder he did not say anything when several Umno members intruded the Penang state assembly last month," Mohamad told The Malaysian Insider.
He was referring to the May 20 intrusion of the Penang state assembly, when a group, believed to be Penang Umno members, stormed into the House looking for Seri Delima assemblyman R.S.N. Rayer, who had uttered the words "Umno celaka" (Umno be damned) during proceedings.
Full report at:
http://www.themalaysianinsider.com/malaysia/article/najibs-call-for-umno-to-emulate-militants-major-blow-to-democracy-diplomati#sthash.Xs7PPRxH.dpuf
------------
URL: https://www.newageislam.com/islamic-world-news/new-age-islam-news-bureau/iraqi-kurdish-president-says--the-time-is-here--for-self-determination/d/97708