New Age Islam News Bureau
31 Dec 2014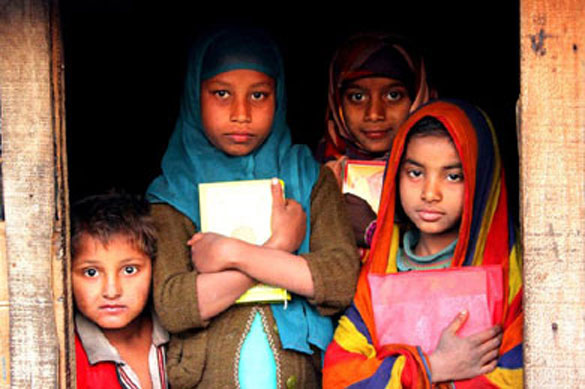 Children inside a makeshift school in a Rohingya refugee camp in Jammu
--------------
Arab World
• Iraqi Kurdish Official Says Nine Yazidi Mass Graves Found In Sinjar
• Jews Allowed To Work in Saudi Arabia
• Scores of Takfiri Militants Killed in Aleppo, Quneitra
• Several ISIL Terrorists Killed in Iraq's Ramadi
• Official report: thousands of Yezidis still in ISIS captivity
• ISIS appoints new governor in Mosul, executes four people
• Iraq's 2 million IDPs struggling
• Shi'ite militias expand influence, redraw map in central Iraq
• Iraqi Politician: Iran Trustworthy Partner for Supplying Weapons
• ISIS features Netanyahu in official magazine
Pakistan
• Pakistan Ulema Council Declares 2015 Year of Peace, End to Terrorism
• No Religious Party Supports Terrorism, Claims Jamaat-i-Islami
• Operation Zarb-i-Azb has dismantled terrorist network: PM Nawaz
• Another convict in Musharraf attack case executed
• Pakistan, Afghanistan committed not to let their soils used against each other
• Committee finds LEAs 'incapable' of blocking terror funding channels
• SBP launches 2nd media drive to promote Islamic banking
• PTI, PPP rethink support for military courts
• MNAs, media bodies at odds over space for terrorists
Mideast
• At Least 33 Dead As Explosion Targets Yemeni Houthis
• Anti-Arab Group Poses Legal, Political Dilemma for Israel
• Turkish clerics debate Demba Ba's 'Islamic' goal celebration
• Ankara refutes UN report claiming Turkey route for arms to al-Qaeda
• Iran in new deal to boost Iraq army
• After U.N. setback, Abbas to apply to join ICC
Africa
• Boko Haram Kills 15 in Northeast
• Libya's General National Congress 'Ready' For UN-Brokered Talks
• Shabaab spy chief killed in U.S. strike: Somalia
• Suicide car bomb targets Libya parliament
• Northern Mali refugees fear reprisals
• Daesh claims Belaid, Brahmi murders
• Essebsi sworn in as Tunisian president
South Asia
• 16 Militants Killed In Joint Operations in Afghanistan
• Shaikh Zayed Mosque in China to Project Moderate Islam
• Myanmar's Rohingya See Little Benefit from New Citizenship Effort
• Thousands of Taliban to join peace process in northern Afghanistan
Europe
• Radical Jihadist Videos Plague Kyrgyzstan
• EU To Promote 'Now More Than Ever' Two-State Solution
• France, Germany Urge Checks on Jihadists' Travel
• UN claim ISIL smuggles weapons via Turkey rejected
• French ceremony as new NATO Afghan 'train and support' mission takes over
• The implications of being a Muslim student in Britain
• Merkel urges Germans to shun anti-Muslim protesters and welcome refugees of conflict
India
• 'Need For Muslims To Keep Balance Between Education, Islamic Values': AIMEC
• Rohingya Refugees Find Safe Haven in Kashmir
• Retaliate Pakistan Ceasefire Violations with 'Double Force': Defence Minister
North America
• Us Wants Turkey to Press Hamas to 'Reduce Tensions'
• Afghanistan Could Go The Way Of Iraq, Us House Speaker Warns
• The Islamic State outbreak has been contained
• U.S. names more Iran targets for sanctions
• Victims of Fort Hood shooting in Texas seek 'terrorism' declaration
Southeast Asia
• For Indonesian Military, Optimism Is Curbed by Constraints
Compiled by New Age Islam News Bureau
URL: https://www.newageislam.com/islamic-world-news/new-age-islam-news-bureau/iraqi-kurdish-official-says-nine-yazidi-mass-graves-found-in-sinjar/d/100779
-----------
Arab World
Iraqi Kurdish Official Says Nine Yazidi Mass Graves Found In Sinjar
31 Dec, 2014
An Iraqi Kurdish regional official says Kurdish Peshmerga forces have discovered nine mass graves containing members of the Yazidi minority thought to have been executed by Islamic State (IS) militants in the northern town of Sinjar.
Khairy Buzani, the Kurdish regional official in charge of Yezidi affairs, said on December 30 that the graves have been discovered in Sinjar since Peshmerga fighters recaptured the twon from IS militants earlier in December.
He not say how many people were buried in the graves.
Hundreds, possibly thousands, of Yazidis are thought to have been killed when IS militants overran Sinjar in August.
Tens of thousands were either stranded on the nearby Mount Sinjar or fled to Kurdish-held parts of northern Iraq.
Amnesty International says Yazidi women and girls who were abducted, raped, forced into marriage, or sold as slaves to IS fighters could number in the thousands.
http://www.rferl.org/content/sinjar-mass-graves-yazidi-iraq/26769885.html
-----------
Jews allowed to work in Saudi Arabia
31 Dec, 2014
Dubai: Foreigners who practice the Jewish faith are allowed to work in Saudi Arabia, a labour ministry source said.
"The ministry does not mind issuing employment visas to Jews as it deals with nationalities, and not with religions," the source said, quoted by local daily Al Watan on Tuesday.
"Saudi Arabia does not oppose dealing with any religion and this is clearly demonstrated in the King Abdullah Bin Abdul Aziz International Centre for Interreligious and Intercultural Dialogue."
The centre, located in the Austrian capital Vienna, was founded to enable, empower and encourage dialogue among followers of different religions and cultures around the world. It introduces itself on its site as "an independent and autonomous international organisation, free of political or economic influence."
"For example, if a worker has the Yemeni nationality and the Jewish faith, he is allowed to work in the kingdom because the ministry does not look at religions, but at nationalities," the source said.
The ministry's website lists Judaism among the 10 religions whose practitioners can fill in working applications.
Shura Council Member Sadaqa Bin Yahya Fadhel said that the labour ministry's decision to allow Jewish workers was "correct."
"We Muslims do not have a problem with Jews or Christians," he said. Our major issue is with the Zionist Movement which exploits the Jewish faith to promote and serve its own agenda."
He added the distinction between Jews and Zionists should always be made clear.
"We can deal with anyone from any religion, and the ministry is right as long as it does not deal with Israelis. As a kingdom, we do welcome all religions, but we cannot accept Israelis because they are linked to Zionism, a colonialist movement that uses and takes advantage of the Jewish faith. Judaism has nothing to do with this movement," he told the Saudi daily.
http://gulfnews.com/news/gulf/saudi-arabia/jews-allowed-to-work-in-saudi-arabia-1.1433893
-----------
Scores of Takfiri Militants Killed in Aleppo, Quneitra
31 Dec, 2014
The Syrian Army claimed the lives of scores of militants in Aleppo and Quneitra, as part of a new phase of military operation to clear the country from the remnants of the Takfiri forces wreaking havoc on the Arab state.
The army made major advances in its fight against the armed groups in the area of al-Swaiqa in Aleppo, killing and injuring a great number of Takfiri militants.
Also, the rebels suffered losses in the areas of Kuroum Jabba and al-Bazzaq, as the army gained ground in Quneitra province.
The Syrian Army and government have defended their country against insurgents since 2011 when a huge number of foreign terrorists flocked to the Middle-Eastern country.
In spite of certain western states' military and financial supports for militants, the Syrian troops have been able to push them back from many areas across the country, and based on military observers the fall of militancy in Syria is not far.
http://english.farsnews.com/newstext.aspx?nn=13931010000417
----------
Several ISIL Terrorists Killed in Iraq's Ramadi
31 Dec, 2014
Iraqi forces pushed back an offensive by the ISIL Takfiri group around the Western city of Ramadi on Wednesday, and killed several terrorists.
A senior army official said that the Takfiri terrorists attempted to launch an attack on a regiment in Sinjariya area where the army troops inflicted heavy losses on them.
The crisis in Iraq escalated after the ISIL militants took control of Mosul in a lightning advance on June 10, which was followed by the fall of Tikrit, located 140 kilometers (87 miles) Northwest of the capital, Baghdad.
Soldiers of the Iraqi army and Peshmarga have been engaged in heavy fighting with the militants on different fronts and have so far been able to push them back in several areas.
http://english.farsnews.com/newstext.aspx?nn=13931010000673
----------
Official report: thousands of Yezidis still in ISIS captivity
31 Dec, 2014
ERBIL, Kurdistan Region - The Iraqi Human Rights Committee (IHRC) says that more than 3,500 Yezidi men and women have been captured by the Islamic State (ISIS) in Iraq since it began attacks on the religious minority in early August.
The committee, which is associated with the Iraqi parliament, says that 441 Yezidis, including 280 females, have so far been rescued.
"We have confirmed knowledge of 1,597 females and 1,986 males who are still in ISIS captivity and who are identified as Yezidis," said Boshra Ubaidi, an IHRC spokeswoman at a press conference in Baghdad Monday.
Ubaidi called on Kurdish and Iraqi authorities to "reincorporate" the Yezidis into their communities, saying they had suffered "severe physical and psychological traumas."
Kurdish lawmakers say they have developed a compensation package that will help affected Yezidi families "back to normal life." Maryam Samad, a member of the Kurdish parliament in Erbil, says the package includes both economic compensation and also the possibility of asylum in Germany, where an estimated 100,000 Yezidis already live.
Full report at:
http://rudaw.net/english/kurdistan/301220141
-----------
ISIS appoints new governor in Mosul, executes four people
31 Dec, 2014
ERBIL, Kurdistan Region - The Islamic State (ISIS) appointed a new governor of Mosul, to replace the former governor, who was injured in a US airstrike and last week died of poisoning while hospitalized.
"ISIS appointed Muhammad Hassan Shammari as the new governor," said Ismat Rajab, head of a Kurdistan Democratic Party (KDP) for the Mosul region. He replaces Abu Talut, who was wounded in an US airstrike and later died of poisoning.
Members of the Mosul Brigades, a self-proclaimed resistance group, claimed last week that they had poisoned Abu Talut in hospital.
Meanwhile, the militants executed four locals because their fathers had fled ISIS-controlled territories. According to Sheikh Wajih Abdullah al-Jubouri, a tribal official in Nineveh province, the executions took place in the town of Qayyarah, and two of the victims were brothers, he said.
http://rudaw.net/english/middleeast/iraq/291220142
-----------
Iraq's 2 million IDPs struggling
31 Dec, 2014
ERBIL, Iraq — Since January, the number of internally displaced persons (IDPs) in Iraq has reached approximately 1.9 million. According to the United Nations Population Fund (UNFPA), the IDPs are dispersed across 1,928 locations in Iraq and include 450,000 women and girls of reproductive age, of whom an estimated 72,000 are pregnant. Roughly 47% (889,878 individuals) are located in the Kurdistan Region of Iraq.
The Dahuk governorate is the recipient of almost a quarter of Iraq's IDPs, with more than 450,000 individuals seeking refuge across its four districts of Sumel, Zarko, Dahuk and Amedi. Erbil follows closely with over 400,000 individuals, while Sulaimaniyah hosts 160,000. The most vulnerable displaced families have sought refuge in unfinished buildings and schools, which has delayed the start of the current academic year.
Full report at:
http://www.al-monitor.com/pulse/originals/2014/12/fighting-iraq-creates-2-million-refugees.html#ixzz3NVr9HPlS
-----------
Shi'ite militias expand influence, redraw map in central Iraq
31 Dec, 2014
BAGHDAD (Reuters) – Behind black gates and high walls, Iraqi national security agents watch 200 women and children.
Boys and girls play in the yard and then dart inside their trailers, located in a former U.S. military camp and onetime headquarters for Saddam Hussein's officials in Babel province's capital Hilla.
The women and children are unwilling guests, rounded up as they fled with their male relatives in October from Jurf al-Sakhr, a bastion of Islamic State, during a Shi'ite militia and military operation to clear the farming community.
Full report at:
http://english.alarabiya.net/en/perspective/analysis/2014/12/31/Shiite-militias-expand-influence-redraw-map-in-central-Iraq.html
-----------
Iraqi Politician: Iran Trustworthy Partner for Supplying Weapons
31 Dec, 2014
Head of Iraq's al-Anbar Salvation Council Sheikh Hamid al-Hais lauded Iran's assistance to his country in fighting terrorism, describing Tehran as a reliable military partner.
"This is the right of al-Anbar province's tribal leaders to ask for assistance from any side to supply their necessary weapons for fighting the ISIL," Hais told FNA on Wednesday.
"Given its military assistance provided to the Iraqis, Iran is considered as a more reliable and closer side to us," he added.
Hais blasted the US lack of commitment to its weapons contracts with Iraq, and said, "As time is passing by and fighting the terrorists needs money, weapons and forces, we haven't received any weapons from the American side yet."
Full report at:
http://english.farsnews.com/newstext.aspx?nn=13931010000444
----------
ISIS features Netanyahu in official magazine
31 Dec, 2014
Islamic State released its sixth and latest issue of its English-language online magazine Dabiq on Monday, which included a section highlighting Israeli Prime Minister Benjamin Netanyahu.
In a section titled, "In the Words of the Enemy," the magazine quotes Netanyahu discussing Islamic State at length in an interview he gave to CBS News show "Face the Nation" in October.
One portion included was when Netanyahu was asked if he sees Islamic State as a threat to Israel. The Israeli prime minister responded: "Absolutely. I mean, ISIS [Islamic State] has got to be defeated because it is doing what all these militant Islamists are trying to do. They all want to first dominate their part of the Middle East and then go on from there for their twisted idea of world domination."
Another quote found in the magazine was the premier's response to a question if the Jewish state would get more involved in the war against Islamic State.
"We are ready to support and help in every way that we are asked to do," Netanyahu said.
The section seems to be a propaganda effort by the terrorist group to play up its image as a staunch opponent of Israel, even though the group so far has been focusing on the war on the ground in Syria and Iraq, and not on the Jewish state.
Full report at:
http://www.jpost.com/Middle-East/ISIS-features-Netanyahu-in-official-magazine-386146
-----------
Pakistan
Pakistan Ulema Council declares 2015 year of peace, end to terrorism
31 Dec, 2014
LAHORE: The Paigham-e-Aslaf Conference, held under the leadership of Pakistan Ulema Council (PUC) on Tuesday, declared 2015 the year of peace, love, forbearance, dialogue and end to terrorism, extremism and sectarianism.
PUC Chairman Tahir Mehmood Ashrafi, while presenting the declaration of the Paigham-e-Aslaf Conference, said that the PUC, together with general public, political and religious parties will further strengthen and mobilise the struggle to achieve the goal in 2015. Tahir further said that in 2015 PUC will run a four-stage campaign against extremism, terrorism, sectarian violence and intolerant behaviours at the level of mosques and seminaries. He further said that in the second half of the year a campaign will be run in support of women and non-Muslims' rights and education in Shariah and against the menace of dowry and mistreatment of girls.
Full report at:
http://www.dailytimes.com.pk/punjab/31-Dec-2014/puc-declares-2015-year-of-peace-end-to-terrorism
-----------
No religious party supports terrorism, claims Jamaat-i-Islami
31 Dec, 2014
BADIN: Emir Jamaat-i-Islami (JI) and senior provincial minister Khyber Pakhtunkhwa, Sirajul Haq Tuesday said that no religious party supports terrorism and all possible assistance would be extended to the government for elimination of terrorism from the country.
Addressing "Save the Thar" rally here, Haq said that the real solution of every problem being faced by Pakistan lies within 'true Islamic system of governance'.
While visiting the Army Public School and the hospital where children were being treated following the deadly Taliban attack earlier this month, Haq had said it was the responsibility of the federal and provincial governments to provide security to the people.
"A government, which can't provide security to its children, has no right to rule," he said.
The JI chief, during his trip to the famine-hit Tharparkar district today, urged the federal and provincial governments to take effective measures to prevent more deaths in Thar. Hospitals in Thar are not only lacked medicines but doctors were not performing their duties either, he observed.
http://www.dawn.com/news/1154066/no-religious-party-supports-terrorism-claims-siraj
--------
Operation Zarb-i-Azb has dismantled terrorist network: PM Nawaz
31 Dec, 2014
ISLAMABAD: Prime Minister Nawaz Sharif said Wednesday that the ongoing Zarb-i-Azb operation has dismantled terrorist networks and their infrastructure in Waziristan, said a report published on Radio Pakistan.
The PM was speaking to an eighteen-member delegation of the Afghan Parliament in Islamabad.
Peaceful Afghanistan is in Pakistan's interest
During the meeting, the PM also said that a peaceful and prosperous Afghanistan is in Pakistan's interest. He said that both countries are focused on progressing towards regional prosperity by allowing their territories to be used against each other.
Adviser to the PM on National Security and Foreign Affairs Sartaj Aziz, Special Assistant on Foreign Affairs Tariq Fatemi, Political Secretary Dr Asif Kirmani, Senator Mushahid Hussain Sayed, Senator Afrasiab Khattak and National Assembly Minister Aftab Sherpao were present during the meeting.
Full report at:
http://www.dawn.com/news/1154248/operation-zarb-i-azb-has-dismantled-terrorist-network-pm-nawaz
-----------
Another convict in Musharraf attack case executed
31 Dec, 2014
PESHAWAR: Niaz Mohammad, a former Pakistan Air Force junior technician, convicted in the Pervez Musharraf assassination attempt case, was executed early on Wednesday, DawnNews reported.
He was hanged at the Peshawar Central Prison. Niaz was sentenced to death for making an attempt on the life of the former Chief of Army Staff General (retd) Pervez Musharraf in Rawalpindi in 2003.
Niaz Mohammad was a resident of Swabi district. He was kept at the Haripur Central Prison until Tuesday, from where he was shifted to the Peshawar Central Prison in a helicopter.
Earlier the administration had deployed the police and army personnel in and around the prison amid terrorist threats. The Sher Shah Suri Road, where the prison is situated, had already been closed to the traffic at night.
Full report at:
http://www.dawn.com/news/1154234/another-convict-in-musharraf-attack-case-executed
-----------
Pakistan, Afghanistan committed not to let their soils used against each other
31 Dec, 2014
ISLAMABAD - Prime Minister Nawaz Sharif on Wednesday said that Pakistan and Afghanistan are committed not to allow their territories to be used against each other.
"Our two countries want to make this region peaceful, progressive and prosperous," the prime minister said while talking to a 18-member delegation of Afghanistan's parliament here at the PM's House. The delegation comprising members from Meshrano Jirga and Wolesi Jirga, was jointly led by Abdul Qader Zazai, International Affairs Commission Chairman Wolesi Jirga and Senator Baz Mohammad Zormati. The delegation is in Islamabad to attend the 12th session of the dialogue between parliamentarians of Pakistan and Afghanistan, arranged by Pakistan Institute of Legislative Development and Transparency (PILDAT).
Full report at:
http://www.dailytimes.com.pk/national/31-Dec-2014/pakistan-afghanistan-committed-not-to-let-their-soils-used-against-each-other-pm
-----------
Committee finds LEAs 'incapable' of blocking terror funding channels
31 Dec, 2014
ISLAMABAD: A government committee on Tuesday observed that the law enforcing personnel lacked proper training and knowledge to track and investigate terrorist financing channels.
Finance Minister Ishaq Dar stressed the need for improving coordination between the federal and provincial governments and law enforcing agencies to deal with the problem of terrorist financing. Dar chaired a meeting of the sub-committee formed by Prime Minister Nawaz Sharif to recommend ways and means to choke finances for terrorists and terrorist organisations.
The participants, including representatives of Ministry of Finance, Ministry of Foreign Affairs, Ministry of Interior, FBR, SBP, SECP, NACTA, security agencies and legal consultants, discussed all the relevant issues and impediments with regards to investigation and gathering of information about funding of terrorist activities. These impediments, they said, in turn negatively impacted the process for award of exemplary punishments to terrorists. The meeting specially discussed the aspect of terrorist funding under the garb of charities, emphasizing fresh registration and fool proof monitoring of all such organizations. The meeting expressed deep concern on narco-trafficking which it thought was a potent source of terror funding. There was also emphasis laid on coordination with international agencies to curb financing for acts of terror.
http://www.dailytimes.com.pk/islamabad/31-Dec-2014/committee-finds-leas-incapable-of-blocking-terror-funding-channels
-----------
SBP launches 2nd media drive to promote Islamic banking
31 Dec, 2014
KARACHI: The extensive Knowledge, Attitude, Practices (KAP) study of State Bank of Pakistan (SBP) established demand for Islamic banking at all level but at the same time revealed lack of awareness not only among ordinary people but also even among qualified and educated groups.
There is desire among consumer to know more about Islamic banking and address some crucial questions.
Deputy Governor SBP Saeed Ahmad launching 2nd phase of media campaign for promotion of Islamic banking in Pakistan congratulated all the stakeholders on successful completion of first phase of media campaign, which primarily focused on developing awareness and improving visibility of Islamic banking in the country.
He said the main theme of 2nd phase of this campaign was education and awareness of Islamic banking. Through this campaign people would be able to know the basic principles of Islamic banking. This would translate into growth of the industry.
Full report at:
http://www.dailytimes.com.pk/business/31-Dec-2014/sbp-launches-2nd-media-drive-to-promote-islamic-banking
-----------
PTI, PPP rethink support for military courts
31 Dec, 2014
ISLAMABAD: Confronted with stiff opposition from different quarters to the decision to establish military courts, the two main opposition parties, which had earlier endorsed the move, now appear to be having second thoughts to the commitments they had made during the all parties conference (APC) on Dec 24.
There were a few murmurs earlier and strong remarks by PPP leader Raza Rabbani in the Senate on Tuesday, but the whispers have now turned into an outburst.
PPP stalwart and Leader of the Opposition in the Senate Aitzaz Ahsan categorically stated that he had opposed the idea of amending the constitution for establishing military courts, which were mentioned in the document made public after the APC.
"We can still achieve the mandate of the Dec 24 APC through a simple amendment to the law, instead of amending the constitution," he said while talking to reporters outside the Parliament House.
Full report at:
http://www.dawn.com/news/1154114/pti-ppp-rethink-support-for-military-courts
-----------
MNAs, media bodies at odds over space for terrorists
31 Dec, 2014
ISLAMABAD: Parliamentarians and representatives of print and electronic media failed on Tuesday to forge a consensus over coverage of terrorists and terrorist activities, with industry experts saying the government apparently wanted to impose restrictions on media organisations in the wake of carnage at a Peshawar school.
A set of suggestions about changes to laws on public disclosures were presented at a meeting of the National Assembly's Standing Committee on Information, Broadcasting and National Heritage, but most of the proposals were opposed by representatives of the media industry.
The meeting, held in the Parliament House and presided over by Pakistan Muslim League-N MNA Marvi Memon, ended up discussing mostly impractical measures, according to some observers.
Full report at:
It was suggested that monitoring social media outlets fell within the domain of Nacta.
http://www.dawn.com/news/1154155/mnas-media-bodies-at-odds-over-space-for-terrorists
-----------
Mideast
At least 33 dead as explosion targets Yemeni Houthis
31 December 2014
A suicide bomber killed at least 33 people in central Yemen on Wednesday when he blew himself up at a celebration by Shiite militia supporters, medics said.
Dozens of people were also wounded in the attack in the mainly Sunni but Houthi militia-held city of Ibb, the medics said, warning that the death toll was likely to rise.
The Houthis, were preparing for celebrations of the prophet Muhammad's birthday this weekend, the Associated Press reported.
No group claimed responsibility for the apparent attack, but Yemen's powerful local al-Qaeda affiliate has targeted the rebels in the past.
The Houthis seized large areas of Yemen, including the capital Sanaa, earlier this year as part of a protracted power struggle with President Abed Rabbo Mansour Hadi. Their critics view them as a proxy for Shiite Iran that wants to dominate the country, charges the rebels deny.
(With the Associated Press and AFP)
http://english.alarabiya.net/en/News/middle-east/2014/12/31/Large-explosion-targets-Yemen-s-Houthis-in-Ibb-.html
-----------
Anti-Arab group poses legal, political dilemma for Israel
31 Dec, 2014
OCCUPIED JERUSALEM — A far-right Israeli group that agitates against Arabs in the name of religion and national security is forcing the Jewish state into a legal and political balancing act as it tries to contain sectarian violence.
Among their activities, Lehava activists yelling "Death to the Arabs" picketed the wedding in August of a Muslim to a Jewish woman who converted to Islam. Now three members have been charged with an arson attack on a cross-faith school in Al-Quds last month.
Communal tension has been rising following last summer's Gaza blitzkrieg, in which more than 2,000 Palestinians died, and feuding over access to Al-Quds' holiest site.
Illustrating the risk of sectarian violence, a Palestinian youth was burned to death in July by Israeli assailants.
Full report at:
http://www.saudigazette.com.sa/index.cfm?method=home.regcon&contentid=20141231229000
-----------
Turkish clerics debate Demba Ba's 'Islamic' goal celebration
31 Dec, 2014
The goal celebration of Beşiktaş's Senegalese national Demba Ba, who kneels down to prostrate before God after goal, has stirred a religious debate in Turkey, with a popular televangelist declaring it a sin to perform the action in a random direction instead of toward the Kaaba.
"Our qibla is the Masjid al-Haram until doomsday," said Ahmet Mahmut Ünlü, known as "Cüppeli" (Robed) Ahmet Hoca among his followers, in reference to the mosque which also hosts the Kaaba.
Muslims worship turning their faces to qibla wherever they are.
"Such random prostrations wrong. This is something dangerous," the controversial scholar said in an interview on broadcaster CNNTürk.
"We would appreciate any Islamic signs by artists, sports people or celebrities. This would bring Islam forward. Kids would wonder what this person is doing. But qibla is obligatory in glorifying prostration."
Full report at:
http://www.hurriyetdailynews.com/turkish-clerics-debate-demba-bas-islamic-goal-celebration.aspx?pageID=238&nID=76278&NewsCatID=362
-----------
Ankara refutes UN report claiming Turkey route for arms to al-Qaeda
31 Dec, 2014
Turkish Foreign Ministry refuted a United Nations report claiming that Turkey is being used as one of the primary routes for weapons smuggling to the Islamic State of Iraq and the Levant (ISIL) and al-Nusra.
"Unfounded claims," the ministry spokesperson Tanju Bilgiç told reporters on Dec. 30, elaborating on a report penned by the U.N. al-Qaida Sanctions Committee.
Most of the weapons that are seized by the jihadist groups are from armies of Iraq and Syria and origins of those arms are members of the UN Security Council, he noted.
"Most [arms] supplies have either been seized from the armed forces of Iraq or (to a lesser extent) the Syrian Arab Republic, or have been smuggled to ISIL and [al-Nusra], primarily by routes that run through Turkey," said the report which was prepared by Analytical Support and Sanctions Monitoring Team to be presented to UN Security Council.
Full report at:
http://www.hurriyetdailynews.com/ankara-refutes-un-report-claiming-turkey-route-for-arms-to-al-qaeda.aspx?pageID=238&nID=76266&NewsCatID=359
-----------
Iran in new deal to boost Iraq army
31 December 2014
Iran is to help Iraq rebuild its army under an agreement that could formalize Tehran's military support for its neighbor, which remains under assault by the Islamic State of Iraq and Syria (ISIS) group.
No details of the pact were released but state television said the two sides had "agreed to continue cooperation in the defense arena with the creation of a national army to protect the territorial integrity and security of Iraq."
The memorandum of understanding was signed late Tuesday in Tehran where Iraqi Defense Minister Khaled al-Obaidi is holding talks with his Iranian counterpart Hossein Dahqan.
"The two sides stressed the need for consultations to ensure security, because terrorism affects not only security in Iraq but security throughout the region," the statement added.
The Iraqi military melted in the face of the jihadist surge in June, with many soldiers simply abandoning their weapons and uniforms, allowing ISIS to seize large areas of the country.
Within days, Shiite Iran sent military advisers to Iraq, which is also predominantly Shiite, to help train and equip troops and allied militias for a counteroffensive against ISIS.
Full report at:
http://english.alarabiya.net/en/News/middle-east/2014/12/31/Iran-in-new-deal-to-boost-Iraq-army.html
-----------
After U.N. setback, Abbas to apply to join ICC
31 December 2014
Palestinian president Mahmoud Abbas is to apply immediately to join the International Criminal Court, senior officials said Wednesday, after the U.N. Security Council rejected a resolution on ending the Israeli occupation.
Abbas will sign the Rome Statute later Wednesday, adhering to the founding treaty of the ICC, where the Palestinians could sue Israeli officials for war crimes in the occupied territories, several top officials told Agence France-Presse.
Israel expressed satisfaction on Wednesday after the U.N. Security Council failed to adopt the controversial resolution on Palestinian statehood setting a 12-month deadline for reaching a final peace deal.
"Every Israeli who wants peace with our neighbors can only be satisfied with the results of this vote," deputy foreign minister Tzahi HaNegbi told public radio several hours after the resolution failed to pass within the 15-member council.
Full report at:
http://english.alarabiya.net/en/News/middle-east/2014/12/31/EU-cites-urgent-need-to-jumpstart-Mideast-peace-talks.html
----------
Africa
Boko Haram kills 15 in northeast
31 Dec, 2014
Maiduguri - Suspected Islamist militants opened fire in a town in northeast Nigeria, killing at least 15 people, witnesses and a security source said.
The attack on Monday night targeted Kautikari, near the Cameroon border, just 10km from the village of Chibok, where more than 200 schoolgirls were abducted in April. They remain captives.
"The were about twenty, well-armed. They came in four-wheel drive vehicles and some motorcycles. Initially, I thought they were soldiers," survivor Jonah Umaru said by telephone.
"The man running behind me was gunned down as I was fleeing. Afterwards, there were 15 people lying dead in the streets."
Suspected Boko Haram gunmen kidnapped 172 women and children and killed 35 other people this month near the same area.
Violence by Boko Haram, which is fighting to establish an Islamic state in Nigeria, has killed 10 340 people this year, according to a count by the Council on Foreign Relations last month.
The five-year-old insurgency has also displaced more than a million people from the northeast. It is considered the gravest threat to the stability of Africa's biggest economy and top oil producer and its neighbours.
Full report at:
http://www.news24.com/Africa/News/Boko-Haram-kills-15-in-northeast-20141231-2
-----------
Libya's General National Congress 'ready' for UN-brokered talks
World Bulletin/News Desk
31 Dec, 2014
Libya's General National Congress (GNC), which recently resumed its sessions despite an expired mandate, said Wednesday that its delegation was ready for an upcoming UN-sponsored dialogue next week between the country's warring factions.
"The [GNC] delegation has finalized its vision for the upcoming dialogue session and is fully ready for the talks," GNC spokesman Omar Hemeidan told The Anadolu Agency.
Hemeidan said a delegation of MPs would meet with Bernardino Leon, the UN's special envoy for Libya, prior to the dialogue session, which has been slated for January 5.
Hemeidan said the GNC preferred that the talks take place in Libya. He added, however, that the delegation was discussing a proposal that the talks be held in next-door Tunisia.
One week ago, Leon had told the UN Security Council in New York that Libya's rival camps had agreed to hold talks on January 5 to discuss a proposed three-point "roadmap."
Full report at:
http://www.worldbulletin.net/todays-news/151960/libyas-general-national-congress-ready-for-un-brokered-talks
----------
Shabaab spy chief killed in U.S. strike: Somalia
31 Dec, 2014
A top intelligence official with Somalia's al-Qaeda-linked al-Shabaab movement has been killed in a U.S. air strike, Somalia's government said on Tuesday.
"In a joint operation last night by the Somali national security and the United States, al-Shabaab intelligence chief Abdishakur, also known as Tahlil, who replaced the recently arrested former chief, was eliminated," Somalia's National Security Agency said in a statement Tuesday.
"Two other habaab members also died in the attack," it said, adding the air strike took place near the town of Saacow, 320 kilometers (200 miles) west of the capital Mogadishu and in the Middle Juba region.
Earlier, the Pentagon said U.S. war planes carried out an strike in southern Somalia targeting a senior leader of the al-Shabaab militia. Kirby did not immediately identify the targeted militant chief by name.
Full report at:
http://english.alarabiya.net/en/News/africa/2014/12/30/U-S-air-strike-targets-senior-al-Shabaab-militant.html
-----------
Suicide car bomb targets Libya parliament
30 December 2014
A suicide bomber detonated his car outside the headquarters of the internationally recognized Libyan parliament in the eastern city of Tobruk on Tuesday, Al Arabiya News Channel reported.
The explosion took place at the entrance of al-Salam Hotel that hosts the parliament as lawmakers sat in a nearby hall, parliamentary spokesman Farraj Hashem told Reuters by phone.
Abu Bakr Baeira, another parliamentarian told the Associated Press that no one was killed.
The parliament has been holding its meetings in Tubruk since since Islamist-allied militias seized the capital Tripoli over the summer and revived a rival government.
Tuesday's bombing is the biggest attack on the parliament in Tobruk to date. A car bomb exploded in the city in November, but did not target the assembly.
Tobruk, near the Egyptian border, has enjoyed much better security than the rest of the oil-producing country, which has been in turmoil since Muammar Qaddafi was ousted nearly four years ago.
Full report at:
http://english.alarabiya.net/en/News/middle-east/2014/12/30/Suicide-car-bomb-targets-Libya-parliament.html
---------
Northern Mali refugees fear reprisals
31 Dec, 2014
Two years after the cities of northern Mali were freed from the control of terrorist groups, more than 100,000 refugees are still living outside the country.
Many of those now residing abroad are in Mauritania, Niger and Burkina Faso, the UN reported.
According to Touareg writer and journalist Intagrist El Ansari, these refugees are unable to return to their homes and property because of poor "security conditions".
"Terrorist groups have carried out several murders, massacres, and kidnappings of citizens in that area, accusing them of spying for the Malian, Mauritanian, or French army or of collaborating with the international forces that are there to provide security," he said.
Malian refugees in neighbouring countries pin high hopes on the outcome of the current Algeria-sponsored negotiations, El Ansari emphasised.
Full report at:
http://magharebia.com/en_GB/articles/awi/features/2014/12/30/feature-02
-----------
Daesh claims Belaid, Brahmi murders
31 Dec, 2014
A propaganda tape released this month by the Islamic State (ISIS) has a chilling message for the Maghreb.
Using the pseudonym "Abu Mouqatel", Tunisian terrorist Abubaker Châambi Hakim says he is behind the 2013 murders of Tunisian opposition politicians Chokri Belaid and Mohamed Brahmi.
That is not all he aims to tell his former country.
In the video shot in Syria and posted online December 17th, he is seen alongside three other Tunisian fighters for Daesh.
"We are coming from Syria and Iraq to avenge our colleagues killed by security forces," the quartet threatens. "We will expand to Tunisia soon."
Full report at:
http://magharebia.com/en_GB/articles/awi/features/2014/12/29/feature-01
-----------
Essebsi sworn in as Tunisian president
31 December 2014
Tunisia's 88-year-old Beji Caid Essebsi has been sworn in as president after landmark polls in the country.
Essebsi won the race in December with 55.7% of the vote, against interim President Moncef Marzouki's 44.3%.
Unlike in previous presidential elections where ousted President Zine al-Abidine Ben Ali persecuted his rivals, Tunisians this year were able to choose their favorite from a pool of 27 candidates.
"This is the first time we reach a second round," political analyst Noureddine Mbarki told Al Arabiya News. "The margin was little in the first round, and even the second round, 10% is the margin that we see in developed democratic countries."
Essebsi won 39.46% of the votes on the Nov. 23 election, followed by Marzouki with 33.43 %.
"We used to see 90% back in the day," said Mbarki, referring to election results under the dictatorship of Ben Ali.
Full report at:
http://english.alarabiya.net/en/News/middle-east/2014/12/31/Essebsi-sworn-in-as-Tunisian-president.html
-----------
South Asia
16 Militants Killed In Joint Operations in Afghanistan
Dec 31 2014
Interior ministry of Afghanistan says Afghan National Security Forces have killed 16 insurgent in joint operations in different parts of the country.
A statement issued by the ministry on Wednesday morning states that the operations were conducted in Laghman, Faryab, Kandahar, Zabul, Logar and Helmand provinces in past 24 hours.
The statement adds that 23 insurgents also sustained injuries in the fighting with the security forces.
According to the statement 13 militants were also arrested in the operations.
The statement further states that ANSF also defused five Improvised Explosives Devices (IEDs) in Sar-e-Pul and Herat provinces.
This year nearly 10, 000 people have registered lost their lives in IED explosions beside ground engagement in Afghanistan.
http://www.khaama.com/16-militants-killed-in-joint-operations-2635
-----------
Shaikh Zayed mosque in China to project moderate Islam
(Wam) / 31 December 2014
Abu Dhabi: The Shaikh Zayed bin Sultan Al Nahyan Cultural Centre and Mosque, built by the Khalifa bin Zayed Al Nahyan Foundation in China's Ningzia region, is considered an important cultural centre to transfer the teachings of tolerance and moderation of the Islamic religion, as well as being one of the largest mosques in China.
The opening ceremony of the mosque, which took place last Friday, attracted thousands of Chinese people from different cities and villages to enjoy the Islamic architecture of the mosque. The mosque includes large spacious corridors and places for worship which can accommodate more than 6,000 people. There are also many Quranic centres, and the mosque holds training sessions for imams, in addition to other facilities.
During the ceremony, Chinese officials expressed their delight and said that the centre expresses the human spirit of the leadership and people of the UAE. The ceremony was attended by Omar Ahmed Adi Nasib Al Bitar, UAE Ambassador to China, who affirmed in an opening ceremony speech that this gift from the UAE to the people of China is an expression of love and friendship between both countries, which translates the faith in the importance of goodness and generosity of the President, His Highness Shaikh Khalifa bin Zayed Al Nahyan.
http://www.khaleejtimes.com/kt-article-display-1.asp?xfile=data/nationgeneral/2014/December/nationgeneral_December256.xml&section=nationgeneral
-----------
Myanmar's Rohingya See Little Benefit from New Citizenship Effort
31 Dec, 2014
MYEBON, Myanmar—Sitting in a small rattan shack, Aye Khaing holds out her most-valued new possession: a pink identification card, indicating she is a full citizen of this country after years of statelessness.
Ms. Aye Khaing is one of 40 ethnic Rohingya in the area who now—in theory—have the ability to move freely around Myanmar, attend university, hold political office and enjoy other rights that were once a distant dream for the country's long-suffering Muslim minority.
Yet more than two months since receiving her citizenship, Ms. Aye Khaing and others in the pilot program haven't been allowed to leave the squalid displaced-persons camp they have called home since religious violence broke out in Myanmar two years ago.
Border guards and police, perched on watchtowers above, say that it is too dangerous for them to exit, and that they must keep the Rohingya Muslims in camps to maintain the area's security.
Full report at:
http://www.wsj.com/articles/myanmar-rohingya-see-little-benefit-from-new-citizenship-effort-1419983854
-----------
Thousands of Taliban to join peace process in northern Afghanistan
Dec 31 2014
Afghanistan's 1st vice president Abdul Rashid Dostam says thousands of anti-government elements will join the peace process in coming days.
Abdul Rashid Dostam is on a special mission to northern Afghanistan to clear that area from the anti-government elements.
After his visit to northern Afghanistan hundreds of Taliban joined peace process in recent days.
He told the armed militia to experience weather they have the power to defend their country and the nation or not.
Full report at:
http://www.khaama.com/43639-2639
---------
Europe
Radical jihadist videos plague Kyrgyzstan
31 Dec, 2014
OSH – Efforts by extremists to lure Kyrgyz youths into Middle Eastern conflicts have aroused the alarm of Kyrgyz law enforcement and the general public.
Law enforcement officials, clerics and other participants discussed strategies for opposing such online recruiting at a forum in Osh on December 9, with a focus on thwarting such efforts by the "Islamic State of Iraq and the Levant" (ISIL).
At stake are the lives of youths in Kyrgyzstan whom recruiters hope to bring to the Middle East to fight as insurgents. About 150 Kyrgyz are fighting in Syria, the government estimated in October.
One online video of Kazakhstni child militants urging viewers to fight "the infidels" recently caught the eye of Ravshan Akhmedov, a 20-year old Osh undergraduate. The video was initially persuasive, he said, adding that he even briefly considered going to Syria.
"I couldn't understand where [my emotions] came from," he said. But then he came to his senses and realised that he wanted to graduate.
Extremists hire psychologists to craft such videos so that they brainwash viewers, Vladimir Shkolny, a Kyrgyz-Russian Slavic University lecturer on world cultures and religions, told Central Asia Online.
Full report at:
http://centralasiaonline.com/en_GB/articles/caii/features/main/2014/12/29/feature-01
-----------
EU To Promote 'Now More Than Ever' Two-State Solution
31 Dec, 2014
EU foreign policy chief Federica Mogherini released a statement on Wednesday following a vote at the United Nations Security Council on a Palestinian resolution calling for Israel to withdraw from territories it captured in 1967 within a three-year period.
The Security Council rejected the draft on Tuesday, with eight members voting in favour of the measure and two voting against it. There were five abstentions.
The vote, the EU's new foreign affairs chief said, underscores "once again, the urgency of resuming" peace negotiations between Israel and the Palestinians as well as "the need for the international community to focus on" reaching a "comprehensive" peace agreement.
To achieve a lasting deal based on the two-state solution, "clear parameters" would have to be put in place, read Mogherini's statement.
The EU also urged both sides of the aisle to "urgently" return to the negotiating table and avoid any action that could undermine a solution. "The European Union will promote and support now more than ever efforts to achieve a lasting peace," the EU said.
http://www.jpost.com/Breaking-News/EU-to-promote-now-more-than-ever-two-state-solution-386218
-----------
France, Germany Urge Checks on Jihadists' Travel
31 Dec, 2014
France and Germany, traditionally among the fiercest defenders of document-free travel within the 26-nation Schengen travel zone, are calling for changes to counter the increasing number of Europeans leaving to wage jihad in Iraq and Syria.
They aren't the only countries grappling with how to address the problem of their citizens leaving to fight in a war abroad.
In January, Britain, which is outside the Schengen zone, is expected to unveil legislation providing for the seizure or cancellation of passports of British nationals linked to armed groups. Britons who have gone and fought will be prevented from returning home, rendering them stateless.
According to British Prime Minister David Cameron, there is "no opt-out from dealing with this" challenge of foreigners leaving to fuel the conflict in the Mideast.
Westerners who have joined the ranks of radical groups fighting in Syria and Iraq have been compared to time bombs. In May, one of them apparently detonated in Brussels: French-Algerian Mehdi Nemmouche allegedly went on a shooting rampage at the Jewish Museum, killing four. He is thought to be the first Western volunteer to have fought with Islamic militants in Syria to then carry out an attack in Europe.
Full report at:
http://www.voanews.com/content/france-germany-urge-checks-jihadist-travel/2563232.html
-----------
UN claim ISIL smuggles weapons via Turkey rejected
World Bulletin / News Desk
31 Dec, 2014
The Turkish Foreign Ministry strongly refuted Tuesday a UN report claiming that separatist groups including the ISIL and the al-Nusra Front, smuggled weapons through Turkey.
Addressing a press briefing Tuesday, Foreign Ministry spokesperson Tanju Bilgic termed the allegations in the UN Analytical Support and Sanctions Implementation Monitoring Team's report "baseless."
Bilgic said Turkey had designated both groups as "terrorist organizations" and the country was always part of international counter-terrorism groups in the struggle against ISIL. He also said that Turkey cooperated with the international community as well as the UN Analytic Support Group.
The UN monitoring team members visited Turkey in September, but during the visit they did not mention the allegation that Turkey was being used as a route to illegally smuggle weapons to ISIL.
Full report at:
http://www.worldbulletin.net/un-claim-isil-smuggles-weapons-via-turkey-rejected/151905/un-claim-isil-smuggles-weapons-via-turkey-rejected
---------
French ceremony as new NATO Afghan 'train and support' mission takes over
31 Dec, 2014
The last French troops in Afghanistan held a ceremony in Kabul on Wednesday to mark the end of their deployment after NATO combat operations closed down and as a new "train and support" mission takes over.
About 150 French soldiers who had been helping run the military airport handed over responsibility to a Turkish unit which will operate under the new NATO mission.
NATO's war in Afghanistan formally ended on Sunday, when the International Security Assistance Force (ISAF) was replaced by the US-led follow-up mission "Resolute Support".
France, which withdrew all its combat troops from the country two years ago, lost 89 soldiers and saw 700 injured in the war since 2001.
The conflict against the Taliban still rages across Afghanistan, and an estimated 17,000 foreign soldiers will stay on to assist the local police and army, who face a major challenge as the international military presence declines.
Full report at:
http://indianexpress.com/article/world/asia/french-ceremony-as-new-nato-afghan-train-and-support-mission-takes-over/#sthash.CQypnM61.dpuf
-----------
Merkel urges Germans to shun anti-Muslim protesters and welcome refugees of conflict
31 Dec, 2014
BERLIN, Dec 31 (Reuters): Chancellor Angela Merkel urged Germans to turn their backs on a growing grass-roots movement of anti-Muslim protesters, calling them racists full of hatred, and said Europe's biggest economy must welcome people fleeing conflict and war.
In an unusually strongly worded New Year address that also condemned Russia for its actions in Ukraine, Merkel said it was essential for Germany to help the children of persecuted people to grow up without fear.
Many Germans are worried about a flood of asylum seekers, many from Syria, pouring into the country. A new movement, Patriotic Europeans Against the Islamisation of the West (PEGIDA), is holding weekly rallies in the eastern city of Dresden.
Referring to protests that took place before the fall of the Berlin Wall, Merkel said,"Today many people are again shouting on Mondays: 'We are the people'. But in fact they mean: You do not belong - because of the colour of your skin or your religion.
"So I say to everyone who goes to such demonstrations: Do not follow those who are appealing to you! Because too often there is prejudice, coldness, even hatred, in their hearts."
Full report at:
http://www.telegraphindia.com/1141231/jsp/frontpage/story_6054.jsp#.VKPxOtLF84U
-----------
The implications of being a Muslim student in Britain
31 Dec, 2014
With the current discussions in Turkey on the inclusion of religious education from the first year of schooling onward, there has been a new wave of debates as to the direction in which Turkey is heading. The decision made by the Education Ministry to include the religious culture and moral knowledge subject has been an interesting observation for the Turkish diaspora community in particular.
Let me begin with a bold statement: This was a decision made one era too late. I say this because growing up as the daughter of a Turkish family in one of the least diverse areas of London, who completed her education in British schools, receiving religious education as a compulsory lesson from reception class - a compulsory class prior to first year - onward without even having the option to refuse, has added a lot to me as a person.
Full report at:
http://www.dailysabah.com/opinion/2014/12/31/the-implications-of-being-a-muslim-student-in-britain
-----------
India
'Need For Muslims To Keep Balance Between Education, Islamic Values': AIMEC
31 Dec, 2014
JUBAIL — An annual get-together on the occasion of Sir Syed Day was marked here Saturday at Sabic beach camp.
The event was organized to pay tribute and remember the contributions of Sir Syed Ahmad Khan, the founder of Aligarh Muslim University (AMU) and one of the key architects of modern India.
Khan was one of those early pioneers who recognized the critical role of education in the empowerment of the poor and backward Muslim community.
In more than one ways, Khan was one of the greatest social reformers and a great national builder of modern India.
The aim of Khan was not merely restricted to establishing a college in Aligarh but at making a network of Muslim-managed educational institutions throughout the country. With this vision, he instituted All India Muslim Educational Conference that revived the spirit of Muslims at national level.
The Aligarh Movement motivated Muslims to help open a number of educational institutions.
It was the first of its kind of such Muslim NGO in India, which awakened the Muslims from their deep slumber and infused social and political sensibility into them.
Speaking at the occasion, Zaif Ahmad Qaisar, an alumni of AMU, put forward the demand for a Bharat Ratna (India's highest civilian award) for Sir Syed.
Full report at:
http://www.saudigazette.com.sa/index.cfm?method=home.regcon&contentid=20141231229022
-----------
Rohingya refugees find safe haven in Kashmir
31 Dec, 2014
ammu, Indian-administered Kashmir - Tens of thousands of Rohingya refugees are searching for a new beginning across South Asia after being forced to leave Myanmar following persecution at the hands of Buddhists.
Hundreds of Rohingya families have found refuge in the winter capital of Indian-administered Jammu and Kashmir state, living in temporary homes made up of branches and shrubs and covered with plastic sheets.
According to United Nations refugee agency (UNHCR), thousands of unregistered refugees are living in elsewhere in India.
The Rohingya are among an estimated 10 million stateless people worldwide.
Local landowners charge about $9 a month for each jughi, or hut. Children are found playing around heaps of garbage, and a lack of water, sanitation and healthcare facilities pose serious threats.
Full report at:
http://www.aljazeera.com/indepth/inpictures/2014/12/rohingya-refugees-find-safe-h-20141223163741968194.html
-----------
Retaliate Pakistan ceasefire violations with 'double force': Defence Minister
31 Dec, 2014
With Pakistan continuing to violate the ceasefire, Defence Minister Manohar Parrikar has directed the security forces not to hold back and retaliate with "double the force". His comments came after an Army Jawan was on Tuesday injured as Pakistani troops violated the ceasefire along the LoC in Pallanwala sector of Jammu district.
This was the fifth ceasefire violation in the past one week. Underlining that the the number of ceasefire violations across the LoC have reduced as compared to last year, Parrikar, however, noted that the violations have increased across the International Border. Asked what has been his direction to the security forces, Parrikar, who was interacting with defence journalists last night, said, "Our (NDA government) response is don't hesitate. React appropriately without holding yourself back". He said that if there are any ceasefire violations, the Indian forces should retaliate "with double the force" and if there is an attack on Army posts, the terrorists need to be neutralised. He stressed that the Indian forces don't violate ceasefire agreement, but only respond to violations by Pakistani troops. On the attack by Bodo militants in Assam, Parrikar dismissed suggestions that the army was late in reacting to the attack and said they had to wait for a request from the local administration. "We were alert about the attack even before the news was flashed in the media. The armed forces stationed there were ready, but we had to wait for request from local administration," Parrikar said. "As soon as the local administration requested, we deployed the forces," he said. Parrikar said 73 columns of the army were now deployed in Assam, where Bodo militants massacred dozens of tribals last week.
http://indianexpress.com/article/india/india-others/manohar-parrikar-directs-army-to-retaliate-with-double-force-against-pakistan-ceasefire-violations/#sthash.rUmJqLq8.dpuf
------
North America
US wants Turkey to press Hamas to 'reduce tensions'
World Bulletin / News Desk
December 31, 2014
The U.S. on Tuesday encouraged Turkey to work with Hamas to "reduce tensions" between Palestinians and Israelis following a recent visit to Turkey by Hamas leader Khaled Meshal.
"We have urged the government of Turkey to press Hamas to reduce tensions and prevent violence," said Jeff Rathke, State Department spokesman. "We raise this at senior levels with our Turkish counterparts," he added.
"We continue to raise our concerns about the relationship between Hamas and Turkey with senior Turkish officials, including after learning of Khaled Mashal's recent visit there,"
Meshal paid a surprise visit to attend Turkey's ruling Justice and Development Party's 5th annual assembly in the central Anatolian city of Konya, the birth place of Prime Minister Ahmet Davutoglu.
The Hamas leader spoke to thousands of visitors during the meeting where he equated strength in Turkey to strength in Palestine.
"A strong Konya means strong Turkey and which equals to strong Jerusalem and Palestine," he said.
http://www.worldbulletin.net/us-wants-turkey-to-press-hamas-to-reduce-tensions/151923/us-wants-turkey-to-press-hamas-to-reduce-tensions
------------
Afghanistan could go the way of Iraq, US House Speaker warns
Dec 31 2014
The US House Speaker John Boehner has warned that Afghanistan could go the way of Iraq if the U.S. does not do enough to backstop Kabul against the Taliban and terrorists.
Boehner said Obama's withdrawal strategy from Afghanistan is already foundering, insisting that the troops pullout from Afghanistan is premature as combat deaths are on rise and areas of territory lost to the Taliban.
He said a "formal" end to the conflict does not mean it's actually over. "Has President Obama not learned from his mistakes in Iraq?" Boehner asked in a statement which was carried in a report by local newpaper Politico.
The statement further added "No one wants to see our military men and women in harm's way, but as we've seen in Iraq with the rise of ISIL, arbitrary, political deadlines on war are rarely observed or honored by our terrorist enemies committed to enslaving religious minorities, raping women, beheading journalists and slaughtering Americans."
Full report at:
http://www.khaama.com/afghanistan-could-go-the-way-of-iraq-us-house-speaker-warns-9197
----------
The Islamic State outbreak has been contained
December 31, 2014
The world was horrified this year by the sight of a flying column of Islamic State militants pouring unopposed through Iraq as the Iraqi fled at the sight of the black flag of IS. The Syrian civil war no longer contained. The horror only grew as Islamic State engaged in conquest, mass executions, beheadings, ethnic cleansing, genocide and the abduction, enslavement, sale and rape of thousands of women.
Something had to be done. The opportunity to hit IS hard and early was lost, when the columns of jihadists were out in the open. The chaos inside had mesmerised the West into immobility. President Obama had unwisely drawn a line in the sand, then did nothing when that line was crossed. With the imminent collapse of Iraq, and chaos across Syria, Iraq and Afghanistan, the United States and its allies had no choice but to resume military engagement in the region, as reluctant as all parties were to do so. Six months later, at the end of 2014, it is fair to ask what has been achieved.
Full report at:
http://www.smh.com.au/comment/smh-editorial/the-islamic-state-outbreak-has-been-contained-20141230-12fkxv.html
-----------
U.S. names more Iran targets for sanctions
30 December 2014
The United States on Tuesday imposed sanctions on nine new targets, saying the entities and people targeted had supported Iran's efforts to avoid sanctions and backed the government's human rights abuses, including censorship.
U.S. Treasury Department officials said in a statement the latest move was part of an effort to enforce existing sanctions while the United States and other countries continue to negotiate with Iran over its nuclear program.
"Although we do not support the imposition of any new nuclear-related sanctions while negotiations are ongoing ... we have made clear, by word and deed, that we will continue to enforce our existing sanctions," Treasury Undersecretary for Terrorism and Financial Intelligence David Cohen, said in a statement.
Full report at:
http://english.alarabiya.net/en/News/middle-east/2014/12/30/U-S-names-more-Iran-targets-for-sanctions.html
-----------
Victims of Fort Hood shooting in Texas seek 'terrorism' declaration
31 Dec, 2014
SAN ANTONIO (Reuters) - Lawyers for 40 military personnel and civilians killed or wounded in an attack at the Fort Hood military post in Texas by a former Army psychologist filed a petition on Tuesday with the Pentagon asking the incident be declared an act of terrorism.
Attorney Neal Sher told Reuters the designation could make military personnel in the 2009 attack eligible for the Purple Heart medal and civilians eligible for the Medal for Defense of Freedom.
Certain military benefits could also be granted to individuals who are determined to have been wounded in the course of a terrorist attack, Sher said.
Then Army Major Nidal Hasan, an American-born Muslim, opened fire on unarmed soldiers preparing for deployment on Nov. 5, 2009, killing 13 people and wounding 32 others in what he later called retaliation for U.S. wars in the Muslim world.
Full report at:
http://news.yahoo.com/victims-fort-hood-shooting-texas-seek-terrorism-declaration-211548361.html
-------------
Southeast Asia
For Indonesian Military, Optimism Is Curbed by Constraints
31 Dec, 2014
As Indonesia enters 2015, it is evident that the government of Joko Widodo continues to stress the importance of finding better and more effective ways to upgrade the country's military forces in line with the changing strategic environment around the country.
A series of policy steps to boost the country defense force have been evident as Indonesia enjoyed the progress in its economic development. This is to say that economic development has to some extent been instrumental in helping the military to enjoy certain degree of progress in its defense program. Former president Susilo Bambang Yudhoyono was reported as saying that stable economic development contributed to the country's confidence in its own defense program.
Constant weapons procurement, enhancing the soldiers professionalism, a steady increase in the defense budget, extending defense partnerships and employing better ways of developing threat assessment are within the realm of defense and security the government has been focusing on so far.
Full report at:
http://thejakartaglobe.beritasatu.com/news/indonesian-military-optimism-curbed-constraints/
-----------
URL: https://www.newageislam.com/islamic-world-news/new-age-islam-news-bureau/iraqi-kurdish-official-says-nine-yazidi-mass-graves-found-in-sinjar/d/100779