New Age Islam News Bureau
7 March 2015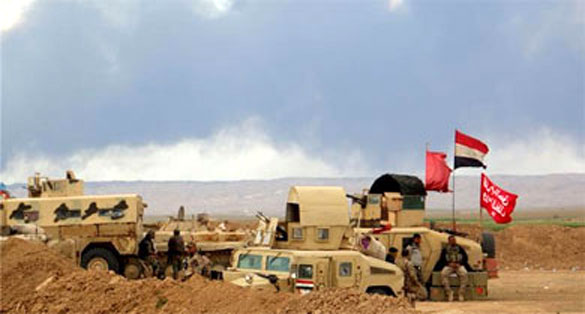 The Iraqi army, supported by Shia armed groups and Sunni tribes, launched an offensive against ISIL near Tikrit last week [AP]
------------
Arab World
• Iraqi Forces Retake Key Town Of Al-Baghdadi from ISIL
• New Saudi King Aims For Sunni Unity Vs Iran and Islamic State
• Security Council Condemns Syria Chlorine Attacks
• Video Claims to Show Shi'ite Forces in Iraq Executing Sunni Boy
• Hamas accused of interfering in Jordan MB
• Saudi press flays Iran, Netanyahu's antics
• 28,000 flee campaign to retake Tikrit: UN
• Top Nusra leader killed
• Syria tells West: Accept that Assad is here to stay
• U.S., U.N. denounce ISIS' destruction of Nimrud
• Iraqi forces clear ISIS fighters in two towns
• EU hits Syria with fresh sanctions
• Syria to West: Accept that Assad is here to stay
• Arab antiquities facing danger, warns Arab Tourism Organization
------------
Africa
• Boko Haram Attack another Borno Town, Kill 9
• Nigerian Minister Warns the West Faces a New Terror Threat
• Somali army to deploy drones against Al-Shabaab
• Boko Haram fighters gather in NE Nigeria
• Militants seize Libyan oilfield in deadly attack
• Ex-Sarkozy aide arrested in Libya funding probe
• African Union endorses plan for anti-Boko Haram force
• Muslim, Christian Clerics to Hold Joint Prayer for Jonathan
• Lakeside communities in Chad live in fear of Boko Haram
• South Sudan peace talks suspended indefinitely
----------
North America
• Oklahoma Imam: ISIS Wicked, Barbaric – And Antithesis of Islam
• Boston Interfaith Leaders: Marathon Bombing TrialIsn't about Islam, It's About the Victims
• The Muslim Brotherhood's Infiltration of the American Government
• U.S. military chief to visit French carrier in Gulf
• After calling Muslims 'suspect,' radio host fired
• 'Dad,' 'pastor,' 'Muslim': Labels aren't always deserved
• Proud to be American, proud to be Muslim
• Los Angeles Police Leader Makes Outreach to Muslims His Mission
• UNC Victim's Former Roommate Recalls Threats before Fatal Shooting
• US welcomes thaw in Pakistan, India ties: State department
-----------
Mideast
• Iranian Kurdistan: Six Sunni Muslims Executed in Iran
• Iran 'As Dangerous As ISIS' In Quest for Worldwide Islamic Caliphate, EIFA Warns
• Israeli Settlers Torch Cars, Spray-Paint Racist Slogans in West Bank
• 'Grassroots networks critical to success of Turkish Islamists'
• Iran blinds acid attacker in 'eye-for- an-eye' punishment
• Are Turkey, Saudi Arabia working together against Iran
• China's Uighurs look towards Turkey for help
• ISIL militant treated in Turkey, governor confirms
• Turkish lawyer saying ISIL men 'worse than beasts' threatened
• 'To Light a Candle' shines light on Baha'i Faith in Iran
• Rockford Muslim community thanks United Methodist neighbors for support
----------
Europe
• Canada's Parliament Attack Revenge for Afghan, Iraq Wars
• Kentucky Muslim community mobilizes to aid Syrian refugees
• Germans Open Their Homes To Refugee Roommates
• Austria's new law on Islam could be 'a model for Germany'
• Dresden Anti-Immigration Protests Cause Tension in Muslim Community
• After European terror strikes, "Eurabia" fears soar
• France's 'Islam of the suburbs' and the illusions of the media
• British, Canadian Muslims work to burnish image
• Iran's Kish may become popular attraction for Muslim tourists from Russia
• Morocco Slams 'Unfair' Statement by Reporters without Borders
-----------
Pakistan
• Pakistan Calls Upon UN to Address Root Causes of Terrorism
• Schools to Be Named After Peshawar Massacre Victims
• Sufi Art showcased at RAC
• Govt to Provide Security to ASWJ Mosques, Seminaries
• ATC indicts three suspects in Karachi airport attack case
• Justice Riaz Ahmed takes oath as CJ Federal Shariat Court
• Extrajudicial acts by police aimed at curbing crime, says DIG
• Pakistani expats told to respect local laws
• Two terror bids foiled in Balochistan
• Muslim states think tanks forum meets today
• 44 Indian, Bangladeshi fishermen arrested
• Sharif's Party Gains Strength In Pakistani Senate Election
-----------
South Asia
• Detainee Traded For Bergdahl May Have Contacted Taliban
• Bangladesh border guards clash with Muslim migrants from Myanmar
• 18 BNP, Jamaat, Shibir activists detained in Ctg
• 'Bangladesh domestic workers must know their responsibilities, rights'
• Bangladesh seizes 27 kg of gold from N Korean envoy
----------
India
• J&K Govt Starts Process for Hurriyat Hardliner's Release from Jail
• Indian Man Arrested For Blasphemy in Saudi Arabia
• Pakistan arrests 45 Indian fishermen
• Maharashtra Congress to fight for Muslim reservation
-----------
Southeast Asia
• Philippine offensive against Muslim rebels displaces thousands
• PKR vows no surrender, says #KitaLawan rally on
• Christians not behind 'heretical' Jesus booklets, says Guan Eng
• Kota Baru PAS Youth rejects limits on president's term
Compiled by New Age Islam News Bureau
URL: https://www.newageislam.com/islamic-world-news/new-age-islam-news-bureau/iraqi-forces-retake-key-town-of-al-baghdadi-from-isil/d/101857
-----------
Arab World
Iraqi forces retake key town of Al-Baghdadi from ISIL
07 Mar 2015
Iraqi government forces and allied tribal fighters have retaken the town of Al-Baghdadi from the Islamic State of Iraq and the Levant (ISIL) group, according to the US military.
A statement from the headquarters of the US-led coalition on Friday said security forces and tribal fighters from the Anbar region had successfully cleared Al-Baghdadi of ISIL fighters, retaking both the police station and three Euphrates River bridges.
The US-led coalition, which is conducting air strikes in Iraq and Syria against ISIL targets, said it had ordered 26 air strikes around the town since February 22.
ISIL had taken Al-Baghdadi, a small town on the Euphrates River in western Iraq, in February, posing a threat to the nearby Ayn al-Asad air base where US forces train their Iraqi counterparts.
US ground forces were not directly employed in the battle, but "the coalition supported the operation with surveillance assets and advise and assist teams" attached to Iraqi headquarters units.
Al Jazeera's Jane Arraf, reporting from Baghdad on Saturday, said the US announcement did not come as a surprise.
"The Iraqi military, with the help of coalition air strikes, had already broken the siege of Al-Baghdadi a couple of days ago. What the Americans are announcing now appears to be that they cleared the town of more ISIL fighters, making a few more gains around there," she said.
Iraqi and Kurdish forces, supported by Sunni tribes and Shia armed groups, have begun to push back ISIL forces from a swathe of territory the group seized last year in their quest to build an Islamist "caliphate".
On February 13, as Al-Baghdadi was falling to ISIL fighters, suicide bombers attacked Iraqi forces protecting the Ayn al-Asad air base, where a small contingent of US troops works with Iraqi allies.
No Americans were hurt in the assault but their relative proximity to the fighting increased fears that US ground troops could find themselves drawn into the conflict.
Elaborating on the development, Al Jazeera's Arraf said "Al-Baghdadi is significant to the US because of course their troops are at the Ayn al-Asad air base, which is not far from there, and significant to Iraqis because thousands of people from the town were displaced. Some of them had to be evacuated by air by the military after ISIL surrounded the town."
Battle for Tikrit
Iraqi government troops and Shia armed groups were also likely to prevail in the unfolding battle for Tikrit, Martin Dempsey, the top US general, said on Saturday.
The US credits the coalition's attacks with halting the group's territorial advances. But in the Tikrit offensive, which began on Monday, the US is on the sidelines.
"If it weren't for the [US-led coalition] air campaign over time depleting the ISIL forces in Beiji ... then the current campaign [in Tikrit] as currently constructed would not be militarily feasible," Dempsey said.
ISIL fighters had surged into Beiji, which lies just north of Tikrit, in hopes of controlling a key oil refinery there. But they have been halted and tied down by a series of US air strikes, Dempsey, who is the chairman of the joint chiefs of staff, said. -----------
That little-noted ISIL setback has divided and weakened its forces, he said.
"The important thing about this operation in Tikrit is less about how the military aspect of it goes and more about what follows," Dempsey said.
Dempsey, who was traveling from Washington to Iraq, was asked if he believes ISIL will be pushed out of Tikrit.
"Yeah, I do," he said. "The numbers are overwhelming."
Dempsey said about 23,000 Shia fighters and Iraqi soldiers were involved in the offensive, compared to only "hundreds" of ISIL fighters.
"I wouldn't describe it as a sophisticated military manoeuvre," he said.
http://www.aljazeera.com/news/2015/03/iraqi-forces-retake-al-baghdadi-isil-150307050409010.html
-----------
New Saudi King Aims For Sunni Unity Vs Iran and Islamic State
03/07/2015
Riyadh/Doha - Saudi Arabia is pushing for Sunni Muslim Middle East countries to set aside differences over political Islam and focus on what it sees as more urgent threats from Iran and Islamic State.
Its new monarch, King Salman, has used summits with leaders of all five Gulf Arab states, Jordan, Egypt and Turkey over the past 10 days to reinforce the need for unity and find a way to work around disagreements over the Muslim Brotherhood.
Saudi Arabia's deep-seated mistrust of the Islamist group is unchanged, diplomats say. But King Salman's approach to it is more nuanced than that of his predecessor King Abdullah, who died in January, and may include being more indulgent of allies who allow its members space to operate.
Last year Riyadh, along with the United Arab Emirates and Bahrain, withdrew its ambassador from Qatar over its links to the Brotherhood.
"The Saudis think maybe, if the Sunnis are on good terms, we can confront this. Salman is trying to consolidate the Sunni world and put differences over the Muslim Brotherhood on the back burner," said an Arab diplomat in the Gulf.
Riyadh's bigger concern is Shi'ite Iran. Its fears about the rising influence of its main regional enemy have grown recently as Tehran's Houthi allies seized swathes of Yemen and its commanders have aided Shi'ite militias fighting in Iraq.
Prospects are also growing of a deal between world powers and Iran on Tehran's disputed nuclear program, which might lift pressure on the Islamic republic. Saudi Arabia has watched nervously as its key ally, the United States, has reached out to pursue an agreement with Tehran.
US Secretary of State John Kerry reassured the Saudis on Thursday that he was seeking no "grand bargain" with Iran, but Riyadh's worries over Washington's long-term commitment to the region underpin its desire for more Arab unity.
LURE OF ISLAMIC STATE
The second overarching concern for Riyadh is Islamic State. IS has called on Saudis to stage attacks inside the kingdom and some of its sympathizers assaulted a Shi'ite village in November, killing eight.
Riyadh fears the group's strong media messaging and appeal to strict Muslim ideology could appeal to disaffected young Saudis and challenge the ruling family's own legitimacy, which partly rests on its religious credentials.
But in seeking broader unity across the Arab world on the issue of political Islam, Saudi Arabia must address a deep regional rift. It runs between Sunni states who accept a Muslim Brotherhood presence, such as Qatar and Turkey, and those such as Egypt and the United Arab Emirates who, like Riyadh, describe it as a terrorist organization.
Those differences have come in the way of building a coherent response to regional crises, as attempts to address one problem after another have been diverted into arguments over Islamism.
"Saudi Arabia clearly doesn't want to be open to facing too many battles. IS and Iran are the enemy now, everything else can be put on hold," said a Western diplomat in the Gulf.
Salman's whirlwind of meetings was presented as a chance for the new monarch to discuss events with the region's leaders in greater detail than was possible when they went to Riyadh to pay respects after the death of Abdullah.
But while Salman did not directly push for a new Sunni bloc or lean on states to be more accommodating with those across the Muslim Brotherhood divide, he still opened the possibility of recalibrating relations to allow greater unity.
In his meeting with Egypt's President Abdel Fattah al-Sisi, for instance, he suggested Riyadh might reinvigorate its relations with other countries, an apparent reference to strengthening ties with Turkey, the Arab diplomat said.
But he also reassured Sisi, a close ally of the late Abdullah, that any attempts to undermine Egypt's security from elsewhere represented a red line for Saudi Arabia, and that any new moves Riyadh made would not be at Cairo's expense.
RIVAL IDEOLOGY
Nobody expects big changes to Saudi Arabia's position on the Muslim Brotherhood. The movement represents an ideological threat to Riyadh's dynastic system of rule, and its use of oaths of allegiance and secret meetings are anathema to the Saudis.
The Brotherhood was listed by Riyadh as a terrorist organization a year ago, with membership incurring long prison sentences, and both Western and Arab diplomats, and analysts said there was little prospect its status would change.
But Salman is less concerned than was Abdullah about the Brotherhood's role in other parts of the Middle East, such as in Yemen's Islah party or among Syrian rebel groups.
He is also more willing to allow the Brotherhood a role outside politics, for example by not stopping preachers affiliated to the movement from making public speeches on religious or social issues.
One sign of Salman's more pragmatic approach came during a conference in Mecca last week that brought together top Sunni clerics, including the Saudi grand mufti and the head of Egypt's al-Azhar University, to denounce terrorism.
Informed Saudis noted it was hosted by the Muslim World League, a body set up by Riyadh in the 1960s to build an Islamic bloc against radical secular ideologies, and used in the 1980s to bolster Sunnis against revolutionary Iran.
Under Abdullah, it fell out of favor partly because of its historical relationship with the Brotherhood, but Salman now seems prepared to use it again as an instrument to build Sunni solidarity. One of the delegates it invited was a senior member of a Doha-based group with close ties to the Brotherhood.
The change may partly reflect the personality of Salman, who is less uncompromising than was Abdullah, say Gulf insiders, and who is more willing to use any tools at his disposal to counter bigger threats.
All the leaders he met appeared to leave Riyadh confident that their relations with the new king would be strong.
Turkish President Tayyip Erdogan told reporters after his meeting that ties with Saudi Arabia seemed to be improving, Turkey's Hurriyet daily newspaper reported on Wednesday.
"My hopes increased that our bilateral relations will reach a much better place," he was quoted as saying.
But that did not lead him to be conciliatory towards Egypt, where he said political oppression might cause an explosion - exactly the sort of language that upsets Cairo.
http://www.jpost.com/Middle-East/New-Saudi-king-aims-for-Sunni-unity-vs-Iran-and-Islamic-State-393173
-----------
Security Council condemns Syria chlorine attacks
6 March 2015
The U.N. Security Council on Friday adopted a U.S.-drafted resolution condemning "in the strongest terms" any use of toxic chemical, such as chlorine, as a weapon in the Syrian civil war and threatening measures if chemicals are used in attacks in the future.
The measure was endorsed by 14 of the 15 council members with Venezuela abstaining in the vote
The resolution also demands that Syria cooperate with the Organization for the Prohibition of Chemical Weapons (OPCW) fact-finding mission.
In February the OPCW Executive Council expressed "serious concern… with a high degree of confidence that chlorine has been used repeatedly and systematically as a weapon in the Syrian Arab Republic."
Now the U.N. resolution affirms that the use of chemical weapons "would constitute a violation of resolution 2118 and of the CWC" and calls for those responsible for using them to be held accountable.
Under the existing U.N. Security Council resolution 2118 Syria is banned from holding or using, and developing chemical weapons, as well as stockpiling them or transporting or supplying them to other states.
This latest move follows a report by the OPCW chemical watchdog in January that concluded "with a high degree of confidence" that chlorine gas had been used in attacks on three villages in Syria last year.
At least 13 people died in the attacks that were carried out from April to August, according to the report by the Hague-based OPCW.
While the report did not attribute responsibility for the chlorine attacks, it cited 32 witnesses who saw or heard the sound of helicopters as bombs struck and that 29 smelled chlorine. Only the Syrian regime has helicopters.
President Bashar al-Assad's regime and the rebels have accused each other of using chemical agents, including chlorine, in the nearly four-year war that has killed more than 210,000 people.
Gas 'used against ISIS'
In December last year the Syrian Observatory for Human Rights said the Syrian regime had used chlorine gas against Islamic State of Iraq and Syria (ISIS) fighters to halt them from advancing towards its key air base in the eastern city of Deir Ezzor.
At the time the Observatory reported that it received "confirmed reports of suffocation cases in ISIS that the regime forces used the chlorine gas during the bombardment."
"ISIS pulled back from areas in the mount of Deir Ezzor after it was exposed to regime's heavy bombardment," the London-based monitor said.
The Assad regime agreed to hand over its chemical arsenal after a sarin gas attack in August 2013 outside Damascus that left many hundreds of men, women and children dead.
But it did not have to declare its stockpile of chlorine as part of a disarmament deal agreed in 2013, because it is widely used for commercial and domestic purposes- despite being a toxic agent that can be considered a chemical weapon.
http://english.alarabiya.net/en/News/middle-east/2015/03/06/UN-Security-Council-condemns-Syria-chlorine-attacks.html
-----------
Video Claims to Show Shi'ite Forces in Iraq Executing Sunni Boy
March 06, 2015
A graphic mobile phone video is spreading on the Internet purporting to show Iraqi forces and Shi'ite militia executing a handcuffed Sunni boy.
While not yet independently confirmed, the brutal killing already has gotten the attention of Islamic State followers on social media. It threatens to worsen a sectarian divide that already has enabled IS to spread across large swaths of Iraq.
U.S. officials say the video and others like it are "obviously very concerning" and worry it could allow the terror group to cement its hold on some predominantly Sunni areas.
Oren Adaki, an analyst with the Foundation for Defense of Democracies who viewed the video, said there is not much identifying information or clues as to when the event took place, but that some things are clear.
"Whether these are Iraqi soldiers or Shiite militiamen, they are definitely Shiite," Adaki said. "After the execution, the group of fighters chant "Labayki ya Zaynab" or "At your service, O Zaynab," referring to Shiite saint Zaynab - daughter of Imam Ali and sister of Imam Hussein. This is a common battle cry of Shiite militias in Iraq and Syria."
The video, just over a minute long, shows what appears to be Iraqi troops or Shi'ite militiamen, some with the Iraqi flag on their sleeves, gathered around the boy, who is kneeling on the ground with his hands bound behind his back.
One of the soldiers then slaps the boy in the face. There is a lot of cursing, and some of the soldiers yell "they spilled their blood." What appear to be gunshots can be heard nearby. The soldiers then form a semi-circle around the boy, raise their machine guns and shoot him in the head.
The video first appears to have been posted to social media sites like YouTube and Facebook Tuesday, although it has since been taken down.
Arab media reports say the victim was an 11-year-old boy and that the shooting took place either in the eastern part of Diyala province or in the Ishaaqi section of Salah al Deen province.
State Department Deputy Spokesperson Marie Harf said Friday the U.S. has "encouraged the Iraqi government to fully investigate any allegation of abuse," adding that such abuses by Iraqi forces or Shia militias, if confirmed, are "not what should be happening."
Islamic State followers have quickly picked up on the video, promoting it on social media, like Twitter, in what Adaki called "starkly sectarian terms."
One account, belonging to someone who calls himself Abu Nimr Al-Deeghmi, tweeted "the Iraqi Shiite militias loyal to terrorist Iran kill a Sunni child who had not reached the age of puberty."
Another account, @JihadProtocol, tweeted "U.S.-backed shia gang (swat rats) execute Sunni kid in middle of the street video."
Pentagon spokesman Col. Steve Warren says the Defense Department has not yet been able to authenticate the video as of Tuesday, but he told VOA, "if true, though, it certainly depicts an act of brutality that we find completely unacceptable."
The video and the attention it is generating is the type of scenario U.S. military leaders fear.
"The real key to defeat ISIL (IS) is actually convincing the Sunni that they should not embrace this group," Chairman of the Joint Chiefs of Staff General Martin Dempsey told U.S. lawmakers during a hearing Wednesday, when asked about the ongoing Iraqi offensive in Tikrit.
"If this becomes an excuse to ethnic cleanse, then our campaign has a problem and we're going to have to make a campaign adjustment," he warned.
Human rights groups also are fearful the campaign in Tikrit could lead to atrocities.
"Past fighting raises grave concerns that Tikrit's civilians are at serious risk from both ISIS and government forces, and both sides need to protect civilians from more sectarian slaughter," Human Rights Watch Deputy Middle East and North Africa Director Joe Stork said in a statement.
HRW says it already has documented numerous abuses against civilians in areas Iraqi forces have retaken from Islamic State. The allegations include mass killing of Sunni civilians and prisoners in the northern city of Mosul last June, as well as abuses in Diyala province, where the Sunni boy may have been killed.
As for the boy in the video, State Department officials refused to comment directly, but noted ongoing concerns about the issues of militias and human rights abuses.
"We have stressed to the government of Iraq, at all levels, the need for the militias to be under the command and control of the Iraqi security forces," the official said. "Abusive tactics will fuel sectarian fears and promote sectarian divides."
State Department Correspondent Sharon Behn and Pentagon Correspondent Carla Babb contributed to this story
http://www.voanews.com/content/video-claims-to-show-shia-forces-in-iraq-executing-sunni-boy/2667978.html
-----------
Hamas accused of interfering in Jordan MB
Adnan Abu Amer
Mar 7, 2015
The Hamas movement's links to the Muslim Brotherhood — in more than one country — is still under debate, be it within both movements or among the movements and regimes such as the Palestinian Authority, Egypt or Syria, which have demanded that Hamas give up its links to the Muslim Brotherhood's main branch and to content itself with its Palestinian identity without communicating with the main branch on the political and organizational levels.
Yet, in a recent development, an unprecedented accusation was leveled by Sharaf al-Qudat, head of the Muslim Brotherhood Scholars Council in Jordan, which is the highest religious and legitimate authority within the group that includes legal scholars (different from the Shura Council). Qudat said on Feb. 23 that a secret organization linked to Hamas is leading the group in Jordan.
Full report at:
http://www.al-monitor.com/pulse/originals/2015/03/jordan-muslim-brotherhood-hamas-secret-group.html#
-----------
Saudi press flays Iran, Netanyahu's antics
7 March 2015
Saudi writers denounced on Friday Iran's intransigence over the nuclear issue and expressed doubts over Israeli Premier Benjamin Netanyahu's recent moves.
In a column published in Asharq Al-Awsat, Abdulrahman Al-Rashed wrote "Iran's fingerprints are everywhere."
He wrote: "Iran is currently in an offensive state, the likes of which we have not seen in modern history."
An editorial in Al-Madinah newspaper ridiculed Netanyahu's insistence that he had traveled to Washington out of concern for Israel's security and not to boost his prospects ahead of elections later this month.
Full report at:
http://www.arabnews.com/news/714891
-----------
28,000 flee campaign to retake Tikrit: UN
7 March 2015
BAGHDAD: Some 28,000 people have fled the Tikrit area as Iraqi forces battle the Islamic State group in a massive offensive aimed at retaking the city, the UN said.
The involvement of Shiite militiamen in the operation, which has been dubbed an attempt to avenge the IS massacre of hundreds of mainly-Shiite recruits last year, has raised fears of sectarian killings targeting Sunni Arabs.
"Military operations in and around Tikrit have precipitated displacement of an estimated 28,000 people to Samarra," the UN said in a statement.
"Field reports indicate that additional displacements are under way and that yet more families remain stuck at checkpoints," it said.
The newly displaced Iraqis join what the International Organization for Migration says are 2.5 million people already forced from their homes in the country.
Full report at:
http://www.arabnews.com/middle-east/news/714776
-----------
Top Nusra leader killed
7 March 2015
BEIRUT: Al-Qaeda's Syrian affiliate confirmed on Friday that its top field commander was killed in an airstrike that targeted a meeting of the group's senior leadership.
Abu Anas Al-Shami, the spokesman for the Nusra Front, was quoted on a prominent militant website as saying that Thursday's airstrike in the northwestern Syrian province of Idlib killed Abu Hommam Al-Shami, described as the group's "military commander."
Abu Hommam's death was first reported a day earlier by Syria's SANA state news agency and by the Britain-based Syrian Observatory for Human Rights. The Observatory, which relies on a network of activists inside Syria, said that other senior Nusra Front leaders were also killed in the attack.
The two Al-Shamis — Abu Hommam and Abu Anas — are not related. Their shared name in Arabic means "the Syrian."
The fate of the Nusra group's overall leader, Abu Mohammad Al-Golani, was not clear, the Observatory said, although there were reports that he had been in the area of the attack. The radical website quotes the Nusra Front spokesman as saying three others were killed in Thursday's airstrike, including two of Abu Hommam's bodyguards. It did not provide further information on the identity of the third fatality. It also remained unclear who conducted the airstrike. SANA claimed it was the Syrian military, while activists and Nusra said it was the US-led coalition.
Full report at:
http://www.arabnews.com/world/news/714771
-----------
Syria tells West: Accept that Assad is here to stay
7 March 2015
Syria's envoy to the United Nations said on Friday it is time for the United States and other Western powers to accept that President Bashar al-Assad is here to stay, and to abandon what he suggested was a failed strategy of trying to split the Middle East into sectarian enclaves.
Speaking on the eve of the fourth anniversary of the Syrian war, Assad's long-serving U.N. ambassador Bashar Ja'afari said his president was ready to work with the United States and others to combat terrorism in the Middle East.
"We don't want any vacuum in the country that would create chaos such as happened in Libya and Iraq and ... Afghanistan," he said. "President Assad can deliver because he is a strong president. He rules over a strong institution, which is the Syrian army. He has resisted pressure for four years."
"He is the man who can deliver any solution," he added.
Britain and France have rejected calls to restore ties with the Assad government. U.S. officials say there is no shift in their policy regarding Assad, even as their focus is fighting Islamic State, an al Qaeda offshoot which is also an enemy of Damascus. "We have been open for cooperation (with the U.S.)," Ja'afari said. "They don't want it."
Some European Union countries that withdrew their ambassadors from Syria are saying privately it is time for more communication with Damascus, diplomats said in February.
Diplomats say the calls have come from or would be supported by countries including Sweden, Denmark, Romania, Bulgaria, Austria and Spain, as well as the Czech Republic, which did not withdraw its ambassador. Norway and Switzerland, which are outside the EU, are also supportive.
Such countries say that the threat from Islamic State has made Assad the lesser of two evils, seeing a need to re-engage with Damascus as a potential ally against the extremists, according to the diplomats.
U.S. officials at the United Nations did not have an immediate comment on Ja'afari's latest statements.
Full report at:
http://english.alarabiya.net/en/News/middle-east/2015/03/07/Syria-to-West-Accept-that-Assad-is-here-to-stay-.html
-----------
U.S., U.N. denounce ISIS' destruction of Nimrud
7 March 2015
The White House and U.N. Secretary General Ban Ki-moon denounced Friday the bulldozing of the ancient Assyrian city of Nimrud by the Islamic State of Iraq and Syria (ISIS).
The White House's National Security Council tweeted: "Deeply saddened by incomprehensible destruction of historical, cultural and religious artifacts in Iraq, including recent attacks in Nimrud."
Full report at:
http://english.alarabiya.net/en/News/middle-east/2015/03/07/U-S-U-N-denounce-ISIS-destruction-of-Nimrud.html
-----------
Iraqi forces clear ISIS fighters in two towns
6 March 2015
Iraqi forces battled the Islamic State of Iraq and Syria (ISIS) group in the strategic town of Dawr on Friday as they pressed a major offensive aimed at retaking Tikrit from the militants, officials said.
The town lies along one of the main roads that Iraqi security forces and allied fighters are taking to reach the city of Tikrit, and needs to be captured for the anti-ISIS offensive to move forward.
Salaheddin province Governor Raad al-Juburi said the main street in Dawr had been retaken, while an army major general said periodic clashes were taking place in the town after security forces entered on Friday afternoon.
Ex-president Saddam Hussein was arrested by U.S. forces in 2003 near Dawr, which is also the hometown of Izzat Ibrahim al-Duri, the most senior member of his regime still at large.
Some 30,000 Iraqi security forces members and allied fighters launched the operation to retake Tikrit on Monday, the largest of its kind since ISIS overran swathes of territory last June.
Retaking Tikrit from ISIS militants, who have had more than eight months to dig in since seizing the city last June, poses a major challenge for the country's forces.
The United Nations said on Thursday that an estimated 28,000 people have fled military operations in and around the city.
Sectarian-fuelled revenge killings targeting Sunni Arabs have been a feature of past operations involving Shiite militias, raising concerns that the same may happen in Tikrit.
Meanwhile Iraqi forces have also cleared ISIS fighters from the town of al-Baghdadi west of Tikrit, near a key base where U.S. Marines are training Iraqi military troops, recapturing the police station and three bridges over the Euphrates, the U.S. military said on Friday.
Iraqi Security Forces and tribal militia from the Anbar region also pushed the ISIS fighters from seven villages northwest of al-Baghdadi on the road to Haditha, the Combined Joint Task Force said in a statement.
Full report at:
http://english.alarabiya.net/en/News/middle-east/2015/03/06/Iraqi-forces-cleared-ISIS-from-al-Baghdadi-U-S-military.html
-----------
EU hits Syria with fresh sanctions
6 March 2015
The European Union imposed additional sanctions against Syria on Friday, targeting backers of President Bashar al-Assad as the bloody conflict gets worse with no prospect of a peace deal.
"Seven persons and six entities providing support to the Syrian regime as well as benefitting from it have been targeted," a statement said.
"This brings the number of persons and entities targeted by EU sanctions over the violent repression against the civilian population in Syria to 218 persons and 69 entities," it said.
The move follows a December decision to extend the sanctions regime to hit Assad and his supporters.
Full report at:
http://english.alarabiya.net/en/News/middle-east/2015/03/06/EU-hits-Syria-with-fresh-sanctions.html
-----------
Syria to West: Accept that Assad is here to stay
Mar 7, 2015
NEW YORK: Syria's envoy to the United Nations says it's time for the United States and other Western powers to accept that President Bashar al-Assad is here to stay, and to abandon what he suggested was a failed strategy of trying to split the Middle East into sectarian enclaves.
Speaking to Reuters on the eve of the fourth anniversary of the Syrian war, Assad's long-serving UN ambassador Bashar Ja'afari said his president was ready to work with the United States and others to combat terrorism in the Middle East.
"We don't want any vacuum in the country that would create chaos such as happened in Libya and Iraq and ... Afghanistan," he said. "President Assad can deliver because he is a strong president. He rules over a strong institution, which is the Syrian army. He has resisted pressure for four years."
"He is the man who can deliver any solution," he added.
Britain and France have rejected calls to restore ties with the Assad government. US officials say there is no shift in their policy regarding Assad, even as their focus is fighting Islamic State, an Al Qaeda offshoot which is also an enemy of Damascus.
"We have been open for cooperation (with the US)," Ja'afari said. "They don't want it."
Some European Union countries that withdrew their ambassadors from Syria are saying privately it is time for more communication with Damascus, diplomats said in February.
Diplomats say the calls have come from or would be supported by countries including Sweden, Denmark, Romania, Bulgaria, Austria and Spain, as well as the Czech Republic, which did not withdraw its ambassador. Norway and Switzerland, which are outside the EU, are also supportive.
Full report at:
http://www.dawn.com/news/1167992/syria-to-west-accept-that-assad-is-here-to-stay
------------
Arab antiquities facing danger, warns Arab Tourism Organization
7 March 2015
Bandar bin Fahad Al-Fahaid, president of the Arab Tourism Organization (ATO), has confirmed that many archaeological sites across multiple Arab countries presently face immense risks due to the political turmoil that is now occurring, as well as in the absence of proper security in these countries to protect these international treasures.
"The ATO does not have enough power to protect all of the antiquities across our diverse Arab countries which currently suffer from domestic conflicts. Several important historical sites are today being threatened by armed groups which do not understand or appreciate their value," Bandar Al-Fahaid said at a press conference which was held at the sidelines of a meeting of the Executive Council of Arab Tourism Organization held in Jeddah recently.
Al-Faihad said that the organization works to activate inter-Arab tourism and integration among Arab countries in the tourism sector, and used the occasion to call on the private sector to increase its investments in Arab tourism.
Full report at:
http://www.arabnews.com/saudi-arabia/news/714846
-----------
Africa
Boko Haram Attack Another Borno Town, Kill 9
March 7, 2015
Boko Haram insurgents have launched a fresh attack on Shani in Borno state.
According to a resident, who was talking to Punch correspondent, nine persons were killed in the attack by suspected members of the terrorist sect.
The resident, who pleaded for anonymity, added that the insurgents operated in the area undisturbed for several hours, wreaking massive destruction. As a result, several residents of the town were injured, many houses and vehicles were destroyed in the council headquarters.
"They were equally alleged to have abducted several youths from the area," said the source, who said the youth vigilance group in the area called him to brief him on the state of affairs in the community.
"The insurgents came in large number and invaded the council at about 9pm on Wednesday, slaughtered their victims after destroying many houses and vehicles on the streets. Many people have fled the town for safety, leaving only the aged, the sick and children, who could not escape."
A policeman at Shani Divisional Police Headquarters, who also craved anonymity, told Punch correspondent on the telephone from the area that policemen fled the town for safety, adding that the terrorists were well armed and "it would be suicidal to confront them."
"Yes, there was a deadly attack on Shani between Wednesday night and Thursday morning. Nine people were slaughtered after the destruction of property worth millions of naira by the insurgents.
Full report at:
http://www.naij.com/397601-boko-haram-attacked-another-borno-town-killed-9.html
-----------
Nigerian Minister Warns the West Faces a New Terror Threat
06 March 2015
Boko Haram is likely to plot attacks on the West, including Britain, according to a Nigerian government minister who warned that the Islamist group terrorising his country may compete with its global jihadi counterparts to commit atrocities abroad.
Osita Chidoka, a close associate of President Goodluck Jonathan, accused the international community of failing to give Nigeria the support it needed to combat the extremists, who are increasingly emulating Isis and al-Shabaab in their terror tactics.
Instead, he said in an interview with The Independent, "unfair" concerns were being expressed by the West about the Nigerian government as it attempts to tackle Boko Haram's vicious campaign of bombing, shooting and abduction. That campaign includes beheadings – captured for the first time recently on slickly produced video, which showed how the group was embracing "Isis methods".
"There are conditions, constraints being laid by the international community over this mission which are unfair on Nigeria," he said. "If we do not tackle Boko Haram then the whole region is in danger. It will not stop there: the danger is that Boko Haram will become an attraction to Western fighters and they will copy other extremist groups.
"The danger is that Boko Haram … will try to copy groups like Isis and al-Shabaab. It can target the West like these groups do, target Europe, Britain – it would want to be like these other groups.
Full report at:
http://www.independent.co.uk/news/world/africa/globalisation-of-boko-haram-nigerian-minister-warns-the-west-faces-a-new-terror-threat-10092398.html
-----------
Somali army to deploy drones against Al-Shabaab
March 6, 2015
Somali army to deploy drones against Al-Shabaab
MOGADISHU, March 6 (Xinhua) -- The Somali government will for the first time use drones to combat the Al-Qaida linked militant group Al-Shabaab, officials said on Friday.
A spokesman for the Ministry of Security Mohamed Yusuf told Xinhua with the help of the governments which he did not disclose, Somali army will deploy drones to destroy the remaining Al-Shabaab bases and capture the small regions they still control.
Full report at:
http://www.globalpost.com/dispatch/news/xinhua-news-agency/150306/somali-army-deploy-drones-against-al-shabaab
-----------
Militants seize Libyan oilfield in deadly attack
7 March 2015
Militant gunmen attacked Libya's al-Ghani oilfield on Friday, killing 11 guards, beheading some of them, before local forces fought back to retake control, an oil security official said.
The al-Ghani attack illustrated Libya's growing instability where two rival governments battle for control while extremist militants profit from chaos to secure a foothold four years after civil war ousted Muammar Gaddafi.
Libya's internationally-recognized government of Prime Minister Abdullah al-Thinni has operated out of the east since a rival armed faction called Libya Dawn took over Tripoli in fighting last summer and set up its own administration.
With the rival governments both claiming legitimate control over oil operations, details about attacks, oil shipments and even production are difficult to verify.
The state-run National Oil Corporation in Tripoli said unidentified gunmen attacked al-Ghani from the north on Friday, causing "massive damage" without further details.
Oil security forces, allied with Thinni's eastern government, said on Friday they had retaken control of al-Ghani after the attack which killed at least 11 guards.
"Our forces have taken back control of al-Ghani oilfield from militants," security official Ali Hassi said. Several of those had been beheaded, he said, putting the total at 11 dead.
Hassi said they were also now in control of Mabrouk, Bahi and Dahra oilfields in the central Sirte basin, which were attacked by Islamist militants over the last week.
Libya's rival factions this week held United Nations-backed talks in Morocco in an effort to form a unified government and end a conflict Western officials fear will spiral into a full-blown civil war.
Full report at:
http://english.alarabiya.net/en/News/middle-east/2015/03/07/Militants-seize-Libyan-oilfield-in-deadly-attack-.html
-----------
Ex-Sarkozy aide arrested in Libya funding probe
7 March 2015
Former French interior minister Claude Gueant was taken into custody on Friday in connection with a probe into the alleged financing by Moamer Kadhafi's Libya of Nicolas Sarkozy's 2007 presidential election campaign.
Investigators discovered a 500,000 euro ($540,000) transfer in Gueant's bank account during a raid in February 2013.
Gueant, who was Sarkozy's right-hand man for a decade, claimed the money was the proceeds of the sale of two 17th-century Flemish paintings to a Malaysian lawyer.
But art experts challenged the evidence, saying the highest price fetched at an auction by a painting by the artist, Andries van Eertvelt, was around 140,000 euros.
Full report at:
http://english.alarabiya.net/en/News/middle-east/2015/03/07/Ex-Sarkozy-aide-arrested-in-Libya-funding-probe-.html
-----------
African Union endorses plan for anti-Boko Haram force
6 March 2015
The African Union has endorsed the creation of a regional force of up to 10,000 men to join the fight against the Nigerian Islamist group Boko Haram, diplomats said Friday.
The force, the idea for which was adopted at an AU summit in January, will be based in Chad's capital N'Djamena, the pan-African bloc's Peace and Security Council said.
It will be mandated "to prevent the spread of Boko Haram activities and other terrorist groups" and "eradicate their presence," the body agreed in a meeting this week.
Diplomats said Chad, Nigeria, Cameroon, Niger and Benin have committed to providing troops, who would "operate freely" in a still-undefined region.
According to an AU diplomat, who asked not to be named, the troops will operate around the Lake Chad Basin but not on Nigerian soil - explaining that Nigeria "has a problem with agreeing to have foreign troops on its soil."
Full report at:
http://english.alarabiya.net/en/News/africa/2015/03/06/African-Union-endorses-plan-for-anti-Boko-Haram-force.html
-----------
Muslim, Christian Clerics To Hold Joint Prayer For Jonathan
March 6, 2015
Leaders of the prayer forum, Archbishop Leonard Kawas and Sheik Dan Zanga, stated this when they paid a courtesy call on the Director-General of the Peoples Democratic Party Presidential Campaign Organisation, Senator Ahmadu Ali in Abuja on Thursday.
Speaking on behalf of the Forum, Kawas said they were in support of the Jonathan administration and applauded the PDP-led administration for doing "great works".
The cleric pointed out that no one could ascend the Presidency if he did not have the blessing of God, explaining that this had informed the decision of the religious leaders to pray ceaselessly for the present administration.
Full report at:
http://www.informationng.com/2015/03/muslim-christian-clerics-to-hold-joint-prayer-for-jonathan.html
-----------
Lakeside communities in Chad live in fear of Boko Haram
By KRISTA LARSON
March 6, 2015
N'GOUBOUA, Chad (AP) - The Boko Haram militants attacked N'gouboua before dawn, marking the first time the Nigerian extremist group had hit a town inside Chad. Crying "Allahu akbar" or God is Great into the pre-dawn darkness, they opened fire indiscriminately and burned scores of mud-brick houses with gasoline, killing at least eight civilians and two security officers.
Nearly six years into its insurgency in Nigeria, the Islamic extremist group is now attacking villages in the other countries bordering Lake Chad - Chad, Niger and Cameroon - and local officials say the motive is greed, not a drive to establish an Islamic caliphate.
Some 3,400 Nigerian refugees had been living in N'gouboua at the time of the Feb. 13 attack and all have since been relocated further inland to a camp jointly run by the U.N. and the government of Chad, a predominantly Muslim country. Journalists who visited N'gouboua on Thursday saw traumatized and scared residents and nearly a dozen destroyed vehicles and motorcycles in the sand-blanketed streets.
The extremists had also set the town's sole mosque ablaze.
Full report at:
http://www.wkrg.com/story/28280472/lakeside-communities-in-chad-live-in-fear-of-boko-haram
-----------
South Sudan peace talks suspended indefinitely
07 Mar 2015
Peace talks between the two warring parties in South Sudan have been suspended indefinitely.
President Salva Kiir and his rival, rebel leader and former vice president, Riek Machar, had been meeting in Ethiopia since Tuesday, but the talks were adjourned on Friday with no peace agreement in place.
No further meetings have been scheduled.
Ethiopian Prime Minister Hailemariam Desalegn said in a statement on Friday that he regretted "the talks did not produce the necessary breakthrough", adding that the failure was disappointing for mediators and observers who had tried their best to urge the warring factions to make concessions for peace.
"The consequences of inaction are the continued suffering of you, the people of South Sudan, and the prolonging of a senseless war in your country," the statement said. "This is unacceptable, both morally and politically."
Meanwhile, UN Secretary General Ban Ki-moon said Friday he was profoundly disappointed with the failure of both sides to reach a peace deal to end the 14-month conflict, but said talks should continue.
Full report at:
http://www.aljazeera.com/news/2015/03/south-sudan-peace-talks-suspended-indefinitely-150306124303011.html
----------
North America
Oklahoma Imam: ISIS Wicked, Barbaric – And Antithesis of Islam
03/06/2015
Wicked. Barbaric. Corrupt.
Those are some of the words John Ederer uses to describe ISIS.
I can imagine most of you shaking your heads in agreement.
But I'm afraid some of you will be put off by this next bit of information: Ederer, 36, is an imam, or Muslim community leader, who also says that ISIS is a heretical cult that is "completely distorting Islam."
I'm hoping you'll give Ederer a listen, especially if you're among non-Muslims who still believe that not enough Muslims are speaking out against terrorists who claim to be acting in the name of Islam.
Ederer, an Oklahoma native who grew up Catholic and converted to Islam at 18, will speak this Saturday night in Concord at a forum called "Should We Fear Islam?"
His answer is an emphatic "No," and points out that Islam means "To live for the will of God to attain peace."
"Islam is a spiritual lifestyle, similar to devout Christianity and Judaism," says Ederer, the imam at the Muslim Society of Charlotte from 2010 to 2014 and now the imam at the Islamic Society of Tulsa, Okla.
To call ISIS Islamic, Ederer told me, "is like saying the KKK is Christian" because it uses Christian symbols – burning crosses – and cherry-picked Bible verses to justify its violence and hate.
Full report at:
http://www.charlotteobserver.com/living/religion/funk-on-faith-blog/article12647312.html
-----------
Boston Interfaith Leaders: Marathon Bombing TrialIsn't about Islam, It's About the Victims
06/03/2015
The trial for accused Boston Marathon bomber Dzhokhar Tsarnaev began Wednesday amid what some see as an increasingly tense climate for Muslims in the country. In Boston, though, faith leaders say the focus should be on building bridges between faiths and supporting the victims as the trial reopens what will be deep wounds for many.
"This trial is about closure and healing as much as it is about bringing the perpetrator to justice," Nichole Mossalam, director of the Islamic Society in Cambridge, Massachusetts, told The Huffington Post. "A lot of victims are finally going to get to face what happened to them and begin their own process of healing. I believe this is more about them and their process, and we need to support them."
In the wake of the April 2013 attack, which killed three and injured nearly 300 others, it quickly became public that Tsarnaev had embraced a radicalized strain of Islam -- sparking a national discussion about homegrown terror that has only intensified since the rise of the Islamic State group in the Middle East.
The Muslim American community felt a backlash. Anti-Islamic hate crimes made up 13.7 percent of all hate crimes in 2013, compared to 11.6 percent in 2012 -- an increase Pew Research blames in part on the Boston marathon bombing.
The Islamic Society of Boston's mosque in Cambridge, Massachusetts, where Tsarnaev and his older brother had reportedly attended services, came under fire in the aftermath of the bombing. Some accused the mosque and its affiliated Islamic Society of Boston Cultural Center of fostering extremists, an accusation to which local faith leaders have roundly objected.
Full report at:
http://www.huffingtonpost.com/2015/03/06/boston-marathon-trial-muslims_n_6810942.html?ir=India
-----------
The Muslim Brotherhood's Infiltration of the American Government
BY BETHANY BLANKLEY
March 6, 2015
The Betrayal Papers trace the influence of the Muslim Brotherhood in American foreign and domestic policies. This five-part series evidences Islamic infiltration throughout our American government designed to create a totalitarian, genocidal, global Islamic State.
The Muslim Brotherhood is an international political, financial, terrorist and movement whose goal is to establish a global Islamic State (Caliphate). It has:
And continues to exert tremendous influence over the American government's foreign and domestic policies under President Barack Hussein Obama,
Effectively controlled American foreign policy orchestrating and funding violence throughout the Middle East and across North Africa,
And continues to operate through various "civic", "non-profit", "religious organizations" that are front groups for terrorism and that significantly fund "operational costs" to advance Islamic ideology in American institutions like Georgetown University and the Brookings Institution.
America's economy is weak and struggling; its public and private debt is astronomical, and millions of Americans remain un- and underemployed. A weaponized IRS targets conservative and Christian organizations and ministers and they, including veterans, are labeled "domestic terrorists" by the Department of Homeland Security. Not only does the federal government refuse to secure the southern border, it orchestrated bringing in millions of illegal immigrants to implode an already bankrupt social services and healthcare programs. Additionally, public education through Common Core policy propagates Islam, fictional history, teaches Arabic, and organizes field trips for schoolchildren to mosques.
Internationally, America is in retreat. Former allies are abandoned and embittered. The White House and State Department advocate terrorism in tweets, label Israel as an aggressor and Hamas as the oppressed.
Full report at:
http://www.christianpost.com/news/the-muslim-brotherhoods-infiltration-of-the-american-government-135216/
-----------
U.S. military chief to visit French carrier in Gulf
7 March 2015
The top-ranking U.S. military officer will pay an extraordinary visit to a French aircraft carrier in the Gulf in coming days as part of a tour of the region, officials said Friday.
General Martin Dempsey was invited by his French counterparts to get a first-hand look at the Charles De Gaulle aircraft carrier, where French warplanes are taking part in the air war against ISIS.
"I think it's encouraging that the French would commit a resource as scarce and as valuable to them into this fight," Dempsey told reporters en route to the Gulf.
"It's a reflection of how important it is" to them," the general said.
The De Gaulle set off from its base in Toulon on January 13 for a five-month mission that includes an eight-week stint in the Gulf, where it is working alongside an American carrier, the USS Carl Vinson.
The French ship, which arrived in the Gulf last month, carries 12 Rafale and nine Super Etendard fighter jets. France also has fighter jets based at airfields in the United Arab Emirates and Jordan flying strike missions over Iraq.
Full report at:
http://english.alarabiya.net/en/News/middle-east/2015/03/07/U-S-military-chief-to-visit-French-carrier-in-Gulf-.html
-----------
After calling Muslims 'suspect,' radio host fired
March 6, 2015
WILMINGTON, Del. — A prominent Delaware radio host has been fired after saying on air that "as far as I'm concerned, not every Muslim is guilty, but every Muslim is suspect" of sympathizing with Islamic extremists.
Jake Smith's comments came during 97 seconds of verbal sparring with a caller that aired during the live "Mike and Jake in the Morning" show Feb. 20 on WGMD-FM. It led to his dismissal from the station that same day, Smith said in an interview, although word of that dismissal is just now leaking out.
The Rehoboth Beach station broadcasts to southern Delaware and Maryland's Eastern Shore.
During a segment of the morning show focusing on Islamic extremism, Smith said: "Muslims do not stand up for America – and they don't, they didn't stand up for America during 9/11, they didn't stand up for America during Fort Hood, they've never stood out and said, 'This has to stop' – I haven't heard one Muslim in this country do that.
"As far as I'm concerned, not every Muslim is guilty, but every Muslim is suspect," he continued.
A caller challenged him by citing the example of Kareem Khan, a 28-year-old Muslim from New Jersey who enlisted in the U.S. Army after 9/11 and died in combat in Iraq in 2007.
"He died for his country," the caller, who wasn't asked for his name in the broadcast, said.
"That's great, but not enough Muslims have done that, sir," Smith responded.
Cutting through some crosstalk as Smith and the caller yelled at each other, the caller said simply, "bigot."
Full report at:
http://www.usatoday.com/story/news/nation/2015/03/06/calling-muslims-suspect-radio-host-fired/24533067/
-----------
'Dad,' 'pastor,' 'Muslim': Labels aren't always deserved
March 6, 2015
As I perused the news headlines of this past month, I couldn't help but notice just how inaccurate titles and labels have become in our media.
The first title I noticed was "Dad," as in the headline, "Dad convicted of murdering son." I'm not sure "dad" is the right word for that headline. This man exchanged his dad title when he became his son's murderer.
In another story, I noticed a headline that described an "American pastor" who was captured by Brazilian police after eluding authorities for several months. He'd gone to Brazil to avoid charges in Minnesota for molesting several girls under his care as "pastor."
If someone made me editor for the day, I wouldn't allow my writers to identify this man as a pastor. That's because the minute this guy had his first thought about raping a child, he morphed from being pastor to predator.
I also have a problem with headlines that use words like "church" and "Baptist" when describing groups like the Westboro Baptist Church. This is the infamous group from Topeka, Kansas, that insists that God hates gays, Jews, Steve Jobs and, more than likely, me.
When people spout this kind of hate, they forfeit all resemblance to a church. Furthermore, as an ordained Baptist minister, I can definitely say they don't resemble any Baptist I've ever known or care to know. I'm sure the residents of Westboro would also like to be excluded from the name.
Editors ought to use the word "cult" to describe that type of group, which is on the same level as the KKK. In fact, if KKK wasn't taken, you could call them KKK, for "Kansas' Kooky Kult." (I don't imagine they're good spellers.)
Finally, you're likely reading many headlines containing the word Muslim or Islam. So what do those words mean?
In the Western world, we use the word Muslim to identify one who has chosen to follow the world religion of Islam. That's because, in the West, our religion is normally a choice of the heart. The problem with that thinking is that it assumes that Muslims worldwide choose to be Muslim.
However, as a military chaplain who spent two years in Turkey, I can tell you there is a second way to use the word "Muslim." In Islamic countries such as Turkey, "Muslim" is an identifying term of birth, not necessarily a free-will choice.
These Muslims consider themselves born this way; they don't necessarily believe that way. In fact, in many Middle Eastern countries, Muslims equate conversion to Christianity with renouncing citizenship.
Full report at:
http://www.coloradoan.com/story/life/2015/03/07/dad-pastor-muslim-labels-always-deserved/24506225/
-----------
Proud to be American, proud to be Muslim
by Aziz Poonawalla
March 6, 2015
Syedna Mufaddal Saifuddin TUS graced the land of America for the first time as the 53rd Dai (spiritual leader) of the Dawoodi Bohra Muslim community. It has been nearly a decade since his predecessor, Syedna Mohammed Burhanuddin bestowed his bountiful blessings upon the Bohra community in America.
Full report at:
http://www.beliefnet.com/columnists/cityofbrass/2015/03/proud-to-an-american-proud-to-be-a-muslim.html
-----------
Los Angeles Police Leader Makes Outreach to Muslims His Mission
MARCH 6, 2015
LOS ANGELES — On a damp and dreary Saturday two months ago, several hundred mourners gathered outside City Hall here for a memorial service honoring Dr. Maher Hathout. Born in Egypt and trained as a cardiologist, Dr. Hathout, 79, had devoted decades to espousing a moderate version of Islam and reaching across denominational lines to other faiths.
So there was nothing surprising about the presence of rabbis and priests, Sikhs and Episcopalians at the service. The unexpected moment came when a man in a different sort of vestment, the dark blue uniform of the Los Angeles Police Department, knelt before Dr. Hathout's widow and presented her with the carefully folded triangle of an American flag.
For the man in the uniform, Deputy Chief Michael Downing, that moment distilled the uncommon role he has within the department. While his full title aptly describes his investigative mission — commanding officer of the counterterrorism and special operations bureau — it omits what has become the signature element of his 33-year career. In a city with a history of traumatic, adversarial relations between the police force and various minority groups, Muslims among them, Chief Downing has forged bonds that are both durable and contentious.
"He has delivered," said Salam al-Marayati, 54, president of the Muslim Public Affairs Council, a national advocacy group founded in Los Angeles. "He's been outspoken against Islamophobia, and he's stood up to criticism for listening to us."
For his part, Chief Downing, 55, said, "We've learned the hard lessons that you can't declare war on your own citizens, on the people we serve, or on their ideas."
The unofficial partnership between Mr. Marayati and Chief Downing has included joint appearances last month at the White House's conference on "Countering Violent Extremism." Late last year, the Muslim Political Affairs Council bestowed its annual award for outstanding achievement on Chief Downing.
Full report at:
http://www.nytimes.com/2015/03/07/us/lapd-deputy-chief-muslims.html
-----------
UNC Victim's Former Roommate Recalls Threats Before Fatal Shooting
06/03/2015
It was easy to pick Imad Ahmad out among the dozens of students laughing, flirting, and carrying on in the student union of the University of North Carolina, Chapel Hill. He was sitting absolutely still, his gaze fixed on nothing and yet intensely focused. He had just lost his best friend. For a year and a half, Ahmad had been the roommate of Deah Shaddy Barakat, but he had moved out of their apartment in December 2014 to make room for Barakat's new wife, Yusor Mohammad Abu-Salha. Two months after that and thirteen days before he spoke with The Huffington Post, the couple and Yusor's younger sister, Razan Mohammad Abu-Salha, were murdered execution-style by their neighbor Craig Stephen Hicks.
The Chapel Hill Police Department has described the tragedy as an "ongoing neighbor dispute over parking," but the case has come to stand for so much more. The Barakat and Abu-Salha families have argued that their children were killed for their Islamic faith — and the FBI has announced it is opening an inquiry into whether the incident was a hate crime.
Ahmad, for his part, believes the answer is clear.
"I just want to get this parking dispute thing out of the picture. I don't want people to even consider it," he said. "It's possible that the parking dispute was a channel that allowed him to release his rage about Islam. People won't call this terrorism because it was a non-Muslim killing three Muslims. But if it was vice versa, the terrorism accusation would come instantly."
In his first sit-down interview, conducted over six hours spanning a week, Ahmad described what it was like to live next to Hicks and how he's coping with the loss of his best friend.
When did you first encounter Hicks?
Imad Ahmad: When we were moving in [in August 2013.] At first it was just Deah and me carrying stuff, and Hicks was outside, walking around. He didn't say anything to us for a good half hour. But then Deah's mom came to help us, and she wears a headscarf, and as soon as she started to carry boxes of blankets and notebooks into the house, he came over to us, pointed at his parking spot, and said just one sentence: "Do not ever park here." He never even introduced himself. Deah and I talked about it afterwards, and we were like, "He probably saw your mom's headscarf and came and talked to us." But in the end, Deah was like, "Don't worry about it. He probably just wants to mark his territory."
Full report at:
http://www.huffingtonpost.com/2015/03/06/unc-shooting-hate-crime_n_6801582.html?ir=India
-----------
US welcomes thaw in Pakistan, India ties: State department
March 07, 2015
Washington- The US said it was "encouraged" by Indian Foreign Secretary Subrahmanyam Jaishankar's visit to Pakistan this week in a sign of thawing relations between the Islamabad and New Delhi.
Speaking to reporters during the daily briefing, US State Department Spokesperson Marie Harf said that the US welcomed the visit.
"We certainly were encouraged that they (India and Pakistan) decided to resume dialogue."
Jaishankar's visit saw the first senior-level diplomatic interaction between the two nuclear tipped neighbours for the first time since prime ministers of India and Pakistan met in New Delhi last May.
Full report at:
http://nation.com.pk/national/07-Mar-2015/us-welcomes-thaw-in-pakistan-india-ties-state-department
-----------
Mideast
Iranian Kurdistan: Six Sunni Muslims Executed in Iran
March 6, 2015
Six Iranian Kurds were reportedly executed on 4 March 2015 inside the Rajai Shahr prison in the city of Karaj, despite Amnesty International's call to spare their lives. The six ethnic Kurds, who had gone on a hunger strike, were sentenced to death on charges of "enmity against God." All of them had claimed that they had been targeted solely for practicing or promoting their faith.
Below is an article published by Radio Free Europe
Six Iranian Kurds have reportedly been executed despite human right defenders' calls on Iranian authorities to spare their lives.
Full report at:
All of them maintain that they were targeted solely because they practiced or promoted their faith.
http://unpo.org/article/18022
-----------
Iran 'As Dangerous As ISIS' In Quest for Worldwide Islamic Caliphate, EIFA Warns
06 March 2015
Iran has the same goal as Islamic State in using violence to create a worldwide caliphate and 'enslave the world in a medieval corruption of the Muslim faith', Struan Stevenson, the President of Europe Iraq Freedom Association has warned.
And any cooperation between the West and Iran in the war on ISIS will be 'extremely dangerous' and could trigger a sectarian war between the Shiites and Sunnis that could plague the region for decades, he said.
He told a conference in the Latvian capital Riga, entitled Going For Peace and Reconciliation in Iraq: "It was naive of the West to think that we could simply sweep away dictators and despots like Saddam Hussein and Bashar al-Assad and somehow replace them with functioning Western democracies, without giving due cognizance to the ancient hatreds and festering tensions – religious, social and tribal – that bedevil the Middle East.
"Islamic State came into being only because Saddam was toppled and Assad was effectively crippled in Syria by the Western-backed revolution. ISIS now roams over huge parts of Syria, Iraq and Libya, looking hungrily at neighbouring countries like Jordan, which they regard as ripe for plucking."
He warned: "Iran is now well on the way to extending its hegemony across the entire region and it is worth remembering that ISIS is not the only organisation intent on using violence and bloodshed to create a worldwide Islamic caliphate; it is a core principle of the Iranian Constitution, drawn up by Ayatollah Khomenei, that they will export the Islamic revolution with the clear intention of creating an Islamic caliphate.
"Indeed, Tehran regards ISIS as direct Sunni competitors in this struggle to enslave the world in a medieval corruption of the Muslim faith."
Full report at:
https://www.ncr-iran.org/en/news/iran-world/18042-iran-as-dangerous-as-isis-in-quest-for-worldwide-islamic-caliphate-eifa-warns
-----------
Israeli Settlers Torch Cars, Spray-Paint Racist Slogans In West Bank
By Al Akhbar
March 6, 2015
Israeli settlers torched two cars belonging to Palestinians and spray-painted anti-Arab slogans on the streets of a village in the occupied West Bank at dawn Thursday, Anadolu news agency reported, in the latest attack against Palestinians and their properties.
Meanwhile, a Palestinian activist said Israeli Occupation Forces (IOF) demolished a total of 50 homes in the Negev desert in southern Occupied Palestine so far in 2015.
"Zionist settlers stormed al-Mughayir village, spray-painted racist slogans on several walls and torched two cars," Faraj al-Naasan, the head of the village's local council, said.
"The slogans — written in Hebrew — included 'Death to Arabs' and 'Glory to Jews' as well as the phrase 'Price Tag,'" he added.
Israeli police spokesperson Luba Samri said in a statement that the Israeli police received a complaint from Palestinians about a new suspected "nationalist attack" on Wednesday night in al-Mughayir town, near Ramallah.
A joint army-police force arrived at the scene to investigate the incident, she added.
"Price tag" is a euphemism for nationalist-motivated hate crimes by Jewish extremists, which generally target Palestinians or Palestinians with Israeli citizenship and have increasingly also hit Christian and Muslim places of worship.
Last week, Israeli settlers set fire to a church-owned building in Jerusalem overnight, hours before settlers spray-painted racist graffiti on the walls of a Palestinian school and two days after settlers torched a mosque in the occupied West Bank.
Palestinian chief negotiator Saeb Erakat described the perpetrators of such incidents as "terrorists," blaming Israel's government for inciting the attacks by continuing its "illegal occupation and colonization (of the Palestinian territories) based on distorted religious claims."
Full report at:
http://www.mintpressnews.com/israeli-settlers-torch-cars-spray-paint-racist-slogans-in-west-bank/203103/
-----------
'Grassroots Networks Critical To Success of Turkish Islamists'
March/07/2015
As Turkey heads for another general election this June, the ruling Justice and Development Party (AKP) is oiling up its formidable grassroots campaigning machine, which has steamrollered opposition efforts for over a decade.
Political scientist Kayhan Delibaş's new book, "The Rise of Political Islam in Turkey: Urban Poverty, Grassroots Activism and Islamic Fundamentalism" (reviewed here), explores the vital role that on-the-ground operations played in the advance of Islamism, drawing on the author's extensive research with activists in Ankara at the end of the 1990s. Ideology was important, Delibaş argues, but it was the chaotic urbanization, economic strife, and the lack of organic links between voters and mainstream parties through the 1980s and 90s that really allowed the Islamists to flourish. The AKP's forerunners won their initial successes in local elections thanks to their effective grassroots work on the urban periphery, which gave them a launch pad to national prominence.
The Hürriyet Daily News spoke to Delibaş about his book, the years of research that went into it, and what his findings tell us about Turkey's political landscape today.
You argue that grassroots operations were in many ways more important than abstract ideology for the early success of political Islam in Turkey. Can you explain?
Throughout the late 1980s and 90s the main center-left and center-right parties were in a mess. For campaigning, these parties, exemplified by the Motherland Party of Turgut Özal, typically relied on the TV and broadcast media that was becoming widespread in Turkey at the time. They began to hire campaign managers from the U.S. and elsewhere to devise strategies to win votes. But of course this was limited. Throughout the period, especially during the 1990s, voters felt increasingly alienated from the main center-right and center-left parties, which weren't really "mass" parties.
However, the Islamist party established in 1983, the Welfare Party (RP), grasped what was lacking. Its workers campaigned from door to door, from neighborhood to neighborhood. They also did many kinds of charity work, which helped them gain ground in poverty-stricken neighborhoods after the 1980s. The neoliberal policies of the 1980s created a massive flood of urbanization but there weren't enough jobs in the cities to absorb those migrants, who ended up in a perilous economic situation. As a result, the RP was able to win the support of the urban poor through charity work and gaining their trust.
In the districts of Keçiören and Mamak in Ankara, where I did my fieldwork in the late 1990s and 2000s, the RP activists were very busy. I went to hundreds of neighborhoods, interviewing and meeting more than 2,000 people. The election in 1999 took place while I was conducting the research, which gave me a great chance to observe how activists operated on the ground at election time. I was able to see how effective they were at gaining people's minds, as well as their hearts.
Full report at:
http://www.hurriyetdailynews.com/grassroots-networks-critical-to-success-of-turkish-islamists.aspx?pageID=238&nID=79303&NewsCatID=338
-----------
Iran blinds acid attacker in 'eye-for- an-eye' punishment
6 March 2015
An Iranian man has been blinded in one eye by doctors in a literal eye-for-an-eye punishment for attacking another man in the face with acid and leaving him disfigured and blinded in his left eye, British daily The Guardian has reported.
As well as the blinding, the perpetrator was also fined and sentenced to 10 years jail.
The unidentified convicted acid attacker was unconscious in Rajai-Shahr prison, Karaj city when doctors on Tuesday gouged out his left eye, the report added.
Now the punishment has been criticized by Mahmood Amiry-Moghaddam, from Iran Human Rights (IHR), an independent NGO based in Norway, who said the blinding was barbaric.
He said: "Medical staff who cooperate with the Iranian authorities in this act have broken the Hippocratic Oath and cannot call themselves doctors."
Initially the man - who was convicted five years ago - had been sentenced to lose both eyes. But in a last minute reprieve his victim – who under Iranian law has the final say in his attacker's punishment – called for the blinding in his right eye to be postponed for six months
The convicted man will be able to plead with his victim to call off the blinding of his remaining eye.
Full report at:
http://english.alarabiya.net/en/variety/2015/03/06/Acid-attacker-blinded-in-one-eye-in-Iranian-first.html
-----------
Are Turkey, Saudi Arabia working together against Iran
Fri, 03/06/2015
The relationship between Turkey and Saudi Arabia until now has been treated as almost sacrosanct and is one that is not argued about. Although Turkish and Saudi views on regional issues do not always coincide, both Ankara and Riyadh have kept their bilateral relations away from regional squabbles. Turks, in general, associate Saudi Arabia with pilgrimage (hajj) and oil prices. Aware of the tense rivalry for regional influence between Saudi Arabia and Iran, Turkey has tried to maintain good relations with both countries, and it was in Syria that Turkish and Saudi interests meshed. Although they agree that Syrian President Bashar al-Assad must go, the Turkish-Qatari axis competes with that of Saudi Arabia in Syria. Some suggest that the failure of the Syrian opposition to get its act together was because of this competition. A similar rivalry is now seen in Egypt because of the Justice and Development Party (AKP) government's backing of the Muslim Brotherhood, and in Libya because of the AKP's support of the Tripoli government instead of the one in Tobruk. Although Saudi Arabia is the most prominent supporter of Egyptian President Abdel Fattah al-Sisi, who toppled the Muslim Brotherhood, and of the Tobruk government in Libya, Turkey has not raised its voice against Riyadh while disparaging other countries. Now, Erdogan is adding a new controversial dimension to the unblemished Turkish relationship with Saudi Arabia.
During his visit to Saudi Arabia between Feb. 28 and March 2, Erdogan in his meeting with the new Saudi king, Salman bin Abdul-Aziz Al Saud, reached an agreement to increase Saudi-Turkish support of the Syrian opposition to levels that would enable the two countries to achieve their goals there. According to journalists accompanying Erdogan, Salman also promised to support Turkey in declaring a no-fly zone.
The two leaders, in addition to discussing Syria, Iran, Yemen, Palestine and Egypt, also reached an understanding that illustrates how Turkey is now being dragged into the much more dangerous issue of Iran.
Full report at:
http://yemenonline.info/special-reports/482
-----------
China's Uighurs look towards Turkey for help
07 Mar 2015
Istanbul, Turkey - In recent months, smoky cafes in Istanbul's working-class Zeytinburnu neighbourhood have begun to attract growing numbers of young, ethnic Uighur men. Some speak quietly - wary of a rumoured network of Chinese informants - about politics in their homeland, China's Xinjiang Province.
"We were tortured and starved there," said Yusuf, now in his middle age, speaking of the 17 years he said he spent in a Chinese prison for his involvement in an outlawed secessionist movement, which he refused to name. "China has been oppressing us for the last hundred years, and we come here for our freedom," said Yusuf, adding that his actions as part of the secessionist movement were never violent.
Yusuf, who asked that his last name not be used to protect his identity, is among hundreds - perhaps thousands - of Muslim Uighurs to have fled China for Turkey since the Chinese government began a wide-ranging crackdown in Xinjiang last year.
The Muslim-majority province is a vast, resource-rich region of economic and strategic importance to Beijing, which has sought to prevent Uighurs from practising their religion and culture in a bid to assimilate them. In Xinjiang, fasting during the Muslim holy month of Ramadan is illegal for students and public workers, the use of the Uighur language is restricted, and Uighur separatists have been subjected to imprisonment and torture.
Uighur nationalist organisations have a wide array of tactics and visions. Many are non-violent and promote a moderate political agenda, while others, like the East Turkestan Islamic Movement, have been responsible for deadly attacks across China, and have been labelled as terrorist organisations by China and the United States.
China's Uighurs have long looked westward towards the central Asian states and Turkey, whose people share linguistic and cultural similarities with them. "[Uighurs] know they're very well-welcomed by their Turkish brothers," said Alessandro Rippa, an anthropology doctoral candidate at Aberdeen University who focuses on Uighurs.
No official statistics exist on the number of Uighurs currently living in Turkey, though most estimates by Uighur organisations put the number in the tens of thousands. In January alone, Turkey helped to shelter some 500 Uighurs coming from Malaysia and Thailand.
Hidayetullah Gokturk, a politically active Uighur who grew up in the Zeytinburnu community in Istanbul but now lives mainly in Saudi Arabia, said he remembers a time when Uighurs were referred to as "bad refugees" by many Turks. "That was 30 or 40 years ago," he said. "Now when we tell people we are Uighur, they say, 'you are even more Turkish than us'. They value us so much."
Full report at:
http://www.aljazeera.com/news/2015/03/china-uighurs-turkey-150306121246048.html
-----------
ISIL militant treated in Turkey, governor confirms
March/06/2015
The governorate of a province in western Turkey has confirmed that a Turkish citizen allegedly wounded while fighting for the Islamic State of Iraq and the Levant (ISIL) in Syria is being treated in a hospital in the province.
"Juridical procedures have been initiated and are still continuing in our border province, after the man entered the country wounded," the Denizli Governor's Office said in a written statement on March 5, referring to the alleged militant identified only by the initials E.Ç., who is being treated at the Pamukkale University Hospital (PAU).
"Like all our citizens, he has the right to benefit from our medical services as he is treated," the statement added.
Full report at:
http://www.hurriyetdailynews.com/isil-militant-treated-in-turkey-governor-confirms.aspx?pageID=238&nID=79270&NewsCatID=341
-----------
Turkish lawyer saying ISIL men 'worse than beasts' threatened
March/06/2015
A lawyer who withdrew March 5 from defending suspected Islamic State of Iraq and the Levant (ISIL) militants, saying that the defendants were "neither beasts nor human beings," said he was threatened the very same day.
The police have now provided a guard for him, said Nail Gündüz, one of the three lawyers who withdrew from the case after being appointed by the Bar.
An unidentified person called him on the phone at 4 p.m. and asked "What kind of a lawyer are you? Why didn't you defend them?" before threatening him, Gündüz said.
"Defending a person, even an animal, is a blessed thing. Everybody has the right to be defended, lawyers cannot avoid this. But these defendants are neither beasts nor human beings," Gündüz had told reporters after the hearing.
A court has postponed to June 17 the trial of suspected ISIL militants who attacked a Turkish gendarmerie post in the Central Anatolian province of Niğde, after the lawyers of the defendants withdrew from the trial on March 5.
Full report at:
http://www.hurriyetdailynews.com/turkish-lawyer-saying-isil-men-worse-than-beasts-threatened.aspx?pageID=238&nID=79316&NewsCatID=341
----------
'To Light a Candle' shines light on Baha'i Faith in Iran
BY TK BARGER
BLADE RELIGION EDITOR
3/7/2015
In Iran, a member of the Baha'i Faith is considered a "second or third-class citizen" by the Iranian government, said Behrooz Modarai, an Iran-born Baha'i who lives in Sylvania, during an interfaith panel discussion at the University of Toledo's student union.
Mr. Modarai was among the panelists featured after the first of two showings of To Light a Candle, a documentary by Maziar Bahari, who is the subject of the recent movie Rosewater and author of the memoir on which it was based. Mr. Bahari is an Iranian Canadian filmmaker who lives in London, and is not Baha'i.
Mr. Modarai was joined on the panel by Dr. Samina Hasan, a physician who is a co-founder of the United Muslim Association of Toledo and a Compassionate Community ambassador of the Multifaith Council of Northwest Ohio, and the Rev. Ed Heilman, pastor of Park Congregational Church in South Toledo.
To Light a Candle tells the storyFilm of the Baha'i Institute for Higher Education, an underground university in Iran that is online and holds classes in people's homes.
"When the universities were purged in 1980, many people were removed from the universities," Pastor Heilman said. "The difference between liberal Muslims or secular Muslims and Baha'is is that Baha'is were removed completely. Just the very fact that they were Baha'is was enough to say, 'You're out.'"
More than 100 universities outside of Iran have made policies to say, "You're in," accepting academic credentials from the Bah'ai Institute for Higher Education, according to the film, and a petition was circulated to add the University of Toledo to that list.
Jennifer Hill, a physiology professor at the University of Toledo College of Medicine, formerly the Medical College of Ohio, who is a Baha'i and is not Iranian, hosted two screenings and discussions of Mr. Bahari's film on Feb. 27. To Light a Candle is being shown around the world as part of an "Education Is Not a Crime" awareness campaign. The Toledo screenings were cosponsored by the university's Center for Religious Understanding.
"Baha'is do their best to stay out of politics," Mrs. Hill said, but they do call attention to what they see as oppression against their religion, which began in Iran in 1863 and now has more than 5 million followers in 236 countries.
Full report at:
http://www.toledoblade.com/Religion/2015/03/07/To-Light-a-Candle-shines-light-on-Baha-i-Faith-in-Iran.html
-----------
Rockford Muslim community thanks United Methodist neighbors for support
Mar. 6, 2015
ROCKFORD — When Morry Harms spelled out "Prayers are with our Muslim-American friends" on Christ United Methodist Church's south campus marquee, some members of the congregation called and complained about pro-Islamic State rhetoric.
Harms, a member of Christ UMC, felt compelled to support the community after attending the Muslim Community Center's vigil to mourn three Muslim college students fatally shot last month in Chapel Hill, North Carolina.
"I think it's only right that we join together. Many different faiths have experienced tragedies and lost members, so I thought this was a good way to support them," he said.
The Rev. Jane Eesley, who spent a year and a half as a young adult doing mission work in Palestine, wholeheartedly supported Harms' effort. She said the office staff is handling the calls and respectfully clarifying the marquee's true message.
"One of society's biggest problems is that we're segregated and, too often, Christians don't know Muslims as friends," she said. "Yes, heinous things have been done in the name of Islam, but as a Christian of deep faith, I know that heinous things have been done in the name of Christianity. And I, too, want people to know that those things aren't reflections of who I am."
Iqra School shares a parking lot in the 5900 block of Darlene Drive with Christ UMC. Principal Huda Ghazal "asked the students (during an assembly) if they'd noticed the sign, and they said they all had ... the kids really wanted to say thank you, then they just went to town" making thank-you notes. Ghazal, School Board member Mehwish Haseeb and Muslim Association of Greater Rockford President Arshad Shaikh delivered the cards Friday.
Leaders of the two communities later met in the UMC's coffee room to discuss the children, faith and unity.
Full report at:
http://www.rrstar.com/article/20150306/NEWS/150309519
-----------
Europe
Canada's Parliament Attack Revenge for Afghan, Iraq Wars
March 07, 2015
OTTAWA - A Muslim convert who stormed Canada's parliament last October before being shot dead said he carried out the attack in retaliation for the West's military deployment in Afghanistan and Iraq, according to a video released on Friday.
Michael Zehal-Bibeau, who killed a ceremonial guard at Ottawa's war memorial before bursting into parliament, made the video message on a phone found in his abandoned car.
'This is in retaliation for Afghanistan and because (Prime Minister Stephen) Harper wants to send his troops to Iraq,' Zehaf-Bibeau says in the grainy video released by police.
'Canada's officially become one of our enemies by fighting and bombing us and creating a lot of terror in our countries and killing us and killing our innocents,' added the 32-year-old.
'We'll not cease until you guys decide to be a peaceful country and stay to your own and stop going to other countries and stop occupying and killing the righteous of us who are trying to bring back religious law in our countries.
Full report at:
http://nation.com.pk/international/07-Mar-2015/attack-revenge-for-afghan-iraq-wars
-------
Kentucky Muslim community mobilizes to aid Syrian refugees
March 6, 2015
As Kentucky Refugee Ministries begins to resettle its first Syrian refugees in Louisville, members of the local Muslim community are banding together to collect items to help.
The first Syrian family to be resettled arrived Feb. 13, and another 20 families are expected in the coming months, said Stacy Bailey-Ndiaye, a ministries' outreach specialist. While Muslim groups are mobilizing their own members and supporters to donate, the drive is open to anyone who wants to contribute.
Household and other items for the Muslim Community Donation Drive may be dropped off through Friday, March 13 at Nur Islamic School on Six Mile Lane in the Jeffersontown area, the Muslim Community Center of Louisville on Old Westport Road in the Lyndon area, two Muslim supermarkets and several other sites — including Fairdale and Atherton high schools.
The drive will culminate with a drop-off event and celebration from noon to 4 p.m. Saturday, March 14 at the ministries headquarters, 969 Cherokee Road, in the Cherokee Triangle.
"Our community is more organized now, and we're at the stage where we want to be more involved in helping the community," said Natalia Blagaia, principal of the Nur School. "This is like a wake-up call."
Churches and the general Christian community traditionally have taken on most of the responsibility for sponsoring KRM refugees and supplying their needs. The drive is "really an effort to engage the Muslim community," Bailey-Ndiaye said.
The ministries received a grant of about $52,000 from Islamic Relief USA, which has regional offices throughout the country and headquarters in Alexandria, Va., to help enlist the support of the Muslim community and to aid some arriving refugees.
As former director of the Muhammad Ali Institute for Peace and Justice at University of Louisville, Bailey-Ndiaye said she had worked with the ministries on a "Day of Dignity" event related to refugees sponsored by Islamic Relief in 2013 at the Muhammad Ali Center downtown.
KRM assists people who have been identified by the United Nations High Commission for Refugees and the U.S. Government as needing resettlement. In partnership with Church World Services and Episcopal Migration Ministries, KRM offices in Louisville and Lexington provide necessary services for individuals or families to "begin the process of rebuilding their lives," KRM says.
Full report at:
http://www.courier-journal.com/story/news/local/highlands-crescenthill/2015/03/06/muslim-community-mobilizes-aid-refugees/24508579/
-----------
Germans Open Their Homes To Refugee Roommates
March 6, 2015
Asylum-seekers are flooding into Germany in record numbers, with more than 200,000 applying for that status last year, many from Muslim countries, according to the government.
This is fueling tensions on several fronts. Overwhelmed local officials often house the new arrivals in old schools and re-purposed shipping containers in neighborhoods where they aren't always welcome. The western German city of Schwerte even proposed placing 21 refugees in a barracks on the grounds of a Nazi-era concentration camp.
Berlin residents Mareike Geiling and her boyfriend, Jonas Kakoschke, have a different approach.
"We don't like the idea of putting these people into one place where many, many" people live, says Geiling, who is 28.
Kakoschke, a 31-year-old graphic designer, adds: "Many asylum-seekers have to stay there for years ... doing nothing, because they are not allowed to do anything.
"They are not allowed to work, they are not allowed to have German classes sometimes and sometimes it's not a city, it's a village and there's nothing to do and so you get depressed after years and stuff like this," he adds.
So the couple decided to launch Refugees Welcome, a website in English and German that matches asylum-seekers with people willing to share their homes with them. They have more than 400 applications in the works — in Germany as well as Austria.
Refugees "don't know each other, they are far from the city and so we like the idea that they are really living with us, like in our homes," Geiling explains.
She and Kakoschke were the first Germans to open their doors. Geiling is away most of this year on a teaching job in Cairo, so last December the couple sublet her room in their fourth-floor, walk-up apartment in the diverse, working-class neighborhood of Wedding to a Muslim man from Mali.
The 39-year-old, who is afraid of giving his name for safety reasons, has applied for asylum and is awaiting a work permit. In the meantime, Kakoschke and Geiling (who happened to be back in Berlin when NPR visited to the apartment) say they rely on donations to cover the new roommate's $430 share of rent and utilities.
Just like in any apartment shared by multiple people, compromise is key, the roommates say. They cook meals jointly and split up housework. Kakoschke jokes that the apartment has never been cleaner.
Full report at:
http://wmky.org/post/germans-open-their-homes-refugee-roommates
-----------
Austria's new law on Islam could be 'a model for Germany'
06 March 2015
Austria's new law on Islam, which was passed by the Austrian parliament on 25 February, has rekindled the debate on the integration of Muslims in neighbouring Germany where Muslim leaders would like to see a similar law.
The new law specifies that Austrian law has priority over Muslim religious edicts, and forbids Muslim organisations and imams to be funded from abroad. Imams will be required to speak German and preach in German in mosques in Austria.
According to the Austrian Foreign Minister Sebastian Kurz, who is also Minister for Integration, the law aims to prevent the radicalisation of young people. "We would like to reduce political influence from abroad and give Islam a chance to develop freely within Austrian society in line with our common European values", he underlined.
The Central Council of Muslims in Germany (ZMD) would welcome a law on Islam based on the new Austrian one, ZMD chairman Aiman Mayek said on the German TV channel phoenix.de. It was legitimate to require religious communities to finance themselves and for imams to be trained in Germany, he said.
The President of the German Bundestag, Norbert Lammert (CDU), said the law was "an interesting attempt to clarify situations which will also need clarifying in Germany". Imams must definitely speak German in mosques in Germany, he said.
Full report at:
http://www.thetablet.co.uk/news/1842/0/austria-s-new-law-on-islam-could-be-a-model-for-germany-
-----------
Dresden Anti-Immigration Protests Cause Tension In Muslim Community
MARCH 06, 2015
The German city of Dresden was at the center of large anti-immigration protests for months. Members of the city's Muslim community live with the tension caused by the protests.
Copyright © 2015 NPR. For personal, noncommercial use only. See Terms of Use. For other uses, prior permission required.
MELISSA BLOCK, HOST:
And I'm joined now by my colleague Audie Cornish, who's been reporting this week on Muslims in Western Europe. Audie, hi.
AUDIE CORNISH, HOST:
Hey there, Melissa.
BLOCK: And you started this week in London. You went on to Paris and Berlin. You're ending the week in the eastern German city of Dresden. Why there?
CORNISH: Well, Dresden is a good example of a place where Muslims were being talked about but not actually heard from. And throughout the week, we've tried to visit with communities that found themselves at the center of national debate, say, the poor communities in the suburbs of France or the tech-savvy youth in London.
Now, in Germany, it's not the threat of terror attacks that's driven talk about Muslims, but immigration and asylum seekers. In October, a movement began in the eastern German city of Dresden called PEGIDA, a group opposed to Muslim immigration. And by December, upwards of 25,000 people were marching in these protests against the so-called Islamization of Europe, even though Muslims make up less than 1 percent of the population of Dresden.
BLOCK: Yeah. And we heard a number of reports on those demonstrations on the program. We heard German Chancellor Angela Merkel speaking out against the marches. And also, we heard about counter-demonstrations. Has this all died down?
CORNISH: Yes, you're right. I mean, the response from the German chancellor was blunt, you know, saying that the protesters have hatred in their hearts. And the PEGIDA leadership has basically imploded. These were such large counter-protests that many Germans say, you know, this was not reflective of the country as a whole. But at the height of those protests, you know, there were thousands of people marching around Dresden with anti-Muslim signs that said things like the Quran equals hate and violence or deport Alibaba and the 40 thieves.
For Muslims who live there, they were really shaken by it. So today I'm going to take you to the Marwa El-Sherbini Mosque. It's not far from the city center of Dresden. And unlike the East London Mosque we visited at the start of the week, which serves thousands of people, this is a small, makeshift, like, concrete block of a building.
Full report at:
http://www.npr.org/2015/03/06/391269354/dresden-anti-immigration-protests-cause-tension-in-muslim-community
-----------
After European terror strikes, "Eurabia" fears soar
March 6, 2015
BERLIN -- The headlines would suggest Europe is under siege: Thousands of Germans march against the continent's "Islamization." French readers flock to read a novel about a Muslim president who imposes Sharia law on their country. Commentators warn darkly about an encroaching age of "Eurabia" in the wake of the Paris terror attacks.
But is Europe actually heading toward Islamization?
Research shows that Europe's Islamic population has indeed risen sharply over the last two decades, and continues to grow. But the numbers fall far short of any possibility of Europe becoming predominantly Muslim. And there are little signs that Islamic culture is spreading beyond the boundaries of Muslim communities - let alone becoming dominant in Europe.
The Pew Forum published research in 2011 predicting that Europe's Muslim population will almost double to nearly 57 million by 2030, from just under 30 million in 1990. That may seem like a lot, but it still means that Europe's Muslim population would only increase from 4.1 percent to 7.8 percent, according to the Pew paper. Moreover, the Pew report says that the period of greatest growth in Islamic populations is already past.
"As Muslims become more integrated, they tend to have fewer children," said Brian J. Grim, president of the Religious Freedom & Business Foundation, who worked on the Pew report. "Based on the demographic data, Europe cannot be Islamized, if by that is meant demographic dominance."
If population trends don't point toward Islamization, could there be a cultural change with the same result? In London, Paris, Berlin and other major European cities, anti-Muslim sentiment is frequently directed against the growth of mosques, halal butchers and Islamic dress in the streets - with many seeing them as infringements on European norms.
Following major Islamist terror attacks in London and Paris, anxieties are soaring in Europe about the rapid growth of a culture that, its critics say, simply refuses to adopt the values of the host country. Ordinary people across Europe are increasingly wary of the insular-looking Islamic communities that have cropped up in major European cities, and feel that its members are hostile to the European mainstream.
Full report at:
http://www.cbsnews.com/news/after-european-terror-strikes-eurabia-fears-soar/
-----------
France's 'Islam of the suburbs' and the illusions of the media
7 March 2015
In France the word "Islam" often invokes the term "suburb"[A word the French associate with an impoverished neighbourhood]. While it is widely used by both French politicians and the media, it encompasses realities more complex than they appear. Between religious fervour and violent militancy, Islam in the French suburbs is an issue that governments are struggling to define.
Conflating suburbs and terrorism
In a session of the French Senate on 12 February 2015, Prime Minister Manuel Valls expressed concerns over "Salafist groups based in a number of our neighbourhoods" stressing "the influence of these groups in the Chechen circle of influence."
Four days earlier, six people suspected of belonging to a militant cell were arrested near Toulouse and Albi in the south of France. The following day, in an interview with La Provence newspaper, Valls said it was a "Chechen network on their way to Syria."
On 12 January, Nicolas Sarkozy, president of the main opposition party UMP, deplored how "immigration complicates things" regarding terrorism, pointing out in a statement to RTL radio "the difficulties of integration" and the resulting "communitarianism".
Similarly, on 23 February, Roger Cukierman, president of France's Jewish Institutions Representative Council (CRIF), went further by stating that "all the violence is committed by young Muslims".
These comments, in the wake of the prime minister's remarks, hint at the alleged links between Islam, the suburbs and terrorism.
Full report at:
http://www.middleeasteye.net/in-depth/features/france-s-islam-suburbs-and-illusions-media-797214478
-----------
British, Canadian Muslims work to burnish image
March 6, 2015
The challenges of being a Muslim in Britain and Canada have been magnified in recent weeks with reports identifying a British-educated ISIS member as "Jihadi Johnny" and a Canadian mall allegedly being targeted for an al-Shabab attack.
Partly in response to these issues, and others, Muslims in the two countries have undertaken community outreach projects to burnish their image, media reports indicate.
In Canada, a mosque in Edmonton, Alberta, held an open house to share its faith with the public, GlobalNews reported. The goal, a community leader said, was to demonstrate a commitment to peace and not violence.
Mohyuddin Mirza, the Ahmadiyya Muslim Community of Edmonton's outreach director, said, "We just want to promote the idea we are living in your community, come and see us, you won't see any violence."
The mosque mailed invites to residents near its location, and one resident felt the experience was positive.
"I just think that they are our neighbors, and why shouldn't we learn something about their culture," Carol Donahue, who has lived in the area for 31 years, told GlobalNews.
Ahmadiyya Muslims across Canada are opening their homes for a #MeetAMuslimFamily campaign during the first two weeks of March, CTV News reports from Vaughan City, Ontario, Canada.
"Through this campaign Canadian Muslims will showcase to their fellow Canadians that a Muslim's faith is not in conflict with Canadian values," the Ahmadiyya Muslim Jama'at Canada group said in a statement.
The Safwan Choudhry family hosted Vaughan City Councilor Marilyn Iafrate and her daughter for a meal Sunday, CTV reported.
"Being together and sharing common values … this is a moment where we can experience and solidify what we know — and the food is awesome," said Iafrate.
Salman Farsi, a spokesman for the East London Mosque in Britain, told NPR of his concerns over reports linking British-educated Muslims with the Islamic States.
Full report at:
http://www.dailyamerican.com/life/british-canadian-muslims-work-to-burnish-image/article_c392f311-4447-5b08-b262-f2076cde152e.html
-----------
Iran's Kish may become popular attraction for Muslim tourists from Russia
6 March 2015
Alexander Kurnosov, a member of the presidium of the Association of Tour Operators of Russia, deputy director general of Academservice, said that Iran's Kish Island in the Persian Gulf could become an ideal place for Muslim tourists from Russia. A delegation of the Association visited the island, RIA Novosti reports.
Full report at:
http://vestnikkavkaza.net/news/tourism/67457.html
-----------
Morocco Slams 'Unfair' Statement by Reporters Without Borders
Friday 6 March 2015
Rabat – Communication Ministry on Friday slammed the statement of Reporters Without Borders (RWB) on freedom of expression in Morocco as "unfair, unjustified and contradictory with the reality of press freedom in Morocco."
In a statement, the Ministry highlights the efforts made by Morocco in recent years, which have been "consolidated by the adoption of a new Constitution, the development of a press and publishing law draft."
Full report at:
http://www.moroccoworldnews.com/2015/03/153260/morocco-slams-unfair-statement-reporters-without-borders/
-----------
Pakistan
Pakistan calls upon UN to address root causes of terrorism
Mar 7, 2015
UNITED NATIONS: Making her debut at the United Nations on Friday, Pakistan's new Ambassador to the body Dr Maleeha Lodhi called for addressing underlying factors responsible for terrorism so as to formulate an effective and comprehensive response to the challenge.
Among the diverse and complex drivers of terrorism is political, economic and social injustice, lack of social and economic opportunities, unresolved political disputes and foreign occupation, she told a global counter-terrorism meeting.
She added that there is a need to evolve a multifaceted response to a multidimensional challenge.
The ambassador said that specific solutions were needed for specific challenges and situations, adding that "one size often did not fit all".
Dr Lodhi pointed out that an effective response to combat terrorism required at the very outset developing a greater understanding of various terrorist movements, their specific motivations, objectives, capacities and modus operandi. A comprehensive response cannot be built without such knowledge, the Pakistani envoy stressed.
Ambassador Lodhi also called for developing recommendations and a plan of action at the global level to counter the narratives and extremist ideologies espoused by terrorist groups, especially among populations and regions under threat from particular terrorist groups.
She also underscored the need to evolve proposals on ways to halt various forms of terrorist financing, including criminal activities and drug trafficking. The international community should address as sensitively as possible the so far ignored problem of state terrorism and state-sponsored terrorism.
Full report at:
http://www.dawn.com/news/1167985/pakistan-calls-upon-un-to-address-root-causes-of-terrorism
-----------
Schools to be named after Peshawar massacre victims
March 07, 2015
Peshawar- Pakistan is renaming dozens of government-run schools after the students killed by Taliban militants in a massacre at an army-run academy in the northwestern city of Peshawar in December, an official said Friday.
The school attack by six gunmen believed linked to the Pakistani Taliban killed 153 people, with most of the victims students, is seen as having hardened Pakistan's resolve to fight jihadist militants along its lawless border with Afghanistan.
A total of 107 schools in the Khyber Pakhtunkhwa region will bear the name of the slain Peshawar students, said the local education minister, Atif Khan.
Full report at:
http://nation.com.pk/national/07-Mar-2015/schools-to-be-named-after-peshawar-massacre-victims
-----------
Sufi Art showcased at RAC
March 07, 2015
Rawalpindi - A one-day Sufi Art Exhibition of art instructor of Rawalpindi Arts Council Younis Roomi on message of Sufism was showcased here on Friday.
Ambassador of Netherland Marcel de Vink accompanied by Shaikha Noor, Tulin and Saljook from Turkey, Prof Erdaal from Germany, Bilal Chishti from Ajmair Sharif and Khadim Ahmed Haqeeqi from Afghanistan inaugurated the exhibition.
Addressing at the inaugural ceremony, the Ambassador of Netherland Marcel said that the artwork of Younis Room depicted the real 'sufi' essence and he has introduced new trends in calligraphy and antique Younis Roomi is transferring his skills of Fine Art at the Rawalpindi Arts Council and knowledge to the students who want to become artists and explore this field as a professional artist.
Full report at:
http://nation.com.pk/islamabad/07-Mar-2015/sufi-art-showcased-at-rac
-----------
Govt to provide security to ASWJ mosques, seminaries
Mar 7, 2015
ISLAMABAD: The Islamabad police on Friday agreed to provide security to the mosques and other institutions affiliated with the banned Ahle Sunnat Wal Jamaat (ASWJ) and its office bearers.
The agreement was reached between the ICT administration and the ASWJ protesters mostly seminary students as they started march towards the Parliament House.
They were protesting against 'target killings and kidnappings' of their office bearers.
The local leaders of the proscribed outfit blamed the authorities for failing to stop what they called 'rising cases of terrorism against them'.
"Our people are being killed in the twin cites but we remain committed to our peaceful co-existence," said ASWJ Islamabad President Ghulam Mustafa Baloch, who led the march.
However, the Islamabad police stopped the march near Melody by placing containers on the street near National Database and Registration Authority (Nadra).
To prevent the movement of ASWJ, police closed the Red Zone entry points at Serena Hotel too, and the Red Zone could be accessed through Margalla Road.
Full report at:
http://www.dawn.com/news/1167948/govt-to-provide-security-to-aswj-mosques-seminaries
-----------
ATC indicts three suspects in Karachi airport attack case
Mar 7, 2015
KARACHI: An anti-terrorism court (ATC) in Karachi indicted three suspects on Saturday over involvement in a Tehreek-i-Taliban Pakistan (TTP)-claimed attack on Karachi's Jinnah International Airport in June 2014.
The three suspects — Sarmad Siddiqui, Asif Zaheer and Nadeem alias Burger (also alias Mullah) — were produced in court amid tight security. All three pleaded not guilty to the charges against them.
The court has now summoned all witnesses in the case for the next hearing scheduled for March 14.
More on this: Three suspects remanded in airport attack case
An ATC in 2014 had remanded Siddiqui, Zaheer and Nadeem for allegedly providing logistical support, funds and weapons to the militants that attacked the Karachi airport.
At that time, the Investigating Officer (IO) had submitted a report which said that the suspects were arrested on Oct 28 and two of them were found carrying unlicensed weapons.
The IO had contended that during initial interrogation the suspects had disclosed that they purchased 9mm and CF 98 pistols by using the license of arms dealer Hameedur Rehman and handed over the weapons to Malik Mumtaz Awan and others.
Also read: TTP claims attack on Karachi airport
The brazen five-hour attack by militants took place at Karachi's international airport last year killing 28 people, including 10 attackers.
Full report at:
http://www.dawn.com/news/1167988/atc-indicts-three-suspects-in-karachi-airport-attack-case
-----------
Justice Riaz Ahmed takes oath as CJ Federal Shariat Court
Mar 7, 2015
ISLAMABAD: Chief Justice of Pakistan Nasirul Mulk Saturday administered the oath of office to Justice Riaz Ahmed Khan as Chief Justice of the Federal Shariat Court here in a ceremony held at the Supreme Court.
Registrar of the Supreme Court Syed Tahir Shahbaz conducted the proceedings of oath taking ceremony, said a press release.
Full report at:
http://www.dawn.com/news/1167994/justice-riaz-ahmed-takes-oath-as-cj-federal-shariat-court
-----------
Extrajudicial acts by police aimed at curbing crime, says DIG
Mar 7, 2015
HYDERABAD: DIG Sanaullah Abbasi has said that extrajudicial killings and other actions cannot be justified officially but society has come to accept this 'modus operandi' of police to eradicate crimes and make streets safer.
"It is not necessary for an encounter to be seen as genuine only if a policeman loses his life in it. You can see police have restored peace and order in the city (through this modus operandi)…," he said.
The official was speaking to journalists at the Citizens-Police Liaison Committee (CPLC) offices here on Friday during a briefing by local CPLC chief Haji Yaqoob Memon about the committee's progress on cases of kidnapping and women trafficking.
Asked if 'half fry and full fry formula' used by policemen to refer to a particular treatment meted out to arrested suspects in proportion to severity of their crimes, did not amount to extrajudicial actions, the DIG said he could confidently say that society had come to accept the 'formula'.
The terms 'half fry' and 'full fry' are commonly used by police to mean if officers are convinced the arrested suspects are involved in crimes they will be shot in the leg to render them disabled before sending them to jail. It had gained notoriety during the tenure of SSP Farid Jan Sarhandi but now it is talk of the town.
he official was speaking to journalists at the Citizens-Police Liaison Committee (CPLC) offices here on Friday during a briefing by local CPLC chief Haji Yaqoob Memon about the committee's progress on cases of kidnapping and women trafficking.
Asked if 'half fry and full fry formula' used by policemen to refer to a particular treatment meted out to arrested suspects in proportion to severity of their crimes, did not amount to extrajudicial actions, the DIG said he could confidently say that society had come to accept the 'formula'.
The terms 'half fry' and 'full fry' are commonly used by police to mean if officers are convinced the arrested suspects are involved in crimes they will be shot in the leg to render them disabled before sending them to jail. It had gained notoriety during the tenure of SSP Farid Jan Sarhandi but now it is talk of the town.
Full report at:
http://www.dawn.com/news/1167845/extrajudicial-acts-by-police-aimed-at-curbing-crime-says-dig
-----------
Pakistani expats told to respect local laws
7 March 2015
Pakistani Ambassador Manzoor ul Haq urged his countrymen to respect the culture and regulations of the host country during their stay in the Kingdom.
He was addressing members of the Pakistan Writers Club-Riyadh.
Haq said their good behavior would bring good name to the country.
The envoy explained that violation of local laws could lead to unwanted problems and end up with hassles not only to the workers but also to their families back home.
The ambassador gave a patient hearing to the members of the club, who came out with various problems faced by the community.
Full report at:
http://www.arabnews.com/saudi-arabia/news/714841
-----------
Two terror bids foiled in Balochistan
March 07, 2015
QUETTA - Frontier Corps (FC) on Friday foiled two major terror bids planned for March 23 in different parts of Balochistan by arresting three culprits and recovering huge cache of arms and ammunition.
Talking to media persons, Balochistan Home Minister Sarfraz Bugti said that FC conducted an operation in New Kahan, Hazar Ganji and Killa Abdullah and recovered 48 120mm mortar shells, nine 82mm mortar grenades and 3 kilograms of explosive material whereas huge cache of weapons and explosives were recovered from the secret spaces of the car in Killa Abdullah that include two SMGs, 9 magazines with 340 rounds, 7 rocket-propelled grenades (RPGs) with rounds and 42 sniper rounds.
Three suspects were also arrested.
Full report at:
http://nation.com.pk/national/07-Mar-2015/two-terror-bids-foiled-in-balochistan
-----------
Muslim states think tanks forum meets today
March 07, 2015
ISLAMABAD - For the first time in the history of Pakistan, the two-day '6th Think Tanks Forum of the Islamic Countries' will be held in Islamabad on March 7-8 under the joint auspices of the Pakistan-China Institute (PCI), the Turkish Asian Center for Strategic Studies (TASAM), the Konrad Adenauer Stiftung (KAS) and the Pakistan's Senate Committee on Defence.
This was announced by Senator Mushahid Hussain Sayed.
The Think Tanks Forum of the Islamic Countries with its secretariat in Istanbul is a biannual gathering of the representatives of think tanks from Muslim countries across the world.
The forum has a 9-member board of eminent persons, where Senator Mushahid Hussain, Chairman PCI and Chairman of the Senate Committee on Defence, represents Pakistan, while other represented countries include Saudi Arabia, Turkey, Iran, Bangladesh, Azerbaijan, Egypt, Malaysia and Sudan.
Full report at:
http://nation.com.pk/islamabad/07-Mar-2015/muslim-states-think-tanks-forum-meets-today
-----------
44 Indian, Bangladeshi fishermen arrested
March 07, 2015
KARACHI - Maritime Security Agency (MSA) has arrested 44 Indian and Bangladeshi fishermen for violating the country's territorial waters in the Arabian Sea here on Friday.
The MSA detained the fishermen after they strayed into Pakistani waters along with eight boats.
The fishermen were handed over to the Docks police. "The MSA has handed these fishermen over to us for further legal proceedings," said SHO Docks Zawwar Hussain Shah. "One of them is the Bangladeshi national who was also fishing illegally along with the Indian fishermen in the Pakistani waters."
The police have registered an FIR 127/15 under Foreign and Fisheries Acts on behalf of the state and initiated investigation, said the officer. The police will present the fishermen before a magistrate who will send them to jail for violating the territorial waters of the country illegally.
Full report at:
http://nation.com.pk/karachi/07-Mar-2015/44-indian-bangladeshi-fishermen-arrested
-----------
Sharif's Party Gains Strength In Pakistani Senate Election
March 07, 2015
Reports from Pakistan say Prime Minister Nawaz Sharif's political party has gained strength in Senate elections as the second largest party in the upper chamber of the National Assembly and now has just one seat less than the opposition.
Pakistan's Geo-TV reported early on March 7 after victory notifications were sent to most winning candidates that Sharif's Pakistan Muslim League–Nawaz had won 26 seats.
Unofficial results from the March 5 secret ballot by Pakistan's provincial legislatures showed the opposition Pakistan People's Party retaining the largest bloc in the Senate with 27 seats.
If confirmed, those results would represent a loss of 13 seats for the opposition in the 104-seat Senate.
Full report at:
http://www.rferl.org/content/pakistan-senate-election-results/26886768.html
-----------
South Asia
Detainee traded for Bergdahl may have contacted Taliban
7 March 2015
U.S. spy agencies are examining intelligence reports that one of five Taliban leaders released from Guantanamo prison and sent to Qatar as part of a deal to free U.S. soldier Bowe Bergdahl last year may have re-established contact with a militant group, U.S. officials said on Friday.
So far, only one of 17 U.S. intelligence agencies has formally concluded that the Taliban leader is suspected of re-engagement, two U.S. officials told Reuters. But other agencies will be closely monitoring him for further corroboration, said the officials, who asked not to be identified.
Republicans who control the U.S. Congress are demanding that President Barack Obama not free any more people from Guantanamo, the U.S. prison on Cuba was set up to house suspected terrorists caught by the United States after the Sept. 11, 2001 attacks.
They say there is a big risk of the released prisoners rejoining the fight against the United States.
A report published by the office of the Director of National Intelligence (DNI) this week said that one of the 17 agencies under the directorate judged that one of the prisoners released from Guantanamo in the last year had re-engaged with the Taliban.
The U.S. officials said the person referred to was one of the five sent to Qatar. "That detainee's status will be continually evaluated and may be reflected in future reports, depending on the information available and the views within the Intelligence Community at that time," the DNI report said.
Full report at:
http://english.alarabiya.net/en/News/asia/2015/03/07/Detainee-traded-for-Bergdahl-may-have-contacted-Taliban-officials-.html
-----------
Bangladesh border guards clash with Muslim migrants from Myanmar
Mar 6, 2015
Bangladeshi border guards clashed with a group of illegal migrants who had crossed from neighboring Myanmar on Friday, before deporting 136 of them, including women and children.
A local commander from the paramilitary Border Guards Bangladesh (BGB) unit, Colonel Mohammad Khalekuzzaman, said the migrants were from Myanmar's Rohingya Muslim community, a mostly stateless minority living in often grim conditions.
According to Khalekuzzaman, at least 300 Rohingya crossed from Myanmar into Bangladesh and were making their way by road to the Kutupalong refugee camp near the town of Cox's Bazar when they were stopped at a BGB checkpoint set up after a tip-off.
"A group of Rohingya, along with local residents, opened fire and threw stones at us," said Khalekuzzaman, adding that BGB guards fired warning shots in response. One guard received a gunshot wound and was taken to a hospital in Cox' Bazar.
Full report at:
http://www.reuters.com/article/2015/03/06/us-bangladesh-myanmar-rohingya-idUSKBN0M21OW20150306
-----------
18 BNP, Jamaat, Shibir activists detained in Ctg
Mar 7, 2015
Police in separate drives detained 18 activists of BNP-Jamaat-Shibir in Chittagong city and three upazilas of the district on Thursday and yesterday.
Naimul Hasan, additional superintendent of police (special branch) of Chittagong, said police held 13 activists in overnight raids at various places in Mirsari, Sitakunda, Hathazari and Satkania upazilas to prevent possible acts of sabotage during the countrywide blockade and hartals enforced by the BNP-led alliance.
Police also detained four hartal supporters in the city yesterday.
http://www.thedailystar.net/city/18-bnp-jamaat-shibir-activists-detained-in-ctg-68164
-----------
'Bangladesh domestic workers must know their responsibilities, rights'
7 March 2015
Bangladesh Embassy officials said that Bangladeshi domestic workers must know their rights and responsibilities before coming to the Kingdom.
The statement from the embassy officials came after a recent report revealed that over 31,993 domestic workers in the Kingdom were registered as absent or escaped in 2013.
According to the sponsorship mechanism, both the worker and the employer have the right to submit a request for investigation regarding disagreements between the two sides to one of the 35 committees throughout the Kingdom.
Once the investigation is completed, the official case is prepared and a hearing date is set to rule on the issue.
Full report at:
http://www.arabnews.com/saudi-arabia/news/714826
----------
Bangladesh seizes 27 kg of gold from N Korean envoy
March 07, 2015
DHAKA - Bangladeshi customs authorities seized nearly 27 kilograms of gold, worth about $1.7 million, from a North Korean diplomat on Friday after he tried to smuggle in the bullion using diplomatic immunity.
Armed police and customs officials at Dhaka airport challenged Son Young Nam, the first secretary of the North Korean embassy in the city, on Thursday night after he arrived on a flight from Singapore.
"He insisted that his bags cannot be scanned because he's carrying a red passport and he enjoys diplomatic immunity," Moinul Khan, head of Bangladesh's customs intelligence department, told AFP.
Khan said the diplomat was told that gold weighing more than two kilograms could not be carried in.
"After more than four hours of drama, he gave in and we found gold bars and gold ornaments weighing 26.795 kilograms (59.1 pounds), which is worth 130 million taka ($1.67 million), from his hand-bag," he added. The diplomat who was accompanied by the North Korean ambassador to Dhaka on his flight from Singapore, was "released under the Vienna Convention but the gold was confiscated," Khan added.
Full report at:
http://nation.com.pk/international/07-Mar-2015/bangladesh-seizes-27-kg-of-gold-from-n-korean-envoy
-----------
India
J&K Govt Starts Process for Hurriyat Hardliner's Release from Jail
March 7, 2015
Chief of the Muslim League and a senior Hurriyat Conference leader Masarat Alam, who successfully organized anti-India protests resulting into the death of 112 people in stone pelting across the Valley during 2010, may be a free man soon as the Jammu Kashmir government has started the process for his release from jail.
While sources in the State Home Department confirmed that process has begun for his release from Baramulla jail, the Director General of Police K Rajendra said that the state government's instructions on release of political prisoners will be complied with. In this context, sources pointed out that even the Principal Secretary Home, Suresh Kumar, had visited his office in the civil secretariat where offices normally remain closed on Saturdays and Sundays on account of their observing five day a week working pattern.
Masarat, 42, is the only political prisoner in jail and he does not face any criminal charges despite his detention under Public Safety Act for the last over four years. The 42-year-old science graduate, the internet savvy Muslim League chief enjoys substantial support on both sides of the Line of Control (LoC) and he is widely seen as a successor to Syed Ali Shah Geelani.
Full report at:
http://indianexpress.com/article/india/india-others/mufti-govt-starts-process-for-hurriyat-hardliner-masarat-alams-release-from-jail/
-----------
Indian man arrested for blasphemy in Saudi Arabia
March 06, 2015
JEDDAH: An Indian national in Jeddah was arrested a month ago for violating the cyber laws of the country by promoting blasphemous content.
The unnamed Indian expat who has been living in the Kingdom of Saudi Arabia (KSA) for two years was taken into custody by police at the airport for 'liking' blasphemous content ─ which led to a display of the said content on his social-media profile.
The image in question depicted the Kaaba covered in Hindu deities. A Saudi national who was offended by the image reported the Indian man to the Commission for Promotion of Virtue and the Prevention of Vice (Haia).
Read more: Survey reveals Pakistanis see problems with blasphemy law
Although the Indian claims the content was shared accidentally on his profile, the team investigating him believes he is guilty of violating the law. Indian Consul General B.S. Mubarak confirmed that an investigation was underway; "We are trying to help him in the best possible way," he said.
Full report at:
http://www.dawn.com/news/1167795/indian-man-arrested-for-blasphemy-in-saudi-arabia
-----------
Pakistan arrests 45 Indian fishermen
Mar 7, 2015
KARACHI: Pakistani marine forces have arrested 45 Indian fishermen for violating territorial waters in the Arabian Sea, police said on Saturday.
Pakistan's maritime security agency (MSA) detained the fishermen on Friday after they strayed into Pakistani waters, and they were handed over to local police in the port city of Karachi, a senior police official told AFP.
"The MSA has handed over 45 arrested Indian fishermen to police who will be presented before a magistrate and later sent to jail," senior police official Fida Hussain told AFP.
Such arrests are frequently carried out by both countries, as the maritime border in the Arabian Sea is poorly defined and many fishing boats lack the technology needed to be certain of their precise location.
Full report at:
http://timesofindia.indiatimes.com/india/Pakistan-arrests-45-Indian-fishermen/articleshow/46483384.cms
-----------
Maharashtra Congress to fight for Muslim reservation
Clara Lewis
Mar 6, 2015
MUMBAI: The Maharashtra unit of the Congress has decided to fight for reinstating of the 5% reservation in education for the Muslim community.
In a meeting held on Thursday under the aegis of the newly appointed MPCC president Ashok Chavan and MRCC president Sanjay Nirupam the party decided to launch a statewide agitation against the deletion of the reservation.
Full report at:
http://timesofindia.indiatimes.com/city/mumbai/maharashtra-congress-to-fight-for-muslim-reservation/articleshow/46478205.cms
-----------
Southeast Asia
Philippine offensive against Muslim rebels displaces thousands
March 07, 2015
MANILA - A Philippine army offensive against a Muslim rebel faction has forced 70,000 people from their homes, a district governor said on Friday as he appealed for an end to the fighting, saying he was running out of money to feed the displaced.
The predominantly Christian Philippines has been battling Muslim rebels in the south of the archipelago for decades and while negotiations with the biggest group have raised hopes for peace, fighting with smaller factions erupts regularly.
The latest clashes are between the army and a faction known as the Bangsamoro Islamic Freedom Fighters (BIFF) in a marshy region of Mindanao island. Mujiv Hataman, the governor of the region, said 70,000 people had fled army shelling and he called on the military to end the violence.
"I wish the army would end its offensive against the rebels because we are running out of funds to feed and shelter tens of thousands of people from 11 towns around the marshland," Hataman told a radio station. He said the army had told him they needed three more days. An army spokesman, Brigadier-General Jose Kakilala, said soldiers were still pursuing the rebels. "I cannot say we can end the offensive in 72 hours, it depends on the assessment of the ground commander but we can certainly consider the appeal of the governor," he said.
The International Committee of the Red Cross said the number of displaced people was rising while a health officer in the region said civilians needed food, clean water and access to sanitation.
Full report at:
http://nation.com.pk/international/07-Mar-2015/philippine-offensive-against-muslim-rebels-displaces-thousands
-----------
PKR vows no surrender, says #KitaLawan rally on
March 07, 2015
BY SHAUN TAN
PETALING JAYA, March 7 — PKR president Datuk Seri Dr Wan Azizah Wan Ismail said today her party will continue its fight to free jailed Opposition Leader Datuk Seri Anwar Ibrahim and to continue its push for justice in Malaysia.
With just hours to go to its planned street rally in the national capital city, Dr Wan Azizah who is also wife to Anwar, told some 400 people in the civic hall here that her husband's sentence was a miscarriage of justice, and added that he had "sacrificed himself for the betterment of the nation".
"We will never surrender," she said in a speech, to loud cheers and applause.
In a news conference after the speech, Dr Wan Azizah said Anwar's imprisonment provided the impetus for the party to continue its struggle.
The public rally set for 3pm will kick off from three assembly points within Kuala Lumpur: Central Market, Masjid Jamek and PAS headquarters in Jalan Raja Laut, before demonstrators converge outside the Sogo shopping complex in Jalan Tuanku Abdul Rahman.
The police has issued a warning that the rally, headlined as #KitaLawan, is unlawful as its organisers had failed to follow the conditions laid out in the Peaceful Assembly Act for.
But party youth wing chief Nik Nazmi Nik Ahmad who was also present at today's news conference said he is encouraged by the support from PKR's political allies and from others abroad who have also planned to hold solidarity gatherings in several cities.
"We are happy to have the support of DAP and PAS Youth on this rally.
"We are also pleased that rallies like this one here has been organised on the international level like Australia and UK," he said.
Nik Nazmi said he expected the rally in Kuala Lumpur to last between one-and-a-half to two hours.
Full report at:
http://www.themalaymailonline.com/malaysia/article/pkr-vows-no-surrender-says-kitalawan-rally-on
-----------
Christians not behind 'heretical' Jesus booklets, says Guan Eng
BY LOOI SUE-CHERN
7 March 2015
The recent distribution of "heretical" Jesus Christ booklets to Muslim villagers in several Balik Pulau villages could not be the work of Christians, said Penang Chief Minister Lim Guan Eng.
Lim said it was impossible since the Christian community had found the contents were against Christian teachings.
He said Christians had also slammed those behind the distribution of the booklets titled "Al-Masih" because it promoted heresy.
"The booklet stated that Mary and Jesus were married. Everyone knows Mary is his mother and Jesus did not marry... those are facts stated in both the Quran and the Bible.
"We don't know who was behind this but it could not have come from either the Muslim or the Christian community... it cannot be since the booklets' contents are against both religions," he told reporters in Air Itam at a Warga Emas appreciation programme today.
Lim said the act must be by a group that wanted to cause trouble between Muslims and Christians, urging police to get to the bottom of the issue and apprehend those responsible so they could face the law.
It was reported that some villagers in seven villages located within a 10km radius in Balik Pulau had woken up on Wednesday morning to find the booklets at their doorsteps.
They said the booklets had been left outside their homes after 3am after everyone had gone to bed.
Full report at:
http://www.themalaysianinsider.com/malaysia/article/christians-not-behind-heretical-jesus-booklets-says-guan-eng
-----------
Kota Baru PAS Youth rejects limits on president's term
BY ZULKIFLI SULONG
7 March 2015
The motion put forward by a committee member was dismissed by a big majority, after being debated by delegates who said it was an attempt to pressure Hadi into early retirement.
They also rejected the motion despite it being supported during the debate by Kota Baru PAS youth chief, Dr Rosli Allani Abdul Kadir, reflecting the voting trend in PAS among its youth.
The AGM was officiated by PAS deputy youth chief Khalil Abdul Hadi, who is also Hadi's son.
Meanwhile, a motion for PAS leadership positions to be contested at least every three years received unnanimous support.
Delegates agreed that this would allow better focus on the party's development.
Meanwhile, Nor Azariza Mohd Alawi was chosen as the new youth chief for Kota Baru, replacing Rosli who did not defend his position and will instead run for the Kota Baru deputy commissioner post, for which voting will take place today.
In his speech, Khalil said it was never PAS's intention to leave Pakatan Rakyat (PR).
He said there were different views in PAS on its cooperation with PR, but they are about PAS remaining with the opposition pact for the sake of Islam and to look after the political interests of the faith.
Full report at:
http://www.themalaysianinsider.com/malaysia/article/kota-baru-pas-youth-rejects-limits-on-presidents-term
-----------
URL: https://www.newageislam.com/islamic-world-news/new-age-islam-news-bureau/iraqi-forces-retake-key-town-of-al-baghdadi-from-isil/d/101857