New Age Islam News Bureau
30 Sept 2014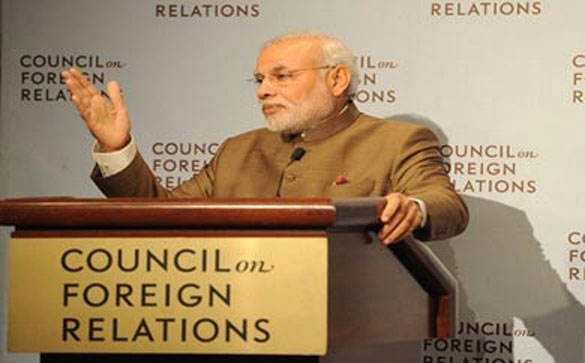 Indian Prime Minister Narendra Modi addressing at the Council on Foreign Relations, in New York on 29 Sep 2014
-----------
Arab World
• Iraqi Army Kills 100 ISIL Terrorists, Liberates 16 Villages in Diyala Province
• 35 ISIL Terrorists Killed in Iraq
• ISIS 'just one mile from Baghdad'
• Salih Muslim Calls For Action to Avoid Kobani 'Slaughter'
• Jordan on high alert for possible IS retaliation
• US-led Air Strikes Pose Problem for Assad's Moderate Foes
• Propaganda to fight back with IS TV satire
• Theme song of Iraqi sitcom mocking ISIS goes viral
• Photo of ISIS leader 'lookalike' goes viral
• Kurd troops attack Iraq jihadists on three fronts: officers
• FSA chief urges Alawites to abandon Assad's 'sinking ship'
• Egypt court bans another Islamist party
South Asia
• 47 Taliban militants killed during clearing operations, MoI says
• ISAF refutes reporting of brutality in Ajristan
• Ahle Sunnat demands Latif Siddique's arrest
• Maldives' human rights developments "disturbing", says Canadian FM
Southeast Asia
• In anti-Isis salvo, Dr M urges clerics to speak up
• Envoy denies jihadists using Malaysia as a platform to enter Iraq
• 7 Malaysians among 16 barred from South Korea over militant links
Pakistan
• Jamaat e Islami to Renew Pakistan Movement
• Peshawar: Loud Speakers Banned On Of Eid-Ul-Azha
• 'Pakistan Qualifies For Nuclear Suppliers Group Membership'
• Pakistan Army fully prepared to deter and defeat any form of aggression: COAS
• We will continue to meet Kashmiri leaders before, after talks with India: adviser
• Imran never brings donations for SKMH to Pakistan: minister
• Qadri castigates rulers for pushing masses under 'pile' of debt
India
• Indian Muslims will fail Al Qaeda, PM Modi reiterates in America
• 'Zero Tolerance, Not Moratorium, Needed To End Communal Violence': Minority and Civil Society Organisations
• Modi, Obama Release Joint Vision Statement, Say Together 'We Will Combat Terror Threats'
• Terrorism is a threat to humanity, there is no good or bad terrorist: Narendra Modi
• Afghan pullout by US must be measured: Modi
North America
• Controversial 'anti-Muslim' New York bus ad pulls Foley image
• Canadian minister calls Pakistan a 'safe haven' for 'terrorists'
• Texas Gov. insists Muslim beheading was 'terrorism,' not 'workplace violence'
• Thousands of U.S. sorties flown in Iraq, Syria war
• US veterans slam slur to UAE's female pilot
• Obama blame of spy agencies over ISIL draws riposte
• US may keep secret prisoners in custody after Afghan war exit
Europe
• Arabs must ramp up anti-ISIS fight, says European Commission chief
I• S pillaging Iraqi artefacts, UNESCO warns
• Two Ethnic Uzbek Taliban Fighters from Tajikistan Sentenced
• Syria refugees in Lebanon face rising violence: HRW
Mideast
• Europe's ISIL recruits 'victims of discrimination': Turkish academic
• 'Historic compromise' must lead to Palestinian state: PA
• Netanyahu has 'lost touch with reality,' says PLO
• Netanyahu: Iran poses greater threat than ISIS
• Israeli Settlers 'Occupy 23 Homes' in East Jerusalem Neighbourhood
Africa
• 'Boko Haram Is Not Islam', Say Young Nigerian Muslims
• Tunisia's Islamists urge US help to support democracy
• Libya's parliament holds crisis talks with rival assembly
• CAR asks UN to tweak arms embargo to aid troops
Australia
• Australia charges man over funding 'terrorist organization'
Compiled by New Age Islam News Bureau
URL: https://www.newageislam.com/islamic-world-news/new-age-islam-news-bureau/iraqi-army-kills-100-isil-terrorists,-liberates-16-villages-in-diyala-province/d/99329
---------
Arab World
Iraqi Army Kills 100 ISIL Terrorists, Liberates 16 Villages in Diyala Province
30 September 2014
Ground operations by Iraqi army, backed by volunteer forces, killed at least 100 ISIL terrorists in Iraq's Eastern Diyala province.
"Some 16 villages were cleared of the ISIL terrorists by Iraqi army and tribal forces and over 100 terrorists were killed," Lieutenant General Abdulemir ez-Zadi, the commander of operations in Diyala, said, Anadolu news agency reported.
The Takfiri terrorists currently control parts of Syria and Iraq. They have threatened all communities, including Shiites, Sunnis, Kurds, Christians, Ezadi Kurds and others, as they continue their atrocities in Iraq.
Senior Iraqi officials have blamed Saudi Arabia, Qatar, and some Persian Gulf Arab states for the growing terrorism in their country.
The ISIL has links with Saudi intelligence and is believed to be indirectly supported by the Israeli regime.
http://english.farsnews.com/newstext.aspx?nn=13930708000210
---------
35 ISIL Terrorists Killed in Iraq
30 September 2014
At least 35 Islamic State of Iraq and the Levant (ISIL) terrorists were killed in ground operations led by Iraqi and local militia forces in Fallujah in the Western Iraqi province of Al Anbar and Northern Iraqi city of Salahuddin, according to Iraqi security officials.
Lieutenant General Rashid Felih, responsible for operations in al-Anbar, said the district has been cleared of militants by the tribes' militia forces and Iraqi army and during the clashes at least 15 ISIL terrorists were killed in the district, Anadolu Agency reported Monday.
He also confirmed that ISIL terrorists were repelled from the town of al-Amiriyah in Fallujah, 40 kilometres West of Baghdad in Iraq and the region is fully controlled by the Iraqi army. The clashes continued for five hours and more ISIL military supplies were destroyed.
In addition, Salahuddin Governorate Police Chief Hamad en-Namisum confirmed that at least another 20 militants were killed as the militants attacked Tikrit University campus.
The Iraqi Air Force also bombed on Monday ISIL's security point in Dakuk town in Iraq South of Kirkuk, the town's security officer Hiva Rashid confirmed.
http://english.farsnews.com/newstext.aspx?nn=13930708000258
---------
ISIS 'Just One Mile from Baghdad'
30 September 2014
ISIS fighters are reportedly just one mile away from Baghdad as reports emerge of al-Qaeda militants bolstering their ranks in Syria.
According to the Foundation for Relief and Reconciliation in the Middle East, Isis was approaching the Iraqi capital on Monday morning.
"The Islamic State are now less than 2km away from entering Baghdad," a spokesperson said.
"They said it could never happen and now it almost has. Obama says he overestimated what the Iraqi Army could do. Well you only need to be here a very short while to know they can do very little."
Isis fighters were also battling Government forces in a key town 25 miles west of Baghdad - Amiriyat al-Fallujah.
According to a BBC correspondent, fighting had calmed by Monday afternoon but a standoff continued along the main road to nearby Fallujah, which is under Isis control.
The extremists had been advancing towards the capital but were held off by bombing and Iraqi ground forces.
US air strikes overnight targeted other Isis positions in Anbar province, the Pentagon said, and in Syria four more oil fields controlled by militants near Raqqa were hit on Sunday.
American officials called the attacks "successful" but the UK-based Syrian Observatory for Human Rights claimed mostly civilians were hit and a grain silo was destroyed.
The news comes amid reports of an emerging alliance between Isis forces in Syria and Jabhat al-Nusra, also known as the Nusra Front.
The group is the Syrian offshoot of al-Qaeda and has been fighting against the Assad regime in the civil war.
Despite months of clashes between its forces and Isis (also known as Islamic State) militants, the two groups appear to be forming a loose coalition in parts of the country to fight increasing attacks by the US and its allies.
Al-Nusra's official spokesperson, Abu Firas al-Suri, threatened the coalition nations with retaliation on Saturday.
"These states have committed a horrible act that is going to put them on the list of jihadist targets throughout the world," he said.
"This is not a war against al-Nusra, but a war against Islam."
Al-Nusra and Isis leaders are now holding war planning meetings together, a source told the Guardian, although no formal alliance has been confirmed.
The reports follow growing defections from other Islamist groups to Isis, which is seen as better organised and equipped to create an "Islamic State" straddling Iraq and Syria.
A loyalty pledge was reportedly made by al-Nusra in June in the town of Al-Bukamal near the Iraqi border, the Syrian Observatory for Human Rights said, and the two groups have fought together against Government forces.
The report appeared to be confirmed on Twitter by a photograph showing an Egyptian al-Nusra Front commander shaking hands with an Isis leader of Chechen origin.
Although both Isis and al-Nusra are rooted in al-Qaeda, the two have been rivals since Isis started its involvement in Syria's civil war in spring last year and have engaged in bloody battles killing more than 3,000 militants from both sides.
A merger had been declared by Isis leader Abu Bakr al-Baghdadi in 2013, when Isis was known as al-Qaeda in Iraq (AQI), but the alliance was rejected by al-Nusra and overruled by al-Qaeda leader al-Zawahiri.
But the international response to Isis' bloody rampage through Iraq and Syria, and the beheadings of British and American hostages, is pushing the groups towards an alliance.
An al-Nusra source told Reuters: "There are hard-line voices inside Nusra who are pushing for reconciliation with Islamic State."
A formal alliance is believed to only be possible on the orders of al-Qaeda leader Ayman al-Zawahiri.
A deal between the militant groups would strengthen the Islamist force in Syria as air strikes cripple Isis funding sources, equipment stores and slow its advances.
The US has not said al-Nusra is being targeted but its planes have attacked a new group called Khorasan, which some analysts suspect is part of al-Nusra.
The two groups have been known to co-operate and Khorasan is believed to be made up of veteran al-Qaeda fighters with battlefield experience mostly in Pakistan and Afghanistan.
Britain, the US and the United Nations are among those who have classed al-Nusra as a terrorist group, citing its use of suicide bombing, terrorist attacks and attempts to impose Islamic law.
A small number of anti-Government groups, including some members for the secular Free Syrian Army, opposed the label after al-Nusra gained respect fighting the Assad regime.
http://www.independent.co.uk/news/world/middle-east/islamic-state-crisis-alqaeda-fighters-joining-forces-with-isis-against-air-strikes-in-syria-9761392.html
----------
Salih Muslim Calls For Action to Avoid Kobani 'Slaughter'
30 September 2014
The Syrian Kurds are currently facing a life-or-death battle against the Islamic State (IS). Their city, Ayn al-Arab (Kobani), awaits "a new massacre," unless a change is brought about, according to Salih Muslim, leader of the [Syrian Kurdish] Democratic Union Party (PYD). Muslim has been shocked by the international silence concerning the plight of Kurds in Syria.
In an interview with As-Safir, he expressed concern that IS is too free to use its heavy weapons to besiege their city, which is already encircled by Turkey. In his opinion, it's ironic that IS is besieging them thanks to US weapons, while the latter is leading an international coalition against IS, without aiming to lift the blockade. These doubts culminated with Turkey's quest to establish a buffer zone that will be fought by the PYD, believing it to be an occupation.
In a press conference at the European Parliament on Wednesday [Sept. 24], Muslim made a distress call. The experienced Syrian oppositionist did not get nervous. He remained calm and logical, even though he was witnessing the doom of his hometown.
The besieged Kurds were supposed to take a deep relaxing breath with the international coalition's airstrikes. The PYD has welcomed them, but has questioned why IS forces besieging Kobani have not been bombed. The PYD has openly offered to be a backup force for the operations against the international "enemy," since hard work is underway to find parallel ground forces, yet there has been no response to the offer.
Muslim, who does not look over 60 [he is 58 years old], said, "We have issued a statement in which we have clearly welcomed the international coalition and its operations. We have said that we are on the ground and IS is slaughtering us. We certainly want to cooperate with the [coalition] to avoid being slaughtered, but it did not respond yet. I think some parties do not want us to be seen on the forefront, which will happen in case of a collaboration with the coalition. There is Turkey and other countries as well."
The intensification of the blockade on Kobani has raised questions on the capabilities of the Kurdish forces, both the PYD and the People's Protection Units (YPG), particularly since talks circulated that they were repelling IS during the battle of Sinjar in Iraq.
Muslim corrected this story and introduced the reasons that resulted in the current blockade. He said, "The PYD did not go [to Sinjar], but rather the YPG did, and is still there. The deterioration that is taking place in Kobani is not due to the lack of fighters or shortages of defenders. All of our people are present with their forces to protect themselves. There is deterioration because they [IS] are besieging the city from three sides. The weapons IS has are sophisticated; they are using sophisticated Abrams tanks and Humvees. As for the weapons the youth have, they are not enough. In fact, there are no weapons. They have light machine guns and RPGs, which are not effective against US armored vehicles. We are expecting a potential massacre at any moment. But we will fight to the end."
Muslim expressed his doubts about the international "enemy's" sources of power. He explained that the IS weapons are partially derived from the Free Syrian Army (FSA) brigades that joined the group, and partially from the recent fall of the military airport of Tabaqa. Yet he insisted that the powerful weapons came via a "suspicious" way. First, those weapons obtained by IS from the FSA warehouses near the Turkish border crossings were "given to [the group], and were not the result of the attacks, as was said." Second, the heavier weapons came from Mosul.
He stressed that there is no logic that can explain "how six brigades of the Iraqi army left all of their weapons to IS and made no effort to defend themselves."
Furthermore, the group was allowed to move its heavy weapons — which have been monitored by US radars at all times — for dozens of kilometers to encircle Kobani. The coalition's air raids "are welcomed," but they came "a week late," before IS completely surrounded the city. The targets of the bombardment were 15 to 20 kilometers (9 to 12 miles) short of the forces besieging Ayn al-Arab.
In light of this reality, Muslim explained that there is one thing that can make a difference. He said, "We have our own forces. What makes the difference is the quality of weapons. When we receive anti-tank weapons that can damage the Abrams tanks and Humvees that were brought from Mosul, only then we will not have a problem, and will we be able to defend ourselves. IS is besieging us on three sides, as Turkey is closing the border on the fourth side. Weapons can pass via Turkey, or it can offer weapons to our people who are fighting on other sides. [Weapons] are delivered to us because our fighters who came to our rescue from the eastern side are also facing the same heavy weapons."
Ayn al-Arab is the head of a triangle whose base is composed of Aleppo and Raqqa. Its location, which isolates it from the dense Kurdish tide toward the east in Qamishli and Hasakah, has led it to hamper the ambitions of IS.
The city touches the Turkish border, and it is home to families who are divided on both sides. Its population counts almost half a million people, from the city and its villages, of whom about 200,000 have been displaced.
As Muslim talked about the reality of the battle, As-Safir asked him a question currently raised by many people about the role of the Kurdistan Workers Party (PKK), whose fighters have been mobilized to support the peshmerga fighters in the Iraqi Kurdistan Region. Muslim — the deputy general coordinator of the opposition's National Coordination Body — showed reservations in this regard, as his party has long been deemed a brother to the PKK.
He found the question intrusive, and stressed that the Kurds of the entire region, including Iran, are flocking to repel the invasion of IS.
"Some of our young people came from the north and the south, among other places. We welcome all those who want to defend us. But it is not about whether the PKK sent [forces] or did not. What is the motive of those coming from all over the world, even from Tora Bora? And then they tell us to ask about the identity of those coming to support us. Everyone is flocking to defend us. There are Iranian Kurds who have joined the ranks of young people in the PYD," he said.
All issues intertwine in the stormy scene of the region: the rescue of Kurdistan and the silence on the siege of Kobani, the constantly inflamed sensitivities with Turkey, the international coalition and who should be thanked or rebuked. When Muslim was wrapping up his conference at the European Parliament, European officials were being questioned on highly relevant issues.
Several speakers pointed to the PKK role in supporting the peshmerga forces, arguing that hats must be taken off to their performance against IS. Thus, European officials were asked why the party is still on the European list of terrorist organizations. One of the officials revealed that the PKK forces are fighting more than the peshmerga in both Syria and Iraq, but he pointed out that Turkey wants it to stay on the blacklist. He added that the reason is the peace process between Ankara and the PKK leader, Abdullah Ocalan.
Turkey asked the European supporters of the process to "keep the party on the list so that it does not have a substitute for peace. Once they reach a result, we will remove it from the list," a European official said.
The Turkish sensitivities are clear, according to Muslim. Asked about the buffer zone, which Ankara seeks to set up in the north of Syria, he said, "We believe that the buffer zone, under the management of Turkey, is an occupation of our territory. We do not know why they decided to set it up now. Had it been under international protection, we would have said that it was an extension (of the international alliance), but having it under the protection of Turkey means that they are imposing a certain something on us and that it is a Turkish occupation, which we will fight."
Muslim does not know what lies in store for his encircled city. He has been traveling around Europe for a year and a half, and for the past few weeks has warned that Ayn al-Arab faces the same fate as Sinjar.
Asked about his interpretation of this international selectivity, he said that the goal is to eliminate the Kurdish administration "model" in the north of Syria. He said that no one wants Syria or the Middle East to follow this model, and added that "the example we are giving changes the whole equation. Who wants an official Syriac language in Syria? The Assyrians are an inherent component of the fabric of the region. In Jazeera canton (Kurdish administration area) they are being granted their rights. Where are the rights of Assyrians in Turkey and Iran? They have nothing. But when the Assyrians, Kurds, Turkmens and Arabs all want to live together and believe in democracy, then this changes the equation in the Middle East as a whole and leaves no room for looting, as is currently the case. Some want petroleum, some have other interests to follow and others want companies based on a certain balance, and when they have desires, they make poor people fight."
As Muslim got ready to leave and grabbed his small leather bag that looked like an accessory pocket, we asked him a final question about the relationship with the Kurdistan Region President Massoud Barzani. This relationship has always been marked by sensitivity and volatility. He responded, with cautiousness aimed at avoiding negativity, "There is some kind of convergence that we hope to build on. There are good intentions, but nothing has happened on the ground. God willing something will happen."
http://www.al-monitor.com/pulse/security/2014/09/syria-kurds-massacre-salih-muslim.html#ixzz3En7o84pW
---------
Jordan on high alert for possible IS retaliation
30 September 2014
Many rumors are circulating in Amman about alleged terror threats to shopping malls and other public places in response to news that the kingdom's air force has joined the US-led coalition in targeting Islamic State (IS) positions in Syria. No more is that evident than in posh west Amman with residents exchanging — mostly on social media — unconfirmed reports of emergency evacuation of shopping centers. The big question on everyone's mind is how will IS retaliate against Jordan's direct involvement in a growing regional and international coalition to degrade and destroy it. The Public Security Department (PSD) had to issue clarifications refuting rumors about potential terrorist threats. But government sources confirmed to Al-Monitor that a state of high alert has been declared affecting the armed forces and the PSD. Travelers to the southern port city of Aqaba, 350 kilometers (217 miles) from Amman, talked about multiple security checkpoints along the highway.
Full Report at:
http://www.al-monitor.com/pulse/originals/2014/09/jordan-participate-coalition-islamic-state-response.html#ixzz3En6gAbQf
---------
US-led Air Strikes Pose Problem for Assad's Moderate Foes
30 September 2014
Reyhanli, Turkey. US-led air strikes against Al Qaeda-inspired militants in Syria pose a problem for moderate rebel opponents of Syrian President Bashar al-Assad.
The Western-backed rebels say they face a backlash from Syrians angered by the offensive, even though they have been kept in the dark about the air strikes against their enemies in Islamic State.
This could complicate Washington's plan to turn disparate rebel groups into a ground force to combat the militants.
The rebels say civilian casualties from the week-old air campaign and suspicion of US motives are endangering the public support they have gained during their fight with Assad.
"There is popular anger towards us," said rebel commander Ahmed al-Seoud, who defected from the Syrian army in 2012 and leads a rebel group known as the 13th Division.
His group defines itself as part of the "Free Syrian Army" — loosely affiliated non-Islamist factions, some of which are backed by donors including the United States and Gulf Arab countries that have supported the uprising against Assad.
Full Report at:
http://thejakartaglobe.beritasatu.com/international/us-led-air-strikes-pose-problem-assads-moderate-foes/
---------
Propaganda to fight back with IS TV satire
September 30, 2014
BAGHDAD - As Iraqi forces struggle to pin back the Islamic State group on the ground, Baghdad is taking its war against the jihadists to the airwaves with a television comedy series.
The usually elusive Abu Bakr al-Baghdadi features prominently in the show, whose promoters argue that ridiculing the jihadist supremo can help dent his aura of almost supernatural villainy.
The fear factor - fed by online videos of mass executions, beheadings and abductions -has been a key aspect of IS strategy, often handing it victory before the battle had even started. The goal of the show is "to remove this phobia that has taken root in a lot of people's minds", chief supervisor Thaer Jiyad told AFP on the set between two scenes.
But if the show is Baghdad's new weapon in the war against IS, then its very first shots were a friendly fire blunder that sparked controversy even as the series premiered on Saturday.
The trailer that Iraqiya state TV had been showing several times a day for weeks plays on a belief widely held in Iraq that IS was created by the CIA, Israel and Gulf monarchies to sow chaos.
Full Report at:
http://nation.com.pk/entertainment/30-Sep-2014/propaganda-to-fight-back-with-is-tv-satire
---------
Theme song of Iraqi sitcom mocking ISIS goes viral
30 September 2014
The theme song of a sitcom which mocks the Islamic State of Iraq and Syria (ISIS) militant group has gone viral online, after the show premiered Saturday on an Iraqi satellite channel.
"Al-Khorafa State," or "The Myth State" in English, premiered with a satirical theme song performed by singer Hossam al-Majed.
The song begins with a warning that Satan has arrived and continues on to describe the ISIS's actions of murder, displacement and sectarianism.
"The egg hatched and an ISIS member is born, give him milk...and weapons and prepare the armies," the lyrics go.
The song continues: "Oh where are you, you decapitator? We prohibited all pornography except for sexual jihad... We prohibited smoking and displaced all Christians."
At the end of the first episode, the character of ISIS leader Abu Bakr al-Baghdadi kills all the actors and actresses and then blows himself up after realizing that there is no one else to kill.
The show was written by Thaer Ajyad al-Hasanawi and directed by Ali al-Qassem.
http://english.alarabiya.net/en/variety/2014/09/30/Theme-song-of-Iraqi-sitcom-mocking-ISIS-goes-viral.html
---------
Photo of ISIS leader 'lookalike' goes viral
30 September 2014
An image puporting to show Islamic State in Iraq and Syria (ISIS) chief Abu Bakr al-Baghdadi, a self-declared Caliph, has been shared widely on social media this week.
However, the image may have actually been a photo of a Jordanian musician at in an unknown location.
Assuming it was Baghdadi, commenters shared the photo, which shows the man with a woman, whose arm is draped around his shoulders. The bright red lights in the background appear to indicate nightlife surroundings.
While the source of the image is unclear, Twitter users' claims that it was Baghdadi were reminiscent of a revelation last year that British hate preacher Abu Hamza had once jointly managed a London strip club in his quest to live a Western, movie-style life.
Full Report at:
http://english.alarabiya.net/en/variety/2014/09/30/Photo-exposes-ISIS-chief-Baghdadi-s-nightlife-past-.html
---------
Kurd troops attack Iraq jihadists on three fronts: officers
30 September 2014
Kurdish troops launched offensives against the Islamic State of Iraq and the Levant (ISIL) on three fronts in northern Iraq on Sept. 30, senior officers told AFP.
Troops struck before dawn against a town on the Syrian border, north of jihadist-controlled second city Mosul, and south of key oil hub Kirkuk, the commanders said.
A senior source in the Kurdish peshmerga said troops had entered the town of Rabia on the border with Syria, after seizing the villages of As-Saudiyah and Mahmudiyah.
"Ground troops are now fighting in the centre of Rabia," which lies about 100 kilometres northwest of Mosul.
He said peshmerga forces, backed by artillery and warplanes, were also attacking Zumar, about 60 kilometres northwest of the city, near the reservoir of Iraq's largest dam, which has been a key battleground between the Kurds and the jihadists.
Both Rabia and Zumar were areas which the peshmerga seized in the chaos that followed the jihadists' capture of Mosul in a lightning offensive in early June.
Full Report at:
http://www.hurriyetdailynews.com/kurd-troops-attack-iraq-jihadists-on-three-fronts-officers.aspx?pageID=238&nID=72351&NewsCatID=352
---------
FSA chief urges Alawites to abandon Assad's 'sinking ship'
30 September 2014
Free Syrian Army Chie Brigadier General Abdel Ilah al-Bashir called on Monday on members of the Syrian regime from the Alawite sect to abandon the "sinking ship."
"We call on whoever has remained in the Syrian army, especially our families from the Alawite sect to leave that sinking ship, in which they were used as fuel, and join the frontlines and assume their leading positions which await them in the Free Syrian Army lines," Gen. Bashir told Al Arabiya News Channel.
"After proving its moderation and patriotism, the Free Syrian Army is the only option for the Syrian people's salvation, regardless of their affiliations and sects," Gen. Bashir added.
Amid international talk about a political solution to the crisis in Syria, the Foreign Minister Walid al-Mualem said on Monday that President Bashar al-Assad's regime would not hold talks with the opposition, saying it lacked credibility and follows "the orders of its Western masters."
Full Report at:
http://english.alarabiya.net/en/News/middle-east/2014/09/30/-FSA-chief-urges-Alawites-to-abandon-Assad-s-sinking-ship-.html
---------
Egypt court bans another Islamist party
30 September 2014
The Islamist Istiqlal party has been banned over its participation in the Muslim Brotherhood-led National Alliance to Support Legitimacy (NASL), Al-Ahram Arabic news website reported.
The Court for Urgent Matters made the ruling on Monday.
Party leader Magdy Hussein was arrested in July and remains in detention on charges of joining a terrorist group.
A news website close to the party said his health has been deteriorating in detention.
Since Morsi's removal from the presidency last summer, thousands of his supporters have been arrested and tried on a variety of charges, including the top leadership of his Brotherhood group.
The Brotherhood is officially banned and designated as a terrorist group by the authorities.
The NASL is comprised of a number of Islamist parties and has been acting as the body representative of the Brotherhood since the disbanding of the group and its Freedom and Justice Party.
http://english.ahram.org.eg/NewsContent/1/64/112054/Egypt/Politics-/Egypt-court-bans-another-Islamist-party.aspx
---------
South Asia
47 Taliban militants killed during clearing operations, MoI says
Sep 30 2014
At least 47 Taliban militants were killed and 26 others were injured following counter-terrorism operations in the past 24 hours.
The Ministry of Interior (MoI) following a statement said, "In past 24 hours, Afghan National Police conducted several anti-terrorism joint operations with Afghan National Army and NDS to clean some of the areas from terrorists and enemies of peace and stability of Afghanistan."
The statement further added that the operations were conducted in Maidan Wardak, Paktia, Paktika, Ghazni, Laghman, Kunar and Helmand provinces but majority of the casualties were incurred to Taliban in Ajristan district of Ghazni proivnce.
At least four militants were also arrested by Afghan National Security Forces during the same operations, the statement said adding that several Taliban commanders were among those killed or injured during the operations.
"Also, during these operations, Afghan National Police discovered and confiscated light and heavy rounds ammunition," the statement said.
The statement also added that the Afghan National Police discovered and defused several types of Improvised Explosive Devices (IEDs) placed by enemies of Afghanistan for destructive activities in Baghlan, Takhar and Helmand provinces.
http://www.khaama.com/47-taliban-militants-killed-during-clearing-operations-moi-says-8744
---------
ISAF refutes reporting of brutality in Ajristan
Sep 30 2014
The International Security Assistance Force (ISAF) said Tuesday that the media reports regarding a large-scale attack by Taliban militants in Ajristan district are exaggerated.
The alliance following a statement said, the International Security Assistance Force has reviewed current media reports on a "large-scale assault by hundreds of Taliban fighters in the Ghazni province" and has confirmed there is no operational reporting that matches these media stories.
A senior military official quoted in the ISAF statement said, "The Afghan National Security Forces have taken the lead and deployed commandos to the area that have stabilized the situation."
The official further added, "ISAF is supporting those operations with capabilities such as surveillance to enhance the ability of the ANSF to keep Ajristan secure."
Full Report at:
http://www.khaama.com/isaf-refutes-reporting-of-brutality-in-ajristan-8746
---------
Ahle Sunnat demands Latif Siddique's arrest
30 September 2014
Ahle Sunnat Wal Jamaat has demanded the arrest of Posts and Telecommunications Minister Abdul Latif Siddique for his remarks against hajj.
Advocate Moshaheb Uddin Bokhtiar, central member secretary of the party's coordination committee, made the statement on Tuesday afternoon.
He said: "MP Latif should be arrested soon after he arrives in the country because of his recent remarks against hajj."
Protesting his statement, he also demanded Latif's removal from the cabinet and cancellation of his membership from the parliament.
He said: "Because he [Latif] is making such statements from New York, we are assuming that he is trying to provoke militancy by conspiring with the US."
Full Report at:
http://www.dhakatribune.com/bangladesh/2014/sep/30/ahle-sunnat-demands-latif-siddiques-arrest#sthash.B2BmCHUN.dpuf
---------
Maldives' human rights developments "disturbing", says Canadian foreign minister
By Minivan News | September 30th, 2014
Canadian Foreign Affairs Minister John Baird has described recent developments in the Maldives as "disturbing", expressing concern over the current human rights situation.
"The likely kidnapping of a leading local journalist and threats and attacks against other journalists, politicians and activists are particularly disturbing," read a statement from the Foreign Affairs Ministry.
Baird subsequently labelled the legal action against the Human Rights Commission of Maldives – initiated in relation to a report submitted to the UN Human Rights Council – as "unfortunate".
He described the Supreme Court's suo moto case – which continues today (September 30) – as "a decision that will not help to restore its credibility. Free speech must be protected, not trampled."
Full Report at:
http://minivannews.com/politics/maldives-human-rights-developments-disturbing-says-canadian-foreign-minister-90323
---------
Southeast Asia
In anti-Isis salvo, Dr M urges clerics to speak up
30 September 2014
Former prime minister Tun Dr Mahathir Mohamad hit out at Muslim clerics in Malaysia for failing to condemn the killings by the Islamic State of Iraq and Syria (Isis) militants, adding that their silence could divide Muslims and plunge the country into violence.
"The Muslim clerics and scholars in the country have not firmly stated their stance on whether or not they believe this group's violent actions are a part of Islam's teachings.
"If this understanding spreads in this country, the divide among Muslims will be worse than it is now. It could reach a level of hostility and violence," wrote the former prime minister in a post on his blog, chedet.cc, today.
Dr Mahathir said there were clerics who were believed to have given their blessings to Malaysians to join the war in Syria to kill Shias.
But, he said the Quran clearly prohibited Muslims from killing one another, adding that the Sunni and Shia sects were considered Muslims as they worshipped the same God and acknowledged Muhammad as their prophet.
"There have been no efforts to study and debate their (Isis's) accusations that their enemies are infidels, despite the gravity of such an accusation.
"No fatwa (religious edict) has been made by a cleric who is without agenda or vested interests, one who only acts according to the Quran and authentic Hadith," wrote Dr Mahathir.
Full Report at:
http://www.themalaysianinsider.com/malaysia/article/in-anti-isis-salvo-dr-m-urges-clerics-to-speak-up#sthash.zSfTBmIV.dpuf
-----------
Envoy denies jihadists using Malaysia as a platform to enter Iraq
30 September 2014
No Islamic State (IS) jihadists have entered Iraq directly through Malaysia, Iraqi ambassador to Malaysia Prof Dr Basim Hattab Al-Tumma, said today.
He said this was because the embassy in Kuala Lumpur had very stringent visa processing protocol to ensure that no Malaysians entered their country to join the IS fighters.
Visas were only issued to government officials and Petronas staff who were working in Oil and Gas Industry in Iraq, he told Bernama.
Dr Basim said that Iraq was also as concerned as the Malaysian government and did not wish to see Malaysian youths being misled to join the jihadist movement which it considered as un-Islamic.
He said that it would help Malaysia if it reopens its embassy in Baghdad, so that it would monitor its citizens in Iraq more effectively.
Full Report at:
http://www.themalaysianinsider.com/malaysia/article/envoy-denies-jihadists-using-malaysia-as-a-platform-to-enter-iraq-bernama#sthash.OndmHYDG.dpuf
---------
7 Malaysians among 16 barred from South Korea over militant links
30 September 2014
Sixteen people from four Asian countries were barred from travelling to South Korea for the Asian Games over suspected links with Islamic militant groups, police said Tuesday.
The list of banned individuals included seven from Malaysia, five from the Philippines, three from Vietnam and one Singaporean.
"We received the names of people with suspected links with militant Islamic groups or with past records of making trouble at international events from each of the four countries," a National Police Agency officer told AFP.
The ban was imposed from September 15, four days before the ongoing Asiad began in the South Korean port city of Incheon.
The agency would not provide the names of the 16, and it was unclear if any of them had actually attempted to travel to South Korea for the Games.
"The 16 people selected were considered those with the opportunity to travel abroad for terrorist-related activities," the officer said.
The ban was issued through the International Police Coordination Centre at the Incheon Games, which consists of 21 police officers from 17 countries.
http://www.themalaysianinsider.com/malaysia/article/7-malaysians-among-16-barred-from-south-korea-over-militant-links#sthash.QG4a3sHd.dpuf
----------
Pakistan
Jamaat e Islami To Renew Pakistan Movement
September 30, 2014
LAHORE- The Jamaat e Islami is beginning the Takmeel e Pakistan Movement from the Minar e Pakistan on November 23 in order to revive the historic and spirited struggle of the Muslims of the Indo Pakistan sub continent ending up in the establishment of this Muslim state.
JI central Information Secretary Amir ul Azeem while addressing the JI Media Standing Committee for the JI Ijtemah, today said that the historic Pakistan Resolution was adopted at the Minar e Pakistan lawns in 1940 and within a short span of seven years, the nation by Almighty Allah's help, was blessed with this separate homeland.
He said that the nation would once again attend the JI Minar e Pakistan with the spirit of the Pakistan movement and would resolve to build a strong and prosperous Pakistan.
The meeting was attended by Dr. Farid Ahmed Piracha, Syed Waqas Anjum Jaaferi, Dr Wasey Shakir and Shahid Hashmi from Karachi, Syed Muhammad Bilal, Shahid Shamsi, and Farooq Chauhan.
Full Report at:
http://nation.com.pk/national/30-Sep-2014/ji-to-renew-pakistan-movement
-------
Peshawar: Loud speakers banned on of Eid-ul-Azha
September 30, 2014
Peshawar- The Khyber Pakhtunkhwa (KPK) government announced on Monday that a ban will be imposed on the use of loud speakers on the occasion of Eid-ul-Azha.
KPK Home Department has issued a code of conduct for Eid-ul-Azha, according to which banned outfits would not be allowed to collect hides of the sacrificial animals. Only those organizations and parties which have taken permission for the collection of hides would be allowed to work on Eid-ul-Azha. Parties and organization which are willing to collect hides of sacrificial animals should file a written request in this connection. Police have also been authorized to arrest the violators of the code of conduct.
http://nation.com.pk/national/30-Sep-2014/peshawar-loud-speakers-banned-on-of-eid-ul-azha
---------
'Pakistan qualifies for Nuclear Suppliers Group membership'
30 September 2014
ISLAMABAD – Speakers at a seminar said that Pakistan fully qualifies for membership of Nuclear Suppliers Group (NSG) and must be given non-discriminatory access to international nuclear export control arrangements.
The seminar was organised by the Centre for Pakistan and Gulf Studies (CPGS) and the Konrad-Adenauer-Stiftung (KAS) which launched a report on the topic of nuclear non-proliferation, arms control and disarmament. In their presentations and participants in the question-answer session, the speakers presented their opinions and suggested various steps on nuclear issue.
The speakers gave solid recommendations to all stakeholders and said that all nuclear weapon states should ensure the security of their respective materials as national responsibility and consider the issue of existing stocks at the conference on disarmament. The seminar also recommended that Pakistan and India should resume their talks on nuclear issues and risk reduction measures.
Full Report at:
http://www.dailytimes.com.pk/national/29-Sep-2014/pakistan-qualifies-for-nuclear-suppliers-group-membership
---------
Pakistan Army fully prepared to deter and defeat any form of aggression: COAS
30 September 2014
RAWALPINDI: Chief of Army Staff, General Raheel Sharif said on Tuesday that Pakistan Army is fully prepared to deter and defeat any form of aggression across the entire spectrum of threat.
The Army chief made these remarks during his visit to Kharian for the earth breaking ceremony of the upcoming National Counter Terrorism Centre (NCTC).
General Sharif said: "With its unique accomplishment of confronting both sub-conventional and conventional threat , Pakistan Army is respected for its achievements and sacrifices the world over."
The COAS further said NCTC will be a state of the art facility with large capacity to impart quality training to troops for combating terrorism, in all kinds of terrain. Since we will have to fight this menace of terror together with other Law Enforcement Agencies (LEAs) across the nook and corner of the country, Army will do its part to train para military force, police, constabulary and levies also at this facility, COAS said. NCTC Pabbi will not only play an important role for training of own troops, it will cater for the growing demand of training requests from other friendly armies also.
Full Report at:
http://www.thenews.com.pk/article-161248-Pakistan-Army-fully-prepared-to-deter-and-defeat-any-form-of-aggression:-COAS-
---------
We will continue to meet Kashmiri leaders before, after talks with India: adviser
30 September 2014
NEW DELHI – Adviser on National Security and Foreign Affairs Sartaj Aziz has cleared Pakistan's position on the status of disputed state of Jammu Kashmir, saying they would continue to meet Kashmiri leaders before and after any talks with India.
In a telephonic interview with the Hindustan Times newspaper, he reiterated that it was up to India to resume the dialogue because it was India who called off the secretary-level talks with Pakistan. He also referred leaders of the Hurriyat Conference as important stakeholders. He said that Pakistan would continue to hold meetings with the Huriyyat leaders including Mirwaiz Umer Farooq, Ali Shah Geelani, Shabbir Shah, Yaseen Malik and others who are struggling with the public support for the right to self-determination.
Full Report at:
http://www.dailytimes.com.pk/national/30-Sep-2014/we-will-continue-to-meet-kashmiri-leaders-before-after-talks-with-india-adviser
---------
Imran never brings donations for SKMH to Pakistan: minister
30 September 2014
ISLAMABAD – Minister for Defence Khawaja Muhammad Asif has criticised Pakistan Tehreek-e-Insaaf (PTI) Chairman Imran Khan for not bringing the donations collected for the Shaukat Khanum Hospital from abroad back to Pakistan.
In a statement issued here, he said that Imran Khan always talks about bringing capital of others back to Pakistan but never brings the donations given by overseas Pakistanis to his hospital in Pakistan. He also said that the PTI chairman should answer queries about the bonds bought in France and the property in Muscat.
http://www.dailytimes.com.pk/national/30-Sep-2014/imran-never-brings-donations-for-skmh-to-pakistan-minister
---------
Qadri castigates rulers for pushing masses under 'pile' of debt
30 September 2014
ISLAMABAD: Pakistan Awami Tehreek Chief Dr Tahirul Qadri on Monday castigated rulers for pushing masses under a pile of debt, saying they are carrying begging bowl in contrary to their pledges to do away with practice of seeking loan when taking to power.
Addressing participants of sit-in on Constitution Avenue, the PAT chief said people's struggle against the government would soon become a success story. He said that the centre and provinces were dependent on heavy debt, as Punjab was facing a debt of Rs 452 billion accumulated in the last seven years. "This province has never been in debt in its entire history," Qadri said.
Dr Qadri said when business and power get together, nation faces destruction as a result. He deplored that 40 percent schools of Punjab Province were without basic facilities. "Slavery is prevailing as no democracy here and we want to end it," the PAT chief said.
Full Report at:
http://www.dailytimes.com.pk/national/30-Sep-2014/qadri-castigates-rulers-for-pushing-masses-under-pile-of-debt
---------
India
Indian Muslims Will Fail Al Qaeda, PM Modi Reiterates In America
30 Sep 2014 04
By IndiaTomorrow.net,
New Delhi, 30 Sep 2014: Prime Minister Narendra Modi while addressing the Council on Foreign Relations in New York on Monday reiterated his viewpoint about Indian Muslims vis-à-vis the call of terrorist group Al Qaeda to open its branch in the subcontinent. He said Muslims in India will fail Al Qaeda.
Interacting with the select audience at the Council on Foreign Relations in New York on 29th Sep, PM Modi, when asked about the Al Qaeda's call, said: "All communities in India are driven by Gautam Buddha's philosophy of non-violence. Terrorism is exported to India and it is not home grown. That's why the Muslims in India will fail Al Qaeda."
The PM was asked if, as America is seized by the challenge posed by the group ISIS, he was worried that the unrest sweeping large parts of the Arab and Muslim world might spread to India and what were his plans to reduce India's susceptibility to radicalization and even violence.
Earlier this month (19th Sep), senior journalist Farid Zakaria of CNN had asked PM Modi in New Delhi about Ayman-al- Zawahiri's video and appeal to create an Al Qaida in India and if worried that something like this could succeed.
Modi had responded: "My understanding is that they are doing injustice towards the Muslims of our country. If anyone thinks Indian Muslims will dance to their tune, they are delusional. Indian Muslims will live for India. They will die for India. They will not want anything bad for India."
At the New York event, the PM was also asked about the Indian economy, Cold War, US-Indian relationship etc.
http://www.indiatomorrow.net/eng/indian-muslims-will-fail-al-qaeda-pm-modi-reiterates-in-america
----------
'Zero Tolerance, Not Moratorium, Needed To End Communal Violence': Minority and Civil Society Organisations
30 September 2014
New Delhi: Several civil society groups and minority organisations on Saturday called upon the government to take action against "motivated hate and violence campaigns" targeting religious minorities while pitching for "zero tolerance" instead of a "moratorium" to end communal violence.
The organisations also released a report about the state of minorities during the 100 days of the Narendra Modi government in which it was alleged that over 600 incidents targeted at religious minorities have taken place from May to September 2014 in several parts of the country.
"Narendra Modi, has not yet spoken about, much less condemned, the hate campaign against Muslims and Christian communities in India carried out by cadres of the non-state actor, the 'socio-cultural' Sangh Parivar," a statement released by the organisations said.
The report said that inevitably, this has led to much violence.
In the first few weeks of the new government, by its own admission, a total of 113 communal incidents have taken place in various parts of the country during May-June in which 15 people were killed and 318 others were injured, Minister of State for Home Affairs, Kiren Rijiju had told Rajya Sabha.
Full Report at:
http://zeenews.india.com/news/india/minority-groups-ask-govt-to-take-action-against-hate-campaigns_1476883.html
---------
Modi, Obama release joint vision statement, say together 'we will combat terror threats'
September 30, 2014
As Prime Minister Narendra Modi reached the White House for the private dinner hosted by President Barack Obama, India and the US on Tuesday issued a vision statement "Chalein Saath Saath: Forward Together We Go" that called for a joint endeavour for prosperity and peace. "As leaders of two great democratic nations with diverse traditions and faiths, we share a vision for a partnership in which the United States and India work together, not just for the benefit of both our nations, but for the benefit of the world," the White House said in a statement.
The vision statement said that US-India strategic partnership is a joint endeavour for prosperity and peace, and through intense consultations, joint exercises and shared technology, their security cooperation will make the region and world safe and secure. "Together, we will combat terrorist threats and keep our homelands and citizens safe from attacks, while we respond expeditiously to humanitarian disasters and crises. "We will prevent the spread of weapons of mass destruction, and remain committed to reducing the salience of nuclear weapons, while promoting universal, verifiable, and non-discriminatory nuclear disarmament," it said. Asserting that the US and India will have a transformative relationship as trusted partners in the 21st century, the White House said, "Our partnership will be a model for the rest of the world".
http://indianexpress.com/article/india/india-others/modi-obama-release-joint-vision-statement-chalein-saath-saath/
---------
Terrorism is a threat to humanity, there is no good or bad terrorist: Narendra Modi
TNN | Sep 30, 2014
NEW YORK: Hours ahead of his dinner with President Barack Obama, Prime Minister Narendra Modi on Monday cautioned the US against hasty withdrawal of its troops from Afghanistan, citing the mistakes it has committed while pulling out from Iraq.
Modi told the Council on Foreign Relations here that India and the US together had played a big role in Afghanistan in recent years.
India, he said, had told the US that the process of withdrawal of its troops from Afghanistan should be slow to stop the rise of Taliban.
"We want Afghanistan which recently held the presidential elections and formed a new government to grow democratically," he said.
"The process of withdrawal of troops from Afghanistan should be very slow. Afghanistan should be allowed to stand on its feet and then only can it stop the rise of the Taliban," Modi said.
Rejecting any distinction between good and bad terrorism, Prime Minister Narendra Modi called for a collective fight to effectively tackle the global menace.
Full Report at:
http://timesofindia.indiatimes.com/india/Terrorism-is-a-threat-to-humanity-there-is-no-good-or-bad-terrorist-Narendra-Modi/articleshow/43830312.cms
---------
Afghan pullout by US must be measured: Modi
September 30, 2014
Shortly before he left for Washington, Prime Minister Narendra Modi expanded upon the nature of India's strategic partnership with the US and said that just like the relationship between partners, this relationship too was not "perfect." He added,
"There is no need to be comfortable on all aspects (of a relationship…)''.
He was speaking at the forum of the Council of Foreign Relations. Hours before he is hosted by President Barack Obama, Modi advised the US leadership that withdrawal of troops from Afghanistan should be done in a "slow and calibrated'' manner or the problems that occurred in Iraq's case would crop up.
Full Report at:
http://indianexpress.com/article/india/india-others/afghan-pullout-by-us-must-be-measure-modi/#sthash.qXQe7fZS.dpuf
--------
North America
Controversial 'anti-Muslim' New York bus ad pulls Foley image
30 September 2014
A picture of U.S. journalist James Foley moments before his murder at the hands of extremists in Syria has been pulled from a New York ad campaign criticized as anti-Muslim.
The American Freedom Defense Initiative agreed to remove the image of a kneeling Foley, dressed in orange, at the request of his family who said it would cause "profound distress."
The AFDI launched its $100,000 ad campaign in the New York transit system on Monday in what it said would show "the uselessness of the distinction between 'moderate' and 'extremist' Muslims."
The ad identified British rapper Abdel-Majed Abdel Bary as the extremist who killed Foley, although media reports suggest that Britain no longer believes he is a suspect in Foley's death.
A picture of Bary in his former guise as an amateur rapper in London is juxtaposed next to a masked figure standing over Foley with the caption: "Yesterday's moderate is today's headline."
But the Foleys' lawyer wrote to AFDI co-founder, writer and activist Pamela Geller, asking her to withdraw the advertisement and saying that their son had great respect for Islam.
"The advertisement you are preparing to run seems to convey the message that ordinary practitioners of Islam are a dangerous threat," read a copy of the letter.
"This message is entirely inconsistent with Mr Foley's reporting and his beliefs," it added.
Geller's lawyer David Yerushalmi told AFP that the picture had been removed and substituted with a picture of a masked militant holding a severed head, which Bary reportedly posted online days before Foley's death.
The face of the victim has been digitalized.
But Yerushalmi warned that some of the ads might still go out by transit personnel, although the campaign in San Francisco would be delayed to ensure none of the offending pictures run.
He said Geller understands the pain of the Foleys as a mother, as someone whose extended family was murdered by the Nazis and as the friend of Israelis "brutally affected by Islamic terrorism."
Full Report at:
http://english.alarabiya.net/en/media/advertising-and-pr/2014/09/30/Controversial-anti-Muslim-New-York-bus-ad-pulls-Foley-image.html
---------
Canadian minister calls Pakistan a 'safe haven' for 'terrorists'
30 September 2014
KABUL – Canadian Minister of Citizenship and Immigration Chris Alexander who participated in the inauguration ceremony of Afghanistan new president, has asked Pakistan to stop 'supporting insurgency,' saying there are no doubts of Pakistan being a 'safe haven' for terrorist.
"Today, Canada and most of the countries around the world know why there is still insecurity and instability in Afghanistan," Alexander said in an interview with the Afghan TV. "Taliban are trained in Balochistan, Khyber Pakhtunkhwa, Waziristan and some parts of Karachi," he blamed.
He stressed that it was not acceptable for people, non-governmental organisations or government institutions to support the terrorist groups like the Islamic Emirate of Afghanistan. "Canada has put Taliban in the black list of terrorists and it is known to all that training centres and weapons are provided for the terrorists in Quetta, Miramshah and other parts of the country," he blamed.
Full Report at:
http://www.dailytimes.com.pk/national/29-Sep-2014/canada-calls-pakistan-a-safe-haven-for-terrorist
---------
Texas Gov. insists Muslim beheading was 'terrorism,' not 'workplace violence'
30 September 2014
Texas Gov. Rick Perry said Monday morning that it's a mistake to classify a recent beheading murder in Moore, Oklahoma as a case of workplace violence, since the alleged perpetrator was a radical Muslim who reportedly shouted Islamist slogans as he wielded his blade.
'At some point in time,' Perry said on the Fox News Channel, 'I think the [Obama] administration does have to address this as what it appears to many people that it is: an act of violence that is associated with terrorism.'
But according to The Washington Post, the FBI has stuck the 'workplace violence' label on the case of Alton Nolen, a 30-year-old recent Muslim convert who police say decapitated one co-worker and stabbed another shortly after he was fired from his job at a food processing plant.
His dismissal reportedly followed an argument among employees over whether strict followers of Islam are correct in calling for the stoning deaths of women who commit certain offenses.
'I think Americans aren't confused about this what this is,' Perry told the 'Fox and Friends' program.
Full Report at:
http://www.dailymail.co.uk/news/article-2773883/Rick-Perry-insists-Muslim-beheading-Oklahoma-terrorism-not-workplace-violence.html#ixzz3EmyBVt3m
---------
Thousands of U.S. sorties flown in Iraq, Syria war
30 September 2014
U.S. aircraft have flown roughly 4,100 sorties in the air war against Islamic State of Iraq and Syria (ISIS) militants in Iraq and Syria since August, including surveillance flights, refueling runs and bombing raids, a military officer said Monday.
The number of flights reflects the widening U.S.-led air campaign that began with a more narrowly-defined objective when it was launched by Washington on August 8.
In addition to the more than 4,000 U.S. military flights in less than two months, Arab coalition partners have undertaken roughly 40 flights in the operation in Syria since it began on September 23, the U.S. military officer, who spoke on condition of anonymity, told Agence France-Presse.
Of the approximately 4,100 flights by U.S. aircraft, nearly 1,400 have been carried out by aerial refueling tanker planes, the officer said. "Those numbers are as of September 27," the officer said.
There have been hundreds of surveillance flights as well, but the military has not issued a total number for those.
Full Report at:
http://english.alarabiya.net/en/News/middle-east/2014/09/30/-Thousands-of-U-S-sorties-flown-in-ISIS-war.html
---------
US veterans slam slur to UAE's female pilot
30 September 2014
ABU DHABI // American veterans have criticised comments by US news presenters about Maj Mariam Al Mansouri, the UAE's first female fighter pilot who led the UAE Air Force into action against ISIL targets in Syria.
Sixty male and female veterans of the US Armed Forces published an open letter to Fox News network presenters Greg Gutfeld and Eric Bolling condemning the remarks.
The group behind the letter, a foreign-policy organisation in Washington called the Truman National Security Project, told The National it believed the letter represented the views of most American veterans.
"We sent our letter to 200 veterans in the Truman Project community and within 45 minutes, we had 60 signatures," said Stephanie Dreyer, spokeswoman for the group.
"After the deadline to sign, we were still receiving commitments to sign the letter and we have received emails and calls from veterans who are not affiliated with our organisation praising our work."
The presenters made jokes about Maj Al Mansouri that were widely seen as sexist, among which was Mr Gutfeld's quip: "The problem is, after she bombed it, she couldn't park it."
The veterans called the comments "unwarranted, offensive and fundamentally opposed to what the military taught us to stand for", in the letter published on the liberal news website Talking Points Memo.
Full Report at:
http://www.thenational.ae/uae/government/us-veterans-slam-slur-to-uaes-female-pilot
-------
Obama blame of spy agencies over ISIL draws riposte
World Bulletin/News Desk
President Barack Obama's assertion that U.S. intelligence agencies failed to predict the rapid rise of ISIL in Syria and Iraq drew a sharp riposte from several top congressmen and intelligence community members in Washington.
"This was not an Intelligence Community failure, but a failure by policy makers to confront the threat," Mike Rogers, chairman of the House of Representative Intelligence Committee said.
Several current officials from the CIA and other agencies declined to publicly comment on the president's statement. But privately, officials cited many warnings, some made public in Congressional testimony, which had spelled out the growing threat over the last year.
Former intelligence officials objected to Obama's statement. They suggested he was holding the spy agencies up as a scapegoat to mask what the president's critics say was his own slowness to react to the danger.
Full Report at:
http://www.worldbulletin.net/todays-news/145419/obama-blame-of-spy-agencies-over-isil-draws-riposte
-----------
US may keep secret prisoners in custody after Afghan war exit
30 September 2014
KABUL: The fate of a group of prisoners held in near-total secrecy by US forces at a prison in Afghanistan is hanging in limbo, the facility's commander said, as Washington gropes for options after its legal right to hold them there expires in December.
The inmates - all foreign nationals captured on battlefields around the world - could be transferred to the US court system or, as a last resort, to the Guantanamo Bay prison in Cuba, Brigadier General Patrick J. Reinert told Reuters.
The quandary over what to do with the detainees held in a prison near Bagram airfield, north of Kabul, has rekindled the outrage over the US policy of rendition in the early phases of the Afghan war.
In the years after the Sept. 11, 2001, attacks on the United States, suspected militants were abducted and held in secret prisons worldwide without charge or evidence.
The United State abandoned that policy under President Barack Obama, but the detention of those being held near Bagram is a reminder that the issue has not been concluded.
"We've got to resolve their fate by either returning them to their home country or turning them over to the Afghans for prosecution or any other number of ways that the Department of Defence has to resolve," Reinert told Reuters.
Full Report at:
http://www.dailytimes.com.pk/region/30-Sep-2014/us-may-keep-secret-prisoners-in-custody-after-afghan-war-exit
---------
Europe
Arabs must ramp up anti-ISIS fight, says European Commission chief
30 September 2014
The world must see more Arab rejection of Islamic State of Iraq and Syria (ISIS) militants to quell terrorism, President of the European Commission José Manuel Barroso said at a World Economic Forum discussion in Istanbul on Monday.
Barroso, speaking at WEF's Special Meeting on Unlocking Resources for Regional Development, said it is a mistake to describe the fight against what is referred to as ISIS using the "old narrative of West against terrorism."
Read also: Micro-level reform crucial for Arab growth, say WEF panelists
This misguided narrative is "exactly what can give fanatics justification to enter a holy war against democracies," Barroso said. To believe the crisis could be solved in this way would simply repeat the mistakes of the past, he added.
Full Report at:
http://english.alarabiya.net/en/special-reports/WEF/2014/09/30/Arabs-must-ramp-up-anti-ISIS-fight-says-European-Commission-chief.html
---------
IS pillaging Iraqi artefacts, UNESCO warns
30 September 2014
Islamic State jihadists occupying parts of Iraq are destroying age-old heritage sites and looting others to sell valued artefacts on the black market, experts gathered at UNESCO's Paris headquarters warned Monday.
The extremist group has destroyed shrines, churches and precious manuscripts in Mosul, Tikrit and other areas of Iraq it controls and excavated sites to sell objects abroad, in what UNESCO chief Irina Bokova described as "cultural cleansing".
In July, for instance, IS rigged the Nabi Yunus shrine in the northern city of Mosul -- revered by both Muslims and Christians as the tomb of Prophet Jonah -- with explosives and blew it up.
The radical group advocates an brutal and strict interpretation of Islam, and considers worshipping at graves to be tantamount to idolatry.
"There were explosions that destroyed buildings dating back to the Assyrian era," Baghdad museum director Qais Rashid said according to a translation from Arabic into English, referring to the once powerful, ancient empire.
Full Report at:
http://english.ahram.org.eg/NewsContent/2/9/112018/World/International/IS-pillaging-Iraqi-artefacts,-UNESCO-warns.aspx
-------
Two Ethnic Uzbek Taliban Fighters From Tajikistan Sentenced
30 September 2014
A court in Dushanbe has sentenced two ethnic Uzbeks from Tajikistan's southern Khatlon province to nine years in jail for fighting in Afghanistan as Taliban members.
A judge of Dushanbe's Ismoili Somoni District Court, Safar Nuralizoda, told RFE/RL on September 29 that Umarali Toshpulotov, 29, and Komiljon Kulboshev, 30, had been found guilty in participation in the activities of extremist and terrorist groups and sentenced on September 26.
The two were arrested by Afghan security forces during clashes between Afghan law enforcement with Taliban fighters in Afghanistan's Konduz province in June.
They were later handed over to Tajik authorities.
Investigators say, the two men, were recruited by Taliban and went through special military trainings at Taliban camps in Pakistan.
http://www.rferl.org/content/uzbek-taliban-tajikistan-afghanistan-court-trial-sentence-nine-years/26611671.html
---------
Syria refugees in Lebanon face rising violence: HRW
30 September 2014
Syrian refugees in Lebanon are facing increasing violence as tensions in the country rise after jihadists kidnapped and killed Lebanese security forces, a human rights group warned Tuesday.
Human Rights Watch said it had documented a string of attacks by Lebanese residents against Syrian refugees in August and September.
The uptick came after jihadists invaded the border town of Arsal, withdrawing with several hostages from the Lebanese police and army.
HRW said that attacks it documented were carried out by private citizens, but in several cases appeared to have the tacit support of authorities.
It urged security forces and local authorities to step up protection of Syrian refugees.
"Lebanon's security forces should protect everyone on Lebanese soil, not turn a blind eye to vigilante groups who are terrorising refugees," the group's deputy Middle East director Nadim Houry said.
Full Report at:
http://english.ahram.org.eg/NewsContent/2/8/112056/World/Region/Syria-refugees-in-Lebanon-face-rising-violence-HRW.aspx
---------
Mideast
Europe's ISIL recruits 'victims of discrimination': Turkish academic
30 September 2014
"Social and perceived discrimination" is the reason why young people from Europe are going overseas to join dangerous extremist groups like the ISIL, a Turkish academic has claimed.
This is according to a Europe-based researcher who claims that many foreign fighters are motivated by grievances over assimilation and acceptance combined with a "literalist" dogmatic thought process, rather than ideological concerns.
Born to Turkish immigrant parents in the Netherlands, assistant professor of cultural anthropology Ahmet Yukleyen from Istanbul Commerce University's International Relations Department spoke to Anadolu Agency. Yukleyen said that joining ISIL was "not particularly about a religious tradition but a certain style of thinking" where potential militants' age and immigrant background played a key role in their decision.
"Most of the group is between the age of 15 and 25; they are either the second or third generation living in that country and they have some level of education," Yukleyen says.
What makes young Europeans leave their countries to join radical groups can be defined by several steps according to Yukleyen, who says understanding 'literalism' is the first stage in the process.
Full Report at:
http://www.worldbulletin.net/todays-news/145440/europes-isil-recruits-victims-of-discrimination
------------
Netanyahu has 'lost touch with reality,' says PLO
30 September 2014
The Palestine Liberation Organization said Israeli Prime Minister Benjamin Netanyahu blatantly manipulated the facts when he compared Hamas with the Islamic State of Iraq and Syria (ISIS) group in a U.N. speech on Monday.
"Netanyahu's speech at the U.N. was a blatant manipulation of facts and attempted at misleading the audience through a combination of hate language, slander and argument of obfuscation," PLO executive member Hanan Ashrawi said in a statement in English.
"Obviously Netanyahu has lost touch with reality, particularly in refusing to acknowledge the fact of the occupation itself or the actions of the Israeli army of occupation in committing massacres and war crimes," she added.
Addressing the United Nations General Assembly earlier, Netanyahu denied accusations of Israeli war crimes during its July-August offensive on the Gaza Strip that killed 2,140 Palestinians, mostly civilians, and left the enclave in ruins.
Full Report at:
http://english.alarabiya.net/en/News/middle-east/2014/09/30/Netanyahu-lost-touch-with-reality-.html
---------
Netanyahu: Iran poses greater threat than ISIS
29 September 2014
Israel's Prime Minister Benjamin Netanyahu on Monday tried to shift the spotlight away from the Islamic State of Iraq and Syria (ISIS) and back to Iran, warning the United Nations that a nuclear-armed Tehran would pose a far greater threat than "militant Islamists on pickup trucks."
ISIS's seizure of large swaths of Syria and Iraq and its killings of civilians and soldiers have dominated discussions during five days of speeches at the United Nations General Assembly podium and on the sidelines.
But Netanyahu described Iran, ISIS and the militant group Hamas that controls the Gaza Strip as part of a single team, comparing them all to Germany's Nazis, who killed six million Jews in World War Two.
Full Report at:
http://english.alarabiya.net/en/News/middle-east/2014/09/29/Netanyahu-Iran-poses-greater-threat-than-ISIS.html
--------
'Historic compromise' must lead to Palestinian state: Palestinian Authority
World Bulletin / News Desk
30 September 2014
The Palestinian Authority (PA) said Monday that any "historic" compromise with Israel must include the creation of a Palestinian state with East Jerusalem as its capital.
"[Any historic compromise] must lead to the creation of a Palestinian state with East Jerusalem as its capital," PA spokesman Nabil Abu Rudeinah told the official Wafa news agency.
"This also includes an immediate halt of settlement activities, lifting the siege on the Gaza Strip and halting settler activities in the holy sites," he added.
Speaking at the U.N. General Assembly on Monday, Israeli Prime Minister Benjamin Netanyahu said that he was ready "to make a historic compromise".
"A broader rapprochement between Israel and the Arab world may help facilitate Israeli-Palestinian peace," Netanyahu said. "Israel is prepared to work with Arab partners to confront dangers and seize opportunities."
Full Report at:
http://www.worldbulletin.net/headlines/145407/historic-compromise-must-lead-to-palestinian-state
------------
Israeli Settlers 'Occupy 23 Homes' in East Jerusalem Neighborhood
30 September 2014
Israeli settlers early Tuesday occupied 23 houses in the Palestinian neighborhood of Silwan South of the Old City of Jerusalem, a local information center said.
Wadi Hilweh Information Center said in a statement that "settlers of the Elad (Ir David) Association" stormed Silwan at 1:30 am escorted by Israeli soldiers and forcibly evicted the residents of an apartment and occupied it, in addition to several vacant homes, Ma'an reported.
The houses belong to Baydoun, al-Karaki, Abu Sbeih, al-Zawahra, al-Abbasi, al-Khayyat, Qarain and al-Yamani families, the statement said.
The Wadi Hilweh Center called the act an "unprecedented settlement attack."
"Even if the houses have been bought stealthily, this is still an illegal seizure of Arab houses by the Elad settlement association. "
Full Report at:
http://english.farsnews.com/newstext.aspx?nn=13930708000716
---------
Africa
'Boko Haram Is Not Islam', Say Young Nigerian Muslims
30 September 2014
Islamic insurgent groups such as Boko Haram use the Qur'an to justify their actions. This has led many non-Muslims to see Muslims - especially those with full beards and dressed in hijab - as terrorists.
But in fact, the vast majority of Muslims, including devout youth from across Nigeria, are united in condemning the nefarious acts of religious extremists. Our correspondent Immanuel Afolabi spoke to young Muslims in the Nigerian province of Oyo State who feel that Boko Haram does not equal Islam.
Concepts such as 'terrorism', 'insurgence' and 'extremism' are often associated with Islamic jihad. But it is erroneous to equate this term with violence, according to Toyeeb (20), a Muslim student in Oyo in south-west Nigeria.
"Non-Muslims who want to know about Islam should ask from the right source. People have misconceptions about jihad because they don't understand Islam. In the Qur'an, jihad does not mean you have to fight people and kill them because they've failed to accept Islam. Jihad means striving in the course of Allah. If you help someone out of debt, you've strived in the course of Allah."
Toyeeb's view is substantiated by another Muslim student, Adebayo Fatai (17), from Ogun State. "It is wrong for writers of the dictionary to translate jihad simply as 'holy war' - that's not wide enough."
Full Report at:
http://allafrica.com/stories/201409292520.html
-----------
Tunisia's Islamists urge US help to support democracy
30 September 2014
Tunisia's moderate Islamist party Ennahda appealed Monday for US support as the country heads into vital elections, warning democracy remains fragile in the nation that triggered the Arab Spring.
Tunisians ousted longtime dictator Zine El Abidine Ben Ali in January 2011 and Ennahda emerged at the head of the pack in elections nine months later with 37 percent of the vote.
With looming legislative elections on October 26, followed by a key presidential vote the following month, the party's leader Rached Ghannouchi said Ennahda was "preparing for the second test."
"One flower cannot make the spring," Ghannouchi told a small group of reporters at the US Institute of Peace at the start of a visit to the United States during which he will also meet key US administration officials.
Ennahda last week unveiled an ambitious platform for the parliamentary elections, saying it was confident of a greater victory than the one achieved three years ago.
"By the end of this year we can guarantee that Tunisia will be the first Arab democracy," Ghannouchi said, speaking in English.
Full Report at:
http://english.ahram.org.eg/NewsContent/2/8/112002/World/Region/Tunisias-Islamists-urge-US-help-to-support-democra.aspx
-----------
Libya's parliament holds crisis talks with rival assembly
30 September 2014
Libya's elected parliament held U.N.-brokered talks with foes tied to a rival assembly on Monday calling for a ceasefire by armed factions and more dialogue to end a confrontation driving the OPEC member state close to civil war.
The House of Representatives, the internationally recognised parliament elected in June, was uprooted last month when an armed group from the western city of Misrata took control of the capital Tripoli and set up its own assembly and cabinet there.
The meeting in Ghadames, a southern town near the Algerian border, was brokered in an attempt to prevent the confrontation from descending into civil war, three years after the uprising that ended the 42-year rule of Muammar Gaddafi.
U.N. Special Envoy Bernandino Leon said after the meetings that both sides agreed on the need for a ceasefire, for humanitarian aid for victims of recent clashes in Tripoli, and to work to reopen airports closed by fighting.
"We have agreed to start a political process to address all issues on the elements on the situation in Libya today and to do it in a peaceful way with a very strong call for a complete ceasefire all over the country," he said.
Full Report at:
http://english.ahram.org.eg/NewsContent/2/8/112021/World/Region/Libyas-parliament-holds-crisis-talks-with-rival-as.aspx
-----------
CAR asks UN to tweak arms embargo to aid troops
30 September 2014
UNITED NATIONS: Central African Republic interim President Catherine Samba Panza asked the United Nations on Saturday to consider tweaking an arms embargo on the landlocked state so its security forces could be properly equipped to work alongside UN peacekeepers.
An "anti-balaka" Christian militia took up arms last year in response to months of looting and killing by mostly Muslim Seleka rebels after they toppled President Francois Bozize and seized power in March 2013.
In December, the Security Council imposed an arms embargo on the Central African Republic and imposed sanctions in May on Bozize and two other men linked to the conflict in the mineral-rich country of 4.6 million people.
"I should here like to ask for the understanding of the sanctions committee to ensure that the arms embargo imposed on the Central African Republic be reassessed and re-examined," Samba Panza told the General Assembly.
She was elected interim president by a transitional assembly in January as part of a plan to restore order.
Full Report at:
http://www.dailytimes.com.pk/region/29-Sep-2014/central-african-republic-asks-un-to-tweak-arms-embargo-to-aid-troops
----------
Australia
Australia charges man over funding 'terrorist organization'
30 September 2014
A man was arrested in counterterror raids in Australia on Tuesday, with police alleging he was sending money to a U.S. militants fighting with a militant group in Syria.
The arrest comes days after a terror suspect was shot dead in Melbourne after stabbing two police officers, and amid concerns about Australians fighting alongside militants in Iraq and Syria.
"A 23-year-old man... will be charged with intentionally making funds available to a terrorist organization," Australian Federal Police assistant commissioner Neil Gaughan said.
Gaughan said the man, who has not yet been named, had already transferred about US$10,500 to a U.S. citizen who travelled to Syria to fight.
He said the arrest had been triggered by the belief that the man was allegedly preparing to send more funds.
Police stressed there was no information or intelligence to indicate the man was involved in planning an attack in Australia, or linked in any way to the terror suspect killed last week.
Abdul Numan Haider, 18, was shot dead as he carried out a frenzied knife attack on two policemen, one day after the Islamic State of Iraq and Syria (ISIS) group called for Muslims to indiscriminately kill Australians.
Full Report at:
http://english.alarabiya.net/en/News/middle-east/2014/09/30/Australia-arrests-man-for-funding-fighters-in-Syria.html
-----------
URL: https://www.newageislam.com/islamic-world-news/new-age-islam-news-bureau/iraqi-army-kills-100-isil-terrorists,-liberates-16-villages-in-diyala-province/d/99329