New Age Islam News Bureau
29 Aug 2018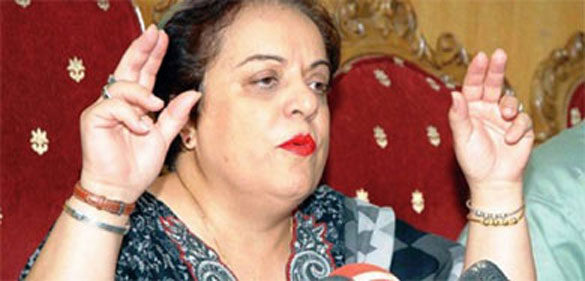 Pakistan minister for human rights Shireen Mazari has said that she has a proposal ready for resolution of the Kashmir dispute
-----
• Iraq-Based Top Shia Cleric Issues Fatwa over Ayodhya Issue, Says No Shrine Can Be Built On Waqf Land
• Malaysian Lawyers: Caning For Shariah Offences Has Parliament's Approval
• Proposal Ready to Resolve Kashmir Issue: Pakistan Minister
• Muslim World League Chief Deplores Religious Extremism
• Threats Mount Over Dutch Cartoon Contest with Bounty Placed on Wilders
• Trump Era Is Igniting a new wave Of Muslim-American Candidates
India
• Iraq-Based Top Shia Cleric Issues Fatwa over Ayodhya Issue, Says No Shrine Can Be Built On Waqf Land
• FGM: Court Should Not Decide Validity of Religious Practice on PIL: Dawoodi Muslim Group
• Islamic Scholar Fayaz Elected As Chief of Jel Kashmir
• NIA arrests prime conspirators of Kupwara-Hizbul Mujahideen case
• Two Hizb militants killed in encounter with security forces in J-K's Anantnag
--------
Southeast Asia
• Malaysian Lawyers: Caning For Shariah Offences Has Parliament's Approval
• FPI Leader Rizieq Shihab Calls For Jihad and Revolution in Indonesia from Mecca in Video
• Trump Will Make the Liberation of the Uighurs America's Top Priority in Its Next Round of Negotiations with China over Trade Policy
• Malays won't feel insecure if govt institutions strong, forum told
• Nurul: No bar to sending Bangladeshi workers to Malaysia
• One killed, dozens wounded in Philippines bombing
--------
Pakistan
• Proposal Ready to Resolve Kashmir Issue: Pakistan Minister
• Dr Shireen Mazari Delivers Sharp Rebuke to Human Rights Watch for 'Selective Oversight'
• Shah Mehmood Qureshi raises anti-Islam cartoon contest issue with Dutch Foreign Minister
• Zardari tells SC he owns neither any property nor bank account outside Pakistan
• Army to memorialize martyrs in 'befitting manner' on defence, martyrs day
--------
Arab World
• Muslim World League Chief Deplores Religious Extremism
• Al-Azhar Says All Sexual Harassment 'Forbidden'
• Turkish Army Forwards More Equipment to Northern Syria
• US Army Sends More Military Hardware to Northeastern Syria
• Syrian Army Drives ISIL out of More Lands in Deserts of Sweida
• Kurds Hand over Key Passageway to Syrian Army in Deir Ezzur
• Militants Hand over More Arms, Ammunition to Syrian Army in South
• Syrian air defence systems fully prepared ahead of possible US attack: Official
• UN invites US, allies for Syria talks in Geneva next month
• Arab Coalition: UN Human Rights report on Yemen sent to legal team for review
--------
Europe
• Threats Mount Over Dutch Cartoon Contest with Bounty Placed on Wilders
• UN Experts Accuse Saudi Arabia, U.A.E. Of War Crimes in Yemen
• Saudi Arabia banned from promoting reform agenda on UK TV
• Why an imam joined the frontline of the British Armed Forces
• Catholics face fear as Chad prioritizes Islam, senior church source says
• Dutch police arrest man over alleged plot to kill Geert Wilders
--------
North America
• Trump Era Is Igniting a new wave Of Muslim-American Candidates
• US Envoy to UN Questions Palestinian Right Of Return To Israel-Occupied Homeland
• US support to coalition in Yemen not unconditional: Mattis
• US Secretary of Defense: 'Iran will be held accountable for reckless behaviour in the region'
• Soldier to Plead Guilty in Trying to Help Islamic State
--------
Africa
• Nigeria: Govt Debunks Claim of Buhari Islamising Country
• Liberian Muslims Lauded for Upholding Unity
• Notorious Terrorist Outfit ISIS Running Modernghana.Com Website
• South Sudan rebel chief refuses to sign peace deal
• Truce reached after deadly clashes in Libyan capital
• Will Libya resort to electing an interim president?
--------
South Asia
• Myanmar Rejects UN Probe on Rohingya Abuses
• Over 200 Rohingya wait to enter Bangladesh: Report
• Dozens of insurgents killed in Ghazni, Paktika airstrikes: Thunder Corps
--------
Mideast
• Yemeni Govt Condemns Houthis for Prohibiting Delivery of Aid to Hodeidah
• Yemen's Houthi Militias Besiege Town In Dhamar, Kidnap At Least 60
• Israeli forces demolish home of slain Palestinian teen
• Yemeni army strike Houthi militia sites west of Taiz
Compiled by New Age Islam News Bureau
URL: https://www.newageislam.com/islamic-world-news/iraq-based-top-shia-cleric/d/116230
--------
Iraq-based top Shia cleric issues fatwa over Ayodhya issue, says no shrine can be built on waqf land
29th August 2018
LUCKNOW: Adding a new angle to vexed Ayodhya dispute, Iraq's top Shia cleric Ayatollah Ali al-Sistani has issued a fatwa ruling that it was against Islam to construct any temple or any other shrine on the land belonging to Waqf properties.
The fatwa is basically seen with reference to the stand taken by UP Central Shia Waqf Board chairman Waseem Rizvi who has been advocating that disputed site in Ayodhya was associated with religious sentiments of crores of Hindus and it should be handed over to them for constructing a grand Ram temple over it and the mosque could be built in some Muslim dominated locality of the temple town.
However, the title suit of disputed land in Ayodhya is pending with the Supreme Court of India and hearing is going on in it. Notably, Al-Sistani, a revered highest religious authority among the Shias world over and heads Shia seminary at Najaf in Iraq, issued the Fatwa in response to a plea of a Kanpur based scholar and educationist Dr Mazhar Abbas Naqvi, who had sought some clarity from the Shia cleric on the issue and directives for Rizvi.
However, the fatwa from Iraq has evoked sharp reactions both from Muslim community and the political circles of UP.
"Shia Waqf Board will work as per the tenets of the Constitution of India. I am not going to buckle down by any such fatwa which I refuse to accept as it is nothing but mounting an international pressure on Shai Waqf Board to back Muslim side in the litigation," said UP Central Shai Waqf Baord chairman Waseem Rizvi.
"This fatwa from Ayatollah Sistani is a part of that tactic. Shia Waqf Board will not be cowed down to any pressure from terrorists or any fatwa issued by who so ever. We are not ready to abide by the cleric's opinion," Rizvi said claiming that the fatwa was issued after the top Shia was misguided by the person who approached him.
"Ram Temple in Ayodhya is a question of faith for Hindus and Shia Waqf Board is concerned about development of the society and the country. Hindu's should get their right and Muslims should refrain from taking away anyone's right. Shia Waqf Board will maintain its stand even if all the Muslims of the world stand to oppose me," added Rizvi.
The UP Shia Waqf Board had cited historical references to Mir Baqi, the person who built the Babri mosque, as being a Shia Muslim and hence the mutawali (caretaker) of the mosque was also the Shia Waqf Board.
Meanwhile, while all the major political parties including the BJP and the SP felt that it was an interference in the internal issue of the country and the courts and countrymen were capable enough to settle it, Muslim religious leaders came out in support of fatwa against Rizvi.
"Waseem Rizvi is a right-thinking man. Al-Sistani is the highest religious authority and he could not be opposed by Shias. Now it's time for Rizvi to fall in line and follow the fatwa issue by the cleric in Iraq," said Maulana Yassob Abbasi, a prominent Shia cleric based in Lucknow.
http://www.newindianexpress.com/nation/2018/aug/29/iraq-based-top-shia-cleric-issues-fatwa-over-ayodhya-issue-says-no-shrine-can-be-built-on-waqf-land-1864231.html
--------
Malaysian Lawyers: Caning For Shariah Offences Has Parliament's Approval
August 29, 2018
PETALING JAYA: It is legal for state religious authorities to prescribe caning for Muslim women as punishment for violating Islamic criminal laws as this has been sanctioned by Parliament, lawyers say amid reports that two women in Terengganu were sentenced to caning in the state's first verdict on same-sex relations earlier this month.
The lawyers said the Shariah Courts (Criminal Jurisdiction) Act 1965 (Act 355) empowered authorities to mete out sentences of up to three years in jail, six strokes of the cane and RM5,000 fine.
This is in contrast to Section 289 of the Criminal Procedure Code governing both Muslims and non-Muslims which exempts women from being whipped.
When questioned about this, the lawyers said the Islamic way of caning differed from the punishment carried out on male offenders under secular civil laws.
Under the Criminal Procedure Code, drug offenders, kidnappers and the like are caned on the bare buttocks with a thick rattan stick which breaks the skin and can leave lifelong scars.
Under Islamic laws, meanwhile, offenders are caned on the back with a thin rod. They are also allowed to remain clothed.
Lawyer Farhan Haziq Mohamed said there was no question of Muslim women being discriminated against as Act 355 was validly enacted by the federal legislature for states to adopt.
According to the Federal Territories Syariah Criminal Procedure Act, he said, the rod used for whipping should be made either from rattan or the small branch of a tree without segment of joint.
Its length must not be more than 1.22m and its thickness not more than 1.25cm.
For pregnant offenders, he said, punishment would be postponed and could be carried out two months after delivery.
"I believe the mode of punishment by rattan is also similar in other states," he said, adding that shariah law and courts came under state jurisdiction.
Earlier this month, two women in Terengganu were convicted of attempting to have lesbian sex. They were charged under shariah law and sentenced to six strokes of the cane and a fine of RM3,300.
The punishment was initially scheduled to be carried out on Aug 28. However, the Terengganu Shariah High Court postponed it to Sept 3 due to "technical reasons".
The case has sparked an outcry with civil rights groups decrying the caning as torture.
Lawyer Kamar Ainiah Kamaruzaman said in Islam, women were given the same treatment as their male counterparts in the measure of punishment.
"Any whipping under shariah law is with a light cane, unlike similar punishments under the penal law which are about pain and torture," he said.
Another lawyer, Jahaberdeen Mohamed Yunoos, agreed, saying caning under shariah law was meant to bring about a feeling of repentance rather than inflict pain.
He added that the Terengganu state ruler could spare the offenders from being caned as Islam was about compassion and mercy.
In 2010, a former model and nurse was sentenced to caning for drinking beer. However, her punishment was commuted by the Sultan of Pahang.
Kartika Sari Dewi Shukarno was instead ordered by the ruler to perform community service for three weeks.
She had been sentenced to six strokes of the cane and a fine of RM5,000 for drinking beer at a beach resort in December 2007.
http://www.freemalaysiatoday.com/category/nation/2018/08/29/lawyers-caning-for-shariah-offences-has-parliaments-approval/
--------
Proposal Ready To Resolve Kashmir Issue: Pakistan Minister
Aug 29, 2018
ISLAMABAD: Pakistan minister for human rights Shireen Mazari, who is said to have close ties with the country's powerful military establishment, has said that she has a proposal ready for resolution of the Kashmir dispute+ .
Mazari, who before her swearing-in was even tipped to be the defence minister, said she would present her proposal to Prime Minister Imran Khan in a week's time.
She announced this during a TV talk show earlier this week but refused to disclose details. Mazari described the proposal as a "model for conflict resolution", adding that she had been working on it for quite some time.
"We will circulate it among all the stakeholders, including the prime minister and cabinet ministers. If the draft is approved, we will move forward on it," she said.
Mazari was the director general of the Institute of Strategic Studies, a think tank on defence and security issues. She had also served as professor in the defence and strategic studies department of Quaid-e-Azam University, Islamabad.
It is because of these credentials that observers are giving importance to her yet-tobe-disclosed proposal. "I believe that there would be a military input in Mazari's proposal since she knows the importance and delicacy of the army's role in matters related to India, Afghanistan and US," analyst Aurangzeb Khan told TOI.
Last week, Imran Khan had expressed his desire to initiate talks with India to resolve all conflicts, including Kashmir.
https://timesofindia.indiatimes.com/world/pakistan/proposal-ready-to-resolve-kashmir-issue-pakistan-minister/articleshow/65585494.cms
--------
Muslim World League chief deplores religious extremism
August 28, 2018
JEDDAH: The secretary-general of the Muslim World League (MWL), Dr. Mohammed bin Abdulkarim Al-Issa, has declared at one of the world's biggest gatherings that struggle should be replaced by dialogue and understanding based on mutual respect.
He stressed that his message was for 1.8 billion Muslims who are committed to a religion that calls for the values of peace and promotes the building of bridges of peace and harmony in all issues. The most important of these, he said, are the rights of minorities, women and men, migration causes, national integration and trafficking in human beings as well as problems of poverty and ignorance.
This came in a speech delivered by Al-Issa in Rimini, Italy, on behalf of the Islamic peoples in the activities of the 39th edition of the Meeting for Friendship Among Peoples. The theme was "The forces that move history are the same that make man happy" and political and religious leaders participated in the presence of more than 5,000 people from around the world.
The one-week gathering featured several seminars and open discussion sessions aimed at bridging the gap between the peoples of the world and emphasizing the importance of coexistence and understanding among nations and cultures.
This was the first time that the concepts of Islamic thought, culture and civilization were presented in this huge international gathering.
Al-Issa affirmed that the will of the Creator has decreed that people should be diverse in their colors, languages, religions, creeds, ideas and cultures.
He added that Allah has honored everyone and has not excluded anyone. "Only pure hearts filled with love and goodness can enjoy Allah's mercy and justice and see in this diversity human richness that promotes dialogue, coexistence, cooperation and peace," said Al-Issa.
He also pointed out that evil spread hatred, wars and injustice, classified people based on racism, exclusion and clash of civilizations, establishing the theory that diversity means conflict, not peace and harmony. What counts, he said, is the dignity of one's religious or ethnic group.
Al-Issa warned against some groups that have reached intellectual deterioration, based on religious convictions or extremist philosophies.
"These groups form isolated cases in every religion, at any time. There is no religion whose origin is extremist, and in every religion there are extremists. The theories of some philosophies are intellectual hallucination rather than a philosophical logic," added the MWL secretary-general.
He stressed that the MWL speaks in the name of the Islamic peoples, hence it has felt the importance of clarifying the truth of the Islamic religion which has loved, coexisted, engaged and cooperated with everybody after extremism has tried to harm it.
Al-Issa stressed that any religion incompatible with life cannot survive for more than 1,400 years, which is the age of Islam to this day.
"Islam is still among the most widely spread religions in terms of geography and growth. Muslims today count about one billion and 800 million people," he said.
Al-Issa stressed that it is neither logical nor fair to reduce this religion, which has hundreds of millions of followers, to an extremist category that does not exceed, according to the MWL's statistics, one in 200,000 Muslims who represent moderate Islam.
http://www.arabnews.com/node/1363331/saudi-arabia
--------
Threats Mount Over Dutch Cartoon Contest With Bounty Placed on Wilders
August 28, 2018
A Pakistani cricketer has offered a reward for the murder of firebrand anti-Muslim Dutch politician Geert Wilders for organizing a cartoon contest depicting Islam's Prophet Muhammad.
The incendiary bounty offer is adding to fears in the Netherlands that the cartoon competition, which was announced June 12, will lead to targeted violence, either in Holland or against Western targets in Pakistan, by religious militants including so-called Islamic State (IS) or assassins inspired by the terror group.
In 2015, two French militants who had sworn allegiance to al-Qaida massacred 12 people at satirical magazine Charlie Hebdo's offices, ostensibly for the printing of cartoons of Muhammad. The attack was the first in a wave of terrorism in France that has left more than 240 dead during the past three years.
Between 2,000 and 3,000 protesters in Pakistan's capital, Islamabad, were prevented earlier this month from pelting the Dutch embassy with stones. Protesters say the contest is sacrilegious.
Khalid Latif, who last year was banned from playing cricket for five years in a spot-fixing scandal, announced a $24,000 bounty on Wilders and his far-right party colleagues on Facebook. Spot-fixing is predetermining the outcome of a particular passage of play, as opposed to fixing the outcome of a match.
Wilders has said he has more than 200 entries for the contest, which will be judged by American cartoonist and former Muslim Bosch Fawstin.
Because the judge is an American, Pakistani Islamists say the United States should also be blamed for holding the contest. The Islamist party, Tehreek-e-Labbaik Pakistan (TLP), which has demanded Islamabad break diplomatic ties with the Netherlands, says "strict measures should also be taken against the U.S."
Pakistan's new Prime Minister Imran Khan, a former international cricketer, has acknowledged the growing furor, promising in his maiden speech this week in the Pakistani Senate that he will raise the issue of blasphemous caricatures in the U.N. General Assembly. "Very few in the West understand the pain caused to Muslims by such blasphemous activities," said Khan.
Wilders' Dutch Party for Freedom, which opposes Muslim immigration to the Netherlands, is the second-largest in the Dutch parliament. Wilders tweeted he had received clearance from the Dutch counterterrorism agency to hold the competition in the PVV's parliamentary offices.
Wilders' Dutch critics say the contest is needlessly provocative and Prime Minister Mark Rutte has denounced the competition as "not respectful," but he has refused Pakistani demands for the contest to be banned, arguing the Netherlands values freedom of speech.
Three years ago, the Dutch parliament turned down Wilders' plan to hold an exhibition of anti-Islam cartoons inside the legislature's complex, saying "exhibitions in parliament must focus on the role of parliament and should not offer a platform to party political statements or be controversial."
Khan says he will campaign for a global ban on cartoons of Islam's Prophet Muhammad. A pledge secular-minded critics of the new prime minister say is playing politics with religion. Khan has condemned religious killings, but he supports an article in Pakistan's constitution mandating the death penalty for any "imputation, insinuation or innuendo" against Muhammad.
"Less than a week in office, Pakistani Prime Minister Imran Khan has made blasphemy one of his first issues, empowering militants and initiating international moves, long heralded by Saudi Arabia, that would restrict press freedom by pushing for a global ban," argues James Dorsey, an analyst at the S. Rajaratnam School of International Studies in Singapore.
On Monday, Pakistan's Senate approved a unanimous resolution condemning the caricature contest, saying that it "considers the proposed competition tantamount to inciting hatred, racial prejudice, unrest, conflict and insecurity in a world that has already seen much bloodshed, racism, extremism, intolerance and Islamophobia."
The furor over Wilders' contest echoes Muslim protests 13 years ago against a Danish newspaper for publishing cartoons depicting Muhammed in bad light. The Danish newspaper Jyllands-Posten published a dozen editorial cartoons in 2005, saying it was an attempt to contribute to the debate about criticism of Islam and self-censorship. One of the cartoons showed the prophet with a bomb in his turban. Anger about the publication built up over time.
Now, as then, hardline Islamists began to jump on the controversy.
Last week, the head of an influential madrassa in Lahore, radical spiritual leader Mufti Muhammad Abid Jalali, warned, "In the name of so-called freedom of speech, the West continues to publish blasphemous texts and images. Even certain animals are sometimes used, while knowing how sensitive that is in Islam. If the West perseveres in this, it can expect an appropriate response."
He told Dutch reporters, "Islam is above all a religion of peace, and we condemn all terrorist groups that commit violence on behalf of Islam. But if non-Muslims have no respect for the prophet, peace with him, or ridicule Islam, as is happening in the Netherlands, we have no choice but to respond."
https://www.voanews.com/a/threats-mount-over-dutch-cartoon-contest-with-bounty-placed-on-wilders/4547244.html
--------
Trump era is igniting a new wave of Muslim-American candidates
by Heidi Przybyla
Aug.28.2018
DEARBORN, Mich. — Landing on the government's terror watch list has become so common in this Detroit suburb that Osama Siblani, a publisher who immigrated from Lebanon in 1976 and wears a polo shirt and jeans at work, thumbs through his speed dial list recalling the stories.
No one's told why they're on it, and only the wealthy can afford a lawyer to get off it, says Siblani. The list includes a man paralyzed from the neck down and small business owners flagged for returning home to visit family.
On the city's south side, Rasheed Alnozili, publisher of the Yemeni American newspaper, says many U.S.-born kids with Yemeni parents believe they're not citizens. Meanwhile, some professionals with young families contemplate life in Canada.
This is a snapshot of life for many Arab and Muslim Americans here — and they want you to know it's been like this since before President Donald Trump took office.
But Trump's ascent appears to be hastening this population's coming of age politically.
American Arabs and Muslims are stepping up to run for public office in record numbers, registering to vote and bundling money for candidates from their community, according to Jetpac, a nonprofit working to increase American Muslim civic engagement.
With inflammatory rhetoric on immigration and his active push for a travel ban aimed primarily at Muslim-majority countries, Trump has put a national spotlight on the community's long-running travails. Trump has called for the monitoring of mosques and appointed Cabinet members and political advisers who have disparaged Muslims.
He's also likely put the final nail in the coffin for the community's waning support for the GOP, political experts say.
"Donald Trump did us more than one favor," says Siblani, who launched George W. Bush's campaign in Dearborn and hasn't voted for a Republican presidential candidate since.
"First, he uncovered the animosity and discrimination and hate against foreigners and, particularly, Muslims. But he also pushed the Democrats to go and look and search for us," he says.
"We're paying heavily, and now it's coming to the surface," said Abdulhakem Alsadah, president of the National Association of Yemeni Americans. He says thousands of U.S. citizens or legal residents can't get home because there is no diplomatic presence in Sana'a, the capital of Yemen — while other families are permanently separated because of the travel ban.
"Our story is Americans and our families. This is the story that's never been told," Alsadah said over a traditional meal at Al Nawras restaurant, a small business epitomizing the American dream.
It was started by Mohammed Abu Sinan, once a dishwasher who now owns five restaurants.
Michigan is home to the nation's largest Muslim-American population and a state Trump narrowly carried in 2016, winning by just over 11,000 votes. And experts say his presidency has likely cemented a permanent shift away from the GOP for younger Muslims in particular.
Rashida Tlaib, the daughter of Palestinian immigrants and a Democrat who won the primary to succeed the area's retiring Democratic Rep. John Conyers, symbolizes the community's political rise.
While she will be the first Muslim woman to serve in Congress, she ran on an agenda that emphasized core progressive issues, not race, including poverty and getting corporate money out of politics.
It wasn't long ago that American Muslims leaned Republican, with many who hold conservative views on issues like abortion and same sex marriage. In 2000, President George W. Bush was elected with substantial Muslim-American support (42 percent nationally to former Vice President Al Gore's 31 percent, according to a 2001 Zogby survey).
"It's the young people feeling like the way to respond to the political environment is shifting from being defensive to very proactive and empowering," said Linda Sarsour, a leader of the Women's March. "Many Muslim Americans are just tired of saying 'we're Americans just like you,'" said Sarsour.
Others say it's out of necessity. The Council on American Islamic Relations documented 300 hate crimes against Muslims in 2017 — a 15 percent increase from the previous year.
Emgage, a nonprofit that promotes Muslim political engagement, polled registered Muslim voters after the 2016 election and found that 53 percent felt "less safe."
THEIR STORIES
The Arab community in Dearborn is diverse, where the largest ethnic populations are Lebanese, Yemeni and Iraqi.
They have different concerns, cultures and cuisines, but this much they agree on: Trump's behavior has laid bare the bias and discrimination they've seen for decades. "Maybe this country needed a shock. This is the shock therapy," said Alsadah.
Many have stories like Tlaib, a state legislator who in 2011 was asked by a male legislator for her birth certificate during a committee hearing. "I felt like he was dehumanizing me," she said. "What was more painful was no one called him out on it," she said.
Siblani, sitting in his office off Ford Road, Dearborn's main drag, flips through his cell calling contacts to ask if they are "on the (terror) list."
"Are you on the list? No, I'm off," says a voice on the other end. Siblani implores another man to speak with a reporter: "I can't, it will affect all my businesses. I cannot go public with it. Let me call my lawyer," the voice says, hanging up.
None of them know "what they've done," to get on the list says Siblani. A single trip to a Middle Eastern country can be the trigger, he says, describing door-to-door escorts and missed flights as the norm. "It's humiliating" and "you never get off unless you sue," said Siblani.
"I'm not saying people should not be questioned, I'm saying there should be an end game. Give me a chance to clear myself or tell me why my name is on the list," adds Siblani, who is not on the list.
In her Detroit law office, Tlaib, says many Muslims have lived with anxiety since the Sept. 11 terror attacks in 2001. "I remember this overwhelming feeling of 'Oh my God, are they going to come after us?'"
Then came Trump's election, which prompted a "moment of darkness, fear and stillness" by American Muslims, she said. It wasn't until the travel ban that there was "an eruption" and "all of a sudden people were starting to run for office," said Tlaib.
MUSLIM WAVE
There's a resurgence in Muslims running for office nationally, with 29 in ongoing campaigns across 13 states and many of them already clearing primaries en route to the general election. With at least 105 American Muslims having filed papers this year, it's a record since 2000, according to Jetpac.
It at least in part signifies the return to civic participation of a population that's avoided an unwelcome spotlight since the Sept. 11 terror attacks that complicated the lives of millions of American Muslims across the nation. While the hijackers came from and were financed by Saudi backers the entire Muslim community suffered nonetheless.
"They stayed away like we are a disease. How can you partner with someone who doesn't want to partner?" said Siblani.
"The reason the Arabs are going into the Democratic Party is because they have no choice," said Siblani, who says President Obama ignored the community and began the restriction of visas.
"Now the question (for Democrats) is 'Are you standing with me because of what I have been suffering from or are you standing with me because you are standing against Trump?" asked Siblani.
https://www.nbcnews.com/politics/elections/trump-era-igniting-new-wave-muslim-american-candidates-n903641
--------
India
FGM: Court should not decide validity of religious practice on PIL: Dawoodi Muslim group
28 AUGUST 2018
New Delhi, Aug 28 A group of Dawoodi Bohra Muslim community members today told the Supreme Court that the courts should not decide the constitutionality of a centuries-old religious practice of female circumcision through the public interest litigation (PIL) route.
The group said said female circumcision is practised by a few sects of Islam including the Dawoodi Bohra community and the validity of this be examined, if at all, by a larger Constitution bench.
A bench headed Chief Justice Dipak Misra, hearing a PIL filed by a Delhi-based lawyer challenging the practice of female genital mutilation (FGM) of minor girls of the Dawoodi Bohra Muslim community, was told by senior advocate A M Singhvi that the validity of a religious practice cannot be examined in a PIL jurisdiction.
"The object of female circumcision (FC) and male circumcision (MC) is a religious practice in Islam and they are related to purity aspect," Singhvi, appearing for over 70,000 Dawoodi Bohra Muslim women, told the bench which also comprised justices A M Khanwilkar and D Y Chandrachud.
He said though male circumcision (MC) is followed by all sects of Islam, the FC is being observed by few sects including the Dawoodi Bohra community and the validity of this be examined, if at all, by a larger Constitution bench.
He said that if the government would have brought a legislation banning the FC then it could have been challenged on the grounds of violation of Article 14 (right to equality), but this recourse, would not be available to the community if the court decides to examine the validity of the practice.
He also referred to the apex court's judgement on right to privacy and said that the PIL petitioner has been entering into private area of the community.
Singhvi said that no affected Bohra Muslim woman has come to the court challenging the practice and to allege that it has harmed her emotionally and physically.
The advancing of arguments remained inconclusive and would resume on August 30.
Earlier, the apex court had said that the female genital mutilation (FGM) of minor girls of the community leaves a "permanent emotional and mental scar" on them and the practice may be held as violative of dignity of women as prescribed in the Constitution.
The apex court had also said that the fact that the FGM is being practised from tenth century is not "sufficient" to hold that this formed part of the "essential religious practice", which cannot be scrutinised by court.
Attorney General K K Venugopal, appearing for the Centre, had reiterated the government's stand that it was opposing the practice and said that this has been banned in many countries like the US, the UK, Australia and around 27 African nations.
The practice causes irreparable harm to girl children and has many health repercussions, the top law officer said and referred to Article 25 to highlight the point that a religious practice can be stopped if it was against "public order, morality and health".
The bench was hearing the PIL filed by Delhi-based lawyer Sunita Tiwari against the practice in the community.
Tiwari, in her plea, sought a direction to the Centre and the states to "impose a complete ban on the inhuman practice" of 'khatna' or "female genital mutilation" throughout the country.
Female genital mutilation is performed "illegally upon girls (between five years and before she attains puberty)" and is against the "UN Convention on the Rights of the Child, UN Universal Declaration of Human Rights of which is India is a signatory", the plea said, adding the practice caused "permanent disfiguration to the body of a girl child". SJK ABA MNL RKS SJK RT RT
https://www.outlookindia.com/newsscroll/fgm-court-should-not-decide-validity-of-religious-practice-on-pil-dawoodi-muslim-group/1371680
--------
Islamic Scholar Fayaz Elected As Chief Of Jel Kashmir
29 August 2018
Khursheed Wani
Noted Islamic scholar and orator Dr Hameed Fayaz was elected amir (chief) of Jamaat-e-Islami (JeI), a prominent politico-religious organisation in Jammu and Kashmir. His election is regarded as shift of leadership from old guard to an intermediate who has learned from the founders and worked with the youngsters of a significant cadre-based organisation. Fayaz (62) has replaced moderate Ghulam Muhammad Bhat who held the post four times since 1985.
Hailing from south Kashmir's Shopian district, Fayaz has a doctorate in Urdu from Kashmir University and has been associated with the Jamaat for the past 42 years. He has also headed the student wing of the organization Jamiat-e-Talaba. He is one of the few top leaders of the Jamaat, who has not been directly associated with armed insurgency in Kashmir in its beginning in early 1990s. Though he has not fought any elections himself, he has campaigned for Muslim United Front (MUF) candidates in 1987 Assembly elections when Jamaat was a constituent of the alliance. The 1987 elections are largely perceived to have been rigged that became one of the major causes for eruption of militancy in Kashmir.
Dr Fayaz was elected as JeI chief on the first session of the newly elected 165 members of Majlis-e-Numaindgan (House of Representatives), which is elected by around 4,000 members (arkan) of the organisation. The session also elected the Central Advisory Council or Majlis-e-Shora, the highest decision making body. Fayaz is popular for his oratory skills and his command over Urdu and Persian languages.
"Jamaat is a socio-politico-religious organisation working for the last more than 70 years in Jammu and Kashmir for propagation of the message of Islam in a peaceful and democratic manner and this methodology will be followed constantly for the achievement of the goal," he said in a brief speech after his election.
He reiterated Jamaat's stance that Kashmir was an unsettled issue to be resolved in the light of UN resolutions or through tripartite talks between India, Pakistan and real representatives of the people of undivided Jammu and Kashmir.
He said Jamaat would continue to impress both the neighboring countries for the final settlement of Kashmir issue in accordance with the aspirations of the people concerned.
Jamaat has completely distanced itself with the armed insurgency in Kashmir unlike in early 1990s when a significant cadre of the organisation was targeted by the security forces for their support to militancy. Hizbul Mujahideen, the indigenous militant outfit, derived most of its cadre from the Jamaat. The Hizb was officially the military wing of Jamaat for some period but the outgoing Amir GM Bhat played crucial role in distancing the two groups and returning Jamaat to its reformist basics.
Full report at:
https://www.dailypioneer.com/nation/islamic-scholar-fayaz-elected-as-chief-of-jel.html
--------
NIA arrests prime conspirators of Kupwara-Hizbul Mujahideen case
Aug 28, 2018
NEW DELHI: NIA has arrested the main conspirator Ishaq Palla and Deputy Superintendent of jail Feroz Ahmad Lone of Srinagar Jail in the Kupwara-Hizbul Mujahideen conspiracy case.
The case pertains to an attempt by accused persons Suhail Ahmad Bhat and Danish Ghulam Lone, who were arrested earlier, to travel to PoK for arms training for waging war against the state.
NIA says they were motivated by Ishaq Palla. "At the time of incident, Ishaq Palla was lodged in Central prison Srinagar in a different case and he was instrumental in hatching the conspiracy from Jail. In this conspiracy, he was actively assisted by Feroze Ahmad Lone, who was posted as Deputy Jail Superintendent Central Jail Srinagar at that time. The conspiracy meeting at the central prison Srinagar was held on 25 October 2017. Accused persons were in contact with each other through blackberry messenger during whole of October before they were apprehended by the police on 30 Oct 2017," said NIA.
Full report at:
https://timesofindia.indiatimes.com/india/nia-arrests-prime-conspirators-of-kupwara-hizbul-mujahideen-case/articleshow/65583653.cms
--------
Two Hizb militants killed in encounter with security forces in J-K's Anantnag
Aug 29, 2018
A top Hizbul Mujahideen militant was among two ultras killed in an encounter with security forces in Anantnag district of Jammu and Kashmir on Wednesday, police said.
Altaf Kachru, one of the oldest Hizbul Mujahideen militants operating in the Kashmir Valley was killed in the operation. He was involved in many cases including killing of policemen. The second militant was yet to be identified
"It was a specific operation and in a swift action both the terrorists involved in several cases of civilian atrocities and attacks on policemen were eliminated," Inspector General of Police, Kashmir Range, S P Pani said.
Giving details of the encounter, police said security forces launched a cordon and search operation in Muniward village in Khanabal area of the district early this morning following specific information about the presence of militants there.
Full report at:
https://www.hindustantimes.com/india-news/two-hizb-militants-killed-in-gunbattle-with-security-forces-in-j-k-s-anantnag/story-N8LSFL7VdbgVs7zd4s8pQM.html
--------
Southeast Asia
FPI leader Rizieq Shihab calls for jihad and revolution in Indonesia from Mecca in video
Aug. 29, 2018
Firebrand cleric Rizieq Shihab, founder of the hardline Islamic Defenders Front (FPI), played a pivotal role in the 2017 Jakarta governor's race, but has done little politically in the lead up to the 2019 presidential election. Being a fugitive from Indonesian law enforcement hiding in Mecca definitely plays a part in that, although the ruling PDI-P party of President Joko Widodo said just last week they would be open to Rizieq's support.
Although Rizieq never formally respond to PDI-P's wooing, it's now pretty clear that he's going to be sticking with the opposition. In a new video from Mecca, posted to Rizieq's Twitter account and FPI's Youtube page, Rizieq calls for a "jihad" against the persecution of the government.
"Our concern is the emergence of paid thugs who persecute ulama (Islamic scholars), public figures, activists, even against women. This should not be allowed," Rizieq says in the video.
"We call from the holy city of Makkah al Mukarromah for all the people, the whole nation, all citizens, to unite in jihad against the paid thugs who want to divide the people, who want to cause chaos in Indonesia and who want to break the peace," he continued.
Rizieq was referring to the #2019GantiPresiden (#2019ReplaceThePresident) controversial opposition movement that has been supported in large part by hardline Islamic organizations.
A #2019GantiPresiden rally that had been scheduled for Sunday in the East Java capital of Surabaya was not given clearance by the city's police over concerns it would disrupt the peace. Supporters of the opposition movement gathered during Surabaya's Car Free Day event anyways, despite attempts by the police to disperse them, and eventually they clashed violently with counter-protesters.
Since then, many political figures from the opposition have accused President Joko Widodo's administration of being repressive and using state force to silence a legitimate political movement. Rizieq takes it further in his video, accusing the president's supporters of using paid thugs to attack their side and demanding that his followers rise up in revolution against the government.
Despite Rizieq's outsized influence on the 2017 Jakarta election, it seems unlikely that many will answer his call for jihad from Mecca. Most analysts predict that President Joko Widodo's decision to pick Indonesian Ulema Council (MUI) leader Ma'ruf Amin as his running mate will make it very difficult to attack the incumbent on religious issues as was done to devastating effect against former Jakarta Governor Basuki "Ahok" Tjahaja Purnama.
Messages such as this one could push Rizieq, FPI and the entire #2019GantiPresiden movement even further to the fringe. Not only does Ma'ruf symbolize MUI, the country's highest Islamic clerical body, he is also a senior leader of Nahdlatul Ulama (NU), Indonesia's biggest Islamic organization.
Indeed, NU members, particularly members of the organization's youth wing, Bansor, seem to have played a major role in the #2019GantiPresiden counter-protests in Surabaya.
Also, despite the government dropping Rizieq's suspect status in the infamous pornography case that first led to him fleeing the country, he has not announced any plans to return to his homeland in the near future (there are several other legal cases against him still pending). So this could be Rizieq's last attempt at relevance, or the start of something much worse. We'll see.
https://coconuts.co/jakarta/news/fpi-leader-rizieq-shihab-calls-jihad-revolution-indonesia-mecca-video/
--------
Trump Will Make the Liberation of the Uighurs America's Top Priority in Its Next Round of Negotiations with China over Trade Policy
By Eric Levitz
August 29, 2018
China is among the most ethnically homogeneous large countries in the world, with Han Chinese accounting for 91 percent of its population. The ruling Communist Party considers China's homogeneity and social cohesion to be pillars of its strength (and, also, potent rationalizations for discrimination against ethnic minorities and authoritarian rule).
But the territory of Xinjiang, in northwest China, is home to a large population of Uighurs, a predominantly Muslim, Turkic ethnic group. The Chinese government has long worried that the Uighurs will attempt to establish an independent homeland in the region, which they commonly call East Turkestan. In 2009, ethnic riots in Xinjiang claimed hundreds of lives; since then, individual Uighur nationalists have carried out multiple terrorist attacks.
So, to combat the impression that Uighurs have any cause for wanting their own separate state — let alone for deploying violence to achieve it — Xi Jinping's government has decided to declare Islam a contagious "ideological illness," and quarantine 1 million Uighurs in reeducation camps, according to an estimate from the United Nations. In interviews, former inmates from these camps say that they were made to renounce their faith, sing Communist Party songs, consume pork, and drink alcohol; other reports suggest some of the truly "ideologically sick" have been tortured and killed.
At first, Beijing was content to reserve its concentration camps for suspected radicals. But, as the Atlantic's Sigal Samuel explains, they eventually decided that the Uighurs' ideological malady was so destructive and contagious, it was best to quarantine them prophylactically, upon the slightest apparent symptom (like, say, the appearance of a long beard on an Uighur male's face).
To the West, China insists that its reeducation camps are mere vocational schools. But, as Samuel notes, Beijing offers a more forthright account of its intentions to its Chinese constituents. Here's how the Communist Party explained its policy in an official recording:
Members of the public who have been chosen for reeducation have been infected by an ideological illness. They have been infected with religious extremism and violent terrorist ideology, and therefore they must seek treatment from a hospital as an inpatient.
… There is always a risk that the illness will manifest itself at any moment, which would cause serious harm to the public. That is why they must be admitted to a reeducation hospital in time to treat and cleanse the virus from their brain and restore their normal mind … Being infected by religious extremism and violent terrorist ideology and not seeking treatment is like being infected by a disease that has not been treated in time, or like taking toxic drugs … There is no guarantee that it will not trigger and affect you in the future.
Having gone through reeducation and recovered from the ideological disease doesn't mean that one is permanently cured … So, after completing the reeducation process in the hospital and returning home … they must remain vigilant, empower themselves with the correct knowledge, strengthen their ideological studies, and actively attend various public activities to bolster their immune system.
Clearly, this is the missive a political party with a supremely healthy ideology.
To this point, international outcry over China's mass repression of its Muslim population has been relatively tame. As Business Insider notes, the governments of many Muslim-majority countries have declined to express public opposition, for fear of jeopardizing their access to Chinese capital — especially the infrastructure loans that Beijing has provided as part of its "One Belt, One Road" initiative.
Full report at:
http://nymag.com/daily/intelligencer/2018/08/china-muslims-camps-uighur-communist-party-islam-mental-illness.html
--------
Malays won't feel insecure if govt institutions strong, forum told
28 August 2018
KUALA LUMPUR, Aug 28 — G25 member and former senior civil servant Tan Sri Mohd Sheriff Mohd Kassim has pointed out that Malays would not feel threatened by other ethnic communities if government institutions are strong.
Speaking at a forum organised by Gabungan Bertindak Malaysia titled "Malaysia Baru — 61 Years After Merdeka, Do Ethnicity and Religion Matter?" Sheriff pointed out that Malays make up the majority of the country's population and therefore, their voice will always be heard.
"Look at the 'white' countries in the Commonwealth such as Australia, Canada and the United Kingdom where recent years have seen minorities, including Muslims, emerging to take up official positions in government — including the mayor of London.
"I don't think 'the whites' are worried about them coming up because they are confident that the institutions are strong enough to ensure that a Muslim mayor of London will not do something to adversely affect 'the whites', while granting advantage to the Pakistani community at the expense of others.
"When institutions are strong, ethnicity and religion are not a matter of concern," said Sheriff.
He admitted that there are a few vocal members of the Malay community who would question the appointment of non-Malays as finance minister, attorney general and chief justice.
However, the retired Finance Ministry secretary-general also pointed out that there are constitutional safeguards in place to maintain the status quo.
He reiterated that the fact Malays make up the majority of the country's population meant they would have the final say in rejecting any proposals that are disadvantageous to them.
"No political party would want to antagonise the Malays with unpopular policies and risk losing Malay support in the next election. Lim Guan Eng himself said, as chief minister of Penang, why would I want to anger the Malays and lose the next election?" he said.
However, Sheriff reminded the Pakatan Harapan (PH) government that to properly restore the nation's economic health, it may have to make decisions that are unpopular with Malays, which would then serve as ammunition for Malay extremists or the government's political rivals.
"The prime minister just announced that BR1M will be phased out. As Malays are the main recipients of BR1M cash handouts, we can expect accusations that the new government is deliberately targeting them.
"Similarly, in order to strengthen competitiveness in the economy and reduce wastage and leakages in public expenditure, there needs to be restructuring from race-based to needs-based policies, while GLCs in the commercial sector are reviewed because they have been accused of competing unfairly with genuine entrepreneurs.
Full report at:
https://www.malaymail.com/s/1667014/malays-wont-feel-insecure-if-govt-institutions-strong-forum-told
--------
Nurul: No bar to sending Bangladeshi workers to Malaysia
August 28th, 2018
There is no bar to sending Bangladeshi workers to Malaysia, the Expatriates' Welfare and Overseas Employment minister said on Tuesday, reports BSS.
"The government has made an all-out effort to continue sending Bangladeshi workers to Malaysia. The next decision on sending workers will be taken after holding a joint working group meeting with the Malaysian government," Nurul Islam told a press conference at the ministry.
The minister said some changes could be made to the system of sending workers abroad.
Expatriates' Welfare and Overseas Employment Secretary Dr Nomita Halder and Additional Secretary Aminul Islam were present at press brief.
Nurul said the new Malaysian government had cancelled the Sistem Permohonan Pekerja Asing, previously used to recruit Bangladeshi workers. Visas will no longer be issued through the system.
But those who had already received visas through the system would be allowed to go to Malaysia, he added.
Nurul said that those involved in irregularities over sending workers to Malaysia would face legal action.
Nurul said Malaysia has a demand for 269,000 workers and the Malaysian embassy had issued visas to 235,000 workers. Some 32,000 visas were not issued due to problems involving 86 companies.
The minister said his ministry had approved 200,000 workers, and another 30,000 were awaiting permission.
He said those who have a valid visa and legal documents could go to Malaysia.
Full report at:
https://www.dhakatribune.com/bangladesh/migration/2018/08/28/nurul-no-bar-to-sending-bangladeshi-workers-to-malaysia
--------
One killed, dozens wounded in Philippines bombing
August 29, 2018
A bomb blast tore through a crowd at a festival in the southern Philippines on Tuesday, killing one person and wounding dozens more in the second deadly attack in under a month in the region, authorities said.
The powerful bomb in the town of Isulan went off near a night market that was part of local celebrations, sending people running in terror.
"It was loud, we immediately left the area but I can't forget the images of a young girl carried by her father, her shirt covered in blood," said witness Judy Sapto, an area resident.
The attack, claimed by the Islamic State group, is the latest violence in the south of the majority Catholic archipelago, where Islamist militants have been fighting a decades-long insurgency.
"It's obvious that the Bangsamoro Islamic Freedom Fighters (BIFF) with links to ISIS (Islamic State) has the strongest desire to initiate these kind of attacks", said Army Captain Arvin Encinas.
The local mayor's office said two other bombs were discovered in the area and defused by authorities.
One person was killed and at least 36 were hurt in the blast, the mayor's office added. There was no immediate word on the victims' conditions.
Local police officials said the bomb went off near a petrol station as Isulan was celebrating the 61st anniversary of its founding.
The attack comes less than a month after a van bomb ripped through a military checkpoint on the neighbouring island of Basilan, killing 10 people.
Islamic State claimed responsibility for that bombing and authorities believe the man behind the wheel of the explosives-laden van may have intended to target a nearby children's parade.
President Rodrigo Duterte put the southern Philippines under martial rule until the end of this year after pro-IS militants seized the southern city of Marawi last year.
Several armed groups are active against government forces in the south of the Southeast Asian country, where a decades-long rebellion has claimed more than 100,000 lives by government count.
Full report at:
http://www.thejakartapost.com/news/2018/08/29/one-killed-dozens-wounded-in-philippines-bombing.html
--------
Pakistan
Dr Shireen Mazari delivers sharp rebuke to Human Rights Watch for 'selective oversight'
August 28, 2018
Minister for Human Rights Dr Shireen Mazari on Tuesday issued an acerbic rebuke to the Human Rights Watch (HRW) for writing to Prime Minister Imran Khan and asking him to address "serious human rights challenges" faced by Pakistan.
In a letter made public on Monday, HRW Asia Director Brad Adams had asked Prime Minister Imran Khan to make human rights a "key focus" of his government.
The letter urged the government to begin by reversing "abusive laws and policies" and demonstrating "genuine commitment to the rule of law and equal justice".
The HRW wants the government to focus on six key areas: "These are freedom of expression and attacks on civil society; freedom of religion and belief; violence against women and girls; access to education; restoring moratorium on death penalty; and terrorism and counter-terrorism abuses."
In response to the letter, Dr Mazari stated that "the prime minister and the government are committed to ensuring the human rights guaranteed to all Pakistani citizens under the Constitution."
"[...] We are well aware of the need to effectively enforce the laws regarding the enforcement of the human rights of all our citizens as well as the need to bring our national laws in alignment with our international legal commitments through the international treaties we have ratified. Our government is committed to ensuring the fulfillment of all our international obligations," the minister wrote.
The human rights minister said the government, therefore, does "not need to be informed or reminded of our human rights agenda."
She went on to ask that since the HRW claims to monitor human rights violations in over 90 countries, "I hope that would include the massive human rights violations being carried out as a matter of state policy by India in Indian Occupied Kashmir and by Israel in Palestine."
"I may have missed your monitoring reports on these, so would appreciate if you could refresh my memory," she retorted.
She added that she hoped the HRW will also take up the matter of human rights violations "by some European states against their Muslim citizens in the form of curtailing their rights to practice their religion freely and in the form of abuse of Islam and its Prophet [Muhammad] (Peace be upon him), in direct contravention of the European Convention for the Protection of Human Rights and Fundamental Freedoms."
The human rights minister also said that she would like to be informed on how the NGO is "ensuring the rights of Muslim citizens to have their mosques and be able to dress and practice their religion freely and without ridicule in European states", which have seen an upsurge of xenophobia in recent years.
Dr Mazari signed off by saying that the government would always welcome positive suggestions, but "an NGO's institutional credibility will rest on its commitment to ensure human rights across the globe and not just in selective states."
https://www.dawn.com/news/1429487/dr-shireen-mazari-delivers-sharp-rebuke-to-human-rights-watch-for-selective-oversight
--------
Shah Mehmood Qureshi raises anti-Islam cartoon contest issue with Dutch Foreign Minister
29th August 2018
ISLAMABAD: Pakistan Foreign Minister Shah Mehmood Qureshi today called his Dutch counterpart and raised the issue of an anti-Islam cartoon contest planned by a far-right lawmaker in the Netherlands.
"The Foreign Minister (Qureshi) underscored that the abominable act of the Dutch Parliamentarian was provoking and hurt the sentiments of Muslims across the world.
Such acts spread hate and intolerance," Foreign Office spokesman Dr Mohammad Faisal tweeted.
The contact with the government of the Netherlands was made after Qureshi told the Senate earlier today that the government will try to rally support against the blasphemous caricatures.
Qureshi also wrote a letter to the secretary general of Organisation of Islamic Cooperation (OIC) -- a group Muslims nations -- to call a meeting of the member countries to discuss the issue.
Full report at:
http://www.newindianexpress.com/world/2018/aug/29/shah-mehmood-qureshi-raises-anti-islam-cartoon-contest-issue-with-dutch-foreign-minister-1864220.html
--------
Zardari tells SC he owns neither any property nor bank account outside Pakistan
August 29, 2018
ISLAMABAD: Former president Asif Ali Zardari affirmed through an affidavit before the Supreme Court on Tuesday that he owns neither moveable or immovable property nor any bank account outside Pakistan.
The affidavit was moved before the apex court which is hearing a petition of Advocate Feroz Shah Gilani, president of the Lawyers Foundation for Justice, in which he had named former presidents retired Gen Pervez Musharraf and Asif Zardari, former attorney general Malik Mohammad Qayyum and the National Accountability Bureau (NAB) as respondents.
In his petition, Mr Gilani had pleaded before the court to order recovery of huge amounts of public money wasted by the respondents through unlawful means against the backdrop of the National Recon­ciliation Ordinance (NRO) in 2007.
A three-judge Supreme Court bench headed by Chief Justice of Pakistan Mian Saqib Nisar is expected to take up the case on Wednesday.
On July 4, the apex court had asked for the details of assets of Pervez Musharraf, Asif Zardari and Malik Qayyum in addition to furnishing bank accounts and assets both inside and outside the country as well as investments made in offshore companies.
The parties involved in the matter are also required to disclose before the court the details of assets of their spouses and children both in the country as well as abroad.
Earlier, Mr Zardari in his reply had contended that no case of causing loss to the public exchequer or looting and plundering the national wealth had ever been proved against him in Pakistan or abroad.
Likewise, Mr Zardari claimed that he had no role in the promulgation of the NRO because he was in jail when it was introduced. Cases against him were reopened when the NRO was set aside by the Supreme Court and all the cases were tried de-novo which resulted in his acquittal on merit.
On Aug 8, NAB had told the Supreme Court that $60 million money laundering case against Mr Zardari before the Swiss courts could not be reopened since Pakistan's appeal was time-barred. NAB also contended that no exact quantum of loss was available allegedly due to misappropriation of public money through unlawful means.
The reply was furnished on behalf of NAB special prosecutor Chaudhry Faridul Hassan.
In its reply, NAB also assured the court that if any determination was made as to the quantum of money misappropriated, the same would be implemented, honoured and adhered in letter and spirit.
NAB had explained that an inquiry was conducted to probe into the role of Malik Qayyum, the outcome of which reflected that prima facie he did not commit any offence or misused his authority.
The bureau, therefore, had to close its inquiry on Sept 17, 2012, against Malik Qayyum when it was found that whatever he did was in accordance with the existing law of the time i.e. the National Accountability Ordinance.
NAB also explained that a number of corruption references against Mr Zardari were still pending in different courts namely ARY Gold case, Ursus Tractor Scheme case, pre-shipment inspection contract to Cotecna firm, pre-shipment inspection contract to SGS firm and assets case.
On the other hand Pervez Musharraf in his reply pleaded that the NRO was promulgated in 2007 without having any mala fide or vested interest with an objective to end acrimony between different political parties and political conditions prevailing then.
He contended that the NRO 2007 was promulgated by him as the then president on the advice of the government which was later declared by the apex court as void ab initio through its judgement in December 2009.
Gen Musharraf argued that the NRO was aimed at fostering mutual trust and confidence amongst the holders of public office and removing the vestiges of political vendetta and victimisation and to make the election process more transparent and to amend certain laws in addition to connected matters.
Full report at:
https://www.dawn.com/news/1429637/zardari-tells-sc-he-owns-neither-any-property-nor-bank-account-outside-pakistan
--------
Army to memorialize martyrs in 'befitting manner' on defence, martyrs day
August 29, 2018
RAWALPINDI: Director General Inter-Services Public Relations (ISPR) Major General Asif Ghafoor said on Tuesday that the nation's martyrs shall be commemorated "in a befitting manner" on Defence and Martyrs Day 2018.
Speaking at an ISPR planning conference today, he said: "Pakistan has made tremendous sacrifices in the last 70 years."
Major General Ghafoor said the Ministry of Information and the military's media wing are coordinating to pay tribute to the martyrs and their sacrifices on the occasion of Defence and Martyrs Day.
"These sacrifices were not exclusive to any particular class or sector but were made by civilians, street vendors, lawyers, doctors, school teachers, journalists and the armed forces", he added.
He urged media representatives and neighbours to reach out to the families of those that were martyred, "we should visit the families of martyrs and commend their sons, brothers and husbands for sacrificing their lives for this country."
The DG ISPR called upon civil servants, representatives of Ministry of Information, armed forces, and media members in the audience to memorialize the martyrs, stressing, "every martyr of our country should be visible on September 6."
Full report at:
https://www.pakistantoday.com.pk/2018/08/28/dg-ispr-plans-to-memorialize-matryrs-in-befitting-manner-on-defence-martyrs-day/
--------
Arab World
Al-Azhar says all sexual harassment 'forbidden'
August 29, 2018
CAIRO - Egypt's highest Muslim authority has said there can be no justification for sexual harassment, in a country where many people often blame women themselves for the widespread problems they face.
In a statement, Al-Azhar blasted all forms of harassment as "a forbidden act and deviant behaviour" and said "the one who carries it out is a sinner". "Criminalising sexual harassment must be absolute and free from any condition or context," the statement released Monday said.
"Justifying sexual harassment with the behaviour or clothing of the woman is a misunderstanding, for sexual harassment is an assault on the woman and her freedom and dignity," it said.
Some 60 percent of women in Egypt said they had been victims of some form of sexual harassment during their lifetimes in a 2017 report from UN Women and Promundo. Three-quarters of men and 84 percent of women polled said that women who "dress provocatively deserve to be harassed".
The divisions have been highlighted by a recent debate over a video posted on the internet by an Egyptian woman showing a man making unwanted advances on her in a Cairo street.
The footage of the man parking his car and approaching a woman to go for a coffee went viral and drew wide-ranging reactions online.
Some commentators said it definitely constituted harassment given the hostile atmosphere of the Cairo streets.
But others described the approach as normal given the man made no obscene gestures, and there were even suggestions the woman was at fault as she was welcoming advances by standing in the street.
Public debate over harassment intensified in the aftermath of the January 2011 uprising against former president Hosni Mubarak.
The protests demanding Mubarak's ouster centred around Cairo's Tahrir Square, where constant media coverage also highlighted sexual attacks and helped show public denial of the phenomenon.
Following the 2011 uprising, anti-harassment graffiti spread around downtown Cairo, volunteers organised to rescue women from mob attacks, and more women shared their own stories publicly.
In February 2013, women took to the streets brandishing knives in a symbolic protest against sexual violence.
Authorities directly criminalised sexual harassment in June 2014, days before President Abdel Fattah al-Sisi's inauguration, however many women complain that officials still turn a blind eye to the problem.
https://nation.com.pk/29-Aug-2018/al-azhar-says-all-sexual-harassment-forbidden
--------
Turkish Army Forwards More Equipment to Northern Syria
Aug 28, 2018
The Turkish army convoy, including 12 trucks, entered Idlib province vial Bab al-Hawa border-crossing.
The trucks were carrying prefabricated cement walls, containers and Conexes to the points of deployment of the Turkish army in Morek in Northern Hama.
The Syrian Army has been been dispatching troops and equipment to contact lines with terrorists in Aleppo, Idlib, Hama and Lattakia in preparation for a major assault on terrorists in Idlib.
On Monday, a new growing wave of rage covered villages and towns in Afrin region in Northwestern Aleppo after the Turkish troops and Ankara-backed militants intensified their efforts to annex the occupied region to Turkish territory.
The Turkish army units and their allied militants continued giving Turkish names to pave the ground for annexation of the occupied region.
The Ankara forces' measures further enraged residents in Afrin region.
The Ankara forces forced thousands of civilians and villagers in Afrin region to leave their residential units, and then occupied their units and properties.
Full report at:
http://en.farsnews.com/newstext.aspx?nn=13970606001068
--------
US Army Sends More Military Hardware to Northeastern Syria
Aug 28, 2018
The sources said that the US has sent a convoy of a hundred trucks to Syria from Iraq via the Simalka border-crossing on Monday.
They further said that the convoy included several tankers, military vehicles and bulldozers, and has already arrived in SDF-held regions in Hasaka.
Also, the London-based pro-opposition Syrian Observatory for Human Rights (SOHR) reported last week that the US army sent over 800 trucks packed with military equipment to Northeastern Syria for its military bases and military airports on Eastern Euphrates and in Aleppo and Hasaka provinces in Northeastern Syria.
It also said that in addition to the trucks cargo planes carrying weapons and military hardware as well as logistic equipment landed in Kobani airport in Northwestern Aleppo.
Full report at:
http://en.farsnews.com/newstext.aspx?nn=13970606000785
--------
Syrian Army Drives ISIL out of More Lands in Deserts of Sweida
Aug 28, 2018
The army soldiers engaged in fierce clashes with the remaining pockets of ISIL terrorists in the Eastern deserts of Sweida that is actually inside Damascus province, and seized control of Hatil Dam South of Toloul al-Zaras.
In the meantime, the army's artillery and missile units pounded ISIL's movements and positions in the desert, inflicting major loses on the terrorists.
Also, a vehicle of the terrorists, carrying arms and ammunition, in Toloul al-Safa was damaged in the army's artillery fire.
Other army units repelled ISIL's offensive aimed at breaking the government forces' siege Northeast of Toloul al-Safa region, and destroyed the motorized units of ISIL in Abu Khashaba.
On Monday, the army units engaged in fierce clashes with ISIL in the rocks in Tal Abu Qanem region in Toloul al-Safa in the Eastern desert of Sweida, inflicting heavy casualties on them.
In the meantime, the army's artillery and missile units and aircraft pounded ISIL's positions and movements in the rocky areas in Toloul al-Safa.
Other units of the army attacked ISIL's defense lines near Khirbet al-Hawi in Toloul al-Safa, damaging a main base and a military vehicle and killing a number of terrorists.
Full report at:
http://en.farsnews.com/newstext.aspx?nn=13970606000935
--------
Kurds Hand over Key Passageway to Syrian Army in Deir Ezzur
Aug 28, 2018
The Arabic-language al-Watan daily reported that the SDF embarked on handing over al-Salehiyeh passageway near the Euphrates River in Southeastern Deir Ezzur to the Syrian Army.
The passageway is located between the SDF-held '7km Square' and the small town of al-Salehiyeh that is under the army's control, al-Watan said, adding that the Syrian army and Russian Military Police will run the passageway.
The passageway will be open to ease return of civilians to their regions on the Western bank of Euphrates River that is under the army's control.
On Sunday, the army dispatched a large number of equipped forces to Southeastern Deir Ezzur, preparing for purging the border region with Iraq of ISIL terrorists.
The army's convoy, including hundreds of fresh forces along with heavy military equipment, was sent to Albu Kamal Desert in Southeastern Deir Ezzur near the border with Iraq.
Full report at:
http://en.farsnews.com/newstext.aspx?nn=13970606000668
--------
Militants Hand over More Arms, Ammunition to Syrian Army in South
Aug 28, 2018
The Arabic-language website of RT quoted Head of the Russian Reconciliation Center for Syria Alexi Tsigankov as reporting that former members of several terrorist groups in Southwestern Syria have handed over 231 individual guns, 11 tons of artillery munitions and a large volume of heavy and semi-heavy weapons to the Syrian Army.
In the meantime, the army continued carrying out cleansing operation in the villages of al-Bariqa and Ba'ar Ajam in Quneitra province, discovering a large volume of arms and ammunition, including RPG rockets, missiles, guns, cannons and ammunitions, in regions that once were under terrorists' control.
In early July, the Syrian army captured a vast area in Dara'a province, and discovered several tons of weapons and ammunition, including western and US arms from terrorists.
The Arabic-language website of Sputnik news agency quoted Syrian Army General Nazar Ismail as saying on Thursday that hundreds of weapons and several tons of ammunition have been left by the terrorists who were forced to flee Dara'a during the army operations.
He added that the militants have likely smuggled the weapons via the border with Jordan.
Ismail said that 3 T62 tanks, 100 tanks from other types, a large number of military vehicles, different military equipment, 2 air defense systems, 40 anti-tank missiles, a large number of machine-guns and light weapons, over 1,000 land mines and 1,300 boxes of ammunition were seized in the town of Azra'a.
Full report at:
http://en.farsnews.com/newstext.aspx?nn=13970606000757
--------
Syrian air defence systems fully prepared ahead of possible US attack: Official
Aug 28, 2018
A Syrian military official says the country's air defense forces have been placed on full alert amid reports that foreign-sponsored militants were planning to stage a fake chemical attack in Idlib in order to give the US a pretext for an airstrike against Syrian government forces.
Syria's pro-government and Arabic-language al-Masdar news agency, citing an unnamed official at Mezzeh Military Airport, reported that troops stationed at the facility, which lies southwest of the old center of Damascus, had been ordered to prepare for a possible attack against the capital.
The report added that while the exact reason for this move remains unknown, it is believed to be linked to the potential threat of a US strike on Damascus or its outskirts.
The Syrian government has not commented on the report yet.
Meanwhile, Syrian Ambassador to Russia Riyad Haddad has underlined that government forces have never made use of chemical weapons in battles against foreign-backed terrorist groups.
"We have never used and will not use chemical weapons," Haddad said in response to claims by anti-Syria opposition groups, including White Helmets, about chemical attacks carried out by the Syrian government forces against civilians.
"These allegations will get nowhere. They (opposition) have one pretext for everything — the use of chemical weapons. As soon as our army, thanks to the support of friendly countries, advances to liberate our lands, the West and the United States immediately want to intervene in order to attack Syria so as to weaken Syria and prolong the war," Haddad commented.
Western governments and their allies have never stopped pointing the finger at Damascus whenever an apparent chemical attack takes place.
Syria surrendered its stockpiles of chemical weapons in 2014 to a joint mission led by the US and the Prohibition of Chemical Weapons (OPCW), which oversaw the destruction of the weaponry.
It has also consistently denied using chemical weapons over the course of the foreign-backed militancy, which gripped the country in 2011.
Russian Defense Ministry Spokesman Major General Igor Konashenkov told reporters on Monday that the US is seeking to use fake chemical weapons attack to strike Syria.
Konashenkov added that the destroyer USS The Sullivans armed with 56 cruise missiles had arrived in the Persian Gulf several days ago, while a US В-1В bomber carrying 24 air-to-surface AGM-158 JASSM cruise missiles has been deployed at al-Udeid airbase in Qatar for this purpose.
Additionally, guided-missile destroyer USS Ross armed with 28 Tomahawk cruise missiles entered the Mediterranean on August 25, and the vessel is capable of hitting any target in Syria.
The US has warned it would respond to a chemical weapons attack by Syrian government forces with retaliatory strikes, stressing that the attacks would be stronger than those conducted by American, British and French forces back in April.
Early on April 14, the US, Britain and France carried out a string of airstrikes against Syria over a suspected chemical weapons attack against the city of Douma, located about 10 kilometers northeast of the capital Damascus.
Washington and its allies blamed Damascus for the Douma attack, an allegation rejected by the Syrian government.
Pentagon said in a statement that at least 58 missiles had struck Shayrat airbase in the western Syrian city of Homs. An unnamed US official said Tomahawk missiles were used in the strikes.
The United Kingdom's Royal Air Force said four Tornado GR4s fighter jets joined in the operation, while France said it had deployed Mirage and Rafale fighter jets.
Full report at:
https://www.presstv.com/Detail/2018/08/28/572491/Syrian-air-defense-systems-fully-prepared-ahead-of-possible-US-attack-Official
--------
UN invites US, allies for Syria talks in Geneva next month
Aug 28, 2018
United Nations Special Envoy Staffan de Mistura has invited the United States and six other countries to take part in talks in Geneva next month, a UN spokeswoman says.
De Mistura is expected to meet senior representatives from the United States, Britain, Saudi Arabia, Jordan, Germany, France and Egypt on September 14.
The Geneva talks would come two days after a scheduled meeting between the UN envoy and representatives from Russia, Turkey and Iran on September 11-12.
"This is going to be an opportunity to discuss the way ahead on the political process," UN spokeswoman Alessandra Vellucci said on Tuesday.
De Mistura is tasked with picking members of Syria's Constitutional Committee after receiving nominations from the Syrian government and the opposition.
The UN spokeswoman said on Friday that de Mistura had invited Iran, Russia and Turkey to talks due to be held in Geneva on forming Syria's Constitutional Committee.
"Special Envoy de Mistura has invited Iran, the Russian Federation and Turkey for formal consultations at the United Nations office at Geneva on 11 and 12th September 2018 to work on the Constitutional Committee," Vellucci said at a news conference.
Iran, Russia and Turkey, as guarantor states for a peace process in Syria, expressed their firm determination in late July to counter any plot aimed at partitioning the Arab country.
Turkish state television reported on Monday that the presidents of Iran, Russia, and Turkey will hold their third round of tripartite summit in Iran next week.
Iranian President Hassan Rouhani will host his Turkish and Russian counterparts Recep Tayyip Erdogan and Vladimir Putin, respectively, on September 7, state-run TRT Haber television said.
In a meeting with Syrian President Bashar al-Assad in Damascus on Sunday, Iran's Defense Minister Brigadier General Amir Hatami hailed the steadfastness of the Syrian people and government forces in their battle against terrorism, expressing confidence that they will achieve a final victory in this path.
"Not only regional people, but people around the world are indebted to the fight carried out against terrorists in Syria," Hatami said.
Syria has been gripped by foreign-backed militancy since March 2011. The Syrian government says the Israeli regime and its Western and regional allies are aiding Takfiri terrorist groups wreaking havoc in the country.
Full report at:
https://www.presstv.com/Detail/2018/08/28/572498/Mistura-Syria-US-Geneva-Alessandra-Vellucci--constitution
--------
Arab Coalition: UN Human Rights report on Yemen sent to legal team for review
August 28, 2018
DUBAI: The Arab Coalition's official spokesman Turki Al-Malki said on Tuesday that the coalition follows all the UN reports on the crisis in Yemen with interest, adding that the report of the Human Rights Council was referred to the coalition's legal team.
"We will take the appropriate position of the report after the legal review," he said.
Earlier, United Arab Emirates Minister of State for Foreign Affairs Anwar Gargash said a United Nations report accusing the Saudi-led military coalition fighting the Houthi group in Yemen of human rights abuses merited a response.
"We should review and respond to the (UN) experts' report published today," said Gargash in a tweet.
Full report at:
http://www.arabnews.com/node/1363161/middle-east
--------
Europe
UN experts accuse Saudi Arabia, U.A.E. of war crimes in Yemen
Aug 28, 2018
Three experts working for the UN's top human rights body say the governments of Yemen, the United Arab Emirates and Saudi Arabia may have been responsible for war crimes including rape, torture, disappearances and "deprivation of the right to life" during three and a half years of escalated fighting against rebels in Yemen.
In their first report for the Human Rights Council, the experts also point to possible crimes by rebel Shia militia in Yemen, which has been fighting the Saudi-led coalition and Yemen's government since March 2015.
The experts have also chronicled the damages from coalition air strikes, the single most lethal force in the fighting, over the last year.
They urged the international community to "refrain from providing arms that could be used in the conflict" — an apparent reference to countries like the United States and Britain that help arm the Saudi-led coalition, as well as Iran, which the coalition has accused of arming the Houthis.
The experts visited some but not all parts of Yemen as they compiled the report.
"[We have] reasonable grounds to believe that the governments of Yemen, the United Arab Emirates and Saudi Arabia are responsible for human rights violations," the report said. It cited violations including unlawful deprivation of the right to life, arbitrary detention, rape, torture, enforced disappearances and child recruitment.
Saudis, U.A.E. respond
Abdulaziz al-Alwasil, the Saudi ambassador to the UN in Geneva, said the report was "not accurate" and overlooked the bigger picture of an armed Houthi militia illegally seizing territory from an internationally recognized government and at times firing missiles in Saudi Arabia.
"It [the report] is surprising for us because it doesn't reflect the reality," he said. "We genuinely want to improve the situation in Yemen: We are spending money there, our people are getting killed there. And Yemen is not a wealthy state, it's just our neighbour. And we think it is our responsibility to make sure that this country is not used to attack the neighbouring countries."
"I don't think it's going to have a major impact in the way that we review our procedures or the way we conduct our military operations," he said.
On Twitter, Emirati Minister of State for Foreign Affairs Anwar Gargash wrote that the U.A.E. "must review it, answer its merits and review what it says about the horrors of the Houthis."
Defending American support for the Saudi-led coalition, U.S. Defence Secretary James Mattis said that his country's efforts to minimize civilian casualties are paying off, despite the report's findings.
"We have not seen any callous disregard by the people we're working with," Mattis said. "So we will continue to work with them."
Confidential list of suspects
The Associated Press reported last year that the U.A.E. and its allied militias were running a network of secret detention facilities, beyond the control of Yemeni government. In June, AP revealed that hundreds of detainees had been subjected to sexual abuse and torture.
The UN report accused the "de facto authorities" — an allusion to rebel leaders that control some of the country's most populated western and northern areas — of crimes including arbitrary detentions, torture and child recruitment. Human rights advocates have faulted the Houthis for laying land mines and targeting religious minorities and imprisoned opponents.
Kamel Jendoubi, a Tunisian human rights advocate who chaired the group of experts, said they compiled a "confidential list" of people suspected of committing international crimes, which was being handed over to the office of the UN human rights chief on Tuesday. His team refused to indicate how many or which people or groups were on the list — whether on the government or rebel sides.
"Despite the gravity of the situation, we still note a total disdain for the suffering of the Yemeni people," Jendoubi told reporters in a briefing on the report Tuesday. "This conflict has in effect fallen into the void."
Since March last year, the UN's humanitarian aid agency has called Yemen the world's worst humanitarian crisis — with three-fourths of its population of over 20 million in need of humanitarian assistance. The war has devastated the country's health system and provided the breeding grounds for the world's largest cholera outbreak last year.
The experts cited some 6,475 deaths from the conflict between March 2015 and June this year, but said the "real figure is likely to be significantly higher."
They also sharply criticized work by the coalition's Joint Incidents Assessment Team, which was set up as a bulwark against possible rights violations. They questioned the JIAT's explanations for the air strikes that have killed civilians, and challenged its "independence and its ability to carry out impartial investigations."
The experts also said nearly a dozen deadly airstrikes they investigated over the last year "raise serious questions about the targeting process applied by the coalition." They chastised some in-the-field coalition combatants for "routinely" failing to seek information about official "no-strike" lists that should have been avoided.
Even getting the expert probe up and running was an accomplishment for the UN-backed Human Rights Council, which passed a resolution creating the team last September. Largely due to the objections of Saudi Arabia and its allies, the council failed several times to authorize more intrusive investigation into possible war crimes in Yemen. The 47-member body only last fall reached a compromise to bring in the experts.
https://www.cbc.ca/news/world/saudi-united-arab-emirates-yemen-un-war-crimes-1.4801407
--------
Saudi Arabia banned from promoting reform agenda on UK TV
Aug 29, 2018
The UK media regulator Ofcom has banned Saudi Arabia from paying to promote its so-called reform agenda on British television.
The move was prompted after revelations that Saudi Arabia had breached British broadcasting law by buying television adverts that promoted the reform policies of the country's crown prince, such as the lifting of long-standing bans on women drivers and cinemas.
This is while Saudi reforms have been accompanied by heavy-handed crackdown on dissent against the kingdom's critics, ranging from clerics to some of the very female activists who campaigned for years to end the bans.
In one case cited by Ofcom in the Guardian, Riyadh had paid to air a minute-long advert which included images of old and contemporary Saudi Arabia, women driving, cinemas being reopened, entertainment, cultural events and members of the Saudi royal family.
The advertisement was aired 56 times on Britain's Sky One channel back in March, around the time Saudi Crown Prince Mohammed bin Salman made an official visit to the UK.
Ofcom said the ruling was made after it found that Riyadh had been attempting to "influence public opinion in the UK on matters of public controversy," and had broken Britain's strict ban on paid political advertising on television and radio stations.
Ofcom stressed that it did not consider the ads were of "a public service nature."
The media regulator said it had taken into account the controversy around "freedom of speech, human rights and women's rights" in the Arab country when making the ruling, in addition to issues concerning "the sale of UK weapons to the kingdom and the kingdom's involvement in the Yemeni civil war."
Saudi Arabia and a number of its regional allies launched a devastating military campaign against Yemen in March 2015, with the aim of bringing the government of former president Abd Rabbuh Mansur Hadi back to power and crushing the country's Houthi Ansarullah movement.
Some 15,000 Yemenis have been killed and thousands more injured since the onset of the Saudi-led aggression.
More than 2,200 others have died of cholera, and the crisis has triggered what the United Nations has described as the world's worst humanitarian disaster.
The British government has remained defiant in the face of growing international pressure to stop arms exports to Saudi Arabia, defending the sales amid evidence of war crimes and civilian deaths in Yemen.
Full report at:
https://www.presstv.com/Detail/2018/08/29/572533/Ofcom-Saudi-Arabia-reform-agenda-British-television
--------
Why an imam joined the frontline of the British Armed Forces
August 28, 2018
CAUX SWITZERLAND: As the first Muslim chaplain to the British Armed Forces, Imam Asim Hafiz has made it his mission to increase religious understanding in the middle of conflict, trauma and destruction, breaking down perceived barriers between Muslims and the military.
It is a role that has thrust Hafiz into the spotlight. As the Islamic religious adviser to the Chief of the Defense Staff at the UK Ministry of Defense and founder of the Armed Forces Muslim Association, a service personnel support network, he has faced criticism from his peers along with public misconception about his role in an institution that goes to battle against people of a shared faith.
His story began in 2005, when the Ministry of Defense started to appoint an imam for the British Armed Forces. "At the time, the war in Iraq was messy and the war on terror with many Muslims was perceived to be a war against Islam, particularly in the UK and many parts of the world," he said.
Hafiz, then a full-time Muslim chaplain in Her Majesty's Prison Service, saw a newspaper advertisement asking for people to apply to become an imam for the British Armed Forces. "I thought, 'This is amazing, what a great opportunity,'" he said. "But my peers thought differently. They said, 'No, you can't work for the British Armed Forces; it is wrong.'"
"I didn't believe those opinions, so it actually encouraged me to apply for it even more," he said.
At the time, Hafiz said, there was "a big misconception" about the role of the British Armed Forces. "People didn't understand what they do, why they do it and what they are all about. And there was a big misconception about what my job would be. Many people thought my job was about encouraging Muslims in the British military to go and kill other Muslims. That was not what it was about: It was about caring for the individual.
"There are people out there — a tiny minority — who just don't get it. For them, the norm is confrontation. What I say to them is that if your life is about building barriers to communities, if it is about building wars in communities and dividing communities, then essentially, I believe you do not have a faith. However, I think most people have true values, true faith and morally support me to do what I do." Despite the opinions of his peers, Hafiz, born in East London in 1976, said that he "never looked back" after taking on the role.
However, having experienced several deployments to Afghanistan, Hafiz has seen the human side of soldiering first-hand and knows the personal toll it can take. "Just because someone joins the British military doesn't mean they have lost their soul or their faith. Actually, I found out that people who serve in the military serve with the values with which the military is established. The British military is established with certain values such as integrity and selfless commitment. I found these values identical to the values of Islam."
Hafiz describes military personnel as "the best humanitarians."
"People wonder what I mean when I say that, and yes, they are trained to kill, but they are not murderers. They are trained to use that armed force, not because they want to, but because they have to use it within a certain framework. There is a difference between murdering and taking a life when you need to.
"I also understand that when they do the job they do, sometimes the burden of that responsibility makes them more aware of the issues between life and death, the issues between conflict and peace, and how important it is to avoid conflict and promote peace."
Having grown up in a religious household, Hafiz spent a decade in an Islamic boarding school before qualifying as an imam at 23. He worked at two East London mosques before becoming the first full-time imam at Wandsworth Prison, the largest in the UK.
This, he recalls, did little to prepare him for the mental toll that the brutality of war would bring. After a series of visits to Afghanistan between 2010-2012, Hafiz started a seven-month deployment in 2012. Leaving his family behind in the knowledge he was going into a conflict zone, was, he admitted, extremely difficult.
"Of course I was worried about my safety, and my family were worried, but then you get into the job you are doing and you know that you are there to try to build bridges between communities," he said.
Aside from the tragedies of war, Hafiz said one of the hardest things he had to come to terms with was "the huge amount of ignorance" between the coalition forces in Afghanistan and the Afghans themselves.
"They all wanted to end the conflict. The coalition wanted to come home, the Afghans wanted the coalition out. The Afghans wanted their own political system, and the coalition wanted political stability in the country.
"I just thought, 'Why are you guys fighting? You all want the same thing.'" Going into local communities, going into villages, sitting with commanders, was a real privilege and a real blessing for me — to try, in a very small way in this massive conflict, to help people to bring some sense."
Hafiz, who was awarded an Order of the British Empire in 2014 for his services to defense, admits he has often questioned his career path. "Professionally, I still ask myself questions when I go to sleep at night," he said. "I was ultimately working for an organization that is trained to kill. The job for these people is to be able to pick up a gun and defend the values they believe in and the values of their nation and its people."
"Some people ask me, 'How can Muslims join a non-Muslim military?,'" he said. "I say to them, 'Listen, this is not about being Muslim or not being Muslim. Would you rather fight in a Muslim military that is unjust, or a non-Muslim military that is just?' Ultimately, you have to choose justice."
Hafiz recalled a moment that made every personal doubt, and every criticism from his peers, vanish. "The man who appointed me called me into his office one day and said to me, 'People like you are important to me,'" he said. "He told me it is because the British military is not only about fighting wars, it is about preventing wars, and because the understanding I had given him — of my faith, of my culture and of how the Armed Forces should interact with Islamic Muslims when deployed in different parts in the world — helped him to understand the situation and to save lives.
Full report at:
http://www.arabnews.com/node/1363466/world
--------
Catholics face fear as Chad prioritizes Islam, senior church source says
August 28, 2018
OXFORD, England – Christians in Chad are being intimidated and forced from public life, under new rules prioritizing Islam in violation of the North African country's secular foundations, according to the Catholic Church.
A senior church source, who asked not to be identified for fear of retribution, called the situation "critical, as the great powers show complicity by turning a blind eye to violations of basic human rights under cover of resisting radical Islam."
The source also said Catholic leaders fear for their lives after criticizing constitutional changes.
The comments were sent Aug. 27 to Catholic News Service, as the government of President Idriss Deby enforced a revised constitution, extending presidential powers in the predominantly Muslim state and requiring office-holders to take a religious oath.
"The new religious oath is exclusive and reductive in its vision of the state and appears to be another way of excluding Christians from public responsibilities," the church source said. "What will now become of the many Chadians who are neither Muslims nor Christians, and what will be the purpose of our institutions of justice and regulation?"
The revised constitution, in force since May 4, abolishes the office of prime minister and extends the powers of Deby, in office since 1990, allowing him to seek a sixth and seventh term, running till 2033.
In April, the Catholic bishops' conference criticized the religious oath and use of Diya – blood money or ransom. The bishops urged a referendum on the revised constitution and warned its adoption otherwise risked igniting "inter-communal bitterness" and "gravely perverting democratic rules."
"Our country is traversing a social crisis – in this difficult context, a project for reforming the institutions has been set in motion which does not have the support of the body of citizens," said the bishops. "As a church, we have reflected on our engagement in the service of charity and development ... but we must stress that poverty is now growing as grave violations of fundamental human rights become the norm."
Radio France International reported Aug. 13 priority had since been given to officials taking the religious oath "in the name of Allah the all-powerful," adding that several top Christian officials had been dismissed for refusing it.
The church source told CNS Catholic leaders believed the religious oath would "do nothing to solve the real problems of Chad," while the practice of Diya was "very specific to Muslim communities" and would "sow hatred" if imposed on Christians.
However, the source added that the government had "reacted violently against the Catholic Church" after it listed its objections and said bishops had been threatened and intimidated.
"The bishops' (April) declaration and the virulent response from government media outlets merely show the truth of what it denounced," the church source told CNS.
"The bishops' conference has opened a Pandora's box in a climate of economic and social crisis, where no one has the courage to say anything, and the men of power are driven to attack when any voice is raised against what they think."
"Many senior Christians are alarmed by what is happening," the source told CNS.
"Through their social catechesis, public positions and messages to the Catholic faithful and people of goodwill, Chad's bishops are helping build a society of coexistence – and they are doing this work by giving enlightened advice."
Speaking in Arabic Aug. 22 during the Muslim festival of Eid al-Adha, Deby said the religious oath was needed to fight corruption and reflected "the will of the people," adding that his priority was national security and reconciliation.
"I once again ask those of our fellow citizens who still hesitate to overcome their doubts and contribute to building our new citadel," RFI reported Deby as saying.
Full report at:
https://www.catholicregister.org/home/international/item/27891-catholics-face-fear-as-chad-prioritizes-islam-senior-church-source-says
--------
Dutch police arrest man over alleged plot to kill Geert Wilders
August 29, 2018
The Dutch police on Tuesday arrested a man suspected of planning an attack against far-right politician Geert Wilders after he said he intended to hold a Prophet Mohammad cartoon competition.
Police said in a statement they arrested the still unidentified suspect at the main railway station in The Hague.
He was currently being questioned and was expected to appear before a judge on Friday, the statement said.
Police said they had been alerted by a video on Facebook in which the 26-year-old man talked about attacking anti-Islam MP Wilders, as well as the Dutch parliament.
Wilders, who announced plans for a competition of Mohammad cartoons earlier this year, said he had been told about the plot by the Netherlands' counterterrorism police, NCTb.
"I was told by NCTb this morning that a man on Facebook had said that he had arrived in the Netherlands for the purpose of killing me," Wilders said via his Twitter account.
"Fortunately, he has been arrested. It is madness that this is happening because of a drawing contest and that it is raining death threats."
The head of the Netherlands' Party for Freedom or PVV, Wilders is known for his virulent anti-Islam statements.
Last week, Pakistan expressed objections to what it described as the "blasphemous" cartoon competition and summoned a high-ranking Dutch diplomat in Islamabad to protest.
Dutch Prime Minister Mark Rutte also described the competition as "disrespectful" and "provocative", even though he defended the principle of freedom of expression.
Full report at:
http://www.thejakartapost.com/news/2018/08/29/dutch-police-arrest-man-over-alleged-plot-to-kill-geert-wilders.html
--------
North America
US envoy to UN questions Palestinian right of return to Israel-occupied homeland
Aug 29, 2018
The US ambassador to the United Nations has questioned the right of Palestinian refugees to return to their occupied homeland, a basic Palestinian demand for any future deal with the Israeli regime, claiming the world body's count of those refugees is an exaggeration.
Speaking on Tuesday at the Foundation for the Defense of Democracies, a Washington-based pro-Israel think tank, Nikki Haley said that the Palestinians' right of return should not be raised in any future Israeli-Palestinian talks.
Asked whether the issue should be "off the table," Haley replied, "I do agree with that, and I think we have to look at this in terms of what's happening (with refugees) in Syria, what's happening in Venezuela."
"So I absolutely think we have to look at the right of return," she added.
The Palestinian right of return is a political position or principle based on which Palestinian refugees are entitled to go back to the territories now occupied by Israel. They also have the right to the property they left behind or were forced to abandon when they were expelled from their homeland in the aftermath of the 1948 Arab-Israeli war.
The Palestinians have for years insisted on their right to return as part of any solution to their decades-long conflict with the Israeli regime.
Haley was in fact suggesting that the highly pro-Israel administration of President Donald Trump would consider an official rejection of that Palestinian demand as it prepares to unveil its so-called "deal of the century" on the Israeli-Palestinian conflict.
The US envoy further questioned the UN's count of Palestinian refugees, which stands at over five million according to the UN Relief and Works Agency for Palestine Refugees (UNRWA).
She stressed that the US funding for UNRWA would only continue if major reforms were implemented, saying "the Palestinians continue to bash America" and yet "they have their hand out wanting UNRWA money."
"We will be a donor if it (UNRWA) reforms what it does ... if they actually change the number of refugees to an accurate account, we will look back at partnering them," Haley said.
She further noted that the US cannot be faulted for slashing funding to UNRWA when countries like Saudi Arabia, the United Arab Emirates and Kuwait do not give more money to the agency.
Israeli media had reported recently that the Trump administration is set to announce that it will no longer recognize millions of Palestinian refugees' right of return to their homeland.
Earlier this month, the American magazine Foreign Policy reported that Jared Kushner, Trump's senior adviser and son-in-law, had been pushing to remove the refugee status of millions of Palestinians as part of an apparent effort to shutter UNRWA.
In January, the US government announced that it would withhold $65 million of a $125 million aid installment to UNRWA.
The Trump administration has stepped up its anti-Palestinian measures prior to the unveiling of "the deal of the century" – which Palestine has already rejected as the "slap of the century" amid reports that the US is seeking to impose the plan on Palestinians in collaboration behind the scenes with Saudi Arabia and Israel.
The US-Palestine ties deteriorated last December, when Trump declared Jerusalem al-Quds as the "capital" of Israel and announced plans to transfer its embassy from Tel Aviv to the occupied city.
The contentious move led Palestinian president Mahmoud Abbas to formally declare that Palestinians would no longer accept the US as a mediator to resolve the conflict because Washington was "completely biased" towards Tel Aviv.
The US embassy relocation took place on May 14, the eve of the 70th anniversary of Nakba Day (the Day of Catastrophe). The move sparked angry protests by Palestinians and drew severe criticism from the international community.
'US ignoring intl. law to defend occupation'
In an interview with Press TV, Robert Inlakesh, political analyst, slammed Haley's controversial comments in support of Israel's occupation.
He said the Palestinian refugees have the right under international law "to return and be treated as dignified individuals, but they are not."
The US, he added, "pretends to be some sort of peace negotiator between the Israelis and the Palestinians whilst taking the side of the Israelis over international law, over the international consensus between countries around the world. It is ridiculous," he added.
https://www.presstv.com/Detail/2018/08/29/572539/Nikki-Haley-Palestine-Israel
--------
US support to coalition in Yemen not unconditional: Mattis
August 29, 2018
WASHINGTON - US support for the Saudi-led coalition fighting in Yemen is not "unconditional," Defense Secretary Jim Mattis said Tuesday, as he defended America's ongoing role in the war.
The US provides weapons, aerial refueling to jets, intelligence and targeting information to the Saudi-led coalition that is fighting Huthi rebels in Yemen.
"Our conduct there is to try and keep the human cost of innocents being killed accidentally to the absolute minimum," Mattis told Pentagon reporters. "That is our goal where we engage with the coalition." But, he said, US support has its limits. "It is not unconditional," he said, noting that the coalition must do "everything humanly possible to avoid any innocent loss of life, and they support the UN-brokered peace process." The devastating Yemen conflict has left nearly 10,000 people dead since March 2015, when the Saudi-led coalition intervened to fight Huthi rebels closing in on the last bastion of President Abedrabbo Mansour Hadi's government.
The UN human rights office said Tuesday that some 6,660 civilians were among the dead, while more than 10,500 had been injured.
Mattis described the complexity of the war, noting that Huthi rebels have launched weapons from residential areas into Saudi Arabia.
"We have been working with the Saudis and the Emirates doing what we can to reduce any chance of innocent people being injured or killed," he said.
"At no time have we felt rebuffed or ignored when we bring concerns to them," he went on, noting that he had not seen any "callous disregard" from the coalition.
The Pentagon chief added that training given to coalition pilots is paying off.
"We have had pilots in the air who recognize the danger of a specific mission and decline to drop, even when they get the authority," he said.
Full report at:
https://nation.com.pk/29-Aug-2018/us-support-to-coalition-in-yemen-not-unconditional-mattis
--------
US Secretary of Defense: 'Iran will be held accountable for reckless behaviour in the region'
August 28, 2018
PENTAGON: The US Secretary of Defense Jim Mattis said on Tuesday that Iran would be "held accountable" for its reckless behavior in the region.
He was speaking as a string of senior American officials offered fresh warnings about Tehran's aggressive foreign policy and the effect it has on destabilizing the Middle East.
Mattis said that Iran had been "put on notice" that its "continued mischief" in the region — including its support for Houthi rebels in Yemen and supplying of missiles fired into Saudi Arabia, as well as threats to the Strait of Hormuz — would not be tolerated by the US and its allies.
The Defense Secretary went on to say that Iran was the "single biggest destabilizing element in the Middle East region."
In Washington, Brian Hook, the Trump administration's newly appointed special representative for Iran, said Tehran's policy of destabilizing its neighbors come at the expense of the Iranian people.
Speaking at an event at the Foundation for the Defense of Democracies think tank, the envoy highlighted the vast sums spent by Iran on funding Hizbollah and other proxy groups across the Middle East. Slogans making similar points have been chanted at anti-regime protests in Iran in recent months. The protests have intensified as Iran plunges further into an economic crisis exacerbated by a return of tough US sanctions after Donald Trump pulled out of a deal to curb Tehran's nuclear program.
"The regime's economic mismanagement has put the country in a tailspin," Hook said. "The rial's value has collapsed in the past year. A third of Iranian youth are unemployed. A third of Iranians now live in poverty.
"Regime leaders should feel painful consequences of their violence, bad decision making and corruption," Hook added in reference to the sanctions.
Speaking at the same event, Nikki Haley, the US ambassador to the UN, said Iran continued to be the primary source of instability in the Middle East.
Matiss made his comments at an extended press briefing at the Penatgon, during which various issues across the region were discussed.
When questioned about chemical weapons use in Syria, Mattis said that the US had recently discussed the use of chemical weapons in the country with Russia, after media reports that Syria was moving chemical weapons into a rebel-held area the government seeks to recapture.
Full report at:
http://www.arabnews.com/node/1363241/middle-east
--------
Soldier to Plead Guilty in Trying to Help Islamic State
Aug. 29, 2018
HONOLULU (AP) — A soldier based in Hawaii who is accused of pledging allegiance to the Islamic State group and fixating on videos of beheadings and suicide bombings planned to plead guilty Wednesday to attempting to support the terrorist group.
Sgt. 1st Class Ikaika Kang is set to plead guilty as charged in an indictment last year, defense attorney Birney Bervar said. He is agreeing to a 25-year sentence for charges that could have put him in prison for life.
Kang met with undercover agents he believed were part of the Islamic State group, prosecutors said. He is accused of providing them with classified military information, a drone, military equipment and training in combat fighting.
When Kang met with the undercover agents he thought were from the Islamic State group at a home in Honolulu, he pledged allegiance to the group and kissed an Islamic State flag, according to court documents.
Kang was obsessed with videos depicting terrorism beheadings, suicide bombings and other violence, and he watched them in his bedroom for hours every day, a confidential informant told agents. The agents put a tracking device on the soldier's car during an investigation that led to the indictment.
Kang told the informant that if he became an Islamic State member, he would be a suicide bomber and attack Schofield Barracks, a sprawling Army base outside Honolulu, according to an affidavit filed in the case.
The U.S. government first asked a judge to allow a tracking device to be placed on Kang's car in October 2016 and applied for several extensions after orders granting it expired.
Kang watched the violent videos for four to five hours each day during the week and more on the weekends, the informant told agents in 2016. The informant "remembered feeling sick to his stomach, while Kang laughed and insulted the victims," the affidavit said.
During the first week of September 2016, Kang told the informant "that if he were to do something like shoot up a large gathering, it would be out of his hatred for white people, the wicked and non-Muslims," the affidavit said.
Kang began researching Islam in 2014, couldn't wait to move to the Middle East to "join the cause" and was "only in the military for a paycheck," the informant said, according to the affidavit.
Agents said in their applications for a tracking device that they needed to monitor him continuously because they feared he would carry out an attack.
Officials with the 25th Combat Aviation Brigade told the FBI they were concerned about their ability to monitor Kang, noting that he was to return from leave on May 25, 2017 — the same day as a change-of-command ceremony, the affidavit said.
Brigade personnel feared the large gathering "represented a target of opportunity for Kang should he want to harm members of the unit."
Full report at:
https://www.usnews.com/news/us/articles/2018-08-29/soldier-to-plead-guilty-in-trying-to-help-islamic-state
--------
Africa
Nigeria: Govt Debunks Claim of Buhari Islamising Country
28 AUGUST 2018
By Dennis Erezi
Nigerian government has dismissed allegations that President Muhammadu Buhari intends to turn the country into an Islamic state.
Buhari who became president under the platform of the All Progressives Congress (APC) has been accused on different occasions by the opposition Peoples Democratic Party (PDP) of imposing Islamic religion on citizens of the country.
But, Secretary to the Nigerian Government Boss Mustapha described the allegation as a falsehood being circulated by enemies of the president and Nigeria .
Mustapha who spoke at a two-day peace summit organised by the Christian Association of Nigeria (Northern Region) said the accusations are geared toward influencing religious war in the country.
He said Christians in the country only needed to counter the alleged plan by Buhari with their own Christian agenda, saying "Nobody can kill the gospel,"
The secretary urged the Nigerian Christians to embrace the principles and teachings of Christ which were about love among humanity, irrespective of religious affiliations.
"I must correct the dummy been sold by some rumour-mongers about the issue of Islamising Nigeria; nobody can (Islamise Nigeria)," Mustapha said.
"I want the Church to know that nobody can kill the gospel, let's continue to be our brother's keepers at all times and continue to preach peace."
He said, "Where is our agenda as Christians? Let us have a Christian agenda that will promote love, including loving the Muslims; we should go out and make disciples of all nations and stop operating under the siege mentality."
Mustapha assured Nigerians that the current security challenges in Nigeria would soon be over as the government was doing everything possible to tackle the menace.
The summit was with the theme, "Sustainable peace and security in northern Nigeria as a panacea for development."
Other notable attendees at the summit were the Minister of Agriculture, Chief Audu Ogbeh; Minister of Sports, Solomon Dalung and Deputy Governor of Adamawa State, Martins Babale.
https://allafrica.com/stories/201808290063.html
--------
Liberian Muslims Lauded for Upholding Unity
28 AUGUST 2018
Mr. Kamara: "I am happy that the Muslims in Liberia are now worshiping in unity."
The chairman of the National Muslim Council of Liberia (NMCL) Sheikh Omaru Kamara has hailed Muslims in Liberia for heeding to the institution's call for unity during the just-ended celebration marking this year's Eid-al-Adha (Abraham Day) observance in the country.
In less than 24 hours to the Eid-al-Adha prayer, over 20,000 Muslims in Liberia on Tuesday, August 21, 2018, assembled at the open-air Antoinette Tubman Stadium (ATS), to celebrate the day, the first time in decades that the country's Muslims prayed in such unison and under one Imam in ways that demonstrated strength and cohesiveness.
Sheikh Kamara expressed appreciation to fellow Muslims in the country for obeying the leadership's call for unity among Muslims, something he said is also approved by the Almighty Allah (God) in the Holy Quran.
He spoke in an interview with reporters shortly after holding the prayer service.
"I am very happy that we Muslims in Liberia were able to come and pray together under one umbrella on the occasion marking Ed-al-Adha at the ATS. Contrary to what people say that Liberian Muslims are deeply divided, and therefore cannot come together as a unit, Tuesday's unity prayer however points to those who are still pessimistic about our unity and cohesiveness that they are going with the wrong impression," Mr. Kamara said.
He implored detractors, who he said are bent on spreading misinformation and purporting to be leaders of the country's Muslim community, to immediately desist from such ugly tendency.
"We are also aware that some people are purporting to be Muslim leaders of the country, and they are the only ones who can best represent Islam in Liberia. We want to state here clearly that the unity we demonstrated during Eid Mubarak prayer sends out a trust and confidence in the country in the council's ability and capability to speak and ably represent all Muslims in this country everywhere and hence, other than those elected as heads of the NMCL. Therefore, no one should make any false impression out there that they are the leaders of Muslims in Liberia," Kamara said.
He said the problem with Liberians is that no one sees his friend as brother, "and that everyone is just fighting everyone in this country. This is time that we bring back the spirit of peace, national unity and reconciliation, not only among Muslims and Christians, but all Liberians. The only way we can achieve peace and development in this country is for us to unite as one people, because even the Holy Quran and Prophet Muhammad spoke of unity."
Kamara also called on all Liberians to rally around President George Weah Government, to promote national unity among Liberians, including promoting peace and development.
"If Liberians agree to unite," Sheikh Kamara added, "the benefits would be plenty, because more investors will be encouraged and happy to come and invest in our country. On the other hand, if we do not mend our forces as Liberians, we will not get what we want as Liberians, and that is why we are praying for the President and the Vice President of this government to succeed," Mr. Kamara said.
The program brought together Muslims from different locations across Liberia, including Grand Cape Mount, Bomi, Gbarpolu, Margibi, and Montserrado counties.
Tuesday's 'Eid Mubarak' prayer, which took place on August 21, began with a clarion call to Muslims across the country to unite in the name of Islam and national unity.
Full report at:
https://allafrica.com/stories/201808280387.html
--------
Notorious terrorist outfit ISIS running ModernGhana.com website
August 28, 2018
Counterterrorism organizations around the world simply got surprised seeing the existence of a website named modernghana.com, which has been funded by notorious terror outfit ISIS. According to information, William Nana Beeko, Editor-in-Chief of the website who is a terrorist having underground connections with Islamic State (ISIS), Boko Haram and Al Shabab. He is a notorious criminal, who is hiding beneath the identity of the so-called editor in chief of modernghana.com.
Although in its website, modernghana.com claims to be 'Ghana's leader in general news and information destination online'; and says "and it integrates credible Ghanaian content and perspectives. The credibility carved over the years has been intact championing the focus of a Modern Ghana which features a wide range of contents", the reality is, this site is continuing propaganda in favor of jihad while it is directly making foul bids of sabotaging the existing great relations between Israel, India, Russia, Ghana and the world, while it also is making the same foul bid in sabotaging Bangladesh-India and Bangladesh-Ghana relations.
Our team of investigative journalists has found several dangerous attempts made by modernghana.com is not only sabotaging relations between India and Bangladesh but it also has been giving direct instigation to various jihadist outfits in waging war against Indian authorities. In an article titled 'Difference between Talibans and Arsa', (link: here) the modernghana.com wrote: "This situation will further worsen when India would drive-away, more than forty million Muslims from its north-eastern region. Another jihadist group of a few hundred thousand people would take birth. Maybe, Indian Muslim Salvation Army or IMSA"; meaning the website has clearly given instigation to the jihadists in forming a new front named IMSA!
In another article titled 'India turning into a nation of and for Hindus', modernghana.com wrote((link here)) – "Ruling Bharatiya Janata Party (BJP) and its ally Rashtriya Shayamsevak Sangh (RSS) also want to prove that Hindus were forcefully converted into Islam, Christianity, Judaism, Buddhism, Sikhism etc. Their agenda is to get those converted Hindus returned to their ancestral religion- Hinduism. Those who would refuse this option would lose their rights of living in the Hindu State of India."
The website published an article titled 'Bangladesh: Return of 1975 syndrome', where it wrote, "To keep Sheikh Hasina within their tight grip, RAW played shadow role behind the romance of Sheikh Hasina's daughter Saima Wazed Putul with Mashroor Hussain. Mashroir, though is the son of Musharraf Hussain, an accused collaborator of Pakistan in the war of independence of Bangladesh, Mashroor was picked up by RAW during his student life."
It also has categorically claimed in a number of articles by Syed Ulfat Ahmed stating that Bangladesh had 'secretly' purchased Novichok nerve agent from Russian.
All of such false and disturbing articles had been published by the notorious website with the lone agenda of damaging existing relations between Bangladesh and Ghana in particular as well as Ghana and Russia.
Who is M A Hossain really?
Our team has already identified the writer of modernghana.com website, M A Hossain. According to their findings, this is actually Major (Sacked) Mohammed Arif Hossain (M A Hossain), a condemned convict for killing seven innocent people in 2014 in Narayanganj district in Bangladesh. Although Major (Sacked) Arif Hossain is in prison since 2014, it is a matter of great curiosity as to how modernghana.com has picked up this name and started getting ill-motivated articles published.
Who is Syed Ulfat Ahmed really?
Beneath one of the many articles written by Syed Ulfat Ahmed, [link here] sunnyfmgh.com, a sister concern of modernghana.com has published the address of Syed Ulfat Ahmed, which is totally fake. Here again, it should be mentioned that the website has most definitely used a fake name of a non-existent individual with the ulterior agenda of spreading rumors against India, Russia, and Bangladesh.
After going through the writing style of the so-called Syed Ulfat Ahmed anyone can easily realize that both the writings though use different names but contain the similar writing style. This clearly proves that – M A Hossain and Syed Ulfat Ahmed are the same person.
Who is William Nana Beeko?
The so-called Editor in Chief of modernghana.com website proclaims himself as a trained journalist though there is no information on his past experience in journalism.
Full report at:
https://www.timesofassam.com/headlines/notorious-terrorist-outfit-isis-running-modernghana-com-website/
--------
South Sudan rebel chief refuses to sign peace deal
August 29, 2018
KHARTOUM - South Sudan rebel chief Riek Machar on Tuesday refused to sign a final peace deal with the government, in a setback for a regional drive to end nearly five years of brutal civil war.
Machar and President Salva Kiir have held weeks of talks in Khartoum in search of a comprehensive peace deal to end the conflict, which has killed tens of thousands and displaced millions since 2013 in the world's youngest country.
The warring parties have already inked several agreements, including a permanent ceasefire and a power-sharing deal that sees Machar returning as first vice president in the govt. But on Tuesday the rebel leader refused to sign the final peace deal even as Juba inked it. "The main S Sudanese opposition groups, including the SPLM-IO (Machar faction), refused to sign the final document demanding that their reservations be guaranteed in it," Sudanese FM Al-Dierdiry Ahmed told reporters.
Officials said the rebel groups had differences over the functioning of a proposed transitional government, how many states the country should be divided into and on the writing of a new constitution.
"For the first time, the opposition told us that it will not sign," Ahmed said, showing the draft text to reporters and diplomats who had gathered for what was expected to be a preliminary signing ceremony in Khartoum.
The rebel groups' refusal to ink the document is a setback to the latest peace push led by regional East Africa bloc IGAD.
"This is the final document which had been arrived at after consultations between all South Sudanese parties," Ahmed said. "South Sudan will not have peace unless these groups sign."
The rebels said they were surprised that the mediators had drafted the final deal despite several outstanding issues that had to be resolved.
"This is an unfortunate development that will not reflect well on the impartiality of the mediators and will throw doubt into the whole process," the rebels said in a joint statement.
"We therefore urge the mediators to allow the parties to resolve these critical matters of contention."
The rebel groups said they were still ready for negotiations.
The Sudanese minister said the opposition's refusal to sign spelt the end of the current Khartoum round of talks.
"This was the last round of negotiation," Ahmed said, adding that the mediators will submit the text to IGAD, although it was unclear when the bloc's leaders would meet to discuss it.
Earlier this month, Kiir and Machar signed a power-sharing deal that will see the rebel leader return to the government as the first of five vice presidents.
That accord was to pave the way for a final peace deal and the formation of a transitional government that will hold power until elections are held.
But international backers of the peace process had raised doubts about whether the deal would stick given the depth of animosity between South Sudan 's leaders which dates back to the 1990s when Machar first broke ranks at the height of the war for independence from Khartoum.
"Considerable challenges lie ahead, and we are concerned that the arrangements agreed to date are not realistic or sustainable," the United States, Britain and Norway said in a joint statement on August 10.
"Given their past leadership failures, South Sudanese leaders will need to behave differently and demonstrate commitment to peace and good governance," they said.
South Sudan finally became independent from Sudan in 2011, but a little over two years later a fresh war erupted pitting Kiir against Machar, his former deputy.
The conflict has seen widespread rape and murder of civilians, often along ethnic lines, and uprooted roughly a third of the population.
A succession of peace deals have been signed between the two leaders only to be broken, most recently in December.
Full report at:
https://nation.com.pk/29-Aug-2018/south-sudan-rebel-chief-refuses-to-sign-peace-deal
--------
Truce reached after deadly clashes in Libyan capital
28 August 2018
A truce has been reached after deadly clashes erupted between rival militias in Tripoli, a security source said Tuesday as residents reported calm had returned to Libyan capital.
Five people were killed and 33 wounded on Monday, the health ministry said, as two factions faced off with tanks and pickup trucks mounted with machine guns.
After explosions and gunfire rocked Tripoli's suburbs, a truce was reached on Monday evening according to a source from the security services.
Negotiations were due to take place on Tuesday aimed at achieving a lasting ceasefire, the source added.
A resident of the Ain Zara neighborhood in south-east Tripoli confirmed calm had returned to the area.
Other residents in the Salaheddin and Khallet al-Ferjan neighborhoods, in southern Tripoli, said the fighting had ended although some roads remained closed to traffic.
The clashes involved two rival groups linked to the UN-backed Government of National Accord (GNA), according to security sources.
Interior Minister Abdessalam Ashour said the fighting pitted the so-called 7th Brigade -- a militia from the town of Tarhuna southeast of Tripoli -- against security forces.
The 7th Brigade, which operates under the GNA's defense ministry, said it had repelled an attack on its positions in southeast Tripoli.
Since dictator Muammar Gaddafi was ousted in 2011, the Libyan capital has been at the center of a battle for influence between armed groups.
The GNA has been unable to form its own army and has instead relied on militias to secure the capital.
Full report at:
https://english.alarabiya.net/en/News/north-africa/2018/08/28/Truce-reached-after-deadly-clashes-in-Libyan-capital-.html
--------
Will Libya resort to electing an interim president?
28 August 2018
Libyan parliament speaker Aguila Saleh hinted on Monday the possibility of holding a presidential elections and elect an interim president for the country if the draft law of the constitution referendum is not approved or the proposal to amend the Constitutional Declaration fails.
Saleh's statement came after the parliament suspended a session scheduled for Monday to vote on the draft law of the constitution referendum after it failed to reach a quorum and postponed the session until next week. This is the third time the voting session is postponed for this reason.
Saleh asked all MPs to attend the next session to vote and said that the failure of this proposal means that the parliament must activate Law No. (5) to elect an interim president for the country by holding a direct popular vote.
Full report at:
https://english.alarabiya.net/en/features/2018/08/28/Will-Libya-resort-to-electing-an-interim-president-.html
--------
South Asia
Myanmar rejects UN probe on Rohingya abuses
AUGUST 29, 2018
Myanmar rejected Wednesday the findings of a UN probe alleging genocide by its military against the Rohingya, in a strident government response to a damning report on the crisis.
Myanmar has come under immense pressure this week over last year's military crackdown that pushed more than 700,000 of the Muslim minority into Bangladesh.
Monday's report by a UN fact-finding mission said there was evidence of genocide and crimes against humanity "perpetrated on a massive scale".
In a session of the UN Security Council late Tuesday several countries — including the United States — called for Myanmar's military leaders to face international justice.
But Myanmar on Wednesday rejected the remit of the UN mission and its findings.
"We didn't allow the FFM (the UN Fact-Finding Mission) to enter into Myanmar, that's why we don't agree and accept any resolutions made by the Human Rights Council," government spokesman Zaw Htay said according to the state-run Global New Light of Myanmar newspaper.
He pointed to the formation of Myanmar's own Independent Commission of Enquiry, which he said was set up to respond to "false allegations made by the UN agencies and other international communities".
Zaw Htay also lashed out at Facebook for pulling down the pages of Myanmar's army chief and other top military brass, saying that it could hamper the government's efforts with "national reconciliation".
The social media giant has admitted it was too slow to react to the crisis, which saw its platform — which is wildly popular in Myanmar — become an incubator of hate speech against the Rohingya.
https://dailytimes.com.pk/289851/myanmar-rejects-un-probe-on-rohingya-abuses/
--------
Over 200 Rohingya wait to enter Bangladesh: Report
28.08.2018
More than 200 Rohingya are waiting near the southern border of Bangladesh to enter the country in search for safe shelter in the face of an alleged fresh crackdown by Myanmar military, local media reported on Tuesday.
Lt. Col. Asaduzzaman Chowdhury, director of Border Guards of Bangladesh (BGB) Battalion-II, told the Daily Star they came to know last Thursday that over 200 Rohingya people were waiting near Shah Porir Dwip in Teknaf.
The border guarding force of Bangladesh has already strengthened its monitoring on the area, the report added.
Apart from BGB, the Coast Guard members were patrolling the Naf River, the only border sharing river between Bangladesh and Myanmar, to avoid any influx.
Abdul Motaleb Mater, a Rohingya community leader at Leda refugee camp in Cox's Bazar, told the daily that he learned from his family members and other contacts in Myanmar that many Rohingya from several villages have gathered on the eastern side of the Naf river.
They have gathered there in search for safe shelter as Myanmar army has started another crackdown on Thursday, he said.
Background
Since Aug. 25, 2017, more than 24,000 Rohingya Muslims have been killed by Myanmar's state forces, according to the Ontario International Development Agency (OIDA).
In a recent report, titled Forced Migration of Rohingya: The Untold Experience, the OIDA raised the estimated number of murdered Rohingya to 23,962 (± 881) from a Doctors Without Borders figure of 9,400.
More than 34,000 Rohingya were also thrown into fires, while over 114,000 others were beaten, the OIDA report said, adding that 17,718 (±780) Rohingya women and girls were raped by Myanmar's army and police. Over 115,000 Rohingya houses were also burned down and 113,000 others vandalized, it added.
According to Amnesty International, more than 750,000 Rohingya refugees, mostly children and women, have fled Myanmar and crossed into Bangladesh after Myanmar forces launched a crackdown on the minority Muslim community.
The Rohingya, described by the UN as the world's most persecuted people, have faced heightened fears of attack since dozens were killed in communal violence in 2012.
Full report at:
https://www.aa.com.tr/en/asia-pacific/over-200-rohingya-wait-to-enter-bangladesh-report-/1240867
--------
Dozens of insurgents killed in Ghazni, Paktika airstrikes: Thunder Corps
Aug 28 2018
The Afghan Military in the Southeast claims that dozens of militants have been killed in a series of airstrikes conducted in southeastern Ghazni and Paktika provinces.
The 203rd Thunder Corps of the Afghan Military in the Southeast issued a statement saying the airstrikes were conducted in support of the ground forces during the operations which were also supported by the artillery fire.
The statement further added that 27 militants were killed during the operations conducted in Yaraki Khel, Jawar Kali, Yousuf Khel, and Jarnel areas of Qarabagh district in Ghazni province.
At least 9 militants also sustained injuries during the airstrikes, the 203rd Thunder Corps said, adding that seven vehicles were destroyed as well.
According to the 203rd Thunder Corps, two local commanders of the Taliban identified as Ferozuddin and Sharif are among the dead militants while another Taliban group member identified as Daru Khan has also been killed.
In a separate airstrike conducted in Balo Khel area in Waza Khwa district of Paktika province, at least 12 militants were killed and six motorcycles were destroyed, the 203rd Thunder Corps added.
Full report at:
https://www.khaama.com/dozens-of-insurgents-killed-in-ghazni-paktika-airstrikes-thunder-corps-05848/
--------
Mideast
Yemeni govt condemns Houthis for prohibiting delivery of aid to Hodeidah
29 August 2018
Abdulraqeeb Fatah, Yemen's Minister of Local Administration and Chairman of the Higher Commission for Relief, condemned the Houthis for preventing relief organizations from delivering aid and distributing it in Ad Durayhimi and At Tuinternationalhayat Districts in Hodeidah.
Fatah told the Yemeni News Agency (SABA) that these measures are terrorist and violate international and humanitarian law.
Meanwhile, the Yemeni army forces, aided by the popular resistance, attacked Houthi posts in Al-Sharyga in north Lahij and in Ar Rahidah, southwest of Taiz.
A military source told the armed forces' media center that the national armed forces liberated some areas and plateaus that overlook Al-Sharyga- Ar Rahidah path amid collapses in the Houthis' ranks.
https://english.alarabiya.net/en/News/gulf/2018/08/29/Yemeni-govt-condemns-Houthis-for-prohibiting-delivery-of-aid-to-Hodeidah.html
--------
Yemen's Houthi militias besiege town in Dhamar, kidnap at least 60
28 August 2018
Houthi militias kidnapped dozens from the town of Al-Kharba in the Jahran District in the Dhamar Governorate after clashing with the townspeople and imposing a siege on the town.
Tribal sources said the Houthis kidnapped more than 60 people from the town, adding that they have detained them in the central prison in Dhamar and are interrogating them in a tyrannical way.
They also said that the Houthis are still pursuing the townspeople and arresting people.
Mohammed Hussein al-Maqishi, the Houthi militia commander in Dhamar, went to the house of Sheikh Ahmad Ali Qassem Salah and obliged him to hand over those he described as "murderers and wanted men" and gave him 24 hours to hand them over.
https://english.alarabiya.net/en/News/gulf/2018/08/28/Yemen-s-Houthi-militias-besiege-town-in-Dhamar-kidnap-at-least-60.html
--------
Israeli forces demolish home of slain Palestinian teen
Aug 28, 2018
Israeli forces have demolished the family home of a Palestinian teenager who was shot and killed by settlers over an alleged stabbing attack in the occupied West Bank last month.
Early on Tuesday, an Israeli bulldozer entered the West Bank village of Kobar near Ramallah and razed the one-story structure that belonged to the family of Mohammed Tareq Ibraham Dar Youssef, who was shot dead in the incident last month.
Youssef, 17, broke into the settlement of Adam on July 27, and allegedly stabbed three people, killing settler Yotam Ovadia, 31. One of those wounded in the attack fatally shot and killed the Palestinian teen, the Israeli military reported.
The military statement also said dozens of Palestinians clashed with Israeli troops during Tuesday's demolition, hurling rocks, firebombs and pipe bombs at them.
In recent years, Israel has expanded the authority of its military to demolish Palestinian homes in the occupied territories. The army can now execute demolition orders in the so-called Area C of the West Bank just days after they are issued.
The regime orders the demolition of Palestinian homes as a punitive measure in response to alleged attacks by Palestinians against Israeli settlers.
Tel Aviv has been occupying the West Bank, including East al-Quds, since taking the Palestinian territory by force in 1967. Ever since, it has been propping up settlements throughout the land, in a move condemned by the United Nations, and considered illegal under international law.
About 600,000 Israelis live in over 230 illegal settlements in the West Bank and East Jerusalem al-Quds.
Full report at:
https://www.presstv.com/Detail/2018/08/28/572475/Israel-Palestinian-home-demolition-Kobar-West-Bank-Tareq-Ibraham-Dar-Youssef
--------
Yemeni army strike Houthi militia sites west of Taiz
August 29, 2018
DUBAI: Yemen's army launched attacks targeting Houthi militia positions in areas west of Taiz, Saudi state-news channel Al-Ekhbariya reported.
In a statement issued on the Yemeni Ministry of Defense's official website, September 26, a field source said the attack resulted in several deaths and injuries among the militia.
The army also announced that a number of strategic locations south of Taiz have been liberated.
Full report at:
http://www.arabnews.com/node/1363526/middle-east
--------
URL: https://www.newageislam.com/islamic-world-news/iraq-based-top-shia-cleric/d/116230
New Age Islam, Islam Online, Islamic Website, African Muslim News, Arab World News, South Asia News, Indian Muslim News, World Muslim News, Women in Islam, Islamic Feminism, Arab Women, Women In Arab, Islamophobia in America, Muslim Women in West, Islam Women and Feminism