New Age Islam News Bureau
8 Sept 2017
• US won't say whether considering sanctions against Myanmar
• Telangana's Sharia Faisla Board says those opposing Sharia will be considered as non-Muslims
• Zakir Naik wanted over terror probe, not religion, Interpol told
Mideast
• Iran urges action on Rohingya genocide before 'it's too late'
• Killing of Rohingya suggests 'organized plot': IRGC
• Israeli attacks meant to boost terrorists' morale: Syria
• Netanyahu bans Al-Jazeera journalist from govt seminar on freedom of speech
• US charges former Turkish minister with Iran sanctions evasion
• Houthis loot homes of Hadi government ministers in Yemen
• Iran under 'most robust' nuclear inspection: IAEA
• Kurdish curriculum in Raqqah schools sparks tension
• Israel to approve new settlement units in Palestinian neighborhood of al-Quds
--------
North America
• US won't say whether considering sanctions against Myanmar
• Dialogue of Faith: Christianity and Islam set for Sunday in Spring Valley
• Trump's Muslim Ban Is Slightly Less Terrible After a Recent Court Ruling
• Trump sees 'chance' for peace in Middle East
• Saudi dispute with Qatar could be solved 'fairly easily': Trump
--------
India
• Telangana's Sharia Faisla Board says those opposing Sharia will be considered as non-Muslims
• Muslim family donates land for expansion of Hanuman temple
• How Rohingyas reached India and why government is not ready to let them stay
• Muslim bodies to hold awareness campaign
• Chennai trust moves SC for deportation of Rohingyas
• PM Modi visits Mughal ruler Bahadur Shah Zafar's grave in Yangon
• Zakir a terror suspect, not being targeted over religion: NIA to Interpol
• Kerala Muslims to hold prayers for Rohingyas
• How Muslim fears were allayed, and the UCC became a directive principle
• ISI's covert act prompted Modi-Kyi anti-terror pact
• India has 'legitimate' security interests in Afghanistan: US
• Terror funding case: NIA raids 11 places in J&K, NCR
--------
Southeast Asia
• Zakir Naik wanted over terror probe, not religion, Interpol told
• Malaysia ready to provide temporary shelter for Rohingya Muslims from Myanmar
• Christians to protect them from Islamic extremists
• Muhammadiyah Students Call on Gov't to Protect the Rohingya
• Lecturer: Corruption, powerlessness against injustice driving youths to join IS
• Ex-President Gus Dur's vision for democratic Islam in Indonesia
--------
Arab World
• ISIL Heavily Defeated in Central Syria
• Anti-terror states: Military option was never suggested to resolve Qatar crisis
• US Army Conducts Heliborne Operation Again to Save Foreign ISIL Members in Deir Ezzur
• Israel hits Syria site reportedly used for chemical weapons
• Syrian Army Using Anti-Tank Degtyarev Weapon to Destroy Terrorists' Armored Vehicles
• Full Anti-Terror Quartet statement on the Emir of Kuwait's comments in Washington
• Popular Uprising Reported in Idlib after Al-Nusra Beheads Pro-Gov't Teacher
• Syrian Army Further Advances in Deir Ezzur
• Two Syrian Soldiers Killed in Israeli Air Raid in Hama
• Several Al-Nusra Terrorists Killed in Huge Explosion in Northwestern Syria
• Syrian Opposition: De Mistura's speech is in line with Moscow's agenda
• Bahrain charges 25 as regime intensifies iron-fist crackdown on dissent
• Iraqi Shiite cleric accuses parties close to Hezbollah of assassination attempt
• Trump offers to mediate talks on Qatar crisis
• 40-truck aid convoy enters Syria's troubled Dayr al-Zawr
• Syria opp slams 'shocking' UN envoy statement
--------
Africa
• Poverty and state abuse, not religion, push Africans toward militants, says UN
• South Africa's Tutu asks Myanmar's Suu Kyi to help Rohingya
• Political Islam in Tunisia: a history of Ennahda and the Tunisian exception
• Tanzanian police shoot dead double child killer suspect
• US strike in Somalia kills 3 al-Shabaab militants
• Nigeria: El-Rufai Names Top Anglican Cleric to Head Kaduna Peace Commission
--------
Pakistan
• Over 2,800 Pakistanis to be affected by Trump's repealing of immigration programme
• Protest demonstrations held in support of Rohingya Muslims
• Responsibility for defeating terror not Pakistan's only: Jeremy Corbyn
• China, Pakistan agree solution to Afghan conflict has to be political: Khawaja Asif
• Pakistan condemns callous genocide of Rohingya Muslims
• ECP refuses to recognise JuD's political front
• Interior minister apprises UK envoy of antiterrorism steps
• ATC acquits seven men in Kasur child abuse scandal
--------
Europe
• Islamophobia curbs job prospects for Muslims in Britain, says study
• Londoners protest in solidarity with Rohingyas
• EU's decision on Turkey membership not expected this year: Estonia
• Turkey a 'vital' EU partner, says French leader
--------
South Asia
• As Rakhine burns, Muslims in Myanmar ponder fate
• Taliban leader among 7 killed, wounded in Maidan Wardak airstrike
• Over 250,000 Rohingya have fled to Bangladesh: UN
• Three militants including their commander mysteriously killed in Nangarhar
• Turkey to stand beside Rohingyas: Turkish First Lady Emine Erdogan
• Pakistan's army chief says cannot fight Afghanistan's war in Pakistan
• Bangladesh's civil society personalities urge pushing Myanmar to stop Rohingya 'genocide'
• Young man surrenders to police after forced by father to carry out suicide attack
Compiled by New Age Islam News Bureau
URL: https://www.newageislam.com/islamic-world-news/iran-urges-action-rohingya-genocide/d/112470
--------
Iran urges action on Rohingya genocide before 'it's too late'
Sep 7, 2017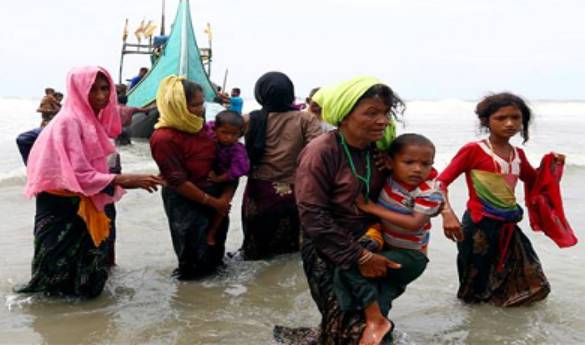 Photo: Rohingya refugees walk to the shore after crossing the Bangladesh-Myanmar border by boat through the Bay of Bengal in Teknaf, Bangladesh, September 7, 2017. (Photo by Reuters)
------------
Iran's foreign minister has chided the international community for remaining silent on the violence directed toward Rohingya Muslims in Myanmar, calling for swift action to end the genocide.
"The international community has no excuse to allow the genocide of Rohingya Muslims to continue in front of our eyes," Mohammad Javad Zarif tweeted on Thursday.
He further demanded urgent action to address the plight of Rohingya Muslims, saying, "We must act now before it's too late."
Myanmar's security forces have been attacking the Rohingya Muslims and torching their villages since October 2016 in a bid to push them out of the western state of Rakhine.
The attacks have intensified since August 25, following alleged armed attacks on police and military posts in Rakhine.
The Rohingya have been subject to communal violence by extremist Buddhists for years, forcing large groups of Muslims to take perilous journeys and seek refuge in Bangladesh and other neighboring countries.
Myanmar's de facto leader, Aung San Suu Kyi, has come under fire for failing to protect the country's Muslim minority from persecution.
She claimed on Wednesday that "a huge iceberg of misinformation" was spreading about violence in western Myanmar.
Iran to send aid to Rohingya Muslims
Separately on Thursday, the Iranian Red Crescent Society said it had set up a working group to help the Myanmar Muslims following an order by President Hassan Rouhani.
Hamid Jamaloddini, the society's spokesman, said consignments of vital relief aid and medical items were ready to be dispatched to Myanmar.
The Iranian official further noted that the society had informed the International Red Cross of its readiness to provide Rohingya Muslims who are in urgent need of living accommodations with residence.
Basij censures atrocities against Rohingya
Iran's Organization for the Mobilization of the Oppressed (Basij) also released a statement on Thursday, condemning the ongoing crimes against the oppressed Myanmar Muslims and the "shameful silence of the self-proclaimed rights defenders."
"Once again the world is witnessing a brutal and inhumane genocide against the Muslim people in the country of Myanmar despite the West's fake and deceptive claim of protecting human rights," the statement read.
The Muslim-populated Rakhine region in Myanmar is now the scene of "one of the most heinous crimes against humanity," it noted.
"All these crimes, brutality and genocide and massacre, which are faced with the complacent silence of the West and the so-called human rights organizations, must be stopped swiftly with the pressure of Muslim and freedom-seeking countries," the statement added.
presstv.ir/Detail/2017/09/07/534351/Iran-Javad-Zarif-Myanmar
--------
US won't say whether considering sanctions against Myanmar
Sep 7, 2017
The United States has expressed concerns about the deadly violence against Rohingya Muslims in Myanmar but refused to address calls for international sanctions against the country.
"We don't want to get ahead of the conversations that we're having," State Department spokeswoman Heather Nauert told reporters in Washington, DC, on Thursday.
Myanmar's security forces and armed Buddhist militants have been carrying out atrocities against Rohingya Muslims in the Muslim-majority Rakhine region in Myanmar for several months.
According to multiple reports, entire villages of Rohingya Muslims have been burnt to the ground. A large number of Muslims, including women and children, have been burnt alive, lynched to death or lost their lives while fleeing the ethnic cleansing of the Rohingya people.
The State Department spokeswoman on Thursday urged Myanmar's authorities to allow humanitarian access to Rakhine state but said US officials could not find the reports of state-sponsored massacres credible.
"The United States is deeply concerned about the troubling situation in Burma's northern Rakhine state," Nauert told reporters.
"There has been a significant displacement of local populations following serious allegations of human rights abuses including mass burnings of Rohingya villages and violence conducted by security forces and also armed civilians," she said.
"We again condemn deadly attacks on Burmese security forces, but join the international community in calling on those forces to prevent further attacks on local populations in ways that are consistent with the rule of law and with full respect for human rights," she said.
According to the United Nations, more than 250,000 Rohingyas have fled to neighboring Bangladesh since violence erupted in Rakhine state in October.
The refugees say their villages are being raided and burned by the country's security forces and by extremists who call themselves Buddhist nationals. They tell stories of the indiscriminate killing of civilians.
The extremists frequently attack Rohingyas and have set fire to their homes in several villages in Rakhine. Myanmar's armed forces allegedly provided the fanatics containers of petrol for torching the houses of Muslim villagers, who were then forced to flee.
Exhausted and desperately hungry refugees arriving in already packed camps in Bangladesh have brought harrowing tales of murder, rape and widespread arson.
"We call on the authorities to facilitate immediate access to affected communities that are in need of urgent humanitarian assistance," Nauert said, adding that US officials are working to help the United Nations cope with the exodus.
But Nauert said she would not comment on who is at fault in the latest violence. She refused to blame Myanmar's de facto ruler Aung San Suu Kyi over her complicity in the ethnic cleansing of Rohingya Muslims.
Nauert said US diplomats are in regular touch with Myanmar's government but added that Rakhine is "a difficult place to get information from, it's difficult to get access to."
"Some of these areas are areas of open conflict, we can't necessarily get in there," she said.
Suu Kyi won the Nobel Peace Prize for her political activism Myanmar's military rulers, but her failure stop ethnic cleansing of Rohingya Muslims has ruined her reputation.
Peace activists have launched an international campaign calling on Nobel Peace Prize Committee to take back its 1991 prize to Suu Kyi over her complicity in the crime.
The petition launched at change.org has already been signed by 375,974 supporters.
More than a dozen Nobel laureates wrote an open letter to the UN Security Council in December last year warning of a tragedy "amounting to ethnic cleansing and crimes against humanity" in Rakhine state, citing the "potential for genocide."
presstv.ir/Detail/2017/09/07/534391/US-wont-say-whether-considering-sanctions-against-Myanmar
--------
Telangana's Sharia Faisla Board says those opposing Sharia will be considered as non-Muslims
Sep 8, 2017
Hyderabad: Calling the Supreme Court's verdict which ruled triple talaq unconstitutional as an "interference" in Islamic law, the Sharia Faisla Board (SFB), an umbrella body of prominent religious and social Muslim organizations in Telangana, said on Thursday that it will carry out a campaign to educate Muslims about Islam and the Sharia (Muslim personal law) in the coming days. It also said that those opposing the Sharia within the community will be considered non-Muslims.
"We will start this programme in Hyderabad and conduct it across south India. The Supreme Court's ruling has opened the door for interference in our religion," said Mushtaq Mallik, president, Muslim Shabban Tahreek, while addressing a press conference. Mallik, along with other members from various organisations which are part of the SFB convened a meeting on Thursday to discuss the SC's verdict on triple talaq.
Mallik said that the SFB will carry out a door-to-door programme starting with Hyderabad to explain Muslims about Islamic jurisprudence. "Those who oppose, question or do not accept the Sharia or Islam, we will explain these things to them also. If they still are not convinced, then they will be ex-communicated from the religion and not be considered as Muslims," he added.
Both Mallik and Moulana Yousuf Zayed, chairman, Telangana Ulema Council (TUC), said that the RSS and the Bhartiya Janata party (BJP) are trying to interfere in the Muslim personal laws (Sharia).
"This is one of the ways they want to push the demand for the Uniform Civil Code," alleged Mallik.)
livemint.com/Politics/qyd96yUNourTHioFFvN09K/Telanganas-Sharia-Faisla-Board-says-those-opposing-Sharia-w.html
--------
Zakir Naik wanted over terror probe, not religion, Interpol told
September 8, 2017
PETALING JAYA: India's National Investigation Agency (NIA) has refuted Zakir Naik's claim that he is being targeted due to his religion, telling Interpol that the Islamic preacher is a terror suspect who is under investigation for funding other suspects through his organisation.
This followed Naik's letter to the international police agency last month, saying that he did not support Islamic jihad and that he was being persecuted simply because he was a Muslim.
However, the NIA in a response to the letter told Interpol that Naik had radicalised Muslim youth through his inflammatory speeches and spread hatred among different religions, the Times of India reported today.
The agency added that evidence of Naik's involvement in acts that violate Indian law are "very strong", the report said.
"Having radicalised Muslim youth for years through his speeches, Naik has not presented himself before us despite several summons/warrants and his passport has been revoked by the Regional Passport Office in Mumbai," the NIA was quoted as saying.
It said Naik's organisation, the Islamic Research Foundation (IRF), was banned by the Indian government for carrying out anti-national activities, and that the ban was upheld by a designated tribunal.
It also reiterated calls for Interpol to issue a red-corner notice against Naik, allowing him to be tracked abroad and extradited to India.
A red-corner notice would make Naik an international fugitive and authorise police in any country to arrest him.
Naik is wanted for questioning in India over money-laundering and terrorism-related crimes. He fled India in 2016, after a suspect in a terror attack on a Dhaka cafe in Bangladesh said he had been influenced by Naik's speeches, and Bangladesh banned his Peace TV channel.
In his letter to Interpol contesting the NIA's request for a red-corner notice to be issued against him, Naik said Indian prisons were in poor condition and that he would be subjected to torture if he was sent to an Indian jail.
He also reportedly claimed that his speeches had only promoted peace, and that he had never advocated terror or jihad.
He said he had been delivering speeches on Islam across several countries for the past 25 years, and that he was respected and welcomed in all of them.
freemalaysiatoday.com/category/highlight/2017/09/08/zakir-naik-wanted-over-terror-probe-not-religion-interpol-told/
--------
Mideast
Killing of Rohingya suggests 'organized plot': IRGC
Sep 7, 2017
Iran's Islamic Revolution Guards Corps (IRGC) says the ongoing killing in Myanmar amid the indifference of human rights groups has all the signs of an organized plot against Muslims.
"The terrible crimes of extremist Buddhist groups and the Myanmar army against Rohingya Muslims ... suggest an organized anti-Islamic plot that, if not stopped, will result in another major genocide in the history of mankind," IRGC said in a statement.
The IRGC denounced "the duplicity of the so-called advocates of human rights in the face of painful developments in various parts of the world," saying their contradictory actions were "meaningful."
"The ineffective global response to the genocide of Rohingya Muslims and the deadly silence of the international human rights organizations and the lack of consensus and a powerful front to deal with the perpetrators of such crimes are a huge humanitarian crisis today," it said.
The IRGC further said "the displacement of over 100,000 people and the carnage of at least 400 oppressed and defenseless Myanmar Muslims have sparked the outrage of the Muslim world and increased the responsibility of the Myanmar government in the face of this tragic incident."
The IRGC, the statement said, regards supporting the oppressed Myanmar Muslims and bringing the world attention to their plight as "the historic and inevitable responsibility of all nations and communities."
The IRGC also said it expects the Iranian government to "activate the revolutionary diplomatic means and use the capacities and will of the international community and other Muslim countries … to rescue the Rohingya Muslims who are mostly Sunnis."
Earlier on Thursday, Iran's Foreign Minister Mohammad Javad Zarif chided the international community for remaining silent on the atrocities committed against the Rohingya Muslims, calling for swift action to end the genocide.
Myanmar's security forces have been attacking the Rohingya Muslims and torching their villages since October 2016 in a bid to push them out of the western state of Rakhine.
The attacks have intensified since August 25, following alleged armed attacks on police and military posts in Rakhine.
The Rohingya have been subject to communal violence by extremist Buddhists for years, forcing large groups of Muslims to take perilous journeys and seek refuge in Bangladesh and other neighboring countries.
presstv.ir/Detail/2017/09/07/534368/Iran-Myanmar-IRGC
--------
Israeli attacks meant to boost terrorists' morale: Syria
Sep 7, 2017
The government of Syrian President Bashar al-Assad has called on the United Nations Security Council to denounce Israel's repeated aggression against the country and take prompt action to stop the attacks before they further undermine the ongoing fight against terrorist groups.
Syria's Foreign and Expatriates Ministry wrote a letter to the UN secretary general and the chairman of the Security Council on Thursday, shortly after Israeli fighter jets targeted an army position in the west-central province of Hama, killing two soldiers, Syria's official SANA news agency reported.
" At 02:42 a.m. on Thursday September 7, 2017, the Israeli warplanes targeted one of the Syrian military positions near Masyaf in Hama province with several missiles, killing two army personnel and causing material damage to the site," the letter read.
The ministry said the attacks were aimed at boosting the morale of Israel's "representatives," Daesh and other terrorist groups, amid their successive defeats against Syrian military forces on multiple fronts, including the city of Dayr al-Zawr.
The Israeli attack came days after the Syrian army, backed by popular defense groups and Russia airpower, managed to break Dayr al-Zawr's 3-year siege by Daesh.
Describing the Tel Aviv regime's repeated attacks as a "systematic behavior" aimed at "protecting al-Nusra Front and Daesh terrorists," the ministry said it was unacceptable that the Security Council had not taken decisive measures to end them.
'Direct support of terrorism'
Over the past years, the Israeli military has carried out sporadic attacks against various targets across Syria in what Damascus views as an attempt to boost the Takfiri terror groups that have been taking heavy blows from the Syrian army and allied forces on the battle ground.
The letter said the attacks were tantamount to "direct support of terrorism," specially at a time when Damascus is fighting terror "on behalf of the entire world."
Full report at:
presstv.ir/Detail/2017/09/07/534390/Syria-Assad-UN-Israel-attack-Hama-Masyaf
--------
Netanyahu bans Al-Jazeera journalist from govt seminar on freedom of speech
Sep 8, 2017
Israeli Prime Minister Benjamin Netanyahu has banned Al-Jazeera'sJerusalem bureau chief from attending a seminar about freedom of speech, officials said, the latest move against the broadcaster by the Israeli leader.
The Israeli government press office said late Wednesday that Netanyahu had demanded Walid Al-Omary be excluded from the conference taking place on Thursday. The event was focused on the limits of freedom of expression.
The press office said Netanyahu reiterated his intention to close Al-Jazeera in Israel and called for "legal measures to be taken to prevent the accreditation of all Al-Jazeera journalists."
In July, Netanyahu announced plans to expel Al-Jazeera after accusing it of incitement.
Israel had also announced it would withdraw accreditation of one of the broadcaster's journalists, Elias Karam, but he has since been given a six-month reprieve.
Amnesty International called the Israeli moves a "brazen attack on media freedom."
Al-Jazeera, which is owned by Qatar, has also been banned by the gas-rich Gulf state's rivals in recent months.
Saudi Arabia, Bahrain, the United Arab Emirates and Egypt broke ties with Qatar on June 5, accusing it of fostering extremism and demanding Al-Jazeera's closure.
Al-Jazeera has nearly 80 offices around the world and broadcasts in several languages.
Full report at:
nation.com.pk/international/07-Sep-2017/netanyahu-bans-al-jazeera-journalist-from-govt-seminar-on-freedom-of-speech
--------
US charges former Turkish minister with Iran sanctions evasion
7 September 2017
United States prosecutors have charged a former Turkish economy minister and the former head of a Turkish state bank with conspiring to evade US sanctions against Iran, widening an investigation that has fueled tension between Washington and Ankara.
The indictment is the first time a former member of the Turkish government with close ties to President Tayyip Erdogan has been charged in the case, which stems from an investigation into a Turkish-Iranian gold trader over sanctions evasion.
Erdogan has said he believed US authorities had "ulterior motives" in prosecuting the wealthy gold trader, Reza Zarrab, who was arrested by US authorities last year.
Prosecutors charged former economy minister Zafer Caglayan and former Halkbank general manager Suleyman Aslan and two others, according to a statement, dated Wednesday, from the US attorney's office for the Southern District of New York.
They were charged with "conspiring to use the US financial system to conduct hundreds of millions of dollars' worth of transactions on behalf of the Government of Iran and other Iranian entities, which were barred by United States sanctions".
They were also accused of lying to US government officials about those transactions, laundering funds and defrauding several financial institutions by concealing the true nature of these transactions, US prosecutors said.
Full report at:
english.alarabiya.net/en/News/middle-east/2017/09/07/US-charges-former-Turkish-minister-with-Iran-sanctions-evasion.html
--------
Houthis loot homes of Hadi government ministers in Yemen
7 September 2017
Houthi militias carried out raids on homes belonging to ministers of the legitimate government of Yemen on Wednesday in Sanaa.
According to local sources in Sanaa, Houthi gunmen stormed and looted the homes of Yemen's Deputy Prime Minister and Interior Minister Major General Hussein Arab.
Sources also pointed out that the militias have recently intensified their targeting and looting of homes of politicians who are opposed to them, especially in the capital Sanaa.
The home of the Minister of Information of Yemen was also stormed by Houthis after his guard was kidnapped. The doors of his home were allegedly destroyed and their belongings tampered with.
Subject to prosecution
Yemeni Human Rights Minister Mohammed Askar said that such violations are being documented and monitored and that the perpetrators will be punished and will be subject to prosecution.
He referred to a number of violations committed by the Houthis against the private property of Yemeni citizens, whether by destruction, bombing, confiscation or incursion.
Full report at:
english.alarabiya.net/en/News/gulf/2017/09/07/Houthis-loot-homes-of-Hadi-government-ministers-in-Yemen.html
--------
Iran under 'most robust' nuclear inspection: IAEA
Sep 7, 2017
The International Atomic Energy Agency (IAEA) has defended the 2015 nuclear deal between Iran and the P5+1 group of countries, saying the Islamic Republic is under "the world's most robust" nuclear inspection regime.
IAEA Director General Yukiya Amano made the remarks at a panel discussion on global nuclear governance in the Bled Strategic Forum in Slovenia earlier this week amid Washington's pressure on the agency to request access to Iran's military sites.
Amano hailed the "important" role played by the UN nuclear agency in the finalization of the landmark accord, known as the Joint Comprehensive Plan of Action (JCPOA), saying that the JCPOA "represents a clear gain for nuclear verification."
The IAEA "is now verifying and monitoring Iran's implementation of its nuclear-related commitments under that agreement, acting as the eyes and ears of the international community," the UN nuclear chief said.
"Iran is subject to the world's most robust nuclear verification regime. Our inspectors are on the ground 24/7. We monitor nuclear facilities, using permanently installed cameras and other equipment," he added.
Under the deal, Amano said, Iran has accepted restrictions on its nuclear program and the IAEA has expanded access to its sites and information.
The deal demonstrated that even complex issues can be resolved if all parties were committed to "dialogue aimed at achieving results," he said.
The remarks came at a time when Washington, which is a party to the agreement, seems to be laying out a case for abandoning it.
US Ambassador to the UN Nikki Haley traveled recently to Vienna to press the IAEA on accessing Iran's military sites.
Iranian Foreign Minister Mohammad Javad Zarif has slammed Washington's approach to the nuclear deal saying that the US was "openly hostile toward the JCPOA and determined to undermine and destroy it."
The IAEA has recently reaffirmed Iran's adherence to its commitments under the nuclear agreement.
Haley, however, argued that the US president "has grounds" to refuse to certify the JCPOA even if Iran was not found to be violating the terms of the accord.
The Trump administration has twice certified Iran's compliance with the deal. The next deadline is in mid-October.
Full report at:
presstv.ir/Detail/2017/09/07/534342/Iran-US-IAEA
--------
Kurdish curriculum in Raqqah schools sparks tension
Sep 8, 2017
Reports say US-backed Kurdish militants, who control parts of the northern Syrian province, intend to introduce Kurdish lessons in schools in the Arab-majority areas there, stirring both emotions and tensions in the ethnically-rich region.
The so-called Syrian Democratic Forces, a Washington-backed alliance of Kurdish and Arab militants, has ousted the outfit from parts of Raqqah Province, including areas within the provincial capital of the same name.
Now, it has emerged that within the SDF-captured parts of the province, the Kurds have assumed the upper hand in the decision-making processes, Reuters reported.
They have swayed local administrative bodies in those areas, though the centers are supposed to represent all ethnicities, reports said on Friday, citing local sources.
Reuters said one SDF official had even "floated the immediate introduction of Kurdish lessons in Raqqa schools, an idea that makes local officials bristle."
Interviews with SDF officials and local authorities indicate "resentment over Kurdish power is brewing over education plans," according to the report.
"We wouldn't object to Kurdish teaching. But if it's imposed on schools then there will be problems," said teacher Ahmad al-Ahmad. Ali Shanna, one education official, reacted to the prospect by saying, "The Kurd knows the Kurdish language, why does he need to learn it?"
Sporadic protests have also erupted across the province, with the public saying Arab children should not be forced to learn Kurdish.
Mostafa Bali, an SDF official, said, however, "There are many Kurds who would like to see Arabic teaching banned in Kurdish areas."
Leila Mostafa, the Kurdish co-president of the Raqqah Civil Council also said, "We won't let Turkey or anyone else interfere in our internal affairs. We decide what we'll teach or not teach,"
Full report at:
presstv.ir/Detail/2017/09/08/534414/Raqqah-Syrian-Democratic-Forces
--------
Israel to approve new settlement units in Palestinian neighborhood of al-Quds
Sep 7, 2017
Israeli officials are going to approve a plan to build more than a hundred new settler units in occupied East Jerusalem al-Quds irrespective of international outcry against the Tel Aviv regime's land expropriation policies in Palestinian territories.
Israel's planning and construction committee in Jerusalem al-Quds is expected to discuss the plan for the construction of 176 settler units in the heart of the predominantly Arab neighborhood of Jabel Mukaber on Sunday, the Palestinian Ma'an news agency reported.
The project, which would become the largest Israeli settlement built inside a Palestinian neighborhood, would be located adjacent to Nof Zion settlement.
The Israeli anti-settlement group, Peace Now, has censured the plan, arguing that the Israeli regime "has opened all the floodgates when it comes to settlement developments within Palestinian neighborhoods."
It added that the settlement would "constitute a severe blow to Jerusalem" al-Quds and the prospects of the so-called two-state solution to the Israeli-Palestinian conflict.
Since the inauguration of US President Donald Trump in January, the regime in Tel Aviv has stepped up its construction of settler units on occupied Palestinian land in a blatant violation of international law.
Less than a month before Trump took office, the United Nations Security Council had adopted Resolution 2334, calling on Israel to "immediately and completely cease all settlement activities in the occupied Palestinian territories, including East Jerusalem" al-Quds.
About 600,000 Israelis live in over 230 illegal settlements built since the 1967 Israeli occupation of the Palestinian territories of the West Bank and East Jerusalem al-Quds.
Palestinians wants the West Bank as part of a future independent Palestinian state, with East Jerusalem al-Quds as its capital.
The last round of Israeli-Palestinian talks collapsed in 2014. Among the major sticking points in those negotiations was Israel's continued settlement expansion on Palestinian territories.
Trump backtracked on Washington's support for a "two-state solution" earlier this year, saying he would support any solution favored by both sides.
Full report at:
presstv.ir/Detail/2017/09/07/534350/Israel-approve-plan-settlement-construction-Jerusalem-alQuds-settler-units
--------
North America
Dialogue of Faith: Christianity and Islam set for Sunday in Spring Valley
September 07, 2017
Guest speaker Regina Mustafa will lead an interfaith dialogue at Our Savior's Lutheran Church in Spring Valley on Sunday, Sept. 10, following the 9 a.m. service at approximately 10:15 a.m.
In this "Dialogue of Faith: Christianity and Islam," Mustafa will present some of the basics of the Islamic faith, a brief history of Islam in America and then a time for dialogue. The program is open to the public.
Mustafa is the founder of Community Interfaith Dialogue on Islam in Rochester, a host of the Faith Talk Show, a member of the Rochester city Ethical Practices Board and the 2016 recipient of the Rochester Mayor's Medal of Honor for her leadership and service to the community.
"As Lutherans we are the reformers of the church," said the Rev. Mark Van House. "We are in dialogue within the body of Christ and with other faiths throughout the world."
Mustafa joined one of the Rochester ELCA congregations to see the Luther/Reformation Exhibit in Minneapolis this past January.
"My inspiration comes from my children. I want a better future for them, a future where they can proudly hold their heads up high as Muslims and Americans. Americans, and especially Minnesotans, are really warmhearted and open-minded people," she said after that visit.
bluffcountrynews.com/Content/Visitors-information/What-s-happening/Article/Dialogue-of-Faith-Christianity-and-Islam-set-for-Sunday-in-Spring-Valley/30/154/69262
--------
Trump's Muslim Ban Is Slightly Less Terrible After a Recent Court Ruling
BY LUKE DARBY
Sep 8, 2017
The judicial branch is definitely Donald Trump's most hated branch of government (at the very least tied with Congress). Even before he took office he was lawsuit-prone, and as president he seems to keep running afoul of the Constitution he claims Obama spent so much time shredding.
One of the administration's biggest legal headaches has been its attempted Muslim ban, which they've tried rebranding as a travel ban but no one should call it a ban even though Trump keeps calling it one. It's as confusing as it is bigoted. Multiple courts found that the White House didn't have the authority to ban citizens from seven nations (none of which, remember, have been connected to any domestic terror attack) just because they're majority Muslim.
The Supreme Court gave Trump a rare victory back in June, announcing that they'll hear challenges to the ban next year and limiting the ban's injunction from lower courts. That means the Trump administration is free to enact parts of the ban while waiting on the Court. Specifically, no one from one of the seven countries covered by the ban can enter the U.S. without a "bona fide" relationship, which the administration argues only covers parents, children and siblings, or connections to business and schools.
But on Thursday, a three-judge panel on the Ninth Circuit said that the administration misread the ruling, like everything else Trump has ever tried to read:
The Government does not meaningfully argue how grandparents, grandchildren, brothers-in-law, sisters-in-law, aunts, uncles, nieces, nephews, and cousins of persons in the United States can be considered to have "no connection" to or "lack any bona fide relationship" with persons in the United States.
Full report at:
gq.com/story/trump-muslim-ban-ruling
--------
Trump sees 'chance' for peace in Middle East
8 September 2017
President Donald Trump said Thursday that he believes there is a "chance" for a Middle East peace settlement, long one of the most elusive goals of US diplomacy.
"I think we have a chance of doing it," he told reporters during a White House news conference with Kuwaiti Emir Sheikh Sabah al-Ahmad Al-Sabah.
Trump acknowledged that previous administrations had come close to, yet never reached, a deal between Israel and the Palestinians. But he said: "We're going to give it our best."
The president said both sides wanted peace and that the United States had "tremendous talent" working on the problem.
Kushner delegation
He did not mention his son-in-law Jared Kushner, who last month led a US delegation to the region to discuss reviving the peace process.
Those talks were greeted with pessimism, although officials hope that better relations between Saudi Arabia and Israel can help propel a regional solution.
Palestinian leaders have grown frustrated with the White House after initially holding out hope that Trump could bring a fresh approach to peace efforts despite his pledges of staunch support for Israel.
Full report at:
english.alarabiya.net/en/News/middle-east/2017/09/08/Trump-sees-chance-for-peace-in-Middle-East.html
--------
Saudi dispute with Qatar could be solved 'fairly easily': Trump
Sep 7, 2017
US President Donald Trump has offered to mediate an ongoing dispute between Qatar and its neighboring Arab states, adding that he thinks the issue could be resolved "fairly easily."
"If I can help mediate between Qatar and, in particular, the UAE and Saudi Arabia, I would be willing to do so, and I think you would have a deal worked out very quickly," Trump told reporters at a joint press conference on Thursday at the White House in Washington, DC, with Kuwaiti Emir Sheikh Sabah al-Ahmad al-Jaber al-Sabah.
"I would be willing to be the mediator," Trump said. "I think it's something that's going to get solved fairly easily."
Saudi Arabia and its Arab satellite states of Bahrain, Egypt, and the United Arab Emirates cut their diplomatic ties with Qatar on June 5, accusing Doha of sponsoring terrorism and destabilizing the region.
The Saudi-led bloc has also imposed sanctions against the tiny Persian Gulf country, including restrictions on Qatari aircraft using their airspace. Qatar's only land border with Saudi Arabia has only been blocked as a result.
Last week, Trump called on Saudi King Salman and "all the parties in the Qatar dispute" to find a diplomatic solution to the regional standoff.
In a phone conversation on August 30, Trump told the Saudi monarch that a diplomatic resolution was necessary in order to fulfill a commitment Washington and its regional allies had made to stay united while fighting terrorism.
This is while analysts have touted the Qatar crisis as the fallout of Trump's visit to Riyadh in early June. Even Trump himself pointed this out in a tweet during the conflict's early days.
"During my recent trip to the Middle East I stated that there can no longer be funding of Radical Ideology," Trump wrote on June 6. "Leaders pointed to Qatar — look!"
US Secretary of State Rex Tillerson said before the visit that it was aimed at getting Saudi Arabia and other Arab nations in the region to stand in "unity" with Israel and confront Iran.
This might explain the sudden push to isolate Doha, under the pretext that it has close ties with Iran as well as the Palestinian resistance movement Hamas.
'Qatar ready to discuss Saudi demands'
Kuwait has been trying to mediate the dispute between Qatar and its US-allied Arab neighbors.
Standing at the side of Trump at the White House, the Kuwaiti emir told reporters on Thursday: "What is important is that we have stopped any military action [against Qatar]."
Sheikh Sabah claimed that the Qatari government was ready to discuss a list of 13 demands from its Arab neighbors.
"We know that not all of these 13 demands are acceptable," Sheikh Sabah said, referring particularly to issues that affected Qatari sovereignty. "A great part of them will be resolved."
Among the demands are that Qatar downgrade its ties with Iran, shut down Al Jazeera news network, and close a Turkish military base in the Arab country.
Full report at:
presstv.ir/Detail/2017/09/07/534389/Trump-offers-to-mediate-in-SaudiQatar-dispute
--------
India
Muslim family donates land for expansion of Hanuman temple
September 1, 2017
At a time when cases of communal animosity are being reported from different parts of the country, a Muslim family has donated their land here for the expansion of a Hanuman temple. Javed Ansari (34) recently donated 1,905 square feet of his land towards the expansion of Imli Wale Hanuman Mandirat village Bagwaz in the district, Sub Divisional Magistrate RB Sindoskar told PTI.
"Ansari had submitted an application to donate 1,905 square feet from his land to the committee running the management of Imli Wale Hanuman Mandir. After recording the statements of Ansari and his family members, who jointly share the ownership, the land was handed over to the committee," he added.
This temple is located about one kilometer from the district headquarters on Gupteshwar road in village Bagwaz. This land would be used for the seating arrangements of devotees and the boundary wall. SDM said that the orders related to the land donation were issued on August 16.
The temple committee chairman Raju Vaish said that the land was donated by Javed Ansari in consultation with his brothers Parvez, Shahnaj, Shoib and Shadab. "Now, the land is under the possession of temple committee," he added.
Meanwhile, Ansari, who donated the land, said, "I have donated this land to Hanuman Mandir to send out a message of communal harmony. I believe that such gestures will increase brotherhood between the Hindu and Muslim communities." Isn't it unbelievable? What are your views on the noble step taken by the Muslim family. Share your thoughts in the comments below.
indianexpress.com/article/trending/trending-in-india/muslim-family-donates-land-for-expansion-of-hanuman-temple-for-communal-harmony-4823976/
--------
How Rohingyas reached India and why government is not ready to let them stay
September 7, 2017
During his three-day visit to Myanmar, Prime Minister Narendra Modi raised the issue of Rohingya Muslims, living illegally in India, with the leadership of the host country.
As Narendra Modi wound up his Myanmar visit by paying tributes to the last Mughal emperor Bahadur Shah at his tomb in Yangoon, State Counsellor and Leader of the National League for Democracy of Myanmar Aung San Suu Kyi termed the Rohingya crisis as "the biggest challenge we have had to face."
But Suu Kyi defended her government saying, "It is a little unreasonable to expect us to solve the issue in 18 months... as the situation in Rakhine has been such since many decades and goes back to pre colonial times."
Suu Kyi linked Rohingya's issue with the security question saying, "We have to decide how to differentiate terrorists from innocents. You in India would be well versed with this."
Her statements make it sure that Myanmar may not be so easily cooperating with India in deporting about 40,000 Rohingyas living "illegally" in the country. Minister of State for Home Affairs Kiren Rijiju has stated the government's position in no uncertain terms both in Parliament and outside.
Responding to comments by Amnesty International, Rijiju reiterated Centre's stand on Tuesday, saying, "I want to tell the international organisations whether the Rohingyas are registered under the United Nations Human Rights Commission or not. They are illegal immigrants in India."
The Supreme Court will be deciding the deportation question on Saturday, September 11 while hearing a PIL in the matter.
WHO ARE ROHINGYA MUSLIMS?
Rohingyas are ethnic Muslims of Myanmar living in Rakhine province in the Arakan region. Myanmar government does not recognise Rohingyas as their citizens. Only about 40,000 Rohingyas are acknowledged as citizens in their country.
Rohingya Muslims are referred to as Bengalis in Myanmar for their roots in Bangladesh. The 1982-citizenship law of Myanmar does not recognise Rohingyas as ethnic group and these people are practically stateless for 35 years.
In 2014, the Myanmar government presented a plan for accommodating Rohingya Muslims as their citizens. The willing members of Rohingya community were asked to change their ethnicity in the census form from Rohingya to Bengali.
But, Rohingyas claim that they have lived in Rakhine region for centuries. However, most of Rohigyans don't have documents to prove that their ancestors lived in Myanmar before 1948, the cut-off date under the 1982-citizenship law.
WHY ROHINGYAS FLED IN 2012
Even though, the Myanmar government derecognised Rohingya Muslims as citizens way back in 1982, thousands of them started leaving the country only in 2012.
In 2012, the Rohingyas saw themselves being evicted from their homes, their land confiscated and their villages and habitations attacked by Myanmar's military. The United Nations has recognised Rohingya Muslims as one the most persecuted ethnic groups in the world.
It began with a case of gangrape in Myanmar. Some Rohingya Muslims were charged with gangrape and murder of a Buddhist woman in Rakhine. This led to clashes between Rohingya Muslims and Buddhists. Bloody fights and riots soon engulfed the entire Arakan region.
The Myanmar government responded by herding thousands of Rohingya Muslims in a concentration camp fenced by barbed wires. The police did not allow Rohingyas to leave the camps. The Myanmar's authorities supplied food in the camps but it was not enough leading to starvation. Medical aid was not proper which caused spread of disease and deaths in the camps. Other Rohingyas started to flee the country. Those in the camps tried everything to escape.
Suddenly, thousands of Rohingya Muslims were discovered in the sea water on boats with no country to go. International press branded them as boat people.
HOW ROHINGYAS REACHED INDIA
As Rohingyas speak Bengali, they headed in large number towards Bangladesh. Many had their ancestral roots in that country. Initially, Bangladesh authorities were lenient but with rising number of emigrants from Myanmar, Dhaka chose, in August 2012 itself, to stop all humanitarian assistance to Rohingya Muslims leaving them helpless.
The boat people headed towards Thailand. But, Thailand had kept an eye on the developments of Myanmar and put its navy on guard. Thailand's navy gave the boat people food and medicines but did not allow them land on its territories.
The Rohingyas turned towards Malaysia thinking that a Muslim majority country would give them shelter. But, Malaysia adopted the same policy as Thailand. Malaysian navy spurned all the moves by the boat people to set feet on its land.
For few weeks, Rohingyas managed to enter Indonesia, another Muslim majority country. Trapped in boats in hundreds, Rohingyas were rescued by Indonesian fishermen. By the time, the Indonesian government declared that Rohingyas were not welcome in their country, thousands of them had already taken shelter there. But, Indonesian government warned its fishermen against rescuing and bringing Rohingyas into Indonesia.
Till then, Rohingyas were not entering India into large numbers. When all the doors were shut on them, they turned towards India. By 2013, Bangladesh had closed all the entry points for Rohingyas into its territory. They looked for entry points along India-Myanmar border and India-Myanmar-Bangladesh tri-junction.
ROHINGYAS IN INDIA
Rohingyas entered into northeast India through various routes. They avoided staying near the Myanmar's borders. Rohingyas spread over a large area across various states. They have their camps in Assam, West Bengal, Uttar Pradesh, Delhi, Jammu and Kashmir, Andhra Pradesh and Kerala.
Minister of State for Home Affairs Kiren Rijiju informed Parliament in August that there were about 40,000 Rohingya Muslims living illegally in the country. According to Centre's estimates, Rohingya's population has increased four times in India over the last two years. In 2015, their population was estimated to have been 10,500.
The maximum concentration of Rohingya Muslims is reported to be in Jammu. According to the Jammu and Kashmir government, there are about 5,700 Rohingya Muslims living in and around Jammu. However, the central government maintains that there could be around 10,000-11,000 Rohingyas in Jammu.
REFUGEES AND INDIA
Most of the Rohingya Muslims living in India are registered with the Office of the United Nations High Commissioner for Refugees (UNHCR), better known as UN Refugee agency. According to UN Refugee agency the number of Rohingyas who have fled Myanmar to other countries reached 1,23,000 last month.
International organisations have appealed to India not to deport the Rohingyas. But, the government has stated that its decision to deport Rohingyas concerns the state of security. Further, India is not a signatory to the 1951 Refugee Convention of the UN or the 1967 Protocol Relating to the Status of Refugees.
Full report at:
indiatoday.intoday.in/story/rohingya-muslims-myanmar-india-aung-san-suu-kyi-narendra-modi/1/1042724.html
--------
Muslim bodies to hold awareness campaign
Sep 08,2017
Hyderabad: Muslim organisations on Thursday announced to conduct campaign to educate Muslim masses on personal law, especially on issues of marriage, and talaq. Sharia Faisla Board, an umbrella body floated by various Muslim groups, has conducted a meeting to discuss the future course of action in this regard.
Tahreek Muslim Shabban head Mushtaq Malik , on this occasion, said that this decision was taken in the back drop of Supreme Court ruling on Triple Talaq recently.
He said, ``Muslim Personal Law Board'' has welcomed the decision on Triple Talaq, but our aim is to educate the Muslim masses as to what is the personal law and what is the importance of Sharia."
The SC has pronounced its ruling based on the central government's affidavit which in turn was based on wrong inputs about the Triple Talaq and its prevalence in the community.
All the four major schools of thoughts amongst Muslims in India believe that Talaq occurs in one sitting though this has not been in practice in many Muslim countries currently. He said that the issue can be further referred to the larger bench of Supreme Court. "If Muslim Personal Law Board does not approach the larger bench , we may do it", he clarified.
Full report at:
thehansindia.com/posts/index/Telangana/2017-09-08/Muslim-bodies-to-hold-awareness-campaign/325027
--------
Chennai trust moves SC for deportation of Rohingyas
September 8, 2017
A Chennai-based trust has moved the Supreme Court, seeking "deportation" of "illegal Rohingya Muslim refugees". The trust has stated that their presence posed "social, economic and security" threat to India and that Myanmar should be pressured to resolve the crisis within its borders. "Rohingya conflict is undeniably a massive humanitarian disaster and even United Nation officials have taken note of it. But such cataclysms although irremediable are best addressed locally within the home state i.e. Myanmar, by way of exerting international pressure or by working out a roadmap with the Burmese government or by sending shiploads of aid and so on, and on the other hand, India cannot solve this crisis by importing and welcoming it…", the application filed by Indic Collective Trust through Advocate Suvidutt Sundaram and J Sai Deepak said.
The trust has sought the apex court's permission to implead in a petition filed by two Rohingya refugees challenging the Centre's plan to deport them. The application has said Rohingyas were "denied citizenship under the 1982 Burmese citizenship law, after which they migrated to nearby countries like Bangladesh and India. As of today, around 40,000 and more Rohingyas are residing in India and are identified as illegal immigrants by the government.
indianexpress.com/article/india/chennai-trust-moves-sc-for-deportation-of-rohingyas/
--------
PM Modi visits Mughal ruler Bahadur Shah Zafar's grave in Yangon
Sep 7, 2017
YANGON: Prime Minister Narendra Modi on Thursday visited the grave of last Mughal emperor Bahadur Shah Zafar here and paid his respects.
Modi visited the 'Mazar' of the emperor here and paid floral tributes.
The Prime Minister also tweeted a picture of himself at the Mughal ruler's grave.
timesofindia.indiatimes.com/india/pm-modi-visits-mughal-ruler-bahadur-shah-zafars-grave-in-yangon/articleshow/60405523.cms
--------
Zakir a terror suspect, not being targeted over religion: NIA to Interpol
Neeraj Chauhan
Sep 8, 2017
NEW DELHI: Contesting Zakir Naik's charge that he was being targeted as part of religious persecution of minorities in India, the National Investigation Agency has written to the Interpol calling the controversial televangelist a 'terror suspect', who not only radicalised Muslim youth through his inflammatory speeches but also spread hatred among different religions.
In a detailed response to Naik's letter to Interpol last month, NIA has informed the international police agency that evidence of the Islamic preacher's involvement in acts that violate Indian law are "very strong" and he is under investigation for funding terror suspects through his organisation.
"Having radicalised Muslim youth for years through his speeches, Naik has not presented himself before us despite several summons/warrants and his passport has been revoked by the Regional Passport Office in Mumbai," NIA wrote in its response to Interpol. Asserting that terror charges against the Islamic preacher who came under the scanner following the Dhaka Holey Artisan bakery attack on July 1, 2016, are of 'serious nature', NIA has added Naik's NGO - Islamic Research Foundation (IRF) was banned by the government for anti-national activities. The ban has been upheld by the designated tribunal, it said. It further informed that Naik also funded few terror suspects through his NGO,while requesting it to issue a red corner notice against him so that he can be tracked abroad and extradited to India. Naik had approached Interpol in August second week arguing that the RCN against him shouldn't be issued since Indian agencies were unfairly targeting him because he was a Muslim.
timesofindia.indiatimes.com/india/zakir-a-terror-suspect-not-being-targeted-over-religion-nia-to-interpol/articleshow/60416903.cms
--------
Kerala Muslims to hold prayers for Rohingyas
by Shaju Philip
September 8, 2017
Muslims in Kerala will hold special prayers and organise rallies in many parts of the state to express solidarity with Rohingya refugees. Also, the Indian Union Muslim League, an ally of Congress, will organise a protest march to the Myanmar Embassy in Delhi on September 11.
K Ali Kutty Musaliyar, general secretary of Samastha Kerala Jamiyyathul Ulama, the state's largest Muslim religious organisation said special prayers would be held during Juma Friday. "It is highly condemnable that India is trying to deport the refugees instead of giving protection to them… The Union government's stand… is against that tradition of the country," he said in a statement.
indianexpress.com/article/india/kerala-muslims-to-hold-prayers-for-rohingyas-4833670/
--------
How Muslim fears were allayed, and the UCC became a directive principle
Vaibhav Purandare
Sep 8, 2017
After many Muslim members in the Constituent Assembly had vociferously opposed the Uniform Civil Code, it was the turn of proponents of the 'one nation, one law' idea to mount their opposition to personal laws held sacrosanct by a mostly tradition-bound Indian society. They had a lot to think of before attacking religious customs.
November 1948, when the debate on the clause in the Draft Constitution took place, was a sensitive time in terms of Hindu-Muslim ties.
Though Partition-linked violence had stopped, the scars were fresh, thousands still dispossessed, and tensions hardly below the surface. Pakistan's act of sending Pathan invaders into Kashmir in October 1947, and PM Nehru's reference of the matter to the UN had complicated matters; Gandhi had been assassinated in January by a Hindu from Pune who felt that while Hindu grievances had gone unaddressed, the Mahatma had gone on a fast for release of Rs 55 crore from RBI's cash balances to Pakistan; the Nehru-Patel divide was growing (Patel was Deputy PM), with many within the Congress, including Nehru's friend PD Tandon and JB Kripalani, thinking the PM was disregarding the fears of Hindu refugees while "rallying minorities"; Nehru was uneasy with what he saw as increasing Hindu sentiment within his own party; and the Muslims who had refused to go to Pakistan hoped for assurances on safety as they feared a reaction from Hindus upset with brutalities inflicted on their co-religionists who had fled Lahore and Karachi.
The Muslim Assembly members had argued a common code would be "tyrannical," violate their basic right to practise religion (Article 19), infringe on immutable personal laws which had for ages been an integral part of their religion, "trample upon" minority rights and hurt communal harmony. They had asked why free India wanted to change these laws when the British hadn't and cited the opposition of some Hindu groups to the provision, saying it was not they alone who had a problem with it. Three Assembly members - Alladi Krishnaswami Ayyar from Madras and K M Munshi and B R Ambedkar from Bombay (Ambedkar, drafting committee head, was now also law minister) - responded to each of these points in detail. Munshi said that Article 19 allowed the state to enact social reform laws while protecting the freedom to practise religion, so it was not being contravened.
A common code certainly wasn't tyrannical to minorities, in his view; civil laws framed in "advanced Muslim countries" like Turkey and Egypt had not allowed minorities to retain their laws, and in Europe, all groups had to submit to secular laws. In India, he added, the Khojas and Kutchi Memons had followed Hindu customs for generations but were brought within the ambit of the Shariat Act "unwillingly" by the Central legislature in 1937. "Where were the rights of minority then?" he asked. His point, however, was larger: to unify the country, personal law had to be divorced from religion. Urging his "Muslim friends" to forego an "isolationist outlook," Munshi said, "Religion must be restricted to spheres which legitimately appertain to religion, and the rest of life must be regulated, unified and modified in a such a manner that we may evolve, as early as possible, a strong and consolidated nation."
He questioned the link between faith and community laws. Most provisions of the Hindu code draft (of 1946) ran counter to Manu and Yagnyavalkya's injunctions as social relations and inheritance were matters for secular legislation. Hindu laws discriminated against women and would not allow for elevating their position, so you could never give them equality though it was a fundamental right, he noted. The idea that personal law was part of religion was "fostered" and "perpetuated" by the British and British courts, Munshi said, explaining why the British had retained community rules. "We must, therefore, outgrow it," he stressed. Ayyar said cries of "religion in danger" and of lack of amity if a code were made binding were meaningless because the clause was "aimed at amity" and welding India into one nation. "Is this country always to be kept as a series of competing communities?" he asked.
Those backing Hindu law reform had also taken a leaf from the Muslims and from other legal systems, he said, and asked why "our Muslim friends" needed to have greater faith in the British than in a democracy that respected all religious beliefs. No Parliament or legislature would try to interfere with religious tenets, he felt, because, "after all, the only community willing to adapt itself to changing times seems to be the majority community in the country." Ambedkar, who spoke next, said he was "surprised" a Muslim member had asked if a uniform code was possible and desirable in a vast country. "We have in this country a uniform code of laws covering almost every aspect of human relationship," he pointed out. "We have a uniform and complete criminal code... We have the law of transfer of property... I can cite innumerable enactments which would prove that this country has practically a civil code, uniform in its content and applicable to the whole of the country." Refuting the claim that Muslim personal law was immutable, he said until 1935 Muslims in the North-West Frontier Province were not subject to Shariat, and those in the United Provinces, Central Provinces and Bombay were "governed by Hindu law in the matter of succession." In North Malabar, he said, they had even followed the matriarchal Marumakkathayam law.
At the same time, Ambedkar wanted to give the Muslims an assurance. There was nothing in the draft Article 35 to support the view that once it was framed, the state would enforce a uniform code upon all citizens merely because they were citizens. It was perfectly possible, he said, that a future Parliament may make a provision that, as a beginning, the code would apply only to those who declared they were prepared to be bound by it. So initially the code "may be purely voluntary," he said.
Ambedkar was making a compromise in view of the national situation. His position became clearer a few days later, when he said he didn't understand "why religion should be given this vast, expansive jurisdiction so as to cover the whole of life and to prevent the legislature from encroaching upon that field."
Full report at:
timesofindia.indiatimes.com/india/how-muslim-fears-were-allayed-and-the-ucc-became-a-directive-principle/articleshow/60417611.cms
--------
ISI's covert act prompted Modi-Kyi anti-terror pact
Dipanjan Roy Chaudhury
Sep 8, 2017
NEW DELHI: When Indian Prime Minister Narendra Modi and Myanmar State Councillor Aung San Suu Kyi decided Wednesday to broaden the bilateral security and counter-terrorism partnership, the drivers were New Delhi's concerns over ISI infiltration into the ranks of Rohingyas and Yangon's fight against the Rakhine terrorists.
India and Bangladesh, through their joint counter-terror cooperation, have recently discovered that the ISI had allegedly played a key role in masterminding a terror attack in Myanmar's Rakhine state ahead of Prime Minister Modi's visit. India-Bangladesh-Myanmar may now move toward trilateral info-sharing mechanism to counter this threat in the region, people familiar with the issue said.
India and Bangladesh recently discovered that Hafiz Tohar, the military wing chief of Arakan Rohingya Salvation Army (ARSA), has been maintaining close links with Pakistan's ISI and the spy agency may have played a key role in the terror attacks that killed several members of Myanmarese Army, ET has learnt.
Phone calls between Tohar and ISI discussing detailed attack plans have been intercepted in the last week of August, indicated people familiar with the issue. Hafiz Tohar set up the Aqa Mul Mujahideen (AMM) and was trained in Pakistan by the Lashkar e Tayyaba (LeT), also named in the just concluded BRICS Summit declaration. Tohar is widely believed to be behind the deadly attacks on Myanmar security forces in October last year and on August 25 this year.
After the training of a few initial AMM recruits in Pakistan, new cadre members were recruited from among the Rohingya youth in Rakhine State and at refugee camps in Bangladesh's Cox's Bazaar. They were then trained in camps set up on the Bangladesh-Myanmar border, especially one at the Chittagong Hill Tracts of Bangladesh, according to experts who have followed this development closely.
"Brigadier Ashfaq" and "Major Salamat", two alleged ISI operatives, have been mentoring AMM and assisting this group to develop close links with JMB in Bangladesh, according to one of the experts cited above. The ISI Brigadier also allegedly maintains close links with Bangladesh's Opposition BNP. In this context, India and Myanmar have decided to step up counter-terror cooperation and information sharing. The joint statement issued after Modi-Suu Kyi dialogue said: "Both sides… agreed that the fight against terrorism should…hold accountable and take strong measures against States and entities that encourage, support or finance terrorism….
Myanmar condemned the recent barbaric terror attacks during the Amarnath Yatra in India as also various acts of terror perpetrated by terrorists from across the borders.
India condemned the recent terrorist attacks in the northern Rakhine State, wherein several members of the Myanmar security forces lost their lives."
ET View: India Must Take The Lead
Full report at:
timesofindia.indiatimes.com/india/isis-covert-act-prompted-modi-kyi-anti-terror-pact/articleshow/60419430.cms
--------
India has 'legitimate' security interests in Afghanistan: US
Sep 8, 2017
WASHINGTON: India has legitimate security interests in Afghanistan, like Pakistan, and the US is open to having international partners for constructive investments to stabilise the war-torn country, a top American diplomat has said.
"Just as Pakistan has very real and legitimate security interests in Afghanistan, so does India. And we would like to see and appreciate constructive economic investments in Afghanistan's stability and institutional stability," Alice Wells, the acting assistant secretary of state for South and Central Asian Affairs, told a Congressional Subcommittee.
Wells was responding to a question from Indian-American Congressman Ami Bera on India's role in Afghanistan.
Bera said the more India is involved in Afghanistan, the more Pakistan seems concerned, and asked Wells how would she negotiate in that situation to bring stability to Afghanistan.
"If you look at India, by 2020, they've (Indians) pledged to spend $3 billion. Some of the projects they've already funded include the parliament house; an important dam; training in India for experts and in agriculture... very vital programs that Afghanistan is going to need," Wells replied.
Full report at:
timesofindia.indiatimes.com/india/india-has-legitimate-security-interests-in-afghanistan-us/articleshow/60419427.cms
--------
Terror funding case: NIA raids 11 places in J&K, NCR
Sep 7, 2017
NEW DELHI: Continuing its crackdown on separatists in the valley, the National Investigation Agency on Thursday conducted raids in Kashmir, Jammu, Delhi and Gurugram on Hurriyat leaders, suspect LoC traders and CAs working for hawala dealers and recovered several documents which link terror funding received from Pakistan to the separatists.
Officials said that the prominent persons raided by NIA include Pro-Pakistan faction Hurriyat leaders Ghulam Nabi Sumji and Syed Aga Hassan Budgami, apart from two close associates of Shabbir Shah - Zameer Sheikh and Razzaq Choudhary. Froom Razzaq's place, three arms - a pistol, a double-barrel gun and a .3 15 bore rifle were recovered, possession of which is being investigated.
The offices of chartered accountants working for arrested Kashmir valley businessman Zahoor Ahmad Watali were also searched.
NIA officials recovered fixed deposits worth Rs 1 crore, suspect financial records, property related documents and other incriminating papers, which are being analysed with the help of CAs and income tax department officials.
All of them, NIA said, are suspected of fuelling secessionist and subversive activities in Jammu and Kashmir.
The central agency has paced its probe in Jammu and Kashmir terror funding and is planning of questioning alleged mastermind of all the subversive activities in valley - Syed Ali Shah Geelani by end of this month.
Eight persons including seven senior separatists and one businessman were arrested by NIA out of which one has turned approver in the case and has recorded his statement against anti-national activities of other Hurriyat leaders.
Full report at:
timesofindia.indiatimes.com/india/terror-funding-case-nia-raids-11-places-in-jk-ncr/articleshow/60412081.cms
--------
Southeast Asia
Malaysia ready to provide temporary shelter for Rohingya Muslims from Myanmar
Sep 08, 2017
Malaysia's coast guard will not turn away Rohingya Muslims fleeing violence in Myanmar and is willing to provide temporary shelter for them, the maritime agency's chief said on Friday.
Rohingya insurgents attacked several police posts and an army base in Myanmar on August 25. The ensuing clashes and a military counter-offensive has killed at least 400 people and triggered the exodus of more than 160,000 people to neighbouring Bangladesh.
Malaysia, hundreds of kilometers to the south on the Andaman Sea, is likely to see more boat people from Myanmar in coming weeks and months because of the renewed violence, said Zulkifli Abu Bakar, the director general of Malaysia Maritime Enforcement Agency. Malaysia is already home to over 100,000 Rohingya refugees.
"We are supposed to provide basic necessities for them to continue their journey and push them away. But at the end of the day, because of humanitarian reasons, we will not be able to do that," Zulkifli told Reuters, adding that no fresh refugees had been seen yet.
Malaysia, a Muslim-majority nation, will likely house the Rohingya refugees in immigration detention centres, where foreigners without documents are typically held, he said.
Malaysia, which has not signed the UN Refugee Convention, treats refugees as illegal migrants. Thailand has also said it is preparing to receive people fleeing the fighting in Myanmar
There are about 59,000 Rohingya refugees registered with the United Nations High Commissioner for Refugees (UNHCR) in Malaysia although unofficial numbers are almost double that.
In 2015, mass graves were exhumed at jungle camps on the border between Thailand and Malaysia that were thought to be mainly Rohingya victims of human traffickers.
hindustantimes.com/world-news/malaysia-ready-to-provide-temporary-shelter-for-rohingya-muslims-from-myanmar/story-dpMJCccAFvk7Q4rAjFMDnJ.html
--------
Christians to protect them from Islamic extremists
Jonathan Kaiman
Sep 8, 2017
When the first artillery fire rang out one afternoon in May, Norodin Lucman thought of the four workers repairing a cellphone tower on his sprawling property. He sent one of his daughters to tell the men to come in.
Plumes of smoke spiraled up from the city below. But Marawi, home to 200,000 people, had survived armed conflict before, and Lucman assumed this one would end in a few days and his guests would go home.
Soon, though, more people began arriving at his door. Militants were torching homes and schools, freeing prisoners, taking hostages and waving Islamic State flags.
The militants had stopped another group of cell tower workers and demanded that they recite the Shahada, a Muslim proclamation of faith. Marawi is predominantly Muslim. But the men were Christians from nearby cities. They failed the test.
When one tried to escape on his motorbike, the militants shot him dead. Amid the chaos, the nine others managed to flee to Lucman's house.
The violence quickly morphed into one of the deadliest conflicts the southern Philippines had experienced: the Battle of Marawi.
The Philippine government sent helicopter gunships and tanks to root out the insurgents, who were being funded by Islamic State and soon saw their ranks swell as fighters arrived from Indonesia, Malaysia, Saudi Arabia, Yemen and Chechnya.
The fighting, which continues today, has reduced the city to its foundations, evoking Iraq's Mosul or Syria's Aleppo.
But Lucman didn't know any of that was coming as his house became a refuge.
Scion of prominent family
On the second day of fighting, Lucman — a 61-year-old Muslim retiree with two wives and seven grown children — looked out over the red roofs of Marawi and counted 10 plumes of smoke rising from 10 battle zones.
For generations, his family has dominated politics in the city, which sits on the southern island of Mindanao and has always stood apart from the rest of the mostly Catholic Philippines.
His forefathers were traditional leaders of a Muslim tribe known as the Maranao, and his grandfather was a senator and his father a congressman.
Large numbers of Christians began leaving Marawi in 1972, when authoritarian President Ferdinand Marcos declared martial law, Muslim separatists rebelled and government forces burned the city to the ground.
The young Lucman left to study history in Egypt and then Islamic law in Saudi Arabia. One of his classmates was Osama bin Laden.
When civil unrest shut down his Saudi university, he found work as an executive assistant at the kingdom's national airlines and used free tickets to spend time in Paris; Zurich, Switzerland; and San Francisco, gaining an appreciation for Western culture. His father led a separatist army in Marawi until his death in 1984, when Lucman returned to assume leadership of the group, eventually reaching a peace deal with President Corazon Aquino and going to work for the government as a security advisor.
But he would continue to exude an air of independence, much like Marawi. The city continued to see flare-ups of violence until 2002, precipitating a wave of Islamic radicalization that remained largely dormant until the Battle of Marawi.
It began May 23, when government troops stormed the city to arrest the head of a notorious kidnap-for-ransom group called Abu Sayyaf and another local militant group known as the Maute quickly came to its defense.
Soon, Lucman's house was swarming with people — Christians and Muslims, old and young, relatives and strangers. They crammed into two massive living rooms and the kitchen and napped on his beds.
Several relatives who lived in houses on the property left for the neighboring city of Iligan.
They begged Lucman to come along. But somebody needed to protect his 72 guests.
More than half were Christians. Lucman imagined it was only a matter of time before the Islamic militants knocked on his door.
"I'll die first before you do," he told the Christians. "If I die, you all die."
Hunkering down with guests
Lucman and his guests listened to news on the radio and checked their phones for word from relatives.
On Day 3, the army began airstrikes on rebel positions. Amid the blasts, the guests prayed and told jokes to pass the time.
Lucman promised the Christians that when the crisis was over he would take them out to dinner with their families.
By Day 5, food and water were starting to run low. "I wanted to observe Ramadan but there is no food in the fridge," Lucman wrote on Facebook.
The next day, the generator died, cutting off their ability to communicate with the military, relatives and friends.
Lucman looked outside and saw an elderly couple wandering the streets and told them to come in.
They said they had been dodging gunfire and hiding from the militants. Tens of thousands of people were fleeing the city, and the extremists had set up roadblocks on the bridges. They were picking out Christians and slaughtering them.
Stay, Lucman told the couple. Now he had 74 guests.
On Day 7, he decided to move everyone to his cousin's abandoned house about 150 feet away, surrounded by a 10-foot-high fence.
Everybody had to sleep on the linoleum floor, the Christian workers in one room, families in another, some people in the kitchen.
They tried to avoid the living room, because sniper bullets occasionally came through the window.
A visit from gunmen
Lucman was resting upstairs on Day 8 when one of his guests came up to tell him three men were at the gate: militants, all in their 20s, wearing black and carrying AK-47 and M-16 assault rifles.
Lucman corralled the Christians into a musty laundry room. They were packed so tightly that it felt like there wasn't enough air to breathe. Speaking calmly to give them reassurance, he told them not to make a sound.
Then he went outside and opened the gate.
The militants began rambling about religion.
"Don't lecture me about Islam," Lucman said. "I studied in Mecca!"
When Lucman asked about their commander, they said he was a Maranao — like Lucman — and promised to return with him the following day.
Lucman shut the gate, returned to the house and told the Christians to come out before one of them suffocated.
As promised, the militants returned the next day — Day 9 — and Lucman once again hid the Christians in the back room.
He recognized the commander — Abu Yaman, a 28-year-old who had also studied in Saudi Arabia. He knew Lucman and addressed him with respect.
"Why are you doing this?" Lucman asked.
"I'm doing this for jihad," Yaman said. "I will die here, as a martyr."
"If that's your decision," Lucman said, "God be with you."
Then he ended the conversation and closed the door before the commander could ask to come in.
Great escape after food raid
Later that day Lucman dispatched two cousins — young, athletic men — to crawl on their bellies to other homes in the compound to raid the pantries.
They returned with a few bundles of rice, noodles and sardines. It wasn't much, but anything would help.
The food situation was getting dire. The guests were beginning to eat papayas from the yard and pick leafy vegetables from the garden to boil into soup. One mother had five children, including a 10-month old boy who hadn't eaten in days. Lucman worried the baby would die.
On Day 10, Lucman began looking for ways to help his guests escape Marawi. He noticed that every morning, between 5:30 and 6:00 a.m., the gunfire died down. He imagined the fighters were sleeping or taking stock of their ammunition. He figured that was an opportunity.
One of the cell tower workers found a way to charge Lucman's phone with enough power for a single call.
Lucman called one of his military contacts, who told him that an army battalion was camped less than two miles away along a bridge leading to safe territory.
"We're going out, by hook or by crook," Lucman announced to his guests shortly after dawn on Day 12. "Say your prayers, I'll say my prayers, and we'll go. God will be with us. And if we live, thank God for that."
He instructed them to form a line and led them out of the house. They snaked through back alleys and onto a road. Neighbors joined the group, which grew to more than 140 people.
They carried white flags and moved quickly with their heads down. Sniper bullets pelted the ground.
The Christian men carried children, and the Christian women wore head scarves, to give themselves the appearance of Muslim families. They shouted "Allahu akbar!" — Arabic for "God is great."
At one point, an armed militant approached the group. "Who is Christian?" he shouted.
"There are no Christians," one of the Muslim women replied.
The group ran on. When it finally arrived at the bridge, government soldiers were waiting to lead the way across. On the other side, Lucman looked around. The soldiers and nearly everyone else were in tears.
Because the Christians were not from Marawi, they would soon return home. Most of the Muslims were bound for camps for the displaced.
But at least everyone was safe, Lucman thought.
A city in ruins
Since the Battle of Marawi began, more than 600 militants, 130 soldiers and policemen, and 40 civilians have been killed — some of them trying to get to Lucman's house.
Philippine military officials said in late August that only a few dozen gunmen remained in the city, confined to one small neighborhood.
As the fighting continues, the scope of the devastation is becoming clear. Most of Marawi's population fled. Months after the fighting began, some neighborhoods were still strewn with rotting bodies.
Lucman now lives with one of his sons in the nearby city of Cagayan de Oro, but spends most of his time with other family members in Iligan, not far from a makeshift camp of more than 1,000 people displaced by the violence.
He still visits secure parts of Marawi each day to advise government forces on how to end the battle.
"There are many cases of Muslim employers who died because they were protecting their Christian employees," Lucman said. "It's so sad. Because after my breakthrough, some people tried to do it themselves, and they failed."
He said he hadn't been especially worried for his life — he was well-known. Islamic State "can kill me at their own risk," he said. "Because killing me would be a very, very big issue in our society. You don't kill someone like me. There would be retribution everywhere."
Full report at:
latimes.com/world/asia/la-fg-philippines-islamic-state-20170907-story.html
--------
Muhammadiyah Students Call on Gov't to Protect the Rohingya
Sep 8, 2017
Jakarta. The Muhammadiyah Students Association, or IMM, on Wednesday (06/09) urged the Indonesian government to protect Rohingya Muslims in Rakhine State, Myanmar, amid increasing violence against the minority group.
"This crisis has prompted us to organize fundraising for Myanmar through the IMM chapters across the country," Ali Muthohirin, an IMM representative, said during the organization's Wednesday visit to the Ministry of Foreign Affairs.
Ali, along with other university students from IMM, visited the ministry to learn about the outcome of Foreign Minister Retno Marsudi's recent visit to Myanmar and Bangladesh, as well as the steps undertaken by the Indonesian government to help address the conflict in Rakhine.
More than 120,000 refugees have fled the region, following increasing violence, after insurgents attacked Myanmar police posts and an army base last month, triggering a counteroffensive.
The situation has led to a humanitarian crisis, with the toll climbing each day among the Rohingya – a predominantly Muslim ethnic group considered the world's most persecuted minority.
Following news reports of atrocities in Myanmar, protesters have held several rallies in Jakarta and many other parts of Indonesia, calling for an end to the crisis and demanding that the Indonesian government cut diplomatic ties with the Buddhist-majority country and expel its ambassador.
Special adviser to the foreign minister on institutional relations, Salman Al Farisi, spoke with the IMM about the outcome of Retno's meetings with officials of both Myanmar and Bangladesh, including Myanmar's de facto leader Aung San Suu Kyi and Bangladesh's foreign minister Mahmood Ali.
"Access has been opened for government-to-government aid, and we heard today that the area has received international aid as well. It's important to note that it must be facilitated by the [Myanmar] government, as the situation is still troubling and they must ensure that the aid is rightly delivered and distributed," Salman said.
Salman added that Retno emphasized the importance of a productive dialogue in order to resolve the issue of the increasing number of refugees from Myanmar crossing the border to Bangladesh.
"That's the role that we take, bridging a dialogue between the two countries ... envoys of the leaders of both countries are holding meetings, and it's going well," Salman said.
IMM representatives said they will raise awareness among university students and activists on the efforts undertaken by the Indonesian government, as well as the complex situation in Myanmar. Another IMM representative, Solihin, also expressed the organization's hope that the government will provide more protection to the Rohingya.
"We hope that more effort will be made to provide the protection. This is important because protecting their rights will be crucial, even as aid continues to be delivered. We are interested to learn how the government will communicate [with relevant actors]," he said.
IMM also said that as the Rohingya crisis has been widely exploited on social media, it will disseminate accurate information so as not to mislead the public.
Efforts to Resolve the Myanmar Conflict
Salman said the Indonesian government has focused on approaching the conflict in Myanmar through a "constructive engagement."
"Our approach has [also been focused on] inclusivity, which is more effective in comparison to an exclusive approach that closes our access to the communities in need," Salman said, giving an example of Indonesian-built schools for both Muslims and Buddhists in Rakhine State.
Last Thursday, the Ministry of Foreign Affairs launched a two-year humanitarian assistance program valued at $2 million, which will be implemented by 11 organizations under the Indonesian Humanitarian Alliance for Myanmar (AKIM).
Full report at:
jakartaglobe.id/news/muhammadiyah-students-call-govt-protect-rohingya/
--------
Lecturer: Corruption, powerlessness against injustice driving youths to join IS
BY SYED JAYMAL ZAHIID
September 8, 2017
PETALING JAYA, Sept 8 — Rampant corruption and the sense of powerlessness against perceived injustice towards Muslims are key factors pushing young Malays towards extremism, an academic has said.
Maszlee Malik, an assistant professor at the International Islamic University Malaysia, told a forum here last night that the findings were gathered during an interview with over 30 detained militant suspects, some formerly members of terror group, the Islamic State (IS).
"There is this perceived growing injustice towards Muslims all over the world..and they feel powerless to do anything," the academic said at a forum discussing the politicisation of Islam.
"And they feel the global leaders have failed them, Western leaders have not done anything, even the Muslim leaders have failed them.
"So they need a hero and IS brings hope and also a sense of utopia."
Pew Research Centre study released in 2015 showed one in 10 people in Malaysia hold favourable views of the IS.
In the study of Muslims' attitude towards IS, which the Pew Research Centre gleaned from its 2015 Global Attitudes survey, support level for the group in Malaysia was tied for second place with Senegal among 11 nations with significant Muslim populations polled.
Deputy Prime Minister and Home Minister Datuk Seri Ahmad Zahid in the same year said cult-like worship towards the IS, coupled with problems with family and financial difficulties are among the reasons why some Malaysians join the militant group.
But Maszlee said the government is also indirectly contributing to the radicalisation of those youths by failing to address key issues like corruption and economic pressure.
"Cost of living, GST, corruption...they contributed to their sense of disillusionment," he said.
Just last week the Malaysian police thwarted a plan by a member of the IS-linked Abu Sayyaf militant group to attack the closing ceremony of the South-east Asian Games in Kuala Lumpur on August 31.
The suspected attacker, a 25-year-old Philippine national, had been involved in fighting, kidnapping and beheading of foreign hostages in the Philippines, Inspector-General of Police Mohamad Fuzi Harun said in a statement.
Full report at:
themalaymailonline.com/malaysia/article/corruption-powerlessness-against-injustice-driving-youths-to-join-is#7rOdwYhyheaHlPMk.97
--------
Ex-President Gus Dur's vision for democratic Islam in Indonesia
Alissa Wahid
07.09.2017
The fourth president of Indonesia, Abdurrahman Wahid, popularly known as Gus Dur, remains an enduring personality in the country's public conscience even years after his death. His tomb in a small city in East Java is visited by more than 1.5 million people annually.
Indeed, it is a tradition for people from Nahdlatul Ulama (the biggest Indonesian Muslim organization with its 60 million members) to visit tombs of respected clerics, but Gus Dur's tomb is the only one visited by people from all walks of life and religions: Buddhist monks, Catholic nuns and priests, Hindu pedandes, Chinese, urbanites and villagers, and punk group bands.
Whenever asked "Why do all these people love him so much?" Muslim scholar Mustafa Bisri, Gus Dur's best friend, answered, "Because he loved those people that much."
It's a simple explanation, but when carried out by a larger-than-life character of a leader, it leads to changes and social transformation. He was also the long-term chairperson to Nahdlatul Ulama, bringing the organization to its most progressive period with its trademark on inclusive Islam and support for democracy.
Establishing civilian supremacy
Gus Dur was the first president to be freely elected by an Indonesian parliament. His presidency lasted only 2 years, but it left the legacies of a strong democracy. He successfully established civilian supremacy by demilitarizing civilian positions after the demise of President Suharto's military New Order regime. State agencies to ensure strong democracy like the Constitutional Court, Anti-Corruption Commission, Judicial Commission and Ombudsman were part of his priorities.
The only one dropped by his successors was the Commission for Truth and Reconciliation for Past Human Rights Abuses, leaving past tragedies and others unresolved until now.
Mainstreaming gender in every public policy was put as presidential decree, the same with protection for workers rights, both domestic and foreign. The Papuans acknowledge him as the president that gave back the name Papua as their dignified identity, revoking the name Irian given after annexation in 1967. During President Gus Dur's era, military operations were ceased, exchanged with support to congress for the Papuan people to the dismay of the Indonesian military.
Read more: Indonesia goes after Islamists - finally
The Chinese communities refer to the Chinese New Year's Day as Gus Dur's Day, and in many Indonesian Chinese temples, his name or portrait is hung among those of the elderlies and gods. They honor him for his policy on revoking the banning of Chinese cultural expressions imposed in 1967. Now, the Indonesian Chinese people are free to express themselves.
Islam and democracy
Not everything was wine and roses though. Gus Dur was opposed especially by Islamists, with their ideals of a more "Islamic" Indonesia, the Indonesian military for their loss of power as well as the oligarchs.
He finally lost the political contestations, deciding to step down when thousands of his followers started to come to Jakarta to defend him. His famous words ending his presidency were, "There is no power worth defending by bloodshed of the people."
These policies and affirmative actions come from his firm beliefs in Islam and democracy. He believed in the universalism of Islam: That Islam has in its core the values of human dignity, and democracy, with all its limitations, is the best political ideology to ensure it. He wrote, "Democracy is not only not haram [forbidden] in Islam, but is a compulsory element of Islam. Upholding democracy is one of the principles of Islam."
He also repeatedly quoted one of the legal maxims for Islamic jurisprudence: "tasharuf al-imam ala al-raiyyah manuthun bi al-maslahat" (the policies of a leader are strongly depended to achieve the welfare of his people).
With so many legacies, it is not a surprise that Gus Dur is loved by the Indonesian people, and still influences Indonesia today. At a time when the world is challenged by Islamism and Islamophobia, Gus Dur's views and works would be a source of inspiration that indeed Islam is part of the world, and can play its vital role to fulfill the dream of the Prophet Muhammad: Islam is a blessing for the universe (Islam Rahmatan li al-Alamin).
Full report at:
dw.com/en/ex-president-gus-durs-vision-for-democratic-islam-in-indonesia/a-40394288
--------
Arab World
ISIL Heavily Defeated in Central Syria
Sep 07, 2017
The air force and army's missile and artillery units heavily pounded ISIL positions and moves in regions near the villages of Boraq Nashmeh, al-Jaberiyeh and Um Towaineh in the Eastern parts of the village of Abu al-Alaya in Eastern Homs on Thursday.
They also killed 25 terrorists who had fled from the ISIL's last bastion in Eastern Hama, destroying the main hideout of the ISIL Emir in the region.
The Syrian army is now steamrolling through the ISIL group's last positions in Central Syria, liberating town after town around in the Eastern countryside of Homs and Hama.
The Syrian army troops hit ISIL terrorists' defense lines hard in Eastern Hama and imposed control over several villages also on Wednesday.
The army units engaged in fierce clashes with ISIL in remaining regions that are still under the control of the terrorists in Eastern Hama and seized control over the villages of Abu Ramal, al-Marami, Mas'oud and al-Tobileh.
ISIL suffered heavy casualties in the operation.
Reports said earlier today that the army troops repelled a heavy attack of Al-Nusra Front (Tahrir al-Sham Hay'at or the Levant Liberation Board) on several positions of the pro-government forces in Southeastern Hama, inflicting heavy casualties on the terrorists.
The army soldiers engaged in fierce clashes with Al-Nusra terrorists and fended off their attack on the Syrian government forces' positions in al-Satahiyat region, killing and wounding a number of militants.
en.farsnews.com/newstext.aspx?nn=13960616000277
--------
Anti-terror states: Military option was never suggested to resolve Qatar crisis
8 September 2017
The Kingdom of Saudi Arabia, the United Arab Emirates, the Kingdom of Bahrain and the Arab Republic of Egypt issued an official statement on Friday September 08, 2017, asserting that they appreciate the mediation of His Highness Amir of Kuwait and his commendable efforts to restore Qatari authority to the right path.
Kuwait's Emir Sabah Al Ahmad Al Jaber Al Sabah declared Qatar's willingness to recognize the 13 demands and to prepare for negotiations durring a joint press conference with US president Trump in Washington, on Thursday.
However, they stress that the dialogue on the implementation of the demands should not be preceded by any conditions.
The four countries also regret what the Emir of Kuwait said about the success of the mediation by stopping military intervention; stressing that the military option was not and will not be a resolution for the Qatar crisis.
The anti-terror states added in their statement that the crisis is not only a Gulf dispute, but with many Arab and Islamic countries that declared their stand from Qatar.
Other countries around the world have been unable to declare their position because of Qatar's deep penetration in their affairs and for fear of the consequences, especially with Qatar's previous support of coups, financing of terrorism, and hate speech.
The statements of Qatar's Foreign Minister after the Amir's statement confirm Qatar's rejection of the dialogue without lifting the boycott measures taken by the four countries to protect their interests legally and politically and setting preconditions for dialogue confirms Qatar's lack of seriousness in dialogue, combating and financing terrorism and interfering in the internal affairs of countries.
Full report at:
english.alarabiya.net/en/News/gulf/2017/09/08/Anti-terror-states-Military-option-was-never-suggested-to-resolve-Qatar-crisis.html
--------
US Army Conducts Heliborne Operation Again to Save Foreign ISIL Members in Deir Ezzur
Sep 07, 2017
Media outlets affiliated to the terrorists reported that after the heliborne operation in Kab al-Mala region in Southeastern Deir Ezzur on Wednesday, the US-led coalition conducted a second heliborne operation near al-Rahba region in Badiyeh (desert) areas of al-Mayadeen city.
They added that the operation was carried out by several helicopters, noting that the US forces took away 8 foreign ISIL members from the region.
The US-led coalition carried out heliborne operations in Southeastern Deir Ezzur to evacuate a senior financial director of the ISIL terrorist group from the region, media reports said on Wednesday.
The Arabic-language al-Ahd news website reported that two military helicopters of the coalition carried out a heliborne operation in Kab al-Mala region near the village of Bu Leil in the Southeastern part of Deir Ezzur province, taking away a senior commander in charge of running the financial affairs of al-Tayem oilfield for ISIL from the region along with his assets.
Full report at:
en.farsnews.com/newstext.aspx?nn=13960616000509
--------
Israel hits Syria site reportedly used for chemical weapons
Sep 8, 2017
DAMASCUS - Syria's army accused Israeli warplanes of hitting one of its positions Thursday, killing two people in an attack that a monitor said targeted a site where the regime allegedly produces chemical weapons.
The site near the Syrian town of Masyaf, between the central city of Hama and a port used by the Russian navy, is reportedly used by forces from Syria's allies Iran and the Lebanese Shiite militia Hezbollah.
Israel has previously carried out strikes believed to be targeting the transfer of weapons to Hezbollah, which fought a deadly war with the Jewish state in 2006.
Thursday's strike hit a training camp and a branch of the Scientific Studies and Research Center (SSRC), an institution that Washington and former Israeli officials accuse of helping develop the sarin gas used in a deadly attack on the Syrian town of Khan Sheikhun in April.
President Bashar al-Assad's government has blasted such accusations as "fabrications," and Syria's army on Thursday did not mention the SSRC in its statement on the Israeli strikes.
"Israeli warplanes at 2:42 am today fired a number of missiles from Lebanese air space, targeting one of our military positions near Masyaf, which led to material damage and the deaths of two members of the site," the statement said.
"Syria's army warns of the serious repercussions of such acts of aggression on the security and stability of the region," it added.
The British-based Syrian Observatory for Human Rights monitoring group confirmed that the strikes hit the SSRC, though it could not confirm what weaponry is produced there.
It said Hezbollah fighters and Iranian military personnel were known to use the site at Masyaf.
"There are Iranian experts using the research centre there. Hezbollah also uses the facility," said Observatory head Rami Abdel Rahman.
"The research centre was definitely damaged in the strikes. There is a huge fire emanating from a weapons warehouse where missiles were being stored," he added.
Israel has long warned it would not allow the transfer of sophisticated weaponry to Hezbollah and has accused the group's sponsor Iran of building sites to produce "precision-guided missiles" in both Syria and Lebanon. "Iran is busy turning Syria into a base of military entrenchment," Israeli Prime Minister Benjamin Netanyahu said last month.
Israeli officials declined to comment on the raids on Thursday. Former military intelligence head Amos Yadlin said the site "produces the chemical weapons and barrel bombs that have killed thousands of Syrian civilians." He stopped short of saying Israel had carried out the raids, but said that if it did, they would show "Israel intends to enforce its redlines despite the fact that the great powers are ignoring them."
And Israel's former national security advisor Yaakov Amidror described the facility as a key centre for the research and development of arms including chemical weapons. "It is the first time that the target which was attacked is a formal Syrian facility, not just a warehouse but a centre of R&D and... responsible for producing the chemical weapons in the past and many other weapons systems," he told journalists.
"We will not allow Iran and Hezbollah to build the capabilities which allow them to attack Israel from Syria," he added.
"And we will not allow them to build the capabilities of Hezbollah under the chaotic umbrella of Syria."
He said there should be an "assumption" that Syria would respond militarily.
Earlier this week, Israel's military began a massive exercise simulating conflict with Hezbollah, the largest drill in nearly two decades.
On Wednesday, United Nations war crimes investigators announced they had an "extensive body of information" indicating Syrian warplanes were behind the deadly April 4 attack on Khan Sheikhun.
A fact-finding mission by the UN's chemical watchdog, the Organisation for the Prohibition of Chemical Weapons (OPCW), concluded earlier this year that sarin gas was used in the attack but did not assign blame.
The attack killed at least 87 people and prompted the United States to launch a cruise missile strike on a Syrian military airport where it said the attack had originated.
Weeks later, the US sanctioned 271 Syrian chemists and other officials affiliated with the SSRC, which it said was behind the Syrian government's efforts to develop chemical weapons.
Syria's government claims it no longer possesses chemical weapons after a 2013 agreement under which it pledged to surrender its chemical arsenal.
Full report at:
nation.com.pk/international/08-Sep-2017/israel-hits-syria-site-reportedly-used-for-chemical-weapons
--------
Syrian Army Using Anti-Tank Degtyarev Weapon to Destroy Terrorists' Armored Vehicles
Sep 07, 2017
According to the Arabic service of Sputnik news agency, the Syrian army forces utilize the weapon to blow up light armored vehicles, including the BMP and BTR.
Degtyarev is able to destroy armored targets with the thickness of 30mm from regions 300m away as well as vehicles with the thickness of 40mm from areas 100m away.
Military experts believe that the weapon enjoys high destructive power despite the fact it is an arms system produced decades ago.
Relevant reports by Sputnik also said on Wednesday that the Syrian Army is utilizing AMR-2 M equipment mounted on T-72 tanks in its Deir Ezzur operation.
It reported that AMR-2 M Machinery, used by engineering units, can be mounted on Russia-made T-72 tanks, adding that the equipment was used in the Syrian Army troops' operation to destroy or push away barriers planted by ISIL terrorists in front of the pro-government forces in the Western outskirt of Deir Ezzur.
The tanks that carry equipment can travel at the speed of 60km/h, the report said, adding that the AMR-2 M Machinery enjoys one PKT 7.62mm machinegun and two operators.
Military experts reported in mid-August that the army recently started using the Russia-made MT-LB armored vehicles for the safe transfer of soldiers to the frontlines in the war-hit country.
The military experts said that MT-LB armored vehicles, manufactured in Russia, could boost the Syrian Army's strength for a safer dispatch of soldiers to the battlefields.
Sputnik reported that the MT-LB vehicles were used for transfer of cannons and their crew.
Full report at:
en.farsnews.com/newstext.aspx?nn=13960616000776
--------
Full Anti-Terror Quartet statement on the Emir of Kuwait's comments in Washington
8 September 2017
JEDDAH: In a joint statement, the Anti-Terror Quartet (ATQ) — Saudi Arabia, UAE, Bahrain and Egypt — declared their appreciation for the mediation of the Kuwaiti Emir Sabah al-Ahmad al-Jaber al-Sabah.
The statement also thanked him for his efforts in bringing back the Qatari authority to the righteous path, as well as his announcement that Qatar is prepared to acknowledge the 13 demands and to have negotiations around them.
The ATQ, however, stressed that discussions around implementing these demands shouldn't be preceded by any conditions.
The Quartet also regretted what the Kuwaiti Emir mentioned about the "success of the mediation in preventing a military intervention". The ATQ statement stressed that a military option was not — and will not be — an option in any way.
The statement added that the crisis with Qatar isn't only a Gulf dispute, but rather a dispute with a number of Arab and Muslim countries which have made their position from Qatari intervention and support for terror clear.
The ATQ added that there are also other countries around the world which couldn't announce their position because of Qatari meddling in its internal affairs. This (the meddling) makes them (these countries) fear the consequences particularly given Doha's record in supporting coups and harboring/financing terror, extremist ideology and hate speech.
The statement also said that comments made by the Qatari foreign minister after the press conference of the Emir of Kuwait confirm Qatar's refusal for a dialogue except if the sanctions — imposed legally by the ATQ countries — are lifted. It also proves that Qatar is not serious about the discussions, combating terror and its financing, nor stopping its intervention in internal affairs.
Full report at:
arabnews.com/node/1157711/saudi-arabia
--------
Popular Uprising Reported in Idlib after Al-Nusra Beheads Pro-Gov't Teacher
Sep 07, 2017
The Arabic-language al-Hadath news website reported that the al-Nusra Front (Tahrir al-Sham Hay'at or the Levant Liberation Board) in Khan Sheikhoun beheaded a teacher and his brother who had hoisted the official flag of Syria in Lamis al-Nasr region.
It added that the residents of the region are very angry at the crime and fierce tensions have been reported in the region, noting that the social media pages belonging to the dissidents have also called for holding massive rallies in front of al-Nusra base in the city's technical services building.
Earlier in the same province, sources affiliated to the terrorists disclosed on Tuesday that the terrorist groups have carried out a joint coup against Al-Nusra Front and Abu Mohammad al-Joulani in Idlib to prevent possible war in the region.
Al-Hadath news quoted the sources as saying that all the terrorist groups in Idlib in Northwestern Syria have stormed the positions of Al-Nusar Front and al-Joulani in a military coup.
Al-Hadath further added that talks between the Syrian Army and representatives of the Free Syrian Army (FSA) are underway to get rid of Al-Nusra and al-Joulani in order to prevent eruption of clashes and pave the ground for restoring peace and tranquility in the region.
Full report at:
en.farsnews.com/newstext.aspx?nn=13960616000581
--------
Syrian Army Further Advances in Deir Ezzur
Sep 07, 201
The Syrian army units continued military operations in the Southwestern parts of Deir Ezzur on Thursday, advancing more in regions near Brigade 137 base and establishing security for the arrival of fresh forces' convoys.
Meantime, the Syrian fighter jets launched heavy airstrikes on ISIL positions and points in al-Malehah and Tharda regions, areas near al-Tayyem oil field and the villages of Shoula, Ayyash and al-Baqiliyeh, killing a large number of terrorists.
Deir Ezzur Governor-General Mohammad Ibrahim Samra said on Wednesday that the Syrian Army troops are getting ready to launch an imminent operation to remove ISIL terrorists' siege of the military airport in the Southern outskirts of Deir Ezzur city.
Ibrahim Samra said that the army will start another operation to lift ISIL's siege of Deir Ezzur's airbase in the coming hours.
"In the coming hours, the advancing units of the Syrian army will start fresh operation to break ISIL's siege of Deir Ezzur's military airfield, as well as the civilian quarters of Harabush, Jafrah and al-Sina'ah," Samra said.
"The coalition has played a negative role in the clashes in our region. It has destroyed a lot of our buildings, schools, bridges, universities, power stations and other important objects in the province. All this actions supported the terrorists. Yesterday, the coalition opened fire on civilians. A lot of people died in the regions of al Salehiyeh, al Mayadeen and Albu Kamal," Samra said.
Full report at:
en.farsnews.com/newstext.aspx?nn=13960616000363
--------
Two Syrian Soldiers Killed in Israeli Air Raid in Hama
Sep 07, 2017
The statement said that the Israeli fighter jet launched missile attacks on one of the Syrian army bases near Masyaf region in Southwestern Hama through the Lebanese airspace, killing two Syrian soldiers.
It added that the attack was a desperate attempt to heighten the lost morale of the ISIL terrorists after the Syrian army's major victories against the terrorism in several regions.
Photos released on social media showed in August that the Israeli Defense Forces (IDF) medical personnel have been recovering wounded terrorists from the Syrian side of the Golan Heights and then treated them in medical centers on the Israeli-occupied side of the region.
According to sources, the militants have been treated by the IDF Israel's medical centers only to then be sent back into Syria were they continue to commit terrorist acts.
Despite the fact that such gunmen are labeled as "rebels" by Western and Persian Gulf media due to their apparently "moderate" stance against the Syrian government, the actual reality stands that a vast majority of the Golan-based militants which Israel provides medical and military aid to are committed militants who pursue sectarian ideals in Syria.
Full report at:
en.farsnews.com/newstext.aspx?nn=13960616000399
--------
Several Al-Nusra Terrorists Killed in Huge Explosion in Northwestern Syria
Sep 06, 2017
The websites reported that nine Al-Nusra members were killed and several more were wounded in a huge explosion near the Municipality Sports Stadium in the militant-held city of Idlib.
In the meantime, Al-Nusra announced that a number of its forces have been injured in the explosion of vehicles carrying ammunitions.
Sources affiliated to the terrorists disclosed on Tuesday that the terrorist groups carried out a joint coup against Al-Nusra Front and Abu Mohammad al-Joulani in Idlib to prevent possible war in the region.
The Arabic-language al-Hadath news quoted the sources as saying that all the terrorist groups in Idlib in Northwestern Syria stormed the positions of Al-Nusra Front and al-Joulani in a military coup.
Al-Hadath further added that talks between the Syrian Army and representatives of the Free Syrian Army (FSA) were underway to get rid of Al-Nusra and al-Joulani in order to prevent eruption of clashes and pave the ground for restoring peace and tranquility in the region.
en.farsnews.com/newstext.aspx?nn=13960615001455
--------
Syrian Opposition: De Mistura's speech is in line with Moscow's agenda
7 September 2017
The head of the Syrian opposition delegation, Nasser al-Hariri, described the remarks of UN envoy to Syria, Staffan de Mistura, as "shocking and disappointing" on Thursday, stressing that de Mistura's speech was in line with the Russian agenda.
Hariri said that de Mistura had given up on the United Nations resolution on Syria.
The head of the Syrian opposition delegation said that "any international deal for a solution will not succeed unless the demands of the Syrian people are implemented."
He added that the victories of the Assad military regime were achieved by Russians, Iranians and mercenaries. "There are tens of thousands of mercenaries killing the Syrian people alongside Assad."
Hariri stressed the need to deal with the perpetrators of violations in Syria as war criminals. He demanded that the Security Council punishes the regime for using of chemical weapons.
Hariri said several international reports confirmed that Assad had committed war crimes in Syria.
De Mistura said on Wednesday that the Syrian opposition should accept that it had not won the six-and-a-half-year-old war in Syria against President Bashar al-Assad.
Full report at:
english.alarabiya.net/en/News/middle-east/2017/09/07/Syrian-opposition-Security-Council-must-punish-Assad-for-using-chemical-weapons.html
--------
Bahrain charges 25 as regime intensifies iron-fist crackdown on dissent
Sep 7, 2017
Bahrain has pressed charges against more than two dozen men over an attack on police as the ruling Al Khalifah regime continues its heavy-handed crackdown against prominent figures and the country's Shia community.
The public prosecutor's office said on Thursday that the 25 stood accused of a February 26 bombing that wounded four officers in a bus near Jaw village, southeast of the capital Manama. Among the defendants, 14 were already in detention.
Lawyers for the defendants said all of them were Shia Muslims, who form the majority of the population in the Arab state.
The charges against the defendants include alleged weapons smuggling and manufacturing, establishing or joining a terrorist group and attempted murder. The first hearing is scheduled for October 19.
The village of Jaw is home to a notorious prison. Hundreds of inmates are kept in the Jaw prison, which is Bahrain's central detention facility for those accused of participation in peaceful pro-democracy rallies.
On March 5, the Bahraini parliament approved the trial of civilians at military tribunals in a measure blasted by human rights campaigners as being tantamount to imposition of an undeclared martial law countrywide.
The Bahraini regime's brutal crackdown on dissent continues to draw criticism from international rights groups.
On Thursday, Amnesty International accused Bahrain of retreating from promised reforms and "dramatically" escalating a clampdown on political dissent over the past year.
The US, which has naval forces in Bahrain, has kept largely silent since the crackdown began in 2011.
Thousands of anti-regime protesters have held demonstrations in Bahrain on an almost daily basis ever since a popular uprising began in the country in mid-February 2011.
They are demanding that the Al Khalifah dynasty relinquish power and allow a just system representing all Bahrainis to be established.
Manama has gone to great lengths to clamp down on any sign of dissent. On March 14, 2011, troops from Saudi Arabia and the United Arab Emirates were deployed to assist Bahrain in its crackdown.
Full report at:
presstv.ir/Detail/2017/09/07/534344/Bahrain-Al-Khalifa-Amnesty-International-Jaw-Prison-Persian-Gulf
--------
Iraqi Shiite cleric accuses parties close to Hezbollah of assassination attempt
7 September 2017
Iraqi Shiite cleric Fadel al-Budairi accused parties close to Lebanon's Hezbollah militia of standing behind the recent assassination attempt on him.
Budairi survived an assassination attempt on Tuesday night as he left a funeral gathering in Najaf. An armed group clashed with his bodyguards and then fled after dropping three hand grenades on his convoy. He was transferred to Al-Sadir Teaching Hospital but he did not sustain any serious injuries.
On Wednesday, he said that the attempt on his life is because he condemned and rejected Hezbollah's deal with ISIS to transfer the latter's members to areas close to the Iraqi borders.
Budairi added he's received death threats from armed groups which demanded he apologizes for his statement rejecting the Hezbollah-ISIS deal.
He also said that people who said they are supporters of Hezbollah called him and sent messages threatening him and also asked him to retract his statement criticizing the deal.
Full report at:
english.alarabiya.net/en/News/middle-east/2017/09/07/Iraqi-Shiite-cleric-accuses-parties-close-to-Hezbollah-of-assassination-attempt.html
--------
Trump offers to mediate talks on Qatar crisis
8 September 2017
US President Donald Trump on Thursday said he would be willing to step in and mediate the worst dispute in decades among the US-allied Gulf Arab states and Qatar, and said that he thinks a deal could come quickly.
"If I can help mediate between Qatar and, in particular, the UAE and Saudi Arabia, I would be willing to do so, and I think you would have a deal worked out very quickly," Trump said at a joint news conference with Kuwaiti Emir Sheikh Sabah al-Ahmad al-Jaber al-Sabah.
"What is important is that we have stopped any military action," Sheikh Sabah said.
Sheikh Sabah said he had received a letter from Qatar that expressed willingness to discuss a list of 13 demands from its neighbors.
"We know that not all of these 13 demands are acceptable," Sheikh Sabah said.
"A great part of them will be resolved," he said.
Kuwait's Emir was in Washington on Thursday where he met with United States President Donald Trump to discuss several topics including the ongoing crisis involving Qatar and several of its neighboring countries.
Full report at:
english.alarabiya.net/en/News/gulf/2017/09/08/Trump-offers-to-mediate-talks-on-Qatar-crisis.html
--------
40-truck aid convoy enters Syria's troubled Dayr al-Zawr
Sep 7, 2017
Dozens of trucks carrying humanitarian aid have arrived in Dayr al-Zawr only two days after Syrian army forces, backed by allied fighters from popular defense groups, reached the eastern city and breached a nearly three-year siege imposed by the Daesh Takfiri terrorists on pro-government areas there.
Syria's official news agency, SANA, reported that 40 trucks carrying basic commodities such as fuel, food and medical supplies to civilians, in addition to two mobile clinics, entered the city, located 450 kilometers northeast of the capital Damascus, on Thursday.
Meanwhile, there are reports that Syrian army soldiers have regained control over a large expanse of land near the Brigade 137 base, and recaptured al-Raqqah bridge on the western side of Dayr al-Zawr.
Scores of Daesh terrorists were killed and injured during the military operations while their military hardware was destroyed as well.
Additionally, Syrian Air Force fighter jets bombarded Daesh gatherings and supply routes in the town of Ash Sholah, destroying them and killing many extremists.
The developments came a day after Syrian government troops, backed by allied fighters from the popular defense groups, wrested control of the town of Kobajeb, situated about 50 kilometers southwest of Dayr al-Zawr, from Daesh terrorists.
Meanwhile, a large number of Daesh Takfiris, among them members of the terror group's so-called religious police – commonly known by the Arabic word Hasba, have escaped from the town of Gharanij.
Militant mortar attacks leave 7 Syrians dead
Separately, at least seven civilians have been killed and several others injured in a series of mortar attacks carried out by foreign-sponsored Takfiri militants on Dayr al-Zawr.
Seven people lost their lives and 29 others sustained injuries when mortar shells fired by the militants struck an area in the Harabesh neighborhood of the eastern city.
The projectiles also caused material damage to residential buildings and public property in the targeted area.
Daesh overran large parts of Dayr al-Zawr province, including its many oil fields, in mid-2014 as it seized swathes of land in Syria and neighboring Iraq.
By early 2015, the Takfiri terrorists were in control of some parts of Dayr al-Zawr city and besieged the remaining parts, which were under government control.
Full report at:
presstv.ir/Detail/2017/09/07/534343/Syria-aid-convoy-arrives-in-Dayr-alZawr-Syrian-forces-break-siege-Daesh-Takfiri-militants
--------
Syria opp slams 'shocking' UN envoy statement
Sep 8, 2017
ISTANBUL - Syria's opposition on Thursday criticised the UN's Syria envoy Staffan de Mistura after he urged it to be "realistic" and said it had not won the country's six-year war.
"These statements are, to say the very least, shocking and disappointing," said Nasr al-Hariri, head of the opposition's negotiations delegation, at a press conference in Istanbul.
He said De Mistura was well aware "which party has cooperated positively to advance the political process and which is the obstacle," in reference to Syria's government. De Mistura on Tuesday urged the still-fractured Syrian opposition to form a unified delegation ahead of a next round of peace talks tentatively scheduled to take place in Geneva next month.
"Will the opposition be able to be unified and realistic enough to realise they didn't win the war?" he said.
He added that Syria's government could not "simply announce victory" despite its recent advances, and that "the only answer is a political process".
The main opposition camp, the Saudi-backed High Negotiations Committee (HNC), whose delegation Hariri heads, insists that Syrian President Bashar al-Assad must leave office as part of any peace deal.
That stance has put the HNC at odds with two other opposition groups, known as the Moscow and Cairo platforms.
De Mistura has in recent weeks upped the pressure on the groups to unite and said he believed they would be meeting again in Riyadh in the coming weeks, after talks there last month failed to produce a compromise.
But Hariri said the so-called Geneva track was "losing its credibility because of the way it is being manipulated by some international parties, particularly Russia."
Moscow is a close ally of Syria's government and has developed another negotiations track in the Kazakh capital Astana that the opposition sees as an attempt to hijack international peace talks.
HNC chief Riad Hijab also slammed De Mistura's comments, saying on Twitter that they reflected the "defeat of UN mediation."
"Time after time, De Mistura implicates himself with unstudied statements that reinforce our call for a new UN approach on Syria," he said.
Full report at:
nation.com.pk/international/08-Sep-2017/syria-opp-slams-shocking-un-envoy-statement
--------
Africa
Poverty and state abuse, not religion, push Africans toward militants, says UN
Sep 7, 2017
The United Nations says poverty and state violence, not religion, are driving young Africans to join militant groups as a number of Takfiri extremist groups are wreaking havoc across the continent.
The UN Development Programme (UNDP) said in a statement on Thursday that it was easiest for terrorist outfits like al-Shabab and Boko Haram to recruit young people who were unemployed and frustrated about lack of opportunities and services in remote areas.
"Contrary to popular narratives, those who join extremist groups tend to have lower levels of religious or formal education and less understanding of the meaning of religious texts," the statement read, adding, "Actually understanding one's religion can strengthen resilience to the pull of extremism."
This came after a team of researchers conducted a study based on interviews with almost 600 recruits. The interviews were carried out between 2015 and 2017 in six countries, including Kenya, Nigeria and Somalia, mostly in detention facilities.
Interviews with non-militant youths showed that receiving at least six years of religious schooling reduced the likelihood of joining an extremist group by a third.
Although more than half of interviewees cited religion as a reason for joining an extremist group, 57 percent did not read religious texts or understood little to nothing of them.
More than four in 10 said they were jobless before joining the terrorist groups. This is while 34 percent said employment was the most immediate need when they signed up.
But for many, the tipping point was state violence. About 70 percent of recruits said their "tipping point" was a government action, often the arrest or killing of a friend or relative by security forces.
"Such an individual could, upon witnessing or experiencing perceived abuse of power by the state, be tipped over the edge into extremism," the report said.
According to researchers, people's sense of neglect started in childhood with young people growing up to resent the lack of economic opportunities or chance of change and distrusting the state to provide services or respect human rights.
A separate report focusing on Mali by the charity Mercy Corps said on Thursday that community support for armed groups also forced young people to engage in acts of violence out of a sense of duty or in a bid to gain the respect from their neighbors,
The United Nations has recently said that Boko Haram group, whose brutal eight-year campaign in northeast Nigeria shows no sign of ending, accounted for more than half of 33,000 deaths caused by militant attacks in Africa between 2011 and 2016.
The Boko Haram militancy has left more than 20,000 people killed and around three million displaced. The group's militancy has also affected Nigeria's neighbors like Chad, Cameroon and Niger.
Somalia, the long-chaotic Horn of Africa nation has been the scene of deadly clashes between government forces and al-Shabab militants since 2006. The group has also staged deadly cross-border attacks into neighboring Kenya.
In recent years, several militant attacks have been claimed in Mali by a powerful extremist alliance known as GSIM, which is a fusion of three Malian extremist groups with previous al-Qaeda links.
Extremists from al-Qaeda's North Africa branch have made a fortune over the last decade by abducting foreigners in the vast Sahel region and demanding enormous ransoms for their release.
presstv.ir/Detail/2017/09/07/534379/UN-Africa-Somalia-Nigeria-Boko-Haram-alShabab
--------
South Africa's Tutu asks Myanmar's Suu Kyi to help Rohingya
September 08, 2017
The Rohingya comprise some 1.1 million people who have long complained of persecution and are seen by many in Buddhist-majority Myanmar as illegal migrants from Bangladesh
Retired South African cleric and anti-apartheid campaigner Archbishop Desmond Tutu urged Myanmar leader and fellow Nobel Laureate Aung San Suu Kyi on Thursday to intervene to help Rohingya Muslims fleeing her country.
Western critics have accused Suu Kyi of not speaking out for the Rohingya, who have been fleeing to neighbouring Bangladesh, following an army counter-offensive against militant attacks.
Tutu said in an open letter to Suu Kyi that: "I am now elderly, decrepit and formally retired, but breaking my vow to remain silent on public affairs out of profound sadness about the plight of the Muslim minority in your country, the Rohingya."
"My dear sister: If the political price of your ascension to the highest office in Myanmar is your silence, the price is surely too steep … We pray for you to speak out for justice, human rights and the unity of your people. We pray for you to intervene," Tutu wrote.
Tutu, 85, has been living with prostate cancer for nearly two decades and has largely withdrawn from public life.
The Rohingya comprise some 1.1 million people who have long complained of persecution and are seen by many in Buddhist-majority Myanmar as illegal migrants from Bangladesh.
"We have to take care of our citizens, we have to take care of everybody who is in our country, whether or not they are our citizens," Suu Kyi said earlier on Thursday in comments to Reuters Television's Indian partner, Asian News International.
Full report at:
dhakatribune.com/world/2017/09/08/south-africas-tutu-asks-myanmars-suu-kyi-help-rohingya/
--------
Political Islam in Tunisia: a history of Ennahda and the Tunisian exception
7 September 2017
One of the most interesting books this summer may be a rather innocuous book by Anne Wolf, a leading Tunisia and North Africa specialist. In Political Islam in Tunisia: A History of Ennahda, Wolf, a University of Oxford researcher, presents the hidden history of Ennahda, Tunisia's main Islamist movement, from the 1960s until the post-revolution present. Before the popular uprisings of 2011 and the overthrow of then President Ben Ali, Ennahda was banned and barely researched. Based on more than four years of field research, and over 400 interviews, as well as access to private archives, Wolf's account reveals in unprecedented detail one of Tunisia's most influential political actors. Wolf tracks the evolution of Ennahda's ideological and strategic orientations within the local turbulence of Tunisia's political contexts. As the first full history of Ennahda, the book ought to be rightfully lauded as a major contribution to literature on Tunisia, Islamist movements in general, and more broadly political Islam in the Arab world. It is an essential read for anyone who wishes to understand why Tunisia, hitherto at least, remains the last revolution standing from the Arab Spring.
What makes Wolf's account especially interesting is the tantalising possibility of Ennahda offering a different answer to the question what should be the role of political Islam in the Arab public sphere. Ennahda's somewhat surprising answer is a claim to a specific Tunisian experience. Despite the claim of a Tunisian exceptionalism, one cannot help but wonder if such a claim belies the possibility of a Muslim democracy that offers a different approach from the failure of the Egyptian Muslim Brotherhood, or Turkey's AK Party, which had been hailed as the first post-Islamist party, but whose increasingly authoritarian turn have dismayed both inside and outside observers.
Wolf is particularly good at distinguishing Ennahda from the Egyptian Muslim Brotherhood, which many analysts treat as the paradigmatic Islamist movement. So whilst she notes the peak of Muslim Brothers' influence in the 70's, she traces Ennahda's intellectual heritage back to the reform-minded clerical classes of the recently reopened Islamic university of Zaytouna, who objected to the French colonial penetration in the late 19th century. What emerges is Ennahda that perceive themselves as inheriting a dissenting strand of Islam and railed against the official scholarly establishment who were co-opted by the regime who subordinated French colonial interests over those of Tunisia. She notes the parallels between Ennahda and these reformist minded ulama not rejecting modernity, but insistent on providing a modern Islamic alternative. In her retelling, Wolf provides more support for a more ambivalent reading of early Arab modernists not as liberal reformers, who did not want to make Islam more 'progressive' as we would see it, but who wanted to articulate an Islam to make it more relevant for the lives of contemporary Muslims.
Tracing Ennahda's roots as the heirs of a reforming Zaytouna heritage is also important for demonstrating its bona fide Tunisian roots. This serves to undermine the efforts of successive regimes to question Ennahda's Tunisian's roots, tainting them with the brush of foreign subversion be it that of Egypt, Saudi Arabia, or of more contemporary relevance Iran or Qatar, depending on the political context. That this demonstration is necessary, speaks not only to the effectiveness of Ben Ali's propaganda as it does about the abiding power of French Laïcité tradition amidst the powerful and stridently secular elites in Tunisia.
Wolf dismantles Tunisia's long-standing image as a 'fortress of secularism'. She notes that whilst the country's first president Habib Bourghiba vehemently initiated various aggressively secular modernisation drives, later built upon by his successor, that included dismantling the traditional religious establishment in Zaytouna and Al-Qayrawan university the jewels of Islamic scholarship in North Africa, this was not embraced by the majority of the public. So whilst the state marginalised political expressions of Islam and successfully profited in utilising an international image of a secular Arab state par excellence, the porosity of such a facade was laid strikingly bare, with Ennahda winning a landslide victory gaining 37 per cent more than the next eight leading parties with only 35 %, despite having no grassroots organisation one year before the revolution. And whilst it lost support in the 2014 elections, by becoming the second major party, Ennahda has confirmed that they were here to stay as a major player and will continue to shape Tunisia's future.
The years of repression that Ennahda suffered during their underground years both under Bourghiba and especially Ben Ali is covered extensively and sympathetically. Ranging from physical deprivation and social isolation to torture whilst in prison, to the harassment and abuse of families of those sent to prison. Despite her measured prose the author doesn't hesitate to make sharp commentary. For instance, she claims that Ennahda activists have 'internalised narrative of victimhood' whilst failing to acknowledge any violence that they may have committed or threatened to commit themselves. While it is easy to dismiss Wolf's sentiments as somewhat glib, she correctly distinguishes the torture and harassment suffered by Ennahda and the latter's embrace of victimhood. Even if we may be reluctant to begrudge victims of torture for any resentment towards members of the former regime, it pays to remember however that these activists are negotiating with members of the former regime. It is an awkward pre-condition for Tunisia's successful post-revolutionary politics, that it must be inclusive and forward looking enough to give elements of the previous regime a stake in the new post-revolutionary status quo, save for the most egregious. Yet reading some of Wolf's harrowing accounts it must surely feel like the tortured are in negotiations with their torturers. That such sentiments are easier said than done only puts in perspective how difficult the construction of a democratic Tunisia will actually be.
In a field that too often discusses Islamists without allowing them to express themselves, her account relies on hundreds of interviews, and the book successfully reveals the voices of those she writes about. Her account leaves the reader not only wanting more, but also wondering what she has left out. One striking example of the latter is the extent to which her interviewees have insisted on their anonymity. Whilst a hardened Tunisia watcher may amuse themselves trying to guess who or what Ennahda faction the interviewee comes from; a less seasoned observer may wonder how impermanent the political status quo must feel if six years after the revolution so many have chosen to remain anonymous. It is suggestive that activists are wearily hedging their bets, fearful of a possible counter-revolution and any ensuing bloody crackdown.
It's a salutary reminder of how novel the democratic experiment remains in Tunisia, and that it has yet to establish any political norms beyond a narrow elite. Compare how different such a situation is to Turkey where despite the occurrence of regular military coups acting as correction, the idea is that after a brief interregnum the acknowledged norm is to return to a democratic albeit staunchly secular ideal. Only now after a long history of coups has the idea of coups become gradually unthinkable for the public. It was notable that in 2016 even staunchly secular parties, those who would've most benefited from any secular correction, immediately condemned any kind of coup attempt.
The same cannot clearly be said of Tunisia and it puts in perspective why the Ennahda leadership has prioritised economic reconciliation instead of cracking down on crony capitalism so stymieing the economy. Wolf notes that this would envision a freezing of corruption investigations with the promise in return of a capital injection into the economy. The rationale here is clearly not economic but political, in other words, a kind of insurance policy where the idea is that members of the former regime's business and political elite would be less willing to destabilise a political status quo when it has so much of their capital invested in it. What is striking is that both parties know how much these business and bureaucratic elements are essential to Tunisia's success, not only because of their capital but because they have monopolised the country's know-how and business experience. Ennahda's leadership finds itself in an unenviable position, they have to hold their nose to any repugnance they may feel to any perceived 'dirtiness', as they know that the threat of their departure would significantly diminish Tunisia's post-revolution and may return it to the same economic conditions that incited the revolution in the first place. Furthermore, they know they are not the only ones courting them, and that significant external backers are prowling and would like nothing more than Tunisia's democratic experiment to fail, something that has become especially prominent in light of the ongoing Qatar crisis in the Gulf.
While Wolf's book was published just before the Gulf crisis, the crisis has only highlighted the extent to which Tunisia's success is exposed to external political headwinds. This is especially the case given that all of the protagonists in the crisis have made strategic investments, including the UAE, Saudi Arabia and most prominently the one who is currently on the other side of the conflict, Qatar who in November 2016 gave over $1.25 billion in aid. In light of its economic relations with all of the parties, Tunisia has officially remained neutral, with its rationale stark: Tunisia simply cannot afford to side with one party over another. Of course, the crisis itself is a good example of how circumscribed the foreign policy of smaller countries like Tunisia can be, and the extent to which smaller counties are informed by the actions and potential reactions of their stronger neighbours.
In this respect, the book's one significant omission is the minimal coverage given to Ennahda's thinking and how it has been informed by the relations to its neighbour. In this respect even if Wolf's approach is ethnographic and her focus lies in examining Ennahda's history given the precarious environment that Tunisia find itself in, with a civil war next door in Libya, and neighbouring an authoritarian military regime in Algeria with a troubled history with Islamism, one would be surprised if Ennahda's leadership's calculus had not been informed by Tunisia's external actors. Consider for example France, Tunisia's former colonial power, whose only role in the book is that of a site of exile for Ennahda activists, as is Switzerland and the UK, the latter of which Ghannouchi himself escaped to. Even more surprising is minimal mention of Algeria which has been accused of decidedly murky actions in the Algerian Civil War during the 90s, and a regime that has never been hesitant to intervene in its neighbours' conflicts if it served its perceived strategic interests. One imagines that it would be interested in the appearance of an Islamist dominated democracy next door. Yet save for the most curious bread crumbs; we learn that Algerian generals smuggled Ghannouchi out, and hints of an ongoing 'special relationship' between them, except for this there is very little in Wolf's narrative to suggest that Ennahda has been conscious of the five-hundred-pound gorilla next door.
Pondering on how all this relates to Ennahda's domestic politics, a strong impression forms as to how much the absence of a talented secular opposition hobbles Ennahda. In the absence of an internal check to Ennahda, its base has quickly latched on to conspiracy theories explaining away the frustrations of Ennahda's goals. The worst problem is not that they are disempowering, but that there may be more truth in them than there are lies. With certain Gulf nations having made good on their reputation as regional check to Islamists across the region, fears of a regional bogeyman have unexpectedly proven to be more effective than the presence of a 500 pound somewhat belligerent gorilla next door. One wonders if in the absence of a robust opposition Ennahda can discipline itself and exercise restraint over its ambition and sense of entitlement and mind Tunisia's strategic environment which has previously kept a natural check on everyone's ambitions.
If Wolf is revealing Ennahda's past, she is more elliptical of its future. She wisely counsels us to be wary of complacency and is dubious on whether Tunisia's revolution can yet be labelled as a success. Whilst the survival of the sole remaining revolution should be celebrated she warns her audience away from wishful thinking; we should not confuse Tunisia's designation of 'least unstable' political society post-Arab Spring with it being deserving as a governance model for other Arab countries to follow. Indeed, the very threat of such a label has encouraged elements both internal and external, to resolve to destabilise Tunisian politics further. She also points out that Ennahda itself is ill equipped to tackle future problems before coming to power it has built up little to no experience in governance at either local or national politics, unlike say the Turkish AK Party. Instead it's leadership was borne out of an ideological struggle which has left them unprepared for issues of policy and national leadership: as some prominent party members themselves have told analysts, '[w]e went from the prison to the palace'.
As for the hope that Ennahda can become a progressive Islamist political actor, after hundreds of interviews with Ennahda activists Wolf is dubious how far-reaching the extent their progressive commitment actually is. Noting that Ennahda's a Big Tent party, her narrative notes the differences amongst its leading cadres, and she pointedly circumscribes the role and ideological authority of Ghannouchi that belies much other literature. While his voice is obviously important, Ghannouchi is very much one voice amongst many. Furthermore, she adjudges that his apparent embrace of democracy and multi-party governance is as much motivated by strategic imperatives as it is borne from ideological convictions. More to the point, while the views of Ennahda's leadership can be called at best 'liberal' and at worst 'pragmatic', she remarks that only when its base embraces this progressive commitment can Ennahda truly be considered reformed. She further notes the ill-guarded hostility and suspicion of the opposition towards Ennahda only serves to confirm its defensiveness and victimhood, not an attitude that is conducive to a successful transition to the inclusive democratic culture Tunisia needs.
At this point it's worth raising whether Wolf, alongside other analysts, is not only giving the wrong answer, but perhaps indulging in the wrong question. How convincing is the suggestion that if Ennahda does not wish Tunisia to become a liberal democracy, it automatically be considered an unsuitable western partner? Should the west really hold out on Ennahda converting into a progressive liberal democratic party, rather than consider Ennahda as partners to construct a robust Muslim non-authoritarian republican model democracy.
The fact that not everyone shares our convictions that liberal democracy is not the best solution should not surprise us. Perhaps we should not be surprised that other cultures take a more detached and more pragmatic view towards liberal reforms, than western nations whose very self-conception involves a triumphant repudiation of the dark age of ignorance that preceded it. Perhaps given that Tunisia is a country, steeped in pre-modern tradition that preceding the modern democratic and liberal revolution, and which enjoyed its golden years before the onset of industrialisation, colonialism and modernisation as a society it may be more reluctant and resistant modern democratic and liberal revolution. In that sense, we may need to wait out until an internally organic political theology emerges that justifies a democratic Muslim governance model according to its own internal tradition. However, such a modern manifestation will by necessity be contentious especially considering that there is no hierarchical centralised authority that can change a tradition by fiat from the top.
Perhaps we need to adjust our exception about what are good outcomes for the region and what should be considered a 'good outcome' for a political reform. This is not lowering the bar, but perhaps be more realistic in accepting that democratic forms of governance must suit the context of the local people. Lest we forget such sentiments echoes the argument made by early Zaytouna reformist Islamic thinkers that Ennahda claim descent from.
It's with these more measured expectations in mind that an excellent Hudson Institute policy paper by Eric B Brown and Samuel Tadros, advocates a Muslim republicanism. They propose that it is an American strategic goal for 'Tunisia [to] emerge as a self-sustaining democracy that can contribute to solving the larger crisis of governance and republicanism in the Arabic-speaking world'. In this instance, what is proffered is not the hope of a liberal democracy but a more realistic idea, if rather vague, non-authoritarian Muslim democracy as an alternative to ' political cul-de-sacs of Islamism and unreconstructed laicism'. This will allow the idea of inclusive Tunisian democracy whose excessive secularism would not alienate the wider Tunisian populace integrating into a wider political society of the new Republic. Even more optimistically it could open up the possibility of gradual political reform rather than a crash bang wallop revolution with the dangers the latter entails. The possibility of a vibrant Tunisian political society not only being desirable but also attainable could spark a discussion about what kind of governing models are attainable for the Middle East and the Muslim world generally.
Furthermore, they recognise that within Ennahda there are competing trends and they stress the importance of bolstering the more pragmatic trend which will allow it to compete more effectively with other Salafi or Islamist tendencies. To the extent that they hope that this tendency can manage 'to persuade its rank and leadership that Islamism is over and that democratic Tunisia is already an Islamic state; indeed, that Islam requires civil democracy and pluralism' then to that extent Ennahda becomes a more viable partner for the possibility of creating a long term stable MENA order. However, they are well aware that more time is needed for such a change to take place, and the running concern throughout the paper if such time will ever be given the fragility of the revolution.
Full report at:
opendemocracy.net/north-africa-west-asia/faheem-hussain/political-islam-in-tunisia-history-of-ennahda-and-tunisian-exc
--------
Tanzanian police shoot dead double child killer suspect
07 September 2017
Police have shot dead a man accused of abducting and drowning two children in the northern city of Arusha, they said Thursday.
Samson Petro, who was alleged to have drowned Moureen Daudi, six, and three-year-old Ikram Salim in a cesspit, was killed Wednesday morning as he tried to escape, Arusha Regional Police Commander Charles Mkumbo told reporters.
He was taking police to the site of other child abductions when he was shot.
Petro had confessed to the killings in the city's Olasiti district following his arrest near Lake Victoria on Sept. 2, police said. The children were abducted two weeks earlier, with 4.5 million Tanzanian shillings ($2,010) demanded for their release.
Tanzania has been shocked by a serious of abductions for ransom in recent months.
worldbulletin.net/africa/193744/tanzanian-police-shoot-dead-double-child-killer-suspect
--------
US strike in Somalia kills 3 al-Shabaab militants
07 September 2017
The U.S. confirmed Wednesday that it carried out an airstrike in central Somalia targeting the al-Shabaab terror group.
Africa Command (AFRICOM) said the mid-morning strike Tuesday in Somalia's Bay Region killed three al-Shabaab militants.
The sortie was carried out in coordination with Somalia's central government in support of Somali forces and the African Union's Mission in Somalia (AMISOM), the command said in a statement.
"U.S. forces will continue to use all authorized and appropriate measures to protect Americans and to disable terrorist threats," AFRICOM said.
"This includes partnering with AMISOM and the Somali National Security Forces (SNSF); targeting terrorists, their training camps and safe havens throughout Somalia, the region and around the world."
The U.S. designated al-Shabaab as a terrorist organization in 2008.
Al-Shabaab has publicly boasted of its alliance with al-Qaeda and has been warring against Somalia's internationally recognized government for control of the country since it was ousted from the capital by African Union-led forces in 2011.
worldbulletin.net/africa/193724/us-strike-in-somalia-kills-3-al-shabaab-militants
--------
Nigeria: El-Rufai Names Top Anglican Cleric to Head Kaduna Peace Commission
7 SEPTEMBER 2017
An Anglican cleric, Josiah Idowu-Fearon, is to head the Kaduna State Peace Commission. The nomination of the former Archbishop of Kaduna was announced on Thursday in Kaduna.
A government statement, signed by Samuel Aruwan (SSA-Media & Publicity) disclosed that Governor Nasir El-Rufai has forwarded the names of four persons to constitute the leadership of the Peace Commission. The law establishing the commission was recently passed.
"Governor Nasir Ahmad El-Rufai has sent nominations for membership of the Peace Commission to the Kaduna State House of Assembly. Malam Nasir El-Rufai nominated the Most Reverend Josiah Idowu-Fearon as chairman and Priscilla Yachat Ankut as executive vice-chairman/chief executive. Dr. Saleh Bashayi Momale and Hajiya Khadijah Hawaja Gambo are nominated as permanent commissioners.
"Dr. Josiah Idowu-Fearon is the Secretary-General of the worldwide Anglican Communion, based in the United Kingdom. He is the immediate past Archbishop of the Kaduna Archdiocese of the Anglican Church, and also a former Bishop of Sokoto. Idowu-Fearon is a household name in peace advocacy and inter-religious harmony in Nigeria. He established the Kaduna Center for the Study of Christian-Muslim Relations. He holds degrees in theology, sociology, Arabic and Islamic studies from universities in Nigeria, the United Kingdom and the Kingdom of Jordan.
"Ankut is an expert in democratic governance, with specific experience in human rights, inclusive political processes, justice sector reform, conflict prevention and peace building.
Her country experience spans South Africa, Gambia, Rwanda, Malawi and Nigeria where she has supported democratisation processes in various capacities. Ankut worked with the United Nations Development Programme (UNDP) in Malawi as the Technical Specialist in Democratic Accountability where she supported the Government of Malawi to develop a robust democratic governance sector strategy as part of its reform agenda. In Nigeria, she works with the Nigeria Stability and Reconciliation Programme (NSRP), DFID's largest peace-building support programme, where she has successfully facilitated dialogue and reconciliation in communities affected by violent conflict across the country. She holds an LL.M from the University of Pretoria, South Africa. She studied law at the Ahmadu Bello University, Zaria.
"Dr. Momale is a development Geographer at the Centre for Dryland Agriculture, Bayero University, Kano. He holds a doctorate degree in Geography. He is a former Executive Director of The Pastoral Resolve, a non-governmental organization working in the areas of pastoralists' education, conflict management and pastoral resource development in Nigeria.
Full report at:
allafrica.com/stories/201709080014.html
--------
Pakistan
Over 2,800 Pakistanis to be affected by Trump's repealing of immigration programme
08-Sep-17
More than 2,800 Pakistanis and over 5,500 Indians will be affected by the repealing of an immigration programme that protected undocumented aliens — who were brought to the United States as children — from deportation.
The Deferred Action for Childhood Arrivals (DACA) programme that President Trump said he would repeal was introduced by former President Barack Obama in 2012 to protect children of undocumented immigrants from deportation. The programme benefitted nearly 800,000 people who were able to stay and obtain permits to work in the US.
While the vast majority of such undocumented children registered under DACA are from Mexico and Latin American countries, a report in Forbes magazine said thousands of Asian Americans were also among the "Dreamers", a term coined to define children brought in as illegal immigrants.
"Currently around 30,000 Asian-Americans, comprising over 5,500 Indians and over 2,800 Pakistanis have received DACA," the report said and added that India was in the top 10 countries for undocumented immigrants who meet DACA eligibility criteria. Many of such Asian-Americans spoke to Forbes on the condition of anonymity or that their names be changed, fearing that could jeopardise their chances of getting away when DACA ends in March, 2018.
The deadline is set by US President Trump for the Congress to come up with legislation to provide relief to DACA recipients. However, President Trump said on Thursday that in case Congress failed to act, he would "revisit" the issue. He did not give details.
Most of the South Asia DACA recipients are those whose parents came to the United States on temporary travel documents such as tourist visas to escape "religious persecution" in the home or better economic opportunities.
Some of these families tried to seek asylum that would have given them the legal residency status but were denied. Some applied for employment visas but never granted; and there were others who simply lived in the "shadows" working illegally without any security or benefits.
Homes of many such illegal immigrants were recently raided by US Immigration and Customs officers and their parents are now held in detention centers, facing legal hurdles or are forced to wear tracking devices around their ankles.
An Indian girl, who was identified by a fake name "Ruhi", is studying biology at a university in Texas and was diagnosed with a rare brain disease as child. Her parents, hailing from Lucknow, India, brought her to America on a medical visa.
Upon arriving in the US, it turned out that her treatment would take years and not days and so her father started looking for a job and was offered sponsorship for an employment visa. That happened during the 9/11 attacks that caused "massive delays" in processing of visa applications. After years of delay, Ruhi's father application was denied.
dailytimes.com.pk/pakistan/08-Sep-17/over-2800-pakistanis-to-be-affected-by-trumps-repealing-of-immigration-programme
--------
Protest demonstrations held in support of Rohingya Muslims
September 08, 2017
Islamabad - The staff of Pakistan Institute of Medical Sciences (PIMS) on Thursday staged a protest against the brutal killings of Rohingya Muslims in Myanmar. They also asked the government to set up a medical camp for the victims in Myanmar.
A large number of doctors, nursing staff and paramedics of PIMS expressed solidarity with the Rohingya Muslim community.
The participants were holding placards and banners reproving the Myanmar government.
The protest was also joined by the Hurriyat leader Mushaal Mullic and Auditor General of Pakistan (AGP) Javed Jahangir.
The Hurriyat leader Mushaal Mullic demanded from the Myanmar leader Aung San Suu Kyi to return the Nobel Peace Prize.
"The Indian Prime Minister Narendra Modi also reached Myanmar to support the Muslim genocide there," she said.
The Vice Chancellor of Shaheed Zulfiqar Ali Bhutto Medical University (SZABMU) Prof Dr Javed Akram addressing to the participants said that students and employees of PIMS would submit a petition to the government to support Muslims in Myanmar.
"Around 20,000 students and 10,000 employees would sign the petition seeking a medical camp at Myanmar," he said.
Dr Javed Akram said that the world has turned a blind eye towards the killings of Rohingya Muslims in Myanmar.
The Auditor General of Pakistan (AGP) Javed Jahangir said that Muslims - across the world - is one nation and the pain of Rohingya Muslims is being felt in every corner of the world.
The participants chanted slogans against Myanmar and Indian government for killing the innocent people.
Full report at:
nation.com.pk/islamabad/08-Sep-2017/protest-demonstrations-held-in-support-of-rohingya-muslims
--------
Responsibility for defeating terror not Pakistan's only: Jeremy Corbyn
September 08, 2017
KARACHI: The chief of Britain's main opposition party, Jeremy Corbyn, has come out in support of Pakistan and urged the world to respect the country.
In an interview to BBC Urdu, Mr Corbyn said it was not the responsibility of Pakistan alone to fight terrorism because the world as a whole needed to beat off the "collective challenge".
Asked to comment on Donald Trump's recent allegations that Pakistan offered safe havens to "agents of chaos", the top leader of the Labour Party seemed to differ with the US president. "Pakistan is a country which should be treated respectfully. It should not be criticised from the outside," he said.
In a policy statement, Mr Trump also announced his decision to increase the number of American troops to be deployed in Afghanistan.
Pakistan reacted strongly to the speech and termed it a "disappointing" statement because it conveniently ignored the sacrifices rendered by it in the fight against terrorism.
So, what Mr Corbyn said during the interview seemed to be in line with what Pakistan had stated in response to Mr Trump's speech.
"Every country should play its role to bring an end to terrorism. This [theory] should be applied to every country in the world," he said in response to a question about the efforts required on the part of Pakistan to fight terrorists.
"I don't even support President Trump's policy to increase the number of troops in Afghanistan. It reflects their failure. The Afghan crisis can be solved only politically."
Mr Corbyn also expressed support for Rohingya Muslims and "advised" Myanmar leader Aung San Suu Kyi to respect their "human rights" the same way the world did hers when she was under house arrest.
"I have an advice of respect for her," said the British parliamentarian. "When you [Suu Kyi] were under house arrest, we launched a campaign for your release, took out rallies and supported your struggle for human rights. So please be kind and take care of human rights of Rohingya Muslims.
Full report at:
dawn.com/news/1356279/responsibility-for-defeating-terror-not-pakistans-only-jeremy-corbyn
--------
China, Pakistan agree solution to Afghan conflict has to be political: Khawaja Asif
September 08, 2017
Foreign Minister Khawaja Asif arrived in China on Friday at the start of his regional outreach for consultations on the new US policy on Afghanistan and South Asia.
Addressing a joint press conference after his meeting with Chinese Foreign Minister Wang Yi in Beijing, Asif said that the two countries agreed that the solution to the Afghan conflict has to be fundamentally political and that there is no military solution to the issue.
He appreciated China's "constructive role" in the process for a politically negotiated settlement of the Afghan conflict, saying that Pakistan and China can together contribute to a political solution to the conflict, Radio Pakistan reported.
Asif said Pakistan "strongly" adheres to one-China policy: "We support China on its core issues of Taiwan, Tibet, Xinjiang and South China Sea."
Also read: Pakistan has to react swiftly to changing regional situation: Khawaja Asif
Meanwhile, the Chinese foreign minister said Pakistan and China stand together in the changing regional and global scenario.
"China supports Pakistan in safeguarding its national sovereignty and dignity," he said.
He said peace in Afghanistan is in the best interest of Pakistan, China and the entire region.
"We reaffirmed that only the advancement of the Afghan-led and Afghan-owned peace and reconciliation process is the viable way out to address the Afghan issue."
Stressing the need to intensity trilateral cooperation between Afghanistan, Pakistan and China, Yi said his country stands ready to support the improvement of relations between Pakistan and Afghanistan.
After his China visit, Asif will travel to Iran. He has also planned meetings with Russian and Turkish leaders.
Both Moscow and Beijing have criticised the US position on Pakistan and have insisted that Pakistan's importance for peace in Afghanistan and its sacrifices in the fight against terrorism need to be recognised.
Trump's diatribe
Trump had in his August 21 speech announced a new strategy for Afghanistan while denouncing Pakistan for allegedly allowing terrorists to maintain safe havens inside its territory.
He also seemed to want India to take on a bigger role in Afghanistan, stoking fears in Islamabad that India would use this opportunity for stirring trouble in the bordering areas of Pakistan.
Talking tough on Pakistan, Trump had said, "We can no longer be silent about Pakistan's safe havens for terrorist organisations," while warning that vital aid to Islamabad could be cut.
Full report at:
dawn.com/news/1356377/china-pakistan-agree-solution-to-afghan-conflict-has-to-be-political-khawaja-asif
--------
Pakistan condemns callous genocide of Rohingya Muslims
08-Sep-17
ISLAMABAD: The federal cabinet on Thursday condemned what it called the cold-blooded and callous genocide of innocent Rohingya Muslims under the direct patronage of state institutions of Myanmar.
"Government of Pakistan condemns the cold-blooded and callous genocide of innocent Rohingya Muslims, including women, children and even infants under the direct patronage of state institutions of Myanmar," a statement released after the meeting stated. A resolution passed by the cabinet maintained that the brutal and barbaric acts perpetrated against the unarmed civilian population not only constitute state terrorism but also question the collective human conscience across nations and societies. "These atrocities have also revealed the appalling hypocrisy of the democratic leadership of Myanmar," the statement said.
"We call upon Nobel laureate Aung San Suu Kyi to take immediate steps to stop the atrocities being committed in Myanmar where her party is in power," the resolution demanded, adding, "We also call upon the United Nations to take the lead, which it must under its mandate, in stopping immediately the genocide of Rohingya Muslims by Myanmar."
The cabinet meeting chaired by Prime Minister Shahid Khaqan Abbasi at the Prime Minister's Office also approved several agenda items including: the ratification of the Air Services Agreement between the Islamic Republic of Pakistan and the Republic of Belarus; ex-post facto approval, in principle, to start the negotiation and approval to sign the memorandum of understanding (MoU) between Pakistan and Senegal for cooperation in the field of higher education and research; ex-post facto approval of the cabinet to start negotiations and approval for the signing of agreement on industrial, scientific and technical cooperation between Republic of Belarus and Government of Pakistan; approval to amend the existing convention between Pakistan and Finaland for the avoidance of double taxation and the prevention of fiscal evasion with respect to taxes on income for up gradation of article on exchange of information; approval to amend the existing convention between the Republic of Italy and the Islamic Republic of Pakistan for the avoidance of double taxation and the prevention of fiscal evasion with respect to taxes on income for updation of article on exchange of information; approval to amend the existing convention between Pakistan and Turkey for the avoidance of double taxation and the prevention of fiscal evasion with respect to taxes on income for updation of article on exchange of information; protocol amending the convention between Government of Pakistan and the Government of the Kingdom of Bahrain for the avoidance of double taxation and the prevention of fiscal evasion with respect to taxes on income – approval to sign the protocol.
dailytimes.com.pk/pakistan/08-Sep-17/pakistan-condemns-callous-genocide-of-rohingya-muslims
--------
ECP refuses to recognise JuD's political front
Iftikhar A. Khan | Zulqernain Tahir
September 08, 2017
ISLAMABAD / LAHORE: The Election Commission of Pakistan (ECP) on Thursday refused to recognise the Milli Muslim League (MML) — a political front of the Jamaatud Dawa (JuD) — as a legitimate political party and warned electoral candidates not to use the party's name in election campaigns.
In Lahore, the returning officer (RO) for the by-poll in NA-120 restrained Sheikh Mohammad Yaqoob from displaying photos of the proscribed organisation's leaders on his campaign banners. A spokesperson for the ECP clarified that Mr Yaqoob, who was contesting the by-poll as an independent candidate, had been allotted the symbol of an energy saver. He said action would be taken under the ECP's code of conduct if Mr Yaqoob failed to comply with the returning officer's directives.
The JuD had launched the MML last month. While several countries, including the US and India, consider JuD a front for Lashkar-e-Taiba — the militant group accused of masterminding the 2008 Mumbai attacks — the JuD denies links to violence.
In fact, the organisation enjoys considerable popularity, especially for its charity work under the banner of Falah-i-Insaniat Foundation (FIF). The JuD has not been designated a terrorist organisation in Pakistan but has been on its terror watch-list for several years.
The United States has offered a $10 million reward for information leading to the arrest and conviction of JuD's founding chief Hafiz Saeed. The government had placed him under house arrest earlier this year.
The ECP had taken notice of the JuD chief's pictures and the insignia of the MML displayed on the banners used in Mr Yaqoob's election campaign in NA-120.
RO Mohammad Shahid issued a show-cause notice to the candidate for this, terming it a violation of the code of conduct set by the ECP. He directed Mr Yaqoob to comply with the code of conduct or face proceedings.
During his campaign in the constituency, Mr Yaqoob's supporters were seen wearing vests bearing the MML's insignia. Mr Yaqoob had also reportedly distributed sacrificial meat among the 'poor' residents of the constituency during Eidul Azha holidays.
"JuD's sister organisation FIF was also providing free medical service in the constituency but the police had cracked down on its camps," a JuD official told Dawn.
Growing trend
The ECP's warning comes at a time when several proscribed outfits are planning to launch political fronts ahead of the general elections scheduled next year.
Maulana Fazlur Rehman Khalil, founder of the Kashmiri militant outfit Harkatul Mujahideen (HuM), is set to launch a political party under the name Islah-e-Watan Party.
Khalil, a Rawalpindi-based cleric, had been tagged by the US State Department as a "specially designated global terrorist" on Sept 30, 2014. He had co-founded the Harakatul Jihadul Islami in 1980, and was reportedly a signatory to Osama bin Laden's 1998 fatwa that had called for an international front against the West. He stepped down as chief of the HuM in February 2000.
Pakistani authorities arrested him in May 2004 for allegedly helping transport Pakistani militants into Afghanistan. However, he was released after six months due to lack of evidence. He then founded the Ansarul Ummah, but the outfit was disbanded after some years.
Last year, Ahle Sunnat Wal Jamaat (ASWJ)-backed independent candidate Masroor Nawaz Jhangvi had routed Pakistan Muslim League-Nawaz candidate Azad Nasir Ansari in the PP-78 by-election in Jhang.
Although there were 25 candidates contesting the election, a close contest was expected between Ahmad Ludhianvi of the ASWJ and Ansari. The ASWJ chief eventually withdrew from the by-election, paving the way for a victory for Jhangvi.
Outlawed ASWJ chief Maulana Ahmad Ludhianvi had not only contested the poll for a National Assembly seat from Jhang but had been declared a successful candidate by an election tribunal in a controversial decision which had de-seated Sheikh Mohammad Akram of the PML-N.
He had contested elections from the platform of the Pakistan Rahe Haq Party, which is registered with the ECP.
Full report at:
dawn.com/news/1356284/ecp-refuses-to-recognise-juds-political-front
--------
Interior minister apprises UK envoy of antiterrorism steps
Ikram Junaidi
September 08, 2017
ISLAMABAD: Interior Minister Ahsan Iqbal on Thursday informed British High Commissioner Thomas Drew that Pakistan's security agencies were keeping a close watch on banned organisations and that the international community must acknowledge Islamabad's sacrifices in the fight against terrorism.
The minister made these remarks during a meeting with the British High Commissioner here. "We have rendered great sacrifices in the war against terrorism, but in Balochistan acts of terror are taking place with support from across the border. We are determined to foil all conspiracies against Pakistan and restore peace to the region," the minister said.
Mr Iqbal claimed that Pakistan had been successfully implementing the National Action Plan and more steps were being taken to strengthen capacity of law-enforcement agencies.
He suggested that both countries should strengthen economic relations.
Full report at:
dawn.com/news/1356303/interior-minister-apprises-uk-envoy-of-antiterrorism-steps
--------
ATC acquits seven men in Kasur child abuse scandal
September 08, 2017
LAHORE: An anti-terrorism court (ATC) on Thursday acquitted seven men in one of the nine cases police had registered in the Kasur child abuse scandal.
The presiding judge, Chaudhry Muhammad Ilyas, acquitted Saleem Akhtar Sherazi, Attiqur Rehman, Tanzeelur Rehman, Haseem Amir, Aleem Asif, Waseem Abid and Naseem Sheraz, giving them the benefit of the doubt.
Ganda Singhwala police had registered cases against them as well as some other people on charges of abducting and sexually assaulting 280 children in Kasur. Most victims belonged to Husain Khanwala village.
The accused had also been blackmailing the families of the boys since 2009 and even sold the video clips having images of the assault. Later, a property dispute brought the issue to the surface.
The counsel for the accused argued that police implicated them in the cases on government's pressure and they had no role in the scandal. He requested the court to release the arrested men.
Earlier on Aug 19, the ATC acquitted Saleem Akhtar Sherazi, Attiqur Rehman, Tanzeelur Rehman and Haseem Amir in another case (of the same scandal).
Last year, the court had awarded life imprisonment to Faizan Majeed and Haseem Amir in one of the many cases after the prosecution had accused them of sexually assaulting young boys and filming the act to blackmail the families.
Full report at:
dawn.com/news/1356264/atc-acquits-seven-men-in-kasur-child-abuse-scandal
--------
Europe
Islamophobia curbs job prospects for Muslims in Britain, says study
8 September 2017
LONDON: Islamophobia is curbing employment opportunities for Muslim men and women in Britain according to a new study.
It found that just one in five Muslim adults is in full-time employment.
Research from the Social Mobility Commission, the UK government's social mobility watchdog, pointed to widespread discrimination and Islamophobia in the workplace, with less than 20 percent of Muslim adults in full-time work, compared to 34.9 percent of the overall population.
The discrimination starts in schools, where despite strong performance in education, and reports of a high work ethic and resilience among Muslim students, success fails to translate into career opportunities, the report found.
Young Muslims said they faced stereotyping from teachers and struggled to find role models due to a lack of Muslim staff. According to the study, many Muslim students feel targeted by bullies and believe they have to work harder than other students to succeed.
A previous report by the Social Mobility Commission found that young people from Pakistani and Bangladeshi backgrounds were outperforming students from other ethnic groups in schools but less likely to gain employment at the professional or managerial level.
According to the latest study, Muslims as a whole account for just 6 percent of people occupying these roles, compared to 10 percent of the overall population.
"Muslims experience the greatest economic disadvantages of any group in UK society," said the report's author, professor Jacqueline Stevenson at Sheffield Hallam University, which led the research. "They are more likely than non-Muslims to experience neighborhood deprivation, housing, educational and health disadvantage, and unemployment," she added.
The latest study, which was based on focus group discussions and interviews, cited several obstacles faced by young Muslims in schools and later on in the workplace.
Some of those interviewed described being singled out for wearing a hijab or having an ethnic-sounding name. One Muslim women reported that her father had suggested she change her name to help get a job and others spoke of feeling alienated at work or overlooked for promotion due to their faith.
Community pressure on Muslim women can also be a factor in hindering access to employment. According to the study, restrictions on Muslim women are often greater than those on Muslim men.
"Traditional attitudes toward the role and place of women within the family can also have a negative effect on the social mobility of Muslim women, particularly concerning their employment opportunities," the report said.
In the 16 to 74 age range, 18 percent of Muslim women were found to be "looking after home and family" compared to 6 percent of the overall female population.
Women who wear the hijab face particular problems in the workplace. In June this year, an estate agent working in Bury filed a complaint against her employer after she was allegedly told to remove her black hijab due to its "terrorist affiliations." The claimant, who did not wish to be named, said a colleague reported feeling "intimidated and scared" by the garment.
"Young Muslim women, whether they attend schools, colleges or work in professional environments, should never have to feel that they have to compromise their religious beliefs or water down their Muslim identity for fear of intimidating people of other or no faith," she said.
A recent report by Hope Not Hate on attitudes toward race and immigration in the UK detailed the increasing polarization of Muslims in Britain and the rise in anti-Muslim sentiment. In the wake of recent terror attacks in the country, 42 percent of people surveyed said they were more suspicious of Muslims in Britain while just 10 percent of the population identified themselves as being "similar" to Muslims.
"Young Muslims feel a real challenge in maintaining their identity while seeking to succeed in Britain," said Stevenson. Some respond by asserting their Muslim identity while others feel pressured to hide it, she added. "Muslims are excluded, discriminated against, or failed, at all stages of their transition from education to employment. Taken together, these contributory factors have profound implications for social mobility."
Iman Atta, director of Tell Mama, a UK-based group that monitors Islamophobia, referred to a "Muslim penalty" in salaried jobs.
"Our research found that 'Homemaking' women in relatively deprived neighborhoods are less likely to become employed and those women residing in those areas who are employed are more likely than others to become unemployed," she said.
"Misconceptions about cultural differences, and false assumptions that Muslim women prioritize family life over work leads to 'significant discrimination' at the recruitment and career advancement stages."
arabnews.com/node/1157466/world
--------
Londoners protest in solidarity with Rohingyas
Sep 7, 2017
A group of British activists have marched in London to condemn Myanmar's deadly crackdown on Rohingya Muslims.
Gathering outside the 10 Downing Street on Wednesday, the protesters called on Prime Minister Theresa May to help end the Myanmar government's ongoing genocide against the religious minority.
The protesters said Britain had to utilize its position on the UN Security Council and use its historical ties with Myanmar as grounds for an international solution.
Myanmar's security forces have long been attacking Rohingyas and torching their villages since October 2016, in a bid to push them out of the western state of Rakhine. The attacks have been intensified since August 25, with State Counselor Aung San Suu Ky ignoring international demands to call off the operation.
Thousands of Rohingyas have already fled their homeland to take refuge in Bangladesh. Many people have been killed during the perilous boat journeys on the Naf River, which separates the two neighboring countries.
The refugees have also tried to cross the border into Malaysia, Indonesia and Thailand.
UK MPs call for government action
Also on Wednesday, Members of UK Parliament asked May's cabinet to step forward and help end the violence, which they described as "ethnic cleansing."
Labour MP and shadow foreign minister Liz McInne called on May to suspend London's military aid to Myanmar.
"This government must do everything it can to help bring to an end this senseless violence", Ms McInnes said, denouncing as "wholly inappropriate" the UK's sale of over £500,000 worth of weapons to the Myanmar government in the last three years.
Foreign Office Minister Mark Field said in response that London had "strongly urged the security forces in Rakhine to show restraint."
He said May's government had also asked for humanitarian aid "to reach those in need as soon as possible."
Yasmin Qureshi, another Labour MP, said she was "a little bit disappointed by Field's response.
"Will you actually condemn this campaign of ethnic cleansing of the Rohingya Muslims?" she asked.
Full report at:
presstv.ir/Detail/2017/09/07/534328/UK-London-protests-Rohingya-Myanmar-MPs
--------
EU's decision on Turkey membership not expected this year: Estonia
Sep 7, 2017
The Estonian foreign minister, whose country holds the European Union's six-month rotating presidency, says any decision to end Turkey's bid to join the continental bloc would not be made this year.
Sven Mikser said Thursday that if the EU is to decide to cease Turkey's years-long accession talks, it should wait for an assessment by the European Commission, the executive arm of the EU which monitors Turkey's compliance with membership criteria. Mikser added that a commission assessment was expected early next year.
"I do not expect the European Union to make any decisions in that regard during this year," he said at a meeting of EU foreign ministers in Tallinn.
The comments come after German Chancellor Angela Merkel said last week during her campaign to win a fourth term in power that she would call on the EU to terminate Turkey's accession talks. That came after Turkey arrested two more German nationals over alleged links to last year's coup attempt.
Ankara and Berlin have locked horns since the last July coup attempt in Turkey.
Germany has been critical of Turkey's handling of the aftermath of the coup, which has seen more than 150,000 people arrested or discharged from jobs, while Ankara accuses Berlin of supporting the opponents of the Turkish government.
Turkey, a member of the NATO military alliance, is of significance to the EU, especially when it comes to the refugee crisis which has gripped Europe since 2015.
Full report at:
presstv.ir/Detail/2017/09/07/534364/EU-Turkey-accession-talks
--------
Turkey a 'vital' EU partner, says French leader
07 September 2017
French President Emmanuel Macron on Thursday said Turkey remains a "vital partner" for Europe.
Macron was speaking to Greek newspaper Kathimerini ahead of his arrival in Athens for a two-day official visit.
Speaking mostly about the Greek economic crisis, Macron said he was optimistic about the country's future and new opportunities which would tackle joblessness.
Greece still has a huge unemployment rate and continues to receive bailout funding from other European countries.
"The positive signs are multiplying; growth is returning, investments are growing, unemployment is dropping," Macron insisted.
Regarding Turkey, the French leader stated it was important not to form a split with Ankara.
Tensions between Turkey and some EU countries, particularly Germany, have risen in recent months. The German Chancellor Angela Merkel earlier this week said she would push other EU countries to review Turkey's accession process at a European Council meeting scheduled for October.
However, Macron said he wanted to avoid a split because of Turkey's partnership "in many crises we all face, notably the immigration challenge and the terrorist threat".
Full report at:
worldbulletin.net/europe/193738/turkey-a-vital-eu-partner-says-french-leader
--------
South Asia
As Rakhine burns, Muslims in Myanmar ponder fate
Karim Raslan
Sep 8, 2017
At the time of writing, more than 120,000 Rohingya - dubbed the world's most-persecuted people - have fled the state of Rakhine in Myanmar's west.
Condemnation of the government, especially state counsellor and de facto leader Aung San Suu Kyi, has been almost universal.
The country's minorities - including the Shan, the Karen, the Kachin and Muslims - have long faced a troubled and at times bloody relationship with the dominant Burmese or "Bama" majority, who inhabit the core Irrawaddy Delta.
Still, Muslims have long been an integral part of public life in Myanmar, previously known as Burma. Various rulers, including King Mindon in the 19th century, encouraged Muslim settlement and mosque-building, seeing the community as an important source of commercial activity and revenue.
However, the British defeat of the Konbaung dynasty was to have a searing impact on Burmese consciousness - engendering a deeply rooted sense of xenophobia.
Unlike in Malaysia and Indonesia, where the colonial authorities chose to govern through local sultans, in Burma, the administration was unequivocally British and managed from Calcutta and later Delhi.
The territory was also extremely valuable commercially. Timber, precious stones and petroleum drew foreign capital and labour deep into the heart of what had been a proud Burmese polity.
Also, Marwari and Chettiar merchants from the Indian subcontinent soon realised the vast potential for rice cultivation, turning Burma in a matter of years into a major rice-exporting region.
To cut costs, the same businessmen imported labour from nearby Bengal - suppressing domestic wages and displacing countless local farmers.
By World War II, almost half of the population of Rangoon, now Yangon, was Indian. This deepened the resentment of native Burmese, who saw the newcomers - many of whom happened to be Muslim - as intruders. This in turn led to anti-immigrant riots in the city. WWII and the violence thereafter prompted many millions of Indians to leave. Still, many remained.
For Myanmar's millions of Muslims today, the violence in Rakhine is deeply unsettling. Interestingly, official figures say the Muslim minority represents only 3 to 4 per cent of the population, but non-governmental organisations feel the figure is nearer 12 to 13 per cent.
Whatever it is, the Muslim minority, highly visible and densely packed in downtown Yangon, is also spread across the interior, with mosques in small cities and towns such as Bago, Mawlamyine and Meiktila.
International attention is rightly focused on the Rakhine situation, but it is important to remember that not all Muslims in Myanmar are Rohingya, even though their situation can sometimes be just as precarious. Many complain about formal and informal discrimination, including the use of the term "kalar" (which is seen as derogatory) by non-Muslims against them.
Given recent events, I contacted Muslim Burmese friends to get a sense of how they viewed things. To protect them, I have changed their names in some instances. Former truck driver U Tin Win, 71, is a Muslim in Myanmar and struggles to obtain papers for his grandchildren.
When he was contacted, it seemed the problem had not abated: "Even my uncle who works as a Customs officer can't get an ID card. He lost it and, despite having all the necessary documents, still hasn't received a new one because he is Muslim."
Others fear for their own safety. Chit (not his real name), a Myanmar Muslim in his early 30s, works as a taxi driver in Yangon, where there are many mosques and Muslims. Despite that, he often feels insecure. "Everywhere in Myanmar, Buddhists think Muslims are terrorists who are trying to overthrow the government. There is a lot of fake news on social media spreading this propaganda. That's how violent sentiments spread outside the Rakhine state. Fortunately, I don't look obviously Muslim, so I can get by without too much hassle."
In Myanmar, "looking Muslim" means being dark-skinned, having Indian features, and being bearded for men or wearing the hijab for women.
Naing (not her real name), a Muslim resident of Meiktila, has graver concerns. "There was a fight between a Muslim and a Buddhist a few weeks ago. In one village called Chan Aye, soldiers imposed a night curfew and are guarding the place very tightly. Hopefully, the violence from Rakhine will not spread here."
Naing, who is in her early 20s, is pessimistic about the prospects of her people. "Buddhists aren't allowed to buy or sell land from Muslims. Ma Ba Tha (a movement of extremist Buddhist monks) will stop it. Some months ago, they almost killed a Muslim man and destroyed his house for buying his land from a Buddhist."
The discrimination affects even well-to-do Muslims, like Kyaw (not his real name), a veteran businessman with financial interests in Myanmar and overseas.
"I attended a high-level diplomatic course where ministers and ambassadors were also present. They used 'kalar' there to refer to Burmese Muslims. TV shows and movies use the word all the time. The racism is everywhere.
"In smaller towns, there are signs that are displayed outside shops to show which businesses are Buddhist-owned, so they can discriminate against us.
"To make deals, I have to use Buddhist proxies; otherwise, I would never survive."
What surprised me was that there was relatively little bitterness among my Myanmar Muslim friends against Ms Suu Kyi, who has come under fire internationally. Even though she has already broken her long silence over the matter, the fact remains that nothing has been done to stop the violence.
U Tin Win, for instance, wholeheartedly believes she will champion Myanmar's 2008 Constitution. It should be noted that the said document includes the clause: "We, the National people, firmly resolve that we shall uphold racial equality, living eternally in unity fostering the firm Union Spirit of true patriotism."
In contrast, Naing says: "She and the National League for Democracy (NLD) don't have the power to change what is happening. She is doing her best."
Taxi driver Chit is even appreciative of NLD: "I think their response to the Rakhine violence is very fair. They are trying their hardest, and I believe they can resolve the issue."
Kyaw argues: "If they speak out, they will lose support. I am sure that, behind the scenes, they are working to help Burmese Muslims and the Rohingya live peacefully."
Myanmar's Muslims are in a complex, delicate situation. They know all too well that they could be "next" in the crosshairs of the extremists after the Rohingya.
Many see Ms Suu Kyi and NLD as their only hope. But given the government's lack of action over the violence in Rakhine, their goodwill could very well be forlorn.
straitstimes.com/opinion/as-rakhine-burns-muslims-in-myanmar-ponder-fate
--------
Taliban leader among 7 killed, wounded in Maidan Wardak airstrike
Sep 08 2017
An airstrike targeted the Taliban insurgents in central Maidan Wardak province of Afghanistan leaving at least seven of them dead or wounded, the local officials said Thursday.
A local commander of the militants was also among those killed during the airstrike.
The provincial police commandment in a statement confirmed the airstrike and said at least three people including their commander were killed.
The statement further added that four others also sustained injuries in the airstrike that targeted the militants in Nerkh district in Marko village.
The Taliban leader killed in the airstrike has been identified as Mawlavi Farid, the police commandment said, adding that the airstrike was carried out as the militants were looking to launch an attack on the security forces in the village.
The anti-government armed militant groups including the Taliban insurgents have not commented regarding the report so far.
Maidan Wardak is among the relatively volatile provinces in central parts of the country, located close to capital Kabul.
Full report at:
khaama.com/taliban-leader-among-7-killed-wounded-in-maidan-wardak-airstrike-03390
--------
Over 250,000 Rohingya have fled to Bangladesh: UN
Sep 8, 2017
COX'S BAZAR/OSLO - More than a quarter of a million mostly Rohingya refugees have entered Bangladesh since fresh violence erupted in Myanmar last October, the United Nations said Thursday, as more bodies washed up a day after boats sank attempting to cross the river that divides the two countries.
In the last two weeks alone 164,000 mostly Rohingya civilians have fled to Bangladesh, overwhelming refugee camps that were already bursting at the seams and triggering warnings of a humanitarian crisis.
Scores more have died trying to flee the fighting in Myanmar's Rakhine state, where witnesses say entire villages have been burned to the ground since Rohingya militants launched a series of coordinated attacks on August 25, prompting a military-led crackdown.
Police in Bangladesh say they have recovered the bodies of 17 people, many of them children, who drowned when at least three boats packed with Rohingya refugees sank at the mouth of the Naf river that runs along the border. Bangladesh border guards say desperate Rohingya are attempting to cross the river using small fishing trawlers that are dangerously overcrowded.
At least five have capsized leaving more than 60 people dead, police and border guards say.
Rohingya refugee Tayeba Khatun said she and her family had waited four days for a place on a boat to take them to Bangladesh after fleeing her township in Rakhine.
"People were squeezing into whatever space they could find on the rickety boats. I saw two of those boats sink," she told AFP. "Most managed to swim ashore but the children were missing."
Those flocking into Bangladesh have brought with them harrowing testimony of murder, rape and widespread arson by Myanmar's army.
Most have walked for days to reach Bangladesh and the United Nations says many are sick, exhausted and in desperate need of shelter, food and water.
Existing camps which hosted around 400,000 refugees before the latest influx are now completely overwhelmed, leaving tens of thousands of new arrivals with nowhere to shelter from the monsoon rains.
Mazor Mustafa, a Bangladeshi businessman handing out food and rehydration fluids, said the situation was getting worse as more people arrived.
"It is not at all enough food," he told AFP of the ration kits being distributed. "These people are hungry, starving to death together."
The latest figures mean that nearly a quarter of Myanmar's 1.1 million Rohingya Muslims have fled since fighting first broke out last October.
Impoverished Bangladesh initially tried to block them from entering, but has now given up attempting to stem the tide.
UN investigators have said a military crackdown that followed ambushes by Rohingya militants in October last year may amount to ethnic cleansing.
The recent fighting is the fiercest in Rakhine, Myanmar's poorest state, in years.
Meanwhile, thousands of people have signed an online petition calling for the Nobel committee to revoke Aung San Suu Kyi's peace prize over the Myanmar government's treatment of its Rohingya Muslims.
But the Norwegian Nobel committee has ruled out any such move, saying only that the work which led to the awarding of the prize was taken into account.
The Change.Org petition has gathered over 365,000 signatures as of Thursday, reflecting growing outrage over a massive security sweep in Rakhine state by Myanmar forces after a series of deadly ambushes by Rohingya militants.
"The de facto ruler of Myanmar Aung San Suu Kyi has done virtually nothing to stop this crime against humanity in her country," the petition says.
Suu Kyi was awarded the prize in 1991, while under house arrest at the hands of Myanmar's military junta, from which she was released in 2010. She then went on to lead her party through the country's first credible elections since independence.
But her government has faced international condemnation for the army's response to the crisis as refugees arrive in Bangladesh with stories of murder, rape and burned villages at the hands of soldiers.
The United Nations said Thursday that about 164,000 mostly Rohingya refugees have escaped to Bangladesh in the past two weeks, meaning more than a quarter of a million have fled since fighting broke out in October.
Suu Kyi lashed out this week at what she called "a huge iceberg of misinformation" over the crisis, "with the aim of promoting the interest of the terrorists".
In Oslo, Olav Njolstad, head of the Nobel Institute, said it was impossible to strip a Nobel laureate of an award once it has been bestowed.
"Neither Alfred Nobel's will nor the statutes of the Nobel Foundation provide for the possibility that a Nobel Prize - whether for physics, chemistry, medicine, literature or peace - can be revoked," he told AFP.
"Only the efforts made by a laureate before the attribution of a prize are evaluated by the Nobel committee," he said, and not any subsequent actions.
Myanmar said Thursday that 6,600 Rohingya homes and 201 non-Muslim homes had been burned to the ground since August 25.
They added some 30 civilians had been killed - seven Rohingyas, seven Hindus and 16 Rakhine Buddhists - in the fighting.
Full report at:
nation.com.pk/international/08-Sep-2017/over-250-000-rohingya-have-fled-to-bangladesh-un
--------
Three militants including their commander mysteriously killed in Nangarhar
Sep 07 2017
At least three militants including their commander were mysteriously killed in eastern Nangarhar province of Afghanistan, the local security officials said Thursday.
The incident took place late on Wednesday night in the vicinity of Shirzad district of Nangarhar.
The provincial police commandment in a statement confirmed the incident and said the militants were killed in Hashim Khel area of the district.
The statement further added that a local leader of the militants was among those killed.
It is yet not clear to which group or movement the militants belong to but insurgents loyal to Taliban and ISIS are active in some of the remote districts of Nangarhar province.
No individual or group has so far claimed responsibility behind the killing of the militants in Shirzad district so far.
This is not the first time reports have emerged regarding the mysterious killing of the militants but numerous such incidents have been reported from Nangarhar and other parts of the country.
Full report at:
khaama.com/three-militants-including-their-commander-mysteriously-killed-in-nangarhar-03389
--------
Turkey to stand beside Rohingyas: Turkish First Lady Emine Erdogan
September 07, 2017
Visiting Turkish First Lady Emine Erdogan today affirmed that the government of Turkey will stand beside the Rohingyas, who have fled to Bangladesh in the face of ethnic cleansing in Myanmar's Rakhine.
Emine Erdogan came up with the affirmation while visiting refugees at Rohingya camp in Kutupalang of Cox's Bazar's Ukhia upazila this afternoon.
"Turkish President Tayyip Erdogan will take up the issue at the UN General Assembly in a bid to bring an immediate resolution to the Rohingya crisis," the first lady said while replying to reporters' query.
Emine Erdogan was accompanied by Turkish Foreign Minister Mevlut Cavusoglu, Bangladesh Foreign Minister Abul Hassan Mahmood Ali, deputy commissioner of Cox's Bazar, the district superintendent of police and other top-level government officials of both countries, , reports our local correspondent from the spot.
Turkish Foreign Minister Cavusoglu earlier told media that the first lady would have "close contact" with Rohingyas who had escaped from Myanmar.
After coming back from Cox's Bazar, the Turkish first lady and the foreign minister will call on Prime Minister Sheikh Hasina and discuss the Rohingya issue to find a lasting solution to this decades-long humanitarian crisis.
Earlier, a special aircraft carrying Turkey's First Lady Emine Erdogan and her entourage landed at Shahjalal International Airport in Dhaka around 3:00am today.
State Minister for Foreign Affairs Md Shahriar Alam received her at the airport.
Turkey's Foreign Minister Mevlut Cavusoglu arrived in Dhaka in another aircraft earlier.
The visit followed the latest bloodshed in Myanmar's Rakhine state that resulted in the fresh influx of Rohingyas into Bangladesh.
On August 31, Turkish President Recep Tayyip Erdogan called his Bangladesh counterpart Abdul Hamid and talked about the current state of the Rohingya crisis. The Turkish president supported measures over the Rohingya issue taken by Bangladesh.
Full report at:
thedailystar.net/city/first-lady-turkey-emine-erdogan-in-dhaka-myanmar-rohingya-muslim-crisis-1458736
--------
Pakistan's army chief says cannot fight Afghanistan's war in Pakistan
Sep 07 2017
The Chief of Army Staff of Pakistan General Qamar Javed Bajwa has said the country cannot fight Afghanistan's war in Pakistan, apparently gesturing towards the demands by Kabul and Washington to eliminate the sanctuaries of the Taliban and Haqqani terrorist network based in the key cities of the country.
The remarks by Gen. Bajwa could be a gesture of Pakistan to reject the calls for the elimination of the terror sanctuaries as he said the country would prefer to remain impartial in the ongoing violence in Afghanistan.
He said "We cannot fight Afgha­nistan's war in Pakistan."
The Pakistani officials had earlier given similar statements regarding the calls for the elimination of the Afghan-linked terror sanctuaries, saying such moves could endanger the security of Pakistan.
In the meantime, Gen. Bajwa said for complete impartiality in Afghan conflict Pakistan would want an early repatriation of Afghan refugees from its soil and securing of 2,600km porous border with Afghanistan, which it has already started fencing.
The US Secretary of State Rex Tillerson had earlier said Pakistan is expected to "take decisive action against militant groups based in Pakistan that are a threat to the region."
The pressures by Washington on Pakistan regarding the safe havens of the terror groups are on the rise after the announcement of the new strategy by US President Donald Trump last month.
President Trump said "For its part, Pakistan often gives safe haven to agents of chaos, violence, and terror. The threat is worse because Pakistan and India are two nuclear-armed states whose tense relations threaten to spiral into conflict. And that could happen."
Full report at:
khaama.com/pakistans-army-chief-says-cannot-fight-afghanistans-war-in-pakistan-03386
--------
Bangladesh's civil society personalities urge pushing Myanmar to stop Rohingya 'genocide'
September 07, 2017
Representatives of the civil society today demanded that global leaders and the United Nations (UN) put pressure on the Myanmar government to stop "genocide" and persecution against Rohingyas.
The Rohingya issue must get the highest priority and a decision on pressurising Myanmar should be adopted in the next meeting of UN Human Rights Council on September 11, they said.
Bangladesh government should strengthen its diplomatic activity and its neighbouring and friendly countries have to come forward to solve the issue.
The observations were made at a press conference organised by Shushashoner Jonno Nagorik (Shujan), a civil society platform, at Dhaka Reporters' Unity auditorium in the capital.
The conference was organised following the recent influx of Rohingyas, a Muslim minority community of Myanmar, into Bangladesh.
Reading out a statement at the conference, CR Abrar, a professor of international relation of Dhaka University, said Bangladesh alone cannot take responsibility of all the Rohingya refugees.
Although Bangladesh is primarily providing shelter to the community, other neighbouring countries should also take initiative to rehabilitate them, Professor Abrar said.
"Rohingya issue has fallen into a vicious political cycle. We want a proper and peaceful solution of it," eminent writer and columnist Syed Abul Maksud said.
Full report at:
thedailystar.net/country/rohingya-refugee-crisis-civil-society-personalities-bangladesh-urge-global-leaders-united-nations-un-pushing-myanmar-government-stop-genocide-persecution-1458778
--------
Young man surrenders to police after forced by father to carry out suicide attack
Sep 07 2017
A young man has surrendered to the security forces in eastern Nangarhar province of Afghanistan after he was forced by his father and brother to carry out a suicide attack.
According to the local security officials, the man surrendered himself to the security forces in the vicinity of Bati Kot district.
The provincial police commandment in a statement also confirmed the surrender of the young man and said he was forced to carry out a suicide attack by his father and brother who are active members of the Taliban.
The statement further added that the young man changed his mind after he was sent for the attack and handed over himself to the police forces in Bati Kot district.
The anti-government armed militant groups including the Taliban insurgents have not commented regarding the report so far.
This is not the first time a young man or a child has been detained or rescued before carrying out a suicide attack.
Full report at:
khaama.com/young-man-surrenders-to-police-after-forced-by-father-to-carry-out-suicide-attack-03387
--------
URL: https://www.newageislam.com/islamic-world-news/iran-urges-action-rohingya-genocide/d/112470
New Age Islam, Islam Online, Islamic Website, African Muslim News, Arab World News, South Asia News, Indian Muslim News, World Muslim News, Women in Islam, Islamic Feminism, Arab Women, Women In Arab, Islamophobia in America, Muslim Women in West, Islam Women and Feminism