New Age Islam News Bureau
25 March 2015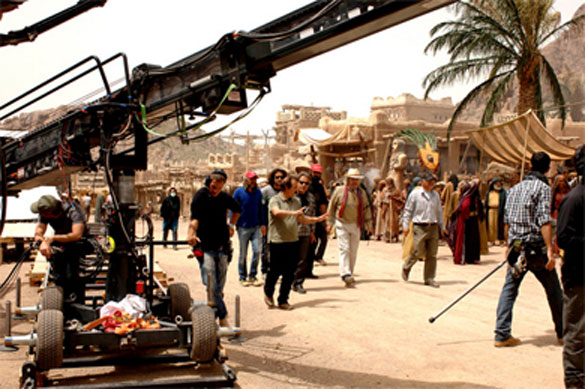 Iranian filmmaker Majid Maijidi leads the crew through a scene while filming 'Mohammed, Messenger of God', a new film about the Prophet Mohammed
--------------
Mideast
• Iran Film Portrays the Prophet Muhammad, Drawing Criticism
• Turkey to train, equip Syrian rebels in border province, too
• As Houthis advance in Yemen, Saudi-Iranian proxy rivalry heats up
• Turkey should develop its own missile technology to respond to regional threats: PM
• Yemenis Reject S. Arabia's Offer for Treating Injured People
Pakistan
• Council of Islamic Ideology to Ensure Parliamentary Bills Conform To Islam
• 30 Terrorists Killed In Khyber Agency in Aerial Strikes: ISPR
• 8 Militants Killed, Several Injured By Armed Forces in Tirah Valley
• Lashkar-i-Islam spokesperson killed in Khyber blitz
• Operation to Continue Till Elimination of Last Terrorist: PM
• No dossier against Altaf handed over to UK: Nisar
• Fresh warrants: Saulat Mirza to be hanged on April 1
• Overseas Pakistanis Commission to resolve expats problems: Shahbaz Sharif
• Six murderers hanged in jails across Pakistan
Arab World
• Over 1,500 Militants Attack Syria's Idlib, 23 Civilians Killed
• Iraqi Forces Kill over 20 Terrorists in Anbar
• Arab Tribes Union Denounces Yemen Blasts, Shows Support for Ansarullah
• 400 Children Recruited by ISIL in Syria since January
• Iraqi Air Strike Targets ISIL Positions in Salahuddin
• Nusra Front Quietly Rises In Syria Using ISIS Tactics
• Syria, Iraq discuss tackling militants, urge cooperation
• Expat family visa conditions outlined
• Egypt fires forensics official for comments on slain woman
• Saudi King: Judiciary is independent
India
• Dukhtaran-e-Millat Chief Aasiya Andrabi Booked Under UAPA for Allegedly Hoisting Pak Flag
• Case Lodged Against Hurriyat Leader for Singing Pakistani National Anthem
• US Govt Intends To Ask Court to Dismiss Sikh Petition That Sought Terror Tag for RSS
• Ghar Wapsi: Anti-Conversion Law Needed, Says Union Minister
South Asia
• 3 Soldiers Martyred, 35 Insurgents Killed In Separate Military Operations in Afghanistan
• 4 civilians killed in separate explosions in Nangarhar
• ISIS releases Bangladeshi hostages in Libya
• Bangladesh: Student expelled from hostel over anti-religion comments on Facebook
• Beijing seeks Dhaka's support on UN Security Council reform
• Nasheed to wait on appeal until Criminal Court provides full case report
Africa
• Boko Haram Kidnapped Hundreds In Northern Nigeria Town
• Tunisia's Bardo museum in symbolic reopening and March after attacks
• Islamist Terror Hits Nigeria's Economy
North America
• Obama: Dim Hope for End to Israeli-Palestinian Conflict
• U.S., Lebanon Discuss Efforts to Defeat Isis
• 50-year Zionist occupation must end: Obama aide
• Obama underscores Pakistan's importance to Afghan peace
• American official pledges support to Pakistan in fighting terrorism
Australia
• 230 Suspected Militants Prevented From Leaving Australia
Southeast Asia
• Tug-Of-War between China, Turkey over Uighurs in Thailand
• Council of Rulers opposes amendments needed to enforce Hudud
• Hudud laws will signal Malaysia has abandoned moderation, says G25
• Densus 88 Arrests Two Men in Malang over Alleged ISIS Links
• Indonesian Terror Cells Get Help from Down Under: PPATK
Europe
• British Teachers on 'Frontline' of Radicalisation Fight
• German wings investigators all-but rule out terrorism
• A320 crash probe not focusing on terrorism: French minister
• Belgian Official Praises Assad as 'Ally,' Lauds Syria's War on Terror
• EU Lawmaker Stresses Necessity for Iran's Presence in Syrian Peace Talks
• French court sentences nine Kurds in PKK extortion case
Compiled by New Age Islam News Bureau
URL: https://newageislam.com/islamic-world-news/new-age-islam-news-bureau/iran-film-portrays-the-prophet-muhammad,-drawing-criticism/d/102106
---------
Mideast
Iran Film Portrays the Prophet Muhammad, Drawing Criticism
Mar 25 2015
Here in this Persian replica of Mecca, built at the cost of millions of dollars, an Iranian film company is attempting to offer the world a literal glimpse of the Prophet Muhammad despite traditional taboos against it.
The movie "Muhammad, Messenger of God" already recalls the grandeur - and expense - of a Cecil B. DeMille film, with the narrow alleyways and a replica Kaaba shrine built here in the remote village of Allahyar. But by even showing the back of the Prophet Muhammad as a child before he was called upon by Allah, the most expensive film in Iranian history already has been criticized before its even widely released, calling into question who ultimately will see the Quranic story come to life on the big screen.
"How should introduce our prophet?" asked Majid Majidi, the film's director. "Many relay their messages to the world through cinema and pictures."
In American cinematic history, films involving the Bible often find the biggest audience and box office returns. Biblical stories have inspired dozens of films from the 1920s all the way to recent blockbusters like "Noah" starring Russell Crowe and Ridley Scott's biblical epic "Exodus: Gods and Kings."
But in Islam, portraying the Prophet Muhammad has long been taboo for many. Islamic tradition is full of written descriptions of Muhammad and his qualities - describing him as the ideal human being. But clerics generally have agreed that trying to depict that ideal is forbidden. The Paris terror attack on the satirical magazine Charlie Hebdo, which killed 12 people in January, saw gunmen target it over its caricature of the prophet.
But while Sunni Islam, the religion's dominant branch, widely rejects any depictions of Muhammad, his close relatives or companions, Shiite Islam doesn't. In Shiite powerhouse Iran and other countries, posters, banners, jewellery and even key chains bear the images of Muhammad's son-in-law Ali, revered by Shiites who see him as the prophet's rightful successor. The late Ayatollah Ruhollah Khomenei, who led Iran's 1979 Islamic Revolution and later became the country's supreme leader, reportedly even kept a picture similar to young Muhammad in his room for years.
In the new 190-minute film, the story focuses on Muhammad's childhood, never showing his face. The movie instead focuses on others to tell his story, like his grandfather Abdul-Muttalib, portrayed by Iranian actor Ali Reza Shoja Nouri.
"It was a very heavy role," Nouri told The Associated Press. "I cannot express my feelings about it."
For his vision, Majidi hired Academy Award winning visual effects supervisor and filmmaker Scott E. Anderson, three-time Oscar-winning Italian director of photography Vittorio Storaro and music producer Allah-Rakha Rahman, who won two Academy Awards for his work on "Slumdog Millionaire."
By making a high-quality film, Majidi said it will give the world the right impression about the Prophet Muhammad. He blamed Islamic extremists and the West for sullying the image of a pillar of faith for 1.5 billion people across the world.
"For Muslims, the Prophet Muhammad is a mercy to the world and the hereafter," he said.
Yet, the film already has seen widespread criticism even before being widely released, largely from predominantly Sunni Arab countries. In February, Egypt's Al-Azhar, one of Sunni Islam's most prestigious seats of learning, called on Iran to ban a film it described as debasing the sanctity of messengers from God. Meanwhile, the Sunni kingdom of Qatar has announced plans to have its own $1 billion epic shot on the prophet's life.
Majidi said he would be ready to cooperate with any Islamic country planning a film on Muhammad.
"We are ready to cooperate to produce any movies to introduce Muhammad to the world," Majidi said. "We are an Islamic country, we know the related culture and we have capabilities for production of such movies."
So far, the film appears to have the support of Ayatollah Ali Khamenei, Iran's current supreme leader, who attended an inauguration of the film's set in 2012.
Iranian film critics generally have praised the film as well, like Mostafa Seyedabadi, who declared its color and lighting as "astonishing," However, critic Masoud Farasati dismissed some of the film's shots, like a low-angle view of the prophet as a teen against the sky as a "Hollywood" knockoff.
Producers plan to ultimately release the film in Arabic, Persian and English, with showings across Iran and abroad in the summer. Filming took a year, while postproduction in Germany took two more years.
And if this film is successful, its producers say they hope to film two sequels, one focusing on Muhammad's life from his teenage years to his 40s and another after 40 when he became the prophet of Islam.
Mohammad Mahdi Heidarian, head of the private Nourtaban Film Industry company, said his company spent about $30 million in total to make the movie. He and others declined to elaborate on who provided financial backing for it, though there are wealthy investors and religious institutions in Iran that likely would support such efforts.
In the past, such religious films have done well in Iran. The 1977 Quranic epic "The Message," starring Anthony Quinn as the uncle of the unseen and unheard prophet, drew crowds and long lines to movie theatres in Tehran. And another that did well was DeMille's own 1956 film, "The Ten Commandments," with Charlton Heston playing the sea-parting prophet Moses. It's yet to be seen whether Majidi's film will be led into the promised land of a wide release.
http://www.hurriyetdailynews.com/iran-film-portrays-the-prophet-muhammad-drawing-criticism.aspx?pageID=238&nID=80148&NewsCatID=381
---------
Turkey to train, equip Syrian rebels in border province, too
Mar 25 2015
Turkey will provide a military facility in the southern province of Hatay, along with the Hirfanlı military base in the central Anatolian province of Kırşehir, for the training-equip program with the U.S. in the struggle against the Islamic State of Iraq and the Levant (ISIL), a Turkish official has told the Hürriyet Daily News.
The train-equip program at a military facility in Hatay on Turkey's border with Syria is expected to start at the end of April, the official added.
The U.S. and Turkey recently agreed on plans to train 2,000 members of the Free Syrian Army (FSA) on Turkish territory. Ankara and Washington are still working on the list of Syrian opposition forces that will be trained on Turkish territory, and the U.S. has identified some 1,200 Syrian opposition fighters for potential training. The first 2,000-strong group of Syrian trainees is expected to be mostly made up of Turkmens from the Damascus and Aleppo areas.
A program for training and equipping moderate Syrian opposition forces in Turkey's Kırşehir province, agreed by Ankara and Washington in February, has not yet been launched as technical talks are ongoing, the Foreign Ministry spokesperson told reporters March 24.
Turkey has demanded an equal role in the training mission and would provide the same number of trainers at its facility as the U.S. side.
Ankara has also reportedly demanded the formation of a joint committee with U.S. officials to determine the list of trainees, which it wants to view Syrian President Bashar al-Assad as an "essential target" along with ISIL.
http://www.hurriyetdailynews.com/turkey-to-train-equip-syrian-rebels-in-border-province-too.aspx?pageID=238&nID=80135&NewsCatID=352
---------
As Houthis advance in Yemen, Saudi-Iranian proxy rivalry heats up
Mar 25 2015
As Yemen's future hangs on a thread, some countries are paying closer attention than others.
After a decade of fighting the central government in Yemen's northern provinces, the Iranian-backed Houthi Zaidi Shiite rebels took over the Yemeni capital of Sanaa last September. Last month, Yemeni president Abu-Rabbu Mansour Hadi fled the capital to the southern coastal city of Aden.
On Sunday, the Houthis took over the country's third largest city of Taiz and its airport.
On Monday night, Houthi fighters took control of the Red Sea port of Al-Makha, only 80 km away from the Bab El-Mandab Strait, on the vital maritime route, via the Suez Canal, between the Indian Ocean and the Mediterranean Sea.
On Monday, Yemeni foreign minister Riyadh Yaseen called for Gulf Arab military intervention in Yemen to stop territorial advances by Houthi fighters opposed to president Hadi.
Saudi foreign minister Saud al-Faisal said on Monday that Gulf Arab countries would take necessary measures to protect the region against "aggression" by the Houthi group if a peaceful solution could not be found, according to Reuters.
Prince Saud asserted that Saudi Arabia, which shares a 1,000-mile border with Yemen, opposed Iranian "interference" in the country.
But are Saudi Arabia or Iran likely to stage a military intervention in Yemen?
Saudi or Iranian intervention?
Medhat El-Zahed, an expert on Yemeni affairs, ruled out that a military intervention would take place, and added that no ground operation would be launched unless the Houthis attempted to control the Bab El-Mandeb strait.
"The Houthi forces would be crossing a red line if they attempted to control the Bab El-Mandab Strait," he said. "They would be out of their mind, because then international forces and Arab forces would take action... It's an international waterway."
Bab El-Mandab connects the Red Sea and the Gulf of Aden. Its strategic importance increased after the Suez Canal was built, as it became part of an international waterway linking the Indian Ocean to the Mediterranean Sea.
In February, the head of Egypt's Suez Canal Authority said that his country would send troops to Yemen if the Houthis attempted to block Bab Al-Mandab.
If Bab El-Mandab was not threatened, El-Zahed said that Arab countries, and Arabian Gulf states in particular, would most likely only intervene in Yemen by supporting Yemeni forces logistically, whether by providing weapons to the Yemeni army or supporting it with satellite images or airstrikes.
Mohamed Abbas, editor-in-chief of the Iranian Selections publication at the Ahram Centre for Political and Strategic Studies, seemed to agree. He said that neither Iran nor Saudi Arabia would be directly involved in a military intervention.
El-Zahed said that Saudi forces would struggle if they became directly involved, as it would be very hard to fight on Yemeni land, especially against the Houthis who are well-trained in guerilla warfare.
In 2009, Saudi forces attacked 30 Houthi rebels attempting to cross the border into Saudi Arabia at Jebel Kaab Jaber, north of Jebel El-Dukhan, the Saudi Gazette reported.
Houthis were very strong at the time, and were able to make the forces of former president Ali Abdallah Saleh and Saudi forces think twice before launching full-ground operations, said El-Zahed.
"The Houthis will lose their grip on the areas they control if the Yemeni people protest against them in these areas," El Zahed added.
In Taiz, on Tuesday, soldiers and Houthi gunmen killed at least four demonstrators protesting the Houthi take-over of the city, according to Reuters.
El- Zahed added that Iran would have to consider that, were any Iranian military intervention to backfire, not only Arab forces but also the whole international community would then stand against them.
Iran considers itself to be the leader of the Shiite world in the Middle East, while Saudi Arabia considers itself the leader of the Sunni world. In order to prove themselves as the strongest superpower in the region, Iran and Saudi Arabia have sponsored a series of proxy wars across the Middle East, in Iraq, Syria, Lebanon, Bahrain and Yemen.
Abbas said that a proxy war in Yemen would not only be between Iran and Saudi Arabia, but also between Iran and all Gulf and Arab countries, including Egypt.
Abbas concluded that Saudi-Iranian rivalry was not the reason behind division in Yemen. Instead, it was Tehran's choice to support to the Houthis, rather than back Yemeni president Hadi.
http://english.ahram.org.eg/NewsContent/2/8/126014/World/Region/As-Houthis-advance-in-Yemen,-SaudiIranian-proxy-ri.aspx
-----------
Turkey should develop its own missile technology to respond to regional threats: PM
Mar 25 2015
Turkey should have the ability to develop its own missile and space technologies in order to respond to security challenges that could arise from its neighbors, the prime minister has said, amid NATO's concerns Ankara will finalize a deal with a Chinese company for a $3.4 billion long-range missile defense system.
"Instabilities around us have clearly shown us that Turkey should develop its own missile technology and space technology. We should absolutely have one of the world's most important infrastructures in missile and space technologies if we want to secure our survival in the next century," Prime Minister Ahmet Davutoğlu said in an address on the occasion of the opening ceremony of a military logistic facility in the central Anatolian city of Konya March 24.
Davutoğlu's remarks came at a moment when Turkey is about to give its final decision about a tender for the procurement of its first long-range missile defense system from China. Turkish defense officials justify the selection because its top priority is to bolster its own technological ability and the Chinese offer also includes a technology transfer, unlike its United States and European competitors.
Turkey has achieved the capacity to test some defense industry technologies, Davutoğlu said, touching on the necessity of developing its national defense capacity along with its capacity under the NATO umbrella. "We are about to submit the bill of the Space Agency [to parliament]. Geographies are the fates of the countries. It's necessary to be powerful in order to survive on these soils. These soils are of gold value," he stated.
Aside from investing in technologies, one other precaution countries should take is to reinforce citizenship identity, regardless of ethnic differences, Davutoğlu said, stressing the ongoing Kurdish peace process is aiming to develop this identity.
"What we want to do with the peace process is avoid dangerous ethnic and sectarian divisions in Turkey in the way some other countries would face," he said adding they are trying to stop those who want to create discrimination and separatism within society.
http://www.hurriyetdailynews.com/turkey-should-develop-its-own-missile-technology-to-respond-to-regional-threats-pm.aspx?pageID=238&nID=80111&NewsCatID=338
---------
Yemenis Reject S. Arabia's Offer for Treating Injured People
Mar 25 2015
Yemeni people rejected a proposal by Saudi Arabia to treat those injured in the recent terrorist attacks in Sana'a due to Riyadh's support for the overthrown government in Yemen, a medical official said.
"Saudi Arabia voiced readiness to receive the injured people but the Yemenis didn't accept it since Saudi Arabia plays a dual-track policy in Yemen," Head of the Yemeni medical team Abdolwahhab Sa'd told reporters on Monday.
Given the lack of necessary medical equipment in Yemen and the critical conditions of a number of injured people, 40 of them were sent to Oman and 52 of the wounded were dispatched to Iran, he added.
The Iranian Red Crescent Society (IRCS) transferred over 50 Yemeni nationals severely wounded in the recent terrorist attacks in the country to the hospitals in Iran on Monday.
"After coordination, a team of (Iranian) surgeons were sent to Yemen, and given the status quo there, 52 wounded Yemenis were transferred to Tehran," Soleiman Heidari, the caretaker of the medical team sent to Yemen along with tons of aids, told reporters on Monday.
He said that the Iranian medical team, consisting of 6 people, returned to Iran with the wounded Yemenis.
The cargo plane of the IRCS was the second plane carrying Tehran's aids to Yemen in March.
The 13-ton package of Iranian humanitarian aids was intended to help those recently been targeted by terrorist attacks in Yemen.
On its departure from Yemen, the Iranian aircraft transferred a number of wounded Yemenis to Tehran to receive medical treatment at the Iranian hospitals.
Over 150 people were reported as killed and hundreds of others wounded in Sana'a, after attacks on two mosques in the center of the capital during last Friday prayers.
The ISIL Takfiri terrorists claimed responsibility for the recent massacre of innocent people in Yemen.
On Saturday, Iranian Deputy Foreign Minister for Arab and African Affairs Hossein Amir Abdollahian announced Iran's readiness to treat those Yemeni people who were severely wounded in the Friday terrorist attacks in Sana'a.
Amir Abdollahian strongly condemned the terrorist attacks in Sana'a, and said Iran was ready for medical treatment of those sustained injuries in the heinous terrorist attacks.
He underlined that a group of professional surgeons along with groups of aid volunteers are ready to be dispatched to Sana'a.
As soon as the Yemeni government accepts Iran's offer, the team will be dispatched to Sana, Amir Abdollahian said, adding that Iran was also ready to admit the injured people to hospitals for medical treatment.
Earlier, the Iranian foreign ministry deplored the terrorist attacks in Sana'a which claimed the lives of a large number of Yemeni people.
In a statement on Friday, Foreign Ministry Spokeswoman Marziyeh Afkham condemned the terrorist attacks in the Yemeni capital, and expressed the hope that people in Yemen would maintain peace and stability in their country by keeping vigilant.
Afkham further extended her condolences to the families of victims, and sympathized with the survivors of the terrorist attack.
She stressed that enemies of the Yemeni nation are trying to gain their evil target of making the country insecure and instable by carrying out such blind terrorism.
http://english.farsnews.com/newstext.aspx?nn=13940104000448
---------
Pakistan
Council of Islamic Ideology to ensure parliamentary bills conform to Islam
Mar 25 2015
ISLAMABAD: Council of Islamic Ideology (CII) Chairman Maulana Muhammad Khan Shirani said the council would try to ensure that no bill presented in parliament is contradictory to the holy Quran and Sunnah.
Addressing a media briefing he said CII is trying to introduce changes in its rules and regulation so that no member of parliament presents any such bill on the floor of the House. He said the government has accepted that CII recommendations would be presented in parliament and appropriate legislation would be done for a true Islamic society. The chairman said that CII recommendation reports for 2011-12 and 2012-13 would be presented in parliament soon, while the 2013-14 report is being printed and would be presented.
"The role of the council is to strengthen democracy in the country and flourish an Islamic welfare system under which every citizen has equal rights to live his life according to his thought and ideology," Shirani said, adding that the council has been assigned the responsibility of legislation so they have recommended that its members should have equal authority like parliamentarians. Replying to a query regarding permission of wife for second marriage, Maulana Shirani said according to Islam, there is no need of permission of wife and they have forwarded their recommendations in this regard.
http://www.dailytimes.com.pk/national/25-Mar-2015/cii-to-ensure-parliamentary-bills-conform-to-islam
---------
30 Terrorists Killed In Khyber Agency in Aerial Strikes: ISPR
Mar 25 2015
PESHAWAR: At least 30 terrorists were killed in Khyber Agency, the Inter Services Public Relations (ISPR) said on Wednesday. The terrorists were killed in aerial strikes carried out in Tirah Valley.
The airstrikes are part of the ongoing operation 'Khyber-II' against militants hiding in Tirah valley of Khyber Agency.
According to sources, Lashkar-e-Islam spokesman Sallauddin Ayubi is also among the terrorists killed in Khyber Agency. The death of Ayubi has been confirmed by the Lashkar-e-Islam.
http://www.thenews.com.pk/article-179227-30-terrorists-killed-in-Khyber-Agency:-ISPR-
-----------
8 Militants Killed, Several Injured By Armed Forces in Tirah Valley
Mar 25 2015
LANDI KOTAL: At least eight terrorists were killed and several injured on Tuesday in the latest artillery fire by Pakistani armed forces in tribal Khyber Agency. According to media reports, hideouts of militants were attacked through heavy artillery fire killing at least eight and injuring half a dozen in Tirah Valley of Khyber Agency where Khyber-I Operation is underway against militants. Several hideouts were completely destroyed, the reports said. Militants suffered heavy casualties on March 22 after Pakistani jets launched a major offensive in the area. Following heavy aerial bombardment, ground forces secured and took control of several areas of the valley.
http://www.dailytimes.com.pk/national/25-Mar-2015/8-militants-killed-in-tirah-valley
---------
Lashkar-i-Islam spokesperson killed in Khyber blitz
Mar 25 2015
PESHAWAR: At least 30 suspected militants were killed in airstrikes conducted by Pakistan military jets on Wednesday in Tirah Valley of Khyber tribal region, according to a statement issued by the Inter-Services Public Relations (ISPR).
The statement added that two ammunition depots were also destroyed in the strikes.
Local sources say that a spokesman of the banned Lashkar-i-Islam (LI) militant organisation, Salahuddin Ayubi, was among those killed in today's air blitz.
At least eight suspected militants were killed in a separate military operation in Orakzai tribal region, according to security sources.
Security forces targeted the militants after an Improvised Explosive Device (IED) blast in Sabak area of Orakzai tribal. One security person also lost his life during the operation.
The details could not be independently verified as the access of media personnel is severely restricted in the region.
The latest development comes a day after Shakir Sipah, a driver of the LI chief Mangal Bagh, was killed in the drone attack on Tuesday along with eight others in Nazyan district of Afghanistan's Nangarhar province, near the Pak-Afghan border in Khyber Agency.
Khyber and Orakzai are two of Pakistan's seven semi-autonomous regions governed by tribal laws and lie near the porous Afghan border.
Militant hideouts have been frequently pounded by Pakistan's security forces in Tirah Valley area of Khyber region.
The strikes are part of Operation 'Khyber One' and 'Khyber Two', launched by security forces and aimed at targeting militants in Khyber Agency, particularly the Tirah Valley of Bara which borders Nazyan province of Afghanistan.
The operations in Khyber tribal region were launched amid operation Zarb-i-Azb being conducted by the Pakistan Army in North Waziristan tribal region.
http://www.dawn.com/news/1171791/lashkar-i-islam-spokesperson-killed-in-khyber-blitz
---------
Operation to continue till elimination of last terrorist: PM
Mar 25 2015
KARACHI: Prime Minister Nawaz Sharif arrived in the city on a one day visit and addressed the business community at the Karachi Stock Exchange (KSE)
The prime minister emphasised that the ongoing operation in the city was not against any particular party but rather it was aimed at criminals.
Prime Minister Sharif said the operation in the city had been successful in curtailing crime and was initiated after consultation with all stakeholders. "The day will come soon when all crime will be eliminated from Karachi."
According to the prime minister the security situation in Karachi had drastically improved, stating that extortion, kidnapping for ransom and other crimes were decreasing. Mr. Sharif also praised the Sindh government of extending its full support to the centre.
"The prosperity of the country is associated with Karachi," Prime Minister Sharif said.
The prime minister added that the government would not rest and the operation to eliminate terrorists would continue until their complete eradication.
During his visit to Karachi Prime Minister Nawaz Sharif will chair the apex committee meeting and review progress on the National Action Plan. He will also be briefed by DG Rangers on the Karachi operation and presented a report by the police.
http://www.thenews.com.pk/article-179209-Operation-to-continue-till-elimination-of-last-terrorist:-PM
---------
No dossier against Altaf handed over to UK: Nisar
Mar 25 2015
ISLAMABAD: Interior Minister Ch Nisar Ali Khan has rebuffed the reports regarding handing over of a dossier against Muttahida Qaumi Movement (MQM) chief Altaf Hussain to UK high commissioner in Islamabad.
Addressing a press conference on Tuesday, Nisar said that he only discussed MQM chief's threatening speeches, particularly the alleged threat given to Rangers after the raid on Nine Zero, with the British envoy. "I asked him whether UK laws would allow any citizen to deliver speeches containing hatred against Pakistani institutions from their soil," he added.
He said MQM is a political party and it should stay alive. He said the MQM had itself demanded handing over of Karachi to military. "All parties including MQM gave mandate to launch Karachi operation which is being carried out by police and Rangers," he said, and added that Sindh chief minister is leading the operation.
Full report at:
http://www.dailytimes.com.pk/national/25-Mar-2015/no-dossier-against-altaf-handed-over-to-uk-nisar
---------
Fresh warrants: Saulat Mirza to be hanged on April 1
Mar 25 2015
KARACHI: A special court in Karachi on Tuesday issued fresh black warrants against death-row convict and target-killer Saulat Mirza.
Mirza was scheduled to be executed on March 19 for murdering Shahid Hamid, the managing director of the then Karachi Electric Supply Company, his driver Ashraf Brohi and guard Khan Akbar in July 1997. However, his execution was halted a few hours before his hanging after his video was aired on a private TV channel wherein he claimed that he had committed the killings on the orders of Altaf Hussain – a claim refuted by the MQM chief.
The court has now ordered the prison authorities to hang Mirza on April 1 at the Macch Jail in Balochistan. The convict is expected to be executed at 5:30am.
http://www.dailytimes.com.pk/sindh/25-Mar-2015/fresh-warrants-saulat-mirza-to-be-hanged-on-april-1
---------
Overseas Pakistanis Commission to resolve expats problems: Shahbaz Sharif
Mar 25 2015
LAHORE: Punjab Chief Minister Shahbaz Sharif has said that the Punjab government has constituted Overseas Pakistanis Commission Punjab to resolve the problems of Pakistanis living abroad and the commission has been granted complete administrative and financial autonomy.
He said that Pakistanis living abroad are the ambassadors of Pakistan and are playing an important role in strengthening economy of the country. He said that solution of the problems of overseas Pakistanis is the responsibility of the state and Overseas Pakistanis Commission has been set up for this purpose. He said that the commission will prove very helpful in redressing grievances of overseas Pakistanis on priority basis. He was addressing the first meeting of Overseas Pakistanis Commission Punjab through video link. Commissioner Overseas Pakistanis Commission Punjab Afzaal Bhatti gave a detailed briefing regarding the performance of the commission so far.
Full report at:
http://www.dailytimes.com.pk/punjab/24-Mar-2015/overseas-pakistanis-commission-to-resolve-expats-problems-cm
---------
Six murderers hanged in jails across Pakistan
Mar 25 2015
KARACHI: At least six murder convicts were hanged early Wednesday at different jails across Pakistan – the latest executions since the country resumed the death penalty for all capital crimes.
The latest hangings took place at jails in Sahiwal, Mianwali Bahawalpur and Sukkur, raising the total number of criminals executed since December to 60.
Two executions were also halted in jails in Sahiwal and Mianwali after they were pardoned by the victims' families.
Shahbaz, convicted of murdering another man in a land dispute in 1998, was taken to the gallows at the Sahiwal Central Jail early morning.
The execution of another death row prisoner in Sahiwal was halted at the request of the plaintiffs. Jaffar was convicted of murdering his friend's brother and sister-in-law in 1997.
Two death row prisoners were hanged at the Central Jail one in Sukkur. Convict Jalal Morejo was sentenced to death for murdering his cousin in 1997, while Abdul Razzaq Chauhan was convicted of committing murder in 2001.
Full report at:
http://www.thenews.com.pk/article-179188-Six-murderers-hanged-in-jails-across-Pakistan
---------
Arab World
Over 1,500 Militants Attack Syria's Idlib, 23 Civilians Killed
Mar 25 2015
A major offensive has been launched on the city of Idlib in Northwestern Syria by members of the al-Nusra Front terrorist organization and other militant groups, a military source said.
The militant's attacks are countered by Syrian government forces, which control Idlib. The military source said that around 170 militants have been killed. The number of casualties among Idlib defenders was not available on Tuesday, RIA Novosti reported.
"Over 1.5 thousand militants have been carrying out attacks on the city of Idlib for 9 hours. As a result of mortar shelling of residential areas 23 civilians have been killed," the source said on Tuesday.
Three suicide bombers have tried to break into the city in explosive-laden cars, according to the source. Two of them were neutralized on the approaches to the city, however, the third suicide bombers made it to the army checkpoint.
http://english.farsnews.com/newstext.aspx?nn=13940105000124
---------
Iraqi Forces Kill over 20 Terrorists in Anbar
Mar 25 2015
The Iraqi security forces killed more than 20 terrorists in many areas in Anbar province.
The Ministry of Defense said in a statement on Tuesday that the Anbar Operations Command conducted military operations "near the Japanese Bridge in Anbar province, killing 20 terrorists" and damaging four of their vehicles. The Iraqi forces also defused more than 10 explosive devices.
The statement further said that the Iraqi security forces "killed two terrorists and burned their vehicle in Albu haiyes area", adding that the Anti-Terrorism Forces killed three more terrorists.
http://english.farsnews.com/newstext.aspx?nn=13940105000304
---------
Arab Tribes Union Denounces Yemen Blasts, Shows Support for Ansarullah
Mar 25 2015
The Union of Shiite and Sunni Arab Tribes denounced "the coward criminal attack on the Yemeni people and their noble revolution".
In a statement issued Tuesday, the Union expressed confidence in the Yemeni people, who will be more powerful and steadfast despite the attacks, Al-Manar reported.
Moreover, it declared solidarity with "this proud people and all honorable fighters, led by Sayyed Abdulmalik al-Houthi and the popular Committees".
Offering condolences to the families of the martyrs, the Union statement stressed that those terrorists' indiscriminate attacks against civilians are the best proof of the terrorists' near end.
Three terrorist explosions - claimed by the Islamic State of Iraq and the Levant (ISIL) takfiri group - went off on Friday in two separate mosques in Sanaa, leaving 141 killed and hundreds others injured.
http://english.farsnews.com/newstext.aspx?nn=13940105000163
---------
400 Children Recruited by ISIL in Syria since January
Mar 25 2015
The Islamic State of Iraq and the Levant (ISIL) terrorist group has recruited at least 400 children in Syria in the past three months and given military training and hardline indoctrination, a monitoring group said on Tuesday.
The so-called Syrian Observatory for Human Rights said the children, all aged under 18, were recruited near schools, mosques and in public areas where ISIL carries out killings and brutal punishments on local people, Reuters reported.
"They use children because it is easy to brainwash them. They can build these children into what they want, they stop them from going to school and send them to IS(IL) schools instead," said Rami Abdulrahman, head of the British-based Observatory.
The group may be resorting to children because it has been having difficulties recruiting adults since the start of the year, with only 120 joining its ranks, Abdulrahman said.
At the training camps, the children learn to fire live ammunition, fight in battles and to drive, it said. ISIL also recruits children as informants and as guards for its headquarters as well as welcoming children with birth defects into its ranks, the Observatory added.
http://english.farsnews.com/newstext.aspx?nn=13940104000407
---------
Iraqi Air Strike Targets ISIL Positions in Salahuddin
Mar 25 2015
The Iraqi Air Force bombed positions of the Islamic State of Iraq and the Levant (ISIL) terrorist group in Northern Salahuddin province, leaving a large group of terrorists dead.
"A large number of the ISIL terrorists were killed in an airstrike conducted by the Iraqi Air Force in Mazra'ah district in Northern Salahuddin province," a security source said Tuesday.
http://english.farsnews.com/newstext.aspx?nn=13940105000278
---------
Nusra Front Quietly Rises In Syria Using ISIS Tactics
Mar 25 2015
The Nusra Front, Syria's al-Qaeda affiliate, is consolidating power in territory stretching from the Turkish border to central and southern Syria, crushing moderate opponents and forcibly converting minorities using tactics akin to its ultraconservative rival, ISIS group.
But while ISIS group gets most of the attention largely because its penchant for gruesome propaganda, the Nusra Front quietly has become one of the key players in the four-year civil war, compromising other rebel groups the West may try to work with while increasingly enforcing its own brutal version of Islamic law.
Its scope of influence now abuts the Golan Heights bordering Israel, and its membership largely composed of Syrian nationals refuse any negotiations with the government of embattled President Bashar Assad, further complicating the brutal conflict.
"The Nusra Front will most likely outlast ISIS in Syria, and will represent a severe and existential threat to the aspirations of the Syrian people in terms of a pluralistic, democratic society," said Fawaz A. Gerges, director of the Middle East Center at the London School of Economics.
Full report at:
http://english.alarabiya.net/en/perspective/analysis/2015/03/24/Nusra-Front-quietly-rises-in-Syria-as-ISIS-targeted.html
---------
Syria, Iraq discuss tackling militants, urge cooperation
Mar 25 2015
The foreign ministers of Syria and Iraq met in Damascus on March 24 to discuss ways to tackle militant groups and Syria said it hoped Baghdad would help "break the siege" against it, Syrian state media said, ahead of an Arab summit.
The Shi'ite Muslim-led government in Baghdad, together with Iran and the Lebanese group Hezbollah, has been an important ally for President Bashar al-Assad. Shi'ite Iraqi militias have fought on Assad's side against the insurgency spearheaded by Sunni Islamists.
Iraqi armed forces are also the main partner on the ground for a U.S.-led coalition bombing Islamic State militants in Iraq, but Washington and its Western allies have dismissed the idea of cooperating directly with Syria in the same fight.
Tuesday's discussions "focused on the fight against terrorism and common dangers that threaten our countries," Syrian state television said, citing a joint news conference by the foreign ministers at Damascus airport. It did not specify which groups the discussions were referring to.
Full report at:
http://www.hurriyetdailynews.com/syria-iraq-discuss-tackling-militants-urge-cooperation.aspx?pageID=238&nID=80113&NewsCatID=352
---------
Expat family visa conditions outlined
Mar 25 2015
The Ministry of Interior has outlined the online procedures for expatriates seeking family visit visas for their wives and minor children.
Deputy Crown Prince Muhammad bin Naif, second deputy premier and interior minister, launched the service last month to reduce time and effort for expatriates and their sponsors.
Applicants have to visit the ministry's portal and activate their Abshir account, the e-services administration of the ministry said in a statement on Tuesday. They have to choose the icon for recruitment, then one for visa requests.
After sending the request, an applicant should print the form, have it signed by his sponsor and endorsed by any chamber of commerce or other authorized agency within 30 days. The ministry would confirm approval by sending a text message to the applicant.
Other criteria include applicants having their iqamas, valid for the next 90 days. All children brought to the Kingdom must be under 18.
http://www.arabnews.com/featured/news/722986
---------
Egypt fires forensics official for comments on slain woman
Mar 25 2015
CAIRO: Egypt's forensics authority has dismissed its spokesman, a doctor who said last weekend that a female protester killed by police in January died because she did not have enough fat on her body to protect against shotgun pellets.
The Tuesday statement by authority head Mahmoud Ahmed Ali also said that all doctors and officials at the authority are banned from making comments to the media or providing them with any information about their work.
An official in the authority also said that the former spokesman, Hisham Abdel-Hamid, is under investigation by the Justice Ministry for statements made on a program without permission from the agency as required.
http://www.arabnews.com/middle-east/news/722871
---------
Saudi King: Judiciary is independent
Mar 25 2015
Custodian of the Two Holy Mosques King Salman said on Tuesday that the Kingdom has an independent judiciary based on the Qur'an and Sunnah since the formation of the country under King Abdul Aziz.
There was no question the country's system was impartial, said the king at a meeting with various representatives of the Kingdom's judiciary at Al-Yamamah Palace.
The top lawmakers and representatives who attended the reception included Minister of Justice and Chairman of the Supreme Judicial Council Waleed Al-Samaani, President of the Board of Grievances Abdul Aziz bin Mohammed Al-Nassar, Chief of the Supreme Court Ghaihab bin Mohammed Al-Ghaihab, President of the Bureau of Investigation and Public Prosecution Mohammed bin Fahd Al-Abdullah, and other members of the Supreme Judicial Council.
Al-Samaani thanked King Salman on behalf of the judges, the ministry's employees and the council for supporting the creation of a strong and independent courts system. He said the judges were happy with recent decrees issued by the king to help citizens.
Crown Prince Muqrin, deputy premier, and Deputy Crown Prince Mohammed bin Naif, second deputy premier and interior minister, were also present at the reception.
http://www.arabnews.com/featured/news/723001
---------
India
Dukhtaran-e-Millat Chief Aasiya Andrabi Booked Under UAPA for Allegedly Hoisting Pak Flag
March 25, 2015
Dukhtaran-e-Millat chief Aasiya Andrabi was on Wednesday booked under Unlawful Activities Prevention Act for allegedly hoisting Pakistani flag on the neighbouring country's national day on Monday.
"A case has been registered against Andrabi at Nowhatta Police station under Section 13 of Unlawful Activities Prevention Act," a police officer said.
He said investigations have started into the alleged hoisting of Pakistani flag by the separatist leader on Monday.
"Further action in the case will be taken as per rules," the officer said when asked if the firebrand separatist leader will be arrested.
A controversy erupted following media reports claiming that Andrabi had hoisted flag of Pakistan and sung its national anthem on March 23.
http://indianexpress.com/article/india/india-others/dukhtaran-e-millat-chief-aasiya-andrabi-booked-under-uapa-for-allegedly-hoisting-pak-flag/
---------
Case lodged against Hurriyat leader for singing Pakistani national anthem
Mar 25 2015
SRINAGAR: A case has been registered against Hurriyat leader Asiya Andrabi for hoisting the Pakistani flag and singing the country's national anthem.
According to reports in the Indian media, Andrabi hoisted the Pakistani flag and sung the national anthem on Pakistan Day in Srinagar. The police in Occupied Kashmir launched a probe into this.
In a video, Asiya Andrabi admitted that she had hoisted the Pakistani flag and sung the national anthem.
A treason case has been filed against her under the Unlawful Activities Prevention Act.
Andrabi is the chief of the Dukhtaran-e-Millat women's wing which is associated with the Hurriyat.
http://www.thenews.com.pk/article-179221-Case-lodged-against-Hurriyat-leader-for-singing-Pakistani-national-anthem-
---------
US govt intends to ask court to dismiss Sikh petition that sought terror tag for RSS
I P Singh,TNN | Mar 25, 2015
JALANDHAR: In a lawsuit pending before a US court seeking designation of Rashtriya Swayamsewak Sangh (RSS) as a Foreign Terrorist Organization, US Department of State has informed the court that the US government intended to move to dismiss the complaint while requesting the court for additional time to prepare its response.
The motion filed by US Attorney Preet Bharara, while representing US Secretary of State John Kerry, on March 24 before the US District Court judge Laura Tayler Swain of Southern District of New York said "in lieu of an answer, the government intends to move to dismiss the complaint, and requires additional time to finalize its motion and supporting papers". The US attorney also requested the court that the time for the government's time to respond to the complaint be extended till April 14 next. March 24 was the deadline for the US government to respond to the law suit after summons was issued by the US court on January 21 for john Kerry.
Full report at:
http://timesofindia.indiatimes.com/india/US-govt-intends-to-ask-court-to-dismiss-Sikh-petition-that-sought-terror-tag-for-RSS/articleshow/46685596.cms
---------
Ghar Wapsi: Anti-Conversion Law Needed, Says Union Minister
March 25, 2015
Amidst ongoing row over "Ghar Wapsi", BJP leader and Union Minister Kalraj Mishra on Wednesday said an anti-conversion law was needed and every party must support it.
"We have been saying from the beginning that a law should be framed on conversion and every party should support it. I am of the opinion that an effective law should be enacted on this issue," he told PTI in an interview.
Mr. Kalraj said he had already favoured framing of such a law.
He also made it clear that the party had nothing to do with the the 'Ghar Wapsi' programme of VHP.
Full report at:
http://www.thehindu.com/news/national/other-states/ghar-wapsi-anticonversion-law-needed-says-kalraj-mishra/article7031239.ece
-----------
South Asia
3 Soldiers Martyred, 35 Insurgents Killed In Separate Military Operations in Afghanistan
Mar 25 2015
Three soldiers from Afghan National Army have embraced martyrdom and 35 insurgents killed in fresh military operations in parts of the country in past 24 hours, officials said Wednesday.
A statement issued Wednesday morning by the Ministry of Defence states that three soldiers embraced martyrdom due to enemy actions in past 24 hours.
According to the statement 29 insurgents were killed, 21 injured and another arrested by military during separate operations in the jurisdiction of Ghazni, Daikundi and Parwan province.
The statement adds that 28 Improvised Explosive Devices (IEDs) were also discovered and defused by the military.
In the meantime, a statement issued Wednesday morning by the Ministry of Interior states that six insurgents were killed, four wounded and three arrested during police operations in past 24 hours.
Full report at:
http://www.khaama.com/3-soldiers-martyred-35-insurgents-killed-in-separate-military-operations-3057
---------
4 civilians killed in separate explosions in Nangarhar
Mar 25 2015
Four civilians including three children were killed in two separate explosions in eastern Nangarhar province.
A statement issued by the Ministry of Defense (MoD) states that the incidents took place in Hashimkhil area of Shirzad district during 5 days military operation (Operation Shaheen 35) against insurgents which ended yesterday.
According to the statement one landmine exploded at a civilian vehicle killing three children and wounding six others including four children and two women.
MoD statement adds that another landmine exploded in the same area killing a farmer and his cow.
MoD statement further adds that Shirzad district was completely cleared off the insurgents during the five days military operations where 13 insurgents were killed and 21 critically injured.
Full report at:
http://www.khaama.com/4-civilians-killed-in-separate-explosions-in-nangarhar-3058
---------
ISIS releases Bangladeshi hostages in Libya
Mar 25 2015
Two Bangladeshi workers, who were taken hostage by the Islamic militant group ISIS in Libya, have been released on Tuesday evening, 18 days after the abduction.
Bangladesh Ambassador to Libya Maj Gen Shahidul Haque confirmed the news through a press statement.
According to the statement, the two Bangladeshi hostages-- Helal Uddin of Jamalpur and Mohammed Anowar Hossain of Noakhali-- were released on Tuesday evening.
They were taken to Sirte hospital for medical check-ups, read the statement.
"The physical conditions of both the Bangladesh nationals are reportedly normal. They are expected to be brought to the concerned company's Tripoli office Wednesday."
The release came hours after one of the victims Helal made a surprising phone call to his family members in Jamalpur from captivity on Tuesday morning.
Full report at:
http://www.dhakatribune.com/bangladesh/2015/mar/25/militants-release-bangladeshi-hostages-libya#sthash.u2lMINhQ.dpuf
---------
Bangladesh: Student expelled from hostel over anti-religion comments on Facebook
Mar 25 2015
Barisal Government Brojo Mohun College authority expelled a student from the hostel for his alleged anti-religion comments on Facebook.
The student, Jahirul Islam Jasim, is an honours second-year student of Sociology and was a resident of Ashwini Kumar Degree Hostel of the college.
"A group of students circulated printed copies of a status from Jasim's Facebook account alleging that Jasim is spreading anti-religion propaganda," said BM College Principal Prof Fazlul Huq, adding that the agitated students have been staging demonstrations since Sunday.
Jasim stayed away from his hostel room and class to avoid the protestors.
The principal said: "Jasim denied the allegation saying someone may have created a fake account in his name to humiliate him."
The college authority held an emergency meeting of the academic council on Monday night and decided to revoke Jasim's hostel seat. A four-member probe committee also advised Jasim to avoid the campus till a probe report is submitted.
http://www.dhakatribune.com/bangladesh/2015/mar/25/student-expelled-hostel-over-anti-religion-comments-facebook#sthash.imprcRzd.dpuf
---------
Beijing seeks Dhaka's support on UN Security Council reform
Mar 25 2015
China wants Bangladesh to support its position on reforming the United Nations Security Council, a debate that has been continuing for over two decades.
Chinese Ambassador to Bangladesh Ma Mingqiang had a meeting with Foreign Minister AH Mahmood Ali yesterday and briefed him about Beijing's position on the UN Security Council reform.
"The debate has been continuing since 1993, and this year, the security council reform discussion will begin at the UN General Assembly from March 26," said an official of the Foreign Ministry.
China wants reform at the UN Security Council but they do not want to make any decision hastily, he said.
Full report at:
http://www.dhakatribune.com/bangladesh/2015/mar/25/beijing-seeks-dhakas-support-un-security-council-reform#sthash.EMJE76Re.dpuf
---------
Nasheed to wait on appeal until Criminal Court provides full case report
By Zaheena Rasheed | March 25th, 2015
Former President Mohamed Nasheed has decided to wait on appealing a 13-year jail term until the Criminal Court provides both a full transcript of court proceedings and sufficient time to prepare, despite a looming appeal deadline of Thursday (March 26).
The Criminal Court has so far only provided a judgment summary, and not a full case report as requested by lawyers.
The court today blamed the delay in issuing the full report on Nasheed and his lawyers' alleged refusal to sign statements they had made during court hearings.
Another unnamed individual had also failed to sign off their statements, the Criminal Court said, adding that it could not release full proceedings without the required signatures.
"We hereby publicly announce that if there is a delay in releasing the detailed case report, it is not because this court has failed in its duty, but because Mohamed Nasheed and his lawyers have not cooperated with the court," the court said in a statement.
But Nasheed's lawyers said the former president had refused to sign the statements only because they contained serious errors, which they say the Criminal Court has so far refused to correct.
Full report at:
http://minivannews.com/politics/nasheed-to-wait-on-appeal-until-criminal-court-provides-full-case-report-94474
----------
Africa
Boko Haram kidnapped hundreds in northern Nigeria town
Mar 25 2015
Boko Haram militants have kidnapped more than 400 women and children from the northern Nigerian town of Damasak that was freed this month by troops from Niger and Chad, residents said on Tuesday.
There was no immediate official confirmation of the figure, but the Islamist group has previously carried out mass kidnappings. Boko Haram's abduction last April of nearly 300 schoolgirls in the region stirred international outrage and drew global attention to the group's six-year insurgency.
"They took 506 young women and children (in Damasak). They killed about 50 of them before leaving," a trader called Souleymane Ali told Reuters in the town. "We don't know if they killed others after leaving, but they took the rest with them."
Troops from Niger and Chad last week found the bodies of at least 70 people in an apparent execution site under a bridge leading out of Damasak, where the streets remain strewn with debris and burnt-out cars after the fighting.
Full report at:
http://www.dhakatribune.com/world/2015/mar/25/scores-nigeria-children-missing#sthash.8NNGBnfl.dpuf
---------
Tunisia's Bardo museum in symbolic reopening and march after attacks
Mar 25 2015
Tunisia's Bardo museum held a ceremonial reopening on Tuesday a week after gunmen claiming alliance with Islamic State killed 20 foreign tourists in an attack aimed at wrecking the country's vital tourism industry.
Several thousand Tunisians and foreign visitors to an international forum also marched in the capital Tunis to show solidarity with the Bardo victims who included Japanese, Spanish, Italians and Colombians.
Tunisia is keen to show it can recover from the attack which threatens to damage tourism and mar the country's young democracy four years after a 2011 uprising ended the one-party rule of Zine El-Abidine Ben Ali.
Full report at:
http://english.ahram.org.eg/NewsContent/5/35/126041/Arts--Culture/Stage--Street/PHOTOS-Tunisias-Bardo-museum-in-symbolic-reopening.aspx
---------
Islamist Terror Hits Nigeria's Economy
Mar 25 2015
Boko Haram's violent attacks have been spreading fear and uncertainty in the north of Nigeria. The Islamists have managed to bring much of the economy to its knees there as security concerns hamper trade.
Colorful fabrics wrapped in plastic sheets are piling up in front of of Nasiru Ata's small store. He doesn't know where to put them as his storeroom is already filled to capacity. There was a time, he recalls, when he was able to sell a whole container's worth within two to three days. But now that sometimes takes more than a month.
Terror sparked economic crisis
Things went smoothly before Boko Haram militants started attacking Kano, northern Nigeria's economic bastion. On January 20, 2012, the jihadists raided several police stations there, killing more than 190 people. The city hasn't found peace since then. Four months ago, some 120 people were killed and more than 200 injured during an attack on a downtown mosque.
The Islamic terror has taken its toll on Kano's economy. More and more vendors made a wide berth around the region as it became increasingly risky to transport goods on northern Nigeria's roads. The local chamber of commerce estimates business activities in Kano have dropped by 80 percent over the past three years. Ata has thought about giving up.
He says he once had good clients from Cameroon and the Central African Republic who could rely on him for high-quality fabrics. But now, he says, they all steer clear of the city out of fear of being attacked on the road or in Kano itself - and they want to avoid the roadblocks.
Full report at:
http://allafrica.com/stories/201503250789.html
---------
North America
Obama: Dim hope for end to Israeli-Palestinian conflict
25 March 2015
President Barack Obama said Tuesday that the U.S. is weighing whether to back Palestinian efforts to seek U.N. recognition for an independent state and that recent remarks by Prime Minister Benjamin Netanyahu dim hope for a negotiated two-state solution.
Obama's comments at the White House did little to repair rocky U.S.-Israeli relations, which were aggravated by a Wall Street Journal report Tuesday alleging Israel spied on sensitive negotiations about Iran's nuclear program. The report said Israel acquired information from confidential U.S. briefings and other means and shared it with members of Congress to build a case against making a deal with Iran, which has threatened to destroy Israel.
Netanyahu is feuding with the White House over an emerging deal with Iran and also has come under fire for comments he made in the final days of Israel's election last week. Netanyahu has voiced opposition to Palestinian statehood and warned his supporters that Arab voters were heading to the polls "in droves."
Full report at:
http://english.alarabiya.net/en/News/world/2015/03/25/Obama-Dim-hope-for-end-to-Israeli-Palestinian-conflict.html
---------
U.S., Lebanon discuss efforts to defeat ISIS
25 March 2015
White House counterterrorism adviser Lisa Monaco met with Lebanese Interior Minister Nouhad Machnouk on Tuesday to discuss security concerns in the region and ongoing efforts to defeat ISIS, the White House said in a statement.
Monaco reiterated the need for all Lebanese parties to "implement the policy of dissociation" from the Syrian conflict.
http://english.alarabiya.net/en/News/middle-east/2015/03/25/U-S-Lebanon-discuss-efforts-to-defeat-ISIS-.html
---------
50-year Zionist occupation must end: Obama aide
Mar 25 2015
WASHINGTON: The United States expects the next Israeli government to end nearly 50 years of occupation and clear the way for a Palestinian state, White House Chief of Staff Denis McDonough has told Jewish Americans.
To cheers from the liberal Jewish group J. Street, McDonough vowed to safeguard Israel and criticized Israeli Prime Minister Benjamin Netanyahu's abandonment of a Palestinian state in the run-up to his re-election on March 17.
Netanyahu is working to form Israel's next coalition government.
One of President Barack Obama's closest advisers, McDonough said a separate state is the best guarantee of Israel's long-term security.
"An occupation that has lasted for almost 50 years must end, and the Palestinian people must have the right to live in and govern themselves in their own sovereign state," McDonough said.
Full report at:
http://www.arabnews.com/middle-east/news/722886
---------
Obama underscores Pakistan's importance to Afghan peace
Mar 25 2015
WASHINGTON – While appreciating Afghan President Ashraf Ghani's working in cooperation with Pakistan on Afghan reconciliation, US President Barack Obama has said it is vitally important to pursuit of peace.
"You've shown bold leadership in reaching out to Pakistan, which is critical to the pursuit of peace," Obama said addressing Ghani, who stood next to the US president in a Press interaction following their extensive White House talks. Obama noted that since the best way to ensure Afghanistan's progress is a political settlement, "we're going to continue to support an Afghan-led reconciliation process."
Full report at:
http://www.dailytimes.com.pk/national/25-Mar-2015/obama-underscores-pakistan-s-importance-to-afghan-peace
---------
American official pledges support to Pakistan in fighting terrorism
Mar 25 2015
CHICAGO – A top official of the US State of Illinois has denounced acts of terrorism being perpetrated in Pakistan, especially the attack on the Army Public School in Peshawar, while assuring Islamabad of Washington's support in fighting the menace.
"It was an inhuman act," Illinois' Secretary of State Jesse White said after watching a video of the Taliban attack in which 140 students were killed. The occasion was a well-attended reception held by the Pakistani Consulate General in Chicago, to mark Pakistan Day at which Secretary White conveyed the good wishes of the United States to the government and people of Pakistan as well as to the members of Pakistani community here.
Full report at:
http://www.dailytimes.com.pk/national/25-Mar-2015/american-official-pledges-support-to-pakistan-in-fighting-terrorism
----------
Australia
230 suspected militants prevented from leaving Australia
25 March 2015
Counterterrorism squads have prevented 230 suspected militants from departing Australian airports for the Middle East this month, including at least three teenage boys, officials said Wednesday.
Officials had previously announced that two Sydney-born brothers, aged 16 and 17, were intercepted at Sydney International Airport on March 8 attempting to board a flight for Turkey without their parents' knowledge. The siblings were returned to their families and were to be charged.
Within a week, a 17-year-old boy was intercepted at the same airport on suspicion that he was headed for a Middle Eastern battle, Border Protection Minister Peter Dutton said Wednesday.
The boy was also returned to his family, but remains under investigation, Dutton said.
Since counterterrorism units were attached to eight Australian airports in August, 86,000 travelers have been questioned and 230 people prevented from flying on suspicion that they were headed for the battlefields of Iraq and Syria to fight with groups including ISIS, Prime Minister Tony Abbott told Parliament.
Full report at:
http://english.alarabiya.net/en/News/world/2015/03/25/230-suspected-militants-prevented-from-leaving-Australia.html
---------
Southeast Asia
Tug-of-war between China, Turkey over Uighurs in Thailand
Mar 25 2015
BANGKOK - A group of suspected Uighur Muslims has become the focus of a diplomatic tug-of-war in Thailand between China and Turkey, with both countries wanting to repatriate them and hundreds of other suspected Uighurs detained in Thailand as illegal immigrants.
The group of 17, all from the same family, were detained by Thai police in March 2014 after illegally entering overland from Cambodia, said their lawyer Worasit Piriyawiboon.
Two of the family's 13 children were born in custody.
The family, who use the name Teklimakan, have spent most of the past year in the main police immigration detention centre in Bangkok.
The group claimed to be Turkish and, while still in detention, were issued with passports by the Turkish Embassy and granted permission to travel to Turkey.
China insists the 17 detainees are Chinese Uighurs who should be returned to the northwest Chinese region of Xinjiang, according to court documents seen by Reuters.
Hundreds of people have been killed in unrest in Xinjiang in the past two years, prompting a crackdown by Chinese authorities and small numbers of Uighurs to try and flee the country.
Hundreds, possibly thousands, have travelled clandestinely through Southeast Asia en route to Turkey.
Full report at:
http://nation.com.pk/international/25-Mar-2015/tug-of-war-between-china-turkey-over-uighurs-in-thailand
---------
Council of Rulers opposes amendments needed to enforce hudud
Mar 25 2015
Conference of Rulers has rejected the proposed amendments to Act 355, a federal law that the Kelantan PAS government wants to change in order to enforce hudud, or the Islamic penal code, in the state, according to sources.
The proposal to amend the Shariah Courts (Criminal Jurisdiction) Act 1965 was rejected during a meeting on March 11, attended by all Malay rulers or their representatives, sources said.
The rulers' decision means the Federal government will no longer move to have the Act amended in Parliament, as was originally intended under a roadmap by the joint federal-state Hudud Technical Committee.
Full report at:
http://www.themalaysianinsider.com/malaysia/article/council-of-malay-rulers-oppose-amendments-needed-to-enforce-hudud
---------
Hudud laws will signal Malaysia has abandoned moderation, says G25
Mar 25 2015
Malaysia will send a signal to the world that it has abandoned moderation should the PAS-led Kelantan government be allowed to enforce hudud in the state, said the G25, a group of retired high-ranking Malay civil servants who want a rational discourse on Islam.
The group said Malaysia would be seen as a country governed by religious laws that were subjected to the interpretation of clerics, and urged Putrajaya to protect the Federal Constitution as the country's supreme law.
"Since Independence, this country has chosen the path of moderation. The prime minister has continued to steer the government along this path and has launched the Global Movement of Moderates to show to the world that the country is committed to the principle of moderation.
"The imposition of PAS's hudud laws will signify to the world that Malaysia has abandoned the moderate path. We will be seen as a country governed by religious laws which are subjected to the vagaries of interpretation of the ulama who are also fallible human beings," G25 said in a statement.
Full report at:
http://www.themalaysianinsider.com/malaysia/article/hudud-laws-will-signal-malaysia-has-abandoned-moderation-says-g25
---------
Densus 88 Arrests Two Men in Malang Over Alleged ISIS Links
Mar 25 2015
Jakarta. The National Police's anti-terror squad Densus 88 have arrested two men in Malang, East Java, on suspicion of terrorism offenses related to their alleged connection to Indonesian-born ISIS fighter, Abu Jandal, who also goes by the name Salim Mubarok Attamimi.
One of the men arrested, Abdul Hakim Munabari, 44, is suspected of having returned to Indonesia after joining ISIS with Abu Jandal.
"Abdul just got back from Syria. After arresting him we will begin to question him. We will do all we can to prevent IS ideology from spreading in Indonesia," Acting National Police chief Badrodin Haiti said on Wednesday.
The other man arrested is alleged to have had a role in a video featuring Abu Jandal.
In the video uploaded on YouTube, Abu Jandal threatened the National Police, the Indonesian Armed Forces, Densus 88, and Banser, the security wing of Indonesia' biggest Islamic organization, Nahdlatul Utama.
Abu also called on other Indonesians to join him in the fight for a caliphate.
Densus 88 last week arrested six people in South Jakarta, Bekasi, and South Tangerang for allegedly helping recruit and fund Indonesians to travel to Syria and Iraq to fight with ISIS.
http://thejakartaglobe.beritasatu.com/news/densus-88-arrests-two-men-malang-alleged-isis-links/
---------
Indonesian Terror Cells Get Help From Down Under: PPATK
Mar 25 2015
Jakarta. Indonesia's anti-money laundering agency announced on Tuesday that it had detected funds believed to support terrorist activities flowing from Australia into the country.
"We have discovered funding activities from Australia to [terrorist] networks in Indonesia," said Agus Santoso, deputy chief of the Financial Transactions Report and Analysis Center (PPATK).
He declined to elaborate, saying only that the matter is still under investigation and the agency is cooperating with its Australian counterpart.
"I can't reveal the exact figure, but it's not in the millions [of dollars]. We can only confirm that the funds came from Australia to support known radical organizations in the country," Agus said.
Full report at:
http://thejakartaglobe.beritasatu.com/news/indonesian-terror-cells-get-help-ppatk/
---------
Europe
British Teachers on 'Frontline' of Radicalisation Fight
Mar 25 2015
Teachers in the UK feel they are on the "frontline" when it comes to tackling students who could be at risk of radicalisation, with many fearing they must now treat their pupils as "potential terrorists", according to headteachers and experts.
Up to 550 young Britons are thought to have made the journey to join so-called Islamic State (ISIS) since last June. It was reported yesterday that nine British medics are feared to have travelled to Syria to work in hospitals in areas controlled by IS. One of the nine was Lena Maumoon Abdul Qadir, a former pupil of Wisbech Grammar School in Cambridgeshire.
Chris Staley, headmaster of the school, says that while radicalisation is definitely the "current, hot topic of debate in schools", teachers must not bear all the responsibility for preventing radicalisation. "Laying it solely at their feet is too much of a burden. Like many schools we are a community and we are mindful and watchful of each other. Because teachers spend around 37-40 hours with their pupils each week they get some insight into their pupils thoughts, but tackling radicalisation must be a collaborative effort with wider society."
Full report at:
http://www.newsweek.com/british-teachers-frontline-radicalisation-fight-316428
---------
German wings investigators all-but rule out terrorism
Mar 25 2015
France's interior minister said investigators are looking into all possible causes of Tuesday's Germanwings crash in the French Alps, but he appeared to rule out the likelihood of a terrorist attack.
"The debris from the plane is spread over one and a half hectares, which is a significant area because the shock was significant but it shows that the plane did not appear to have exploded," Bernard Cazeneuve told French radio station RTL.
The theory of a terrorist attack is "not the theory we're focusing on," Cazeneuve said.
Nevertheless, the minister added cautiously that "all theories must be carefully examined until we have the results of the enquiry".
Full report at:
http://www.themalaysianinsider.com/world/article/germanwings-investigators-all-but-rule-out-terrorism
---------
A320 crash probe not focusing on terrorism: French minister
Mar 25 2015
PARIS: France's interior minister said investigators are looking into all possible causes of the Germanwings crash in the French Alps, but he appeared to rule out the likelihood of a terrorist attack.
"The debris from the plane is spread over one and a half hectares, which is a significant area because the shock was significant but it shows that the plane did not appear to have exploded," Bernard Cazeneuve told French radio station RTL.
The theory of a terrorist attack is "not the theory we're focusing on," Cazeneuve said.
Nevertheless, the minister added cautiously that "all theories must be carefully examined until we have the results of the enquiry."
He said the black box that had been recovered from the crash site, which records the sounds and conversations in the cockpit, had been damaged and would need to be repaired "in the coming hours."
Full report at:
http://www.arabnews.com/world/news/723016
---------
Belgian Official Praises Assad as 'Ally,' Lauds Syria's War on Terror
Mar 25 2015
A Belgian politician hailed Syrian President Bashar al-Assad as an "ally", saying Syria's battle against terrorism and extremism benefits the whole region and world.
"We realize that if Syria falls, Jordan and Lebanon and the Maghreb countries near Europe will fall, as terrorism will reach them too," said Filip Dewinter, a member of Belgium's Flemish Parliament, on Tuesday, adding, "Syria is correct in its position and it's on the right track."
The remarks were made during a meeting between a Belgian parliamentary delegation, headed by Dewinter, and Speaker of the Syrian People's Assembly Mohammad Jihad al-Laham in the Syrian capital city of Damascus, press tv reported.
Dewinter denounced as "dictatorial" the economic sanctions against Damascus, saying the bans have had a detrimental influence on the lives of civilians in the violence-wracked country.
Full report at:
http://english.farsnews.com/newstext.aspx?nn=13940105000268
---------
EU Lawmaker Stresses Necessity for Iran's Presence in Syrian Peace Talks
Mar 25 2015
A senior EU legislator from Germany underlined Iran's important role in the region, and said Tehran should participate in any peace talks over Syria.
Syrian peace talks had to include not only the government of Syrian President Bashar Assad but also Iran, Barbara Lochbihler said in an interview with Berlin-based daily Berliner Zeitung.
"There will be no peace in Syria without Iran," she added.
The deputy chairman of the human rights committee of the European Parliament also reaffirmed that there could be no military solution to the Syrian crisis.
In relevant remarks on Monday, Iranian First Vice-President Eshaq Jahangiri underscored that the world powers are fully aware of Tehran's influential and vital role in the regional developments.
Full report at:
http://english.farsnews.com/newstext.aspx?nn=13940104000198
---------
French court sentences nine Kurds in PKK extortion case
25 March 2015
A French court on Tuesday sentenced two Kurds to five years in prison and seven others to lesser terms in an extortion case linked to the Kurdish armed group PKK.
Investigators probed an extortion racket linked to the Kurdistan Workers' Party's (PKK) campaign to raise funds among the Kurdish diaspora through a so-called revolutionary tax.
Two of the nine Kurds tried in Paris were found to be planning violence against a man who refused to pay. They were handed five year jail terms, while the rest received lighter sentences.
The other terms ranged from 30-month suspended sentences to two years in prison. The judge in the case also noted that the PKK remained on the European Union's list of terrorist organizations.
Full report at:
http://english.alarabiya.net/en/News/middle-east/2015/03/25/French-court-sentences-nine-Kurds-in-PKK-extortion-case.html
---------
URL: https://newageislam.com/islamic-world-news/new-age-islam-news-bureau/iran-film-portrays-the-prophet-muhammad,-drawing-criticism/d/102106