New Age Islam News Bureau
27 December 2022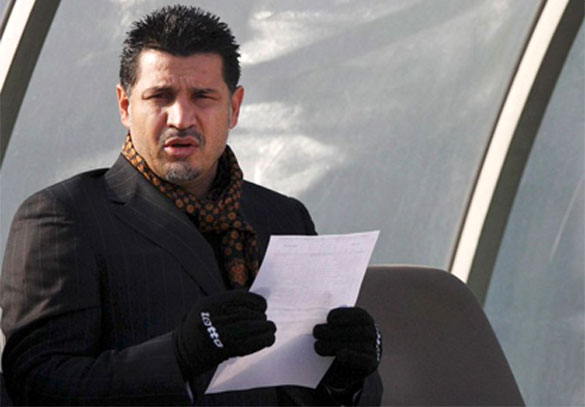 Iranian soccer legend Ali Daei
----
• Over 300 US Rabbis Sign Petition To Boycott Far-Right Members Of Incoming Israeli Administration
• Islamic Emirate of Afghanistan Bans Two Female Training Centres in Kabul & Hera, Accommodating More Than 1200 Female Students
• Pig Heads At South Korea Mosque Site Condemned As 'Islamophobia 'By Rights Activists And Muslim Students
• Islamabad Gets Three Bids For Washington Property Which Once Housed The Defence Section Of The Country's Embassy In The US Capital
Mideast
• Al-Quds Centre: Israel Seriously Working To Change Status Quo In Al-Aqsa Mosque Compound
• Israeli businesses decry calls to revise anti-discrimination law
• Iran hangs two murder convicts in latest executions
• Iran says UK-linked arrests reflect 'destructive role' in protests
• Israeli air force veterans say incoming government a danger
• New blow to 'normalization': Oman parliament votes to ramp up criminalization of ties with Israel
• Prisoners' commission: Israel placed 600+ Palestinian minors under house arrest in 2022
• Ronaldo 'political ban': Erdogan says legendary player benched in World Cup over Palestine
--------
North America
• Okotoks Muslims Now Have Prayer Space In Partnership With Local Church
• US families sue after French cement maker pleads guilty to supporting Islamic State
--------
South Asia
• More NGOs, Like Christian Aid And Actionaid, Halt Work In Afghanistan After Taliban Ban On Women
• Poppy cultivation in Afghanistan banned since the Emirate's establishment: Taliban
• ISIS claims car bombing that killed local police chief in Afghanistan
--------
Southeast Asia
• Indonesian cosmetics brands see opportunity in halal products
• Saudi Islamic affairs minister meets heads of Indonesian universities on sidelines of ASEAN conference
• At least 20 reported dead as Rohingya boats land in Indonesia
--------
Pakistan
• Imran Blames 'Incompetent Rulers' For Failure To Protect Pakistanis From Terrorism
• 25 police checkpoints set up in Islamabad as part of 'special' security plan
• Shehbaz renews pledge to crush terrorism menace
• Investigators suspect suicide bomber came from KP
• Russia can send natural gas to Pakistan, Afghanistan in long term: Deputy PM
• FM Bilawal, Saudi counterpart reaffirm to further deepen bilateral cooperation
• Maulana Fazal lauds PM development initiatives for KP province
• FIRs registered against three consecutive blasts in Quetta
• Army searches for attackers after six soldiers killed
--------
India
• Muslim Writers Ignored At The Upcoming Kannada Sahitya Sammelan, Alternative Jana Sahitya Sammelan On Cards
• Clash Between Two Groups, Between Kashmiri Students And Ghazipur's Group At Aligarh Muslim University
• Salute Rahul For Promoting Unity, Secularism Through Bharat Jodo Yatra: Mehbooba
• BSF troops shoot down suspected Pak drone in Punjab's Amritsar
• Muslim group holds protest in Latur seeking quota
• Muslim shopkeeper murdered in Karnataka; community suspects political gain
• Indian coast guard, anti-terrorist squad stop Pakistani fishing boat with drugs, arms
--------
Europe
• Recognized As Terror Group PKK Openly Maintains Dangerous Foothold In Europe
• Terrorist PKK supporters' violence in Paris upset French residents, shop owners
• Parisians shocked as streets descend into chaos on Christmas Eve amid pro-PKK protests
• UK 'red tape' is putting former British Council staff in Afghanistan at risk: British MPs
• Turkey summons French ambassador for failing to stop 'black propaganda' after Paris shooting
--------
Arab World
• Iraq Commemorates General Soleimani Ahead Of US Assassination Anniversary: 'His Path Will Continue'
• Islamic State Group Attacks Former Stronghold in Syria, Killing 6
• UAE panel on cybersecurity warns against cyber attacks during New Year celebrations
• UAE condemns Taliban decision to ban women from working in NGOs across Afghanistan
• Islamic Affairs drops some Friday preachers for deputizing others without permission
• CPR saves Asian pilgrim who collapsed outside Prophet's Mosque
• Pro-Turkish fighters killed in northwest Syria clashes: Monitor
• Eight dead in Daesh attack on Syrian jail
• Omani mediators leave Sanaa empty-handed as Houthis reject truce renewal
• Saudi Arabia and Japan sign 15 investment agreements during bilateral forum
• Saudi Design Festival to take place in January
• Turkish president meets Saudi Shura Council head for talks
--------
Africa
• Boko Haram Kills 17 Civilians In Nigeria
• Kabara: Islamic Sect Accuses Ganduje Of Influencing Shariah Court Ruling
• Blasphemy: Kano Islamic cleric's supporters to appeal judgment
• Taher Al-Sunni: We have no choice but to work together to achieve reconciliation and national harmony.
• Death toll from Sudan tribal violence rises to 12
Compiled by New Age Islam News Bureau
URL: https://www.newageislam.com/islamic-world-news/iran-dubai-iranian-football-icon-ali-daei/d/128727
--------
Iran Compels A Dubai-Bound Jet To Land, Removes Family Of Outspoken Iranian Football Icon Ali Daei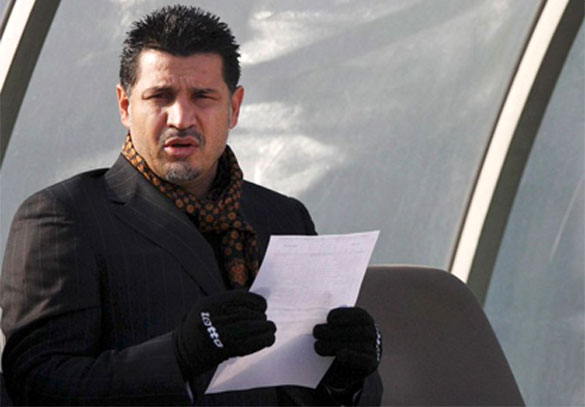 Iranian soccer legend Ali Daei
----
26 December ,2022
Iranian authorities ordered a Dubai-bound flight to land on Monday, barring family members of an outspoken Iranian football icon from leaving the country and accusing them of taking part in anti-government protests.
The wife and a daughter of Ali Daei were removed from the Mahan Air flight after it was ordered to land on Iran's Kish Island, some 200 kilometres (124 miles) off Dubai in the Gulf, the state-run IRNA news agency reported. The flight originated in Tehran.
In response to protests against the country's clerical leadership, the Islamic Republic is widening a crackdown on dissent that began in mid-September over the death in custody of 22-year-old Mahsa Amini. She was arrested by Iran's so-called morality police for supposedly breaching strict Islamic dress codes.
Daei, who retired from football in 2007, has publicly voiced his support for protests. He is one of the country's most-celebrated players and has emerged as an increasingly influential figure in Iran.
IRNA said Daei and his family engaged in "backing anti-revolutionary groups and rioters, and calling for strikes, adding that Daei's wife and daughter were free to return to Tehran. Separately, the semi-official Tasnim news agency said Daei's wife has been barred from leaving the country but had "nullified the ban through illegal channels and had managed to board the flight.
Authorities shut down a jewelry shop and a restaurant owned by Daei, following social-media posts that both properties would close in solidarity during three days of protests and strikes in early December, according to state media. He previously boycotted the World Cup and stayed at home to show solidarity with the demonstrators.
Iran this month hanged two men in connection with protests, the country's first known executions from among thousands arrested in the unrest. Human rights groups say more than 400 people have been killed in the government's crackdown on protests while dozens are in danger of being executed.
Iran's supreme court on Dec. 24 upheld a ruling to execute Mohammad Ghobadlou, a 22-year-old man accused of allegedly running over and killing a police officer in the town of Parand near Tehran, Tasnim reported.
Source: Al Arabiya
Please click the following URL to read the text of the original story:
https://english.alarabiya.net/News/middle-east/2022/12/27/Iran-compels-jet-to-land-removes-family-of-football-icon-Ali-Daei
--------
Over 300 US Rabbis Sign Petition To Boycott Far-Right Members Of Incoming Israeli Administration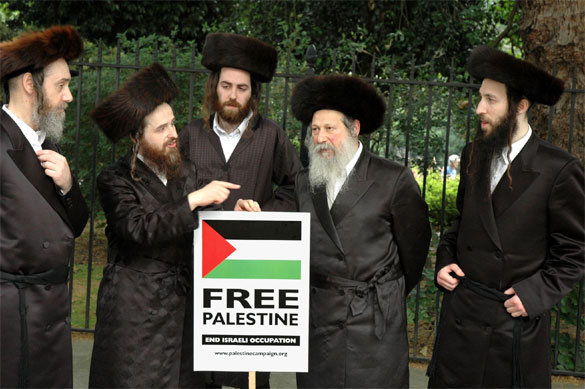 File photo/ English Wafa
----
26 December 2022
Hundreds of US rabbis have signed an open letter protesting Israel's new far-right administration and pledging to block the extremist members of Benjamin Netanyahu's cabinet from speaking at their religious centres and communities.
The letter, drafted by two prominent retired rabbis, drew more than 300 signatures from rabbis in the Reform, Conservative, Renewal and Reconstructing movements. There were no Orthodox signatories.
Among the signatories were current and former members of the boards of rabbis in Chicago and Los Angeles; rabbis who lead the largest Conservative and Reform congregations in the Washington, DC, area; former leaders of major Reform and Conservative movement bodies; the current leader of the Reconstructionist movement; and the rector of the Conservative movement's Los Angeles-based American Jewish University.
The letter was organized by David Teutsch, a leading Reconstructionist rabbi in Philadelphia, and John Rosove, the rabbi emeritus of Temple Israel in Los Angeles.
The letter said the US rabbis will not invite members of the far-right political parties "to speak at our congregations and organizations. We will speak out against their participation in other fora across our communities. We will encourage the boards of our congregations and organizations to join us in this protest as a demonstration of our commitment to our Jewish and democratic values."
The letter's uncompromising tone and the breadth of the signatories is a signal of a burgeoning crisis in relations between Israel and the US Jewish community triggered by the election of the far-right parties.
Netanyahu announced his new cabinet including the far-right Religious Zionism, Otzma Yehudit and Noam factions late on Wednesday, although he has yet to finalize coalition agreements with his political partners.
Leaders of far-right parties have secured positions in Israel's incoming cabinet that may help them push through policies such as annexing large swaths of the occupied West Bank, expansion of illegal settlements, and allowing Jewish prayer at the al-Aqsa Mosque compound in the Old City of al-Quds.
After the Israeli aggression on Gaza in May 2021, 25 percent of American Jewish voters said Israel was an apartheid regime, in a poll conducted by the Jewish Electorate Institute.
Another 38 percent of voters said Israel's treatment of Palestinians was similar to general racism in the US.
Source: Press TV
Please click the following URL to read the text of the original story:
https://www.presstv.ir/Detail/2022/12/26/695190/Over-300-US-rabbis-vow-to-boycott-far-right-members-of-incoming-Israeli-administration
--------
Islamic Emirate of Afghanistan Bans Two Female Training Centres in Kabul & Hera, Accommodating More Than 1200 Female Students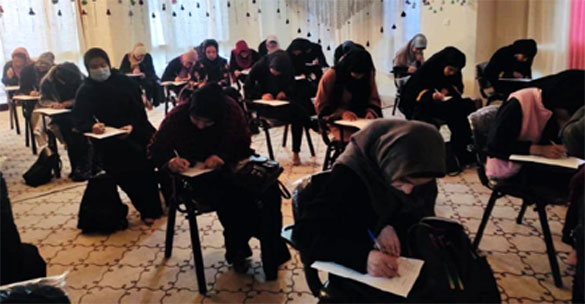 Photo: Khaama Press
----
By Nizamuddin Rezahi
December 27, 2022
Authorities of the Islamic Emirate of Afghanistan closed two educational centres in Kabul and Herat accommodating more than 1200 female students.
Roya Mahboob, the Founder of the Afghan Girls Robotic Team tweeted on Monday that the Taliban authorities forcibly shut the education centers in Herat and Kabul. More than a thousand female students were taking pieces training in business, Robotics, coding, and Information Communications Technology.
Following the latest decree by the Ministry of Higher Education of the interim regime banning women's university education, the dreams of thousands of school and university girls were buried.
Afghanistan's Taliban regime gradually started implementing extremely strict practices with regard to women's education and employment, prompting worldwide criticisms. According to the ruling regime's interpretations of Islamic Sharia, girls and women in Afghanistan were not fully complying with the established rules and regulations in universities and work environments. As a consequence of which, women have been barred from attending universities, and training centers as well as working with private or foreign non-governmental organizations until further notice.
The extremely harsh move of the Taliban administration was accompanied by condemnations on national and global levels, calling on the ruling regime to revoke their decisions. It also sparked protests in different parts of the country, as female university students and female toot the streets and chanted "education is our right".
Whether the Taliban authorities change their policy regarding girls' and women's education is up to them, however, women have been completely erased from public life in Afghan society, with no hope, prospect, or future ahead.
Source: Khaama Press
Please click the following URL to read the text of the original story:
https://www.khaama.com/taliban-iea-bans-two-female-training-centers-in-kabul-hera/
--------
Pig Heads At South Korea Mosque Site Condemned As 'Islamophobia 'By Rights Activists And Muslim Students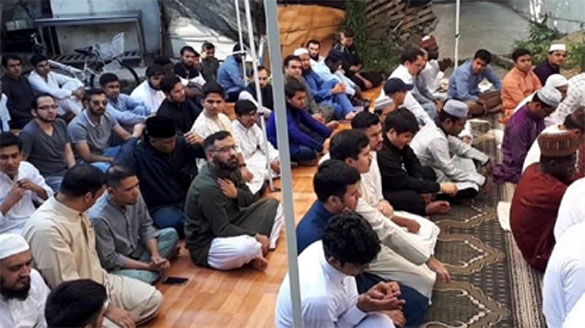 Muslim residents gather for prayer near the mosque's construction site in Daehyeon-dong, Daegu. Photo: Handout
-----
Park Chan-kyong
27 Dec, 2022
Rights activists and Muslim students in South Korea have condemned the Islamophobic act of displaying pig heads at a construction site for a mosque that has attracted vehement opposition from locals.
Residents in the south-eastern city of Daegu have for the past year been trying to block the mosque near Kyungpook National University from being built, including physically blocking access to the site, putting up banners, and throwing a pork barbecue party.
In the latest incident, three pig heads were placed on stools at an alley outside the site. The first one was put there on October 27, followed by another on November 14 and the third on December 6, according to Mian Muaz Razaq, a representative of Muslim students at the university. Students who go to the site to pray pass through the alley every day.
"We'll fight against the mosque construction till our last breath," read one banner that decorates the wall of a home next to the construction site, as pigs' feet and tails are seen strung along the wall.
Razaq denounced the residents actions as "pure Islamophobia".
"They held rallies against Islam, they called us terrorists, they hung banners against our religion, they distributed hate pamphlets against Muslims in our area, what can these acts be called? This is pure Islamophobia," he said.
A group of local human rights activists called on the UN Special Rapporteur on religious freedom to urge South Korea's central and local government officials to intervene to stop the residents' obstruction of the construction work and "remove the pig heads immediately", a spokesman said on Monday.
The appeal to the United Nations made by the task force for peaceful resolution of the mosque issue came after local authorities failed to heed an earlier request from the Muslims to remove the pig heads.
City officials said they had no power to clear the pig heads without approval from residents as they were useful items bought by private citizens.
The petition also requested the UN Special Rapporteur recommend the government and local authorities to publicly condemn all forms of discrimination based on a particular religion or race, conduct education on the duty of religious neutrality and anti-racism for all public officials of Daegu City, and remedy all damage.
The conflict pitted residents in Daehyeon-dong subdistrict near the Kyungpook National University and Muslim students enrolled at the university who started the construction of the mosque after acquiring a local government permit in 2020.
The two-storey mosque, with a total floor space of 245 square metres, is being built on a site previously used as a prayer centre.
The residents objected to the construction and submitted a petition signed by more than 10,000 people to the Daegu Buk-gu district office in February 2021, calling for the project to be stopped.
The residents said the proposed mosque would create noise, crowd the narrow alley and undermine the neighbourhood's real estate value as potential buyers and tenants would turn away from an area frequented by Muslims.
The local government ordered an immediate halt to the construction.
The Muslims students then took the issue to court, where the Daegu District Court nullified the construction halt order. The ruling was affirmed by the Supreme Court in September this year.
South Korea has no official state religion, but in the 2015 census, 28 per cent of South Koreans said they belonged to Christianity, with another 15.5 per cent described themselves as Buddhist.
The number of Muslims in the country is estimated to be around 200,000, or 0.4 per cent of the 52 million population, according to the Korea Muslim Federation.
Despite the court ruling, residents continue obstructing the construction.
"Why should we put up with it? Who would like to have a mosque frequented by many people right next door to your home?" Kim Jung-ae, a representative of residents opposed to the proposed mosque, told This Week in Asia.
The alley is part of private land belonging to residents, she stressed.
"We want to continue with our way of living, no matter what may come", she said.
Razaq said the Muslim community was open to dialogue from day one and offered solutions to residents' concerns, but "unfortunately the response of the neighbours and the people who were supporting them was very rude".
"They just wanted us to go away from this place, and nothing less," he told This Week in Asia. "Now as the construction is resumed, and they are trying their best to annoy us [with actions such as] placing pig heads, I am not sure what kind of dialogue is possible in such a situation."
Razaq said it was "very disappointing" that authorities had failed to implement the rule of law by allowing residents to obstruct the construction and block the street despite the court orders.
"About pig heads, they are also silent," he said.
Seo Chang-ho, a representative of activists who campaigned for the peaceful settlement of the conflict, called on the government to actively intervene to enforce the court ruling to let the construction proceed.
"Should government authorities continue failing to take actions for fear of upsetting residents, it would set a bad precedent," he said.
Source: SCMP
Please click the following URL to read the text of the original story:
https://www.scmp.com/week-asia/people/article/3204637/pig-heads-south-korea-mosque-site-condemned-pure-islamophobia
--------
Islamabad Gets Three Bids For Washington Property Which Once Housed The Defence Section Of The Country's Embassy In The US Capital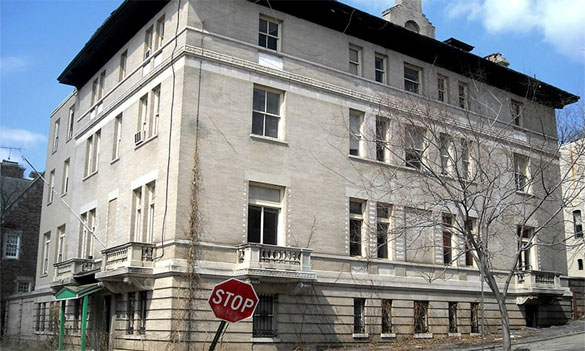 The abandoned Pakistani consulate building in Washington DC. ─ Wikimedia Commons
------
Anwar Iqbal
December 27, 2022
WASHINGTON: Pakistan has received three bids for a building which once housed the defence section of the country's embassy in the US capital.
The highest bid of almost $6.8 million is from a Jewish group that wants to build a synagogue in the building, diplomatic sources in Washington told Dawn.
The second bid of about $5 million is from an Indian realtor and the third of about $4 million is from a Pakistani realtor, the sources added.
Pakistani-Americans in the realty market say that the building should go for the highest bidder. "We should follow this tradition, also because it will create a lot of goodwill in an influential American community, which wants to use it as a place of worship," a Pakistani realtor, who requested to remain anonymous, said.
Earlier this month, Pakistan embassy officials told Dawn that one of the country's three diplomatic properties in Washington — a building on the prestigious R Street NW — was up for sale.
The officials, however, clarified that neither the new nor the old embassies were being sold. The R Street building housed the embassy's defence section from the mid 1950s to early 2000s.
Earlier on Monday, the Cabinet Committee on Privatisation (CCoP) asked the privatisation commission to appoint a financial adviser for leasing the Roosevelt Hotel site in New York.
The government is considering a joint venture for a prospective mixed-used development of the site, which Pakistan owns. Finance Minister Ishaq Dar chaired the meeting.
In Washington, embassy officials told Dawn that they were also consulting an appraiser to assess what's better: to sell the building as it is, or to do so after renovation. "We are in no rush, and we will not conclude a deal that does not benefit Pakistan," the embassy official said. The federal cabinet has already approved the sale.
Earlier posts on social media displayed two buildings: both the present and the old embassies, claiming that these two buildings were also up for sale.
But embassy officials said none of these two buildings were on the market. The current embassy is in a new building constructed in the early 2000s while the old embassy was in the heart of town, on Massachusetts Avenue, close to the Indian embassy.
The embassy moved to the new building in the early 2000s, but it is also keeping the old building and has spent close to seven million dollars in renovating it and the nearby official residence of the ambassador.
The amount spent on the renovation, however, surprised many, with some demanding a probe to determine why it cost so much. The R Street building, however, has never been renovated and a visit to the site showed that it was in dilapidated conditions.
Other residents of the area confirmed that they had complained to the local authorities about the state of the building which, they said, was now "a security hazard". The R Street building was purchased by Ambassador Syed Amjad Ali between 1953 and 1956.
The old embassy was purchased by Pakistan's first ambassador to the US, M.A.H. Ispahani. Both buildings have remained unoccupied for almost 20 years now. A former Pakistani ambassador told Dawn that two ambassadors Jalil Abbas Jilani and Sherry Rehman had previously come close to selling the old embassy building but the government withdrew after a media uproar. "Personally, I am in favour of selling all unoccupied buildings," the former ambassador said.
"We have already wasted a lot of money in retaining these buildings for so long." Yet another embassy official rejected the suggestion that the embassy was unable to pay its diplomatic and other staff and that's why it was selling its properties. "Every embassy employee — diplomatic or non-diplomatic — is paid on time," the official said.
Amin Ahmed in Islamabad also contributed to this report
Source: Dawn
Please click the following URL to read the text of the original story:
https://www.dawn.com/news/1728482/islamabad-gets-three-bids-for-washington-property
--------
Mideast
Al-Quds Centre: Israel Seriously Working To Change Status Quo In Al-Aqsa Mosque Compound
26 December 2022
Israel is desperately attempting to change the status quo of the al-Aqsa Mosque compound in the occupied Old City of al-Quds, says the head of al-Quds Research Centre.
Ziyad al-Hammouri said on Monday there were Israeli attempts to construct a Jewish temple on the ruins of al-Aqsa.
He said the regime along with its settlers have built an entire city under the Old City.
Hammouri accused the United States, Israel's key supporter and great benefactor, of encouraging the occupying regime to keep violating the rights of the Palestinians and desecrating their holy sites.
Meanwhile, Mohamed Diyab, a member of the Islamic Commission in al-Quds, said Israeli authorities had started work on establishing settler outposts around the mosque to tighten the grip on the holy site as a prelude to changing its status quo. He warned the regime was seeking to grab and steal more land belonging to al-Quds citizens.
The Palestinian resistance movement Hamas has already warned the Tel Aviv regime against crossing "red lines" at the al-Aqsa Mosque compound.
Extremist right-wing groups openly call for turning al-Aqsa into a Jewish worship area and tearing down the Islamic shrines in order to build a Jewish temple on the location. Israeli settlers have frequently marched on the al-Aqsa Mosque to place the foundation stone of their 'third temple' inside the mosque. The provocative moves have infuriated the Palestinians.
Under the current status quo, only Muslims are allowed to worship within the compound while non-Muslims may visit the site, but are not allowed to pray there.
Source: Press TV
Please click the following URL to read the full text of the original story:
https://www.presstv.ir/Detail/2022/12/26/695193/Aqsa-temple-Quds-Israel
--------
Israeli businesses decry calls to revise anti-discrimination law
26 December ,2022
Calls by far-right members of Israel's incoming government to revise anti-discrimination laws have triggered criticism from some of the country's leading businesses and prompted them to announce new policies of their own to combat discrimination.
On Sunday, Orit Struck told public radio that hotels and doctors should be allowed to refuse services to people on religious grounds, provided others are available.
Leading hospitals and healthcare providers, apparently in response to that suggestion, then put out a video declaring: "We treat everyone."
On Monday, Israel Discount Bank, the country's fourth largest bank, updated its credit policy and said it would not lend money to groups that discriminate against customers on the basis of religion, race, gender or sexual orientation. Its chairman said the update "officially formalizes the obvious".
Cyber security firm Wiz, which is valued at $6 billion, also said on Monday it would work only with companies committed to prevent such discrimination and said it would terminate its business relationships if this was violated.
"Recent calls for revoking basic rights heard in the political arena in Israel are of grave concern to our society," Wiz said in a statement.
Prime Minister-designate Benjamin Netanyahu, who intends to hold a confidence vote in parliament on his new religious-nationalist coalition on Thursday, has vowed to preserve principles of tolerance.
But his political rivals have accused the veteran conservative leader of being vulnerable to his far-right allies' policy demands.
Israel's president, Isaac Herzog, whose role is largely symbolic, also warned on Sunday against causing potential harm to individuals' rights.
The head of Microsoft's R&D center in Israel also waded into the debate on Monday.
"Israel is a democratic and moral country and it must remain so if it wants to stay alive," Michal Braverman-Blumenstyk posted on LinkedIn.
"A discourse that encourages racism and discrimination of any kind has no place in a proper society."
Netanyahu has already drawn criticism from scores of local authorities after naming a far-right politician with a history of anti-LGBTQ speech, Avi Maoz, to head a new "National Jewish Identity" authority with powers over some school activities.
Source: Al Arabiya
Please click the following URL to read the full text of the original story:
https://english.alarabiya.net/News/middle-east/2022/12/26/Israeli-businesses-decry-calls-to-revise-anti-discrimination-law
--------
Iran hangs two murder convicts in latest executions
26 December ,2022
Iranian authorities have hanged two men convicted of murder in the southeastern Sistan-Baluchistan province in the latest executions carried out by the Islamic republic, the judiciary said Monday.
Elias Raisi was found guilty of murder in a family dispute in 2020, and Ayoub Rigi of a killing using a military weapon over "personal differences" with the victim, said the judiciary's Mizan Online news website.
They were put to death Saturday after the victims' families refused to grant them clemency under Islamic law, the chief prosecutor in the provincial capital Zahedan, Mehdi Shamsabadi, was quoted as saying.
The latest executions came two days after the judiciary confirmed three people had been hanged for rape and armed robbery in the southern city of Shiraz.
Earlier this month, Iran's judiciary executed two men in connection with the protests over the September 16 death of Iranian-Kurdish woman Mahsa Amini, 22, after her arrest for an alleged breach of the country's strict dress code for women.
Majidreza Rahnavard, 23, was hanged in public on December 12 after being sentenced by a court in Mashhad for killing two members of the security forces with a knife.
Four days earlier, Mohsen Shekari, also 23, had been executed for wounding a member of the security forces.
The judiciary has said that so far 11 people have been handed death sentences over the protests, of whom two have been executed and two have been allowed retrials.
Campaigners say about a dozen other defendants have been charged with offences that could see them receive the death penalty.
Source: Al Arabiya
Please click the following URL to read the full text of the original story:
https://english.alarabiya.net/News/middle-east/2022/12/26/Iran-hangs-two-murder-convicts-in-latest-executions
--------
Iran says UK-linked arrests reflect 'destructive role' in protests
26 December ,2022
Iran's foreign ministry said on Monday that the arrests of citizens linked to the United Kingdom showed London's "destructive role" in the recent protests in Iran.
Asked by a reporter to comment on Sunday's announcement in Tehran of the arrest of seven people linked to Britain, foreign ministry spokesperson Nasser Kanaani said: "Some countries, especially the one you mentioned, had an unconstructive role regarding the recent developments in Iran."
"Their role was totally destructive and incited the riots." Iran's Revolutionary Guards said on Sunday that the seven, including some who held dual nationality, were arrested over anti-government protests that have rocked the country.
The British foreign ministry had said it was seeking further information from Iranian authorities on the reports that British-Iranian dual nationals had been arrested.
Kanaani said Tehran had notified the detainees' respective governments and had "communicated their crimes" to them.
For "humanitarian reasons," he said, the detainees had been allowed to contact their families over the Christmas holidays.
Tehran has blamed foreign enemies and their agents for orchestrating the protests, which have turned into a popular revolt by Iranians from all layers of society, posing one of the boldest challenges to the country's clerical rulers since the 1979 revolution.
It has also taken increasingly aggressive steps against dual nationals, arresting dozens since the unrest began. Such moves have brought more international condemnation and isolated the Islamic Republic.
Rights group HRANA said that as of Sunday, 507 protesters had been killed, including 69 minors. It said 66 members of the security forces had also been killed. As many as 18,516 protesters are believed to have been arrested, it said.
Source: Al Arabiya
Please click the following URL to read the full text of the original story:
https://english.alarabiya.net/News/middle-east/2022/12/26/Iran-says-UK-linked-arrests-reflect-destructive-role-in-protests
--------
Israeli air force veterans say incoming government a danger
December 27, 2022
JERUSALEM: Over 1,000 senior Israeli air force veterans, including a former Israeli chief of staff, on Monday urged the country's top legal officials to stand tough against the incoming government.
In a letter to the chief of Israel's Supreme Court and other top officials, they said the alliance of religious and ultranationalist parties threatens Israel's future. The letter was delivered days before the new government is to take office.
"We come from all strata of society and from across the political spectrum," the letter said. "What we have in common today is the fear that the democratic state of Israel is in danger."
It called the legal officials "the final line of defense" and implored them to "do everything in your reach to stop the disaster that is affecting the country."
Among the nearly 1,200 signatories were Dan Halutz, who served as military chief from 2005-2007; Avihu Ben-Nun, a former commander of the air force and Amos Yadlin, a former head of military intelligence. All three are former fighter pilots.
Former Prime Minister Benjamin Netanyahu and his ultra-Orthodox and far-right partners captured a parliamentary majority in Nov. 1 elections.
While they have not yet completed coalition negotiations, Netanyahu has reached a series of deals that would grant his far-right partners authority over the national police force and settlement construction in the occupied West Bank.
They are promoting legislation to allow a politician who spent time in prison in a bribery case to serve as a Cabinet minister while on probation for a separate conviction on tax offenses. They also are expected to promote a series of changes in the legal system that critics say will weaken the judiciary and potentially dismiss criminal charges against Netanyahu.
On Sunday, Netanyahu rebuked an ally over anti-LGBTQ comments.
Source: Arab News
Please click the following URL to read the full text of the original story:
https://www.arabnews.com/node/2222606/middle-east
--------
New blow to 'normalization': Oman parliament votes to ramp up criminalization of ties with Israel
27 December 2022
Oman's parliament has voted on a draft amendment to expand a law banning relations and contacts with Israel, as the Tel Aviv regime faces growing challenges to its hopes of integrating into the region two years after the US brokered normalization deals between the regime and four Arab countries.
The 86-member Majlis al-Shura, or Consultative Assembly, voted to amend the first clause of its Israel boycott law to include any sports, cultural or economic contact for private and public figures.
The amendment also specifically bans in-person or online interaction with Israeli settlers.
Assembly Vice-President Yaaqoub al-Harethi said the amendment, proposed by several legislators, will "expand the criminalization and boycott of the Zionist entity," according to the Omani WAF news agency.
The amendment now moves to debate by the Majlis legislative committee before a final vote.
Omani law already states that citizens are barred from making contact with individuals or entities based in Israel for any purpose, whether directly or through a third party.
Muscat officially adheres to the Arab League's stance that any form of diplomatic relations with the Israeli regime is contingent on the establishment of an independent Palestinian state.
Earlier this year, it was reported that Oman and the United States held talks to secure Omani approval for Israeli commercial flights to fly over the Persian Gulf state's airspace, in a bid by Washington to push for more Arab states to normalize ties with Tel Aviv. Muscat, however, refused to comply..
Upon signing the so-called Abraham Accords, the United Arab Emirates and Bahrain, as well as Saudi Arabia, authorized Israeli planes to use their airspace.
Omani Foreign Minister Sayyid Badr al-Busaidi said in an interview in July that his country will not be the third Persian Gulf nation to normalize ties with Israel but also affirmed his country's support for what he called "achieving a just, comprehensive, and lasting peace on the basis of the two-state solution."
He said the sultanate seeks to differentiate itself from the United Arab Emirates and Bahrain, and therefore, any future advancement in ties would require a separate and direct link between Muscat and al-Quds.
In May, Oman's foreign minister also told the French Le Figaro daily newspaper that Oman will not go for open full-fledged normalization with Israel until the Palestinian issue is settled.
"Oman will not join the [Persian] Gulf countries that have announced the normalization of their relations with the Israeli occupation," he said, adding that Oman "prefers initiatives that support the Palestinian people."
Incoming Israeli Prime Minister Benjamin Netanyahu visited Oman in 2018, and met with then-Sultan Qaboos bin Said, becoming the first Israeli ruler to travel to the Sultanate since 1996.
Netanyahu signed the Abraham agreements with Emirati Foreign Minister Sheikh Abdullah bin Zayed Al Nahyan and Bahrain's Foreign Minister Abdullatif Al Zayani during an official ceremony hosted by former US president Donald Trump at the White House in September 2020.
The normalization deals, to which Sudan and Morocco later joined, have sparked widespread condemnations from the Palestinians as well as nations and human rights advocates across the globe, especially within the Muslim world.
Source: Press TV
Please click the following URL to read the full text of the original story:
https://www.presstv.ir/Detail/2022/12/27/695212/Oman-parliament-votes-ramp-up-criminalization-Israel-ties
--------
Prisoners' commission: Israel placed 600+ Palestinian minors under house arrest in 2022
26 December 2022
The Israeli regime has so far this year placed more than 600 Palestinian children under house arrest, a Palestinian prisoners' commission reports, recounting the horror of their plight.
The Commission for Detainees and Ex-Detainees Affairs released the information in a statement on Monday, saying the restraining method has been mostly used against children and youths in the eastern side of the occupied city of al-Quds in the West Bank.
The Israeli authorities, the statement noted, resort to the method since it enables the occupying regime to bypass its own laws that prohibit imprisonment of children under the age of 14.
While under house arrest, Palestinian minors are forced to wear a bracelet monitor at all times, and are not allowed to go to school or even a clinic without being accompanied by a supervisor, the body said.
During that period, the Israeli court examines their file until the judicial procedures against them end and a ruling is issued, which may take a few days or up to a year or more. That period is not counted as part of the actual sentence, which is later issued against the child.
Some children are removed from their family homes and are placed under arrest at another house outside their city, which belongs to a relative or a friend. In the latter case, the family is forced to rent the outlying house.
In either case, "the parents are often forced to sell property or use their savings to deposit large sums of money in the treasury of the court [that hears their child's case] to ensure the implementation of the conditions for the release of their child," the Palestinian Wafa news agency reported, citing the commission.
According to the commission, the house arrest conditions leave "difficult psychological effects" on children and their families.
It cited some of the adverse effects as a constant feeling of anxiety, fear, and deprivation, which force the child into a state of "psychological instability."
A leader of the Palestinian Fatah resistance movement said in late November that the Israeli regime is keeping hundreds of prisoners, including children, behind bars, stating that the minor detainees are subjected to various forms of torture and Israeli prison officials deal with them as criminals.
Ayman al-Raqab, who is also a professor of political science at Quds University, denounced the Tel Aviv regime's gross mistreatment of Palestinian children and flagrant violation of their rights, stating that the condition of Israeli detention centers and relevant policies contradict international principles and regulations.
Raqab noted that Israeli officials have subjected a number of jailed Palestinian children, including teenage girls, to brutal forms of torture, and treat them as serious criminals even though they are not of legal age.
The current year has also prove to be the deadliest for Palestinians so far, since 2005, when the United Nations started keeping a tally of the Israeli-caused Palestinian fatalities.
Source: Press TV
Please click the following URL to read the full text of the original story:
https://www.presstv.ir/Detail/2022/12/26/695201/Israel-Palestinian-children-house-arrest
--------
Ronaldo 'political ban': Erdogan says legendary player benched in World Cup over Palestine
26 December 2022
Turkey's President Recep Tayyip Erdogan says Portuguese football star Cristiano Ronaldo was subjected to a "political ban" during the recently-concluded 2022 FIFA World Cup in Qatar over his support for Palestine.
Speaking at an event with youth in the country's eastern Erzurum province on Sunday, the Turkish president said Ronaldo was "wasted" at the World Cup.
"They have wasted Ronaldo. Unfortunately, they have imposed a political ban on him. Sending a footballer like Ronaldo to the pitch with just 30 minutes remaining in the match ruined his psychology and took away his energy," Erdogan said.
"Ronaldo is someone who stands for the Palestinian cause," he hastened to add, comparing the Portuguese footballer to Argentina's Lionel Messi.
The star striker was called in as a substitute in Portugal's World Cup 2022 quarter-final against Morocco and arrived at the pitch in the second half, much to the chagrin of Portuguese football fans.
Ronaldo, the first male international footballer to score at five World Cups, was seen leaving the field in tears after his team was eliminated by Morocco.
He had been dropped from the starting lineup for Portugal's match against Switzerland in the World Cup's round of 16, making an appearance as a substitute.
Source: Press TV
Please click the following URL to read the full text of the original story:
https://www.presstv.ir/Detail/2022/12/26/695160/Ronaldo-politically-banned-World-Cup-Palestine-Erdogan
--------
North America
Okotoks Muslims now have prayer space in partnership with local church
Dec 26, 2022
Muslims in Okotoks finally have a place to pray.
Muslims in the city have previously had to travel to Friday prayers in south Calgary or as far as High River.
Now the community has partnered with Okotoks United Church, who've agreed to rent the community a place for prayers every Friday going forward.
It means the growing Muslim community there now has a focal point and gathering place that it's been missing for many years.
"It was very important for me when I moved here six months ago from Toronto. That's one thing I was missing," said Salam Akhtar.
"Now with the support of our extended community in Calgary, we were able to establish this, and it's just a first step. And it means a lot," said Akhtar.
For others it means less time away from work on Fridays.
"I used to go pray in High River," said Mohamed Desouki, who lives in Calgary but works in Okotoks.
"I had to leave work for an hour-and-a-half and now it's two minutes away. It's more convenient," said Desouki.
Desouki's great uncle came to Alberta in 1905 and was involved in building the first mosque in Calgary.
Calgary Imam Syed Soharwardy made the trip down to Okotoks to host the historic first Friday prayers there, calling it an historic event for their community.
"We had been planning to have Friday prayers and finally the church allowed us to rent the space," said Soharwardy.
"There was nothing in Okotoks and there's a large Muslim population now growing so there's a need for it.
Source: CBC
Please click the following URL to read the full text of the original story:
https://www.cbc.ca/news/canada/calgary/muslims-okotoks-alberta-friday-prayers-islam-1.6683423
--------
US families sue after French cement maker pleads guilty to supporting Islamic State
26 December 2022
The families of US soldiers killed by the Islamic State (IS) group have filed a lawsuit in New York against Lafarge, the French cement company that earlier this year pleaded guilty to making payments to the militant group to maintain operations through the Syrian civil war.
"Defendants put their economic self-interest above all else - ultimately making over $70 million in sales through their partnership with ISIS - even while ISIS was slaughtering innocent civilians, including Americans," the lawsuit read, as seen by Middle East Eye.
The families include relatives of three US servicemen who were killed in attacks that were blamed on the IS group.
Navy Chief Petty Officer Jason Finan of California was killed in Iraq on 20 October 2016, and his family are among those suing the company.
The plaintiffs also include the family of Navy Senior Petty Officer Scott Cooper Dayton, who was killed in Ayn Issa, Syria, on 24 November 2016, as well as the family of former Marine David Berry, who was killed in an attack on the Corinthia Hotel in Libya on 27 January 2015.
"Plaintiffs ... are entitled to recover for the severe mental anguish, extreme emotional pain and suffering, and loss of their relatives' society, companionship, comfort, advice, and counsel that they experienced as a result of Defendants' criminal misconduct," the lawsuit said.
The civil case was filed under a US law, referred to as the Anti-Terrorism Act, which allows individuals to seek civil damages against an entity that has provided payments to a "foreign terrorist organisation".
The lawsuit is seeking an unspecified economic and compensatory damages package, and also is demanding a trial by jury.
"This lawsuit is intended to hold it accountable to the military families devastated by its heinous and unlawful conduct," Lee Wolosky, partner at Jenner & Block LLP, a lawyer for the plaintiffs, said in a statement to ABC News.
"We expect more families to join the lawsuit and we look forward to bringing the case to trial before a jury of New Yorkers."
Lafarge pleads guilty
In October, Lafarge pleaded guilty in US court to charges of conspiring to provide material support for terrorism by making payments to the IS group and other US-designated "terrorist groups", so the company could keep operating in Syria.
As a part of a plea deal, Lafarge agreed to pay $778m in forfeiture and fines.
US officials say that from approximately May 2010 to September 2014, Lafarge, through its now-defunct subsidiary Lafarge Cement Syria, operated a cement plant in northern Syria that was built at a cost of approximately $680m.
As the civil war broke out in 2011, fighting erupted across the country between armed rebel groups and the Syrian government, and the IS group took control of swathes of Syria.
US prosecutors said Lafarge and its Syrian subsidiary, Lafarge Cement Syria, paid the IS group and the Nusra Front, through intermediaries, about $5.92m between 2013 and 2014 to allow employees, customers, and suppliers to pass through checkpoints amid the country's civil war.
The payments led to the company earning $70m in sales revenue from a plant it operated in northern Syria, according to prosecutors.
Lafarge eventually evacuated the cement plant in September 2014, prosecutors said. At that point, Islamic State took possession of the remaining cement and sold it for the equivalent of $3.21m.
In a statement, Lafarge's parent company Holcim said none of the deals made with the IS group involved Holcim, "which has never operated in Syria, or any Lafarge operations or employees in the United States, and it is in stark contrast with everything that Holcim stands for".
Source: Middle East Eye
Please click the following URL to read the full text of the original story:
https://www.middleeasteye.net/news/us-families-sue-french-cement-maker-supporting-islamic-state
--------
South Asia
More Ngos, Like Christian Aid And Actionaid, Halt Work In Afghanistan After Taliban Ban On Women
December 27, 2022
LONDON: Christian Aid and ActionAid on Monday became the latest foreign aid groups to suspend operations in Afghanistan after the country's Taliban rulers ordered all NGOs to stop women staff from working.
Announcements by the two groups take to six the number of bodies who have paused their operations in the country.
Christian Aid was "rapidly seeking clarity... and urging the authorities to reverse the ban", head of global programmes Ray Hasan said in a statement. "Whilst we do this, we are unfortunately pausing the work of our programmes," he added.
ActionAid said that if women were banned from working with the group it would "prevent us from reaching out to half of the population that are already reeling from hunger".
"ActionAid has made the difficult decision to temporarily halt most of its programmes in Afghanistan until a clearer picture emerges," it said in a statement.
On Sunday Save the Children, the Norwegian Refugee Council and CARE all announced they were putting their operations on hold.
The International Rescue Committee, which provides emergency response in health, education and other areas and employs 3,000 women across Afghanistan, also said it was suspending services. "Millions of people in Afghanistan are on the verge of starvation," Christian Aid's Hasan said on Monday.
"Reports that families are so desperate they have been forced to sell their children to buy food are utterly heartbreaking," he said, adding that a ban on women aid workers would "only curtail our ability to help the growing number of people in need".
The ban is the latest blow against women's rights in Afghanistan since the Taliban reclaimed power last year.
Source: Dawn
Please click the following URL to read the full text of the original story:
https://www.dawn.com/news/1728451/more-ngos-halt-work-in-afghanistan-after-taliban-ban-on-women
--------
Poppy cultivation in Afghanistan banned since the Emirate's establishment: Taliban
26 December, 2022
Kabul [Afghanistan], December 26 (ANI): Afghanistan's Ministry of Interior under the caretaker Taliban regime reported that poppy cultivation has been banned nationwide since the establishment of the Islamic Emirate and that no one is allowed to farm poppy on their lands, according to Tolo News.
Nafi Takor, the spokesman for the ministry, said that preventing the cultivation of poppy is part of the Taliban's counter-narcotics campaign.
"The Ministry of Interior has been fighting in the field of poppy cultivation and trafficking for a year and the fight will continue to avoid this bad phenomenon," he said, as quoted by Tolo News.
Following the Taliban decree, some farmers said that cotton production is a good alternative to poppy cultivation. The farmers asked for the Taliban's assistance in this regard.
Raz Mohammad, a farmer, as quoted by Tolo News, said: "Last year, farmers cultivated poppy but this year, they haven't."
"We started cotton cultivation when poppy farming was banned. Over the past 10 days, the price of cotton has dropped from 1,000 Afs to 800 Afs," said Mohammad.
Analysts, however, say that poppy cultivation is still underway in Afghanistan and that the Taliban should stop it.
The United Nations earlier reported that 85 per cent of the world's opium is being produced in Afghanistan.
A recent report by Khaama Press said the drug trade in Afghanistan has boomed under the Taliban.
The Taliban after taking power in Afghanistan in August 2021, promised to crack down on narcotics and ban the production, processing, and sale of illicit drugs. The Taliban issued a decree to ban the production and sale of illicit drugs. They, however, failed in their implementation. Afghanistan's drug trade, thus, started flourishing under the Taliban regime, according to Khaama Press.
After the Taliban took control of Afghanistan, the country's economy crashed and unemployment skyrocketed. Citizens started to struggle to live a normal life. Many people who were employed by the previous government, lost their jobs and struggled to meet their daily needs. Amidst adversities, many migrated to neighbouring countries such as Iran, Pakistan, and Turkey.
"My husband was an addict, he convinced me to take drugs. He died some time ago, and I joined a group of addicts for I had no place to live and none of my relatives would accept me," a female drug addict was quoted as saying by Sky News.
Source: The Print
Please click the following URL to read the full text of the original story:
https://theprint.in/world/poppy-cultivation-in-afghanistan-banned-since-the-emirates-establishment-taliban/1282968/
--------
ISIS claims car bombing that killed local police chief in Afghanistan
27 December ,2022
ISIS has claimed responsibility for a car bombing that killed a local police chief in Afghanistan.
The ISIS regional affiliate — known as the Islamic State in Khorasan Province — has increased its attacks since the Taliban takeover of Afghanistan in August 2021.
Abdulhaq Abu Omar, the police chief of the country's northeastern Badakhshan province, died on Monday morning when a car bomb exploded near his headquarters.
The interior ministry spokesman, Abdul Nafi Takor, said two others were killed in the blast and two people were wounded. Four suspects were arrested in connection with the incident, he said.
In a brief statement late on Monday, ISIS said it parked an explosive-laden car on the road used by the police chief on his way to work and detonated it when he was close by.
Earlier this month, the militant group claimed responsibility for a coordinated attack on a Chinese-owned hotel in the Afghan capital, Kabul, which left three assailants dead and at least two guests injured as they tried to escape by jumping out of a window.
The assault on the Kabul Longan Hotel, in the central Shar-e-Naw district, prompted the Chinese government to urge its citizens to leave Afghanistan.
Source: Al Arabiya
Please click the following URL to read the full text of the original story:
https://english.alarabiya.net/News/world/2022/12/27/ISIS-claims-car-bombing-that-killed-local-police-chief-in-Afghanistan
--------
Southeast Asia
Indonesian cosmetics brands see opportunity in halal products
NANA SHIBATA
December 27, 2022
JAKARTA -- Companies offering halal cosmetics in Indonesia, the world's largest Muslim-majority country, are aiming to boost the international appeal of their products in Southeast Asia and beyond as they see potential in attracting more non-Islamic consumers.
In 2014, Indonesia enacted a law requiring halal certification for a wide range of consumer products sold in the country. The new "halal product assurance" regulations will be obligatory for cosmetics by 2026. Being certified as halal means products are manufactured in compliance with Islamic law and contain no forbidden ingredients.
Consumers, especially millennials and Generation Z, are seen as increasingly becoming more knowledgeable regarding what ingredients go in each product as well as general safety.
"People used to think that halal brand was for Muslims only, but now everyone chooses [it] mainly for health reasons," Kezia Trihatmanto, co-founder of Indonesian beauty brand Esqa, told Nikkei Asia.
Keva Cosmetics International, owner of the Esqa brand, offers halal-certified makeup with vegan ingredients. Although starting in Indonesia, Trihatmanto said, "we created Esqa in 2016 as a halal beauty brand that is up to par with the global cosmetics scene."
Esqa has expanded into other Southeast Asian markets, including Vietnam, Singapore and Malaysia, and aims in the near future to go beyond the countries where it currently operates. Besides offering products online, the brand is also sold at stores such as Indonesia's Sociolla, Sephora of France and Hong Kong-based Watsons. Despite the coronavirus pandemic, Esqa is expected to be profitable this year, as it also was in 2021.
According to market insight provider Precedence Research, the global halal cosmetics market amounted to $45.32 billion in 2022 and is expected to more than triple to around $162 billion by 2030, thanks to the increased purchasing power of the growing female Muslim population.
Trihatmanto pointed out that halal certification is a strength for beauty brands "because healthy ingredients are now one of the top considerations for customers when they purchase cosmetic products."
She also said the "halal certificate should not only be about religion; it is supposed to be an industry standard which we think is relevant to all consumers, regardless of religion."
Angela Cahyanti, 28, is one non-Muslim sold on the products.
"I use halal cosmetics and skin care mainly because they are high-quality local products with an affordable price," said the 28-year-old homemaker from Bekasi in West Java province. "I initially never cared [about] halal certification because it might be the same as food or drinks, which doesn't affect me as a Christian. But when I compared them with nonhalal products, especially imported cosmetics and skin care, these local halal products are better."
Yaumi Fauziah Sugiharta, co-founder and CEO of Base, another Indonesian vegan cosmetic brand, agrees with Trihatmanto. "We see vegan and halal beauty products gaining a growing interest in the market with a less Muslim population, say in Australia, as the products containing vegan or plant-based ingredients have a strong association with an organic, natural product that is gentle yet [with an] effective result on skin."
But Sugiharta also underscored the importance of Muslim consumers.
"The demand for halal cosmetic products will continue to increase due to the increase in the purchasing power of the population, the increasing number of Muslims and also the desire of the Muslim community to associate their interest in cosmetic products that adhere to religious loyalty,"
In Indonesia, beauty startups are increasingly raising funds from foreign investors. Esqa in November raised $6 million, led by consumer giant Unilever and venture capital firm East Ventures, while Base announced in the same month that it had raised $6 million from investors including Rakuten Ventures.
"There is a growing demand for high-quality, hyperlocal and affordable beauty products, and we are certain that Esqa's innovative, natural ingredients and wide product offerings will propel Esqa to be a leader in the beauty market in Southeast Asia," said Avina Sugiarto, partner at East Ventures.
According to Euromonitor data, Indonesia's overall cosmetics market -- the largest in Southeast Asia -- surpassed Thailand's in 2021 and is expected to reach $11 billion in 2026, up 54% from 2021.
With female purchasing power on the rise, more consumers are spending more on cosmetics than ever, and also are gaining knowledge on social media. Though Japanese brands like Shiseido are more focused on the high-end sector, South Korean cosmetics companies are leveraging the popularity of their country's dramas and K-pop music to tap into Southeast Asia's biggest economy.
With demand for halal-certified goods and services growing in Asia -- home to over 60% of the world's Muslim population -- foreign companies are also gearing up to cash in.
Japanese trading company Marubeni and drug and cosmetics store operator Ain Holdings opened their first Ainz & Tulpe outlet in May in Malaysia, where more than half of the population is Muslim.
Source: Asia Nikkei
Please click the following URL to read the full text of the original story:
https://asia.nikkei.com/Business/Consumer/Indonesian-cosmetics-brands-see-opportunity-in-halal-products
--------
Saudi Islamic affairs minister meets heads of Indonesian universities on sidelines of ASEAN conference
December 26, 2022
RIYADH: Saudi Arabia's Minister of Islamic Affairs Sheikh Abdullatif Al-Asheikh has met with several presidents of Indonesian public universities on the island of Bali, the Saudi Press Agency reported.
The meeting was held on the sidelines of the second Association of Southeast Asian Nations' international conference, which was organized by the ministry in cooperation with the Indonesian Ministry of Religious Affairs.
The minister was briefed on the programs and activities of Indonesian public universities, and held discussions on various issues of common interest.
The university presidents praised the Kingdom's efforts, led by King Salman and Crown Prince Mohammed bin Salman, in serving the Indonesian people and providing scholarships in Saudi universities, from which thousands of Indonesian students have benefited.
Source: Arab News
Please click the following URL to read the full text of the original story:
https://www.arabnews.com/node/2222566/saudi-arabia
--------
At least 20 reported dead as Rohingya boats land in Indonesia
December 27, 2022
PIDIE, Indonesia: At least 20 Rohingya have died at sea in recent weeks, the UN refugee agency (UNHCR) said on Tuesday, as boats carrying hundreds of the persecuted Muslims landed in Indonesia while others were believed to be adrift in the Indian Ocean.
A boat washed ashore in Indonesia's Aceh province on Monday carrying 174 Rohingya, most of them dehydrated, fatigued and in need of urgent medical care after weeks at sea, local disaster agency officials said.
Chris Lewa of the Arakan Project, which provides support to Rohingya, said the boat was the same as one earlier reported missing and feared to have sank.
The UNHCR on Monday said 2022 could be one of the deadliest years at sea in almost a decade for the Rohingya, as a growing number of them flee desperate conditions in refugee camps in Bangladesh.
The Rohingya have long been persecuted in Buddhist-majority Myanmar, which borders Bangladesh. For years many have fled to countries like Thailand, and Muslim-majority Malaysia and Indonesia between November and April when seas are calmer.
Nearly 1 million live in crowded conditions in Bangladesh, including many of the hundreds of thousands who fled a deadly crackdown by Myanmar's military in 2017.
Rights groups have recorded a significant increase in the number leaving the camps, from about 500 last year to an estimated 2,400 this year. It is not clear what is driving the larger exodus. Some activists believe the lifting of COVID restrictions around Southeast Asia, a favored destination for the Rohingya, could be a factor.
"We came here from the largest Bangladesh refugee camp with the hope that the Indonesian people would give us the opportunity of education," said Umar Farukh, who spoke in a shelter crowded with Rohingya men, women and children receiving care from Indonesian medics.
The group is the latest in a series of boat landings and rescues around the region in recent weeks.
There were 57 other Rohingya who reached Aceh on Sunday, while two other boats carrying a combined 230 people landed in November.
Source: Arab News
Please click the following URL to read the full text of the original story:
https://www.arabnews.com/node/2222691/world
--------
Pakistan
Imran blames 'incompetent rulers' for failure to protect Pakistanis from terrorism
December 26, 2022
LAHORE: Former prime minister and PTI Chairman Imran Khan has expressed serious concern over the rapidly rising terrorism incidents across the country, saying that "incompetent rulers" have miserably failed to protect the lives and property of the people.
"After the economic crisis, there has been an extraordinary increase in the incidents of terrorism in the country," he said while chairing a meeting of the party leadership in Lahore on Monday.
The PTI leader deliberated at length on crucial matters including the overall political situation in the country, deteriorating economic conditions, and rising terrorism.
The former prime minister said that the "corrupt, dishonest and incompetent rulers responsible for the economic chaos have now miserably failed to protect the lives and property of the people".
"Eight months ago, the country was economically stable while terrorism was practically over. These corrupt and dishonest people at the helm of affairs were given the power to play with the economy and national security and award themselves with NRO-2," he added.
"In recent days, the country has seen a 52% increase in terrorism incidents in which 270 people have died and more than 550 were injured. I had warned of the consequences before my government was changed through a conspiracy. Since the last eight months, we have continuously warned that the imposed, corrupt, and incompetent rulers were pushing the nation towards disaster," Imran said.
According to him, independent economic experts were suggesting that Pakistan was facing a very serious situation and added that a two-fold increase in the price of flour would most likely deprive millions of poor people of food.
"After ruining the economy, the imported government failed to provide security, which is very worrying. Despite America's withdrawal from the region, our government shielded the nation from its fallout with the best diplomatic strategy," he added.
He was of the view that leaving national security at the mercy of "immature" Foreign Minister Bilawal Bhutto Zardari was criminal negligence.
"We are closely monitoring the situation in the country and we will strongly resist any attempt to lead the nation to a major disaster," he added.
He reiterated his demand for snap polls, which in his opinion was the only way to save the country from destruction. "Only a government with a public mandate in the true sense will be able to manage the economy and control terrorism".
During the meeting, the PTI leaders discussed the strategy for the resignations of the PTI members of the National Assembly.
The meeting condemned National Assembly Speaker Raja Pervaiz Ashraf for going on a foreign trip, knowing that the PTI MNAs were coming to meet him to verify their resignations. The participants termed the speaker's act as an "insult" to the parliament.
On this occasion, former finance minister and head of the PTI economic team Shaukat Tareen briefed the meeting about the impact of the increase in the prices of food items, especially flour, on the common man. The PTI leaders also showed concern over the United States and the European Union's travel advisories for their citizens.
Meanwhile, as per the sources, the PTI chairman was briefed by his legal team on the dissolution of the Punjab Assembly in light of the Lahore High Court verdict. He was told that the Punjab Assembly cannot be dissolved before January 11, as the matter has been conditionally attached to the court's verdict.
The legal experts further informed the former premier that the legal status of a no-confidence motion also ended after Punjab Assembly Speaker Sibtain Khan's ruling. They were of the opinion that Punjab Governor Balighur Rehman has to ask Chief Minister Pervaiz Elahi again to take a vote of confidence from the house.
White paper on economy
Later, addressing the media, PTI Senior Vice President Fawad Chaudhry said that his party was going to issue a white paper on the country's economic situation.
The PTI chairman has summoned a meeting of the economic experts wherein the country's economic situation will be discussed in detail and the white paper will be issued by the party based on the proposals of the economic experts, he added.
He went on to say that the PTI has formed working groups for basic reforms, which will prepare the proposals on the country's economy and governance. "The PTI believed that after getting rid of the current rulers, the country could not get out of the quagmire without major reforms," he added.
Talking about the meeting of the party's senior leadership, he disclosed that it was also attended by PML-Q leader Moonis Elahi and the leaders were very clear on the strategy for the Punjab Assembly's dissolution. "We have decided on the date for Punjab's parliamentary party meeting, which will be revealed in due course of time. All of our 187 MPAs will attend the meeting," he added.
Source: Pakistan Today
Please click the following URL to read the full text of the original story:
https://www.pakistantoday.com.pk/2022/12/26/235367/
--------
25 police checkpoints set up in Islamabad as part of 'special' security plan
December 27, 2022
In light of growing security concerns, Islamabad police issued on Tuesday a "special" plan that introduces 25 temporary checkposts in the city and requires citizens and foreigners to carry their identification documents with them.
According to the security plan, shared on Islamabad police's official Twitter, entry points of the Red Zone will be recorded via Safe City cameras while video surveillance of metro bus passengers would also be conducted.
Police asked the capital's citizens, as well as foreigners, to carry their identification documents with them.
Authorities also warned of action over non-specimen number plates and unregistered vehicles, directing citizens to ensure their vehicles had number plates issued by the excise office.
Measures under this plan also require landlords and employers to register their tenants and employees at a nearby police station or khidmat marakiz (facilitation centres).
Police said citizens who had employed unregistered local or foreign workers would also be investigated.
They appealed to citizens to inform authorities of any unusual activity on the 15-helpline.
This plan has been devised as Pakistan continues to see a rise in terror incidents in recent days, particularly after the militant Tehereek-i-Taliban Pakistan called off the ceasefire between them and the government in late November.
Last Friday, a bomb blast in the capital's I-10 sector claimed the life of a police constable and left six others injured — the first major incident of terrorism in Islamabad following the onset of the recent wave of militancy that was initially limited to Khyber Pakhtunkhwa and Balochistan.
Two days after the blast, the US embassy in Islamabad had issued a security alert, prohibiting its staff from visiting the city's Marriott Hotel due to concerns of a "possible attack".
The same day, Islamabad police had raised security to high alert in the capital.
Source: Dawn
Please click the following URL to read the full text of the original story:
https://www.dawn.com/news/1728524/25-police-checkpoints-set-up-in-islamabad-as-part-of-special-security-plan
--------
Shehbaz renews pledge to crush terrorism menace
Muhammad Irfan Mughal | Mansoor Malik
December 27, 2022
D.I. KHAN / LAHORE: As the country reels from multiple incidents of terrorism, claimed by the outlawed Tehreek-i-Taliban Pakistan (TTP) over the past few days, Prime Minister Shehbaz Sharif on Monday vowed to eradicate militants across the country amid criticism by his predecessor Imran Khan, who grilled the government over a steep rise in militancy during its eight-month stint.
Addressing a gathering in Dera Ismail Khan, PM Shehbaz said that with the help of provincial governments and security forces, the government will eliminate terrorism in all its forms. He added that a meeting of the National Security Committee (NSC) would be summoned in a few days to take stock of the security situation.
The premier said the menace of terrorism was on the rise but the state would crush it very soon and no effort would be spared to prevent its return.
In a comment on an attack on a security compound in Bannu last week, PM Shehbaz said the Bannu incident was heart-breaking and added that the law enforcement agencies conducted a successful operation, killing all terrorists who had taken over the compound.
"We offer our condolences; the officers and personnel who were martyred in this incident are our heroes, their sacrifices will always be remembered," he added.
'Failure to rein in terror'
Meanwhile, former prime minister Imran Khan, who wants snap polls in the country at all costs and is likely to dissolve Punjab and Khyber Pakhtunkhwa assemblies, lambasted the Pakistan Democratic Movement (PDM) government for its "failure" to rein in terrorism after coming to power in April this year.
During a PTI meeting at Zaman Park, his residence in Lahore, Mr Khan claimed that his government had "controlled terrorism and was proudly leading the country towards making it one of the world's top tourism destinations".
The PTI chairman appeared concerned over the situation at the Pak-Afghan border as well. He claimed that there was a 52 per cent increase in terror incidents since April and chided the government for the resurgence of terrorism.
"At least 52 per cent increase has been recorded in terrorism cases across the country that claimed some 270 precious lives and left over 550 people injured," the former premier claimed.
Separately, PTI leader Fawad Chaudhry told reporters that terrorism was returning to Pakistan.
In our stint in the federal government, he said, the PTI was proudly projecting Pakistan as the world's top tourist destination and major news channels like CNN and magazines were referring to this South Asian country as a world's top tourist destination.
Unfortunately, he said the nation was being pushed into the "fire of terrorism and the embassies were issuing advisories to their employees to avoid five-star hotels" in Islamabad.
'Economic crisis'
Speaking about the economic crisis plaguing the country, PM Sharif said the federal government was determined to steer the country out of the current difficulties.
The PM inaugurated multiple development projects, including 50-kilometre motorway section of CPEC's western route from Yarik to Saggu, the rehabilitation of Chashma Right Bank Canal (CRBC), Tank Zam Dam, Chashma Hydel Power Project, and Gomal University's Paharpur campus. He also inaugurated the repairing work from Pezu to Tank road, DI Khan bypass, and two 132 KV Grid stations for Abdul Khel and Band Kurai.
He said the plan for the western route of CPEC to Zhob was completed in 2017. But, the previous government of PTI had stopped this "important project", he said, accusing it of destroying the national economy.
The premier also welcomed a suggestion put forth by Maulana Fazlur Rehman that an industrial estate should be established near the new airport. He added the ministry of industries and production would discuss the matter with the provincial departments and other stakeholders.
Film festival
Separately, PM Sharif formed a committee to discover youth talent in all fields. Addressing the National Amateur Short Film Festival in Islamabad, he said our youth should take a leading role in this purpose.
Source: Dawn
Please click the following URL to read the full text of the original story:
https://www.dawn.com/news/1728504/shehbaz-renews-pledge-to-crush-terrorism-menace
--------
Investigators suspect suicide bomber came from KP
Munawer Azeem
December 27, 2022
ISLAMABAD: Investigators of last Friday's bomb blast in the capital have suspected that the terrorist had reached the capital the same day in a passenger vehicle from Khyber Pakhtunkhwa (KP).
Sources close to the investigation said the investigators had detected the presence of a person at Karak, Pirwadhai and I-10/4 the same day and suspected that he might be the bomber.
The suspect's presence was spotted at Pirwadhai bus terminal and later at I-10/4 through geo-fencing.
The investigators also found that his presence at the Pirwadhai bus terminal had coincided with the arrival of a passenger vehicle from Karak there.
So far, no evidence has been found either he met someone at the bus terminal or not, the sources said.
There is a possibility that he had travelled with a ready-to-blow suicide jacket and a detonator.
The man also made a call and talked to someone on his mobile phone after reaching Pirwadhai, they said.
Investigation conducted so far also showed that either he was wearing the jacket or holding it when it was detonated, as nothing was left or found intact on his body.
Along with other human parts, some fingers, intestine and a bone were found from the crime scene and it was believed that these belonged to the terrorist. A DNA test was being conducted to identify the human remains.
Meanwhile, security around hotels housing foreign visitors was further tightened, police officers said, adding deployment of police and paramilitary troops had also been made around them.
Besides, temporary bunkers were made and pickets set up on roads near the hotels. Policemen were also conducting physical checking of individuals and vehicles.
Issuance of security alerts and advisory by foreign missions in the capital to their countryman continued, keeping in view the situation arising out of Friday's terror incident and a threat alert issued by the local authorities.
Source: Dawn
Please click the following URL to read the full text of the original story:
https://www.dawn.com/news/1728470/investigators-suspect-suicide-bomber-came-from-kp
--------
Russia can send natural gas to Pakistan, Afghanistan in long term: Deputy PM
December 26, 2022
MOSCOW: Russia is ready to resume gas supplies to Europe through the Yamal-Europe Pipeline and it can also send supplies to Pakistan and Afghanistan in the long term, Russian Deputy Prime Minister Alexander Novak told state TASS news agency.
"The European market remains relevant, as the gas shortage persists, and we have every opportunity to resume supplies," TASS cited Novak as saying in remarks published by the agency on Sunday.
"For example, the Yamal-Europe Pipeline, which was stopped for political reasons, remains unused."
The Yamal-Europe Pipeline usually flows westward, but has been mostly reversed since December of 2021 as Poland turned away from buying from Russia in favour of drawing on stored gas in Germany.
In May, Warsaw terminated its agreement with Russia, after earlier rejecting Moscow's demand that it pays in roubles.
Russian supplier Gazprom responded by cutting off supply and also said it would no longer be able to export gas via Poland after Moscow imposed sanctions against the firm that owns the Polish section of the Yamal-Europe pipeline.
Novak also reiterated that Moscow is discussing additional gas supplies through Turkey after creation of a hub there.
He also said that Moscow expects it will have shipped 21 billion cubic metres (bcm) of liquefied natural gas (LNG) to Europe in 2022.
"This year we were able to significantly increase LNG supplies to Europe," Novak said. "In the 11 months of 2022, they increased to 19.4 bcm, by the end of the year 21 bcm are expected."
In a wide-ranging interview with the TASS agency, parts of which have been published throughout the weekend, Novak also said that in the long term, Russia can send its natural gas to the markets of Afghanistan and Pakistan, either using the infrastructure of Central Asia, or in a swap from the territory of Iran.
He also said that Russia has agreed with Azerbaijan to increase gas supplies for its domestic consumption.
Source: Pakistan Today
Please click the following URL to read the full text of the original story:
https://www.pakistantoday.com.pk/2022/12/26/russia-can-send-natural-gas-to-pakistan-afghanistan-in-long-term-deputy-pm/
--------
FM Bilawal, Saudi counterpart reaffirm to further deepen bilateral cooperation
December 26, 2022
ISLAMABAD: Reaffirming the fraternal relations between Pakistan and Saudi Arabia, Foreign Minister Bilawal Bhutto Zardari and his Saudi counterpart Prince Faisal bin Farhan Al Saud on Monday reiterated their mutual commitment to further enhance and deepen bilateral cooperation across all areas of mutual interest.
FM Bilawal, during a telephonic conversation with Prince Faisal, thanked the leadership of the Kingdom of Saudi Arabia for valuable flood relief assistance to Pakistan, the Foreign Office Spokesperson said in a press statement.
The two foreign ministers also discussed the recent developments in Afghanistan.
They reaffirmed the importance of guaranteeing women's rights, and their full and equal participation in all aspects of life.
They also reiterated their support for security, stability and peace in Afghanistan and the importance of international engagement for building a more sustainable future for the Afghan people.
Foreign Minister Bilawal apprised his Saudi counterpart of the upcoming International Conference on Climate Resilient Pakistan, which is being held in Geneva on January 9, 2023.
Source: Pakistan Today
Please click the following URL to read the full text of the original story:
https://www.pakistantoday.com.pk/2022/12/26/fm-bilawal-saudi-counterpart-reaffirm-to-further-deepen-bilateral-cooperation/
--------
Maulana Fazal lauds PM development initiatives for KP province
December 26, 2022
D.I.KHAN: Jamiat Ulemai-e-Islam Fazl (JUI-F) Chief Maulana Fazal-ur-Rehman on Monday said that development initiatives inaugurated by Prime Minister Shehbaz Sharif would herald an era of social and economic prosperity for the people of Khyber Pakhtunkhwa.
Highlighting the significance of the geographical location of Dera Ismail Khan, he said it was linking all the provinces, adding it deserved such mega projects to make it an economic hub.
He expressed these views while addressing a ceremony where Prime Minister Shehbaz Sharif inaugurated a host of development initiatives for the southern districts of KP, especially Dera Ismail Khan.
He recalled that he had already said on several occasions that one day the Dera Ismail Khan would become a trade hub for the entire world and today his vision was being given practical shape.
He said that Prime Minister Shehbaz Sharif-led coalition government had put the country on a path of development by initiating concrete measures to enhance trust of other countries in Pakistan.
The JUI-F chief, who also heads the PDM, said the restoration of trust which the country lost during Pakistan Tehreek-e-Insaf's (PTI) tenure was currently a big challenge for the present coalition government and expressed the strong resolve that the PDM leadership would overcome this challenge like it successfully tackled other inherited challenges.
He said that besides other countries, China pumped in massive investment in the mega development projects of the country, but when PTI came to power "it stalled all mega development projects including the key mega project of China-Pakistan Economic Corridor (CPEC)" by expounding the philosophy that country could not afford such mega development initiatives.
As a result, the country's economy was shattered with even citizens avoiding investing due to the "flawed and shaky policies of the PTI government".
He said that Gwadar port played a crucial role in the economic development of the country and it was one of the deepest ports in Asia, but its depth was drastically reduced and work had started again to deepen it.
Fazl also underlined the need for providing funds to the development of merged tribal districts as agreed under the merger plan of those areas.
He said that inhabitants of the merged tribal districts were still lacking facilities and infrastructures that were yet to be developed.
He said the people of those areas don't have houses and feared that the situation would further aggravate in view of growing terrorism incidents and it was not certain if any development project could be undertaken or not.
He also asked the authorities concerned to revisit the map of Tank Zam dam to address all relevant grievances. He said this would be a multi-purpose project, and adding such dams would help bring about 12 lac acre rain-fed land under cultivation.
Source: Pakistan Today
Please click the following URL to read the full text of the original story:
https://www.pakistantoday.com.pk/2022/12/26/maulana-fazal-lauds-pm-development-initiatives-for-kp-province-2/
--------
FIRs registered against three consecutive blasts in Quetta
December 26, 2022
QUETTA: Balochistan Counter Terrorism Department (CTD) has registered the first information reports (FIR) of three consecutive blasts that occurred on Sunday in different areas of Quetta.
At least one person was killed and 15 others, including three policemen and women, were injured in five grenade attacks in different parts of Balochistan on Sunday.
The CTD spokesperson said the FIRs against all three blasts have been registered, including Sabzal Road, and Mosa Colony blasts. The FIR was registered under sections 302 (punishment for premeditated murder), 324 (attempted murder) of the Pakistan Penal Code and 7 of the Anti-Terrorism Act.
Source: Pakistan Today
Please click the following URL to read the full text of the original story:
https://www.pakistantoday.com.pk/2022/12/26/firs-registered-against-three-consecutive-blasts-in-quetta/
--------
Army searches for attackers after six soldiers killed
December 26, 2022
QUETTA: Pakistan Army on Monday expanded its search for the perpetrators behind multiple attacks that killed six troops and wounded 17 civilians in restive Balochistan the previous day.
The chief secretary of Balochistan, Abdul Aziz Uqaili, said there were a total of nine attacks in the province on Sunday. No civilians were killed in the attacks, he tweeted. Prime Minister Shahbaz Sharif condemned the violence in Balochistan.
Earlier, the military in a statement said five soldiers, including an army captain, were killed when a roadside bomb exploded near a security forces' vehicle during a clearance operation in Kahan, a remote area in Balochistan bordering Afghanistan. No militant group has claimed responsibility for the bombing.
The sixth soldier was killed in a shootout with militants belonging to the Tehreek-i-Taliban Pakistan (TTP) group in the Sambaza town of Zhob district, according to Ghulam Azfar Mahesar, a deputy inspector general (DIG) of police.
A militant was also killed in the shootout, he said.
In Quetta, 12 people were wounded when assailants threw a hand grenade in a bazaar near a residential area, Mahesar added. Elsewhere in Balochistan, five people were wounded in attacks in the towns of Kalat, Khuzdar and Hub.
Based in Afghanistan, the TTP has stepped up attacks across Pakistan since November, when they unilaterally ended a cease-fire after accusing the military of violating the truce.
Source: Pakistan Today
Please click the following URL to read the full text of the original story:
https://www.pakistantoday.com.pk/2022/12/26/army-searches-for-attackers-after-six-soldiers-killed/
--------
India
Muslim Writers Ignored At The Upcoming Kannada Sahitya Sammelan, Alternative Jana Sahitya Sammelan On Cards
27th December 2022
By Amit S Upadhye
HUBBALLI: Voices of dissent are growing louder as it is alleged that organisers of the upcoming Kannada Sahitya Sammelan in Haveri are ignoring Muslim writers and poets. In rebellion, some senior Kannada writers are planning to organise an alternative meet, Jana Sahitya Sammelan, in Bengaluru on January 8.
Last week, when the Kannada Sahitya Parishat announced the names of writers and poets who are taking part in the sammelana, a section of Kannada writers objected to the list, saying Muslim writers have been ignored. While the state has hundreds of Muslim Kannada writers, only a few have been considered for the sammelana, they pointed out.
Since then, there has been a campaign on social media to organise an alternative event or Paryaya Sammelana, parallel to the Haveri meet. Many writers have agreed to be part of this rebel lit fest.
But organisers alleged that petty politics is being played in the name of sammelana. The Kannada Sahitya Parishat has no intention of avoiding writers based on their religion, they said. "There are six Muslim writers and poets who are part of the Haveri Sammelana. It has become a routine for some people to create a controversy during the mega Kannada event," an organising committee member said.
In 1979, when the sammelana was held in Dharmasthala, a parallel Bandaya Dalit Sammelana was organised, as the interests of Dalit writers were compromised. The then sammelana president, Hampa Nagarajaiah, had turned down a demand to hold a discussion on Dalit issues and the then Chief Minister Devaraj Urs had to intervene for the smooth conduct of the sammelana.
That was the trigger and soon, the Bandaya Dalit literature became hugely popular across the state. Later, journalist and writer P Lankesh had called for an alternative Sammelana to the Hubballi meet, but did not meet with much success.
Source: New Indian Express
Please click the following URL to read the full text of the original story:
https://www.newindianexpress.com/states/karnataka/2022/dec/27/karnataka-muslim-writers-ignoredalternative-sammelana-on-cards-2532092.html
--------
Clash Between Two Groups, Between Kashmiri Students And Ghazipur's Group At Aligarh Muslim University
December 26, 2022
Agra: Dramatic scenes were witnessed at the Aligarh Muslim University Campus on Sunday night after a clash broke out between two groups.
The AMU Centenary Gate was immediately closed after the fight by the Kashmiri students, police said.
Two teams each from Proctor's office and Police Administration immediately reached the spot and pacified the agitating students after assuring them of a meeting with the District Magistrate to solve their grievances.
Sartaj Hafeez, an AMU Student from Kashmir said, "The increasing number of attacks on students from Kashmir are ignored. No action is being taken. We are demanding that there should be an inquiry into the attacks that have taken place and strict action should be taken against the culprits. The culture of fighting should also end."
Additional City Magistrate (II) Sudhir Kumar, who reached the spot with police personnel, said, "We have received information that there was some problem between Kashmiri students in AMU and Ghazipur's group".
Mr Kumar further said the Centenary gate was closed by the Kashmiri students in connection with the fight, which was reopened shortly only after the arrival of a team from the university administration.
Source: ND TV
Please click the following URL to read the full text of the original story:
https://www.ndtv.com/india-news/clash-between-two-groups-at-aligarh-muslim-university-3638948
--------
Salute Rahul for promoting unity, secularism through Bharat Jodo Yatra: Mehbooba
Dec 27, 2022
JAMMU: Lauding Rahul Gandhi for his Bharat Jodo Yatra, Peoples Democratic Party (PDP) chief and former chief minister of J&K, Mehbooba Mufti, on Monday said she saluted the Congress leader for undertaking the march to strengthen secular values and promote unity and brotherhood in the country.
She also appreciated his gesture of paying tributes to former prime minister Atal Bihari Vajpayee and accused the BJP of vitiating the atmosphere in the country.
Talking to media persons at the party office in Jammu, Mehbooba said the BJP was constantly attacking Rahul, taking the "shehzade" jibe at him, as he was on the road braving the frigid weather for "uniting the country and protecting its democratic institutions". People needed to support the Congress leader as he was fighting to save the country, she added.
Accusing the BJP of tearing apart the country's secular fabric, she said. "The foundation of secularism and brotherhood in India has been shaken and weakened in the last seven-eight years."
The PDP chief also praised Rahul for paying tributes to Vajpayee, calling it "a good gesture". "This is the beauty of this country — to even pay tributes to opponents," she added, ruining that this "is missing now".
Source: Times Of India
Please click the following URL to read the full text of the original story:
https://timesofindia.indiatimes.com/india/salute-rahul-for-promoting-unity-secularism-through-bharat-jodo-yatra-mehbooba/articleshow/96530992.cms
--------
BSF troops shoot down suspected Pak drone in Punjab's Amritsar
Dec 26, 2022
AMRITSAR : Officials of the Border Security Force (BSF) recovered one drone, believed to have entered from Pakistan's side, lying in a farming field ahead of border fence in Amritsar district, a BSF statement said.
BSF troops, deployed at the border, on Monday around 7:40 pm heard a buzzing sound of a suspicious flying object near Rajatal village in Amritsar district. The Unmanned Aerial Vehicle was intercepted by the troops by firing. Following this, a search operation was launched which resulted in the recovery of a drone.
"On December 25, 2022, at about 1940 hrs, Border Security Force troops deployed at the border heard the buzzing sound of a suspected flying object/drone entering from Pakistan into Indian territory in the area falling near Village-Rajatal in District-Amritsar. As per the drill, the troops tried to intercept the drone by firing. The whole area was cordoned and Police and concerned sister agencies were informed," BSF said in a statement."Further, during the search BSF troops recovered one drone (Quadcopter) lying in farming fields ahead of the border fence," the statement further read.
Further information is awaited.
The BSF has foiled several drone intrusions attempts recently.
Earlier on December 21, BSF troops shot down a drone that entered India from Daoke Border Outpost (BoP) in the Amritsar sector from the Pakistan side on the International Border.
"The Pak drone which had entered India at 1920 hrs in the AOR of BOP Daoke in the AOR of 144 Bn, Amritsar sector was found fallen this morning in Pak area, 20 meters in their territory opposite the AOR of BOP Bharopal. It hovered in the sky for a few minutes when counter-drone measures were taken and fell while returning," BSF said in a statement on Wednesday.
Earlier on November 26, a suspected flying object coming from the Pakistani side was shot down by the security personnel deployed at Daoke Border Outpost (BoP) in the Amritsar sector on India-Pakistan international border.
Security personnel fired six rounds from their INSAS rifles and downed a drone.
Source: Times Of India
Please click the following URL to read the full text of the original story:
https://timesofindia.indiatimes.com/india/bsf-troops-shoot-down-suspected-pak-drone-in-punjabs-amritsar/articleshow/96509870.cms
--------
Muslim group holds protest in Latur seeking quota
26th December 2022
Latur: A Muslim organisation held a protest in front of the tehsil office in Latur in Maharashtra on Monday seeking reservations for the community.
The memorandum of the Muslim Arakashan Samiti said the community was educationally backward and must get quota in jobs to improve its plight.
Source: Siasat Daily
Please click the following URL to read the full text of the original story:
https://www.siasat.com/muslim-group-holds-protest-in-latur-seeking-quota-2488766/
--------
Muslim shopkeeper murdered in Karnataka; community suspects political gain
25th December 2022
In an incident reported from Karnataka on Saturday, a Muslim shopkeeper was reportedly stabbed to death. Despite the deceased trying to save himself the attackers chased and killed him.
The deceased was identified as 45 -year-old Abdul Jaleel, the incident took place near the Suratkal district at around 8:00 pm. The victim succumbed to injuries while undergoing treatment at a hospital. "The murder looks like it was done to gain political mileage by inciting Muslims to take revenge," the president of Dakshina Kannada Muslim Okkoota, K. Ashraf, was quoted as saying by The Hindu.
"We will not fall to this design and create trouble. But we want the police to catch the real persons behind the attack. The assailants and people who hatched the conspiracy should be punished. The chief minister should visit and console the family members of Jaleel," he added.
Source: Siasat Daily
Please click the following URL to read the full text of the original story:
https://www.siasat.com/muslim-shopkeeper-murdered-in-karnataka-community-suspects-political-gain-2487873/
--------
Indian coast guard, anti-terrorist squad stop Pakistani fishing boat with drugs, arms
27 December ,2022
Indian authorities have apprehended a Pakistani fishing boat carrying arms, ammunition and narcotics off the coast of Gujarat.
In a statement on Monday, the Indian Coast Guard (ICG) said that a Pakistani fishing boat 'Al Soheli' was stopped and searched in a joint operation with the Gujarat Anti-Terrorist Squad (ATS).
Crewed by 10, the boat was reportedly carrying six pistols, 120 rounds of ammunition, and 40 kilograms of narcotic substances worth $36.2 million (INR 3 crore).
"On being challenged by the ICG ship, the boat started evasive maneuvering and did not stop even after firing warning shots," a statement from the maritime security authority said.
The move was enforced by patrol ship ICGS Arinjay which was in the area on December 25 and 26 after receiving information about the Pakistan-origin boat earlier from the Gujarat ATS.
The fishing boat set sail from Karachi and is now being brought to Okha, Gujarat for investigation, the Times of India reported on Monday.
This is reportedly the seventh joint operation by the ICG and Gujarat ATS in the last 18 months.
Over 346 kilograms of heroin worth $233 million (INR 1,930 crore) have been seized and 44 Pakistani and seven Iranian crew have been apprehended in the last 18 months, the statement added.
Such incursions by Pakistani vessels into Indian waters have been reduced greatly following the November 26 terrorist attacks in Mumbai that killed 175 and was carried out in 2008 by 10 members of the Pakistani Lashkar-e-Taiba group over four days.
Source: Al Arabiya
Please click the following URL to read the full text of the original story:
https://english.alarabiya.net/News/world/2022/12/27/Indian-coast-guard-anti-terrorist-squad-stop-Pakistani-fishing-boat-with-drugs-arms
--------
Europe
Recognized as terror group PKK openly maintains dangerous foothold in Europe
Busra Nur Cakmak
26.12.2022
As supporters of the PKK, a known terrorist organization, openly protested in major European cities this weekend, Türkiye has been sounding the alarm over members of the group, responsible for the deaths of tens of thousands and for supporting human trafficking, drugs, and organized crime, being free to walk the streets.
On Friday, a 69-year-old gunman opened fire on a cultural center and nearby hair salon in Paris, killing at least three people and wounding three others. Local media reports named the shooter as William M., a retired train driver and gun enthusiast with a history of armed offenses.
PKK supporters soon gathered in the area after Interior Minister Gerald Darmanin visited the scene.
In the ensuing protest, they perpetrated acts of violence and clashed with the police, of whom more than two dozen were injured.
Supporters of the terrorist group disrupted peace again on Saturday, this time in London, in another violent encounter with police.
Gathering in front of the French Embassy in London, a group of the terror group's proponents chanted slogans against Türkiye and France over the Paris shooting.
For its part, Türkiye reminded Europe on Sunday of the threat the PKK poses.
"These developments have emerged as a hint that the patronage of terrorist groups in Europe just because of their opposition to Türkiye will eventually cause great trouble for Europe," Omer Celik, spokesman for the Justice and Development (AK) Party, told a group of reporters.
The PKK is listed as a terrorist organization by Türkiye, the EU, and the US, and is responsible for the deaths of 40,000 people, including women, children, and infants. The YPG – which also has a presence in Europe, openly sanctioned by several governments – is the terrorist PKK's Syrian branch.
Vandalism
Several European countries have told EU law enforcement agency Europol that the terror group was also involved in serious and organized criminal activities, according to the report.
PKK sympathizers have vandalized mosques and shops frequented by the Turkish community in Germany. Similar incidents were also reported in Belgium and Switzerland, Europol reported in 2020.
Over the weekend, thousands of PKK supporters marched in Paris, chanting pro-PKK slogans and carrying posters of the terror group's so-called leaders.
They then ripped off pavement stones and lobbed them at police, nearby homes, and shops. The attackers also used fireworks and sparklers, destroying bus stops.
The police intervention was rather subdued, with security forces occasionally using tear gas against the attackers.
In London, the terror group's supporters marched towards the Turkish Embassy, carrying banners reading "Freedom for Ocalan," referring to convicted terrorist ringleader Abdullah Ocalan, who is serving a life sentence in Türkiye.
Protesters also disrupted traffic as they marched through central London on a day while residents were rushing to complete their last-minute Christmas shopping.
When they arrived in front of the embassy, police clashed with terror supporters after one of them threw what is thought to most likely be a stone at the building.
They also chanted slogans for "revenge" and "no justice, no peace."
Recruitment
Europol classifies the PKK as an "ethno-nationalist" and "separatist" terrorist organization, saying in its 2020 and 2021 reports that the group still uses European countries for its propaganda, recruitment, and fundraising activities, even though it is officially banned in most of these nations.
"The group maintained an apparatus that provided logistical and financial support to its operatives in Turkey and neighbouring countries and promoted its political objectives. This apparatus mainly operated under the guise of legally recognised entities, such as Kurdish associations," said Europol's EU Terrorism Situation & Trend Report.
According to the report, PKK recruitment networks within Europe also played a part in EU citizens or residents joining conflicts in the Middle East, such as in Syria and Iraq.
The PKK/YPG, which is the terror group's Syria branch, has recruited nearly 300 people in Germany to travel to the war-torn country, as well as to Iraq, to fight in its ranks, according to the German government.
Authorities made the figure public in response to a parliamentary question by the opposition Alternative for Germany (AfD) party on Nov. 25.
Since 2013, German intelligence services identified nearly 300 people who traveled to northern Syria and Iraq, where they joined the terrorist PKK and affiliated groups, the government said.
It was not possible to determine whether these volunteers actually fought against the Daesh/ISIS terror group, or took part in other conflicts, the government had noted.
Nearly 150 of the foreign fighters have returned to Germany, the government confirmed. However, it did not release any more details on investigations or judicial proceedings against them.
Fundraising
The PKK continues "to use Europe for fundraising by legal and illegal means," according to Europol, explaining that these activities include fundraising campaigns and donations, as well as "extortion and other organised criminal activities."
For example, Germany's spy chief in June admitted that the country has become a platform for the terrorist organization's fundraising and recruitment activities targeting Türkiye.
"The PKK is organizing various fundraising campaigns in Germany, and then using this money to finance terror attacks in Türkiye," Thomas Haldenwang, head of the German domestic intelligence agency BfV, told a news conference in Berlin.
He said the terror group was also using various associations in Germany to recruit young people as foreign fighters to be sent to Türkiye, Syria, or Iraq.
"The PKK remains an international terror organization, it continues violent attacks and killings in the region," he stressed.
According to the BfV's annual security report released on Tuesday, the PKK is the biggest foreign extremist group in the country, with around 14,500 followers.
It raised an estimated €16.7 million ($17.8 million) in Germany in 2021 and more than €30 million in Europe via various fundraising campaigns, the report said.
Drug trafficking
Having flourished for more than three decades, the PKK's continent-wide drug trafficking network in Europe is no secret to security and intelligence services, either.
The terror group reaps over $1.5 billion annually from its control over some 80% of the European illicit drug market, according to figures provided by Turkish Interior Minister Suleyman Soylu last month. It uses these funds to wage its decades-long terror campaign against Türkiye.
According to Europol's EU Terrorism Situation and Trend 2022 report, PKK activities in European countries include money laundering, extortion, and drug trafficking, and are coordinated by the so-called European Democratic Kurdish Society Congress (KCDK-E) headquartered in Belgium.
Further out from the continent, threats, beatings, and brutal murders have been common practice for the PKK in Britain, which also lists it as a terror group.
Using gangs in its profitable drug trade across the UK, the PKK is especially active in London, according to a former member of north London's notorious Tottenham Boys group.
An intelligence report by the UK Metropolitan Police highlighted how the Tottenham Boys, a Kurdish gang based in London, targeted local Kurdish businesses, used extreme violence, and was involved in racketeering to raise money for the terror group.
The gang of around 400 men has the monopoly on distributing Class A and B drugs in north London, the former member, who will be referred to only as Ali in this article due to security reasons, told Anadolu Agency.
Source: Anadolu Agency
Please click the following URL to read the full text of the original story:
https://www.aa.com.tr/en/europe/recognized-as-terror-group-pkk-openly-maintains-dangerous-foothold-in-europe/2773072
--------
Terrorist PKK supporters' violence in Paris upset French residents, shop owners
Umit Donmez
26.12.2022
PARIS
Acts of violence in Paris since Friday, committed by the PKK terror group's supporters, upset French people in the area.
On Friday, a 69-year-old gunman -- retired train driver William M., reportedly a gun enthusiast with a history of weapons offenses -- opened fire at a cultural center and nearby hairdressing salon, killing at least three people and wounding three others, according to local media reports.
PKK supporters gathered in the area soon after Interior Minister Gerald Darmanin visited the scene on Friday.
They then started acts of violence and clashed with the police.
During the weekend, thousands of supporters of the terror group marched in Paris, chanting pro-PKK slogans and carrying posters of the terror group's so-called leaders.
They then ripped off paving stones and threw them at the police, nearby homes, and shops. The attackers also used fireworks and sparklers, destroying bus stops.
The police partly intervened, occasionally using tear gas against the attackers.
Residents and shop owners expressed their shock and sorrow to Anadolu Agency.
A Parisian woman -- who wanted to remain anonymous -- said she regrets seeing so much violence and vandalism in Paris streets.
"It's very saddening to see this on Christmas day," she added.
A shop owner said he had to close his shop due to violence by PKK supporters who set vehicles on fire near his shop.
He also added that those incidents "deteriorate Paris' image." The shop owner also deplored the loss of revenue caused by the acts of violence.
Another restaurant owner said their revenue was cut from €20,000 ($21,250) to €3,000 on Saturday since he had to close his restaurant early.
A resident explained that many shops will not be able to open soon due to the reparations of the public areas that have been damaged during the clashes.
Source: Anadolu Agency
Please click the following URL to read the full text of the original story:
https://www.aa.com.tr/en/europe/terrorist-pkk-supporters-violence-in-paris-upset-french-residents-shop-owners/2772925
--------
Parisians shocked as streets descend into chaos on Christmas Eve amid pro-PKK protests
Muhammed Enes Calli and Umit Donmez
26.12.2022
Paris turned into a battleground over the weekend as violent protests by supporters of the PKK terrorist organization clashed with police, injuring 30 officers on the French capital's streets as residents were preparing to celebrate Christmas.
Thousands of the terror group's supporters marched to the Boulevard du Temple chanting pro-PKK slogans and carrying posters of the terrorist organization's ringleaders.
The police intervention at the scene was rather subdued, as they occasionally used tear gas against the protesters who ripped off paving stones from the road to lob at security forces, as well as nearby homes and shops.
The clashes erupted after a shooting in a busy Paris district left three dead and three others injured at the hands of a 69-year-old gunman on Friday.
PKK supporters took to the streets as they used fireworks and sparklers to descend the city into turmoil, destroying bus stops and other public and private property.
In its more than 35-year terror campaign against Türkiye, the PKK – listed as a terrorist organization by Türkiye, the US, and EU – has been responsible for the deaths of more than 40,000 people, including women, children, and infants. Though normally officially banned, the terrorist group also has a presence in numerous European countries.
'Political exploitation'
Speaking to Anadolu Agency, French journalist Jean-Michel Brun, editor-in-chief of the Musulmansenfrance news website, said the violence raised the "question of political exploitation."
"When we see the images of these demonstrations where people come to smash cars or set fires, throw projectiles at the police, we can clearly see that it is most definitely not a demonstration of support for the families of the victims, but a question of political exploitation," he said.
I hope that this political exploitation will not fool the French people and the French government."
He added that the attackers were members of the PKK terror group and have expressed hostility to Türkiye and the Turkish government.
Some have also voiced hatred for the Turkish people, he claimed.
'Very saddening' on Christmas day
Speaking to Anadolu Agency, residents of Paris have also shared their concerns and expressed how they were shocked by the violence that erupted in their city.
"They broke everything," said one French citizen. "Trucks, cars, scooters. Everything."
Source: Anadolu Agency
Please click the following URL to read the full text of the original story:
https://www.aa.com.tr/en/europe/parisians-shocked-as-streets-descend-into-chaos-on-christmas-eve-amid-pro-pkk-protests/2772875
--------
UK 'red tape' is putting former British Council staff in Afghanistan at risk: British MPs
December 26, 2022
LONDON: A cross-party group of British MPs warned on Monday that former British Council staff and their families in Afghanistan are at risk because of a "blockage of red tape" preventing them from returning to the UK.
Conservative MP John Baron spearheaded the appeal to British Foreign Secretary James Cleverly to ensure the country repays the "debt of gratitude and honor" to the 200 British Council contractors and their families.
"People's lives are at risk," said Baron. "For more than 16 months since Operation Pitting and the fall of Kabul, there remain around 200 British Council contractors and their families stuck in Afghanistan."
Referring to the Afghan Citizens Resettlement Scheme, Baron claimed that "not a single contractor has been assisted out of Afghanistan via this scheme."
ACRS is one of two resettlement plans available to Afghan citizens who worked for the British government. The second one is known as the Afghan Relocation and Assistance Policy.
In a letter signed by more than two dozen MPs and peers, Cleverly was told that GardaWorld contractors who offered protection to the British Embassy in Kabul were treated similarly.
"Until this blockage of red tape is solved, the contractors and their families will remain in danger," the letter reads.
"No one questions that security checks are necessary, but they must be urgently completed so that the work of getting the contractors, to whom we owe a debt of gratitude and honor, can begin the active work of leaving Afghanistan and traveling to the UK."
In response to the letter, a British government spokesperson said: "We have brought around 23,000 people to safety, including over 6,300 vulnerable Afghan nationals through the first pathway of the Afghan Citizens Resettlement Scheme, and a further 1,500 eligible people are due to be offered resettlement places under pathway 3.
Source: Arab News
Please click the following URL to read the full text of the original story:
https://www.arabnews.com/node/2222366/world
--------
Turkey summons French ambassador for failing to stop 'black propaganda' after Paris shooting
26 December 2022
The Turkish Foreign Ministry has summoned France's ambassador over what it calls the French government's failure to stop the dissemination of "black propaganda" against Turkey following the killing of three Kurds in Paris.
The move was made on Monday after widespread protests engulfed the French capital in the wake of a deadly shooting by a "racist" gunman that claimed three lives at a Kurdish cultural center and a nearby café.
Friday's shooting drew Kurdish groups and their supporters onto the streets of the French capital, with some of the protesters waving flags of the Kurdistan Workers' Party (PKK), which is viewed as a terrorist organization by Turkey and its Western allies.
Other protesters chanted anti-Turkey slogans and held banners with mottoes accusing Ankara of being a "killer state" and connected to the shooting.
The French ambassador was summoned after Ankara said French officials did little to stop the anti-Turkey propaganda promoted by the PKK, according to a Turkish diplomatic source.
"We expressed our dissatisfaction with the black propaganda launched by PKK circles against our country and with the fact that the French government and some politicians are used as a tool in this propaganda," the source said.
The source added that the PKK's false allegations were used "by French government officials and some politicians" against Ankara.
"We expect France to act prudently in the face of the aforementioned incident," the source said.
French police arrested a 69-year-old suspect who the authorities said had recently been freed from detention while awaiting trial for a saber attack on a migrant camp in the capital last year.
The 69-year-old suspect confessed to a "pathological" hatred for foreigners and spent nearly a day in a psychiatric facility before being returned to police custody on Sunday.
Judicial officials in France charged the man on Monday with murder and attempted murder because of race, ethnicity, nationality or religion as well as for the unauthorized procurement and possession of a weapon.
Over the past years, Turkey's relations with France have been stained by their opposing stances on the war in Syria and a range of other disputes.
The PKK militants — designated as terrorists by Turkey, the United States and European Union — regularly clash with Turkish forces in the Kurdish-dominated southeast of the country, which is attached to northern Iraq.
A shaky ceasefire between the PKK and the Turkish government collapsed in July 2015. Attacks on Turkish security forces have soared ever since.
Source: Press TV
Please click the following URL to read the full text of the original story:
https://www.presstv.ir/Detail/2022/12/26/695195/Turkish-Foreign-Ministry-France-ambassador-black-propaganda-Kurdish-cultural-center-PKK
--------
Arab World
Iraq commemorates General Soleimani ahead of US assassination anniversary: 'His path will continue'
26 December 2022
The Iraqi people have held a ceremony in Salahedine Governorate to commemorate the former commander of the IRGC Quds Force General Qassem Soleimani and his comrades ahead of the third anniversary of their assassination by the United States.
Pople as well as official figures attended the ceremony in the city of Dujail north of the capital Baghdad to honor the memory of the martyrs, including General Soleimani and Abu Mahdi al-Muhandis, deputy head of Iraq's Hashd Al-Shaabi or Popular Mobilization Forces (PMF).
In the ceremony, the memory of the victory commanders and their key role in defending the Muslim society and confronting the criminal plots of the Daesh Takfiri terrorist group and their masters were honored.
The Iraqi officials also emphasized the importance of continuing the path of the martyrs.
The US military assassinated the two influential commanders and their comrades in a drone strike near the Baghdad International Airport on January 3, 2020, which was directly ordered by former US president Donald Trump.
Both commanders are globally recognized for their role in eliminating the Daesh Takfiri terrorist group in the region, especially in Iraq and Syria. The terrorist group had carried out the most savage attacks and crimes against Muslim and Christian civilians since it emerged in the two Arab countries.
People in Iran and Iraq hold annual events to commemorate the two commanders' leading role in defeating Daesh and reversing its advances. Prior to its defeat, Daesh had taken control over a large part of Iraq and Syria.
In 2014, when Daesh unleashed its campaign of terror in Iraq, Iranian military advisers led by General Soleimani and upon invitation by the Iraqi government headed to the neighboring country to the aid of Iraqi armed forces, helping them ultimately liberate their entire territories from the US-backed terrorist groups, a battle that took three years to end.
Salahedine Governorate is famous for its city of Amerli, which has a population of 26,000 and was under an 80-day siege by Daesh terrorists from June to the end of August 2014 during the Daesh invasion of Iraq. General Soleimani entered the city in a very dangerous operation by flying over the terrorists in a helicopter to save Amerli from falling.
In November, Leader of the Islamic Revolution Ayatollah Seyed Ali Khamenei said that the name of General Soleimani infuriates the US and its allies.
"Haj Qassem Soleimani was the epitome of the Islamic Republic's policy in confronting the enemy's plans. He foiled the enemy's comprehensive plan," he said in a speech at a meeting with the country's Basij Forces.
Iran and Iraq have set up a joint investigation committee to legally pursue the assassination. Based on the latest findings of the legal team, 120 people have been identified in connection with Soleimani's assassination, with Trump topping the list.
Almost two years after the assassination, at least 78 Iraqis filed a lawsuit in an Iraqi court on November 27 against Trump and other officials of his administration. The plaintiffs demanded legal action against the accused, in the petitions filed at Baghdad's federal court of appeal.
Source: Press TV
Please click the following URL to read the full text of the original story:
https://www.presstv.ir/Detail/2022/12/26/695156/Commemorations-begin-on-the-martyrdom-anniversary-of-Gen-Soleimani-comrades-
--------
Islamic State Group Attacks Former Stronghold in Syria, Killing 6
December 26, 2022
The Islamic State terror group claimed responsibility for an attack Monday that killed six fighters affiliated with U.S.-backed security forces in northeast Syria.
Local officials said the attack targeted a security headquarters in the city of Raqqa, which was the de facto capital of IS until 2017, when U.S.-backed Syrian Democratic Forces (SDF) removed the militant group.
The incident, in which one of two IS attackers was killed, prompted local authorities to declare an emergency and a citywide curfew as security forces started a sweeping campaign to search for potential sleeper cells belonging to IS, also known as ISIS or Daesh.
The other attacker, who was reportedly wearing an explosive belt, was detained by the SDF, according to a statement by Ali Hajo, co-chair of the department of the interior at the Kurdish-led autonomous administration in northeast Syria.
Mazloum Abdi, the general commander of the SDF, said Monday that his forces have received intelligence about "dangerous preparations by Daesh cells in Raqqa."
IS militants ruled large swaths of territory in Syria and Iraq until 2019, when U.S.-backed forces declared the military defeat of the terror group. However, IS has remained active in many parts of both countries, relying on surprise guerrilla attacks on civilians and security forces.
Last week, nine policemen were killed in an attack claimed by IS militants in the northern Iraqi province of Kirkuk.
U.S. forces said last week they conducted three helicopter raids in eastern Syria, which resulted in the detention of six IS operatives.
Source: VOA News
Please click the following URL to read the full text of the original story:
https://www.voanews.com/a/islamic-state-attack-in-syria-s-raqqa-kills-6-kurdish-security-forces-official-says/6891818.html
--------
UAE panel on cybersecurity warns against cyber attacks during New Year celebrations
27 December ,2022
The UAE Cybersecurity Council has warned all public and private institutions, as well as individuals, of the risk of cyber attacks, especially during the New Year celebrations and the holiday season, reported the official Emirates News Agency (WAM).
The council highlighted the need for all authorities and institutions to activate their cyber defense systems and raise the security awareness of individuals about cyber attacks, as well as cooperate with relevant authorities to share relevant information proactively.
It also noted that hacking tools have now become easier to use, enabling hackers to take advantage of the holiday season, especially with the increasing dependence on digital services.
The council warned of all types of cyber attacks against vital sectors, stressing the importance of adopting cybersecurity policies and protection mechanisms, as well as raising the awareness of public and private institutions and individuals, which will play a key role in protecting the community against malicious cyber attacks.
Source: Al Arabiya
Please click the following URL to read the full text of the original story:
https://english.alarabiya.net/business/technology/2022/12/27/UAE-panel-on-Cybersecurity-warns-against-cyber-attacks-during-New-Year-celebrations
--------
UAE condemns Taliban decision to ban women from working in NGOs across Afghanistan
27 December ,2022
The UAE has condemned the Taliban's decision to ban women from working in NGOs across Afghanistan, the country's foreign ministry said on Monday.
Afghanistan's economy ministry on December 24 ordered all non-governmental organizations (NGOs) not to let female staff work until further notice.
Assistant Minister of Foreign Affairs and Representative of the UAE to the United Nations Lana Nusseibeh warned that "the decision will further impede the provision of humanitarian relief in the country and affect the most vulnerable in society, including women, children, and the elderly."
She said that two-thirds of Afghanistan's population is in need of humanitarian assistance, and six million people are at risk of starvation.
"Islam honors the role of women and upholds their rights," Nusseibeh reportedly added.
The order does not apply directly to the United Nations, but many of its programs are carried out by local and international NGOs subject to the order
The latest statement comes only four days after the UAE denounced the Taliban-run government's decision to suspend university access for female students.
Sheikh Abdullah bin Zayed Al Nahyan, the UAE's Minister of Foreign Affairs and International Cooperation and his counterpart Bilawal Bhutto Zardari, Minister of Foreign Affairs of Pakistan, discussed the decision in a phone call, Emirates News Agency WAM reported last week.
The two top diplomats emphasized that Islam as a religion devoted significant attention to women, granted them a privileged position, and safeguarded their rights.
They affirmed the need to guarantee women's rights, as well as the importance of full and equal participation of women and girls in all aspects of life.
Saudi Arabia's foreign ministry also called on the Taliban to reverse the move.
On Monday, the acting head of the United Nations' mission to Afghanistan told the Taliban administration's acting economy minister to reverse the decision to ban female NGO workers during a meeting, according to a statement.
"Millions of Afghans need humanitarian assistance and removing barriers is vital," UNAMA said in the statement, adding that UNAMA's acting head and humanitarian coordinator Ramiz Alakbarov had met with Economy Minister Mohammad Hanif.
Afghanistan's already struggling economy has tipped into crisis since the Taliban took over in 2021, with the country facing sanctions and cuts in development aid.
Source: Al Arabiya
Please click the following URL to read the full text of the original story:
https://english.alarabiya.net/News/gulf/2022/12/27/UAE-condemns-Taliban-decision-to-ban-women-from-working-in-NGOs-across-Afghanistan
--------
Islamic Affairs drops some Friday preachers for deputizing others without permission
December 26, 2022
RIYADH — The Ministry of Islamic Affairs, Call and Guidance have dispensed with a number of Friday preachers for deputizing others to deliver the Friday sermon (Khutba) without notifying the ministry, Okaz/Saudi Gazette has learned.
The Friday preachers who were dispensed were also deputizing others to perform the prayer, which tempts the representative of choosing the sermon's topic on their own, ignoring the ministry' circular of specifying the topic of the week's Khutba in advance.
According to one of the ministry's employees, the preachers must avoid being absent from their pulpits and also avoid deputizing, if they are asked to address a topic previously nominated by the ministry.
Many preachers who have been in pulpits for decades have been dispensed with and subjected to accountability, due to their absence and deputizing others to deliver a sermon that contradicts the sermon asked by the ministry.
It is noteworthy that the ministry has previously tuned the voice of the pulpit and also improved the selection of topics for Friday sermons, so that it touches reality and impacts daily life of people.
The ministry also contributed to selecting topics for Friday sermons that would warn against disunity and warn against the approaches of terrorist groups, including (the terrorist Brotherhood and terrorist Al-Sururiya organization) and keep the sermon away from extremist ideology and politicization.
The era of the Minister of Islamic Affairs, Call and Guidance Sheikh Dr. Abdullatif Bin Abdulaziz Al-Sheikh is distinguished by wisdom, moderation, and preserving the country's position and its wise leadership.
Dr. Al-Sheikh is characterized for being known for his communication with mosque preachers in various regions and governorates of Saudi Arabia.
Source: Saudi Gazette
Please click the following URL to read the full text of the original story:
https://saudigazette.com.sa/article/628359/SAUDI-ARABIA/Islamic-nbspAffairs-nbspdrops-some-Friday-preachers-for-deputizing-others-without-permission
--------
CPR saves Asian pilgrim who collapsed outside Prophet's Mosque
December 26, 2022
MADINAH — Medical teams at the Bab Jibril Health Center, next to the Prophet's Mosque in Madinah, have managed to save the life of an Asian Umrah pilgrim who collapsed in the mosque's yard after his heart stopped.
Madinah Health Complex said that the emergency department of Bab Jibril Health Center was informed about the patient's condition by the Red Crescent. When emergency units arrived at the location, the man was unconscious, and an initial examination showed that his heart and breathing had stopped.
Medical teams at the center applied cardiopulmonary resuscitation (CPR) for 20 minutes until the man's heart beating was revived and he started breathing. The man was transferred to Madinah Munawwarah Hospital for complete tests and necessary treatment. A medical regime was prepared after his health condition stabilized.
Source: Saudi Gazette
Please click the following URL to read the full text of the original story:
https://saudigazette.com.sa/article/628348/SAUDI-ARABIA/CPR-saves-Asian-pilgrim-who-collapsed-outside-Prophets-Mosque
--------
Pro-Turkish fighters killed in northwest Syria clashes: Monitor
26 December ,2022
Eight Turkey-backed Syrian fighters were killed in clashes with regime troops that raged Monday in the country's northwest, a rebel alliance said.
A statement from the Faylaq al-Sham group said six of its fighters were killed and three more wounded in an offensive launched by Syrian government forces backed by Kurdish fighters from Sunday night.
It later said two more fighters had been killed in the clashes in the Afrin region near the Turkish border, bringing the death toll to eight.
Faylaq al-Sham is an alliance of pro-Turkey rebel groups considered close to the Syrian branch of the Muslim Brotherhood.
The fighting died down early Monday evening, an AFP correspondent said.
The Britain-based Syrian Observatory for Human Rights, which has a wide network of sources on the ground, said the regime troops and Kurdish forces took control of two Faylaq al-Sham positions in intense fighting involving heavy weapons.
Exchanges of fire occur regularly between Syrian regime forces and pro-Turkish rebels who control part of the border.
Faylaq al-Sham has taken part in Turkish army offensives launched since 2016 in northern Syria, mainly against Kurdish fighters.
Source: Al Arabiya
Please click the following URL to read the full text of the original story:
https://english.alarabiya.net/News/middle-east/2022/12/26/Pro-Turkish-fighters-killed-in-northwest-Syria-clashes-Monitor
--------
Eight dead in Daesh attack on Syrian jail
December 26, 2022
JEDDAH: Six members of Kurdish-led security forces and two militants were killed on Monday in an attack by Daesh aimed at freeing extremists from a jail in northern Syria.
The assault targeted a Kurdish security complex in Raqqa, the group's former de facto capital in Syria, which includes a military intelligence prison housing militants, the Syrian Observatory for Human Rights said.
The prison houses hundreds of extremists, including 200 high-level militants, said Rami Abdel Rahman, head of the Observatory, a Syrian war monitor in the UK. "The jihadists were targeting the military intelligence prison," he said.
Kurdish-led authorities announced a state of emergency in Raqqa and put the city on lockdown as security forces hunted down Daesh fighters still at large.
Daesh admitted carrying out the attack and said two of its fighters had launched it, one of whom it claimed had escaped. The group said the aim of attack was to avenge "Muslim prisoners" and female relatives of militants living in the Kurdish-administered Al-Hol camp.
Al-Hol, home to more than 50,000 people, is the largest camp for displaced people who fled after the Kurdish-led Syrian Democratic Forces led the battle that dislodged Daesh fighters from the last scraps of their Syrian territory in 2019.
Farhad Shami, spokesman for the SDF, which controls Raqqa and Al-Hol, said Daesh had failed to come close to freeing the prison inmates. "Daesh failed to attack the prison because our forces thwarted their attack," he said.
Security forces were still searching the area to arrest members of the cell, he added.
The attack was the most significant Daesh attempt to free prisoners since they launched their biggest assault in years in January, when they attacked the Ghwayran prison in the Kurdish-controlled city of Hasakeh.
Hundreds were killed in the assault that lasted for a week and aimed to free extremists held there.
Daesh took over vast swaths of Iraq and Syria in 2014, including Raqqa which was its main seat of power, but since losing its last significant piece of territory in Syria in 2019 it has resorted to guerrilla attacks.
Source: Arab News
Please click the following URL to read the full text of the original story:
https://www.arabnews.com/node/2222286/middle-east
--------
Omani mediators leave Sanaa empty-handed as Houthis reject truce renewal
December 26, 2022
AL-MUKALLA, Yemen: Efforts to renew the UN-brokered truce and bring peace to Yemen have been dashed after Omani mediators left Sanaa without any reported progress, and the Iran-backed Houthis threatened to renew the fight if their demands are not met.
The Omani mediators, who arrived in Sanaa last week, departed the city on Sunday after meeting top Houthi officials and hearing their requests for extending the ceasefire and participating in peace negotiations to end the conflict.
The Houthis said that their leaders told the Omanis that the movement would not agree to extend the October ceasefire until the internationally-recognized government of Yemen pays public servants across the country, which would include their fighters, and shares oil and gas revenues with them. They threatened to resume extensive military operations if their demands were not met.
Mohammed Abdulsalam, a chief negotiator for the Houthis, said: "Our troops on the ground have imposed new rules of engagement, and the other side should realize that we have entered a new phase and currently we have no commitment under the truce."
He added that attacks on oil infrastructure in government-controlled regions would continue until earnings are shared and wages paid.
Abdulsalam went on to say that the Houthis had enjoyed "fruitful" discussions with the Omanis.
The UN-brokered ceasefire that went into effect on April 2, and was extended twice, fell apart when the Houthis refused to open roads in the besieged city of Taiz, a key condition of the deal, despite the Yemeni government allowing the resumption of commercial flights from Sanaa Airport and facilitating the arrival of fuel ships to Hodeidah port.
In October, the Houthis began drone attacks on two oil facilities in the southern provinces of Hadramout and Shabwa to prevent the Yemeni government from exporting the fuel. As a result, one of the facilities was shut down and the country's oil shipments were halted.
In response to the Houthis' demands, a Yemeni government official told Arab News that the government would only pay salaries based on the 2014 payroll, and after removing the names of Houthi fighters or those added by the militia.
The official, who requested anonymity, added that even if the government agreed to transfer wages, the Houthis would not pay public employees who had not signed their occupational code of conduct, a set of rules and guidelines that the militia introduced at the start of the month and which effectively require workers to pledge formal allegiance to the Houthis.
Najeeb Ghallab, undersecretary at Yemen's Information Ministry, and political analyst, told Arab News the Houthis had ratcheted up their war rhetoric during the Omani delegation's visit to demonstrate that they are in control of the decision to make peace or start war, and to prevent anyone from challenging them about the public money they control.
Source: Arab News
Please click the following URL to read the full text of the original story:
https://www.arabnews.com/node/2222516/middle-east
--------
Saudi Arabia and Japan sign 15 investment agreements during bilateral forum
December 26, 2022
RIYADH: Saudi Arabia and Japan on Monday signed 15 strategic investment agreements spread across various industries during the Saudi Japan Investment Forum held in Riyadh, as both countries look to deepen business ties.
The agreements were signed to drive investment in the sector of metals, marine, petrochemicals, and automotive among others, with around 99 Japanese companies investing in the Kingdom as both countries want a further boost in their economic relations.
Speaking during the forum Saudi Minister of Investment Khalid Al-Falih said the two countries have bolstered their relationship with tremendous dedication as the Kingdom targets $3.3 trillion worth of investments with Japan by 2030.
The minister added that Saudi Arabia will utilize its relationship with the east Asian country to build more than 500,000 electric cars annually by the end of the decade.
Moreover, the Kingdom aims to build five largest marine industry parks in the world in Ras Al-Khair, Al Falih said during the forum.
He added that the Kingdom aims to become the world's leading energy nation as the two countries intend to cooperate for a smoother energy transition.
Al-Falih said Saudi Arabia aims to become a major hub for gaming and e-sports by 2030 with content that can be exported in the region and globally.
One day before the forum, Saudi Arabia and Japan held a ministerial meeting in Riyadh, the Saudi Press Agency reported.
Saudi Minister of Energy Prince Abdulaziz bin Salman, and Japan's Minister of Economy, Trade and Industry Nishimura Yasutoshi, signed a memorandum of cooperation in the circular carbon economy and carbon recycling fields as well as hydrogen, fuel ammonia, and derivatives.
Both ministers agreed to focus on emissions reduction rather than energy sources through the effective deployment of carbon recycling and a circular carbon economy.
The dialogue also expressed the two countries' ambitions to collaborate in the fields of petrochemicals to maximize integration across the value chain, SPA reported.
Source: Arab News
Please click the following URL to read the full text of the original story:
https://www.arabnews.com/node/2222291/business-economy
--------
Saudi Design Festival to take place in January
December 27, 2022
RIYADH: The Saudi Architecture and Design Commission, one of the 11 commissions under the Ministry of Culture, has announced plans to launch the second Saudi Design Festival between Jan. 12-23.
Organized by the creative cultural consultancy &bouqu, this year's edition will be the biggest yet, unveiling a new vision and format for the festival, with a range of events and activations that celebrate local and international design.
Sumayah Al-Solaiman, CEO of the Saudi Architecture and Design Commission, said: "The Saudi Design Festival provides a platform for emerging and established designers, small and medium businesses, creatives and industry players to exchange knowledge, enable collaborations and find opportunities for growth and development.
"We're excited to bring together designers from across the Kingdom and showcase their work. Together, we're building a more advanced sector and making sure local talents are equipped with the tools and skills to succeed — that's why the festival will be hosting discussions, workshops, masterclasses and networking sessions."
SDF 2023 commences with a Design Forum and opening weekend at the City Hub of the Mohammed bin Salman Nonprofit City in Riyadh from Jan. 13-14. It will feature leading local and international experts who will discuss a range of topics on design, such as the effects of urban landscapes on quality of life, exporting culture through design and building better cities for the future.
Workshops will touch on important industry trends such as sustainable design, creative entrepreneurship and the power of typography in graphic design and communication. Alongside the on-stage discussions will be off-stage mentorship sessions, open-call announcements and exhibitions to explore.
The festival promises participants and audiences a comprehensive calendar of activities, transforming Riyadh into a creative hub with Design Destinations (Oud Square, The Boulevard Riyadh and Gallery Design), alongside activations taking place in multiple venues across more than 40 locations in Riyadh. The festival will also roll out an online program, expanding its reach across the region and internationally.
Basma Bouzo, co-founder and CEO of &bouqu and director of the SDF, said: "Since we launched this festival, formerly known as Saudi Design Week, our aim has always been to give local designers and creatives a space where they can have constructive discussions and be heard across the region.
Source: Arab News
Please click the following URL to read the full text of the original story:
https://www.arabnews.com/node/2222586/saudi-arabia
--------
Turkish president meets Saudi Shura Council head for talks
Diyar Guldogan
26.12.2022
Turkish President Recep Tayyip Erdogan on Monday received Saudi Shura Council Speaker Abdullah Mohammed Ibrahim Al-Sheikh in the capital Ankara for talks.
The Turkish presidency did not share any further information about the closed-door meeting between Erdogan and Al-Sheikh.
Source: Anadolu Agency
Please click the following URL to read the full text of the original story:
https://www.aa.com.tr/en/middle-east/turkish-president-meets-saudi-shura-council-head-for-talks/2773036
--------
Africa
Boko Haram kills 17 civilians in Nigeria
Adam Abu-bashal
27.12.2022
ABUJA, Nigeria
More than one dozen civilians were killed late Monday by Boko Haram terrorists in northeastern Nigeria, according to media reports.
The terrorists attacked herders guarding cattle in a pasture near the of village Airamne in Borno state, said reports.
Seventeen herders were killed in the fight and their cattle were taken away.
Boko Haram launched a bloody insurgency in northeastern Nigeria in 2009 before expanding to neighboring Niger, Chad and Cameroon.
Source: Anadolu Agency
Please click the following URL to read the full text of the original story:
https://www.aa.com.tr/en/africa/boko-haram-kills-17-civilians-in-nigeria/2773353
--------
Kabara: Islamic sect accuses Ganduje of influencing Shariah court ruling
By Rauf Oyewole, Bauchi
27 December 2022
He didn't criticise govt before police wanted him, says commissioner
Mujama'U As'habil Kahfi Warraqeem in Bauchi State has accused Kano State Governor, Abdullahi Ganduje, of 'influencing' the judgment of the Shariah court that sentenced Sheikh Abduljabbar Kabara, on December 15, to death by hanging, citing blasphemy.
While addressing journalists in Bauchi, yesterday, the Islamic sect described the judgment as un-Islamic, alleging that the cleric's criticism of government led to his ordeal.
But the Kano government said the convicted cleric never criticised it before he ran into trouble.
The group stated: "The so-called judgment by Torahim Sarki Yolu is totally wrong and un-Islamic. Therefore, we reject it because the judgment was negatively manipulated from the beginning to the end.
"We are not satisfied with the judgment, because we believe it was influenced by the Kano State Governor, Abdullahi Ganduje, and some clerics in the state, who are known to be at loggerheads with him for a long time. They, therefore, ganged up against him and levelled false allegations of blasphemy against him in order to smear him and eliminate him through the court."
Leader of the group, Musa Pali, said: "We caught him inciting Kano citizens to riot against our spiritual leader. Also, we caught him gathering with pressmen telling Islamic clerics in the state to preach dirty words against our spiritual leader. There was a time he was telling a gathering that our leader is someone to be afraid of, but they discovered he is like a goat, so sent him to a slaughterhouse. You know what that means?"
They group, however, has resolved to approach a higher court of law to quash the judgment and enforce Kabara's fundamental human rights, especially of freedom of religion and thought as enshrined in the Nigerian constitution.
"We call on the National Human Rights Commission (NHRC), Amnesty International (AI), national and international human rights organisations and human rights lawyers such as the revered Femi Falana, as well as respected human rights activist/'Ordinary President', Ahmad Isa, and others to join us to counter this unfair and unjustified gang-up against our religious leader by providing legal aid to him.
"Kano government and the hostile clerics to Abduljabbar have teamed up to exterminate him for an offence he has been pleading not guilty. We don't have the strength to protect him in the court alone; hence, our call for legal aid from human rights individuals and organisations to bring us succor," the sect added.
The Commissioner for Justice, Lawan Musa, said several complaints were received from the residents to prosecute Kabara for blasphemy to avoid jungle justice against him.
Musa stated: "There was pressure from the people that he should be prosecuted like the ordinary citizen for blasphemy. There were plans to burn his house and cause chaos in Kano.
"Abduljabbar Kabara has never been a critic of the government. Before he was arrested, there was never a time he criticised the government. Just recently, when he knew he was going to be arrested by the police, he started criticising the government."
Source: Guardian Nigeria
Please click the following URL to read the full text of the original story:
https://guardian.ng/news/kabara-islamic-sect-accuses-ganduje-of-influencing-shariah-court-ruling/
--------
Blasphemy: Kano Islamic cleric's supporters to appeal judgment
27th December 2022
Followers of popular Kano Islamic cleric, Sheikh Abduljabbar Kabara, have alleged that the recent Shari'a court judgment which condemned their leader to death was influenced.
Kabara's followers under the auspices of As'habul Kahfi Warraqeem, Bauchi State Chapter, described the judgment as "un-Islamic and negatively manipulated from the beginning to the end."
The organisation made its position known at a press conference in Bauchi on Monday.
The group's Public Relations Officer, Abdullahi Musa, read the text on behalf of the Chairman, Musa Santuraki.
According to the group, the blasphemy allegation against their leader was a deliberate campaign of calumny and character assassination because they feel threatened by his popularity.
While vowing to appeal the judgment, they said, "The allegation of blasphemy against the Sheikh is nothing but a campaign of calumny and character assassination on the popular cleric by his detractors.
"Thus, they purported an allegation of blasphemy to give him a bad name and have justification for their evil plan to exterminate him.
Source: Punchng
Please click the following URL to read the full text of the original story:
https://punchng.com/blasphemy-kano-islamic-clerics-supporters-to-appeal-judgment/
--------
Taher Al-Sunni: We have no choice but to work together to achieve reconciliation and national harmony.
2022-12-26
New York, 25 December, 2022 (Lana) - Libya's representative to the United Nations, Taher Al-Sunni, has expressed his pride in Libya's history and struggle that the ancestors and founding fathers carried out to achieve independence and laid the first building block for building the state of Libya.
Source: Lana
Please click the following URL to read the full text of the original story:
https://lana.gov.ly/post.php?id=265543&lang=en
--------
Death toll from Sudan tribal violence rises to 12
Adel Abdel-Rahim
26.12.2022
KHARTOUM, Sudan
The death toll from tribal clashes in western Sudan has risen to 12, according to an aid group on Monday.
The violence first started on Wednesday when herders attacked a group of farmers in Amuri village, east of South Darfur.
In a statement, the General Coordination for Refugees and Displaced in Darfur said 42 people, including women and children, were also injured in the clashes.
The aid group said 12 villages were set ablaze amid the violence, forcing hundreds of families to flee their areas.
Local authorities have declared a state of emergency over the violence and imposed a night-time curfew.
Source: Anadolu Agency
Please click the following URL to read the full text of the original story:
https://www.aa.com.tr/en/africa/death-toll-from-sudan-tribal-violence-rises-to-12/2772991
--------
URL: https://www.newageislam.com/islamic-world-news/iran-dubai-iranian-football-icon-ali-daei/d/128727
New Age Islam, Islam Online, Islamic Website, African Muslim News, Arab World News, South Asia News, Indian Muslim News, World Muslim News, Women in Islam, Islamic Feminism, Arab Women, Women In Arab, Islamophobia in America, Muslim Women in West, Islam Women and Feminism