New Age Islam News Bureau
26 Apr 2014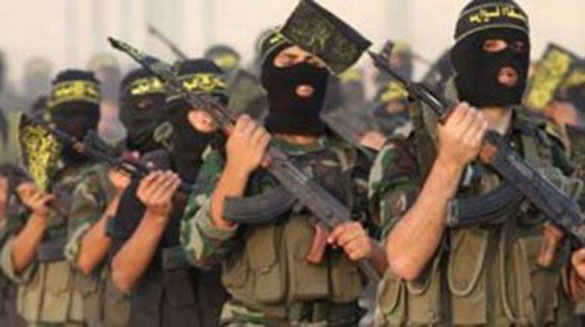 Photo: Islamic Jihad fighters
-----------
Mideast
• Inspired by Arab Spring, Islamic Jihad's Young Guard Demands Transparency
• We Will Recognise Israel, But Never As a 'Jewish State': Palestinian President
• Iran hangs three for killing prosecutor
• Iran bans third reformist paper, 'Ebtekar'
• Iranian diplomat: Israel sole obstacle to nuclear weapons-free Mideast
Southeast Asia
• Liberty, Human Rights Are Godless and Faithless Ideologies: Hard-Line Islamic Group Chief
• Hudud will seal political position of Malays, thwart non-Muslim ambitions
• Regional Autonomy Needs Revising: Indonesia Govt
• Obama's Asian pivot key to upholding democracy in Malaysia, says Anwar
Arab World
• 'Wife Rape' Fatwa Sparks Row In Egypt: Egyptian Preacher
• Suicide bombers kill 33 at Iraq campaign rally
• Leading cleric: Bahrain Regime Declares War on Shias
• At least 88 dead in two days of clashes in Syria's Daraa
• Iraqi Army Killed 12 Militants, Wounded Others near Fallujah
• Saudi envoy in a spot over 'undiplomatic' kiss
• Iraq's dwindling Christian community 'face disaster'
• Al-Qaida chief urges Westerner kidnappings for prisoner swaps
• Saudi Arabia has successfully countered terrorism: Crown Prince Muqrin
• Fighting the fizz: Egypt jihadists threaten Pepsi
South Asia
• China Offers Rewards for Beard Informants in Muslim-Majority Area
• Afghan forces kill Taliban commander, 10 comrades
• Hizb-e-Islami shoots down unmanned American plane
• Afghans brace for another round of voting, bargaining begins
• 5 NATO soldiers killed in Afghanistan helicopter crash
• Stop terrorism jointly, PM Sheikh Hasina to Saarc countries
• Bangladesh-US relation 'uncomfortable': FM AMA Muhith
Africa
• Violence claims 44 lives in Nigeria
• Tanzania hits 'mid-life' crisis at 50
• One killed as Moroccan leftists, Islamists clash
Europe
• Counter Terror Chief Warns British Muslims against Joining Syria War
• French Islamic Conference: Geneva Imam Says 'All Evil' Comes From Jews
• Muslims and Christians Religious 'Vigilantes' Threaten Late-Night Drinkers and • Women in Short Skirts to 'Cleanse' Country
• Joining Islamic Conference Could Help Kyiv Defend Crimean Tatars
• Ukraine rebels accuse detained OSCE team of being 'NATO spies'
• Syria not using chemical arms, claims 'fabricated': Russia
North America
• Obama must urge Malaysia to improve human rights, says Amnesty USA
• 9/11 museum film draws heat for portrayal of Islam
• Watching developments in Pakistan after attack on Mir: US
• CAIR-MI encourages American Muslims to fight Islamophobia at annual banquet
• Turkish PM Erdoğan's remarks on 1915 events to pave way for reconciliation, US official says
• California Muslims Lobby Lawmakers in Sacramento
• Investigators found 'The Encyclopedia of Jihad' in hook-handed preacher's home: witness
Pakistan
• Lashkar-i-Jhangvi man killed in encounter; several arrested in Karachi raids
• Imran vows to come out on streets for 'new Pakistan'
• At least six killed, two injured in North Waziristan firing
• Only Karachiites know where Musharraf is to be dispatched: Saad Rafiq
• KP asked to check forced conversions
• Imran comes out to rescue ISI
India
• Muslim, Christian Groups Welcome Congress's Sub Manifesto on Dalit Quota
• Yashwant Sinha writes to Nawaz Sharif, calls for security for Hamid Mir
Compiled by New Age Islam News Bureau
URL: https://www.newageislam.com/islamic-world-news/new-age-islam-news-bureau/inspired-by-arab-spring,-islamic-jihad's-young-guard-demands-transparency/d/76760
--------------
Mideast
Inspired by Arab Spring, Islamic Jihad's Young Guard Demands Transparency
Apr 26 2014
LONDON — The Iranian-sponsored Islamic Jihad has been wracked by an internal feud.
Palestinian sources said the Jihad leadership has confronted increasing unrest among the rank-and-file. They said the rank-and-file, particularly the younger members, were clamouring for elections and transparency.
"For the younger members, it is inconceivable that after Arab Spring any country or even resistance movement could ignore its membership," the source said.
The sources said the so-called young guard was demanding elections for the leadership as well as a debate over policy. They said Jihad has pointed to Hamas, which in 2012 conducted elections throughout the Middle East.
The feud comes amid the rise of Jihad in the Hamas-ruled Gaza Strip. Jihad, with the largest long-range rocket arsenal, has been bolstered by tens of millions of dollars from Iran and training by Hizbullah.
"Jihad now has enough supporters and money to present an alternative to Hamas," the source said. "But the leadership is frittering away most of the money, and people are not receiving their salaries."
Signs of unrest were detected as early as 2011 when members demanded elections for the leadership. But Jihad leaders refused and instead appointed a political bureau, the first formal body since the movement was founded 35 years ago.
"The problem fundamentally lies in the mechanism of decision-making, and in most cases decisions are made individually [due to] the lack of internal regulations," Jihad leader Abdullah Al Shami told the London-based Al Monitor website.
The sources said the young guard has also protested promotions in Jihad's military wing. They said the military wing was coordinating with Iran's Islamic Revolutionary Guard Corps without input from the Gaza membership.
Jihad leaders insisted that elections were being arranged and could take place over the next year. They said the movement was planning a conference that would encompass the membership throughout the Middle East, struck by unrest in such countries as Egypt, Iraq, Libya and Syria.
"There is an agreement within the leadership and it was signed, and the only thing delaying its implementation is what is happening in neighboring countries," Mohammed Shalah, the brother of Jihad secretary-general Ramadan Shalah, said.
http://www.worldtribune.com/2014/04/24/inspired-arab-spring-islamic-jihads-young-guard-demands-elections-policy-shift/
--------------
We Will Recognise Israel, But Never As a 'Jewish State': Palestinian President
AFP | Apr 26, 2014
RAMALLAH (Palestinian Territories): Palestinian President Mahmoud Abbas said on Saturday the new unity government he is set to head with Hamas backing would reject violence and recognize Israel and existing agreements.
Abbas was speaking to members of the Palestine Liberation Organization's central council, which had convened to chart a course of action after Israel suspended US-brokered peace talks in response to the deal with Hamas.
Israel said it would not negotiate with a government backed by Hamas, the armed Islamist movement ruling Gaza, which is pledged to the destruction of the Jewish state and has always rejected peace talks.
"The upcoming government will obey my policy," Abbas told members of his PLO on Saturday. "I recognize Israel and reject violence and terrorism, and recognize international commitments."
Abbas stressed that negotiations with Israel would not be held by the new government but rather by the PLO, which "represents the entire Palestinian people".
The PLO is the internationally recognized representative of the Palestinians and their interlocutor in peace talks, while the Palestinian Authority was created as part of the Oslo peace process of the 1990s to administer the occupied Palestinian territories.
Abbas heads both, as well as the secular Fatah party, which dominates the PLO.
Under the Wednesday agreement signed in Gaza between Hamas and the PLO, Abbas would head an "independent government" of technocrats, to be formed within five weeks.
The new interim Palestinian administration would be charged with holding parliamentary and presidential elections within six months of taking office.
Israel and Western nations view Hamas as a terrorist organization, and Israeli Prime Minister Benjamin Netanyahu said Abbas must chose between reconciling with the Islamist group and negotiating peace with the Jewish state.
Abbas also reiterated that the Palestinians would never recognize Israel as the "Jewish state," saying they recognized it as a state in 1993 and shouldn't have to accept its religious identity, which has been a central demand made by Netanyahu.
The Palestinian leader pointed out that no similar demand was made of Egypt or Jordan when they signed peace treaties recognizing Israel.
The dispute over recognition and Israel's continuing construction of settlements in the occupied territories presented major obstacles to US secretary of state John Kerry's dogged efforts to coax the two sides towards a historic peace agreement.
Israel and the United States had been hoping to extend the faltering peace talks launched last July beyond their April 29 deadline, but the efforts hit a wall last month when Israel refused to release a final batch of Palestinian prisoners.
The Palestinians retaliated by applying to adhere to 15 international treaties as Abbas listed conditions for extending the talks beyond the deadline.
Abbas on Saturday reiterated that he would agree to an extension if Israel freezes settlement construction in the occupied West Bank and annexed east Jerusalem, frees the prisoners and begins discussions on the future borders of a promised Palestinian state.
Israel last week dismissed the same conditions. On Friday, state department spokeswoman Jen Psaki said US efforts to broker a peace deal had not failed, but were currently in a "holding period" as Palestinians and Israelis decide their next move.
She said that Abbas had insisted any new government would adhere to his non-violence policies, calling the assurances a "positive thing."
The PLO meeting adjourned after Abbas's Saturday speech until later in the evening.
Earlier on Saturday, Netanyahu spokesman Ofir Gendelman wrote on Twitter that "abbas forged a pact w/ a global terrorist organization," noting Hamas was on the "terror lists" of various states, including the United States and Egypt.
http://timesofindia.indiatimes.com/world/middle-east/We-will-recognize-Israel-but-never-as-a-Jewish-state-Palestinian-president-says/articleshow/34256194.cms
--------------
Iran hangs three for killing prosecutor
Apr 26 2014
Tehran: Iran's official news agency has reported that three men convicted of killing an Iranian prosecutor in the country's restive border region with Pakistan have been executed.
According to the Irna news agency, Omid Piri, Ali Reza Dahmardeh and Iman Galavi were hanged publicly on Saturday in front of the family of the victim and residents of Zabol, a town in southeastern Iran.
Irna reported that the executions took place at the same spot the men shot to death prosecutor Mousa Nouri in November.
Irna says the executions happened after Iran's Supreme Court upheld the men's death sentences.
The prosecutor had been considered one of the toughest lawmen fighting against opium and other drug smuggling networks that use routes leading from Pakistan and Afghanistan over Iran's rugged hills and deserts.
http://gulfnews.com/news/region/iran/iran-hangs-three-for-killing-prosecutor-1.1324388
--------------
Iran bans third reformist paper, 'Ebtekar'
26 April 2014
Iran's judiciary banned reformist newspaper Ebtekar on Saturday for "spreading lies", ISNA news agency reported, making it the third such publication to be shut down by authorities in recent months.
"I received a note from media court which said a ban has been imposed on the daily for spreading lies," Mohammad Ali Vakili, managing director of the daily, told ISNA.
ISNA said the ban was imposed because of a headline in Thursday's edition for a story about the replacement of the country's prisons chief over reports of violence against political prisoners.
"The headline of one of the Ebtekar columns read prisons chief was dismissed, while he has been appointed to another post and not dismissed," ISNA said.
According to opposition websites, several inmates in the notorious Section 350 of Evin prison were beaten after scuffles broke out at a cell block, with some of them seriously wounded and taken to hospital.
After the incident prisons chief Gholam Hossein Ismaili, was replaced by Asghar Jahangir and appointed to a senior post as head of the justice department in the capital.
A judiciary spokesman said Ismaili's reassignment "had nothing to with what happened in Section 350".
Iran's judiciary system is controlled by conservatives who frequently clash with the government over policies they deem to be too liberal.
In February, the judiciary banned newly launched reformist daily Aseman and arrested its managing director over an article deemed insulting to Islamic law. He was later freed on bail.
Bahar, another reformist newspaper, was ordered closed in October for publishing an article seen by critics as questioning the beliefs of Shiite Islam.
An ultra-conservative daily was temporarily shut down by a press watchdog linked to the Culture Ministry in March for criticising Iranian President Hassan Rowhani. The ban, however, was revoked this week.
Rowhani, a reputed moderate who was elected last June, has pledged to work for more cultural liberation and social freedom.
In March, Rowhani said "shutting down a newspaper should be the last resort, not the first."
http://english.alarabiya.net/en/media/print/2014/04/26/Iran-bans-third-reformist-paper-Ebtekar-.html
--------------
Iranian diplomat: Israel sole obstacle to nuclear weapons-free Mideast
April 26, 2014
Iran's deputy permanent representative to the United Nations has blamed Israel as the sole obstacle for "a Middle East free of nuclear weapons." Iranian media reported on Saturday.
Israel's alleged nuclear arsenal and its refusal to sign the international Nuclear non-Proliferation Treaty pose a barrier to ensuring nuclear weapons are not spread throughout the region, Gholamhossein Dehghani said at a UN Disarmament Committee conference in New York on Friday.
"Israeli non-constructive policies also impede the activities of international organizations to achieve nuclear disarmament," Iran's Mehr news agency quoted him as saying.
He called on Israel to sign the NPT treaty and "subject all of its nuclear centers to the IAEA (International Atomic Energy Agency) protocols."
Dehghani also criticized the West, claiming it has provided a shield for Israel to conduct what he said were "secret nuclear activities."
Full report at:
http://www.jpost.com/Middle-East/Iranian-diplomat-Israel-sole-obstacle-to-nuclear-free-Mideast-350477
---------
Southeast Asia
Liberty, Human Rights Are Godless and Faithless Ideologies: Hard-Line Islamic Group Chief
April 26 2014
CYBERJAYA, April 26 ― Equality, liberty and human rights are "godless" and "faithless" ideologies created by atheists to destroy Islam, hard-line Islamic group Ikatan Muslimin Malaysia (ISMA) said today.
Since Malaysia's general elections in 2013, the non-governmental organisation has been growing in popularity, striking a chord with more conservative Malay Muslims who support its push for Malaysia to become an Islamic state.
ISMA's uncompromising views and bald statements have been criticised mainly by Malaysia's non Muslim minority and rights groups. Some have likened ISMA to the Taliban in Afghanistan.
Speaking at ISMA' s convention for Muslim women, its president Zaid Abdul Rahman also said civil society groups are proxies of a Zionist-Christian agenda that seeks to confuse Muslims with ideologies which are unIslamic.
"Islam is Islam. Ideologies are not part of Islam and all these ideologies are from the west..liberalism, liberty, equity and human rights are all agenda of the atheist.
"They are a godless and faithless ideology.
"There is no liberal Islam or socialist Islam. You are either a Muslim or a jahilliah (an ignorant)," he said.
He added that Jewish and Christian groups were bent on making the world in their own mould.
Full report at:
http://www.themalaymailonline.com/malaysia/article/liberty-human-rights-are-godless-and-faithless-ideologies-says-isma-chief#sthash.hRFzBfNf.dpuf
----------
Hudud will seal political position of Malays, thwart non-Muslim ambitions
BY SYED JAYMAL ZAHIID
APRIL 26, 2014
CYBERJAYA, April 26 — Implementing hudud laws in will help seal the political position of ethnic Malays in the country, thwarting any challenge from non-Muslims, the leader of a hardline Muslim group claimed today.
Ikatan Muslimin Malaysia (ISMA) chief Zaid Abdul Rahman said that non-Muslims fear hudud because its implementation would automatically make Malaysia an Islamic state.
"This belief that non-Muslims reject hudud because they don't understand it is not true. In fact, they know well the implication of power," Zaid told a press conference after opening the Isma Women's Convention here.
"The Islamic state would ensure power remains under Muslim control. The Islamic state would also preserve the sovereignty of the Malays in our own land… that is why we see non-Muslims reject hudud," he added.
Full report at:
http://www.themalaymailonline.com/malaysia/article/hudud-will-seal-political-position-of-malays-thwart-non-muslim-ambitions#sthash.MgKtdMOI.dpuf
--------------
Regional Autonomy Needs Revising: Indonesia Govt
April 26, 2014
Jakarta. The government, as part of its ongoing bid to abolish local elections and return to a system of appointing regional leaders by legislature, has once again begun highlighting the shortcomings of the regional autonomy policy that it introduced in 2001.
Led by the Home Affairs Ministry, the government's drive has focused on the high level of discord — up to 95 percent, according to government figures — between election regional heads and their deputies and the slow pace of regional development throughout the country.
Djohermansyah Djohan, the ministry's director general for regional autonomy, says such rifts extend not only to the local bureaucracy, but also to the people of the region.
"That makes for an adverse working environment, in which public officials are haunted by the feeling that the colleague next to them is an enemy," he says.
Home Affairs Minister Gamawan Fauzi says a revision of regional autonomy is needed to make the policy more effective without compromising on the spirit of decentralization and democracy.
Full report at:
http://www.thejakartaglobe.com/news/regional-autonomy-needs-revising-govt/
--------------
Obama's Asian pivot key to upholding democracy in Malaysia, says Anwar
April 26 2014
KUALA LUMPUR, April 26 — US President Barack Obama's Asian pivot must go beyond trade and security issues to promote democracy, especially in countries like Malaysia, Datuk Seri Anwar Ibrahim said.
The opposition leader said in an opinion piece carried by The Washington Post that the ideals of freedom and democracy must be central to Obama's engagement with the east, as the superpower seeks to reinvigorate its influence.
"President Obama's visit to Malaysia this weekend comes at a pivotal time. It would be an opportune moment to live up to the ideals Obama espoused in his campaign and the early days of his administration.
Full report at:
http://www.themalaymailonline.com/malaysia/article/obamas-asian-pivot-key-to-upholding-democracy-in-malaysia-says-anwar#sthash.GtcZshRm.dpuf
--------------
Arab World
'Wife Rape' Fatwa Sparks Row In Egypt: Egyptian Preacher
Apr 26 2014
Egyptian preacher and Vice President of the Salafist Call Yasser Burhami has stirred controversy with a new religious edict, or fatwa, allowing men to let their wives be raped if they fear for their lives.
In another fatwa, he graphically described how a man must actually see his wife being penetrated by another man in order for him to claim an adultery case and therefore the right to kill his wife.
Burhami published his Fatwas on the website Anasalafy.com, which is associated with his Salafist Call movement, the spiritual arm of the political al-Nour Party. He added that allowing one's wife to be raped is like getting mugged for money.
"In this case he is forced [to surrender her] and not obliged [to defend her]," he said.
The Fatwas were met with condemnation within Egypt and prompted an outcry on social media.
Assaeed Mohammad Ali, an official at the religious endowments ministry, told the daily al-Masry al-Youm newspaper that Burhami's fatwa "has no basis in either Sharia or common law."
"Every Muslim has to protect his honour even if that leads him to jail or death. The sacrifice to protect a wife's honour is a religious obligation," Ali added.
Full report at:
http://english.alarabiya.net/en/variety/2014/04/25/-Wife-rape-fatwa-sparks-row-in-Egypt.html
--------------
Suicide bombers kill 33 at Iraq campaign rally
Apr 26 2014
Baghdad: Suicide bombers killed 33 people on Friday at a sports stadium hosting a campaign rally for thousands of supporters of a militant Shiite group before parliamentary elections, authorities said — an attack that could unleash more sectarian violence.
An Al Qaida breakaway group, the Islamic State of Iraq and the Levant (Isil), claimed responsibility for the attack at the Industrial Stadium in eastern Baghdad, which drew about 10,000 backers of the Iranian-backed Asaib Ahl Al Haq group.
It said on a militant website that the bombings were to avenge what it called the killing of Sunnis and their forced removal from their homes by Shiite militias.
The authenticity of the claim could not be independently verified.
The attack was a stark reminder of the sectarian violence that has plagued Iraq more than two years after US troops ended an eight-year presence that often served as a buffer between the nation's Shiite majority and its Sunni Arab minority.
Full report at:
http://gulfnews.com/news/region/iraq/suicide-bombers-kill-33-at-iraq-campaign-rally-1.1324390
--------------
Leading cleric: Bahrain Regime Declares War on Shias
April 26, 2014
Leading Bahraini cleric Sheikh Issa Qassem said that ruling Al Khalifa has officially declared a war on the Shia faith by expelling Ayatollah Sheikh Hussein al-Najati.
In a Friday speech, Sheikh Qassem condemned the Al Khalifa regime over expulsion of Sheikh Hussein al-Najati, the representative of Iraq-based Grand Ayatollah Ali al-Sistani.Sheikh Issa Qassem
"Out of all states in the world, Bahrain declared a blatant, defying and open war on the Shia faith," Sheikh Qassim stated.
He also called on the international community and the United Nations to follow up the case of Najati.
Ayatollah Najati was responsible for collecting and redistributing religious donations on behalf of Ayatollah Sistani.
Full report at:
http://www.almanar.com.lb/english/adetails.php?eid=148355&cid=23&fromval=1&frid=23&seccatid=27&s1=1
--------------
At least 88 dead in two days of clashes in Syria's Daraa
26 April 2014
At least 88 rebel and regime forces have been killed in two days of clashes for control of strategic sites in Syria's southern Daraa province, an monitoring group said Saturday.
The Syrian Observatory for Human Rights based in Britain said 45 opposition fighters and 43 regime forces had been killed in the fighting that began on Thursday.
Observatory director Rami Abdel Rahman told AFP that rebel forces, including fighters from al-Qaeda's Syria affiliate Al-Nusra Front, had seized the strategic Tal al-Jabiyeh hill on Thursday.
Full report at:
http://english.alarabiya.net/en/News/middle-east/2014/04/26/At-least-88-dead-in-two-days-of-clashes-in-Syria-s-Daraa.html
--------------
Iraqi Army Killed 12 Militants, Wounded Others near Fallujah
April 26, 2014
The Iraqi army killed 12 armed elements and wounded .others by launching airstrikes against their headquarters near the city of Fallujah today.
Media reports mentioned that the Iraqi army planes bombed dens and headquarters which holed up inside armed elements who are defined by the source as of terrorist ISIL (The Islamic State in Iraq and the Levant) in the areas of Saqlawiyah , Alizergiyah and Amiriyat-al-Fallujah city , north, west and south of the city.
The source added that the shelling killed 6, injured 6 other armed elements and destroyed a number of the vehicles belonging to the armed groups, adding that air raids are ongoing till now.
http://www.almanar.com.lb/english/adetails.php?fromval=1&cid=23&frid=23&eid=148223
--------------
Saudi envoy in a spot over 'undiplomatic' kiss
Apr 26 2014
Dubai: The Saudi ambassador to Iran has become embroiled in controversy over exchanging kisses on the forehead with an Iranian former president.
The warm greetings between Ambassador Abdul Rahman Bin Garman Al Shahri and ex-President Hashimi Rafsanjani were caught on camera and prominently displayed in Iranian media and social networks, generating a wide spectrum of comments that highlighted the "monumental" moment.
Rafsanjani, currently the chairman of Iran's Expediency Council, received the ambassador on Monday in his office in Tehran.
At the meeting, Al Shahri reportedly "conveyed the special greetings of the Saudi Arabian king and crown prince to Rafsanjani and re-extended the invitation of the Saudi king to pay a visit to Saudi Arabia."
Full report at:
http://gulfnews.com/news/gulf/saudi-arabia/saudi-envoy-in-a-spot-over-undiplomatic-kiss-1.1324369
--------------
Iraq's dwindling Christian community 'face disaster'
26 April 2014
Iraq's dwindling Christian community faces "disaster," and if no action is taken they will number just a few thousand in a decade, the country's most senior church leader told AFP.
Chaldean Patriarch Louis Sako said the daily migration of Christians from Iraq was "terrifying" and blamed a range of factors, including generally poor security in the country and worsening religious extremism.
Iraq's Christian community is a shadow of what it used to be -- once numbering more than a million nationwide, with upwards of 600,000 in Baghdad alone, there are now fewer than 400,000 across the country.
Full report at:
http://english.alarabiya.net/en/perspective/features/2014/04/26/Iraq-s-dwindling-Christian-community-face-disaster-.html
--------------
Al-Qaida chief urges Westerner kidnappings for prisoner swaps
By REUTERS
April 26, 2014
DUBAI - Al-Qaida chief Ayman al-Zawahiri has called on Muslims to kidnap Westerners, particularly Americans, who could then be exchanged for jailed jihadists including a blind Egyptian cleric convicted in 1995 of conspiring to attack the United Nations and other New York landmarks.
In a wide ranging audio interview, the al-Qaida leader expressed solidarity with the Muslim Brotherhood which is facing a violent crackdown by the army-backed government in Egypt and urged unity among rebels in their fight against Syrian President Bashar Assad.
Reuters could not verify the authenticity of the Zawahiri tape, but the voice resembled that of the al-Qaida leader.
"I ask Allah the Glorious to help us set free Dr. Omar Abdel-Rahman and the rest of the captive Muslims, and I ask Allah to help us capture from among the Americans and the Westerners to enable us to exchange them for our captives," said Zawahiri, according to the SITE website monitoring service.
Full report at:
http://www.jpost.com/Middle-East/Al-Qaida-chief-calls-for-Westerner-kidnappings-to-use-in-prisoner-swaps-350483
--------------
Saudi Arabia has successfully countered terrorism: Crown Prince Muqrin
April 26, 2014
JEDDAH- The Kingdom of Saudi Arabia has successfully countered terrorism in the country and the region over the past 20 years, said Deputy Crown Prince Muqrin, deputy premier and adviser to the king, in an interview.
"Saudi Arabia has succeeded in countering terrorism which targeted our country over the past two decades, thanks to the directives of the wise leadership and the efforts of Interior Minister Prince Muhammad bin Naif," Prince Muqrin said in the wide-ranging interview.
The Kingdom's security forces would counter any attempt made to undermine the country's stability, development and prosperity, he said.
The government has also tightened controls on the Kingdom's borders and at all its ports to prevent smuggling and drug trafficking, the prince said.
Full report at:
http://www.nation.com.pk/international/26-Apr-2014/saudia-arabia-has-successfully-countered-terrorism-crown-prince-muqrin
----------
Fighting the fizz: Egypt jihadists threaten Pepsi
Apr 26 2014
They've been quick to claim bombings across Cairo in recent months, targeting security and police officials, but now Egyptian jihadist group Ansar Bayt al-Maqdis (or 'Supporters of Jerusalem') has another target in mind.
A soft drinks giant.
On Friday, the Sinai-based group threatened to attack Pepsi Co. for allegedly allowing the Interior Ministry to use their company vans to transport detainees.
"You know who we are and what we can do," the group addressed the company on Twitter. "This is the last warning and after this, Pepsi Co. can only blame itself. By God, we will not tolerate working with the police whatever the client, the amount and status."
The Coca-Cola cover up?
Full report at:
http://english.alarabiya.net/en/variety/2014/04/26/Fighting-the-fizz-Egypt-jihadists-threaten-Pepsi.html
--------------
South Asia
China Offers Rewards for Beard Informants in Muslim-Majority Area
April 26 2014
Authorities in western China's restive, Muslim-majority Xinjiang Uighur Autonomous Region are offering rewards to locals who inform on their neighbors for "wearing beards," government-controlled media reported this week. Islamic liturgy recommends that Muslim men wear beards.
In recent months, local officials have tightened religious restrictions on Xinjiang's ethnic Uighurs, in response to a series of armed attacks that were allegedly perpetrated by Uighur separatists. Many Uighurs accuse Chinese authorities of religious repression, and say economic development measures in their home region benefit mostly ethnic Han people, who are the majority in China.
Informants in parts of Xinjiang's Aksu prefecture, an epicenter of the region's ethnic tensions, can earn anywhere from $8 to $8,000 for reporting their neighbors' illegal religious or "separatist activity" — which can now include facial hair, according to Chinese newspaper The Global Times.
Full report at:
http://america.aljazeera.com/articles/2014/4/25/china-xinjiang-authoritiesofferthousandstofacialhairinformants.html
--------------
Afghan forces kill Taliban commander, 10 comrades
April 26, 2014
GHAZNI- Units of Afghan national army have killed Taliban commander along with 10 comrades in the southern Ghazni province today, an army spokesman Nazifullah Sultani said.
"In the crackdown against Taliban which began in Andar district of Ghazni province early today morning, 11 Taliban rebels including their commander Mullah Noor Mohammad were killed," Sultani said. He also emphasized the operations will continue until the area is cleaned of the armed insurgent. Taliban militants who are active in Andar district are yet to make comment.
http://www.nation.com.pk/international/26-Apr-2014/afghan-forces-kill-taliban-commander-10-comrades
--------------
Hizb-e-Islami shoots down unmanned American plane
April 26, 2014
ASSADABAD- Hizb-e-Islami Afghanistan said today that its fighters had shot down an American spy aircraft in Kunar province.
The drone aircraft was flying over Kunar's Shegal district when hit by the Hizb's fighters, the group spokesman, Haroon Zarghoon told sources by phone. He said the US drones are routinely fly over the border regions and also carry out strikes on the positions of the armed resistance groups. There was no comment from the ISAF forces in Afghanistan.
Meanwhile, provincial police chief Abdul Habib Sayedkhili said an unmanned plane crashed in the eastern Kunar province with Assadabad as its capital 185 km east of Kabul on today. "A pilot-less plane was crashed in Wani area of Shigal district at 05:00 a.m. local time today but caused no loss of life and property," Sayedkhili said.
Taliban militants have claimed of responsibility for shooting down the unmanned plane. However, Sayedkhili rejected Taliban claim as groundless, saying the unmanned plane has crashed due to technical problems. The mountainous Kunar province bordering Pakistan's tribal areas has been the scene of Taliban militants' activities over the past couple of years.
http://www.nation.com.pk/international/26-Apr-2014/hizb-e-isami-shoots-down-unmanned-american-plane
--------------
Afghans brace for another round of voting, bargaining begins
Kabul | April 26, 2014
The leading candidates in the race to become Afghanistan's next president have started lobbying in anticipation of a run-off with final preliminary election results on Saturday expected to show none of the eight runners winning an absolute majority.
Abdullah Abdullah and Ashraf Ghani – both former ministers in President Hamid Karzai's government – share three-quarters of the votes counted so far, but voting trends show that neither will secure the 50 percent needed to win outright.
The expected Abdullah-Ghani run-off would take place at the end of next month.
Ex-foreign minister Zalmay Rassoul, who is running a distant third with 11 percent, and former Islamist warlord Abdul Rassoul Sayyaf, with seven percent, are emerging as the kingmakers headed into the likely second round.
Full report at:
http://indianexpress.com/article/world/asia/afghans-brace-for-another-round-of-voting-bargaining-begins/
--------------
5 NATO soldiers killed in Afghanistan helicopter crash
Apr 26 2014
At least five service members of the NATO-led International Security Assistance Force (IASF) died following a helicopter crash in southern Afghanistan on Saturday.
International Security Assistance Force (ISAF) following a statement said, "Five International Security Assistance Force service members died as a result of a helicopter crash in southern Afghanistan today."
The statement further added, "ISAF is still in the process of reviewing the circumstances to determine more facts. Our thoughts and prayers go out to the family and friends affected by this tragic event."
Full report at:
http://www.khaama.com/5-nato-soldiers-killed-in-afghanistan-helicopter-crash-3609
--------------
Stop terrorism jointly, PM Sheikh Hasina to Saarc countries
April 26, 2014
Prime Minister Sheikh Hasina has reiterated her call to the Saarc member countries for united efforts to stop terrorism, arms smuggling and women and children trafficking and stamp out poverty from the region.
The PM made the urge when cabinet secretaries and officials of equivalent status of Saarc countries called on her at her Gonobhaban residence here on Saturday.
PM's special assistance Mahbubul Hoque Shakil has briefed the reporters after the call.
Hasina has laid importance on dynamism and active initiative of the Saarc top government officials to execute the decisions taken at political leaders' level.
Full report at:
http://www.dhakatribune.com/bangladesh/2014/apr/26/%E2%80%98stop-terrorism-smuggling-poverty-jointly%E2%80%99#sthash.8MjcDRl6.dpuf
--------------
Bangladesh-US relation 'uncomfortable': FM AMA Muhith
April 26, 2014
Bangladesh's relation with the United States is not comfortable at the moment and might slide in the future, Finance Minister AMA Muhith has said.
"They [US] object at everything, but gives nothing," the minister said at a press conference at the secretariat on Saturday hinting at the exports' sector.
"They take away $200m a year from our export as duty charges. They give free access to many countries, but not Bangladesh," he said.
The reason, he hinted, was the politics of Bangladesh and the issue of Grameen Bank.
"Relations with the US might slide in the future because of the January 5 elections and the Grameen Bank issue. I have spoken to a secretary of the US in this regard."
Full report at:
http://www.dhakatribune.com/bangladesh/2014/apr/26/muhith-relation-us-uncomfortable#sthash.lpUC4ltc.dpuf
----------
Africa
Violence claims 44 lives in Nigeria
April 26, 2014
ABUJA: More than 40 insurgents and four soldiers died in clashes between Nigerian troops and Islamists near the scene where scores of abducted girls are believed to be held in the north of the country, the military said.
"The capture of a number of terrorists believed to be the ringleaders of those operating around Alagarmo sparked off a major fight on the outskirts of Bulanbuli, Borno State last night," defence spokesman Major General Chris Olukolade said in a statement.
"Over 40 terrorists died in the encounter while four soldiers lost their lives and nine were wounded," he said in the statement.
Full report at:
http://www.dawn.com/news/1102344/violence-claims-44-lives-in-nigeria
--------------
Tanzania hits 'mid-life' crisis at 50
Apr 26 2014
Dar es Salaam: The east African nation of Tanzania marks its 50th birthday this weekend, but celebrations are being overshadowed by a tussle over the union between the mainland and the islands of Zanzibar.
Tanzania was born in 1964 from the marriage of Tanganyika and the Zanzibar archipelago following their independence from Britain.
It has proved to be an uneasy relationship — with mainlanders determined to maintain national unity but many islanders still resentful over what they say was a shotgun wedding.
The midlife crisis has proved to be an unwelcome distraction for the government of President Jakaya Kikwete, who has been keen to champion the country as a pillar of stability and a future economic giant with large amounts of under-developed land, abundant natural resources such as gold, nickel and Tanzanite, a bustling tourism industry and the recent discovery of offshore natural gas.
Full report at:
http://gulfnews.com/news/world/other-world/tanzania-hits-mid-life-crisis-at-50-1.1324441
--------------
One killed as Moroccan leftists, Islamists clash
April 26, 2014
An Islamist student died and at least two more were wounded in clashes with leftist students at the University of Fez in Morocco, officials and other sources said Friday.
Thursday's clashes began after leftists tried to forcibly prevent the Islamists from holding a round-table discussion on "Islamists, the left and democracy", a journalist in Fez told AFP by telephone.
On one side were partisans of Morocco's ruling Islamist Justice and Development Party and members of the Annahj Dimokrati (Democratic Way) party.
Abderrahim Hasnaoui, 21, died in hospital after being fatally injured in the fighting in which students attacked each other with knives and even swords, the journalist added.
Local officials said four students suspected of involvement in the clashes were arrested late on Thursday.
Full report at:
http://english.ahram.org.eg/NewsContent/2/8/99812/World/Region/One-killed-as-Moroccan-leftists,-Islamists-clash.aspx
--------------
Europe
Counter terror chief warns British Muslims against joining Syria war
Apr 26 2014
LONDON: British Muslims who fight in Syria are crossing a "red line" and will be investigated by police, the UK's counter-terrorism chief warned on Thursday.
Helen Ball, senior national coordinator for counter-terrorism, told The News, she was "very concerned" about the growing numbers of British nationals travelling to fight in Syria alongside extremists who are engaged in a deadly war to de-seat President Bashar Al-Asad. "It's a very serious matter for us, and we are dealing with it on urgent basis."
Helem Ball was speaking to media at the launch of a national appeal, held at New Scotland Yard, for Muslim women to urge their relatives not to fight in the war-ravaged country. On the occasion, a leaflet, which looked like a passport, was also distributed warning against travelling to Syria.
When asked about the percentage of British Pakistani youth travelling to Syria, she said the police don't have statistics yet on the basis of ethnicity of British Muslims.When asked what she meant by the "red line," Helen Ball said: "Fighting full stop and training to fight is likely to lead to a police investigation."
Full report at:
http://www.thenews.com.pk/Todays-News-2-246310-Counter-terror-chief-warns-British-Muslims-against-joining-Syria-war
--------------
French Islamic Conference: Geneva Imam Says 'All Evil' Comes From Jews
Jewish Daily Forward
April 26 2014
A major conference on Islam in Paris featured anti-Semitic speeches, according to a sociologist who listened to the lectures.
The speeches were given "a place of honor" at Wednesday's 31st congress of the Union of Islamic Organizations in France, or UOIF, sociologist Michele Tribalat wrote in the Le Figaro daily Thursday. He singled out a speech by Hasni Ramadan, a prominent Muslim leader from Geneva who spoke before thousands of congress participants.
According to the news site www.europe-israel.org, Ramadan said during his address: "All the evil in the world originates from the Jews and the Zionist barbarism."
The UOIF congress is one of France's largest and most prominent Islamic events.
Ramadan also condemned French Prime Minister Manuel Vals for "publicly wearing a Kippa" while supporting a ban on the wearing of veils by Muslim women in some public areas.
Full report at:
http://forward.com/articles/197102/anti-semitism-rife-at-french-islamic-conference/#ixzz2zzjf4UoI
--------------
Muslims and Christians Religious 'Vigilantes' Threaten Late-Night Drinkers and Women in Short Skirts to 'Cleanse' Country
April 26 2014
A new documentary is the first to look at the Muslim and Christian patrols who pound the streets in the East End of London both of whom claim to represent local people.
London's Holy Turf War shows on one side the Muslim patrol berating people who drink or dress provocatively in the streets while on the other is the Christian patrol, members of a new group Britain First, an offshoot of the splintered English Defence League following the resignation of leader Tommy Robinson.
The Muslim patrol is supported by the controversial Anjem Choudary who wants to see the introduction of Sharia into Britain.
Three of its members were jailed on December 6, 2013. Jordan Horner, a 19-year old Islamic convert who calls himself Jamaal Uddin, pleaded guilty to two charges of assault and two charges of using threatening words and behaviour, was sentenced to 68 weeks' imprisonment. Ricardo MacFarlane, 36, who pleaded not guilty, was sentenced to one year for affray and two years for using threatening words and behaviour.
A 23-year old, who cannot be named for legal reasons, pleaded guilty and received a six-month sentence for affray.
In the documentary Vice News reporter Alex Miller goes on patrol with the patrols and speaks to Choudary and Paul Golding, the leader of Britain First.
Choudary has been associated with a number of organisations that have been proscribed under terrorism laws.
Full report at:
http://www.dailymail.co.uk/news/article-2613778/Holy-Turf-war-Muslims-Christians-clash-Britains-streets-religious-vigilantes-sides-threaten-late-night-drinkers-women-short-skirts-cleanse-country.html#ixzz2zzkRNw1P
--------------
Joining Islamic Conference Could Help Kyiv Defend Crimean Tatars
Apr 26 2014
Mustafa Cemilev, a member of the Ukrainian parliament and leader of the Crimean Tatar movement, says that Kyiv will seek membership in the Organization for Islamic Cooperation (OIC—formerly called the Organization of the Islamic Conference), a move that could help Ukraine rally support in the Muslim world for the recovery of Crimea. That seems especially likely now that the Russian occupying authorities on the peninsula have denounced the Crimean Tatars as extremists, banned any mention of Cemilev, and declared that he will not be allowed to return to Crimea before 2019.
Last Thursday (April 17), Cemilev said that Ukraine wants to become an observer of the Organization of Islamic Cooperation—an organization that unites 57 Muslim-majority countries, has an observer seat at the United Nations, and of which the Russian Federation is already an observer. The Crimean Tatar leader said that he had recently spoken with the OIC secretary general about Kyiv's becoming an associate member given that Moscow already is (islam.in.ua/3/ukr/full_news/14357/visibletype/1/index.html).
Full report at:
The Jamestown Foundation
--------------
Ukraine rebels accuse detained OSCE team of being 'NATO spies'
April 26, 2014
Pro-Russian rebels holding a group of international OSCE observers in eastern Ukraine on April 26 accused them of being "NATO spies" and vowed to continue detaining them.
"Yesterday, we arrested some NATO spies... they will be exchanged for our own prisoners. I don't see any other way they will be freed," Denis Pushilin, the head of the insurgents' self-declared Donetsk Republic, told reporters.
Pushilin was speaking in front of the SBU security services building in rebel-held Slavyansk, where the OSCE team was being held.
The town's self-styled mayor, Vyacheslav Ponomaryov, also told Russian TV news crews that the OSCE members were being considered "intelligence officers of NATO country members".
"Military personnel from Denmark, Germany, Poland, the Czech Republic, Bulgaria I think and -- from somewhere else, I can't immediately recall -- have been detained," he said in broadcasts seen in Moscow.
Full report at:
http://www.hurriyetdailynews.com/-ukraine-rebels-accuse-detained-osce-team-of-being-nato-spies.aspx?pageID=238&nID=65585&NewsCatID=351
--------------
Syria not using chemical arms, claims 'fabricated': Russia
April 26, 2014
MOSCOW : Allegations that Syrian government forces have used toxic chemicals are false, Russia said on Friday, and accused President Bashar al-Assad's foes of fabricating such claims to provoke foreign military intervention.
"Accusations against government forces of supposed cases of the use of poisonous chemicals continue to be fabricated," the Russian Foreign Ministry said, apparently referring to reports of chlorine gas attacks."The latest anti-Syrian chemical hysteria makes one wonder about the true aims of its initiators, who have not stopped their attempts to find a pretext for military intervention in Syria," the ministry said in a statement.
Full report at:
http://www.nation.com.pk/international/26-Apr-2014/syria-not-using-chemical-arms-claims-fabricated-russia
--------
North America
Obama must urge Malaysia to improve human rights, says Amnesty USA
April 26 2014
KUALA LUMPUR, April 26 — US President Barack Obama must pressure Malaysia to improve on its flagging human rights record during his maiden visit to the Southeast Asian country, an international human rights group said.
Amnesty International USA said the president must "send a clear message" to Malaysian authorities that increasing restrictions on free speech and ongoing human rights violations by the police are "unacceptable and incompatible with the country's human rights obligations".
"President Obama's visit to Malaysia — the first of a US President in almost 50 years — offers a crucial opportunity to push the authorities on much needed human rights reforms," said Amnesty International USA director of international advocacy, T. Kumar, in a statement.
The organisation said recent court cases showed clear human rights violations. It cited as examples what it called trumped up sodomy charges against opposition leader Datuk Seri Anwar Ibrahim and the arrest and charges against human rights activist Lena Hendry for screening a documentary on war crimes in Sri Lanka.
Full report at:
http://www.themalaymailonline.com/malaysia/article/obama-must-urge-malaysia-to-improve-human-rights-says-amnesty-usa#sthash.t0p61ojn.dpuf
--------------
9/11 museum film draws heat for portrayal of Islam
Apr 26 2014
NEW YORK — A film that will be shown at the National September 11 Memorial Museum when it opens next month unfairly links Islam and terrorism, clergy members said in letters demanding it be changed.
"The Rise of Al Qaeda," a brief documentary narrated by NBC anchor Brian Williams, shows the growth of international terrorist groups in the years leading up to the 2001 attacks. The film has not been publicly released, but museum officials have screened it for groups including an interfaith clergy advisory panel.
Members of the clergy group sent a letter to museum officials this week asking that the film be re-edited to make it clear that not all Muslims support the terrorists who destroyed the World Trade Center.
Full report at:
http://www.washingtonpost.com/national/911-museum-film-draws-heat-for-portrayal-of-islam/2014/04/24/bcabaa14-cbd2-11e3-b81a-6fff56bc591e_story.html
--------------
Watching developments in Pakistan after attack on Mir: US
Press Trust of India | Washington | April 26, 2014
The US has said it is watching developments in Pakistan after the attack on Geo TV journalist Hamid Mir as it launched an annual press freedom campaign.
"On the Geo TV blocked question, we're aware of these reports and also aware of reports that the information ministry has asked PEMRA (regulatory authority ) to restore transmission. We're continuing to follow events," US State Department spokesperson Jen Psaki said.
"We continue to wish Hamid Mir a speedy recovery and to call on the government of Pakistan to bring all those responsible for these attacks on the media to justice," Psaki said in response to a question.
Full report at:
http://indianexpress.com/article/world/americas/watching-developments-in-pakistan-after-attack-on-mir-us/
--------------
CAIR-MI encourages American Muslims to fight Islamophobia at annual banquet
Apr 26 2014
LIVONIA — The Council on American Islamic Relations of Michigan (CAIR-MI) celebrated its 14th annual banquet, "Faith in Freedom," on Sunday, April 13 at Burton Manor in Livonia.
CAIR has chapters across the United States and is the largest Muslim civil liberties organization in the country. About 800 people attended the event, which highlighted many of the challenges Muslim Americans still face.
British journalist Mehdi Hasan encouraged American Muslims to play a greater role in helping fight the widespread discrimination members in their community still face more than a decade after 9/11.
Full report at:
http://www.arabamericannews.com/news/news/id_8647/cid_1/CAIR-MI-encourages-American-Muslims-to-fight-Islamophobia-at-annual-banquet.html
--------------
Turkish PM Erdoğan's remarks on 1915 events to pave way for reconciliation, US official says
April 26, 2014
Turkish Prime Minister Recep Tayyip Erdoğan's recent statement over the events of 1915 will "open a door to further reconciliation efforts between Turks and Armenians," a senior U.S. official from the State Department said April 25.
"We hope that Prime Minister Erdoğan's acknowledgement of the tragedy suffered by Armenians in 1915 will open the door to further reconciliation efforts between the Turks and Armenians," said Douglas Frantz, assistant secretary of state for public affairs over the statement issued by Erdoğan on April 23 in which he offered condolences to the descendants of Armenians killed during World War I.
Full report at:
http://www.hurriyetdailynews.com/turkish-pm-erdogans-remarks-on-1915-events-to-pave-way-for-reconciliation-us-official-says.aspx?pageID=238&nID=65579&NewsCatID=510
--------------
California Muslims Lobby Lawmakers in Sacramento
Apr 26 2014
This past Tuesday, April 22, almost 200 Muslims from across California held more than 70 advocacy meetings with elected officials and their staff in Sacramento as part of the third annual Muslim Day at the Capitol (MDAC) organized by the California chapter of the Council on American-Islamic Relations.
Participants engaged their legislators on three critical issues in efforts to promote just, equitable and progressive policies within the state:
AB 1976 and AB 330, which are two bills that seek to make college more affordable for incoming students
AB 241 a bill that aims to expand access to health care coverage for all Californians, regardless of immigration status
SB 828, which would ban state agencies, officials, employees and corporations that provide services to the state from supporting federal government agencies including the NSA in collecting electronic data from Californians without a warrant
Full report at:
http://www.cair.com/press-center/american-muslim-news/12458-california-muslims-lobby-lawmakers-in-sacramento.html
--------------
Investigators found 'The Encyclopedia of Jihad' in hook-handed preacher's home: witness
Apr 26 2014
Investigators found "The Encyclopedia of Jihad" when they searched the London home of hook-handed preacher Abu Hamza al-Masri, a former British cop testified Wednesday in his Manhattan terrorism trial.
The violent textbook seized in 2004 included instructions on bombing railroads, recruiting teens for holy war and taking hostages, jurors were shown.
Abu Hamza, 56, is charged with supporting Al Qaeda and the Taliban.
Prosecutors claim he aided a deadly kidnapping of tourists in Yemen in 1998 and plotted to set up a terrorist training camp on a ranch in rural Oregon in 1999.
Jurors also heard Abu Hamza on tape calling Osama Bin Laden "a victim of international bad policies" and "a very great man."
http://www.nydailynews.com/news/crime/cops-found-encyclopedia-jihad-hook-handed-preacher-home-witness-article-1.1767400#ixzz2zzSIFQvz
--------------
Pakistan
Lashkar-i-Jhangvi man killed in encounter; several arrested in Karachi raids
April 26, 2014
KARACHI: Police and Rangers in a combined operation on Saturday killed Qari Naushad, an allegedly key member of outlawed group Lashkar-i-Jhangvi, and arrested three others from Karachi's Lyari Town, DawnNews reported.
The combined operation conducted by police and Rangers personnel was carried out following a tip-off.
During the encounter, an exchange of fire took place between the suspects and security personnel which resulted in the killing of Naushad.
Rangers personnel said that two light machine guns (LMG)s, five sub-machine gun (SMG), two repeaters, six rocket launchers and 186 bullets locally called as awan bombs were recovered from the suspect's possession.
Full report at:
http://www.dawn.com/news/1102438/lj-man-killed-in-encounter-several-arrested-in-karachi-raids
--------------
Imran vows to come out on streets for 'new Pakistan'
April 26, 2014
ISLAMABAD: Pakistan Tehreek-i-Insaf (PTI) chief Imran Khan on Friday said that his party would come out on the streets to stage protests for building a 'new Pakistan,' DawnNews reported.
Speaking to party workers during a ceremony held to mark the 18th anniversary of the PTI's foundation, he vowed to stage protests for 'true democracy' in the country on May 11 – the day Pakistanis observed historic first ever general elections on completion of tenure of a democratically elected government last year.
It should also be mentioned that Allama Tahirul Qadri has also announced a country-wide protest on May 11 next month. Qadri, with thousands of his followers, took to the streets in Islamabad in the run up to the historic May 11 polls demanding sweeping changes to the electoral system of the country.
Full report at:
http://www.dawn.com/news/1102257/imran-vows-to-come-out-on-streets-for-new-pakistan
--------------
At least six killed, two injured in North Waziristan firing
April 26, 2014
MIRAMSHAH: At least six people were killed and two wounded on Saturday during an exchange of fire between two tribal groups over a land dispute in the tribal region of North Waziristan, DawnNews reported.
According to sources, more deaths were feared due to an armed clash between the two tribal groups in the Lowara Mandi area situated in the Dattakhel tehsil of North Waziristan.
The cause of strife between the two groups was said to be over a piece of land.
The area where the incident occurred reportedly lies near the Pak-Afghan border.
North Waziristan is one of the seven regions in Pakistan's Federally Administered Tribal Areas (Fata) governed by tribal laws. An extremist insurgency led by the Tehrik-i-Taliban Pakistan (TTP) plagues the region and the area is known to be infested with militants, including those from Al Qaeda and other armed extremist organisations.
http://www.dawn.com/news/1102437/at-least-six-killed-two-injured-in-north-waziristan-firing
--------------
Only Karachities know where Musharraf is to be dispatched: Saad Rafiq
April 26, 2014
KARACHI- Railway Minister Khawaja Saad Rafiq has said, Pervez Musharraf has reached the banks of sea and where he has to be dispatched through sea passage, is only known to Karachities.
He said this while talking to media men after addressing inauguration ceremony of arrival of nine locomotive engines from China here at Karachi port today. He went on to say that "PPP-MQM alliance always remain on the way to making and breaking. This is not a new thing. This is their third Nikkah," he added. He said that more 9 engines have arrived here out of 58 engines which have been manufactured in collaboration with US and China. Five engines have already reached here and more 23 engines will also arrive within next few months. New locomotive engines are being inducted in Railway after 13 years, he said adding high powered engines which have been received from China will be used in the country for the first time.
Full report at:
http://www.nation.com.pk/national/26-Apr-2014/only-karachities-know-where-musharraf-is-to-be-dispatched-saad-rafiq
--------------
KP asked to check forced conversions
April 26, 2014
PESHAWAR: The federal Ministry for Religious Affairs and Interfaith Harmony has directed the Khyber Pakhtunkhwa Auqaf and religious affairs department to take legal steps for the prevention of forced conversions of religion under the guise of marriages.
Also, the provincial government has been told to increase quota in jobs in its departments for members of religious minorities.
Sources in the provincial religious affairs department told Dawn on Friday that the federal government had approved certain measures for the protection of the minorities' rights and asked all four provinces to ensure its implementation.
The federal government is likely to bring the Hindu Marriage Bill in the National Assembly soon.
Full report at:
http://www.dawn.com/news/1102433/kp-asked-to-check-forced-conversions
--------------
Imran comes out to rescue ISI
April 26, 2014
ISLAMABAD - A day after the Core Committee meeting of Pakistan Tehreek-e-Insaf (PTI) condemned the media bashing of ISI by a TV channel, PTI Chief Imran Khan for the first time publicly came for the defence of intelligence agency saying the criticism on it was unjustified in the aftermath of attack on TV anchor Hamid Mir.
"There is no second opinion that the attack on Hamid Mir is deplorable but eight-hour long media's malicious campaign against Inter-Service Intelligence (ISI) by a TV channel would not have even done by an enemy country," the chairman PTI said this while addressing a party convention on the occasion of the 18th anniversary of the PTI.
"What ever was done with the army and ISI, this might not have been done with the enemy," he also said criticising the media group for protecting its business interests in the name of freedom of expression.
Full report at:
http://www.nation.com.pk/national/26-Apr-2014/imran-comes-out-to-rescue-isi
---------
India
Muslim, Christian groups welcome Congress's sub manifesto on Dalit quota
Rakhi Chakrabarty, TNN | Apr 26, 2014
NEW DELHI: Muslim groups have welcomed Congress' promise to offer scheduled caste status to Dalit Muslims and Christians. The Christian bodies though preferred to wait till the words were translated into action.
In the past ten years, several Muslim and Christian leaders met Prime Minister Manmohan Singh and UPA chairperson Sonia Gandhi urging them for religion-neutral SC quota — as recommended by the Ranganath Mishra Commission — thus allowing Dalit Muslims and Christians access to reservation.
Syed Zafar Mahmood, Zakat Foundation of India president who was OSD to Sachar Committee, said, "It's a bold move though the UPA should have done it while in power. Congress was wary of saffron outfits' reaction to whatever they did for minorities. When Congress faced saffron onslaught, they gave up their presumption that Muslims were an assured constituency."
Full report at:
http://timesofindia.indiatimes.com/home/lok-sabha-elections-2014/news/Muslim-Christian-groups-welcome-Congresss-sub-manifesto-on-dalit-quota/articleshow/34215043.cms?
--------
Yashwant Sinha writes to Nawaz Sharif, calls for security for Hamid Mir
TNN | Apr 26, 2014
NEW DELHI: Former external affairs minister Yashwant Sinha has urged the Pakistani government to provide all protection to TV journalist Hamid Mir, who received bullet injuries in an attack last week. "It would be unfortunate if any harm comes to Hamid Mir or Geo TV on your watch," Sinha said in a letter to Pakistani Prime Minister Nawaz Sharif.
Describing Mir as a "fair and fearless journalist", Sinha said he was at the "forefront of the revival of courageous journalism in Pakistan." "Hamid Mir has alleged he was under threat both from the state and non-state actors and that elements in ISI may have had a hand in this attack."
Sinha also described as a "vindictive and retrograde step" the decision by the ISI and Pak defence ministry to withdraw Geo TV's licence.
On Thursday, Mir issued his first statement after the attack, saying, "I had been facing threats from both state and non-state actors, but some developments in the recent past convinced me to inform my colleagues about the elements who could most likely try to kill me." He went on to allege that the ISI was angry because of his coverage of the Balochistan issue and the criticism of the intelligence agency. "State agencies often use the name of non-state actors to threaten journalists so as to prevent them from speaking or writing the truth," his statement said.
Full report at:
http://timesofindia.indiatimes.com/india/Yashwant-Sinha-writes-to-Nawaz-Sharif-calls-for-security-for-Hamid-Mir/articleshow/34216089.cms
--------------
URL: https://www.newageislam.com/islamic-world-news/new-age-islam-news-bureau/inspired-by-arab-spring,-islamic-jihad's-young-guard-demands-transparency/d/76760