New Age Islam News Bureau
20 February 2021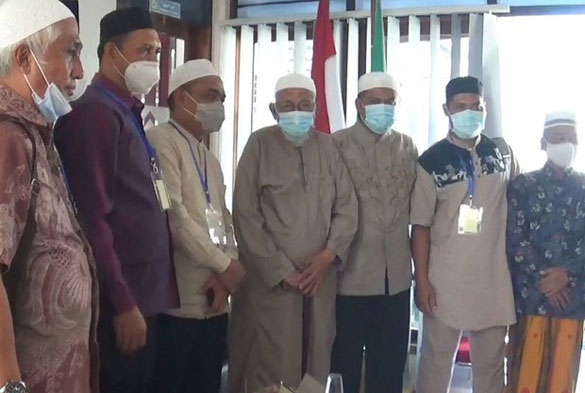 Abu Bakar Bashir (center) meets with school staff members and officials from the National Counterterrorism Agency at his residence at the Al-Mukmin Islamic boarding school in Sukoharjo, Indonesia, Feb. 18, 2021.
------------
• Muslim scholar: Human rights policy needs to focus on religious scholars, not just activists
• India uses envoys' visit to expose Pakistan's terror role
• Islam Stresses Peaceful Coexistence, Social Justice, Equality: CM
• Biden won't change hostile Iran policy in place since 1979: Analyst
• US should consult Taliban on any Afghan pullout delay: Pakistani envoy
• ISIS claims responsibility in killing of 4 Tunisia soldiers, beheading: US monitor
• Turkey urges action against racism on anniv. of Hanau attacks
Southeast Asia
• Indonesia: Radical Cleric Rejects Violence, Denies Role in Bali Bombings
• Singapore, Indonesia say ASEAN can play important role in Myanmar
• Indonesian prosecutor wants 10 years for cleric's attacker
--------
Arab World
• Muslim scholar: Human rights policy needs to focus on religious scholars, not just activists
• Will Northeastern Syria Turn Into A Stand-Off Between The U.S. and Turkey?
• Lebanon: UN seeks funds to extend tribunal investigating Rafik Hariri assassination
• Beirut blast victims' families protest after lead investigator removed from role
• Saudi Arabia to invest over $20 bln in domestic military industry over next decade
• Arabic Language classes record enrollment surge amid COVID-19 pandemic: UAE experts
--------
India
• India uses envoys' visit to expose Pakistan's terror role
• Metro man's first salvo: Hindus being tricked into marriage by 'love jihad'
• Mosque In UP's Gorakhpur Found Vandalised, Cops Deployed: Police
• Case filed to remove mosque next to Kashi Vishwanath temple in Varanasi
• 2 cops shot in Valley; 3 Badr terrorists killed
• Indo-Pak Peace Calendar 2021 to be launched virtually on Feb 21
• Ahmedabad: Anti-Terrorist Squad arrests Mumbai man in Rs 1-crore drug case
--------
Pakistan
• Islam Stresses Peaceful Coexistence, Social Justice, Equality: CM
• Malala questions Imran Khan, Pak Army over threatening post by Taliban terrorist
• Pakistani American venture capitalist gets 12 years imprisonment
• 'Caught red-handed': Maryam claims votes stolen in Wazirabad by-election for PTI
• Pakistan committed to Afghan peace process, says Bajwa
• Five soldiers martyred in South Waziristan attack
--------
North America
• Biden won't change hostile Iran policy in place since 1979: Analyst
• US, Pakistan military officials meet over troop withdrawal from Afghanistan
• Biden says US, Europe must address Iran's 'destabilizing activities' in Middle East
• US informed Israel ahead of Iran policy announcement: Report
• Pentagon says no decision made yet regarding US troops withdrawal from Afghanistan
• US reporter held by al-Qaida-linked group in Syria released
--------
South Asia
• US should consult Taliban on any Afghan pullout delay: Pakistani envoy
• NATO chief urges Afghan govt, Taliban to step up peace talks
• Myanmar's minorities show unity against coup after protester dies
• US calls on Taliban to end violence in Afghanistan
• Afghan police: 3 separate Kabul explosions kill 5, wound 2
• Bangladesh's Chittagong Archdiocese gets new archbishop
--------
Mideast
• Iran reacts to US talks offer: Lift sanctions before we reverse nuclear actions
• Rouhani Asks EU to Stand against US Bullying Policies
• Dozens of Palestinians injured by Israeli forces in West Bank
• US will continue to dissuade countries from selling arms to Iran
• Equatorial Guinea set to move embassy to Jerusalem al-Quds
• Battle for Ma'rib: Yemeni army, allies make big advances on eastern front
• Independence-seeking Yemen will never accept guardianship of US, Israel, Saudi Arabia: Houthi
--------
Africa
• ISIS claims responsibility in killing of 4 Tunisia soldiers, beheading: US monitor
• Algeria frees imprisoned journalist, pro-democracy activists
• Sudanese refugee kills French immigration official after asylum request rejected
• Jordan says troops kill two drug smugglers on border with Syria
• Morocco suppressing activists in Western Sahara after deal with Israel
• Gunfire erupts in Mogadishu as Somali government forces seal off streets
• At least 18 killed in attacks in Burkina Faso and Mali
• Algeria trial opens over kidnapping and murder of French tourist
--------
Europe
• Turkey urges action against racism on anniv. of Hanau attacks
• BBC unapologetic to Muslims but acknowledges concerns
• Teen, 16, arrested on suspicion of terrorism offences in Derbyshire
• Bestselling new book tells story of Europe's forgotten Muslims
Compiled by New Age Islam News Bureau
URL: https://www.newageislam.com/islamic-world-news/indonesia-radical-cleric-rejects-violence/d/124358
--------
Indonesia: Radical Cleric Rejects Violence, Denies Role in Bali Bombings
2021-02-18
Cleric Abu Bakar Bashir on Thursday denied that he knew about the 2002 Bali bombings ahead of time and said he opposed violence in Islam's name, as counterterrorism officials visited him as part of their monitoring of former terrorist inmates.
The elderly Bashir spoke to officials from the National Counterterrorism Agency (BNPT) as they dropped by at his home in Sukoharjo, Central Java, for the first time since his release last month after serving a decade in prison on terror-related charges. His lawyer, Achmad Michdan, said Bashir told the officials he had never supported acts of violence in the name of religion.
"What are you afraid of? I will not carry out a bombing, I will never carry out a bombing," Michdan quoted Bashir as saying.
The 82-year-old radical cleric had no prior knowledge of the 2002 Bali bomb plot and claimed that no one told him about it or asked for his permission, Michdan said.
"The Bali bombing is straightforward, if they had told me or I found out, for sure I would have said no," Bashir said, according to his lawyer.
Bashir, who co-founded Jemaah Islamiyah (JI), the al-Qaeda-linked group blamed for deadly attacks in Indonesia in the 2000s, was freed from prison on Jan. 8 after serving nearly 10 years of a 15-year sentence for funding a militant training camp. Authorities cut 55 months off his term for good behavior.
JI was blamed for the October 2002 twin bomb attacks on Bali Island that killed 202 people. Most of the victims of Indonesia's deadliest terrorist attack to date were foreigners, including 88 Australians.
When he received the news of Bashir's release in January, Australian Prime Minister Scott Morrison said his nation would have to respect the Indonesian justice system's decision.
"[T]his is very distressing to the friends and families of the Australians, the 88 Australians who were killed in the Bali bombings of 2002. I still remember that day very vividly, like I'm sure many Australians do," he said, according to an official transcript.
Australians have called Bashir the alleged mastermind of the Bali bombings even as the U.S. Justice Department noted in 2005 that he was acquitted of a terrorism charge related to the attack.
Morrison said that he and his predecessors had always called for the perpetrators of the Bali bombings "to face tougher, proportionate and just sentences in these cases."
However, Bashir's release was a matter of the Indonesia's justice system, Morrison said.
"We have made clear through our Embassy in Jakarta the concerns we have that such individuals be prevented from further inciting others," the PM added.
While Indonesian prosecutors could not link Bashir to the bombings, a Jakarta court found him guilty of falsifying documents and sentenced him to 18 months in prison. The conviction was dismissed after an appeal.
He was arrested in 2010 and sentenced in 2011 to 15 years on charges that he had helped fund a training camp for Islamic militants in Aceh province and incited extremists to carry out terrorist attacks.
Bashir: Pancasila 'good'
During the one-hour meeting with Bashir, Irfan Idris, BNPT's director for de-radicalization asked the cleric for his opinion about the state ideology known as Pancasila, to which Bashir replied that it was "good."
"Pancasila has elements of monotheism, acknowledging that there's one and only God. It would be better if the law is also God's law, Islamic law," Bashir said.
But while he was in prison, Bashir refused to take part in deradicalization programs or pledge allegiance to the state.
BNPT's head of community development, Col. Salahuddin Nasution, said the visit was in line with the agency's task of monitoring former terrorism convicts.
Indonesia has no law that forces terrorism convicts to follow a de-radicalization program, Nasution said.
"There is no compulsion for convicts to accept deradicalization programs but guiding them is our job. So we stay in touch with them and monitor them. That they accept us is a good thing," he said.
Michdan said Bashir was planning to visit BNPT and meet with its director, Boy Rafli Amar, to share views about fighting terrorism in Indonesia.
Irfan said the agency would open its doors for Bashir.
'A victim of false information'
Authorities had also accused Bashir of pledging allegiance to the Islamic State extremist group in 2014, but his spokesman said at the time that the cleric was merely expressing support for the creation of an Islamic caliphate in Indonesia, the world's most populous Muslim-majority nation.
A photo of Bashir sitting with known Islamic State followers in a prison against the backdrop of the IS flag circulated online at that time.
His son, Abdul Rohim, said that his father's views had softened after discussions with family members and that he had received no visits by people known to harbor radical views.
He said Bashir had been misled into believing that the IS was a force for good.
"As we've always said, he was a victim of false information," Rohim told BenarNews.
Last week, Bashir visited Gontor and Tebuireng, two of the most well-known moderate Islamic boarding schools in his hometown in Jombang, a regency in East Java province, where he prayed at the graves of clerics. Bashir himself is an alumnus of Gontor.
Rohim said the visit was part of the family's commitment to distance Bashir from radicalism.
"This is also for the sake of re-establishing relationships that have been cut off for a long time," Rohim said.
Tebuireng spokesman Teuku Azwani confirmed that Bashir had visited the boarding school and met with its caretaker, cleric Abdul Hakim Mahfudz.
"He came with his son and the conversation revolved around how they were doing," Azwani told BenarNews.
According to a terrorism analyst at Malikussaleh University in Lhokseumawe, Al Chaidar, Bashir's trips to the boarding schools should be no cause for concern.
"He's old and he wanted to visit his old school and his friends," he told BenarNews.
And while Bashir remains a believer in establishing an Islamic state, he appears to have eschewed violence, said Muhammad Taufiqurrohman, a researcher at the Center for Radicalism and Deradicalization Studies (PAKAR).
"Muslims of the world must unite under one leadership, the caliphate. There should be no mass organizations and no political parties," Bashir told his congregation in a recorded January sermon heard by BenarNews.
Taufiqurrohman said he believed that Bashir no longer recognized IS as the true caliphate by acknowledging that there was no single Islamic state in the world.
"I think his trips were intended to convey the message of unity," Taufiqurrohman told BenarNews.
https://www.benarnews.org/english/news/indonesian/cleric-visit-02182021165002.html
--------
Muslim scholar: Human rights policy needs to focus on religious scholars, not just activists
February 16, 2021
By Dr. James M. Dorsey
A prominent Muslim scholar has warned that the West's failure to include the incarceration in Saudi Arabia and elsewhere in the Muslim world of pro-democracy religious scholars risks perpetuating autocratic rule.
"The world manufactures the condition that it condemns. We don't rise up to condemn the persecution of Muslim democrats when it occurs, and we don't go out of our way to protect Muslim democrats. In fact, there is a deeply embedded hypocrisy when it comes to the Muslim world," said Khaled Abou el Fadel, a Kuwait-born University of California Los Angeles (UCLA) Islamic law professor and human rights activist.
Mr. Abou el Fadel was speaking at a virtual conference, organized by the Washington-based Arab Center for Law and Research to focus attention on Sheikh Salman al Oudeh, a popular but controversial religious scholar, who is one of several religious figures incarcerated since 2017 on terrorism-related charges. Saudi prosecutors have demanded the death sentence for Mr. Al-Oudeh.
The conference was held days after prominent Saudi women's rights activist Loujain al-Hathloul was released after more than three years in prison as part of the kingdom's effort to blunt criticism from the Biden administration that has pledged to make human rights a central plank of its foreign policy.
Mr. Al-Oudeh was detained after he called in a tweet to his millions of followers for reconciliation with Qatar in the wake of the economic and diplomatic boycott imposed by Saudi Arabia, the United Arab Emirates, Bahrain and Egypt on the Gulf state.
A long-standing Islamist proponent of reform in Saudi Arabia with an affinity for the Muslim Brotherhood, Mr. Al-Oudeh has been in and out of prison as his thinking evolved from a degree of support for jihadism against foreign occupation to becoming a key figure in the government's efforts to rehabilitate militants and steer youth away from militancy.
In the wake of the 2011 popular Arab revolts that toppled the leaders of Tunisia, Egypt, Libya and Yemen, Mr. Al Oudeh became a proponent of peaceful revolution to achieve social and political change, the importance of civil society, humanist interpretations of Islam, contextualization of Islamic law, rejection of theocracy, pluralism as opposed to sectarianism, minority rights, and democracy.
He laid out his thinking that was grounded in Islamic tradition in a book, Aislat al-Thawra (Questions of Revolution), that was immediately banned in Saudi Arabia. Mr. Al-Oudeh was initially barred from leaving the kingdom and delivering sermons in mosques while his popular television program was shut down.
Critics charged that Mr. Al-Oudeh's thinking represented a fusion of Western principles with his Salafist background rather than a break with the ultra-conservative school of thought. They also asserted that the scholar vacillated between silence and reconciliation on issues of gender and minorities such as Shiites.
Mr. Abou el Fadel, who has rejected repeated Saudi attempts to co-opt him, positioned the importance of thinkers like Mr. Al-Oudeh and the need to include them in Western support of human rights in Saudi Arabia and elsewhere in the Middle East in the context of a sustained autocratic campaign to suppress any call for political change that is rooted in Islamic theology.
"There is a well-orchestrated, systematic assault against all forms of theological thinking in Islam that is supportive of reconciling Islamic theology and ethics with democratic governance, accountability in governance, limited power in governance, rule of law in governance, and a system of rights… The only democracy that can survive in the Islamic world is a democracy that reconciles itself with Islamic values. The idea that a democracy that is antithetical to Islamic values has no future in the Muslim world," Mr. Abou el Fadel said.
"Those that rule countries like Egypt, Saudi Arabia, Bahrain and the Emirates know that very well. And that is why…they are targeting the ideological thrust of democracy itself. We must recognize that the idea of political despotism as an unethical enterprise is well supported in the Islamic tradition… But it was always recognized as a rather unideal situation, an ethical failure that can be tolerated, but an ethical failure nonetheless," he went on to say.
Targeting Middle Eastern projections of a 'moderate' Islam that propagates absolute obedience to the ruler, rejects political change, and endorses authoritarian, if not autocratic rule, Mr. Abou el Fadel argued that "there is no way to reconcile between despotism and monotheism and tawhid (the oneness of God). The very notion of tawhid, the very notion of being a Muslim and submitting to God means that you cannot submit to a mundane ruler absolutely and totally. No mundane ruler has a moral claim to represent the rule of God."
"It is why the persecution of Salman al Oudeh must end. It is a blotch on the conscience of the world. The world of human rights, the world of democratic advocacy will remain in a perpetual state of hypocrisy as long as people like Salman al Oudeh remain in prison and confront a very dark future," Mr. Abou el Fadel said.
By implication, Mr. Abou el Fadl was arguing that Western governments and activists were doing themselves a disservice by not putting equal emphasis on getting secular civil society activists and religious dissidents sprung from jail.
To be fair, human rights groups like Human Rights Watch, Amnesty International, ALQST, and Democracy in the Arab World Now (DAWN) have highlighted the plight of Mr. Al-Oudeh and other religious figures. Mr. Abou el Fadel serves on an advisory board of Human Rights Watch.
Founded by murdered Saudi journalist Jamal Khashoggi, DAWN counts Mr. Al-Oudeh's son, Abdullah Aloudh, a Washington-based scholar, among its senior executives.
While Western governments, including the Biden administration, have largely remained silent, analysts and activists appear at times to diverge on what the emphasis of human rights pressure on Saudi Arabia should be.
Saudi Arabia scholar Madawi al-Rasheed recently took issue with a suggestion by Bruce Riedel, a Brookings Institution scholar, former CIA official and ex-advisor on South Asia and the Middle East to several US presidents, to focus in the wake of the release of Ms. Al-Hathloul on the plight of former Saudi crown prince and interior minister Mohammed bin Nayef.
Prince Mohammed, a US darling widely viewed as a potential threat to Crown Prince Mohammed bin Salman, was arrested a year ago on charges of treason and has been held incommunicado since.
"Bruce Riedel forgets the abysmal human rights record of MBN who consolidated the Saudi police state that MBS came to benefit from. Instead of calling for putting him on trial, he wants him free," Ms. Al-Rasheed tweeted. She was referring to the two Saudi princes by their initials.
In a separate tweet, Ms. Al-Rashid added: "No piecemeal progress on the plight of prisoners of conscience – all prisoners of conscience mean all prisoners."
https://moderndiplomacy.eu/2021/02/16/muslim-scholar-human-rights-policy-needs-to-focus-on-religious-scholars-not-just-activists/
--------
India uses envoys' visit to expose Pakistan's terror role
Feb 20, 2021
NEW DELHI: The visit by 24 foreign envoys to Jammu & Kashmir was meant to allow the diplomats to witness, first-hand, J&K's march on the path of inclusive development and the "dynamism in grassroots democratic institutions" following the successful conduct of local elections, the ministry of external affairs said after conclusion of the visit.
In a statement, the MEA said the envoys visited the Chinar Corps headquarter in Srinagar where they got a briefing on the prevailing security situation, including external threats, in J&K. India has also used the visit by foreign envoys to counter the campaign by Pakistan to corner India over alleged human rights violations and to expose Pakistan's support to cross-border terrorism. The government said there was an enhanced interest in the ongoing political and democratic process, including strengthening of grassroots democracy in J&K.
"Both in Srinagar and Jammu, the group interacted with representatives from civil society, including youth from different ethnic, religious and socio-economic communities, local business and political members, civil administration and representatives of mainstream media," the MEA said, adding that the visiting envoys were also made aware of the new industrial policy of J&K and were invited to take part in the economic growth and development of UT. An EU official said the EU had taken note of recent steps like election of district development councils and the resumption of 4G internet services. He said the right to freedom of expression online and offline was a key value for all democracies. "The visit presented a chance to see the situation on ground and interact with local interlocutors, as part of EU's outreach to all stakeholders. We look forward to continuing our dialogue with India on this," he said.
https://timesofindia.indiatimes.com/india/india-uses-envoys-visit-to-expose-pakistans-terror-role/articleshow/81120162.cms
--------
Islam Stresses Peaceful Coexistence, Social Justice, Equality: CM
Muhammad Irfan
19th February 2021
LAHORE, (UrduPoint / Pakistan Point News - 19th Feb, 2021 ) :Punjab Chief Minister Sardar Usman Buzdar has said that islam stressed peaceful coexistence, social justice and equality as the Holy Prophet Hazrat Muhammad (PBUH) had given the message of ensuring justice with everyone.
In his message on World day of social justice to be observed on February 20 (Saturday), the CM regretted the oppressed Kashmiris were facing the worst conditions due to socio-economic injustices perpetrated by the Indian government in Occupied Jammu & Kashmir.
India had made the lives of the Kashmiris miserable and it was the worst example of social injustice that Kashmiris were continuously deprived of even the basic facilities of life, he deplored.
The societies lacking social justice and equality fade away, the CM observed and said the PTI government was the torch-bearer of social justice as a society based on justice and equality was imperative for composite development, he continued. Similarly, the government had prioritised ensuring justice for establishing a better society and a composite policy was being followed by the government in this regard, he added. The purpose of celebrating this day was to highlight the importance of social justice, concluded the CM.
https://www.urdupoint.com/en/pakistan/islam-stresses-peaceful-coexistence-social-j-1172944.html
--------
Biden won't change hostile Iran policy in place since 1979: Analyst
20 February 2021
The United States has been pursuing a hostile policy toward Iran since the Islamic Revolution of 1979 and the administration of President Joe Biden is unlikely to change that approach, says an American author and political commentator.
The United States has been locked in a standoff with Iran over the fate of the historic 2015 nuclear agreement, which it unilaterally withdrew from under former president Donald Trump. Trump also reimposed the sanctions that were lifted by the deal and unleashed what his team called a "maximum pressure campaign" with the stated objective of forcing Iran to negotiate "a better agreement."
Trump's successor, Biden, has expressed a willingness to return to the nuclear accord, formally called the Joint Comprehensive Plan of Action (JCPOA). However, his administration is demanding to see changes from Tehran before Washington considers lifting the sanctions. Iranian officials insist that as the party that has abandoned its international obligations; the US should take the first step by removing the unlawful bans in a manner that could be verifiable by Tehran.
Foreign Minister Mohammad Javad Zarif has said that despite the shift in rhetoric, the Biden administration has essentially maintained the maximum pressure policy of the Trump team. "It has been a month now that the Biden administration has been continuing Trump's 'maximum pressure' policy of lawlessness, one-upmanship, and bullying," he said on Wednesday.
"Now Mr. Zarif knows full well that this is not just a continuation of Trump (and Pompeo's policy) but a continuation of Reagan, Carter, Clinton, Bush, Obama AND Trump's policy," John Steppling told Press TV in an emailed interview. "Not much has changed, really, since the revolution. There was cosmetic reshuffling of memes and optics, but little of substance has changed. The embargo began in 1995."
In a move that US officials framed as a significant step toward reviving diplomacy with Iran, the Biden administration on Thursday appeared to be backing away from a Trump administration effort to restore international sanctions on Iran.
Acting US Ambassador Richard Mills told the UN Security Council on Thursday that the United States was withdrawing a Trump administration assertion that all UN sanctions had been reimposed on Iran in September.
However, the move was largely symbolic as the Islamic Republic, along with the European signatories and the UN secretary general, had already dismissed the Trump administration's claim as unfounded, arguing that the United States was in no position to invoke a provision in the 2015 Security Council resolution endorsing the JCPOA that allowed the "snapback" of sanctions because it was no longer a party to the multilateral agreement.
Foreign Minister Zarif urged the Biden administration on Friday to match its words with action and unconditionally lift all the sanctions imposed by the Trump team. "US unconditionally & effectively lift all sanctions imposed, re-imposed or re-labeled by Trump," he said in a tweet. "We will then immediately reverse all remedial measures."
Leader of the Islamic Revolution Ayatollah Seyyed Ali Khamenei has asserted that the Islamic Republic would only return to its commitments in the nuclear deal once the illegal sanctions were removed.
Following the US withdrawal in May 2018, Iran waited for an entire year for the European signatories to the JCPOA to hold up their end of their bargain and secure Iranian business interests guaranteed by the deal in the face of US sanctions. However, as the Europeans failed to deliver under US pressure, Tehran began to scale back its commitments in several phases in retaliation.
The White House said on Friday that the administration would take to additional actions before negotiations with Iran and world powers about a possible US return to the nuclear agreement. "There is no plan to take additional steps" in advance of having a "diplomatic conversation," White House spokeswoman Jen Psaki told reporters.
"What does the US hope to get out such policy? I think the answer is that they don't really know. They simply know that Iran is 'uncooperative.' And any country who dares to disobey American diktats will be disciplined," Steppling said. "Iran is not going all along with the program the way KSA or the UAE is, or the NATO countries."
He said Iranian leaders know that the Biden administration will not simply change the hostile policy toward Iran that has been in place since the Islamic Revolution, which overthrew the US-backed Pahlavi monarchy in the country.
Since 1979, Steppling said, the United States has engaged in a treacherous propaganda campaign to blame Iran for "the worsening of relations."
"This is very typical of how propaganda works. Decontextualize facts. Omit key elements, and erase history," he noted. "It's funny how Iran is blamed for human rights abuses but Saudi Arabia and Israel are not. Or the US itself. The real reason is buried in there, however; Iran's growing influence. What is not listed is how the US fears any regional power, and by extension how Israel fears it."
Steppling noted that that the United States and its allies have been recalibrating their policy in the Middle East to fit in more broadly with their imperialist agenda in the 21st century, adding that Iran stood in the way of that agenda.
"Iran will be on the side of Russia, of course. And this scares the US," he explained. "Iran is closer to Africa, geographically, and that's dangerous because Africa is the big jewel in the 21st century Colonial crown."
"It's really a new scramble for Africa. They have more minerals and resources than any other place on earth. Africa in many ways is the future," he concluded.
https://www.presstv.com/Detail/2021/02/20/645651/Biden-not-change-hostile-Iran-policy-
--------
US should consult Taliban on any Afghan pullout delay: Pakistani envoy
FEB 19, 2021
The United States should consult the Taliban on any extension of a May 1 deadline for a full US troop pullout from Afghanistan and should not decide unilaterally, the Pakistani ambassador to the United States said on Friday.
Ambassador Asad Majeed Khan's comments come as the Biden administration conducts a review of a February 2020 deal with the Taliban that is expected to determine whether it will meet the deadline to withdraw the last US soldiers from America's longest war.
US and European officials say the Taliban have not fulfilled commitments they made in the accord and that conditions are not conducive to advancing the peace process amid a surge in violence blamed on the insurgents.
The Taliban, seeking to reimpose Islamic rule in Afghanistan after their 2001 ouster at the hands of US-led troops, deny the charges and indicate they will resume attacks on US and allied troops unless the May deadline is kept.
Khan told an online forum sponsored by the Stimson Center that US officials should consult the Taliban before deciding whether to maintain the last 2,500 US troops in Afghanistan.
"That is where the process should start," Khan said. "To present this as a fait accompli, I think, will only create difficulty."
Khan's comments were significant as Pakistan, which helped facilitate the US-Taliban negotiations in Doha that clinched the February 2020 deal, wields considerable influence with the insurgents.
The insurgents have sanctuaries in Pakistan, whose main military-run intelligence service gives them support, according to US and Afghan officials. Pakistan denies the allegation.
"If there is strong justification and reasoning to have an extension for logistical or other reasons, the parties have overcome difficulties ... before in terms of reaching common ground," Khan said. "It's really also a question of the credibility of the United States."
https://www.hindustantimes.com/world-news/us-should-consult-taliban-on-any-afghan-pullout-delay-pakistani-envoy-101613755088082.html
--------
ISIS claims responsibility in killing of 4 Tunisia soldiers, beheading: US monitor
19 February ,2021
The ISIS group has claimed responsibility for the February 3 killing of four soldiers in a rugged region of central Tunisia, SITE Intelligence Group reported.
The US monitor of extremist groups said late on Thursday that the soldiers were killed in three blasts ignited by its fighters near Mount Mghila and that a "spy" was beheaded separately by ISIS.
The defense ministry announced the losses the same day, saying the soldiers in "a military unit tasked with carrying out a combing operation of Mount Mghila looking for terrorist elements were killed by a mine" explosion.
Mount Mghila, near the border with Algeria, is adjacent to Mount Chaambi, which is considered a hideout for extremists.
Prime Minister Hichem Mechichi said the incident "will not stop us from pursuing our efforts to fight and defeat terrorism."
ISIS also said in its Al-Naba digital newspaper that extremists executed a spy for the army on December 20 near Mount Selloum in the Kasserine region, also central Tunisia.
Authorities said at the time that the victim was a 20-year-old man named Oqba al-Dhibi, identified on local radio as a shepherd tending his flock when he was attacked.
Tunisia has seen a surge in extremist violence since veteran president Zine El Abidine Ben Ali was ousted in the country's 2011 revolution.
Dozens of members of the security forces have since been killed in extremist attacks.
The army has been battling militants in the Kasserine area since 2012.
Tunisia's central mountains are also a hideout for a local branch of extremist group Al-Qaeda in the Islamic Maghreb (AQIM).
https://english.alarabiya.net/News/north-africa/2021/02/19/ISIS-claims-responsibility-in-killing-of-4-Tunisia-soldiers-beheading-US-monitor-
--------
Turkey urges action against racism on anniv. of Hanau attacks
19 February 2021
Turkey has called on Europe to take action against racism, xenophobia, and Islamophobia, as the country is set to mark one year since terrorist attacks in Germany's western city of Hanau.
"The ruthless attack in Hanau has shown that racism, xenophobia, and Islamophobia need to be addressed in a much more effective and serious manner and it is about time to enhance international cooperation in this regard," Turkish Foreign Minister Mevlut Cavusoglu said in a statement on Friday.
He said Turkey expected Germany to finalize the investigation into the Hanau attacks in a fair and speedy manner.
Cavusoglu urged all European countries to embrace the principles of peaceful coexistence and not remain silent in the face of xenophobia, Islamophobia, and racism.
"Turkey is ready to display international and bilateral cooperation against all types of racism and xenophobia," he said.
He said authorities needed to refrain from the far-right and populist political rhetoric that boosts xenophobia, Islamophobia, and racism in Europe.
In February last year, two shootings targeted locations in Hanau, about 20 kilometers (12 miles) from Frankfurt, leaving at least nine people dead and five others injured.
The victims were young members of Germany's minority Turkish community who had been targeted by rising Islamophobia inside the country.
In the wake of the attacks, Muslim groups demanded that the German government offer their community more protection. They have faced a growing threat from far-right groups in recent years.
Even as a year has passed since the attacks rocked Germany, the Turkish community still lives in fear.
"These attacks need to end now," Cavusoglu said. "Otherwise, this sick mentality will not only pose a threat to foreigners and Muslims but everyone."
The Turkish foreign minister said that politicians had a tremendous responsibility to make sure that populist, racist, and anti-migrant rhetoric does not take European politics hostage.
"We can only solve this issue through cooperation and by taking determined steps," he said, adding that Turkey would continue to stand by its citizens living abroad.
This comes as Turkish Deputy Foreign Minister Yavuz Selim Kıran is set to attend a ceremony in Hanau to express solidarity with the victims of the attacks last year.
The event is limited to 50 participants due to the ongoing COVID-19 pandemic. German President Frank-Walter Steinmeier will also be present at the event.
Speaking on the eve of the anniversary, German Foreign Minister Heiko Maas said that the attacks could have been avoided considering the information gathered by domestic intelligence in the years before.
He said more than 33,000 right-wing extremists lived in Germany, 13,000 of whom were willing to use violence, and the trend is rising.
"Why aren't we all hearing alarm bells?" he asked. "And how can it be that the bereaved are still complaining about the disrespect and bureaucratic coldness they face from the authorities?"
Maas also spoke of "everyday racism in governmental and municipal offices, in shops, in schools, buses, and trains," which must be stopped.
Germany has been targeted in recent years by several extremist attacks, one of which killed 12 people in the heart of Berlin in December 2016.
But far-right attacks have become a particular concern for German authorities. The increase in hate crimes in recent months has prompted the country to expand a crackdown on right-wing political violence.
https://www.presstv.com/Detail/2021/02/19/645618/Turkey-Hanau-attacks-Germany-Islamophobia
--------
Southeast Asia
Singapore, Indonesia say ASEAN can play important role in Myanmar
February 18, 2021
SINGAPORE: The foreign ministers of Singapore and Indonesia believe the Association of Southeast Asian Nations (ASEAN) can play an important role in encouraging dialogue and a return to normalcy in Myanmar, the city-state's foreign affairs ministry said.
The statement was issued after Indonesia's minister of foreign affairs Retno Marsudi met her counterpart Vivian Balakrishnan in Singapore on Thursday.
The pair discussed possible next steps for the 10-member ASEAN to address the situation in Myanmar, where the elected government of Aung San Suu Kyi was overthrown in a coup on Feb. 1.
"They also expressed strong support for a proposed informal ASEAN ministerial meeting on Myanmar to be convened as soon as possible, to facilitate a constructive exchange of views and identify a possible way forward," according to the statement.
Myanmar is a member of ASEAN and the statement said the talks covered how the bloc "could foster inclusive dialogue with all key stakeholders, including its external partners."
Retno's Singapore visit comes after she met with Brunei's Sultan Hassanal Bolkiah on Wednesday to urge the ASEAN chair country to back dialogue among member states on Myanmar. Malaysia has also been calling for a special meeting.
Arranging a meeting could be a challenge, however, given ASEAN's policy of non-interference in its members' domestic issues and their contrasting responses to the army takeover.
Singapore's Balakrishnan spoke out on Tuesday about "alarming developments" in Myanmar but said he did not support widespread sanctions on the country in response to a coup there as these could hurt ordinary citizens.
The United States and Britain are among countries that have announced or threatened sanctions in response to the Myanmar coup.
https://www.arabnews.com/node/1811541/world
--------
Indonesian prosecutor wants 10 years for cleric's attacker
Katharina R. Lestari
February 19, 2021
Prosecutors in Indonesia have sought a 10-year jail term for a man accused of attempting to kill a 44-year-old Saudi-born Muslim cleric last year.
Alpin Andrian, 24, allegedly stabbed Syekh Ali Jaber in the shoulder while he was delivering a sermon on Sept. 13 last year at a mosque in Bandar Lampung, the largest city in Lampung province.
Police said Andrian would likely have killed the cleric had he not been restrained by several worshippers.
Attempted murder carries a maximum prison sentence of 20 years in prison or even the death penalty.
However, chief prosecutor Abdullah Noer Deny told judges during a virtual hearing at the Tanjungkarang District Court in Bandar Lampung on Feb .18 that Andrian should only serve 10 years.
Stories Transform Lives
This was because the defendant had shown remorse and apologized to the victim, he said.
The relatively light sentence recommendation came as a surprise to many as footage of the attack went viral on social media, drawing widespread condemnation.
Police said the motive for the attack still remains unclear as there were no signs Andrian was suffering from mental illness despite claims from his family he was mentally unstable.
Azas Tigor Nainggolan, a Catholic lawyer and coordinator of the Indonesian bishops' Advocacy and Human Rights Forum, said the proposed sentence "was too light."
"A sentence aims to stop a crime and provide a deterrent effect. Recommending too low a sentence sends out the wrong signal," he told UCA News.
However, judges can choose to ignore prosecutors and impose a heavier punishment if the evidence warrants it, he said.
The attacker had a knife in the footage. "This indicates the attack was premeditated."
Ardiansyah, the defendant's lawyer, claimed the prosecutor's sentence demand was too harsh, saying his client only meant to wound the cleric.
If he had meant to kill him, his client would have aimed for one of his vital organs, he said, adding the crime only warranted a maximum five-year term.
The victim, however, will not be able to testify at the trial. The prominent cleric died in Jakarta on Jan. 14 following a 19-day battle against the coronavirus.
https://www.ucanews.com/news/indonesian-prosecutor-wants-10-years-for-clerics-attacker/91478
--------
Arab World
Will Northeastern Syria Turn Into A Stand-Off Between The U.S. and Turkey?
February 20, 2021
By Ahmad al-Khaled
Last November, the U.S. saw a rather dramatic presidential election that put a lot at stake and in many ways was supposed to determine the vector of Washington's foreign policy.
The new American administration under the Joe Biden leadership has repeatedly signalled its intention to introduce a number of adjustments to the current situation in the Middle East, recast the shape of relations with regional powers such as Iran and Turkey, and reinvigorate cooperation with the Kurdish-dominated Autonomous Administration of the North and East Syria (AANES), the U.S. main ally in Syria.
Needless to say, the White House's ambitious endeavors did not receive a universal welcome in the region. The main obstacle is the Turkish authorities who, unlike Washington, show zero desire for changes in its policy towards the Syrian Kurds. The AANES military wing, the Syrian Democratic Forces (SDF), incorporates the Kurdish People Protection Units (YPG), an entity that Ankara considers to be affiliated with the Kurdistan Workers Party (PKK) listed as a terrorist organization in Turkey. In this regard, the rising power of the SDF, albeit under the protectorate of the U.S., runs counter to the interests of Turkey and poses a serious threat to its national security as routinely stated by Turkish officials.
Ankara's controversial foreign policy has recently secured it a fame of an aggressor state in the MENA region. As a result, Turkey now has rather strained relations with both European and Middle Eastern states. In turn, purchase of the Russian S-400 anti-aircraft missile systems has caused a rift between the Turkish leadership and the American authorities. Moreover, a number of U.S. congressmen expressed concern over Turkey's aggression in northern Syria and called on Joe Biden to put pressure on the Turkish officials. This sentiment was shared by the U.S. Secretary of State Antony Blinken who said that Turkey "is not acting like an ally" and called purchase of the Russian-made anti-aircraft missile systems "unacceptable."
In a stark contrast to this generally negative attitude a recent statement by the U.S. State Department spokesman Ned Price looked somewhat surprising. During a briefing Price called Turkey an important NATO partner, and stressed that the two states share common interests, including the matters related to the settlement of the Syrian conflict. He also added that all present disagreements with Ankara should be resolved within the framework of political dialogue.
Perhaps seeing a narrow window of opportunity, Turkish presidential spokesman Ibrahim Kalin urged the U.S. President to cease support for the AANES and the Kurdish armed units, while Turkish Defense Minister Hulusi Akar confirmed Turkey's readiness to continue its "counter-terrorist" operations in northern Syria.
A revealing trend in the coverage of the Syrian file in the Turkish media has linked the rise in the activities of the Kurdish units with Joe Biden's coming to power. State-run Daily Sabah newspaper that is tasked with projecting Turkey's agenda in the West, has openly accused the Kurds of abusing Washington's protection in order to strengthen their positions.
To add fuel to the fire, the areas of northern Syria controlled by the Turkey-affiliated factions of the Syrian opposition are witnessing an increase in terror attacks that are generally blamed on Kurdish sleeper cells. In the latest example, a series of explosions hit the cities of Azaz, Afrin and Al-Bab, resulting in death of over 20 civilians. After the incident the U.S. State Department issued an unprecedented statement stressing that "those responsible for perpetrating the violence should be brought to justice", which was a chilling surprise for the Kurds.
With this in mind, the question is: does Recep Erdogan, despite his aggressive rhetoric against the Kurds, actually have the audacity to confront and potentially spoil relations with an obviously stronger NATO ally who supports the SDF and trusts them to protect oil fields in eastern Syria? A web of diplomatic challenges is closing in on the Turkish leader, pushing him into making a choice between territorial claims and the fight against the Kurdish administration on Turkey's border on the one hand, and maintaining relations with the key ally on the other.
It is worth noting that before taking the chair Joe Biden was extremely critical about Donald Trump's decision to withdraw the American troops from Syria and regarded it a "betrayal" of the U.S. regional ally, the SDF. If Biden sticks to this firm stance on the Kurds, Turkey is unlikely to get any concessions from Washington.
It is difficult to speak with certainty about the outcome of the escalating confrontation between the U.S. and Turkey. However, by pursuing such a belligerent policy in Syria and seeking to eliminate the "threat" from the SDF/YPG/PKK, Turkey risks becoming not only a regional aggressor, but also a rogue state. The months – or perhaps even days – to come will show whether Erdogan is able to restrain his political ambitions in the interests of maintaining a strategically important partnership with the U.S., or Turkey will follow the path of a "final solution" of the Kurdish question, ignoring all international laws and its allies.
https://moderndiplomacy.eu/2021/02/20/will-northeastern-syria-turn-into-a-stand-off-between-the-u-s-and-turkey/
--------
Lebanon: UN seeks funds to extend tribunal investigating Rafik Hariri assassination
19 February ,2021
The UN Security Council has given a green light to keep the UN-backed tribunal investigating the 2005 assassination of Lebanon's former prime minister Rafik Hariri operating and funded for at least this year.
UN Secretary-General Antonio Guterres said in a letter to the council circulated Friday that the president of the Special Tribunal for Lebanon, Judge Ivana Hrdlickova, informed him in November that its work wouldn't be finished by the expiration of its mandate Feb. 28.
The judge asked for a two-year extension "to significantly advance its work towards completion," Guterres said.
Guterres said he intends to extend the mandate of the tribunal for two years starting March 1, or until its cases are completed or available funds are exhausted "if sooner."
Lebanon, which is mandated to pay 49 percent of the tribunal's costs, faces a dire financial situation which has left the tribunal with a serious funding shortfall. The remaining 51 percent of the tribunal's funding comes from voluntary contributions.
Guterres said he launched an urgent appeal to all 193 UN member states and the international community on Dec. 20 to support the tribunal, but "unfortunately, the appeal did not generate any new commitments of funds."
Without additional funding, he said, the UN was informed that the tribunal "may not be able to carry out its mandate beyond the first quarter of 2021."
"To bring the ongoing judicial proceedings of the Special Tribunal to an abrupt close in these circumstances would be unprecedented," Guterres wrote. "A premature closure would have a significant impact on international justice efforts and would send a negative message to the people of Lebanon and to victims of terrorism worldwide."
After consulting Lebanon's government and Security Council members, Guterres said he intends to request approximately $25 million from the General Assembly, called a "subvention," to cover the anticipated shortfall in funding from the Lebanese government and donors in 2021. This would be temporary, while the tribunal seeks additional funds, he said.
Britain's UN ambassador, Barbara Woodward, the current council president, said in a letter to the secretary-general that members approved his intention to extend the tribunal's mandate and to request about $25 million in funds from the General Assembly for 2021.
She said this was with the understanding that the money will be reimbursed from voluntary contributions the tribunal receives, and its voluntary funding arrangements will not be changed.
"The members of the council stress that contributions from Lebanon, as well as from the donors, should remain a major source of funding for the Special Tribunal and that additional efforts should be made to avoid reliance on the subvention," Woodward said.
Lebanon's economic and financial crisis, which began in late 2019, is the country's worst in modern history, with the economy contracting 19 percent in 2020. Tens of thousands around the country have lost their jobs, and nearly half the population of more than 6 million is living in poverty. The crash of the local currency has led to triple-digit inflation.
In early December, the World Bank said Lebanon's economy faces an "arduous and prolonged depression" because its politicians refuse to implement reforms that would speed up the country's recovery.
The Valentine's Day 2005 truck bombing on Beirut's seafront that killed former prime minister Hariri and 21 others and injured 226 sparked huge protests against Syria, which was widely seen as culpable. Damascus denied involvement but was forced to withdraw its troops from Lebanon after 29 years there.
The UN investigation into Hariri's assassination was broadened to include 14 other Lebanese killings.
The Netherlands-based Special Tribunal sentenced Salim Ayyash, a member of the Hezbollah militant group, in absentia to life imprisonment in December for his involvement in Hariri's assassination. Ayyash has never been arrested. Three other Hezbollah members tried with him were acquitted.
https://english.alarabiya.net/News/middle-east/2021/02/20/UN-seeks-funds-to-extend-tribunal-investigating-Rafik-Hariri-assassination
--------
Beirut blast victims' families protest after lead investigator removed from role
19 February ,2021
Families of people killed in the Beirut port explosion last August protested on Friday for a second day after a court removed the lead investigator into the blast in a severe setback to their campaign to hold those in power to account.
Around 70 people gathered in front of Beirut's Palace of Justice on Friday, some burning tires to block roads or holding images of their dead relatives.
"Even when the case now goes to another judge, we will not give them our complete trust...the day that we discover a judge is being too lenient with the investigation we will stand up to them no matter who they are," said Rima al-Zahed, 41, whose brother Amin died in the blast.
Judge Fadi Sawan charged three ex-ministers and the outgoing prime minister with negligence over the blast in December, but the four did not appear for questioning and accused him of overstepping his powers.
On Thursday, the Lebanese court of cassation dismissed Sawan from the investigation upon a request from two former ministers he had levelled charges against. The court cited "legitimate suspicion" over Sawan's neutrality, partly because his house was damaged in the blast which devastated much of the capital.
"No one in the political class wants an investigation like this," Mohanad Hage Ali of the Carnegie Middle East Center said.
"That would open up a Pandora's box of justice and these are politicians used to getting away with major crimes since the Lebanese civil war...the judiciary is one of the most distrusted institutions in the republic."
Two hundred people died in the August blast when a huge stockpile of ammonium nitrate, stored unsafely for years, detonated at the capital's port.
Before the investigation can resume, the ministry of justice will have to appoint a new judge to lead it who will also need the approval of the higher judicial council, setting the whole process back.
For some the judge's dismissal is a blow, but Lebanese analyst Sarkis Naoum does not believe a domestic investigation will ever deliver any real results.
"Our state has become a failed state which means failed security agencies, failed institutions, failed judiciary and failed everything so I never believed that judge Sawan was going to reach anything," Naoum said.
The Aug. 4 blast, the largest non-nuclear explosion to date, killed two hundred people, injured thousands and destroyed entire neighbourhoods.
Documents seen by Reuters showed both the president and prime minister had been warned just over two weeks before the blast that the ammonium nitrate, stored unsafely for years, could destroy the capital if it exploded.
Around 25 people are currently in jail pending investigation over the blast so far, including the Beirut port chief and customs chief. No senior politicians have been held accountable so far.
"Those in jail they are the small fish," Naoum said.
With the lead investigator appointed by Lebanon's executive, and the use of a court of exception, the investigation does not lend itself to impartiality, said Lynn Malouf, Amnesty International deputy regional director for the Middle East and North Africa.
"I wouldn't say this move took us back to square zero because we were always at square zero from the very beginning," she said.
The court of exception is a special court set up to have jurisdiction over cases referred to it by the government such as assassinations of senior politicians and cases linked to political violence and terrorism.
"It was set up with the view of the politicians being the victims rather than the perpetrators," Malouf said.
"A domestic-led investigation cannot deliver on justice."
But so far there has been little interest in an international investigation into the blast. Hage Ali sees a different kind of search prevailing.
"A search by the Lebanese political class for a scapegoat...no politician will be indicted unless there is political consensus over a scapegoat," he said.
https://english.alarabiya.net/News/middle-east/2021/02/19/Beirut-explosion-Beirut-blast-victims-families-protest-after-lead-investigator-removed-from-role-
--------
Saudi Arabia to invest over $20 bln in domestic military industry over next decade
20 February ,2021
Saudi Arabia will invest more than $20 billion in its domestic military industry over the next decade as part of aggressive plans to boost local military spending, the head of the Kingdom's military industry regulator said on Saturday.
The Gulf state wants to develop and manufacture more weapons and military systems domestically, aiming to spend 50 percent of the military budget locally by 2030.
"The government has put a plan that we will be investing in excess of $10 billion in the military industry in Saudi Arabia over the next decade and equal amounts on research and development," Governor of the General Authority for Military Industries (GAMI) Ahmed bin Abdulaziz al-Ohali told a defense conference in Abu Dhabi.
He also said the Kingdom plans to increase military research and development (R&D) spending from 0.2 percent to around 4 percent of armaments expenditure by 2030.
https://english.alarabiya.net/News/gulf/2021/02/20/Saudi-Arabia-to-invest-over-20-bln-in-domestic-military-industry-over-next-decade
--------
Arabic Language classes record enrollment surge amid COVID-19 pandemic: UAE experts
20 February,2021
Jennifer Bell
Language schools have recorded a surge in enrollment in Arabic language classes by residents across the GCC, as more people look to upskill following the COVID-19 pandemic.
During the height of the pandemic, Shireen Sinno, director of the Arabic Language Center, a private business established in Dubai 40 years ago, said she witnessed a record rise of interest in learning the mother tongue of the region.
Enrolments between April and December soared as people utilized more free time, she said.
"The growth in student numbers may be attributed to several factors," she told Al Arabiya English. "With remote working, some students had a more flexible schedule that enabled them to carve out some time for learning Arabic."
As some people lost their jobs at the start of the pandemic, they were unable to continue their studies, according to Sinno.
"Others decided to hone their professional skills, aiming to improve their employment opportunities," She added"Knowing a foreign language is usually regarded as an asset by many recruiters, especially when it is the official language of the host country."
More people also wanted to maintain "normalcy" by maintaining human interaction with others, said Sinno.
"Particularly during times of confinement that limited opportunities for networking and connecting with others, people sought human interaction with one another."
A language spoken by more than 420 million people worldwide, the UAE has been at the forefront of a push to preserve the Arabic language with a number of initiatives to enhance Arabic language skills and bolster usage of the national language.
This has been especially evident withing school curriculums over fears the ability to write and speak Arabic properly are being eroded, with Arab youth preferring to speak English.
Sinno said Arabic language in the center – which is one of the first Arabic language schools in the Emirates - has seen interest from people of all ages and nationalities in the UAE and wider GCC.
Witnessing a revived interest in learning the Arabic language has, she says, been a positive side of the pandemic.
"We cannot but recognize the positive outcomes of the pandemic, despite its dark side worldwide," she said. "In our case, we sought a new teaching venue - online teaching - which not only enabled us to sustain our teaching in a safe manner, but also opened doors for a broader audience to reach.
"This new venue also made it possible for many of our students who had to leave the country to carry on with their courses from all over the globe."
Sinno said, as the pandemic prompted many people to reflect on their lives, find new paths and set new goals, more people sought to learn a new skill to give their lives purpose and focus.
As with many businesses, the Arabic Language Center switched to online teaching during the pandemic. Many students embraced the shift, she said.
The center now offers both online and face-to-face classes.
"Students have developed different learning preferences, and we ought to cater to these preferences.
"Some students identify themselves as "traditional learners," who are more comfortable with a physical classroom setting. On the other hand, some have embraced online teaching, which according to them provided convenience, time efficiency and safety."
https://english.alarabiya.net/coronavirus/2021/02/20/Coronavirus-Arabic-Language-classes-record-enrollment-surge-amid-COVID-19-pandemic-UAE-experts
--------
India
Metro man's first salvo: Hindus being tricked into marriage by 'love jihad'
FEB 20, 2021
Technocrat E Sreedharan, popularly known as the Metro Man for his role in setting up the Delhi Metro, said on Friday he was opposed to the notion of "love jihad" because he had seen in Kerala that Hindu girls were tricked into marriage. His comments came a day after he announced that he was joining the Bharatiya Janata Party (BJP), months ahead of scheduled polls in the southern state.
The 88-year-old man told reporters that his aim was to help the party come to power in Kerala and that he was open to the chief ministership. He also said the focus will be on developing infrastructure if the BJP won the assembly polls likely to be held in April-May this year.
Responding to news channel NDTV on a question about "love jihad", a term used by right-wing groups to describe relationships between Hindu women and Muslim men, Sreedharan said, "….Love Jihad, yes, I see what is happened in Kerala. How Hindus are being tricked in a marriage and how they suffer... not only Hindus, Muslim, the Christian girls are being tricked in a marriage. Now that sort of a thing I certainly will oppose."
His comments came amid a fierce debate on "love jihad" and religious conversion, specially after Uttar Pradesh and Madhya Pradesh outlawed conversions by fraud, coercion or marriage. Both states are ruled by the BJP.
"Personally, I am a very very strict vegetarian. I don't even eat eggs so, certainly I don't like anybody eating meat. That is certain…" he said, in response to a question on beef eating in Kerala and the BJP's campaign against cow meat.
https://www.hindustantimes.com/india-news/metro-man-s-first-salvo-hindus-being-tricked-into-marriage-by-love-jihad-101613779550726.html
--------
Mosque In UP's Gorakhpur Found Vandalised, Cops Deployed: Police
February 19, 2021
Gorakhpur: Tension prevailed in a Gorakhpur village in Uttar Pradesh after a mosque was found vandalised on Friday morning, the police said.
The incident took place on Thursday night in Lona Sonbarsa village in Jhangha police station area of the district and came to light on Friday morning when a villager, Usman Ali, reached the mosque to offer early morning prayers, station house officer BB Rajbhar said.
Several police teams were deployed in the village, he added.
After Usman Ali entered the mosque and found some damages, he informed villagers about the incident.
The police too rushed to the spot after being informed about the incident, the official said, adding a case was registered against unidentified people on the complaint of another villager Jawed Ansari.
"Some miscreants burnt religious books and a case against unidentified people was registered," the official said.
The case was registered under sections 452 (house-trespass) 427(causing mischief and damage) and 295 (defiling place of worship with intent to insult the religion of any class) of the Indian Penal Code, Mr Rajbhar added.
Gorakhpur Additional Superintendent of Police Manoj Kumar Awasthi asked the station house officer to work out the case within 24 hours. "Several police teams have been deployed and instruction has been given to work out the case within 24 hours. Whosoever is found involved in the act will be arrested and sent to jail," he said.
https://www.ndtv.com/india-news/mosque-in-uttar-pradesh-gorakhpur-found-vandalised-cops-deployed-police-2374480
--------
Case filed to remove mosque next to Kashi Vishwanath temple in Varanasi
19th February 2021
By Namita Bajpai
LUCKNOW: In a major development on Friday, a suit was filed in a Varanasi court seeking restoration of pooja and darshan at an ancient temple on the premises of the Gyanvapi Mosque complex adjacent to Kashi Vishwanath temple.
The suit was filed for restoration of darshan, pooja, aarti, bhog, and performance of rituals at 'sthan' of Lord Adi Visheshwar and of Goddess Maa Shringar Gauri and other deities within this temple complex.
The suit would be placed before the court of the civil senior divisional judge for the hearing, said the petitioners' lawyer HS Jain, who is also involved in moving the petitions pertaining to Krishna Janmabhoomi in Mathura.
The lawyer for the Anjuman Intazamia Masjid's Committee of Management was also present in the court from the respondents' side and sought time to file a counter affidavit in the case.
"It is a title suit," said the petitioners' lawyer. Property in question is the temple complex known as "ancient temple" existing at settlement plot No. 9130
within the area of Dasaswamedh in Varanasi. The plaint has been filed through 10 individuals acting as next friends of the deities within the precincts.
Allahabad High Court has already seized the matter and it is hearing a similar case on a day-to-day basis.
The Jyotirlinga, present on the same complex (Kashi Vishwanath temple), was damaged in 1669 during the rule of Mughal ruler Aurangzeb but other deities continued to exist within the temple complex which, the Muslims claim to be a part of the Gyanvapi mosque, the petition says.
It says that the ownership of the entire property in the periphery of five 'kos' rests in the Asthan Adi Visheshwar and the deity is the owner of the entire land. Forced possession of the religious place cannot change the nature of the property and ownership rights of the existing deity. Petitioners also sought the court to declare that the property belonged to the deity.
The suit was filed by lawyer Ranjana Agnihotri on behalf of Goddess Maa Shringar Gauri as her devotee and next friend, Jatinder Singh 'Vishen' as a devotee and next friend of Asthan Lord Adi Visheshwar, Jyotirlinga in the radius of five 'kos', situated in city and district of Varanasi and eight others including Jan
Udghosh Sewa Sansthan, a society registered under the Societies Registration Act, in Lucknow making Union of India, Government of UP, State of UP, District Magistrate, Varanasi, SSP, Varanasi, UP Sunni Central Waqf Board, Committee of Management Anjuman Intazamia Masajid, and Board of Trustees of Kashi Vishwanath Temple as a party.
The petition said that every individual had the right to perform pooja and rituals as per the tenets of his religion under Article 25 of the Constitution of India. Any obstacle in this would mean denial of one's fundamental right to religion.
https://www.newindianexpress.com/nation/2021/feb/19/case-filed-to-remove-mosque-next-to-kashi-vishwanath-temple-in-varanasi-2266197.html
--------
2 cops shot in Valley; 3 Badr terrorists killed
Feb 20, 2021
SRINAGAR: Two unarmed policemen were shot dead by two Lashkar-e-Taiba terrorists in Srinagar's Barzulla area on Friday, while three Al-Badr terrorists were killed in an encounter earlier in the day in south Kashmir's Shopian even as two of their accomplices managed to flee, IGP Kashmir Range Vijay Kumar said.
He added that Wednesday's attack on the 22-year-old scion of Srinagar's landmark Krishna Vaishno Dhaba, which left the youth critically injured, was carried out to instil fear among tourists on a day when a 24-member European Union delegation was on a two-day visit to the Valley. During interrogation, the newly-recruited trio that carried out the strike confessed that The Resistance Front (TRF) commander Gazi had lured and tasked them with the crime.
Earlier, the little-known Muslim Janbaz Force — which the South Asia Terrorism Portal lists as a Pakistani outfit — had owned responsibility for the strike in a statement, claiming it was in retaliation to "outsiders" being allowed to settle in J&K under the new domicile rules.
On Friday's attack in Srinagar, Kumar said senior grade constable Mohammad Yousuf from Kupwara and constable Suhail Ahmed from Anantnag, were "on a routine duty and at a shop to purchase something" in Baghat Chowk when, according to eyewitnesses, the Lashkar duo brandished AK-47 rifles that they had concealed under their pherans (robes) and opened fire at the cops from behind. The injured policemen were rushed to separate hospitals where they succumbed during treatment.
Speaking at the wreath-laying ceremony of the slain constables at DPL Srinagar, the IGP said that the Lashkar ultras — one of them from Pakistan and another a local terrorist named Saqib — had been identified and would be traced soon. "We will go for a security review and plug the loopholes. Had the policemen carried weapons, they could have retaliated," he said, adding no one was detained or arrested yet in the attack.
On the south Kashmir encounter, the IGP said, "Late Thursday, security forces laid a cordon in Shopian's Imam Sahab area acting on intelligence inputs about the presence of terrorists there. Early Friday, contact was established with holed in ultras and in the ensuing fire exchange, three local Al-Badr terrorists were killed." Two AK-47 rifles and a pistol were recovered from the encounter site.
About Wednesday's dhaba attack, Kumar said, "We acted swifty and constituted teams under the supervision of a DIG-rank officer that was headed by SP (south city). A civilian informed the SP that the attackers were riding a bike, following which we accessed CCTV footage and followed other inputs."
A joint police team from Srinagar and Anantnag subsequently arrested two youths involved in the attack and seized the bike and pistol used in the crime. "During interrogation, they revealed that a third person was involved in the attack, and we arrested him too. All three — two from Pampore and another from Pulwama — were newly-recruited terrorists and one of them was given pistol training in Pahalgam's forest area," the IGP said.
TRF commander Gazi instructed them to attack Krishna Vaishno Dhaba, which is open even during strikes and always sees a rush of tourists. "We have recorded their confession statement in a video to be produced before the court with the challan," Kumar said.
To a question on whether security would be stepped up for the upcoming tourist season, the IGP said more surveillance and deployment would be carried out in Srinagar's busy areas and elsewhere. "Additional bunkers may be set up if need be. A close watch will be kept on elements who might attempt to disrupt peace. Frisking will be intensified," he added.
https://timesofindia.indiatimes.com/india/2-cops-shot-in-valley-3-badr-terrorists-killed/articleshow/81116930.cms
--------
Indo-Pak Peace Calendar 2021 to be launched virtually on Feb 21
Feb 19, 2021
BATHINDA: Aaghaz-e-Dosti, an Indo-Pak friendship initiative run by youth volunteers of India and Pakistan will release its 9th edition of Indo-Pak Peace Calendar online on February 21. The cross-border initiative is a collection of paintings by school students of India and Pakistan, 6 from each side, on the theme of 'Indo-Pak Peace and Friendship'.
Ravi Nitesh, Founder of Aaghaz-e-Dosti says, "Previously, each year we used to organise separate launch events in both India and Pakistan. However, owing to the COVID19-related situation in both countries, we are taking all necessary precautions. Hence, we have decided to go with a virtual launch of the calendar this year."
"A virtual launch of the calendar has also provided us the opportunity to invite audiences and speakers from both countries together, that was a limitation for the physical launches in previous years because of visa issues", stated Raza Khan, Convenor - Pakistan, Aaghaz-e-Dosti.
The launch program will also involve an interaction of the winning and runner-up students as an extension of our peace education activities. Through regular interaction between the students, we hope to break stereotypes about people on the other side of the border", said Tulika Bathija who is an educator and team member.
Sheema Kermani (Activist, Artist and Founder of Tehrik-e-Niswan, Pakistan) and former JNU professor Saleem Kidwai will be keynote speakers. Tehrik-e-Niswan, an organisation promoting art, women, and South Asian culture, has also collaborated with Aaghaz-e-Dosti this year for the Indo-Pak Peace Calendar.
Paintings came to us from various cities including Karachi, Lahore, Delhi, Hyderabad, Bengaluru as well as Tier 2/3 cities like Ludhiana, Phillaur, Phagwara, Nagpur, Koppal, Abbottabad, Paragon, and Shahjamal."
Madhulika Narasimhan says "Owing to the COVID19 pandemic, the schools in the subcontinent were closed and it was extremely difficult to reach out to students or stoke interest them for yet another activity, since they were already burdened with the load of online classes, and coping with changes in schedule due to the pandemic. However, we got big response which reinforces our hopes that despite the environment of political enmity between the two countries, tiny saplings of peace are sprouting each year in the expanses of the subcontinent."
https://timesofindia.indiatimes.com/india/indo-pak-peace-calendar-2021-to-be-launched-virtually-on-feb-21/articleshow/81115140.cms
--------
Ahmedabad: Anti-Terrorist Squad arrests Mumbai man in Rs 1-crore drug case
February 20, 2021
A month after the Gujarat Anti-Terrorist Squad (ATS) arrested a man from Shahibaug area in Ahmedabad with Rs 1 crore worth methamphetamine drugs, it held another Mumbai resident for allegedly supplying the narcotics.
According to ATS officials, the agency on January 20 had arrested Mohammad Sultan Shaikh, a native of Jogeshwari East in Mumbai, outside a temple near Sarthi Apartments in Shahibaug with a meth consignment weighing 1 kg and valued at Rs 1 crore. Shaikh, the ATS officials said, was a courier and was here to hand over the consignment to a man in Ahmedabad at the behest of Mumbai-based drug peddlers.
"We have found Shaikh was provided the drugs' consignment by one Shabbir Hanif Khan, a resident of Jogeshwari in Mumbai. After receiving a tip-off, an ATS team arrested the accused from his residence in Mumbai Thursday. He told us that he has supplied the drug to couriers several times in the past who would smuggle it to Ahmedabad. He has been booked under sections of the Narcotics Drugs and Psychotropic Substances (NDPS) Act," an ATS official said. ENS
https://indianexpress.com/article/cities/ahmedabad/anti-terrorist-squad-arrests-mumbai-man-in-rs-1-crore-drug-case-7196234/
--------
Pakistan
Malala questions Imran Khan, Pak Army over threatening post by Taliban terrorist
FEB 18, 2021
A terrorist outfit, Tehreek-e-Taliban Pakistan's (TTP) former spokesperson Ehsanullah Ehsan, who took the responsibility for having shot Malala Yousfzai in 2012, has now threatened Nobel Laureate on Wednesday by posting on Twitter, "next time, there would be no mistake."
The threat by Ehsan prompted Yousafzai to question Pakistan's military (DGISPR) and Prime Minister Imran Khan on Twitter to explain how her shooter, Ehsan, had escaped from the government's custody.
"This is the ex-spokesperson of Tehrik-i-Taliban Pakistan who claims responsibility for the attack on me and many innocent people. He is now threatening people on social media. How did he escape @OfficialDGISPR@ImranKhanPTI?," tweeted Yousafzai.
Meanwhile, Twitter has permanently suspended Ehsanullah's account on Wednesday.
Ehsanullah Ehsan, ex-spokesperson of TTP nine years ago had shot and wounded Malala Yousafzai.
The escape of Ehsan in 2020 created an uproar in Pakistan where the opposition has accused the government of "sheer incompetence".
In an audio message released in Jan 2020, Ehsan could be heard saying that he has succeeded in escaping from Pakistan's jail. Ehsan had escaped on January 11 but no confirmation has been made by the Pakistan Army yet.
"I am Ehsanullah Ehsan. I am the former spokesman of Tehreek-e-Taliban Pakistan and Jamaatul Ahrar. I had surrendered to the Pakistani security authorities on February 5, 2017, under an agreement. I honored this agreement for three years, but the Pakistani authorities violated it and kept me in a prison along with my children," Ehsan said.
Ehsan said that he will release a detailed statement later in which he will mention the agreement he made with the Pakistani security authorities.
"I will also mention on whose approval this accord was made with me. And what were the terms and conditions of the agreement and which prominent figure had assured me that the agreement will be implemented," he said, adding that he will also explain the conditions in which he and his family were held in Pakistan.
https://www.hindustantimes.com/world-news/malala-questions-imran-khan-pak-army-over-threatening-post-by-taliban-terrorist-101613644967527.html
--------
Pakistani American venture capitalist gets 12 years imprisonment
Anwar Iqbal
February 20, 2021
WASHINGTON: A US federal judge sentenced an American venture capitalist of Pakistan origin to 12 years in prison for falsifying records to hide his work as a foreign agent while lobbying high-level US officials.
Imaad Zuberi, a California resident, was also fined $1.75 million and ordered to pay $15.7 million in restitution.
In December 2016, Mr Zuberi had donated $900,000 to the Trump inaugural committee. He was a top fundraiser for president Barack Obama's re-election campaign in 2012 as well.
He donated at least $100,000 for Hilary Clinton's 2016 presidential campaign and also raised funds for Republican Senator Lindsey Graham in 2014, and then-California Attorney General Kamala Harris, now vice president, in 2015.
Mr Zuberi, 50, was born in Pakistan, migrated to the United States with his parents when he was three years old and eventually became an American citizen.
In October 2019, he pleaded guilty to violating lobbying, campaign finance and tax laws through campaign contributions to members of both Republican and Democratic parties.
In 1996, he served in the US Army for about six months and was honourably discharged because of a knee injury.
Mr Zuberi grew up in Albany, New York, but earned a B.Sc in 1997 from the University of Southern California and an MBA in 2006 from Stanford University.
"The violations were part of a larger surreptitious effort to route foreign money into US elections and to use it to corrupt the US policy-making processes," prosecutors said in a court filing.
They urged the court to reject Mr Zuberi's claim that funnelling money to influence US policy-making and elections was the "way America works".
Prosecutors accused Mr Zuberi of soliciting foreign nationals and representatives of foreign governments, offering to use his influence in Washington to alter US foreign policy and to create business opportunities for his clients.
US media outlets claimed that Mr Zuberi "went to great lengths to pull off his scheme, hiring lobbyists, retaining public relations professionals and making campaign contributions" to enhance his influence.
Prosecutors claimed that illegal money was funnelled from foreign entities over five years between 2012 and 2016, but did not reveal the source of those funds.
They accused Mr Zuberi of soliciting members of the House of Representatives, the Senate Foreign Relations Committee and other powerful politicians as well to secure favours for his clients.
https://www.dawn.com/news/1608357/pakistani-american-venture-capitalist-gets-12-years-imprisonment
--------
'Caught red-handed': Maryam claims votes stolen in Wazirabad by-election for PTI
February 19, 2021
PML-N Vice President Maryam Nawaz on Friday claimed that PML-N workers caught persons working for the PTI "red-handed" allegedly stealing bagfuls of votes cast in the by-elections for Punjab's PP-51 (Wazirabad) constituency.
"PTI people caught red-handed stealing bagfuls of votes by PML-N MPA Adil Chatta and Ataa Tarar. Seal was also broken. Police was a part of the plan to steal votes for PTI," Maryam tweeted.
She also shared a number of what she called "bombshell videos" showing PML-N workers accosting a man who allegedly stole a bag of votes from a polling station. Terming it "naked rigging", Maryam claimed the man was acting at the behest of the PTI.
One of the videos shared by the PML-N leader showed a man sitting in a car with apparently a bag of votes placed next to him. "He was caught red-handed. PML-N workers did not allow him to escape. Rangers also present," Maryam said about the man in question.
Referring to the same man in another tweet, she said PML-N workers caught the presiding officer of the polling station located at Virtual University in Wazirabad "running away with polling bag, the seal of which was broken". She said the officer was presented before the district returning officer (DRO).
She added that the man caught "red-handed" was trying to escape but was stopped and detained. "All PML-N reps on the vigil are present there. They are not letting him go. We won't let go like this. What happened in 2018, happened. No more," Maryam said.
As many as 162 polling stations and 423 polling booths had been established for the by-elections in PP-51. There are 253,949 voters in the constituency.
By-polls were also held for the NA-75 (Daska) constituency. The seat fell vacant after the demise of PML-N MNA Sahibazada Syed Iftikharul Hassan Shah.
In a tweet around 10:30pm, Maryam said the results of both NA-75 and PP-51 by-elections "have stopped coming for more than an hour now", terming it a "replay of 2018".
"I want to warn all those who have stopped the results from Daska & Wazirabad and are trying to change the results, that THIS IS GOING TO COST YOU BIG TIME," she wrote.
Earlier in the day, at least two people were killed and three others injured in a firing incident at a polling station in Daska in Sialkot.
One of the victims was reportedly a member of the ruling PTI while the other belonged to the PML-N. A PTI polling agent was also among the injured, according to eyewitnesses and local media.
https://www.dawn.com/news/1608277/caught-red-handed-maryam-claims-votes-stolen-in-wazirabad-by-election-for-pti
--------
Pakistan committed to Afghan peace process, says Bajwa
February 20, 2021
ISLAMABAD: Chief of the Army Staff Gen Qamar Javed Bajwa on Friday re-emphasised Pakistan's commitment to Afghan peace process.
He was talking to US Centcom Commander Gen Kenneth F. McKenzie Jr., who called on him at the General Headquarters.
The Inter-Services Public Relations (ISPR) quoted Gen Bajwa as having told Gen McKenzie that "Pakistan is committed to efforts for peace in Afghanistan as it is important for peace in Pakistan".
"Matters of mutual interest and regional security situation with particular reference to ongoing Afghanistan reconciliation process were discussed during the meeting," said the ISPR.
Gen McKenzie has been appreciative of Pakistan's role for peace in Afghanistan. Speaking at the Middle East Institute on Feb 8, he had said: "They've helped us in some ways." He had, however on that occasion, added: "We sometimes wish they would do more."
The Centcom commander believes that Pakistan, because of its location, has a key role in Afghanistan. "Geography gives you certain facts you have to deal with. And Pakistan is certainly one of those facts we're going to have to deal with," he had said at the Middle East Institute.
Centcom commander, Russian president's envoy hold meetings with army chief
The ISPR said both commanders agreed on the need for a political resolution of the Afghan conflict.
"Visiting dignitaries acknowledged Pakistan's commendable efforts in the fight against terrorism and ensuring regional stability," the statement added.
Centcom, meanwhile, said in a statement that closer coordination in a multilateral approach to regional maritime security, especially in the Arabian Gulf, Strait of Hormuz and Gulf of Oman, was also discussed.
"We are committed to exploring new areas for collaboration in order to maintain security, stability and prosperity within the region," Gen McKenzie said.
Meanwhile, Russian President's Special Envoy for Afghanistan Zamir Kabulov called on Army Chief Gen Bajwa at the General Headquarters, according to the ISPR. "During the meeting matters of mutual interest, regional security situation particularly developments in Afghan peace process were discussed," it added.
Gen Bajwa said that peace in Afghanistan and Pakistan was in the greater interest of the region.
Mr Kabulov, the ISPR said, praised the role being played by Pakistan for Afghan peace process.
Russian efforts
Pakistan on Friday expressed support for Russian efforts for peace and reconciliation in Afghanistan.
"The foreign minister underlined the importance of regional consultations and appreciated the role of Four Party Talks in support of the Afghan peace process," the Foreign Office said after Mr Kabulov's meeting with Foreign Minister Shah Mahmood Qureshi.
Mr Kabulov was on a day-long trip to Islamabad. His trip took place amidst reports that Moscow is planning to convene a meeting involving China, Pakistan, Iran and the United States to deliberate on how to give a fresh impetus to intra-Afghan negotiations that have made little headway since their start last September.
The talks in Doha are currently stalled because of the uncertainty created by the Biden administration's announcement that it was reviewing the agreement made with Taliban in February last year.
Russian foreign ministry's spokesperson Maria Zakharova, at a briefing in Moscow on Thursday, while emphasising the need for substantive intra-Afghan talks, regretted that the dialogue had been bogged down in discussions on technical issues instead of taking up bigger items like the future state system of governance in the country and sustainable ceasefire.
Moscow is also offering to host the intra-Afghan talks in the future.
Mr Qureshi, during the meeting with Mr Kabulov, noted the convergence of Pakistani and Russian positions on the reconciliation process.
The Russian special envoy, according to Sputnik News Agency, recently condemned the US for violating the agreement with Taliban and asserted that the insurgent group was "flawlessly" adhering to it as no American soldier has been killed since last February when the accord was signed.
Ahmed Wali Massoud
The head of Afghanistan's Massoud Foundation, Ahmed Wali Massoud, who is visiting Pakistan, met Foreign Minister Qureshi and discussed the Afghan peace process and Pak-Afghan relations.
Mr Qureshi said that Pakistan had no favourites in Afghanistan and its message to all sides was to work together constructively for peace and stability.
He appreciated the role of Massoud Foundation in social sectors and noted that it could play an important part in promoting civil society and people-to-people exchanges between the two countries.
https://www.dawn.com/news/1608342/pakistan-committed-to-afghan-peace-process-says-bajwa
--------
Five soldiers martyred in South Waziristan attack
February 20, 2021
SOUTH WAZIRISTAN: Five soldiers were martyred and another was injured when terrorists attacked a security check-post in the Sara Rogha area of South Waziristan tribal district late Thursday night.
Police said that the martyred soldiers belonged to 223 Wing of Frontier Corps, a paramilitary force which has been fighting militants in the tribal districts. Officials said that terrorists used light and heavy weapons in the attack.
The martyred soldiers were identified as Naib Subaidar Shahid Anwar, Naik Ahmad Khan, Lance Naik Shehryar and Sepoys Ayub and Shahzad and the injured as Shahid Afzal.
No group has accepted res­pon­sibility for the attack yet.
A resident of Sara Rogha, Iqbal Mehsud, told Dawn that heavy firing started late night and continued for a long time. The local people came out of their houses after hearing gun shots.
Later, police and paramilitary forces conducted a house-to-house search operation in the area to arrest perpetrators of the attack.
Sara Rogha was cleared of terrorists after security forces conducted Operation Rah-i-Nijat in 2009.
However, recently attacks have taken place on security forces in the areas of Ahmadzai Wazir and Mehsud tribes of South Waziristan district. Two soldiers were martyred and five others injured when an improvised explosive device hit their vehicle and exploded near Wana, the administrative headquarters of South Waziristan, on Sunday night.
Officials said that militants had also suffered heavy casualties in clashes with the security forces, which had resulted in the killing of 60 terrorists, including 10 key leaders.
Following an attack on security forces, the district administration imposed curfew in Wana and its adjacent areas on Wednesday.
Residents said that the administration lifted curfew on Friday after negotiations with the local elders. Earlier local people staged a demonstration near Wana to protest against curfew.
https://www.dawn.com/news/1608331/five-soldiers-martyred-in-south-waziristan-attack
--------
North America
US, Pakistan military officials meet over troop withdrawal from Afghanistan
19 February ,2021
Senior US and Pakistani military officials spoke in Islamabad on Friday about the possibility of postponing the withdrawal of foreign forces from Afghanistan, a move currently under review by US President Joe Biden's administration.
The meeting comes with the US expected to announce in the coming days whether it will stick with a plan to withdraw its military from the country at the beginning of May, as agreed under a US-Taliban accord reached in February 2020 in Doha.
General Kenneth McKenzie, head of the US Army Central Command (CENTCOM), thanked Pakistan for its "contributions to the Afghan peace negotiations" and pledged to explore "new areas for collaboration."
Pakistan's military chief General Qamar Javed Bajwa meanwhile reaffirmed his country's commitment to peace efforts, noting that peace in Afghanistan was important for peace in Pakistan, according to a statement.
McKenzie has indicated that conditions have not been met for a withdrawal, which he says could create a jihadist group resurgence in the country, risking a collapse of the Afghan government.
While the Taliban had pledged to reduce violence under their deal with the US, they have not done so, McKenzie said on the plane to Pakistan.
The Taliban denies being behind escalated violence, saying those responsible are other jihadist groups.
"Certainly ISIS has launched some attacks. It pales against what the Taliban is doing," McKenzie said, denouncing violence against Afghan forces, and "targeted assassinations in some of the urban areas."
"This is clearly the Taliban," he said. "There is no way it's anyone else. That's very clear."
Pakistan, which has encouraged Taliban negotiations with the Afghan government, would welcome a postponement of the departure of foreign forces in Afghanistan, Pakistani military sources said.
But the postponement should be negotiated with the Taliban in order to avoid a relaunch of conflict, said the officials, who requested anonymity.
They were quick to point out that US forces have now gone a year without losing a single soldier in combat in Afghanistan for the first time in 20 years.
The US military has not taken a public stand on the withdrawal issue, as the decision ultimately lies with the White House.
But privately, US military officials have expressed concern that jihadist groups will regain control of Afghanistan as soon as the US leaves.
https://english.alarabiya.net/News/world/2021/02/19/US-Pakistan-military-officials-meet-over-troop-withdrawal-from-Afghanistan
--------
Biden says US, Europe must address Iran's 'destabilizing activities' in Middle East
Joseph Haboush
19 February ,2021
US President Joe Biden said Friday that, in cooperation with European allies, Washington needed to address Iran's "destabilizing activities" in the Middle East.
Biden's remarks came during a virtual speech at the Munich Security Conference, where his German and French counterparts spoke as well.
Doubling down on State Department officials' comments a day earlier about Washington's readiness to sit down with Iran for discussions on the now-defunct nuclear treaty, Biden said his administration was prepared to reengage in negotiations with Tehran.
The Joint Comprehensive Plan of Action (JCPOA) signed in 2015 by the Obama administration did not include or mention Iran's proxies, some of which are designated terrorist organizations or its ballistic missile program.
On Friday, Biden said new negotiations "must address Iran's destabilizing activities across the Middle East."
Going forward on the Iran file, Biden said the US would work with European allies "and other partners." He did not elaborate.
Earlier in his speech, Biden reaffirmed his commitment to NATO and the need for unified transatlantic cooperation. "An attack on one is an attack on all. That is our unshakeable vow."
https://english.alarabiya.net/News/middle-east/2021/02/19/Iran-nuclear-deal-Biden-says-US-Europe-must-address-Iran-s-destabilizing-activities-in-Middle-East
--------
US informed Israel ahead of Iran policy announcement: Report
19 February ,2021
The Biden administration informed Israel in advance that it planned to announce on Thursday it was ready to talk to Iran about Washington and Tehran returning to the 2015 Iran nuclear agreement, a person familiar with the matter told Reuters.
Biden's aides wanted to avoid blindsiding Israel, Iran's regional arch-foe, over the US plans, which included telling the UN Security Council the new administration was rescinding former President Donald Trump's assertion that all UN sanctions had been reimposed on Iran in September.
But President Joe Biden did not directly inform Israeli Prime Minister Benjamin Netanyahu about the shift in US/Iran policy when they spoke for the first time on Wednesday, the source said.
Netanyahu has made clear he strongly opposes a US return to the nuclear deal with Iran.
https://english.alarabiya.net/News/middle-east/2021/02/19/US-informed-Israel-ahead-of-Iran-policy-announcement-Report
--------
Pentagon says no decision made yet regarding US troops withdrawal from Afghanistan
20 February 2021
The US says it has made no decision yet regarding the withdrawal of its troops from Afghanistan, claiming that 'violence' must be reduced in the war-ravaged country, where American forces are present for the past 20 years.
US Defense Secretary Lloyd Austin made the remarks on Friday, briefing Pentagon reporters on the outcome of a NATO two-day virtual meeting held on Wednesday and Thursday, whose top agenda was the fate of the alliance's 9,600-strong mission in Afghanistan.
"The United States will not undertake a hasty or disorderly withdrawal from Afghanistan that puts [Afghan military] forces, or [NATO's] reputation at risk," the new Pentagon chief said during his first briefing since taking office last month.
"In the meantime, current missions will continue, and of course commanders have the right and the responsibility to defend themselves and our Afghan [military] partners against threats," Austin added.
Former US president Donald Trump signed a deal with the Taliban militant group, which controls large parts of Afghanistan, in February last year to withdraw troops by May this year in exchange for the Taliban to halt attacks on foreign forces.
The future of the NATO deployment will be largely determined by new American President Joe Biden, who will either stick to the May withdrawal deadline or risk a bloody backlash from the Taliban by staying in Afghanistan.
The US along with its NATO allies invaded Afghanistan in 2001 under the guise of fighting terrorism and dismantling the al-Qaeda Takfiri terrorist group.
The invasion — which has turned into the longest war in US history — removed the Taliban from power, but the militant group has never stopped its attacks, citing the foreign military presence as one of the main reasons behind its continued militancy.
The White House says it is reviewing the US-Taliban deal, while the Pentagon has accused the group of not fulfilling promises.
Trump reduced the number of US troops to 2,500 in January, their lowest figure since the onset of the so-called war on terror.
Elsewhere in his remarks, Austin said that he had assured NATO allies that they would not be taken aback by Biden's decision on the fate of the forces in Afghanistan, whatever his verdict might be.
"We will consult each other and consult together, decide together, and act together," he repeated what he had told NATO allies, which were at times blindsided by mostly abrupt decisions made during Trump's administration.
During the past several months, the Taliban has escalated attacks in Afghanistan amid stuttering peace talks with the central government in Kabul. The Taliban also warned NATO ministers against seeking a "continuation of occupation and war."
"Clearly the violence is too high right now and more progress needs to be made in the Afghan-led negotiations," Austin said. "I urge all parties to choose the path towards peace. The violence must decrease now."
The United Nations says more than 100,000 civilians have been killed or injured over the past decade across Afghanistan.
https://www.presstv.com/Detail/2021/02/20/645640/Afghanistan-US-pentagon-Austin-NATO-Trump-Biden-Taliban
--------
US reporter held by al-Qaida-linked group in Syria released
By Sarah El Deeb
Feb. 18, 2021
BEIRUT — An American journalist, living in northwestern Syria for nearly a decade, has been released, six months after he was captured by an al-Qaida-linked militant group, Syrian opposition media reported.
Bilal Abdul Kareem, a native of Mount Vernon, N.Y., has been living in the rebel-held Syrian northwest since 2012, reporting on the Syrian government military campaigns against areas in opposition hands.
He had been detained last August, following a report he did about torture in the prisons of Hayat Tahrir al-Sham, the al-Qaida-linked group that dominates the area. Local prominent figures had appealed to the militants to release him.
Abdul Kareem had reported and collaborated with Western news outlets, which had largely stayed out of the war-torn country after a spate of kidnapping. He later set up his own news network, On The Ground News.
The U.S. State Department designated Hayat Tahrir al-Sham a terrorist groups in 2018 despite its move to publicly disassociate itself from al-Qaida the previous year. Rights groups and the U.N.-backed Commission of Inquiry have accused the group of detaining and torturing civilians and those who documented the group's abuse of Syrian protesters, journalists and women.
Syrian opposition news outlets and the Britain-based Syrian Observatory for Human Rights reported Abdul Kareem's release on Wednesday. The Observatory said local mediation secured his release after a tribunal set up and run by the al-Qaida-linked group had sentenced him.
Abdul Kareem could not immediately be reached for comment. A statement by Hayat Tahrir al-Sham confirmed he was released because of mediation and said Abdul Kareem had been detained because of spreading false news, working with groups that undermine security and incite against authorities in the opposition-controlled areas.
Photographs of Abdul Kareem were shared online after his release, in which he appeared to have lost some weight. His wife gave birth to a daughter in January while he was held by the militant group. He was allowed to see his family twice during his six months in captivity.
Abdul Kareem has spent years covering the Middle East. Born Darrell Lamont Phelps, he converted to Islam, studied Arabic in Egypt and traveled to Libya to cover the conflict there. He arrived in Syria in 2012. He had interviewed Syrian rebels and jihadi groups, developing a reputation as a sympathizer.
He survived a number of airstrikes in Syria, prompting him to file a lawsuit against the U.S. government, demanding to know whether he was on a "kill list." In January, a federal court dismissed his case on the grounds that he did not have standing to bring the claim.
Reprieve, the U.K.-based legal rights group that represented him in the U.S. case, also reported his release.
"Bilal's release is welcome news, and his quest for justice in the U.S. courts continues," said Jennifer Gibson, who leads Reprieve's work on the case.
In 2019, he was wounded by shrapnel when he and a Sky News crew came under fire from a Syrian government tank shell, an incident that was caught on camera.
https://www.washingtonpost.com/world/the_americas/us-reporter-held-by-al-qaida-linked-group-in-syria-released/2021/02/18/7e197946-71ea-11eb-8651-6d3091eac63f_story.html?utm_source=iterable&utm_medium=email&utm_campaign=2019262_
--------
South Asia
NATO chief urges Afghan govt, Taliban to step up peace talks
February 19, 2021
NATO Secretary-General Jens Stoltenberg on Thursday urged the Afghan government and the Taliban to step up the pace of peace talks amid doubts over whether the military alliance will pull thousands of troops out of the country by a May deadline.
NATO has just under 10,000 troops in the war-ravaged country, helping to train and advise the Afghan security forces. Most are not U.S. forces, but those troops could not continue the NATO operation if American transport, logistics and other support were withdrawn.
President Joe Biden is reviewing his predecessor's 2020 deal with the Taliban, which includes a May 1 deadline for a final U.S. troop withdrawal. In Washington, calls are mounting for the United States to delay the final exit or renegotiate the deal to allow the presence of a smaller, intelligence-based American force.
"The problem is that we are in a situation where we have a date — the 1st of May — approaching and so far we have seen that the peace talks are fragile," Stoltenberg said after chairing a meeting of NATO defense ministers, including new U.S. Defense Secretary Lloyd Austin.
"The talks are fragile, and progress is slow. So, it is now imperative to re-energize the peace process," Stoltenberg said, referring to the stalled negotiations in Qatar between the Afghan government and the Taliban.
Violence is also spiking and culprits include the Taliban, the Islamic State group, warlords and criminal gangs. Earlier Thursday, two lecturers at Kabul University were killed when a bomb attached to the car they were traveling in went off. No group immediately claimed responsibility.
None of the 30 NATO member governments has publicly argued that security conditions are right for a withdrawal, and many allies would probably support a longer stay if the U.S. requires it, diplomats say.
"At this stage, we have made no final decision on the future of our presence," Stoltenberg said.
With the U.S. review ongoing it's unlikely that any firm decision on the future of NATO's operation will be made before the organization's foreign ministers meet in mid-March.
Asked whether NATO might, on the contrary, increase troops numbers, Stoltenberg said that "we will do what is necessary to make sure that our troops are safe. We have adjusted the troop numbers before, but I will not speculate because now the focus is on making sure that the peace talks are successful."
NATO took control of international security operations in Afghanistan in 2003, two years after a U.S.-led coalition ousted the Taliban for harboring former Al Qaeda leader Osama bin Laden. It's the military alliance's longest, costliest, and most ambitious operation ever.
https://indianexpress.com/article/world/nato-chief-urges-afghan-govt-taliban-to-step-up-peace-talks-7195207/
--------
Myanmar's minorities show unity against coup after protester dies
February 20, 2021
NAYPYITAW: Members of Myanmar ethnic groups protested on Saturday in a show of opposition to the coup that ousted the government of Aung San Suu Kyi, despite some misgivings about her commitment to their aspirations for autonomy, community representatives said.
Protests against the Feb 1 coup that overthrew the elected government of the veteran democracy campaigner have taken place across the diverse country, even though the military has promised to hold a new election and hand power to the winner.
A young woman protester died on Friday after being shot in the head last week as police dispersed a crowd in the capital, Naypyitaw, the first death among opponents of the coup in the demonstrations.
The US was saddened by the death and condemned the use of force against demonstrators, a State Department spokesman said.
The army says one policeman has died of injuries sustained in a protest.
The demonstrators are demanding the restoration of the elected government, the release of Suu Kyi and others and the scrapping of a 2008 constitution, drawn up under military supervision, that gives the army a decisive role in politics.
Ke Jung, a youth leader from the Naga minority and an organiser of the Saturday protest by the minorities in the main city of Yangon, said the protesters were also demanding a federal system.
"We can't form a federal country under a dictatorship. We can't accept the junta," he told Reuters.
The protests have been more peaceful than the bloodily suppressed demonstrations during nearly 50 years of direct military rule up to 2011.
But police have fired rubber bullets several times to break up crowds, as well as water cannon and catapults.
In addition to the protests, a civil disobedience campaign has paralysed much government business.
Myanmar has experienced insurgencies by ethnic minority factions since shortly after its independence from Britain in 1948 and the army has long held itself to be the only institution capable of preserving national unity.
Suu Kyi, 75, like the top generals, is a member of the majority Burman community.
Her government promoted a peace process with insurgent groups but she came in for a storm of international criticism over the plight of the Muslim Rohingya minority after more than 700,000 fled a deadly 2017 crackdown.
'Stand together'
Ke Jung said some minority parties were not committed to the movement against the coup.
"It's a reflection of how Aung San Suu Kyi failed to build alliances with ethnic political parties," he said.
"However, we must win this fight. We stand together with the people. We will fight until the end of dictatorship."
Salai Mon Boi, a youth leader from the Chin minority, said the Saturday protest, which happened to fall on Chin National Day, was focused on four demands: getting rid of the constitution, ending dictatorship, a federal system and the release of all leaders.
"There are some people who don't like NLD but we're not talking about the NLD," he said, referring to Suu Kyi's National League for Democracy (NLD).
As well as the colourful protest by minority members, several hundred people chanting slogans gathered behind police barricades sealing of a main Yangon protest site by the Sule Pagoda.
The army seized back power after alleging fraud in Nov 8 elections that the NLD swept, detaining her and others. The electoral commission had dismissed the allegations of fraud.
The US, Britain, Canada and New Zealand have announced limited sanctions, with a focus on military leaders, including banning travel and freezing assets.
Japan and India have joined Western countries in calling for democracy to be restored quickly.
The junta has not reacted to the new sanctions. On Tuesday, an army spokesman told a news conference that sanctions had been expected.
There is little history of Myanmar's generals giving in to foreign pressure and they have closer ties to neighbouring China and to Russia, which have taken a softer approach than long critical Western countries.
Junta leader Min Aung Hlaing was already under sanctions from Western countries following the 2017 crackdown on the Rohingya.
Myanmar's Assistance Association for Political Prisoners said 546 people had been detained, with 46 released, as of Friday.
Suu Kyi faces a charge of violating a Natural Disaster Management Law as well as charges of illegally importing six walkie talkie radios. Her next court appearance has been set for March 1.
https://www.freemalaysiatoday.com/category/world/2021/02/20/myanmars-minorities-show-unity-against-coup-after-protester-dies/
--------
US calls on Taliban to end violence in Afghanistan
By William Roberts
19 Feb 2021
United States defence secretary Lloyd Austin called for a reduction in violence in Afghanistan and said more progress is needed in Afghan peace negotiations before Western forces withdraw from the war-torn country.
"Clearly, the violence is too high right now and more progress needs to be to be made in the Afghan-led negotiations," Secretary Austin said at a Pentagon news conference on Friday.
"I urge all parties to choose the path towards peace, and the violence must decrease now," Austin said a day after discussing Afghanistan with NATO defence ministers in Brussels.
The US "will not undertake a hasty or disorderly withdrawal from Afghanistan" that puts NATO forces at risk, Austin said, adding "no decisions about our future force posture have been made."
"In the meantime, current missions will continue and, of course, commanders have the right and the responsibility to defend themselves and their Afghan partners against attack," he said.
New US President Joe Biden faces a thorny choice in Afghanistan: whether to withdraw all US forces by the end of April – as promised to the Taliban by the former Trump administration – or extend the US troop presence while trying to sustain troubled Afghan peace talks.
Taliban deputy leader Mullah Abdul Ghani Baradar on February 16 called on the US to honour its agreement regarding international troop withdrawals and warned that the group would not allow continuing interference in Afghan affairs.
Pakistan's ambassador to the US said on Friday the Biden administration should negotiate with the Taliban on any decision to keep troops in the country.
"The first party that needs to be consulted is the Taliban. That is where the process should start," Ambassador Asad Majeed Khan told an online forum sponsored by the Stimson Center.
"To present this as a fait accompli, I think, will only create difficulty," Khan cautioned, according to the Reuters news agency.
In Washington, meanwhile, there are increasing calls by foreign policy leaders and members of Congress for a continuing US presence in Afghanistan.
The bipartisan US Afghanistan Study Group, mandated by Congress, recommended a new approach to Afghanistan earlier this month. Leaders of the group testified on Capitol Hill on Friday.
"We recommend that US troops remain beyond May 1," said Kelly Ayotte, a co-chair of the study group and a former Republican US senator.
"We believe a precipitous withdrawal of US and international troops in May, would be catastrophic for Afghanistan, leading to civil war and allow the reconstitution of terror groups which could threaten the United States," Ayotte said.
The US invaded Afghanistan in 2001 after the September 11 al-Qaeda attacks. At the time, the Taliban controlled the country and had given al-Qaeda safe harbour.
Retired General Joseph Dunford, a former chairman of the US military's Joint Chiefs of Staff under President Barack Obama, said the study group sees an opportunity now for a "broader diplomatic effort in support of the Afghan peace negotiations".
"There does in fact appear to be an end state that would satisfy all regional stakeholders to include Pakistan, China, Russia, India, and others," Dunford said.
Both Republicans and Democrats in Congress said they recognise the situation in Afghanistan is fragile and withdrawing now could result in a loss of progress made during the past 20 years.
"A withdrawal made under current conditions will likely lead to a collapse of the Afghan state," said Representative Stephen Lynch, the Democratic chairman of a House Government Oversight subcommittee.
Representative Paul Gosar, a Republican, said he doubts the Taliban can be relied upon for a durable peace agreement.
"Essentially, we're discussing war termination, and banking on the concept that US involvement in the current civil war in Afghanistan will end when the primary threat – the Taliban – has committed to peace," Gosar said. "It seems rather impossible."
The US and the Taliban reached an agreement in February 2020 – after months of negotiations in Doha, Qatar – that called for a permanent ceasefire, peace negotiations between the Taliban and the Afghan government, and a withdrawal of all foreign forces by May 1.
Peace talks between the Taliban and Kabul government began in September but have been marred by continuing conflict, attacks and Taliban-linked assassinations.
There are about 2,500 US troops and 10,000 NATO troops in Afghanistan now. A US decision to remain past May 1 would likely result in renewed conflict with the Taliban and require the deployment of 2,000 or more US forces, Dunford said.
https://www.aljazeera.com/news/2021/2/19/us-calls-on-taliban-to-end-violence-in-afghanistan
--------
Afghan police: 3 separate Kabul explosions kill 5, wound 2
Feb 20, 2021
KABUL: Three separate explosions in the Afghan capital Kabul on Saturday killed at least five people and wounded two others, a police official said, amid a surge in violence in the war-torn country.
Kabul police spokesman Ferdaws Faramarz said the first two explosions took place 15 minutes apart and a third targeting a police vehicle took place two hours later.
No group immediately claimed responsibility.
It wasn't immediately clear what caused the blasts. The majority of bomb attacks in the capital Kabul in recent months have been sticky bombs _ explosive devices with magnets that are attached to vehicles and detonated by remote control or timer.
The second explosion targeted a car in a northwestern Kabul neighborhood in which national army soldiers were traveling, killing two soldiers. A civilian passerby was also killed.
The third explosion destroyed a police car in western Kabul killing two police officers. Meanwhile, the first blast targeted a civilian car wounding both travelers inside the vehicle.
Kabul police said investigations were underway.
Afghanistan has seen a nationwide spike in bombings, targeted killings and violence on the battlefield as peace negotiations in Qatar between the Taliban and the Afghan government have stalled.
The Islamic State group's local affiliate has claimed responsibility for some of the attacks, but many go unclaimed, with the government putting the blame on the Taliban. The insurgents have denied responsibility for most of the attacks.
https://timesofindia.indiatimes.com/world/middle-east/afghan-police-3-separate-kabul-explosions-kill-5-wound-2/articleshow/81122457.cms
--------
Bangladesh's Chittagong Archdiocese gets new archbishop
Rock Ronald Rozario
February 20, 2021
Pope Francis has appointed Holy Cross Bishop Lawrence Subrato Howlader of Barishal as the new metropolitan archbishop of Chittagong Archdiocese in southeastern Bangladesh.
Archbishop-elect Howlader, 56, fills the post left vacant since Holy Cross Archbishop Moses M. Costa died from a stroke following his apparent recovery from Covid-19 on July 13 last year at the age of 70.
Archbishop George Kocherry, apostolic nuncio to Bangladesh, announced the appointment at Our Lady of Holy Rosary Cathedral Church in Chittagong on Feb. 19.
Archbishop Howlader is the second metropolitan archbishop and sixth bishop of Chittagong, one of the country's oldest Catholic strongholds.
He was the auxiliary bishop of Chittagong from 2009 to 2015. He became the first bishop of Barishal Diocese when it was erected on Dec. 29, 2015, by dividing Chittagong Diocese.
Stories Transform Lives
Born on Sept. 11, 1965, in Nobogram of Barishal district, Archbishop Howlader entered Holy Cross Congregation, the largest religious order in Bangladesh, in 1987. He pronounced his first and final vows with the Holy Cross in 1988 and 1993 respectively.
He was ordained a priest on Dec. 31, 1994. He served in two Holy Cross-run parishes and St. Paul's Minor Seminary in Mymensingh Diocese from 1996 to 2000.
From 2000 to 2004, Father Howlader studied at the Gregorian University in Rome and obtained a licentiate in depth psychology, spirituality and counseling.
He was the novice master of Holy Cross Novitiate in Barishal from 2004 to 2009.
Pope Benedict XVI appointed Father Howlader as the first auxiliary bishop of Chittagong on May 7, 2009.
The archbishop-elect has been serving as chairman of the Youth Commission of the Catholic Bishops' Conference of Bangladesh (CBCB). Last year he was appointed treasurer of the CBCB.
In Barishal Diocese, he has been credited with prioritizing pastoral care and social services, interreligious and ecumenical dialogue, and infrastructure development.
He also made efforts to revitalize religious and lay groups that offer a range of services including education, health and socioeconomic development for people.
Cheers and high expectations
Many Catholics took to social media to convey their best wishes to Archbishop Howlader.
Catholics in Chittagong expressed joy and shared their expectations of the new prelate.
"Archbishop Howlader is a relatively young prelate, and he will be able to serve us better. I hope he will be able to empower the faithful spiritually, pastorally and socially, especially those living in remote, hilly areas who face difficulties to access to basic facilities like education, health and employment," Francis Tripura, 49, secretary of the Pastoral Service Team in Bandarban hill district, told UCA News.
Local Catholics also need support for developing cooperatives, alternative employment to agriculture and assistance to overcome land disputes and pressure from people of other faiths, he added.
Martha D'Silva, 50, a Catholic mother of three daughters from the Jamal Khan area of Chittagong, said she knows Archbishop Howlader as a "good, pastoral-minded prelate."
She said poor and poorly educated Christians in Chittagong like her family need support from the Church. Her husband has been sick for more than a year, and the family runs mostly on support from two married daughters.
"I thank God that my husband has a house to live in. There are even poorer people than us in Chittagong. I expect the Church under the new archbishop will reach out and help them," D'Silva told UCA News.
Stanley Gomes, 53, a Catholic and private jobholder, welcomed the new prelate and expects him to serve people by overcoming social and pastoral challenges.
"Chittagong is a melting pot of people from diverse social status and ethnic backgrounds. Often the poor and destitute are overlooked and discriminated. They require more attention to attain education and empowerment properly to ensure equality and fairness. There also divisions within the community, so he will need to promote unity among them," Gomes told UCA News.
"The new archbishop will need to continue the long-held tradition of interfaith harmony in Chittagong. He will also have to overcome financial constraints and lack of resources of the local Church."
A cradle of Christianity
Chittagong, Bangladesh's largest port city and an economic hub, played a significant role in the growth of Christianity in the country.
In 1517, Portuguese Christian traders landed at Chittagong port of East Bengal (now Bangladesh) when it was part of India. The second contingent that arrived in 1518 decided to settle down in Chittagong and nearby Diang, marking the advent of first Christian settlements in the country. From 1518 to 1597, Chittagong was part of Goa Diocese of India.
In 1598, Portuguese Jesuit priest Father Francesco Fernandez was the first Catholic missionary to set foot in Chittagong. Two Jesuit priests — Father Melchior de Fonseca and Father Andre Boves — and two Dominican priests followed his footsteps in 1599, and a band of Augustinian priests turned up in the 1600s, when the first two churches were set up in Diang and Chittagong.
The new Church faced a massive crisis and persecution amid a tug-of-war for supremacy between the Mughal Empire and Kingdom of Arakan (now Rakhine of Myanmar).
Hundreds of Christians were massacred and newly built churches were destroyed by the invading Arakan army between 1600 and 1625. Arakanese soldiers detained Father Fernandez for his support of Portuguese Christian families. They assaulted, blinded and incarcerated the priest, who died in captivity on Nov. 14, 1602, becoming the first martyr of Bengal.
In 1845, Chittagong became the seat of first East Bengal Vicariate and the territory was entrusted to Dhaka Diocese in 1886. Chittagong Diocese was created in 1927 and covered territories of India and Myanmar. It was elevated to an archdiocese on Feb. 2, 2017.
Chittagong Archdiocese has about 30,000 Catholics in 11 parishes and four mission centers. Most Catholics are ethnic indigenous people from the Chittagong Hill Tracts area.
In Muslim-majority Bangladesh with a population of more than 160 million, Christians comprise less than half percent or an estimated 600,000. About 400,000 Catholics are in two archdioceses and six dioceses.
https://www.ucanews.com/news/bangladeshs-chittagong-archdiocese-gets-new-archbishop/91482
--------
Mideast
Rouhani Asks EU to Stand against US Bullying Policies
2021-February-19
Rouhani made the remark in a phone call with the European Council's President Charles Michel on Thursday evening.
He described the JCPOA as an "important achievement for multilateral diplomacy" and stressed the role of the EU's foreign policy chief in converging efforts for planning future steps.
The president underlined the need to develop relations with the EU, especially in the field of economy, saying, "Given the recent developments in the world, we must try to facilitate relations between Iran and the EU."
Michel, for his part, emphasized the maintenance of the JCPOA as a global treaty and stressed its full implementation by all signatories.
He also referred to Europe's position to support the JCPOA after the US illegal and unilateral withdrawal.
"The Council of Europe must use the opportunity to maintain and fully implement the UN Security Council by all parties, and the EU will play its role in this regard," Michel noted.
In relevant remarks, Rouhani in a phone conversation with German Chancellor Angela Merkel had said that there is no way for parties to the nuclear deal to save the agreement but persuading the US to lift the inhumane sanctions against Iran.
During the conversation on Wednesday, Rouhani categorically dismissed the possibility of injecting new items into the already negotiated nuclear deal, formally called the Joint Comprehensive Plan of Action (JCPOA), which was struck on July 14, 2015 between Iran and six world powers – the US, Britain, France, Germany, Russia and China.
"The JCPOA, as a document approved by the UN Security Council and a product of sustained efforts by Iran and six major countries in the world, has a clear framework and cannot be changed," he told Merkel.
Hinting at Europe's lack of commitment to the JCPOA in the aftermath of the US withdrawal, Rouhani said Iran should be able to see the effectiveness of the nuclear deal in practice, and Europe should practically prove that it is really after maintaining the JCPOA.
Rouhani said his administration is committed to further reduce the country's undertakings under the JCPOA, unless the sanctions are lifted, in which case "we will also completely implement our obligations within the framework of the JCPOA".
Merkel, for her part, called on Iran to take steps to ensure its return to full compliance to the JCPOA.
"She expressed her concern that Iran continues to fail to meet its obligations under the nuclear agreement," Merkel's spokesman Steffen Seibert said in a statement.
"It is now time for positive signals that create trust and increase the chances of a diplomatic solution," the chancellor said, according to Seibert.
Iranian Government Spokesman Ali Rabiyee announced on Tuesday that the country will stop the voluntary implementation of the Additional Protocol to the NPT due to the US and other parties' disloyalty to the nuclear deal.
"Based on the sixth paragraph of the parliament's bill and given the fact that sanctions have not been removed so far, the government and the Atomic Energy Organization of Iran (AEOI) are required to suspend the voluntary implementation of the Additional Protocol which will decrease the supervisions and inspections beyond the IAEA's safeguards agreements," Rabiyee told reporters in a press conference.
He noted that the measure does not take time and can be carried out rapidly, but meantime, said Iran is still a member of the safeguards agreements, which means that a major part of the inspections which are not within the framework of the Additional Protocol will continue.
"Therefore, stopping the voluntary implementation of the protocol does not mean terminating cooperation with the Agency. This cooperation will continue and the Islamic Republic of Iran will definitely inform the Agency of all its moves in advance in a letter, as has been the case so far," Rabiyee said.
"It is clear that this new measure is against Iran's will and was adopted due to the US lagging in lifting sanctions and fulfilling its obligations under the UN Security Council Resolution 2231. We continue to consider the nuclear deal a creditable agreement and the best possible agreement, and we are ready to immediately reverse all steps taken under paragraph 36 of the nuclear deal to their original status as stated in the nuclear deal provided that the US and other parties to the agreement revive their undertakings," he added.
Rabiyee expressed the hope that the US and three European members of the nuclear deal (France, Britain and Germany) would take the closing window of opportunity to keep diplomacy alive.
Iranian Foreign Ministry Spokesman Saeed Khatibzadeh said that his country will halt the voluntary implementation of the Additional Protocol to the Non-Proliferation Treaty (NPT) next week in case other parties continue to defy their nuclear deal undertakings.
"The Iranian government is required to suspend the voluntary implementation of the Additional Protocol next week, according to the parliament approval, if the obligations of the other parties have not been fulfilled by that day. This move does not take time and can be implemented in a day," Khatibzadeh told reporters in a press conference in Tehran on Monday.
"Accordingly, inspections beyond the safeguards agreements will be stopped, and this means the supervisions that Iran has accepted within the framework of the Additional Protocol and it does not mean stopping all supervisions. Iran will keep fulfilling some of the inspections, but the Additional Protocol will definitely be stopped," he added.
Yet, Khatibzadeh underlined that Iran's cooperation with the International Atomic Energy Agency (IAEA) will continue and will inform the IAEA of its moves in a letter, reiterating that all the actions done by Iran are easily reversible, provided that the other parties return to their obligations.
"Unfortunately, the US continues to follow the wrong path of the previous administration, and what is happening today is no different from what was underway before January 20, and the maximum pressure and crime against the Iranian people and disregard for international laws continues today too," he added.
Last month, Iranian Envoy and Permanent Representative to the UN Majid Takht Ravanchi underlined that if Biden decides to return to the nuclear deal, Washington should comply with all its undertakings in exact accordance with the internationally-endorsed agreement.
"We make decision and take reciprocal action considering Biden's moves vis a vis the nuclear deal. We have repeatedly demanded the US to return to the nuclear deal and this return should be complete and without preconditions, that is to say, no issue related or unrelated to the nuclear deal should be put forward for discussion," Takht Ravanchi said.
"It should only be clear that the US international undertakings cannot be half-fulfilled. If they claim to return to the nuclear deal, this return should be accompanied by the full implementation of their undertakings with no hesitation or controversy," he added.
Takht Ravanchi stressed Iran's clear position towards the nuclear deal, and said, "We live up to our undertakings."
He referred to the parliament's bill to take strategic measures to counter the US sanctions against Iran, and said, "There is a timetable in the parliament's bill and we are moving in the same direction, so we (at the foreign ministry) are not entitled to specify the period for how long we will wait. In the first place, we make decisions based on national interests, and secondly, we should act on the basis of and within the framework of the parliamentary bill."
His remarks came after Head of the Atomic Energy Organization of Iran (AEOI) Ali Akbar Salehi announced that the country is at present producing nearly half a kilo of uranium enriched to the 20% purity level, meantime, saying that Tehran's steps to reduce nuclear deal undertakings after the West's disloyalties can all be backtracked.
"Based on the latest news I have, they (the Iranian scientists at nuclear installations) are producing 20 grams (of 20% enriched uranium) every hour; meaning that practically, we are producing half a kilo every day," Salehi said in an interview with the Persian-language Khamenei.ir website released last month.
"We produce and store this 20% (enriched uranium) and if they return to the nuclear deal, we will return to our undertakings too," he added.
Asked about the recent bill approved by the parliament to adopt strategic measures to remove sanctions against Iran, Salehi said that the AEOI is required to implement it.
"It is a reality and both the government and the AEOI have declared that they do not have any technical problems with implementation of the parliament's bill and we launched 20% enrichment within 24 hours," he said.
Salehi also underlined the need for Washington to remove all sanctions against Iran, specially those which prevent the country's oil sales and banking transactions.
Iranian legislators had in January praised the AEOI for restarting enrichment of uranium at 20-percent purity level, and called for the full implementation of the recent parliamentarian law to counter the illegal US sanctions against the country.
In a statement, 190 legislators expressed their support for the AEOI's resumption of 20% uranium enrichment and urged the body to fully and precisely implement the law ratified as a counteractive move to the sanctions illegally imposed on the country, especially those by the United States.
The lawmakers said the parliament approved the 'Strategic Counteractive Plan for Lifting Sanctions and Safeguarding Rights of Iranian People' to highlight Iran's legitimate right to use peaceful nuclear technology and the importance of lifting all cruel sanctions against the country.
The Iranian parliamentarians in a meeting on December 1, 2020 ratified the generalities of a bill to adopt strategic measures to remove sanctions against the country and defend the nation's interests.
The lawmakers, in November, had given the green light to the single-urgency of the strategic motion, but the plan turned into a double-urgency on Sunday after the assassination of the Iranian nuclear scientist Mohsen Fakhrizadeh.
Iranian nuclear scientist Mohsen Fakhrizadeh's car was targeted by an explosion and machinegun fire in Damavand's Absard 40 kilometers to the East of Tehran on Friday November 27, 2020.
Under the bill, the AEOI is required to start in two months after the approval of the present bill to produce at least 120 kg of 20%-enriched uranium annually at Fordow nuclear site and store it inside the country, increase the enrichment capacity and production of enriched uranium to at least 500 kg per month, start the installation of centrifuges, gas injection, enrichment, and storage of materials up to proper purity levels within 3 months, via at least 1000 IR-2m centrifuges in the underground part of Shahid Ahmadi Roshan facility in Natanz, transfer any enrichment, research, and development operations of IR-6 centrifuges to the nuclear site of Shahid Ali Mohammadi in Fordow, and start enrichment operation via at least 164 centrifuges and expand it to 1000 by the end of 20 March 2021 (end of the Iranian calendar year) and return the 40 megawatts Arak heavy water reactor to its pre-JCPOA condition by reviving the heart (calandria) of the reactor within 4 months from the date of the adoption of this law.
Also, the government is required to suspend the nuclear deal-based regulatory access under the Additional Protocol and beyond within 2 months after the adoption of the law based on the articles 36 and 37 of the nuclear deal.
Iran signed the JCPOA with six world states — namely the US, Germany, France, Britain, Russia, and China — in 2015.
Trump, a stern critic of the historic deal, unilaterally pulled Washington out of the JCPOA in May 2018, and unleashed the "toughest ever" sanctions against the Islamic Republic in defiance of global criticism in an attempt to strangle the Iranian oil trade, but to no avail since its "so-called maximum pressure policy" has failed to push Tehran to the negotiating table.
In response to the US' unilateral move, Tehran has so far rowed back on its nuclear commitments four times in compliance with Articles 26 and 36 of the JCPOA, but stressed that its retaliatory measures will be reversible as soon as Europe finds practical ways to shield the mutual trade from the US sanctions.
Tehran has particularly been disappointed with failure of the three European signatories to the JCPOA -- Britain, France and Germany -- to protect its business interests under the deal after the US' withdrawal.
On January 5, 2020, Iran took a final step in reducing its commitments, and said it would no longer observe any operational limitations on its nuclear industry, whether concerning the capacity and level of uranium enrichment, the volume of stockpiled uranium or research and development.
Meantime, Biden has recently said in a CNN article that he wants a renegotiation of the contents of the deal before he agrees to rejoin the agreement.
"I will offer Tehran a credible path back to diplomacy. If Iran returns to strict compliance with the nuclear deal, the United States would rejoin the agreement as a starting point for follow-on negotiations. With our allies, we will work to strengthen and extend the nuclear deal's provisions, while also addressing other issues of concern," he wrote, mentioning that he wants changes to the contents of the nuclear deal and guarantees from Tehran that it would be open for compromise to strike multiple deals over its missile and regional powers as well as a number of other issues that have been the bones of contention between the two sides in the last four decades.
In response, Iranian Foreign Minister Mohammad Javad Zarif had stressed that the US has violated the nuclear deal and is in no position to ask for any conditions for its return to the JCPOA, adding that it's Tehran that has its own terms to allow the US back into the internationally endorsed agreement.
The foreign minister has reiterated time and again that Tehran would not change even a single word of the agreement, and cautioned the US that it needs to pay reparations for the damage it has inflicted on Iran through its retreat from the nuclear agreement and give enough insurances that it would not go for initiating the trigger mechanism again before it could get back to the deal.
In relevant remarks earlier this month, Spokesman for the AEOI Behrouz Kamalvandi said his country enjoys the capability to produce 120 kg of uranium with 20% purity in 8 months, that's 4 months faster than the one-year period required by a recent parliament approval.
https://www.farsnews.ir/en/news/13991201000057/Rhani-Asks-EU-Sand-agains-US-Bllying-Plicies
--------
Dozens of Palestinians injured by Israeli forces in West Bank
19 February 2021
Israeli forces have fired rubber bullets and teargas to disperse weekly anti-settlement protests in several areas across the occupied West Bank, leaving dozens of people injured.
Israeli forces violently attacked hundreds of Palestinians participating in a peaceful rally in the village of Beit Dajan, east of Nablus City, on Friday, according to the Palestinian Quds News Network.
A Palestinian was also injured during a weekly protest in the village of Kafr Qaddum, near the city of Qalqilia, in the occupied West Bank.
"Despite bad rainy weather, clashes broke out today between #Palestinian protesters and Israeli occupation forces in the village of Kafr Qaddum in the occupied West Bank, today," the news network said in a tweet.
The West Bank has long been a scene of weekly peaceful protests against the Israel regime's settlement expansion policy.
According to a recent report by the anti-settlement monitoring group Peace Now, Israel has advanced plans for the construction of 780 new illegal settler units in the occupied West Bank.
According to a recent report by the anti-settlement monitoring group Peace Now, Israel advanced plans for the construction of 780 new illegal settler units in the occupied West Bank.
More than 600,000 Israelis live in over 230 settlements built since the 1967 Israeli occupation of the Palestinian territories of the West Bank and East Jerusalem al-Quds.
All Israeli settlements are illegal under international law as they are built on occupied land.
Palestinians want the West Bank as part of their future independent state with East Jerusalem al-Quds as its capital.
Israel releases body of Palestinian inmate
In another development, Israel returned the body of a Palestinian inmate to his family, five months after he passed away in the regime's detention center.
Daoud Talaat Khatib, 45 died of heart attack after 18 years in prison, in September.
He was scheduled to complete his prison term and be released in December last year.
Israel holds the bodies of scores of Palestinians killed in years of violence, refusing to return them to their families for burial.
https://www.presstv.com/Detail/2021/02/19/645632/Israel-violence-rubber-bullets-tear-gas-Palestine-West-Bank
--------
US will continue to dissuade countries from selling arms to Iran
19 February ,2021
The United States will continue to persuade countries not to provide arms to Iran after it decided to reverse the Trump administration's stance that UN sanctions against Iran snapped back due to its violation of the 2015 nuclear treaty.
"Reversing the snapback position adopted by the previous administration ... strengthens our position to engage the UN Security Council on Iran," State Department Spokesperson Ned Price told reporters.
Price said that regardless of the recent decisions, "we will continue to use our authorities to persuade countries not to provide arms to Iran."
In recent days and weeks, the Biden administration has made several moves in an apparent sign to Iran that it seeks negotiations once again. Ties between Washington and Tehran came to a halt during the Trump administration's time in office. Under Trump, the US withdrew from the Joint Comprehensive Plan of Action (JCPOA) and imposed crushing economic sanctions on Iran.
Although Biden and senior White House officials have stated that Iran must make the first move and come back into compliance with its commitments under the JCPOA, sanctions against Iranian proxies have been lifted, among other decisions easing the pressure on Tehran.
It is unclear if Iran has made any concessions whatsoever.
On Friday, Secretary of State Antony Blinken claimed the Trump administration's Iran policy had failed.
"We have a policy in recent years of so-called 'maximum pressure' on Iran that has not produced results. In fact, the problem has gotten worse. Iran is now much closer to being able to produce, on short order, enough fissile material for a nuclear weapon," Blinken told BBC.
But Blinken doubled down on previous comments by him and Biden: "If Iran returns to its obligations under the nuclear agreement, the United States will do the same thing," he said.
https://english.alarabiya.net/News/middle-east/2021/02/19/Iran-nuclear-deal-US-will-continue-to-dissuade-countries-from-selling-arms-to-Iran
--------
Equatorial Guinea set to move embassy to Jerusalem al-Quds
20 February 2021
Equatorial Guinea is set to relocate its embassy in Israel to Jerusalem al-Quds, becoming the second African country to join a very small number of states that have pledged to move their embassies to the occupied city.
The plan was announced by Guinea's President, Teodoro Obiang Nguema Mbasogo, during his telephone conversation with Israeli Prime Minister Benjamin Netanyahu on Friday.
It is worth mentioning that Mbasogo is the world's longest-serving president who took power in a 1979 coup.
His human rights log has been so bleak and according to the Human Rights Watch, under President Mbasogo, "Corruption, poverty, and repression of civil and political rights continued to undermine human rights in Equatorial Guinea".
Ras Mubarak, a Ghanian Member of the Parliament, said that "Equatorial Guinea is a dictatorship; there is no democracy in the country. This is a country that does not respect human rights, does not respect the rule of law, tying its apron strings with another, which is Israel, which is practicing apartheid".
Yotam Gidron, author of 'Israel in Africa', said, "While Israel has been working to persuade African countries to move their embassies to Jerusalem or, in the case of those countries with no diplomatic ties, to normalize them, I think that this specific announcement came as a surprise to many".
Considering the Israeli elections in a few weeks, Gidron interpreted the move "as a favor or a gesture of support from Mbasogo to Netanyahu, perhaps mediated by Israeli private actors operating in Equatorial Guinea."
In November, Malawi announced it would open a full embassy to Israel in the holy city, becoming the first African nation in decades to do so.
Equatorial Guinea's move comes almost four years after former US President Donald Trump officially declared the occupied city as Israel's capital.
On December 6, 2017, Trump said his administration would begin the process of moving the American embassy in Tel Aviv to the holy city and in May 2018, Washington officially announced the opening of its new embassy there.
The Israeli regime considers the holy city as its eternal capital. It occupied the east Jerusalem al-Quds in the Six-Day War of 1967, in a move not recognized internationally.
According to a statement released by Netanyahu's office, the prime minister, in a surprising move, boasted of establishing new ties with several Asian and African countries which have eluded the Israeli regime over the conflict with the Palestinians.
He was pleased to add that "Israel is returning to Africa and Africa is returning to Israel in a big way".
Israel's ties with the African countries date back to mid-1950s, with Ghana being the first country to establish diplomatic relations with the regime.
Furthermore, Israel has maintained its military training and arms exports to sub-Saharan African countries since their independence and seems to strengthen its presence in these countries by different means.
https://www.presstv.com/Detail/2021/02/20/645645/Equatorial-Guinea-Embassy-Jerusalem
--------
Battle for Ma'rib: Yemeni army, allies make big advances on eastern front
20 February 2021
Yemeni army troops and allied fighters from Popular Committees have made new advances against Saudi-led coalition militants in Yemen's central province of Ma'rib, flushing them out of several districts and edging closer to final victory.
Lebanon-based Arabic-language al-Mayadeen television news network reported that the Yemeni soldiers and their allies have wrested control over Raqwan district, and are working to take over al-'Alam al-Abyad and al-Nadhoud regions, which lie northeast of Ma'rib city.
Local sources said Yemeni army forces and fighters from Popular Committees have been able to purge a number of positions from Saudi-led forces and militants loyal to former Yemeni president Abd Rabbuh Mansur, and have also laid a siege to militants affiliated to al-Qaeda terror group on the outskirts of al-Nadhoud district.
The sources added that Yemeni forces are currently advancing towards the al-Wadiyah border crossing with Saudi Arabia.
Moreover, the Yemeni army troops and allies have seized several areas east of the Medghal district after fierce clashes with pro-Hadi loyalists supported by Saudi-led coalition military aircraft.
Dozens of Saudi mercenaries were killed and wounded in the process. Among the dead were Brigadier Ahmed Qaid al-Sha'rabi, commander of the Kasara Front and the 117th Brigade of Hadi loyalists, and a number of his close aides. They were killed during confrontations in Malbouda area.
Serious clashes are also going on between the Yemeni soldiers and pro-Hadi forces in the southern flanks of al-Tala'a al-Hamra area.
Additionally, Saudi-led coalition fighter jets have launched a series of airstrikes against al-Zour area and other military sites, which were recently taken over by the Yemeni army forces in the Sirwah district of Ma'rib province.
There were no immediate reports about possible casualties and the extent of damage caused.
Over the past few weeks, Ma'rib has been the scene of large-scale operations by the Yemeni troops and allied Popular Committees fighters, who are pushing against Saudi-backed Hadi supporters.
The Daesh Takfiri terrorist group issued a short statement on Wednesday, saying it has carried out operations against the Yemeni armed forces in the province, killing and wounding a number of them in the process.
The Yemeni forces' advances have raised concerns in the Saudi-led coalition and their allies, including the United States.
The Houthi Ansarullah movement says this once again proved the US support for terrorist elements in Ma'rib.
'Coalition of aggression opposed to end of Yemen war, peace establishment'
Mohammed al-Bukhaiti, a senior member of Ansarullah's political bureau, says members of the Saudi-led coalition waging an atrocious military campaign on Yemen are opposed to the cessation of hostilities and establishment of lasting peace.
Bukhaiti told al-Mayadeen television news network that the Yemeni army troops and allied fighters from Popular Committees are prepared to stop battles in Ma'rib once the Saudi-led coalition ends its military operations completely.
"The countries of aggression demand an end to fighting on fronts where they are defeated, not on all fronts," he said, emphasizing that the United States and Saudi-led coalition "are preventing oil derivatives from reaching Yemen and threatening the work of humanitarian facilities there."
Bukhaiti highlighted that "the coalition of aggression refuses to stop the [Yemen] war and opposes achievement of comprehensive peace. We are assured of our victory in this war."
https://www.presstv.com/Detail/2021/02/20/645653/Battle-for-Marib-Yemeni-army-allies-make-big-advances-on-eastern-front
--------
Independence-seeking Yemen will never accept guardianship of US, Israel, Saudi Arabia: Houthi
20 February 2021
Yemen wants to be a free and independent country, strongly rejecting guardianship sought by the United States, Saudi Arabia, or any other foreign state, the leader of Yemen's Ansarullah movement says.
Abdul-Malik al-Houthi made the remarks in a televised speech on Friday, saying the enemies of Yemen wanted to control the country and its people, while Yemenis wanted to be "free from the American hegemony."
"We do not want to be under the guardianship of Saudi Arabia, the United Arab Emirates (UAE), the US, Israel, or any foreign country; we are free, and our faith identity compels us to strive to achieve our independence," Houthi stressed, Yemen's Arabic-language al-Masirah television network reported.
He added that the enemies imposed a years-long brutal war on Yemen since Yemenis wanted to be free from the shackles of dependence on foreign states and wanted to live as a free nation.
Saudi Arabia and a number of its regional allies, including the UAE, launched a devastating war on Yemen in March 2015 to bring former president Abd Rabbuh Mansur Hadi, a staunch ally of Riyadh, back to power and crush the popular Ansarullah movement.
Yemen's army, as well as allied popular forces, however, has gone from strength to strength against the Saudi-led invaders, leaving the so-called military coalition forces bogged down in Yemen.
Houthi further said that Washington ultimately wanted to establish Israel's dominance over the region while Yemenis would gallantly fight for their independence.
"Our goal is to confront aggression, refuse any foreign dominance over Yemen, and confront those who have ambitions in our country," he stressed.
Earlier this month, Yemen's army soldiers and their allied fighters from Popular Committees resumed an offensive to take control of oil-rich Ma'rib, Hadi's last urban stronghold in northern Yemen, which is some 120 km east of the capital Sana'a.
Regarding the Ma'rib offensive, Houthi stressed that this operation just like similar ones in other areas of the country, including al-Jawf and Ta'izz, "is a response to the aggressor who fought against our people because it wants control and guardianship over them."
He added that very few people from Ma'rib are fighting in the ranks of militiamen loyal to Hadi.
Regarding the destructive role Takfiri terrorists play in parts of Yemen, Houthi said the Takfiri mindset is completely different from that of the Yemeni nation.
Takfiri elements "do not believe in the authenticity of our people, they regard true Yemenis as non-believers," he said.
In conclusion, Houthi said that all military operations in all tracks by Yemeni army troops and allied fighters come within the framework of confronting "aggression that others have imposed" on Yemen.
The Saudi war and siege on the Arabian Peninsula country has made at least 80 percent of the country's 28-million-strong population reliant on aid to survive in what the UN has called the world's worst humanitarian crisis.
UN agencies have already warned that around 400,000 Yemeni children aged under five are in danger of losing life this year due to acute malnutrition.
The war has also destroyed or closed half of Yemen's hospitals and clinics, leaving the people helpless particularly at a time when they are in desperate need of medical supplies to fight the COVID-19 pandemic.
https://www.presstv.com/Detail/2021/02/19/645637/Yemen-Houthi-US-Saudi-Arabia-guardianship-Israel
--------
Africa
Algeria frees imprisoned journalist, pro-democracy activists
20 February ,2021
Algerian authorities freed an imprisoned journalist and more than 30 other pro-democracy activists Friday, in a conciliatory gesture ahead of the second anniversary of their Hirak protest movement.
Chanting "Free and Democratic Algeria," dozens of people gathered at the prison where journalist and activist Khaled Drareni had been held in Kolea, west of the capital Algiers. Standing behind a police cordon, they cheered his release.
"I thank all those who have shown solidarity with us in Algeria and abroad, because of our combat as free and independent journalists and the fight of all imprisoned journalists and all prisoners of opinion. We will all be free when all the prisoners are free," Drareni said after his release.
Drareni was imprisoned for "inciting an unarmed gathering" and "endangering national unity," charges linked to his coverage of the protest movement. His arrest drew criticism outside Algeria as a threat to press freedom.
Drareni founded the Casbah Tribune news site and worked for French TV channel TV5 Monde, among others, as well as for the international media watchdog Reporters Without Borders.
"I'm brought to tears, Khaled has just been freed!" said Mahrez Rabia, a friend and radio journalist.
The Hirak movement helped push out Algeria's long-serving former president in 2019 and inspire new efforts to fight corruption.
But protesters demand deeper change to Algeria's secretive power structure, and new demonstrations were expected Monday to mark two years since the birth of their movement.
President Abdelmadjid Tebboune announced this week he was pardoning 33 activists, reshuffling the government and dissolving parliament to hold early elections, partly in response to protesters' demands.
The justice minister said on Ennahar television that Drareni was released as part of outreach by the president on the anniversary. The Justice Ministry said the activists were all being pardoned for "their activities on social networks or public gatherings."
Tebboune said that up to 56 or 57 activists would be released overall.
https://english.alarabiya.net/News/middle-east/2021/02/20/Algeria-frees-imprisoned-journalist-pro-democracy-activists
--------
Sudanese refugee kills French immigration official after asylum request rejected
19 February ,2021
A Sudanese refugee stabbed and killed an employee at a centre for asylum seekers in the southern French city of Pau on Friday after his request for political asylum was rejected, authorities said.
A police prefecture official said the asylum seeker had been living at the centre for a while and the Pau mayor said he had earlier been in jail for acts of violence, notably with a knife.
"This is a terrible drama, all the more because the victim spent his entire professional life helping migrants and asylum seekers," Pau mayor Francois Bayrou said on France Bleu radio.
"The man's asylum request had been rejected, and for good reasons. He then turned against the head of the service, this is extreme and absurd violence," Bayrou added.
French media reported the alleged assailant had been arrested.
French Interior Minister Gerald Darmanin said on Friday he was heading to the asylum seekers centre in Pau.
On its website the Sudouest newspaper quoted the head of the centre as saying that the victim was the head of the asylum service and that he had been stabbed in the throat.
https://english.alarabiya.net/News/middle-east/2021/02/19/Sudanese-refugee-kills-French-immigration-official-after-asylum-request-rejected
--------
Jordan says troops kill two drug smugglers on border with Syria
19 February ,2021
Jordanian troops clashed with drug smugglers on the border with Syria on Friday, killing two people and seizing a shipment of hashish and amphetamines, the military said.
The military said it thwarted two attempts to "infiltrate a group of people and smuggle quantities of drugs" into Jordan.
The statement said "rules of engagement were applied, which resulted in the killing of two people and the arrest of a third."
It said the others fled back into Syria following the incident.
The amphetamines were labeled captagon, the street name for a drug whose chemical base is fenethylline.
Jordan is a close Western ally and the kingdom hosts more than 650,000 Syrian refugees.
https://english.alarabiya.net/News/middle-east/2021/02/19/Jordan-says-troops-kill-two-drug-smugglers-on-border-with-Syria
--------
Morocco suppressing activists in Western Sahara after deal with Israel
19 February 2021
Activists and ordinary people in Western Sahara are said to have been subjected to a harsh crackdown and human rights abuses by the government in Rabat, weeks after the United States recognized Morocco's sovereignty over the disputed territory — where pro-independence sentiments run high — as a gift following its normalization with Israel.
The Middle East Eye news portal cited the activists as saying on Friday that Washington's decision on December 10, 2020, to recognize Morocco's territorial claim to Western Sahara had emboldened Rabat to harass ordinary people and those critical of the move.
Mahmoud Lemaadel, one of the activists, reported an "unprecedented" number of assaults on activists and campaigners in Western Sahara over the past weeks.
"Since that point (US recognition), Morocco has launched an arbitrary campaign targeting human rights activists and also citizens who have nothing to do with any type of activism," Lemaadel said.
Following the United Arab Emirates (UAE), Bahrain, and Sudan, Morocco became the fourth Arab country late last year to reach a normalization agreement with Israel, which was brokered by the administration of ex-US president Donald Trump during its final days in office.
As part of the contentious deal, Trump agreed to recognize Morocco's authority in Western Sahara, which has been at the center of a decades-old territorial row between Morocco and the Polisario Front.
The Algeria-backed movement has been fighting for the Sahrawi people's aspirations for independence from Moroccan rule and for a referendum on their self-determination, something that has been pledged to the region in UN resolutions.
Resource-rich Western Sahara, a former Spanish colony, was claimed by Morocco in 1957, but its indigenous population is firmly opposed to Moroccan control and has been calling for independence from the North African country.
Elaborating on Rabat's campaign of suppression, Lemaadel said since last December, Sahrawi citizens have been stopped in the streets and grilled about their views of Morocco's rule over the territory.
In turn, Mohamed Elbaikam, another activist, revealed other repression tactics used by the Moroccan government.
"Salaries of human rights activists have been cut off or frozen, their family members are often threatened and there have been several examples of phones hacked and exposed," he said.
'People in W Sahara under military siege'
Elbaikam further rejected Trump's claim that his decision was meant to provide the locals with an opportunity to live a better life and said the recognition had instead paved the way for a "stronger, more intense and continuous" repression campaign against the Sahrawi people.
"Therefore, the people of Western Sahara are under unprecedented military and security siege and pressure these days, especially as the [Persian] Gulf countries have shown support to the Trump proclamation," he said.
Meanwhile, Nazha el-Khalidi, an activist and journalist, warned that Trump's move could negatively impact the already conflict-stricken region.
"We Sahrawi people do not want to be the scapegoat for any relationship that binds one state to another... the bridge between Morocco and Israel has been built over the blood of Sahrawi people," she said.
"Trump's decision has given a green light to more violence towards Sahrawi people... authorities are even transforming our houses into prisons. Right after Trump's proclamation, all houses of activists came under constant surveillance," she added.
Meanwhile, Lemaadel said Morocco had also stepped up its arrest campaign against activists in recent weeks, saying those detained had faced "vague" or "made-up" charges so that they could be kept in jail.
Disturbing videos of several brutal arrests at the hands of Moroccan forces were widely shared on social media platforms.
In one such example of vengeful retaliation against the unarmed Sahrawis in the occupied WS, is Sultana Khya. She has been under house arrest more than 87 days. Sultana & her family are everyday subjected to police brutality because of their support to the independence of WS pic.twitter.com/0EzyX1EHXY
— Nushatta Foundation (@Nushatta) February 16, 2021
The Moroccan government has long been responding to pro-independence activism in Western Sahara with an iron fist.
Last December, the Human Rights Watch (HRW) slammed Rabat for having kept a "strong lid on any manifestations of opposition to Moroccan rule in Western Sahara for a long time.
The leading New York-based rights group said Moroccan authorities "have prevented gatherings supporting Sahrawi self-determination, beat activists in their custody and on the streets, imprisoned and sentenced them in trials marred with due process violations including torture, impeded their freedom of movement, and followed them openly."
https://www.presstv.com/Detail/2021/02/19/645624/Morocco-crackdown-activists-Western-Sahara-normalization-Israel-Trump
--------
Gunfire erupts in Mogadishu as Somali government forces seal off streets
19 February 2021
Gunfire, rocket fire and mortar blasts have been reported in the Somali capital, Mogadishu, where opposition parties launched a protest rally despite a coronavirus lockdown enforced by the government.
One witness reported a heavy exchange of gunfire between security forces and armed guards protecting opposition supporters who began their march along Mogadishu's main airport road on Friday.
There can be casualties but we are taking cover now I don't know exactly what happened," Yusuf Mohamed told AFP.
"We were peacefully walking along the airport road together with former prime minister Hassan Ali Kheire, when the security forces opened fire on us, creating mayhem," said another witness, Fadumo Moalim.
"Many forces heavily attacked us, I am now on my chest in an alley. This is a massacre," protester Farah Omar told Reuters by phone.
Turkish-trained special forces of the Somali National Army (SNA), known as Gorgor, were said to be among the government military forces attacking the protesters.
Earlier on Friday, a hotel where two major opposition candidates were staying had come under heavy gunfire.
Former president Sharif Sheikh Ahmed said the attack was ordered by outgoing president Mohamed Farmajo. Somali President Mohamed Abdullahi Mohamed is known as Farmaajo.
Another candidate, Farmajo's former deputy Hassan Ali Khaire, claimed the attack was an assassination attempt.
"Tonight, Farmajo attacked us with armored vehicles. That is dictatorship. He attacked us and residents at Maida hotel," Ahmed tweeted after the attack.
"We ask all civilians to come out and respond," Ahmed pleaded.
However, Somalia's minister of security Hassan Hundubey Jimale accused the opposition of starting the fighting.
"Armed militia attacked government forces. We repulsed and overpowered the militias," Jimale said in an overnight statement.
Somalia's political scene plunged into chaos after an agreed-upon election date between the Farmajo and the opposition elapsed on Feb. 8.
Observes are worried that without mediation, the fighting could spread into the military and split the armed forces.
Rivalry along clan lines could strengthen the al-Qaeda-linked militant group al-Shabaab, experts said.
"The military is dissolving and many troops seemingly reverting to clan loyalties," said Colonel Ahmed Abdullahi.
"It's a mess" threatening the Horn of Africa country, warned a former commander who goes by the one-word name, Sheikh.
"My fear is that many SNA (Somali National Army) outstations will leave their bases to come and participate in the fighting and give more ground to al-Shabaab. This will really empower al-Shabab," Sheikh told Reuters.
Sheikh warned that if political rivalries between the disputing sides escalate into an open conflict, it will play right into the hands of the militants.
"Over a decade's worth of gains might be lost," according to Commander Sheikh.
Al-Shabaab militants, who have fought successive Somali governments as well as neighboring governments in Uganda and Kenya, have been wreaking havoc across Somalia.
The militant group aims to oust the government in Mogadishu and drive out African Union peacekeeping troops who came to Somalia in 2011 to help eradicate the militants.
https://www.presstv.com/Detail/2021/02/19/645603/Somalia-Mogadishu-Protest-Shooting-Lockdown-Election-Impasse
--------
At least 18 killed in attacks in Burkina Faso and Mali
FEBRUARY 19, 2021
OUAGADOUGOU/BAMAKO (Reuters) - Suspected Islamists killed at least 18 people in attacks in northern Burkina Faso and central Mali on Wednesday and Thursday, government and security sources said.
Attacks by militants with links to al Qaeda and Islamic State are common in the two West African countries, where Islamists have expanded their reach in recent years despite the presence of 15,000 U.N. peacekeepers and 5,100 French troops.
This week Chad announced it would deploy 1,200 troops to the area to complement France's Barkhane counter-terrorism force, as leaders of the five Sahel countries and their allies met to assess the security situation.
The attack in Burkina Faso happened on Thursday morning between the towns of Markoye and Tokabangou, where residents were ambushed on their way to a market across the nearby border in Dolbel, Niger, government spokesman Ousseni Tamboura said in a statement.
Eight people died and nine were wounded, he said. A security source said that one more person later died of injuries.
In Mali, at least nine people were killed and others were missing or wounded in a spate of attacks near Bandiagara in the central Mopti region, local government sources said.
Gunmen opened fire in two villages on Wednesday evening and ambushed several public transport cars on the road between Sevare and Bankass on Thursday, two mayors said.
Chad will send its troops to the tri-border region between Mali, Burkina Faso and Niger, the epicentre of attacks in the Sahel.
Since the start of the year, over 150 civilians have been killed by militants in the three countries, including 100 in an attack on two villages in Niger in early January.
https://www.reuters.com/article/us-burkina-security/at-least-18-killed-in-attacks-in-burkina-faso-and-mali-idUSKBN2AI2PL?utm_source=iterable&utm_medium=email&utm_campaign=2019262_
--------
Algeria trial opens over kidnapping and murder of French tourist
18 Feb 2021
The trial in the 2014 kidnapping and beheading of a French tourist claimed by an armed faction affiliated to the Islamic State group has opened before an Algiers court on Thursday.
Just one of the alleged kidnappers of 55-year-old mountain guide instructor Herve Gourdel was in court for the trial – the other seven are being tried in absentia.
Members of Gourdel's family, including his partner Francoise Grandclaude, were in the public gallery.
The main defendant Abdelmalek Hamzaoui was brought to court by ambulance in a wheelchair accompanied by a medical team and watched over by police special forces.
At the request of defence lawyers, the trial opening had been delayed for two weeks because of his ill health.
Hamzaoui could face the death penalty if convicted.
Six other defendants in court are accused of failing to inform authorities promptly of Gourdel's abduction.
Five were Gourdel's climbing companions and spent 14 hours in captivity along with him.
The sixth is accused of failing to promptly report the theft of his car by the kidnappers to transport the captive Frenchman.
All six face up to five years in prison if they are found guilty.
Gourdel's murder sparked outrage in both France and Algeria.
The adventure enthusiast had travelled to Algeria at the invitation of his climbing companions to try out a new climb.
His kidnappers from the Jund al-Khilafa (Soldiers of the Caliphate) group demanded an end to air raids against the Islamic State group in Iraq and Syria by a US-led coalition that included France.
Three days after abducting him, they released grisly video footage of his beheading.
A few months after the beheading, the leader of the armed faction was killed by Algerian special forces.
According to Algeria's defence ministry, Abdelmalek Gouri – also known as Khalid Abu Suleiman – was killed in an ambush near Boumerdes, 50km east of Algiers in December 2014.
Gourdel's body was not recovered until January the following year after an operation involving some 3,000 Algerian troops.
https://www.aljazeera.com/news/2021/2/18/algeria-trial-opens-in-is-affiliate-beheading-of-french-tourist?utm_source=iterable&utm_medium=email&utm_campaign=2019262_
--------
Europe
BBC unapologetic to Muslims but acknowledges concerns
Muhammad Mussa
19.02.2021
LONDON
Britain's BBC responded on Friday to calls for reform in its ranks, acknowledging shortfalls in diversifying its staff but failing to apologize for an allegedly hostile interview with the new head of a leading Muslim organization.
In response to an open letter signed by more than 100 public figures, the broadcaster's Director-General Tim Davie, said in a statement that it was among the BBC's key priorities to improve staff representation and fulfil its duty to "reflect the whole of the UK" in its staff and programs, a task he said was "vitally important."
"I want to assure you that improving the representation of our staff is a key priority for me and my executive team. We have more work to do but we are determined to get there. Only last week we launched our staff diversity census, which will give our staff an opportunity to update their diversity data, including on religion," Davie said
Davie, however, failed to offer an apology for an interview in its Woman's Hour segment, in which interviewer Emma Barnet was accused in the letter of being "strikingly hostile" to the new head of the Muslim Council of Britain, Zara Mohammed.
Instead, Davie supported a statement released by the program and has called on the letter's authors to meet with senior officials within the BBC to discuss the issues of concern raised in the letter.
Although acknowledging low levels of Muslim representation in the BBC, which is lower than the national average, Davie said Muslim representation "is not as low as you suggest" and that the "latest figures, which are not complete, suggest that just over 2.5% of the workforce identify as Muslim."
Yassmin Abdel-Magied, one of the organizers of the open letter, accused the director of failing to understand the concerns raised in the publication as it highlighted shortfalls in the BBC Studios TV and radio production, as opposed to the corporation as a whole.
"It is frustrating that the BBC is using statistics regarding Muslim employees for the whole of the corporation, as opposed to what we highlighted specifically at BBC Studios TV and radio production. This includes the production of Woman's Hour. Muslim representation in this crucial area of programming is negligible and requires urgent addressing both at staff and leadership levels," Abdel-Magied said.
"It is also unfortunate that they have failed to engage with the specifics of our concerns over the content of the interview. However, we look forward to discussing these issues further and welcome a constructive conversation with both the director-general and senior executives at the BBC about these important issues," she added.
The head of the Muslim Council of Britain was interviewed on Feb. 4 in Woman's Hour, where she was repeatedly asked on the number of female imams in the UK.
The program was criticized in the open letter for re-enforcing dangerous and damaging stereotypes of British Muslim women and of Islam in general.
Among the signatories of the letter, published on Feb. 11, were members of parliament from across the political divide.
https://www.aa.com.tr/en/europe/bbc-unapologetic-to-muslims-but-acknowledges-concerns/2150915
--------
Teen, 16, arrested on suspicion of terrorism offences in Derbyshire
February 19, 2021
A 16-year-old boy has been arrested on suspicion of terrorism offences.
Derbyshire Police said the teenager was detained by officers from Counter Terrorism Policing East Midlands at a property in the north west area of the county at 07:20 GMT on Thursday.
The boy - who cannot be named for legal reasons - is being held on suspicion of possession of information relating to terrorism.
He remains in custody while inquiries continue, the force added.
https://www.bbc.com/news/uk-england-derbyshire-56119139?utm_source=iterable&utm_medium=email&utm_campaign=2019262_
--------
Bestselling new book tells story of Europe's forgotten Muslims
February 19, 2021
LONDON: "Minarets in the Mountains" traces the roots of Europe's little-known native Muslim populations, and in telling their story cuts to the heart of what it means to be a European and a Muslim in the 21st century.
Acclaimed travel writer Tharik Hussain made a name for himself covering Saudi Arabia's hidden touristic treasures and tracing Britain's ancient Islamic heritage, but his latest book tells a very different story.
He told Arab News that his new book is the very human tale of his family holiday across the Balkans — a fun and light-hearted trip taken with his wife and children, but one that prompts readers to contemplate and confront longstanding myths about European and Muslim identity, and the relationship between the two.
"I wanted to bring to the attention of the mainstream the idea that Europe has an indigenous Muslim heritage," Hussain said.
He and his family toured Serbia, Albania, North Macedonia, Montenegro, Bosnia and Kosovo, meeting locals and exploring the roots of Muslim populations that date back centuries.
But unlike his previous European trips, such as to the south of Spain to write about the long-lost Islamic civilization of what was then called Al-Andalus, this trip was very different — it explored a Muslim culture "that's alive and thriving today," Hussain said.
"The common, accepted wisdom is that Europe is Judeo-Christian with pagan elements. That's a fallacy. Islam has been here in Europe since the very first century of Islam."
He said indigenous Muslims in the Balkans have been "kept at arm's length" by being labeled East European and thus excluded from the accepted European mainstream.
"Eastern Europe," to Hussain, is nearly synonymous with "Other Europe." This, he said, has contributed to the misconception that the continent does not have native and indigenous Muslim populations. Ultimately, his book dispels that myth.
"As a British Muslim, I've had to listen to political opportunists in veiled and sometimes explicit ways saying that Muslims aren't a part of the European landscape and that there's an ongoing invasion of Muslim refugees. That's just utter nonsense. There have been Muslims in Europe since the seventh century," he said.
"Minarets in the Mountains" will be released on June 21, but in pre-sales alone it has already become a bestselling travel book on Amazon.
Hussain attributes this success to a combination of public hunger for travel writers outside the mainstream, white, middle-class and male-dominated field, as well as an appetite for work that provides an insight into untold stories and novel takes on the continent's history.
"I'm not denying that there's a Judeo-Christian heritage, nor that there's a pagan heritage. I'm saying this is also a history that needs to be brought forward and understood," he said. "The book's success shows that people are responding to that."
https://www.arabnews.com/node/1812226/books
--------
URL: https://www.newageislam.com/islamic-world-news/indonesia-radical-cleric-rejects-violence/d/124358
New Age Islam, Islam Online, Islamic Website, African Muslim News, Arab World News, South Asia News, Indian Muslim News, World Muslim News, Women in Islam, Islamic Feminism, Arab Women, Women In Arab, Islamophobia in America, Muslim Women in West, Islam Women and Feminism