New Age Islam News Bureau
1 Feb 2017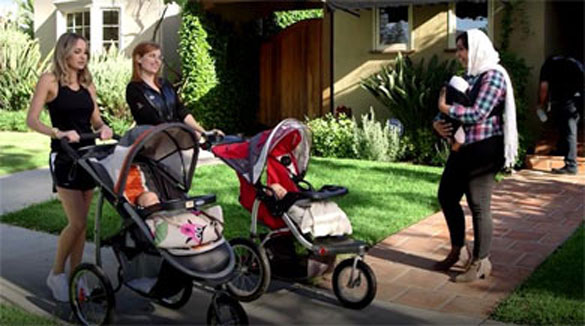 The satirical video may leave you in splits, but the point it makes is very relevant. (Source: Fusion Comedy/Facebook)
------
• Indonesia Police Vow to Block 'Political' Rally Led By Islamists
• Trump Travel Ban Punishes Those Fighting Terrorism, Says Iraqi Premier
• ISIS Posters, Graffiti Appear Near Army Cantonment In Himachal Pradesh, Cause Panic
• Hafiz Saeed's Detention 'Policy Decision': ISPR
Southeast Asia
• Indonesia Police Vow to Block 'Political' Rally Led By Islamists
• Indonesia's Highest Islamic Council To Issue Fatwa Against 'Fake News'
• Government inaction creates space for rising intolerance in Indonesia
• Malaysians not on US travel ban, embassy clarifies after NY detention
• Indonesians Targeted and Criminalized For Indecency and Immorality
• Visa ban could fuel suspicion against Muslims, says Yusuf Kalla
• Malaysian Police Arrest Three Suspected Islamic State Sympathizers
--------
Arab World
• Trump Travel Ban Punishes Those Fighting Terrorism, Says Iraqi Premier
• Nusra's Heavy Attack Repulsed by Syrian Soldiers in Quneitra, 30 Terrorists Killed
• Militants in Seven More Regions End Battle with Syrian Army
• Syria anti-IS forces say US sent armoured cars
• Protesters stage anti-regime rally in eastern Bahrain
• ISIL Preparing for Imminent Attacks on Two Airports in Damascus Province
• Syrians' will helped country survive crisis: Assad
• Syrian Army Seizes Full Control of Mountains near T4 Airbase
• Syria: More Commanders Defect Nouralddeen Al-Zinki Terrorist Group
• Convoys of ISIL's Vehicles Destroyed by Syrian Army in Aleppo, Saudi Terrorists Killed
--------
India
• ISIS Posters, Graffiti Appear Near Army Cantonment In Himachal Pradesh, Cause Panic
• 'Defeat IS By Spreading Islam's True Teachings': Indian Muslim Scholars
• Trump's Muslim Ban: Kashmir Athlete Shocked After US Denied Visa, Says Disappointed
• Indian security establishment sees hope of shift in Pakistan's India policy
• Need a 'credible' crackdown on Hafiz Saeed, India tells Pakistan
• Fear of US sanctions, not of India, prompted Hafiz arrest
--------
Pakistan
• Hafiz Saeed's Detention 'Policy Decision': ISPR
• Donald Trump's 'Muslim Ban' Could Be Extended To Pakistan
• My arrest will give fresh impetus to Kashmiris struggle: Hafiz Saeed
• Govt issues order to place JuD chief Hafiz Saeed under house arrest
• Adding Pakistan to ban list would be counterproductive: Bilawal
• Civil-military leadership agrees to implement NAP in letter and spirit
• Pakistan, Palestine demand end to Israeli settlements in West Bank
--------
Mideast
• Iran: 13 Young Boys and Girls Were Arrested for Attending a Party
• Will Build 3,000 New Homes In West Bank Settlements: Israel
• Yemen rebel 'suicide boats' attack Saudi warship
• Turkey dismissed over 90,000 public servants in post-coup purge
• Turkey urges Trump to scrap 'offensive' refugee policy
• Turkey arrests 2 more pro-Kurdish MPs ahead of referendum
• Iranian Poet Charged With Spreading 'Propaganda'
• Iran: Two Juvenile Prisoners Executed
• Iran Regime Plans to Amputate Fingers of 70-Year-Old Man
--------
North America
• How to Identify 'Good' Muslims? A New Device That Tests For Radicalism
• Trump Ban Will Hurt Christian Refugees Fleeing Conflict, Say Iraqi Catholic Leaders
• How the travel crackdown is affecting North American debate on Islam
• Texas 'Muslim Day' beefs up security over political climate
• Canada shooting suspect rented apartment close to mosque: neighbors
• US Muslim civil rights group challenges immigration order
• Experts warn of rise in anti-Islam movements, violence against Muslims in Canada
--------
Europe
• 48 British rabbis cite Holocaust in condemnation of Trump's 'Muslim ban'
• $900k Raised To Rebuild Fire-Ravaged Texas Mosque
• Morocco's king lauds 'return home' to AU after 33 yrs
• EU's Tusk: Trump Joins Radical Islam, China, Russia as Threat to Europe
--------
South Asia
• Bangladesh Resurrects Plan to Move Rohingya Refugees to Flooded Island
• Taliban attack Lashkargah with rockets following Abdullah's visit
• Afghan troops battle Taliban offensive in Helmand province
• SIGAR's Afghanistan report to Trump admin offers bleak progress statistics
• US awards $51.8 million rocket fuses contract for Afghan and Iraqi forces
--------
Africa
• Two Bomb Attacks Hit Nigeria as Officials Blame Boko Haram
• Tanzania's ban on refugee groups hinders humanitarian assistance: UN
• California man stranded in Africa with daughter joins lawsuit against Trump
• Morocco Rejoins AU, Hopes on Increasing Africa's International Influence
Compiled by New Age Islam News Bureau
URL: https://www.newageislam.com/islamic-world-news/new-age-islam-news-bureau/indonesia-police-vow-to-block--political--rally-led-by-islamists/d/109915
--------
Indonesia police vow to block 'political' rally led by Islamists
Feb 1, 2017
Indonesian police will block a rally in Jakarta next month led by the hardline Islamic Defenders Front (FPI) if the group intends to make it political just days before an election for city governor that has raised religious tension.
The FPI has led two rallies over the past year targeting the ethnic Chinese, Christian Jakarta governor, Basuki Tjahaja Purnama, which drew hundreds of thousands of Muslims calling for his jailing over allegations he insulted the Koran.
The FPI leader, Habib Rizieq, was on Monday declared a suspect over allegations he insulted Indonesia's state ideology, Pancasila, which enshrines religious diversity in an officially secular system.
Jakarta police chief Mochamad Iriawan told Reuters in an interview on Monday the FPI's plan for another rally on Feb. 11, four days before the Jakarta elections, indicated it would be political in nature, and if so, it would not be allowed.
"The end of the campaign period should not be disrupted by the planned protest," Iriawan said.
"If the context is as they said on social media - 'we should vote for a Muslim person as our leader' - it looks like a political campaign."
The rallies late last year raised concerns among investors that Islamist militancy and mob rule were taking hold in Southeast Asia's biggest economy.
Indonesia has the world's largest Muslim population, the majority of whom follow a moderate form of Islam.
The naming of Rizieq as a suspect comes amid signs that authorities are taking a firmer stance to contain the rise of the FPI and other Islamist groups.
'BIG MESS'
Purnama, who is known as Ahok and is an ally of President Joko Widodo, is contesting the Feb. 15 election against two Muslim candidates.
He was named a blasphemy suspect on Nov. 16, days after the first big FPI rally, and is on trial. He denies the charge.
Iriawan said the FPI had yet to apply for a permit for its rally, and the group would only be allowed to proceed if "they just hold a prayer".
Rizieq also faces investigations into alleged blasphemy and hate speech, including remarks by him that communist symbols had been hidden in new Indonesian bank notes and comments mocking the notion that Jesus was the son of God.
FPI spokesman Slamet Maarif said the group's supporters would defend Rizieq "until the last drop of our blood".
There has been a increase in blasphemy complaints filed to police since the accusation was levelled against Purnama in October.
Tobias Basuki, a political analyst at the Jakarta-based Centre for Strategic and International Studies, said Indonesia's laws criminalising slights against religion and the national ideology of Pancasila were being abused.
"These blasphemy laws are being used against pretty well anyone for anything," he said. "Frankly, they are just politically motivated plays but they are creating a big mess for Indonesia."
"These are just concepts and we are repressing the potential for healthy debate. Meanwhile, very little is done to stop actual hate speech which threatens lives."
http://nation.com.pk/international/31-Jan-2017/indonesia-police-vow-to-block-political-rally-led-by-islamists
--------
Trump travel ban punishes those fighting terrorism, says Iraqi premier
Jan 31, 2017
Iraqi Prime Minister Haider al-Abadi says a controversial decision by the administration of US President Donald Trump to restrict arrivals from Iraq punishes people who are "fighting terrorism."
The premier said on Tuesday that the ban, which prevents Iraqis, along with citizens from six other Muslim-majority countries, from entering the United States, punishes those people who have rendered sacrifices in combating terrorism.
"You come to the victim to hold him accountable, to the people who are sacrificing, who are fighting terrorism, to punish them," Abadi stated.
The move by Trump's administration has sparked a growing backlash in Iraq, whose forces are fighting against the Daesh Takfiri terrorists.
The Iraqi Foreign Ministry on Sunday described Trump's travel ban as a "wrong" decision, calling on the US administration to mitigate the impact of restrictions on Iraqi travelers.
Iraqi legislators have also voted to call on the government to enact a retaliatory measure to block American citizens from entering the country if the US does not withdraw the visa ban against Iraqi travelers.
US President Donald Trump signs an executive order on January 27, 2017, which temporarily bars citizens of seven Muslim-majority countries from entering the United States.
Prominent Iraqi cleric Muqtada al-Sadr earlier called for the expulsion of American nationals from Iraq in a tit-for-tat move. The pro-government Popular Mobilization Units, commonly known by the Arabic word Hashd al-Sha'abi, have urged Iraqi authorities to ban Americans in response to Trump's order.
There are already American military personnel, non-government and aid workers, workers from energy companies and American businessmen present in Iraq.
In a move that sparked widespread censure, the new US president signed a sweeping executive order on January 27 to suspend refugee arrivals and impose tough controls on travelers from Iran, Iraq, Libya, Somalia, Sudan, Syria and Yemen.
http://www.presstv.ir/Detail/2017/01/31/508587/Trump-travel-ban-punishes-victims-of-terrorism-Iraq
--------
ISIS posters, graffiti appear near Army cantonment in Himachal Pradesh, cause panic
Jan 31, 2017
SHIMLA: Graffiti and posters in a high security area in Solan district cautioning people about ISIS triggering possible bomb blasts at several places today caused panic, with police saying it was not taking the issue "lightly".
The posters and graffiti appeared at five places in Sabathu Cantonment area in Solan district, about 70 km from here, with one threatening bomb blasts from Himachal Pradesh to Nepal using washing machines and television sets.
Police rushed to the spot and launched probe after registering an FIR under relevant sections of the IPC.
"Many people have been questioned in this regard but so far, no arrest has been made," said Additional Superintendent of Police Manmohan Singh, who rushed to the spot immediately after receiving the information.
Forensic teams also visited all the five places, examined the spot and collected evidences.
"It seems to be some mischief, but we are not taking it lightly and probing thoroughly to identify the accused," said a senior police official.
Earlier, the walls of a temple at Dharampur, 15 Km from Sabathu were defaced, with inscriptions like "ISIS coming soon" in English and Arabic.
The police is trying to establish link between both the incidents.
In December last, 23-year-old Abeed Khan from Bangalore, with alleged IS links, was arrested by a National Investigation Agency (NIA) team from a church in Banjar in Kullu district. He was living with fake identity.
http://timesofindia.indiatimes.com/india/isis-posters-graffiti-appear-near-army-cantonment-in-himachal-pradesh-cause-panic/articleshow/56898861.cms
--------
Hafiz Saeed's detention 'policy decision': ISPR
01-Feb-17
ISLAMABAD: Inter-Services Public Relations (ISPR) Director General Major General Asif Ghafoor on Tuesday said Jamaatud Dawa (JuD) chief Hafiz Saeed's house arrest is a state decision in the best national interest.
He was addressing his first press conference at ISPR after assuming the charge of the ISPR DG.
Sending a clear message to India, he said whether it is cold start or any other doctrine, Pakistan is ready to respond with full strength.
Major General Asif Ghafoor said the successes of army and other law enforcers in the war on terror has made Pakistan safer than 2008.
To a question about the JuD chief's house arrest, he said that the state took this policy decision in national interest. He denied any foreign pressure behind the move.
About the disappearance of several social media activists, he categorically denied the army's involvement and said the interior minister had already spoken on the issue.
Pakistan Army is the world's only force that is, successfully, fighting on two fronts, he said.
On Eastern side, Pakistan Army is facing the Indian aggression on the Line of Control and the Working Boundary.
He said the country is being defended on both the fronts, successfully. India's such attempts are focused on diverting Pakistan's attention from fight against terrorism.
"It is the resolve of Pakistan Army that national interest will be kept supreme, and to achieve that national interest, institutions of state will be extended all possible cooperation."
He said that the Pakistan Army under an elaborate plan, started the operation from Bajaur, in order to eliminate terrorists without discrimination. This operation was extended to other Agencies like Mohmand, Swat, South Waziristan, Khyber, Kurram and Orakzai.
Speaking about the ongoing situation with India, Ghafoor said, "We don't want war with anyone. War is not a solution to anything. We want the Kashmir issue to be resolved under United Nations resolutions and dialogue, but this desire for peace should not be misconstrued as a weakness. We are fully ready to response any misadventure."
He said that there have been 945 ceasefire violations across the Line of Control and the Working Boundary over the past three years.
"In the last four months alone, there have been 314 violations, due to which 46 Pakistani citizens embraced shahadat while 40 Indian soldiers have been killed," Ghafoor said.
He said that normalcy at the border has returned only after a befitting response to the ceasefire violations.
"India is doing all this according to a preempted plan. It is trying to divert the world's attention away from atrocities in Indian-held Kashmir. India's 'surgical strike' was one episode of this drama," he said.
The ISPR DG said the Indian Army chief recently gave a statement about the cold-start doctrine. The major general added Pakistan had apprehensions it is working on developing these capabilities. "We want peaceful resolution of issues, but will not compromise on our dignity and respect. Pakistan will take steps to strengthen its defence," he cleared.
The ISPR DG said Pakistan has come a long way since 2008-09.
"We have sacrificed the blood of over 70,000 people out of which 21,839 were shaheed while over 49,000 were injured. Peace doesn't come over night. Wherever there is a need for an operation, the armed forces with respect to security advise the state and then the state will decide where they will be carried out," he said.
"Where necessary, the armed forces and intelligence agencies have conducted intelligence-based operations and combing operations - even in Punjab. All terrorist hideouts in the Federally Administered Tribal Areas have been eliminated. [Terrorists] were either killed, or they fled towards the Afghan border, where the absence of the military allowed them to hideout," Ghafoor said.
"When [operation] Zarb-e-Azb began, our tribal brothers left their homes. 84 percent have returned, and the rest will be repatriated soon. There have been a total of 26,000 IBOs and combing operations as well in Pakistan," he concluded.
http://dailytimes.com.pk/pakistan/01-Feb-17/hafiz-saeeds-detention-policy-decision-ispr
--------
Southeast Asia
Indonesia's highest Islamic council to issue fatwa against 'fake news'
Feb 1, 2017
Indonesia's highest Muslim authority is to issue a fatwa declaring the spread of "fake news" to be un-Islamic amid concern over sectarian tensions.
The Indonesia Ulema Council's chairman, Maaruf Amin, said: "We will issue it as soon as possible, because the situation is worrying.
"Hopefully, at least Muslims won't be involved anymore in hoaxes."
The religious edict, which is not legally binding, is expected to be issued before the elections for the governor of Jakarta on 15 February, which have been rife with religious tension.
Incumbent governor Basuki Tjahaja Purnama, known as Ahok, is running against two Muslim candidates to become the first elected non-Muslim governor in Indonesia.
Ahok, a Christian of Chinese ethnicity, was promoted to his post after his predecessor, Joko Widodo, won the 2014 presidential election and has not yet been tested by a vote.
Right-wing Islamic groups have claimed voters in the world's largest Muslim country should not vote for "non-believers" and Ahok has been embroiled in a blasphemy trial in which he stands accused of insulting the Quran.
The case arose from an incorrectly subtitled video, which went viral on social media late last year, of comments the politician made about his opponents' use of the holy book in political campaigning.
Hundreds of thousands of Muslims led by the hardline Islam Defenders Front have twice descended on Jakarta to protest against Ahok and call for him to be jailed, sparking international alarm over the protection of religious minorities.
President Widodo has repeatedly urged social media users to refrain from spreading false posts and the government has invited executives from social media giant Facebook for talks to help combat the problem.
Communications minister Rudiantara is to put the Indonesian government's request for false information to be removed with leaders of Facebook Asia-Pacific at a meeting next week.
The Ulema Council, with representatives from the country's main moderate and conservative Muslim groups, frequently issues such edicts but they usually have little immediate impact.
A fatwa was issued last year against clearing land for plantations by burning vegetation, in an effort to prevent smoke pollution that blankets Southeast Asia almost every year.
In December, the council defended another fatwa trying to ban companies from forcing Muslim employees to wear Santa hats and other "Christmas-related attire", the Jakarta Post reported.
http://www.independent.co.uk/news/world/asia/indonesia-fake-news-fatwa-islam-council-spreading-alternative-facts-jakarta-elections-ahok-religious-a7556406.html
--------
Government inaction creates space for rising intolerance in Indonesia
February 1, 2017
Marguerite Afra Sapiie
Religious intolerance in the country has risen following President Joko "Jokowi" Widodo's ascension to power in 2014 as the government has turned a blind-eye to increasing acts of intolerance against religious and ethnic minorities, a report has said.
The report from human rights watchdog Setara Institute revealed that violations of religious freedom increased to 208 incidents in 2016 from 197 in 2015 and 134 in 2014, while acts of religious intolerance increased to 270 last year from 236 in 2015 and 177 in 2014.
From 270 acts of intolerance, 140 acts reportedly involved state actors, including police officers and local administrations. Most of this intolerance occurred in the form of discriminative laws and indifference to intolerant behavior directed against minorities.
Meanwhile, 130 acts of religious intolerance were committed by non-state actors, including local citizens, Islamic-based groups, the Indonesian Ulema Council (MUI) as well as the firebrand Islam Defenders Front (FPI).
"The number of cases involving state actors is rising," said Halili, a Setara Institute researcher on religious freedom.
(Read also: Coping with growing intolerance in Indonesia)
According to Halili, law enforcement officials, particularly the police, still face the same-old dilemma when it comes to their responsibility to suppress intolerant groups committing violence against religious minorities. There were 16 cases where the police turned a blind-eye to acts of religious intolerance in 2016.
The police tend to be soft on intolerant groups who in most cases carry the mantle of "Muslim-majority". This suggests that the police want to preserve and secure stability before freedom and human rights as they are worried that siding with the minority might escalate conflict in the country, he said.
Such attitudes seem to make it difficult for law enforcement bodies to act decisively against intolerant groups. In fact, according to Halili, the government and its law enforcement bodies should always refer to the 1945 Constitution, which guarantees freedom of religion and belief for all Indonesians.
"If the government does not refer to the Constitution, the violations will continue. Jokowi will just continue the legacy of the former president [Susilo Bambang Yudhoyono], where the effort [to uphold religious freedom] was stagnant and violations kept repeating," he added.
Full report at:
http://webcache.googleusercontent.com/search?q=cache:http://www.thejakartapost.com/news/2017/02/01/government-inaction-creates-space-for-rising-intolerance-in-indonesia-.html&gws_rd=cr&ei=CaSRWJGdGcvmvATFi5_oCA
--------
Malaysians not on US travel ban, embassy clarifies after NY detention
BY ZURAIRI AR
February 1, 2017
KUALA LUMPUR, Feb 1 ― The Embassy of the United States of America in Kuala Lumpur clarified today that Malaysia has not been added to its country's travel ban of seven Muslim-majority countries under US President Donald Trump's executive order.
The embassy gave an assurance that Malaysians can continue to enter the US with a valid visa, after reports from New York emerged on social media that at least one traveller from Malaysia was held at the John F. Kennedy International Airport there.
"The Executive Order stands as it was issued last week. Malaysia is not on the list of countries affected by the Executive Order.
"Malaysians can continue to travel to the United States with a valid visa," the embassy told Malay Mail Online in a Twitter message.
According to No Ban JFK, a group of lawyers and volunteers assisting those affected by the ban at the airport, 71 travellers from 20 countries including Malaysia were detained at the New York airport yesterday as the enforcement of the immigration order against Muslims enters the fourth day.
The group said individuals detained had their laptops seized, were denied interpretation, and were also questioned about views on terror group Islamic State.
It is as yet unknown if the traveller is a Malaysian or a passport holder of another country who exited Malaysia and was caught.
Full report at:
http://www.themalaymailonline.com/malaysia/article/malaysians-not-on-us-travel-ban-embassy-clarifies-after-ny-detention
--------
Indonesians Targeted And Criminalized For Indecency and Immorality
01/31/2017
In 2000, the Central Government of Indonesia granted provinces the right to self govern and have autonomy from the Central Government to establish independent legislative councils and enact local laws, known as regional regulations.
A new report by OutRight Action International, Creeping Criminalisation, maps Indonesia's national laws and the departure of regional regulations from national laws in eight provinces. It finds that regional regulations violate human rights of women, and of lesbian, gay, bisexual, transgender and intersex (LGBTI) people and do not coincide with national level legislation and even the Constitution. The regional regulations, passed by province, district or city-level governments, are heavily influenced by the encroachment of fundamentalist interpretations of Islam, specifically, Wahhabi Islam that is exported and financially resourced by Saudi Arabia.
Moral Sexual Panic
One year ago in January 2016, an unexpected wave of state sponsored homophobia proliferated across Indonesia's capital and spread across the country. The campaign began as an effort to ban lesbian, gay, bisexual and transgender (LGBT) organizations from Indonesian campuses, but escalated rapidly. Government officials and fundamentalist organizations began an all out attack on LGBT people, proclaiming LGBT people as morally depraved and mentally ill, condemning LGBT groups as a national security threat, a proxy war worse than a nuclear attack, and propagating LGBT people as a danger to children.
Media fuelled the growing moral sexual panic. Prominent politicians used media to spread anti-LGBT messages, such as calling for a ban on LGBT people or urging "rehabilitation" for LGBT communities. These messages soon prompted vigilantism in different provinces across Indonesia. For instance, in the city of Bandung in West Java, Muslim religious vigilantes raided neighborhoods and targeted women with shared housing arrangements, accusing them of lesbianism, although women sharing housing is a common practice, In the province of Yogyakarta, Front Jihad Islam, a violent fundamentalist group, forced a Muslim religious school for waria (transwomen) to permanently shut down. Often viewed as fundamentalist thugs, the group asserted that waria should stop reciting the Quran and "repent their sinful ways." They organized other violent confrontations during peaceful LGBT gatherings.
Although many Indonesians and LGBTI activists internationally were shocked by the organized manner in which the 2016 campaign was carried out, it is in fact part of the alarming and dangerous trend that has been underway for over ten years. This is evidenced by discriminatory legislation that has slowly proliferated across the country, criminalizing LGBTI people and women on subjective accusations of "individual sin," destabilizing social harmony.
One impact of the discriminatory regulations is the view that relationships (heterosexual and same sex) outside of marriage are considered adultery and/or prostitution, deemed indecent, immoral, and as disrupting public order. Definitions of these terms are broad and subject to arbitrary interpretation. For instance, findings in Creeping Criminalisation show that religious leaders, religious officials, and community leaders deciding on criminality and punishment, often base their decisions on personal bias instead of the law. They act as moral police, using the legislation to impose their own interpretations of Islam on practicing Muslims. Punishments include jail terms and fines, in some instances coupled with public shaming, and in the province of Aceh, caning.
Supposedly A Moderate Muslim Country
Indonesia is the largest Muslim country in the world and is considered a moderate Muslim country. The imposition of Wahhabi Islam onto Indonesians sharply contrasts with the moderate interpretation of Islam that most Indonesians practice.
Women's rights, LGBT rights, and human rights activists decry the dangerous and harmful trend of religious fundamentalism creeping into the country and say that it is transforming Indonesia into an ultra conservative Islamic state. Wahhabism has displaced local Indonesian Muslim practices and traditions, negatively impacting women's dress styles, space for women's autonomy, space for Islamic discourse, and tolerance for LGBT individuals. In fact, religious leaders who advocate Wahhabism silence questioning and debate on these issues even by practicing Muslims, shrinking religious freedom and freedom of opinion and expression.
Since the anti-LGBT campaign started, an anti-LGBT bill, which previously had limited support among Parliamentarians, has gained traction. Some activists in the country fear it could pass, and if it does, consenting Indonesians in same sex relationships will, for the first time, be federally criminalized for being lesbian, gay or bisexual.
In addition, a conservative Muslim family values group has asked the Constitutional Court to include adult consenting same sex relations as a punishable offense under the Criminal Code, Indonesia's equivalent to the Penal Code. It currently does not prohibit homosexuality and lesbianism.
If these measures succeed, the national laws will no longer serve as the higher standard for regional regulations.
The authors of the report, Creeping Criminalisation, make note of the few Indonesian Muslim religious leaders and scholars who have called for a human rights-based approach to Islam, and say that LGBT communities must not be oppressed, and must be protected as they are also Indonesian citizens.
Full report at:
http://www.huffingtonpost.com/grace-poore/indonesians-targeted-and-_b_14441986.html
--------
Visa ban could fuel suspicion against Muslims, says Yusuf Kalla
FEBRUARY 1, 2017
JAKARTA — Indonesian Vice-President Jusuf Kalla on Tuesday (Jan 31) said United States President Donald Trump's immigration policy could fuel prejudice against Muslims, but he stopped short of criticising the American leader's order of a 90-day entry ban on citizens from seven Muslim-majority countries.
"(The policy) won't affect us directly in a big way, but it can raise suspicion, especially against Muslims," Vice President Jusuf Kalla said, adding that Indonesia would not issue any statements against the policy at the moment.
"The harsh reaction came from US citizens, as it threatens their unity and basic values, because Americans are originally immigrants," he added.
Mr Kalla's comments echoed those of President Joko Widodo, who on Monday said he was not concerned about the US move.
"We are not affected by the policy. Why should we worry?" Mr Widodo said.
The remarks by the Indonesia's top two leaders appeared to be a step back from harsher statements issued by Jakarta in the immediate aftermath of Mr Trump's order last Friday to put a temporary ban on allowing refugees into the country, an indefinite ban on refugees from Syria, and a 90-day ban on citizens from Iran, Iraq, Libya, Somalia, Sudan, Syria and Yemen.
Indonesian Foreign Minister Retno Marsudi had said over the weekend that her government "deeply regrets" Mr Trump's plans for "extreme vetting" of Muslim people under the immigration order.
Jakarta's embassy in Washington had also weighed in on the issue, with a spokesperson saying that the move would negatively affect the global fight against radicalism, adding that it was wrong to link terrorism with one religion.
The measured public statements by Indonesia, the world's largest Muslim country, stand in contrast to the silence in Malaysia, where no government leaders have commented on the issue yet.
Not surprisingly, opposition politicians have jumped into the fray.
"It is an inhumane action, especially for those Syrian refugees who already have been granted approval to travel and to seek asylum in the United States," said the Democratic Action Party's Ong Kian Ming, who called on Prime Minister Najib Razak to condemn the policy.
Full report at:
http://www.todayonline.com/world/indonesia-vp-says-trumps-policy-can-raise-suspicion-toward-muslims-media
--------
Malaysian Police Arrest Three Suspected Islamic State Sympathizers
Feb 1, 2017
Kuala Lumpur. Malaysian authorities have arrested three men for suspected links with the Islamic State militant group, police said on Tuesday (31/01).
Muslim-majority Malaysia has been on high alert since an attack last January by Islamic State-linked militants in Jakarta, the capital of neighboring Indonesia.
Inspector-general of police Khalid Abu Bakar said the suspects were detained in three separate raids from Jan. 27 to Jan. 29. Police also confiscated a shotgun and an air rifle.
Khalid did not identify the suspects but said one of them, a 38-year-old Malaysian, had posted a plan to carry out a bomb attack in the capital, Kuala Lumpur, on his Facebook page.
Another of the suspects is an Indonesian with Malaysian residency working as security guard with the national carrier, Malaysian Airlines.
He and the third suspect, another Malaysian, were believed to have been planning to join Islamic State militants in Syria, Khalid said.
The three face charges of suspected involvement in terrorism, he said.
Malaysia has not seen a serious militant attack but authorities say they have disrupted several plots.
Full report at:
http://jakartaglobe.id/international/malaysian-police-arrest-three-suspected-islamic-state-sympathizers/
--------
Arab World
Nusra's Heavy Attack Repulsed by Syrian Soldiers in Quneitra, 30 Terrorists Killed
Feb 01, 2017
Tens of terrorists from al-Nusra Front and other affiliated groups deployed in the town of Um al-Bateneh stormed government forces' positons in the town of al-Samdaniyeh al-Sharqi town near the town of Khan Arnabeh but the army repelled their attack, killing at least 30 militants.
A field source said that the terrorist intended to prevail over the army positions in al-Samdaniyeh and then advanced towards khan Arnabeh near the occupied Golan Heights and capture it.
The source further added that the militants had planned to capture more lands to pave the ground for the easier moves by Israel in the region to supply terrorist groups with more equipment.
In relevant developments in the province on Thursday, the Syrian ground troops and their allies launched massive military operations against al-Nusra Front terrorists in Northern Quneitra, blowing up their camp and killing tens of militants.
The Syrian army units used missile and artillery fire to destroy one of al-Nusra Front's centers near Tal al-Hamariya in the Southern parts of Hader village in Northern Quneitra, killing all the militants inside and smashing their weapons and equipment.
The Syrian soldiers also clashed with the al-Nusra terrorists who had attacked an army position in al-Maqrousa and Ain Harfa regions, warding off the offensive and killing and wounding several militants.
A number of military equipment and weapons belonging to the terrorists were also destroyed in the clashes.
http://en.farsnews.com/newstext.aspx?nn=13951113000250
--------
Militants in Seven More Regions End Battle with Syrian Army
Feb 01, 2017
"Representatives of militants in four regions in Damascus province and three regions in Hama province inked the peace agreement with the Syrian government," the Russian Center announced in a statement, adding, "The total number of the cities, towns, regions and villages that have thus far joined peace plan stands at 1,162 now."
In the meantime, the Russian Defense Ministry said that negotiations continue with various field commanders from the provinces of Homs, Hama, Aleppo and Quneitra over ceasefire.
Damascus Governor General Ala Ibrahim said on Tuesday that over 40 buses evacuated over 2,000 militants and their family members from Wadi al-Bardi region in Western Ghouta.
Ibrahim said that over 2,150 militants and their family members left Wadi al-Bardi region for militant-held regions in Idlib, adding those militants that had applied for government pardoning received amnesty.
He went on to say that simultaneous with the evacuation of militants, water facilities in the village of Ein al-Fijeh were fixed and drinking water was pumped to citizens in Damascus.
Full report at:
http://en.farsnews.com/newstext.aspx?nn=13951113000424
--------
Syria anti-IS forces say US sent armoured cars
Feb 1, 2017
HASAKEH, Syria - A coalition fighting the Islamic State group in Syria has received US armoured vehicles for the first time and a promise of new American support, a coalition spokesman said Tuesday.
"American armoured vehicles have arrived for the Syrian Democratic Forces (SDF) for the first time. This happened after the new US administration came to power," spokesman Talal Sello told AFP.
He said the decision to supply the vehicles was taken by Trump's administration, rather than in a simple continuation of US support under Obama. "Before we used to receive light weapons, ammunition... with these armoured vehicles we've entered a new phase in the (US) support. It's a sign," Sello added. The SDF has long been a key partner of the US-led coalition fighting IS in Syria and Iraq, and Washington has previously supplied the coalition of Kurdish and Arab fighters with light weaponry and has sent US and other Western special forces as "advisers".
The US-led coalition has also backed the force with heavy air strikes targeting IS fighters.
The alliance has caused tensions between Washington and ally Turkey, which considers the main component of the SDF - the Kurdish YPG force - to be a "terrorist" organisation.
The SDF has been battling since November 5 to oust the militants from the city of Raqa, the group's de facto capital in Syria.
Sello said the Trump administration had pledged extra support "particularly in the fight for Raqa".
Full report at:
http://nation.com.pk/international/01-Feb-2017/syria-anti-is-forces-say-us-sent-armoured-cars
--------
Protesters stage anti-regime rally in eastern Bahrain
Feb 1, 2017
Scores of demonstrators have taken to the streets in Bahrain in a show of solidarity with political prisoners, and to express their outrage over the ruling Al Khalifah regime's brutal clampdown on pro-democracy campaigners in the kingdom.
On Tuesday, the protesters staged a rally in the village of Ma'ameer, situated about 15 kilometers south of the capital Manama, carrying Bahrain's national flags as well as banners in condemnation of the recent execution of three Shia activists.
On January 15, Bahrain executed Abbas al-Samea, 27, Sami Mushaima, 42, and Ali al-Singace, 21, by firing squad after the three were found guilty of having a role in a deadly bomb attack in 2014.
The marchers further voiced their unwavering support for prominent Shia cleric Sheikh Isa Qassim, whose nationality has been revoked and whom Bahraini authorities seek to put on trial.
The Manama regime has pressed charges of "illegal fund collections, money laundering and helping terrorism" against the 79-year-old cleric, who has strongly rejected them.
Bahraini authorities stripped Sheikh Qassim, who is the spiritual leader of the dissolved main opposition group al-Wefaq National Islamic Society, of his nationality on June 20, 2016.
Full report at:
http://www.presstv.ir/Detail/2017/02/01/508628/Bahrain-demonstration-execution-Shia-activists-support-cleric-Sheikh-Isa-Qassim
--------
ISIL Preparing for Imminent Attacks on Two Airports in Damascus Province
Jan 31, 2017
The sources said that the ISIL has used foggy weather and has sent several military convoys to the regions near the al-Seen and al-Dhamir airports in Eastern Qalamoun to win their control in large-scale surprise attacks.
"These convoys of ISIL have been dispatched from the regions of Ba'ar al-Qasaf and Tal Dakout located between the provinces of Damascus and Sweida, while another military column of the ISIL has been sent to the airports from al-Barada region to the East of the town of al-Quaryatayn in Homs province," the sources added.
Based on the reports, the ISIL's convoys include tanks, military equipment and vehicles, mortars, rockets and a large volume of semi-heavy weapons and ammunition.
On Sunday, the Syrian Army troops struck ISIL's concentration centers in the mountainous regions of Northern Damascus, capturing several heights and killing or wounding 25 militants.
The army men hit ISIL's positions hard in al-Qalamoun mountain and managed to take control over several hills in the Eastern part of the mountain after hours of non-stop clashes.
Full report at:
http://en.farsnews.com/newstext.aspx?nn=13951112000879
--------
Syrians' will helped country survive crisis: Assad
Jan 31, 2017
Syrian President Bashar al-Assad has hailed the will of his countrymen as one of the major factors helping the Arab country survive a foreign-sponsored conflict over the past six years.
Assad made the remarks on Tuesday in a meeting with industrialists from the capital, Damascus, and its countryside, who had been affected by the Syria crisis, but have managed to resume their activities.
Syria's official SANA news agency quoted Assad as saying that the industrialists, who had remained steadfast despite losses during the conflict, are "a source of pride."
The war waged on Syria has an economic aspect in addition to its military side, he said, stressing that the manufacturers' resistance has helped keep the country's economic wheel moving.
Syrian President Bashar al-Assad speaks in a meeting with industrialists in Damascus, January 31, 2016. (Photo by SANA)
The industrialists, for their part, enumerated the challenges they faced during the crisis and how they were not discouraged and continued their work by setting up small workshops.
They further underlined their determination to bring production to its former level and return to the Arab and international markets.
The meeting also showed that the recent rumors about the Syrian president's critical health condition were false.
In a statement released on Friday, Assad's office said that the Syrian leader was in excellent health" and was "carrying out his duties quite normally."
Full report at:
http://www.presstv.ir/Detail/2017/01/31/508555/Syria-Bashar-Assad-Damascus
--------
Syrian Army Seizes Full Control of Mountains Near T4 Airbase
Feb 01, 2017
The army men stormed ISIL's concentration centers and positions to the Northeast of T4 airbase and drove ISIL out of the rest of the terrorist-held heights in al-Tayas chain of mountains, winning full control over the mountains.
The army soldiers could also advance against ISIL and won back several positons near the strategic crossroad of Jahar, killing several terrorists and destroying their vehicles.
On Tuesday, the army men stormed ISIL's positions in Eastern Homs and took back the village of Abu Tawaleh Southeast of the airbase.
The army soldiers also managed to seize back Ba'ar al-Abu Tawaleh region after hours of non-stop battle with terrorists.
A military source said that the army also kicked off an operation against ISIL Southeast of T4 airbase towards the region of Mafraq al-Jahar and forced the terrorists to retreat in the early hours of clashes.
Full report at:
http://en.farsnews.com/newstext.aspx?nn=13951113000308
--------
Syria: More Commanders Defect Nouralddeen Al-Zinki Terrorist Group
Jan 31, 2017
The sources said that the commanders that opposed affiliation of Nouralddeen al-Zinki movement to the newly-formed coalition of Tahrir al-Sham Hay'at (The Levant Liberation Board) left the group with a number of anti-tank missiles for Northern Aleppo.
The sources said that a meeting had been held among the commanders of Nouralddeen al-Zinki before the defection of its commanders.
In the meantime, defection of commanders has also been increasing among Ahrar al-Sham terrorist group as well. The Head of the Central Endowment Board of Ahrar al-Sham, Abu Mohammad al-Nu'amani, defected Ahrar and joined Tahrir al-Sham Hay'at.
Ahrar and Al-Nusra broke their alliance after bloody clashes last week and at the end of more than a month of widening differences. Both groups started new coalitions immediately.
The al-Nusra Front and several militant groups declared on Sunday that they decided to form a new coalition named Tahrir Al-Sham Hay'at to narrow down widening rifts amongst their commanders and members.
The Al-Nusra Front, Nouralddeen al-Zinki Movement, Jeish al-Sonah, Jabhat Ansaraldeen and Liwa al-Haq announced that they would act under a united coalition named the Tahrir al-Sham Hay'at.
Ahrar al-Sham rejected its affiliation to the new coalition, and websites close to the terrorist groups disclosed that Ahrar al-Sham, Faylaq al-Sham, Jeish al-Izzah, Turkistani party and Liwa al-Tamkin soon started a new front called Tahrir al-Syria Front.
Head of Ahrar al-Sham's Judiciary Board disclosed on Monday that militants of Al-Nusra Front (that have recently renamed to Fatah al-Sham Front) and Nouralddeen al-Zinki attacked Ahrar's bases in Dar al-Izza town and managed to take control of several checkpoints.
Full report at:
http://en.farsnews.com/newstext.aspx?nn=13951112001212
--------
Convoys of ISIL's Vehicles Destroyed by Syrian Army in Aleppo, Saudi Terrorists Killed
Jan 31, 2017
The army men targeted several convoys of ISIL vehicles on Raqqa-Maskanah road heading towards Deir Hafer, its Northern villages and towns and regions parallel to Kuweires Airbase in Eastern Aleppo, destroying the military columns.
The Syrian fighter jets and choppers also hit an ISIL military column on the road to the town of Rasm al-Imam coming from Maskanah, destroying the column and killing a very large group of ISIL's suicide attackers, including their Saudi commander Abu Ma'ad and another commander, nom de guerre Abu Manif al-Jazrawi.
The army men also managed to destroy three vehicles of the ISIL in the town of Um al-Mari, killing all the terrorists on board.
The army's missile and artillery units also targeted ISIL's positions in Rasm al-Harmal, killing tens of terrorists.
Earlier reports said that Syrian Army troops continued to advance against ISIL in Eastern Aleppo and managed to take control over more towns, approaching the defense lines of terrorists near the town of al-Bab.
The army soldiers engaged in fierce clashes with ISIL, seizing control over the town of Rasm al-Sarhan to the North of the town of al-Moltafeta in the Northern direction of Kuweires airbase after hours of non-stop fighting and inflicting major losses on the terrorists.
Full report at:
http://en.farsnews.com/newstext.aspx?nn=13951112001705
--------
India
'Defeat IS By Spreading Islam's True Teachings': Indian Muslim Scholars
Feb 1, 2017
MUMBAI: A day-long discussion on the outreach of terror outfit IS in Mumbai saw a group of Muslim scholars and activists suggesting antidotes to stop radicalization among a section of Muslim youths.
Participants at Tuesday's workshop, conducted by Delhi-based Institute for Conflict Management, in collaboration with Nehru Centre, stressed the need for steps from within the community and intelligence services to counsel youths who might be getting influenced by ISIS's propaganda videos.
"You don't need to be defensive about Islam. We are here to understand the dynamics of radicalization and what can be done to fight this menace," explained the Institute's executive director Ajai Sahni.
"We, Muslims, have to do some introspection. ISIS is a political device and it must be tackled prudently. Terrorism is a challenge and we have to get rid of it by spreading the true teachings of Islam and not selective quoting of scriptures or writings of some past theologians," said Islamic scholar Dr Zeenat Shaukat Ali.
Dr A R Anjaria who initiated the biggest fatwa against ISIS in 2015 said that though there are just about 100 Indians who might have been influenced by ISIS propaganda, Muslims, especially the ulema and elders in the community, will have to engage with the youngsters. "That over 1000 Indian ulema endorsed the fatwa against ISIS proves Indian Muslims' willingness to denounce the self-declared caliph (Abu Baqar Baghdadi) and the dangerous ideology he propagates mainly through social media," said Anjaria.
http://timesofindia.indiatimes.com/city/mumbai/defeat-is-by-spreading-islams-true-teachings/articleshow/56902023.cms
--------
Trump's Muslim ban: Kashmir athlete shocked after US denied visa, says disappointed
Feb, 01 2017
On Tuesday, the United States embassy denied visa to a Kashmiri athlete citing reasons of the 'current policy' which can be alluded to US President Donald Trump's recent ban on Muslim immigrants.
The news came in on Tuesday, when 24-year-old Tanveer Hussain went to the US embassy in New Delhi to seek a visa for his latest visit to the country for a sports event. Talking to Firstpost, Hussain said, "The visa officer took my interview for five minutes and inquired about the sport. After the interview she went inside, spoke to someone and then said that I can't be granted visa because of the current policy of the United States."
He said, "This is the first time any country has refused visa to me. It is such a disappointing feeling that I don't have a word to express it. I was going to represent India in the United States. It seems the visa ban is not for the seven countries of the Muslim majority countries, but on the Muslims throughout the world."
Hussain was visiting the country to take part in snowshoe championship in New York which is to be held on 25 February. He had received an invitation for the event, to be held in Saranac Lake, by the World SnowShoe Federation.
Hussain said, "I was preparing for this championship for a long time. All my documents, including an invitation letter and letters from Sports federation of India were there. I did not argue with the officer, I left humiliated and disgusted."
Hussain is a resident of Hassanabad Rainawari, Srinagar and plays the sport for the Jammu and Kashmir bank. He has represented India at many forums including most recently in Italy at the 2016 winter games, where he participated in the snowshoe championship.
Full report at:
http://www.firstpost.com/business/union-budget-session-2017-live-e-ahamed-passes-away-budget-likely-to-go-as-planned-3241158.html
--------
Indian security establishment sees hope of shift in Pakistan's India policy
Bharti Jain
Feb 1, 2017
NEW DELHI: Though India's reaction to the detention of LeT chief Hafiz Saeed is a cautious "wait and watch", the security establishment sees the move as a positive development that can, if sustained, improve ties with Pakistan.
The detention and a likely decision to place Jamaat-ud-Dawa — the "charitable" cover for LeT — and Falah-e-Insaniat on a watch list are being seen as steps in the right direction.
"Even though Hafiz Saeed and others are linking the crackdown to pressure on account of Donald Trump becoming US President, there are doubts about the new US administration attaching top priority to such actions at this early juncture," said a top intelligence official. "The preventive arrest of five top JuD/Falah-e-Insaniat leaders and the impending ban on the two outfits are, in all likelihood, conscious moves initiated by (Pakistan PM Nawaz) Sharif himself. We need to watch the military leadership's reaction as well as track any backlash from Lashkar, which works in league with the ISI. In this case, retaliatory strikes, if any, may take place within Pakistan rather than in India," the official said.
Though Pakistan is keen to signal to the Trump administration that it will act against terror outfits and masterminds based on its soil, the latest crackdown comes on the back of small hints of a thaw in Islamabad's attitude after a change of guard at the Pakistan army headquarters and the ISI, with the exit of former army chief General Raheel Sharif. Though Pakistan has denied the surgical strikes India pulled off in POK last year, New Delhi's insistence on outcomes on terrorism has become plain to Islamabad.
The assessment, an intelligence officer pointed out, is that, helped by a more accommodative military leadership, Sharif can look to rescue the troubled ties with India. For instance, there has been no major terror attack by Pakistan-based outfits for over a month now. The recent release of Indian fishermen and the return of a soldier who crossed the LoC during the surgical strikes are encouraging signs, though security officials are watching events closely.
Full report at:
http://timesofindia.indiatimes.com/india/indian-security-establishment-sees-hope-of-shift-in-pakistans-india-policy/articleshow/56901684.cms
--------
Need a 'credible' crackdown on Hafiz Saeed, India tells Pakistan
Jan 31, 2017
NEW DELHI: After Pakistan placed 26/11 Mumbai attacks mastermind Hafiz Saeed under house arrest+ , India on Tuesday said only "a credible crackdown" on Saeed and on terrorist groups involved in cross-border terrorism would convince it of Pakistan's sincerity.
External Affairs ministry spokesperson Vikas Swarup tweeted the government's statement on Saeed's arrest, which pointed out that "exercises such as yesterday's orders against Hafiz Saeed and others have been carried out by Pakistan in the past also."
Hafiz Saeed is the chief of the Jamaat-ud-Dawa (JuD). The outfit is a front organization for the terrorist group Lashkar-e-Taiba, of which Saeed was one of the founders. He was placed under detention along with four others on Monday night, under an anti-terrorism act.
The move came just days after US President Donald Trump on Friday issued a controversial executive order temporarily halting travel from seven Muslim-majority countries+ - Iran, Iraq, Libya, Sudan, Yemen, Syria and Somalia. On Sunday, a top White House official said there's a possibility of including Pakistan in the list.
Full report at:
http://timesofindia.indiatimes.com/india/only-a-credible-crackdown-on-hafiz-saeed-cross-border-terror-will-be-proof-of-pakistans-sincerity-government/articleshow/56892229.cms
--------
Fear of US sanctions, not of India, prompted Hafiz arrest
Indrani Bagchi
Feb 1, 2017
NEW DELHI: It wasn't India's coercive diplomacy or surgical strike, but the threat of international sanctions by the US under the Financial Action Task Force (FATF) that prompted action by Pakistan against Lashkar-e-Taiba (LeT) founder Hafiz Saeed.
Monday's action may put Saeed out of sight for a few months, but there is no sign that his terror activities against India would be affected. FATF, an inter-governmental body, goes for effective implementation of legal, regulatory and operational measures for combating money laundering, terrorist financing and other related threats.
In early January, when the Obama administration was still in office, Pakistan's ambassador in Washington Jalil Jilani was told by a senior US official that they would put Pakistan on the FATF's blacklist if Islamabad did not take action against LeT and JuD, and their funding mechanisms. JuD had come under the FATF's scanner for its financial transactions. Pakistan could declare JuD a banned or "defunct" organisation, which means it could rebadge itself and function under another name.
The strictures did not only come from the US, these were raised at the meeting of the Asia-Pacific Group (APG) on money laundering, which is part of the FATF. JuD, which is allowed to function without check in Pakistan despite coming under a ban by the UNSC's 1267 committee, has grown beyond being just a terror group targeting India, although India remains its principal target. It is now working with the Haqqani network and other terror entities in Afghanistan and parts of West Asia.
Jilani reportedly forwarded the US message to Islamabad — Pakistan was given until January 31 to act against Saeed and JuD. This explains Saeed's house arrest a day before the deadline. The fact that Saeed was allowed to air a video reiterating his resolve to continue terror against India stands testimony to the fact that Pakistan does not want his arrest to be seen in the Indian context. In fact, since January 14, Saeed has already been moving some of the India-targeted operations of JuD to a new organisation, Tehreek-e-Azaad-e-Kashmir.
Full report at:
http://timesofindia.indiatimes.com/india/fear-of-us-sanctions-not-of-india-prompted-hafiz-arrest/articleshow/56901874.cms
--------
Pakistan
Donald Trump's 'Muslim ban' could be extended to Pakistan
30 January 2017
Donald Trump's executive order limiting immigration from seven Muslim-majority countries could be extended to include Pakistan, White House officials have suggested.
Chief of Staff Reince Priebus defended the travel ban which bars entry of nationals from Iraq, Syria, Iran, Sudan, Libya, Somalia, and Yemen to the US for 90 days, and hinted others could join the list.
The order, which also suspended refugee resettlement for 120 days and barred Syrian refugees indefinitely, provoked public outcry across the country, with protesters taking to the streets in outrage over what many called a "Muslim ban".
"You can point to other countries that have similar problems like Pakistan and others – perhaps we need to take it further," Mr. Priebus said in a television interview.
He also attempted to justify the measures, which many have branded "unlawful", claiming the order had been implemented for the "protection of Americans."
The US President also defended the measures on Facebook.
"This is not about religion - this is about terror and keeping our country safe. There are over 40 different countries worldwide that are majority Muslim that are not affected by this order," he wrote.
However, many were quick to highlight the order had excluded countries where the real-estate mogul had vested business interests.
Saudi Arabia, the United Arab Emirates and Egypt did not feature on the list, despite extremists from the countries committing terror attacks on US soil in the past - 18 of the 19 terrorists who perpetrated the 11 September attack on the twin towers were of Saudi origin.
Politicians in Pakistan called out the ban as an overt example of Mr Trump's "Anti-Muslim" leanings.
"What is clear is that Donald Trump is targeting Muslims, not terrorists," Pakistan People's Party lawmaker Khursheed Shah told reporters, according to the Hindustan Times.
However, cricketer-turned-politician Imran Khan welcomed a potential extension to include the country, saying extra visa restrictions could force Pakistan into self-improvement.
"The prime minister goes abroad even if he gets a headache. If (the ban) happens, we will have to improve Pakistan and stand on our own feet," he said.
http://www.independent.co.uk/news/world/americas/donald-trump-muslim-ban-pakistan-extended-iran-iraq-syria-yemen-libya-immigration-us-entry-refugees-a7552951.html
--------
My arrest will give fresh impetus to Kashmiris struggle: Hafiz Saeed
January 31, 2017
A defiant JuD chief Hafiz Saeed said his detention would give a "fresh impetus" to the Kashmiris' "struggle against India" as the Mumbai attack mastermind was placed under a 90-day house arrest which the government today indicated could be extended. Saeed was detained yesterday at JuD's Lahore headquarters at Masjid Al-Qudsia Chauburji and was later shifted to his Jauhar Town residence which has been declared as a sub-jail by authorities in Punjab province.
"The government has detained Saeed and four other JuD and Falaha-i-Insanyat (FIF) leaders for 90 days with effect from January 30 but this detention may further be extended on completion of this period if required," an Interior Ministry official told PTI. The government may take some further steps against the JuD and its sister organisations in coming days, the official said, adding that the names of several activists of JuD and FIF, a charity run by Saeed, have been placed on Exit Control List (ECL) to stop them from leaving the country.
Saeed and four other JuD leaders were taken into custody and put under house arrest following order of detention was issued by Punjab Province's Interior Ministry on Tuesday in pursuance to a directive from the Federal Interior Ministry on January 27.
"Although they belong to different districts of Punjab but the government has decided to place them under arrest in one house in Lahore," he said.
Saeed, who was allowed to hold a press conference before he left for his home along with dozens of his supporters amid high police security, said, "My detention order has come from Washington and not Islamabad."
"If someone thinks that placing me under house arrest will help check freedom movement in Kashmir he is living in a fool's paradise. My arrest will give a fresh impetus to the Kashmiris' struggle against India," he said.
68-year-old Saeed further said if Indian Prime Minister Narendra Modi thinks that he would get respite in Kashmir after his arrest he is seriously mistaken.
Full report at:
http://indianexpress.com/article/india/my-arrest-will-give-fresh-impetus-to-kashmiris-struggle-hafiz-saeed-4500882/
--------
Govt issues order to place JuD chief Hafiz Saeed under house arrest
February 1, 2017
The provincial authorities on Monday issued orders to place Jamaat-ud-Dawa (JuD) chief Hafiz Saeed under house arrest, DawnNews reported and JuD spokesperson later confirmed.
The government launched a crackdown against JuD and a heavy contingent of police was deployed around the JuD headquarter and offices in Muridke and Lahore.
"A large police team arrived (at JuD headquarters) and told us that Hafiz would be placed under house arrest," said the secretary of information for JuD, Nadeem Awan.
Awan said the police told them they had an arrest warrant for Saeed and five others at JuD headquarters.
Hafiz Saeed was reportedly present at the Qudsia Mosque located in Chauburji area of Lahore. Contingents of police and other law-enforcing agencies reached the area and surrounded the premises, sources said.
Police sources further informed that Saeed will be shifted to his residence in the Johar Town area of the provincial capital, which will then be declared as a sub-jail.
Saeed has been detained under Section 11-EEE(1) of the Anti-Terrorism Act, 1977, a notification issued by the interior ministry said.
Meanwhile, the district intelligence committee has suggested the government put the JuD chief's name in fourth schedule.
Moreover, national flags have been hoisted at the JuD offices in Lahore, instead of party flags, on the directives of the provincial home department, it added.
The provincial authorities have also started to remove the banners of JuD from the roads of Lahore.
Full report at:
http://www.dawn.com/news/1311671/govt-issues-order-to-place-jud-chief-hafiz-saeed-under-house-arrest
--------
Adding Pakistan to ban list would be counterproductive: Bilawal
February 1, 2017
WASHINGTON: Pakistan Peoples Party chairman Bilawal Bhutto-Zardari has warned that adding Pakistan to the list of nations whose citizens are banned from travelling to the United States will create a "host of hostilities" between the two countries.
"As far as the ban is concerned, I believe it only has detrimental effect on the countries it has included and if that is extended to Pakistan it will create a whole host of hostilities," he said at a discussion hosted by the US Institute of Peace in Washington.
On Friday, US President Donald Trump slapped a travel ban on seven Muslim countries and later his chief of staff, Reince Priebus, hinted that Pakistan, Saudi Arabia and Egypt could also be added to the list.
Asked whether Pakistan could be included in the list of seven nations whose citizens had been barred from entering the US for at least 90 days, Mr Bhutto-Zardari said that including Pakistan in such a list "would also be a very negative indicator that the US is turning away from those very ideals that it stood for". He added: "I hope that this is not the new normal."
The PPP chairman said there was a lot of uncertainty about what the future policies were going to be and he would like to hold on to the wait-and-see approach. He said the Muslim ban "seems to be extremely controversial decision" in the United States as well.
"For my generation as a progressive Muslim in the world, it is really discouraging to see countries responding to the fear of others in such a way. We have learned through history that this is not the way to deal with such issues," he said.
Instead of a sweeping ban, the PPP chairman suggested "interaction" with the nations where tiny minorities had imposed terrorism over vast majorities.
Such interactions could be enhanced "by finding common ground, studying in other peoples' universities, learning about a shared culture, history," he said, adding: "A few criminals should not be allowed to spoil the situation for everyone."
Blaming an entire nation for the acts of a few, he said, was very discouraging for those Muslims who were fighting radical extremism because "people [put] their lives on the line on a daily basis to do so, to fight for what they believe in".
Mr Bhutto-Zardari also referred to "another side of America", the almost daily protests against the ban that started hours after President Trump signed the order. "The outpouring of support for the people affected by this ban is a very positive message sending to the world. I do hope that this issue will be sorted out very soon. Because this is sending a wrong message and is shrinking the space for those of us out there fighting Islamic extremism on the front lines," he said. "I feel for the citizens of all these countries who have been thrown into chaos through these [executive orders]," he added.
Taking a shot at the Islamisation drive of the present government, Mr Bhutto-Zardari said that the PML-N was the same party that tried to make Nawaz Sharif, Ameerul Momineen.
Full report at:
http://www.dawn.com/news/1311959/adding-pakistan-to-ban-list-would-be-counterproductive-bilawal
--------
Civil-military leadership agrees to implement NAP in letter and spirit
01-Feb-17
ISLAMABAD: Prime Minister Nawaz Sharif and Chief of Army Staff General Qamar Javed Bajwa on Tuesday discussed measures taken against the banned outfits.
Bajwa called on Nawaz at Prime Minister's House and discussed the internal security issues in details, sources told Daily Times. Both discussed the hurdles in the implementation of the National Action Plan. They decided that the hurdles would be removed. The action against banned outfit leaders also came under discussion.
Under NAP, no banned outfit is allowed to work under any new name and Pakistan was already fulfilling the international commitments in this regard, sources quoted Nawaz as saying.
Bajwa informed Nawaz about the intelligence-based operations and combing operations across the country under NAP. He added that the coordination between army and intelligence agencies has improved.
Full report at:
http://dailytimes.com.pk/islamabad/01-Feb-17/civil-military-leadership-agrees-to-implement-nap-in-letter-and-spirit
--------
Pakistan, Palestine demand end to Israeli settlements in West Bank
01-Feb-17
ISLAMABAD: Pakistan and Palestine on Tuesday called upon the international community to implement the United Nations Security Council's Resolution 2334 that demands Israel to end its settlements in the West Bank.
Prime Minister Nawaz Sharif and Palestinian President Mahmoud Abbas at a joint press stakeout at PM's House stressed that peace in Middle East could only be achieved by solving the Palestine-Israel dispute. Nawaz expressed Pakistan's commitment to the Palestinian cause.
"Pakistan will continue its support for the Palestinian cause at all forums. We also look forward to the international community's sincere efforts for sustainable peace in middle east," he said. He said the Palestine problem was a long-standing issue on the UN agenda and needed a practical solution. He expressed satisfaction over the opening of new Palestinian Complex at Diplomatic Enclave.
"This architecturally aesthetic project would be a living symbol of our brotherly relationship and expression of solidarity of our two countries," he said.
He said he held a very fruitful exchange of views with Abbas on international developments related to issues of Kashmir and Palestine. The president thanked Pakistan for supporting the cause of Palestine. He said during talks with Nawaz, he informed him about the latest efforts for implementation of Resolution 2334 and keeping alive the issue of Palestine.
Full report at:
http://dailytimes.com.pk/pakistan/01-Feb-17/pakistan-palestine-demand-end-to-israeli-settlements-in-west-bank
--------
Mideast
Iran: 13 Young Boys and Girls Were Arrested for Attending a Party
Saturday, 28 January 2017 02:04
NCRI - Director of Public Relations and Communications of judiciary in Northern Province of Gilan announced: "six women and seven men who attended a party were arrested in Anzali"
'Rokna' a state run news agency reported on January 27, that a lawsuit was has been filed for these people, and they have been handed over to the judiciary authorities ".
The judiciary official claimed: projects dealing with social ills and women and girls' 'mal veiling' are on the agenda of the prosecutor and the judicial system will handle these cases with inflexibility.
It is noteworthy that in 2016 hundreds of youth were arrested for attending mixed gender parties.
In similar cases Shahin Gobadi of the Foreign Affairs Committee of the National Council of Resistance of Iran (NCRI) had stated: "The clerical regime has never been so isolated at home and loathed by the Iranian people, in particular by the youth and women.
As such, it is resorting to more and more repressive measures to confront this growing trend This once again proves that the notion of moderation under Hassan Rouhani is a total myth. But it also indicates the vulnerable and shaky state of a regime that cannot even tolerate private festivities of the people, particularly the youth. It is becoming more evident that the mullahs are totally paranoid of any social gathering in fear of a popular uprising."
These are far from isolated incidents; the Iranian Regime has a long history of shutting down private gathering, not just because they fear the "corruption" of the youth, but because they fear the gathering of people.
When the people come together in Iran, the Regime will be overthrown. The Regime knows this and they are afraid of their people; they should be.
http://www.ncr-iran.org/en/news/human-rights/22045-iran-13-young-boys-and-girls-were-arrested-for-attending-a-party
--------
Will build 3,000 new homes in West Bank settlements: Israel
Feb 1, 2017
Israel announced plans on Tuesday for 3,000 more settlement homes in the occupied West Bank, the third such declaration in eleven days since U.S. President Donald Trump took office.
Trump has signaled he could be more accommodating toward such projects than his predecessor Barack Obama.
A statement from the Israeli Defence Ministry, which administers lands Israel captured in a 1967 war, said the decision was meant to fulfill demand for housing and "return to life as usual".
The announcement came close to midnight as preparations began for the eviction of 330 settlers from an outpost in the West Bank. The Supreme Court had ruled that the Amona outpost must be evacuated by Feb 8. because it was built illegally on privately-owned Palestinian land.
Trump and Israeli Prime Minister Benjamin Netanyahu are due to meet in Washington on Feb. 15. The president's chief spokesman said last week the two leaders would discuss settlement building.
The muted response from the Trump White House so far on Israel's settlement announcements has been a clear departure from Obama, whose aides routinely criticized settlement construction plans.
Full report at:
http://nation.com.pk/international/01-Feb-2017/will-build-3-000-new-homes-in-west-bank-settlements-israel
--------
Yemen rebel 'suicide boats' attack Saudi warship
Feb 1, 2017
RIYADH - Yemeni rebel "suicide" boats attacked a Saudi warship on patrol in the Red Sea, killing two sailors in a rare naval clash in the nearly two-year-old war, the Saudi-led coalition said.
The assault off the rebel-held port city of Hodeida came as government forces backed by the coalition pressed a deadly drive up the Red Sea coast despite mounting international pressure for a ceasefire.
"A Saudi frigate came under a terrorist attack by three suicide boats belonging to the Huthi militias," the coalition said late on Monday without specifying when the incident occurred.
Suicide attacks are uncharacteristic of the Shiite Muslim Huthi rebels. They are normally the work of Sunni extremists of Al-Qaeda or the Islamic State group.
Although the Saudi warship "dealt with the boats," one of them "collided with the back of the ship and exploded and caused a fire," which the crew brought under control, the coalition said..
As a result of the incident, two Saudi crewmen lost their lives and three were wounded, the coalition said, adding the frigate was able to resume its patrol.
In purported video of the attack shown on the rebels' Al-Masirah television website, the stern of a warship exploded in a large fireball.
The rebels claimed responsibility for the attack without specifying how the vessel was targeted. "It was hit with precision after an accurate surveillance operation off the western coast," a rebel military official said in a statement.
Yemeni security forces killed an Al-Qaeda leader in the province of Lahj during a raid on Tuesday, police said.
Ammar Qaid, known as Al-Qaeda's "emir" in Lahj, was killed in an exchange of fire with "counter-terrorism" forces after refusing to surrender, said provincial police chief Saleh Sayed.
The raid in the provincial capital Huta was carried out as part of a vast operation backed by an Arab military coalition against the jihadists in Aden, Abyan and Lahj, in southwestern Yemen.
They are three of five provinces under the control of government forces at war with Iran-backed Shiite Huthi rebels.
In October the rebels fired rockets towards an American destroyer, prompting the US Navy to retaliate with cruise missiles against mobile radar sites in Huthi-controlled territory. Since it began air strikes in March 2015, the coalition has imposed an air and sea blockade of rebel-held areas.
It has carried out patrols of the Red Sea to prevent what it says is attempted arms smuggling to the rebels by Shiite Iran.
Before government forces launched a major offensive on January 7, the rebels controlled virtually all of Yemen's 450 kilometre (280 mile) long Red Sea coastline. But loyalist forces have since thrust north from the Bab al-Mandab strait where the Red Sea joins the Indian Ocean, overrunning Dhubab district and entering the historic port of Mokha in their biggest advance in months.
There have been heavy losses on both sides. Nearly 370 combatants have been killed, according to medical sources.
Government forces have also pushed south from a small pocket of territory they control around the port of Midi near the Saudi border.
Heavy fighting has raged around both Midi and the inland town of Haradh, leaving 21 government troops and seven rebels dead over the past 24 hours, military sources said on Tuesday.
Full report at:
http://nation.com.pk/international/01-Feb-2017/yemen-rebel-suicide-boats-attack-saudi-warship
--------
Turkey dismissed over 90,000 public servants in post-coup purge
Feb 1, 2017
ANKARA - Turkish authorities have dismissed more than 90,000 public servants for alleged connections to a coup attempt in July as part of a purge critics say has broadened to target any political opposition to President Tayyip Erdogan.
Speaking to reporters at a roundtable interview broadcast on television, Labour Minister Mehmet Muezzinoglu said 125,485 people from the public service had been put through legal proceedings after the coup attempt, and that 94,867 of those had been dismissed so far.
Turkey has been rooting out followers of the US-based Muslim cleric Fethullah Gulen, whom it accuses of having infiltrated state institutions and plotted to overthrow the government. Gulen, who has lived in self-imposed exile in Pennsylvania since 1999, has denied the charge and condemned the coup.
Some 40,000 people from the police, the military, the judiciary, the civil service or the education system, have been remanded in custody pending trial for alleged connections with the coup attempt, during which at least 240 people were killed.
Meanwhile, a UN court on Tuesday ordered Turkey to release a judge detained in a crackdown after last year's attempted coup so that he can resume his work on an appeals case.
Turkey was ordered "to cease all legal proceedings against Judge Aydin Sefa Akay and to take all necessary measures to ensure his release... no later than 14 February," the tribunal said.
Akay was one of 41,000 people arrested in the aftermath of the failed July 15 coup bid to unseat Turkish President Recep Tayyip Erdogan.
He is also part of a five-judge bench hearing the appeal of former Rwandan minister Augustin Ngirabatware, who was sentenced to three decades in jail for his role in the 1994 genocide in the African nation.
Ngirabatware's case is being heard at the UN's Mechanism for International Criminal Tribunals (MICT) based in The Hague.
Presiding judge Theodor Meron in Tuesday's order also denied Ngirabatware's request to be released until the legal dilemma is resolved.
Earlier this month, Turkey snubbed a hearing at the tribunal despite notices sent to Turkish embassies in Dar es Salaam, in Tanzania - where Ngirabatware is currently behind bars - and in The Hague.
The MICT documents were instead sent back marked "Return to Sender", the court heard.
Judge Meron said "diplomatic immunity (for judges) is a cornerstone of an independent international judiciary, as envisaged by the United Nations."
He also rejected the prosecution's argument that Akay should be replaced on the bench to allow the case to continue.
Full report at:
http://nation.com.pk/international/01-Feb-2017/turkey-dismissed-over-90-000-public-servants-in-post-coup-purge
--------
Turkey urges Trump to scrap 'offensive' refugee policy
Feb 1, 2017
US President Donald Trump's immigration and refugee restrictions are "offensive", a top Turkish official was quoted as saying on Tuesday, in the first explicit criticism by Ankara of the controversial policy.
Deputy Prime Minister Numan Kurtulmus called on Trump to reconsider the decision, which he said was motivated by Islamophobia, the Haberturk daily reported.
"It is not possible to accept this," said Kurtulmus, who is also the chief government spokesman, according to the daily. "The policy should be reviewed."
On Friday, Trump issued an executive order that bars US entry for travellers from seven mainly Muslim countries -- Iran, Iraq, Libya, Somalia, Sudan, Syria and Yemen -- for 90 days.
Trump defended the new policy, introduced just a week after he became president and which stirred up fresh protests this week, by saying that it would make the United States safe from "radical Islamic terrorists".
Kurtulmus blamed rising Islamophobia, anti-immigrant feelings and xenophobia in the West for the decision, calling on the new administration to "correct" the policy.
"It is extremely offensive that such a decision was made in a country like the United States which is known as a nation with all different religions and ethnic groups in a melting pot," he said.
"It is not correct. It is really a decision that triggers discrimination... None of the countries' citizens can be categorically branded as bad."
A champion of the fight against Islamophobia, Ankara had until now steered clear of explicit criticism of Trump's move, although Prime Minister Binali Yildirim on Saturday warned against "putting up walls" to solve the refugee crisis.
Full report at:
http://nation.com.pk/international/31-Jan-2017/turkey-urges-trump-to-scrap-offensive-refugee-policy
--------
Turkey arrests 2 more pro-Kurdish MPs ahead of referendum
Jan 31, 2017
Turkish authorities have detained two lawmakers from the pro-Kurdish Peoples' Democratic Party (HDP) in the latest move against party members ahead of a referendum on constitutional amendment.
The HDP's official spokesman Ayhan Bilgen and another lawmaker representing the eastern province of Kars were taken into custody on Tuesday by a court order before a trial following his arrest by police on Sunday at an Ankara airport, after which he was transferred to the Kurdish-majority city of Diyarbakir in the country's southeast, state-run Anadolu news agency reported.
According to the report, Bilgen was detained and held on charges of "membership in an armed terror organization."
The other prominent HDP lawmaker, identified as the party's legal expert Meral Danis Bestas, was also taken into custody after being initially arrested at her residence in Diyarbakir.
The party described the arrests in a statement as a bid to prevent the HDP from campaigning against constitutional changes sought by embattled President Recep Tayyip Erdogan following a coup attempt last July and terrorist attacks across the country. The changes are expected to dramatically expand his powers after a referendum planned for April.
Turkish President Recep Tayyip Erdogan (Photo by AFP)
"The arrest of our party spokesman Ayhan Bilgen is to block our referendum work but you cannot turn down the volume of 'NO,'" the HDP declared in a message on its official Twitter account.
The latest detentions increased the number of HDP legislators taken captive on terror charges to 12, including the party's co-chairs Selahattin Demirtas and Figen Yuksekdag.
Bilgen had become the public face of the HDP following the imprisonment of the two co-chairs. The party holds 59 seats in the 550-seat Turkish parliament.
Turkish prosecutors are demanding a prison term of up to 142 years for Demirtas on alleged charges of ties to the Kurdistan Workers' Party (PKK).
Full report at:
http://www.presstv.ir/Detail/2017/01/31/508582/Turkey-proKurdish-lawmakers-Ayhan-Bilgen-Meral-Danis-Bestas-referendum-constitutional-change
--------
Iranian Poet Charged With Spreading 'Propaganda'
January 23, 2017
Well-known Iranian poet and filmmaker Baktash Abtin has been charged with "propaganda against the state" following his arrest on December 2, 2016 at a memorial event in Tehran marking the 18th anniversary of the "chain murders" of dissidents, including writers, in the 1990s by agents of the Islamic Republic.
An informed source told the Campaign for Human Rights in Iran that the charge was brought against Baktash by the Revolutionary Court in Karaj, west of Tehran, in connection with a photo he posted on his Instagram page showing Mazdak Zarafshan, a co-board member of the Iranian Writers Association, with a black eye caused by security forces who broke up the event.
Police and plain-clothed security agents attacked the demonstration and also arrested Nasser Zarafshan, the legal council for some of the victims' families who had previously served five years in prison for his defense of human rights, his son Mazdak Zarafshan, and poet Mohammad Mehdipour.
"This is the third (open) case against Mr. Abtin," the informed source told the Campaign. "He has one from 2015 in which he was charged with 'propaganda against the state' for printing an illegal publication and one from October 2016 for allegedly engaging in 'illegal assembly' and 'assaulting the police.'"
Abtin, 43, was elected to the Board of Editors of the Iranian Writers Association in 2014. He has made several documentary films, such as October 13, 1937, a documentary about Iranian Maestro Loris Tjeknavorian, and Ensor, about censorship in Iran, both of which have been screened at international film festivals. He has also published several poetry books.
Full report at:
https://www.iranhumanrights.org/2017/01/baktash-abtin-charged-propaganda-against-state/
--------
Iran: Two Juvenile Prisoners Executed
Feb 1, 2017
We are calling on the international community to place the death penalty, in particular the death penalty for juveniles at the top of their talks with the Iranian authorities
Two child executions have reportedly been carried out in Iran since the start of 2017.
Iran Human Rights (JAN 28 2017): Two juvenile offenders were executed in Kerman (southeastern Iran) and Tabriz (northwestern Iran) prisons. This is in addition to the more than 70 people who have been executed since the beginning of 2017. Iran Human Rights calls for international reactions to the wave of executions and in particular juvenile executions in Iran.
"We want abolition of the death penalty, and as a first step abolition of the death penalty for all offences committed while under age of 18. We are calling on the international community, especially the United Nations and the European Union, to place abolition of the death penalty, in particilar the death penalty for juveniles, at the top of their talks with the Iranian authorities," says Mahmood Amiry-Moghaddam, spokesperson of Iran Human Rights.
The Iranian authorities lead the world in the most executions of minors, despite the revisions made to the Islamic Penal Code and that child executions violate Iran's international obligations.
Arman Bahr Asemani - Convicted of murder at age 16
Iran Human Rights has received confirmation on the execution of a a juvenile prisoner who was convicted of murder at the age of 16.
"Arman Bahr Asemani, born February 10, 1997, convicted in November 2012 of murdering his cousin, was hanged on Sunday January 15, 2017 at Kerman's Shahab Prison," a close source tells Iran Human Rights.
"Bahr Asemani, who was 20 years old at the time of his execution, had also been condemned to 74 lashings on the charge of consumption of alcohol. Hs lawyer had attempted to argue that if [Arman] was drunk, then he should not have been charged with first degree murder, but the lawyer never got anywhere," says the close source.
Iranian official sources had announced an execution at Shahab Prison of a 23-year-old prisoner charged with murder; however, there was no mention of Bahr Asemani's execution.
Hassan Hassanzadeh - Convicted of murder at age 15
Full report at:
https://iranhr.net/en/articles/2778/
--------
Iran Regime Plans to Amputate Fingers of 70-Year-Old Man
24 January 2017
NCRI - A 70-year-old prisoner in Ghezelhesar Prison in Karaj, west of Tehran, has been transferred to a jail in north-west Iran where he is to have his fingers amputated as punishment for theft.
The man, named Yousef Parvaneh, was transferred to a prison in Urmia in the north-western province of Western Azerbaijan, for the amputation sentence to be carried out.
An informed source told an Iranian news agency: "The case of finger amputation is related to a theft charge in 2008 in which Yosef Parvaneh was released on bail in 2010 but he was then arrested and transferred to Ghezelhesar Prison in 2011 due to another crime. He was transferred to Urmia for a month and was handed down the sentence of finger amputation by the branch 1 law enforcement court."
Full report at:
http://www.ncr-iran.org/en/news/human-rights/22022-iran-regime-plans-to-amputate-fingers-of-70-year-old-man
--------
North America
How to Identify 'Good' Muslims? A New Device That Tests For Radicalism
January 31, 2017
Last year, the word Islamophobia repeatedly made an appearance in headlines the world over. Unfortunately, as we end the first month of 2017, it continues to be a sentiment that is dominating mind space and socio-cultural ethos. Now, after US President Donald Trump signed the executive order on immigration from seven Muslim-dominated countries, the issue has intensified.
One of the outcomes of Trump's orders and the existing racial and religious undercurrent in countries is the expression of rebellion by virtue through creative means. And of those, humour and sarcasm are what work best. One such example is a video created by a comedy group Fusion Comedy, called How to Vet Muslims.
The 2-minute 57-second satirical video is an advertisement for this device that would help segregate the safe Muslims from the radical ones, so that you know whom to befriend and whom to stay away from. The video starts with two American moms strolling down an urban neighbourhood when they encounter their Muslim neighbour, who asks if she could accompany them.
The confusion about what to answer is evident. Which is when the host, Bassem Youssef, steps in with the question: "Tired of wondering how Muslim your neighbours are?" Releasing a new spray Breathe Easy (which uncannily looks like a breath analyser), the video shows how the device is tailor-made to differentiate 'good Muslim' from a 'bad' one by testing their radical thoughts.
http://indianexpress.com/article/trending/trending-globally/donald-trump-muslim-ban-muslim-good-or-bad-breathe-easy-new-device-4500508/
--------
Trump ban will hurt Christian refugees fleeing conflict, say Iraqi Catholic leaders
By Josephine McKenna
January 30, 2017
ROME (RNS) As confusion continued over President Donald Trump's ban on refugees and travelers from seven Muslim countries, Catholic leaders from Iraq are warning that the policy change will hurt thousands of Iraqi Christians languishing in Middle East refugee camps.
"They would like to continue their lives in Europe, Canada, Australia or America," Archbishop Bashar Warda of Erbil told a news conference in Rome on Monday (Jan. 30).
Despite Trump's promises to give preference to Christian refugees seeking to enter the U.S., "(h)is decision will make it harder for them. It is not easy to distinguish from their names who is Christian and who is Muslim."
Warda told the media he had personally been affected by the visa ban.
After stopping in Rome he was due to meet with Republican and Democratic lawmakers in Washington this week to discuss the plight of Christians displaced by the violence perpetrated by the Islamic State group.
But Warda was forced to cancel his trip after the immigration ban was imposed.
"I am one of those people who is not able to travel. I cannot get on the plane and I hope to know by tomorrow if I will go," Warda said. "We will see."
There are an estimated 100,000 Iraqi Christian refugees living in limbo in camps located in Lebanon, Turkey and Jordan.
Warda is a leader of the Chaldean Catholic Church in Iraq, the largest body of Christians in the country and one that has been decimated since the U.S. invasion in 2003, an action that the Vatican and Iraqi church leaders strongly opposed.
In other comments published Monday, Chaldean Patriarch Louis Raphael I Sako of Baghdad also said Trump's policy of preferential immigration for Christians was a "trap" and would "create and feed" tensions with Muslims.
"Every reception policy that discriminates (among) the persecuted and suffering on religious grounds ultimately harms the Christians of the (Middle) East, because among other things (it) provides arguments to all propaganda and prejudice that attack native Christian communities of the Middle East as 'foreign bodies,' groups supported and defended by Western powers," Sako said, according to the Catholic news agency Fides.
"Those who seek help do not need to be divided according to religious labels. And we do not want privileges," he said. "This is what the Gospel teaches, and what Pope Francis pointed out, who welcomed refugees in Rome who fled from the Middle East, both Christians and Muslims without distinction."
Religious leaders from Catholic, Protestant and evangelical faiths have attacked Trump's policy change as discriminatory and inhumane. They claimed the executive order pitted one faith against another.
The Iraqi conflict is far from over and a battle is now raging for control of the strategic city of Mosul, although government forces have reportedly gained ground against Islamic State militants in the east of the city.
The number of Christians in the country has fallen from 1.3 million in 1987 to less than 300,000 today, according to church estimates.
Warda urged Trump to use his power for creating peace in the Middle East and elsewhere in the world.
Full report at:
http://religionnews.com/2017/01/30/trump-ban-will-hurt-christian-refugees-fleeing-conflict-say-iraqi-catholic-leaders/
--------
How the travel crackdown is affecting North American debate on Islam
Feb 1, 2017
AMIR AHMAD NASR is about as pro-Western as anyone born deep inside the world of Islam could possibly be. Born to Sudanese parents whose professional lives took them to many countries, he is bilingual in Arabic and American English. He believes passionately in liberal democracy and the free exchange of ideas. He has no patience with those who think that authoritarian systems of government, whether secular or Islamist, are better suited to certain countries. The globe-trotting author and digital activist has recently settled, gratefully, in Canada.
Mr Nasr used his Western freedom to do something that he could not have managed if he were still living in the Islamic heartland. With disarming humour, he described his own spiritual path in a successful book with an almost self-explanatory title, "My Islam: How Fundamentalism Stole My Mind and Doubt Freed My Soul". This recounts how he went through a phase of believing not only in Islam's literal truth but in the duty to despise people outside the tent of strict Sunni orthodoxy, and then his evolution through many stages into what he calls himself now: a cultural Muslim and spiritual humanist.
Until very recently, this 31-year-old public intellectual had every reason to expect that his home in western Canada would be a good vantage point for lectures and book tours in the United States. But thanks to President Donald Trump's travel crackdown, that hope has for the forseeable future been dashed. He feels horribly let down: "I understand there are real security threats facing the US, but this sham of a ban will not do anything to make America safer. It will validate the vile and deceitful narrative peddled by ISIS: that America is waging a war against Islam."
Elsewhere in the North American commentariat, and especially among those who study and teach Islam (including Islamic law, philosophy, history and so on) for a living, there is a similar level of frustration and disappointment. In campuses across the United States, promising young scholars doing doctoral or post-doctoral work face the prospect of having to interrupt their studies because they come from one of the seven affected countries. Within hours of the travel ban being announced, the Iranian wife of a doctoral student at Ohio State University was detained on arrival in New York, prompting a state senator and the college's president to protest on her behalf. The American Academy of Religion, a learned society grouping 8,500 members, complained that the travel crackdown "strikes at the heart of its mission" which was to foster excellence in the study of religion and promote public understanding. The ban threatened to "poison...the public's understanding of Islam in particular and religion in general," it said in a statement.
As one immediate result, the travel crackdown is forcing the diversion of some academic events from America to the more liberal atmosphere of Canada, which seems not to have been dented by the killings at a mosque in Quebec City. An Ivy League law school is understood to be raising funds to switch a long-planned conference to a Canadian campus.
At least until recently, academia in Anglophone North America was a more-or-less seamless web, with scholars happily dividing their studies and careers between the two places. Certainly the reaction against the shutdown has been a continent-wide phenomenon, according to Mohammad Fadel, an associate law professor at the University of Toronto, whose early life and research were spent in the United States. (He ponders the compatibility of Western political philosophy with Islamic law and thought.) "North American universities have reacted quickly to defend their students and teaching staff who are nationals of the targeted states," he reports. "Many departments in the United States stand to suffer directly from the exclusion of highly trained graduate students and faculty from those countries, and they will likely discover that their own academic work, such as lectures, workshops and seminars, is impoverished as they are prevented from inviting leading scholars." Some non-American scholars who are still entitled to travel might boycott the United States, he adds.
Full report at:
http://www.economist.com/blogs/erasmus/2017/02/why-muslim-pundits-feel-let-down
--------
Texas 'Muslim Day' beefs up security over political climate
Jan 31, 2017
AUSTIN: Muslim organizers of a rally at the Texas Capitol said they were taking extra security precautions Tuesday, including hiring private security guards, as hundreds arrived on buses amid growing discord over President Donald Trump's immigration ban.
Although the "Texas Muslim Capitol Day" is a biennial event that was scheduled months before Trump won the presidency, the tenor and size of the rally was likely to drastically differ from previous years after Trump on Friday banned all entries from seven Muslim-majority nations.
It also threatened to overshadow Texas Gov. Greg Abbott delivering his second State of the State address that was likely to include the Republican enthusiastically embracing Trump's crackdown on so-called "sanctuary cities." His speech also is being closely watched to see how or even whether Abbott weighs in on Trump's broader immigration ban.
Mustaafa Carroll, executive director of the Houston chapter of the Council on American-Islamic Relations, said this was the first year they had provided armed security on buses heading to Austin for the rally. He said it was mainly to help his people feel at ease amid heightened tensions nationwide and a small band of anti-Muslim protesters who greeted them in 2015.
Two years ago, one Republican legislator instructed her staff to ask Muslims visiting her office to take a loyalty pledge to the U.S.
"They're beefing up security, and they're very aware of what's going on and the climate," Carroll said.
Trump's tumultuous early going will loom over a new agenda that Abbott is laying out while his state faces being dramatically impacted by a border wall, immigration crackdowns and trade tensions with neighboring Mexico. Abbott has stopped short of endorsing a wall along the entire length of the Texas-Mexico border, and was silent after a Trump spokesman last week raised the prospect of paying for the wall with a 20 percent tax on all imports from Mexico, the state's largest trading partner.
But Abbott is already threatening to cut off some state funding to Texas jails that don't fully cooperate with federal immigration agents, echoing Trump's order to financially punish cities with sanctuary policies. Abbott has said he wants to go even further and sign news laws that would "criminalize" sanctuary policies and give the state authority to oust locally elected officials.
Full report at:
http://timesofindia.indiatimes.com/world/us/texas-muslim-day-beefs-up-security-over-political-climate/articleshow/56898298.cms
--------
Canada shooting suspect rented apartment close to mosque: neighbors
Feb 1, 2017
The French-Canadian student accused of killing six people during evening prayers in a Quebec City mosque had rented an apartment nearby, neighbors said on Tuesday, a sign he may have been targeting the house of worship.
Alexandre Bissonnette, 27, was charged in court on Monday with six counts of premeditated murder and five counts of attempted murder with a restricted weapon after Sunday evening's massacre at the Centre Culturel Islamique de Québec.
Police said he acted alone but did not release specific details of the weapon. RDI, the Canadian Broadcasting Corporation's French-language arm, cited sources as saying the gunman had a 9 mm handgun and a long gun, but the report did not provide further details.
The mass shooting, which was rare for Canada and which Prime Minister Justin Trudeau condemned as terrorism, prompted an outpouring of support for the mosque and for Canada's 1 million Muslims in the country of about 35 million.
Authorities in Quebec have called for a spirit of inclusivity, and police have tightened security at all religious institutions in the province, which had the second-highest rate of crimes motivated by religious prejudice among the provinces in 2014, second only to Ontario, according to police crime data collected by Statistics Canada.
The data showed that reported crimes of prejudice against Muslims in Canada more than doubled between 2012 and 2014.
Bissonnette, who said on his Facebook page that he was a fan of U.S. President Donald Trump and far-right French politician Marine Le Pen, had moved into an apartment in the beige block near the mosque in July and drove a Mitsubishi truck, said a neighbor, who asked not to be identified.
The Facebook page has been taken down since the shooting.
Another neighbor on the fourth floor never spoke to Bissonnette but frequently heard piano-playing from the apartment. A neighbor of his parents told the CBC that Bissonnette shared the apartment with his twin brother.
Police declined to discuss a motive for the shooting, but friends and online acquaintances told Canadian media that Bissonnette had expressed anti-immigration sentiments, especially toward Muslim refugees.
Both law enforcement and intelligence agencies in the United States believe the suspect was sympathetic to right-wing nationalist ideology, and that likely contributed to motive, U.S. officials said.
On Tuesday, the prime minister's chief spokeswoman, Kate Purchase, demanded that Fox News channel in the United States either retract or update a tweet that the gunman was of Moroccan origin. She said the tweet dishonored the victims.
The tweet was later taken down.
Fox initially corrected the error with a tweet and an update to the story on Monday, said Refet Kaplan, managing director of Fox News.com.
"The earlier tweets have now been deleted. We regret the error," Kaplan said in a statement.
Purchase noted that Canada welcomed refugees and immigrants, effectively underscoring major differences between Trudeau and Trump, who on Friday temporarily banned citizens from seven Muslim-majority nations, citing the risk of terrorism.
'TURNING POINT' FOR QUEBEC
A large turnout at vigils in Quebec City, Montreal and other cities on Monday evening showed people rejected hate speech and wanted to be inclusive, Quebec Premier Philippe Couillard said.
Full report at:
http://nation.com.pk/international/01-Feb-2017/canada-shooting-suspect-rented-apartment-close-to-mosque-neighbors
--------
US Muslim civil rights group challenges immigration order
31 January 2017
The Council on American-Islamic Relations [advocacy website] filed a lawsuit [complaint, PDF] in the US District Court for the Eastern District of Virginia [official website] Monday challenging the constitutionality of the Trump administration's executive order [text] restricting immigration from several Muslim-majority nations. The order specifically blocks immigrants from Iraq, Iran, Libya, Somalia, Sudan, Syria and Yemen. Citing the "vulgar animosity" of the order, the suit alleges the measure suffers from "constitutional infirmity" because it effectively bans a subset of Muslims from entering the nation and so violates the Fifth Amendment. The plaintiffs, composed of attorneys and activists, request a speedy hearing to grant an injunction preventing the administration carrying out the discriminatory portions of the order.
Full report at:
http://www.jurist.org/paperchase/2017/01/us-muslim-civil-rights-group-challenges-immigration-order.php
--------
Experts warn of rise in anti-Islam movements, violence against Muslims in Canada
Feb 01 2017
OTTAWA — Jihadi-inspired extremism has dominated discussion of terrorism in Canada in recent years.
But the shootings at a Quebec City Islamic centre may well represent the flip-side of that coin: the hate-killing of Muslims.
It is too early to know what prompted the crimes and, so far, accused shooter Alexandre Bissonnette has been charged with murder and attempted murder, but not terrorism.
Still, Bissonnette's social-media history suggests he was a fan of far-right, anti-immigrant French politician Marine Le Pen.
Canada's spy agency and academic researchers have been quietly probing the phenomenon of right-wing extremism, and the concerns will figure into federal plans for a national office of counter-radicalization.
In a September 2014 briefing to federal officials, the Canadian Security Intelligence Service warned of the threat posed by terrorist groups al-Qaida, Hezbollah and the more radical Islamic State of Iraq and the Levant.
But under the heading Domestic Extremism, the spy service also underscored the recent development "of a Canadian online anti-Islam movement, similar to ones in Europe."
CSIS characterized it as an "ongoing risk, particularly as its proponents advocate violence."
Public Safety Minister Ralph Goodale says the planned office of counter-radicalization will serve as a centre of excellence and help key players understand what draws the vulnerable down a dark path. The idea is to intervene with the right people at the right time to head off tragedies before they happen, Goodale said this week after the Quebec shooting.
Jihadi-inspired violence has drawn most of the attention in recent years, noted Lorne Dawson, a University of Waterloo sociology professor and co-director of the Canadian Network for Research on Terrorism, Security and Society.
"To be honest, we have to admit that the bulk of the problem is a jihadist radicalization and that's where the focus is," he said. "But everyone acknowledges it's not the only form of radicalization."
Dawson pointed out that Norway, Sweden and Germany have long had programs aimed at steering young people away from neo-Nazism — initiatives that served as templates for programs designed to prevent jihadist radicalization.
"They were all up and operating years and years before Europe really became concerned with an Islamist radicalization issue," he said.
"It's a lesser issue than jihadism, but it's not something that's being ignored."
Canada has many of the same basic ingredients that drive right-wing terrorism in both the United States and Europe, says a recent policy brief published by Dawson's research network.
A large-scale attack by ISIL might spur a call for the kinds of attempted purges seen in Europe or targeted killings intended to scare communities by demonstrating they are no longer safe within Canada, said the brief by Richard Parent of Simon Fraser University's school of criminology and researcher James Ellis.
Full report at:
http://www.metronews.ca/news/canada/2017/01/31/spies-researchers-probe-anti-muslim-backlash-in-shadow-of-jihadi-related-fears.html
--------
Europe
48 British rabbis cite Holocaust in condemnation of Trump's 'Muslim ban'
31 Jan, 2017
Almost 50 British rabbis have condemned US President Donald Trump's travel ban as "inciting and legalising hatred" against Muslims just days after the world marked Holocaust Memorial Day.
In a letter to the Times, 48 British rabbis declared their solidarity with their "Muslim cousins" and said the Holocaust reminds the world what happens when "institutionalised hatred goes unchallenged."
The Jewish leaders called on UK Prime Minister Theresa May to teach her American counterpart "the lessons of history," when the "tools of state" are directed against minorities.
Trump has become the object of protests around the world for signing an executive order over the weekend which indefinitely bans immigration from Syria and temporarily blocks immigration from six other Muslim-majority nations.
May has been criticized for failing to condemn the order and for apparently jumping at the opportunity to invite Trump to Britain when she met the president in Washington on Friday.
Writing in The Times, the rabbis said: "Last week, Holocaust Memorial Day reminded us what happens when institutionalised hatred goes unchallenged.
"This week, we stand alongside our Muslim cousins as they face the consequences — both direct and indirect — of President Trump's executive order. By effectively banning many Muslims from entering the United States, Donald Trump is inciting and legalising hatred.
"We urge Theresa May to convey to the president the lessons of history, and the potential consequences of deliberately directing the tools of state against a minority."
The letter was signed by 48 Jewish faith leaders, including regular broadcaster Rabbi Laura Janner-Klausner and Rabi Alexandra Wright, the first female senior rabbi in England.
In a separate incident, Foreign Secretary Boris Johnson urged MPs to stop comparing Trump to Adolf Hitler, despite the minister himself having compared French President Francois Hollande to a Nazi prison guard just weeks before.
"I do find it distasteful to make comparisons between the elected leader of a great democracy and 1930s tyrants," he said.
Earlier this month, Johnson drew criticism for comparing the French president to a World War II German soldier.
"If Mr. Hollande wants to administer punishment beatings to anybody who seeks to escape [the EU], in the manner of some World War II movie, I don't think that is the way forward, and it's not in the interests of our friends and partners," the foreign secretary said as quoted by the Independent.
https://www.rt.com/uk/375822-rabbis-letter-trump-may/
--------
$900k raised to rebuild fire-ravaged Texas mosque
Feb 1, 2017
TEXAS - More than $900,000 has been raised in an online fundraiser for a south Texas mosque destroyed by fire over the weekend, exceeding the amount needed to rebuild the place of worship, according to the fundraising page.
The GoFundMe page for the Victoria Islamic Center received donations from more than 19,000 people in the two days after the mosque, about 125 miles (200 km) southwest of Houston, was gutted by flames early on Saturday. The blaze has been classified as "suspicious," said Victoria city spokesman O.C. Garza.
"Our hearts are filled with gratitude for the tremendous support we've received," mosque leaders said in a statement on the online fundraising page. "The outpouring of love, kind words, hugs, helping hands and the financial contributions are examples of the true American Spirit."
The fire broke out just hours after Trump signed an executive order last Friday that banned travelers from seven Muslim-majority countries from entering the country for several months.
Authorities have found no evidence linking the fire with the order.
The fire was reported around 2 a.m. on Saturday, according to Garza. By the time firefighters reached the scene, "flames were already coming through the roof, so we went into containment mode to stop it from spreading," he said.
The building was so badly burned that only the exterior walls of the mosque withstood the blaze, Garza said.
State fire officials, as well as agents with the FBI and the US Bureau of Alcohol, Tobacco, Firearms and Explosives, are investigating. Garza said it would likely take weeks before a cause could be determined.
Muslims in the United States have expressed fears of growing Islamaphobia in the country amid concerns about white nationalist rhetoric against the religion.
In Canada, a French-Canadian man is suspected of entering a Sunday prayer service at a Quebec City mosque and opening fire on congregants, killing six people and injuring 17.
Full report at:
http://nation.com.pk/international/01-Feb-2017/900k-raised-to-rebuild-fire-ravaged-texas-mosque
--------
Morocco's king lauds 'return home' to AU after 33 yrs
Feb 1, 2017
ADDIS ABABA - "I am finally home", King Mohammed VI said Tuesday as the African Union readmitted Morocco after a 33-year absence, deferring the issue of Western Sahara for another day.
Morocco's return came a day after 39 of the AU's 54 member states agreed to allow it back in the fold, despite stiff resistance from countries such as South Africa and Algeria over the status of the disputed former Spanish colony.
Faced with the AU's decision, Western Sahara officials appeared to accept the new reality and cast it in a positive light, saying AU membership might help speed up efforts to end a protracted conflict.
"It is a beautiful day when one returns home after too long an absence," Mohammed VI told the closing ceremony of the AU summit in Ethiopia. His speech came after a long day of feverish speculation in the halls of the AU headquarters over whether he would indeed show up, and protocol confusion which saw his foreign minister given a talking to in front of some media after he tried to enter the main plenary hall during a heads of state meeting.
Morocco quit the then Organisation of African Unity (OAU) in 1984 after the bloc admitted the former Western Sahara as a separate member.
Morocco maintains that the territory under its control is an integral part of the kingdom, while the Polisario Front, which campaigns for independence, demands a referendum on self-determination.
Some had feared Morocco would seek the expulsion of the Sahrawi Arab Democratic Republic (SADR) as a precondition for its own return to the AU, however the country agreed to return without conditions.
"From the moment that Morocco did not impose conditions ... we take their word for it and accept that Morocco be admitted to the African Union," said Mohamed Salem Ould Salek, foreign minister of the SADR, which claims sovereignty over the entire territory of Western Sahara.
Salek said Monday that having Morocco in the same room would allow the SADR to pressure them into fulfilling their obligations and hold a long sought referendum.
King Mohammed did not raise the issue of Western Sahara in his speech, choosing instead to highlight how Morocco as "one of the most developed African nations", could be a boon to the continent.
"We do not ignore the fact that we do not have unanimity in this noble assembly. We do not want to create divisions as some have insinuated," he said.
"My vision of South-South cooperation is clear and constant. Morocco ... will be a motor for common economic growth.
"It is time that Africa's riches benefit Africa. For too long we have looked elsewhere to make decisions, commitments. Is it not time to turn towards our own continent?"
The busy AU summit also saw Chadian foreign minister Moussa Faki Mahamat take over from South Africa's Nkosazana Dlamini-Zuma as AU commission chief after a fierce election battle that eliminated four other candidates.
Guinea's Alpha Conde took over the rotating presidency of the bloc, and called for the continent to express solidarity with Somalia, Libya and Sudan, which have been targeted by a United States travel ban.
The decision to re-admit Morocco, and election of a new chairperson, took place despite regional divisions that observers feared could lead to delay or deadlock on both issues.
"We hope that this summit will show the world that the spirit ... of pan-Africanism is born again in all its splendour," said Guinea's Conde, who took over the AU's rotating presidency from Chad.
Full report at:
http://nation.com.pk/international/01-Feb-2017/morocco-s-king-lauds-return-home-to-au-after-33-yrs
--------
EU's Tusk: Trump Joins Radical Islam, China, Russia as Threat to Europe
JAN 31 2017
BRUSSELS — President Donald Trump has joined Russia, China and radical Islam as a threat to Europe, the president of the European Council Donald Tusk said on Tuesday.
In a letter to national leaders before a summit that he will chair in Malta to prepare the European Union's future after Britain leaves, the conservative former Polish prime minister called on Europeans to stick together to avoid domination by three other continental powers.
Trump's more protectionist trade policy offered the E.U. a chance and it should do more now to set up free trade deals, he added.
Saying the E.U. faces its biggest challenges in its 60-year history, the senior official said an "assertive China," "Russia's aggressive policy" toward its neighbors, "radical Islam" fueling anarchy in the Middle East and Africa were key external threats. These, he said, "as well as worrying declarations by the new American administration, all make our future highly unpredictable."
Tusk's remarks were among the strongest directed at the new U.S. president since Trump took office 11 days ago and reflects a growing sense in many European capitals of a need to respond to his policy moves, notably the ban at the weekend on the entry of refugees and others from seven Muslim-majority countries.
Leaders in Brussels have been particularly concerned that Trump has supported Brexit and spoken of other countries following Britain out of the bloc.
"The disintegration of the European Union will not lead to the restoration of some mythical, full sovereignty of its member states, but to their real and factual dependence on the great superpowers: the United States, Russia and China," Tusk wrote to the E.U. leaders. "Only together can we be fully independent.
"We must therefore take assertive and spectacular steps that would change the collective emotions and revive the aspiration to raise European integration to the next level."
Full report at:
http://www.nbcnews.com/news/world/eu-s-tusk-trump-joins-radical-islam-china-russia-threat-n714691
--------
South Asia
Bangladesh resurrects plan to move Rohingya refugees to flooded island
Feb 1, 2017
Bangladesh has resurrected a plan to relocate thousands of Rohingya Muslims fleeing violence in Myanmar's northwestern Rakhine State to a flooded island in the Bay of Bengal to prevent them from "intermingling" with Bangladeshi citizens.
The United Nations says about 65,000 people have fled the Muslim-majority northern part of Rakhine to Bangladesh since attacks that killed nine Myanmar border police on Oct. 9, sparking a heavy-handed security response in which scores were killed.
Bangladesh first proposed the idea of sending the Rohingya to Thengar Char, which floods at high tide, in 2015, prompting anger among rights groups.
A notice dated Jan. 26 and posted on the website of the Bangladesh government's cabinet says several committees had been formed to look at the influx of Rohingya Muslims, which the country fears could lead to law and order issues as they mix with local residents.
Dhaka was preparing a list of the people who would be temporarily moved to Thengar Char before being sent back to Myanmar, the notice said.
A senior official at Bangladesh's home ministry said the process to shift the Rohingya to the island would take time and that "if that place is not livable, the government will make it livable".
Hundreds were killed in communal clashes in Rakhine in 2012, exposing a lack of oversight of the military by the administration of Nobel Peace Prize winner Aung San Suu Kyi.
The Rohingya are seen by many Myanmar Buddhists as illegal immigrants from Bangladesh.
http://nation.com.pk/international/31-Jan-2017/bangladesh-resurrects-plan-to-move-rohingya-refugees-to-flooded-island
--------
Taliban attack Lashkargah with rockets following Abdullah's visit
Feb 01 2017
The Taliban militants fired several rockets on Lashkargah city, the provincial capital of southern Helmand province, following Chief Executive Abdullah Abdullah's visit.
The provincial governor's office said the incident took place earlier today, leaving a child dead and two other civilians wounded.
The rockets landed in the vicinity of the traffic department in Lashkargah city.
The anti-government armed militant groups including the Taliban insurgents have not commented regarding the incident so far.
The rocket attack by Taliban follows a visit by CE Abdullah who arrived in Helmand on Tuesday to review the security situation of the province.
Abdulalh also visited the frontline in Lashkargah city late on Tuesday night and met with the Afghan armed forces.
The Taliban insurgents launched a coordinated attack on security posts in Sangin district on Monday which forced the Afghan government to deploy additional commandos of the Afghan army to assist in repulsing the attack.
Local officials are saying that the commando forces arrived late on Monday night and the security situation is in control of the security forces.
Full report at:
http://www.khaama.com/taliban-attack-lashkargah-with-rockets-following-abdullahs-visit-02780
--------
Afghan troops battle Taliban offensive in Helmand province
Feb 1, 2017
LASHKAR GAH: Afghan forces said they were holding off a Taliban offensive in Helmand province on Tuesday, as reinforcements and air support arrived.
Both sides reported heavy fighting as Taliban militants attacked government positions in Sangin district, an area where insurgents have made major gains in the past two years.
"There is heavy fighting still ongoing between the Taliban and our forces but those places that were captured by the Taliban yesterday have been taken back," said Omar Zwak, a spokesman for the governor of the southern province.
Among the reinforcements sent to the embattled district were new commando units, he said.
A regional Taliban spokesman, Qari Yousuf Ahmadi, said fighters had captured at least 25 government checkpoints and killed more than 100 soldiers and police.
The Taliban used tunnels dug from houses to attack the government's front-line checkpoints, General Wali Mohammad Ahmadzai, commander of the 215th Army Corps, said on Monday.
Army officials said they had killed at least 19 Taliban and wounded 25.
British, American and other international forces battled the Taliban in Helmand for years after the ouster of the militant group from power in late 2001. Sangin and other districts saw sustained heavy fighting.
The Taliban have made gains in several parts of the country since most foreign combat troops withdrew from Afghanistan at the end of 2014.
Full report at:
http://nation.com.pk/international/31-Jan-2017/afghan-troops-battle-taliban-offensive-in-helmand-province
--------
SIGAR's Afghanistan report to Trump admin offers bleak progress statistics
Feb 01 2017,
The United States Special Inspector General for Afghanistan Reconstruction John Sopko has offered bleak progress statistics about Afghanistan in his latest report to President Donald Trump administration.
Sopko released the 269-page report days after the formation of the new US administration.
The report states that the Afghan government barely controls half of the country while the Afghan security forces numbers are on the reduction.
Sopko further adds in his report that the drug production is on the rise, expressing concerns regarding the eradication which is lower.
However, he points towards a noticeable reduction in corruption, specifically during the procurement of the goods and services.
The formation of the national procurement commission is one of the major initiatives of the government of national unity as President Ghani has stepped up efforts to counter the growing corruption in the country.
Sopko in his report said 'reconstruction remains tenuous and incomplete' after 15 years and billions of dollars of investment.
Pointing towards the growing instability in the country, Sopko said "The Afghan security forces need continued donor support, plus mentoring and limited tactical support from the U.S. military, to block insurgent advances."
Full report at:
http://www.khaama.com/sigars-afghanistan-report-to-trump-admin-offers-bleak-progress-statistics-02781
--------
US awards $51.8 million rocket fuses contract for Afghan and Iraqi forces
Feb 01 2017
The United States has awarded a contract worth $51.8 million for the delivery of rocket fuses for the Afghan and Iraqi forces.
The Department of Defense on Tuesday informed regarding the award of the contract to L-3 Fuzing and Ordnance Systems Inc.
"L-3 Fuzing and Ordnance Systems Inc., Cincinnati, Ohio, was awarded a $51,852,276 firm-fixed-price, foreign military sales contract (Afghanistan, Iraq) for 21,589 M734A1 multi-option fuses that includes a first article test, and 270,528 M783 point detonating delay fuses," a press release by Defense Department.
The release further adds "Bids were solicited via the Internet with one received. Work will be performed in Cincinnati, Ohio, with an estimated completion date of Nov. 30, 2018. Fiscal 2015 and 2016 other procurement (Army) funds in the amount of $51,852,276 were obligated at the time of the award. Army Contracting Command, Picatinny Arsenal, New Jersey, is the contracting activity (W15QKN-17-C-0024)."
Full report at:
http://www.khaama.com/us-awards-51-8-million-rocket-fuses-contract-for-afghan-and-iraqi-forces-02779
--------
Africa
Two bomb attacks hit Nigeria as officials blame Boko Haram
Jan 31, 2017
Two bomb attacks have hit separate locations in northern Nigeria in what officials believe were attempts by Boko Haram terrorist group to make up for its recent losses in the face of the Nigerian army.
A civilian vigilante in Banki, near the Cameroon border in the northeastern state of Borno, said on Tuesday that an attack earlier in the day nearly rattled a camp of people displaced by Boko Haram violence.
Musa Ahmad, who works with the military against Boko Haram, said the attack was carried out by a 10-year-old girl about noon local time, adding that the minor was killed after she detonated her explosives near the camp for internally-displaced people.
"She was asked to stop by soldiers. But she ignored them. They threatened to shoot her if she didn't stop. She obeyed and she was asked to lift up her hijab," said Ahmad, adding, "She did and explosives were found to be strapped on her. Suddenly she pulled on the trigger and exploded."
This January 31, 2017 grab photo shows the site of an attack by a minor girl near the camp of internally-displaced people in northeastern Nigeria.
The vigilante said the death of the girl was the sole casualty of the incident, adding that the attack bore the hallmarks of similar attacks by Boko Haram as the Takfiri group has repeatedly used minors and women to carry out assaults against civilians and security forces.
Ahmad said Boko Haram has been desperately seeking to make up for the losses it has suffered at the hands of the Nigerian army in the recent time.
Earlier on Tuesday, at least two people, including the attacker, were killed in another act of terror, where the assailant targeted people performing morning prayers inside a mosque in Dalori, on the outskirts of Maiduguri, the capital of Borno state.
Residents and authorities said the blast happened at about 5:30 a.m. and the attacker was trying to enter the mosque but a guard stopped him.
"One of the worshippers, who was apparently on guard, grabbed him and the explosives went off, killing both of them. Worshippers were saved," said a resident.
Nigeria has been at war with Boko Haram since the group started an insurgency in Borno state about eight years ago. Almost 15,000 people have been killed while the violence has displaced more than two million.
Boko Haram has pledged allegiance to Daesh, another Takfiri terrorist group, which has been wreaking havoc in the Middle East and North Africa over the past few years.
http://www.presstv.ir/Detail/2017/01/31/508581/Boko-Haram-Nigeria-Borno
--------
Tanzania's ban on refugee groups hinders humanitarian assistance: UN
Jan 31, 2017
The United Nations refugee agency says a recent decision by the Tanzanian government to ban refugees from entering the African country in groups could undermine efforts to protect them.
Chansa Kapaya, the Tanzania representative for the Office of the UN High Commissioner for Refugees (UNHCR), said on Tuesday that the move would also hinder efforts to provide refugees with humanitarian assistance.
She added that all Burundians now entering Tanzania could face lengthy waits for an individually assessed claim to refugee status.
"UNHCR has yet to receive a formal communication from the government of Tanzania on the matter," Kapaya was quoted by media outlets as saying.
"However, if what is reported in the media is a true reflection of the government's position, then we believe that there will be implications on the quality of refugee protection and humanitarian assistance provided to refugees."
Mwigulu Nchemba, Tanzania's home affairs minister, announced last week on a visit to the western region of Kigoma that the government would no longer accept groups of refugees on the border. The minister said Tanzania instead would vet individual cases before granting refugee status.
"We will no longer allow entry to refugees who come in groups. Anyone seeking asylum has from now on to be individually assessed by the relevant authorities," Nchemba said.
The undated photo shows Burundian refugee children.
Tanzania hosts more than 280,000 refugees and asylum seekers, mostly from the Democratic Republic of the Congo (DRC) and Burundi.
Full report at:
http://www.presstv.ir/Detail/2017/01/31/508571/UN-Tanzania-ban-refugee-groups
--------
California man stranded in Africa with daughter joins lawsuit against Trump
JANUARY 31, 2017
BY VIKAAS SHANKER
Ahmed Ali, the Yemen-born Los Banos, Calif., man stuck in east Africa with his 12-year-old daughter, joined a class action lawsuit late Friday seeking to overturn the portion of President Donald Trump's executive order that is blocking Ali from bringing his daughter to the United States.
Ali, whose full name is Ahmed Mohammed Ahmed Ali, and his 12-year-old daughter, Eman Ali, say that Trump's executive order banning immigration from seven countries "has shattered (their) lives and their prospects for being reunited as well as the lives and reunification prospects of the scores of similarly situated families and individuals," the suit says.
The lawsuit was filed Friday in U.S. District Court for the Western District of Washington in Seattle, and published online by the American Immigration Council, which also filed the lawsuit along with the Northwest Immigrant Rights Project and the National Immigration Project.
The suit challenges the constitutionality of Trump's order suspending travel visas and other immigration benefits to Iran, Iraq, Libya, Somalia, Sudan, Syria and Yemen.
Ali and his daughter have been stuck in a hotel in east Africa since the ban went into effect Friday. The 39-year-old father of three has said he can't send his daughter back to war-torn Yemen and he can't leave Djibouti without her.
"He's hoping the U.S. government does the right thing and he is eager to get this resolved and return to his family," said Katy Lewis, an immigration attorney who has been working with the family for several years.
The suit also lists as plaintiffs two other children from Somalia and Syria with similar stories to Ali's.
It claims hundreds of people were harmed in the wake of the executive order, which the suit describes as a "Muslim ban."
The suit attributes a quote to Trump made during his presidential campaign in which he called for "a total and complete shutdown of Muslims entering the United States until our country's representatives can figure out what is going on."
It also cites Rudolph Giuliani, Trump's advisor on cybersecurity, who they say "confirmed that the current executive order was intended to be a 'legal' ban on Muslims."
The lawsuit further cites a New York Times story reporting Christian refugees are granted priority over Muslims in the immigration process from the targeted countries.
Along with Trump, the lawsuit names as defendants the heads of the State Department, Department of Homeland Security, U.S. Citizenship and Immigration Services and the director of national intelligence.
Ali, manager the Buy N Save Market in Los Banos, has been a U.S. citizen since 2010. He has worked for more than a decade to bring his family out of Yemen. His wife also is a citizen, his 14-year-old daughter was naturalized and his 2-year-old child was born in America.
Full report at:
http://www.sacbee.com/news/state/article129818134.html
--------
Morocco Rejoins AU, Hopes on Increasing Africa's International Influence
Feb 1, 2017
Secretary General of the Organization of Islamic Cooperation (OIC) Dr. Yousef Al-Othaimeen officially welcomed the rejoining of Morocco to the African Union (AU), as an effective and active member state on Monday.
Dr. Al-Othaimeen also commended the efforts shown at the AU's session 8 being held in the Ethiopian capital, Addis Ababa, which concluded to granting Morocco's right to play a role effectually within a united African continent.
The Secretary General expressed the hope that the return of Morocco in the African body would improve African influence on an international level and would facilitate resolution of critical challenges facing the continent.
Dr. Al-Othaimeen also applauded Chad's Foreign Minister Moussa Faki Mahamat on his election as the new AU Commission Chairperson at the Addis Ababa summit.
Dr. Al-Othaimeen commended the incoming Chairperson for his known wisdom, competence and experience, and expressed hope that he will steer commission affairs to greater heights towards—bringing about a more prosperous, stable and peaceful continent in years to come.
The Secretary General recalled the existing bilateral cooperation between the OIC and the AU and looked forward to working closely with Mahamat and the commission towards developing partnership in all areas.
Bosnian Presidency Member Herzegovina Bakir Izetbegovic praised exertions poured by Saudi Arabia, concerning the service of both Islam and Muslims– particularly in Bosnia.
Full report at:
http://english.aawsat.com/2017/01/article55366644/morocco-rejoins-au-hopes-increasing-africas-international-influence
--------
URL: https://www.newageislam.com/islamic-world-news/new-age-islam-news-bureau/indonesia-police-vow-to-block--political--rally-led-by-islamists/d/109915
New Age Islam, Islam Online, Islamic Website, African Muslim News, Arab World News, South Asia News, Indian Muslim News, World Muslim News, Womens in Islam, Islamic Feminism, Arab Women, Womens In Arab, Islamphobia in America, Muslim Women in West, Islam Women and Feminism, Moderate Islam, Moderate Muslims, Progressive Islam, Progressive Muslims, Liberal Islam