New Age Islam News Bureau
18 Dec 2012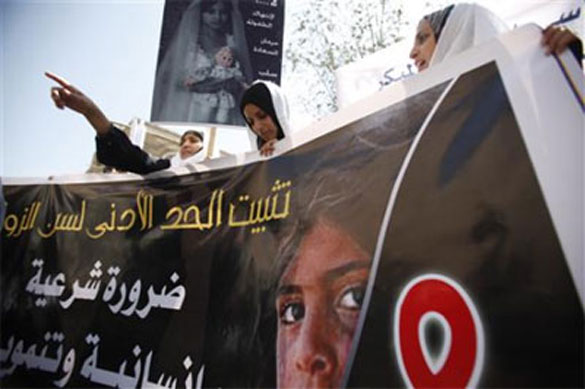 • Yemen: End Child Marriage by Enacting and Enforcing a Minimum Age of Marriage Law
• Muslim women demand ban on triple talaq
• Women MPs slam Imran for opposing quota
• Hijab stands in the way of Palestinian journalists
• Training of Female Lawyers On Sharia Law Wraps Up
• Twenty months later, rape survivor Kainat fights on
• Pakistan: Minor girl killed in firing between tribal groups
• Pakistan: Report on situation of women's rights launched
• Media for women: Women want to move beyond fashion, human rights issues
• Women's rights in Libya – a positive viewpoint
• "Iran's Parliament Studying Bills to Support Muslim Elite Women"
• Wife set on fire by husband for dowry: Bangladesh
• The day I saw 248 girls suffering genital mutilation
• Veils, desires, and a woman's revolution: Marwa Adel exhibits at Safarkhan Gallery
• I am here to change market trends: Feeha Jamshed
Compiled by New Age Islam News Bureau
Photo: Yemen: End Child Marriage by Enacting and Enforcing a Minimum Age of Marriage Law
URL: https://www.newageislam.com/islamic-world-news/new-age-islam-news-bureau/indonesia--communities-called-upon-to-stop-violence-against-women/d/9723
-------------
Indonesia: Communities called upon to stop violence against women
ecember 18 2012
Social activists have called for intensive efforts from people across the country to curb violence against women, which is often viewed as normal in several communities.
Once each community tackles violence against women, activists say, there will be more opportunity for women to take part both in social and economic development.
Antarini Arna, Oxfam's gender justice lead in Indonesia, said women would continue to suffer from acts of violence unless more people became fully engaged in reducing the crime.
"To reduce violence against women, we should ensure changes in our behavior and attitude both at individual or community level. Many communities still consider violence against women as normal," said Antarini, also known as Rinno, at a discussion in Jakarta recently.
In many areas in the country, social and cultural values justify such violence as normal. "In such situations, winning the support of local people to work as change makers in their own society is crucial to reducing the social and cultural acceptance of violence. Otherwise, we will see more violence in the future," Rinno said when discussing Oxfam's Change Maker program, designed to reduce the acceptance of violence against women.
In its recently published report, the National Commission on Violence against Women (Komnas Perempuan) recorded that 119,107 cases of violence against women occurred in 2011, in which 95 percent were domestic violence.
As of August this year, 282 regulations issued by various state institutions were discriminative toward women, making it more difficult for them to obtain their rights on economic, social and political issues.
Through its "We Can" campaign, the Change Maker program delivers many different kinds of activity that aims to change attitudes toward violence against women.
Merri Djami, director of the Circle of Imagined Society (CIS) Timor, a local NGO that partners with the Oxfam, said a "change maker" was a person who could encourage others to support efforts to eliminate all forms of violence against women.
"In the 'We Can' campaign, we encourage all groups of people or communities to play roles as change makers. They can do it by opposing violence in everyday life or encouraging other people to do the same," said Merri.
The campaign was first funded by Oxfam Novib (Netherlands) before Oxfam Australia provided its financial support.
The campaign started in six South Asian countries: Afghanistan, Bangladesh, India, Nepal, Pakistan and Sri Lanka. Oxfam then expanded the campaign to more countries, including Indonesia.
In Indonesia, the campaign is coordinated by Solidaritas Perempuan, a Jakarta-based women's rights NGO, and runs in 32 areas across the country from Aceh to Papua.
In Kupang, East Nusa Tenggara (NTT), 509 people have joined the Change Maker program. They come from one municipality — Kupang City — and four regencies, namely Atambua, Kupang, Timor Tengah Utara (TTU) and So'e.
Sisca Solokana, the leader of the program in Kupang, said most people who became "change makers" were either former perpetrators of violence against women or victims of the violence.
"They [the perpetrators] committed various violent acts ranging from physical violence to emotional and verbal abuse," she told The Jakarta Post.
http://www.thejakartapost.com/news/2012/12/18/communities-called-upon-stop-violence-against-women.html
-----------
Yemen: End Child Marriage by Enacting and Enforcing a Minimum Age of Marriage Law
By Suad Abu-Dayyeh
17 Dec 2012
The winning entry in the 'Contemporary Issues' section of the 2012 'World Press Photo Competition' is a haunting image of two Yemeni men standing next to their child brides. Equality Now has been calling on the Government of Yemen to prevent child marriages for several years. However, this severe form of discrimination against women and girls continues to exist. UNICEF suggests that although the legal age for marriage in Yemen is 15, a recent study revealed that the average in certain parts of the country is closer to 12 or 13.
A draft child marriage bill was introduced in Yemen's parliament in 2009. It decreed that 17 should be the minimum marriage age for girls and prescribed penalties and punishment for violators. However, it was effectively blocked in 2010 by the parliament's Shariah (Islamic law) Committee, when it issued 15 pages of recommendations against a minimum age of marriage, arguing in part that early child-bearing prevents breast cancer. Further discussion surrounding the bill has been postponed, and it is unclear if and when this issue will be taken up again.
The 2011 revolution in Yemen led to a change in government that women hoped would result in improved lives for them and their children. During the protests women played important roles, as evidenced by the awarding of the 2011 Nobel Peace Prize to Yemeni activist Tawakkol Karman for her "non violent struggle for the safety of women and for women's rights to full participation in peace-building work". In spite of their significant involvement in the revolution, Yemeni women fear that their rights and participation in decision-making processes will continue to be marginalised. Activists on the ground have confirmed that key issues such as child marriage will not be considered a priority by the new government.
In 2010, Equality Now and their partner, Yemeni Women Union (YWU), became involved in the case of "Wafa", who, at the age of 11, was sold by her father into marriage to a violent 40-year-old man. While they were ultimately successful in getting her a divorce, she had to be moved into a shelter to escape a relative who tried to further sexually abuse and marry her. Wafa has been able to resume her education, but the shelter is a temporary solution and is not ideal for a now 13-year-old girl.
Equality Now has also been following the case of another child bride, who managed to get a divorce, but is now facing tremendous hardship, including being exploited in prostitution by her own relatives.
As these cases show, without a law banning child marriage, child brides remain at constant risk of exploitation and abuse. The failure of the Yemeni government to stop child marriage, including through enactment of the proposed law, is a violation of their international obligations under the Convention on the Rights of the Child (CRC) and the Convention on the Elimination of All Forms of Discrimination against Women (CEDAW) both of which contain provisions against child marriage.
Equality Now and YWU need your help to call upon the government of Yemen to make the rights of women and girls a priority, to pass and enforce a law prohibiting child marriage, and to ensure the safety and human rights of child brides who have ended their marriages. Without laws banning child marriage, girls remain at constant risk of exploitation and do not reach their full potential. We must take action now.
http://www.trust.org/trustlaw/blogs/the-word-on-women/yemen-end-child-marriage-by-enacting-and-enforcing-a-minimum-age-of-marriage-law
-------------
Muslim women demand ban on triple talaq
December 18, 2012
The Bhartiya Muslim Mahila Andolan (BMMA) Monday demanded a ban on verbal talaq and stern action against clerics who advocate the practice.
The annual BMMA convention attended by women from 12 states who had been affected by the so-called triple talaq unanimously resolved to ask for the codification of Muslim personal law.
"We demand that the state take steps to ban triple talaq. We would also want the government to take legal action against any qazi who is found to promote triple talaq," BMMA founder member Zakia Soman said.
BMMA demanded an end to the unilateral pronouncement of talaq and the mandatory presence of an arbitrator for all divorce proceedings.
The organisation's proposed Talaq-e-Ahsaan does away with verbal talaq, and lays down that any rule or interpretation of Muslim law pre-dating the commencement of the new law would cease to have effect.
Participants at the conclave shared their personal experiences as they discussed the way forward for the women of the community. Many of those who attended had been given talaq for frivolous reasons that included, in one case, an allegation that the woman's eyesight was weak.
Andolan members also demanded that the clergy stop delivering fatwas on talaq. "They should refrain from issuing fatwas... The Madhya Pradesh High Court had asked the Masjid committee to refrain from delivering verdicts in talaq cases or issue fatwas related to marriage and divorce," BMMA national council member Safia Akhtar said.
URL: http://www.indianexpress.com/news/muslim-women-demand-ban-on-triple-talaq/1046848/
-----------
Women MPs slam Imran for opposing quota
December 18, 2012
ISLAMABAD: Women parliamentarians from both sides of the aisle criticised Pakistan Tehrik-i-Insaaf chairman Imran Khan on Monday over his remarks against reserved seats for women and challenged him to compare his educational credentials with theirs.
Speaking on a point of order, PML-N MNA Anusha Rehman questioned whether Imran or his party had rendered any sacrifice for democracy or brought any legislation to parliament.
Lauding the role of female MPs, including NA Speaker Dr Fehmida Mirza, Nafisa Shah, Farzana Raja and Shahnaz Wazirali, she challenged Imran Khan to compare his educational credentials even with hers.
She said a man having no representation in parliament had no right to comment against women MPs who had reached parliament constitutionally and after having been nominated by their parties.
She also sought support of male colleagues and the law minister over "a breach of our privilege".
Ms Shahnaz Wazirali said that in the past too, some people had been raising voice against the reserved seats for women, observing that Imran Khan seemed to be ignorant of the Constitution as well as social justice.
She asked Imran Khan to explain his conception of democracy, recalling that he had boycotted the 2008 general election.
She said the PTI chief wanted to drag 50 per cent population of the country into obscurity. Reserved seats were protected in the Constitution in line with the practice the world over, Shahnaz Wazirali added.
"Such comments against women's quota are highly prejudiced, biased, discriminatory and alarming."
Jamila Gilani of ANP said Imran's statement was tantamount to ignoring half of the country's population and showing his non-political approach.
Kashmala Tariq said women were struggling to get their seats increased from 17 per cent to 30 per cent.
Mr Khan's comments proved that he did not encourage the class he claimed to represent. He should have urged political parties to bear those women's election expenditure who wanted to contest for general seats, Kashmala Tariq said.
http://dawn.com/2012/12/18/women-mps-slam-imran-for-opposing-quota/
-------------
Hijab stands in the way of Palestinian journalists
By DIANA ATALLAH/THE MEDIA LINE
12/18/2012
Lubna Abu Safiyeh was forced to leave her media job because her ambition to work in the TV world did not fit her choice of wearing a head scarf.
RAMALLAH - Lubna Abu Safiyeh was forced to leave her media job and now works in an administrative position in a Ramallah company - all because her ambition to work in the TV world did not fit her choice of wearing a head scarf.
"When I was being interviewed for a job in a new Palestinian television channel, the interviewer asked me if I would be willing to take off my hijab," she told The Media Line.
After that, she refrained from seeking other job interviews in places where she heard the management was anti-hijab. "Why I should bother?" she asked.
The hijab – the traditional scarf that religious Muslim women wear to cover the hair, ears and neck – has become one of the decisive criteria determining who can be in front of the camera, and usually indicates a television channel's policy.
Full report at:
http://www.jpost.com/Features/InThespotlight/Article.aspx?id=296311
-------------
Training of Female Lawyers On Sharia Law Wraps Up
BY ISATOU SENGHORE
17 DECEMBER 2012
Female Lawyers Association of The Gambia (FLAG) over the weekend completed a six-weeks training on Sharia Law for its members. The training was funded by the British High Commission's bilateral programme.
Speaking at the closing ceremony held at the Paradise Suites Hotel in Kololi, Ms Neneh M.C. Cham, president of FLAG, said eleven members successfully underwent the training conducted by eminent panel of experts of family aspect of Sharia Law, namely marriage, divorce and inheritance.
Full report at:
http://allafrica.com/stories/201212180688.html
-------------
Twenty months later, rape survivor Kainat fights on
December 18, 2012
KARACHI: The universe – as the name Kainat means – seems to be on her side. Although gang rape survivor Kainat Soomro lost her legal battle 20 months ago, there is still a ray of hope.
The Sindh High Court has issued warrants to arrest two of the four suspects, who were all acquitted of rape charges in May 2010. Only last month, the minor had won a case for compensation by the government.
In January 2007, Kainat – then 13 years old – was abducted from her hometown in Dadu district. Four men kept the minor with them for four days and repeatedly assaulted her, Kainat said. She later managed to escape. Instead of punishing the perpetrators, the tribal elders declared her "kari" [a woman liable to be killed for dishonouring customs.
Full report at:
http://tribune.com.pk/story/480968/twenty-months-later-rape-survivor-kainat-fights-on/
-----------
Pakistan: Minor girl killed in firing between tribal groups
December 17, 2012
LARKANA: A three-year-old girl was killed in an exchange of fire between two groups of the Meerani community in Fatehpur on Sunday.
Dhamrah police said a dispute developed between two groups of Meerani community and they started firing which continued for four hours. A three-year-old girl Sakina, daughter of Wajid Ali Solangi, who was some distance away from the place of the gunfight got injured seriously.
She was taken hospital where she died after three hours. The girl's parents and other relatives took out a rally carrying the body of the girl to the Indus Highway and staged a sit-in. Police reached the highway and assured them of justice, after which they ended the protest.
-----------
Pakistan: Report on situation of women's rights launched
December 17, 2012
Providing a comprehensive overview of the situation of women's rights in Pakistan, the Aurat Foundation launched 'Pakistan NGO Alternative Report on Elimination of All Forms of Discrimination against Women (CEDAW)-2012.'
The report, authored by Maliha Zia and Riffat Butt and reviewed by Neelam Hussain, Naeem Mirza, Nasreen Azhar and Younas Khalid, is primarily a commentary on the Fourth Periodic Report of the government, identifying gaps and presenting an objective analysis of the situation of women in Pakistan. The report is endorsed by 24 non-governmental organisations working for women rights in Pakistan.
Full report at:
http://www.thenews.com.pk/Todays-News-6-148759-Report-on-situation-of-womens-rights-launched
-----------
Media for women: Women want to move beyond fashion, human rights issues
December 18, 2012
KARACHI: Women do not become journalists to report on celebrities, the latest fashion or human rights issues, argued speakers at a discussion on Monday.
Why aren't women journalists allowed to do crime stories? Why are they only given beats related to women's rights? These and other questions were raised by several women at a discussion on 'Media Advocacy for Women', organised by the US Consulate and Women Media Centre (WMC) at Lincoln Corner, Rangoonwala Community Centre.
Full report at:
http://tribune.com.pk/story/480995/media-for-women-women-want-to-move-beyond-fashion-human-rights-issues/
-------------
Women's rights in Libya – a positive viewpoint
By Alaa Murabit.
17 December 2012
Due to recent media attention painting a negative picture on certain incidents related to women's rights issues in Libya which are undermining the progress that has been made in this area, I would like to highlight some positive progress.
This progress that has been made has not only been in the visible changes, but also the changes achieved in mentality and the importance of women's inclusion in decision-making.
A matter of months ago, it would have been an idealistic dream to even be discussing the importance and mechanism of women's involvement in public life in Libya. The fact that the importance of women's roles are now being highlighted and fought for by not only Libyan women, but Libyan men as well is a landmark of progression and growth. It is a realization of the ultimate values of equality that this revolution is being built on.
Full report at:
http://www.libyaherald.com/2012/12/17/opinion-womens-rights-in-libya-a-positive-viewpoint/
-------------
"Iran's Parliament Studying Bills to Support Muslim Elite Women"
12/17/2012
An Iranian lawmaker announced on Sunday that the country's parliament is studying several bills to provide elite Muslim women with support and backings in a bid to help independence of Islamic states.
(Ahlul Bayt News Agency) - "The Islamic Consultative Assembly is studying some bills to back elite women as part of its intention for helping independence of Islamic states," member of the parliament's Cultural Commission Laleh Eftekhari said in a meeting with a Malaysian women rights activist Noor Hamidah here in Tehran.
Eftekhari further added that rules and regulations of the Islamic Republic of Iran on women and family have been approved on the basis of Islam and have always been welcomed by other countries.
Full report at:
http://abna.ir/data.asp?lang=3&id=372767
-------------
Wife set on fire by husband for dowry: Bangladesh
December 18, 2012
A mother of a five-year-old boy sustained severe burn injuries as she was set on fire allegedly by her husband for dowry at Tentulia village in Mithapukur upazila on Friday night.
Bokuli Bagum, 22, wife of Mosharraf Hossain, 28, is now undergoing treatment at the burn unit of Rangpur Medical College and Hospital.
Police and Mosharraf, son of Mofijul Islam of Jamalganj village, married Bokuli, daughter of Golam Rabbani of Tentulia eight years ago.
Full report at:
http://www.thedailystar.net/newDesign/news-details.php?nid=261597
-----------
The day I saw 248 girls suffering genital mutilation
In 2006, while in Indonesia and six months pregnant, Abigail Haworth became one of the few journalists ever to see young girls being 'circumcised'. Until now she has been unable to tell this shocking story
Abigail Haworth
18 November 2012
It's 9.30am on a Sunday, and the mood inside the school building in Bandung, Indonesia, is festive. Mothers in headscarves and bright lipstick chat and eat coconut cakes. Javanese music thumps from an assembly hall. There are 400 people crammed into the primary school's ground floor. It's hot, noisy and chaotic, and almost everyone is smiling.
Twelve-year-old Suminah is not. She looks like she wants to punch somebody. Under her white hijab, which she has yanked down over her brow like a hoodie, her eyes have the livid, bewildered expression of a child who has been wronged by people she trusted. She sits on a plastic chair, swatting away her mother's efforts to placate her with a party cup of milk and a biscuit. Suminah is in severe pain. An hour earlier, her genitals were mutilated with scissors as she lay on a school desk.
Full report at:
http://www.guardian.co.uk/society/2012/nov/18/female-genital-mutilation-circumcision-indonesia
-------------
Veils, desires, and a woman's revolution: Marwa Adel exhibits at Safarkhan Gallery
In 'The Journey', at Safarkhan in Zamalek, contemporary visual artist Marwa Adel challenges stereotypes of femininity
Sara Elkamel
17 Dec 2012
In 'The Journey', Marwa Adel rebels against the stories of traditional femininity and the glorified institution of marriage, to which girls passionately, yet blindly, aspire to from the day they are born.
Born in 1984 in Cairo, Adel uses photography and graphic design to tackle controversial issues in contemporary Egyptian society. Adel's work is largely autobiographical; in The Journey, she communicates her feelings and frustrations at living in a society that, as she perceives it, strips women of freedom and choice.
Full report at:
http://english.ahram.org.eg/NewsContent/5/25/60729/Arts--Culture/Visual-Art/Veils,-desires,-and-a-woman%E2%80%99s-revolution-Marwa-Ade.aspx
-------------
I am here to change market trends: Feeha Jamshed
By Saadia Qamar
December 17, 2012
KARACHI: Teejays' heiress and creative director Feeha Jamshed strongly feels fashion needs to be on the streets of Pakistan. She wants Pakistan to dominate the international scene and believes that fashion should be for the masses; not just for the elite sitting in their luxurious drawing rooms. Feeha makes her vision a reality by keeping her fashion forward outfits at reasonable prices; it is clear that Feeha is not in it simply to mint money.
"Everything is definitely not about profits," says Feeha. "I am not going to be a part of the web that entangles one. I am here to change market trends for people to realise what other trends are out there for people to follow."
Full report at:
http://tribune.com.pk/story/480810/i-am-here-to-change-market-trends-feeha/
-------------
URL: https://www.newageislam.com/islamic-world-news/new-age-islam-news-bureau/indonesia--communities-called-upon-to-stop-violence-against-women/d/9723