New Age Islam News Bureau
21 March 2017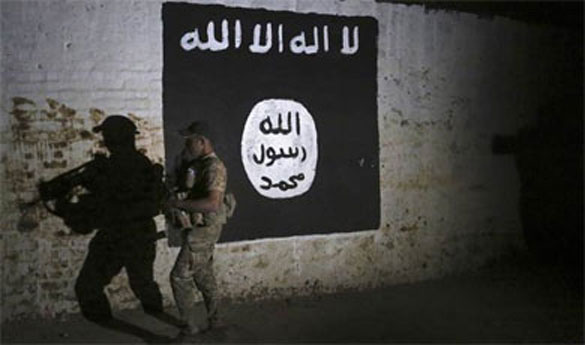 An Iraqi soldier inspects a recently-discovered train tunnel, adorned with an Islamic State group flag. (Representational Image)
--------
• Indian Supreme Court for Amicable Settlement to Ayodhya Dispute, CJI Offers To Mediate
• Boko Haram Vows To Impose Sharia Law in Nigeria, Benin, Cameroon, Chad, Niger And Mali
• How Much Is An Afghan Life Worth? That Depends
• Turkey President Wants To Perform Islamic Prayer Service in Hagia Sophia of Istanbul
• ISIS Force Young Men to Fight in Defence of Mosul, Say Refugees
India
• Jihadis Entering India, Warns Bangladesh
• Grilled In Pakistan over Alleged RAW Links, Dargah Clerics Return Safely
• Missing JNU student Najeeb Ahmed 'Googled' ways to join Islamic State: Report
------
Africa
• Justice Binta Nyako Introduces Sharia Law into Trial of Nnamdi Kanu
• Kenyan bus ambush in which Muslims shielded Christians is now a movie
• South Sudan: Plane crash-lands in Wau, at least 37 injured
• Former Burundi street child helps heal civil war divisions
• Libya rescues 420 migrants off its coast: navy
------
South Asia
• Myanmar Investigators Question Rohingya in Bangladesh Camps
• Airstrike targets prominent Taliban leader's compound in Laghman
• Taliban kill three Afghan soldiers in attack
• 4 new light attack aircraft arrives in for the Afghan Air Force
------
Mideast
• Three Suspects Linked To Perpetrator of ISIL Attack on Berlin Market Caught In Istanbul Airport
• Iran's supreme leader Ayatollah Ali Khamenei calls for 'resistance economy'
• Israel's Benjamin Netanyahu seeks to boost commercial ties with China
• Merkel renews demand that Erdoğan drop Nazi comments
• Turkish minister clarifies remarks on sending 15,000 migrants to Europe each month
------
Arab World
• Syrian Gov't Grants Amnesty to 150 Militants in Homs Province
• Tearing down the "caliphate": on the frontline against Islamic State in Mosul
• Donald Trump assured more US support against IS: Iraq PM Haider al-Abadi
• Baghdad: 15 killed in car bomb attack
• US-Led Coalition's Airstrikes Kill 18 Civilians in Syria
• IS kidnap 6 Iraqi officers in Mosul, police deploy snipers near key mosque
• UN rejects Saudi-led coalition call to supervise Yemen port
• Tens of Terrorists Besieged by Army in Damascus' Jobar Region
• Syrian Troops Move One Step Closer to Deir Hafer in Aleppo
• Military Spokesman: Yemeni Missiles Can Hit Riyadh
• Islamic State Group Claims Responsibility for Baghdad Attack
------
Pakistan
• Pakistani Bank Establishes Branch In Xinjiang
• Allies 'Embarrass' Govt in NA Ahead Of Crucial Vote
• Strike in Chaman against Afghan border closure
• Security forces foil terror bid in Balochistan's Kohlu district
• Ex-minister slams PM on 'India friendship'
------
Southeast Asia
• China Warmly Welcomes Israel's Prime Minister after Saudi King's Visit
• Myanmar: Contrast in style as Philippine President Rodrigo Duterte meets Aung San Suu Kyi
• Indonesia plans to sue Thailand's PTTEP over 2009 oil spill
------
Europe
• Pope's Egypt Visit Offers Chance to Improve Catholic-Muslim Ties
• Pope Francis Begs Forgiveness for Church Role In Rwanda Genocide
• Police Charge Man Who Allegedly Threatened a Mosque In London, Ont.
• Russia strikes deal with Syrian Kurds to set up base
• Merkel says she reserves right to block Turkish rallies
• Migrants, Islam, independence: Top French presidential candidates clash in 1st TV debate
------
North America
• US To Ban Electronic Devices on Flights from Eight Muslim Countries
• We Should Not Have Left Iraq: Donald Trump on Fight with ISIS
• Trump Immigration Lawyer on Travel Ban: 'What Happens To Muslims Can Happen To Jews'
• Donald Trump tweets hearing on Russia allegations 'fake news'
• UN proposes shutting down Haiti peacekeeping mission
Compiled by New Age Islam News Bureau
URL: https://www.newageislam.com/islamic-world-news/new-age-islam-news-bureau/indian-supreme-court-for-amicable-settlement-to-ayodhya-dispute,-cji-offers-to-mediate/d/110477
-----
Indian Supreme Court for Amicable Settlement to Ayodhya Dispute, CJI Offers To Mediate
Mar 21, 2017
Bhadra Sinha
New Delhi, Hindustan Times
The Supreme Court on Tuesday suggested a negotiated settlement to the Ram Janmabhomi-Babri Masjid dispute, with the Chief Justice of India even offering to act as a mediator between the two sides laying claim over the historic site in Ayodhya.
The court's observation came in response to a plea by BJP lawmaker Subramanian Swamy for an early hearing of a civil dispute over the site where Hindu groups say Lord Ram was born.
A bench headed by Chief Justice JS Khehar told Swamy that sensitive issues are best settled through negotiations.
"If the parties want me to sit between mediators chosen by both sides for negotiations, I am ready," he said, adding that if required the court can also choose a principal negotiator for finding a solution.
The bench asked Swamy to mention his plea again on March 31.
In his plea, the BJP leader said numerous attempts for a negotiated settlement had failed and a judicial intervention was required. He added that all the pleadings were complete and case should be listed for a final disposal.
Swamy wants an early hearing of the dispute because his plea to build a Ram temple at the disputed site has been tagged with the case.
A Hindu mob demolished the historic Babri Masjid on December 2, 1992 at Ayodhya. Muslims groups are opposed to building a temple at the site.
In September 2010, a three-judge Lucknow bench of the Allahabad high court said that Lord Ram was born under the central dome of the makeshift temple and Hindus have the right to worship there.
Subsequently, the SC stayed the implementation of the HC decision. The case is pending since then.
Right-wing groups including the BJP have been pushing for building a temple at the site.
Last week, a hardline Hindu leader Aditya Nath – a vocal proponent of the temple – was sworn in as the chief minister of Uttar Pradesh, raising hopes among temple supporters that the process for builidng a shrine would be put on fast track.
The BJP, which won a brute majority in the state in the just-held assembly polls, had listed the temple among its promises in its election manifesto.
http://www.hindustantimes.com/india-news/supreme-court-for-amicable-settlement-of-ayodhya-dispute-cji-js-khehar-offers-to-mediate/story-UOU9TGaPbpviWjhXFZscnI.html
----
Boko Haram Vows To Impose Sharia Law In Nigeria, Benin, Cameroon, Chad, Niger And Mali
Shekau said the militants will establish Sharia law in Nigeria, Benin, Cameroon, Chad, Niger and Mali.
BY CRISTINA SILVA
3/20/17
Boko Haram leader Abubakar Shekau has vowed to create an Islamic caliphate across West Africa in a new propaganda video that threatens world leaders. Shekau said the militants who have pledged allegiance to the Islamic State group, also known as ISIS, will establish Sharia law in Nigeria, Benin, Cameroon, Chad, Niger and Mali.
The 27-minute video was reported by local media Friday. It comes as Cameroon declared last week it had rescued 5,000 hostages from Boko Haram in an operation along the Nigeria-Cameroon border.
Win an iPhone 7 Sign up to our daily newsletter for your chance to win.
"You are telling lies that you killed 60 of our men and rescued 20 children, and that you rescued 5,000 of your people, Paul Biya," said Shekau in the video, referring to Cameroon's president. He added that Boko Haram remains strong in Nigeria, and took credit for suicide bombings in the city of Maiduguri in the northeast Nigerian state of Borno, Reuters reported.
Nigeria's military has claimed at various points that it had killed Shekau. Each time, Boko Haram has released a video featuring a man claiming to be Shekau insisting that the deadly militants are as united as ever.
Cameron said in its latest announcement that it had killed 60 Boko Haram fighters and destroyed the group's hideout along the Nigeria-Cameroon border. "[The] hostages freed consisted mostly of women, children and elderly people," Communications Minister Issa Tchiroma Bakary told a news conference. He later clarified that "the 5,000 people were saved after a sweep at the border within Cameroonian territory ... who were hostages that could not leave the villages."
More than 15,000 people have been killed by Boko Haram and at least 2 million people have been forced from their homes since the group began its insurgency in 2009. Boko Haram seeks to impose strict Islamic law in Africa's most populous nation. Boko Haram's name means "Western education is sin." The militants have also attacked neighboring Cameroon, Chad and Niger in recent years.
The latest Boko Haram video opens with an image of the ISIS logo. Shekau announced his allegiance to ISIS in March 2015 and ISIS leader Abu Bakr al-Baghdadi later reportedly accepted the statement in part to grow the terror group's global reach.
http://europe.newsweek.com/boko-haram-vows-impose-sharia-law-nigeria-benin-cameroon-chad-niger-and-571054?rm=eu
------
How Much Is An Afghan Life Worth? That Depends
March 20, 2017
In March 2014, the US military paid an Afghan man just over $1,000 to compensate for killing his civilian son in an operation near the border with Iran, according to US military records released to Reuters. Six months later, another Afghan father was given $10,000 by the US military after his child, also a civilian, was killed in an American-led military operation in the same province.
And 68-year-old Haji Allah Dad lost 20 relatives, including his brother and sister-in-law, in a US and Afghan Special Forces operation nears the northern city of Kunduz last November.
Allah Dad said he received no money from the US military, though he did get compensation from the Afghan government.
Nearly 16 years since invading Afghanistan, the United States has no standardized process for making compensation payments to the families of thousands of Afghan civilians killed or injured in US-led military operations.
It first started paying the families of Afghan victims as a way to counter Taliban militants who were doing the same.
America's approach to compensation is arbitrary by design as it tries to negotiate Afghanistan's cultural and regional sensitivities as a foreign military force.
But civil activists say the system is unfair and confusing for often poor and uneducated Afghans.
A Pentagon spokesman said the military leaves the decision on how much to pay to commanders on the ground because they are best positioned to judge the incidents.
"Condolence payments in Afghanistan are based on cultural norms of the local area, advice from Afghan partners, and the circumstances of the event," said spokesman Adam Stump.
"US commanders in theatre are therefore empowered to make decisions regarding payments as they have the greatest understanding of these factors," Stump said.
It is unclear how the US military puts these factors in monetary terms.
http://indianexpress.com/article/world/how-much-is-an-afghan-life-worth-that-depends-afghanistan-civilian-deaths-taliban-us-military-united-states-forces-4577059/
------
Turkey president wants to perform Islamic prayer service in Hagia Sophia of Istanbul
21.03.2017
Before the constitutional referendum slated for April, President Recep Tayyip Erdoğan wishes to perform a Friday Islamic prayer service in Hagia Sophia, in Istanbul, wrote journalist Zeynep Gürcanlı of Sözcü newspaper of Turkey.
She noted that this wish of Erdoğan is viewed as a tactical move in the referendum campaign.
Gürcanlı stressed that Hagia Sophia, which currently functions as a museum, is planned to be turned into a functioning mosque.
Hagia Sophia is a church that was built in the Byzantine period, and its present-day dome was built by famous Armenian architect Trdat the Architect.
https://news.am/eng/news/379851.html
------
ISIS Force Young Men to Fight in Defence of Mosul, Say Refugees
March 20, 2017
Islamic State militants are forcing young men in western Mosul to fight for them in defence of the remaining pockets of their former stronghold against an Iraqi government assault, fleeing residents and Iraqi officers said on Monday. The forced recruitment is a sign that the hardline militants are growing more desperate as the battle for what was once the de facto capital of their self-proclaimed Islamic caliphate enters its sixth month. Elite Federal Police and Rapid Response units on Monday resumed their cautious advance on the al-Nuri Mosque in western Mosul's Old City. But thousands of people took advantage of the fog and rain in the early morning to flee Islamic State-controlled areas and reach the safety of government lines.
The militants were using residents as human shields, hiding in houses and forcing young men to fight, several refugees said. Ali, a former government worker, said he had hidden his sons in a basement when Islamic State fighters came looking for recruits. "It feels like the siege is ending. All they are doing now is defending," he told Reuters. "I hid my sons in the basement and told them if you want my sons you will have to kill me."
Yassin, a butcher who also escaped from the west side, said Islamic State held less ground than before. "They would come to my butcher shop looking for people so people stayed away. People even stopped going to the mosque because sometimes they would come to take people from there to join the fighting," he said. Residents who had left said Iraqi, Syrian and other foreign militants remaining in the area tried to make them stay. "A French militant beat me and threatened me to force me to stay," said one woman who gave her name as Um Tahseen.
A Federal Police intelligence officer, Captain Ali al-Kinani, said the militants wanted to fill up their ranks as they had suffered heavy casualties. Some fighters were wearing civilian clothes under their uniforms and would switch outfits to mix in with fleeing civilians, he said. "We arrested dozens who said that they were forced by Daesh to carry arms or take a bullet in the head if they refused," Kinani said, using an Arab acronym for Islamic State. "Many families that fled the fight asked our troops to help their sons. Some young men hiding inside their houses are still waiting for our forces to secure their neighbourhoods and rescue them."
UNDER PRESSURE
If the militants' behaviour indicates that Islamic State is steadily being worn down, the battle for Mosul is still expected to last several more weeks. The government offensive was launched in October with support from US artillery, air strikes and advisers and the eastern side of the city on the Tigris river was secured in December.
The campaign for the western side, now in its second month, is harder as it is more densely populated, the streets are narrower and the houses closely packed together. Attention has focused on the Old City and the al-Nuri Mosque, from where Islamic State leader Abu Bakr al-Baghdadi proclaimed the caliphate after his forces had seized swathes of territory in Iraq and Syria in 2014. Baghdadi and other IS leaders have fled Mosul, whereabouts unknown, but the militants still hold several other districts of western Mosul beyond the Old City and are defending them with sniper and mortar fire and suicide car bombs. US officials estimate that about 2,000 IS fighters remain there.
At the same time, IS forces in the Syrian city of Raqqa are under attack in a parallel conflict. On Sunday, a US-led coalition air strike on an IS command centre in western Mosul killed six foreign militant commanders, including a Russian, Abdul Kareem al-Rusi, who headed the Tareq Bin Ziyad Brigade. The number of displaced people from both sides of Mosul since the start of the offensive has reached 355,000, Iraq's immigration minister said on Monday. Some 181,000 had poured out of western Mosul since the start of the operations to retake that side a month ago, Minister Jassim Mohammed said.
The United Nations refugee agency is opening new camps to handle the exodus as the present ones are overflowing.
http://indianexpress.com/article/world/is-force-young-men-to-fight-in-defence-of-mosul-say-iraqi-officers-4577850/
------
India
Jihadis entering India, warns Bangladesh
Saibal Gupta
Mar 21, 2017
KOLKATA: A report from the Bangladesh government to the Union home ministry over the recent spike in infiltration+ of terrorists to India has rung alarm bells in the security establishment.
According to the report, 2016 witnessed an over-three-fold increase+ over 2015 in infiltration by Harkat-ul-Jihadi al-Islami (HuJI) and Jamaat-ul-Mujahideen Bangladesh (JMB) extremists into the border states of West Bengal, Assam and Tripura. The development assumes significance as the NIA has found overseas terror links and the direct role of JMB in the October 2014 Burdwan blast at Khagragarh in which two suspected terrorists were killed.
The report said approximately 2,010 HuJI and JMB operatives had entered the three states. While nearly 720 men made a safe passage through the Bengal border, the remaining 1,290 are suspected to have entered through Assam and Tripura. Bengal government officials are sceptical about the report, but even if just a close estimate, the number is disturbing as intelligence reports pegged the number of infiltrators in 2014 and 2015 at 800 and 659, respectively.
"We are trying to gather information to confirm the veracity of the report," a senior Bengal home department official said. However, Assam police is concerned about the development.
"There is certainly an increase in terrorist activity because over the last six months, we have arrested 54 JMB operatives," additional director-general of police (SB), Assam, Pallab Bhattcharyya, said. "We have formed a high-powered committee of top police officers and MLAs to check infiltration. They visit the border regularly and conduct meetings with security forces," he added. There is also information that JMB secretary Iftadur Rehman entered India on January 12 this year on a fake passport and has established contact with linkmen in Assam and Bengal. He may also visit Delhi, intelligence sources said.
Iftadur's real name is Sajjad Hussain. "Apart from that we also have information that on January 18, a meeting between linkmen from Assam, West Bengal and New Delhi and the top JMB and Hu-JI leadership took place in the Mymensingh district of Bangladesh," a source said.
No doubt all tbese terrorists have a safe haven in WB assured by Mamta Banerjees an extremely anti-India CM
According to senior cops, there has been a change in the operational mechanism of these militants post-Khagragarh and this was creating problems in tracking them. "Previously, there were certain porous districts like Malda, Murshidabad or Nadia through which they came. Now, they are coming through Assam and Tripura and then entering West Bengal. This is easier and safer for them," a senior Bengal police officer said. "Being a riverine border, it is difficult for security agencies to keep vigil," the officer added.
http://timesofindia.indiatimes.com/india/jihadis-entering-india-warns-bangladesh/articleshow/57741565.cms
------
Grilled in Pakistan over alleged RAW links, Dargah clerics return safely
Mar 21, 2017
NEW DELHI: The two Indian clerics said to have gone missing in Pakistan returned on Monday but the reason for their detention remained shrouded in mystery . After their return, they met foreign minister Sushma Swaraj and thanked her for efforts made by the government to secure their release.
According to a report in Pakistani media, the two clerics, Syed Asif Nizami and Nazim Ali Nizami, had been detained for links with the Re search and Analysis Wing (R&AW), India's external intelligence agency. The clerics said Pakistani officials had sought details of their visas.
"I was taken to a place quite far from Karachi, with my face covered. I was accused of working for R&AW . First they were rude but later we were offered food when the Indian mission intervened," said Asif.
The clerics said they had gone to Pakistan to spread Nizamuddin Dargah's message of peace and love and that they would continue to do so despite resistance from the "negative people" of the neighbouring country . They said they were put through sustained in terrogation and were asked questions pertaining to Nizamuddin Dargah.
"The Pakistani officers who questioned us even referred to a local Urdu newspaper, Ummad's report and asked us about our links to the R&AW and the Muttahida Qaumi Movement (MQM).There were all sorts of articles being published against us in the newspaper," said Nazim.
Nazim said that he did not know the name of the agency that was questioning them, but a few sleuths from the agency kept asking about their links to the banned organisation. "Before the Indian mission to Pakistan intervened, we overheard some of the conversations of the agency officials who spoke about taking us to some interior area in Sindh. However, the plan was later dropped," said Nazim.
They were supposed to return on March 18. They were offloaded from Karachi-bound Shaheen Airlines on March 14 at the Allama Iqbal Interna tional Airport, Lahore, Pakistani sources said. Cops rounded up Nazim, took his passport and asked Asif to return to Karachi. An SHO took their details and promised to release him after some questioning. When Asif reached Karachi, he too was detained.
Nazim was detained in Lahore for a day and asked about his whereabouts in India and asked about the purpose of the visit. They were later taken to Karachi where he was kept in a safe house with Asif. The duo said they were detained till March 18.
"There are people who disagree with our message of peace and love. They said we had gone to the interior province of Sindh. We did not. We don't have the visa for that place. We are thankful to the Indian government because of whom we are back. Negative people in Pakistan don't want us to go there again but we will go there again to spread the message of peace," Nazim Nizami told reporters, adding that a newspaper in Pakistan had falsely claimed that they were R&AW agents.
Asif Nizami and Nazim Ali Nizami had gone to Lahore on March 8 but went missing in the middle of last week following which India took up the issue with Islamabad. The main purpose of Asif 's visit to Pakistan was to see his sister in Karachi.
On Saturday , Pakistan had conveyed to India that the clerics were traced and had reached Karachi.
Is there any need to go to that cursed country? Better take care of your lives and stay in India only. Spread the message of love to Azam Khan and Owaisi - they are in great need of it.
External affairs minister Sushma Swaraj had taken up the issue with the Pakistani PM's adviser on foreign affairs, Sartaj Aziz, and requested him to trace the missing clerics.
Yesterday , Swaraj had spoken to Asif Nizami and said they were safe.
http://timesofindia.indiatimes.com/india/grilled-in-pakistan-over-alleged-raw-links-dargah-clerics-return-safely/articleshow/57743384.cms
------
Missing JNU student Najeeb Ahmed 'Googled' ways to join Islamic State: Report
File photo: JNU students protest as Najeeb Ahmed remains missing
Tue, 21 Mar 2017
JNU student Najeeb Ahmed had gone missing from the campus on October 15.
In a new twist to the missing JNU student Najeeb Ahmed's case, a report has said that he had looked up for information related to the Islamic State (IS) on the Internet, months before his disappearance.
Najeeb (27), a student of School of Biotechnology and a native of Badaun in Uttar Pradesh, went missing on October 15 following an on-campus scuffle allegedly with the members of ABVP.
According to Times of India, Ahmed looked for information on the ideology, executions, and network of the Islamic State.
The details have come to the fore after police received a report from Google and YouTube of his browsing history.
The report said Ahmed had also searched ways to join IS on Google. "Most of the videos he watched on YouTube were also related to the Islamic State," sources told the daily.
After several twists and turns in the case over a period of five months, the police is now exploring the possibility of him being radicalised and lured away via Nepal.
Meanwhile, Delhi police have refuted the media report saying, they were still analysing the browsing history.
"No final report has been submitted to High Court and investigation so far does not show any links of allegiance he (Najeeb) had with ISIS," said Special Commisioner, Dependra Pathak.
In November, a proctorial enquiry by JNU found ABVP member Vikrant Kumar guilty of assaulting Ahmed during a brawl, following which the latter went missing.
In January, the Delhi Police had arrested a man accused of making a ransom call to Ahmed's family demanding Rs 20 lakh.
Alleging political vendetta behind his disappearance, TMC's Rajya Sabha member Vivek Gupta on Monday asked the Centre to order a probe by CBI or any other appropriate agency in the matter.
http://www.dnaindia.com/india/report-missing-jnu-student-najeeb-ahmed-googled-ways-to-join-islamic-state-report-2361729
------
Africa
Justice Binta Nyako Introduces Sharia Law into Trial of Nnamdi Kanu
March 21, 2017
The ongoing trial of the leader of the In­digenous Peoples of Biafra (IPOB), Mr. Nnamdi Kanu, took a new dimen­sion on Monday when Jus­tice Binta Nyako of the Federal High Court introduced Sharia Law into it.
Justice Nyako's action was prompted by a move by Kanu's lawyer, Mr. Ifeanyi Ej­iofor, against the shielding of witnesses in the Federal Government's prosecution of his client and three others.
At yesterday's proceed­ings, Ejiofor had attempted to move an application for variation in the court's ear­lier order on the shielding of witnesses.
He also fumed that an or­der made by Justice Adeniyi Ademola of a similar court is yet to be obeyed, arguing that "an order of the court is law."
But Justice Nyako de­clared that the bail appli­cations do not stall the tri­al of the accused persons who will still be tried based on her order which is predi­cated on the protection and shielding of witnesses.
"Nothing can change my order in the protection of the witnesses," she added.
The judge thereafter asked if Ejiofor studied a part of the Sharia Law while in school, stressing that if he had done so, he would have learned more about the protection of witnesses.
Justice Nyako added that Ejiofor would have also known that a woman's identity is pro­tected in court in the context of the Sharia Law.
She therefore held that the witnesses will wear masks and must not be facially identified if body movements want to be taken into consideration by members of the public, else, the court will divide itself with a non-transparent material against public view.
She added that as long as the witnesses are security agents, their identities will be protected for the sake of the fu­ture, while non-security agents will be seen by members of the public.
"I am not ready to jeopard­ise the protection of the securi­ty operatives," she declared.
The court thereafter fixed April 6, 2017 to rule on Kanu's application seeking the var­iation of its order on witness protection.
Prior to this, Ejiofor had held that since the allegations bordering on treasonable fel­ony and criminal conspiracy had been struck out on the last adjourned date, Kanu was no longer a security risk and asked the court to grant him bail.
Ejiofor told the court the bail earlier granted by anoth­er court of equal jurisdiction was attached, including a let­ter written to the Comptroller-General of Nigerian Prisons over the deteriorating health of Kanu.
He further said that the ac­cused, who is an international­ly-recognised person with no criminal record, will not jump bail provided there would be provision for a guarantor.
The counsel to the second defendant, Mr. Udoka, howev­er, cited several authorities and related cases where bail was granted to accused persons in their course of trial. He also ob­jected to the paragraph 3(j) of a counter-affidavit filed by the federal government, which stated that it was in the inter­est of the accused to remain in prison custody.
He pointed out that he was barred from seeing his client in prison by agents of the State Se­curity Service (SSS) who could have acted on the directive of the prosecution since such or­ders did not emanate from the court.
In line with the argument for bail, the 4th defence coun­sel, Mr. Maxwell Okpara, com­mended the court for striking out six charges against the de­fendant in the last adjourned date, an act which is commend­ed by the whole world, but held that the restriction of the ac­cused persons in prison custo­dy is of more threat to nation­al security than releasing them.
The government's counsel, Mr. Labaran Shuaibu, objected to the bail applications. He ar­gued that they were predicated on an extinct Criminal Proce­dure Act (CPA) and therefore asked the court to refuse the bail applications.
The judge adjourned till April 6, 2017 for the review of the order on witness protection and April 25, 2017 for ruling on the bail applications.
http://www.thebreakingtimes.com/jus%C2%ADtice-binta-nyako-introduces-sharia-law-into-trial-of-nnamdi-kanu/
------
Kenyan bus ambush in which Muslims shielded Christians is now a movie
By Fredrick Nzwili | March 17, 2017
NAIROBI, Kenya (RNS) A bus attack in northern Kenya during which Muslims shielded Christians from al-Shabab militants is the subject of a fictional film adaptation that focuses on religious integration and coexistence.
"Watu Wote," Swahili for "All of Us," is based on the militant ambush of a Mandera bus in December 2015.
Gunmen sprayed the bus with bullets, killing two passengers. But when they asked the 62 Muslims to identify the Christian passengers, the Muslims refused, telling the militants to kill everyone or leave.
Salah Farah, a teacher who was shot during the incident and died weeks after, became a symbol of unity.
"We were touched by the story … that in a situation like this one humanity could win," said Katja Benrath, the film's director and a student at Hamburg Media School in Germany.
"In this life-threatening moment, people stood up for each other — not caring about the religion of the next person because they wanted to save and shield human beings," Benrath said.
That message is especially important during this time when Muslims are being viewed with suspicion or fear, she added.
While in Kenya, the producer said she encountered many Christian-Muslim friendships.
Although the three German students filming the 20-minute documentary conducted their research in Mandera, the film was shot in other regions with a similar landscape.
"Even when we travelled to Mandera and talked to people, they showed respect for each other and were aware that they needed one another to build a strong community," Benrath said.
A scene from the "Watu Wote" film, based on the militant ambush of a Mandera, Kenya, bus in December 2015. Photo courtesy of Hamberg Media School
Sheikh Abdullahi Salat, chairman of the Garissa County Supreme Council of Kenya Muslims, welcomed the film.
"It is very positive development," said Salat. "Once it is released, it should be distributed and showed across the country to boost Christian-Muslim relations."
The Rev. John Musyoka, a Roman Catholic priest in Mandera, said the film will help change the narrative that Muslims are terrorists.
"Anything that works to advance further this positive gesture is very welcome," he said.
The film is due for release next month.
http://religionnews.com/2017/03/17/kenyan-bus-ambush-in-which-muslims-shielded-christians-is-now-a-movie/
------
South Sudan: Plane crash-lands in Wau, at least 37 injured
There were 40 passengers and five crew members on board the South Supreme Airlines plane that had taken off from the capital Juba, said the airline's manager.
March 21, 2017
Video images obtained by AFP showed firefighters battling to put out the blaze as thick black smoke billowed from the aircraft. (Youtube Screengrab/CGTN America)
At least 37 people were injured when a passenger jet crash-landed in South Sudan's northwestern city of Wau today, government and airport officials said. There were 40 passengers and five crew members on board the South Supreme Airlines plane that had taken off from the capital Juba, said the airline's manager Gabriel Ngang. State Information Minister Bona Gaudensio said an ambulance had brought the passengers from the airport to the hospital, and most of them were released shortly after.
"We had 37 passengers taken to the hospital and so after they were given first aid we have released 31 of them and we will release the rest tomorrow," Gaudensio told AFP. He could not account for the remaining eight people who had been on board, but claimed there were no deaths in the accident. Paul Charles, an engineer at Wau airport, and local radio journalist Lawrence Yunisen both told AFP that some passengers — not counted among the injured — had managed to flee the burning plane unscathed.
Charles said the weather in the region had not been good when the plane attempted to land. "Visibility was not good up to now and (the plane) was landing from the east to west, then it just crashed (off) the runway. The pilot I think was not seeing the runway well," he said. "Some of the people got out by themselves, some of them were pulled. Only the back part of the plane remains but the rest was burned," he added.
Video images obtained by AFP showed firefighters battling to put out the blaze as thick black smoke billowed from the aircraft. The plane was completely burned out except for the tail, which clearly displayed the insignia of South Supreme Airlines, a local carrier. In November 2015, 36 people were killed when a Soviet-era Antonov plane crashed just after take-off from Juba. Two survivors were pulled from the twisted metal hulk but one later died. South Sudan has been gripped by civil war since 2013, and the country is also in the midst of a "man-made" famine due to the conflict.
http://indianexpress.com/article/world/south-sudan-plane-crash-lands-in-wau-at-least-37-injured-4578332/
------
Former Burundi street child helps heal civil war divisions
Dieudonne Nahimana started his charity during the civil war to help street children orphaned by the killings
March 20, 2017
Burundi street child, Dieudonne Nahimana, New Generation charity, Burundi civil war, Burundi news, world news, latest news, indian express
New Generation charity founder Dieudonne Nahimana. (Source: newgenerationburundi.org)
In northern Burundi a group of 90 young people are harvesting their first crops – beans, maize and potatoes – but this is no ordinary smallholding.
The farmers come from both sides of the country's ethnically charged civil war; some were orphaned by the conflict, while others are the children of those who were the killers.
"They share what is grown as an example of reconciliation. We call it redeeming the land because there was so much bloodshed," said Dieudonne Nahimana, founder of the charity New Generation which runs the project.
"The young people come together to talk about what happened, why it happened and how we can stop it happening in the future."
Forty percent of the farmers at the project in Gasorwe in Muyinga province are Hutu, 40 percent Tutsi and 20 percent Batwa pygmies, Burundi's most marginalised people.
At least 300,000 people died in the 1993-2005 conflict between Hutus and Tutsis in the central African nation, now gripped by fresh turmoil.
Nahimana, who grew up in Muyinga, lost his father and 18 other relatives in the war. For several years he felt angry and then he sat down with his father's killers and publicly forgave them.
His charity now encourages others to do likewise through its reconciliation work.
Two thirds of Burundi's population is under 25, with many reaching an age where they may be tempted to take revenge for past atrocities against their families.
But Nahimana wants to train a new generation of leaders who can break the cycle of retribution.
The latest unrest was sparked in 2015 when President Pierre Nkurunziza said he would seek a third term – a move opponents said violated the constitution.
Hundreds have been killed and almost 400,000 have fled to nearby countries.
Homeless
Nahimana started his charity during the civil war to help street children orphaned by the killings.
He was a teenager at boarding school when his father, a retired judge, was murdered at the start of the conflict. Unable to return home, he ended up on the streets of the capital Bujumbura.
"There were so many, many young children on the streets. Some were three, four or five years old. I tried to find food for them from hotels and broken bread from bakeries," he told the Thomson Reuters Foundation.
In 2000, a businessman acquaintance invited Nahimana to look after his home in his absence. Nahimana asked if he could bring 30 street children with him, and New Generation was born. He has since opened another branch in neighbouring Rwanda.
Some of the first children he helped are now young adults heading towards bright futures, he says.
Vianey, rescued at four years old, captained Burundi's team in the 2014 Street Child World Cup in Brazil and will soon start university, hoping to become a journalist.
Innocent, rescued at five, was the top goal scorer in the World Cup contest and won two gold medals in last year's Olympic-inspired Street Child Games in Brazil. He is now head of the charity's team helping children on the street.
Nahimana says New Generation has helped 600 street children access food, shelter, education and medical care while thousands of others have participated in its reconciliation and leadership programmes.
"Revenge is not a solution. I tell them we need a new generation of leaders who positively want to impact the future of the country – and that is you," he said. "There's no benefit in taking revenge because that creates a cycle of violence."
Street Children
Nahimana says there are thousands of street children in Burundi and the number has increased since the latest troubles. Some are as young as two. Many sleep in cardboard boxes.
"Kids are at risk of dying on the streets. We sometimes have to bury children," said Nahimana.
Some of the children have been orphaned by violence or AIDS. Others are the unwanted children of girls who have been raped. Some are sent out to beg by parents too poor to support them.
The children are at risk of becoming involved in the fighting, crime or drugs. Girls as young as 12 can end up in prostitution or domestic slavery.
"Many of the children don't even have names – just nicknames. They don't know where they were born, they don't know their parents," Nahimana said.
"Imagine being in a country where you're not a citizen, you have no identity, no right to go to school because you have no papers."
He says those who join the rebellion often do so as a way of finding an identity.
New Generation has launched a campaign to ensure children can obtain identity papers which will help them access schooling and work.
Nahimana believes street children have the potential to make great leaders.
"On the streets children don't care what tribe you're from," Nahimana said. "They create a community which is much stronger. They have a strength of character other kids don't have.
"They also understand that they are the result of injustice and that they cannot create that injustice for others."
http://indianexpress.com/article/world/former-burundi-street-child-helps-heal-civil-war-divisions-4577227/
------
Libya rescues 420 migrants off its coast: navy
March 21, 2017
TRIPOLI: Libya has in two days rescued 420 migrants trying to cross the Mediterranean to Europe, a navy spokesperson said on Monday, but three were found dead and 30 reported missing.
General Ayoub Qassem said 205 Africans including eight women and a child were rescued early Monday off the coast of Tajura, 30 kilometres east of Tripoli. The migrants "were on two inflatable dinghies that had started to take on water", he said.
On Sunday, the coastguard rescued 215 migrants including 47 women off Zwara, 160 kilometres west of Tripoli, Qassem said.
Bodies of 74 migrants found on west Libyan beach
The bodies of three women were recovered, he said, and at least 30 people have been reported missing.
"They are thought to have jumped or fallen off the boat during the night," the spokesperson said. "The smugglers pushed two dinghies crammed with people out to sea before removing their engines and abandoning them to their fate."
Qassem did not say where the boats departed, but most leave from western Libya, just 300 kilometres from the Italian coast.
The Italian coastguard said it had also rescued another 3,000 migrants off the coast of Libya on Sunday.
In pictures: Refugee rescue missions off coast of Libya
The North African country has long been a stepping stone for migrants dreaming of a better life in Europe, but people smugglers have stepped up their lucrative trade in the chaos since the 2011 ouster of longtime dictator Moamer Kadhafi.
Interior ministers mainly from the central Mediterranean region met in Rome Monday to ramp up efforts to curb migration from Libya.
They released a declaration of intent which limited itself to promising increased coordination and information sharing in a bid to tackle the root causes of migration, as well as combat smuggling and strengthen borders.
https://tribune.com.pk/story/1361306/libya-rescues-420-migrants-off-coast-navy/
------
South Asia
Myanmar investigators question Rohingya in Bangladesh camps
UN human rights investigators and independent rights organizations charge that soldiers and police killed and raped civilians and burned down more than 1,000 homes during their operations.
March 20, 2017
An investigating team formed by Myanmar leader Aung San Suu Kyi visited two makeshift camps in southern Bangladesh today and questioned some of the thousands of Rohingya Muslims who have fled from Myanmar, alleging mistreatment by soldiers and majority Buddhists. The Rohingya refused to show their faces to the 10 visiting investigators, fearing reprisals when they return home, Bangladesh district administrator Imrul Kayes said.
He said the men and women talked from behind a curtain and gave accounts of horrors they faced, including the raping of women, killing of children and burning of villages.
About 35 people described their experiences to the investigators in Cox's Bazar district, he said. The investigators did not speak to the media.
About 90,000 Rohingya Muslims have crossed the border from Myanmar into neighboring Bangladesh.
Myanmar's army launched counterinsurgency operations in Rohingya areas in northern Rakhine state last October after the killing of nine border guards.
UN human rights investigators and independent rights organizations charge that soldiers and police killed and raped civilians and burned down more than 1,000 homes during their operations.
Myanmar's government has rejected the allegations, but promised to investigate.
http://indianexpress.com/article/world/myanmar-investigators-question-rohingya-in-bangladesh-camps-4577908/
------
Airstrike targets prominent Taliban leader's compound in Laghman
Mon Mar 20 2017
An airstrike was carried out on a hideout of a prominent Taliban leader in eastern Laghman province of Afghanistan.
The provincial government in a statement said the airstrike was carried out earlier today in the vicinity of Gul Aram located in Alingar district.
The statement further added that the militants have suffered casualties during the airstrike but the exact number has not been ascertained so far.
The airstrike was carried out by the Afghan Air Force, the statement said, adding that the Taliban leader whose hideout was hit has been identified as Nikmal.
According to the local officials, is a prominent Taliban leader who has involved in numerous terrorist related activities during the recent years.
Laghman has been among the relatively calm provinces since the fall of the Taliban regime in 2001 but the anti-government armed militant groups have increased their insurgency in some parts of the province during the recent years.
This comes as the officials earlier reported that a major attack plan by the Taliban militants to capture the government compound and other key institutions was thwarted by the security forces.
http://www.khaama.com/airstrike-targets-prominent-taliban-leaders-compound-in-laghman-02437
------
Taliban kill three Afghan soldiers in attack
March 21st, 2017
KANDAHAR: The Tali­ban killed three Afghan soldiers in an attack in Uruzgan province on Monday.
Provincial spokesman Dost Muhammad Nayab said the attack took place on Monday morning and that four other soldiers were wounded in the attack.
Thirteen Taliban were also killed in the battle, which took place on the outskirts of Tirin Kot, the provincial capital.
A provincial security official gave a different toll, saying 10 soldiers were killed in the attack.
The discrepancy in the casualty toll could not immediately be resolved.
The Taliban did not comment on the attack. The insurgents frequently attack Afghan security forces across the country.
https://www.dawn.com/news/1321817/taliban-kill-three-afghan-soldiers-in-attack
------
4 new light attack aircraft arrives in for the Afghan Air Force
Tue Mar 21 2017
A batch of four new light attack A-29 Super Tucano aircraft arrived in Kabul on Monday which are expected to be used by the Afghan Air Force in the new fighting season.
The 438th Air Expeditionary Wing said the planes will be used by the Afghan Air Force for close-air attack, air interdiction, escort and armed reconnaissance.
The latest arrivals, which traveled from Moody Air Force Base, Ga., bring the AAF A-29 inventory from eight to 12 aircraft in country.
There are still seven A-29s assigned to Moody AFB where they are used for training pilots.
The A-29 is a multi-role, fixed-wing aircraft that will provide the Afghan air force with an indigenous air-to-ground capability and aerial reconnaissance capabilities to support the country's counterinsurgency operations.
Eight Afghan Air Force pilots completed their training late last year and graduated from a program hosted by the 81st Fighter Squadron at Moody Air Force Base in United States.
The Afghan Air Force officials are saying the A-29s can carry out precise airstrike using laser technology and can four types of weapons, 250 kgs of bombs, guided and unguided rockets, and can fly with low speed and altitude to precisely find and attack the targets.
http://www.khaama.com/4-new-light-attack-aircraft-arrives-in-for-the-afghan-air-force-02439
------
Mideast
Three suspects linked to perpetrator of ISIL attack on Berlin market caught in Istanbul airport
March/20/2017
Three suspects linked to perpetrator of ISIL attack on Berlin market caught in Istanbul airport
Three suspects allegedly linked to the slain perpetrator of an Islamic State of Iraq and the Levant (ISIL) attack on a Christmas market in Berlin last year have been apprehended at Istanbul's Atatürk Airport, Turkey's Interior Ministry announced on March 20.
Police caught Lebanese-origin German citizen suspects, identified as Mohammad Ali Khan, Youssef Darwiche and Bilal Yosef Mahmoud, at Istanbul's main airport upon intelligence that they would try to go to Europe, the ministry stated.
A truck plowed into a crowded Christmas market in the German capital on Dec. 19, 2016, killing 12 people and wounding 49 others.
The jihadist group had claimed responsibility for the truck rampage one day later.
The suspects' apprehension comes one week after police in the western province of İzmir caught an ISIL militant who allegedly ordered the attack.
The Jordanian-origin German man, identified only by the initials W.D., had arrived in Turkey via illegal means to cross into Greece after the attack. He was suspected of giving the order of the attack to Tunisian-origin ISIL militant Anis Amir, who was killed in Milano and subsequently arrested.
According to examinations of Amir's phone, some suspected names were in Turkey.
On March 11, a Syrian-origin ISIL suspect, identified only by the initials M.A.K., was also believed to be in İzmir and was caught in a raid on the hotel where he was staying.
M.A.K. said he arrived in İzmir to cross into Greece and was reportedly planning to stage attacks in Europe.
He was also arrested pending trial by a Turkish court on March 20.
Previously, two other suspects had been apprehended in Istanbul after police established their connections with Amir and they were later arrested.
Separately, the ministry announced on March 20 that some 24 militants were "neutralized" during security operations over the past week, with 13 of them were killed and the other 11 surrendered to security forces.
The ministry said in a statement that it conducted 230 operations against outlawed Kurdistan Workers' Party (PKK) militants, detaining a total of 999 suspects in one week on charges of aiding and abetting the organization.
It also added that some 70 ISIL suspects were detained in the operations.
Another 28 Fethullahist Terror Organization (FETÖ) suspects and 28 others linked to leftist terror organizations were also detained, it stated.
In the southeastern and eastern provinces of Batman, Bingöl, Ağrı, Diyarbakır, Şırnak and Tunceli, 21 shelters and caves used by PKK militants were also destroyed, according to the statement.
Security forces also seized 65 different models of weapons - 34 of them heavy and long-barrel firearms - 15 grenades and 19 improvised explosive devices.
In addition, two PKK militants were killed on March 20 during a security operation in the Lice district of the southeastern province of Diyarbakır, according to the Diyarbakır governor.
"With two more terrorists killed this morning, the number of terrorists killed as risen to eight," Governor Hüseyin Aksoy told journalists.
On March 19, two soldiers, who were seriously wounded during the ongoing operations, succumbed to their injuries while six PKK militants were also killed.
Gendarmerie Captain Fuat Oğuzcan and Gendarmerie Specialized Corporal Zinnur Ezim were later sent to their hometowns on March 20 to be laid to rest.
Security forces have been conducting broad operations against the PKK in the Lice, Kulp, and Hani districts since March 5.
http://www.hurriyetdailynews.com/three-suspects-linked-to-perpetrator-of-isil-attack-on-berlin-market-caught-in-istanbul-airport.aspx?pageID=238&nID=111023&NewsCatID=509
------
Iran's supreme leader Ayatollah Ali Khamenei calls for 'resistance economy'
Joblessness remains at 12 per cent overall and over a quarter among the young, according to the latest official figures.
March 20, 2017
Iran's supreme leader Ayatollah Ali Khamenei today reiterated a call for a "resistance economy" that prioritises domestic production. In a televised message to mark Nowruz, the Persian New Year, he urged officials to "focus on the key issues of domestic production and employment, especially youth employment."
Khamenei said he could feel people's bitterness, especially among the working class, "in the face of economic difficulties including inflation, unemployment, discrimination and social inequalities."
He was speaking ahead of May elections in which President Hassan Rouhani is expected to stand for a second term but faces widespread criticism from conservatives over the continued stagnation of the economy.
"What has been done is far from the expectations of the people and the supreme leader," Khamenei said.
Rouhani's government has stabilised the economy since taking power in 2013, reducing inflation from 40 per cent to less than 10 per cent and ending global sanctions through a nuclear deal with world powers.
But while oil sales have rebounded, helping boost growth to more than six percent, the rest of the economy remains largely stagnant.
Joblessness remains at 12 per cent overall and over a quarter among the young, according to the latest official figures.
Foreign companies have signed a string of deals with Iran since the nuclear deal, but are blocked from large-scale investments because global banks remain reluctant to engage with the country due to transparency concerns and uncertainty over continuing US sanctions.
Conservatives in Iran have questioned whether the concessions under the nuclear deal were worthwhile.
In his own New Year message broadcast immediately after Khamenei's, Rouhani defended his government's achievements over the past year including "controlling inflation" and "spurring economic growth and employment". (AFP)
But he said more efforts were needed to create jobs for young people, as well as to "control inflation and support economic growth".
http://indianexpress.com/article/world/irans-supreme-leader-ayatollah-ali-khamenei-calls-for-resistance-economy-4577913/
------
Israel's Benjamin Netanyahu seeks to boost commercial ties with China
Netanyahu said in opening remarks at a meeting with Chinese Premier Li Keqiang that Israel and China could explore "many ways of technological cooperation."
March 20, 2017
Israel's Prime Minister Benjamin Netanyahu. REUTERS/Sebastian Scheiner/Pool/File Photo
Israel wants to boost cooperation with China in technology, Israeli Prime Minister Benjamin Netanyahu told China's premier on Monday, as he led a large business delegation on a visit to Beijing to promote commercial ties with the Asian giant. Netanyahu said in opening remarks at a meeting with Chinese Premier Li Keqiang that Israel and China could explore "many ways of technological cooperation." Earlier on Sunday, Netanyahu told a meeting of more than 600 Israeli and Chinese businesspeople that Israel is well-positioned to help China upgrade its products, services and utilities with better technology.
"I think that there is an extraordinary capacity for China to assume its rightful place, as it's doing, on the world stage," Netanyahu said.
"We are your perfect junior partner for that effort," he said, adding that the governments would sign a series of agreements. "I believe this is a marriage made in heaven." Netanyahu also met with the heads of large Chinese corporations including the conglomerate Dalian Wanda Group, e-commerce giant Alibaba Group, computer maker Lenovo Group and Baidu Inc, an internet search company.
"I told them that in today's world there are several concentrations of technology, not many; the US, Israel, and Israel is open for business with China," Netanyahu was quoted as saying in a government statement.
During his visit, Netanyahu also is to meet Chinese President Xi Jinping, who will host an official banquet. Netanyahu said the countries would discuss a free trade agreement. Netanyahu also told Li that he looked forward to discussing the region's security situation with China. "There is a great deal of convulsion in the world, including in our part of the world and I would like to have the opportunity to exchange views with you and see how we can cooperate together" for stability and peace, he said.
Along with playing a more active diplomatic role in the Middle East, Beijing has also been expanding its security presence in the region, including the building of ties with Iran and Saudi Arabia through joint military drills and port visits. China has also backed the government of President Bashar al-Assad in the Syrian conflict. While deepening its ties with Israel, Beijing continues to maintain support for the Palestinian cause and their bid for statehood, reportedly providing the Palestinian National Authority with financial and technical help and training for Palestinian officials.
http://indianexpress.com/article/world/israels-benjamin-netanyahu-seeks-to-boost-commercial-ties-with-china-4577745/
------
Merkel renews demand that Erdoğan drop Nazi comments
March/20/2017
Chancellor Angela Merkel said on March 20 that her demand that Turkey cease drawing Nazi comparisons with Germany and its allies applies "without ifs or buts," and pointed to a government threat last week that it could prevent Turkish politicians from entering the country.
Merkel's comments came after Turkish President Recep Tayyip Erdoğan accused her personally of "committing Nazi practices."
Erdoğan's comments were the latest escalation in a string of comments by Turkish officials drawing Nazi parallels with present-day Germany and the Netherlands in a dispute over restrictions on Turkish ministers campaigning there for an upcoming referendum that will decide whether the current parliamentary system should be replaced with an executive presidency.
"My comment that the Nazi comparisons on Turkey's part must end is valid without ifs or buts," Merkel said at a joint press conference with visiting Japanese Prime Minister Shinzo Abe in Hannover.
"Unfortunately we see that these comparisons have not ceased, and we are not going to allow ... every taboo to be broken with no regard to the suffering of those who were persecuted and murdered under Nazism," she said.
Merkel pointed to a Foreign Ministry note sent to Turkey last week allowing Turkish referendum polling stations in Germany, in which Ankara was told that appearances by Turkish politicians must respect the principles of the German constitution, and that Berlin otherwise reserves the right to "take all necessary measures."
Meanwhile, Merkel's spokeswoman Ulrike Demmer deemed the Nazi comparisons as "unacceptable."
"The government is watching this very closely, and we maintain that Nazi comparisons are unacceptable in any form," Demmer said on March 20, adding that it was up to Turkey to tone down its rhetoric and avert damage to relations between the two countries.
President Erdoğan on March 19 said that "Germany's mission was not to support terrorist organizations."
"Merkel, now you're applying Nazi methods against my brothers who live in Germany, and against my ministers and lawmakers who visit there. Would this suit the ethics of politics? Your mission is not to support terrorist organizations, but to extradite them," Erdoğan said in an event in Istanbul.
On March 19, he also said Germany would like to reopen Nazi gas chambers. "If they weren't ashamed, they would revive the gas chambers."
Another German official who commented on the Nazi comparison was the former European Parliament President and leader of the Germany's Social Democrats (SPD), Martin Schulz, who was formally endorsed by the party as their leader and challenger to Merkel on March 19 in what is set to be a tightly contested national election in September.
"This is impertinence. The fact that the head of state of a friendly country insults the country's governor in this form is impertinence," Schulz told ARD on March 20, adding that it should be told to Erdoğan, as a head of state of a NATO member and an EU candidate for accession, that the practices of international diplomacy cannot be violated.
"However, that's what he does and it is unworthy of a head of state," he said.
Schulz also said he supports the ban on Turkish ministers who want to carry out referendum campaigns.
"There is no place in Germany for those who want to use their diplomatic immunity for making party propaganda," he said.
German Foreign Minister Sigmar Gabriel, meanwhile, branded Erdoğan's comments "shocking."
"We are tolerant but we're not stupid," he told the Passauer Neue Presse newspaper.
"That's why I have let my Turkish counterpart know very clearly that a boundary has been crossed here," Gabriel said.
A German Foreign Ministry spokesman indicated that Berlin had no interest in "entering a spiral of mutual provocations designed to boost support for Erdoğan among Turkish overseas voters."
"Who would really benefit from it if we paid back in kind, if we answered using the same language as the Turkish president?" said the ministry spokesman, Martin Schaefer.
"It benefits mostly the Turkish president who... with threats, insults and more is seeking majorities of Turkish citizens in Turkey and also... in Germany for the constitutional referendum of April 16."
To hit back with strong verbal retaliation would mean "falling for Erdoğan's tactic," Schaefer said, stressing that Germany is "a strong, democratic country" that could handle such insults.
http://www.hurriyetdailynews.com/merkel-renews-demand-that-erdogan-drop-nazi-comments-.aspx?pageID=238&nID=111022&NewsCatID=351
------
Turkish minister clarifies remarks on sending 15,000 migrants to Europe each month
March/20/2017
Turkish Interior Minister Süleyman Soylu has clarified earlier remarks about sending "15,000 refugees to Europe each month," saying he was only referring to "irregular migrants" who already try to reach other countries by sea.
Soylu said on March 16 that Turkey could send back 15,000 refugees a month amid a recent diplomatic crisis between Ankara and Germany and the Netherlands that stemmed from the latter's decision to bar Turkish ministers from staging rallies there.
"I made a statement sometime in the previous days. I said, 'If you want, we can open the doors and we'll send 15,000 refugees a month to you.' Those who don't 'follow life' and utter words just for the sake of opposition thought that we would send those who took refuge in us," Soylu said at an event in the northwestern province of Edirne late on March 19, adding that this was not the case.
Soylu also criticized daily Cumhuriyet for "distorting his comments" on the issue.
"Why are we in [Syria's] Jarablus then?" he asked. "We provided security for 30,000 in Jarablus" who have been sent there.
"However, what I talked about were irregular migrants. Ignorant people, who don't read and write and whose names are writers but don't know anything about the world and who have filled their hearts only with hatred, thought otherwise," he added.
During his speech, Soylu said Turkey apprehended around 15,000 migrants a month on average in 2016 as they attempted to cross to other countries by sea.
"We are calling them irregular migrants. We could've withdrawn, not caught them and opened the way to send them to Europe. However, we caught them to abide by the agreement," he said, referring to a readmission deal between the European Union and Turkey to return migrants to Turkey who have illegally crossed the Aegean Sea to Greece.
As part of the agreement, Greek officials are obliged to return refugees trying to reach Western European countries via Greece and return them to Turkey.
"We abided by the deal, but they [Europe] didn't abide by any article of it. They don't have the intention to do so, because they are making monetary calculations night and day," he said.
http://www.hurriyetdailynews.com/turkish-minister-clarifies-remarks-on-sending-15000-migrants-to-europe-each-month-.aspx?pageID=238&nID=111015&NewsCatID=510
------
Arab World
Syrian Gov't Grants Amnesty to 150 Militants in Homs Province
Mon Mar 20, 2017
TEHRAN (FNA)- More militants ended fight against the Syrian Army in Homs province and received government amnesty, local sources declared on Monday.
The sources said that 150 militants from al-Wa'er neighborhood in Homs that had laid down arms and applied for government pardoning were granted amnesty.
Relevant reports also said on Sunday that more than 1,400 militants who rejected the government's peace offer have left al-Wa'er district along with their family members.
According to SANA news agency, over 1,400 gunmen and members of their families left al-Wa'er neighborhood in the Western outskirts of Homs city for the Northern part of Homs province as part of the reconciliation agreement that was reached in the neighborhood, paving the way for the return of all state services.
432 gunmen who rejected the reconciliation agreement and 1,056 of their family members have headed towards the Northern territories of Homs.
Homs Governor Talal al-Barazi said that the governorate has completed all logistical preparations and measures for getting the first group of the gunmen out of al-Wa'er in the framework of the reconciliation agreement which was agreed upon last week.
The Governor added that the first group includes the evacuation of more than 1,500 gunmen and members of their families who would go to the Northeastern countryside of Aleppo province, pointing out that the Syrian Arab Red Crescent (SARC) and the Syrian and Russian military police supervise the process.
The Governor denied reports circulated by some media outlets "which are involved in the bloodshed" in Syria that a demographic change is planned for al-Wa'er neighborhood.
"These lies are a desperate attempt aimed at sabotaging the reconciliation agreement of al-Wa'er neighborhood in particular and the process of successive reconciliations in general," al-Barazi underlined.
He clarified that over 40,000 people will stay in the neighborhood after all the gunmen who reject the reconciliation leave along with their families, who are 10,000 people in total.
He stressed that the governorate is working on drawing up a comprehensive plan to secure the return of all the families that had earlier left their houses in al-Wa'er neighborhood after the evacuation process is completed and services are fully restored.
Secretary of Homs Branch of al-Baath Arab Socialist Party Ammar al-Sibaai noted that over 100,000 people are expected to return to their homes after the reconciliation agreement is fully implemented.
http://en.farsnews.com/newstext.aspx?nn=13951230000276
------
Tearing down the "caliphate": on the frontline against Islamic State in Mosul
Truck bombs and drone warfare in the fight to take back Iraq's second city from Islamic State.
BY QUENTIN SOMMERVILLE
The battle to retake west Mosul began, for me, rattling around in an armoured Humvee with two Abaases. "I'm Abaas One. He's Abaas Two," the driver, Abaas Almsebawy, said in English with a broad smile, pointing to the gunner on top.
"I have killed two Da'esh," Abaas Two said, using an Arabic acronym for the so-called Islamic State (IS). "Well, one for sure. The other one crawled away but he was bleeding badly. I was told he died."
Abaas One was jealous of his gunner's luck. He was shot twice by IS in the city of Ramadi, in central Iraq; he still had a bullet lodged in his back. "The doctor said it is my gift from Da'esh," he told me and laughed.
Over the sound of gunfire and mortars, the two Abaases called out to each other, giving directions, spotting targets. The cry of "Abaaaaas!" was constantly in the air. One from Babylon, the other from Baghdad, they stretched out on a felt blanket inside the armoured vehicle during lulls in the fighting and fell asleep, oblivious to its discomforts and the IS mortars landing outside.
They had been involved in the fighting in the east of the city, which it had taken 100 days to recapture, in hard, street-by-street clashes and through an onslaught of IS car and truck bombs. Yet the battle to retake the west, which began on Sunday 19 February and is being led by Iraq's Emergency Response Division (ERD) and counterterrorism forces, has proved different – and faster.
Abaas One, the driver, was exhilarated. As Iraqi army helicopters flew overhead and the air force strafed villages with machine-gun fire and rockets, he rolled on, part of an armoured assault on a front that stretched for miles. His Humvee was built for this kind of terrain, moving at speed across the desert towards villages, the airport and eventually the city of Mosul.
Something else was different about this battle, too. These men were not technically soldiers: they were policemen. Abaas One went into battle in a hooded top and a leather jacket. Stuck outside manning his gun, Abaas Two, like a fighter from another age, wore a greatcoat, small, circular spectacles and a woolly hat. One lean and broad-shouldered, the other bulky and round-faced, they were a contrast but a good fit.
The Abaases were part of Iraq's elite ERD, which has led the charge into the west of the city, just as the country's heralded "Golden Division", the counterterrorism unit, had pushed into the east. The ERD, part of the ministry of interior, is the less experienced junior brother of the battle-hardened Golden Division but it was determined that west Mosul would be its prize. It made swift progress and, as it took back village after village from IS, troops posed for selfies with enemy corpses on the roadside.
The closer to Mosul you were, the more charred bodies you would see, lying along the route. Two in a ditch, killed by a mortar, and two on the road, the motorcycle they were travelling on cut in half by an air strike.
In command of the 1st Brigade was Colonel Falah al-Wabdan. In Ramadi in 2015, he and his men had been cut off and surrounded by IS forces and had escaped only when more troops came to their rescue.
As he stood on the ruins of a former palace that had belonged to one of Saddam Hussein's brothers, he had a view of all of Mosul. "I will be very glad when I see my forces move forward," he said. "Also [when I see that] my soldiers are all safe. And I will be even happier when we have killed IS. These people [IS] are like a disease in the body, and we are now removing it, day after day."
From there, the Iraqi forces took the town of Abu Saif, and then, in a six-hour battle, what was left of Mosul's airport. Its runways were in ruins and its terminal buildings reduced to rubble. Yet that was the last open ground before they reached the city. By the end of the week, Colonel Falah's forces had breached the IS defences. Now they were heading into the dense and narrow streets of the city's old town. Meanwhile, the elite Golden Division was the secondary force, having earlier been bogged down in heavy fighting.
The competition between the two rival divisions had helped to accelerate the advance. The ERD, however, had a secret weapon. "We need to ask your men to hold off, sir. We have helicopters in the air," the US special forces officer told an Iraqi lieutenant colonel on the rooftop as the assault on Abu Saif was in full force.
The Iraqi mortar team in the orchard and olive grove below held fire. Then the mighty thud of coalition air strikes could be heard and, just two miles away, a huge, grey cloud rose above the town.
It is Iraqis who are doing most of the fighting and the dying in the battle against IS, but since the Pentagon relaxed its rules of engagement late last year more Americans are at or near the front lines. They are calling in air strikes and laying down fire from their MRAP ("mine-resistant ambush-protected") vehicles. They are not in uniform but, despite being a covert force, they are conspicuous and still wear the Stars and Stripes on their helmets. When journalists, especially cameramen, approach, they turn their backs.
In and around Mosul, it is more common now to get stuck in a traffic jam of US vehicles: either artillery or route-clearance teams. The Pentagon will soon respond to President Donald Trump's call for a new plan – an intensification of US efforts against IS – but on the ground around this city, the Americans are already much more engaged in the fight against the militants.
British special forces were also in the area, in small numbers. Unlike their American counterparts, they went unseen.
Also seemingly absent in the early part of the offensive were civilians. It was three days before I met one: a shepherd, Ali Sultan Ali, who told me that he had only stayed behind because he could not get his flock to safety, as a nearby bridge had been destroyed.
As his sheep grazed, Ali explained: "They continued to attack this area, and now we are three days sitting in our homes, unable to go out because of attack and mortars . . . All the people, they have left this area one after another. They went to the east of the city of Mosul and they rented houses there because there are too many attacks here."
Almost 60,000 people have fled west Mosul. In this area, with its population of three-quarters of a million, the battle has the potential to become a humanitarian crisis. Camps for internally displaced people still have capacity, but they are filling up.
IS, with anywhere between 500 and a few thousand fighters inside Mosul, is again using the local population as cover. But coalition air strikes may be taking a heavy toll on civilians, too. Officially, the US-led force claims that 21 civilians have died as a result of its bombs since November, but an independent monitoring group, Airwars, suggests that as many as 370 have been killed by Western aircraft since the start of March.
After the airport was recaptured, the columns of desperate people heading south began to thicken. The children among them usually held a white flag – perhaps a clever distraction thought up by terrified parents for their long walk to safety. Near the airport, I met a man who was too distraught to give his name. He told me that his brother's family – six people – had been killed in an air strike. With his eyes red from crying and a blanket over his shoulders, he stood by the roadside, pleading. "For God's sake," he said. "We need you to help us. We need a shovel to get the dead bodies out of the building, because there are still two bodies under that building."
But the battle was reaching a new pitch around him, so he left for a camp to look for his brother, the only remaining member of his family, he told me.
When the ERD finally made it inside the city, the first thing I noticed was the fresh laundry hanging in the yard of a family house. Then I heard a huge explosion as an IS truck bomb slammed into one of the Iraqi Abrams tanks.
The tank trundled on regardless and, by nightfall, the ERD had a tiny foothold inside the city: the al-Josak neighbourhood.
Islamic State is steadily losing Mosul and in Iraq, at least, the end of the so-called caliphate is in sight. In Abu Saif, state forces found the corpses of foreign fighters and, hiding, an IS operative who was still alive.
"He's Russian," one officer told me, but the man might have been from one of the central Asian republics. There were dead Syrians on the battlefield, too, men from Deir az-Zour; and for the tens of thousands of foreign fighters who joined IS, Syria will likely be a last refuge.
There may be another reason for the faster pace of the assault in west Mosul. The Iraqi forces, having fought IS in Ramadi, Fallujah and east Mosul, are getting better at dealing with the militant group's tactics.
Truck bombs took a huge toll on their men in eastern Mosul. It is hard to describe the force unleashed when one of these detonates near you. In an early assault on one village, IS sent out four truck bombs and one of them exploded a few hundred metres from where I was standing. The shock wave ripped around the building and shards of engine went flying over our heads. My mouth was full of dirt. The debris was scattered for what seemed like miles around – yet no one died.
The suicide attack driver may have been taken out by an Iraqi soldier firing a rocket-propelled grenade (RPG). Whenever they advance now, men stand ready with RPGs, specifically to tackle the threat of car bombs. And they are becoming better at "hasty defence". An armoured bulldozer is always in the lead. When a new street is taken, defensive berms made of mud or rubble are built to halt any speeding car bombs.
The IS fighters are crafty. Iraqi forces took me to a house on a captured street. Its yard was covered and the front wall was gone. Parked in the front room was what looked like an ambulance. Hidden from surveillance aircraft, this was another truck bomb.
"It's still live. I wouldn't go any further," a major warned me. Even the bomb disposal team said that it was too dangerous to touch. It was later destroyed from a very safe distance.
Although the group violently suppresses modernity, IS fighters are innovators. They have no air force but they can get their hands on drones, which are commercially available, and they have "weaponised" them. If the battle for east Mosul was the attack of the car bombs, the battle for the west began as a drone war.
For the men on the ground, IS drones are enormously disconcerting. During a gun battle in west Mosul, I stopped to speak to some troops taking cover behind a wall. As I asked a final question, the captain I was talking to cupped his ear and leaned forward because of a sudden eruption of gunfire. Then, just to my right, I felt a shock wave of a detonation that seemed to come from nowhere.
A member of the BBC team was hit, receiving a small blast injury to the arm. When we got back to the Humvee, the driver explained that there had been a drone above us. The gunfire was from Iraqi troops trying to bring it down. The detonation had not come from nowhere; it had come from directly overhead. As we drove out of there, I noticed that the gunner had closed the hatch. We were protected inside, but he was outside manning his weapon, looking for more drones.
"They drop MK19 40mm grenades from the drones to stop the movements forward. All the time, they will use four to five drones to attack one location," Captain Ali Razak Nama of the federal police explained. "As you know, we can't always see these drones with our eyes, but if we do see them we can attack the drones with our rifles. [But] when we go into the battle, we are not looking at the skies. We are looking ahead of us for car bombs, suicide attackers, IEDs or snipers."
A unit of the Golden Division was hit 70 times in a single day by wave upon wave of IS drones. The operator managed to drop a grenade inside a Humvee from above; all four men inside, members of a bomb disposal unit, were killed. Dozens more were injured that day.
The sound of a drone, even one of their own, is enough to make the Iraqi forces hit the dirt and scramble under a vehicle. They are difficult to bring down. I once watched as snipers and heavy machine-gunners opened fire on some drones; they managed to strike one but still it flew on.
The IS fighters control them from motorcycles in an attempt to prevent the operators being tracked and killed. They switch frequencies in the hope that they will not be jammed. Yet as a coalition commander told me: "The enemy aren't going to win by dropping grenades from the sky. So it is certainly not a game-changer." Iraqi and coalition forces now appear to be having success in countering the threat. Just how, they will not say, but in recent days there has been a "very significant" drop in their use.
Mosul has been the biggest battle for Iraqi forces against Islamic State, but commander after commander said that others had been tougher. In Ramadi and in Fallujah, IS had a better grip. In Mosul, the local people have been quicker to turn away from the militants.
In the eastern part of the city, the bazaars are busy again and children have returned to school. Girls are receiving education for the first time in nearly three years, since IS captured the city. The so-called caliphate was declared on 29 June 2014 and, four days later the new "caliph" and IS leader, Abu Bakr al-Baghdadi, made his first and only filmed appearance, delivering a sermon at the city's al-Nuri Mosque. Iraqi forces are now in sight of the mosque, with its Ottoman-era leaning minaret.
Mosul is Iraq's second-largest city and has a cosmopolitan heritage, but Islamists had influence here for many years before IS arrived. As one Mosulawi told me, after neglect by the Iraqi capital, "There is discontent with Baghdad, not support for Isis."
Al-Baghdadi is believed to have fled the city already. According to US and Iraqi commanders, he is hiding out in the desert. Shia militiamen and Iraqi army forces are attempting to seal off escape routes to the west, into Syria. Yet senior commanders accept that in a city Mosul's size, it will be impossible to close all escape routes. Capturing al-Baghdadi is not a priority, they say.
There is also an acknowledgement that neither his death nor the loss of Mosul will be the end of Islamic State. But in Iraq, at least, it will destroy the caliphate.
Quentin Sommerville is the BBC's Middle East correspondent
http://www.newstatesman.com/world/2017/03/tearing-down-caliphate-frontline-against-islamic-state-mosul
------
Donald Trump assured more US support against IS: Iraq PM Haider al-Abadi
Abadi's remarks followed his first face-to-face meeting at the White House with the US President Donald Trump.
March 21, 2017
U.S. President Donald Trump meets with Iraqi Prime Minister Haider al-Abadi at the White House in Washington, U.S., March 20, 2017. REUTERS/Kevin Lamarque
Iraqi Prime Minister Haider al-Abadi said he won assurances of greater U.S. support in fighting Islamic State militants in talks on Monday with President Donald Trump and top advisers, but cautioned that military might alone would not be sufficient. Abadi's remarks followed his first face-to-face meeting at the White House with Trump, who took office on Jan. 20 pledging a new strategy to defeat the hardline militant group that seized large swaths of Iraq and Syria in 2014.
Even before Trump took office, Iraqi forces recaptured a string of major cities from Islamic State, shrank the militant group's finances and significantly stemmed the flow of foreign fighters, all with the support of U.S.-led coalition air strikes and military advisers. Abadi said Trump appeared more enthusiastic about battling Islamist extremists than Barack Obama's administration had been. "I think they're prepared to do more to fight terrorism and be more engaged," Abadi told a forum in Washington hours after his meeting with Trump, adding he had been told U.S. "support will not only continue but will accelerate."
"But of course we have to be careful here," Abadi said. "We are not talking about military confrontation as such. Committing troops is one thing, while fighting terrorism is another thing."
Abadi, who leads the Shi'ite majority government in Baghdad, said it would be crucial to win over the local population in Sunni-dominated Mosul to achieve lasting peace. He called for more financial contributions from the international community. "We (would) love to see more funds so that we can quickly (regain) prosperity and stabilization in these areas," Abadi said.
Abadi spoke as Iraqi forces made steady progress in seizing back Mosul, Iraq's second largest city, from Islamic State, which officials expect will become a more classic insurgency once it loses its last major strongholds.
In a sign of the threat, a car bomb killed at least 23 people and wounded more than 45 in a mainly Shi'ite southern district, police and medical sources said. There was no claim of responsibility, but Islamic State has carried out similar attacks in Baghdad and other cities as its hold on Mosul weakens. Earlier in the day, as the two men met, Trump told Abadi that he knew his forces were fighting hard. "It's not an easy job," Trump said. "It's a very tough job. Your soldiers are fighting hard. I know Mosul is moving along. … We will figure something out.
"Our main thrust is we have to get rid of ISIS. We're going to get rid of ISIS. It will happen. It's happening right now," Trump added, using an acronym for Islamic State. Asked whether he had seen the Trump administration's plan to wipe out Islamic State, Abadi said: "I haven't seen a full plan. I know there is a plan. I haven't seen it." Abadi is in Washington this week ahead of a gathering of world leaders of a coalition fighting Islamic State.
In many ways, his visit comes at a high point for him after successfully appealing to Trump to remove Iraq from a list of countries included in a revamped travel ban. Trump decided this month's revised order temporarily banning the entry of travelers from several Muslim-majority nations would not include Iraq because of its cooperation with the United States. Both the initial Jan. 27 travel ban and the revised version have been blocked by federal courts.
Detractors argue the ban discriminated against Muslims in violation of the US Constitution's guarantee of religious freedom. Trump says the measure is necessary for national security to protect the country from terrorist attacks. "I thank you for removing Iraq from the presidential order … this was a positive response to the Iraqi request that betters the relationship with Iraq and the value of Iraq as far as Iraqi-American relations," Abadi told Trump.
http://indianexpress.com/article/world/donald-trump-assured-more-us-support-to-iraq-against-is-pm-haider-al-abadi-4578292/
------
Baghdad: 15 killed in car bomb attack
The attack occurred in the evening when a booby-trapped car parking at a crowded marketplace detonated at the predominantly Shiite neighbourhood of Amil in southern Baghdad.
March 21, 2017
baghdad, baghdad bomb blast, iraq car bomb, baghdad car bomb blast latest news, world news, middle east news
Destroyed cars are seen at the site of a car bomb attack in the Amil neighborhood in Baghdad, Iraq, March 20, 2017. (REUTERS/Stringer)
At least 15 people were killed and 33 others wounded on Monday in a car bomb explosion at a marketplace in the Iraqi capital of Baghdad, a police source told Xinhua.
The attack occurred in the evening when a booby-trapped car parking at a crowded marketplace detonated at the predominantly Shiite neighbourhood of Amil in southern Baghdad, the source said on condition of anonymity.
The massive explosion destroyed several nearby shops and many stalls, along with damaging several nearby civilian cars and buildings, the source said.
The toll could rise as ambulances, police and civilian vehicles were evacuating the victims to the city's hospitals and medical centres, the source added.
No group has so far claimed responsibility for the attacks, but the Islamic State, in most cases, was responsible for such attacks targeting crowded areas, including markets, cafes and mosques across Iraq.
Terrorist acts, violence and armed conflicts killed 385 Iraqis and wounded 609 others in February across Iraq, the United Nations Assistance Mission for Iraq said.
The attacks came as the Iraqi security forces backed by anti-IS international coalition are carrying out a major offensive to drive out the IS militants from its last major stronghold in Iraq's northern city of Mosul.
http://indianexpress.com/article/world/baghdad-15-killed-in-car-bomb-attack/
------
US-Led Coalition's Airstrikes Kill 18 Civilians in Syria
Mon Mar 20, 2017
TEHRAN (FNA)- The US-led coalition fighter jets launched another round of air assault on civilian areas in al-Tabaqa region in Western Raqqa, killing at least 18 Syrian people.
According to local activists, the US coalition carried out an airstrike over al-Andalas farms in Western Raqqa, killing at least 18 civilians near the strategic town of al-Tabaqa.
The US army had previously claimed that only 220 civilians were killed in the air attacks of the coalition under its command in Syria and Iraq since 2014.
The US command also noted that it could not investigate all reports of possible civilian casualties using "traditional investigative methods," which involves interviewing witnesses and examining the site of the strike.
Instead, the coalition interviewed pilots and servicemen that took part in combat missions to draw results. The US command also reviewed strike surveillance videos and analyzed government and non-governmental organizations' traditional and social media content.
Also, on Thursday, the US fighter jets' airstrikes on a mosque in Aleppo province killed more than 40 civilians.
The US military announced that it carried out a deadly air strike on what it called an al-Qaeda meeting in Northern Syria, and added that it will investigate reports that more than 40 civilians were killed when a mosque was struck in a raid in the same area.
Jets struck the village of al-Jina, in Aleppo province, on Thursday at the time of evening prayer when the mosque was full of worshippers, with local activists saying up to 300 people were inside at the time of the attack.
Al-Jina's population has been swollen by refugees, according to United Nations agencies.
In the meantime, Iraq Body Count's website disclosed that 2,316 civilians were killed in air raids of the so-called anti-ISIL coalition only in Iraq since September1, 2014 till September1, 2016.
The US army declared estimates of 220 casualties fall far below the number voiced by some monitoring groups.
The Airwars monitoring group, reckoned that at least 2,463 civilians have been killed by coalition air strikes.
Amnesty International's figures sharply contradict Washington's assessment as well.
"We fear the US-led coalition is significantly underestimating the harm caused to civilians in its operations in Syria," said Lynn Maalouf, Deputy Director for Research at Amnesty International's Beirut regional office.
Last month, a Military Times investigation revealed that the US Central Command also misled the public when it failed to account for nearly 6,000 strikes dating back to 2014, when the US-led coalition launched its first airstrikes against ISIL terrorist targets.
In October, a senior politician and member of Syria's Democratic Union blasted the wrong reports given out by different US and world bodies on the number of the civilian victims of the US airstrikes on Syria, disclosing that Washington's air assaults on his country claimed the lives of over 5,000 civilians since 2014.
"The recent accusation leveled by Amnesty International against the US-led coalition for its reckless attitude towards civilian lives in its operations since the second half of 2014 is right, but this report mentions wrong figures for the relevant death toll," Mohammad Khalaf Qandil said.
He reiterated that the number of the civilian casualties of the US-led airstrikes in the last two years was by no means any less than 5,000.
The senior politician also slammed the Amnesty International for its long delay in releasing the report, saying that the report was released while the US was committing crimes in Syria and killing large groups of civilians so freely and without any international backlash for several years now.
"These air raids have surely inflicted heavy losses on the Syrian army which is fighting the terrorists in Syria," Qandil lamented.
Qandil's remarks came after the Amnesty International reported that the US airstrikes in Syria claimed the lives of 300 to 1,000 civilians.
http://en.farsnews.com/newstext.aspx?nn=13951230000453
------
IS kidnap 6 Iraqi officers in Mosul, police deploy snipers near key mosque
by Mohamed Mostafa
Mar 21, 2017
Federal police carry their weapons during a battle against Islamic State militants, at the entrance to the city of Dawasa in Mosul, Iraq, March 5, 2017. REUTERS/Alaa Al-Marjani – RTS11ISC
Nineveh (IraqiNews.com) Islamic State militants kidnapped six Iraqi police officers early Monday during encounters with security forces in central Mosul, news reports quoted security sources saying.
Saad al-Leithi, an officer at the Iraqi Federal Police service, was quoted by Anadolu Agency saying the six officers, including a brigadier general, were kidnapped from Bab al-Jadid district, an area which police said they recaptured a week earlier.
He said the officers were ambushed by IS militants during an incursion in the district. They ran out of ammunition and made futile calls for help, he added.
Bab al-Jadid neighborhood in the Old City, Mosul
The development came as security troops continue to sweep through districts near the Old City, a strategic district which Iraqi commanders say is necessary to recapture to ensure victory against Islamic State in western Mosul.
The police command said over the past few days troops were approaching the Grand Nuri al-Kabir Mosque, an old mosque where Islamic State supreme leader Abu Bakr al-Baghdadi made a speech in 2014 to declare the establishment of the "Islamic Caliphate" rule in Iraq. Retaking of the mosque would be a remarkable, symbolic development in Iraqi troops' operations against IS.
On Tuesday, Federal Police chief Shaker Jawdat said he had deployed tens of snipers above buildings near the mosque.
"Our forces have evacuated hundreds of civilians in order to isolate terrorist elements and deprive them of their human shields before invading the area and retaking control over the mosque," Jawdat stated.
Iraqi forces recaptured eastern Mosul in January after three months of fighting, and launched another offensive in February to retake the west.
http://www.iraqinews.com/iraq-war/kidnap-6-iraqi-officers-mosul-police-deploy-snipers-near-key-mosque/
------
UN rejects Saudi-led coalition call to supervise Yemen port
The United Nations on Monday rejected a call by the Saudi-led coalition battling rebels in Yemen for the key port of Hodeida to be placed under its supervision.
The coalition made the appeal following an attack on a boat carrying Somali refugees off the coast of Yemen that killed 42 people, and as the country faced famine.
UN spokesman Farhan Haq said the warring sides in Yemen have a responsibility to protect civilian infrastructure and civilians.
"These are not obligations they can shift to others," Haq said.
Hodeida, which is a key transit point for desperately-needed imports, is controlled by Houthi rebels fighting the Saudi-backed government.
The coalition said in a statement Sunday that it was not responsible for the attack on the refugee boat in the area of Hodeida and called for the port to be "placed immediately under United Nations supervision." Hodeida serves 70 percent of the country's population affected by a severe food crisis in Yemen, which is almost entirely dependent on imports of food and other commodities.
"The humanitarian community delivers assistance in Yemen solely based on needs and not on political considerations, and will continue to do so through all available means," added Haq.
About 7.3 million people in Yemen are in dire need of food aid in the largest food insecurity emergency in the world, according to the United Nations.
The Saudi-led coalition waging a military campaign against rebels has been accused of imposing a blockade on Yemen to prevent supplies from reaching civilians.
Placing Hodeida under UN supervision would "facilitate the flow of humanitarian supplies to the Yemeni people, while at the same time ending the use of the port for weapons smuggling and people trafficking," said the coalition statement.
More than 7,000 people have died since the coalition began its air war in March 2015 to drive out the Iran-allied Houthis.
The United Nations is calling for an inquiry by all the parties of the attack on the refugee boat.
https://www.dawn.com/news/1321917/un-rejects-saudi-led-coalition-call-to-supervise-yemen-port
------
Tens of Terrorists Besieged by Army in Damascus' Jobar Region
Mon Mar 20, 2017
TEHRNA (FNA)- The Syrian army forces pushed back the terrorists' massive offensive on their positions in the Northern parts of Jobar and laid siege on tens of militants in the region after launching a new military operation.
The Syrian soldiers could besiege a large number of terrorists who had attacked the army bases in Jobar, in the buildings near al-Ma'amel district.
The army had sent recruitments and military equipment to Jobar after the terrorists attacked the region from al-Qalamoun.
According to field sources, the army commanders have called on the besieged terrorists in al-Ma'amel district to lay down their arms and surrender to the government forces.
In a relevant development on Sunday, the Syrian army forces warded off the terrorist groups' heavy offensives against their positions in Jobar region.
The army soldiers defused the terrorists' attempts in Jobar region who wanted to enter al-Abbasiyeen region's parking lots.
A field source said that the militants were first trying to open their way by suicide attacks and detonating two bomb-laden vehicles.
"After the cars exploded, heavy clashes erupted between the Syrian army and the terrorists of the al-Nusra (Fatah al-Sham) Front who sought to carry out suicide attacks but they couldn't occupy the army's positions in the region," he added.
The source said that the Syrian fighter jets and missile and artillery units then heavily pounded the terrorists' centers and drove them out of the region.
http://en.farsnews.com/newstext.aspx?nn=13951230000265
------
Syrian Troops Move One Step Closer to Deir Hafer in Aleppo
Mon Mar 20, 2017
TEHRAN (FNA)- The Syrian army soldiers continued their military operations in Eastern Aleppo and seized back control of more regions from the ISIL terrorist group.
The army forces intensified operations to liberate Deir Hafer region and could retake full control of al-Sharimeh village and the nearby farms from the ISIL militants.
A military source said that tens of ISIL terrorists have fled the battleground in the region.
"Over 20 militants were killed during the army operations," he added.
On Sunday, the army had expanded the range of its advances near Deir Hafer and won back control of several villages.
The army units engaged in heavy clashes with the ISIL terrorists in Eastern Aleppo, and retook control of Ahmadiyeh village in the Northern parts of Deir Hafer.
They also seized back control of Um Tineh and al-Mabou'jeh in the Eastern and Western parts of Deir Hafer, respectively.
Also, on Saturday, the Syrian army continued military operations in Eastern Aleppo and regained control of all villages located to the South of Kuweires airbase.
The army forces seized back full control over the towns of Rasm al-Abd, Tal Ahmar and al-Asemiyeh to the South of Kuweires that are linked to Sabkhat al-Jaboul region in Eastern Aleppo after heavy clashes with the ISIL terrorists.
A military source also said that the Syrian soldiers laid siege on the strategic town of Deir Hafer from the Northern, Western and Southern directions after retaking control over the town of al-Harmal Southwest of Deir Hafer, adding that the ISIL has already lost the town in military terms.
http://en.farsnews.com/newstext.aspx?nn=13951230000337
------
Military Spokesman: Yemeni Missiles Can Hit Riyadh
Mon Mar 20, 2017
TEHRAN (FNA)- The official spokesman of the Yemeni Armed Forces, Brigadier General Sharq Luqman, underlined that the country is in possession of advanced missiles which can hit the Saudi capital.
"We have been able to develop our weapons and make progress so that they can hit the Saudi capital," Luqman told al-Mayadeen news channel.
Noting that Borkan-2 missile was the first missile which could target King Salman airbase, he said that new missiles are underway.
Luqman said that after hitting Riyadh, the war in Yemen will enter a new stage and all equations will change.
Reports said earlier this month that Yemen's popular forces and their allies in the country's army fired a long-range ballistic missile at an airbase in the Saudi capital Riyadh, marking the second such attack on the city.
The Borkan-2 missile accurately struck King Salman Air Base.
In a statement carried by Yemen's official Saba news agency, a Yemeni military official close to the Ansarullah group said the missile attack came in retaliation for the criminal Saudi war on Yemen.
Meanwhile, the Yemeni army pledged that missiles would target the Saudi territory until the regime's bombing campaign stops.
It further announced that 108 ballistic missiles have been fired at positions held by Saudi invaders inside and outside Yemen so far.
Separately, Yemeni popular fighters targeted with a Zelzal-1 missile a gathering place of Saudi mercenaries in the al-Ramzah district in the kingdom's Southwestern Jizan region.
They also launched a missile attack against positions held by the mercenaries in al-Maton district of Yemen's Northern Jawf province.
http://en.farsnews.com/newstext.aspx?nn=13951230000327
------
ISLAMIC STATE GROUP CLAIMS RESPONSIBILITY FOR BAGHDAD ATTACK
BY MURTADA FARAJ
Mar 21, 2017
BAGHDAD (AP) -- The Islamic State group has claimed responsibility for a car bombing in Baghdad that killed 27 people the previous day, shattering a relative lull in the Iraqi capital.
The Sunni militant group says in an online statement posted on an IS-affiliated website hours after the attack that a militant parked the explosive-laden car in the commercial area of Baghdad's Shiite-dominated southwestern Amil neighborhood.
Earlier, Iraqi officials had described the bombing as a suicide attack.
Iraqi authorities on Tuesday raised the causality figures to 27 dead and 45 wounded and said five people were still missing following Monday's attack. They spoke on condition of anonymity because they were not authorized to talk to reporters.
In mid-February, a car bombing in Baghdad killed at least 59 people and wounded 66 others.
The Associated Press. All rights reserved. This material may not be published, broadcast, rewritten or redistributed. Learn more about our Privacy Policy and Terms of Use.
http://hosted.ap.org/dynamic/stories/M/ML_IRAQ?SITE=AP&SECTION=HOME&TEMPLATE=DEFAULT&CTIME=2017-03-21-04-36-59
------
Pakistan
Pakistani bank establishes branch in Xinjiang
The bank mainly provides financial support to the China-Pakistan Economic Corridor projects.
March 21, 2017
A branch of Pakistani Habib Bank Limited opened on Monday in northwest China's Xinjiang Uygur region, local authorities said.
It is the bank's first branch in China, mainly providing financial support to the China-Pakistan Economic Corridor projects, according to the Xinjiang regional banking regulatory bureau, Xinhua reported.
Located in the Urumqi High-tech Industrial Development Zone, the bank mainly accepts public deposits, makes loans, deals government bonds, provides credit guarantees, and handles foreign currency exchange, the bureau said.
Habib Bank, the largest bank in Pakistan, had total assets of about $21 billion at the end of 2015.
http://indianexpress.com/article/world/pakistani-bank-establishes-branch-in-xinjiang-china-4578321/
------
Allies 'embarrass' govt in NA ahead of crucial vote
AMIR WASIM
ISLAMABAD: Despite its success in winning over opposition parties, the government on Monday faced embarrassment in the National Assembly when two of its allies refused to unconditionally support the bill seeking revival of military courts in the country.
Pakhtunkhwa Milli Awami Party (PkMAP) chief Mehmood Khan Achakzai put forward five conditions, saying he would only vote for the 23rd Constitutional Amendment Bill if they were accepted.
Naeema Kishwar Khan of the Jamiat Ulema-i-Islam-Fazl (JUI-F), meanwhile, declared that her party would make a final decision on whether to vote or not after moving an amendment and gauging the government's response to it on Tuesday (today).
Besides these two speeches, other members made speeches similar to the ones made at the time of the passage of the 21st Constitutional Amendment Bill in 2015, saying that they were "swallowing a bitter pill" by endorsing the revival of the courts under "unusual circumstances".
https://www.dawn.com/news/1321805/allies-embarrass-govt-in-na-ahead-of-crucial-vote
------
Strike in Chaman against Afghan border closure
March 20th, 2017
SALEEM SHAHID
QUETTA: A shutter down strike was observed in the border town of Chaman on Sunday on the call of all parties Tajir Alliance in protest against the closure of Pak-Afghan border.
All bazaars, shopping centers, business establishments and shops remained closed.
Bazaars and roads of Chaman town were presenting a deserted look and a majority of vehicles remained off the roads. The border is closed for one month and all business activities, including import and export and Afghan transit trade, are suspended between the two countries.
Traders threaten to extend protest for an indefinite period
"We have closed our trading activities voluntarily as our business was badly affected due to closure of Pak-Afghan border for the past one month," a spokesman for the alliance said, adding that the traders could go on a complete strike for an indefinite period if the border was not opened.
Shopkeepers and traders gathered in the town and demanded that the border be reopened as soon as possible.
Thousands of trucks carrying transit and other goods were stranded on both sides of the border. Nato supplies for the US troops stationed in Afghanistan were also suspended.
Daily-wage workers in Chaman and Vesh Mandi have become jobless. "We have no other source of income," said Abdullah Khan, a 45-year-old man who has lost his job.
The alliance spokesman said that traders and business community could not be involved in terrorism or any such activity.
He said the Pakistan government was losing a huge amount of taxes due to closure of the border with Afghanistan. He demanded that border be reopened immediately.
https://www.dawn.com/news/1321677/strike-in-chaman-against-afghan-border-closure
------
Security forces foil terror bid in Balochistan's Kohlu district
SYED ALI SHAH
Security forces on Saturday foiled a terror bid by seizing a significant quantity of arms and explosives in Balochistan's Kohlu district.
"The Frontier Corps (FC) and personnel of a intelligence agency conducted a raid and recovered 28 kilograms of explosives, six rockets and other weapons," said a security official.
The official added that the compound which was raided belonged to "miscreants of an outlawed militant organisation".
No arrest was made during the raid.
In a separate incident, FC forces and personnel of an intelligence agency arrested four suspected militants during a raid in Quetta's Smungli area.
Security forces claimed to have recovered five SMGs, three rockets and other weapons from their possession.
https://www.dawn.com/news/1321287/security-forces-foil-terror-bid-in-balochistans-kohlu-district
------
Ex-minister slams PM on 'India friendship'
March 21, 2017
LAHORE: Former federal minister Muhammad Ali Durrani said Pakistan was created in the name of Allah and He is the one who will protect our country from evil eyes. No ruler can change the basic nature of an Islamic Pakistan.
Challenging Prime Minister Nawaz Sharif, he demanded that a referendum should be held on premier's assumption, asking the nation if they wanted friendship with India or freedom of Kashmir.
Nawaz will lose if he runs for the next elections on the basis of his recent claims regarding the maintenance of friendship with India, he added.
Water issues: Pakistan, India back at the negotiating table
He said that the present government credited their victory in 2013 to the friendship with India which was a part of a well-conceived strategy to attack the very foundations of Pakistan's Ideology.
While talking to The Express Tribune on Monday, he said when Hindu extremism was on the rise in India, its leadership was busy shedding secular colour of its forefathers.
He said that the Pakistani leadership, instead of remaining steadfast to its original Islamic ideology, is busy eroding the founding roots by making secular overtures to please the chauvinist leadership of Hindutva.
After state polls, Modi softens up on talks with Pakistan
Praising sacrifices and courage of Kashmiris against worst state oppression by occupied forces, he said people of Indian administered Kashmir announced their verdict in unequivocal terms for accession with Pakistan. Using pellet guns, the Indians have been playing Holi with the blood of innocent Kashmiris seeking freedom, he said
He questioned how an enemy of the people of Kashmir can become the friend of Pakistan? Our friendship depended on the resolution of Kashmir issue. Any illusion of friendship with Modi, devoid of Kashmir, was sheer deviation from the Ideology of Pakistan, he said.
https://tribune.com.pk/story/1361049/ex-minister-slams-pm-india-friendship/
------
Southeast Asia
China warmly welcomes Israel's prime minister after Saudi king's visit
China welcomed Israeli Prime Minister Benjamin Netanyahu on Monday just days after hosting Saudi Arabia's King Salman and the signing of deals worth as much as $65 billion with Riyadh, as China steps up its tentative engagement with the Middle East.
China has traditionally played little role in Middle East conflicts or diplomacy, despite its reliance on the region for oil.
But it has been trying to get more involved, for example in efforts to end Syria's civil war, trying to portray itself as an honest broker without the historical baggage the Americans and Europeans have in the region, Beijing-based diplomats say.
Meeting in Beijing's cavernous Great Hall of the People, Chinese Premier Li Keqiang praised Israel's advances, saying it was a world leader in some technologies.
"The Chinese people and the Jewish people are both great peoples of the world," Li said.
Netanyahu said there was much to talk about in tech cooperation.
"And at the same time there is a great deal of convulsion in the world, including in our part of the world," Netanyahu said, in comments made in front of reporters.
"And I would like to have the opportunity to exchange views with you and to see how we can cooperate together for the advancement of security, peace, stability, and prosperity."
Deng Li, director general of the Chinese Foreign Ministry's West Asian and North African Affairs Department, told a briefing that both countries had agreed to step up free trade talks.
"Personally I am very confident and optimistic about the future of this free trade agreement," Deng said.
He added that Li had said China does not have its own interests on the Palestinian issue and would like to see the issue properly solved at an early date in line with United Nations resolutions and the international consensus.
Chinese envoys occasionally visit Israel and the Palestinian Territories, but Chinese efforts to mediate or play a role in that long-standing dispute have never amounted to much.
China also has traditionally had a good relationship with the Palestinians.
The Middle East, however, is fraught with risk for China, a country that has little experience navigating the religious and political tensions that frequently rack the region.
China also has close ties with Iran, whose nuclear program has seriously alarmed Israel.
Behind closed doors, China and Israel have close security ties too, rarely discussed in public.
"You shouldn't ask me this question," Deng said, when asked whether Li and Netanyahu discussed intelligence sharing.
https://www.dawn.com/news/1321727/china-warmly-welcomes-israels-prime-minister-after-saudi-kings-visit
------
Myanmar: Contrast in style as Philippine President Rodrigo Duterte meets Aung San Suu Kyi
The Philippines' hard man thrives on press coverage, while Myanmar's leader barely conceals her contempt for the media.
March 21, 2017
Duterte (L) is welcomed by Myanmar's leader Aung San Suu Kyi in Naypyitaw, Myanmar March 20, 2017. REUTERS/Pyay Kyaw Aung
Regional politics makes for strange bedfellows, and at first glance, it is hard to imagine more of an odd couple than tempestuous Philippine President Rodrigo Duterte and his cerebral de facto Myanmar counterpart, State Counsellor Aung San Suu Kyi, who met Monday in Myanmar's capital, Naypyitaw. After his arrival in Myanmar on Sunday, Duterte rejected European criticism of his deadly war on drugs with his usual profanity, insisting that "more people will die."
"I said I will not stop," he declared. "I will continue until the last drug lord in the Philippines is killed and the pushers out of the streets." Suu Kyi has just as little time for critics, but her crisp Oxford-accented speech is more like a dagger to her guest's blunderbuss. The Philippines' hard man thrives on press coverage, while Myanmar's leader barely conceals her contempt for the media. She is the ice to Duterte's fire.
The main purpose of Duterte's visit to Myanmar is to complete visits to nine fellow members of the Association of Southeast Asian Nations, or ASEAN, which the Philippines is helming this year. While their meeting is said to have included the usual pro forma talk about trade and investment, it had a tangible result when Duterte promised $300,000 in humanitarian aid for Myanmar's Rakhine state, where communal conflict has displaced more than 100,000 people, mostly Muslims, from their homes.
Here is a look at two Southeast Asian leaders who have made a name for themselves worldwide:
AUNG SAN SUU KYI
As the daughter of Myanmar's martyred founding father, Gen. Aung San, she is the closest thing the country has to aristocracy. Many would say her manner is aristocratic — imperious and uncompromising. For those around the world who admired her as a democracy icon, her government's lack of transparency and less-than-wholehearted embrace of remedying human rights problems have been a disappointment.
Backstory: Suu Kyi had spent most of her life abroad as an academic until she found herself in Myanmar — then called Burma — during its 1988 pro-democracy uprising against military rule. When she stepped up to support the unsuccessful rebellion, her fresh face, name recognition and eloquence rocketed her to the leadership of the pro-democracy movement. It cost her 15 years under house arrest, won her a Nobel Peace Prize, and brought her National League for Democracy party to power in 2015.
Challenges: Suu Kyi's biggest problem is probably meeting the expectations of her supporters in Myanmar and abroad. Myanmar's economy lagged badly behind most of its neighbors after five decades of military rule. Widespread prejudice against the country's Muslim Rohingya minority has led to deadly communal violence, posing a political threat to Suu Kyi while earning international opprobrium. Other minorities are restive, seeking greater political autonomy promised since the nation became independent in 1948. All the while, provisions in the military-drafted constitution restrict Suu Kyi's ability to make any reforms affecting the army's considerable influence.
RODRIGO DUTERTE
A foul-mouthed, crime-busting mayor credited with turning the southern Philippine city of Davao into an oasis of relative tranquility and economic vibrancy in an insurgency-pestered region, he expanded his brutal anti-drug crackdown when he rose to the presidency last June. Supporters cheer his anti-establishment and populist mindset but critics regard him as a human rights calamity.
Backstory: A former government prosecutor who dealt with rogue policemen, outlaws and insurgents, he parlayed that background to build a name in politics as a tough and hands-on overseer of a city who dealt harshly with law breakers, especially drug dealers and addicts, hundreds of whom ended up dead in Davao. His expletive-ridden speeches, often spiced with sex jokes, are adored by his followers but have unnerved the predominant Catholic church and the intelligentsia and upended Philippine politics and foreign policy.
Challenges: While seen as a tough and unorthodox leader who could break through an anemic bureaucracy and tradition to spark radical reforms, he faces the same deep-seated problems that have stymied his predecessors: crushing poverty that afflicts a fourth of more than 100 million Filipinos, decades-old Muslim and Marxist insurgencies, and often-turbulent politics. He is also unwinding his country's traditional ties with the United States, while jousting with China over its rival territorial claims in the South China Sea.
http://indianexpress.com/article/world/myanmar-contrast-in-style-as-philippine-president-rodrigo-duterte-meets-aung-san-suu-kyi-4578344/
------
Indonesia plans to sue Thailand's PTTEP over 2009 oil spill
A total of about 30,000 barrels of oil were estimated to have spewed into the Timor Sea over 74 days in 2009
March 20, 2017
Indonesia is preparing to sue a unit of Thailand's PTT Exploration and Production (PTTEP) over alleged environmental damage from the Montara oil spill in 2009, the country's Coordinating Maritime Affairs Ministry said.
The move follows earlier attempts at negotiation that stalled in 2012, and a separate class action suit filed by a group of about 15,000 Indonesian seaweed farmers seeking more than A$200 million ($154 million) from PTTEP Australasia to cover damages from the spill.
A total of about 30,000 barrels of oil were estimated to have spewed into the Timor Sea over 74 days after an explosion at PTTEP's Montara drilling rig off Australia's northwest coast in 2009.
"This relates to Indonesian sovereignty and poor communities whose lives depend on the maritime sector, so we must fight this in a more planned way," Basilio Dias Araujo, Indonesia's assistant deputy minister for safety and security, said in a statement published on the ministry's website.
The Indonesian government and state prosecutors are in the process of compiling evidence and have invited around 50 expert witnesses to support the case, the statement said.
"The Indonesian government has asked PTTEP for compensation through non-litigation channels, but the negotiation process became deadlocked in 2012, so no agreements were reached," Araujo added.
The slick from Montara reached Indonesian waters, and was Australia's worst offshore drilling accident. An Australian government inquiry blamed the spill on systemic shortcomings at the Thai oil giant.
A Bangkok-based spokeswoman for PTTEP, the exploration flagship of top Thai energy company PTT Pcl, said she could not immediately comment on the matter.
"No oil from the Montara incident reached the Australian and Indonesian mainlands," PTTEP Australasia said on its website, citing independent scientific studies, and "there has been little or no detectable impact from the spill on any marine eco-system or species in the Timor Sea."
"There were no lasting negative impacts on the region's biodiversity" from the spill, it said.
PTTEP was fined A$510,000 ($394,000) by a Darwin court in 2011 after pleading guilty to four charges relating to workplace health and safety and failure to maintain good oilfield practice. That outcome "concluded all government legal matters in relation to the Montara incident," the company said.
The Indonesian seaweed farmers from Nusa Tenggara Timur province began their action last August and the next hearing is scheduled to take place in May, according to their legal team.
http://indianexpress.com/article/world/indonesia-plans-to-sue-thailands-pttep-over-2009-oil-spill-4577245/
------
Pope's Egypt visit offers chance to improve Catholic-Muslim ties
By Gavin Jones | March 18, 2017
VATICAN CITY (Reuters) Pope Francis will make a trip to Egypt next month, giving the pontiff another opportunity to promote better relations between Catholics and Muslims.
Francis has accepted an invitation to Cairo on April 28-29 from President Abdel Fattah al-Sisi, Catholic bishops, the pope of the Coptic church of Alexandria and the country's highest Islamic authority, Al-Azhar, the Vatican said Saturday (March 18) in a statement.
Christians, mostly Orthodox Copts, account for about 10 percent of Egypt's population, which is overwhelmingly Sunni Muslim. Sectarian violence sometimes erupts over disputes on issues related to church building, religious conversions and interfaith relationships.
Francis has put great emphasis on improving inter-faith relations since his election in 2013, and a year ago he met the grand imam of Al-Azhar, Sheikh Ahmed al-Tayeb in the Vatican.
That meeting unfroze relations after Al-Azhar, a 1,000-year-old mosque and university center, cut contacts with the Vatican in 2011 over what it said were repeated insults towards Islam from Francis's predecessor, Pope Benedict.
Benedict had denounced what he called "a strategy of violence that has Christians as a target" following a bomb attack outside a church in the Egyptian city of Alexandria that killed 23 people.
A bombing at Cairo's largest Coptic cathedral killed at least 25 people and wounded 49 in December.
Pope Francis has urged an end to what he called a "genocide" against Christians in the Middle East, but he has also said it is wrong to equate Islam with violence.
Looking to set an example for Europe, he has taken in Muslim refugees fleeing the war in Syria.
In Cairo, Egyptian President Sisi issued a statement on the pope's forthcoming visit.
"Egypt welcomes Pope Francis and looks forward to this significant visit to strengthen peace, tolerance and inter-faith dialog as well as to reject the abhorrent acts of terrorism and extremism," Sisi said.
http://religionnews.com/2017/03/18/popes-egypt-visit-offers-chance-to-improve-catholic-muslim-ties/
------
Europe
Pope's Egypt visit offers chance to improve Catholic-Muslim ties
By Gavin Jones | March 18, 2017
VATICAN CITY (Reuters) Pope Francis will make a trip to Egypt next month, giving the pontiff another opportunity to promote better relations between Catholics and Muslims.
Francis has accepted an invitation to Cairo on April 28-29 from President Abdel Fattah al-Sisi, Catholic bishops, the pope of the Coptic church of Alexandria and the country's highest Islamic authority, Al-Azhar, the Vatican said Saturday (March 18) in a statement.
Christians, mostly Orthodox Copts, account for about 10 percent of Egypt's population, which is overwhelmingly Sunni Muslim. Sectarian violence sometimes erupts over disputes on issues related to church building, religious conversions and interfaith relationships.
Francis has put great emphasis on improving inter-faith relations since his election in 2013, and a year ago he met the grand imam of Al-Azhar, Sheikh Ahmed al-Tayeb in the Vatican.
That meeting unfroze relations after Al-Azhar, a 1,000-year-old mosque and university center, cut contacts with the Vatican in 2011 over what it said were repeated insults towards Islam from Francis's predecessor, Pope Benedict.
Benedict had denounced what he called "a strategy of violence that has Christians as a target" following a bomb attack outside a church in the Egyptian city of Alexandria that killed 23 people.
A bombing at Cairo's largest Coptic cathedral killed at least 25 people and wounded 49 in December.
Pope Francis has urged an end to what he called a "genocide" against Christians in the Middle East, but he has also said it is wrong to equate Islam with violence.
Looking to set an example for Europe, he has taken in Muslim refugees fleeing the war in Syria.
In Cairo, Egyptian President Sisi issued a statement on the pope's forthcoming visit.
"Egypt welcomes Pope Francis and looks forward to this significant visit to strengthen peace, tolerance and inter-faith dialog as well as to reject the abhorrent acts of terrorism and extremism," Sisi said.
http://religionnews.com/2017/03/18/popes-egypt-visit-offers-chance-to-improve-catholic-muslim-ties/
------
Pope Francis begs forgiveness for church role in Rwanda genocide
During the 25-minute meeting in the Apostolic Palace, Francis "implored anew God's forgiveness for the sins and failings of the church and its members,'' the Vatican said.
March 21, 2017
Rwanda genocide, Rwanda mass killing, Vatican on Rwanda genocide, Pope Francis, Pope Francis on Rwanda genocide, Rwandan President Paul Kagame, world news, indian express news
Pope Francis on Monday begged forgiveness for the "sins and failings of the church and its members" during Rwanda's 1994 genocide as the Holy See sought to open a new phase in relations nearly a quarter-century after the slaughter. In an extraordinary statement after Francis' meeting with Rwandan President Paul Kagame, the Vatican acknowledged that the church itself bore blame, as well as some Catholic priests and nuns who "succumbed to hatred and violence, betraying their own evangelical mission" by participating in the genocide.
During the 100-day genocide, more than 800,000 ethnic Tutsis and moderate Hutus were killed by Hutu extremists. Many of the victims died at the hands of priests, clergymen and nuns, according to some accounts by survivors, and the Rwandan government says many died in the churches where they had sought refuge. During the 25-minute meeting in the Apostolic Palace, Francis "implored anew God's forgiveness for the sins and failings of the church and its members," the Vatican said.
He "expressed the desire that this humble recognition of the failings of that period, which unfortunately disfigured the face of the church, may contribute to a `purification of memory' and may promote, in hope and renewed trust, a future of peace." The Rwandan government has long pressured the church to apologize for its complicity in the genocide, but both the Vatican and the local church have been reluctant to do so. The church has long said those church officials who committed crimes acted individually.
In 1996, St. John Paul II refused to take blame on the church's part for what transpired in Rwanda, saying in a letter to Rwandan bishops that: "The church in itself cannot be held responsible for the misdeeds of its members who have acted against evangelical law." Four years later, however, he did make a general apology for a host of Catholic sins and crimes over its 2,000-year history. Amid continued pressure from the government, Rwanda's Catholic bishops last year apologized for "all the wrongs the church committed."
The ministry of local government rejected the apology then as inadequate. During Rwanda's annual dialogue in December, Kagame said he didn't understand why the church was so reluctant to apologize for genocide when popes have apologized for much lesser crimes. "I don't understand why the pope would apologize for sexual offenses, whether it is in the U.S., Ireland or Australia, but cannot apologize for the role of the church in the genocide that happened here," Kagame said at the time.
On Monday, he tweeted his appreciation for Francis' words and said "a new chapter in relations" had begun. He said that Francis' willingness to apologize was "an act of courage&moral high standing" that was typical of the pope.
Foreign Minister Louise Mushikiwab, however, repeated charges that even before 1994, Catholic institutions helped divide Rwandans and "laid the intellectual foundation for genocide ideology." "Today, genocide denial and trivialization continue to flourish in certain groups within the church and genocide suspects have been shielded from justice within Catholic institutions," Mushikiwab said in a statement.
http://indianexpress.com/article/world/pope-francis-begs-forgiveness-for-church-role-in-rwanda-genocide-4578092/
------
Police charge man who allegedly threatened a mosque in London, Ont.
Mar. 20, 2017
Police have charged a 24-year-old man after he allegedly threatened to shoot people inside a mosque in London, Ont.
London police say they responded to a serious threat at about 1:40 p.m. Sunday at the London Muslim Mosque and directed those inside to lock the doors.
They say they immediately arrested a man without incident.
Police say they didn't find a gun and don't believe the threat was racially motivated.
Omid Ghaffouri, of London, has been charged with uttering threats, disturbing religious worship and failing to leave a premises when directed.
This content appears as provided to The Globe by the originating wire service. It has not been edited by Globe staff.
http://www.theglobeandmail.com/feeds/canadian-press/ontario/police-charge-man-who-allegedly-threatened-a-mosque-in-london-ont/article34356628/
------
Russia strikes deal with Syrian Kurds to set up base
March 21st, 2017
BEIRUT: Russia is setting up a military base in northwestern Syria in agreement with the Syrian Kurdish YPG militia that controls the area and will be training YPG fighters as part of the fight against terrorism, the militia's spokesman said on Monday.
YPG spokesman Redur Xelil said the agreement with Russia was concluded on Sunday, and that Russian troops had already arrived at the position in the northwestern region of Afrin with troop carriers and armoured vehicles.
The move will likely anger neighbouring Turkey. Ankara views the YPG as an extension of the Kurdistan Workers' Party (PKK), which is waging an insurgency inside Turkey.
"The Russian presence ... comes in agreement between (the YPG) and the Russian forces operating in Syria in the framework of cooperation against terrorism and to help train our forces on modern warfare and to build a direct point of contact with Russian forces," Xelil said in a written statement. "It is the first (agreement) of its kind," he added.
Turkey has launched a cross-border offensive along a section of the Turkish-Syrian frontier to prevent further gains by the YPG, which controls swathes of northeastern Syria and the Afrin pocket of northwestern Syria.
The YPG is also allied to the United States in the fight against the militant Islamic State group in Syria, and is playing a major part in the US-backed offensive against IS's urban stronghold of Raqqa, further east.
"The agreement came into force today," Xelil said, declining to say how many Russian troops had arrived in Jandaris, the place where the base is being established.
Jandaris has previously been shelled by Turkish forces from across the nearby frontier, Xelil added. The militia, which had 60,000 fighters at the end of 2016 — including its all-female affiliate, the YPJ — has already formed 10 new battalions since the start of this year, each comprised of around 300 fighters, he said.
"We aspire to exceed 100,000," Xelil said. Asked how soon the YPG aimed to reach this target, he said: "The second half of 2017."
The YPG, or People's Protection Units, effectively serves as the military of the autonomous Kurdish-led
regions which emerged in northern Syria with the retreat of state authority in 2011 that accompanied the outbreak of civil war.
https://www.dawn.com/news/1321818/russia-strikes-deal-with-syrian-kurds-to-set-up-base
------
Merkel says she reserves right to block Turkish rallies
March 21st, 2017
HANOVER: Chancellor Angela Merkel demanded again on Monday that Turkey stops comparing German bans on rallies by Turkish officials to Nazi tactics, and said her government reserved the right to block future appearances unless Ankara complied with German law.
Berlin is growing increasingly frustrated about Turkish President Tayyip Erdogan repeatedly accusing it of applying "Nazi methods" by banning rallies aimed at drumming up support among Turks in Germany for a referendum that would strengthen the power of his presidency.
"My demand that Turkey should stop Nazi comparisons remains in force, with no ifs or buts," Merkel told reporters at the CeBIT technology fair in Hanover. "Unfortunately, we have observed that these comparisons have not stopped, and we will not tolerate that every taboo is broken."
Ties between Turkey, Germany and other European countries have deteriorated in recent weeks amid growing tensions over the April referendum vote and concern over an increasingly authoritarian tone from Ankara.
Merkel said the German foreign ministry had warned Ankara in an "unambiguous" diplomatic communication, or "note verbale", in recent days that Turkish politicians could speak in Germany only if they complied with the country's law, which explicitly bans malicious disparagement of the German government.
https://www.dawn.com/news/1321825/merkel-says-she-reserves-right-to-block-turkish-rallies
------
Migrants, Islam, independence: Top French presidential candidates clash in 1st TV debate
21 Mar, 2017
Migrants, Islam, independence: Top French presidential candidates clash in 1st TV debate
During France's first presidential debate on Monday, the leading five French presidential hopefuls traded punches on the most burning issues, ranging from immigration and Islamization, to the country's alliances and its very sovereignty.
The timing of the debate, a month before French voters head to polls for the first round of the elections, provided candidates with a perfect opportunity to swing public sentiment in their favor. It was aired live by French channels TF1 and LCI.
While a total of 11 candidates will take part in the first round of the presidential elections on April 26, the five front-runners include Francois Fillon from the 'Les Republicans' party, Marine Le Pen of the far-right National Front, independent centrist candidate Emmanuel Macron, Benoit Hamon of the ruling Socialist Party, and the left-wing leader of the 'Unsubmissive France' movement, Jean-Luc Melenchon.
EU & sovereignty
Known as a passionate advocate of France who wants to follow Britain out of the EU, Le Pen vowed that she will not become "the vice chancellor of Madame Merkel" or "the salesperson for a multinational group."
"I want to be the president of the French Republic, truly. I am not going to become involved in a vague region in Europe," she stressed, pointing out that France's independence is a core value for many French people, who want to "defend their values and traditions" and remain competitive "without being lectured" to by a "supranational structure."
However, Fillon claimed that holding a Frexit referendum, as the National Front leader wants, would "drag the country into social and economic chaos." Le Pen fired back at the conservative, reminding him that there had been a campaign in Europe voicing similar attitudes against Brexit, which she branded "Project Fear."
Macron, whose is pro-EU, rejected the idea of Frexit, arguing that Brexit turned out to be a much more tumultuous process than its backers had expected.
"All those who said Brexit will be wonderful... ran away and hid," Macron said.
Immigration
The debate on the migration crisis and the consequent challenges of integrating newcomers, which was one of the central topics discussed during the three-hour-long event, saw the candidates resorting to personal attacks at times.
Le Pen, known for her tough stance on migration, spoke in favor of closing the nation's borders, pointing out that France must handle the issue itself, as "we can't count on Greece to deal with the flow of migrants."
"Stop immigration, and I will not make any excuses for that," she said, stressing that France's security situation is "explosive" and measures need to be taken "to discourage immigration."
Former Economy Minister Macron, Le Pen's centrist rival, argued that the unending flow of migrants can only be stemmed through more cooperation within the EU.
"We don't do enough to coordinate the protection of European borders," Macron said, calling for a buildup of security forces and the creation of an "effective expulsion policy" in France.
Conservative candidate Fillon, whose campaign has been mired in a corruption scandal involving an allegedly fictitious political job he gave to his wife, championed quotas on newcomers that "do not affect asylum seekers, but other immigration."
Islamization
Another hotly contested topic was the contention that French secularism is under attack and that Islam is having a negative effect on the life of French citizens.
One heated exchange was sparked when Le Pen referred to the frequent sightings of burkinis on French beaches, citing them as evidence of the "rise of radical Islam in our country."
The burkini, a head-to-toe swimming suit, grabbed a lot of media attention in France last summer, when some French city councils sparked uproar by banning them.
When Le Pen accused Macron of being a burkini supporter, he snapped back, claiming that she is "failing [voters] by twisting the truth," and "trying to divide the French."
Relations with Russia & US
The candidates also proposed differing geopolitical strategies, particularly regarding relations with Russia and the US.
Macron, a centrist, cautioned against building closer ties with Russia, while pointing out France's long-standing relationship with the US. Claiming that France and the US "have built the world peace together," he advocated for "more independence" in the foreign policy realm, without getting closer to Russian President Vladimir Putin.
Meanwhile, Hamon seemed prejudiced against both Russia and the US, which is now led by President Donald Trump.
"We are facing the instability that emerged with the election of Donald Trump as the president of the United States. We also cannot ignore the claims of Russia," Hamon said.
While Le Pen stressed the importance of defense, promising to increase defense spending to three percent of French GDP by 2022, she also called for more independence from partners and alliances, saying that the French should "not let [others] decide for us."
"I don't want to force our soldiers to make war that we don't need," she said, referring to overseas conflicts.
Speaking about the right to self-determination exercised by the people of Crimea when they opted to rejoin Russia in a referendum held more than two years ago, Francois Fillon acknowledged that "we [Europe] have changed borders ourselves," referring to NATO's intervention in the war in Yugoslavia in 1999, which resulted in the country breaking up and the separation of Kosovo from Serbia.
"There is a fundamental principle of the right of people to decide for themselves. There are borders that have been established in a way, unacceptable for people," he said.
Macron came out as the most persuasive in the first debate, according to a BFMTV poll. Out of 1,157 people polled, 29 percent preferred Macron, 20 percent picked Melenchon, while both Le Pen and Fillon were favored by 19 percent.
Before last night's event, he had been running neck-in-neck with Le Pen, with both polling at 26 percent in the latest Figaro poll.
https://www.rt.com/news/381583-france-presidential-candidates-debate/
------
North America
US to ban electronic devices on flights from eight Muslim countries
March 21, 2017
WASHINGTON: Passengers travelling on certain US-bound foreign airline flights will have to check electronic devices larger than a cell phone once US authorities formalise a new ban in response to an unspecified terrorism threat, US officials told Reuters on Monday.
The new rule is expected to be announced Tuesday by the Department of Homeland Security, the officials said, adding that it had been under consideration since the US government learned of a threat several weeks ago.
A source said the rule would cover around eight to 10 foreign airlines. A separate government official confirmed an Associated Press report that the ban will affect 10 airports in eight countries in the Middle East and North Africa.
Reuters reported earlier the ban would include airlines based in Jordan and Saudi Arabia. The officials did not name the other countries.
No American carriers were affected by the ban, the officials said. Passengers would be allowed to carry in their checked luggage larger devices like tablets, portable DVD players, laptops and cameras.
CNN, citing an unnamed US official, said the ban on electronics on certain airlines is related to al Qaeda in the Arabian Peninsula and that some information came from a recent US special forces raid in Yemen. Reuters could not immediately confirm the CNN report, but Reuters has reported the group has planned several foiled bombing attempts on Western-bound airlines.
Royal Jordanian Airlines said in a tweet on Monday that US-bound passengers would be barred from carrying most electronic devices aboard aircraft starting Tuesday at the request of US officials, including those that transit through Canada. Passengers can still carry cell phones and approved medical devices.
Al Riyadh newspaper, which is close to the Saudi government, reported that the civil aviation authority had informed "airlines flying from the kingdom's (Saudi) airports to US airports of the latest measures from US security agencies in which passengers must store laptops and tablets" in checked in baggage.
Al Riyadh quoted a civil aviation authority source as saying that these measures from senior US authorities were relayed to the Saudi interior ministry.
Saudia Airlines confirmed in a tweet that US transportation authorities had barred carrying larger electronic devices in cabin luggage. The White House declined to comment.
A spokesperson for the US Department of Homeland Security, David Lapan, said the agency has "no comment on potential security precautions, but will provide an update when appropriate. Homeland Security Secretary John Kelly called congressional lawmakers this weekend to notify them of the plan, congressional aides said.
In July 2014, the Homeland Security Department stepped up security of US-bound flights, requiring tougher screening of mobile phones and other electronic devices and requiring them to be powered up before passengers could board flights to the United States.
https://tribune.com.pk/story/1361065/us-ban-electronic-devices-flights-eight-muslim-countries/
------
We should not have left Iraq: Donald Trump on fight with ISIS
Trump said his main thrust is to get rid of ISIS
March 21, 2017
us president donald trump, donald trump, donald trump, president donald trump, president trump, trump, us president trump, trump, isis, us isis, world news
US President Donald Trump has questioned the decision of his predecessors to first send the American troops to Iraq and then withdraw them, while assuring support to the war torn country to maintain stability.
"I know Mosul is moving along, but Mosul was ours until we left," Trump told reporters during a brief media appearance with the visiting Iraqi Prime Minister Haider al-Abidi in the Cabinet room of the White House.
"So perhaps we shouldn't have gone in, and certainly we shouldn't have left. We should never ever have left, and the vacuum was created, and we discussed what happened," Trump said after the two leaders met in the Oval office.
Trump said his main thrust is to get rid of ISIS.
"We're going to get rid of ISIS. It will happen. It's happening right now," he said.
The US Defense Secretary General (retd) James Mattis and his team have done an incredible job, he said.
"A lot of things are different than they were even five or six weeks ago. We've been here a short while and people have said they'd never seen such a difference," Trump said.
In his remarks, al-Abidi said ISIS is a terrorist organisation which threatens the security of the world.
Speaking in Arabic, the Iraqi Prime Minister emphasised the fact that Iraq is on the forefront of fighting ISIS.
The Iraqi Prime Minister said that he wants to build on the Strategic agreement Iraq signed with the US.
The Prime Minister and his delegation are spending few days in Washington, during which he is expected to meet with congressional leaders on the hill.
Meanwhile US Senators Bob Corker and Ben Cardin, the chairman and ranking member of the Senate Foreign Relations Committee, led a bipartisan letter to Trump urging continued US support to foster unity and stability in Iraq.
The letter was supported by more than a dozen other Senators.
"We urge you to continue working with Iraq's leaders to preserve their country's unity and ensure its stability.
This requires a plan for decentralising some functions of the government, disbanding Iranian-aligned militias, addressing the humanitarian needs of Iraq's community, and committing to a program of reconciliation," the letter said.
Later, in an address to a Washington think-tank community, al Abidi said that Trump has assured Iraq's government of greater US support as it confronts ISIS and stabilises the country.
"We have been given assurances that the support will not only continue but will accelerate," he said in his address to the US Institute of Peace, a top American think-tank.
However, the US support is unlikely to include the United States "sending troops in large numbers" to Iraq.
"I think this administration wants to be head to head with terrorism, … to be more engaged. We are not talking about (US) military confrontation as such in Iraq," he said.
According to al-Abidi, Iraq's forces "are at the last stage of liberating" the city of Mosul and its province from fighters of the Islamic State, or ISIS.
Later this week, the Iraqi Prime Minister will also attend the March 22-23 conference hosted by the State Department to frame strategy for the 68-member Global Coalition to Counter ISIS.
"We need to have a plan together. We shouldn't be derailing the whole thing" or losing focus against ISIS because of clashes among the region's major actors," he said.
http://indianexpress.com/article/world/we-should-not-have-left-iraq-donald-trump-on-fight-with-isis-4578343/
------
TRUMP IMMIGRATION LAWYER ON TRAVEL BAN: 'WHAT HAPPENS TO MUSLIMS CAN HAPPEN TO JEWS'
BYDANIELLE ZIRI MARCH 21, 2017 10:37
Immigration attorney Michael Wildes, who has represented Trump interests for years, criticizes president's revised US travel ban affecting several Muslim-majority countries.
NEW YORK - While President Donald Trump's revised travel ban is 'miles away' from its original version, it is still 'not a good reflection' of the United States, immigration attorney Michael Wildes, who has represented Trump interests for years told The Jerusalem Post on Monday night.
"If we have a problem we shouldn't be picking on six countries to make our point, we should be doing it across the board," he said. "Our immigration laws are very political and very selective as they are, this is not an improvement."
Judge halts Trump's new travel ban, says it discriminates against Muslims
Iraqi PM thanks US for removal from travel ban list
Wildes, a Jewish yarmulke-wearing Democrat and former mayor of Englewood, New Jersey, had worked for the Trump Models Management group and facilitated visas for Miss Universe contestants for over a decade. He was introduced to First Lady Melania Trump during the presidential campaign when questions about her immigration status arose. He had been asked to study her file and give the media the assurances they had inquired about.
Michael Wildes with Melania Trump (Facebook)Michael Wildes with Melania Trump (Facebook)
The attorney answered the Post's questions after speaking at an event of the Manhattan Jewish Experience, a community dedicated to Jewish young adults, and headed by his brother, Rabbi Mark Wildes. The two are the sons of attorney Leon Wildes, who successfully won the deportation case for John Lennon and Yoko Ono in the 1970s.
"Shame on the Republicans and the media networks that followed suit for running scared and scaring people," he said. "I take comfort in the fact that it's only a temporary ban and hopefully they'll put in place a better vetting process to make everybody safe."
"If they aren't sincere about it, it can have greater implication," Michael Wildes added.
Since the first travel ban was implemented, he has worked on multiple cases affected by the executive order including that of a Sudanese surgeon whose parents, green card holders, couldn't return into the country, and one involving an Iranian doctor who's permanent residency was at risk.
"Our fear of ISIS, of al-Qaida should never stop us from being the world's moral compass," he told the audience at the MJE event, intended to educate young Jewish professionals in the details of the ban.
As an observant Jew, Wildes added he believes the Jewish community has a responsibility to stand up for marginalized people.
"We are historically people of the passport and we need to make sure that we get this right," he told the Post. "What happens to a Muslim can happen to a Jew and we have to take our responsibility to our biblical cousins very seriously."
Michael Wildes' brother, Rabbi Mark Wildes added that the travel ban is "complicated from a religious perspective".
"On the one hand, the Torah tells us to pursue justice for all people and to 'love the stranger.' Although that phrase technically refers to someone who converts to Judaism, the spirit of that tradition encourages us to be hospitable to those coming in from the outside. Refugees certainly fall within that category," he said.
"On the other hand, the Torah also believes in self-defense. It is against Judaism to place oneself in a perilous or dangerous situation and allowing in individuals [to the country] who either are terrorists or are prone to becoming a danger, would also be problematic."
The solution, the rabbi believes, is to improve the immigrant and refugee vetting system but "not throw the baby out with the bathwater, which this ban seems to do."
http://www.jpost.com/American-Politics/Trump-immigration-lawyer-on-travel-ban-What-happens-to-Muslims-can-happen-to-Jews-484760
------
Donald Trump tweets hearing on Russia allegations 'fake news'
"The Democrats made up and pushed the Russian story as an excuse for running a terrible campaign. Big advantage in Electoral College & lost!" he added.
March 20, 2017
donald trump, us president donald trump, trump, trump twitter, fake news, trump russia, trump fbi chief, us news, world news, indian express
President Donald Trump today shot down as "fake news" allegations that he worked with Russia, which US intelligence says tried to tilt the US election in Trump's favor. His tweet came just as FBI and NSA chiefs were to speak to Congress on what ties Trump may have with Russia and his shocking claim that he was wiretapped by his predecessor, Barack Obama.
FBI chief "James Clapper and others stated that there is no evidence Potus colluded with Russia. This story is FAKE NEWS and everyone knows it!" Trump said on Twitter.
James Clapper and others stated that there is no evidence Potus colluded with Russia. This story is FAKE NEWS and everyone knows it!
The Democrats made up and pushed the Russian story as an excuse for running a terrible campaign. Big advantage in Electoral College & lost!
James Clapper and others stated that there is no evidence Potus colluded with Russia. This story is FAKE NEWS and everyone knows it!
The real story that Congress, the FBI and all others should be looking into is the leaking of Classified information. Must find leaker now!
"The Democrats made up and pushed the Russian story as an excuse for running a terrible campaign. Big advantage in Electoral College & lost!" he added.
http://indianexpress.com/article/world/donald-trump-tweets-hearing-on-russia-allegations-fake-news-4577556/
------
UN proposes shutting down Haiti peacekeeping mission
March 21, 2017
UNITED NATIONS: UN Secretary-General Antonio Guterres is proposing to shut down the UN peacekeeping mission in Haiti by October and replace it with a much smaller UN presence, according to a report obtained by AFP on Monday.
The proposal to close the 13-year-old UN Stabilisation Mission in Haiti, known by its French acronym MINUSTAH, comes as the United States is planning major funding cuts to the United Nations.
Guterres said in the report sent to the Security Council last week that all 2,370 soldiers serving in the peacekeeping mission should be gradually withdrawn "and that the mission close by October 15, 2017."
US envoy eyes cuts to UN peacekeeping
A new mission would be established that would retain 295 of the current 1,001 police officers serving in MINUSTAH, and the civilian staff would also be significantly reduced.
"The successor mission would be a smaller peacekeeping operation focused on the rule of law and police development," Guterres said in the report sent to the council on Thursday.
Based in Port-au-Prince, the UN team would "also monitor and exercise an early warning function for conflict prevention, human rights and rule of law issues at the local level through the use of mobile teams."
The Security Council will decide on the future of the Haiti mission next month.
Guterres proposed that MINUSTAH's mandate be extended for six months during which it would wind down operations and pave the way for the smaller mission.
Haiti tops list of disaster deaths: UN
With its annual budget of $346 million, MINUSTAH does not rank among the costliest peacekeeping operations run by the United Nations, but its closure could send a signal about the need to streamline UN peacekeeping.
US Ambassador Nikki Haley has called for a mission-by-mission review of UN peacekeeping to find priority areas for cuts.
In his report, Guterres said there had been "significant progress" in Haiti's road to stability and that the poor Caribbean nation was "relatively stable."
The mission was deployed in 2004 after the departure of president Jean-Bertrand Aristide to help stem political violence but it has not endeared itself to Haitians.
An outbreak of cholera in 2010 was introduced by Nepalese UN peacekeepers serving in the mission. More than 9,000 Haitians died in the epidemic.
https://tribune.com.pk/story/1361405/un-proposes-shutting-haiti-peacekeeping-mission/
------
URL: https://www.newageislam.com/islamic-world-news/new-age-islam-news-bureau/indian-supreme-court-for-amicable-settlement-to-ayodhya-dispute,-cji-offers-to-mediate/d/110477
New Age Islam, Islam Online, Islamic Website, African Muslim News, Arab World News, South Asia News, Indian Muslim News, World Muslim News, Women in Islam, Islamic Feminism, Arab Women, Women In Arab, Islamophobia in America, Muslim Women in West, Islam Women and Feminism