Indian PM offers fresh talks to Kashmir separatists
97 dead, hundreds injured after bomb blast rocks Pakistan
UN staff killed in Kabul attack
Brother of Afghan Leader Is Said to Be on C.I.A. Payroll
Iran Hints at Uranium Plan Changes
Israel Drones to Be Used by Germany in Afghanistan
Kremlin Says Sanctions Against Iran Unlikely
Rockets Found In Lebanon After Attack on Israel
UN chief condemns Kabul killings
Profile: The Pakistan Taliban
'Love Jihad' controversy rages in India
'Terrorists not worthy of being called Muslims': Indian V. P.
Kashmiri, Lashkar aided 2 Americans in foiled Danish terror plot
Winning war on terror: Balochistan factor
The Long War: The US and al-Qaeda
'Terrorists not worthy of being called Muslims'
Saudi King's pardon for a woman journalist sparks call to review other cases
German Murder Trial Is Focus Of Anger in Islamic World
First women-only bank opens in Iraq holy city
Popes Anglican gambit a tactical move against Islam
Khamenei: Muslims Should be Perceptive to Unity
Turkey attends Morocco Muslim forum amid al-Aqsa tensions
US losing the Afghan plot? By Chidanand Rajghatta
US push strains ties with Pak By Jane Perlez
42 militants killed in Waziristan strike
Brigadier escapes attack in Islamabad
Iran Guards set free after 24 hrs
Church of Scientology found guilty of fraud, asked to pay $1m fine
Modi denied Visa by Oman
Book ban is irrational and against Constitution: SIS lawyers
Malaysia Is Still a Target for Islamist Terrorism
In Afghanistan, International Troops Outnumber Taliban 12-1
Lebanon stops fresh rocket attack
Compiled by New Age Islam News Bureau
URL of this page: https://www.newageislam.com/islamic-world-news/indian-pm's-peace-overture-to-pakistan-/d/2009
-----
India ready for talks with anyone to promote peace in Kashmir: PM
28 October 2009
SRINAGAR, India-controlled Kashmir, Oct. 28 (Xinhua) -- India said on Wednesday that it is ready to talk to anyone, even militants if they abjure violence, to promote peace in India-controlled Kashmir.
"Our Government is committed to having unconditional dialogue with whoever abjures violence... we are willing to talk to anyone who has any meaningful ideas for promoting peace and development in Kashmir. We want to carry all sections of the people with us in resolving the political and economic problems of Jammu and Kashmir," India Prime Minister Manmohan Singh said in Kashmir.
The prime minister, along with ruling Congress chief Sonia Gandhi, was in Kashmir to inaugurate Kashmir's first train service.
In his equally direct message to Pakistan, the prime minister hinted that India is willing to resume the composite dialogue provided Islamabad brings to justice the perpetrators of last November's Mumbai terror attacks, which claimed the lives of over 170 people.
"If they are non-state actors, it is the solemn duty of the government of Pakistan to bring them to book, to destroy their camps and to eliminate their infrastructure. The perpetrators of the acts of terror must pay the heaviest penalty for their barbaric crimes against humanity," Singh said.
He added: "I call upon the people and Government of Pakistan to show their sincerity and good faith. As I have said many times before, we will not be found wanting in our response. I had also said that I was ready to discuss all issues with Pakistan. I did so not because of weakness but from a position of strength."
Source: http://news.xinhuanet.com/english/2009-10/28/content_12349651.htm
------
PM offers fresh talks to Kashmir separatists
Oct 28, 2009
By Sheikh Mushtaq
ANANTNAG, India (Reuters) - Prime Minister Manmohan Singh reached out to Kashmiri separatists on Wednesday, offering to resume peace talks to end a decades-old insurgency in the Himalayan region.
Singh's offer comes at a time when New Delhi continues to drag its feet over holding talks with Pakistan, which lays claim to Kashmir, saying that it must first crack down on militants behind the November attacks in Mumbai.
"I wish to say again today that we are willing to talk to anyone who has any meaningful ideas for promoting peace and development in Kashmir," Singh told a public rally before inaugurating a railway line in south Kashmir.
Kashmir's moderate and main separatist alliance, the All Parties Hurriyat (Freedom) Conference, has urged New Delhi to pull out troops, release prisoners and end human rights violations before resuming peace talks.
Dialogue between the government and the separatists broke down in 2006.
"We want to carry all sections of the people with us in resolving the political and economic problems of Jammu and Kashmir," Singh said.
The Prime Minister is on a two-day trip to the Kashmir valley, the main focus of the insurgency. Most shops and businesses closed in a strike called by hardline separatist leader, Syed Ali Shah Geelani, to protest the visit.
The Hurriyat began a dialogue with New Delhi in 2004, the first since a full blown insurgency erupted in 1989. Officials say more than 47,000 have been killed in the past twenty years in Kashmir, where anti-India sentiment still runs deep.
"I appeal to the youth of Kashmir to join in building a new Kashmir. I understand their frustration," Singh said.
The Indian leader also again urged Pakistan, which like India claims Kashmir in full and is seen as key to resolving the dispute, to crack down on militants.
India suspended a 2004 peace process with its neighbour after the Mumbai attacks last year, which it blamed on Pakistan-based militants it said were supported by some official agencies. Islamabad denied official involvement.
(Additional reporting by Bappa Majumdar in New Delhi; Editing by Matthias Williams and Sanjeev Miglani)
Source: http://in.reuters.com/article/topNews/idINIndia-43499020091028
------
97 dead, hundreds injured after bomb blast rocks Pakistan
28 OCt, 2009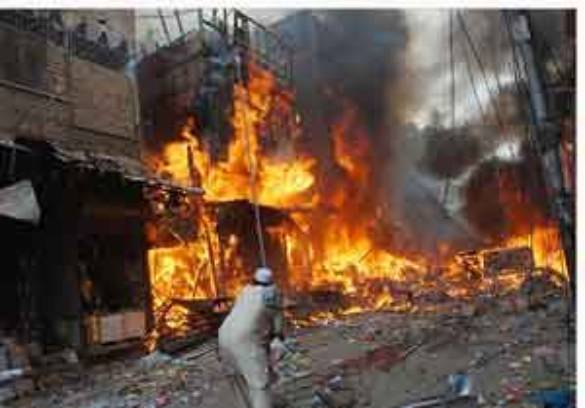 A car bomb has exploded in Peshawar, Pakistan. It is estimated that 86 people have been killed and more than 200 injured in the attack which happened at a market.
The explosion has been the worst so far this year in Pakistan and has left hundreds wounded, reports AFP. There have been a number of similar attacks in recent times and around 200 people have been killed as a result.
In the meantime, forces are still continuing to try and remove the Taliban from the South Waziristan area of Pakistan. This action has left Pakistan in fear of more attacks.
The explosion coincided with a visit from U.S. Secretary of State, Hillary Clinton. Clinton was in the capital this morning and has since spoken out saying the United States would stand by Pakistan.
The Pakistani market sold goods designed for women and those killed or injured were almost all women. Children have also been caught up in the blast and buildings left ablaze.
Doctors are now asking local people to give blood to help treat the people injured in the attack. The number wounded is estimated to be around 150. These figures are set to rise as rescue workers try and free people who have become trapped under rubble as a result of the explosion.
Sahib Gul, a doctor told Reuters, "The figure is rising. We have more than 80 dead including women and children,"
Source: http://www.digitaljournal.com/article/281196
----
India is funding Taliban fighters, claims Pakistan
PTI 26 October 2009
ISLAMABAD: Interior minister Rehman Malik has once again claimed that India is fomenting unrest within Pakistan through steps such as funding
Rehman Malik
Taliban fighters based along the border with Afghanistan
Malik said he was "convinced" India is among "certain hostile agencies" that are backing the Taliban to create instability in Pakistan.
Asked during an interview to a TV news channel as to who was backing the Taliban, he said: "There are certain hostile elements against Pakistan and there are certain hostile agencies which do not want Pakistan to be (stabilised)."
In response to a question on whether India is among the hostile agencies, Malik said, "Yes, of course, I am convinced. I have no doubt about it. I was very open. I have given the full details.
"If the interior minister of India or anyone else wants to confront me, I will be very happy to confront them because I know what I am saying," he added.
Malik had said last week that Pakistan has "solid evidence" of India's alleged involvement in fomenting unrest in Balochistan province and this can be shared with Indian ministers or representatives at any forum of their choice.
"I invite their interior minister or anyone else (to come to Pakistan) and I will put on record all the material about India's interference in Balochistan. I'll prove it to the world," he had said.
Source: http://timesofindia.indiatimes.com/articleshow/msid-5163405,prtpage-1.cms
-----
Madrasa board row: AMU considering mechanism to streamline madrasas
25 October 2009
By Mumtaz Alam Falahi
New Delhi: Can Aligarh Muslim University work as a body – or formulate some mechanism – to streamline, control and monitor madrasas in the country, in place of the Central Government's proposed Central Madrasa Board? It is neither infeasible nor extraneous as far as strong relations between AMU and madrasas and powers and duties entrusted with the university in the 1920 AMU Act are concerned.
AMU Vice Chancellor Professor P K Abdul Azis last week set up a seven-member committee to look into the possibility if the university can play a role of a central body for madrasas in the country. The move is important because the overwhelming majority of the Muslim community, Ulema and leaders have strongly opposed the central government proposal for a central madrasa board, citing it as an attempt to interfere in madrasa system including syllabus. The AMU move is backed by the sympathetic and positive attitude of the Muslim community that the university today is enjoying.
The committee headed by Professor Mohammad Saud Alam Qasmi, Dean, Faculty of Theology, AMU, will soon hold its first meeting to discuss the issue. "We will be meeting in a day or two," Prof Qasmi told TwoCircles.net on the sidelines of the Fiqh Academy seminar yesterday in New Delhi. The committee has heads of departments like Shia Theology, Sunni Theology, Islamic Studies etc.
It is learnt that the VC has set up the committee on the suggestion of late Prof Iqbal Ansari, former professor of AMU and eminent human rights writer and activist. On October 12, 2009, a day before his death, Prof Ansari had written a letter to the VC pointing out the provision in the AMU Act 1920. He had said that the Section 5.2 (C) of the AMU Act 1920 empowers AMU to take action for educational empowerment of the Muslim community, apart from working as a university.
The law says that AMU should guide the community in the field of education and that was the leading part of the Aligarh Movement. Though other aspects of the movement were trashed, this part was any how incorporated in the law," says senior journalist AU Asif.
What could make the task easy for AMU is the fact that more than 50 big madrasas are already recognized by the university – their degrees are accepted by AMU, on the ground of which madrasa students continue their higher education at the university. The madrasas recognized by AMU include Darul Uloom Deoband, Nadwatul Ulema, Jamiatul Falah and Madrasa Salafia Banaras and Madrasa Ashrafia Mubarakpur. It is evident from the list that madrasas of different affiliations – barelvi, deobandi, salafi – are already close to the AMU.
However, it is to be seen if AMU mechanism will be acceptable to all, and if the Central Government will allow AMU to do it.
Source: http://twocircles.net/2009oct25/madrasa_board_row_amu_considering_mechanism_streamline_madrasas.html
------
---
October 28, 2009
Brother of Afghan Leader Is Said to Be on C.I.A. Payroll
By DEXTER FILKINS, MARK MAZZETTI and JAMES RISEN
KABUL, Afghanistan — Ahmed Wali Karzai, the brother of the Afghan president and a suspected player in the country's booming illegal opium trade, gets regular payments from the Central Intelligence Agency, and has for much of the past eight years, according to current and former American officials.
The agency pays Mr. Karzai for a variety of services, including helping to recruit an Afghan paramilitary force that operates at the C.I.A.'s direction in and around the southern city of Kandahar, Mr. Karzai's home.
The financial ties and close working relationship between the intelligence agency and Mr. Karzai raise significant questions about America's war strategy, which is currently under review at the White House.
The ties to Mr. Karzai have created deep divisions within the Obama administration. The critics say the ties complicate America's increasingly tense relationship with President Hamid Karzai, who has struggled to build sustained popularity among Afghans and has long been portrayed by the Taliban as an American puppet. The C.I.A.'s practices also suggest that the United States is not doing everything in its power to stamp out the lucrative Afghan drug trade, a major source of revenue for the Taliban.
More broadly, some American officials argue that the reliance on Ahmed Wali Karzai, the most powerful figure in a large area of southern Afghanistan where the Taliban insurgency is strongest, undermines the American push to develop an effective central government that can maintain law and order and eventually allow the United States to withdraw.
"If we are going to conduct a population-centric strategy in Afghanistan, and we are perceived as backing thugs, then we are just undermining ourselves," said Maj. Gen. Michael T. Flynn, the senior American military intelligence official in Afghanistan.
Ahmed Wali Karzai said in an interview that he cooperated with American civilian and military officials, but did not engage in the drug trade and did not receive payments from the C.I.A.
The relationship between Mr. Karzai and the C.I.A. is wide ranging, several American officials said. He helps the C.I.A. operate a paramilitary group, the Kandahar Strike Force, that is used for raids against suspected insurgents and terrorists. On at least one occasion, the strike force has been accused of mounting an unauthorized operation against an official of the Afghan government, the officials said.
Full Report at: http://www.nytimes.com/2009/10/28/world/asia/28intel.html?_r=1&ref=global-home&pagewanted=print
----
October 28, 2009
Iran Hints at Uranium Plan Changes
By ROBERT F. WORTH
BEIRUT, Lebanon — A high-ranking Iranian official said Tuesday that even if the country agreed to a United Nations-sponsored plan to ship its enriched uranium abroad for further processing, it would not ship it all at once, Iranian news media reported.
That position, if maintained, could undermine the entire plan. The French government, a party to the deal, has made it clear that the uranium must be shipped all at once before the end of the year.
Iran has said it will formally respond on Friday to the proposal, which is intended to delay the country's ability to produce a nuclear weapon for about a year and buy time for a broader diplomatic solution to the nuclear standoff.
On Tuesday, Alaeddin Borujerdi, the head of Parliament's national security and foreign policy committee, said that if Iran agreed to ship its uranium abroad, to be further enriched for use to produce electricity, "this must not happen in one go," and that the fuel must be shipped in installments, according to the semiofficial ISNA news agency.
Mr. Borujerdi also said "our basic opinion" was that Iran preferred to purchase processed nuclear fuel rather than send its uranium abroad for processing. Other officials have made similar comments in recent days, and the Iranian reaction so far appears to reflect Iran's complex internal politics rather than any clear indication of what the decision will be. The supreme leader, Ayatollah Ali Khamenei, has final authority on state matters and often allows various high-ranking officials to express their views before making a decision.
Full Report at: http://www.nytimes.com/2009/10/28/world/middleeast/28iran.html?ref=global-home&pagewanted=print
----
October 28, 2009
Israel Drones to Be Used by Germany in Afghanistan
JERUSALEM (AP) -- Israel Aerospace Industries said Wednesday it would supply unmanned spy planes to Germany that will see action in Afghanistan early next year.
The Heron drones will be deployed by the German air force in northern Afghanistan in early 2010 for reconnaissance missions, the company said in a statement.
It would not reveal how many drones were sold or for how much but said it was a multimillion dollar deal.
Germany's Federal Office of Defense Technology and Procurement confirmed it had signed an agreement to purchase the aircraft.
Israeli drones have previously been supplied to coalition forces to gather intelligence data on Islamic militants in Afghanistan and Iraq.
The Heron is Israel's largest surveillance drone, with a 54-foot wingspan and an ability to fly for as long as 30 hours at a time at a speed of 140 mph (225.3 kph) and a height of 30,000 feet (9,144 meters).
Source: http://www.nytimes.com
----
October 28, 2009
Kremlin Says Sanctions Against Iran Unlikely
MOSCOW (Reuters) - The Kremlin said on Wednesday sanctions against Iran were highly unlikely in the near future, the latest signal that Russia is not yet ready to raise the heat on Tehran to allay Western fears over its nuclear programme.
Iran is one of the few countries where the Kremlin still has considerable clout, making Russia a major player in big power efforts to force the Islamic Republic to be more open about its nuclear activities and to stop enriching uranium.
But Russian Prime Minister Vladimir Putin has warned Western powers that they will gain nothing by trying to intimidate Tehran and Russian officials have refused to publicly back the United States in threatening tougher sanctions against Iran.
"Sanctions in relation to Iran are hardly possible in the near future," the Kremlin's top foreign policy aide, Sergei Prikhodko, was quoted as telling Russian reporters by Interfax news agency. Foreign reporters were not invited to the briefing.
When asked whether Russia would support further sanctions against Iran, Prikhodko quoted an answer given by Kremlin chief Dmitry Medvedev last month after talks with U.S. President Barack Obama in New York.
"Sanctions seldom lead to the required result but in some cases the use of sanctions is inevitable," Prikhodko said. "This formulation remains in force."
Russia's ties with Iran -- which include oil, nuclear and arms deals -- give it rare influence with the Islamic Republic's rulers.
Full Report at: http://www.nytimes.com/reuters/2009/10/28/world/international-uk-iran-nuclear-russia.html?ref=global-home&pagewanted=print
----
October 28, 2009
Rockets Found In Lebanon After Attack on Israel
BEIRUT (Reuters) - The Lebanese army said on Wednesday it found and deactivated more rockets in an area from where a similar device had been fired into Israel.
An army statement said troops found four 107-mm rockets in the garden of a partly built house as they searched the area a day after a rocket fired from the southern village of Houla hit the northern Israeli border town of Kiryat Shmona.
Israeli artillery fired into Lebanon after Tuesday's rocket attack. There were no casualties or damage on either side.
UNIFIL, the peacekeeping force in southern Lebanon that was expanded after the 2006 war between Israel and Hezbollah guerrillas, said the rocket attack was a serious violation of U.N. Security Council resolution 1701, which halted the war.
"This was the fifth such incident this year. Such attacks are evidently aimed at provoking renewed hostilities to undermine the security and stability in the south," said UNIFIL spokeswoman Yasmina Bouziane.
"It is also a cause of concern that the IDF (Israel Defence Forces) returned fire with artillery shells into Lebanese territory."
Earlier, UNIFIL commander Major General Claudio Graziano inspected the area where the four rockets, three of which were rigged for launch, had been found.
There was no immediate claim of responsibility for the attack.
Full Report at: http://www.nytimes.com/reuters/2009/10/28/world/international-uk-lebanon-rockets.html?ref=global-home&pagewanted=print
---
UN chief condemns Kabul killings
UN Secretary General Ban Ki-moon has condemned as "shocking and shameless" a Taliban raid which killed at least five UN workers in the Afghan capital Kabul.
But Mr Ban said the UN would not be deterred from its mission there.
Three Afghans also died when suicide bombers stormed a UN guesthouse in the city. The three attackers were killed in a long battle with security forces.
The Taliban said the attack was the first step in its bid to disrupt next week's presidential run-off election.
In a separate attack, rockets were fired at the city's five-star Serena Hotel, but no-one was injured.
'Family loss'
The attack on the private Bekhtar guesthouse in the Shar-i-Naw district was the deadliest on the United Nations in Afghanistan since the fall of the Taliban regime in 2001.
ANALYSIS
Andrew North, BBC News, Kabul
These attacks on two high-profile targets have spread a lot of fear.
Every building where UN staff work or live has to conform to minimum security rules, and one question that will be asked is 'How did these gunmen get into this building?'
President Hamid Karzai has said he wants more security for foreign workers, but there is more security in place now than ever before, more concrete blast barriers, more troops in the street, but that still cannot prevent determined militants getting through.
Will sending more troops turn the tide? That is the question that right now US President Barack Obama is facing.
Taliban spokesman Zabiullah Mujahid claimed responsibility for the attack in a telephone call to the Associated Press and said it was the "first attack" in the run-up to the second round of the presidential election on 7 November.
Full Report at: http://news.bbc.co.uk/go/pr/fr/-/2/hi/south_asia/8329543.stm
----
UN staff killed in Kabul attack
October 20, 2009
A spokesman for the Taliban in Afghanistan has told Al Jazeera that its fighters carried out an attack on a guest house used by United Nations staff in the heart of the capital, Kabul.
The UN said six of its staff were killed in the attack early on Wednesday on the Bakhtar guest house, but did not release their identities.
The US embassy has confirmed one of the dead was an American citizen.
Police officials have told Al Jazeera that all three attackers were killed, as well as three Afghan security personnel, after several hours of intense fighting.
The Taliban spokesman said that the UN had been targeted because of its invovlement in organising Afghanistan's presidential elections, the second round of which is due to be held on November 7.
Hotel under attack
As the stand-off at the guest house came to an end, a mortar attack was launched on a five star hotel, The Serena.
Witnesses reported seeing smoke coming from the top of the building but the attack did not cause any casualties.
The hotel, located close to the presidential palace and used regularly by visiting diplomats and journalists, was the scene of a 2008 Taliban attack which killed six people.
The attacks took place in a high security zone in the heart of the Afghan capital, close to several heavily-guarded government buildings.
Aleem Saddique, a UN spokesman in Kabul, told Al Jazeera it was too early to say what impact the latest violence would have on operations in Afghanistan, but said that the safety of all staff was the organisation's top priority.
Full Report at: http://english.aljazeera.net/news/asia/2009/10/2009102825313142839.html
------
Profile: The Pakistan Taliban
October 20, 2009
The Taliban in Malakand have signed a shaky peace deal with the government
The Taliban in Pakistan used to function mainly in North and South Waziristan in the country's northwest region bordering Afghanistan, but the fighters have managed to spread their area of influence.
The movement in Pakistan was formed after Western forces in 2001 forced the Taliban government from power in Afghanistan, where it had ruled since 1996, implementing its strict version of Islamic law, or sharia.
Afghanistan link
After the fall of the Taliban government in Kabul, many fighters fled over the porous Afghan border with Pakistan and found refuge in the inhospitable and mountainous territory of North and South Waziristan.
They paid local tribal leaders for their support against Pakistan's security forces, and used the territory to assist attacks in border areas of Afghanistan.
Al-Qaeda elements are believed to hide in the same terrain, planning their assaults against international forces in Afghanistan.
The Taliban in Pakistan works in small groups and are highly mobile, carrying out surprise attacks on military and civilian targets, often causing a large number of deaths.
The Taliban of the region and al-Qaeda have close ties. The US invaded Afghanistan on the pretext that the government would not hand over Osama bin Laden, the leader of al-Qaeda in Afghanistan.
Although it is difficult to say how many members it has, its nucleus may number several thousand.
Those Pakistanis whose support they have been able to get are typically jobless Pashtun tribesmen.
Full Report at: http://english.aljazeera.net/news/asia/2009/04/2009428174712413825.html
------
'Love Jihad' controversy rages in India
Syed Ali Mujtaba, Ph.D
28 Oct, 2009
Indian mass-media insinuating reportage under the suggestive heading "Love Jihad" is yet another example of bad journalism in the largest democracy of the world.
The term 'Love Jihad' was used by local media in southern state of Kerala to label inter-religious relationships, allegedly aimed at converting women to Islam, has done more harm then good to the multicultural Indian society.
These sort of inter-religious marriages have been taking place throughout India since several thousands years both ways. There had been thousands of Muslim boys and girls who have taken Hindu spouses and Vice-Versa. Some have changed their religion other live without any change in religion in a state of matrimonial bliss. Indian constitution allows and legalizes inter-caste and inter-religious marriages aiming at greater integration of Indian society.
The usage 'Love Jihad' was coined by the local press when two Hindu girls, both MBA students, married two Muslim boys Shahen Shah and Sirajudheen, natives of Pathanamthitta village in Kerala, apparently on their own wish as were adults. These girls were living with their husbands, when their parents filed habeas corpus in the Kerala High Court.
The girls, in response to the summon appeared in the court wearing traditional Muslim Burqa and reportedly asked the court's permission to live with their husbands, as they would not be able to live according to their religious faith when with parents. He can be contacted at syedalimujtaba@yahoo.com
Full Report at: http://globalpolitician.com/26005-india
------
'Terrorists not worthy of being called Muslims'
28 October 2009
NEW DELHI: An international conference of prominent Muslim personalities from around the world on Tuesday denounced terror as unIslamic and agreed to pursue the idea of a fatwa against suicide bombers, pointing out that Islam did not sanction either the act of suicide or taking innocent lives.
All religious leaders present here and more specifically Islamist scholars will issue a decree denouncing such terrorist acts as anti-Islam as Islam does not sanction violence as a means to achieve one's political or social ends," the resolution adopted at the end of day-long deliberations said.
It resolved to take an initiative to urge misled terrorists to shun the path of violence and enter the mainstream.
Inaugurating the conference, Vice-President Hamid Ansari called for "isolating a terrorist who continues to unabashedly terrorise and kill innocent people in the name of religion and more especially in the name of Islam".
He said religious scholars should condemn the terrorists as people "not worth to be known as Muslims". Ansari said jihadis in Jammu and Kashmir and the Taliban in Afghanistan had not done any act of bravery by "pulling the triggers of their guns on innocent women and children".
Questioning the ways of the terror outfits, he said such extremists were "neither Islamists nor do they have even a working knowledge of Islam".
Full Report at: http://timesofindia.indiatimes.com/india/Terrorists-not-worthy-of-being-called-Muslims/articleshow/5169760.cms
------
Kashmiri, Lashkar-e-Taiba operatives aided 2 Americans in foiled Danish terror plot
By Bill Roggio
October 27, 2009
Ilyas Kashmiri, the leader of the Harkat-ul Jihad Islami and al Qaeda's Brigade 313.
Two American citizens who have been indicted for plotting terror attacks overseas have direct connections to a senior al Qaeda commander and two Lashkar-e-Taiba operatives.
Chicago natives David Coleman Headley and Tahawwur Hussain Rana have been charged in federal court with plotting to conduct attacks against a newspaper in Denmark, according to a criminal complaint that was unsealed today at the US District Court in Chicago. Headley was in contact with al Qaeda commander Ilyas Kashmiri and two unnamed Lashkar-e-Taiba operatives.
Headley, who changed his name from Daood Gilani in 2006, was detained on Oct. 3 after he attempted to travel to Pakistan. Headley has been charged with "one count of conspiracy to commit terrorist acts involving murder and maiming outside the United States and one count of conspiracy to provide material support to that overseas terrorism conspiracy," according to a press release written by the US Department of Justice.
Rana, a Canadian citizen from Pakistan, was detained on Oct. 18. Rana was was charged with "one count of conspiracy to provide material support to a foreign terrorism conspiracy that involved Headley and at least three other specific individuals in Pakistan."
Both Headley and Rana have been plotting to attack "facilities and employees of Morgenavisen Jyllands-Posten," the Danish newspaper that published controversial cartoons of the Prophet Mohammed in 2005. The publication of the cartoons sparked violence and protest. The Taliban in Afghanistan have vowed to conduct retaliatory attacks in Denmark and Europe after the publication of the cartoons.
The operation was called the "Mickey Mouse Project," and, according to a senior US intelligence official contacted by The Long War Journal, the plot involved "assault teams" assigned to attack the headquarters of Jyllands-Posten and kill the staff. Further arrests in Denmark related to the plot are expected.
The attacks were to be "modeled" on the November 2008 assault in Mumbai and the attacks on police centers in Lahore and the Pakistani Army General Headquarters in Rawalpindi this month, the official said. Kashmiri is known to have played a role in these attacks; he was a commando in Pakistan's army and for years has trained jihadi groups from Kashmir and other allied groups to conduct military operations.
Full Report at: http://www.longwarjournal.org/archives/2009/10/kashmiri_lashkaretai.php
------
Winning war on terror, Balochistan factor
Alam Rind
US intention to engage Taliban targets deep inside Pakistani territory including Baluchistan has drawn a sharp criticism and is a matter of grave concern for all segments of the society. Most of the political leaders and the military quarters are against such an undertaking. US led NATO Forces may exercise this option as a part of its likely new "Afghan Strategy" duly favoured by US Vice-President Joe Biden, which envisages escalation in drone attacks and reliance on Special Forces operations to neutralize Al-Qaeda and Taliban.
However, Gen Stanley A McChrystal, NATO Commander in Afghanistan in a "Confidential Assessment of War" has asked for an additional 35,000 to 40,000 Troops and has desired to bring the present strategy truly in line with counterinsurgency (COIN) strategy. He fears that if necessary steps are not taken, the eight years old conflict "will likely result in failure". As an aftermath of 9/11, US led NATO Forces moved into Afghanistan not as saviours, rather as invaders, to punish Al-Qaeda and to oust Taliban government. Strategy of "Shock and Awe" was pursued with full force. Application of this awesome force at the very outset, committed NATO Forces to a strategy that would lead to victory through elimination of rogue elements. An approach, which was totally divorced from the ground realities and not even in sync with the standard COIN strategy.
The results obviously are as assessed by Gen Stanley A. McChrystal. It will be interesting to have a look at Dr. McCormick's COIN Model. He asserts that the main players in any insurgency would be Population, International Community, COIN Force and Insurgent Force. The model spells out the strategies which are equally applicable to COIN as well as insurgent forces for their success. These includes 1) Gain support of population, 2) Disrupt opponents control over the population, 3) Establish relations with international community, 4) Disrupt opponents relations with the international community, 5) Direct action against opponent.
Full Report at: http://pakobserver.net/200910/28/Articles04.asp
------
The Long War: The US and al-Qaeda
Some claim there are now fewer than 100 al-Qaeda operatives in Afghanistan
Al-Qaeda is on the ropes. Driven out of Afghanistan and hunted in Pakistan, it has no place left to hide. Some, like General James L. Jones, the national security adviser to Barack Obama, the US president, say there are only 100 or so al-Qaeda operatives left in Afghanistan.
Others in the West claim that global jihad has been defeated by the so-called 'war on terror'.
Al-Qaeda's leaders have been targeted and killed by military raids or drone attacks, and intelligence agencies around the world are successfully thwarting planned terrorist attacks before they happen.
So, is the US about to find an end to what threatened to be its longest-running war?
The reality is that, whilst direct al-Qaeda actions have been seriously restricted, the organisation has spread and now has franchises from Somalia to Indonesia and North Africa.
Full Report at: http://english.aljazeera.net/programmes/empire/2009/10/2009102672443612162.html
------
'Terrorists not worthy of being called Muslims'
28 October 2009
NEW DELHI: An international conference of prominent Muslim personalities from around the world on Tuesday denounced terror as unIslamic and agreed to pursue the idea of a fatwa against suicide bombers, pointing out that Islam did not sanction either the act of suicide or taking innocent lives.
"All religious leaders present here and more specifically Islamist scholars will issue a decree denouncing such terrorist acts as anti-Islam as Islam does not sanction violence as a means to achieve one's political or social ends," the resolution adopted at the end of day-long deliberations said.
It resolved to take an initiative to urge misled terrorists to shun the path of violence and enter the mainstream.
Inaugurating the conference, Vice-President Hamid Ansari called for "isolating a terrorist who continues to unabashedly terrorise and kill innocent people in the name of religion and more especially in the name of Islam".
He said religious scholars should condemn the terrorists as people "not worth to be known as Muslims". Ansari said jihadis in Jammu and Kashmir and the Taliban in Afghanistan had not done any act of bravery by "pulling the triggers of their guns on innocent women and children".
Full Report at: http://timesofindia.indiatimes.com/india/Terrorists-not-worthy-of-being-called-Muslims/articleshow/5169760.cms
------
Saudi King's pardon for a woman journalist sparks call to review other cases
Muhammad Humaidan
28 October 2009
JEDDAH: Following the king's pardon for a Saudi woman journalist for her role in a controversial television program about a man's sexual exploits, the lawyer representing the chief defendant in the case has demanded the Ministry of Culture and Information review its stance on all media-related cases.
On Monday, Custodian of the Two Holy Mosques King Abdullah waived the sentence of 60 lashes handed down to Rozanna Al-Yami for her role in the LBC show, "Bold Red Lines," in which Mazen Abdul Jawad bragged about his sexual adventures.
"I request the ministry to intervene in the case of Omar Farouk Felamban, 36, a member of the Saudi Journalists Association who is in a Saudi jail. He should be included in the royal pardon. He is an employee of the ministry and was working as a photographer for Saudi Television," said lawyer Suleiman Al-Jumaie.
"I request that any case related to media persons be examined by the Disputes Committee for Publications, an arm of the Ministry of Culture and Information. Journalists are unhappy over the recent trial of journalists by a court that has no jurisdiction over them," he added.
In a related development, Al-Yami told Arab News she received a call from Culture and Information Minister Abdul Aziz Khoja shortly after the royal order was issued informing her that the cases against her and Iman Al-Rajab had been transferred to his ministry, the body authorized to handle such cases.
Full Report at: http://arabnews.com/?page=1&section=0&article=127819&d=28&m=10&y=2009&pix=kingdom.jpg&category=Kingdom
------
German Murder Trial Is Focus Of Anger in Islamic World
October 28, 2009
It is a story that has gripped both the Muslim and Western worlds.
It began in 2008, in the German city of Dresden, when an Egyptian-born woman, Marwa al-Shirbiny, asked a man to make room for her 3-year-old son on a children's playground swing.
The man, Alexander Wiens, responded by calling al-Shirbiny -- who was wearing an Islamic headscarf at the time -- a "terrorist" and a "slut."
Al-Shirbiny summoned the police, and Wiens was subsequently fined the equivalent of $480 on charges of verbal abuse.
When Wiens attempted to appeal the conviction this July, al-Shirbiny, then pregnant, attended the hearing. As she was leaving the courtroom, the court records charge, Wiens leapt at her and stabbed her 18 times with a kitchen knife.
Her husband, Elwi Ali Okaz, tried to protect her, and also suffered multiple stab wounds.
To make matters worse, in the melee a policeman shot Okaz in the leg, apparently assuming that the Egyptian man was the attacker, rather than the German defendant.
The murder trial of Wiens, a 29-year-old ethnic German born in Russia, began in Dresden October 26 in the same courtroom where the murder took place. The dead woman's husband, Okaz, attended on a pair of crutches.
Ayyub Axel Koehler, the head of Germany's Central Muslim Council, told Reuters before the trial started that Muslims everywhere are intensely interested in this case.
Full Report at: http://www.rferl.org/content/German_Murder_Trial_Is_Focus_Of_Anger_in_Islamic_World/1863238.html
------
First women-only bank opens in Iraq holy city
By Khaled Farhan
NAJAF, Iraq (Reuters) - In one of Shi'ite Islam's holiest cities, a bank has opened a branch only for women, hoping to tap a potentially large market and meet pent-up demand from Muslim women for financial services that meet their needs.
The manager of the Najaf branch of the private Babel bank is, however, a man. He must make an appointment before making a visit and enter the premises through a back door.
"Through this bank they (women customers) can unveil and exercise complete freedom in dealing with the employees," said Mazen Abdul-Razzaq, Babel's deputy director.
A study by The Boston Consulting Group, which included Iraq, found that women worldwide were particularly dissatisfied when it came to financial services.
Iraqi women interviewed at the women-only bank in Najaf say they felt uncomfortable dealing with male bank clerks in regular banks and felt much more relaxed in the new branch.
The establishment in Najaf of the branch, which opened a week ago and gave access to a few male journalists to publicise the event, reflects to some extent the religious conservatism that pervades the city -- a major centre of Shi'ite learning.
Women in the city have long been expected for religious and cultural reasons to wear all-enveloping abayas, and hijabs, or scarves, to cover their hair.
Iraq was once considered among the more westernised countries in the Middle East. After the first Gulf war and the sanctions in the 1990s, former dictator Saddam Hussein used religion to shore up support for his largely secular regime.
Full Report at: http://in.reuters.com/article/worldNews/idINIndia-43475520091027
------
Popes Anglican gambit a tactical move against Islam
October 27, 2009
Some dismissed him as a scholarly shadow after the charismatic and warm John Paul II. Others, including in this corner, have been concerned about his seeming insensitivity to Holocaust-related issues (he has since demonstrated magnanimity and public contrition). In fact, Pope Benedict XVI has now demonstrated a particular shrewdness, applauded here, that potentially grows his Church and secures all of us from a common foe.
Surely, most Catholics themselves do not understand the intricacies and the politics involved in the Holy Father's invitation to disaffected Anglicans. He has reached out to them and offered them a place in the Church, or as Ross Douthat wrote so effectively in The New York Times, "an Anglo-Catholic mansion within the walls of the Roman Catholic Church." While this was quite a contentious move, though not entirely without historical context, it was not followed by a series of fatwas, beheadings, suicide bombings, or mass killings. It remains to be seen if a few Anglicans will actually convert to full Catholicism or if the papal note will inspire millions. But no one is too concerned about bloodshed—even the ones accusing the Pope of pilfering. (It is a matter of greater gravity than that)
Full Report at: http://www.examiner.com/x-689-Spiritual-Life-Examiner~y2009m10d27-Popes-Anglican-gambit-a-tactical-move-against-Islam
------
Khamenei: Muslims Should be Perceptive to Unity
Leader of the Islamic Revolution Ayatollah Seyyed Ali Khamenei said on Monday that terrorist attacks in Muslim countries like Iran, Iraq and Pakistan are carried out by foreign agents.
"The bloody attacks in some Muslim countries such as Iraq and Pakistan and parts of Iran are aimed at creating discord and difference among Shias and Sunni," he said in a meeting with officials in charge of organizing Hajj ceremonies, Presstv reported.
"This is why Muslims should pay more attention to the need for consolidating unity," he said, and stressed that the "Perpetrators of the terrorist attacks are directly or otherwise linked to foreign agents".
Ayatollah Khamenei added that Hajj pilgrims cannot remain indifferent to developments in the Muslim world, in particular Iraq, Afghanistan, Palestine and parts of Pakistan.
"During the Hajj rituals, [the pilgrims] should be sensitive about moves against the Islamic unity or attempts to insult the banner of Muslim solidarity hoisted in Iran".
The Leader's remarks came after at least 41 people, including seven senior commanders of the Islamic Revolution Guards Corps (IRGC), were killed in bomb attack on Oct 18 during a meeting of Shia and Sunni tribal leaders in the town of Pishin near the Iran-Pakistan border.
The Pakistan-based Jundallah said it had carried out the bloody attack.
------
US losing the Afghan plot?
Chidanand Rajghatta, 28 October 2009
WASHINGTON: A sudden spike in American casualties in Afghanistan and the resignation of a Foreign Service officer questioning the purpose and rationale of US presence in the country has intensified the handwringing in Washington, putting pressure on President Obama to disengage from what was originally described as a war on terror.
A cacophony of counsel and advice, mostly of a critical nature, is rising up from Washington's beltway, as lawmakers, pundits and pollsters are talking up the unpopularity of the US expeditionary effort and questioning its basic premise and purpose.
Extended deliberations by President Obama in the White House Situation Room, with yet another review (the sixth in two months) conducted on Monday, has only served to fuel criticism that he is dithering on the next steps, including whether to send additional troops to Afghanistan.
Lost in the dissension and disharmony in Washington is the original intent and purpose of the US presence in Afghanistan - to hunt down and prevent the resurgence of al-Qaida and the perpetrators of 9/11 through its host agency, Taliban.
Full Report at: http://timesofindia.indiatimes.com/world/us/US-losing-the-Afghan-plot/articleshow/5170651.cms
------
US push strains ties with Pak
Jane Perlez, 28 October 2009
ISLAMABAD: The Obama administration is putting pressure on Pakistan to eliminate Taliban and Qaida militants from the country's tribal areas, but the push is straining the delicate relations between the allies, Pakistani and western officials say.
When secretary of state Hillary Clinton arrives in Pakistan this week, as she is scheduled to do, she will find a state consumed by doubts about the value of the alliance with the US and resentful of ever-rising American demands to do more, the officials said.
The special envoy for Afghanistan and Pakistan, Richard Holbrooke, said on Friday that the Obama administration would be trying to find out whether the army was simply "dispersing" the militants or "destroying" them, as the US would like.
From the number of troops in South Waziristan, it was not clear that the army wanted to "finish the task", said a western military attache. The army would not take over South Waziristan as it had the Swat Valley, the officials said.
The army appeared to have no plans to occupy South Waziristan, but rather to cut the militants "to size", said Tariq Fatemi, who served briefly as Pakistan's ambassador to the US in 1999.
With the uncertainty of US plans in Afghanistan, and the strong sentiment in Pakistan that India was "up to no good" in the restive province of Baluchistan, Fatemi said, the army would not abandon the militant groups that it has relied on to fight as proxies in Afghanistan and in Kashmir against India.
Source: http://timesofindia.indiatimes.com
------
Turkey attends Morocco Muslim forum amid al-Aqsa tensions
Deputy Prime Minister Bülent Arınç departed for Morocco on Tuesday to attend a forum expected to focus on the clashes near Jerusalem's most volatile holy site, which have raised concerns in Ankara amid the simmering political tension in ties with Israel.
Israeli police stormed the site, known as al-Haram al-Sharif, or the Noble Sanctuary, to Muslims and as the Temple Mount to Jews, twice on Sunday and used tear gas and stun grenades to disperse stone-throwing Palestinian protesters. In a statement on Monday, the Foreign Ministry expressed concern over the clashes and called for measures to prevent repetitions of such incidents in the future.
"The latest incidents in Jerusalem will be discussed in detail," Arınç told reporters before departing for Morocco to attend a meeting of the Al-Quds International Forum, bringing together representatives of 18 countries. He said he would also deliver a speech at the forum.
The Foreign Ministry warned that incidents such as Sunday's clashes could harm efforts aiming to ensure peace and stability in the region and called for the release of Palestinians arrested by the Israeli police, including Palestinian officials, as soon as possible. "Sensitivities regarding al-Haram al-Sharif, one of the most sacred places of the Islamic world, should be taken into consideration," the ministry said.
Full Report at: http://www.todayszaman.com/tz-web/news-191259-100-arinc-attends-muslim-forum-amid-al-aqsa-tensions.html
------
42 militants killed in Waziristan strike
28 October 2009
Pakistan's army pushed deeper into a Taliban sanctuary close to the Afghan border on Tuesday, killing 42 militants in the latest stage of an offensive against extremists blamed for surging suicide attacks. The army said troops were progressing well on three fronts in South Waziristan, but were meeting resistance. It said 42 militants and one soldier had been killed over the last 24 hours.
Source: http://timesofindia.indiatimes.com
------
Brigadier escapes attack in Islamabad
28 October 2009
Motorcycle-borne gunmen on Tuesday made a brazen attempt to assassinate another senior Pakistan army officer, but the brigadier escaped unhurt, in an ambush similar to one just five days ago that resulted in killing of a army officer and a soldier. Two gunmen, waiting outside the home of Brigadier Waqar Ahmed in the city, opened fire as he emerged in his staff car along with his mother.
Source: http://timesofindia.indiatimes.com
------
Iran Guards set free after 24 hrs
28 October 2009
Pakistani authorities on Tuesday released 11 Iranian Revolutionary Guards detained a day earlier for trespassing into Pakistani territory, officials said. Officials said the 11 Iranians Guards arrested on Monday had accidentally strayed in Pakistan territory. "The guards were handed over to the Iranian authorities because it's found that they crossed into Pakistan mistakenly", said a spokesman for Pakistan's Frontier Corps.
Source: http://timesofindia.indiatimes.com
------
Church of Scientology found guilty of fraud, asked to pay $1m fine
28 October 2009
PARIS: A French court convicted the Church of Scientology and one of its leaders of defrauding vulnerable members on Tuesday, but stopped short of banning the group's activities in France.
The Celebrity Centre and a bookshop - the two branches of Scientology's French operations - were ordered to pay a $900,000 fine for preying financially on its followers in the 1990s. Scientology's leader in France Alain Rosenberg was handed a two-year suspended jail sentence and fined on the same charge. A lawyer for Scientology's French operations said he would appeal.
The case was launched after a complaint from two women, one of whom says she was manipulated into handing over 20,000 euros for costly products, including an "electrometer" to measure mental energy.
Source: http://timesofindia.indiatimes.com
------
Modi denied Visa by Oman
By Mirza A. Beg
October 28, 2009
"International human rights organizations, including Amnesty International, Human Rights Watch and the National Human Rights Commission of India held Mr. Modi directly responsible for orchestrating that gory mob violence in which innocent Muslims were butchered, burnt alive and women gang raped."
Sometimes good guys also win. It happens only once in a while, but when it does, it gives hope to many who struggle against the evil perpetrated by the powerful, the rich and the connected.
Such is the case when some decent ordinary people with the support of many other decent people were able convince the Government of Oman to deny Mr. Modi a visa. It thwarted, Gujarat's Chief Minister Mr. Modi from falsely projecting himself as a world trotting statesman and camouflaging his evil deeds.
Mr. Modi was elected the Chief Minister of Gujarat State in the western part of India, on the platform of a fascistic leaning Indian Peoples Party (Hindi initials BJP). It came to power in late 1990s. It got that chance because the Congress party that had governed India since independence from Britain in 1947, with only one break of four years, had become stale and the populace was tired. In that vacuum stepped in the right-wing BJP. It cashed in on its years of devious hard work, promoting sectarian riots and fear mongering in the well trodden footsteps of demagogues, albeit with an Indian patina. For years the BJP had engineered riots against the Muslim minorities, Christian evangelism and lower cast Indians. Finally it was able cash in on the fear it had planted among decent ordinary Hindus.
Full Report at: http://usa.mediamonitors.net/content/view/full/67736
------
Book ban is irrational and against Constitution: SIS lawyers
By LISA GOH, October 28, 2009
KUALA LUMPUR: The ban on a book published by the Sisters in Islam (SIS) is illegal, irrational and inconsistent with the Federal Constitution, the High Court heard.
SIS also contended that then Home Affairs Minister Datuk Seri Syed Hamid Albar, who ordered the ban, had no authority to do so.
In their submissions, counsel for SIS Malik Imtiaz Sarwar and K. Shanmuga told Justice Mohamad Ariff Md Yusof that under the Constitutional framework, Islam was a state matter and as such fell exclusively within the purview of the state governments.
"The Minister does not have the requisite legal competence and/ or authority to arrive at conclusions on matter pertaining to Islam.
"It would be necessary for the state religious authorities to have firstly concluded on the matter (where it pertains to Islam) before the Minister can exercise his discretion," Malik Imtiaz said at the first day of hearing Wednesday, adding that these pre-conditions were not met.
On Dec 15 last year, SIS Forum (Malaysia) had applied for leave for a judicial review of an order banning the 215-page book entitled Muslim Women and the Challenges of Islamic Extremism.
It is a compilation of essays based on research by renowned international scholars and activists, and the book was edited by sociologist Prof Noraini Othman of Universiti Kebangsaan Malaysia's Institute of Malaysia and International Studies.
The Home Ministry had banned it last year under Section 7 of the Printing Presses and Publications Act 1984 on grounds that it was "prejudicial to public order."
Syed Hamid was named as the respondent in the application. Representing him was senior federal counsel Noor Hisham Ismail.
Shanmuga submitted that the order was also based on reasons which discriminated against Muslims and women, thus contravening the equality provisions of the Federal Constitution.
He also said that it was not conceivable that the collection of academic articles could be a threat to public order.
"It is an attempt by the respondent to stifle the 'free trade in ideas' that is the hallmark of a modern and vibrant democracy.
"The book doesn't say what they accuse it of. It does not question Islam at all. It questions the implementation of the state enactments," he said.
Hearing continues on Nov 18.
Source: http://thestar.com.my/news/story.asp?file=/2009/10/28/nation/20091028201322&sec=nation
------
Malaysia Is Still At Risk Of Being Targeted For Terrorist Strikes By Islamic Radicals
New report provides detailed analysis of the Defence market
October 28, 2009
The Malaysian political scene is entering a new era of possibilities, given that neither the ruling Barisan Nasional coalition nor the opposition Pakatan Rakyat alliance are in the best of health, with both sides suffering from a host of unsolved problems. In all, many of the risks still centre on the delicate race relations within the country, although we highlight that other factors such as the potential depletion of oil reserves will also weigh on long-term political stability.
Minority groups, namely the Chinese and Indians, have been increasingly vocal in recent years over the government's perceived favouritism towards the Malays. Indeed, much of the dissatisfaction has been attributed to the inability of some Chinese and Indian citizens to secure government-sponsored tertiary scholarships or university places, relative to their Malay counterparts due to the NEW Economic Policy (NEP)-linked ethnic quotas. We are concerned that such perceptions of unfairness among the younger generation will only serve to further polarise the different racial groups within the country. Furthermore, it has been reported that certain quarters of the ruling United Malays National Organisation (UMNO) and opposition Islamic Party of Malaysia (PAS) – both Malay-based parties – are considering further cooperation, which could lead to greater concentration of power, potentially flaming more discontent among the minority races.
Full Report at: http://www.officialwire.com/main.php?action=posted_news&rid=35893&catid=121
------
In Afghanistan, International Troops Outnumber Taliban 12-1
October 28, 2009
By Slobodan Lekic
Brussels (AP) - There are already more than 100,000 international troops in Afghanistan working with 200,000 Afghan security forces and police. It adds up to a 12-1 numerical advantage over Taliban rebels, but it hasn't led to anything close to victory.
Now, the top U.S. and NATO commander in Afghanistan is asking for tens of thousands more troops to stem the escalating insurgency, raising the question of how many more troops it would take to succeed.
The commander, Gen. Stanley McChrystal, says the extra forces are needed to implement a new strategy that focuses on protecting civilians and depriving the militants of popular support in a country where tribal militias may be Taliban today and farmers tomorrow.
The White House said Tuesday that President Barack Obama has nearly finished gathering information and advice on how to proceed in Afghanistan, where bombings killed eight more American troops. With October now the deadliest month for U.S. forces in the war, many experts question the need for more troops.
"The U.S. and its allies already have ample numbers and firepower to annihilate the Taliban, if only the Taliban would cooperate by standing still and allowing us to bomb them to smithereens," said Andrew Bacevich, a professor of international relations and history at Boston University, and one-time platoon leader in Vietnam.
"But the insurgents are conducting the war in ways that do not play to (allied) strengths."
Full Report at: http://www.cnsnews.com/news/article/56217
------
Lebanon stops fresh rocket attack
28 October 2009
Lebanese troops have deactivated four rockets ready to be fired at Israel, a day after a rocket attack caused Israel to respond with artillery fire.
The Lebanese military said three of the rockets were set with timers and left in a half-built house in Hula village, where Tuesday's attack was launched.
There were no casualties in the earlier exchange but it sharply raised tension on the volatile Israel-Lebanon border.
It was the fourth time rockets have been fired over the border this year.
The commander of the UN Interim Force in Lebanon (Unifil) Maj Gen Claudio Graziano has inspected the area where the rockets were found and where the nine Israeli artillery shells landed.
Barrage
"The military has discovered this morning four rockets... in a house under construction belonging to the mayor of Hula," said a Lebanese military spokesman quoted by AFP.
The military said three Katyusha-type warheads were left on improvised wooden launchers in the garden of the house. One was left on a balcony.
The mayor was reportedly not in the village at the time of the incident and was not believed to have been involved.
Full Report at: http://news.bbc.co.uk/2/hi/middle_east/8329403.stm
URL of this page: https://www.newageislam.com/islamic-world-news/indian-pm's-peace-overture-to-pakistan-/d/2009