New Age Islam News Bureau
30 Jul 2018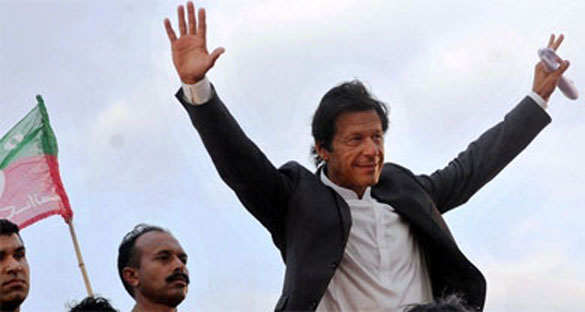 Another narrative being carried in the Western media is that Imran Khan's win may not be good news for Pakistan's women considering his open denouncement of feminism.
-----
• Indian National League's Plan to Join Left Front Will Reshape Muslim Politics in Kerala
• 'Imran Khan's Victory Is Making Pakistan's Feminists Shudder'
• Ethiopian Prime Minister to UAE's Crown Prince: 'You Have Lost Islam'
• Media: Arab NATO, Trump's New Plot to Milk Arab Gov'ts
• Prime Minister Sheikh Hasina for Eliminating Extremism, Terrorism through Scouting
India
• Indian National League's Plan to Join Left Front Will Reshape Muslim Politics in Kerala
• Will Resume Talks If Pakistan Becomes a Normal State: Indian Official
• Hindus & Muslims in Odisha Set An Example Of Harmony, Come Together To Clean Roads After 'Bahuda Yatra'
• Muslim League activist murder: Probing role of CPM leader Jayarajan, CBI tells Supreme Court
• Modi Govt Must Show It Is Against All Unconstitutional Personal Laws
• J&K terrorists barge into CRPF jawan's home, kill him
• Shahdara Shareef a symbol of Hindu-Muslim unity: Vibodh
--------
Pakistan
• 'Imran Khan's Victory Is Making Pakistan's Feminists Shudder'
• Navjot Sidhu Says Imran Is Solution to Pakistan's Problems
• PPP, PML-N Join Hands to Give Imran Tough Time
• Overseas Pakistanis pinning hopes on Imran to deliver on promises
• Imran Khan must help end the persecution of Pakistan's Ahmadi Muslims
• Winning two PA seats, nascent TLP gets ready to enter Sindh Assembly
• PTI has broken dynastic hold on Pakistan's politics: US media
• Afghan President Ghani invites Imran to visit Kabul
• Ex-Pakistani PM Nawaz Sharif moved to Islamabad hospital
--------
Africa
• Ethiopian Prime Minister to UAE's Crown Prince: 'You Have Lost Islam'
• Wives of Boko Haram Militants Struggle with Group's Image
• Boko Haram Kills 11 Troops in NE Nigeria
• KSRelief launches food aid project for Somali refugees in Kenya
• Somali forces clash with Al Shabaab near Hudur town
--------
North America
• Media: Arab NATO, Trump's New Plot to Milk Arab Gov'ts
• A Yemeni-American Man Died by Suicide after Trump's Travel Ban Separated Him from His Family
• Trump wants Afghan forces in Kabul, other big cities: Sources
• Canada to provide CANS$50M for Palestinians
--------
South Asia
• Prime Minister Sheikh Hasina For Eliminating Extremism, Terrorism Through Scouting
• Taliban Militants Suffer Heavy Casualties after Blow by Own IED in Kunduz
• MWL Inaugurates Integrated Services Centre for Rohingya Refugees in Bangladesh
• 5 'extremists' arrested in Dhaka, Chapainawabganj
• People suffer as Tablig, Hefajat men hold rally in Mohammadpur
• Ghani once again nominates Anisa Rasooli for Supreme Court membership
• Abdullah endorses US talks with Taliban in Qatar
• Ghani urges religious scholars to raise their voices against corruption
• Ghani talks with Imran Khan over the phone after PTI's victory in elections
--------
Mideast
• Palestinians Need To Unite Against Israel: Ahed Tamimi
• In Saada, 20 Houthis Killed, 28 Imprisoned Including High Ranking Commander
• Israel navy intercepts activist boat trying to break Gaza blockade
• Yemeni intelligence official assassinated in Aden by unknown gunmen
• Yemeni forces fire ballistic missile at base run by Saudi mercenaries: Report
• Yemeni troops kill four Saudi soldiers, capture two
--------
Arab World
• KSA-Led Coalition Says Destroyed Yemen Rebel Missile Launch Sites
• Over Dozen Daesh Remnants Slain In Iraqi Army Airstrikes, Ground Operations
• More Turkish Forces Killed in Kurdish Attacks in Northern Syria
• Turkish Army Reinvigorates Military Presence near Syria's Manbij
• US Forces Dispatch More Military Aid to Allied Militias in Northeastern Syria
• Syrian Army Forwards More Troops to Northern Lattakia for Idlib Operation
• Syrian Army Opens Heavy Fire at Terrorists' Positions in Idlib, Hama
• Tahrir Al-Sham Concerned over Reconciliation Talks in Northwestern Syria
• Syrian troops fight Daesh remnants in Dara'a and Sweida
--------
Southeast Asia
• Philippine Muslims Hope New Law Brings 'Dream of Peace'
• Deputy IGP Hails Muslim Rally As 'Good Example' Of Peaceful Gathering
• Islam's 'Dalai Lama' Urges Australia To Speak Out Against China's Police State
• The door is open, say Indonesian presidential hopefuls
--------
Europe
• Muslims in Victoria Recall Changes since 2017 Mosque Fire
• Edmonton's Oldest South Asian Mosque Builds the Community': Opens Doors To Neighbours
• British MP calls for 'proper' investigation into Qatar World Cup bid
Compiled by New Age Islam News Bureau
URL: https://www.newageislam.com/islamic-world-news/indian-national-leagues-plan-join/d/115983
--------
Indian National League's Plan to Join Left Front Will Reshape Muslim Politics in Kerala
30th July 2018
THIRUVANANTHAPURAM: The proposed entry of the Indian National League (INL) to the Left Democratic Front will definitely reshape the Muslim politics of the state hitherto dominated by the Indian Union Muslim League. While the clout of the Muslim League may not diminished with this latest development, cadres and lower- and middle-level leaders will have a new possibility to look up to.
For long INL, which was formed by the veteran Muslim League leader Ibrahim Sulaiman Sait in April 1994, has been patiently waiting for an entry into the LDF fold. The impending general election helped end that wait. With the Left front in search of allies to secure maximum number of seats from the state in next year's general election, INL became it first choice given its Muslim support base as well as the secular position it has taken all these years.
"INL has always supported the Left movement and we think the party will get an entry to LDF fold in the next few days," a senior state office bearer of the INL told Express, requesting anonymity. He said the Muslim politics in the state, dominated by the Muslim League, will see a realignment with IUML cadres and lower- and middle-level leaders flowing to the front.
SDPI and Welfare Party will be the other casualties with youth finding a new opening with the INL.
The senior leader of the INL told Express: "Muslim politics of the state is in a flux and with the INL entry into the LDF, lots of youngsters who are into SDPI,PFI and Welfare party will come with us as we are an alternate to Muslim League in Muslim political sphere."
He said League failed to maintain the momentum provided by its legendary leaders. "As a political party, the League did not move ahead after the towering contributions given to the Muslim society by leaders like C H Mohammed Koya, Ibrahim Sulaeman Sait, Seethi Saheb, C K P Cheriya Mammukeyi and P M Aboobacker. INL will fill that vacuum and will be a secular alternate to IUML."
"With a highly educated and financially sound Muslim society in place, there is no space for religious extremism and we totally opposed to it. Our entry into the Left front will marginalise these forces," he said.
http://www.newindianexpress.com/cities/thiruvananthapuram/2018/jul/30/inls-plan-to-join-left-front-will-reshape-muslim-politics-in-state-1850422.html
--------
'Imran Khan's victory is making Pakistan's feminists shudder'
Ailia Zehra
JULY 30, 2018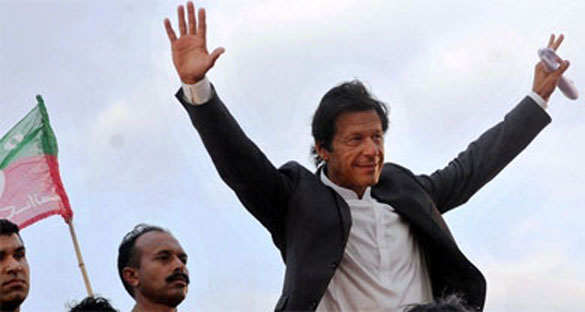 Another narrative being carried in the Western media is that Imran Khan's win may not be good news for Pakistan's women considering his open denouncement of feminism.
-----
There have been mixed reactions from international media to Pakistan Tehreek-e-Insaf (PTI) Chairman Imran Khan's victory in the general elections held on July 25. Citing his alleged support for anti-India terror groups, Indian media was particularly disturbed over possibility of the cricketer-turned politician's becoming Pakistan's PM. Following confirmation of a PTI majority in the elections, Indian news channels began questioning Imran's sincerity to the war on terror. Some also claimed how he was 'selected' and not 'elected'.
In his victory speech, Khan commented on Indian media's portrayal of him and said they made him look like a Bollywood villain. The PM-in-waiting advocated peace and emphasized on the importance of having friendly relations with India, but Indian commentators do not seem to take his word for it. An op-ed in Indian news website First Post, after Imran Khan's victory speech stated, "He [Imran Khan] mentions the word 'terrorism' only once, and that too while using it as a victim card to absolve Pakistan's role in fostering the global scourge. He does not mention even once the issue of 'cross-border terrorism' – the bone of contention between the two nations and the only issue over which there is bipartisan consensus in India – no mean feat given India's fiercely competitive multi-party democracy.
Imran cannot be so naïve that he is unaware of the fact that any rapprochement with India is impossible unless 'cross-border terrorism' is not addressed. It is at the front and center of the problem."
Hindustan Times, however, termed Khan's victory 'a step ahead in the democratic transition'. "Election 2018 was a big snub to conventional politics, i.e. the status quo which has ruled Pakistan for nearly seven decades, and which Imran Khan has been relentlessly attacking", read an opinion piece in HT.
Many Indian figures who know Khan from his cricket days, on the other hand, welcomed his victory. In an interview, former Indian cricketer Kapil Dev, praised Imran. "Imran was the first captain to push for neutral umpires, I knew it then that he was a good man," he said.
Meanwhile, Western media lashed out at the PM-in-waiting for his alleged soft corner for the Taliban. Washington Post said, "Pakistan's likely next leader is a Taliban sympathizer". The editorial further says, "He is indeed an enemy of the major political parties that have dominated Pakistani civilian politics for decades – but he is also the favorite of the Pakistani military, whose overweening power the mainstream parties have been trying to curb.
If Mr. Khan takes office, he will have the support of many Pakistanis who want to see reforms that distribute wealth more equally or that disempower the old political dynasties. But he will owe his position largely to the army and its powerful intelligence service, which helped him win so that they can more easily pursue their own interests – which include siphoning off the lion's share of the national budget, supporting the Taliban in neighboring Afghanistan and encouraging other extreme Islamist groups. That means Pakistan, which has been one of the most difficult countries for the United States to work with over the past two decades, is likely to become still more so.
The editorial further says, "Mr. Khan, a former cricket star and playboy who now portrays himself as devoutly religious and a nationalist, seems to have few foreign policy views other than antipathy toward the United States and its war on terrorism; he has endorsed the Taliban cause in Afghanistan."
The Guardian claimed that despite Khan's victory, the real power still lies with the army. "Khan's victory comes against a troubled backdrop. Over the past few months, the country has seen drastically ramped up censorship, with widespread allegations of military interference in favour of Khan's Pakistan Tehreek-e-Insaf (PTI) party. Every single opposition party has rejected his win, alleging vote-rigging."
The Economist termed Imran Khan's win 'unsportsmanlike'. "The PTI's disappointed rivals could mirror Mr Khan's own past example and take to the streets, as he did in a four-month protest following the last election. That protest, however, enjoyed the sympathy of the army, keen to clip the wings of the Sharif brothers. This time the soldiers have in their sights their ideal outcome: a pliable leader and a minority government that will not be too powerful.
Rival parties may be persuaded to desist, and a tenuous stability take hold. If so, Pakistan's growing current-account crisis may look more manageable."
Another narrative being carried in the Western media is that Imran Khan's win may not be good news for Pakistan's women considering his open denouncement of feminism.
"If, as Imran Khan claims, his party — the Pakistan Tehreek-e-Insaf (PTI) — is victorious in the Pakistani general election, the women of that nation may face a disastrous era of gender discrimination and repression. The clues that Khan's ascent bodes poorly for Pakistani women can be found in the lead-up to the election. In one recent interview with Hum news, Khan denounced Western feminism as an impediment to motherhood. And his promise of making Pakistan an Islamic state, something that has in the past meant heightened restrictions on women, is also making Pakistani feminists shudder", read a piece in CNN.
https://dailytimes.com.pk/275174/imran-khans-victory-is-making-pakistans-feminists-shudder/
--------
Ethiopian Prime Minister to UAE's Crown Prince: 'You have lost Islam'
July 30, 2018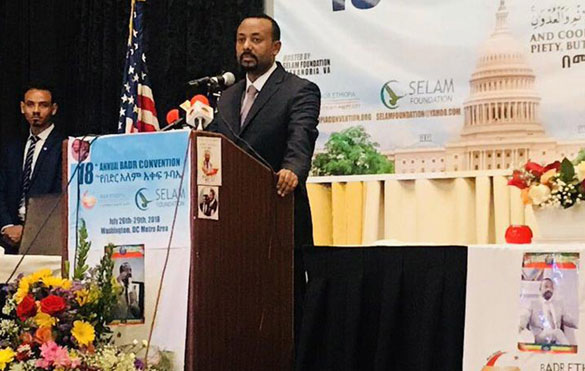 Ethiopian Prime Minister Abiy Ahmed Ali [File photo]
-----------
The Crown Prince of Abu Dhabi, Mohammed bin Zayed, was put in an uncomfortable situation by Ethiopian Prime Minister Abiy Ahmed Ali when he asked him to support the establishment of an Islamic institute in Addis Ababa.
Abiy Ahmed recalled this situation during an open meeting of the Ethiopian community held by Badr Ethiopia Organization in the city of Virginia, US, according to an Ethiopian activist who attended the meeting and reported the statement to Al-Khaleej Online.
Speaking of the conversation he had with bin Zayed, Abiy said, "I asked him about the construction of an Islamic institute, and I asked him: 'What would you (as Emiratis) help us with? And he answered, "We will support you in everything, and we will teach you."
However, Abiy Ahmed stopped him and answered by saying: "We do not need you to teach us Islam. You have lost it. We want you to teach us the Arabic language quickly so that we can understand true Islam and then get you back on track."
He added, "I told him that if we got all the population of the Gulf countries together, we would find out that they are much fewer than the Muslim population in Ethiopia, he asked me 'why are you talking in numbers?' and I replied 'because Islam considers the crowd as a source of strength'."
The speech was highlighted by the AR-Ethiopia account on Twitter.
This is not the first Ethiopian insult to Abu Dhabi. In mid-July, the Ethiopian Foreign Ministry denied UAE's claims about playing the role of a mediator with Eritrea regarding its 20-year-long conflict.
The Ethiopian Foreign Ministry spokesman, Meles Alem, stressed that the Asmara agreement has been signed recently with Eritrea is in the interests of both countries and occurred without the mediation of any third party.
The clarification of the Ethiopian Ministry of Foreign Affairs came as a response to UAE media news outlets which gave credit to the UAE and its Ministry of Foreign Affairs for the completion of the reconciliation.
The UAE has faced renewed African objections against its tendencies in the continent. While Abu Dhabi sought to mobilise the countries of the world to boycott Qatar during its siege in June 2017, many countries rejected these pressures and attempts, including Ethiopia, which confirmed support for Kuwait's efforts to resolve the Gulf crisis.
https://www.middleeastmonitor.com/20180730-ethiopian-prime-minister-to-uaes-crown-prince-you-have-lost-islam/
--------
Media: Arab NATO, Trump's New Plot to Milk Arab Gov'ts
Jul 29, 2018
The Arabic-language Al-Masalah news website wrote that Trump is attempting to form an Arab NATO with the partnership of the Persian Gulf Arab littoral states, Jordan and Egypt.
"The new plan has been raised as the US has in the past decades been misusing the Arab states, specially those in the Persian Gulf region, and he is now again taking steps towards milking the Arabs under the pretext of preventing Iran's threats," it added.
The website underlined that the White House officials and the Middle-East experts have voiced concern that formation of an Arab NATO would increase tensions in the region.
It added that the US has also in the past attempted to make similar moves through forming different coalitions with its Arab allies against alleged Iranian threats but has always failed.
Western media reported earlier this week that the Trump administration is quietly pushing ahead with a bid to create a new security and political alliance with six Persian Gulf Arab states, Egypt and Jordan, in part to counter what it calls as Iran's expansion in the region.
The White House wants to see deeper cooperation between the countries on missile defense, military training, counter-terrorism and other issues such as strengthening regional economic and diplomatic ties, Reuters reported.
During his presidential campaign, Trump, described the Kingdom of Saudi Arabia—US close Arab ally— as a 'fat, and milky' cow, and added there is no interest for the United States to support Saudi despotic regime and sooner or later a popular uprising would erupt.
Trump said that he was "definitely not a big fan" of Saudi Arabia, and that America had paid too much to "back Saudi terrorists up".
"Well, you know, the primary reason we're with Saudi Arabia for the time being is because we need the oil. Now we don't almost need their oil so much, we shall stop support Saudi dictators," AFP quoted Trump as saying at the time.
http://en.farsnews.com/newstext.aspx?nn=13970507000835
--------
Prime Minister Sheikh Hasina For Eliminating Extremism, Terrorism Through Scouting
Jul 29, 2018
Emphasising the importance of nursing and flourishing scouting and girl-guide activities, Prime Minister Sheikh Hasina on Sunday hoped that extremism, terrorism, drug abuse and other anti-social menaces will be rooted out from the country with this.
'I believe these types of social activities are very much important alongside academic ones. So I think these scout and girl-guide movement should be strengthened and expanded further through which we'll be able to stamp out extremism, terrorism, drug abuse and other anti-social activities from the country,' she said while distributing Shapla Cub Award at her official residence Ganobhaban.
The prime minister expressed her belief that the conscious children who are in scouting and girl guiding will be able to advance the country in the future.
Briefly describing various steps taken to expand the scout and girl-guide movement in the country, she said Bangladesh Scouts has its activities in all the educational institutions, including primary schools, as per the government's directives. 'But, the activities of girl guides in the girls' schools are not up to the mark. But once it was there. I saw that in my childhood,' she said.
Sheikh Hasina directed the education minister, primary and mass education minister and officials of Bangladesh Girl Guides Association and Bangladesh Scouts to build girl guides in every school. 'I think each girls' school should have a unit of girl guides,' she said.
She said the government has directed the officials to expand scouting in the country and they have taken steps to this end. 'You've reaped its success,' she said, adding that the girl guides' activities should get more attention.
The prime minister mentioned that there are 10 zones of girl guides. In some places, the activities are going on in rented offices while some have own places but no offices. 'I think offices should be constructed there. We've constructed 10-storey building in Dhaka. If offices are set up in zonal areas, the activities of the girl guides will further be expanded.'
She said through scouting and girl-guide activities, the children are learning many things, including humane attitudes and conscience. 'When the children will go for their livelihood, these qualities will play a vital role in the development of the country and nation.'
Hasina said father of the nation Bangabandhu Sheikh Mujibur Rahman wanted to build a poverty- and hunger-free country and Bangladesh has started its journey towards that direction.
She mentioned that the Awami League government has been able to establish Bangladesh as the role model of development before the entire world.
'We're trying to take the country forward and for that, the new generation has to be well-educated. They've to acquire patriotism, learn to love the country and nation and devote themselves for the welfare of people,' she said.
Education minister Nurul Islam Nahid, primary and mass education minister Mostafizur Rahman, Bangladesh Scouts president and principal coordinator to prime minister's office M AbulKalam Azad, chief national commissioner of Bangladesh Scouts Md Mozammel Haque Khan, national commissioner of Bangladesh Girl Guides Association Syeda Rehana Imam and national commissioner (programme) of Bangladesh Scouts Atiquzzaman also spoke at the programme.
Earlier, the prime minister inaugurated the 10-storey building of Bangladesh Girl Guides Association at Bailey Road in Dhaka and Shatabdi Bhaban of Bangladesh Scouts at Kakrail from the same venue.
She also laid the foundation stone of some other development projects at various places of the country relating to scouting and girl guides from the same place.
Later, the prime minister witnessed a colourful cultural programme performed by scouts and girl guides at the green lawn of Ganobahaban.
http://www.newagebd.net/article/47239/pm-for-eliminating-extremism-terrorism-through-scouting
--------
India
Will Resume Talks If Pakistan Becomes a Normal State: Indian Official
Jul 30, 2018
A top Indian official said that India would unilaterally do all that is required to normalise ties with Pakistan if the country, under the leadership of Imran Khan, takes effective measures to clamp down on terror groups targeting India and South Asia.
The comments of the official, one of the senior most in the Indian security-diplomatic establishment, come in response to Pakistan prime minister-designate Imran Khan's comments that if India takes one step towards Pakistan, it would take two.
"One need not be poetic about bilateral relations. India does not need Pakistan to take two steps as the Modi government will take all the steps required once Islamabad delinks terror groups as an instrument of its foreign policy," the South Block official said on the condition of anonymity.
The rise of Khan's Pakistan Tehreek-e-Insaaf (PTI) doesn't come as a surprise to India, the official said, because the former cricketer's proximity to the army is known. Rawalpindi GHQ exercises a lot of influence in Pakistan's domestic as well as foreign policies. India, the official added, would wait and see how Khan proceeds against terror groups and delivers on Islamabad's past assurances and commitments on dealing with the perpetrators of the 26/11 and the Pathankot terror attacks before taking the next step.
According to the official, India will continue to put sustained pressure on Pakistan to deliver on its promises regarding these and also seek global support to ensure that Islamabad turns off funding and training of jihadists in pursuance of its national objectives.
"Islamabad should not blame India for defaming its name or convince China to agree to put Pakistan on the Financial Action Task Force (FATF) grey list for funding terror groups. Instead, it should concentrate on taking action against globally proscribed terror groups. Pakistan has to just become a normal state for India to resume talks and bilateral ties," said the official.
Significantly, Khan's statement is in consonance with the Pakistan army's peace overtures on the Line of Control (LoC) during the general elections as well as in the weekly DGMO-level telephonic communications. There has hardly been any firing across the LoC and infiltration has been limited to small groups of 4-6 militants, who do not have usual covering fire support, crossing into Jammu and Kashmir. The Pakistan Army Chief has also been talking in terms of peace with India.
Indian diplomats, foreign policy mandarins and army officials are closely monitoring events in Pakistan, particularly any action that Khan takes with the support of Rawalpindi GHQ to weed out terrorist leaders including ones carrying global rewards on their head, from the political process. In this context, Pakistan's action on 26/11 main accused Hafiz Saeed and Pathankot airbase attack perpetrator Masood Azhar will define the future course of bilateral relationship.
Former foreign secretary Shyam Saran told Hindustan Times that there should be no hurry on the part of India to judge Khan's intentions.
"Let him first take office as Prime Minister of Pakistan and then spell out his new initiatives. He has talked about having trade ties with India. Let's not pre-judge the issue as people of Pakistan have shown that when given a choice they have no truck with the likes of Hafiz Saeed. Not one of the Lashkar candidates won in the election. The best is to wait and watch."
https://www.hindustantimes.com/india-news/will-resume-talks-if-pakistan-becomes-a-normal-state-indian-official/story-vgh2bgGW0CzhAoU8hOsPDM.html
--------
Hindus & Muslims in Odisha Set An Example Of Harmony, Come Together To Clean Roads After 'Bahuda Yatra'
July 28, 2018
India's diversity is one of its strongest qualities, and this is what makes our country so unique. It is so wonderful to see all communities coming together to work for the betterment of society.
Such an example of communal harmony, was seen in Odisha. A group of people, consisting of both Hindus and Muslims, joined hands to clean up after the commencement of the Bahuda Yatra on Monday.
A group of volunteers was seen cleaning the streets of Baripada after the commencement of the Bahuda Yatra or return car festival of Lord Jagannath. The volunteers present echoed the importance of cleanliness, adding that it had nothing to do with religion.
"Cleanliness doesn't have any religion. So, we all have come together. We feel lucky to have been given this opportunity," a volunteer told ANI. Another volunteer said, "We want to set an example for people of the country. We should keep our cities clean in order to stay healthy."
The 'Rath Yatra' is an annual event, during which idols of Lord Jagannath (Vishnu), his elder brother Balabhadra and younger sister Subhadra are taken out in a procession to Gundicha Temple, where they are placed for nine days.
Full report at:
https://www.indiatimes.com/news/india/hindus-muslims-in-odisha-set-an-example-of-harmony-come-together-to-clean-roads-after-bahuda-yatra-349935.html
--------
Muslim League activist murder: Probing role of CPM leader Jayarajan, CBI tells Supreme Court
July 30, 2018
The CBI, which is probing the 2012 murder of Muslim League activist A Abdul Shukoor in Kerala, has told Supreme Court that it has "corroborated the facts as mentioned in the FIR" and that it was looking into the alleged role of prominent CPM leader P Jayarajan and MLA T V Rajesh in the crime.
"Investigation with respect to the role of "the duo" and investigation as to their knowledge and mensrea are in progress," the agency said in an interim report submitted before a bench of Justices Kurian Joseph and S K Kaul. The report was filed in response to a plea by Jayarajan challenging the CBI probe.
The agency, which took over the case from Kerala police following a High Court direction, said it was also investigating if there was any lapse on the part of state police in not charging the two leaders with criminal conspiracy. They have been charged under Section 118 of IPC (concealing design to commit offence) read with sections 364, 307 and 302 of the IPC. The bench asked CBI to complete the probe and file a final report in a month. The court will hear the matter next on September 19
https://indianexpress.com/article/india/muslim-league-activist-murder-probing-role-of-cpm-leader-jayarajan-cbi-tells-supreme-court-5282260/
--------
Modi Govt Must Show It Is Against All Unconstitutional Personal Laws
July 17, 2018
The Supreme Court is to hear the arguments in the petitions of Muslim women challenging the Islamic practices of 'Nikah Halala' and polygamy beginning this Friday.
In Islam, 'Nikah Halala', allows a divorced Muslim woman to re-marry her husband provided she first marries another man, consummates the marriage with him, and then he willingly divorces her or dies. On the other hand, though a Muslim man is permitted to practice polygamy and have up to four wives at a time, a Muslim woman does not get the same rights. Both practices are acutely patriarchal and regressive in nature, denying Muslim women a sense of dignity and equality.
Some of the victims seeking justice and equality have called the custom of 'nikah halala' akin to rape. One woman who has come forward claims she was divorced multiple times and forced to consummate marriages with several men, using this particular commandment.
Any cultural or religious practice that violates the fundamental rights of equality and freedom is unconstitutional and deserves to be banned. In that light, the Modi government's decision to oppose the Islamic practices of polygamy and 'nikah halala', in response to a petition that is to be heard in the Supreme Court is a progressive step. This will generate a debate in society and eventually help the All India Muslim Personal Law Board (AIMPLB), which is against the outlawing of the practice, to review its own orthodox thinking.
Full report at:
https://blogs.timesofindia.indiatimes.com/toi-editorials/modi-govt-must-show-it-is-against-all-unconstitutional-personal-laws/
--------
J&K terrorists barge into CRPF jawan's home, kill him
Jul 30, 2018
SRINAGAR: A CRPF jawan was shot dead by terrorists at his home in Jammu & Kashmir's Pulwama district on Sunday.
Militants barged into the house of a local CRPF constable, Naseer Ahmad Rather, in the Naira area of Pulwama, south Kashmir, and fired upon him, a police official said.
He said Rather received serious injuries and was rushed to hospital, where he was declared dead. The area has been cordoned off and a hunt has been launched to nab the assailants, the official said, adding that a case has been registered.
Earlier on July 21, constable Mohd Saleem Shah, who was on leave, was abducted and killed by militants from his residence in the Mutalhama area. Policeman Javaid Dar was abducted from Shopian and his body was found in Kulgam on July 6. Before that, soldier Aurangzeb was abducted by militants in Pulwama. His bullet-riddled body was found later.
https://timesofindia.indiatimes.com/india/jk-terrorists-barge-into-crpf-jawans-home-kill-him/articleshow/65190947.cms
--------
Shahdara Shareef a symbol of Hindu-Muslim unity: Vibodh
30/07/2018
RAJOURI, July 29: Shahdara Shareef has emerged as a symbol of Hindu-Muslim unity as around one lakh people visit the shrine every month.
This was stated by senior BJP leader and MLC Vibodh Gupta who visited the holy shrine to pay obeisance and pray for the welfare of the State. He said that soon the work from Shahdara to upper Shadra Road with an estimate of Rs 10 crore will be sanctioned under CRF.
While addressing the people at Shahdra Shareef, the MLC said Baba Ghulam Shah was a great spiritual saint and his pious spirit blessed the land of Rajouri-Poonch with happiness and prosperity. Talking about PM's Mann Ki Baat programme, the MLC said the PM speaks on a wide range of issues pertaining to youth, students, peasants, festivals, freedom fighters, etc during the programme.
Vibodh mentioned the example of Asharam Choudhary a poor MP boy who with his hard work cracked AIIMS as illustrated by Hon'ble PM and asked students of Rajouri-Poonch to draw motivation from such examples and show excellency in their field.
During his today's address, PM congratulated Hima Das for winning gold in 400m and appreciated other athletes also, he added. The MLC said, "We must espouse the cause of protecting and conserving environment as prescribed by the PM in his address". He further said PM recalled nationalist like Mahatma Gandhi, Bal Gangadhar Tilak and Chadrashekhar Azad who played significant role in freedom struggle. We should also take inspiration from the lives of these great leaders, he added.
Full report at:
http://www.dailyexcelsior.com/shahdara-shareef-a-symbol-of-hindu-muslim-unity-vibodh/
--------
Pakistan
Navjot Sidhu Says Imran Is Solution to Pakistan's Problems
JULY 29, 2018
LAHORE: Former Indian cricketer and politician Navjot Singh Sidhu on Sunday said that Pakistan Tehreek-e-Insaf (PTI) chief Imran Khan 'is solution to Pakistan's problems and unstable political situation.'
"Imran Khan is someone who believes in unity and not divisions, and he is the right person to lead Pakistan," Navjot said.
Continuing his praise for the PTI chief, Sidhu said that Khan's greatest quality is that he is pure and honest.
"You cannot buy such quality in the market. This was the quality that leads Pakistan to a world cup win, and this will lead Pakistan to prosperity too," he added.
Sidhu said that it is due to his hard work and perseverance that Khan was going to be Pakistan's next PM. "I have never seen a harder working cricketer or personality," he continued.
Not only Sidhu, several other renowned names from the world of cricket have forwarded their best wishes to Khan after his party's performance in elections 2018.
Earlier this week, during a press conference a day after elections 2018, Khan said that he was willing to work to improve ties between Pakistan and India. "If India take 1 step towards us, we will take 2," he said.
https://dailytimes.com.pk/274956/navjoot-sidhu-says-imran-is-solution-to-pakistans-problems/
--------
PPP, PML-N join hands to give Imran tough time
Amir Wasim
July 30, 2018
ISLAMABAD: The country's two major parties — Pakistan Muslim League-Nawaz and Pakistan Peoples Party — are set to play an ARD-like opposition role in parliament as they have agreed on formulation of a "coordinated joint strategy", if the Pakistan Tehreek-i-Insaf manages to form its government at the Centre.
The broad-based understanding on cooperation was reached during the first direct meeting between the leaders of the PML-N and PPP after the July 25 general elections here on Sunday.
"It was an ice-breaker," said PML-N's Mushahid Hussain Sayed, when asked about the outcome of the meeting held at the residence of former National Assembly speaker Sardar Ayaz Sadiq.
"It was a very good meeting and you can call it a meeting of the minds," the PML-N leader said, adding that there was complete unanimity of views between the two parties that the "July 25 elections have been stolen".
He said both sides were of the view that they should "completely reject" the election results and should adopt "a coordinated joint opposition strategy" to give a tough time to the Imran Khan-led PTI government while staying inside parliament.
He said the two parties would meet again on Monday as the PML-N had told the PPP representatives that it would inform them about its decision on a proposal of the Muttahida Majlis-i-Amal (MMA) to boycott parliament. He said the PPP delegation had informed the PML-N that they were not in favour of boycotting parliament.
The PPP delegation comprised Yousuf Raza Gilani, Sherry Rehman, Qamar Zaman Kaira and Farhatullah Babar while the PML-N side was represented by Mushahid Hussain Sayed, Ayaz Sadiq, former prime minister Shahid Khaqan Abbasi and Sardar Mahtab Ahmed Khan.
Later, the PPP delegation also held talks with Jamiat Ulema-i-Islam (JUI-F) chief Maulana Fazlur Rehman and tried to persuade him to reverse his decision of boycotting parliament.
Talking to Dawn, Sherry Rehman said they had urged the Maulana not to boycott parliament because by "vacating the space we will be providing a walkover" to the PTI.
She said the parties had had a bad experience of boycotting the elections or parliament in the past, adding that the PPP had even questioned the credibility of the 2013 elections and the party leadership had dubbed them "RO elections", yet they had participated fully in the parliamentary proceedings to strengthen democracy.
"We are very clear that democratic forces while condemning the polls have all the rights to sit on the seats for which they had fought very hard," she said.
In reply to a question, Ms Rehman said consultations among the parties would continue and they were expected to have more sessions.
Both the PPP and PML-N leaders said that so far they had not discussed any strategy for the upcoming elections for key parliamentary offices of the speaker and deputy speaker, adding that such minute modalities would be discussed at a later stage.
Although the PTI has emerged as the single largest party in the National Assembly after the polls, the final results issued by the Election Commission of Pakistan (ECP), however, shows that the party is still short of numbers to form its government independently. According to the results, the PTI has bagged 115 general seats — 22 short of simple majority — whereas the PML-N and PPP have won 64 and 43 seats, respectively.
Sources in the PPP and PML-N told Dawn that Maulana Fazlur Rehman, who also heads the MMA, had shown flexibility and might reverse the decision taken at a multi-party conference to boycott the oath-taking session of parliament. They said the Maulana had suggested that they should jointly field candidates for the parliamentary offices and make every effort to prevent the PTI from forming its government at the Centre.
Since the MMA has 12 seats, the combined seats of the PPP, PML-N and MMA become 117 — two more than the PTI's number of seats.
The sources said that a joint meeting of the leaders of the three parties was also expected to be held on Monday (today).
Last time it was after the 2002 elections when the PPP and PML-N had forged an anti-government alliance — Alliance for the Restoration of Democracy (ARD) — under Nawabzada Nasrullah Khan. The MMA was another opposition alliance in parliament at that time. The members of the ARD and MMA had given a tough time to the military government of Gen Pervez Musharraf who had picked Zafarullah Jamali as the prime minister. Over 100 members of the two alliances kept parliament non-functional for a record almost one year through noisy protest against the Legal Framework Order of the military regime, forcing the government to hold talks with the opposition.
The issue was resolved when the MMA entered into an agreement with the military-led civilian regime and parliament approved the controversial 17th Constitution Amendment giving indemnity to the acts of Gen Musharraf, including the amendments he had made to the Constitution.
Full report at:
https://www.dawn.com/news/1423776/ppp-pml-n-join-hands-to-give-imran-tough-time
--------
Overseas Pakistanis pinning hopes on Imran to deliver on promises
July 30, 2018
ISLAMABAD: Overseas Pakistanis and professionals are pinning high hopes on Imran Khan as Pakistan Tehreek-e Insaf (PTI) is set to form the next government, saying that the time has come to deliver on his vision of a new, prosperous Pakistan after winning the nation's trust.
Pakistanis settled in the United Kingdom (UK) and professionals hailing from his home town said if incentives are given with genuine one-window facilitation then they would mull over the option of investment for playing their role in the crippling economic crisis, some people told APP in their separate comments.
Amman Yusaf, working in optometry in central London said that it was encouraging to hear Imran Khan tap the potential of over 7 million overseas Pakistanis fanned out across the globe to surmount the daunting challenge of eliminating corruption.
"But the real hiccup is the availability of basic information on-line about investment incentives and sectors where expatriates can invest, garnering prompt responses to their email requests," he said.
Pakistan's expatriates will be ready to respond provided they have an iron-guarantee that their investment will remain safe and they will not be dragged into unnecessary litigation by locals. Being able to concentrate on business ventures thus necessitates requisite judicial reforms too, said Amman.
"We're going to run Pakistan in a way it's never been run before," Imran said in his victory speech after he bowled out his opponents while his supporters took to the streets in celebration.
Imran narrowed the focus onto bad governance which caught the attention of the common man who faces it day in and out during his visit to a government office or a hospital. Instead of being served, the poor chap is made to run from pillar to post to get normal chores done.
"In Pakistan, the main problem is not extremism," The New York Times quoted Imran saying in a recent interview. "We are a governance failure. And in any third world country, the moment the governance collapses, mafias appear."
The PTI chief's emphasis on the rule of law also went down well with overseas Pakistanis like Maham Malik who hails from Namal Valley and has just graduated from Durham University Law School (England) with First Class Honours. When approached, she said "institutions can topple harmful structures of power through the judicial process. The aftermath of the elections reveal the democratic process can do the same. Hearing Imran Khan's victory speech, I was struck by the wisdom and sincerity in his success," said Maham, who is also a Harmsworth Scholar at the Honorable Society of Middle Temple in London.
"The underlying theme of his plans for the future rest on the very essence of constitutionalism and power which the law strives to uphold. A leader willing to harmonise the relationship between different arms of government for mutually complementary progress is a great achievement for any nation, let alone a young and fragile democracy like ours. Finally, Pakistanis have a chance to speak truth to power," said Malik.
Fahad Malik, an architect based in London commenting on Khan's address said " I recently heard Imran's victory speech, where he extends a hand to overseas Pakistanis to come back and invest in our country. With this in mind, I would like to take this opportunity to extend that hand back."
With a primary focus on solving the housing crisis facing the country, he hoped the new government would support incentives for architects living abroad to work in Pakistan.
"In most of the world, particularly developing countries, design is considered a luxury and hence not usually afforded. I am astonished at the level of construction happening in my country and in turn distraught at the lack of beautiful design," Fahad said responding to PTI's plan to build millions of homes across the country to address shortage of houses.
Meanwhile in his home district Mianwali, the people expect much more to unravel the web of poverty wound around the 238000 souls of this district.
Moeen Abbas, an MBA graduate from Oxford who grew up in Namal proposed that even if the Cattle Market at Bun Hafizjee every Thursday could be expanded into the food-grain market, it could be a harbinger of change in the development of the poor of the area. This Mandi already performs the much needed job of eliminating the middle-man in rural markets.
"Like many small towns, the "Mandi" (market) is deeply rooted in the socio-economic system of Namal Valley. Cobblers and farmers toil all year round, artisans sweat to craft their wares, and people of the valley flock to buy these items at dirt cheap prices," said Moeen who is working as a consultant in Islamabad.
President of PTI in Namal Mr Shaukat, jubilant over the victory of his party said it was the people's faith in Imran's honesty and his vow to rid the country of corruption which captured their imagination.
In the virtual absence of a well-established local bodies system, the constituents in his hometown insisted that parliamentarians carry out development and infrastructure, by building roads and schools.
Howevver, Imran had already won hearts of Namal's constituents who were the first to elect him as MNA in 2002. In return he set up Namal University, which secures internationally recognized degrees as a University of Bradford affiliate. Nestled in the craggy mountains, it has changed the fate of many in this poverty-stricken area. Imran's singular achievement also forced the Punjab government to open a college in the area – a dream which had been eluding the people for decades.
A young advocate Bilal Ahmed who practices in Islamabad said the two educational institutions will help alter the destiny of the poor who otherwise cannot think of securing higher education. "They want Imran to set up a crockery manufacturing factory in the area as china clay is being produced in the mountains near Namal University," said Bilal.
Full report at:
https://www.pakistantoday.com.pk/2018/07/30/overseas-pakistanis-pinning-hopes-on-imran-to-deliver-on-promises/
--------
Imran Khan must help end the persecution of Pakistan's Ahmadi Muslims
By Qasim Rashid
July 29, 2018
On July 25, Pakistan went to the polls and handed the most seats in parliament to Pakistan Tehreek-e-Insaf (PTI), the party of athlete-turned-politician Imran Khan. While hailed as a victory by many, the reality is that the Khan regime foreshadows immense hardship and violence for Pakistan's religious minorities — particularly that of the Ahmadiyya Muslim Community.
Election Day violence and claims of voter fraud notwithstanding, there's an additional sinister reality that few in Pakistan are willing to discuss. For decades, Pakistan's Ahmadi Muslims have suffered complete voter disenfranchisement on account of our faith — and this Election Day was no different. This election, Khan stood silent as Ahmadi Muslims were again disenfranchised.
Pakistan's version of Jim Crow laws mandate two draconian options for the nation's some 500,000 Ahmadi Muslims. To vote, Ahmadis must either declare themselves non-Muslim or declare Mirza Ghulam Ahmad, the Messiah and Mahdi and founder of the Ahmadiyya Muslim Community, as a false prophet and liar. Ahmadi Muslims reject both positions, and are thus forced into disenfranchisement.
Khan's record is one of capitulation to the Taliban, acquiescence to unjust law and deflection from accountability. As journalist Jon Boone documented, "At the peak of the Taliban's terror campaign in 2014 Khan was pleading for them, saying they were 'confused.' He thought the Taliban should be given an office in Peshawar from where they could parlay with the government. He bitterly opposed a military confrontation with the group, saying it would only fuel more violence."
"As things turned out," Boone noted, "Khan was wrong and the liberal fascists were right. After much foot dragging, largely caused by Khan's noisy opposition, the army finally assaulted North Waziristan. The rate of Taliban violence fell precipitously."
Khan hasn't changed his views. In fact, he has doubled down, with reports that in January, his party "gave a grant worth PKR 550 million [more than $4 million] to madrasas of Sami-ul-Haq, who is also known as the 'Father of Taliban'. Ahead of the polls, PTI joined hands with Maulana Fazlur Rehman Khalil, who is on the US terror watch list."
Khan claims he seeks justice for all people of Pakistan regardless of faith or creed, but his actions prove to the contrary.
Still, if Khan is sincere, he can prove it by returning free and fair voting rights to Pakistan's Ahmadi Muslims — a feat literally a pen stroke away. An executive order issued by then-President Pervez Musharraf relegated Pakistan's Ahmadiyya Muslim Community to a separate voter roll. Khan can issue another executive order and repeal this unjust law. Will he?
Pakistan's own Constitution and the International Covenant on Civil and Political Rights — which Pakistan has ratified — mandate religious freedom. Thus, Khan can prove his commitment to justice by demanding a repeal of Pakistan's second amendment which declares Ahmadi Muslims as non-Muslims, the 1984 anti-Ahmadi ordinance mandating fines and arrest for Ahmadis identifying as Muslim, and the 1986 blasphemy law that is frequently used to target Ahmadi Muslims, Christians, Hindus and atheists.
Instead, Khan is on the record stating, "I say with full conviction that … [Ahmadis] cannot call themselves Muslim … and we will stand by and fully protect Pakistan's 295-C." Section 295-C of the Pakistan Penal Code enforces a mandatory death sentence for the act of "blasphemy," which Ahmadi Muslims are apparently de facto committing due to our belief in Mirza Ghulam Ahmad as the Messiah. Khan moreover frequents "Finality of Prophethood" conferences, which are run by religious extremists with a history of targeting Ahmadi Muslims.
Peculiar but significant is that every Pakistani prime minister or president, from Benazir Bhutto to Nawaz Sharif, persecuted Ahmadi Muslims — and each ultimately succumbed to the extremism or corruption they enabled.
If Khan intends to buck history, he must stop acquiescing to extremism. Notwithstanding the blood on his hands for supporting the Taliban as they killed thousands of Pakistanis — including scores of Ahmadi Muslims — you will never hear Khan affirm his support of Ahmadi Muslims. When asked whether he supports Ahmadi rights, he has responded that he "supports all rights." Khan is the Pakistani version of "all lives matter." Meanwhile, Ahmadi Muslims continue to suffer religious, social and political apartheid.
On July 25, while my fellow Ahmadi Muslims were again denied the foundational right to vote in Pakistan, I presented our case for justice before Sam Brownback, the U.S. ambassador for religious freedom, in Washington at the State Department's first-ever Ministerial to Advance Religious Freedom. With representatives of more than 80 governments present, our case was received with a round of applause.
If Khan were present, would he have clapped for justice for Ahmadi Muslims? As the incoming prime minister who ran on slogans for justice, he should prove it with his actions.
Stories from The LilyThe Lily, a publication of The Washington Post, elevates stories about women.
Full report at:
https://www.washingtonpost.com/news/global-opinions/wp/2018/07/29/imran-khan-must-help-end-the-persecution-of-pakistans-ahmadi-muslims/
--------
Winning two PA seats, nascent TLP gets ready to enter Sindh Assembly
Imran Ayub
July 29, 2018
KARACHI: Amid many surprises and upsets in general elections 2018, Tehreek-i-Labbaik Pakistan has emerged as a new force to claim the highest number of religious votes in Karachi. It beat the five-party alliance Muttahida Majlis-i-Amal, which many say is fast losing support of mainstream parties of the Barelvi school of thought.
The TLP, however, says it is a "well-deserved" rise for the party, which came into the limelight after the execution of Mumtaz Qadri, the self-confessed and convicted killer of Punjab governor Salman Taseer, with the name of Tehreek Labbaik Ya Rasool Allah (PBUH). The TLP turned into a political party last year when it launched a protest sit-in across the country against the alleged change in the oath for lawmakers in parliament and the declaration for voters regarding Khatm-i-Nubuwwat.
"We got 321,000 votes in Karachi for our National Assembly candidates while the number of votes for our Sindh Assembly candidates is much higher and we won two [PA seats]," said Bilal Ghazi of the TLP. "We could perform much better if the results were not held back. In three provincial assembly and in one National Assembly seats, the results were changed. We could have won at least six Sindh Assembly seats and one of the National Assembly."
He said the role of the TLP during the past two years helped it make inroads with religious voters, who had been disappointed by the mainstream religious parties. It was a "natural rise", he said, which was successfully turned into votes by the party.
"The decision on this would be made by our Majlis-i-Shura at its meeting next week," he said when asked about the expected role of the TLP legislators on treasury or opposition benches in parliament. "Whatever is decided, we have a two-point agenda as a party — enforce the Shariat of Prophet Muhammad (PBUH) in the country and defend Khatm-i-Nubuwat."
The Barelvi vote
The mainstream religious parties of the Barelvi school of thought are not ready to concede defeat but cautiously agree that the people have voted for the TLP in larger numbers. Jamiat Ulema-i-Pakistan-Noorani, which is part of the MMA, and the Sunni Tehreek, which failed to put up an impressive show, put the blame on "rigged and unfair elections" rather than growing support for the new party.
"We as the MMA have already rejected the elections and its results. So it would not be wise to separately comment on the performance of one party in Karachi alone. You see the process as a whole and we believe that it was not a free and fair election whether it's Karachi or any other part of the country. In this context, how one can judge performance of any party," said a spokesman for the JUP-N — a viewpoint seconded by the Sunni Tehreek.
However, the rosy picture painted by the TLP leaders for their rising support and its rejection by the JUP-N and ST, both appear unfair assessments for political pundits and analysts, who see the party growing with a certain ideology also has the support of state forces, which have brought it into electoral politics and made its acceptable in the people despite serious criticism.
Full report at:
https://www.dawn.com/news/1423491/winning-two-pa-seats-nascent-tlp-gets-ready-to-enter-sindh-assembly
--------
PTI has broken dynastic hold on Pakistan's politics: US media
July 30, 2018
ISLAMABAD: The United States' (US) print and electronic media continues to highlight Imran Khan's triumph in the Pakistani elections, saying that Pakistan Tehreek-e-Insaf (PTI) has broken the dynastic hold on the country's politics.
Bloomberg, an international news service, said in a dispatch that Imran Khan's pledge to eradicate corruption appealed to voters.
It said that the victory for the ex-cricket captain turned anti-corruption crusader ends the decades long rotational grip of Sharif's Pakistan Muslim League-Nawaz (PML-N) and the Pakistan People's Party (PPP) headed by Bilawal Bhutto Zardari.
The agency said that Imran Khan has led a relentless anti-graft campaign. It said, "The PTI leader campaigned on making Pakistan an 'Islamic welfare state,' but the party will first have to deal with a mounting financial crisis.
The New York Times (NYT) reported that Imran Khan's success in the elections is a stunning rise for someone who has spent much of his political career on the fringes of Pakistan politics.
The paper also said that one of the first tasks for the next government will be to avert a currency crisis.
Full report at:
https://www.pakistantoday.com.pk/2018/07/30/pti-has-broken-dynastic-hold-on-pakistans-politics-us-media/
--------
Afghan President Ghani invites Imran to visit Kabul
JULY 30, 2018
Pakistan Tehreek-e-Insaf (PTI) leader Naeemul Haque Sunday said Afghan President Ashraf Ghani had invited prime minister-in-waiting Imran Khan to visit Kabul.
"The Afghan president telephoned Imran and congratulated him on his victory in the 2018 General Election," Haque said while addressing the media in Islamabad.
Also the Afghan president confirmed via a tweet that he had called Pakistan Tehreek-e-Insaf (PTI) Chairman Imran Khan and congratulated him on his victory in the elections, and invited him to visit Kabul.
Ghani tweeted that both sides had also "agreed to overcome the past and to lay a new foundation for a prosperous political, social and economic future of both countries Afghanistan and Pakistan."
The Afghan president also said that he had invited the PTI chief to Kabul.
"I extended an open invitation to Mr. Khan and he expressed his wishes to visit Kabul soon."
Haque said that the PTI chief told the Afghan president that he would visit Kabul after assuming power.
Further, the PTI leader urged Muttahida Majlis-e-Amal (MMA) President Maulana Fazlur Rehman to not boycott parliament.
" Fazlur Rehman should take back his decision in light of Imran's vow to aid in probing opposition parties' rigging allegations," Haque asserted.
The PTI leader also shared that the PTI was in talks with various political parties for support to form the government in the Centre and Punjab.
Full report at:
https://dailytimes.com.pk/275303/afghan-president-ghani-invites-imran-to-visit-kabul/
--------
Ex-Pakistani PM Nawaz Sharif moved to Islamabad hospital
July 30, 2018
Pakistan's former Prime Minister Nawaz Sharif, who is serving a 10-year prison sentence, has been hospitalised after suffering heart problems.
Authorities on Sunday moved Sharif from Adiala prison in Rawalpindi to the Pakistan Institute of Medical Science (PIMS) in the capital, Islamabad, on the recommendation of doctors.
Shaukat Javed, a minister for Punjab province where the prison is located, told state media that doctors had examined Sharif, 68, after he complained of chest pains and that an electrocardiogram (ECG) confirmed there were irregularities.
"How many days he stays in hospital depends on doctors," Javed said in comments broadcast by the state-run PTV channel.
Sharif's Pakistan Muslim League-Nawaz (PML-N) party said on Twitter that the former prime minister had agreed to be treated at the hospital after consulting with his personal doctor.
Wasim Khwaja, a spokesman for PIMS, said Sharif was being treated in the hospital's cardiac centre and that his condition was stable.
Extra police and paramilitary troops were deployed to assist hospital security, according to Khwaja.
On July 24, a medical board met to assess Sharif's health and said he was in need of constant medical care, according to Pakistani media.
He is diabetic and has a history of heart problems, undergoing bypass surgery in 2016.
Corruption conviction
Sharif and his daughter Maryam Nawaz were convicted of corruption on June 6 in a case relating to the ownership of four luxury apartments in London, Britain's capital.
They have been held at the high-security prison since July 13. A court will hear their appeals on July 31.
Sharif was dismissed as prime minister in July 2017 over corruption allegations revealed in the Panama Papers.
The PML-N suffered a heavy defeat in Wednesday's general elections, winning only 64 of the 137 seats needed for a parliamentary majority.
The party of Imran Khan, a former cricket player and longtime critic of Sharif, finished first but will need to form a coalition to govern.
Shehbaz Sharif, the PML-N chief and Nawaz's brother, criticised the results as "sheer rigging".
"The way the people's mandate has blatantly been insulted, it is intolerable," he told a news conference on Wednesday.
For his part, Khan has offered to investigate the claims, saying he wants to unite the country under his leadership.
Full report at:
https://www.aljazeera.com/news/2018/07/pakistani-pm-nawaz-sharif-moved-islamabad-hospital-180729173106767.html
--------
Africa
Wives of Boko Haram Militants Struggle with Group's Image
July 29, 2018
In a new, two-level building near low-cost housing, more than 20 women, all covered in brightly colored clothing, listen to their teacher.
He speaks to them in two languages, Hausa and Kanuri. He explains how the women can save money and use it together. He suggests they set up a cooperative – an organization owned and operated by the people who use its services.
For these women, this class is the answer to changing their lives. Some of the women are married to militants, members of Boko Haram. The group has terrorized northeastern Nigeria and nearby areas since 2009. Most of the women are widows. They are trying to provide for their children after their husbands were killed. Others say their husbands are being held by the government.
All of the women say they face stigma in their communities.
"People are afraid. Some people, because of who they think my husband was, they won't even like to help me," said Aisha Ali, a mother of eight children.
Seeking financial independence
Her husband was killed by Nigerian security forces. She wants to separate herself from Boko Haram. Like the other women, Ali knows that she needs to have business skills because some of her neighbors are too afraid to give her financial help
Ali has been coming to the Future Prowess women's skills training center to learn the art of weaving. All of her financial hopes lie in becoming an expert weaver.
"This training that I am receiving will help me and my children and, if possible, help me take them to school and end my suffering," Ali told VOA.
The Future Prowess Islamic Foundation School teaches business and artisanal skills to women, while a local nongovernmental organization operates a nearby school for some of their children.
"Some of them, their parents were killed in their presence," says Suleiman Aliyu, the head of the school. "We try to organize a trauma session for the new ones that will be enrolled plus their mothers."
The school, which receives aid from nongovernment agencies, operates on trust and keeps personal information private. Teachers do not tell anyone which students are the children of Boko Haram members.
The effects of the militant group's violence can be seen across the Borno State capital, which is where the group started.
Some schools are still being re-built following Boko Haram attacks. Thousands of people whose homes and villages were destroyed still live in camps around the city.
Since 2009, Boko Haram forces have destroyed homes, crops, bridges and other infrastructure. The World Bank and the Nigerian government estimate the group has caused about $9 billion worth of damage just in northern Nigeria.
But there is no value that can be put on the damage and trauma done to the lives of people who call the area home.
Support program for the women
Back at the training center, widows of Boko Haram members work side-by-side with widows of men who were killed by Boko Haram.
At first, getting the women to sit together was difficult. They were required to join in a support program to talk about the violence they experienced.
Kamil Issa, the administration assistant for the Future Prowess training program for women, described the discussions.
"This one is not the one that killed you, this one is not the one that killed," she said.
Hadiza Ali's husband died of a heart attack four years ago. He once belonged to Boko Haram.
Ali says she is seeing results after attending the training program.
"Even right now, I've been making bags and I sold some four bags," Hazida Ali said.
These women hope for a new start, away from a life of terror and violence, to a life of financial security and happiness.
https://learningenglish.voanews.com/a/wives-of-boko-haram-militants-struggle-with-group-s-image-/4501299.html
--------
Boko Haram kills 11 troops in NE Nigeria
July 30, 2018
KANO, Nigeria : Boko Haram fighters killed 11 troops and seized weapons in a raid on a military post in the latest such attack in northeast Nigeria, residents and a military source said on Sunday.
Gunmen in five trucks and on motorcycles stormed the checkpoint in Bunari village near the garrison town of Monguno in Borno state late Friday, leading to a fierce battle.
"They came around 6:30 pm (1930 GMT) and attacked the military checkpoint and soldiers responded with fire," resident Amadu Sheriff told AFP.
"The attackers overpowered the soldiers who took up positions in the trenches dug round the checkpoint from where they fought the Boko Haram gunmen," he said.
Three civilians, including a woman and her child, from a nearby settlement, were killed by stray bullets, he said. He said residents of the nearby settlement evacuated on Saturday and moved to Monguno for fear of renewed attacks.
Sheriff had no idea of military casualties but saw "two ambulances carrying dead soldiers" being taken to Monguno, eight kilometres (five miles) away.
A military source who confirmed the attack said 11 troops were killed.
"Four (military) vehicles including an APC (armoured personnel carrier) and a gun truck were carted away by the terrorists," said the military source who asked not to be identified because he was not authorised to speak on the incident.
The attackers were repelled with the help of reinforcements from Monguno, he added.
News of the attack was slow to emerge due to poor communication in the area where Boko Haram has destroyed telecoms infrastructure in the last three years.
Boko Haram has launched repeated attacks recently.
The Islamists late Thursday stormed a base on the outskirts of Jakana, a village 30 kilometres (18 miles) from Maiduguri, firing guns and rocket-propelled grenades before sacking and burning down a police station.
Two weeks ago, the jihadists overran a military base in nearby Yobe state.
On July 14, jihadists believed to be loyal to Boko Haram factional leader Abu Mus'ab Al-Barnawi, raided a base in Jilli village.
Dozens of troops were said to have been killed or missing.
The day before the attack, 23 troops went missing after a military convoy was ambushed by fighters in the Bama area of Borno state, where the Abubakar Shekau faction of Boko Haram is strong.
Full report at:
https://nation.com.pk/30-Jul-2018/boko-haram-kills-11-troops-in-ne-nigeria
--------
KSRelief launches food aid project for Somali refugees in Kenya
29 July 2018
The King Salman Humanitarian Aid and Relief Center (KSrelief) has launched a project to distribute over 1,200 tons of food aid to Somali refugees in the Dadab region in Kenya benefiting 77,646 people including nursing mothers, pregnant women and tuberculosis patients.
https://english.alarabiya.net/en/News/gulf/2018/07/29/KSRelief-launches-food-aid-project-for-Somali-refugees-in-Kenya.html
--------
Somali forces clash with Al Shabaab near Hudur town
29th July 2018
MOGADISHU, Somalia – Heavy fighting broke out between Somali army forces and Al Qaeda linked Al Shabaab fighters near Hudur town, some 302 kilometers (188 mi) northwest of Somali capital Mogadishu.
The gun battle flared up when Somali military forces launched an attack on bases controlling under Al Shabaab near the town, leaving three militants dead, a military officer, Nour Hussein said.
"We have killed 3 militants in an operation near Hudur town, we are still pursuing other militants who escaped with injuries", he said.
Hussein added that the military forces would continue targeting key area under control of Al Shabaab.
"We want to join in other military operations against Al Shabaab, which are ongoing in south and central of Somalia, in a bid to eradicate the group's fighters", he said.
Full report at:
https://mareeg.com/somali-forces-clash-with-al-shabaab-near-hudur-town/
--------
North America
A Yemeni-American Man Died By Suicide After Trump's Travel Ban Separated Him From His Family
JUL 29, 2018
President Trump's truly evil family separation policy has really taken the heat off of his also-nightmarish travel ban. But the unlike the family separation rule, which Trump suspended via executive order, the travel ban is still in effect. NBC News reported a tragic story from the fallout of this cruel policy, that of a U.S. citizen who died by suicide earlier this month after his wife and two of his children were denied visas to join him in America.
Mahmood Salem, who emigrated from Yemen, was distraught after his family members were barred from the U.S. and left stranded in Djibouti. He called them to say goodbye, then died by suicide on July 18th. Relatives reported that he could no longer afford to financially support his family from abroad, and that Salem's children were sick.
Salem's brother Mimun told NBC that the family's visa denial was "the first and main reason" for Mahmood's death. Reuniting the family in their native Yemen wasn't an option, as Yemen is locked in a civil war that has devastated the nation and left its population near starvation, in what the U.N. has called the "world's worst humanitarian crisis."
Trump's travel ban, which the Supreme Court upheld last month, forbids issuing visas to those from Iran, Libya, Syria, Somalia, and Yemen, as well as to North Koreans and some Venezuelans. The inclusion of two non-Muslim countries has been used by the President's supporters to suggest that the rule is not intended to be Muslim ban, despite all the times Trump is on record saying he wanted to prevent Muslims from entering the U.S.
The ban's application to the included non-Muslim countries also has little real-world effect, as the vast majority of Venezuelans are free to enter the U.S.—only certain government officials and their families are ineligible for visas. And banning North Koreans can only be symbolic, given the fact that that nation's totalitarian regime isn't really big on freedom of movement.
In a bitter irony, the U.S. government finally permitted Salem's family an exemption from the travel ban—five days after his death.
https://www.esquire.com/news-politics/a22584044/yemeni-american-suicide-trumps-travel-ban/
--------
Trump wants Afghan forces in Kabul, other big cities: Sources
Jul 29, 2018
Officials from the administration US President Donald Trump are pushing Afghan forces to move their soldiers to big cities like the capital Kabul, sources say.
Citing three officials familiar with the president's war strategy, The New York Times reported Sunday that the incentive is avoiding aggressors' attacks in isolated outposts manned by Afghan forces.
The officials further told the daily that the approach is a previously undisclosed part of the war strategy that the president announced in 2017.
"The withdrawal resembles strategies embraced by both the Bush and Obama administrations that have started and stuttered over the nearly 17-year war. It will effectively ensure that the Taliban and other insurgent groups will hold on to territory that they have already seized, leaving the government in Kabul to safeguard the capital and cities such as Kandahar, Kunduz, Mazar-i-Sharif and Jalalabad," read the report.
Earlier this month, US Secretary of State Mike Pompeo said Washington is ready to negotiate with Taliban.
This is while Trump has boosted US forces in Afghanistan, bringing the official number to 14,000 American soldiers.
He has also removed any timeline for the US forces to leave the country.
"The retreat to the cities is a searing acknowledgment that the American-installed government in Afghanistan remains unable to lead and protect the country's sprawling rural population. Over the years, as waves of American and NATO troops have come and left in repeated cycles, the government has slowly retrenched and ceded chunks of territory to the Taliban, cleaving Afghanistan into disparate parts and ensuring a conflict with no end in sight," read the Times.
The United States invaded Afghanistan in October 2001 after the September 11 attacks on New York and Washington, and overthrew the Taliban regime. But US forces have remained bogged down there through the presidencies of George W. Bush, Barack Obama and now Trump.
Full report at:
https://www.presstv.com/Detail/2018/07/29/569634/Trump-wants-Afghan-forces-in-Kabul
--------
Canada to provide CANS$50M for Palestinians
30 July 2018
Canada announced Sunday it will provide CAN$50 million ($38.2 million) for humanitarian aid in Palestine.
In a written statement, Canadian Development Minister Marie-Claude Bibeau said: "Canada is committed to addressing the needs of the poorest and most vulnerable Palestinians."
The statement came during Bibeau's visit to Israel and in the Israeli-occupied West Bank from July 25 to 29, 2018.
Highlighting that peace is necessary for a two-state solution, Bibeau said: "The fresh support for Palestinians focuses on urgent humanitarian needs and on economic growth"
A total of CAN$12.65 million ($9.7 million) will be allocated to the projects for food security, health, protection, and economic needs, as well as supporting survivors of gender-based violence.
Full report at:
http://www.worldbulletin.net/america-canada/204510/canada-to-provide-can50m-for-palestinians
--------
South Asia
Taliban militants suffer heavy casualties after blow by own IED in Kunduz
Jul 30 2018
At least eight Taliban militants were killed or wounded after blown by an improvised explosive device planted by own comrades in northern Kunduz province.
The 209th Shaheen Corps of the Afghan military in the North said the incident has taken place in Dasht Archi district.
The source further added that an improvised explosive device planted in Puli Moman village went off, leaving 5 militants dead and three others severely wounded.
Taliban and other militants often use IED as the weapon of their choice to target the security forces and government but in majority of such attacks ordinary civilians are targeted, besides such attacks often claims the lives of the militants as well.
The UN Assistance Mission in Afghanistan (UNAMA) in its latest report stated that 1,692 civilians were killed in the first six months of 2018.
According to UNAMA, the use of improvised explosive devices (IEDs) in attacks by Anti-Government Elements remained the leading cause of civilian casualties.
"The combined use of suicide and non-suicide IEDs caused nearly half of all civilian casualties. Continuing trends first documented last year by UNAMA, the majority of IED casualties were caused by suicide and complex attacks, which again were responsible for record high civilian casualties, resulting in 1,413 civilian casualties (427 deaths and 986 injured), a 22 per cent increase," UNAMA said.
https://www.khaama.com/taliban-militants-suffer-heavy-casualties-after-blow-by-own-ied-in-kunduz-05663/
--------
MWL Inaugurates Integrated Services Centre for Rohingya Refugees in Bangladesh
29 July, 2018
Secretary-General of the Muslim World League (MWL) Sheikh Mohammed al-Issa inaugurated an Integrated Services Center for Rohingya refugees in Bangladesh, stressing the importance of establishing the center as soon as possible.
Issa explained that the center will provide a small community for Rohingya refugees with social facilities offering basic education, vocational training and primary health care.
The Sec-Gen praised the strenuous efforts exerted by the International Association for Relief, Care and Development in preparation for planning the establishment of the Rohingya refugee services center. He also reviewed a visual report on the utilities and integrated services of the center, confirming that MWL was keen on supporting and relieving Rohingya displaced people who have suffered from brutality by racist terrorism.
MWL addressed the international community in a previous statement, according to Issa, slamming the atrocities suffered by Rohingya in Myanmar from brutal attacks and genocide.
"This disturbing historical chapter in the humanitarian and international record will be a witness to the magnitude of the failure to stop certain massacres and crimes of hatred," Issa stated, adding that these crimes are "one of the worst brutal and bloody terrorist images, which are no less than the terrorism and crimes of terrorist organizations around the world, such as ISIS."
Silence in the face of such brutal crimes is silence in the face of truth and this gives strong pretexts of the negative concepts on the weakness of the international justice system and its will to fight and eradicate terrorism, asserted the secretary-general.
Issa said that MWL is focusing on the economic empowerment of refugees to help them be productive and self-sufficient in their own environments, and thus achieve sustainable development, which ultimately is the main aim of the League's humanitarian work.
The secretary-general highlighted the importance of raising the health awareness of the Rohingya by focusing on and addressing the personal needs of women and their psychological and health requirements, in addition to providing personal health requirements for the rest of the family.
Full report at:
https://aawsat.com/english/home/article/1346841/mwl-inaugurates-integrated-services-center-rohingya-refugees-bangladesh
--------
5 'extremists' arrested in Dhaka, Chapainawabganj
Jul 30,2018
Rapid Action Battalion said on Sunday that they had arrested five suspected extremists, including members of Jama'atul Mujahideen Bangladesh, Ansar Al Islam and Islamic State-inspired faction of JMB, in operations in Dhaka and Chapainawabganj.
RAB-11 officials in Narayanganj said to have arrested two extremists — dentist Richard Palash Biswas, a converted Muslim and a supporter of 'Sarwar-Tamim faction' of JMB, from Tejgaon in Dhaka and goldsmith Sheikh Farid, an Ansar Al Islam campaigner, from Mugda in the capital late Saturday.
Palash Biswas was a friend of Bangladesh Army's late major Washikur Azad's son Tushar, who was one of the three extremists who appeared in an ISIS video in 2016 threatening of more terror attacks around the world.
The video was released days after five operatives of Islamic State-inspired faction of JMB stormed into the Holey Artisan café in Dhaka's diplomatic enclave and killed 22 people.
Palash was arrested from Tejgaon at 11:30pm on Saturday, said Alep Uddin, an assistant director of RAB-11.
Palash converted to Islam and turned into an extremist in 2008 after being influenced by jailed Islamic preacher mufti Muhammad Jasimuddin Rahmani, who was jailed for inspiring youth to kill secular bloggers.
The officials also arrested goldsmith Sheikh Farid from Mugda at 10:30pm on Saturday for continuing invitation on behalf of the banned extremist group.
Legal processes were underway, said Alep.
RAB-5 in Rajshahi in separate operations arrested three others — Muhammad Nazrul alias Nazu Maker, 50, and Abu Bakar, 38, both of Kanshat, and Selim Reza alias Hazrat Ali, 27, of Mubarakpur under Shibganj in Chapainawabganj along with books and leaflets, fund collection money receipts, three mobile phone sets and eights SIM cards.
RAB officials said that they arrested the three operatives of Shaykh Salahuddin-led JMB at Ghion village under Nachol upazila in Chapainawabganj about 11:45pm on Saturday.
The battalion in a statement said Nazrul joined JMB by 2008 and rose up to become a senior leader of the banned organisation.
By 2015, JMB's Rajshahi unit chief Shohel Mahfuz, also an accused of Holey Artisan Café attack case, insisted Nazrul to join Islamic State. Nazrul refused to join but continued with JMB and went into hiding after the police crackdown that killed IS-inspired faction of JMB operative Rafiqul Islam Abu, 30, in April 2017.
Both Abu Bakar and Selim Reza joined JMB in 2012, the battalion said.
The battalion officials said that Selim left Shibganj by October 2017 and joined an apparel factory in the industrial hub of Ashulia, on the outskirts of Dhaka.
Full report at:
http://www.newagebd.net/article/47248/5-extremists-arrested-in-dhaka-chapainawabganj
--------
People suffer as Tablig, Hefajat men hold rally in Mohammadpur
July 28, 2018
The residents of Dhaka's Mohammadpur and its adjoining areas today suffered due to severe traffic gridlock following a rally arranged by a faction of Tablig Jamaat and followers of Hefajat-e Islam.
Traffic movement was interrupted on Taj Mahal road, Noor Jahan Road, Town Hall, Mohammadpur bus stand and the adjacent areas due to the rally, our staff correspondent from the spot.
Over 20,000 leaders and activists of both the Islamic groups took part in the programme held at an Eidgah ground adjacent to Taj Mahal road in Mohammadpur. The rally began at 10:00am and ended around 1:00pm.
Hefajat-e Islam Chief Shah Ahmed Shafi, also the chairman of Qawmi Madrasa Education Board, was present at the rally.
Earlier this morning, thousands of followers of a faction of Tablig Jamaat and Hefajat-e Islam, who are against the Tablig Jamaat leader Maulana Saad Kandhalvi, reached Dhaka.
During the rally, many of them took shelter in different mosques of Mohammadpur area. Many were seen inside and in front of shops disrupting business in the area.
Loudspeakers were connected to the mosques from the main venue. Many loudspeakers were also set up at every alley and intersection and on different roads, witnesses said.
Students and office goers suffered the most. Many of them were seen walking on foot due to lack of transports in the area.
A resident of Mohammadpur area told the Daily Star that she suffered as she faced traffic gridlocks in the locality on her way to workplace in the city's Farmgate area as the Tablig and Hefajat men blocked many roads so that their leaders and activists can reach at the rally venue easily.
Today's rain made the situation even worse, she added.
During the programme, the Tablig Jammat leaders took six decisions, including to disobey any decision taken by Maulana Saad Kandhalvi.
They will not let Maulana Saad preach any sermon in Bangladesh, the leaders said.
Contacted, Biplab Kumar Sarkar, deputy commissioner (Tejgaon Zone) of Dhaka Metropolitan Police (DMP), told The Daily Star that the organisers of the programme sought verbal permission from police to hold the rally but did not submit any written application in this regard.
Replying to a question regarding the sufferings of people due to the rally, the police official said as it was a huge gathering, problem has been created.
The conflict between the two factions of Tablig Jamaat began during the Biswa Ijtema this year, the second largest Muslim congregation after the Hajj.
Hefajat-e Islam first tried to prevent Saad's arrival because they strongly opposed to his participation in the Ijtema over allegations that Saad had made "controversial statements about the Quran and Sunnah".
Finally, the top leader of the Tablig Jamaat Maulana Saad, who had been conducting the Akheri Munajat (concluding prayers) for the last three years, had to return to New Delhi without joining this year's Biswa Ijtema.
Full report at:
https://www.thedailystar.net/city/public-suffering-traffic-gridlock-tablig-jamaat-hefajat-e-islam-men-hold-rally-in-mohammadpur-dhaka-1612471
--------
Ghani once again nominates Anisa Rasooli for Supreme Court membership
Jul 30 2018
President Mohammad Ashraf Ghani has once again nominated Anisa Rasooli to obtain the membership of the high council of Afghanistan's Supreme Court.
The Office of the President, ARG Palace, said Anisa Rasooli has been nominated to obtain membership of the high council of Supreme Court of Afghanistan.
According to a presidential decree, a woman can be appointed as member of the Supreme Court in the light of Hanafi School, considering that her testimony is accepted apart from cases of capital punishment.
In another presidential decree, Abdul Shakoor Mahjoor has also been nominated to obtain the membership of the high council of Supreme Court of Afghanistan.
The high council of the Supreme Court of Afghanistan has nine members who are elected and introduced to the Afghan parliament in accordance with the constitution of Afghanistan.
Ms. Rasooli was appointed as the first female member of the Supreme Court of Afghanistan a year after the formation of the government of national unity.
The move was widely welcomed but the lawmakers in the Lower House of the Parliament did not cast enough votes to approve her as first female member of the Supreme Court of Afghanistan.
Full report at:
https://www.khaama.com/ghani-once-again-nominates-anisa-rasooli-for-supreme-court-membership-05662/
--------
Abdullah endorses US talks with Taliban in Qatar
Jul 29 2018
The Chief Executive of the Unity Government Abdullah Abdullah endorsed negotiations between the US officials and Taliban group representatives in Qatar.
Abdullah endorsed the talks as he was speaking during the conclusion of the conference 'The Voice of Minbar (Pulpit) in the Fight against Corruption' convened with the support of the Afghan religious scholars.
Pointing towards the talks between the US and Taliban in Qatar, Abdullah said such contacts were being made in the past as well and have positive impact on the ongoing efforts for reconciliation.
However, Abdullah emphasized that it will be Afghans only to lead the talks as foreign countries are negotiating to persuade Taliban for the Afghan-led negotiations.
This comes as a Taliban official had earlier termed the preliminary talks with the US officials as 'very useful' and promised to elect a delegation for the formal talks if some progress was made during the initial stage, it has been reported.
"The negotiations are at initial stage … and both sides discussed options to pave the way for future contacts and meetings," a Taliban official has told Daily Times.
Full report at:
https://www.khaama.com/abdullah-endorses-us-talks-with-taliban-in-qatar-05661/
--------
Ghani urges religious scholars to raise their voices against corruption
Jul 29 2018
Amid ongoing efforts to root out graft from the country, President Mohammad Ashraf Ghani on Sunday urged the religious scholars to raise their voices against corruption.
President Ghani urged the Ulemas to assist with the fight against corruption as he was speaking during a conference, The Voice of Minbar (Pulpit) against Corruption.
Emphasizing that no television or radio can take the place of Minbar, President Ghani thanked the religious scholars for the coordinating the conference regarding the fight against corruption.
He said the nation is not corruption but is a major nation comprised of religious scholars, women, and youths, who are corrupt and there is a minority which is involved in corruption and their involvement in graft must be prevented.
President Ghani further added that each individual including the President of the country should be accountable before the law.
He said the religious scholars should raise their voices with a similar strength they raised for peace and reconciliation.
Full report at:
https://www.khaama.com/ghani-urges-religious-scholars-to-raise-their-voices-against-corruption-05660/
--------
Ghani talks with Imran Khan over the phone after PTI's victory in elections
Jul 29 2018
President Mohammad Ashraf Ghani talked with Imran Khan over the phone after the victory of Pakistan Tehrik-e-Insaf (PTI) in the elections.
The Afghan Ambassador to Pakistan Dr. Omar Zakhilwal said "President Ashraf Ghani just called Imran Khan congratulating him on election victory."
Dr. Zakhilwa further added that president Ghani welcomed Imran Khan's statement about his intention to pursue policies supportive of peace and stability in Afghanistan and bringing our countries closer.
President Ghani also added that he looks forward to working together for those objectives
In the meantime, officials in Imran Khan's office in a statement have said that President Ashraf Ghani has invited Pakistan's next Prime Minister Imran Khan to visit Kabul in a phone contact on Sunday.
Imran Khan's spokesman Naeem ul Haq has said that Imran Khan has agreed to visit Kabul after assuming office.
This comes as Imran Khan on Thursday said that the Afghans have suffered most in the 'war on terror', and before that in the Afghan jihad, emphasizing that peace in Afghanistan means peace in Pakistan.
Full report at:
https://www.khaama.com/ghani-talks-with-imran-khan-over-the-phone-after-ptis-victory-in-elections-05659/
--------
Mideast
Palestinians need to unite against Israel: Ahed Tamimi
Jul 29, 2018
After being released from Israeli jail, Palestinian activist Ahed Tamimi has called for national unity in Palestine in the face of the racist Israeli apartheid regime.
Slamming a recent law passed by the Israeli parliament, which only gives the right to self-determination to Jewish people, the Palestinian activist said in a televised interview in the West Bank that the new law was "a racist apartheid law."
Tamimi, however, emphasized that such measures taken by the Israeli regime could not change the fact that the people of Palestine were the only ones who can decide their fate based on national unity.
"My message as Ahed Tamimi is that we need to create a link between the popular struggle and the national struggle and to boycott and isolate Israel and to try it as a criminal of war," she said.
Thanking all the people, media and campaigners for supporting her, the Palestinian activist called for a similar campaign for the release of other political prisoners, particularly minors, held in Israeli jails.
The 17-year-old Tamimi did not allow the Israeli media organizations present in the event to ask questions, noting that they were part of the Israeli occupation and should be boycotted.
The Palestinian activist further stated that she had decided to study law at university in order to defend the rights of the Palestinian people in international courts.
Tamimi and her mother were freed from Israeli jails after completing an eight-month sentence. She was arrested for slapping an Israeli soldier.
https://www.presstv.com/Detail/2018/07/29/569620/Palestine-Israel-Ahed-Tamimi
--------
In Saada, 20 Houthis killed, 28 imprisoned including high ranking commander
30 July 2018
In Saada, 20 Houthis were killed and 28 others held captive, including civilian commander Abu Yasser al-Khoulani, following an attack by the Yemeni army targeting Houthi bases east of Saada on Sunday.
A military commander confirmed that the army held the surprise attack with the support of the Arab Coalition, and liberated several strategic locations, including a the al-Shaeer and al-Raba mountain ranges and a military base in al-Raba.
Videos captured by Yemeni army soldiers showed the army and Arab Coalition forces destroying Houthi rocket launch pads, armed vehicles and military equipment.
The army also launched another military operation on the west coast of Yemen to cut off Houthi supplies coming from Sanaa.
Full report at:
https://english.alarabiya.net/en/News/gulf/2018/07/30/In-Saada-20-Houthis-killed-28-imprisoned-including-high-ranking-commander.html
--------
Israel navy intercepts activist boat trying to break Gaza blockade
29 July 2018
Israel's navy on Sunday intercepted a Norwegian-flagged activist boat trying to break its more than decade-long blockade of the Gaza Strip, the military and activists said.
"The activity ended without exceptional events," a military statement said. "At this time the ship is being transferred to the port of Ashdod" along the coast of central Israel.
An activist group affiliated with the boat, the Al-Awda (The Return), said 22 people and a cargo of medical supplies were onboard.
A second boat that is part of the same group, the Swedish-flagged Freedom, is expected to arrive in the same area in the next couple days, according to the Freedom Flotilla Coalition.
Four boats left from Scandinavia in mid-May and stopped in some 28 ports along the way, the coalition said. Two boats remained behind after a recent stop in Palermo.
Shortly before the Al-Awda, a fishing boat, was intercepted, the coalition released a statement saying the Israeli navy was issuing warnings to it.
"The Israeli navy claims our ship is breaking international law and threatens that they will use 'any measures necessary' to stop us," it said.
"In fact, the only 'necessary measures' would be to end the blockade of Gaza and restore freedom of movement for all Palestinians."
Israel has fought three wars with Palestinian militants in Gaza since 2008 and says the blockade is necessary to keep them from obtaining weapons or materials that could be used for military purposes.
Full report at:
https://english.alarabiya.net/en/News/middle-east/2018/07/29/Israel-navy-intercepts-activist-boat-trying-to-break-Gaza-blockade-.html
--------
Yemeni intelligence official assassinated in Aden by unknown gunmen
29 July 2018
Unknown gunmen on Sunday carried out the assassination of Col. Nasser Makireh al-Jaadani, an intelligence official at the Aden airport in front of the of Ba Janid Mosque in the Khor Mukasar district of central Aden.
A security source at Aden airport confirmed the death of Col. al- Jaadani, and said that his body was transferred to the Republican Hospital in Aden. He was the official of the al-Saifu neighborhood in Khor Mukasar district of the governorate.
The assassination of al- Jaadani came at a time when the city of Aden has been witnessing a number of assassinations of security officials and imams of mosques under mysterious circumstances.
https://english.alarabiya.net/en/News/gulf/2018/07/29/Yemeni-intelligence-official-assassinated-in-Aden-by-an-unknown-gunmen.html
--------
Yemeni forces fire ballistic missile at base run by Saudi mercenaries: Report
Jul 29, 2018
Yemeni army forces, supported by allied fighters from Popular Committees, have fired a domestically-designed short-range ballistic missile at a position of Saudi-backed militiamen loyal to resigned president Abd Rabbuh Mansur Hadi in the country's central province of al-Bayda.
Yemeni military sources, speaking on condition of anonymity, told Yemen's Arabic-language al-Masirah television network that the missile hit the designated target in al-Jaribat area of the province on Sunday.
There were no immediate reports about possible fatalities and the extent of damage caused.
Later in the day, Yemeni soldiers and their allies lobbed a barrage of artillery rounds at the strongholds of Saudi mercenaries in Saudi Arabia's southwestern border region of Najran.
Yemeni sharpshooters had earlier fatally shot three Saudi-backed militiamen in the al-Durayhimi district of Yemen's western coastal province of Hudaydah.
A civilian also lost his life and several others, including women and children, sustained injuries when Saudi fighter jets carried out an airstrike against residential buildings in the Riff al-Tahtia area of the same Yemeni province.
Meanwhile, the Saudi-led military alliance involved in the years-long aggression on Yemen alleged in a statement broadcast on Saudi Arabia's state-run al Ekhbariya television network that it had destroyed sites used by Yemeni Houthi Ansarullah movement.
The coalition claimed the "destruction of ballistic missile (launch) sites run by Houthi fighters in Sa'ada."
The Yemeni Ministry of Human Rights announced in a statement on March 25 that the Saudi-led war had left some 600,000 civilians dead and injured since March 2015.
The United Nations says a record 22.2 million Yemenis are in need of food aid, including 8.4 million threatened by severe hunger.
A high-ranking UN aid official has warned against the "catastrophic" living conditions in Yemen, stating that there is a growing risk of famine and cholera there.
Full report at:
https://www.presstv.com/Detail/2018/07/29/569627/Yemeni-forces-fire-ballistic-missile-at-base-run-by-Saudi-mercenaries-Report
--------
Yemeni troops kill four Saudi soldiers, capture two
Jul 29, 2018
Yemen's army troops and their Houthi allies have killed four Saudi soldiers and captured two others in counterattacks near the border, the al-Masirah television network reports.
The incidents came during the Yemeni army's attack on the Mash'al military base in the Jizan region in the kingdom's southwest, the broadcaster announced Sunday as it aired a picture of the two captured soldiers.
Yemeni snipers, meanwhile, killed eight mercenaries in Jizan, as well as in the west-central Yemeni Province of Ma'rib and the impoverished country's west coast, al-Masirah reported.
Yemen's War Media outlet has published a video featuring army operations against Saudi-backed militants in the Ta'izz Province in the country's southwest.
The operations, it said, led to the seizure of an Emirati military vehicle, and an unspecified quantity of weapons and ammunition.
The escalation came after Saudi Arabia resumed its heavy bombing of Yemen's lifeline port city of al-Hudaydah, hitting a police camp, a plastics factory, a radio station and a fishing pier.
The kingdom and the UAE launched a massive offensive to capture Hudaydah last month but their advances ground to an immediate halt in the face of stiff resistance by Houthi fighters and local residents.
The Saudi government said on Wednesday it had suspended oil shipments through the Red Sea after Yemeni fighters attacked two very large crude carriers of the kingdom.
The Houthis, who have previously threatened to block Bab el-Mandeb, said on Thursday that they had the naval capability to hit Saudi ports and other Red Sea targets.
The fighters also surprised the UAE by sending a drone over Abu Dhabi airport and forcing it close to international traffic.
Cholera threat
International NGO Save the Children has warned that fresh Saudi attacks could create the ideal conditions for a catastrophic new cholera outbreak affecting thousands of people in Hudaydah.
The recent bombings could make Hudaydah "ground zero" for a fresh outbreak, according to Helle Thorning-Schmidt, the body's CEO.
"Cholera could spread like wildfire in Yemen, potentially infecting thousands of children and completely overwhelming an already crippled health system," she said after a recent visit to Yemen. "Many hospitals have been reduced to rubble, and those that are still standing are barely functioning."
Full report at:
https://www.presstv.com/Detail/2018/07/29/569572/Yemen-Saudi-Arabia-soldiers-killed-arrested-Hudaydah-cholera
--------
Arab World
KSA-led coalition says destroyed Yemen rebel missile launch sites
July 30, 2018
RIYADH - A military coalition led by Saudi Arabia said Sunday it had destroyed sites used by Huthi rebels in neighbouring Yemen to launch missiles at the kingdom.
The coalition announced in a statement the "destruction over the past 24 hours of ballistic missile (launch) sites run by the Huthi militias in Saada", a northern Yemeni province bordering Saudi Arabia and controlled by the Huthis.
Riyadh and its allies are fighting alongside Yemen's government against the Iran-backed Huthis in a war that has killed thousands and pushed impoverished Yemen to the brink of famine.
Saudi Arabia's government-run Al Ekhbariya TV aired a 49 second clip showing black and white ariel footage of what it said was a coalition strike on Saada. The footage could not be independently confirmed. Saudi Arabia has come under increasingly frequent missile attacks launched by the Huthis from northern Yemen this year.
The kingdom's air defence forces say they intercepted all missiles, and only one casualty has been reported.
Saudi Arabia, the biggest crude exporter in the world, last week announced it had temporarily suspended oil shipments through the Bab al-Mandab Strait after a Huthi missile attack on an Aramco vessel. The strait connects the Red Sea to the Arabian Sea and is a crucial passage for oil and trade.
"The coalition will not allow the Huthi militias to build military capabilities that threaten regional waters," the coalition said. The Saudi-led alliance intervened in Yemen in 2015 to back the country's internationally recognised government after the Huthi rebels forced President Abedrabbo Mansour Hadi out of the capital Sanaa.
Nearly 10,000 people have been killed in the Yemen conflict since the 2015 intervention, 2,200 of them children.
Saudi Arabia accuses its regional arch-nemesis Iran of smuggling arms to the Huthis through Yemen's ports, namely the Red Sea port of Hodeida.
The Hodeida port was blockaded by the Saudi-led alliance earlier this year to retaliate against the rebels' missile strikes.
The blockade has since been partially lifted, but access to the impoverished country remains limited.
On June 13 Yemeni forces launched a major offensive to retake Hodeida.
Rebel-held Hodeida is the entry point for some 70 percent of imports in a country where eight million people face imminent famine.
https://nation.com.pk/30-Jul-2018/ksa-led-coalition-says-destroyed-yemen-rebel-missile-launch-sites
--------
Over dozen Daesh remnants slain in Iraqi army airstrikes, ground operations
Jul 29, 2018
More than a dozen members of the Daesh Takfiri terrorist group have been killed and several others captured as Iraqi air forces and government troops launched separate counter-terrorism operations across the crisis-hit Arab country to flush out the last remnants of the extremist outfit.
The second-in-command of Diyala Operations, Lieutenant General Hassan Mohammed, told Arabic-language al-Sumaria television network that nine Daesh Takfiris were killed when Iraqi military aircraft targeted a militant hideout in Hamrin basin, situated 90 kilometers north of Baquba.
Separately, Iraqi Interior Ministry spokesman, Brigadier General Saad Maan, announced in a statement that the 7th Police Emergency Regiment of the Nineveh Police Command arrested 8 Daesh terrorists, whom were wanted under Article 4/1 of the Anti-Terrorism Law, in the eastern part of the strategic northern city of Mosul on Sunday.
Elsewhere in the holy city of Samarra, Iraqi troops killed four Daesh terrorists, including three bombers, during an operation to beef up security.
"Iraqi army fighter jets struck a vehicle belonging to Daesh terrorist as soon as it arrived in Sa'ad al-Khuzeimi region west of Rutba. The airstrike killed a militant and injured three of his comrades. The slain terrorist has been identified as Khalaf al-Alwani," Iraqi Joint Operations Command (JOC) spokesman Brigadier General Yahya Rasool said.
On Saturday, members of the Iraqi Federal Police killed two Daesh militant commanders, one of them a Chechen national, during a clean-up operation in the oil-rich northern province of Kirkuk.
The media bureau of Iraq's Joint Operations Command (JOC) said in a statement that the two were killed in Dabba village, adding that security forces also set two militant hideouts on fire and captured ten Takfiri militants.
On June 30, Iraqi Prime Minister Haider al-Abadi, who is also the commander-in-chief of Iraqi forces, pledged to hunt down Daesh militants across Iraq after recent attacks and abductions carried out by the terrorist group.
"We will chase the remaining cells of terrorism in their hideouts and we will kill them, we will chase them everywhere, in the mountains and the desert," Abadi said.
Abadi declared the end of military operations against Daesh in the Arab country on December 9, 2017.
On July 10 that year, the Iraqi prime minister had formally declared victory over Daesh extremists in Mosul, which served as the terrorists' main urban stronghold in the conflict-ridden Arab country.
In the run-up to Mosul's liberation, Iraqi army soldiers and volunteer Hashd al-Sha'abi fighters had made sweeping gains against Daesh.
The Iraqi forces took control of eastern Mosul in January 2017 after 100 days of fighting, and launched the battle in the west on February 19 last year.
Full report at:
https://www.presstv.com/Detail/2018/07/29/569612/Over-dozen-Daesh-remnants-slain-in-Iraqi-army-airstrikes-ground-operations
--------
More Turkish Forces Killed in Kurdish Attacks in Northern Syria
Jul 29, 2018
The Kurdish-language Hawar news quoted the Kurdish-led People's Protection Units (YPG) as reporting that its militias attacked the Turkish troops and their allied militants in Shirava region in Afrin.
Hawar news further said that a roadside bomb went off along a road connecting Basilah to Koubaliyah.
It went on to say that a military vehicle was destroyed and five Ankara-backed militants were killed in the attack and in the blast.
In the meantime, five military policemen, affiliated to Turkish troops, and also a Turkish soldiers were killed in Kurdish fighters' attacks in Central Afrin, Hawar news said, adding that the total number of casualties of the Turkish army and their allied militants stands at 2,538.
On Tuesday, tens of civilians in the town of Jandaris took to the streets and demonstrated against the Ankara-backed militants, urging release of the civilians captured or abducted by Faylaq al-Sham militants.
In the meantime, the Turkish troops and Ankara-backed militants arrested two brothers from Amirat tribe and executed the brothers after torturing them.
Full report at:
http://en.farsnews.com/newstext.aspx?nn=13970507000782
--------
Turkish Army Reinvigorates Military Presence near Syria's Manbij
Jul 29, 2018
The Arabic-language al-Manar TV reported that the Turkish army deployed several military vehicles in the village of al-Jatal Northwest of Manbij to reinvigorate its forces in Northeastern Aleppo.
A Manbij Military Council commander disclosed last week that the council and the Democratic Civil Management running the region intended to hand over Manbij to the Syrian Army forces.
The Arabic-language al-Watan daily quoted the commander as disclosing that the military council and the civil management would never concede to Turkey's reign over the town, underlining that Ankara's presence and control over the town is a flagrant case of occupation.
It further said that talks are underway between Damascus representatives and the Manbij military council to pave the ground for handing over the town to the Syrian Army forces.
The daily went on to say that residents in and even villagers on the countryside of Manbij are urging deployment of Syrian army troops in the town.
Full report at:
http://en.farsnews.com/newstext.aspx?nn=13970507000622
--------
US Forces Dispatch More Military Aid to Allied Militias in Northeastern Syria
Jul 29, 2018
The Arabic-language al-Watan daily reported that the American forces have sent a convoy of military aid, including several military vehicles and cement-made barriers to the Syrian Democratic Forces (SDF) in Ein Issa region in Northern Raqqa.
The US forces' move came after tensions between the SDF and Raqqa residents rose and the SDF embarked on arresting a number of civilians.
In the meantime, four SDF gunmen were killed after a bomb went off near al-Andaras Farm in Western Raqqa.
On Tuesday, the US dispatched a convoy of military equipment and troops to its base in Northern Raqqa to clamp down popular uprising against its forces and allied militants.
A long convoy of the US military vehicles left Iraqi territories for Northern Raqqa.
The convoy included 300 trucks carrying logistic and military equipment, arms and ammunition for the US troops' base in Kharab Ashak region that is one of the most important bases of the US in Syria.
Full report at:
http://en.farsnews.com/newstext.aspx?nn=13970507000365
--------
Syrian Army Forwards More Troops to Northern Lattakia for Idlib Operation
Jul 29, 2018
A long convoy of military vehicles carrying fresh forces and a large volume equipment has been dispatched by the army from Southern Syria to Northern Lattakia.
The army is preparing to capture al-Ghaab Plain and Jabal al-Akrad in a region between Northeastern Lattakia and Western Idlib as government troops are completing anti-terrorism operation in Dara'a and Quneitra.
Over 35,000 fighters of Tahrir al-Sham, including Uzbek, Chechen, Uyghur and non-Syrian Arabs gunmen, are in Idlib province.
In a relevant development last week, the missile and artillery units heavily targeted Tahrir al-Sham bases in Kafr Zita, al-Latamineh, Ma'arkabeh and Hasraya in Northern Hama.
Meantime, field sources reported that the terrorists who had moved from Idlib and Jabal al-Zawiyeh to Northern Hama sustained, at least, 54 casualties in the battle, adding that the army also destroyed more than a dozen vehicles as well as military equipment of the militants.
Full report at:
http://en.farsnews.com/newstext.aspx?nn=13970507000480
--------
Syrian Army Opens Heavy Fire at Terrorists' Positions in Idlib, Hama
Jul 29, 2018
The artillery and missile units pounded the strongholds of Tahrir al-Sham and other terrorist groups in the villages of Ma'arkabah, Tal al-Sakhar, al-Araba'ein, Hasraya, Abu Ra'eideh Sharqi in Northern Hama.
Other artillery and missile units shelled terrorists' positions in the villages of al-Huweiz and al-Zaqoum in Western al-Ghaab Plain and farms near the town al-Tamanna in Southeastern Idlib and Western Jisr al-Shughour and in the small town of al-Najiyeh in Western Idlib.
Tens of terrorists in Hama and Idlib were killed or wounded and their military equipment were destroyed in the army artillery fire.
In a relevant development last week, the missile and artillery units heavily targeted Tahrir al-Sham bases in Kafr Zita, al-Latamineh, Ma'arkabeh and Hasraya in Northern Hama.
Meantime, field sources reported that the terrorists who had moved from Idlib and Jabal al-Zawiyeh to Northern Hama sustained, at least, 54 casualties in the battle, adding that the army also destroyed more than a dozen vehicles as well as military equipment of the militants.
Full report at:
http://en.farsnews.com/newstext.aspx?nn=13970507000417
--------
Tahrir Al-Sham Concerned over Reconciliation Talks in Northwestern Syria
Jul 29, 2018
Tahrir al-Sham has launched a fresh round of arrests in Southern Idlib and captured a number of reginal figures.
In the meantime, local sources said Tahrir al-Sham is much concerned about the spread of peace talks between militants and Damascus forces in Idlib province.
The arrests by Tahrir al-Sham came after a meeting between militants' representatives in peace talks with the Russian Reconciliation Center for Syria to hand over militant-held regions in Idlib to the Damascus forces.
Several meetings have been held between elites and tribal leaders in Western Hama and Southern Idlib and senior military staff in the Russian-run Humeimim airbase in line with implementation of the peace plan.
Militant-affiliated sources said Wednesday that Tahrir al-Sham Hay'at had set up yet another Operations Room to slow down the Syrian Army forces' upcoming operation in Western Idlib and Eastern Lattakia.
The sources quoted Salahuddin al-Kurdi, one of the commanders of Tahrir al-Sham, as disclosing that Tahrir al-Sham members are preparing for confronting the Syrian army operation in Lattakia.
The sources further said that terrorist groups in Lattakia have embarked on forming a United Operations Room and deployed forces in different regions.
Full report at:
http://en.farsnews.com/newstext.aspx?nn=13970507000279
--------
Syrian troops fight Daesh remnants in Dara'a and Sweida
Jul 30, 2018
Syria's army and its allies are advancing against a remaining Daesh pocket in the southwestern Dara'a and Sweida provinces amid Israeli reconnaissance aircraft reported loitering near the operation theater.
The official Syrian Arab News Agency (SANA) said the army carried out concerted attacks Sunday against remnants of the Takfiri terror group in the Yarmouk Valley near Jordan.
Army units were engaged in violent clashes with terrorists on the outskirts of the al-Shajara town of the province, in which a local Daesh commander identified as Abu Walid al-Masri was killed.
Syrian state television broadcast footage from near the scene of the fighting showing military vehicles moving along a road.
Daesh holds only a small area of Dara'a province near the Israeli-occupied Golan Heights, after army advances last week that forced the Takfiri group to retreat.
SANA said Israeli reconnaissance aircraft flew near al-Shajara when terrorist suicide bombers were attempting to reach army positions and the advancing forces.
Syrian troops also found a US-made TOW missile and improvised explosive devices in one of the Daesh hideouts in addition to American and Israeli food products, the news agency's correspondent reported.
The so-called Syrian Observatory for Human Rights said the army was also bombing Daesh positions in the nearby province of Sweida.
The bombing comes after the macabre terror group attacked the province's capital and nearby villages on Wednesday, killing more than 220 people.
It also took hostages from among local people, with a non-Syrian source close to Damascus saying that an informal communications channel had been opened to try to release them.
Daesh leaked photos of 14 women from Sweida, saying they were kidnapped from their houses. The militants have threatened to harm the hostages if the Syrian army does not halt its offensive in the Yarmouk Valley near Jordan and the Golan Heights, the Jerusalem Post said.
Several top militant commanders have reportedly fled southern Syria to Israel in the face of army advances after hundreds of Western-backed "White Helmets" were evacuated to Jordan in a coordinated operation.
Syria has denounced the Israeli evacuation of the White Helmets a "scandal," which was reportedly in the works for some time but was speeded up after a recent NATO summit in Brussels.
The self-described volunteer rescue group stands accused of being the "media arm" for Takfiri groups, and has been charged with staging false flag chemical attacks in a bid to prompt a Western military intervention in Syria.
Full report at:
https://www.presstv.com/Detail/2018/07/30/569650/Syria-Daesh-Israel-Daraa-Sweida
--------
Southeast Asia
Philippine Muslims hope new law brings 'dream of peace'
July 30, 2018
Supporters of the Philippines' largest Muslim rebel group gathered in their tens of thousands on Sunday to discuss a landmark law granting them autonomy, with one expressing hope it would make their "dream of peace" a reality.
President Rodrigo Duterte last week signed the law, a key step to ending a Muslim rebellion in the south of the mainly Catholic Philippines that had claimed about 150,000 lives since the 1970s.
Moro Islamic Liberation Front members, supporters and local residents from various parts of the southern island of Mindanao, including women in headscarves and fighters carrying arms, trooped to the main rebel camp there for a consultation.
Their leaders are seeking support for the law in advance of a referendum on the measure, which creates an expanded autonomous region and is aimed at ending one of Asia's longest and deadliest conflicts.
"This is our dream. If we end this [fighting], hopefully, we can live in peace," Nasser Samama, a 61-year-old veteran rebel fighter, told AFP news agency at Camp Darapanan.
"Most people want peace and so do we in [the Front] forces. What [the Front] has achieved is not just for our group but for the whole of Mindanao."
Fight for self-rule
Muslim rebels have long battled for independence or autonomy in Mindanao, which they regard as their ancestral homeland.
The law aims to enforce an historic but fragile 2014 peace deal under which the Front vowed to give up its quest for independence and lay down the weapons of its 30,000 fighters in return for self-rule.
Under the law, a new political entity known as the Bangsamoro Autonomous Region would replace the current autonomous region created following a 1996 deal with another rebel group, the Moro National Liberation Front.
The Bangsamoro is set to have more powers and cover a bigger area.
Rebel leaders approve of the measure but say its communities would need to back the law for it to pass a plebiscite.
'Beginning of peace'
On Sunday, many of the group's members, who have endured decades of conflict, said they supported the law.
"This is the beginning of peace in Mindanao. This is the start of unity between Muslims and Christians," housewife Babaidi Budain said.
Some expressed fear the law would not bring development to the resource-rich, but poverty-stricken south.
"Everyone in Mindanao should avail themselves of the opportunity the region offers. If not, it would be the same, the Bangsamoro would not prosper," said community worker Nasser Sulaiman.
https://www.aljazeera.com/news/2018/07/philippine-muslims-hope-law-brings-dream-peace-180729100615338.html
--------
Deputy IGP hails Muslim rally as 'good example' of peaceful gathering
29 July 2018
JOHOR BARU, July 29 — The Himpunan Kebangkitan Ummah (HKU) rally held at Padang Kelab Sultan Sulaiman, Kampung Baru, in Kuala Lumpur yesterday serves as a good example on organising peaceful gatherings by non-governmental organisations, said Deputy Inspector-General of Police Tan Sri Noor Rashid Ibrahim.
He said the cooperation of the organisers and participants made it easier for police to do their work.
The gathering went smoothly with everyone obeying the rules and the public not disturbed, he told reporters after a ceremony for presenting Pingat Jasa Pahlawan Negara (PJPN) medals of valour to 400 police retirees in conjunction with the Warriors' Day celebration at the Johor Police Headquarters here today.
Johor Mentri Besar Datuk Osman Sapian presented the medals.
Noor Rashid said the organisers met all requirements in staging the rally and that this facilitated the police in traffic and crowd control.
On today's event, Noor Rashid said it was to show appreciation to serving and retired police personnel for their sacrifices for the country, especially during the communist insurgency after Malaysia's independence.
One of the recipients, Saniman Markom, 70, said he was glad to receive the medal and thankful that his 36 years of service in the force did not go unrecognised.
The father of eight daughters said the most challenging time was when his patrol team came under ambush by CTs during the Insurgency.
"I was in the Police Field Force between 1974 and 1985 in Perak. I had to jump out of our truck and fell into a nine-metre deep ravine.
"Thankfully I was not injured but some of my colleagues were. Bullets were flying all around, "said Saniman, who was accompanied by his wife Hasnah Ahmad, 59.
Full report at:
https://www.malaymail.com/s/1657196/deputy-igp-hails-muslim-rally-as-good-example-of-peaceful-gathering
--------
Islam's 'Dalai Lama' urges Australia to speak out against China's police state
By David Wroe
29 July 2018
The world's leading activist for China's Muslim minority group has urged Australia not to let its economic relationship with Beijing get in the way of speaking out against the group's repression.
Exiled Uighur leader Rebiya Kadeer, who has been compared to Tibet's Dalai Lama, spoke after a United States diplomat told a watershed congressional hearing in Washington that the police state imposed on the ethnic minority in China's north-west was among the worst cases of repression now happening in the world.
Ms Kadeer, 71, told Fairfax Media that international concern about her people was growing - as shown by the Washington hearing chaired by top Republican and past presidential candidate Marco Rubio, who called for Washington to consider applying sanctions to Chinese officials.
"Marco Rubio said today that a lot of countries across the world are fearful of losing their economic ties with China, so they are silent against the atrocities that are occurring against the Uighur people," Ms Kadeer said. "One of those governments is obviously Australia."
The special leader and past president of the World Uighur Congress, who now lives in the US, urged Canberra to "call on China to stop engaging in state terrorism" against her people.
Late on Thursday night Australian time, the Congressional-Executive Commission on China, Washington's special committee to monitor human rights and the rule of law in China, held its most significant hearing on the plight of the Uighurs.
Senator Rubio, who chairs the commission, said there were "credible estimates" that between 800,000 and 1 million people in the north-west province of Xinjiang were being held in fortified "political re-education camps" where torture, solitary confinement and deprivation of food and clothing were widespread.
"The current human rights crisis unfolding in Xinjiang Uighur autonomous region, targeting Muslim minority groups, is arguably among the worst, if not the most severe, instances in the world today of an authoritarian government brutally and systematically targeting a minority faith community," he said.
This was backed up by the second-top US representative to the United Nations, ambassador Kelley Currie, who told the hearing that "we do believe that the security state in Xinjiang is excessive and is perhaps one of the most repressive in the world at this time".
Foreign Minister Julie Bishop said the Turnbull government "shares concerns expressed by the international community on the situation in Xinjiang" and added that "our officials have conveyed these concerns to China on a number of occasions".
Fairfax Media could find no instance where a senior member of the government or opposition had raised the Uighur repression publicly in any significant forum.
Ms Currie said Chinese authorities were making unprecedented use of technology such as facial recognition and forced collection of DNA and blood samples, iris scans and voice prints, to control Xinjiang, where most of China's 10 million Uighurs live.
She also confirmed reports that male Communist Party members from the Han ethnic majority were being put in households in Xinjiang in place of Uighur men who had been sent to camps.
Senator Rubio backed the view that countries were putting economic relationships ahead of human rights, saying that "obviously money does talk".
Ms Kadeer said five of her children and 11 of her grandchildren had been put in camps by the Chinese government.
"I have not been able to contact them or get any information about them since July last year," she said.
Her younger sister died in a camp in the past three months, she said. Her name was Arzigul, she was 69 and she had five children.
Full report at:
https://www.smh.com.au/politics/federal/islam-s-dalai-lama-urges-australia-to-speak-out-against-china-s-police-state-20180727-p4zu06.html
--------
The door is open, say Indonesian presidential hopefuls
July 30, 2018
The door is wide open for a coalition aiming to unseat President Joko Widodo at next April's elections, according to his predecessor, Susilo Bambang Yudhoyono.
SBY, as he's commonly known, made the statement after a two-hour meeting on the night of July 24 with Prabowo Subianto, who lost to Widodo in 2014, but seems keen on having another crack at the nation's top job.
They said they shared a vision about what the nation needed for the next five years, but stressed that they did not discuss a possible role as Subianto's running mate for Yudhoyono's son, Agus Harimurti Yudhoyono.
The former president is seen as keen to establish a dynasty, but if he pushes the former army general too hard, he could undo the other part of Subianto's coalition ranged against Widodo.
His Greater Indonesia Movement (Gerindra) has usually worked together with the Prosperous Justice Party (PKS) and more recently with the National Mandate Party (PAN).
Both those parties are pushing their own figures for the vice-presidential slot, and too much pressure for the younger Yudhoyono to take on the role — potentially preparing him for a presidential move in his own right later on — could wreck the existing line-up.
And while the official line from the former president is accommodative, the message on the street is far more assertive. Portraits of Agus Harimurti adorn the streets of major cities with a one-word message: "Siap" — Ready — presumably for the vice-presidential office.
The proposed opposition coalition presents other hurdles. Both Gerindra and Yudhoyono's Democratic Party are nationalist secular parties, unlike the PKS and PAN.
PKS is Indonesia's version of the Muslim Brotherhood, and PAN increasingly adopts a Muslim-flavored line.
There may have been a message on the issue of ideology in Yudhoyono's comments to the media after the meeting with Subianto.
"We made a commitment and agreed to contribute and make efforts for peaceful, honest and fair elections in 2019, including the presidential one," he said.
"We are committed to avoid political movements on the basis of identity and SARA [ethnicity, religion, race or group affiliation]."
That suggests that the election is likely to be relatively free of the dirt that colored the 2017 Jakarta gubernatorial election, in which the forces of hard-line Islam were ranged against incumbent governor Basuki Tjahaja Purnama, an ethnic-Chinese Christian.
Religion didn't feature strongly in regional elections in June and is not likely to do so next April. After all, all of the likely candidates are Muslim.
Some continue to rant and rave. Amien Rais, a political scientist who was one of the main figures in the 1998 overthrow of late autocrat Suharto, continues to push PAN toward a "Mecca Coalition" of Muslim parties. But others are not listening, and it's not clear that his own party is keen to be too closely associated with the politics of identity.
Society as a whole has taken a step back to examine the passions that roiled the country as hard-liners insisted that only a Muslim should lead the country, or any part of it. The same conservative ideology remains dominant but is far less vocal than it was when Purnama was trounced and then sent to jail over blasphemy allegations.
Assuming Subianto can marshal his forces into an orderly union to confront Widodo, the incumbent is likely to come under fire on a range of issues.
Most prominent among them is the economy, with pressure continuing on the rupiah currency — down 6 percent against the dollar so far this year.
State energy company, Pertamina, has been forced to foot the bill for subsidized fuel, as Widodo refuses to allow prices to rise ahead of the election year.
Now the Minister for State-Owned Enterprises, Rini Soemarno, is saying the behemoth will have to shed assets. That will leave the president open to charges of mismanagement when the campaign begins.
He will also face accusations of selling the country off to China. While earlier concerns about a spike in Chinese workers appear to have faded, they can easily be ramped up again in a nation where sovereignty is a sensitive issue.
He can brag that he has achieved the long-sought goal of gaining control of the Grasberg copper and gold mine in Papua, with U.S.-based Freeport-McMoRan announcing on July 12 that it had agreed to a deal that will see the government take a 51 percent stake.
Widodo will also be able to point to the major boost in infrastructure during his first term, with the trans-Java toll road, stretching nearly 1,000 km across the country's most populous island, expected to be completed at the end of 2019.
The president also has to decide on his own running mate. On July 23, he was reported to have reached agreement on a candidate with the leaders of the parties in his own coalition, but no public statement on the choice is expected until nominations near their close on Aug. 10.
A possible union with Yudhoyono's Democrats had been mooted, presumably with Agus Harimurti penciled in for the number two slot on the ticket, but that option now seems to have been ruled out.
Up until now, three parties in the Widodo camp — Golkar, the United Development Party and the National Awakening Party — have all been pushing for their contenders to be given the nod as running mate.
Agreement on a candidate removes one major headache for the incumbent.
Widodo can still win re-election without Yudhoyono's backing. The latest poll, conducted by the Indonesian Institute of Sciences (LIPI), gave the incumbent the backing of 55 percent of respondents who were asked to choose either him or a number of other possible contestants.
Subianto, who was chosen by a lowly 22.9 percent in the LIPI poll, still hasn't officially stated that he'll run in the April election. He's reported to have doubts about the wisdom of throwing away large sums of money in another unsuccessful campaign.
Full report at:
https://www.ucanews.com/news/the-door-is-open-say-indonesian-presidential-hopefuls/82925
--------
Europe
Muslims in Victoria Recall Changes Since 2017 Mosque Fire
July 30, 2018
A year and a half after the gold-domed Victoria Islamic Center was torched, Irfan Qureshi, one of the first to arrive at the scene, vividly recalled the surreal horror of that morning, and the comforting aftermath.
"I was scared to my core. We had no facts. All we knew is the mosque is going up in flames. I thought, 'Is someone coming to kick us out?'" he said of the early morning fire Jan. 28, 2017.
The San Antonio Express-News reports hours later, as he and others picked through the charred ruins, compassionate strangers began to approach him.
"They were saying, 'We're very sorry,' and handing me cash and checks. You can't put a price on how much that lifted us up as a community," he recalled.
After a federal jury this month convicted Marq Vincent Perez of burning the mosque, local Muslims exchanged emotional embraces. Perez, 26, who had voiced his hatred of Muslims online, faces up to 40 years in prison when he is sentenced in October.
"It's like a load coming off your shoulders. A big stage of this whole ordeal is finished," said Abe Ajrami, a board member of the Victoria Islamic Center.
Despite the hoped-for legal outcome, Muslim leaders say many in their congregation of about 45 families remain traumatized.
Some members who dropped out of sight after the fire have not returned to worship. Some women have not resumed wearing the hijab, the headdress that marks them as Muslim, in public. And throughout the congregation, a sense of wary anxiety lingers.
Even as a splendid new mosque with an improved security system rises on the site of the old, talk of closure and healing is premature.
"It's like the church shooting in Sutherland Springs. These memories can haunt us. It happened once. Who can say it won't happen again," said Ajrami, 50, who was born in Gaza.
"Especially on Friday when we have the congregational prayers and potluck dinner, with more of the ladies and the kids. I find myself standing with my back to the wall and watching the front door," said Ajrami who now brings a gun to worship services.
From the day their mosque burned, Muslim leaders here kept to the high road. They avoided calling it an act of arson or a hate crime. They didn't claim to be victims. They praised the broad, supportive response by the local community.
At an interfaith prayer service held soon after the fire, other Victoria-area religious leaders stood shoulder to shoulder with the Muslims.
"I knew that if this was an intentional act, we were not alone in condemning it," Qureshi said.
Later, after Perez was charged, some of them prayed for him, that his hate would be replaced by love.
"Victoria is not looked at as the city that burned a Muslim church, it's looked at as the city that came together. It give me hope that the new generation, my kids, will understand that there are things to unite us," Ajrami said.
The mosque president, Shahid Hashmi, 71, was the first witness to testify in the trial of Perez, an electrician's apprentice, whose anti-Muslim Facebook messages and postings -- along with the secrets stored in his cellphone -- helped convict him.
Born in India, raised in Pakistan after the partition in 1947, Hashmi came to the United States in 1971 for advanced medical training. He became a U.S. citizen in 1981 and landed in Victoria in 1984, as the city's second Muslim family.
As more Muslims arrived, he told the jury, they began to worship together, first in each other's houses and then in a rented building.
In 1990 they bought a piece of property on Airline Road north of town. A decade later, they built their mosque. Houston Rockets star Hakeem Olajuwon attended the grand opening.
Yusuf Islam, the singer formerly known as Cat Stevens, later was invited by the mosque to give a program about Islam at Victoria Community College.
From the beginning, leaders emphasized the mosque's open doors, involvement with others and civic participation that included the Rotary Club, Habitat for Humanity and Christ's Kitchen, which feeds the poor.
"We had good relations with the Victoria community. Different churches invited us and we had them come to visit us," Hashmi testified.
The growing congregation, he said, included Muslims from across the Middle East and Asia, as well as many American-born.
And like many churches, the mosque was more than just a place to pray.
"This is not only a place of worship, we have our weekly potluck dinners here and a school for teaching. We also have our funerals and our weddings here," he said.
Everything changed for the Victoria Muslims on Jan. 28, 2017.
A day after the fire, multiplying their fears, a gunman in Montreal killed six Muslim men and wounded 18 more in an attack during their evening prayers.
Since the fire, the Victoria Muslims have had to use two small temporary buildings for prayers.
Lately, they are sharing the space on Sundays with local Unitarians whose church was badly damaged when a car plowed through it.
"After the fire, we hired security to man the place, especially when we were there to pray," Dr. Hashmi recalled from the witness stand.
"Everyone was scared. We started locking the doors. It dwindled down to a very few of us who dared to be there, and even then, two of us would stand guard while the rest were praying," he testified.
Qureshi, who was born in Pakistan, was among the mosque members who attended Perez's five-day trial in U.S. District Court that ended July 16.
They heard how Perez surveilled the mosque and compared notes online with others who distrusted Muslims.
"A lot of the testimony was chilling. There is someone watching you when you go to worship. It's creepy," Qureshi said.
"We'll be looking over our shoulders now, but we don't want it to consume us and drift into paranoia," he said.
In designing the new mosque, leaders added cameras, alarms, lighting and strategic landscaping, like cutting down hedges where someone might conceal themselves, as they struggled to balance security and openness.
"It's easy after a fire to close your gate and lock things up, and that's something we fought hard against. We had an option to stop cars from driving into our parking lot, we pondered an electronic entry system. We opted to keep our doors open," Ajrami said.
Omar Rachid, another mosque board member, said an anti-Muslim climate that is encouraged by some political figures and national media outlets, means that Muslims can't afford to lower their guard.
"The reality of it is that Muslims in America have been subjected to more insults, attacks and hate crimes in the last two or three years than ever before, specifically more than after 9-11. Islamophobia is thriving," he said.
"This is not America. It is not the America I came to 35 years ago," he said.
Over the years, he said, members of the mosque have done their civic duty in Victoria.
"We serve our community. We volunteer. I have given thousands of hours to area agencies and charities. I have run for mayor. I was chairman of the United Way and the chamber of commerce," he said.
Rachid, 58, who was born in Lebanon, said what happened there 40 years ago should serve as a stern warning to Americans.
"I lived through the civil war there between the Christians and the Muslims, and I know what happened when people feed on divisions," he said.
"Lebanon was once one of the most beautiful and modern countries in the Middle East. The war lasted almost 20 years and almost a million people died. It set the country back 50 years," he said.
Of the United States, he said: "This senseless bigotry has to stop. It is destroying the country."
https://www.nbcdfw.com/news/local/Muslims-in-Victoria-Recall-Changes-Since-2017-Mosque-Fire-489467571.html
--------
Edmonton's Oldest South Asian Mosque Builds The Community': Opens Doors To Neighbours
JAMIE SARKONAK
July 29, 2018
Burgers sizzled while newcomers toured Edmonton's oldest South Asian mosque and talked religion at its open house Sunday.
Built in 1984 at 7907 36 Ave. in the heart of Mill Woods, the Markaz Ul Islam mosque gathers anywhere from 100 people for early morning prayers to 2,000 Muslims for Friday evening prayers. With two libraries containing books in English, Arabic, Urdu, Hindi and more, it welcomes worshippers from a number of different backgrounds.
Imam Mahomed Iqbal Subrathi has led prayers at the Markaz Ul Islam mosque for the past 15 years.
Q: What's the mosque's role here?
A: If you didn't have the mosque — or the church — you'd just be neighbours with everyone nearby. Days and months would go by where you don't see your neighbours. When you have places of worship, they build the community. The mosque builds the community, it's not the other way around.
Q: What are some common misconceptions about Islam that you encounter?
A: One of the misconceptions is that Muslims are not very safe to be around, things like all Muslims are terrorists. We want to dispel that. We want to show that Muslims are very friendly — they're just normal people that you deal with on a daily basis.
Q: Is there anything unique about Edmonton's Islamic community?
A: I've heard from others that when you come to Edmonton, you feel at home. When you go to any of the mosques in the city, you feel you're part of the community. We are a very welcoming community to the newcomers who are Muslim, from Syria and other parts of the world.
Q: How about Edmonton in general?
Full report at:
https://edmontonjournal.com/news/local-news/the-mosque-builds-the-community-markaz-ul-islam-opens-doors-to-neighbours
--------
British MP calls for 'proper' investigation into Qatar World Cup bid
29 July 2018
Senior British Member of Parliament and Head of the Commons digital, culture, media and sport select committee Damian Collins called for a "proper investigation" into the Qatari World Cup 2022 bid on Sunday, following a report by The Sunday Times showing evidence of the country paying firms and individuals to carry out a propaganda campaign against its bid rivals.
Collins told Sky News that it would be a "serious matter" if the allegations turned out to be true.
The Sunday Times has reported that Qatar hired firms namely to gather dirt, create controversy and release negative publicity, according to emails released to the newspaper by a whistleblower who had worked with Qatar on the World Cup campaign.
According to the leaked documents, the PR company hired by Qatar recruited journalists, bloggers and other figures to hype up negative stories, spy on rivals, produce intelligence reports on key people and create grassroots protests to discourage people from other bidding countries from supporting the hosting of the World Cup, therefore making way for Qatar to win the bid.
"I think what needs to happen now is for there to be a proper independent investigation of the allegations published in the Sunday Times," Collins told Sky News.
Colllins added that he met with the whistleblower himself, and has seen the leaked documents and emails firsthand.
"I think these are serious matters and there needs to be a proper independent investigation of them," he told the newspaper
Full report at:
https://english.alarabiya.net/en/News/world/2018/07/29/British-MP-calls-for-proper-investigation-into-Qatar-World-Cup-bid-.html
--------
URL: https://www.newageislam.com/islamic-world-news/indian-national-leagues-plan-join/d/115983
New Age Islam, Islam Online, Islamic Website, African Muslim News, Arab World News, South Asia News, Indian Muslim News, World Muslim News, Women in Islam, Islamic Feminism, Arab Women, Women In Arab, Islamophobia in America, Muslim Women in West, Islam Women and Feminism