New Age Islam News Bureau
4 Jul 2017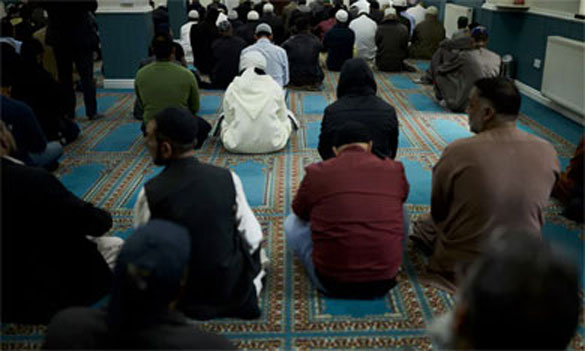 Muslims at a mosque in Birmingham. The report says British Muslim experiences are more diverse than often assumed. Photograph: Christopher Thomond for the Guardian
-----
• Indian Muslims Protest against Terror Funding by Saudi Arabia
• Hindus and Muslims Live Like a Family in Yemen
• Nearly 70 Taliban Militants Killed, Wounded In Helmand Operations
• Address Real Issues in Interfaith Dialogue, Malaysian Religious Leaders Told
• UK Mosques Should Appoint British-Born Imams, Says Report
India
• Indian Muslims Protest against Terror Funding by Saudi Arabia
• Muslim Intellectuals' Body for Ban on Cow Slaughter
• Vigilantes Leave India's Muslims Fearful
• Cabbie Says He Was Hit By Bikers 'For Being Muslim'
• Bombay High Court Asks Senior Cop to Meet Shia Leaders on Muharram Processions
• Salahuddin claims attacks against India and threatens more terror strikes in TV interview
• 'Salahuddin has confirmed India's stand he is a terrorist leader'
• We support India's fight against terrorism: Israel
• Narendra Modi to become first Indian PM to visit Israel
• Salahuddin's utterances prove he's a terrorist: Government
• Third terrorist killed as Pulwama encounter enters second day
• Day before PM Modi visit, Israel backs India on terror from Pakistan
--------
Mideast
• Hindus and Muslims Live Like a Family in Yemen
• Yemen: Over 180 Saudi-Backed Militants Killed in Ta'iz, Shabwah Provinces
• Fresh Saudi air raids against Yemen claim 15 civilian lives
• Leader's Top Military Aide Warns of New Saudi-US-Israeli Plots in Region
• Germany urges Erdogan not to address Turks during G20 Hamburg visit
• Zarif urges more Iran-France political talks
--------
South Asia
• Nearly 70 Taliban Militants Killed, Wounded In Helmand Operations
• Bangladesh Columnist Taken To Detective Branch Office for Interrogation
• Bangladesh Marks First Anniversary of Dhaka Cafe Attack That Killed 22
• Why Is Myanmar Refusing A UN Probe If There Is No Rohingya Genocide?
• Afghanistan and Turkmenistan sign 7 agreements during President Ghani's visit
• Senior police officer killed in Kabul explosion
• Kabul protesters end rallies, demand resignation of govt leaders, key officials
• US embassy issues security alert after new rallies in Kabul city
--------
Southeast Asia
• Address Real Issues in Interfaith Dialogue, Malaysian Religious Leaders Told
• Indonesia's Reputation as a Model of Moderate Islam Intact, Says President
• Bali-Based Iranian Musician Promotes Peace in the Middle East with New Album
• Militants cling on to hundreds of buildings in besieged Philippine city
• 'What if your prayer-mat was woven by a gay weaver?'
• India seeks to seize Zakir Naik's properties in Malaysia
--------
Europe
• UK Mosques Should Appoint British-Born Imams, Says Report
• Sweden Home to 2,000 Takfiri Extremists: Intelligence Chief
• May To Decide Whether to Publish Report about Foreign Funding Of Extremism
• Teen jailed for plotting bomb attack at Elton John concert in London
• UK government urged to mend 'broken' ties with Muslims
• "Russians killed Islamic State's 'butcher' from Kosovo"
• America's Forgotten Ally Morocco Helping Win War on Terror
• Macron says will lift of state of emergency 'this autumn'
• Saudi King Salman cancels visit to Germany, skips G20 summit
--------
Pakistan
• Pakistan Clerics Call On Riyadh, Tehran to Bury the Hatchet
• Kamal Demands Action against Rulers Producing 'Terrorists'
• No country has done more than Pakistan to dismantle Al-Qaeda, claims Maleeha Lodhi
• An ideal opportunity for youths to learn about ideology, great heroes of Pakistan
• Plea in SC for Raymond Davis's extradition
• Action against terrorists useless if corruption persists: PSP
--------
Arab World
• Syrian Army Seizes Israel-Made Equipment in Terrorists' Positions in Golan Heights
• Northwestern Iraq: Leaflets on Al-Baghdadi's Death Distributed across Tal Afar
• Islamic State cornered in Mosul as Iraq prepares victory celebrations
• Syrian military declares temporary cease-fire ahead of talks
• US-Led Coalition to Set up New Base for Terrorists in Eastern Syria
• Al-Nusra Terrorists Preparing for False-Flag Operation in Northwestern Syria
• Tens of Civilians Killed, Injured in US-Led Coalition Attacks in Northeastern Syria
• Diplomatic sources: Washington puts fate of Assad in the hands of Moscow
• Syrian army announces ceasefire in southern Syria until Thursday
• Iraq's popular militias ask Abadi for permission to enter Syria
• UN tells Qatar it refuses to get involved in Gulf dispute
--------
North America
• Trump Says 'Interesting Things Are Happening' After Speaking With King Salman
• Muslims behind 'tiny percentage' of US terror attacks
• US lifts laptop ban for Etihad flights
--------
Africa
• Boko Haram Militants Kill 9, Abduct Dozens In Niger
• US hits Shabaab militants in Somalia
• Libya: News of Saif Al-Islam's Release - Regional Politics Fuels Rumour Mill
• Mali: Al Qaeda Releases Hostage Video as Macron Attends Mali Anti-Jihad Meeting
Compiled by New Age Islam News Bureau
URL: https://www.newageislam.com/islamic-world-news/indian-muslims-protest-terror-funding/d/111774
--------
Indian Muslims Protest Against Terror Funding by Saudi Arabia
04.07.2017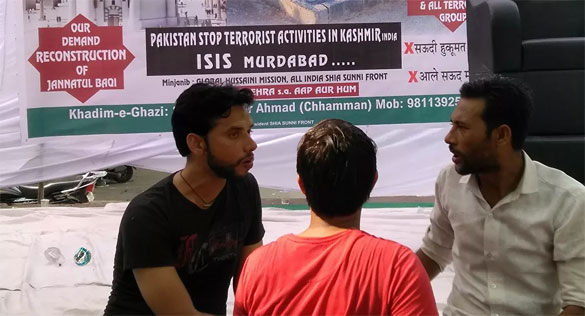 Indian Muslims Protest Against Terror Funding by Saudi Arabia
---------
Thousands of Indian Muslims registered their protest in New Delhi against Saudi Arabia for its alleged connivance with terrorist outfits including Daesh. The protesters said the Saudi Arabia should stop funding Daesh, Al-Qaeda, Hizb-ul-Mujahideen and others or it will boomerang.
NEW DELHI (Sputnik) — Protesters also demanded the restoration of Islamic heritage popularly known as Jannat-Ul-Baqi and Jannat-Ul-Maula at the site in Saudi Arabia. Jannat-Ul-Baqi is shrine of Shahazaidi Fatima Zahra, the daughter and grandson of the Prophet of Islam.
"We have gathered here (Jantar-Mantar) in thousands for two days to send a message to Saudi government that the way you (Saudi Arabia government) are behaving is totally against Islam. Daesh is being funded by Saudi government which is creating havoc in Syria, Iran, Iraq and India. We have submitted a memorandum to the Saudi Arabian embassy in New Delhi and asked to stop unlawful support to terrorists," Z Ahmed Chamman, the general secretary of All India Shia Sunni Front, said.
"People from all caste, community, and creed along with well-known scholars, poets, human rights activists joined the protest to mark the brutal crime of desecration of holy shrines at Madina Munawara, Kingdom of Saudi Arabia," the front said.
https://sputniknews.com/asia/201707041055203575-india-saudi-daesh-funding-protest/
--------
Hindus and Muslims Live Like a Family in Yemen
July 3, 2017
Abu Dhabi: A Yemeni man who reached India for medical treatment said he felt the trip was like a journey back to his roots as he grew up around Indian culture with many Indian friends, especially Hindus, in Aden, a port city in Yemen.
"We Muslims and Hindus are living like one family in Aden," Mohammad Omer Al Jefri, 54, a retired limousine driver, told Gulf News from his hospital bed with the help of a translator.
Gulf News visited the Yemeni patients who were flown to the VPS Rockland Hospitals in Delhi last week as part of an Emirates Red Crescent initiative to help Yemeni people.
He said Indians [people of Indian origin], including Hindus, have joined Yemeni Muslims in fighting Al Houthis.
"Indians have been living in Aden for more than a century," Al Jefri said. "We lived together… went to school together… studied together," he said with a smile.
In Delhi, he was happy to see Indian women wearing the traditional sari and bindi [a decorative mark worn in the middle of the forehead by Hindu women]. "Although generally Hindu women wear traditional Arabic dress in public [in Aden], they wear sari and the bindi at private parties and when they visit temples."
Al Jefri said he has, on many occasions, driven his Hindu friends and their families to the temple in Aden.
Al Jefri said the Bania community [an Indian Hindu trader or merchant community] in Aden has a designated temple which he would visit.
His Indian friends, Al Jefri said, belong to different communities and include Bohra Muslims, Banias and Sikhs. "They all are my neighbours. We get together at wedding parties and other special occasions. We [even] go on trips together," he explained.
Talking about the situation after the arrival of the Al Houthis, Al Jefri said, "Initially, we were afraid. However, when we started to fight back, everyone came together. Some friends of Indian origin were also injured in the fights and they were sent to Oman for treatment," he said.
Wounded
Al Jefri was wounded during an Al Houthi firing while he was sitting inside his home. A bullet entered his neck and exited from his shoulder, due to which he will undergo a shoulder replacement surgery.
Despite the unrest caused by the Al Houthis, Al Jefri said the social harmony in the city has not been affected. "We all still live like a family," he said.
Having lived with such harmony with Indians, Al Jefri has understandably developed a fondness for Indian food. "I like the laddu [a sweet dough fried delicacy] and dal [savoury lentils]," Al Jefri said.
An elderly Indian woman in his neighbourhood would cook delicious food and offer it to him and his family. Her husband, he said, was chief of police in Aden.
Al Jefri also spoke of the Bollywood ties with Yemenis and how they enjoy watching Hindi movies.
As Gulf News reported on July 1, a 21-year-old Yemeni woman said she hoped to meet one of her favourite Bollywood actors — Shah Rukh Khan, Amitabh Bachchan and Abhishek Bachchan — during her medical treatment in India. Sameera Mohammad Hazza said Yemeni TV channels regularly telecast Bollywood movies.
Al Jefri and Hazza were among the second batch of Yemeni patients reached in Delhi on June 22 as part of an Emirates Red Crescent (ERC) initiative as announced by the UAE leadership.
The ERC is bearing the cost of their medical treatment in coordination with Abu Dhabi-headquartered VPS Healthcare that runs three hospitals in Delhi.
http://gulfnews.com/news/uae/society/hindus-and-muslims-live-like-a-family-in-yemen-1.2052500
--------
Nearly 70 Taliban militants killed, wounded in Helmand operations
Jul 03 2017
Nearly seventy Taliban insurgents were killed or wounded during airstrikes and ground operations in southern Helmand province.
According to the local government officials, the operations were conducted late on Sunday night in the vicinity of Nad-e-Ali district.
The provincial government media office in a statement said at least 42 Taliban insurgents were killed and 27 others were wounded during the operations conducted in three different areas of the district.
The statement further added that the operations were conducted by the Afghan Special Forces and with the support of the foreign troops who were providing air support.
At least four senior leaders of the Taliban group identified as Haji Ahmad, Faizi, Saqib, and Haqbin were among those killed, the provincial government said, adding that four vehicles, eighteen motorcycles, two heavy machine guns, and several other types of weapons and ammunitions were also destroyed during the operations.
In the meantime, the provincial government said at least twelve Taliban insurgents were killed in a separate operation of the Afghan forces in Bolan area of Lashkargah, the provincial capital of Helmand province.
The militants were killed during the airstrikes conducted by the Afghan forces and at least six of them were also wounded, the provincial government added.
http://www.khaama.com/nearly-70-taliban-militants-killed-wounded-in-helmand-operations-03073
--------
Address Real Issues in Interfaith Dialogue, Malaysian Religious Leaders Told
Sheith Khidhir Bin Abu Bakar
July 4, 2017
PETALING JAYA: A Christian leader has urged religious leaders to stop ignoring problems experienced by their communities.
This comes after Joshua Woo Sze Zeng, an alumni of Cambridge University's Inter-Faith Programme, related his experience attending a recent interfaith dialogue organised by local Catholic and Muslim leaders.
In a commentary published in FMT, Woo said there was a serious lack of in-depth engagement on the actual interfaith challenges in our society.
Completely agreeing with the statement, Centre for Religion and Society director Sivin Kit said the way forward is for new models of interfaith dialogues to emerge.
"We need forums where real experiences are shared so the participants can hear actual stories of joy and sorrow.
"Dialogues need better planning and guidelines so panellists can address issues with focus and clarity.
"However, this may require actual cases mixed with some discussions on religious teachings," he told FMT.
Sivin said facilitators who could encourage complexity without too much jargon and academic "aloofness" were also important in order for ordinary believers not to feel alienated.
"Complexity of religions, the expectations of religious communities and the reality of low religious literacy become hindrances for real talk."
He said another reason religious leaders tend to ignore dealing with real issues, especially in public forums, was because most religious people only had a "surface understanding" of the religious traditions of other faiths.
"A mature and confident faith, ironically, is able to deal with contradictions and engage in respectful and rational dialogue.
"But even if the speakers are themselves knowledgeable, they are often speaking to a public where religious literacy may be low," Sivin said.
This, he said, often put religious leaders on their toes as they don't want to be seen as if they were "compromising" their own faith.
"Interfaith dialogue often is stereotyped as just talking nice about religion.
"Usually, speakers want to be seen as defending their own as well as being respectful. But touching on actual cases may be perceived by their own communities as selling out to another religious community.
"So, while I think honesty is the best policy, others may perceive it as compromising one's faith."
Sivin said the fact that religion was so politicised in the country did not make things any easier.
"Religion is so politicised in Malaysia that it's hard to make clear distinctions whether an issue is theological, cultural, ethical or political. It requires some skill and ability to do so in public."
Sivin said this tendency to ignore the problems faced by religious communities may have been one of the factors that led to the recent controversies over evangelicalism discussed in the public sphere.
"There are clear cases of basic misunderstandings of terms, history and practices when dealing with these controversies," he said.
This Saturday, Sivin will be moderating a talk on evangelicals and other current controversies in the country at 3pm at Menara Wesley in Kuala Lumpur.
http://www.freemalaysiatoday.com/category/nation/2017/07/04/address-real-issues-in-interfaith-dialogue-religious-leaders-told/
--------
UK mosques should appoint British-born imams, says report
3 July 2017
Mosques in the UK should hire British-born imams on a living wage who are better equipped than foreign religious leaders to understand the challenges faced by British Muslims, a report has recommended.
The Missing Muslims: Unlocking British Muslim Potential for the Benefit of All is the outcome of an 18-month inquiry established by campaigning group Citizens UK and chaired by the former attorney general Dominic Grieve. Its chief task was to examine how the participation of Muslims in public and community life might be improved.
It describes engagement between the government and Muslim communities as "a broken relationship that needs to be resolved, and both parties need to be proactive in addressing this".
The 76-page report, published on Monday, says "British Muslim experiences are more diverse than is often assumed".
Among its recommendations is a call for mosques to review their management structures and appointment of imams. "The management committees of a number of the UK's mosques need to better understand, and respond to, modern British life," it says.
"It is of great importance that British-born imams, who have a good understanding of British culture and who fluently speak English, are encouraged and appointed in preference to overseas alternatives."
The appointment of imams and others in teaching roles should be a transparent process and comply with legal requirements. Mosques should "invest in British-born imams who are to be paid a decent living wage, funded by Muslim institutions in the UK, and equipped with pastoral skills so they are able to deal with the challenges facing British Muslims".
It suggests that universities could pair with seminaries to accredit educational schemes for imams.
Public discourse often focuses on Muslims as a disadvantaged group or a "threat within", the report says. "Unlocking a fuller Muslim presence in and contribution to British public life could help to reduce perceptions of increasing polarisation within British society."
The impact of the government's Prevent strategy was frequently raised during more than 500 hours of meetings organised by the commission across the country with Muslim organisations, universities, schools, police forces, local authorities and others.
Acknowledging that an effective way of tackling extremism and radicalisation was an overriding concern, the report said: "This would be better achieved with a programme that is more greatly trusted, particularly by the UK's Muslim communities."
It added: "There is a need for debate within Muslim communities about what are, and are not, acceptable views for the Muslim 'mainstream'. However, attempts to define this through it being imposed from the outside are unlikely to be helpful and more likely to be counterproductive. There is a strong sentiment that Muslims, as a monolith community, and Islam as a religion are unfairly targeted. This too creates a sense of alienation, which undermines a common aim of creating a united and strong society."
The government should be "prepared to engage with views with which it disagrees and challenge these in discussion".
It recommends the government adopts a definition of anti-Muslim prejudice, which should have "broad consensus on the boundaries of hatred and prejudice, and could be informed by the definition of antisemitism adopted by the government in 2016".
The commission found lack of integration between Muslims and the majority white British population was most apparent in areas of high deprivation, "which points to the need to address structural barriers, including a lack of economic opportunities and discrimination".
But it added: "Contrary to the popular representation that there is a 'lack of integration' by Muslim communities, the commission encountered a wealth of positive community work by British Muslims (as well as other groups) at a local level, across ethnic and religious lines."
Muslim women face particularly acute barriers in employment, "compounded by cultural pressures some feel from within their own communities". But, it added: "Resistance to greater female participation is cultural, not religious. What is clear is that there is no shortage of talented women who could make a significant contribution both to the UK and to their own community, if some of the barriers standing in their way could be removed."
The report suggests Muslim umbrella bodies introduce voluntary standards for mosques and Islamic centres. Issues of governance, and equal access to leadership opportunities for youth and women, should be addressed.
Muslim communities need to take a stronger stance against the persecution of others, for example antisemitism, Christian persecution and other branches of Islam, the report concludes.
Launching the report, Grieve said there was "significant scepticism across British society about the integration, and even the shared allegiance, of their British Muslim fellow citizens. In turn, British Muslims have mixed views about the extent to which they have equal status or access to equal opportunities within the UK.
"This dynamic creates the risk of a downward spiral of mutual suspicion and incomprehension, which makes the need for action to break down barriers and bring people together even more necessary."
The commission was co-chaired by Jenny Watson, the former chair of the Equal Opportunities Commission and the Electoral Commission.
https://www.theguardian.com/world/2017/jul/03/uk-mosques-should-appoint-british-born-imams-says-report
The latest inspiring Tory report on Muslims says we deserve attention because it can stop us becoming terrorists
An independent report chaired by Conservative MP Dominic Grieve, titled The Missing Muslims: Unlocking British Muslim Potential for the Good of All has just been released – and it's made for discouraging reading.
Admittedly, the report includes some well-warranted policies, including an independent review into the Government's anti-terrorism Prevent programme, advice for media reporting on issues relating to Islam, adopting a legal definition of anti-Muslim prejudice, and encouraging universities to offer courses for imams to receive religious and educational qualifications.
In these respects, the report signals a step forward in battling the rise in Islamophobia seen since the EU referendum result, and the anti-Muslim rhetoric that has become increasingly common in politics. And I appreciate that Dominic Grieve wants to unlock my potential "for the benefit of all". However, the whole thing is inconsistent at best, providing only a half-hearted understanding of the political dynamics surrounding "integration", and continuing to treat Muslims primarily as suspect.
In Dominic Grieve's words, the report signals that "we cannot ignore the fact that polls demonstrate significant scepticism across British society about the integration, and even the shared allegiance, of their British Muslim fellow citizens". A key recommendation of the report is thus to promote the integration of British Muslims; one such proposal being that imams ought to be fluent in English, ideally British-born, knowledgeable of British culture (although we've been asking what this means for at least the past decade), and more forceful in their condemnation of religious hatred.
Nevertheless, the question remains as to why the burden of integration must lie with British Muslims, especially when counter-reports show how Muslim identity has no bearing on whether or not someone feels British. This report claims that many British people believe Muslims have not integrated – but does this not tell us more about those British people than it does about British Muslims?
How many of these Brits criticising their Muslim compatriots actually know that sharia law dictates a person should obey the law of the country they live in, thus advocating strong national pride?
How much do these Brits really know about British Muslims, given the large-scale housing segregation of Muslims across the country? And then on the flip-side, how many of these Brits also complain about Muslims moving into their neighbourhoods?
The "Missing Muslims" report also raises a more cynical question about contemporary Britain. Why do powerful authorities only care about Muslims when it is "for the benefit of all"? Why can't we just talk about "unlocking Muslim potential" for the good of Muslims themselves?
Islamophobia has a long history in Britain, and it's currently receiving second wind, with a series of acid attacks on British Muslims in London last week and 100 attacks on mosques since 2013, and that's without even mentioning the widespread problems with Prevent.
For many Muslims across Britain, suspicion and violence has become a daily event. So when a political report is offered to unlock our potential "for the benefit of all", we cannot but help to treat it as disingenuous.
We want to be helped because of our own struggles, our own pride, and our own conditions. It is farcical that our being "unlocked" can only happen on the justification that it is perceived to benefit everybody else too.
This report's reasoning offers a slippery slope that suggests Muslims only deserve help with their potential because authorities are convinced that if we don't feel integrated, we will turn to violent extremism. And what sort of a message is that?
http://www.independent.co.uk/voices/muslim-potential-report-islam-britain-dominic-grieve-islamophobia-terrorism-a7820851.html
--------
India
Muslim intellectuals' body for ban on cow slaughter
Jul 3, 2017
ALIGARH: A body of Muslim intellectuals today said it would extend full support to any proposal of the Centre for banning cow slaughter and declaring cow as the national animal.
"Our organisation has passed a resolution welcoming Prime Minister Narendra Modi's recent statement condemning the lynching of innocent people in the name of 'gau raksha' (cow protection) in different parts of the country," Director of Forum for Muslim Studies and Analysis (FMSA) Jasim Mohammad said here.
"We will extend full support to any proposal of the Centre for banning cow slaughter and declaring cow as the national animal of India," he said.
Jasim said the repeated incidents of lynching of innocent people posed a serious threat to the right to life and the right to earn a living for a large section of the populace.
"Every Muslim in the country was interested in ensuring protection to the cow because of religious sentiments of the majority community. However, the lynching of Muslims involved in buffalo trade on any other pretext is now posing a serious threat to the internal security in the country," he said.
He urged the prime minister to take all necessary steps to ensure law and order to stop lynching incidents.
http://timesofindia.indiatimes.com/india/muslim-intellectuals-body-for-ban-on-cow-slaughter/articleshow/59423176.cms
--------
Vigilantes leave India's Muslims fearful
July 3, 2017
Vigilantes leave Indian Muslims with a sense of fear
As an Indian Muslim, I have never felt threatened until now ('Indians protest lynching of Muslims', Gulf News, June 29). Although my family has never directly faced any abuse, there is a sense of fear that our children might be targeted if things get worse. That should not be there. If India is a secular country, why even bring up these things? These incidents arose by the government's decisions on cows and an easy hand on hardliners. The opposition and media might have aired it more, but that is always what they are there for. Whichever party is in the opposition, it doesn't matter. It is the government who should take the responsibility of creating a safe happy environment, which unfortunately has deteriorated. Earlier we had to worry about scams and corruption. Now, along with that, we have to worry about communal insecurity. The ones who elected the government for good governance should worry more than the ones who didn't.
From Ms Mahnaaz Shaikh
UAE
Facebook comment
It comes from the heart
I understand that the intent of this law is to promote patriotism in the Philippines, but a year of jail time for singing without fervor is way too much ('Sing national anthem with energy — or face jail', Gulf News, June 29). Patriotism should be taught from childhood, so that it grows from the heart – not from fear of penalty.
From Mr Nathaniel Rodriguez
UAE
Facebook comment
Show your love
I think it was a good move. You should show your love for your nation and if anyone doesn't have the passion for the national anthem, then how he can go forward and do efforts for the country. Efforts that will be harder than singing a national anthem.
From Mr Ahsan Raja
Dubai
Facebook comment
No excuse for actions
She should not be allowed to attend her daughter's wedding ('Ukrainian woman in Dubai prison seeks pardon to attend daughter's wedding', Gulf News, June 29). When she was killing someone, didn't she think of her daughter's future? No excuse and special treatment for criminals. She should never be allowed to attend anything! Let her serve her jail term and meditate on her evil deeds.
From Mr Momo Lairah Vex
UAE
Facebook comment
Forgiveness
Give her a pardon. It's enough for her remaining life. God likes those who forgive others. God knows better.
From Mr Pirzaada Saab
UAE
Facebook comment
No mercy
What about when she killed the other girl? Was she not thinking she could also be someone else's daughter! No mercy for such criminals.
From Ms Bushra Wajid
UAE
Facebook comment
Stand up for citizens!
Lawlessness in Pakistan has reached the lowest ebb and my personal experience with banking regulators of financial services is disappointing. Even our miserable banking system is covered up by the State Bank of Pakistan (SBP) and its acting governor. After the death of my brother, I inherited a locker that contained cash notes in British pounds. I wanted to deposit these notes, but it was refused by the bank manager, saying they accept only fresh notes. They said that SBP has issued a circular that restricts acceptance of cash deposits in foreign currency accounts. When I told them that under the Economic Reforms Law, a bank cannot refuse a cash deposit or withdrawal, the bank told me to approach the SBP.
I wrote a complaint letter explaining my ordeal. I wrote a second letter to the acting governor of SBP, but it has now been another two weeks with no answer from any side. Why are the laws of the land that are available not applied? The consequence of this can only be that either I have to sell to money changers on a discounted price or take my money out of the country. I can solve my private problem by doing so, but what about our country? If we allow the institutions to deteriorate and play havoc, the whole country is weakened. I hope our regulators will not compromise before the banking mafia that is already damaging our economic health.
From Mr Ali Ashraf Khan
Karachi, Pakistan
Utilising mobiles efficiently
Mobile phones are an integral part of modern communication in every individual life. Public concern about the possible health effects of mobile phone usages receive a lot of attention these days. Young boys and girls seems to have become inordinately addicted to it. The young generation of today is only wasting their time on chatting and messaging.
Full report at:
http://gulfnews.com/your-say/letters/vigilantes-leave-india-s-muslims-fearful-1.2052496
--------
Cabbie says he was hit by bikers 'for being Muslim'
Pradeep Gupta
Jul 4, 2017
KALYAN: A cab driver with an aggregator service has lodged a complaint with Manpada police alleging that he was assaulted by two unidentified bike-borne youths in Dombivli early Sunday morning "for being a Muslim."
Hafiz Zihauddin Siddiqui, who earlier worked as a maulvi, has alleged that the youths objected to his having parked his vehicle along the side of the road and started beating him up. "And when I screamed 'Ya Allah yeh kya ho raha hai (What is happening, Allah?)' during the assault, I was thrashed further and an attempt made to target my private parts," he said.
The youths fled when they saw a car coming up from behind, he added. He also said that the Manpada police station registered only a non-cognisable offence (NC) in the matter on Sunday. But when TOI asked senior inspector at the station Abhay Kabdule on Monday, he said they would file an FIR in the case and would carry out a detailed probe.
Siddiqui is a resident of Santacruz. He began working as a driver with the aggregator some time ago as he did not have any source of income for six months after he quit his job as a maulvi even though his wife was suffering from cancer. According to Siddiqui, at 1.20am on Sunday, he dropped a customer from Ghatkopar at Dombivli (W) and then got another customer for Dombivli (E). After having dropped the second customer on Manpada Road, he got an alert on his phone saying a woman customer had booked his cab from that spot. He said he had parked his car along the side of the road to wait for the customer when he saw two youths arrive on a motorcycle.
Believing they could be relatives of the woman customer (as people sometimes book cabs in someone else's name), he opened the door on his (driver's) side, he said. "The youths stopped their bike at the spot and asked me, 'Why have you parked your car here?'. And they started assaulting me. I could not understand why I was being hit as I had done no wrong, nor had I parked wrongly or obstructed any building gate. When I invoked Allah's name they hit me more and tried to attack my private parts," he alleged. Though the attackers fled after seeing a car coming in from behind, Siddiqui said that as he was worried they would return, he cancelled the woman customer's trip and went to a police chowky nearby. But it was locked. At the same time, he got another alert saying he was getting a trip to Mumbai airport, so he picked up the customer and dropped him.
Full report at:
http://timesofindia.indiatimes.com/city/mumbai/thane-cabbie-says-he-was-hit-by-bikers-for-being-muslim/articleshow/59432731.cms
--------
Bombay High Court Asks Senior Cop To Meet Shia Leaders On Muharram Processions
July 03, 2017
by Saurabh Gupta
MUMBAI: With Muharram less than three months away, the Mumbai Police has been asked by the Bombay High Court to chalk out a strategy for the processions in the city. The court today ordered the Additional Commissioner of Police (South Region) to meet representatives of the Shia Muslim community.
The order was passed on a suo-moto petition over the participation of children in the mourning procession during Muharram.
Shia Muslims, who participate in processions, hit themselves with sharp objects to mourn the death of Imam Hussain, the grandson of Prophet Muhammad. Only Muslims from the Shia sect participate in Muhurram rituals.
Shia Muslims, who are in minority among Muslims sects, believe that they must spill some blood to atone for Imam Hussain who was killed in the Battle of Karbala.
A Public Interest Litigation or PIL has already been filed seeking a ban on participation of children in the ritual. The PIL has asked for a directive to ensure that sharp weapons are not used during the Muharram procession.
Full report at:
http://www.ndtv.com/india-news/bombay-high-court-asks-senior-cop-to-meet-shia-leaders-on-muharram-processions-1720092
--------
Salahuddin claims attacks against India and threatens more terror strikes in TV interview
Jul 4, 2017
ISLAMABAD: Within a week of being designated 'global terrorist'+ by the United States, Hizbul Mujahideen chief Syed Salahuddin appeared for a TV interview on Monday in which he claimed terror attacks on India+ in the past, and also warned that his outfit could strike Indian targets anywhere, any time.
"Our focus is on Indian occupation forces, their movement and installations. It is against our code of conduct to target civilians or public places," he said.
"In all operations that we have carried out or are under way, we focus only on the installations of these occupational forces," said Salahuddin, who had threatened in September 2016 to turn the Kashmir valley "into a graveyard for Indian forces" in an exclusive interview to TOI.
"We have the strength and capacity to strike at any time in India. But it would provide an opportunity to New Delhi to malign our just and legitimate struggle in Kashmir," Salahuddin told Geo News.
"We had carried out operations outside Kashmir in the past but gave up when the global perception about militancy changed after 9/11," Salahuddin told the channel, which did not disclose how the United Jihad Council chief was accessed.
Salahuddin said his men would target civilians and politicians who work as spies for Indian forces against his mujahideen, and criticized Pakistan for only extending moral and political support to the Kashmir movement.
"Pakistan is a party to the Kashmir dispute and if it had supported us militarily, we would have earlier liberated the region from Indian control," he said.
Salahuddin denied that Pakistan provides weapons+ to his fighters. "We purchase weapons from the international market and get financial support from Kashmiris spread around the world," he said. "I can provide you any weapon from the international market if you give me the required amount," he claimed.
Criticizing his designation as global terrorist by the US, he described himself as a freedom fighter. He said Trump's action has further strengthened him. Two days ago, Salahuddin had called US President Donald Trump "crazy" for the move against him. The State Department declared him a global terrorist during PM Modi's visit to Washington last week.
"Trump's decision will be thrown out if anyone challenges it in American courts. No other Western nation has endorsed what this crazy Donald Trump has done," Salahuddin had said at the rally in Muzaffarabad, the capital of Pakistan-administered Kashmir, on Saturday.
Full report at:
http://timesofindia.indiatimes.com/india/salahuddin-claims-attacks-against-india-and-threatens-more-terror-strikes-in-tv-interview/articleshow/59432601.cms
--------
'Salahuddin has confirmed India's stand he is a terrorist leader'
Jul 4, 2017
NEW DELHI: Hizbul Mujahideen chief Syed Salahuddin latest admission that he and his outfit had carried out many attacks on Indian security forces and their installations was on Monday described by New Delhi as a confirmation of its long-standing position that he was a terrorist leader.
Salahuddin, who was recently designated by the US government as a "global terrorist", stated in an interview to Pakistan-based Geo News: "We have launched attacks against Indian forces and security installations and will continue to do so. We can strike anywhere in India at the time of our choosing. But we will not launch attacks against civilians or any public places."
On Monday, home ministry adviser Ashok Prasad reacted by saying that the Indian government had for long maintained that Salahuddin was a terror chieftain leading the terrorist outfit Hizbul Mujahideen. "The home ministry has been saying this for a very long time now. Salahuddin has in own words now confirmed what we have been trying to tell the whole world. As far as his designation (as global terrorist) is concerned, we think that it is well-deserved".
In his latest interview, Salahuddin has boasted that members of Hizbul Mujahideen had the ability to hit Indian targets anywhere and at any time of their choosing, and that the outfit had launched many operations against the Indian forces in Kashmir.
When asked from where he sourced the weapons to fight Indian forces, Salahuddin said they were mostly purchased from the international arms market. He could provide any weapon from the international market if the required money was given to him, he claimed.
Salahuddin however took care to claim that the terror attacks launched by him and his outfit in Kashmir were targeted against the Indian forces and security installations, while sparing civilians and public places. He further said his struggle was for "freedom of Kashmir from India".
Full report at:
http://timesofindia.indiatimes.com/india/salahuddin-has-confirmed-indias-stand-he-is-a-terrorist-leader/articleshow/59432565.cms
--------
We support India's fight against terrorism: Israel
Jul 3, 2017
JERUSALEM: On the eve of Prime Minister Narendra Modi's visit to Israel, both countries reaffirmed their support of the other in the fight against terrorism.
In an interview to an Israeli newspaper, Israel Hayom, Modi said, "Terrorism is a global menace. India and Israel are not immune to it either. We are in full agreement that elements which perpetrate violence on innocent people should not be allowed to flourish.... India and Israel could cooperate even more closely and complement each other's efforts to fight with the menace of terrorism."
At the Israel foreign office on Monday, Mark Sofer, director for Asia-Pacific and the person in charge of organising the Modi visit said categorically that unlike many countries, Israel was very open in its support to India on terrorism. "Israel has supported India both in its general battle against terrorism, as well as the groups operating out of Pakistan. Unlike many countries we have not hesitated to openly support India on this.
"We find no difference between LeT and Hamas. We both share the struggle against the forces of evil."
The reaffirmation is significant when the first historic visit by an Indian PM is seen in purely developmental terms, a reminder that India and Israel share a lot more — from defence to counter-terrorism, cyberspace to intelligence.
But the mutual support on terrorism involves an incident that India prefers not to talk about — the attack on an Israeli diplomat by an Iranian in Delhi in February 2012. The fact that nothing has happened on that investigation is not something Israel has forgotten. In fact, senior Israeli officials were questioned repeatedly on this by journalists here today.
Despite the deepening defence cooperation, defence will not be a part of the agreements between the two sides, Sofer said. Instead there will be three agreements on space cooperation, which, of course has both civilian and military attributes.
Waxing eloquent about Israel Modi told his interviewer "I share the view of many of my fellow citizens about Israel. In India, Israel is perceived as a technological powerhouse, and a country that has braved many odds. Many tech-based inventions have their roots in Israeli universities and laboratories and have benefited humankind. These include articles ranging from USB flash drives to cherry tomatoes."
Full report at:
http://timesofindia.indiatimes.com/india/we-support-indias-fight-against-terrorism-israel/articleshow/59427631.cms
--------
Narendra Modi to become first Indian PM to visit Israel
Jul 4, 2017
Narendra Modi will become the first Indian prime minister to visit Israel when he arrives on Tuesday.
Mr Modi, who recently said India and the Jewish state share a "deep and centuries-old" connection, is expected to agree military and cyber security deals.
Observers note he will not travel to Ramallah or meet Palestinian leaders, as visiting dignitaries often do.
The visit is seen by some as a turning point in India's position on Israel.
Here is what the focus will be on over the next three days:
Defence deals will be top of the agenda
For years, Israel and India have been working closely together on counter-terrorism and defence issues and India has been a regular customer of arms from the Jewish state.
Working to modernise its military to counter China and Pakistan, India is now Israel's biggest arms market, thought to be worth about $1bn (£770,000) per year, according to Reuters news agency.
The co-operation ranges from a jointly built air defence system to India buying drones, radar, cyber security and communication systems.
Aside from defence deals, the two countries also want to expand cooperation in other areas, notably Israel helping India to improve agricultural productivity and food security.
The two countries are set to build closer ties
India and Israel have had diplomatic relations for 25 years.
In the past however, the relationship has always been a balancing act given India's sizeable Muslim population and the country's dependence on oil imports from Arab countries and Iran.
Israeli Prime Minister Benjamin Netanyahu has described Mr Modi's visit as "historic", saying it would "deepen co-operation in a wide range of fields - security, agriculture, water, energy - basically in almost every field Israel is involved in".
Mr Modi will also be meeting an Israeli boy, Moshe Holtzberg, whose parents were killed when gunmen stormed a Jewish centre in Mumbai during a 2008 terror attack.
Six Jewish people were killed at the centre, which was one of several places targeted in the November 2008 attacks.
The red carpet will be rolled out
Israel is giving its guest the high-level red carpet treatment.
Mr Netanyahu will go beyond the usual protocol of meeting visiting leaders on a few occasions during their trip. In the case of Mr Modi, he will accompany him for most of the visit, an honour usually reserved for only top level guests like the US president.
Mr Netanyahu's office tweeted he would join his guest "at many events during his visit as befits the leader of the largest democracy in the world".
Full report at:
http://www.bbc.com/news/world-asia-india-40489746
--------
Salahuddin's utterances prove he's a terrorist: Government
Jul 3, 2017
NEW DELHI: The Centre on Monday condemned Hizbul Mujahideen chief Syed Salahuddin's recent utterances against India, and said his designation as a global terrorist by the United States was "well deserved".
Home ministry spokesperson Ashok Prasad said the government had been describing Salahuddin as a terrorist all along, and his own remarks had confirmed that.
"His designation as a global terrorist by the US is well deserved," he told reporters here.
Prasad said Salahuddin was also "instrumental" in providing funds to terrorists and separatists and giving other kinds of assistance to the terrorists.
Salahuddin had on July 1 claimed that his group had the capability to launch attacks inside India.
The US declared him a "Specially Designated Global Terrorist" on June 27.
Full report at:
http://timesofindia.indiatimes.com/india/salahuddins-utterances-prove-hes-a-terrorist-government/articleshow/59426290.cms
--------
Third terrorist killed as Pulwama encounter enters second day
Jul 4, 2017
SRINAGAR: A third terrorist was killed on Tuesday in an encounter with security forces in Pulwama district of south Kashmir as the operation entered the second day, police said.
One more terrorist was killed on Tuesday morning and the body has been recovered, a police official said.
He said three terrorists have been killed in the encounter so far.
The search operation was on in the area, the official said.
Security forces launched a search operation in Bahmnoo area of Pulwama on Monday following information about presence of terrorists there.
The gunfight ensued after the terrorists fired upon the security forces during the search operation.
The identity of the slain ultras has not been ascertained yet, the official said.
Full report at:
http://timesofindia.indiatimes.com/india/third-terrorist-killed-as-pulwama-encounter-enters-second-day/articleshow/59434835.cms
--------
Day before PM Modi visit, Israel backs India on terror from Pakistan
July 4, 2017
On the eve of Prime Minister Narendra Modi's "historic" visit to Israel, a senior official from the Israeli foreign ministry said that his country supports India on terrorism emanating from Pakistan "hook, line and sinker", and is "not asking for a quid pro quo". "Israel supports India on terrorism emanating out of Pakistan, hook, line and sinker. But we are not asking for a quid pro quo… the horrors coming from Pakistan…the Lashkar-e-Toiba, the rogue operations from Pakistan. We say that India has the right to defend itself, just like Israel has the right to defend itself. I don't see a difference between LeT and Hamas. A terrorist is a terrorist is a terrorist," said Mark Sofer, deputy director general in charge of the Asia and Pacific division.
Modi is expected to arrive in Israel — the first visit by an Indian Prime Minister — at 4 pm local time and will be received at the airport by his Israeli counterpart Benjamin Netanyahu and senior ministers.
Both the prime ministers are scheduled to hold talks Wednesday. Netanyahu will accompany Modi for most of the two-day visit after hosting a private dinner for the Indian Prime Minister at his official residence Tuesday. Modi is also scheduled to visit a floriculture farm and the Holocaust museum.
Sofer, a former ambassador to India, said the two sides will sign three agreements on space cooperation; launch a joint strategic partnership on water and agriculture; open a new Indian cultural centre in Israel; and, launch a joint CEOs forum.
Speaking about a common concern, Sofer said, "Both countries face the same challenges of terrorism and face the same struggle. No civilised country can defeat terrorism by itself. All like-minded countries, like India and Israel, have to make a concerted effort."
Asked about counter-terrorism cooperation, Sofer said it would not be the focus of the visit, but will definitely be a part of the discussions. "When countries are faced with similar challenges, then like-minded democratic countries have to come together to fight against those evil challenges," he said.
Israel's Ambassador to India Daniel Carmon said the two countries had signed an agreement on homeland security in 2014 and that cooperation was happening on that front.
Israeli officials described Modi's visit as "historic" and "special", and said the groundwork was prepared by "seven pre-visits" from different ministries and departments from India. "It is difficult, if not impossible, to overstate the importance of the visit," said Sofer.
Asked if the Palestinian issue would come up during discussions, Sofer said, "When two leaders meet, all issues are on the table."
Full report at:
http://indianexpress.com/article/india/first-visit-by-an-indian-prime-minister-day-before-pm-modi-visit-israel-backs-india-on-terror-from-pakistan-4734220/
--------
Mideast
Yemen: Over 180 Saudi-Backed Militants Killed in Ta'iz, Shabwah Provinces
Jul 03, 2017
The snipers of the Yemeni army and popular forces killed 103 Saudi-backed mercenaries in the city of Ta'iz, three others in Eastern Ta'iz and 39 others West of the city.
"At least 9 Saudi-backed militants were also killed in Eastern Mukha and three others in Jebel Habashi while three others were killed in Jebel Habashi, the Arabic-language Saba news agency quoted a military source as saying.
"The Yemeni army snipers also killed 22 Saudi-backed militants in Shabwah province, two others in Al-Bayda province and three more in Dhale province," the source added.
In a relevant development on Saturday, the Yemeni army and popular forces pounded the gathering centers of the Saudi army in Jizan province, inflicting heavy losses on the Riyadh government forces.
"The Yemeni forces fired a Zalzal-2 missile at Saudi Arabia's concentration centers in the village of al-Raheh in Jizan province," the Arabic-language al-Mayadeen TV network quoted a military source as saying.
Meantime, another military source said that the Yemeni army and popular forces hit al-Khanjar military base belonging to the forces loyal to former fugitive President Mansour Hadi in the Northern part of al-Jawf province.
In a relevant development on Friday, the Yemeni army's artillery units pounded the Saudi troops' gathering centers in Midi region in Hajjah province.
http://en.farsnews.com/newstext.aspx?nn=13960412001037
--------
Fresh Saudi air raids against Yemen claim 15 civilian lives
Jul 3, 2017
More than a dozen civilians have been killed when Saudi military aircraft carried out separate airstrikes against various areas across Yemen as the Saudi regime presses ahead with an atrocious military campaign against its crisis-hit southern neighbor.
Local sources, speaking on condition of anonymity, said fifteen people lost their lives on Monday when Saudi fighter jets bombarded a residential building in the Yakhtal area of the Red Sea port city of Mokha, situated 346 kilometers south of the capital, Sana'a, Arabic-language al-Masirah satellite television network reported.
The sources noted that the fatalities included seven children and eight women.
Earlier in the day, Saudi warplanes had carried out seven aerial assaults against a mechanized infantry camp in the Harf Sufyan district of Yemen's northwestern province of 'Amran. There were no immediate reports of casualties and the extent of damaged inflicted though.
Meanwhile, Yemeni army soldiers, backed by fighters from allied Popular Committees, struck Moannaq military camp in Saudi Arabia's southwestern border region of Jizan, located 969 kilometers south of the capital Riyadh, in response to Al Saud regime's deadly airstrikes against their conflict-stricken country.
A Yemeni military official, requesting anonymity, said several Saudi soldiers were killed and wounded as artillery rounds rained down on the camp.
Full report at:
http://217.218.67.231/Detail/2017/07/03/527330/Saudi-airstrikes-Yemeni-civilians-killed-residential-building-Taizz
--------
Leader's Top Military Aide Warns of New Saudi-US-Israeli Plots in Region
Jul 03, 2017
"The ISIL is being defeated and actually, the ISIL defeat is the failure of the US, Saudi Arabia, Turkey, Jordan, Qatar and the Zionists' coalition in the region," General Rahim Safavi said on Monday.
Noting that insecurities stirred by the US will possibly continue in Iraq even after the annihilation of the ISIL, he said, "After the failures of the US, Saudi Arabia and the Zionists in Iraq and Syria, a new plot may start in the Persian Gulf region by the same coalition."
In relevant remarks in December, Iranian Defense Minister Brigadier General Hossein Dehqan warned that Israel and its allies are attempting to strengthen the terrorist groups and prolong insecurity in the region to their benefit.
"The Takfiri-terrorist stream which has been created by the Americans, the Zionists, the reactionary Arabs of the region and even certain countries like Turkey will not be confined to Syria, Lebanon, Yemen and Iraq; it is a pervasive event which distorts and threatens the global system and security," General Deqan said in Tehran.
He said that the Zionists and the arrogant countries are making their best efforts to prolong this atmosphere because it depletes the revolutionary potential of the Muslim world.
Full report at:
http://en.farsnews.com/newstext.aspx?nn=13960412001044
--------
Germany urges Erdogan not to address Turks during G20 Hamburg visit
4 July 2017
The German government urged Turkish President Recep Tayyip Erdogan on Monday to respect its request that he not address Turks living in Germany when he attends this week's Hamburg summit of the world's 20 largest economies.
Ties between Berlin and Ankara have soured over the past year due to disagreements on a range of political and security issues, including Turkey's jailing of a German-Turkish journalist and its refusal to let German lawmakers visit German troops at a Turkish air base.
Erdogan was also infuriated by what he called "Nazi era tactics" when some local German authorities, citing security concerns, barred Turkish politicians from campaigning in Germany ahead of a referendum on expanding the president's powers.
Last week Germany rejected a request from Ankara that Erdogan be allowed to address members of the 3 million-strong ethnic Turkish community living in Germany during the G20 summit.
In unusually strong language that underlined the poor state of relations, a German foreign ministry spokesman said even appearances by Erdogan at a Turkish consulate or via a video feed would "would be an affront to the clearly expressed will of the government and a violation of German sovereignty".
"Appearances of this nature have to be requested well in advance," Martin Schaefer told a news conference when asked about "rumors" that Erdogan might still address Germany's Turks despite Berlin's request.
He said Germany could not ban Erdogan from speaking at a Turkish consulate, but had options for influencing such actions.
Full report at:
https://english.alarabiya.net/en/News/middle-east/2017/07/04/Germany-urges-Erdogan-not-to-address-Turks-during-G20-Hamburg-visit.html
--------
Zarif urges more Iran-France political talks
Jul 3, 2017
Iranian Foreign Minister Mohammad Javad Zarif has called for the continuation of political negotiations between Iran and France.
In a meeting with Christian Masset, secretary general of the French foreign affairs ministry, in Tehran on Monday, Zarif expressed hope that both sides would take steps to boost cooperation.
"Frequent bilateral meetings will remove the obstacles in the way of the two countries' relations, particularly the economic obstacles," he said.
The top Iranian diplomat also pointed to the latest developments in the Middle East and expressed the country's readiness to dispatch humanitarian aid to the Syrian people.
"As Iran seeks a political solution to the existing problems in Syria, it welcomes any initiative by the French government to find a political solution to the current conflict in Syria," Zarif said.
Syria has been fighting different foreign-sponsored militant and terrorist groups since March 2011. UN Special Envoy for Syria Staffan de Mistura estimated last August that more than 400,000 people had been killed in the crisis until then.
Considerable increase in Iran-France economic ties
For his part, the French foreign ministry official said Tehran and Paris have managed to increase their economic relations after the implementation of the landmark nuclear agreement between Iran and the P5+1 group of countries, known as the Joint Comprehensive Plan of Action (JCPOA).
Iran and the five permanent members of the United Nations Security Council – the United States, France, Britain, Russia and China – plus Germany signed the mammoth agreement in July 2015 and started implementing it in January 2016.
Under the JCPOA, Iran undertook to put limitations on its nuclear program in exchange for the removal of nuclear-related sanctions imposed against Tehran.
Full report at:
http://217.218.67.231/Detail/2017/07/03/527326/Iran-France-Syria-Mohammad-Javad-Zarif-Christian-Masset-JCPOA
--------
South Asia
Bangladesh Columnist Taken To Detective Branch Office for Interrogation
July 04, 2017
Arifur Rahman Rabbi
He is likely to be taken to the Detective Branch office in Mirpur for interrogation
Litterateur and columnist Farhad Mazhar, who was rescued by Rapid Action Battalion from Jessore, has been taken to Detective Branch (DB) of Police office in Dhaka.
He was taken to DB office in Mirpur area around 11:15am on Tuesday.
Dhaka Metropolitan Police (DMP) Deputy Commissioner Masudur Rahman confirmed the matter to the Dhaka Tribune.
Earlier in the day, Farhad was brought to Dhaka from Jessore on a microbus around 8:45am.
Farida Akhter, wife of Farhad Mazhar, said: "My husband suffers from blood pressure and he gets sick if he does not take his medicine properly.
"I do not think has taken his medicine properly. I am very upset seeing him in this condition. I have never seen him like this before."
RAB rescued the noted columnist from a Dhaka-bound bus of Hanif Paribahan in Abhaynagar upazila of Jessore Monday night. He had gone missing in the morning.
Farhad's wife Farida had filed a general diary with Adabor police station in the evening, saying some unknown people had abducted her husband and asked for Tk35 lakh ransom.
Later, RAB 6 launched a raid in a Khulna city neighbourhood after they traced Farhad's mobile phone near the KDA Approach Street.
The raid continued for hours and the team searched houses in KDA Approach Street as well as the nearby Ibrahim Street but he was not found there.
http://www.dhakatribune.com/bangladesh/crime/2017/07/04/columnist-farhad-mazhar-taken-adabor-police-station/
--------
Bangladesh Marks First Anniversary of Dhaka Cafe Attack That Killed 22
Jul 4, 2017
DHAKA — Bangladesh July 1 marked the first anniversary of the nation's worst terrorist attack by Islamist militants with promises to continue to fight the menace.
Foreign delegates, activists and family members vowed to tackle Islamic militancy as they visited the Holey Artisan Bakery, the site of the July 1, 2016 attack. Five militants belonging to Jumatual Mujahedeen Bangladesh targeted the cafe in Dhaka and killed 20 hostages, including 17 foreigners from Japan, Italy and India. Two security officials succumbed to their injuries in a hospital, while commandoes killed the five attackers.
"We are here to remember the victims, to show respect to them," said Shahriar Kabir, a prominent Bangladeshi activist, who talked tough against militancy as he led a delegation to the attack site.
"We thank the authorities for keeping the militancy under control, at least apparently, but the main concern is to eliminate the elements that bring people to extremism," he said.
The cafe attack followed several years of smaller attacks targeting scores of individuals deemed by extremists to be enemies of radical Islam, including secularists, writers, religious minorities, foreigners and activists.
The Islamic State group claimed the responsibility for the cafe attack, but the government of Prime Minister Sheikh Hasina rejected the claim and said the domestic group JMB was behind it and numerous other smaller attacks. The government says the IS has no existence in the country.
Since the attack, authorities have captured and killed dozens of suspects, and said the network has been weakened if not eliminated completely. Bangladesh has experienced a rise in Islamic militancy in recent years, but the government launched a massive crackdown and said it is following a policy of zero tolerance in the fight against radical Islamists.
On July 1, relatives cried while people placed wreaths to remember the victims of the attack, which rattled the Muslim-majority South Asian nation.
Teams from the Japanese and Italian embassies in Dhaka visited the site and placed wreaths amid tight security.
A few blocks from the cafe, an attack survivor said that the day was still like a nightmare to him.
"It still haunts me. I get shaken whenever I think of the day," said Akash Khan, a 22-year-old cook at the Holey Artisan Bakery, as he joined a team of 33 staff members from the reopened cafe in a complex in Dhaka's Gulshan area.
All the staff wore black badges to mark the day.
Full report at:
http://www.indiawest.com/news/india/bangladesh-marks-first-anniversary-of-dhaka-cafe-attack-that-killed/article_5624f810-6033-11e7-8e0b-a72128f7ef8c.html
--------
Why Is Myanmar Refusing A UN Probe If There Is No Rohingya Genocide?
Jul 4, 2017
When Myanmar transitioned from military rule to civilian democracy, many hoped the new government would make efforts to resolve the Rohingya Muslim crisis that began in 2012.
Many believed the de facto leader, Aung San Suu Kyi, who is a former Nobel Peace Prize winner, would fight for the rights of the ethnic Muslim community, which is considered an outcast in its own country, despite living there for centuries.
However, all hopes of peace were dashed after Suu Kyi, in the very first 100 days of her rule, banned the usage of the term "Rohingya" to appease Buddhist extremists, who wield considerable influence in Burmese politics.
Suu Kyi, a woman who spent nearly 15 years under house arrest for her human rights advocacy, made it very clear that she was not going to alienate the Buddhist majority for the sake of an unrecognized minority.
In fact, as per latest reports emerging from the region, she appears to be wholly complicit in the discrimination against Rohingya Muslims.
As minister of foreign affairs, Suu Kyi recently refused entry to members of a United Nations investigation focusing on widely reported allegations of killings, rape and torture by security forces against Rohingya Muslims.
"If they are going to send someone with regards to the fact-finding mission, then there's no reason for us to let them come," said Kyaw Zeya, permanent secretary at the Ministry of Foreign Affairs.
"Our missions worldwide are advised accordingly," he added.
The U.N. mission was announced in the wake of the controversial military crackdown against Rohingya Muslims in October in the Rakhine State.
Scores have been killed while hundreds of others, around 75,000, have fled the country into neighboring countries for refuge in what human rights watchdogs believe is part of a systematic ethnic cleansing of the Rohingya Muslim community.
The Burmese army has also been accused of burning down Rohingya Muslim villages and raping the women belonging to the embattled group.
Despite numerous reports citing the aforementioned abuses against Rohingya Muslims, Suu Kyi remains reluctant to let U.N. investigators into the country, arguing it "would have created greater hostility between the different communities." (But does withholding information about the crisis help in resolving it? Of course not.)
Full report at:
http://www.carbonated.tv/news/myanmar-refuses-visas-un-human-rights-abuses-rohingya-muslims
--------
Afghanistan and Turkmenistan sign 7 agreements during President Ghani's visit
Jul 04 2017
The Afghan and Turkmenistan officials have signed seven agreements for bilateral cooperation during President Mohammad Ashraf Ghani's visit to Ashgabat.
The Office of the President, ARG Palace, said the agreements were signed at the end of a meeting between President Ghani and his Turkmen counterpart.
The agreements signed between the two countries including bilateral cooperation in the field of education, transportation, railway network establishment, border cooperation, and other fields.
A statement by the ARG Palace said, the bilateral cooperation in the field of education was signed by the officials of the two countries to pave the way for the cooperation between Makhdoum Quli and Jawzjan universities, while the ministry of foreign affairs of the two countries also signed agreement for the bilateral cooperation along with ministry of energy and water.
President Ghani arrived in Ashgabat for a one day state visit on Monday morning.
Full report at:
http://www.khaama.com/afghanistan-and-turkmenistan-sign-7-agreements-during-president-ghanis-visit-03075
--------
Senior police officer killed in Kabul explosion
Jul 04 2017
A senior police officer was killed in an explosion in Kabul city late on Monday afternoon, the security officials said.
The incident took place in the vicinity of the 17th police district of the city, leaving the head of the Parwan criminal investigation department dead.
The provincial police chief of Parwan Mohammad Zalmai Mamozai confirmed the incident and said the CID chief of Parwan police Abdul Samad Zalmai lost his life in the explosion on Monday afternoon.
He said the incident took place after a magnetic bomb planted in his vehicle went off, leaving himself dead and his driver wounded.
No group including the Taliban insurgents has so far claimed responsibility behind the incident.
Yesterday's explosion followed weeks after a series of explosions rocked capital Kabul, leaving more than 150 people dead and hundreds other wounded.
The explosion near the embassy of Germany on 31st May was considered as one of the deadliest since the fall of the Taliban regime.
Full report at:
http://www.khaama.com/senior-police-officer-killed-in-kabul-explosion-03074
--------
Kabul protesters end rallies, demand resignation of govt leaders, key officials
Jul 03 2017
The Kabul protesters ended their rallies in the city by announcing their declaration and demanding the resignation of the government leaders and key security officials.
They asked the international community, specifically the United Nations to intervene and prevent the government leaders from taking extrajudicial steps, accusing them of seizing the power by force.
The protests who were rallying under the name of 'Uprising for the Change' also demanded that justice should be served for their comrades who lost their lives during the clashes with the security forces.
According to the rally participants, the rallies and demonstrations were ended based on the requests of the Kabul Garrison Command, insisting that today's rallies were organized in close coordination with the security institutions.
The Kabul Garrison Command earlier urged for a close coordination between the security forces and the rallies organizers in a bid to ensure security for the city and residents of the country, expressing concerns that the enemies of the country will use the opportunity to stage terrorist attacks.
Today's rallies were organized almost a month after a similar demonstration turned violent as the protesters were attempting to move towards the presidential palace and other key diplomatic areas in the city.
Full report at:
http://www.khaama.com/kabul-protesters-end-rallies-demand-resignation-of-govt-leaders-key-officials-03072
--------
US embassy issues security alert after new rallies in Kabul city
Jul 03 2017
The Embassy of the United States of America has issued new security alert new rallies in capital Kabul, warning its citizens against the threats in the country.
The U.S. Embassy in Kabul has received reports that there are demonstrations planned for today, July 3. The reports indicate the demonstration may start in the area of Airport Circle to the north of the U.S. Embassy and move south and east towards Jalalabad Road. Embassy personnel have been advised to avoid this area," a statement by the US embassy said.
The statement further added "As a reminder, in accordance with the Travel Warning for Afghanistan, the Department of State warns U.S. citizens against travel to Afghanistan. The security situation in Afghanistan is extremely unstable, and the threat to all U.S. citizens in Afghanistan remains critical. U.S. citizens currently visiting or residing in Afghanistan may wish to consider departing."
"The Embassy strongly urges U.S. citizens who decide to remain in Afghanistan to review your personal security plans, take appropriate steps to enhance your personal safety, remain aware of your surroundings, monitor local media for updates, and maintain a high level of vigilance," the statement added.
Full report at:
http://www.khaama.com/us-embassy-issues-security-alert-after-new-rallies-in-kabul-city-03071
--------
Southeast Asia
Indonesia's Reputation as a Model of Moderate Islam Intact, Says President
July 4, 2017
Indonesia's president said on Monday his country remains a model of moderate Islam, countering critics who point to mass rallies by radical Muslims and the jailing of a Christian politician for blasphemy as evidence its reputation is crumbling.
"Pluralism has always been a part of Indonesia's DNA," Joko Widodo told Reuters in an interview at the presidential palace in Jakarta. "Despite many challenges, Islam in Indonesia has always been a force for moderation."
Indonesia's state ideology includes national unity, social justice and democracy alongside belief in God, and enshrines religious diversity in a secular system of government.
Hardline Islamist groups were banned under the authoritarian regime of President Suharto, which ended in 1998, but they have gained ground in recent years, emerging from the fringes of society in the world's biggest Muslim-majority country.
Religious and political tensions spiralled at the end of last year when Islamists led protests by hundreds of thousands in Jakarta against the capital's then governor, an ethnic-Chinese Christian who was charged with insulting the Koran.
Governor Basuki Tjahaja Purnama, an ally of President Widodo, lost his bid for re-election to a Muslim rival in April after months of agitation against him by a radical group, the Islamic Defenders Front (FPI).
In May he was sentenced to two years in jail for blasphemy. Widodo said Indonesia was "still a model" of pluralism and noted comments on Saturday by former US President Barack Obama – on a personal visit to the country where he spent some of his childhood – that its history of tolerance must be preserved.
"It is very important here in Indonesia, the United States, Europe, everywhere, to fight against the politics of 'us and them'," Obama told a conference in Jakarta.
CAREFUL LINE ON HOMOSEXUALITY
The targets of hardline Islamic groups have included the lesbian, gay, bisexual and transgender (LGBT) community, many of whom have been driven underground by police
raids.
With the exception of the ultra-conservative Aceh province, where Islamic law is enforced and two men were publicly flogged in May for gay sex, homosexuality is legal in Indonesia.
But Widodo's own defence minister has branded homosexuality a national security threat and last week a leader of Indonesia's second-largest Muslim group called for a boycott of Starbucks because of the international coffee chain's pro-gay stand.
The president trod a careful line on the question of LGBT rights, saying that "Indonesia remains a tolerant nation" whose constitution guarantees that everyone's rights are respected and protected.
But he added: "We are the largest majority Muslim country so Indonesia has its own religious norms, unique values and also cultures that must be respected."
ISIS HAS NO PLACE IN INDONESIA
The muscle-flexing of hardline groups has fed fears that Indonesia will become fertile ground for Islamist militants.
Widodo said he would press parliament to move more quickly on passing a new anti-terrorism law that would make it easier to both arrest and detain suspects. "We need this law," he said, hammering his finger on the table in front of him.
The attempt in May by a small army of Islamic State-allied fighters to overrun a city in the southern Philippines has been widely seen as a bid by the ultra-radical group, on a backfoot in Syria and Iraq, to establish a stronghold in Southeast Asia.
Philippines officials have said there were Indonesians and Malaysians among the fighters who attacked Marawi City, where a battle with government troops has ground on for six weeks.
"ISIS has no place in Indonesia," Widodo said, using a popular acronym for Islamic State.
He noted that Indonesia, Malaysia and the Philippines had agreed to joint maritime patrols to prevent militants moving across their islands, and said he discussed cooperation on a phone call with Philippines President Rodrigo Duterte last week.
"Our security and intelligence agencies continue to work hard to combat this threat. We are also continuing to promote the values of moderate Islam and when I talked with President Duterte last week I said that 'your problem is my problem'.
http://indianexpress.com/article/world/indonesias-reputation-as-a-model-of-moderate-islam-intact-says-president-joko-widodo-4734360/
--------
Bali-Based Iranian Musician Promotes Peace in the Middle East With New Album
Jul 4, 2017
Jakarta. Bali-based Iranian musician and sound therapist Shervin Boloorian on Monday (03/07) launched a cross-cultural music album project, titled "One With The Beloved," to raise awareness about sacred cultures and to promote peace in the Middle East.
Boloorian, a former adviser for US-Iran peace coalitions in Washington D.C., sought inspiration for his project from the 13th century Persian poet Rumi, who constantly wrote about love, compassion, friendship and hope. Poems by the Sufi master have been translated into 23 languages.
Boloorian, who offers musical healing therapy in Ubud, believes Rumi's work can offer a common ground for opposite cultures to meet and interact.
"I felt strongly that a sacred music project with Rumi as the central inspiration could relay an alternative message to what we commonly hear about Iran, Islam and the Middle East to as many people as possible," he said.
The album showcases the traditional Sufi chant, or zikr, modified into a West African sound with instruments that represent both Western and Eastern melodies. The artist uses the Egyptian Ney Flute and Frame Drum, the African Kora, the Indian Bansuri, Dulcimer and Clarinet, Himalayan Meditation Bowls, Brass Chimes, the Spanish Guitar and more in his project.
Boloorian plans to release the album later this summer, just ahead of a European tour in August. He will also conduct interactive musical workshops between shows to engage with his audience.
Full report at:
http://jakartaglobe.id/features/bali-based-iranian-musician-promotes-peace-middle-east-new-album/
--------
Militants cling on to hundreds of buildings in besieged Philippine city
3 July 2017
Gunmen led by one of the world's most wanted militiants still hold about 1,500 buildings in a southern Philippine city after weeks of ferocious fighting that has left hundreds dead, officials said Monday.
The Philippine military has struggled to expel scores of gunmen who rampaged across Marawi city on May 23 flying the black flag of the ISIS group, despite day and night artillery and air strikes that have reduced swathes of the downtown area to rubble.
President Rodrigo Duterte last month vowed to "crush" the militants, but several deadlines have already been missed to end a conflict that has left scores dead and forced some 400,000 people from their homes.
The gunmen are led by Isnilon Hapilon, one of the world's most wanted men, who is believed to be still alive and holed up in a mosque, Defence Secretary Delfin Lorenzana told a news conference in Manila.
In the most detailed assessment yet, he conceded there was no saying when soldiers would be able to retake all 1,500 houses and buildings still held or booby-trapped by the militants.
"Since it is urban fighting a lot of our troops there are not prepared. One can say they are learning as they fight in this built-up area," he said, adding that soldiers are battling street-to-street retaking up to a hundred buildings a day.
The military in Marawi suggested a slower rate, with soldiers recapturing 40 buildings on Saturday and 57 on Sunday.
"The clearing operation is difficult because of the presence of IEDs (improvised explosive devices), booby traps left behind by the terrorists," said the military spokesman for the campaign, Lieutenant-Colonel Jo-ar Herrera.
Eighty-two soldiers and police and 39 civilians have died in the weeks-long conflict, he said.
Around a hundred militants are still entrenched in the city and the army has said they have used a water route to bring in ammunition and evacuate wounded fighters, helping them withstand the military offensive for weeks. Some 300 gunmen are thought to have been killed so far.
Lorenzana said military commanders wanted a swift end to the operation, "but the enemy is also very wily and resourceful".
Duterte imposed martial law over the southern Philippines soon after the fighting started, saying he needed strong powers to snuff out an ISIS plot to carve out territory after battlefield losses in Iraq and Syria.
A botched government attempt to arrest Hapilon at a Marawi hideout touched off the fighting in May.
Full report at:
https://english.alarabiya.net/en/News/world/2017/07/03/Militants-cling-on-to-hundreds-of-buildings-in-besieged-Philippine-city-.html
--------
'What if your prayer-mat was woven by a gay weaver?'
Sheith Khidhir Bin Abu Bakar and Nora Jaswa
July 4, 2017
PETALING JAYA: Pro-moderation advocate Tawfik Ismail wants Perkasa president Ibrahim Ali to reveal what he intends to do if he finds out his prayer mat was woven by a gay weaver.
"If someone could prove that Ibrahim Ali's prayer mat was woven by a gay weaver, are his prayers invalid?" he asked.
Tawfik was referring to a statement issued by Perkasa on Sunday calling for the public and Putrajaya to boycott companies that support the rights of the lesbian, gay, bisexual and transgender (LGBT) community, citing in particular Starbucks chairman Howard Shultz and Microsoft.
Perkasa Islamic affairs bureau head Amini Amir Abdullah had also urged Putrajaya to revoke business licenses of such companies.
Pointing out that Apple CEO Tim Cook is openly gay besides supporting LGBT rights, Tawfik questioned if this meant all Muslims in Malaysia should also give up their iPhones and iPads.
Tawfik made it clear that calling for a boycott – especially if it's based on one's ethics – was not wrong, but claimed that in this context, Perkasa may only be attempting to market its relevance as a Malay rights pressure group.
"The result, though, may be more empathy for Starbucks and an increase in customers as people may want to show they're against Perkasa rather than for Starbucks," he said.
Asked about the possibility that some Muslims will find fault with fellow Muslims who don't support the boycott, Tawfik said Muslims are only answerable to God and not Perkasa.
"All Muslims know that the first word Prophet Muhammad heard, in the name of God, was 'Read'.
"So, the only way you can be 'less Muslim' is if you don't use God's gift of the brain to read and therefore, understand, and decide on your own and be guided by your own conscience.
"You can also be 'less Muslim' if you delegate God's power and might to Perkasa and abdicate your personal faith in God for Perkasa."
Meanwhile, Amanah deputy president Salahuddin Ayub said that not supporting the boycott did not make one less of a Muslim.
"Just because you don't support Perkasa's statement, that does not mean you are 'not Muslim enough'.
"We should look into the matter and assess Perkasa's statement before coming to our own decision on the issue of boycott," Salahuddin said.
He added that Amanah has always maintained on the need to engage with any group no matter what they stood for.
Full report at:
http://www.freemalaysiatoday.com/category/nation/2017/07/04/what-if-your-prayer-mat-was-woven-by-a-gay-weaver/
--------
India seeks to seize Zakir Naik's properties in Malaysia
July 4, 2017
KUALA LUMPUR: The Enforcement Directorate (ED) of India has applied to a special court in Mumbai for permission to lawfully seize some properties of controversial Islamic preacher Zakir Naik in Malaysia.
"We have moved the court seeking issuance of Letters Rogatory (LR) to attach some properties of Naik, which we have identified in Malaysia," special ED Counsel Hiten Venegaonkar was quoted as saying by the Press Trust of India (PTI).
Letters Rogatory are a formal request from a court in a country to a foreign court for judicial assistance.
The ED, India's financial crime investigation agency, applied to the special Prevention of Money Laundering Act court last week for the LR, PTI reported.
The report said the televangelist had been accused of spreading hatred through his provocative speeches, funding terrorists and laundering several crores of rupees over the years.
He fled India following an attack on a cafe in Bangladesh in July last year in which 22 people were killed, and after at least one of the terrorist suspects said he had been influenced by Naik's speeches.
Naik has denied any involvement with terrorists or that he promotes terrorism. He has Malaysian permanent resident status, and Indian media had earlier reported that he was now trying to secure Malaysian citizenship.
Naik is said to have been changing his base frequently after India's National Investigation Agency contacted Interpol to issue a red corner notice against him, which would mean that police in any country would be obliged to detain him.
The court had in April issued a non-bailable warrant against Naik in connection with the money laundering case.
According to the PTI report, the ED is looking into the charges of alleged illegal funds laundered by Naik and several of his associates.
Meanwhile, The Hindustan Times reported that, on Monday, the ED moved an application seeking a LR to be sent to authorities in the United Arab Emirates, seeking details of Naik's properties there.
Full report at:
http://www.freemalaysiatoday.com/category/nation/2017/07/04/india-seeks-to-seize-zakir-naiks-properties-in-malaysia/
--------
Europe
Sweden home to 2,000 Takfiri extremists: Intelligence chief
Jul 3, 2017
Sweden is home to some 2,000 Takfiri extremists, the nation's intelligence chief said Monday, a nearly 10-fold increase in less than a decade.
Anders Thornberg, head of Sweden's domestic spy service, Sapo, attributed the rise primarily to the sophisticated propaganda machine of Daesh group.
Although "few extremists" have "the will and ability" to carry out attacks, they must be found and closely followed, Thornberg said.
"It is important that everyone in Sweden takes responsibility to end this trend... before we see an attack or a violent act," Thornberg told news agency TT in an interview published on Monday.
Sweden has been on the edge ever since an Uzbek national, who had shown sympathies for extremist groups including Daesh, used a stolen truck to mow down pedestrians on a busy shopping street on April 7, killing five people and injuring 15.
Europe has seen a string of attacks in recent years including large-scale assaults in Paris Brussels and Berlin.
Thornberg said that out of around 3,000 violent extremists currently in Sweden, 2,000 have Takfiri motives.
The remaining extremists originate from far-right and extreme-left movements.
A 2010 Sapo report estimated the number of violent Takfiri extremists in the Scandinavian country at 200. Sapo has previously said that about 300 people from Sweden are known to have traveled to Syria and Iraq to join Daesh since 2012.
Around 140 have returned to Sweden and about 50 are said to have died abroad. Takfirisi or sympathizers from Sweden have been linked to several terrorist attacks in recent years, as a Swedish national, Osama Krayem, has been charged with terrorist murders over the 2016 Brussels metro bombing.
http://217.218.67.231/Detail/2017/07/03/527302/Sweden-Takfiri-extremist
--------
May to decide whether to publish report about foreign funding of extremism
Jul 4, 2017
British Prime Minister Theresa May is yet to decide whether to publish details of a report about foreign funding of extremism in the UK with a focus on Saudi Arabia.
The outcome of the Home Office investigation is not yet released, which "leaves question marks over whether their decision is influenced by our diplomatic ties," said the Green party co-leader, Caroline Lucas, as cited in a Guardian report, published Monday.
The probe was commissioned by former Prime Minister David Cameron and approved by May in December 2015, although she demonstrated a resolve to boost ties with Saudi Arabia and the Persian Gulf Arab states later.
Lucas and the Home Office both said this week that the British premier was personally responsible about whether to make the findings public.
"The review into the funding of Islamist extremism in the UK was commissioned by the former prime minister and reported to the home secretary and the prime minister in 2016," claimed Home Office minister Sarah Newton. "The review has improved the government's understanding of the nature, scale and sources of funding for Islamist extremism in the UK. Publication of the review is a decision for the prime minister."
In her parliamentary question on the review's whereabouts, Lucas called the delay "astonishing," asserting that "the government is sitting on this report but refusing to publish it or give any reason for their continued secrecy."
Since Saudi Arabia launched its brutal campaign against Yemen in March 2015, the UK government has approved arms export licenses to Saudi Arabia worth $4.1 billion, according to London-based Campaign Against the Arms Trade.
'Very sensitive' content
May's nemeses, Labour leader Jeremy Corbyn, and Scotland's First Minister Nicola Sturgeon, have both called for making the findings public.
According to Lucas, after recent terrorist attacks in Manchester and London, the British public is "quite rightly asking questions about routes to radicalization, and the funding of terror is central to this.
"I urge Theresa May to reveal immediately whose advice they are following as to whether or not to publish this report, and to do all they can to put the facts into the public domain if it is safe to do so."
Cameron had committed to publishing the report by spring 2016, according to the Liberal Democrat leader, Tim Farron, but the Home Office later called its contents "very sensitive," indicating that it would never be published.
Condemning London's efforts to "kowtow" before the monarchy, he noted, "It is a scandal that the government are suppressing this report. The only conclusion you can draw is that they are worried about what it actually says."
"We hear regularly about the Saudi arms deals or ministers going to Riyadh to kowtow before their royal family, but yet, our government won't release a report that will clearly criticize Saudi Arabia, Farron said. "All this government seems to care about is cozying up to one of the most extreme, nasty and oppressive regimes in the world. You would think our security would be more important, but it appears not. For that Theresa May should be ashamed of herself."
Full report at:
http://217.218.67.231/Detail/2017/07/04/527354/Mays-secrecy-on-Saudi-triggers-pressure
--------
Teen jailed for plotting bomb attack at Elton John concert in London
4 July 2017
A British teenager who planned to attack an Elton John concert in London on the fifteenth anniversary of the September 11 attacks was jailed for life on Monday.
Haroon Syed, 19, from West London, pleaded guilty to planning a terrorist attack between April and September 2016, and has been ordered to serve at least 16 1/2 years.
Syed admitted researching potential targets on the internet, including an Elton John concert in Hyde Park and Oxford Street, a busy shopping district.
"Haroon Syed is clearly a danger to the public and was prepared to carry out indiscriminate attacks against innocent people," said Deb Walsh, deputy head of the Counter Terrorism Division.
Syed used the internet to try and get weapons to use in a possible attack, and used social media to contact people he believed were like-minded supporters of Islamic State. In one message he wrote: "So after some damage with machine gun then do itishadi (martyrdom)... that's what im planning to do."
He applied for loans totaling 8,000 pounds ($10,362.40), which he said were for a motorbike, a wedding and home improvements, but prosecutors allege were to fund the attack. The loan requests were turned down.
Full report at:
http://nation.com.pk/international/03-Jul-2017/teen-jailed-for-plotting-bomb-attack-at-elton-john-concert-in-london
--------
UK government urged to mend 'broken' ties with Muslims
Jul 3, 2017
he government of British Prime Minister Theresa May has been advised to mend "broken relationship" with Muslim communities and review its counter-radicalization and integration strategies.
The Citizens Commission on Islam, Participation & Public Life, chaired by prominent Tory figure and former UK attorney general Dominic Grieve, published a study on Muslim communities and their integration in everyday life on Monday.
Dubbed The Missing Muslims – Unlocking British Muslim Potential for the Benefit of All, the report offers a range of recommendations to prevent further alienation of Muslim communities in the wake of the recent terror attacks in London and Manchester.
"The response to those attacks; with communities coming together in unity and defiance demonstrates why the recommendations in this report should be actioned as a matter of priority, so the UK can build on the positive work already happening," the report said.
May has blamed the terror attacks on "evil Islamist extremism," pledging to fight this "perversion" of Islamic teachings.
Anti-Muslim hate crimes across the UK have been on the rise following the attacks.
The report noted that Muslims, who make up 4.4 percent of the UK population, are the largest and fastest-growing minority faith group. There are over 200 Muslim members in local governments while 15 MPs have a Muslim background.
It also found that around 72 percent of Muslims had voted in an election over the past 12 months.
However, in the public discourse the relatively large community is often referred to as either a disadvantaged group or as "a threat within."
The study particularly calls for a review of the Prevent program, an anti-radicalization initiative championed by May during her tenure as home secretary.
Introduced with the 2015 Counter Terrorism and Security Act, the program and its over-exaggerated image of radicalism resulted in a wave of maltreatment against Muslims and prevented Muslim students from voicing their opinions in lectures and seminars for fear of being accused of extremism.
According to Grieve, British Muslims have mixed views about the extent to which they have equal status or access to equal opportunities in the UK.
Full report at:
http://217.218.67.231/Detail/2017/07/03/527282/UK-May-muslim-citizens-Grieve
--------
"Russians killed Islamic State's 'butcher' from Kosovo"
JULY 3, 2017
This is according to Sputnik, which cited a report published by Greece's Pronews.
Sputnik noted that media reported on several occasions in the past that Muhaxheri, known as "Abu Abdullah el Kosovi," and also as "the butcher," had been liquidated.
According to the article, Muhaxheri became known in 2014 thanks to Islamic State's propaganda videos showing him beheading Chirstians, Shiites, and Alawites.
Then US Secretary of State John Kerry included him on a terrorist list the same year.
After spending four months traveling in Albania and Kosovo, Muhaxheri returned to Syria in May, the report said.
The Greek newspaper added that the terrorist was killed during a joint operation of Russia's Aerospace Forces and Syria's Tiger Forces, in Idlib, in early June. Six of his 20 personal bodyguards were also killed during the operation.
"As soon as the news about his death was announced, Minister of Transportation of the pseudo-state of Kosovo Lufti Zharku visited the family of the terrorist leader in Kacanik to offer his condolences," the article said.
According to the same source, representative of the Islamic religious community in Kacanik Florim Neziraj, also expressed his sadness over the death of this "Muslim fighter."
Full report at:
http://www.b92.net/eng/news/crimes.php?yyyy=2017&mm=07&dd=03&nav_id=101702
--------
America's Forgotten Ally Morocco Helping Win War on Terror
By Van Hipp
03 Jul 2017
It was 1777. America, the fledgling young republic that had declared its independence from British rule the year before, was struggling to survive. There was one nation, however, that stood by America in its early days and was actually the first country in the world to recognize America as a sovereign nation. France, you might guess? No, while the French were a great help militarily during the American Revolutionary War, the first nation that actually recognized our sovereignty was Morocco. In 1777, Moroccan Sultan Mohammed III became the first head of state to recognize the United States and added America to the nations Morocco's ports were open to.
Almost a decade later, in 1786, the United States of America and Morocco signed the US-Morocco Treaty of Peace and Friendship which, to this day, remains the longest standing treaty in our nation's history. And in 1789, President George Washington actually sent a copy of the U.S. Constitution to Morocco.
The Sultan, who was a direct descendant of the Prophet Muhammad, came from the Alaouite Dynasty. Today, his descendant, Mohammed VI sits on the throne as King of Morocco. Morocco is America's oldest ally, and over these past 240 years, has remained one of America's best allies. Over the years they have been rock solid and steady in support of the United States. Their relationship with the USA has often been overshadowed by others and because the Moroccans don't always tout the long-standing relationship on the world stage, they truly are America's forgotten ally.
Consider the following:
Morocco has long sided with the United States during wartime throughout American history.
During the first Gulf War, Morocco was the only Maghreb (Northwest Africa) member of the U.S. led coalition.
Morocco has been a key ally in the United States' War on Terror and according to Wall Street International earlier this year, Moroccan intelligence has dismantled 40 terrorist cells and arrested 548 people since 2015.
U.S. Africa Command and U.S. Special Forces Command have worked closely with Morocco over the years conducting various training exercises, including the recent Operation Flintlock 2017.
Moroccan and American troops have engaged in joint airborne training and Morocco has a partnership with the Utah National Guard.
Morocco has provided key counterterrorism intelligence to the U.S. and its allies on ISIS.
According to former U.S. Ambassador to Morocco Marc Ginsberg last year, Moroccan Special Forces actually deployed with American and French counterterrorism special forces in Europe to uncover ISIS cells.
A free-trade agreement (FTA) exists between the United States and Morocco and Moroccans have actually bought more goods and services from the United States than we buy from them.
Morocco also has a solid and reliable leader in its King, Mohammed VI, who has carried on the traditions of his late father, King Hassan II. He has granted more power to women and continues Morocco's tradition of good relations with Christians and Jews. In fact, International Fellowship of Christians and Jews (IFCJ) Vice President Yael Eckstein has stated that Morocco defines tolerance and "is one of the few places where Christians, Muslims and Jews coexist in peace and mutual respect." In 2011, the King appointed respected international human rights activist Driss El Yazami to chair Morocco's National Human Rights Council. El Yazami is a strong friend of the United States. He visited Charleston, South Carolina, two years ago following the Emanuel AME Church tragedy to praise the people of Charleston for showing others how to come together with strong spirit which "is a real message for hope for all of us."
To be clear, America has other solid allies in the Muslim world like King Abdullah of Jordan, who is also descended from the Prophet Muhammad, and President Abdel Fattah el-Sisi of Egypt, who had the guts to stand up to the Muslim Brotherhood. The U.S. also has to deal with old allies who are now unreliable, like Turkey. Last year, Turkey's autocratic ruler Recip Tayyip Erodgan shut down power at the Incrilik Air Base and temporarily prohibited all U.S. Air Force planes stationed there from taking off and landing. This at the very NATO base where reports estimate close to 50 B-61 nuclear bombs are housed in underground vaults.
Full report at:
http://www.newsmax.com/VanHipp/morocco-george-washington-constitution/2017/07/03/id/799619/
--------
Macron says will lift of state of emergency 'this autumn'
3 July 2017
French President Emmanuel Macron said Monday he will "this autumn" lift a state of emergency in effect since the extremist attacks in Paris in November 2015 that killed 130 people.
"I will re-establish the freedoms of the French people by lifting the state of emergency this autumn, because these freedoms are the precondition of the existence of a strong democracy," Macron said in an address to both houses of parliament.
The French leader last month set out a tough new anti-terrorism law designed to allow the lifting of the state of emergency, which has been extended five times.
The current provision expires in mid-July, when Macron's new centrist government is expected to extend it again until November 1 while the new law is prepared.
The legislation has received the go-ahead from France's top administrative court despite concerns from rights groups including Amnesty International and Human Rights Watch that it will enshrine into law draconian powers allowed under the state of emergency.
Amnesty complained last month that French authorities were abusing anti-terrorism measures by using them to curb legitimate protests.
The new anti-terror law would give French authorities greater powers to act to protect an event or location thought to be at risk from attack, without first seeking permission from the courts.
The draft law would also allow places of worship thought to be promoting extremism to be shut down for up to six months.
Full report at:
https://english.alarabiya.net/en/News/world/2017/07/04/After-missile-launch-North-Korea-prepares-to-make-major-announcement-.html
--------
Saudi King Salman cancels visit to Germany, skips G20 summit
Jul 3, 2017
The German government has announced that King Salman of Saudi Arabia will be a main absentee in the weekend summit of the group of major industries and emerging economies, known as the G20.
A government spokesman said Monday that the Saudi King had officially declared his intention to skip the pre-planned visit to Hamburg in northern Germany, where he was to attend the G20 summit on Friday and Saturday.
"The government has received official notification that King Salman will not travel to the G20 summit," said the spokesman, without elaborating.
Other sources said that Saudi Finance Minister Mohammed al-Jadaan would attend the summit instead.
According to media reports, Riyadh had rented out a luxury hotel in its entirety in Hamburg for the king and his delegation.
The cancelation comes amid a widening dispute in the Persian Gulf region, where Saudi Arabia and its allies cut diplomatic ties with Qatar, accusing Doha of supporting terrorism. The dispute, one of the most serious to rock the region in decades, has already concerned Western governments, which see their interests in the region at great stake as a result of the political conflict.
German Foreign Minister Sigmar Gabriel on Monday began a regional tour of several Arab states in an apparent bid to mediate between Qatar and the Arab governments. Reports said he was to meet his Saudi counterpart Adel al-Jubeir before heading to the United Arab Emirates, Qatar and Kuwait.
The emir of Kuwait has been shuttling between capitals in the Persian Gulf to work out a solution. On Monday, he requested Saudi Arabia, the UAE and Bahrain to give Qatar a 48-hour extension to meet a list of 13 demands in exchange for the end of the anti-Doha measures.
Doha, which has dismissed allegations of supporting terrorism altogether, has rejected the terms put by Saudi Arabia and its allies as a clear intervention in its internal affairs.
Full report at:
http://217.218.67.231/Detail/2017/07/03/527320/Saudi-King-G20-summit-Germany-
--------
Pakistan
Pakistan Clerics Call On Riyadh, Tehran to Bury the Hatchet
July 04, 2017
ISLAMABAD - Unanimously condemning the June 23 bombings in Parachinar, Ulema and Mashaikhs from all schools of thought have called on Saudi Arabia and Iran to sort out their differences in a bid to end sectarian divide within the Muslim Ummah in general and Pakistan in particular.
In a joint statement read out by Minister for Religious Affairs Sardar Muhammad Yousaf after an emergency meeting of the National Ulema and Mashaikh Council on Monday, the participants said there is no sectarian rift in Parachinar but some foreign powers want to spread hatred and sabotage peace.
Declaring suicide bombing as 'un-Islamic', they urged the stakeholders to resolve issues through collective efforts and understanding, and reiterated that they 'won't let the enemy of this country materialise its evil designs.'
"From this platform, we strongly condemn this cowardly terror attack on the people of Parachinar and demand that the government take strict action against people involved in this attack. We will fully support [the] government in this initiative," the joint statement added.
The council demanded of the government to identify foreign agents actively working in Pakistan to sabotage its peace and take stern action against them. They also demanded punishment for Indian spy Kulbhushan Jadhav in accordance with the law.
The meeting decided that the steering committee of the Ulema and Mashaikh Council would chalk out a comprehensive counter-narrative for combating terrorism, sectarianism, extremism and suicide bombings in the country. The council also called for constituting a reconciliation committee that could take immediate action in case of any such terror activity in the country.
Talking to the media, the minister said the emergency meeting was convened on the directives of Prime Minister Nawaz Sharif to chalk out a strategy in the wake of twin bombings in Parachinar that killed at least 75 people and injured nearly 100.
He said a high-level Ulema delegation would visit the embassies of Saudi Arabia and Iran as part of efforts to help end their stalemate, adding that the longstanding Iran-Arab rivalry had a spillover impact on Pakistan.
Yousaf said the meeting recommended a host of measures including imposing ban on the TV and radio talk shows promoting sectarian violence and hatred. "It is the prime responsibility of the media to promote nationalism and patriotism rather than spreading hatred," he said.
The council demanded of the government to also take action against people spreading sectarian hatred on social media and effectively implement the cyber crime law in the country, he added.
http://nation.com.pk/national/04-Jul-2017/clerics-call-on-riyadh-tehran-to-bury-the-hatchet
--------
Kamal demands action against rulers producing 'terrorists'
July 04, 2017
KARACHI - Pak Sarzameen Party (PSP) Chairman Syed Mustafa Kamal Monday once again reiterated demand to announce amnesty for political workers of Karachi involved in the crime on behest of a political group as similar given by the government in tribal areas of Fata and Balochistan.
Kamal stated that while addressing a press conference at Pakistan House. PSP leaders including Anis Qaimkhani, Anis Advocate, Waseem Aftab, Hafizuddin, Mir Ateeq Talpur were also present on the occasion.
Criticising rulers, PSP chairman said that sovereigns were producing terrorists by carrying out corruption and neglecting the issues of the people. The ongoing army operation will not bring any fruitful results until action is taken against the rulers those had established terrorists producing factories.
"I appeal to Chief of Army Staff (COAS) General Qamar Bajwa to halt ongoing operations as policies of political leadership will continue to produce terrorists across country," said Kamal.
He said that the people of the country were living a very depressed life due to the negligence of the rulers. The Sindh government not even interested in affairs of people and had left the people in a miserable situation. The rulers and bureaucrats were the real terrorists as they were responsible for the death of the hundreds of people. All the corrupt rulers and bureaucrats would perform their duties rightfully if the action is taken against few of them, he added.
He said that PSP after witnessing the worse situation of Karachi came up with the 16 points demands and to address these demands party also staged the protest demonstration but the rulers despite of resolving and accepting our demands used force to suppress our voice.
Grilling MQM founder Altaf Hussain, he said that during the last thirty years Altaf used the workers for his personal gains.
The party remained in the powers and even enjoyed the governorship but failed to benefit the Mohajir Community. He said if Dr Farooq Sattar is not aware with MQM founder links with Indian Spy agency RAW then he should ask Barrister Farogh Naseem who attended many of such meetings.
Kamal further asked the MQM-Pakistan Convener Dr Farooq Sattar to speak up the truth and bring the facts in front of the people instead giving helping hand to London based leadership.
Full report at:
http://nation.com.pk/karachi/04-Jul-2017/kamal-demands-action-against-rulers-producing-terrorists
--------
No country has done more than Pakistan to dismantle Al-Qaeda, claims Maleeha Lodhi
04 Jul 2017
Calling Pakistan a principal victim of terrorism, Islamabad's Ambassador to the United Nations Maleeha Lodhi has claimed that no country did more than Pakistan to dismantle and eliminate Al-Qaeda from the region.
According to a report in Dawn, Maleeha Lodhi, in an interview to Al-Quds Al-Arabi, further said that Pakistan must get credit for its fight against terror. She added that Pakistan fought that war because it was also in its own interest.
"That doesn't mean there is no Al-Qaeda remnant left in our part of the world but the extent to which it exists is now nothing compared to the situation that it existed 16 years ago, and so Pakistan must get credit for it," Maleeha Lodhi said.
Advocating a political solution to the Afghanistan problem, Maleeha Lodhi pointed out that the military option has failed to bring peace to the war-torn country.
"Pakistan had managed to beat back the forces of terrorism and extremism, but the job will not be completed until the long war in Afghanistan comes to an end. Since the tragedy of 9/11, Pakistan has always advocated a political solution in Afghanistan, the military option had been tried and it had not resolved the problem.
Pakistan has consistently called for insurgents to be brought into the mainstream," she said.
Strongly objecting efforts to link Islam to terrorism, the Pakistani Ambassador said that even the United Nations has acknowledged that terrorism cannot and should not be linked with or be associated with any religion.
"But despite that international consensus, there were vested interests in certain countries who want to tarnish Islam by equating the two. We reject this as a form of racism, as a form of discrimination, as a form of Islamophobia that is evident from time to time," she added.
Full report at:
http://www.indiatvnews.com/news/world-no-country-has-done-more-than-pakistan-to-dismantle-al-qaeda-claims-maleeha-lodhi-389379
--------
An ideal opportunity for youths to learn about ideology, great heroes of Pakistan
Zubair Qureshi
Jul 4, 2017
Students of local schools turned up in large number on Monday to attend the first day of the Summer Camp organized by the Nazriya Pakistan Council (NPC) here at Aiwan-e-Quaid, Fatima Jinnah Park. This is the second camp of its kind after 2015 and is going to provide the youth a unique opportunity to get themselves aware of the Ideology of Pakistan, great heritage of Islam and Ideology of Pakistan they are custodian of and above all the future course they should adopt in line with the vision of the Founder of Pakistan Quaid-e-Azam Muhammad Ali Jinnah. On the inaugural day of the camp, Chairman of the NPC Dr Naeem Ghani delivered a motivational speech emphasizing upon training and skill learning besides conventional education. Vice Chairman of the NPC, Mian Muhammad Javed, Executive Secretary of the NPC and Executive Editor of Pakistan Observer Gauhar Zahid Malik and Senior Member of the Executive Committee Dr Basharat Jazbi also attended the ceremony to inspire the young minds.
In his presidential address, Dr Ghani said he saw in the youth assembled there, future leaders of Pakistan. "Be a leader in your thoughts," he advised them. He asked them to avoid conventional learning and knowledge during the two weeks of the summer camp and turn it into an interactive learning period in which they would be free to ask questions and express their thoughts. On the occasion, Dr Ghani asked the students a number of questions and he was visibly surprised at the knowledge and awareness of the students.
Mian Muhammad Javed in his address said ideology was the real identity of the Pakistani nation. Our forefathers laid down great sacrifices for the sake of their country and in order to honour their sacrifices we need to play our role with responsibility, dignity and patriotism. He said if they wanted to know the value of Pakistan, they should look at the neighbor country of India. What is being done there particularly with the Muslims? Muslims are being persecuted, harassed and in some states killed by the Hindu mob on minor issues. Pakistan is a gift of God and we should endear it, he said. Mian Javed proposed that the state-run PTV should also play its role in inculcating the spirit of Pakistan Movement in the youth by organizing quiz programmes on Pakistan, Languages and Regions of Pakistan, Heroes of Pakistan, Pakistan Movement and the Ideology of Pakistan. "Our youth is greatly talented and we should inject in them a sense of pride for our country and for the fathers of this land.
Earlier, Media Director of the NPC Anjum Khaliq apprised the audience about the two-week program designed for the summer camp. This is the second summer camp NPC is holding particularly for the students of the local schools during the summer vacation. The camp will end on July 15 and the participating students will be awarded certificates and souvenirs at the end of the camp depending upon their will to participate and performance during the two weeks. Some of the schools whose students are participating in the NPC Summer Camp include Creative Minds, Najam Model School, Dar-e-Arqam, Sir Sayyid Cooperative School and Fazaya Model.
https://pakobserver.net/ideal-opportunity-youths-learn-ideology-great-heroes-pakistan/
What Causes People to Become Extremists and Suicide Bombers?
Jakarta. Terrorism has become an all too common occurrence in many countries, including in Indonesia, the world's largest Muslim-majority nation.
The archipelago saw several terrorist attacks, with the most recent an attack on two police officers at a mosque near the National Police headquarters in Jakarta and the twin explosions in Kampung Melayu in East Jakarta, both part of a global terrorist onslaught.
Professor Haroon Ullah of Georgetown University and a senior advisor at the US State Department, shared in 2015 what he discovered while living in Pakistan about how people become Islamic extremists.
Although the five-minute YouTube video may have been uploaded quite some time ago, his findings as set out in the video that has attracted 1.5 million views, offer an interesting insight.
Ullah, who has authored some books about extremism in Pakistan, argues that based on his observations while living in the world's second-largest Muslim nation, poverty, inequality and lack of education do not play major roles in driving a person to become a suicide bomber.
It was instead a powerful desire to see quick change in a country plagued by chaos and corruption, that intrigue young middle-class people, rather than the poor, to approve of violent acts against those believed to be responsible for the misery in their country.
"Places like Pakistan are submerged in chaos and corruption. Islamists promise clear-cut solutions to every problem, such as: here is how things will change if you follow these rules, and only these rules," Ullah says in the video.
"Many of those that I met who subscribed to religious extremism and prepared to murder and die for their cause are from the middle class, while many had a university education," he says.
His findings contradict a long-believed theory by experts that grinding poverty from which there appears to be no escape fosters resentment against those who are better off and that this triggers a notion if the only choice is to die as a martyr or as a beggar, the first option wins out.
Many analysts also believe that inequality led to the poor having limited opportunities in getting a decent education, thus making them more susceptible to manipulation by better-educated people. Terrorists will exploit this dissatisfaction, making it easier to indoctrinate people.
But again, the professor who earned a doctorate in comparative politics and public policy from the University of Michigan in 2008, emphasizes that it is not poor and uneducated people who are attracted to extremist ideas, but rather middle-class people, who are "well-fed and well-read."
Ullah shares an experience he had with a middle-class Pakistani family. The father was a small business owner and the mother a nurse, who had given their son a good life.
"They told me that during dinner with family a few days earlier, their son noted how a person who was murdered deserved to die. Why? The son replied: 'Because he had spoken out on behalf of religious minorities.'"
The professor says the parents were shocked to hear this and wondered "how could their son, who had been well-educated, well-raised, think that."
"So, if poverty and ignorance do not drive people into extremism, what does?" he says.
Ullah says in times of chaos and mounting disappointment, Islamists step in with the promise to create a new form of government, cultivating a strong sense of victimhood with jargon such as: "We are not responsible for the sorry state of our country," and "Others have brought us down," which satisfy the public's desire.
Ullah gives examples of tyrants and demagogues such as Lenin, Mussolini, Hitler and Osama bin Laden, who have all adopted a similar approach with their followers.
"So, what to do about all this extremism?" he says in the video.
The professor says the first step is to change the false narrative of poverty and education, then take another perspective on the narrative of extremist groups.
"They promise a better way, but what do they deliver?" Ullah says. "The answer is always more death, more suffering and more poverty. In other words, young people need to see these extremist groups for what they are. Only then the recruitment numbers will start to go down."
Full report at:
http://jakartaglobe.id/news/what-causes-people-to-become-extremists-and-suicide-bombers/
--------
Plea in SC for Raymond Davis's extradition
Nasir Iqbal
Jul 4, 2017
ISLAMABAD: A former senator and ruling party leader has asked the Supreme Court to order the immediate extradition of Raymond Davis — a contractor with the Central Intelligence Agency (CIA) — and asked that he be tried for the murder of Pakistanis under local penal laws.
Written in Urdu, the five-page petition moved before the apex court also seeks a 'lifetime disqualification' for a number of persons named as respondents in the petition, so that none of them is vested with any constitutional, political or state responsibilities in the future.
CIA contractor Raymond Davis, former president Asif Ali Zardari, former prime minister Syed Yousuf Raza Gillani, Punjab Chief Minister Shahbaz Sharif, former army chief retired Gen Ashfaq Parvez Kayani, former Inter Services Intelligence (ISI) Director General retired Gen Shuja Pasha, the controller general of military accounts, former ambassador to US Husain Haqqani, former US ambassador Cameron Munter and the federal government have been named as respondents in the petition.
Former Pakistan Muslim League-Nawaz (PML-N) leader Zafar Ali Shah has also asked the apex court to order that these respondents be booked for treason by invoking Article 6 of the Constitution, and that their names be placed on the exit control list (ECL). Moved against the backdrop of Davis' memoir, Contractor: How I Landed in a Pakistani Prison and Ignited a Diplomatic Crisis, that hit the book stands recently, the petition asked the court to constitute a full bench, consisting of all available judges of the Supreme Court, to take up the petition since the matter involved the national security of Pakistan.
In his book, Davis acknowledged that he was a contractor with the CIA and that he killed two men in Lahore on Jan 27, 2011. A car coming to his rescue also killed a third man, Ibadur Rahman, while speeding down the wrong side of the road.
On March 16, 2011, Davis was released after the families of the killed men were paid $2.4 million in blood money. After his acquittal of all charges, Davis returned to the US.
The petition has asked the court to summon the complete case record from the antiterrorism court which eventually released Davis.
Moreover, the court should order an inquiry to ascertain the role of all those characters mentioned by Davis as being instrumental in his release from the Kot Lakhpat jail.
Full report at:
https://www.dawn.com/news/1343097/plea-in-sc-for-raymond-daviss-extradition
--------
Action against terrorists useless if corruption persists: PSP
Azfar-ul-Ashfaque
Jul 4, 2017
KARACHI: Pak Sarzameen Party chairman Mustafa Kamal has said there will be no use of conducting counterterrorism operations in the country when corrupt rulers and bureaucrats are "killing" innocent people without firing a single shot.
Speaking at a press conference at the PSP headquarters on Monday, the PSP chairman also lashed out at PPP co-chairman Asif Ali Zardari and Muttahida Qaumi Movement founder Altaf Hussain for sowing seeds of "terrorism" in society.
"Corrupt rulers and government officials are the real terrorists and they deserve the punishment being awarded to terrorists. They are killing people without firing a single bullet," he said, adding: "if this situation persists then no one would ever eliminate the menace of terrorism in the country."
The PSP chief also criticised K-Electric.
Mr Kamal questioned why the corrupt rulers and bureaucrats who were looting the country could not go "missing".
"If you can't take action against the rulers then what is the purpose of killing terrorists?" he asked.
He said instead of "having" a common man "disappeared" who had been used in a terror activity because of poverty and the rulers' corruption, those rulers who laid the foundation of terrorism should have gone "missing" and "killed". He went on to say that everything would be sorted out if only four rulers and bureaucrats would go "missing".
He said it was the responsibility of the authorities concerned to recover the "missing" persons, bring them to national mainstream and send them to their loved ones so that no one could politicise the issue.
The PSP chief strongly criticised MQM founder Altaf Hussain and said that he became the self-declared father of the Mohajir nation. "If he [Altaf Hussain] is the father of the Mohajir nation then we are not even Mohajir."
Repeating his allegation that the MQM founder worked for Indian intelligence agency RAW, he asked MQM-Pakistan chief Dr Farooq Sattar to ask Senator Dr Farogh Naseem whether Mr Hussain was a RAW agent or not as the senator was not only present in every meeting but also contested the case on behalf of Mr Hussain.
He said Mr Hussain was sitting abroad and busy in hatching a conspiracy to divide Pakistan.
"He cannot do any harm to Pakistan but he is misusing the name of Mohajirs."
Full report at:
https://www.dawn.com/news/1342993/action-against-terrorists-useless-if-corruption-persists-psp
--------
Arab World
Syrian Army Seizes Israel-Made Equipment in Terrorists' Positions in Golan Heights
Jul 03, 2017
The source said that the army soldiers that had repelled repeated attacks of Al-Nusra Front on their positions in Southern Quneitra, carried out a rapid counter-attack and managed to advance against the terrorist group.
The army further seized Israeli supplied medical kits and weapons in the positions of Tahrir al-Sham Hay'at (the Levant Liberation Board) near the town of Hamidiyeh on Sunday, the sources went on to say.
The source further added that the Israeli air and ground forces have been supporting the Takfiri terrorists in the Golan Heights near the city of Al-Ba'ath.
Relevant reports said on Sunday that the army troops managed to fend off another Israeli-backed attack of Al-Nusra Front and restored full security to the town of al-Ba'ath in the Southern province of Quneitra.
The army men engaged in fierce clashes with Al-Nusra terrorists and warded off their attack.
The army soldiers further carried out a rapid counter-attack and managed to push terrorists back from two lost positions West of al-Ba'ath, restoring full security to the town.
In the meantime, the army units engaged in heavy fighting with Al-Nusra fighters that intended to prevail over the army's defense lines Southeast of al-Hamidiyeh in Quneitra countryside.
The army's artillery and missile units, meanwhile, pounded the movements of the terrorists in the region, inflicting major losses on the militants and forcing them to retreat from the battlefield.
Field sources confirmed that top Commander of Tahrir al-Sham Hay'at in the region nom de guerre Abu Abdullah al-Na'eemi was killed in the army attack in Quneitra.
News websites affiliated to the terrorists confirmed that they lost all the captured positions to the army men in areas near al-Ba'ath.
The websites termed the army's rapid and powerful attack and militants' failure to run coordination as two main reasons of the terrorists' withdrawal from regions near al-Ba'ath.
http://en.farsnews.com/newstext.aspx?nn=13960412001122
--------
Northwestern Iraq: Leaflets on Al-Baghdadi's Death Distributed across Tal Afar
Jul 03, 2017
"A number of these leaflets have been distributed along the roads. Some similar flyers have also been found on the walls in trade centers. The leaflets and flyers carry normal logo and emblem of the ISIL. The literature used in them is the same as the one always used by the ISIL, but the terrorist group has gone on alert and launched a search operation to find those that have released and distributed the papers," he said.
"The way the flyers have been written and the fashion of their distribution, though, indicates that those behind the move are from most influential ranks of the ISIL terrorist group," the source went on to say.
A well-informed local source in Northwestern Iraq reported on Sunday that ISIL burned Abu Qatibeh alive on charges of implying the death of Abu Bakr al-Baghdadi in his sermon on Friday Prayers in Tal Afar.
The sources said that only a few hours after arresting Abu Qatibeh on charges of internal sedition, the terrorist group burnt him in front of tens of people in the Central part of Tal Afar.
"Abu Qatibeh, who was a close friend to al-Baghdadi, implicitly endorsed earlier revelations about the death of ISIL's ring leader and cried for him in his Friday Prayers sermon, which raised several questions. ISIL kept mum on the issue at first, but later arrested him and executed him on charges of sedition," the source went on to say.
The ISIL militants stormed the house of Friday Prayers leader in the town of Tal Afar Abu Qatibeh and arrested him over his remarks about the fate of al-Baghdadi on Friday.
"ISIL members laid siege on the house of Abu Qatibeh, who is a close friend to al-Baghdadi, and arrested him. Abu Qatibeh did not resist against arrest," the source said.
"Abu Qatibeh's arrest was done one day after he implied al-Baghdadi's death, causing vast arguments among ISIL members about their leader's fate," the source went on to say.
Full report at:
http://en.farsnews.com/newstext.aspx?nn=13960412001522
--------
Islamic State cornered in Mosul as Iraq prepares victory celebrations
Jul 4, 2017
Stephen Kalin - Islamic State fighters were battling to hold on to the last few streets under their control in the Old City of Mosul on Monday, in what looked like a hopeless last stand in their former stronghold.
In fierce fighting, Iraqi army units forced the insurgents back, cornering them in a shrinking rectangle no more than 300 meters (yards) wide and 500 meters long by the Tigris river, according to a map published by the military media office.
Smoke covered parts of the Old City, rocked by air strikes and artillery salvos through the morning. The number of Islamic State (IS) militants fighting in Mosul has dwindled from thousands at the start of the government offensive more than eight months ago to a mere couple of hundred now, according to the Iraqi military.
Reaching the Tigris would give Iraqi forces full control over the city and is expected by the end of this week. Prime Minister Haider al-Abadi is expected to visit Mosul to formally declare victory, and a week of nationwide celebrations is planned.
Mosul is by far the largest city ever controlled by Islamic State. It was here, nearly three years ago to the day, that it declared the founding of its "caliphate" over parts of Iraq and Syria.
The city's fall would mark the effective end of the Iraqi half of the caliphate, although the group still controls territory west and south of Mosul, where tens of thousands of civilians live.
SUICIDE ATTACKS
The group is retaliating with suicide attacks in the parts of Mosul taken by Iraqi forces and elsewhere in the country.
A suicide bomber dressed as a veiled woman killed 14 people and wounded 13 others in a displacement camp west of the capital Baghdad on Sunday, security sources said. IS claimed responsibility. A US-led international coalition is providing air and ground support to the Mosul offensive by the Iraqi army, elite Counter Terrorism Service units and militarized police.
Thousands of people have fled the densely-populated Old City over the past 24 hours, state TV said. But thousands more are believed trapped in the area with little food, water or medicine, and are effectively being used as human shields, according to residents who managed to escape.
Months of grinding urban warfare have displaced 900,000 people, about half the city's pre-war population, and killed thousands, according to aid organizations.
Islamic State leader Abu Bakr al-Baghdadi has left the fighting in Mosul to local commanders and is believed to be hiding near the Iraq-Syrian border, according to US and Iraqi military sources.
Full report at:
http://nation.com.pk/international/04-Jul-2017/islamic-state-cornered-in-mosul-as-iraq-prepares-victory-celebrations
--------
Syrian military declares temporary cease-fire ahead of talks
Jul 4, 2017
DAMASCUS - The Syrian military said Monday it has temporarily halted combat operations in the south ahead of Russian-sponsored cease-fire talks with the rebels.
The announcement came after a large Syrian rebel faction in the south said it would not attend the talks in the Kazakh capital, Astana, because the government was not abiding by previous cease-fire agreements.
The two sides have held four previous rounds of talks in Kazakhstan since January in parallel to UN-brokered peace talks in Geneva. Neither process has made much progress. A cease-fire declared in May, which is built around so-called "de-escalation zones," has been repeatedly violated.
The military announcement, carried on Syrian state media, did not link the present pause to the Astana talks, but said it would run until July 6. Delegates are expected to begin meeting with a UN mediator and other diplomats on July 4.
Syrian Deputy Foreign Minister Faisal Mekdad meanwhile questioned the credibility of the Organization for the Prohibition of Chemical Weapons, saying the inspectors had failed to visit key sites linked to a nerve gas attack that killed 89 people.
Mekdad dismissed an OPCW report released last week confirming the use of sarin gas on the opposition-held town of Khan Sheikhoun in April. He said the inspectors refused government invitations to visit the site of the attack in northern Syria or the military airport allegedly linked to it.
The report, which drew on samples taken to Turkey, did not say who was responsible for the attack. The results will be turned over to a joint commission with the UN to apportion blame.
Syria insists it has never used chemical weapons.
The Pentagon said last week that intelligence showed the Syrian military preparing another chemical weapons attack at the same air base the US said was used to launch the Khan Sheikhoun attack on April 4. US President Donald Trump ordered punitive missile strikes on the Shayrat air base less than a week after that attack. Russia, a close ally of Syrian President Bashar Assad's government, called the US statement a provocation.
Full report at:
http://nation.com.pk/international/04-Jul-2017/syrian-military-declares-temporary-cease-fire-ahead-of-talks
--------
US-Led Coalition to Set up New Base for Terrorists in Eastern Syria
Jul 03, 2017
Abu Yaqoub said that the coalition led by the US has decided to establish a military base for the militants of al-Maqawir al-Thorah in al-Shadadi region, adding that the coalition's move to relocate al-Maqawir to the new base is aimed at taking control over Deir Ezzur city.
He further said that al-Shadadi is near the oil wells in Deir Ezzur province.
Yaqoub went on to say that the US has declared its readiness to transfer 100 al-Maqawi al-Thorah fighters to the new base along with their equipment.
In the meantime, the new base that will be the third, after the two bases of al-Tanf and al-Zakaf that are 70km away from each other, where al-Maqawir al-Thorah and coalition forces are present.
The Arabic-language media sources reported on Saturday that he US-led coalition warplanes launched heavy strikes on one of the largest oilfields in the Eastern province of Deir Ezzur.
The al-Hadath news reported that the coalition fighter jets led by the US targeted one of the largest oilfields in Deir Ezzur known as al-Ward.
Full report at:
http://en.farsnews.com/newstext.aspx?nn=13960412000673
--------
Al-Nusra Terrorists Preparing for False-Flag Operation in Northwestern Syria
Jul 03, 2017
The Arabic-language website of Sputnik quoted the source as saying that the Al-Nusra Front terrorists are preparing in one of the warehouses of Idlib the preliminary steps of a provocative measure for conducting Sarin gas attacks in the towns of Khan Sheikhoun and Kafraya.
The source told Sputnik that based on intel, the terrorists are in an industrial building in the town of al-Maqareh and are getting ready to use sarin gas, adding that there could be a type of ammunition in the warehouse that is equipped with sarin gas.
The source further added that several American and Turks and one of the commanders of al-Nusra have arrived in al-Maqareh to pave the ground for the attack.
The Spokesperson for the United States administration had accused Syria of preparing to stage a chemical attack in the country, threatening that Washington would make Damascus pay "a heavy price."
As Washington claims that it fights against the ISIL group, US warships fired 59 Tomahawk cruise missiles from two warships in the Mediterranean Sea at the Shayrat airfield in Homs province on April 7, following a chemical weapons incident in Idlib province on April 4 which the Western countries blamed on the Damascus government.
The Syrian government fiercely denied using or even possessing chemical weapons since the country's compliance with the Chemical Weapons Convention was certified by international observers in 2013, as the world is still waiting for the US and its allies to provide any proof for their claims of Bashar al-Assad government's involvement in the alleged chemical attack.
Syrian President Bashar al-Assad had characterized the alleged chemical attack in Khan Sheikhoun as a provocation to justify the US strike on Shayrat airbase in Homs province. The Syrian leader also warned of the possibility of the new provocations similar to the one in Idlib.
Relevant reports said on Friday that terrorist groups in Syria were preparing a provocation with use of chemical weapons in the country's Dara'a province on analogy with May attack in Idlib.
"Terrorists will blow up multiple ammunition filled with poisoning materials in near future in one of the regions in Dara'a province. The provocation will be carried out on analogy with the situation in Idlib in the beginning of 2017," the source told Sputnik.
The information about the plans was reportedly obtained from authorized sources in the political and military leadership of Syria. The recent statements by the White House concerning a potential chemical attack and a warning that if Syrian President Bashar al-Assad conducted another chemical attack on civilians, both "he and his military" would pay a heavy price, has become an essential motivation for the terrorists, the source added.
Full report at:
http://en.farsnews.com/newstext.aspx?nn=13960412000374
--------
Tens of Civilians Killed, Injured in US-Led Coalition Attacks in Northeastern Syria
Jul 03, 2017
The Arabic-language al-Jazeerah tv network quoted the sources as saying that 52 civilians were killed and 150 more were wounded in the coalition air raids and in SDF's missile and artillery attack in the neighborhoods of Raqqa city.
In the meantime, al-Ahd reported that five civilians, including a woman and four children, were killed in the warplanes' assault on Jameh al-Atiq region in Raqqa.
Al-Ahd also reported that 12 civilians, including several women, have been killed in the US-led coalition warplanes' attack in al-Dor'iyeh neighborhood in Raqqa city.
The Arabic-language al-Manar television network also reported that at least five civilians have lost their lives when the US-led coalition carried out an air raid against al-Hussein village in the Northeastern province of Hasaka.
Relevant reports said on Wednesday that the coalition warplanes targeted and killed seven civilians from the besieged city of Raqqa that tried to reach the Euphrates River to supply water.
In the meantime, the coalition fighter jets targeted a vehicle in the village of al-Akershi in the Eastern countryside of Raqqa, leaving five civilians dead.
Full report at:
http://en.farsnews.com/newstext.aspx?nn=13960412000726
--------
Diplomatic sources: Washington puts fate of Assad in the hands of Moscow
4 July 2017
According to a report published by Foreign Policy on Monday, three informed diplomatic sources reported that US Secretary of State Rex Tillerson told UN Secretary-General Antonio Guterres at a special meeting at the State Department last week that the fate of Syrian President Bashar al-Assad is now in the hands of Russia and that the priority of the administration of US President Donald Trump in Syria is focused on defeating ISIS.
About three months ago, Tillerson insisted that Assad would have to leave power because of his use of chemical weapons against his own people. However, these new statements crystallize the new US policy toward the fate of Assad, which has puzzled observers since Trump took over Washington's final position on the Syrian regime.
Tillerson's assertion to Guterres reflects the growing desire of the Trump administration to allow Russia to sit on the driver's seat in the Syrian crisis temporarily, to focus on defeating ISIS.
According to Diplomatic sources, and during his meeting with Guterres, Tillerson stated that the US military action against Assad's forces in recent months is aimed at achieving limited tactical objectives, including deterring any future attacks with chemical weapons, and protecting US-backed forces battling a pro-Western organization in Syria rather than weaken the Assad government or support the opposition.
For his part, a State Department official declined to comment on Tillerson's private discussion with Guterres, but stressed that the United States remains "committed to the Geneva process" and supports "a credible political process that could resolve the future of Syria." In the end, "this process, we believe, will lead to a decision on Assad's status," adding "the Syrian people must determine the political future of their country through a political process," the Foreign Policy report wrote.
The report by Foreign Policy said that Tillerson's position suggests that the Syrian regime, backed by Russia and Iran, is emerging as the potential political victor in the country's six-year civil war. It also represents a new retreat from the UN-brokered 2012 Geneva Agreement signed by Russia, the United States and other major powers. The statement calls for a transitional government of the regime and the opposition.
According to the administration of former US President Barack Obama and other Western allies, the Geneva statement is supposed to result in Assad leaving power, although the Obama administration eased its demands of Assad stepping down during the last year of the administration.
Full report at:
https://english.alarabiya.net/en/News/middle-east/2017/07/04/Diplomatic-sources-Washington-puts-fate-of-Assad-in-the-hands-of-Moscow.html
--------
Syrian army announces ceasefire in southern Syria until Thursday
3 July 2017
The Syrian army said it would suspend combat operations in southern Syria until Thursday, including in Quneitra province where Israel has hit army outposts in recent days, according to a statement carried by state television.
The army general command said the ceasefire took effect from midday (0900 GMT) on Sunday and was being done to support "reconciliation efforts", in the second unilateral ceasefire in the last two weeks.
On June 17, the army announced a ceasefire that only affected fighting in the southern city of Deraa along the border with Israel.
Full report at:
https://english.alarabiya.net/en/News/middle-east/2017/07/03/Syrian-army-announces-ceasefire-in-southern-Syria-until-Thursday.html
--------
Iraq's popular militias ask Abadi for permission to enter Syria
3 July 2017
Ansar Al-Marja'iya Brigade, which is part of the Iran-backed Popular Mobilization militias, has asked Iraqi Prime Minister Haider Al-Abadi's office for permission to enter Syria to further uproot ISIS militants after the country's forces have liberated most of its second largest city of Mosul.
The group requested permission for going as far as 30 kilometers inside Syria in order to eliminate ISIS militants in villages near the Iraq-Syria border, adding that it is its duty to protect Iraqi territories from danger emanating from Syria. This is not the first time the popular mobilization militias are seeking such a permission.
So far, there has been no response from the Iraqi government. However, Abadi last month made it clear that no militias are allowed to go beyond the Iraqi territories, describing the Iraq Army as the sole protector. Some observers, meanwhile, believe these militias just want to embarrass Abadi.
Full report at:
https://english.alarabiya.net/en/News/middle-east/2017/07/03/-Militia-in-Iraq-s-PMU-asking-for-permission-to-enter-Syria.html
--------
UN tells Qatar it refuses to get involved in Gulf dispute
4 July 2017
The UN Security Council has told Qatar to sort out its differences with its Gulf neighbors, China's ambassador said Monday, indicating the top UN body would not get involved in the dispute.
Qatari Foreign Minister Sheikh Mohammed bin Abdulrahman Al-Thani met with Security Council members on Friday to discuss the rupture in ties with Saudi Arabia, the United Arab Emirates, Bahrain and Egypt.
Chinese Ambassador Liu Jieyi, who holds the council presidency this month, said "the best way would be (that) the countries concerned work out a solution through dialogue and through consultations among themselves, because we don't see any other alternative to that."
"Whatever the countries can do to mend the fences and to get back to good neighborly relations, that would certainly be welcomed by China," said Liu.
The foreign minister had reportedly asked Security Council members to urge Saudi-led nations to lift restrictions on the use of airspace and other transportation links with Qatar.
Saudi Arabia and its allies announced on June 5 they were severing ties with Qatar and later put forward a list of 13 demands.
They accuse Qatar of supporting extremism and of being too close to Iran, which Doha has denied.
Full report at:
https://english.alarabiya.net/en/News/gulf/2017/07/04/UN-tells-Qatar-it-refuses-to-get-involved-in-Gulf-dispute.html
--------
North America
Trump says 'interesting things are happening' after speaking with King Salman
3 July 2017
United States President Donald Trump on Monday said "interesting things are happening" in the Middle East after speaking with King Salman bin Abdulaziz al-Saud.
In a Tweet, Trump said: "Spoke yesterday with the King of Saudi Arabia about peace in the Middle East. Interesting things are happening!"
In another Tweet, Trump said he planned to talk with officials from Germany and France on Monday, but did not provide any other information.
Trump will attend later this week the G20 Summit in Hamburg. The German government said the Commander and Chief is scheduled to meet Chancellor Angela Merkel before the Summit.
https://english.alarabiya.net/en/News/gulf/2017/07/03/Trump-says-interesting-things-are-happening-after-speaking-with-King-Salman.html
--------
Muslims behind 'tiny percentage' of US terror attacks
4th Jul 2017
TERROR attacks carried out by Muslims receive more than five times as much media coverage as those carried out by non-Muslims in the United States, according to an academic study.
Analysis of coverage of all terrorist attacks in the US between 2011 and 2015 found there was a 449 per cent increase in media attention when the perpetrator was Muslim.
Muslims committed just 12.4 per cent of attacks during the period studied but received 41.4 per cent of news coverage, the survey found.
The authors said the finding suggests the media is making people disproportionately fearful of Muslim terrorists.
Scientists studied US newspaper coverage of every terrorist attack on American soil and counted up the total number of articles dedicated to each attack.
They found that the 2013 Boston Marathon bombing, which was carried out by two Muslim attackers and killed three people, received almost 20 per cent of all coverage relating to US terror attacks in the five-year period.
In contrast, reporting of a 2012 massacre at a Sikh temple in Wisconsin that left six people dead and was carried out by Wade Michael Page - a white man, constituted just 3.8 per cent of coverage.
A mass shooting by Dylann Roof, who is also white, at an African-American church in Charleston, South Carolina, killed nine people but received only 7.4 per cent of media coverage, while a 2014 attack by Frazier Glenn Miller on a Kansas synagogue left three dead but accounted for just 3.3 per cent of reports.
All of the above attacks are considered to meet widely-used definitions of terrorism, according to researchers at Georgia State University.
The authors said their finding debunked Donald Trump's suggestion, made in February, that the media is not reporting terrorist attacks carried out by Muslims.
"When President Trump asserted that the media does not cover some terrorist attacks enough, it turns out that he was correct," they wrote. "However, his assertion that attacks by Muslim perpetrators received less coverage is unsubstantiated.
"Regardless of other factors, attacks perpetrated by Muslims receive a disproportionate amount of media coverage. In the present data, Muslims perpetrated 12.4 per cent of the attacks yet received 41.4 per cent of the news coverage.
"Whether the disproportionate coverage is a conscious decision on the part of journalists or not, this stereotyping reinforces cultural narratives about what and who should be feared.
Full report at:
https://www.dailymercury.com.au/news/media-overstates-number-terror-attacks-muslims/3196438/
--------
US lifts laptop ban for Etihad flights
4 July 2017
WASHINGTON - The United States has lifted a ban on passengers taking laptops and tablet computers on Etihad Airways flights from its base in the Emirati capital Abu Dhabi, authorities said Sunday.
The move - welcomed by Etihad - comes more than three months after the United States prohibited such devices on direct flights from 10 airports in Turkey, the Middle East and North Africa.
Etihad is the first airliner to benefit from a lift in the ban, which specified that carry-on laptops and other electronic devices larger than cellphones would not be permitted in the cabin on direct flights from the airports, including Abu Dhabi.
The ban was implemented after intelligence officials learned of efforts by the Islamic State group to fashion a bomb that could be secreted inside such devices.
The decision to lift the ban on US-bound Etihad flights from Abu Dhabi came after the airline implemented enhanced security measures, said David Lapan, spokesman for the US Department of Homeland Security.
"We commend Etihad for working swiftly to implement these additional measures," he said. "Their efforts are a model for both foreign and domestic airlines looking to adopt the new measures."
Lapan said the specific measures that were put in place were confidential, but added that passengers and electronic devices would face additional screening.
Etihad Aviation Group applauded the decision.
"We welcome the decision by the US Department of Homeland Security to lift the electronic devices ban on flights between Abu Dhabi and the United States, following the successful validation of security measures at the US Preclearance facility at Abu Dhabi airport earlier today," a statement said.
"Effective immediately, the removal of the restrictions allows passengers flying to the US to carry all laptops, tablets, and other electronic devices onto the aircraft, subject to enhanced security measures," it added.
Etihad said its passengers flying to the United States from Abu Dhabi International Airport "clear US Immigration and Customs at the US Preclearance facility in Terminal 3".
"When guests land in the US, they arrive as domestic passengers with no requirement to queue for immigration and custom checks again," it added, saying the facility was the only one of its kind in the region.
In addition to the 10-airport ban, the United States announced on June 28 that it would impose stricter security measures on all US-bound flights, regardless of origin.
Full report at:
http://nation.com.pk/international/04-Jul-2017/us-lifts-laptop-ban-for-etihad-flights
--------
Africa
Boko Haram militants kill 9, abduct dozens in Niger
4 July 2017
NGALEWA - Suspected Boko Haram militants killed nine people and abducted dozens more in southern Niger on Sunday night, the local mayor and a journalist said.
The attackers rode camels into the village of Ngalewa, about 50 km (30 miles) north of the border with Nigeria - home of the Boko Haram insurgency - said Maman Nour, the director of a community radio station in the nearby town of Kabelawa. "They killed nine people and they kidnapped around 30," said Nour, who had spoken to fleeing villagers. Abba Gata Issa, mayor of the district, confirmed the nine dead and said around 40 women and children had been kidnapped. Boko Haram launches frequent cross-border raids from its strongholds in northeastern Nigeria and has killed more than 20,000 people during its eight-year insurgency. Last week bombers killed two people and wounded 11 others at a UN-managed camp in the same region of Niger that houses thousands of people who have fled Boko Haram violence.
http://nation.com.pk/international/04-Jul-2017/boko-haram-militants-kill-9-abduct-dozens-in-niger
--------
US hits Shabaab militants in Somalia
4 July 2017
Washington - The US m1ilitary has carried out an air strike in Somalia against al Shabaab, an al Qaeda-linked Islamist insurgency that wants to overthrow Somalia's weak UN-backed government, US officials said on Monday.
The strike took place at 1130 GMT (7:30 a.m. EDT) on July 2, the Pentagon said. It did not disclose additional information about the strike, including specific militant targets. "We are currently assessing the results of the operation, and will provide additional information as appropriate," said Army Major Audricia Harris, a spokeswoman. Since being pushed out of the capital Mogadishu in 2011, al Shabaab has lost control of most of Somalia's cities and towns. But it retains a strong presence in swathes of the south and center and carries out major gun and bomb attacks.
Full report at:
http://nation.com.pk/international/04-Jul-2017/us-hits-shabaab-militants-in-somalia
--------
Libya: News of Saif Al-Islam's Release - Regional Politics Fuels Rumour Mill
2 JULY 2017
By Ilia Xypolia
Aberdeen — The release of Saif al-Islam son of former Libyan leader Muammar Gaddafi dominated the media for several days in early June. But the saga of Saif's unconfirmed release fits right into broader regional politics and the contest for power and influence by countries in the region.
Libya descended into chaos following the overthrow and killing of its long time leader Gaddafi in 2011 after a popular uprising. Several militias and groups emerged after Gaddafi's death seizing different regions of the country.
In the 2011 conflict it was the NATO invasion that changed the balance of power in Libya. Today it's the diplomatic, financial and material support that the local rival actors receive from external interests that's shaping the power game in the country. The two main players are the eastern-based factional Tobruk government which is aligned with the self-styled Libya National Army of General Khalifa Haftar, and the UN-backed government in the capital, Tripoli.
Egypt and the United Arab Emirates have been very active in the Libyan conflict. Under the goal set by Egypt's President Abdel Fattah El-Sisi to eradicate terrorism, its military aligns with the Tobruk-based government and Haftar forces. Cairo has consistently violated the UN-imposed arms embargo in their efforts to support the Haftar forces with weapons among other things as the latest report by the UN panel of experts illustrates.
The powerful role played by Egypt and the UAE in Libya was also evident in the decision taken by Libya's Tobruk government to cut diplomatic ties with Qatar along with Saudi Arabia, UAE, Egypt and Bahrain.
Qatar has also been an important actor in the Libyan conflict. Like Turkey, it has been of accused of supporting Islamist groups in Libya. Qatar's involvement in Libyan affairs was noticeable even during the last days of Gaddafi's regime when it was pressing for the releaseof members of the Muslim Brotherhood.
Qatar's involvement in the conflict violates the UN imposed embargo as it supplies weapons and provides financial support to Islamist-leaning factions, mainly in the western part of the country.
It's no coincidence that only a few days after the embargo on Qatar by its neighbours Saif was allegedly released. The Libyan conflict has long been considered as a proxy war of Gulf Arab rivalry with the UAE and Qatar backing competing militias in Libya. The timing and the particulars of the release of Saif could only benefit the anti-Qatar camp in Libya, as it could portray the Haftar as the sole conciliatory player in the Libyan conflict who could bring old rivals under his magnanimous protection.
Complexities
The Abubaker Sadiq brigade of Libya's north western city of Zintan where Saif was captured during the uprising announced that it released the former Libyan heir to comply with a new amnesty law issued by the Tobruk government.
But Ibrahim Massud Ali, general prosecutor of the UN-backed and internationally recognised Tripoli-based government, argues that Saif doesn't fulfil amnesty requirements and that the son of the late Libyan strongman is still wanted by the International Criminal Court (ICC) for crimes against humanity. The court issued a warrant of arrest for Saif in 2011 before his capture.
In addition, many would see Saif's release as a huge injustice and a betrayal of the uprisings that sacked his father and put him in captivity since he was one of the most prominent figures in his father's regime and was touted to be his preferred successor.
On learning of his release Human Rights Watch issued a statement asking that he surrender to the ICC.
It's unclear how, if he came before the court, Saif's case would evolve. The ICC may have lost the moral right to try him given the fact that many African governments view it as a "tool of Western imperialism".
The Trump administration's indifference to the promotion of human rights as a foreign policy objective muddies the water further. And the US has shown more interest in the vast oil reserves of Libya than in the well being of a country that's become a hotbed for extremists.
Added to this heady mix is Russia's role with Moscow appearing to have a strong relationship with General Haftar. This only further delegitimises the UN-backed Government of National Accord.
Propaganda and Information Warfare
We need to take the news of Saif with a pinch of salt. The past six years of warfare in Libya has also been conducted on the news front too. The fabrication of news has become common practice. In the light of this many have questioned the veracity of reports about Saif's release. Last time he was seen by independent observers was in the summer of 2014 in Zintan.
So we need to wait to see some visual proof of his release and his status before taking the reports seriously.
Aeschylus, 25 centuries ago, noted that the first casualty of war is truth. This seems to be true of the situation in Libya.
Disclosure statement
Full report at:
http://allafrica.com/stories/201707030733.html
--------
Mali: Al Qaeda Releases Hostage Video As Macron Attends Mali Anti-Jihad Meeting
2 JULY 2017
Al Qaeda's branch in Mali has released a video of six foreign hostages, including French naitonal Sophie Pétronin, just before a visit by France's President Emmanuel Macron to finalise the establishment of a Sahel anti-jihadi force with the leaders of five Afican countries.
The undated video by Nusrat al-Islam wal Muslimeen, also known as the Group to Support Islam and Muslims, was released on Telegram on Saturday, US-based monitoring group SITE said.
It featured Pétronin, the head of an NGO that works with children, who was abducted by armed men in Gao, northern Mali, in December 2016 and says she hopes Macron will help her return to her family.
The other hostages are:
Australian surgeon Arthur Kenneth Elliott, 82, who was kidnapped along with his wife, Jocelyn, in Burkina Faso in January 2015, Jocelyn being released in February 2016:
South African Stephen McGowan, kidnapped in northern Mali in November 2011;
Romanian mining engineer Iulian Ghergut kidnapped in Burkina Faso in 2015;
Swiss missionary Béatrice Stockly, kidnapped in Mali in January 2016;
Colombian nun Gloria Cecilia Narvaez Argoti kidnapped in Malinin February 2017.
At the end of the video the narrator tells the hostages' families "no genuine negotiations have begun" for their release but then adds that discussions are "still active".
Macron addresses G5 meeting
Macron arrived in Bamako overnight for a meeting with the leaders of the G5 countries - Chad's Idriss Déby, Mauritania's Mohamed Ould Abdelaziz, Burkina Faso's Roch Marc Christian Kaboré and Niger's Mahamadou Issoufou (Niger) - to discuss the military force they will set up to fight jihadism, smuggling and people trafficking in the Sahel region.
The force, which will supplement France's operation Barkhane and the UN's Minusma mission in Mali, will start with 5,000 troops and the G5 hope to double its numbers over time.
"It will be up to you and your armies to show that the G5 can be effective while respecting humanitarian conventions," Macron told the heads of state. "The results must be delivered to convince our partners."
France hopes to convince its European allies and the US to help finance the force, whose budget will be close to 500 million euros, according to sources.
So far the European Union has promised 50 million euros, while Washington forced Paris to amend a UN Security Council resolution to avoid commitment to funding from the world body.
Full report at:
http://allafrica.com/stories/201707030891.html
--------
URL: https://www.newageislam.com/islamic-world-news/indian-muslims-protest-terror-funding/d/111774
New Age Islam, Islam Online, Islamic Website, African Muslim News, Arab World News, South Asia News, Indian Muslim News, World Muslim News, Women in Islam, Islamic Feminism, Arab Women, Women In Arab, Islamophobia in America, Muslim Women in West, Islam Women and Feminism