New Age Islam News Bureau
6 Oct 2018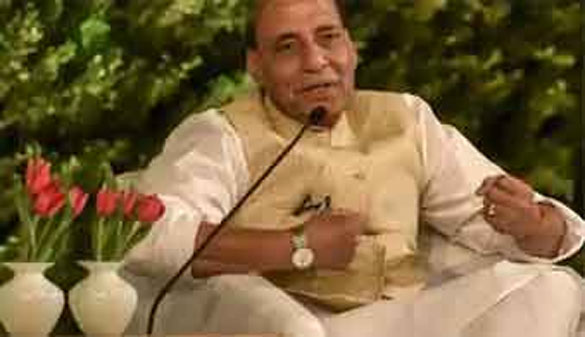 Photo: Speaking at the 16th Hindustan Times Leadership Summit, Rajnath Singh called terrorism a "crime against humanity" and said it was not linked to any religion or caste.(HT Photo)
--------
• Hindus protest against encroachment on holy place
• 'Islamist fundamentalists in B'desh threat to NE states'
• Muslim inmate sues Somerset County Jail alleging religious discrimination
India
• Indian Muslims deserve credit for resisting radicalisation: Rajnath Singh
• Nationalistic approach of Indians ensured ISIS, al Qaeda do not find base in India: Mukhtar Abbas Naqvi
• Religious tensions rise after court ruling on mosque land
• Muslims should also come forward to protect cow: Athawale
• Baghpat conversion: delegation of clerics sent to bring the family back into folds of Islam
Mother of Youth Who Joined IS Declared Hostile Witness by Court​
• 'Greatly Concerned' UN Slams India for Deporting Seven Rohingya Muslims to Myanmar
• All Muslims living in country not infiltrators, says Mukhtar Abbas Naqvi
• Problem in Jammu and Kashmir majorly due to Pakistan: Home Minister Rajnath Singh
• Pictures of Jinnah Yet Again Displayed Inside AMU; Probe Ordered
• 2 Muslim groups clash in Jewar
• After Pakistan minister shares stage with Hafiz Saeed, India protests, summons top diplomat
• Pakistan's allegation of use of chemical weapons in Kashmir false, malicious: India
--------
Pakistan
• Hindus protest against encroachment on holy place
• Institutions urged to promote teachings of Holy Prophet (PBUH)
• Shahbaz Sharif appears before accountability court in Lahore for Ashiana case hearing
• Turn a page and move forward, Bolton urges Pakistan
• Second journalist from India joins Lahore's press club
• US representative to arrive in Pakistan to discuss Afghan conflict
• UNHCR welcomes extension of PoR cards to Afghan refugees
• Sheikh Abdul Qadir felicitates PM on assuming office
• PM Imran joins UN cheif's 'Circle of Leadership' on preventing sexual abuse
• Authorities present Pakistani opposition leader before judge
--------
South Asia
• 'Islamist fundamentalists in B'desh threat to NE states'
• Civilians, Taliban, and foreign militants suffer casualties in Kandahar
• Air strike kills four civilians in Afghanistan
• Mohibullah Babunagari announces resignation from Hefazat
• U.S. soldier assigned to NATO's RS Mission killed in Afghanistan
• Afghan official: 2 security forces killed in bomb blasts
--------
North America
• Muslim inmate sues Somerset County Jail alleging religious discrimination
• Trump's Counterterrorism Plan Targets Radical Islam as 'Primary Threat'
• ANALYSIS - US headed toward strategic deadlock in Syria
• Kerry warns of military conflict after Trump pulls out of Iran nuclear deal
• Most Americans think US has failed in Afghanistan: Poll
--------
Arab World
• Muslim World League head urges faith leaders to travel to Jerusalem seeking peace
• Russia urges Israel to exercise 'good judgment' on S-300 delivery to Syria
• Islamic group chief calls for Muslims to join Christians, Jews in Jerusalem meeting
• Ceaseless persecution marks the Yazidis' history
• Nadia Murad: From ISIS slave to Nobel laureate
• US Treasury designates Lebanese businessman global terrorist for Hezbollah ties
• Saudi Crown Prince: We don't need a new Hezbollah in the Arabian Peninsula
• Mauritanian party leader reveals Qatar's meddling, 'Brotherhood' mischief
• Deposed Egyptian president Morsi says will never recognize Sisi's coup
• In rebuttal to Trump, bin Salman says Saudi won't pay US for kingdom's security
• At Jeddah gathering, experts emphasize importance of fighting 'intellectual terrorism and extremism'
• Syrian families demand regime action to free Daesh hostages
--------
Europe
• Dutch mayor shuts down anti-Muslim demonstration
• Former Yazidi ISIS captive, Congolese doctor win Nobel Peace Prize
• EU Considers Trade Sanctions on Myanmar Over Rohingya Crisis
• No sign of terrorism as man drives car into Berlin cafe: German police
• German authorities apologize for mistaken jailing of Syrian
--------
Mideast
• Three Palestinians killed in clashes with Israeli army: Gaza ministry
• EU urges arms ban on Saudi alliance to stop Yemen war
• Merkel, Netanyahu play down differences during Israel visit
• Houthi missiles kill one, injure many in KSRelief camp in Yemen's Hodeidah
• Yemenis to come out victorious from Saudi war: Houthi official
• Three Palestinians killed, hundreds injured in clashes with Israeli forces at Gaza border
• 'Gaza deadlock' blamed for delay in Mideast peace plan
• Arab coalition raids kill nearly 50 Houthi militants in Lahij, Al-Baydah
• Erdogan 'will consider referendum on Turkey's bid to join EU'
--------
Africa
• Jordan: Two sons of Yemeni slain president Saleh left for third country
• Nigerian opposition to pick presidential candidate as northwest takes center stage
• Somalia says 'no' to al-Shabaab defector's run for office
• Biafra group cries out, says Miyetti Allah, Boko Haram controlling govt, military in Nigeria
--------
Southeast Asia
• Mujahid pushes for more inclusive Islamic reforms
• Counter-terror police nab eight over radicalisation plans
• Islamic affairs minister vows end to moral policing
• Malaysia's most powerful Islamic body faces scrutiny
• Indonesia gets new Isamic anti-terror agency
• Wan Azizah: Caning of single mum gives Islam a bad impression
• No more night khalwat raids or intrusion into Muslims' private lives says Mujahid
• Some disasters 'divine reminders', Muslims in Selangor told in sermon
Compiled by New Age Islam News Bureau
URL: https://www.newageislam.com/islamic-world-news/indian-muslims-deserve-credit-resisting/d/116576
--------
Indian Muslims deserve credit for resisting radicalisation: Rajnath Singh
Oct 05, 2018
Muslims in India should be complimented for not letting radicalisation spread in the country despite consistent efforts to brainwash them, Union home minister Rajnath Singh said on Friday while castigating Pakistan for not desisting from its "evil designs" in the context of Kashmir.
Speaking at the 16th Hindustan Times Leadership Summit, Singh called terrorism a "crime against humanity" and said it was not linked to any religion or caste. "Even Islamic nations have condemned terrorism. Pakistan should take efforts to stop terrorism. I must compliment Muslims in India that they have not allowed radicalisation to spread in the country," Singh said.
The home minister said the situation in Kashmir will improve, but expressed dismay that Pakistan was still indulging in cross-border terror. "Not one, but every prime minister has tried to improve the relationship with Pakistan," Singh said.
"But Pakistan is continuing to infiltrate terrorists into India. This is a reality."
He said that the general situation in Kashmir is better than it was a year ago.
lated incidents have come down from 6,000 in 1995 to 360-odd incidents in 2017. His comments come at a time when the Opposition has blamed the government for a spurt in violence in the region in recent months.
The home minister said he has told security persons not to fire the first bullet, but if there was any provocation from Pakistan, then the jawans should not count the number of bullets in retaliatory action.
He said there is an "amazing" coordination between the army, central paramilitary forces and the J&K Police in the state and about 700 terrorists have been neutralised over the last four years.
The government, he said, has launched a pilot project in Jammu & Kashmir and Assam to replicate an Israel-type border management system that will use the latest technology and resources to make India's coastline and borders breach-proof. "The Comprehensive Integrated Border Management System will be operated through a command centre and every activity on the borders can be monitored from one place," Singh said. "This is a huge development."
The former Bharatiya Janata Party (BJP) president admitted that the alliance with Peoples Democratic Party (PDP) of Mehbooba Mufti was "not successful", but maintained it was the need of the hour after the 2014 assembly elections returned a hung verdict.
"The PDP emerged as the number one party and the BJP was the second-largest party. We thought we should respect the mandate," Singh said. "That experiment was not successful." The BJP pulled out of the government in June and the state is now under Governor's Rule.
Singh also said that there has been a 50% decline in Maoist-related activities in the last four years and the major activities of the Maoists have been restricted to 10-15 districts. "They are now trying to move into urban areas."
He defended the criticism of the government after five activists were arrested in connection with the Bhima-Koregaon violence in January, and said that the Supreme Court allowed the Maharashtra police to conduct the probe as it wanted to. "We have said you may be influenced by any ideology but you can not be allowed to indulge in violence. You will not be allowed to do that," Singh said.
The home minister also expressed optimism that a framework agreement with insurgents in Nagaland will be stitched and claimed there was some forward movement in it.
Speaking on farmer agitations in different parts of the country, he said the government was committed to solving the issues faced by farmers, and those who staged a protest at the Uttar Pradesh-Delhi border last week have returned following the promise that the government will look into their demands – which range from higher minimum support prices to overturning the ban on 10-year-old diesel vehicles.
"There is a crisis of credibility in politics today. We have taken it up as a challenge. We will not let this crisis of credibility to deepen," Singh said. "If we have promised something, then the protesters know we are honest in our commitment."
https://www.hindustantimes.com/india-news/indian-muslims-deserve-credit-for-resisting-radicalisation-rajnath-singh/story-W9NeffkhlLT4BmreebTfkL.html
--------
Hindus protest against encroachment on holy place
October 6, 2018
LARKANA: On the call of Hindu Panchayat Election Committee, a rally was taken out on Friday by the people of the Hindu community people which, marching through various thoroughfares, reached the local press club where they held a protest demonstration and chanted slogans.
They were holding large banners in their hands against forcible occupation of Hindu Gaoo Shala allegedly by Hindu community persons and establishment of large warehouses there.
While talking to the media, Dr. Aneel Kumar, Kalyan Das, Vijay Kumar, Moti Ram, Haresh Kumar and others alleged that Gaoo Shala is a very sacred place for the Hindu community but it is very unfortunate that some big businessmen had occupied its land and had established warehouses due to which it had lost its glory and importance.
They said that during their previous protest, those encroachers had promised to vacate the premises but had failed to honor their commitments.
They further alleged that Hindu Panchayat Chairman Dr. Dharampal, Rajindar Kumar, Wali Ram and their other associates had already discharged the elected body of Hindu Panchayat six months ahead of its scheduled period.
They appealed to Sindh government, Hindu MNAs and MPAs to order the removal of the warehouses established by Hindu businessmen inside the Gaoo Shala immediately.
https://www.pakistantoday.com.pk/2018/10/05/hindus-protest-against-encroachment-on-holy-place/
--------
'Islamist fundamentalists in B'desh threat to NE states'
October 5, 2018
Rise of Islamist extremism in Bangladesh is not only posing a serious threat to the country, but also to neighbouring North Eastern States of India, besides West Bengal.
Speaking to journalists at Guwahati Press Club on Friday afternoon through video conferencing, prominent Bangladeshi journalist Saleem Samad said his country was witnessing an upsurge of fundamentalist forces, which is now not only a serious threat to minority communities there, but also to secularists, intellectuals and even other sects within the Muslim community.
He narrated how secularist bloggers are increasingly becoming the target of the extremist forces in the country. He said Bangladesh was slowly but steadily on the path of becoming a country of one nationality (Bangladeshi), one language (Bengali) and one religion (Islam). Samad explained that due to overwhelming majority of followers of the Sunni sect of Islam in the country and among whose members a considerable rise of extremism has been witnessed, other minority sects within the Muslim community like Shias, Ahmadiyas, etc, too fear a serious threat to their existence.
Citing how a network of Jamaat-ul-Mujahideen Bangladesh was busted in West Bengal few years back, the senior Bangladeshi journalist urged the NE States of India to remain alert about jihadi elements. He said thousands of Bangladeshi youth were scattered across the current trouble hotspots of the world, including Syria, Afghanistan, Iraq, Pakistan, Palestinian territories, etc, and fighting alongside the jihadis.
He, however, reiterated that currently no militant outfit from NE India has bases in his country due to the crackdown launched against them few years back.
On freedom of expression, particularly press freedom, prevailing in Bangladesh, Samad said journalists were frequently coming under attack from both State and non-State actors. He regretted that though 26 Bangladeshi journalists lost their lives since 1991, not a single accused has been arrested till date.
In another significant remark, Samad divulged that none of the Indian leaders visiting Dhaka had taken up the issue of alleged Bangladeshi infiltrators issue of Assam with his country's leaders.
Samad also remarked that update of National Register of Citizens currently on in Assam was an internal affair of India, and which was the official stand of the government there too.
Strongly advocating people-to-people contact between Assam and Bangladesh, the senior journalist regretted how the State had missed the bus despite being so closely located.
Calling for starting bus service between Guwahati and Dhaka, besides direct flights between the two cities, Samad opined that trade and commerce and cultural ties will help in doing away with many misconceptions prevailing on both sides of the international divide.
http://nagalandpost.com/-islamist-fundamentalists-in-b-desh-threat-to-ne-states/182807.html
--------
Muslim inmate sues Somerset County Jail alleging religious discrimination
Oct. 5, 2018
SOMERVILLE - A Muslim inmate is suing Somerset County Jail, claiming he's been discriminated against when employees attempted to offer him Kosher meals in place of Halal.
Sherone Long, who filed a federal lawsuit in August, is alleging the jail does not offer adequate Islamic services, despite its handbook stating it does.
According to Long's statement of facts in the lawsuit's filing papers, in May 2018 he reached out to Deputy Warden Roger Delin concerning the lack of Islamic services.
Long explained to Delin that he had never been afforded the opportunity to pray with an Imam, as the jail's handbook states, and he was not given Halal meals.
Delin, Long alleged, tried to organize Ramadan a different way than the Muslim religion instructs. In July, Delin submitted his letter of retirement to Sheriff Frank Provenzano.
The jail staff, according to the lawsuit, insisted that Kosher and Halal are the same.
"In honesty, with my experience in this jail, the administration is biased towards Muslims," Long wrote. "We can't get prayer rugs, kufees or oils."
Long is requesting the court waives his fee of filing his lawsuit.
In 2015 he attempted to file a federal lawsuit with the same allegations, but the lawsuit was dismissed shortly after because he did not pay the proper filing fees.
In 2015 lawsuit, Long alleged that Charles O'Neill, the Somerset County Jail warden, deprived Long of his religious rights over a period of 2 to 3 years by not offering Islamic services at the jail.
According to the lawsuit, O'Neill and the jail "offered Christian services every week at the jail, but maliciously and wantonly refused to do the same for the Islamic faith for inmate Long."
The lawsuit stated that the jail's handbook indicated Islamic prayer services are held on Friday in a conference room and Taleem services, or Islamic education services, are held on Tuesdays, "but nothing ever takes place on those days."
Long, of North Plainfield, has a long criminal history dating back to 1996, mostly for drug convictions of heroin and cocaine. His most recent conviction was for 3 1/2 years for third-degree possession of heroin.
In addition to his ongoing religious rights lawsuit, Long also settled a third lawsuit centering around the county jail.
In that federal lawsuit, Long alleged his Constitutional rights were violated when the Somerset County Jail "failed to make proper efforts to diagnosis" him after he began developing symptoms of MS, including severe headaches, impaired speaking, hair loss and loss of coordination," according to the lawsuit.
Instead, the jail employees prescribed Long Tylenol and offered him a "bottom bunk pass," according to the lawsuit. Long was ultimately diagnosed with MS around 19 months after he first complained of symptoms.
Long, who was represented by the law firm Day Pitney, filed his lawsuit against the Somerset County Sheriff's Office, the corrections division, Sheriff Frank Provenzano, O'Neill, Somerset County, Somerset County Jail, the medical department, Freeholder Patrick Scaglione and former Freeholder Peter Palmer.
He alleged the defendants deliberately and repeatedly refused to provide him with requested medical care and failed to establish proper protocols to ensure his condition was properly diagnosed.
Somerset County settled the matter in 2016.
According to the agreement obtained by My Central Jersey, the settlement, which occurred outside of court, comes with no admission of guilt on behalf of the defendants as well as a dismissal of charges against all of the defendants.
As part of the agreement, Long received a $12,500 check.
Provenzano did not immediately return phone calls seeking comment.
Since 2016, the county as been involved with several legal issues centering around the jail, including a $699,000 settlement to a family whose son died while in the jail's custody, a 23-year-old inmate who died a year later while detained at the jail and two jail guards charged with false swearing and witness tampering.
https://www.mycentraljersey.com/story/news/local/somerset-county/2018/10/05/somerset-county-jail-religious-discrimination/1532318002/
--------
India
Nationalistic approach of Indians ensured ISIS, al Qaeda do not find base in India: Mukhtar Abbas Naqvi
Oct 05, 2018
Union minister Mukhtar Abbas Naqvi said Friday the strong nationalistic approach and culture of the Indian people have successfully defeated terrorist groups like Islamic State and al Qaeda from finding a foothold in the country.
The minister for minority affairs said the people of India have ensured the subversive activities of the terrorist organisations do not find acceptance in the country.
"We have a different culture in our country and that culture does not allow their activities to be successful. In counties like the US, ISIS has been able to establish deep roots but not so in India where our culture fights them," he asserted.
One of the most dreaded terrorist groups, the Islamic State declared its caliphate in Iraq and Syria in June 2014. Since then, it has conducted or inspired a number of attacks, including mass shootings and knife attacks, around the world.
In the US, investigators have said they have found that attackers involved in planning or carrying out some of the mass shootings in the country were inspired by the terrorist group.
The Indian government has repeatedly said that ISIS has no base in India.
Asked about the possible presence of another terrorist group, the Hizbul-Mujahideen, in Assam after the arrest of an operative from the state in Uttar Pradesh and several of his associates in Assam, Naqvi said, "They are isolated cases and do not have any impact." "Action against jihadi activities will be taken as per the law," the minister said during an interaction with journalists after a coordination meeting of ministers and government officials of various states in Guwahati.
Assam chief minister Sarbananda Sonowal, ministers and senior government officials from the northeastern states and Odisha, West Bengal and Jharkhand attended the meeting.
When the Union minister's attention was drawn to the alleged failure of state governments in the northeast in giving benefits to minority communities, Naqvi said, "All the six notified minority communities will get all benefits".
He said it was a different matter who is a minority or a majority in a particular state, and cited the example of minority community Sikhs, who are a majority in Punjab, and Christians, who are a majority in Nagaland.
"Our effort is to include all," he said.
"Our commitment is empowerment without appeasement, development without discrimination," Naqvi added.
He said the low literacy rate among minorities, especially women, is a matter of concern.
"In the entire north and northeast, the rate drops. To address the issue, priority will be given to increasing the number of schools and scholarships for minority communities".
Naqvi said the central government previously focussed on selected regions for development and other regions - especially the northeast and other remote areas, were neglected.
"But the Modi government has broken the barriers of regional and social imbalance in terms of development and connected all the ignored and neglected backward areas of the country with the mainstream development process," he stressed.
Naqvi said the Modi government has demolished the "vote bank politics" and furthered "nationalistic politics".
The Union minister promised that the government would establish a "world-class educational institute" in Assam soon.
https://www.hindustantimes.com/india-news/nationalistic-approach-of-indians-ensured-isis-al-qaeda-won-t-be-successful-in-india-mukhtar-abbas-naqvi/story-SZGJKxxMVwdN4Gb2Q3dhON.html
--------
Religious tensions rise after court ruling on mosque land
By SAURAV DATTA
OCTOBER 5, 2018
The Indian Supreme Court's refusal to revisit a communally-charged 1994 ruling on the disputed land once occupied by Babri mosque has revived religious tensions as political leaders strive for unity ahead of the 2019 national election.
Chief justice Dipak Misra and justices Ashok Bhushan and S Abdul Nazeer agreed in a 2:1 majority judgment that there was no need for a larger bench to re-examine the 1994 Supreme Court ruling that a mosque was not essential for worshipping Islam. The latest judgment came from a three-judge bench.
In the 1994 Ismail Faruqui three Supreme Court judges decreed that "A mosque is not an essential part of the practice of the religion of Islam and namaz (prayer) by Muslims can be offered anywhere, even in open". The ruling caused a storm and remains contentious today.
Hindu hardliners demolished the Babri Mosque on December 6, 1992, arguing that it had been built on the birthplace of Hindu god Ram.
Hindutva and Muslim parties both claimed victory from the court's refusal to reopen the case. The Hindus want a temple honoring Rama to be built on the land originally occupied by the mosque at Ayodhya in the northern state of Uttar Pradesh; Muslim parties are staunchly opposed to the idea.
The Hindu nationalist Rashtriya Swayamsevak Sangh said the Supreme Court ruling supports its long-standing claim of having a legal right to construct a Ram temple where the 15th-century mosque once stood. And the All India Muslim Personal Law Board stated that the judgment contributed to some "positive movement in the case".
The court had been petitioned to correct what some saw as a gross error in the 1994 verdict by referring the matter to a full bench. However, Chief Justice Misra — who retired on October 2 — and Justice Bhushan held that the 1994 ruling was made only in a specific context of land acquisition and would not affect any adjudication of the wider dispute over use of the site.
Hindutva hardliners poised to capitalize
They were referring to an appeal against the 2010 Allahabad High Court judgment that gave Hindus a greater right over the site than Muslims. The high court reached this conclusion by placing the "faith and belief of the majority — the Hindus" above the claims of Muslims.
Muslims had contended that the mosque should not have been demolished to make way for a Hindu temple; this action culminated in the Ram Janambhoomi movement (Ram's birthplace movement) and has attracted much criticism.
The Supreme Court ruling said that a comment by Justice J.S. Verma in the 1994 ruling on the site should be interpreted as relevant only in the context of the government having the right to acquire land, irrespective of which place of worship stood on it. Such a right of the state was always present, and wasn't in dispute in this particular case.
Critics say that the two judges took a narrow view of the issue and may have given parties that follow Hindutva (a particularly virulent political ideology of Hinduism) an upper hand in the dispute. There is also a sense that the apex court has still not decided the issue.
Decision myopic, says dissenting judge
The one dissenting opinion on the bench came from Justice S. Abdul Nazeer, a Muslim who made out a strong case for referring the matter to a larger bench due to its seminal importance in Indian politics. It would be "myopic" and "dangerous", he said, to classify the case as a title suit or a property dispute, while ignoring the ramifications it has for millions of Indian Muslims and its impact on electoral politics.
Nazeer accepted the arguments of senior counsel Rajeev Dhavan, who has consistently argued that the matter has great significance for how the judiciary interprets the cardinal doctrine of secularism. He asked why matters such as the use of public spaces to celebrate Hindu festivals were referred to a larger court bench for adjudication, yet the Babri Mosque issue was not. The judge questioned whether the religious rights of Muslims were less important than those of Hindus.
Justice Nazeer also pointed out that the 2010 high court judgment, which gave preference to the rights of Hindus, had been influenced in a substantial way by the observations in the 1994 ruling.
Rajeev Dhavan, who is representing most Muslim parties in lobbying the Supreme Court, labeled its decision "fatally flawed". Together with the judgment in 1994, it had "pre-emptively knocked the bottom out of the Muslim case", he said, adding: "Worse, Hindu fundamentalists are given a license to trespass into a mosque and destroy it to claim both prayers in and ownership of the site!"
Senior Advocate Sanjay Hegde has predicted that the Babri to will take centre stage in the 2019 elections, when incumbent prime minister Narendra Modi will be trying to secure a second term.
Hegde told Asia Times that the case should be referred to a larger constitutional bench in the interests of judicial propriety and discipline. "The majority judgment will only fuel fear and doubts in the minds, not only of Muslims, but also of secular Indians who have faith in the Supreme Court's impartiality and commitment to the constitutional ideal of secularism, which is a part of the basic structure of the constitution," he said.
Fuzail Ayyubi, who represented one of the parties in the matter, had earlier said the Supreme Court must refer the matter to a larger bench. He said that the Supreme Court did well to clarify that observations in the 1994 case had no effect on the pending land dispute matter, but said the top court could have gone further, if only for the sake of bolstering its own image before the population and for India's minorities.
With Modi making political capital out of the temple issue and casting aspersions on leaders of the Muslim cause — most notably in a speech delivered for a local election in 2017 — the dispute will have a crucial impact on the national elections.
Full report at:
http://www.atimes.com/article/religious-tensions-rise-after-court-ruling-on-mosque-land/
--------
Muslims should also come forward to protect cow: Athawale
October 5, 2018
Some Muslims faced atrocities in the name of "gau raksha", Union minister Ramdas Athawale said Friday, while urging the members of the minority community to come forward to protect the cow, which is revered by the Hindus.
Releasing a book on Uttar Pradesh Chief Minister Yogi Adityanath, titled "Musalman Aur Yogi Adityanath", Athawale batted for Hindu-Muslim unity, saying it was needed to make India a strong country.
"Some Muslims faced atrocities after the (Narendra) Modi government came to power. Nuisance happened in the name of gau raksha, but Muslims should also protect the cow as Hindus revere the animal," Athawale said.
The Union minister of state for social justice and empowerment asserted that Modi and Adityanath "are not anti-Muslim", which was reflected in the prime minister's "Sabka Sath Sabka Vikas" slogan.
Athawale also recited a self-composed couplet eulogising Adityanath and asserting that the people of the country would defeat those driving a wedge between Hindus and Muslims.
"UP mein chamak raha hai Yogi Adityanath ka tara, Hindu-Musalman ko ladane walon ka baja denge barah, (Adityanath's star is shining in UP, we will defeat those pitting Hindus and Muslims against each other)," recited the minister.
He said Hindus and Muslims should refrain from fighting over the Ayodhya issue and wait for the Supreme Court verdict on it, while claiming that there was originally a Buddhist shrine on the disputed land.
The author of the book, Irfan sheikh, a journalist, said he had certain anxieties over Adityanath's fiery statements, but had a change of heart after seeing him weeping in Parliament and saying he had not left home and become an ascetic to face "false allegations".
Full report at:
https://www.business-standard.com/article/pti-stories/muslims-should-also-come-forward-to-protect-cow-athawale-118100500542_1.html
--------
Baghpat conversion: delegation of clerics sent to bring the family back into folds of Islam
Oct 05, 2018
Baghpat: Spiritual leader of Jamaitul Uloom Ashrafia Maulana Syed Bilal Husain Thanwi called a meeting of scholars and clerics to discuss the religious conversion of 13 members of a family in Badarkha village of Baghpat. Noting that the issue is serious, the scholars regretted the incident and said conversion is a major sin and it is never forgiven. It invites Allah's wrath. They cited the hardships faced by the companions (RAA) of Prophet Muhammed (PBUH) but they were firm in their belief. They even sacrificed their lives for the Islam.
Full report at:
https://www.siasat.com/news/baghpat-conversion-delegation-clerics-sent-bring-family-back-folds-islam-1416738/
--------
Mother of Youth Who Joined IS Declared Hostile Witness by Court
October 6, 2018
The mother of a Kerala youth, who had allegedly joined terror organisation Islamic State (ISIS) in 2016, has been declared 'hostile witness' by a special court in Kerala for denying telling the crime branch that her son was getting radicalised.
According to a report in The Times of India, Ashfaq Majeed's mother said that whenever he used to speak to his friends — some of whom went with him to join IS — he would tell them to seek advice from 'Arshi bhai'.
Arshi Qureshi is the manager of Islamic Research Foundation under whose influence Majeed had allegedly fled to the IS territory.
After being declared hostile for not supporting the prosecution's case, the mother was cross-examined by Special Public Prosecutor Sunil Gonsalves. When asked if Ashfaq had told her that he is joining ISIS, she answered in the affirmative.
On Friday, she told the court that in 2016, her son went to Sri Lanka and returned in a month. After a few days, he again left claiming to be going to Sri Lanka with his wife and daughter and that he would return soon.
"But after he left, he called to say that he is not coming back. He said he had lied as otherwise, they would not let him go," Indian Express quoted the woman as saying.
Full report at:
https://www.news18.com/news/india/mother-of-youth-who-joined-is-declared-hostile-witness-by-court%E2%80%8B-1900349.html?ref=hp_top_pos_4
--------
'Greatly Concerned' UN Slams India for Deporting Seven Rohingya Muslims to Myanmar
October 5, 2018
Geneva: The United Nations voiced alarm on Friday over India's deportation of seven Rohingya men to Myanmar despite warnings they could face persecution in a country where the military is accused of genocide against the Muslim minority.
The UN refugee agency said it was "greatly concerned" for the safety and security of the seven men who were returned to Myanmar from India on Thursday.
The men, who had been in detention for immigration offences since 2012, were handed over to Myanmar authorities at a border crossing in India's northeast state of Manipur.
Before their deportation, the United Nations had expressed concern that returning the men ignored the danger they faced in Myanmar, where for decades the Rohingya have been targeted in violent pogroms by security forces.
UNHCR said the Indian authorities had not responded to its request that they assess the men's claims to international refugee protection in the country.
"UNHCR regrets that the agency did not receive a response to this request and was unable to secure access for a lawyer from a state legal service," agency spokesman Andrej Mahecic told reporters in Geneva.
"UNHCR continues to seek clarifications from the authorities on the circumstances under which these individuals were returned to Myanmar," he said.
He said the UN agency was "concerned that they did not have access to legal counsel, were not given the chance to access asylum processing and have their claims assessed in India". The UN special rapporteur on racism, Tendayi Achiume, warned India on Tuesday that it risked breaking international laws on refoulement — the return of refugees or asylum seekers to a country where they could be harmed.
The Rohingya are despised by many in Buddhist-majority Myanmar, which refuses to recognise them as citizens and falsely labels them "Bengali" illegal immigrants.
They were concentrated in Rakhine state, the epicentre of a Myanmar army offensive that over the past year has driven some 720,000 Rohingya Muslims into Bangladesh.
While Myanmar and Bangladesh have agreed to repatriate the Rohingya, the process has stalled as Rohingya refugees fear returning to their homes without guarantees of safety and rights.
An assessment done by the UNHCR and UNDP — the UN's development arm — shows conditions are "not conducive" for a "safe, dignified and sustainable return", UNHCR's Mahecic said.
While there were some villagers who "restarted interactions" with the Muslim community, there is still "mistrust and fears" between the two.
A second phase was launched on Friday morning in the townships of Maungdaw, Buthidaung and Rathedaung — all sites of atrocities allegedly spearheaded by the Myanmar military against the Rohingya. The army has denied nearly all wrongdoing, insisting its campaign was justified to root out Rohingya insurgents.
But a UN fact-finding mission said there was enough evidence to merit prosecution of several top Myanmar military commanders for crimes against humanity and genocide against Rohingya civilians.
New Delhi considers the Rohingya a security threat, pointing to intelligence which it says links the minority group to extremist organisations.
The government had ordered last year that all Rohingya inside India — New Delhi puts the figure at 40,000 — be deported. The Supreme Court is considering a petition challenging the order as unconstitutional.
Full report at:
https://www.news18.com/news/world/greatly-concerned-un-slams-india-for-deporting-seven-rohingya-muslims-to-myanmar-1900077.html
--------
All Muslims living in country not infiltrators, says Mukhtar Abbas Naqvi
October 6, 2018
Union Minister for Minority Affairs Mukhtar Abbas Naqvi on Friday said that all Muslims living in the country are not "infiltrators". Naqvi, while addressing a press conference in Guwahati said, "No country can accept the population explosion of illegal migrants. Every Muslim is not an infiltrator. Indian Muslims are committed to respect the country and work for its development," he said.
Naqvi said that "illegal infiltrators" were causing "maximum harm to Indian Muslims" and that action will be taken against illegal migrants as per provisions of the law. The minister said Prime Minister Narendra Modi has removed "regional and social imbalance and inequality in terms of development in the country by his commitment to inclusive growth".
Full report at:
https://indianexpress.com/article/india/muslims-infiltrators-mukhtar-abbas-naqvi-5389196/
--------
Problem in Jammu and Kashmir majorly due to Pakistan: Home Minister Rajnath Singh
05th October 2018
NEW DELHI: Asserting that terror incidents in Jammu and Kashmir have come down in comparison to the past, Home Minister Rajnath Singh on Friday said the "problem" in the state is "majorly" due to Pakistan which "is continuously promoting terrorism and sending terrorists in India".
He said the BJP government as well as previous governments had always tried to improve relations with Pakistan but "there is some compulsion with the neighbouring country which has been unsuccessful in doing anything over the issue" despite condemnation by international community.
"Problems in Jammu and Kashmir are majorly due to Pakistan. As it has been isolated internationally, I hope it will change its way at some point. Even Islamic countries have spoken against it," Singh said at the 16th Hindustan Times Leadership Summit.
Calling terrorism as a crime against humanity, Rajnath Singh said "the situation has changed in Jammu and Kashmir as terror incidents have decreased to 370 or 360 cases that was approximately 6,000 in 1995".
Stressing that terrorism should not be related to religion and caste, he praised India's Muslim community for not allowing radicalisation to grow.
Referring to the killing of Border Security Force (BSF) Head Constable Narender Singh on September 18 in Jammu's Ramgarh sector along the International Border, Rajnath said "our forces have taken some action over the issue. I said it earlier and it is not absurd. Something had happened. That's why I said so. I cannot tell it openly because it will send a wrong message to the international community."
The Home Minister said he always tells the forces that they should never fire first at Pakistan, "but if they shoot at us then we should not ponder over what to do and not count our bullets".
Asked if forming government in Jammu and Kashmir in alliance with Peoples Democratic Party (PDP) was a decision taken in a hurry, Rajnath Singh said: "It was an experiment that could not be successful".
"As no any party could get full majority in Jammu and Kashmir assembly elections, we thought of honouring people's mandate and make a joint PDP-BJP government," he said.
Rejecting a suggestion that stonepelters have again come out after the break-up between PDP-BJP, the Home Minister said "stonepelters never sit inside their homes. Stone pelting incidents continued even after we formed the government formation in Jammu and Kashmir. And it has been going on for years."
Rajnath said he agreed that the situation in Jammu and Kashmir should improve but said there was good coordination between the army, paramilitary forces and the state police to provide security to the residents of the state.
Full report at:
http://www.newindianexpress.com/nation/2018/oct/05/problem-in-jammu-and-kashmir-majorly-due-to-pakistan-home-minister-rajnath-singh-1881518.html
--------
Pictures of Jinnah Yet Again Displayed Inside AMU; Probe Ordered
October 5, 2018
New Delhi: The Aligarh Muslim University (AMU) has yet again stoked a controversy after it displayed the picture of Pakistan founder Mohammad Ali Jinnah at a photo exhibition in the varsity. Jinaah's picture was displayed along with photos of Mahatma Gandhi at the week-long exhibition, organised as part of the Gandhi Jayanti celebrations.
Later the University authorities removed the photos and served a show cause notice to the librarian, who was the curator of the exhibition. A probe was also ordered into the incident after a BJP MP Satish Gautam demanded the removal of some group photos in which the Mahatma is seen along with the Pakistan founder.
"The probe has been ordered as to how these pictures were included in the exhibition and a show cause notice has been served to the librarian Thursday," News agency PTI quoted Aligarh Muslim University (AMU) spokesman Shafey Qidwai as saying.
"University authorities certainly do not want any controversy on such a matter, keeping in mind the fact that the campus is functioning peacefully. We are only focused on our academic schedule," he added.
Full report at:
https://www.india.com/news/india/aligarh-muslim-universiy-displays-pictures-of-pakistan-founder-mohammad-ali-jinnah-with-mahatama-gandhi-at-exhibition-probe-ordered-3364871/
--------
2 Muslim groups clash in Jewar
Oct 6, 2018
GREATER NOIDA: Members of two Muslims sects — Deobandi and Barelvi — clashed on Thursday night over which group's imam would lead prayers in a mosque on Kanagadhi road in Jewar. Local Barelvi families alleged that present imam, from the Deobandi community, asked their kids to stay away, prompting them to bring their own imam who held the Fazr prayers (early morning) on Friday.
The police advised both the groups to form a new committee to run the mosque and resolve the dispute.
Guddu Khan, a resident of the town said there are two mosques in the area in which one has a Barelvi imam while the other has a Deobandi imam. But, there are no restrictions on anyone in entering any of them.
"However, a group of people from Barelvi community tried to radicalise people by saying that the imam sahab have asked a few Barelvi kids to stay out of the mosque," he said. However, the imam denied the incident.
Meanwhile, a Barelvi follower, who did not wish to be named, told TOI that the latter are in majority and that's why they run the mosque as per their rules. So they are fighting for equal representation, he said.
Full report at:
https://timesofindia.indiatimes.com/city/noida/2-muslim-groups-clash-in-jewar/articleshow/66092884.cms
--------
After Pakistan minister shares stage with Hafiz Saeed, India protests, summons top diplomat
by Shubhajit Roy
October 6, 2018
India on Friday lodged a strong protest with Pakistan over a minister in the Imran Khan-led government sharing a stage with 26/11 terror attack mastermind and Lashkar-e-Taiba (LeT) chief Hafiz Saeed, days after the images of the two emerged. Sources told The Indian Express that a top Pakistan diplomat was summoned by the Ministry of External Affairs in Delhi on Friday, and a similar demarche was made in Islamabad by the Indian High Commission.
India pointed out that Saeed is a UN-proscribed terrorist, and the US has offered a $10-million bounty on him. Pakistan's minister of religious affairs and interfaith harmony Noorul-Haq Qadri addressed the All-Parties Conference (APC) organised by the Difa-e-Pakistan Council (DPC), an umbrella coalition of more than 40 Pakistani political and religious parties that advocate conservative policies. The DPC supports "Kashmir's freedom movement".
Qadri was seen seated near Saeed as he addressed the APC in Islamabad on Sunday. A banner in the background said the conference was in "defence of Pakistan", and mentioned "Kashmir" as well as "threats from India". On Wednesday, even Pakistan foreign minister Shah Mahmood Qureshi had Qadri "should have been more sensitive" while sharing the dais with the 2008 Mumbai attack mastermind. "I will go home and certainly ask him why he did that. I am told it was an event to highlight the situation in Kashmir," Qureshi told a Washington audience on Wednesday when asked about Qadri's presence on the dais with the Lashkar-e-Taiba chief.
"It had nothing to do with Lashkar-e-Taiba. There were other political elements there. He happened to be one of them," Qureshi said. "I think he (Qadri) should have been more sensitive, but it wasn't that he subscribes to his (Saeed's) point of view." The development comes soon after External Affairs Minister Sushma Swaraj addressed the United Nations General Assembly (UNGA) last week where she strongly condemned Pakistan. Blaming Pakistan for providing safe haven to terrorists such as Saeed, Swaraj said Islamabad glorifies terrorism and spreads lies about India.
Swaraj, who had used similar strong language to lambast Pakistan in 2016 and 2017, accused Pakistan of being an expert in trying to mask malevolence with verbal duplicity, and then went to draw a parallel between Osama Bin Laden and Lashkar-e-Taiba chief Hafiz Saeed, and pointed out how the two have faced different fate so far.
Full report at:
https://indianexpress.com/article/india/pakistan-minister-hafiz-saeed-india-summons-top-diplomat-5389142/
--------
Pakistan's allegation of use of chemical weapons in Kashmir false, malicious: India
Oct 05, 2018
India Friday rejected as false Pakistan's allegations of reported use of chemical weapons by Indian security forces in Kashmir, saying "malicious attempts" to deflect international opinion away from terrorism emanating from the neighbouring country will not succeed.
India also asserted that Pakistan was acting in a highly "irresponsible manner" with the sole purpose of repeating untruths in the vain hope that the international community will start believing their falsehood.
Pakistan's Foreign Office spokesperson Mohammad Faisal had Thursday alleged that Indian forces reportedly used chemical weapons against Kashmiris. In response to a question by the media regarding the allegations, Ministry of External Affairs spokesperson Raveesh Kumar said, "We completely reject allegations made by Pakistan about the reported use of chemical weapons by the Indian security forces against Indian citizens."
Such allegations are not new and are totally unfounded, he said.
India has repeatedly stated its complete opposition to the use of chemical weapons by anyone, at anytime, and anywhere in the world, Kumar said.
"India is an original signatory to the Chemical Weapons Convention (CWC). The international community has recognised India's abiding commitment and contribution to the CWC which is the universal multilateral instrument prohibiting the use of chemical weapons.
"It is, therefore, a matter of deep concern that Pakistan repeatedly tries to make such false allegations," Kumar said.
Full report at:
https://www.hindustantimes.com/india-news/pakistan-s-allegation-of-use-of-chemical-weapons-in-kashmir-false-malicious-india/story-ivNvFl950wAvhdjULI8rbL.html
--------
Pakistan
Institutions urged to promote teachings of Holy Prophet (PBUH)
October 6, 2018
ISLAMABAD: Speakers at a two-day Int'l moot on 'Seerat-un-Nabi' concluded here on Friday said that the proactive role of educational institutions is imperative to promote the teachings of the Holy Prophet (PBUH) to have a successful life here and hereafter.
Adhering to footprints of 'Seerat-un-Nabi' is only way out to get resolved the contemporary socio-economic problems, they added in their key-note speeches during the two-day conference.
The speakers deliberated upon ways and means to apply the teachings of Quran and Sunnah in every-day's life.
A large number of researchers and scholars from home and abroad attended the event that was presided over by Prof. Dr. Muhammad Yasin Mazhar Siddiqui of Aligarh Muslim University, India.
It was arranged by the Allama Iqbal Open University's Department of Seerat Studies in collaboration with Higher Education Commission (HEC). 'Fiqh-al-Seerah' and its contemporary application was the core theme on which speakers gave their intellectual and academic input. In his welcome address, Vice Chancellor Prof. Dr. Shahid Siddiqui underlined the important role of the educational institutions in projecting the message and teaching of the Holy Prophet (PBUH) that, he said, are only way out to overcome socio-economic problems of the contemporary time.
The AIOU, he said has been actively engaged in disseminating the research-based knowledge on society-related issues through research journals and national and international conferences. A series of 'Khutbat-e-Islamabad has been launched, by selecting 100 relevant topics on which scholars present their views to educate students and the young researchers.
The University, the Vice Chancellor further said, in the recent years achieved many distinctions in the field of Islamic Studies. It won five national awards on promotion of Seerat-un-Nabi' (SAW) through its research-based academic work.
It was for first time that the University was declared the best one among the higher educational institutions on writing research journal and articles by the Federal Ministry of Religious Affairs with five awards. Recently, a specialised research journal on Seerat Studies was launched. It was most significant that the HEC has awarded three indexing agencies to AIOU for providing free online access to research articles, facilitating researchers and academicians. These include one on the Islamic studies.
The inaugural session was also addressed by the Dean of Arabic and Islamic Studies Prof. Dr. Mohyuddin Hashmi and Chairman Seerat Studies Dr. Shah Moeenuddin Hashimi. They spoke about the objectives of the conference, stating it provides platform to researchers to update their knowledge on relevant topics of their studies. Around 100 abstracts and 50 papers were received for presentation during the conference. Dr. Muhammad Yasin in his presidential address spoke in detail about the dire need of Muslims' unity and responsibilities of the society in taking care of collective well-being, seeking aspirations from the life and sayings of the Holy Prophet (PBUH). He quoted various sayings of the Holy Prophet that teach them how to avoid conflict and unrest in the society. He also highlighted rights of women and minorities in a Muslim Society. He asserted that Muslims must adhere to the Islamic principles for making the country ideological strong and prosperous.
Dr. Yaseen said Pakistan was the only country that was created in the name of Islam, therefore the people of this country must keep up the basic human norms and ethics, as we learn from Seerat-un-Nabi.
https://www.thenews.com.pk/print/377338-institutions-urged-to-promote-teachings-of-holy-prophet-pbuh
--------
Shahbaz Sharif appears before accountability court in Lahore for Ashiana case hearing
Rana Bilal | Ali Waqar
October 06, 2018
PML-N President Shahbaz Sharif — who was taken into custody by the National Accountability Bureau (NAB) in the Ashiana-i-Iqbal case on Friday — was produced before an accountability court in Lahore today.
The PML-N leader was arrested by the anti-graft body in the Rs14 billion Ashiana-i-Iqbal housing project scam yesterday, when he was called in for interrogation.
Prior to the hearing, NAB prosecutor Waris Ali Janjua told DawnNewsTV that the accountability watchdog will request for a 14-day physical remand of the PML-N leader.
Sharif, who was kept in a highly-secured lock-up inside the NAB Lahore office, arrived in court in an armoured vehicle, under heavy security according to DawnNewsTV.
The security squad that escorted Shahbaz to the accountability court also included a fire brigade vehicle, a rescue van and security officers, DawnNewsTV reported.
Contingents of police, that were posted inside and outside the accountability court, refused to let PML-N leaders and workers inside the building. However, PML-N president's son, Hamza Shahbaz, along with party leaders Malik Ahmed Ehsan and Malik Ahmed Khan, were allowed inside the courtroom.
Party spokesperson Marriyum Aurangzeb and Pervez Malik chanted slogans with PML-N workers that had gathered outside the court building as early as 7 in the morning. On Shahbaz's arrival, the emotionally charged workers climbed up on the armoured vehicle, chanting slogans in Shahbaz's favour and were forced to get off by the police.
To calm the party workers, Hamza directed them to "respect the court and not chant slogans inside the court".
The hearing was originally scheduled to take place inside the chamber but was later switched to open court following the PML-N lawyers' protest.
PML-N cries foul, terms Shahbaz's arrest as "revenge"
Talking to the media outside the accountability court building earlier, Aurangzeb had accused the government of "using NAB to take political revenge".
"They [government] had thought that PML-N would break. They thought that brothers (Nawaz Sharif and Shahbaz Sharif) will be separated," she said. "They thought, and they tried, that a forward block will be formed in the party."
Yesterday, former premier Nawaz termed Shahbaz's arrest as "not just regrettable, but also ridiculous" and accused the Pakistan Tehreek-i-Insaf government of being responsible for "this worse kind of revenge".
Allegations against Shahbaz
According to a NAB notice sent to the former Punjab chief minister on January 16, 2018, Shahbaz is accused of ordering the cancellation of award of contract of Ashiana-i-Iqbal to successful bidder Chaudhry Latif and Sons, leading to award of the contract to Lahore Casa Developers, a proxy group of Paragon City Private Limited, which resulted in the loss of approximately Rs193 million.
He is also accused of directing the Punjab Land Development Company (PLDC) to assign the Ashiana-i-Iqbal project to the Lahore Development Authority (LDA), resulting in the award of contract to the Lahore Casa developers, causing the loss of Rs715m and the ultimate failure of the project.
NAB has also accused Shahbaz of directing the PLDC to award the consultancy services of the Ashiana-i-Iqbal project to Engineering Consultancy Services Punjab (ECSP) for Rs 192m while the actual cost was supposed to be Rs35m as quoted by Nespak.
Full report at:
https://www.dawn.com/news/1437190/shahbaz-sharif-appears-before-accountability-court-in-lahore-for-ashiana-case-hearing
--------
Turn a page and move forward, Bolton urges Pakistan
Anwar Iqbal
October 06, 2018
WASHINGTON: The White House has said that the United States still believes the inception of a new government in Pakistan provides an opportunity to "turn a page and move forward" — towards rebuilding a strong relationship between the two countries.
On Oct 2, Foreign Minister Shah Mehmood Qureshi visited Washington on Secretary of State Mike Pompeo's invitation. He held separate meetings with Mr Pompeo and White House National Security Adviser John Bolton before flying back to Islamabad.
Mr Bolton — while briefing the media on the new National Strategy for Counterterrorism on Thursday afternoon — described the talks as productive but gave few details of the discussions that Secretary Pompeo and he had in their meetings with Mr Qureshi.
When asked if they talked about the suspension of US security aid to Pakistan and the progress made by Islamabad in the fight against terrorism, Mr Bolton said: "I discussed that with Foreign Minister Qureshi. We had a very productive meeting. He had a very productive meeting, I hear, from Mike Pompeo, as well, later in the day".
He said: "We certainly talked about the suspension of security assistance and the importance that we placed on Pakistan renewing an effective campaign against the terrorists".
The talks, he said, covered a wide range of other issues, as well. "But I think one of the things we wanted to stress, following up on Mike Pompeo's visit to Pakistan just a few weeks ago, was that we hope with a new government there, that we might be able to turn a page and move forward."
Mr Bolton said that Secretary Pompeo and he had two "important opening meetings" with the Pakistan foreign minister in Washington.
"I think he believed they were successful, and so we're going to continue the discussion and see what conclusion we might be able to reach," he said.
Asked about Mr Qureshi's handshake with US President Donald Trump in New York last week, which some Pakistani media outlets described as a meeting, Mr Bolton said: "I wasn't at the luncheon, so I don't know, but if the foreign minister had come up to introduce himself and shake his hand, I'm sure the president would have shaken his hand".
Responding to another question, Mr Bolton said that Secretary Pompeo and he did discuss the release of Dr Shakil Afridi — who facilitated the US raid on Osama bin Laden's hideout in Abbottabad — with Mr Qureshi.
"In terms of Afridi, yes, he was the subject of discussion between Secretary Pompeo and myself, we pretty well covered the waterfront of issues, and we're glad to do it," he said.
Mr Qureshi also addressed this issue at a news conference on Wednesday but rejected the suggestion that he had offered to release Dr Afridi in an interview with Fox News.
"I said you look at Dr Afridi in a certain way. Our people look at Dr Afia Siddiqui in a certain way. You have expectations. They have expectations too. They also want Dr Siddiqui's released."
Full report at:
https://www.dawn.com/news/1437152/turn-a-page-and-move-forward-bolton-urges-pakistan
--------
Second journalist from India joins Lahore's press club
BY MUHSEN ALI
October 6, 2018
LAHORE: Indian journalist Mandira Nayar received the honorary membership of the Lahore Press Club (LPC) on Friday, as club president Azam Chaudhry delivered the membership letter to her during her visit to the provincial capital.
Mandira is one of granddaughters of late Kuldip Nayar, who was the first Indian journalist to get this honour in his lifetime. "It's really a great honour for me to be a part of this prestigious club," she said, adding her grandfather was a seasoned journalist, but no one offered him this (membership) in India.
"Like others, the journalist family has always given us unconditional love," she said. "I am lucky that I always received bundles of love here and I have never felt that I am away from my home," she said. To a question, she said that she would continue her grandfather's legacy – peace mission.
"Lahore Press Club is an independent institution and we have a membership of responsible journalists here. So, we know the importance of peace and coexistence," said Azam Chaudhry, president of the press club.
"I am happy that Kuldip Nayar Sahib was honorary member of this respected club," he said. being the champion of the South Asian solidarity, Kuldip sahib was equally loved and respected in Pakistan, and every place where his writings were published and translated.
He said that he (Nayar) was a courageous spokesperson for press freedom as well as an important promoter of India's secular tradition.
Born in Sialkot and educated in Lahore, 95-year-old Kuldip Nayar passed away on August 23, 2018, in New Delhi.
Full report at:
https://www.pakistantoday.com.pk/2018/10/06/second-journalist-from-india-joins-lahores-press-club/
--------
US representative to arrive in Pakistan to discuss Afghan conflict
October 6, 2018
United States (US) Special Representative for Afghanistan Reconciliation Zalmay Khalilzad will be arriving in Pakistan on Saturday.
He is on a special visit to Afghanistan, Pakistan, the UAE, Qatar and Saudi Arabia between October 4 and 14. According to a statement, he will be coordinating and leading US efforts to bring the Taliban to the negotiating table.
He will be working in coordination with the Afghan government and other stakeholders to reach a negotiated settlement to the conflict.
This will be Khalilzad's first trip after his appointment as the special representative. However, he recently travelled to Pakistan with Secretary of State Mike Pompeo during his visit on September 5.
Full report at:
https://www.pakistantoday.com.pk/2018/10/05/us-representative-to-arrive-in-pakistan-to-discuss-afghan-conflict/
--------
UNHCR welcomes extension of PoR cards to Afghan refugees
October 6, 2018
ISLAMABAD: The UN refugee agency welcomed the federal government's decision to extend the Proof of Registration (PoR) cards to about 1.4 million Afghan refugees in Pakistan until June 30, 2019.
"The decision will provide relief and predictability to Afghan refugees who were facing uncertainty and anxiety," said UNHCR Country Representative in Pakistan Ruvendrini Menikdiwela.
She met with Advisor to the Prime Minister on Establishment Arbab Shahzad on Friday.
Menikdiwela appreciated the people and government of Pakistan for hosting Afghan refugees for nearly four decades.
"Pakistan has been an exemplary host throughout these times," she said, adding that UNHCR will continue to support any future government policy which supports voluntary repatriation in dignity and safety.
Menikdiwela said that UNHCR will continue to call for international support to Pakistan for Pakistani host communities and Afghan refugees living in Pakistan.
Menikdewela also briefed the advisor on the upcoming ministerial conference being organised by the government of Afghanistan and the United Nations on November 27-28 in Geneva.
Full report at:
https://www.pakistantoday.com.pk/2018/10/05/unhcr-welcomes-extension-of-por-cards-to-afghan-refugees/
--------
Sheikh Abdul Qadir felicitates PM on assuming office
October 6, 2018
ISLAMABAD: The Custodian of the Holy Shrine of Sheikh Abdul Qadir (R.A), Al-Sheikh Syed Khalid Abdul Qadir Mansoor Al Gilani called on Prime Minister (PM) Imran Khan at the PM Office on Friday to felicitate him on assuming office.
Minister for Religious Affairs Noor-ul-Haq Qadri was also present during the meeting.
Al-Sheikh Syed Khalid Abdul Qadir Mansoor Al Gilani while congratulating Imran Khan on being elected as the prime minister of Pakistan expressed his best wishes for Pakistan.
The premier thanked Al-Sheikh Syed Khalid Abdul Qadir Mansoor Al Gilani for his wishes. He said that Pakistan has the highest respect for Ghous-e-Azam. He also highlighted the huge contributions of Sufism in the spread of Islam.
https://www.pakistantoday.com.pk/2018/10/05/sheikh-abdul-qadir-felicitates-pm-on-assuming-office/
--------
PM Imran joins UN cheif's 'Circle of Leadership' on preventing sexual abuse
OCTOBER 6, 2018
Prime Minister Imran Khan joined United Nations Secretary General's Circle of Leadership – a body formed to probe sexual crimes perpetrated in UN-led peace operations.
PM Imran is the 70th world leader to have joined the circle, others including US President Donald Trump, French President Emmanuel Macron and British Prime Minister Theresa May.
The Circle of Leadership embodies the commitment of its member's to strengthening prevention and response against incidents of sexual violence and abuse.
The committee was established by UN Secretary General Antonio Guterres in a high profile meeting on Prevention of Sexual Exploitation and Abuse held in September last year.
Full report at:
https://dailytimes.com.pk/306743/pm-imran-joins-un-cheifs-circle-of-leadership-on-preventing-sexual-abuse/
--------
Authorities present Pakistani opposition leader before judge
October 06, 2018
LAHORE, Pakistan: Pakistan's anti-graft body has presented the country's opposition leader, Shahbaz Sharif, before a judge after it arrested him over links to a multi-million dollar housing scam.
The National Accountability Bureau will seek permission from the judge to hold Sharif for two weeks for questioning.
Saturday's development came a day after authorities arrested Sharif in the city of Lahore.
Sharif is opposition leader in the lower house of parliament.
He is accused of abuse of power during his tenure as the chief minister of Punjab from 2013 to 2018 by influencing authorities to award contracts for a housing program to a company with which he had political connections.
Full report at:
http://www.arabnews.com/node/1383346/world
--------
South Asia
Civilians, Taliban, and foreign militants suffer casualties in Kandahar
Oct 05 2018
At least ten militants including three foreigners hailing from Pakistan and four civilians were killed during the clashes and airstrikes in southern Kandahar province of Afghanistan.
Provincial police spokesman Zia Durani confirmed that the incident took place late on Thursday evening in Maruf district.
He said at least ten militants and four civilians were killed during the clashes and at least eight civilians sustained injuries.
According to Durani, the incident took place in Khogyani village of the district and a child and three women were among those killed while a child and seven women have sustained injuries.
In the meantime, another local source said the Taliban militants had taken shelter inside the civilian houses and were targeting the security forces with the heavy weapons, forcing the armed forces to call in airstrikes which resulted in civilian deaths.
However, the eyewitnesses are claiming that the militants had joined the vehicles convoy of a wedding ceremony when they came under airstrikes.
The anti-government armed militant groups including Taliban militants have not commented regarding the incident so far.
https://www.khaama.com/civilians-taliban-and-foreign-militants-suffer-casualties-in-kandahar-06093/
--------
Air strike kills four civilians in Afghanistan
October 06, 2018
KABUL: An air strike by security forces killed four people and wounded eight others who were part of a wedding procession in the Afghan province of Kandahar, officials said on Friday.
Abdul Raziq, the Kandahar police chief, said Taliban militants had mounted an attack in the Maroof district when security forces responded with an air strike on Thursday.
"They [Taliban] tried to flee and got mixed up with villagers at a wedding procession.
"The air strike killed four civilians, including women and children, and 10 Taliban militants," he said.
Aziz Ahmad Azizi, the provincial governor's spokesman, said that Taliban fighters attacked villages in Maroof district but faced strong resistance by police. He said one policeman was killed and three others wounded.
Ten Taliban were killed and eight were wounded in the battle, he said. After that, the militants hid in people's houses, leading to civilian casualties in the air strike. Kandahar province, on the border with Pakistan, is a major centre of opium cultivation and a stronghold of the Taliban.
Afghan officials said the incident was still being investigated and it was unclear whether the casualties had been caused by Afghan or US aircraft, both of which flew missions in support of the operation.
A Nato spokesman said its aircraft were not involved. "I can confirm we did not participate in any operations near Maroof [district] within the past 24 hours," said Col Knut Peters, a Nato spokesman in Kabul.
Full report at:
https://www.dawn.com/news/1437150/air-strike-kills-four-civilians-in-afghanistan
--------
Mohibullah Babunagari announces resignation from Hefazat
Oct 06,2018
Hefazat-e-Islam senior nayeb-e-amir Maulana Mohibullah Babunagari has announced his resignation from the qaumi madrassah-based platform over his resentment at the failure to realise their demands.
The Hefazat leader told New Age over phone on Friday that he announced his resignation as their platform was now far from 13-point demands placed to the government during their movement in 2013.
He said that the platform later even forgot to pay respect to their supporters killed in May 5-6, 2013 when they joined rally at Motijheel in Dhaka.
The senior religious preacher said that he placed the resignation through media on Thursday.
In separate interviews with the local journalists, Mohibullah said that some 200 people 'embraced martyrdom' in May 5-6, 2013 but none of their demands were met yet.
He also expressed his resentment at taking decision by Al-Haiatul Ulya Lil-Jamiatil Qawmia Bangladesh in contrary to the principles of Darul Uloom Deoband in India.
He also said that he would cut relations with the government recognised combined Qawmi Madrassah Education Board of Bangladesh.
The announcement came after Al-Haiatul Ulya Lil-Jamiatil Qawmia Bangladesh chairman Shah Ahmad Safi, also the Hefazat amir, on October 1 announced that they would accord a reception to prime minister Sheikh Hasina for the recognition of Dawra Hadith degree.
On September 18, parliament passed a bill recognising Dawra Hadith as Master of Islamic Studies and Arabic.
'I am aware of the reception,' Mohibullah said.
Hefazat, formed in January 2010, comprising qawmi madrassah teachers and students, placed 13-point demands in 2013, including enactment of anti-blasphemy law and ban on free mixing of men and women.
Hefazat staged two long marches towards Dhaka and held rallies at Motijheel. However, the supporters were driven out of the capital after holding the second rally followed by daylong clashes with the police as its leadership had threatened to overthrow the government.
Later Hefazat backtracked on movement, allegedly after negotiation with the ruling Awami League leaders.
Full report at:
http://www.newagebd.net/article/52482/mohibullah-babunagari-announces-resignation-from-hefazat
--------
U.S. soldier assigned to NATO's RS Mission killed in Afghanistan
Oct 05 2018
A U.S. soldier assigned to the NATO-led Resolute Support Mission was killed during an incident in Afghanistan.
"One U.S. service member assigned to the NATO Resolute Support mission was killed in Afghanistan on October 4," Resolute Support Mission said in a statement.
Without disclosing further information, the RS Mission said "This incident is under investigation."
"We mourn and honor the sacrifice of our service member," said Resolute Support and United States Forces – Afghanistan Commanding General Scott Miller. "We remain committed."
No further details were given regarding the identity and exact location where the incident took place, with NATO saying "In accordance with U.S. Department of Defense policy, the name of the service member killed in action is being withheld until 24 hours after notification of next of kin is complete. We will share additional information as appropriate."
Full report at:
https://www.khaama.com/u-s-soldier-assigned-to-natos-rs-mission-killed-in-afghanistan-06092/
--------
Afghan official: 2 security forces killed in bomb blasts
October 06, 2018
KABUL, Afghanistan: An Afghan official says at least two security forces have been killed in bomb blasts in the capital.
Basir Mujahid, spokesman for the Kabul police chief, says nine others including six police officers and three civilians were wounded in Saturday's attack.
Mujahid says a roadside bomb hit a military vehicle when police arrived to respond to an insurgent attack, then a second blast took place in the same area causing casualties.
The police chief was among the wounded, he said.
Full report at:
http://www.arabnews.com/node/1383356/world
--------
North America
Trump's Counterterrorism Plan Targets Radical Islam as 'Primary Threat'
5 Oct 2018
Jihadist groups, namely al-Qaeda and the Islamic State (ISIS/ISIL), remain "the primary trans-national terrorist threat" to the United States despite 17 years of U.S.-led military efforts against radical Islamist groups, the White House pointed out in its National Strategy for Counterterrorism unveiled on Thursday.
The counterterrorism strategy, released by the White House on Thursday, noted:
After seventeen years of armed conflict and significant costs in American blood and treasure, our efforts to prevent and counter terrorism have met with mixed success. While we have succeeded in disrupting large-scale attacks in the homeland since 2001, we have not sufficiently mitigated the overall threat that terrorists pose.
…
ISIS remains the foremost radical Islamist terrorist group and the primary transnational terrorist threat to the United States, despite ongoing United States and coalition civilian and military efforts that have diminished the group's footprint in Iraq and Syria, killed thousands of its members, and curtailed its global expansion.
Consistent with recent assessments, the strategy acknowledged that ISIS branches outside the Middle East also pose a significant threat to the United States.
The White House reported:
The group's [ISIS] global reach remains robust, with eight official branches and more than two dozen networks regularly conducting terrorist and insurgent operations across Africa, Asia, Europe, and the Middle East. Despite many setbacks, ISIS maintains a sophisticated and durable media and online presence that allows it to encourage and enable sympathizers worldwide to conduct dozens of attacks within target countries, including the United States. The increase in attacks by persons mobilized to violence in the United States underscores the ability of ISIS to inspire terrorist attacks.
Almost 17 years to the day since the U.S. invaded Afghanistan in pursuit of al-Qaeda, the group still represents a menace to the American homeland.
"Al-Qa'ida's global network remains resilient and poses an enduring threat to the homeland and United States interests around the world," the White House noted.
In announcing the new strategy on Friday, Trump's national security adviser John Bolton described the new plan as a significant departure from former President Barack Obama's approach to combating terrorism, stressing that the current administration does not shy away from recognizing the menace posed by radical Islamic extremist ideology.
Bolton emphasized:
Radical Islamist terrorist groups still represent the preeminent threat to the United States. We recognize that there is a terrorist ideology that we're confronting. And I think it's long been the President's view that without recognizing that we're in an ideological struggle, that we can't properly address the terrorist threat.
…
It is a departure [from the Obama era]. And the reason is that it's not simply a unilateral decision by the United States to end this ideological war. It's not enough that we find it inconvenient that we're still under attack. The fact is the radical Islamic threat that we face is a form of ideology.
The plan entails "isolating" jihadi groups from their networks of financial assistance, boosting American partners' counterterrorism capabilities, and enhancing US infrastructure and preparedness, namely along the nation's borders, according to Bolton.
The last time the White House released a counterterrorism plan was in in 2011.
Referring to the strategy in a statement issued Thursday, President Trump declared:
It outlines the approach of the United States to countering the increasingly complex and evolving terrorist threats and represents the Nation's first fully articulated counterterrorism strategy since 2011. It provides the strategic guidance needed to protect the United States against all terrorist threats, while simultaneously fostering the agility to anticipate, prevent, and respond to new threats.
Guided by the National Strategy for Counterterrorism, we will use all instruments of American power to protect our great Nation, and we will defeat our enemies with the full force of American might.
The strategy also identified the world's "most prominent state sponsor of terrorism," Iran, as a major threat facing the United States.
https://www.breitbart.com/national-security/2018/10/05/trumps-counterterrorism-plan-targets-radical-islam-primary-threat/
--------
ANALYSIS - US headed toward strategic deadlock in Syria
05.10.2018
By Kasim Ileri
WASHINGTON
As the conditional and temporary U.S. support for the YPG/PKK terror group in Syria has turned out to be permanent against Iran and Russia, Washington is moving into a strategic dead end in Syria.
The U.S. tactic to work with the YPG/PKK against Daesh, which started during former President Barack Obama administration and continued in Donald Trump administration is putting Washington on a path of no return.
Starting from 2014, the U.S. initially provided air support and then arms to the terror group, with the pretext of fighting Daesh.
American officials claimed the support for the group was limited and conditional with the fight against Daesh and then Washington dispatched more than 2,000 troops to the region and established airports as well as military bases in the areas controlled by the YPG/PKK.
U.S. military bases in Syria
According to local sources, the U.S. has established 13 operational military bases in the YPG/PKK controlled territories including Hasakah, Raqqah, Manbij, Ayn al-Arab (Kobani) and Tal-Abyad in Syria.
The U.S. has established a military base near the largest oil field in al-Omar and Daesh's last fortress Hajjin town in eastern Deir ez-Zour province.
Additionally, the construction of two more military bases in Qamishli started a few months ago. When completed, the U.S. will have maintained military presence in 18 locations in the country.
In addition, the U.S. is said to have so far supplied YPG/PKK with more than 4,000 truckloads of arms and military materials. Besides, U.S. Special Operation Forces are providing the group with basic combat and internal and border security training.
The US-led coalition has also established radar and missile defense systems in areas controlled by the YPG/PKK.
From anti-Daesh fight to strategic confrontation with Russia, Iran
These build-ups of the U.S. indicate that it will not pull out of Syria so soon.
U.S. officials including Defense Secretary Jim Mattis have been saying that American troops would stay in Syria until the conditions are set to prevent Daesh to regroup and UN-led Geneva process comes up with a political solution for the country.
What is more, just recently White House National Security Advisor John Bolton, in parallel with the Trump administration's anti-Iran rhetoric, said the U.S. would not withdraw from the region "as long as Iranian troops are outside Iranian borders."
It has been suggested by many for a long time that the U.S.'s arms and military build-ups in Syria and its aid to the YPG/PKK shifted from the fight against Daesh into a strategic confrontation against Iran and Russia.
In recent weeks, Syria has become a battlefield between Iran and Israel. Israel repeatedly bombed the regime's bases which, it claims, are controlled by Iran.
After the failure of the S-125 and S-200 air defense systems used by Bashar al-Assad regime against Israel and the downing of a Russian reconnaissance aircraft in the Mediterranean Sea, Russia deployed S-300 missile systems in support of the regime.
The U.S. central command Commander Gen. Joseph Votel described Russia's move as a "needless escalation" of the conflict.
In addition, Iran launched missiles on several targets in Syria last week, claiming to have links with the Ahwaz attack.
The Pentagon has called the attacks "reckless, unsafe and escalatory" as they were not coordinated with the U.S. beforehand.
Based on all these developments military experts point out that the U.S. has been dragged into a strategic dead end in Syria, where it intervened conditionally to fight against Daesh.
Occupation strategy loses in long-term
Tying its Syria strategy to a terror group like YPG/PKK in Syria might have some advantages for Washington in the short run, but it is argued that this approach will leave it alone in Syria in the long-term.
Former ambassador James Jeffrey, the recently-appointed U.S. special representative for Syria, was among those who emphasized the handicaps in cooperating with YPG/PKK in the long-term.
However, Washington insists on ignoring the warnings made in this regard, especially by Turkey.
YPG/PKK's actions such as displacing Arabs in the areas it has occupied and using violence against people who oppose to the terror group undermine the U.S. strategy.
The intimidation by the YPG/PKK led to protests in predominantly Arab areas such as Raqqah, Manbij and Tal Abyad.
The YPG/PKK's treatment of residents, who do not support the organization, was covered in reports of non-governmental and international organizations such as Human Rights Watch and Amnesty International, and it was highlighted that some of the YPG/PKK actions might even amount to war crimes.
The U.S. officials constantly overlooked the questions about these reports, and disregard the discomfort the YPG/PKK imposes on residents of the areas it controls.
US losing Turkey
The U.S. for its support to YPG/PKK has lost Turkey's support in Syria to a significant extent.
Even though some diplomatic steps Turkey has taken together with Russia and Iran are implemented to some extent, the U.S. has yet to implement Manbij deal with its NATO ally, which has led comments as Ankara's goodwill towards Washington is running out.
As the card the U.S. has against Russia and Iran is its own military force, losing Turkey due to its support with the YPG/PKK shows that the U.S.'s Syria policy would fizzle out.
Just yesterday former Defense Secretary Chuck Hagel said in an interview: "It's complete folly to think you're going to threaten the Syrians or the Russians or the Iranians into anything because they hold more cards than we do."
Full report at:
https://www.aa.com.tr/en/americas/analysis-us-headed-toward-strategic-deadlock-in-syria/1273931
--------
Kerry warns of military conflict after Trump pulls out of Iran nuclear deal
Oct 6, 2018
Former US Secretary of State John Kerry has warned of increased risk of war with Iran after President Donald Trump pulled out of the 2015 nuclear deal, saying regional leaders had privately pressed the White House to take military action.
By withdrawing from the historic accord, Trump has "made it more likely that there will be conflict in the region because there are people there who would love to have the United States of America bomb Iran," Kerry told the Council on Foreign Relations on Friday.
Kerry, a former senator and presidential candidate, played a key role in negotiations between Iran, the US and other world powers that led to the signing of the nuclear deal, officially known as the Joint Comprehensive Plan of Action (JCPOA). Under the accord, Iran undertook to limit its nuclear activities in return for removal of sanctions.
Kerry said that Saudi Arabia's late king Abdullah and Egypt's ousted president Hosni Mubarak had both told him that the US should attack Iran. Israeli Prime Minister Benjamin Netanyahu had also asked then US President Barack Obama for the green light to bomb Iran's nuclear facilities, he said.
In May, President Trump pulled the US out of that deal despite warnings from other signatories and pledged to reinstate tough sanctions against Iran.
While UN inspectors had repeatedly declared that Iran was in compliance of the JCPOA, Trump called the deal a disaster for not addressing other issues including Iran's missile program and its rising influence in the region.
Tensions have increased between the Trump administration and Kerry, who has criticized the White House's approach toward Iran as "ill-advised" and based on no "broad strategy." The former diplomat has also accused Trump of "making things up" about Iran.
Kerry angered Trump in May following reports that he had secretly met with world leaders in a bid to salvage the Iran deal ahead of Trump's announcement to withdraw from it.
The president has been at loggerheads with Kerry ever since, frequently mocking him on Twitter.
"I see that John Kerry, the father of the now terminated Iran deal, is thinking of running for President," Trump tweeted last month. "I should only be so lucky — although the field that is currently assembling looks really good — FOR ME!"
Despite Washington's withdrawal, Iran has not left the deal yet, but stressed that the remaining signatories to the agreement now had to work to offset the negative impacts of the US pullout if they wanted Tehran to remain in it.
Full report at:
https://www.presstv.com/Detail/2018/10/06/576191/Regional-leaders-pressed-US-to-bomb-Iran
--------
Most Americans think US has failed in Afghanistan: Poll
Oct 6, 2018
Almost half of Americans think the United States has failed to achieve its goals in Afghanistan after some 17 years into a war that was supposed to end the rule of Taliban and resolve the issue of terrorism in the South Asian country, a new poll shows.
The survey released by Pew Research Center on Friday showed that 49 percent of American adults said Washington had mostly failed in fulfilling its objective while 35 percent said it had succeeded.
Another 16 percent noted they couldn't say whether the US has succeeded or failed in the years-long war.
The survey shows little difference compared to its previous iterations in 2014 and 2015, when opinions about the US military mission were similarly more negative than positive among Americans.
It was a different story between 2009 and 2011, however, as most people were optimistic when asked whether the US would be successful.
Among Republicans and Republican-leaning independents, around 48 percent of the participants in the survey said they thought the US has succeeded, compared to 28 percent among Democrats and Democratic leaning independents.
Pew's poll from three years ago under then-President Barack Obama showed similar numbers but in the opposite order, as 42 percent of Democrats said the US had succeeded while only 29 percent of Republicans held the same view.
The new poll also found that while still most Americans (49 percent versus 35 percent) think the US made the right decision to invade Afghanistan after the September 11, 2001 attacks, the number had steeply declined over the years.
In 2006, for example, 69 percent of Americans thought former President George W. Bush had made the right call by attacking Afghanistan versus 20 percent who opposed the decision.
Earlier this year, US President Donald Trump unveiled a new strategy for Afghanistan that would prolong the military intervention in the country.
Full report at:
https://www.presstv.com/Detail/2018/10/06/576186/US-military-failure-Afghanistan-poll
--------
Arab World
Muslim World League head urges faith leaders to travel to Jerusalem seeking peace
October 06, 2018
AMMAN: In an unprecedented move, Sheikh Mohammed Al-Issa, secretary-general of the Muslim World League (MWL), has called on faith leaders to travel to Jerusalem by launching a "peace caravan" made up of religious messengers who are independent of any political affiliation.
The call was made at the opening of the second Conference on Cultural Rapprochement between the US and the Muslim World in New York on Oct. 4.
"This convoy should represent the three religions to visit all the holy places in Jerusalem. The crisis cannot be tackled except by great influential men powered with logical wisdom and justice," Al-Issa said to some 400 US, Jewish, Christian and Muslim leaders and thinkers.
The peace initiative by the head of the Makkah-based MWL followed calls for peace by Jewish and Christian American religious leaders.
Charles Small, president of the Institute for the Study of Global Antisemitism and Policy, said the greatest victim of antisemitism in America today are Muslims. Quoting the Jewish writer and Holocaust survival the late Elie Wiesel, Small said that "while antisemitism begins with Jews it doesn't end with Jews."
Shawki Allam, the grand mufti of Egypt, focused on the need for a positive intervention, saying that he hopes to make a "positive contribution in the effort to place the foundation of a holistic approach to dialogue."
The president of the Emirates Fatwa Council, Abdallah bin Bayyah, spoke about religion's approach to tolerating the other. "We want all religions, and their adherents, to move from simple acknowledgment of the other to the Qur'anic calling of coming to know one another."
It is noteworthy that Palestinian President Mahmoud Abbas has regularly called on Muslims and Arabs who can visit Jerusalem to do so saying that visiting a prisoner is not legitimizing the jailers, a reference to the suggestion that such a visit represents normalization with Israel.
Al-Issa tackled the label of extremism in his closing speech on the conference's first day. "Great religions are not extreme by nature; and at the same time, there is no religion that is free of extremists who believe that they solely are privileged with the absolute truth."
http://www.arabnews.com/node/1383246/middle-east
--------
Russia urges Israel to exercise 'good judgment' on S-300 delivery to Syria
Oct 5, 2018
Russia says it hopes the Israeli regime would exercise 'good judgment' on Moscow's delivery of S-300 missile defense system to the Syrian government as it will be followed by "additional steps".
The remarks were made by Russian Deputy Foreign Minister Sergei Vershinin in an interview with Sputnik on Thursday.
Vershinin declared that the delivery of the S-300 systems will be followed by additional steps, but did not provide any further details on the steps.
Russia announced the complete delivery of the missile defense system to the Syrian army by releasing a video on Tuesday.
The decision to deliver the system came after the accidental downing of a Russian Il-20 reconnaissance aircraft with 15 servicemen on board by Syria's S-200 air defense systems which were at the time responding to a wave of Israeli strikes on state institutions in Latakia.
Moscow held Israel responsible for the September 17 incident, saying the regime's pilots had intentionally used the Russian plane as cover to conduct air raids, effectively putting it in the cross hairs of the Syrian air defenses.
Russian Defense Minister Sergei Shoigu said last Sunday that Russia went ahead with the shipment because "the situation has changed, and it's not our fault."
He also said that Russia would start to electronically jam aircraft flying in to attack targets in Syria. "We are convinced that these measures will calm down some hotheads and keep them from careless actions which pose a threat to our troops," Shoigu said.
The delivery provoked heavy criticism by the Israeli regime, which considers it a threat to its illegal airstrikes on Syria, and the US, which believes the shipment "was a needless escalation."
US Army Gen. Joseph Votel, who oversees US forces in the Middle East, claimed the deployment appeared to be an effort by Moscow to help shield "nefarious activities" by Iranian and Syrian forces in the country.
"So, again, I think this is a needless, needless escalation," Votel told reporters at the Pentagon on Thursday.
Votel also took a swipe at Iran's presence in Syria, claiming that countries in the region "had good reason to be concerned about Iran's activities in Syria."
"We believe they are moving lethal capabilities into Syria that threaten neighbors in the region," he said.
Votel's comments come as the US is known as a source of arms delivered to terrorists in Syria. Turkish President Recep Tayyip Erdogan said Thursday that the US has delivered 19,000 trucks of weapons, ammunition, and military equipment to Syria-based terrorists.
Addressing an international conference in Istanbul, Erdogan urged the US to stop supporting terrorist groups in Syria by sending them weapons, warning that these groups will one day grip the US as well.
Syria has been gripped by militancy caused by multiple factions and groups since March 2011. The ongoing war, fueled by the support coming from the US and its regional allies, has so far claimed over 400,000 lives and displaced millions of people.
The UN is currently providing aid to some 5.5 million people across the country each month. However, millions of others have fled to other countries, from Jordan and Turkey to Europe and the US, causing a so-called 'refugee crisis'.
While the US itself has been a main source of such a tragedy in Syria, it has refused to admit the refugees coming from the Arab country.
The White House said on Thursday few of the refugees the United States plans to admit next year will come from the Middle East.
Full report at:
https://www.presstv.com/Detail/2018/10/05/576132/Russia-S300-Israel-Syria
--------
Islamic group chief calls for Muslims to join Christians, Jews in Jerusalem meeting
October 6, 2018
The Secretary-General of the Muslim World League has taken the unprecedented and potentially controversial step of urging Muslims to form a delegation alongside Christians and Jewish religious leaders to visit Jerusalem as a step toward peace.
"We should send a peace convoy that is representative of all three Abrahamic religions. They should be Muslim, Christian and Jewish and they should visit all holy sites," Muhammad bin Abdul Karim Alissa told Fox News in an interview Thursday. "They should meet everyone and find common ground, and they should provide fertile ground to find solutions for peace."
Alissa stressed the delegation should be made up of religious leaders from each of the three faiths, instead of political figures. "They should be independent of politics, they should have no political agenda whatsoever. They will be more influential without a political agenda because they are independent," he said.
Nor should the delegation be viewed as an effort from any particular nation, Alissa said. "This visit is not from Saudi Arabia and it should not represent Saudi Arabia," said the former Saudi justice minister. "It comes from the Muslim world, the Christian world and the Jewish world. It has no relevance to any country whatsoever."
Alissa said he sees the prospective meeting in Jerusalem as a step toward what will some day be a more broad cross-faith acceptance of different faiths. For example, while Saudi Kingdom itself still only officially recognizes Islam in its laws, Alssa said "without a doubt" the time will come when all people can go to any country and openly practice whatever faith they choose.
AIissa – an outspoken advocate of "interfaith" dialogue – joined Ronald Lauder, President of the World Jewish Congress, and other faith leaders at the Muslim World League's 2nd Annual "Cultural Rapprochement Between the U.S. and the Muslim World" summit in New York this week.
"The chief role of this conference is to keep extremists from taking any advantage of any intellectual holes that they can use to promote their extremist ideologies and have the opinions of well-established scholars. The extremists are not happy with this conference," Alissa said. "We encourage civilized dialogue with the United States, and this does not make the extremists happy. We are here to thwart this extremism."
Alissa's positions reflect a quiet warming of ties between the Sunni Arab nation and Israel, who have developed a common - and active - adversary in the region in Iran. While the two countries have no official diplomatic ties, they have developed an intelligence-sharing channel. Reports since 2016 have circulated saying the kingdom had begun altering its attitude toward Israel, and has been condemning rampant anti-Semitism in other Arab nations.
Alissa has also been one of the most prominent Muslim leaders in the region who recognize the abhorrence of the Holocaust, and has consistently rebuked Holocaust deniers.
Alissa is seen as an ally of Crown Prince Mohammed bin Salam, who has enacted a series of reforms since being named heir to the Saudi throne in 2017. Although controversial – particularly in the area of human rights - the prince's reforms are part of his "Vision 2030" plan, which includes women now legally able to drive, the reopening movie theaters, with the goal of ultimately returning the hardline religious country to "moderate Islam."
The quiet Israeli-Saudi alliance is indeed a product of "common concern with Iran's meddling and other destabilizing regional forces," said Nimrod Novik, former foreign policy senior advisor to then Israeli President Shimon Peres and a member of the Executive Committee of Commanders for Israel's Security (CIS), a network of 280 retired Israeli generals. "Both sides would like to combine intelligence and operational capabilities in addressing these challenges," Novik told Fox News. "However, given internal and other sensitivities, the Saudis keep urging Israel to provide political cover for it all by making progress on the Palestinian issue."
Novik stressed advancements in Saudi-Israeli relations have proceeded slowly, and are riddled with complexities.
Full report at:
https://www.foxnews.com/world/islamic-group-chief-calls-for-muslims-to-join-christians-jews-in-jerusalem-meeting
--------
Ceaseless persecution marks the Yazidis' history
October 05, 2018
BEIRUT (AP) — Over the past centuries, the Yazidi community, one of Iraq's oldest religious minorities, has repeatedly been subjected to brutal attacks leaving thousands of its members dead. One of their worst subjugations occurred four years ago with the rise of the extremist Islamic State group.
IS committed genocide and other crimes against the Yazidi minority in Iraq as their power in the country peaked in the summer of 2014.
Hundreds of Yazidi women were captured, taken as sex slaves and subjected to horrific abuse by the extremists. Some managed to flee, including newly laurelled Nobel Peace Prize winner Nadia Murad who told the world of the horrors she and her community experienced.
About 5,000 Yazidi men were killed by IS when the Sunni militant group took control of Iraq's northwest four years ago.
About 3,000 Yazidis still remain missing, most thought to have been killed in the war that rolled back IS control in Syria and Iraq over the past three years.
An isolated religious minority, the Yazidis have been persecuted for centuries. Many Muslim sects consider them infidels; many Iraqis falsely see them as worshippers of Satan. They speak Kurdish and their traditions are amalgamated, borrowing from Christianity, Islam and the ancient Persian religion of Zoroastrianism.
In August 2014, IS militants swept into Sinjar, the ancestral homeland of the Yazidis near the Syrian border, after capturing the northern city of Mosul and declaring an Islamic caliphate across large areas of Iraq and neighboring Syria.
Tens of thousands of Yazidis escaped to Mount Sinjar, where most were eventually rescued by U.S.-backed Kurdish forces.
In November 2015, Kurdish militias with close support of U.S.-led coalition aircraft, drove IS out of Sinjar.
Before IS rose to power, the Yazidis were the subjects of one of the deadliest single attacks after the 2003 U.S.-led invasion of Iraq. On Aug 14, 2007, four suicide truck bombs targeted Yazidi villages north of the country, killing some 400 people and wounding many more. The attack was carried by out by the Islamic State in Iraq, IS's predecessor.
Full report at:
https://www.indiatvnews.com/ap/world-news-ceaseless-persecution-marks-the-yazidis-history-468963
--------
Nadia Murad: From ISIS slave to Nobel laureate
Oct 5, 2018
BAGHDAD: Nadia Murad survived the worst cruelties ever inflicted on her people, the Yazidis of Iraq, before becoming a global champion of their cause and winning the Nobel Peace Prize.+
On Friday, Murad and Congolese doctor Denis Mukwege were jointly awarded the prize for their "efforts to end the use of sexual violence as a weapon of war," Nobel committee chairwoman Berit Reiss-Andersen said in unveiling the winners in Oslo.
The 25-year-old Murad, her thin, pale face framed by her long brown hair, once lived a quiet life in her village near the mountainous Yazidi stronghold of Sinjar in northern Iraq, close to the border with Syria.
But when the so-called Islamic State jihadist group stormed across swathes of the two countries in 2014, her fate changed forever and her nightmare began.
One day in August that year, pick-up trucks bearing the black flag of the jihadists swept into her village, Kocho.
IS fighters set about killing the men, taking children captive to train them as fighters and condemning thousands of women to a life of forced labour and sexual slavery.
Today, Murad and her friend Lamia Haji Bashar, joint recipients of the EU's 2016 Sakharov human rights prize, continue the fight for the 3,000 Yazidis who remain missing, presumed still in captivity.
IS fighters wanted "to take our honour, but they lost their honour," said Murad, now a United Nations goodwill ambassador for survivors of human trafficking.
It is an evil she personally experienced during a harrowing three months.
After being captured by IS fighters, Murad was taken by force to Mosul, the de facto "capital" of the IS's self-declared caliphate.
During her ordeal she was held captive and repeatedly gang-raped, tortured and beaten.
The jihadists organised slave markets for selling off the women and girls, and Yazidi women were forced to renounce their religion.
For the jihadists, with their ultra-strict interpretation of Islam, the Yazidis are seen as heretics.
The Kurdish-speaking community follows an ancient religion, revering a single God and the "leader of the angels", represented by a peacock.
Like thousands of Yazidis, Murad was forcibly married to a jihadist, beaten and forced to wear makeup and tight clothes – an experience she later related in front of the United Nations Security Council.
"The first thing they did was they forced us to covert to Islam", Murad told AFP in 2016.
Shocked by the violence, Murad set about trying to escape, and managed to flee with the help of a Muslim family from Mosul.
Armed with false identity papers, she managed to cross the few dozen kilometres (miles) to Iraqi Kurdistan, joining crowds of other displaced Yazidis in camps.
There, she learnt that six of her brothers and her mother had been killed.
With the help of an organisation that assists Yazidis, she joined her sister in Germany, where she lives today.
She has since dedicated herself to what she calls "our peoples' fight", before a well-known spokeswoman even before the #MeToo movement swept the world.
The Yezidis numbered around 550,000 in Iraq before 2014, but some 100,000 have since left the country.
Many others have fled and remain in Iraqi Kurdistan, reluctant to return to their traditional lands. Slight, and softly-spoken Murad has now become a global voice, campaigning for justice for her people and for the acts committed by the jihadists to be recognised internationally as genocide.
And she and the Yazidis have won a high-profile supporter -- Lebanese-British lawyer and rights activist Amal Clooney, who also penned the foreword to Murad's book, "The Last Girl", published in 2017.
The same year, the UN Security Council committed to helping Iraq gather evidence of IS crimes.
Yet in contrast to all the tragedies that have befallen her, recent pictures on Murad's Twitter feed show happier times.
In August, she announced her engagement to fellow Yazidi activist Abid Shamdeen.
"The struggle of our people brought us together & we will continue this path together," she wrote.
Full report at:
https://timesofindia.indiatimes.com/world/middle-east/nadia-murad-from-isis-slave-to-nobel-laureate/articleshow/66084975.cms
--------
US Treasury designates Lebanese businessman global terrorist for Hezbollah ties
5 October 2018
The US Department of the Treasury's Office of Foreign Assets Control (OFAC) designated Lebanese businessman Muhammad Abdallah al-Amin who owns seven companies that are headquartered in Lebanon as a Specially Designated Global Terrorist (SDGT) and imposed sanctions on him and all his seven companies.
According to the Treasury, the companies which Amin owns or runs are: Sierra Gas S.A.L. Offshore, Lama Foods S.A.R.L., Lama Foods International Offshore S.A.L., Impulse S.A.R.L., Impulse International S.A.L. Offshore, M. Marine S.A.L. Offshore, and Thaingui S.A.L. Offshore.
Who is Muhammad Abdallah al-Amin?
Muhammad is a Lebanese businessman and merchant whose father Abdallah is a former Member of Parliament and minister. Abdallah, who was affiliated with the Baath Party, was the labor minister in the 1990s.
According to the US Treasury, Muhammad al-Amin was sanctioned for covering several of Hezbollah's special financial operations and for providing material support to Hezbollah insider and financier Adham Husayn Tabaja who was sanctioned by the US on June 6, 2015.
"Hezbollah is an Iranian-proxy, and this Administration is focused on exposing and disrupting its terrorist funding networks. We are exerting extraordinary pressure on Hezbollah financiers like Tabaja to halt their pernicious activities in Lebanon and beyond," said Sigal Mandelker, Under Secretary of the Treasury for Terrorism and Financial Intelligence.
"Our action should serve as a warning that we will impose consequences on anyone engaging in business relationships with al-Amin or other Hezbollah support networks. Treasury has taken more actions against Hezbollah this year than ever before, and we are fully committed to shutting down this terrorist network."
Al-Amin kept funds in his name for Tabaja in a Lebanese bank and he was the liaison between Tabaja and banking officials. Al-Amin also helped Tabaja circumvent the US sanctions and their repercussions.
The Treasury added that al-Amin has also been involved in financial activities with Muhammad Fallah Kallas who was sanctioned by OFAC on October 20, 2016 because he provided financial services to or in support of Tabaja through his work for Tabaja's company, Al-Inmaa Engineering and Contracting.
Full report at:
https://english.alarabiya.net/en/News/middle-east/2018/10/05/US-Treasury-designates-Lebanese-businessman-global-terrorist-for-Hezbollah-ties.html
--------
Saudi Crown Prince: We don't need a new Hezbollah in the Arabian Peninsula
6 October 2018
Saudi Arabia's Crown Prince Mohammad bin Salman Al Saud, in an interview with Bloomberg, in response to a question regarding Yemen and how he sees the conflict evolving and when it will end, said: "We hope it will end as soon as possible. We don't need that on our border."
The crown prince further added: "But of course, we don't need to have a new Hezbollah in the Arabian Peninsula. This is a red line not only for Saudi Arabia but for the whole world."
Mohammad bin Salman stressed: "No one wants to have Hezbollah in a Strait (in reference to the Strait of Hormuz) through which about 15 percent of the world trade goes through. We will continue to pressure them. We hope they'll get ready as soon as possible to have negotiations and to have a deal," in reference to the Yemeni conflict.
The interview with Bloomberg which took place at the royal palace in the Saudi capital Riyadh on Wednesday and released late on Friday, touched on a wide range of topics.
As to whether the Yemeni conflict had strained Saudi relations with allies like the UK, crown prince Mohammad bin Salman said: "Mistakes happen in all wars. Any war mistakes will happen, painful things will happen. We will try to solve it as soon as possible."
Full report at:
https://english.alarabiya.net/en/News/gulf/2018/10/06/Saudi-crown-prince-We-don-t-need-a-new-Hezbollah-in-the-Arabian-Peninsula.html
--------
Mauritanian party leader reveals Qatar's meddling, 'Brotherhood' mischief
5 October 2018
In an interview with Al Arabiya English, Sidi Mohamed Maham, the head of the Mauritanian Union party for the Republic, criticized the Qatari regime for accusing his country of fighting Islam and for describing the country's president Mohamed Ould Abdel Aziz, as a military ruler.
"The Islamic Republic of Mauritania, known for its contributions to spreading Islam and promoting Islamic civilization, is now accused of fighting Islam by the Qatari regime, which has done nothing in this regard. It is ridiculous," he said.
"The Qataris are not a role model to talk about democracies. Qatar is known for the coups in their government. As for describing the Mauritanian president as a military ruler, we regard this as an honor as he exercises his powers as an elected president by the Mauritanian people in 2014 by an overwhelming majority ," he added.
Mohamed Maham stressed that the Mauritanian democracy is rooted in its surroundings, saying: "Qatar does not have anything to do with either serving Islam or respecting democracies," he said.
Qatar influence very limited
He described Qatar influence in Mauritania as very limited, saying: "Mauritania is strong. It is not Libya or Syria. It is governed by a strong regime, and it is a democratic country where people are free, and all Qatari attempts at intervention in the country have failed."
There are those who go by Qatar orders in Mauritania
He added: "This does not mean that there are no figures who follow the order of the Qatari regime and carry out its instructions. However, these people cannot appear openly in front of the Mauritanian people because they are immune to the climate of freedoms and the democratic process that is entrenched in Mauritania. All Qatari attempts to meddle in the Mauritanian issues have failed. there are no political prisoners in Mauritania and freedom of the press is guaranteed and not confiscated, yet their bad intentions are clear towards the state of Mauritania."
Accountability of those involved in dealing with Iran and Qatar "possible"
He explained that the legal accountability of the figures associated with Qatar and Iran is possible, noting that: "The President has made clear statements in this regard and stressed that the issue is under process and when it comes up for legal prosecution, the government will be strict in this regard and the judiciary will act."
As to what extent it is possible that the Mauritanian parliament and his party (ruling party) will submitt a draft law banning and prohibiting those belonging to the Muslim Brotherhood and demanding the accountability of the figures involved with Qatar and Iran, Maham said: "Everything is possible and we do not want to rush the judicial proceedings. It will move in time."
Full report at:
https://english.alarabiya.net/en/News/gulf/2018/10/05/Mauritanian-politician-Qatar-failed-to-stir-up-chaos-.html
--------
Deposed Egyptian president Morsi says will never recognize Sisi's coup
Oct 5, 2018
Deposed Egyptian president Muhammad Morsi has declared that he will never recognize President Abdel Fattah el-Sisi's coup against him, according to his son Abdullah Morsi.
The former president was further quoted to have emphasized that his position of defiance was "out of respect for the Egyptian people and their choices," the London-based news site Arabi21 reported on Thursday.
The statements were made after Egyptian authorities allowed Morsi's family to visit him in a short 25-minute session, being the third such meeting since he was imprisoned as an aftermath of the coup that was staged on July 3, 2013 by his then-defense minister Sisi.
The country's first democratically elected president now faces a death sentence and numerous imprisonment terms on charges of endangering national security, insulting the judiciary and even espionage cooperation with Hamas, Hezbollah and Qatar.
Back in March, a panel of UK legislators and attorneys had asserted that Morsi, who has diabetes and liver disease, is likely to face "premature death" in prison, due to low poor prison conditions and inhumane treatment.
The crackdown on the former Egyptian ruler and his political party, the Muslim Brotherhood, has sparked widespread outrage around the world as rights campaigners and governments criticize the Sisi administration for collectively imprisoning the party's members.
Full report at:
https://www.presstv.com/Detail/2018/10/05/576105/Morsi-Sisi-Coup
--------
In rebuttal to Trump, bin Salman says Saudi won't pay US for kingdom's security
Oct 6, 2018
Saudi Crown Prince Mohammed bin Salman says Riyadh "will pay nothing" to the United States for the kingdom's "security," in rebuttal to US President Donald Trump who recently said King Salman would not last in power "for two weeks" without US military support.
"Actually we will pay nothing for our security. We believe that all the armaments we have from the United States of America are paid for, it's not free armament," the Saudi crown prince said in a Bloomberg interview conducted on Wednesday and published on Friday.
He made the comments in response to a question whether Riyadh needed to pay Washington more for its security.
"Ever since the relationship started between Saudi Arabia and the United States of America, we've bought everything with money," he further said, adding that since Trump came to power, the kingdom decided to purchase over 60 percent of its needed armament from the US "for the next 10 years."
The 33-year-old crown prince went on to say that Saudi Arabia had agreed to buy $110 billion worth of US weapons and signed investment deals worth billions more, some "$400 billion" in total, since Trump took office in early 2017, and described the deals as "a good achievement" for Trump.
"Also included in these agreements are that part of these armaments will be manufactured in Saudi Arabia, so it will create jobs in America and Saudi Arabia, good trade, good benefits for both countries and also good economic growth. Plus, it will help our security," Bin Salman further noted.
His interview came a day after Trump told a cheering crowd of supporters at a rally in Southaven, Mississippi, that Saudi King Salman would not last in power unless the US provided military support for the Arab kingdom.
"We protect Saudi Arabia. Would you say they're rich? And I love the King, King Salman. But I said 'King — we're protecting you — you might not be there for two weeks without us — you have to pay for your military,'", Trump said.
On Saturday, Trump said at a rally in West Virginia that although the Saudis "have got trillions of dollars", "we don't get what we should be getting" from them. He also stressed that with the support of Washington Saudi Arabia is "totally safe", but "without us, who knows what's going to happen."
Pressed on how he would regard Trump's humiliating and harsh rhetoric against Saudi Arabia, bin Salman said, "I love working with him," referring to the controversial remarks as a "bad issue" offset by "99 percent of good things." His response, however, prompted the interviewer to say that "it seems to be a little bit more than one percent."
Last year, Trump signed the largest arms deal in history with the Arab country despite warnings that he could be accused of being complicit in the regime's war crimes in Yemen.
On Wednesday, Saudi Arabian Military Industries' (SAMI) Chief Executive Andreas Schwer said he expected to finalize the first partnership deals with South African arms companies by the end of the year, without mentioning the initial partners by name.
Last December, Russia said it was working with Saudi Arabia to finalize the agreement to sell the S-400 Triumf, the latest Russian long-range anti-aircraft missile system.
Saudi King Salman made a four-day trip to Moscow in March 2017. During the visit, Russia also agreed to sell Riyadh a Kornet-M anti-armor system, Tos-A1 rocket launcher, AGS-30 grenade launcher, and Kalashnikov AK-103, according to the information office of Russia's Federal Service for Military-Technical Cooperation.
However, Saudi Arabia relies heavily on the US in its brutal war on Yemen. Washington has deployed a commando force on the Arab kingdom's border with Yemen to help destroy arms belonging to Yemen's popular Houthi Ansarullah movement. Washington has also provided logistical support and aerial refueling.
Full report at:
https://www.presstv.com/Detail/2018/10/06/576178/Saudi-Arabia-bin-Slaman-US-Trump-security-Russia-arms
--------
At Jeddah gathering, experts emphasize importance of fighting 'intellectual terrorism and extremism'
October 06, 2018
JEDDAH: A training course in Jeddah this week warned about the danger of children's channels targeting society and emphasized the importance of promoting intellectual security and protecting society from insidious ideologies.
About 200 media professionals, teachers, and bankers attended the course, which is part of the global project Qaweem, launched by the Union of News Agencies (UNA) of the Organization of Islamic Cooperation in partnership with the Distance Learning and Training Co. (DLT).
Rabab Al-Moabi, one of the project's educational experts, warned about the dangers posed by children's channels. "International studies concluded that the media greatly influence the formation of an individual's culture and behavior, especially negative behaviors in the lives of children and the youth."
Zuhair bin Ali Azhar, DLT chairman and CEO and deputy chairman of the UNA board of trustees, pointed out that since UNA was established by the late King Faisal after the attempt to burn down Al-Aqsa Mosque, its mission has been to fight terrorism, extremist ideologies, and Islamophobia.
He said: "As part of our social responsibility toward our country and our role as a strategic partner of several international organizations, we have launched courses for fighting intellectual terrorism and extremism at UNA's training center to protect society."
Full report at:
http://www.arabnews.com/node/1383291/saudi-arabia
--------
Syrian families demand regime action to free Daesh hostages
October 06, 2018
BEIRUT: The families of Druze hostages held by Daesh rallied for a third day on Friday to demand action by the Syrian regime to free them, witnesses said.
The terrorists abducted around 30 people — mostly women and children — from the southwestern province of Sweida in late July during the deadliest attack on Syria's Druze community of the seven-year civil war.
On Friday, a handful of people gathered for a sit-in at the regime's provincial headquarters in Sweida, said a reporter in the city.
The protests began on Wednesday, a day after families learned that Daesh had executed a 25-year-old female captive, said Nour Radwan, the head of news website Sweida24.
They began protesting to "demand that the government intervene immediately to free the hostages," he said.
A protester said he was not related to the Druze hostages but had joined the sit-in to show support.
"Those who are related to them are always here, and there are large numbers that come in solidarity," he said, though adding that the numbers were lower on Friday.
"We're demanding the return of the hostages. That's not a tall order," he said.
Negotiations between the regime's Russian ally and the terrorists for the release of the Druze captives had stalled, but Radwan said they resumed on the first day of the sit-in.
Footage of the protest on Thursday published online by Sweida24 showed a few dozen men and women in front of the provincial headquarters.
They gathered on the building's front steps around neatly lined up photographs of the missing, and a sign that said: "We demand the hostages be returned alive."
Regime forces have battled Daesh in the volcanic plateau of Tulul Al-Safa in the east of the province since the July attack.
Radwan said the terrorists had demanded $1 million in ransom for each of the 27 hostages, as well as an end to the regime's offensive against them in Tulul Al-Safa and the release of 48 wives of Daesh terrorists from regime custody.
In the July 25 attack, Daesh killed more than 250 people, most of them civilians, in a wave of suicide bombings, shootings and stabbings across Sweida province.
They kidnapped around 30 people — mostly women and children — at the same time.
In August, Daesh executed a 19-year-old male student among the captives.
A 65-year-old Syrian woman among the hostages also died, with her Daesh captors telling negotiators she had died of an illness.
Daesh swept across large parts of Syria and Iraq in 2014, declaring a "caliphate" in territory it controlled.
But its self-declared state has since crumbled, and in Syria the terrorists have seen their presence dwindle to parts of the vast desert that stretches from the capital to the Iraqi border and a small pocket in the Euphrates Valley.
Kurdish-led forces are battling to expel the terrorists from that pocket around the town of Hajjin in the province of Deir Ezzor. The families of Druze hostages held by Daesh rallied for a third day on Friday to demand action by the Syrian regime to free them, witnesses said.
The terrorists abducted around 30 people — mostly women and children — from the southwestern province of Sweida in late July during the deadliest attack on Syria's Druze community of the seven-year civil war.
On Friday, a handful of people gathered for a sit-in at the regime's provincial headquarters in Sweida, said a reporter in the city.
The protests began on Wednesday, a day after families learned that Daesh had executed a 25-year-old female captive, said Nour Radwan, the head of news website Sweida24.
They began protesting to "demand that the government intervene immediately to free the hostages," he said.
A protester said he was not related to the Druze hostages but had joined the sit-in to show support.
"Those who are related to them are always here, and there are large numbers that come in solidarity," he said, though adding that the numbers were lower on Friday.
"We're demanding the return of the hostages. That's not a tall order," he said.
Negotiations between the regime's Russian ally and the terrorists for the release of the Druze captives had stalled, but Radwan said they resumed on the first day of the sit-in.
Footage of the protest on Thursday published online by Sweida24 showed a few dozen men and women in front of the provincial headquarters.
They gathered on the building's front steps around neatly lined up photographs of the missing, and a sign that said: "We demand the hostages be returned alive."
Regime forces have battled Daesh in the volcanic plateau of Tulul Al-Safa in the east of the province since the July attack.
Radwan said the terrorists had demanded $1 million in ransom for each of the 27 hostages, as well as an end to the regime's offensive against them in Tulul Al-Safa and the release of 48 wives of Daesh terrorists from regime custody.
In the July 25 attack, Daesh killed more than 250 people, most of them civilians, in a wave of suicide bombings, shootings and stabbings across Sweida province.
They kidnapped around 30 people — mostly women and children — at the same time.
In August, Daesh executed a 19-year-old male student among the captives.
A 65-year-old Syrian woman among the hostages also died, with her Daesh captors telling negotiators she had died of an illness.
Daesh swept across large parts of Syria and Iraq in 2014, declaring a "caliphate" in territory it controlled.
But its self-declared state has since crumbled, and in Syria the terrorists have seen their presence dwindle to parts of the vast desert that stretches from the capital to the Iraqi border and a small pocket in the Euphrates Valley.
Full report at:
http://www.arabnews.com/node/1383221/middle-east
--------
Europe
Dutch mayor shuts down anti-Muslim demonstration
06.10.2018
By Abdullah Airan
UTRECHT, The Netherlands
The mayor of Utrecht city in the Netherlands shut down an anti-Muslim demonstration late Friday by the far-right Pegida political movement in front of Ulu Mosque.
During the demonstration, members of Pegida, or the Patriotic Europeans Against Islamization of the West, made speeches insulting Islam.
A brawl broke out between Pegida members and residents after the speeches and one university student was injured.
Utrecht Mayor Jan van Zanen ordered the demonstration to be shut down for security reasons an hour after it began.
Yucel Aydemir, president of the Ulu Mosque Foundation, told Anadolu Agency that anti-Islam statements by Pegida members led to the provocation of a group of Muslims and a brawl broke out.
"I have been living here for 38 years, and this is the first time I have experienced such an incident," Aydemir added.
https://www.aa.com.tr/en/europe/dutch-mayor-shuts-down-anti-muslim-demonstration/1274011
--------
Former Yazidi ISIS captive, Congolese doctor win Nobel Peace Prize
5 October 2018
The Nobel Peace Prize on Friday was awarded to a Congolese doctor and a Yazidi former captive of ISIS for their work to highlight and eliminate the use of sexual violence as a weapon of war.
Denis Mukwege and Nadia Murad "have made a crucial contribution to focusing attention on, and combating, such war crimes," the Norwegian Nobel Committee said in its announcement.
"Denis Mukwege is the helper who has devoted his life to defending these victims. Nadia Murad is the witness who tells of the abuses perpetrated against herself and other."
Mukwege has treated thousands of women in Congo, many of whom were victims of gang rape. Armed men tried to kill him in 2012, forcing him to temporarily leave the country.
Murad is one of an estimated 3,000 Yazidi girls and women who were victims of rape and other abuses by the ISIS army. She managed to escape after three months and chose to speak about her experiences. At the age of 23, she was named the UN's first Goodwill Ambassador for the Dignity of Survivors of Human Trafficking.
The 2018 prize is worth 9 million Swedish kronor ($1.01 million). Last year's Nobel Peace Prize winner was the International Campaign to Abolish Nuclear Weapons.
Meanwhile, the European Council president Donald Tusk said on twitter: "I congratulate both winners of this year's #NobelPeacePrize. They have my deepest respect for the courage, compassion and humanity they demonstrate in their daily fight."
Iraqi president Barham Saleh said: Nobel for Murad is an 'honour for all Iraqis," while the outgoing Iraqi government said: "Prime Minister Haidar al-Abadi congratulates Iraqi citizen Nadia Murad on winning the Nobel Peace Prize."
In other Nobel prizes this year, the medicine prize went Monday to James Allison of the University of Texas M.D. Anderson Cancer Center and Tasuku Honjo of Kyoto University, whose discoveries helped cancer doctors fight many advanced-stage tumors and save an "untold" numbers of lives.
Scientists from the United States, Canada and France shared the physics prize Tuesday for revolutionizing the use of lasers in research.
On Wednesday, three researchers who "harnessed the power of evolution" to produce enzymes and antibodies that have led to a new best-selling drug won the Nobel Prize in chemistry.
The winner of the Nobel Memorial Prize in Economic Sciences, honoring Alfred Nobel, the founder of the five Nobel Prizes, will be revealed on Monday.
No Nobel literature prize will be awarded this year due to a sex abuse scandal at the Swedish Academy, which choses the winner. The academy plans to announce both the 2018 and the 2019 winner next year - although the head of the Nobel Foundation has said the body must fix its tarnished reputation first.
Full report at:
https://english.alarabiya.net/en/News/world/2018/10/05/Former-Yazidi-ISIS-captive-Congolese-doctor-win-Nobel-Peace-Prize-beating-Trump.html
--------
EU Considers Trade Sanctions on Myanmar Over Rohingya Crisis
October 05, 2018
Brussels. The European Union is considering trade sanctions on Myanmar over the Rohingya crisis, potentially stripping the country of tariff-free access to the world's largest trading bloc, three EU officials said.
The sanctions, under discussion at the European Commission, would include Myanmar's lucrative textile industry and potentially put at risk thousands of jobs there but would not come into effect immediately, giving the EU leverage to stop what the West says is ethnic cleansing of Muslim Rohingya.
Even by triggering a six-month review process on whether to impose trade sanctions, which could be reversed if Myanmar met humanitarian and democratic targets, the bloc would mark a significant shift in policy.
The impetus for the move was a UN report in August, which accused Myanmar's military of carrying out killings of Rohingya with "genocidal intent." That, and the rare US step of putting sanctions on two entire military units, have put an onus on the European Union to act, officials said.
"We are concerned about the impact on the population from our potential measures, but we cannot ignore a UN report describing the military campaign as genocide," said one EU official of the debate within the European Commission, the EU executive responsible for the bloc's trade policy.
Until now, the European Union has imposed travel bans and asset freezes on several members of the Myanmar military, but has shied away from slapping sanctions on Myanmar's commander-in-chief, Senior General Min Aung Hlaing, who the United Nations said should be prosecuted along with five others for genocide and crimes against humanity.
Myanmar has rejected the UN findings as "one-sided." It says military action, which followed militant attacks on security forces in August last year, was a legitimate counterinsurgency operation.
Myanmar government spokesman Zaw Htay did not answer telephone calls seeking comment on the possible EU move on Wednesday (03/10). He said last month he would no longer speak to the media over the phone, only at a biweekly conference.
EU officials believe the formal threat of losing tariff-free access would quickly hit foreign investment in the apparel industry, where European manufacturers take advantage of relatively low labor costs in Myanmar.
"Removing this duty-free access is a measure of last resort, but we must act if other measures are not delivering," said one EU official involved in the discussions.
"In light of the deteriorating situation on the ground, the Commission is currently assessing possible ways of escalating its political and economic response," a Commission source said.
European firms sourcing apparel from Myanmar include retailers Adidas, C&A, H&M, Inditex, Next and Primark.
Rights groups say the targeted EU sanctions so far have not forced the military or civilian leader Aung San Suu Kyi to protect civilians, resettle refugees or stop attacks on press freedoms that have included the imprisonment of two Reuters reporters for breaching a law on state secrets.
The European Parliament last month called for the Commission to review Myanmar's trade preferences.
Sixth-Largest Trade Partner
Within the Commission there are differences, with the EU trade chief Cecilia Malmstrom leaning towards starting the process of imposing trade sanctions while the EU's top diplomat Federica Mogherini is more cautious because of EU policy to avoid economic sanctions that can hurt ordinary citizens, the officials said.
Commission President Jean-Claude Juncker has yet to take a position, they said. A Commission spokesman declined to comment.
Myanmar's exports to the European Union were worth €1.56 billion ($1.81 billion) in 2017, nearly 10 times their value in 2012, after which the bloc gave Myanmar "Everything but Arms" trade status.
That status means it can sell any goods tariff-free to the bloc, except weapons. The EU is Myanmar's sixth-largest trading partner and an important source of foreign direct investment.
Mynamar's clothing industry is its top export earner after oil and gas, generating more than $2 billion in exports and 450,000 jobs last year, according to the Myanmar Garment Manufacturers Association.
Trade sanctions would end an economic opening granted to support Myanmar's transition to democracy after Suu Kyi emerged from 15 years of house arrest under military rule and led her party to take both the parliament and the presidency.
One more limited option for the European Union could be to exempt textiles, an official said, but given the size of the sector, that would significantly reduce the impact of EU sanctions. Clothing and footwear are worth more than three-quarters of Myanmar's exports to the bloc.
Both the United States and the European Union want to spur economic development to underpin democracy and diminish China's influence. Crushing the economy with trade sanctions could allow China to dominate Myanmar, officials said.
Washington imposed sanctions on four military and police commanders and two army units in August. New sanctions are under consideration for half a dozen other individuals and at least two military-run businesses, US officials have said.
A US State Department report released last week accused Myanmar's military of waging a "well-planned and coordinated" campaign of mass killings, gang rapes and other atrocities against the Rohingya, but stopped short of calling it genocide or crimes against humanity.
Senior State Department officials told Reuters, however, that those findings could be used to justify further targeted US sanctions or other punitive measures.
There appears to be little US appetite, though, for re-imposing broad economic sanctions lifted by former President Barack Obama as the country shifted from decades of direct military rule toward a democratic transition.
Full report at:
https://jakartaglobe.id/international/eu-considers-trade-sanctions-over-rohingya-crisis/
--------
No sign of terrorism as man drives car into Berlin cafe: German police
October 05, 2018
BERLIN: A man drove a car into a cafe in the Charlottenburg district of Berlin, injuring several people but there are no indications that the incident is terrorism-related, German police said on Friday.
"According to the initial findings of our colleagues on the scene, the driver had health problems," Berlin police said on Twitter, giving no further details.
"There are no signs of terrorism," a police spokesman said, adding that it was more likely to have been an accident caused by the driver losing control because he was unwell.
Full report at:
http://www.arabnews.com/node/1383006/world
--------
German authorities apologize for mistaken jailing of Syrian
October 05, 2018
BERLIN: Authorities in western Germany are apologizing for mistakenly jailing a Syrian man who died following a fire in his cell after more than two months in custody.
North Rhine-Westphalia state's interior minister, Herbert Reul, said Friday that police officers failed to check the 26-year-old's identity carefully enough when he was arrested in July over an unpaid fine for theft. Authorities were actually seeking a Malian man who had used the Syrian's name as a pseudonym.
News agency dpa reported that Reul apologized to the man's family and said "we must do everything so that a case like this is not repeated."
The Syrian suffered severe burns in a fire that broke out in his cell in mid-September and died two weeks later. Officials last week said he'd been wrongly jailed.
http://www.arabnews.com/node/1383066/world
--------
Mideast
Three Palestinians killed in clashes with Israeli army: Gaza ministry
5 October 2018
Three Palestinians including a 14-year-old boy were killed by Israeli fire on Friday on the Gaza border, as clashes erupted with security forces during protests, the enclave's health ministry said.
Fares Hafez al-Sersawi, 14, and 24-year-old Mahmud Akram Mohammed Abu Samane, both died after being shot in the chest during demonstrations east of Gaza City, ministry spokesman Ashraf al-Qudra said.
Hussein al-Rakab, 28, died after being shot in the head near Khan Yunis in the south of the Gaza Strip, Qudra said.
A further 376 people were wounded, including 126 who had been shot, according to health ministry figures.
Seven were in a critical condition including a medical volunteer.
Qudra did not detail how many of those hurt were shot and how many suffering from the affects of tear gas.
The Israeli military said around 20,000 Palestinians took part in Friday's protests at numerous points along the Gaza border, continuing a series of demonstrations which began in March.
Grenades, explosives and stones were launched at Israeli soldiers posted behind the barrier which separates Gaza from Israel, the military said.
Israeli forces responded with live fire and an aircraft also carried out two strikes in Gaza, the military said.
https://english.alarabiya.net/en/News/middle-east/2018/10/05/Two-Palestinians-killed-in-clashes-with-Israeli-army-Gaza-ministry-.html
--------
EU urges arms ban on Saudi alliance to stop Yemen war
Oct 5, 2018
The European Parliament has passed a resolution through which it has called for an urgent ban on all sales of weapons to a Saudi-led coalition which is pressing ahead a deadly war on Yemen since 2015.
The resolution which was passed by show of hands on Thursday also urged all sides to end the Yemen war which started in 2015 to restore its Saudi-allied former authorities.
The coalition and the forces loyal to the ex-Yemeni officials "have been accused of shelling highly populated areas, including hospitals, schools, and other civilian targets," the European Parliament said in a statement as published on its website.
"The MEPs call on all parties to the conflict to cease hostilities immediately," the statement added. "They strongly condemn the ongoing violence, attacks on civilians and demand that independent investigations into alleged human rights abuses and humanitarian law violations should be carried out."
The resolution backs the United Nations, the European Union, and efforts by member states to help end the conflict and provide support to those affected by it. "Only a political, inclusive and negotiated solution to the conflict can restore peace and preserve the unity [...] of Yemen," the statement added.
Meanwhile, MEP Angela Vallina said the resolution "was directed at certain EU countries which do not yet respect this measure: for example, the UK, France, Sweden or Spain."
"Airstrikes and lethal weapons against civilians have been used daily and have already caused thousands of deaths as well as the suffering of millions more from extreme famine," Vallina concluded.
The US and the UK back the Saudi-led alliance in its war on Yemen which has killed more than 15,000 people, providing it with various types of support, including bombing coordinates, logistical provisions, and aerial refueling.
The largest arms suppliers to Riyadh are the US with $8.4 billion worth of sales since 2014, followed by the UK ($2.6 billion), and France ($475 million).
Full report at:
https://www.presstv.com/Detail/2018/10/05/576117/Europe-Parliament-resolution-Saudi-Arabia-Yemen-arms-embargo
--------
Merkel, Netanyahu play down differences during Israel visit
5 October 2018
The leaders of Israel and Germany put on a display of unity in Jerusalem on Thursday, even as the two states continue to grapple with gaping disagreements over Iran and the Palestinians.
German Chancellor Angela Merkel was in Israel for two days of joint government consultations, the seventh such trip since Israel and Germany established the tradition a decade ago.
She and Israeli Prime Minister Benjamin Netanyahu appeared together at a press conference where they played down their differences. Netanyahu welcomed European efforts to address Iranian "aggression" in Europe, and Merkel agreed to prod the Palestinian leader over Israeli claims that he is to blame for the standstill in peace talks and a worsening situation in the Gaza Strip.
"We agree on most things, and we disagree on something. So what?" Netanyahu said. "We have a very strong alliance."
Despite gingerly addressing the gaps, the sides remain strongly divided over Europe's support for the 2015 nuclear deal with Iran.
Netanyahu says the deal, which curbed Iran's nuclear program, does not include enough safeguards to prevent the Islamic Republic from developing a nuclear weapons capability. Netanyahu lauded President Donald Trump for pulling out of the deal this year, which Merkel and other world leaders helped negotiate.
Israel has also criticized Europe for moving forward on the Iran deal even as Iran was accused of terror plots in Europe.
Merkel, whose rapport with Netanyahu has been cool at times, maintains that Israel will be best served by keeping the Iranian nuclear deal intact, contradicting Netanyahu's demand that it be scrapped and stiff sanctions imposed instead.
She earlier downplayed differences on Iran, saying the sides were "absolutely in agreement" on preventing Iran from obtaining nuclear arms, specifying that the agreement itself was in dispute.
Merkel has also continued to champion the traditional approach to Middle East peacemaking, calling for the establishment of a Palestinian state and for Israel to refrain from taking unilateral steps, such as settlement construction, that could undermine peace prospects.
In contrast, Trump has largely held off from criticizing Israeli settlement activity in the West Bank, recognized Jerusalem as its capital and moved the US Embassy there. He also has cut funding to the Palestinians and fully pinned the blame for stalled Mideast peace talks on them.
But on Thursday the criticism was restrained, with Merkel again advocating for the establishment of a Palestinian state but agreeing to speak to Palestinian President Mahmoud Abbas - following Netanyahu's request - over charges that he is stymieing any new peace talks and plunging Gaza into greater crisis.
"I have promised the prime minister that in the aftermath of the German-Israeli consultations, I will call the Palestinian President [Mahmoud Abbas]. I will inform him and also ask him some questions which also have to do with the situation in Gaza," she said. "I have heard from the prime minister that we also need to encourage the Palestinian side that they come to the negotiating table and I will do this."
Germany has also been among the European countries calling on Israel to refrain from carrying out its plans to demolish a West Bank hamlet that Israel says was illegally built. On Thursday, however, she said the issue was "an Israeli decision" and strongly denied reports that she had threatened to call off the trip if the demolition went forward.
Israel has offered to resettle the 180 Bedouin Palestinian residents of the Khan al-Ahmar encampment a few miles (kilometers) away. But Palestinians and their European backers say the demolition is aimed at displacing Palestinians in favor of settlement expansion and would deal a devastating blow to hopes for Palestinian statehood.
Israel's staunchest supporter
Germany is Israel's largest trading partner in Europe and for the past few decades has been perhaps its staunchest supporter.
Israel was established three years after the end of World War II, and the German government has paid billions in reparations to Holocaust survivors and positioned itself as a leader in combatting anti-Semitism. Under Merkel, it has been perhaps Israel's strongest European ally.
Merkel began the second day of her trip with an emotional tour of the Yad Vashem Holocaust memorial and museum.
Accompanied by Yad Vashem Chairman Avner Shalev, Merkel took special notice of an exhibited letter that Nazi leader Adolf Hitler sent deployed German soldiers in which he tried to boost their morale by saying they were fighting "a war of existence, a war against communism and its perpetrators, the Jews."
She then participated in a memorial ceremony for the 6 million victims of the Nazi-led Holocaust.
"The Jews in Germany suffered from hatred and violence that the world did not know was possible," she wrote in the memorial's guest book. "What came later is a crime that has no equal - the teardown of civilization - the Holocaust."
From there, she went to a different ceremony in Jerusalem where she was granted an honorary doctorate from Haifa University and answered questions from local students. She also met Israeli President Reuven Rivlin and toured an innovation exhibit of Israeli and German companies with Netanyahu.
Merkel was accompanied by much of her Cabinet, a large business delegation and a new official in charge of combatting anti-Semitism. The visit focused on economic issues, with an emphasis on innovation, technology and development projects.
Full report at:
https://english.alarabiya.net/en/News/middle-east/2018/10/05/Merkel-Netanyahu-play-down-differences-during-Israel-visit.html
--------
Houthi missiles kill one, injure many in KSRelief camp in Yemen's Hodeidah
5 October 2018
In the latest of the pro-Iranian Houthi militias' crimes against humanity and the Yemeni people, a brutal missile attack by the militias targeting displaced Yemenis in Bani Jaber camp in Hodeidah, left one woman dead and several others seriously injured.
The camp is under the supervision of King Salman Humanitarian Aid and Relief Centre, known as KSRelief.
In a statement, KSRelief condemned the attack, saying such actions revealed the Houthi militias' blatant disregard for the principles of human rights and international humanitarian law.
The Humanitarian center called on the United Nations and its organizations to stand firmly against the attack, which they said was meant to prevent humanitarian aid from reaching the camp's displaced residents.
Full report at:
https://english.alarabiya.net/en/News/gulf/2018/10/05/Houthi-missiles-kill-one-injure-many-in-KSRelief-camp-in-Yemen-s-Hodeidah-.html
--------
Yemenis to come out victorious from Saudi war: Houthi official
Oct 5, 2018
Yemenis will come out victorious from the economic and military war led by the regime in Riyadh against their nation, says the chairman of the Supreme Revolutionary Committee of Yemen, Mohammed Ali al-Houthi.
Speaking during a protest in Sana'a on Friday, Houthi said, "We are with the honorable peace." The Yemeni people, he stated, will defeat the "tyrants" of the world.
He also welcomed the European Union's stance against the war in Yemen, saying the Yemeni people will stand beside whoever wants to stop the aggression.
The European Parliament on Thursday passed a resolution through which it has called for an urgent ban on all sales of weapons to a Saudi-led coalition which is pressing ahead with a deadly war on Yemen since 2015.
The resolution, which was passed by show of hands, also urged all sides to end the Yemen war, which started to restore its Saudi-allied former authorities.
Referring to the deterioration of the Yemeni rial, the Houthi official said the stability of the country's currency would be achieved after the aggressors change their decision to transfer the Central Bank from Sana'a to Aden.
Similar protests also took place in the northwestern city of Sa'ada, with the participants chanting slogans in condemnation of the Saudi economic war on their country.
Saudi Arabia and a number of its regional allies launched a deadly military campaign against Yemen in March 2015, with the aim of bringing the government of Yemen's former president, Abd Rabbuh Mansur Hadi, back to power.
The aggression has killed some 15,000 people and injured thousands. More than 2,200 others have died of cholera and the crisis has triggered what the United Nations has described as the world's worst humanitarian disaster.
Full report at:
https://www.presstv.com/Detail/2018/10/05/576157/Yemen-Houthi-economic-war
--------
Three Palestinians killed, hundreds injured in clashes with Israeli forces at Gaza border
Oct 5, 2018
Three Palestinians have been killed by Israeli fire and hundreds more have sustained injuries at anti-occupation rallies along the border between the besieged Gaza Strip and Israeli-occupied territories.
On Friday evening, the Palestinian protesters threw rocks from behind clouds of black smoke of burning tires at Israeli troops, who responded with tear gas and live fire.
The spokesman for the Gaza Ministry of Health, Ashraf al-Qidra, said in a statement that 12-year-old Faris Hafez al-Sarasawi and Mahmoud Akram Abu Sama'an, 24, were fatally shot during "The Great March of Return" protests east of Gaza City.
Hussein Fathi al-Raqab, 28, succumbed also to his Israeli-inflicted gunshot wounds at the Nasser Medical Complex. He had been shot and injured during a demonstrators east of the city of Khan Yunis, located about 25 kilometers south of Gaza City.
The statement added that another 376 protesters were also injured. A total of 192 demonstrators were admitted to hospitals and medical centers across Gaza Strip to receive medical treatment.
It further noted that 126 people were struck with live bullets. Seven wounded protesters are said to be in a critical condition in hospital.
Qidra went on to say that Israeli military forces directly targeted a Palestinian ambulance with a gas grenade east of Gaza, without causing any casualties.
Journalist Mohammed Hazem al-Masri suffered injuries when a tear gas canister hit him in the head east of Jabalia refugee camp.
Nearly 200 Palestinians have been killed by Israeli forces ever since anti-occupation protest rallies began in the Gaza Strip on March 30. Over 21,600 Palestinians have also sustained injuries.
The Gaza clashes reached their peak on May 14, on the eve of the 70th anniversary of Nakba Day (Day of Catastrophe), which coincided this year with the US embassy relocation from Tel Aviv to occupied East Jerusalem al-Quds.
On June 13, the United Nations General Assembly adopted a resolution, sponsored by Turkey and Algeria, condemning Israel for Palestinian civilian deaths in the Gaza Strip.
The resolution, which had been put forward on behalf of Arab and Muslim countries, garnered a strong majority of 120 votes in the 193-member assembly, with 8 votes against and 45 abstentions.
The resolution called on UN Secretary General Antonio Guterres to make proposals within 60 days "on ways and means for ensuring the safety, protection, and well-being of the Palestinian civilian population under Israeli occupation," including "recommendations regarding an international protection mechanism."
Full report at:
https://www.presstv.com/Detail/2018/10/05/576151/Two-Palestinians-killed-hundreds-injured-in-clashes-with-Israeli-forces-at-Gaza-border
--------
'Gaza deadlock' blamed for delay in Mideast peace plan
October 05, 2018
JERUSALEM: Palestinian President Mahmoud Abbas has been sidelined, isolated and humiliated by the US administration. But the embattled Palestinian leader may have the final say in determining the fate of the White House's long-awaited vision for Mideast peace.
In recent weeks, Abbas has thwarted a series of internationally backed initiatives aimed at rehabilitating the Hamas-ruled Gaza Strip.
With Gaza expected to be the centerpiece of the US peace plan, Abbas has given himself a virtual veto over the expected American initiative. The deadlock over Gaza appears to be a key reason behind the repeated delays in unveiling the plan.
"The US is trying to use the humanitarian situation in Gaza as a tool to implement its plan," said Mohammed Ishtayeh, a top Palestinian official.
"We say that Gaza is an integral part of the Palestinian lands, and solving the problems of Gaza should be in the context of a broad political framework."
For all of its talk about bringing a new approach to Middle East diplomacy, the Trump White House is running into a familiar obstacle that has confounded its predecessors and the international community for over a decade: The Hamas militant group's continued control over Gaza.
The American refusal to work with Hamas, which it brands a terrorist group, and its inability to oust it, has made it virtually impossible to move forward on the diplomatic front — a weakness that Abbas now appears to be exploiting.
Abbas has two main concerns. First, he fears that any interim cease-fire deal in Gaza will deepen Hamas' control over the territory.
Second, after Trump's recognition of Jerusalem as Israel's capital and his attacks on the UN agency for Palestinian refugees, Abbas fears the US is trying to remove sensitive issues from the negotiating agenda. For him, Gaza is the last obstacle preventing the US from forcing what he sees as an unacceptable plan on him.
"What is left for this administration to give to the Palestinian people? Humanitarian solutions?" Abbas said in an address to the UN General Assembly last week.
Hamas, a militant group that opposes Israel's existence, seized control of Gaza from Abbas' forces in 2007. Despite three wars with Israel, an Israeli-Egyptian blockade that has devastated the economy and international isolation, Hamas remains firmly in control.
Abbas says there can be no progress on the diplomatic front until he regains control of Gaza. Attempts to reconcile with Hamas have repeatedly failed, leaving the Palestinians divided between rival governments in the West Bank and Gaza.
Abbas seeks an independent Palestinian state in the West Bank, Gaza Strip and East Jerusalem — areas captured by Israel in the 1967 Mideast war. The two-state solution has widespread international support.
But since taking office, President Donald Trump's Mideast team, led by his son-in-law and senior adviser Jared Kushner, has backed away from the two-state solution. Although the Trump team has refused to reveal details of its plan, the Palestinians fear the US is plotting to impose a "mini state" that would consist of Gaza and only small pieces of the West Bank.
Two senior Palestinian officials confirmed that Abbas has been working behind the scenes to scuttle UN and Egyptian attempts to forge a cease-fire between Israel and Hamas or to carry out large infrastructure projects that would bring relief to Gaza's beleaguered population.
As the officially recognized Palestinian representative, Abbas' government continues to coordinate the movement of goods through Israeli-controlled crossings into Gaza. This has given him the ability to block large-scale projects, even when approved by Israel.
Israel, which has come under fierce international criticism over Gaza's dire state, has in recent days seized on Abbas' moves, perhaps to deflect attention from its own policies.
On Thursday, Israeli Prime Minister Benjamin Netanyahu accused Abbas of "choking" Gaza, warning it could "lead to very difficult consequences."
The Palestinian officials also said Abbas has relayed messages to the US through his Arab allies that there can be no peace plan that excludes him from Gaza.
The officials said Abbas fears various plans under consideration will end up entrenching Hamas and freezing him out of Gaza.
Abbas believes there can be no significant progress in Gaza without a reconciliation deal that brings him back to power in the territory. The talks have repeatedly broken down over Hamas' refusal to disarm.
This week, another set of Egyptian-brokered talks ended inconclusively, according to people close to the talks.
"Until yesterday, we did not reach any result worth mentioning," said Mahmoud Zahar, a senior Hamas official in Gaza.
He accused Abbas of taking "retaliatory" action against the people of Gaza.
Abbas has taken a series of measures against the territory, slashing the salaries of thousands of former government workers in Gaza and cutting fuel subsidies to pay for electricity, all in an effort to step up pressure on Hamas.
These measures, combined with the decade-long blockade, have sent Gaza's economy into freefall. The increasingly desperate Hamas has stepped up mass protests along the Israeli border in hopes of pressuring Israel to ease the blockade. Nearly 150 Palestinians have been killed by Israeli fire, yet Israel shows no signs of lifting the closure.
In his address to the UN General Assembly last week, Abbas threatened to tighten the screws even harder, warning he could not "bear any responsibility" for Gaza if the deadlock with Hamas continues.
At the same time, Israel and international donor nations were meeting on the sidelines of the assembly to discuss ways to improve conditions in Gaza.
Those talks, like similar meetings in recent months, ended inconclusively.
Jason Greenblatt, the White House's Mideast envoy, blamed Hamas for the dire conditions in Gaza and said the US. "will not fund a situation that empowers Hamas."
Yet he also voiced frustration with Abbas, urging other countries to be "direct and frank" in pushing the Palestinian Authority to forge a "new, sustainable path."
The Gaza conundrum is just the latest obstacle for the US peace plan.
The Palestinians cut off ties with the White House after Trump declared Jerusalem to be Israel's capital and moved the US Embassy there.
The Trump administration has also cut hundreds of millions of dollars of aid to the Palestinians, including $300 million for the UN agency for Palestinian refugees, and shuttered the Palestinians' diplomatic mission in Washington.
Accusing the US of being unfairly biased toward Israel, Abbas has already said he will not consider the American peace plan.
Greenblatt acknowledged the challenge ahead at the donor meeting. Refusing to say when his plan would be released, he pleaded for all sides to consider the proposal.
Full report at:
http://www.arabnews.com/node/1383196/middle-east
--------
Arab coalition raids kill nearly 50 Houthi militants in Lahij, Al-Baydah
October 06, 2018
DUBAI: Arab coalition jets killed around 50 Houthi militants in raids in Lahij and Al-Baydah provinces in southern and central Yemen, Saudi state-news channel Al-Ekhbariya reported.
A military official said that the raids targeted the Houthi militia in Jabal Al-Madwar, which has a strategic view of the highway linking Lahij and southern Taiz, killing 30 militants.
Elsewhere, at least 17 Houthis were killed in clashes along Al-Baydah while trying to infiltrate Yemeni army positions.
http://www.arabnews.com/node/1383326/middle-east
--------
Erdogan 'will consider referendum on Turkey's bid to join EU'
October 05, 2018
ISTANBUL: President Recep Tayyip Erdogan said he would consider putting Turkey's long-stalled bid to join the EU to a referendum, signalling exasperation with a process he says has been waylaid by prejudice against Muslims.
A direct vote on whether to continue Turkey's candidacy for EU membership could potentially end Ankara's negotiations for accession, which formally began in 2005, and increase its distance from the West.
EU countries, particularly Germany, have been critical of Turkey and Erdogan in the aftermath of an attempted coup in 2016. The sweeping security crackdown that followed the failed putsch has seen more than 100,000 people jailed and dozens of media outlets shut down. Erdogan has fumed over what he sees as a lack of support from the West.
"It is 2018 and they (the EU) are still keeping us waiting," Erdogan said at a forum in Istanbul.
"It is for us to go to 81 million people and see what decision the 81 million people give," he said, referring to Turkey's electorate.
He said that if the decision to hold a referendum were taken, measures could be taken "immediately."
"Let's put it on the table with colleagues and discuss it as party chairman and after that, the moment one has said 'ok' we will immediately take our step," he said.
"There are European countries where they squeeze two or three referendums into one year. Actually, one has to get used to referendums."
Erdogan has long accused EU member states of harboring anti-Muslim sentiment, saying that the bloc is uneasy at the prospect of having a majority Muslim country as a member.
Full report at:
http://www.arabnews.com/node/1383166/middle-east
--------
Africa
Jordan: Two sons of Yemeni slain president Saleh left for third country
5 October 2018
The Jordanian government said the two sons of slain former Yemeni president Ali Abdullah Saleh did not enter Amman, but rather left to a third country via the kingdom.
In a statement issued by the Jordanian foreign ministry, it said that Salah and Moudin, sons of Saleh, left in the UN plane from Yemen's Sanaa to Amman in Jordan and stayed in the transit area for an hour, before continuing their flight to a third country.
The ministry did not name the third country.
The Arab coalition supporting the legitimate Yemeni government played a major role on Thursday, by facilitating and securing the safe transfer of the Saleh's sons, who were detained since December 2017 by the pro-Iranian Houthi militias.
https://english.alarabiya.net/en/News/gulf/2018/10/05/Jordan-Two-sons-of-Yemeni-slain-president-Saleh-left-to-third-country.html
--------
Nigerian opposition to pick presidential candidate as northwest takes center stage
OCTOBER 5, 2018
ABUJA (Reuters) - Nigeria's main opposition party, which this weekend selects its candidate to challenge President Muhammadu Buhari in an election in February, is aiming to make his northwestern power base a main battleground in the contest.
To do so, however, it needs to secure the backing of powerful figures in the northwest and to ensure the party does not fracture over its choice of candidate, analysts said.
Many of the 13 candidates for the People's Democratic Party (PDP) nomination defected from Buhari's ruling All Progressives Congress (APC) in recent months.
Seven have ties with states in the northwest, mostly as current or past governors, bolstering the party in a traditional Buhari stronghold.
At stake in the primary election is the chance to face him in a presidential contest which will determine who controls a country that is Africa's top oil producer, has one of the continent's biggest economies, and plays a key role in regional wars against Islamist insurgents.
The northwest, the most densely populated region in the country of 190 million people, is shaping up to take center stage in the race.
"In past elections, Buhari got almost half of his vote from the northwest and the region will be even more important this time," said Malte Liewerscheidt, West Africa analyst at Teneo Intelligence.
"A lot of people from other regions who voted for Buhari first-time in 2015 are likely to turn their back on him."
The region is traditionally the center of the Muslim voter base as Nigeria's three most senior Islamic leaders - the sultan of Sokoto, the emir of Kano and the emir of Gwando - are based there.
Buhari, a northern Muslim, who won the 2015 election at the fourth attempt, took 1.9 million votes in Kano state compared to 215,779 secured by Goodluck Jonathan, a Christian southerner.
An unofficial agreement aimed at rotating power between the mainly Muslim north and mostly Christian south, means a northern candidate is likely to be selected by the opposition.
The northerners in the primary contest include the governor of northwestern Sokoto state Aminu Tambuwal, former Kano governor Ibrahim Shekarau, ex-Kaduna governor Ahmed Makarfi, and former Sokoto governor Attahiru Bafarawa.
"Assuming that the PDP remains united, this could put them back on the map in the northwest, a region where the party scored on average merely 16 percent in 2015," Teneo's Liewerscheidt said.
PDP national publicity secretary Kola Ologbondiyan dismissed the suggestion that supporters of unsuccessful candidates may not back the person selected.
"We are all going to work together to ensure the victory of our candidate," he said.
The dent in Buhari's popularity can largely be attributed to the economy.
Nigeria entered its first recession in 25 years in 2016, mainly caused by lower oil prices and attacks in the Niger Delta crude production region.
It emerged from recession early last year but growth remains sluggish and inflation has remained high, above the central bank's single digit target range.
The impact of the economic downturn of recent years is, for some on the streets of the north's commercial hub Kano, a reason to reject Buhari.
"Everything went back under Buhari, there's no progress or development," said Yusuf Yakubu, who left Buhari's party in June 2017 and joined the PDP.
If you go to the market, the traders will tell you the economy has collapsed under this administration. There is really nothing Kano can hold up and say 'This is how we've benefited under Buhari'," he said.
But many others on the streets of the city felt that the president, who is from the neighboring state of Katsina, should be given a second term.
Full report at:
https://www.reuters.com/article/us-nigeria-election/nigerian-opposition-to-pick-presidential-candidate-as-northwest-takes-center-stage-idUSKCN1MF0VL
--------
Somalia says 'no' to al-Shabaab defector's run for office
2018-10-05
Somalia's government has issued a sharp "no" to the candidacy of a high-level al-Shabab defector for a regional presidency.
A statement by the internal security ministry says Mukhtar Robow is not eligible to run for the leadership of the South West region because he is still under sanctions.
Robow is the highest-ranking official to have ever quit the al-Qaeda-linked al-Shabaab. He surrendered to the government last year after the United States cancelled a $5 million reward offered for his capture.
Robow announced his candidacy for the regional presidency this week.
He caused a minor sensation shortly after the massive truck bombing in Mogadishu a year ago when photos showed him donating blood for victims. He also called the bombing that killed well over 500 people an "irreligious" and "heartless" act.
https://www.news24.com/Africa/News/somalia-says-no-to-al-shabaab-defectors-run-for-office-20181005
--------
Biafra group cries out, says Miyetti Allah, Boko Haram controlling govt, military in Nigeria
October 5, 2018
By Seun Opejobi
Biafra Nations Youth League, BNYL on Friday alleged that Miyetti Allah and Boko Haram members control all arms of government and the military.
BNYL made the allegation while insisting that Miyetti Allah was plotting to "impose their loyalists" on the people of the South East.
The body was faulting the call by the Indigenous People of Biafra, IPOB, that election should be boycotted in the South East, come 2019.
A statement signed and sent to DAILY POST by BNYL leader, Princewill Chimezie Richard said the "leadership of the movement met in Calabar on the 28 September where they insisted that the people of the South-South and South East will participate in the general election."
Richard warned people of the South East and South South of the consequences of the election and the boycott of consensus in the region.
He said, "It is wrong to tell our people to boycott election, census and every political activity in the South East and South South.
"Those preaching boycott are they ready to occupy the Government Houses and political offices in the East because I don't see any sense after boycotting a Fulani loyalist will take over all political structures and use that to intimidate our people.
"Let's not embark on actions that will expose to public ridicule. Biafra itself is part of Political activities because it involves political emancipation".
On IPOB's proposed referendum for November, BNYL said, "They should know that referendum does not work without being politically and economically in control of your land.
"How many Biafra loyalists are in authority, but you have the Miyetti Allah and Boko Haram in Government offices and they are in control of the Military, this struggle is far beyond agitations.
"Miyetti Allah are warming up to impose their loyalists on us in our region, and our boycott will only pave way for that, and when that happens we should expect more Python Dance.
"We can push those who are hindrances to our cause aside and bring fresh blood in using every means, we cannot boycott the political class in this struggle".
He also said that even if the Igbos decide to boycott the election, the South-South are yet to be convinced as to what benefit will it add to the movement.
Full report at:
http://dailypost.ng/2018/10/05/biafra-group-cries-says-miyetti-allah-boko-haram-controlling-govt-military-nigeria/
--------
Southeast Asia
Mujahid pushes for more inclusive Islamic reforms
6 Oct 2018
MINISTER in the Prime Minister's Department Datuk Dr Mujahid Yusof Rawa speaks about the need for reforms in the governance of religious affairs of Islam and inclusivity.
What label do you give yourself as a Muslim?
I am a Muslim who wants to live with my faith, practise what my religion taught me in a contemporary world with dynamic changes and adapt myself to the surroundings. Being a Muslim politician, I am in a bigger framework committed to my faith, but that will never stop me from being a citizen to the country and to the world.
Are you a conservative, a liberal, an extremist or someone who just calls himself a Muslim?
What kind of Islam does the Pakatan Harapan government intend to practise?
Number one is to protect freedom of belief and faith, and also to respect others as long as it is not against the law, as enshrined in our constitution.
The government has a narrative on how Islam is presented to the people – what we call the "compassionate Islam" or rahmatan lil alamin (compassion for all) because this dictates you to be inclusive.
Number two is to be compassionate and number three is to be progressive.
You talk about rahmatan lil alamin and inclusivity. Are you talking about both Muslims and non-Muslims?
Article 3 states that Islam is the official religion of the Federation and in the same article, all faiths are free to practise.
I do not think myself as being isolated in that big frame or that I do not relate to other faiths.
We practise freedom and being a Muslim, you have to also protect other people's freedoms. I am committed to protecting the freedom of other faiths.
During the Barisan Nasional era, your portfolio was seen as a moral guardian. Do you intend to keep to that role?
You would have two categories of your moral issues. One is the personal sphere, which is individual, and the other is your public sphere.
I believe that in every religion, there is a moral principle. Where governance is concerned, we clearly define the line between the personal sphere and the public sphere.
Let's say you commit something within your personal, individual sphere, I do not interfere, although it could be to my standard that is wrong.
My concern is when those personal spheres encroach into the public spheres, where there is then a concern of sensitivity, legality or criminality. Then the government comes in, not because we want to be a moral police but because we want to secure the public sphere.
If you are talking about moral policing, you are talking about interfering with the private sphere, which we do not intend to do.
Let's say someone commits adultery behind closed doors, which is khalwat. Now your officers can break down the door and arrest them. Will this change?
I would advise all agencies under me, especially the enforcement officers, to not interfere with the personal sphere. This issue of enforcement of what you call khalwat has been misused – not all of it, but there have been times where it has been exploited and misused.
The enforcement of khalwat falls within the state judiciary and is not exactly under my jurisdiction, but we can have a platform where we meet all state directors of departments of Islamic affairs and share the concerns of the federal government on these issues.
You have inherited a ministry of people who have always seen themselves as moral guardians of Muslims. How are you going to change the mindsets of these officers?
I have taken serious measures in reforming the so-called "moral policing" of the Big Brother who watches everything – what you do in your room and whether you are being a good Muslim in your house.
We have already made inroads to implementing a policy in all the federal and state Islamic administration agencies under my jurisdiction, where all agencies, especially the Department of Islamic Development of Malaysia (Jakim), will adopt compassionate Islam, discussing how it can be implemented and "culturalised".
It will not be easy. There will be people who resent these ideas, even among the administrators. I tell them, "You might have your own interpretations, but you should respect the policy we are embarking on today."
How are you going to do away with 60 years' cultural ideas that the Muslim man has the last say over Muslim women who make the majority?
For example, when you talk about child marriage, you will have different views. The views that affect the public is of the muftis' - they have their own views and could be more powerful than even the minister and even the Prime Minister. They have influence. Then again, you also have different parties who can help you to get your ideas across, for example, the royals or the King. I would have to talk to them because the muftis are under them, using all the interest parties to reduce the tension between opposing ideas and opinions about Islam from influential figures. I resort to discussion and consultation, but at the end of the day, I am the government, I am not a mufti. I don't just issue edicts - this is haram or this is halal or this is sinful. I have to bring it to the parliament for discussion. In the end, I might even take a stand which is against the fatwa but within the light of the bigger interest which is being provided by the syariah.
Being bound by state laws, the royalties, the muftis, the religious and cultural beliefs, are you a toothless tiger with an advisory role?
Negotiating with people does not mean we are weak. Before I make a decision, I have to respect the process. I can resort to something more drastic – okay, child marriage at 18, finish! – I may have strong opinions but being a minister, I have to take an exit clause.
What is the exit clause?
If someone marries before they turn 18, is that a crime? If it is, how would you separate the couple and protect the welfare of the child?
Some would say, "You are too slow, you don't want to do it because of the backlash." It is not about that. If they are married without the proper permission, how would you face this?
While these consultations are ongoing, child marriages continue to happen. What do you do then?
I had only been in office for one month when the child marriage case in Jeli came up. I told them we needed an impromptu SOP now because if you want to enact the law or amend a law, it would take months.
I ordered the Department of Syariah Judi­ciary of Malaysia to come up with it (SOP) as soon as possible since I have the authority. We told all judges that in cases of underage marriage, they should follow the SOP.
While we were doing the firefighting, another case happened in Tumpat. We found that the judge did not follow the SOP. So, that was not our fault as we had taken measures.
What about the issue of tahfiz (religious schools) where they have to be registered under you and many sexual offences have taken place?
Like the one in Kepong (where the teacher sexually abused the students), I had to go down and look at it. I said the school should be closed. While I do not have the power to close any tahfiz, we do have another alternative.
We have Kuala Lumpur City Hall and the fire department, where they can close down premises that are not properly registered. I then called all the interested parties and law officers – do something. We will amend the Administration of Islamic Laws (Federal Territories) Act 1993 involving the administration of religious schools, not only to control them but also to shut them down.
Are you going to look at all tahfiz in the country or wait for cases to happen?
There are many tahfiz which are not registered with us but we can't stop them because I don't have the power. Then, there is the issue of ignorance of the law.
Second, is the issue of state authority. They say I am already registered with the state authority and they are not obliged to follow the Federal curriculum. In the longer term, we are not just looking at the law, we are also looking at the curriculum to produce integrated tahfiz graduates. Under Jakim's Darul Quran, we tie up with universities to enable them to get their degrees.
What is your stand on the caning of women and the syariah courts' tendency to punish sexual offenders and disadvantaged people?
In the case of musahaqah (sexual relations between women) in Terengganu – the Cabinet discussed it seriously and the Prime Minister had a strong opinion on it. I have been asked to deliberate. We cannot be seen to be interfering with the state.
But as the federal government, we do have a strong opinion on this. The caning should
be in a more compassionate manner with mitigation factors: is he or she a first-time offender? Do you have to take extreme measures?
You have another looming case of the possible caning of the single mother caught for prostitution. How are you going to influence these syariah judges?
It is not really totally up to the judges – they have to follow the procedures of the court. We might need more intensive training for the judges, to see that their judgments will reflect the perception of Islam. I also feel bad that the states were are competing with one another. In Terengganu, hundreds turned up to watch the two women. Then, Kelantan said we want to do it in the stadium and then Pahang said we also want to do it publicly. The whole thing is hijacked into something where punishment in Islam is about competing and who gets more witnesses in caning the offender. Where is the rahmah? Where is the compassion? Where is the justice?
How are you going to reform the hardened judges in the syariah courts – who may argue this is written in the Quran and books of Islam?
There is only one way to do it – confront it, debate it with these people. This is Islam, there is nothing that is not Islam here. So, debate, talk and discuss.
We have to get them on a platform with their ideas and opinions. At the end of the day, you have to put your foot down where you want the new policy, set an agenda and have a timeline. We have the bigger society supporting us. By concurrently doing this, we will have a reformed Islamic administration.
https://www.thestar.com.my/news/nation/2018/10/06/mujahid-pushes-for-more-inclusive-islamic-reforms/
--------
Counter-terror police nab eight over radicalisation plans
06 October 2018
KUALA LUMPUR, Oct 6 — The federal police's counter-terrorism division arrested seven foreigners and one Malaysian late last month on suspicion of planning to destabilise the local democracy and spreading religious extremism.
According to Inspector-General of Police Tan Sri Mohd Fuzi Harun, early investigations showed the suspects planned to instill views that trousers, tertiary education in non-religious institutions, and workplaces without gender segregation to all be haram or forbidden in Islam.
"Preliminary investigations by police and shared information with foreign intelligence agencies revealed that the foreigners have links to a madrasah in Dammaj, Yemen that was founded by Syeikh Muqbil Hadi Al Wadi'i, an extremist Salafi jihadist.
"The madrasah in Yemen is a stronghold of the Salafi jihadist ideology that permits the killing of non-Muslims as well as Muslims not aligned with them and consequently deemed unbelievers; it also labelled democracy as Thoghut (against Allah's law)," he said in a statement.
Of the group arrested, the IGP said six foreigners — one from the Americas and five from Europe — were picked up from a religious centre in Perlis. One suspect is believed to have undergone weapons training in Yemen, but all are believed to be linked to the Islamic State group.
A Middle Easterner was also arrested in Kuala Lumpur, also at a religious centre where he is believed to have been spreading extremist ideology to Klang Valley residents.
The Malaysian was detained in Muar, Johor, where he worked as a trader. The suspect is an alumni of the religious school in Perlis where the six above were arrested.
All the arrests were made on September 24.
"This is not the first time foreign Salafi jihadist elements have used Malaysia as a launchpad to spread the ideology and recruit new members.
"The modus operandi was used by Abdullah Sungkar and Abu Bakar Bashir, leaders of the Jemaah Islamiah terrorist group to infiltrate Malaysia in 1985 and form Islamic centres in Negri Sembilan and Johor to spread the ideology," Mohd Fuzi said.
Full report at:
https://www.malaymail.com/s/1679897/counter-terror-police-nab-eight-over-radicalisation-plans
--------
Islamic affairs minister vows end to moral policing
06 October 2018
PETALING JAYA, Oct 6 — The Pakatan Harapan government will shun enforcement seen as moral policing for areas under its jurisdiction and will instead pursue a policy of "compassionate Islam", said Datuk Mujahid Yusof Rawa.
The minister in the Prime Minister's Department who is in charge of Islamic affairs told The Star in an interview that the government has no intention to interfere in Malaysians' private lives and will focus instead on matters that affect security.
"Let's say you commit something within your personal, individual sphere — I will not interfere.
"For example, consumption of alcohol is wrong for a Muslim, but if you consume it within your sphere, then as part of the government, I will not interfere," he said in the interview.
The minister said his attention will only be drawn by matters that appear in the public sphere and which have implications on any community's sensitivities, are of questionable legality, or outright criminal.
Short of these, he pledged that the authorities will not intervene.
The minister said he has advised all agencies under his purview to avoid enforcement on matters that occur in the privacy of Malaysians' homes.
These include the controversial khalwat or close proximity enforcement, which he said was open to abuse and exploitation.
"The enforcement of khalwat falls within the states' jurisdictions and it is not exactly under my jurisdiction, but we can have a platform where we meet all state directors of departments of Islamic affairs and share the concerns of the federal government on these issues," he said.
Mujahid said the government is pursuing the ideology of "rahmatan lil alamin" or compassionate Islam, which he described as progressive and respectful of others' beliefs and freedoms.
However, Mujahid conceded that this planned shift will face resistance from the the religiously conservative, especially among the civil servants whose work it is to enforce Islamic law.
Full report at:
https://www.malaymail.com/s/1679871/islamic-affairs-minister-vows-end-to-moral-policing
--------
Malaysia's most powerful Islamic body faces scrutiny
JUN 18, 2018
Malaysia's new government intends to rein in the country's most powerful Islamic agency and its huge financial budget, but needs to tread carefully so as not to offend the country's Muslim majority.
The move to review and reform the work of the Malaysian Islamic Development Department (Jakim) is part of sweeping moves taken by Prime Minister Mahathir Mohamad's government, with top changes at several government agencies and companies, and with their budgets under scrutiny.
But the government needs to tackle Jakim with tact, observers say, as many Malaysian Muslims see it as a key agency that looks after their interests, even as there is some suspicion in the community that the month-old Pakatan Harapan (PH) government might water down Malay-Muslim rights.
Jakim trains teachers who work in mosques and Islamic institutions, prepares the weekly Friday sermons in Malaysia, ensures that food outlets serve halal dishes with its certification, and streamlines Islamic family laws among the 13 states and three federal territories, among other things.
Jakim and its unit, the Federal Territory Islamic Department (Jawi), were allocated RM1.03 billion (S$348 million) in funds by the Najib Razak administration in the 2018 Budget, with RM810.9 million alone for Jakim, an increase of 8.8 per cent from last year.
In November 2015, in response to public questions over its large budget, then Deputy Minister in charge of Islamic Affairs Asyraf Wajdi Dusuki highlighted another role played by Jakim - to protect the religion from "radical ideologies". He said: "The Islamic State (in Iraq and Syria), liberalism and pluralism such as the lesbian, gay, bisexual and transgender (lifestyles) are the examples of radical ideologies which belittle the religion."
To the agency's critics, Jakim is a hotbed of conservatives who barely tolerate the rights of "liberal" Muslims and non-Muslims.
Tun Dr Mahathir said last month that the review would determine if Islam was being portrayed by Jakim as a "cruel, harsh and unreasonable religion".
"That is actually not Islam. We seem to be thinking up ways, which are not Islamic, in order to show that Islam is a religion that is harsh in its implementation. We seem to prefer force, as opposed to Quranic teachings, which say there is no compulsion in Islam," he added.
The idea of a review of the Islamic body has received condemnation from conservative Malay Muslims. Some have warned that any attempt to touch Jakim will anger the Malay majority, spelling trouble for Dr Mahathir's government. There is even speculation that Jakim might be shut down.
The Umno-owned Utusan Malaysia newspaper wrote: "The question of shutting down Jakim should not exist in PH's vocabulary even if pressured by others. Instead, religious institutions like Jakim should be upheld to protect the Muslim community's interests." How PH frames the fight to trim Jakim's powers could determine how many Malay voters who chose Malay opposition parties Umno or Parti Islam SeMalaysia (PAS) at last month's polls would switch to the new government at the next polls.
Pollster Merdeka Center estimated that the four-party PH attracted 25 per cent to 30 per cent of Malay votes in the May 9 general election, against 35 per cent to 40 per cent who voted for Barisan Nasional, and 30 per cent to 33 per cent who supported PAS.
Jakim has made the news in recent years for the wrong reasons, giving the impression it is run by overzealous officials. Last year, one of its officers angered Johor Sultan Ibrahim Sultan Iskandar after he criticised the ruler's decree to close down a launderette in Muar that would accept only Muslim customers.
In 2016, fast-food chain A&W had to change the name of its "Coney Dog" hot dog to "Chicken Coney" or "Beef Coney" to apply for halal certification, which Jakim controls.
Full report at:
https://www.straitstimes.com/asia/se-asia/malaysias-most-powerful-islamic-body-faces-scrutiny
--------
Indonesia gets new Isamic anti-terror agency
October 5, 2018
Indonesia's Ulema Council, the top Islamic clerical organization, has established its own counter-terrorism division in a bid to prevent extremist radicalization of young Muslims.
It aims to do so in collaboration with schools, tertiary institutions and academics as well as government bodies such as the National Agency for Combating Terrorism.
Zainut Tauhid Sa'adi, deputy chairman of the Ulema Council, said the Islamic counter-terrorism division is a follow-up to an ad hoc team established with the same aim in 2003.
The emphasis would continue to be on imparting a "true understanding" of Islam, particularly among youth, as well as addressing intolerance, extremism and radicalism.
The new agency intends to publicize the dangers of false information and hoaxes propagated through social media platforms.
"Currently, our young generation uses smartphones and because of that they are highly exposed to hoaxes," Sa'adi said. "If they are not equipped with knowledge to filter out false information, they will be easily influenced by radical content."
Seminars are to be used to disseminate facts and promote social cohesion.
Zainal, 21, a Muslim youth, said he would welcome help to "decipher information" on the internet, not least material aimed at sowing divisions.
Father Antonius Benny Susetyo, a member of a presidential task force involved in promoting national unity, praised the Ulema Council for establishing the new agency. He said it is very important to prevent the manipulation of religion to foment extremism. Al Chaidar, a terrorism expert from Malikussaleh University in Aceh province, said he expected that the Ulema Council would issue fatwas (Islamic pronouncements) against terrorism.
He cautioned that the new Islamic counter-terrorism agency would only be effective if it developed a clear action program.
Full report at:
https://www.ucanews.com/news/indonesia-gets-new-isamic-anti-terror-agency/83549
--------
Wan Azizah: Caning of single mum gives Islam a bad impression
5 Oct 2018
PETALING JAYA: The caning of a single mother who was guilty of prostitution has given a bad impression of Islam, says Datuk Seri Dr Wan Azizah Wan Ismail.
Dr Wan Azizah, who is Deputy Prime Minister and Women, Family and Community Development Minister, reiterated that Islam is not a cruel religion that metes out heavy punishment and humiliate others.
"My officers from the Welfare Department are speaking to the woman's family and looking into ensuring the welfare of her child is taken care of," she said in a statement on Friday.
She said the Welfare Department officers found that the woman has two children, one from her previous marriage and another with her partner.
Thus, the woman's application for welfare aid in 2016 was rejected.
"The woman in question was found to be fit and able to work," Dr Wan Azizah added.
She said the Ministry is looking into the whereabouts of the father and the details of their divorce.
"We do not wish to interfere in court matters but the welfare of women and children are my priority," she said.
On Sept 28, judge Rosdi Harun sentenced the 30-year-old divorcee to six months in prison and six strokes of the rotan for attempting to prostitute herself at a hotel in Terengganu.
The sentencing came just 24 days after two women were caned six times each for having same sex relations.
According to Dr Wan Azizah, the Cabinet viewed that the caning of the two women convicted of lesbian sex, gave a bad impression of Islam.
However, Dr Wan Azizah said they respect the Syariah Court's decision.
Full report at:
https://www.thestar.com.my/news/nation/2018/10/05/wan-azizah-caning-of-single-mum-gives-islam-a-bad-impression/
--------
No more night khalwat raids or intrusion into Muslims' private lives says Mujahid
6 Oct 2018
KUALA LUMPUR: No more knocks on the door in the middle of the night and no more breaking down of doors by the religious authorities investigating reports of khalwat or other alleged wrongdoings.
Instead, Minister in the Prime Minister's Department Datuk Dr Mujahid Yusof Rawa insists that what Muslims do behind closed doors is none of the government's business.
"Let's say you commit something within your personal, individual sphere – I will not interfere.
"For example, consumption of alcohol is wrong for a Muslim, but if you consume it within your sphere, then as part of the government, I will not interfere.
"My concern is what goes on in public that encroaches on sensitivity, legality or criminality. Only then does the government come in, not because we want to be moral police but because we want to secure the public sphere," he said.
Dr Mujahid, who is in charge of Islamic religious affairs, admitted that he faced an uphill task in changing the image of the ministry.
He had to put out fires from the moment he stepped into his office, including dealing with LGBT issues, underage marriage, public caning in syariah courts and sexual abuse in tahfiz.
In an exclusive interview with The Star, Dr Mujahid said he was trying to change the mindset of what he described as "conservative religious" civil servants who wanted to uphold the sanctity of Islam with their own understanding.
"The government's narrative of Islam will translate into our policies, all the Islamic judiciary activities, all our relations with other faiths.
"Compassionate Islam does not harm the people's interests or importance of national unity and harmony," he added.
Dr Mujahid also condemned the breaking down of doors to arrest khalwat offenders and hoped it would be a thing of the past with reforms.
"This issue of enforcement on khalwat has been misused and exploited in some cases. It is important that they (enforcement officers) do not interfere with the individual sphere," said Dr Mujahid.
Although such raids fall under the state jurisdictions, he is engaging the religious agencies at state levels to convince them to adopt the stance of the federal authority.
The vice-president of Parti Amanah Negara also hoped to do away with the Big Brother image.
"The reality is that in Malaysia, even though it is an Islamic affair, there will be a point where you will have to confront problems relating to non-Muslims.
Full report at:
https://www.thestar.com.my/news/nation/2018/10/06/putting-compassion-into-practice-mujahid-aims-to-change-mindset-of-conservative-religious-civil-serv/
--------
Some disasters 'divine reminders', Muslims in Selangor told in sermon
05 October 2018
KUALA LUMPUR, Oct 5 — Muslims in Selangor were told in today's Friday sermon that some disasters are not natural, but instead "divine reminders" in response to "cruelty" committed by humankind.
Quoting Quranic verses, the Selangor Islamic Religious Department (Jais) said this "cruelty" can take the form of vices and sins, listing illicit sex, lesbian, gay, bisexual and transgenders (LGBT), and not covering up as some of the examples.
"This verse explains that we are always under the observation of Allah the creator. Whatever calamity that befalls humans must have its reason whether realised or not.
"What is certain, no ruin is imparted but for humans' own cruelty," said the sermon delivered to mosques in the state.
"This cruelty is defined as idolatry towards Allah, and all forms of vices and sins done by humans, including missing prayers, 'zina', LGBT, drinking alcohol, gambling, revealing the 'aurat', taking usury, and so on," it added.
The sermon also lamented that some quarters are defending drug abuse, usury, consensual sex and the menace of LGBT as just personal vices and sins that should not be punishable by law.
It cited Quranic verses 28:59 and 11:82 to 83 to back its argument.
"Remember that not all disasters that happen are merely natural disasters. Instead, there are also disasters that are reminders from Allah," it said.
Last week, a 7.5 magnitude earthquake and tsunami on the west coast of Sulawesi island struck the city of Palu.
The official death toll stands at 1,424 in the small city of 370,000 people.
Straddling the seismically active Pacific Ring of Fire, Indonesia has long been vulnerable to quakes and tsunamis.
Full report at:
https://www.malaymail.com/s/1679722/some-disasters-divine-reminders-muslims-in-selangor-told-in-sermon
--------
URL: https://www.newageislam.com/islamic-world-news/indian-muslims-deserve-credit-resisting/d/116576
New Age Islam, Islam Online, Islamic Website, African Muslim News, Arab World News, South Asia News, Indian Muslim News, World Muslim News, Women in Islam, Islamic Feminism, Arab Women, Women In Arab, Islamophobia in America, Muslim Women in West, Islam Women and Feminism