New Age Islam News Bureau
6 Nov 2016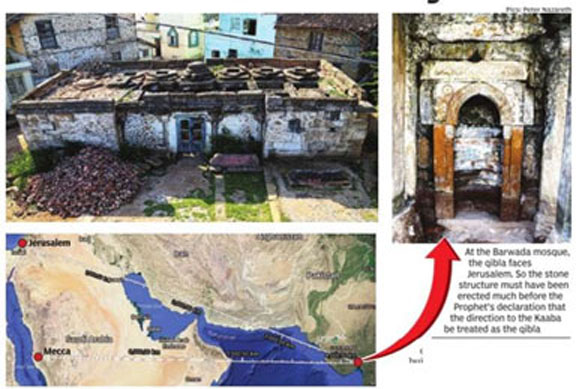 Oldest Indian mosque: Some Experts Say It's the Barwada Masjid in Ancient Port Town of Ghogha, on Gulf of Khambhat
-------
• Indian Muslims Best-Placed, They Live As Per Their Choice: Jamiat Ulema Hind
• Islamic State Calls for Attacks on Election Day Voters
• Russia PM: 'We Never Denied Israel's Right to Jerusalem, Temple Mount'
• Bangladesh Islamic Scholars Want To Fight Militancy with Govt
India
• Indian Muslims Best-Placed, They Live As Per Their Choice: Jamiat Ulema Hind
• Oldest Indian Mosque: Trail Leads To Gujarat
• China may soften stand on India's push for Jaish chief Azhar's terrorist tag
• 1 soldier killed in Poonch as Pakistani troops again violate ceasefire
• One terrorist killed in encounter in Shopian
• Govt puts Zakir Naik's NGO under prior permission list
• India is my home: Bangladeshi writer Tasleema Nasreen
--------
North America
• Islamic State Calls for Attacks on Election Day Voters
• US Strike Killed Top Al-Qaeda's Emir for North-Eastern Afghanistan
• Muslim immigrants ready to participate in US presidential elections
• FBI joins probe into Saudi student's death in Wisconsin
• America: Be careful of what you ask for!
--------
Europe
• Russia PM: 'We Never Denied Israel's Right to Jerusalem, Temple Mount'
• Irish in Iraq Suicide Attack, Claims Daesh
• German ministry wants migrants returned to Africa: report
• Italy's kidnapped nationals, Canadian freed in Libya
• French soldier killed in Mali blast
--------
South Asia
• Bangladesh Islamic Scholars Want To Fight Militancy with Govt
• Taliban to Be Eliminated In a Month, Regional Intelligence Fuelling War: MoD
• 2 Pakistanis Belonging To Lashkar-E-Islam Arrested In Afghanistan
• Myanmar's Plan to Arm, Train Non-Muslims "Recipe for Disaster": Jurist Group
• With silent guardians, Afghan soldiers protect Kabul
--------
Pakistan
• Religious Tolerance Stressed At Diwali Function in Lasbela, Paksitan
• Pak Envoy Attends Diwali Bash Hosted By Indian Foreign Secy
• Three terrorists killed in Machh
• Four terror suspects arrested in Sargodha
• Mysterious banners call on COAS to contest next general election
• Panamagate sows discord among lawyers
• Shia cleric detained by police in Karachi: MWM
• Pakistan renews call for UN fact-finding mission to be sent to Kashmir
• Fata market demolished after bomb attack
--------
Arab World
• Suicide Bombers Strike In Two Iraqi Cities, Killing 11: Officials
• Damascus: Terrorists Ready to Hand Over Khan Al-Sheih Town to Syrian Gov't
• Over 85 Percent of Homs Province Area under Full Control of Syrian Army
• Iraqi Forces Recapture Last ISIL Stronghold South of Mosul
• Iraqi forces are 4 km from Mosul airport
• Marshall Plan needed post-election to defeat Daesh, says expert
• Saudi Military Bases in Najran, Jizan, Assir Provinces Come Under Yemeni Army Artillery Attacks
• Syrian Army, NDF Recapture Lost Lands in Northern Hama
• Aleppo: Terrorist Groups Suffer Heavy Casualties in Syrian Airstrikes
• Syria: Terrorist Groups Acknowledge Heavy Casualties in Western Aleppo
• MP: Stalemate in Political Settlement of Crisis in Syria Acknowledged by All Actors
--------
Mideast
• Turkey Says Diyarbakir Car Bomb Work of Kurdish Militants, Not Daesh
• Istanbul police break up protest after arrest of pro-Kurdish deputies
• Quds Force commander says Syria needs to impose Iran's will
• Turkish court jails nine staff of Opp daily
• Yemen's ousted Saleh retracts, welcomes UN plan
--------
Africa
• No Justice for Victims of Blasphemy Killings in Nigeria?
• King Mohammed VI's Bid to Reunite Morocco with Africa
• Shabaab bomb attack near Somali parliament
• Tunisian soldier killed in his home: report
• Sultan joins the national question debate: The restructuring Nigeria needs!
--------
Southeast Asia
• Indonesia President: Political Meddling Behind Jakarta Clash
• Chinatown stays alert post anti-Ahok rally
• Djarot cancels campaign appearances over safety concerns
• Looting causes massive losses in Penjaringan
Compiled by New Age Islam News Bureau
URL: https://www.newageislam.com/islamic-world-news/new-age-islam-news-bureau/indian-muslims-best-placed,-they-live-as-per-their-choice--jamiat-ulema-hind/d/109024
--------
Indian Muslims Best-Placed, They Live As Per Their Choice: Jamiat Ulema Hind
Eram Agha
November 6, 2016
Goa: Mahmood Madani, general secretary of one of India's biggest Muslim organisations, the Jamiat Ulema Hind, said Indian Muslims were the best-placed lot when you look around the world while speaking at the annual India Foundation Conclave.
"Indian Muslims are in the best condition. I am not talking in terms of material gains but in terms of freedom to live the way they want to. They are living according to their choice," he said.
Madani also claimed India has the largest Muslim population in the world. "As a Muslim I can say with full confidence that the world's largest Muslim population is in India. Some people would like to contest this claim saying it is Indonesia but I am confident about what I am saying," he said.
Madani took a dig on those who blame all the ills on the mullah or the cleric by saying that the idea of two nation theory didn't come from a mullah. "Who got the idea if Pakistan and two nation theory? Certainly not a mullah," he said.
The Jamiat leader also emphasized that Islam came to India through peace and through the sword. "In India Islam came with Sufism and not emperors. Islam is not for ruling or establishing Sarkar. It has come to correct our own ways of life. It didn't come with Akbar and Babur but with Chisti and Aulia."
"I was told Muslims are a problem. But is the presence of Muslims in India a problem or an asset? Who will decide? No one else but Muslims will decide if they are a liability or an asset to the country," he said.
Dissent, democracy and nationalism are among the main topics discussed threadbare at a three-day conclave being held in Goa by the India Foundation, a Delhi-based think tank that counts four Union ministers among its board of directors.
http://www.news18.com/news/india/indian-muslims-best-placed-they-live-as-per-their-choice-mahmood-madani-1308674.html
--------
Islamic State Calls for Attacks on Election Day Voters
November 5, 2016
The Islamic State is calling for the "slaughter" of U.S. voters on Election Day and demanding Muslims not participate in the democratic process, according to a U.S.-based terrorist monitoring group.
Ritz Katz, director of the SITE Intelligence Group, said Saturday on Twitter that the threats appear in an essay carried by the Islamic State's Al Hayat media centre that declares militants "have come to slaughter you and smash your ballot boxes."
"May Allah make this year's U.S. presidential election a dreadful calamity like no other to have struck America throughout its pathetic history," the seven-page manifesto, entitled "The Murtadd Vote," read. Murtad is an apostate who turns his back on Islam.
The essay, which uses lengthy religious arguments in an effort to justify such attacks, also declares there is no difference between the Republican and Democratic parties in their "policies against Islam and Muslims"
Katz posted excerpts on Twitter, saying the Islamic State, also known as ISIS or ISIL, was inciting attacks on Election Day "in an attempt to disrupt the election process and gain media attention."
The full essay, in English, includes a photograph of Republican presidential nominee Donald Trump, Democratic vice presidential nominee Tim Kaine, as well as a photo Khizr Khan, the father of a Muslim U.S. soldier killed in combat, holding a copy of the U.S. Constitution during his dramatic speech at the Democratic National Convention.
Regarding possible vote-related threats, federal authorities are reviewing information about al-Qaeda's potential interest in conducting attacks in the U.S. on the eve of Tuesday's elections, several federal and state law enforcement officials said Friday.
The credibility of the threat, which identified New York, Virginia and Texas as locations, has not been established, one official, who was not authorized to comment publicly, told USA TODAY.
Beyond the general locations, there was no specific information on the possible form or targets of attacks, the official said.
"The counterterrorism and homeland security communities remain vigilant and well-postured to defend against attacks here in the United States,'' the FBI said in a statement.
http://www.usatoday.com/story/news/2016/11/05/islamic-state-calls-attacks-election-day-voters/93352238/
--------
Russia PM: 'We never denied Israel's right to Jerusalem, Temple Mount'
11/06/2016
Moscow has never denied Israel's rights to Jerusalem, the Temple Mount or the Western Wall, Russian Prime Minister Dimitry Medvedev said in advance of his visit to the Jewish state later this week.
"These rights are clear and it would be absurd to deny them," he told Channel 2 anchorwoman Yonit Levy.
He spoke warmly of Russia's ties with Israel, despite Moscow's votes against the Jewish state at the United Nations and its delivery of the S-300 missiles to Iran.
Levy quizzed him about those controversial issues as well as his support for Syrian President Basher Assad and charges that his country had intervened in the US elections.
How does Russia explain its support of the UNESCO vote "to disregard the historic connection between the Jewish people and the Temple Mount in Jerusalem," Levy asked Medvedev.
The issue had been blown out of proportion, he responded speaking in Russian, with a Hebrew translation by Channel 2.
There have been some ten votes by UNESCO Boards and Committees on such Jerusalem resolutions, Medvedev said.
"There is nothing new here," he said, as he dismissed the significance of UNESCO texts that refer to the Temple Mount solely by its Muslim name of Al Haram Al Sharif.
"Our country has never denied the rights of Israel or the Jewish people to Jerusalem, the Temple Mount or the Western Wall," Medvedev said.
"Therefore there is no need to politicize this decision," Medvedev said, adding that such resolutions, were "not directed against Israel."
Similarly, he said, there was nothing contradictory in Russia's sale and shipment of the advanced S-300 advanced surface to air missile defense system to Iran.
Israel had opposed such sales because they significantly upgrade Iran's ability to defend its nuclear sites against any attacks. It is particularly concerned because it does not believe that the Iran deal, put in place in 2015, will limit Tehran's capacity to develop nuclear weapons.
Medvedev told Channel 2 that prior to the Iran deal, Russia respected the sanctions against Tehran and refrained from delivering the S-300. Now that the deal is in place and the sanctions were lifted, there was no reason not to complete the sale, he said. Moving over to Syria, he referred to President Bashar Assad as the country's only legitimate leader and added that Israel's leadership preferred his rule to the prospect of a divided country under terrorist leadership.
"I know him (Assad) personally. There are those who love him and those who don't. At present Assad is the only legitimate authority operating in Syria. Any regime change would have to occur legitimately," Medvedev said.
"I remember that during my meetings with Israeli leaders, they told me they were not completely for Assad, but that there has to be someone in charge of the situation, rather than an uncontrolled break up of the country into enclaves ruled by terrorists," Medvedev said.
Middle East terrorism, he said, is threatening his country from within.
"There are thousands of Russians fighting on behalf of ISIS and other Islamic Jihadist groups," Medvedev said. "When they return they are experienced murders and terrorists. After their time fighting in Syria we don't want them to organize something similar [within Russia]," he said.
Levy asked how the presence of the Russian air force in Syria impacted Israel's ability to prevent the flow of weapons to Hezbollah.
Medvedev said that it was operating from the assumption that "all sides would not take steps to aggravate the conflict."
With regard to the United States, he charged that it had not kept its commitments in Syria and that the relationship between Washington and Moscow was at a very low point.
Medvedev chuckled when Levy asked him if Russia had interfered with the US elections.
He quoted Russian President Vladimir Putin, when he stated that "the United States is not a banana republic."
The US, he said, was a large and strong country and could not be influenced in that way. "It doesn't matter who will be elected, but what policy they will execute," he said.
"Its clear [that either candidate] will act in the best national interest of the US," Medvedev said.
He called Republican candidate Donald Trump brilliant and said he had never met him. Democratic candidate Hillary Clinton, he said, was very professional and known to him from the times he met with her when she was US Secretary of State from 2009-2012.
Russia expects to have a "normal" and "productive" relationship with whichever of the two candidates wins the White House, Medvedev said.
With regard to the Russian initiative to hold a meeting with Israeli Prime Minister Benjamin Netanyahu and Palestinian Authority Presdient Mahmoud Abbas, Medvedev said that Moscow was not looking to replace the United States or anyone else when it comes to the peace process.
On the other hand, he said, there are very discouraging signs with regard to that conflict and there have been no advancements to speak of on the Israeli-Palestinian tract over the last few years.
http://www.jpost.com/Israel-News/Politics-And-Diplomacy/Russia-PM-We-never-denied-Israels-right-to-Jerusalem-Temple-Mount-471796
--------
Bangladesh Islamic Scholars Want To Fight Militancy with Govt
November 05, 2016
Speakers yesterday at a discussion emphasised incorporating the role of Aalim-Ulema, Pir and Mashaikh (religious scholars) in the government's ongoing initiatives to purge the country of militancy.
They said militancy has no place in Islam and that those who are carrying out subversive activities in the name of Islam do not belong to the religion.
They further said they were ready to assist the government in combating terrorism and urged to launch a separate TV channel for airing anti-militancy programmes.
Bangladesh Ahle Sunnat Wal Jamaat held the programme at the capital's Institution of Engineers, Bangladesh, with the title "Vital role of Ulema and Pir Mashaikh against terrorism and militancy and in disseminating message of the holy Quran and Sunnah." The organisation's President Syed Bahadur Shah Mujaddidi announced to hold an anti-militancy rally compromising Islamic scholars in the capital on January 28.
He demanded disposal of cases filed for the killing of religious scholars including Ahle Sunnat leader Maulana Nurul Islam Faruqi.
Jainul Abedin Jubayeer, principal of Nesaria Kamil Madrasa in Chittagong, and Golam Maula Naqshabandis, member of Islamic Foundation's governing board, also spoke.
http://www.thedailystar.net/city/islamic-scholars-want-fight-militancy-govt-1310242
--------
India
Oldest Indian Mosque: Trail Leads To Gujarat
Nov 6, 2016
AHMEDABAD: During his visit to Saudi Arabia earlier this year, Prime Minister Narendra Modi gifted King Sal man a gold-plated replica of Kerala's Cheraman Mosque --considered to be the oldest mosque in India -in honour of the ancient trade links between the two countries.
Arguably though, India's oldest mosque is not Cheraman but one in Modi's home state, Gujarat; some experts suggest it may even date to the time of the Prophet Muhammad. The Cheraman mosque was rebuilt in the 11th century, but the Juni Masjid or Barwada Masjid on the northern edge of the ancient port town of Ghogha, on the Gulf of Khambhat, is still in its original form, albeit in a dilapidated condition. Like the Cheraman mosque, the Barwada mosque (Barwada Masjid in Gujarati translates as outsiders' or foreigners' mosque) is not a listed monument and hence is not covered by any conservation plan. No information is available on when it was built and who built it, but some historians contend that it predates the Cheraman Mosque, which was built in AD 629, and the Palaiya Jumma Palli or The Old Jumma Masjid of Kilakaria in Tamil Nadu, which was constructed between AD 628 and 630.
The reason to consider this 15x40 foot structure as the oldest mosque in India lies in the Muslim custom of offering Namaz during the times of Prophet Muhammad. One tradition says that Muslims prayed facing `Baitul Muqaddas' in Jerusalem, for the first 13 years of Islam - from AD 610 to 623. Another tradition limits the period of maintaining the Qibla -the direction Muslims face during Salat -towards Jerusalem to the 17 months after the Hijra, the Prophet's exodus from Mecca to Medina. In AD 623, while offering Namaz in Medina, Muhammad had a revelation and declared that Muslims were to face the Kaaba during prayers. From then on, Muslims stopped facing Jerusalem and the Qibla has faced the Kaaba.
At the Barwada mosque in Ghogha, the Qibla, indicated by the position of the Mehrab (a semi-circular niche in the wall facing which prayers are offered), is towards Jerusalem, an angle nearly 20 degrees north of the Qibla towards Mecca. This reflects the fact that this stone structure must have been erected much before the Prophet's declaration that the direction to the Kaaba be treated as the Qibla. The historical mosques in Kerala and Tamil Nadu have their Qibla towards the Kaaba.
Compass readings taken at the site put the heading of the Mehrab from the entrance at about 295°NW. The heading towards the Kaaba, as at a newer mosque in the same neighbourhood is about 275°NW.
A teacher of history, Professor Mehboob Desai has been arguing about the Barwada mosque's antiquity ever since he stumbled upon it. "Looking at the flow of information among Arab traders, there is no chance that a Muslim would build a mosque facing Jerusalem after the Prophet had declared the Kaaba as the qibla," he told TOI. "This is the oldest mosque in India, because I have not heard of any other mosque with its mehrab pointing towards Jerusalem."
Desai insists that the mosque at Ghogha may be older than many of Arabia's an cient mosques. None of the mosques built in Medina or in Kerala or Tamil Nadu are in their original shape. While Cheraman Mosque was rebuilt in the 11th century , all other mosques changed shape in the 20th century .
Built by Arab traders on the then bustling port of Ghogha, this stone structure may have been abandoned by devotees after the qibla was changed. With more than half of its roof gone, the pillars are in need of support, and a board on the mosque's doors asks visitors not to pray there because its mehrab doesn't point towards the Kaaba. It also warns people not to damage the structure because of its heritage value.
Aslam Siddiqbhai, who lives in the neighbourhood, said that repairs are made on the mosque as and when locals find a donor.
Stay updated on the go with Times of India News App. Click here to download it for your device.
http://timesofindia.indiatimes.com/city/ahmedabad/Oldest-Indian-mosque-Trail-leads-to-Gujarat/articleshow/55270285.cms
--------
China may soften stand on India's push for Jaish chief Azhar's terrorist tag
Shishir Gupta
Nov 06, 2016
China could drop its opposition to India's efforts to get Jaish-e-Mohammad chief Masood Azhar designated a global terrorist after a meeting between their top security officials recorded "forward movement" on the matter.
The outcome was from a "positive", five-hour-long meeting national security adviser Ajit Doval had with powerful Chinese State Councilor Yang Jiechi a day earlier, government sources said on Saturday.
In April, China blocked New Delhi's appeal to the United Nations to label Pakistan-based Azhar a terrorist, putting a "technical hold" on the proposal. Beijing extended that decision last month , once again highlighting its closeness with "all-weather ally" Pakistan.
China is the only one in a 15-member UN panel to block India's appeal on the chief of Jaish , which was blamed for a militant attack on an Indian army camp in Uri, which left 19 soldiers dead in September.
The government sources said China might allow its "technical hold" on the proposal to proscribe Azhar to lapse when the panel dealing with the matter meets in January. They said Beijing too had spoken to Islamabad on Azhar's status.
China's possible change of heart is being attributed to the fact that there is growing realisation that Beijing stood to get isolated on the key UN panel as every other nation supported India's proposal.
Full report at:
http://www.hindustantimes.com/india-news/china-may-soften-stand-on-india-s-push-for-jaish-chief-azhar-s-terrorist-tag/story-rihKnQevTErHqYIwWDmmwI.html
--------
1 soldier killed in Poonch as Pakistani troops again violate ceasefire
Nov 6, 2016,
JAMMU: One soldier was killed on Sunday after Pakistani troops again resorted to unprovoked shelling at Indian positions along the Line of Control in Krishna Ghati (KG) sector of Poonch district+ , PTI reported.
At least four places came under indiscriminate shelling and firing which has been started by Pakistan army to target civil and defence facilities+ in the area, a police official said here
"Indian army has effectively retaliated using same calibre weapons, shelling and firing exchanges is still on," he said.
Full report at:
http://timesofindia.indiatimes.com/india/Pakistani-troops-violate-ceasefire-in-Poonch/articleshow/55270502.cms
--------
One terrorist killed in encounter in Shopian
Nov 5, 2016
SRINAGAR: A terrorist was on Saturday killed and a soldier injured as an encounter broke out between ultras and security forces after the latter launched a search operation in a village in Shopian district of south Kashmir, police said.
Police assisted by security forces cordoned off Dobjan village, 60km from here, after getting information about presence of four terrorists there, a police official said.
He said as the security forces moved to the target house, hiding militants resorted to firing in an attempt to break the cordon.
Full report at:
http://timesofindia.indiatimes.com/india/One-terrorist-killed-in-encounter-in-Shopian/articleshow/55259901.cms
--------
Govt puts Zakir Naik's NGO under prior permission list
Nov 06, 2016
Controversial TV evangelist Zakir Naik's NGO, IRF Educational Trust, will not be able to avail foreign funds unless approved by the home ministry.
Sources said the step is precursor to altogether ban the trust from receiving foreign funds.
Before putting conditions on the foreign funding of the trust, the government is also in the process of totally banning Naik's another NGO, the Islamic Research Foundation (IRF), from receiving funds from abroad and has issued a show cause notice in this regard.
IRF spokesperson Aarif Malik told HT that the NGO is in the process of sending a reply to the home ministry on the notice. However, he refused to comment anything further on the government's move against the trust.
With regard to the education trust, the home ministry said in a gazette notification that intelligence reports and records available with it show that the trust has violated various provisions of the Foreign Contribution Regulations Act (FCRA) 2010, which governs foreign funding of all NGOs. To get foreign funding, all NGOs need to get themselves registered under the FCRA.
Full report at:
http://www.hindustantimes.com/india-news/govt-puts-zakir-naik-s-ngo-under-prior-permission-list/story-B5R1rXAzjTfSXBVY1JSK0J.html
--------
India is my home: Bangladeshi writer Tasleema Nasreen
November 5, 2016
New Delhi: Noted Bangladeshi writer Tasleema Nasreen on Saturday said India is her home and she has no alternative but to live in exile for rest of her life.
"I have been living in exile since 1994. I know I have no other alternative but to live in exile for rest of my life. I feel I have nowhere to go or country to return to. I say now India is my country, India is my home," the 54-year-old writer told the gathering at the "India Ideas Conclave 2016", currently underway in Goa. The Conclave is organised by India Foundation.
"How much more we have to suffer at the hands of fundamentalists and their political allies for daring to articulate the truth. Even after all that has happened, I still believe, that sincere honest truly secular part of the continent, India is the safe refuge, only refuge," said the writer.
Full report at:
http://www.siasat.com/news/india-home-bangladeshi-writer-tasleema-nasreen-1058648/
--------
North America
US Strike Killed Top Al-Qaeda's Emir for North-Eastern Afghanistan
November 06, 2016
WASHINGTON: The US military confirmed Friday it had killed Al-Qaeda's emir for north-eastern Afghanistan during an air strike last month, in a major blow to the group as it seeks to re-establish safe havens in the country.
Pentagon spokesman Peter Cook described the assault that killed Farouq al-Qahtani as a "precision strike" and said it took place on October 23 in Kunar, Afghanistan.
"This successful strike is another example of US operations to degrade international terrorist networks and target terrorist leaders who seek to attack the US homeland, our interests and our allies abroad," Cook said in a statement.
He said another Al-Qaeda leader in the country, Bilal al-Utabi, was targeted in a separate strike, though the results of that attack were not yet known.
Last month, US official said multiple Hellfire missiles had leveled two compounds in Kunar where the men were believed to be hiding.
One US official said the attack represented the most significant strike against the Al-Qaeda leadership in years.
The Pentagon has been actively hunting for Qahtani for four years.
He had longstanding ties with Osama bin Laden before his death in the 2011 US raid on his Pakistan compound.
Qahtani has operated in Afghanistan since at least 2009 and led an Al-Qaeda battalion since at least mid-2010.
His deputy Utabi was seen as the second- or third-most senior Al-Qaeda leader in Afghanistan.
US SAYS AIRSTRIKES 'VERY LIKELY' CAUSED CASUALTIES
US forces conceded Saturday that its air strikes "very likely" resulted in civilian casualties in Afghanistan's volatile Kunduz province, pledging a full investigation into the incident which triggered angry protests.
The strikes early Thursday killed at least 30 people, many of them children, after a Taliban assault left two American soldiers and three Afghan special forces soldiers dead in the Boz-e-Kandahari area near the provincial capital.
"The president of Afghanistan has sent a special delegation to Kunduz to investigate the incident.
Any negligence by anyone will be punished," presidential spokesman Haroon Chakhansuri told reporters.
US military spokesman Charles Cleveland said an initial probe showed the attack "very likely resulted in civilian casualties".
The carnage triggered impassioned protests in Kunduz city, with the victims' relatives parading mutilated bodies of dead children piled into open trucks through the streets.
"Look around me - everyone is in deep pain," Sultan Mohammad said, carrying the body of a victim for the mass funeral ceremony on Friday.
"What was their crime? Why were they killed like this?"
He joined a growing chorus of people calling to bring the perpetrators to justice.
The carnage underscores worsening insecurity after the Taliban last month overran the city for the second time in a year, as NATO-backed Afghan forces struggle to rein in the insurgents.
US-backed Afghan special operations forces were conducting an operation against the Taliban on the outskirts of Kunduz city when they came under insurgent fire, prompting calls for air support.
"I deeply regret the loss of innocent lives, regardless of the circumstances.
The loss of innocent life is a tragedy and our thoughts are with the families," said John Nicholson, the top US and NATO commander in Afghanistan.
"We will work with our Afghan partners to investigate and determine the facts.
The strikes also killed some top Taliban commanders, defence ministry spokesman Daulat Waziri said.
"Some civilians killed were members of their families," he added.
Civilian casualties caused by NATO forces have been one of the most contentious issues in the 15-year campaign against the insurgents, prompting strong public and government criticism.
Errant air strikes contributed to a 42 percent jump this year in casualties caused by pro-government forces compared to last year, according to the UN.
http://nation.com.pk/national/06-Nov-2016/us-strike-killed-top-qaeda-leader
--------
Muslim immigrants ready to participate in US presidential elections
November 05, 2016
UNITES STATES: The Muslim immigrants across the United States are all set to exercise their right to vote in the upcoming presidential elections to be held on November 8
According to a rough guess, 3.3 million Muslims are living in America among which only 1.5 million are eligible to cast vote.
After the derogatory speeches of Republican Party's candidate Donald Trump, Muslims have decided to participate in the polls to show their power.
Last year in December, Muslim organizations launched registration campaign and raised slogan of 1 million votes. They said that 86 percent voters have been enrolled so far.
Full report at:
http://nation.com.pk/international/05-Nov-2016/muslim-immigrants-ready-to-participate-in-us-presidential-elections
--------
FBI joins probe into Saudi student's death in Wisconsin
6 November 2016
The FBI has joined the investigation into the death of Hussain Saeed Alnahdi, a University of Wisconsin-Stout student from Saudi Arabia who was attacked early Sunday.
Police have not made any arrests, and have not been able to confirm if Alnahdi's death outside Toppers Pizza was a hate crime, Menomonie Police Chief Eric Atkinson was quoted as saying Friday afternoon.
"However, we will not dismiss the possibility until the (police department) has concluded the investigation," the police chief added.
To bolster the investigative team, the Menomonie Police Department partnered with the UW-Stout Police Department and the Dunn County Sheriff's Office. "We have also been in consultation with the Federal Bureau of Investigation," Atkinson said.
Two reward funds totaling $20,000 have been established for information leading to the arrest and conviction of Alnahdi's assailant.
Full report at:
https://english.alarabiya.net/en/News/world/2016/11/06/Trump-rushed-off-stage-in-false-gun-scare.html
--------
America: Be careful of what you ask for!
By Madeline Crabb
November 6, 2016
There's a catchy commercial jingle from decades ago that I cannot forget: "You asked for it, you got it, Toyota." In 2008, a large segment of society wanted "hope and change," and we got it in Obama. With Toyota, one at least gets a decent car. With Obama, it's a bait and switch scheme.
Now in 2016, America again must choose whom we want to "serve us" in government offices, including the person that sets the general policy/direction for our nation – the president. In 2008, those who didn't do their homework on Candidate Obama (BHO) are now, in many cases, upset and confused over what happened. And still, unwilling to do a little research, far too many Americans are about to make the same mistake again in voting for Hillary Rodham Clinton (HRC). Warning: It's another bait and switch, and you won't like what you're going to get. America: Be careful of what you ask for!
BHO fully delivered on change for America; he has indeed fundamentally transformed America. She is hardly recognizable any longer. As for hope...We hope all the transformation can be reversed. But alas, it's probably too late for that. Americans have been brainwashed to believe in principles of socialism because of our dear leader. But then, if only we had done our due diligence. If only journalists had done their duty in vetting the communist wolf-in-sheep's clothing. If only Christians had understood the Bible, prayed, and voted against him. Of course, none of these things happened.
With HRC, it's like déjà vu all over again. Obama had extensive communist ties. (More in a bit...) HRC's communist ties go back to even high school/early college days when her Methodist youth minister, Don Jones, planted seeds of socialist/communist propaganda in her mind.
Author Paul Kengor did extensive research on her for his book, God and Hillary Clinton: a Spiritual Life. He explained that Jones actually took members of his youth group to Chicago to meet Saul Alinsky, the radical, democratic socialist (communist) community organizer Obama and HRC both idolize. Kengor then tells of other "fellow travelers" in her journey like a Yale professor called "Tommie the Commie," and attorney Bob Treuhaft. The professor was probably one of many. Treuhaft was one of four partners in a radical left law firm in the San Francisco Bay area in which HRC did an internship. Two of the partners were card-carrying communists, Treuhaft being the head of the communist party in California. (She apparently met him when he was representing the Black Panthers.) (FRONTPAGEMAG.COM)
Our first bait and switch candidate, Obama, had extensive ties with communism, and even brought one of them with him to the White House – Valerie Jarrett. Her family has actually been under investigation by the U.S. Government. Further, his background has been heavily influenced by Islam. In fact, he was raised as a Muslim. In one of his books he claimed he would side with Islam, and as president, has repeatedly favored Muslim countries and people over Americans. He has constantly criticized and condemned Christians and America, even boldly proclaiming to the world that America is no longer a Christian nation. And now, despite the economic crisis America faces, he is hell-bent on bringing Muslim "refugees" to America from war-torn countries. (Wars that America helped start and arm, in many cases.)
While HRC might not be as enamored with Islam as is BHO, she at least demonstrates a "fondness" for it. While secretary of state, she proclaimed that speech against Islam should be against the law. (That's first amendment-protected speech she wants to silence.) She has given her support to many Muslim organizations, and has backed UN treaties involving Islam that basically supersede American laws. Like BHO, she has also criticized Christianity and Catholicism regarding our beliefs, particularly towards Islam.
Full report at:
http://www.renewamerica.com/columns/crabb/161106
--------
Europe
Irish in Iraq suicide attack, claims Daesh
6 November 2016
DUBLIN: Ireland is investigating reports that an Irish citizen blew himself up in a suicide attack near the Iraqi city of Mosul, a spokesman said on Saturday.
A Daesh statement said on Friday Abu Usama Al-Irelandi detonated an explosive-laden vehicle, killing and wounding dozens, the SITE Intelligence Group, a US company that monitors radical websites, reported.
Abu Usama is a pseudonym used by Irish Daesh sympathizer Terence Kelly. Pictures posted by Daesh sympathizers on Twitter showed a man resembling Kelly posing with a gun in front of an armored car.
"The martyrdom-seeking brother Abu Usama Al-Irelandi — may Allah accept him — set off with and detonated his explosives-laden vehicle on another gathering of apostates, in Aghazil Al-Kabir village, south of Tal Afar, killing and wounding dozens of them, and destroying several of their vehicles," SITE quoted the Daesh statement as saying.
Separately, two roadside bombs struck a convoy carrying Iraqi families fleeing a Daesh-controlled town in the north of the country late on Friday, killing 18 people, a police officer said.
The bombs targeted a truck carrying people from Hawija, about 120 km south of Daesh's stronghold in Mosul, as they were being taken to the town of Al Alam, next to the Tigris river. Seventeen of the dead were from the displaced families, regional police Col. Nemaa Al-Jabouri said. One policeman in an accompanying patrol car was also killed.
New satellite images show that Daesh militia in Mosul has set up daunting defenses designed to bog down advancing forces.
The images taken Monday and made public by Saturday by Texas-based private intelligence firm Stratfor, show rows of concrete barricades, earthen berms and rubble blocking key routes leading to the core of the city.
Militants have also cleared terrain and leveled buildings around Mosul airport and a nearby former military base on the west bank of the Tigris. The group likely did so to create a wall to better target Iraqi forces and give them open spaces to fire on advancing troops from further away, according to Stratfor.
http://www.arabnews.com/node/1007181/world
--------
German ministry wants migrants returned to Africa: report
November 06, 2016
The German Interior Ministry wants to stop migrants ever reaching Europe's Mediterranean coast by picking them up at sea and returning them to Africa, the Welt am Sonntag newspaper reported on Sunday.
In what would be a huge shift for a country with one of the most generous asylum policies, the ministry says the European Union should adopt an Australian-style system under which migrants intercepted at sea are sent for processing at camps in third countries.
"The elimination of the prospect of reaching the European coast could convince migrants to avoid embarking on the life-threatening and costly journey in the first place," the paper quoted a ministry spokeswoman as saying.
"The goal must be to remove the basis for people-smuggling organizations and to save migrants from the life-threatening journey."
The ministry's proposal calls for migrants picked up in the Mediterranean - most of whom set off from conflict-torn Libya - to be sent to Tunisia, Egypt or other north African states to apply for asylum from there.
If their asylum applications are accepted, the migrants could then be transported safely to Europe.
Full report at:
http://nation.com.pk/international/06-Nov-2016/german-ministry-wants-migrants-returned-to-africa-report
--------
Italy's kidnapped nationals, Canadian freed in Libya
November 06, 2016
ROME - Two Italians and a Canadian who were kidnapped in the south of conflict-torn Libya in September have been released and flown to Italy, the Italian government announced Saturday.
The Italians, Danilo Calonego, 66, and Bruno Cacace, 56, and Canadian Frank Poccia were freed during the night "due to the effective cooperation with local Libyan authorities," it said in a statement.
The three men were kidnapped on September 19 in Ghat, close to the Algerian border, where they worked for an Italian company that carried out maintenance at the airport.
An armed group blocked their vehicle and took them hostage. Italy's foreign ministry said the three arrived in Italy at around 3am (0200 GMT), but gave no details on their state of health. It was also not clear when Poccia might return to Canada.
Rome prosecutors, who had opened an investigation into a suspected terrorist kidnapping, were to speak to the two Italians later Saturday.
Full report at:
http://nation.com.pk/international/06-Nov-2016/italy-s-kidnapped-nationals-canadian-freed-in-libya
--------
French soldier killed in Mali blast
November 06, 2016
PARIS:– A French soldier deployed to an anti-Islamist force in Mali died overnight from injuries sustained in a mine blast, the presidency said Saturday.
The man, a non-commissioned officer who was not identified by name, was wounded on Friday when his armoured vehicle struck a mine, it said.
French President Francois Hollande "hailed the sacrifice" of the man killed, the statement said.
French soldiers deployed to Mali in early 2013 to help drive back Islamist militants who had overrun parts of the west African country, a former French colony.
France's Operation Serval in Mali was later replaced by Operation Barkhane, a broader offensive against Islamist groups with some 3,000 French soldiers deployed in five African countries.
Full report at:
http://nation.com.pk/international/06-Nov-2016/french-soldier-killed-in-mali-blast
--------
South Asia
Taliban to be eliminated in a month, regional intelligence fueling war: MoD
Nov 06 2016
The Ministry of Defense of Afghanistan (MoD) has said the elimination of the Taliban group fighters will not take more than a month but the regional intelligence fueling the Afghan war by supporting the anti-government armed militants.
MoD spokesman Gen. Dawlat Waziri told reporters in Kabul that the ongoing war and violence in the country is an intelligence war, insisting that the Taliban resistance wold not last more than a month if the group would wage insurgency alone.
He did not elaborate further regarding any specific regional intelligence agency but the Afghan officials have long been criticizing Pakistan's Inter Services Intelligence for supporting the Afghan militants.
The Afghan officials are saying that the leadership group of the Taliban and other militant groups including the Haqqani terrorist network are based in Pakistan and are openly convening gatherings besides planning and coordinating attacks in Afghanistan.
In the meantime, Gen. Waziri said the Afghan forces recently seized a vehicle packed with hundreds of weapons, thousands of ammunition and explosives as the militants were looking to transport it to equip their fighters.
He said the Afghan forces confiscated 430 Pakistani weapons including pistols and 23,800 rounds of ammunition in Badghis province.
Gen. Waziri appeared in a press conference to update the media following a deadly clash in Kunduz on Thursday that left around 30 civilians dead.
Blaming the Taliban group for the civilian casualties, Gen. Waziri said the group continues to use the civilians as human shield and the group's leaders and fighters are even reckless regarding their own family members.
According to Waziri, several family members of the Taliban group leaders were among those killed as the Afghan forces called for air support amid fierce clash.
The operation on Thursday was launched as the Taliban group leaders had gathered for a meeting to launch a fresh attack on Kunduz city.
http://www.khaama.com/taliban-to-be-eliminated-in-a-month-regional-intelligence-fueling-war-mod-02216
--------
2 Pakistanis belonging to Lashkar-e-Islam arrested in Afghanistan
Nov 06 2016
The Afghan security forces have arrested two Pakistani nationals belonging to Lashkar-e-Islam as they arrived in eastern Nangarhar province of Afghanistan.
The provincial police commandment said the two suspects were arrested during an operation in Achin district where the loyalists of ISIS terrorist group and other insurgents are openly operating.
The two suspects have been identified as Jan Mohammad and Jinad and are originally ressidents of Khyber Agency in Pakistan.
According to Nangarhar police, the two suspects had visited Afghanistan to conduct insurgency activities.
Full report at:
http://www.khaama.com/2-pakistanis-belonging-to-lashkar-e-islam-arrested-in-afghanistan-02215
--------
Myanmar's plan to arm, train non-Muslims "recipe for disaster": Jurist group
November 5, 2016
Myanmar's plans to arm and train non-Muslim residents in the troubled north of Rakhine State is likely to "aggravate an already dire human rights situation", the International Commission of Jurists, a human rights watchdog, has said. Soldiers have flooded the Maungdaw area along Myanmar's frontier with Bangladesh in Rakhine in response to coordinated attacks on three border posts on Oct. 9 in which nine police officers were killed.
The government said a group of some 400 Rohingya Muslim militants attacked the posts. It has said five soldiers and at least 33 suspected insurgents have been killed in the military operation since then. Security forces have blocked access to aid workers and most journalists to the area. Rohingya Muslims have accused the army of summary executions, rapes and setting fire to homes of civilians. The government and the military deny that.
Rakhine State police chief Colonel Sein Lwin told Reuters this week his force had started recruiting new "regional police" from among the ethnic Rakhine and other non-Muslim ethnic minorities in the area.
"Establishing an armed, untrained, unaccountable force drawn from only one community in the midst of serious ethnic tensions and violence is a recipe for disaster," said Sam Zarifi, ICJ's Asia Director, said in a statement on Friday.
Min Aung, a minister in the Rakhine State parliament and a member of Myanmar leader Aung San Suu Kyi's National League for Democracy, said this week the recruits would help protect residents from the militants behind the October 9 attacks. Deputy commander of Rakhine police, Col. Thit San, contacted by Reuters on Saturday, rejected the criticism, saying there will be no problems with the force as it would be under police command.
"We already did that training previously, that is normal police recruitment as five or six times before, there were no problems then," said Thit San.
Full report at:
http://indianexpress.com/article/world/world-news/myanmars-plan-to-arm-train-non-muslims-recipe-for-disaster-jurist-group-3738573/
--------
With silent guardians, Afghan soldiers protect Kabul
Nov 06 2016
Floating silently above the city, brilliant white balloons with precision cameras stand watch here, silent guardians of the sky. Officially known as Aerostats, the balloons serve as sentinels protecting the people below.
The balloons have a high-performance camera, providing 360-degree views around the city. The camera's night vision capabilities, coupled with the simplicity of the helium-operated system, allow it to patrol 24 hours a day. With multiple sites around Kabul, the Aerostats monitor the entire city for danger.
The Afghan National Army's Aerostat training school at Sia Sang National Military Intelligence Center here has focused on training select service members to operate the balloons with the support of coalition contractors. The school has trained dozens of students so far, with more waiting to attend. Only the most experienced and proven soldiers get to attend the 40-day school, and they consider it an honor to be part of one of the teams.
When it comes to protecting Kabul, the Aerostats are unparalleled for the cost per balloon.
"The cost is minimal," the school's commander said, "when it comes to protecting the lives of our citizens below."
Not just a training center, the Sia Sang center is also an effective part of the integrated intelligence system throughout the city. Several months ago, the site observed insurgents moving rockets into the city. The team on watch was able to coordinate with the Afghan National Army and Afghan National Police, allowing them to arrest the insurgents and prevent an attack.
The current watch captain, an infantry officer, understands the intelligence value Aerostats bring.
"Our balloons are very effective for the Afghan National Army. If you use it in the right way, you can do the job of 1,500 soldiers on the ground," he said.
At another site on Kabul's outskirts, the team is tied into the Kabul surveillance network, but also provides security for key government officials working to rebuild the country.
The video feed from each ANA-operated Aerostat is sent directly to the Ministry of Defense where teams of trained personnel provide additional monitoring. The goal is to prevent violence before it occurs. The MoD command center has integrated the video from the Aerostats as a critical component of its daily watch plan.
Full report at:
http://www.khaama.com/with-silent-guardians-afghan-soldiers-protect-kabul-02213
--------
Pakistan
Religious Tolerance Stressed At Diwali Function In Lasbela, Paksitan
06-Nov-16
QUETTA: Pakistan Hindu Council leader Dr Ramesh Kumar Vankwani has said that the ongoing development projects in Balochistan are opening horizons of progress in every sector.
Addressing an event held in Uthal city of Lasbela district, Dr Vankwani, member of National Assembly, said the constitution ensured religious freedom to the minorities. He said people belonging to different religions must respect one another's ideologies, which was essential for a peaceful society.
Full report at:
http://dailytimes.com.pk/pakistan/06-Nov-16/religious-tolerance-stressed-at-diwali-function-in-lasbela
--------
Pak envoy attends Diwali bash hosted by Indian foreign secy
November 06, 2016
New Delhi - Pakistan High Commissioner Abdul Basit attended a Diwali gathering hosted by Indian Foreign Secretary S Jaishankar on Saturday in New Delhi, reported Hindustan Times.
US envoy Richard Verma, Indian army chief Dalbir Singh, national security adviser Ajit Doval and former NSA Shivshankar Menon, among others, were present at the event.
Ties between India and Pakistan have hit a low in the aftermath of an attack on an army base in northern Kashmir's Uri that killed 19 soldiers in September.
India recently accused a Pakistan high commission staffer of spying, and in a tit-for-tat move a media leak in Pakistan accused eight officials of the Indian mission of being involved in "subversive activities".
Full report at:
http://nation.com.pk/national/06-Nov-2016/pak-envoy-attends-diwali-bash-hosted-by-indian-foreign-secy
--------
Three terrorists killed in Machh
November 06, 2016
QUETTA - Three terrorists were killed in an exchange of fire with FC and officials of other sensitive agencies at Aab-e-Gum area of Machh on Saturday.
A spokesman for the FC said that the FC and sensitive agencies took the action on a tip-off.
He said the terrorists killed were involved in attacks on trains on 7th and 16 October.
POLICEMAN GUNNED DOWN IN QUETTA
Two unidentified motorcyclists allegedly gunned down a police constable in the Mastung area of Quetta.
Full report at:
http://nation.com.pk/national/06-Nov-2016/three-terrorists-killed-in-machh
--------
Four terror suspects arrested in Sargodha
November 06, 2016
SARGODHA:- The police arrested four terror suspects during a search operation here on Saturday evening.
The police on a tip-off conducted the search operation against outlaws in Eidgah Basti of Sargodha district.
Full report at:
http://nation.com.pk/national/06-Nov-2016/four-terror-suspects-arrested-in-sargodha
--------
Mysterious banners call on COAS to contest next general election
HASEEB BHATTI
November 6, 2016
Mysterious banners urging Chief of Army Staff General Raheel Sharif to contest the general elections in 2018 were spotted in Rawalpindi on Saturday, a few weeks ahead of the military chief's last day on duty.
In bold letters, the banners call for 'no extension but reduction' — asking for reduction from two to one year the minimum duration before a retired government servant can enter politics as well as urging General Raheel to enter the political arena and contest national elections in 2018.
The banners call on the government and the opposition to bring to an end "their divisive politics". They also call on the general to enter politics in the hopes that "ties between the country's civil and military leadership can harmonise".
The banners say there was hope that by taking part in the elections, [General] Raheel's party "will secure majority votes and he will be elected prime minister, leading the country on the path to becoming a success".
The posters name a Sheikh Rasheed Amjad Ali, member of a group called the Awami Monitoring Cell (Rawalpindi), as the man who has organised the campaign.
Also read: Who will be the next army chief?
Previously, banners addressing General Raheel had popped up in cities across the country urging the COAS to 'stay on.'
Full report at:
http://www.dawn.com/news/1294456/mysterious-banners-call-on-coas-to-contest-next-general-election
--------
Panamagate sows discord among lawyers
NASIR IQBAL
November 6, 2016
ISLAMABAD: The Panamagate controversy has now spilled over into bar politics, with fissures between two schools of thought within the 23-member Pakistan Bar Council (PBC) — the supervisory body for lawyers in Pakistan — finally out in the open.
On Saturday, a majority of 13 members, led by Ahsan Bhoon — who is considered to be part of the 'Asma Jahangir group' — held a requisitioned session to virtually clip the authority of its vice chairman, Barrister Farogh Naseem — who is considered to be part of the 'Hamid Khan group'. They appointed Kamran Murtaza as spokesperson and empowered him to present the council's point of view, especially in the Panama leaks case.
The 217th meeting of the council decided to take a firm stand on the Panamagate issue, coming close to adopting a strongly-worded resolution after threadbare discussion on whether the Supreme Court had the jurisdiction to hear the Panamagate petitions.
Though the session was about to pass the resolution, it was deferred when a member pointed out that it was not advisable to adopt the resolution since the matter was not on the agenda for the day.
PBC sidelines Farogh Naseem; Kamran Murtaza made new spokesperson
Moreover, a resolution without solid legal rationale would serve no purpose, and would rather embarrass the highest forum of lawyers in the country.
The session resolved to call a proper meeting on Nov 26, after serving due notice to all members, to thoroughly discuss the scope and nature of the jurisdiction the Supreme Court has to deal with the Panamagate case.
Mr Bhoon, one of the vocal members of the council, said that before holding politicians to account for corruption in the form of investments in offshore companies, the judiciary should first consider taking action against one of its own members, whose name had also surfaced in the Panama Papers and Bahamas leaks.
On Sept 3, the same group had staged a coup against Farogh Naseem, who was elected vice chairman in elections held on Jan 25, 2016 — in what was seen as the re-emergence of the Hamid Khan group. The new majority group had also dissolved all the standing committees of the council.
Dr Naseem had bagged 12 votes against the 11 secured by his opponent, Syed Amjad Shah, a little known lawyer from Abbottabad fielded by the Asma Jahangir group.
The coup was challenged before the Islamabad High Court, which annulled the order related to the dissolution of standing committees on Sept 9, asking the PBC to settle the dispute on its own.
This decision was challenged before the Supreme Court and may be fixed before a three-judge bench in the near future.
Full report at:
http://www.dawn.com/news/1294582/panamagate-sows-discord-among-lawyers
--------
Shia cleric detained by police in Karachi: MWM
IMTIAZ ALI
November 6, 2016
All Pakistan Shia Action Committee chief Allama Mirza Yusuf Husain was apprehended from his residence in Karachi by police late Saturday night, a Majlis Wahdat-e-Muslimeen (MWM) spokesperson told Dawn
Husain's residence is attached to Jamia Masjid Noor-i-Iman in Nazimabad where he is a prayer leader.
MWM leader Ahmed Iqbal Rizvi in a statement, while condemning Husain's detention, said that "killings of the mourners and detentions of Shia leaders were a conspiracy to foil Karachi operation."
A police spokesperson said that several people were detained during 'combing and search operations' in different parts of the city.
Police also registered another case pertaining to possession of illegal arms against ex-PPP Senator Faisal Raza Abidi, a senior police officer said on Sunday.
Abidi was arrested on Saturday from his residence in Karachi. Jamshed Quarters SP Tahir Noorani said Abidi was taken into custody in connection with the killing of two men who belonged to the Tableeghi Jamaat in Patel Para area of the metropolis a day earlier.
"We have arrested Faisal Abidi for his alleged involvement in the double murder case," said SP Jamshed Quarters Tahir Noorani.
Full report at:
http://www.dawn.com/news/1294666/shia-cleric-detained-by-police-in-karachi-mwm
--------
Pakistan renews call for UN fact-finding mission to be sent to Kashmir
November 06, 2016
NEW YORK: Pakistan's Ambassador to the United Nations, Maleeha Lodhi has again called on the United Nations to dispatch a fact-finding mission to Kashmir, saying that India's rejection to allow one was in fact acknowledgment of the grave atrocities being committed by its occupation forces.
Lodhi made the call when the UN High Commissioner for Human Rights, Zeid Ra'ad Al Hussein, called on her at the Pakistan Mission in New York, according to an official press release issued on Saturday.
The Pakistani envoy commended the High Commissioner for his effective leadership as an advocate of human rights and fundamental freedoms across the world.
She said that Pakistan appreciated his repeated calls for grant of unconditional access for the Office of High Commissioner for Human Rights (OHCHR) to both sides of the Line of Control in Jammu and Kashmir. Pakistan has already agreed to grant access to OHCHR.
She also noted that the calls by the High Commissioner for sending fact-finding mission to Indian Occupied Kashmir to independently assess the situation on the ground, was a source of solace for the people of Kashmir.
Their rejection by India only reinforced the need for the office of the High Commissioner to monitor the situation on a sustained basis. Pakistan, she said, would continue to support the High Commissioners' efforts to end human rights violations worldwide.
Briefing High Commissioner Zeid on the current situation in Indian occupied Jammu and Kashmir, Ambassador Lodhi said that the grave violations of human rights of the Kashmiri people including extra-judicial killings, torture, violence and arbitrary detentions, have become synonymous with Indian occupation and they continue with impunity.
Full report at:
http://nation.com.pk/national/06-Nov-2016/pakistan-renews-call-for-un-fact-finding-mission-to-be-sent-to-kashmir
--------
Fata market demolished after bomb attack
November 06, 2016
PESHAWAR - Security forces blew up a market in a restive tribal region near the Afghan border to avenge the killing of an army officer in a bomb attack, the authorities said Saturday.
The market housing more than 100 shops was destroyed on Thursday in Wana, the capital of the South Waziristan region, one of the seven semi-autonomous tribal areas where the army has been battling Taliban and Al-Qaeda linked militants for more than a decade.
"The security forces ordered the shopkeepers to leave the market, which had over 100 shops and blew it up with explosives," senior local administration official, Zafar-ul-Islam told AFP on Saturday.
An improvised explosive device (IED) killed an army major on Tuesday outside a weapons shop as the military staged a raid of the market.
Afghan national Kharoti Khan, who owned the shop, was arrested and his house demolished a day after the explosion, Islam said.
He added the market was demolished as part of a "collective responsibility" to curb militancy from the area.
Full report at:
http://nation.com.pk/national/06-Nov-2016/fata-market-demolished-after-bomb-attack
--------
Arab World
Suicide bombers strike in two Iraqi cities, killing 11: officials
November 06, 2016
A suicide attacker detonated an ambulance packed with explosives in Tikrit on Sunday, killing nine people at the southern entrance to the city, police and hospital sources said.
The bomber struck during the busy morning rush hour. Authorities declared a curfew in the city, saying they had information that further attacks were possible.
In Samarra, about 50 km (30 miles) south of Tikrit, two people were killed when a suicide car bomber struck a car park for Shi'ite pilgrims visiting the city's al-Askari mosque, sources said.
The attacks took place as Iraqi troops and security forces, backed by a US-led international coalition, were fighting to drive Islamic State militants out of the northern city of Mosul which they have controlled for the last two years.
http://nation.com.pk/international/06-Nov-2016/suicide-bombers-strike-in-two-iraqi-cities-killing-11-officials
--------
Damascus: Terrorists Ready to Hand Over Khan Al-Sheih Town to Syrian Gov't
Nov 05, 2016
"Liberation of most regions near Khan al-Sheih and repelling the entire attacks of the terrorists who sought to lift the siege on Khan al-Sheih by the Syrian army forced the militants to decide to leave the town and hand it over to the government forces," the sources said.
"Terrorists have requested to be transferred to Dara'a, but Damascus and representatives of the Syrian army have voiced opposition because of the fierce clashes underway in that province," they added.
Talks between the Syrian army and Fatah al-Sham Front (the al-Qaeda-affiliated terrorist group previously known as the al-Nusra Front) failed last week and terrorists did not agree to leave the town.
Full report at:
http://en.farsnews.com/newstext.aspx?nn=13950815001037
--------
Over 85 Percent of Homs Province Area under Full Control of Syrian Army
Nov 06, 2016
Tallal Barazi underlined Homs province's stability and security, and added, "Liberation of the town of Quaryatayn and the ancient city of Palmyra (Tadmur) in Eastern Homs and pursuing advances of the Syrian soldiers in al-Sukhnah region guaranteed sustainable security in the province."
"Following improvement of security conditions in Homs province in the last two years, over 180 factories and 23 government bodies have resumed operation," he further added.
The governor further said that the Western territories of Homs have enjoyed sustainable security in the last two years, adding, "over 5,600 families have returned to the freed villages and towns of al-Hassan, al-Zareh, Rif al-Qosayr, Qalamoun, Quaryatayn and Tadmur, but, clashes are underway in al-Sukhnah, some 70 kilometers from Tadmur and 230 kilometers away from Homs city."
The towns of al-Rastan, Talbiseh and Taldou in Norther Homs are also among the battlefields in Northern Homs, and the army has thus far been capable of hitting hard positions of Fatah al-Sham Front (the al-Qaeda-affiliated terrorist group previously known as the al-Nusra Front), Ahrar al-Sham and other terrorist groups," he added.
"In the meantime, National Consolidation Delegations have held meetings with commanders of militants in al-Houleh and Talbiseh to persuade them to leave the regions under their control and join the peace agreement with the government.
In relevant developments in the province on Saturday the Syrian Army troops fended off ISIL's large-scale offensive on a key oilfield in Eastern Homs, killing or wounding at least 30 terrorists.
Full report at:
http://en.farsnews.com/newstext.aspx?nn=13950816000356
--------
Iraqi Forces Recapture Last ISIL Stronghold South of Mosul
Nov 06, 2016
According to the Iraqi state TV, army and police forces fully seized control of the ISIL-held district, and hoisted the Iraqi flags on government building.
The Iraqi police and army's armored units began the operation to retake Hamam al-Alil on three fronts around since Thursday, and liberated many villages as they advanced toward the ISIL-held town.
The Joint Military Command of the Iraqi Armed Forces said on Saturday that the army and its allies have liberated 165 regions from the control of the ISIL terrorists since the start of the military operation to retake the militant-held city of Mosul.
"Since the start of the military campaign to liberate Mosul, a number of 165 regions, villages, districts, neighborhoods, and government facilities in Northern, Southern, Western and Eastern Mosul have been retaken from the terrorists control," Iraq's Joint Military Command said in a statement.
Full report at:
http://en.farsnews.com/newstext.aspx?nn=13950816000292
--------
Iraqi forces are 4 km from Mosul airport
6 November 2016
Iraqi security forces drove ISIS fighters from the center of a town just south of the militants' main stronghold of Mosul on Saturday and reached within a few km (miles) of an airport on the edge of the city, a senior commander said.
Lieutenant-General Raed Shakir Jawdat said security forces were in control of the center of Hammam al-Alil, about 15 km (10 miles) south of Mosul, although he did not say whether the militants had been pushed out completely.
The advance on the southern front comes days after Iraqi special forces fought their way into the eastern side of Mosul, taking control of six neighborhoods according to Iraqi officials and restoring a foothold in the city for the first time since the army retreated ignominiously two years ago.
Another unit advanced further north up the western bank of the Tigris river on Saturday, Jawdat added. "Our elite forces have reached an area just 4 km (2 1/2 miles) from Mosul airport," he told Al-Hurra television channel.
Recapturing Mosul would crush the Iraqi half of a caliphate declared by Islamic State leader Abu Bakr al-Baghdadi from the pulpit of a Mosul mosque in 2014. His Islamist group also controls large parts of east Syria.
There were no reports of further gains in the east of the city on Saturday, and officers said the military was clearing areas it took in recent days.
Iraqi Prime Minister Haider al-Abadi, speaking on a visit to the eastern front, said he brought "a message to the residents inside Mosul who are hostages in the hands of Daesh (Islamic State) - we will liberate you soon".
Abadi said progress in the nearly three-week-old campaign, and the advance into Mosul itself, had been faster than expected. But in the face of fierce resistance, which has included suicide car bombings, sniper fire and roadside bombs, he suggested that progress may be intermittent.
"Our heroic forces will not retreat and will not be broken. Maybe in the face of terrorist acts, criminal acts, there will be some delay," he said.
General Jawdat said his forces had destroyed 17 bomb-laden cars which had targeted them on their advance north.
So far the army controls only a small part of Mosul which was home to 2 million people before ISIS took over in 2014. More than 1 million remain in the city - by far the largest under ISIS control in either Iraq or Syria.
A Reuters correspondent in the village of Ali Rash, about 7 km (4 miles) southeast of the city, saw smoke rising from eastern districts on Saturday, while air strikes, artillery and gunfire could be heard.
Full report at:
https://english.alarabiya.net/en/News/middle-east/2016/11/06/Iraqi-forces-are-4-km-from-Mosul-airport.html
--------
Marshall Plan needed post-election to defeat Daesh, says expert
6 November 2016
JEDDAH: A Dubai-based Arab researcher has called for something similar to the Marshall Plan to tackle the root causes of extremism and defeat Daesh decisively.
"For anyone to get rid of Daesh once and for all, we need something similar to a Marshall Plan. What is needed is a plan to remove the reasons for the existence of these terrorist groups," said Dr. Dania Koleilat Khatib, a political adviser to the UAE-based think-tank Al-Istishari Al-Strategy Center for Economic and Future Studies and author of "The Arab Lobby: Factors for Success and Factors for Failure."
During an interview with Arab News on Saturday, she was referring to the American initiative after World War II that led to the recovery of Europe and saw Washington invest $12 billion to help rebuild western European economies.
Khatib's suggestion was in line with that of former senior US Gen. John Allen and former British Prime Minister Gordon Brown.
Driving her point home, she said the liberation of Mosul was good news, "but remember that Al-Qaeda in Iraq went underground when the Awakening group was created. When an opportunity arose and there was a vacuum, Al-Qaeda emerged as Daesh."
Khatib, who studied for her doctorate in philosophy in political science at the University of Exeter in 2014, feels that were Hillary Clinton elected president, she would be more suited to implement this kind of program.
"I don't know if she would do it and she has not said she would do it, but I think she is more suited to doing it," said Khatib. "Clinton realizes that she needs to go to the source of the problem. You cannot deal with this region haphazardly or on a piecemeal basis."
What if Donald Trump wins the election? "He will not do anything. He will let Russian President Vladimir Putin go after Daesh. He once said that he had a secret plan (for dealing with Daesh) but we have no idea what his plan is. I don't think he has a plan. He will focus less on Daesh and more on homeland security. He will not want to go after the source of the problem," she said.
She thinks Clinton will win on Tuesday.
"The reopening of the investigation into Clinton's e-mails by the Federal Bureau of Investigation (FBI) has affected the polls as is evident from the RealClearPolitics average of polls. Clinton now leads Trump by an average of just 1.7 percentage points. Less than three weeks ago, she was leading by 7 points on the same model. The margin has really shrunk but I still think she is going to win," Khatib said.
She said people were shocked by the politically inexperienced Trump's rise against an opponent with more than 30 years of active public life — as former First Lady, former secretary of state and former senator.
Full report at:
http://www.arabnews.com/node/1007156/world
--------
Saudi Military Bases in Najran, Jizan, Assir Provinces Come Under Yemeni Army Artillery Attacks
Nov 06, 2016
The Saudi regime's military bases in Najran, Jizan and Assir provinces came under the Yemeni army's heavy artillery fire.
"The Yemeni army and popular forces hit the gathering centers of Saudi army troops in the Northern part of Midi desert near al-Mousem village in Jizan province," a local source said.
The Yemen artillery unit also pounded the Saudi Mos'an military base in Southern Saudi Arabia.
The Yemeni forces also targeted Manfaz border crossing in Assir province, killing a large number of the Saudi troops.
The Yemeni army also destroyed two armored vehicles of the Saudi army near al-Khazra border crossing, killing all their crew members.
Last Saturday, the media reports said that the Riyadh government had evacuated over half of its rural areas along the kingdom's border with Yemen.
"More than 60 percent of Saudi Arabia's villages located along Saudi Arabia-Yemen border have been evacuated by the kingdom's border guards," the Arabic-language al-Ahad news website reported.
Full report at:
http://en.farsnews.com/newstext.aspx?nn=13950816000647
--------
Syrian Army, NDF Recapture Lost Lands in Northern Hama
Nov 06, 2016
Syrian government forces, backed up by the Syrian fighter jets and artillery units, struck Jeish al-Izzah's positions and took back Shelwat checkpoint and the village of Abu Obeideh, killing at least 20 militants and destroying their arms and ammunition.
After the terrorists' Saturday attack, a large number of popular forces, deployed in Ma'ardeh, were sent to al-Malah.
The terrorist group retreated from the battlefield to al-Latamina after sustaining heavy casualties.
In relevant developments in the province on Saturday, the Syrian Army troops continued to drive the terrorist groups out of more lands in Northern Hama, capturing a key checkpoint and several regions near the town of Morek.
Syrian military forces pushed terrorists back from Syriatel checkpoint, al-Basha'er School, al-Manasher and some other regions near Morek.
Full report at:
http://en.farsnews.com/newstext.aspx?nn=13950816000457
--------
Aleppo: Terrorist Groups Suffer Heavy Casualties in Syrian Airstrikes
Nov 06, 2016
Tens of terrorists were killed and many more were wounded in the air assault their positions, bases and roads in the villages of al-Jeniyeh, al-Mansoureh, Zorat Abd Rabbeh, Khan al-Asal and Awrom al-Cobra and the districts of al-Rashedeen 4 and 5.
Terrorists' bases and military vehicles sustained major damage in the air raid.
The Syrian fighter jets also pounded terrorists' centers near the Housing Project 1070, preventing terrorists from advancing towards 3,000-Units Housing Complex.
Syrian warplanes also targeted terrorists' positions in Atarib, Aram, Kafr Naha and Abin, claiming the lives of several militants.
The air raids also targeted terrorists' convoy of reinforcement troops on the way to the New Aleppo district and the Assad Military-Engineering Academy.
Terrorist groups-affiliated media acknowledged on Saturday that hundreds of militants were killed or wounded in failed attacks on the positions of the government troops in Western and Southwestern Aleppo.
Full report at:
http://en.farsnews.com/newstext.aspx?nn=13950816000551
--------
Syria: Terrorist Groups Acknowledge Heavy Casualties in Western Aleppo
Nov 05, 2016
"A large number of militants have been killed, including senior commanders. In the meantime, hundreds more have been wounded in the second wave of the Great Epic Operation to lift the army's siege of the militant-held Eastern districts of Aleppo city," the sources said.
Also, Abdullah Muhammad al-Muhaysini, a senior al Qaeda-linked cleric and the religious leader of Jeish al-Fatah terrorist group, said in a voice massage on his tweeter page that at least four Saudi militants, including commander Khatab al-Tabouki al-Atwi, were killed in clashes with Syrian army in the Western parts of Aleppo.
Sources close to the terrorist groups admitted on Wednesday that between 2,200 up to 2,500 militants have been killed or wounded in their large-scale offensive on government forces' positions in the Western and Southwestern parts of Aleppo city in the last few days.
The Arabic service of RT quoted the sources as saying that the terrorist groups suffered between 2, 200 up to 2,500 casualties, including a large number of non-Syrian militants, in their Great Epic Operation on Army positions in Western and Southwestern Aleppo in the last 6 days.
The latest reports said that after repelling terrorist groups' attacks on Friday, relevant calm has prevailed over Western Aleppo city.
According to military sources, the Syrian army and popular allies are monitoring terrorists' movements in the Housing Project 1070, Zahiyeh al-Assad, Jam'iyat al-Zahra, Menyan, 3,000-units housing complex, Assad military-engineering academy, Family House and New Aleppo districts.
Aleppo governor general disclosed earlier today that none of the UN staff has visited the safe corridors established for the exit of the civilians from militant-held districts of Aleppo to register the terrorists' violations in Friday's humanitarian pause.
"The Syrian government has done its best to render medical and urgent services to the injured and patients near the safe corridors, but the terrorists did not allow anyone to leave the Eastern districts of Aleppo via these corridors," Brigadier General Hossein Deyab said.
"The terrorist groups targeted civilians and the corridors, but none of the UN staff was present on the scene to register their violation of the humanitarian pause," he further added.
Deyab added that militants have fired numerous missiles at Costello safe corridor, leaving several people wounded, including a journalist.
Full report at:
http://en.farsnews.com/newstext.aspx?nn=13950815001206
--------
MP: Stalemate in Political Settlement of Crisis in Syria Acknowledged by All Actors
Nov 06, 2016
"Russia's strong reaction to the terrorists' deliberate attempts to break the ceasefire in Aleppo and deployment of the Russian warship near the Syrian coasts proved that Moscow has also admitted the deadlock in the political settlement of the crisis," Jamal Rabe'ah told FNA on Sunday.
Stressing that despite Russia's efforts to pave the ground for the peaceful evacuation of terrorists from Aleppo, the US has spared no efforts to lead the political solution into a stalemate, he said, "The resistance front and its allies have no way but continued military operations to suppress the mercenaries of the colonial powers in the region."
Aleppo governor general disclosed on Saturday that none of the UN staff has visited the safe corridors established for the exit of the civilians from militant-held districts of Aleppo to register the terrorists' violations in Friday's humanitarian pause.
"The Syrian government has done its best to render medical and urgent services to the injured and patients near the safe corridors, but the terrorists did not allow anyone to leave the Eastern districts of Aleppo via these corridors," Brigadier General Hossein Deyab said.
Full report at:
http://en.farsnews.com/newstext.aspx?nn=13950816000464
--------
Mideast
Turkey says Diyarbakir car bomb work of Kurdish militants, not Daesh
5 November 2016
ANKARA: The car bomb that killed 11 people and wounded 100 in the southeast Kurdish province of Diyarbakir on Friday was the work of Kurdish militants and not Daesh, the local governor's office said.
Following the attack on Friday, Daesh claimed responsibility for the car bomb, according to the group's Amaq news agency.
Full report at:
http://www.arabnews.com/node/1006841/middle-east
--------
Istanbul police break up protest after arrest of pro-Kurdish deputies
5 November 2016
ISTANBUL: Istanbul police on Saturday used tear gas, water cannon and plastic bullets to break up a protest by hundreds of people against the arrest of pro-Kurdish Turkish deputies.
The protesters demonstrated outside the main mosque in the Sisli district on the European side of the city shouting slogans.
But police rapidly moved in, dispersing the crowds by spraying torrents of freezing water from trucks, using tear gas and firing plastic bullets, AFP correspondents said.
The protest came after nine MPs from the pro-Kurdish Peoples' Democratic Party (HDP), including its two co-leaders, were jailed on Friday ahead of trial on terror charges.
Full report at:
http://www.arabnews.com/node/1006861/middle-east
--------
Quds Force commander says Syria needs to impose Iran's will
5 November 2016
A senior commander of the Islamic Revolutionary Guards Corps al-Quds Force has said that the year 2016 would be a resolute year in Syrian civil war.
Deputy Commander of al-Quds force, Ismail Qaiana, was quoted as saying in a speech in Tehran that "this conflict needs sacrifice," according to ISNA news agency.
Qaiana is the deputy of Major General Qassem Suleimani, the Quds Force commander and head of Iranian strategy in Syria, Iraq and Lebanon.
He added: "In Syria, we need competent commanders to impose the resolve of the Iranian regime over our rivals,' in one of the most direct statements that reflect the Islamic Republic objectives in Syria.
Full report at:
https://english.alarabiya.net/en/News/middle-east/2016/11/05/Deputy-Soleimani-Syria-needs-to-impose-the-will-of-the-leaders-of-Iran.html
--------
Turkish court jails nine staff of Opp daily
November 06, 2016
ISTANBUL - An Istanbul court on Saturday ordered the imprisonment of nine staff from the opposition Cumhuriyet newspaper, in an intensifying crackdown a day after the leaders of the country's main pro-Kurdish party were also jailed. The arrests added to growing international alarm over the use of a state of emergency implemented in the wake of the failed July 15 coup against critics of President Recep Tayyip Erdogan. The Cumhuriyet staff detained earlier this week, including some of the most prominent names in Turkish journalism, will now be held behind bars ahead of a trial, a date for which had yet to be set.
Nine MPs from the opposition pro-Kurdish People's Democratic Party (HDP), including its co-leaders Selahattin Demirtas and Figen Yuksekdag, were also jailed ahead of trial by the courts Friday on terror charges.
At total of 13 staff from Cumhuriyet (Republic) had been detained in raids on Monday in a swoop that amplified concerns about press freedoms in Turkey.
Among the nine ordered held ahead of trial were Cumhuriyet's editor-in-chief Murat Sabuncu, celebrated cartoonist Musa Kart and influential anti-Erdogan columnist Kadri Gursel.
However, columnists Hikmet Cetinkaya and Aydin Engin were released on judicial control due to age and on the grounds of health, the reports said, while wo other suspects from the accounts department were released without charge.
The suspects are charged with links to the Kurdish militant Kurdistan Workers Party (PKK) and the movement of US-based preacher Fethullah Gulen, blamed for the failed coup bid. Gulen denies the accusations.
Cumhuriyet has for months been in the crosshairs of the Turkish authorities. Earlier this year former editor-in-chief Can Dundar was given a five years and 10 months jail sentence for revealing state secrets in a front-page story.
An arrest warrant has also been issued for Dundar in the current case but he has quit Turkey for Germany.
"Our 'crime' is our writing, our headlines, our news. We will write again. We will write even more," Dundar wrote on Twitter,
Demirtas and Yuksekdag, meanwhile, spent a first night behind bars after their arrest on Friday.
Although their hearings took place in the southeastern city of Diyarbakir, both were flown to prisons in the west of Turkey well away from their strongholds in the east.
Demirtas is now in prison in Edirne province close to the Greek and Bulgarian borders while Yuksekdag was taken to Kocaeli just east of Istanbul, reports said.
After his arrest, Demirtas said in a written statement read by his lawyer that he was the victim of a "civilian coup by the government and the palace".
Dogan news agency showed dramatic footage of Demirtas arriving in Edirne province on a helicopter which landed in the middle of an athletics field before he was taken to prison in a multi-vehicle convoy.
Their arrest along with those of the seven other HDP MPs, on various charges of membership of the PKK and making "terror propaganda" for the group, sparked immediate alarm among Turkey's Western allies.
Full report at:
http://nation.com.pk/international/06-Nov-2016/turkish-court-jails-nine-staff-of-opp-daily
--------
Yemen's ousted Saleh retracts, welcomes UN plan
5 November 2016
Yemen's ex-president Ali Abdullah Saleh has welcomed a UN peace proposal to end the country's 19-month war as a "good basis for negotiations" in signs of faltering ties between him and the Houthi militias.
Saleh made his comments as UN envoy Ismail Ould Cheickh Ahmed held meetings in the capital Sanaa with Houthi militias and negotiators representing forces loyal to him.
An Arab coalition has been fighting since March 2015 against Houthi militias and Saleh loyalists to restoring the internationally recognized President Abdrabbu Mansour Hadi to his legitimate power.
Saleh says his only conditions to accepting the peace plan is the halt in all military operations, withdrawal of foreign troops in the country and ending crippling international sanctions on the country.
Full report at:
https://english.alarabiya.net/en/News/middle-east/2016/11/05/Yemen-s-ousted-Saleh-retracts-welcomes-UN-plan.html
--------
Africa
No Justice for Victims of Blasphemy Killings in Nigeria?
November 5, 2016
A court in Kano state in Northern Nigeria has acquitted five persons who were arrested in connection with the killing of a Christian female trader, Bridget Agbahime, from Southern Nigeria. She was murdered on June 2 at Kofai Wambai market after some exchanges with some Muslims. Her killers attacked her with dangerous weapons and slit her throat. Some segments of the Muslim population in Kano welcomed the killing of the woman, while others condemned it. Some of us thought that by prosecuting the killers, the woman's family would get some justice. However, the suspects who were charged to court have now been discharged
It seems that what many had feared might have eventually happened. The Nigerian blasphemy killers may never be brought to justice! Those who perpetrated that atrocity may never answer for their crime, unless pressure is brought to bear on the Buhari led government, and its state counterpart, to fulfill their responsibility to the citizens.
Yes, to some observers of the twisted sense of justice in Islamic Northern Nigeria, the outcome of this process did not come as a surprise. Throughout the process, many have speculated that nothing would come out of the court process and that the suspects would be freed. So, the court ruling is as expected in line with the tradition of impunity that has prevailed in Muslim majority states, at least when it comes to cases of blasphemy.
Kano and other Muslim majority states are ruled by Sharia law and have somewhat of a history of bloody religious riots and killings. Under Sharia, blasphemy – against prophet Muhammad not other prophets – is a crime punishable by death.
This undefined law has been used by Islamic theocrats to silence their opponents and to legitimise Islamic fundamentalism, and to oppress religious Muslim and non-Muslim minorities. In January, a Sharia court in Kano sentenced a Muslim cleric, Abdulazeez Dauda, to death for blasphemy after a secret trial. The cleric reportedly said that the leader of their sect, Sheikh Ibrahim Nasse, was 'bigger than prophet Muhammad'!.
Dauda's case is interesting because after he allegedly made this statement, there were violent protests in the city of Kano. Dauda fled to Abuja. Some of his followers were arrested and charged to court. On the day they were to be tried, there were clashes at the court premises and some Muslim youths set the court on fire. At the end of the day, Dauda and his followers were sentenced to death and nothing happened to those who perpetrated violence and arson.
In fact, following the sentencing of the followers of Dauda, the governor of Kano state welcomed the ruling as a 'triumph of the rule of law'. And, indeed, you can hardly argue with him. The rule of Sharia law had prevailed. The followers of a cleric who allegedly blasphemed against Muhammad were sentenced to death and those who perpetrated violence, and arson, were off scot-free.
Full report at:
https://nigerianobservernews.com/2016/11/islam-no-justice-for-victims-of-blasphemy-killings-in-nigeria/#.WB78X9J97IU
--------
King Mohammed VI's Bid to Reunite Morocco With Africa
November 5, 2016
By Inaya Iman
Rabat – King Mohammed IV made to tour of East Africa, starting in Rwanda and continuing to Tanzania. The tour is aimed at garnering support amongst African countries for Morocco to re-join the African Union (AU) which it left in 1984. Morocco's membership bid must be approved by a vote of the AU Commission in order to be accepted. It left after the AU supported the Polisario Front separatist movement and the OAU's recognition of the Sahrawi Arab Democratic Republic (SADR).
Despite Morocco's desire to re-join the African union, the Sahara issue remains a contentious one.
Morocco regained its sovereignty over the Western Sahara in November 1975 following the Green March organized on November 6, 1975.
As of today, the African Union still continues to recognize the self-proclaimed Saharwi Arab Democratic Republic as a full member and calls for a referendum on self-determination. The Moroccan monarch in July said his nation's decision to return to the AU did not mean it was changing its stance on Western Sahara.
Morocco has likely found that the AU's importance and strength as an increasingly influential entity on the global stage means that being the only African country outside of it is a significant diplomatic loss.
In Rwanda, Mohammed met with President Paul Kagame and signed 19 bilateral agreements, mostly in the economic sector. Morocco has been on a seemingly successful economic diplomatic mission for a number of years with steady Foreign trade and good assets that will probably enable the country to maintain its political and strategic interests, especially on the Western Sahara issue.
There has been discussion as to whether the King's next visit should be to other countries in Africa such as Nigeria, Africa's largest economy, as according to Mohammed Benhammou, president of the Moroccan Centre for Strategic Studies, Morocco already has "has strategic depth in West Africa, built on historical, cultural and religious relations,".
In addition, for many Muslims across West Africa, influenced by Sufi strands of Islam, the Moroccan king is considered 'Amir Al Mu'mineen', a leader with both political and spiritual authority. Morocco already trains the Imams in a number of West African countries, including Cote D'ivoire and Mali, highlighting the north African country's considerable spiritual influence.
There are mutual benefits and reasons for the strengthening of relations between Morocco and its African counterparts. Several Moroccan public or private companies have established themselves in sub-Saharan Africa to invest in sectors that could improve some countries growth, such as the banking sector, finance sector and even the telecommunication sector. Attijari wafabank is present in Senegal and Mali and Maroc Telecom owns communication companies in Senegal, Mali and Burkina Faso.
Full report at:
https://www.moroccoworldnews.com/2016/11/199870/king-mohammed-vis-bid-to-reunite-morocco-with-africa/
--------
Shabaab bomb attack near Somali parliament
November 06, 2016
MOGADISHU - Two Somali soldiers died and five others were injured when a car bomb claimed by militant group al Shabaab exploded on Saturday near the parliament in the capital Mogadishu, police said.
Al Shabaab has stepped up its campaign of bombings and gun assaults in Mogadishu in recent months ahead of parliamentary elections which are expected to take place within weeks.
Col.
Abdiqadir Hussein, a police officer, told Reuters the explosion had occurred near the parliament building, while another police officer, Major Hussein Nur, said the car bomb hit a military vehicle at a junction checkpoint.
"2 soldiers died and 5 others were injured," Nur said, adding police, military and security forces were on the scene when the attack occurred.
Al Shabaab, which once ruled much of Somalia, wants to topple the Western-backed government in Mogadishu and drive out African AMISOM peacekeepers made up of soldiers from Kenya, Djibouti, Uganda, Ethiopia and other African nations.
The group's radio station Andalus said a suicide car bomb had been driven by "a mujahid" into Sayidka junction "where a convoy of the apostate government security forces were passing.
Sheikh Abdiasis Abu Musab, al Shabaab's military operations spokesman told Reuters the group had killed 17 soldiers and injured more than 30 others in the attack.
The group usually gives far lower numbers of casualties on its side and much higher death tolls for the security forces.
Full report at:
http://nation.com.pk/international/06-Nov-2016/shabaab-bomb-attack-near-somali-parliament
--------
Tunisian soldier killed in his home: report
6 November 2016
A Tunisian soldier has been killed in his home near central Mount Mghilla, an area where militant fighters operate, public television reported late Saturday.
Citing defence ministry spokesman Belhassen Oueslati, the television channel said that army and national guard units had launched a search for the unknown attackers.
Tunisian authorities gave no comment when asked for further details by AFP.
Tunisian forces have, since 2012, been trying to flush out groups of extremists holed up in the country's mountainous regions, notably Mghilla and Chaambi, in the central Kasserine region.
Full report at:
https://english.alarabiya.net/en/News/middle-east/2016/11/06/Tunisian-soldier-killed-in-his-home-report-.html
--------
Sultan joins the national question debate: The restructuring Nigeria needs!
NOVEMBER 6, 2016
By Bashir Adefaka "(He is) the Lord of the two easts (places of sunrise during early summer and early winter) and the Lord of the two wests (places of sunset during early summer and early winter). Then which of the blessings of your Lord will you both (jinn and men) deny?" (Qur'an 17 and 18). Surely there is none of the blessings of his Lord that Alhaji Muhammad Sa'ad Abubakar III, would deny as it becomes obvious that he is indeed a blessing not only to his nation of birth, Nigeria, but also, more extensively, the world where, just recently, he has been rated as the world's 22nd most influential Muslim, have steps behind President Muhammadu Buhari, another Nigerian, rated 17th. Why would he not consider himself a blessing to the world and the nation? many have asked, when it is during his reign the world and Nigeria have noticeably enjoyed a traditional and Muslim leadership that has successfully, and consistently too, blended the entire peoples together in his constancy in peace and unity advocacy? President Buhari with Sultan of Sokoto Alh. Muhammadu Sa'ad Abubakar III and during the Mini Durbar in celebration of the 10th Anniversary of Sultan of Sokoto Alh. Muhammadu Sa'ad Abubakar III in Sokoto on 5th Nov 2016 Celebrating his 10th anniversary on the throne, the Sultanate Council of Sokoto and the Magajin Garin Sokoto made arrangements for a resounding weeklong event to appreciate the king-son-of-king's immense contributions to the peace, unity and development of Sokoto State, Nigeria and global community in general and events were stretched between Wednesday, November 2 and Saturday, November 5. All the activities went on as planned with Vice President Yemi Osinbajo declaring open the International Symposium on Sokoto Caliphate on Thursday. Before declaring the symposium open, the vice president described Sultan Muhammad Sa'ad Abubakar III as worthy scion of the founding fathers of the Sokoto Caliphate. He said the Caliphate was founded on honesty. "Ten years into your royal sojourn, you are in good standing with your people," Osinbajo noted, saying: " The Sokoto Caliphate was founded over 200 years ago on the sterling principles of honesty, piety, good governance and truthfulness, among others. " He pointed out that Uthman Dan Fodio described a corrupt leader as a monkey, meaning, according to him, that the corruption being fought by Buhari administration today was long started by the founding father of the Sokoto Caliphate. Earlier when he spoke, Sultan Sa'ad Abubakar was greeted with a heavy military band sound that he had to pass a joke, "This compliment is done for generals." He then acknowledged the fact of such compliment as an appreciation of his 31 years in the service of the Nigerian Army. The monarch stepped out of the Nigerian Army as Brigadier General into the waiting high seat of Sultanate royalty in 2016. "Thank you," he said. While the hall of the Sokoto State Polytechnic where the symposium took place was still reverberating from the ovations resulting from the royal joke, the Sarikin Mu'mineen of Nigeria quickly settled down for another point of call. He said anyone arrested for corruption should answer his name. He went on by attributing the slow pace of development in Nigeria to misplaced priorities by political leaders. The Sultan said Nigerians must muster the courage to question their political leaders on how they spend state resources, and make input to policy issues that involve their well-being. Abubakar said it was only when citizens began to ask questions that governors and other leaders would sit up and begin to take the people seriously. Nigeria is well-structured According to him, it is funny when people talk about restructuring. "When I hear people talk about restructuring I just laugh. Nigeria has long been well structured. The best way to move is for individual region to develop itself. Before we can restructure, let us first restructure our minds and acts. No matter what restructuring you do, with bad leaders in place, it won't work", the Sultan said. "We must come together as good people to fight the evils in our midst. We must work to have a peaceful society and we must work to have development. "We want to call on our leaders to please check themselves, especially the governors. "I want to be blunt here. Why should a governor build a N30 billion airport when he has no money to pay salaries?" He expressed regret that, most times, Nigerian leaders had misplaced priorities, putting up projects that were of no benefit to the masses. The Sultan advised that instead of duplicating projects like airports around the states, resources should be diverted to meet other cogent needs that would be of more use to the masses. "There is need to begin to listen to the cry of the common man, to understand their needs rather than just carrying out projects. "Of what use is it to be building airports worth billions of naira when the roads that the common man travels are bad? Instead of having an airport here in Birnin Kebbi that hardly sees one flight in one year, and then you have an airport in Dutse that only lifts pilgrims; then you have an airport in Kaduna in Bauchi and Gombe and another one in Ekiti, in Makurdi and so on, while the roads which the common man uses for his day to day activities are so bad… "You can imagine if you are travelling from Minna to Abuja, how many hours it will take you and from Lokoja to Okene down to Akure due to bad roads." Abubakar said these were the things political leaders needed to check and talk to themselves about adding that "if you don't say the truth, you can't have progress." The royal father said the common man, in reality, has no food, no money among others and further urged Nigerians to stop hiding behind religion, politics and tribal affiliations to perpetuate crime. Abubakar admonished the people to learn to call a criminal a criminal, regardless of affiliation and come together as good people to fight the evil ones among them, for development to workout. "People hide under politics to say or do certain things that are totally against the security of the state. If the person is arrested, the next thing you hear is that it is because he does not belong to the ruling party; what is bad is bad. Whether he is a Muslim or Christian or APC or PDP, remove all these and let him answer his name, a criminal, you have stolen government money.
Full report at:
http://www.vanguardngr.com/2016/11/sultan-joins-national-question-debate-restructuring-nigeria-needs/
--------
Southeast Asia
Indonesia president: Political meddling behind Jakarta clash
Nov. 4, 2016
Indonesia's president blamed political meddling for violence in the capital Jakarta on Friday that killed one person and injured seven following a protest by hard-line Muslims demanding the arrest of the city's minority-Christian governor for alleged blasphemy.
In a televised address, President Joko "Jokowi" Widodo said the riot showed "political actors have taken advantage of the situation." He did not identify any individual as responsible, but earlier in the week former president Susilo Bambang Yudhoyono went on national television to say he supported plans for the massive protest.
"They should have dispersed, but instead they turned to rioting," Jokowi said of the protesters.
Jakarta police spokesman Awi Setiyono said an elderly man died during the violence, possibly from the effects of tear gas. He said four civilians and three police officers were injured.
Clashes broke out between police and hard-core protesters who refused to disperse following nightfall. Police fired tear gas and water cannons and protesters set alight three police vehicles and piles of rubbish left behind from the protest, which drew tens of thousands of people.
Indonesia, with a population of more than 250 million people, is the world's most populous Muslim nation. Most people practice a moderate form of Islam but a vocal minority wants to impose a stricter interpretation.
Setiyono said police responded after protesters near the presidential palace threw stones, bamboo sticks and bottles. The confrontation subsided after a protest leader appealed for calm.
MetroTV reported that a mob tried to enter the housing complex where Jakarta Gov. Basuki "Ahok" Tjahaja Purnama lives in northern Jakarta but were stopped by police, who fired tear gas. Setiyono said rioting in north Jakarta involving the looting of a convenience store and damage to police vehicles had been brought under control but live TV footage showed a standoff continuing between police and a mob in the area.
Fearing violence, police put on a show of force for the protest, supported by soldiers and public order officers, while embassies closed, some shops were shuttered and Jakarta's normally traffic-clogged streets were nearly empty of cars.
The predominantly male demonstrators, most wearing white shirts and skull caps, had massed at the Istiqlal Mosque for the protest following weekly Friday prayers and marched on the nearby presidential palace. Large protests also took place in other cities including Medan on Sumatra, Makassar in Sulawesi and Malang in East Java.
The accusation of blasphemy against Ahok, an ethnic Chinese and minority Christian who is an ally of the president, has galvanized his political opponents in the Muslim-majority nation of 250 million, and given a notorious group of hard-liners a national stage.
The Islamic Defenders Front, a vigilante group that wants to impose Shariah law, is demanding Ahok's arrest after a video circulated online in which he joked to an audience about a passage in the Quran that could be interpreted as prohibiting Muslims from accepting non-Muslims as leaders. The governor has apologized for the comment and met with police.
Ahok, who is seeking a second term as Jakarta governor, is popular with the city's middle class. He is adored as a blunt speaker who doesn't tolerate corruption and articulates a vision of making the chaotic, dysfunctional city more like clean, orderly and efficient Singapore.
But the anti-corruption stance has made him enemies, and the evictions of thousands of the city's poorest people to make way for urban improvement has stoked anger and resentment and played to a stereotype of Chinese as exploiters of Indonesia's poor Muslim masses.
On the national stage, Ahok is ranged against former Yudhoyono, the former president, whose son is a candidate for Jakarta governor, a position that is a stepping stone to national leadership.
http://www.whig.com/article/20161104/AP/311049977
--------
Chinatown stays alert post anti-Ahok rally
November 5, 2016
Residents of the Chinatown area of Glodok in West Jakarta said they would run business as usual while staying alert following a religion-driven rally that turned violent on Friday in downtown Jakarta.
Ina, 60, an Indonesian woman of Chinese descent, said she decided to keep her Ming Yen restaurant, which serves bakpao (steamed buns) and siomay (steamed dumplings), open following security guarantees from law enforcers.
"Security personnel in my subdistrict have assured me that they would protect us at all costs. I, however, have been warned to remain vigilant," she said on Saturday.
The rally on Friday, which saw over 100,000 people swarm Jakarta streets, was organized by multiple Muslim groups to demand the criminal prosecution of Jakarta Governor Basuki "Ahok" Tjahaja Purnama for allegedly insulting verses in the Quran.
Full report at:
http://www.thejakartapost.com/news/2016/11/05/chinatown-stays-alert-post-anti-ahok-rally.html
--------
Djarot cancels campaign appearances over safety concerns
November 6, 2016
Jakarta Deputy Governor Djarot Saiful Hidayat cancelled all campaign appearances on Sunday owing to safety concerns.
"Because the situation on the field is not conducive, all [campaign] appearances have been cancelled today," Djarot's campaign team said in a text message, as reported by kompas.com on Sunday.
Djarot, who is seeking reelection with running mate Jakarta Governor Basuki "Ahok" Tjahaja Purnama, had been scheduled to make campaign stops in Kebayoran Baru district, South Jakarta.
Full report at:
http://www.thejakartapost.com/news/2016/11/06/djarot-cancels-campaign-appearances-over-safety-concerns.html
--------
Looting causes massive losses in Penjaringan
November 5, 2016
Looting reportedly triggered by Friday's massive rally is estimated to have caused significant losses for vendors and businesses in Penjaringan, North Jakarta.
Paryanto, 35, a field coordinator for vendors in Jl. Gedong Panjang in Penjaringan, said that most of the vendors affected were not traumatized by the invasion of hundreds of looters. However, their losses were estimated to reach hundreds of millions or rupiah.
"A huge amount of money is needed to repair the destruction. As well as that, time is also needed to assure customers that this area is safe," he told The Jakarta Post on Saturday.
On Saturday, at least 10 businesses were recorded as being victims of the attacks. They include two convenience stores, Alfamart and Indomaret, and Bakso Tukul, a meatball soup outlet owned by well-known comedian Tukul Arwana. Police lines have been set around the area, located in front of the Pakin Transjakarta bus station, while broken glass is still scattered.
Full report at:
http://www.thejakartapost.com/news/2016/11/05/looting-causes-massive-losses-in-penjaringan.html
--------
URL: https://www.newageislam.com/islamic-world-news/new-age-islam-news-bureau/indian-muslims-best-placed,-they-live-as-per-their-choice--jamiat-ulema-hind/d/109024
New Age Islam, Islam Online, Islamic Website, African Muslim News, Arab World News, South Asia News, Indian Muslim News, World Muslim News, Womens in Islam, Islamic Feminism, Arab Women, Womens In Arab, Islamphobia in America, Muslim Women in West, Islam Women and Feminism, Moderate Islam, Moderate Muslims, Progressive Islam, Progressive Muslims, Liberal Islam, Liberal Muslims,Islamic World News, Attack in Munich, Munich Attack, Terror in Munich